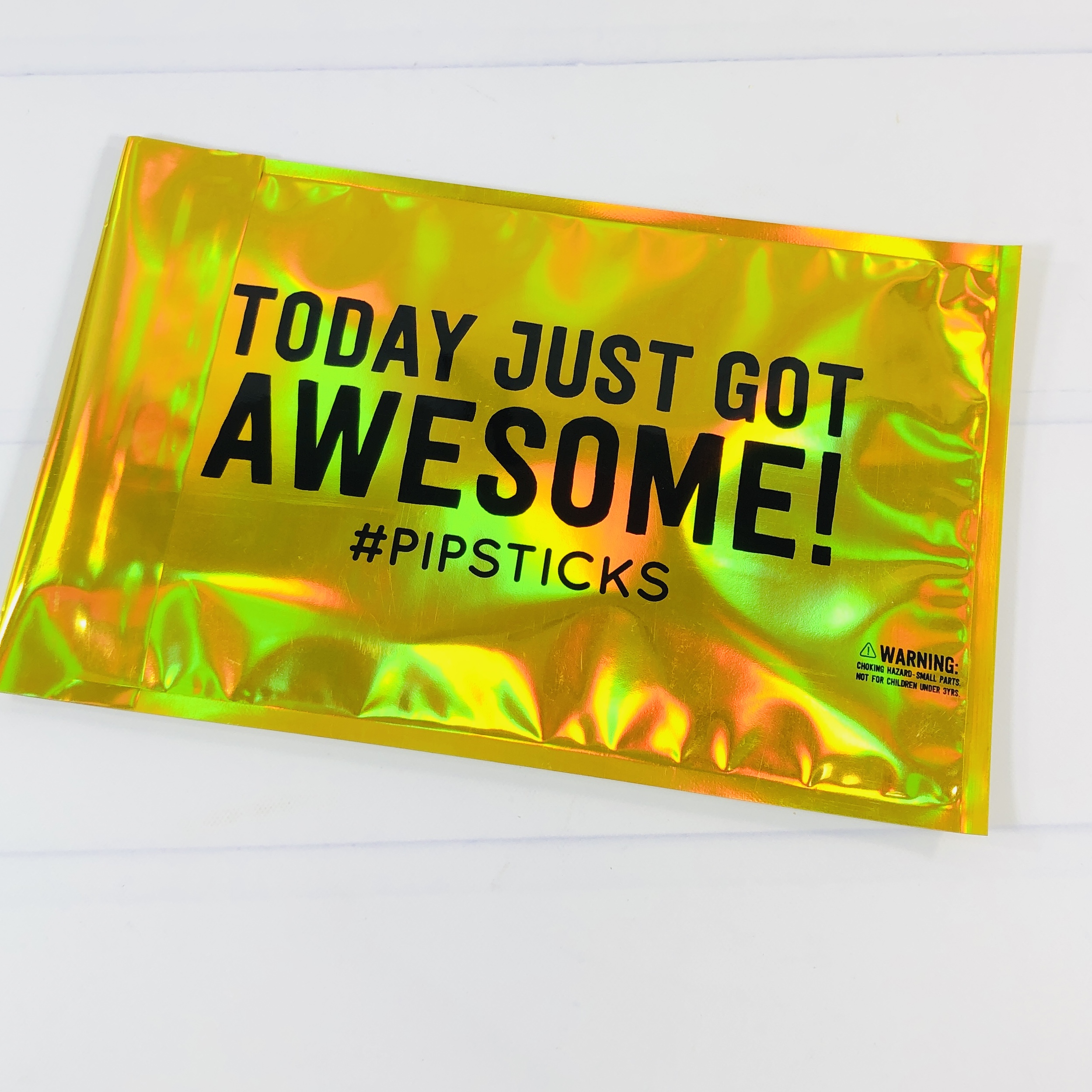 Pipsticks is a monthly sticker subscription that sends new designs from their collection in a super shiny holographic pack every month! The stickers come in a reusable sparkly pouch and include sticker sheets, paper products, and Little Pippy, an exclusive sticker magazine. You also get 5% savings in the online store and more. You can choose to get stickers for adults (Pro Club) or kids (Kids Club). Both clubs come in Classic (15 sheets for $17.95 a month) or Petite (7 sheets for $11.95 a month). Shipping is free to the U.S., and Pipsticks can even be shipped worldwide for a fee.
C'mon. Who doesn't love stickers? Any stationery lover, crafter or pen pal knows the true magic of these little guys. Stickers motivate, inspire, entertain and delight with unmatched simplicity.

The Kids sticker pack is totally child-friendly, they can do everything by themselves which means it's a break for the parents – yay!
DEAL: Save $5 on your subscription! Use this link to subscribe and coupon code FRIENDSROCK.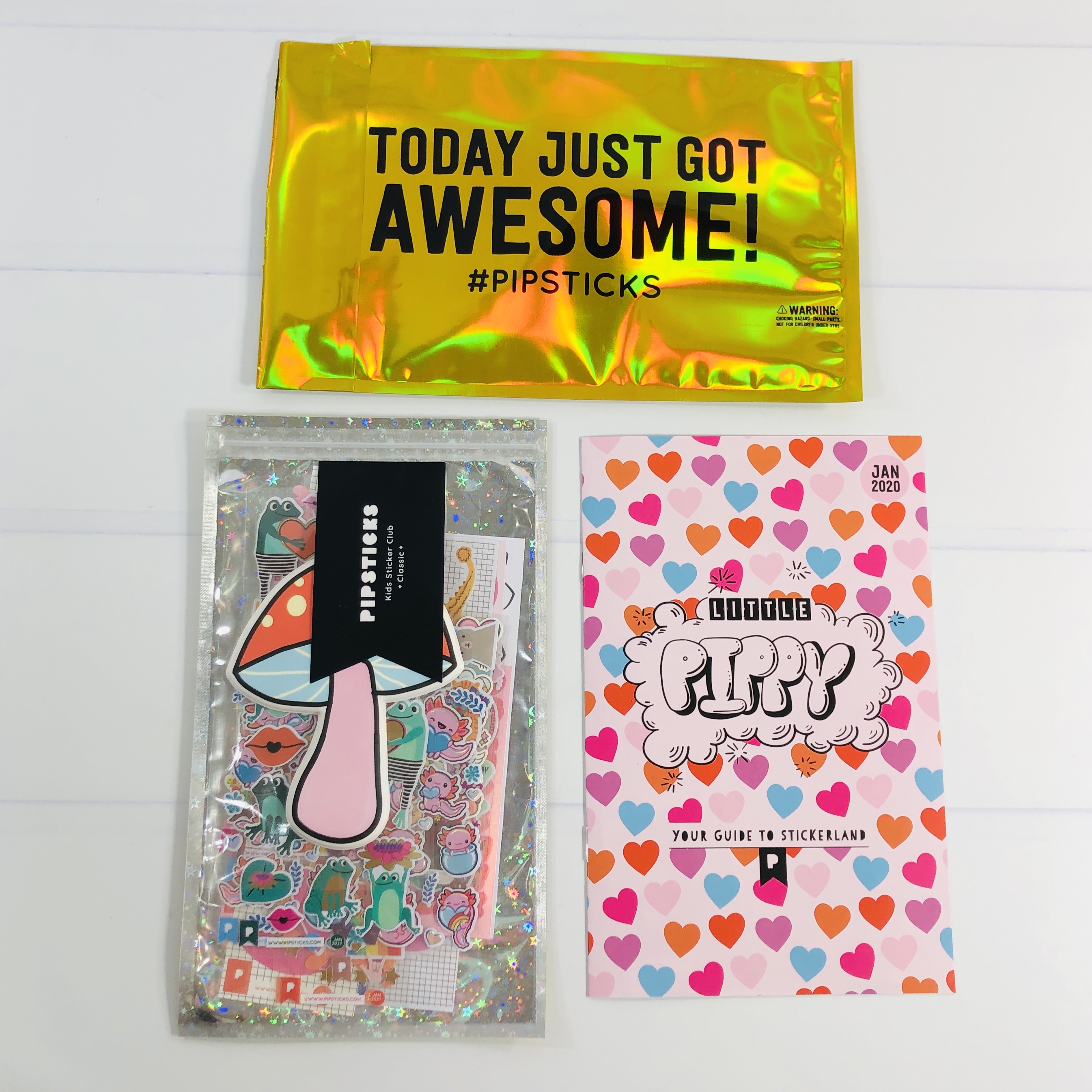 I am reviewing the Pipsticks Kids Club Classic! Each month subscribers can expect to receive 15 sheets of stickers, a coloring postcard, an activity booklet, a chance to win the monthly prize, 5% savings in the online store, and more!
Pipsticks includes an exclusive magazine called Little Pippy. Never mind the wrong year in the corner, mistakes happen.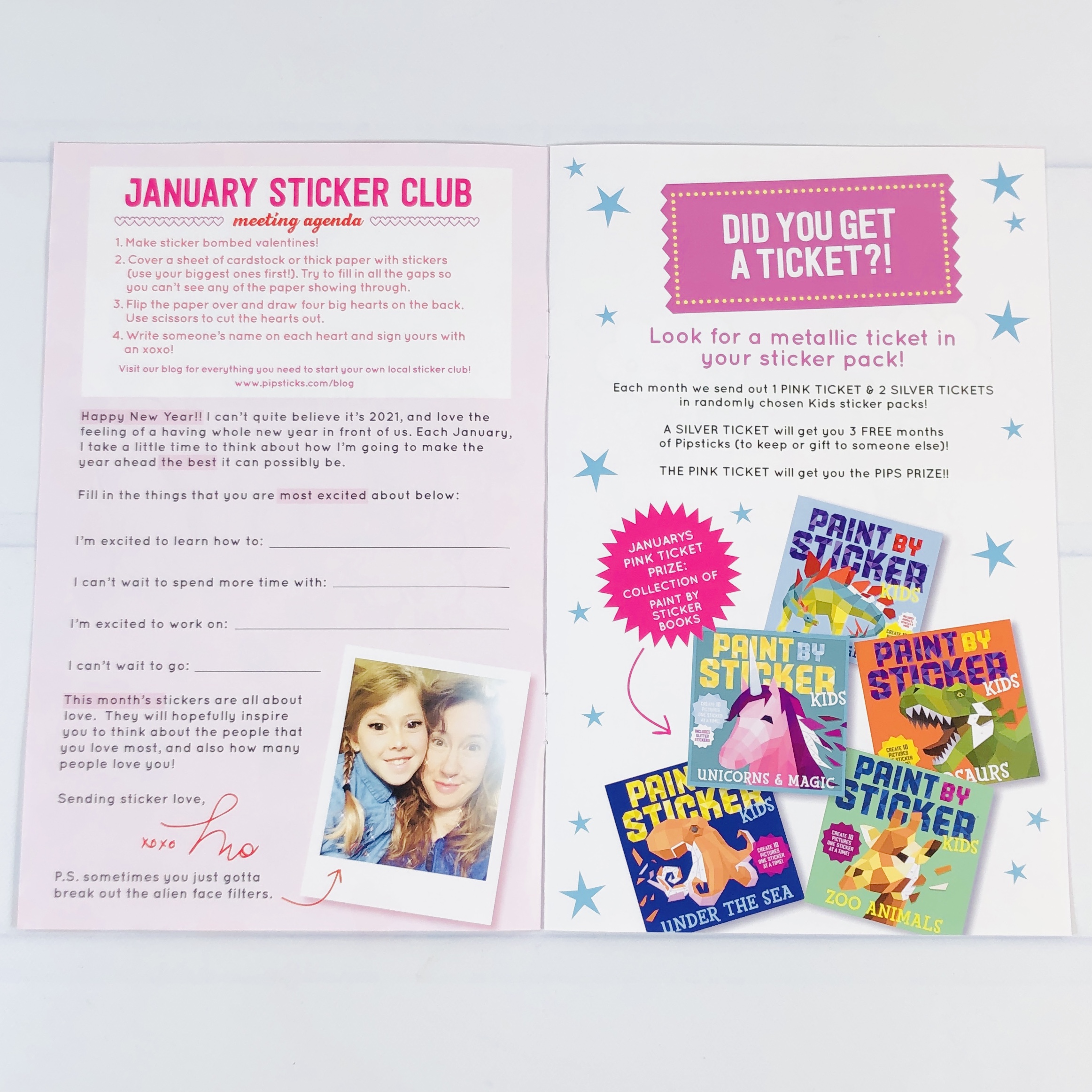 The booklet suggested a sticker club agenda. Did you receive a special metallic ticket? If so, you can redeem it for a prize! My daughter loves the Paint By Sticker books and has worked through several of the original books already, and I had no idea they had a version for younger kids.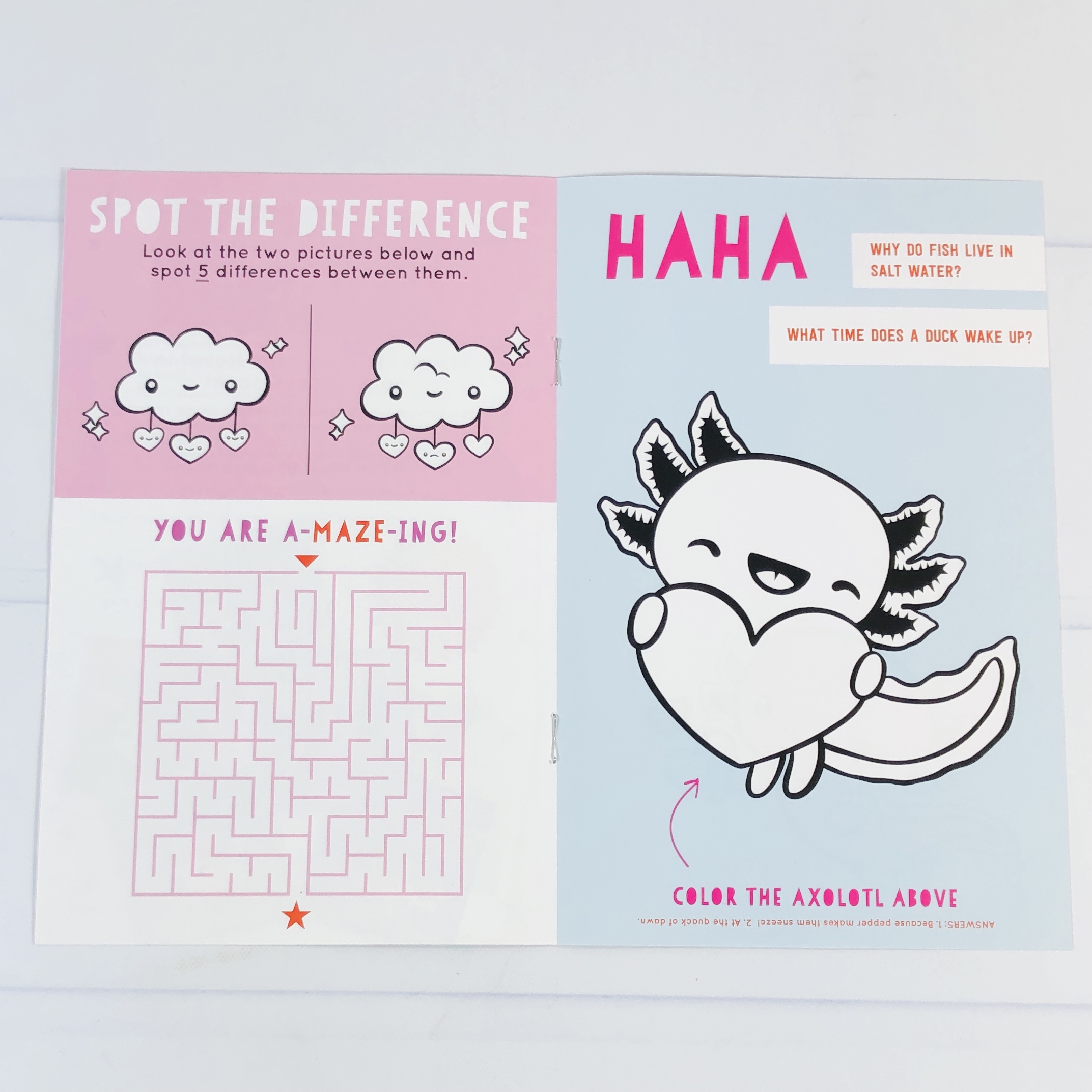 A puzzle and a coloring page were next.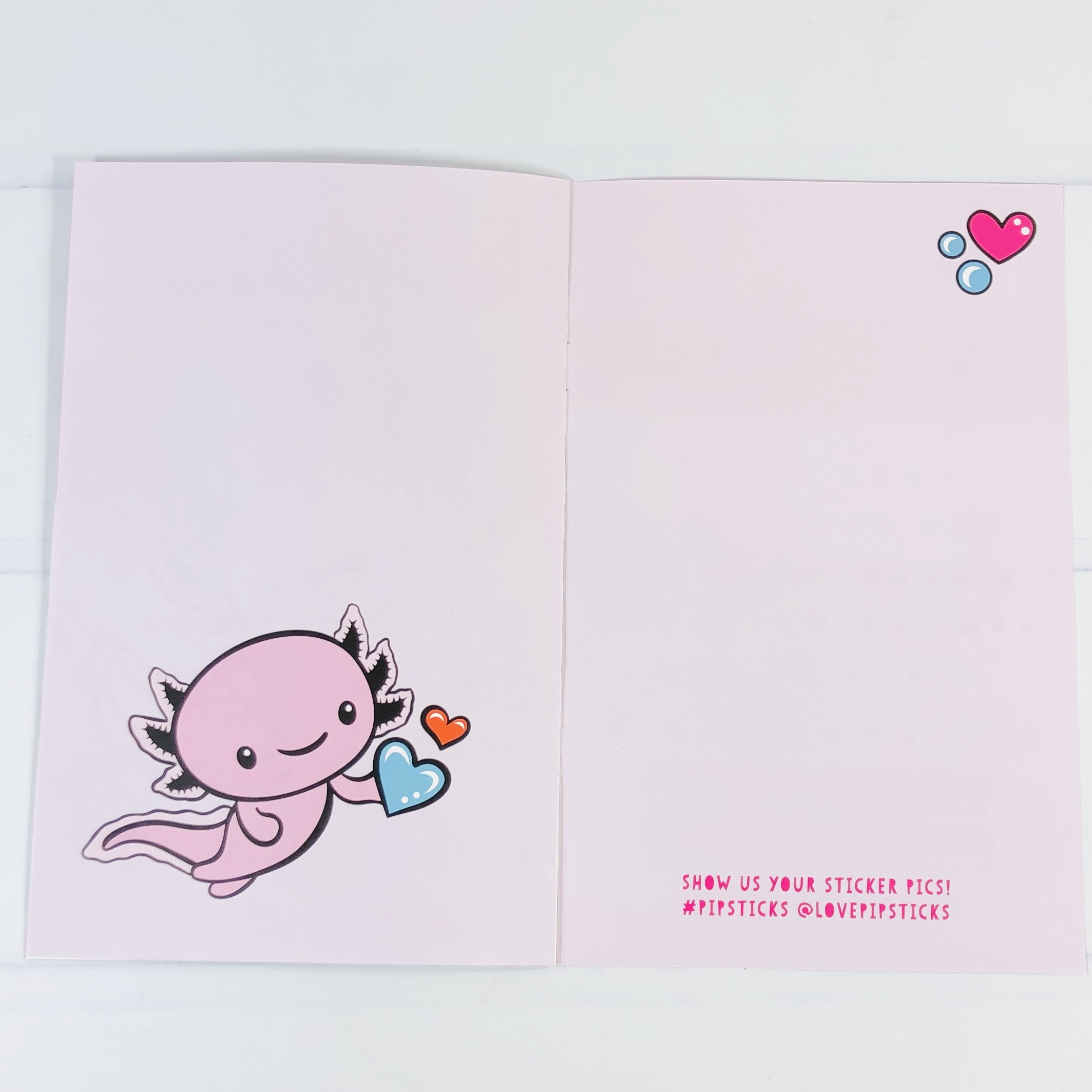 You can decorate this page with your new stickers!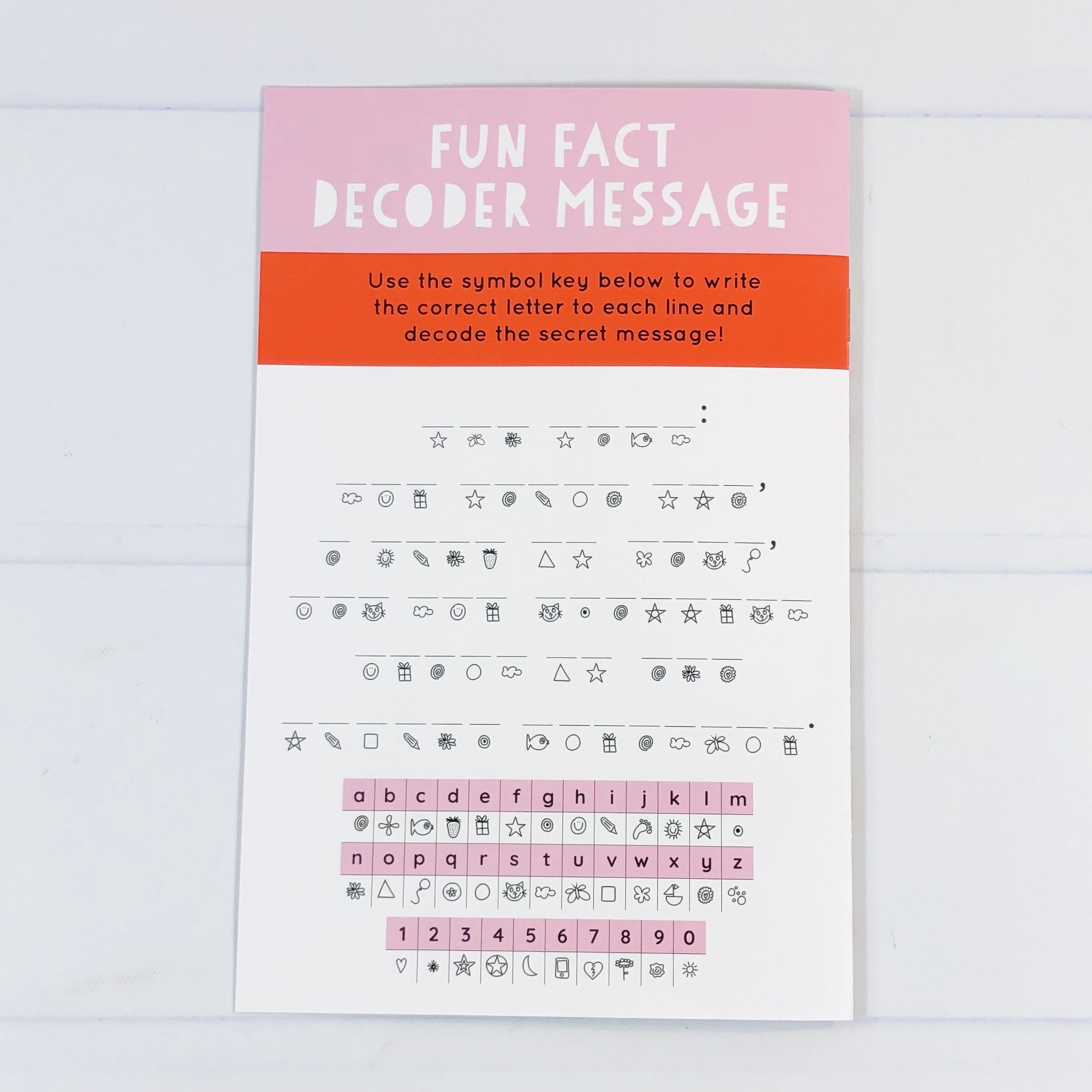 The back page had a secret message puzzle.
My stickers and goodies were tucked into this fabulous holographic zipper envelope. The back of this envelope is shimmery gold stars!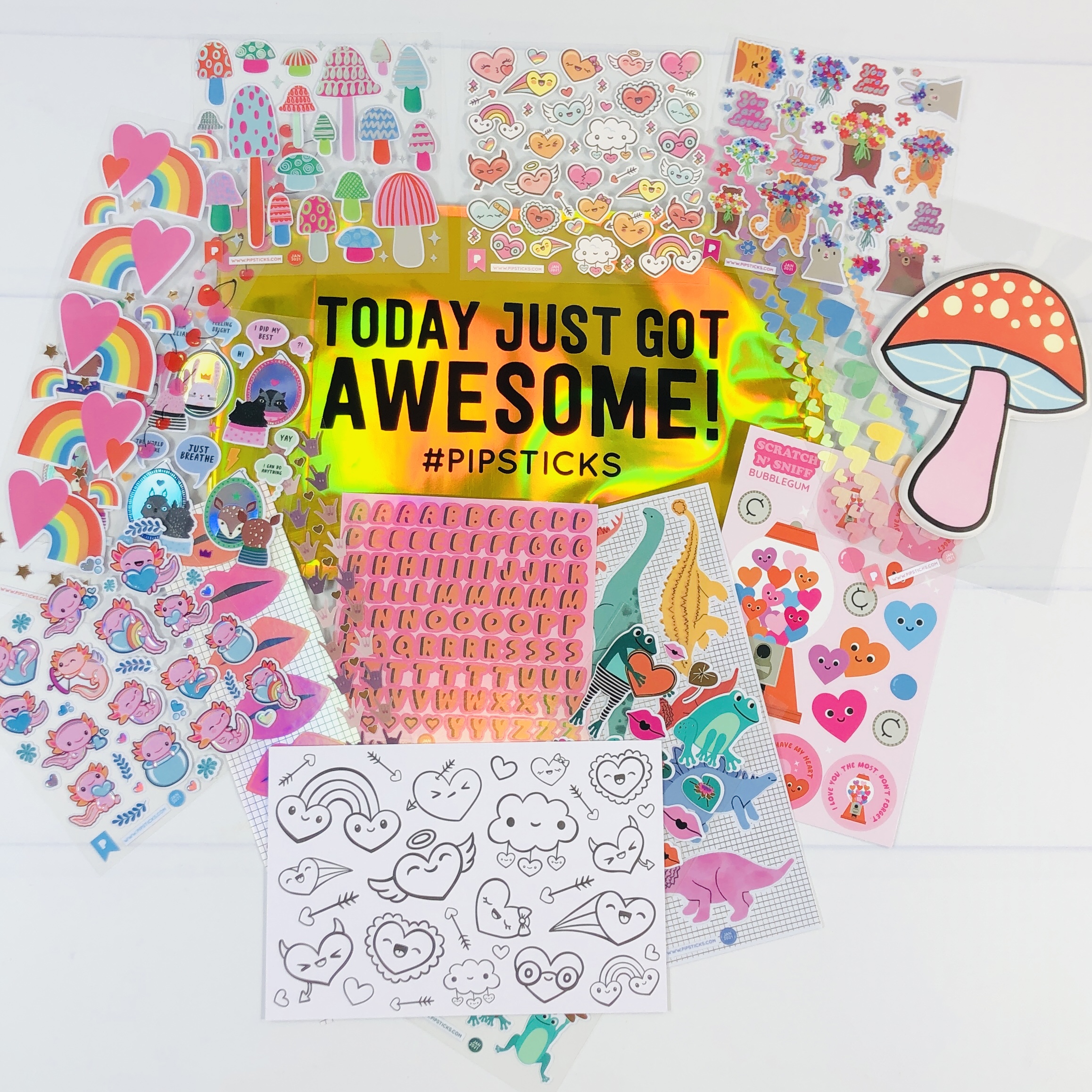 Everything in my box!
NOTE: You should be able to find the items in this month's pack in the Pipsticks online shop around mid month. They usually have previous packs available too.
Big Puffy Mushroom ($5.95) I think mushrooms are super cool and if I saw something as big as this puffy sticker I would be ecstatic!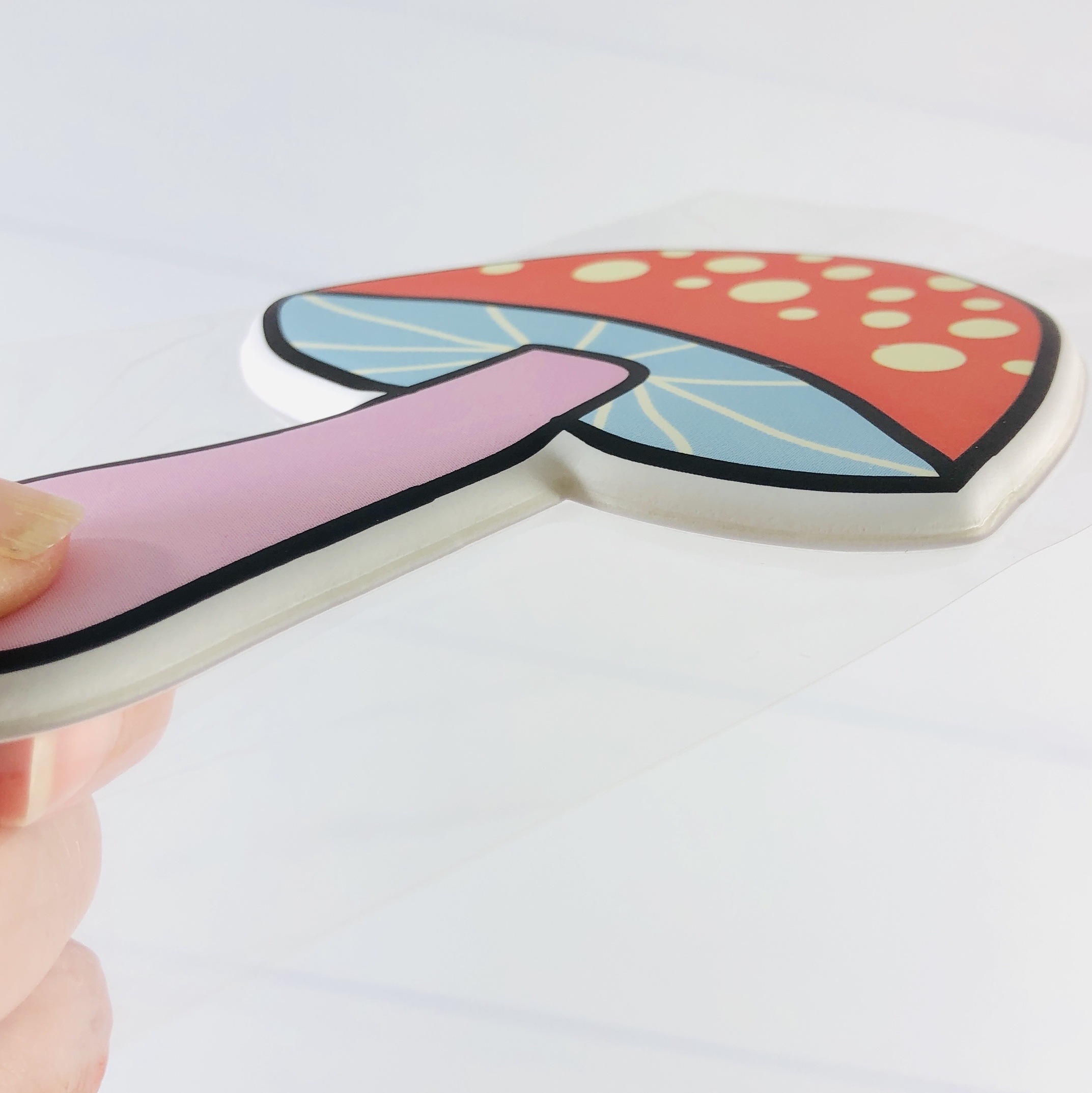 The sticker is 4.75″ tall and 5mm thick.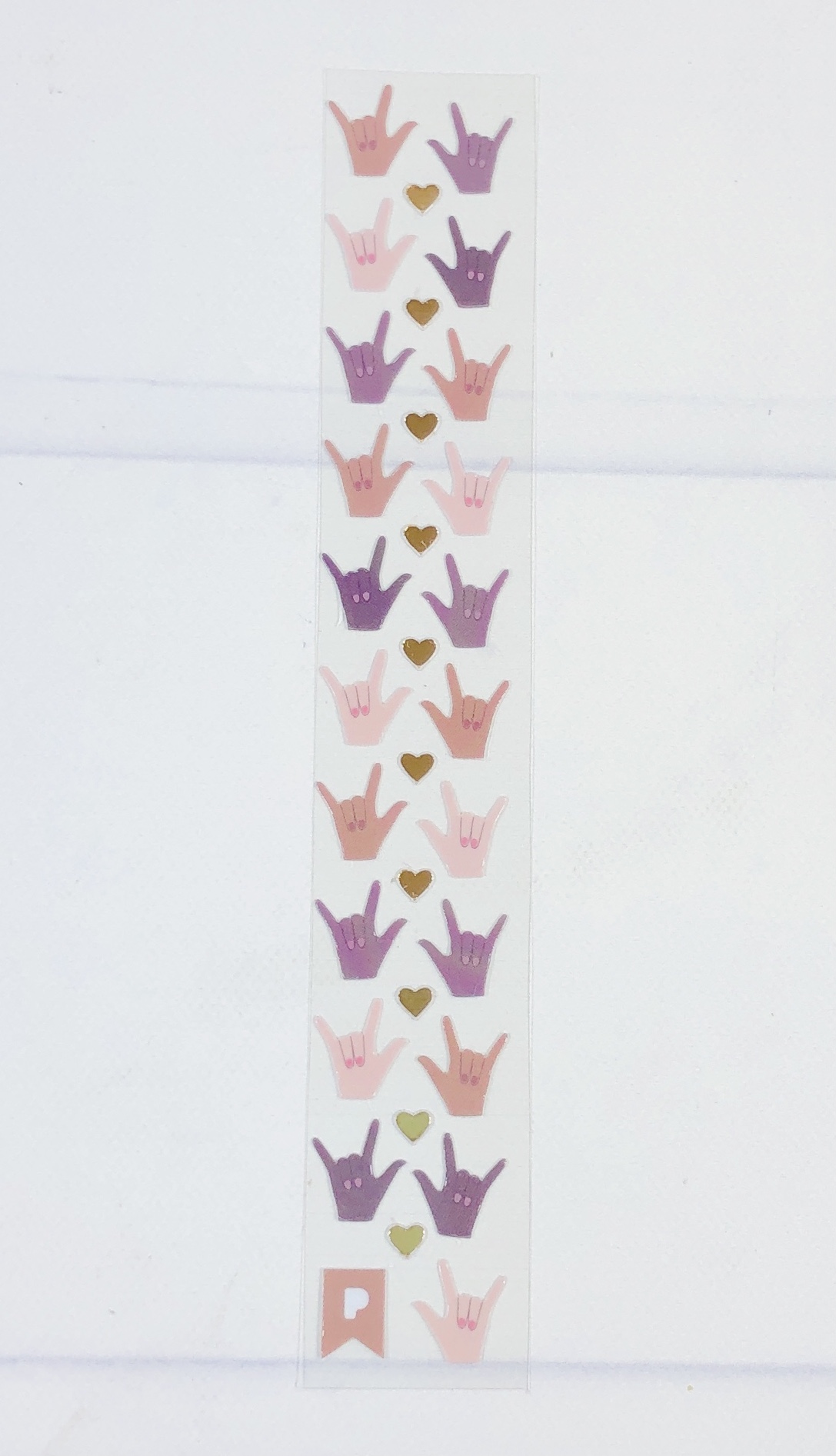 I Love You Minis ($1.95) shows hands giving the sign for I love you. PVC with holographic rose gold foil accents.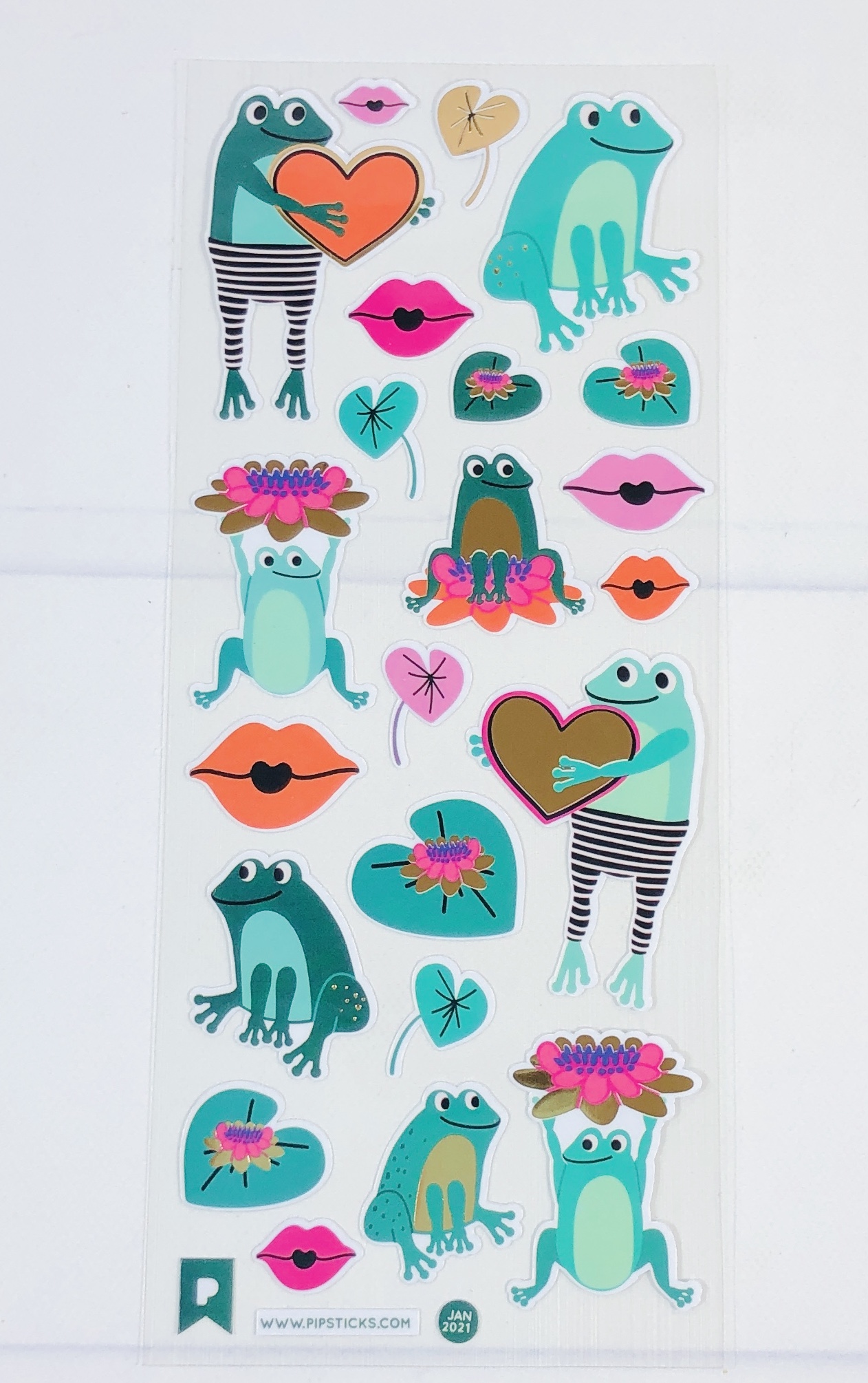 Frogs & Kisses ($3.95) Have you ever kissed a frog hoping he will change into a prince? I haven't, but I heart these stickers! PVC with holographic rose gold foil accents.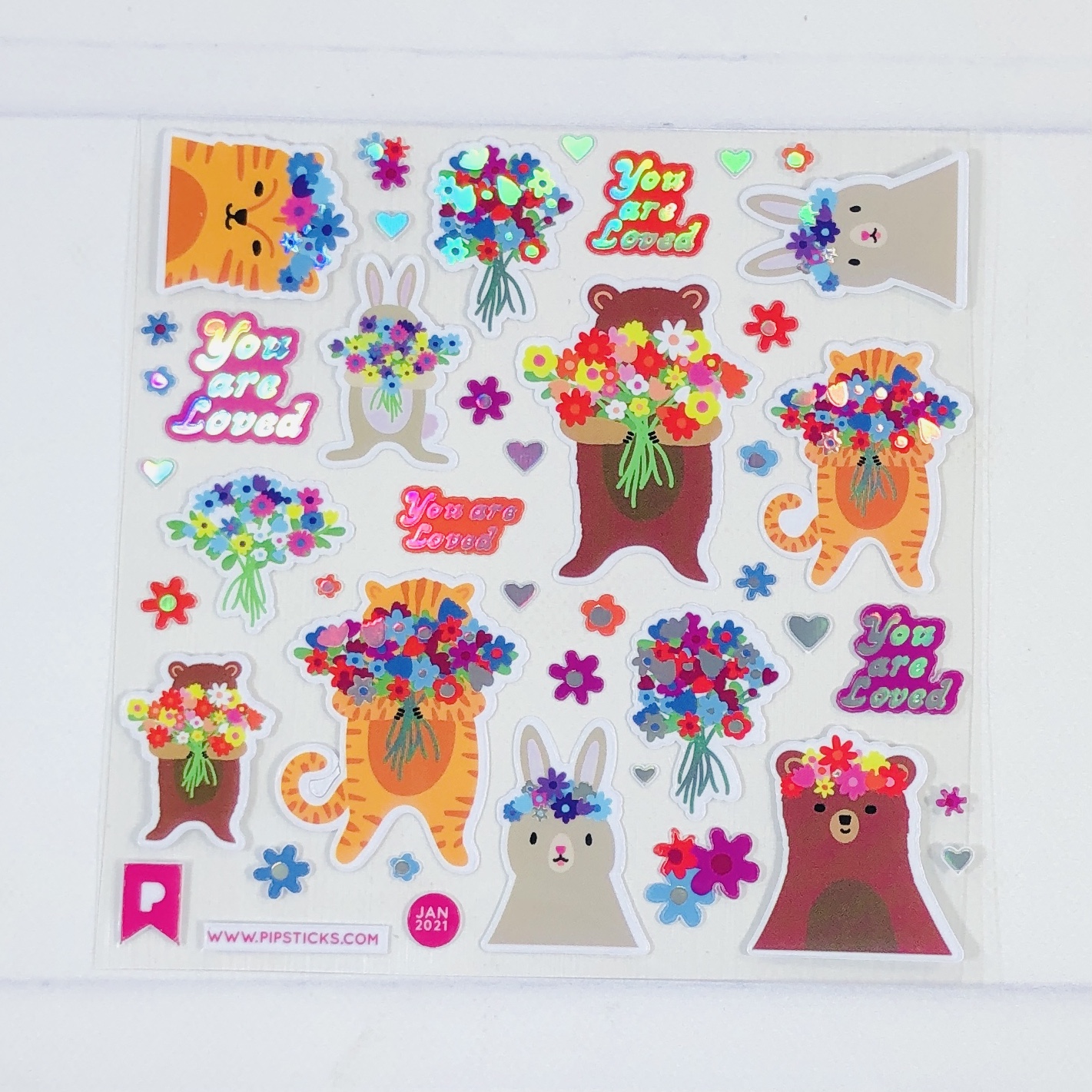 Love You Bunches ($2.95) shows animals holding bouquets of flowers and some are wearing flower crowns, adorable. True story: I caught the bouquet once at a wedding!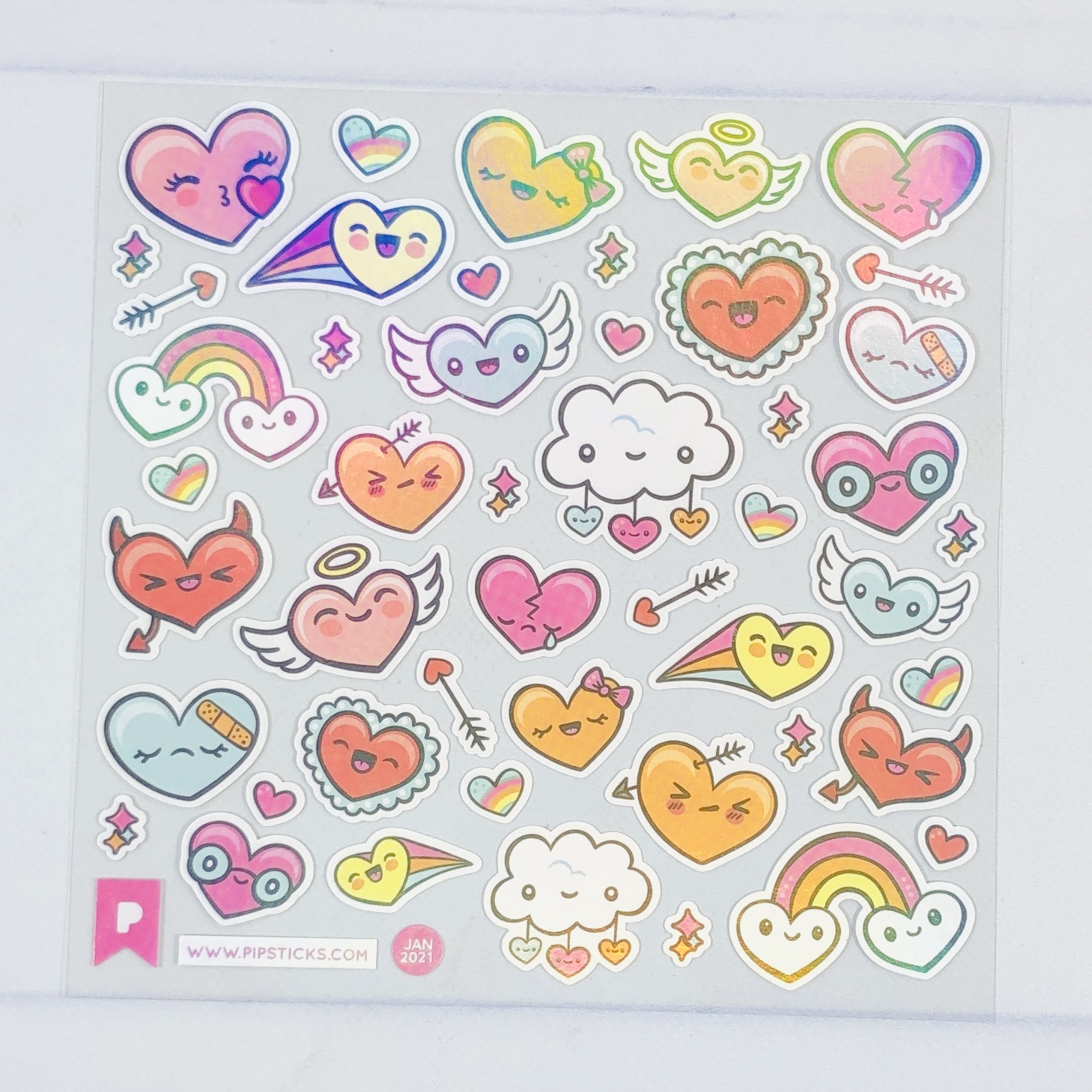 Hearty Party ($2.95) are super kawaii, look at those big eyes and angel wings! Wood-free paper with iridescent foil accents.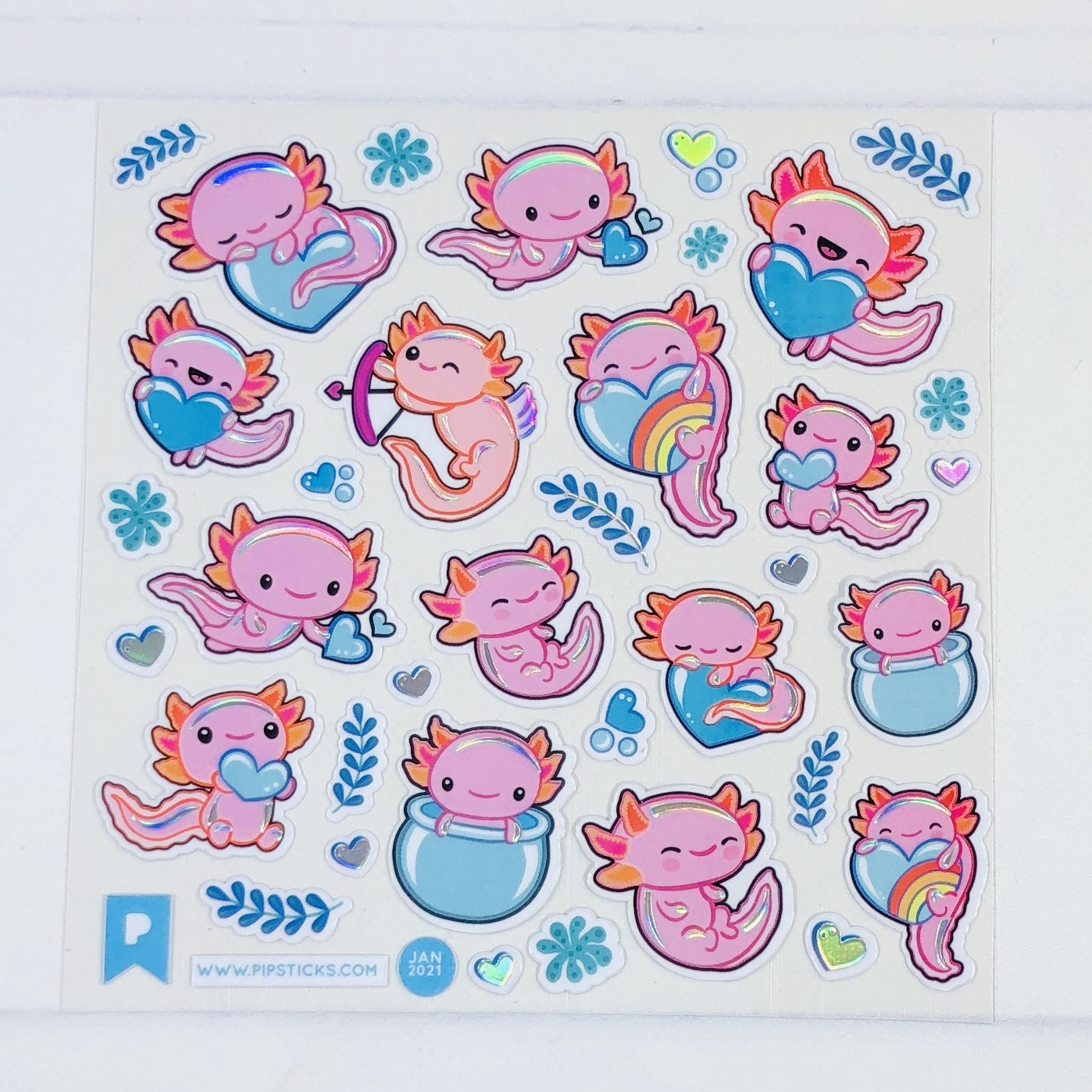 Axolotl Fun ($2.95) Both of my daughters knew that these were axolotls so they must learn about them in school nowadays. PVC with holographic silver foil accents.
Fancy Fungi ($2.95) Did I already mention my love of mushrooms? I once found a teeny tiny one growing on a piece of mulch. I love nature. PVC with holographic silver foil accents.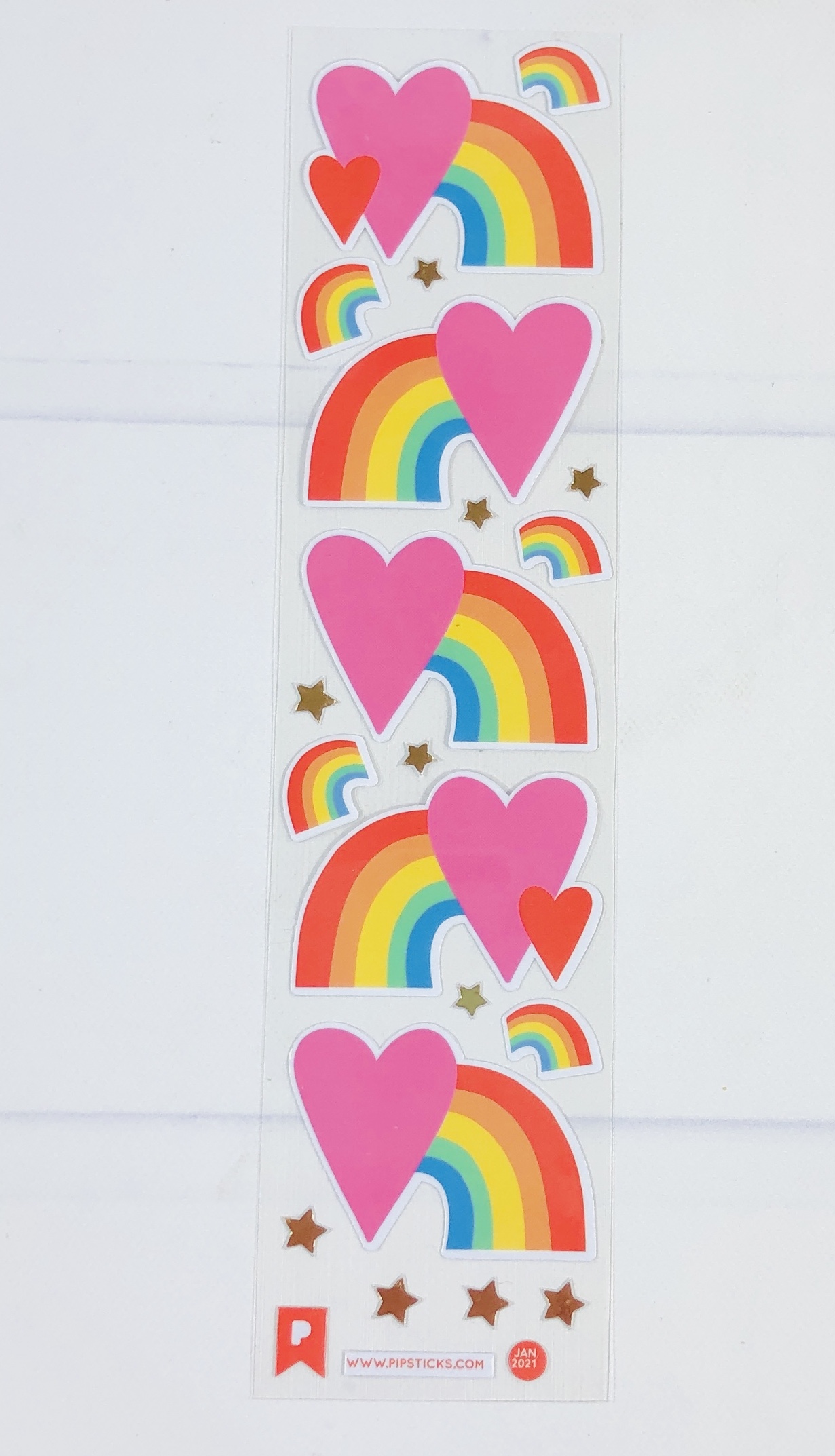 From The Heart ($2.95) Instead of a cloud at the end of these rainbows, there's a heart. So cute! PVC with holographic rose gold foil accents.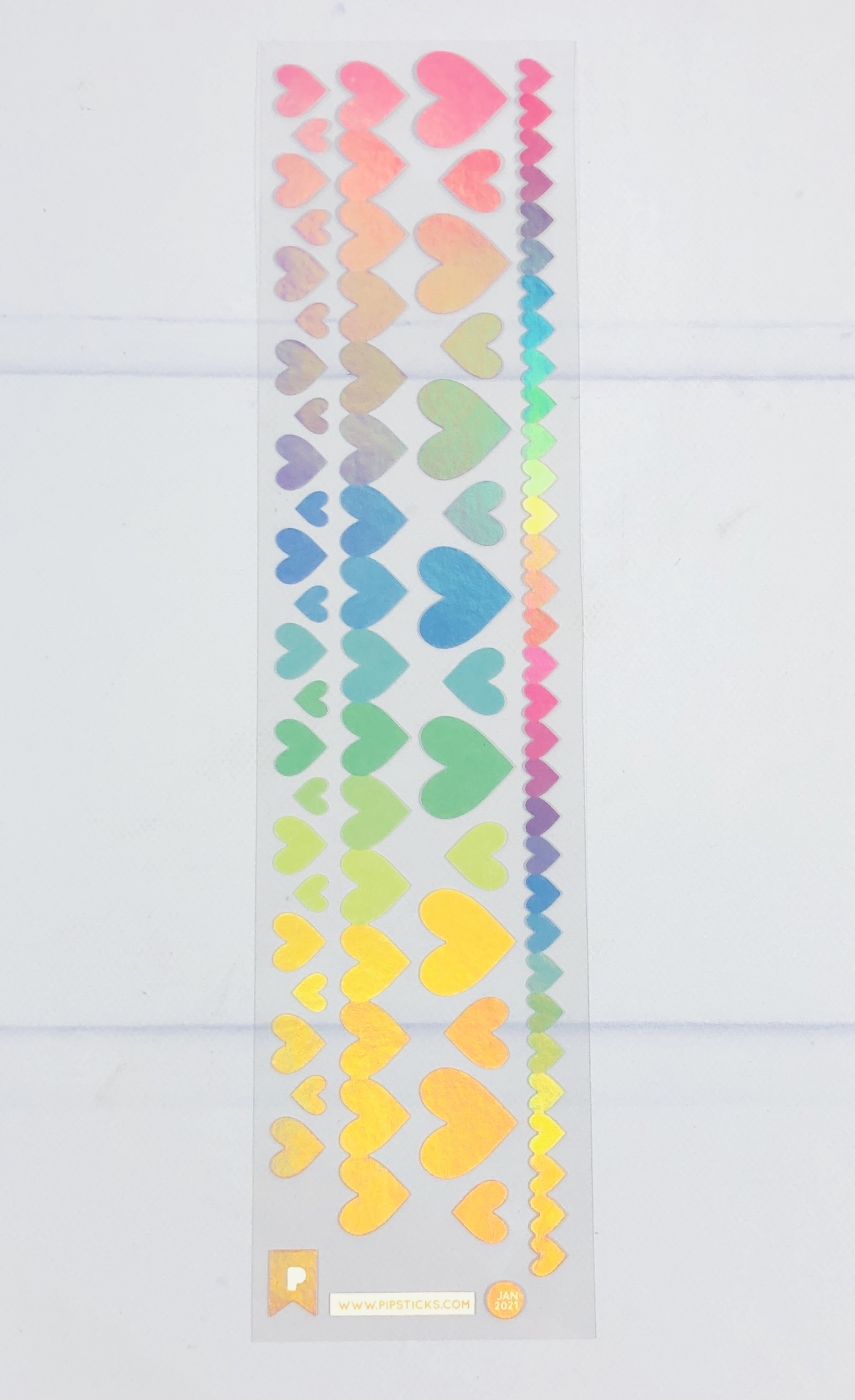 Prismatic Hearts ($2.95) I am having a hard time choosing my favorite sticker sheet this month. They just get better and better. Wood-free paper with iridescent foil accents.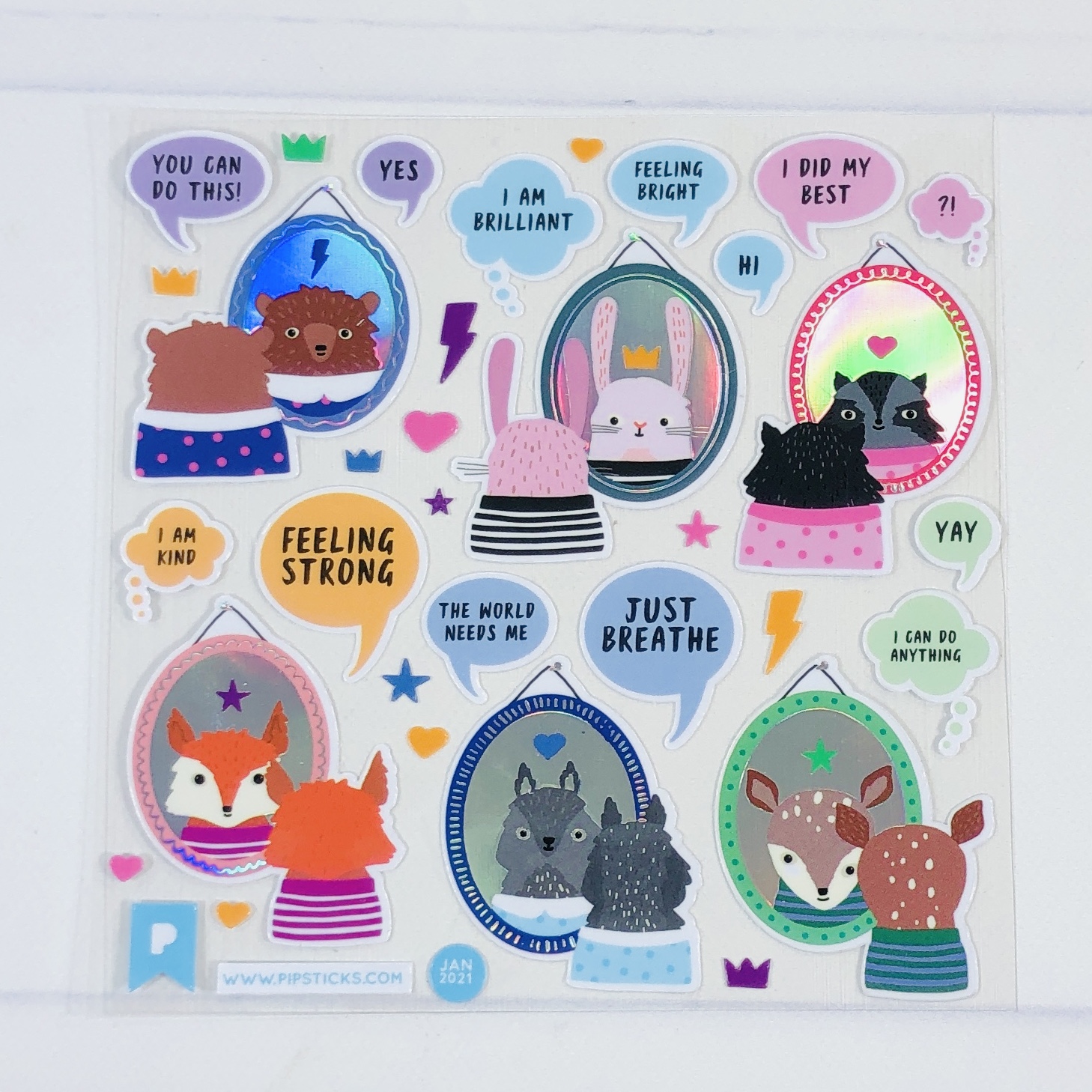 Pawsitive Reflections ($2.95) I think this sheet that has uplifting messages is pawsitively amazing! You can do this! PVC with holographic silver foil accents.
Red Lettered ($2.95) are a fun way for the younger crowd to learn their letters. Wood-free paper with iridescent foil accents.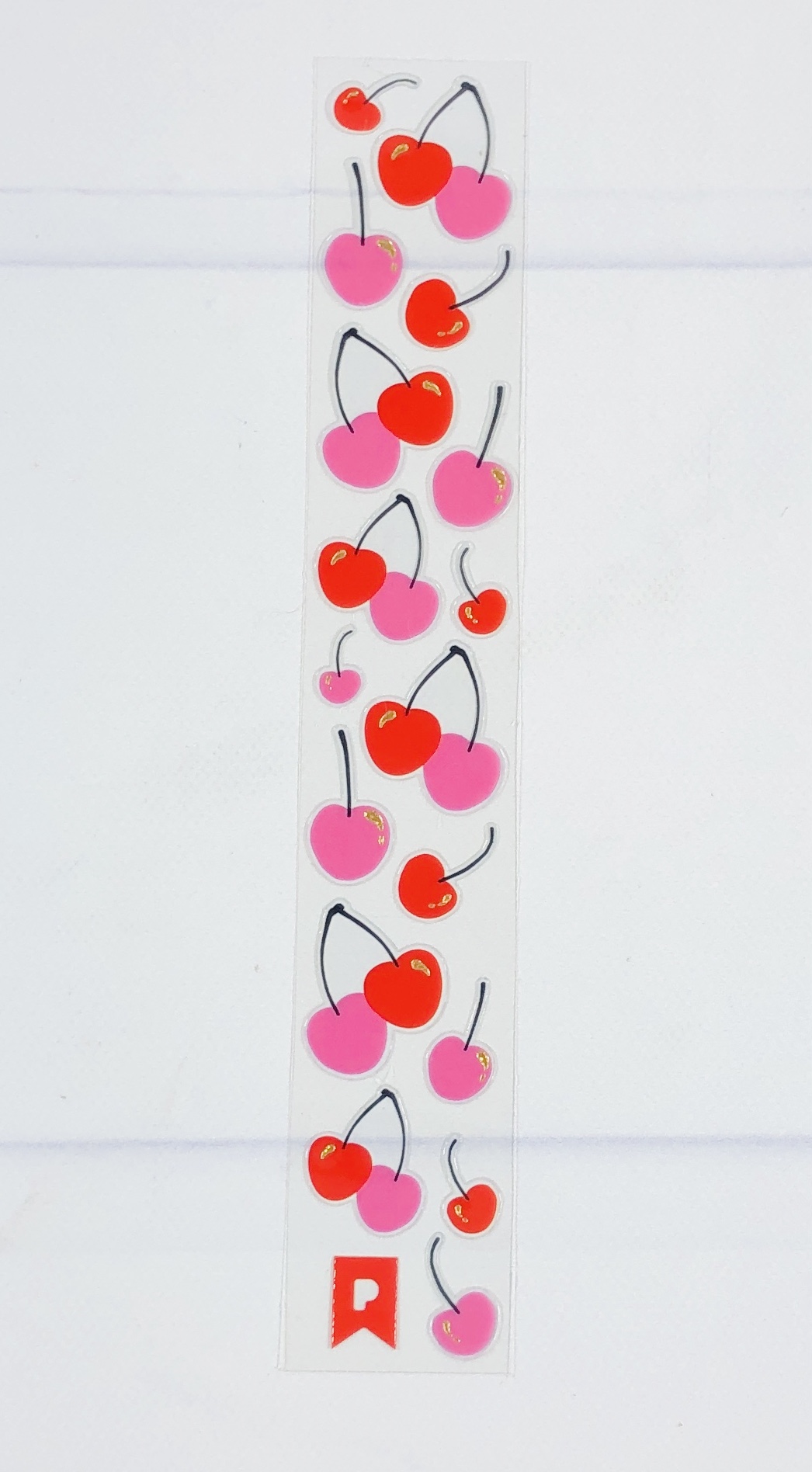 Sweet Cherry Minis ($1.95) We still have a few more months until cherry season but these cheery stickers remind me of sweet summer snacks. PVC with gold foil accents.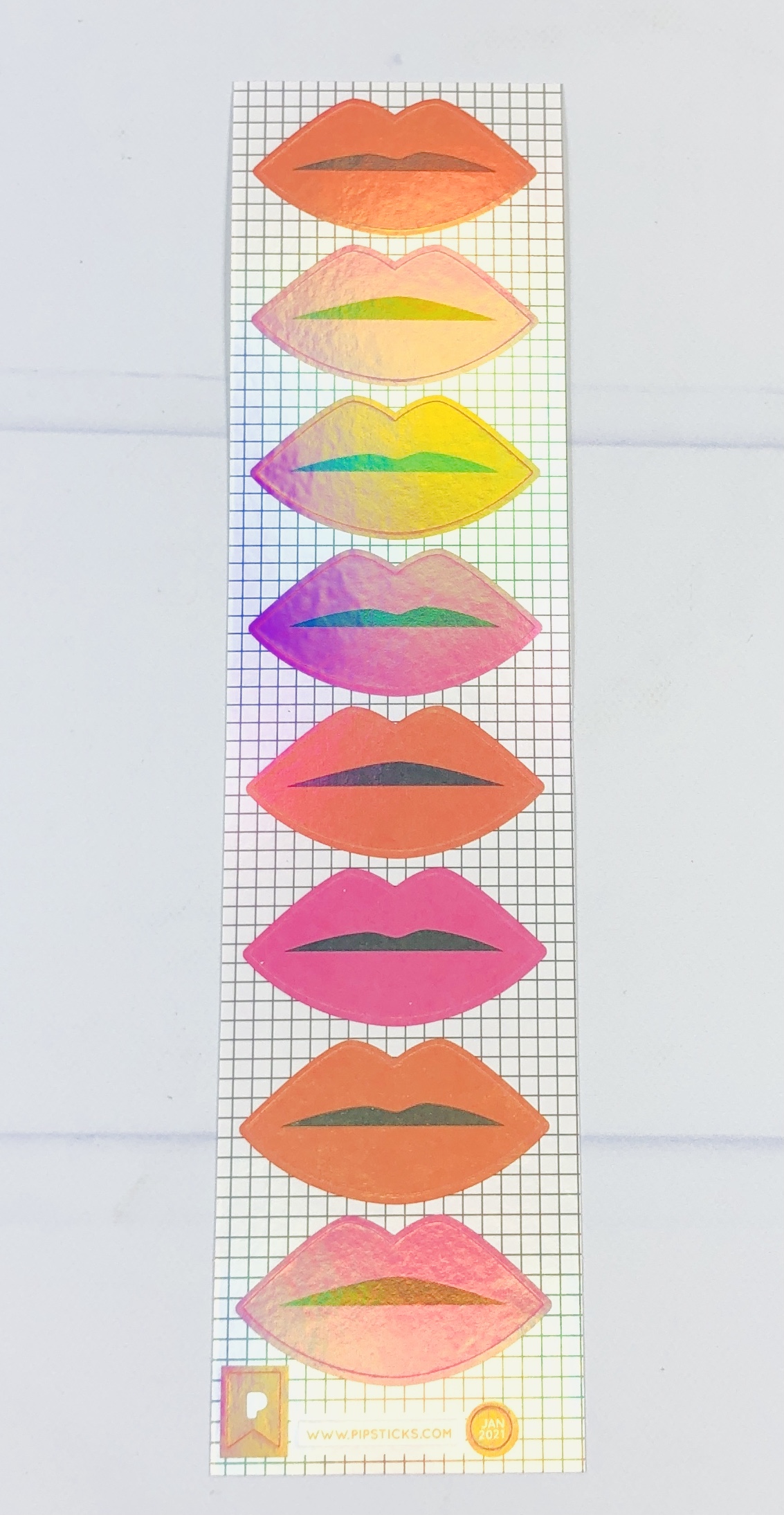 Kisses ($2.95) Do you make your own Valentine's cards? Seal them with a kiss! Wood-free paper with iridescent foil accents.
Dino-Mite Dinosaurs ($3.95) are bigger than the usual stickers. Is that green one an Apatosaurus? If so, he's almost 5″ long! PVC with holographic rose gold foil accents.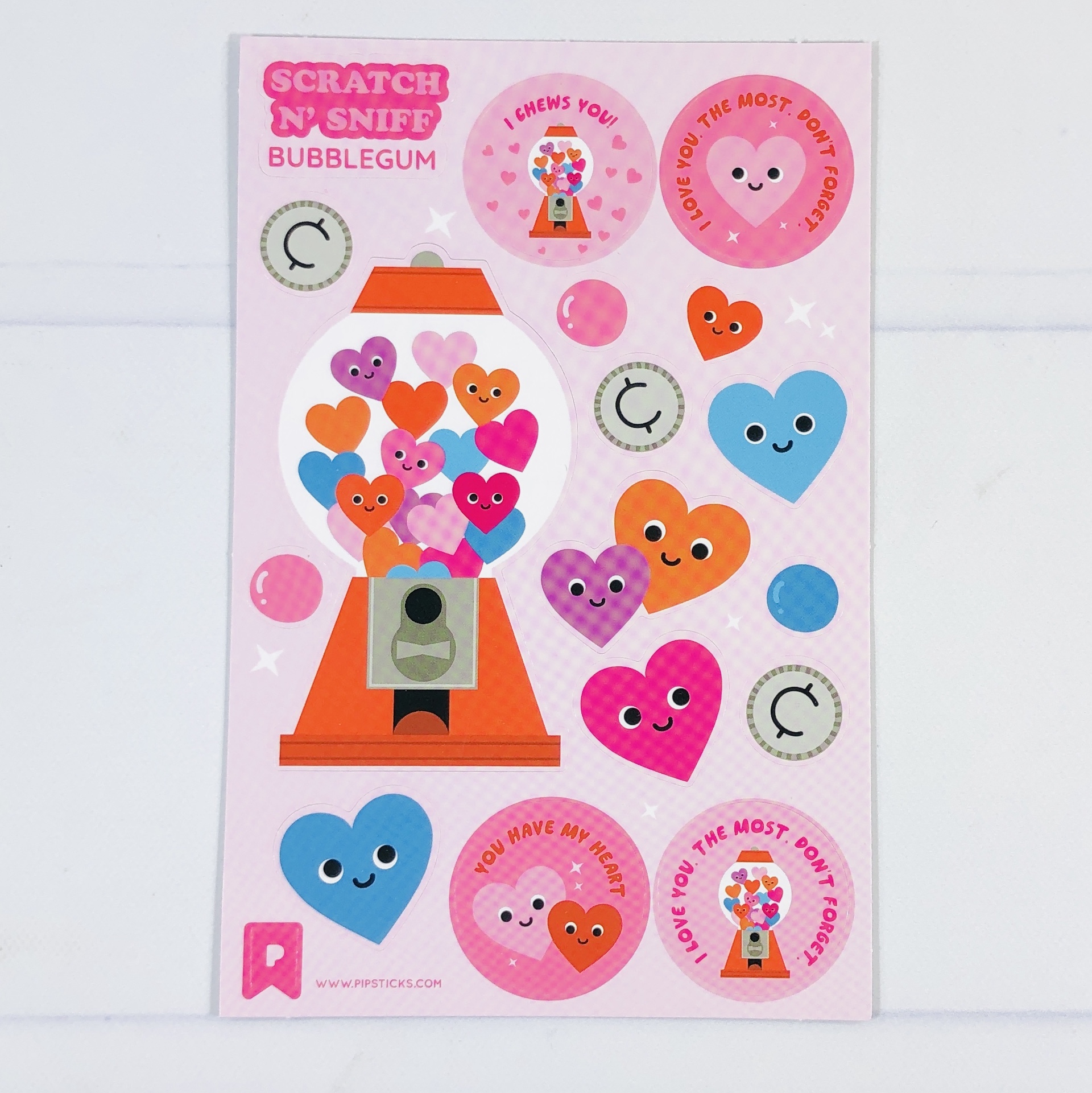 I Chews You ($3.95) are classic scratch 'n sniff stickers that smell like pink bubblegum!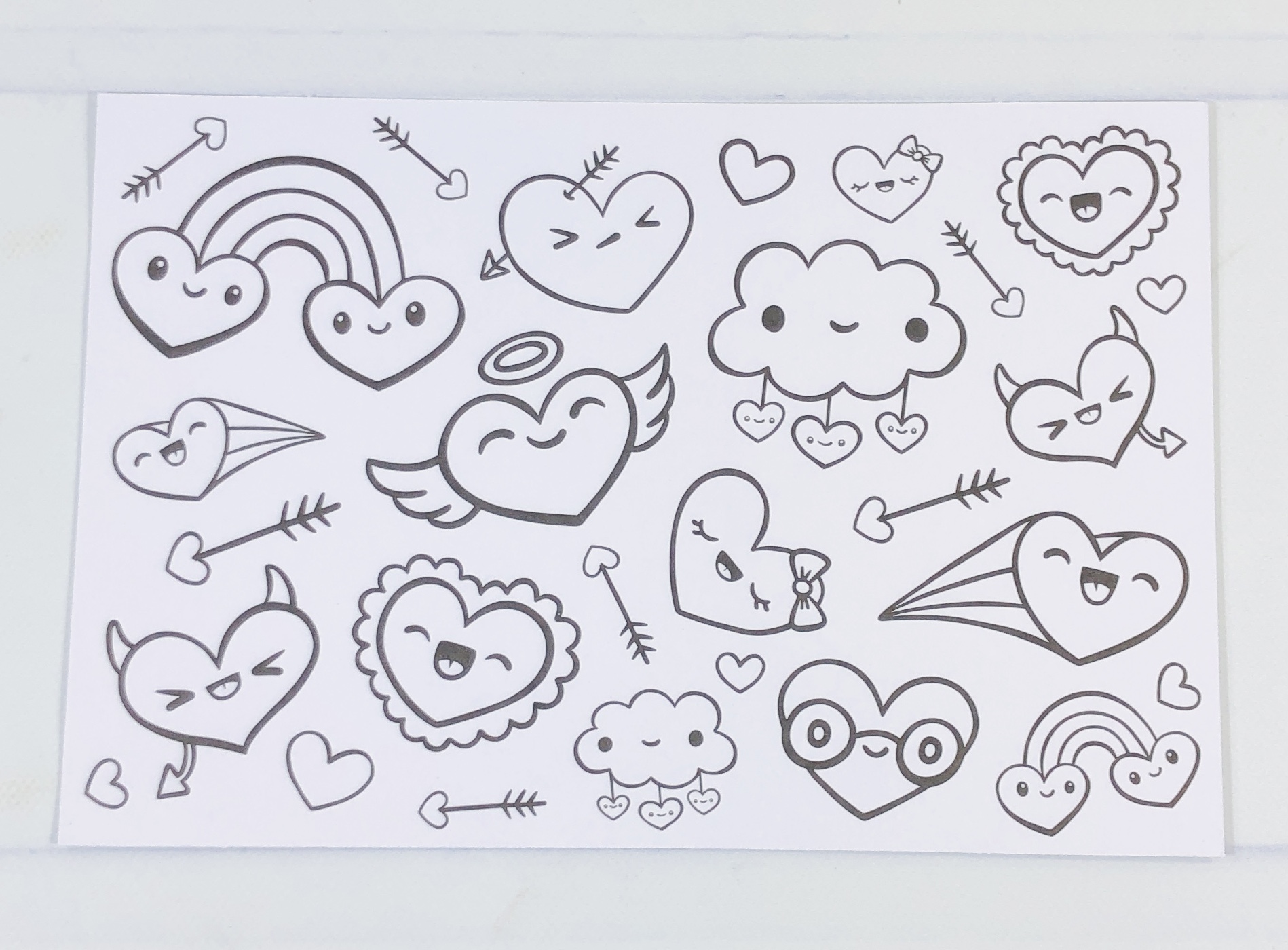 Color-In Hearty Party Postcard ($9.95 for 12) has the same kawaii designs as on a sticker sheet we received this month, except now we can color them in in our favorite colors!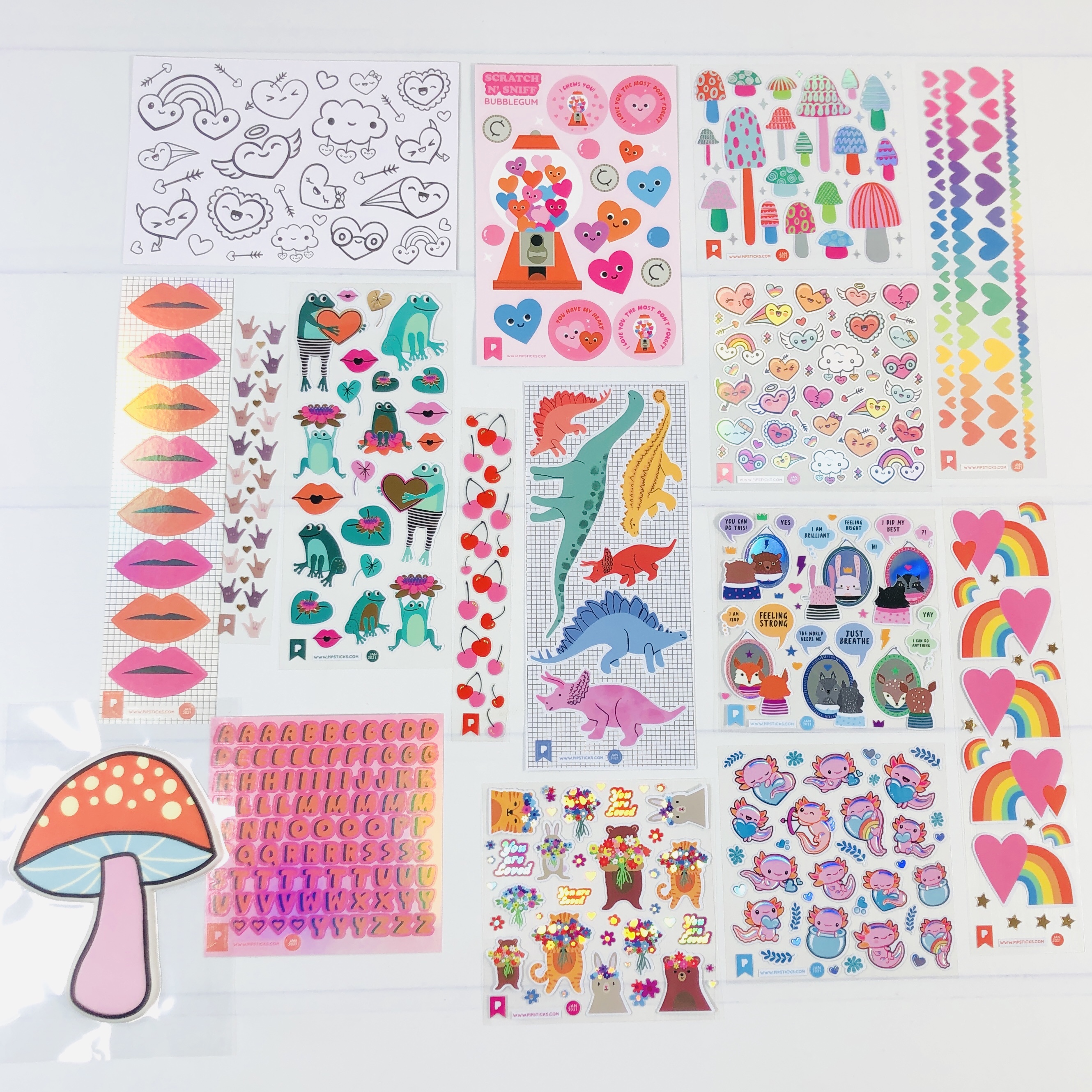 Pipsticks sent some super adorable stickers in the January pack and the best part is that they sent sheets that are perfect for Valentine's Day a month in advance! This way my planner can look seasonal but I can also make cards for my family and friends in time for the holiday. I would actually be ok receiving any of these designs any time of year, they just look so cute! What do you do with your stickers? I use them to make cards and to spiffy up my planner, while my daughter uses them on her phone case. I think they would work for journaling and if this pack is destined for younger hands then they can come up with pretty pictures all on their own.
Are you getting any of Pipstick's subscriptions?
Visit Pipsticks to subscribe or find out more!