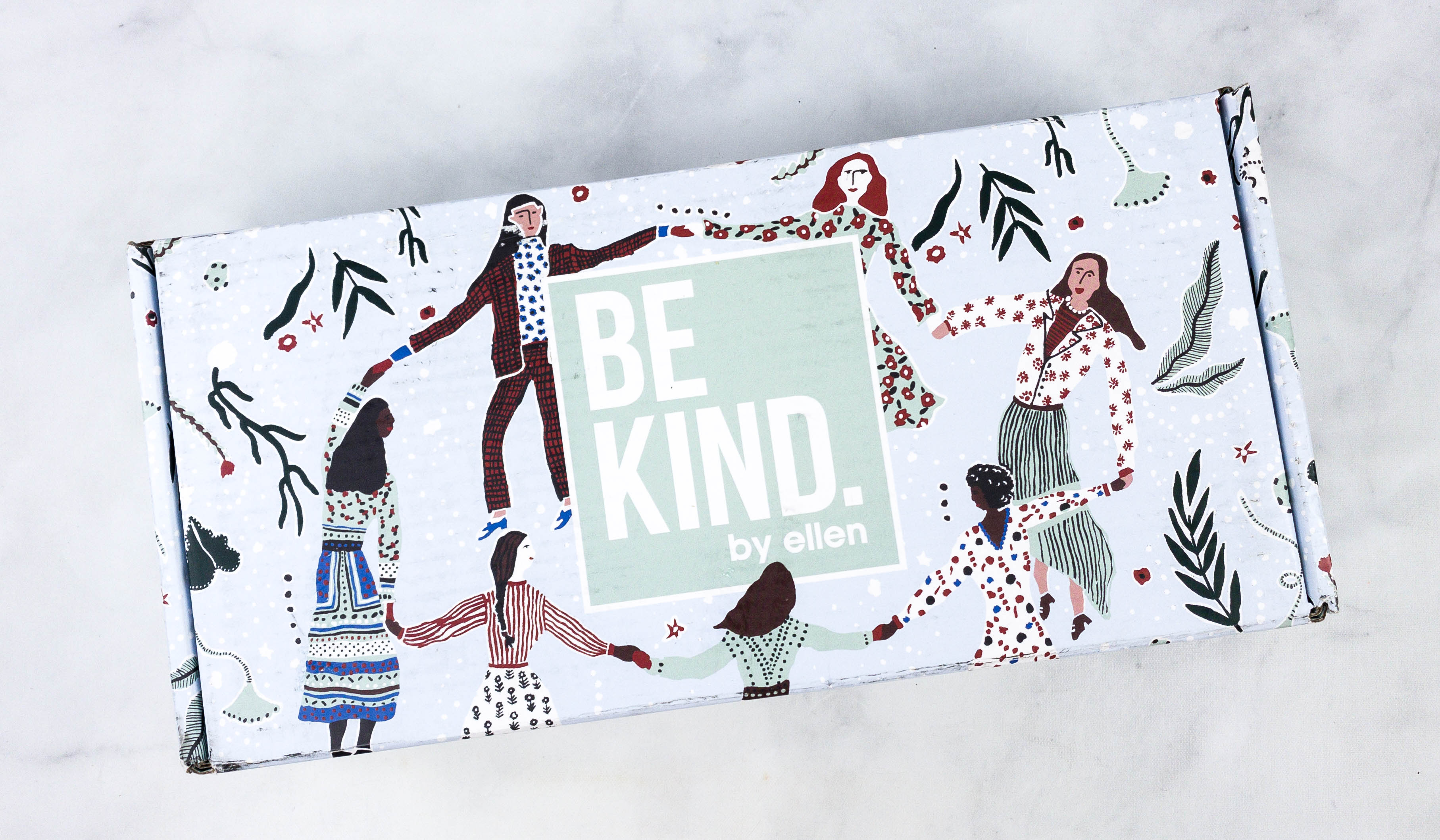 BE KIND by Ellen is a quarterly subscription box created by Ellen Degeneres to help people spread kindness! Each box costs $54.99 and contains fun, unique, and amazing products that Ellen picks herself that she wanted to share. It also focuses on brands and products that do social good.
NOTE: We have received multiple customer complaints about their experiences with this subscription, including double-charges, not receiving a box, and inability to cancel. While the can't cancel problem might be fixed now or in the near future, the complete lack of customer service and unprofessional subscription management software is a huge red flag. Moreover, we have not heard of a single customer that is satisfied with their "Premium" subscription, which promised surprise gifts throughout the year.  Many or most did not receive any extra gifts, and from what we've seen, any bonus gift (singular, just one!) that was received was not worth the cost of the upgrade.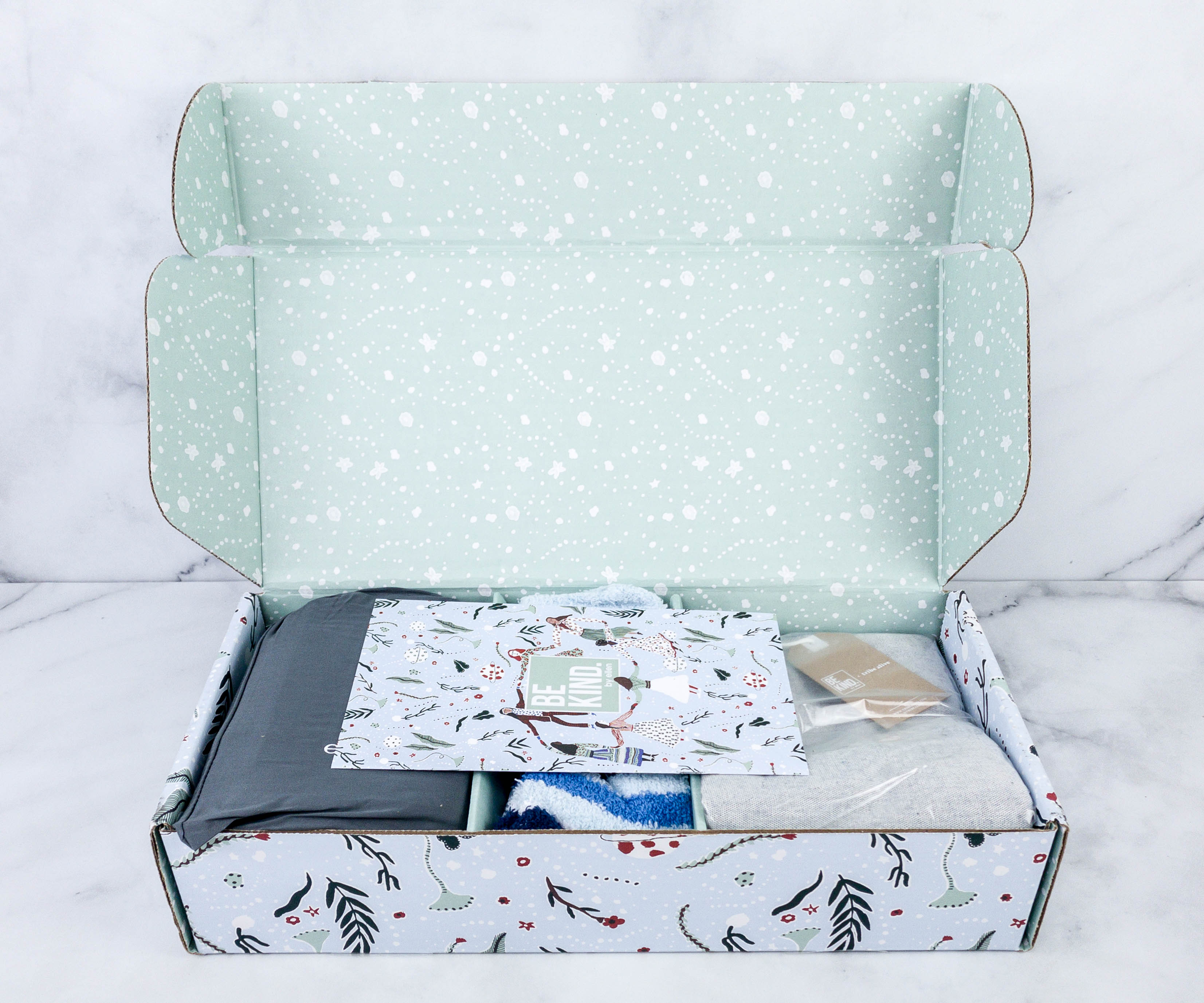 The items are neatly packed in the box!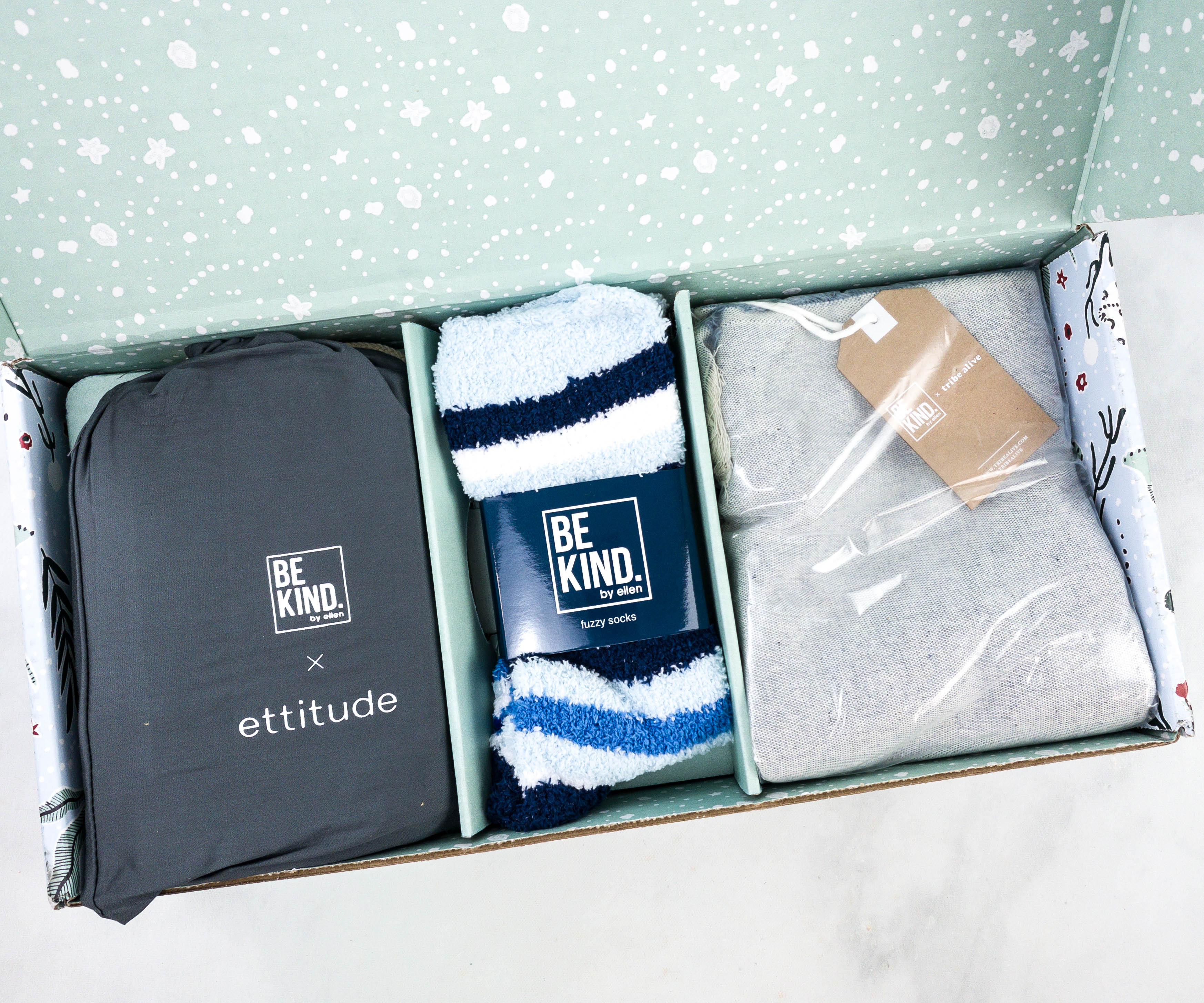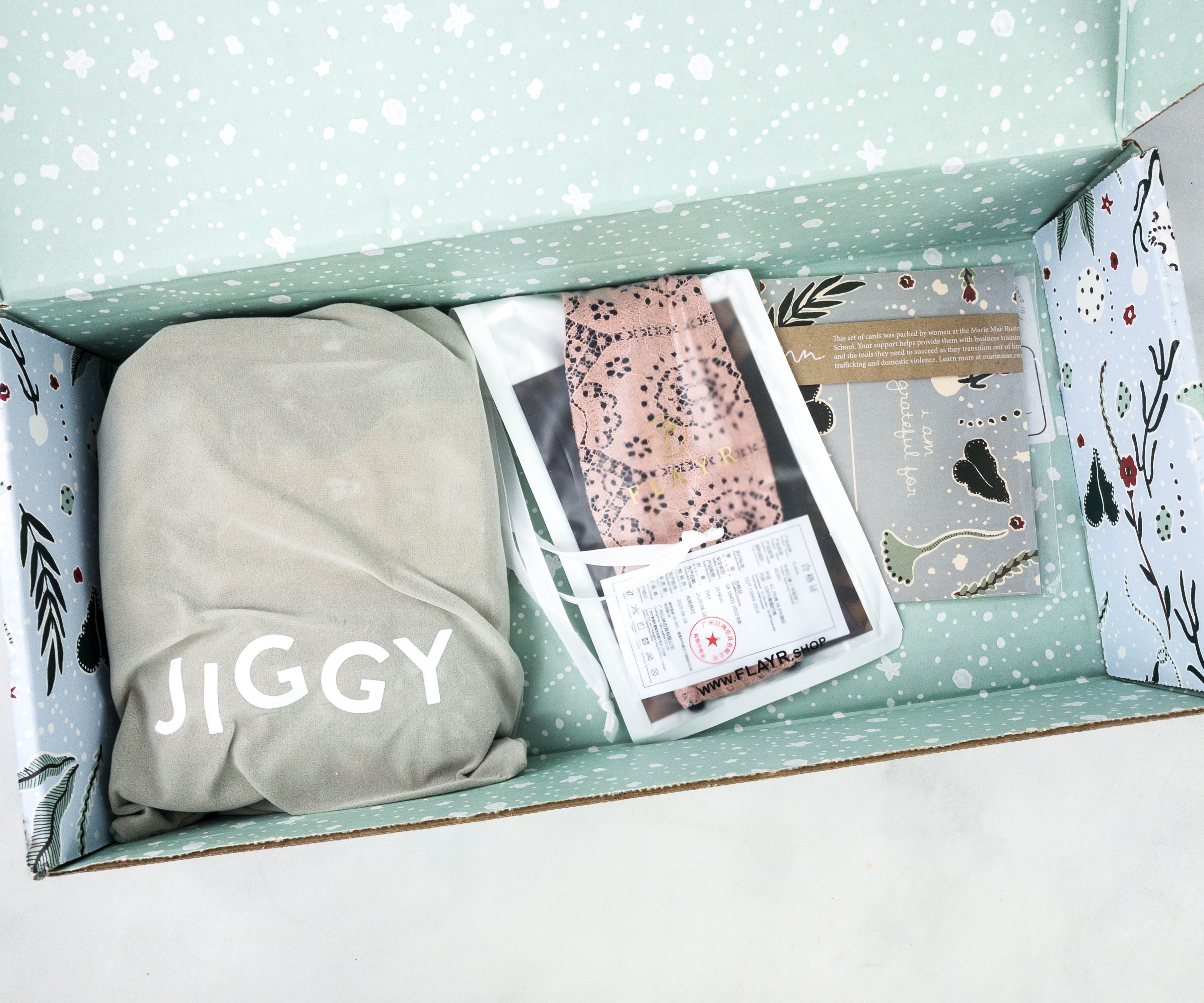 Every item sits in its own cardboard slot so all the items came secured. More items were on the bottom.
This is the card that's sitting on top of the items when we first opened the box.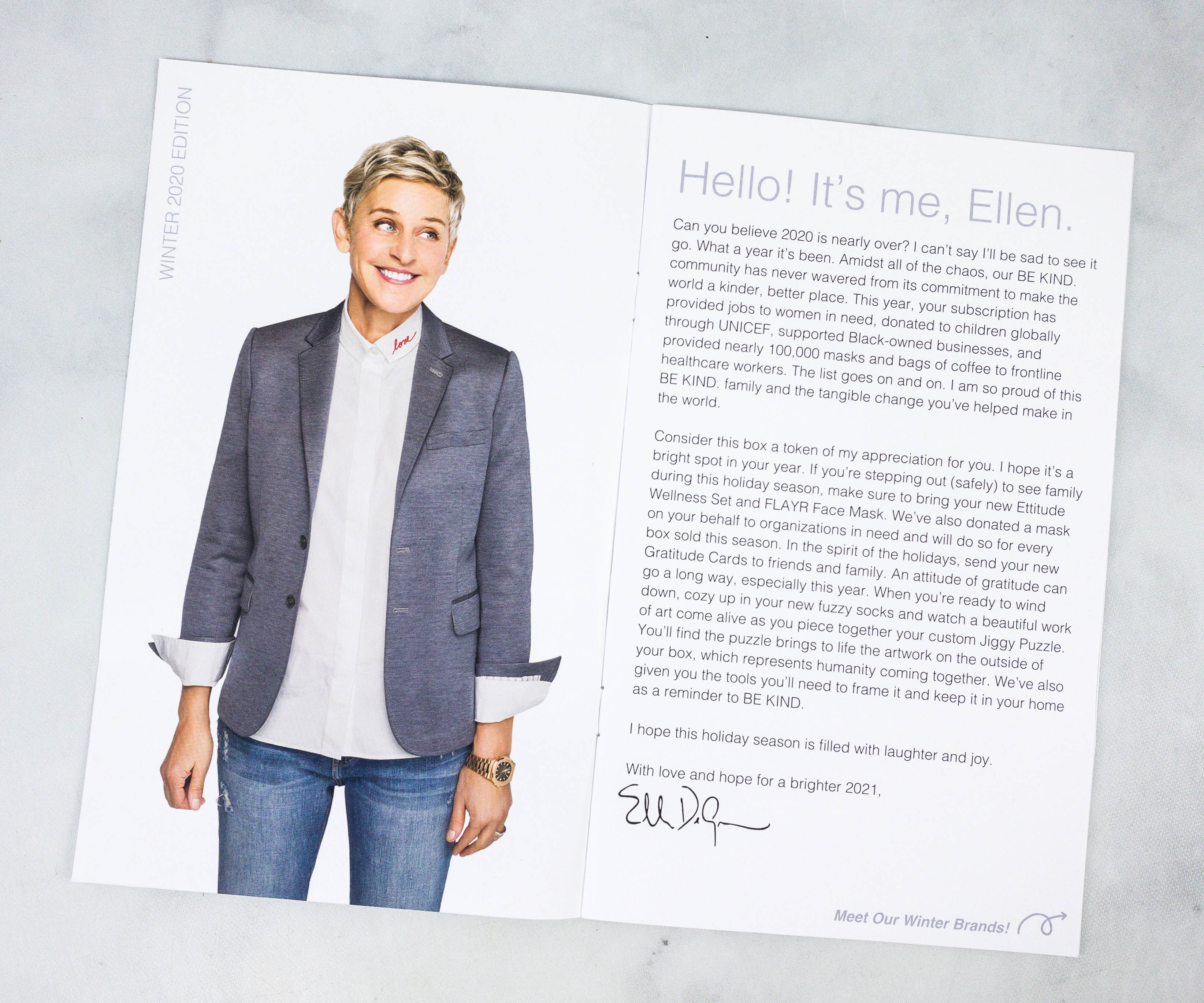 There's a message for us, from Ellen!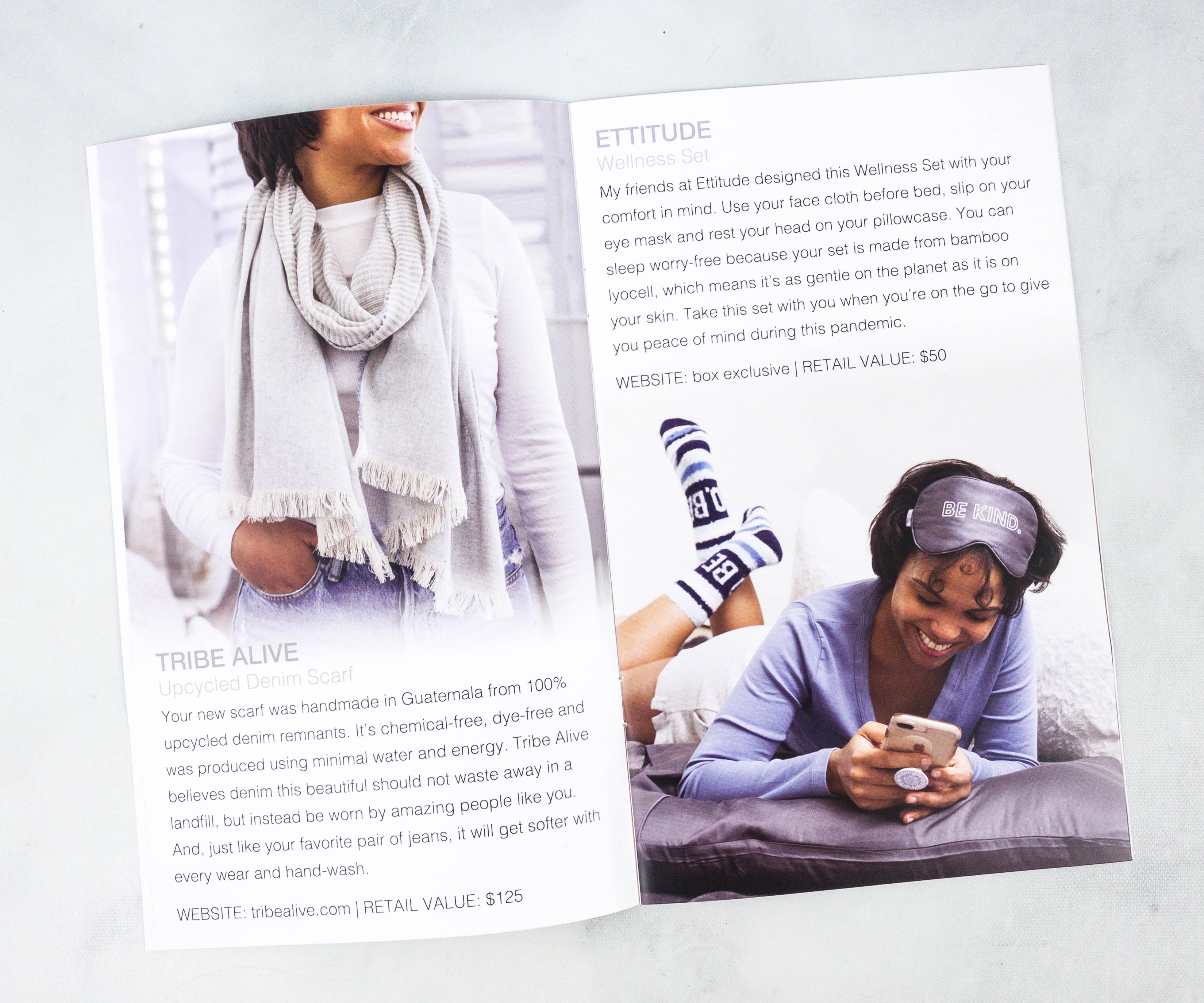 Inside, we get to see a feature of the item that's included inside the box.
Each item has a short description so we can learn more about them.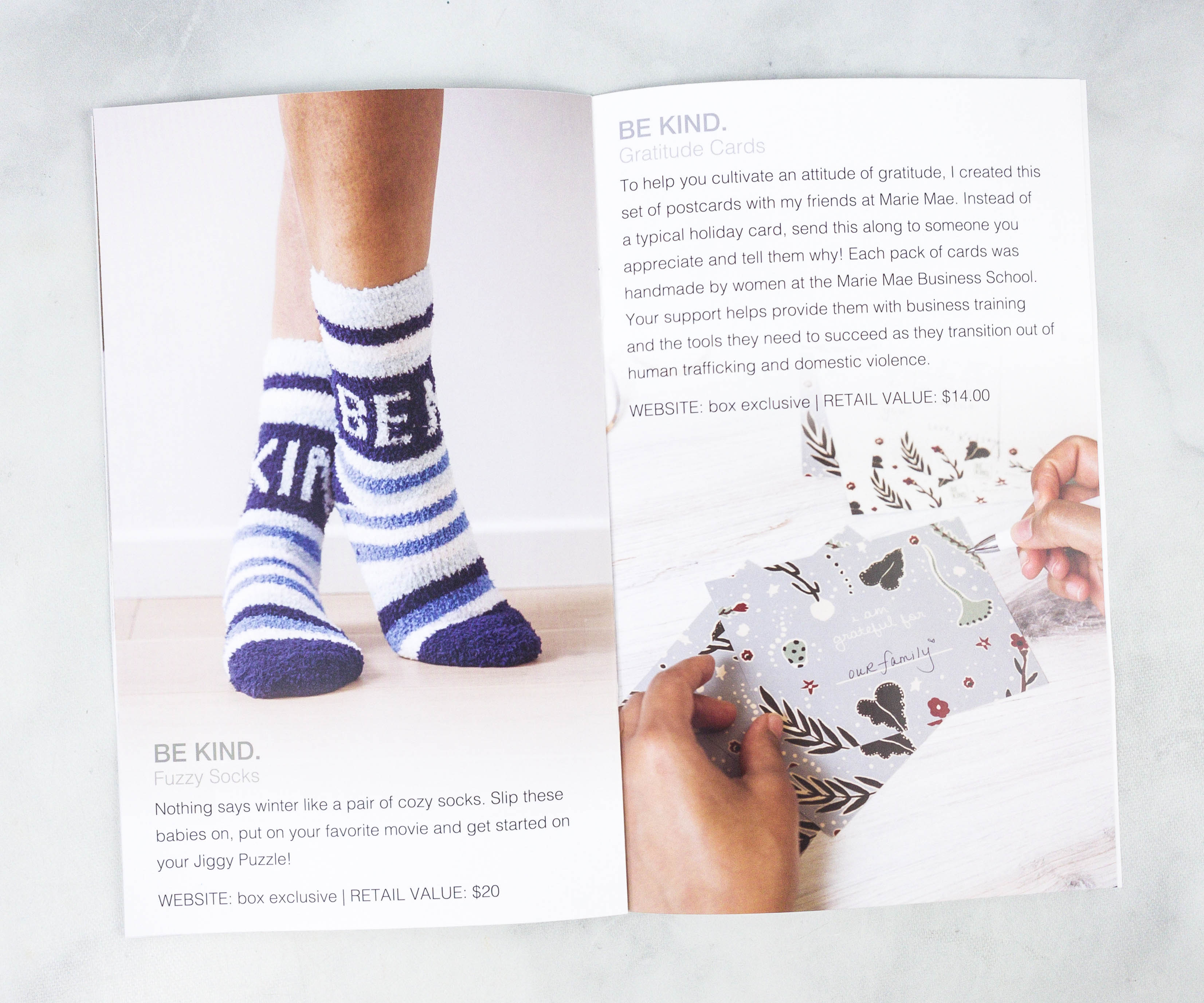 They also listed the website where the item is available as well as the retail value.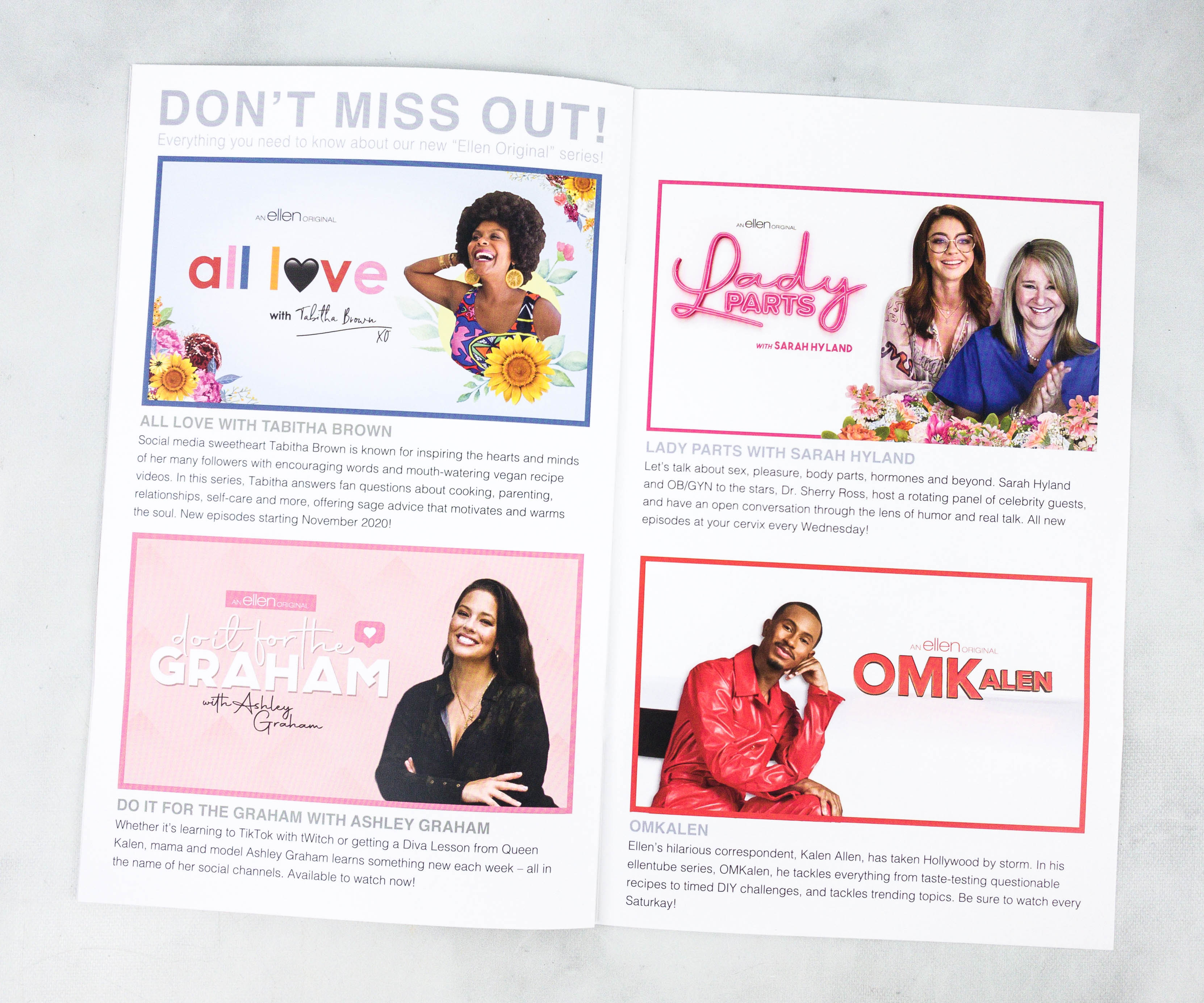 They also have a spread that features the new Ellen Original series!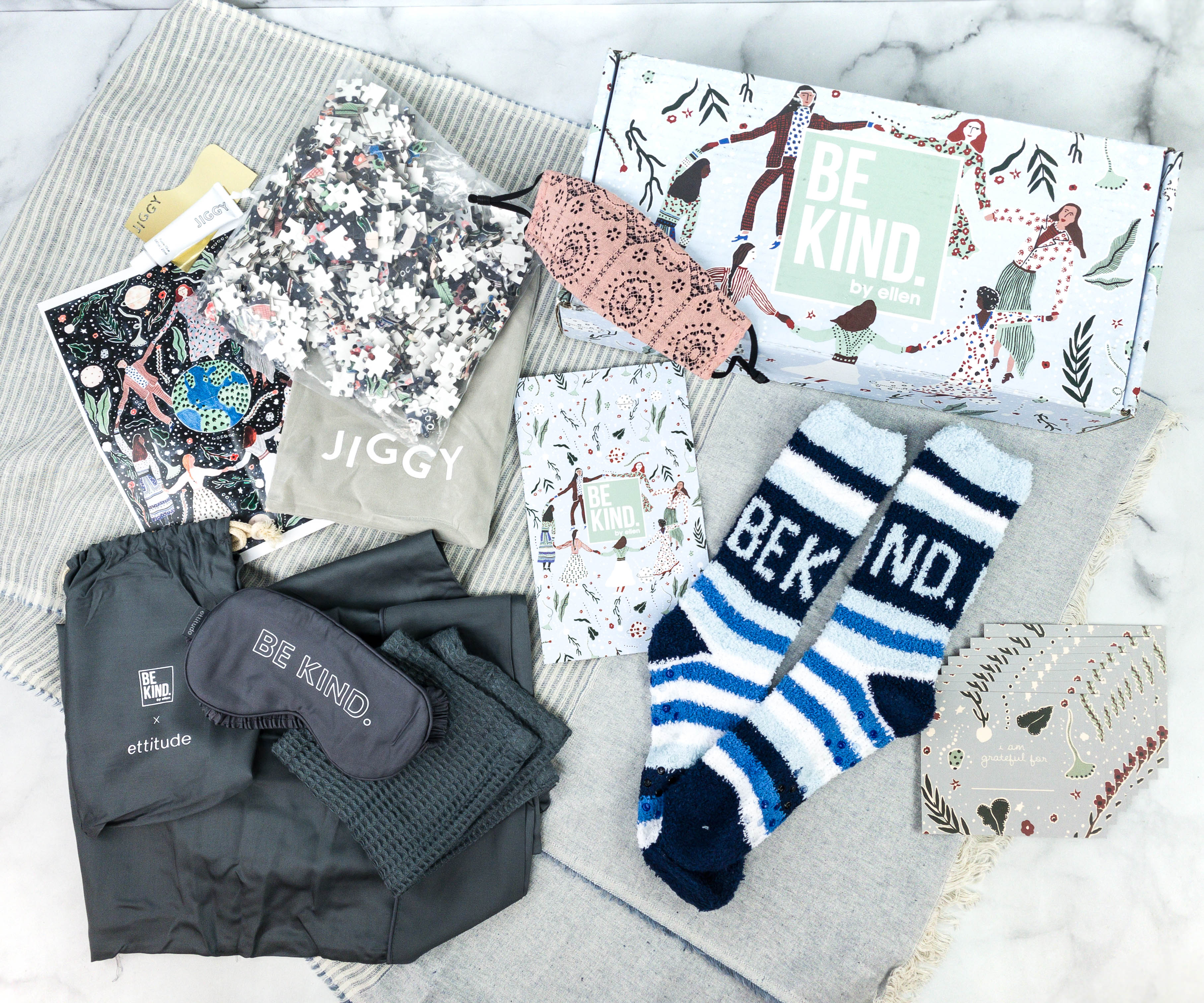 Everything in my Winter 2020 box!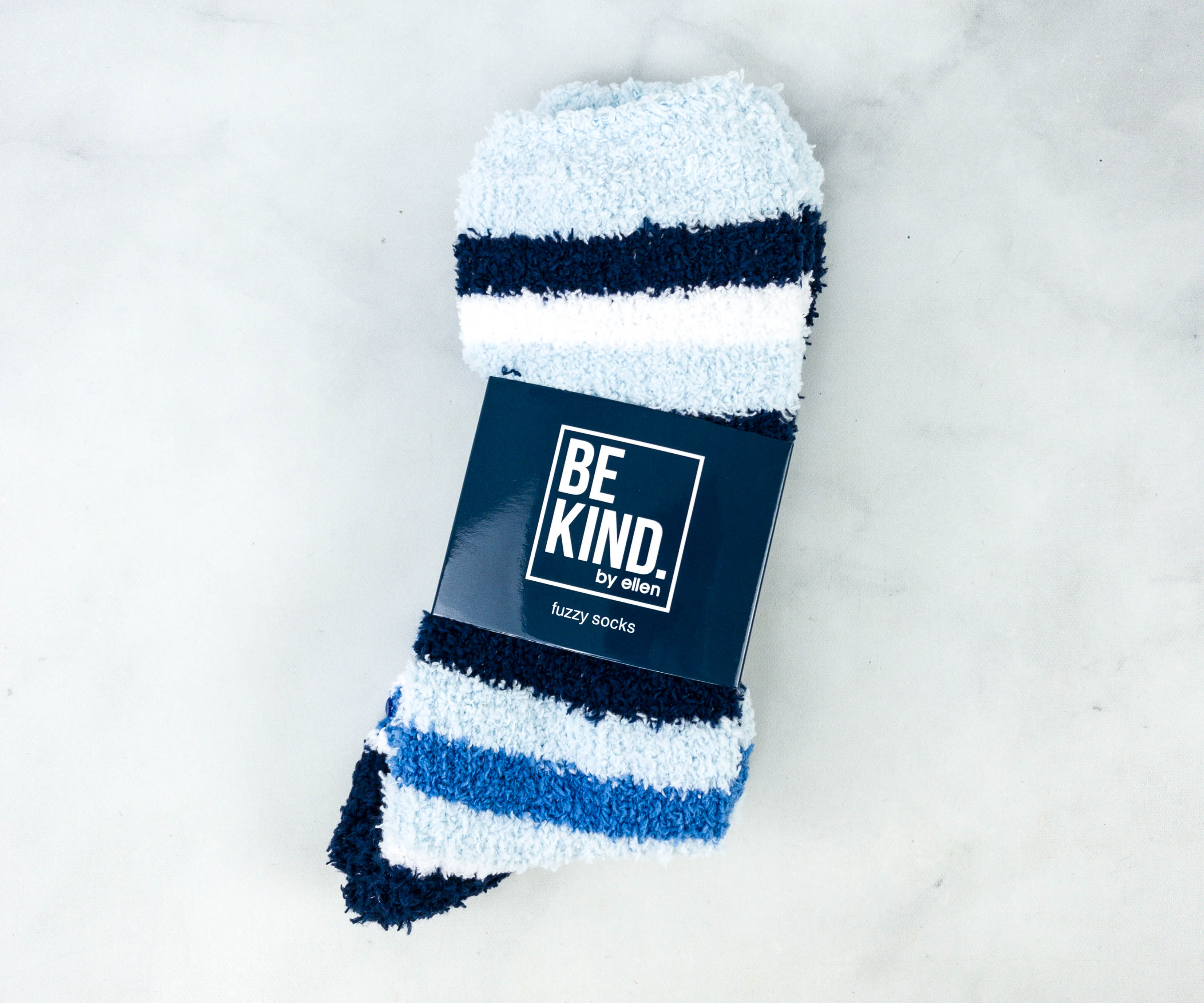 Fuzzy Socks ($20 in booklet). The first item I received is a pair of fuzzy socks and they came bundled up in this card stock packaging.
It's made of 100% Polyester so it can withstand a good deal of wear.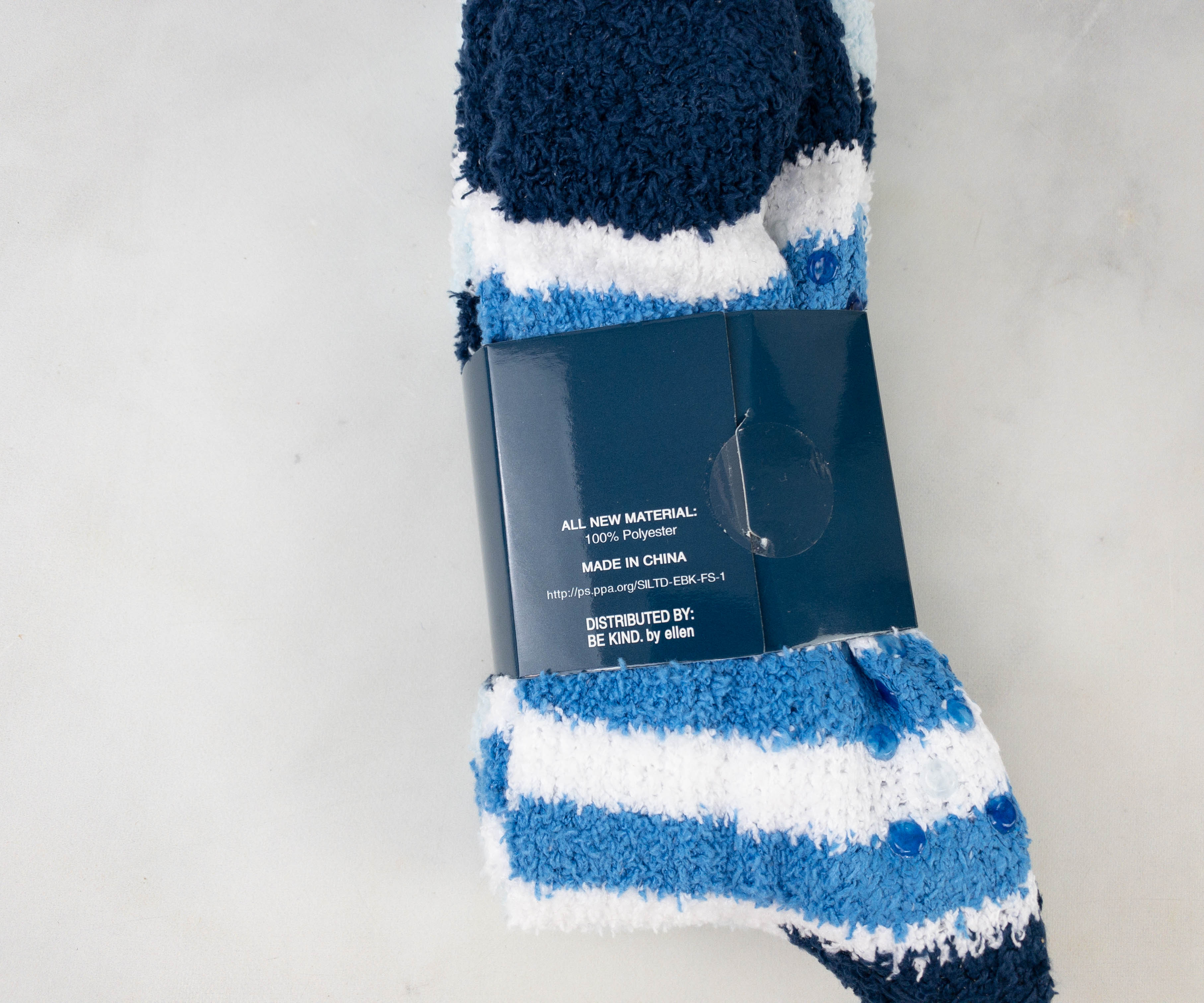 Since this is a box exclusive item, you can see the BE KIND branding as the main design of the socks. I like shaggy socks because they're warm and cozy on the feet, perfect for cold nights!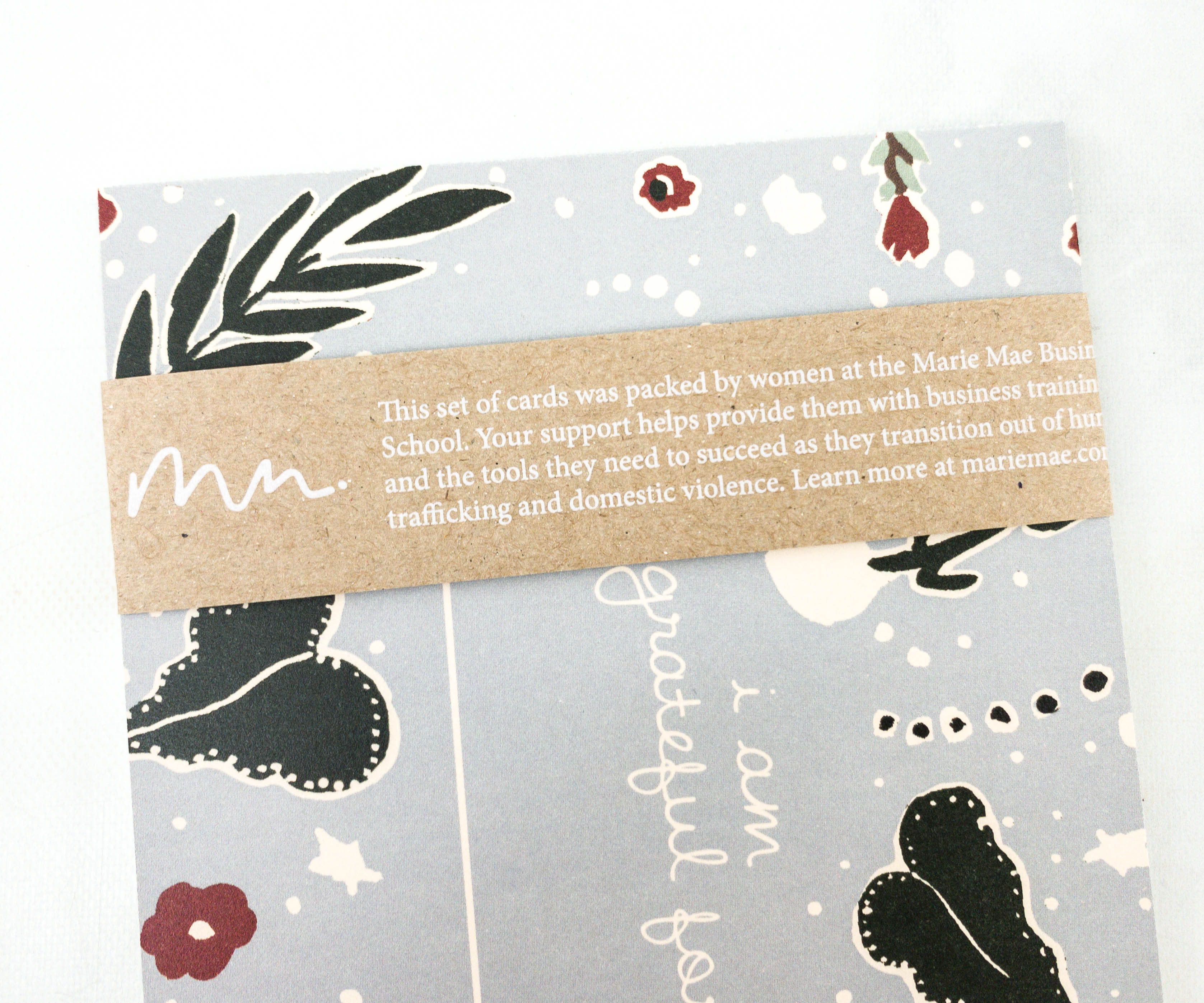 Marie Mae Company BE KIND. Gratitude Cards ($14 in booklet). They also sent us these gratitude cards that we can give to our loved ones as a reminder of how thankful we are to and for them.
There's space at the back so you can write your own personal note.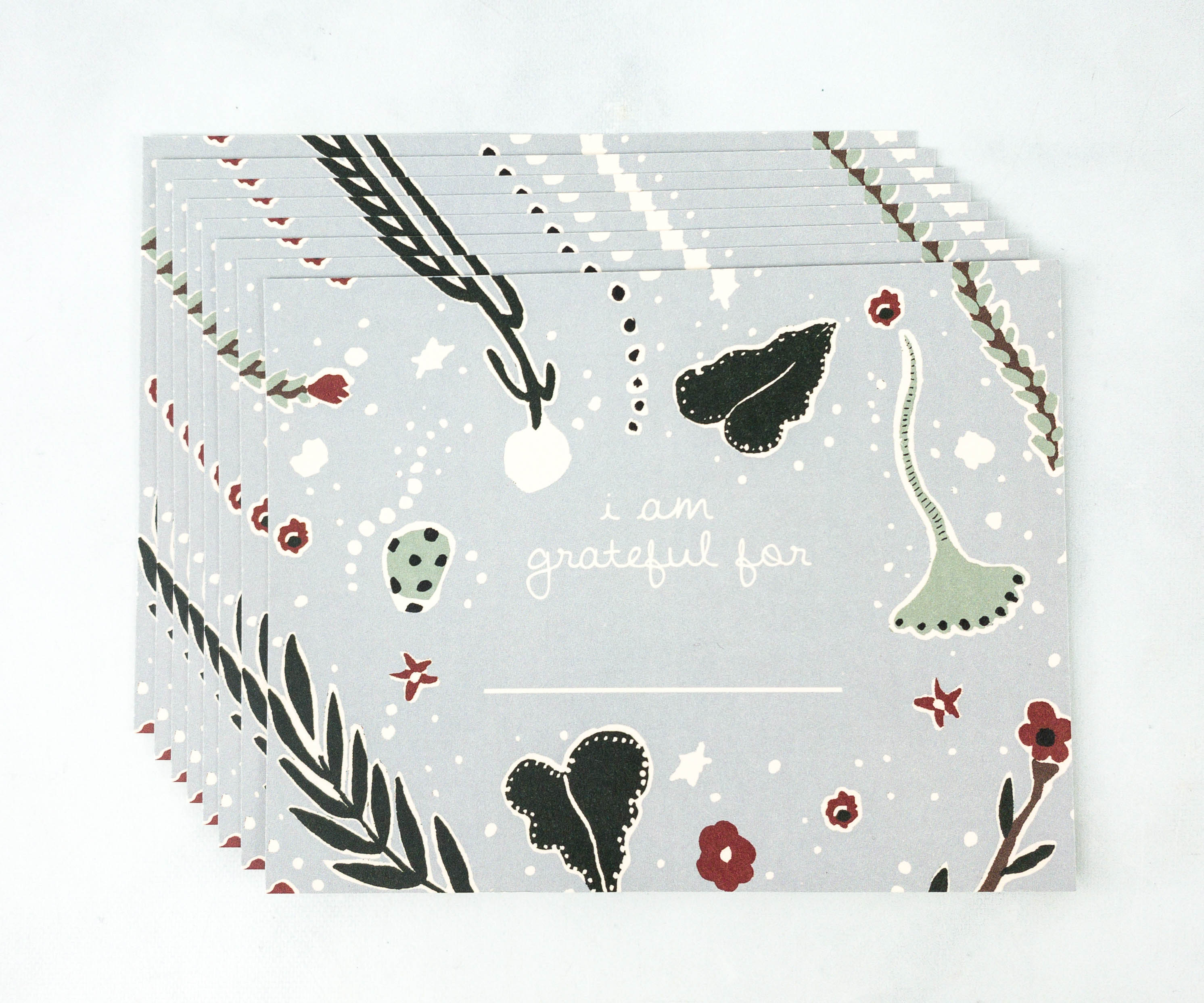 And in front, there is a space for you to write what you're most grateful for.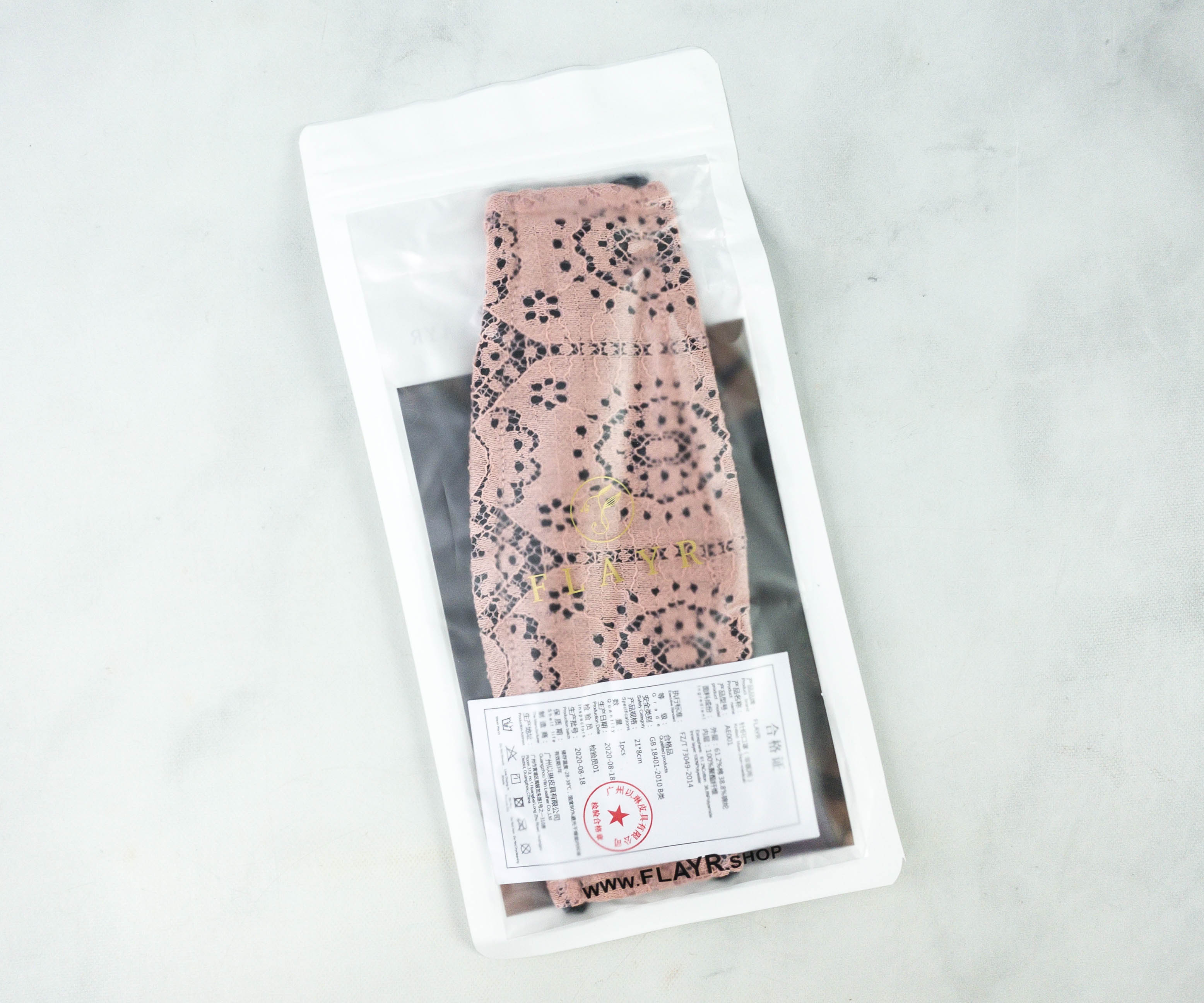 FLAYR Reusable Face Mask ($22.99 in booklet, $18 RRP, $4.99 on sale, now sold out) Next is this reusable face mask which is a necessity these days.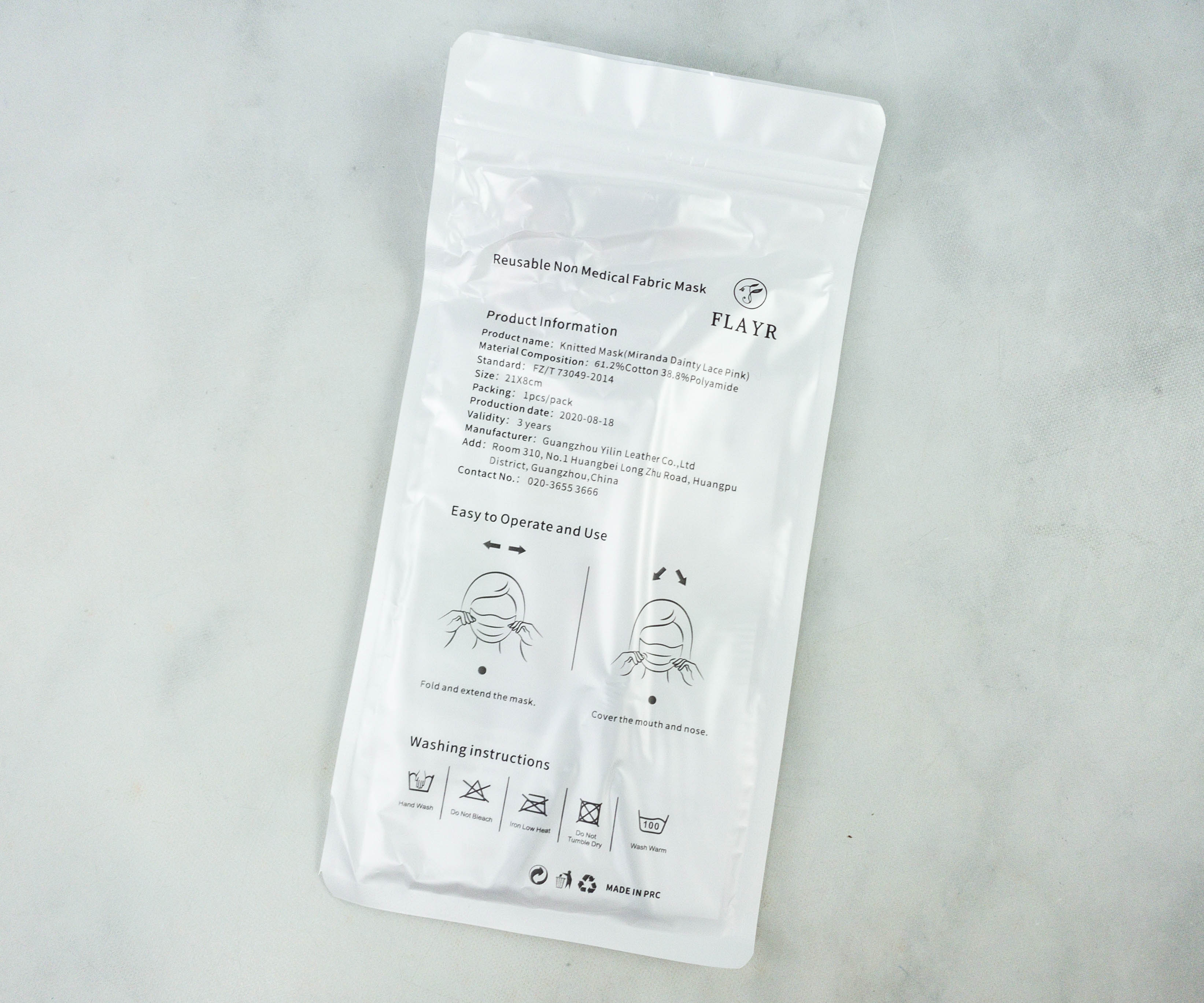 It came in this resealable plastic pouch that you can also use as a carrying case for when the mask is not in use. This way, it stays safe and clean for when you're ready to use it.
I like the design of this mask. It's something I won't mind wearing because it doesn't only protect me from germs and viruses but it's fashionable too!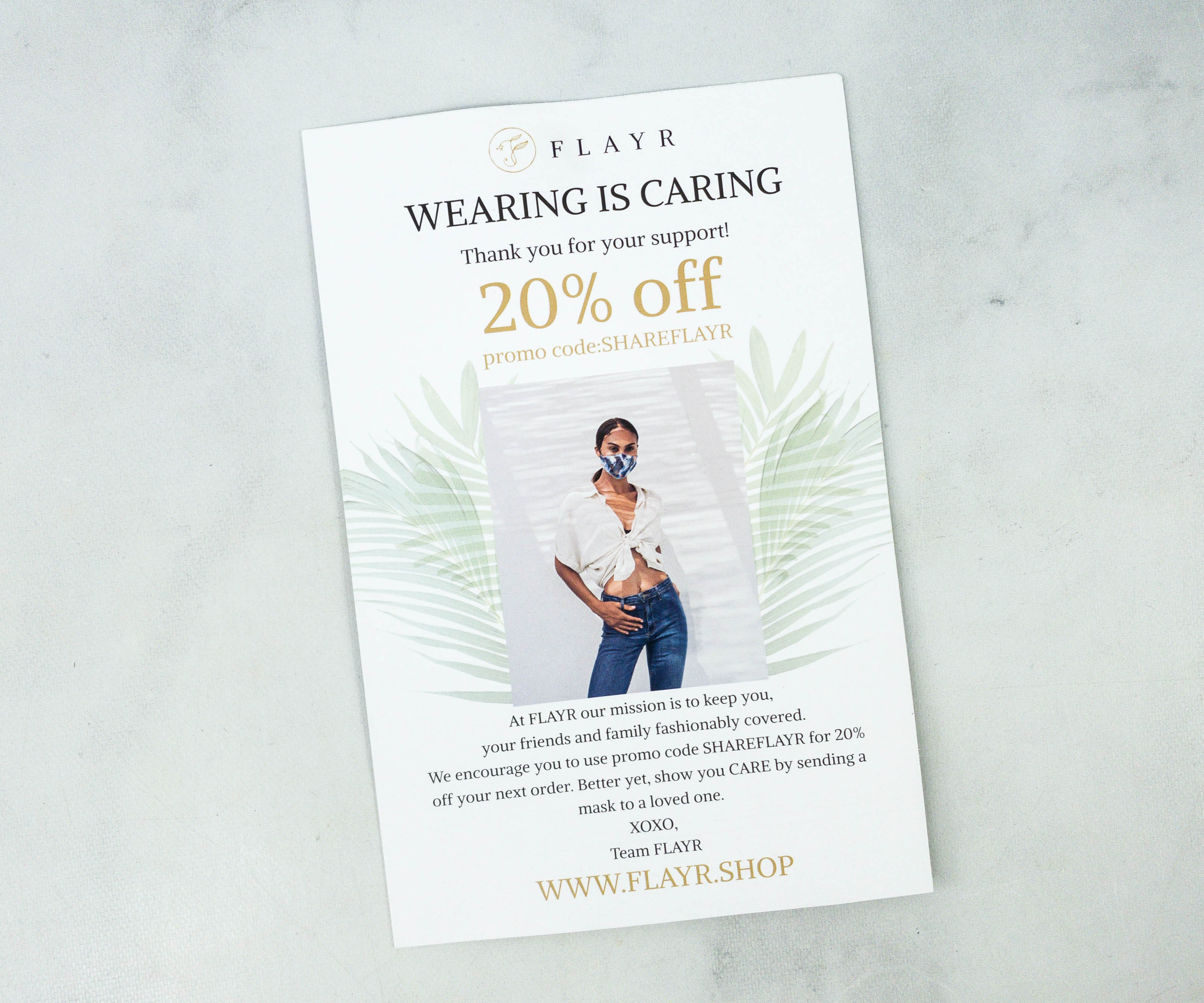 There's also a card with a 20% off promo code for your next order. For every mask purchased, Flayr donates one, including one for every mask sent out in this box.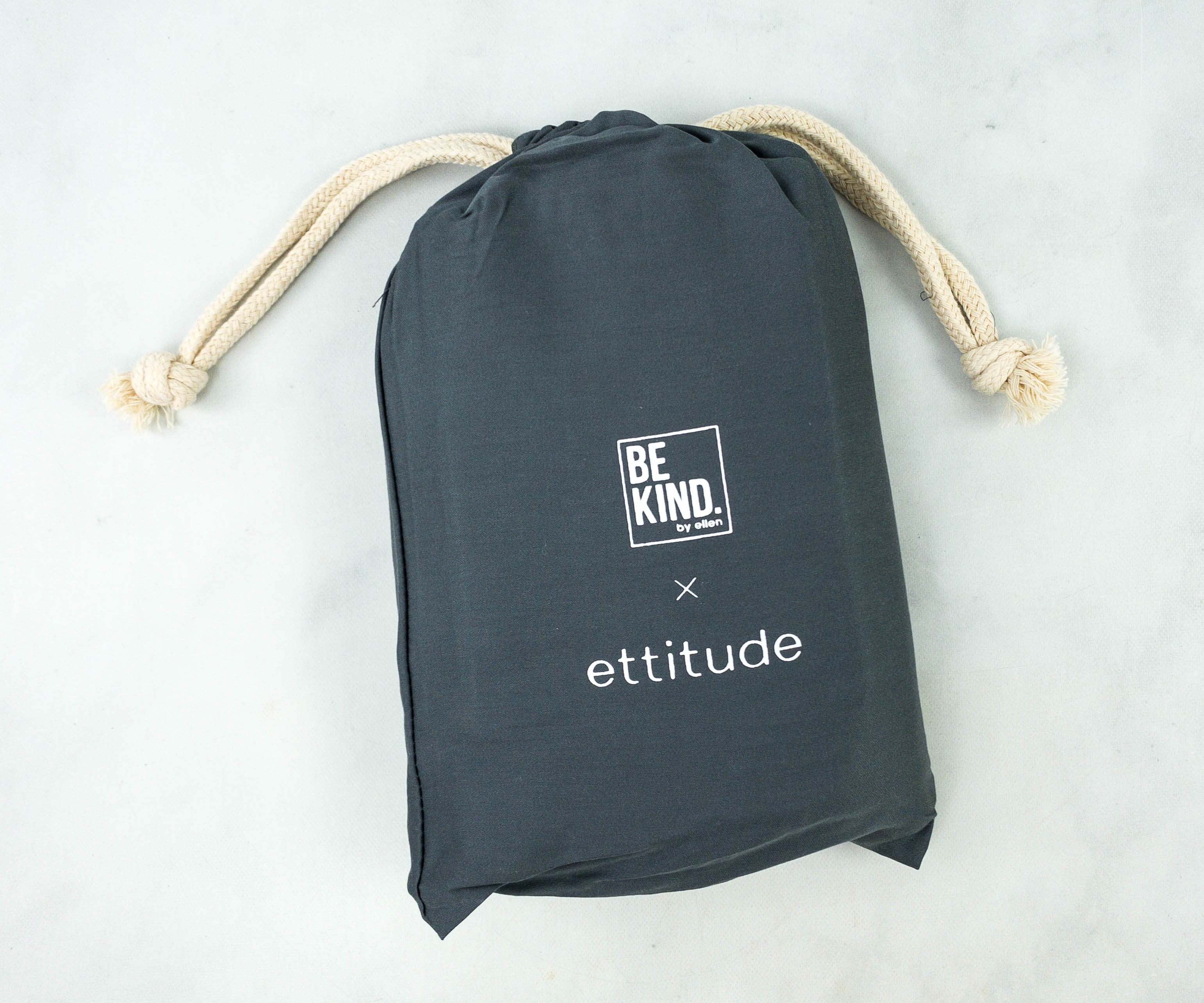 Ettitude Wellness Set ($50 in booklet). This wellness set came in a drawstring pouch.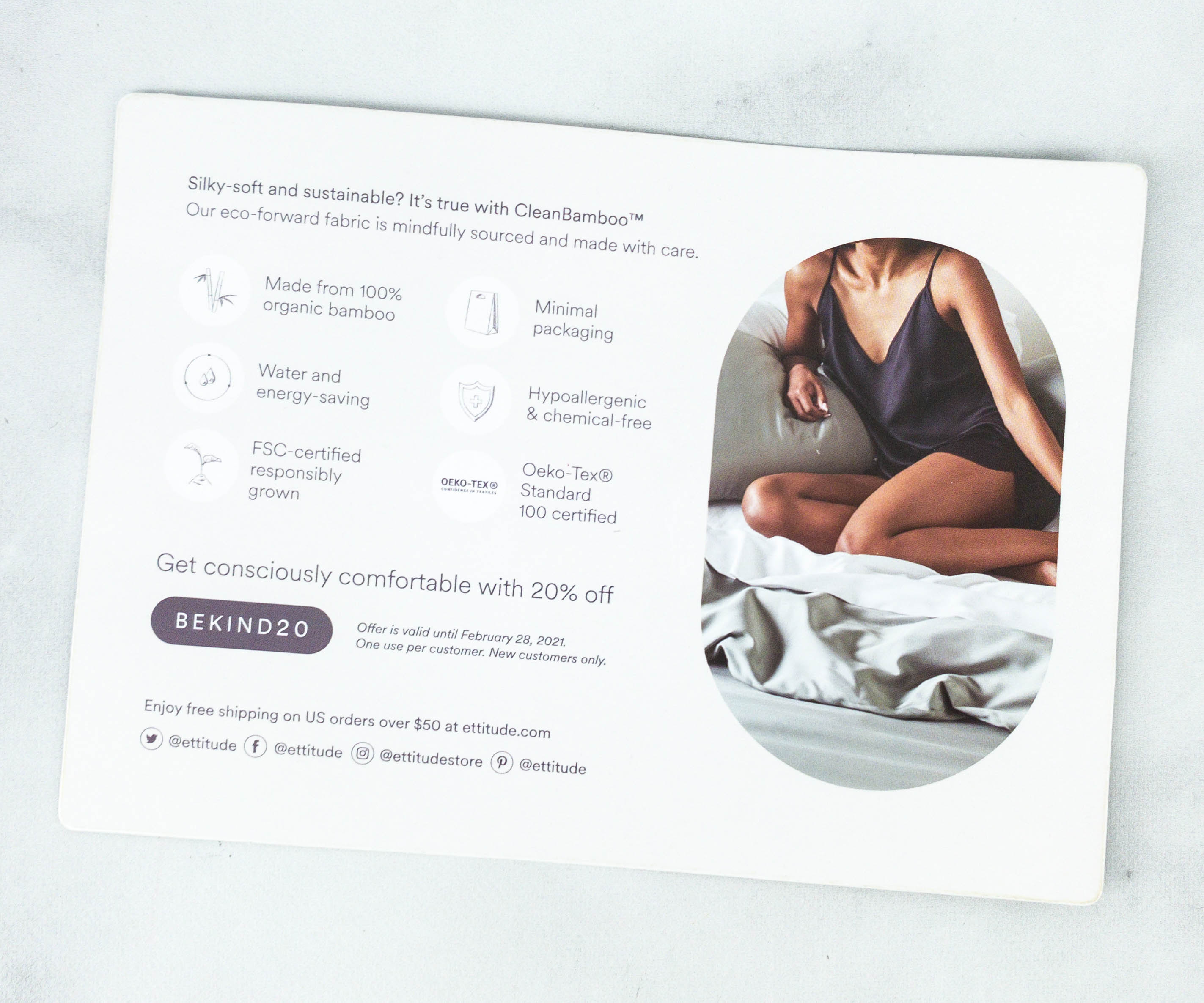 There's an insert with more information about the product and there's also a 20% off coupon for new customers!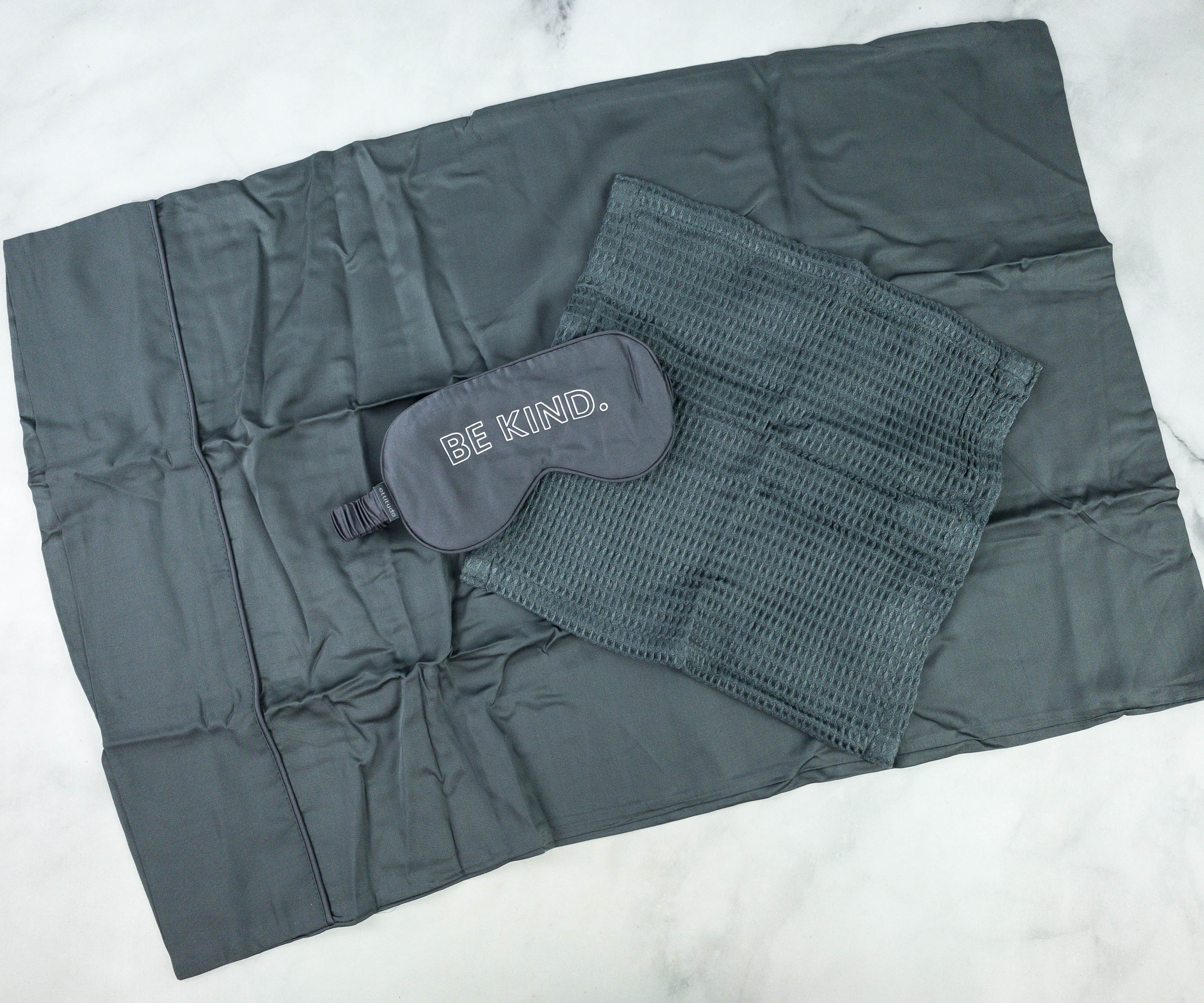 Here's everything inside!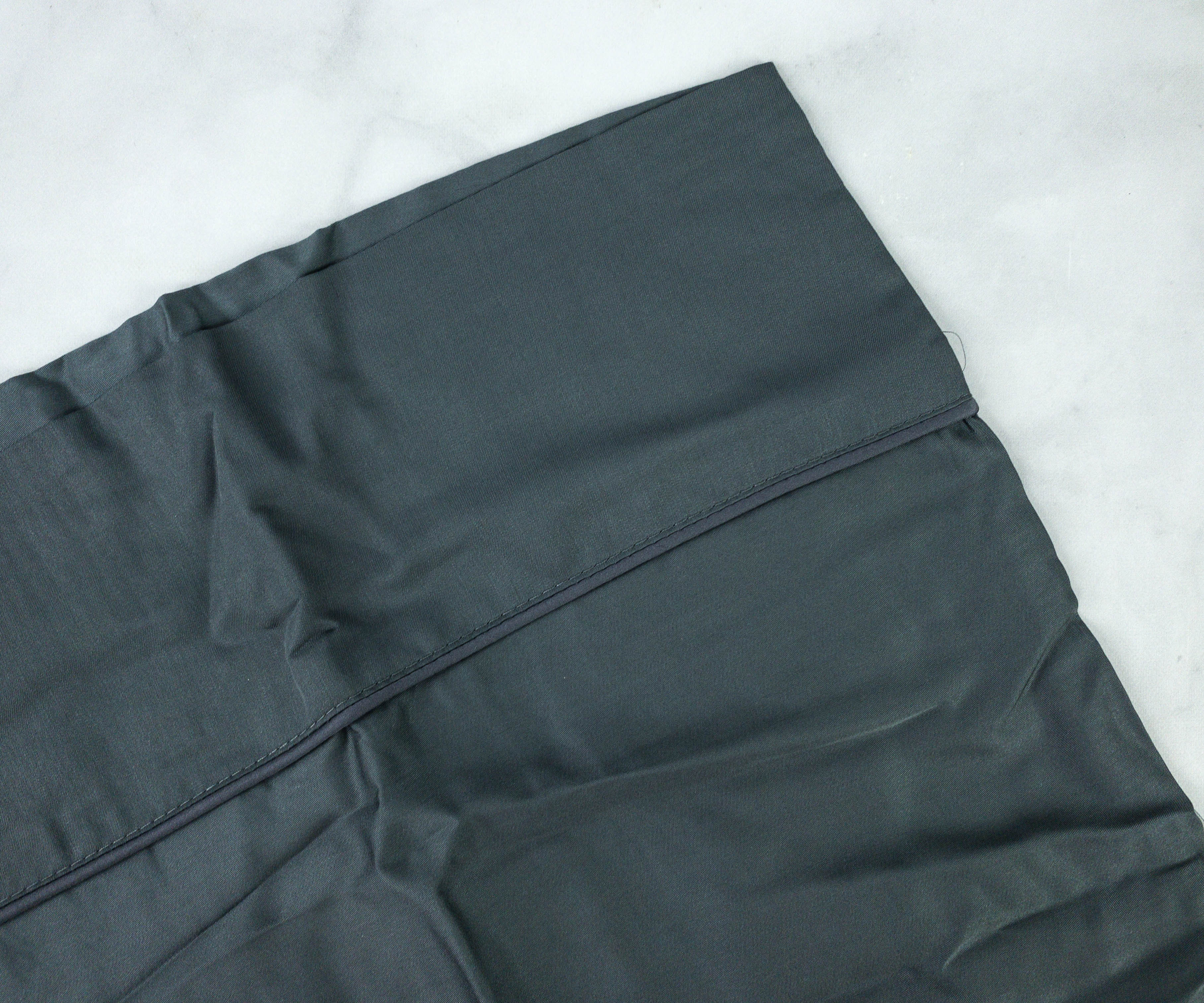 Infused with CleanBamboo™ Charcoal, this pillowcase is naturally antimicrobial so you get a good night's sleep and you're also sure that your pillowcase stays fresh and clean for a long time. It's also hypoallergenic so it won't irritate sensitive skin!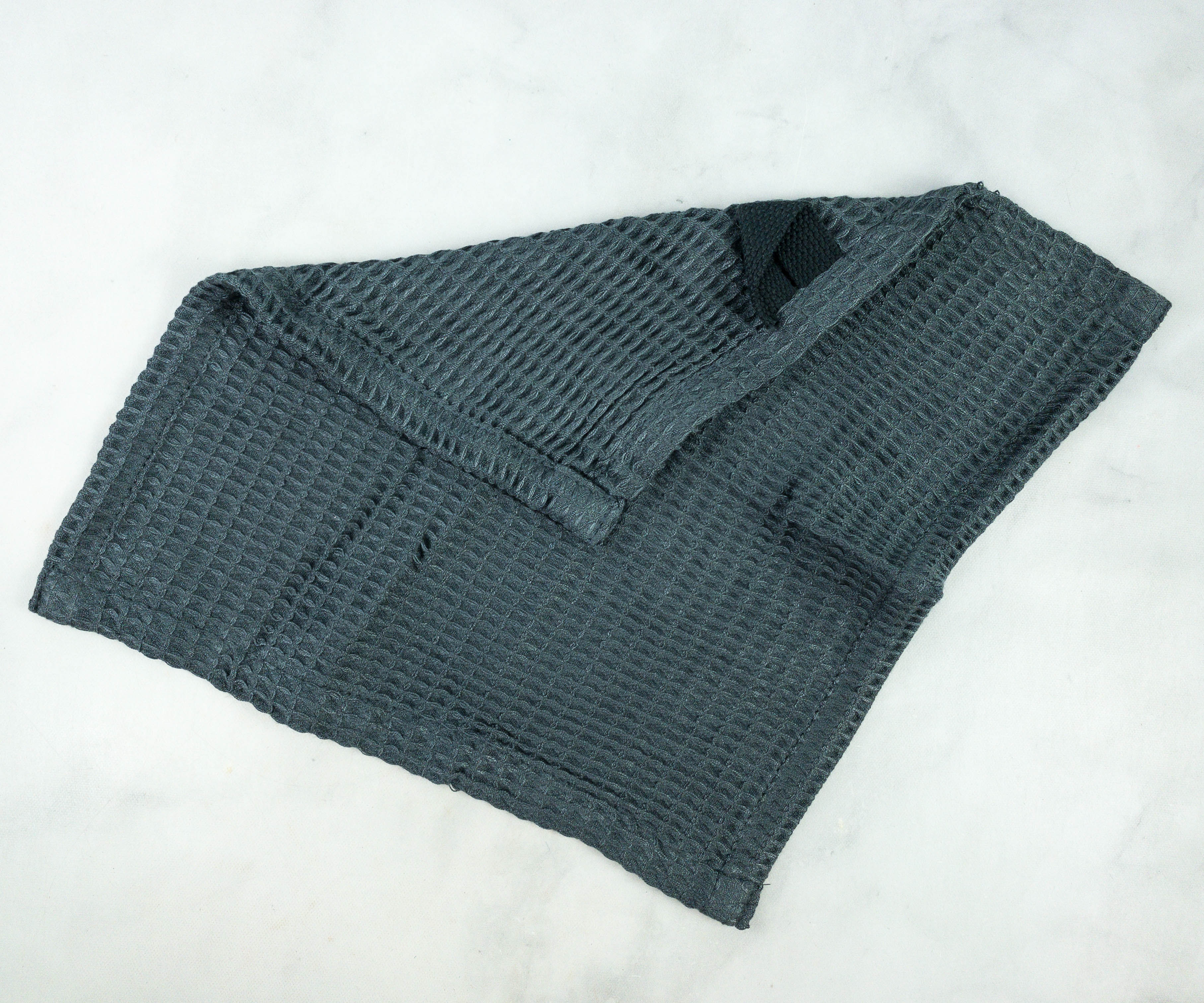 Next item in this set is this face cloth that feels nice and non-abrasive on the skin. I like how it doesn't scratch whenever I use it and that it feels really soft. It's my new go-to face cloth that I use to dry up my face after washing.
Last item in the set is a sleep mask. It has the BE KIND branding emblazoned in front as well as the brand tag itself on the side.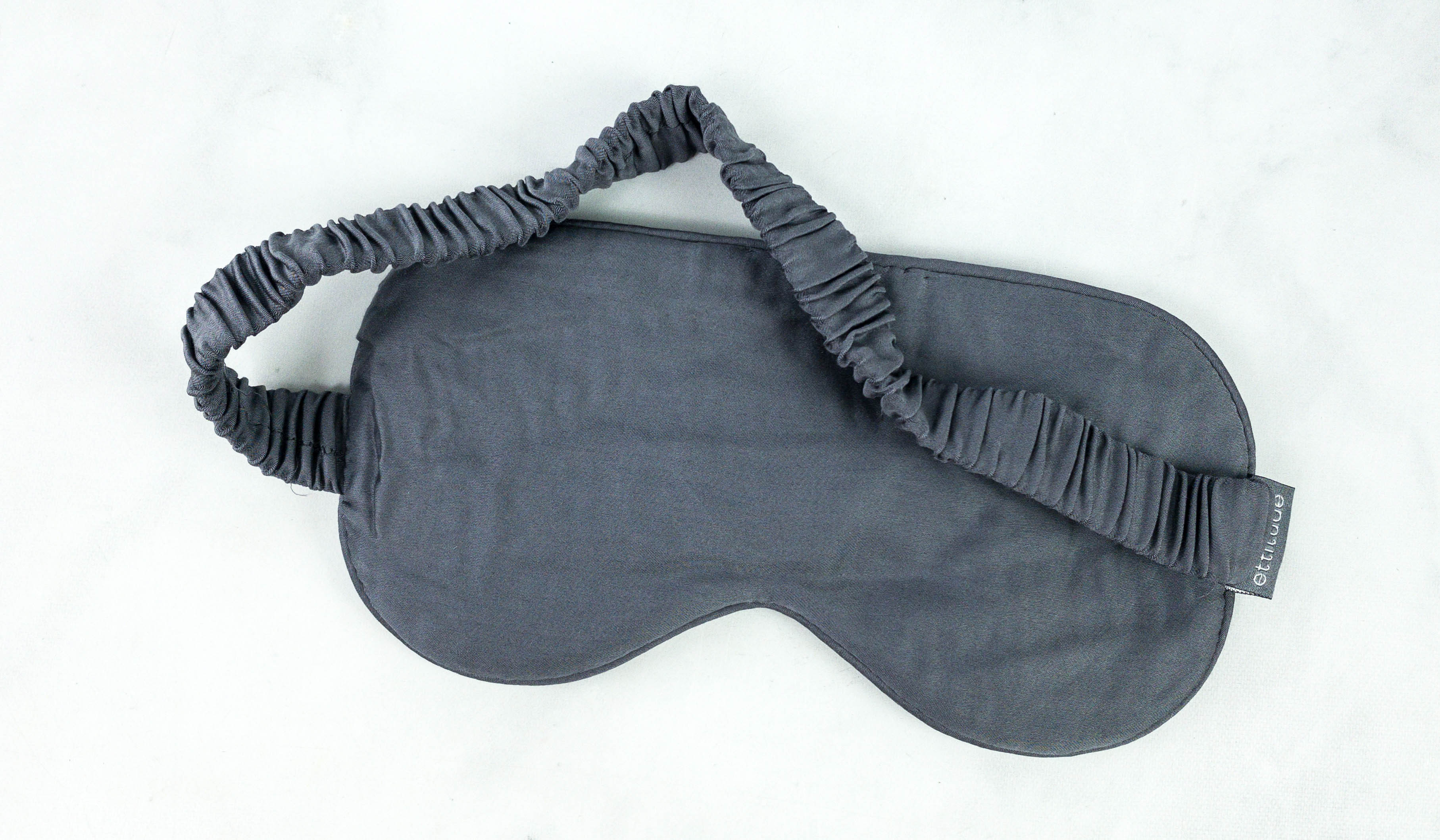 I like the material they used because it's soft and gentle on the skin. Even the strap is carefully made to be covered by fabric so the elastic won't stick to the hair. It's has a nice fit and it's comfortable to wear so it's great for people who really want a blackout surrounding when sleeping.
Ettitude has been in CAUSEBOX before and it's a nice brand.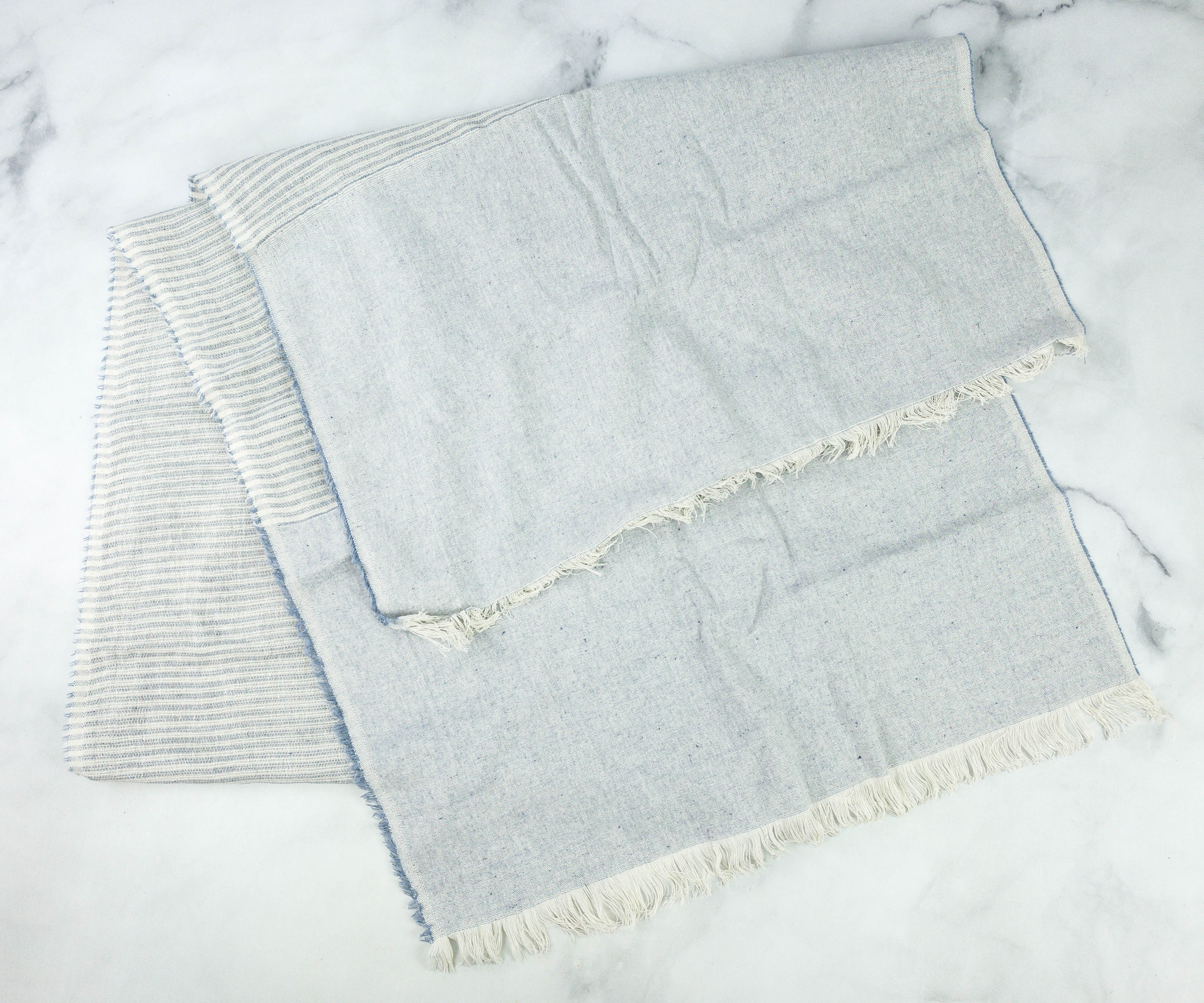 Tribe Alive Up-cycled Denim Scarf ($125 in booklet). This up-cycled denim scarf is a nice addition to this box. The faded denim color adds more character to the piece. It's a versatile item and there are a lot of ways on how this can be worn or styled! We actually originally thought it was a table runner, and that would be a great use of it, too!
FYI, Tribe Alive is now called "Laude the Label" and I do applaud them for moving away from the "Tribe" name in their brand, as it tends to promote misleading stereotypes.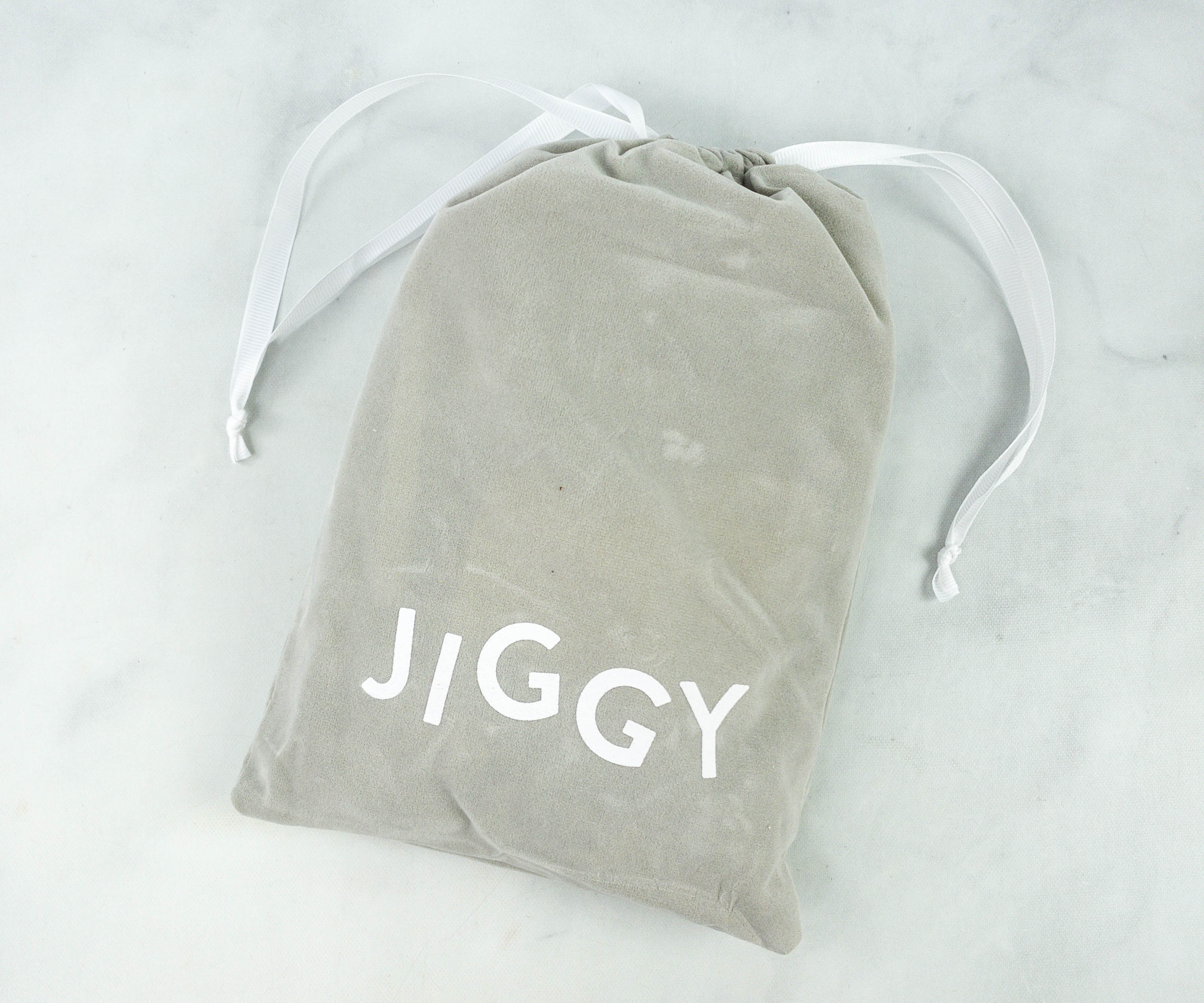 Jiggy 450-Piece Puzzle ($45 in booklet). For the last item in this box, there's another drawstring pouch with the word JIGGY in front. JIGGY has its own subscription now and you can read all about Jiggy Puzzle Club here!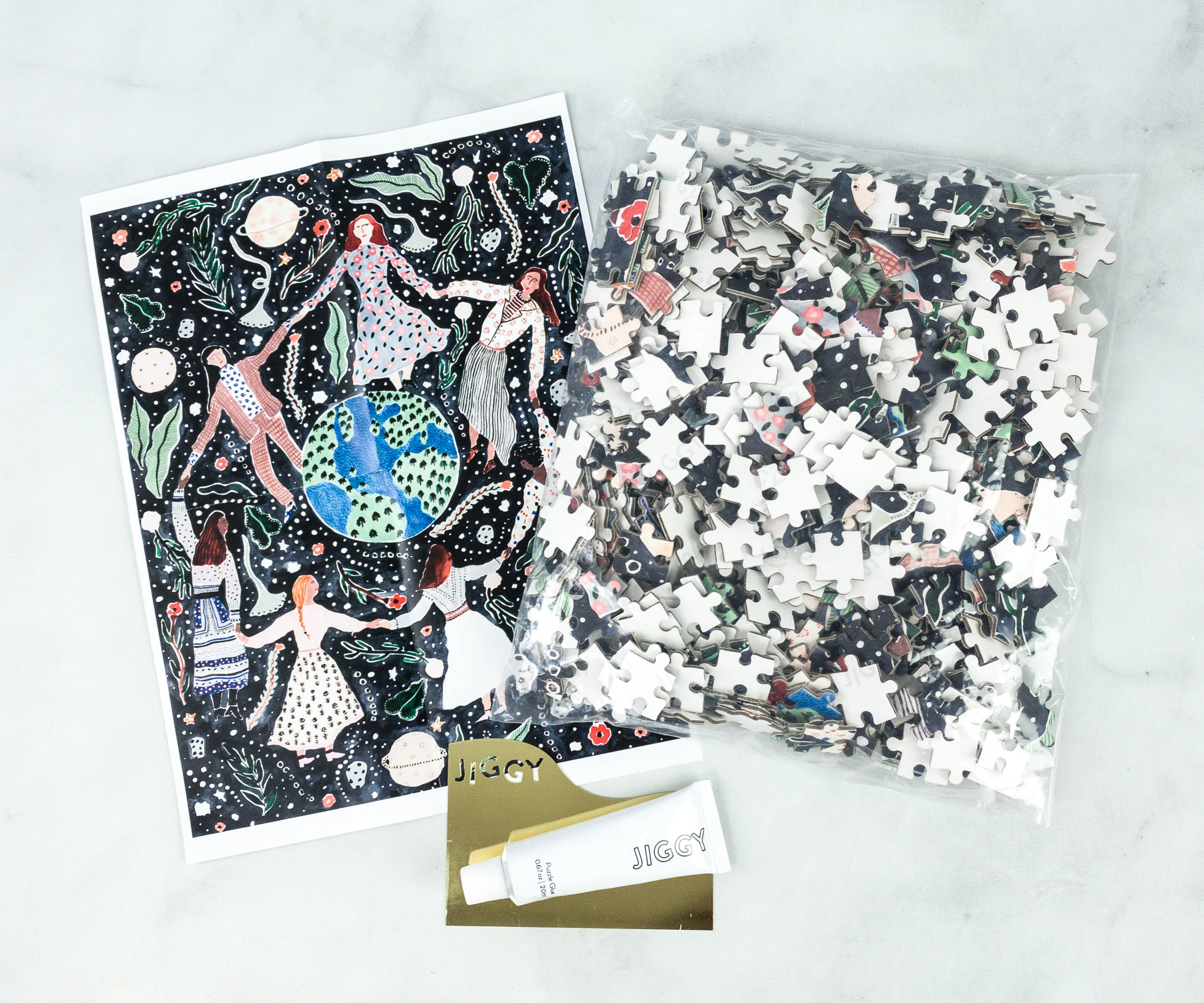 Inside are the items you need to build this 450-piece puzzle! There's a photo guide of the finished product and even a puzzle glue. All the puzzle pieces are neatly tucked inside a plastic bag and since this came in a reusable drawstring pouch, you can also use that to store the pieces while you're in the process of completing the puzzle! Jiggy features women artists on their puzzles and this puzzle is so pretty. Sara Meadows is the artist for this one. I was excited when I saw the spoilers and I'm looking forward to completing this puzzle.
I actually like the curation of this quarter's BE KIND by Ellen box quite a bit and there's always something in the box that we haven't seen elsewhere and small companies featured that I'm really happy to see, like JIGGY. And, there weren't any ELLEN-branded electronics, which have caused problems in the past. The box arrived somewhere around Christmas which was good timing. I personally liked the Wellness Set and the face mask they included is so pretty! Now that we get to spend more time at home, my family decided that we will work on the puzzle together so we also have that as a bonding activity.
But, we cannot currently recommend subscribing because of the customer service issues. The complaints are real and BE KIND hasn't dealt with them at all. Plus, we really dislike the extremely inflated retail values this box places on the items, both their own branded items ($20 for fuzzy socks? nah) and other items. For example, an 800 piece Jiggy Puzzle in a box with a glass jar is sold for $49, but this 450 bagged puzzle is listed as a $45 retail. (FYI their new puzzle club that comes with a 500 pc puzzle and a box is $32 or less depending on subscription length). I'm always happy to get a branded high-quality filler item but not OK with inflating the prices to reach the promised $200 value in the box.
What do you think of BE KIND by Ellen?