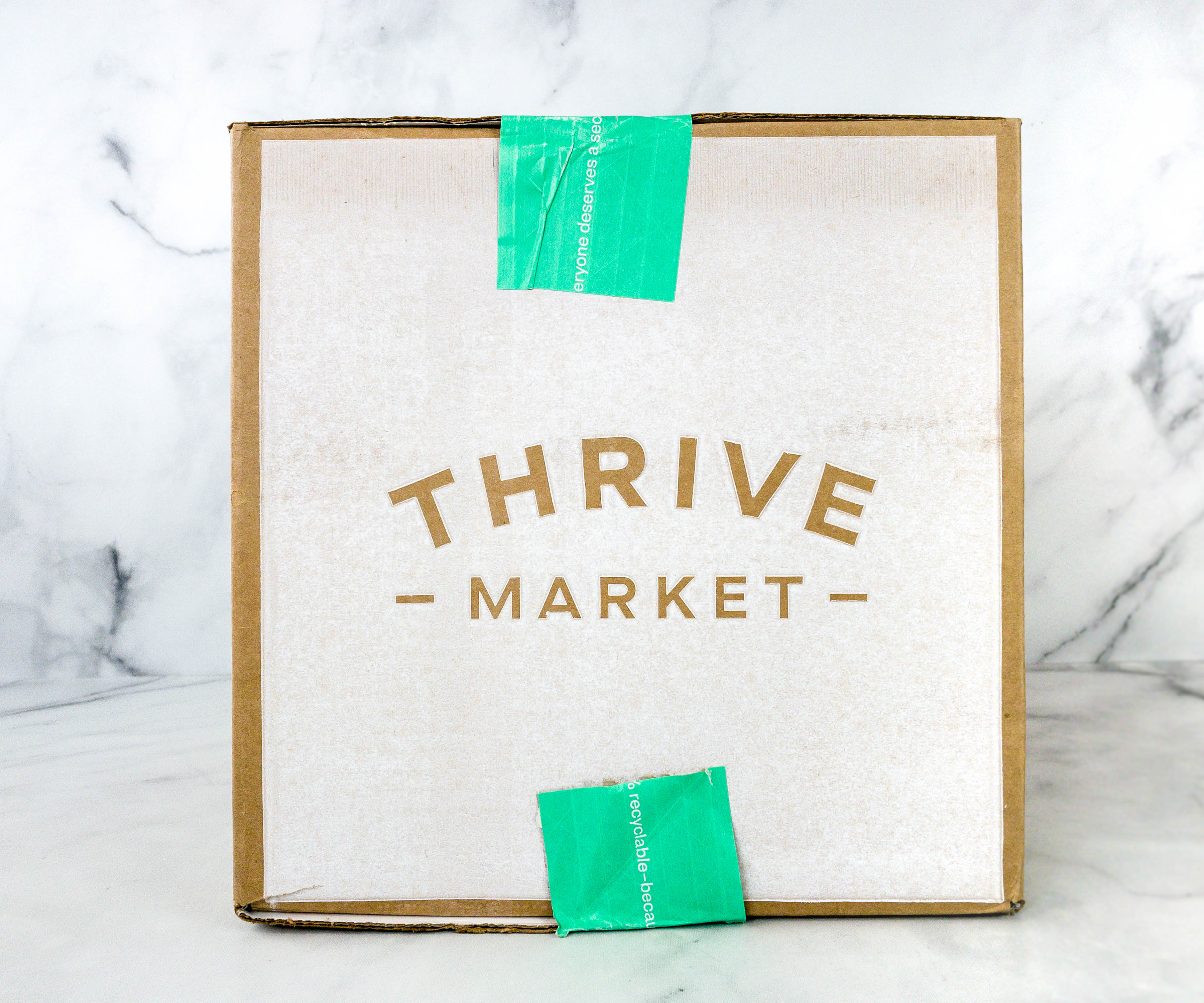 Thrive Market is an online marketplace with over 6,000 wholesome products including food, home, and beauty, available at members-only prices. To make shopping easier, you can easily check products according to categories such as paleo, ketogenic, gluten-free, vegan, vegetarian, raw lifestyles, and more. Membership is free for the first 30 days, and then pay $59.95 for your membership for the full year. Also, shipping is free for orders over $49 and they guarantee carbon-neutral shipping straight to your door. Other member perks include free gifts, samples, and members' deals! Aside from being eco-conscious, this subscription also gives back! They match every paid Thrive Market membership with a free one for a low-income family, student, teacher, veteran, or first responder.
DEAL: Get 25% off your first order, plus get a FREE gift when you join Thrive Market! Use this link to checkout – no coupon needed.
There's quite an extensive quiz to take when you sign up for Thrive Market. I honestly didn't think it personalized my experience much if at all.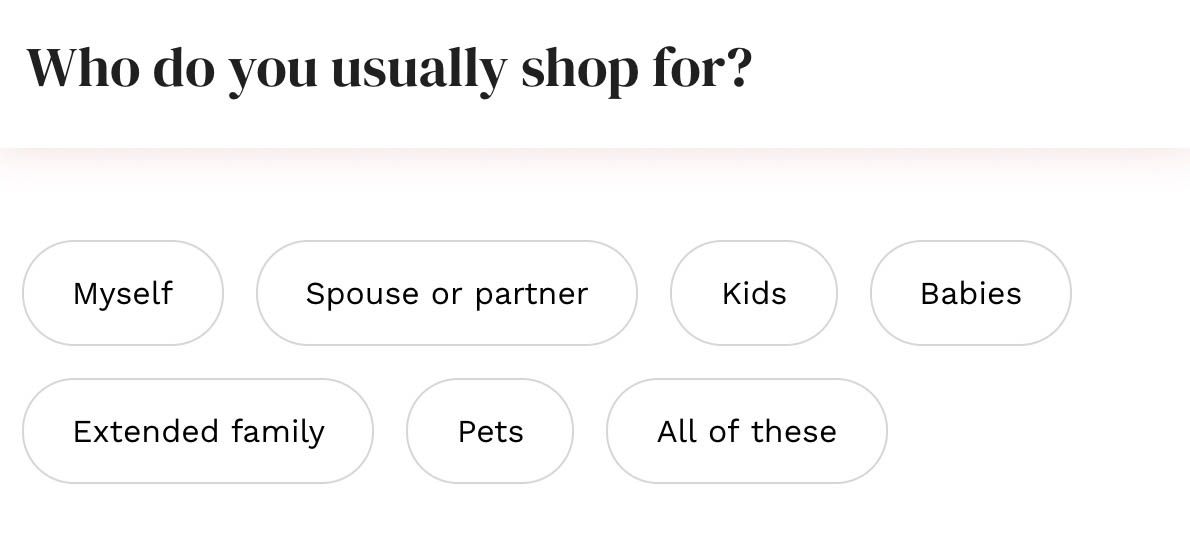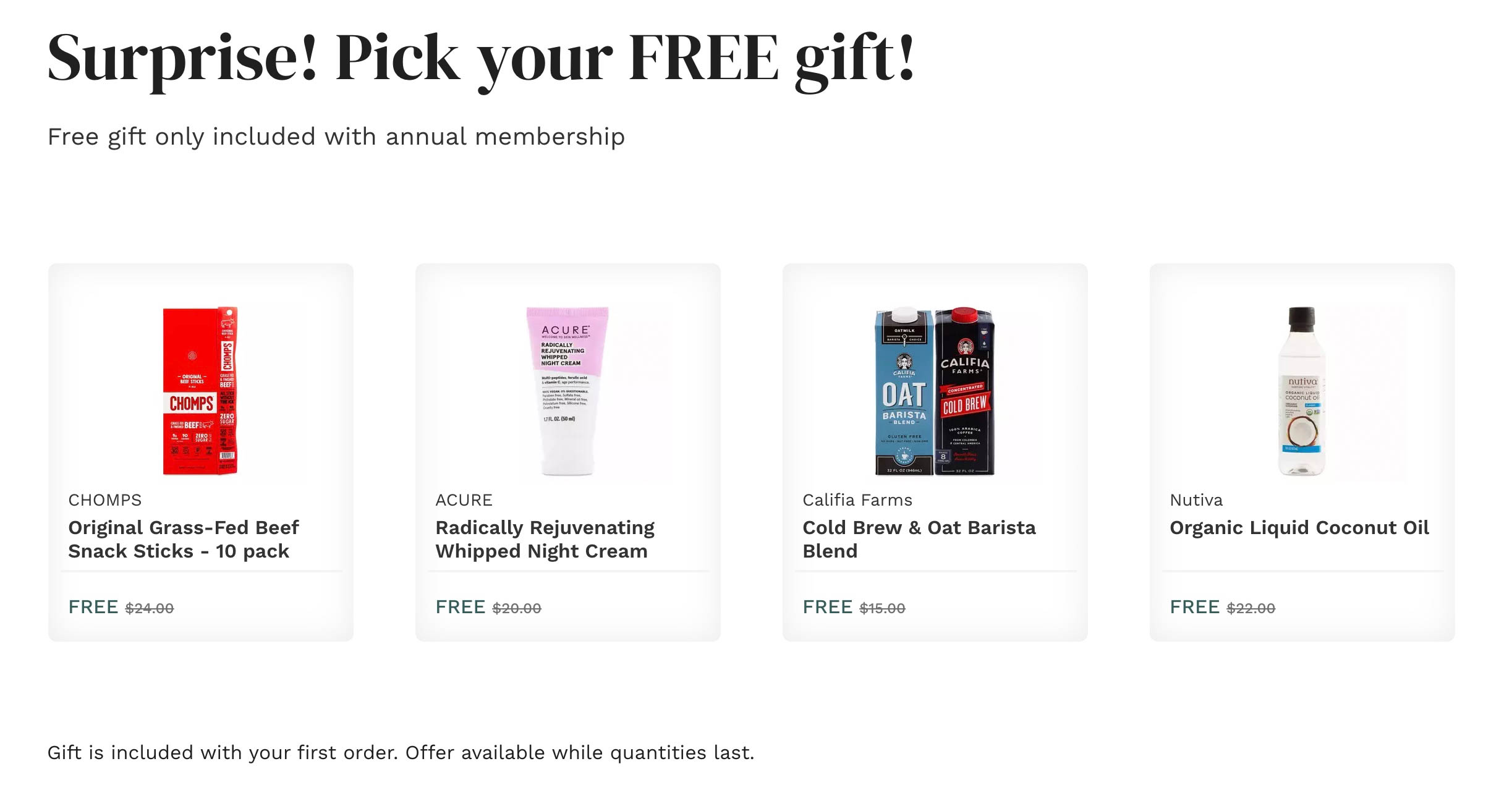 They also have a free gift for members enrolled annually.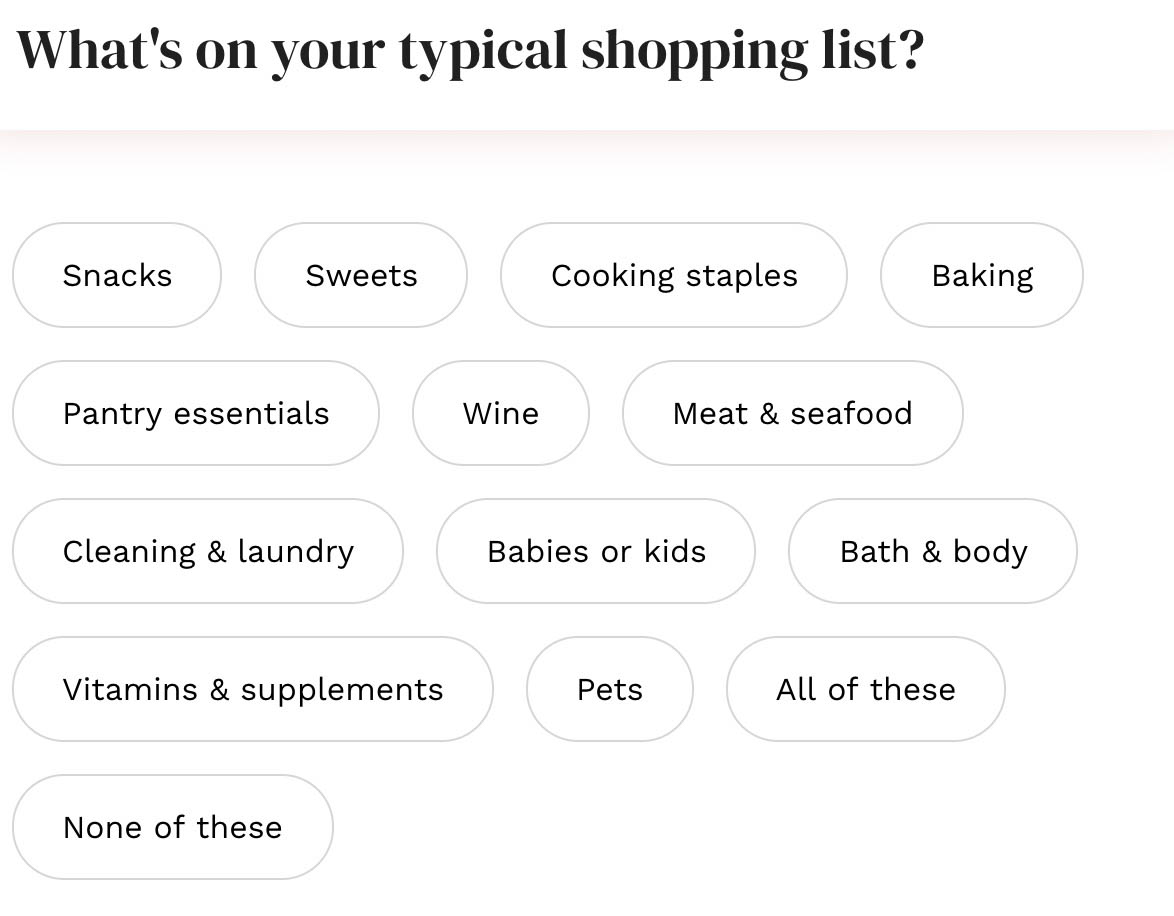 The products are divided into different categories for easier product selection.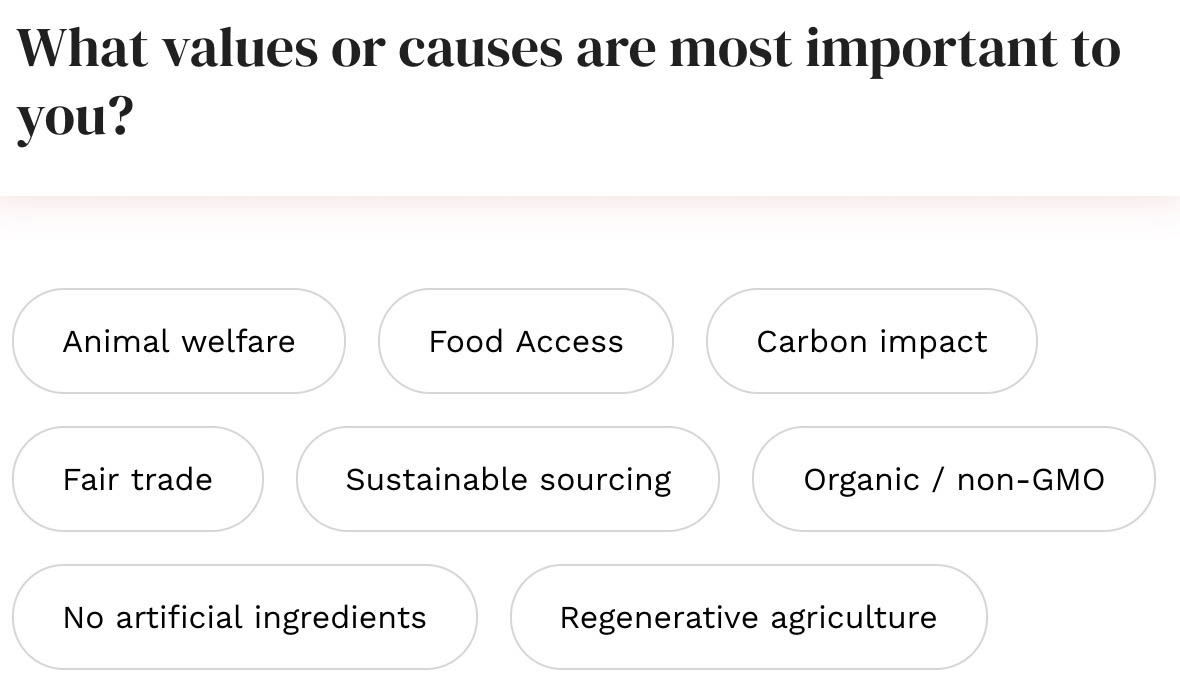 Thrive Market shows great concern for the environment. They offer eco-friendly products and consumer satisfaction is a priority.
Upon signing up, you can choose which type of diet you're in or interested in so you get more product suggestions from that category.
They have a whole store with thousands of products, one of my favorite areas of the shop is the Thrive Market Goods. I'm big on quality house name brands!
When you check out, you can also choose to donate your savings to Fight For Food Equality Now.
54 million Americans—and 1 in 4 kids—lack access to healthy food. We're pledging to raise $10 million to provide healthy groceries for all. Donate a percentage of your savings today and fight for food equality now.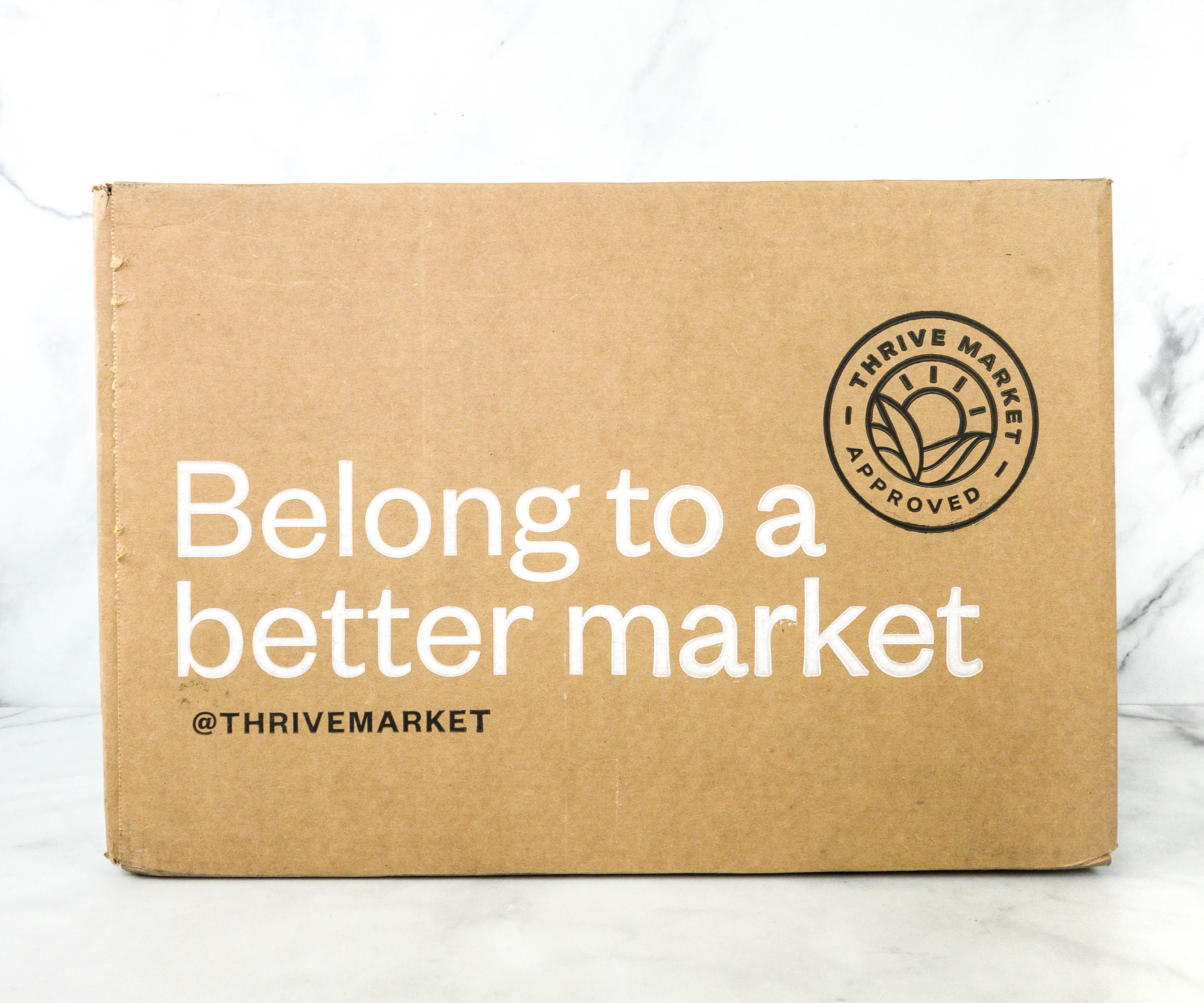 The box arrived in good condition.
Even the box itself is 100% recyclable!
The products we purchased are from brands that support fair trade and prioritize sustainability.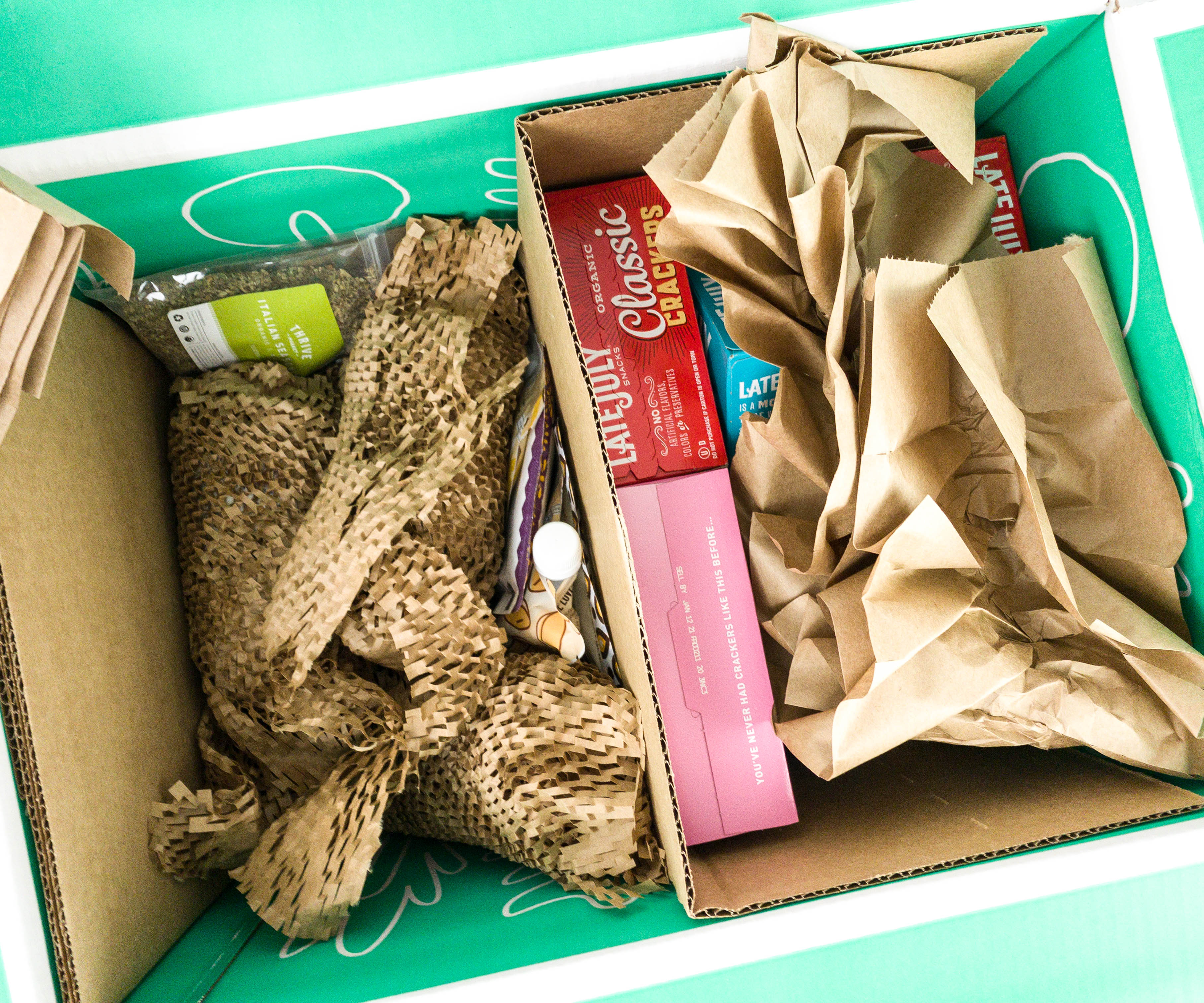 The items are neatly tucked inside.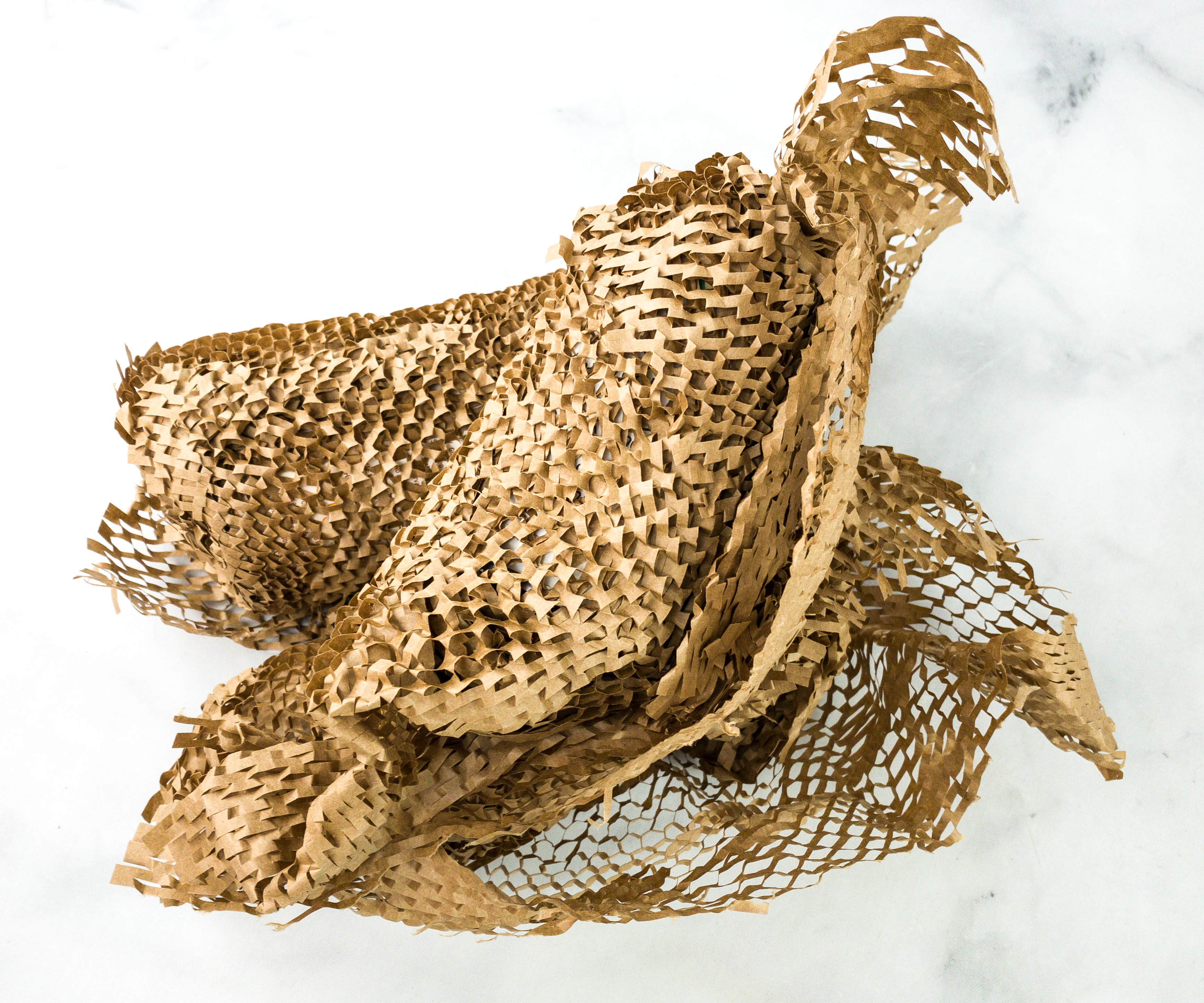 Some items came wrapped in this net-like packaging.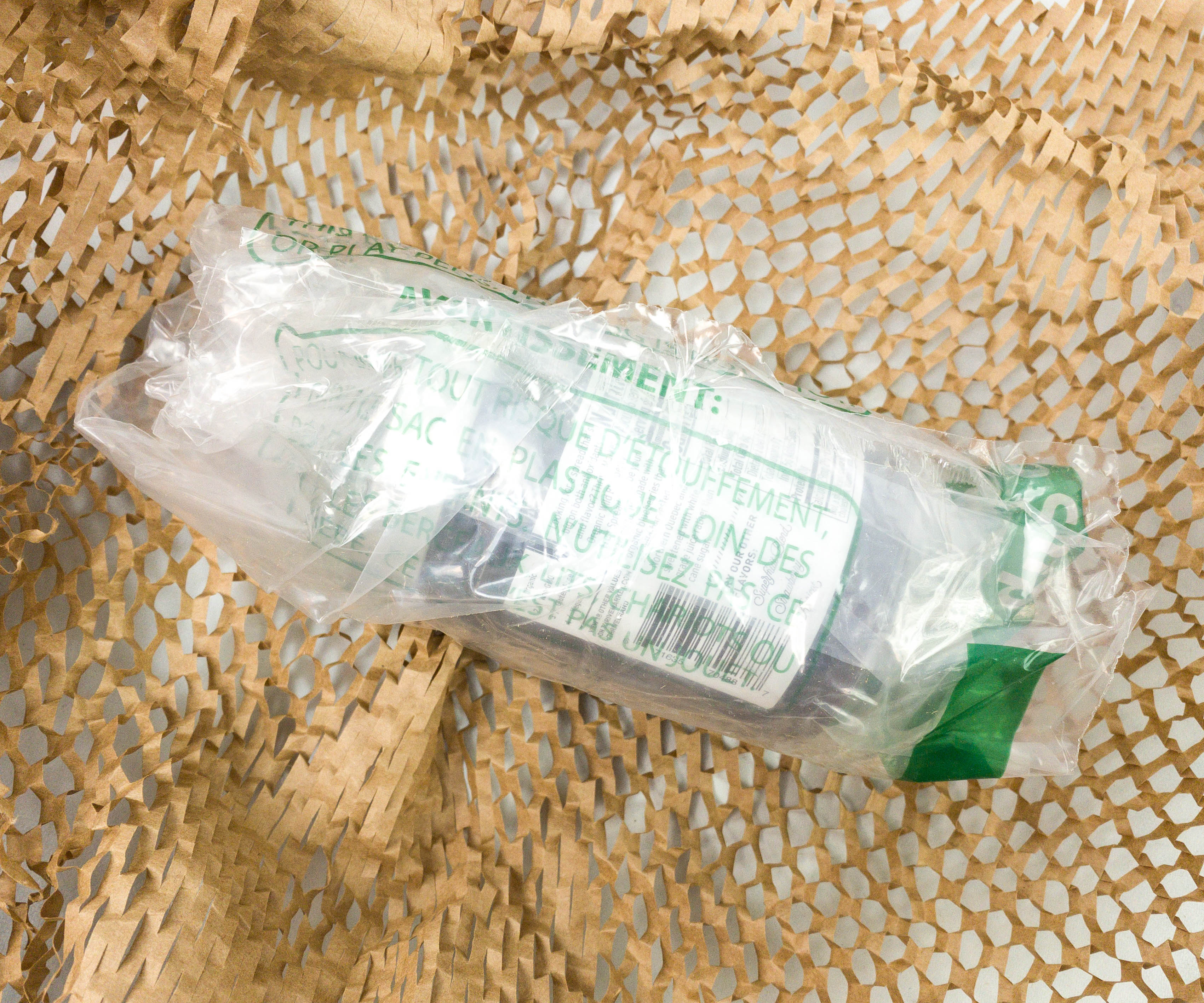 It makes sure that the items are safe during transit.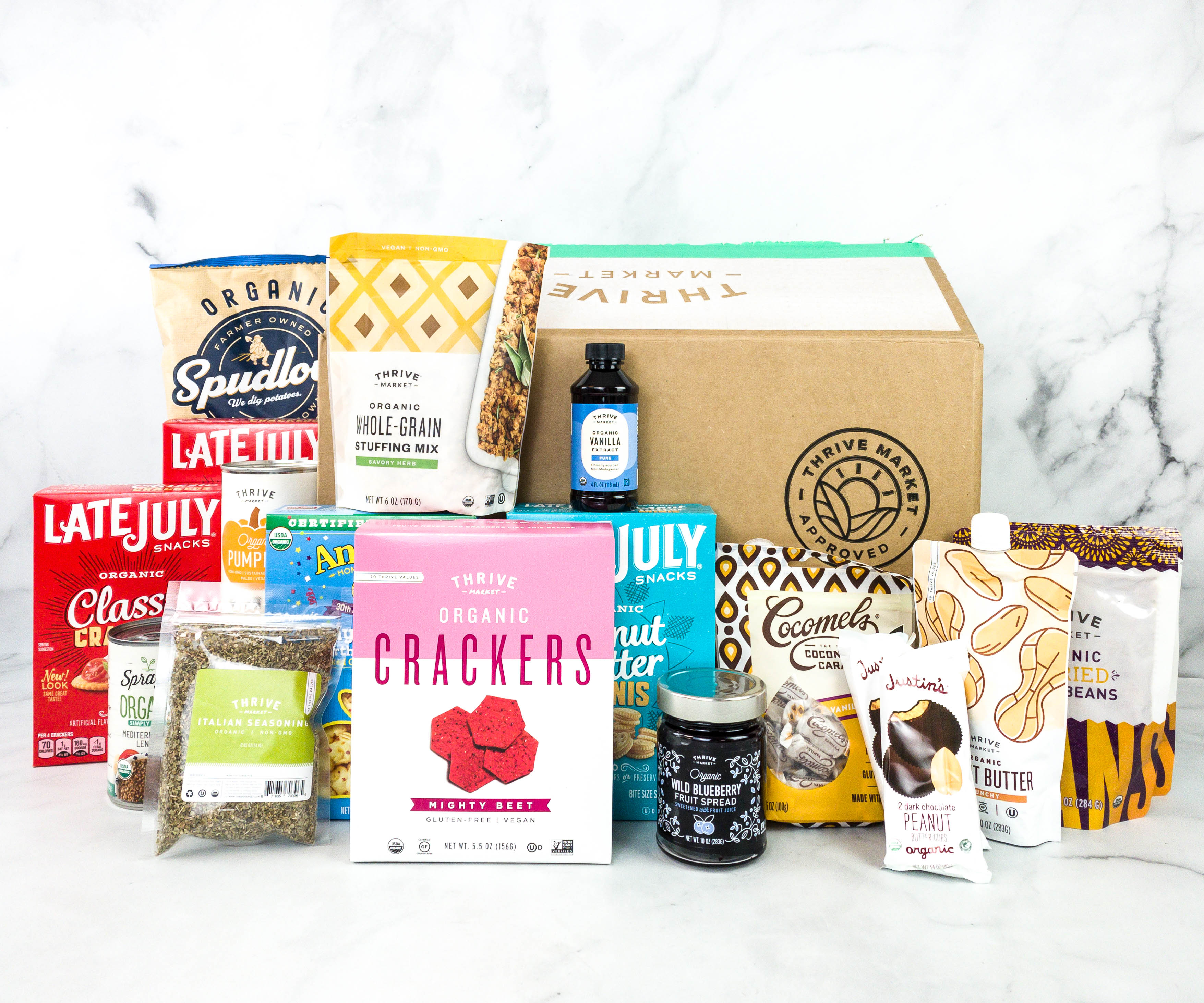 Everything in my box!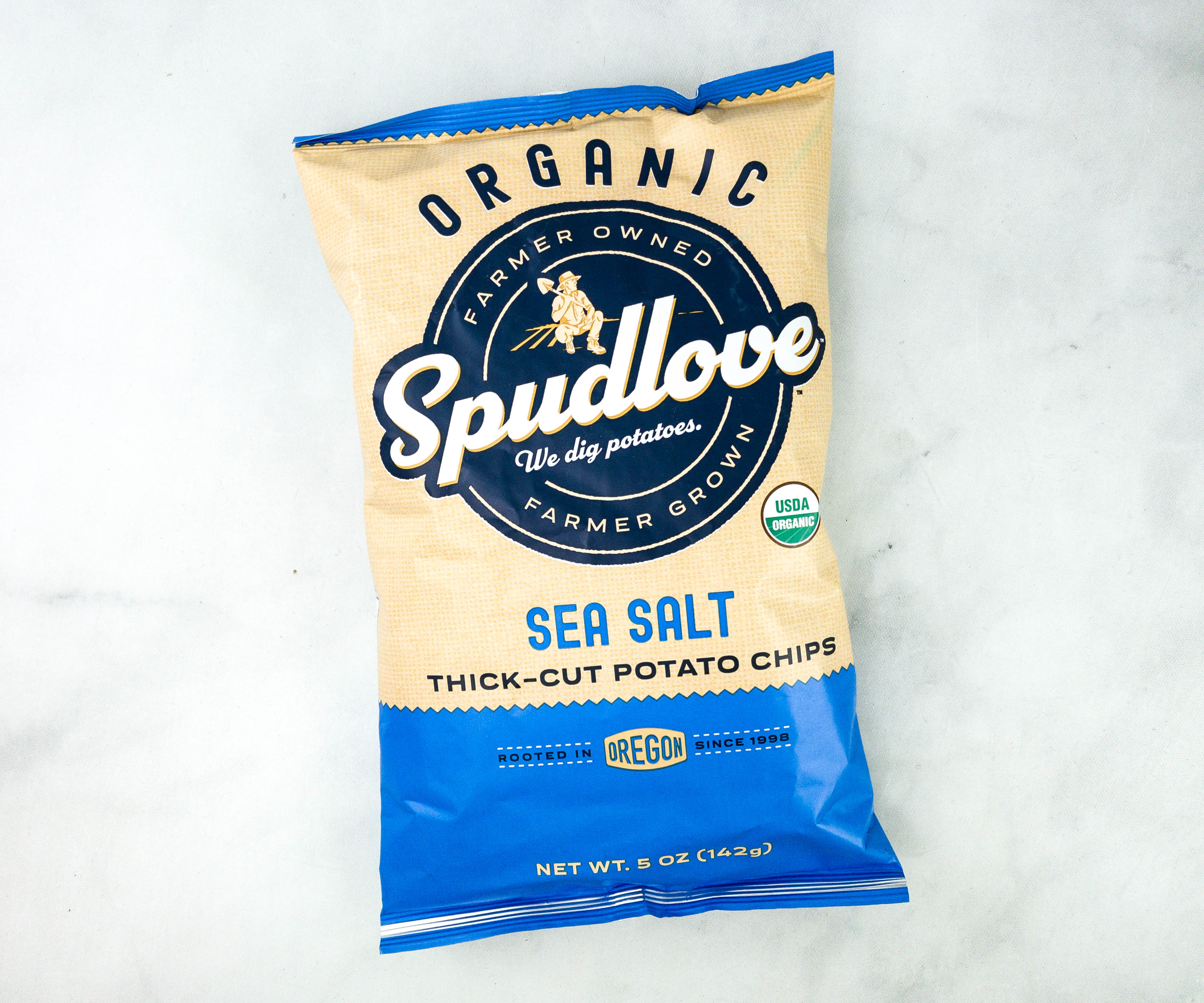 Farmer Owned Spudlove Sea Salt Thick-Cut Potato Chips ($3.49) These thick-cut chips are perfectly seasoned with sea salt and they have the perfect crunch that I love! They were slow cooked in small batches using sunflower and safflower oils which are healthier alternatives to regular cooking oil. These chips are also perfect for pairing with various dips!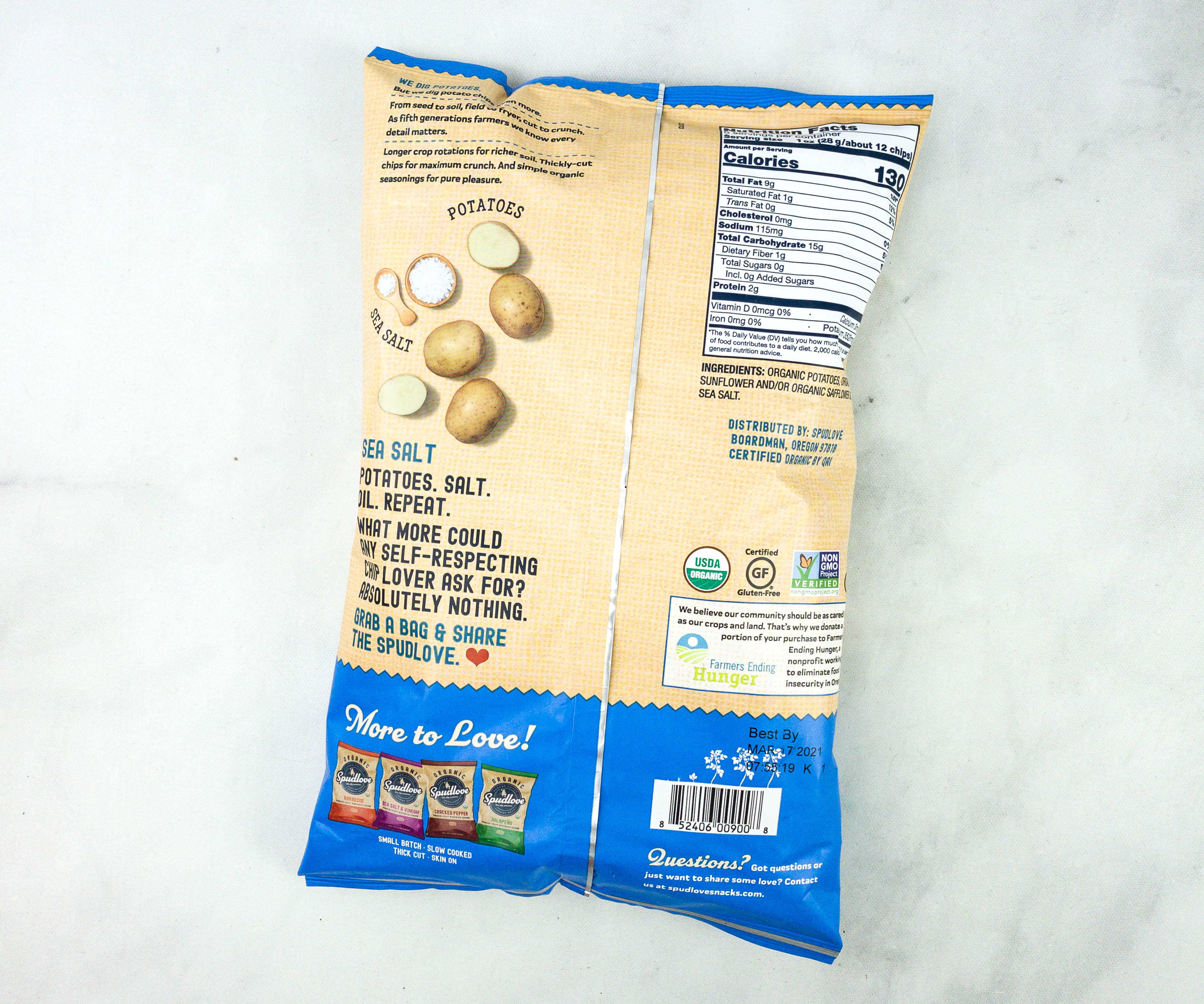 This snack is gluten-free, non-GMO, and USDA organic. Another thing to love about this potato snack is that the potatoes used were from a farm that practice regenerative agriculture!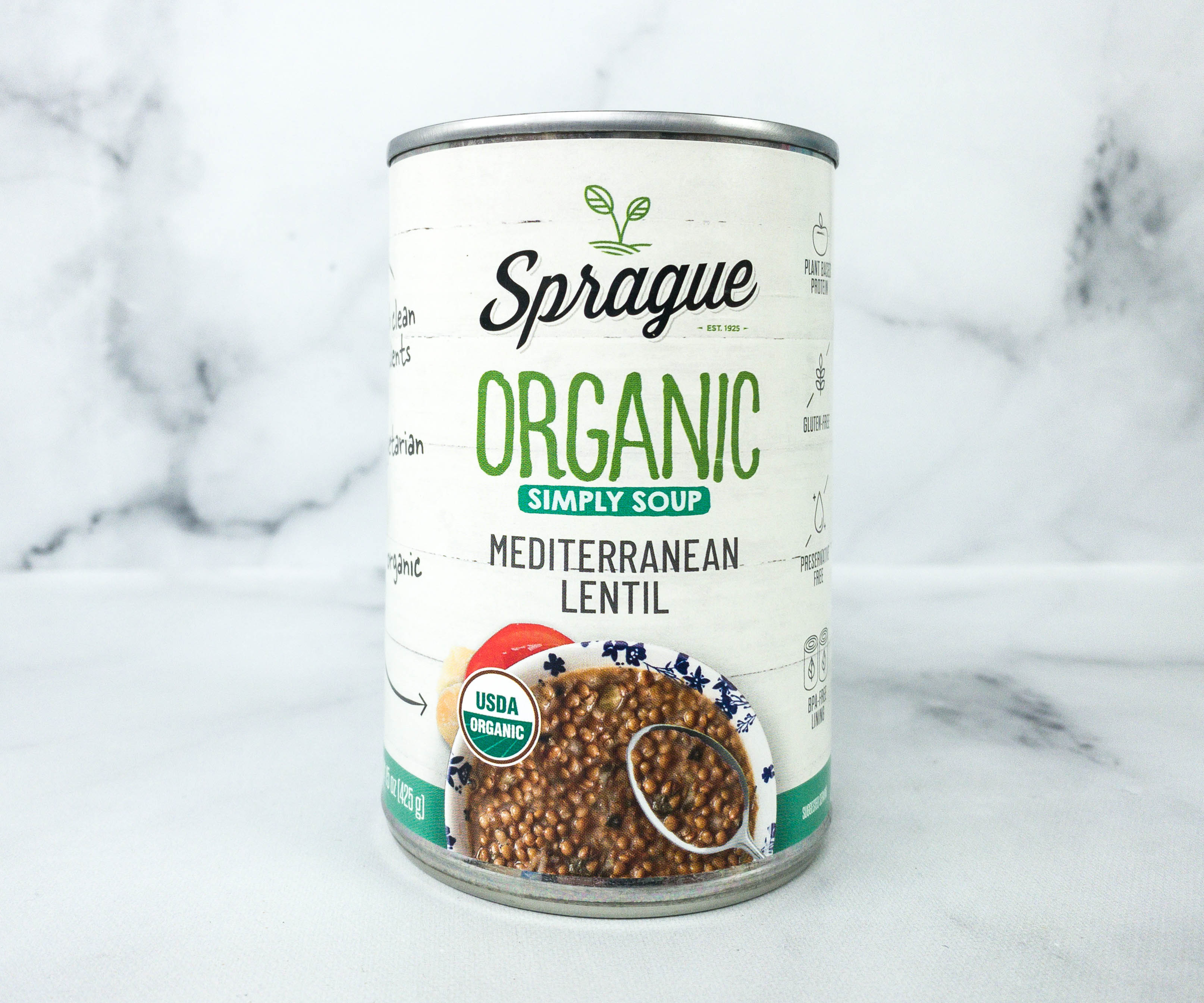 Sprague Organic Simply Soup Mediterranean Lentil ($2.79) It's the perfect lentil soup in a can! The Mediterranean taste is amazing, it also has a rich tomato paste and garlic that added more flavor to this meal. It's also organic, vegetarian, preservative-free, gluten-free, and BPA-free. Canned lentil soup is my go-to for lunch when I have no leftovers!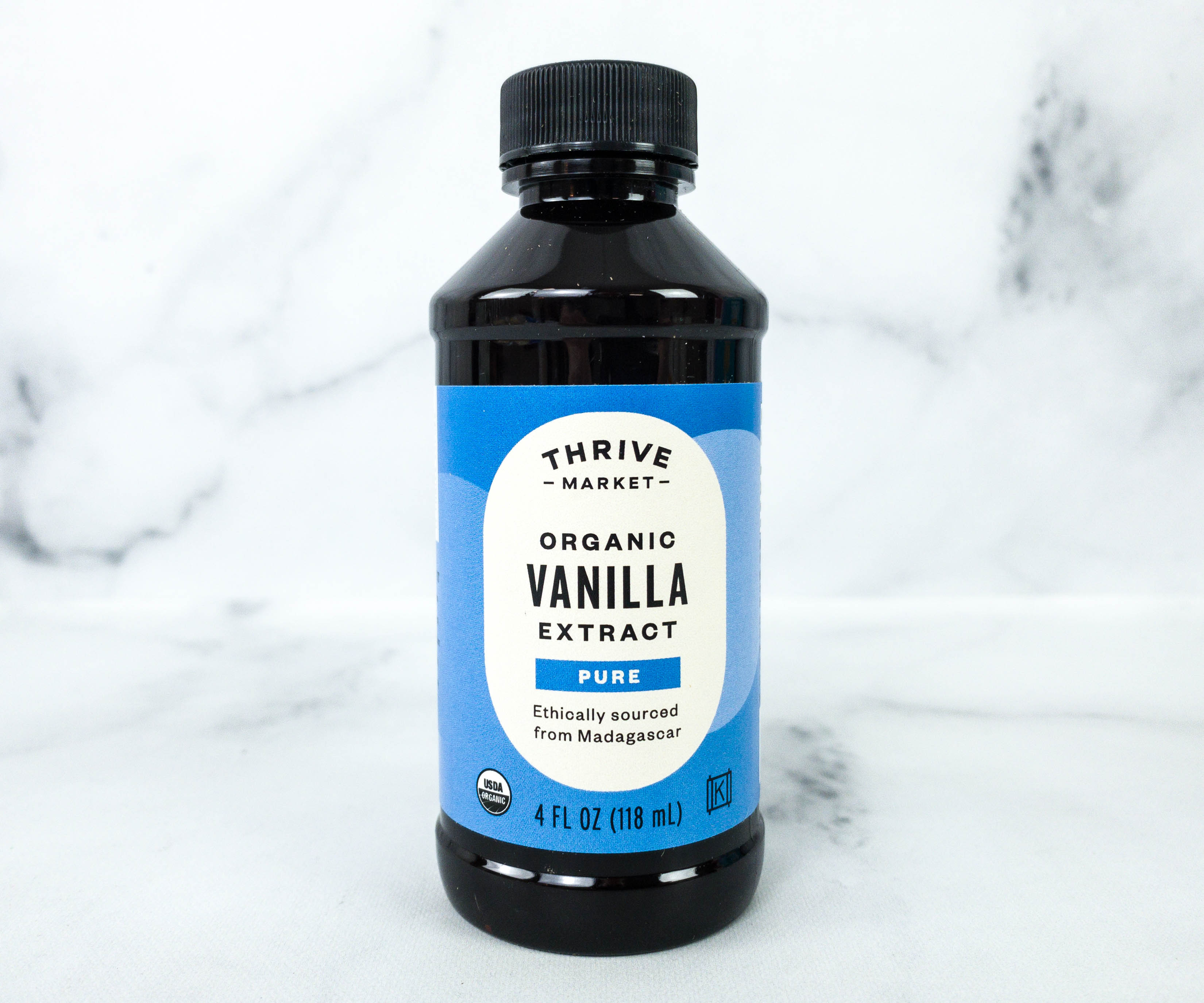 Organic Vanilla Extract Pure ($11.99) Here's a bottle of pure vanilla extract made from premium bourbon vanilla beans. It has a sweet flavor that helps enhance different recipes that include baked goods and sauces. Unlike regular vanilla extracts, this one is free from added sugar/sweetener and dyes/color additives. It's also organic, non-GMO, vegan, vegetarian, and gluten-free. I also like that they used a recycled plastic bottle for this product!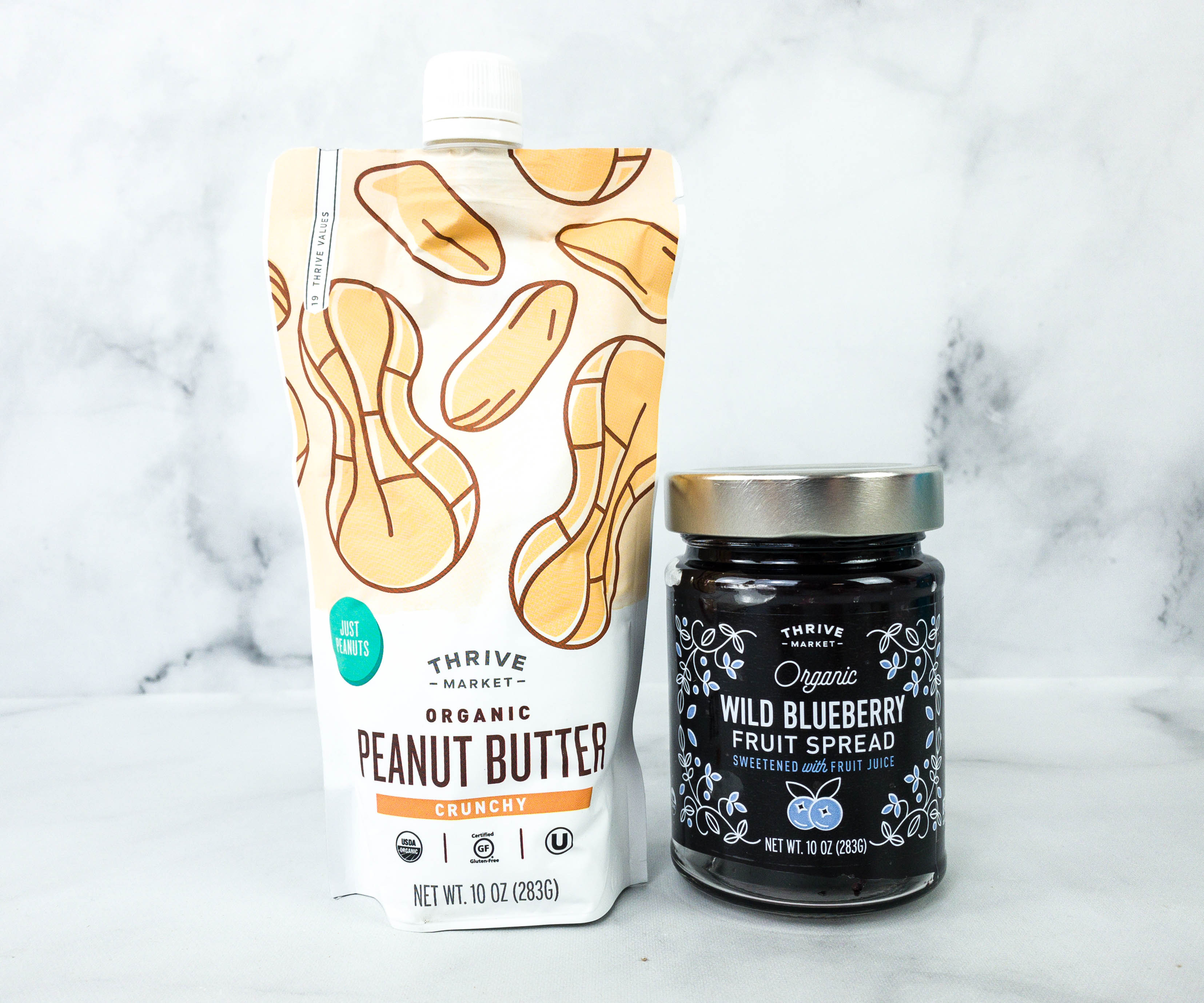 Now for some Thrive Market brand goods!
Organic Peanut Butter Crunchy ($2.62) They used lightly roasted, organic peanuts to make this organic peanut butter. The spread is crunchy and a perfect addition to savory sauces. It also came in a resealable and easy to squeeze pouch. I love it – get every bit out!
Organic Wild Blueberry Fruit Spread ($2.99) Another spread in my box is this wild blueberry fruit spread. It's sweetened with grape juice and I just love the texture and flavor of it! I can even enjoy this to top my pancakes! My kids absolutely adore this for charcuterie dinner (also called "snacky dinner"). We set up a board and everyone digs in. I'm buying more of this!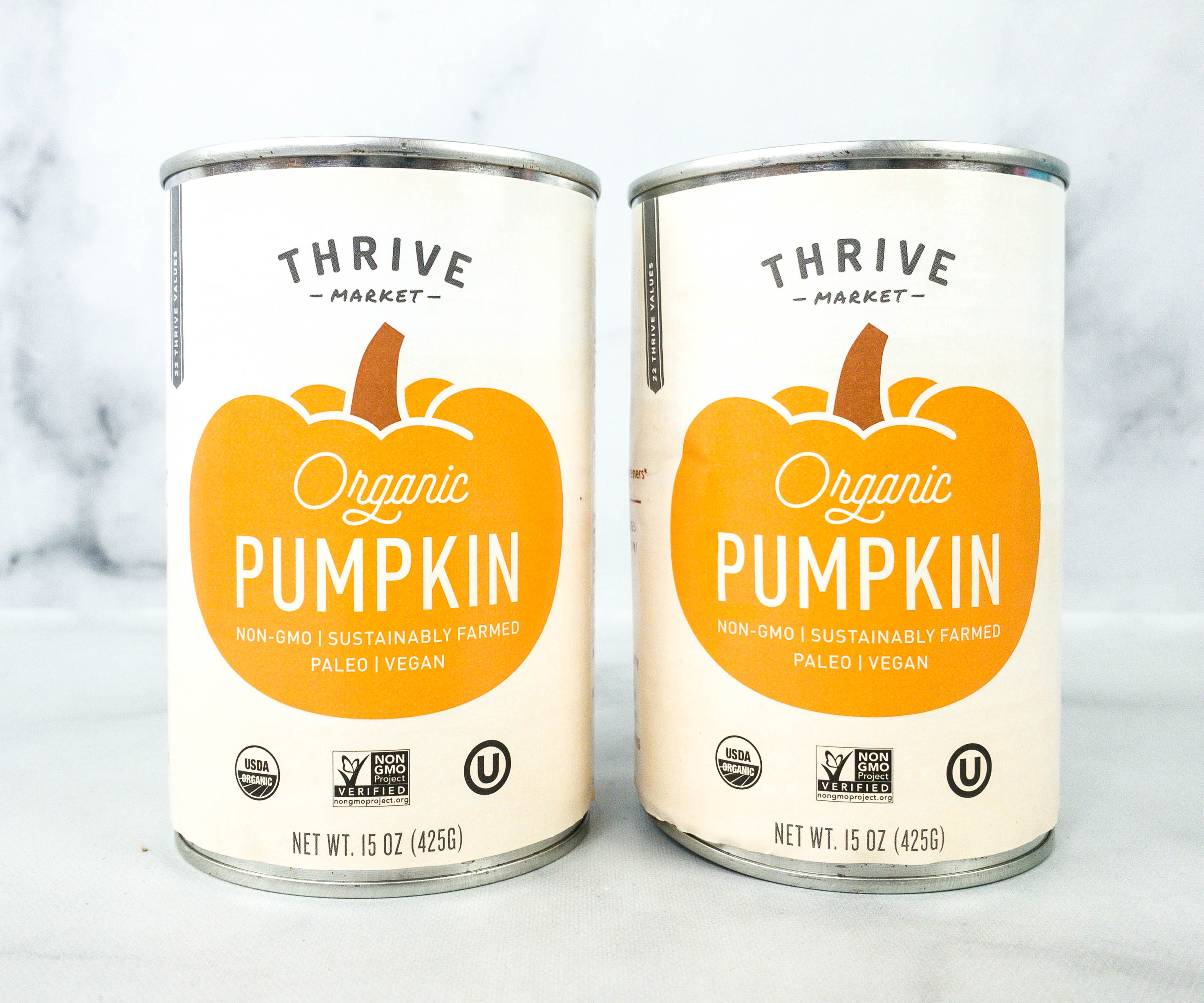 Organic Pumpkin ($1.99) I have two cans of this smooth and flavorful organic pumpkin puree! It can be enjoyed any time of the year, and it's perfect for making pumpkin pie or pumpkin bread. This is from Thrive Market's own line of products, and it's definitely at par with the popular canned pumpkins that we know. It even supports paleo, vegan, vegetarian, and gluten-free diets. Since we couldn't buy pumpkin for the holidays, Thrive Market turned out to be a holiday tradition life-saver! Plus, it's organic!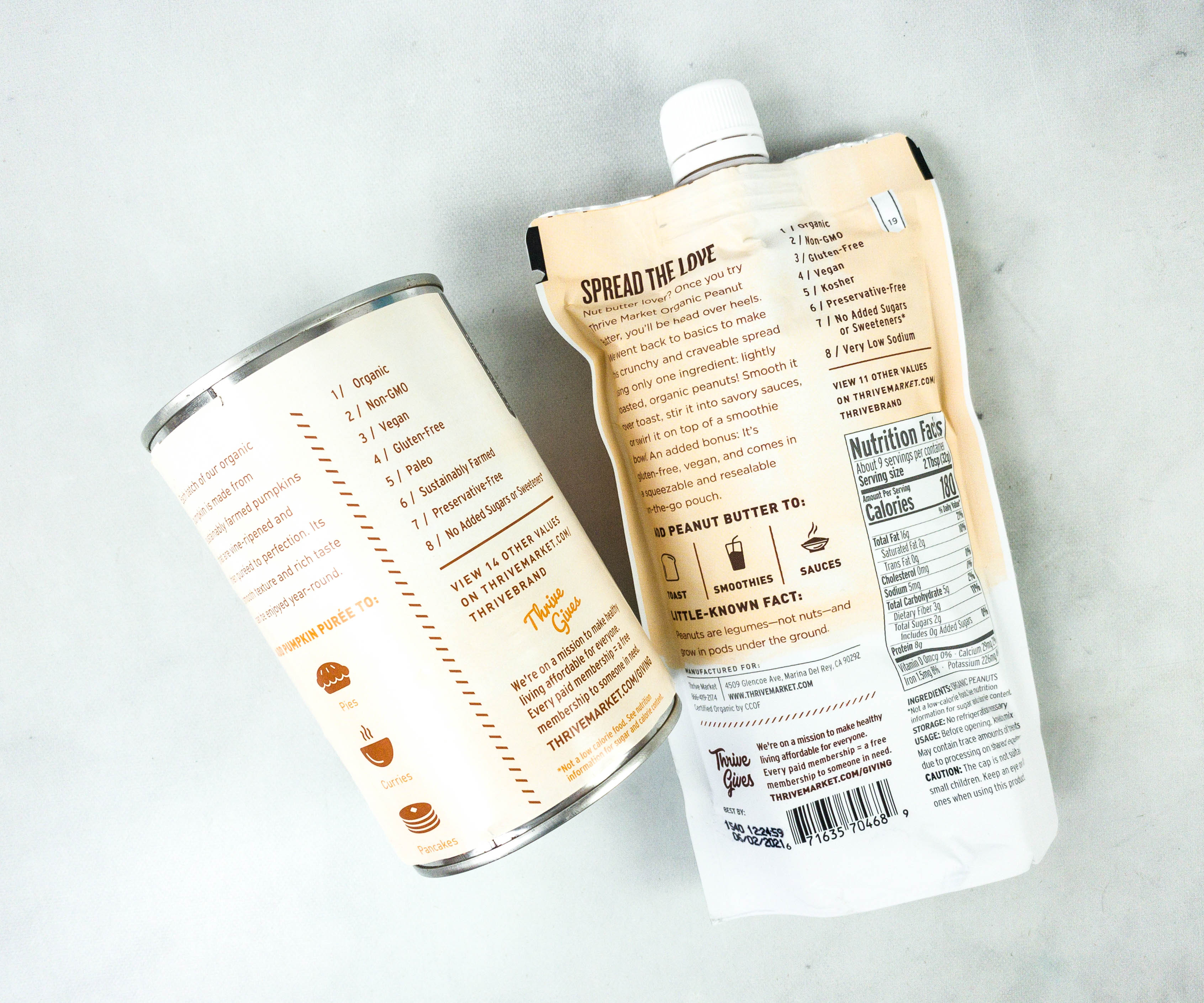 Their packaging also suggests some meals and snacks where you can use the products.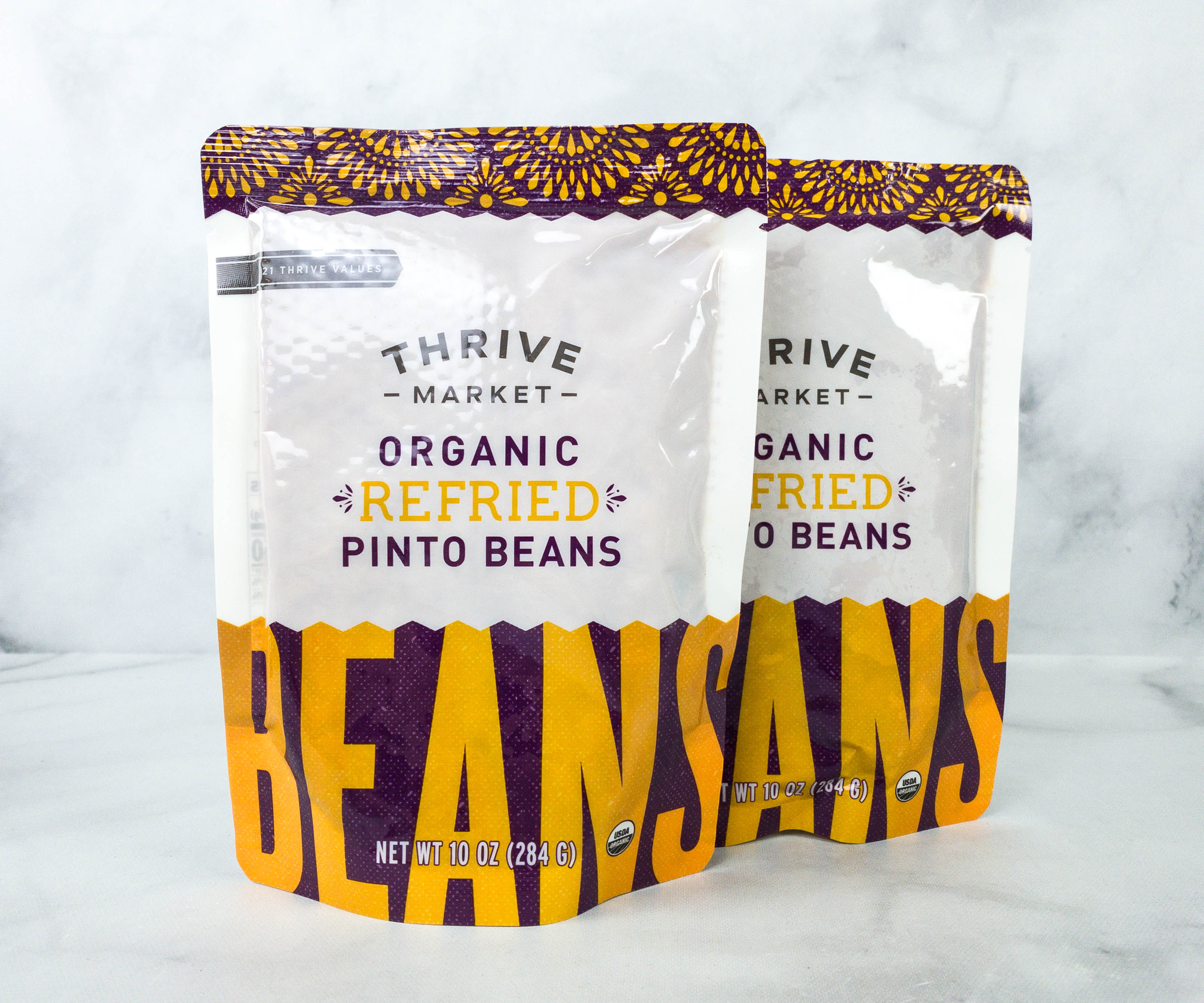 Organic Refried Pinto Beans ($1.49) These bags of pinto beans make a great addition to burritos and dips. They come in a microwaveable pouch for easy preparation. Aside from being organic, pinto beans are also known as an excellent source of plant-based protein!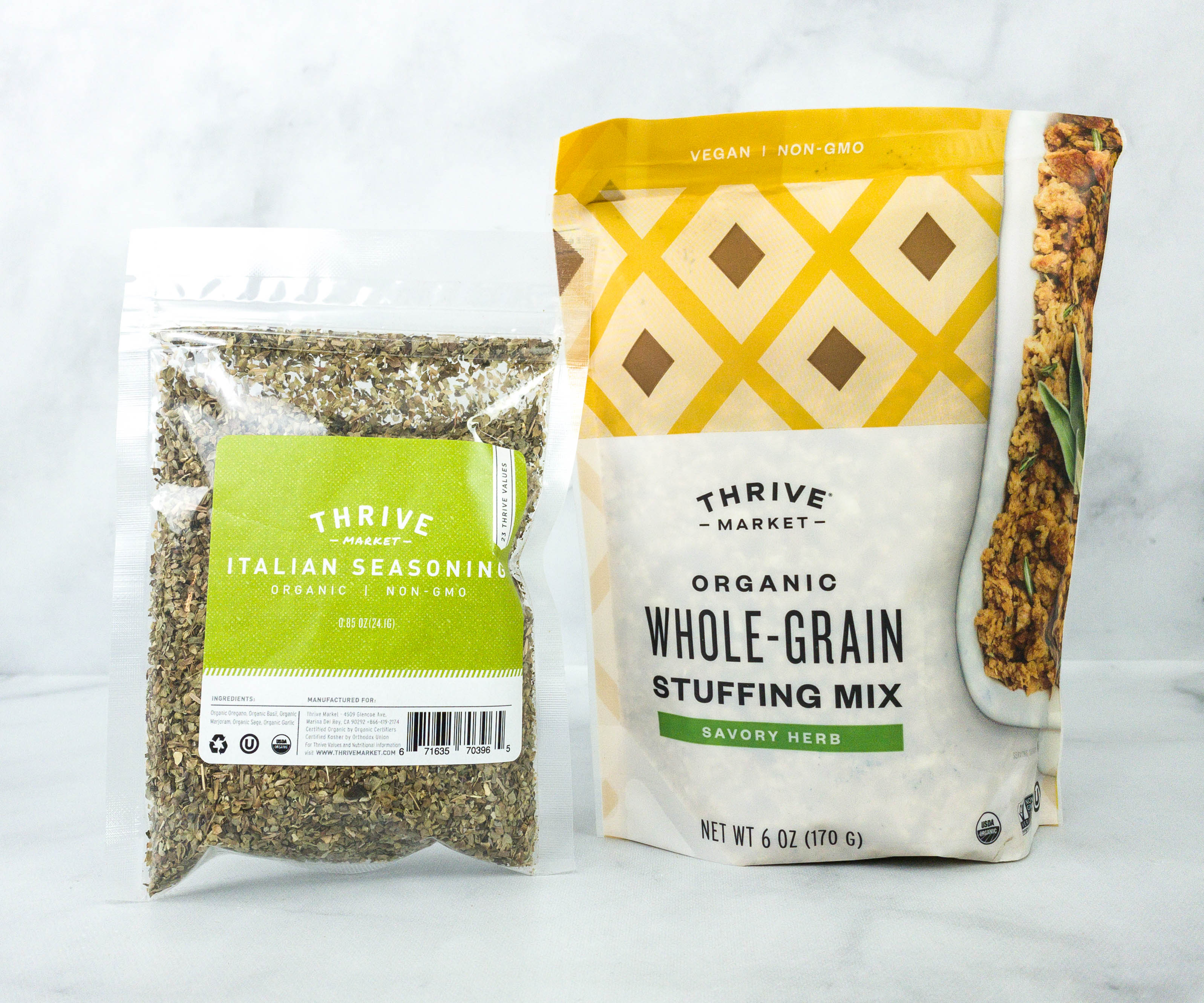 Italian Seasoning Organic ($2.99) Here's a blend of ground herbs that improve the taste of different dishes. It's organic and non-GMO, making it a safe flavor enhancer in the kitchen. We just happened to need some Italian seasoning!
Organic Whole-Grain Stuffing Mix ($3.99) I also have this pack of stuffing mix, made with organic sage and rosemary that give it a nice flavor. To prepare, just add butter and broth, then bake for 18 minutes, and enjoy!
I couldn't resist adding these goodies to my order: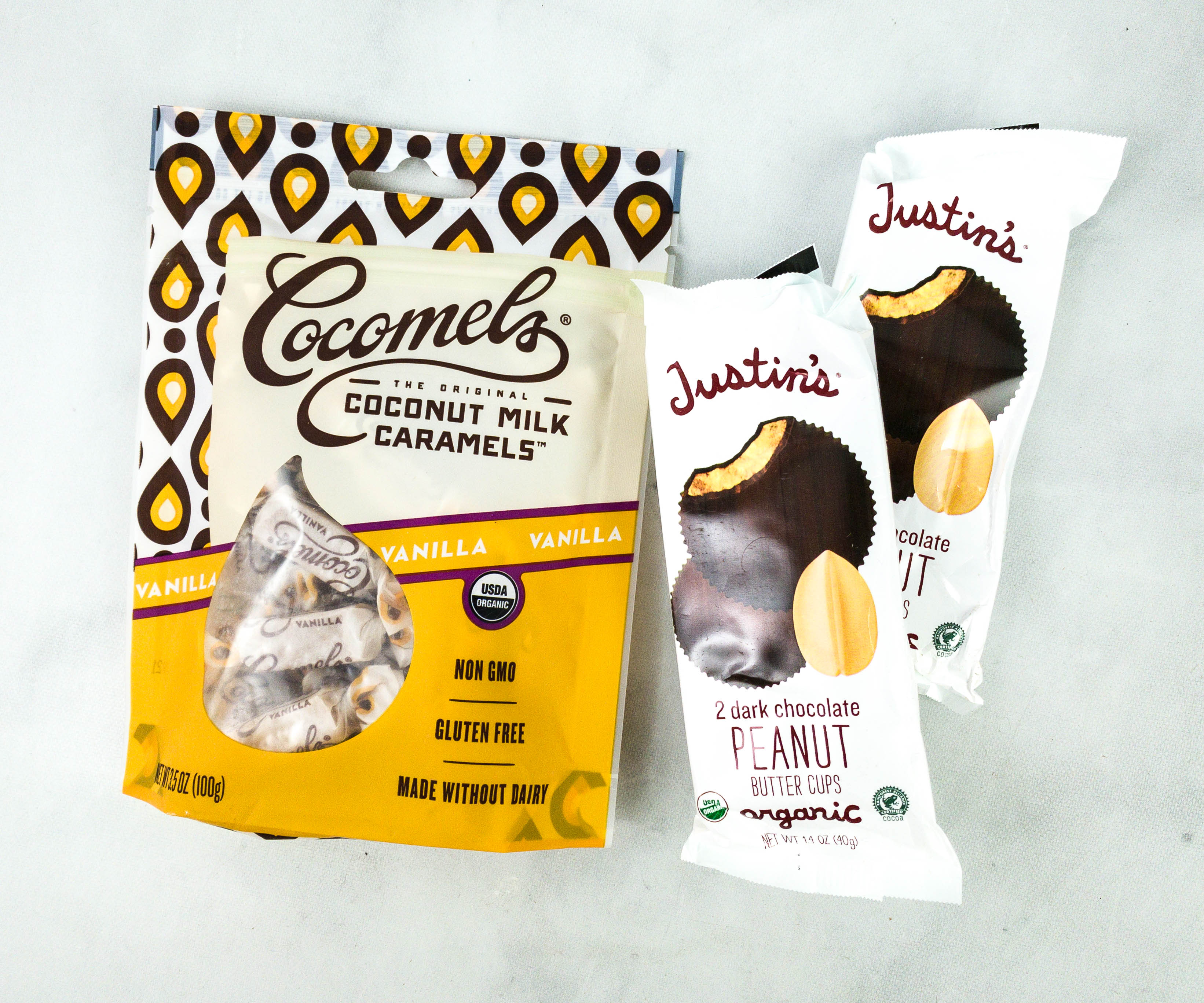 Cocomels Coconut Milk Caramels ($4.49) These vanilla caramel-flavored candies are simply irresistible! They are made with 30% less sugar but sweet enough to satisfy my sweet tooth. It's also non-GMO, gluten-free, and dairy-free!
Justin's 2 Dark Chocolate Peanut Butter Cups ($3.58)Another sweet treat in my box is this pack of organic peanut butter cups. They have an organic dark chocolate coating and a perfect blend of sweet ingredients that include organic cacao beans, organic cocoa butter, and organic vanilla powder. This is just as good as the regular peanut butter cups from popular brands, and it's way healthier!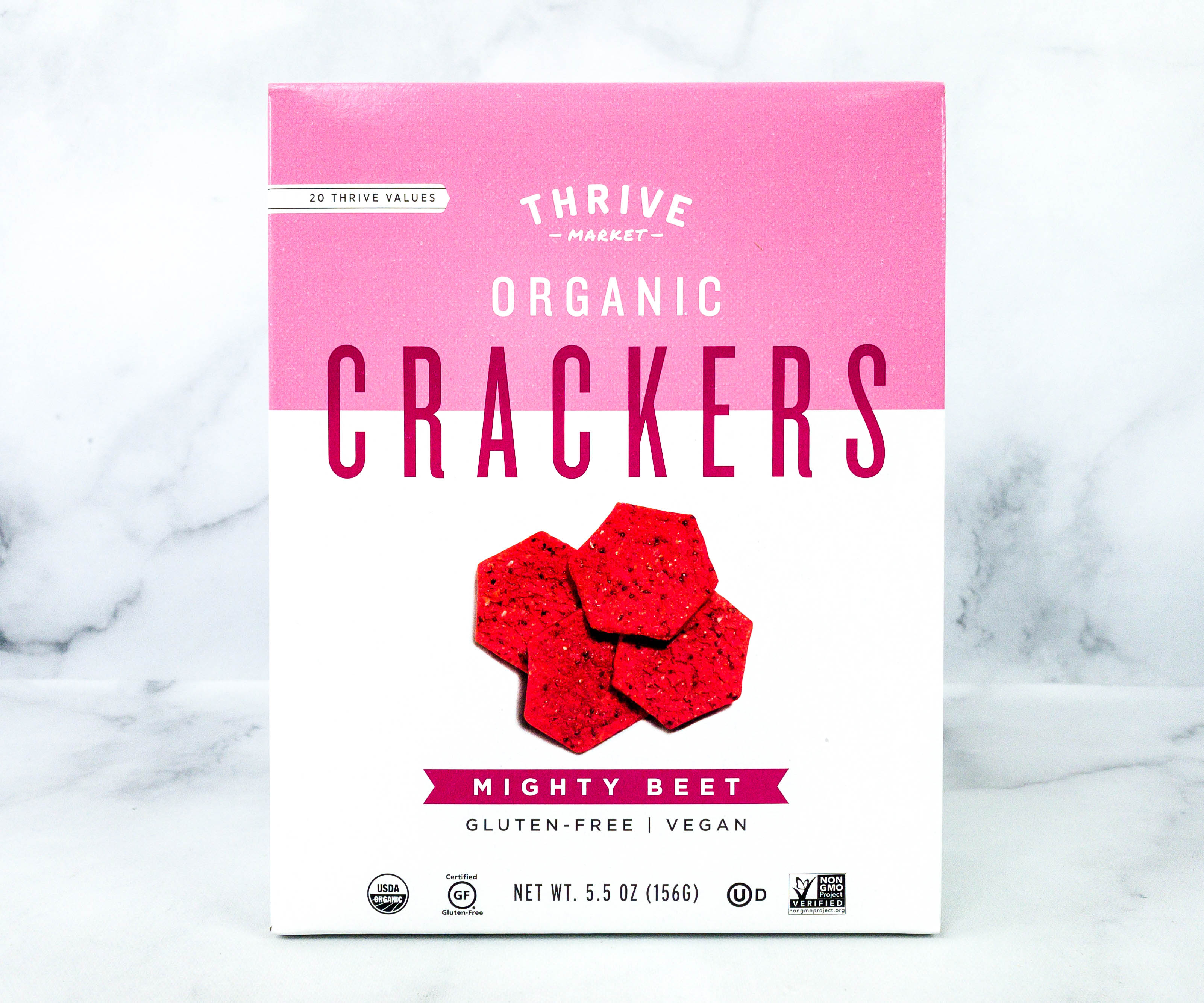 Organic Crackers Mighty Beet ($2.49) Here's something that can replace crackers filled with hydrogenated oils! They are organic crackers made with beet, thus their striking red color. Other ingredients are chia seeds and stone-ground corn. Also, each piece is crispy and satisfying. I snacked on this on its own, but it's also great for pairing with cheese or hummus.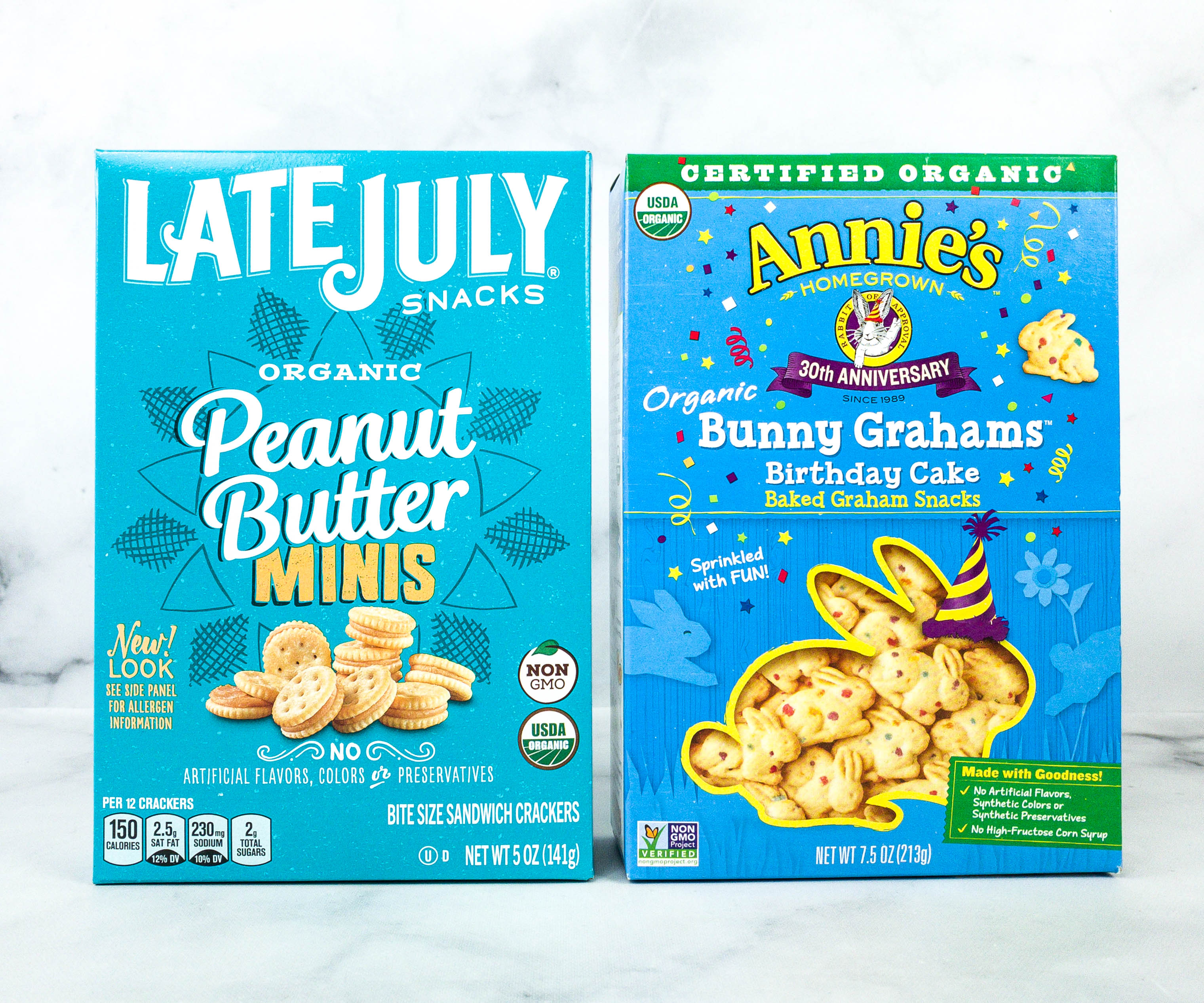 Late July Peanut Butter Minis ($3.49) My kids love peanut butter and these bite-sized sandwich crackers made them really happy. The peanut butter used for this snack is made from roasted and grounded organic Valencia peanuts. Meanwhile, the crackers are made with organic red winter wheat. They taste subtly sweet and also buttery!
Annie's Homegrown Organic Bunny Grahams Birthday Cake Baked Graham Snacks ($3.79) These bunny-shaped graham bites are so adorable! They are birthday cake flavored and made with whole wheat flour. I also love that they contain zero artificial flavors, synthetic colors, and preservatives.
Late July Snacks Organic Classic Crackers ($2.99) Here are classic crackers with a toasty and buttery taste. It's nice to pair them with a delicious dip or add them on a cheese board! It's also organic, non-GMO, vegan, vegetarian, dairy-free, and soy-free. We love Ritz-style crackers (especially the kids) but honestly? They're gross! Late July classic crackers are my Ritz-like cracker of choice. They hold up to toppings and don't have a weird oily fake butter taste. Nothing artificial here, folks! We cannot get these locally even in non-COVID times.
My first box from Thrive Market is jampacked with items that really improve the nutrition and quality profile over items we can shop for in our town! I appreciate that Thrive Market promotes eco-friendly and healthy products, plus their service is really convenient especially for busy people like me. So far, all the snacks I picked are delicious and I also have no regrets about the other cooking ingredients because they help make our homecooked meals taste more delicious. The pumpkin puree and the stuffing were just some of my Thanksgiving must-haves and I'm happy to get the organic version from their selection. I'm quite pleased with my overall experience with my membership and I'm also looking forward to discovering other healthy and guilt-free food products! If you're looking for new food or personal items that fit your healthy lifestyle, there's no need to go out as Thrive Market will deliver the goods right in front of your doorstep. Their membership also has a lot of perks, including members-only prices and sales!
What do you think of Thrive Market?