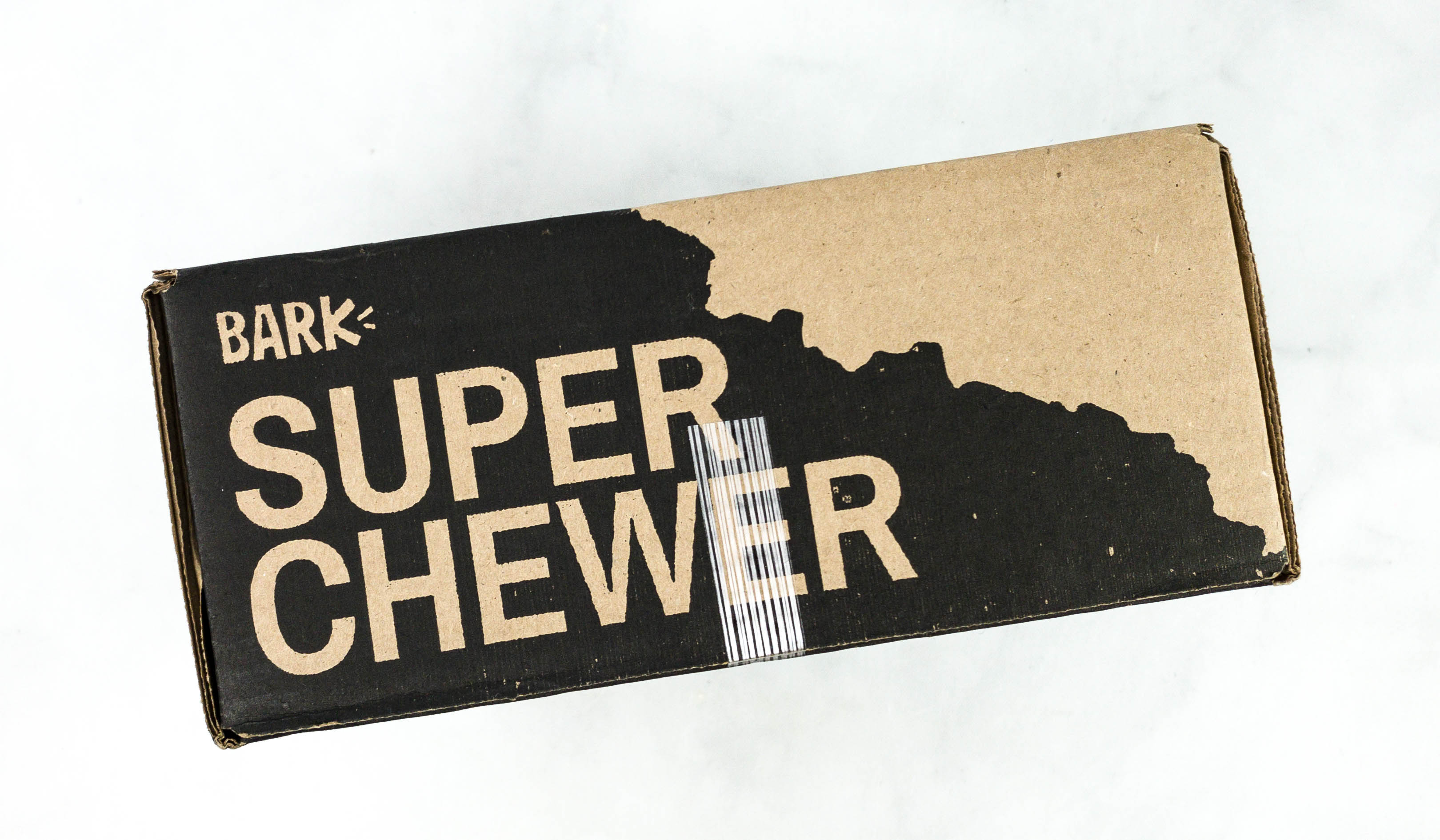 Super Chewer is a monthly subscription box for heavy chewer dogs. Each box is themed and includes 2 fluff-free toys, 2 full-sized bags of treats which are made either in the USA or Canada, plus 2 all-natural chews. A month-to-month plan is $45. It goes down to $35 per month for a 6-month plan, and $30 per month if you subscribe to a 12-month plan.
DEAL: Get 50% off on your first box on a 6+ month subscription! No coupon needed, just use this link to subscribe. OR when you subscribe to a 6- or 12-month SUPER CHEWER plan get FREE Extra month of BarkBox SUPER CHEWER!
LIMITED TIME: Use this link to get your first box made into a FREE double deluxe ($45 value) from BarkBox SUPER CHEWER when you purchase a 6- or 12-month subscription! Ends 1/10!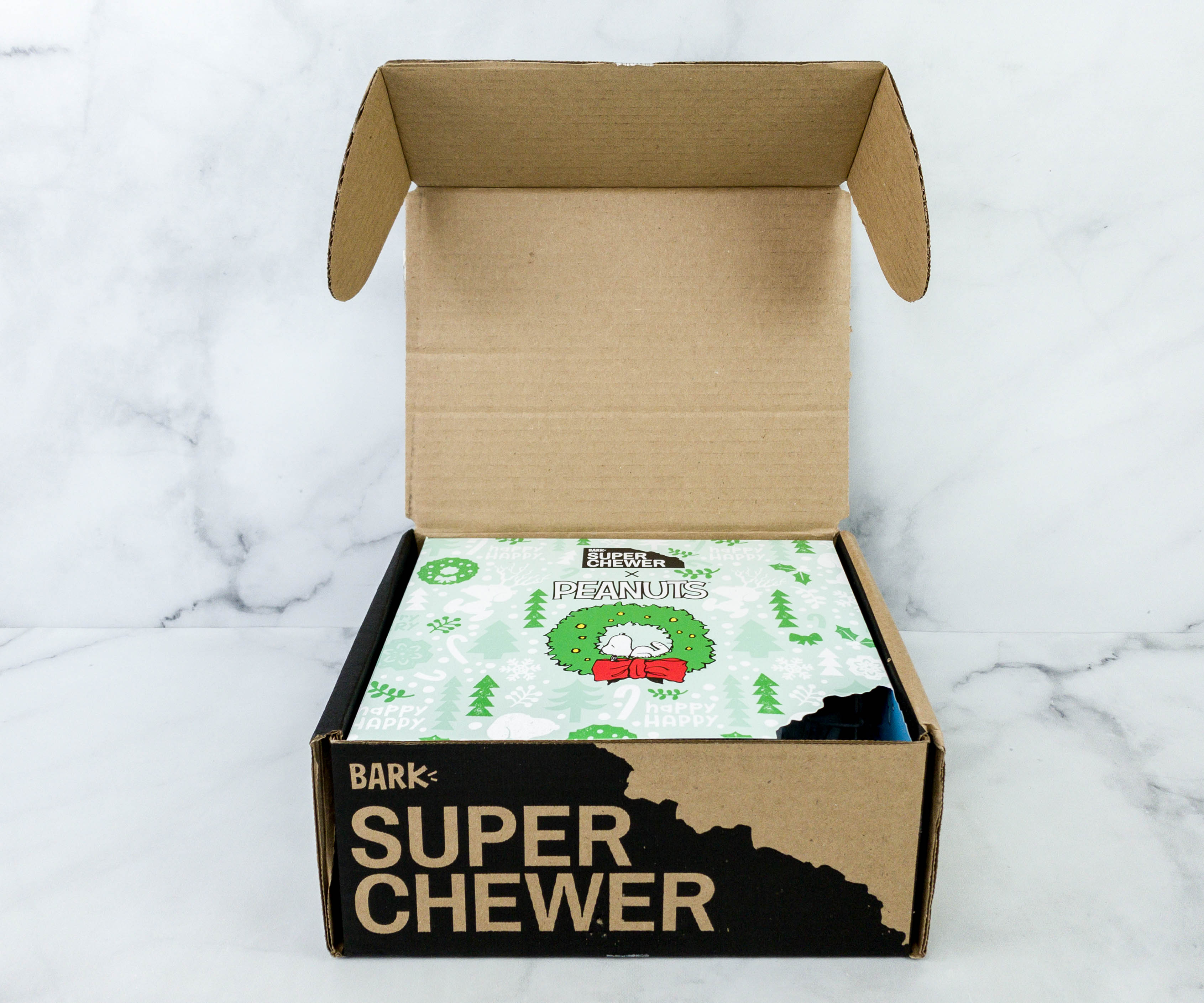 Super Chewer will replace a toy for free if your dog defeats it!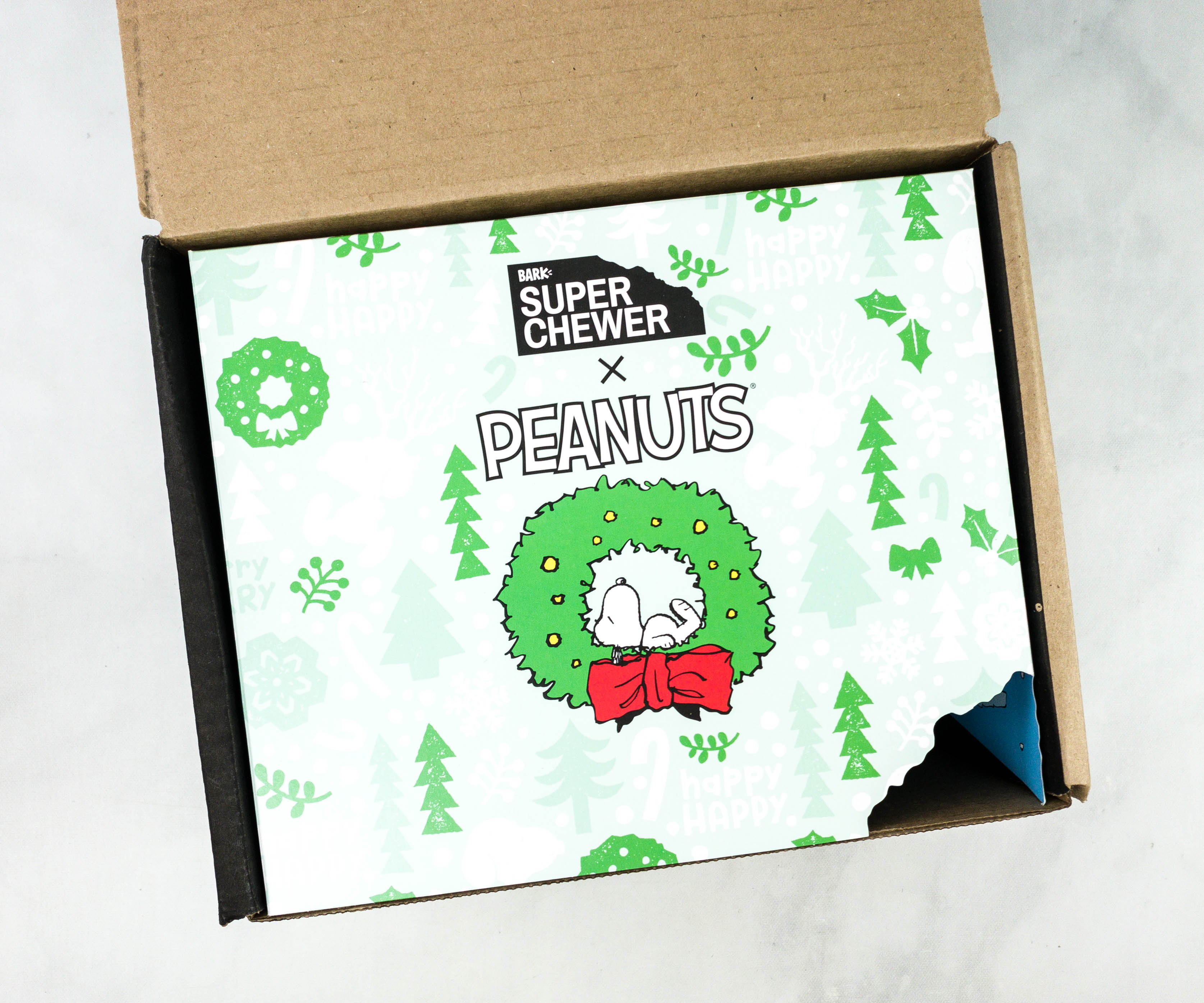 The December 2020 Super Chewer theme is Peanuts!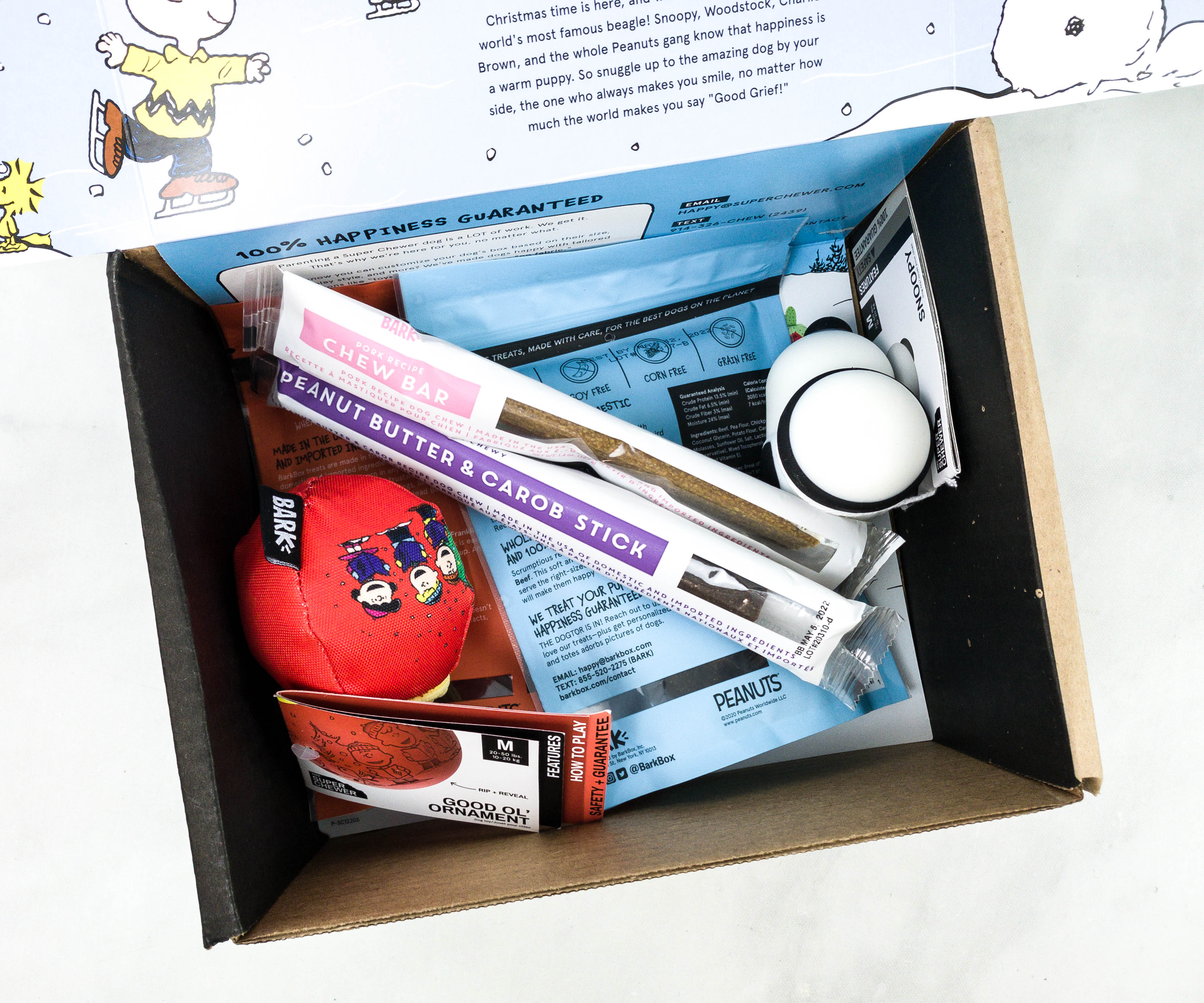 The box doesn't contain any extra packaging or fillers but the items still arrived in great condition.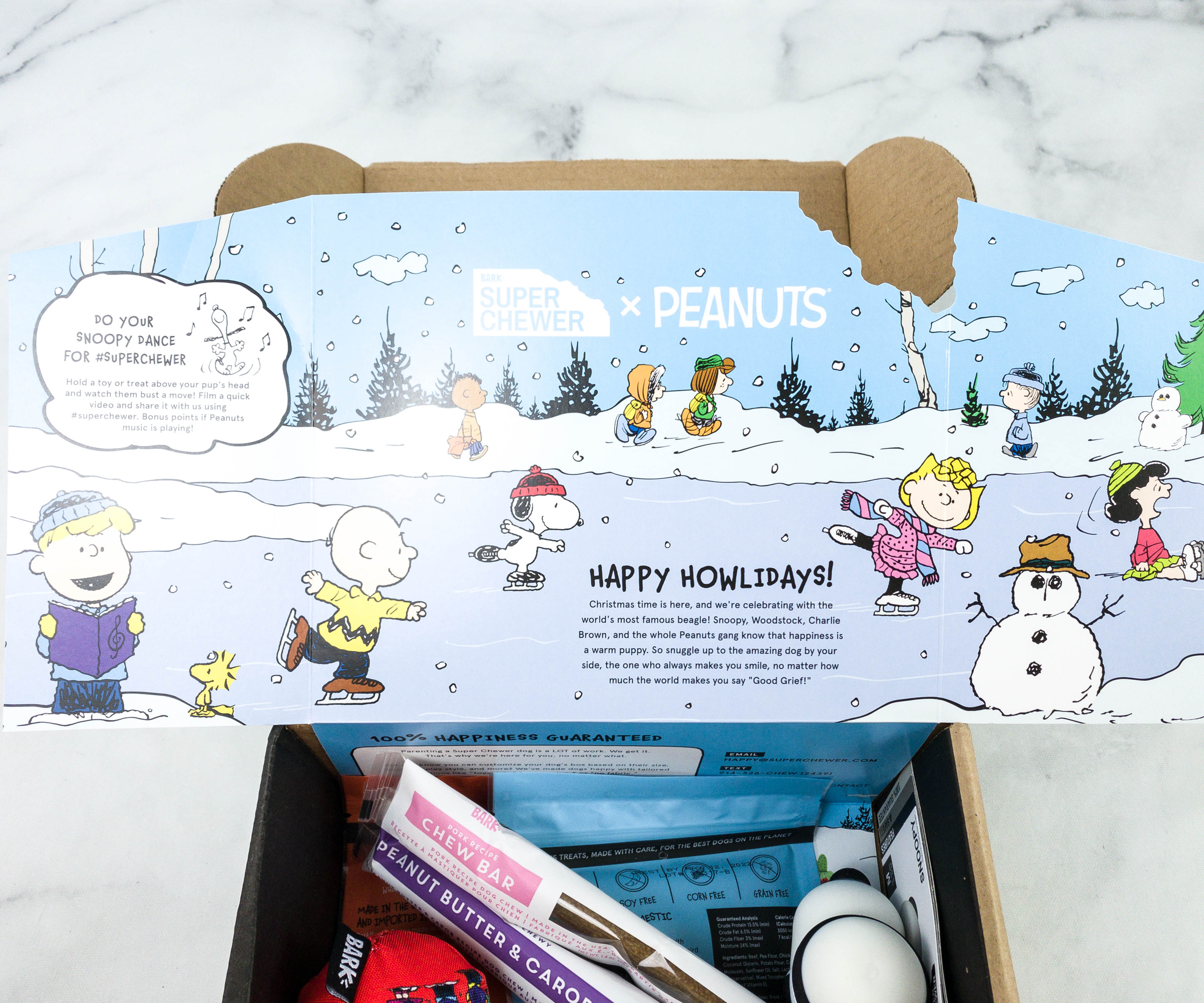 The inner flaps feature high-quality illustrations relating to this month's theme!
December Super Chewer Box features the world's most famous beagle, Snoopy, together with Woodstock, Charlie Brown, and the whole Peanuts gang!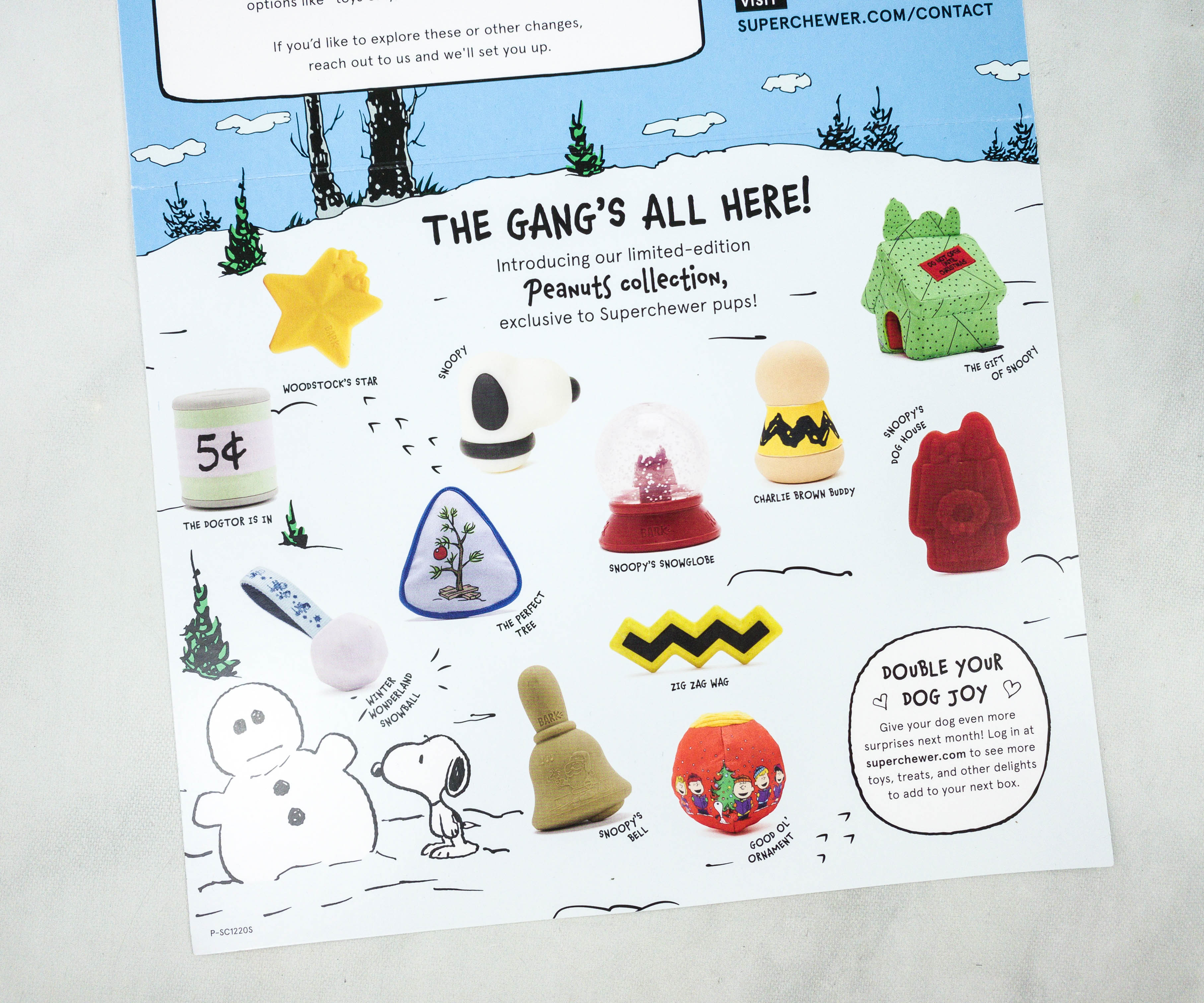 Featured on this part of the flap are some of the items that might be included in this month's box!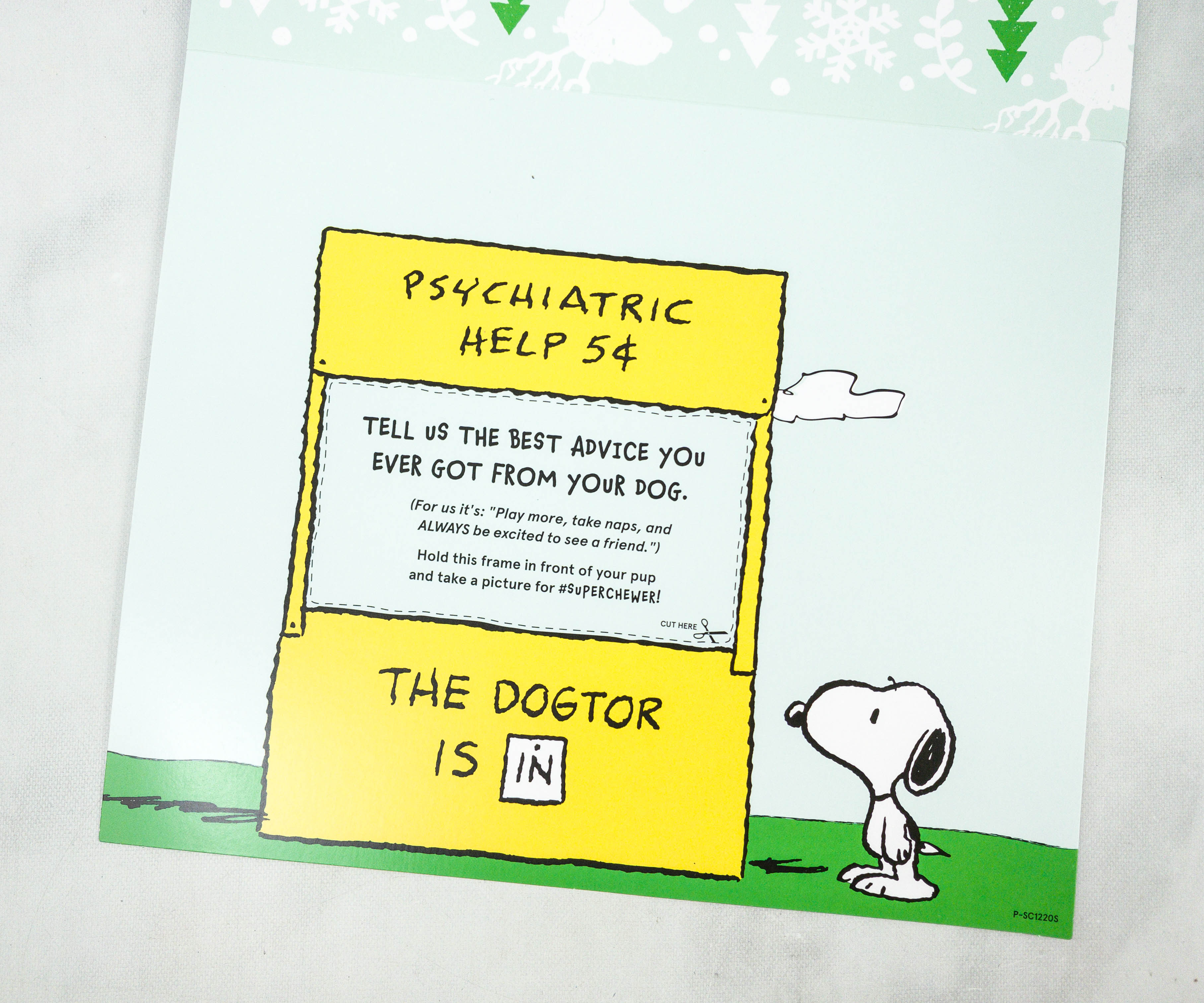 According to this side of the flap, dogs are great psychiatrists. They provide some wonderful life advice to make life happier such as playing more, taking naps, and always being excited to see a friend!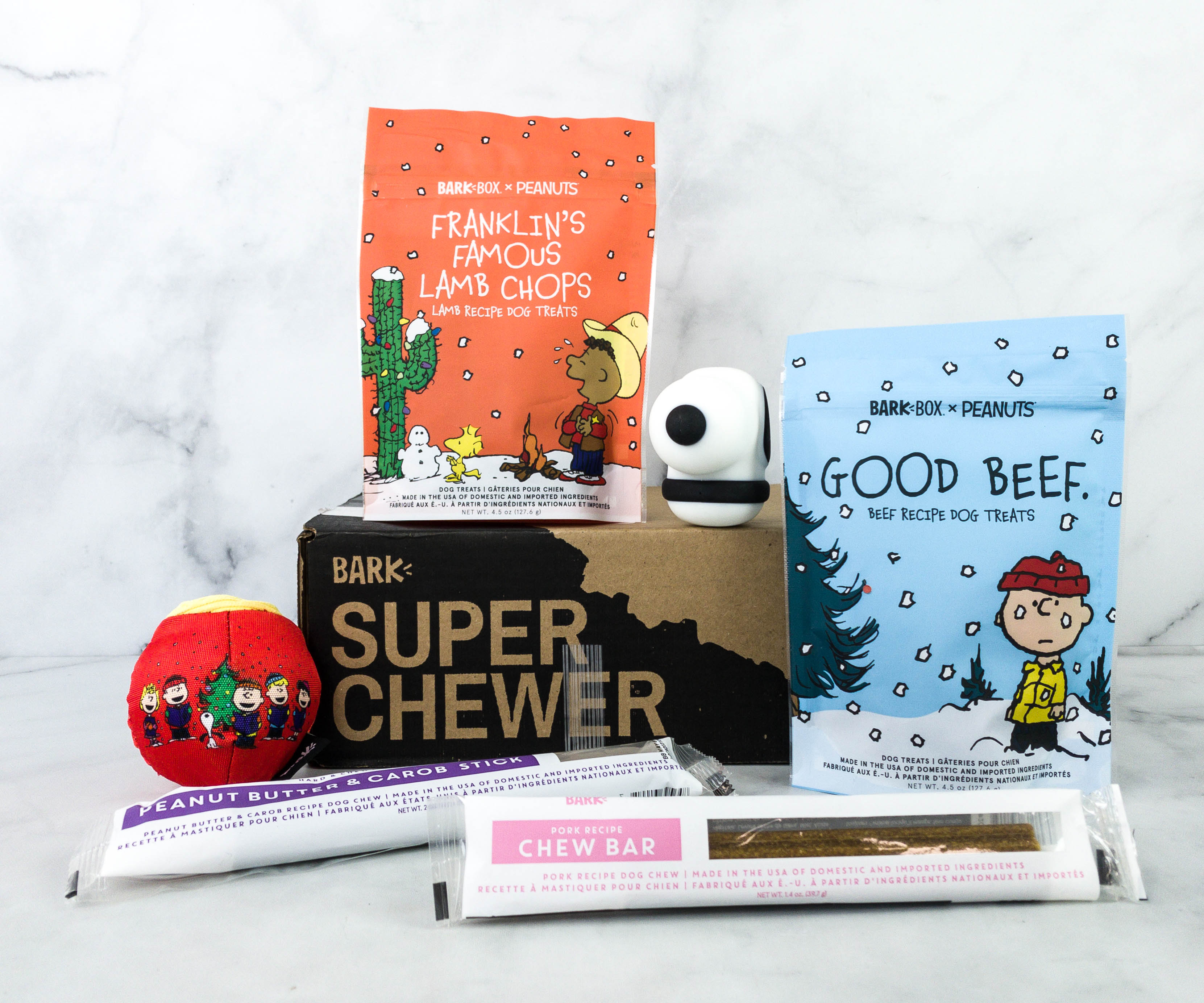 Here are all the items in the December 2020 Super Chewer Box!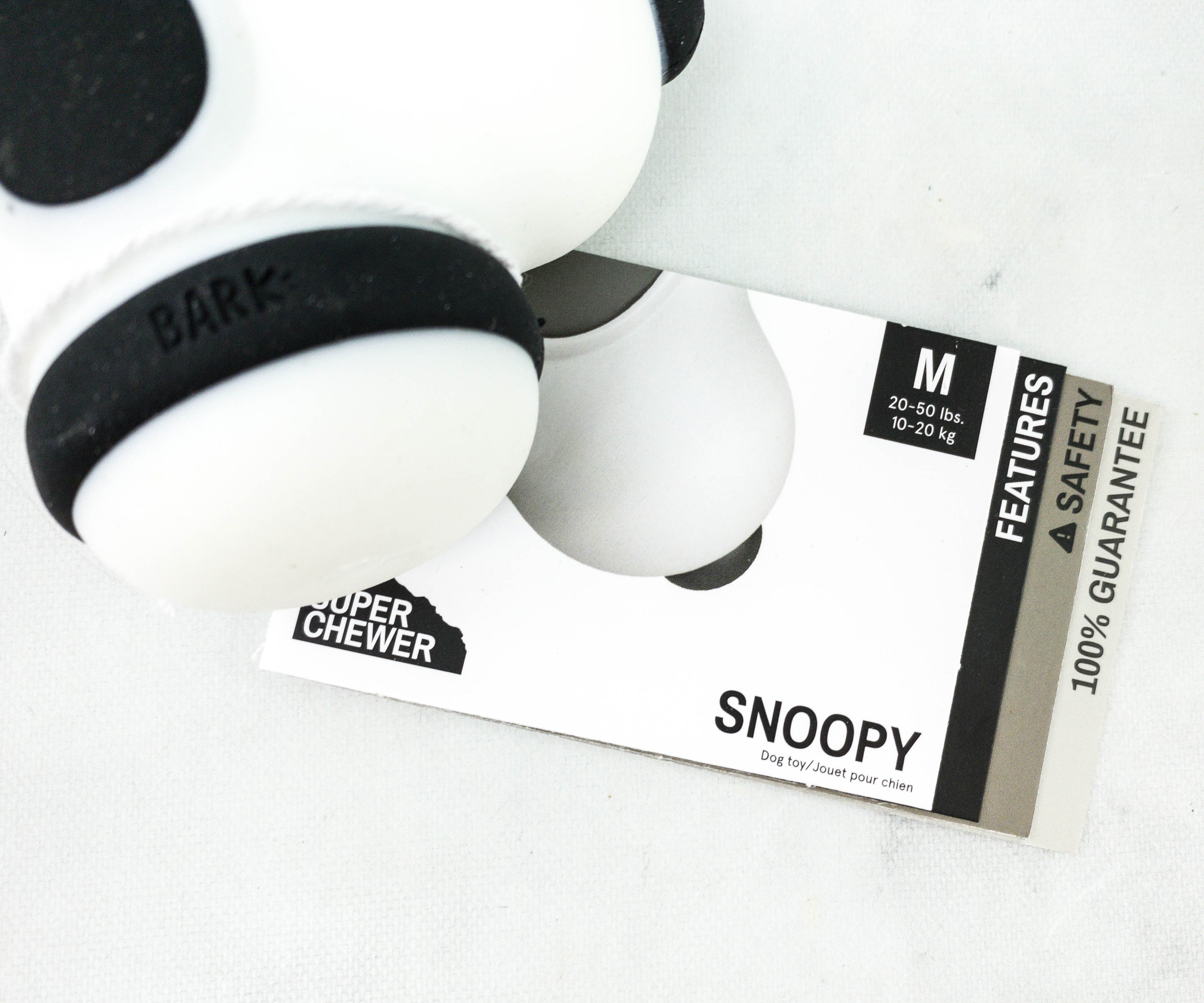 Snoopy Dog Toy ($14) Meet Peanut Gang's most famous beagle and member, Snoopy! It's a tough-chewy toy designed for medium-sized dogs.
This toy comes with a mini-booklet that contains all the information you need to know about the toy.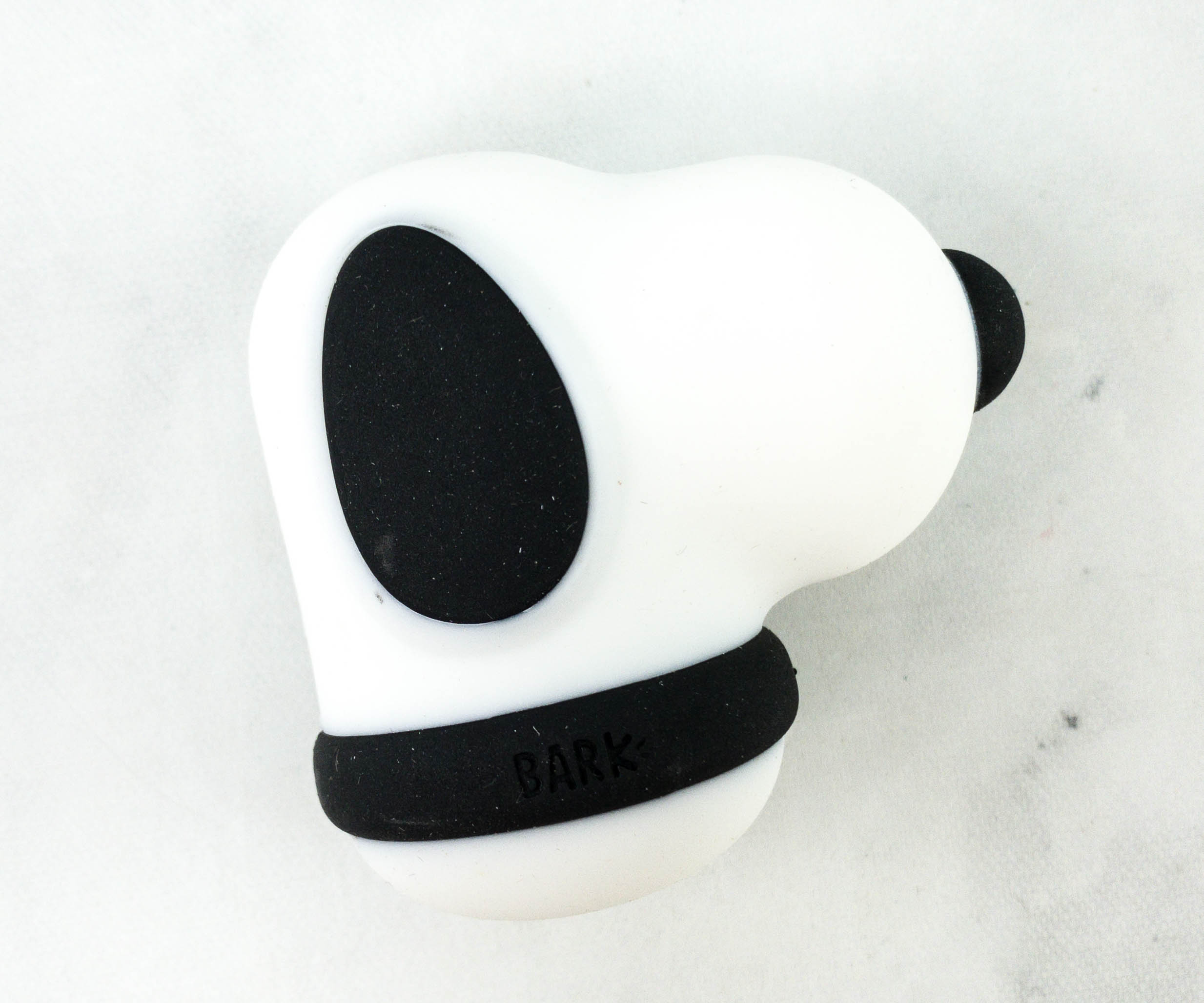 According to the booklet, this toy is made from BPA-free, dishwasher-safe rubber. It's even infused with a vanilla scent to make it enticing for dogs.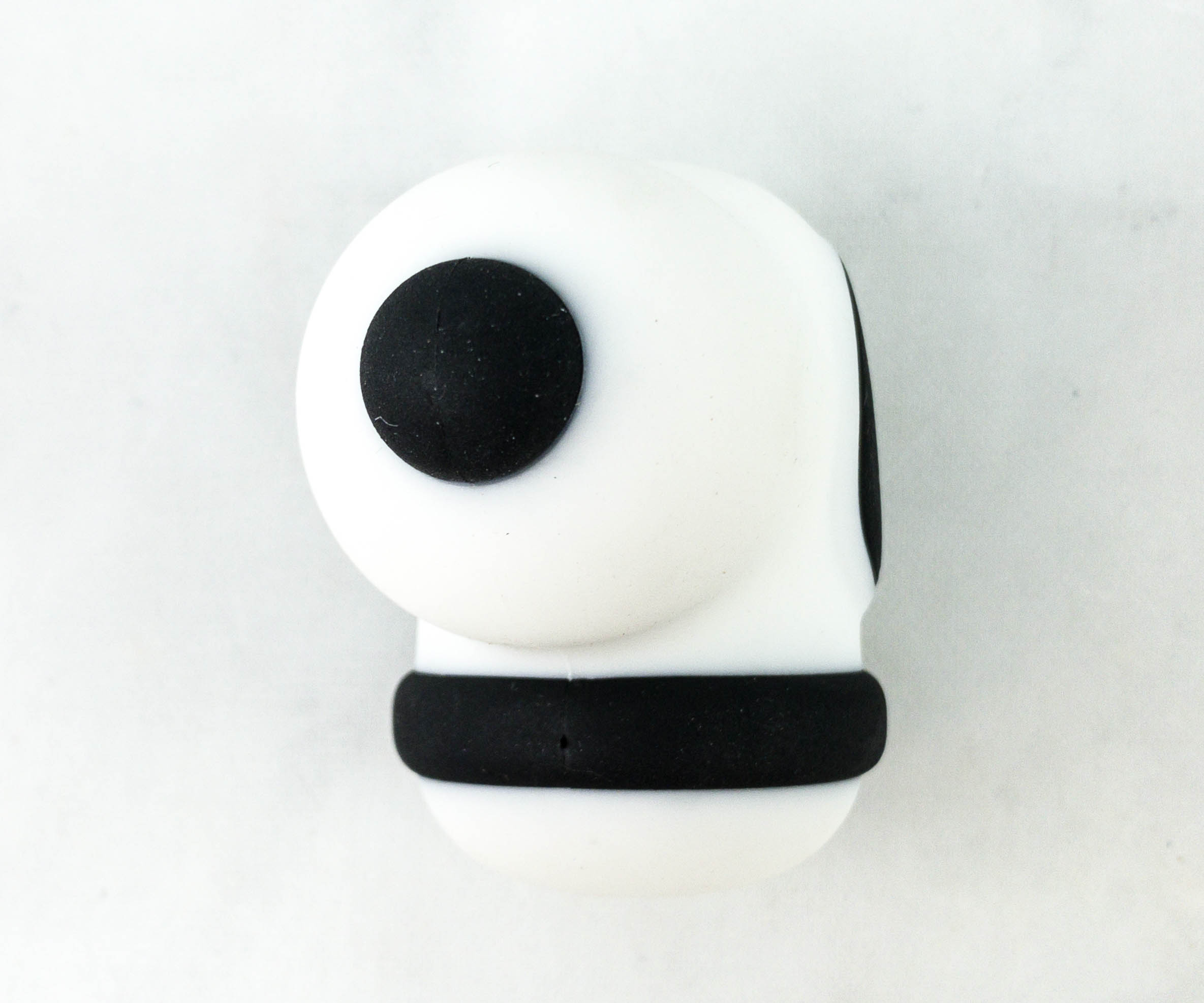 This toy is fluff-free! It's very tough yet chewy and bouncy, making it the ideal toy for playing fetch!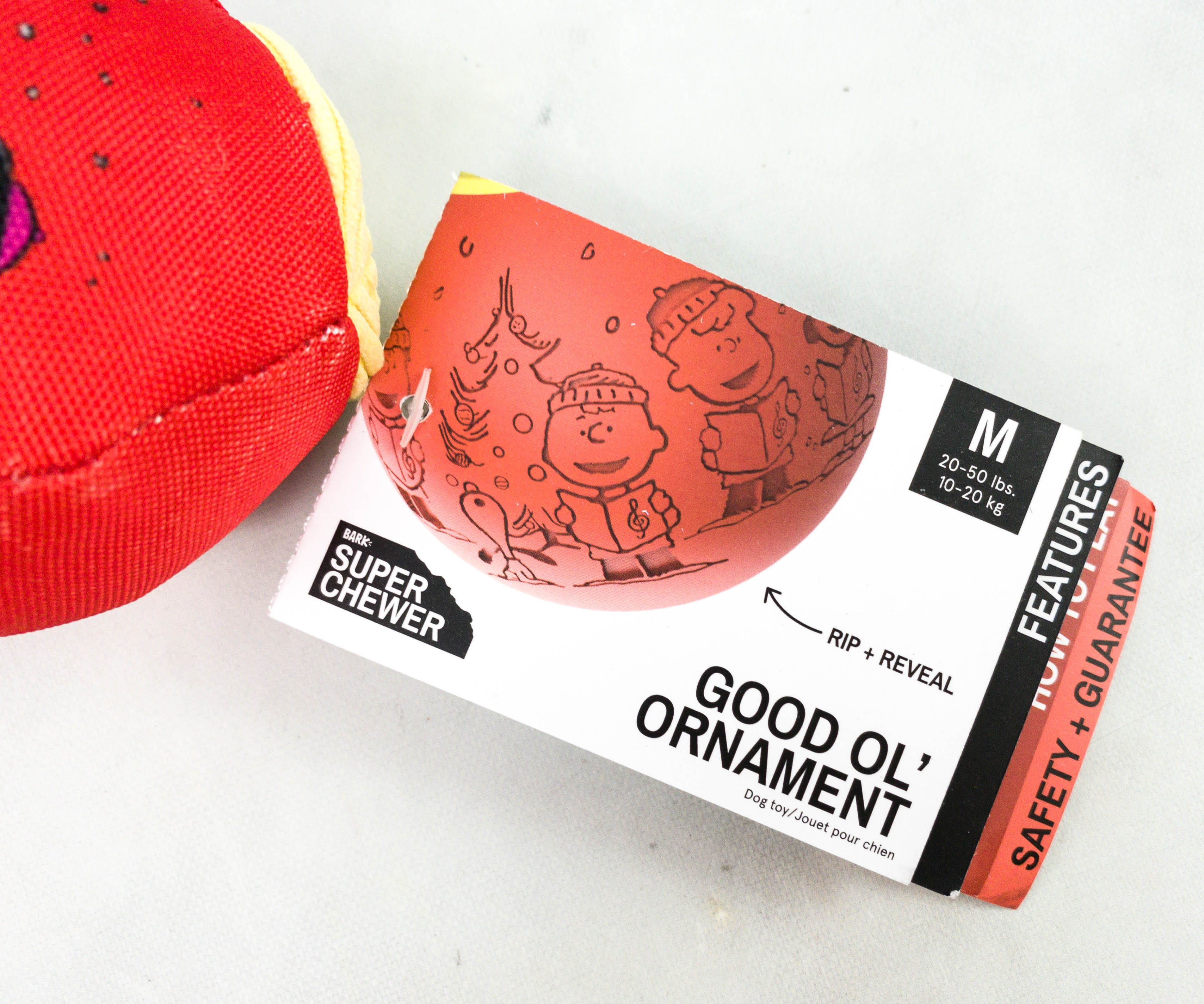 Good Ol' Ornament Dog Toy ($14) It's a ball-shaped, ornament-like toy made for medium-sized dogs! Of course, it also features Peanuts characters.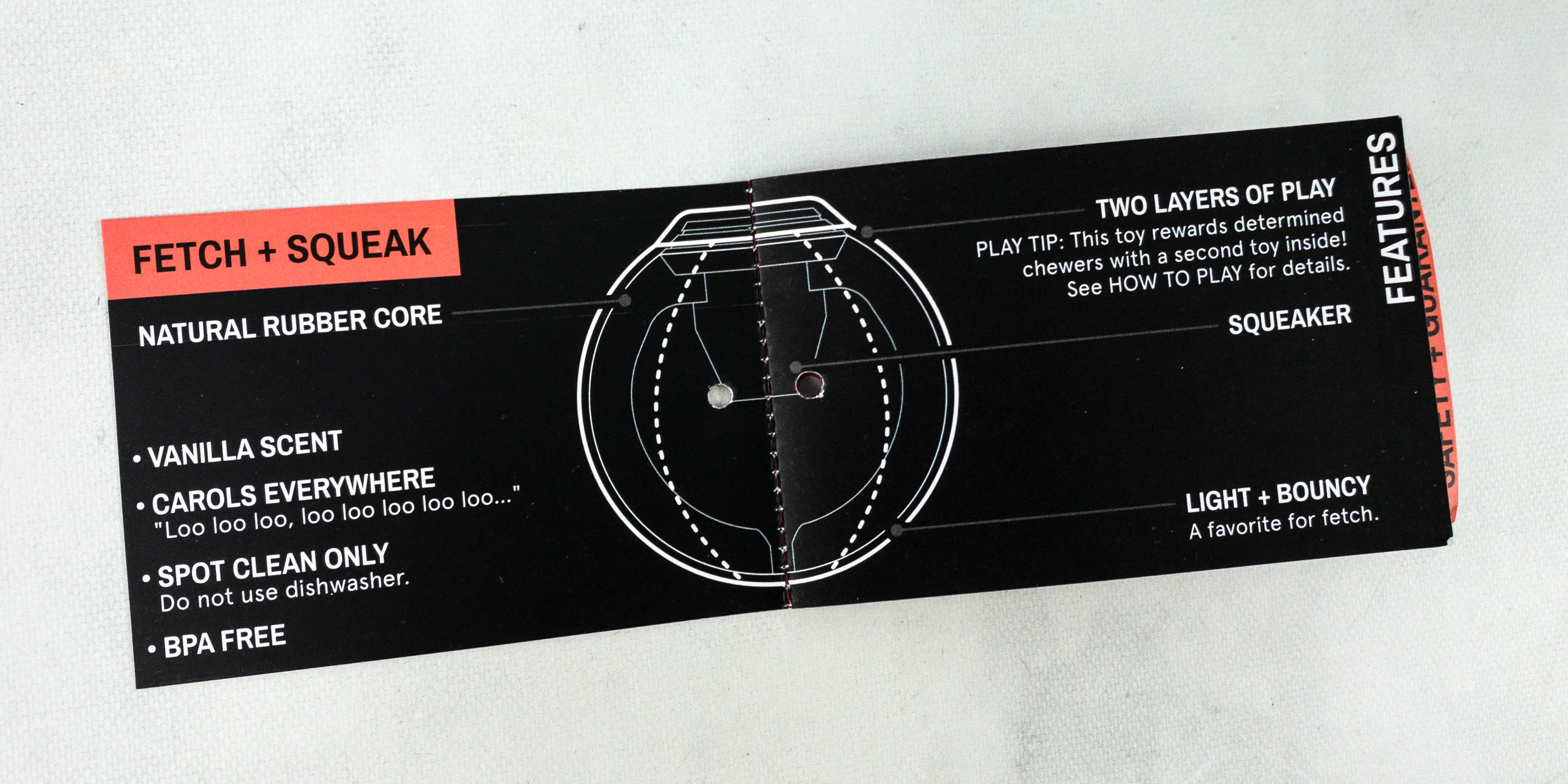 According to the booklet, when your dog rips this, it will reveal a second toy! It also has a rubber core and a squeaker inside.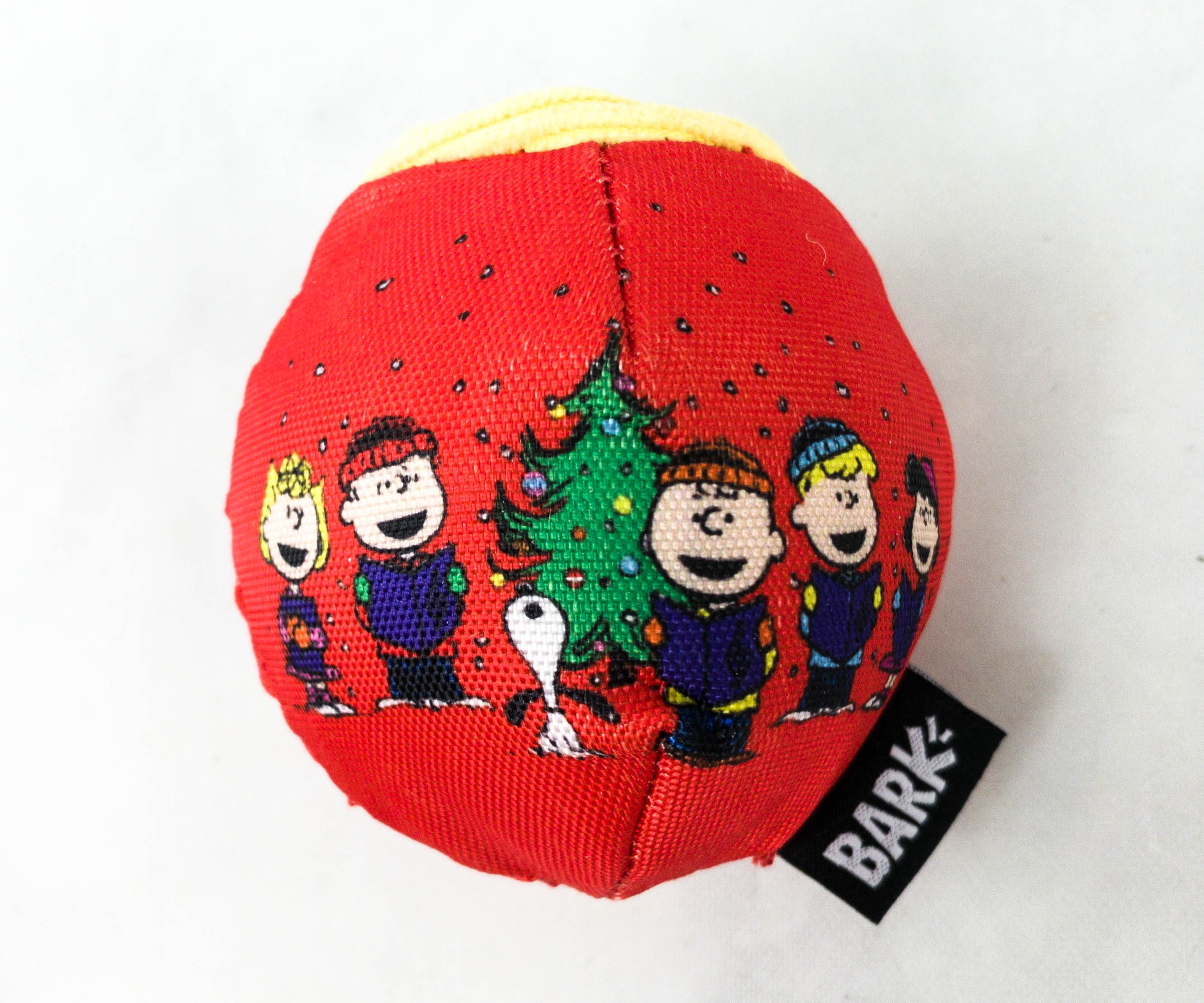 The Christmas-themed toy has a red base color, plus an illustration of the whole Peanut gang and they even seem like they're singing a Christmas carol.
This toy also comes with a vanilla scent that my dogs enjoy. It's so light and bouncy, another great toy for a fetch game!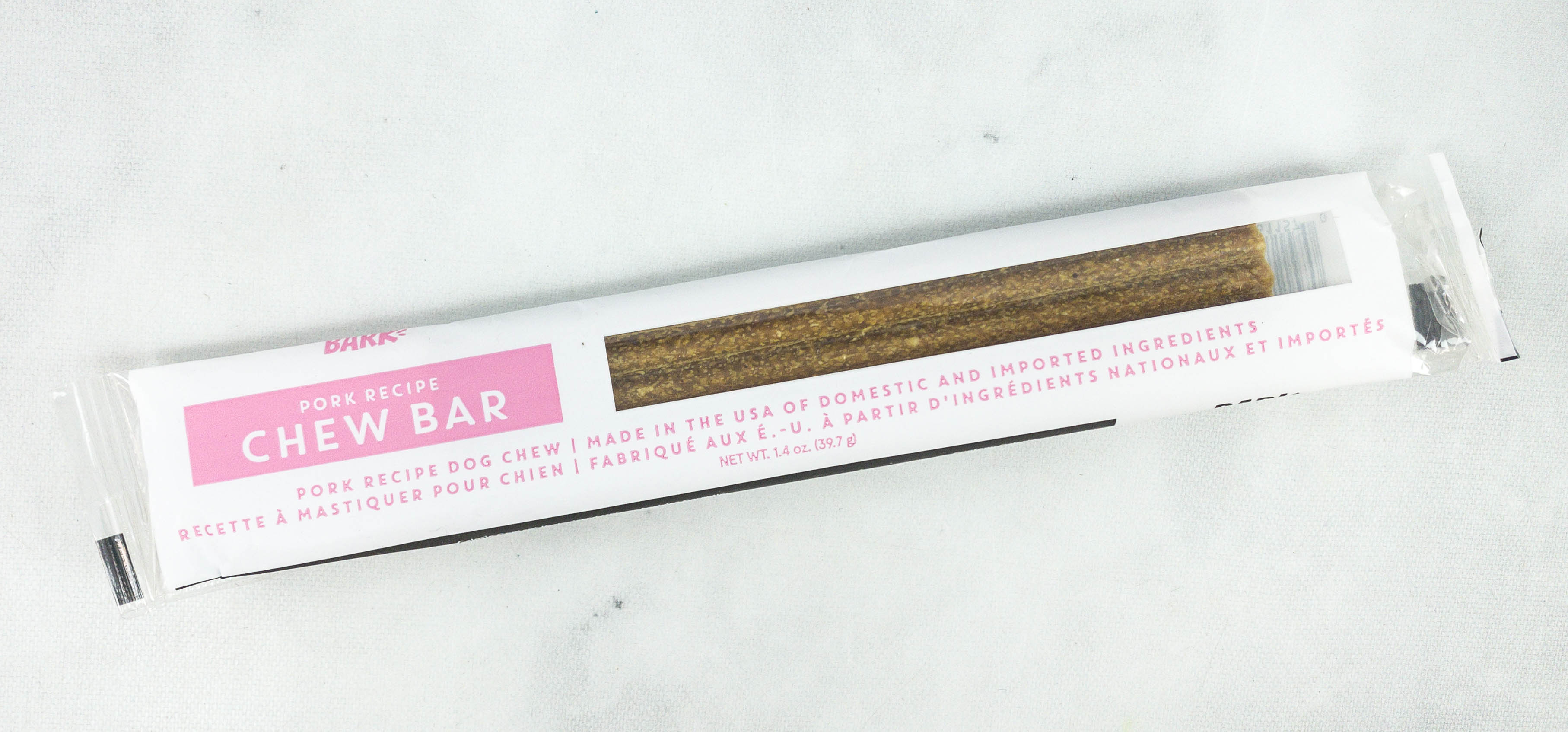 Chew Bar Pork Recipe. This month's box includes a pair of exclusive stick treats from Bark. The first one is made with pork. It's rich in protein and other nutrients that dogs need for a healthier body.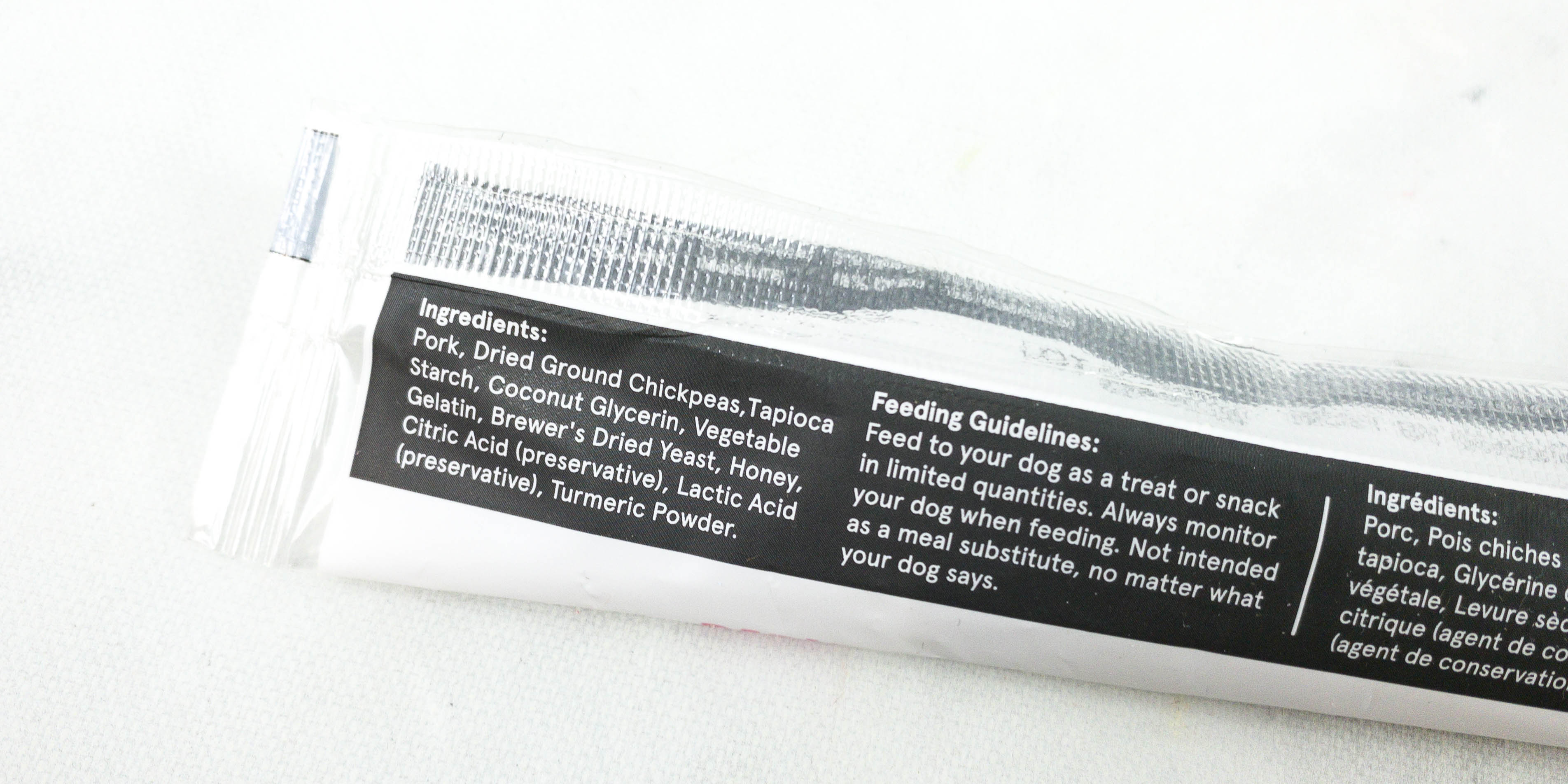 Aside from pork, this stick also contains dried ground chickpeas, tapioca starch, coconut glycerin, vegetable gelatin, Brewer's dried yeast, honey, turmeric powder, and preservatives.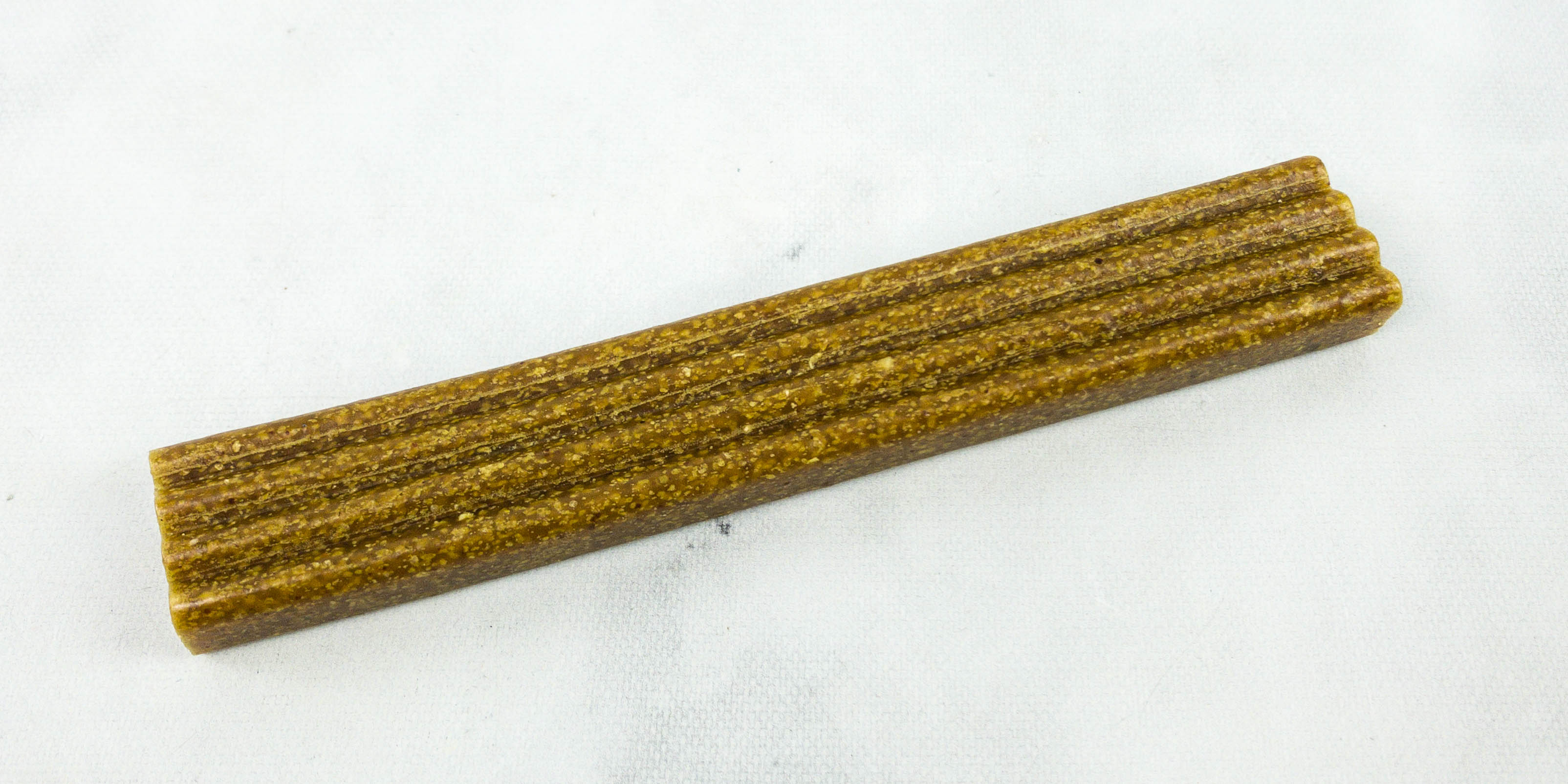 It's a thick, hard, and chewy stick, perfect for gnawing!
Peanut Butter & Carob Stick Dog Chew ($3) The second chew stick is peanut butter and carob-flavored! My dogs love peanut butter and this is a hit with them!
This stick also contains natural peanut butter flavor, chickpeas, pea flour, coconut glycerin, tapioca flour, cane molasses, Brewer's yeast, and preservatives.
This stick can be served as is or broken down into smaller pieces for easier munching!
Beef Recipe Dog Treats. Beef is the main ingredient of this bag of delicious dog treats! It's a good source of protein for dogs.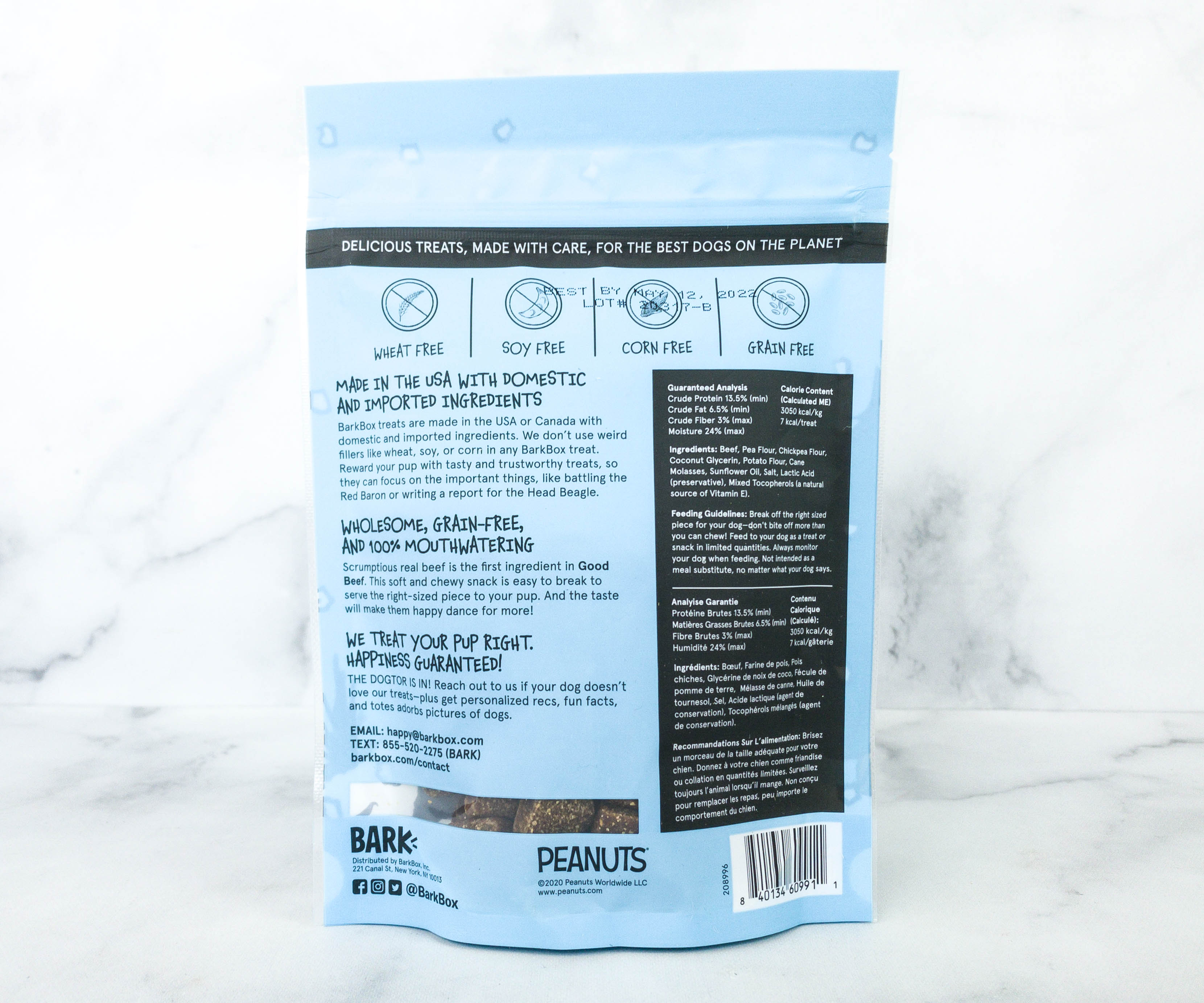 According to the packaging, these treats are wheat-free, soy-free, corn-free, and grain-free. Other ingredients include pea flour, chickpea flour, potato flour, cane molasses, and sunflower oil.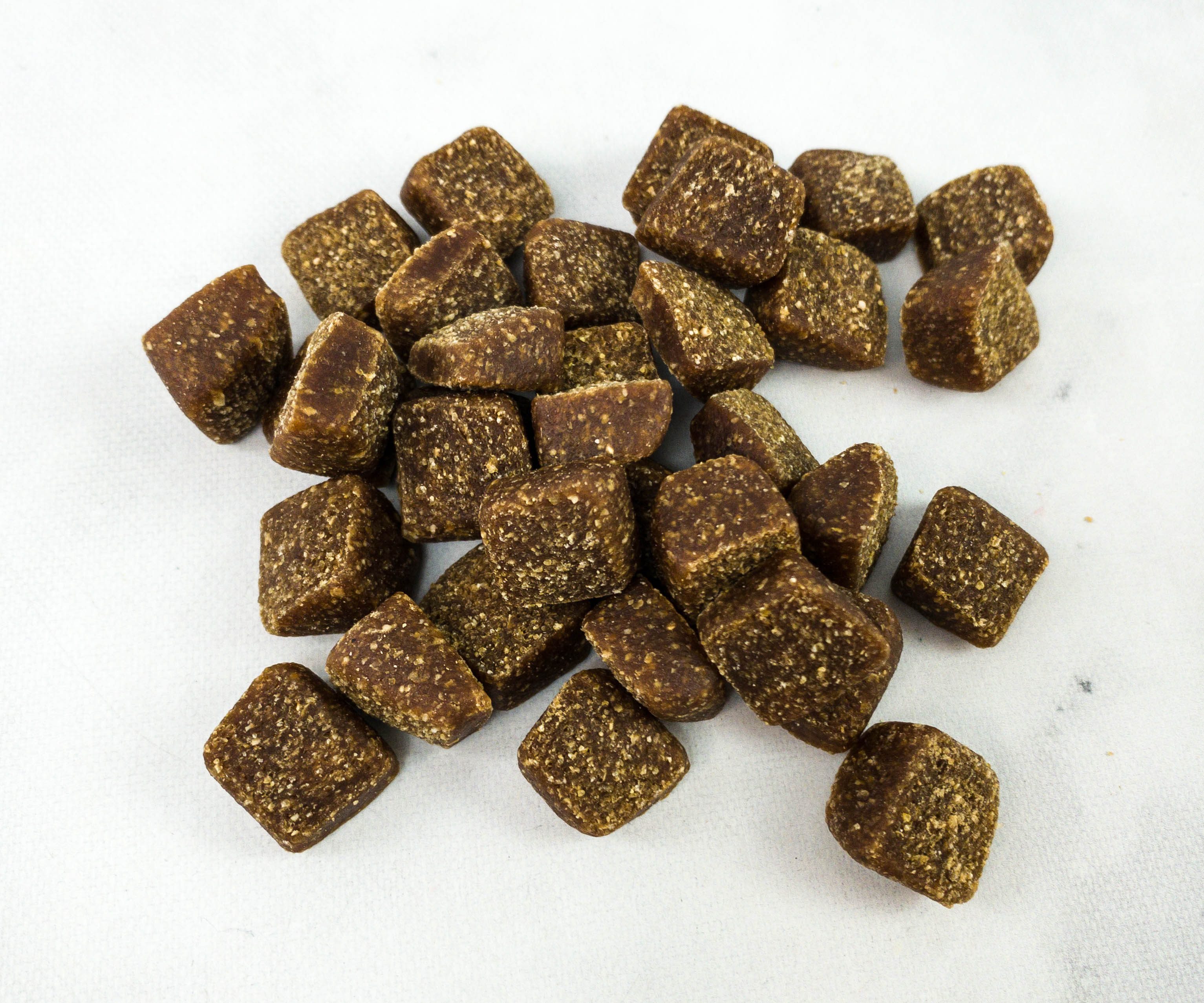 The treats are bite-sized, so they're easy to feed to dogs, whether as a snack or as a training reward.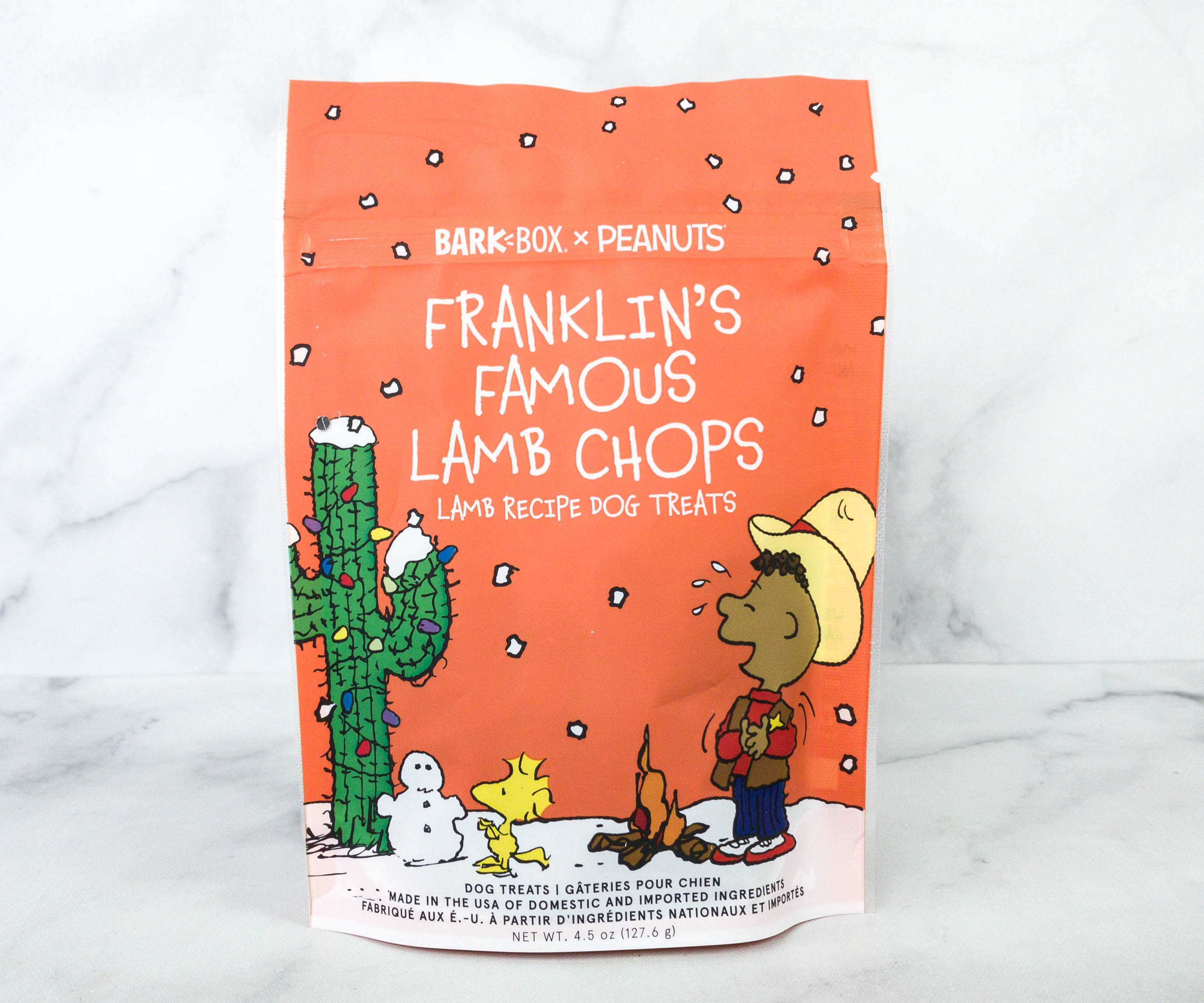 Lamb Recipe Dog Treats. Woodstock and Franklin graced the second bag of treats. The treats are made with lamb and cranberries!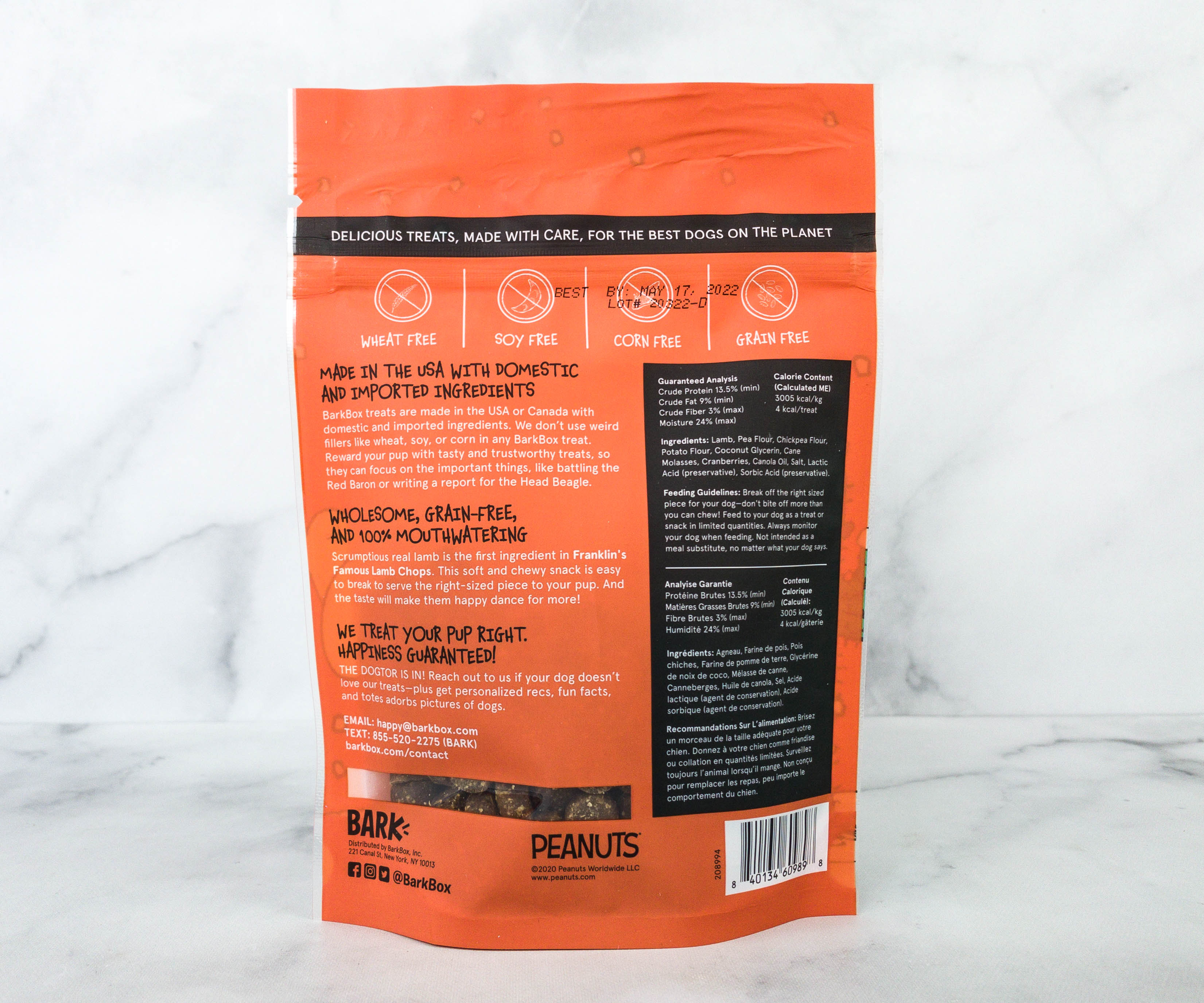 Cranberries are rich in antioxidants, while the lamb is high in protein. Also, lamb is a good alternative for dogs with sensitivities to beef and chicken.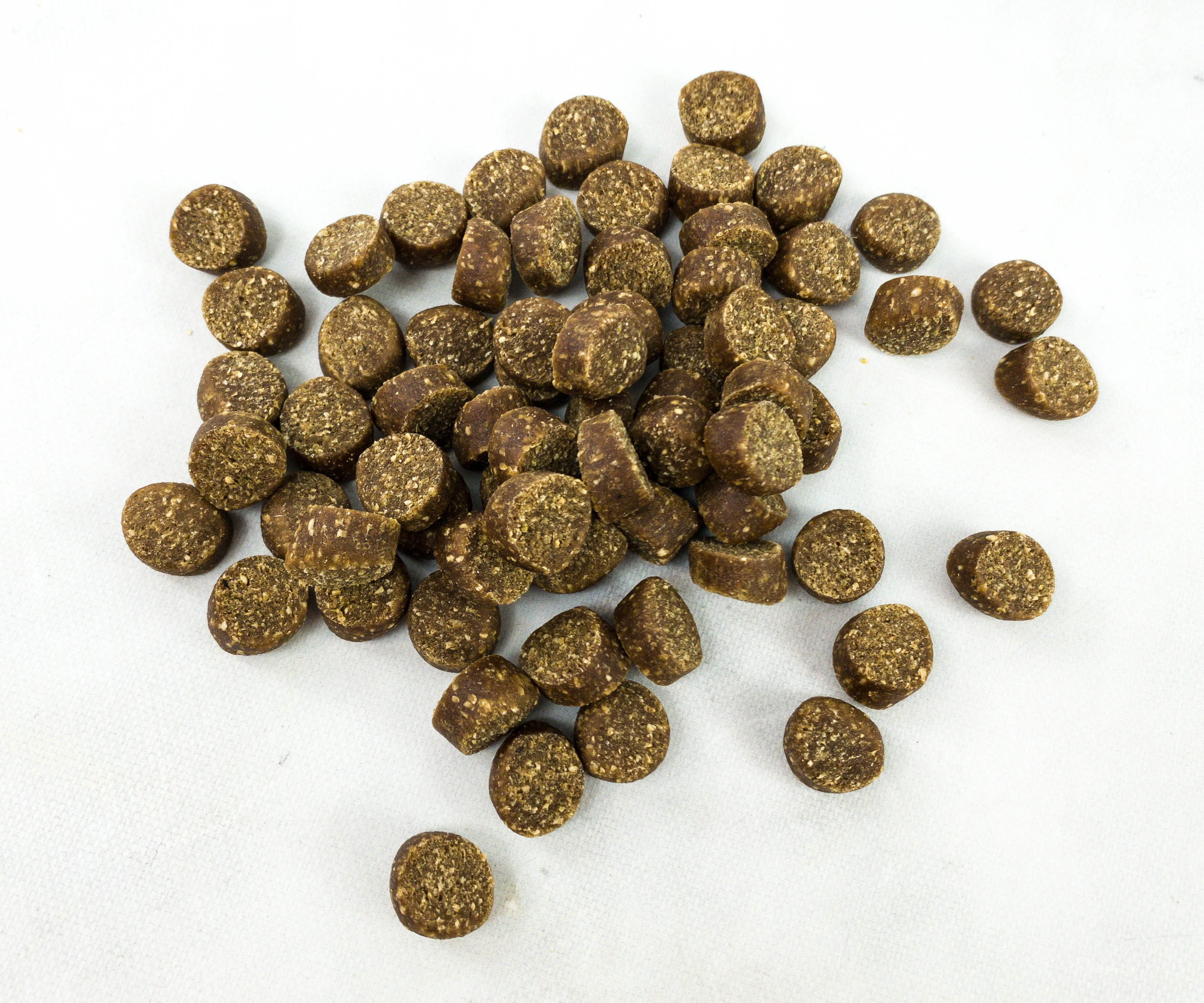 These button-shaped treats are moist and chewy!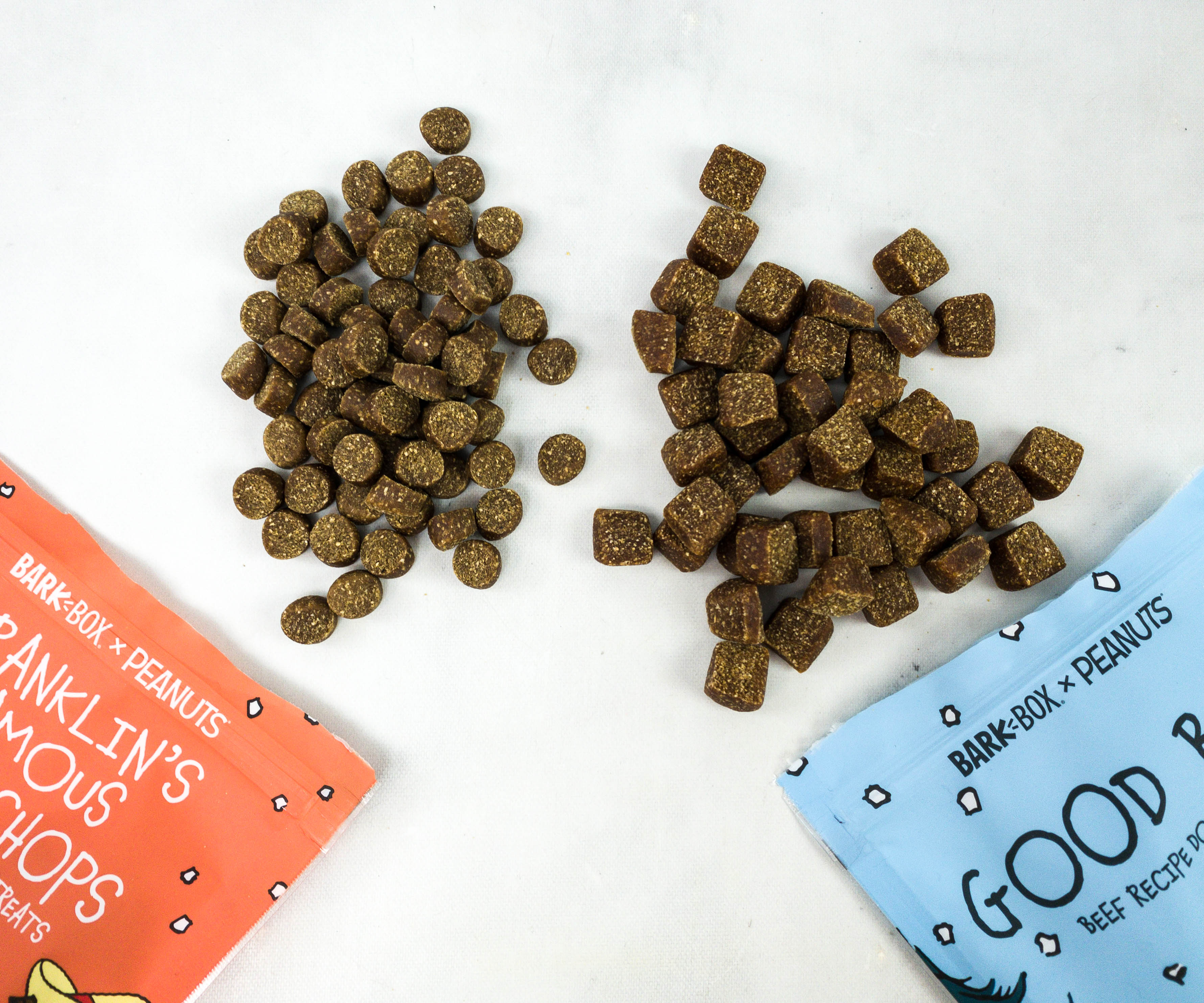 These treats have a slight difference in color, but they are both chewy and my dogs love them!
Super Chewer Box has a fun theme this month! Everything features Peanuts characters, from the dog toys to the treat packaging! The toys were extra durable and bouncy, making them the ideal toy for playing fetch with dogs. The treats also didn't disappoint as they are made only with healthy ingredients. Aside from the bags of treats, the box even included a chewy snack stick! If you're looking for goodies tailored to your beloved heavy chewers, you can find all of them in this monthly box, and the best thing about it is that everything will be delivered at your doorstep!
What do you think of this month's Super Chewer Box?