Kinder Beauty Box is a vegan and cruelty-free subscription box that sends skincare, hair care, makeup, and accessories. Each month you will receive up to $165 worth of clean, vegan & cruelty-free skincare, makeup, hair-care and accessories and at least two of those products will be full-sized! The items are compassionately curated by Daniella Monet and Evanna Lynch. All Kinder Beauty Box products are guaranteed to be 100% vegan and cruelty-free. Kinder Beauty Box is $25 a month, with free shipping to the US, $5.95 elsewhere. Price drops to as low as $23 a box with a prepaid 6-month plan. A portion of all sales will go towards benefiting the founders favorite animal rights and environmental causes.
Every product that goes into a Kinder Beauty box is 100% vegan, and every brand we work with is completely cruelty-free. This means the products and ingredients are never tested on animals, the products aren't sold in China or any other countries that mandate animal testing, and the brands aren't owned by any parent companies that test on animals.
DEAL: Use coupon code HELLO5 for $5 off your first order!
First look! Kinder beauty Box sends out two box variations each month.
Each month, it will be a surprise which of the two boxes you'll be receiving, but you can rest assured knowing that they are always each going to be incredible in their own ways.

Wondering what happens if you really, really, really want one of the monthly collections in particular, but you receive the other? Got FOMO on your brain? We feel you.

No worries! At the end of the month, if we have any boxes remaining, we'll offer them to members only at a special price in our exclusive monthly Add-On Shop. This way, you won't miss out.
I received a product information card. The December collections were called The Orchid Collection OR the Poppy Collection. I received The Orchid Collection. It is important to know that when you sign up, your first box will be a Kinder Favorites box, which is shown on their main page and different from what is in this review.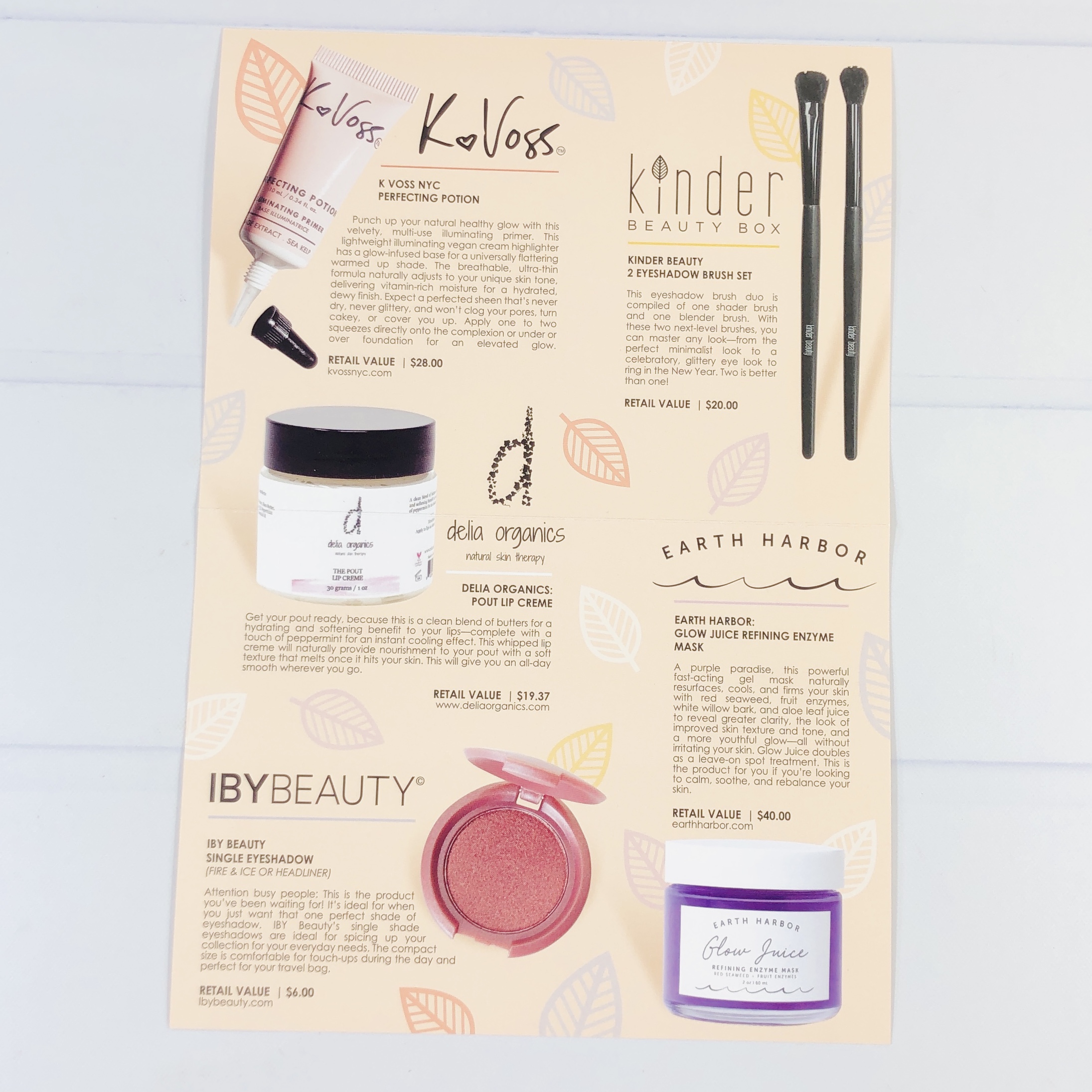 The inside of the card listed each product and their MSRPs. Websites were also listed in case you want to order more products.
My items were tucked into paper squiggles to stay safe on their journey.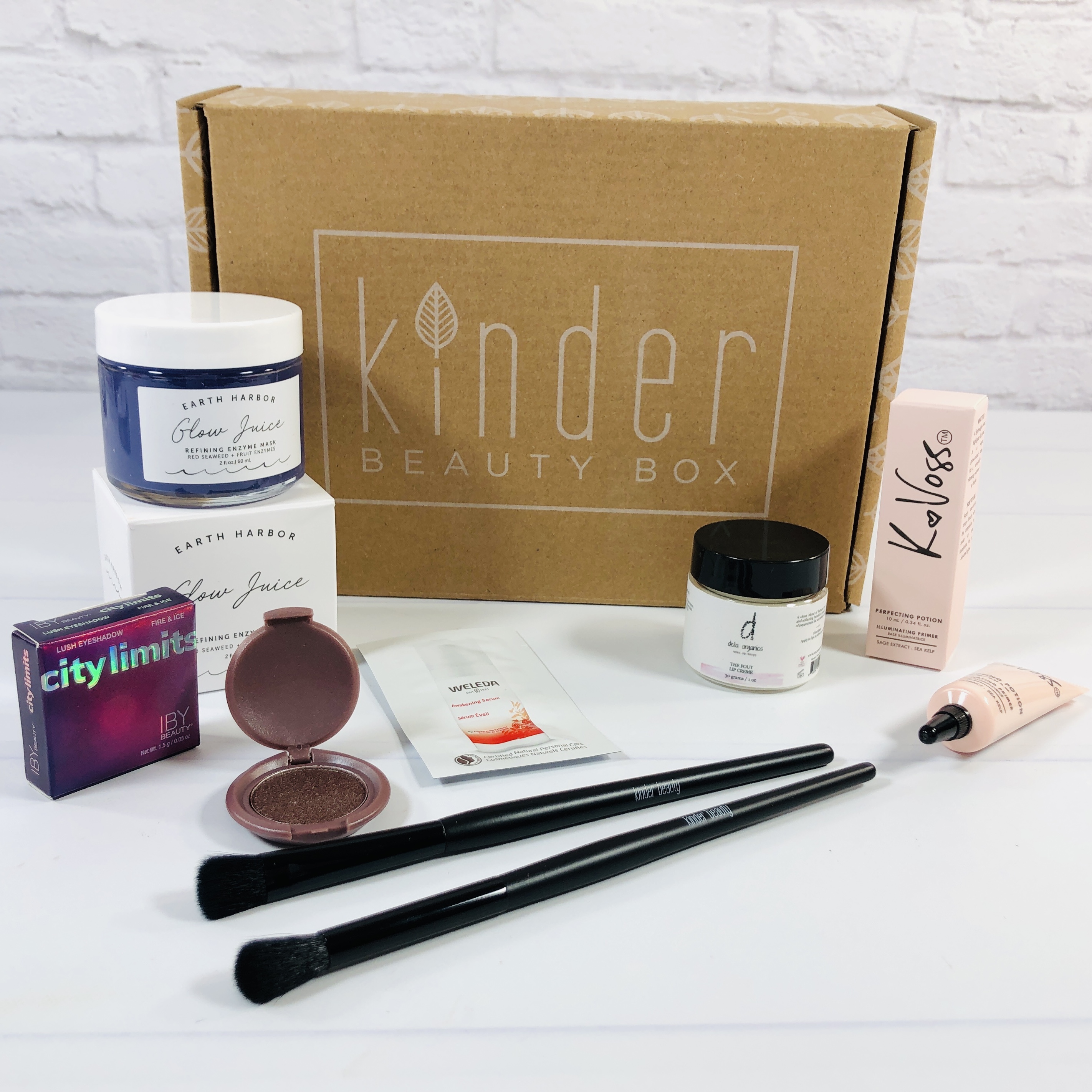 Everything in my December Orchid Collection!
Earth Harbor: Glow Juice Refining Enzyme Mask ($40) Earth Harbor products are super pretty and this gets its purple haze from eggplant, red seaweed, and ivy gourd.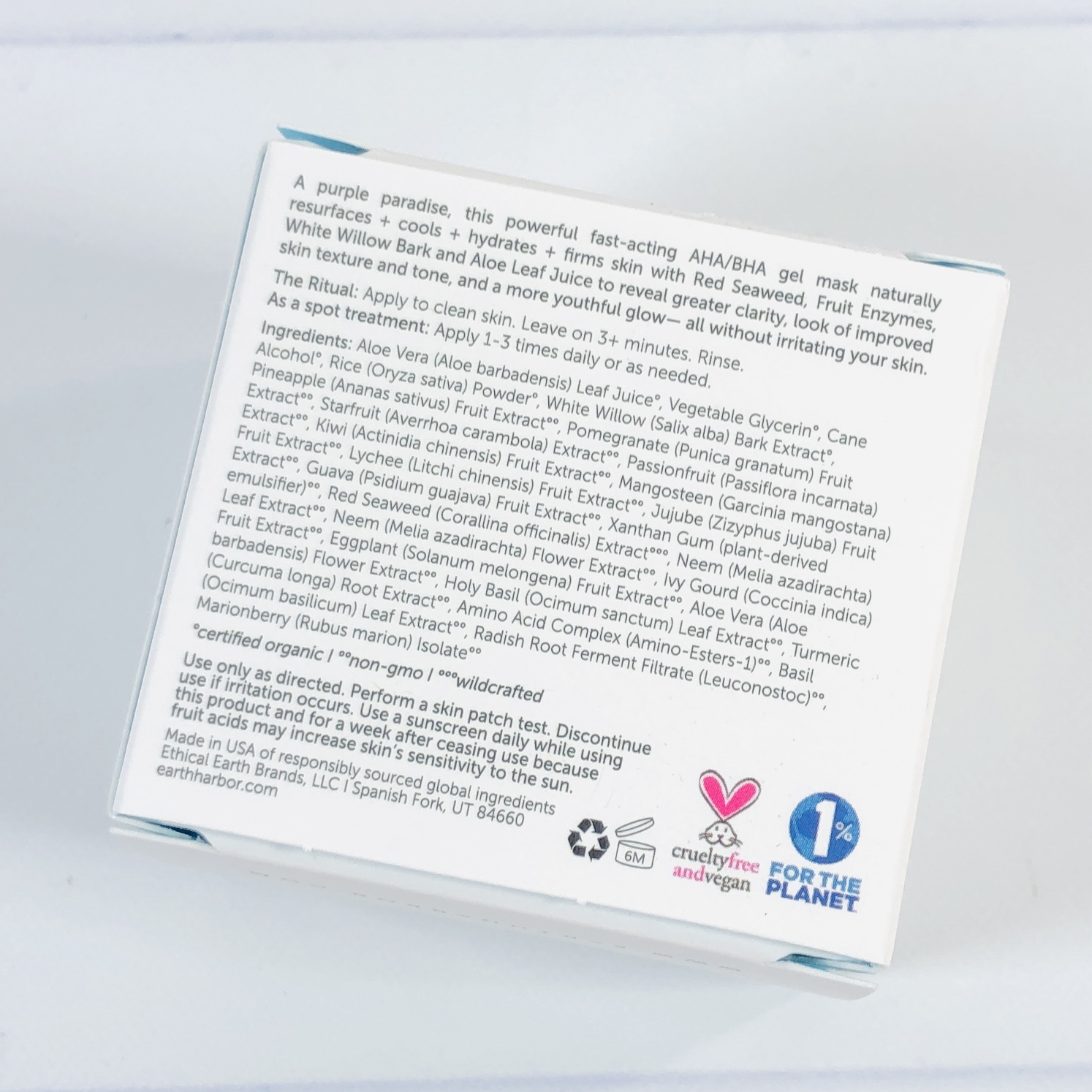 The first few ingredients are aloe, vegetable glycerin, and cane alcohol plus there are a bevy of plant extracts. The product is supposed to resurface skin gently and quickly while relieving redness and reducing pore size.
It's a gel consistency and I poured it out of the container into my hand before applying with my fingers. It smells wonderful, like fruit punch, but the underlying scent is alcohol. You can say what you want about cane alcohol supposedly being better for skin, non-drying, etc. but this stuff immediately opened up my sinuses and was very strong. I didn't feel any irritation and I only let it sit on my skin for about 3 minutes before rinsing (the suggested time) but my skin felt dry afterwards. It can also be used as a spot treatment so I will pass it to my daughter to be used for that purpose.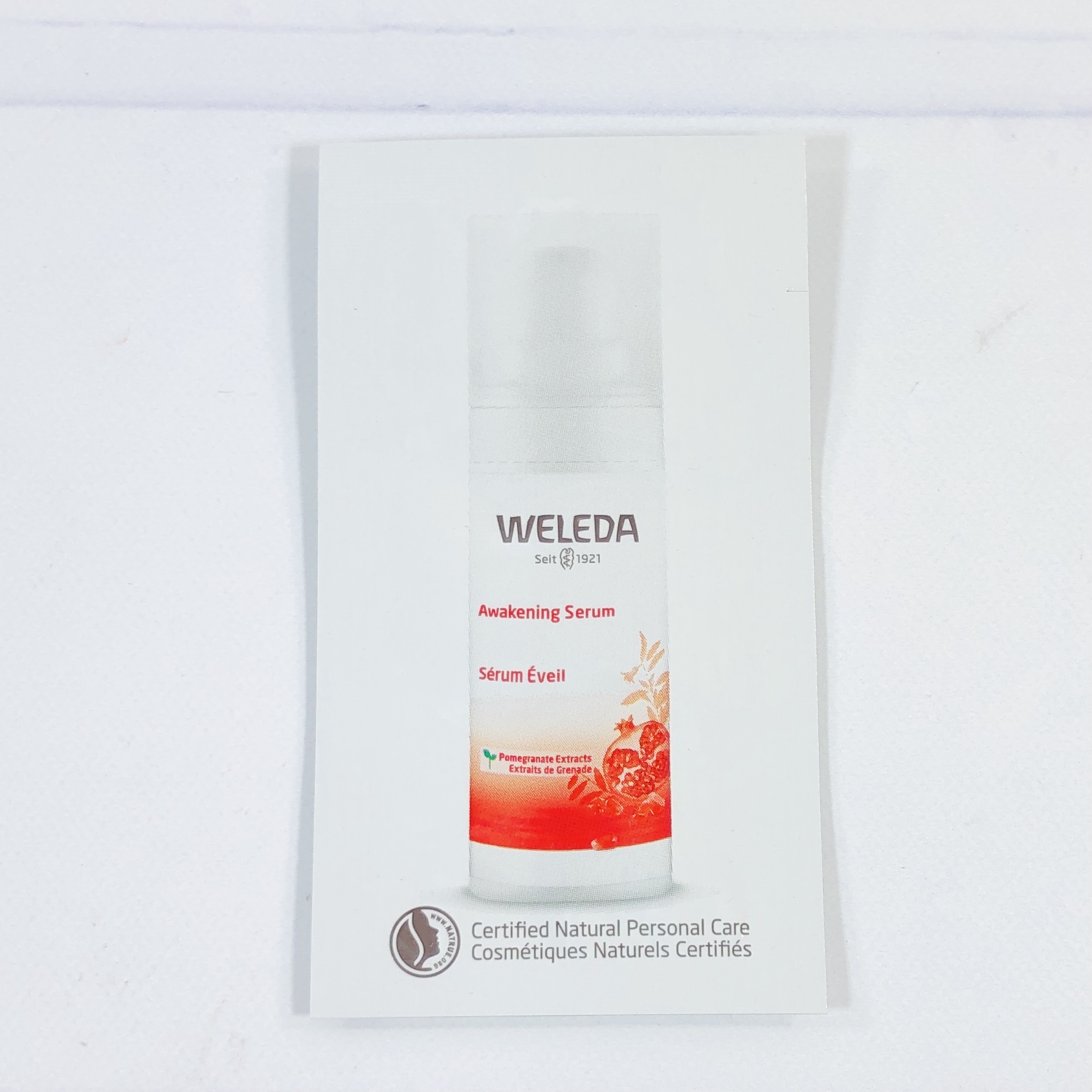 Weleda Awakening Serum wasn't listed on the card so I think it's just a little bonus item!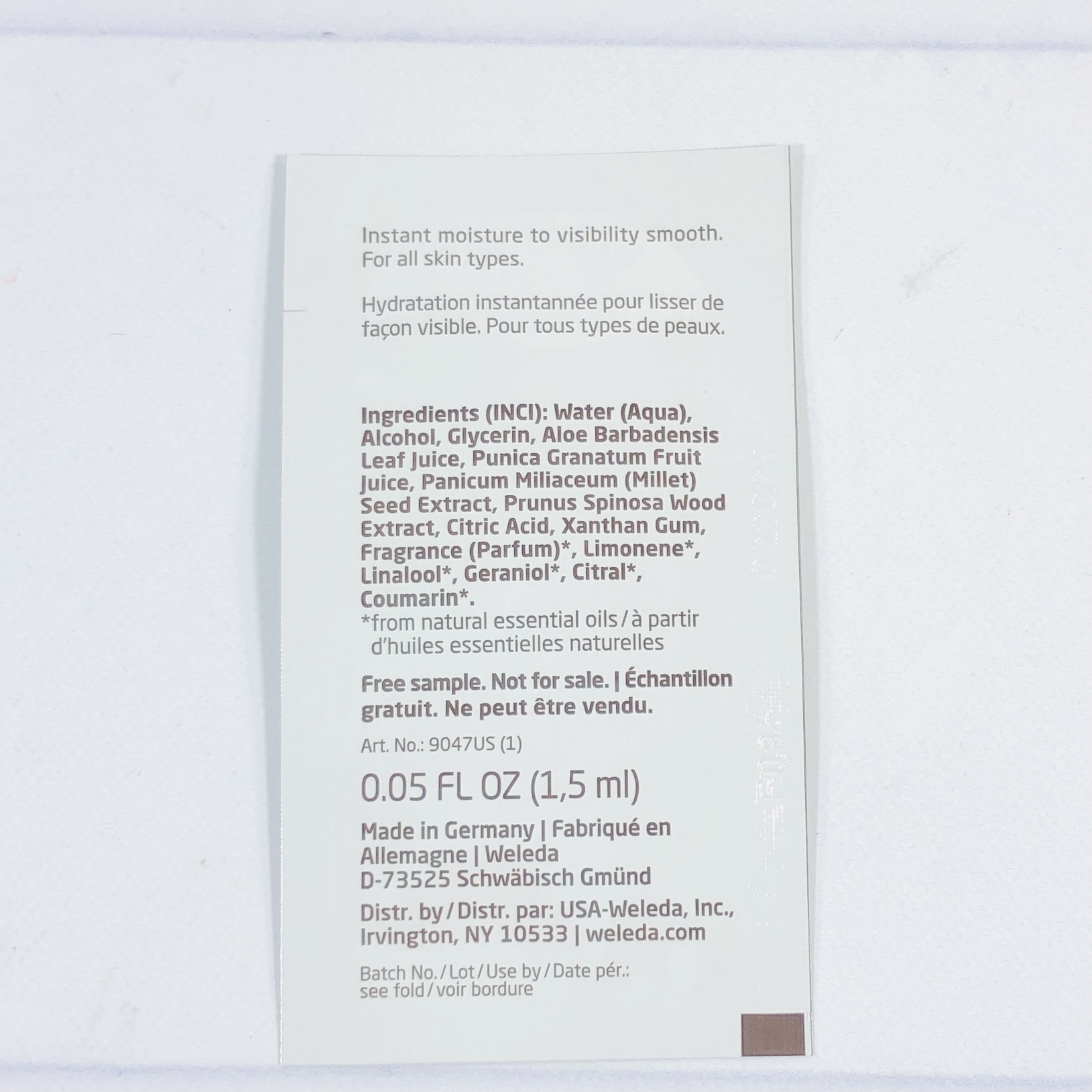 The serum is supposed to hydrate the skin and reduce the look of fine lines and wrinkles. Alcohol is in this product too along with aloe, pomegranate extract, and millet extract. Like the Earth Harbor mask, it smells strongly of alcohol, I feel like I can almost use both products as hand sanitizer. This is meant to be followed by moisturizer and it did quickly evaporate into a slightly sticky finish.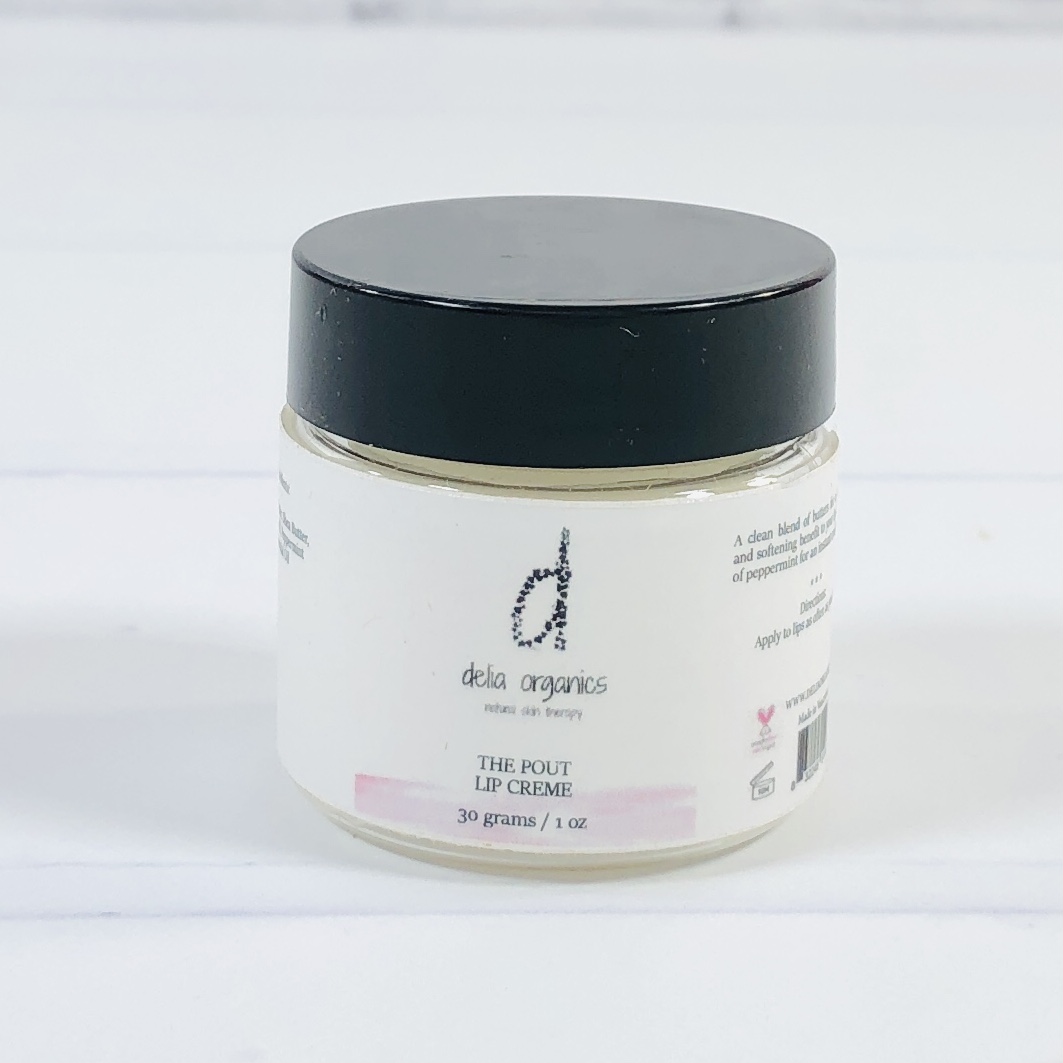 Delia Organics: The Pout Lip Creme ($25.99) Our lips don't have oil glands so lip balms are great for helping them stay moist and hydrated.
This one is made of almond butter, shea butter, coconut oil, and peppermint essential oil.
It goes on smoothly and has a slight tingly feeling thanks to the peppermint oil. I'm always a fan of peppermint anything and have been applying this before bed and it feels so silky!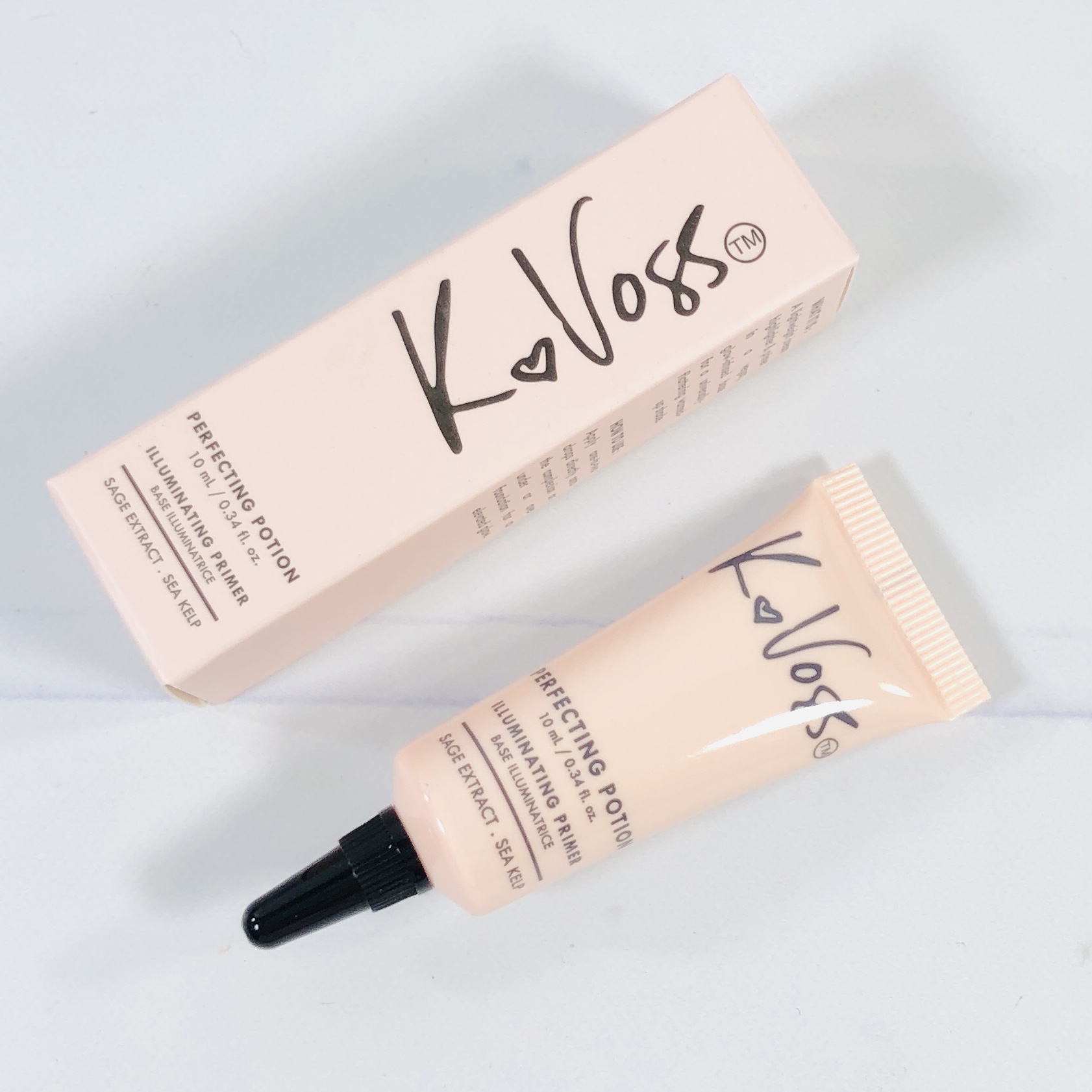 K Voss: Perfecting Potion ($28) is a primer that can also be used as a highlighter and is supposed to adjust to the skin tone and provide a dewy glow without looking glittery.
Here's the ingredients in case you were wondering. I applied it as a base but since I use a powder foundation it really didn't look like much. I also tried applying over top as a highlighter and again, couldn't see any difference.
Kinder Beauty Eyeshadow Brush Set ( $20 listed value) According to the Kinder Beauty Blog these brushes are meant for applying and blending shadow.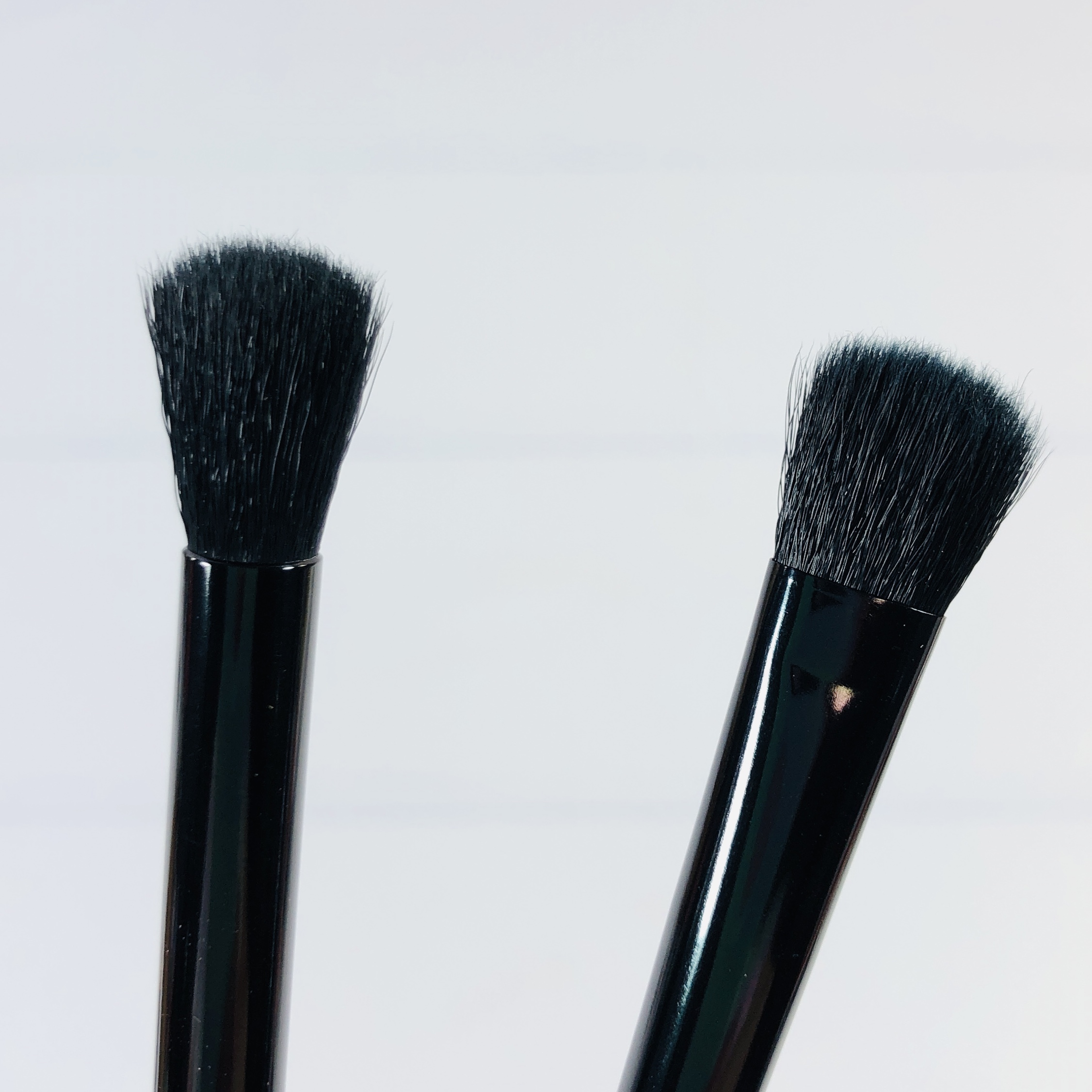 The brush on the left is fluffy so that is the one to use for blending out the crease so that there's not a harsh shadow line. The brush on the right is good for applying shadow to the lid or crease. Both brushes seem well made, no bristles fell out while using. They are pretty basic and look classic and got the job done.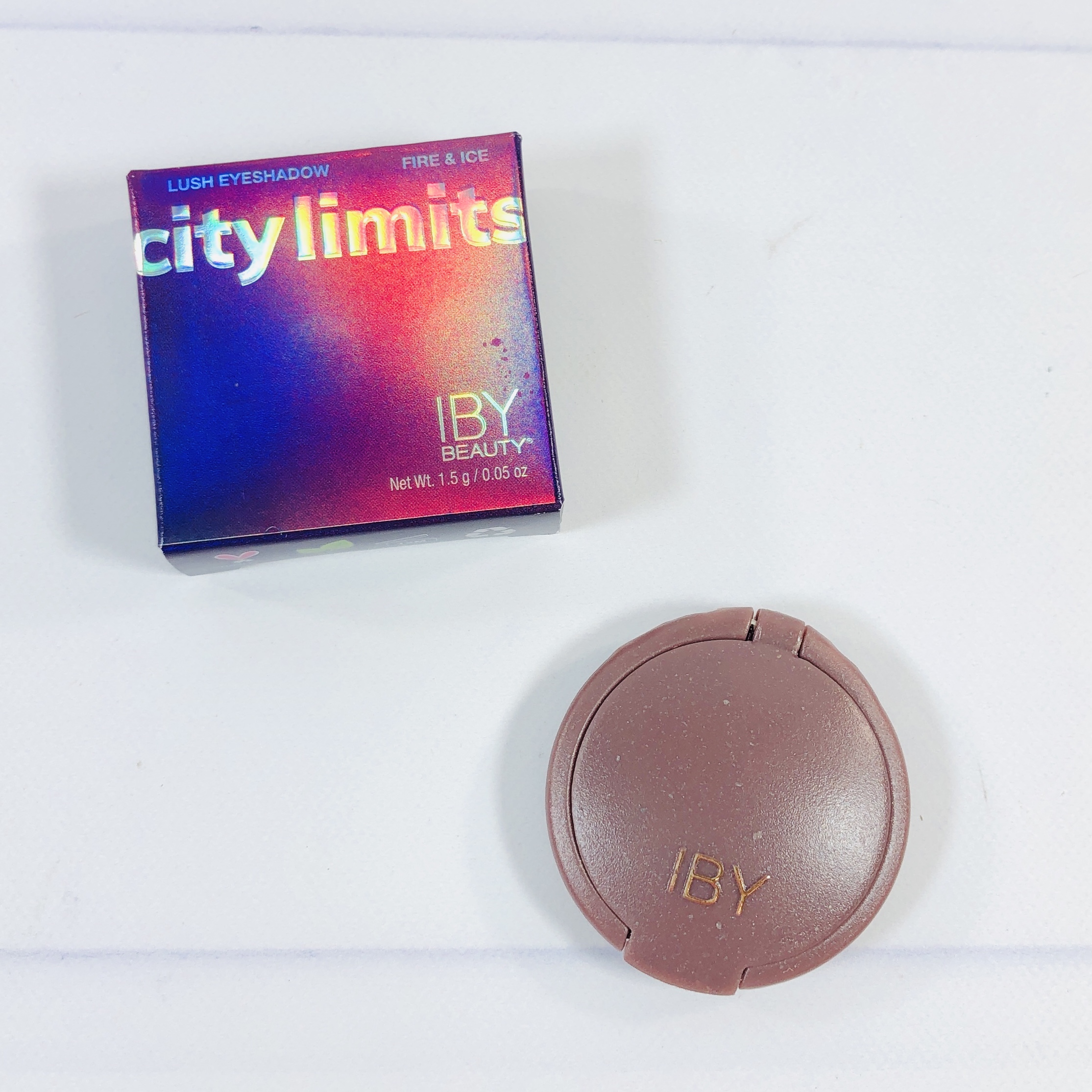 IBY Beauty: Eyeshadow in Fire & Ice ($8.99) I received a shadow single in an unusual color shifting shade called Fire & Ice.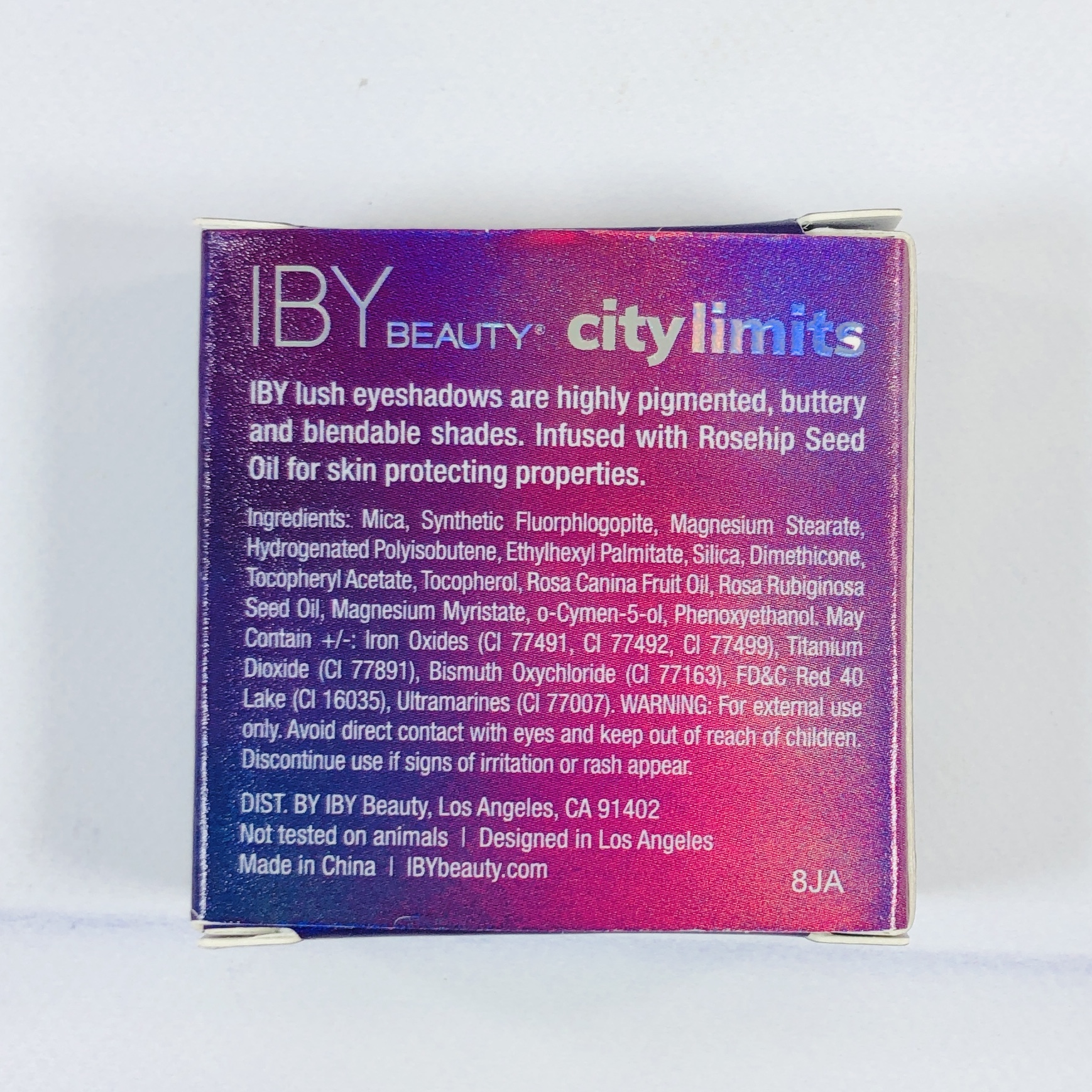 Here's the ingredients for ya.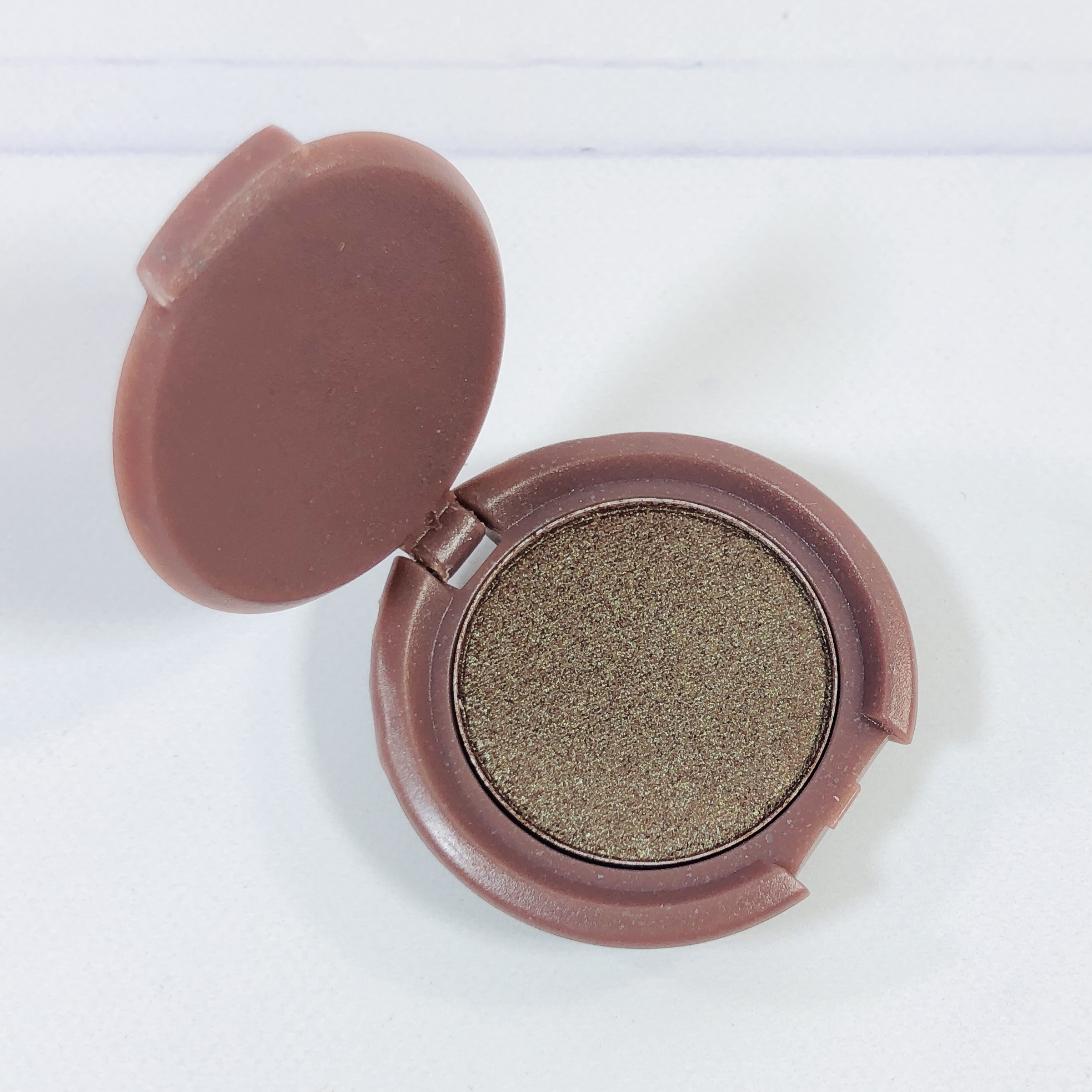 I thought this was a green shade at first but it looked very different once applied. The first time I applied I placed it on my lid but it was too dark, this is a crease shade for me. I used one of the brushes shown above and sadly got fall out and as I tried to wipe it away I ended up looking like I had an odd sunburn or strawberry birthmark under my eyes and tops of cheeks, it turned out to be a rusty shade. Shimmers are probably best applied with a finger anyways so that's what I did the next time around.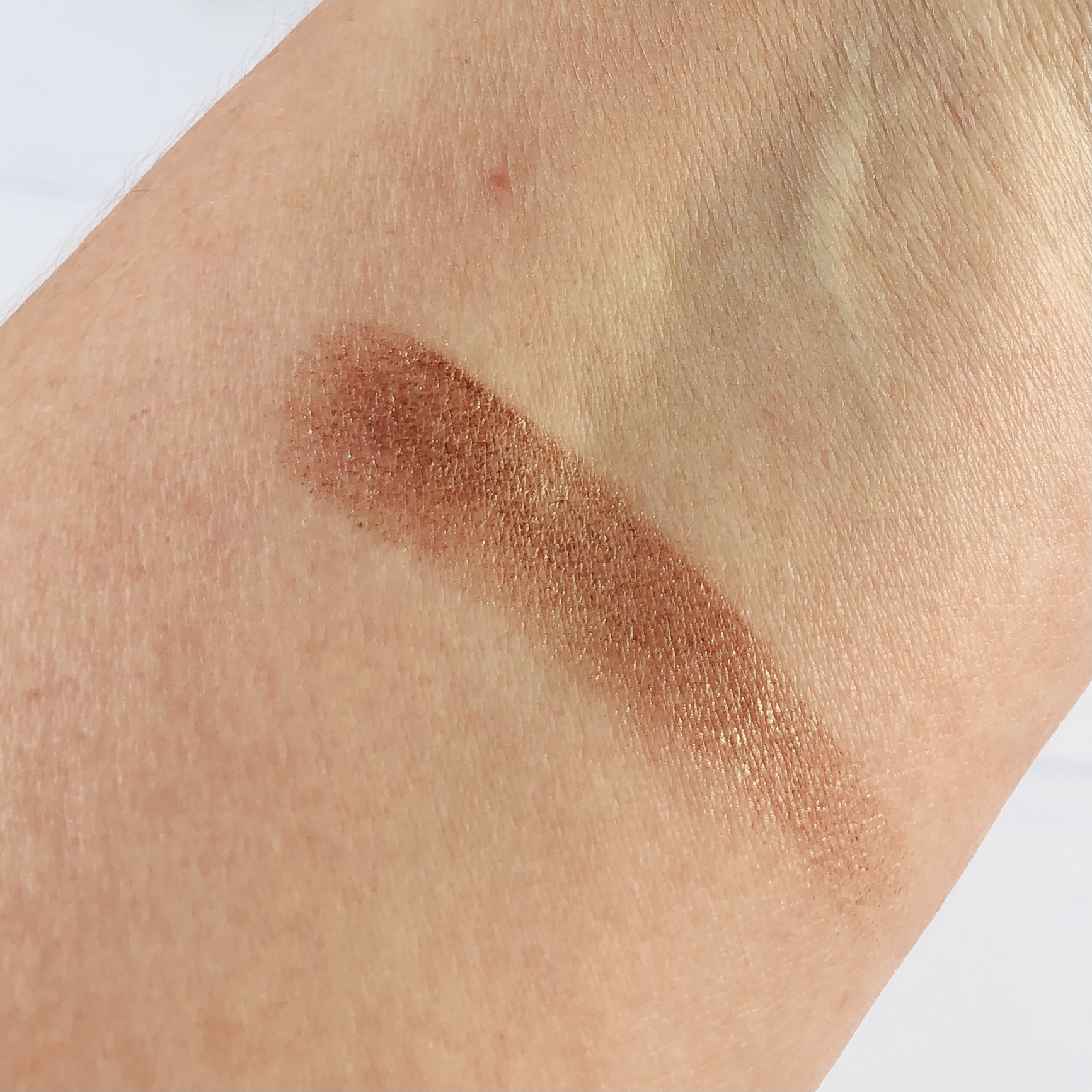 Here it is swatched. It lasted all day once I applied it to my crease and was a very bold color on me.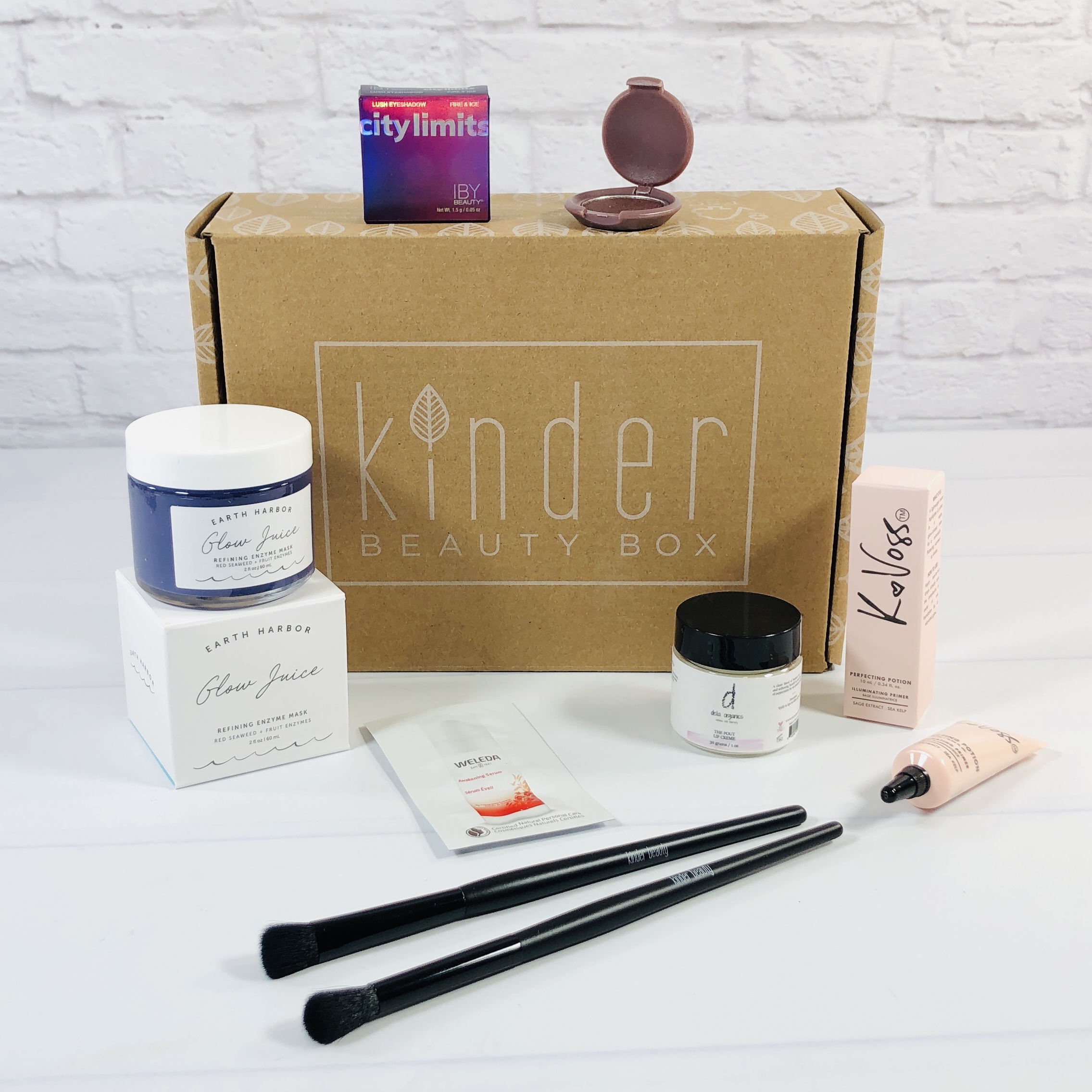 The Orchid Collection from Kinder Beauty Box had a fantastic assortment of products, they were all pretty different from each other and I was very excited about that. There was a mask, a primer, a lip balm, a makeup item, and even makeup brushes! I think the mask was a little drying for my skin but my daughter will get lots of use out of it as a spot treatment. The shadow is a great shade for winter and I've been using the brushes with my other eye shadows with no problems. The lip balm was my favorite item, it left my lips soft and had one of my go-to flavors, I love mint! The value was well over $100 for this collection too!
What do you think of Kinder Beauty Box?