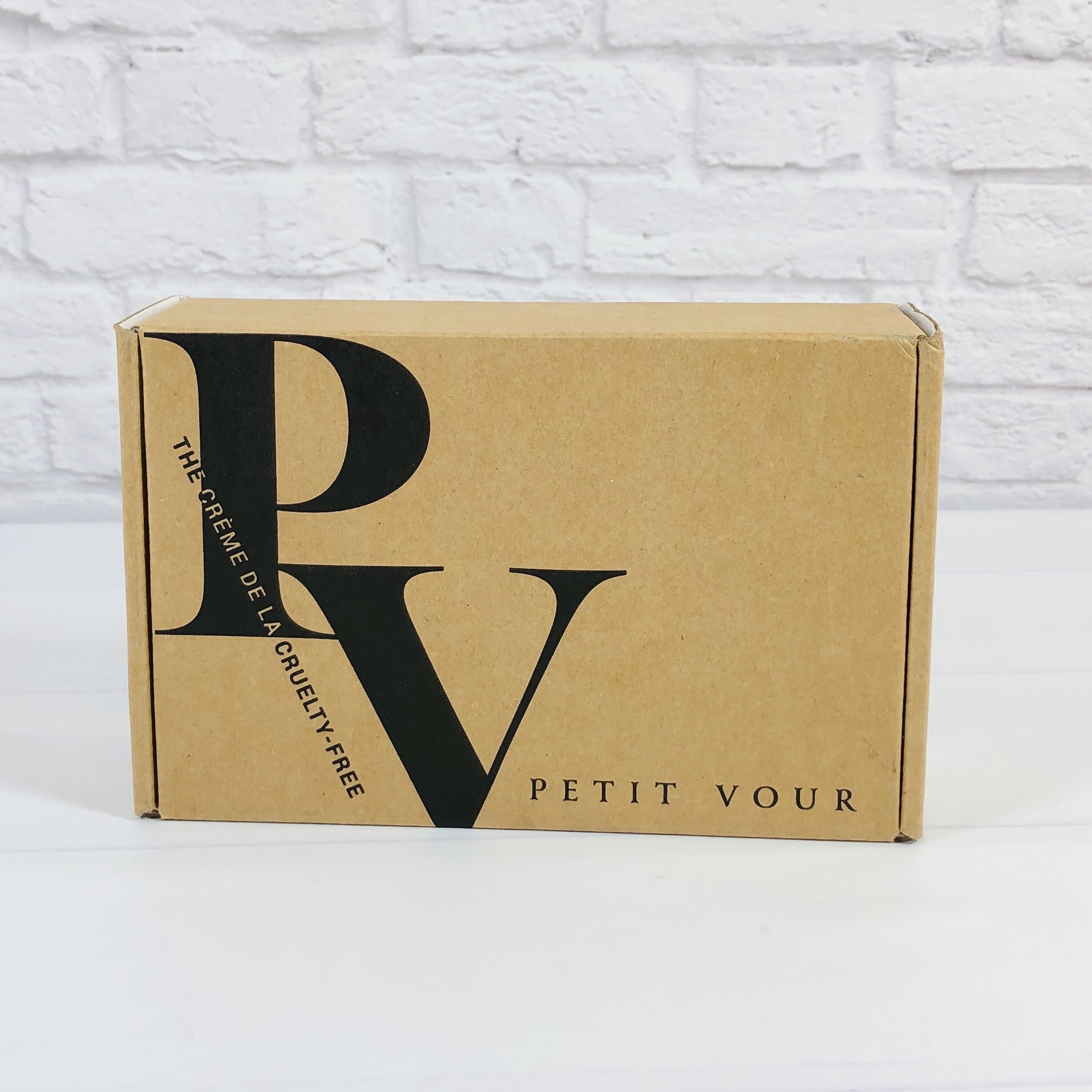 Petit Vour is a monthly vegan beauty subscription box that sends luxurious, non-toxic, vegan beauty products. Petit Vour has two levels to choose from: the Beauty Box is $18 a month for 4-5 cruelty-free and non-toxic beauty products, mostly deluxe sample sized but with the occasional full-sized item; the Plus Beauty Box is $25 a month for 5-7 products. Each box will have a value of $50+ ($100+ for the Plus). Petit Vour has around 30 ingredients that they pledge NOT to put in boxes and of course, each item must be vegan and cruelty-free. You can find that list of banned ingredients here.
The Petit Vour Beauty Box is made for the beauty devotee whose lifestyle leans toward compassion.
Each month we'll share the best in plant-based beauty, culled from beauty's kindest. Inside you'll find generously-sized products (personalized to your beauty profile) for you to apply, blend, buff, lather, soak, and spray.
DEAL: Save 25% on your first box with coupon code FIRSTBOX!
I am reviewing the original Beauty Box!
The items were packed in shredded paper squiggles.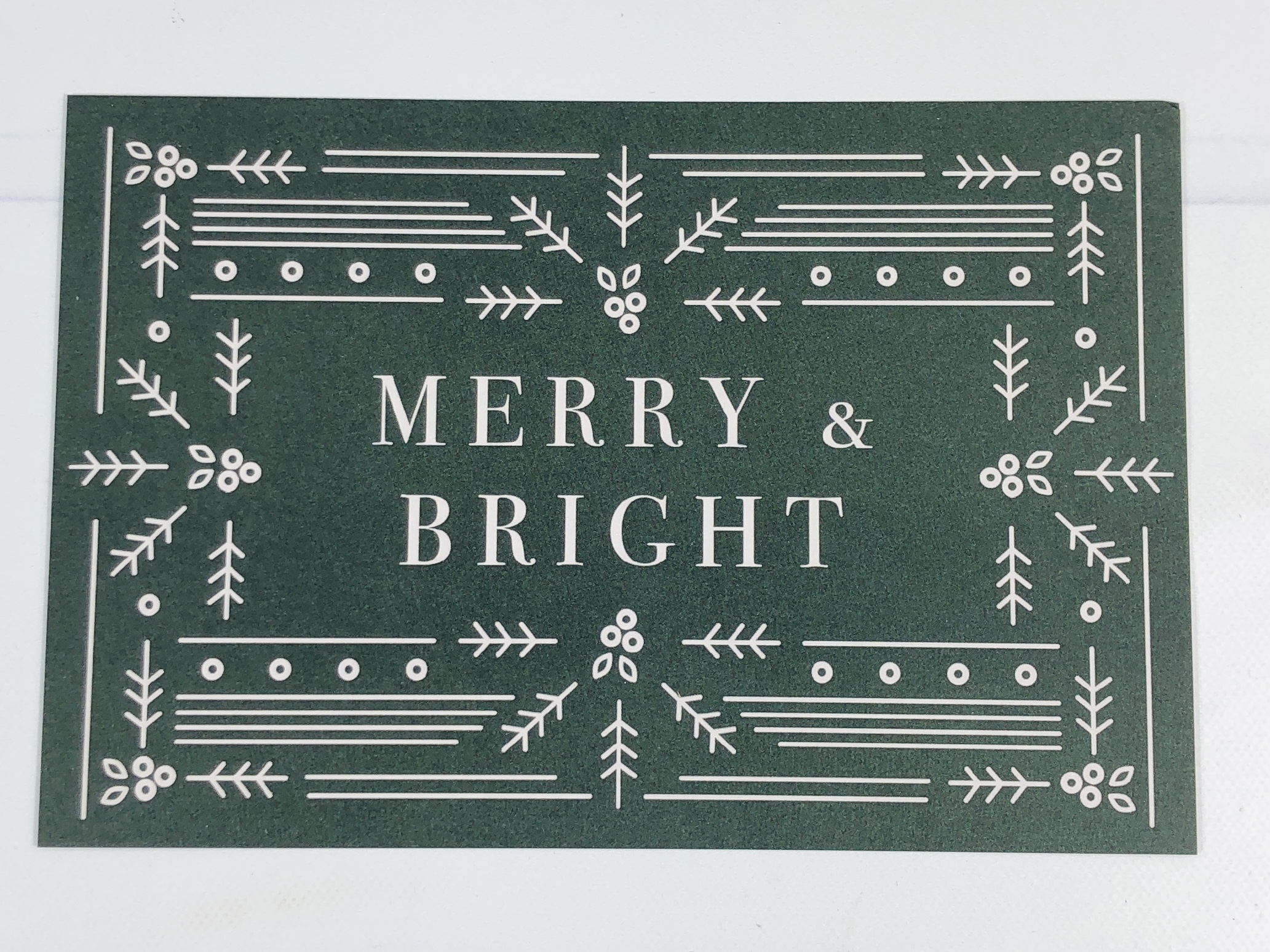 Petit Vour sent an info card. I like the design and color, so seasonal!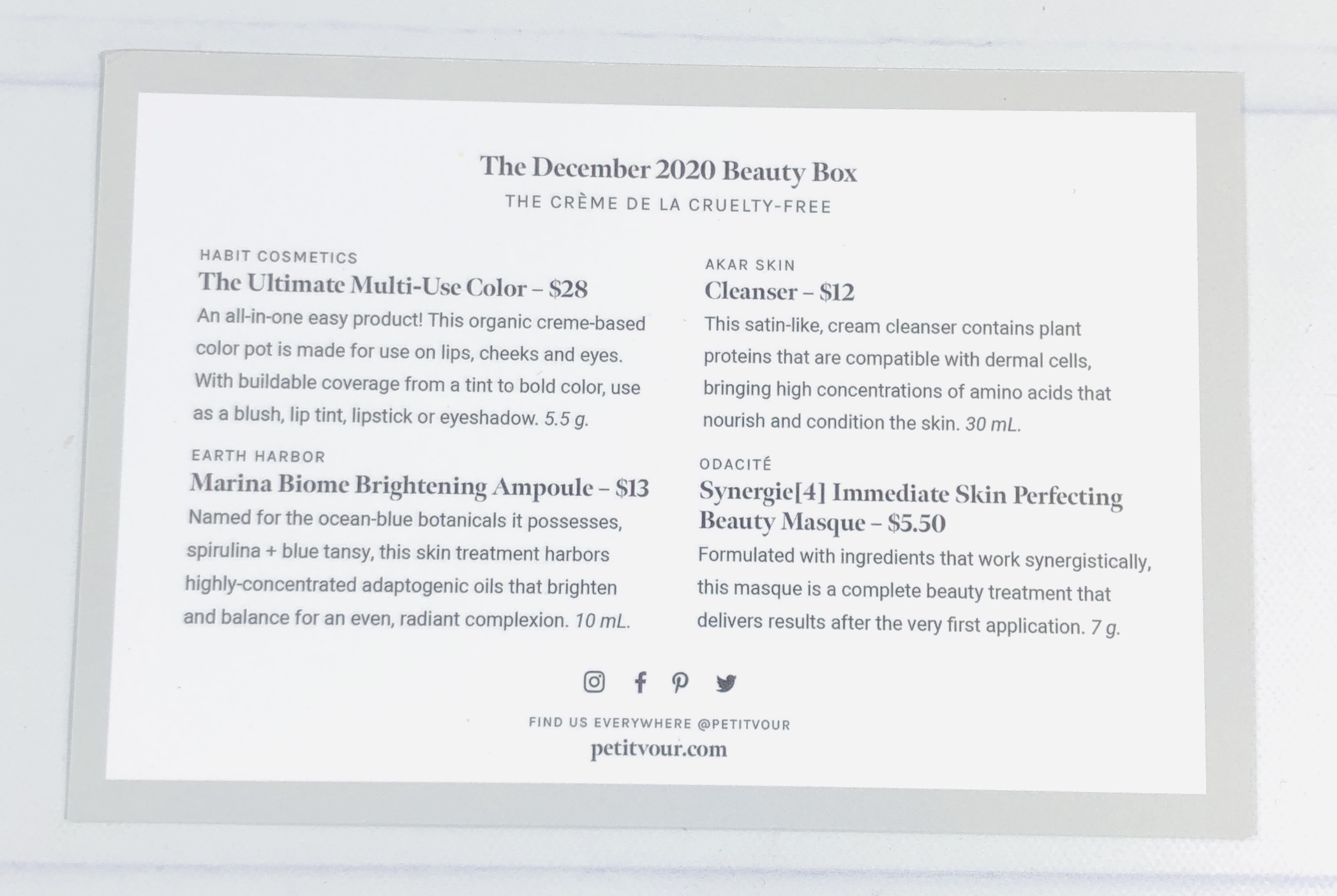 The back of the card listed each item, some info about the item, and the value.
Everything in my box!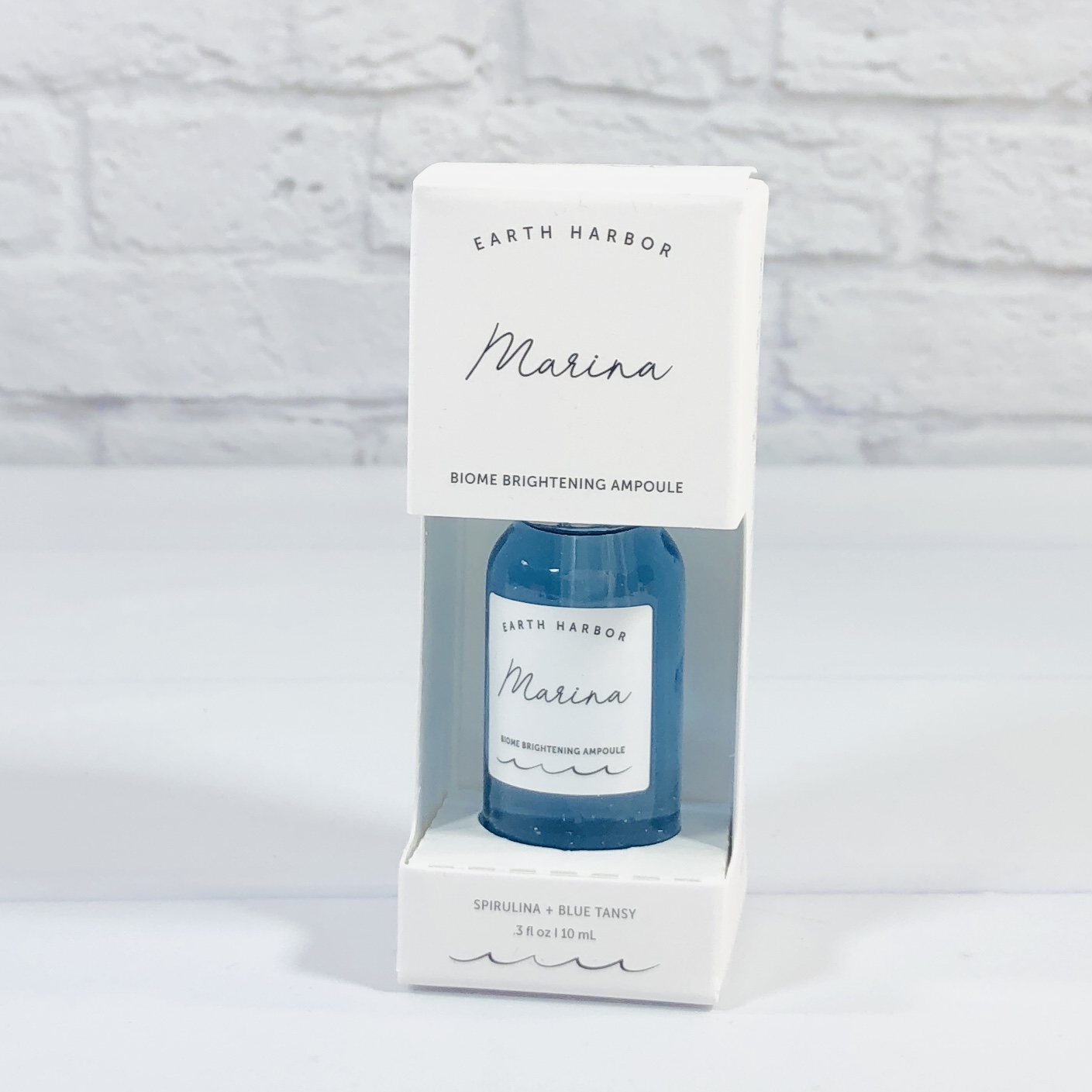 Earth Harbor Marina Biome Brightening Ampoule ($13) Earth Harbor has some of the prettiest packaging and products in the natural beauty business!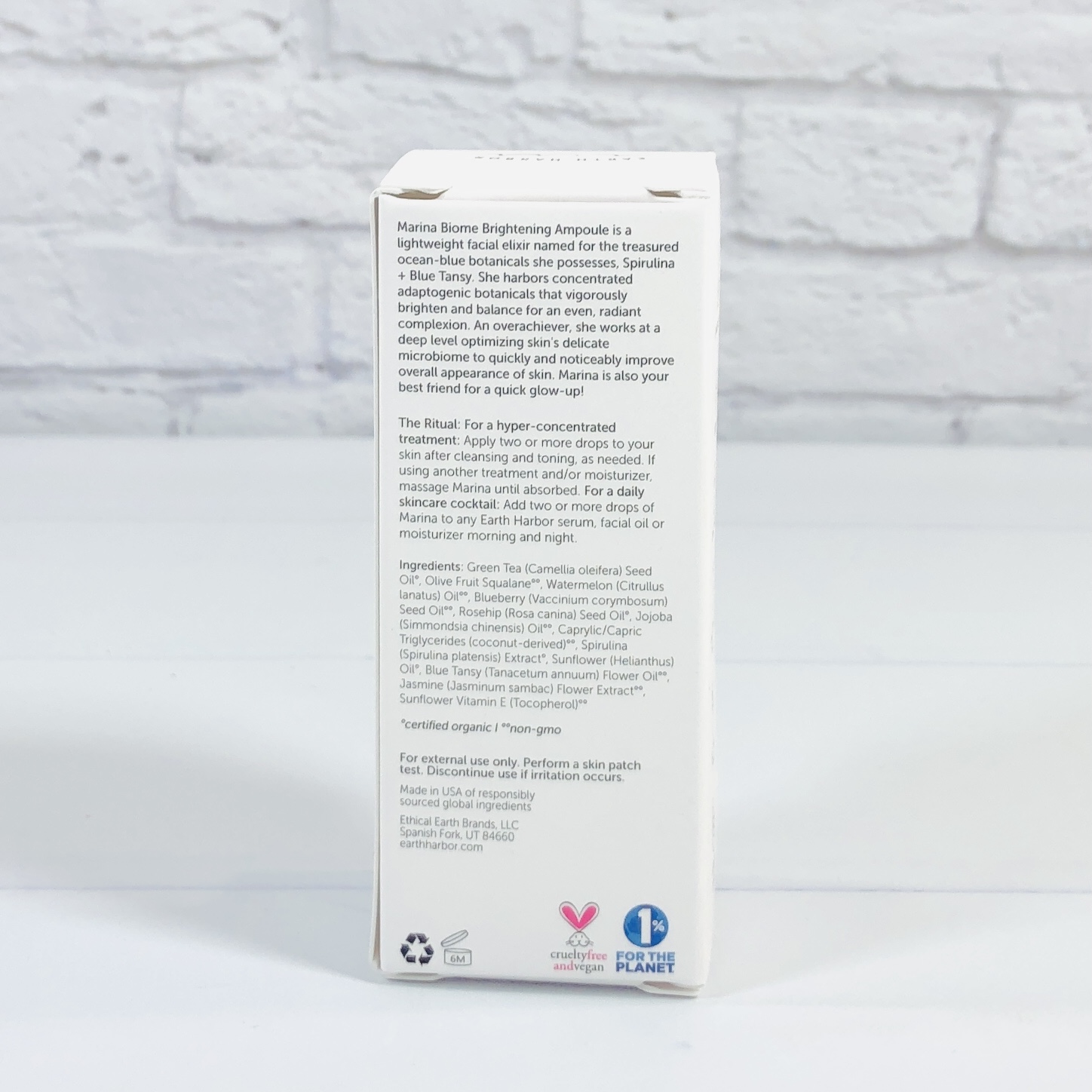 Green tea seed oil starts the list of ingredients and contains antioxidants plus it's supposed to prevent hyperpigmentation. Other plant oils such as blueberry seed, rosehip, and jojoba are supposed to provide antiaging effects and reduce pore size while reducing the appearance of fine lines.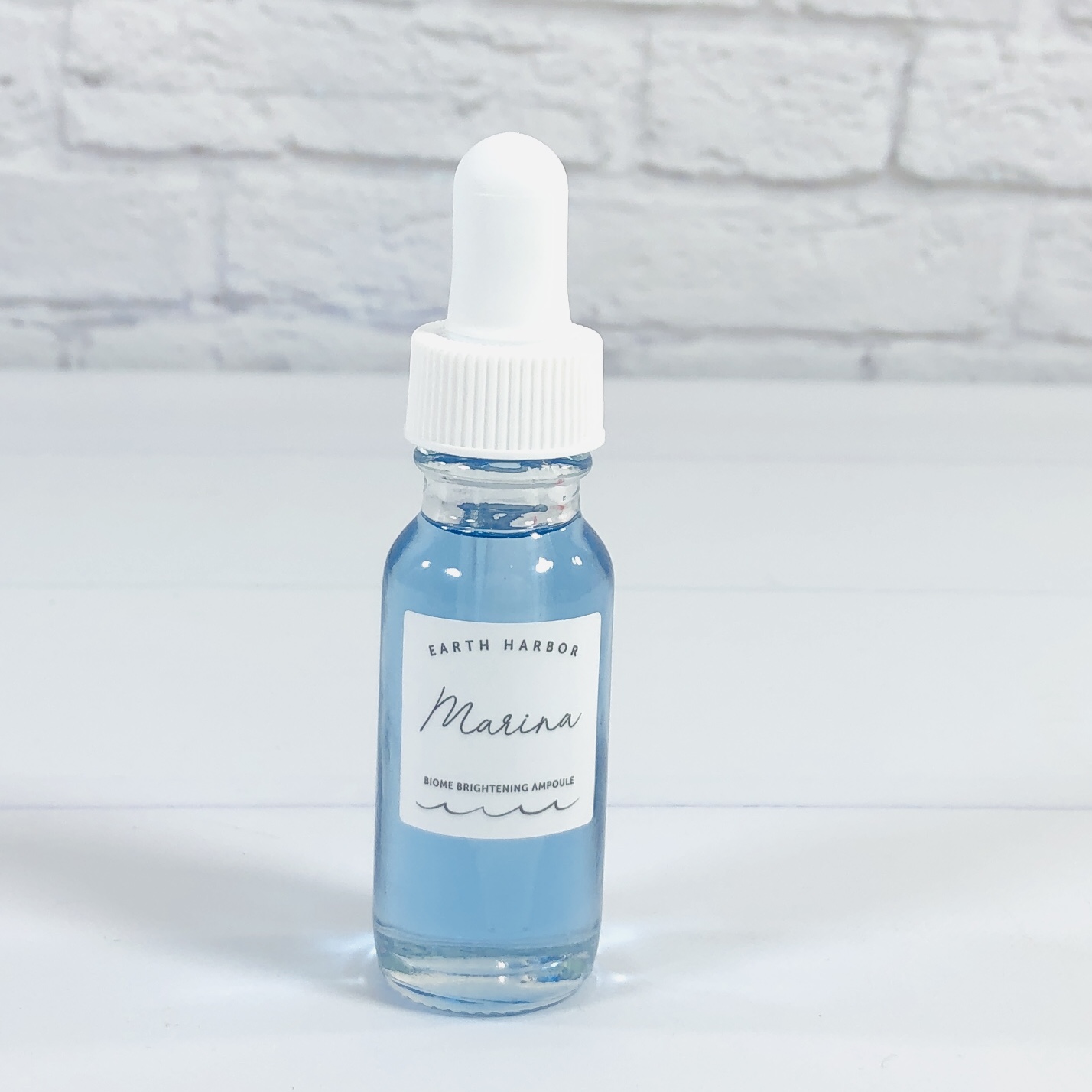 The striking blue color comes from blue tansy oil and that is supposed to fight redness while soothing the skin.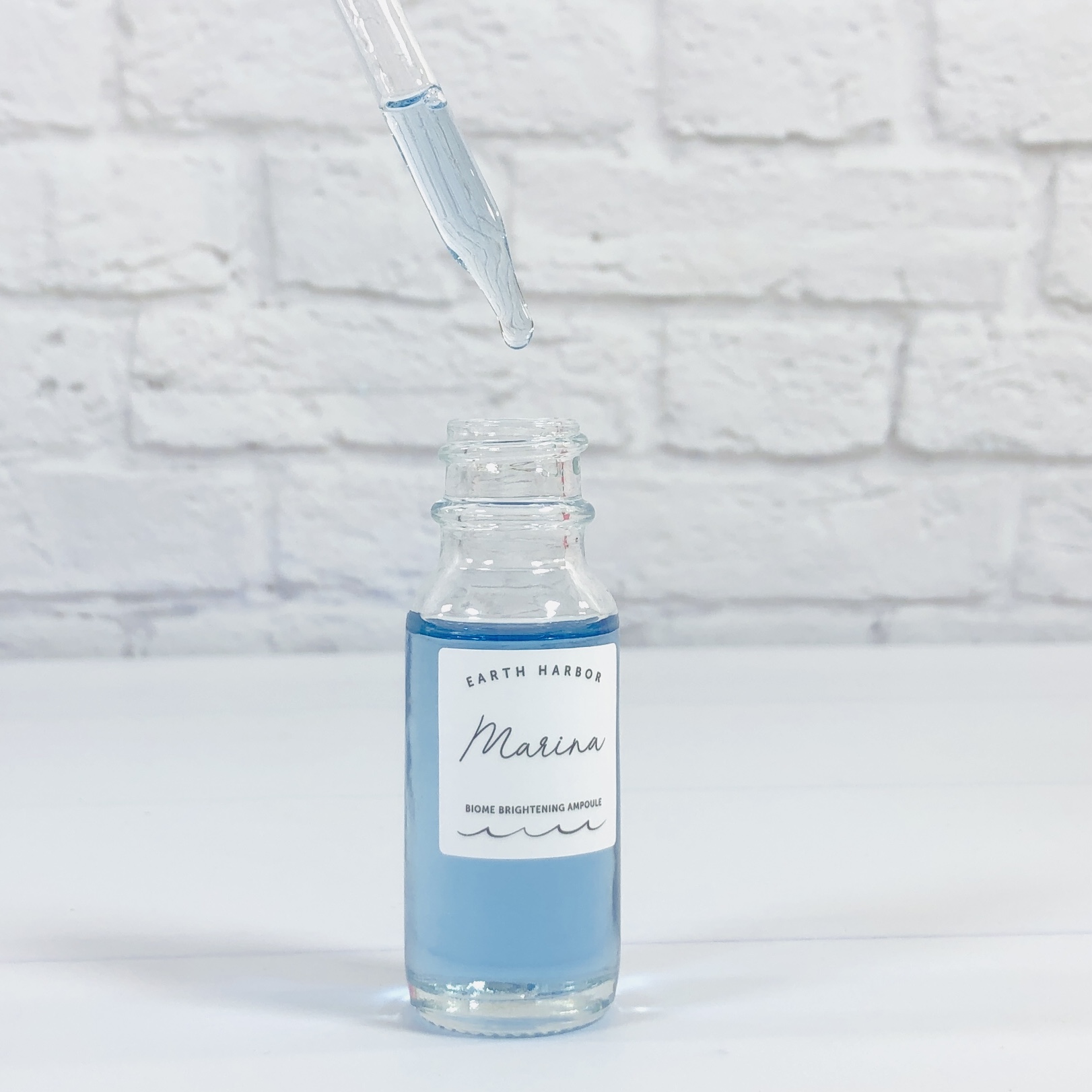 The scent comes from the blue tansy and it also has a hint of jasmine so overall it is floral and herbal. You can use it alone, layer another product over top, or mix it into a face lotion or cream. I could still feel it on my skin when I woke up so I feel like it kept my face moisturized all night long.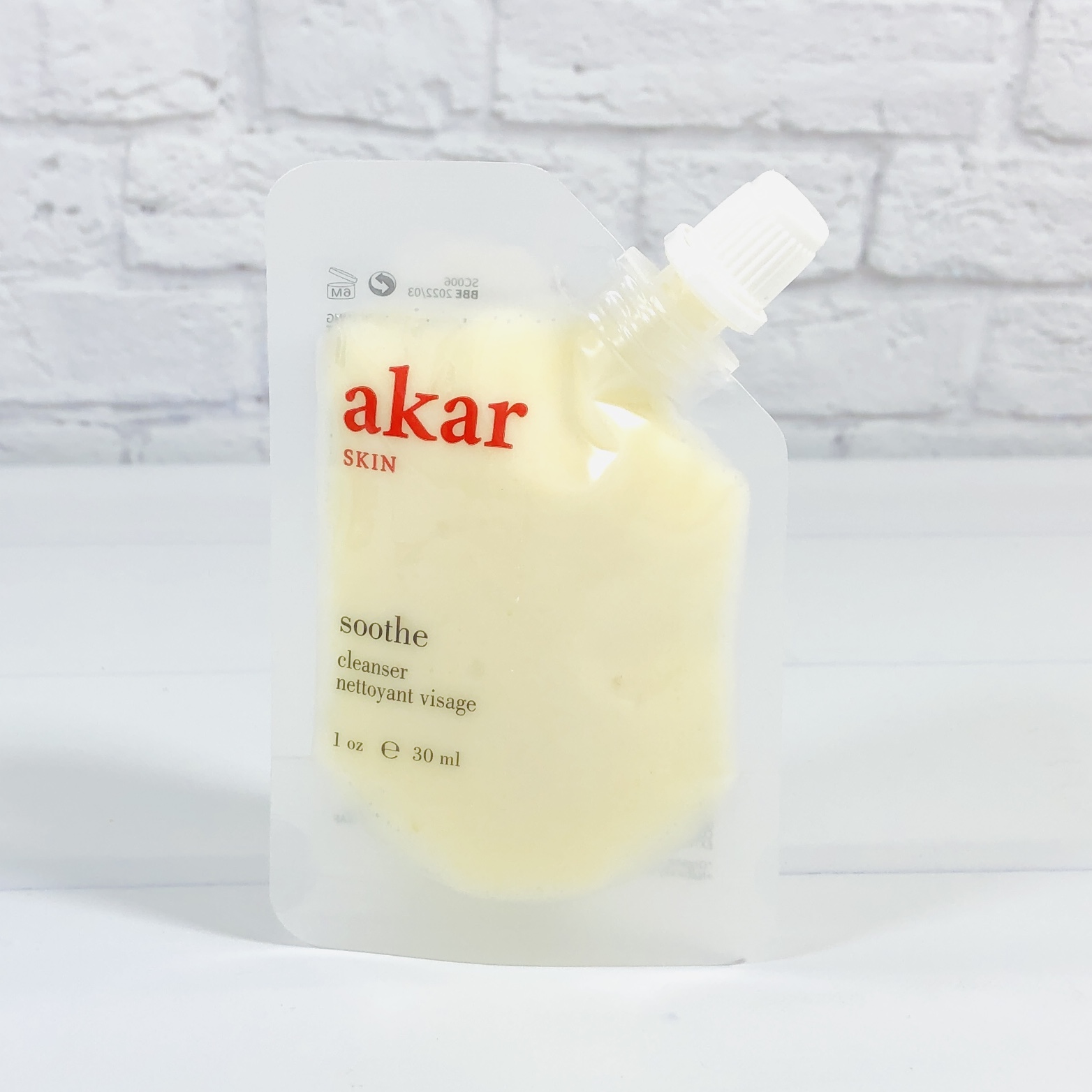 Akar Skin Cleanser ($12) is a cleanser meant for dry or normal skin and is especially nice in the winter, when the dry air and indoor heating parches skin.
Lavender water forms the base and that is the relaxing scent, although there is that kind of "natural" cleanser scent underneath it all. This wasn't a foamy cleanser but it removed my makeup and it didn't leave behind a film afterwards, which is nice. Lavender is supposed to calm skin and there is sunflower and olive oils plus quinoa to soften skin.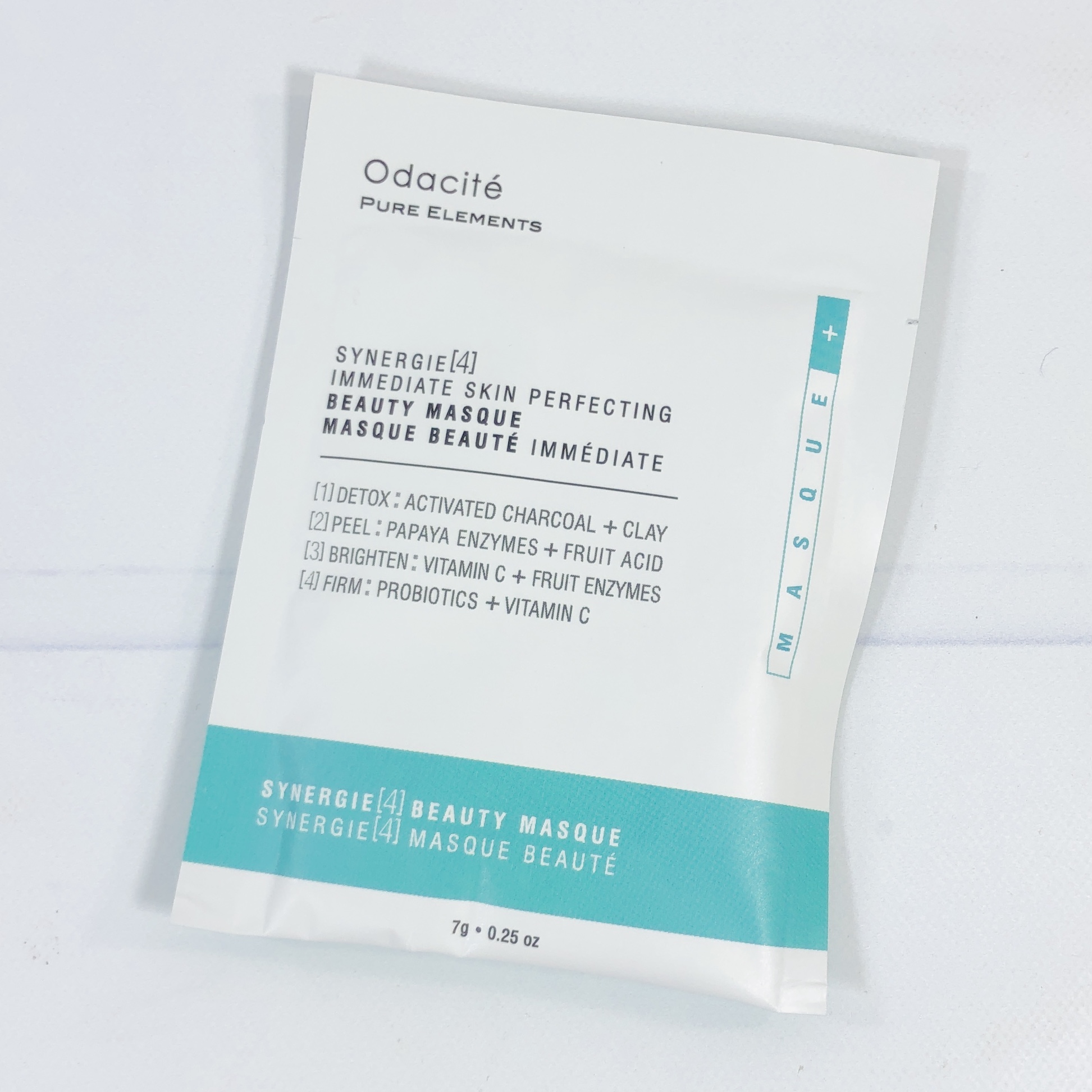 Odacite Synergie 4 Immediate Skin Perfecting Beauty Masque ($5.57) I received one pack that contains enough product for at least two uses. I usually use a small binder clip to keep packs closed but a paper clip will work in a pinch. This is a powder that you mix with the liquid of your choice depending on your desired results. Water is perfectly fine but you could use apple cider vinegar, milk, or citrus juice. It looks like the full sized product comes with recipes so you can come up with the perfect combo and they even suggest mixing with stuff like oats, coffee, or cocoa.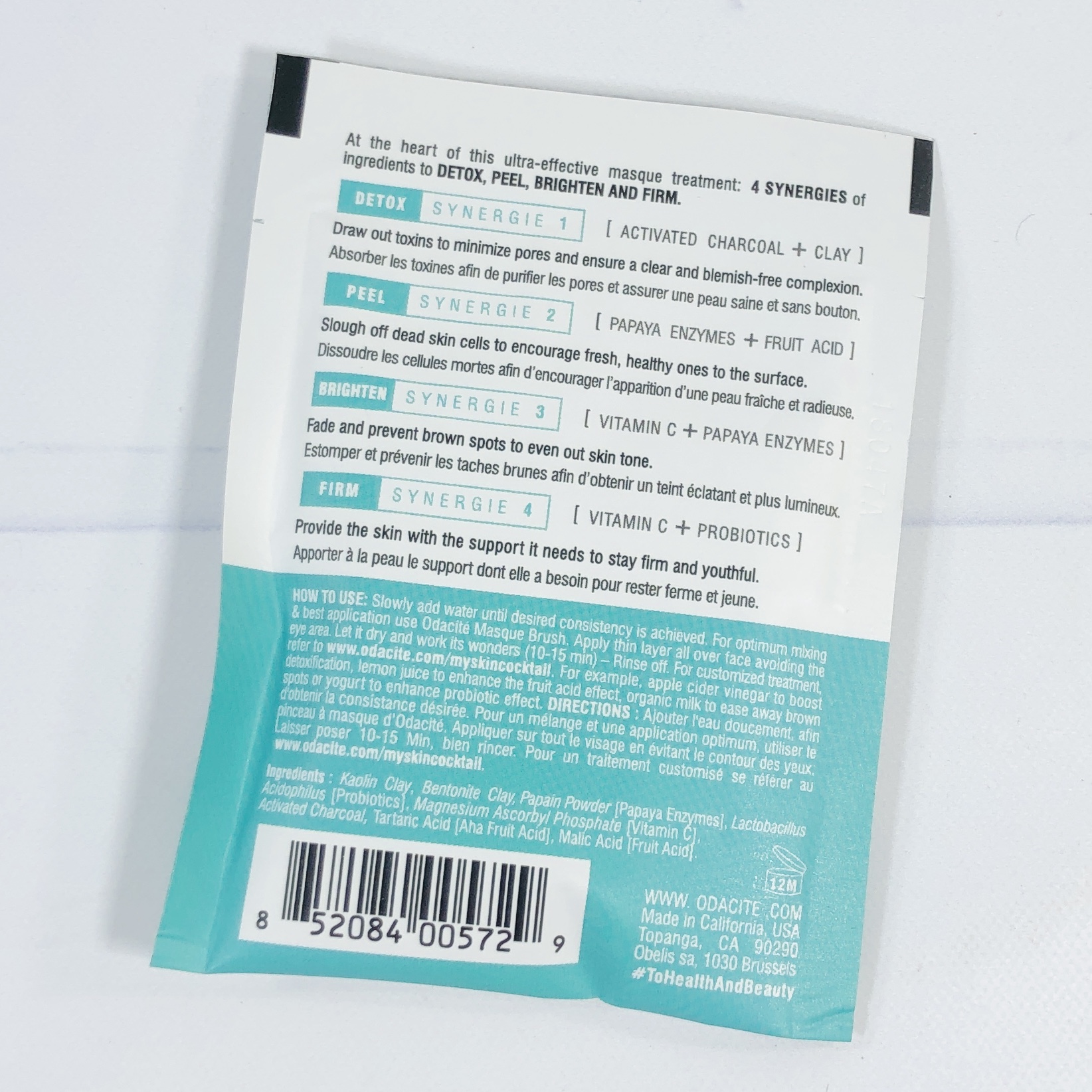 The mask is supposed to detox, peel, brighten, and firm with ingredients like clays, charcoal, papaya enzymes, probiotics, and vitamin C. Mix with the liquid of your choice, apply to the face, then rinse off after 10-15 minutes.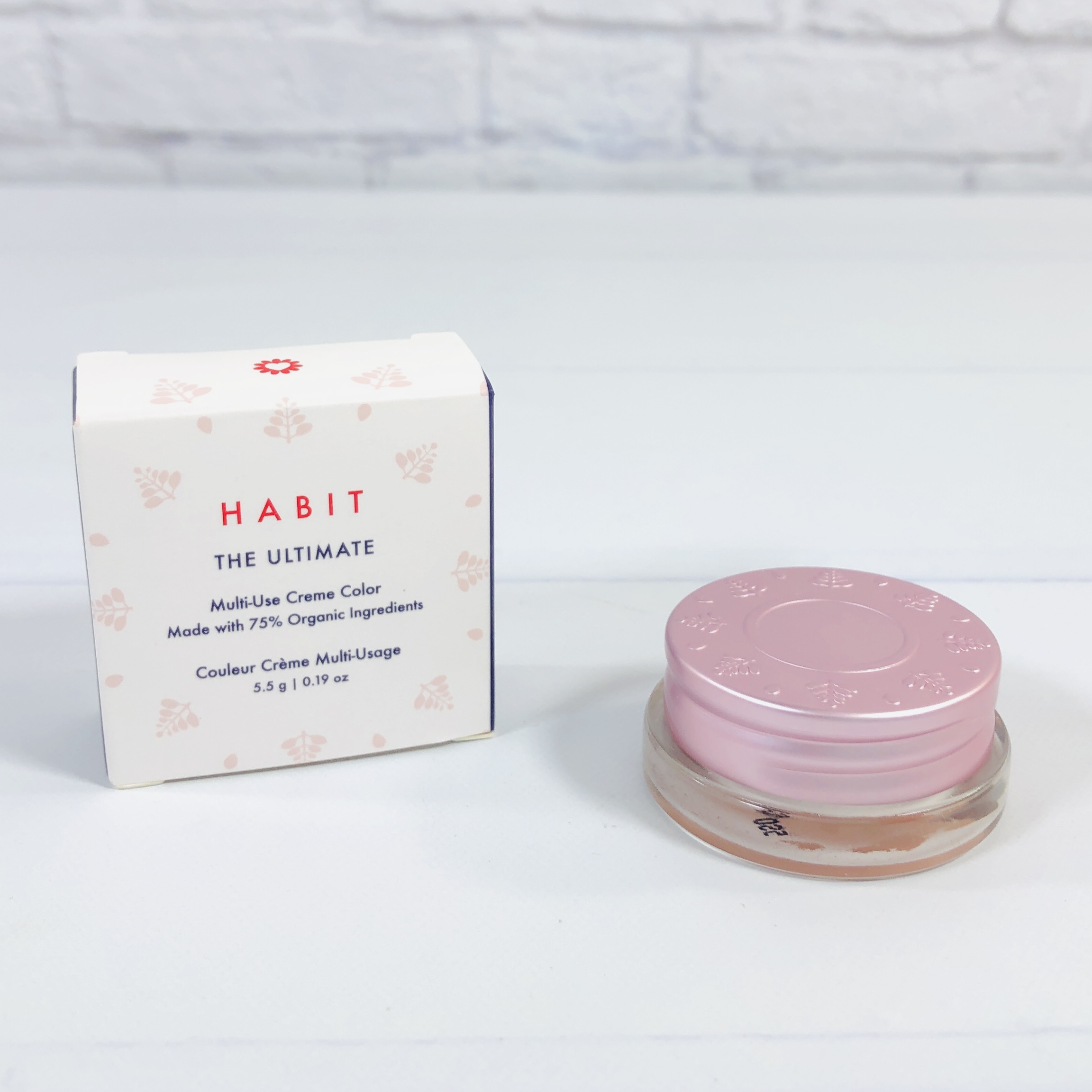 Habit Cosmetics The Ultimate Multi-Use Color in Pretty Baby ($28) A multi-use product is fun because you can apply it on cheeks, lips, or eyes for a coordinated look.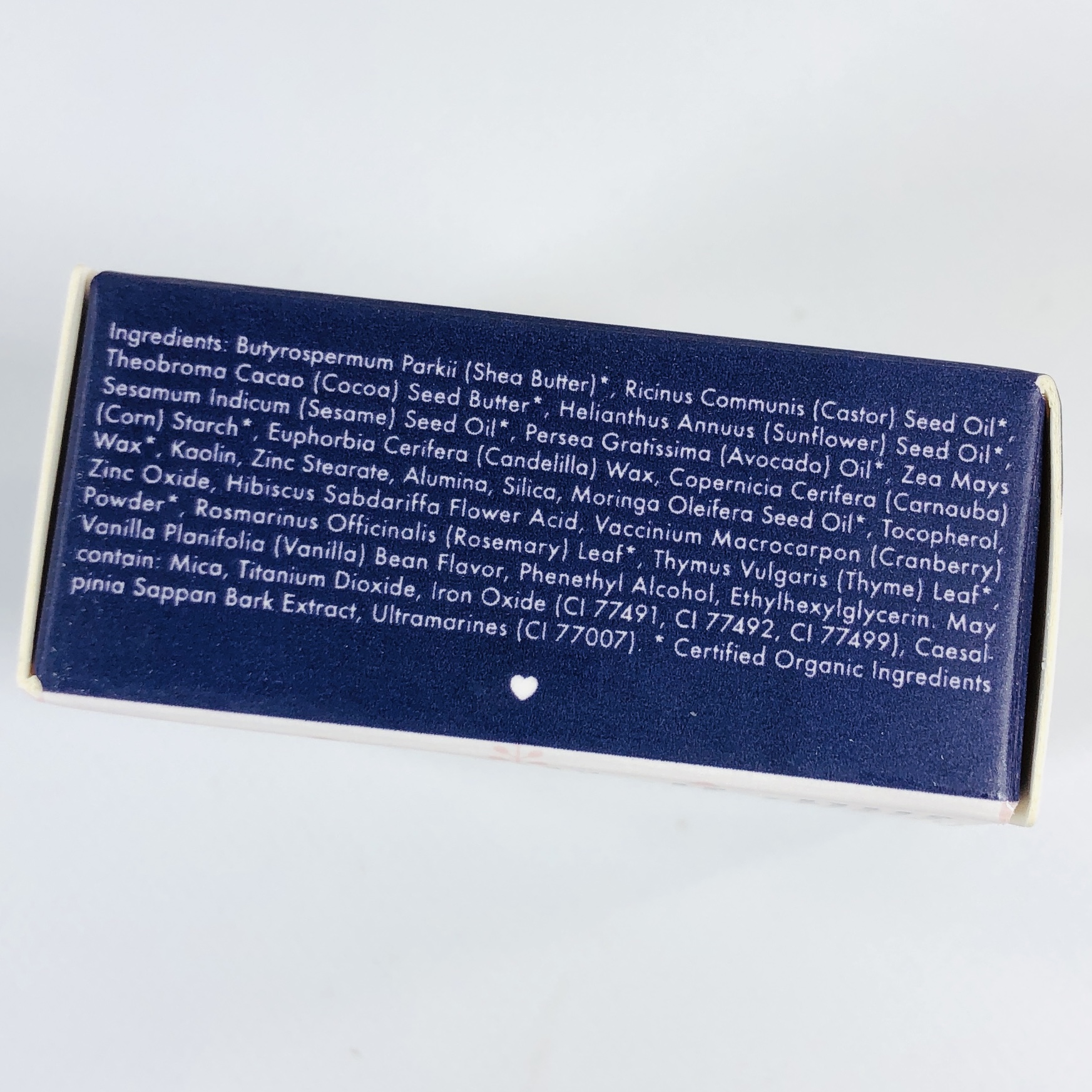 Shea butter, castor seed oil, and other plant-based oils are some of the first ingredients here along with corn starch, plant waxes, and kaolin clay.
I received Pretty Baby, but colors may vary. Pretty Baby is described as "a toasted pink-beige, perfect for playing coy or as your new favorite nude".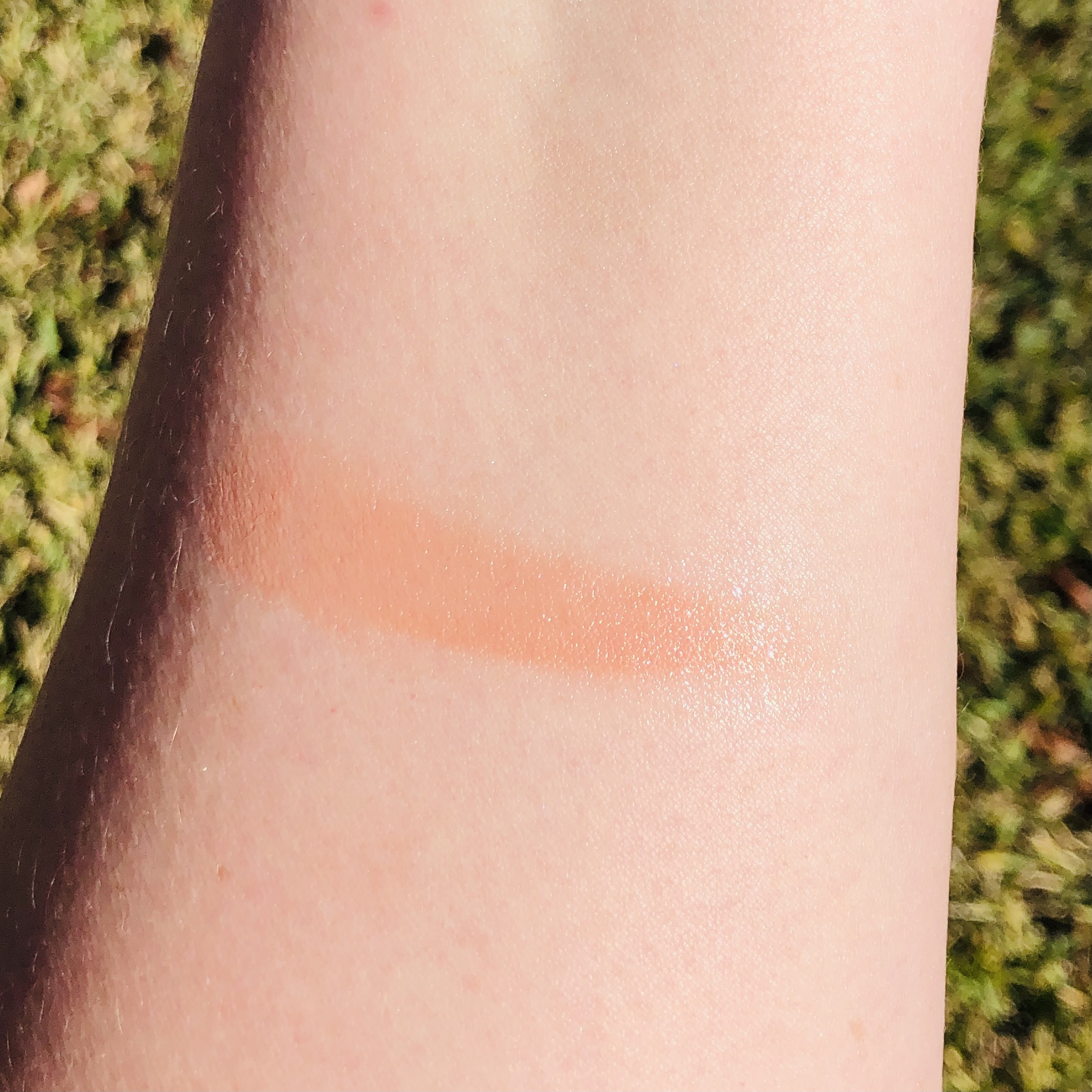 Here it is swatched. It is incredibly creamy and doesn't tug my skin as some creamy products sometimes do. It barely showed up on my cheeks, so just a hint of color, and I couldn't see it on my lips, although I could feel it there. I didn't use this on my eyes. It smells like cocoa butter and vanilla with a hint of powder.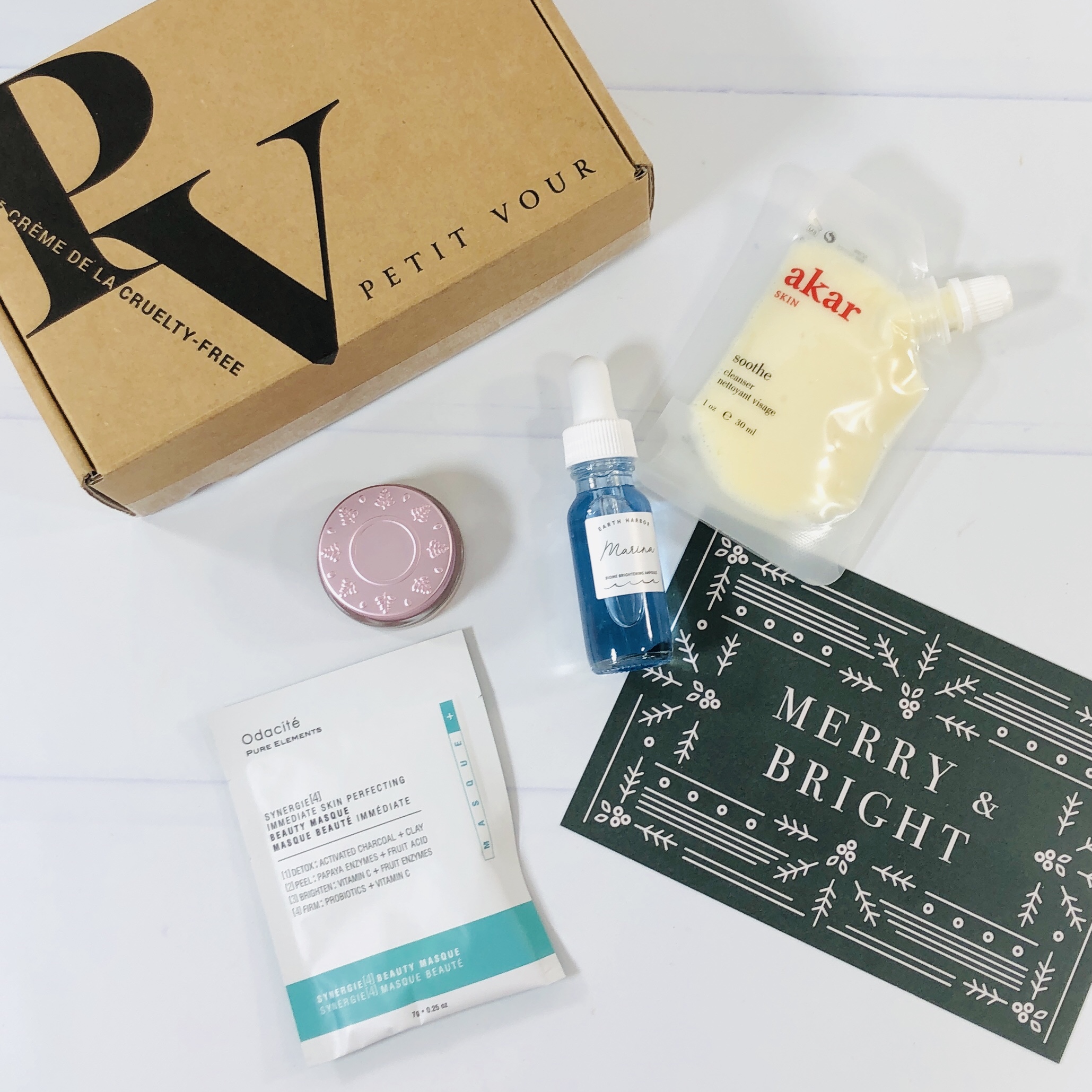 The December box by Petit Vour had some luxurious items to help me end the year with some self-care and a bright visage. The cleanser had a touch of an aromatherapy benefit when I used it and of course a mask is a nice way to take a break because there isn't a whole lot to do when you have it on your face. The oil is a soothing way to treat my skin after using either of the first two products, and the multiuse makeup product was creamy and easy to apply. The value for this December box was around $58.57!
What did you think of this month's Petit Vour? I'd love to hear your thoughts on this box in the comments! 
Visit Petit Vour to subscribe or find out more about this vegan beauty subscription box!