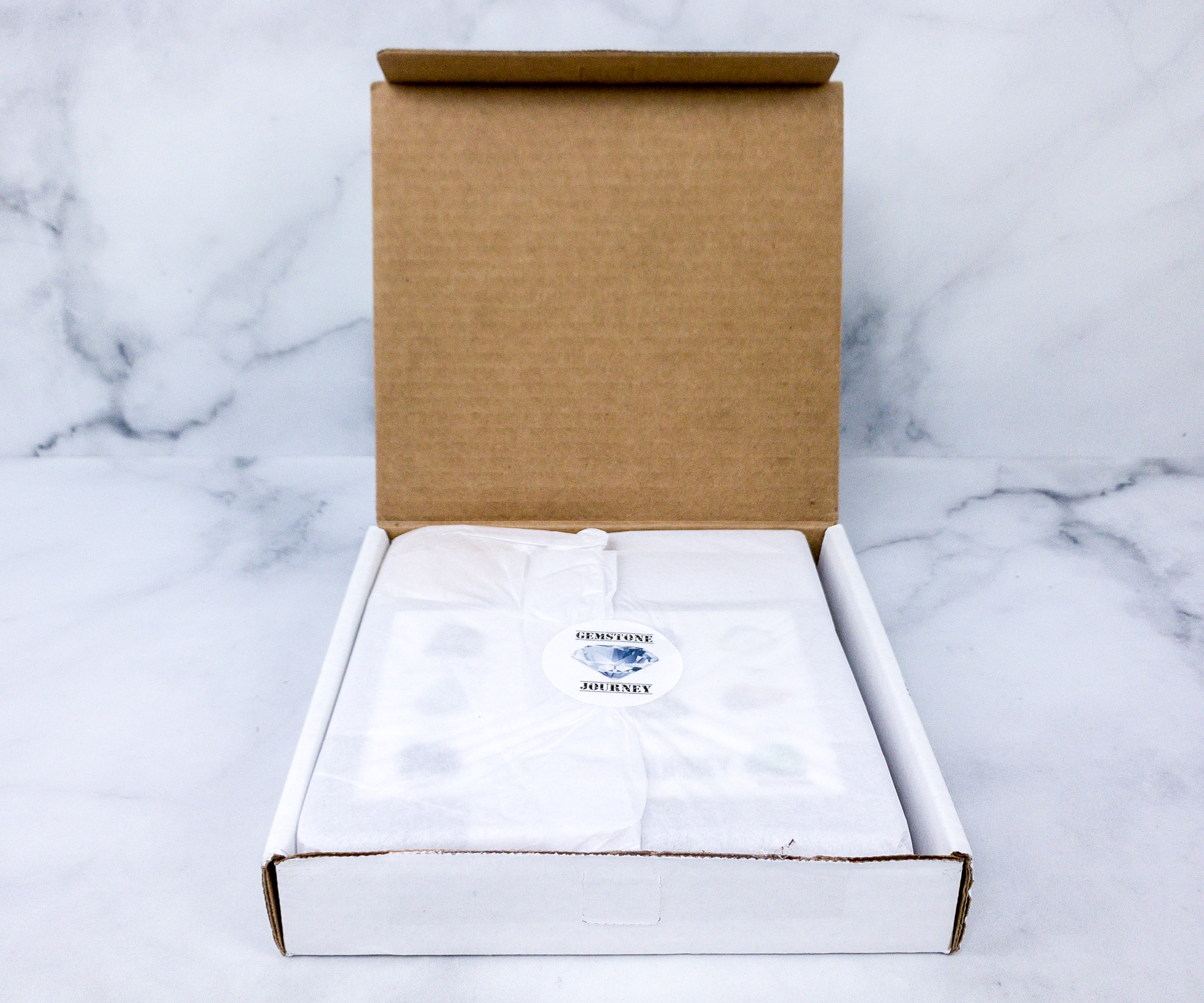 Excavating Adventures is a monthly subscription box made for those who love exploring and collecting Scientific specimens! The "Extreme Kit" box costs $26.99 each month, and also comes with free shipping within the US. Each month, you will get to discover new fossils, rocks, gemstones, minerals, seashells, and more, as you also join in an exciting and fun adventure. It can also be a unique gift that will appeal to those who love to learn and be entertained at the same time. Also, every specimen comes with a collectible identification card. You can collect ten new specimens every month and be amazed as you watch your collections grow!
DEAL: Get $10 off on your first box! Use coupon code HELLO10.
This is the Extreme Kit option. Excavating Adventures also offers a variety of other subscriptions that may meet your needs if you need fewer specimens per month. They also offer a version that is specimens only if you have a rock-lover with sensory issues that doesn't want to excavate!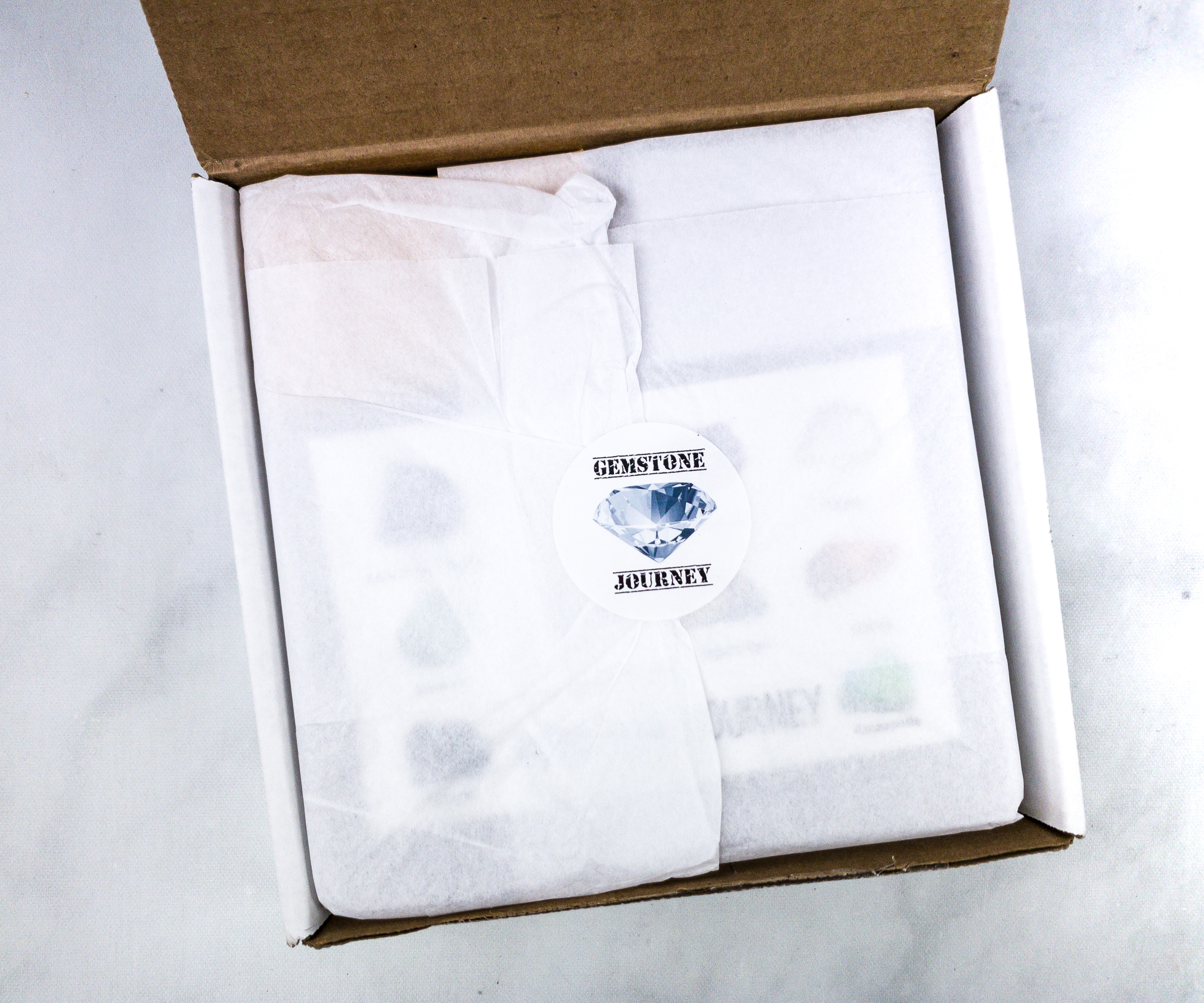 The contents of the box are wrapped in white tissue paper and sealed with a sticker.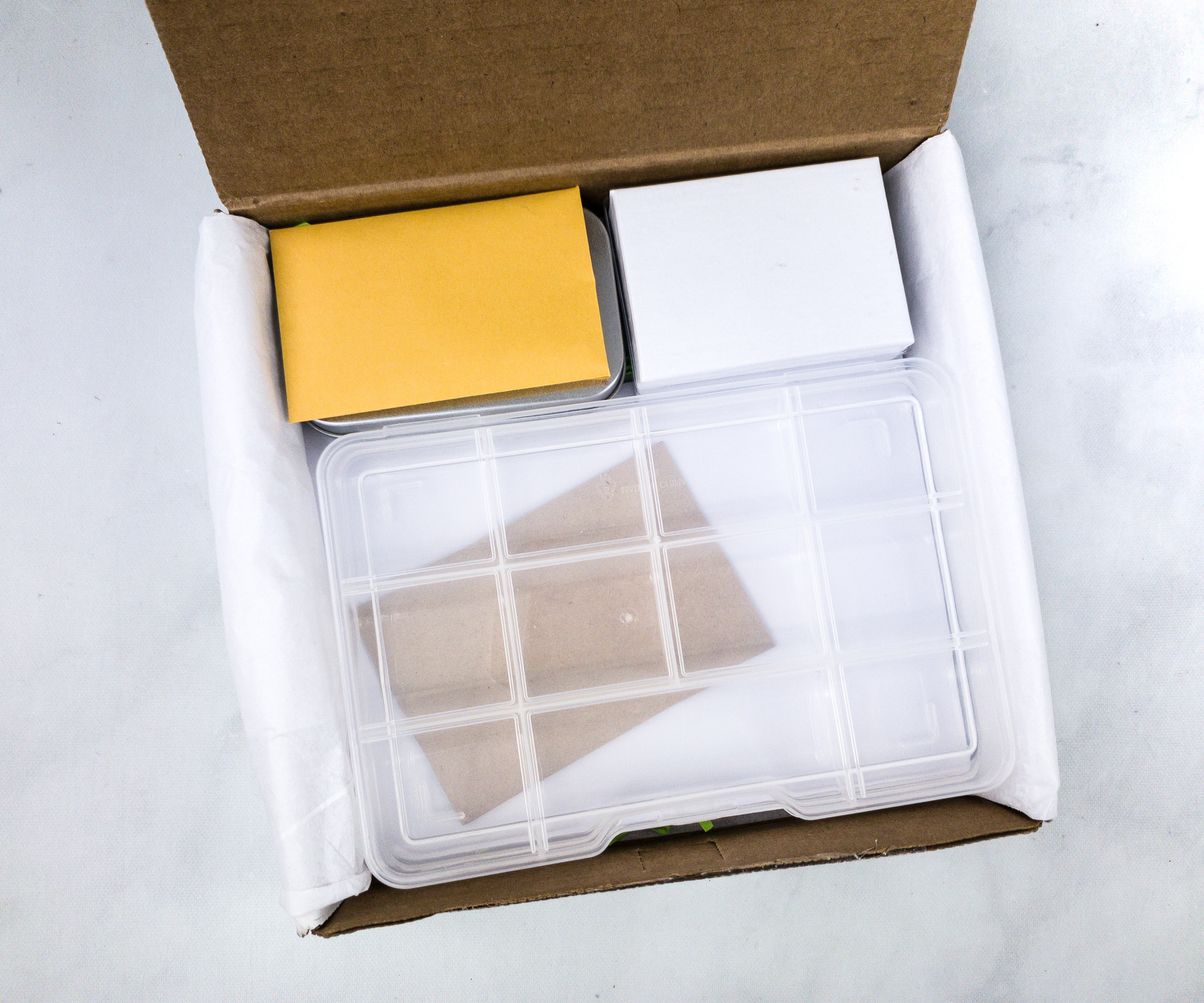 The items inside the box are organized and some are even packed separately.
There's a card that lists some known gemstones with photos!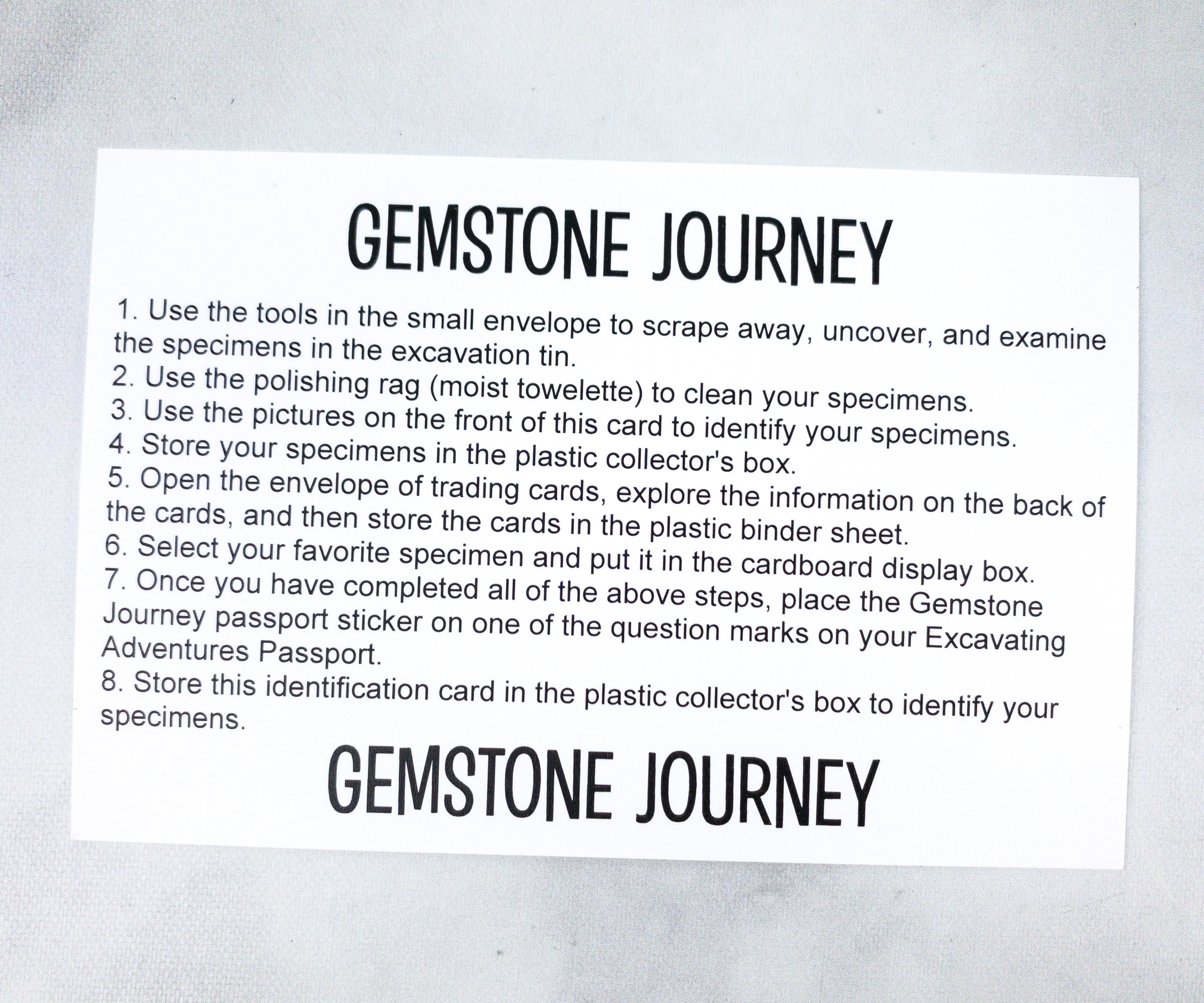 The flip side of the card comes with instructions on how to find, identify, and store the specimens.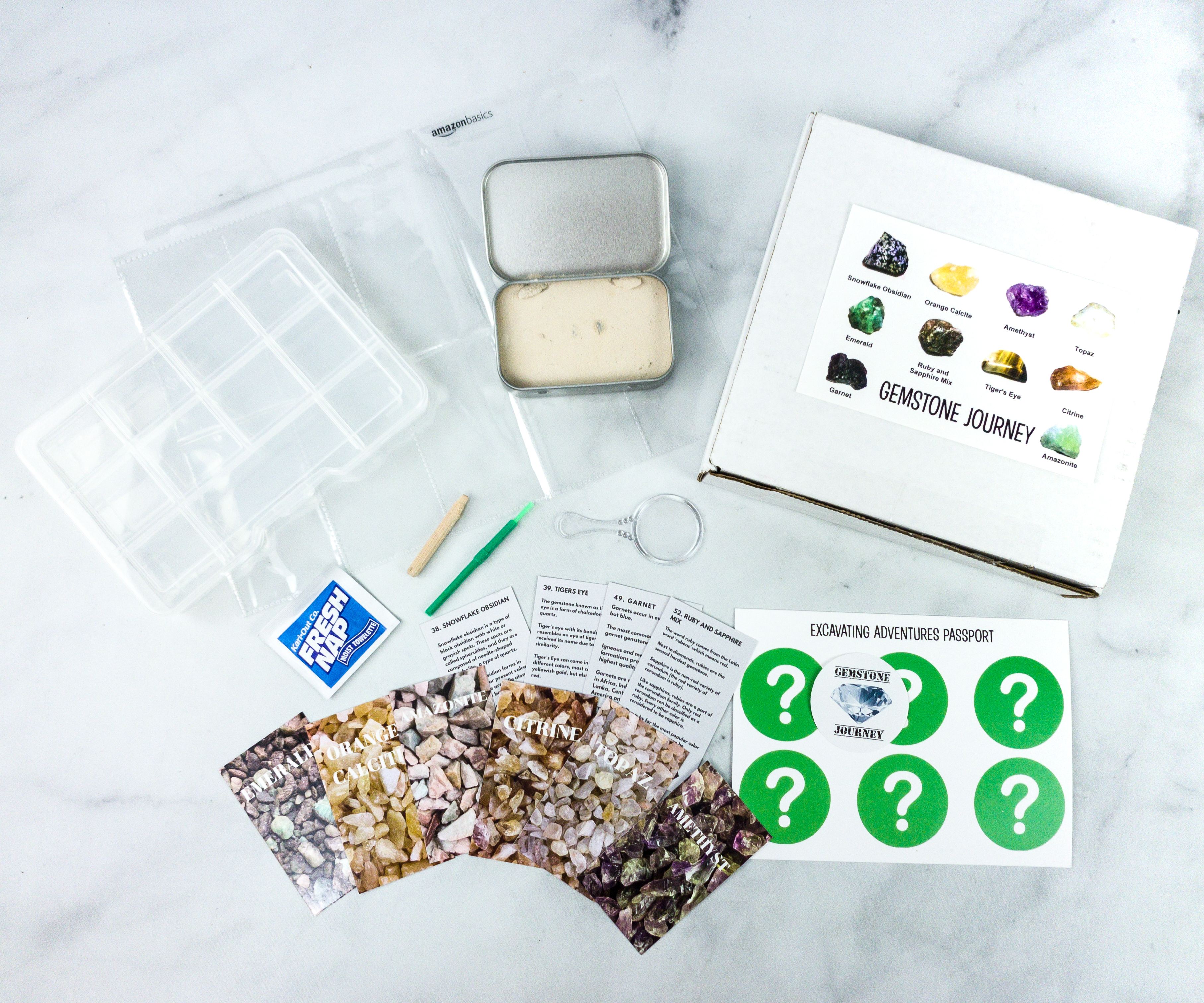 Everything in the box!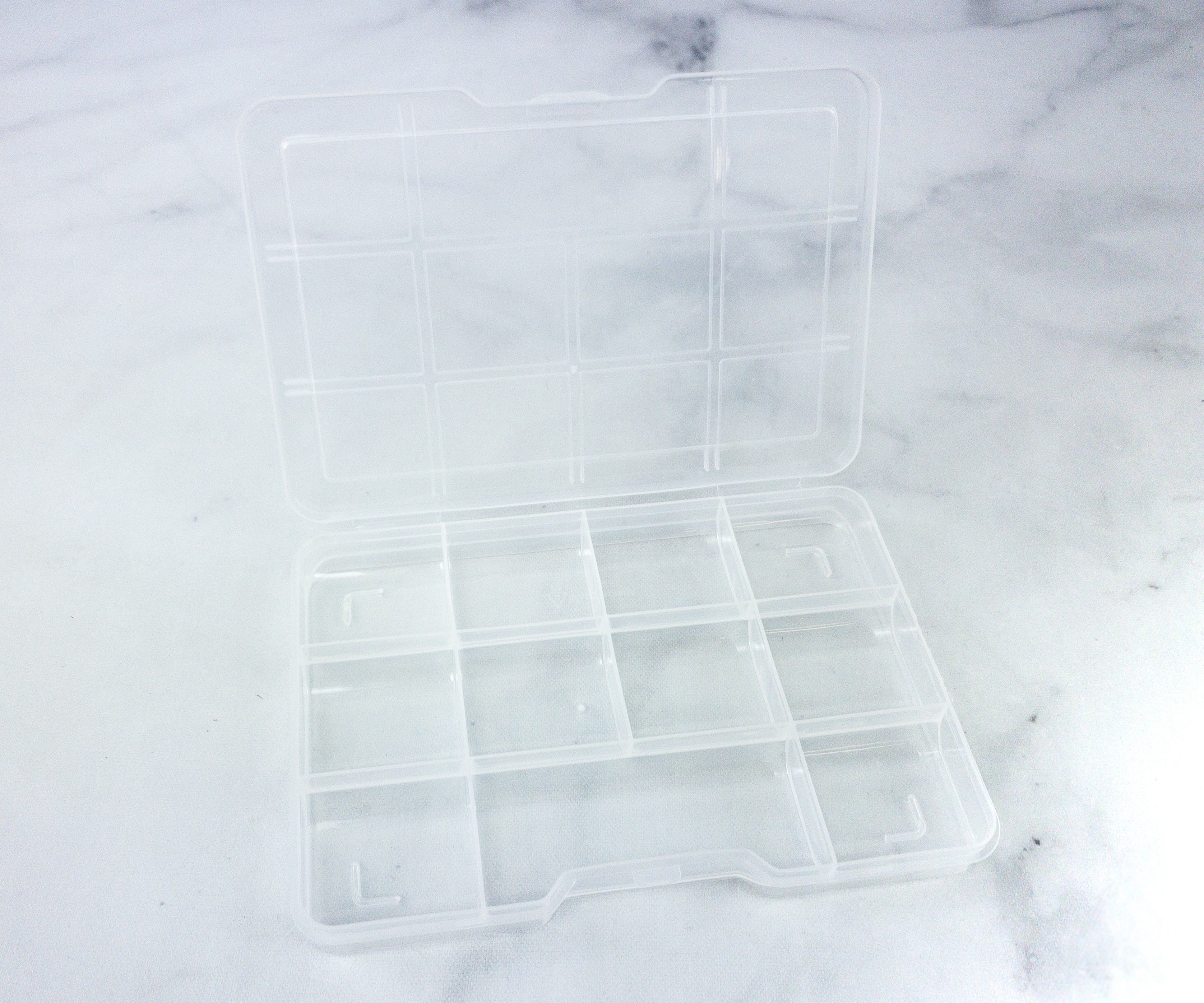 Plastic Collector's Box. This clear plastic box can be used to store the specimens that will be excavated from the tin. It has 11 compartments. The biggest compartment, which is the one at the middle bottom, can hold the tools used in excavating.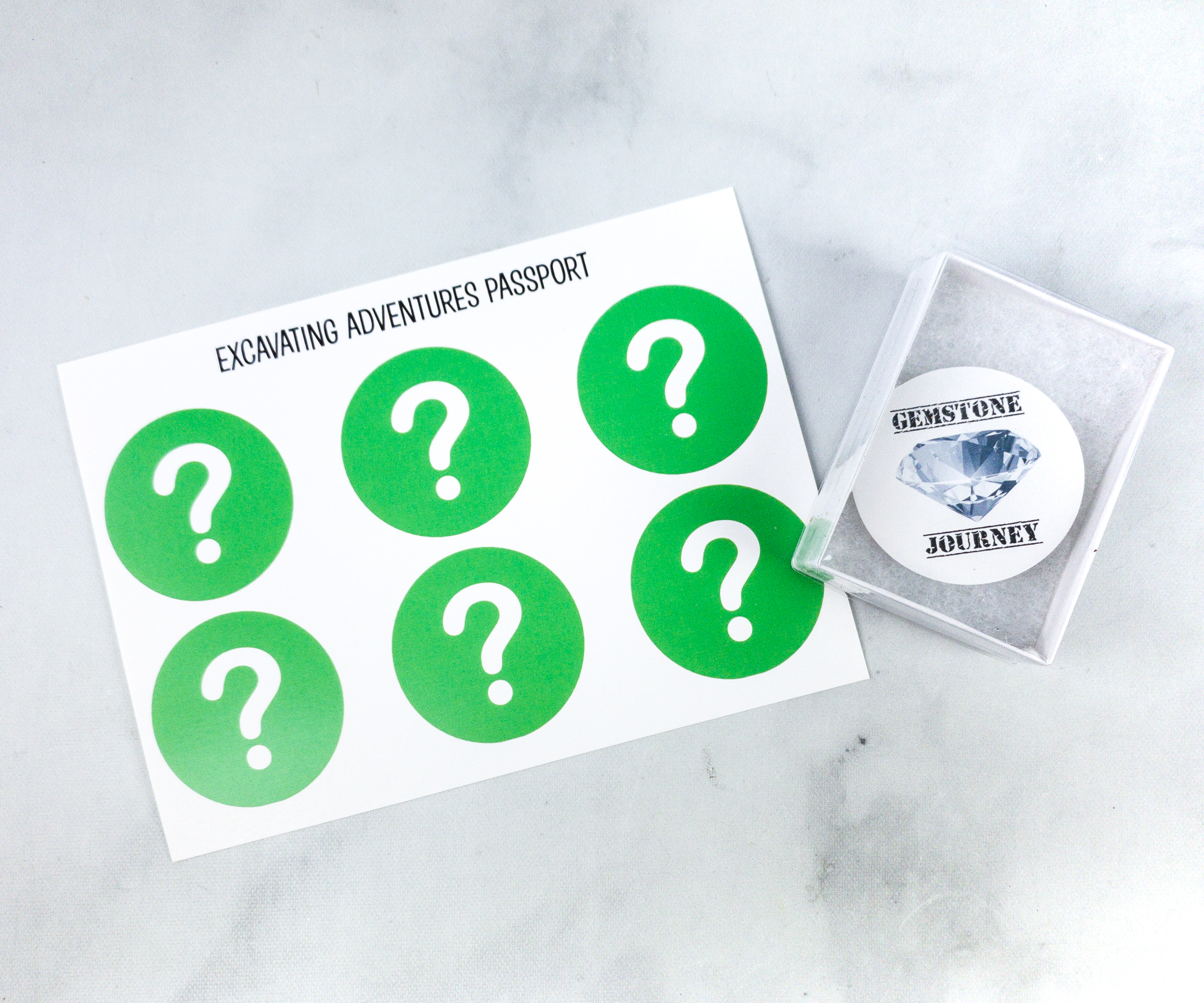 Excavating Adventures Passport and Passport Sticker. Each month, you will get a sticker that you can stick on the Adventures Passport so you'll keep track of what activities from this subscription you are already done with.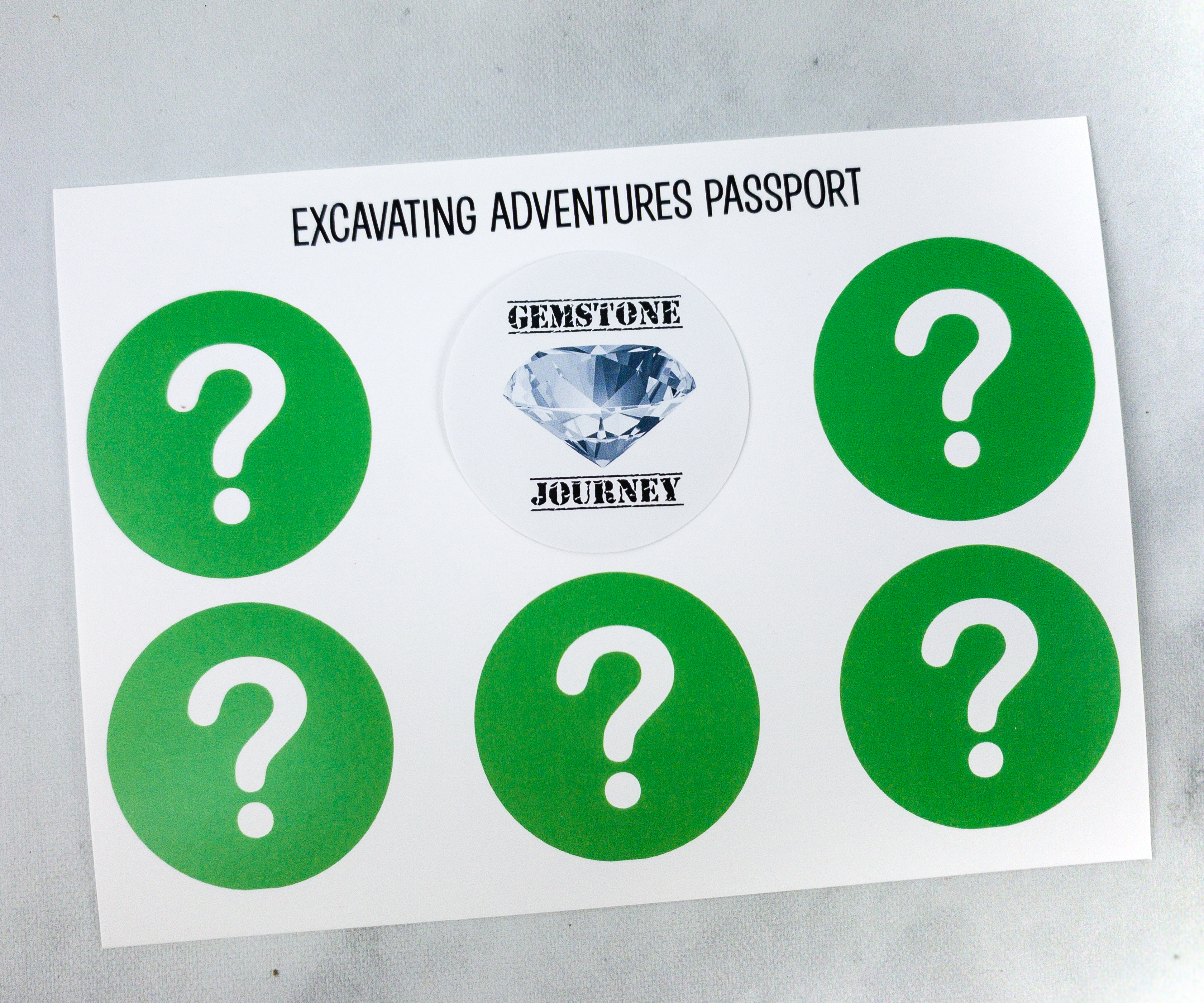 For this month, it's the Gemstone Journey sticker.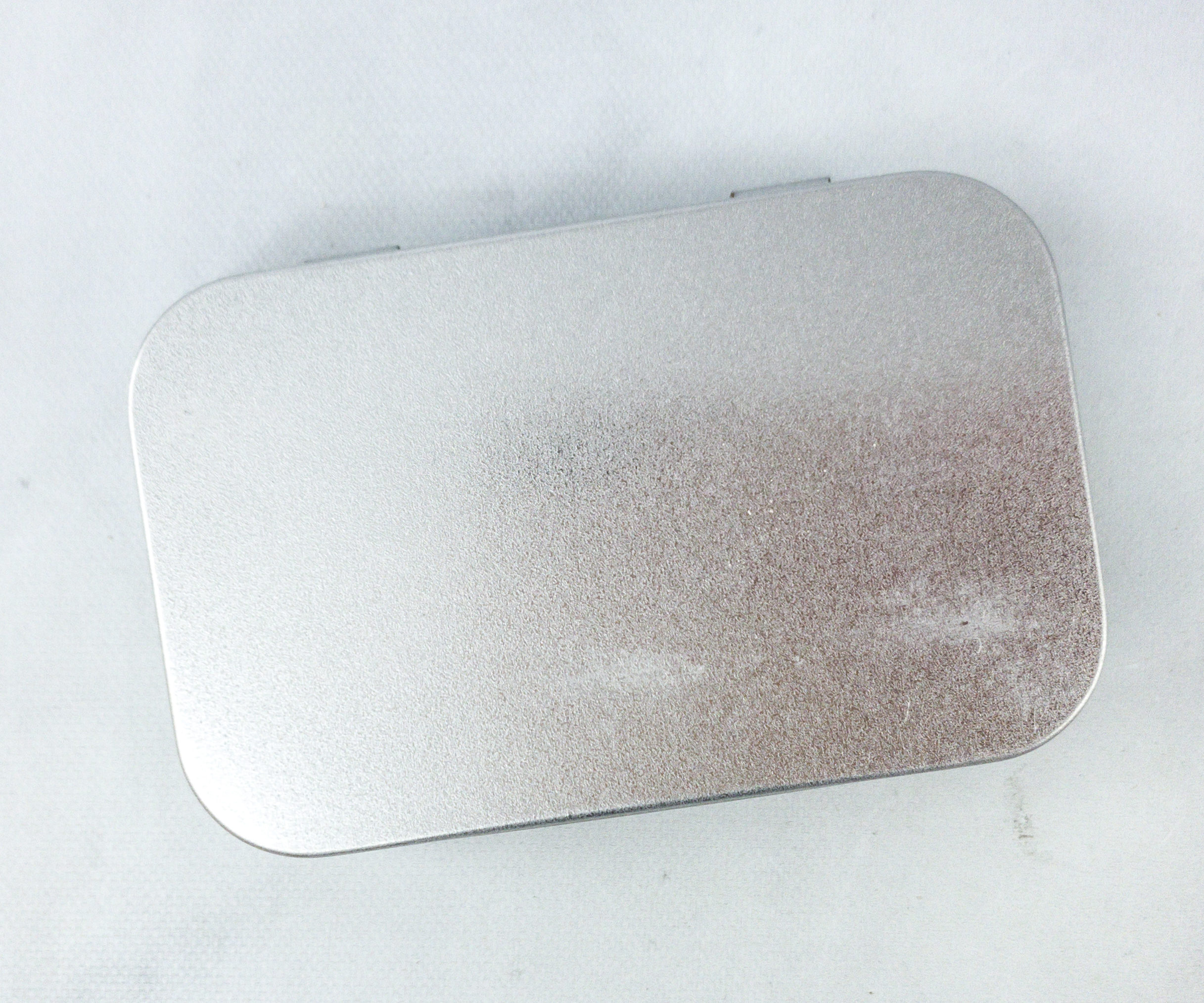 Excavating Tin. Here's the tin that contains this month's specimen!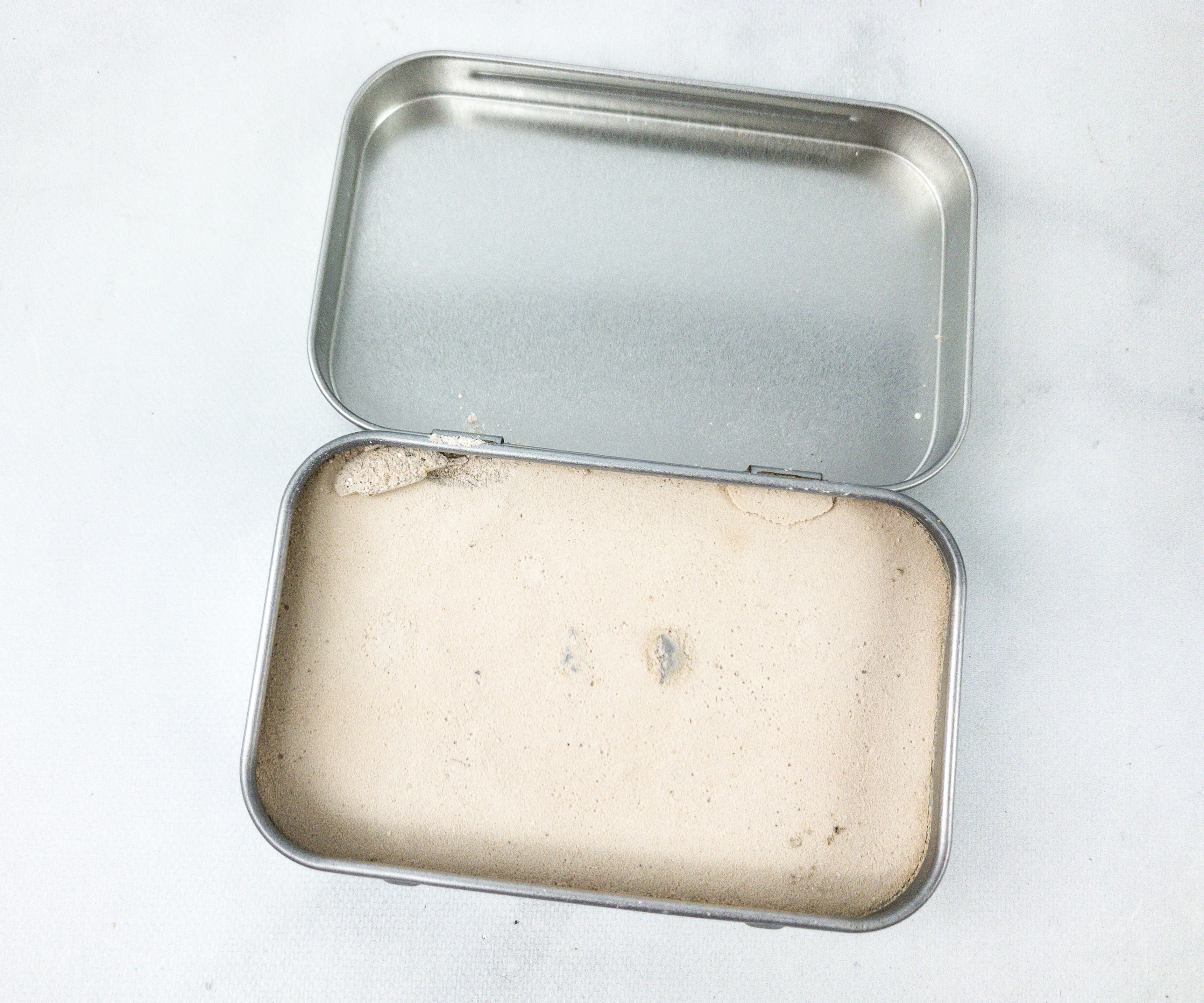 You just need to scrape this away to discover the treasures that lie inside the tin container!
Plastic Binder Sheet. This binder sheet has pockets where you can store the cards that also come in this box.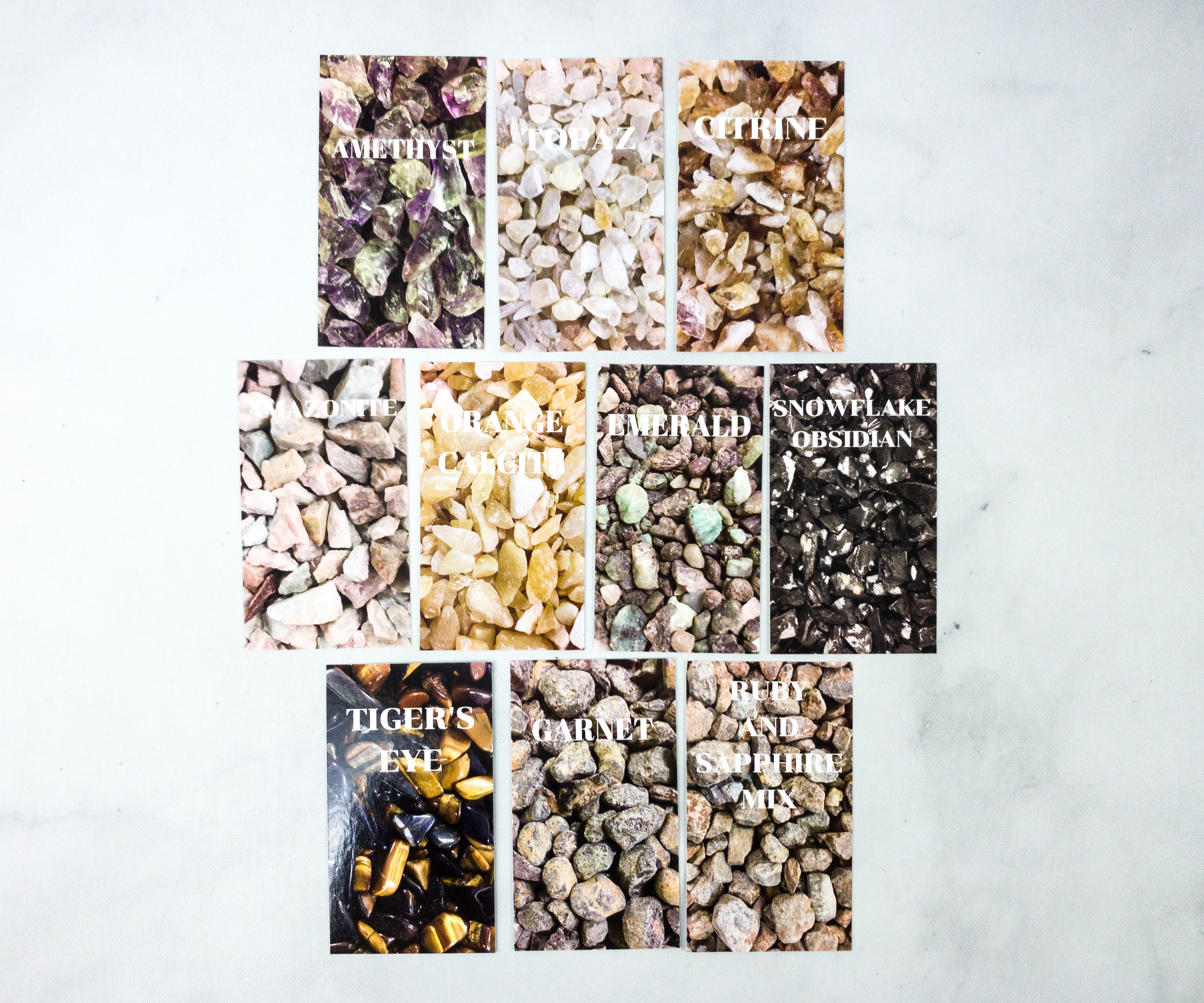 Trading Cards. The cards illustrate the specimens and they also contain more information about them.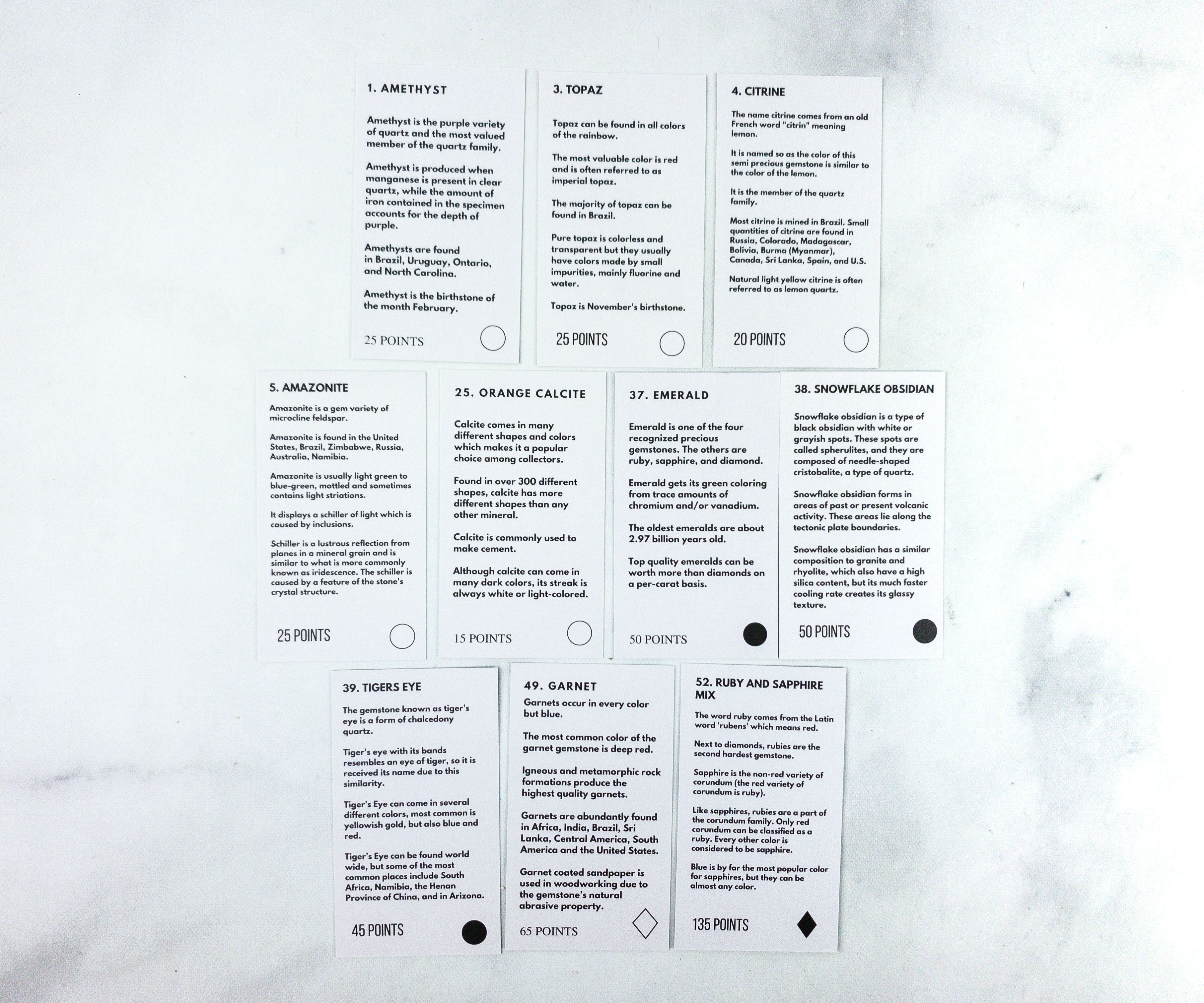 For this activity, I received ten cards about different gemstones, and each also comes with points.  The information included color, description, and the location where they can be abundantly found.
Excavating Tools. The other tools included in this box to help in excavating are a magnifying glass, a brush, a dig excavation tool, and a moist towelette.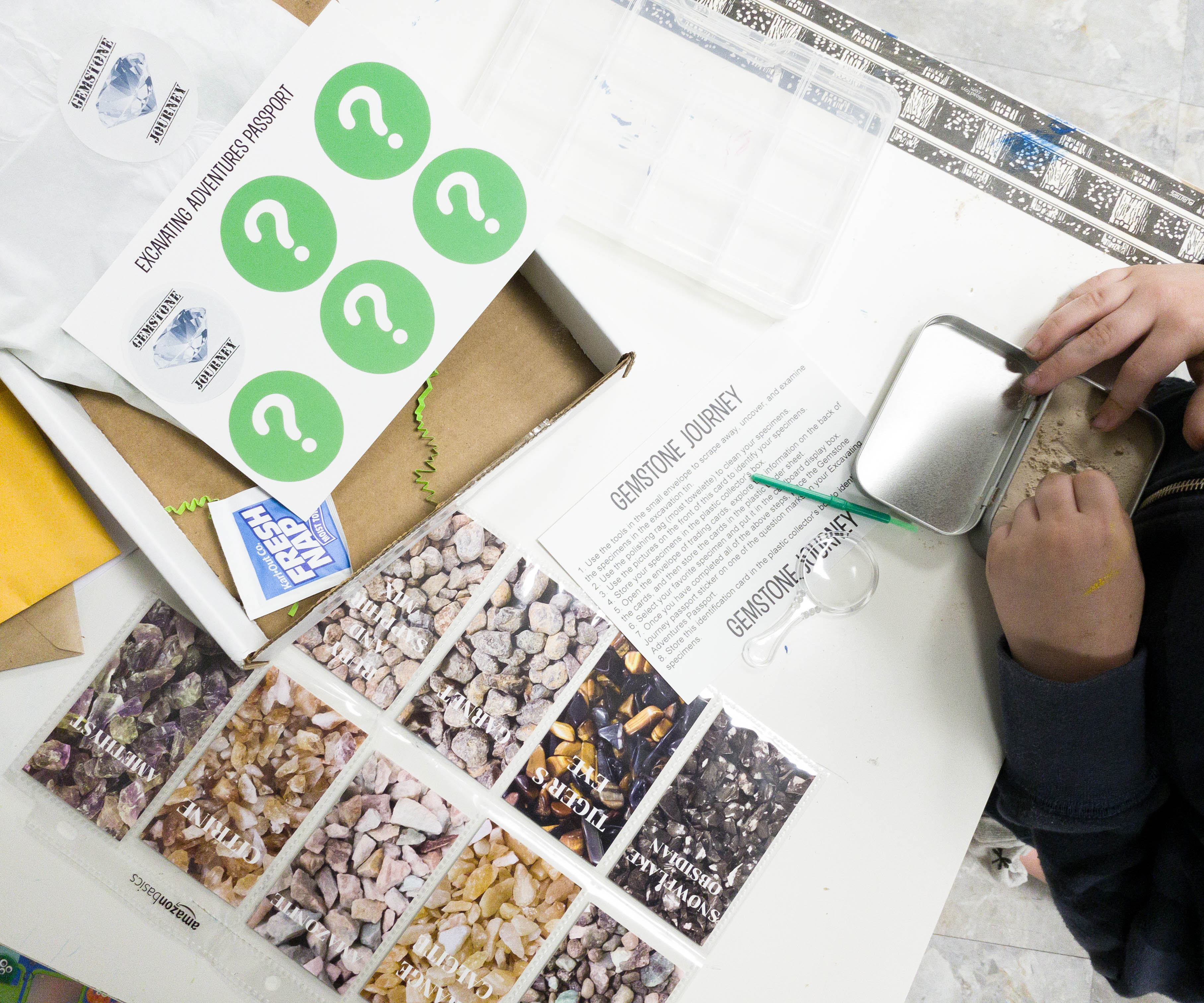 It's time to do some treasure hunting! My son was SO excited for this box – he loves this sort of activity and just can't get enough of it.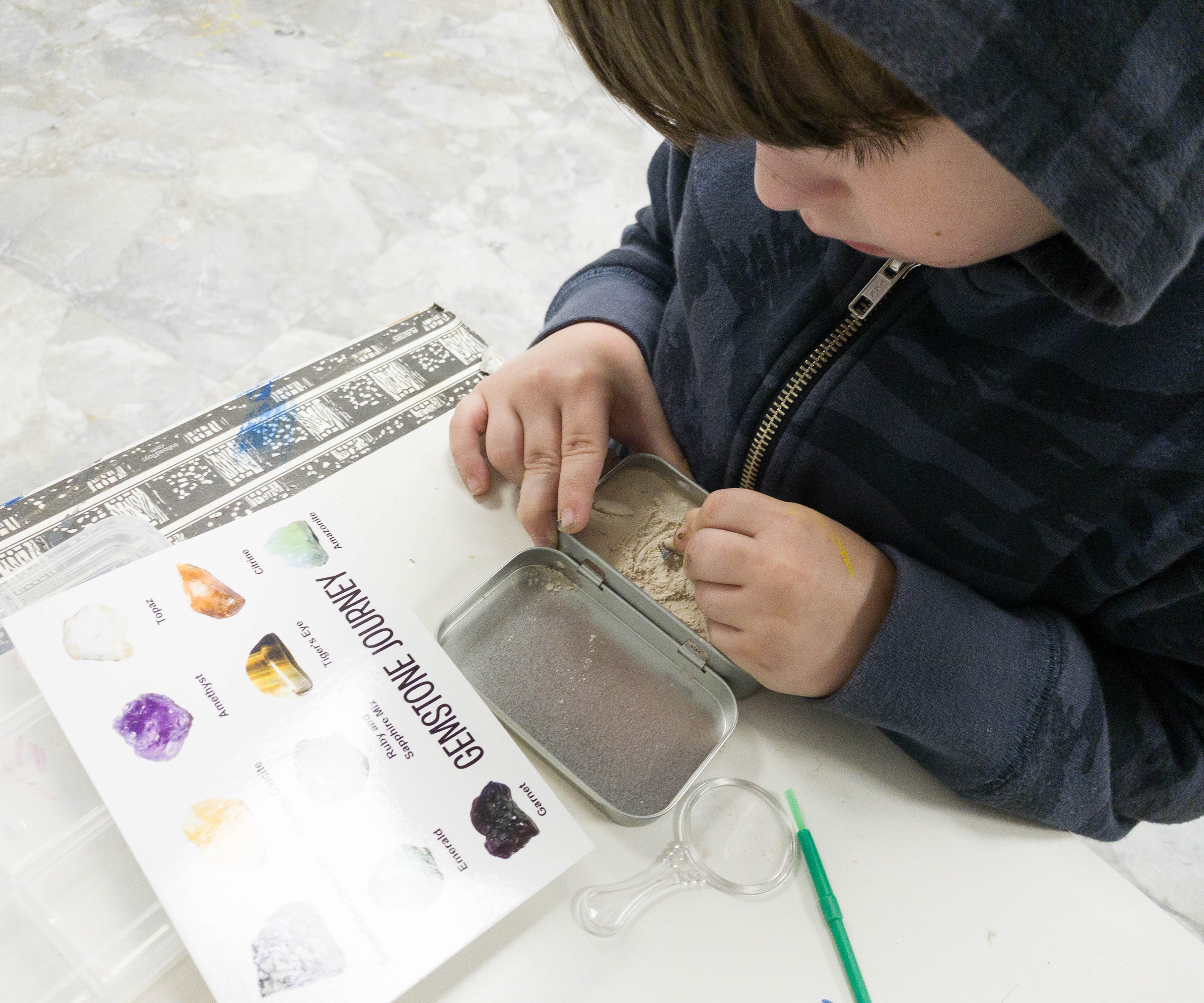 My son carefully scraped thin layers hoping to find something precious underneath.
He carefully inspected each rock that he found.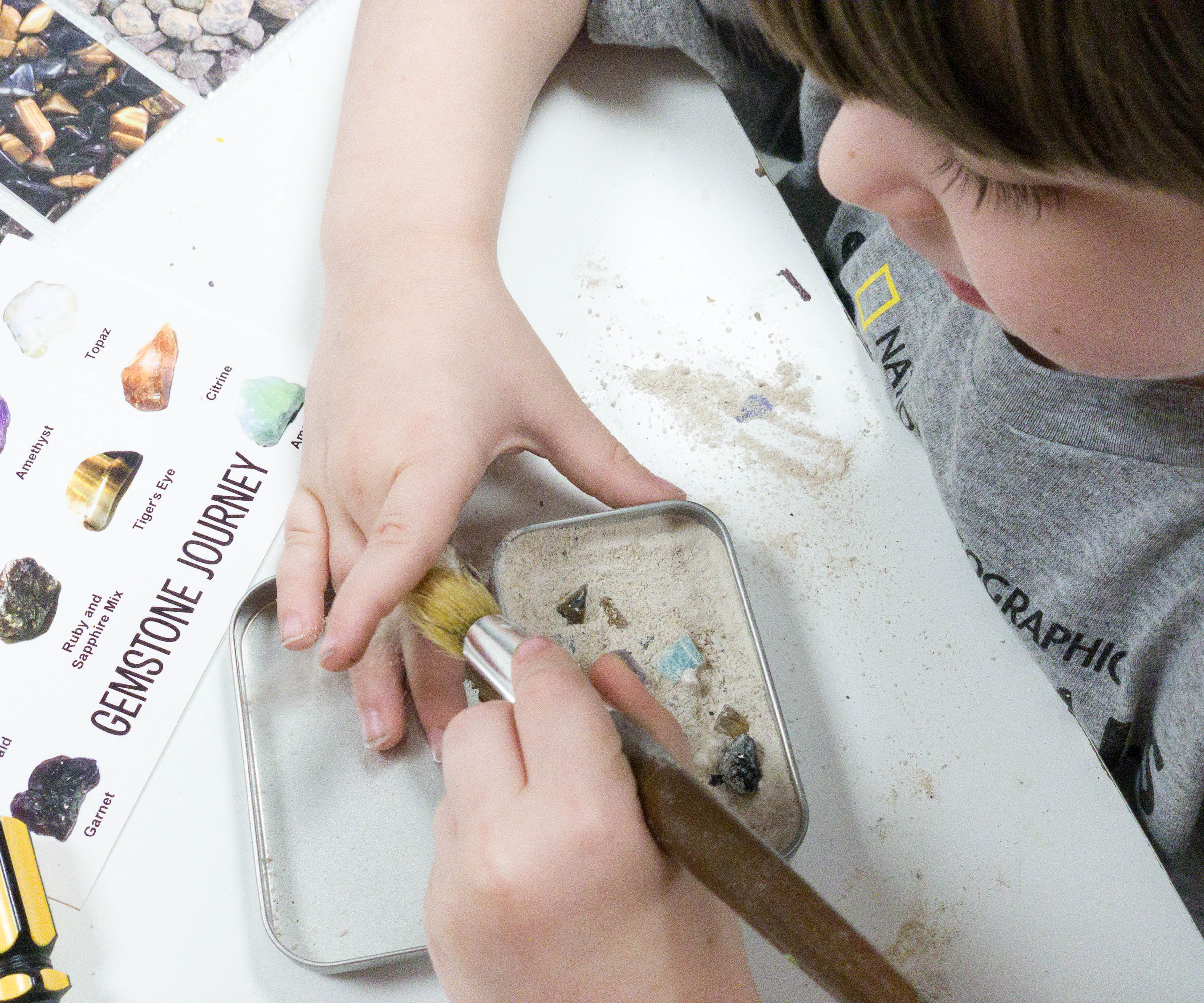 Using a brush, he removed the dust to reveal the kind of gem that he found.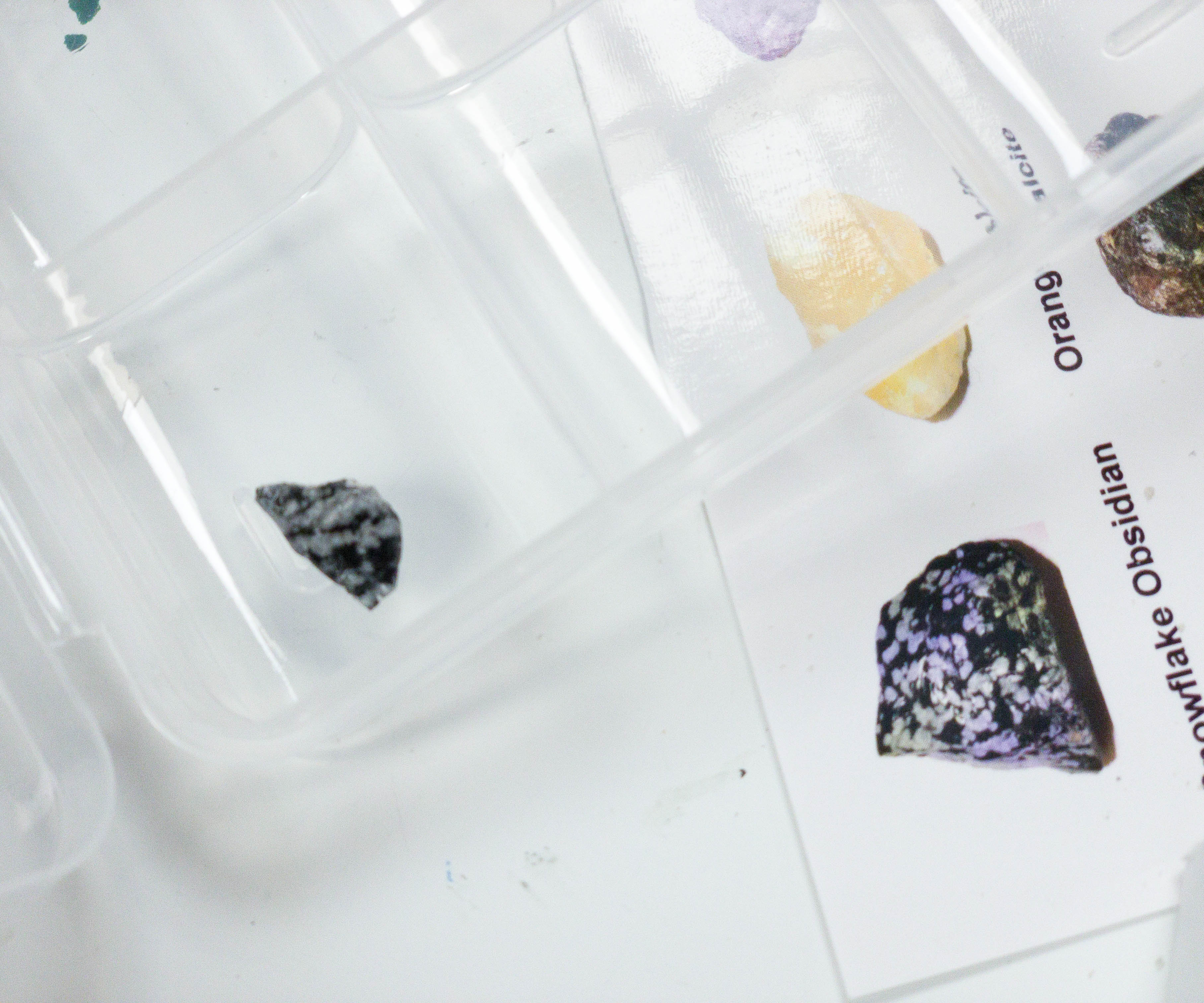 The first gem that he found is a snowflake obsidian. He used the plastic collector's box to store it.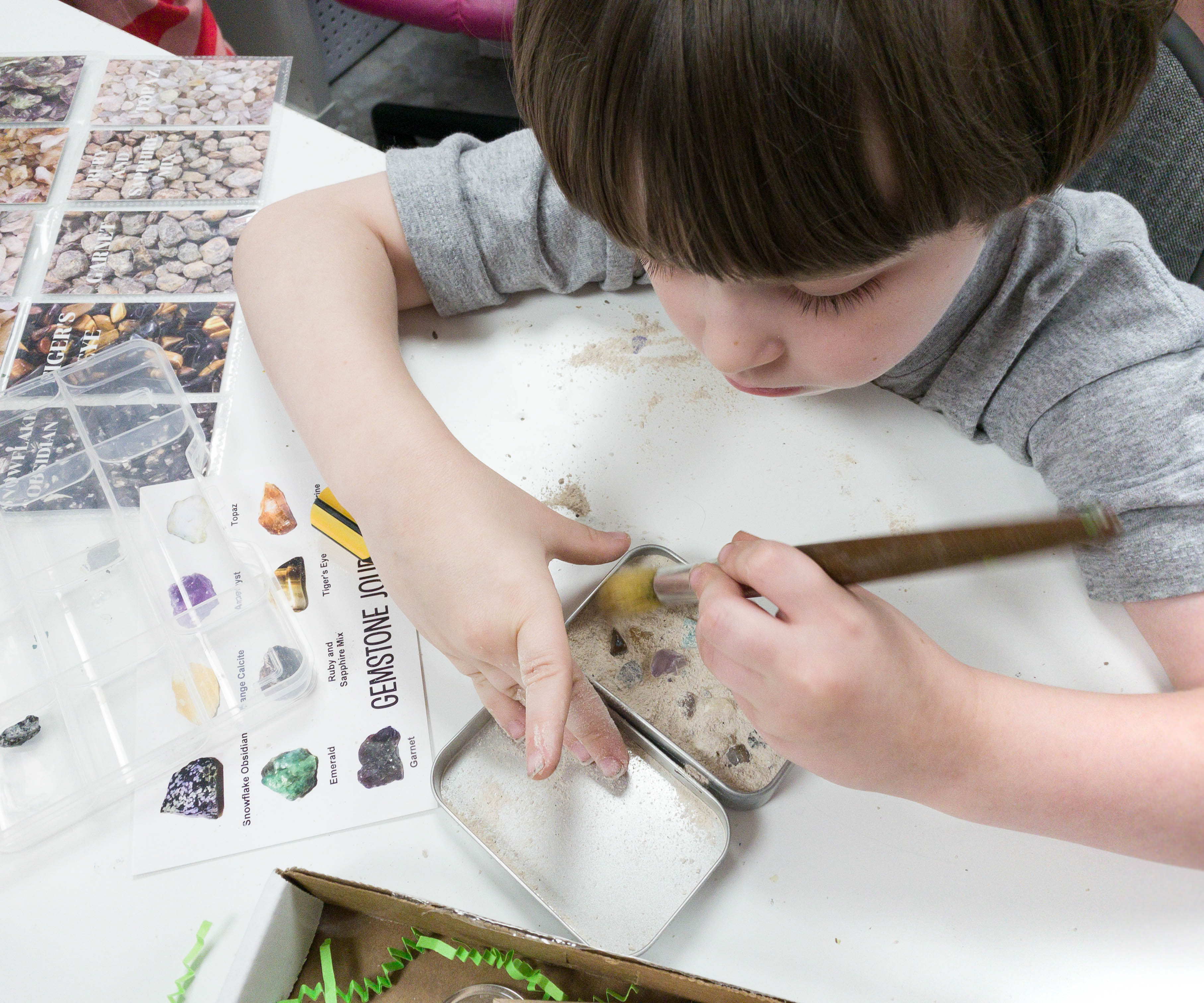 The tin container still has a lot of specimens that need to be excavated.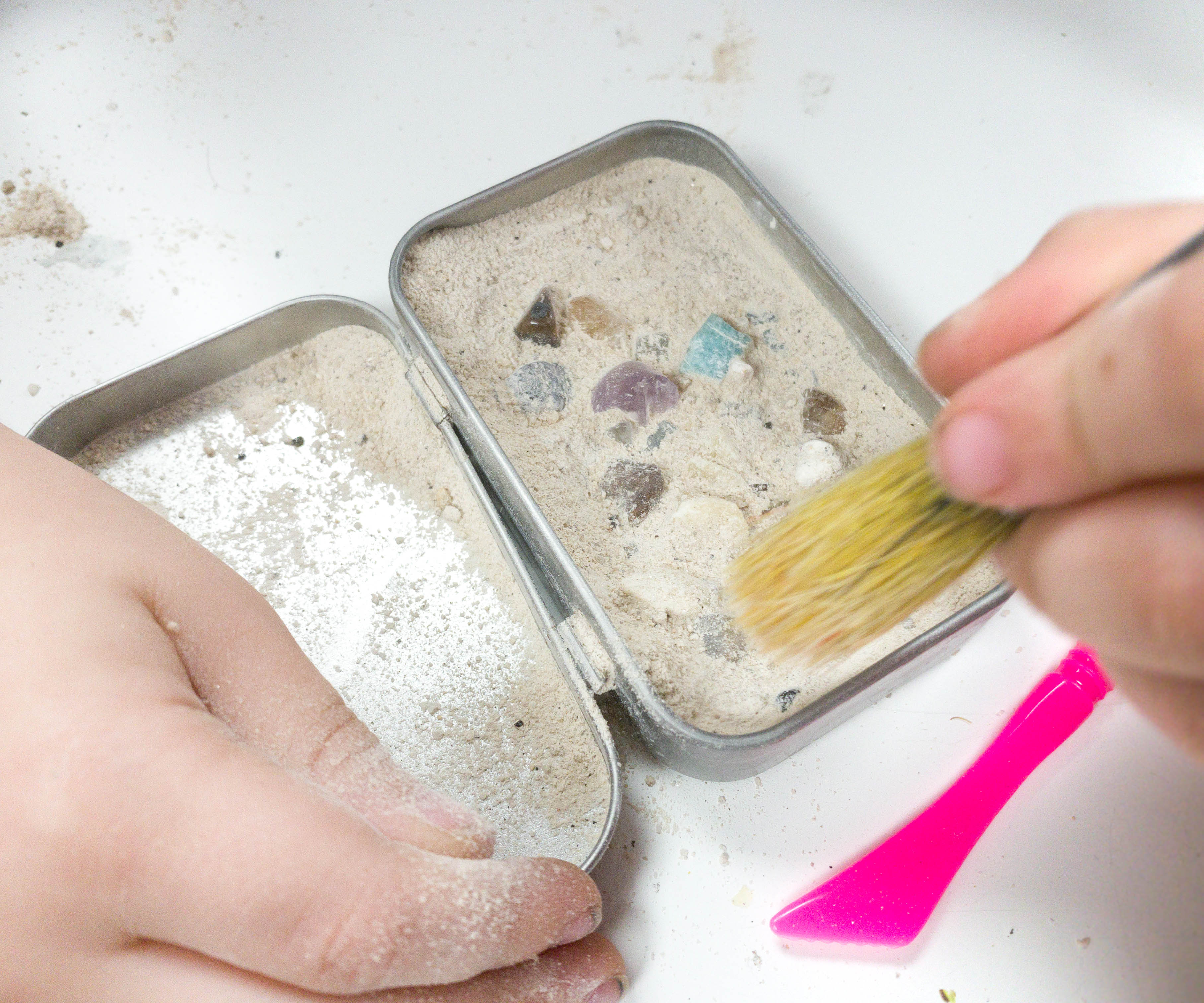 More gems are revealed as thin layers of dust and sand are removed.
Meanwhile, my older son did a quick review of the cards that came in the box.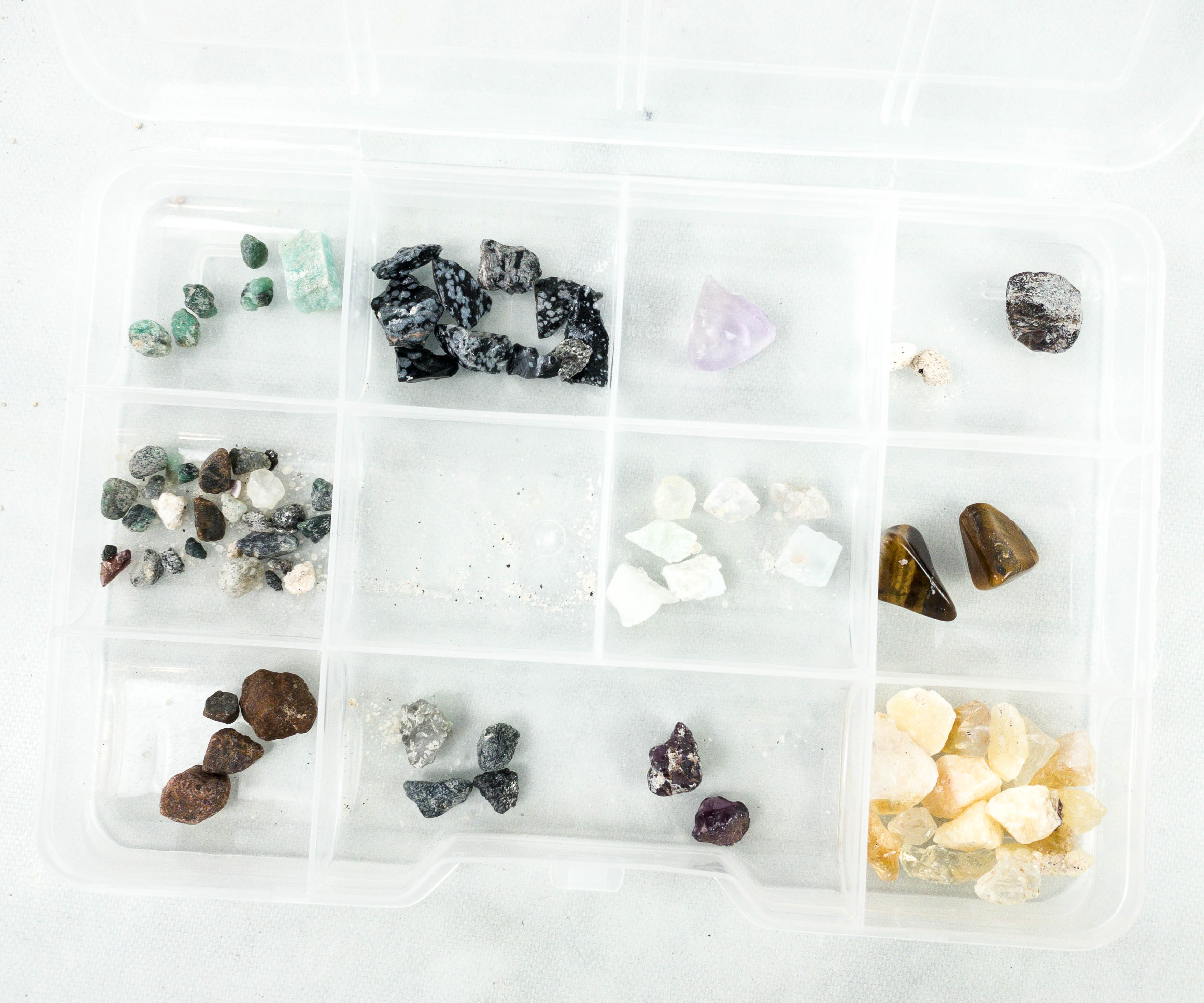 Here are all the gems that they found inside the excavating tin container!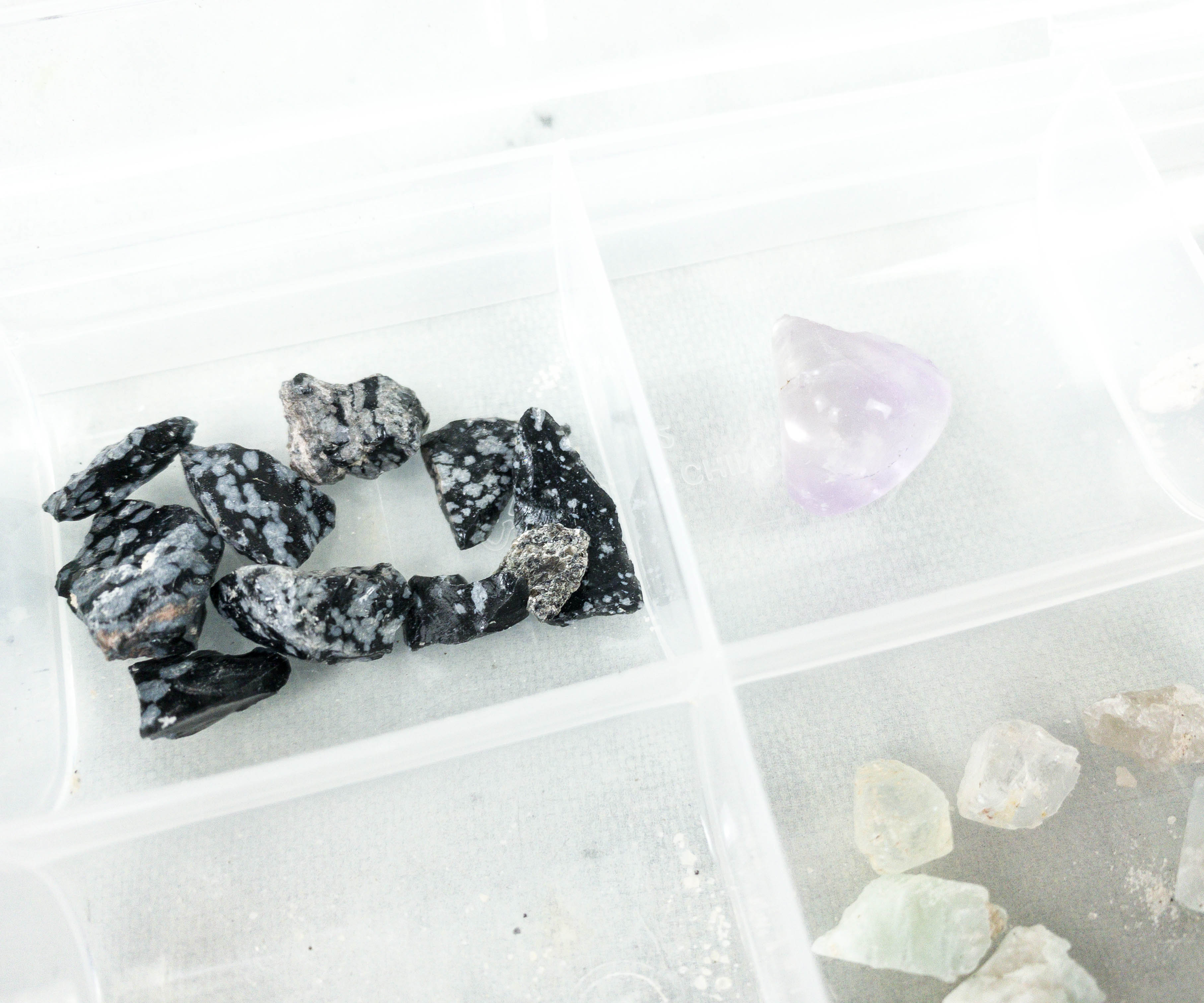 The gems looked even better after removing all the dirt.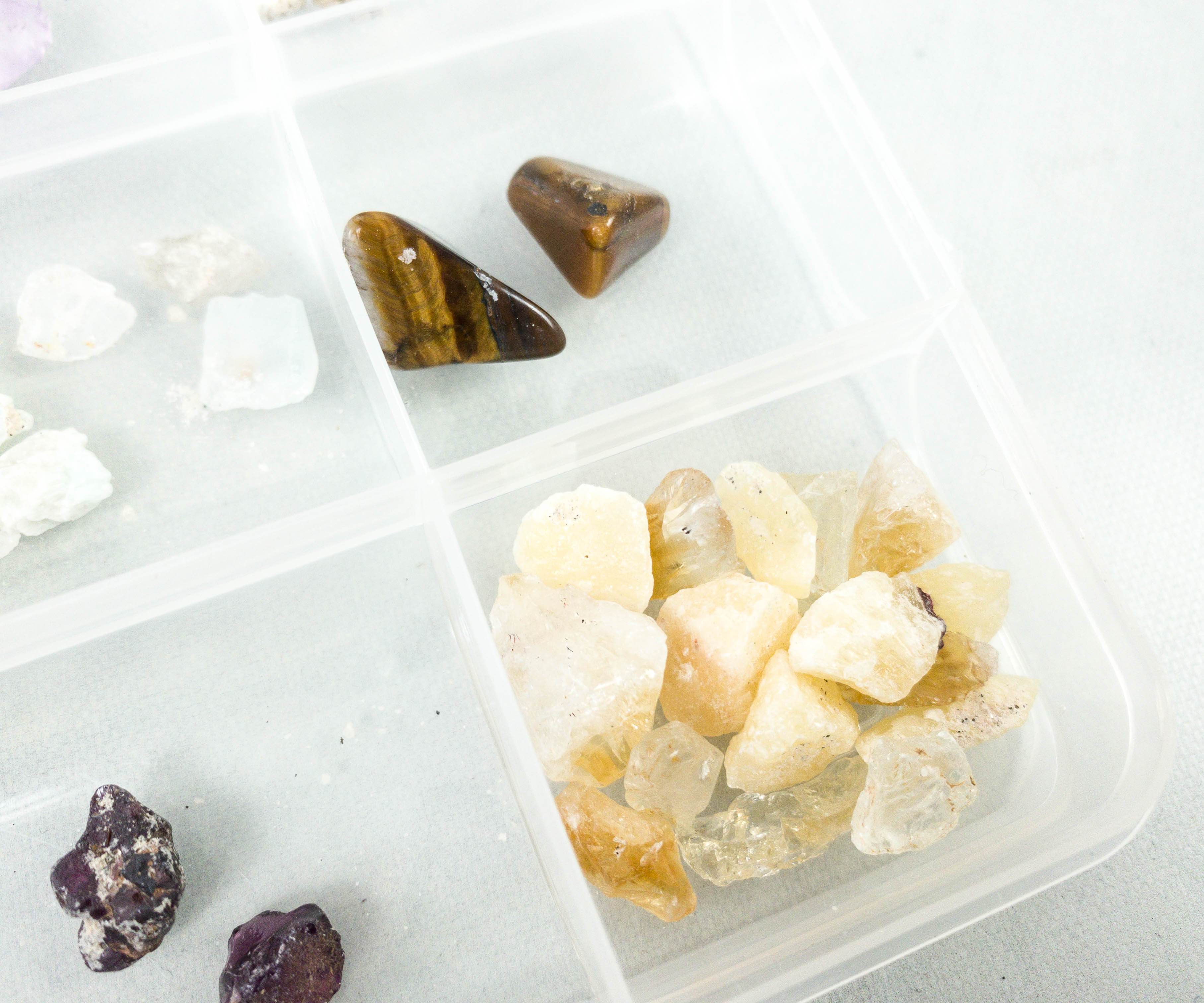 Each material has a unique color and pattern. It's amazing how they are formed through the years.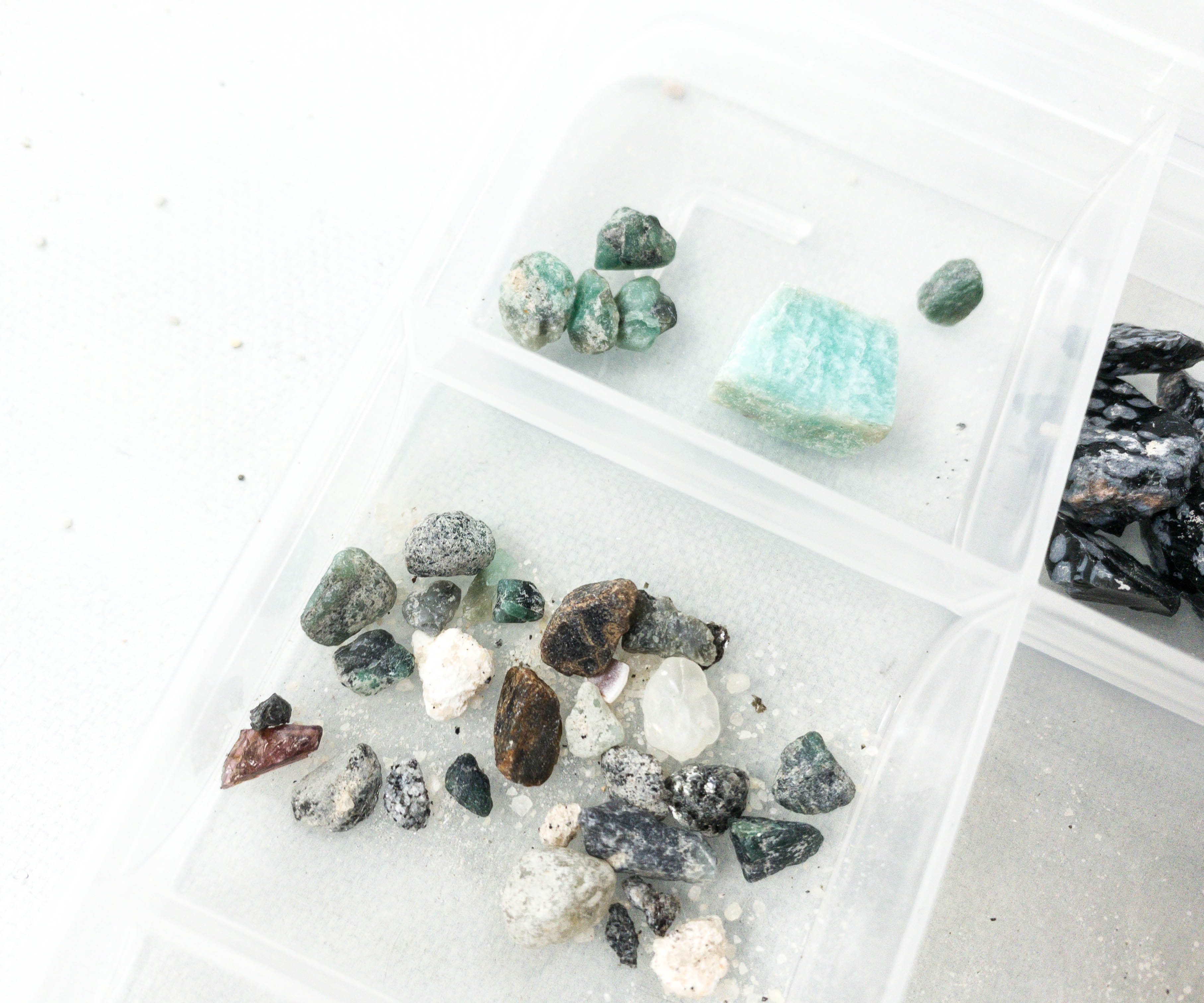 There are other specimens that my kids need to organize. It's a bit tricky because some gems look similar too.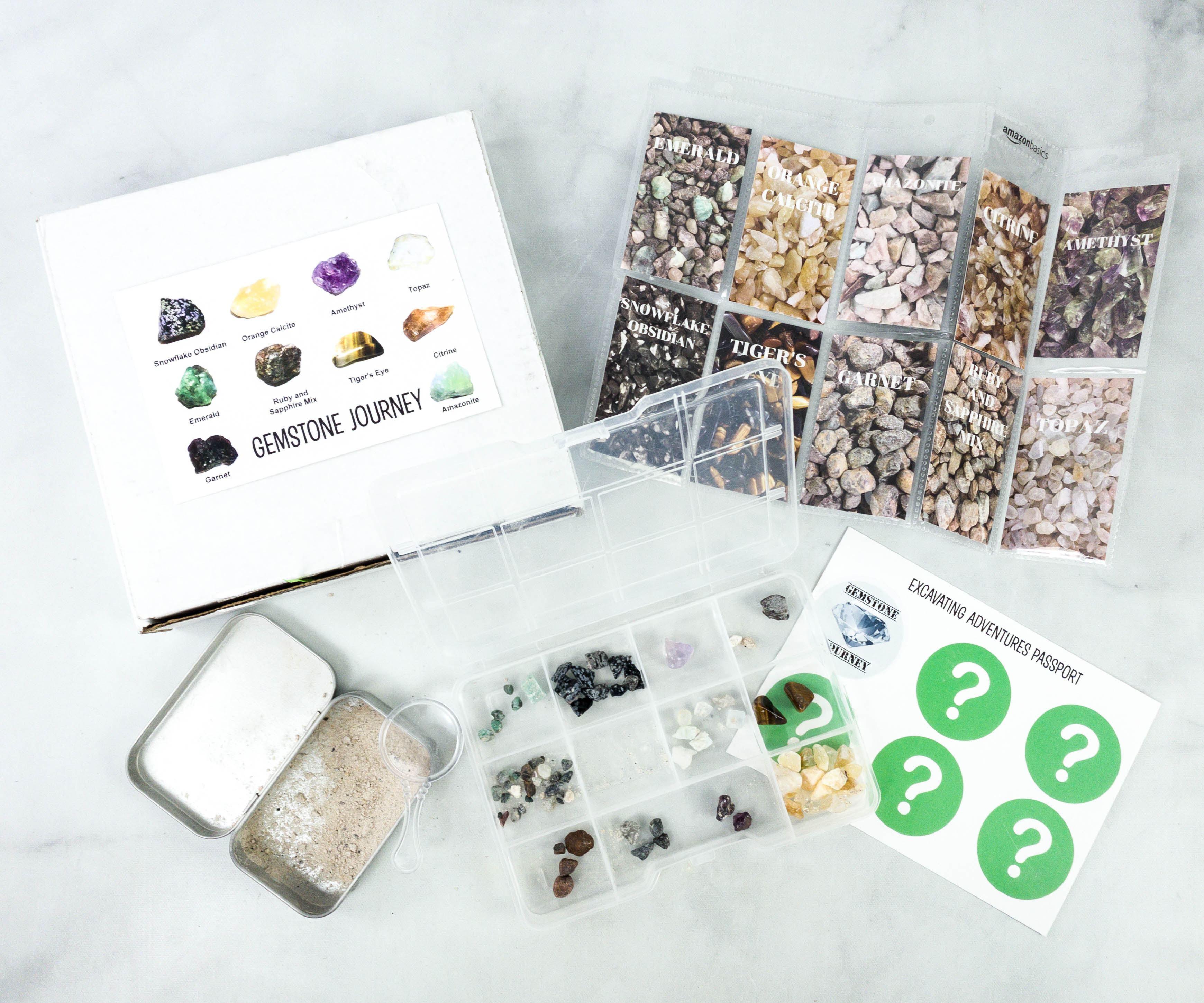 My kids loved doing this fun activity! It's an adventure that kids can look forward to every month and perfect for budding geologists, dino fanatics, and more.
Excavating Adventures is an awesome way to learn about science and, of course, specimens! My kids had so much fun excavating specimens from a block using the provided tools. The cards also helped them easily identify the gemstones and they felt fulfilled when they were able to fill the plastic box. If you're looking for a fun way to keep yourself or the kids occupied at home, this is would be a good option! It's also ideal for specimen collectors, especially for beginners!
What do you think of Excavating Adventures?