Simply Earth is a monthly subscription that sends high-quality essential oils along with recipes and ingredients to make natural beauty and home products! Each box comes with 4 essential oils, containers, extra ingredients to make the recipes, and 5 – 7 recipes on recipe cards. When you sign up (and every 6 months thereafter) you will receive a free Bonus Box full of extra containers and ingredients needed for the recipes, such as carrier oils and beeswax. Simply Earth is $39 a month. They feel strongly about giving back and donate 13% of all profits to help end human trafficking.

Every month is designed around a new theme with ingredients, containers, and extras you need to make 6 natural recipes (this includes 4 full-sized bottles of essential oils!) … delivered right to your doorstep.

We loved making our own natural products and knowing what was in them, so we created. With the essential oil recipe box, you get everything you need to make your home natural; easy and fun recipes to follow, honest prices, and products that work. It puts you in charge and you can enjoy time together making natural recipes with friends and family.
DEALS: Receive a FREE Big Bonus Box with your first box. Deal applies automatically, just VISIT AND SUBSCRIBE. Plus, get a $40 gift card you can use for your next box or future purchases!
Through 12/31 New subscribers will receive the Holly Jolly Set FREE (without diffuser) with their first box – use code AMBFREEHOLLYJOLLY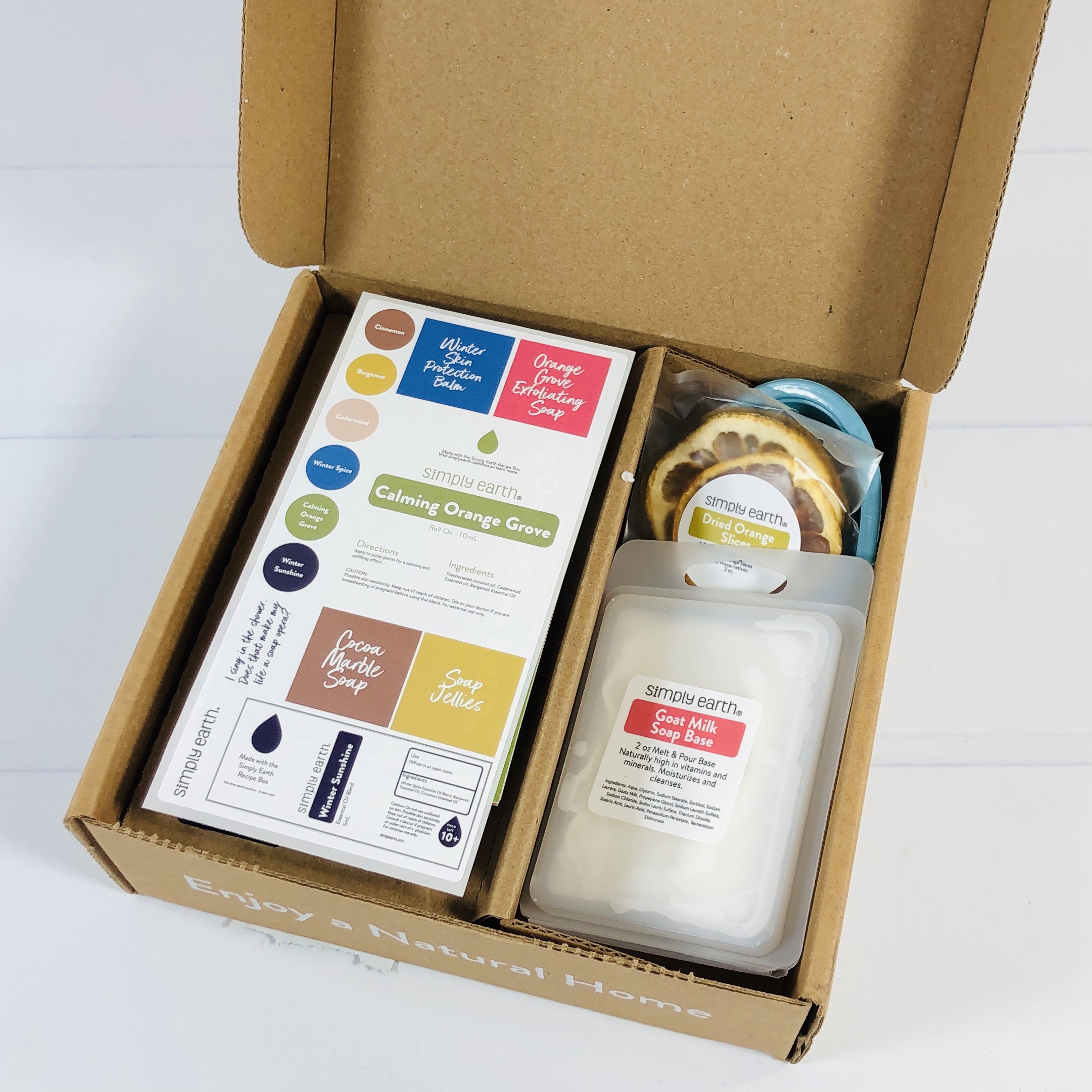 First look!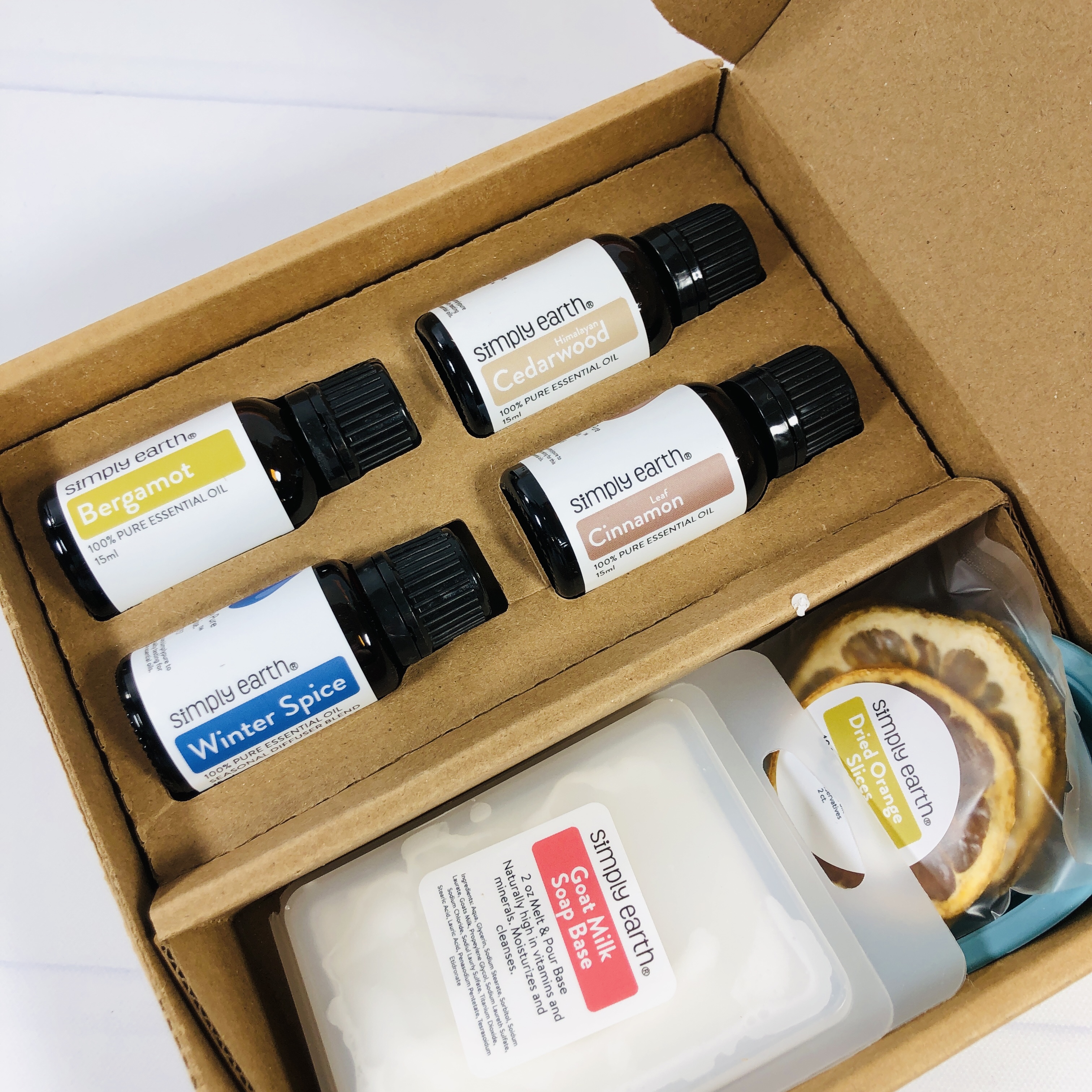 The bottles were on one side, the extra supplies on the other, and the cards were placed on top.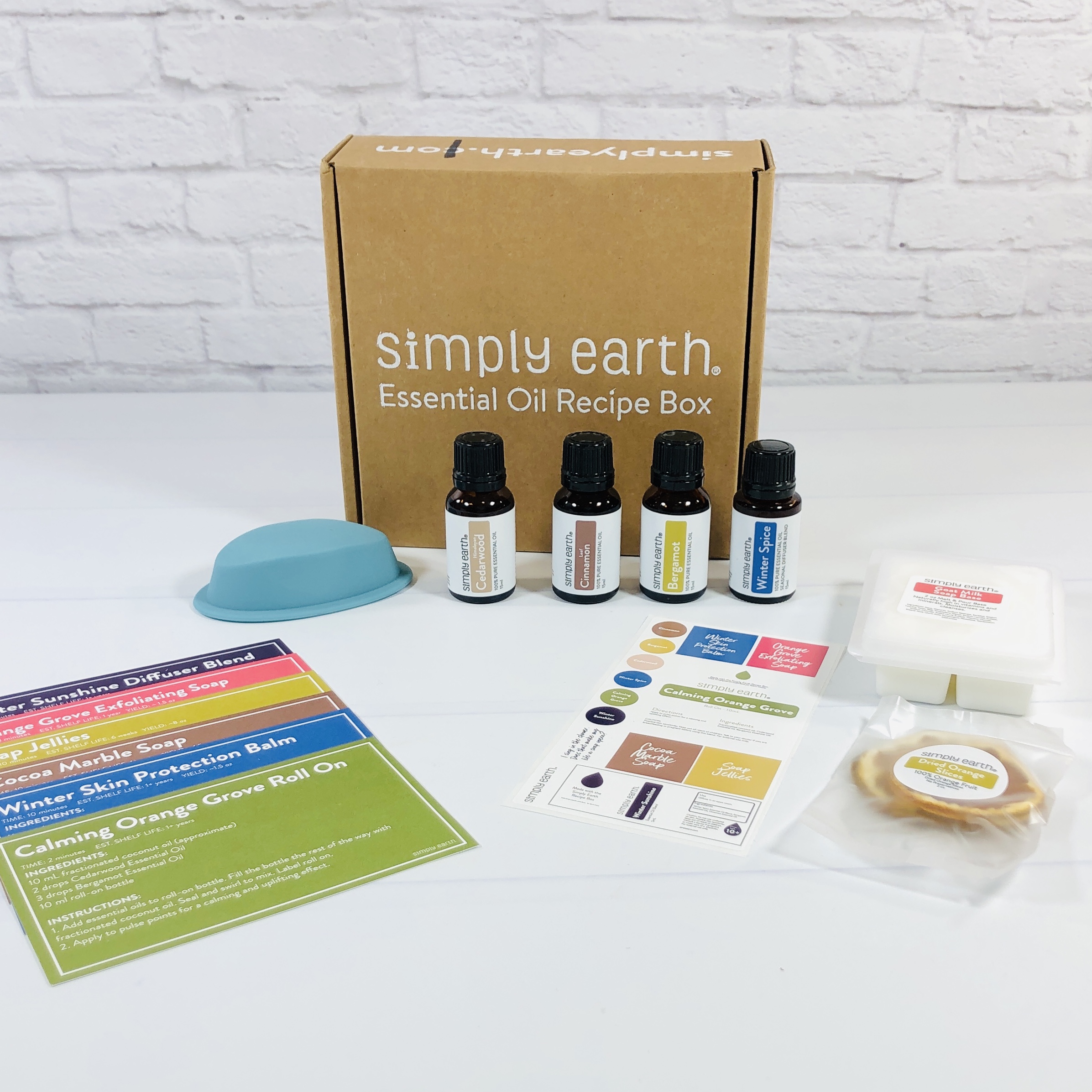 Everything in my box!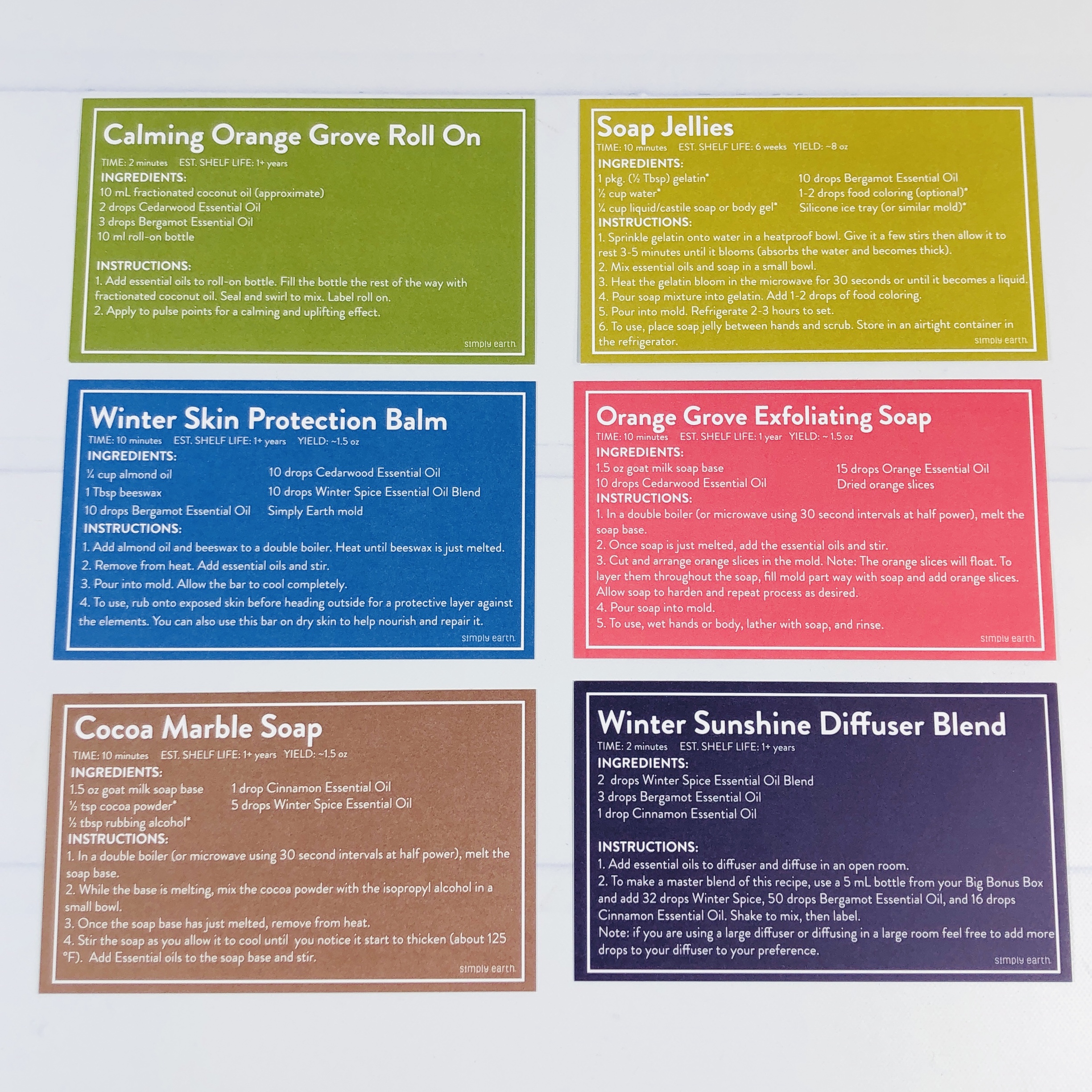 We received 6 recipe cards. They have the instructions for all of this month's projects. Some of the recipes continue on the back, while others have even more info, which I will show below.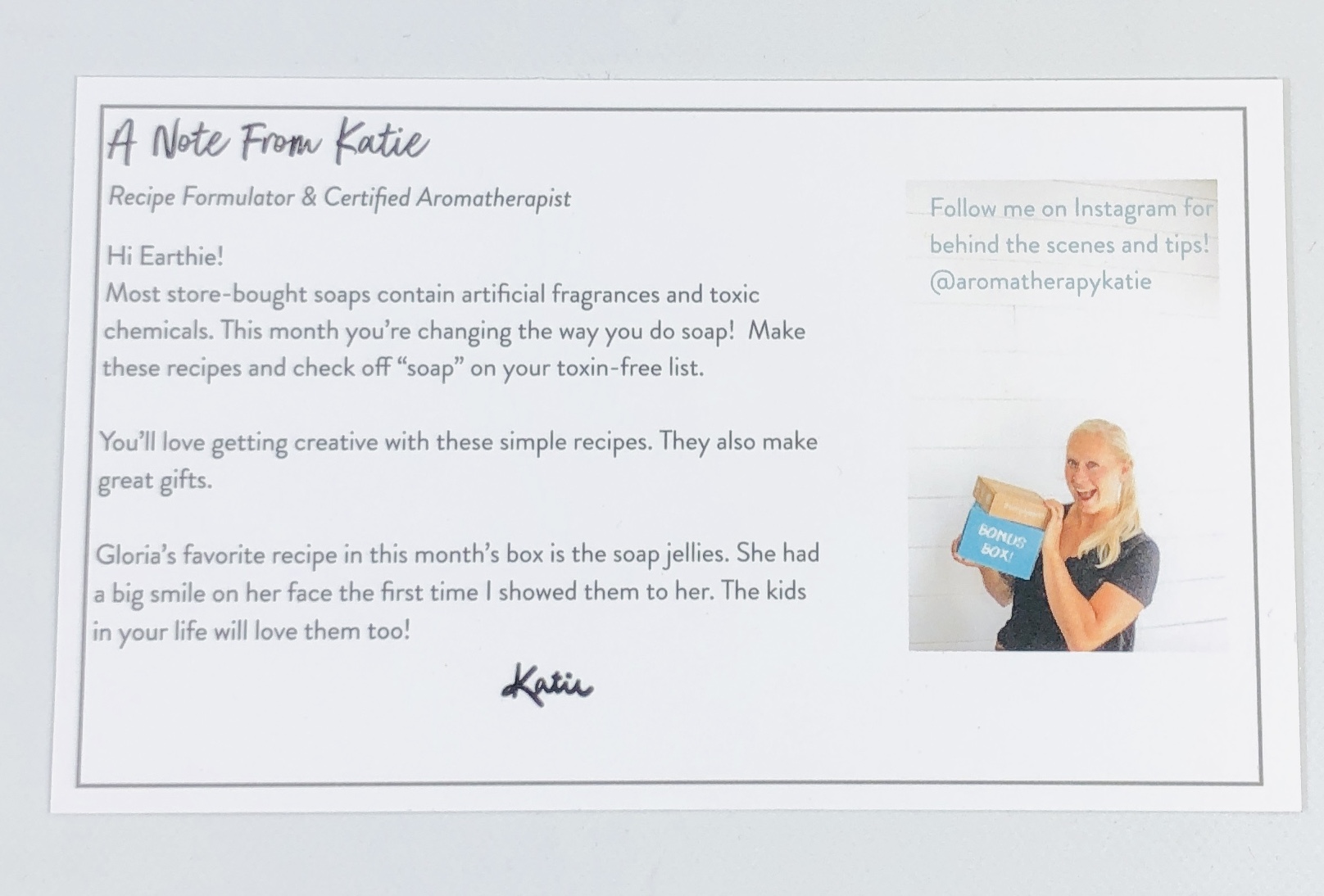 A note from Katie tells us that our soaps from the store have fragrances that might be toxic. We're going to make our own!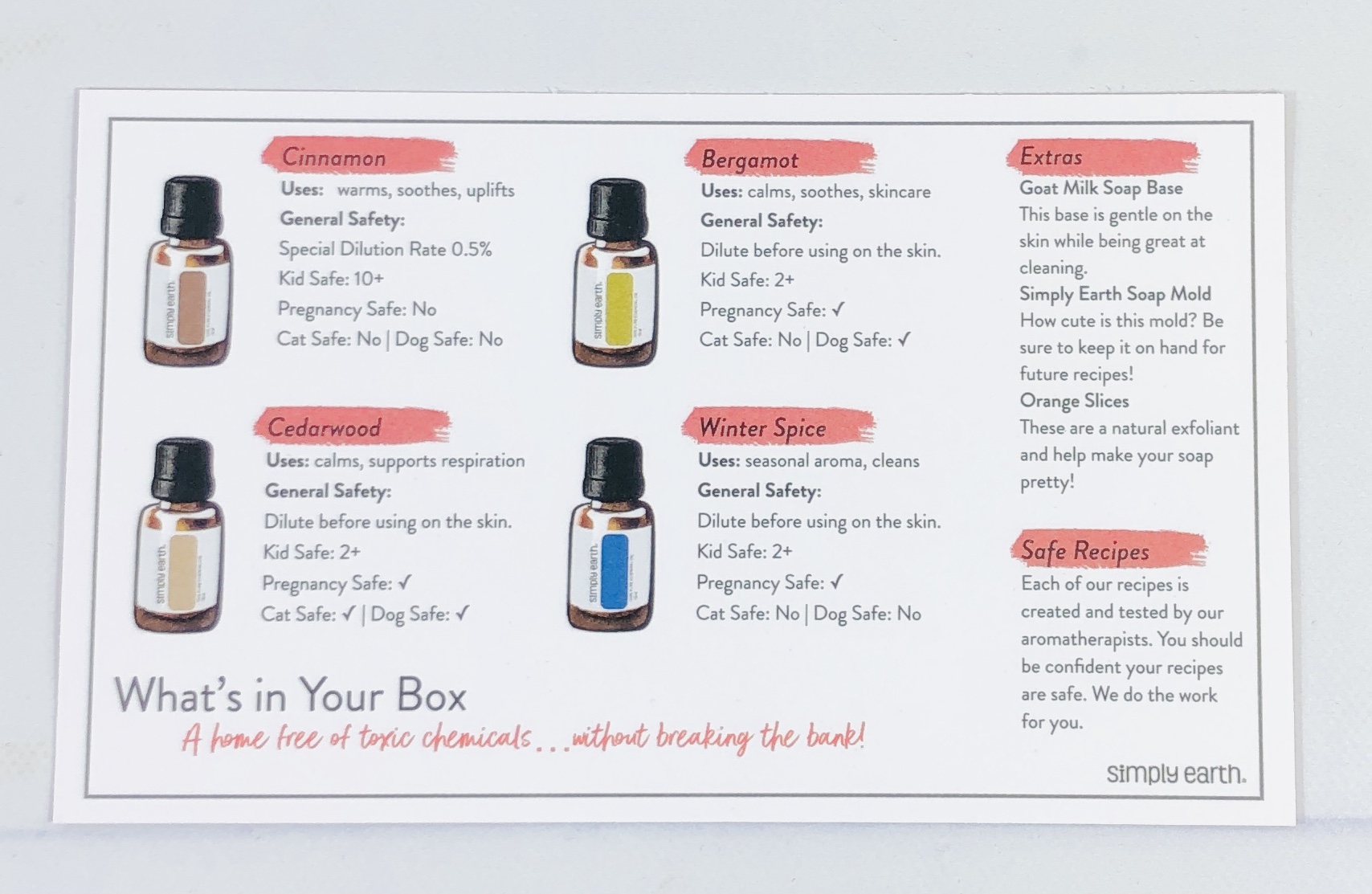 The featured oils and extra ingredients are listed here.
Need some help? Reach out to Simply Earth for more info.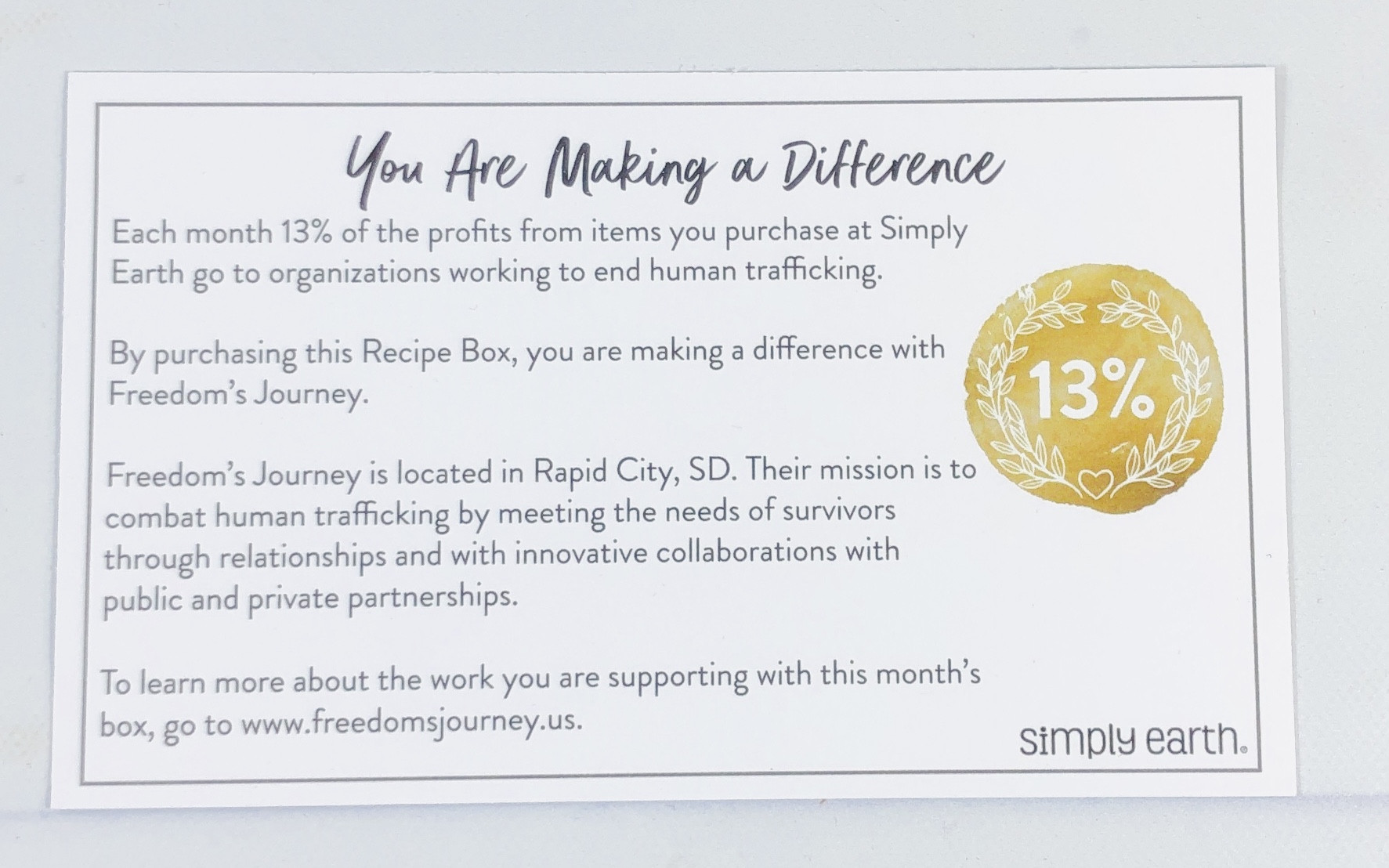 Simply Earth feels strongly about giving back to organizations that work to end human trafficking.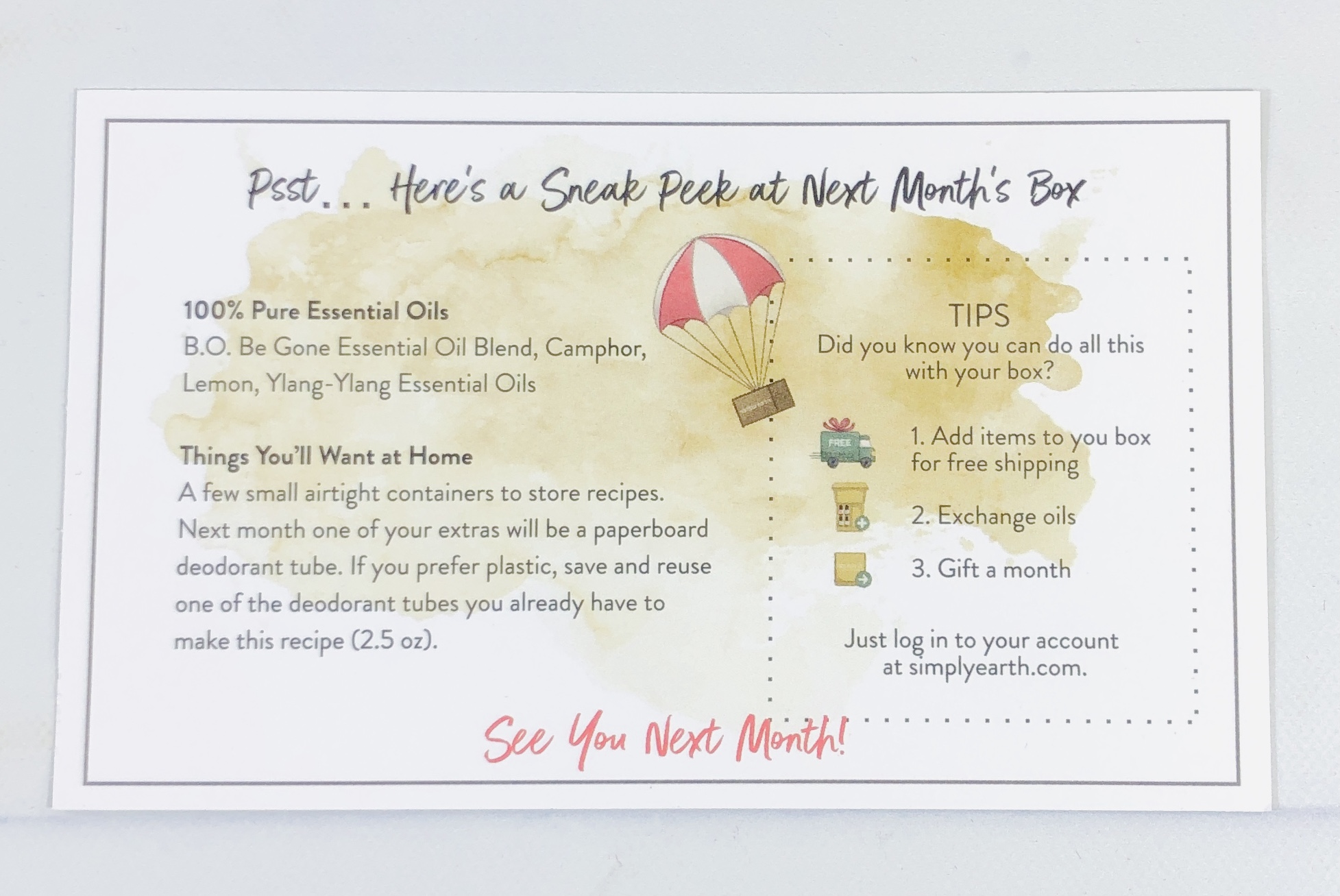 Here's a sneak peek at the oils coming next month (I am SUPER excited to see ylang ylang!) and you might want to have a few small containers on hand for January's projects.
A sheet of stickers are ready to be placed on this month's projects. Just peel away the backing before placing on the containers.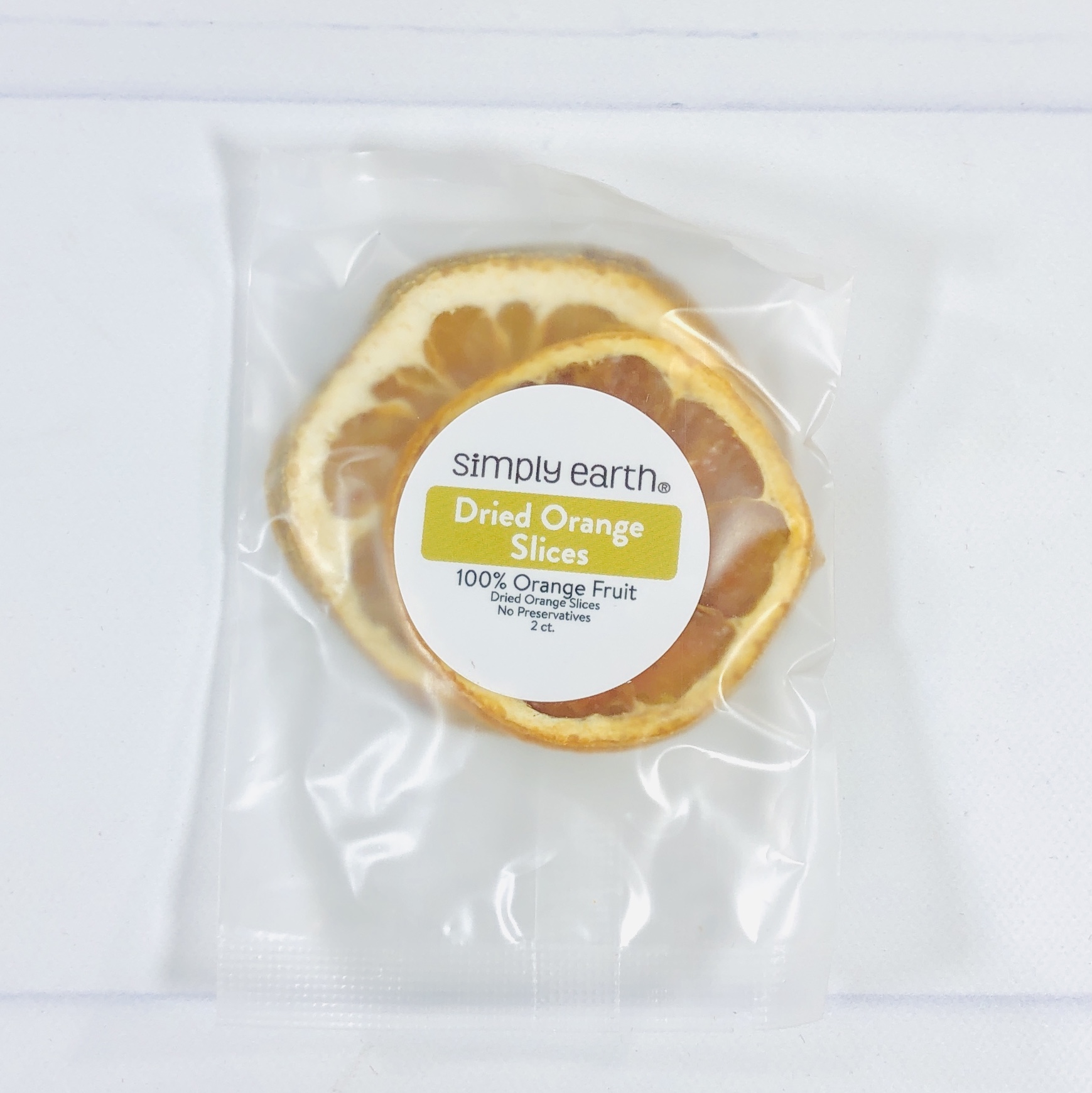 Dried Orange Slices One of our soap projects calls for dried orange slices. They are preservative-free.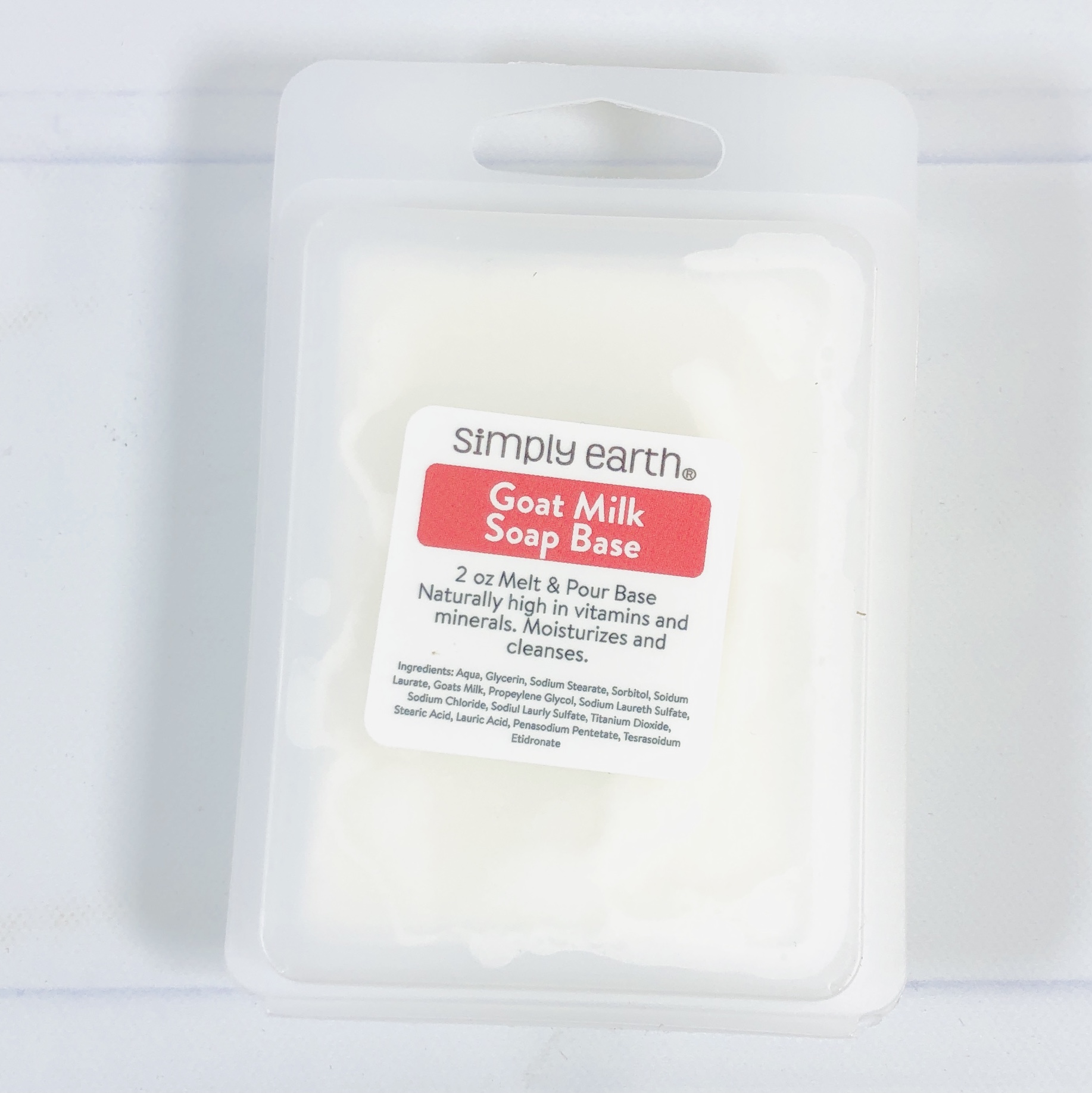 Goat Milk Soap Base Our handmade soaps will require a base, and in this case it's made with goat milk!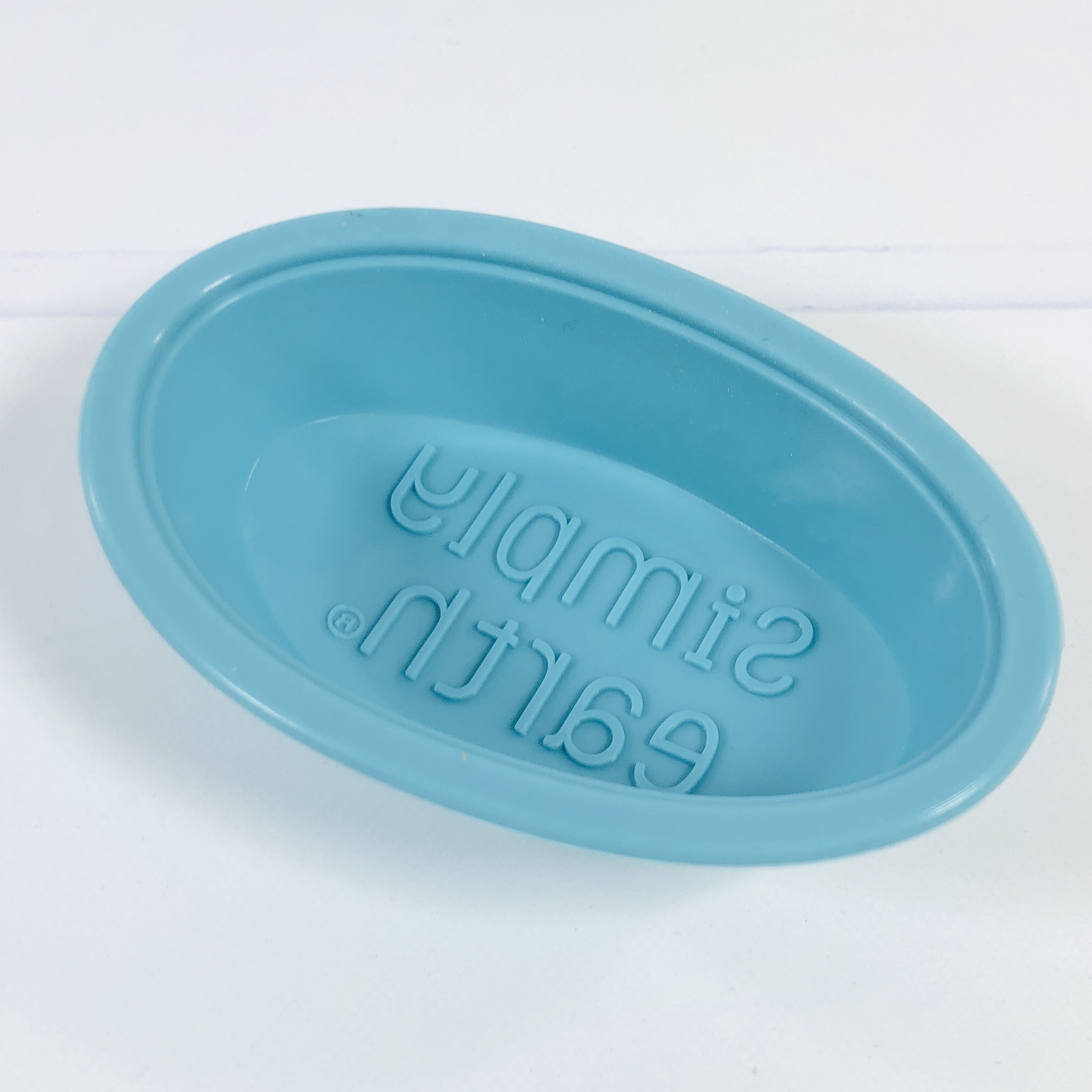 Simply Earth Soap Mold Hmm, I wonder what this says? Just kidding, it says Simply Earth and it's the mold for our soaps.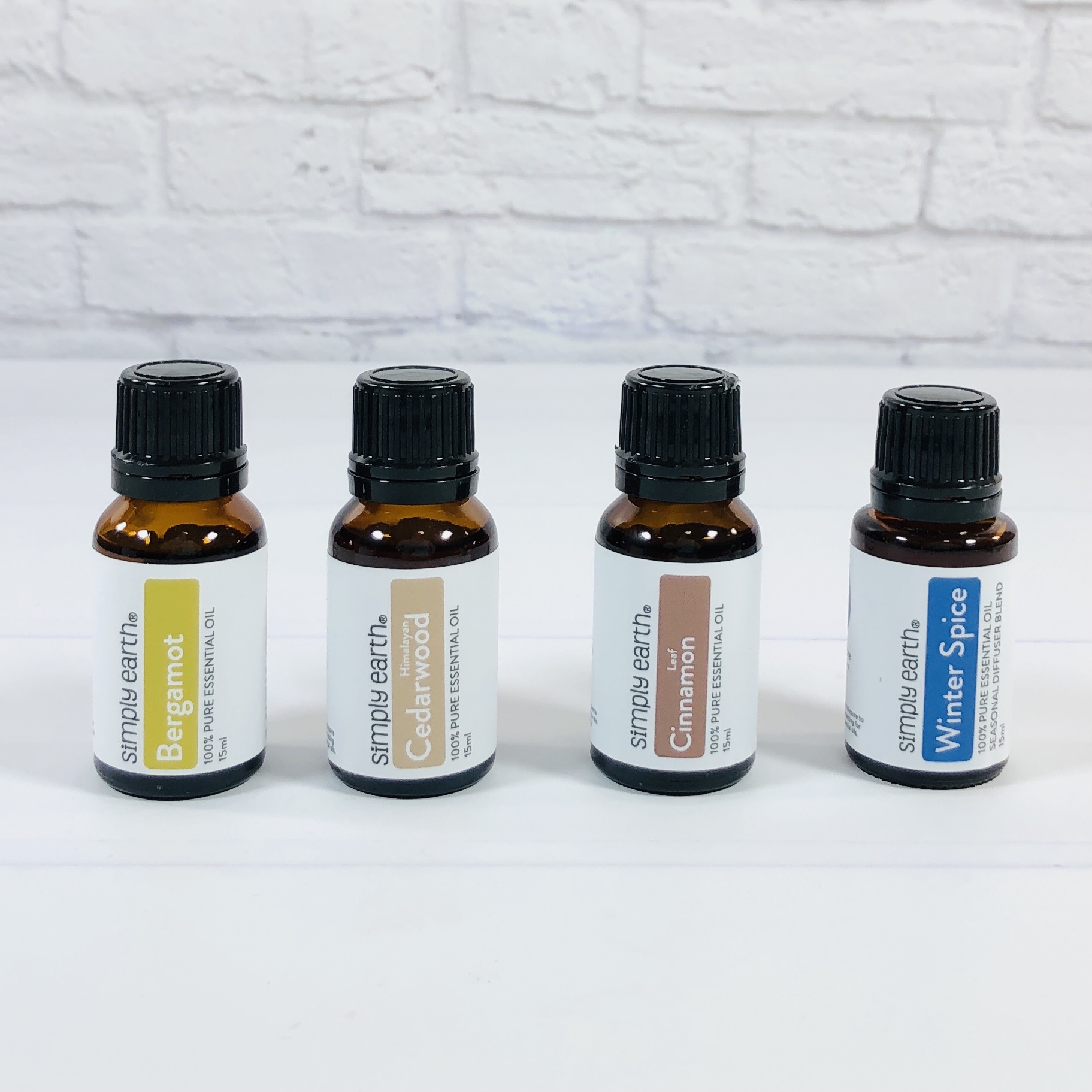 Here are our featured oils for December. I have long wanted Bergamot and now it's here!
Bergamot Essential Oil ($16.99) Bergamot is from the rind of a bitter orange and it's what gives Earl Grey tea its classic scent/flavor. It is a refreshing scent, like green oranges.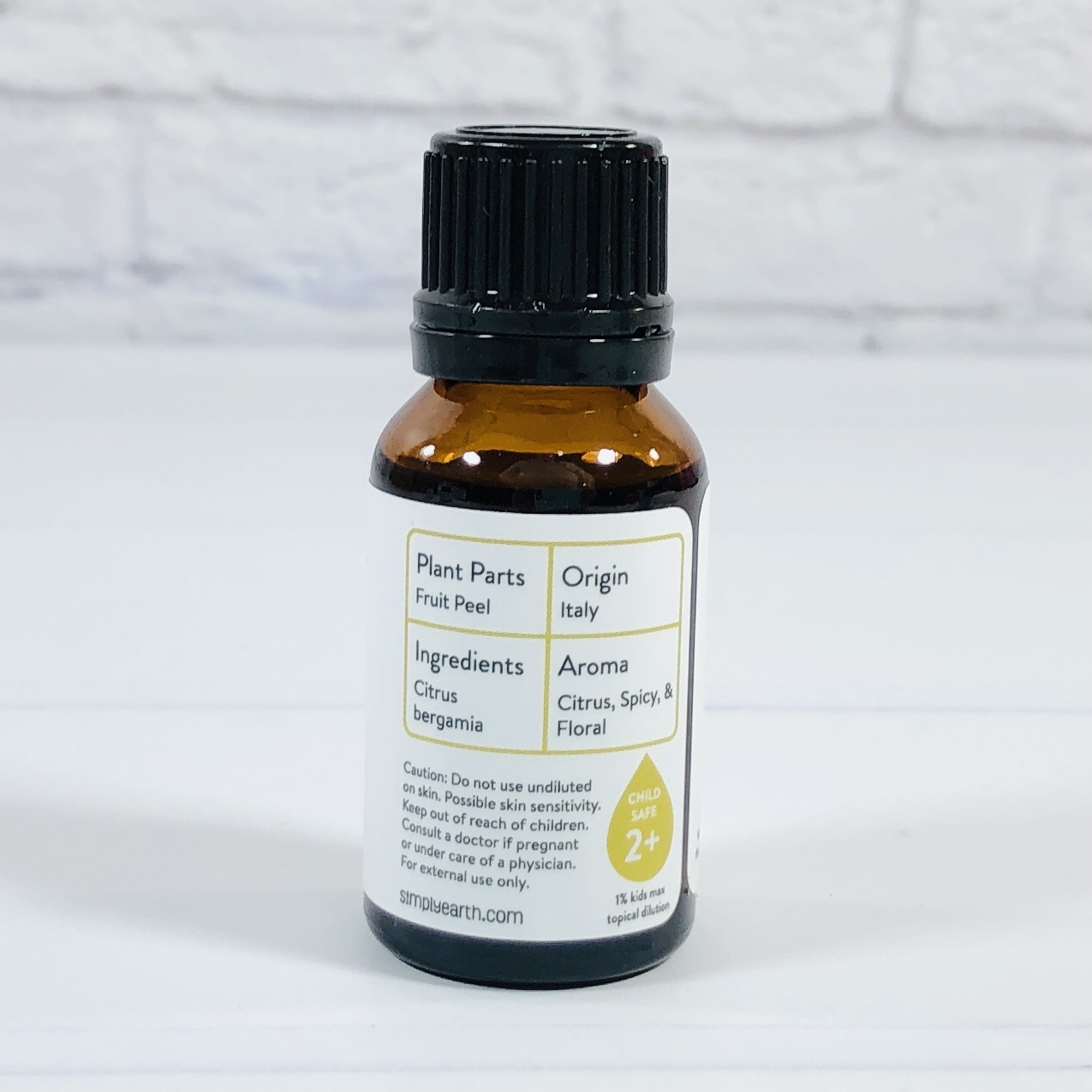 The bottle labels have info such as the plant part used, country of origin, and ingredients. It even describes the scent.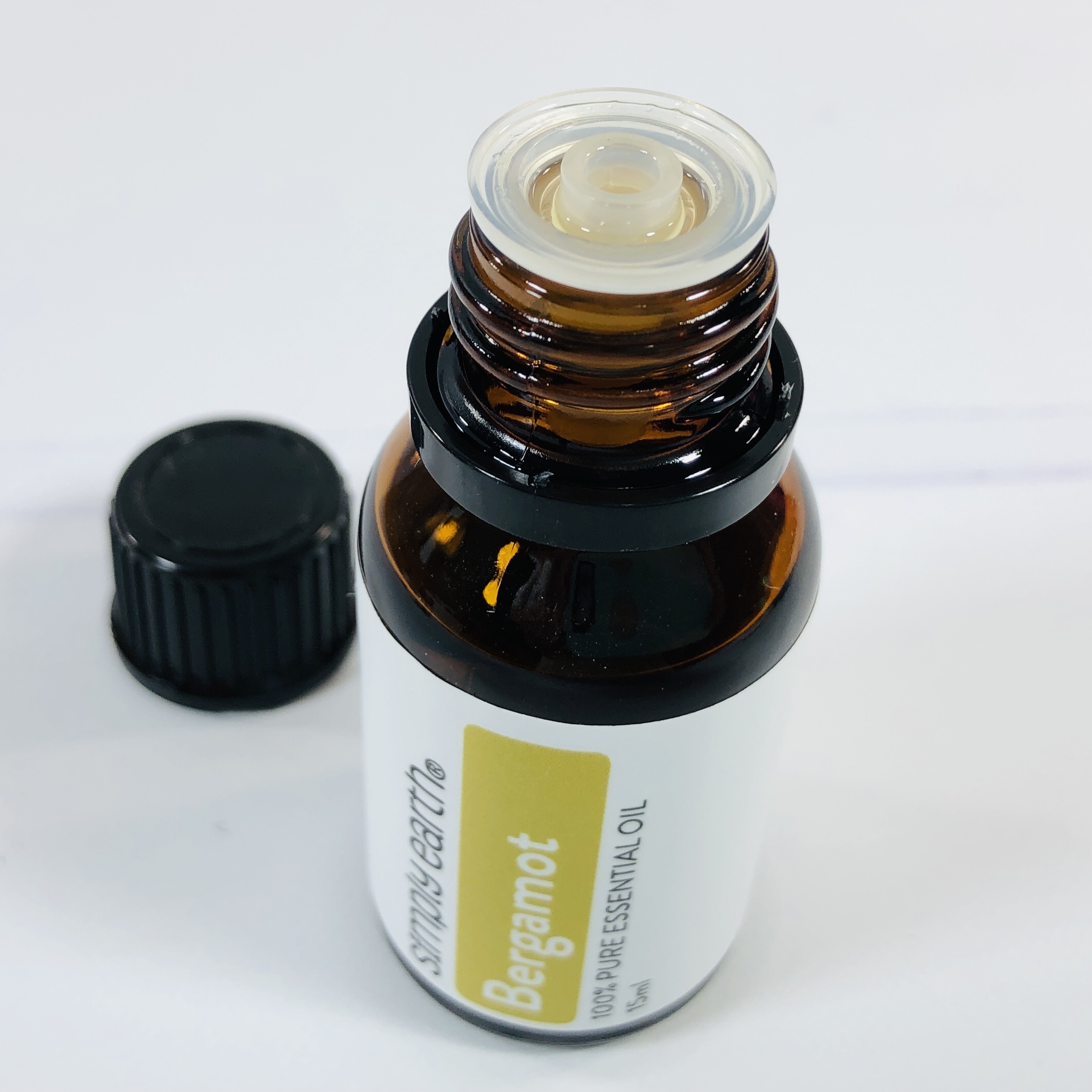 The bottles have a euro dropper lid to help the oils drop out one at a time.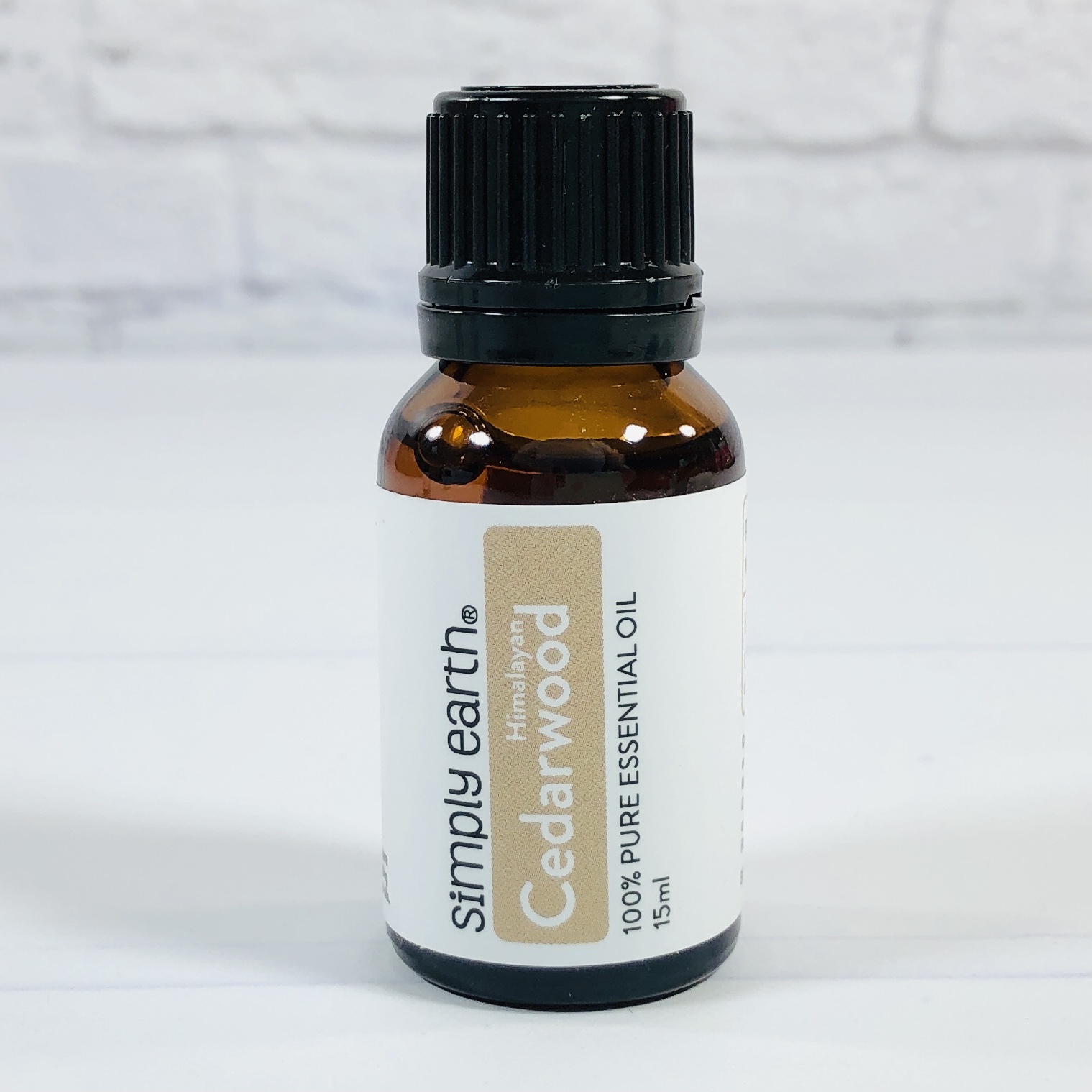 Cedarwood Himalayan Essential Oil ($7.99) can be used for respiratory issues and oily skin. It smells like wood shavings and a bit like cough syrup.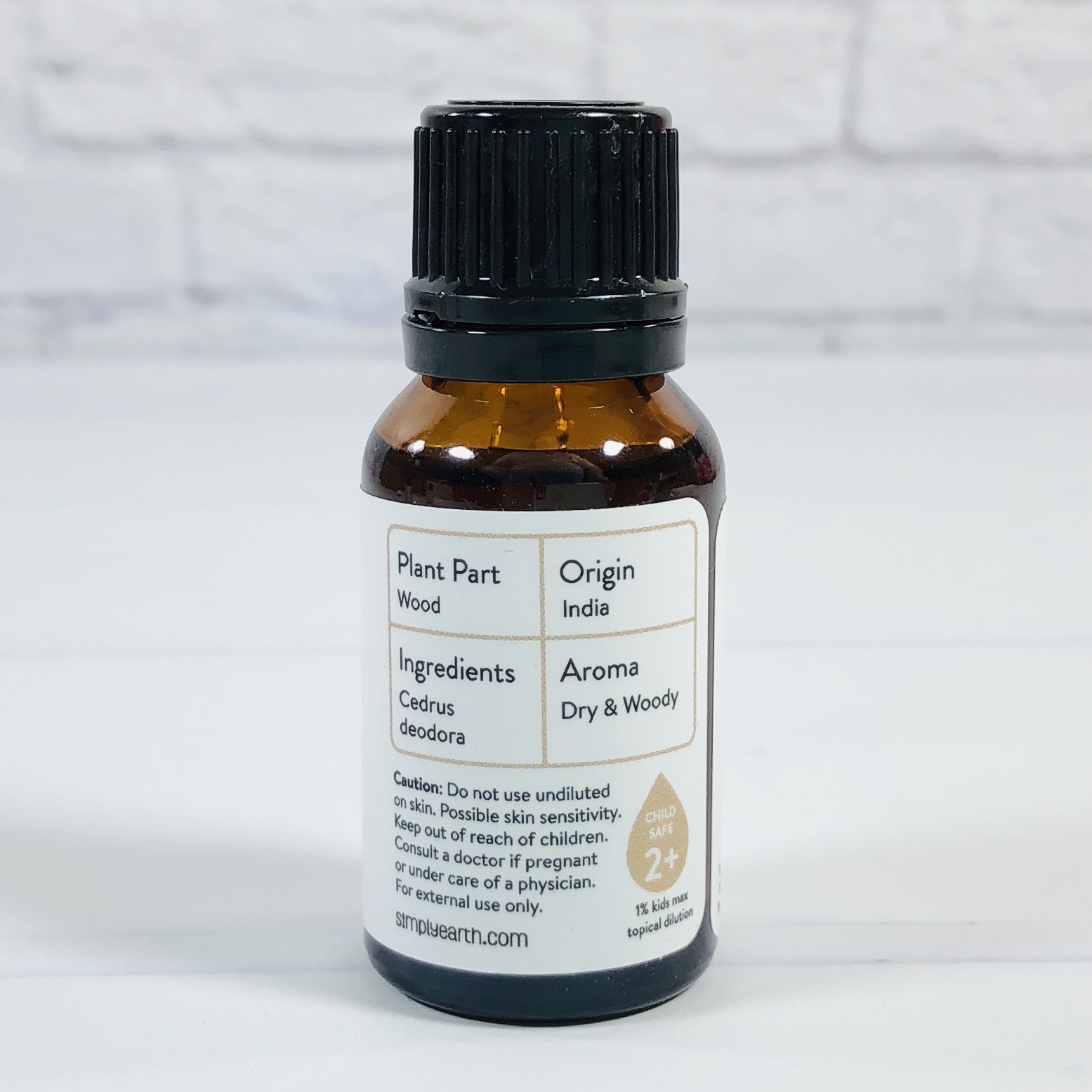 It comes from wood of course!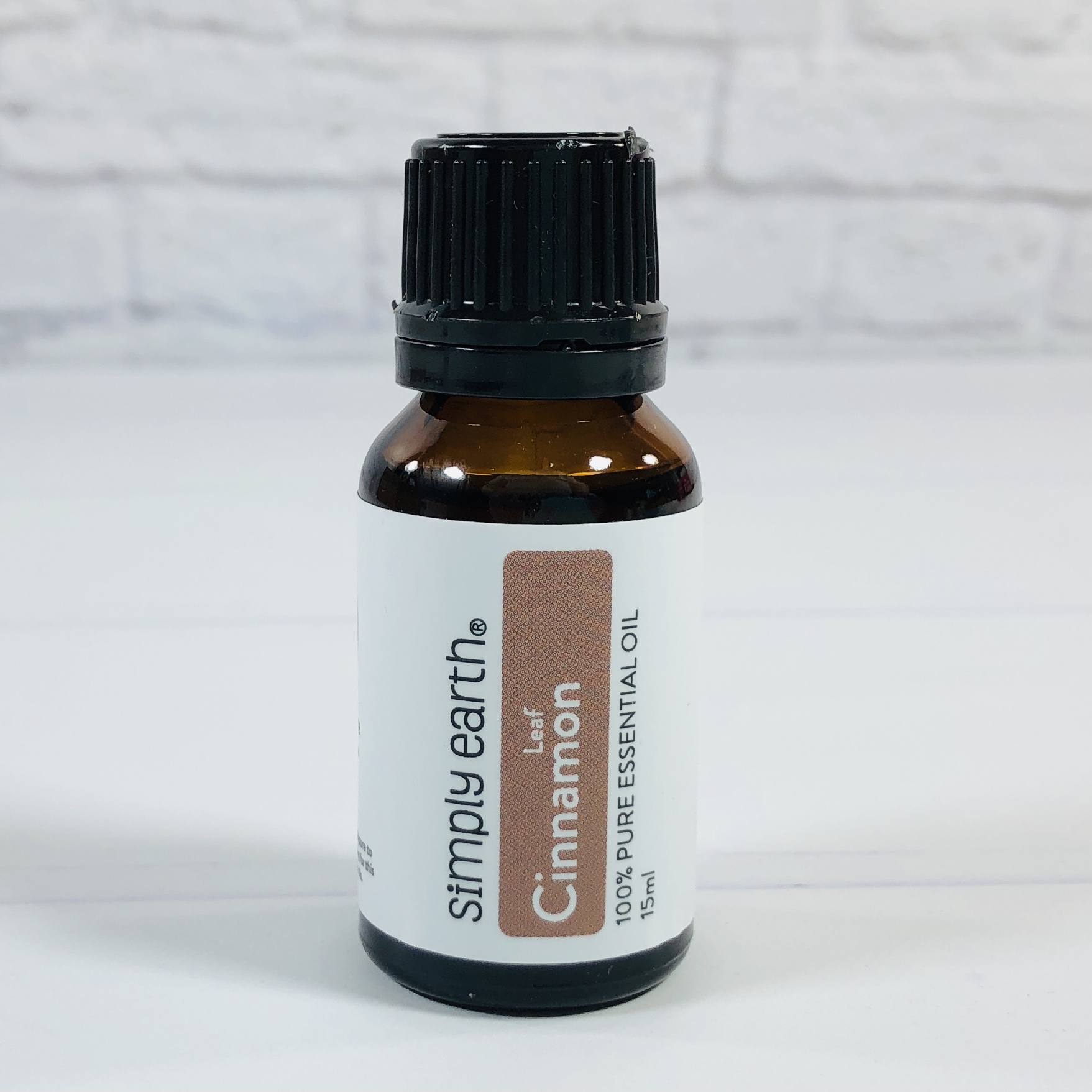 Cinnamon Leaf Essential Oil ($12.99) Cinnamon is a warm and stimulating scent and I love to use it in my diffuser. It can be diluted in a carrier oil and rubbed on the tummy to relieve cramps.
This one comes from the leaves of the tree. It smells spicy and amazing.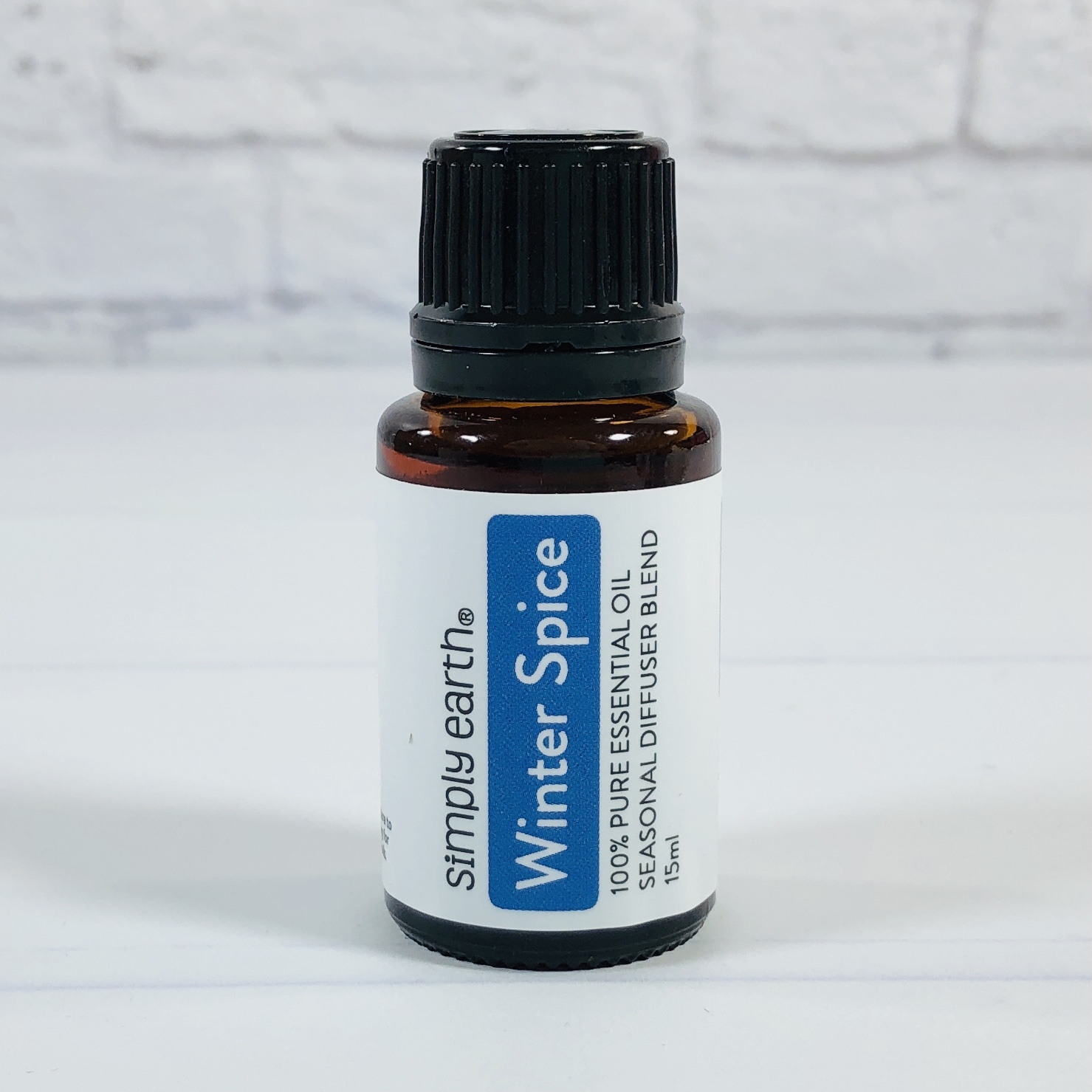 Winter Spice Essential Oil Seasonal Diffuser Blend ($12.99) is a blend that may help fight off congestion and if you have a fake Christmas tree like I do then this might just confuse people into thinking it's real.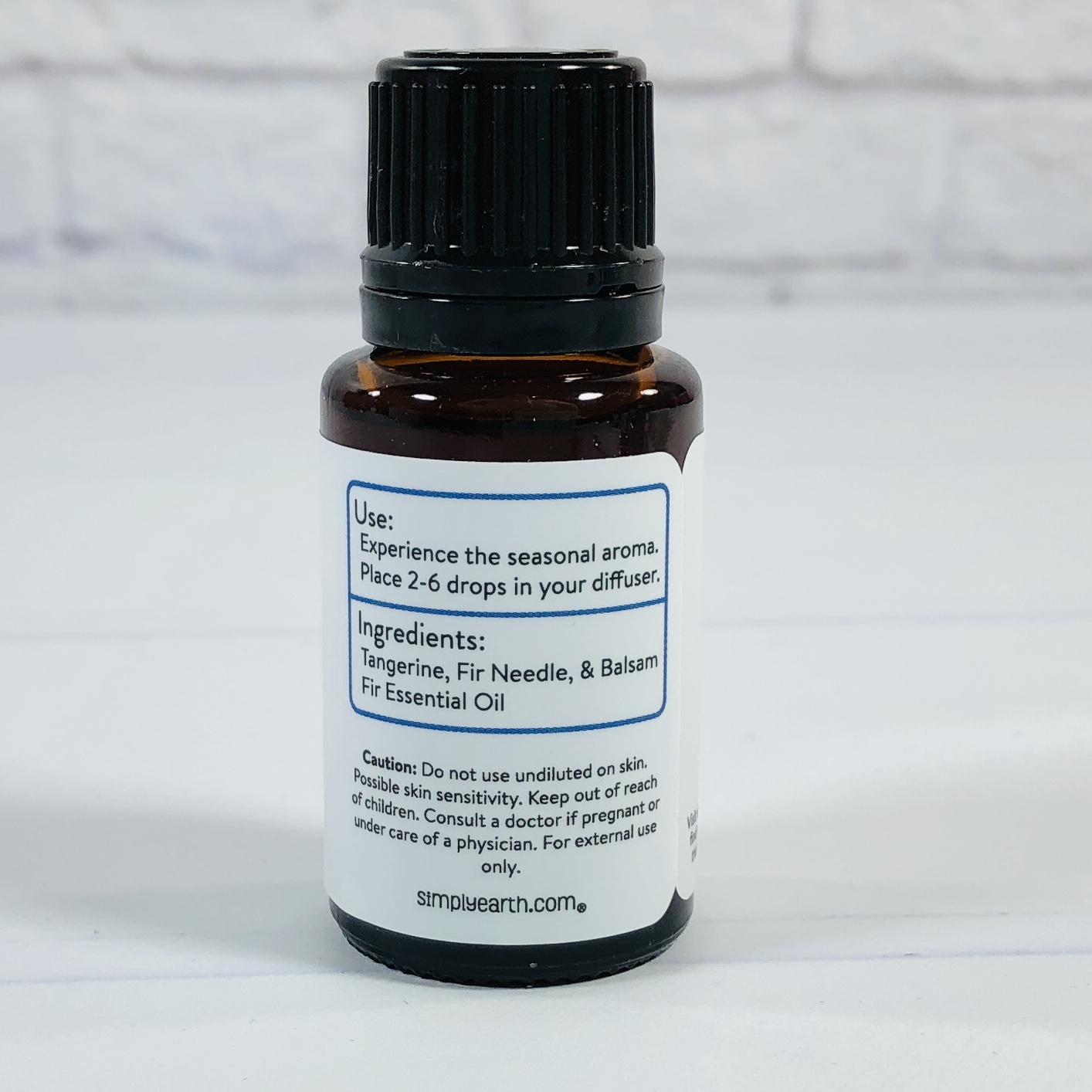 It has a blend of tangerine, fir needle, and balsam fir essential oils. It smells like a pine tree with a hint of oranges.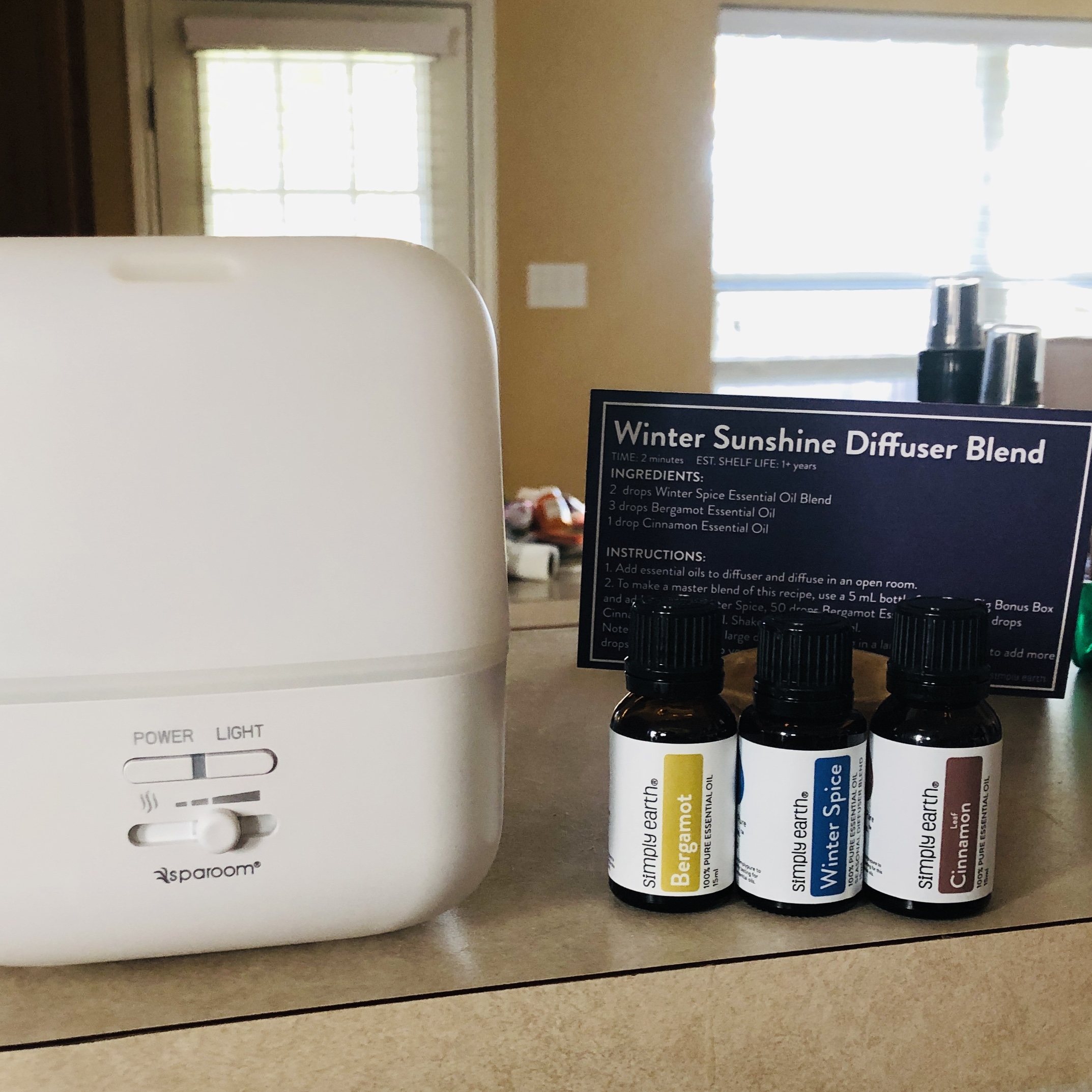 The first recipe I always make is the diffuser blend! I just dropped in the essential oils and added water. Everyone in my home agreed that this was a wonderful scent, like getting a hug from the home itself.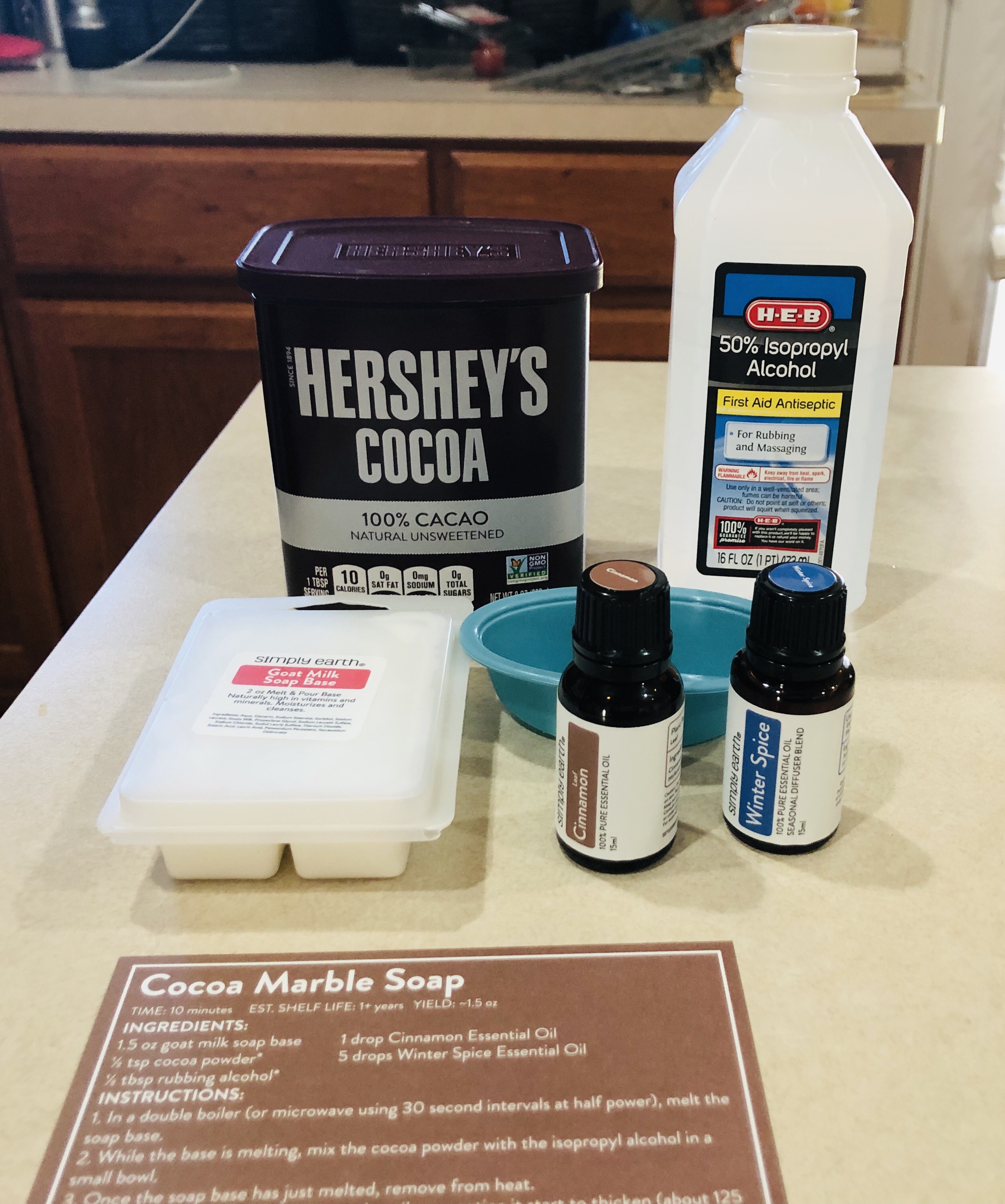 Next I thought I would try my hand at soap making, my very first attempt ever! I had to grab two items from my kitchen, cocoa and rubbing alcohol. The rest of the stuff was from my Simply Earth recipe box.
I melted the soap base in the microwave and found that it started solidifying quickly, that's why there's not many pictures. The instructions said to mix 1/2 teaspoon of cocoa and 1/2 tablespoon of rubbing alcohol and whisk it into the melted soap base after adding the essential oils. Well, it turned out to be way too much solution and it ruined the soap. The soap coagulated and the whole thing smelled really awful. I discovered that Simply Earth has video demonstrations on their website and I watched the video after my attempt to see what went wrong and two things: their cocoa/alcohol solution wasn't as runny as mine and they only used a fraction of it.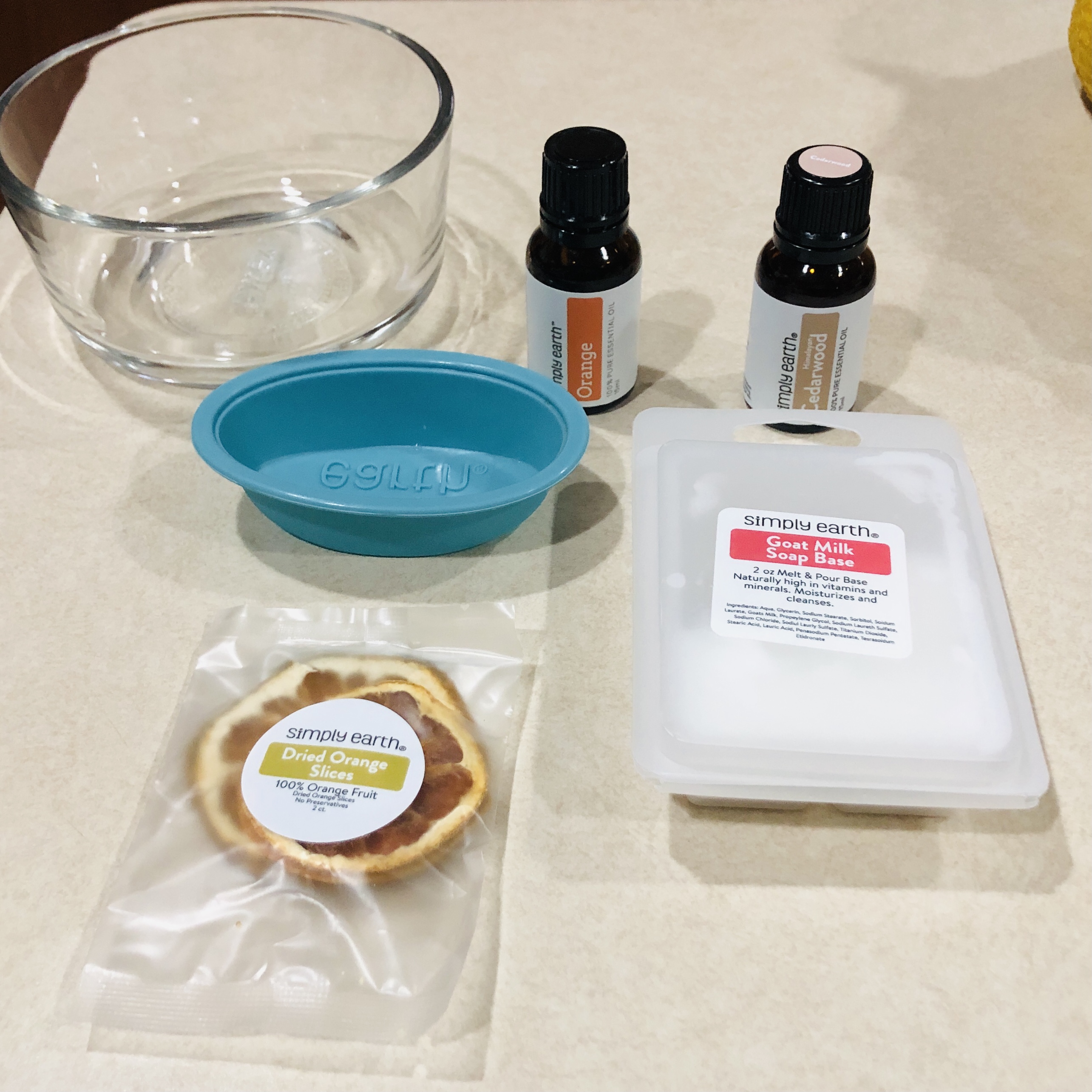 I used half of the soap base for the first soap and decided to use the other half to try the second soap recipe. It called for orange essential oil, which I received in a previous box. No orange oil? You can use the bergamot.
I knew I would have to work quickly so I cut the orange piece up beforehand. I also used a smaller dish to melt the soap base and that worked better, it didn't set as quickly.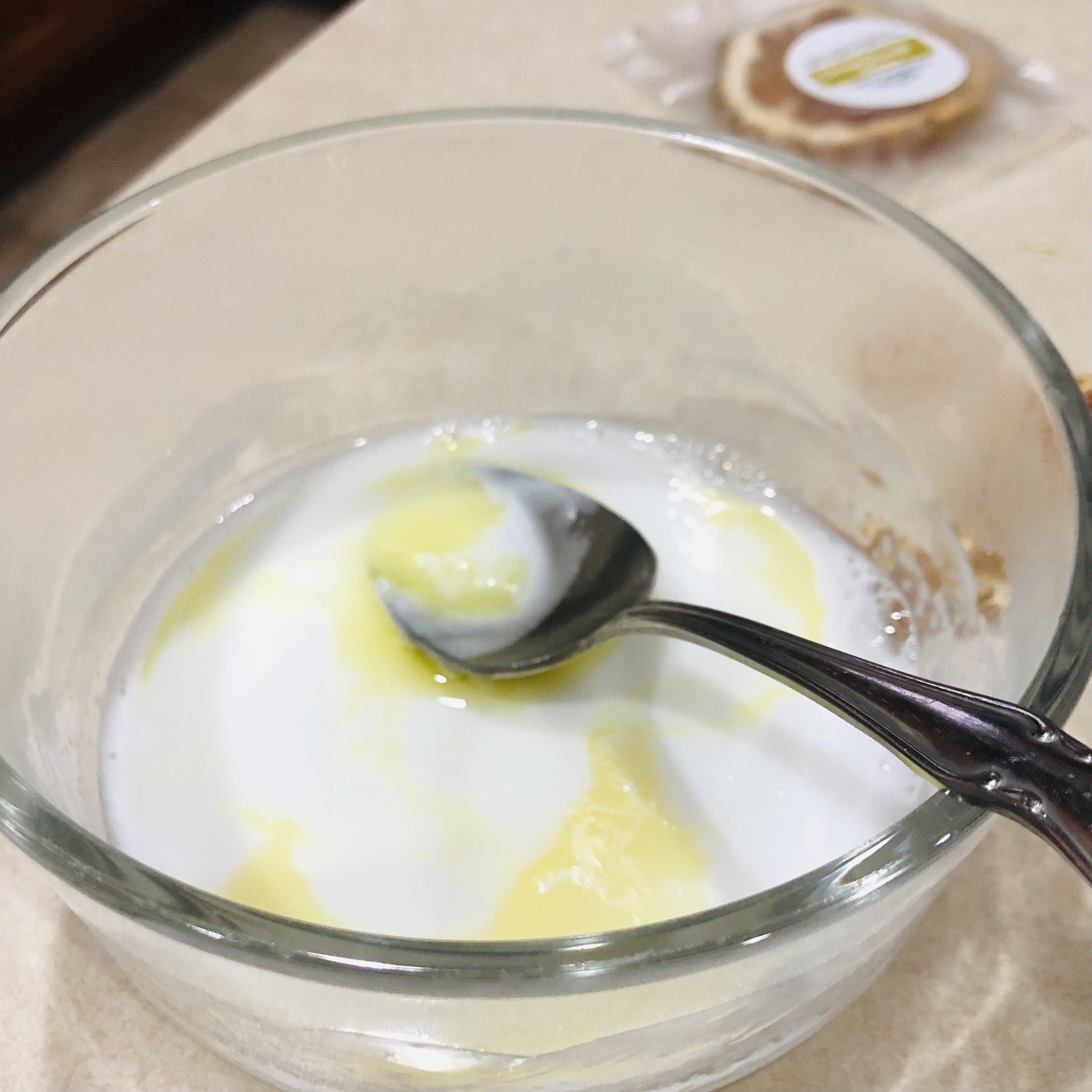 After melting it in the microwave on half power (it melts quickly) I stirred in the essential oils.
I poured it into the mold and added the orange pieces. I let it set until it was dry.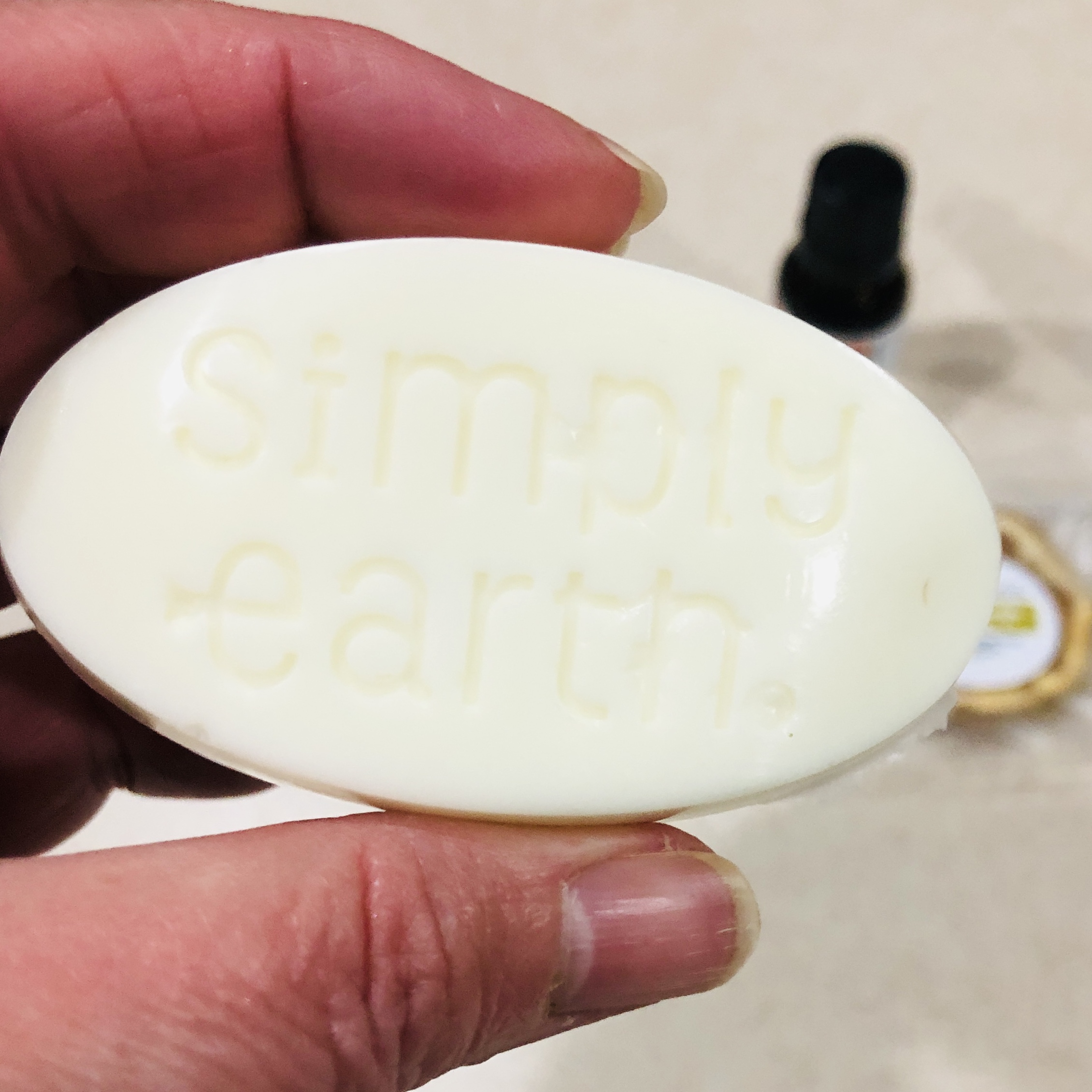 Success! It smells really good too and the soap is moisturizing. It will sit next to my sink.
The Winter Skin Protection Balm was next. I needed the almond oil and beeswax from my Big Bonus Box.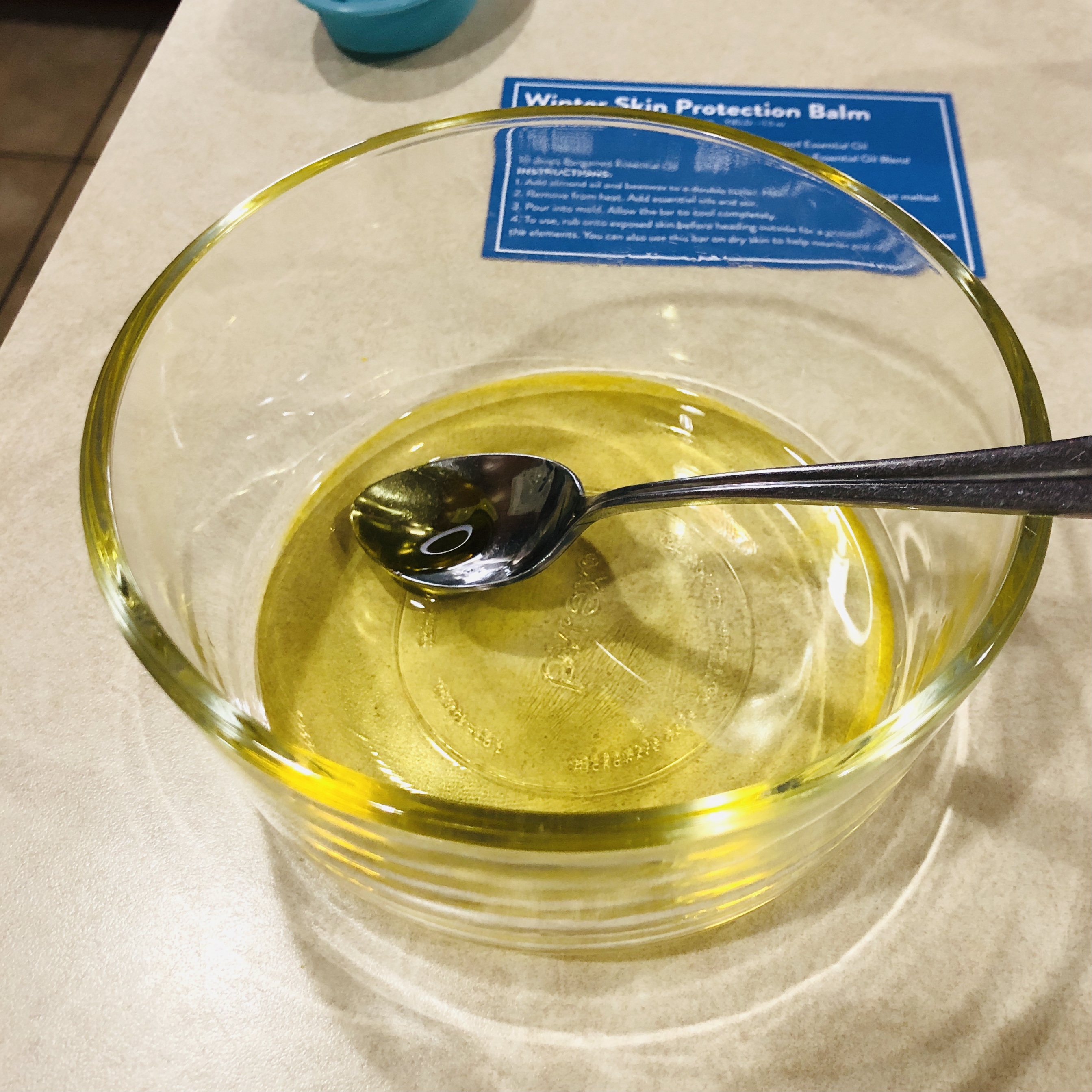 I mixed the oil and beeswax in a glass bowl and then microwaved it, stirring every 30 seconds, until the beeswax was melted. Then I added the oils and stirred it a lot to make sure the scent was dispersed throughout.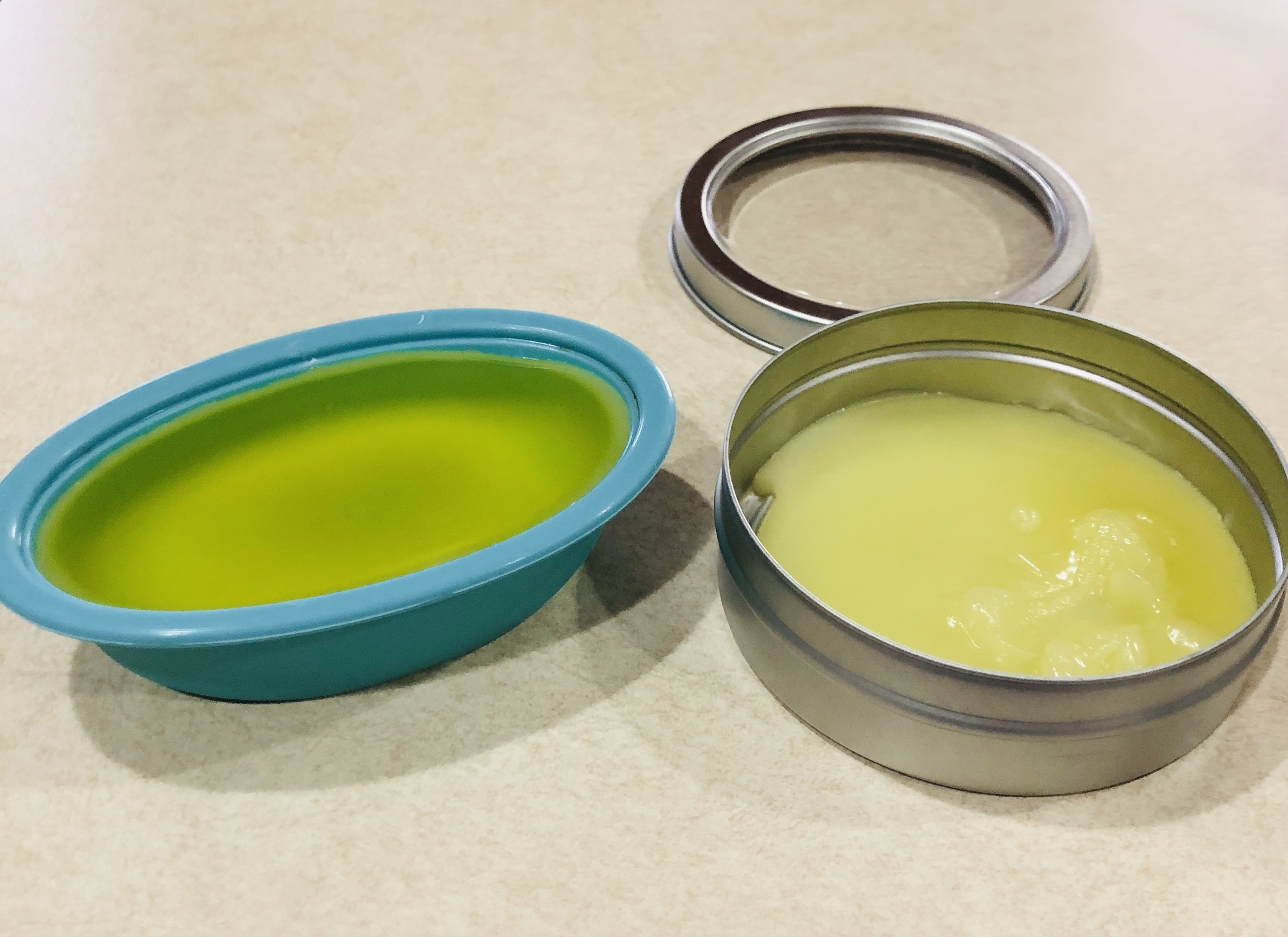 I poured the balm into the mold and since there was extra I poured it into another container. I waited until it was fully set before removing from the mold.
I am really impressed with this bar! It smells wonderful and as you can see, it starts to melt on contact with the skin. The remainder that I placed in the tin will be cuticle balm. I can't believe how easy this was to make!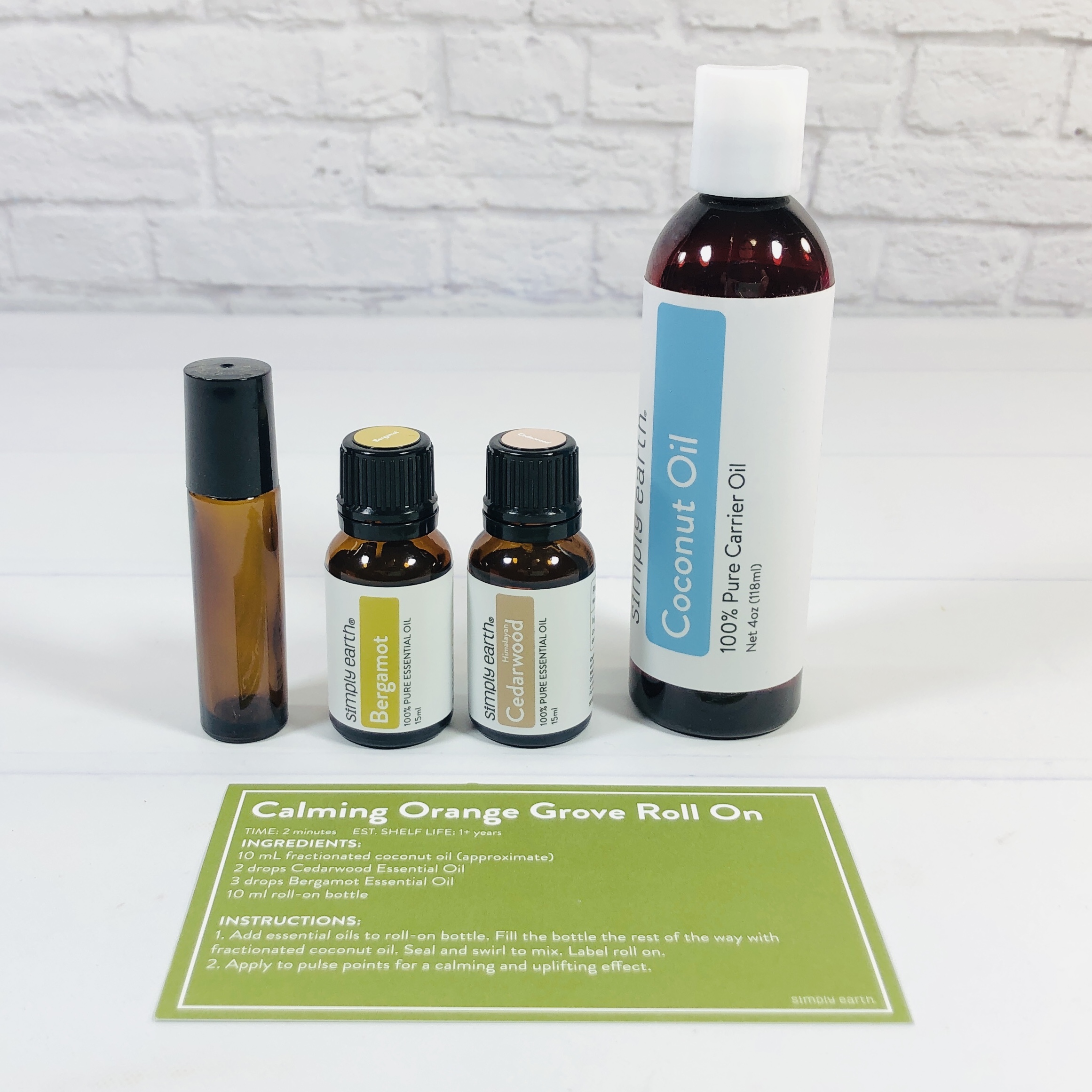 The final product I decided to make was the Calming Orange Grove Roll On. (The only recipe I didn't make was the Soap Jellies, since I didn't have all of the ingredients.) The roll on needed fractionated coconut oil and a roll on bottle, both of which were in my Big Bonus Box.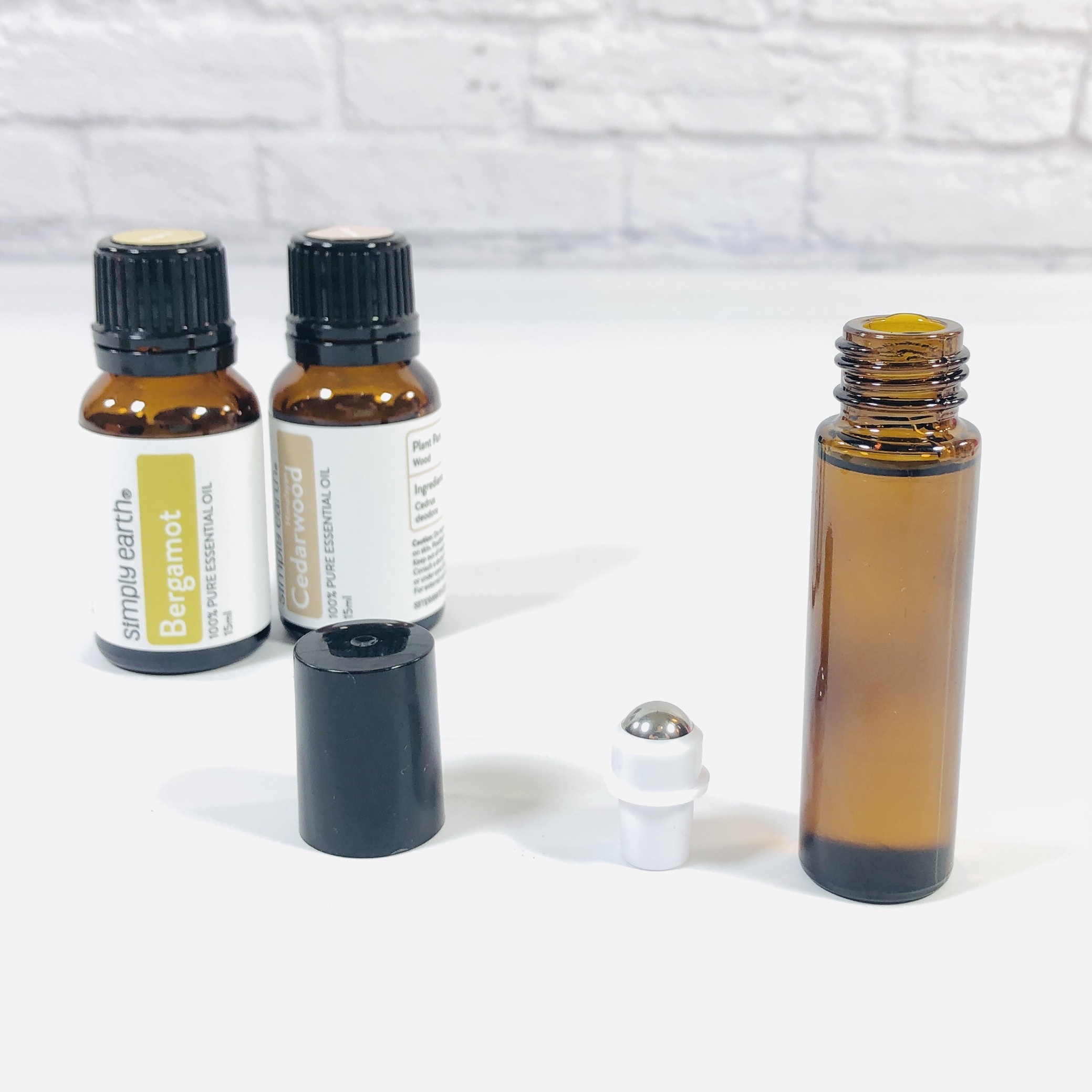 First I dropped in the essential oils, then I filled it up the rest of the way with the coconut oil.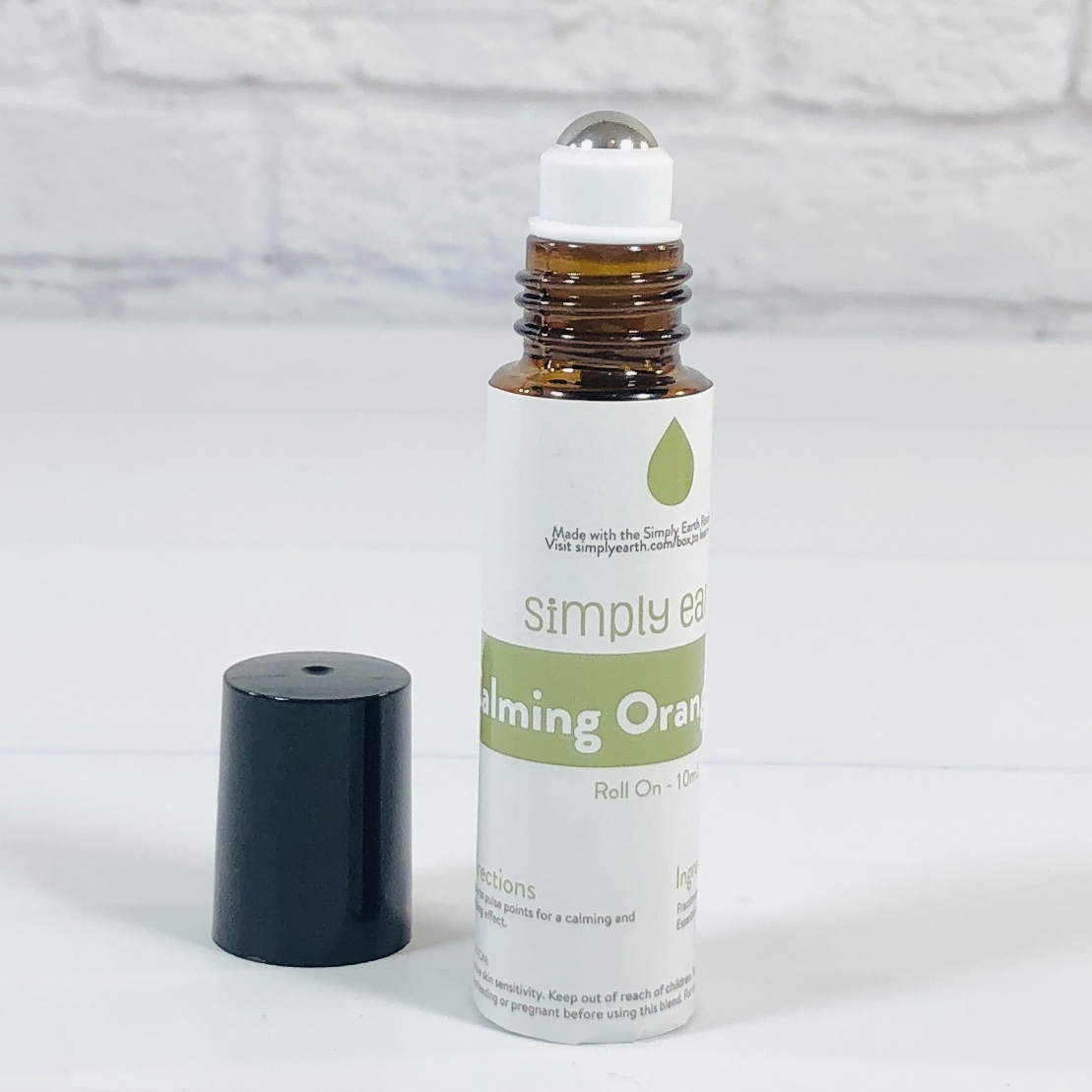 I placed the roller ball on top and gave it a good shake. Then I added the label. Super easy y'all!
I am always excited when I see my monthly Recipe Box from Simply Earth in my mailbox! The oils are amazing all by themselves but then there's those recipe cards so I can actually use the oils for something other than diffusing. The Big Bonus Box has some of the basics that I need but the monthly box also has extras, like the mold and orange slices for this month's projects. While one of my soap projects was a bust the rest were super easy and had great results. I can't wait to try my hand at making my own cuticle cream, I'll just use the Winter Skin Protection Balm recipe and change up the essential oils.
What do you think of the Simply Earth box?