LUXSB – Luxury Scent Box is a subscription fragrance service that wants you to "LOVE LIFE WITH PERFUME™"! They send you the perfume or cologne of your choice for $15 a month ($5 extra for premium scents). You can choose your own scents or let LUXSB pick for you based on answers you give on a short quiz. They have tons of authentic designer and niche fragrances for you to choose from, which they decant into bottles before shipping. You can choose month-to-month or pay for 11 months and get the 12th month free! Shipping is always free.
DEAL: Get $5 off your first box! Use coupon code HELLOSUBSCRIPTION. Applies to new members only.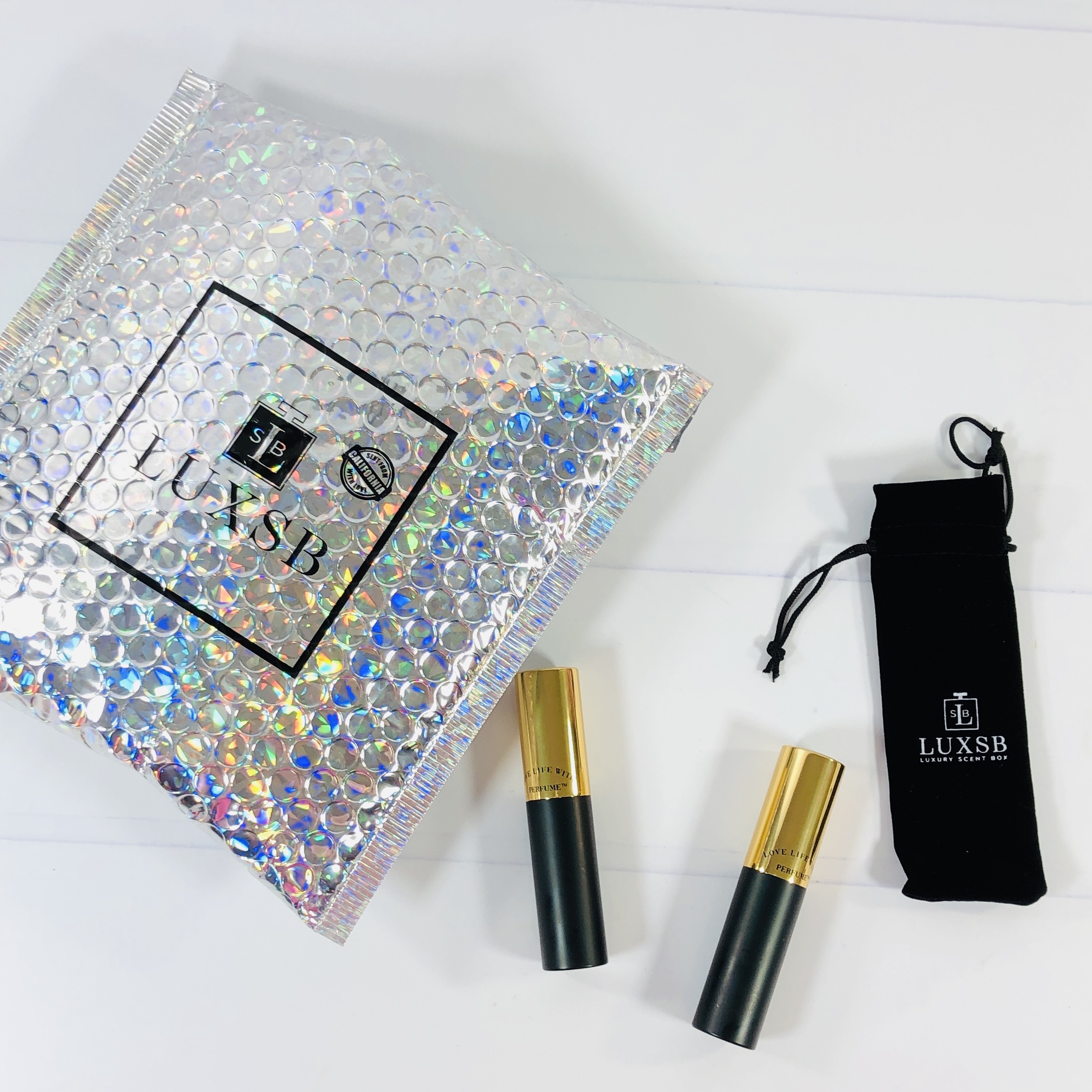 Everything in my box! You can add additional fragrances to your account and even purchase extra cases if you like. New members receive a case with their first order and a new case every quarter. The Premium $20 membership includes a new case every month (in addition to those pricier scents).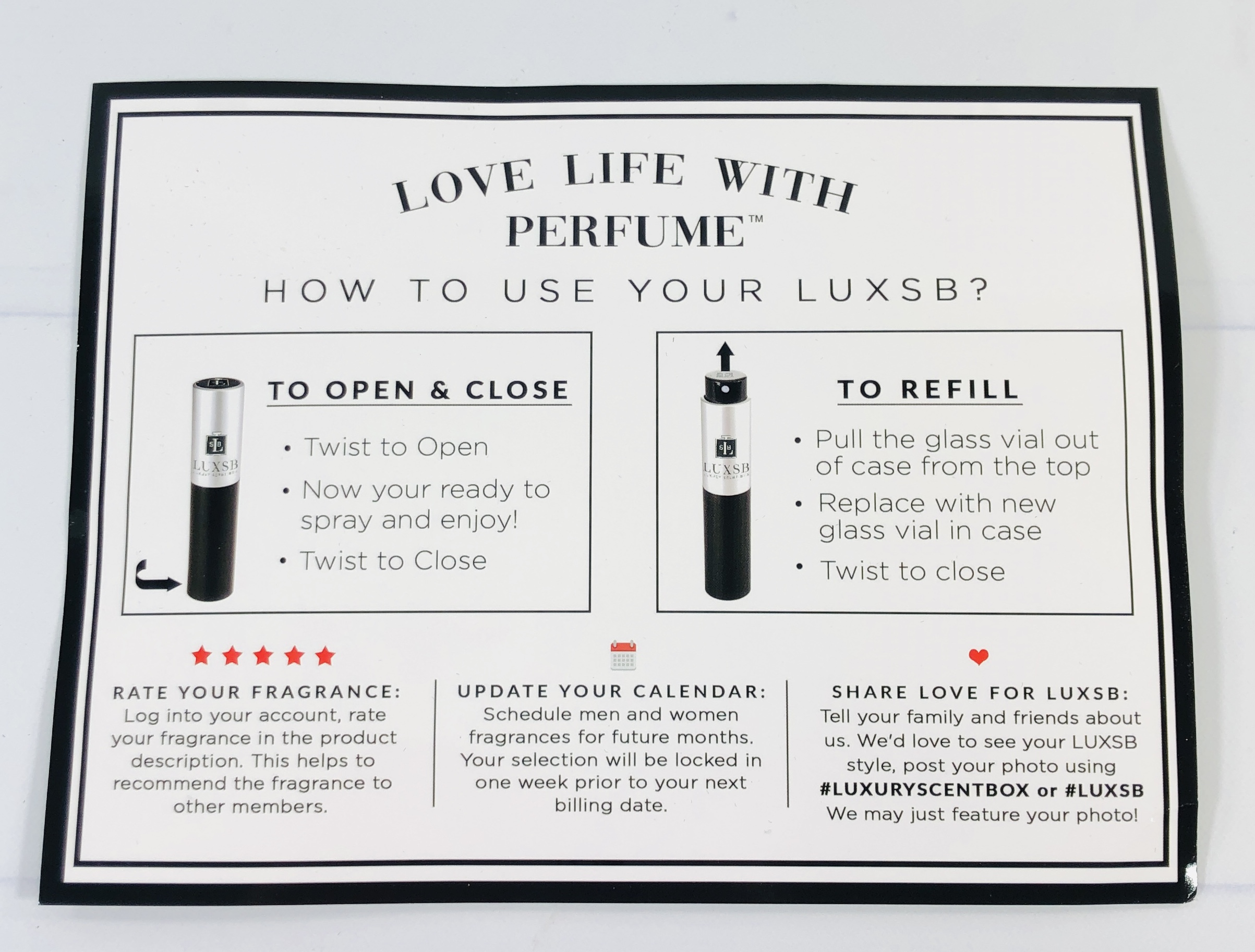 I received a card with instructions for changing out my perfume vial. Don't forget to rate your perfumes on the LUXSB website so they can continue to send fragrances that will wow you.
Here's the back of the card.
I received a second card that features one of my favorite fragrance brands, Montale Paris!
The back of the card listed the scent notes and a description of one of my perfumes for this month.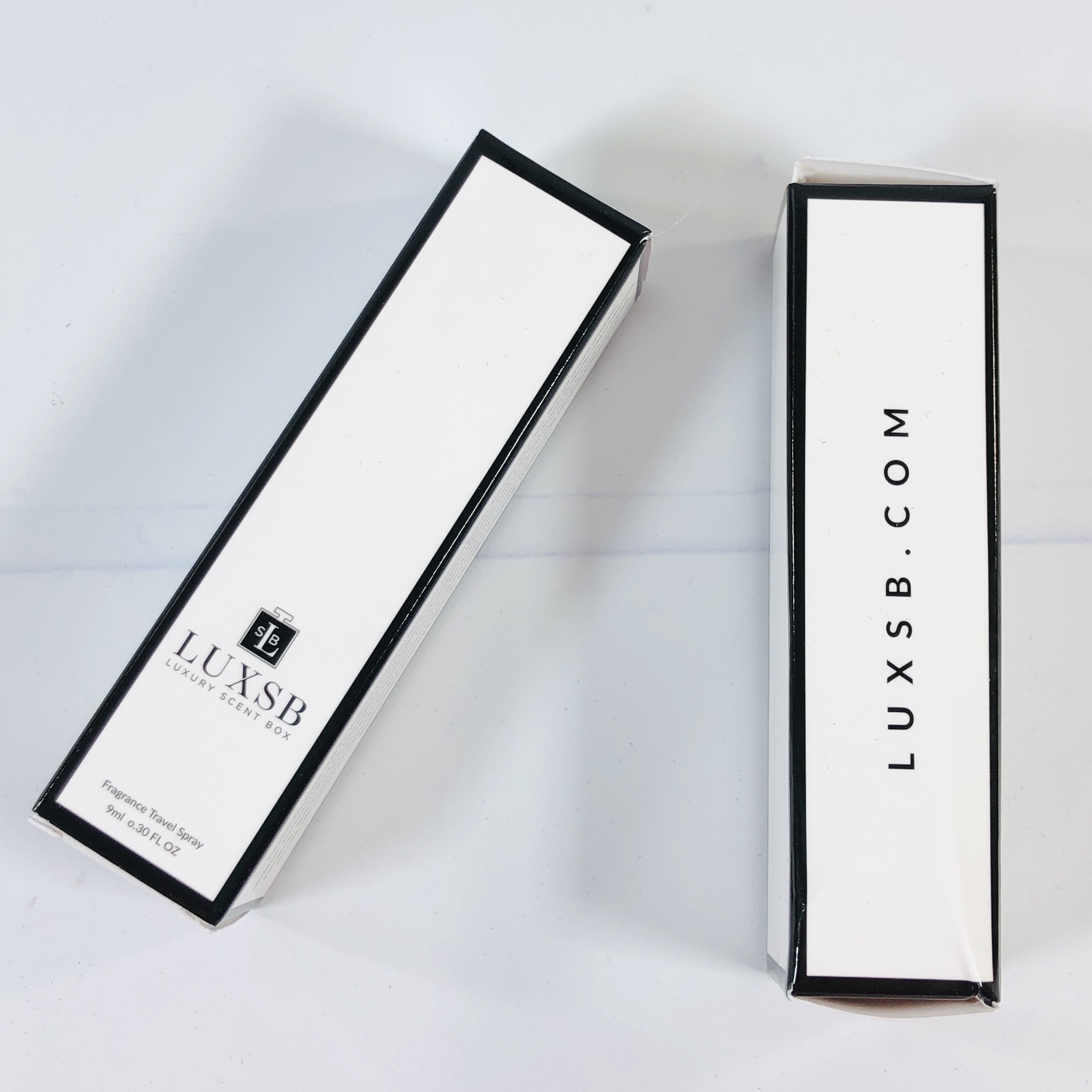 Luxury Scent Box has a huge assortment of fragrances, including niche and designer choices such as Black Opium and TokyoMilk. Note that Premium fragrances are $5 extra. You can also search by brand or fragrance note to find something you might love. LUXSB sends 9ml, or .30 ounces of fragrance, making it one of the largest of the scent subscriptions. There is enough product for about 5 sprays a day for an entire month.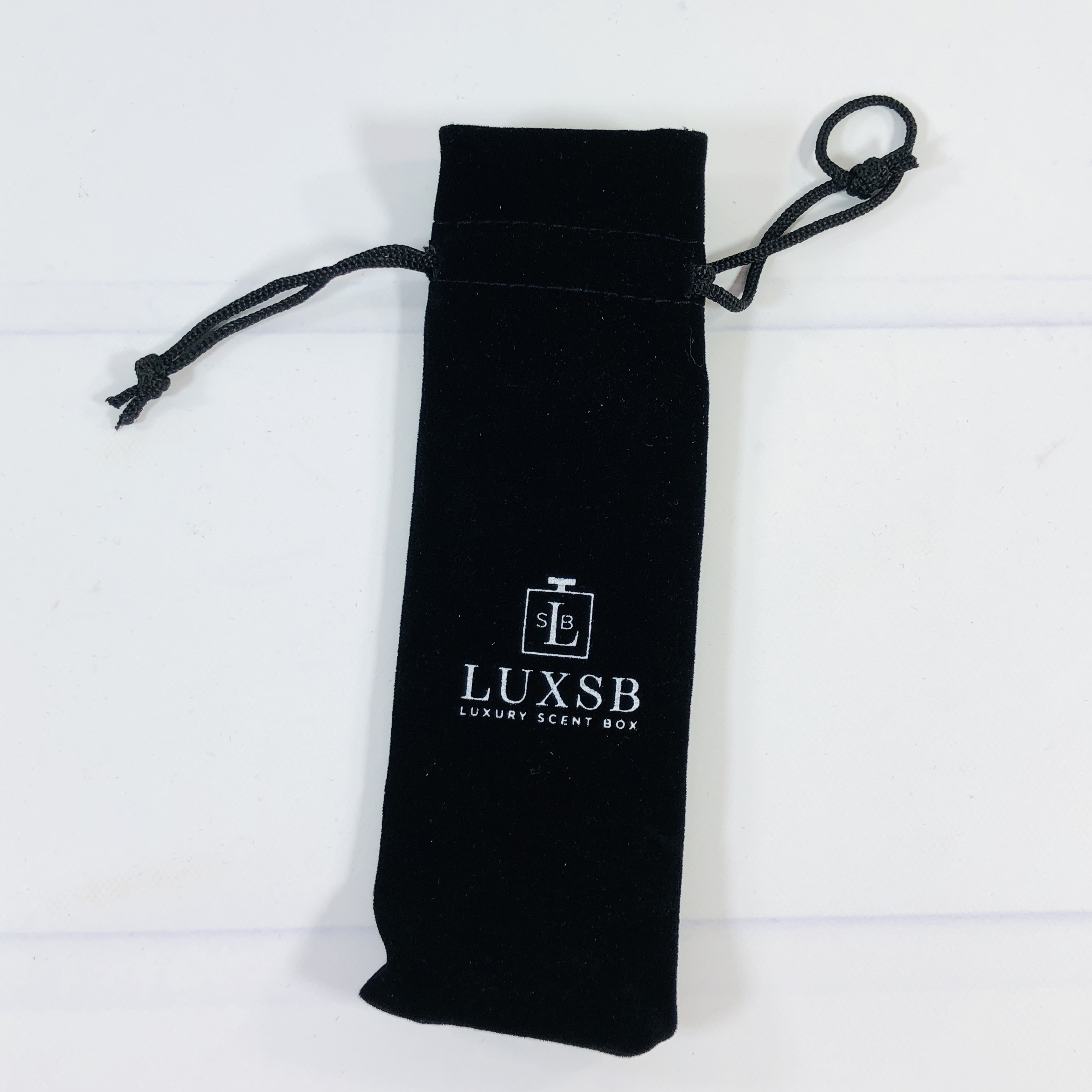 I received a velvet holder to keep my case from getting scratched in my bag.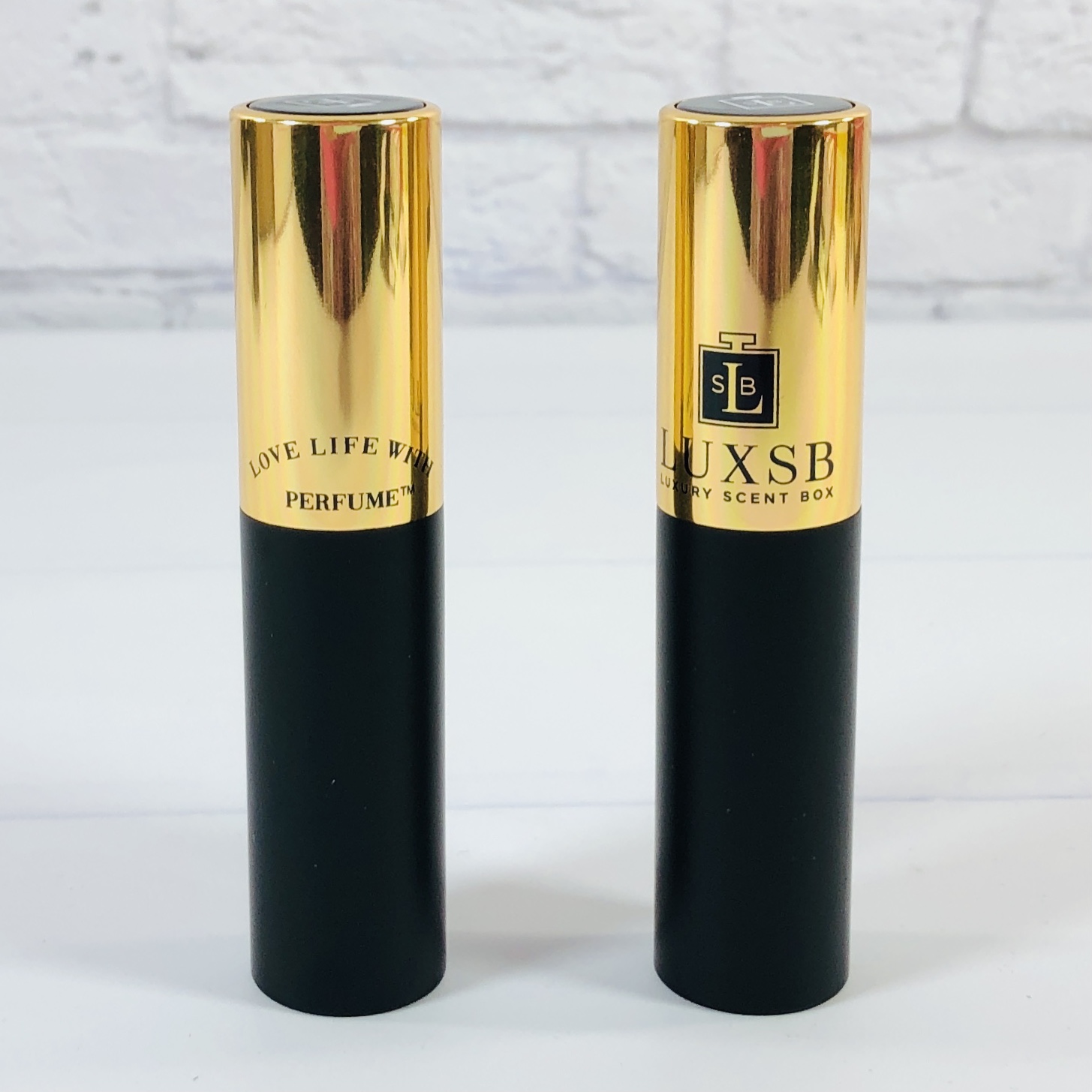 I am reviewing the duo plan, two fragrances a month. You can also purchase add-ons as needed, just log into your account to add more scents.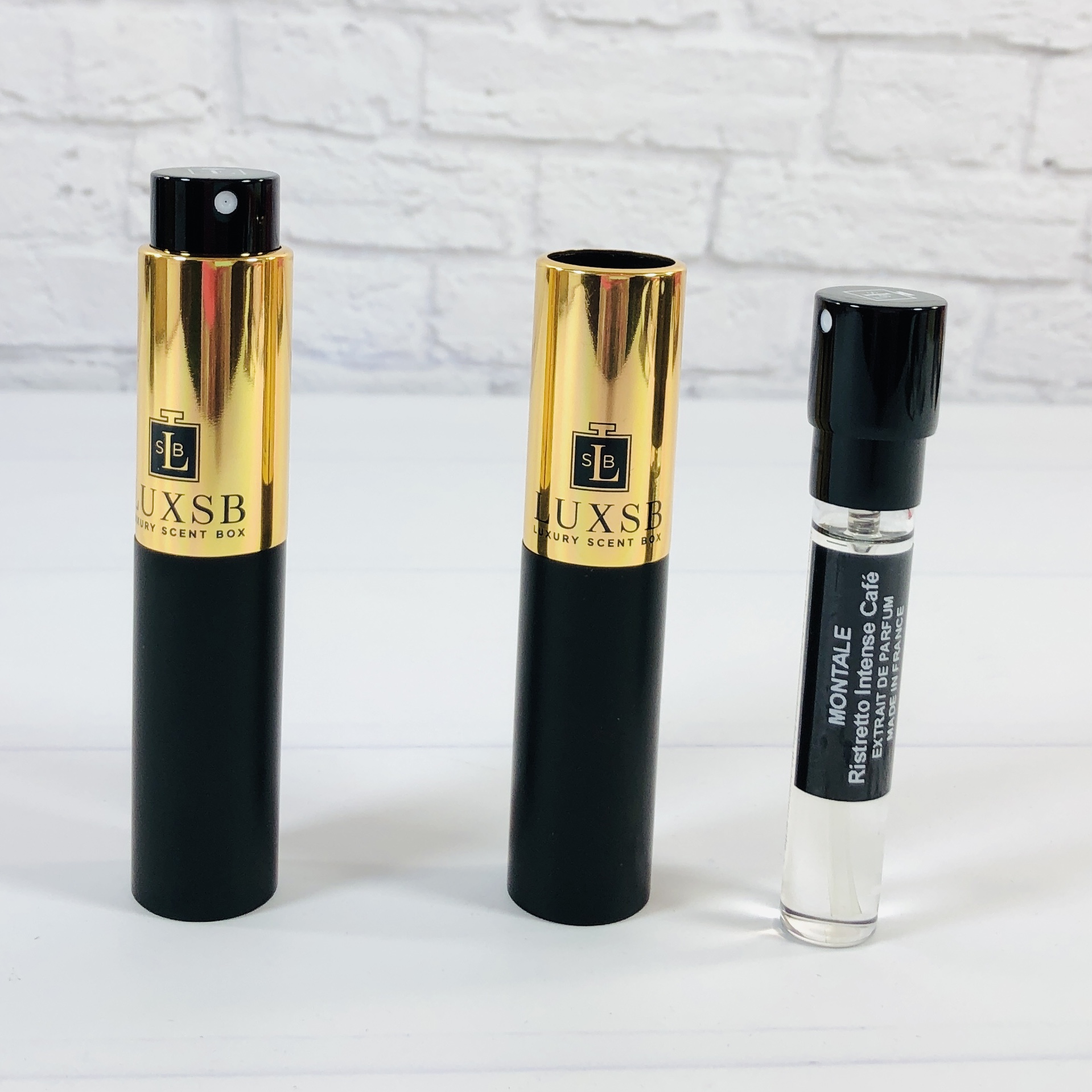 The Premium plan comes with a new case each month, while the Standard plan comes with a case in the first order and then quarterly. To change out your vials, just pull them out. When you replace them, just stick it in the case and twist while pushing down until the spray nozzle is hidden.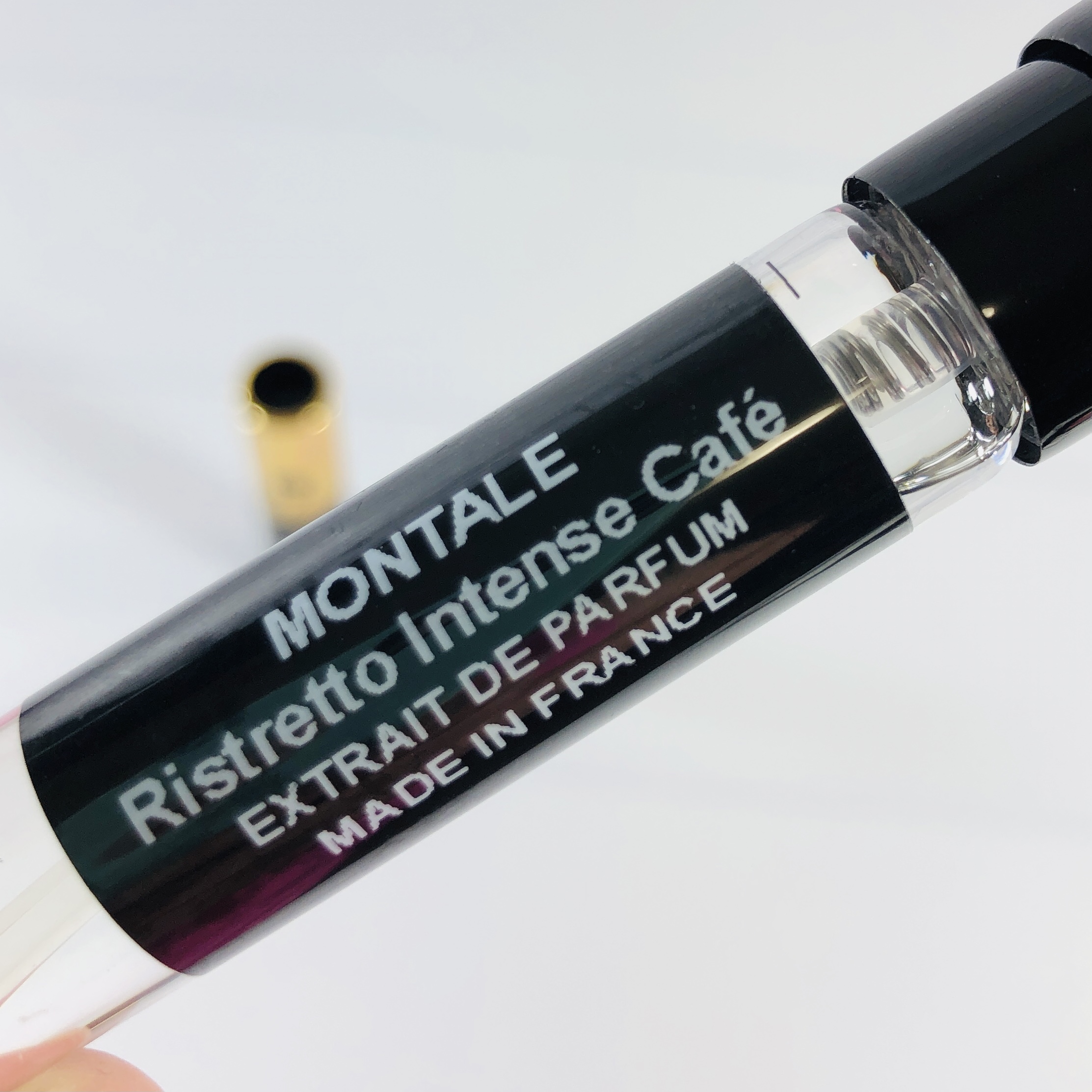 Montale Ristretto Intense Café Extrait De Parfum ($215 for 100ml) Montale tends to make strong, vibrant perfumes that last and last, and this is no exception. It is an oriental vanilla with all kinds of gourmand notes and even though I don't drink coffee I adore the scent of brewed coffee, it's so comforting. Additional notes include roses, vanilla, caramel, and white musk and this has a creamy feel to it. It lasted for hours but it wasn't loud or super strong, but comforting and warm. Like sitting in your favorite coffee shop that serves up those creamy drinks.
Montale Wild Pears Eau De Parfum ($140 for 100ml) While the last scent smells current and modern, this one is old fashioned and powdery. The scent notes of this aromatic fruity fragrance include pear, bergamot, lily of the valley, carnation, and musk. I think it is the musk that is most prominent to my nose, and possibly LOTV. While it is sweet, the pear scent only hangs around for a minute or so before quickly fading. It smells mature rather than girly, although it is a unisex scent. It is unlike any Montale perfume that I've tried in the past. Longevity wasn't as long and projection wasn't as strong as the previous scent.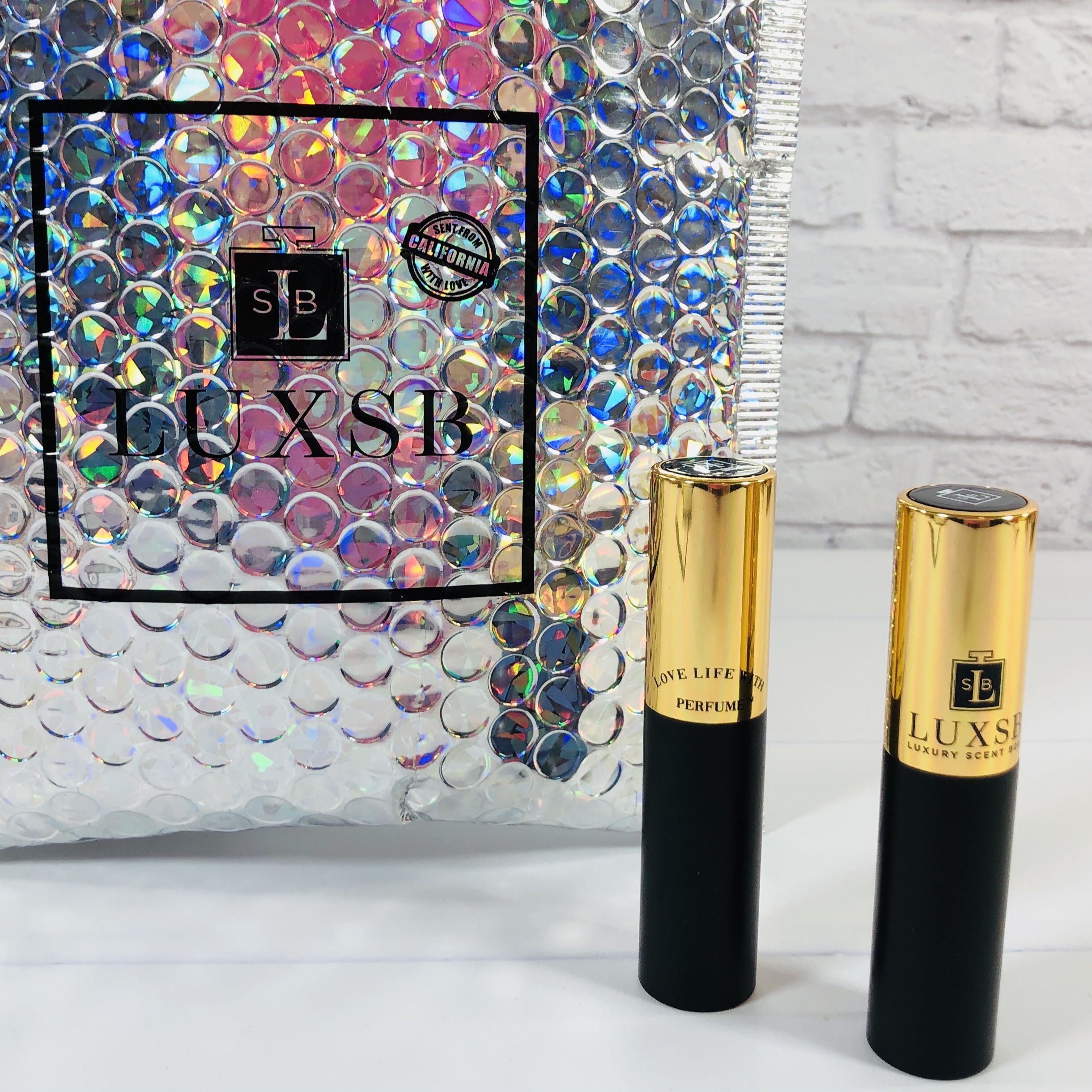 I always look forward to seeing my rainbow shimmery package from LUXSB in the mail! This month I tried two vastly different scents from Montale, which is always a solid brand and one that I enjoy. Out of the two sent this month, I was particularly enamored with Ristretto Intense Café, which wasn't as intense as I was anticipating which, was a good thing actually. Wild Pears brought to mind a cozy hug from my great aunt, powdery and sweet. These are expensive perfumes, and a bottle would set me back a bunch but I got to try them for a fraction of the cost and over the course of a month I can tell whether I would want a full bottle or not. Mostly I love decanting services like LUXSB because I simply prefer to have a diverse collection of fragrances to fit whatever mood I am in on any given day. LUXSB has such a great selection of brands, including niche brands, and I always let the fragrance specialist choose for me but you can fill up your scent calendar with scents of your choosing if you prefer. Know someone who loves amazing perfumes or colognes? Surprise them with a gift this holiday season!
Have you tried Luxury Scent Box? Let me know in the comments!