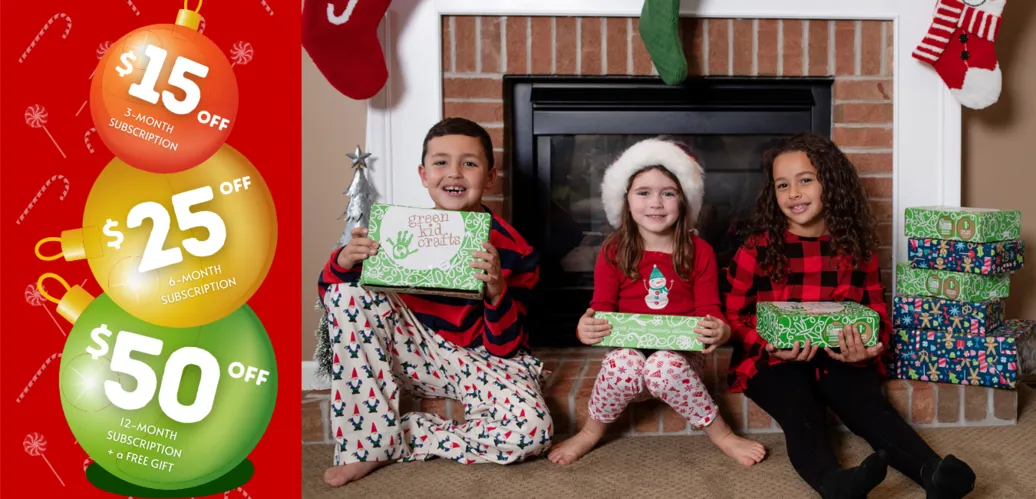 The Green Kid Crafts Holiday sale is here!
Award-winning science and craft activities make the perfect gift. Our hands-on learning boxes are fun for the whole family! Join us this holiday season to give the gift of STEAM learning.
Get $15 off any 3-month subscription!
Get $25 off any 6-month subscription!
Get $50 off any 12-month subscription + FREE gift with first box!
No coupon needed, just use this link to subscribe!
Get up to $50 off at Green Kid Crafts!
See all our Green Kid Crafts Reviews for what to expect from this box and visit Green Kid Crafts to subscribe or find out more!
Green Kid Crafts is a subscription box that sends 4-6 themed projects made with eco-friendly materials to your home every month. The boxes contain hands-on explorations in science, math, technology, engineering and art that are intended to challenge children from 3-10 years of age. There are two types of subscriptions, both regularly $24.95 a month.
Junior Discovery Box Subscription for ages 2-4 ($24.95 a month)
Discovery Box Subscription for ages 5-10+ ($24.95 a month)
Each Box Includes
4-6 educator-designed STEAM projects
Award-winning hands-on activities
12-page magazine supports learning and connection
Here's a peek at some recent themes!