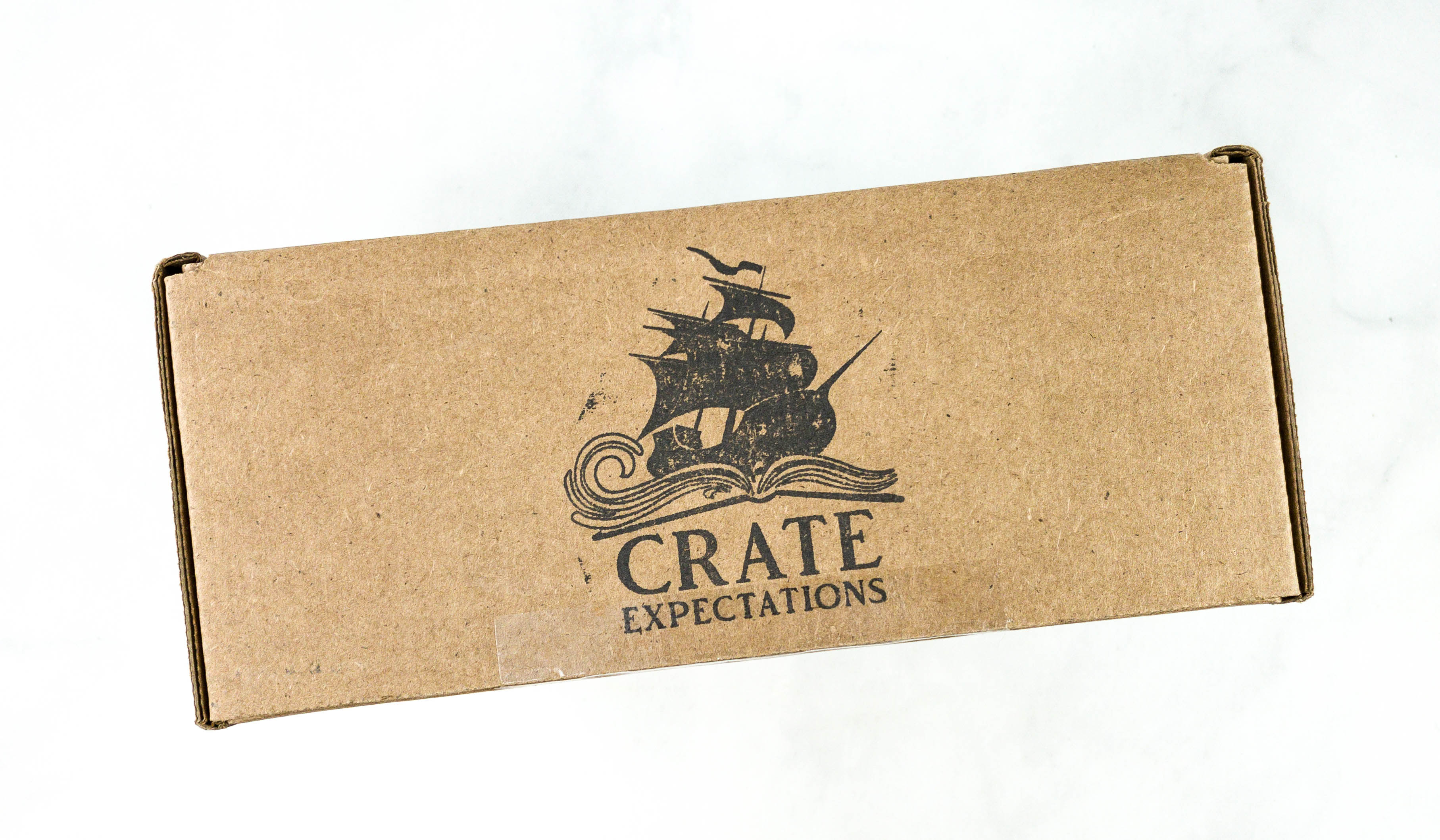 Crate Expectations is a monthly kids' book subscription box that sends a quality book paired with one-of-a-kind Adventure Guide and toys or games. Plans start at $32.99 each month, plus shipping and tax, and they also offer 3-month and 6-month subscriptions. Each box contains their book club pick of the month, 2-4 specially curated toys or games, a book-related STEM activity and supplies, an exclusive author interview, a book-inspired recipe and menu ideas, book club discussion questions, and recommendations for further reading. The box is suited for 8-12 year old kids.
DEAL: Get 10% off your first purchase! Use coupon code HELLO10.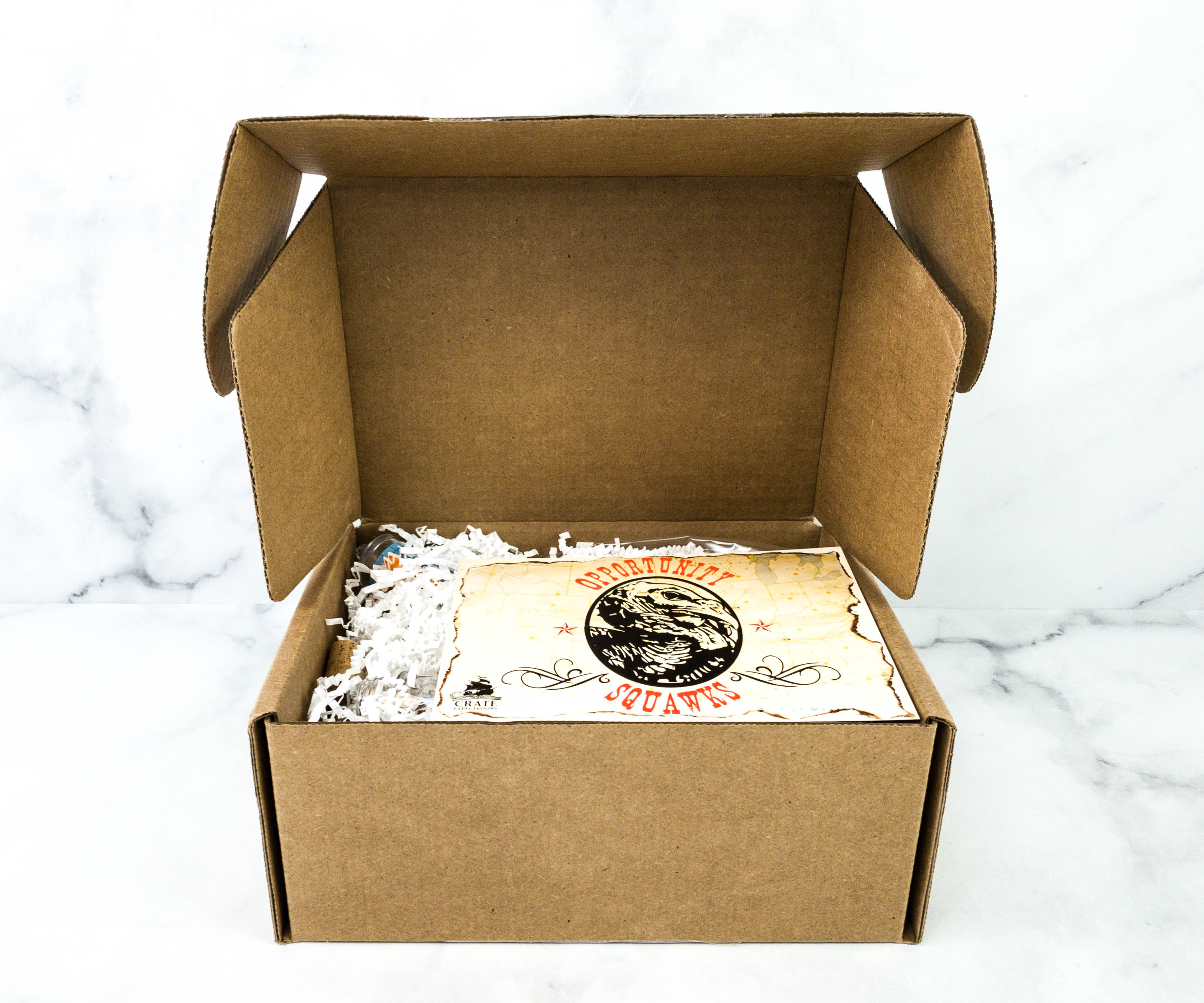 There's a card on top of everything in the box!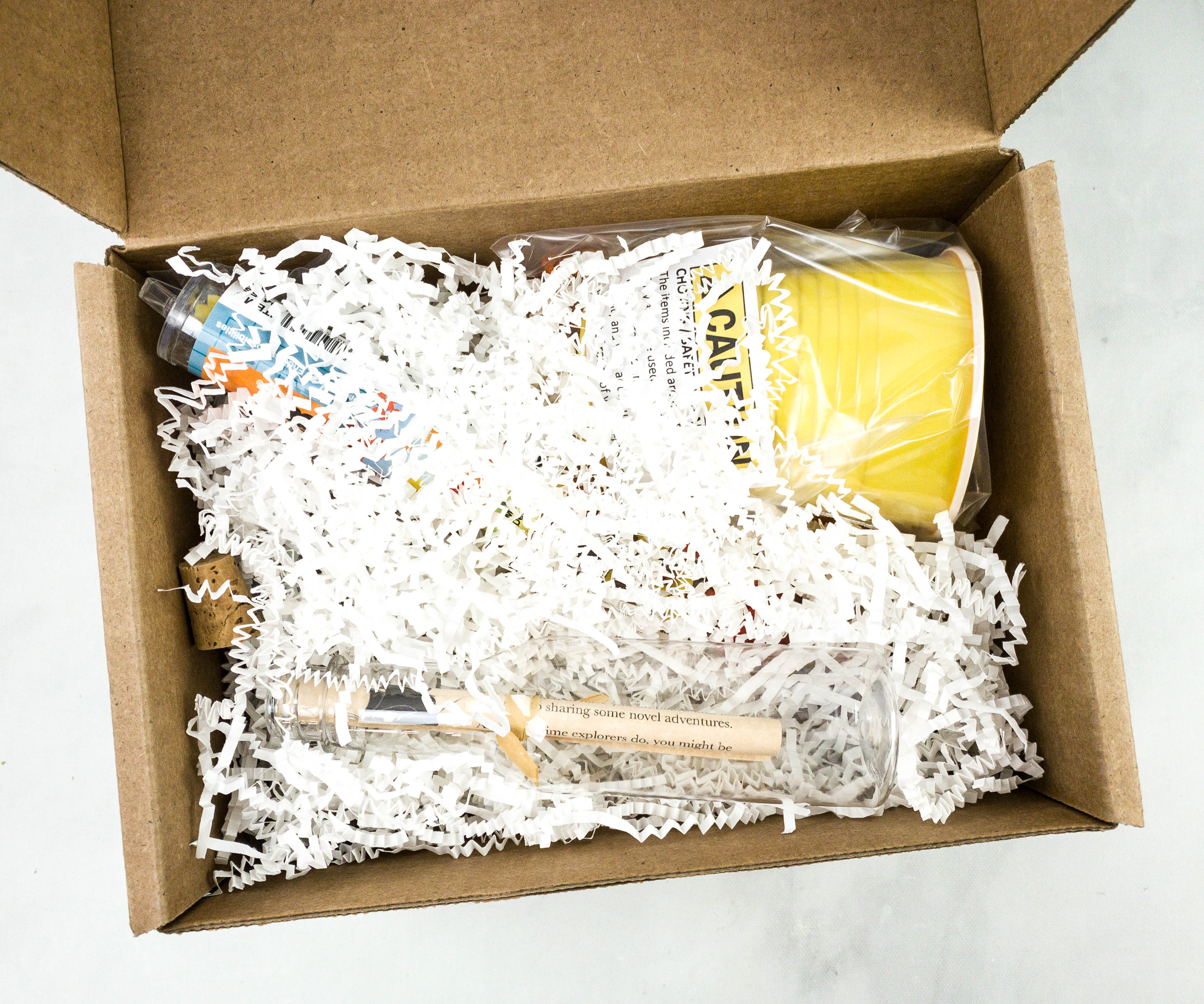 The contents are protected by white squiggles.
The theme for November 2020 is Opportunity Squawks!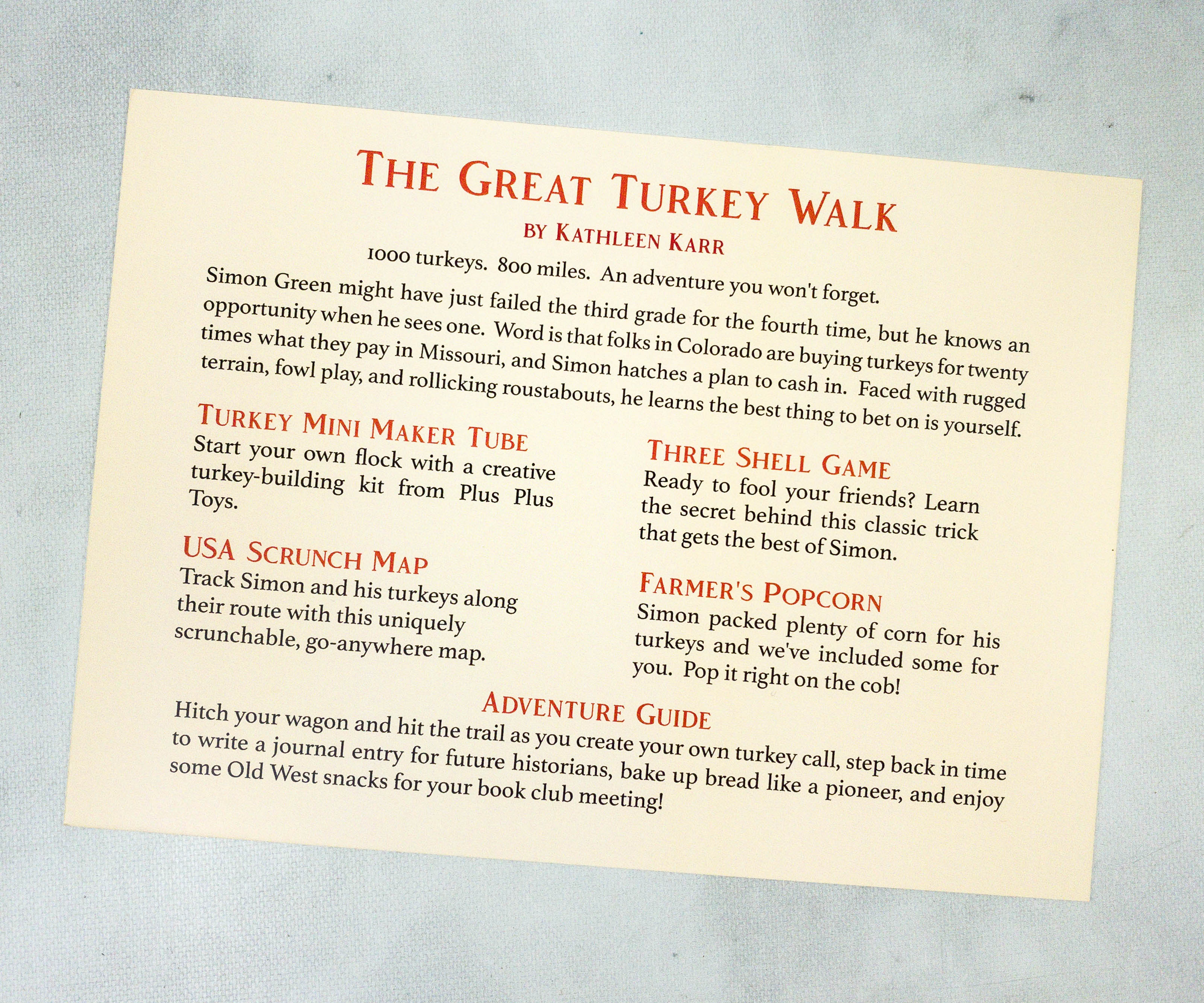 The flip side of the info card lists all the contents of the box.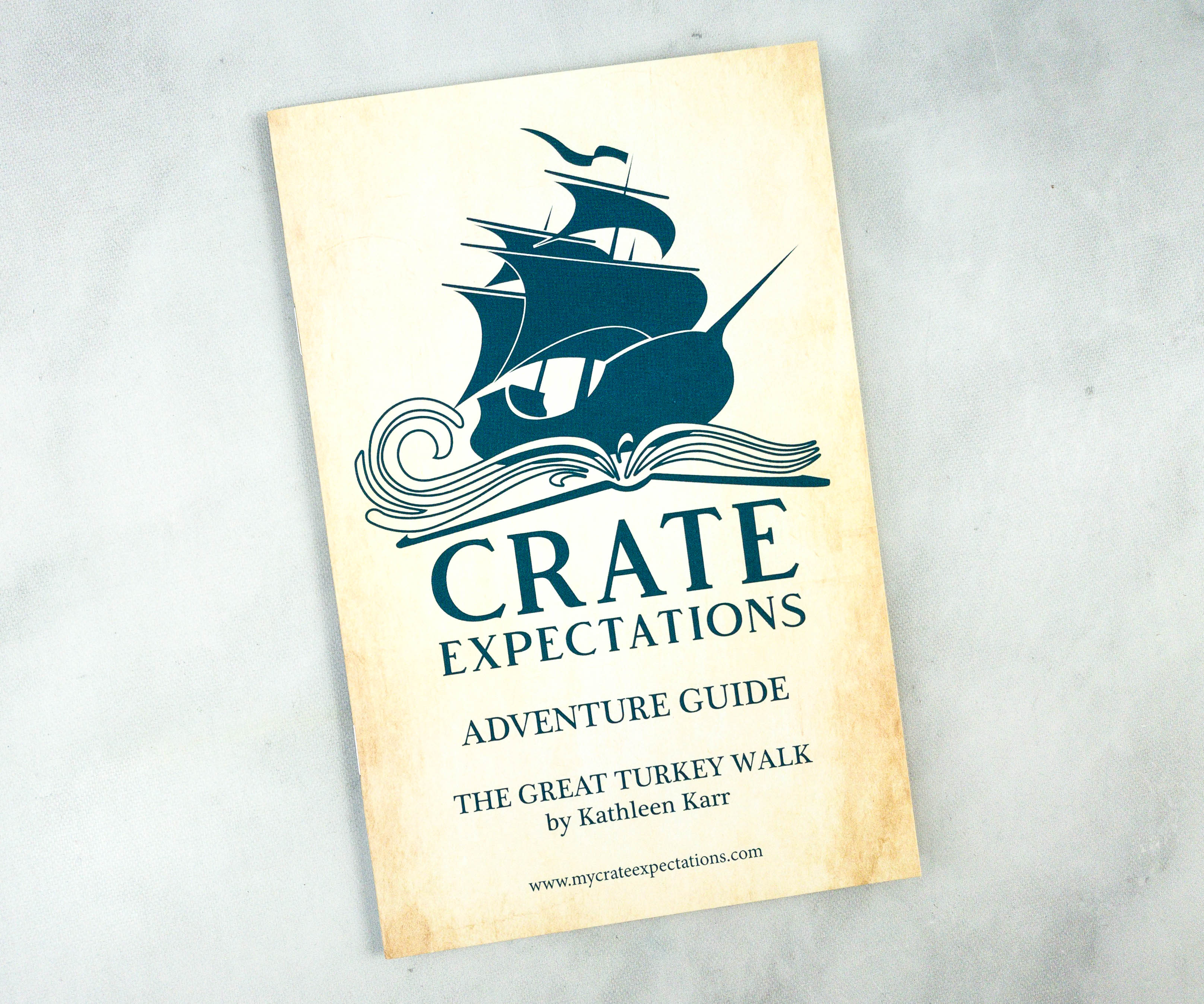 The box includes an adventure guide.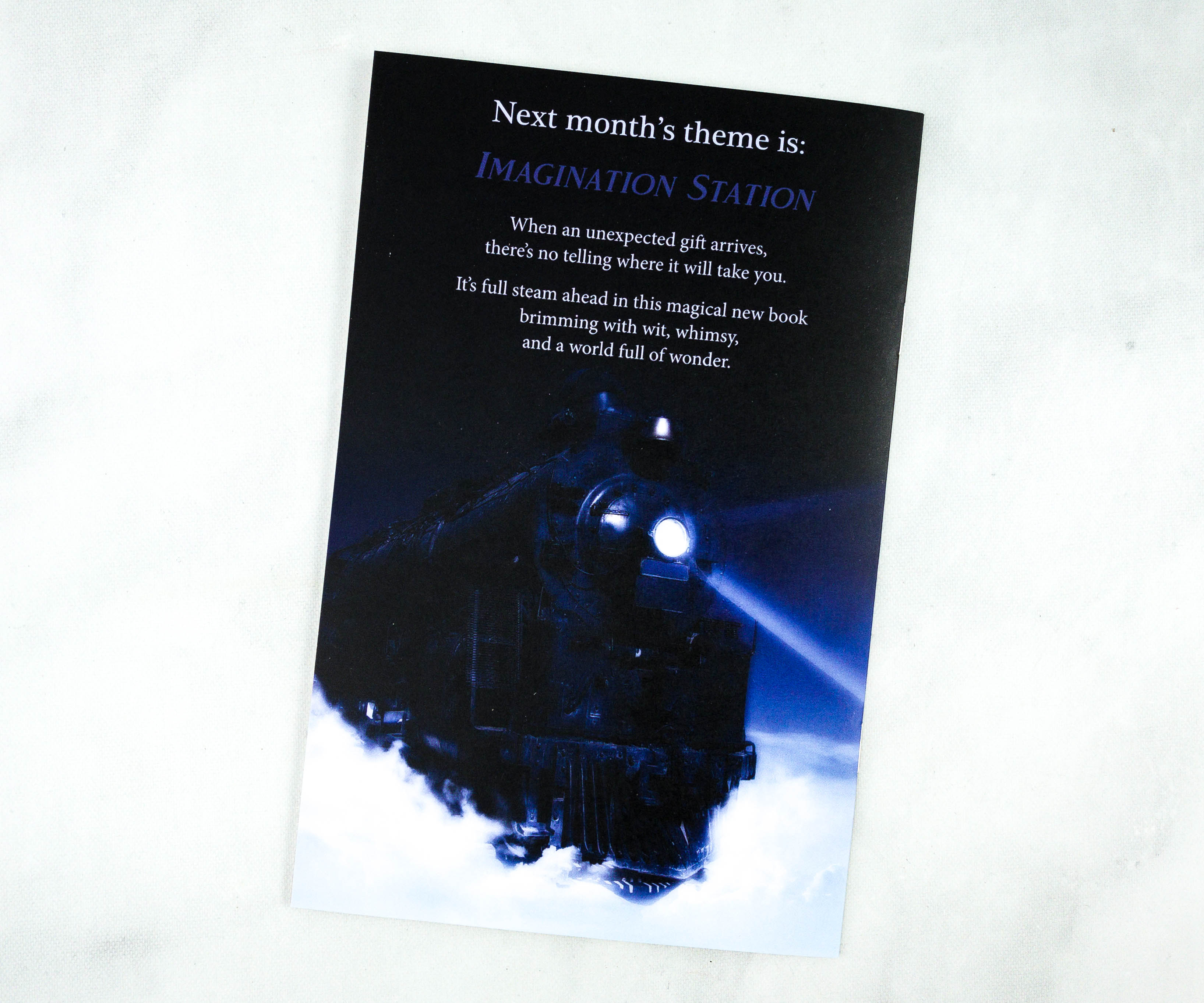 It also gave us a peek at next month's box with the theme Imagination Station.
Animals was always smarter than most people thought.

The Great Turkey Walk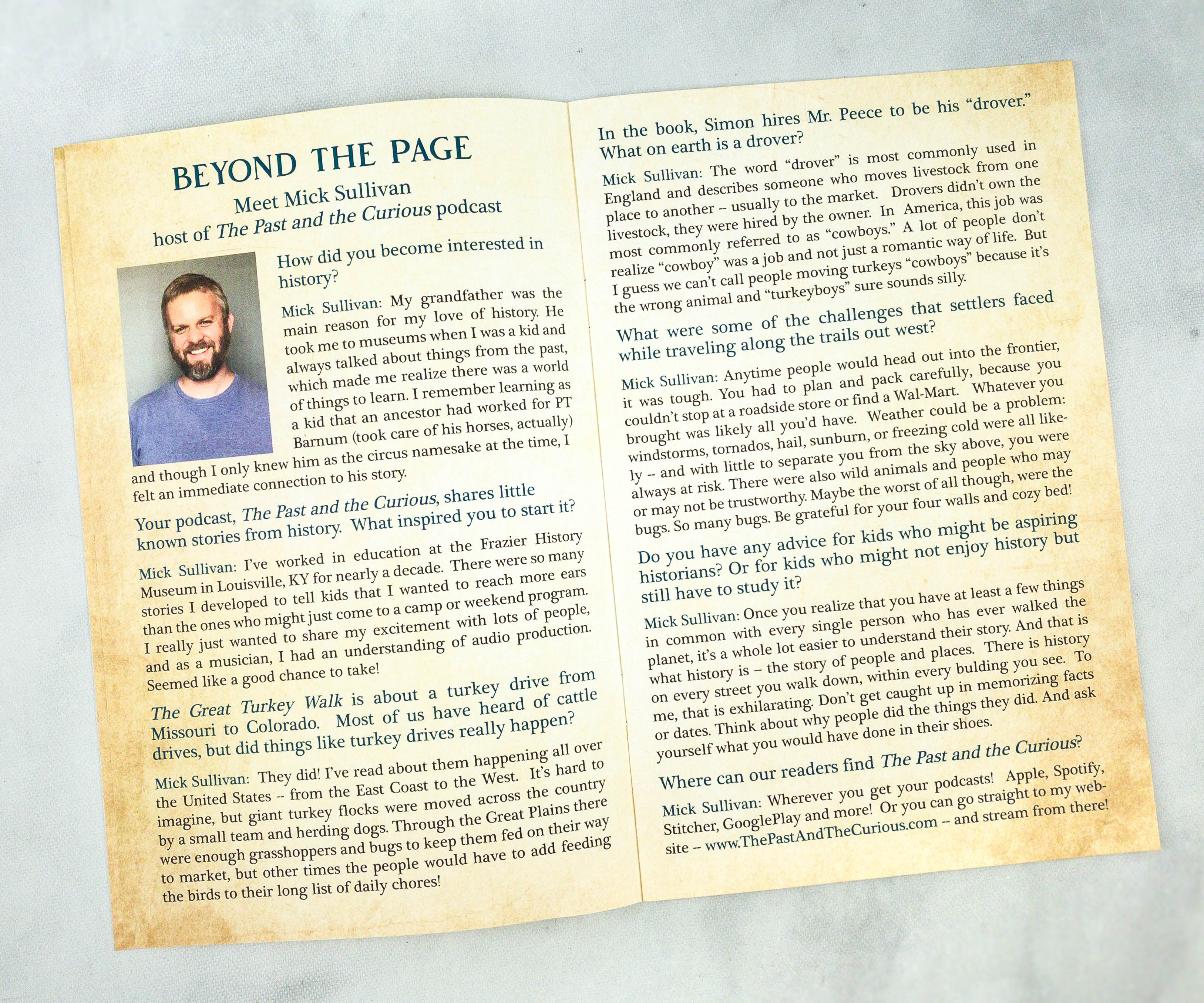 There's an interview included in the guide. This month, it features Mick Sullivan, the author of The Past and the Curious.
Here's a step by step guide on how to make an improvised turkey call item.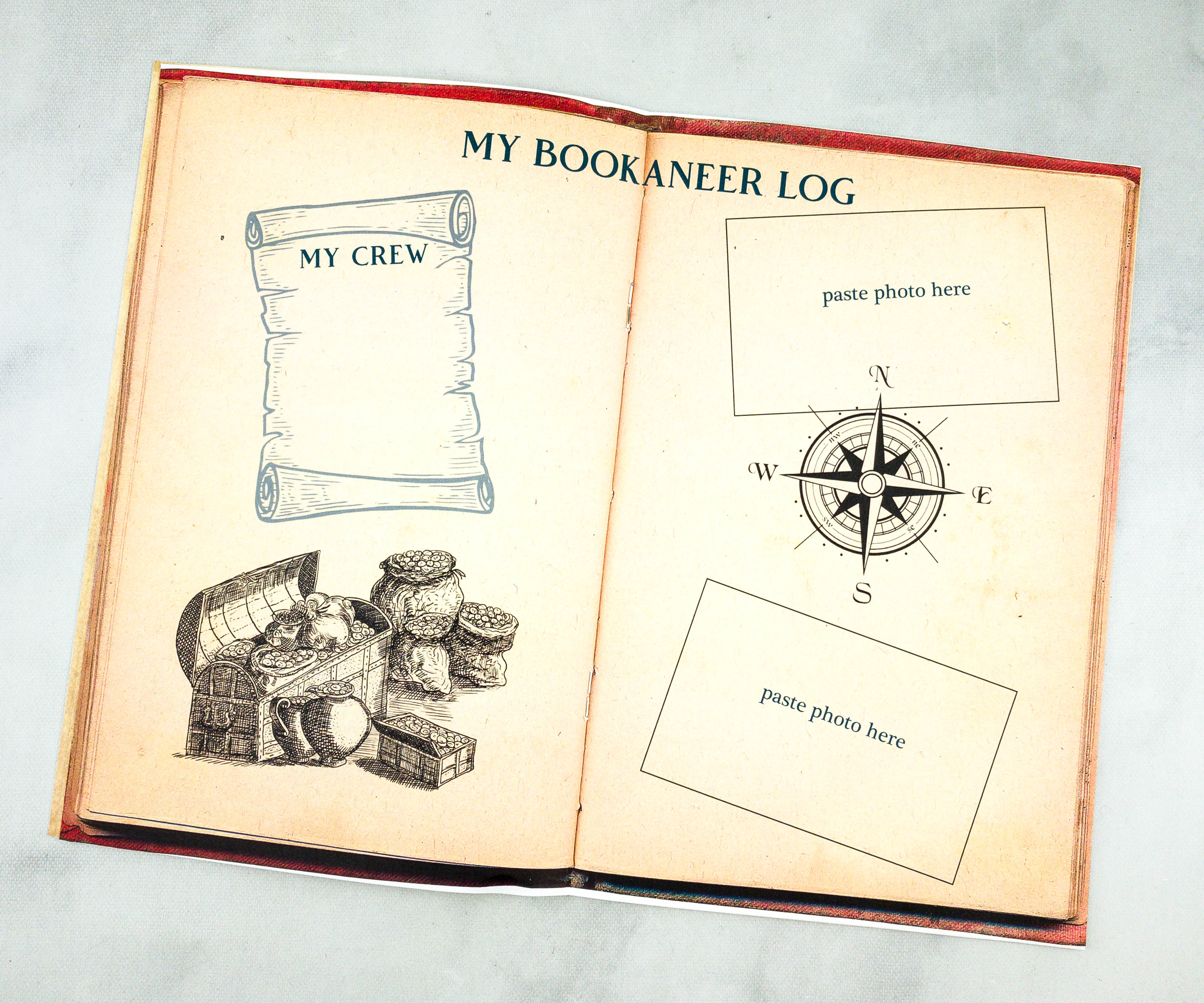 The kids can write their crew and place some pictures in the Bookaneer Log!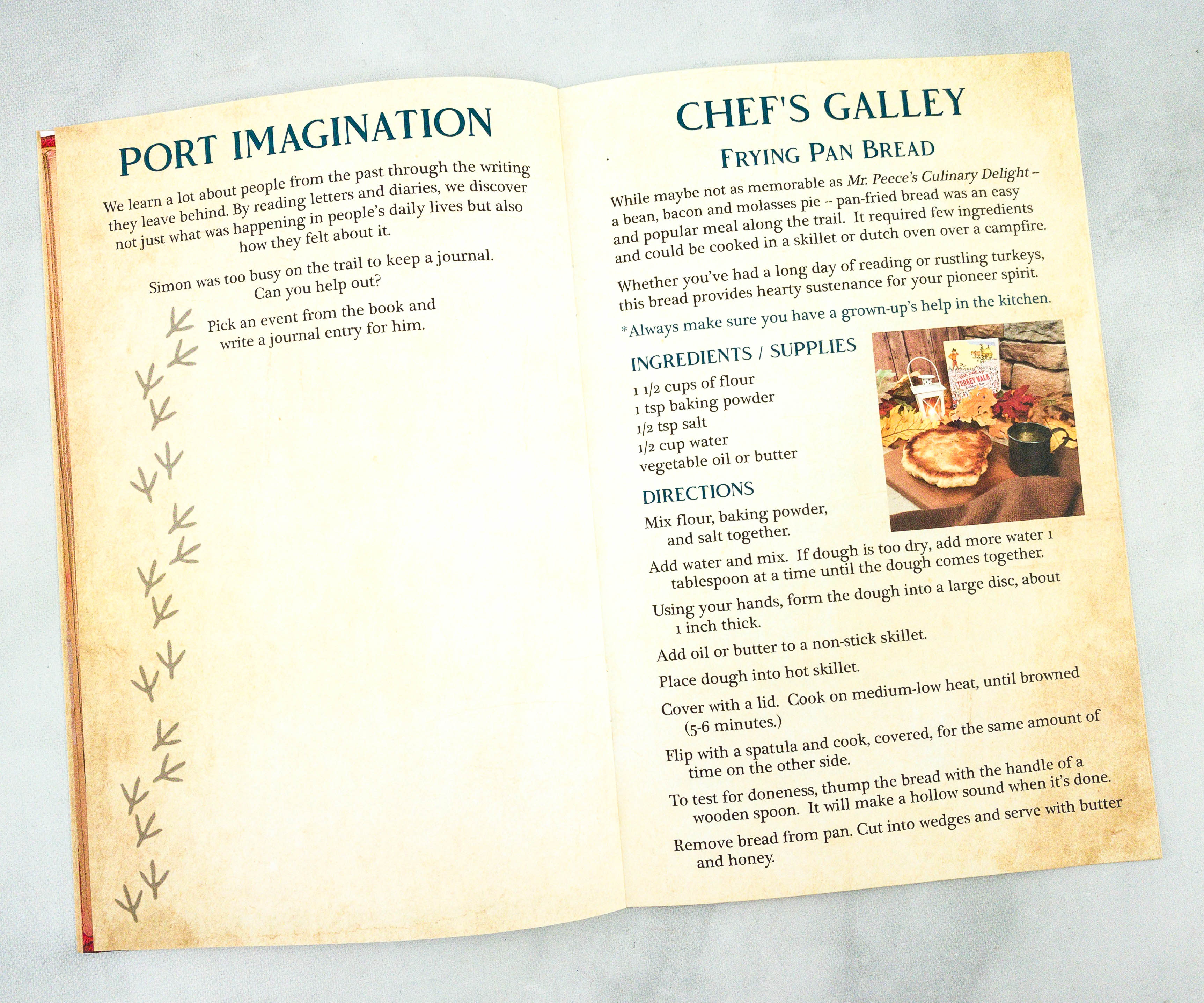 Next up is a recipe for Frying Pan Bread. It's easy to make and a popular meal along the trail.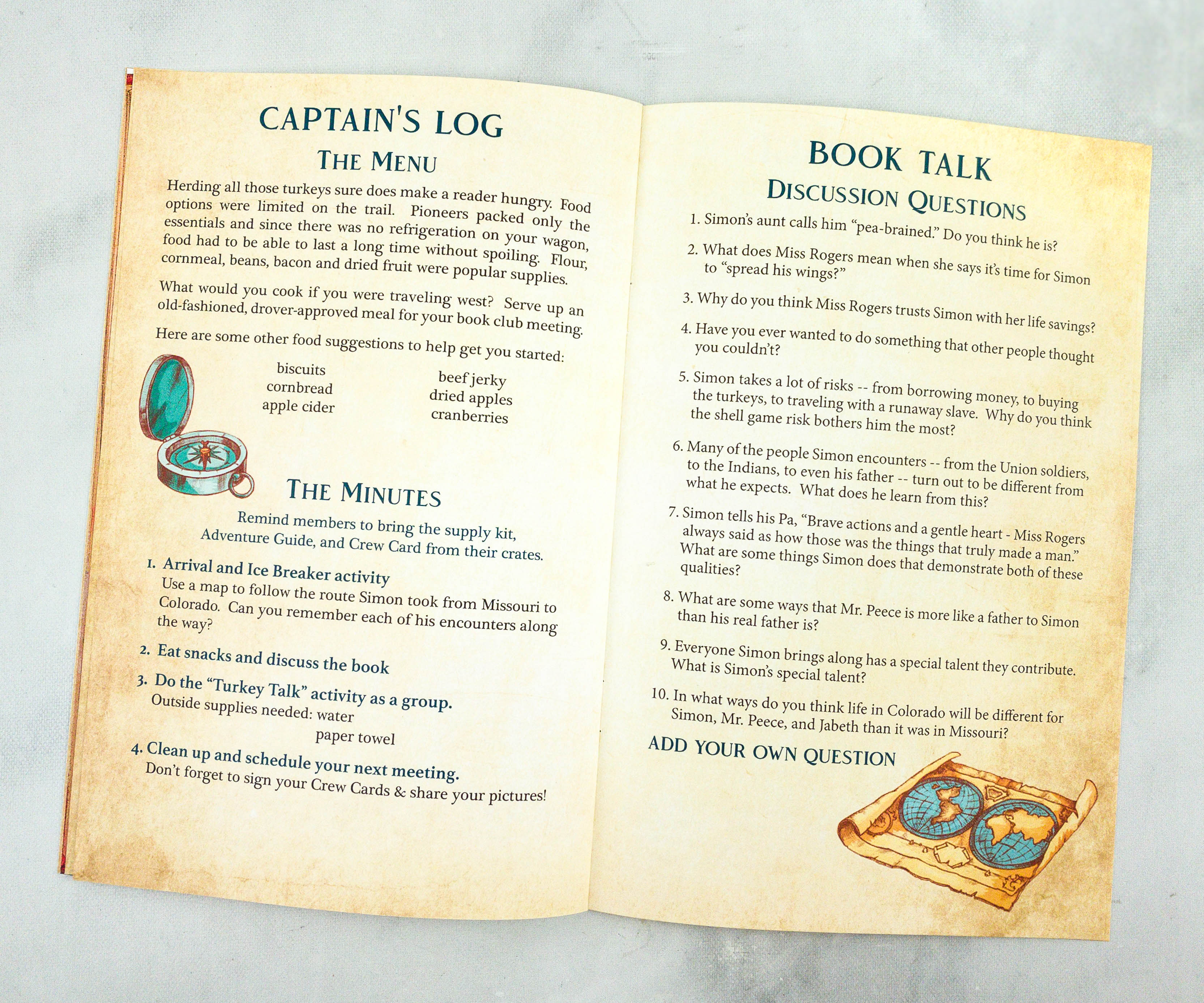 This part of the guide is called the Captain's Log, where they suggested some food and activities for your book club meeting, as well as book talk discussion questions.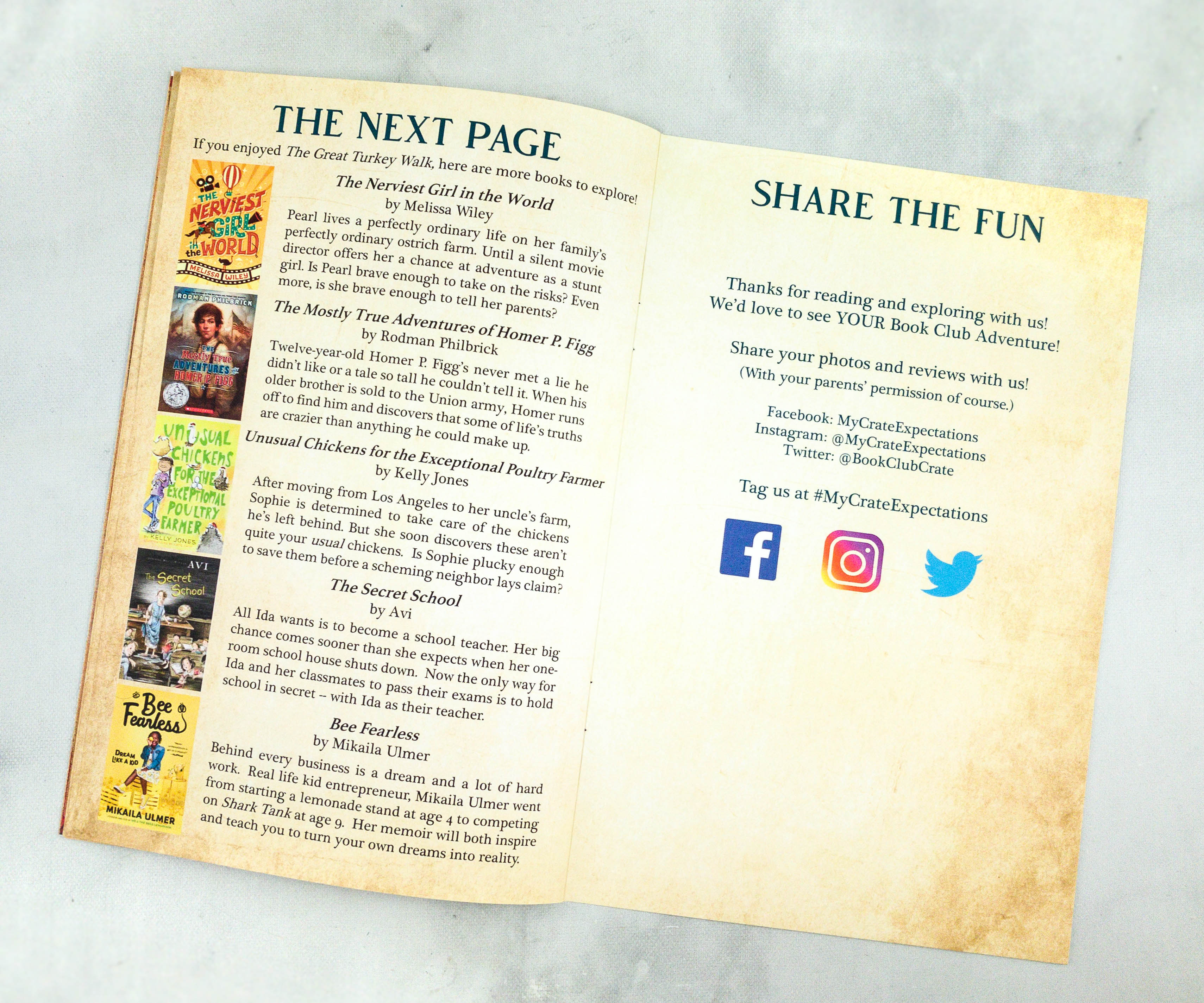 They also have a list of other books that kids can enjoy if they like The Great Turkey Walk: The Nerviest Girl in the World by Melissa Wiley, The Mostly True Adventures of Homer P. Figg by Rodman Philbrick, Unusual Chickens for the Exceptional Poultry Farmer by Kelly Jones, The Secret School by Avi, and Bee Fearless by Mikaila Ulmer! Their social media handles are also listed on one of the pages.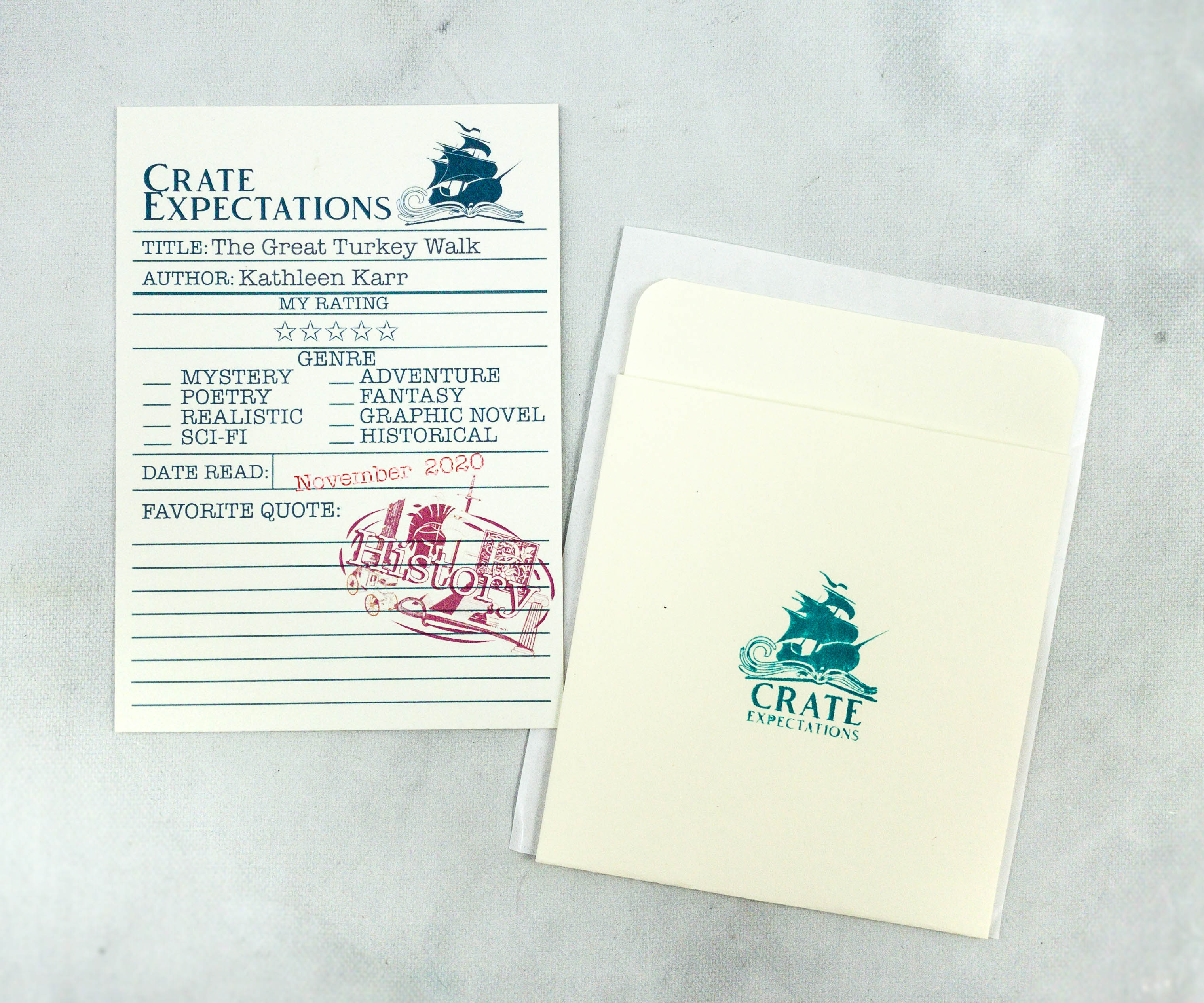 Also included in the box is a book card with its own envelope that you can stick to the book's endpaper.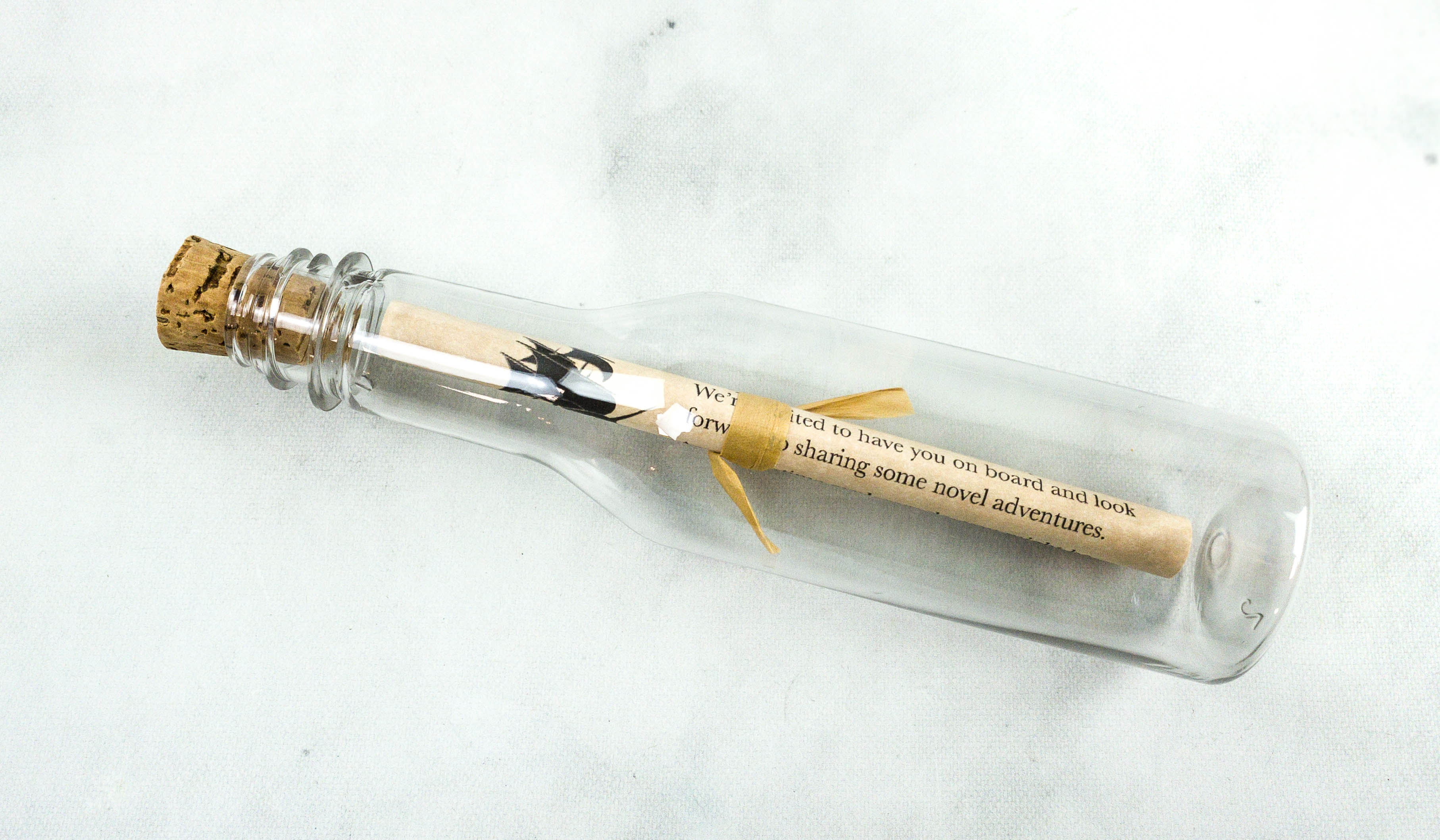 Like the crew of a ship, the box included a message inside a corked bottle.
My kids popped the bottle open and took the rolled paper from inside. It has a message that welcomes them to the subscription, and also listed some activities for book club meetings!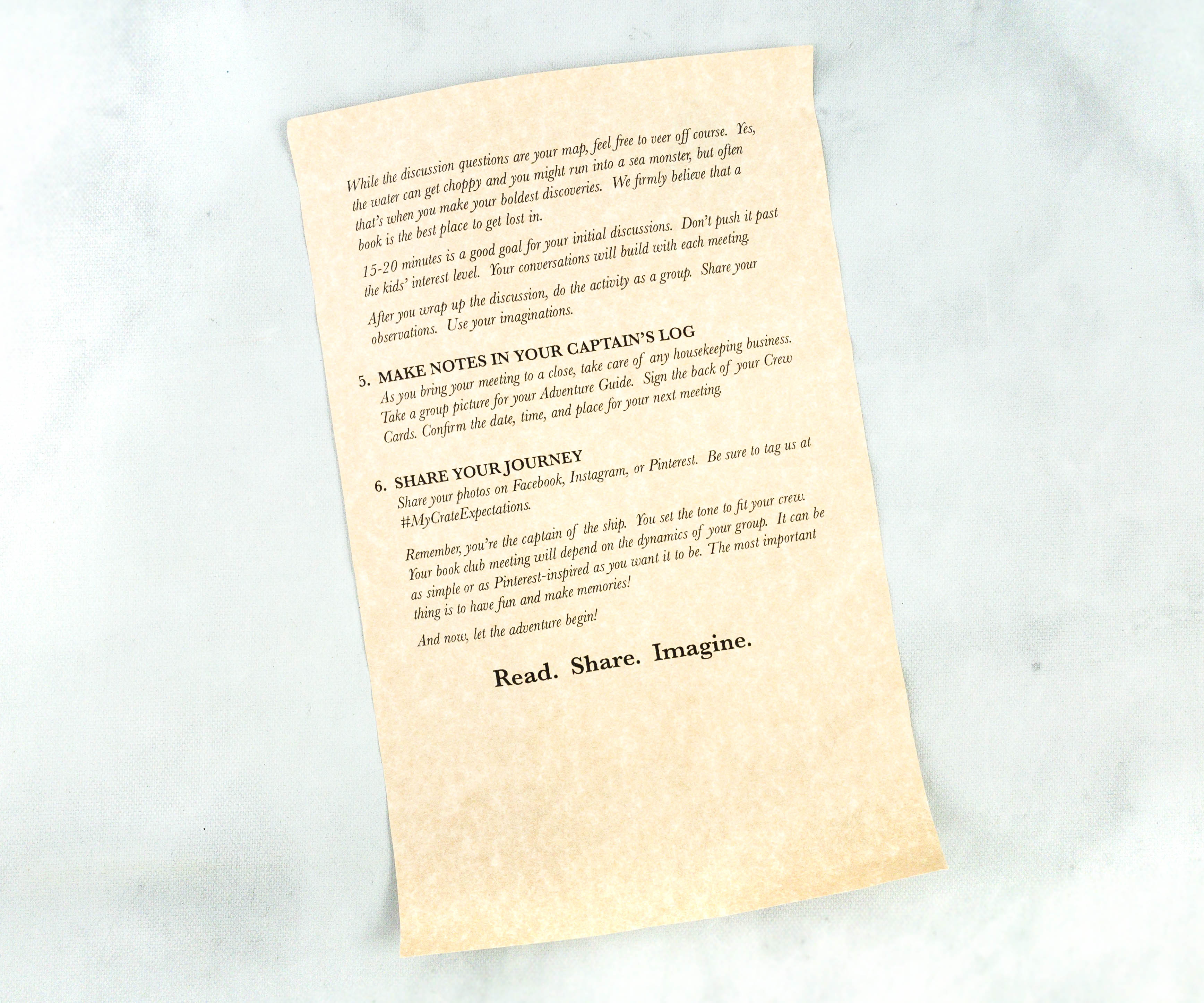 It also explains how to use the Captain's Log that can be found in the activity guide.
Everything in the box!
Farmer's Popcorn. The delicious popcorn cob is vacuum sealed with thick plastic to maintain its freshness.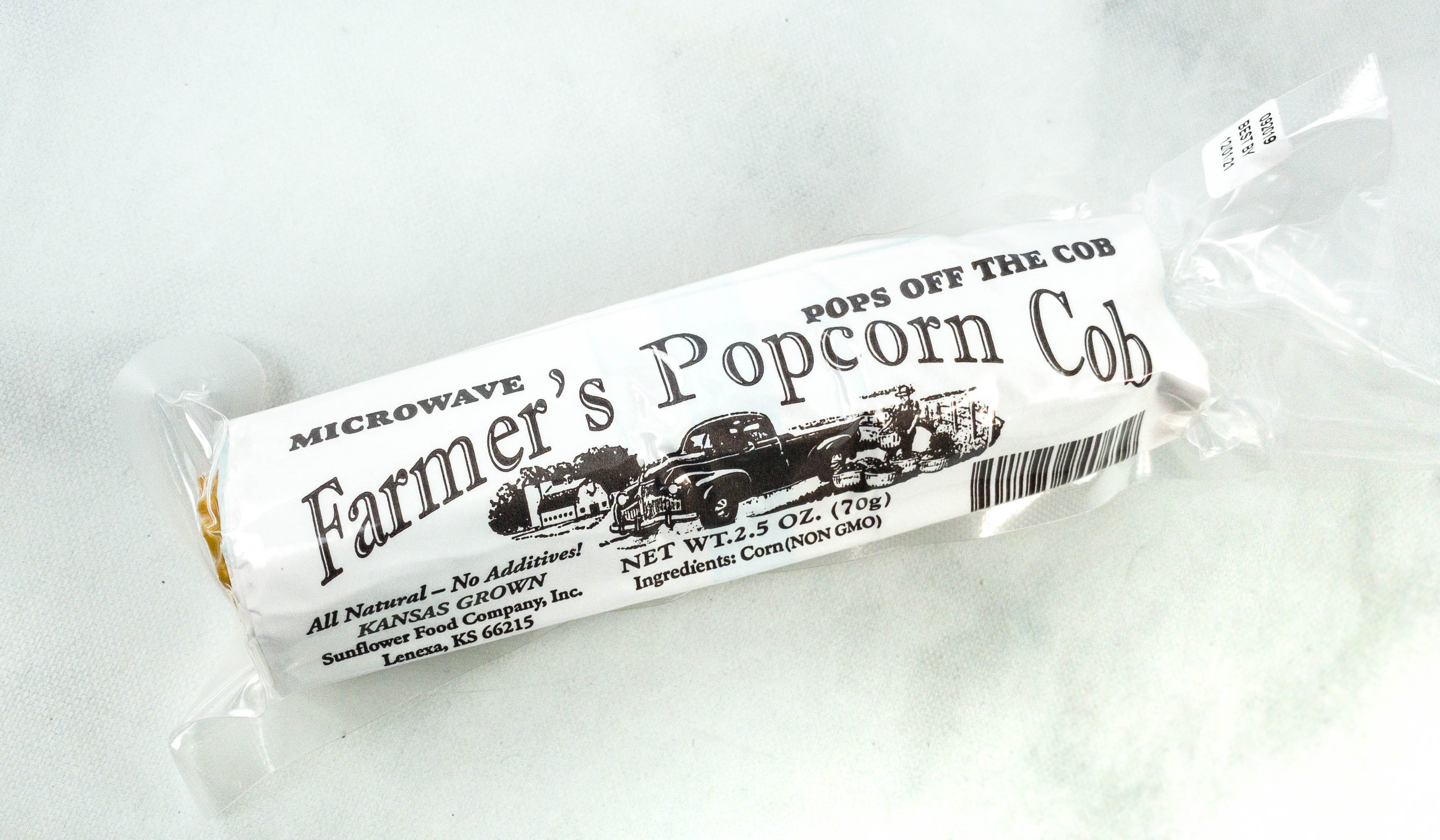 It's microwaveable! According to the label, it's all natural and free from GMOs as well.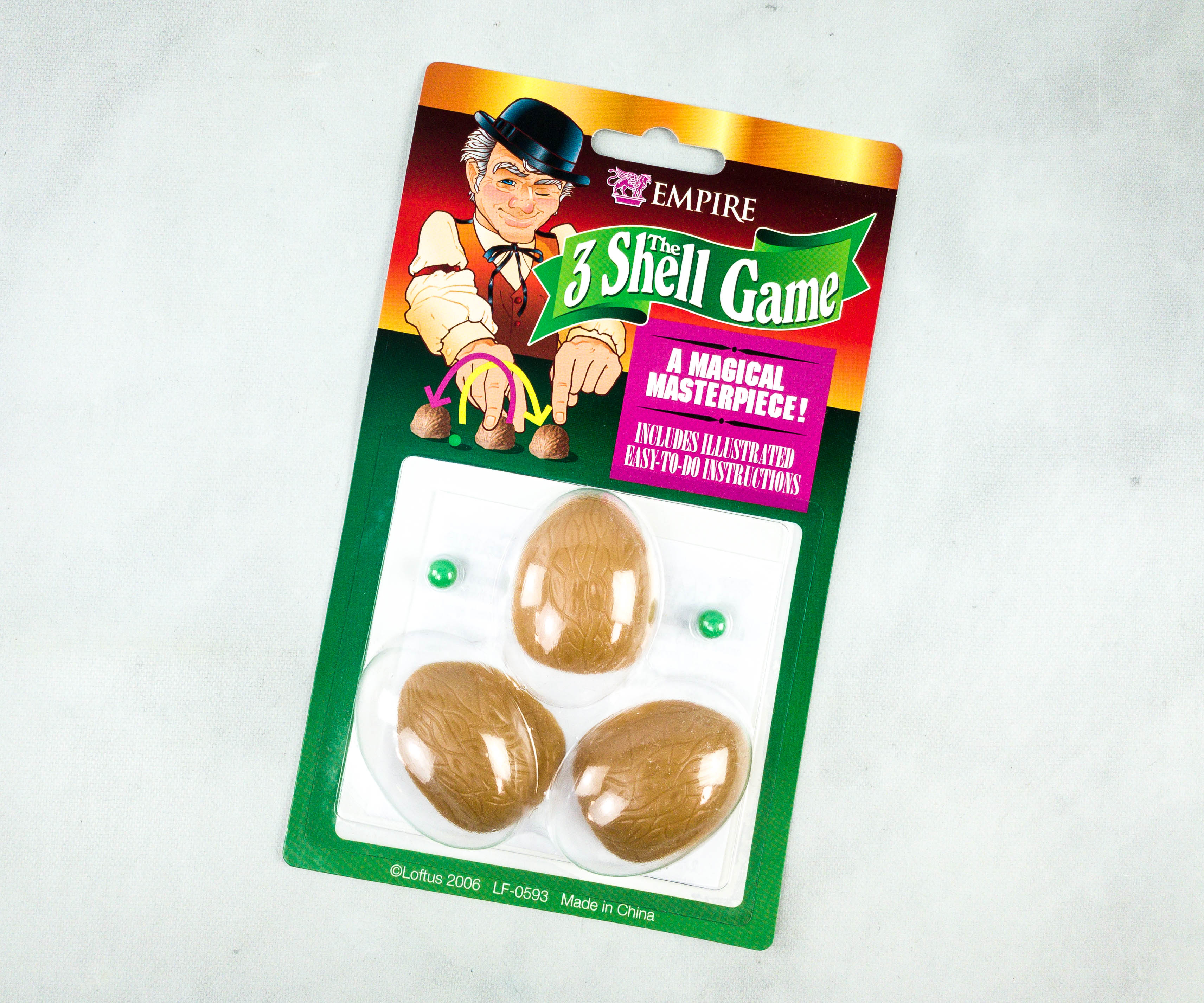 Three Shell Game. For those who are not familiar, the Three Shell Game is actually a fraudulent game that is now known as a magic trick. The performer places a green pea under a shell and mixes it with two other shells. Then, no matter how many times you try to find the pea, you will never find it!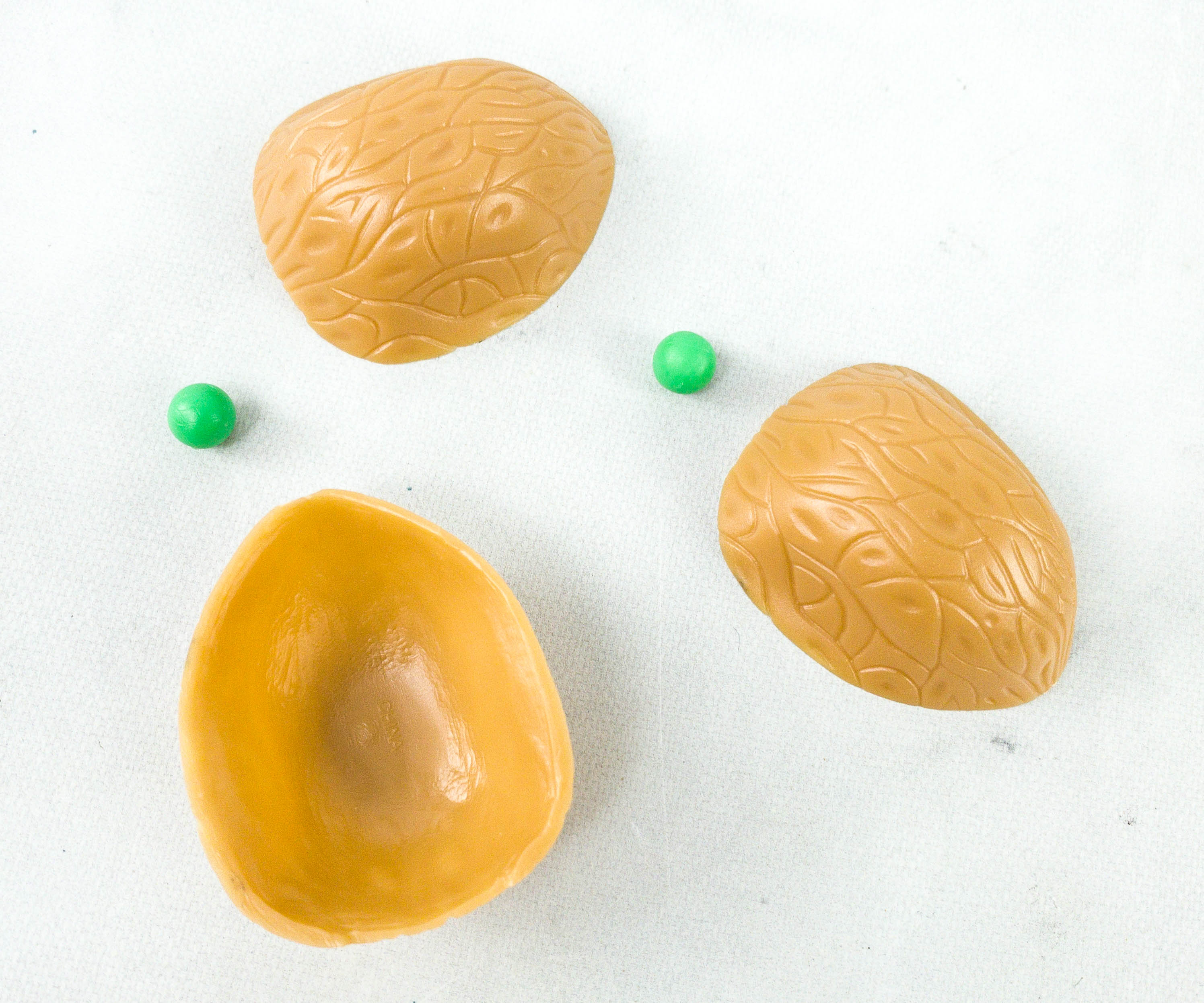 There are 3 shells included, as well as 2 green balls.
Turkey Mini Maker Tube. These pieces will make a beautiful and colorful turkey figure. There's also a tube container to keep them safe when not in use.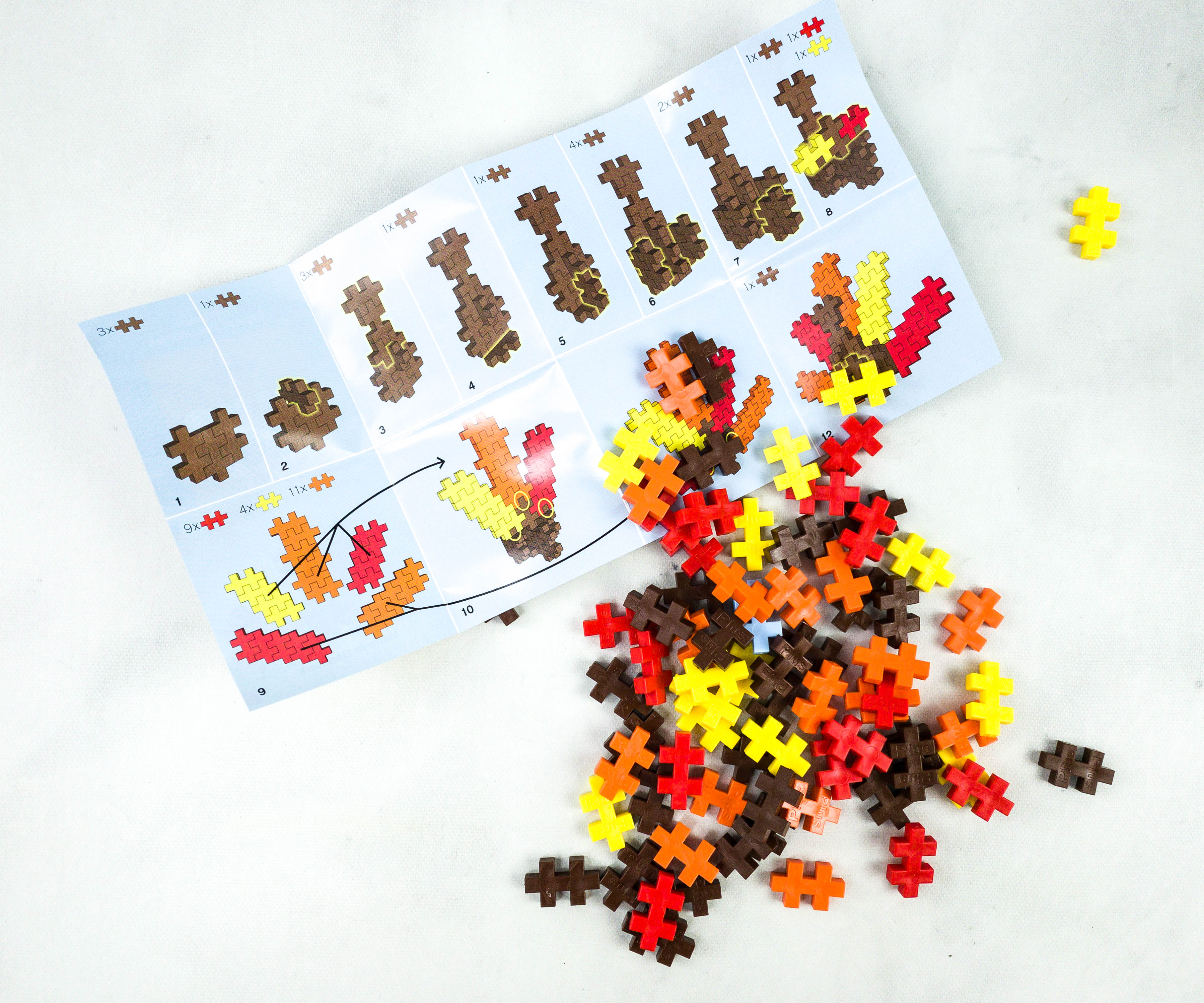 There's a provided guide on how to assemble the puzzle to form the turkey. There are only illustrations and no text, but it's still easy enough for kids to follow!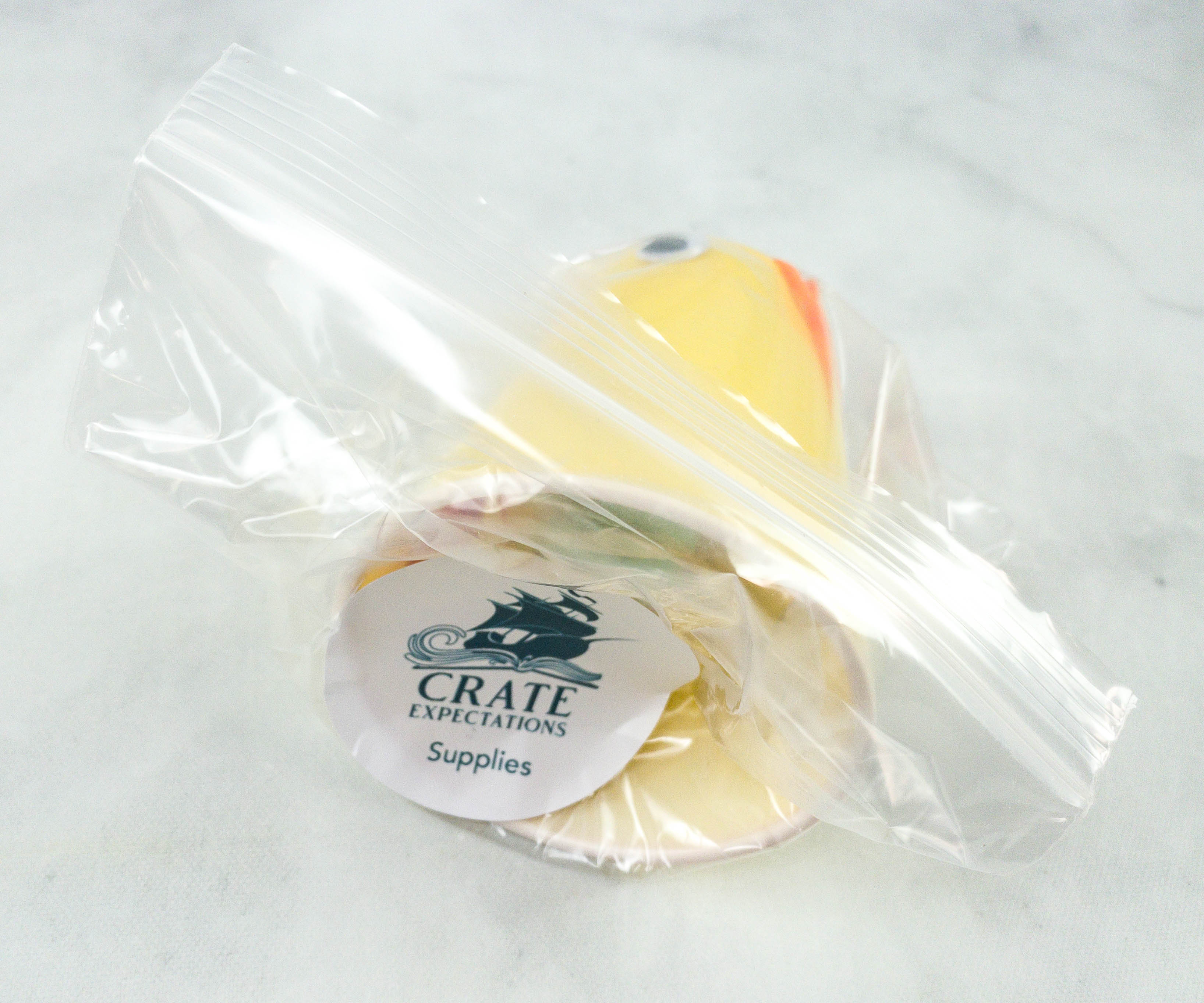 Inside this plastic pouch are the materials for the turkey call.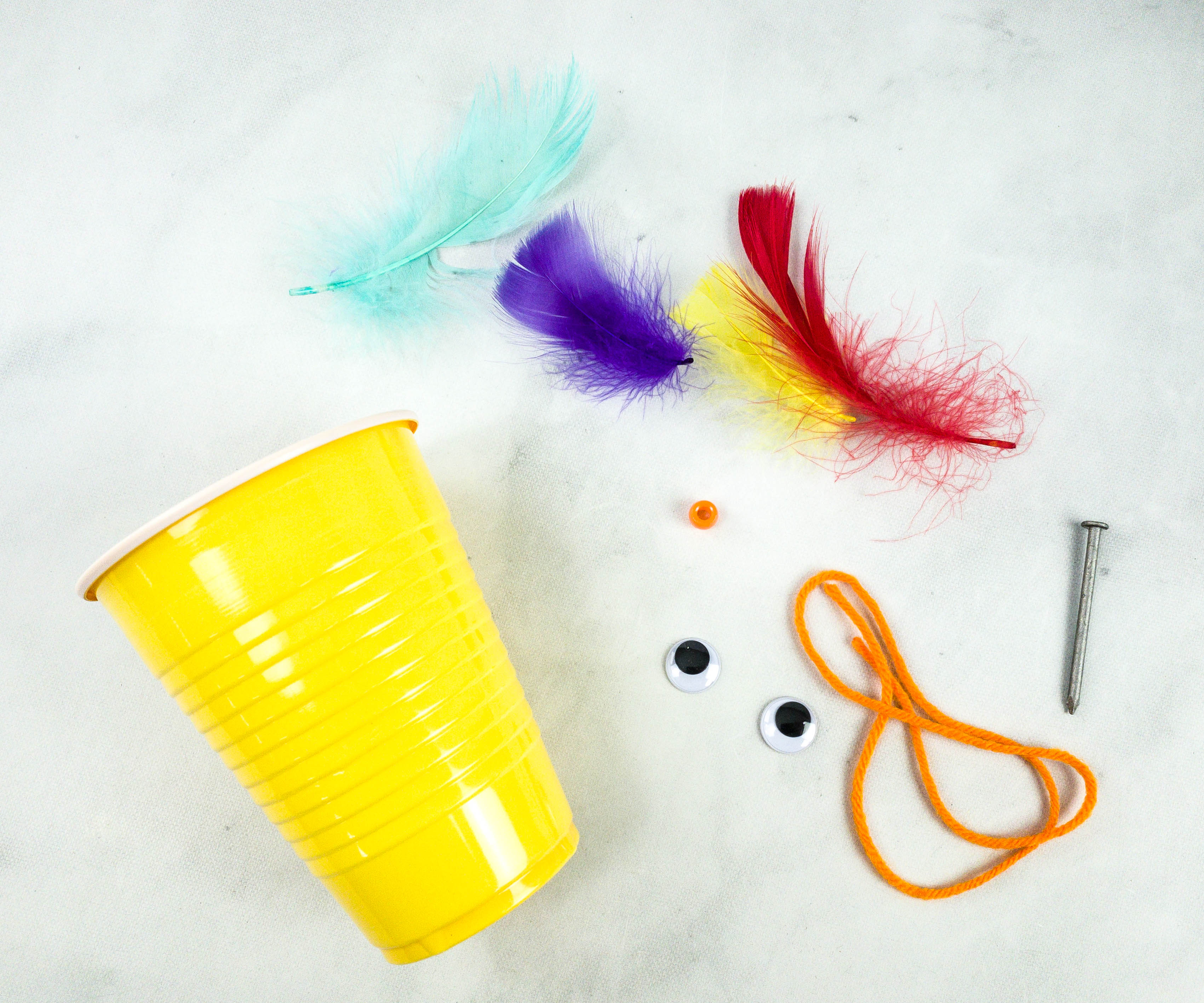 Everything is colorful including the feathers!
USA Scrunch Map. Another interesting item in the box is a scrunch map of the USA.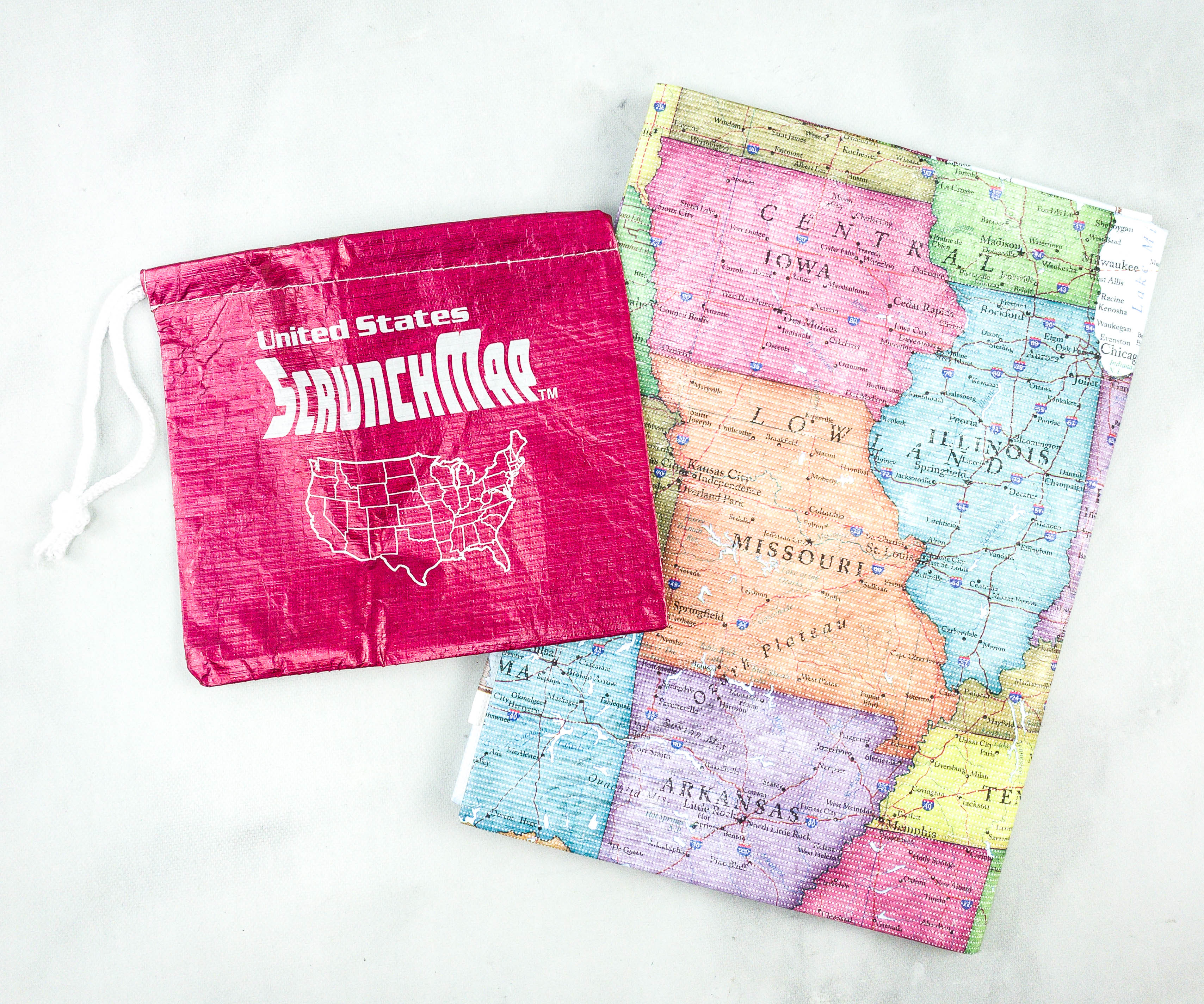 It came with a pink bag that can be used for storage.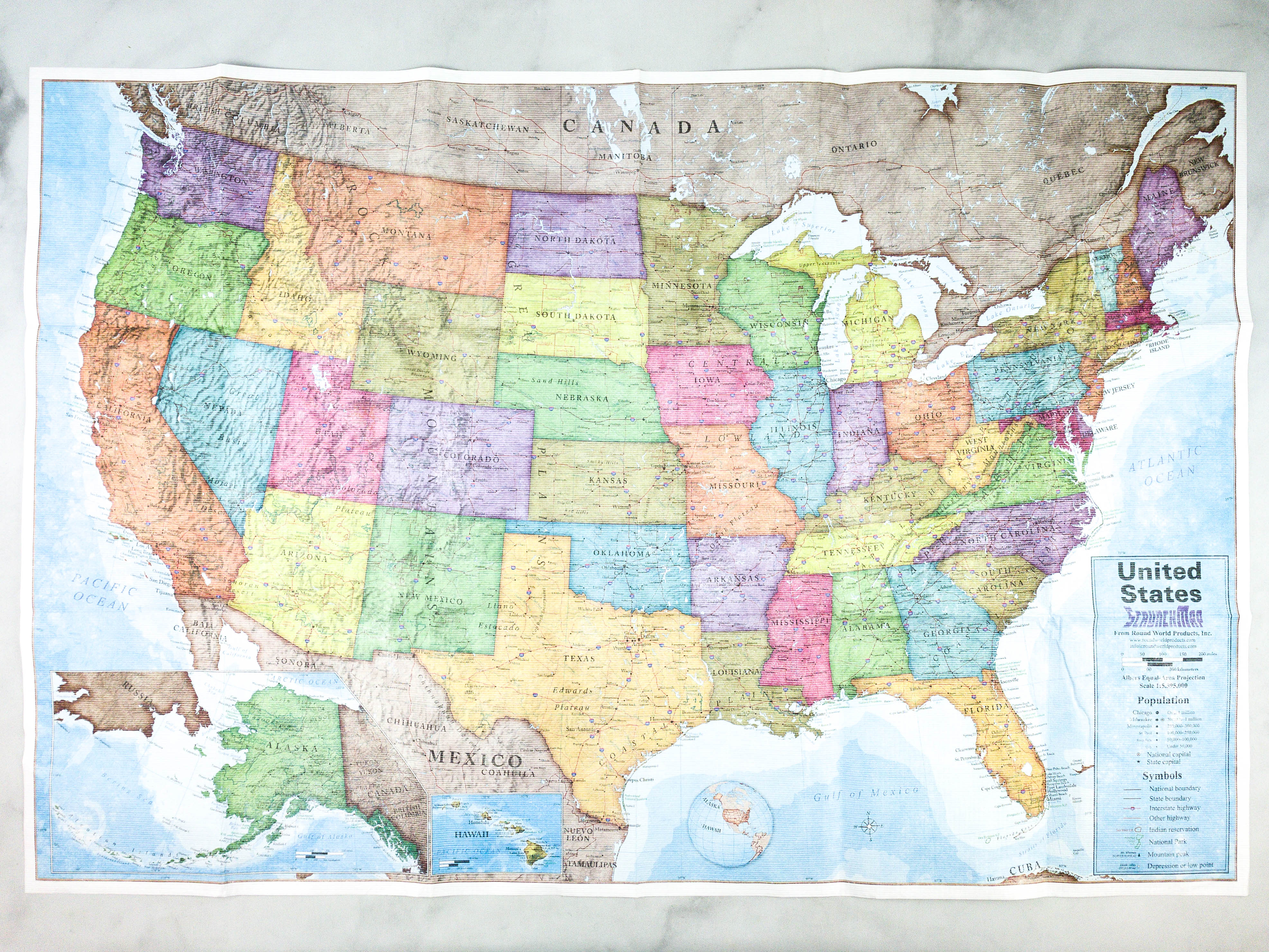 The map is very detailed and colorful. There's a box that lists the country's population and a guide for the symbols used in the map.
This map doesn't need to be folded for storage, simply scrunch and store it! It's also tear-resistant and water-resistant. We were SO excited to get this because we use our global Scrunch Map all the time – and now we have one with a lot more detail for the USA! I couldn't have selected a better item!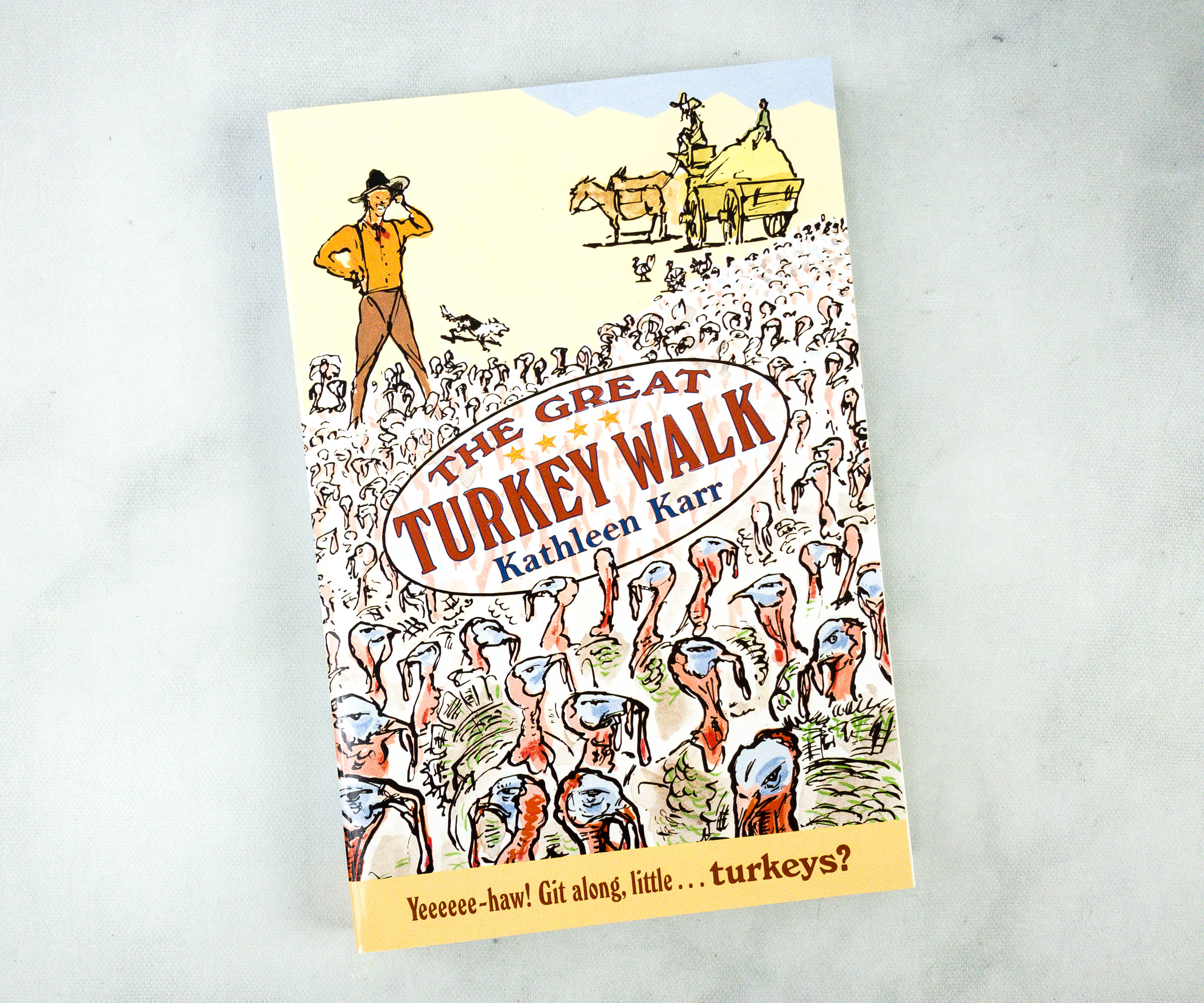 The Great Turkey Walk by Kathleen Karr ($6.43)
Yeeeeeee-haw! Git along, little . . . turkeys?

Big, brawny Simon Green, who's just completed third grade (for the fourth time), may not be book smart, but he's nobody's fool. When it's time to be done with school and make his way in the world, Simon hatches a plan that could earn him a bundle. He intends to herd a huge flock of bronze turkeysall the way from his home in eastern Missouri to the boomtown of Denver, where they'll fetch a mighty price. In the year 1860, the hazards of such a trek are many – how does one shepherd the birds across a river, for instance? – but Simon is undaunted. Accompanied by a faithful drover, and eventually to be joined by two boon companions, he undertakes the biggest journey of his young life, in this high-spirited Wild Wild West adventure by an acclaimed author of historical fiction.
The back cover has a brief summary of the book. It's a historical fiction ideal for middle graders.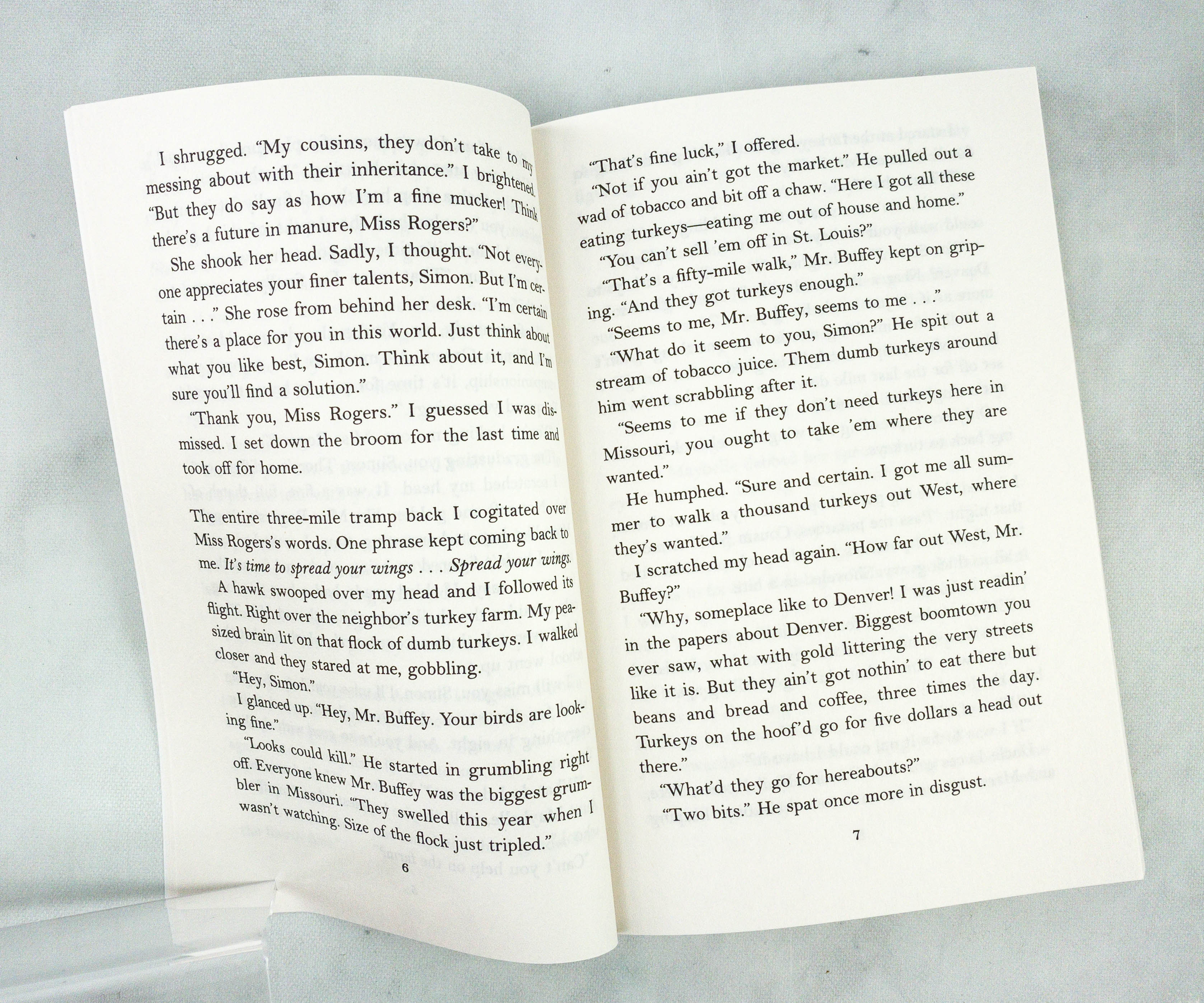 It's a story of a boy named Simon Green, who planned of bringing a flock of bronze turkeys from his home all the way to Denver. He hopes to sell them at a great price, setting aside the hazards that may come along the way. He travelled with his loyal drover and two trusted companions and had an exciting journey.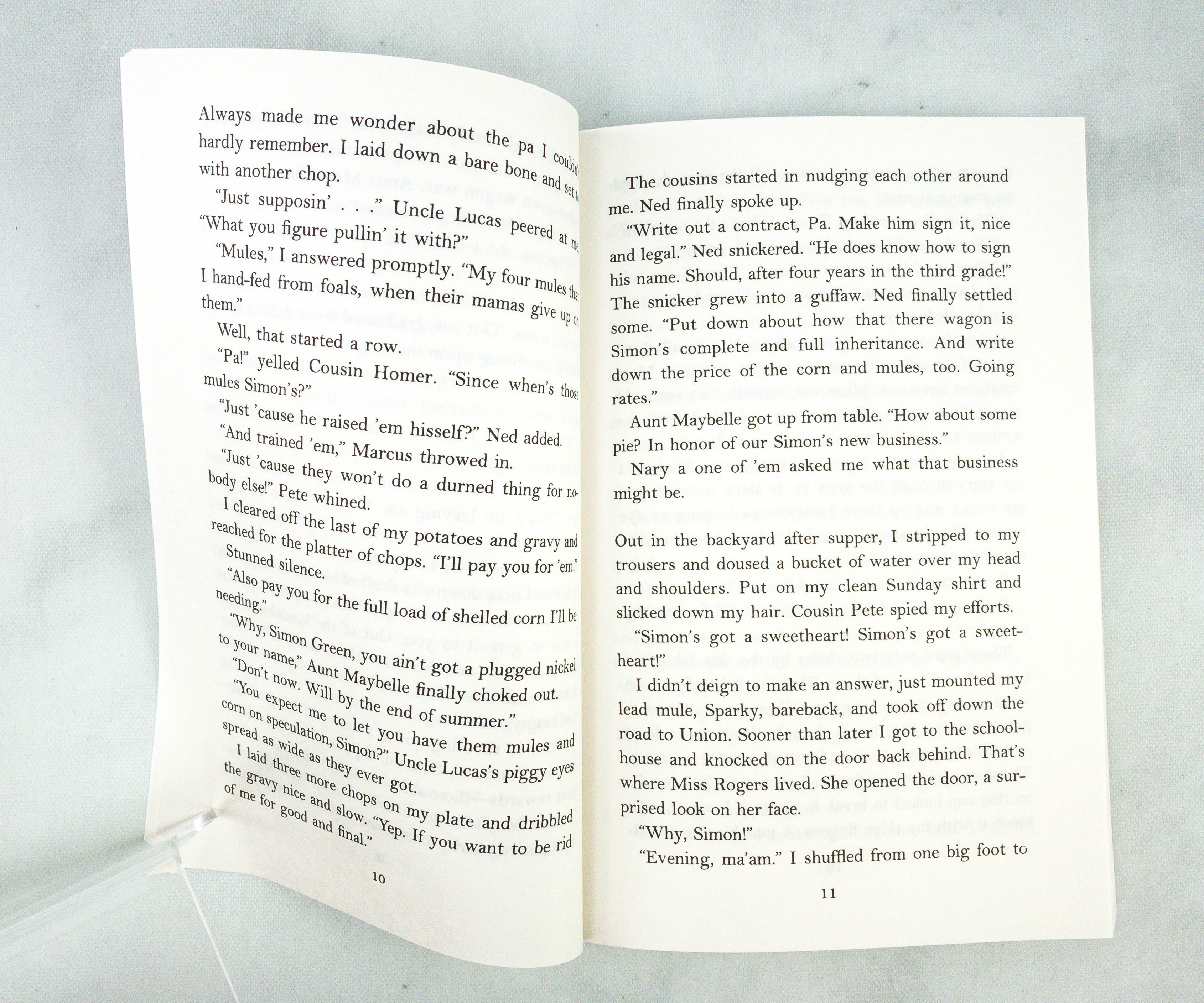 This book also had great humor and unique characters! My kids enjoyed reading it and they were impressed by Simon's braveness.
Crate Expectations is indeed a great subscription for children who love to read! My kids loved the featured book this month because it has everything they want, from the humor to the adventure and everything in between. They also enjoyed the other items in the box like the puzzle and the magic trick. The box even included a popcorn cob! And of course the scrunch map is a huge hit. As a parent, I also appreciate the discussion questions and other features in the booklet. Those come in handy whether you want to start a book club or just want to discuss the book at home! This makes an amazing subscription box gift to develop a love of reading to go along with kids' sense of adventure all year long!
What do you think of the Crate Expectations box?