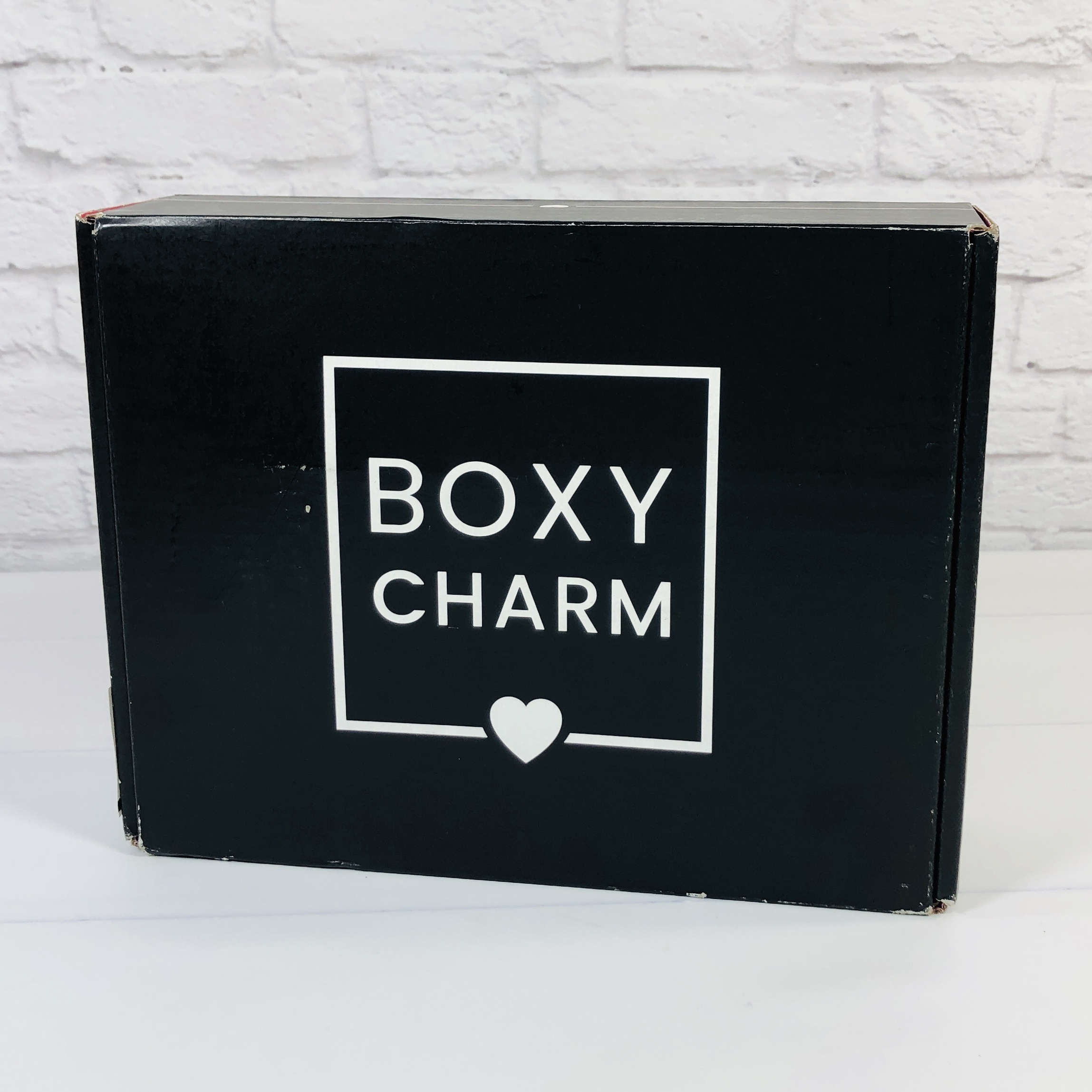 BOXYCHARM is a makeup and beauty subscription box that sends out 5 full-size items every month. Products include makeup, skincare, and beauty tools and each box has an average value of around $175. BOXYCHARM is $25 a month with discounts for those who prepay for longer terms.
Charmers will receive specially curated products from well-known, popular, chic and up-and-coming brands. Our beauty experts carefully select each item based on current and emerging trends, so you're always in the know about the latest shades and styles. With BoxyCharm and BoxyCharm Premium, we like to focus on beauty! That means makeup, skincare, haircare, and much more. To add lifestyle items to the mix, we offer the dreamy BoxyLuxe upgrade. Being a Charmer is where it's at!
DEAL: Subscribe now and get a free gift: Eloise The Queen Palette + $10 Popup Credit! Just click here and enter coupon code QUEENSRULEALL at checkout!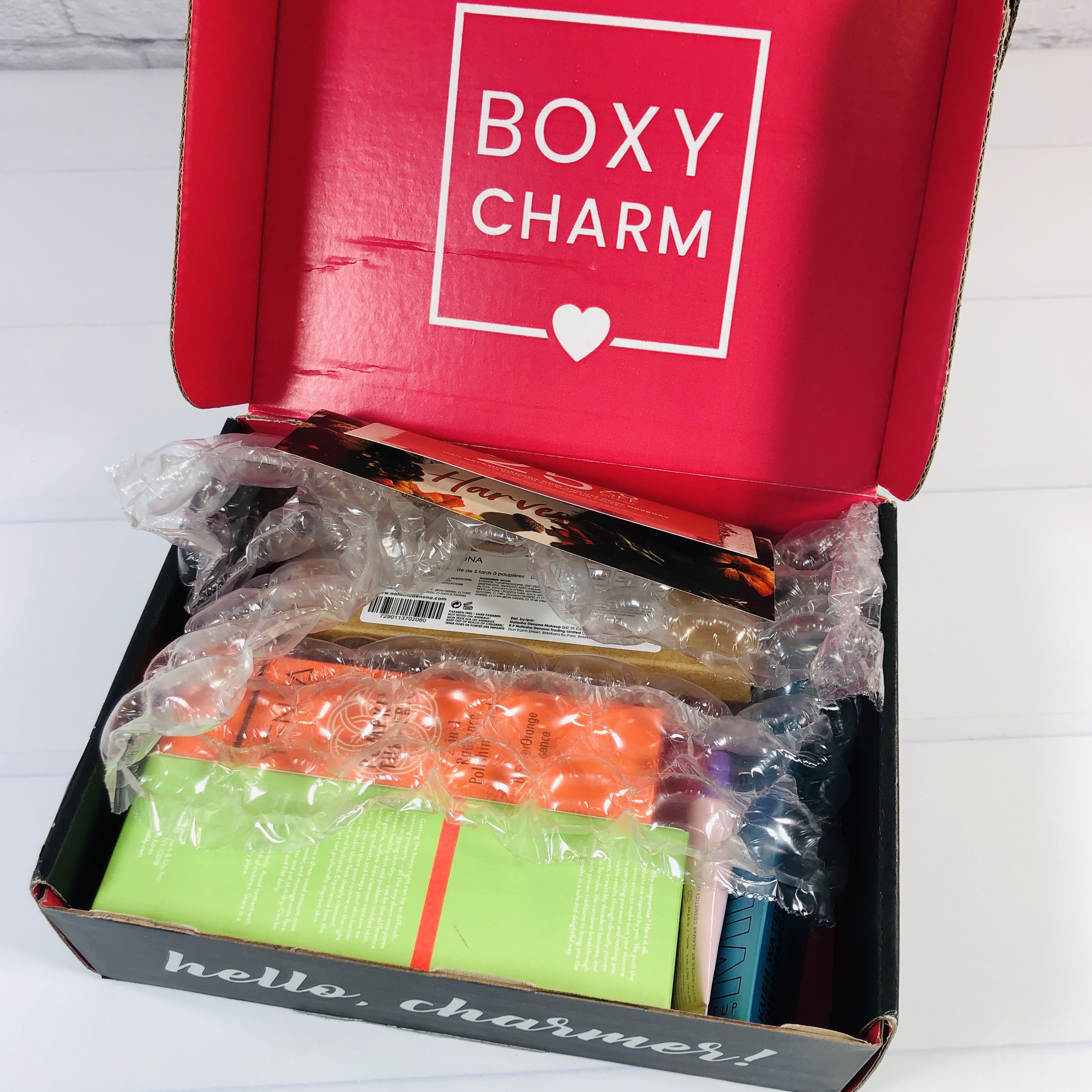 My items were cushioned with a foam insert plus bubble wrap.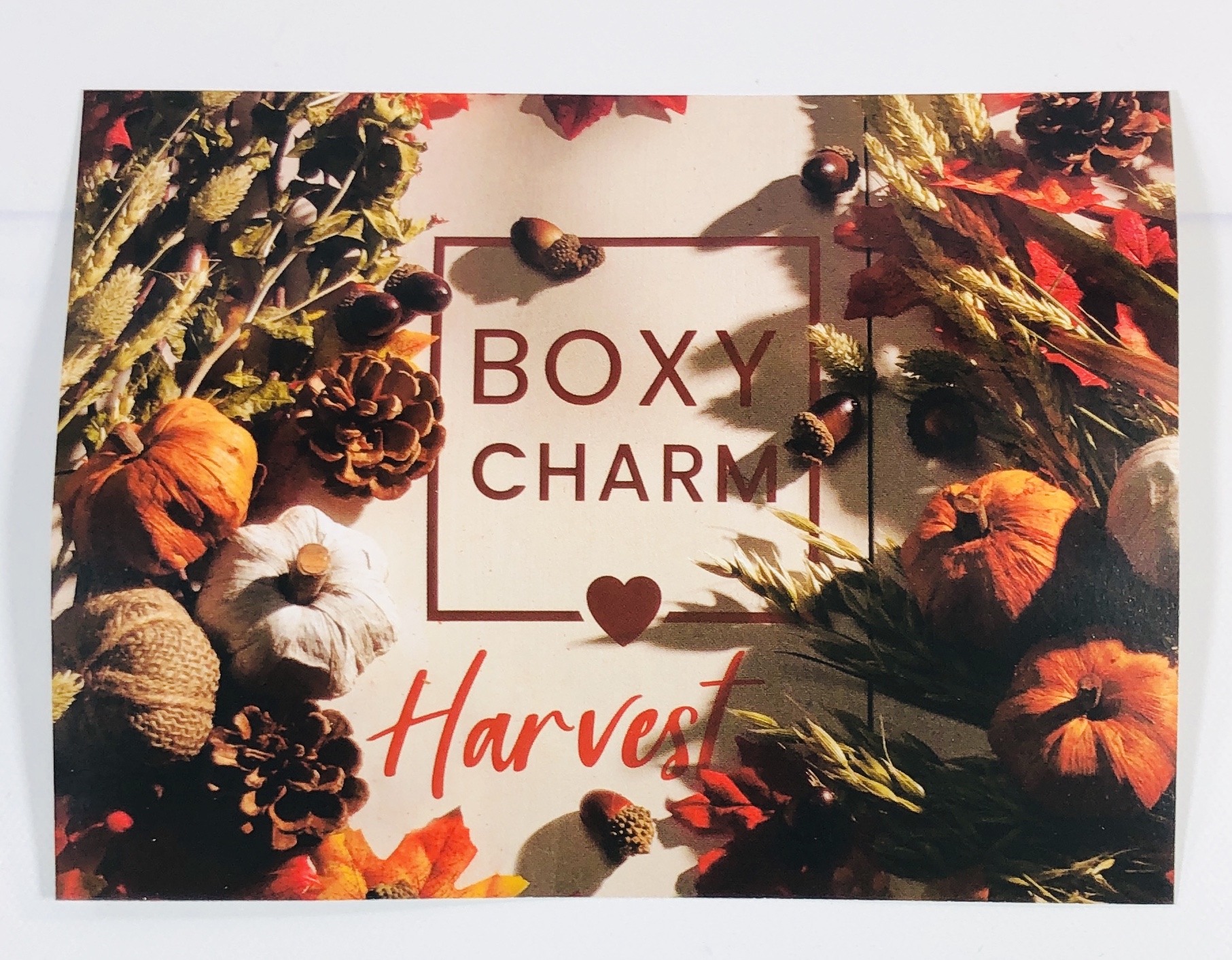 I received a card with the theme, Harvest.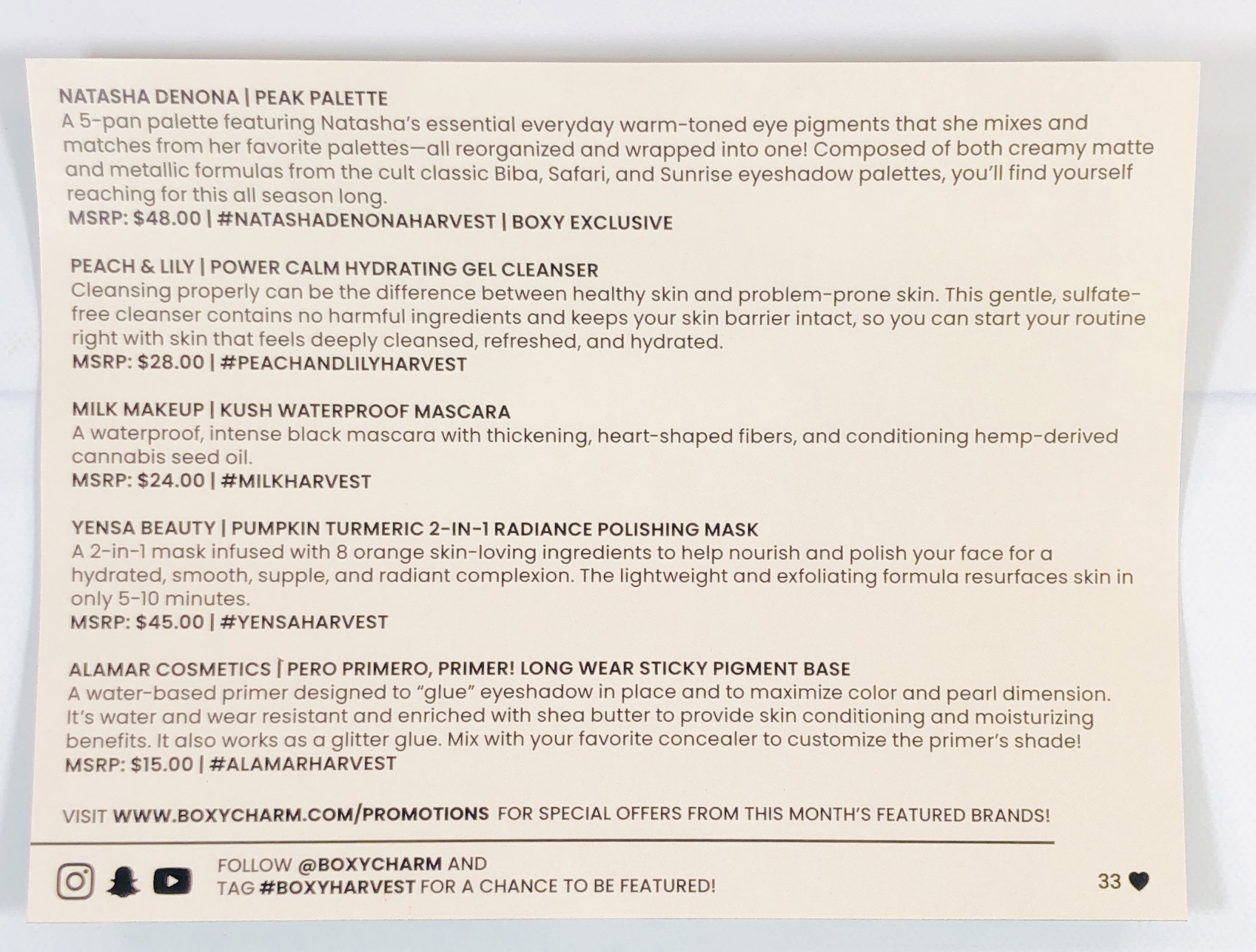 The back of the card listed the items and MSRP's.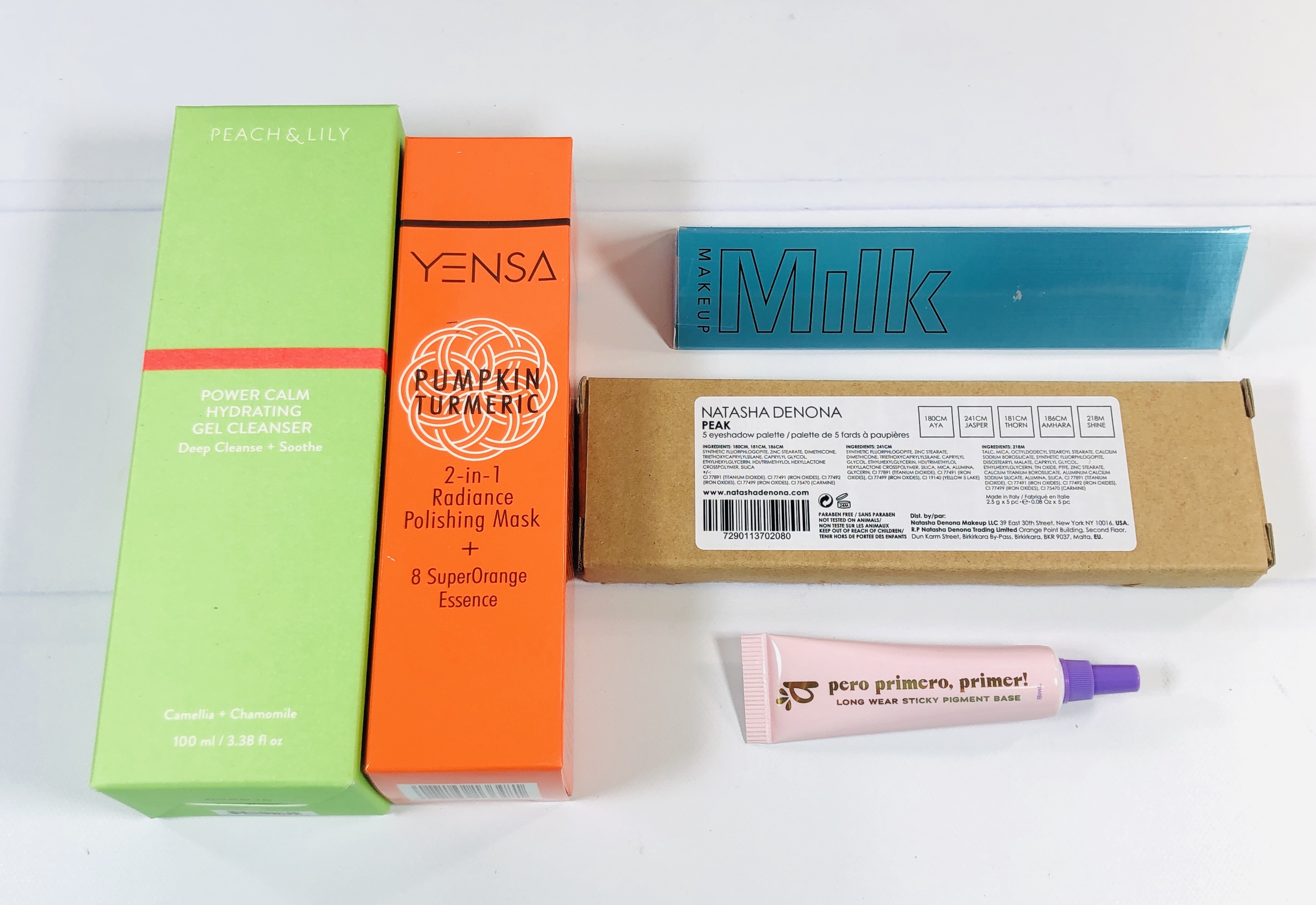 Most of the items came in their own boxes.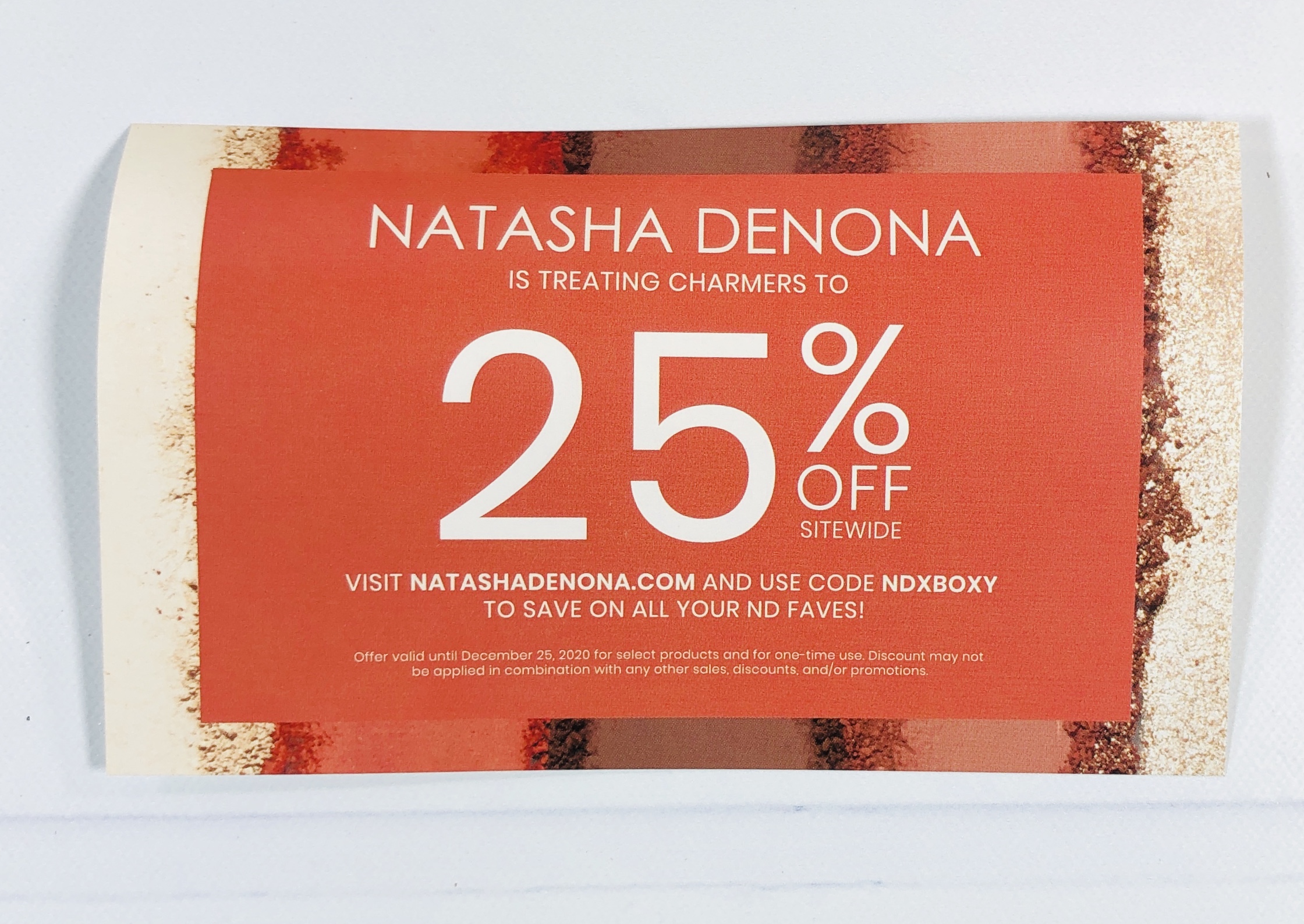 I also received a discount code from one of the featured brands.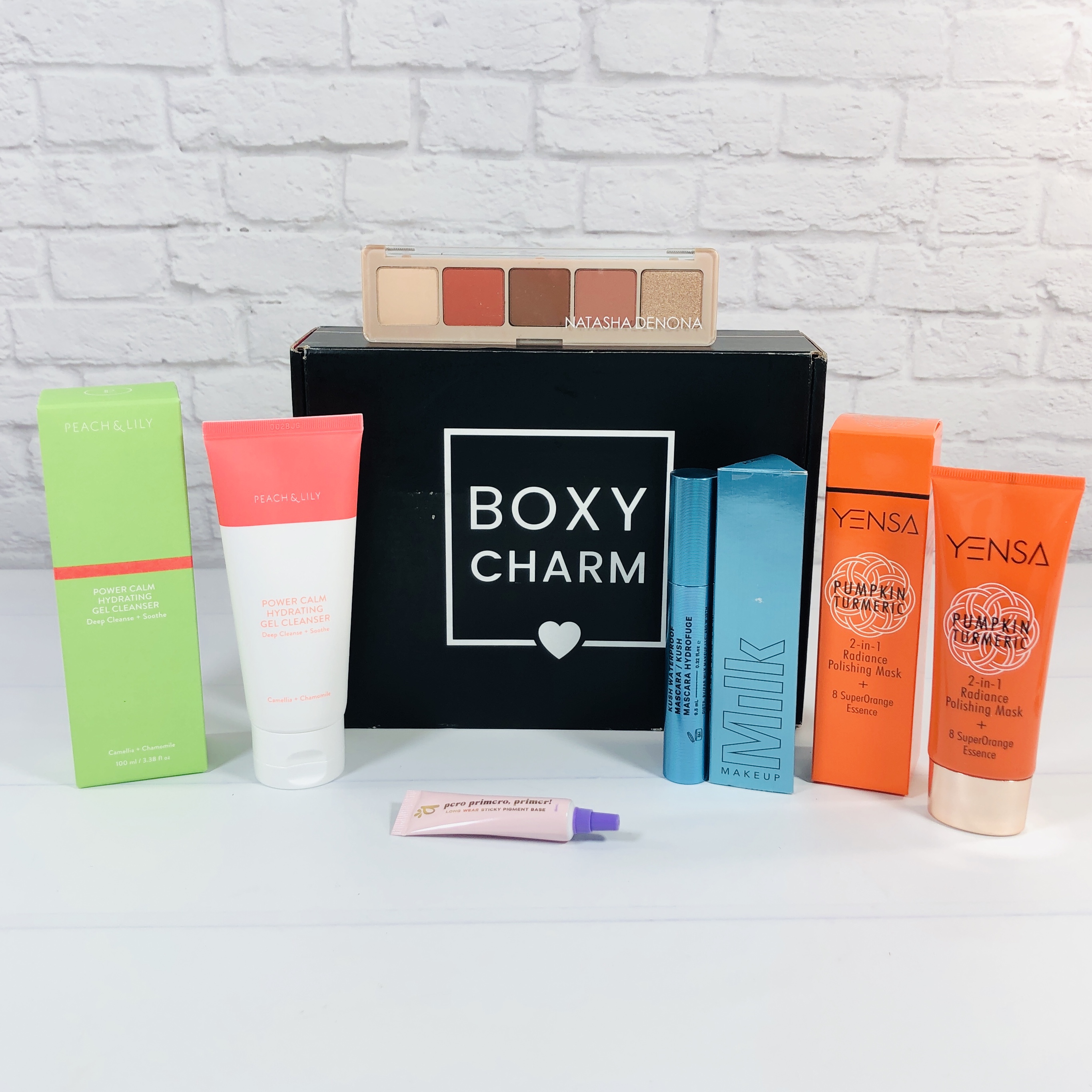 Everything in my November 2020 BOXYCHARM! Keep in mind that BOXYCHARM sends many box combos so your box items and value may be different than mine. There are variations in the box – see them here.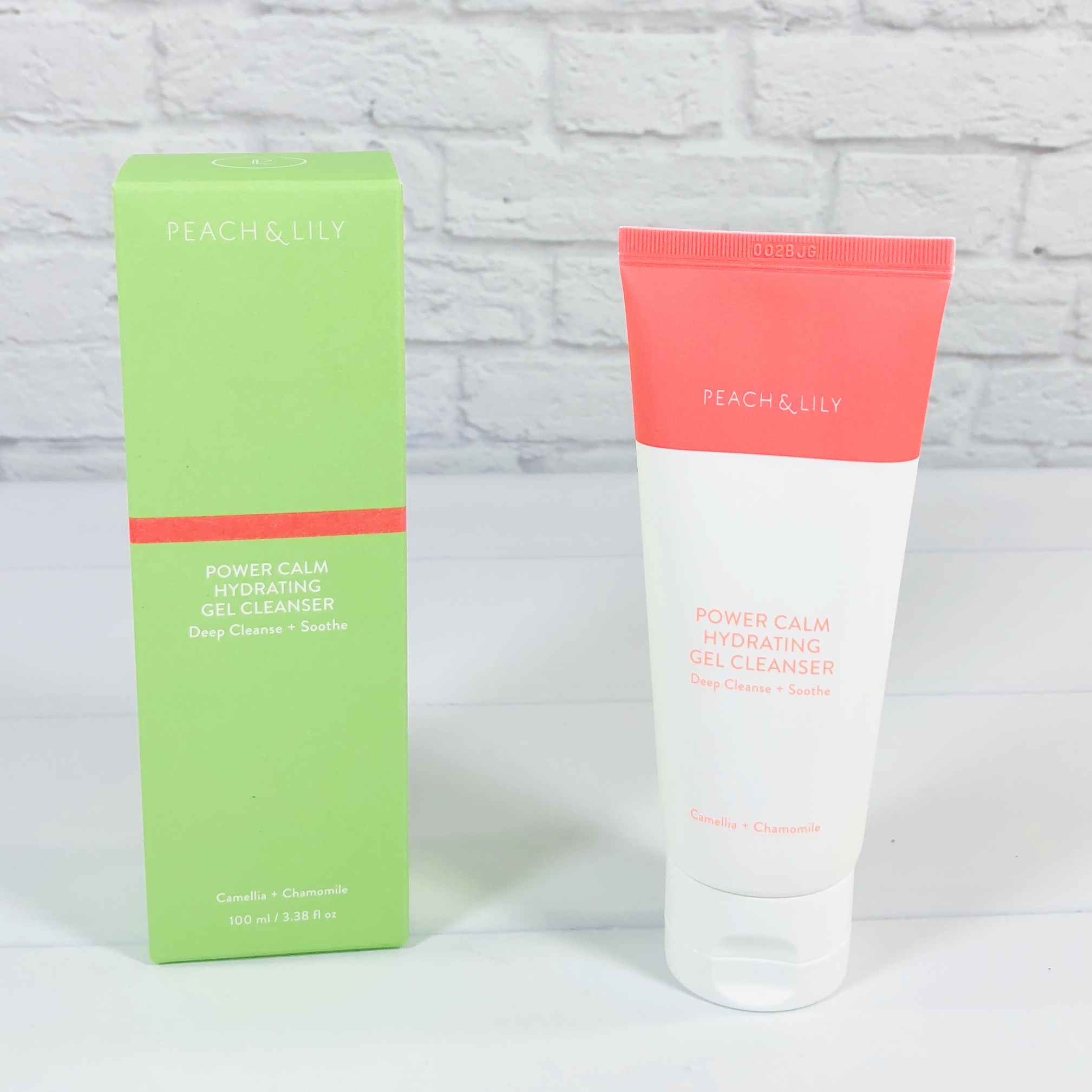 Peach & Lily Power Calm Hydrating Gel Cleanser ($28) Cleansing is great but over cleansing can remove the skin's protective barrier, leaving behind irritation and other skin woes.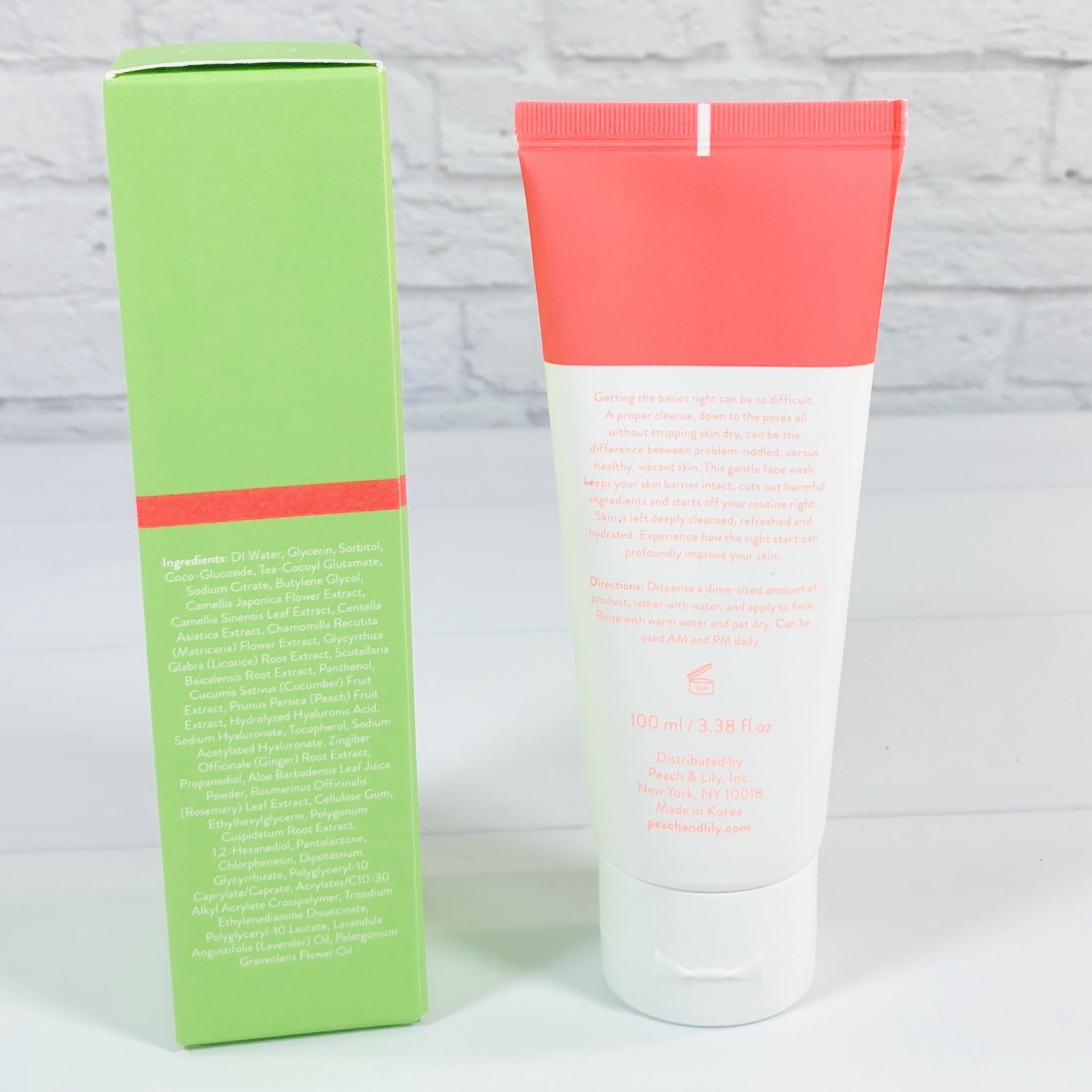 Power Calm is made with glycerin, chamomile extract, and hyaluronic acid and is a gentle cleanser for light makeup use. If you typically do a full face, start with an oil cleanse and then move on to this product, which may be used by all skin types. It didn't take much and it doesn't get super foamy, but it felt like it removed most of what was on my face, and without irritating my skin.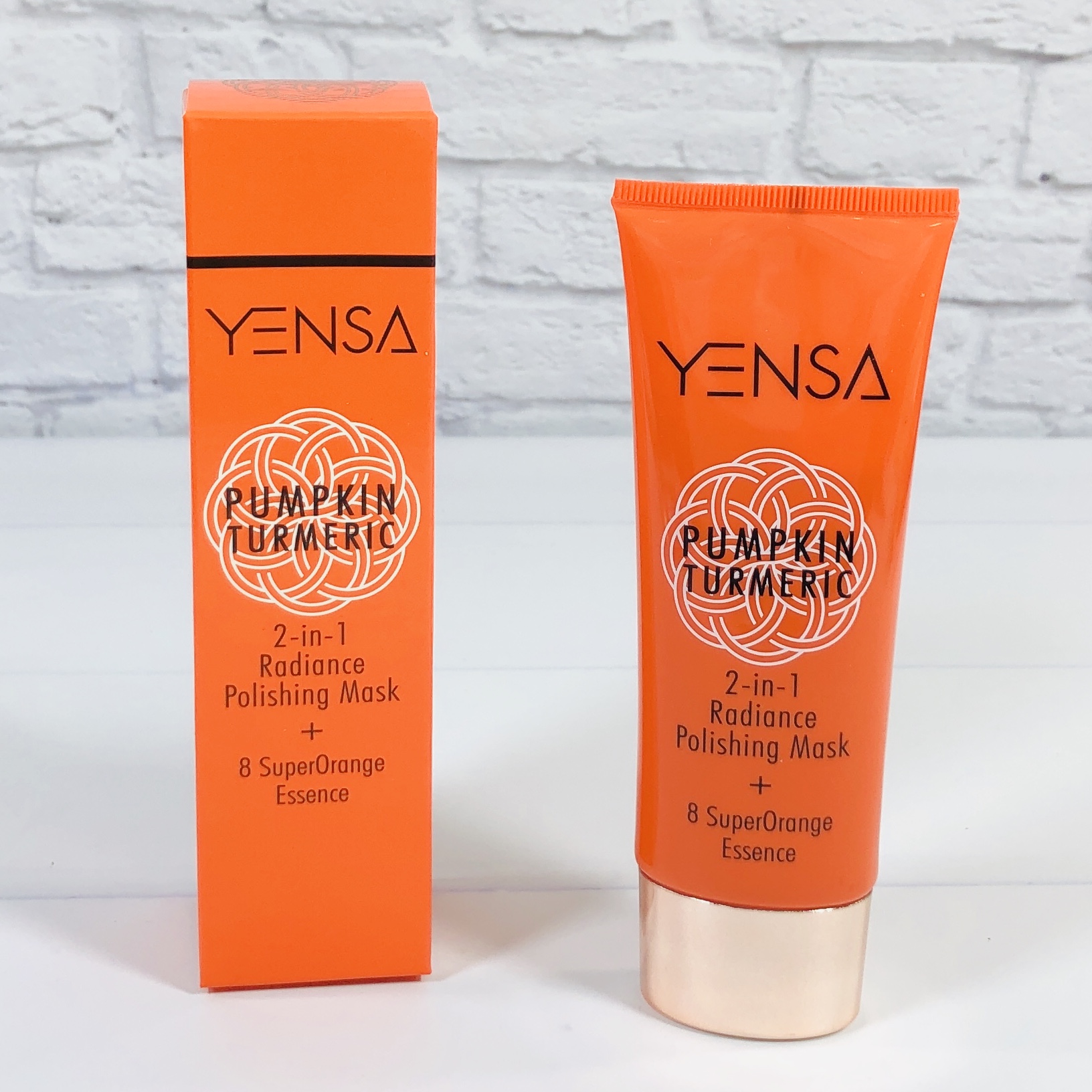 YENSA Pumpkin Turmeric 2-In-1 Radiance Polishing Mask ($45) A gentle scrubby mask is something I like to use about once a week on my sensitive skin. This one worked well because it wasn't too harsh and didn't irritate my skin.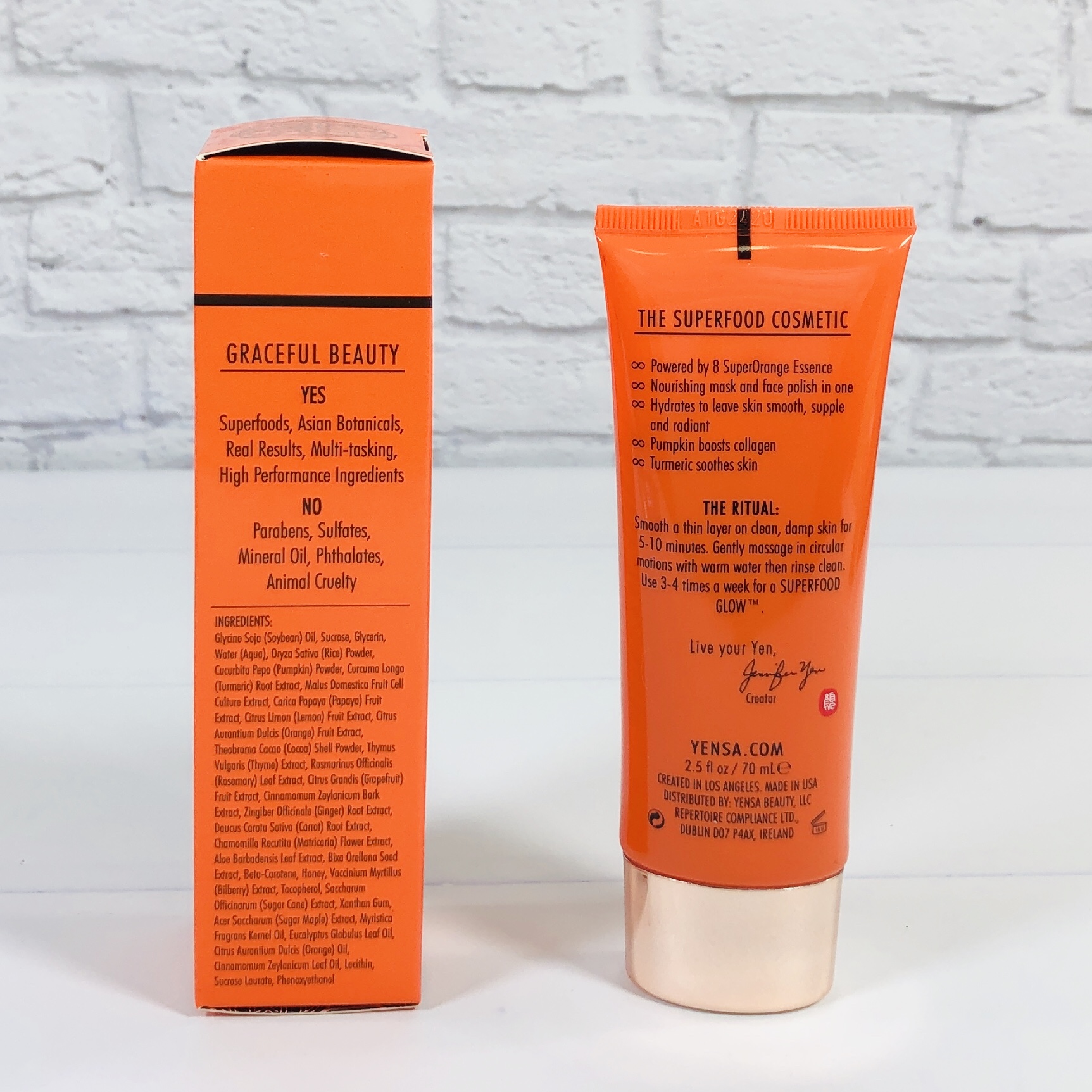 Ingredients include all kinds of orange things, like pumpkin, turmeric, papaya, and actual orange. This had a slightly gritty feeling that disappeared almost as soon as I applied the gel to my face. I left it on my skin for a few minutes before rinsing and it left behind a feeling of moisture on my skin, like I had applied a face oil.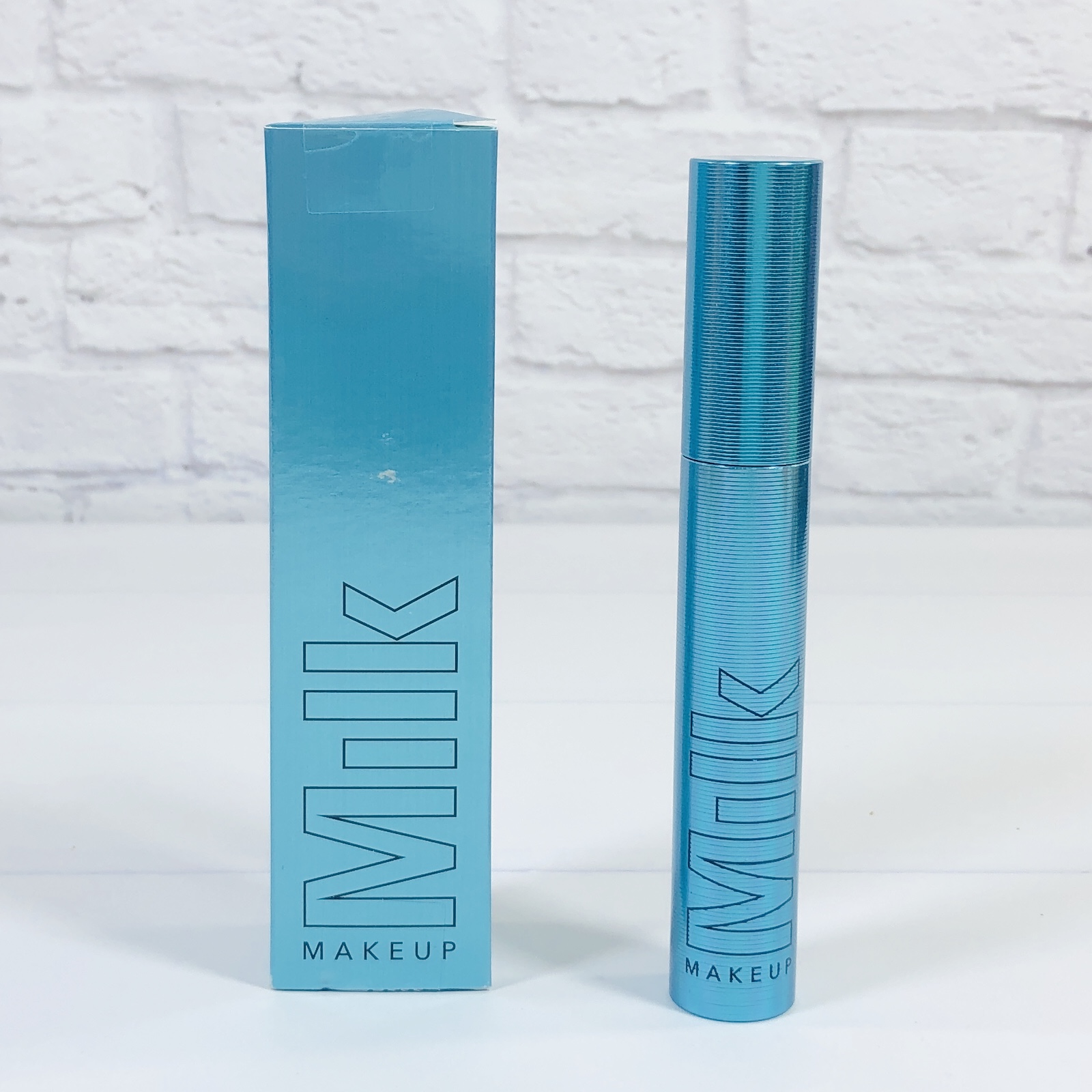 Milk Makeup Kush Waterproof Mascara Black ($24) A full sized mascara in a super cool container? I am loving it!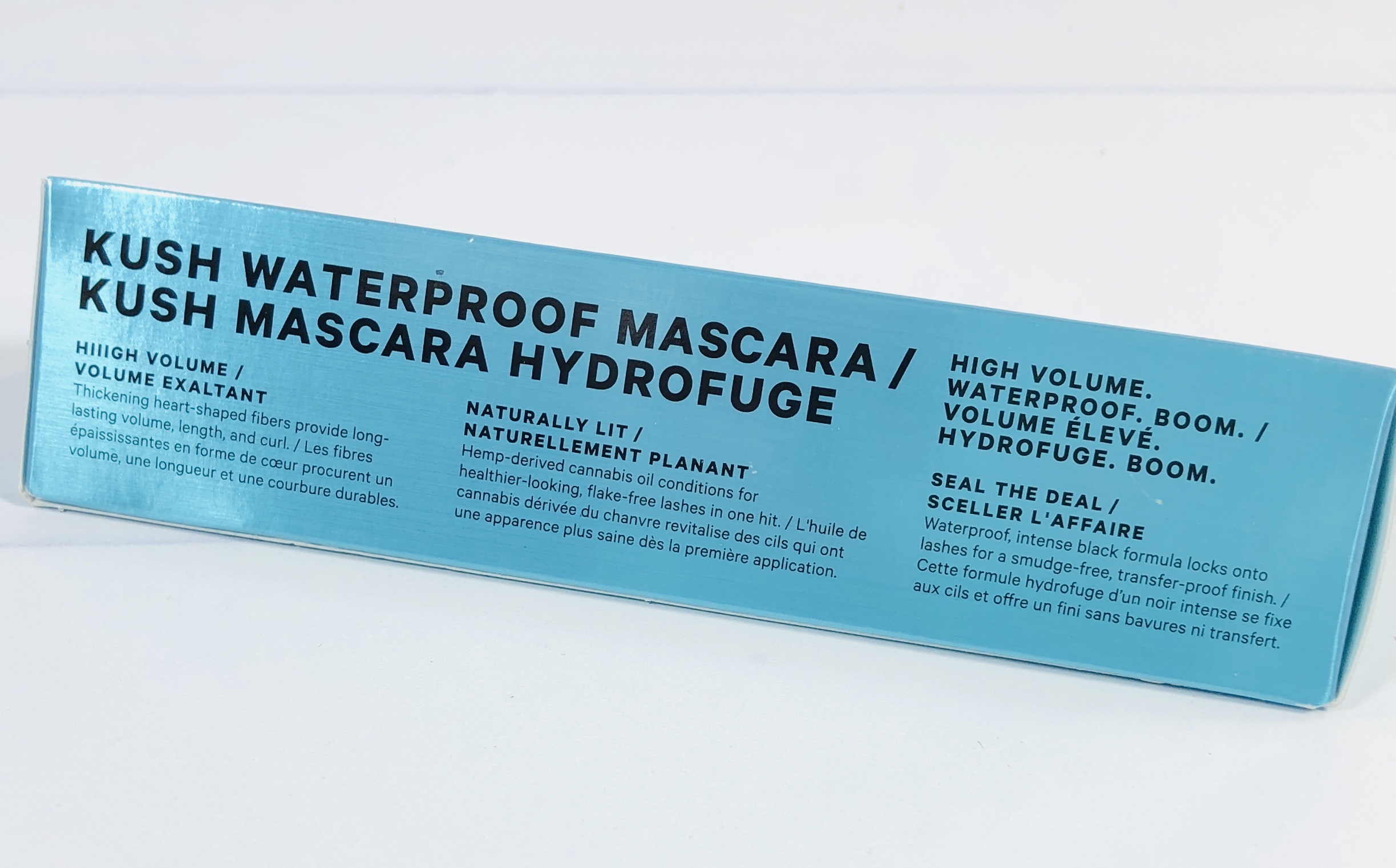 This one promises volume and waterproof-ness while it conditions lashes with hemp oil.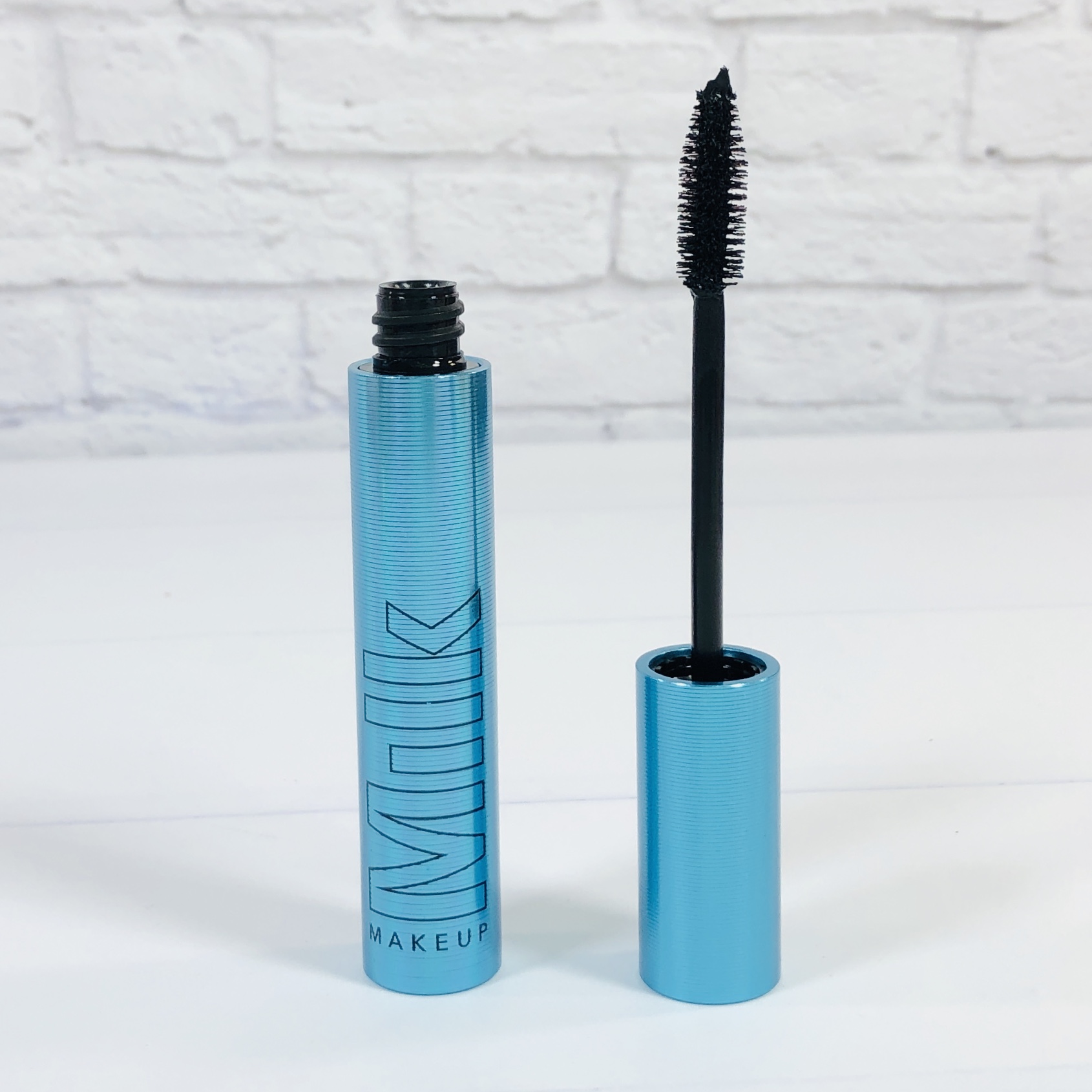 It has a floofy brush and I wiggled it from the base of my lashes to the tips and I thought it did a good job! The container is heavy compared to my other mascaras but the ridges make it non-slip in my hands. I felt like it was easy to clean off at night so I'm not too sure about the waterproof claims but otherwise I was thrilled with this mascara!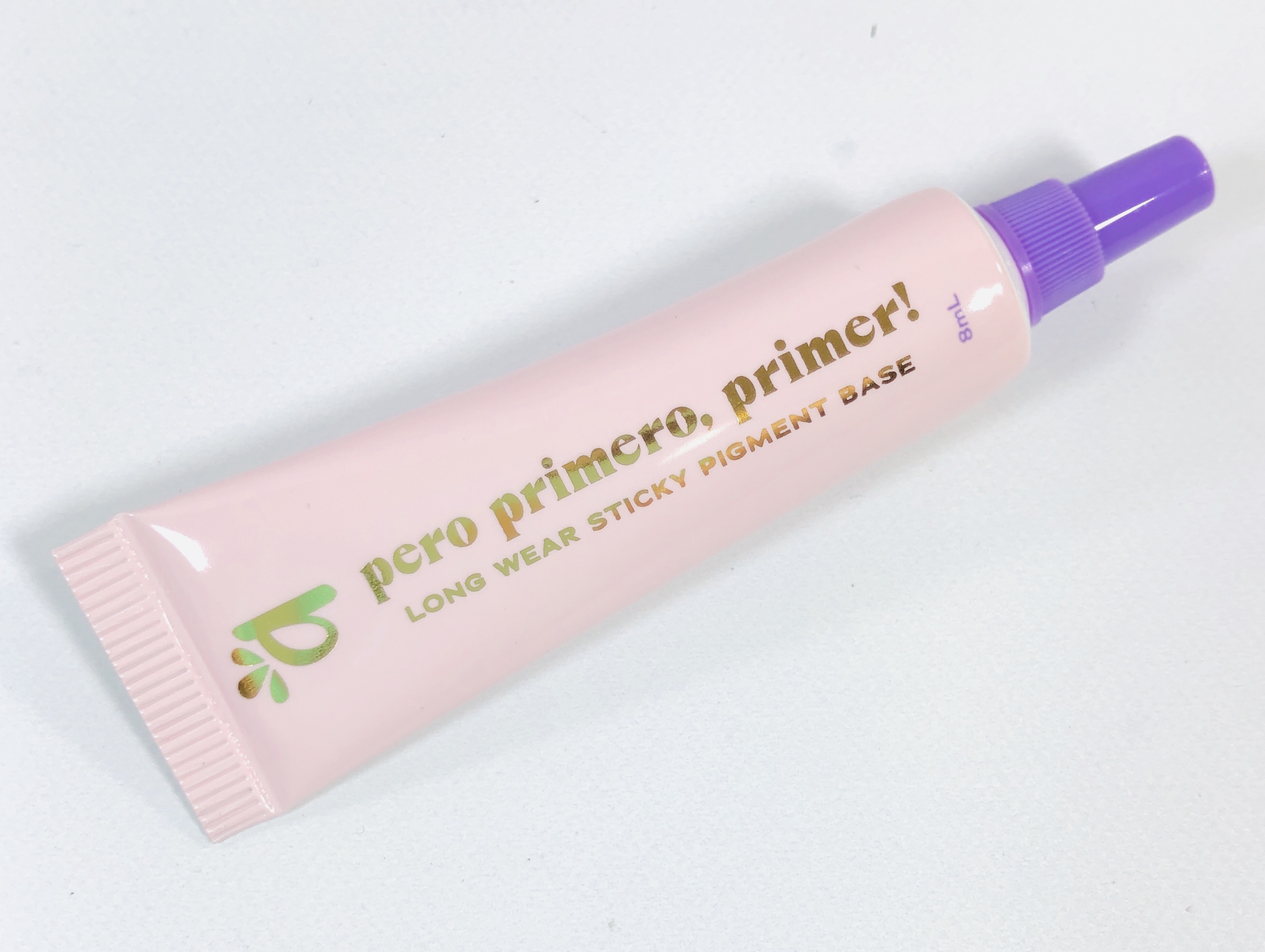 Alamar Cosmetics Pero Primero, Primer! Long Wear Sticky Pigment Base ($15) I've started wearing concealer as a base for my shadows and this product tells me I'm on the right track because that is what it felt and looked like!
Beeswax, jojoba, glycerin, and shea butter are in here. It is a light flesh-colored product that feels slightly tacky but not in a bothersome sort of way. I used it with the palette shown next and thought it did a great job of making the colors pop and yes, it stayed in place all day long!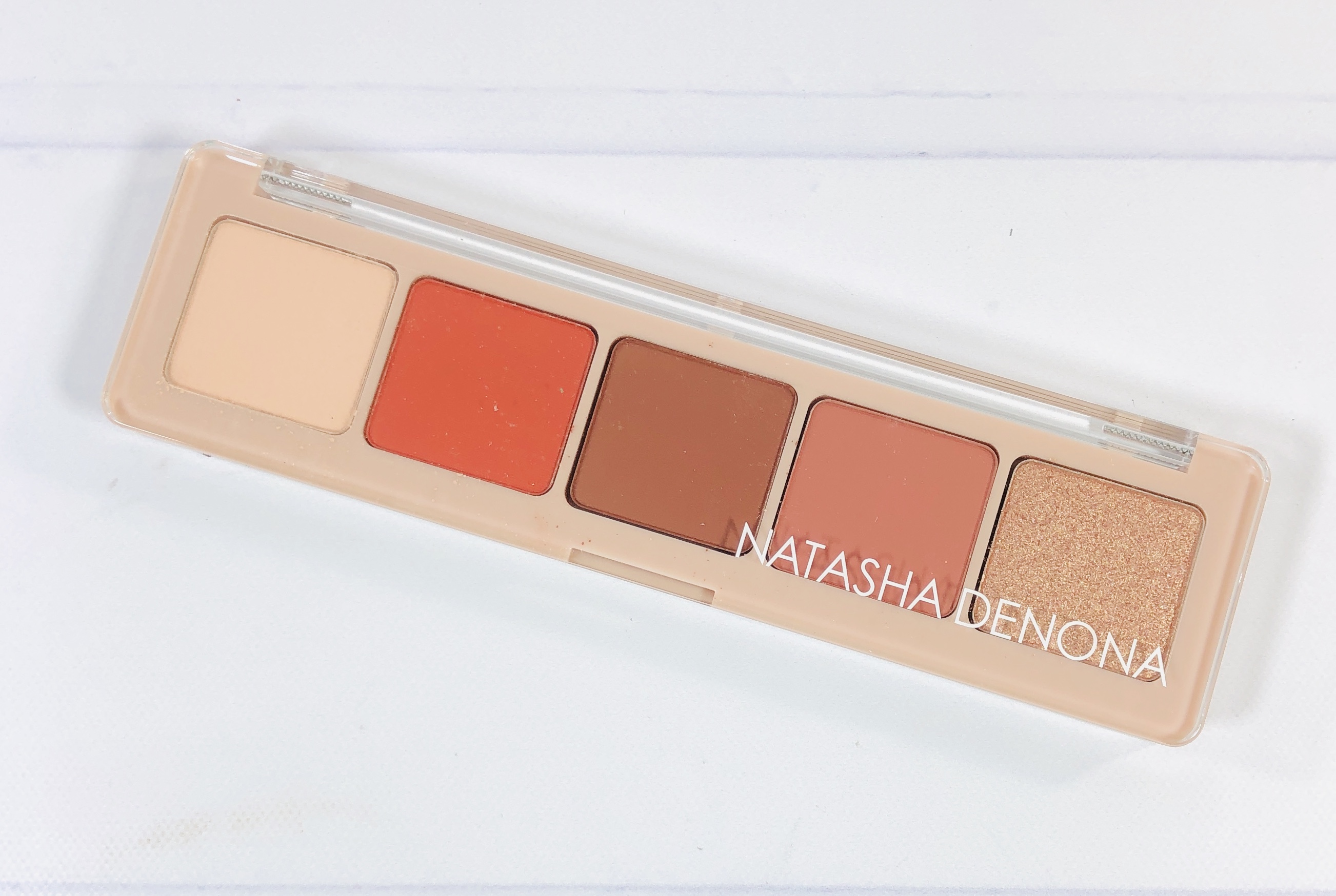 Natasha Denona Peak Palette ($48) This is an exclusive palette and while there are several available on the Natasha Denona site, they won't match this one exactly.
These shades come from several of the larger ND palettes.
The first 4 shades are matte and the fifth is a metallic. These are perfect for fall and will work both for those who like subdued styles and those who like a bolder eye. I fall into the first group and the 1st, 3rd, and 5th worked well for my daily look. I liked the performance and color payoff. I was pretty impressed with this collection.
Here are the colors swatched on my arm!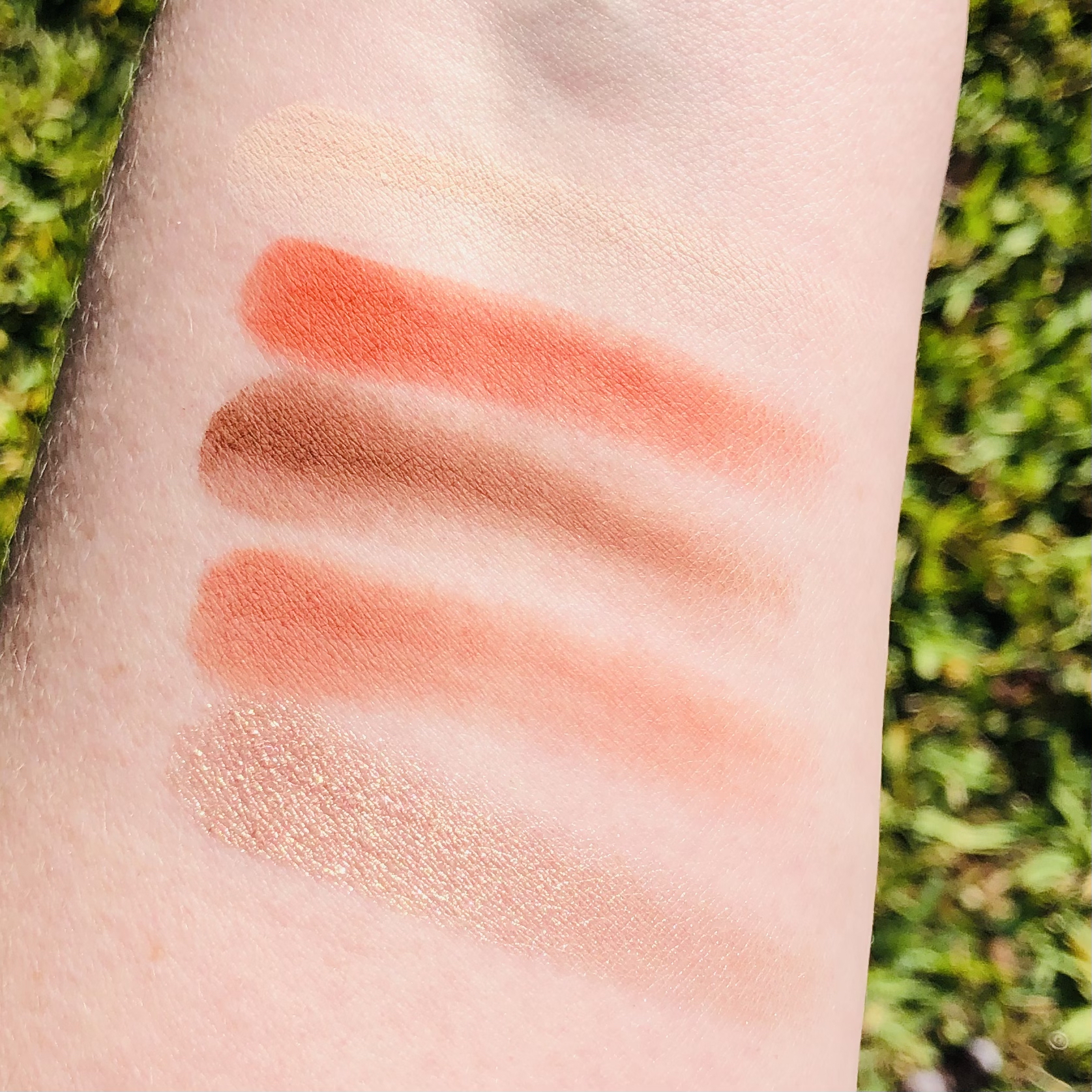 I was over the moon with the products I received in my November BoxyCharm! It had two skincare products, a cleanser and scrub, that worked well with my sensitive skin. The primer was something I needed and really liked. The palette is perfect for fall. Finally, I was impressed with the performance of the mascara, not to mention that cool tube. These were all items that I will reach for again and again, so it's a win for me! The value for this combo was around $160!
What's your favorite item in this month's BOXYCHARM?