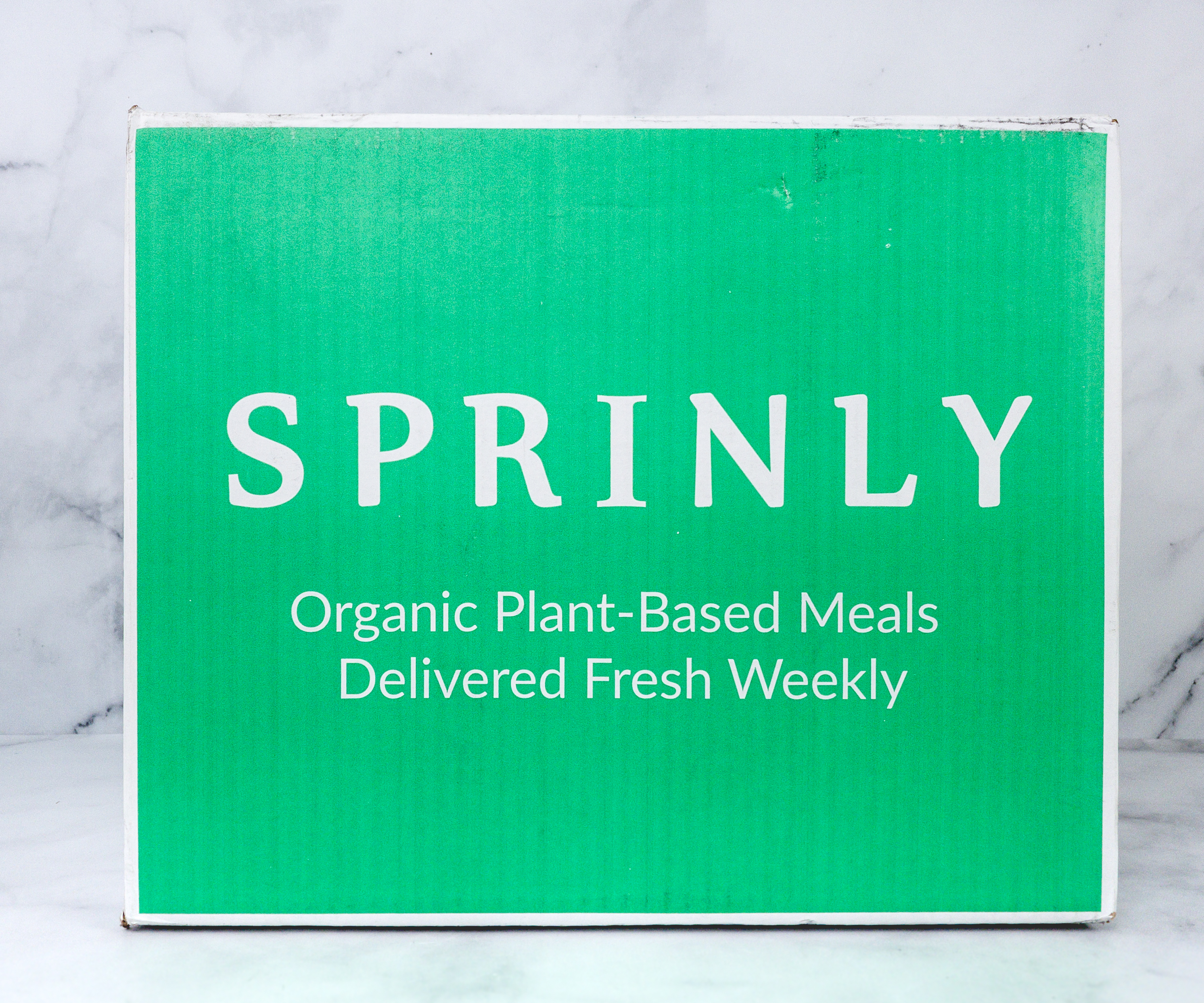 Sprinly is all about healthy eating! They send plant-based, nutritionist-approved meals every week, which are all made with simple, clean, and nutrient-dense ingredients. The meals are prepared as a single serving and are packaged individually, so they make a great option for grab-and-go breakfasts and lunches, or even quick dinners. On average, their meals range from 14 oz – 20 oz. When the meals arrive at your door, all you have to do is heat them in the microwave, stovetop, or oven and enjoy.
They currently offer 3 kinds of plans: a 6 meals per week plan costs $109, 12 meals per week is $199, and 18 meals per week is $289. Boxes are fully customizable, subscribers get to choose the meals they want from a rotating menu.
DEAL: Get up to $30 off over 3 weeks – that's $20 off over 3 weeks on a 6- meal plan OR $30 off over 3 weeks on a 12-meal plan or 18-meal plan! Just use this link to subscribe and use the coupon code VIP at checkout!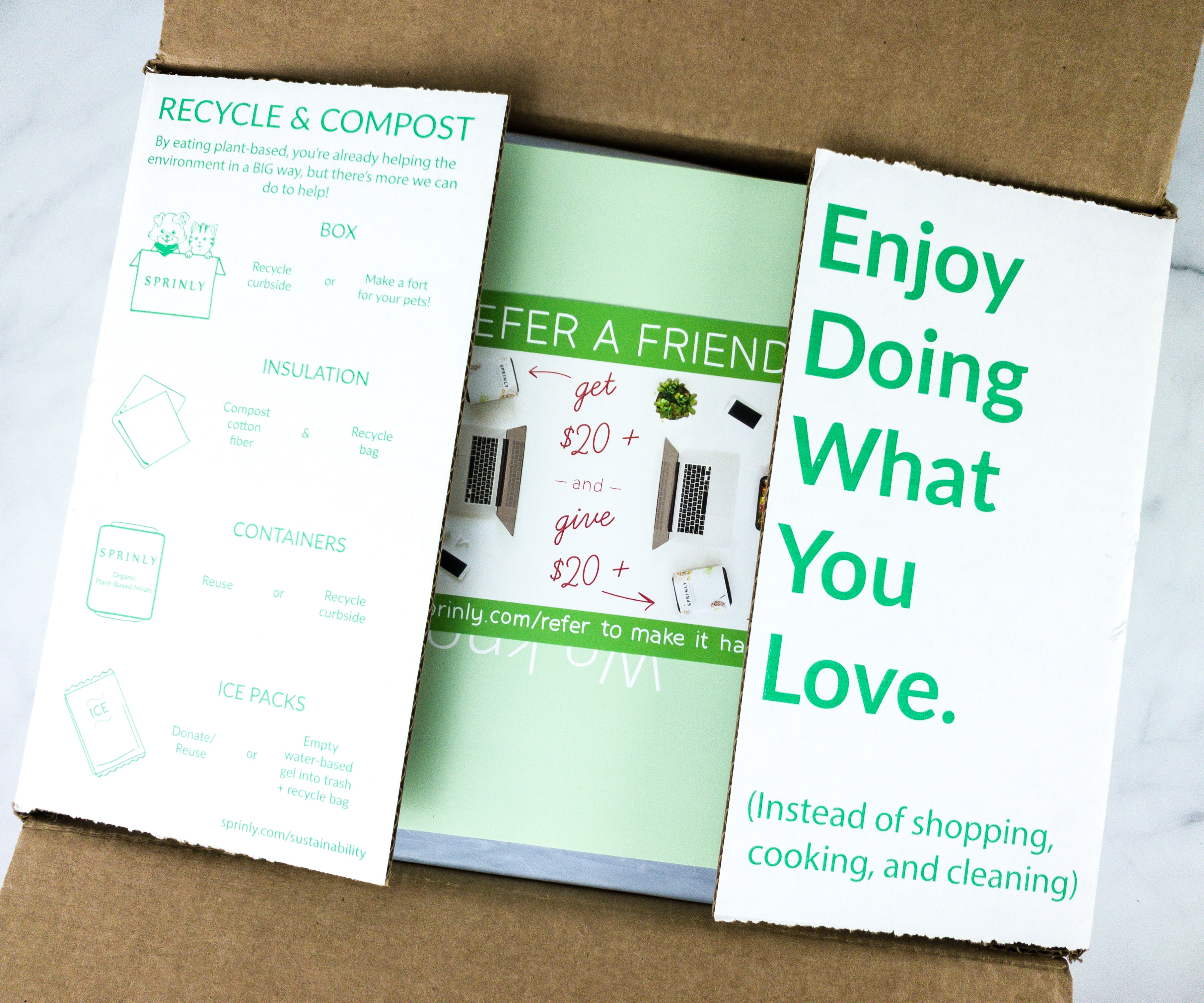 They encourage you to recycle the box, insulation, containers, and ice packs!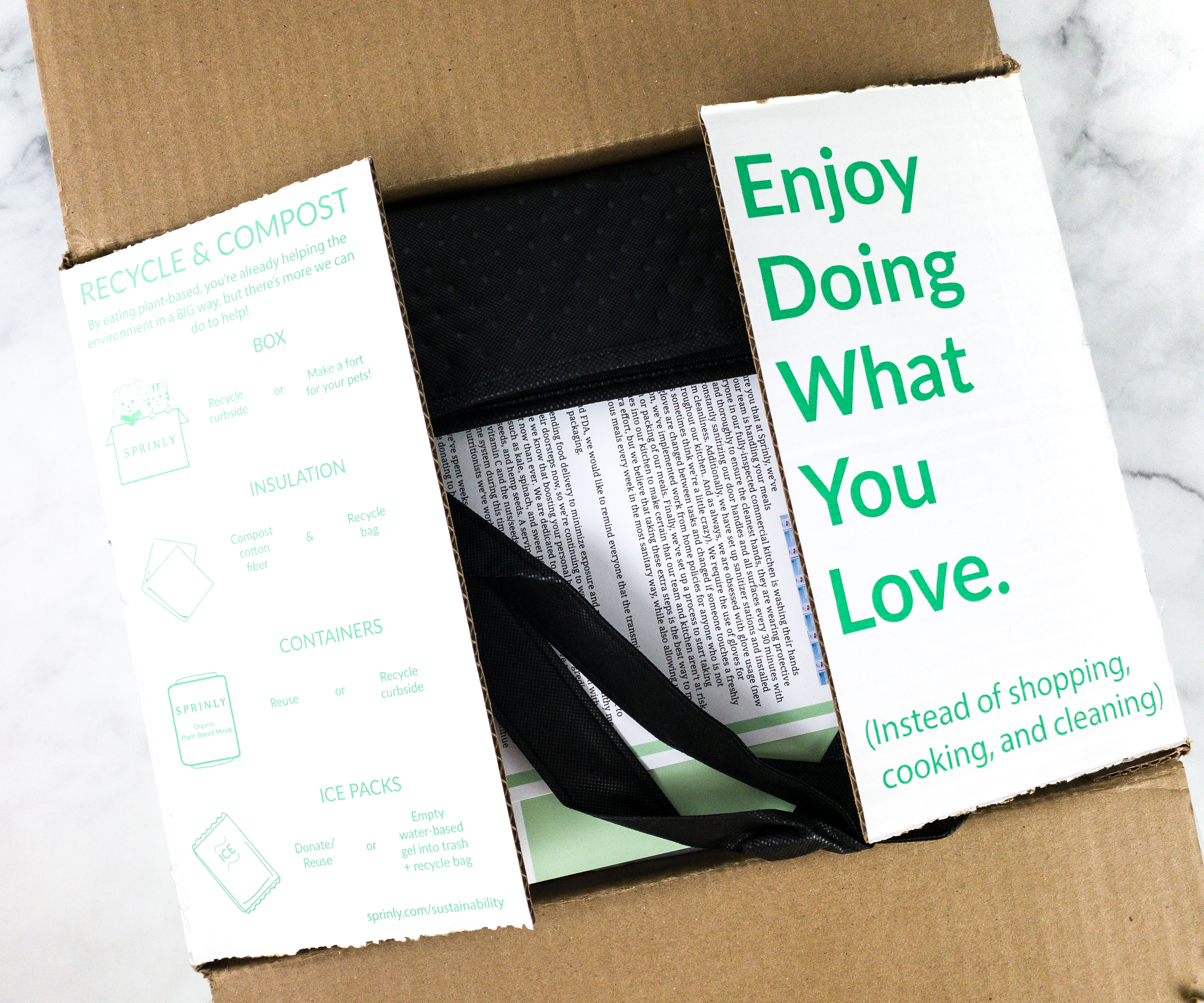 They encourage you to recycle the box, insulation, containers, and ice packs!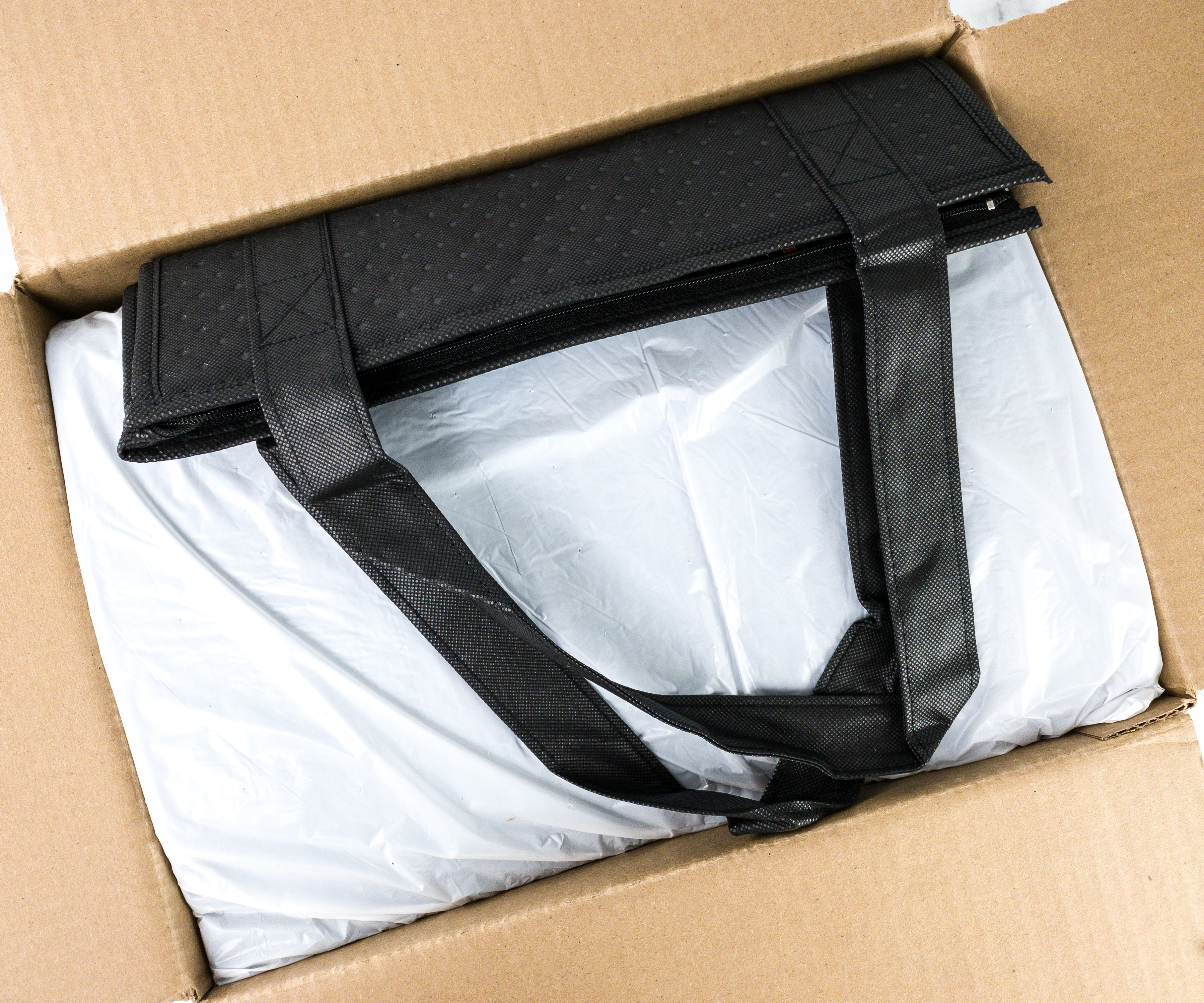 The box is filled to the brim!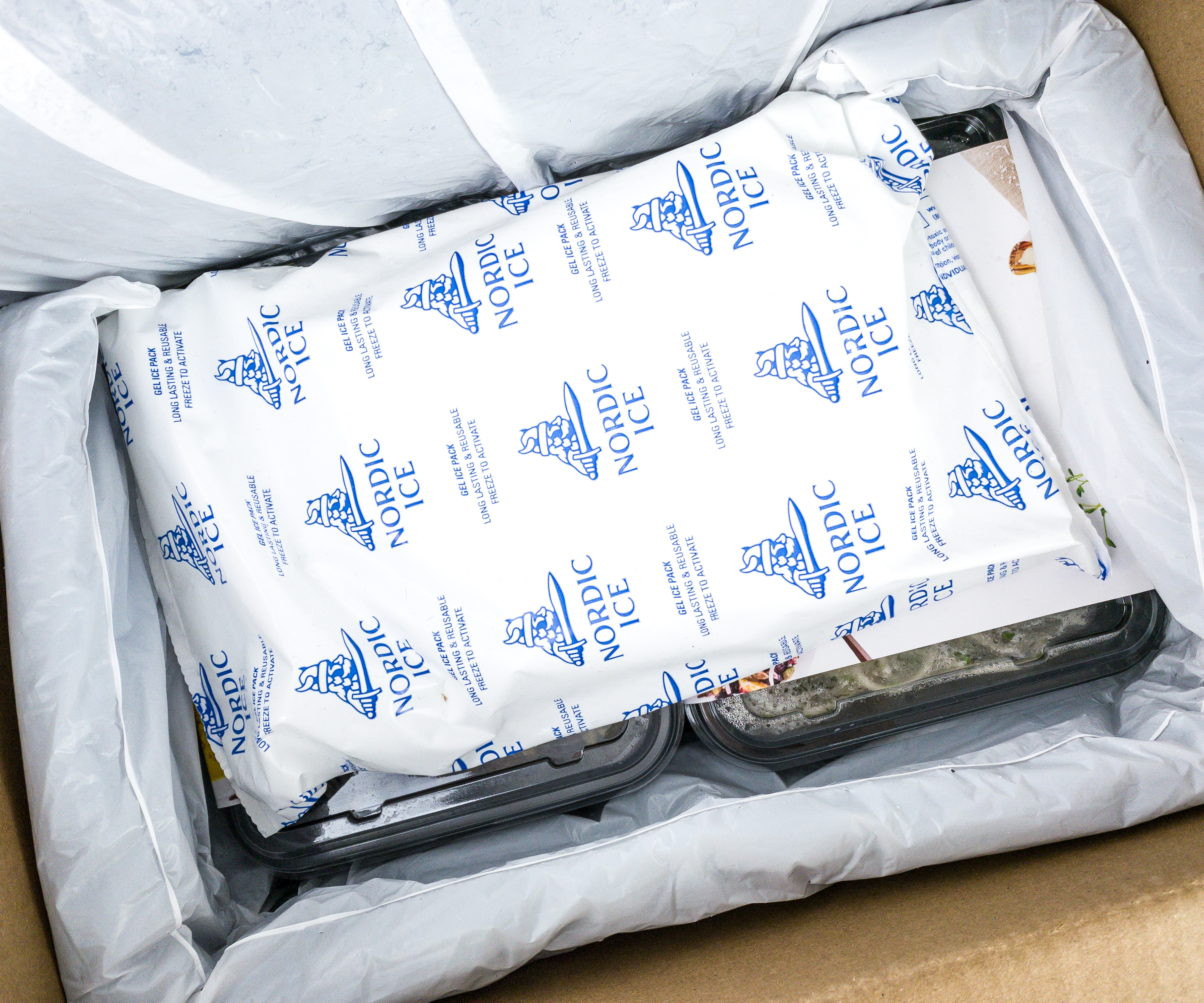 The meals are packaged individually and stacked neatly in the box!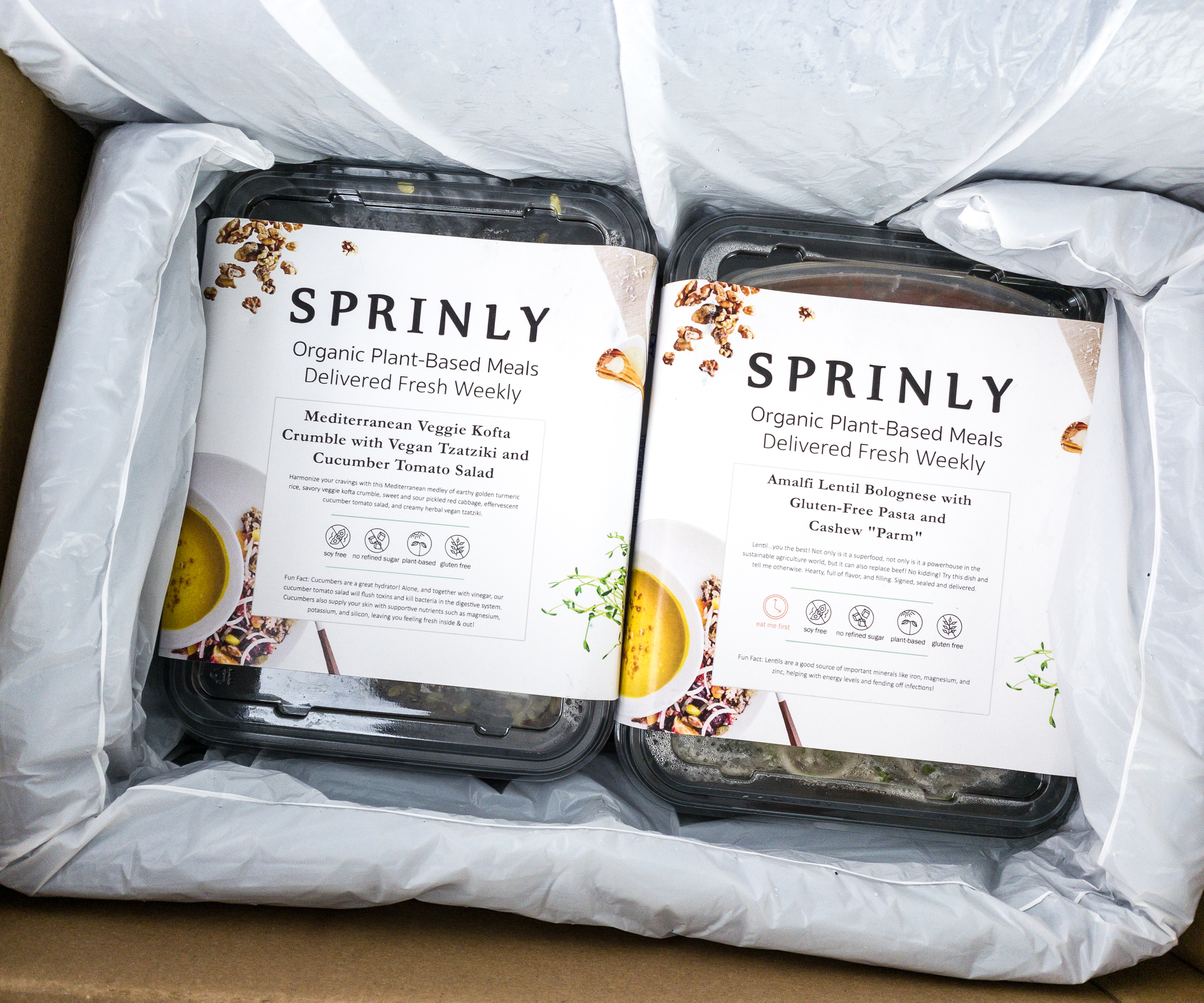 Each meal container comes with a cardboard sleeve for easy identification. It also includes food trivia, ingredient lists, nutritional information, and heating instructions.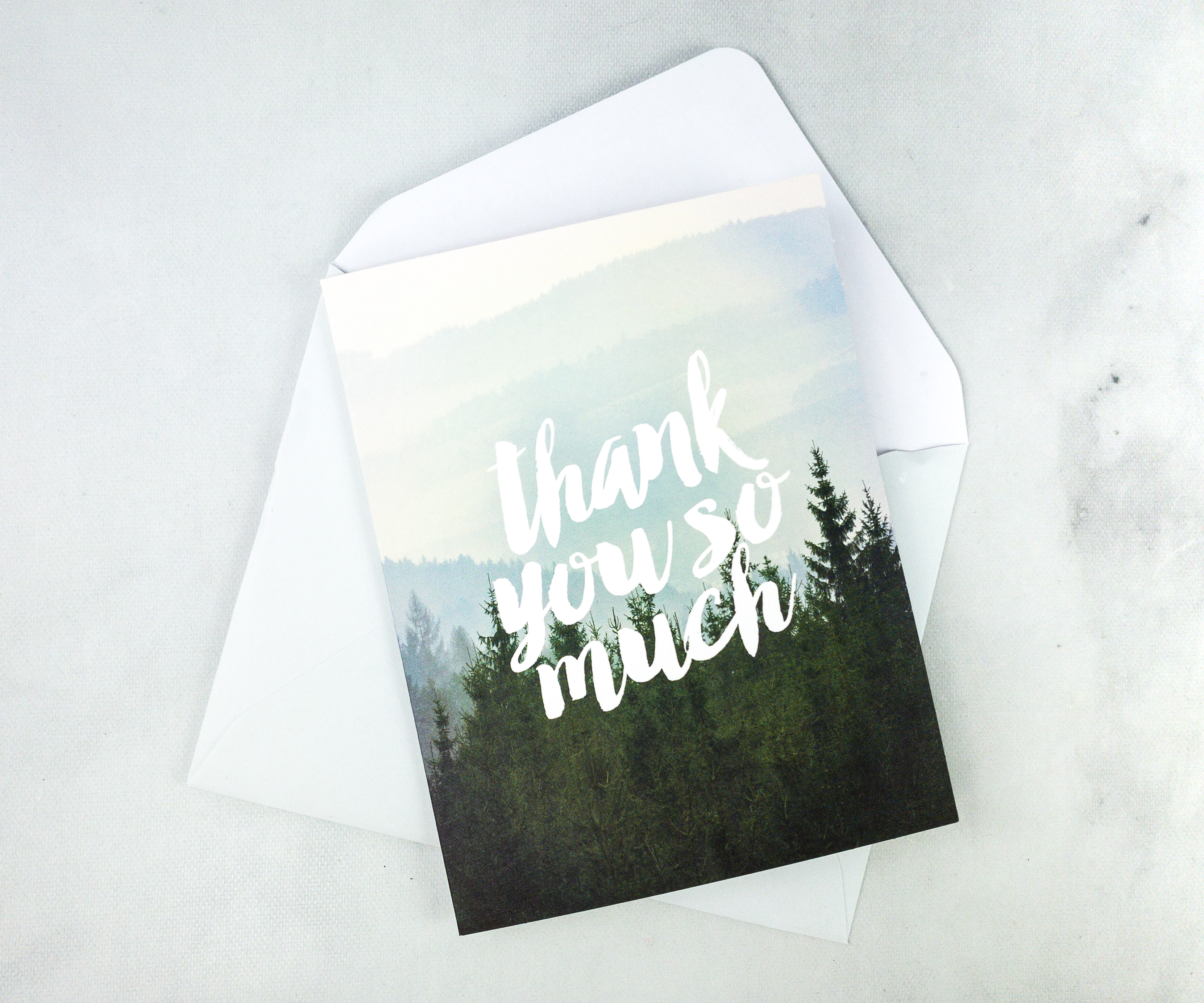 We also received a thank you card!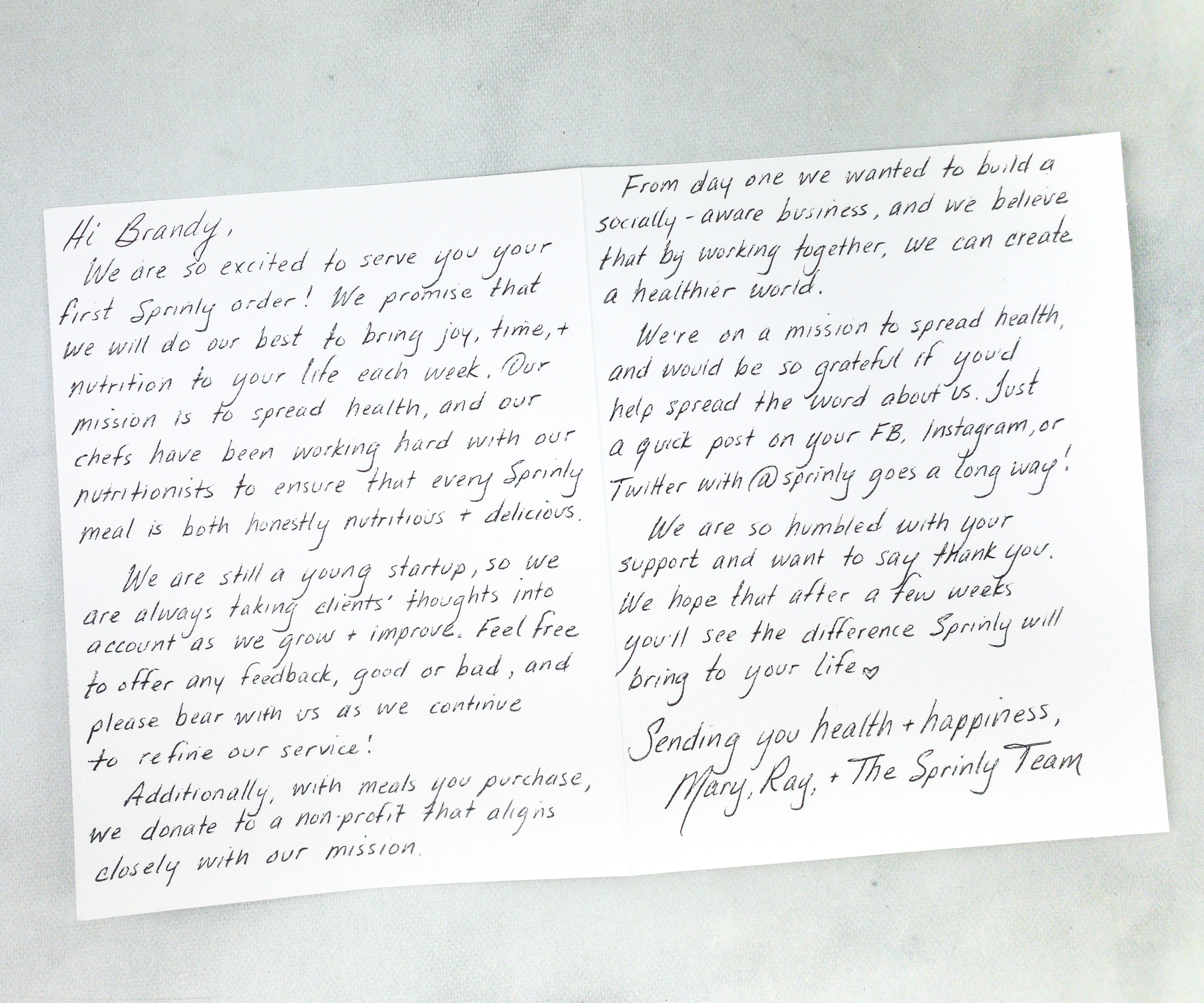 Inside is a handwritten message from Mary, Ray, and the Sprinly Team.
There's also a funny note saying, "We know what you're thinking, but please don't lick the paper."
Here's another message from the founders of Sprinly, letting us know more about the subscription.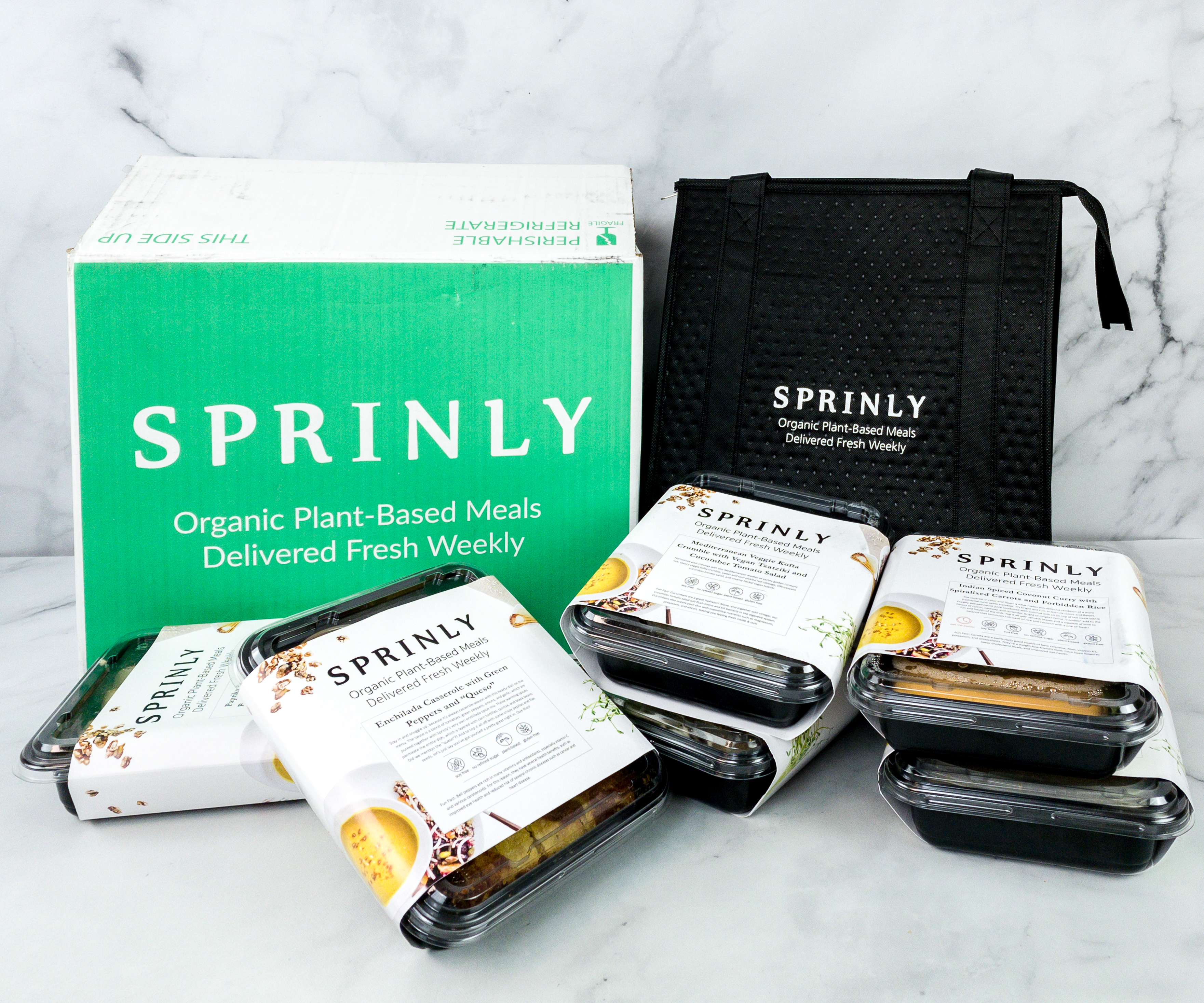 Everything in my box!
Tote Bag. It's a black tote bag perfect for use as a lunch bag when going to work!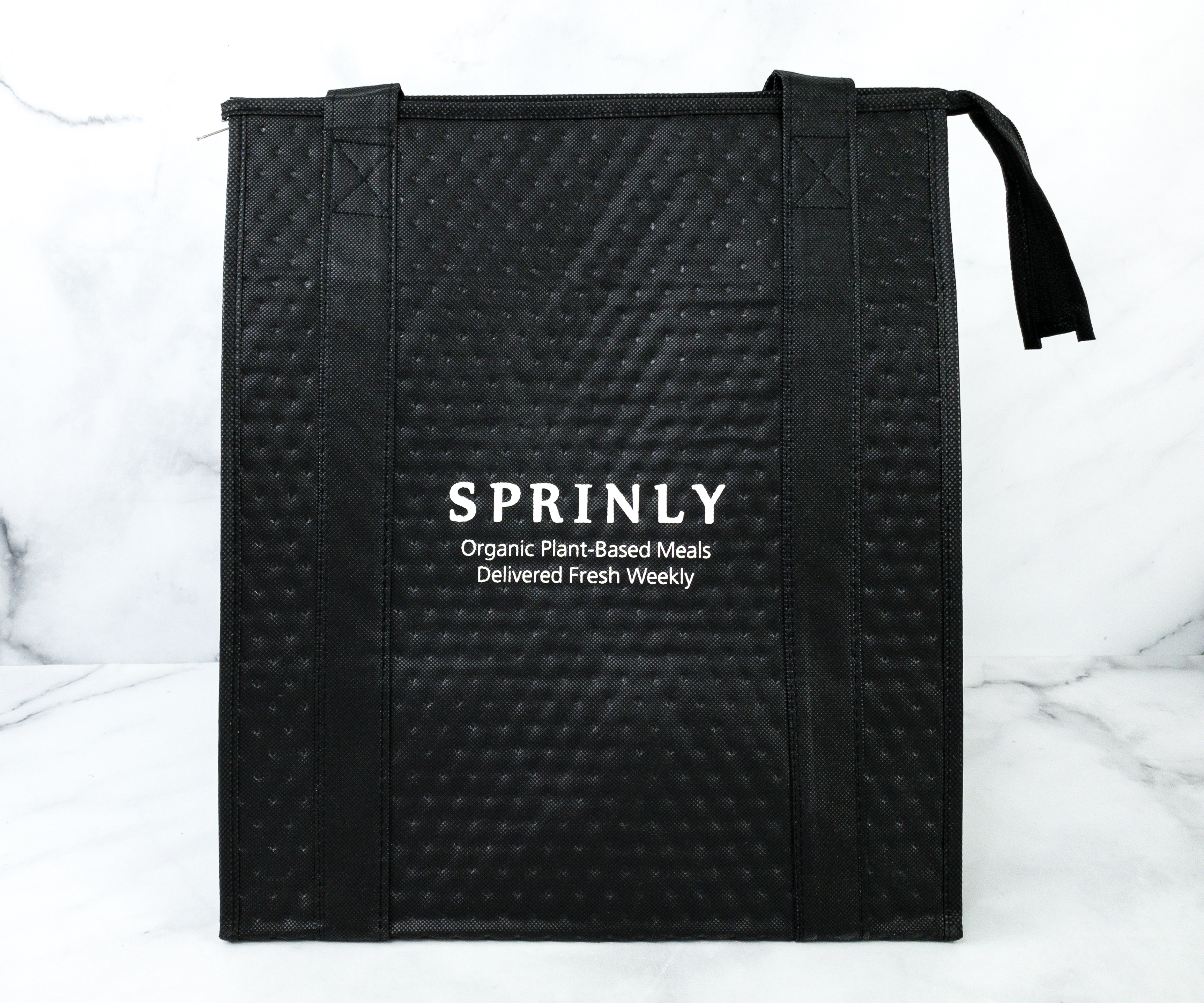 It's nice and big so I can fit even my water and juice bottles in here! I like it because it's multipurpose!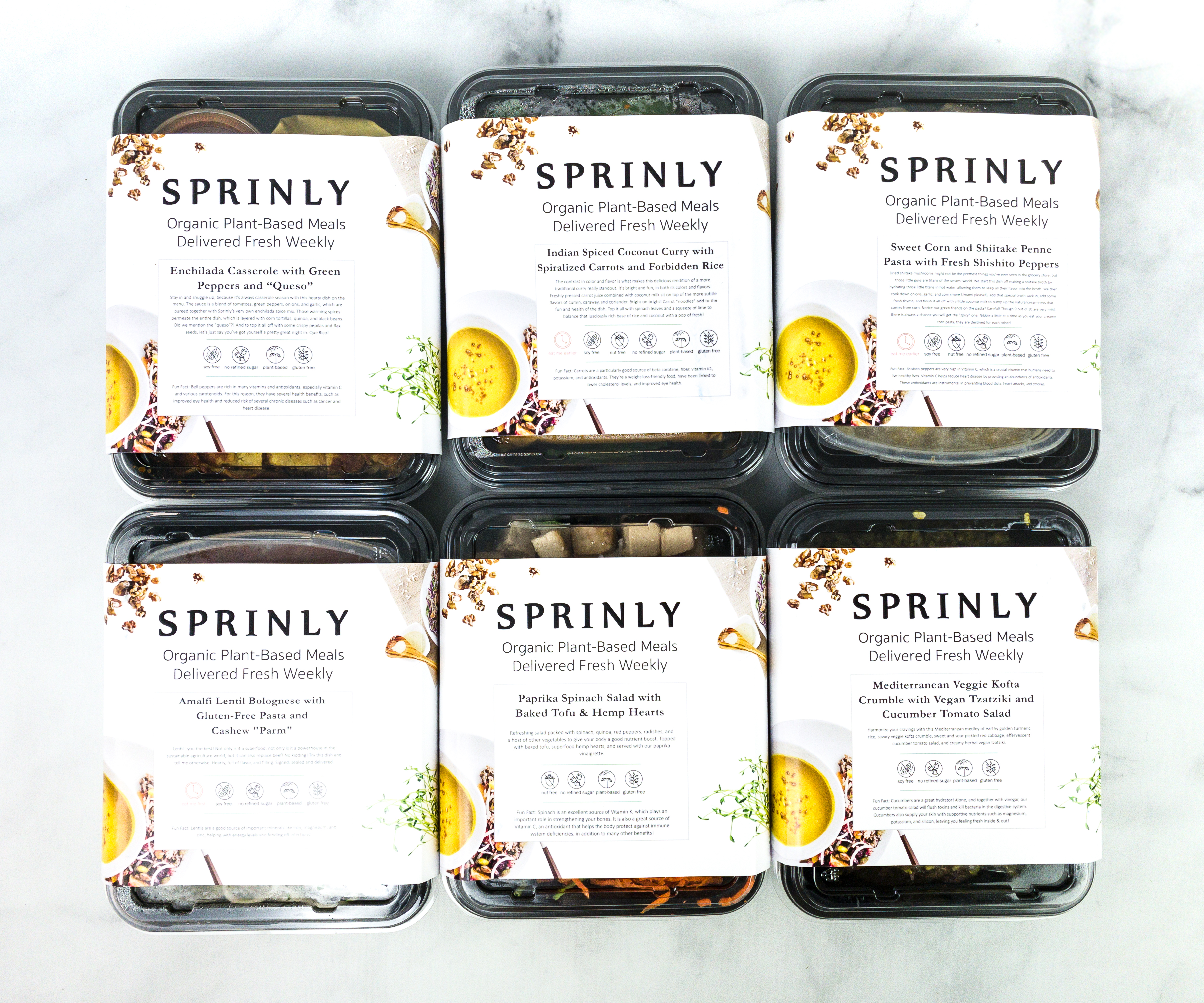 Here are all the meals I received in this box!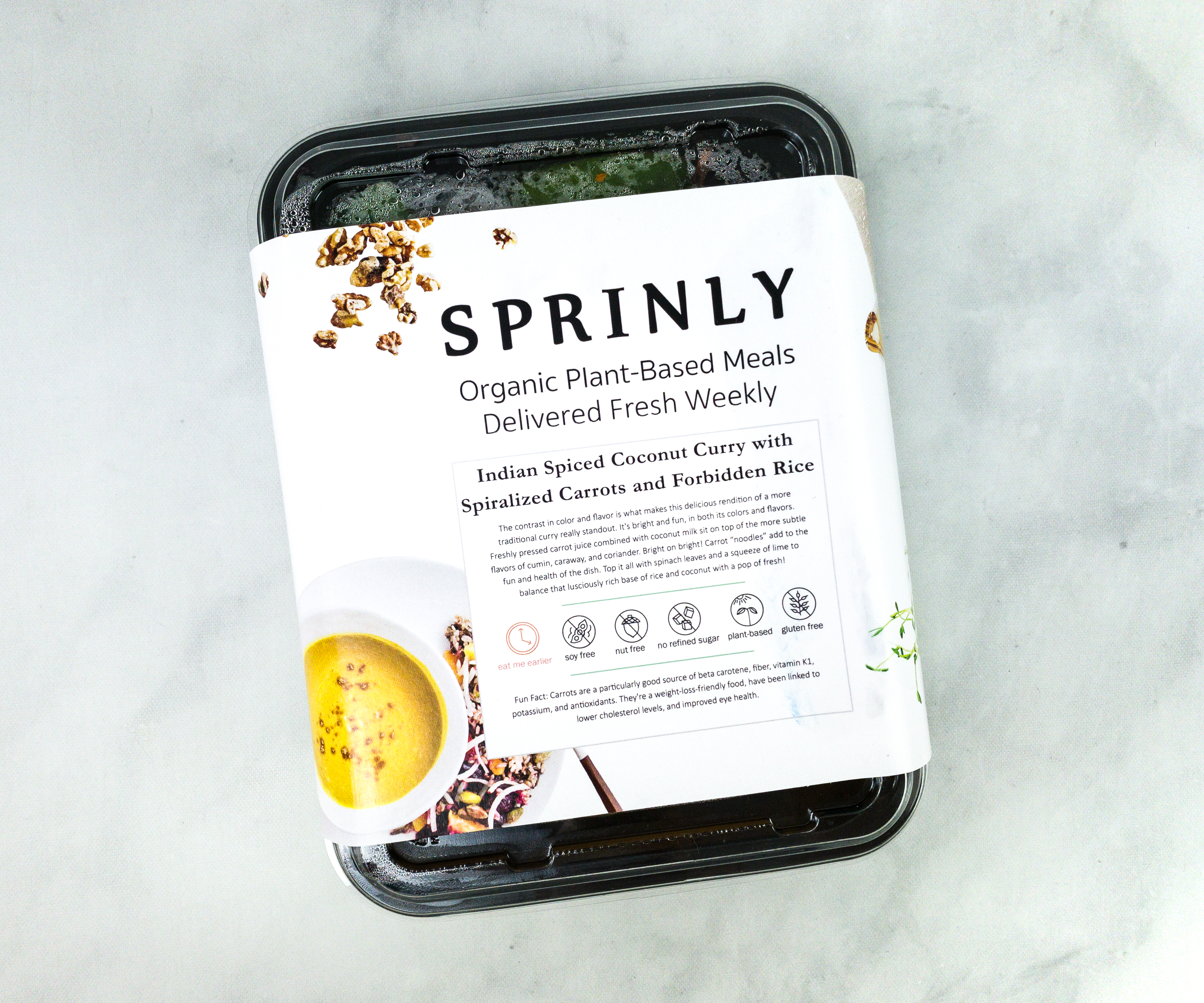 Indian Spiced Coconut Curry with Spiralized Carrots and Forbidden Rice.
The contrast in color and flavor makes this delicious rendition of a more traditional curry really standout.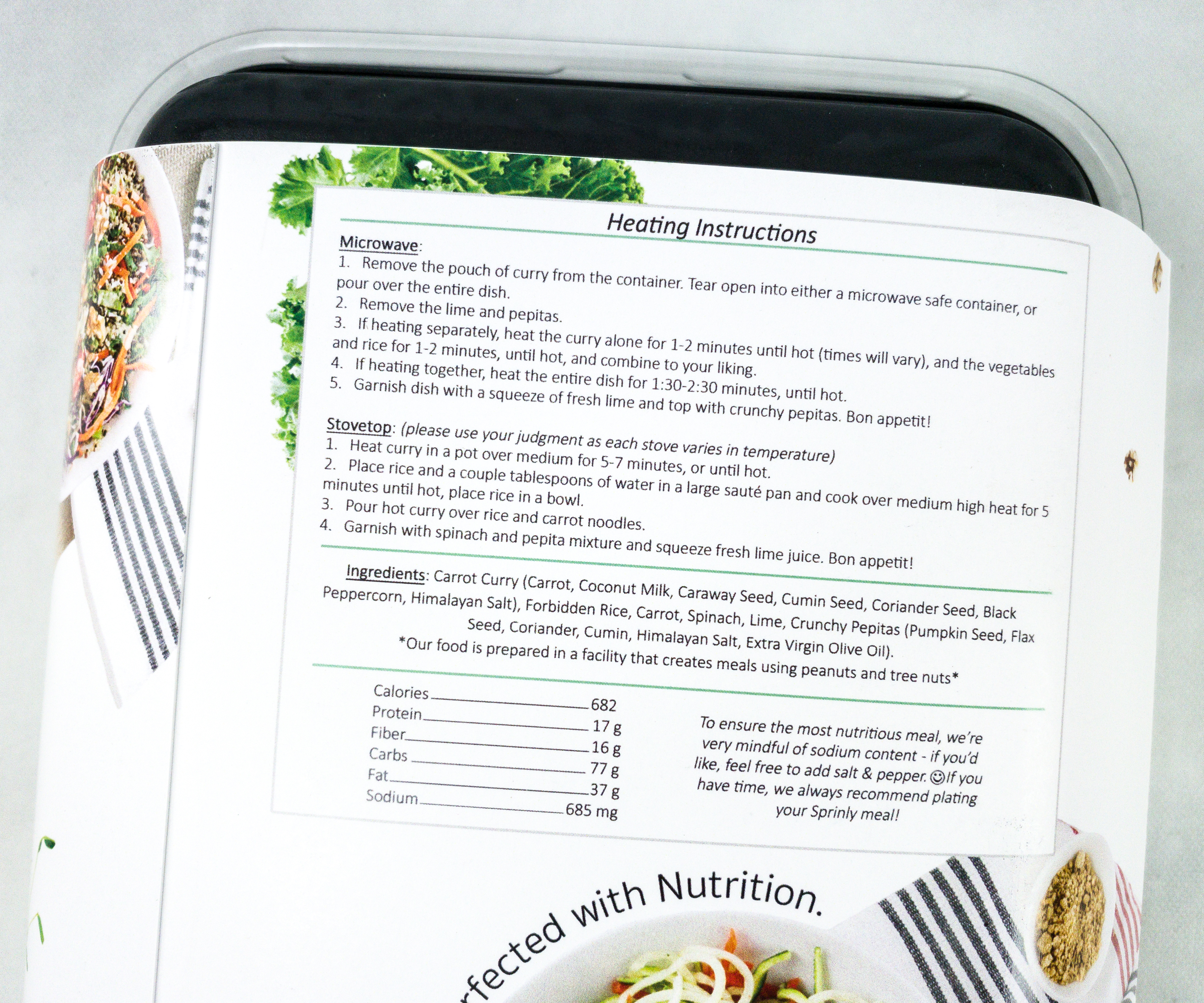 The back of the label has instructions for heating the meal. You can use either your microwave or a stovetop. The reheating time depends on what method you're going to use. Either way, garnish the dish with spinach and pepita mixture then squeeze on some fresh lime juice before serving!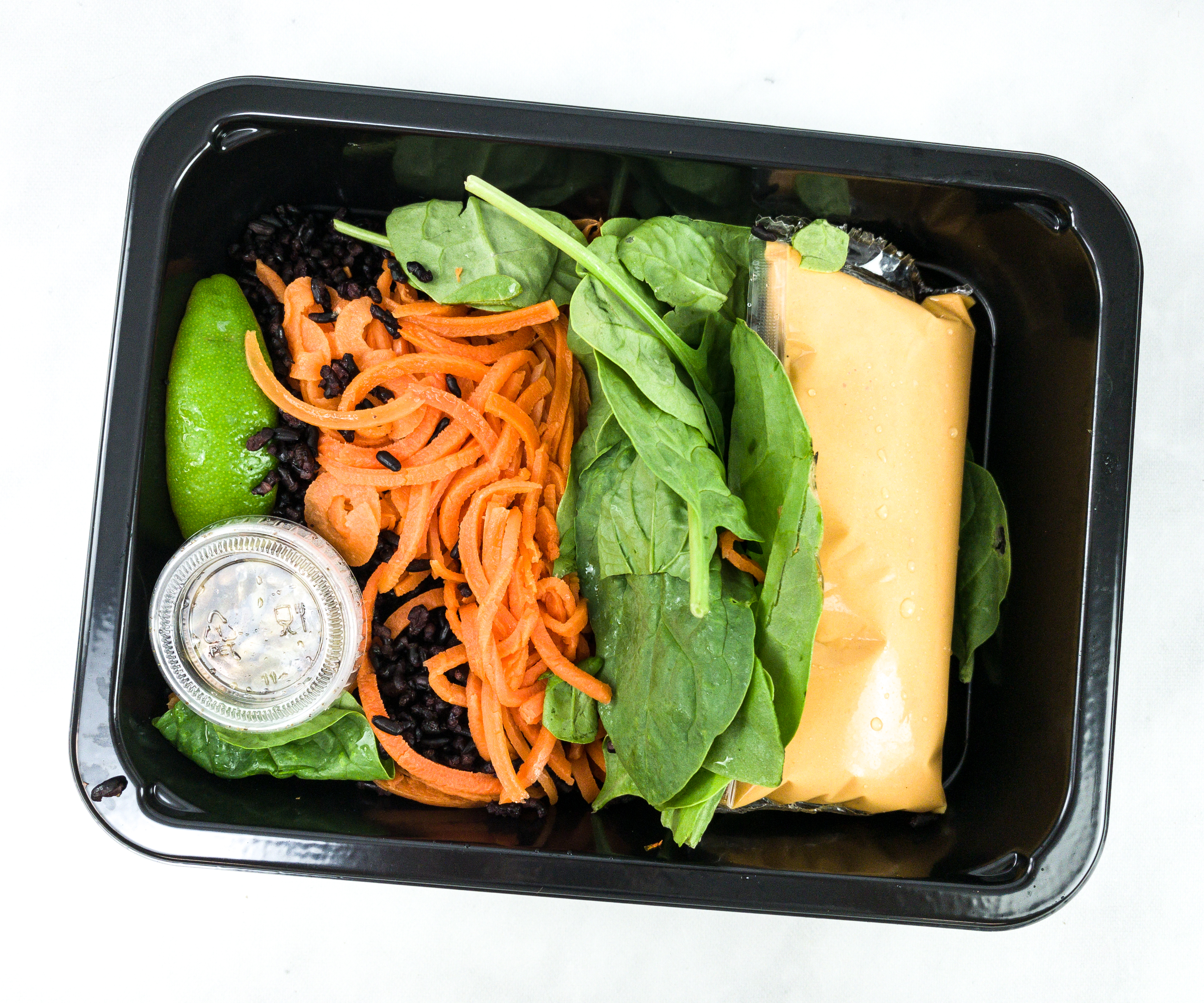 This looks so good and I love the contrast of colors! Aside from being visually appealing, this dish is also pretty nutritious as it contains beta carotene and fiber-rich carrots plus iron-rich spinach.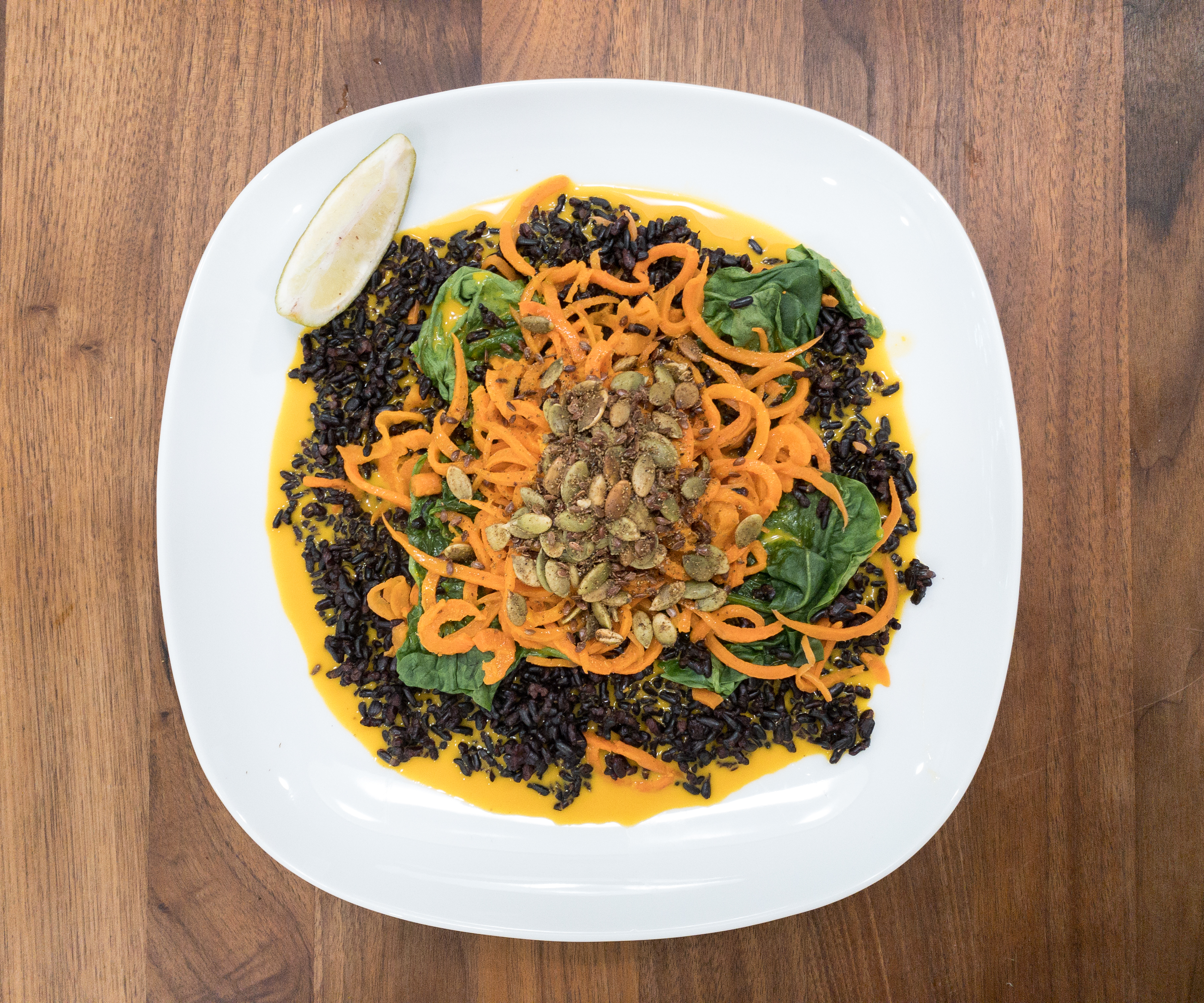 All these ingredients make for a filling meal. The squeeze of lime just balances out the whole dish, and I really like the texture the pumpkin seeds give. I really enjoyed this one!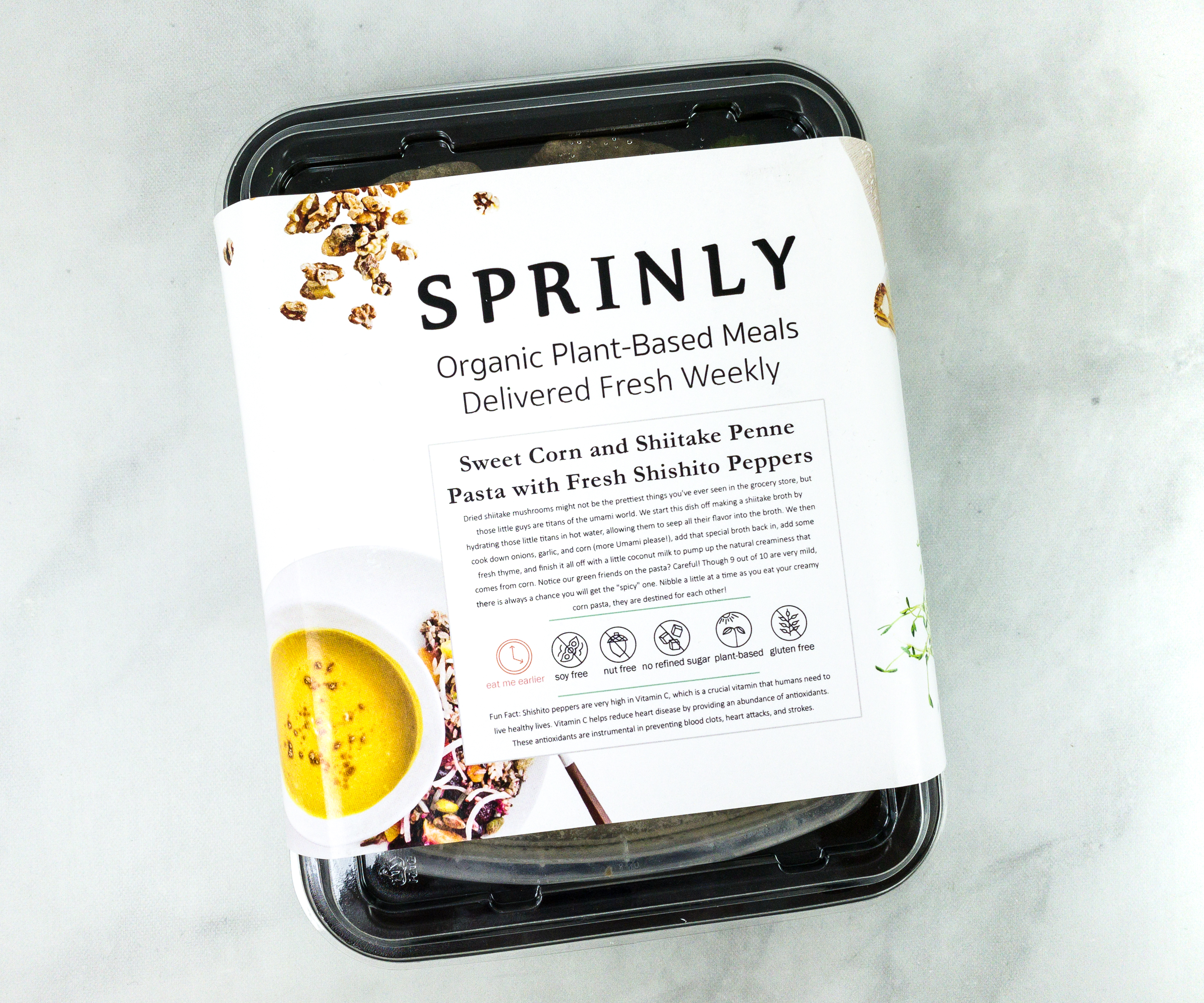 Sweet Corn and Shiitake Penne Pasta with Fresh ShiShito Peppers.
Dried shitake mushrooms might not be the prettiest things you've seen in a grocery store, but those little guys are the titans of the umami world.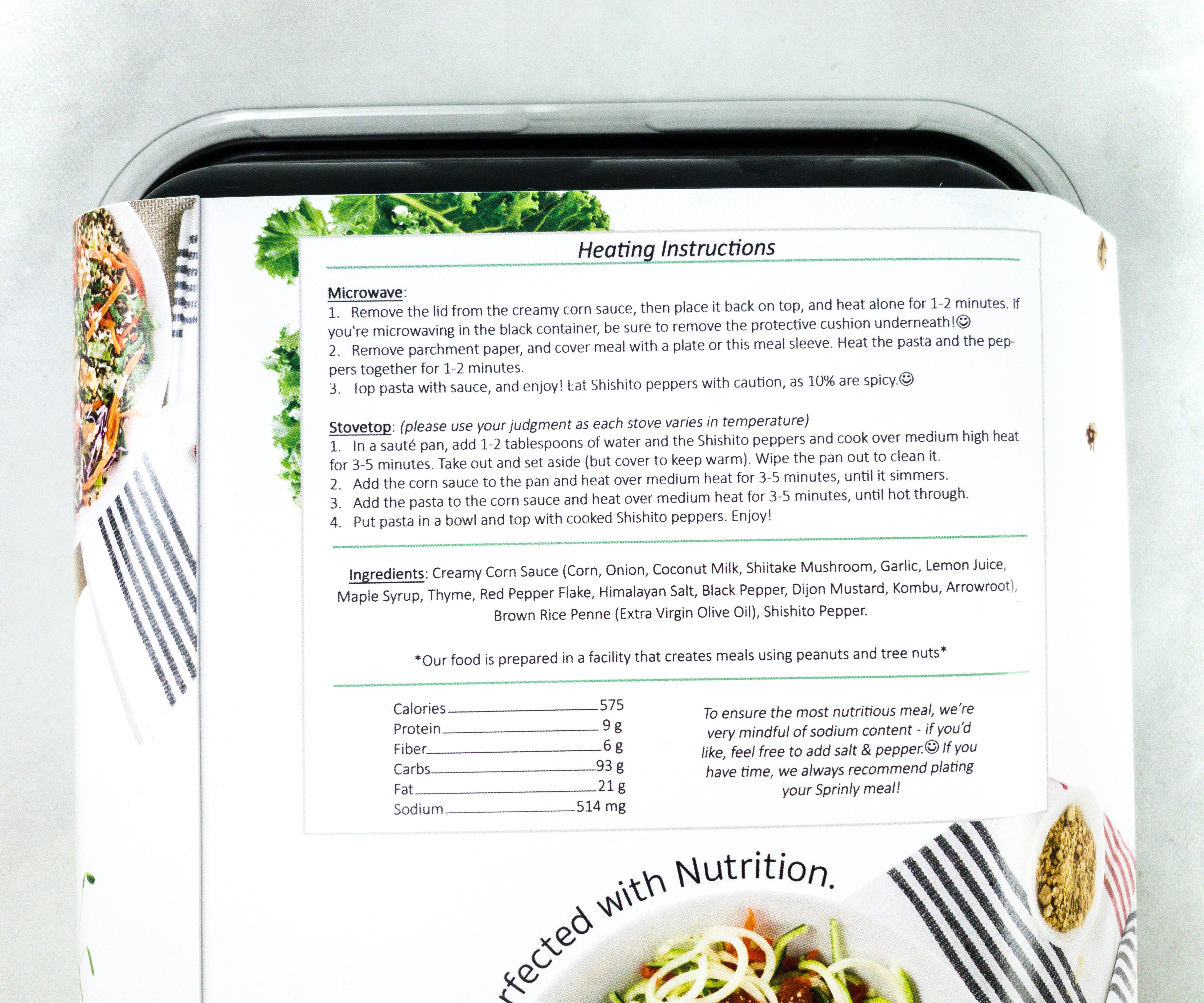 Make sure you remove the protective cushion underneath if you're going to use this black container in the microwave. Also, it's better to heat the pasta separately from the sauce.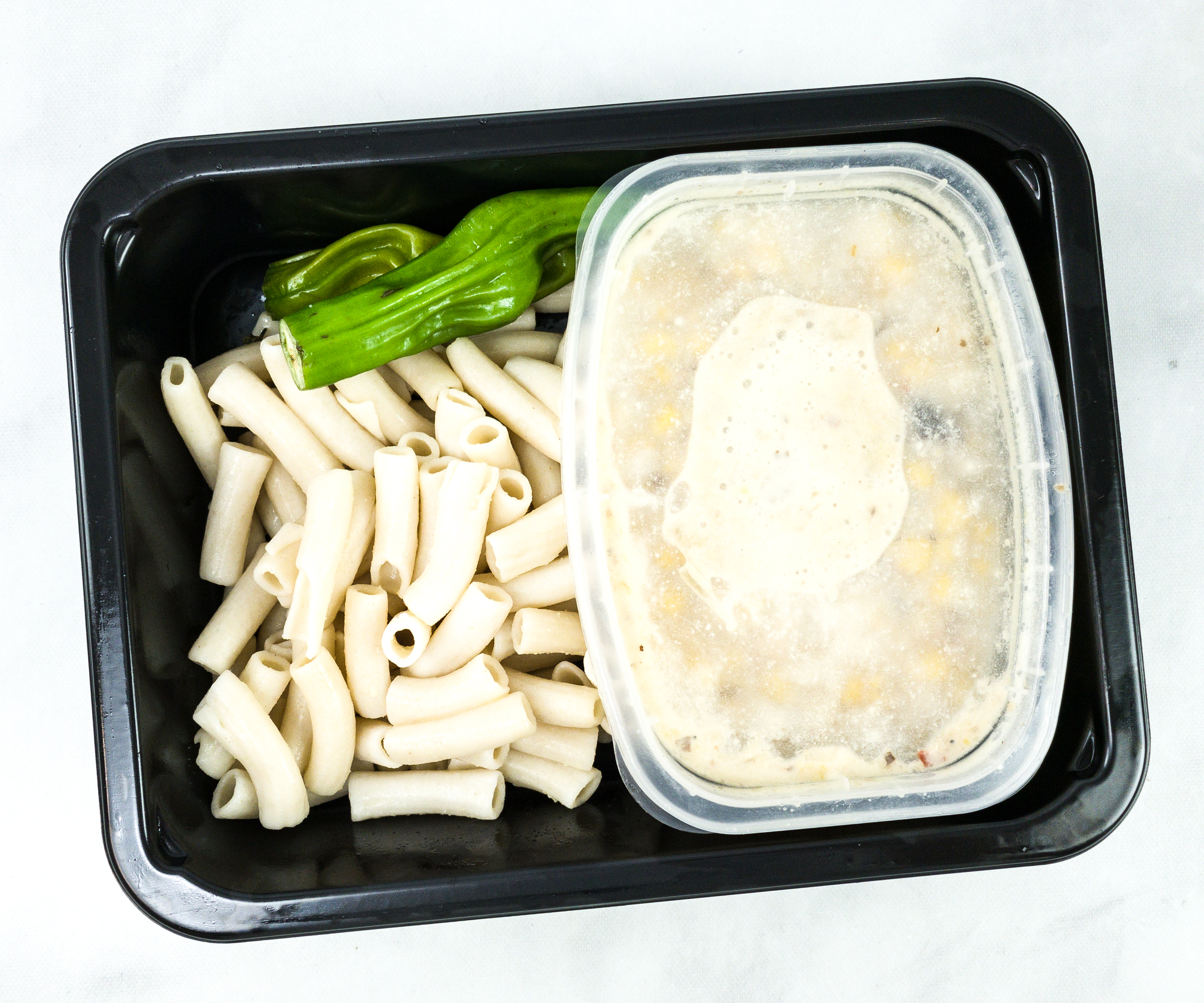 Ingredients include shiitake mushrooms that give the sauce a distinct umami flavor, plus shishito peppers that are rich in vitamin C.
A great dinner meal, this has everything you need in one simple bowl. I like how creamy the sauce is! This meal is low in fat but it is definitely very filling!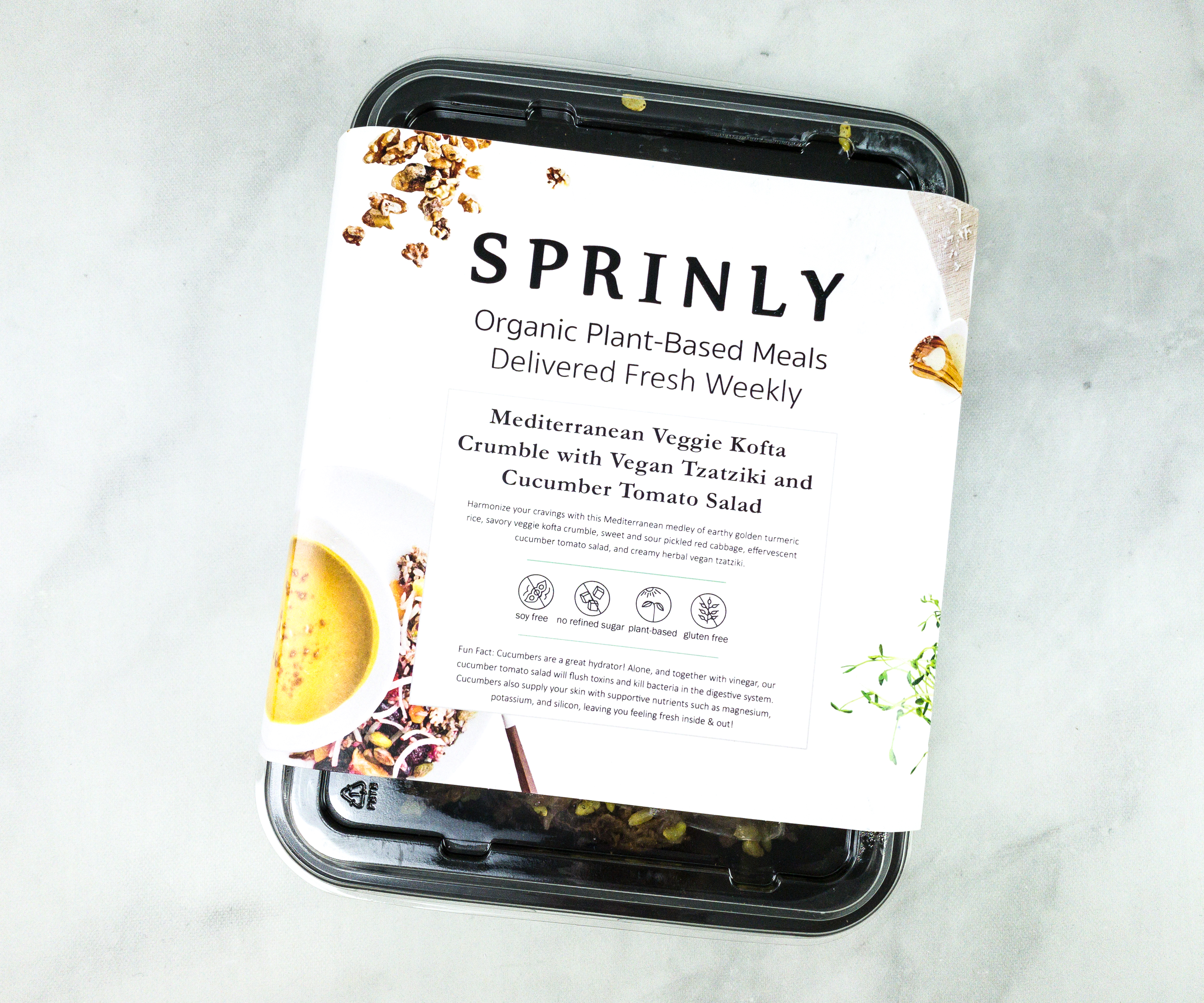 Mediterranean Veggie Kofta Crumble with Vegan Tzatziki and Cucumber Tomato Salad.
Harmonize your cravings with this Mediterranean medly of earthy golden turmeric rice, savory veggie kofta crumble, sweet and sour pickled red cabbage, effervescent cucumber tomato salad, and creamy herbal vegan tzatziki.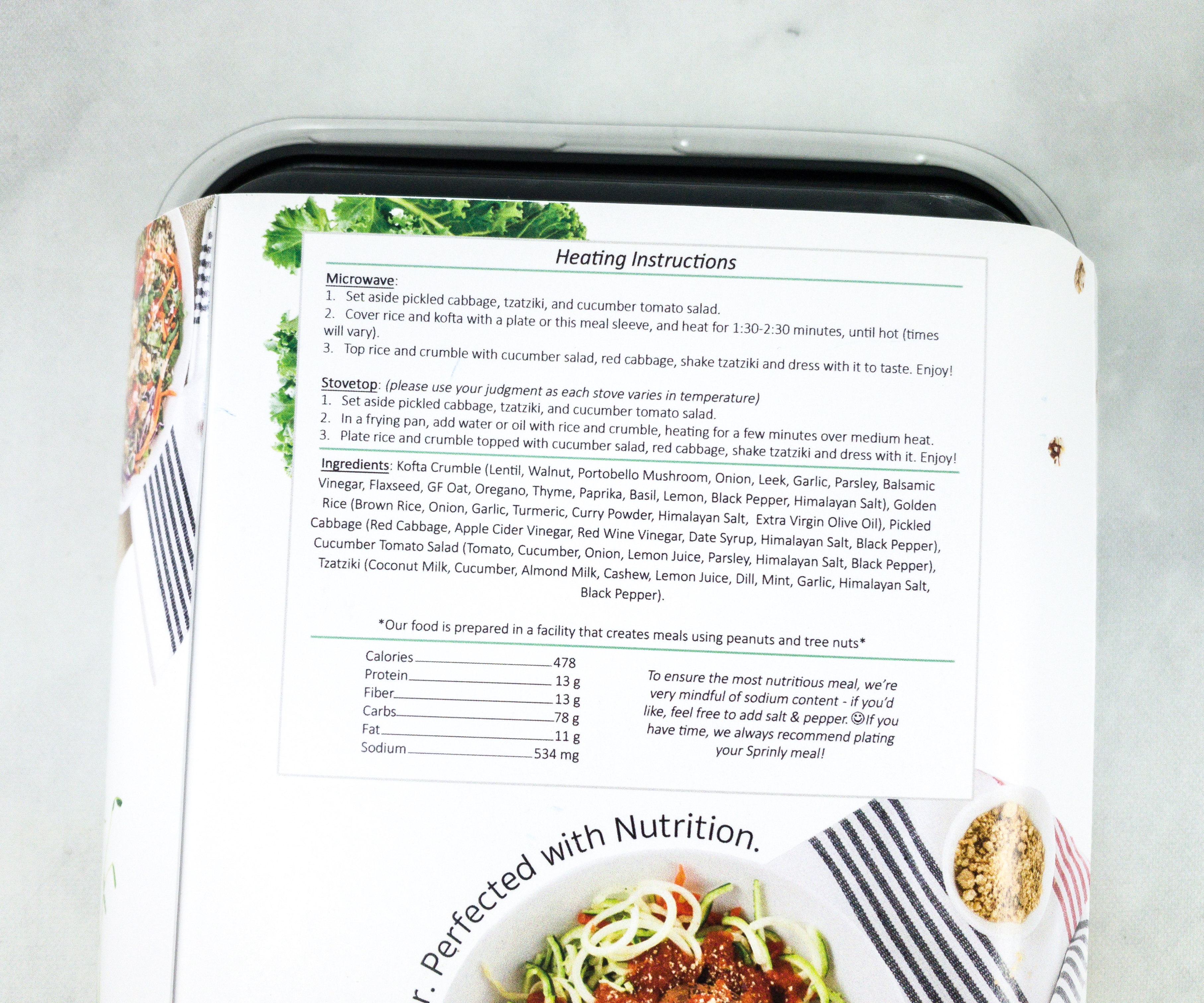 We have the same reheating options for this meal as well. One of the main ingredients is cucumber, which is hydrating because it's mostly made up of water. But what really made me look forward to this meal is the cucumber tomato salad. It's not just tasty, it also helps flush toxins and kills bacteria in the digestive system.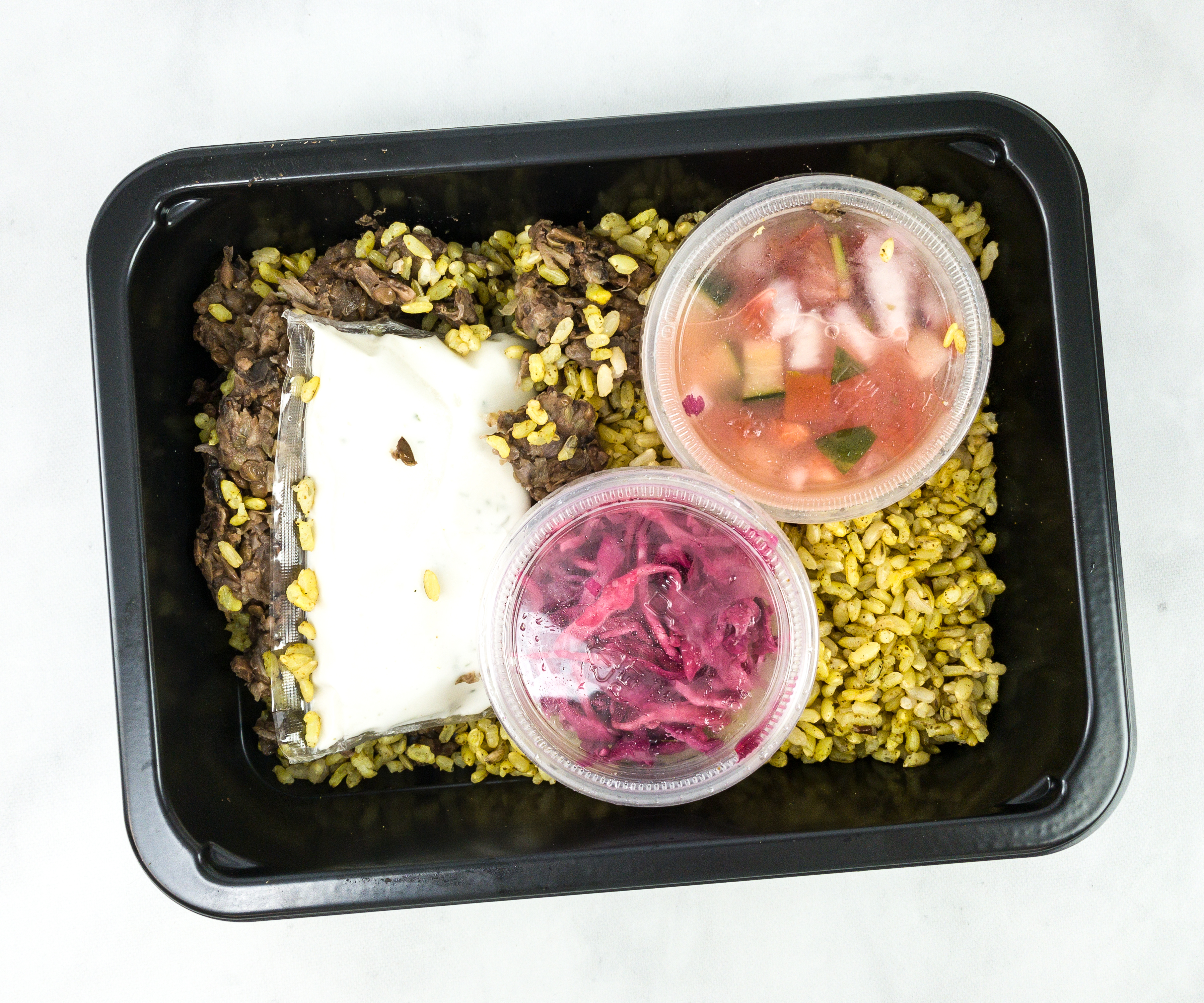 This meal even has separate containers for each item. I like how neat and organized they are!
This gave a medley of flavor inside my mouth! Everything blends really well together. I like the crunch of the red cabbage and it also has that slight zing.
Enchilada Casserole with Green Peppers and "Queso".
Stay in and snuggle up because it's always casserole season with this hearty dish on the menu.
This one requires a bit of an effort when reheating but the end results are worth it. When you're done reheating the casserole, shake and pour the enchilada sauce over and add the cheese and pumpkin seeds based on your preference.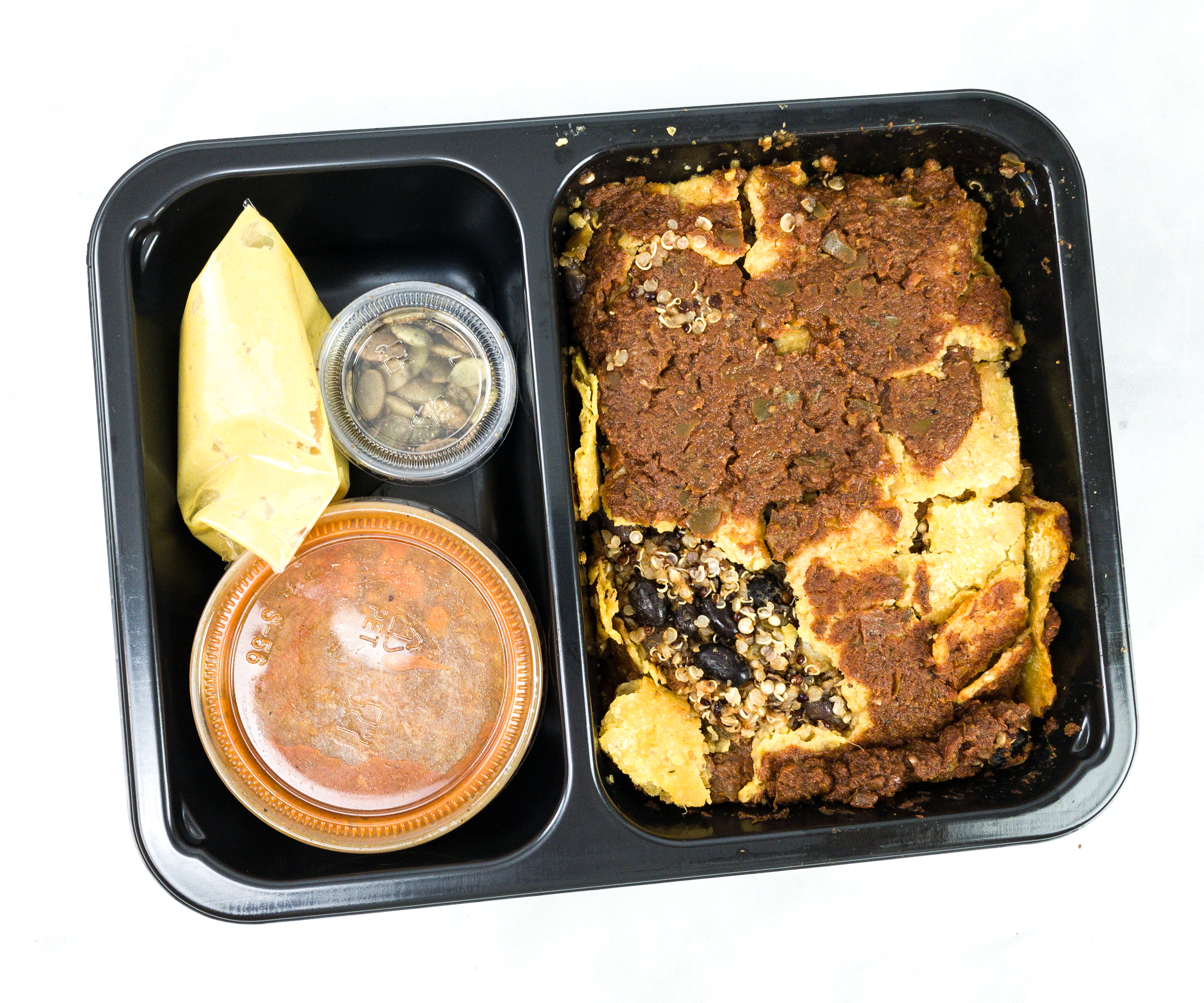 One of the main ingredients of this dish is bell peppers. It's a good source of vitamin C that boosts the immune system and carotenoids that support eye health.
Look at that yummy dish! Each bite of this casserole is a delight, especially because of the warm spices. The combination of corn tortillas, quinoa, and black beans is also quite filling.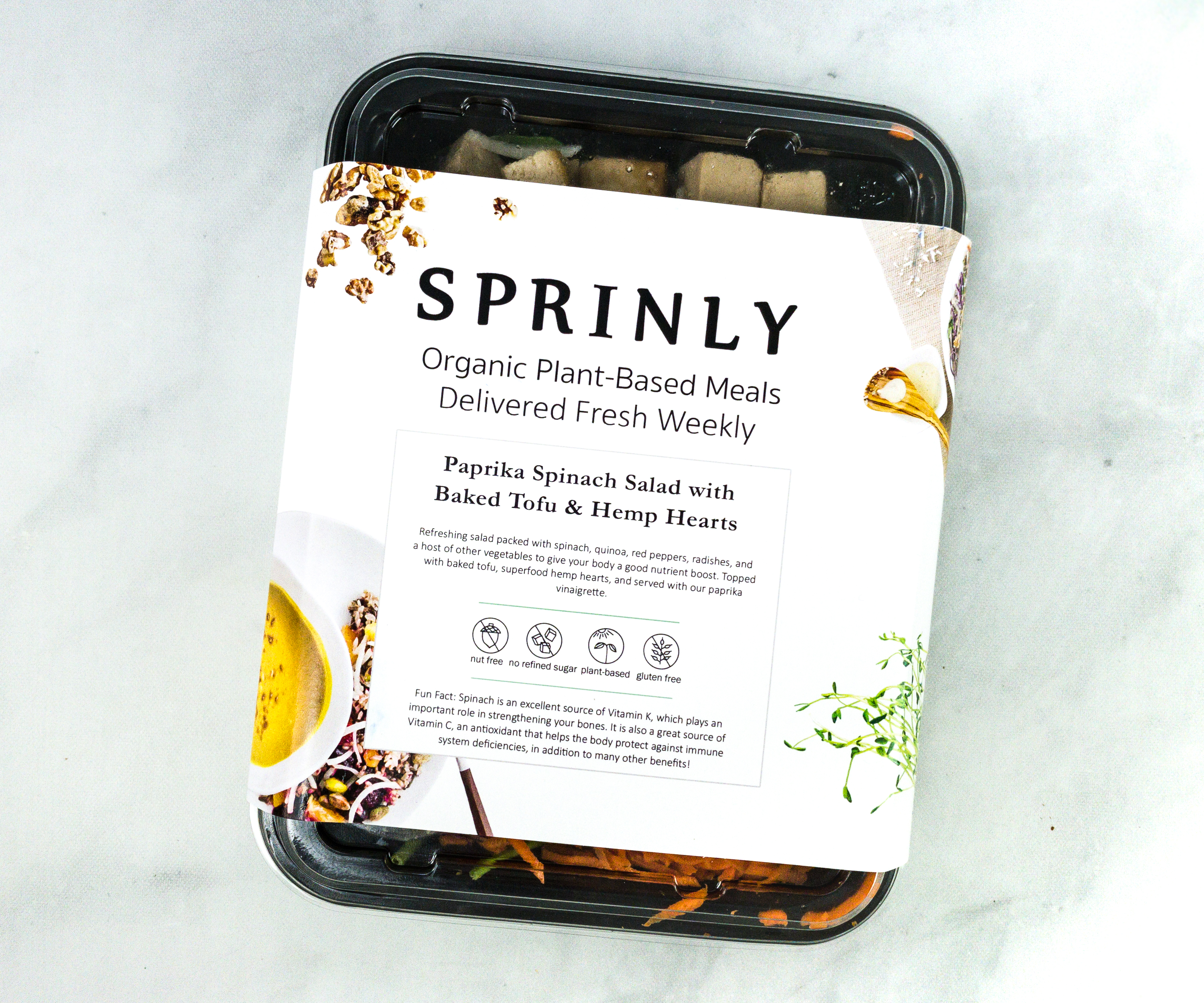 Paprika Spinach Salad with Baked Tofu & Hemp Hearts.
Refreshing salad packed with spinach, quinoa, red peppers, radishes, and a host of other vegetables to give your body a good nutrient boost.
This one is pretty easy to prepare. Just shake and pour the dressing all over, top with hemp hearts, and it's done!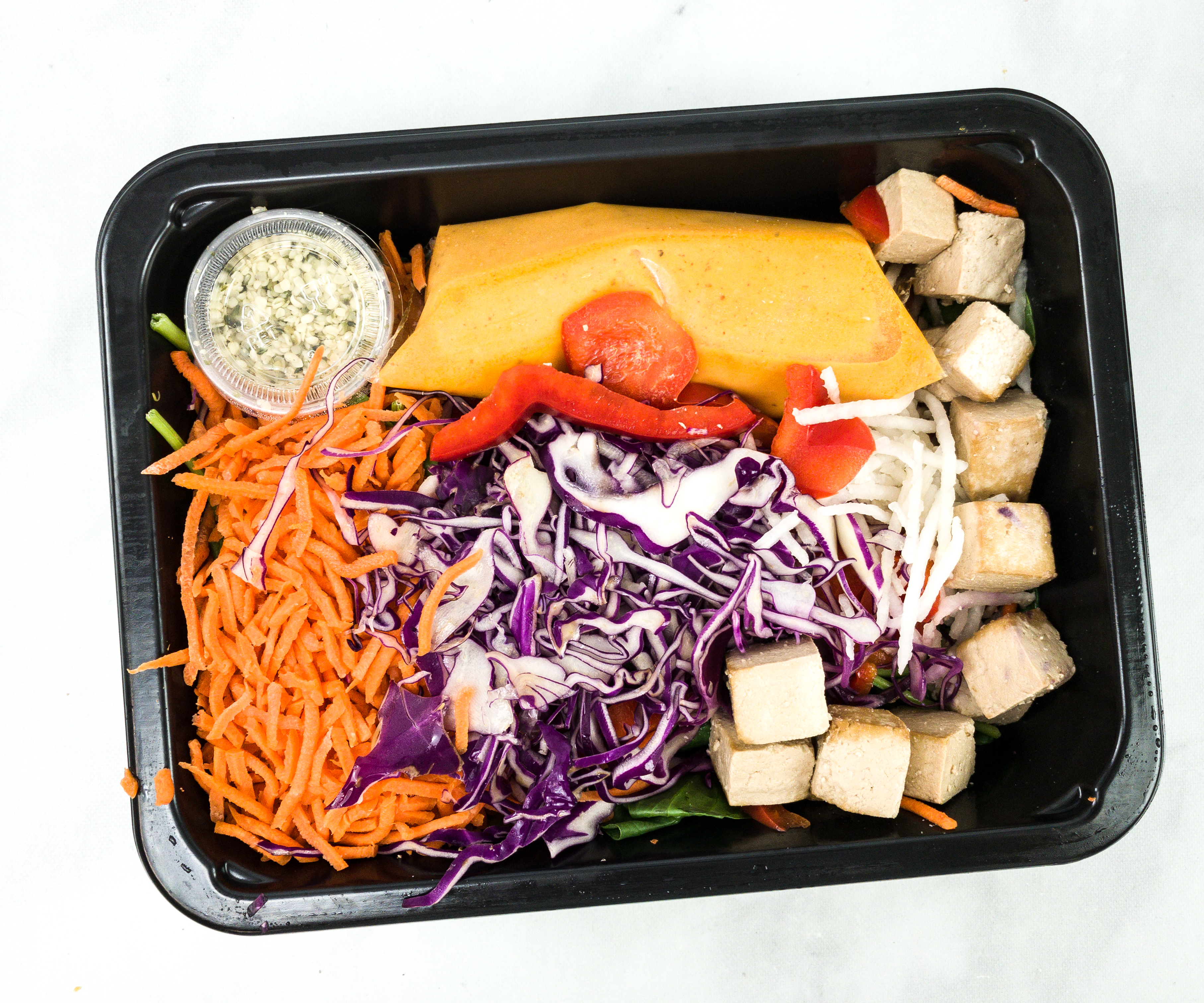 This meal provides an immune system boost because it contains wholesome ingredients such as spinach, bell pepper, carrot, and quinoa.
It's light yet satisfying, and the tofu is a nice addition to balance out the texture. I like how refreshing the flavor is! The hemp hearts add a slightly nutty flavor that adds another layer of goodness to this dish!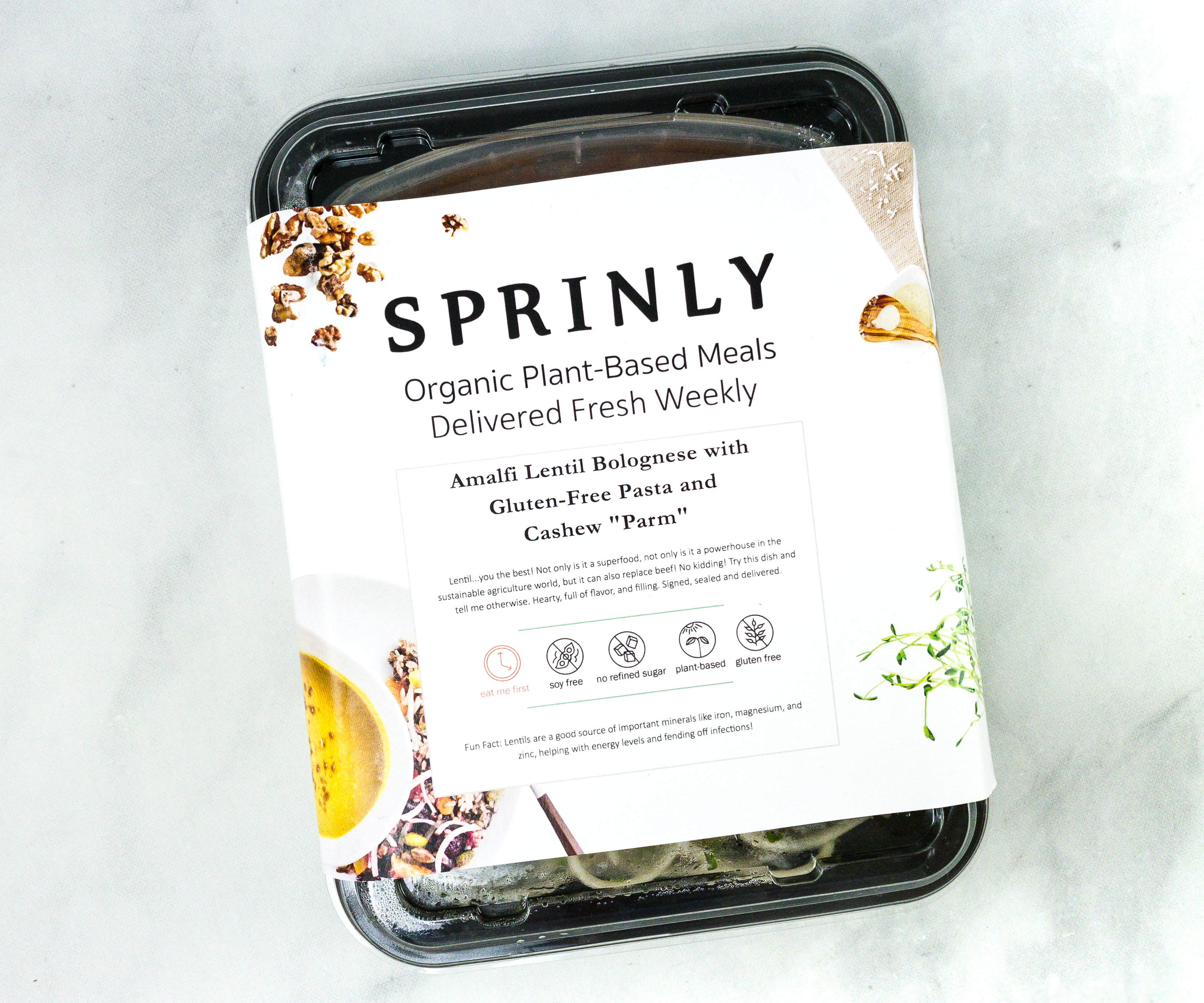 Amalfi Lentil Bolognese with Gluten-Free Pasta and Cashew "Parm".
Lentil… you the best!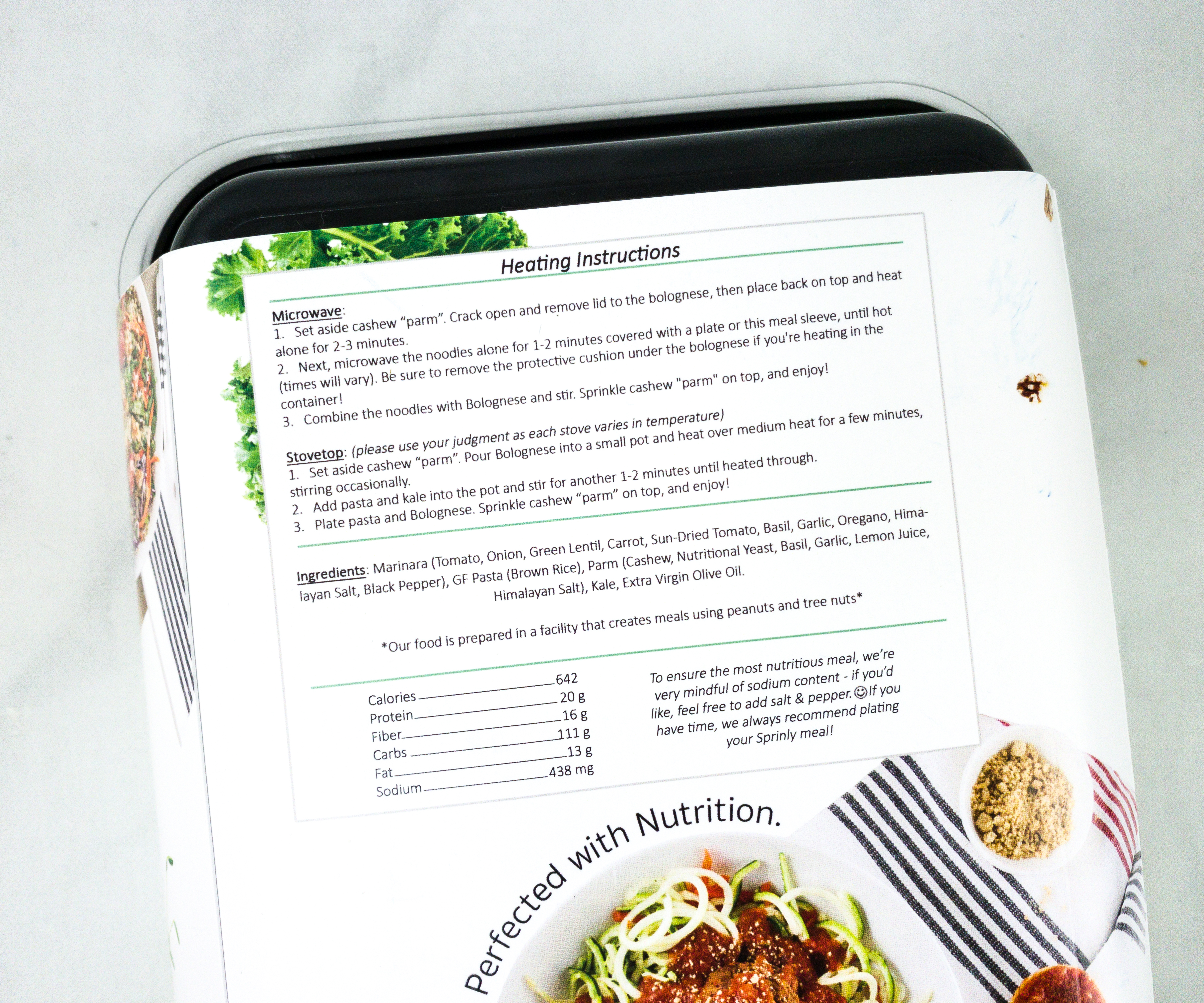 For this, just microwave the pasta covered with a plate and heat the sauce separately!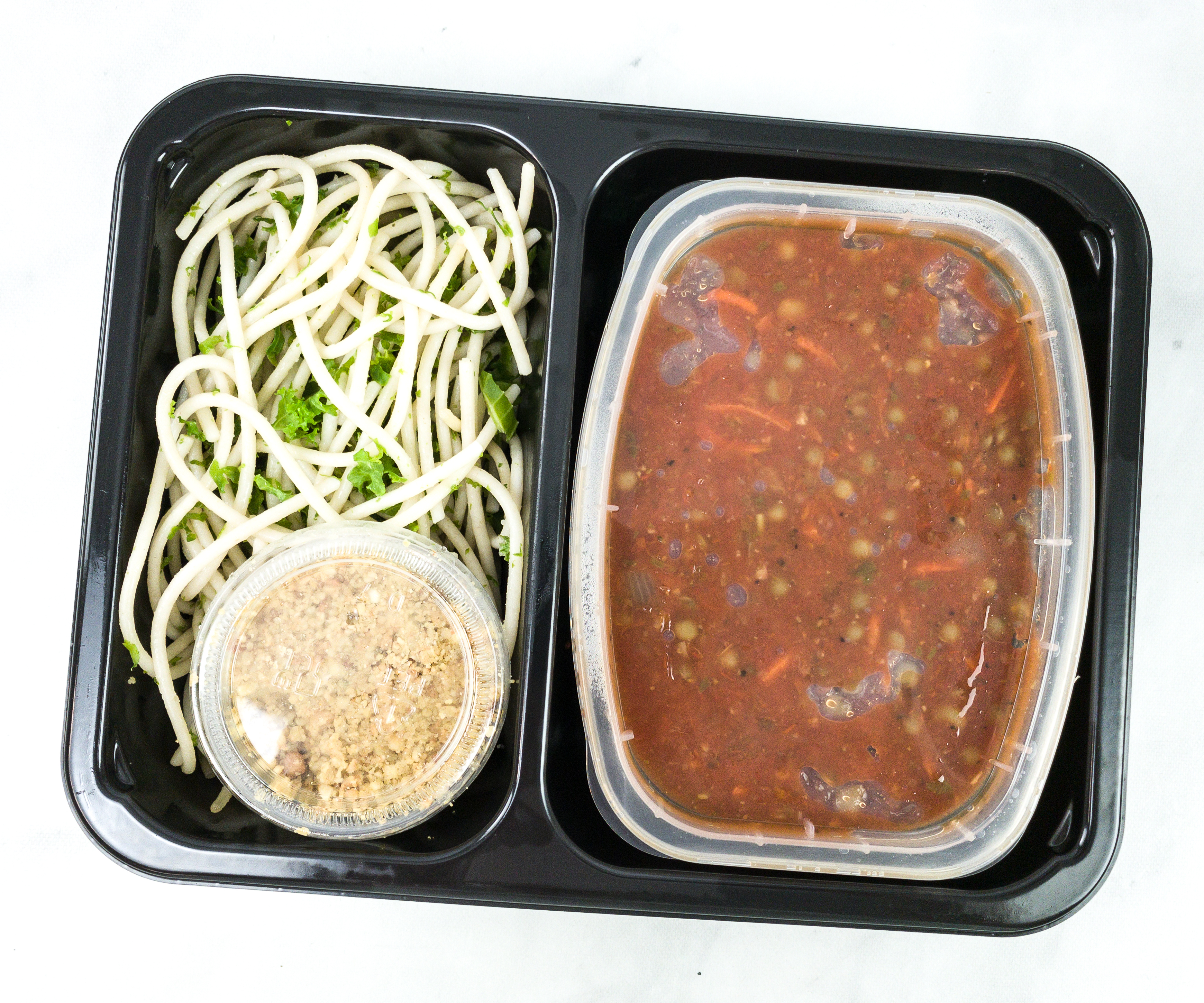 This meal contains lentils that are known for producing red blood cells and preventing anemia because it is rich in folate!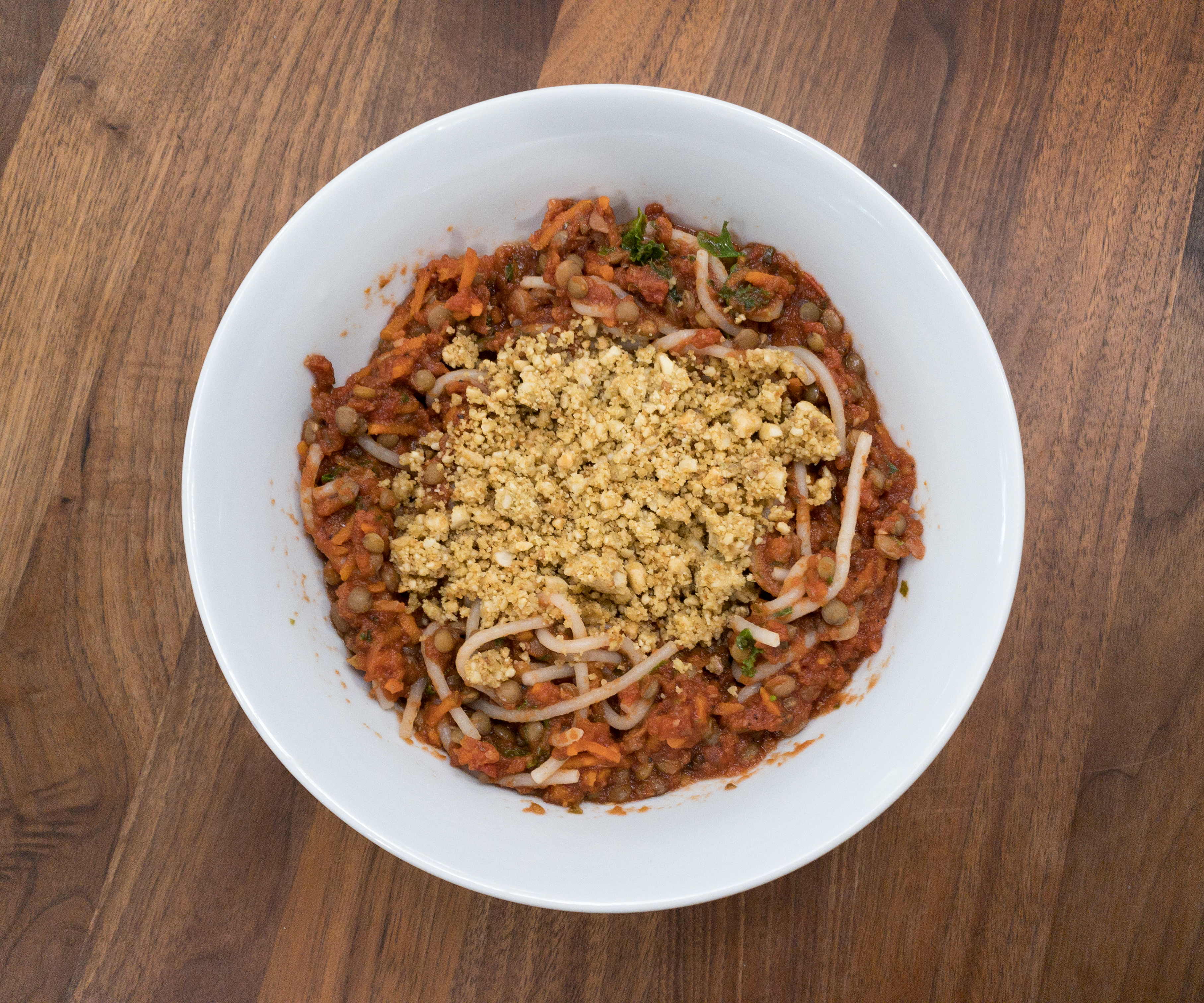 Our last meal from this box is another pasta dish and it tastes amazing! It's your classic Marinara Pasta with a healthier twist. This is a satisfying meal and it's high in protein and other micronutrients.
I loved this month's box just as much as I loved the previous one! Sprinly's plant-based offerings prove that a healthy meal doesn't always have to sacrifice the taste. They also make it easy to switch to healthy eating habits or simply to add more vegetables to one's diet. My favorite meal this month is the enchilada casserole because the warm flavors were on point! The salad is also a great addition because it was such a light yet hearty meal. I really like that they put detailed heating instructions on each food item so we would know how to best prepare them. Another thing I like about this meal subscription is that they have a huge meal selection! So far, everything we've tried were all healthy, tasty, and filling!
Are you getting Sprinly? What do you think of this plant-based meal subscription?