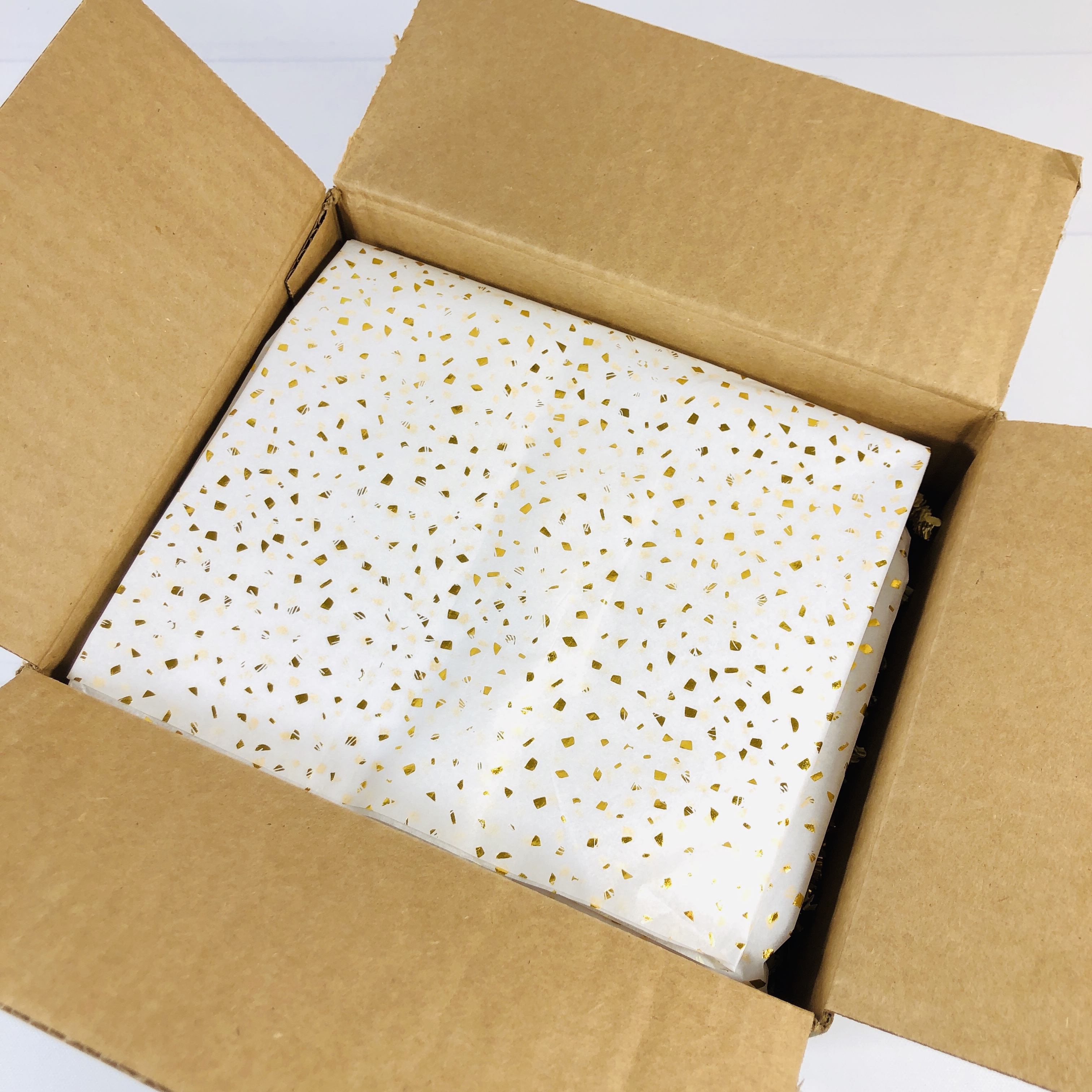 Spongellé is a popular subscription box brand, I've encountered their amazing sponges before, but did you know you can save when you sign up for a regular shipment from their website? You can pick the scents and products you prefer and save 15% plus get free shipping! Products are automatically delivered on your schedule. No obligation, modify or cancel your subscription at anytime.
DEAL: Subscribe and save 15% on select products! Deal applies automatically, just use this link to subscribe! OR Get 10% off any order! Use coupon code AFFILIATE10.
The subscribe & save deal is only valid on select products – you'll see it advertised on the page!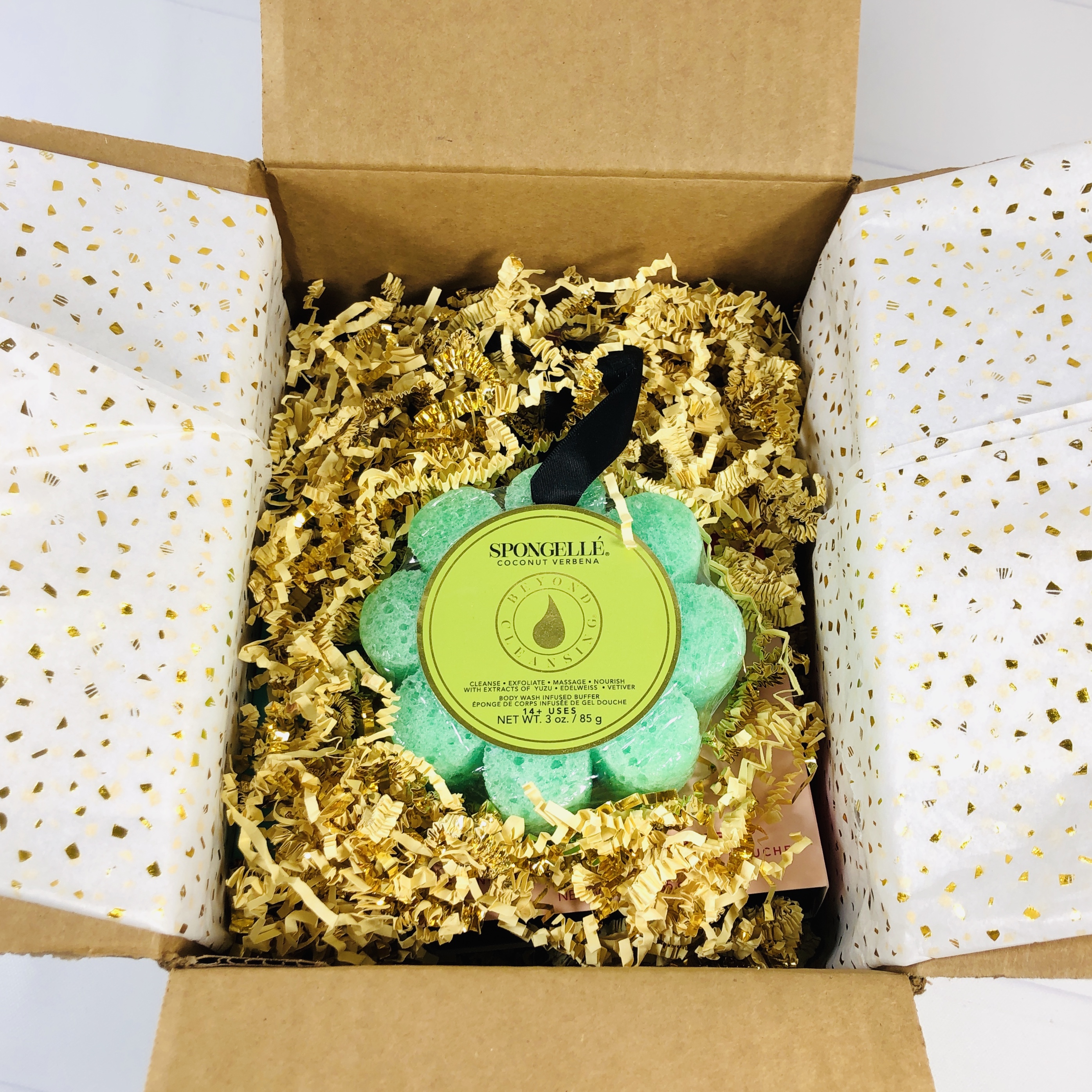 My items showed up in a standard shipping box and were tucked into with gold-flecked tissue paper and shredded squiggles. Keep in mind that this subscription is unique to each person who orders, so your box will include whichever products you order!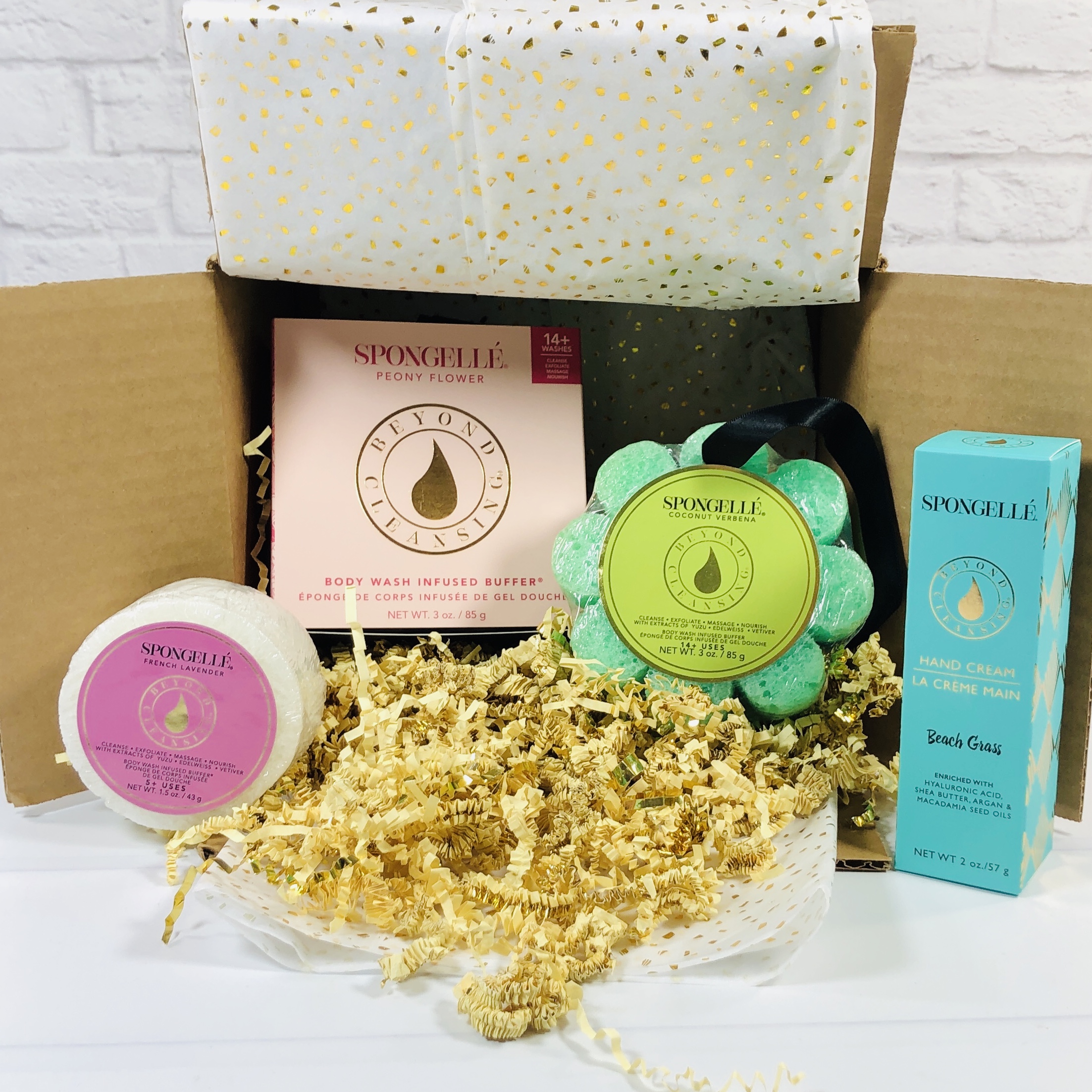 Everything in my box!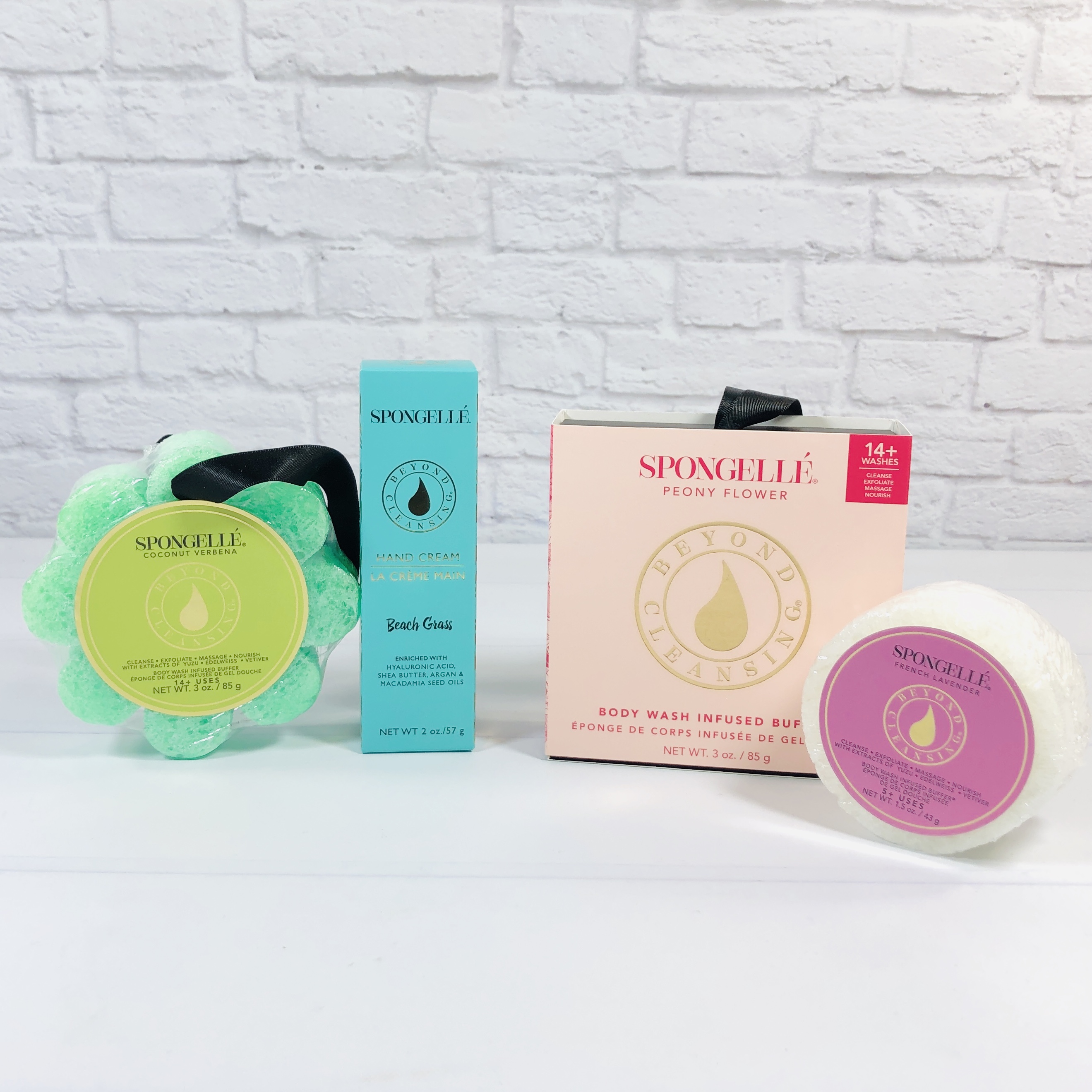 I received three of the classic Spongellé buffers and a hand cream. You can also find body lotions, pedi buffers, and gift sets on the Spongellé website, and they have an extensive range of scents, including fruity, floral, warm, fresh, and men's.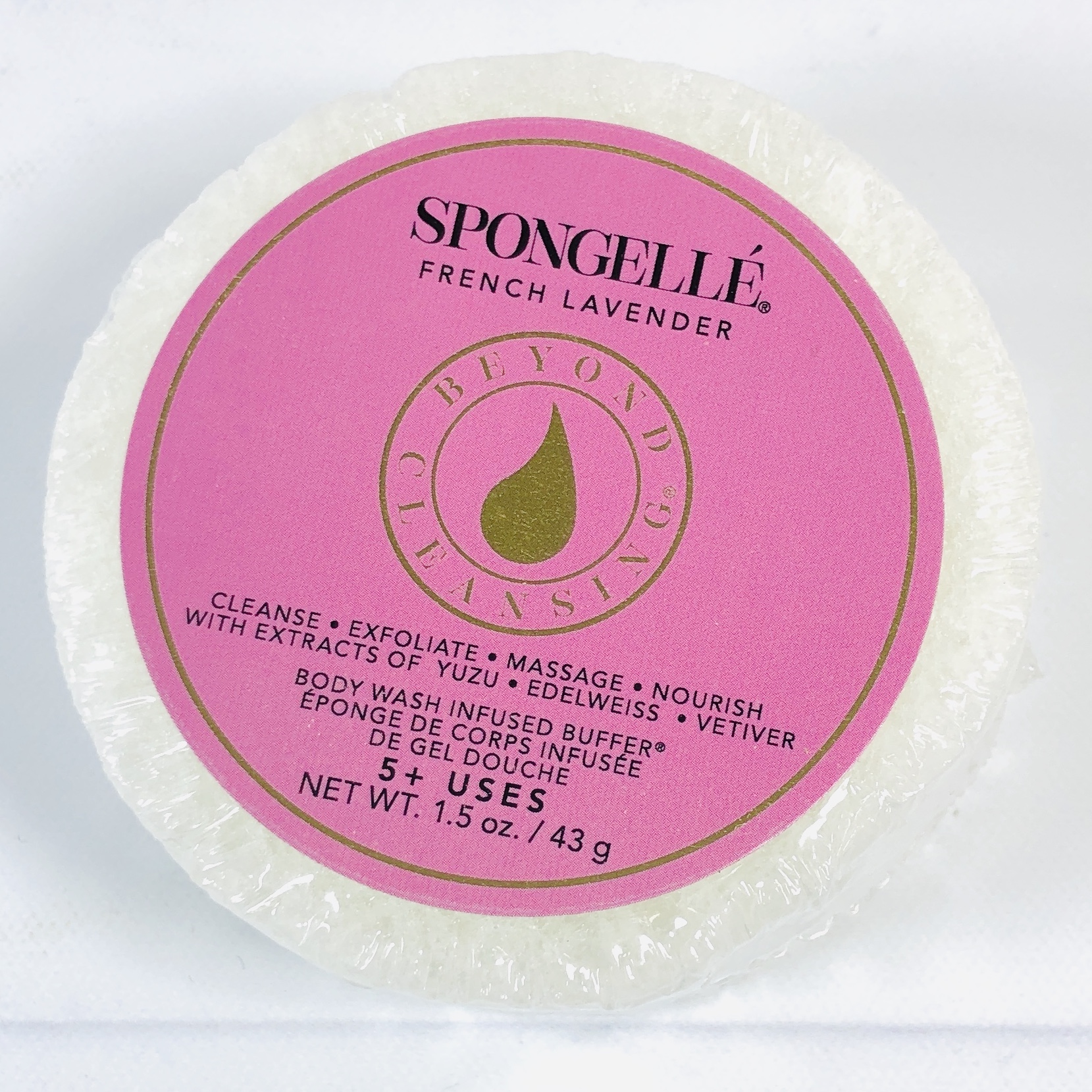 Spongellé French Lavender Body Wash Infused Buffer ($9) The Spongette is a travel-friendly version of the popular gel infused body sponge. It should last for at least 5 showers, plus it won't spill or break in your luggage!
Place the sponge under water, give it a good squeeze, and then apply to your body in your bath or shower.
French Lavender has scent notes of yuzu, vetiver, and lavender tea and is listed under the "Fresh" fragrance group. I think it also has a lot of citrus to it too.
Spongellé Hand Cream in Beach Grass ($18) Look at how pretty this hand cream tube is, I love the turquoise color of the container and the gold decorative pattern.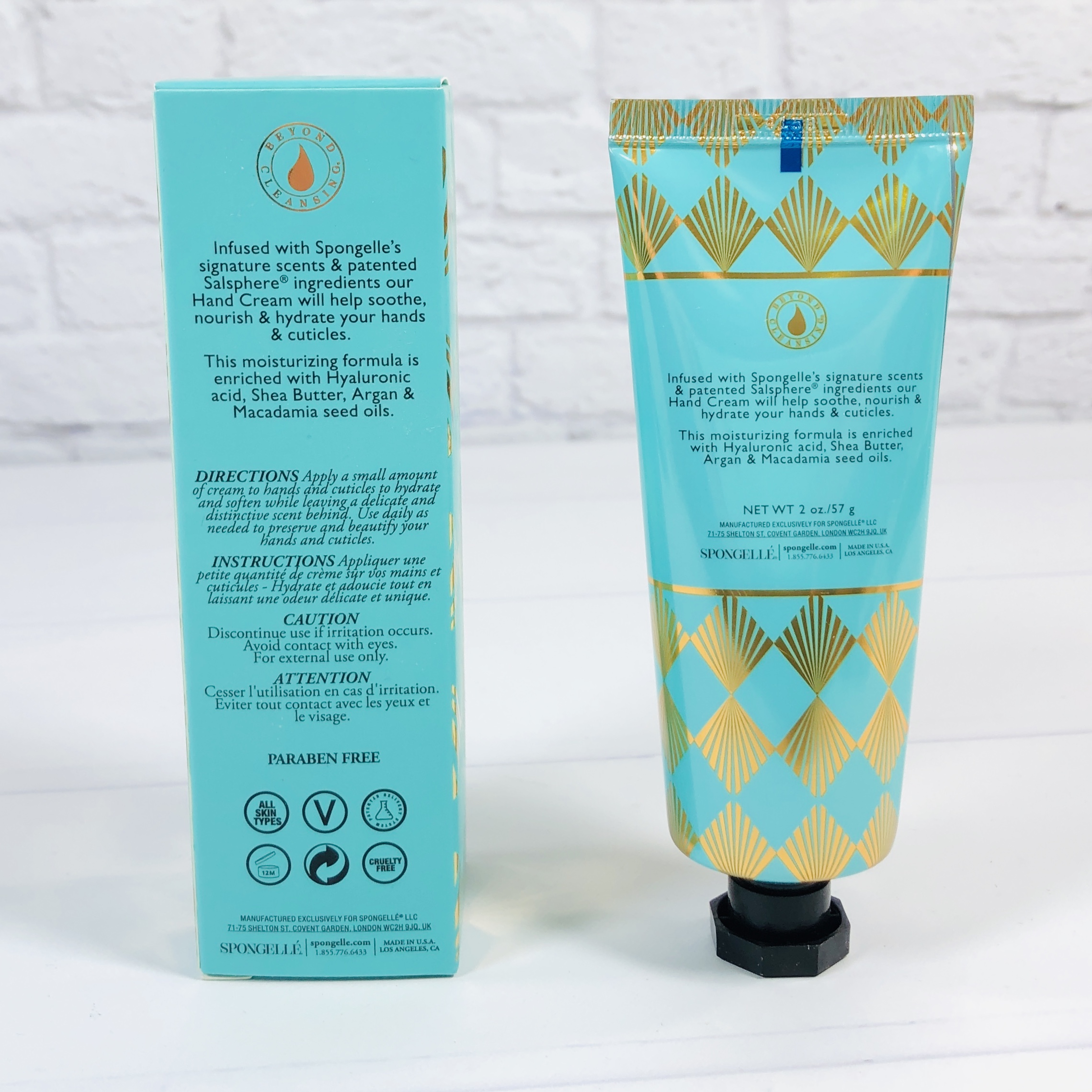 Shea butter, argan oil, and macadamia oil provide moisture while hyaluronic acid draws even more moisture to the skin. The Beach Grass fragrance smells beachy, plus it is lively, aquatic, and there's a hint of musk. It also comes under the "Fresh" fragrance category. It left my hands feeling soft without being greasy and left them scented.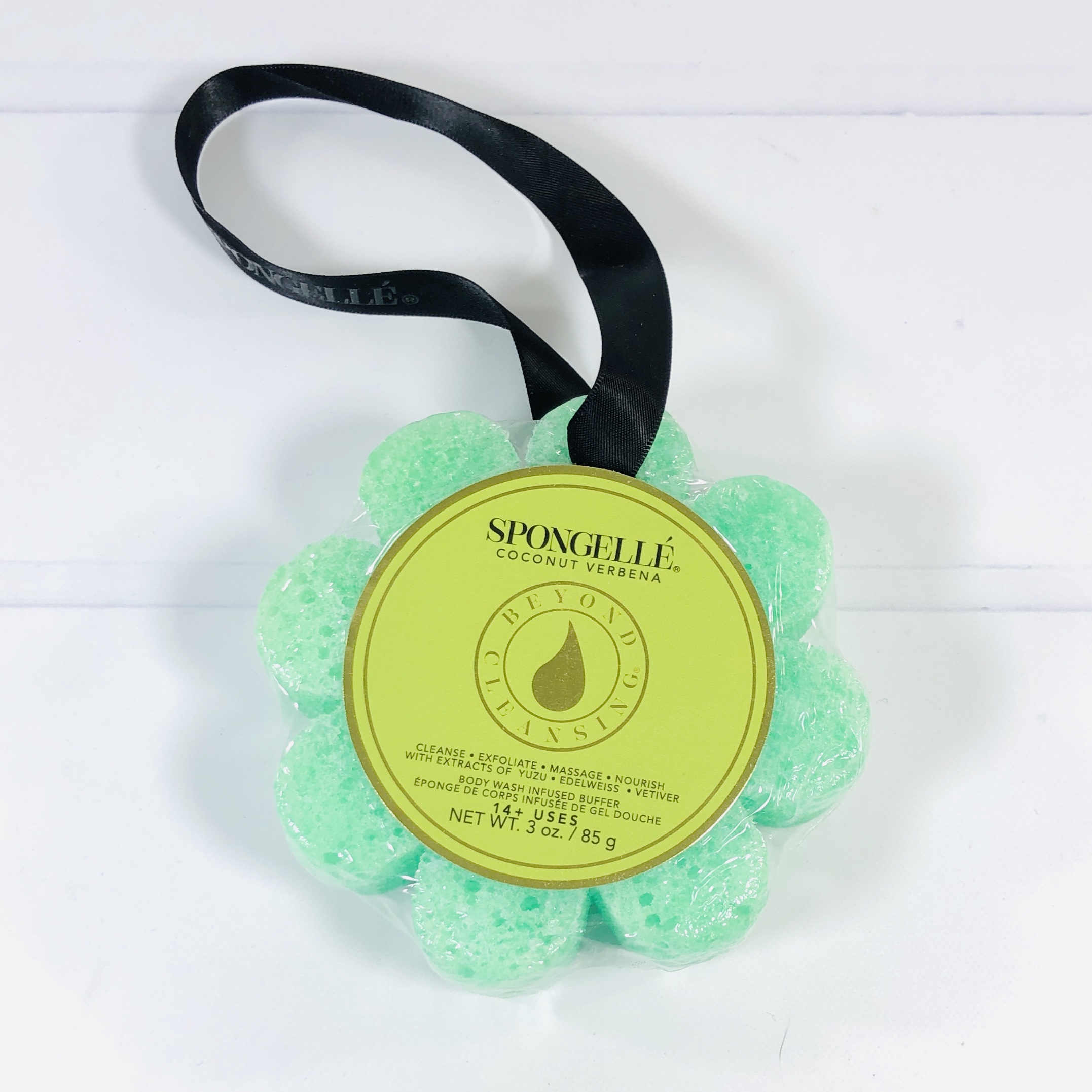 Spongellé Coconut Verbena Body Wash Infused Buffer ($14) This lovely Spongellé product is so pretty, with a flowery shape and spring green color. It is good for at least 14 uses.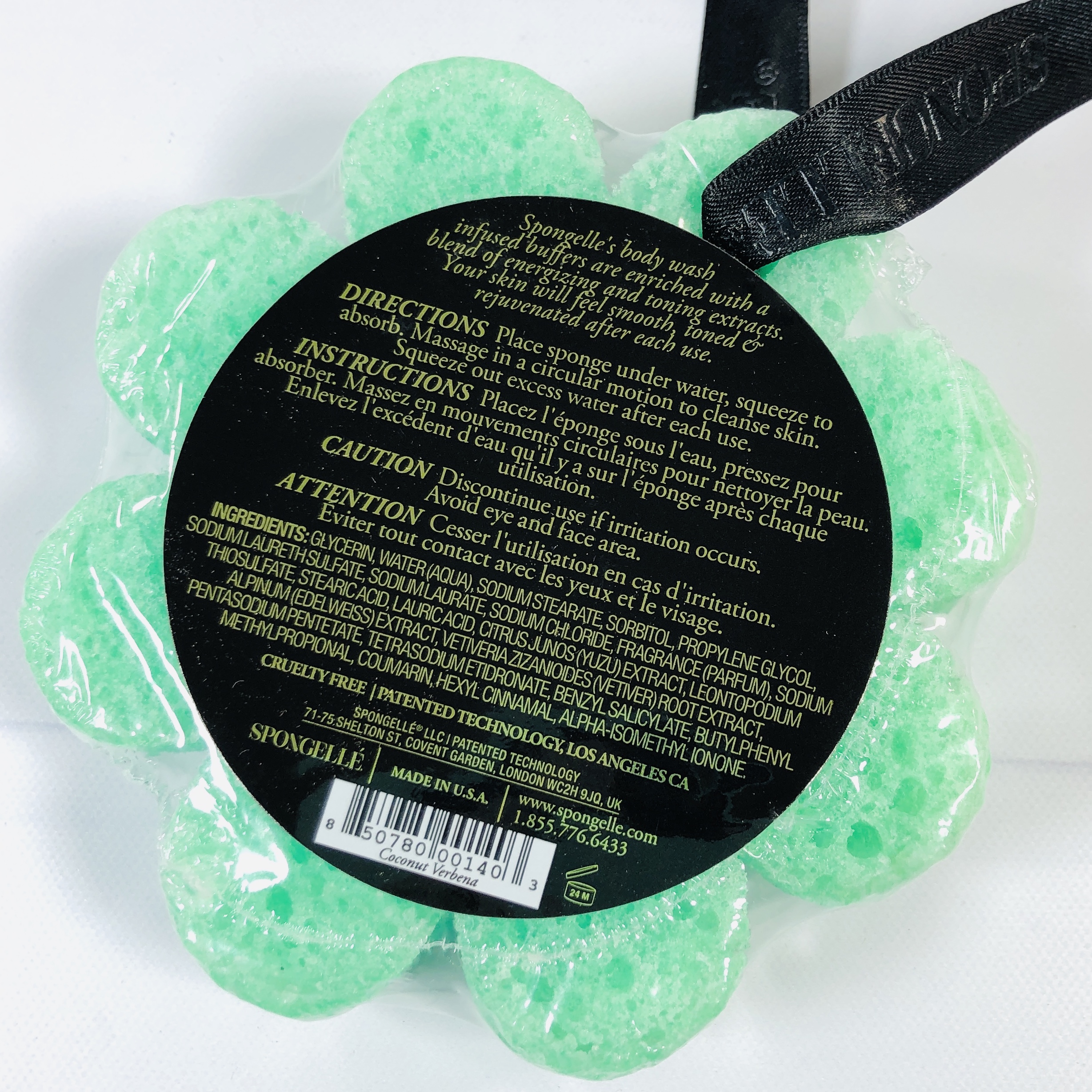 These products not only provide a good exfoliation, they also leave skin soft, they are hydrating.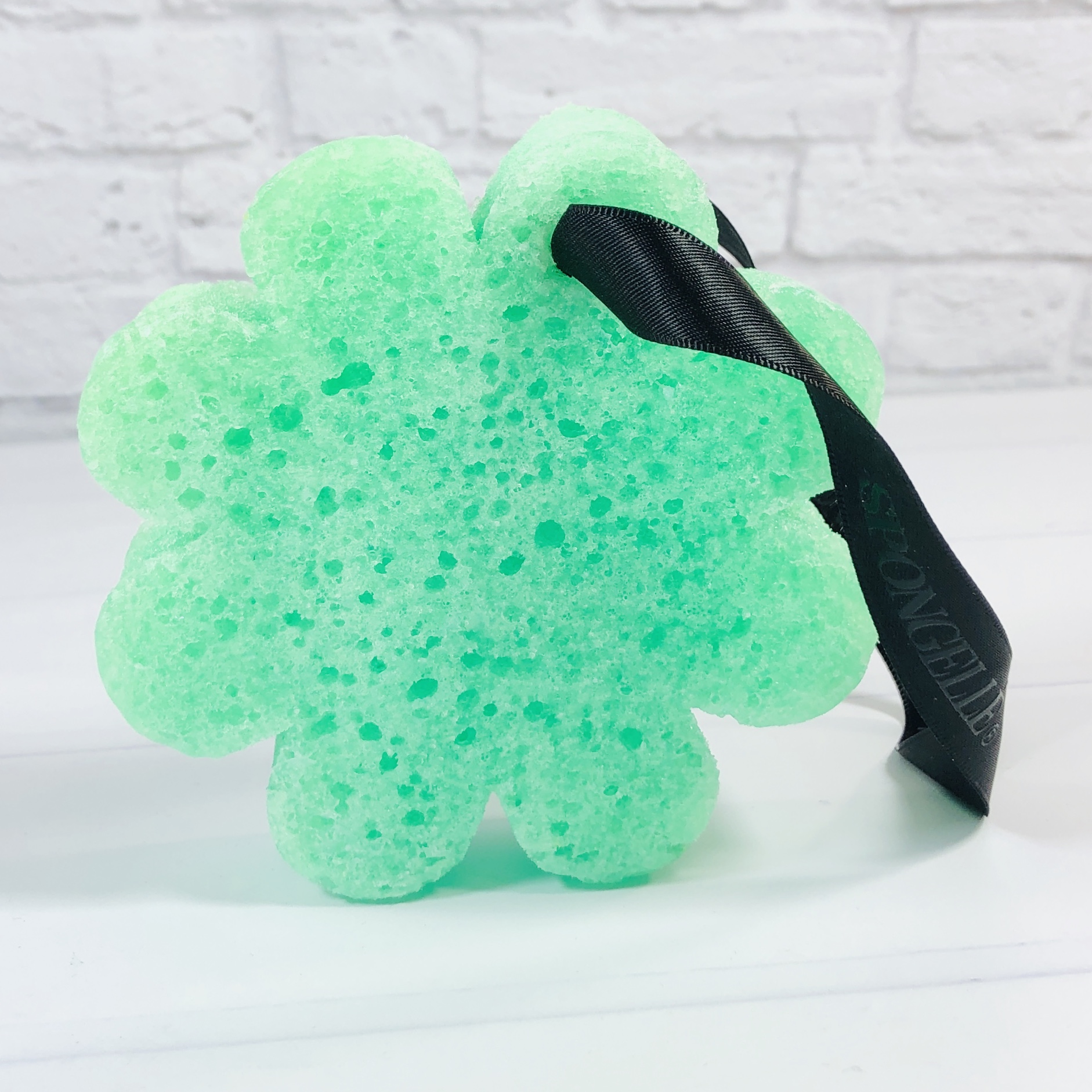 The scent notes are no surprise here: creamy, tropical coconut and a bright burst of lemon verbena. It comes under the "Fruity" fragrance collection and is one of my favorite scents! There is a black ribbon (can you see that it says "Spongellé" on the ribbon itself?) which is helpful so it can dry out between uses. These sponges foam up really well without drying my skin.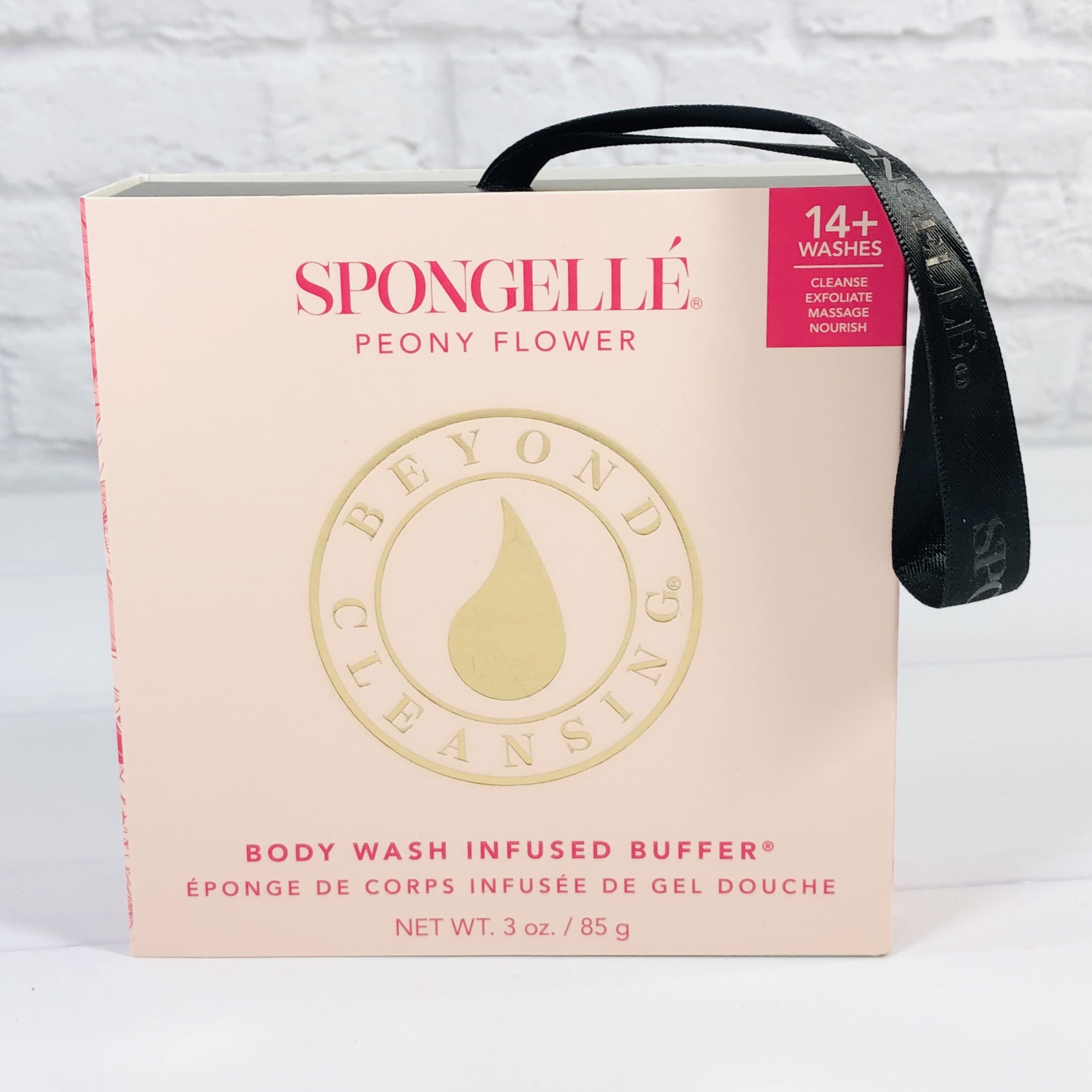 Spongellé Peony Flower Body Wash Infused Buffer ($16) Spongellé has a Private Reserve collection of limited edition products and this sponge is one of those items!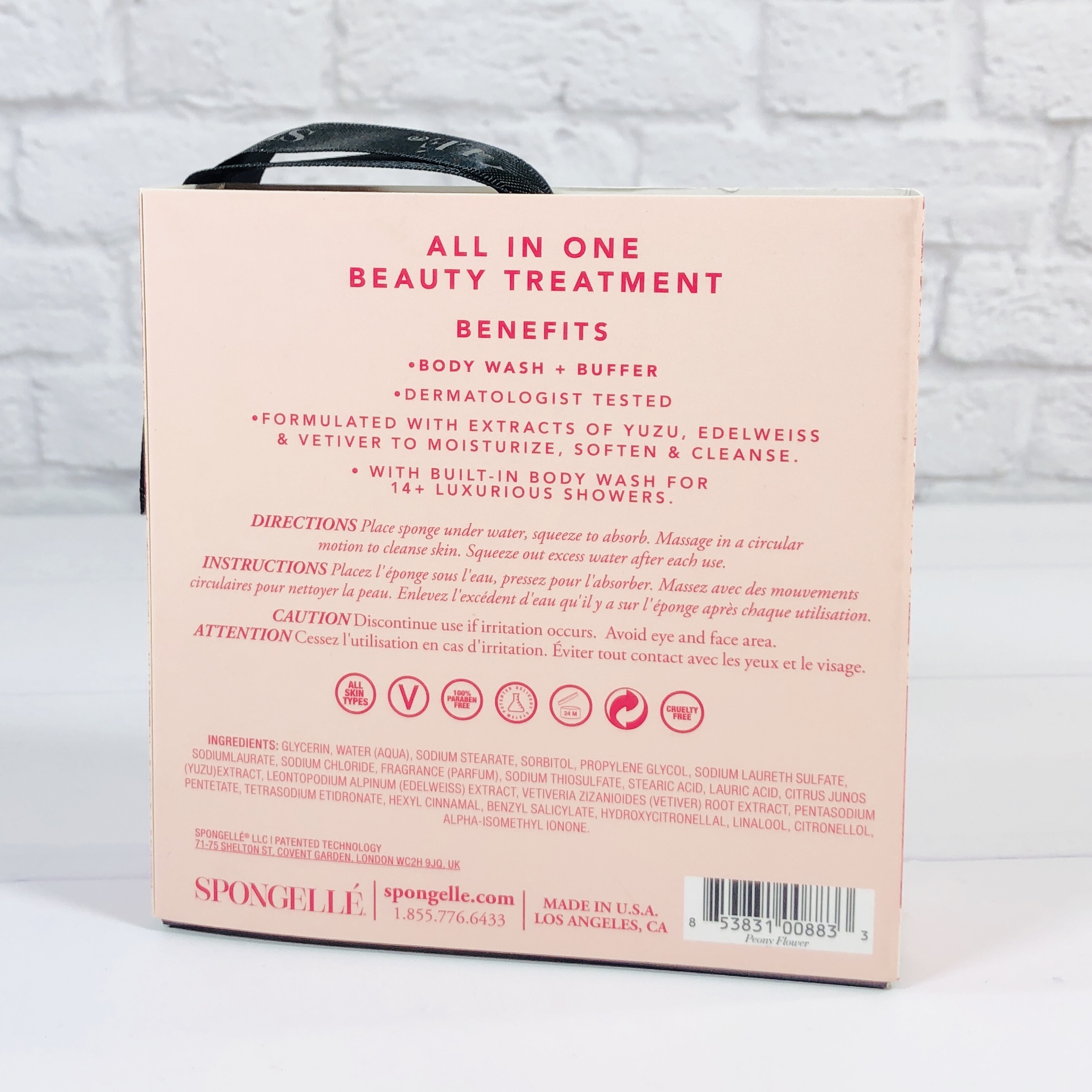 This version also lasts for at least 14 showers. You can repurpose the sponges after they run out of soap, just apply some of your own shower gel each time you want to exfoliate.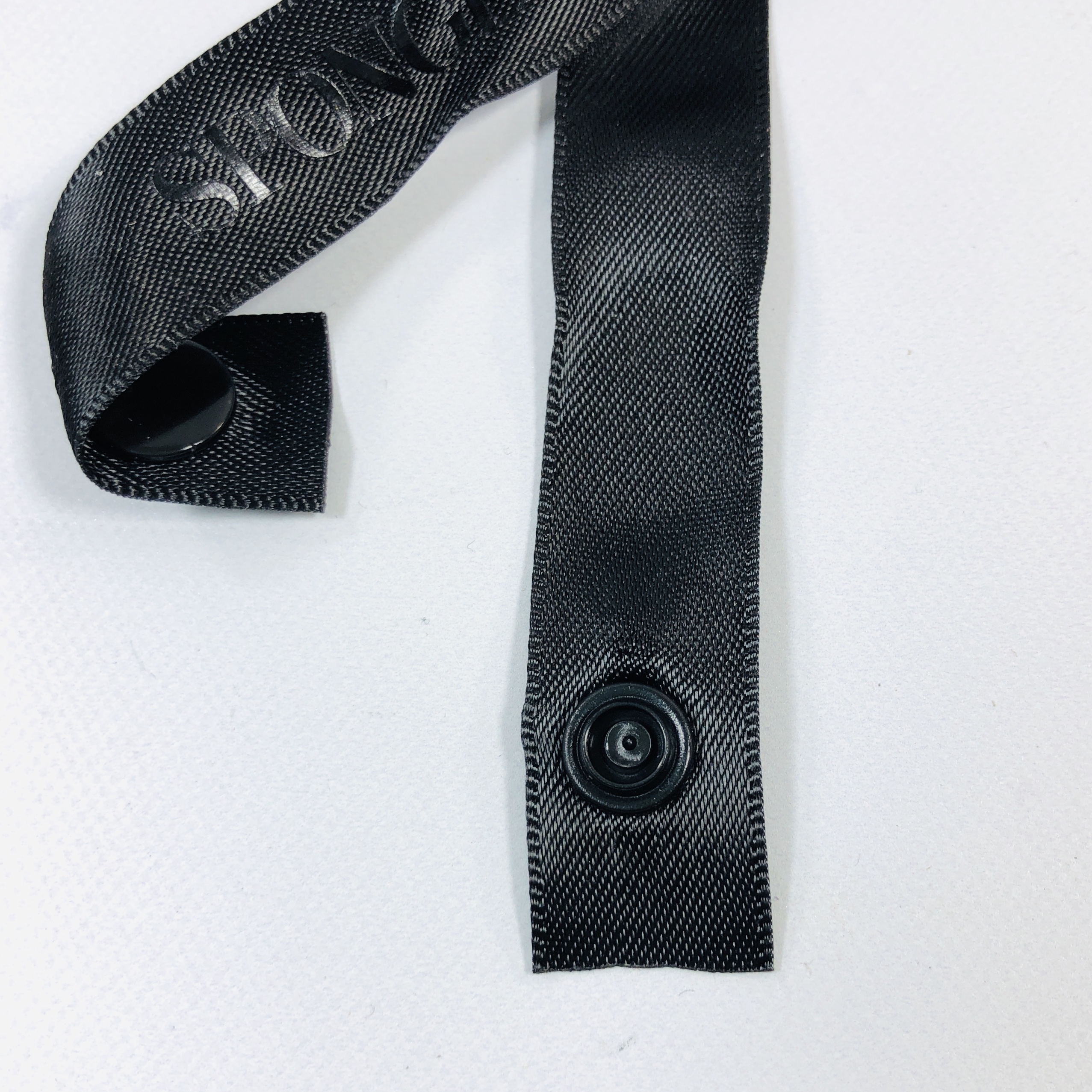 The ribbon wasn't attached, I just had to thread it through the hole and then snap to close the loop. I looked at the Coconut Verbena ribbon and it had the snap hidden in the hole.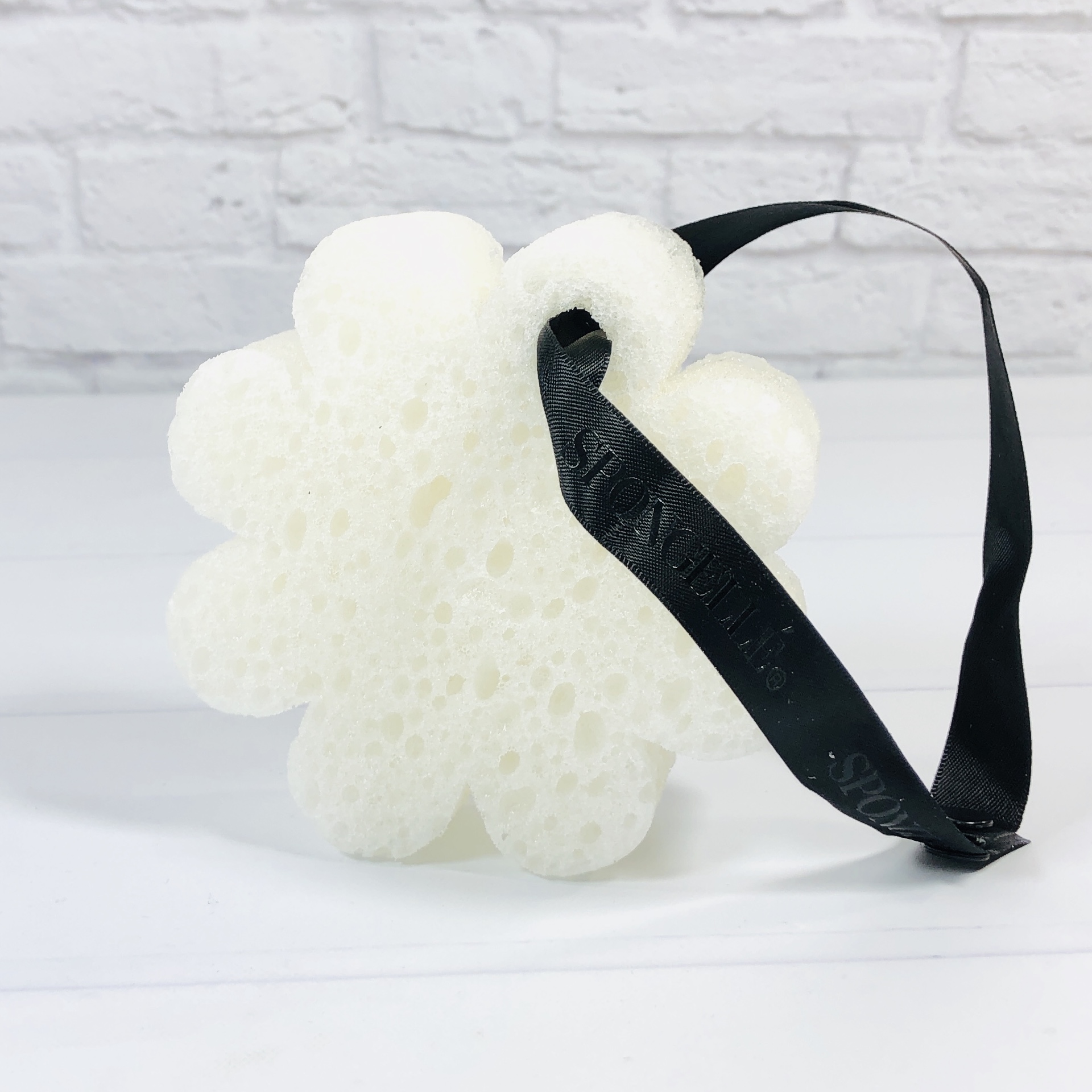 This version also has the lovely flower shape but this scent has notes of rose, petitgrain, and clean musk and smells like a lush floral perfume. I think this falls into the "Floral" category.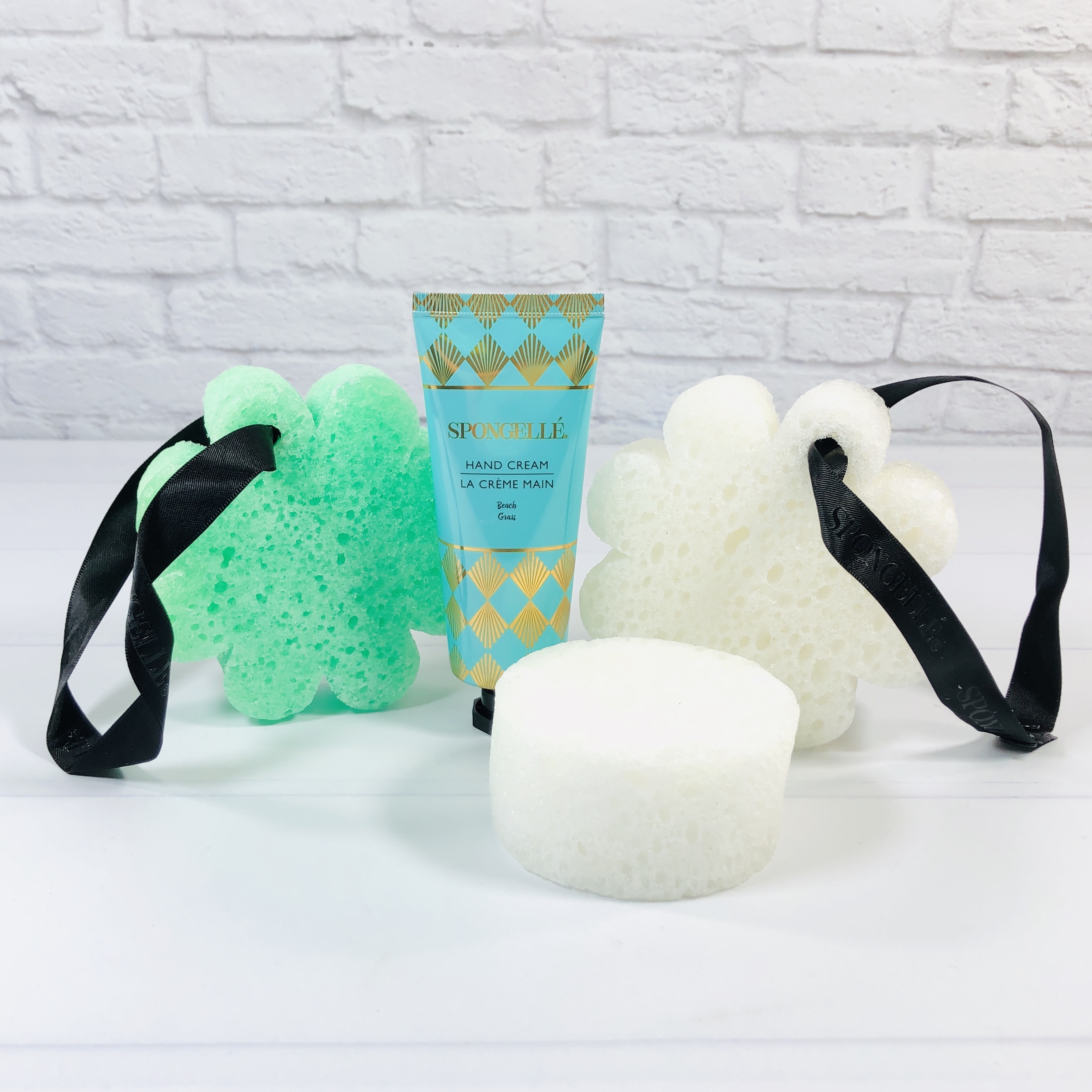 I was so excited to stock up my shower with these gel-infused sponges from Spongellé! The lotion was much needed as my hands are so dry lately and the scent reminds me of summer. The sponge scents were either floral, fruity, or fresh and I think they smell so lovely. The sponges provide a good exfoliating treatment for my body while also giving a mini massage. The sponges also do a great job of lathering up and they always last longer then the length stated on the labels. The auto-replenish service means I can have my favorite products sent on a schedule that I choose and in an amount that works for me, plus I save 15% AND get free shipping! I plan on stocking up now for holiday hostess gifts, teacher thank you's, gift exchanges, and stocking stuffers. What do you think of Spongellé?