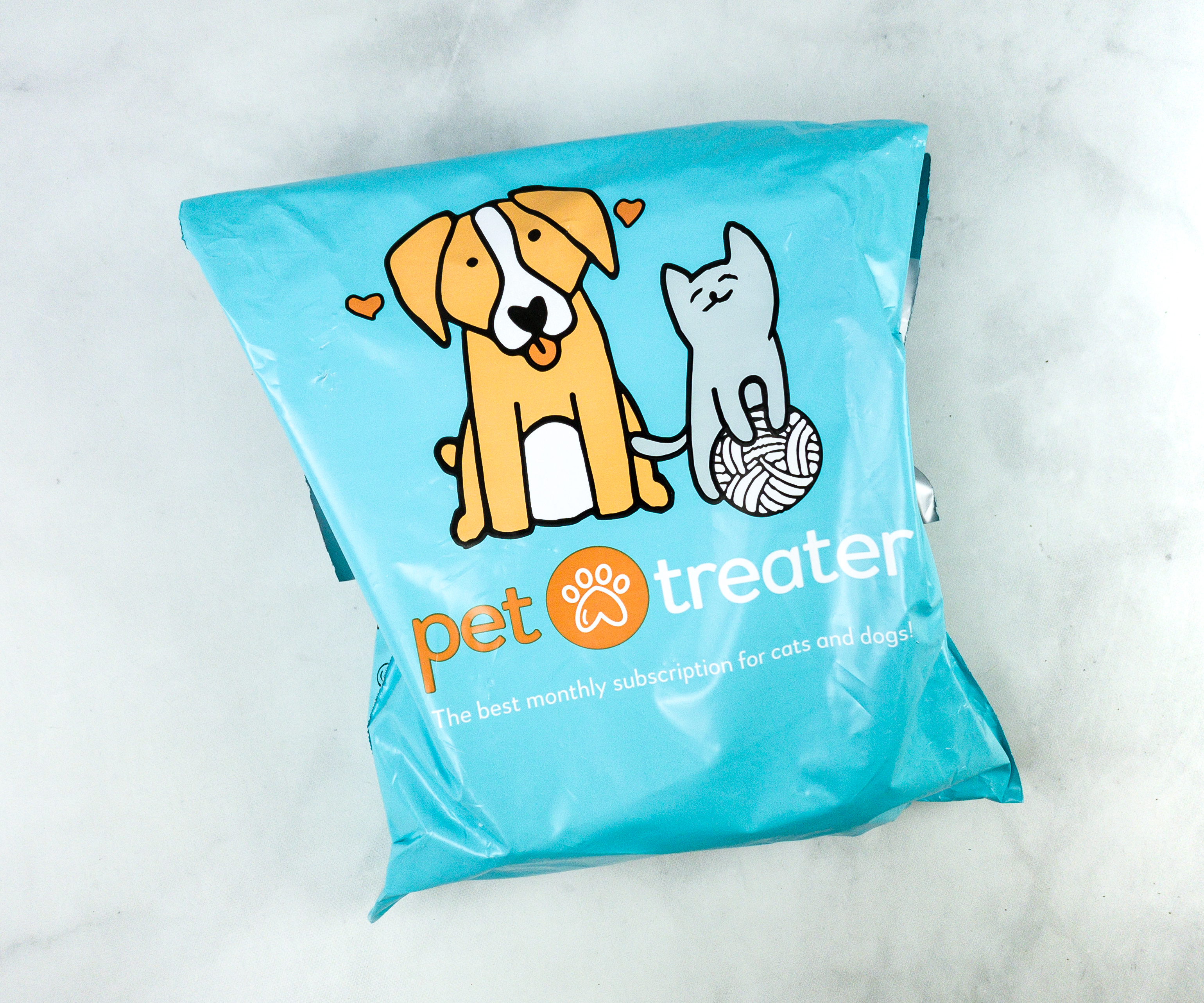 Pet Treater Dog Pack is a monthly dog subscription! Every month you receive at least one bag of treats made in the USA or Canada along with one toy each month for $15 and free shipping. Small, medium, and large dog options are available. Subscribers have access to secret deals and add-ons. It's formerly known as Mini Monthly Mystery Box for Dogs and Pet Treater Dog Box Mini. Pet Treater Dog Pack is a smaller version of Pet Treater's Deluxe Dog Pack.
DEAL: Get 10% off your first month with coupon code DOGPACK10.
The items arrive in a pouch instead of a box. The package this month has no extra packaging and all the items arrived in perfect condition. Also included is a card that features this month's Pick of the Litter, Pepper!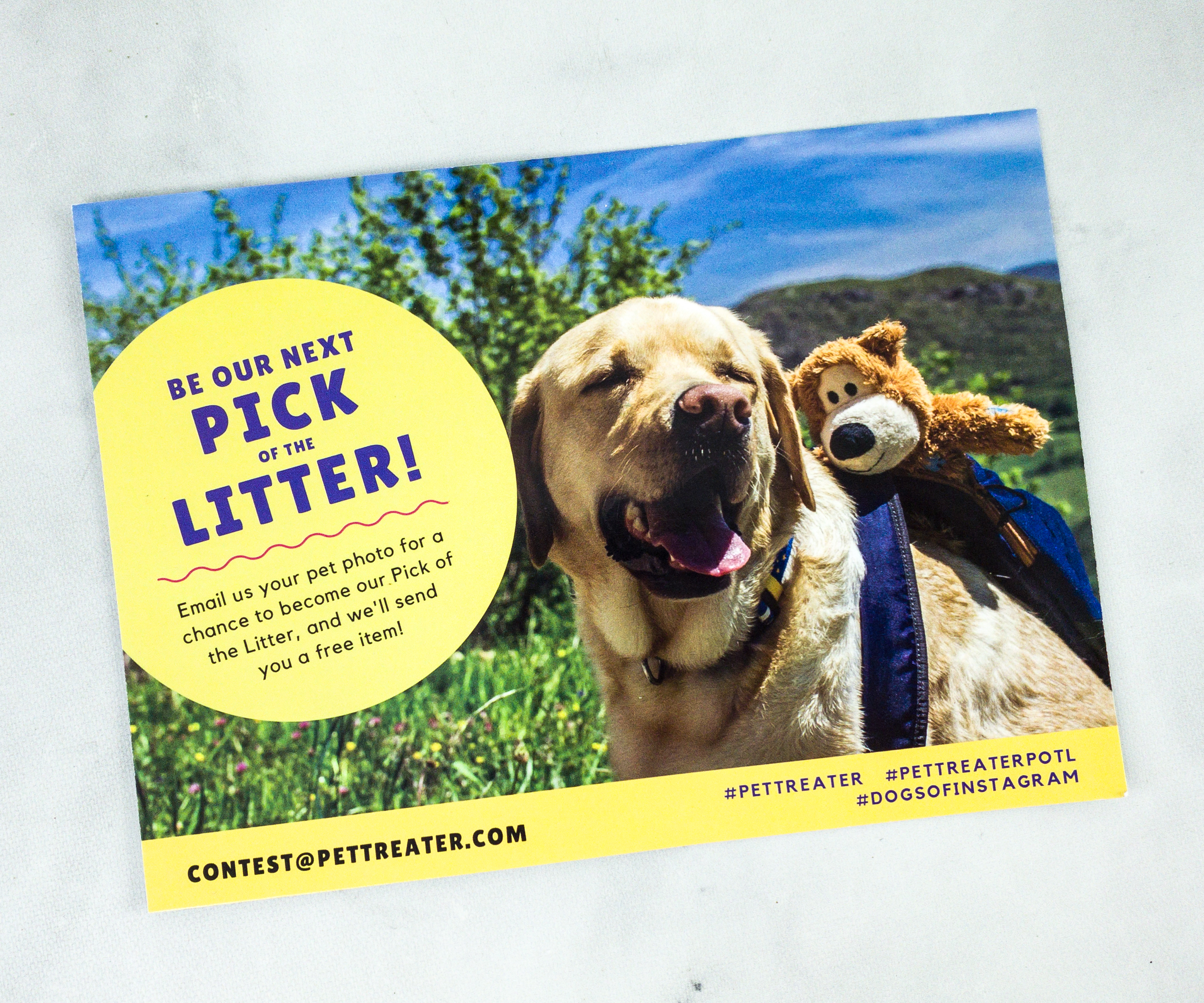 You can also share the photos of your dog enjoying their favorite Pet Treater goodies to get a chance to be featured on the next month's Pick of the Litter card.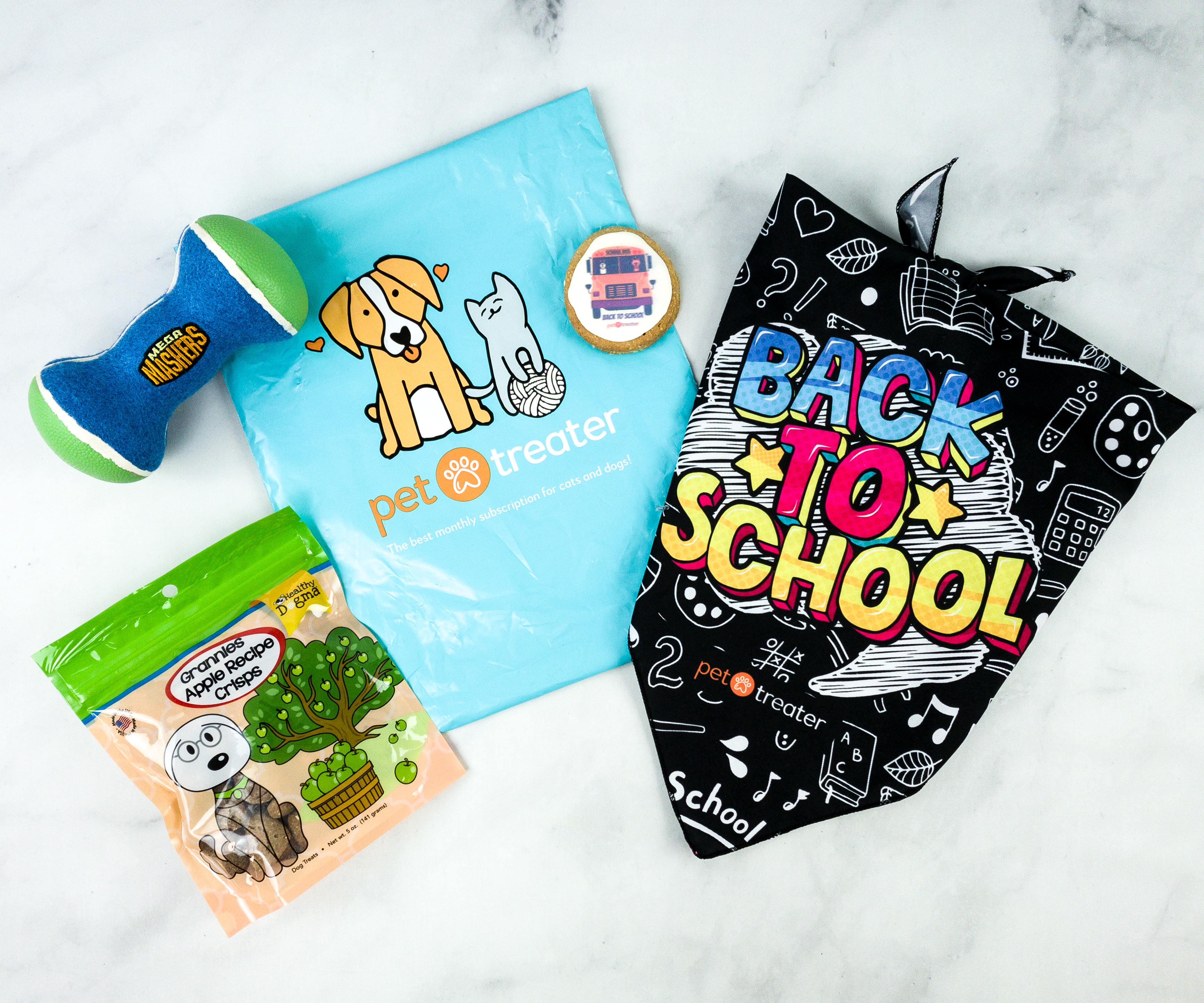 Everything in my August 2020 box!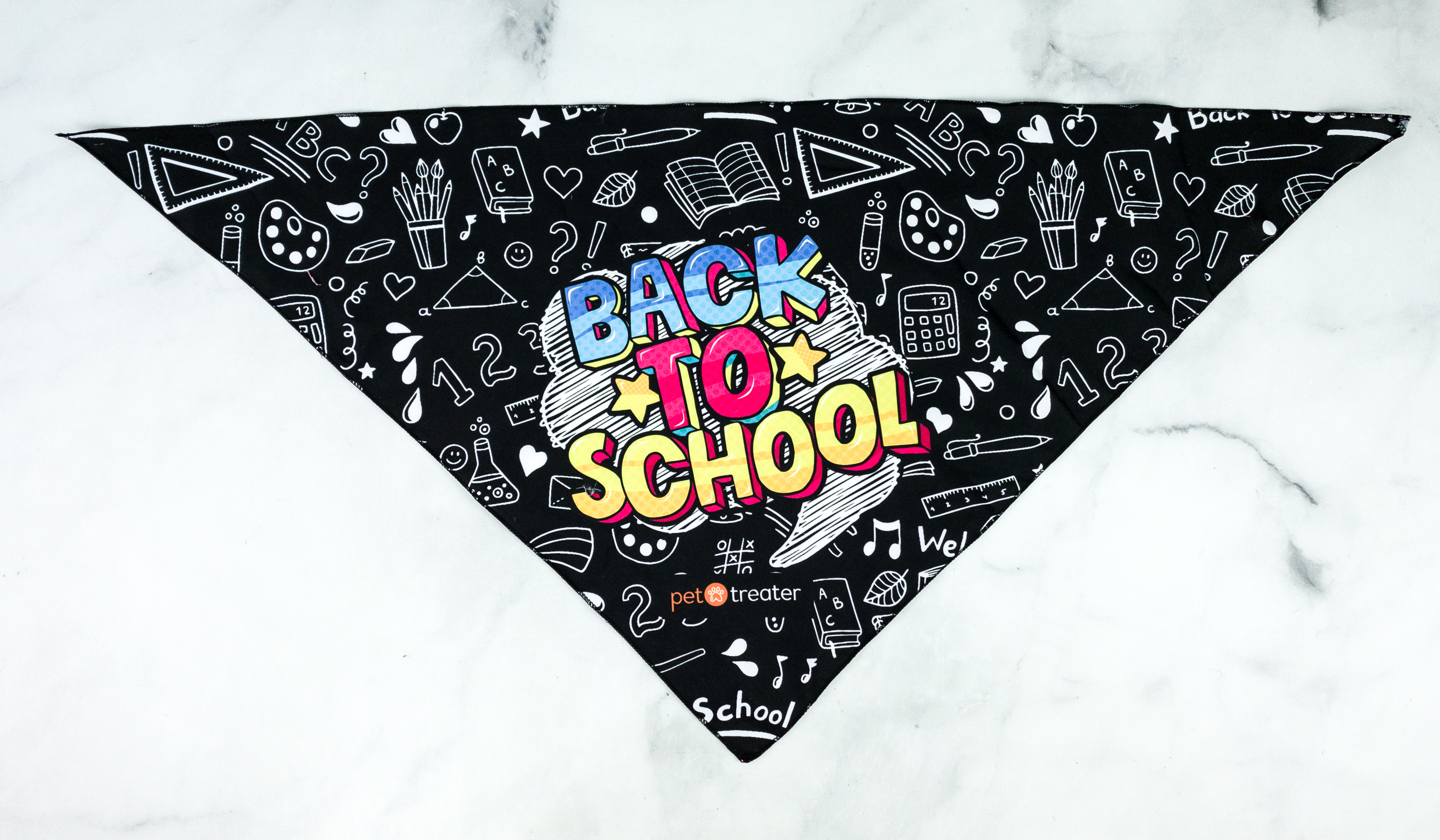 Bandana. It's time to go back to school for the kids, and our pups can also join in on the fun with this bandana! The print features different school supplies on the background plus a colorful Back To School text.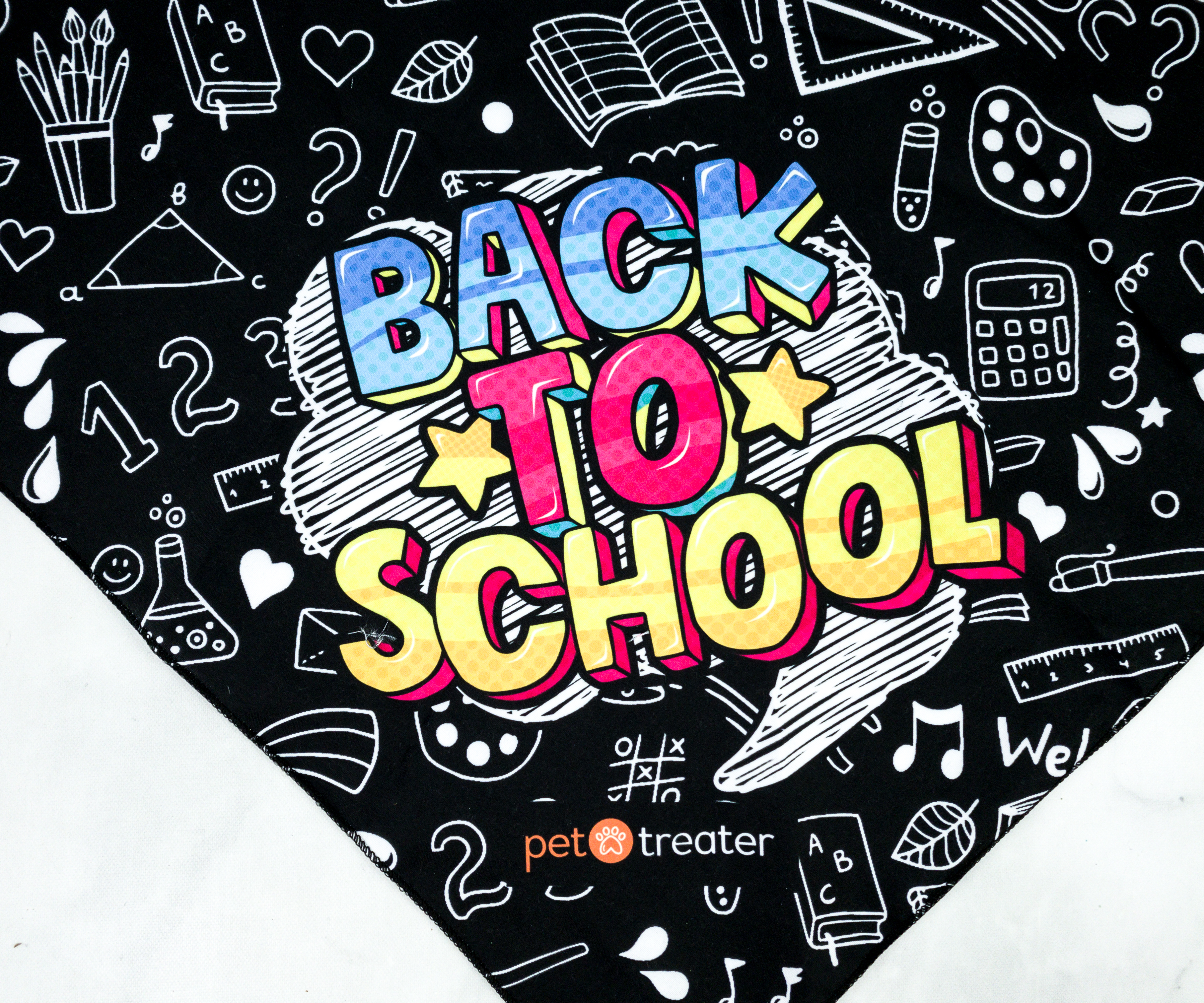 I love the high-quality print! The colors are vivid and they don't fade away easily.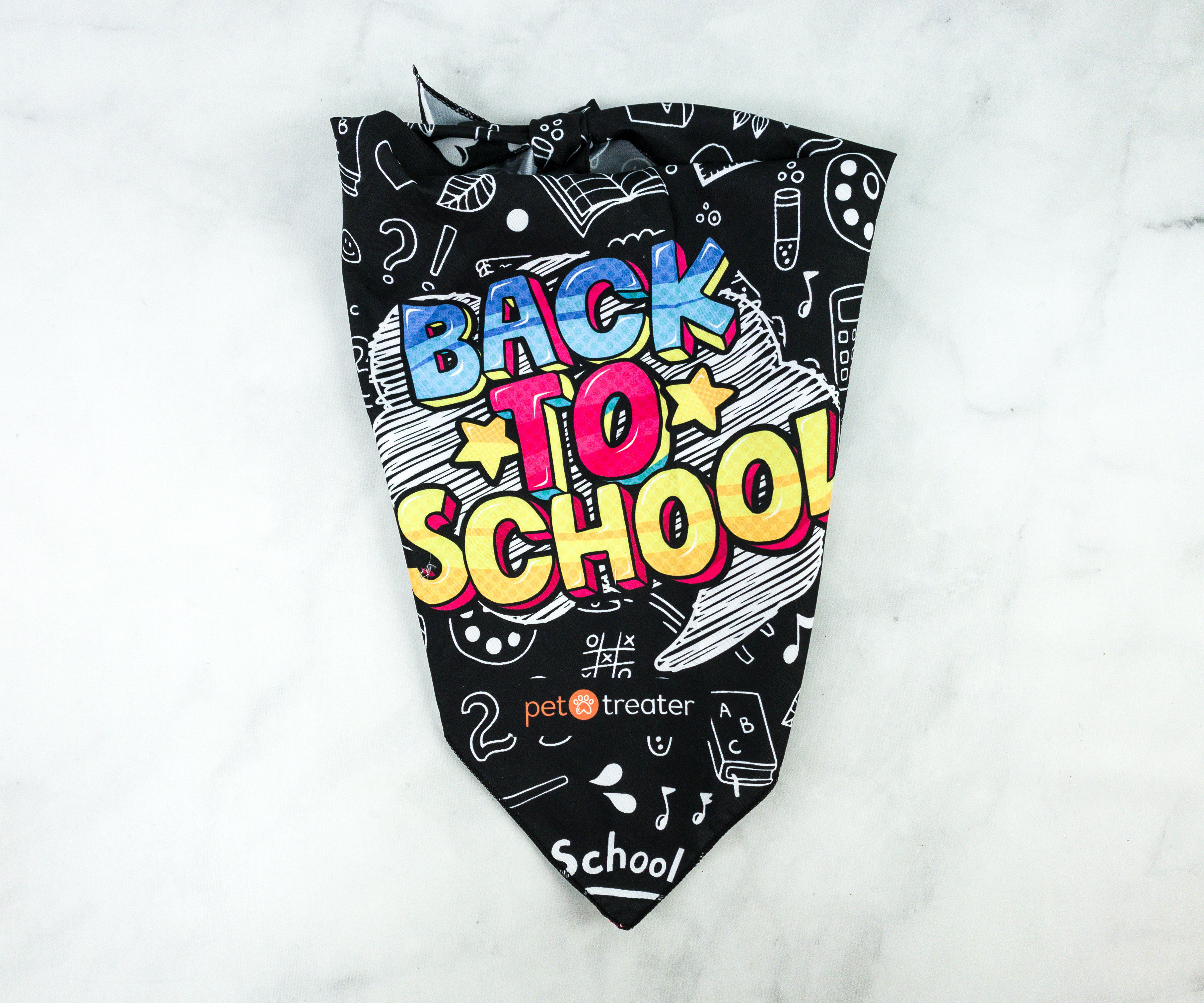 The bandana is lightweight so we have no problems putting it on our pup's neck!
BT's Bake Shop Peanut Butter Crunch Dog Treats. Peanut butter is great for dogs (in moderation, of course) as it contains protein and healthy fat that supports their growth and development. This dog treat contains peanut butter plus other healthy ingredients such as steel cut oat flour and chicken broth.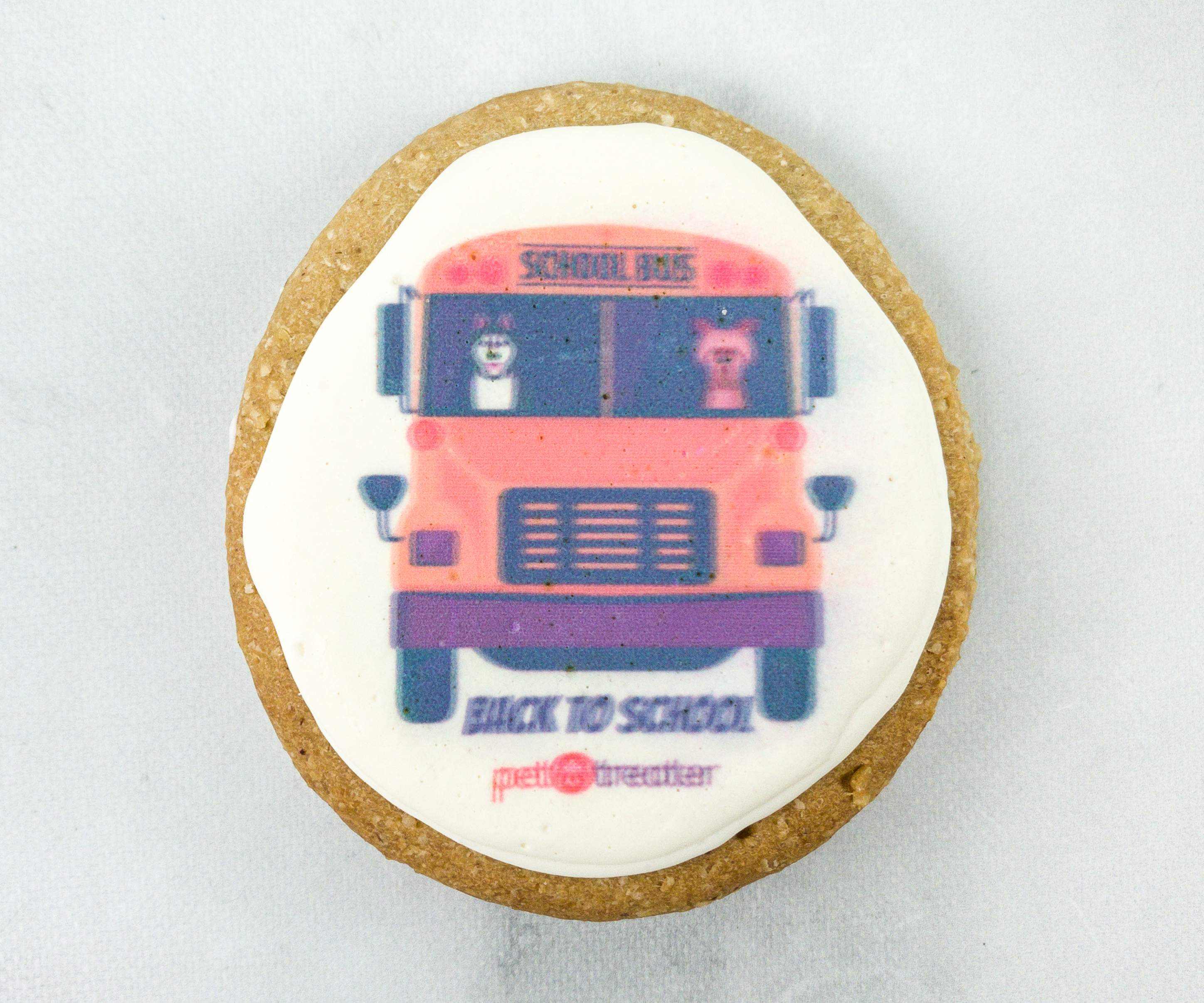 It's a handmade cookie with frosting on top! There's also a back-to-school-inspired print on the frosting, but it seemed to have faded a bit already. Still, it didn't stop Dean from munching on this peanut butter-flavored treat and he loved every bit of it.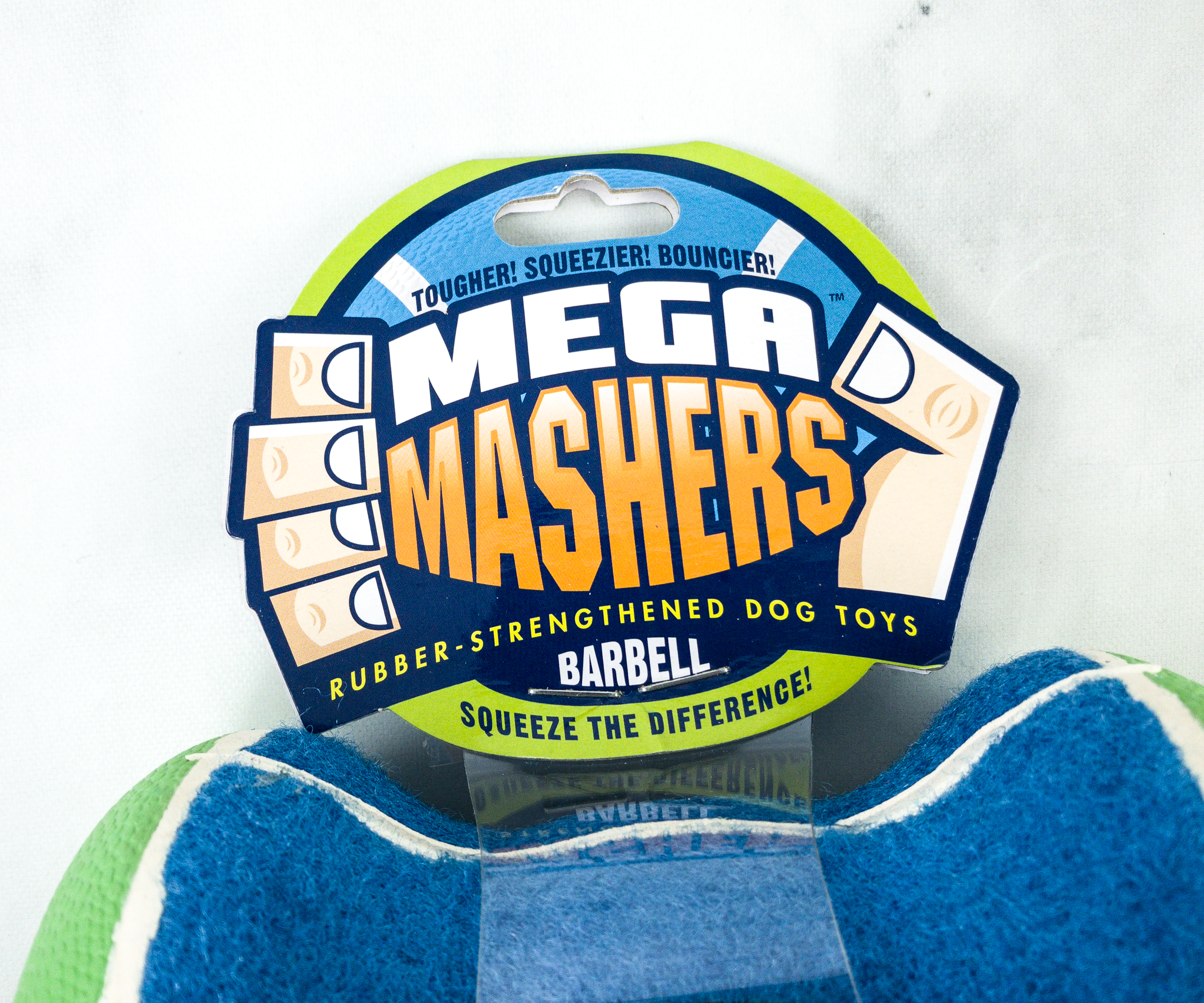 Mega Mashers Rubber-Strengthened Dog Toys ($10.29) To match the tough bites of dogs, here's an equally tough toy strengthened with rubber!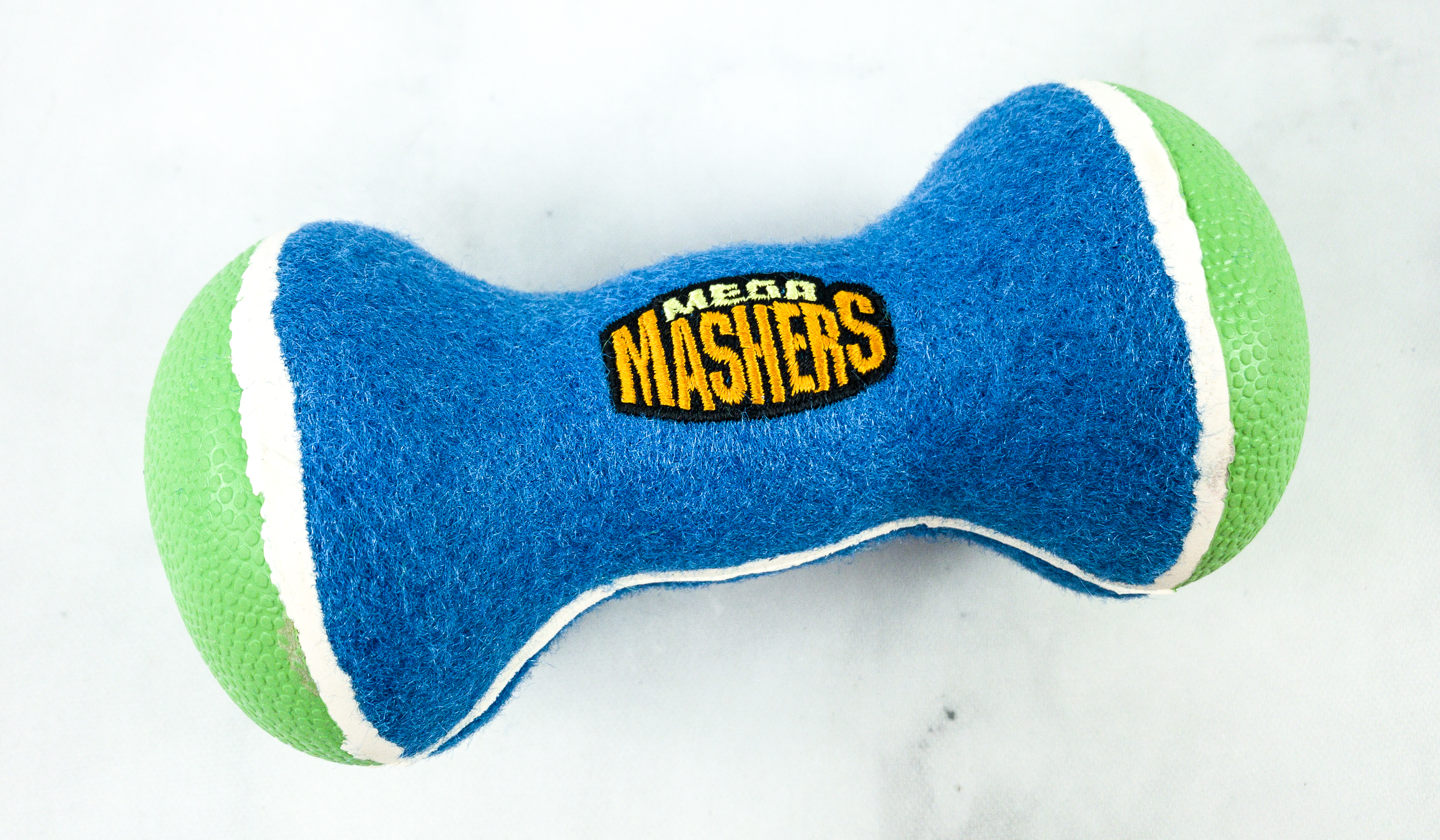 This toy is shaped like a dumbbell. It's so squishy and it offers different textures for dogs to enjoy.
It even bounces, making it such an interesting toy for dogs. It's also a great toy for playing fetch!
Grannies Apple Recipe Crisps Dog Treats ($4.95) Here are fruity treats for dogs, made with a combination of dried apples, applesauce, oatmeal, barley flakes, and honey! Apples are great for dogs because they are rich in vitamin A, vitamin C, and dietary fiber!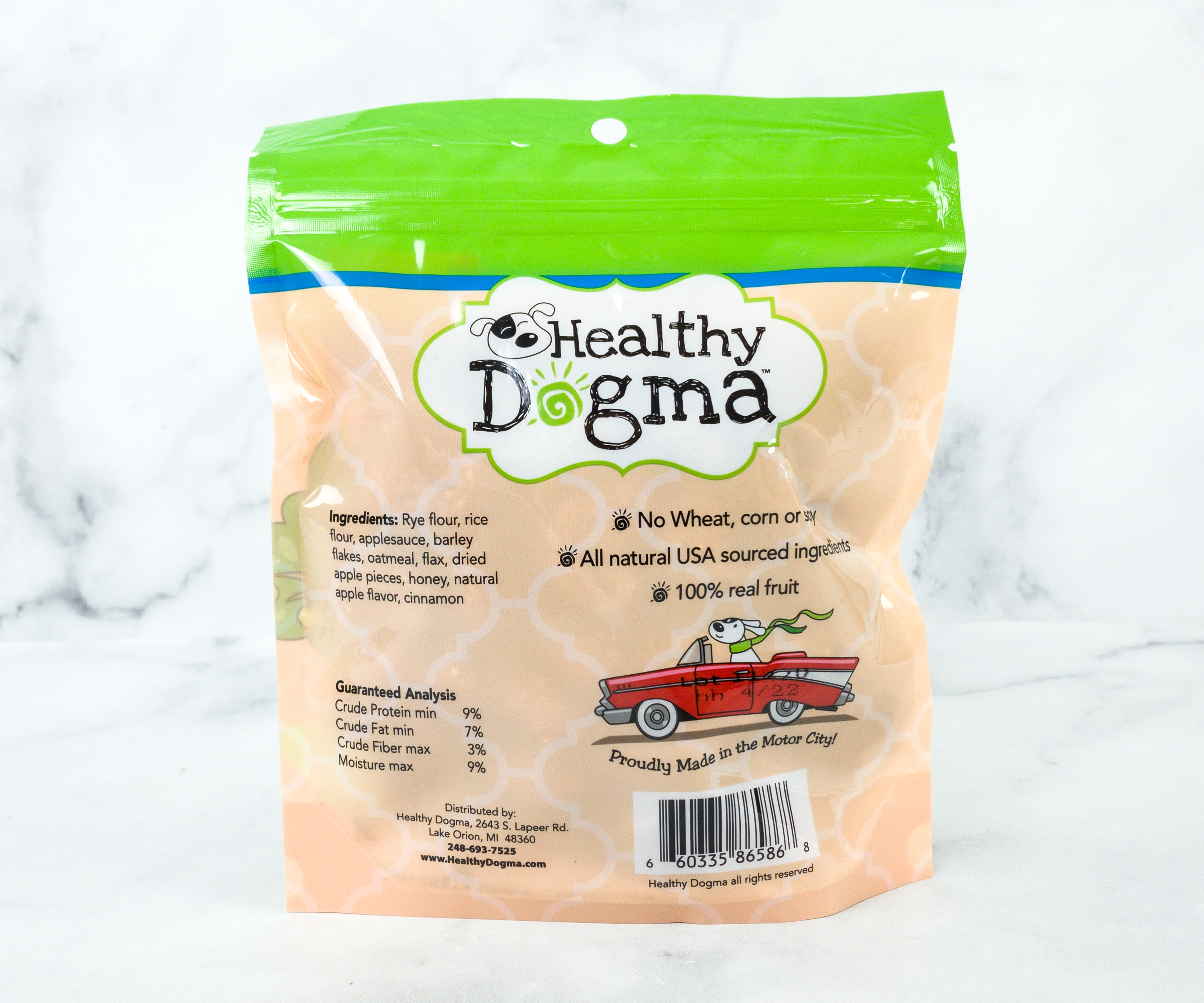 According to the packaging, these treats don't contain wheat, corn, or soy. Ingredients are also natural and USA-sourced.
These heart-shaped treats are crunchy. I could tell because of the sound it makes when Dean munches on them. The size of the treat is also just right for a training reward.
Dean has already played a lot with the toy on our lawn while wearing his cute bandana! So adorable!
Pet Treater Dog Pack keeps things fun for us and our dogs every month with their selection of treats plus a toy and a bandana! This month's dog treats were a hit. Dean was head over heels for the peanut butter cookie and he also enjoyed the apple treats when we gave some to him during training. The toy also didn't disappoint, as it's tough and fun to play with. As expected, they sent us a beautiful bandana, and this time it's back-to-school themed. Dean likes wearing it during walks and sometimes, even when playing outside! It's another great month, and I hope they keep coming up with fun themes for the dog packs!
What do you think of this month's Pet Treater Dog Pack?