---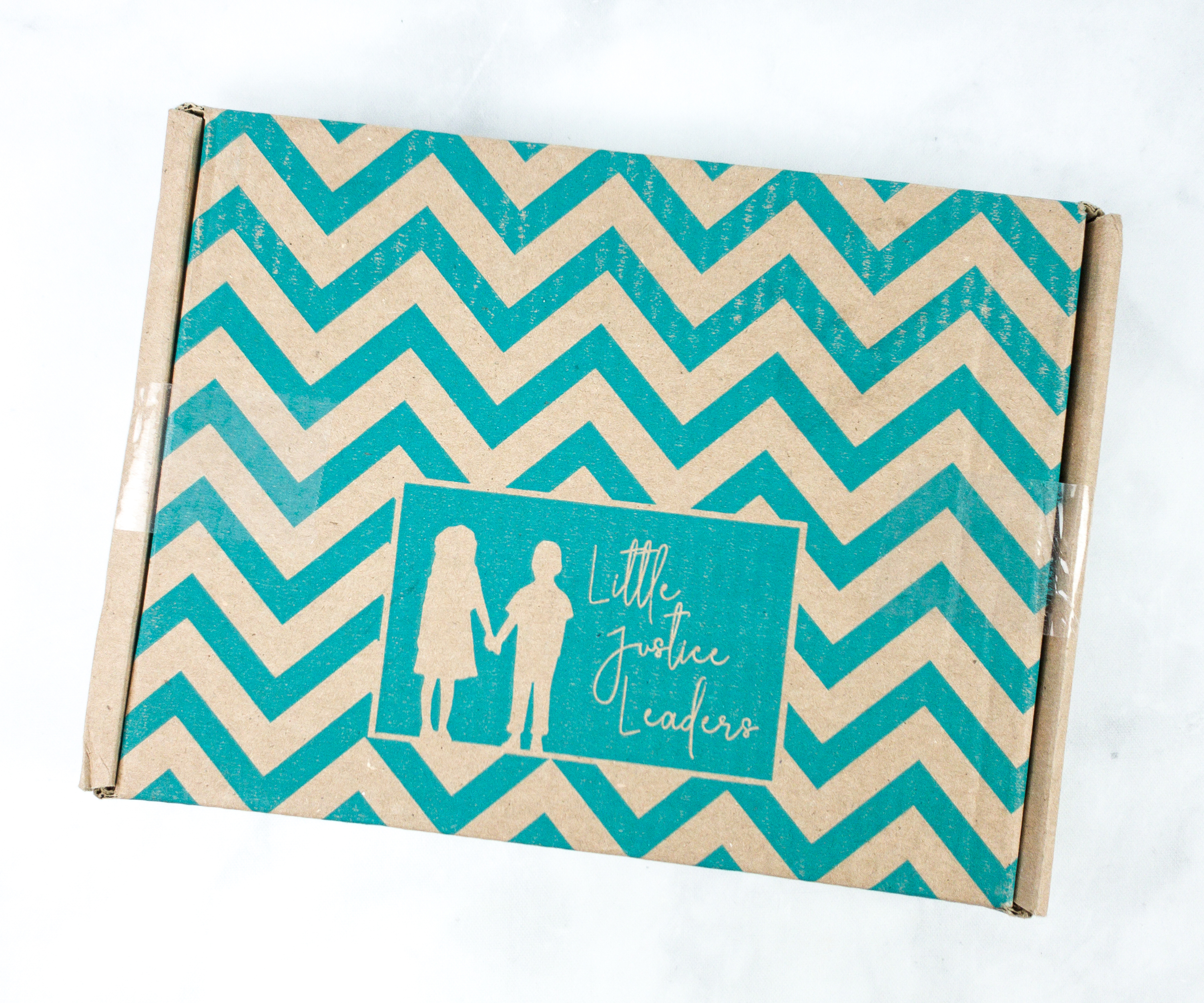 Little Justice Leaders is a monthly subscription box for parents who want their kids to learn more about social justice on a regular basis. The subscription cost starts at $44.99 each box, and you can choose A Teacher Monthly Box or a Family Monthly Box. You can also get a Sibling pack for $49.99, or go for their Digital Family Subscription for $14.99. Each month, you will receive a box filled with carefully selected resources to he;p the kids or students learn and talk about social justice issues. There will be arts, crafts, books, and other activities that will help them understand complex issues. The box is made specifically for kids in grades K to 5, so expect the contents to be not jus educational and age-appropriate, but enjoyable as well. Also, a donation is made to an organization working on the featured social justice issue for each box sold.
DEAL: Get 25% off your first box! Use coupon code HELLO25.
A card sits on top of everything in the box!
The subscription logo is also printed on the inside of the box cover.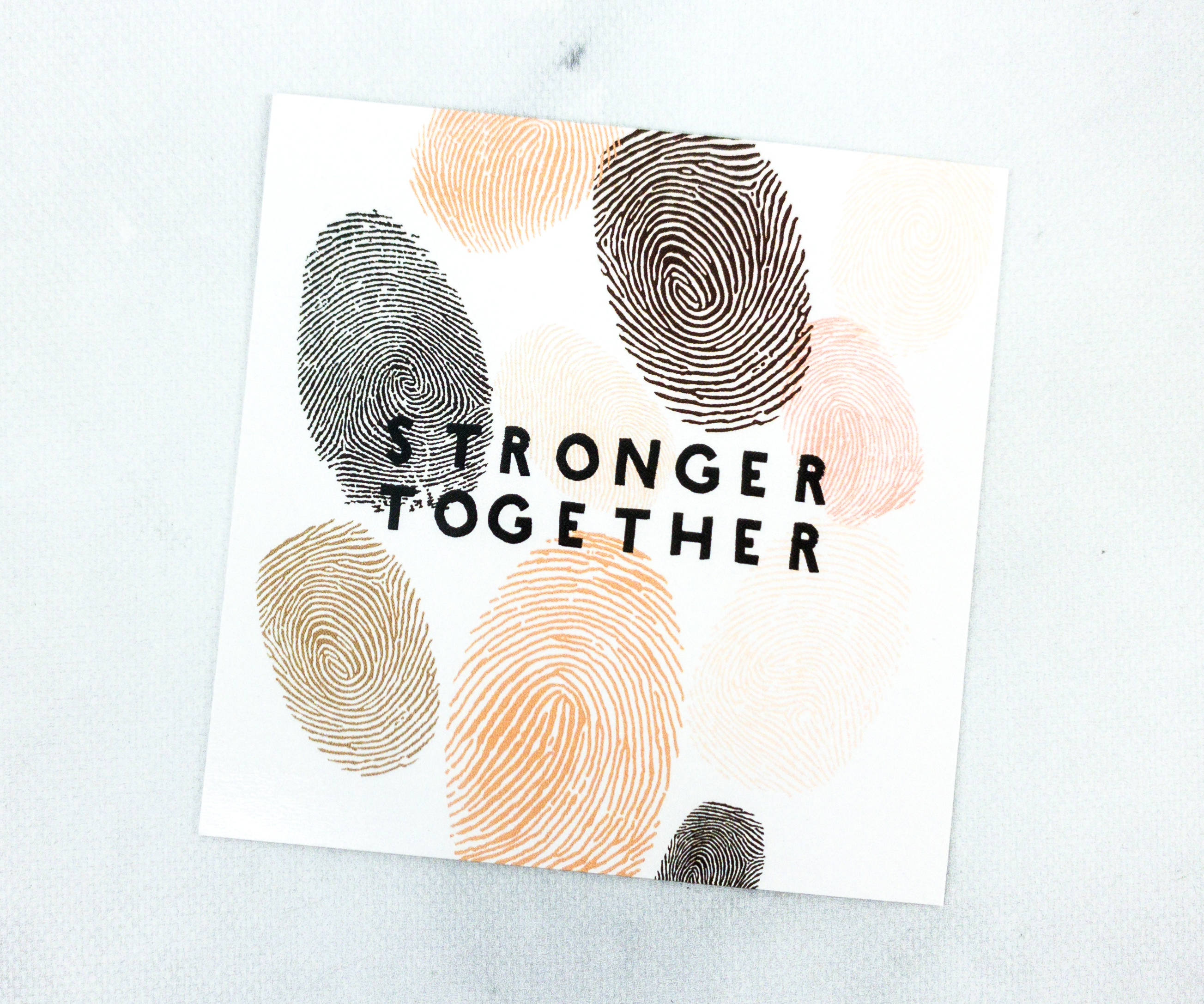 The card says "STRONGER TOGETHER" with different sizes and colors of thumbmarks!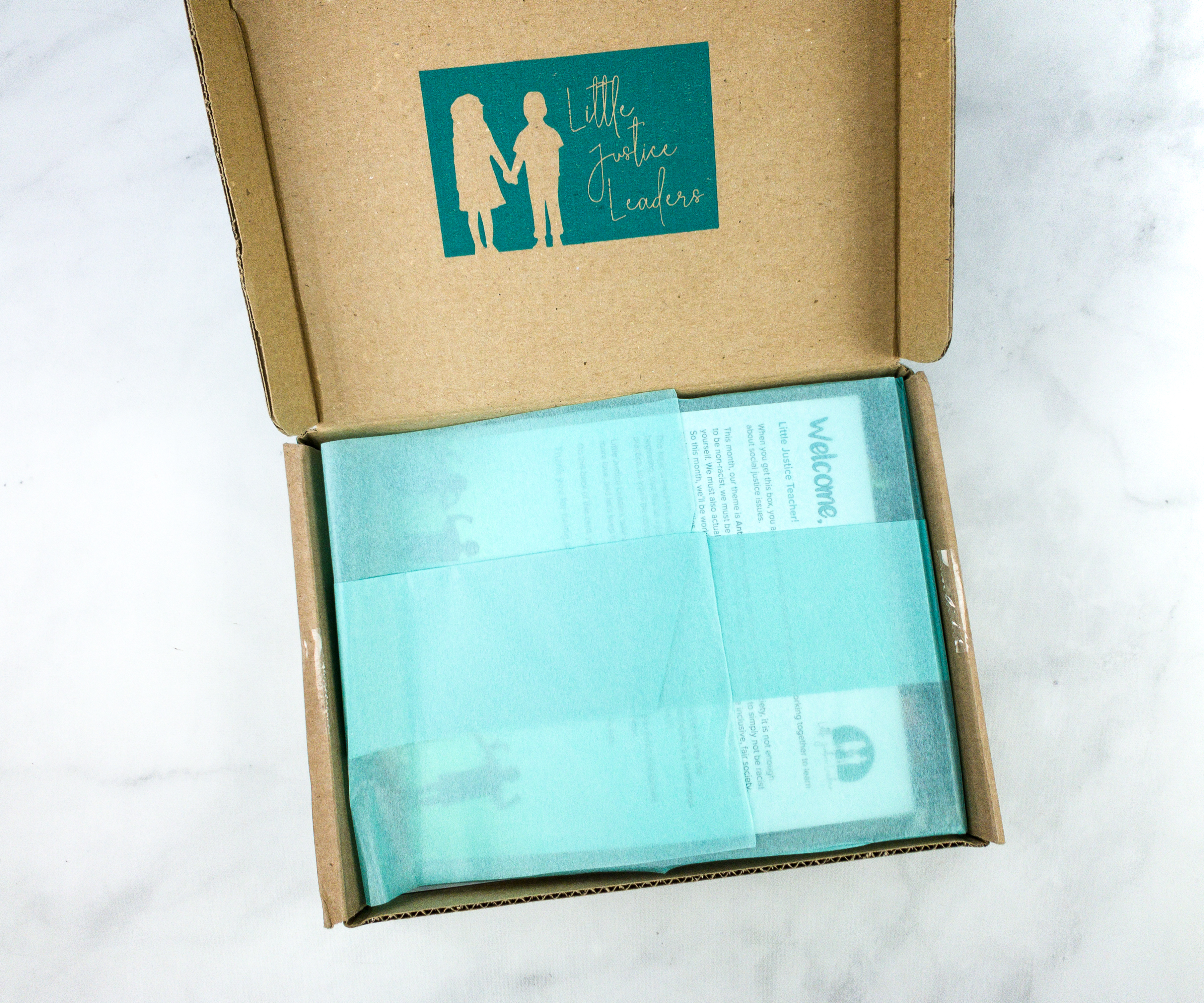 The contents of the box were wrapped with an aqua blue colored tissue paper.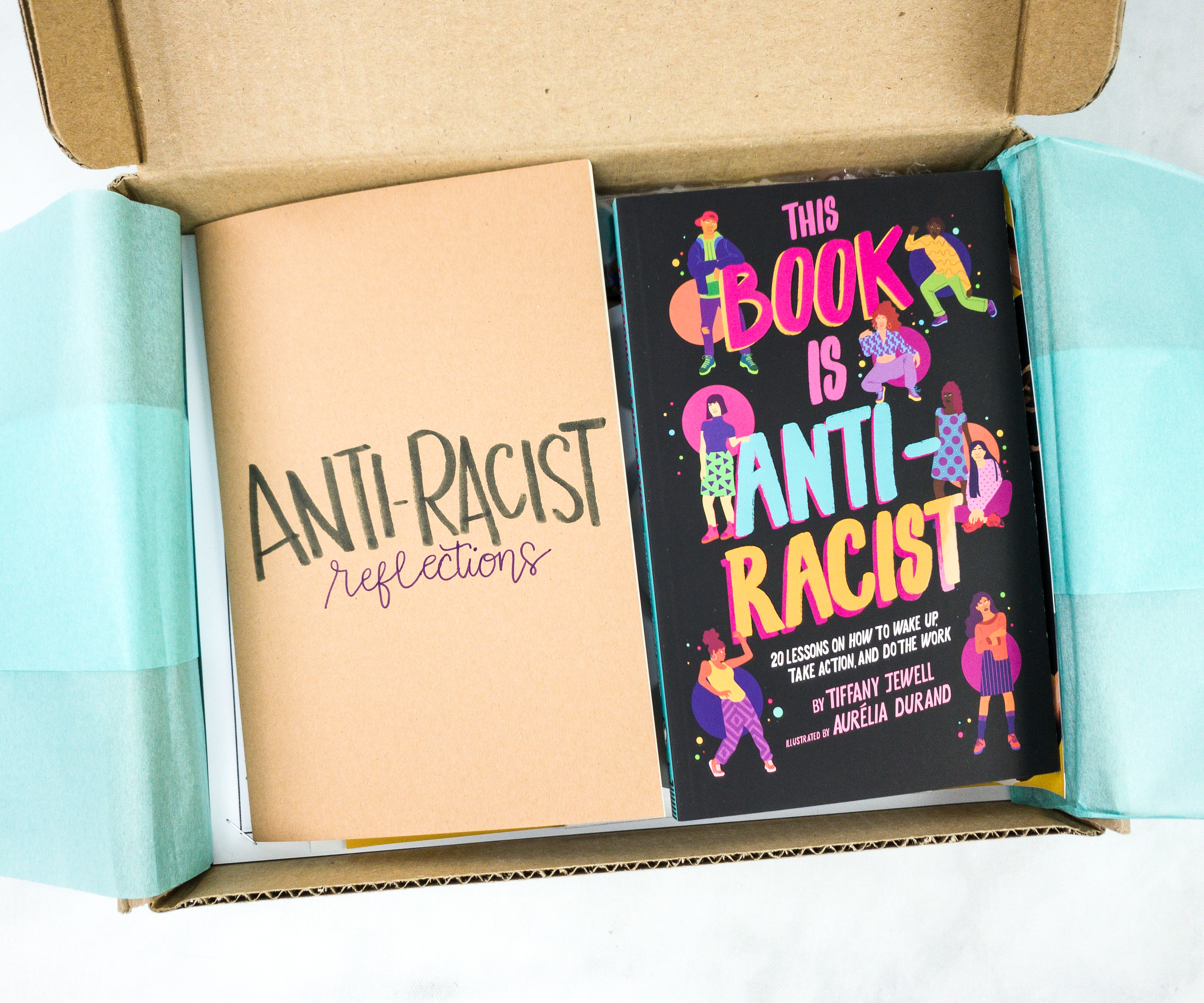 Here's a peek at the box contents!
There's also a note that comes with all the items. It welcomes us to the subscription! This month's theme is ANTI-RACISM!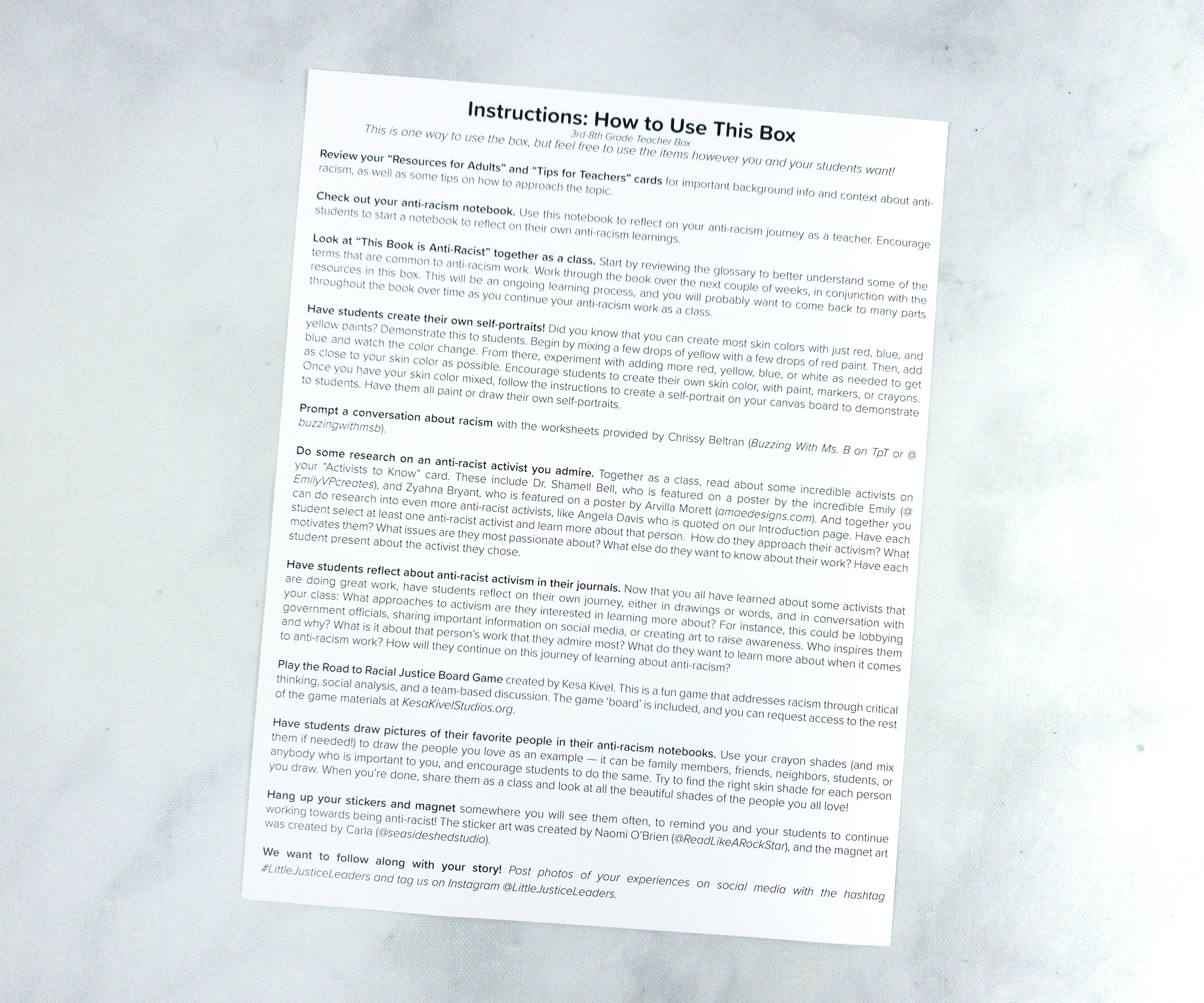 The flip side includes the instructions on how to use the box.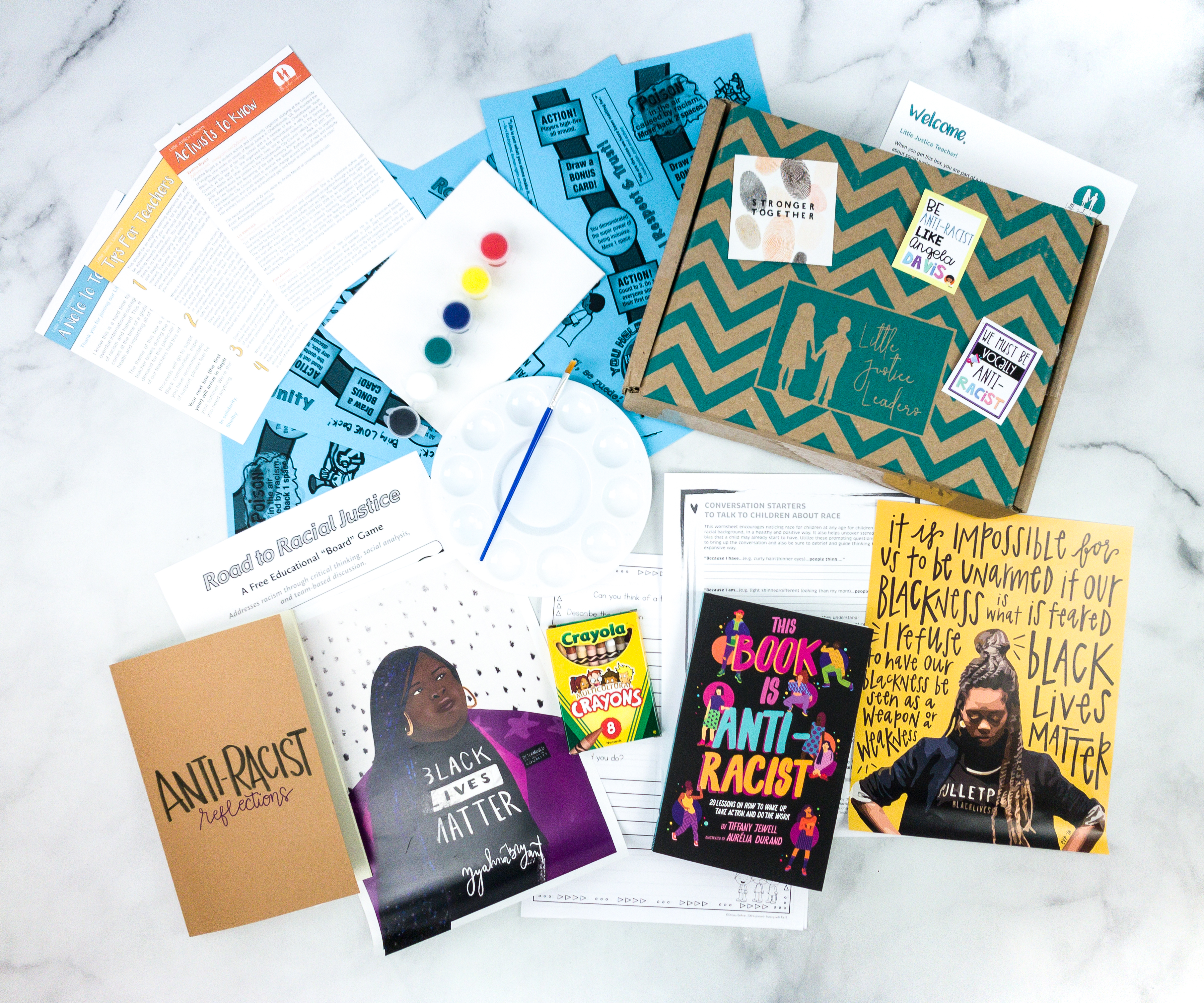 Everything in my box!
Notebook. Teachers, parents, or students can use this notebook to express their ideas, reflections, and feelings about the issues and topics that will be discussed with this box.
The pages of the notebook are blank so you can express yourself through words or images!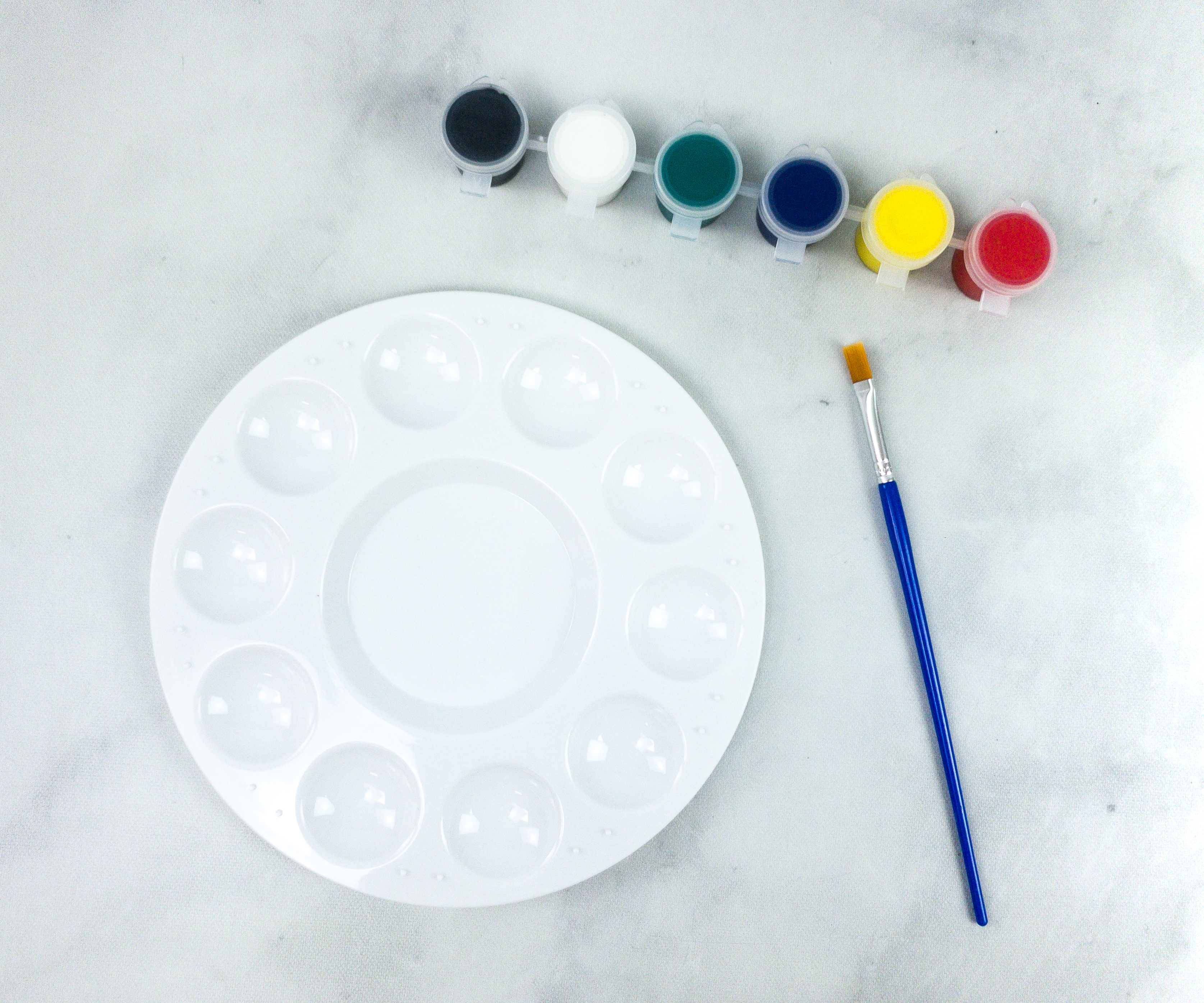 Paint, Paint Palette, and Paintbrush. The box also includes coloring tools such as this paint set. It comes with 6-color paint, a paintbrush, and a palette that can be used to mix the colors.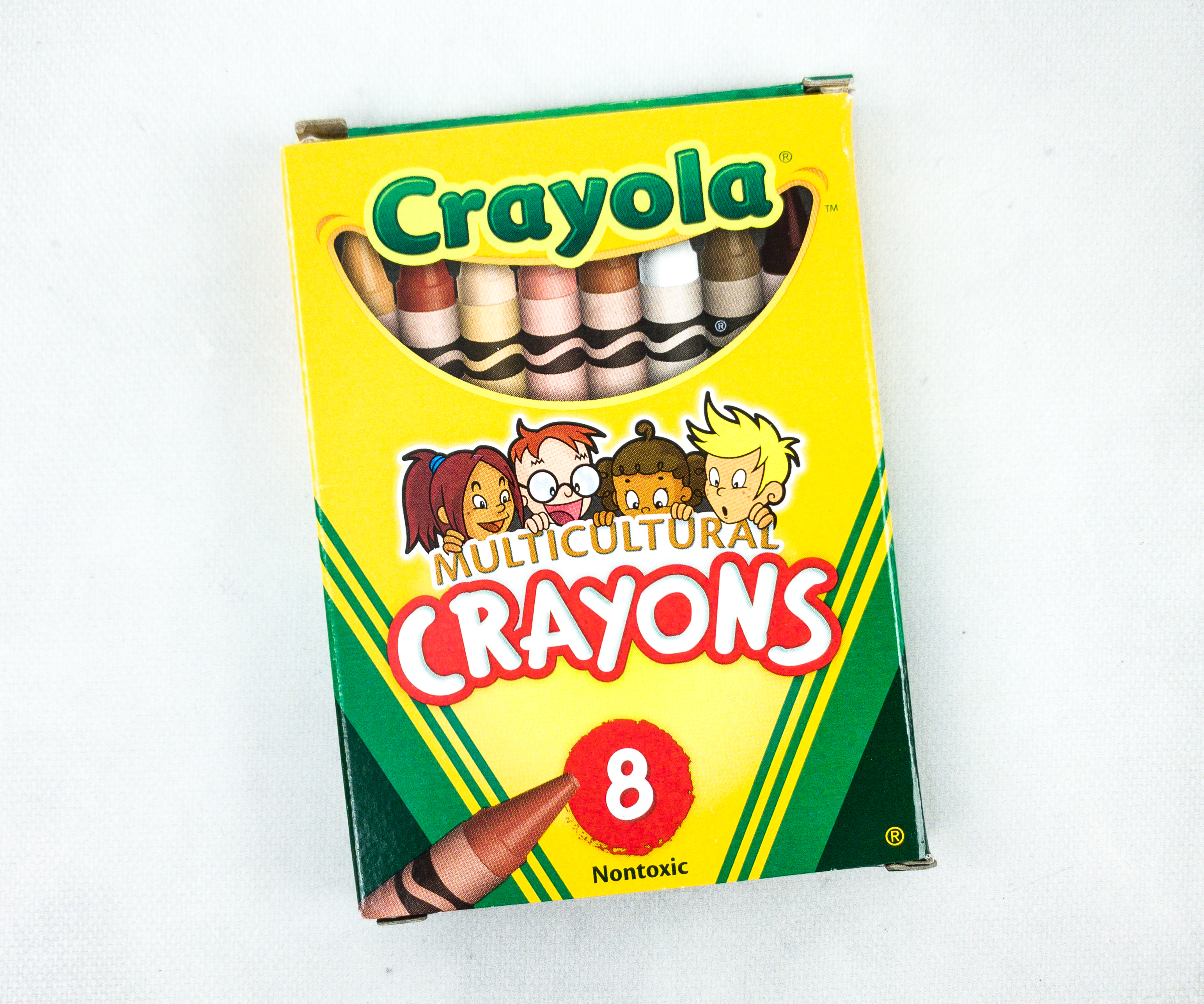 Crayola Multicultural Crayons. Crayola released a set of crayons that resembles the different skin colors. This box contains 8 different colors that represent skin tones from all over the world.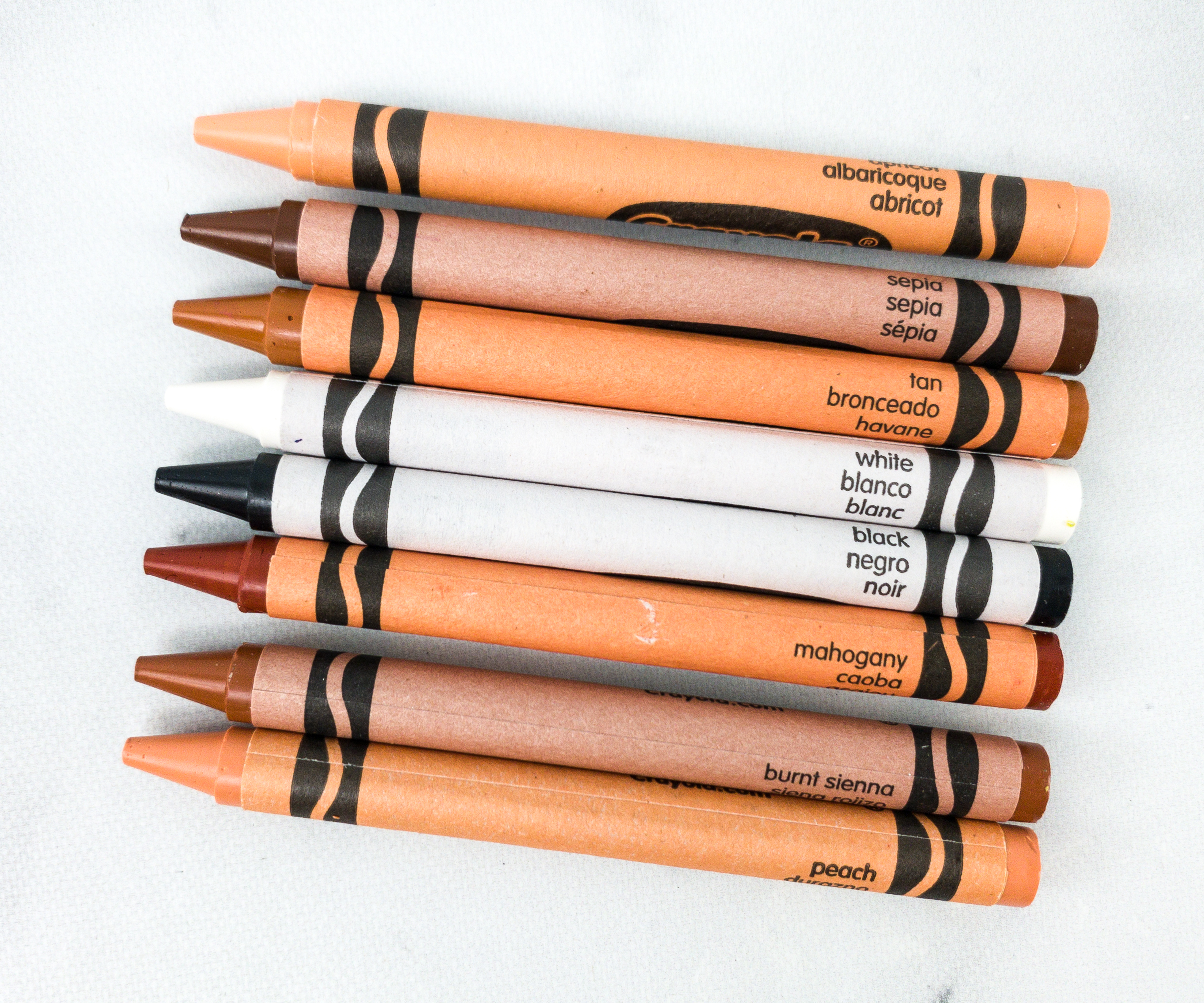 The colors are apricot, black, burnt sienna, mahogany, peach, sepia, tan, and white. The colors are very vibrant as well.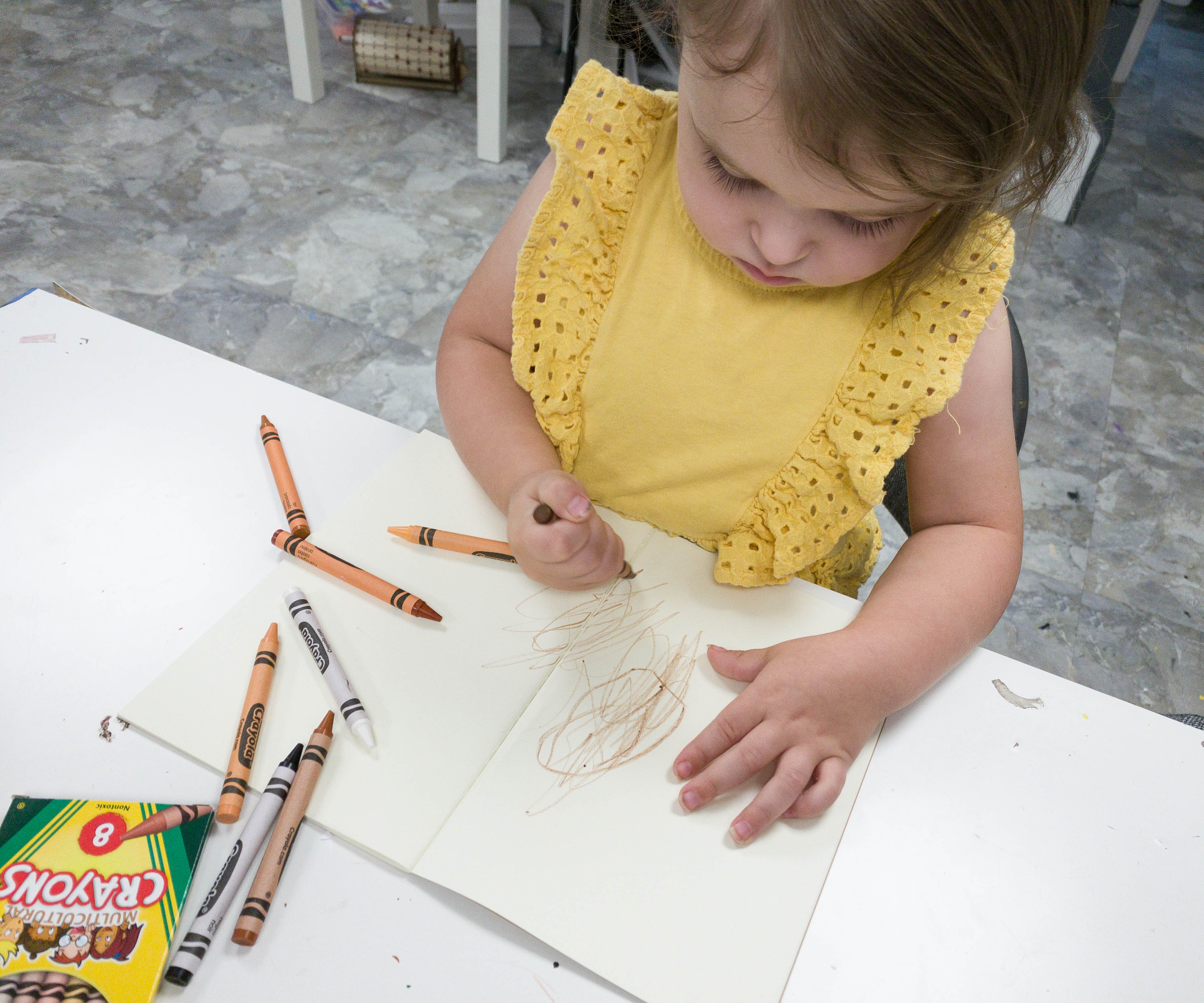 My daughter loves her new crayons!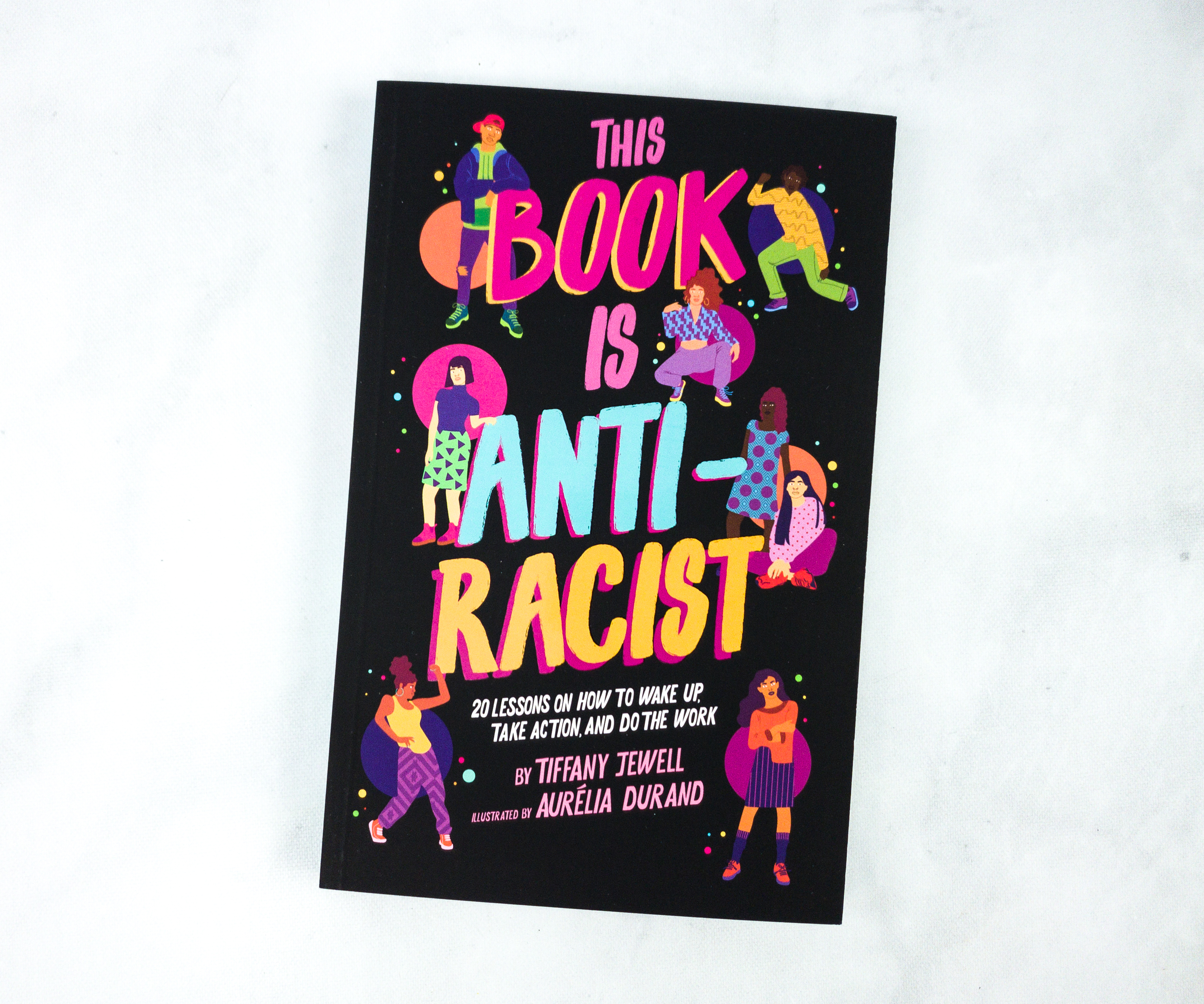 This Book is Anti-Racist by Tiffany Jewell ($10.11) I was excited to get a hard copy of this book! I got a kindle version this summer but the paper version is just so much more engaging!
"In a racist society, it's not enough to be non-racist—we must be ANTI-RACIST." —Angela Davis

Gain a deeper understanding of your anti-racist self as you progress through 20 chapters that spark introspection, reveal the origins of racism that we are still experiencing, and give you the courage and power to undo it. Each chapter builds on the previous one as you learn more about yourself and racial oppression. 20 activities get you thinking and help you grow with the knowledge. All you need is a pen and paper.

Author Tiffany Jewell, an anti-bias, anti-racist educator and activist, builds solidarity beginning with the language she chooses—using gender neutral words to honor everyone who reads the book. Illustrator Aurélia Durand brings the stories and characters to life with kaleidoscopic vibrancy.

After examining the concepts of social identity, race, ethnicity, and racism, learn about some of the ways people of different races have been oppressed, from indigenous Americans and Australians being sent to boarding school to be "civilized" to a generation of Caribbean immigrants once welcomed to the UK being threatened with deportation by strict immigration laws.

Find hope in stories of strength, love, joy, and revolution that are part of our history, too, with such figures as the former slave Toussaint Louverture, who led a rebellion against white planters that eventually led to Haiti's independence, and Yuri Kochiyama, who, after spending time in an internment camp for Japanese Americans during WWII, dedicated her life to supporting political prisoners and advocating reparations for those wrongfully interned.

Learn language and phrases to interrupt and disrupt racism. So, when you hear a microaggression or racial slur, you'll know how to act next time.

This book is written for EVERYONE who lives in this racialized society—including the young person who doesn't know how to speak up to the racist adults in their life, the kid who has lost themself at times trying to fit into the dominant culture, the children who have been harmed (physically and emotionally) because no one stood up for them or they couldn't stand up for themselves, and also for their families, teachers, and administrators.

With this book, be empowered to actively defy racism and xenophobia to create a community (large and small) that truly honors everyone.
Aside from the story synopsis, the back of the book features short reviews.
When you flip the cover, you'll find an introduction to the people behind the book, author Tiffany Jewell and illustrator Aurelia Durand. It even includes photos of these two wonderful women!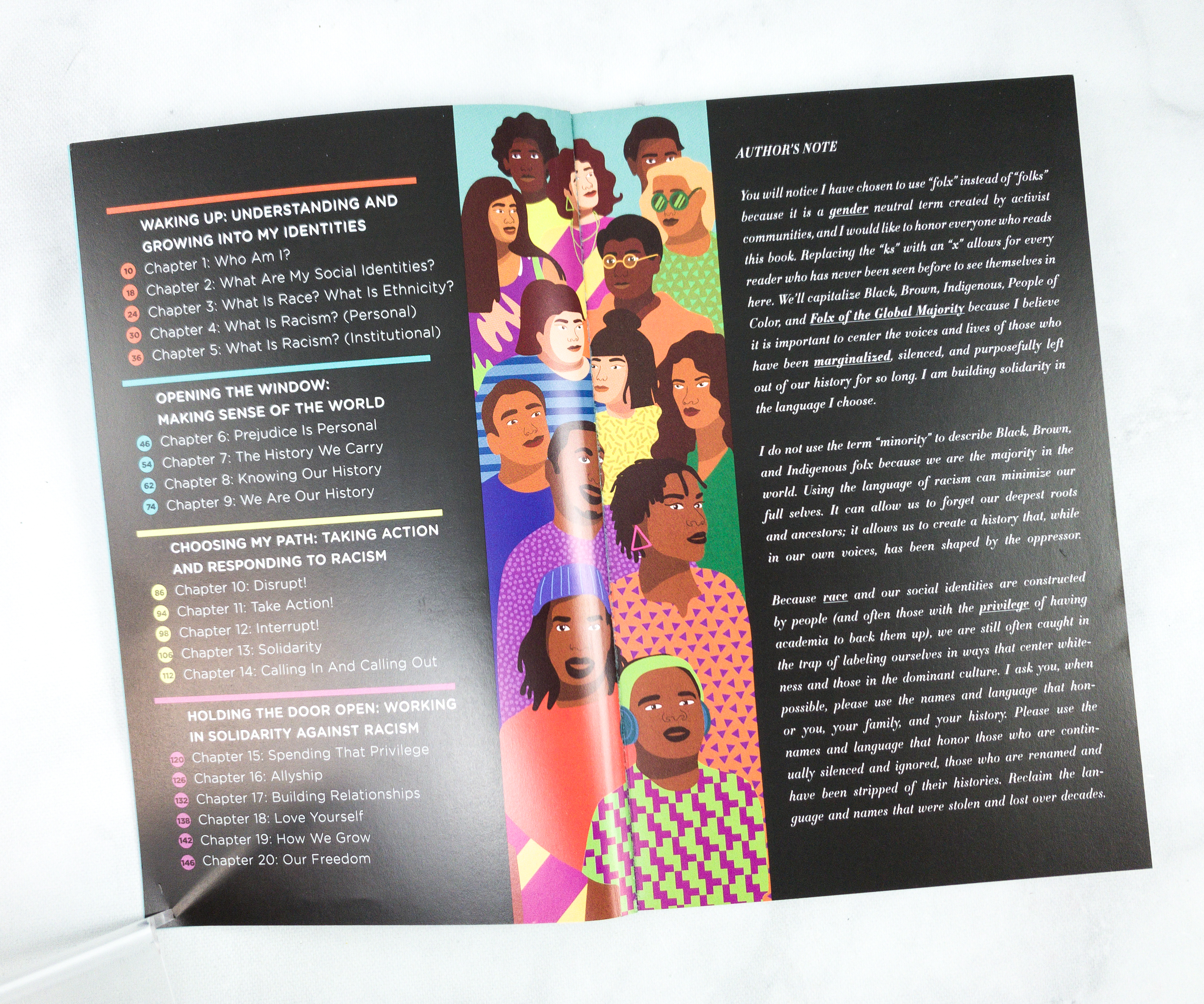 The next pages include a table of contents and the author's note.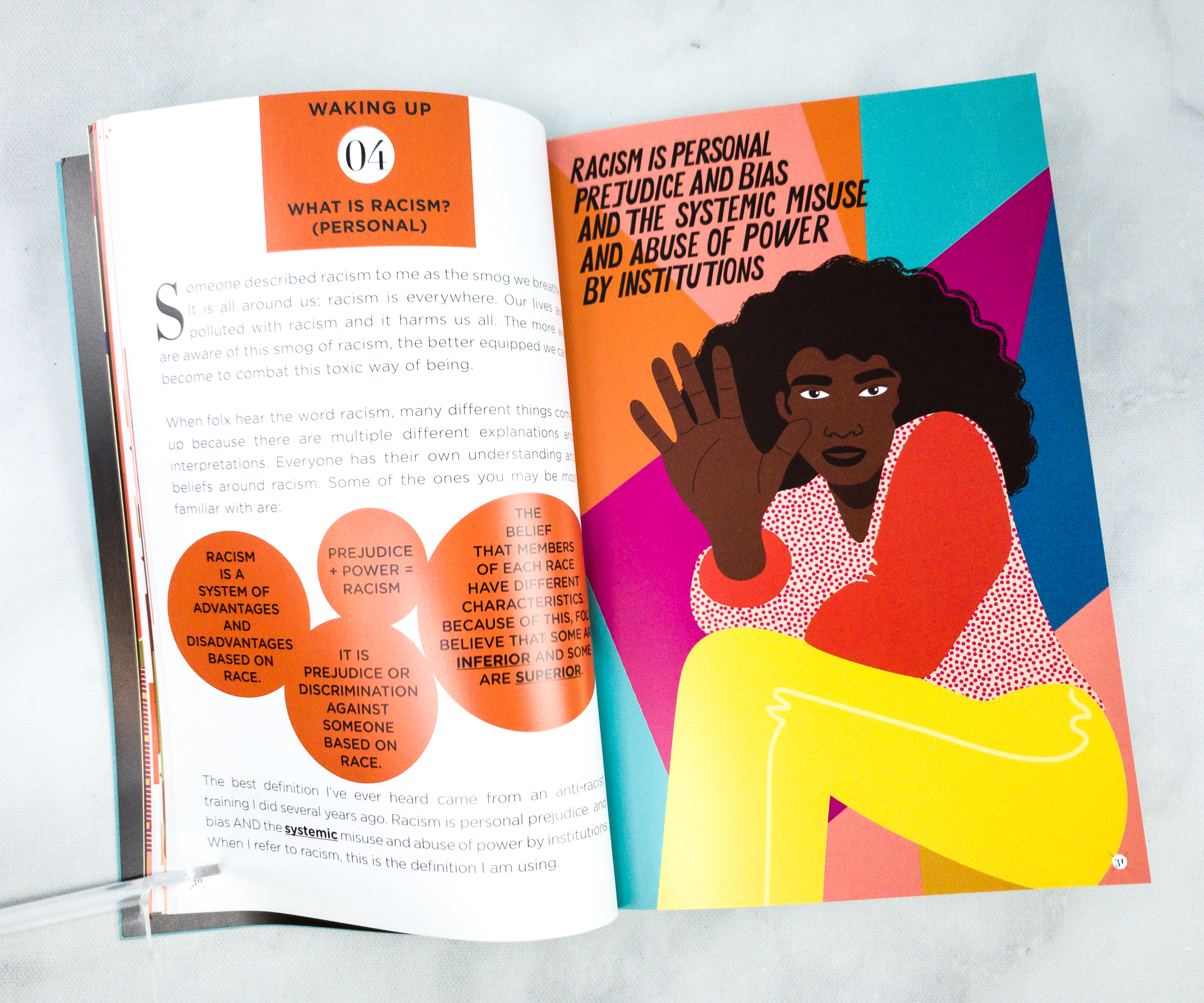 It explains what Racism is all about.
Racism is personal prejudice and bias and the systematic misuse and abuse of power by institutions.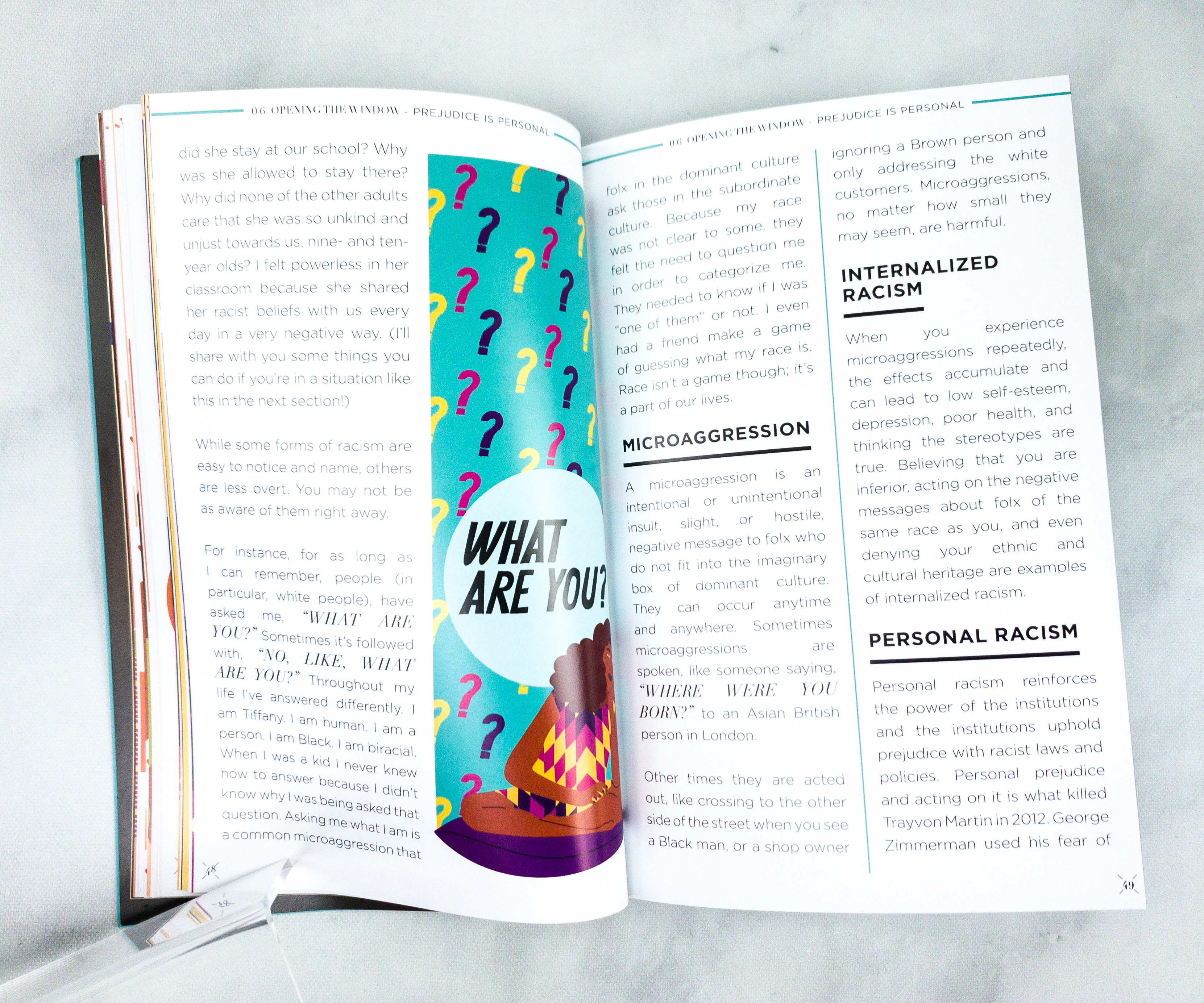 The book also explains the different forms of racism like microaggression, internalized racism, and personal racism.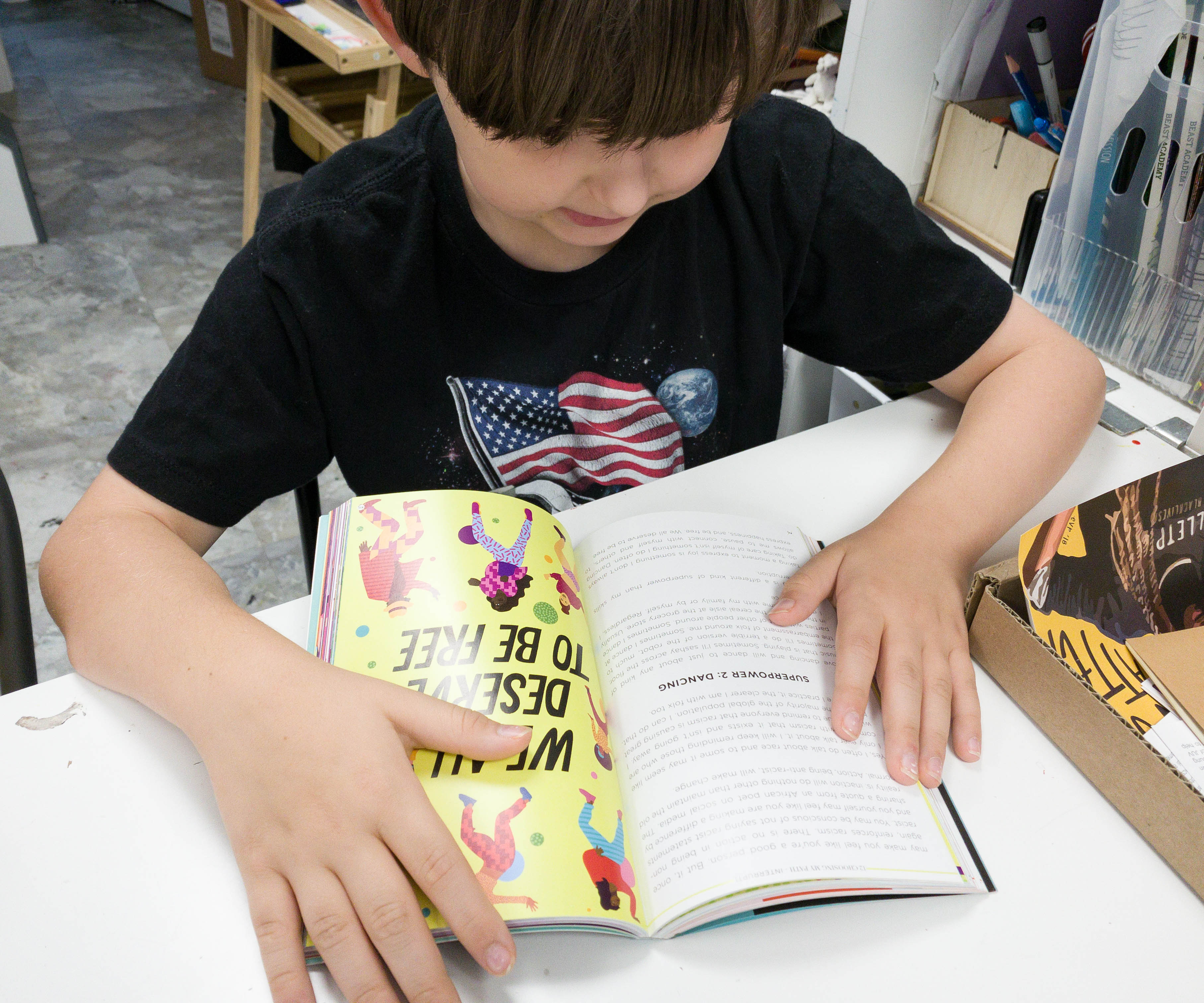 My older son gave it a read and learned a lot from the book! We love that they made the text easy to understand for young readers!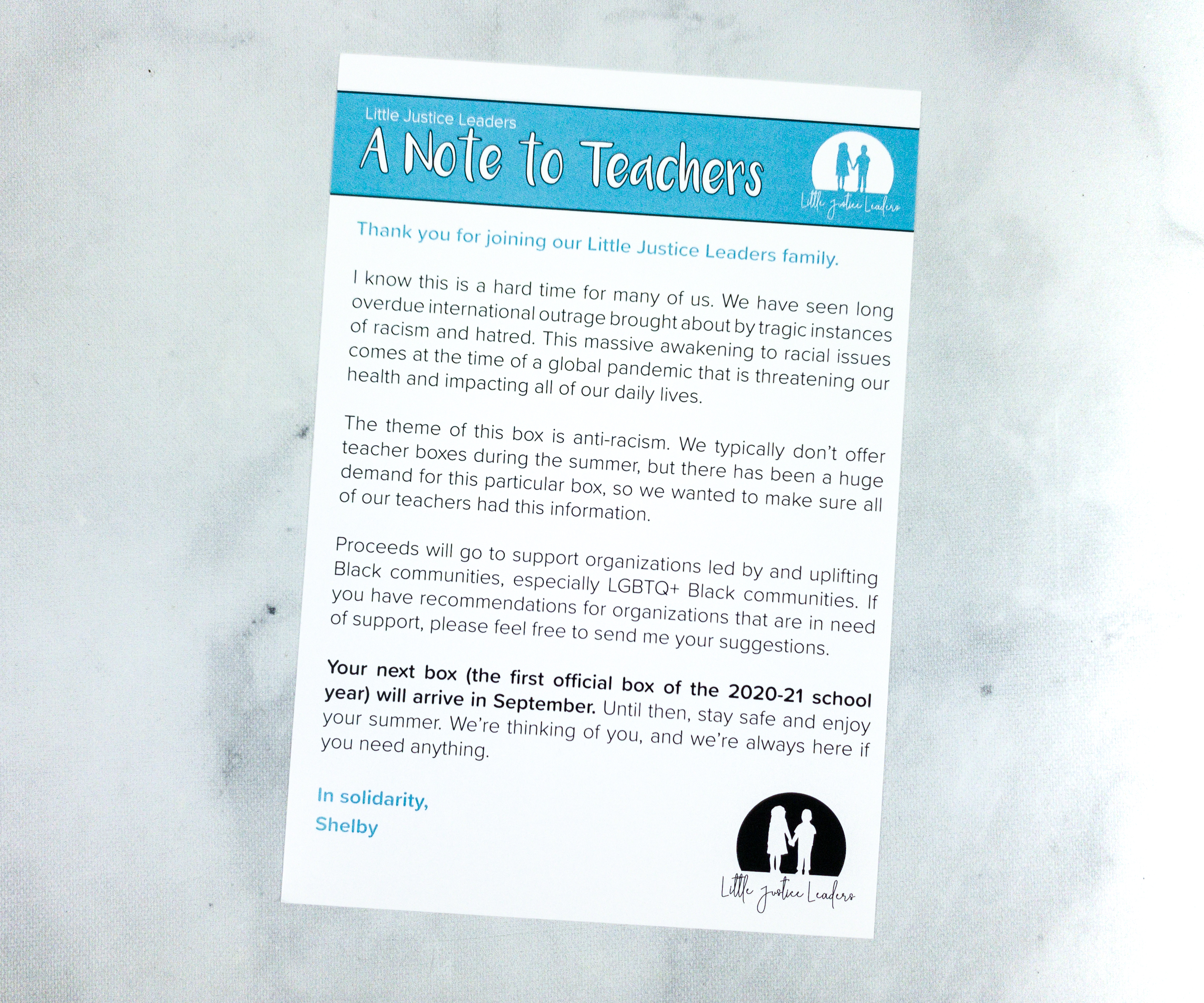 "Note to Teachers" card. They also included a card meant for the teachers (or parents if they are the ones using it for their kids). It also indicates when the next box will arrive.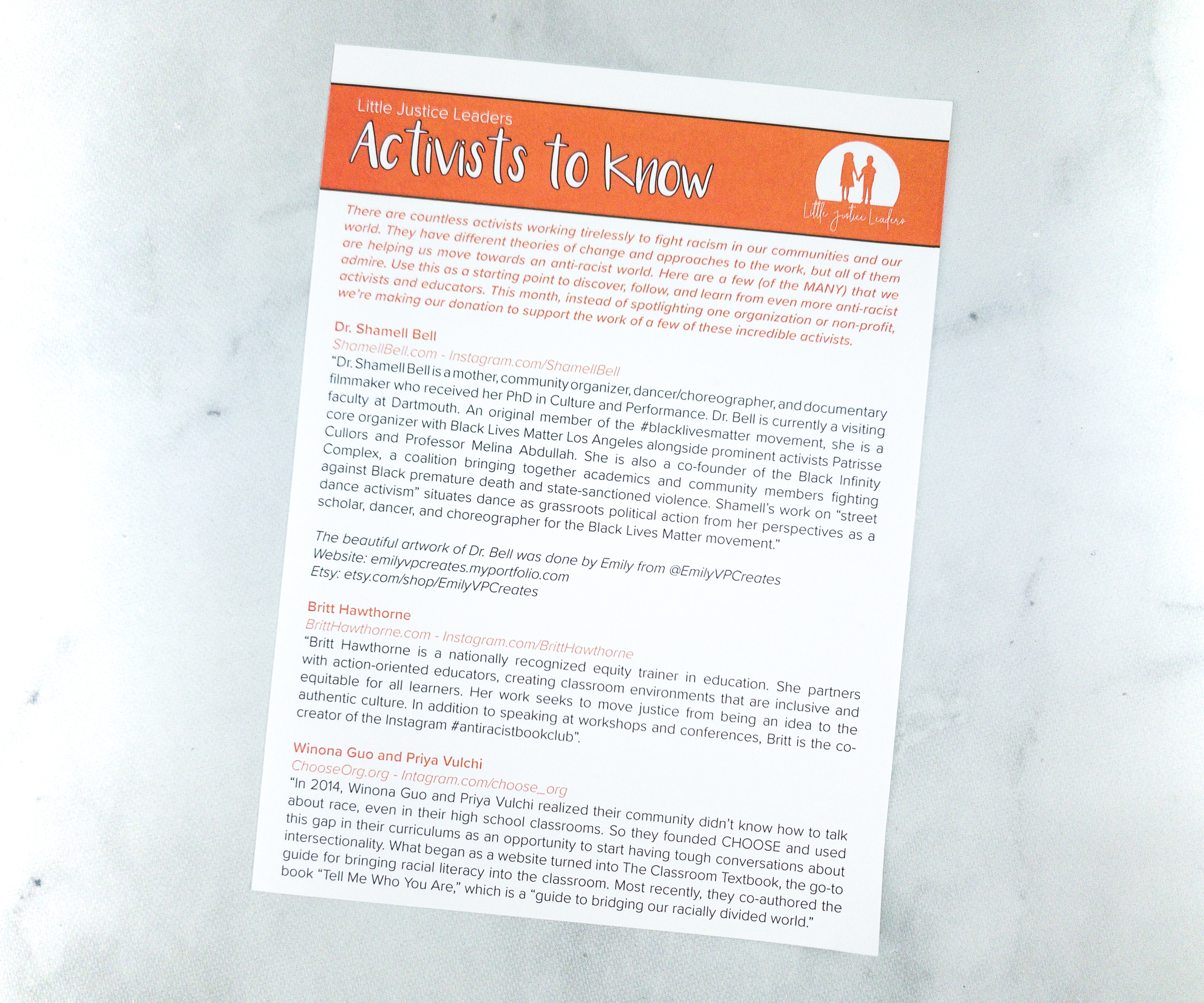 "Activists to Know" card. This card has information about activists and their significance in fighting against racism. This side of the card features 3 people: Dr. Shamell Bell, Britt Hawthorne, Winona Guo, and Priya Vulchi.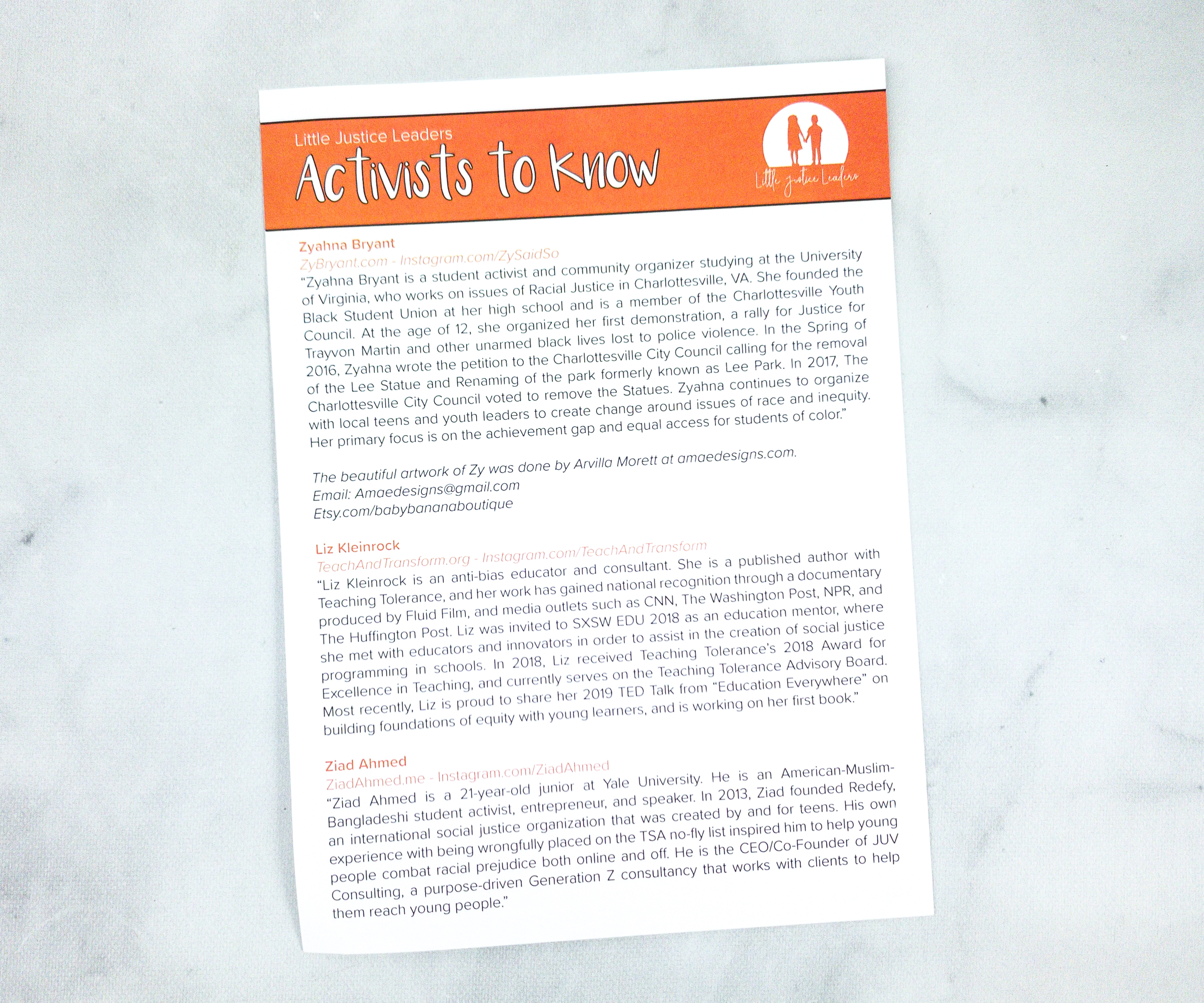 The other side of the card features Zyahna Bryant, Liz Kleinrock, and Ziad Ahmed.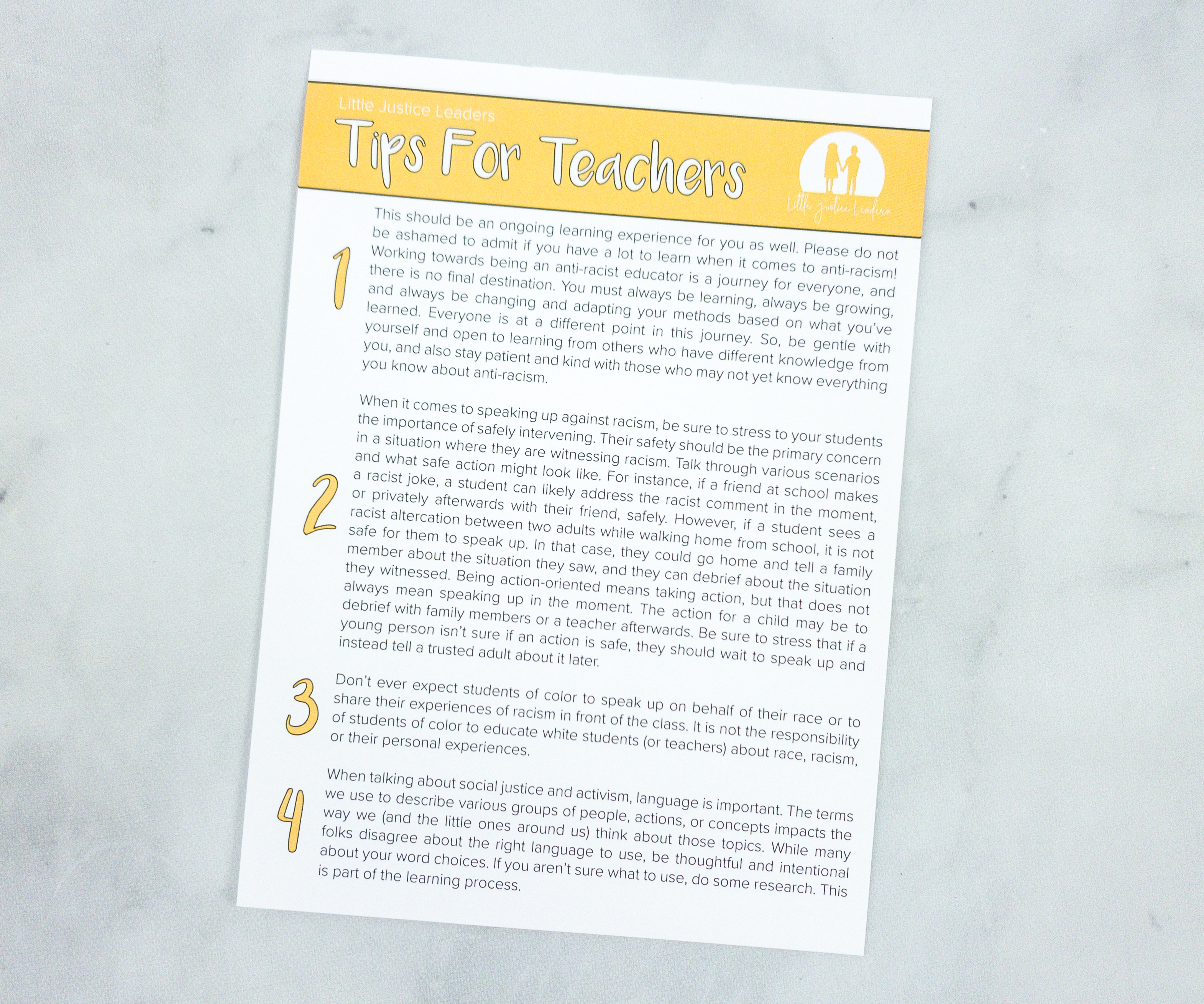 "Tips for Teachers" card. To make everything easier for the teachers/parents, the box included a guided tips list for them.
Stickers and Magnets. To remind kids about the importance of being anti-racist, you can display these magnets and stickers created by Carla (@seasideshestudio) and Naomi O'Brien (@ReadLikeARockStar), respectively.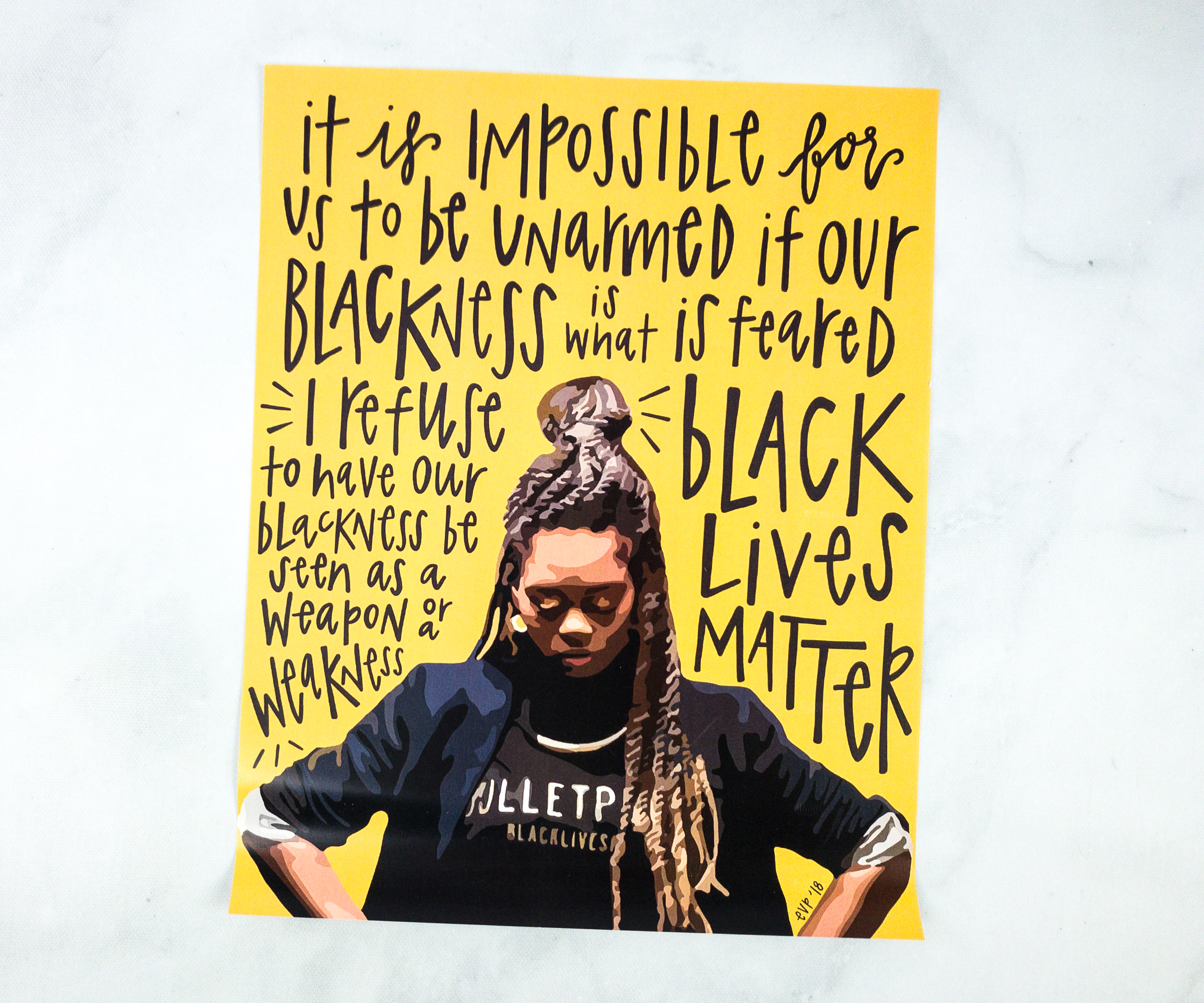 The art is amazing and they all contain positive and powerful messages.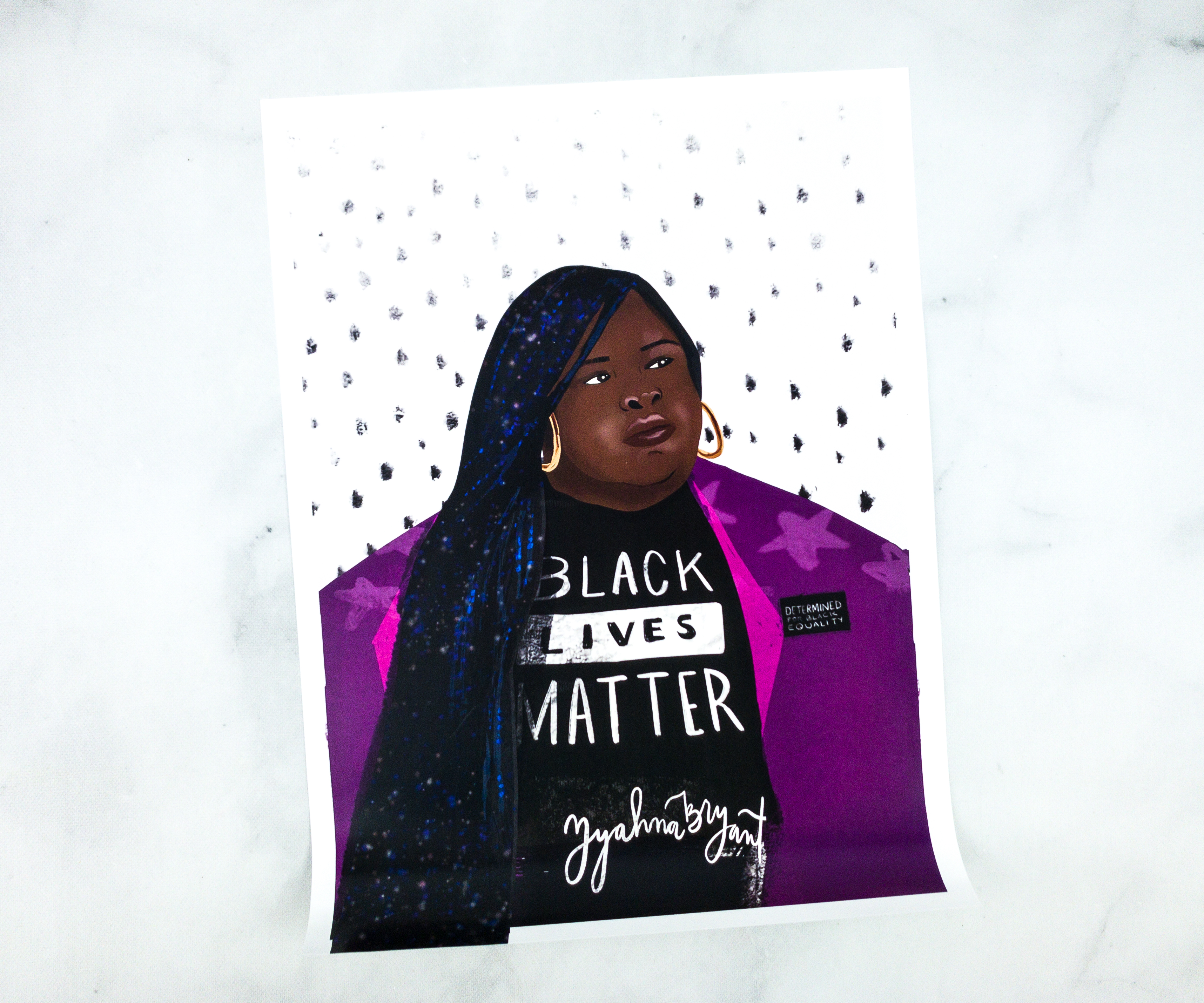 This artwork features a Black woman wearing a Black Lives Matter shirt!
Conversation Starter. The box also provided questions or topics to be discussed, which can start a healthy conversation between the adults and the kids.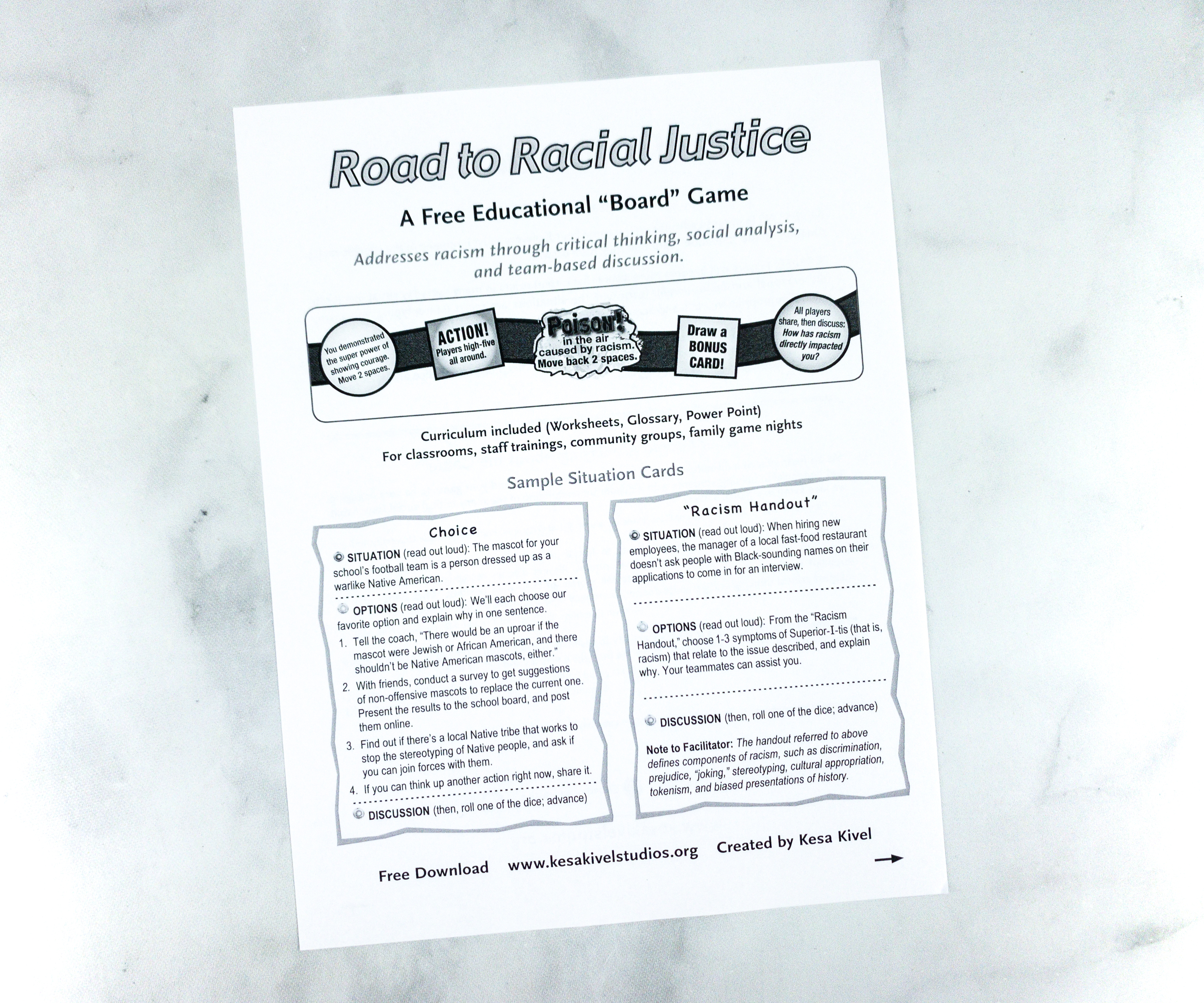 Road to Racial Justice Board Game. To make the study of anti-racism more kid-friendly, the box also provided a board game!
The board game is designed by Kesa Kivel and addresses racism through critical thinking, social analysis, and team-based discussion.
Worksheets. To help the kids reflect on what they learn, here are worksheets where they can write, discuss, or even draw their thoughts about the issues.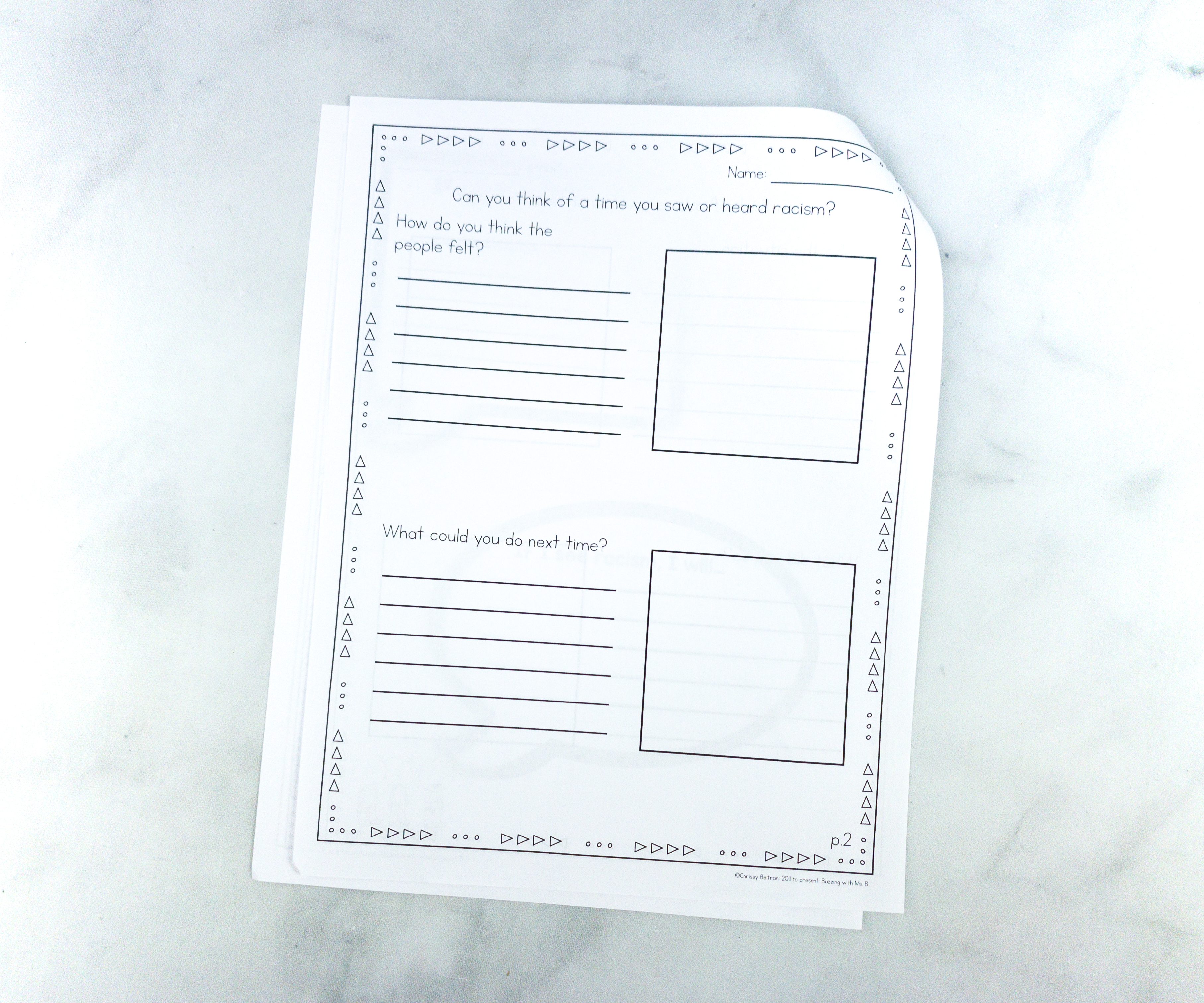 The worksheets include questions and ample space for their response. The questions are simple and easy to understand even for kids. It also teaches them how to deal with the situation whenever it arises. There are examples that they can compare, which will make it easier for them to face the issues and I think role-playing is really effective for this.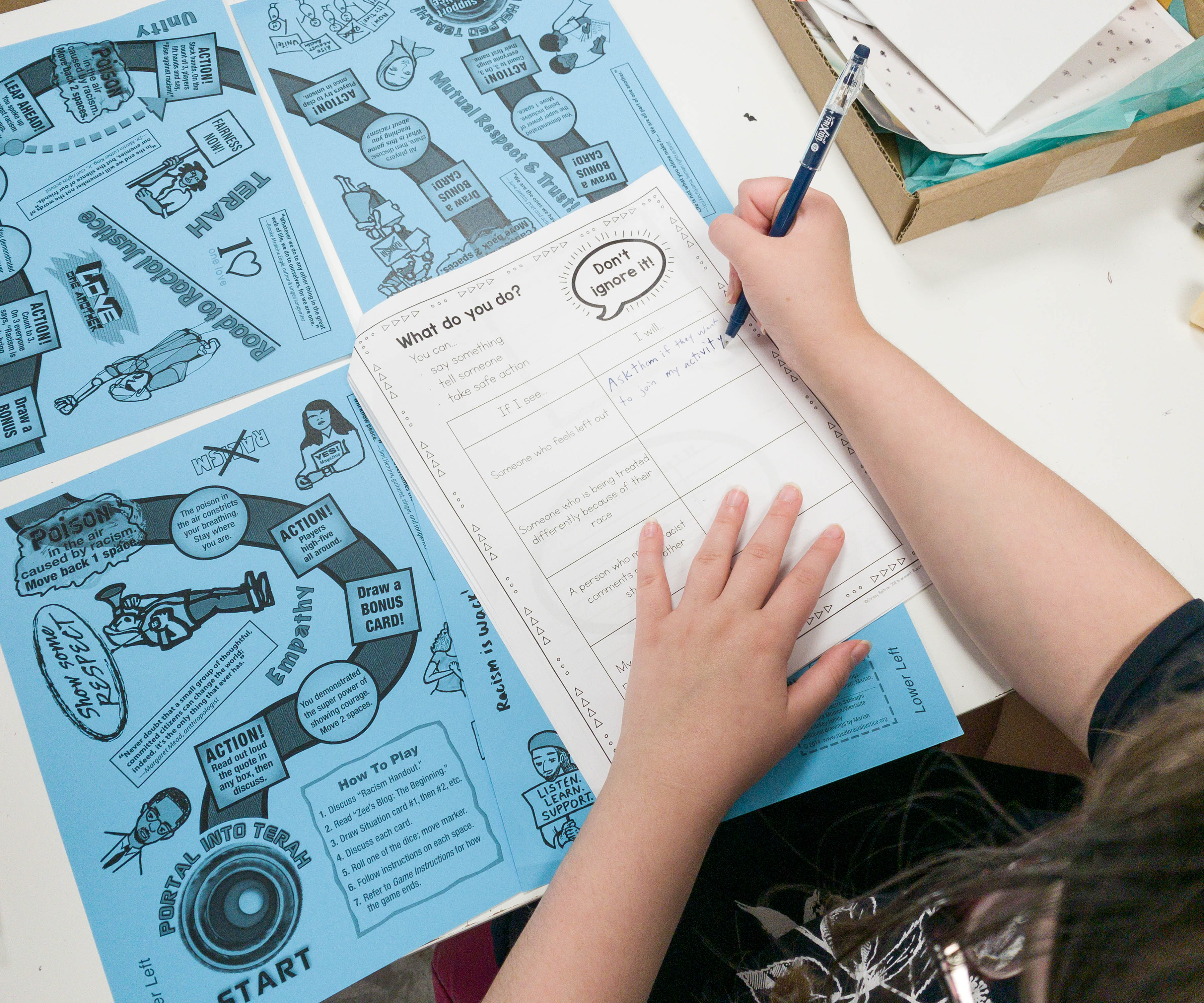 The worksheet is helpful as the kids will be able to share their thoughts and ideas, which others might also learn from.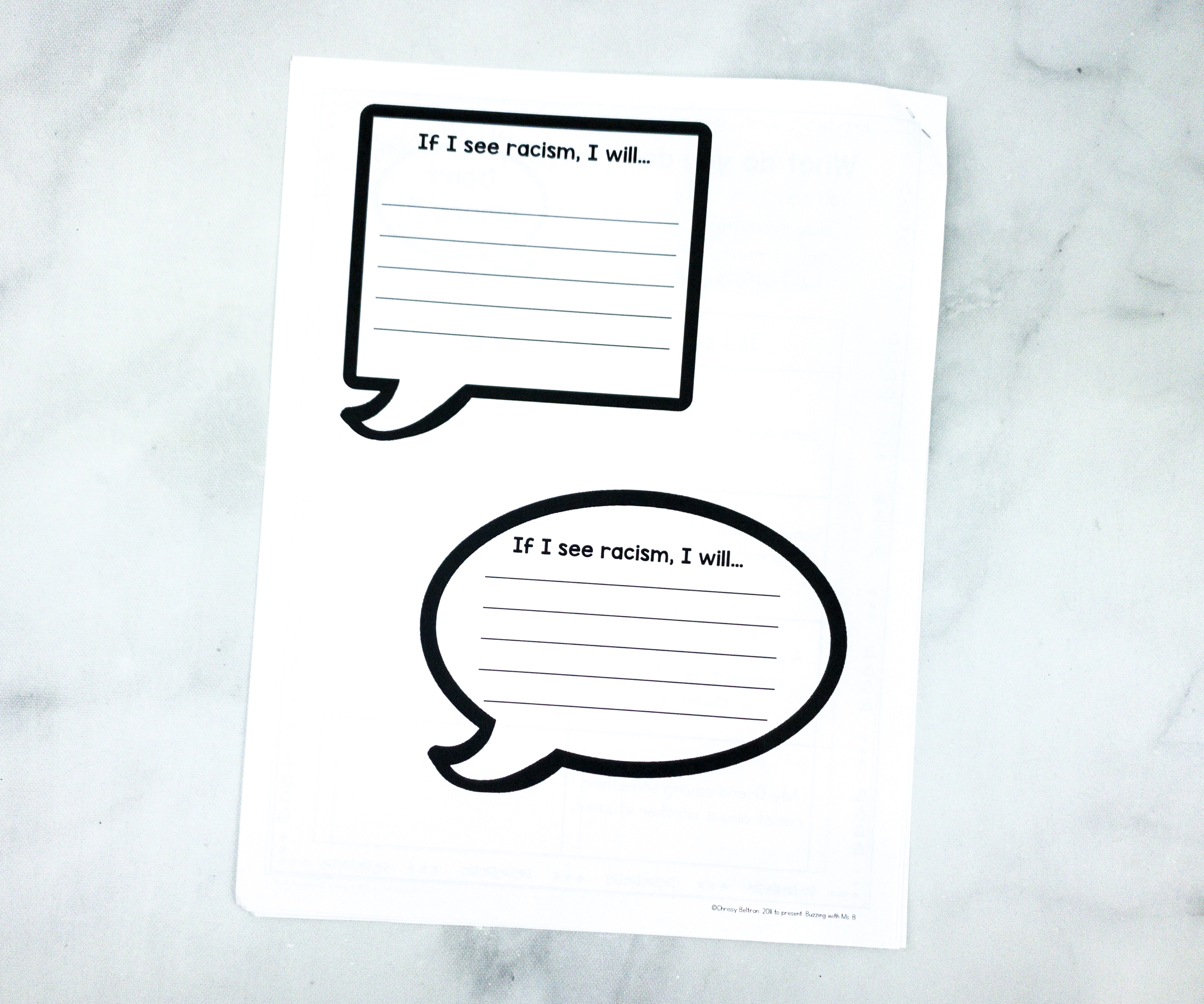 As an adult, you will also have the chance to know how they feel, correct them if there's something wrong, or even take some tips and advice from the kids by listening to them.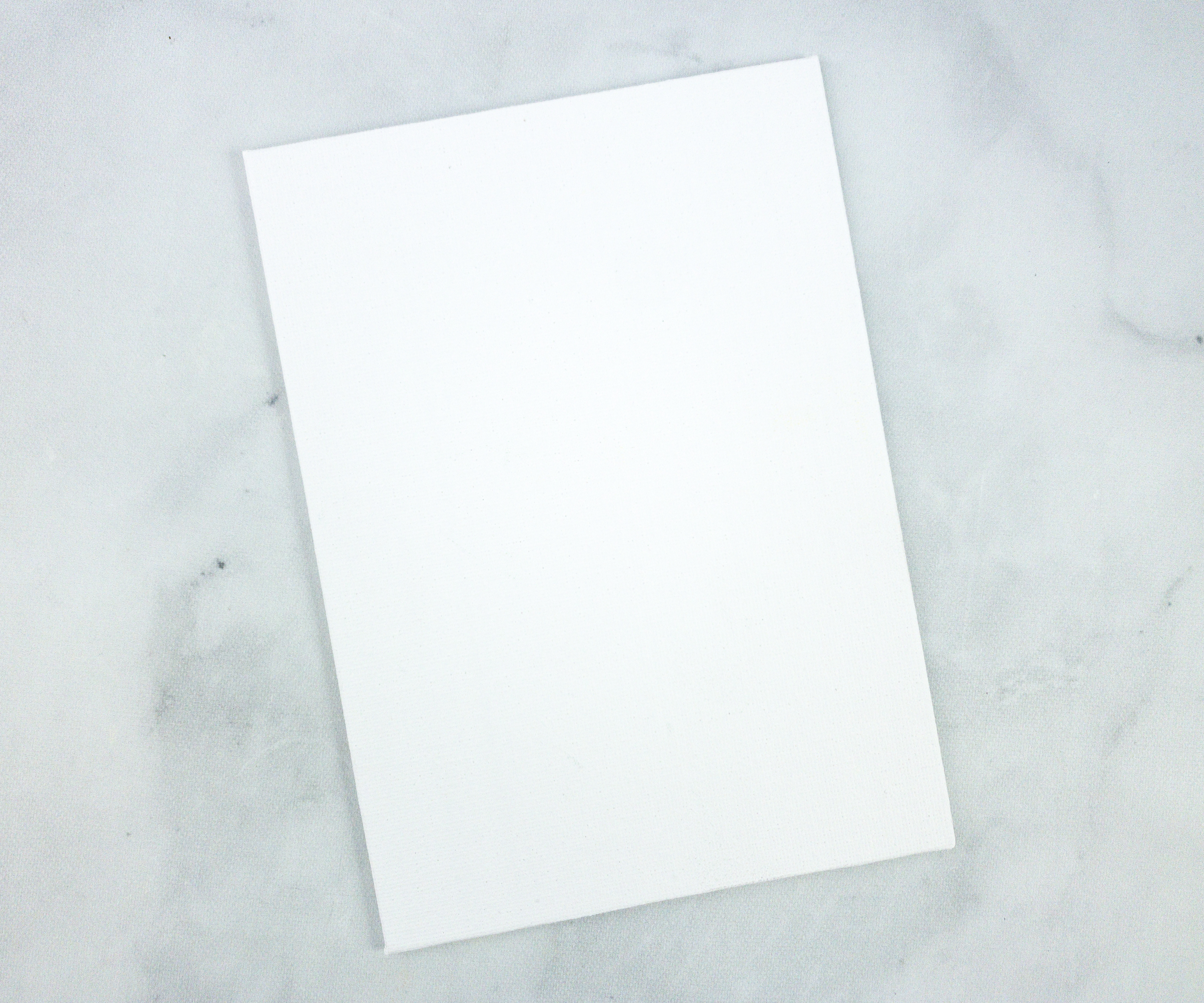 The kids are also encouraged to make their own portraits using the paint set and the set of multicultural crayons!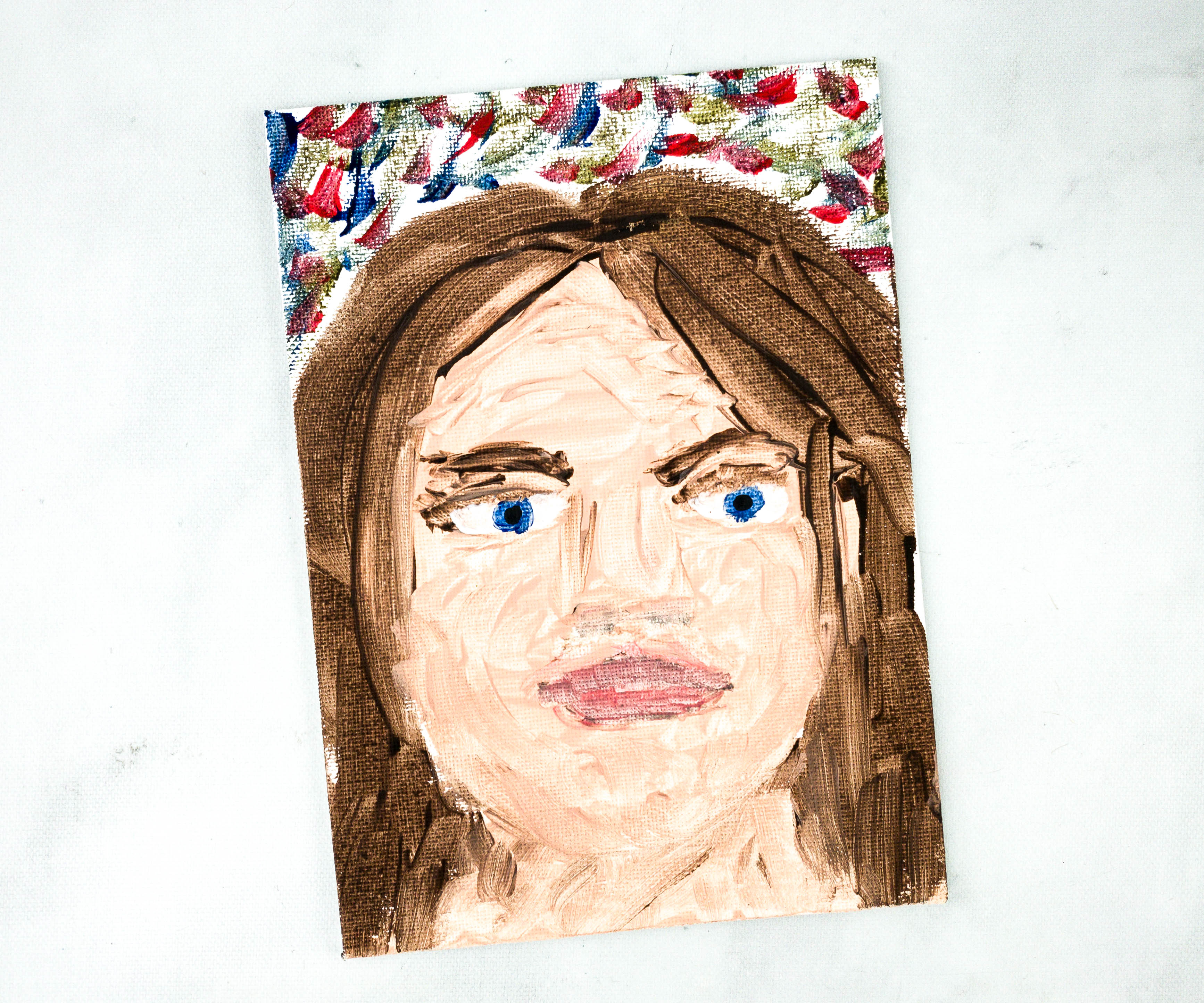 Here's my daughter's portrait!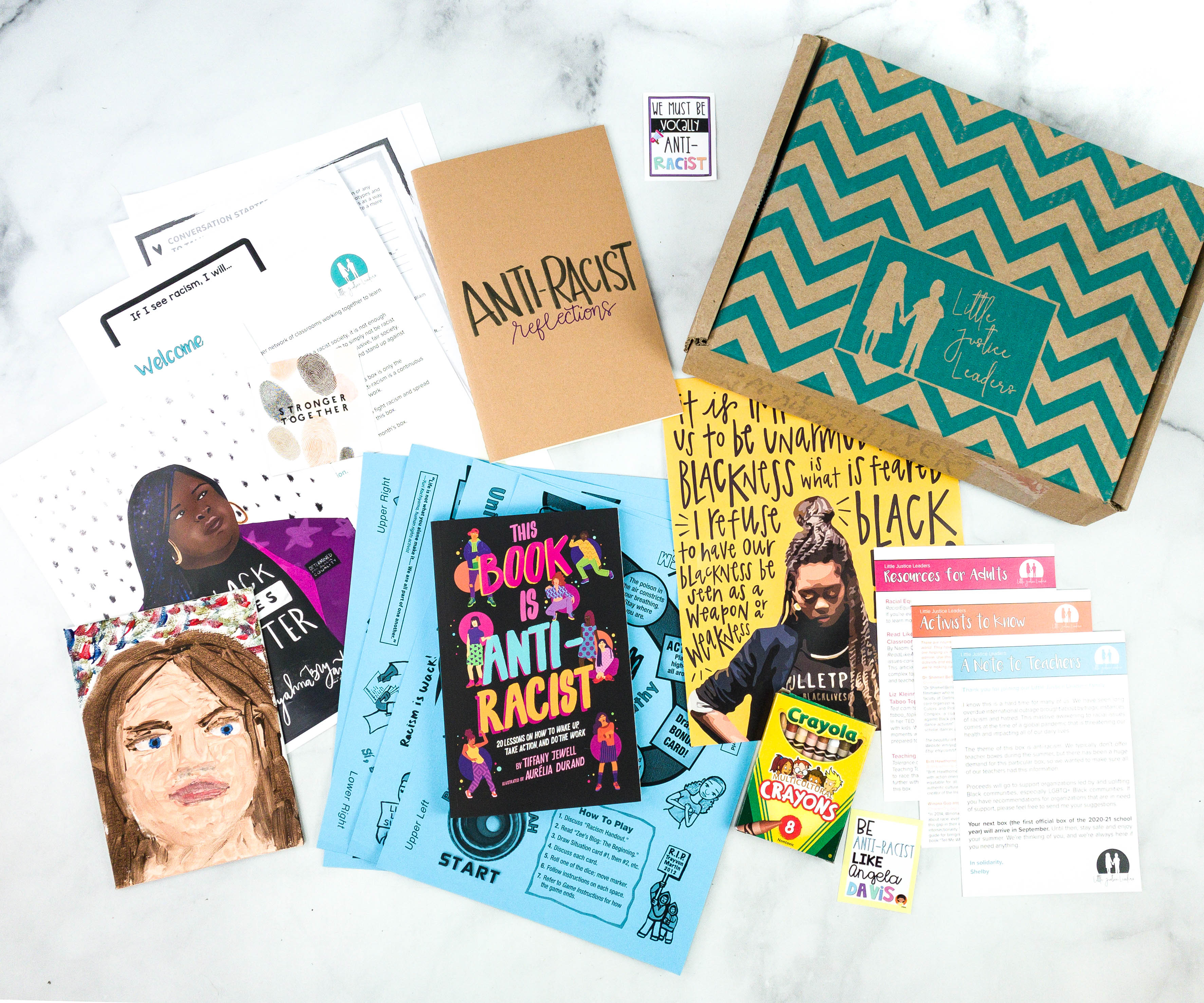 Little Justice Leaders is a good subscription to introduce kids to social justice issues, and also to teach them how to promote justice. It's never too early to discuss racism and anti-racist actions, so they will know the importance of justice and equality. I'm happy with all the contents of this month's anti-racism themed box. The discussion topics and questions provided plus the activities are all thought-provoking but still child-friendly and couldn't have come at a better time!  This is a wonderful box for parents and teachers, and it's also ideal for enriching learning at home!
What do you think of this month's box?