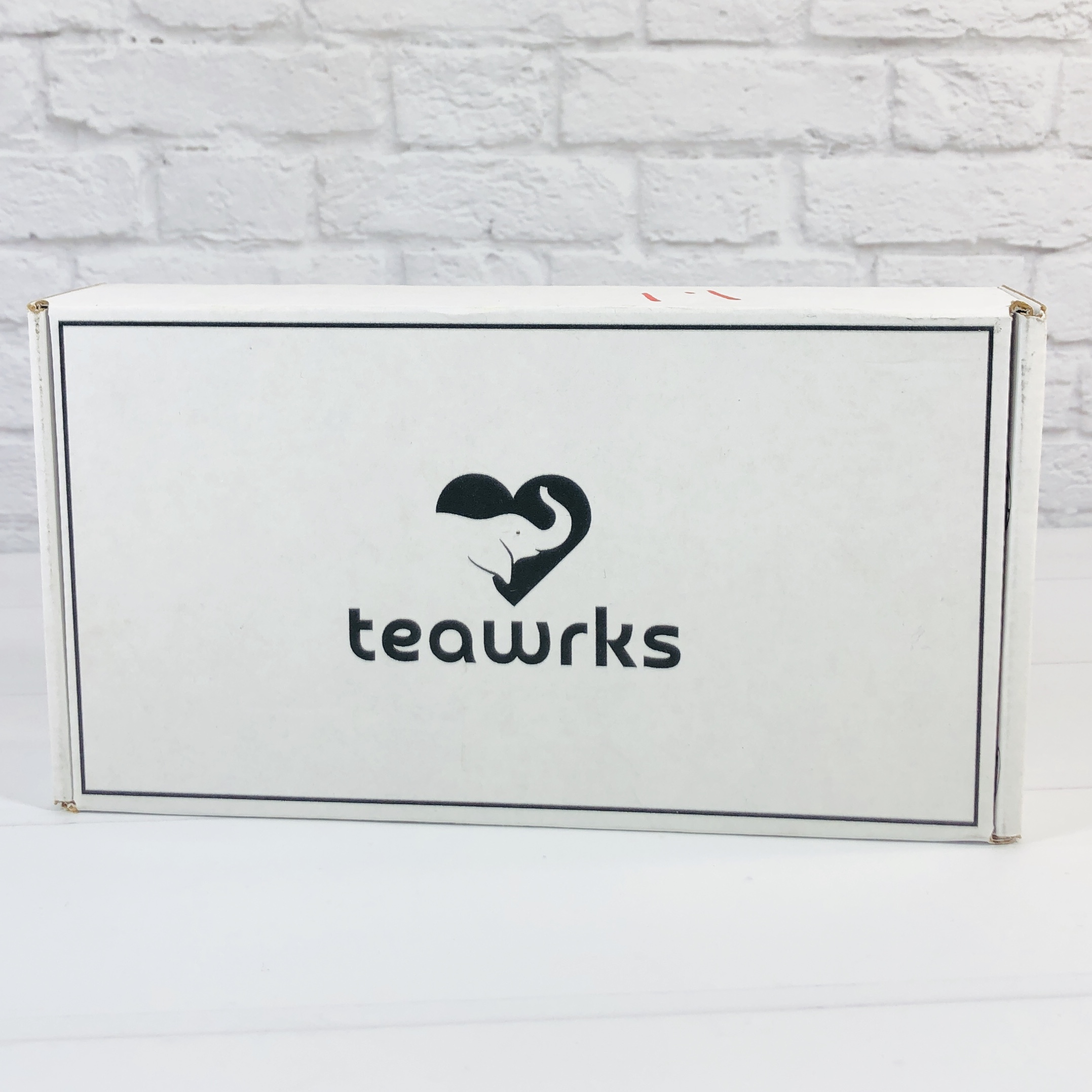 teawrks is a monthly tea discovery box containing four organic teas that are sourced from around the world. You can personalize your box by filling out your tea profile and each box comes with enough tea for 30+ fresh cups plus resteeps. Their organic tea boxes are expertly curated and offer a fun way to explore tea. There are four box combos to choose from: Black, Green, Personalized, or Variety. I am reviewing the Variety Box!
Every month, you'll get 4 organic fine loose-leaf teas + botanical (30+ fresh cups plus re-steeps).

The tea discovery variety box contains 4 different types of tea. Typically the box will have a black tea, green tea, blended tea with botanicals (sometimes naturally flavored) and/or an herbal tea.

A reusable muslin tea bag and 6 disposable tea bags are included inside your box!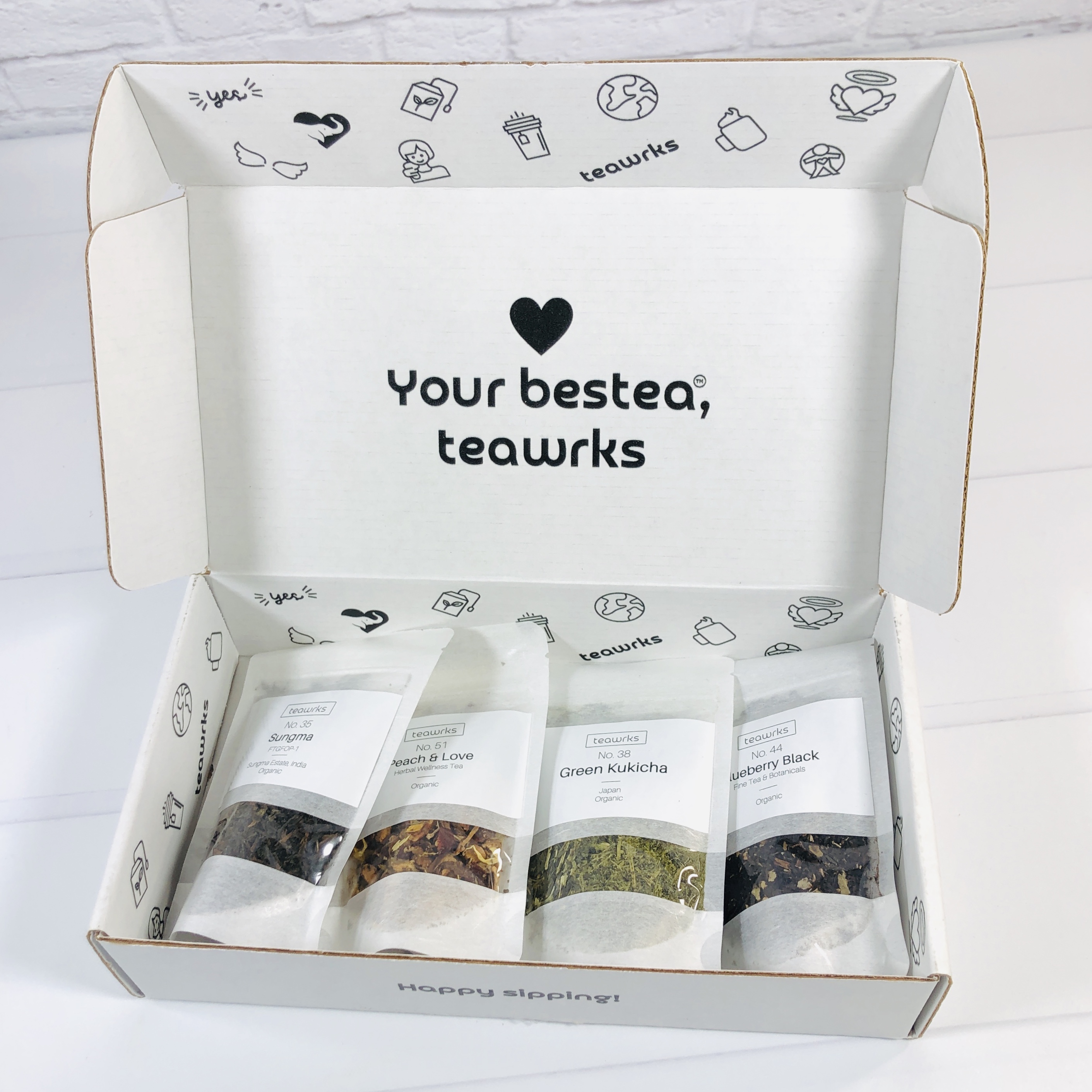 This is my very first box from teawrks!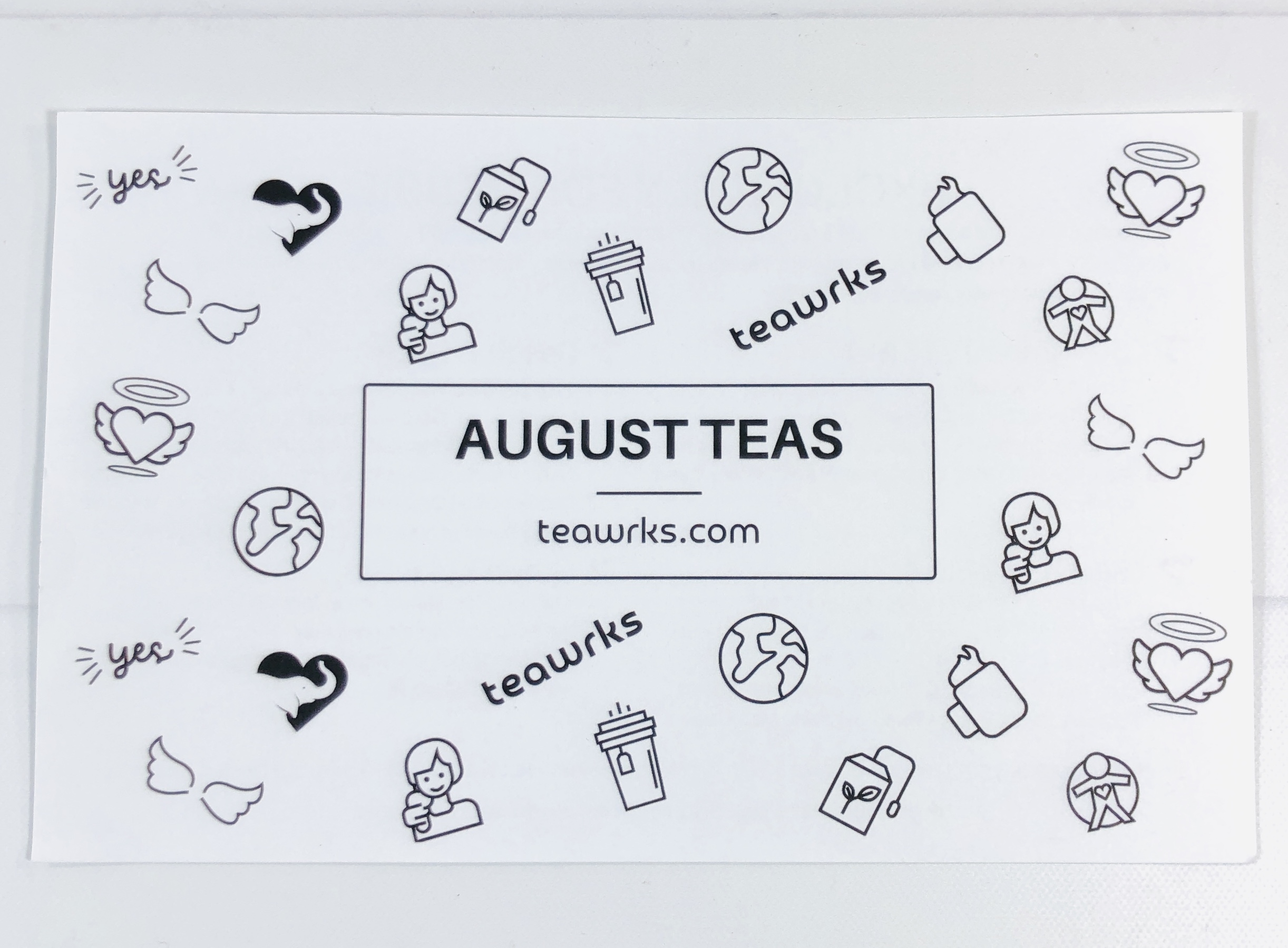 I received a card telling me this is the August box.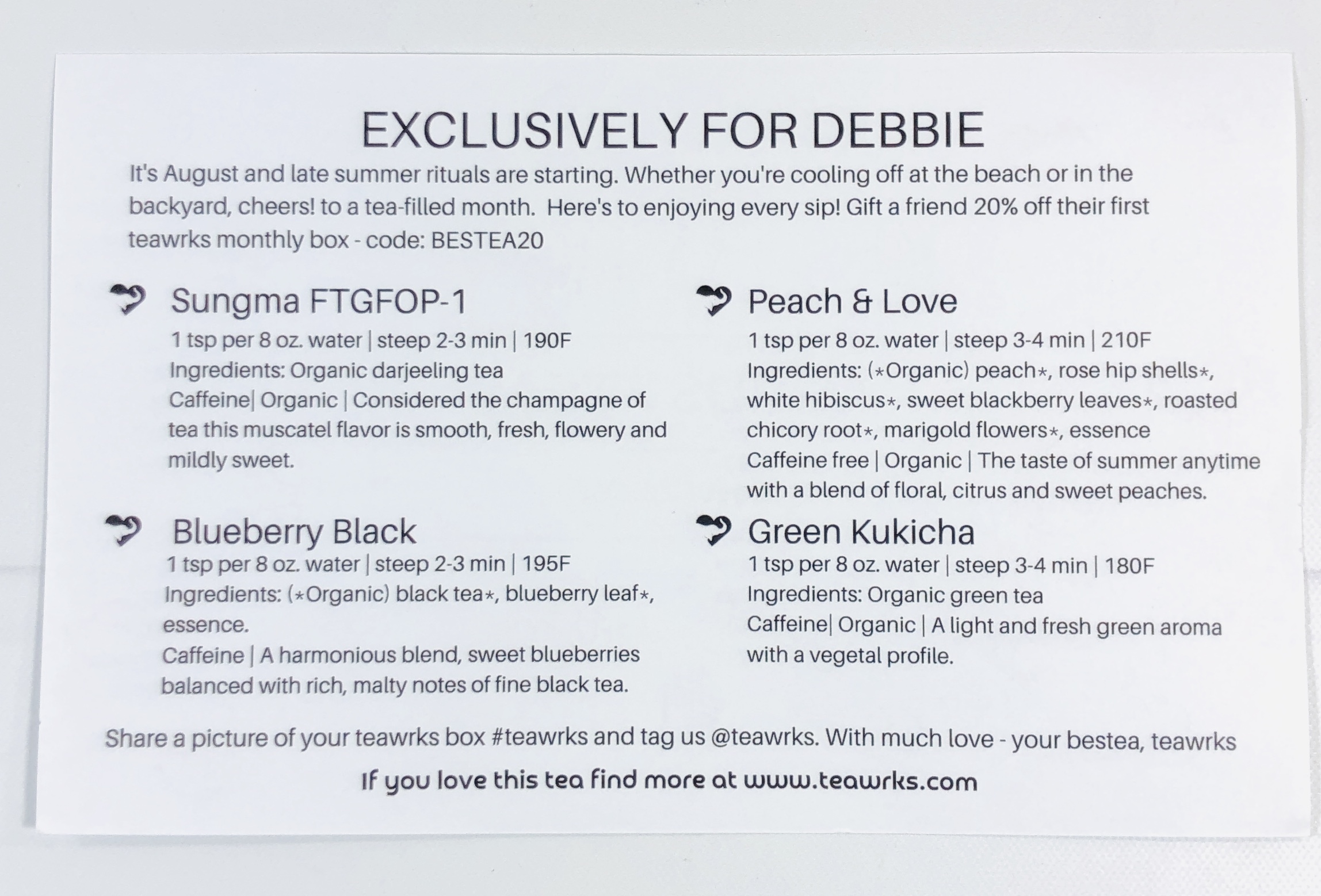 The back of the card had my name and listed the teas in my box. The card listed the amount of tea to use, steeping time, water temperature, ingredients, and flavor profile. It also mentioned if the teas had caffeine or not.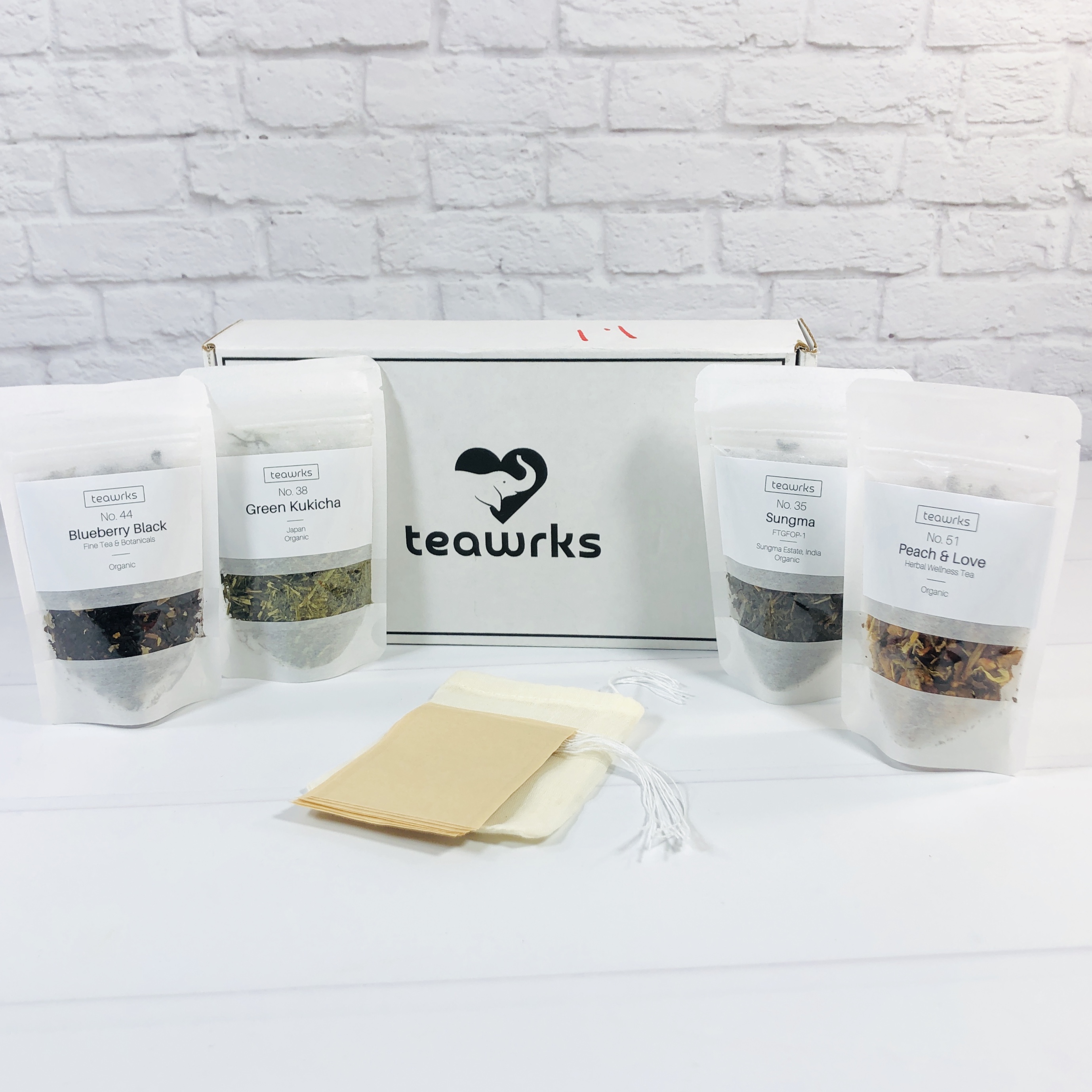 Everything in my box!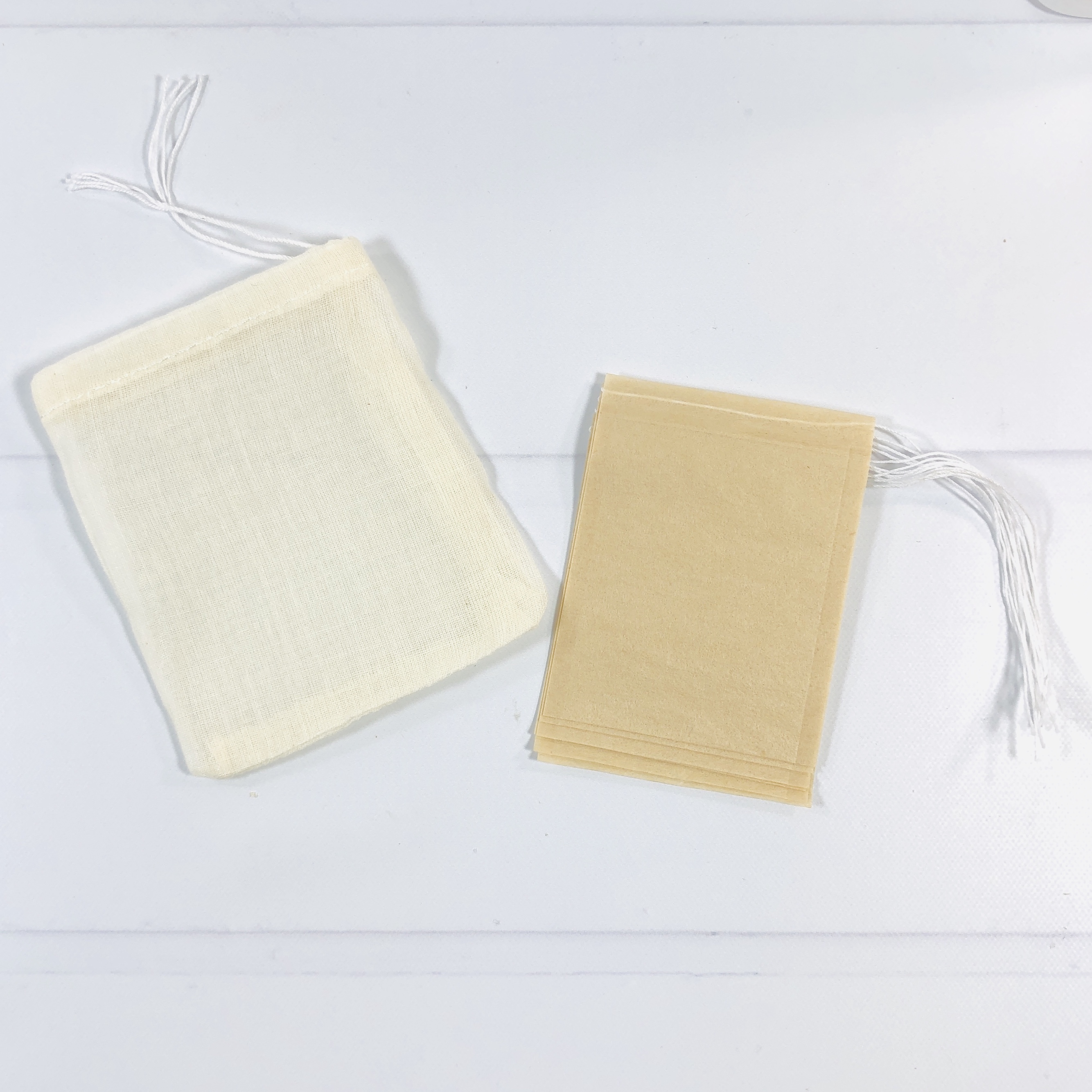 I received a Reusable Muslin Drawstring Bag and 6 Disposable Tea Bags. All of the teas sent are loose leaf so you can steep the teas in these bags or use something else such as a strainer or tea ball.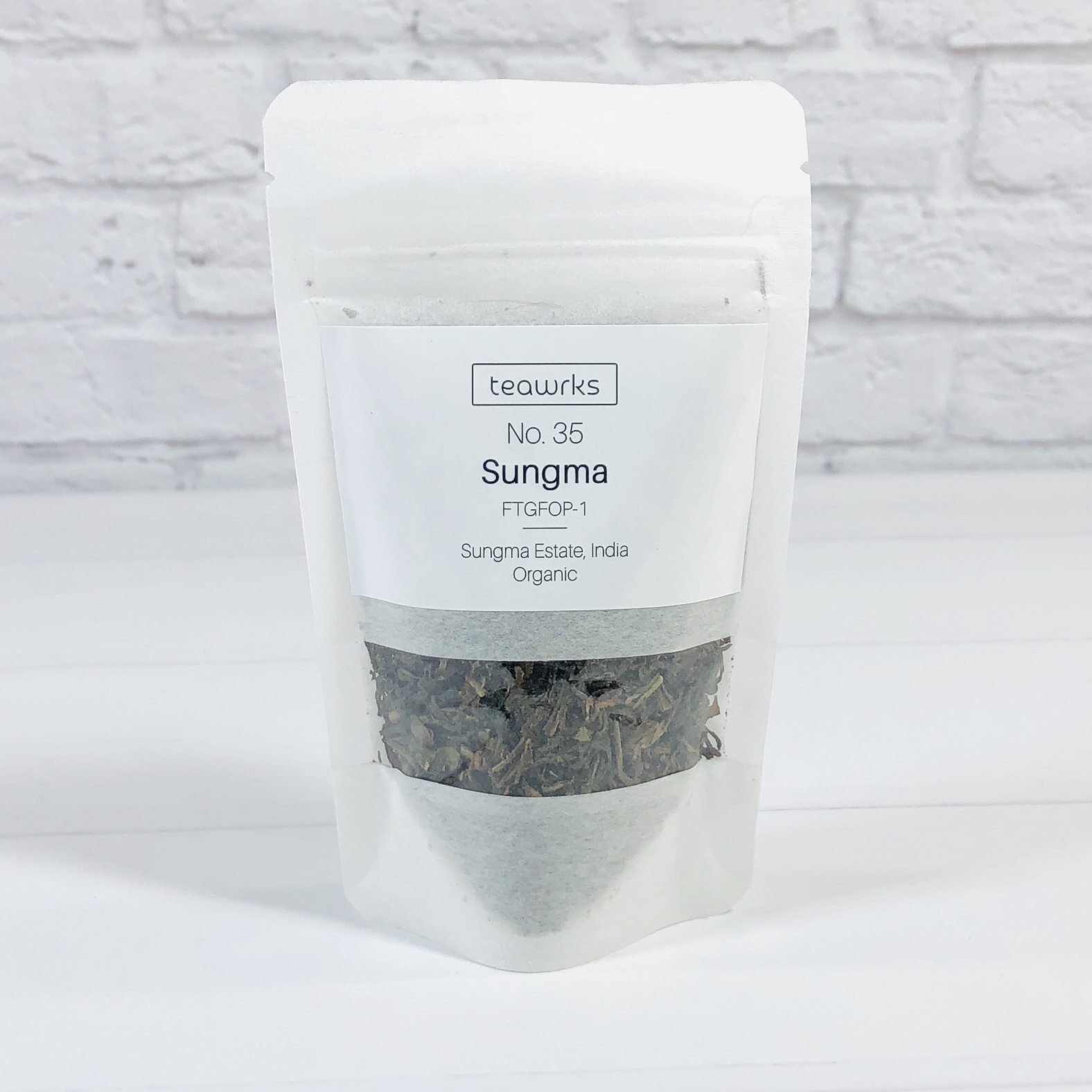 Sungma FTGFOP-1 Darjeeling See all of those letters and numbers in the name of this tea? It's a grading system used for Darjeeling teas based on the size and type of leaf, like whether they used whole leaf or broken. The letters here indicate it is "Finest Tippy Golden Flowery Orange Pekoe". In other words, it's a pretty high rating and generally a very nice tea.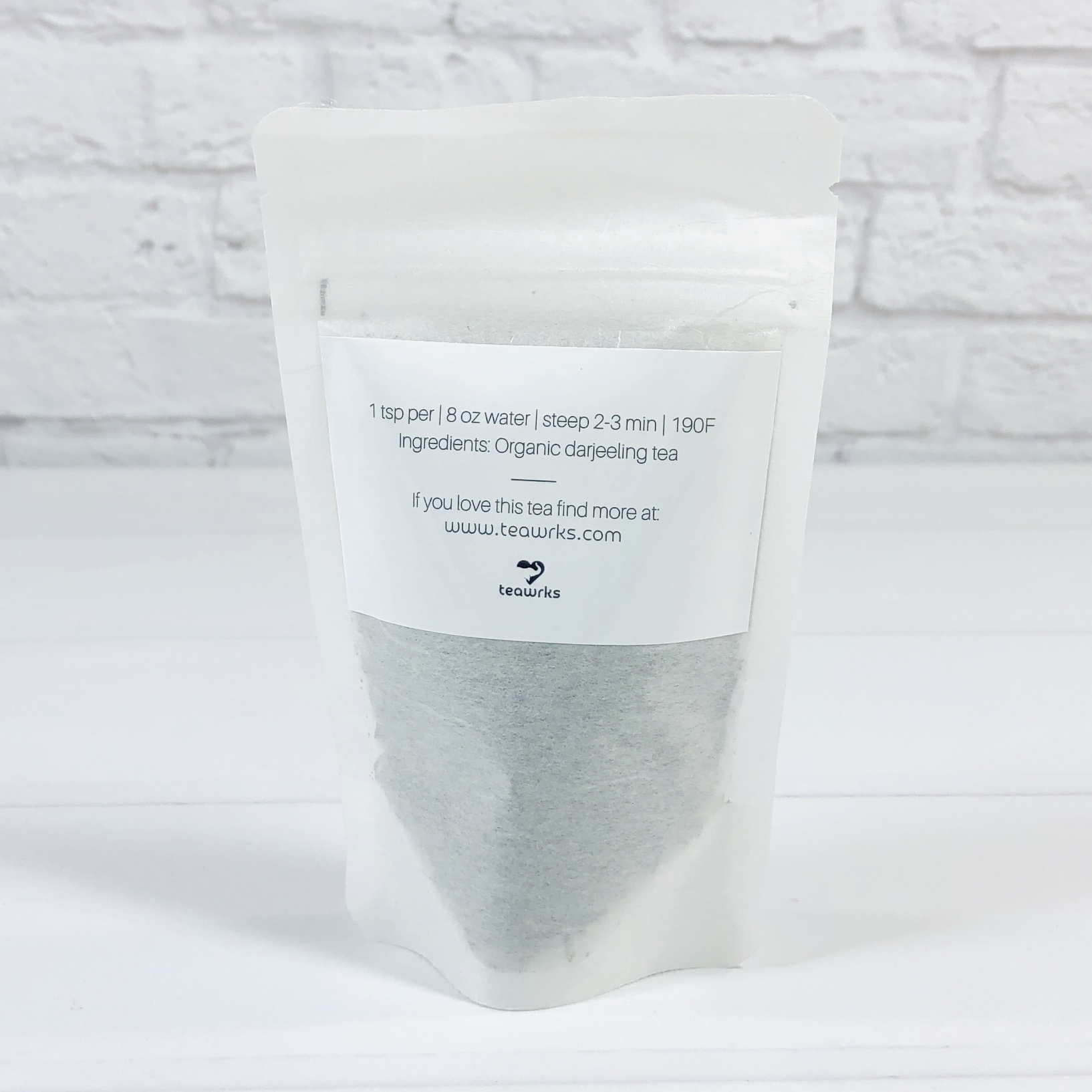 It is the only ingredient in this bag. The bag lists the other pertinent info such as water temp and steeping time.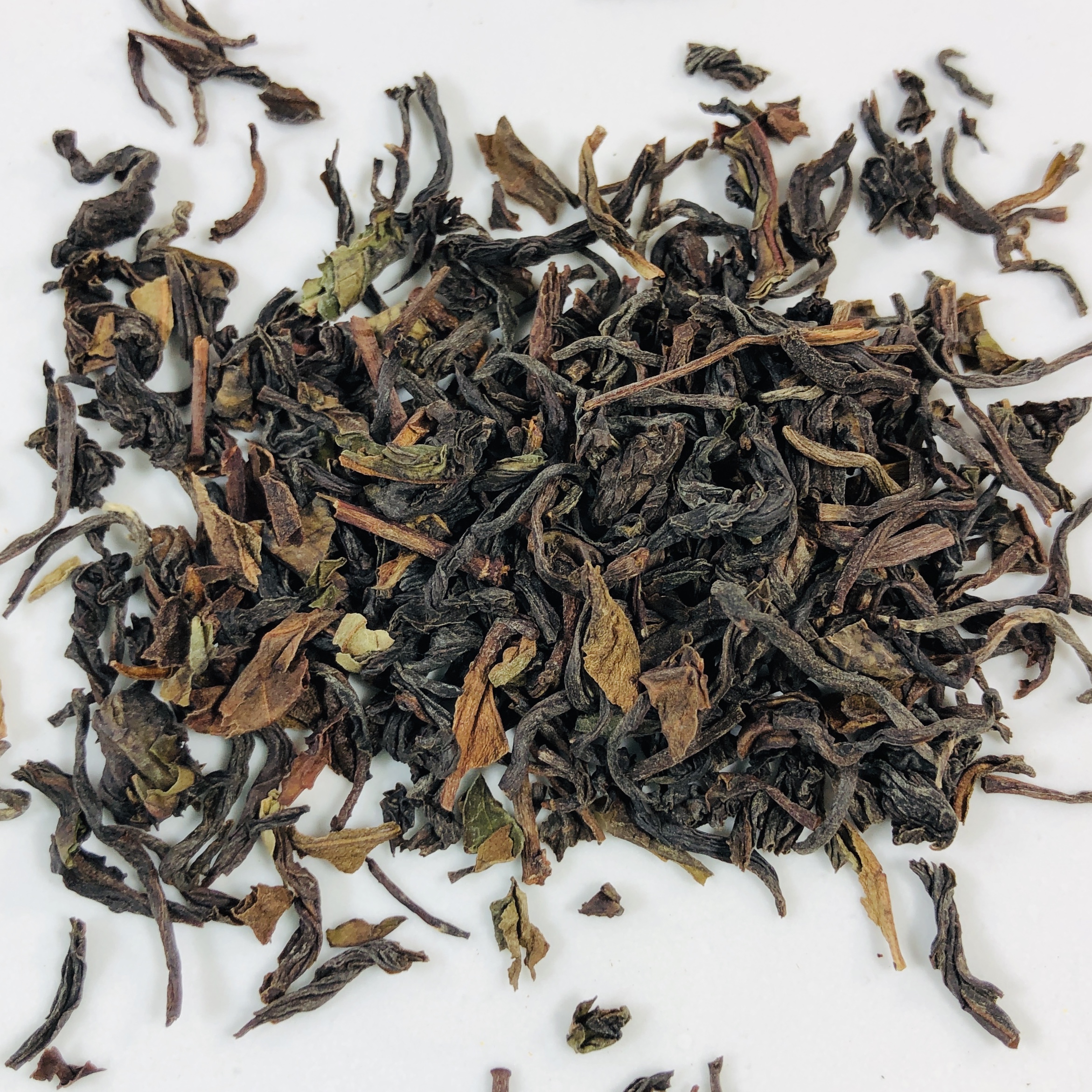 Look at how lovely it is, and the leaves unfurl during steeping to release their flavor. The flavor was strong and light at the same time, maybe not the same strength as my usual English Breakfast, but it's not lacking either. The flavor and scent was floral, and there were some tannins in there to make my mouth pucker. I added a bit of sugar but milk would overwhelm the body of this tea.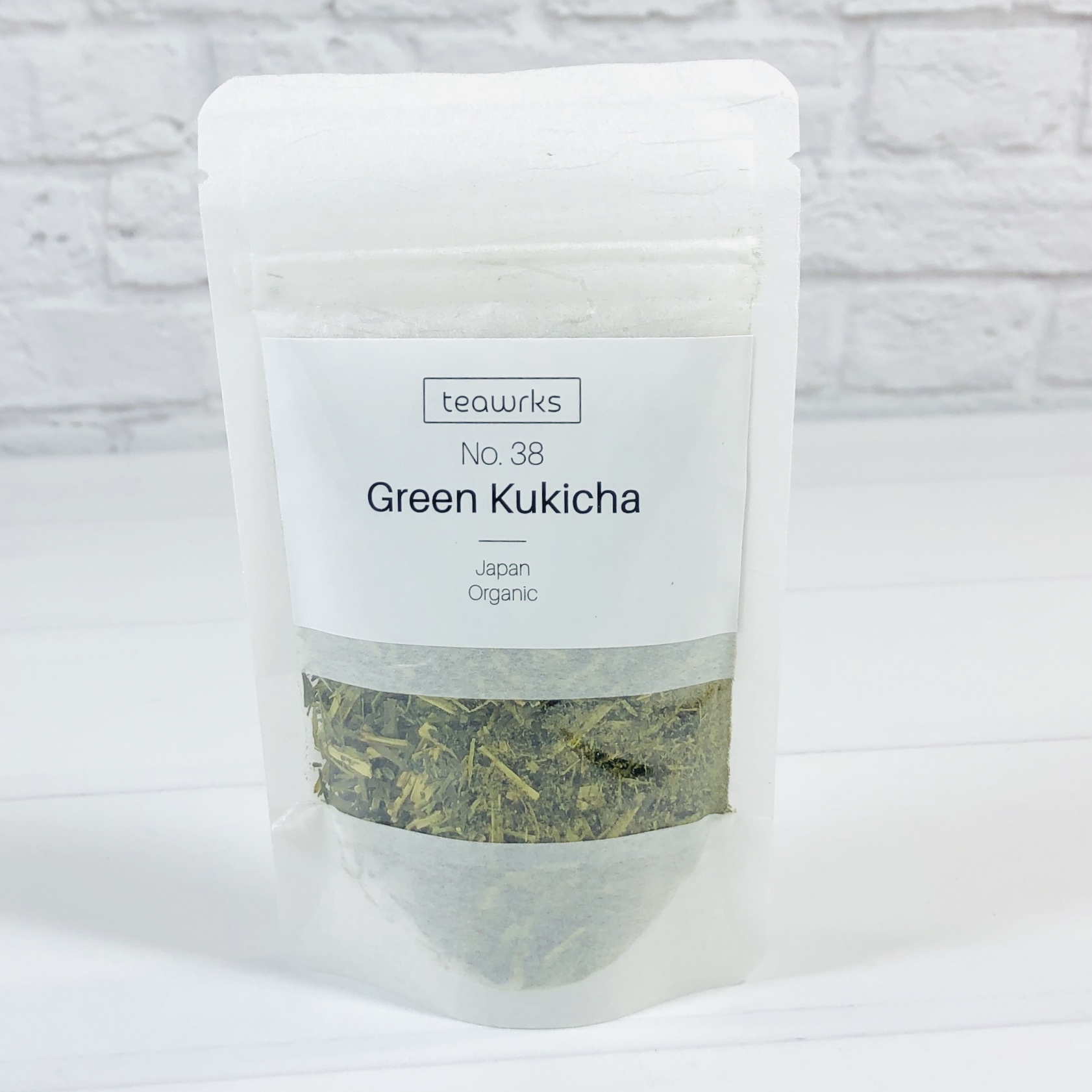 Green Kukicha Kukicha is a green tea from Japan that is made from the stem, stalk, and twigs of the tea plant instead of the leaves.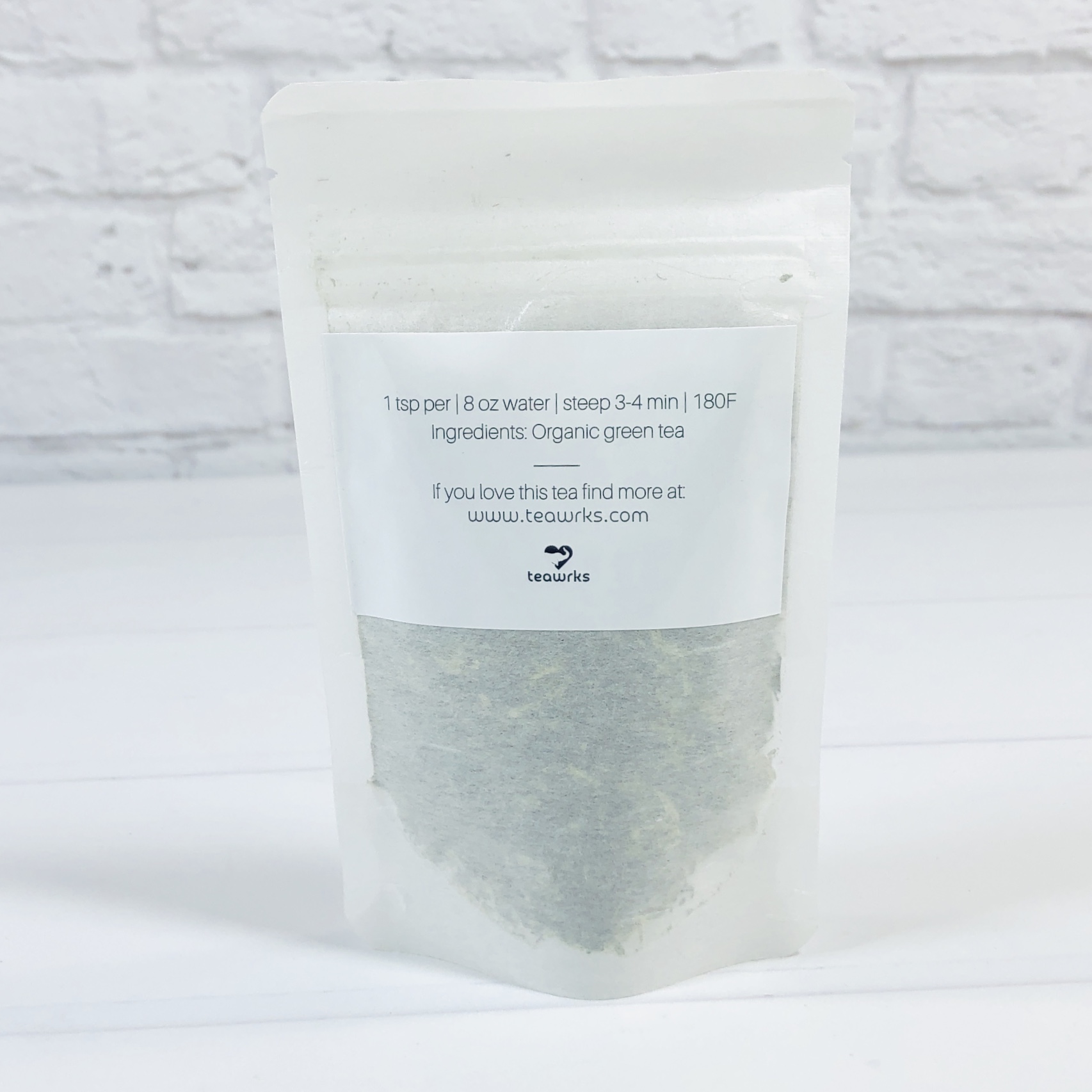 I used 1 teaspoon and only steeped for 3 minutes. I kept the water below boiling so my tea wouldn't become bitter.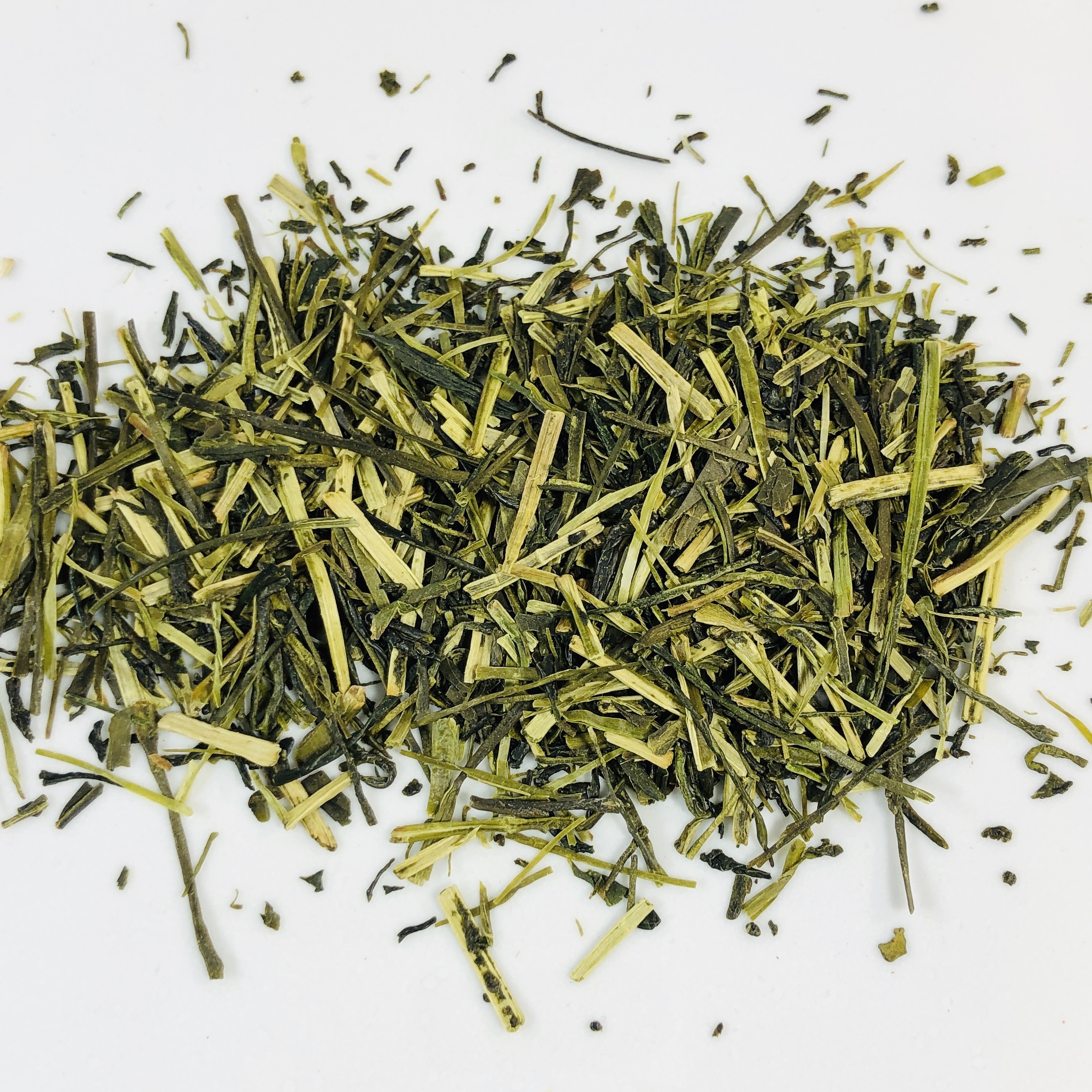 You can see that it looks different than other green teas. This had a flavor very similar to sencha but milder, and there were vegetal flavor notes, which remind me of spinach. It was just a tad on the bitter side but I added a bit of sugar and liked it more than I thought I would.
Blueberry Black Black tea is always my preferred type of tea and it is my beverage of choice to shake off that morning fog.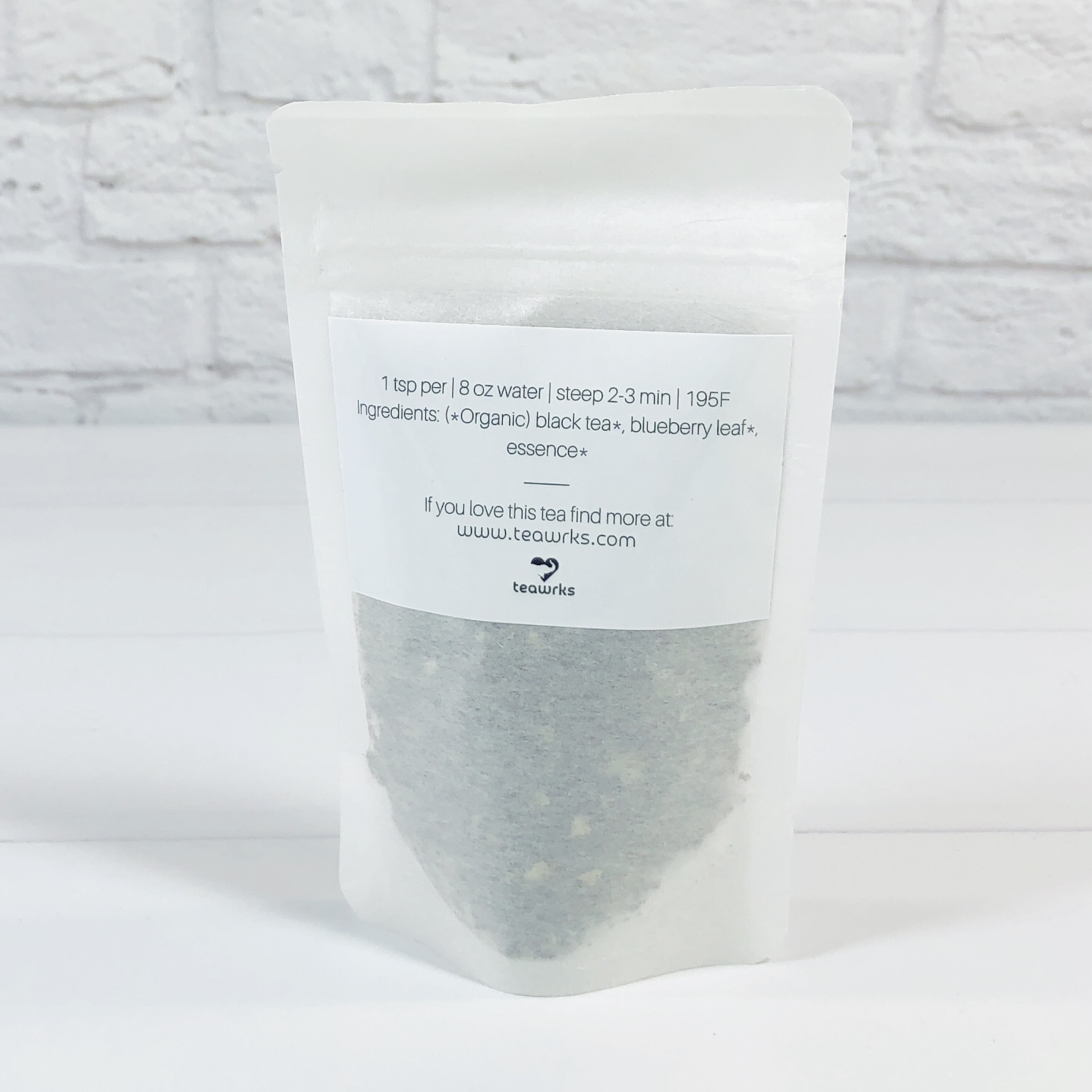 The base is black tea and there is some natural essence from blueberries.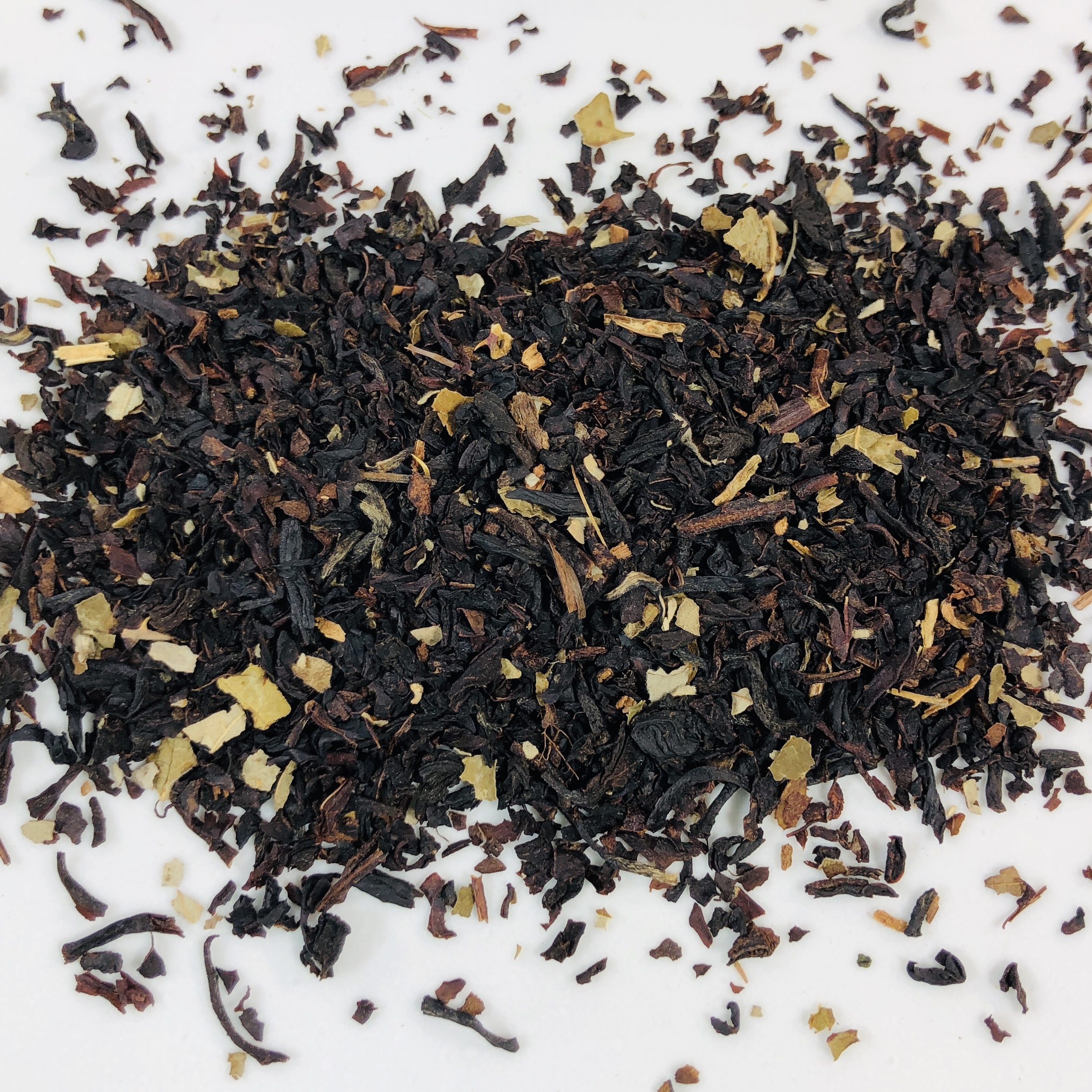 What a change to start my day with a lightly flavored blueberry black tea, which didn't veer off into that artificial territory. It was a good black tea with blueberry flavors and sugar and milk turned it into a morning indulgence, similar to pie with cream.
Peach & Love Usually I reach for the herbal teas last which is a shame because this one was exceptional.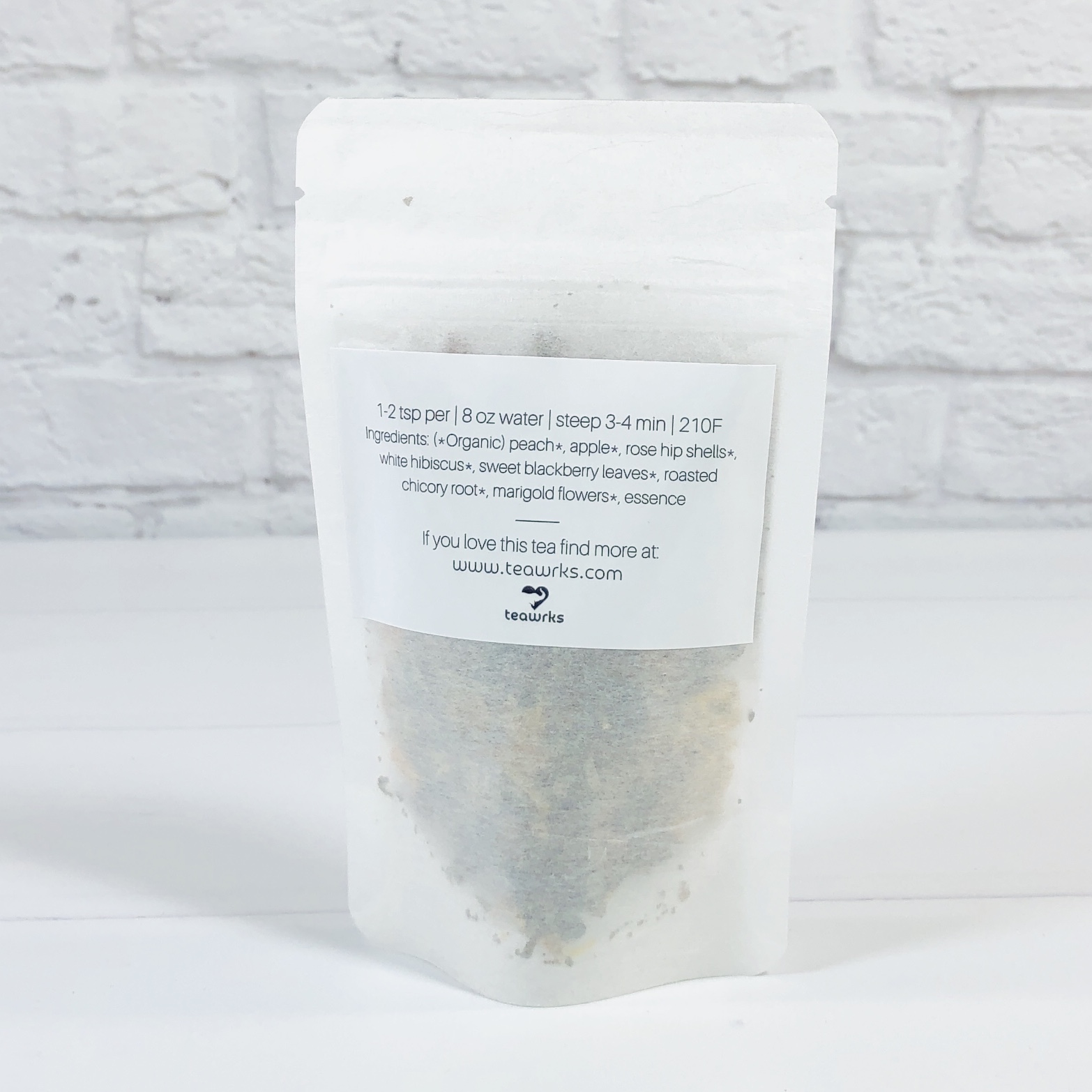 It has dried peaches, apples, marigolds, and other non-caffeinated ingredients.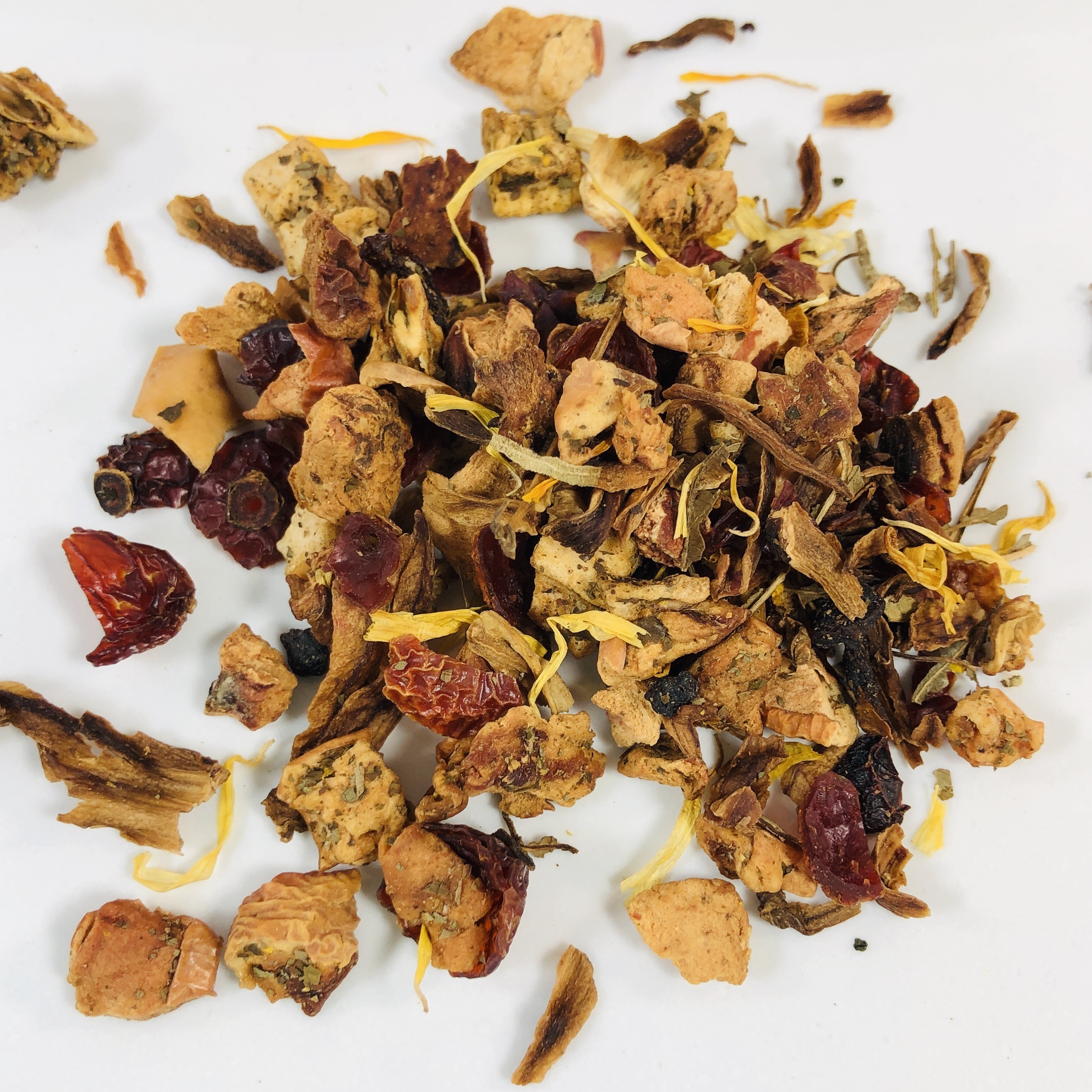 Doesn't it look pretty? It was fruity and slightly tangy. It reminded me of a peach version of apple cider. I drank it hot with a little sugar but this would be wonderful prepared double-strength and poured over ice, kind of like peach punch.
I was extremely pleased with my very first box from teawrks! The Variety Box had a little bit of everything – black, flavored black, green, and herbal. They were all very tasty and I was surprised by how much tea was in each bag. The flavors tasted very natural and the teas were high-quality. I think it's wonderful that the box can be customized further to get you more of the teas you love every month!
What do you think of the teawrks box?