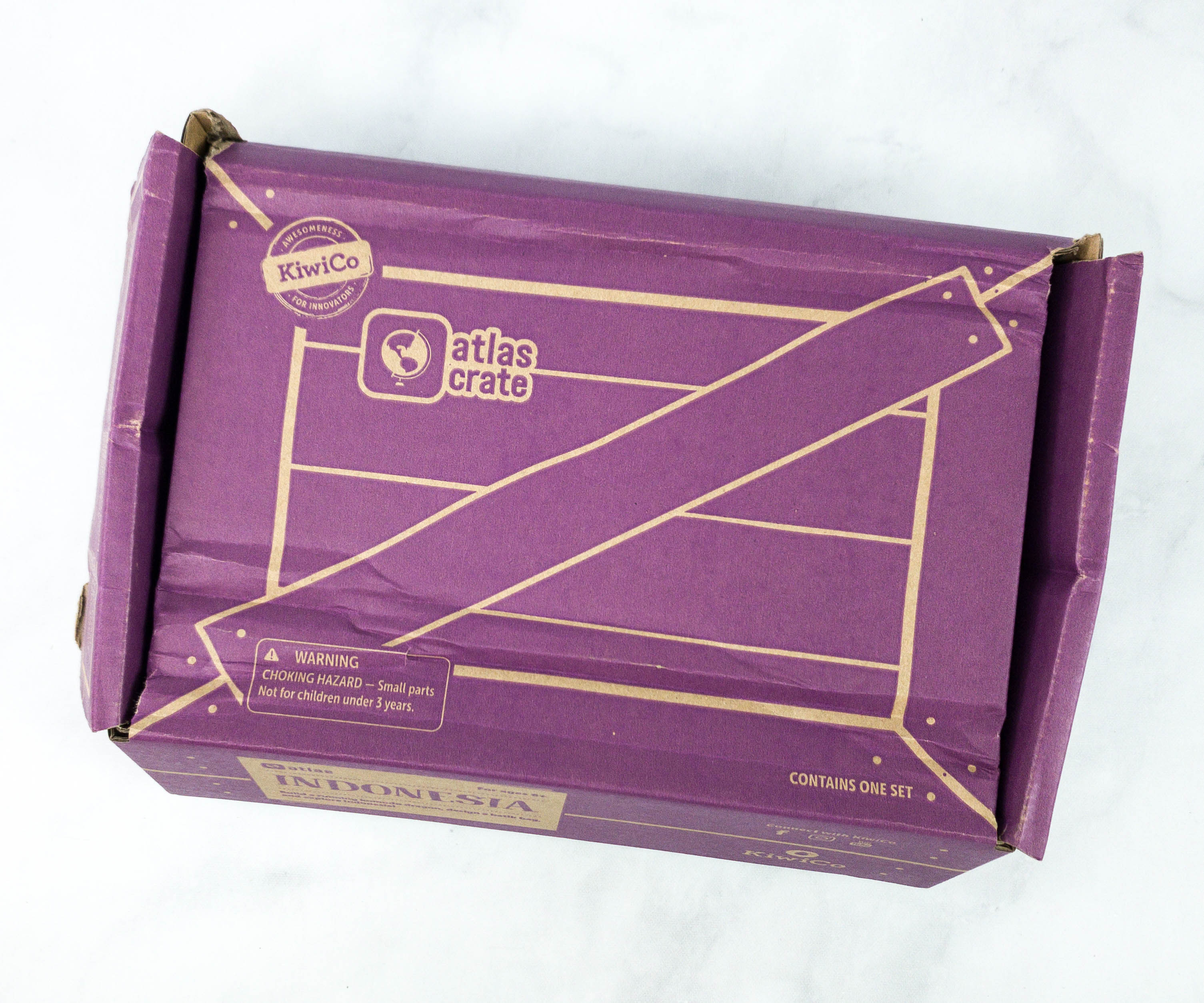 Atlas Crate is a monthly subscription from KiwiCo that specializes in geography and culture for children between ages 6 to 11 years old. This box is designed to spark kids' sense of adventure and curiosity, inspiring them to see themselves as citizens of the world. Kids can see and connect with the rest of the world, helping them grow beyond their own experience as they explore the globe.
KiwiCo also offers Kiwi Crate, Koala Crate, Doodle Crate, Tinker Crate, Panda Crate, Maker Crate, and Eureka Crate. Atlas Crate is a great addition to the KiwiCo family as geography and exploration is always a favorite activity!
DEAL: Save 40% on your first month with this link on any KiwiCo line, no coupon code required!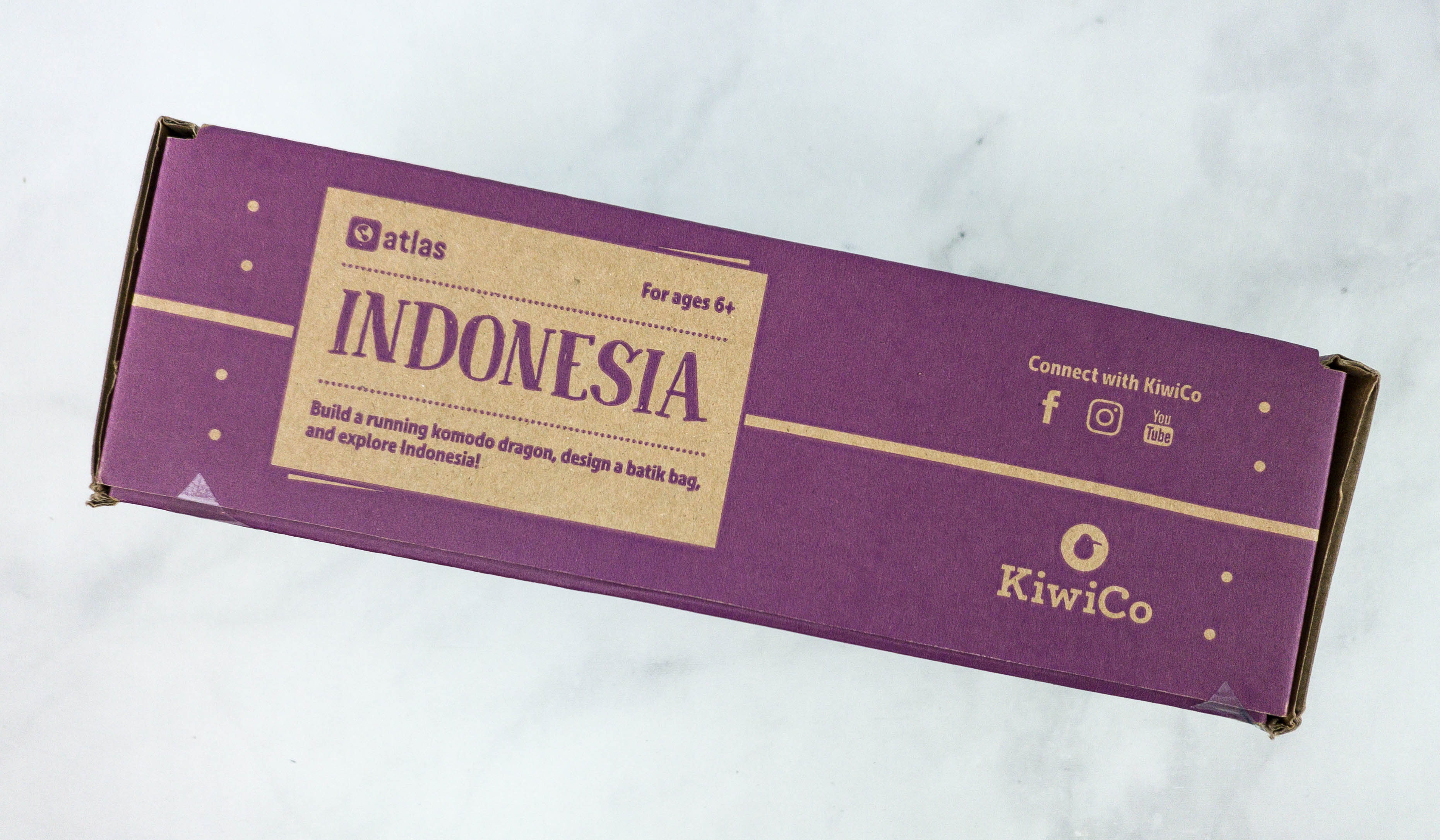 This month's box is all about INDONESIA!
Upon opening, we are welcomed by the cards and pamphlets that are essential to the activities. This subscription emphasizes learning through creative play as they provide in this box everything the kids might need. It builds a sense of adventure, an appreciation of other cultures, builds a sense of global citizenship and opportunity for parents and grandparents to bond with children.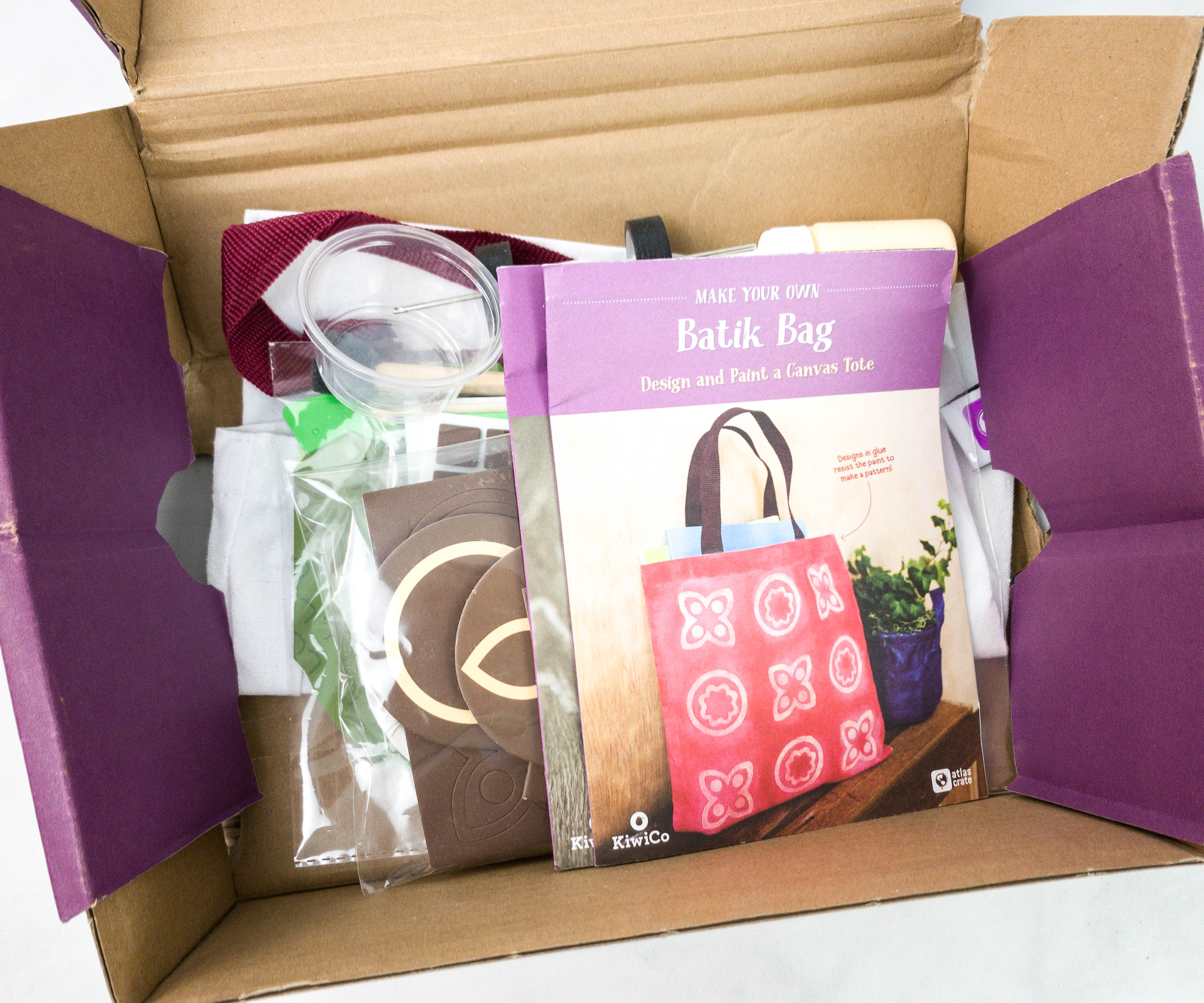 All the items are neatly stacked inside!
 Everything in the crate!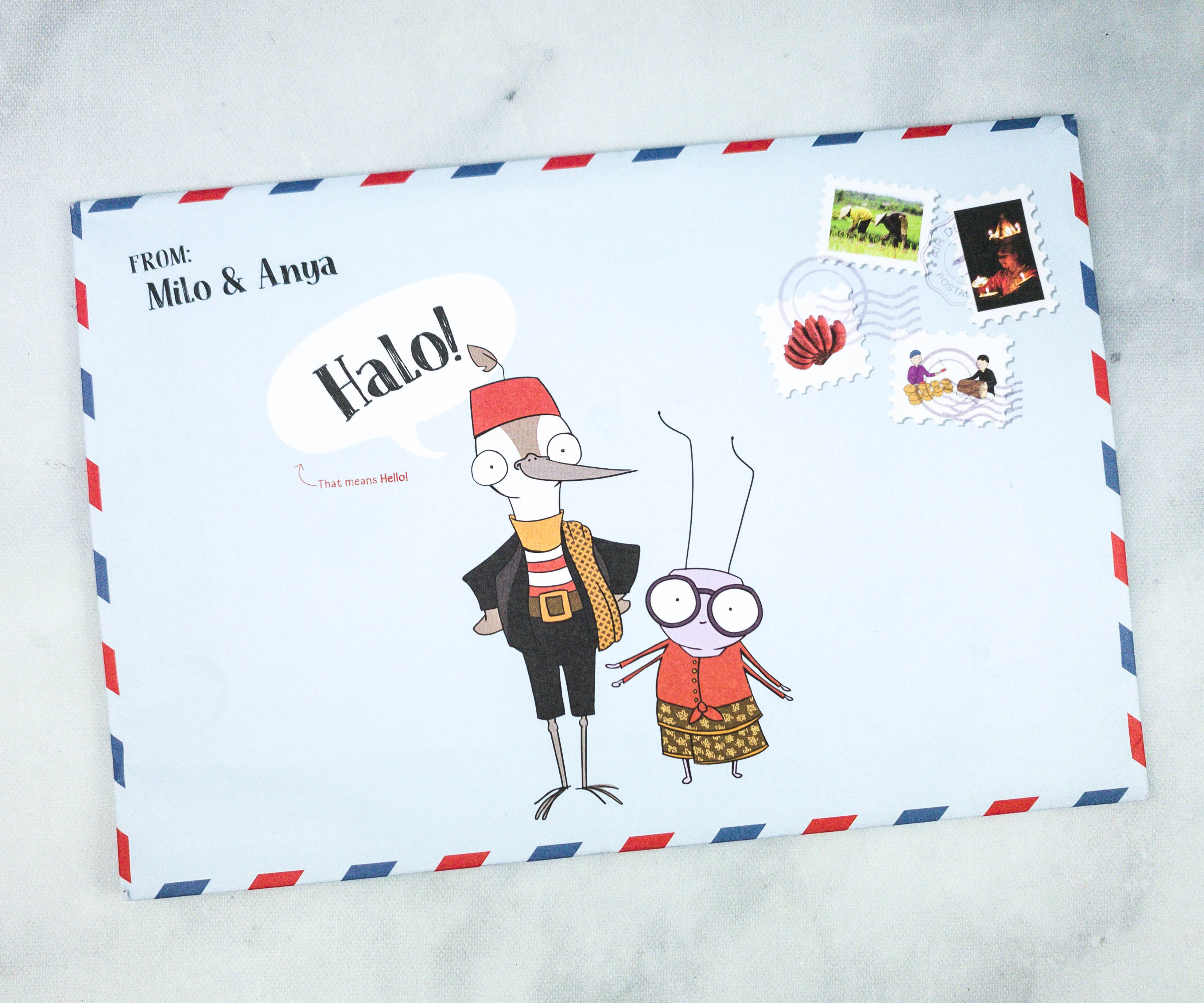 "Halo!" means "Hello!" in Indonesia.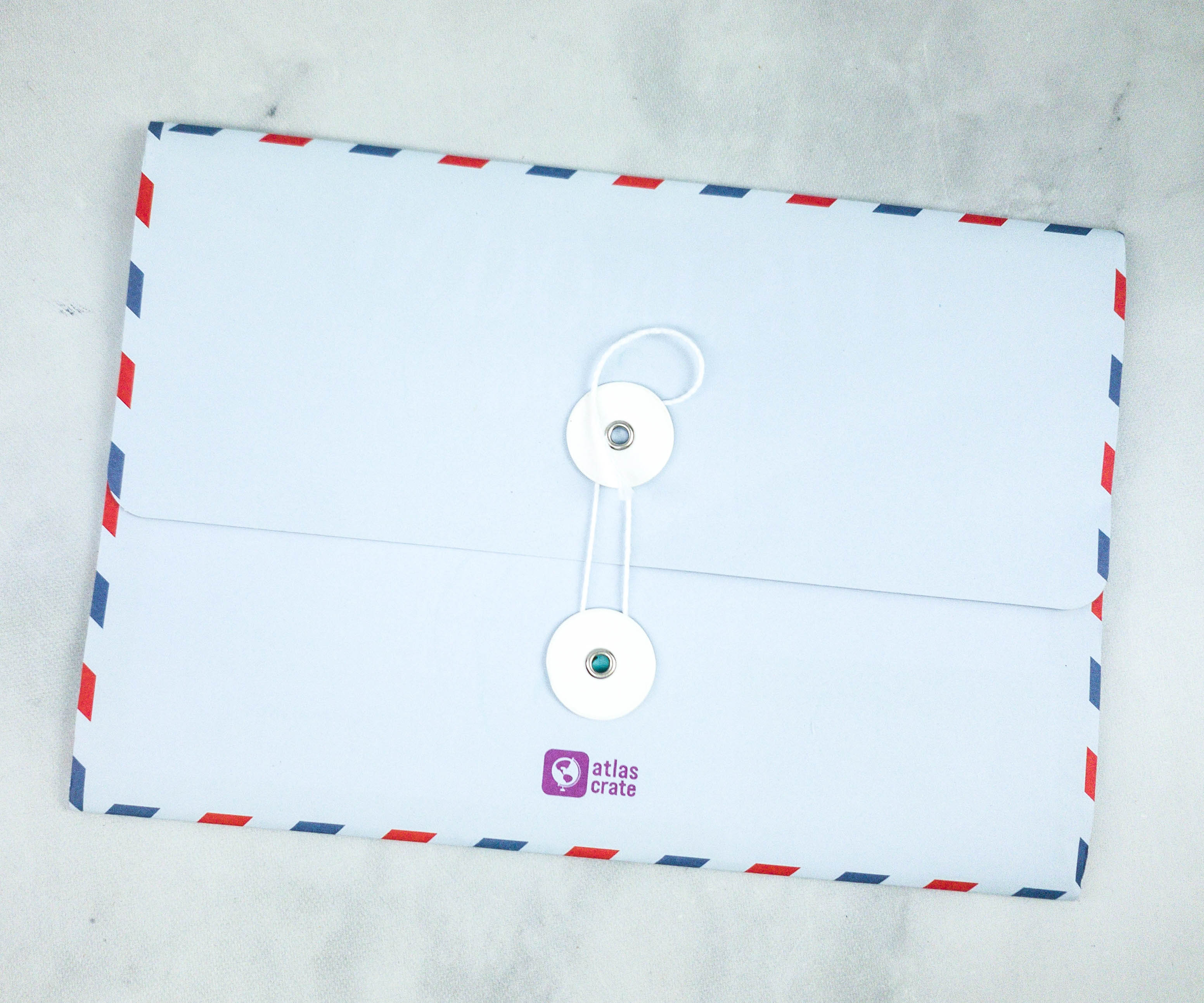 The cute mailing envelope comes with a string lock.
It opens up to show us an introduction to Indonesia.
Every flap of the envelope has information about the box. We are also given a beautiful surprise of trivia cards filled with fascinating facts and photos from the featured country.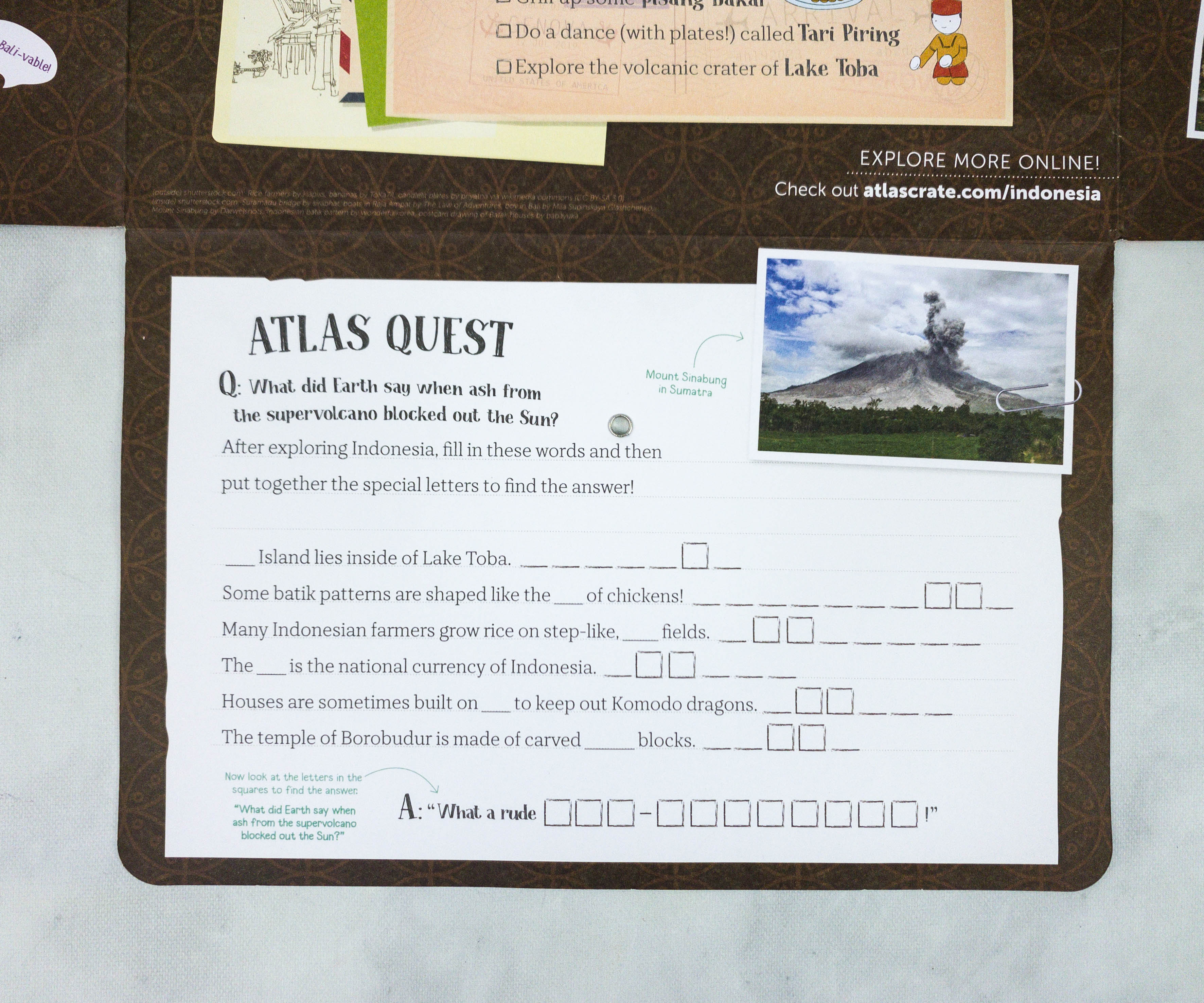 One of the flaps has Atlas Quest, which you'll need to fill out after exploring the country!
You can explore more online after you get your box with additional activities and book suggestions! Atlas Crate recommends Indonesian Children's Favorite Stories and All About Indonesia: Stories; Songs, Crafts, and Games for Kids.
Atlas Crate Adventure Book
Missed our first review? You'll get the rings in your first box, which will always start with the WORLD crate. Check out that review here!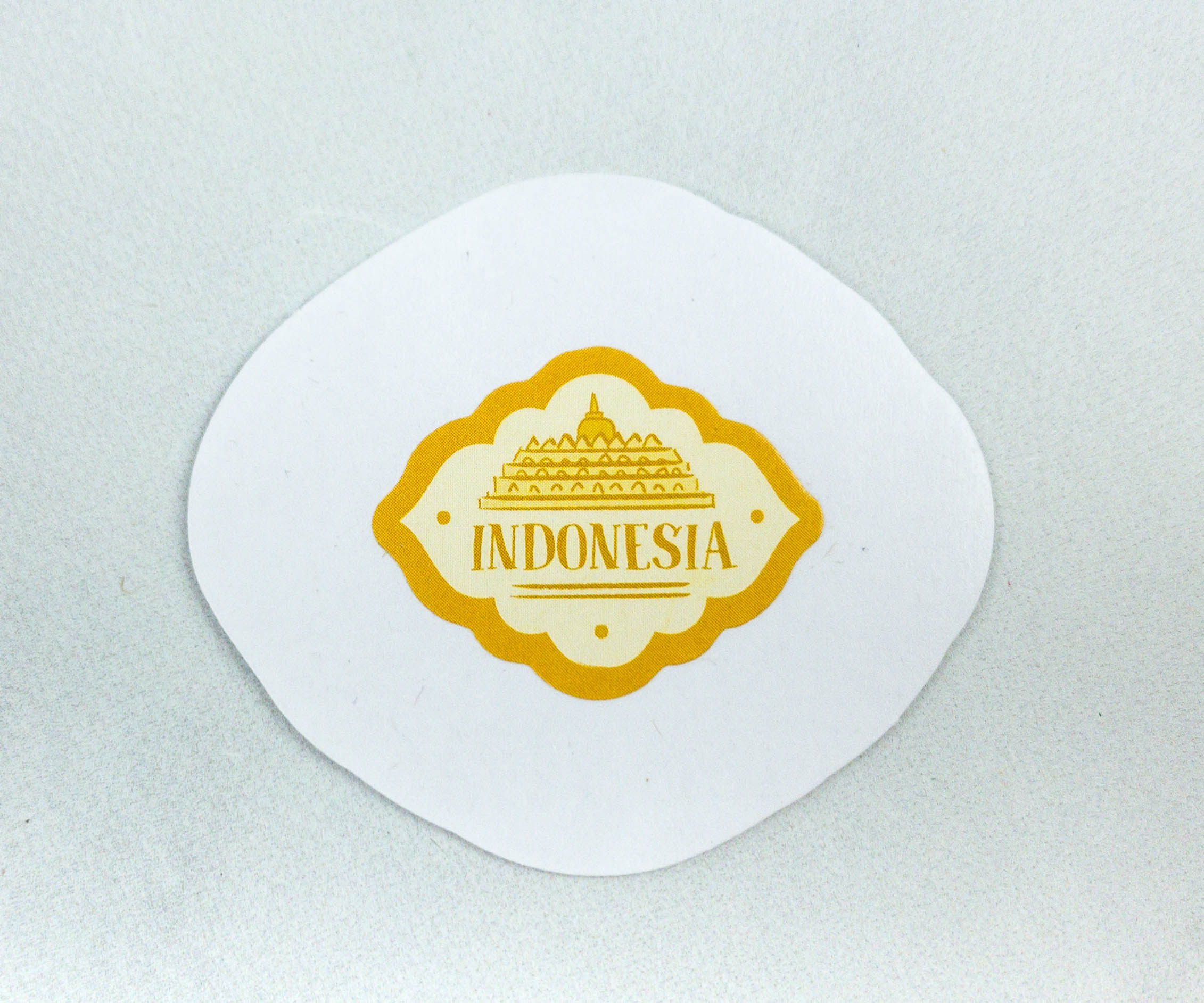 Each month, we also get a sticker that represents the featured country. This month's sticker features Borobudur Temple, one of the most popular tourist spots in Indonesia!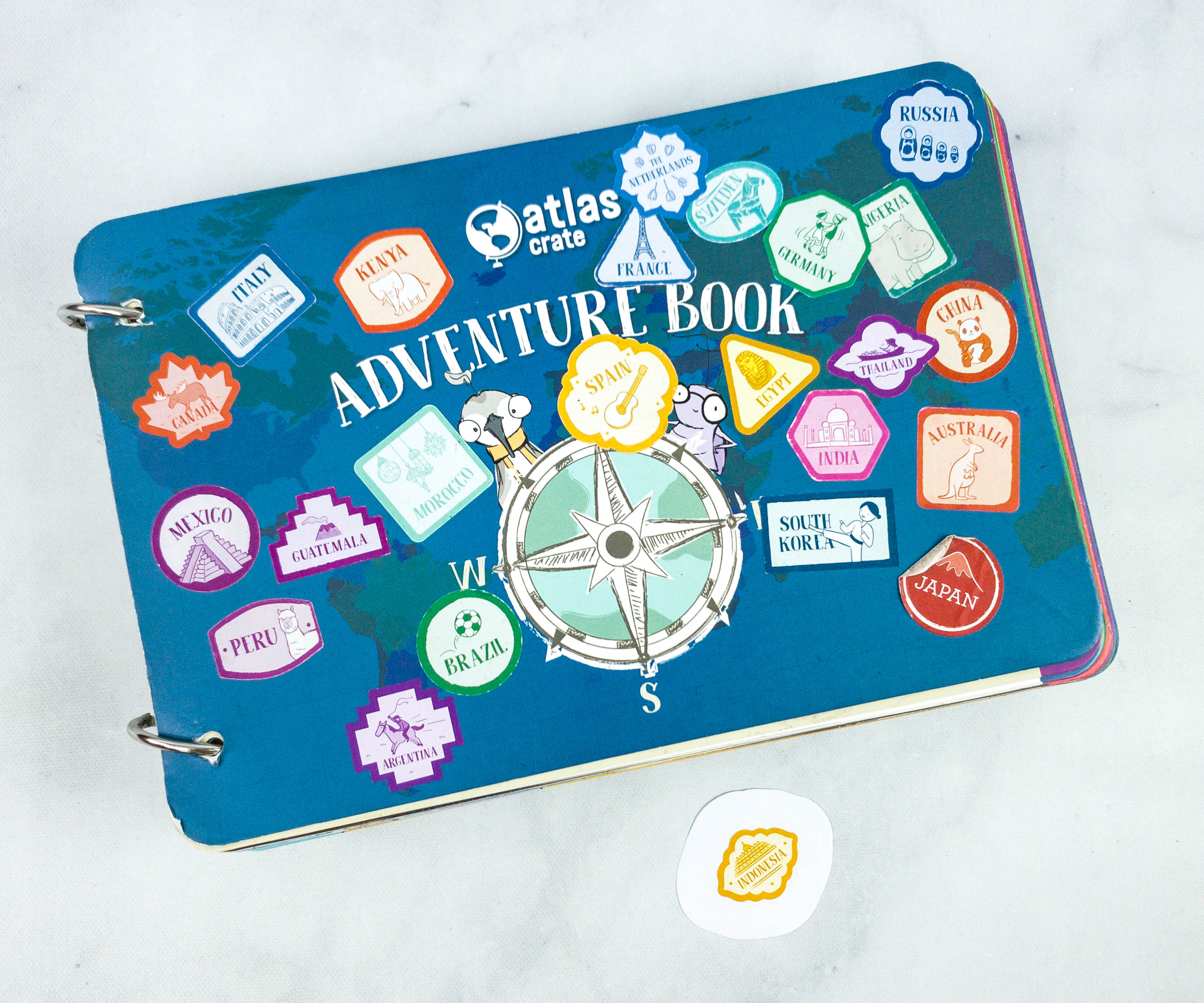 We placed our newest sticker on the Adventure Book, along with the other countries that we have already explored!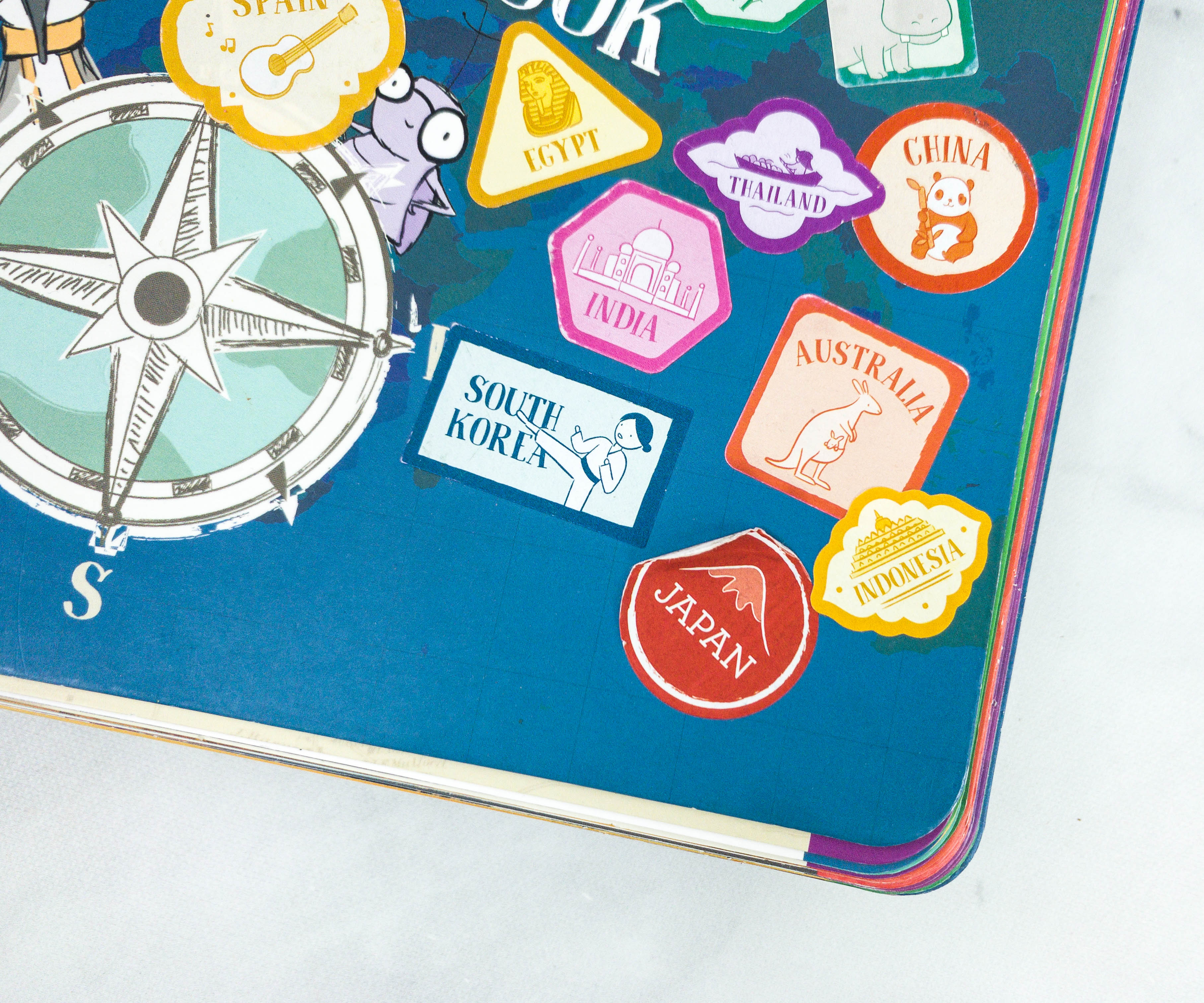 We placed it in between Australia and Japan! We've explored so many places already!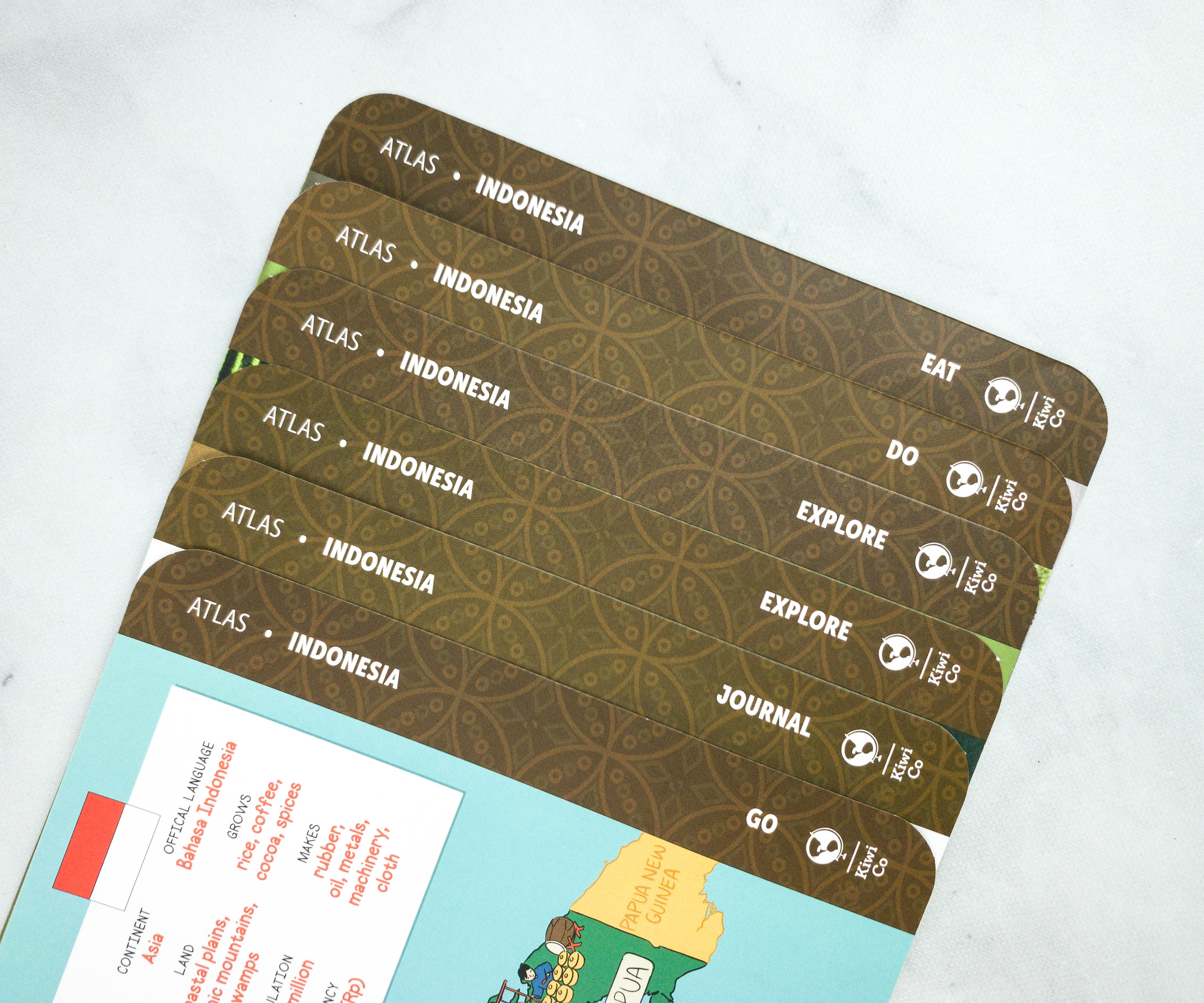 The table of contents is on the edge of each page for easy reading, just like how a travel book works.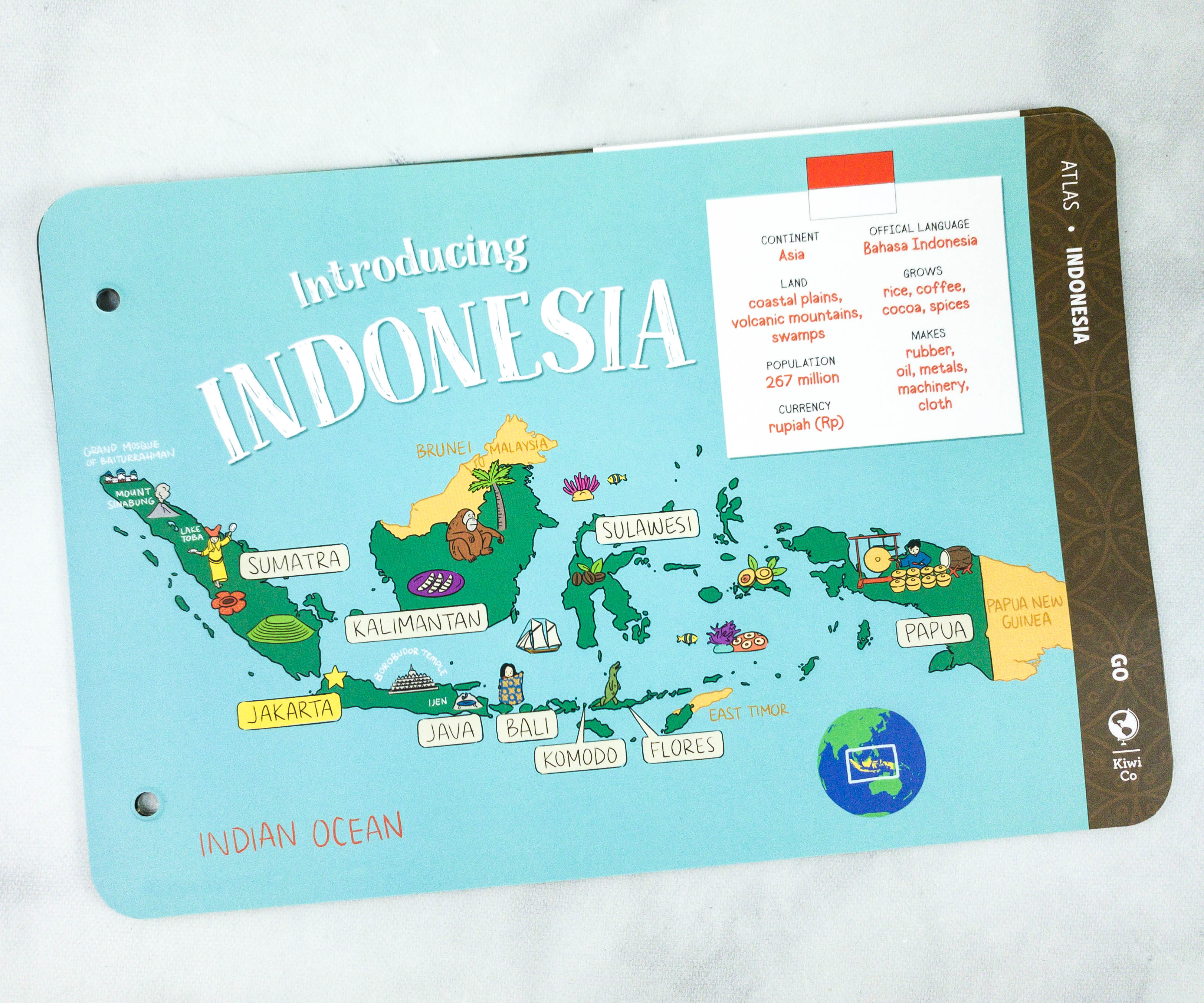 This booklet also comes with a cute illustration of the country's map with some fun facts and drawings of Indonesia's notable events, sports, places, and products.
Atlas Crate Activities
These pages feature the beginning of the adventures of Anya and Milo in the beautiful country of Indonesia.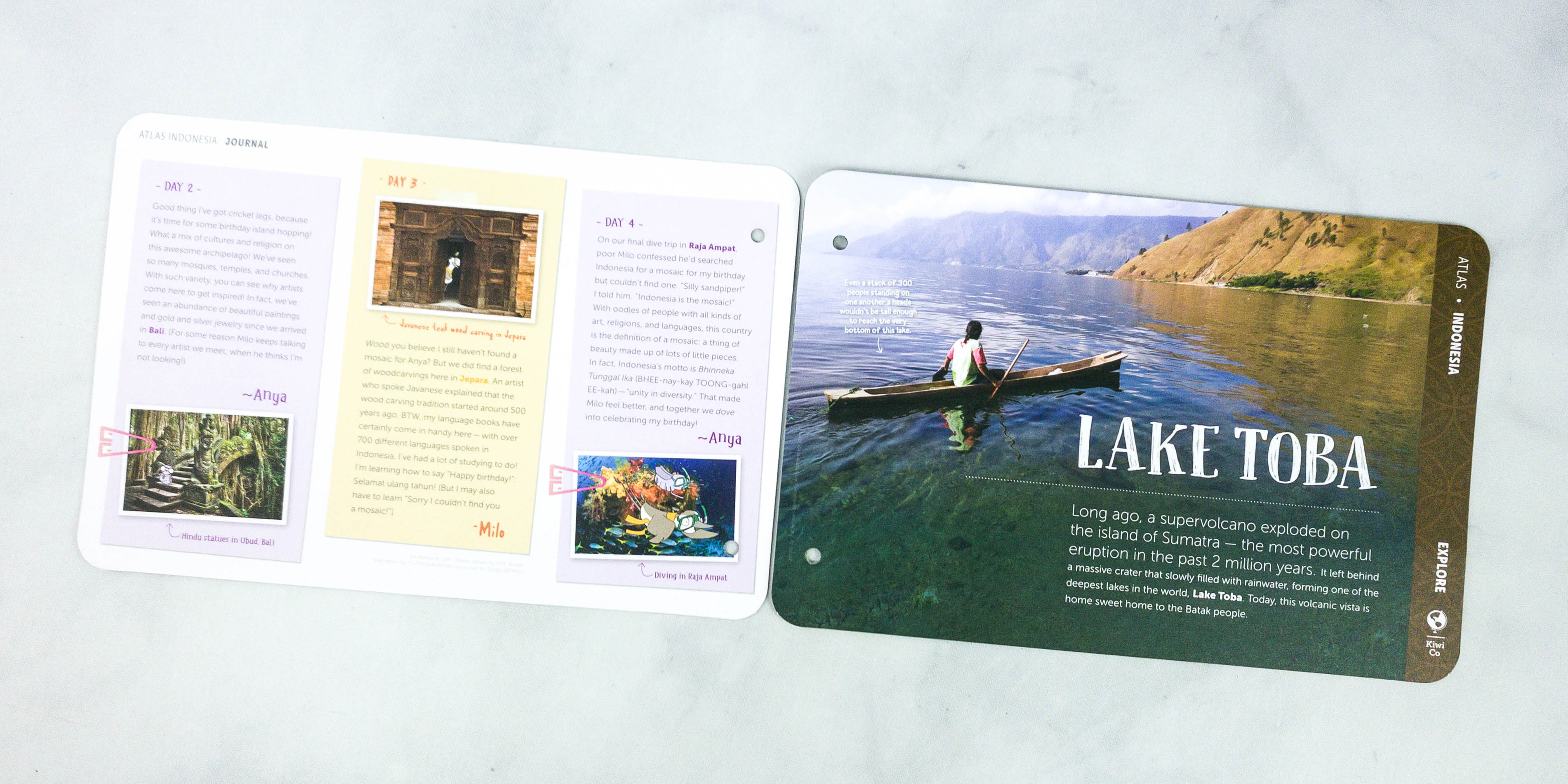 The tandem explored many places in Indonesia, and that also includes the popular Lake Toba! Lake Toba is a large natural lake in North Sumatra, Indonesia. It occupies the caldera of a supervolcano. It is also tagged as one of the best places to relax in Southeast Asia!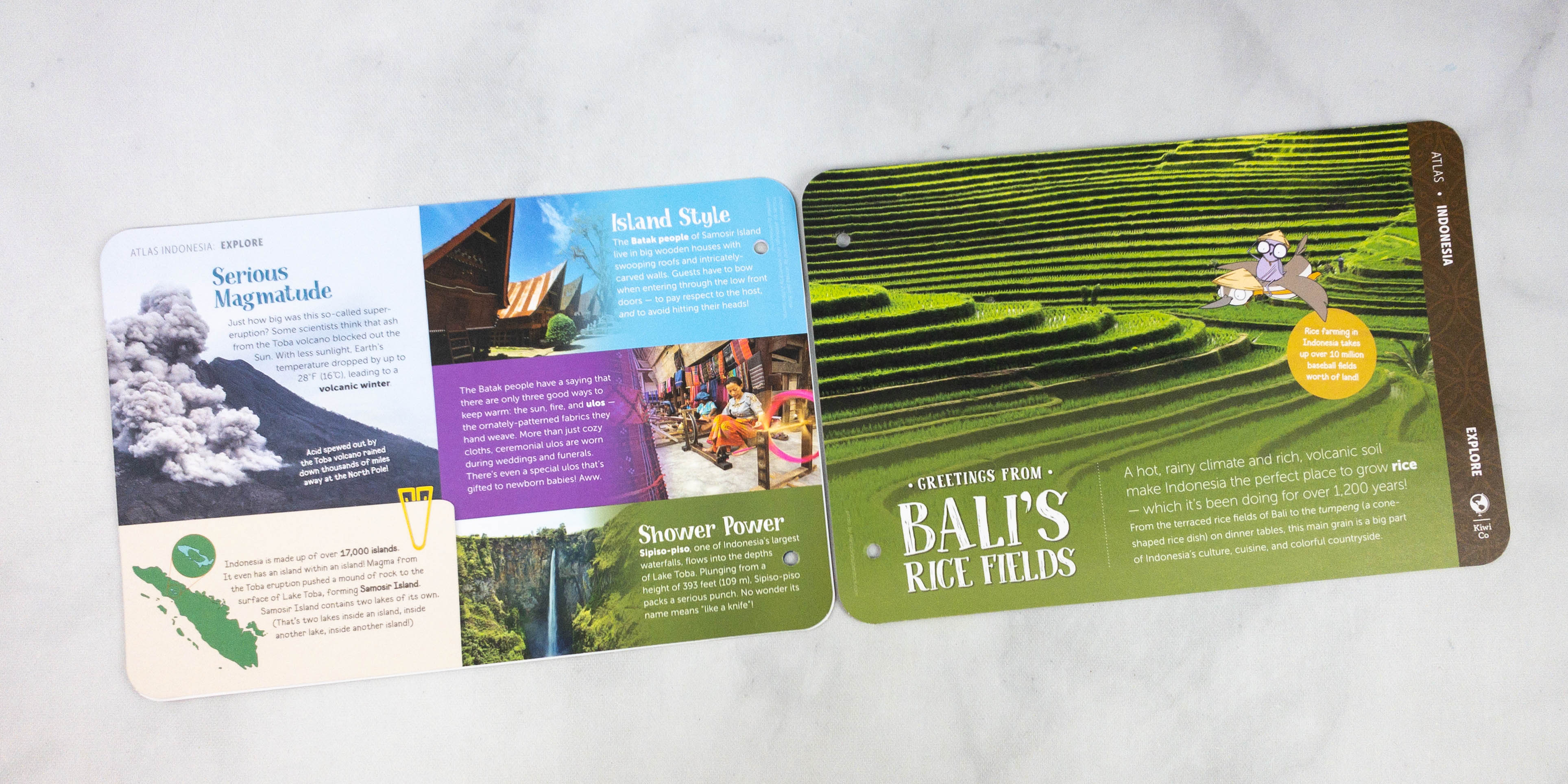 They also explored the Rice Fields in Bali. These beautiful, emerald-green rice terraces are located in the river gorge north of Tegallalang village, and one of the most famous rice fields in Bali.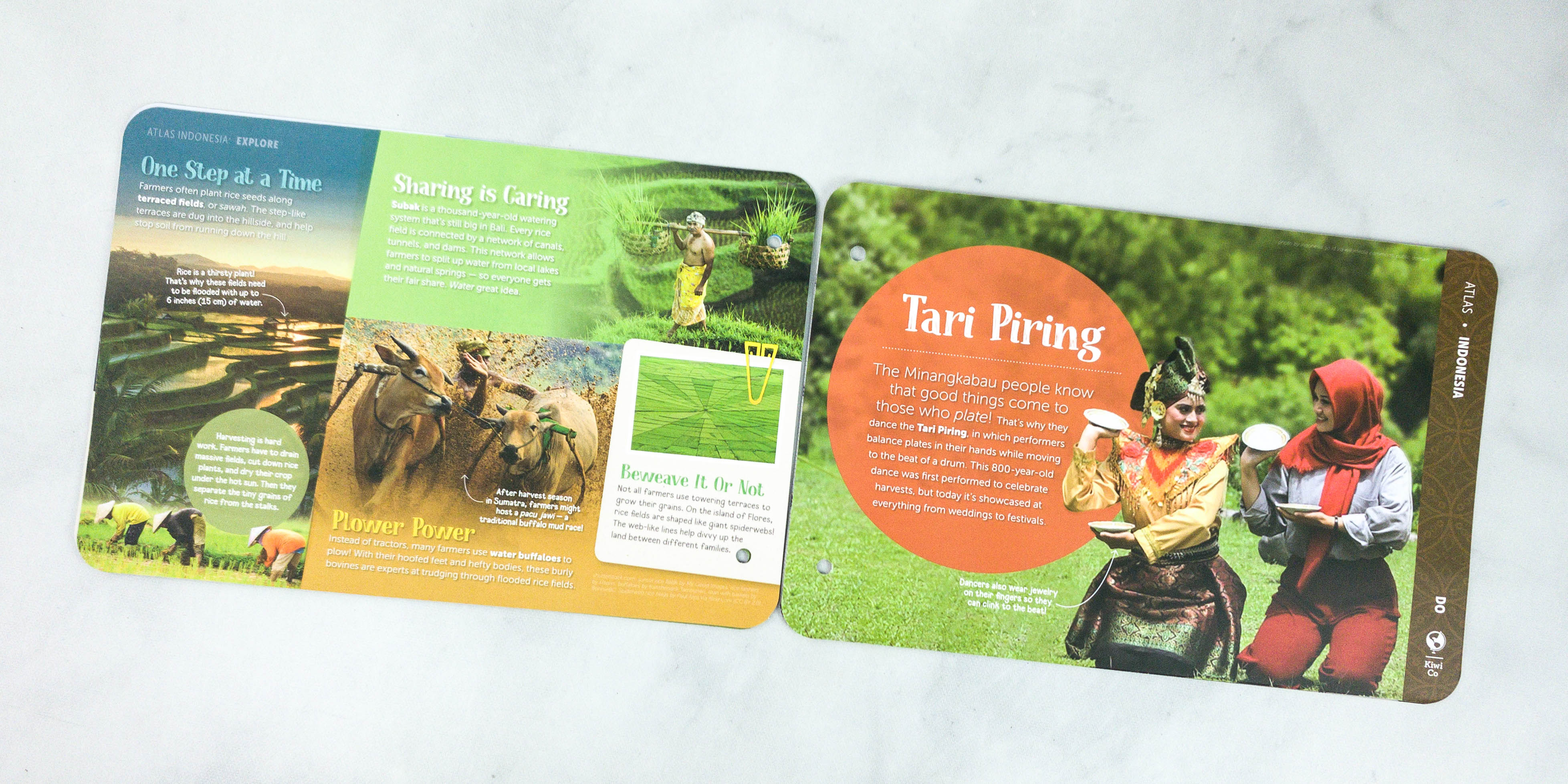 They also featured Tari Piring, the traditional Minangkabau plate dance from West Sumatra. The dance can be performed by a group of women, men, or couples. They do it by holding plates on each hand, then vigorously rotating or half-rotating them in various formations and fast movements. There's a step by step guide if you want to learn the dance too!
Atlas Crate Recipe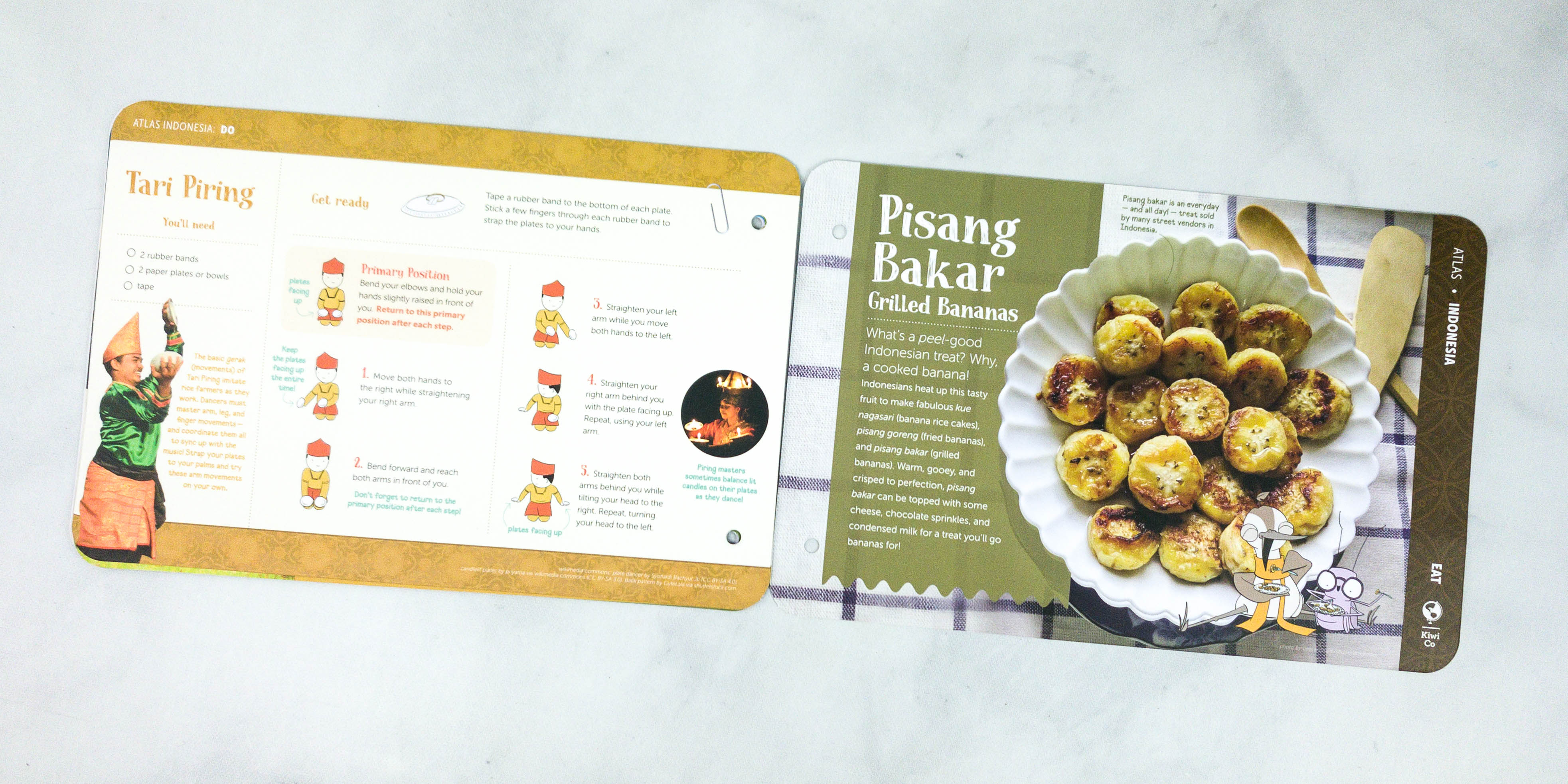 The featured recipe this month is Pisang Bakar or grilled bananas which is a great pair with coffee. It can also be topped with condensed milk, candy/chocolate sprinkles, or cheese! Yum!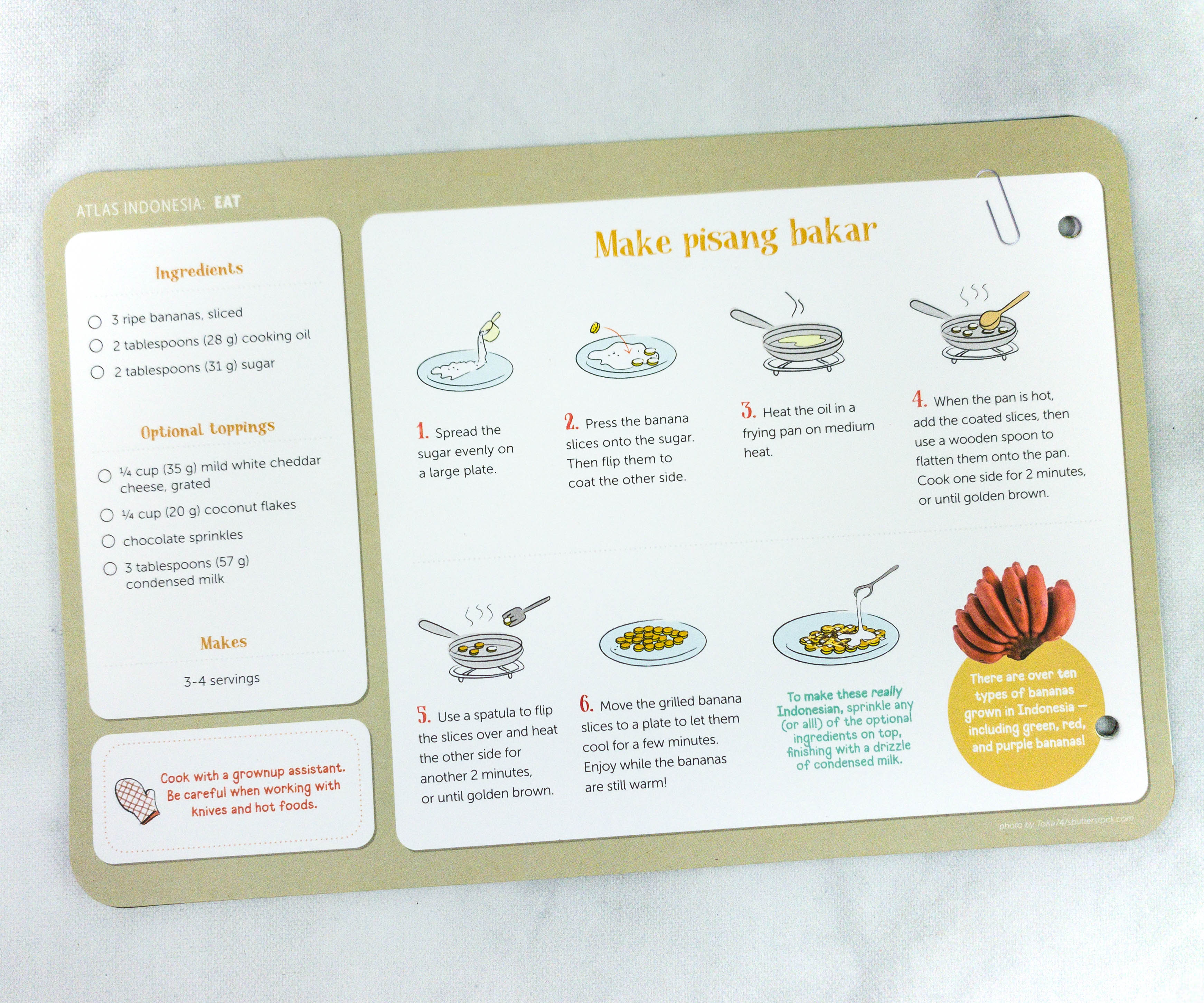 This part of the booklet features everything you need to know in making your own Pisang Bakar. For this recipe, we used sliced ripe bananas, cooking oil, and sugar. You can also use grated white cheddar cheese, coconut flakes, choco sprinkles, and condensed milk to top the cooked bananas.
We sliced the bananas in rounds first and placed them on a plate.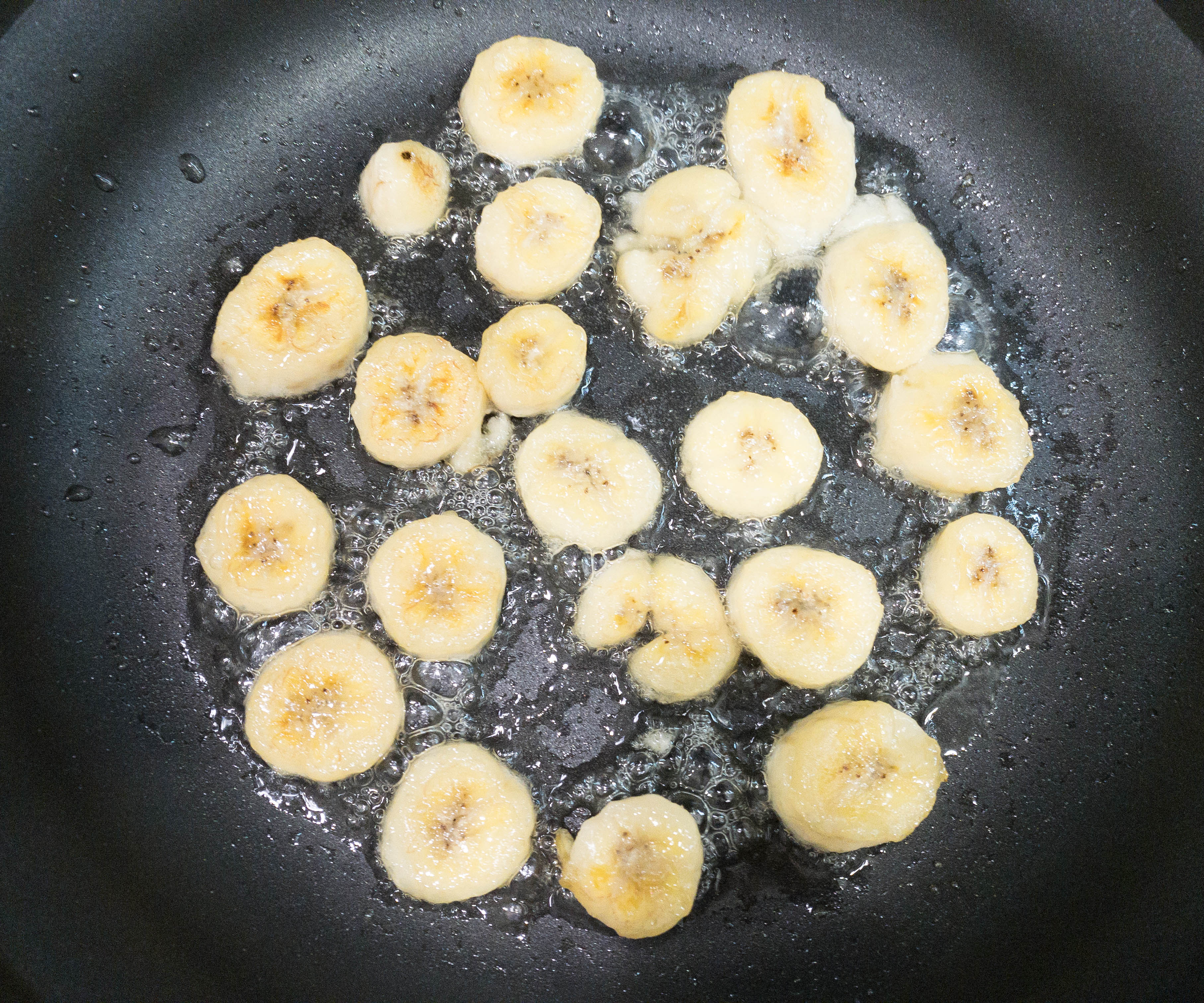 We fried the slices in oil.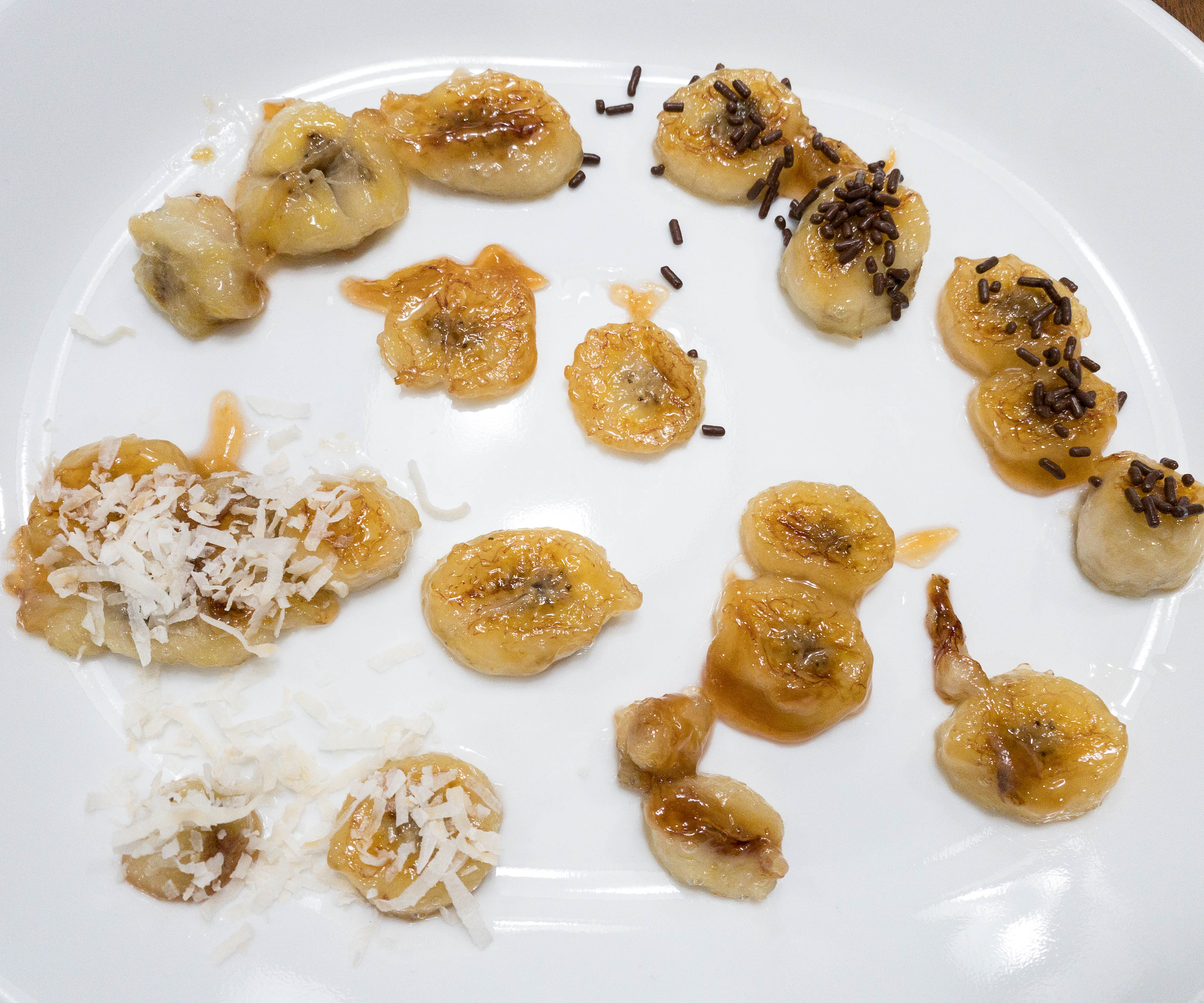 We topped the bananas with coconut flakes and choco sprinkles!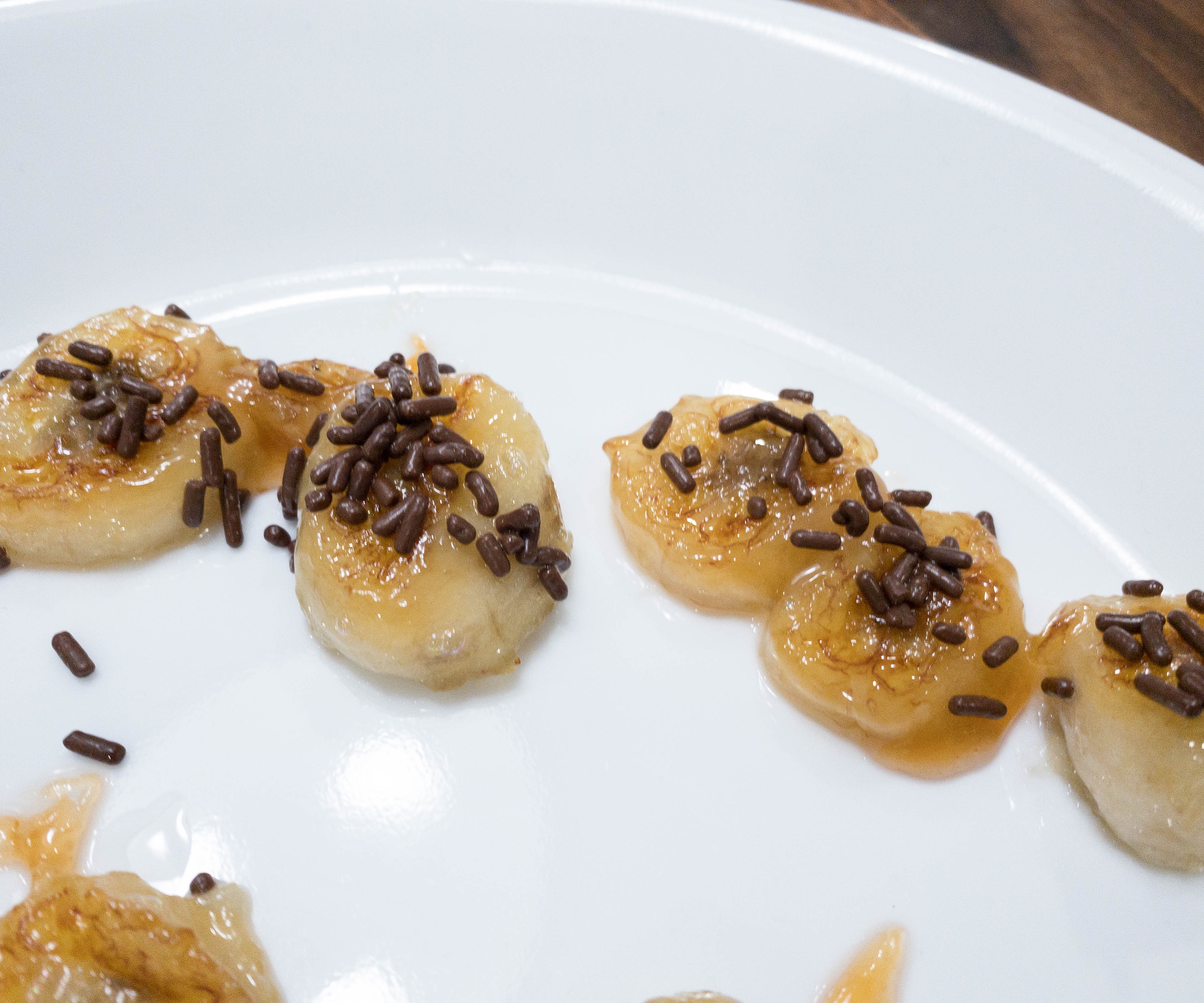 Of course, the kids loved the ones with chocolate sprinkles. Drizzling these with choco syrup is also a good idea.
We also love the coconut flakes on them.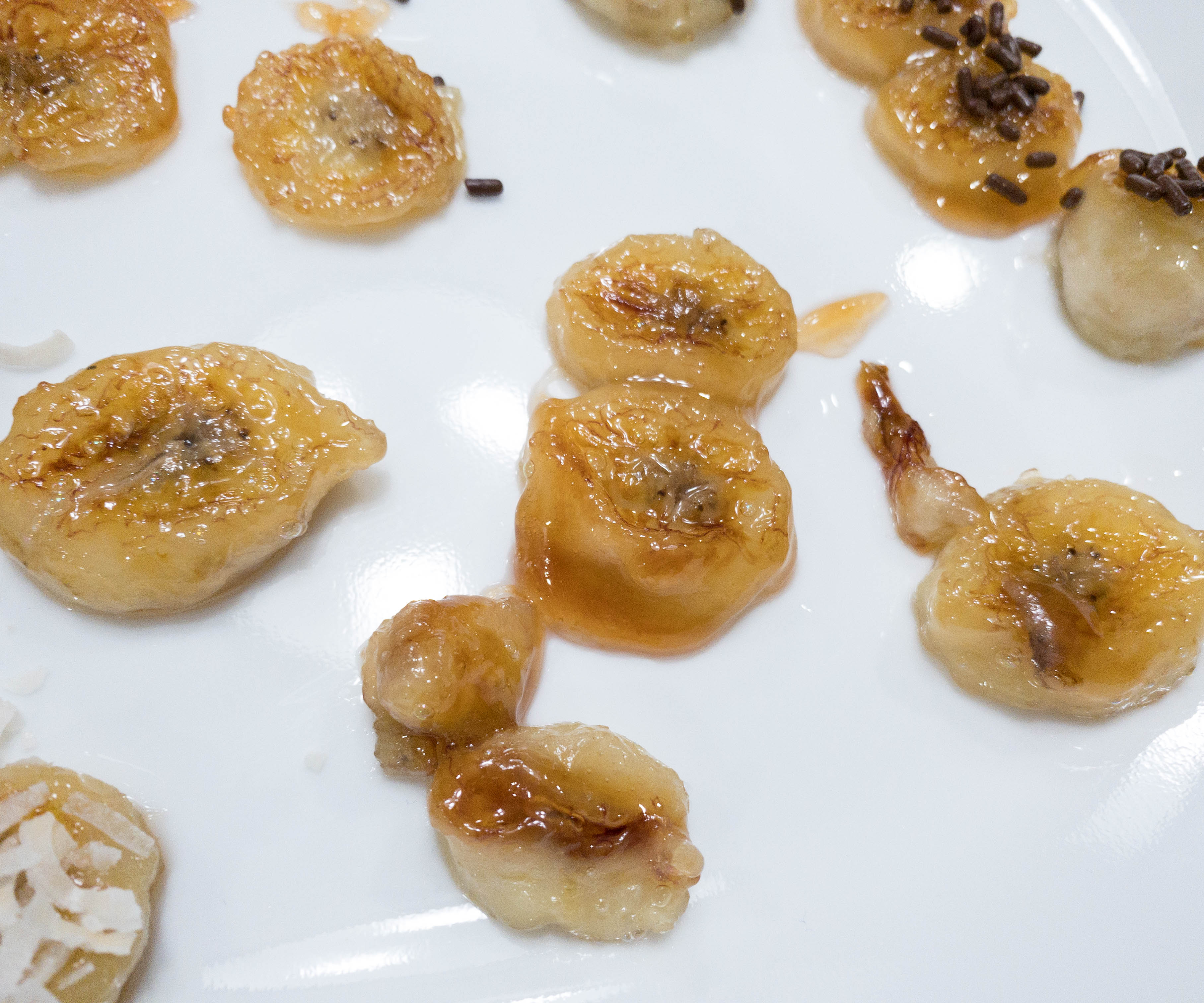 The caramelized sugar on top of the bananas is amazing as well.
Atlas Crate Projects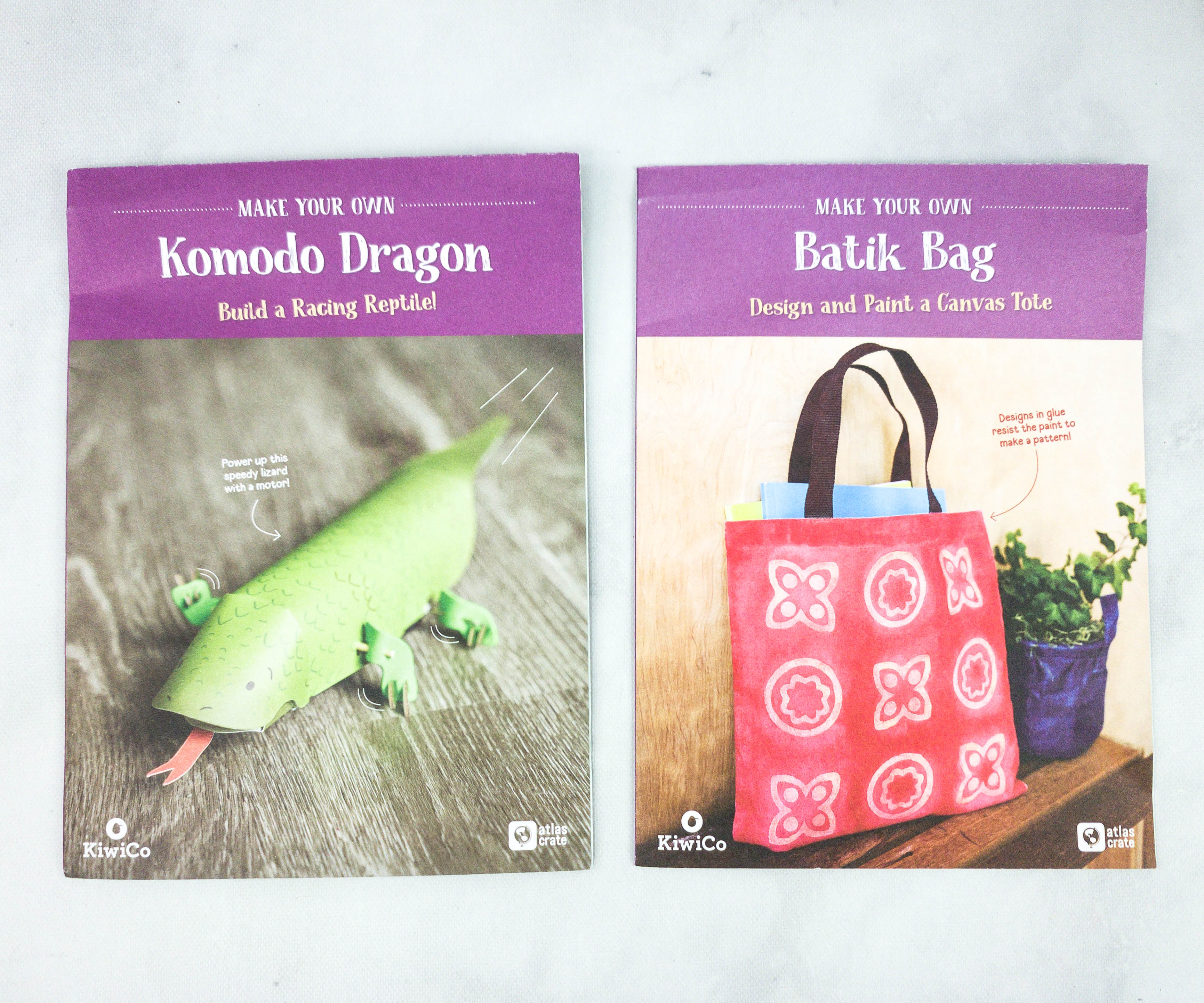 For this month's Atlas Crate projects, we are making a Komodo Dragon and a Batik Bag!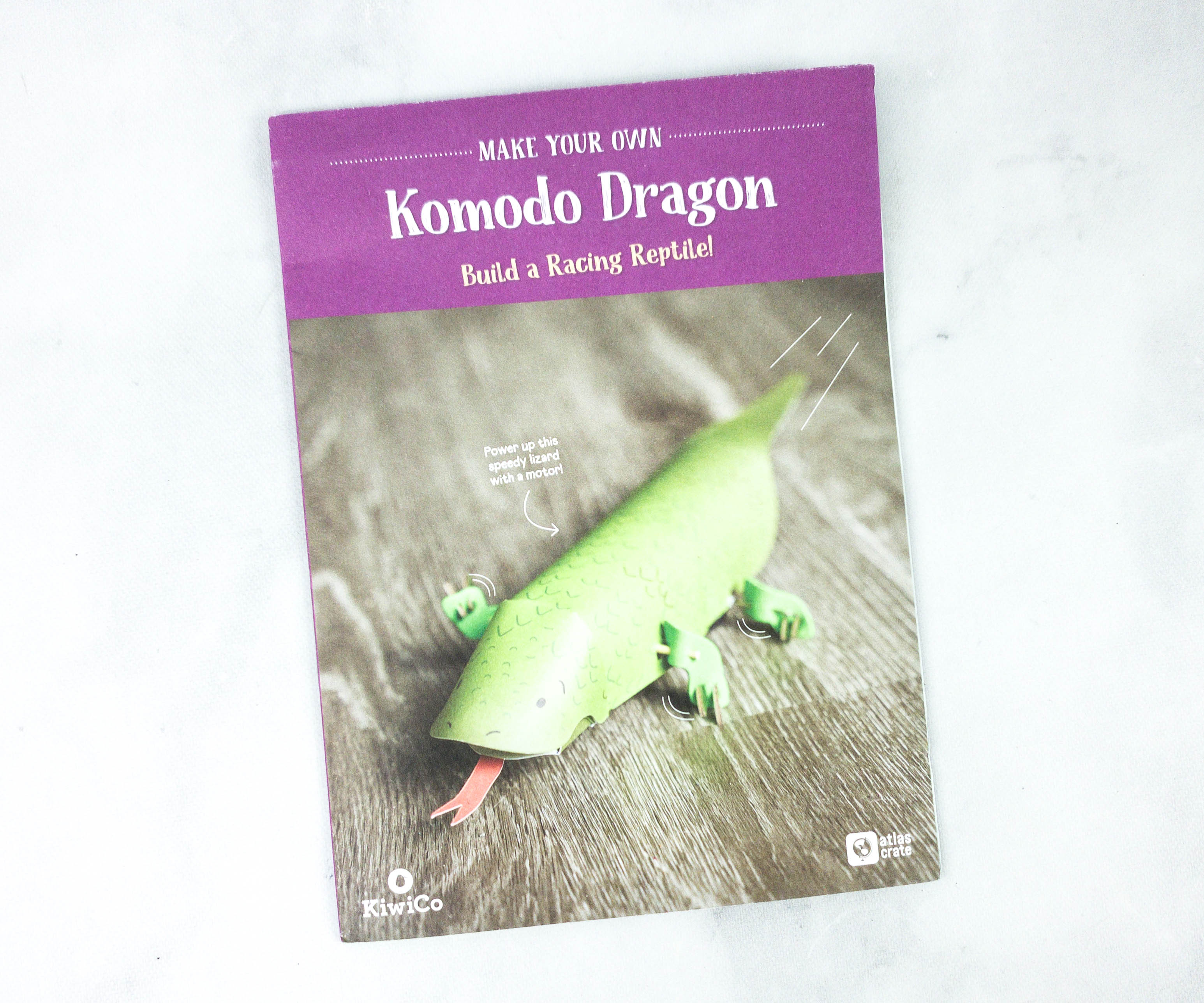 Activity #1: Komodo Dragon. Our first activity is to make a craft patterned after the Komodo Dragon, a species of lizard found in Indonesia.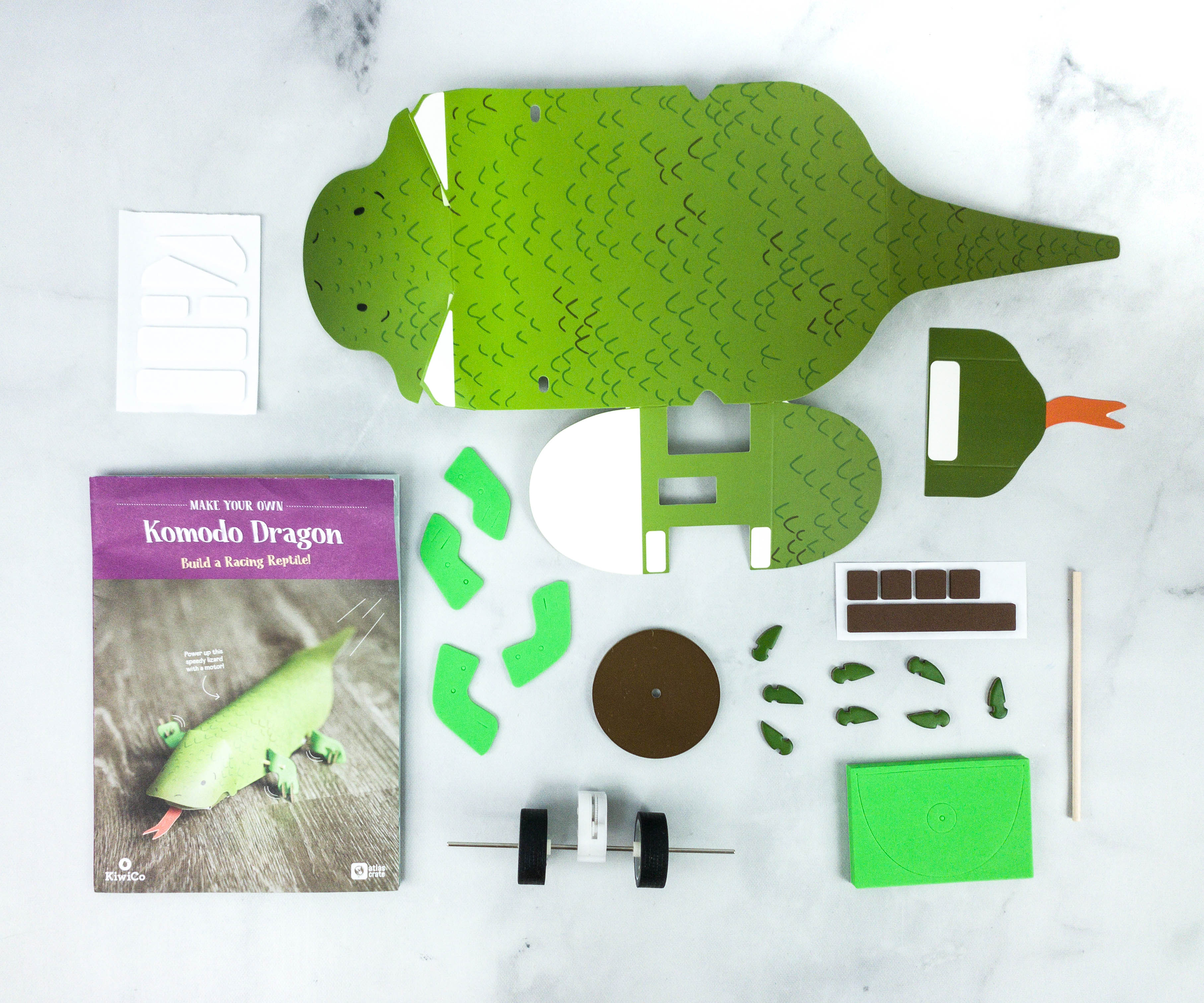 For the first project, the provided materials are the komodo's body with attached belly, foam squares, small rectangles, wheel cover, jaw, long rectangles, motor with wheels, wheel, foam circle, stick, foam strip, short and long legs, foam triangles, and claws.
Featured at the back of the booklet are some fun facts and trivia about Komodo Dragons!
Inside is an instruction sheet that contains all the details, tips, and techniques in building the project.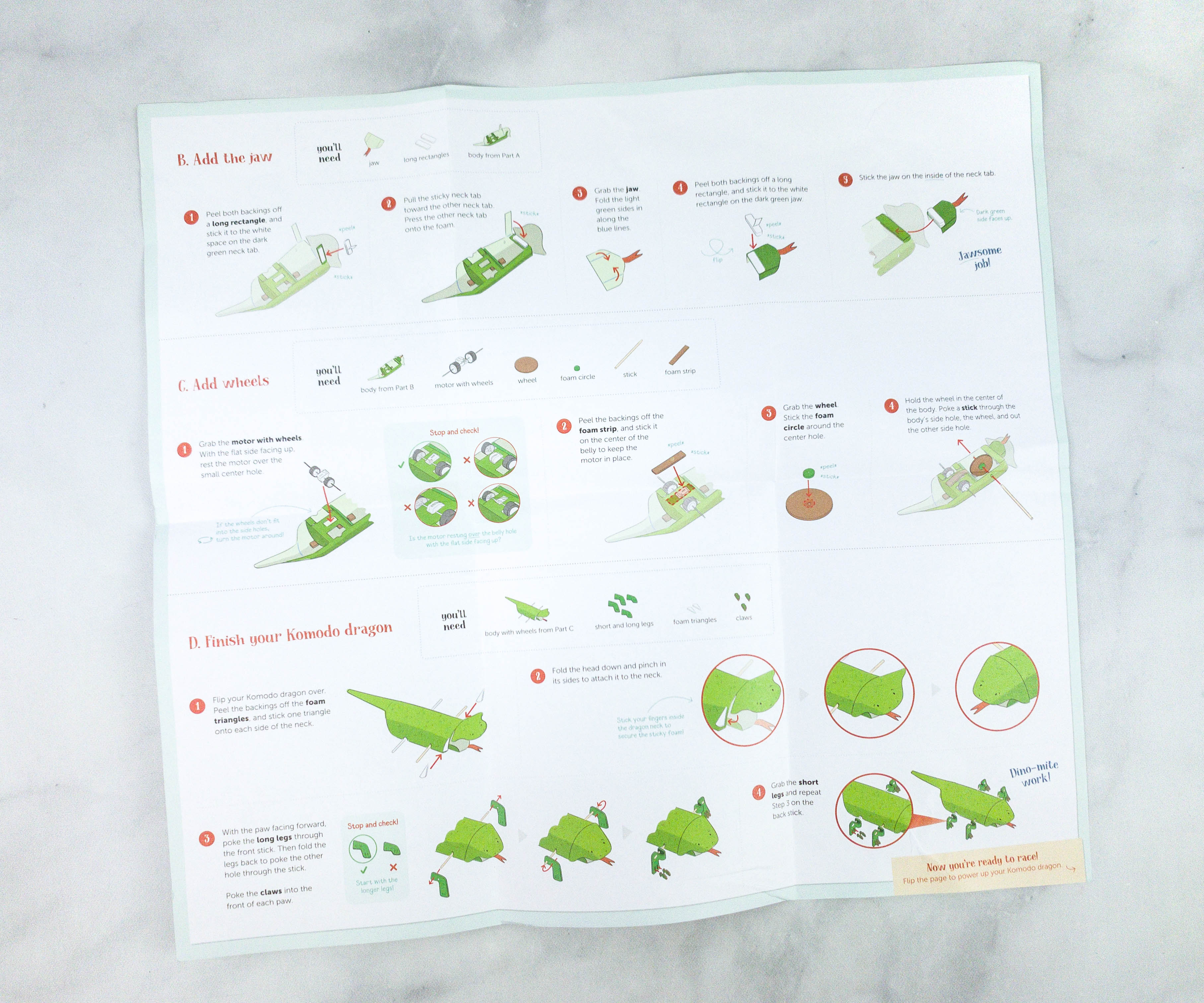 There are several steps in making this project like doing its body first, then followed by adding the jaw, wheels, and finishing the Komodo dragon by adding the legs and claws!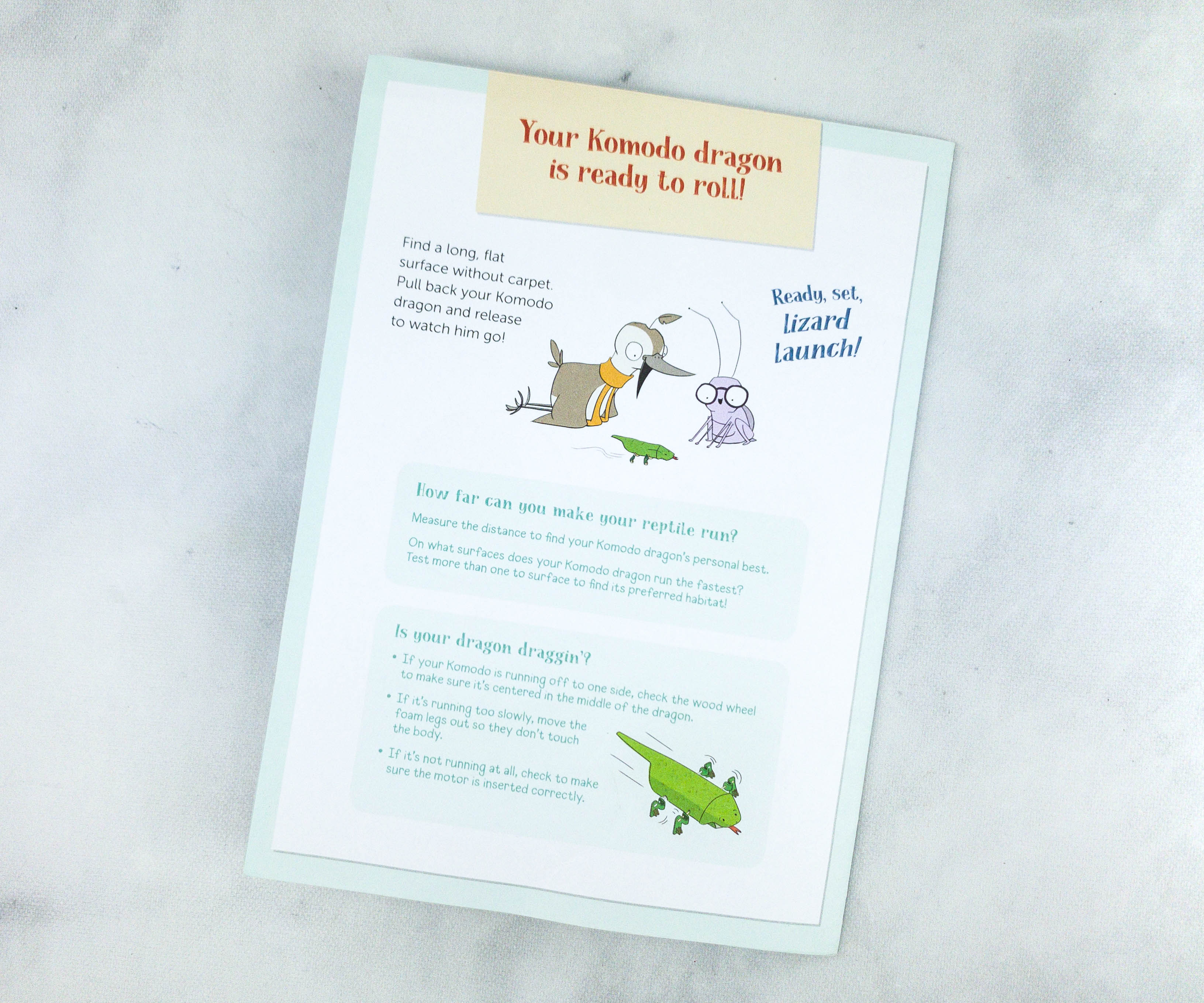 This part of the booklet features the different ways you can test if your Komodo Dragon can roll. It also contains some troubleshooting tips it won't work.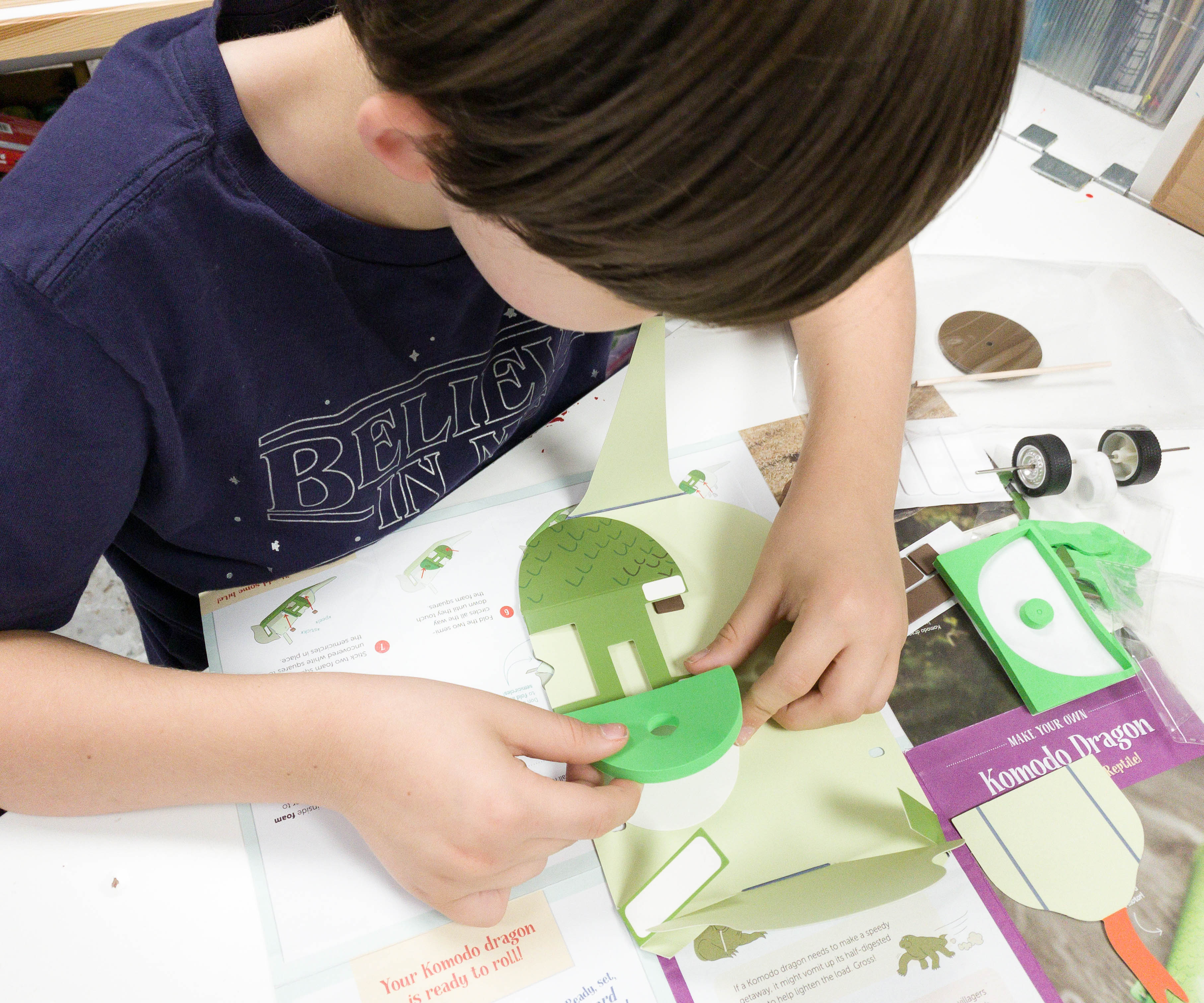 My son started with building the body of his Komodo Dragon.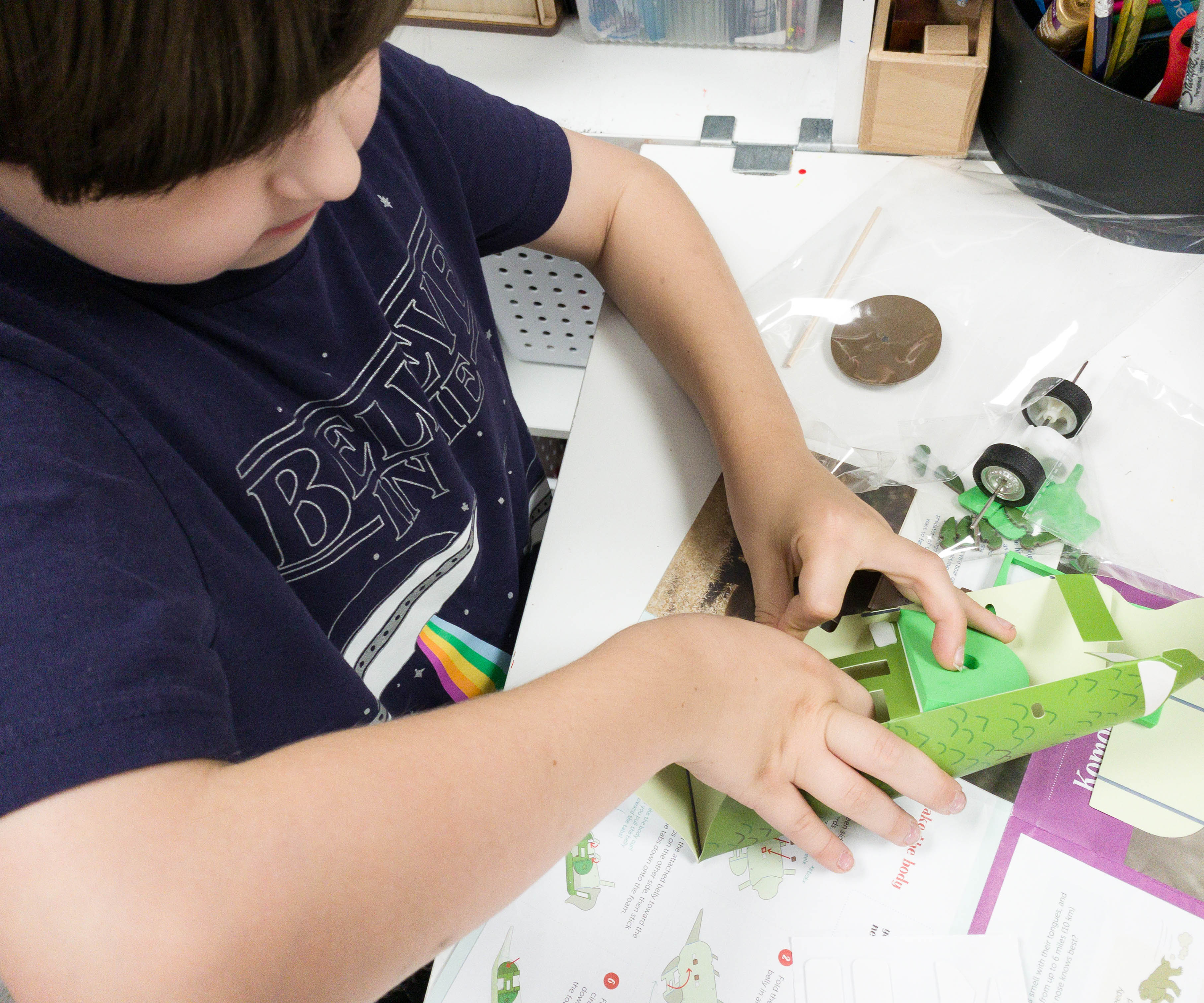 It's a good thing that the instructions come with illustrations so he can easily check if what he's doing is right.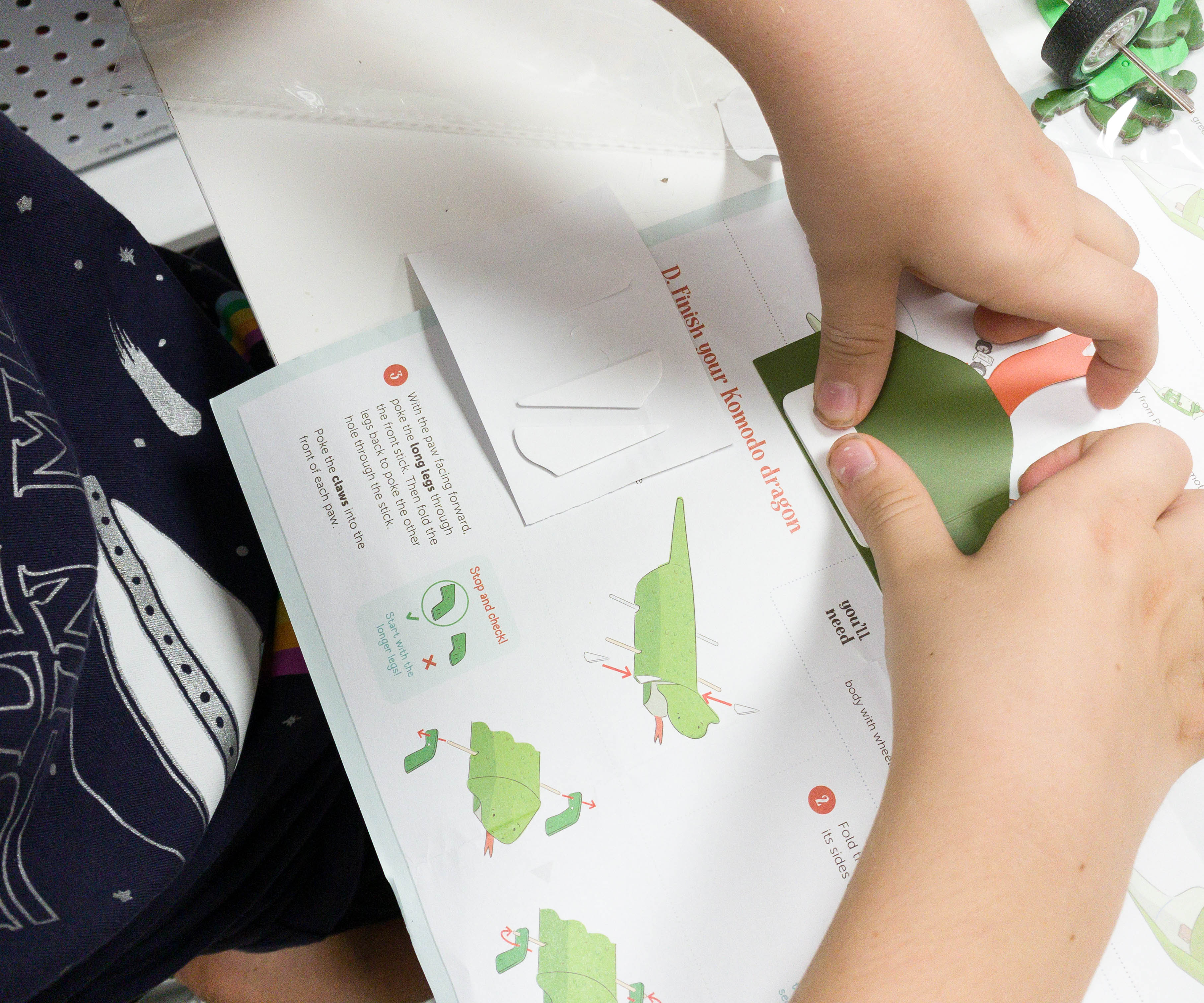 After completing the body, it's time to add the dragon's jaw.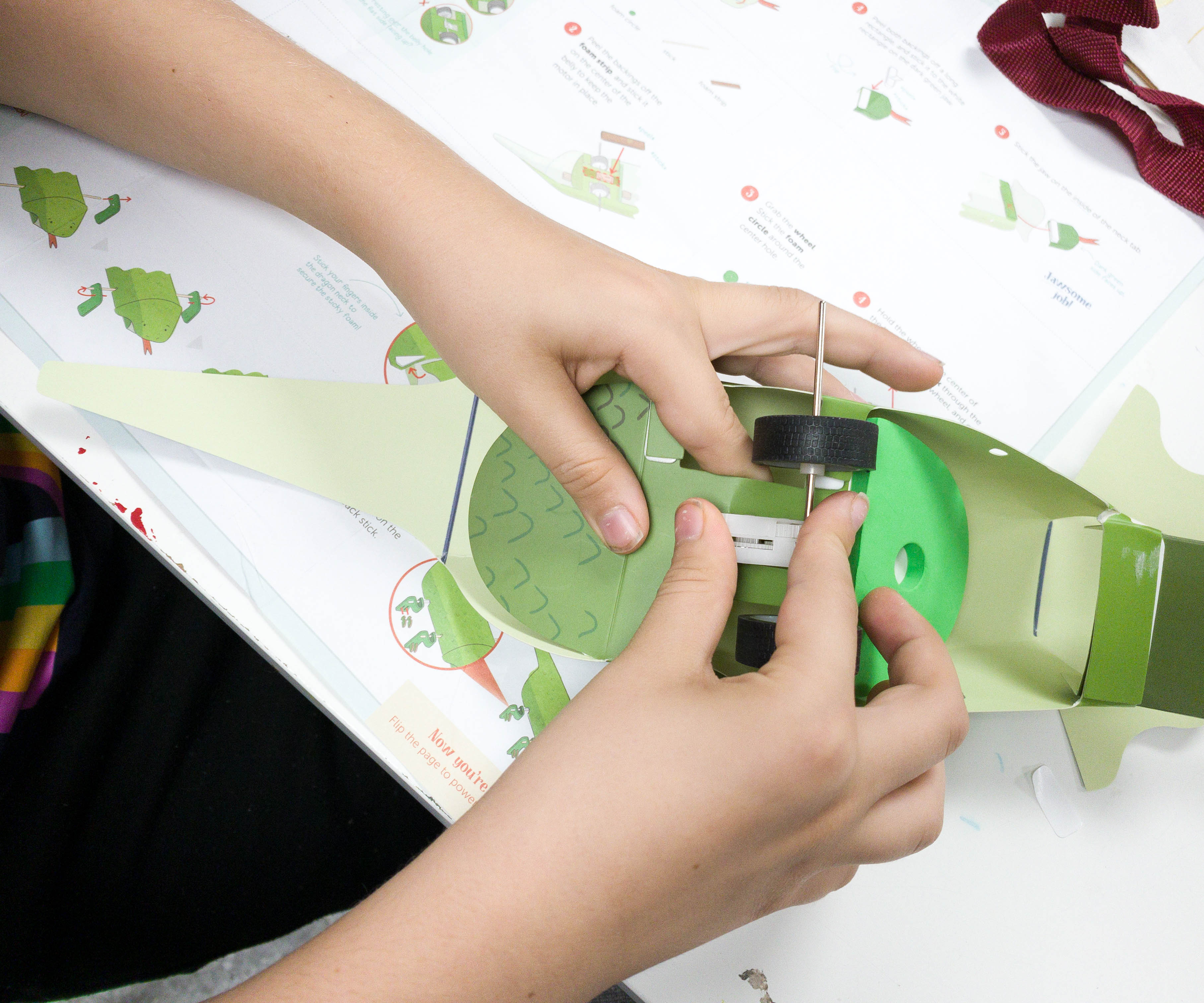 Then, he added the wheels so the dragon can move!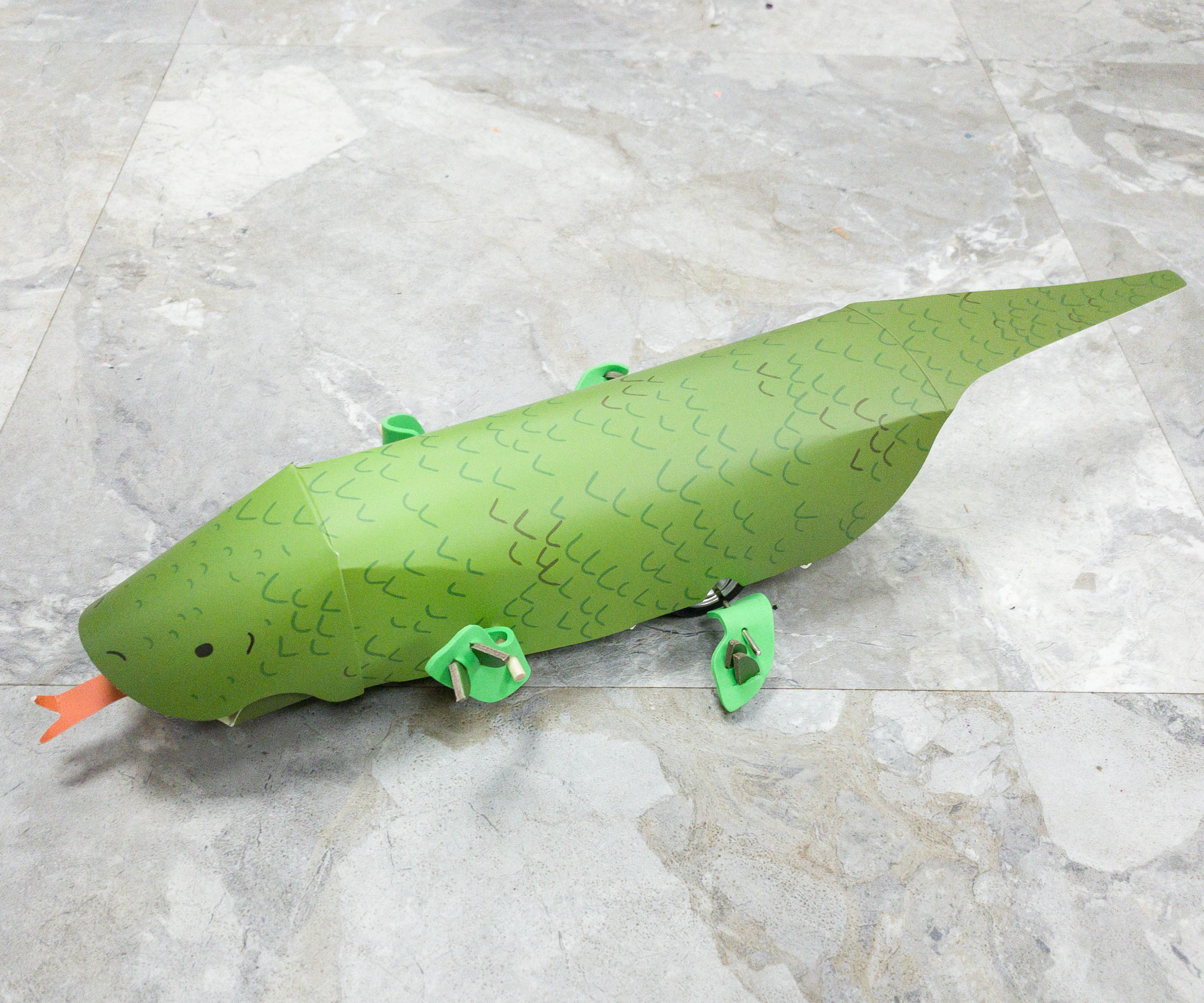 The last step is adding the legs and the claws, and the Komodo Dragon will be ready to rock around the house!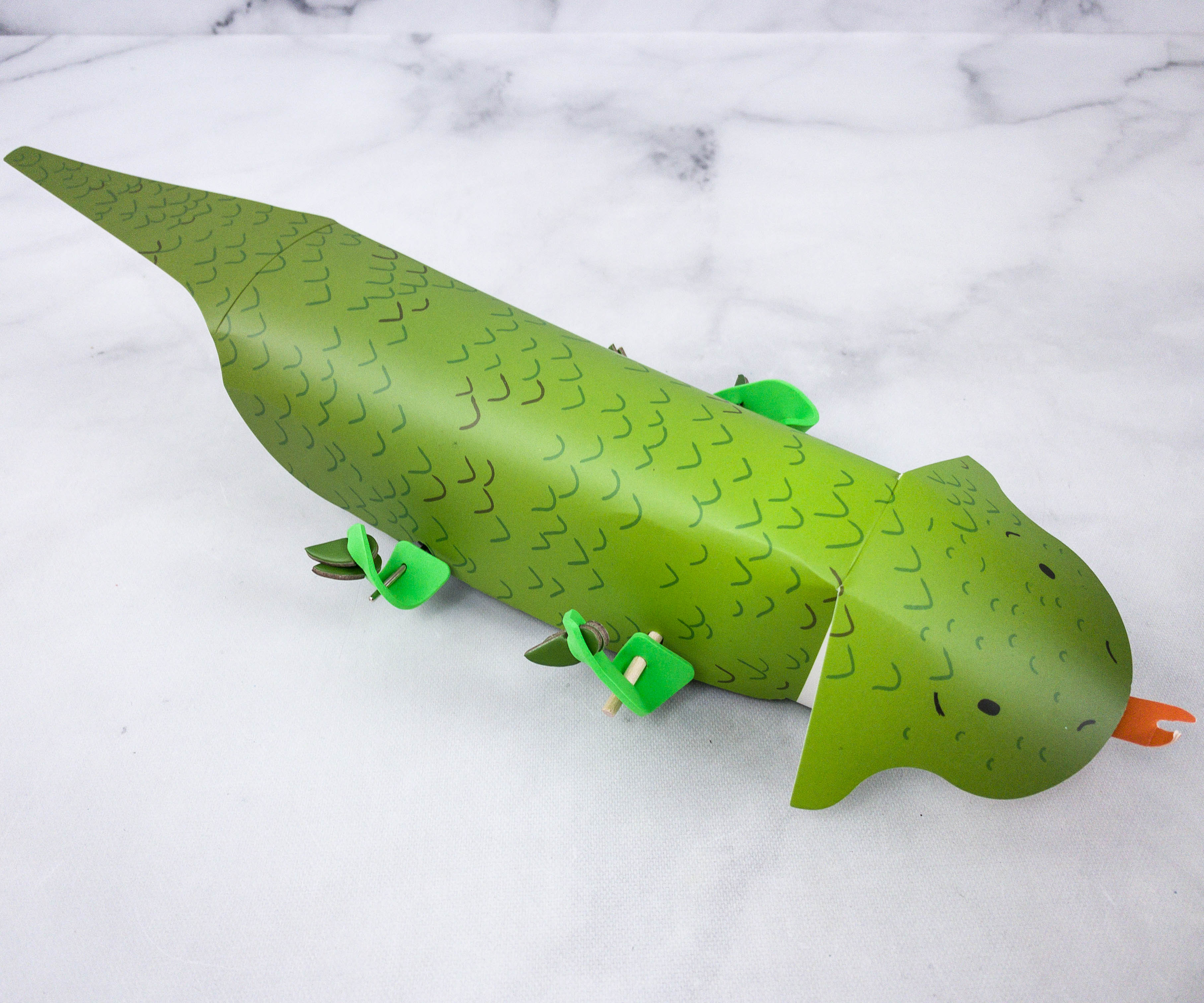 The komodo looks great! It also runs smoothly!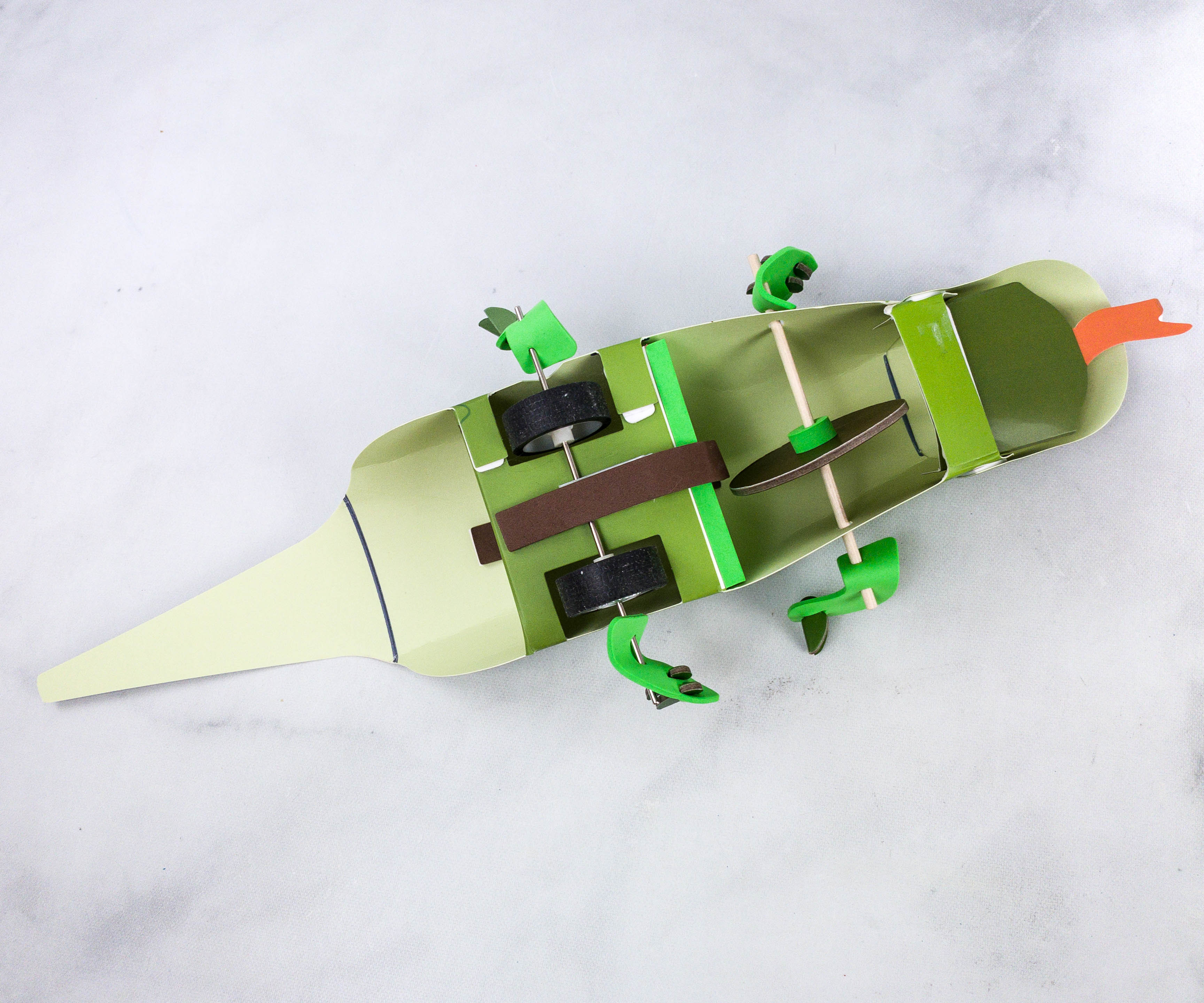 Here's how the underside looks like! My son perfectly placed the wheels under the Komodo dragon's body!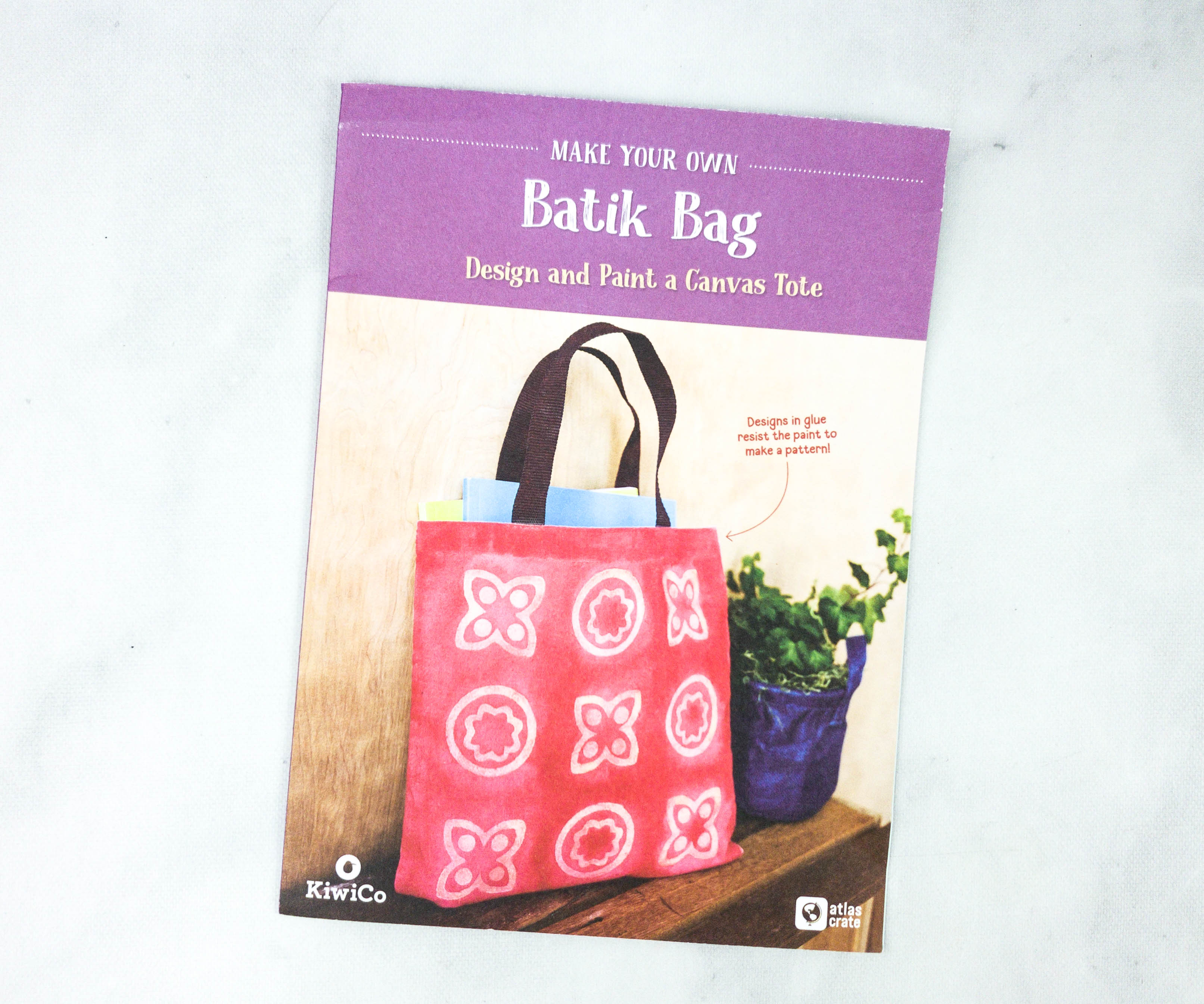 Activity #2: Batik Bag. Batik art is a technique used in Indonesia to decorate cloth using wax and dye, and it's been practiced for centuries. It's also part of an ancient tradition. For the second project, my kids made their own Batik bag!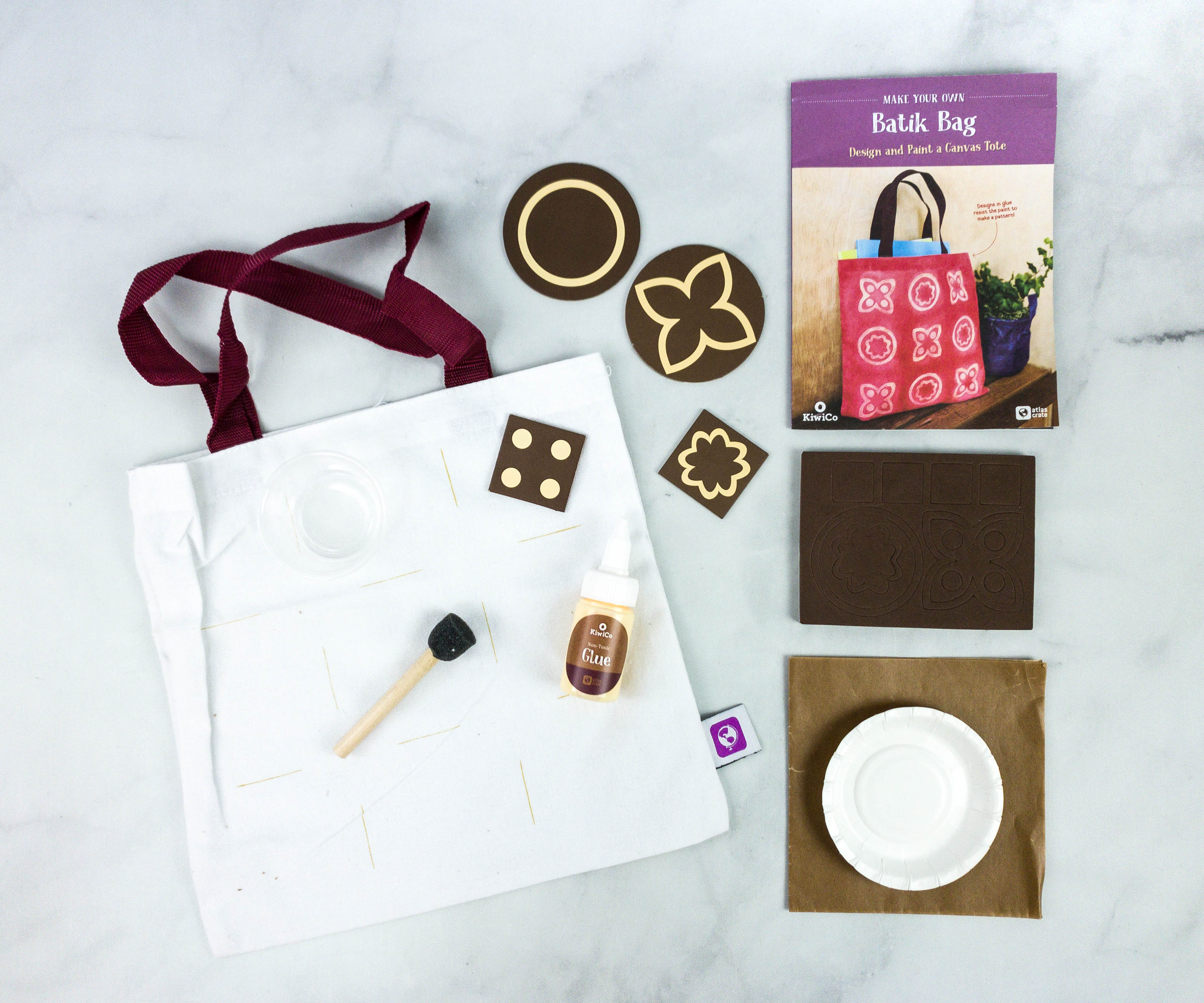 For this project, we are provided by the following materials from the crate: large designs, small designs, handles, stamp plate, bag, wax paper, tray, glue, sponge brush, cup, and acrylic paint.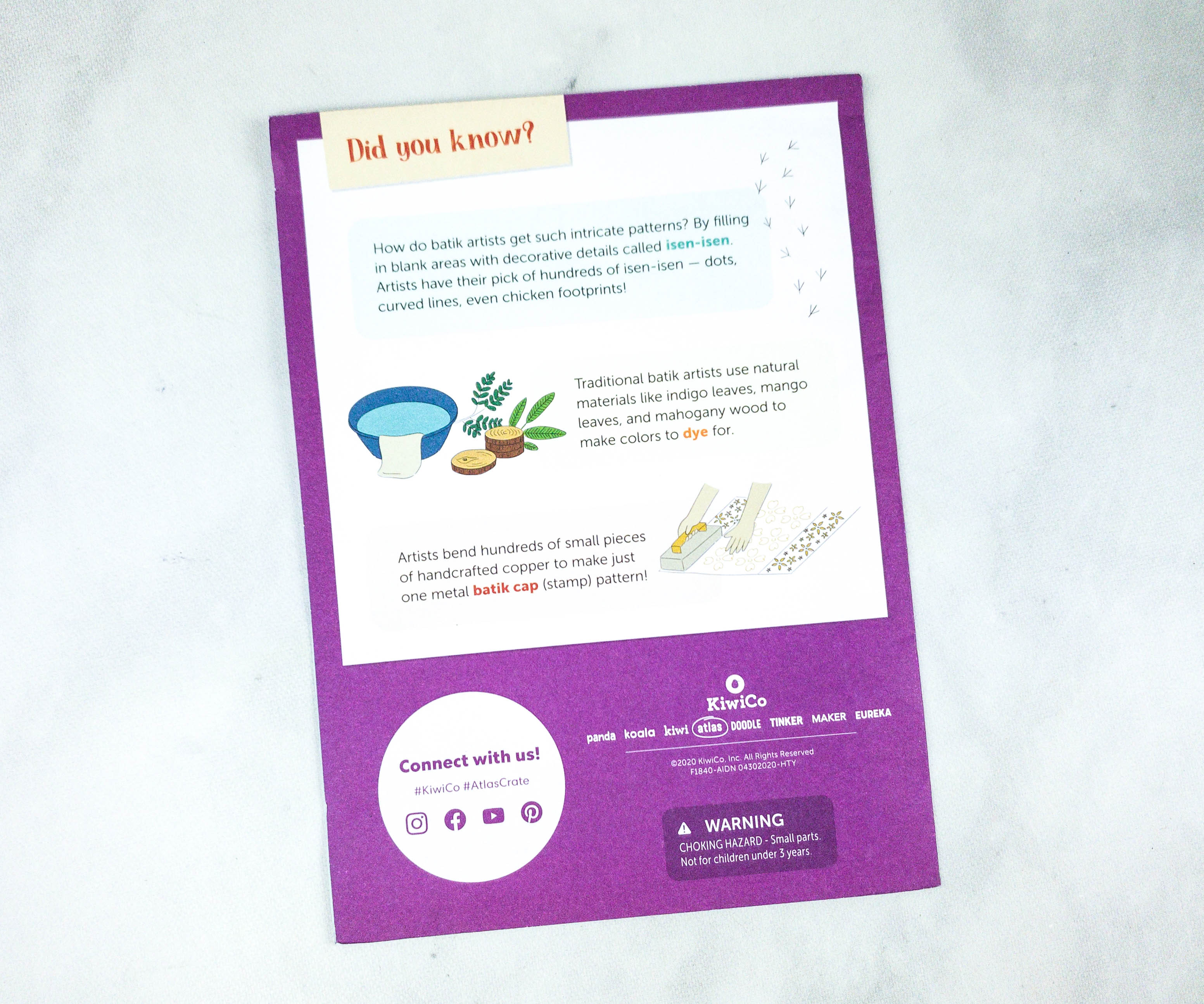 Featured at the back of the booklet are some fun facts about the art technique.
Aside from the materials provided, we also need a large mess mat and water from home.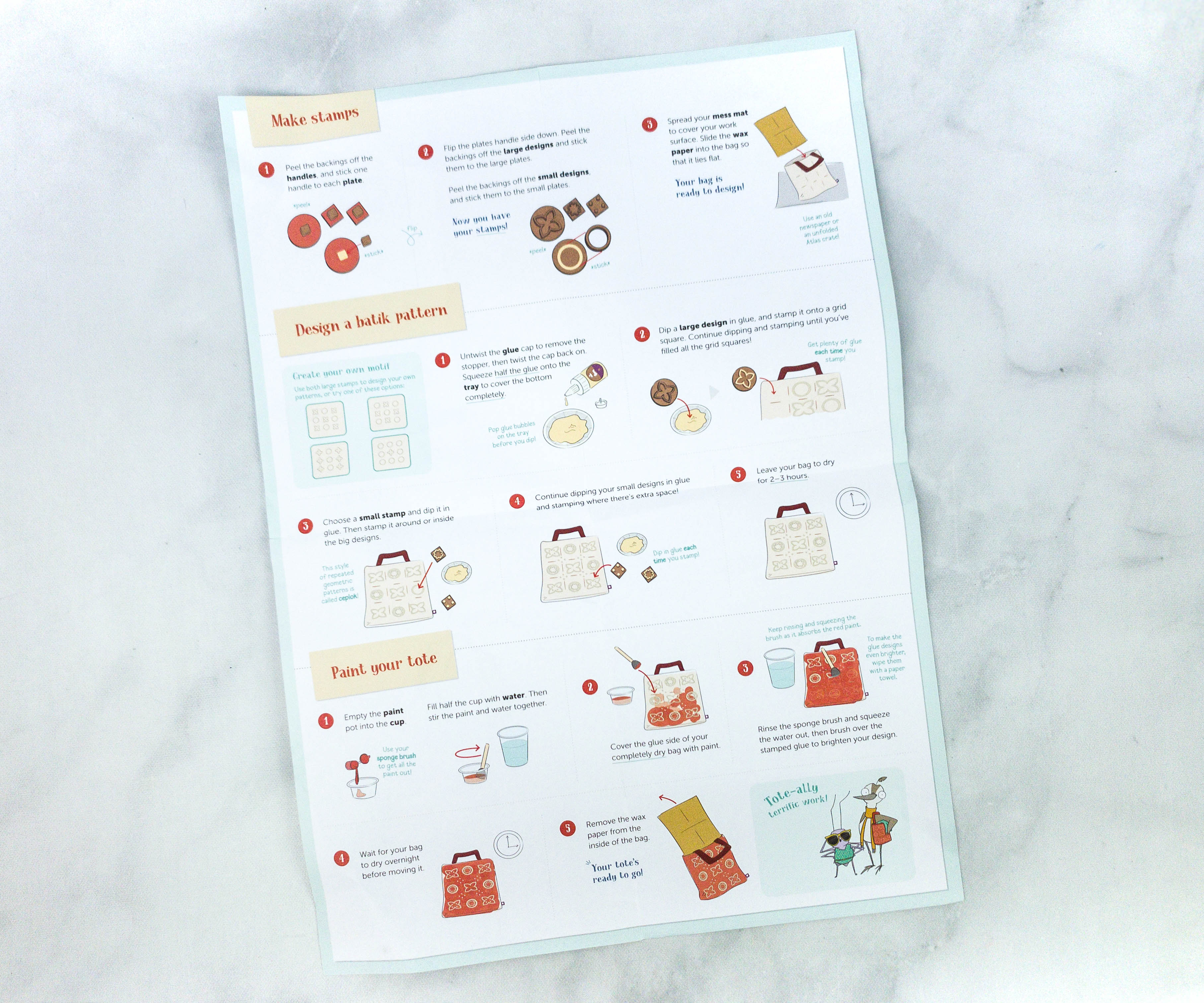 Just like the first activity, this booklet also came with a detailed instruction sheet.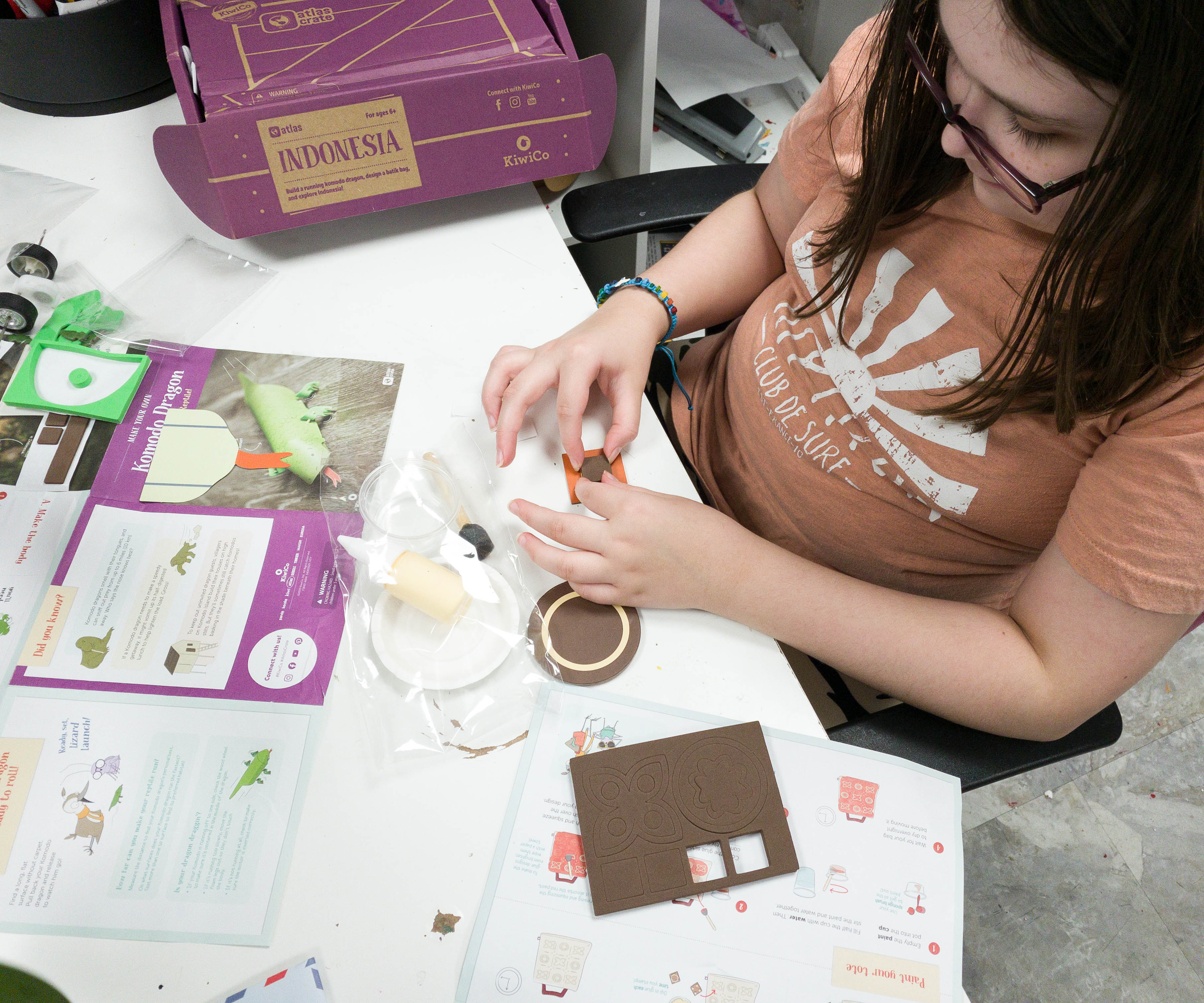 My daughter is the one who worked mainly on this project. She started by building the stamps.
She put the designs on the handles.
She made sure that the designs sit at the center of the plate.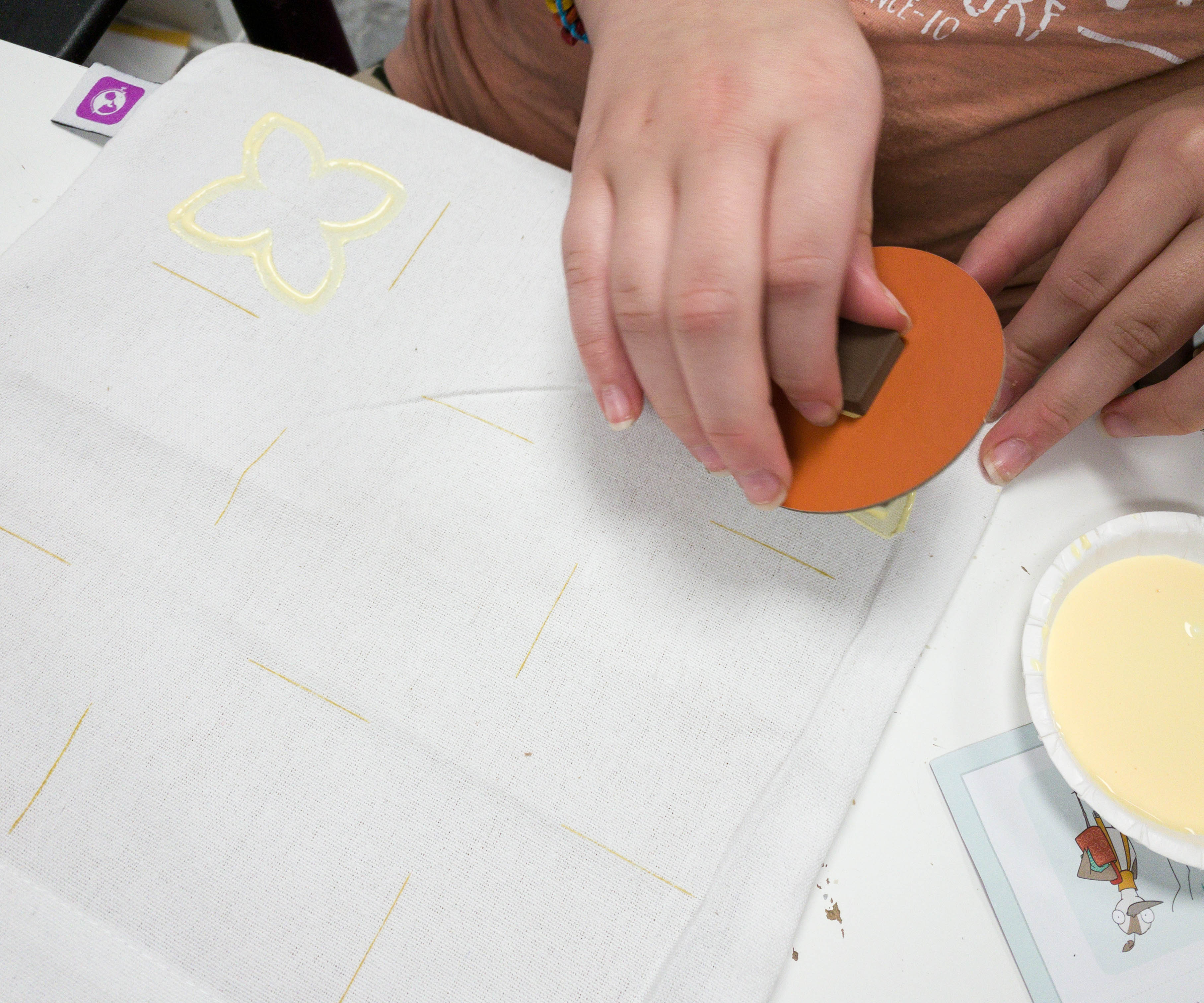 She also put some paint on the cup and then started stamping!
The next step is to stamp the designs on the bag!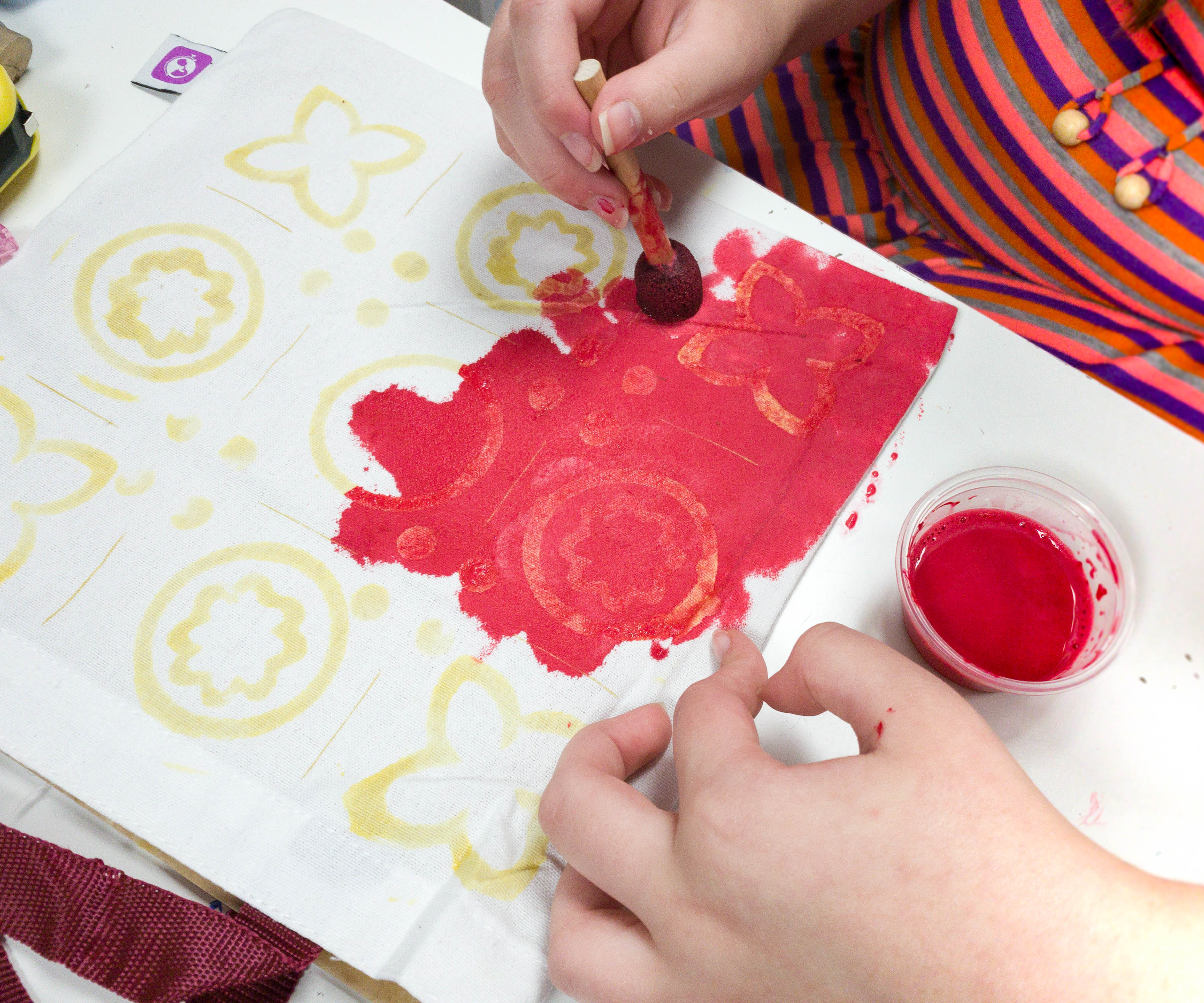 Using the sponge brush, she used another paint to color the whole bag, and it also revealed the designs she stamped beforehand.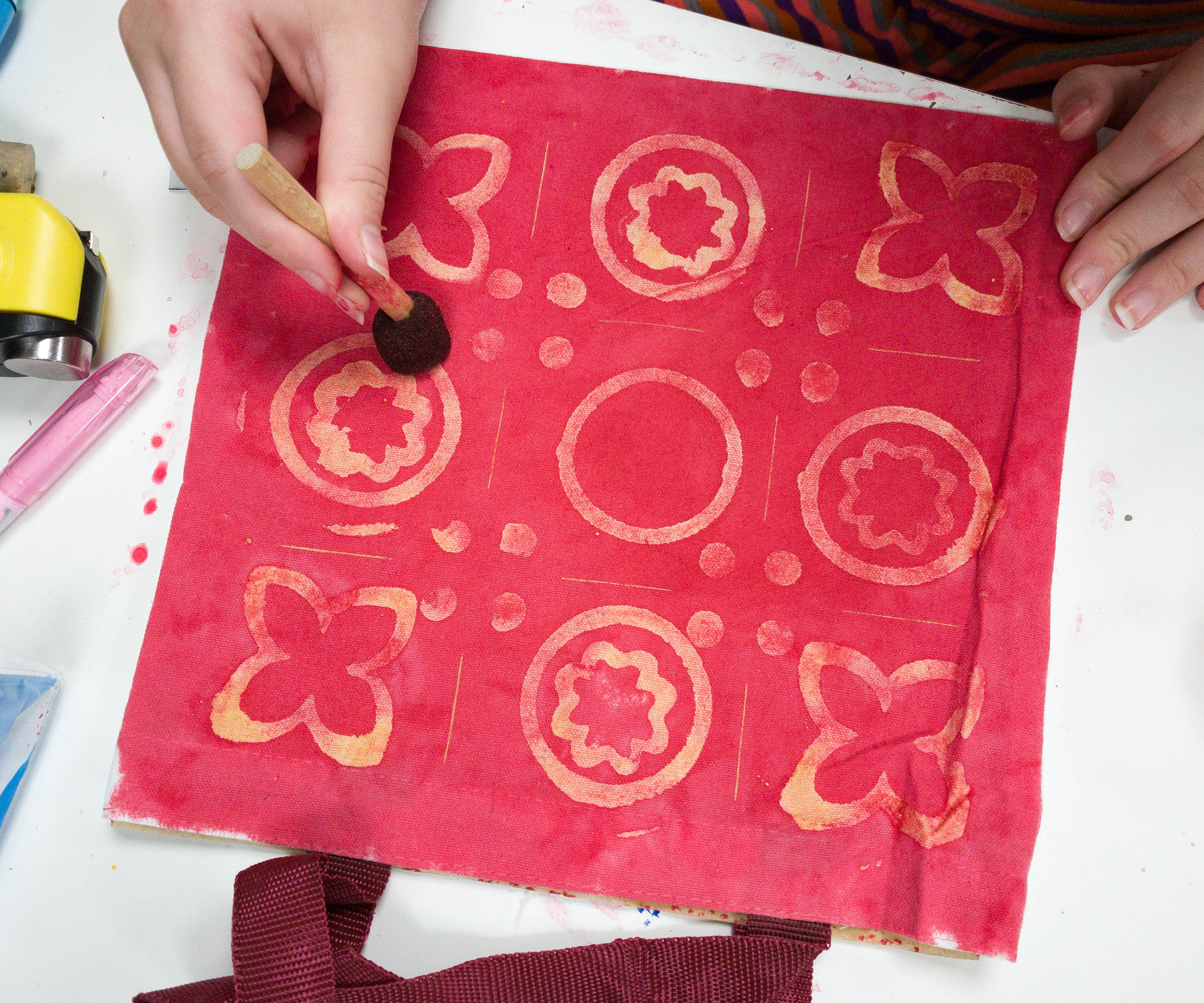 She made sure that everything is well-painted!
We let the bag dry, and here's the bag's final look! It's gorgeous!
The bag looks awesome! This Batik art would also work on other things like shirts!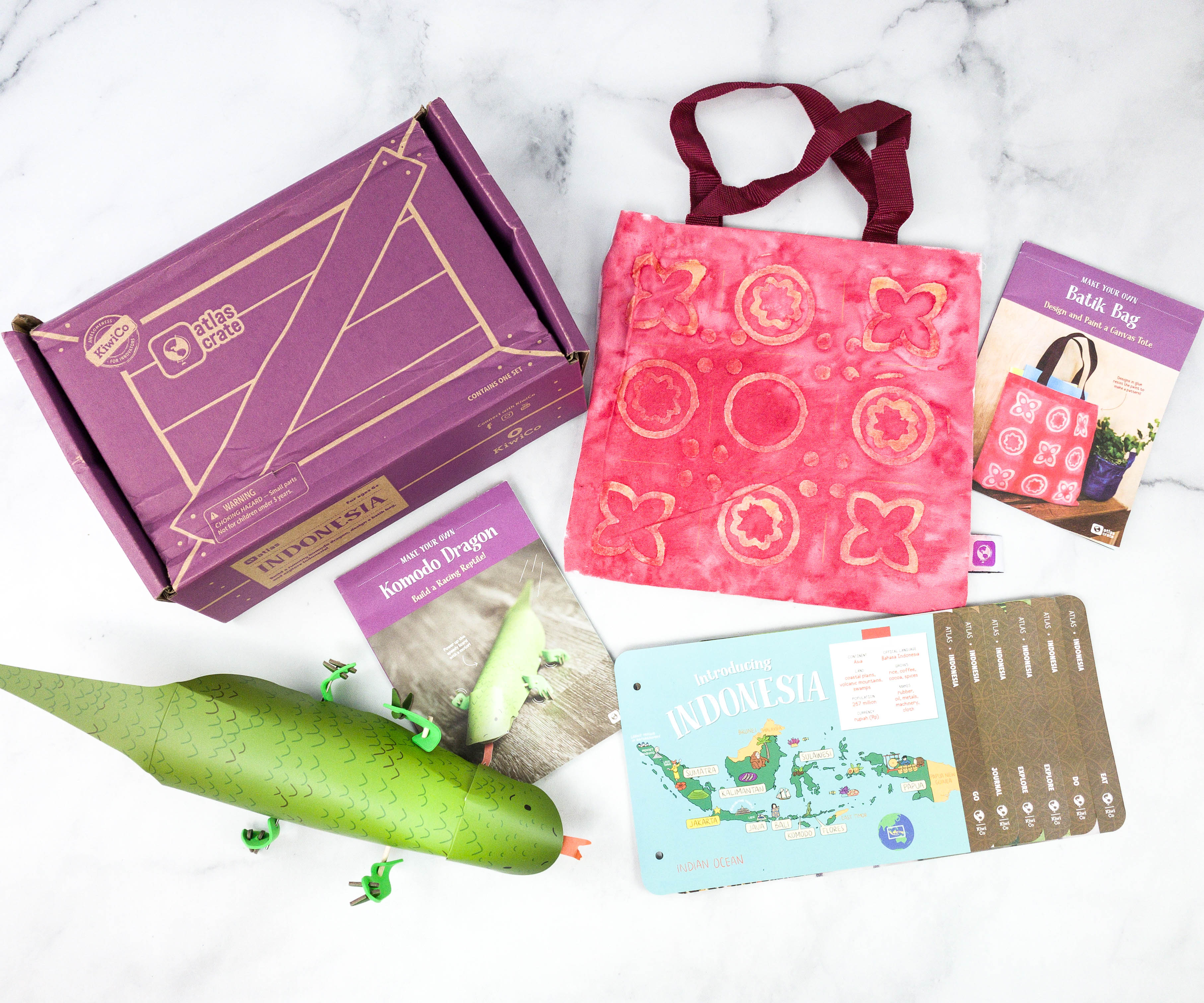 We visited Southeast Asia this month and all we can say is, what an adventure! My kids enjoyed exploring Indonesia and learning about their culture. They even tried making their delicious banana recipe and created a bag using the amazing art technique that is called Batik! All in all, we enjoyed everything about this crate! It's nice to get activity boxes like this, which enables kids to learn about other places even when we're just at the comforts of our home. It's such an amazing experience and we're excited about where this box will take us next!
What do you think of KiwiCo's Atlas Crate?