Enjoy and discover more amazing meals without worrying about your diet! Why waste a lot of time scouting the grocery isles, checking label after label, to see if a product is gluten-free when you can have these items delivered right to your doorstep? With gluten-free meal delivery services and snack subscription boxes, you can save plenty of time to do what you have to!
From savory snacks to yummy desserts, we've got everything on this list for you. Save yourself from the frustration! Sit back, relax, and follow your gluten-free diet without leaving the comforts of your own home.
We've compiled a list so you can check out all the best gluten-free meal delivery and snack subscription boxes that offer the stuff you need! From snacks to cookies and even full meals, everything you need is listed right here!
The Best Subscription Boxes for Gluten-Free Delivery!
Meal Kit Subscriptions for Gluten-Free Diets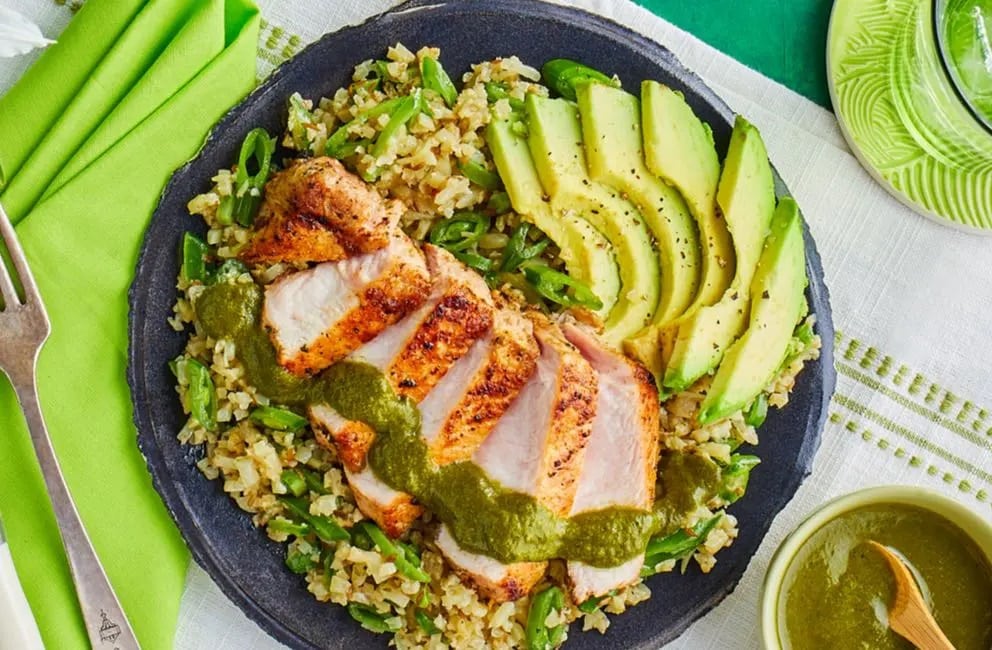 Image from: Green Chef
What You Get: Green Chef makes sure you get your healthy dinner fix in just 20 – 30 minutes, whatever type of diet you wish to persist! Their Keto+Paleo Meal Plan is the best option for individuals who want to avoid gluten. It is carb-conscious and contains high protein recipes free of gluten, grains, soy, and legumes. Each box comes with chef-crafted recipes and sustainably sourced ingredients for at least three meals for the week, and they're even color-coded for easy sorting! Everything is pre-measured and pre-prepared, and the only thing you need at home is olive oil, salt, and pepper.
See Green Chef Reviews for more information.
Price: 3 meals/week for 2 people starts at $12.99 per serving.
Deal: Get $100 off your first FOUR boxes, plus FREE shipping on your first box! Deal applies automatically, just visit and subscribe.
---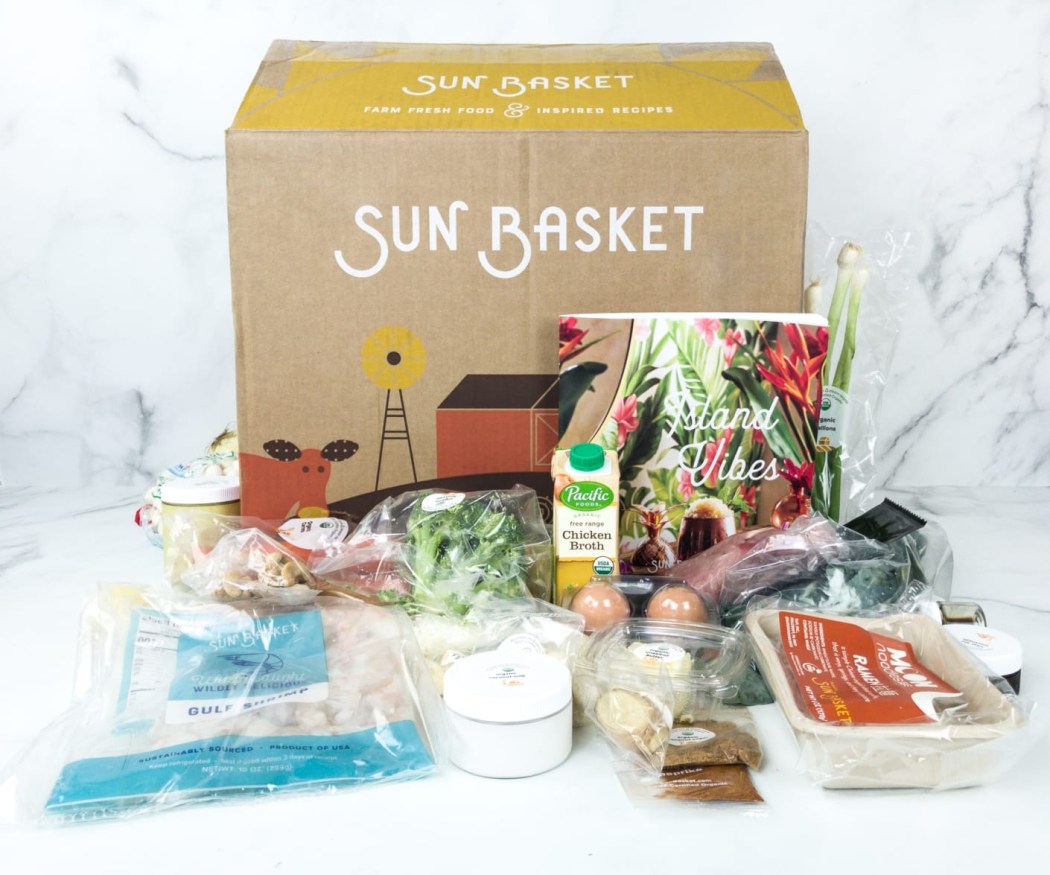 What You Get: For those who want to start eating healthy, Sunbasket is a great subscription to try. This healthy meal kit service sends easy-to-follow recipes along with organic ingredients every week, letting you prepare nutritious and filling meals in no time. The Gluten-Free option offers nothing but yum-tastic meals with bursting flavors and without a single hint of gluten, perfect for those who are practicing the gluten-free diet! All recipes and ready kits are chef-crafted and dietitian-approved, so you're sure to be taking in all the good.
Read Sunbasket Reviews to find out more.
Price: Fresh & Ready starts at $47.96 per week for 4 servings, and the Meal Kits start at $55.96 per week for 4 servings.
Deal: Get $35 off FIRST box! Deal applies automatically, just visit and subscribe.
---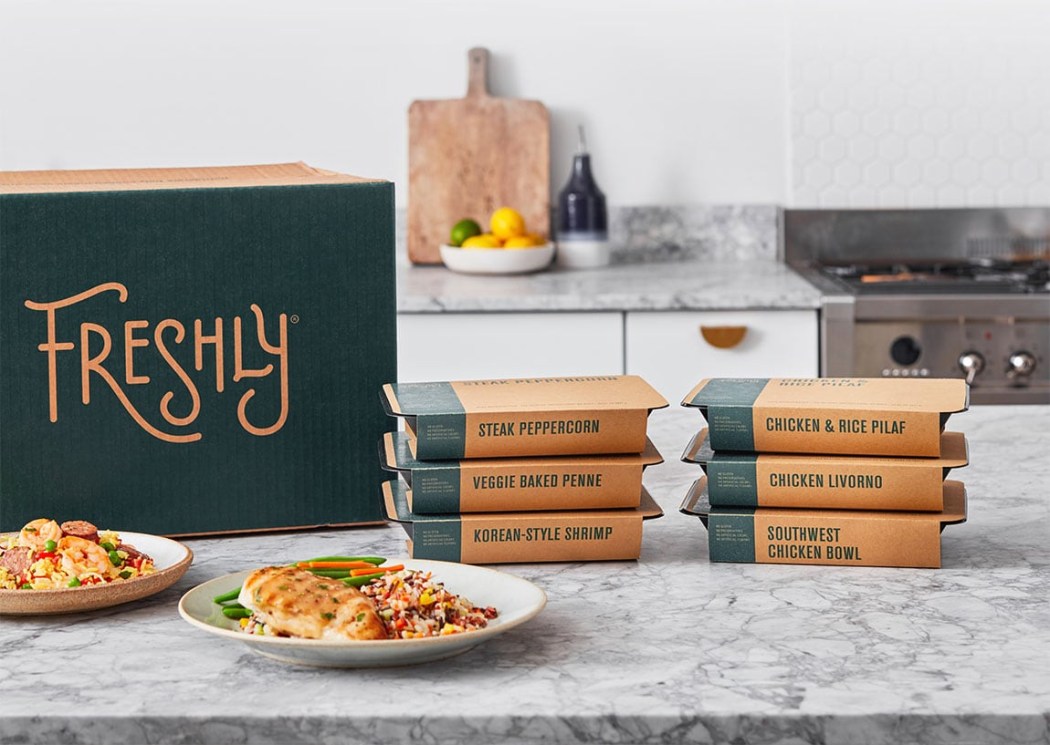 Image from: Freshly
What You Get: Freshly lives up to its name by sending premade and prepackaged meals which are never frozen! They offer an array of healthy meals that accommodates a variety of dietary preferences. Subscribers can fully personalize the plan by choosing the exact recipes they like and the number of meals (4-12 meals) each week. All menus are certified to be free from gluten, refined sugars, and artificial ingredients. No more grocery shopping and cooking! All you have to do is to heat them up for 3 minutes and enjoy.
Learn more by visiting the Freshly Reviews.
Price: Weekly meal plans costs: 4 meals/wk – $45.96 ($11.49/meal), 6 meals/wk – $56.94 ($9.49/meal), 8 meals/wk – $74.32 ($9.29/meal), 10 meals/wk – $89.90 ($8.99/meal), and 12 meals/wk – $101.88  ($8.49/meal).
Deal: Get $60 off your first FOUR orders! Use coupon code launch15.
---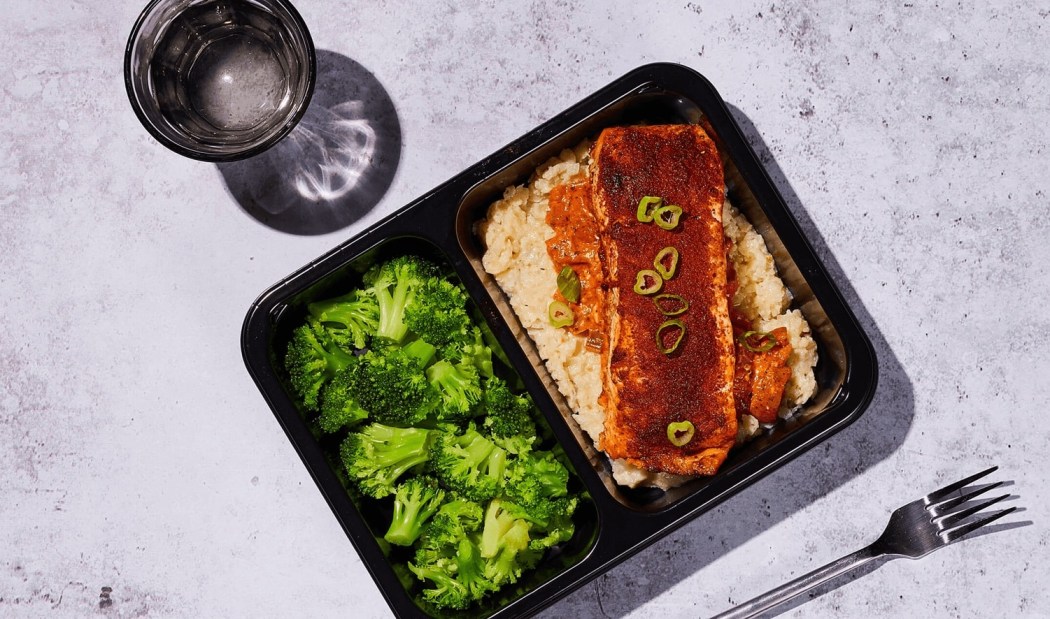 Image from: Factor_
What You Get: Factor_ is a prepared meal subscription that delivers healthy chef-developed meals directly to your door. They prepare and deliver fresh (never frozen), nutritious meals with the help of dietitians and experts, making sure that you get the right amount of nutrients your body needs. Subscribers can choose exactly what meals they want in their box. The ever-changing menu updates weekly, so you'll see a variety of delectable dishes beloved by your diet! Receive as many as 18 meals per week or as few as 4 meals per week. Combining nutrition science and culinary excellence to design dishes that taste amazing, it'll give your body and mind the nutrients needed to perform at their peak!
Learn more on Factor_ Review.
Price: Eat healthily starting at $60 a week (4 meals a week; $5 per serving).
Deals:
---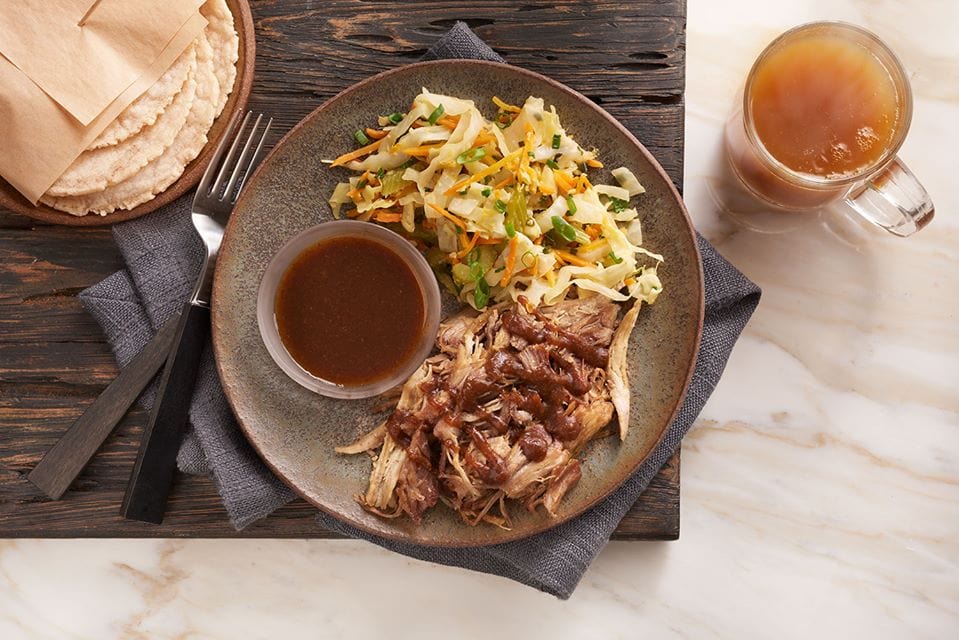 Image from: Paleo On The Go
What You Get: Sending every month, Paleo On The Go's curated boxes are filled with chef-created, real-food dishes made from 100% paleo and AIP-friendly ingredients. They eliminate all potentially inflammatory foods from your diet like nuts, seeds, grains, soy, sugar, etc. to make sure you only get what's good for your diet. Choose which food appeals to your taste buds and set the delivery frequency to weekly, bi-weekly, every 3 weeks, or every month. Every meal is carefully shipped in a recyclable and insulated package, and there are also complimentary surprises every month to make things more exciting! When it arrives, all you need to do is re-heat the meals and enjoy!
Price: The subscription cost is $225 per box. Save 10% on your first order and 5% on every subsequent order.
---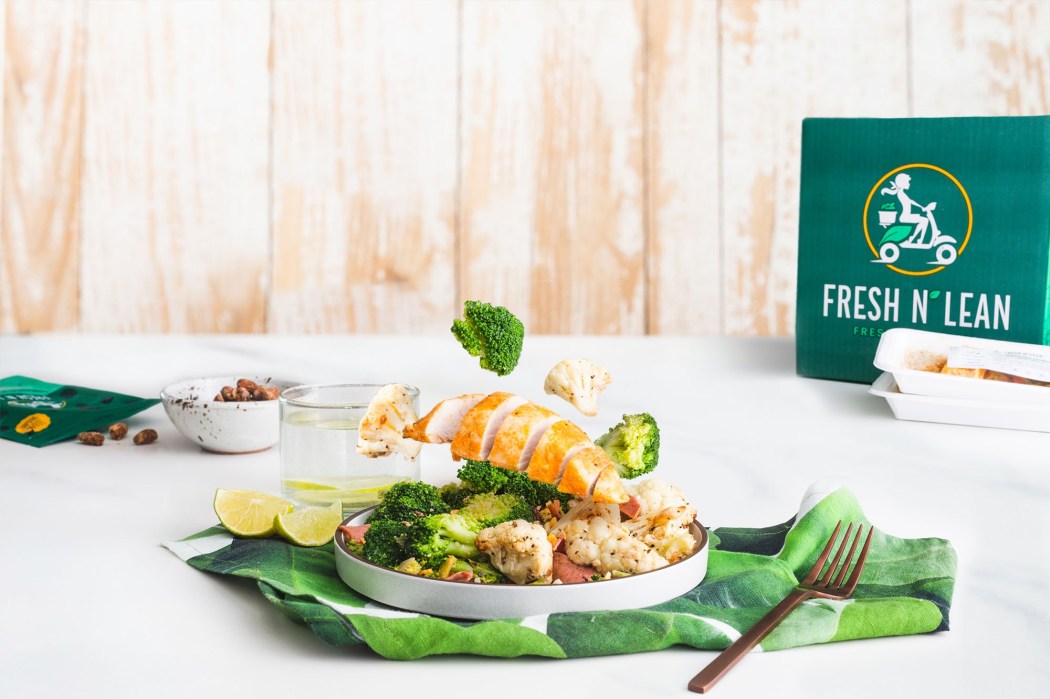 What You Get: Fresh n' Lean is the perfect crave-relief in just 3 minutes! It is a meal subscription service that offers pre-packaged meals delivered straight to your home or work each week, prepared just for your preferences. You can choose which plan suits your diet – Keto, Protein+, Whole30, Paleo, Standard Vegan, Low Carb Vegan, and Bulk, so they can give you just what your body needs the most. Each box contains a variety of healthy and delicious meals handcrafted by professional chefs using fresh and organic ingredients that are naturally rich in flavor. No secret ingredients, just delicious dishes you'll love!
Price: Subscription box costs $139.95 per week.
---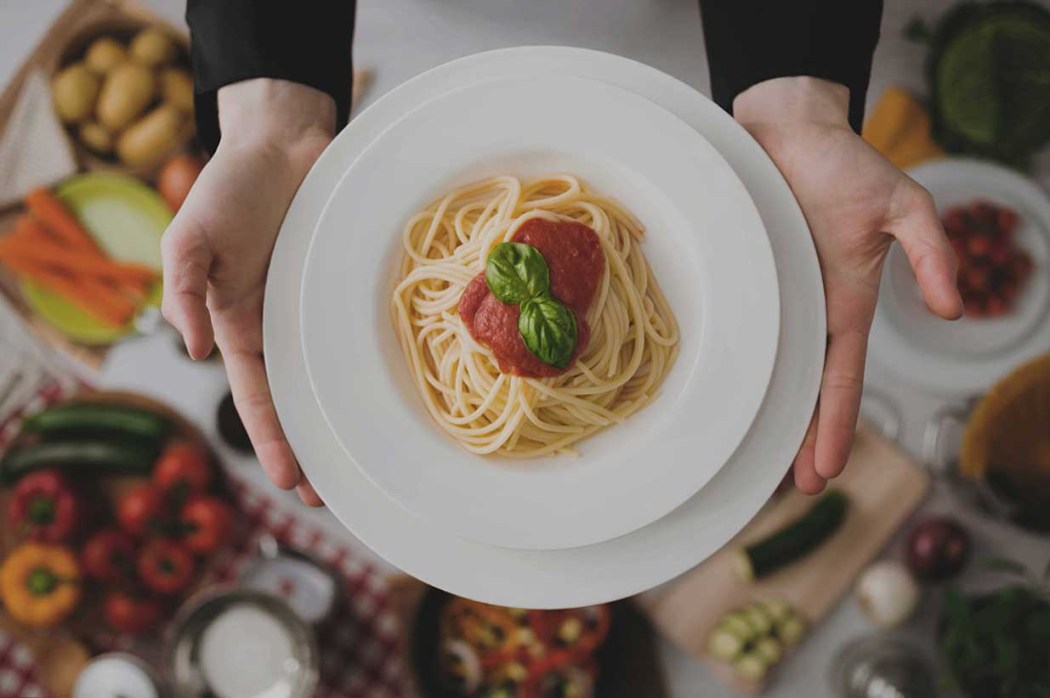 Image from: Magic Kitchen
What You Get: Magic Kitchen is a delicious meal service subscription that sends out small batches of chef-made meals delivered straight to your home. They have an entire menu option, categorized based on what diet you practice and what you need to for your body – Gluten-Free, Diabetic-Friendly, Dairy-Free, Low Sodium, etc. Each meal is dietician-designed and chef-prepared using ingredients that are sourced within the USA, then flash-frozen to lock in all the scrumptious flavor! Just unpack, heat, and serve!
Price: 1 complete meal per day costs $82-$90 per week.
---
Image from: BistroMD
What You Get: BistroMD is a meal delivery plan designed to help you healthily lose weight. This subscription combines the science of losing weight with chef-prepared meals, helping you achieve life-transforming wellness without restricting yourself from eating delicious dishes. What you have to do is choose a program that suits your dietary preferences – Standard, Gluten-Free, Heart Healthy, Diabetic, and Menopause. Every meal is made using the freshest ingredients available, minus wheat, rye, and barley. Just customize the program to your needs, and enjoy the weekly delivery of the yummiest meals to savor.
Price: 5-days Plan Lunch & Dinner is $129.95, 7-days Plan Lunch & Dinner is $159.95, Full Program 5 days is $159.95 and Full Program 7 days is $189.95.
---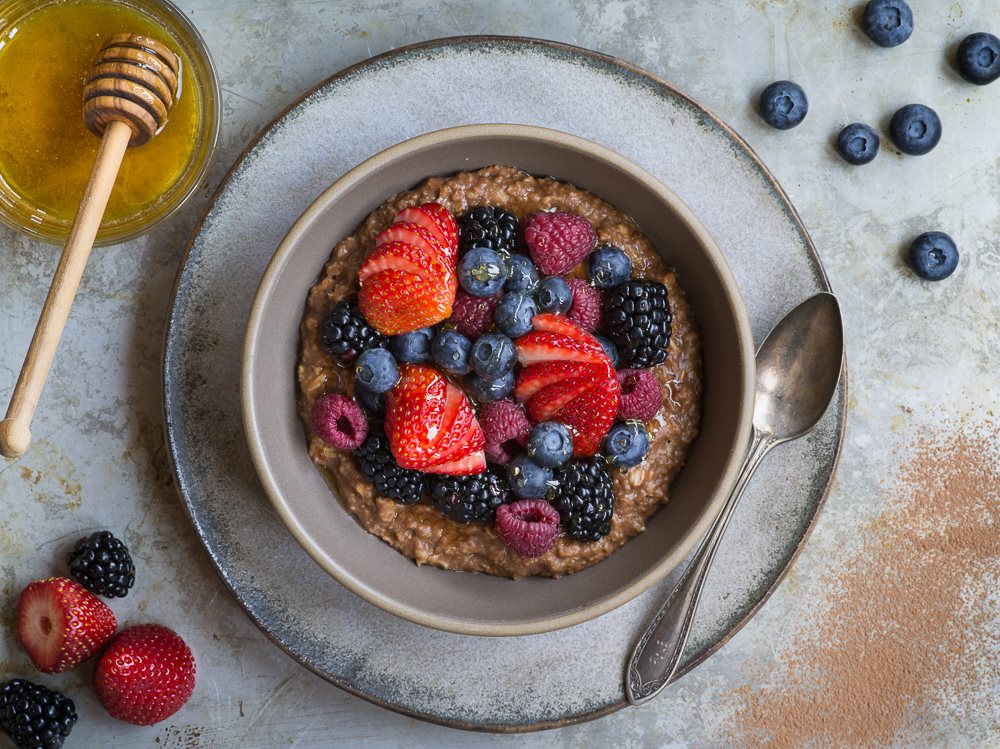 What You Get: PlateJoy delivers healthy and delectable meal options based on your health goals, lifestyle, and dietary preferences. It is your own personal meal planning assistant, making it convenient and easy for you to eat healthily even when you're on a diet. Every box comes with detailed step-by-step recipe infographics with visual instructions for easier meal preparation. Catering to practically any kind of diet you wish to push through – gluten-free to vegetarian, pescatarian to low carb, Mediterranean to dairy-free, they'll provide you with nutritionist-designed menus that'll definitely help you achieve your health goals! This will not only save your time but also help you eat better.
Price: A 6-month planning subscription costs $69, and a 12-month planning subscription is $99. (approx. $8-$12 a month).
Deal: Get $10 off any plan. Use coupon code HELLOSBSN.
---
Gluten-Free Snack Subscriptions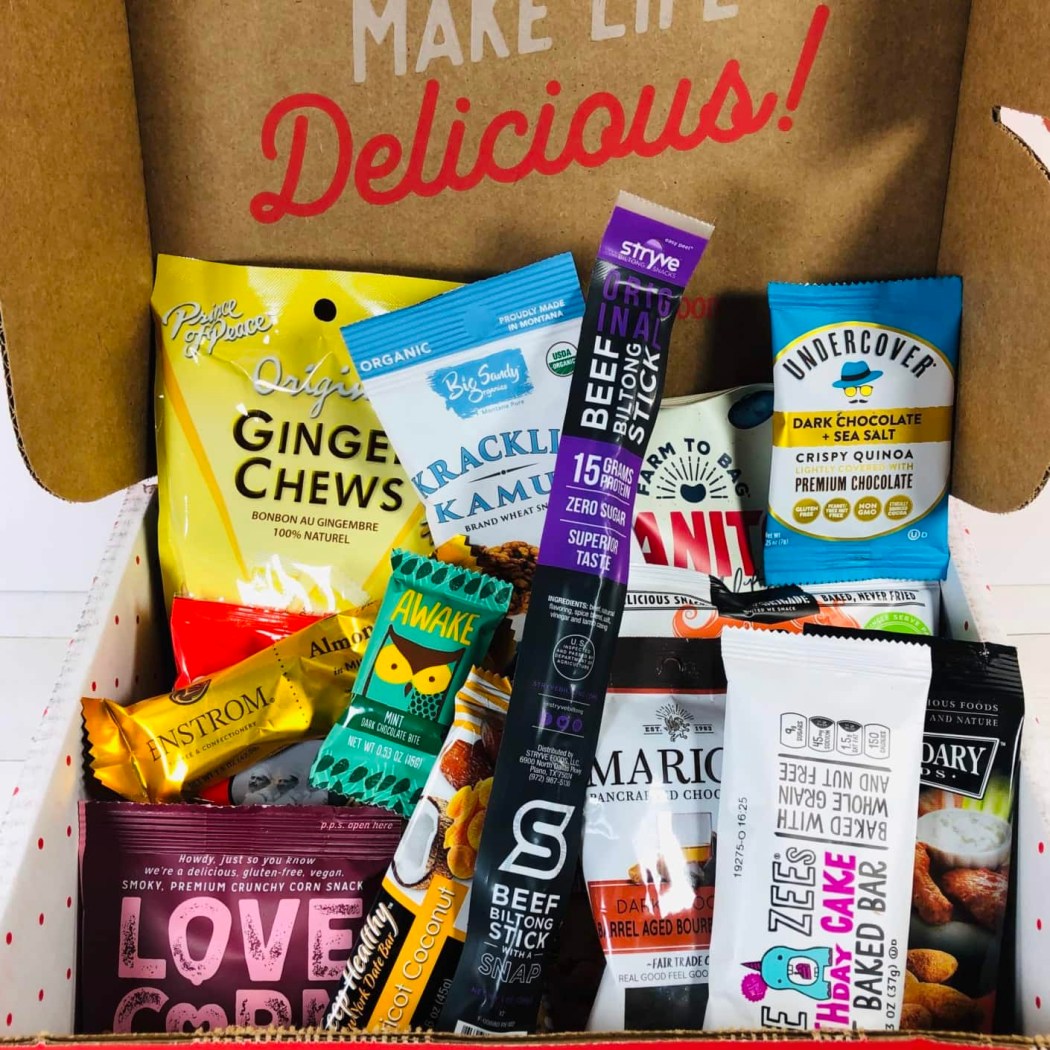 Image from: Love with food
What You Get: With Love with Food Gluten-Free, you can get the tastiest and the most delicious gluten-free snacks from various brands across the world monthly! It's an ideal snack pack for those who have an allergy, intolerance, or just avoiding gluten in general but still want to enjoy snacking. This box only includes delicious and healthy snacks made with real ingredients and nothing with chemicals, colorings, or anything artificial. Each box comes with 10+ snacks – all gluten-free certified! Not only do you make yourself full and happy with clean snacks, but you also extend the love as every box shipped provides one meal to a family in need.
Love with Food also offers other snack boxes – the Classic Tasting Box and Deluxe Box.
Price: Subscribe for $24.99 every month. Shipping is free in the US and $3.99 outside the US and territories.
Deal: Get 25% off your first box! Deal applies automatically, just visit and subscribe.
---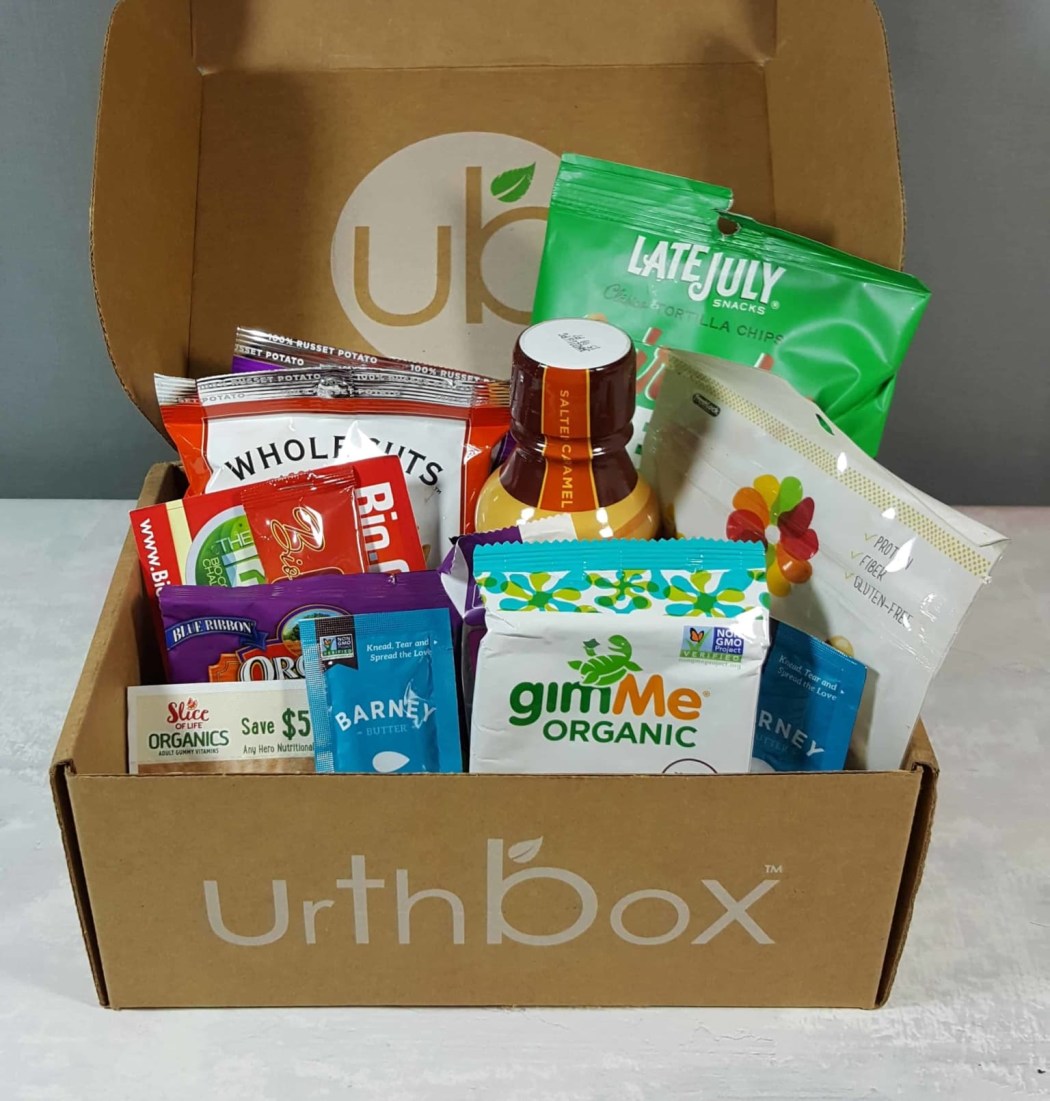 Image from: Urthbox
What You Get: If you're crazy about healthy snacks and beverages, Urthbox is definitely for you! Every package includes handpicked, full-sized snacks made with organic, non-GMO, and all-natural ingredients. They have Classic, Gluten-Free, Vegan, and Diet box options in 4 different sizes – Mini Box (7+ snacks), Small Box (14+ snacks), Medium Box (20+ snacks), and Large Box (27+ snacks). Also, sometimes, they add a few extras like beverages and personal care products to fully satisfy subscribers without the guilty feeling!
See past boxes on UrthBox Reviews.
Price: Subscription prices start at $27.99/month, or save more when you choose longer plans!
Deals:
---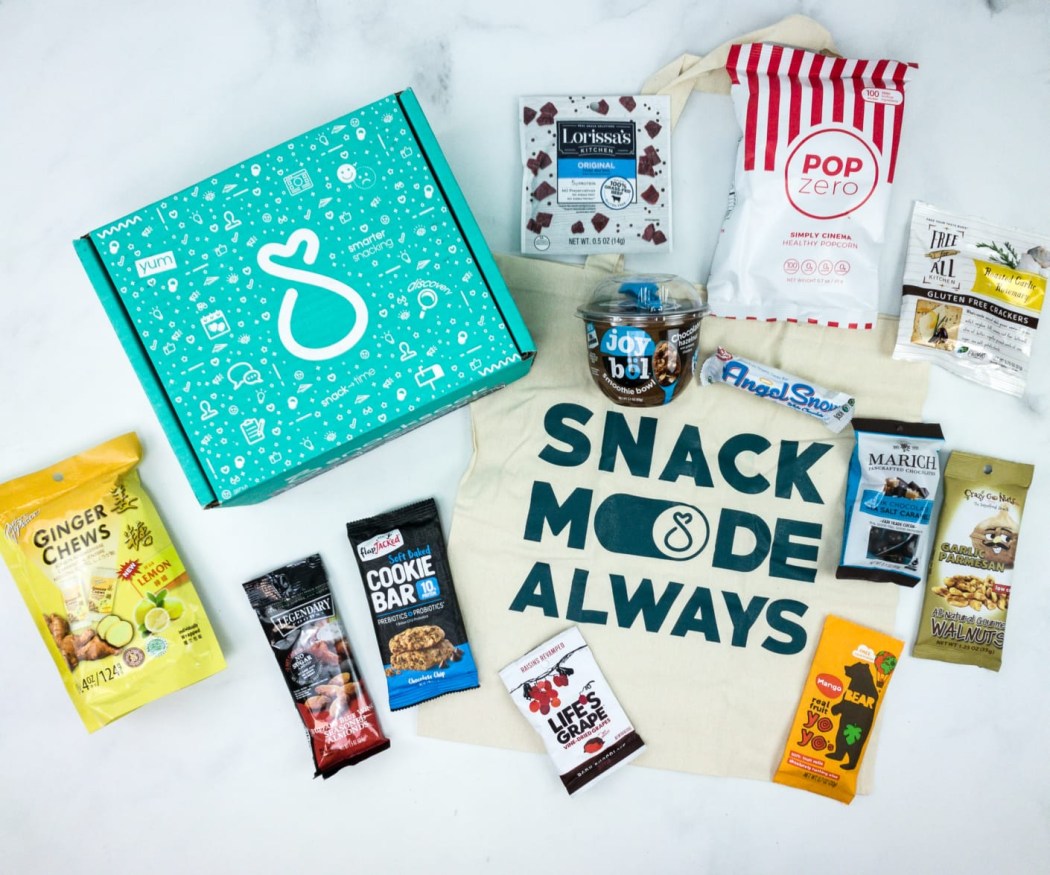 Image from: Snacksack
What You Get: SnackSack helps you discover healthy snacks and kick unhealthy snacking habits on the curb! This monthly snack subscription has everything delicious and nutritious for your snacking delight. Boxes are always filled to the brim with a combination of organic, non-GMO, gluten-free, all-natural, vegan, and fair-trade snacks. Start your smart snacking adventure when you choose from the 4 plans they offer: Classic, Vegan, Gluten-Free, and Vegan+Gluten-Free. Each plan is created to satisfy your needs and contains 11-15 unique healthier snacks – junk-free – from the finest smarter snacking brands with a variety of seasonal flavors that you'll be sure to love!
Visit SnackSack Reviews for more details.
Price: SnackSack Gluten-Free Box is $25.95 per month. Save up to $17.40 if you choose their longer plans!
Deal: Save 20% on any SnackSack! Use coupon code HELLO20.
---
What You Get: Fun and healthy snacking is what you get from FitSnack! They gather healthy snacks and nutritious drinks from the world's best brands to ensure that the box contents are high-quality and meet two or more of the following criterion: GMO-free, high in protein, low in sugar, gluten-free, organic, raw, vegan, and all-natural. You'll receive 7-10 full-sized or deluxe samples and bonus items such as energy boosters, nutritional supplements, and even refreshing drinks, plus challenges or athletic gear to keep you motivated in reaching your health and fitness dreams! And with every purchase you make, they donate healthy snacks to kids in need.
Read FitSnack Reviews for more details.
Price: The subscription costs $29.90 each month.
Deal: Save $3 on your first box! Deal applies automatically, just visit and subscribe.
---
Image from: Healthy Surprise
What You Get: Healthy Surprise lets you discover a healthy way towards your new favorite, guilt-free treats! This subscription is focused on searching only for the highest quality products that meet their standards. There are 3 subscription plans available – Classic Box with 15 snacks, Big Box with 21 snacks, and Paleo Box with 17 snacks (free from refined sugars, grains, or legumes). Each box is filled with all-natural, gluten-free, non-GMO, soy-free, corn-free, and wheat-free snacks that are guaranteed to be 100% delicious and made in the USA! It's the box you need for a mix of tasty treats that's sure to cure cravings but still good for your diet!
Check out Healthy Surprise Reviews to know more.
Price: Classic Box is $42.49 per month; Big Box and Paleo Box costs $63.74 per month.
Deal: Subscribe to save 15% off the single-box price! Deal applies automatically, just visit and subscribe.
---
What You Get: For healthy snacks befriended by your diet, RawBox is one great option. This subscription box can be safely enjoyed by raw foodists, vegans, vegetarians, celiacs, paleoists, and more. Each box comes with 10-12 pieces of plant-based snacks and lifestyle products from famous and healthiest brands with a total value of $60 or even more! Everything in the box is carefully selected to ensure they're gluten-free, wheat-free, soy-free, GMO-Free, and more.
Price: 1 Box is $39.95, 2 Boxes is $78.95, and 3 Boxes for $118.95. Ships every 2 months. Shipping is free!
Deal: Save 15% on your first subscription! Use coupon code WELCOME15OFF.
---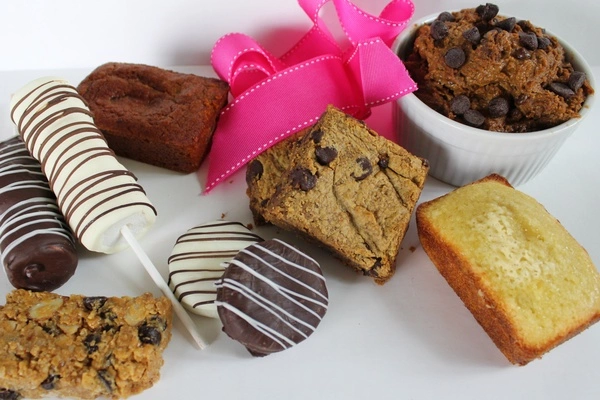 What You Get: For gluten-free goodies, there is Susie B's Gluten Free to get obsessed with! They curate boxes and loaded them up with a variety of bakery treats for an indulgent tasting experience you'll love and enjoy! All the fresh-baked goodies they offer are completely gluten-free and infused with tasty flavors to shower your taste buds with. Each box is packed full of treats, and there is also an option to have it dairy-free. Food selections may include brownie, pumpkin pie, chocolate-covered marshmallows, sandwich cookies, banana bread, and more tasty ones.
Price: Treat Box subscription is $36 a month.
---
Gluten-Free Sweets & Treats Subscriptions
What You Get: With Cheryl's Gluten-free Cookie and Brownie of the Month, you'll get a tasty box of cookies delivered straight to your door! Each box contains 12-individually wrapped cookies and brownies that include 4 Fudge Brownies, 2 Chocolate Chip Cookies, 2 Snickerdoodle Cookies, 2 Buttercream Frosted Cut-out Cookies, and 2 Brownie Walnut Cookies. These gluten-free cookies and brownies are even produced in gluten-free facilities to ensure 100% that they're good for your gluten-free diet! It's an indulgent treat you need to have every month!
Price: Subscription box costs $24.99 per month.
---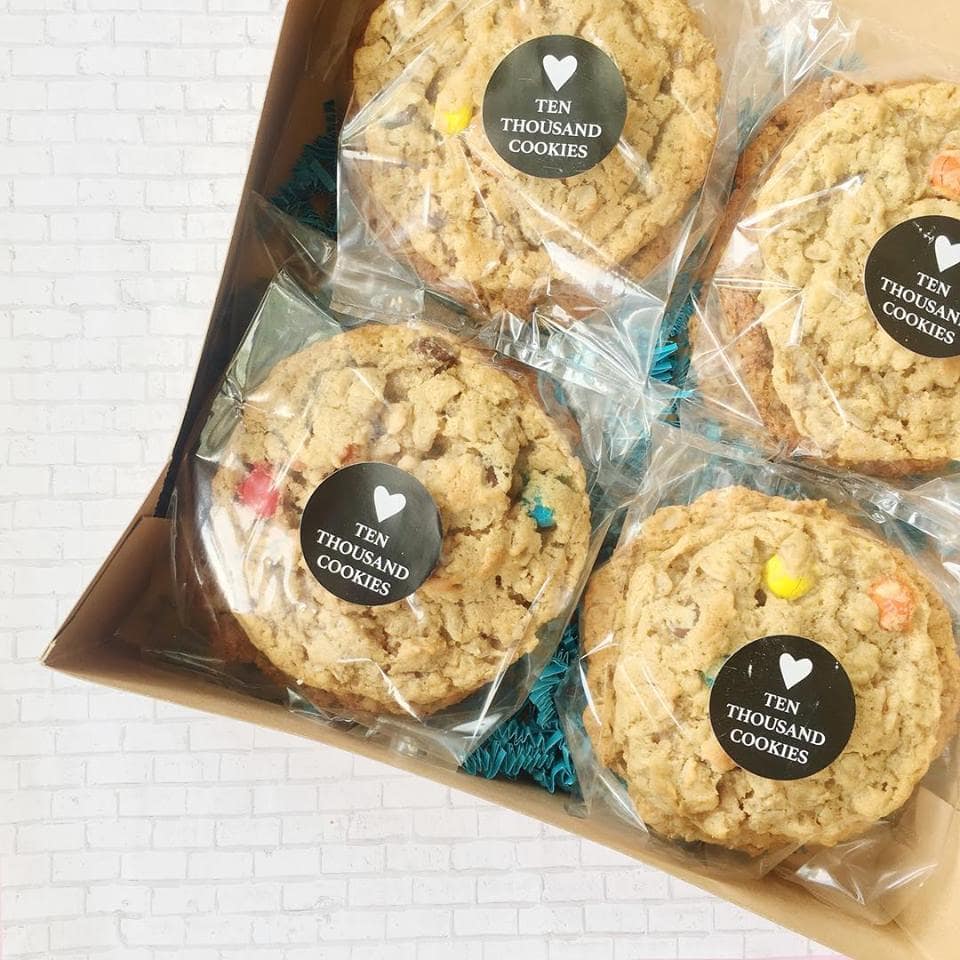 Image from: Ten Thousand Cookies
What You Get: Ten Thousand Cookies is a yummy treat for the soul and tummy! This monthly subscription makes sure you'll have something tasty to munch on each month by sending you a Cookie Crate filled with 12 delicious, gluten-free, vegan, and well-made cookies. There are 4 chocolate chips, 4 fancy sugar cookies, and 4 monster cookies included in every shipment. There is also the Seasonal Cookie Crate with a couple of seasonal flavors and the Monster Cookies Crate with everything else that's good! These cookies don't include animal and by-products such as eggs, butter, milk, etc. Plus, all of them are made using premium-quality certified gluten-free flour. Not to mention, this makes a great gift on all sorts of occasions!
Visit Ten Thousand Cookies Review for more details.
Price: All subscriptions cost $34.97 per shipment.
Deal: Get $5 off on your first box! Use coupon code HELLO5.
---
Image from: Bev
What You Get: With Bev, you can enjoy a can of wine anytime, anywhere! They offer gluten-free wines in a can that you can easily open and drink even when you're about to head out, exclusively made by female winemakers. Receive 8, 24, or 48 cans in a pack depending on how many you want to. Each can contains 8.4oz of wine with 0% sugar, no additives, and it is low carb too with great fruity flavor! Available in Rosé, Blanc, Gris, Noir, Glitz, Glam, or Ladies Night, where you can have them all. It's considered to be like a wine club that is a bit livelier and so much cuter!
Price: Subscribe and save up to $20! Blanc, Bev Rose, Gris, and Noir cost $39 for 8-pack, $79 for 24-pack, and $152 for 48-pack. Glitz and Glam cost $47 for 8-pack, $95 for 24-pack, and $175 for 48-pack. Ladies Night is $79 for 24-pack and $152 for 48-pack.
Deal: Get 20% off on any orders! Use coupon code HS20.
---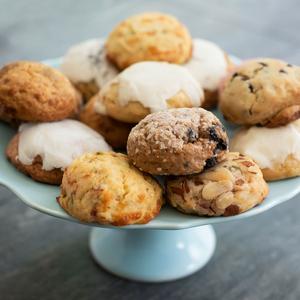 What You Get: Seven Sisters Scones is your ticket to make tasty treats shopping done a bliss. This subscription lets you taste a variety of seasonal flavors to enjoy every month. Each Gluten-Free Box sends you a dozen large scones, all made with all-natural ingredients. These goodies are baked the day it ships, and individually packaged and labeled for your convenience. Aside from the gluten-free option, they also offer the Create Your Own Gourmet Scone Subscription Box, where you can choose 12 scones to include in your box.
Price: Each gluten-free dozen box is priced at $66 a month.
---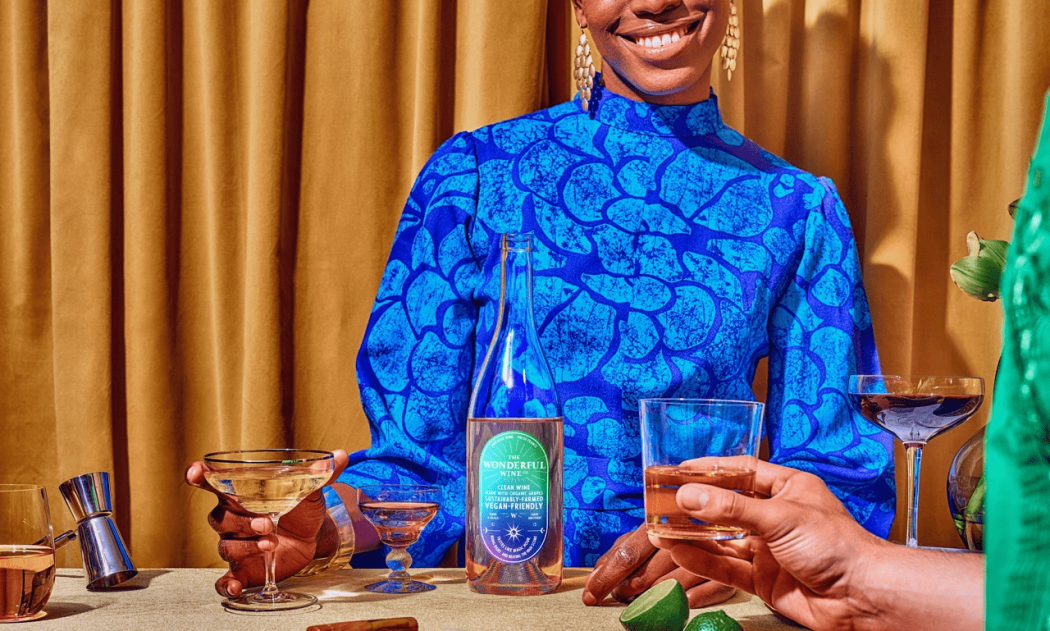 What You Get: The Wonderful Wine Co. is an eco-friendly brand that delivers premium-quality wines. These are made from organic grapes that are farmed without pesticides, herbicides, or any artificial fertilizer. These wines are guaranteed to be low in carb, sugar, and sulphites, making them one of the great choices for those who worry about what they take in their bodies. There are five subscription options to choose from – The Orange Pack, The Starter Pack, The White Pack, The Red Pack, and The Rose Pack. You'll receive 3, 6, or 12 bottles depending on your chosen plan. So, take your pick and drink wines guilt-free!
Head on to The Wonderful Wine Co Review for more information.
Price: 3-pack costs $60/mo; 6-pack is $110/mo; and 12-pack is priced at $215/mo.
---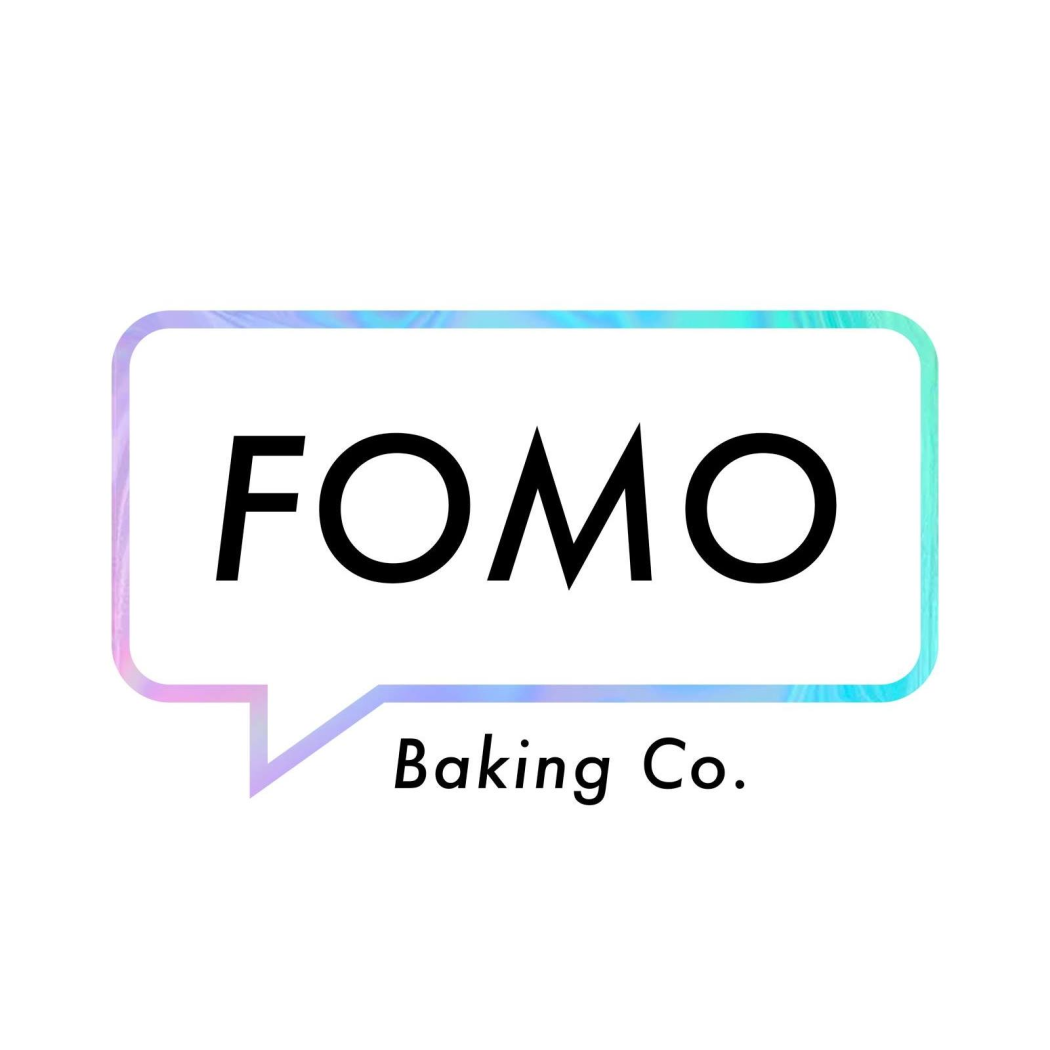 What You Get: FOMO Baking Co makes sure you have fresh-baked, allergen-free cookie bites to munch any time of the day, whenever you feel like eating so! This subscription gives you the option to have 10, 25, or 50 gluten-free treats your craving palate wants every 7 days or every month. Choose from chocolate chip, brownie, oatmeal raisin, oatmeal chocolate chip, snickerdoodle, or sugar cookie to reward yourself with. You can also shop assorted packs or get the FOMO 50 pack for a combination of cookie bite flavors. All the cookies they offer taste so good that you wouldn't even know they're free of gluten, dairy, egg, peanut, tree nut, and soy in the first place!
Price: Choose your cookie subscription pack: 10 pack – $10.80; 25 pack – $24.30; 50 pack – $43.20.
---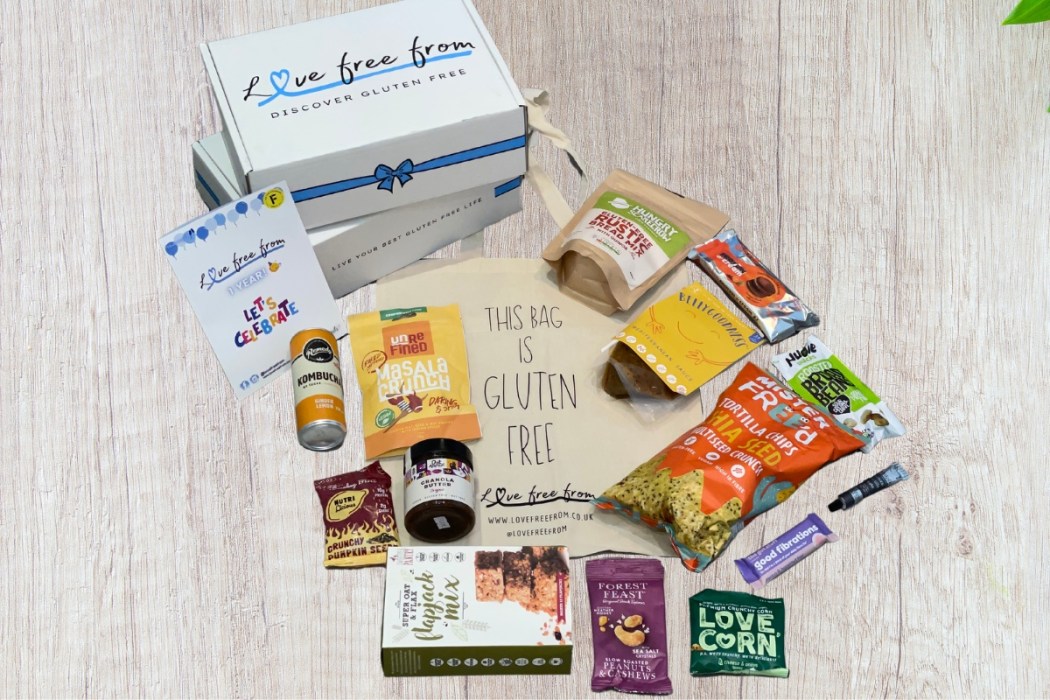 What You Get: Love Free From is your best choice for discovering gluten-free products from around the world. They make it easy for subscribers to uncover a whole new world without gluten. Snacks, cooking or baking ingredients, drinks, and condiments? You can find them all in just a box! Each shipment includes a surprise mix of 12+ products, along with 2 recipe cards, discount codes, and a gift. Boxes also come with dairy, oat, and nut-free options. Mini Kids' Gluten and Nut Free Discovery Box is also available with at least 5 snacks and treats. What's left to do is wait for your box to arrive and enjoy yummy treats that are all worth more than what you paid for!
Price: Get the box for $23 a month.
---
And that is our list of best gluten-free meal deliveries and snack subscription boxes! Did you find the perfect subscription box for your diet?
Don't forget to check out our list of all the best subscription boxes in every category!