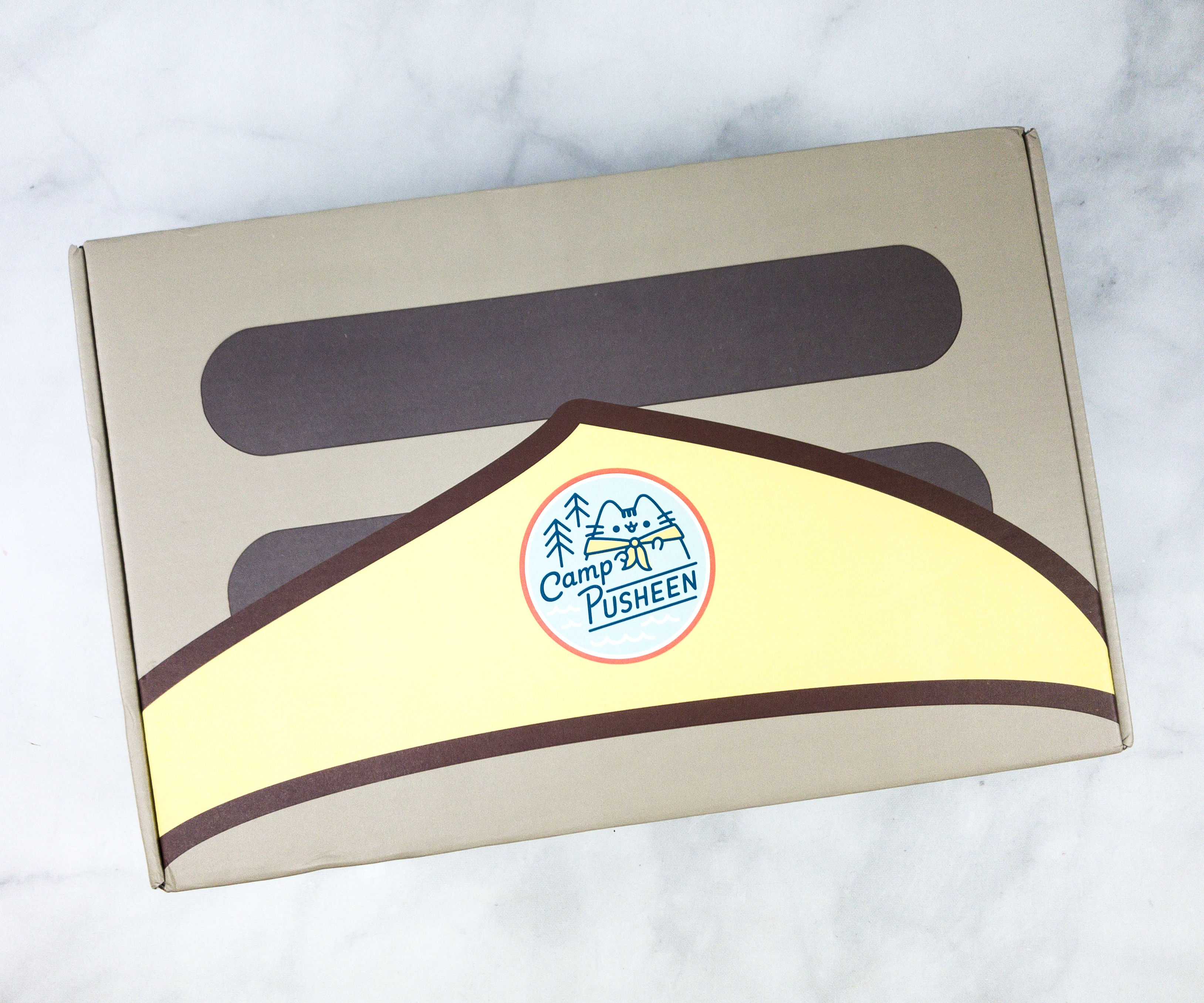 Pusheen Box is a quarterly subscription box that delivers everything Pusheen the cat!
Boxes hold a variety of Pusheen items with at least $100 in value, including exclusive products, pre-release items, and more.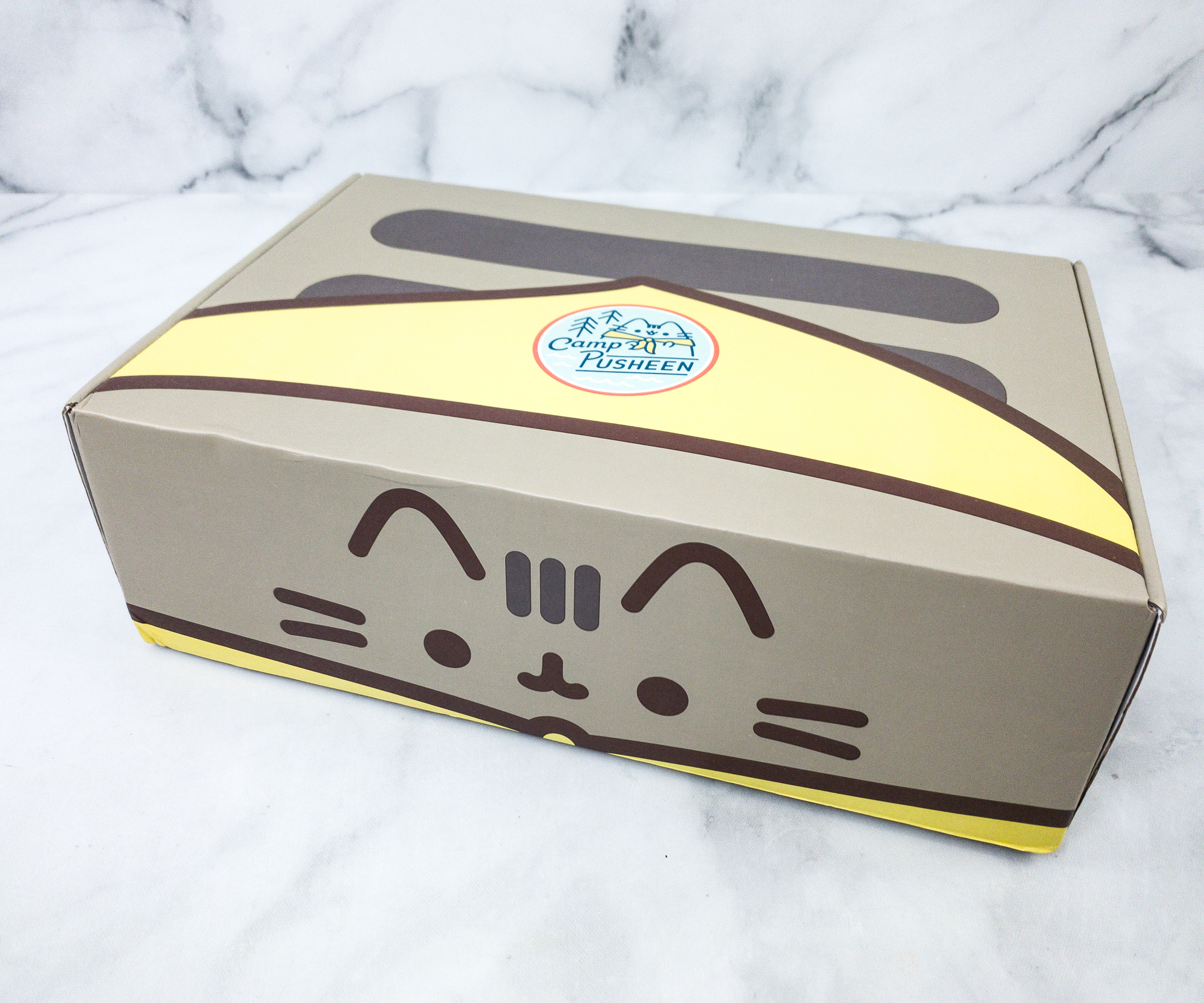 The box itself features Pusheen!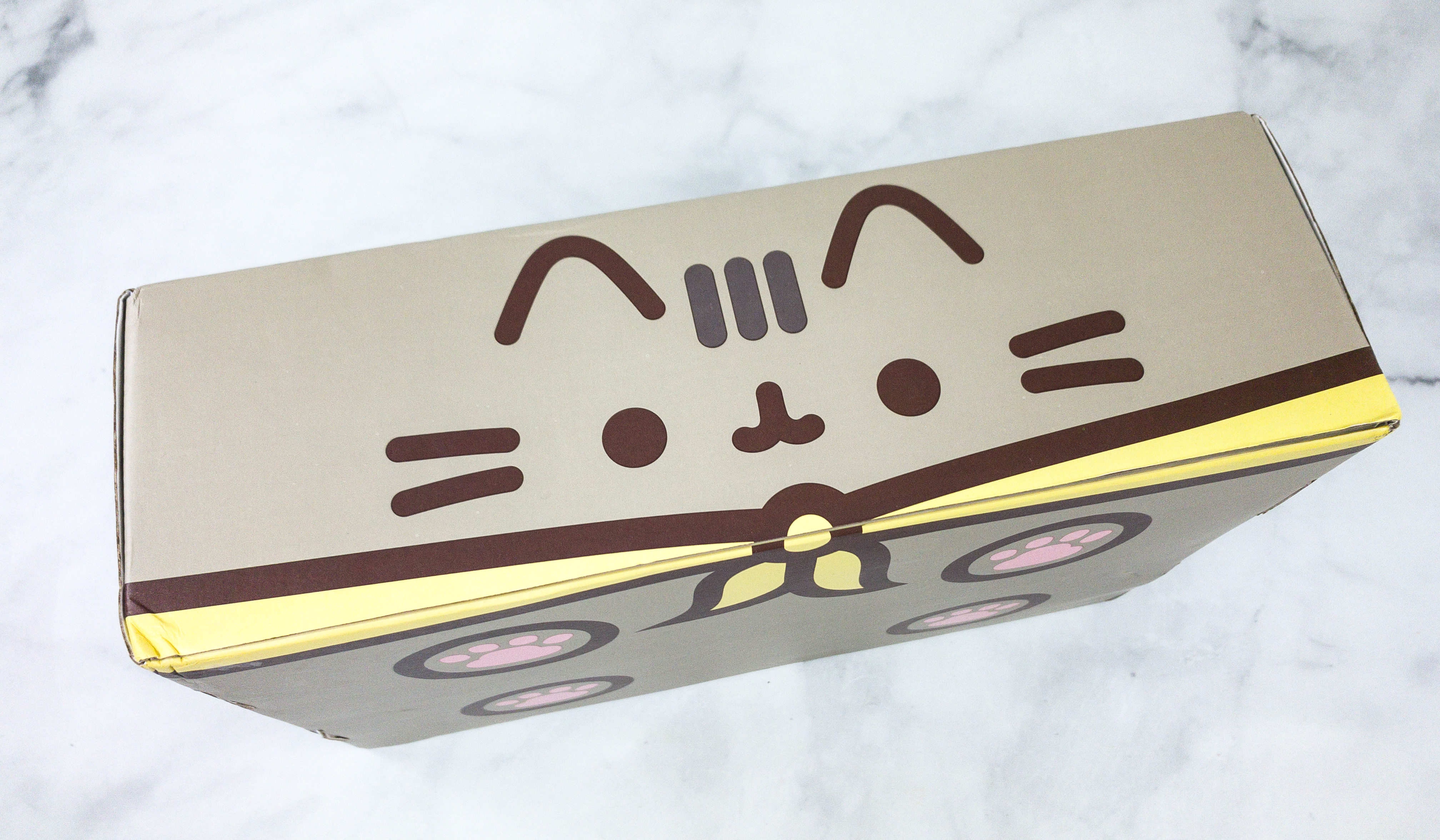 Pusheen is in camping mode!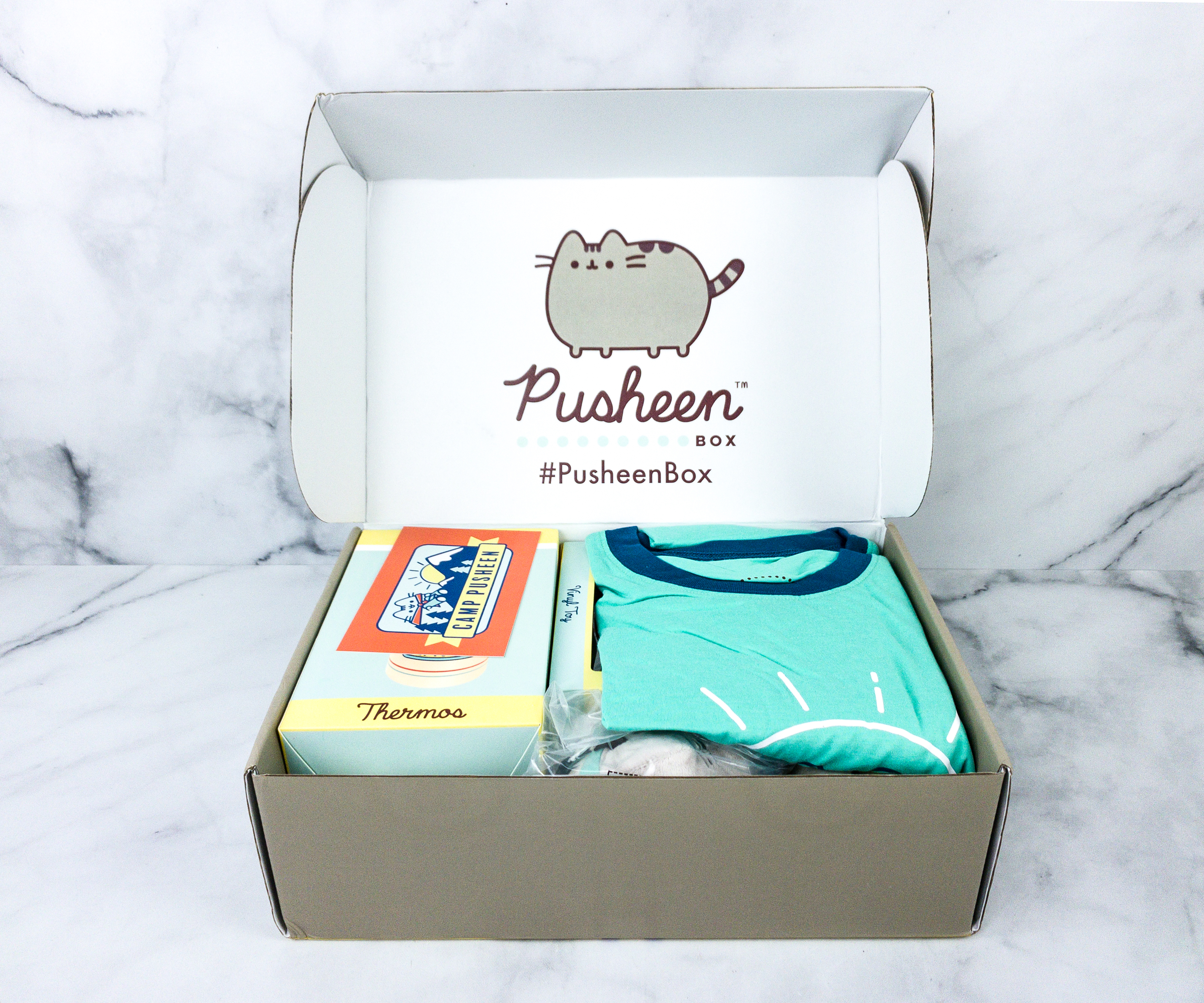 When you lift open the top lid, there's also an adorable image of Pusheen printed on it!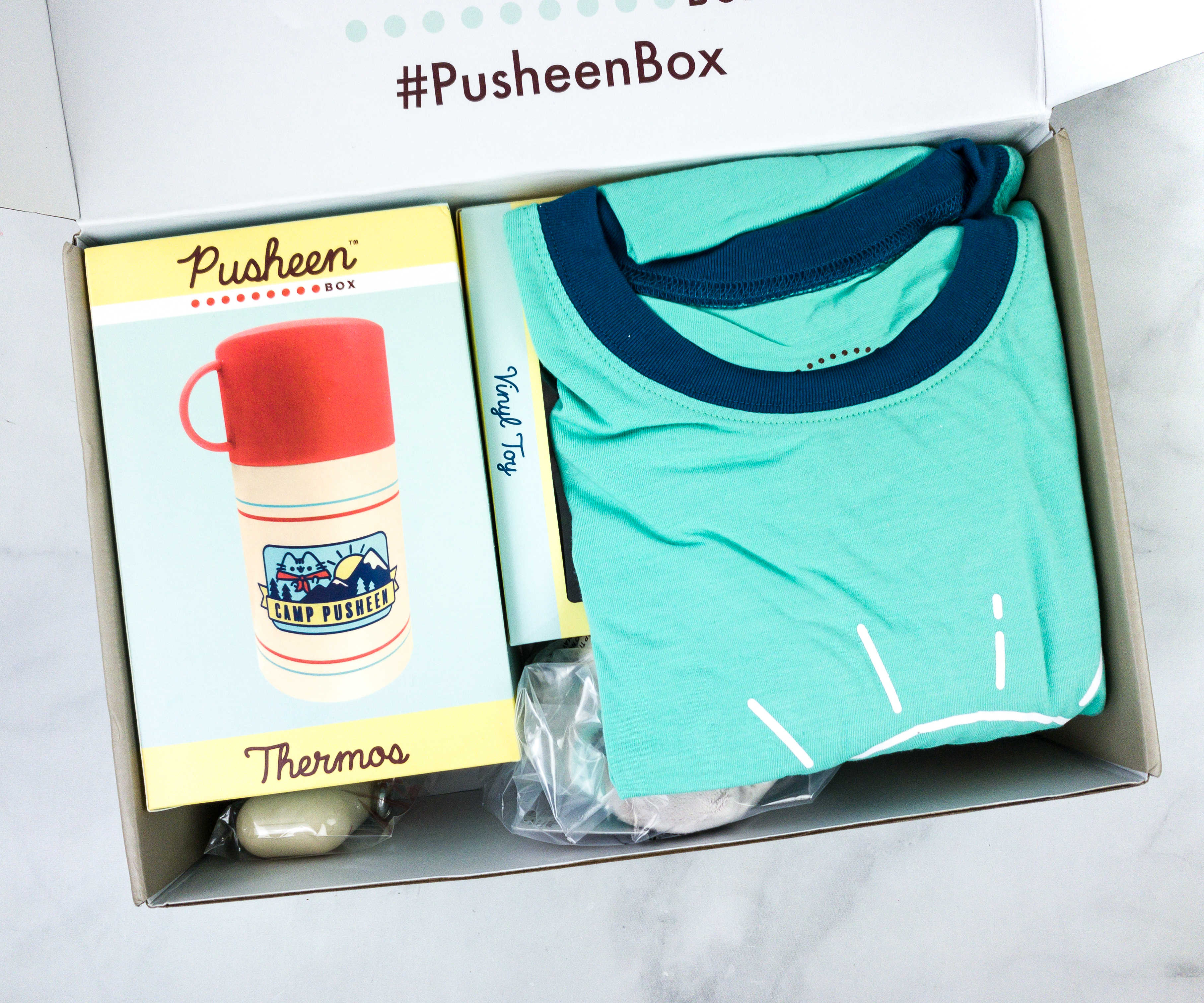 The box is almost full!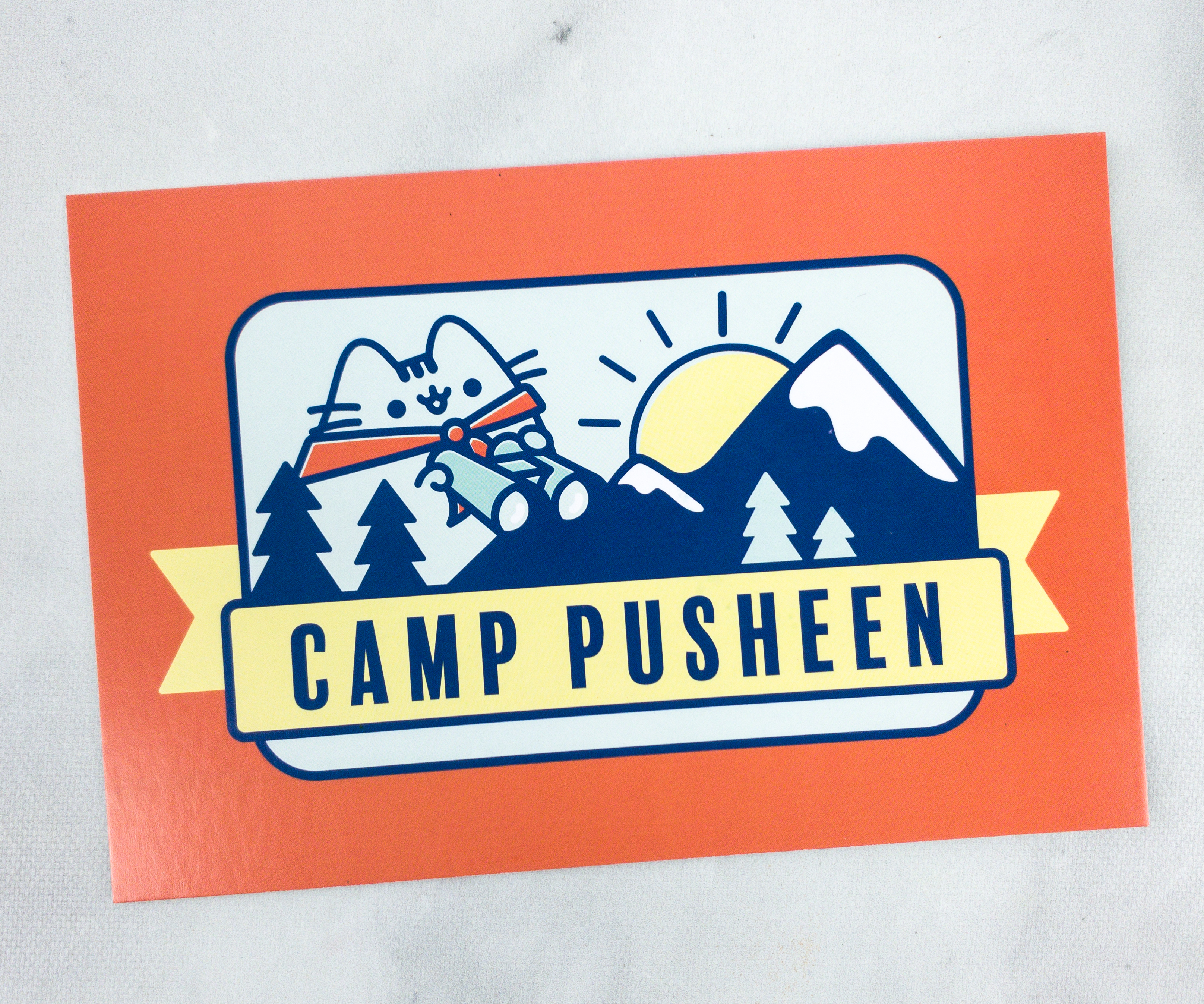 This quarter's theme is Camp Pusheen!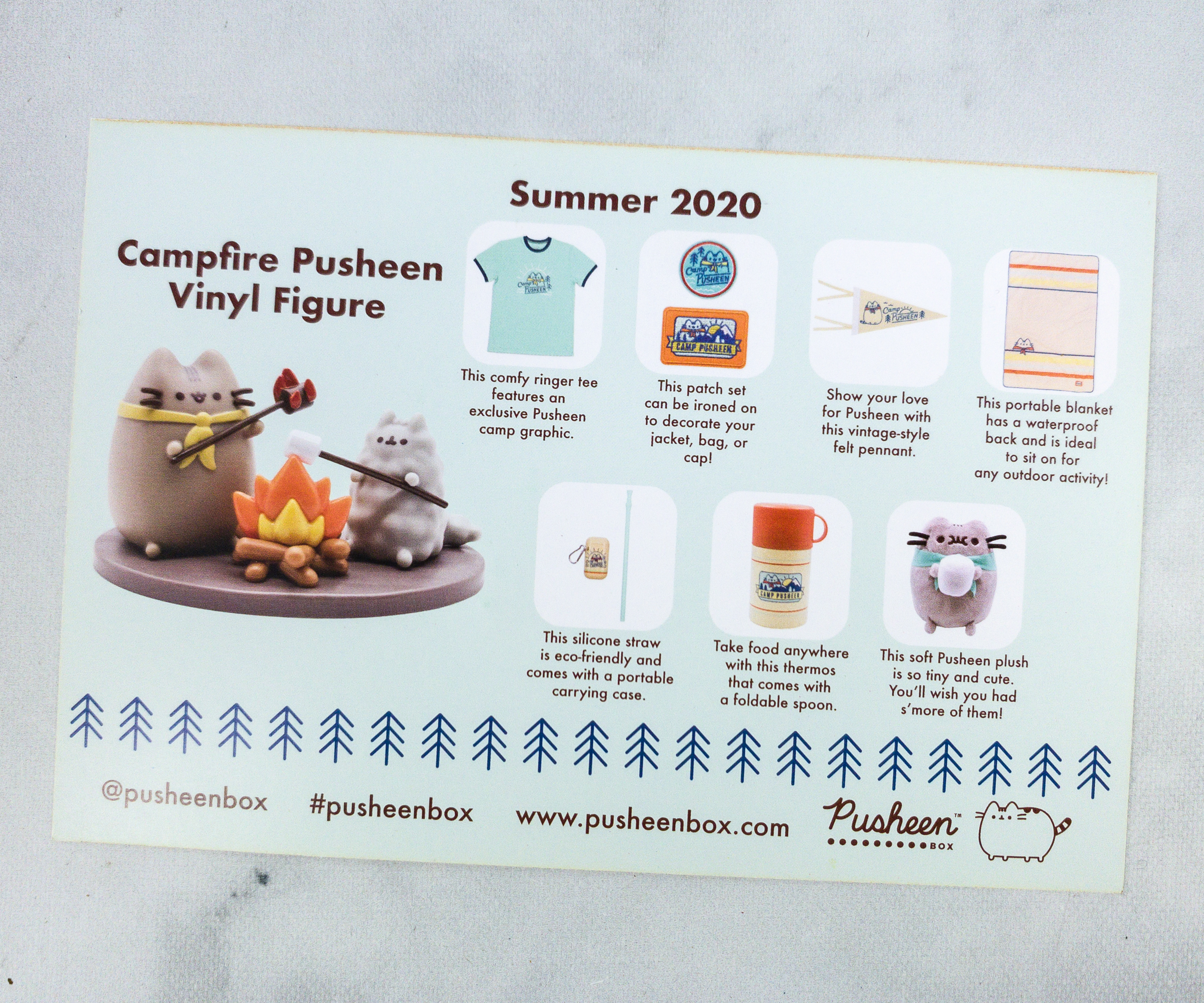 The information card lists all the items in the box with a short description for each.
Everything in the Summer 2020 Pusheen Box!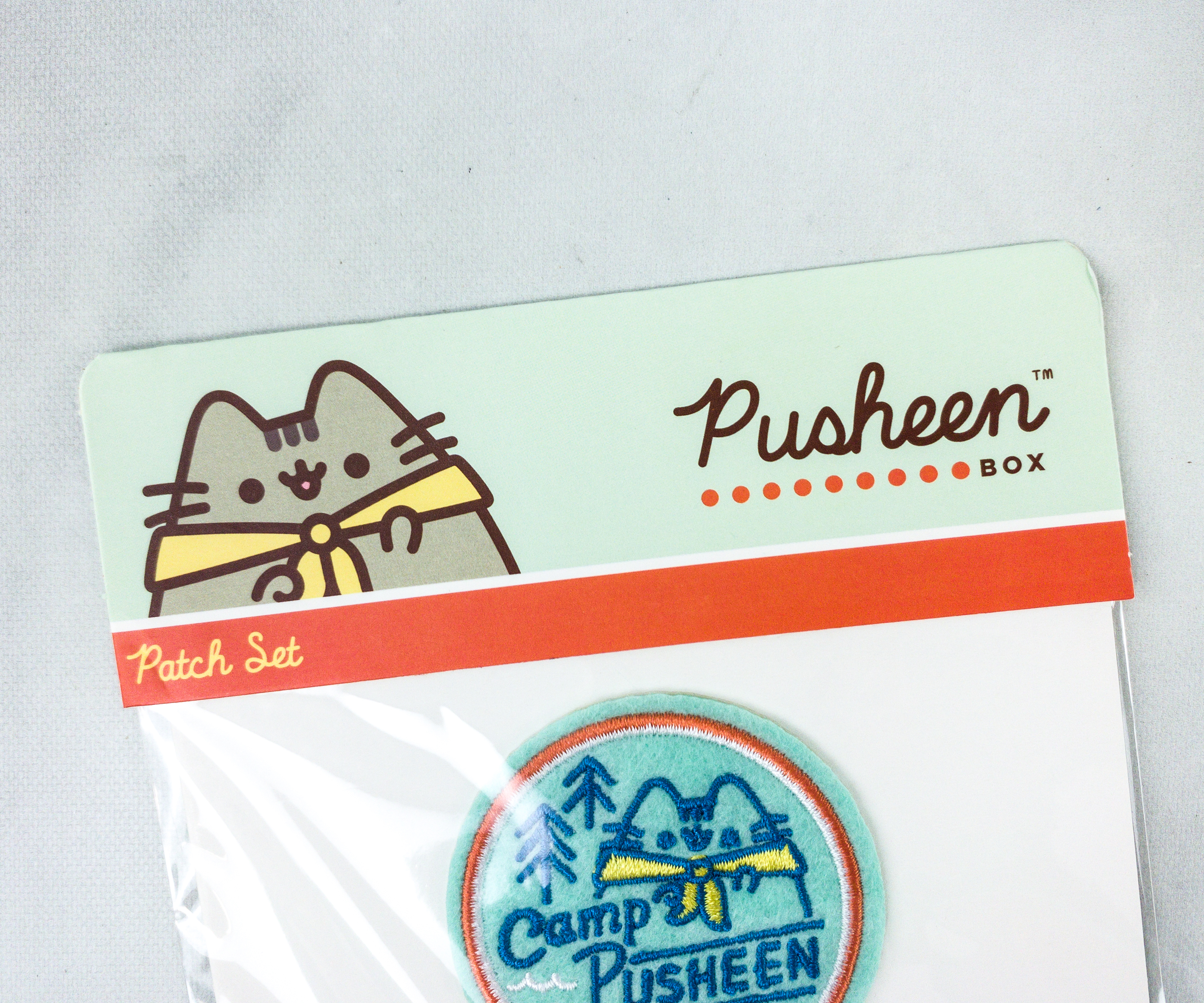 Patch Set. It's a set of Pusheen patches to add flair to bags, jackets, caps, and other items!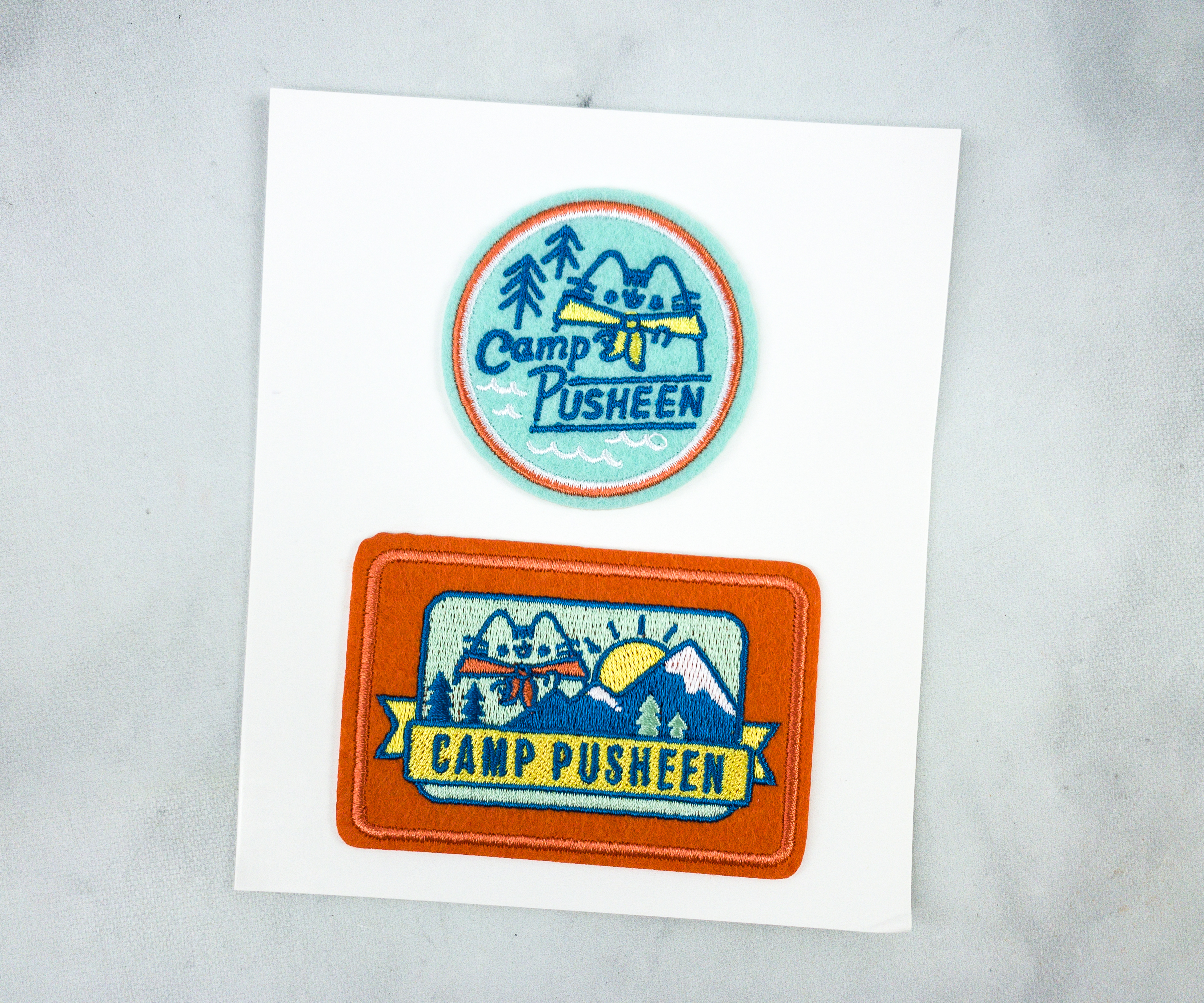 One patch is circular, with a sky blue base color. The other is rectangular and has an orange base color plus some images of mountains.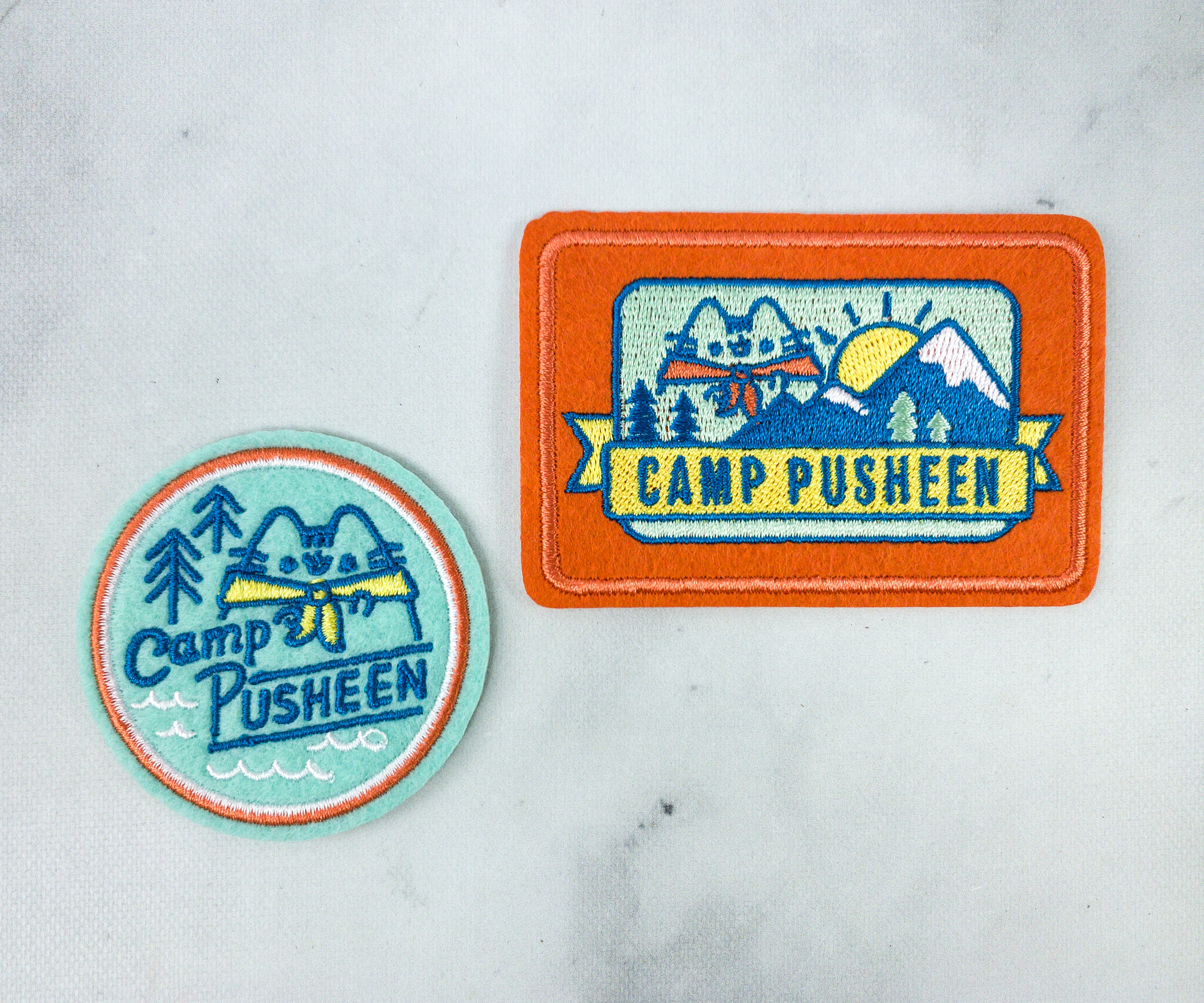 Both of them feature Pusheen in her camping get up, plus this quarter's theme, Camp Pusheen!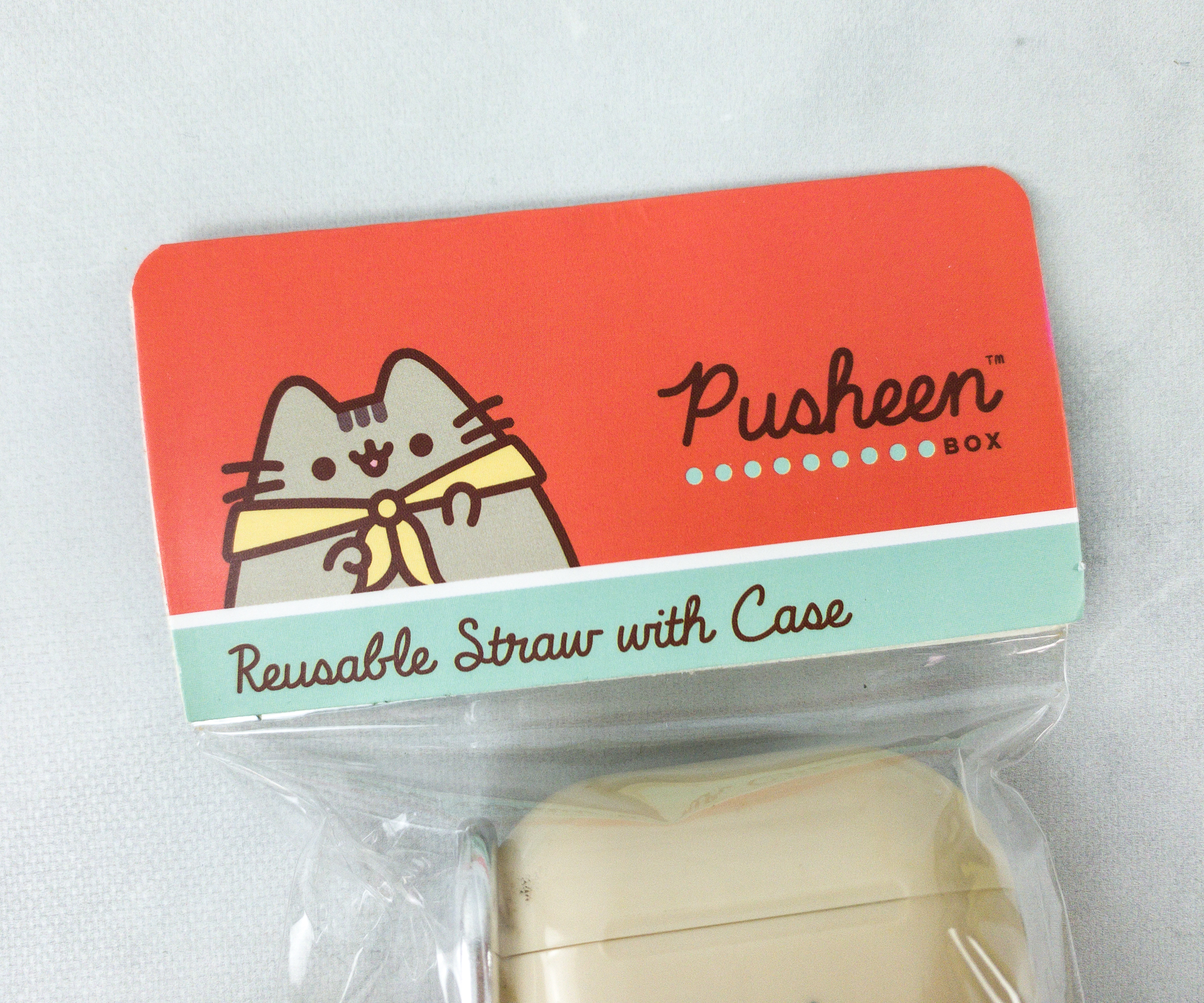 Silicone Straw with Carrying Case. Bringing reusable straws is a must when camping, instead of plastic ones that will just contribute to trash. To make it easy for us, they included a reusable straw in this quarter's box, plus a carrying case!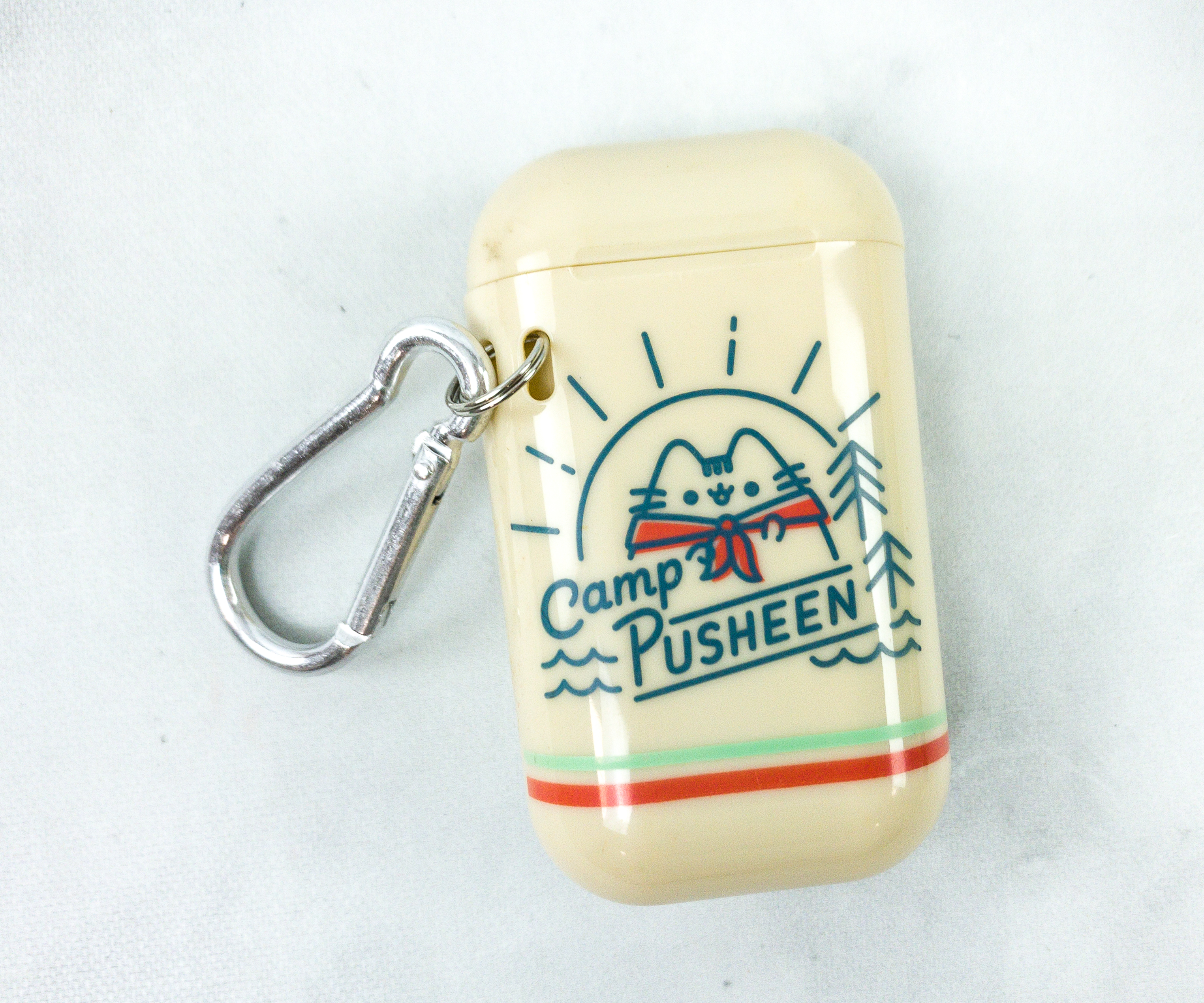 The beige straw case has the Camp Pusheen design, plus a carabiner so you can easily attach it to your camping bag or even on to your belt! It looks similar to an AirPods case!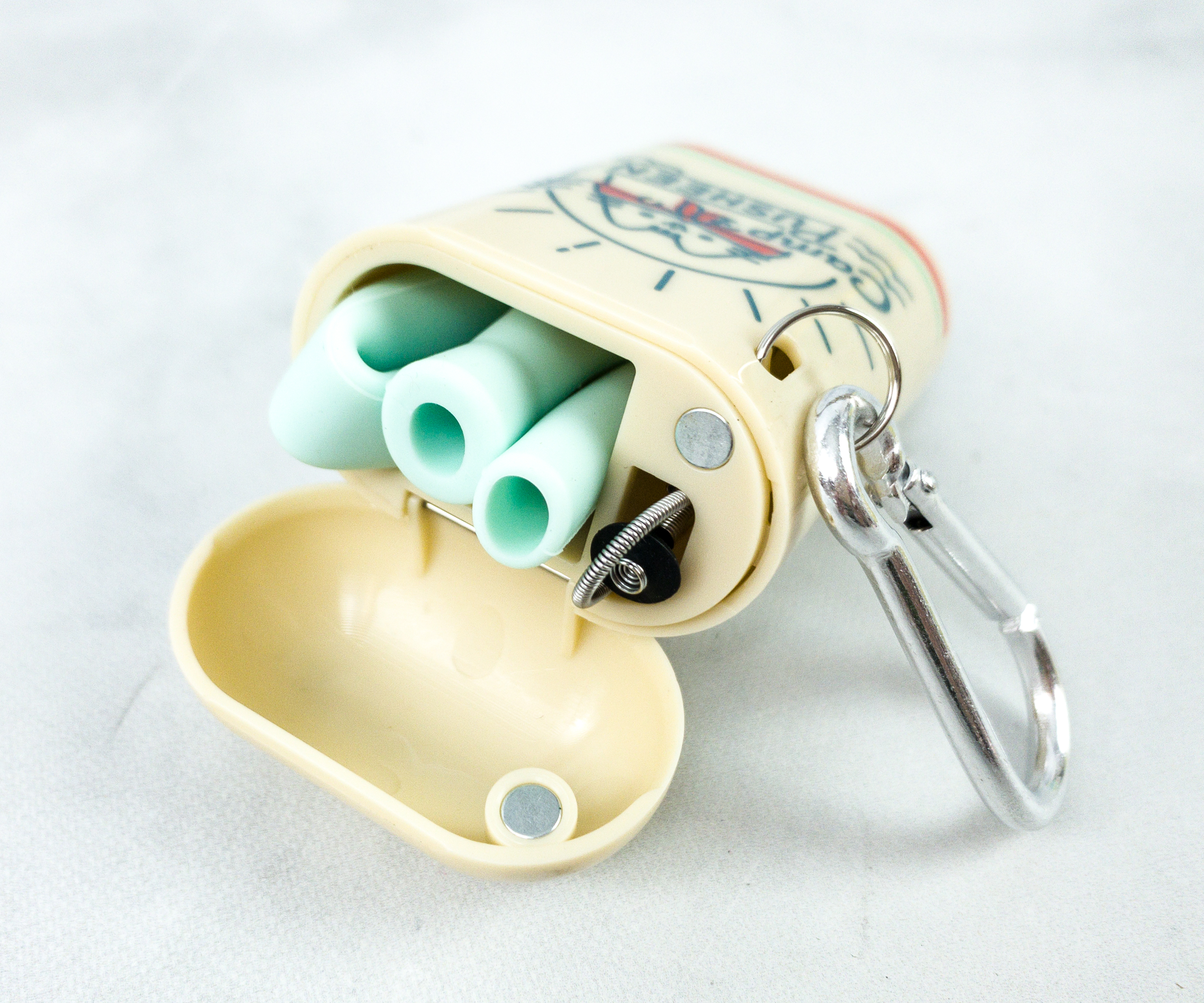 The straw is made with silicone so it can be easily folded inside the case.
The straw is in mint green. It also came with a brush for easier cleanup. What I like about this silicone straw from Pusheen Box is that it doesn't have a weird aftertaste, unlike other reusable straws.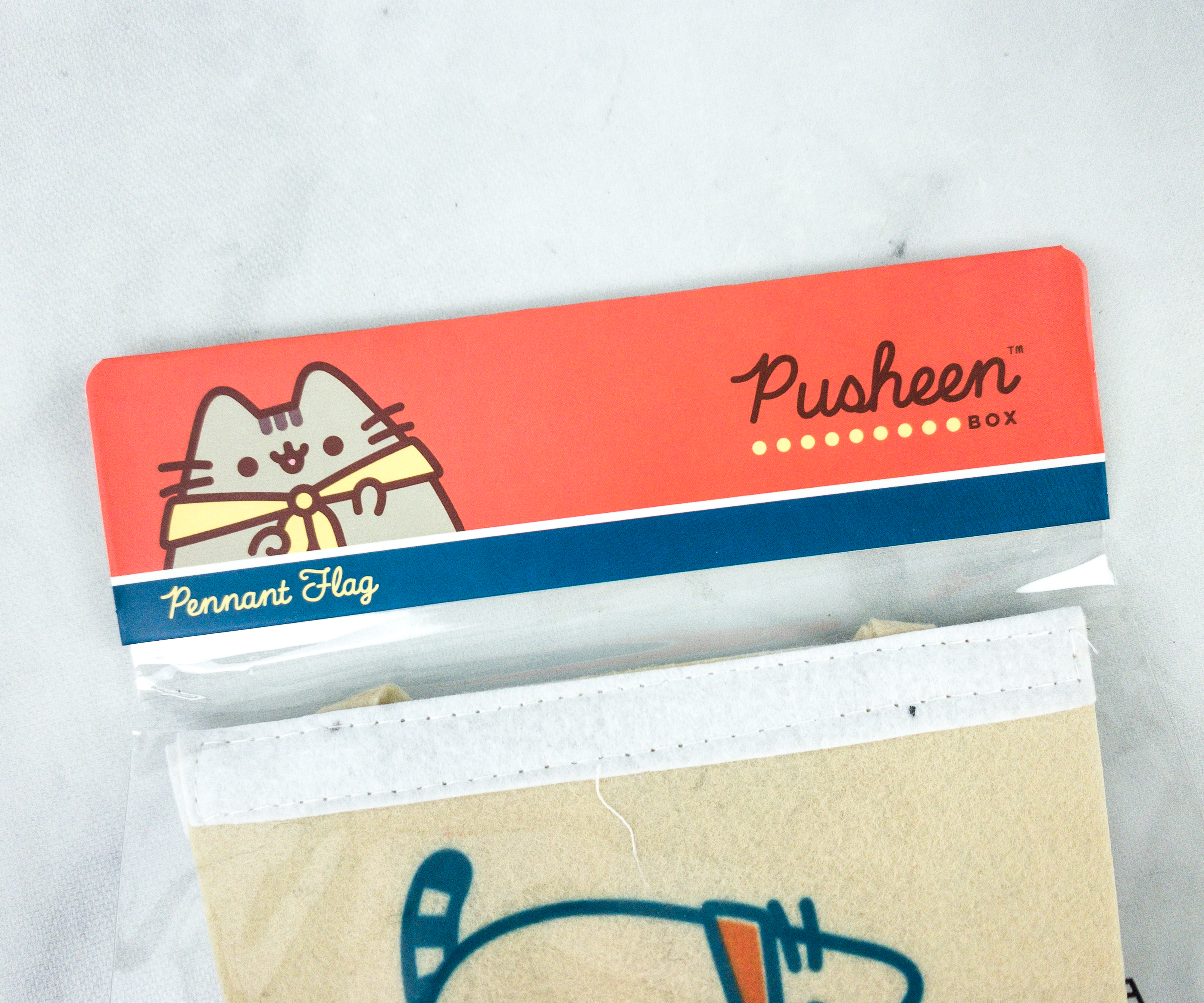 Pennant Flag. This vintage style pennant flag is so adorable! It can be displayed in your room to remind you of your camping adventures with your Pusheen items from this quarter's box, or simply because Pusheen is just too hard to resist.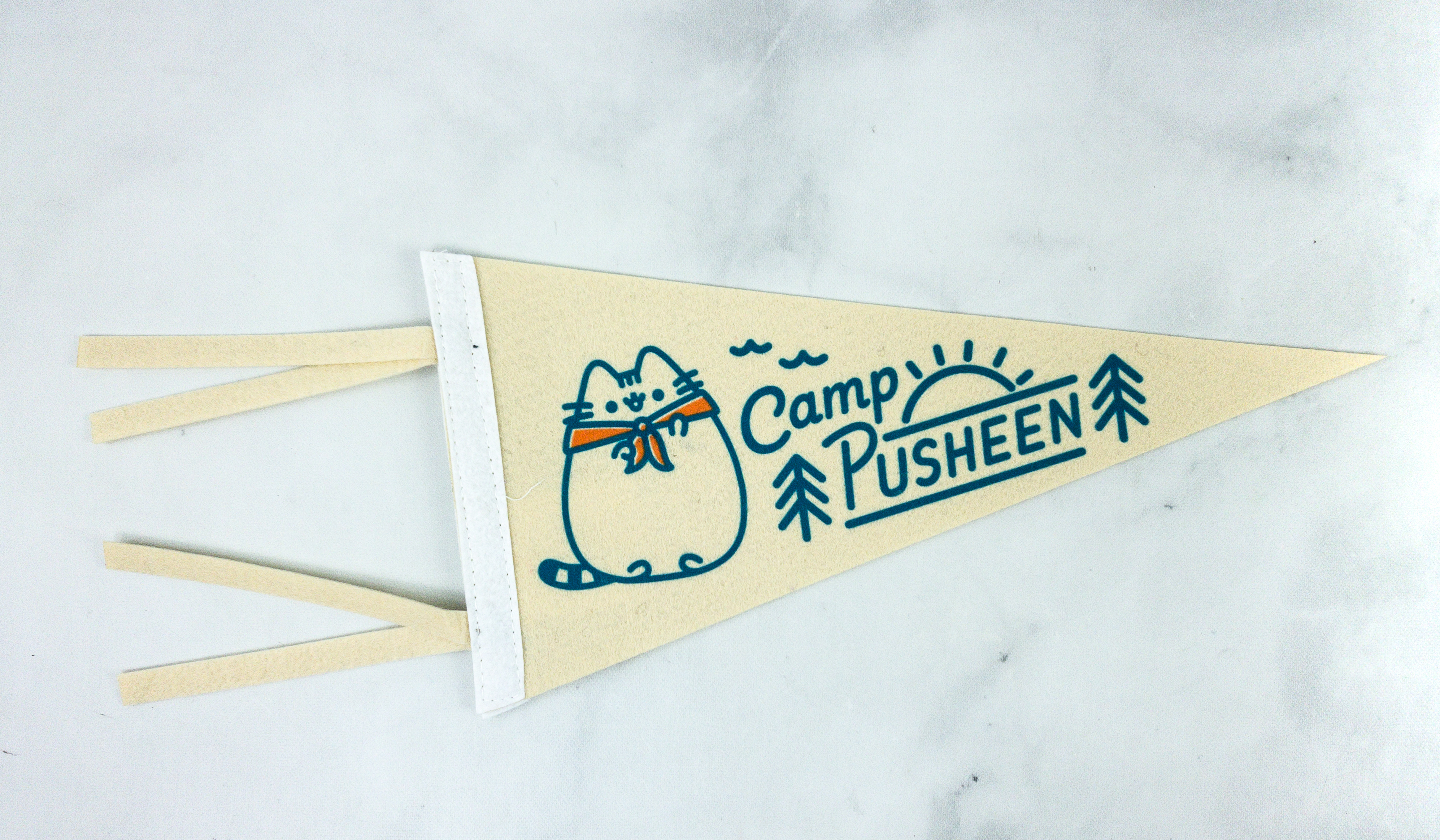 The pennant is in beige and it's made with high-quality felt. Like other items in the box, it has camping-ready Pusheen along the theme!
Here's a closer look at the pennant! I love the high-quality print!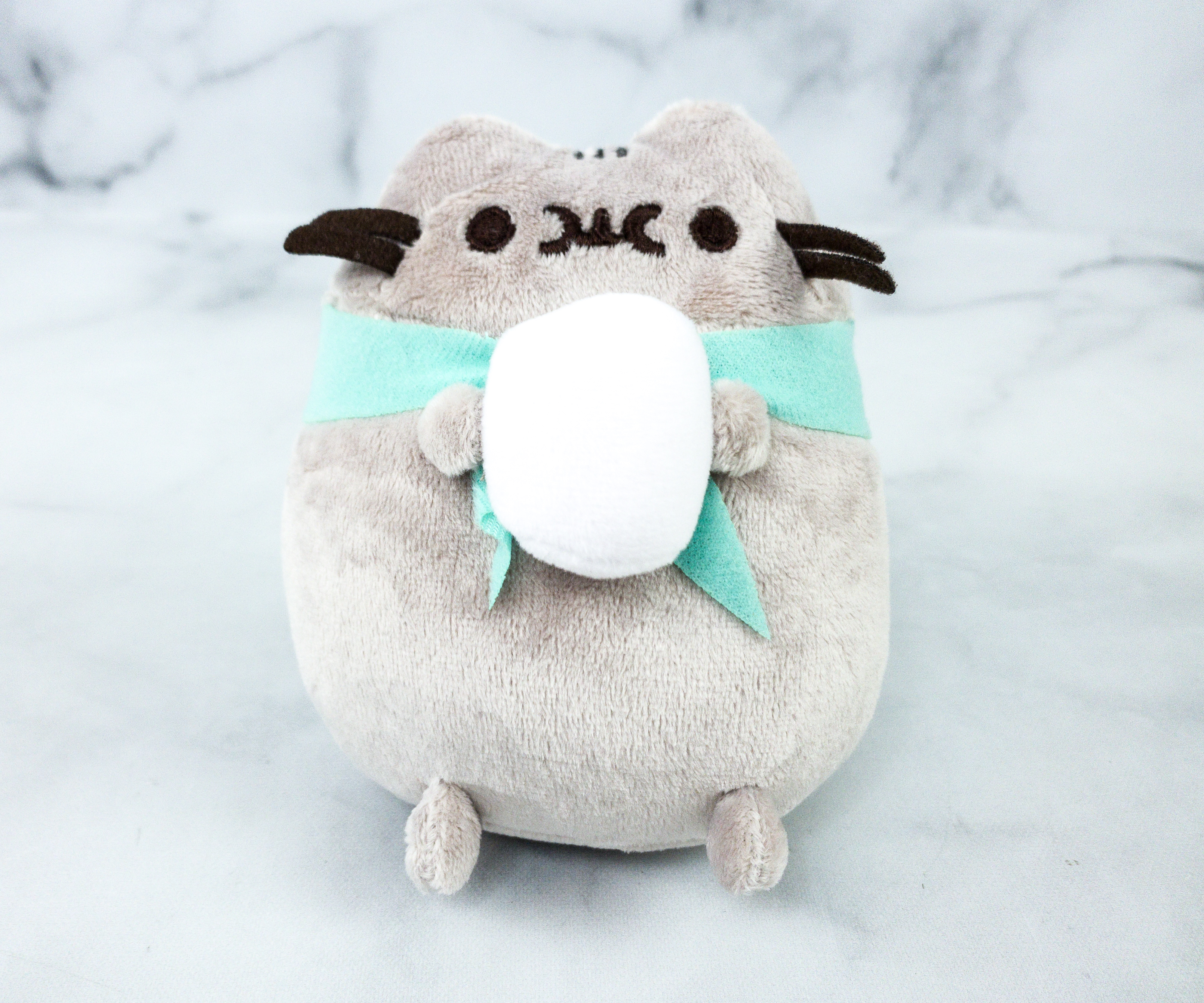 Pusheen Marshmallow Plush. I love getting new plushies from this box! For summer, the featured Pusheen plushie is holding a marshmallow!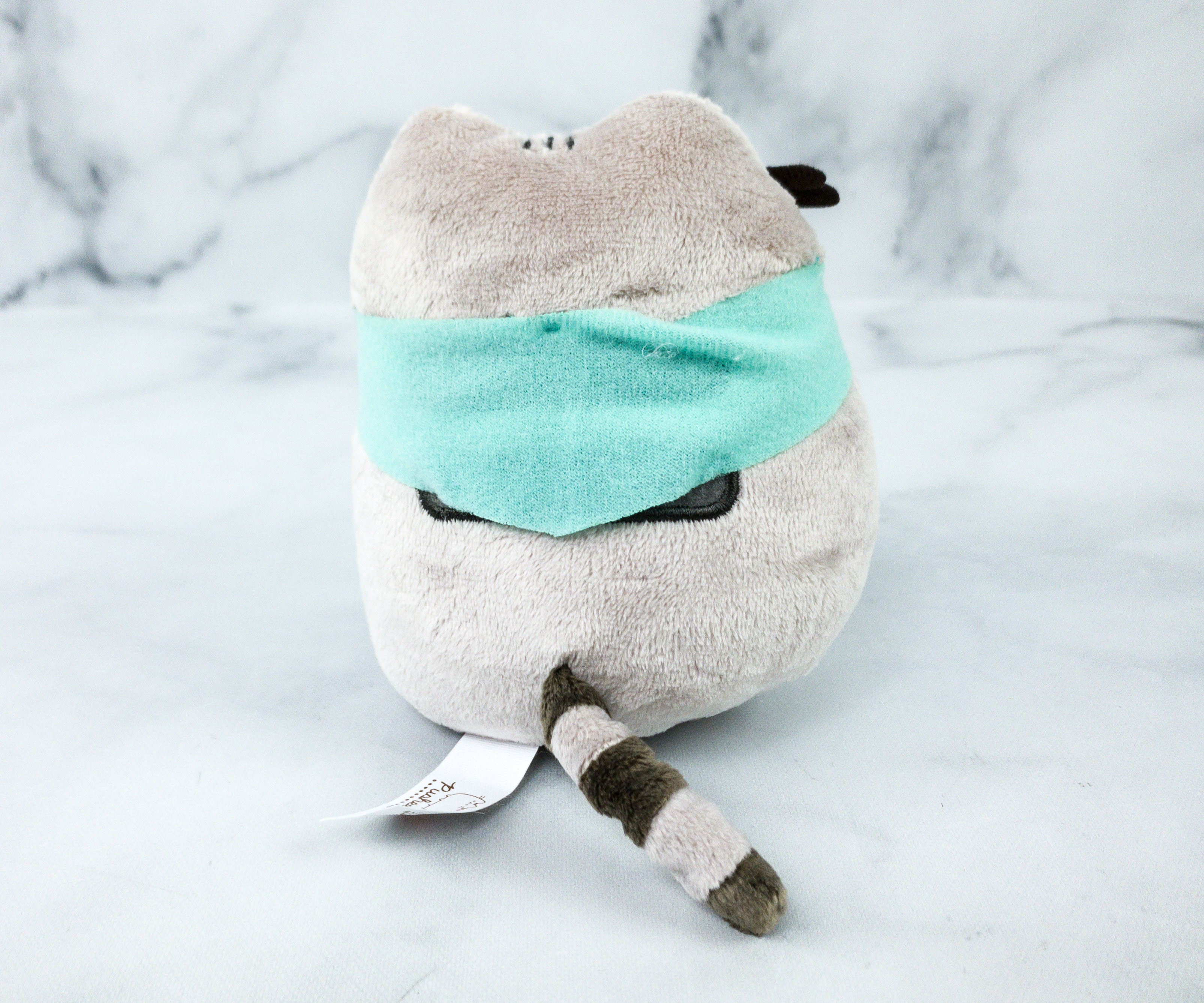 It's soft and squishy! Pusheen is also wearing a mint green scarf.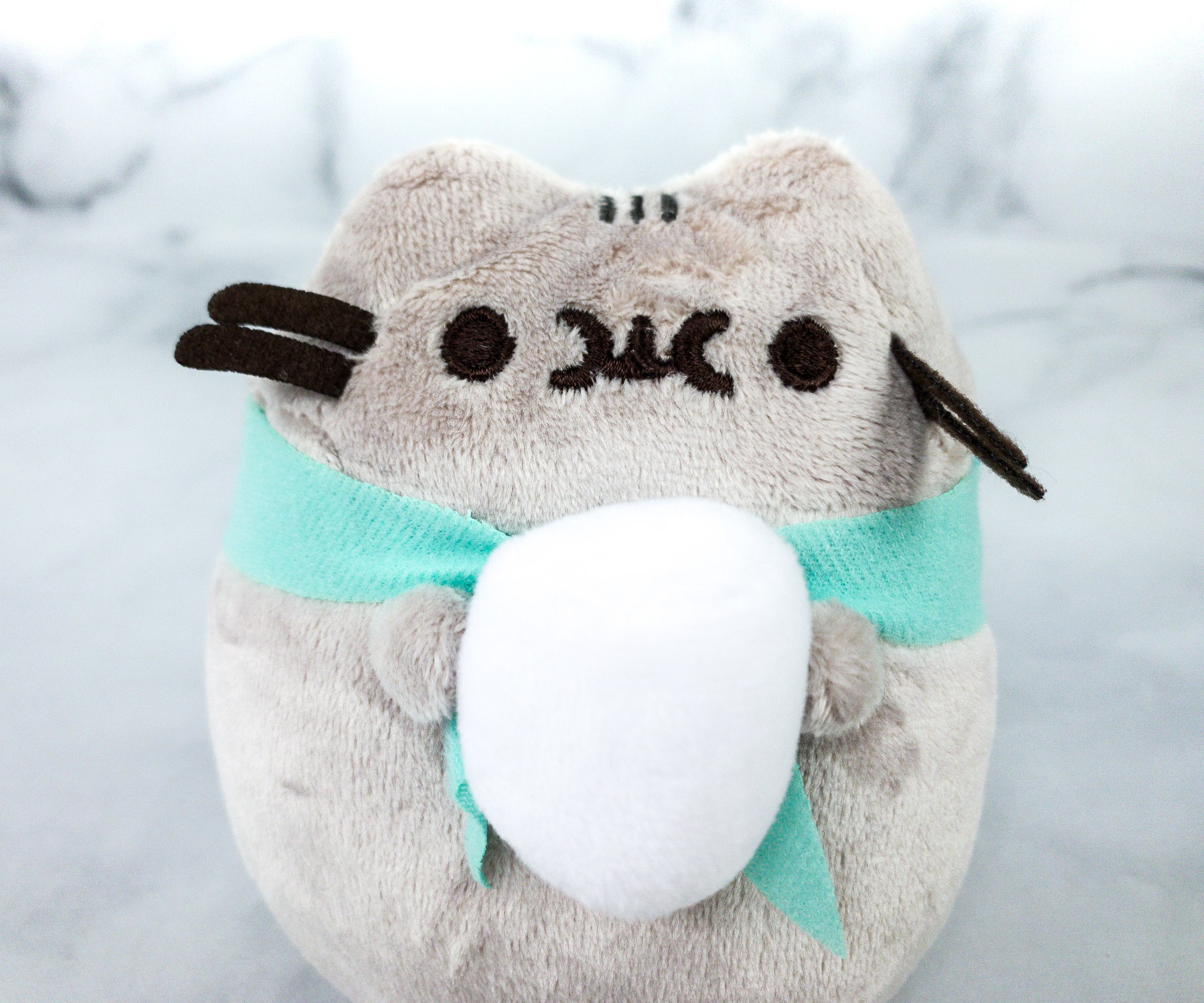 Look at this cutie! I won't really mind if Pusheen takes my marshmallow!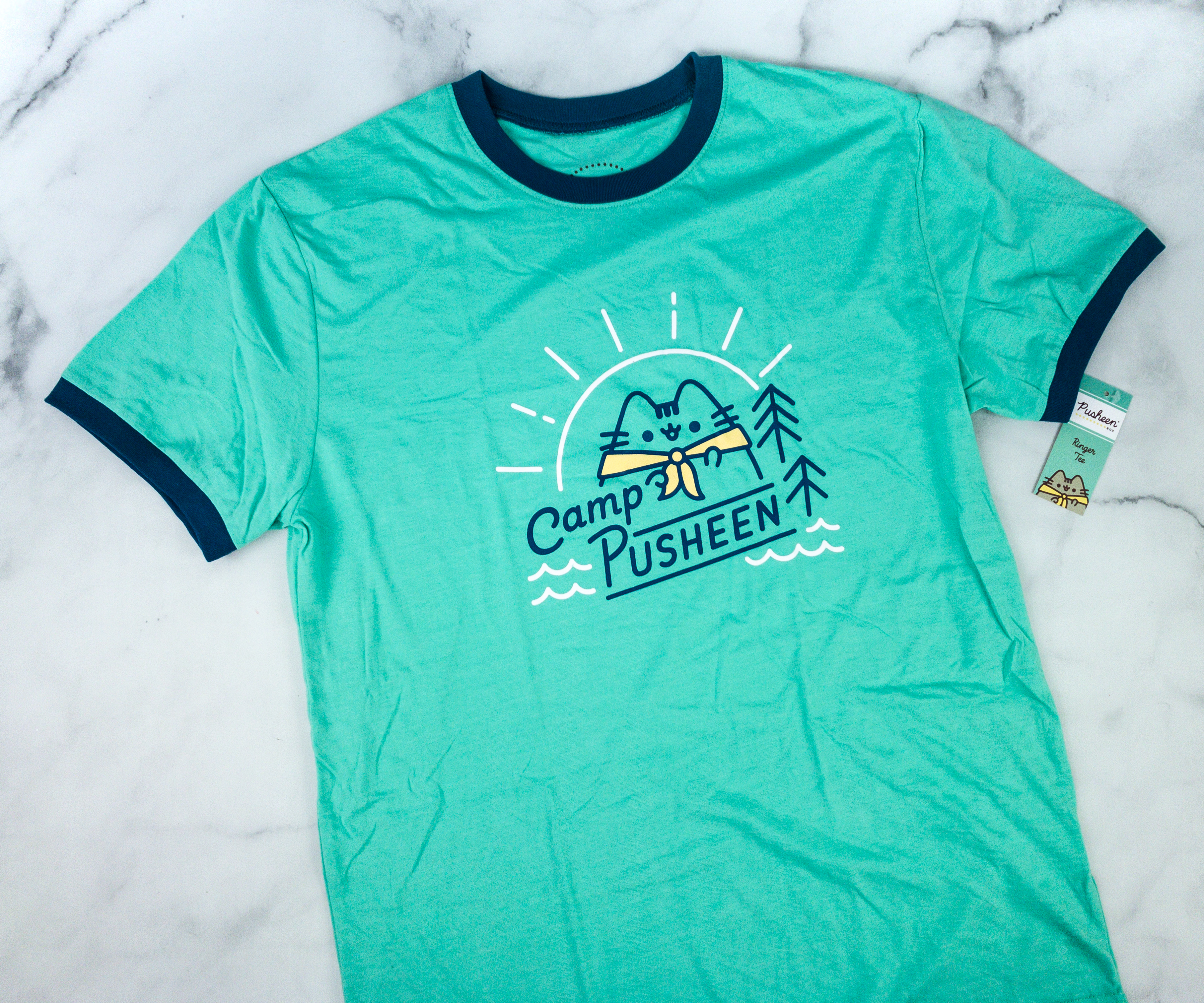 Ringer Tee. Here's a cute camping outfit, a ringer tee in sea green color!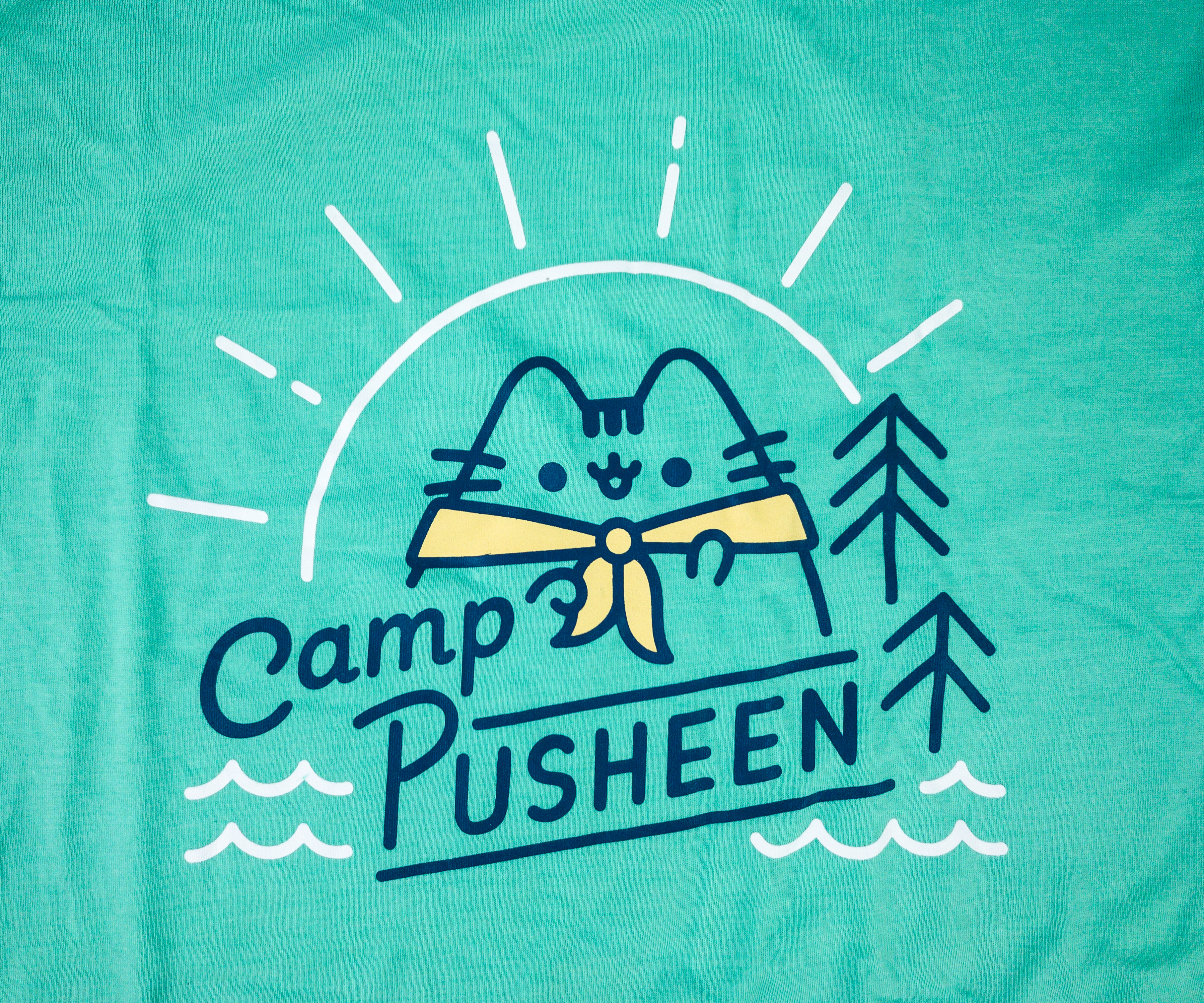 It has the Camp Pusheen print in the upper middle. I love the fabric because it's light and breathable, so it'll be comfortable enough to wear on a camping trip in the summer!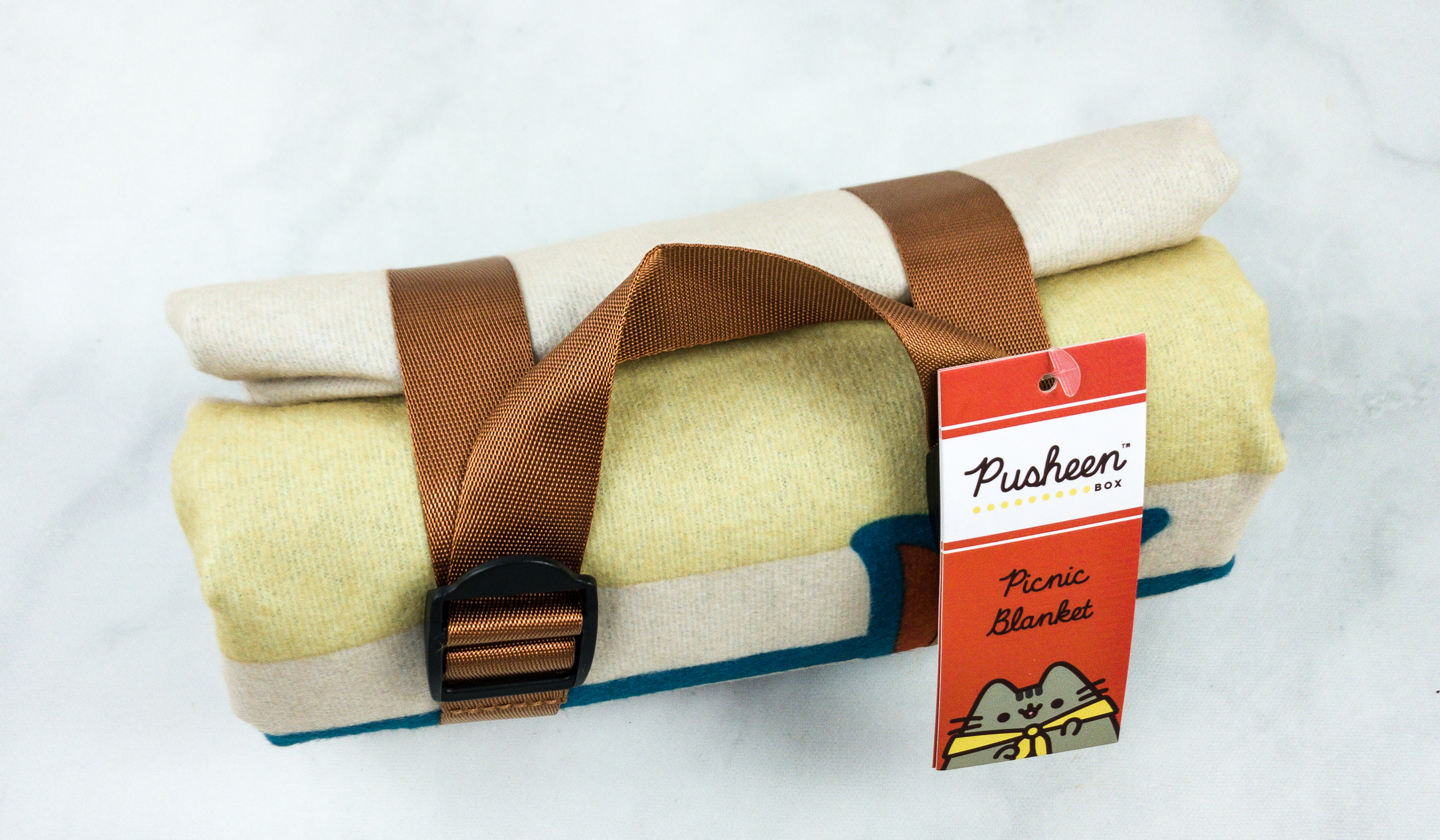 Camp Pusheen Blanket. Another camping must-have is a big blanket! This one can be easily rolled into a compact size.
It even comes with detachable straps so you can bring the blanket with you easily!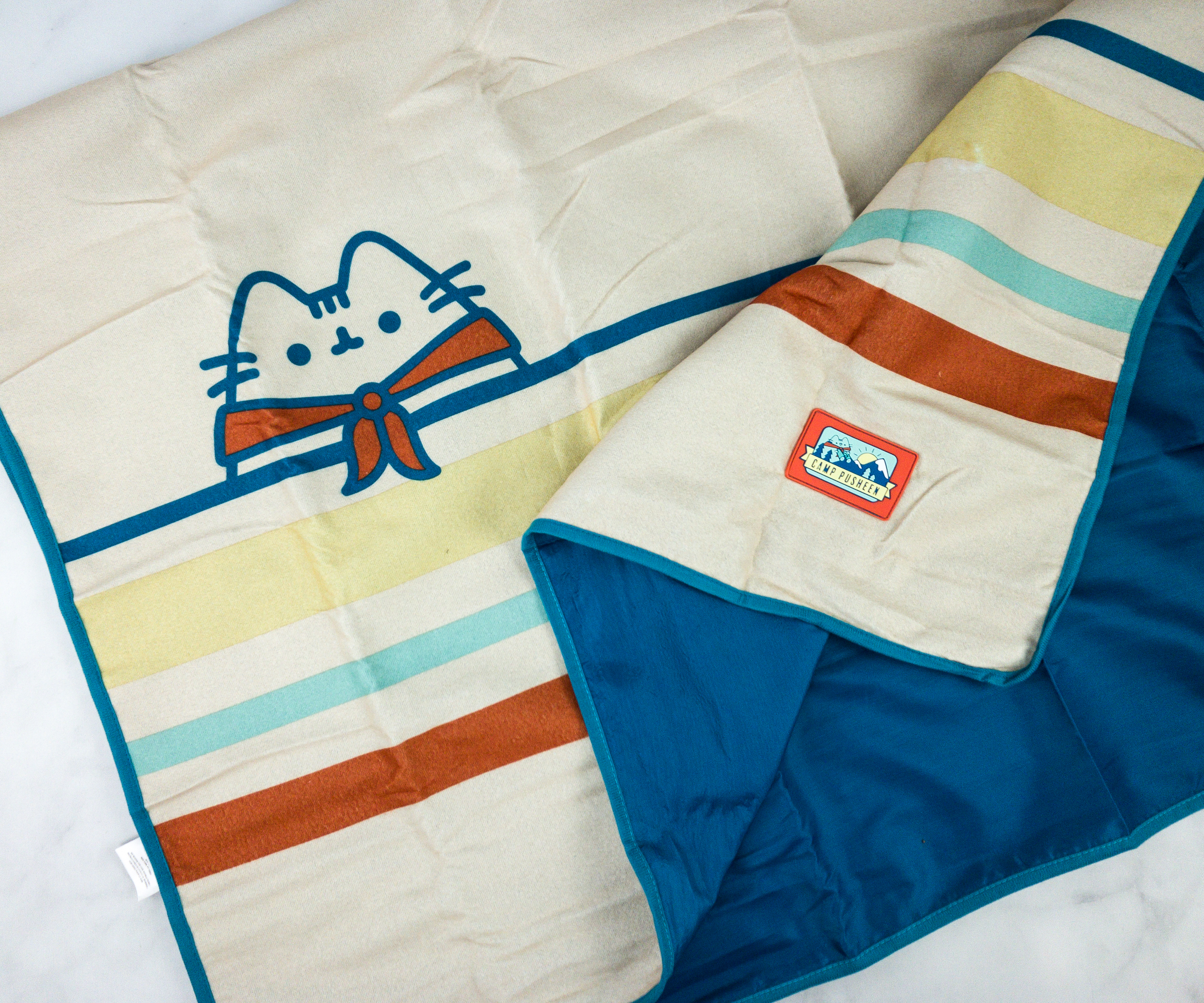 I'm loving the color scheme of this blanket! It looks somehow retro because of the yellow, green, and rust orange combination.
There was a small defect on our blanket, but it's still good to use overall!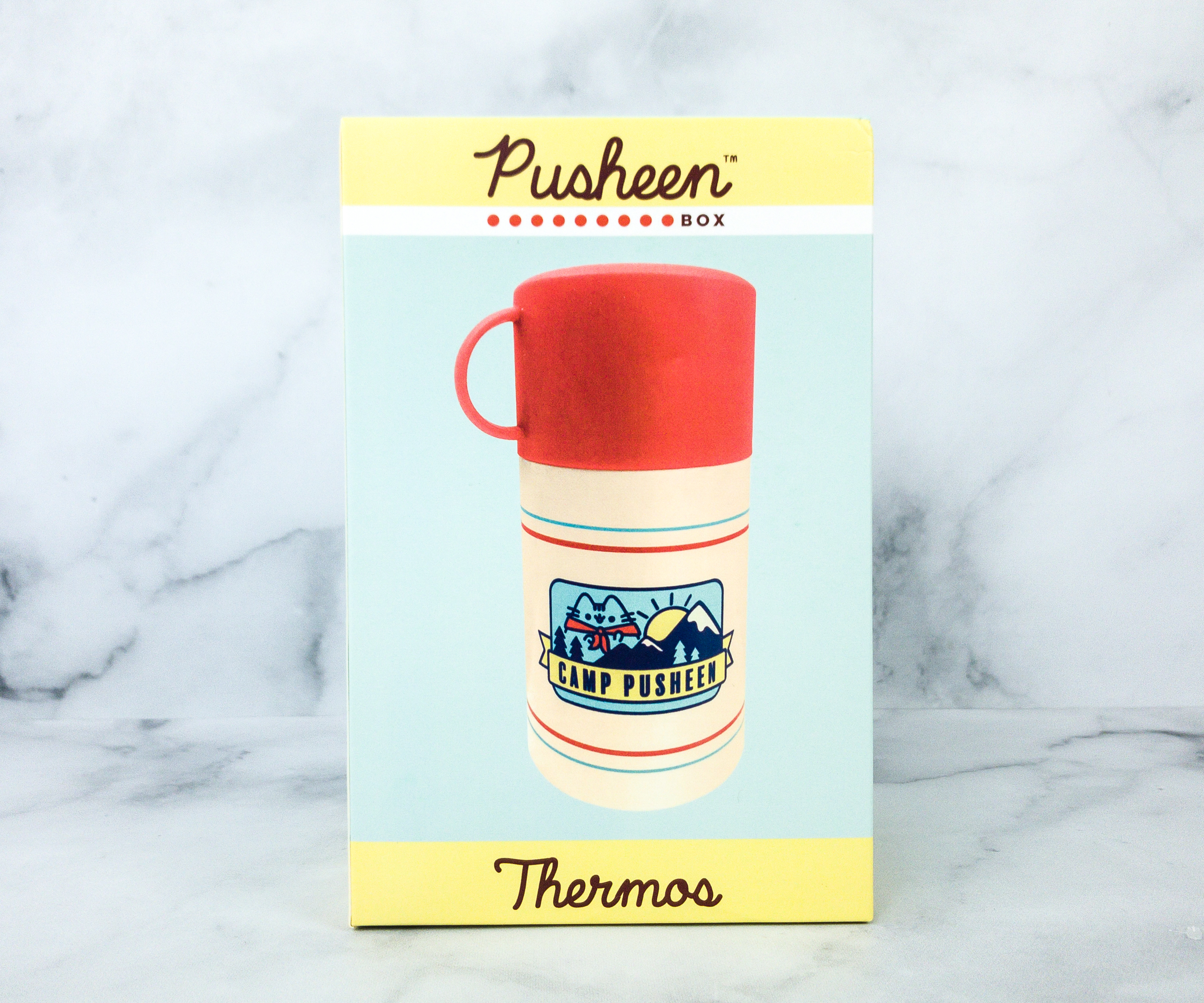 Thermos with Foldable Spoon.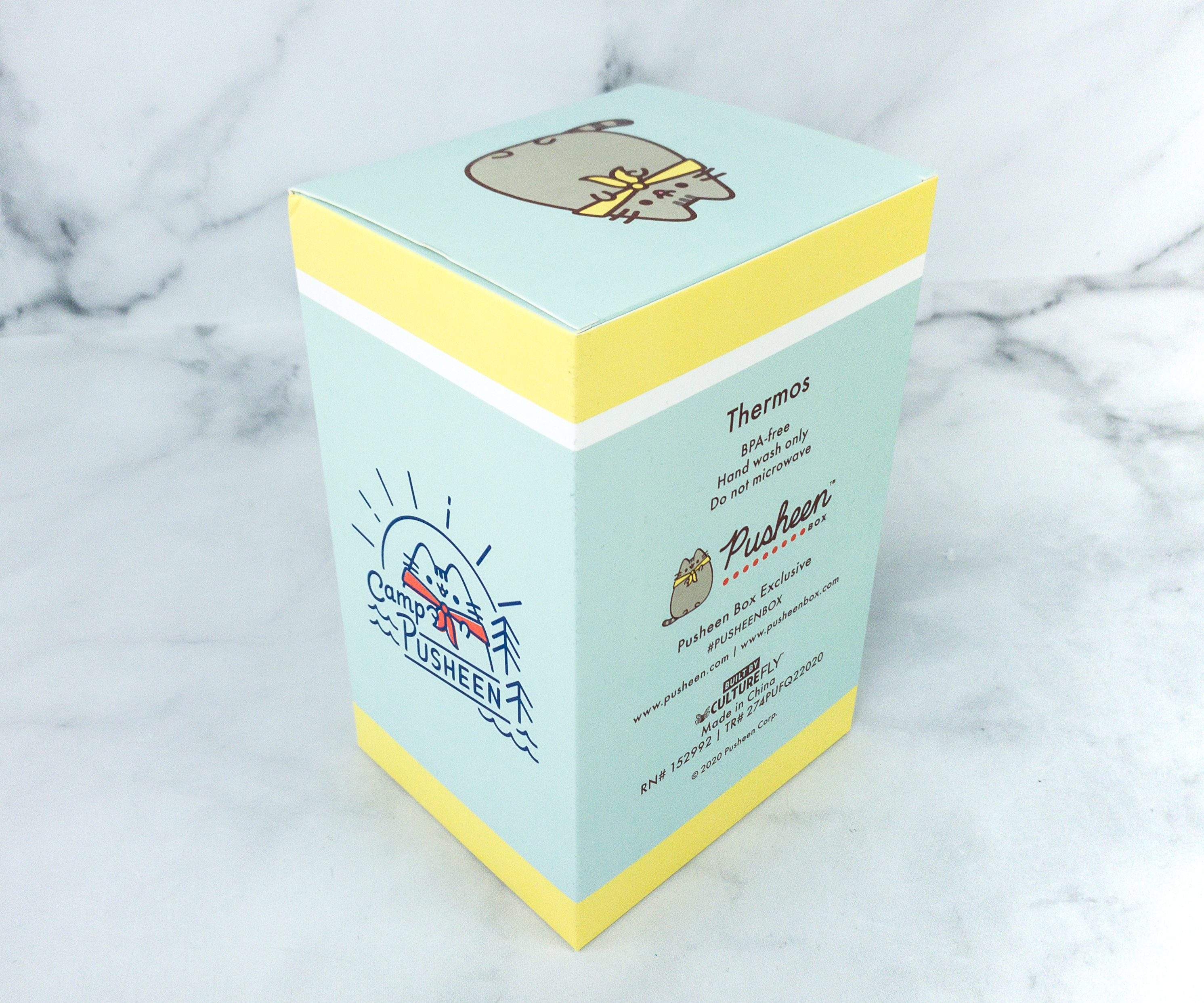 The thermos comes in a cute and sturdy box. According to the label, it's BPA-free!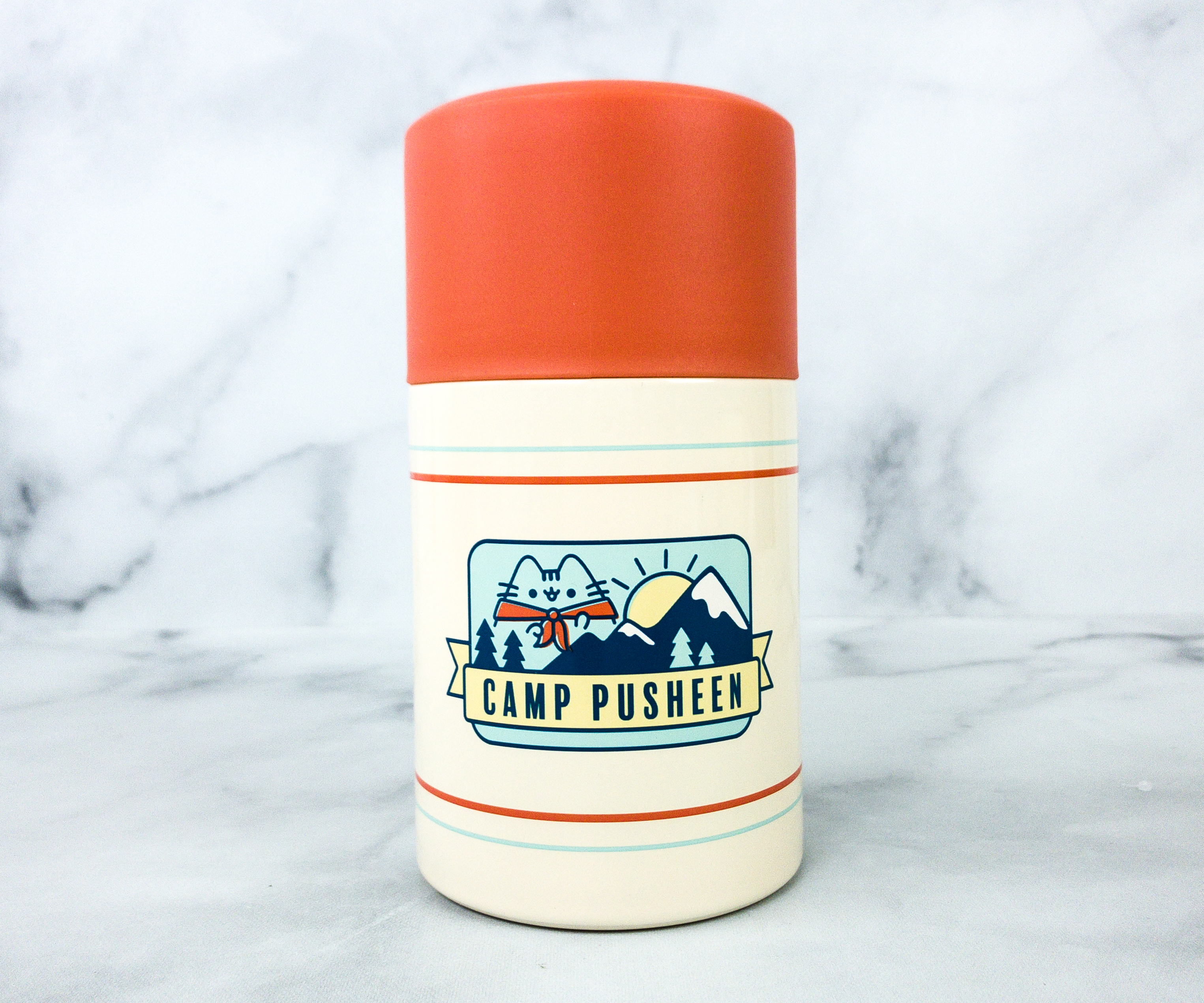 This thermos is big enough for personal use. The color scheme matches the rest of the items in this box. It also has a rust orange screw cap that also doubles as a cup!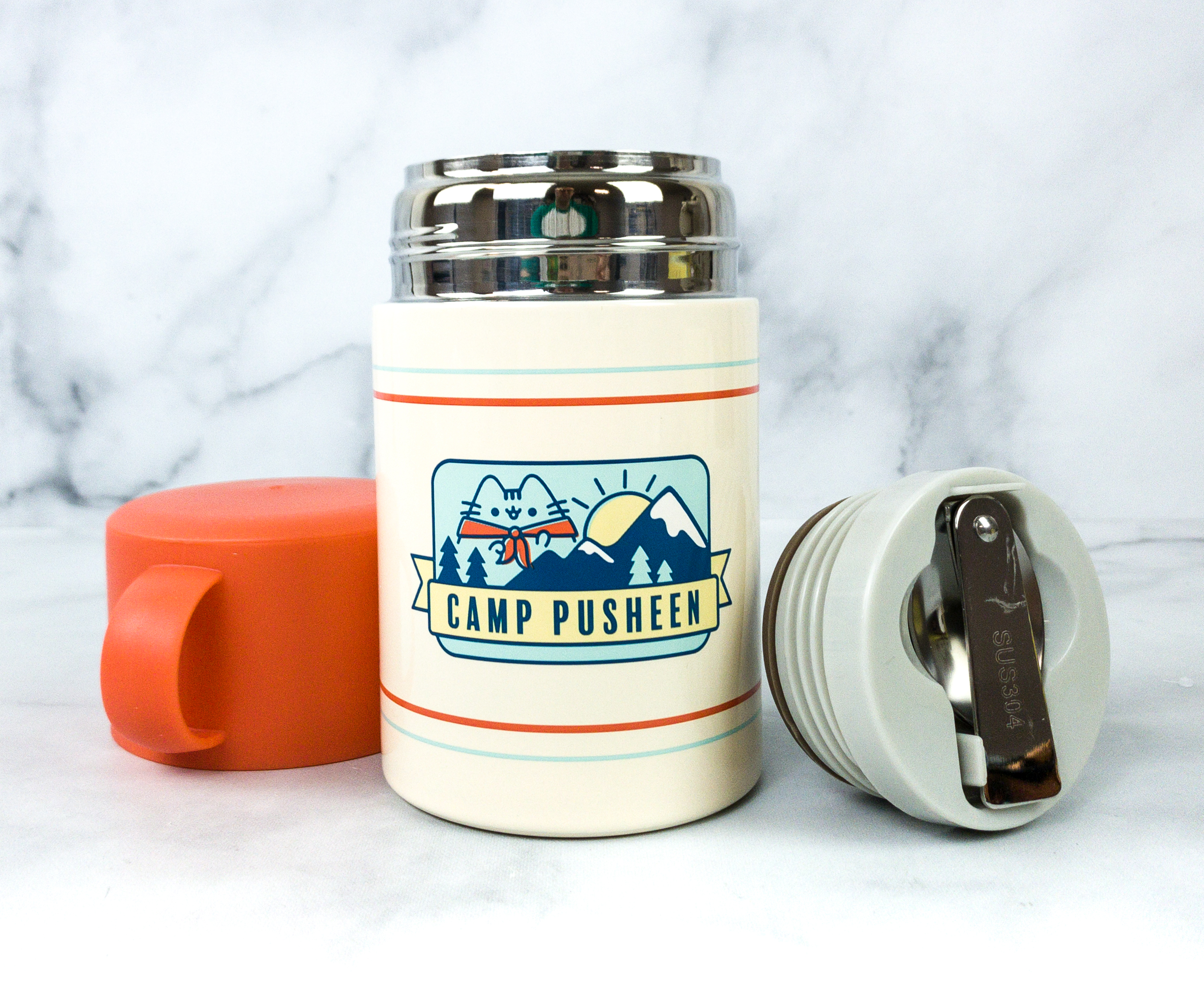 This is great for bringing hot drinks, soup, and other hot food you'd like to enjoy on your camping trip or when you're on-the-go.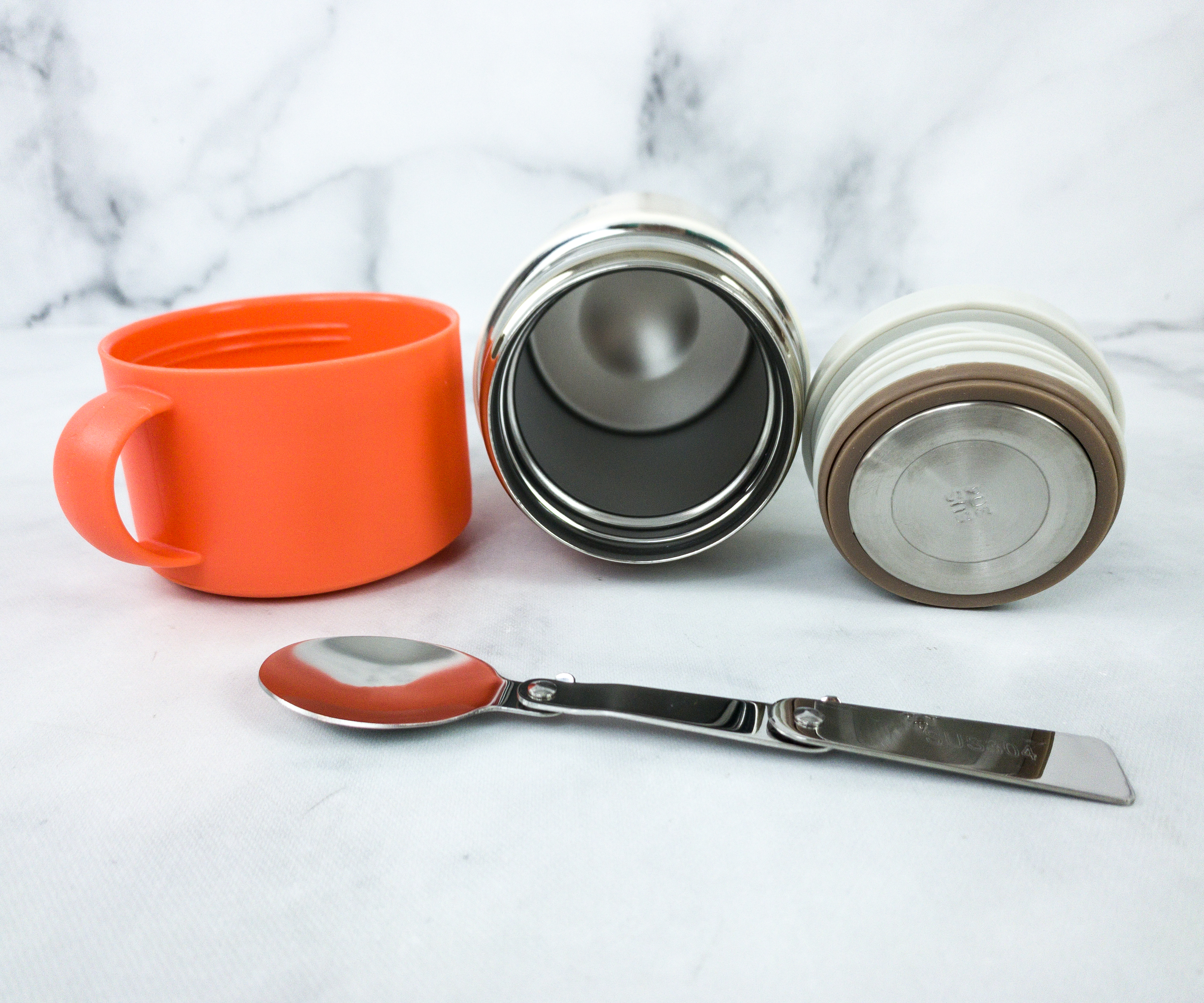 It even comes with a foldable spoon so you can eat soup and other hot food as well!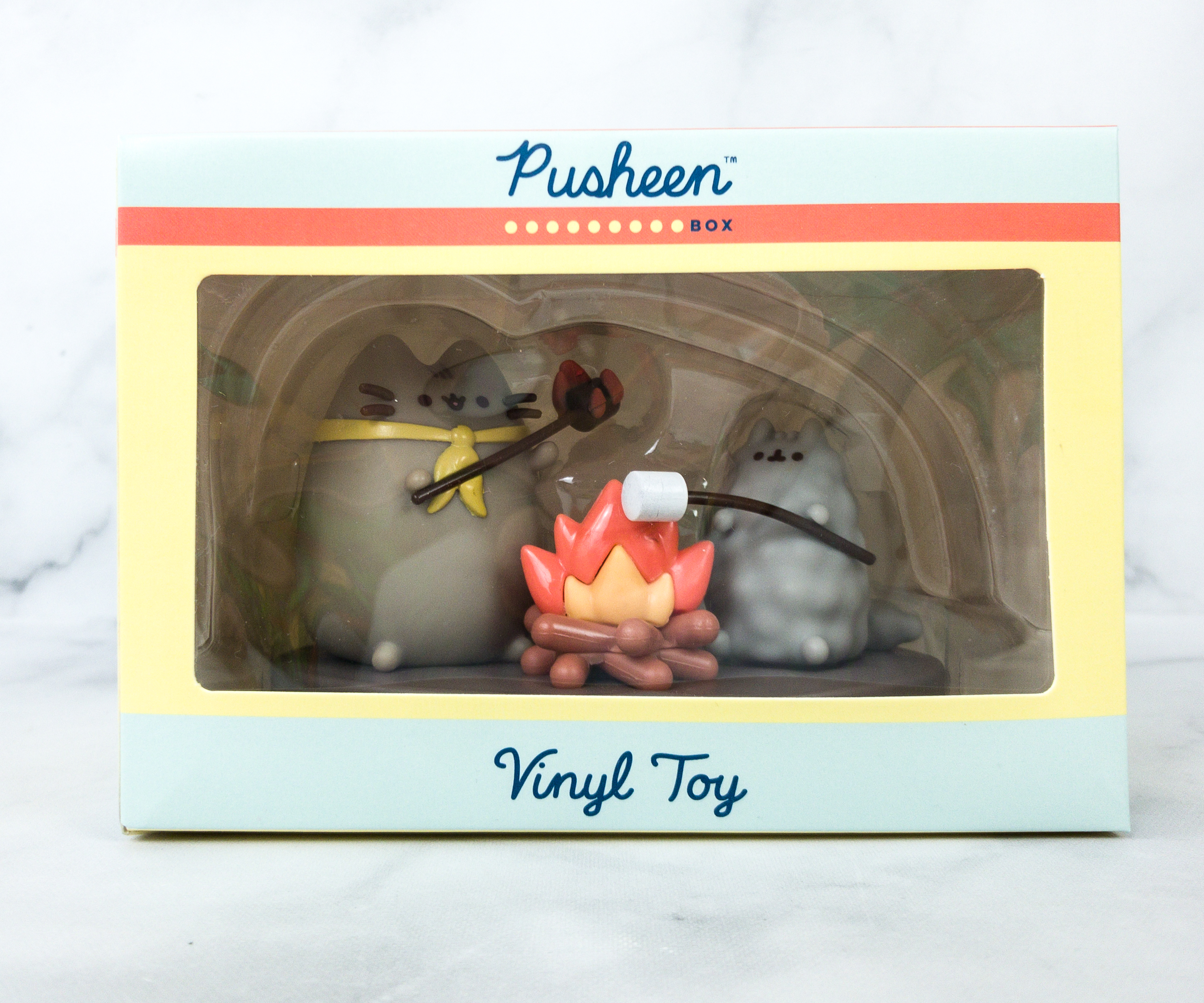 Pusheen Bonfire Vinyl Figure. No Pusheen Box is ever complete without a vinyl figure! Still in line with the camping theme, it features Pusheen and her sister Stormy with a bonfire!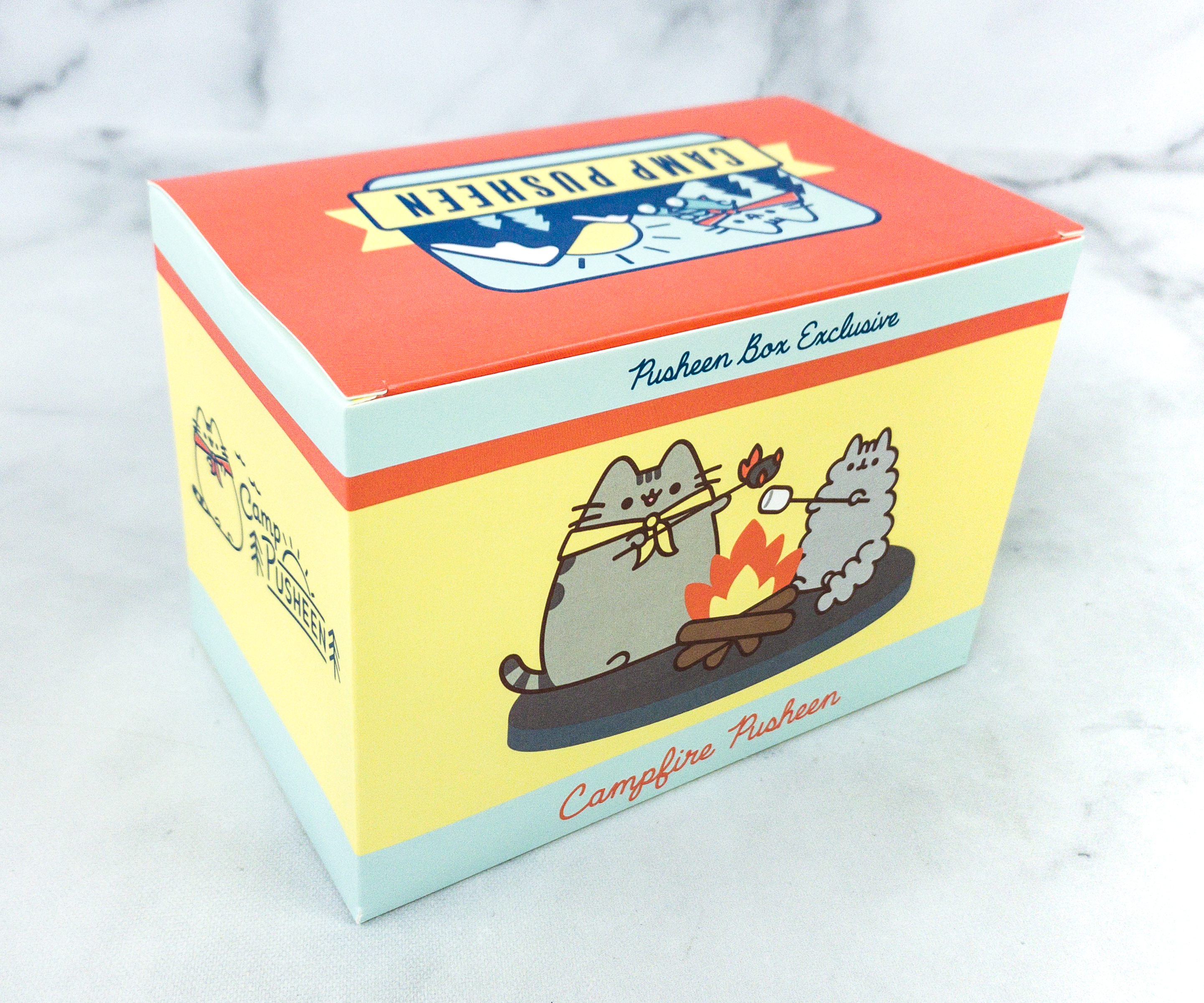 The vinyl figure arrived safe and sound inside its own box packaging.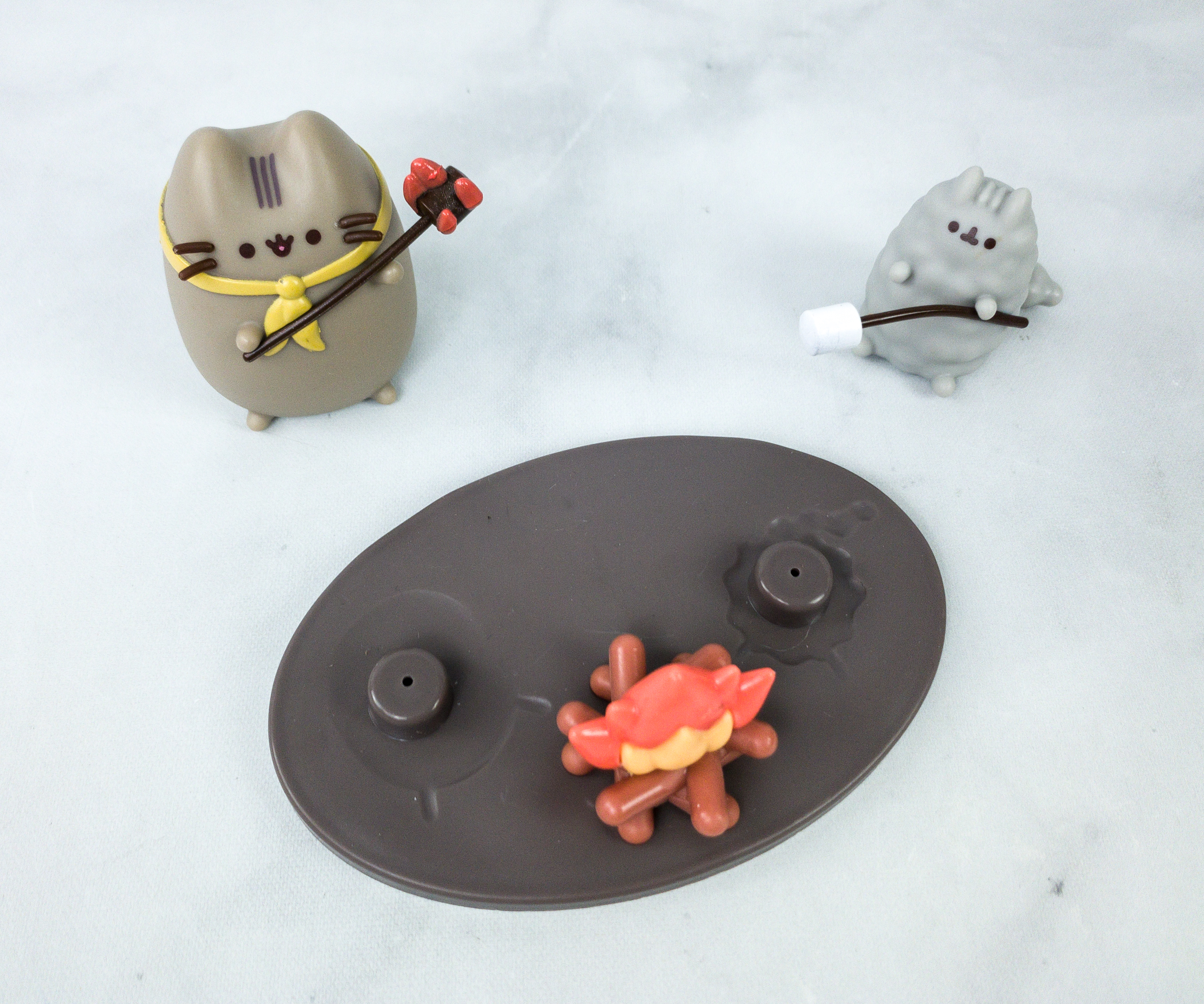 The Pusheen and Stormy figures are detachable from the base that contains the bonfire.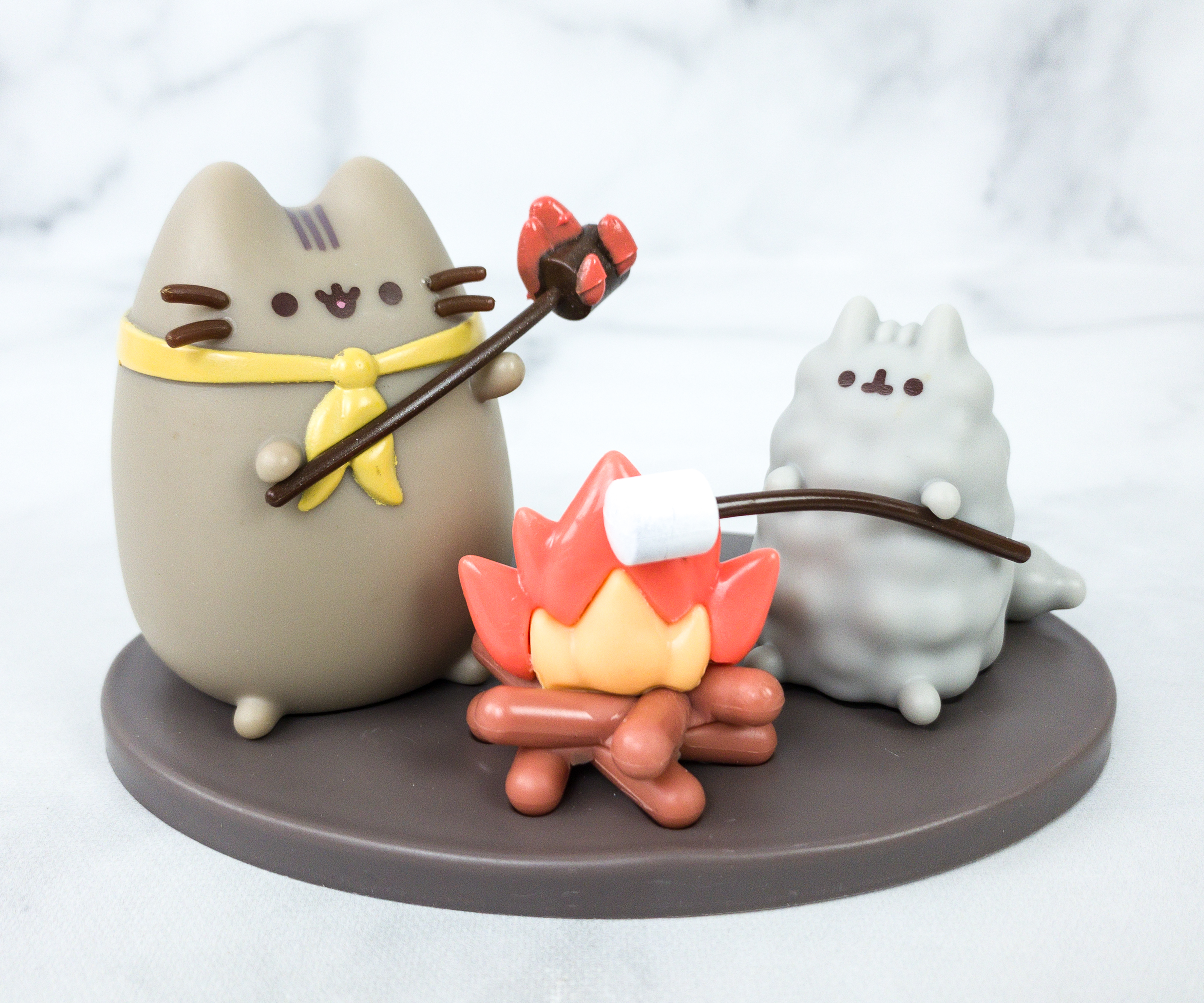 They are roasting marshmallows! Yum!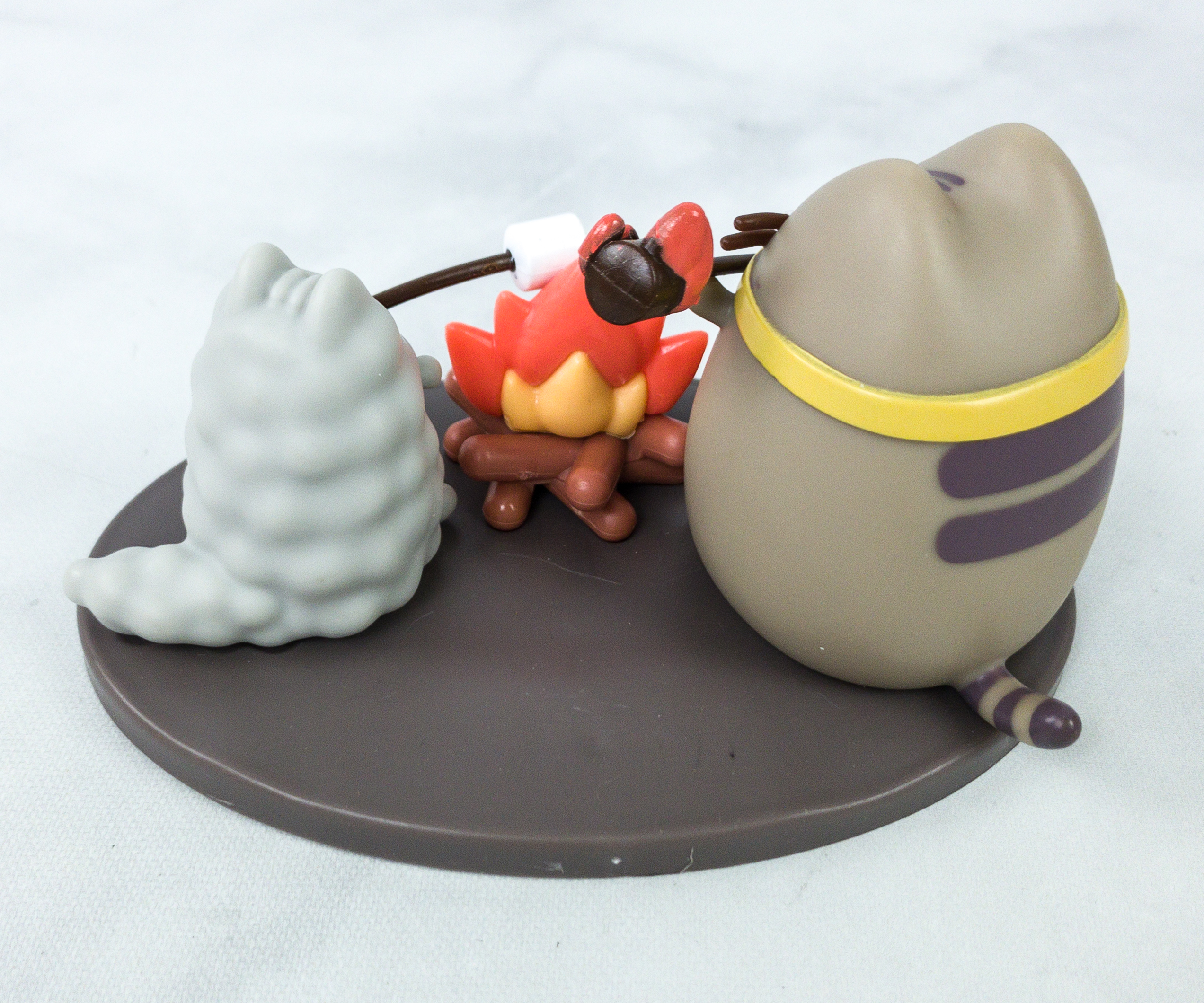 As expected, vinyl figures from Pusheen Box are well-made. They're adorable and they make great displays as well!
Pusheen Box is the ultimate subscription for Pusheen fans! They come up with new themes every quarter and I love that they are consistent with it throughout each box. The Summer box is camping themed! Some of the included items are useful for an outdoor adventure, especially the straw, thermos, and blanket. There are also some adorable camping-themed items for display, like the patches, pennant, vinyl figure, and plushie. My favorite is definitely the thermos! It keeps my drinks and soups hot for a long time, so I can enjoy them even when on a camping trip. Although the box ships only 4 times a year, they make sure that the items are worth it. They're also exclusive, so you can take pride in having them in your Pusheen collection! This summer's box was just so great for some outdoorsy fun plus collectible goodies – I couldn't be happier with this one!
What did you think of the Pusheen Box this Summer?