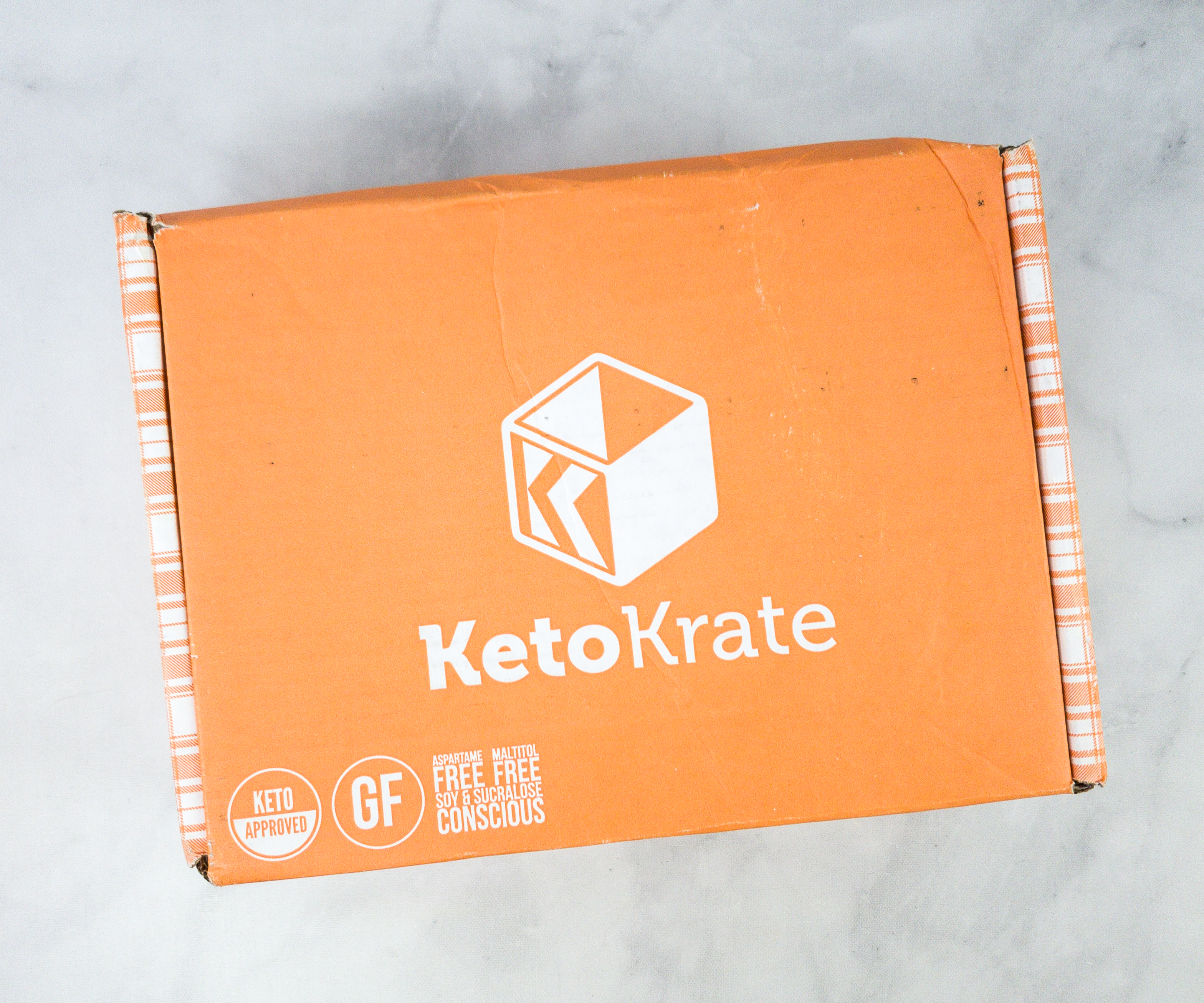 Keto Krate offers a subscription box for those who love keto snacks! Every month, members receive 10+ full-sized keto snacks with less than 5g net carbs per serving, as well as printed insert including keto tips, keto recipes, keto advice, member case studies, and other information to keep you inspired with your keto journey. Members also get VIP access to the members-only KetoShop and Krate.Club. KetoShop is where you can discover and purchase more keto-friendly goodies including past Krates and one-off items. Krate.Club is where you'll find more useful information, discounts, recipes, and more for the current month's KetoKrate! The subscription costs $39.99 a month, plus free shipping.
DEAL: Get $10 off your first Krate! Use coupon code HELLO100FF.
As always, the box is full of low-carb snacks!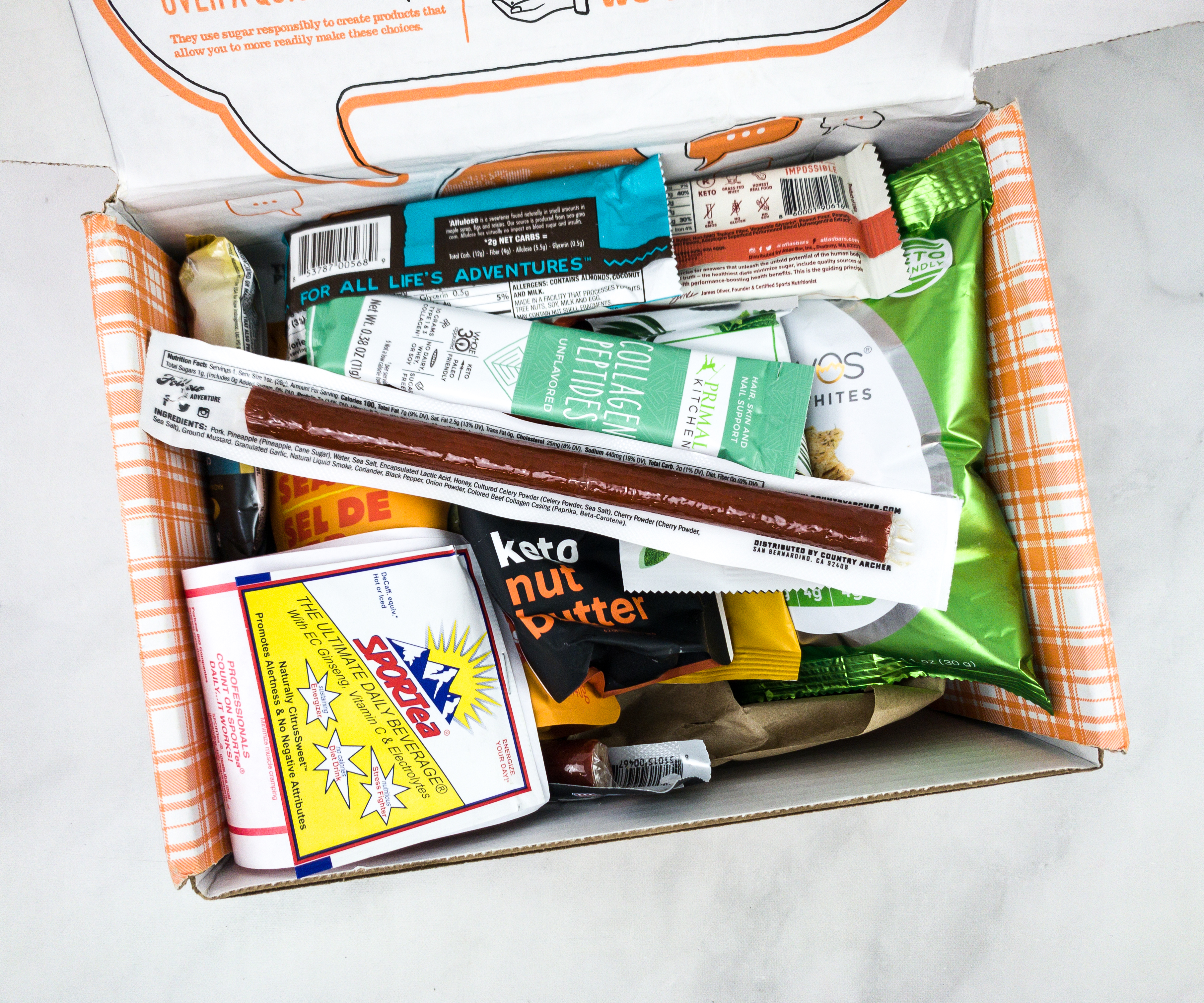 The box has no extra packaging, fillers, or squiggles.
The inner lid of the box contains some positive messages and more information about the snacks they feature.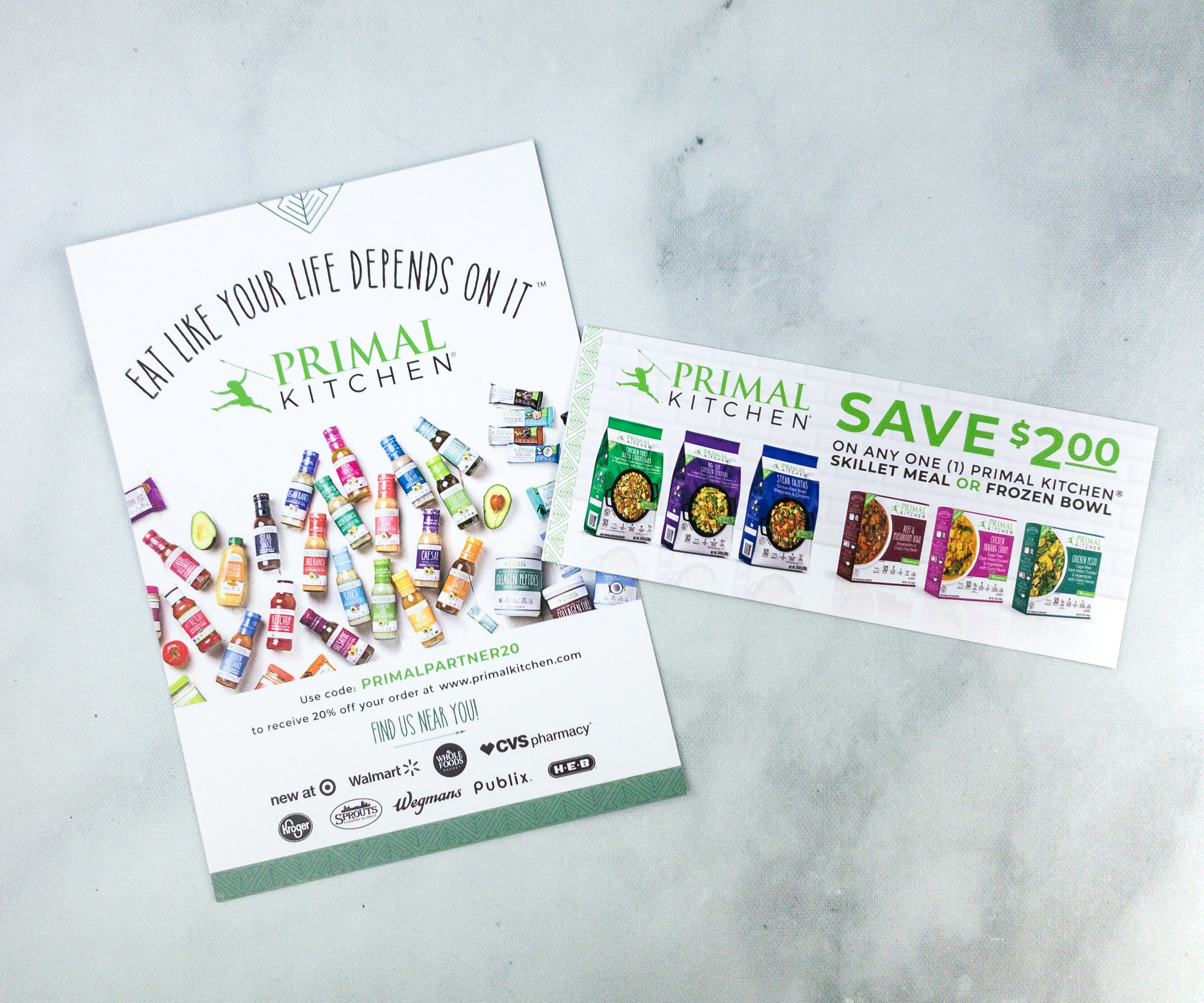 This month's box includes coupons from Primal Kitchen!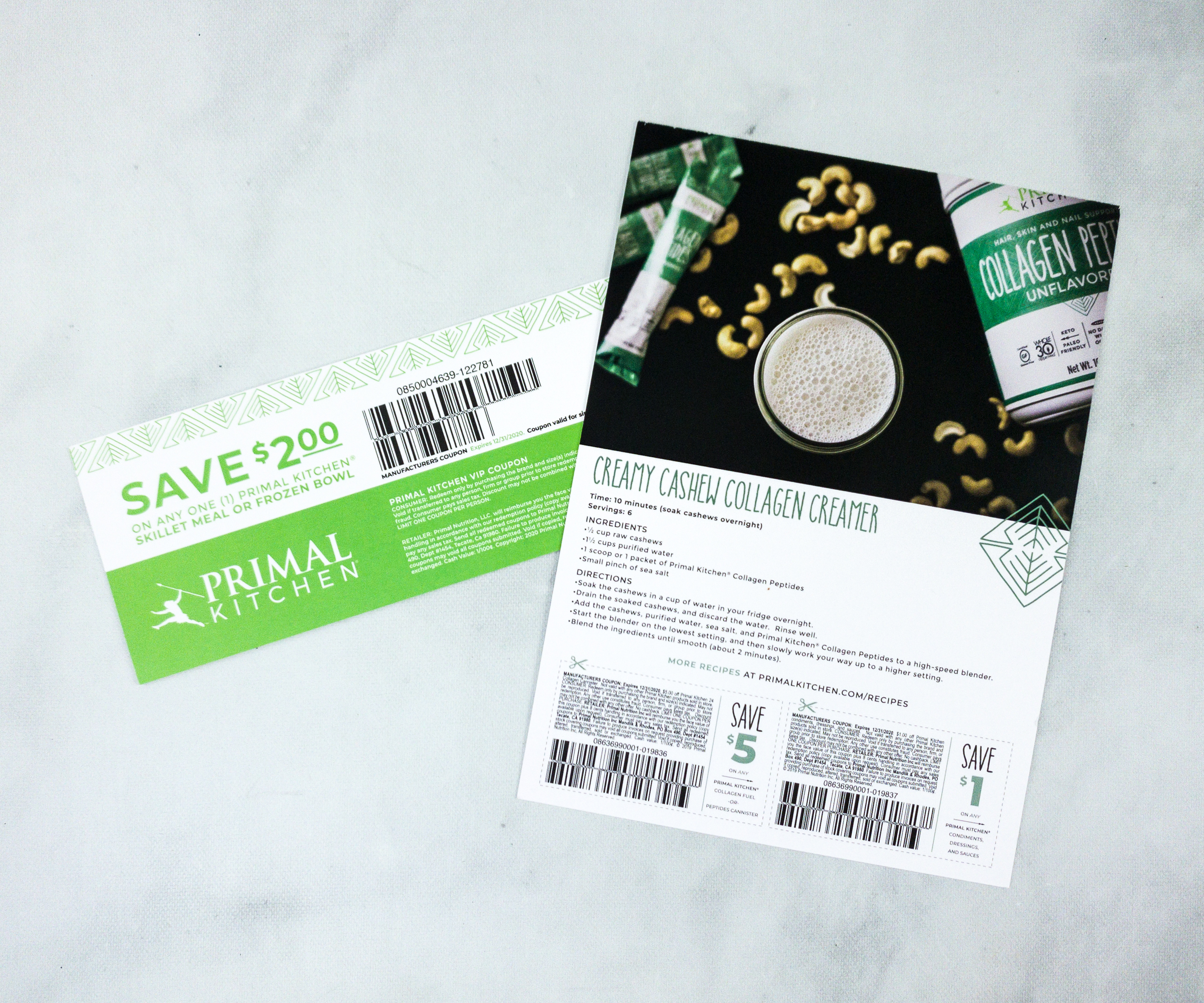 They even shared a recipe for Creamy Cashew Collagen Creamer.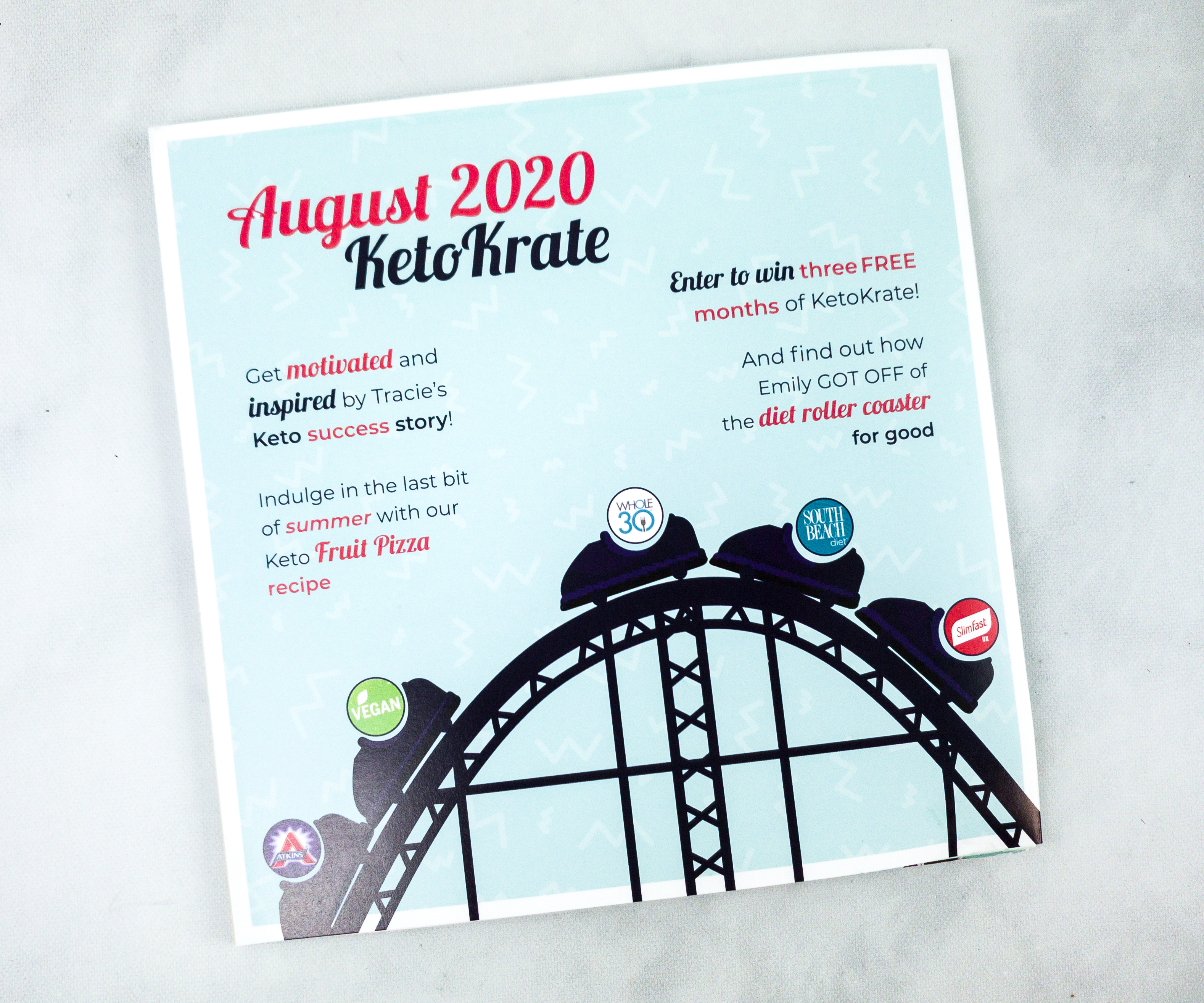 Here's this month's KetoKrate booklet!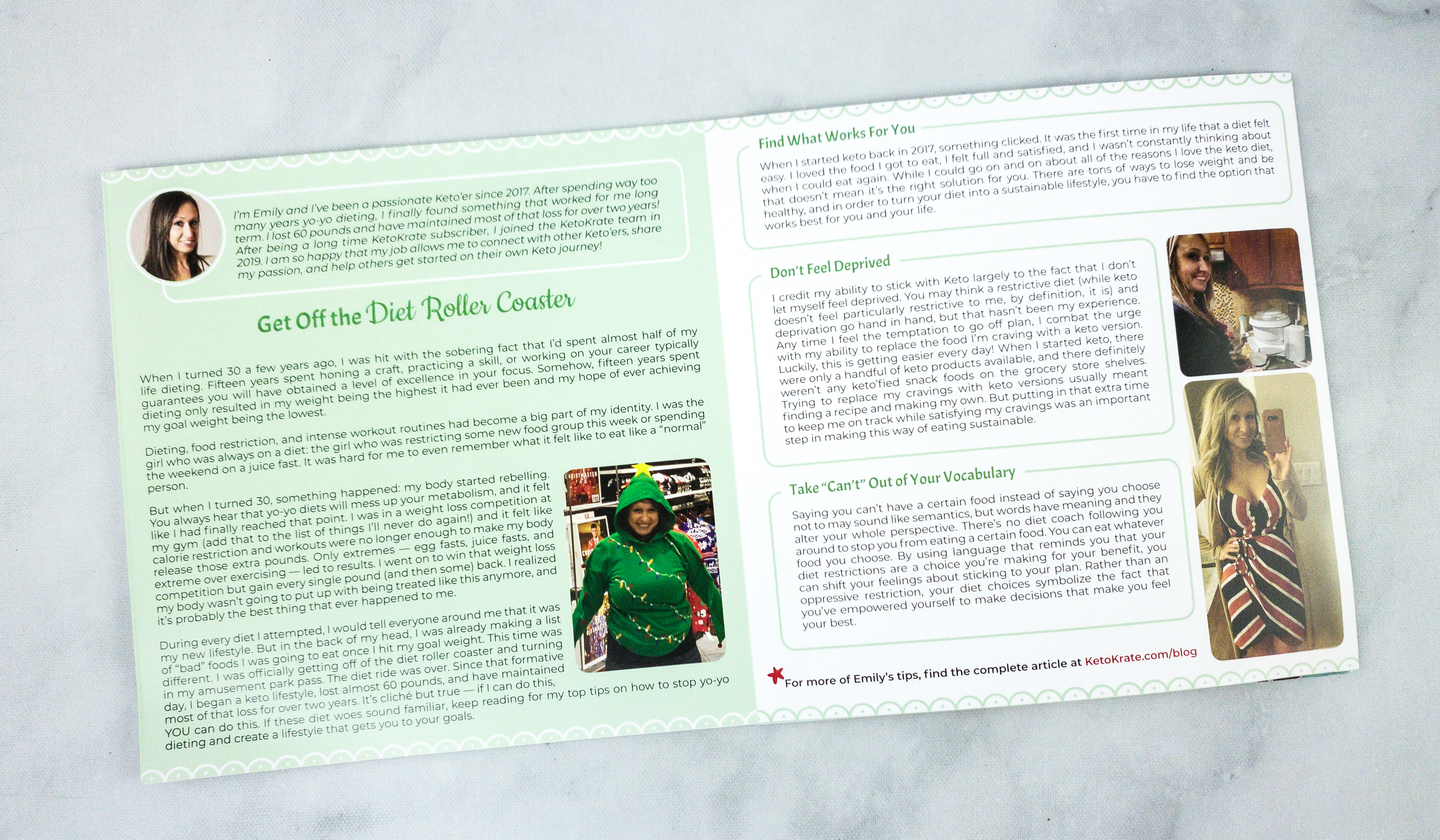 It features inspiring stories of people who are on a keto diet, plus tips!
This part of the booklet has instructions on how to manage your subscription and how to access the members-only KetoShop!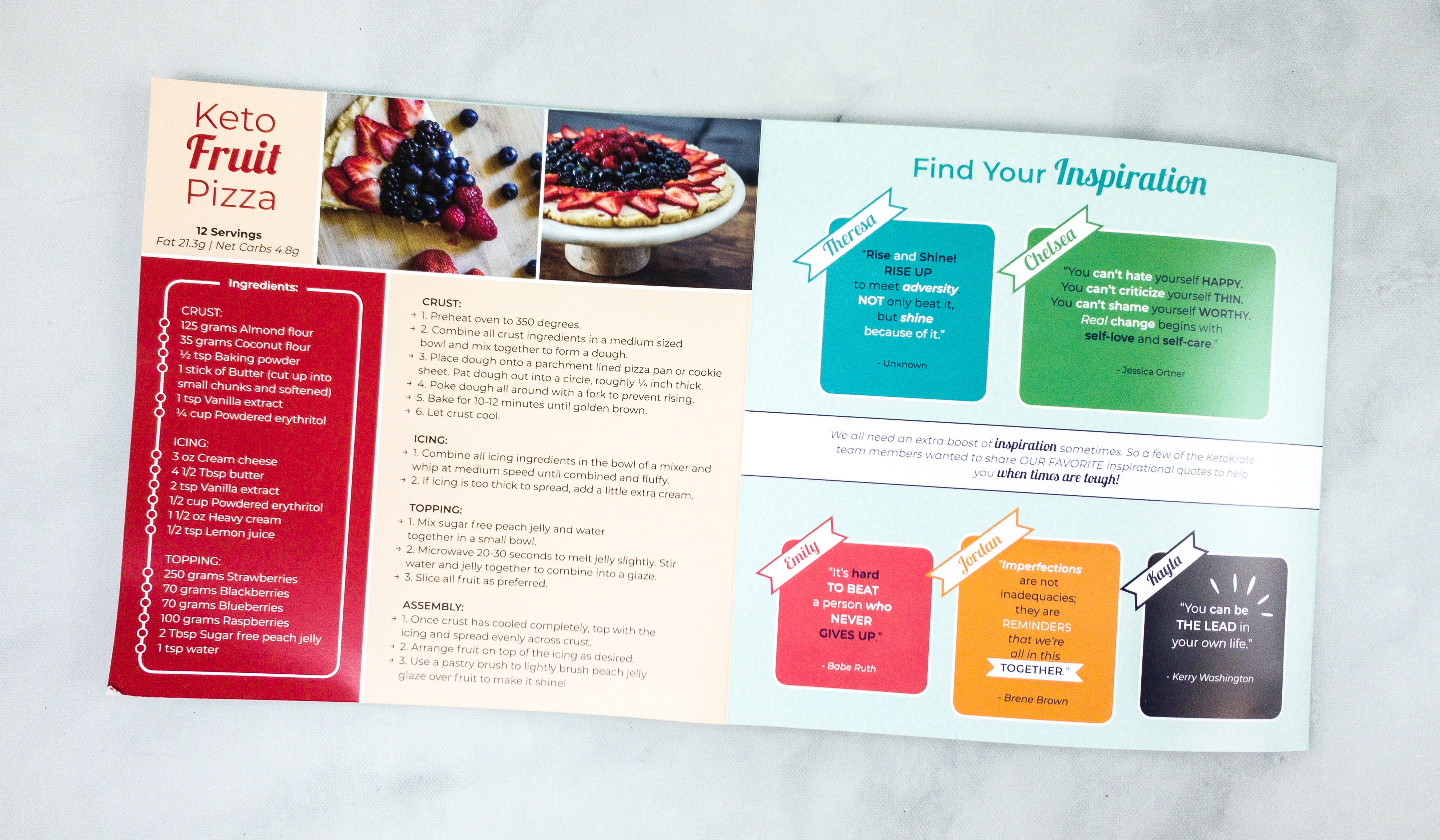 Next up is a recipe for Keto Fruit Pizza!
Here's another keto success story for inspiration!
Everything in my box!
SporTea ($1.71) This keto-friendly iced tea drink is free from caffeine and additives. It's formulated to help replenish potassium and trace minerals.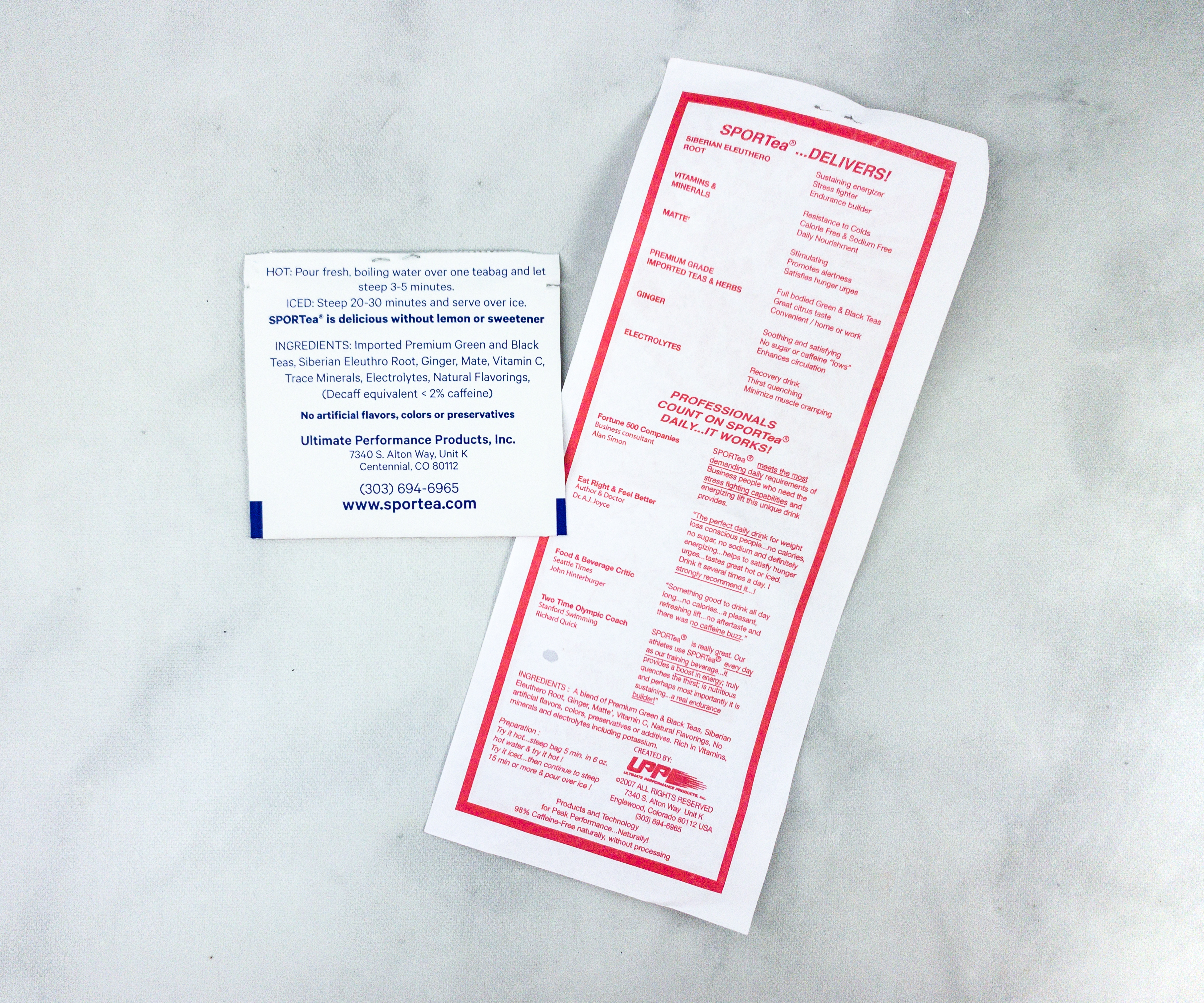 It's a great drink for when you need a boost of energy minus the sugar or caffeine crash. It contains a blend of black and green teas and soothing ginger, plus a citrusy kick!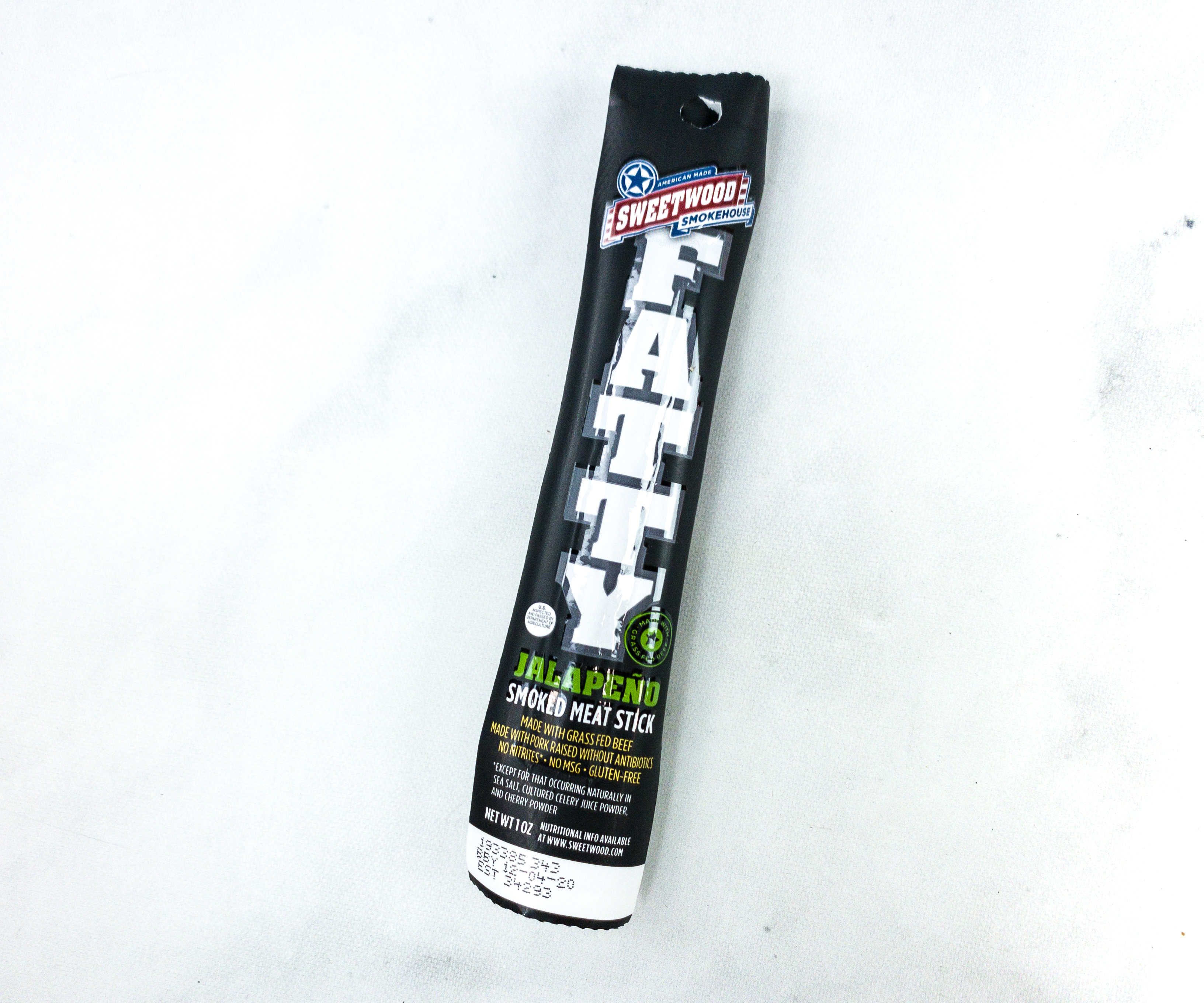 Sweetwood Smokehouse Fatty Jalapeño Smoked Meat Stick ($3) Meat sticks are great as after-workout snacks or as hiking snacks! This one is made with grass-fed beef and slow-smoked with sweet Hickory wood. It also has an intensely spicy flavor coming from jalapeño.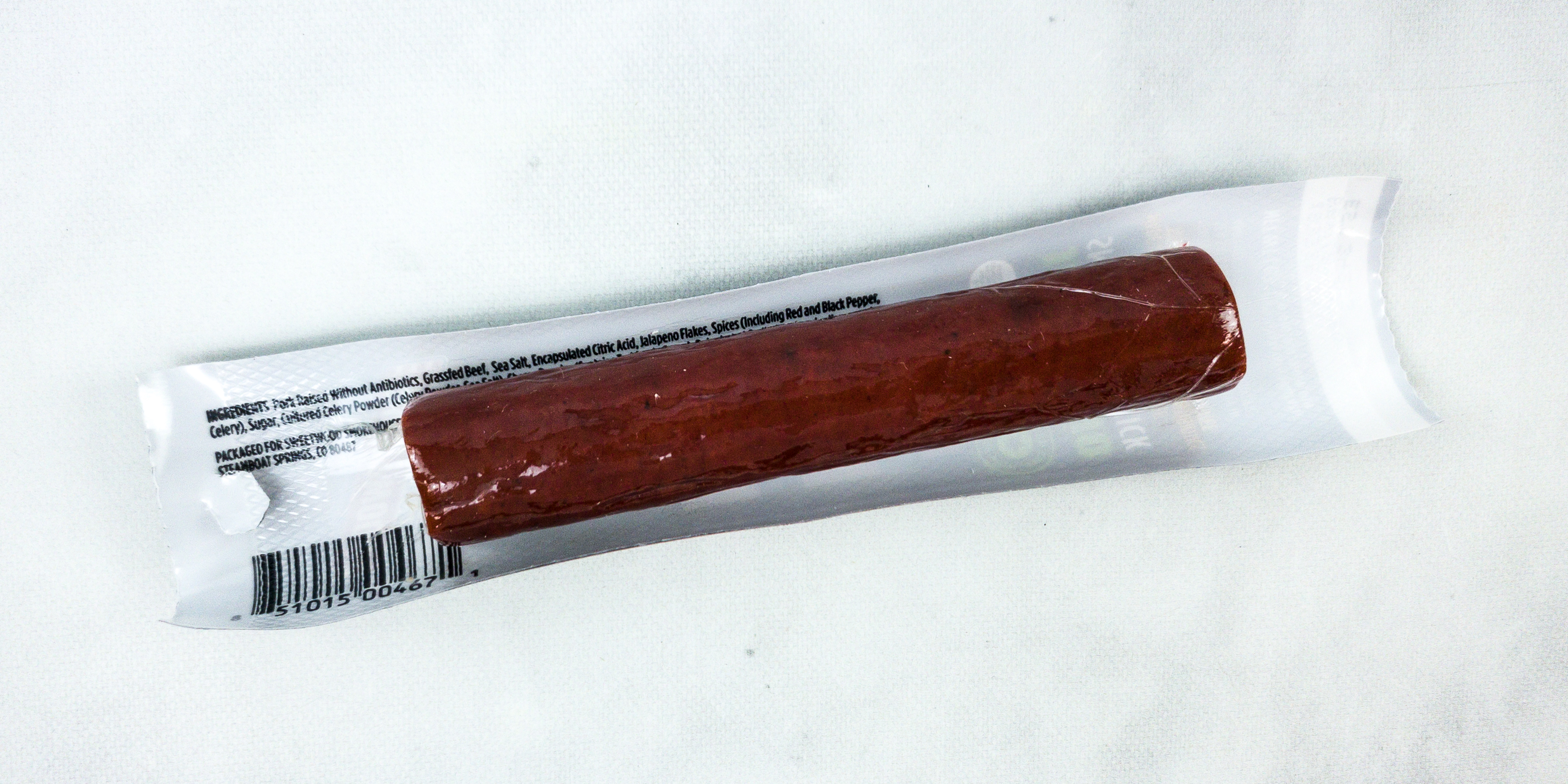 Overall, it's a delicious protein booster! I love spicy snacks so this was a hit for me!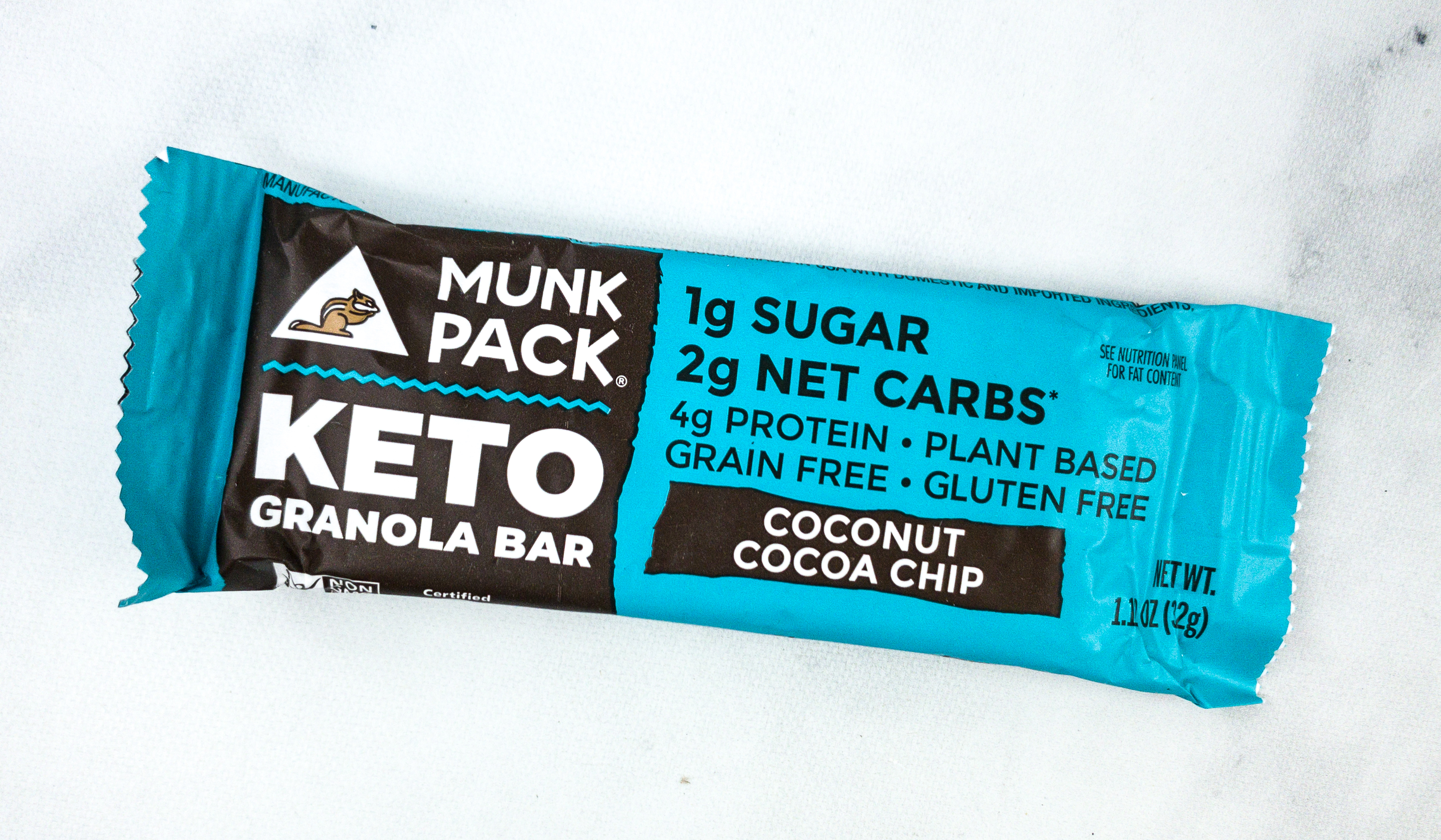 Munk Pack Coconut Cocoa Chip Keto Granola Bar ($2.08) This granola bar is in our list of keto-friendly grab-and-go breakfast snacks! It's low in sugar and carbs, but the taste is superb because of the combination of coconut and cocoa.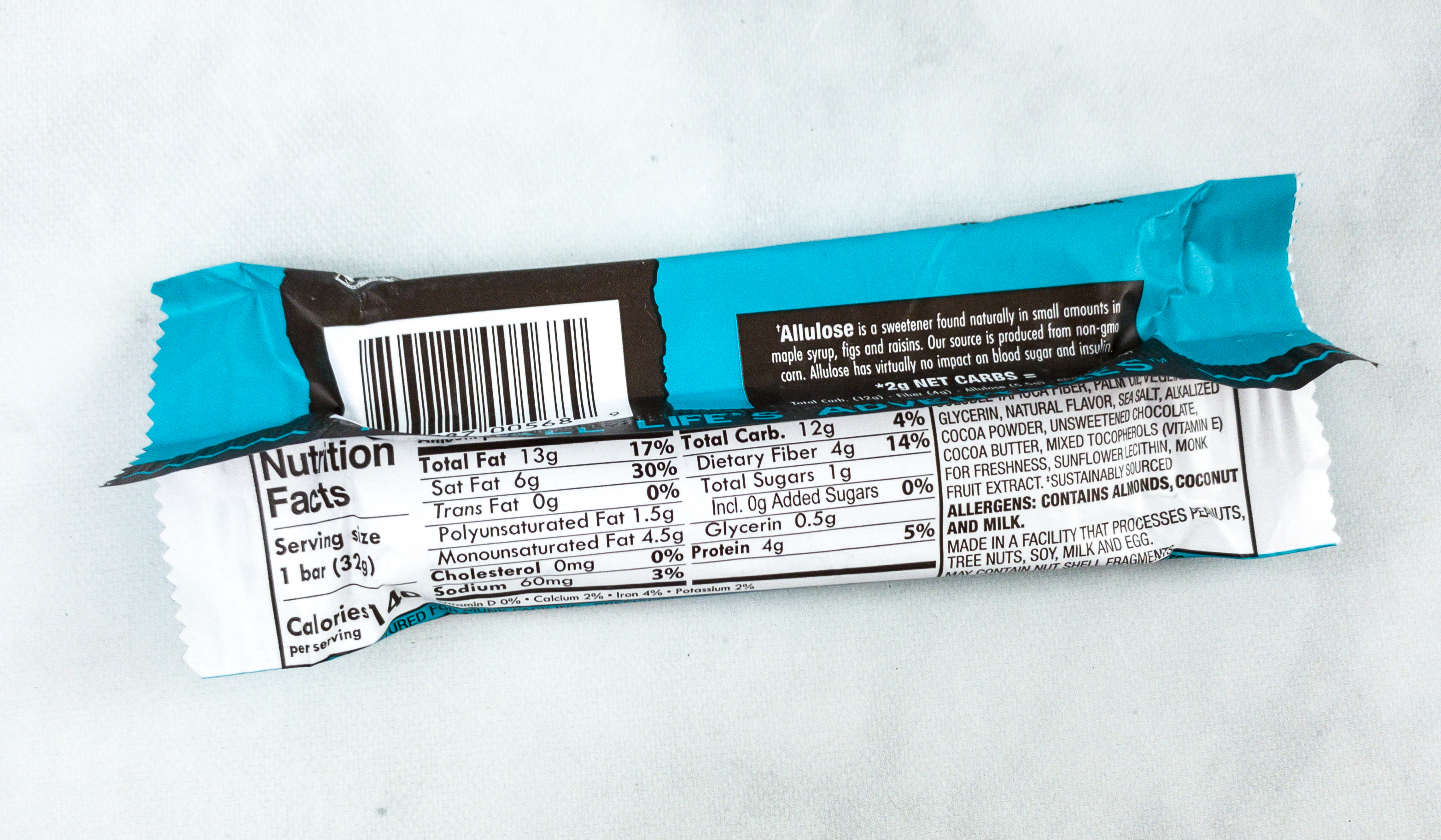 I also love the texture coming from the wholesome mix of nuts and seeds. Unlike other granola bars, this one doesn't have any aftertaste, so I like it!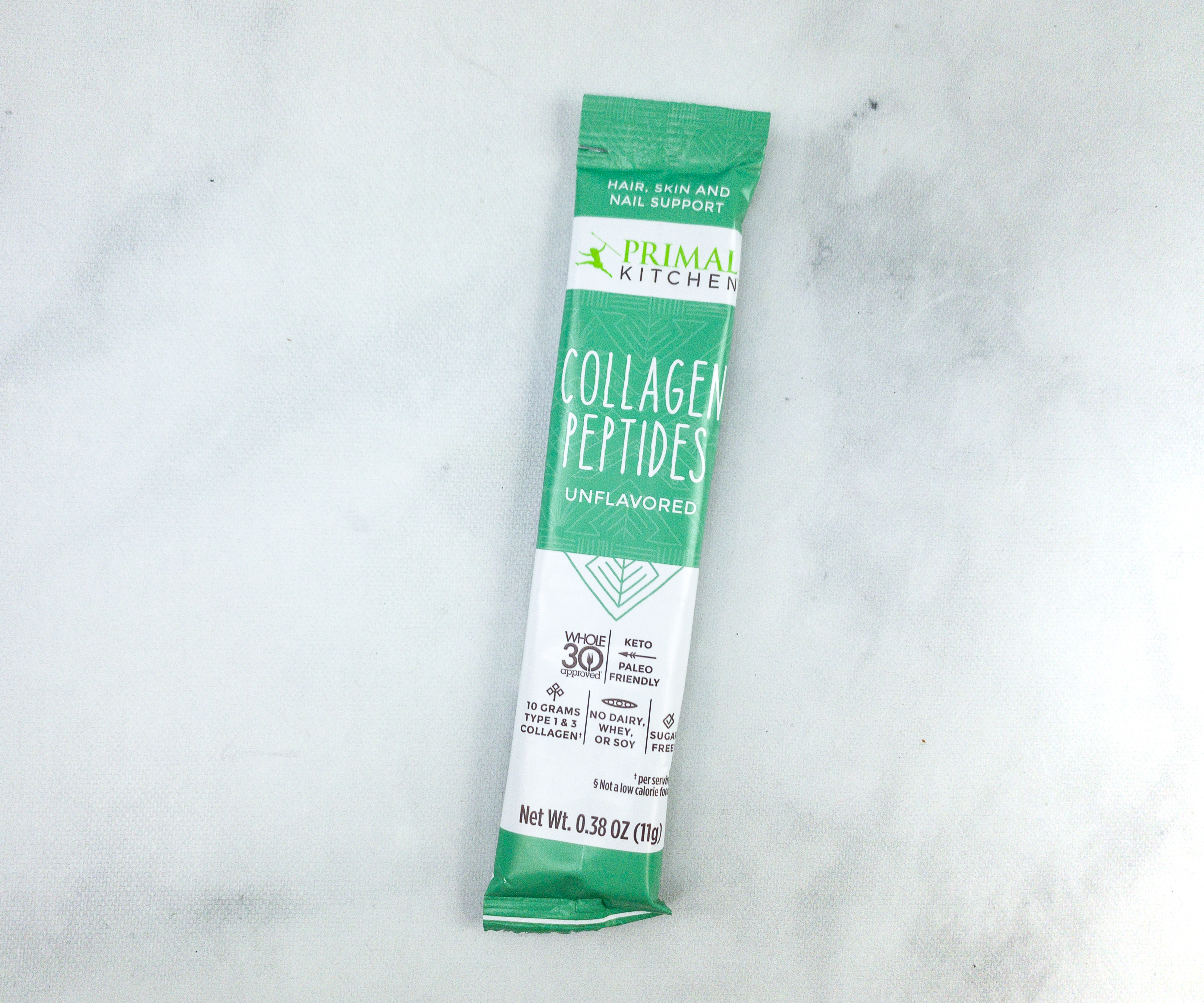 Primal Kitchen Collagen Peptides ($1.25) If you want a boost of collagen in your diet, this drink mix is for you. You can add it to any hot or cold beverage, whether to your coffee, smoothie, or even just in water. It dissolves easily and it's also unflavored so there's no need to worry about it ruining your favorite drink.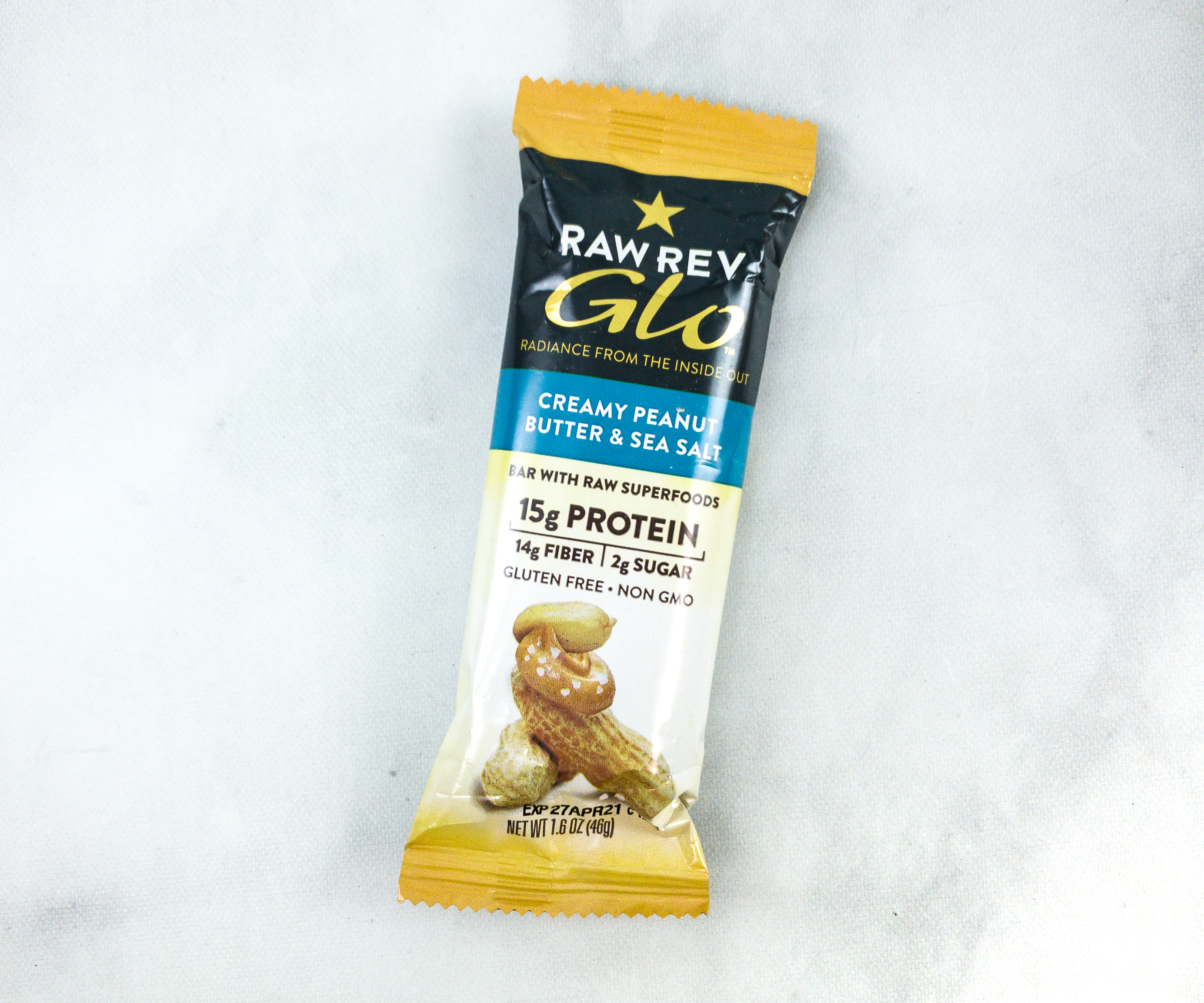 Raw Rev Glo Creamy Peanut Butter & Sea Salt Protein Bar ($2.53) Peanut butter and sea salt sounds like a sinful combination but in this protein bar, they are actually keto-friendly! The nutty bar is moist and chewy, and it's such a delight to eat.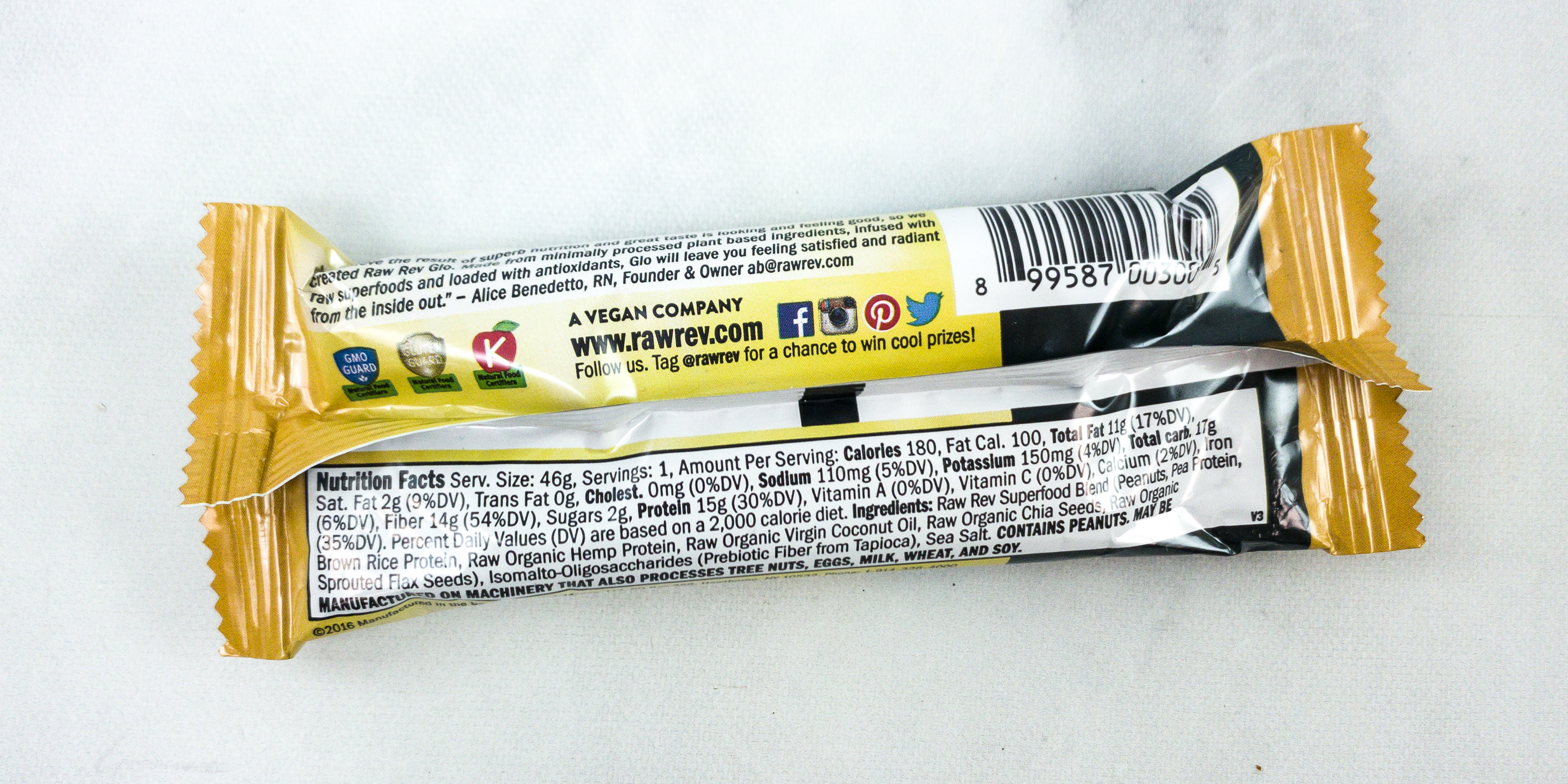 I like how filling this snack is! It also contains other plant-based ingredients such as raw organic virgin coconut oil, pea protein, and sprouted chia and flax.
Atlas Peanut Butter & Raspberry Protein Bar ($2.99) Here's another peanut butter protein bar and this time it's mixed with antioxidant-rich raspberry. It's like the healthier, on-the-go version of the classic PB&J!
It's sweet, tasty, and of course, guilt-free! This kept me full in between large meals and that's really great.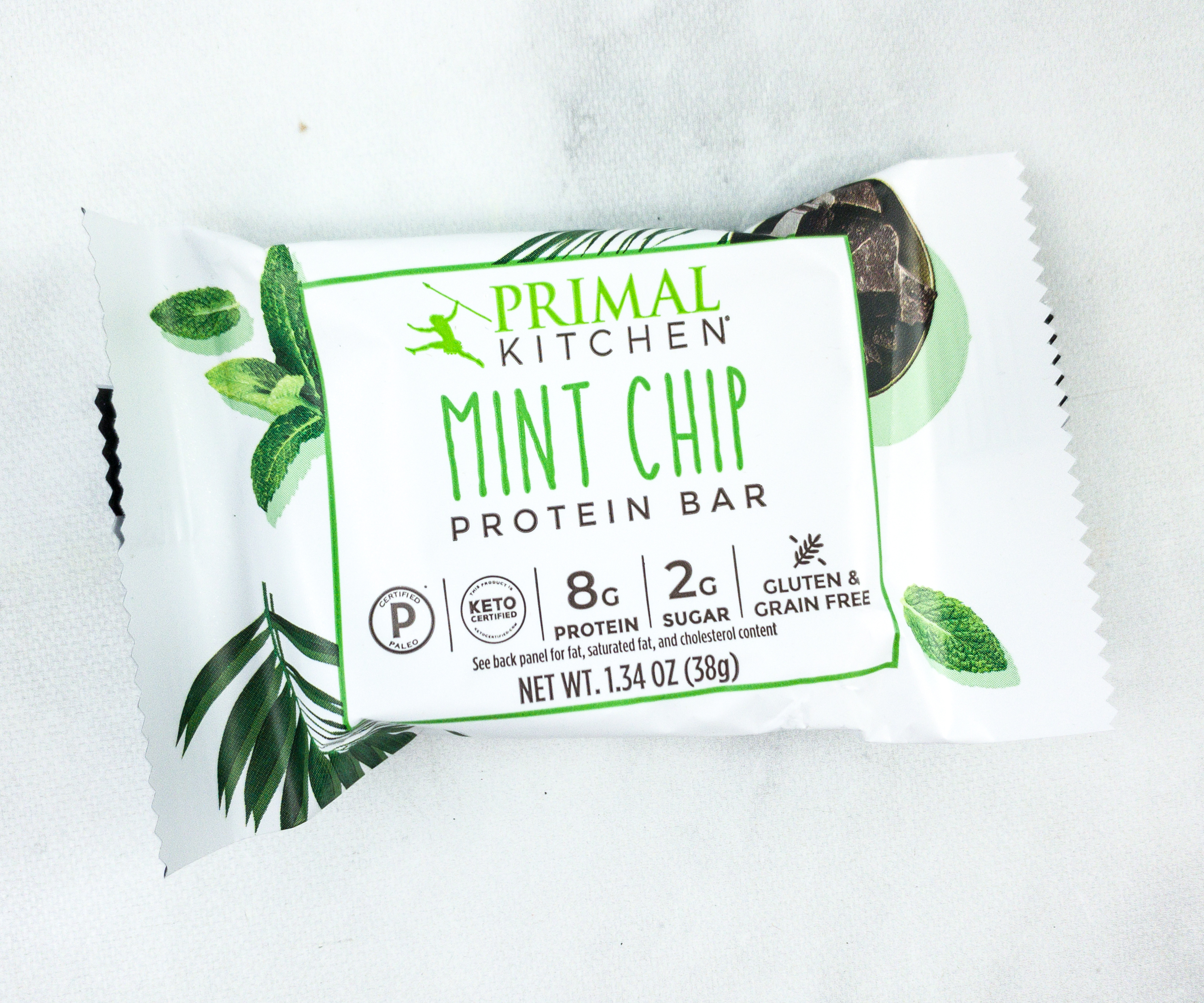 Primal Kitchen Mint Chip Protein Bar ($1.99) This protein bar gave my tastebuds the satisfaction of savoring delicious mint chocolate chip, but without the excessive carbs and calories! It's made with almond butter, coconut oil, unsweetened chocolate, and peppermint oil.
This protein bar is so tasty you wouldn't think it's a keto-friendly snack. It's a perfect mid-day pick-me-up or a desk snack!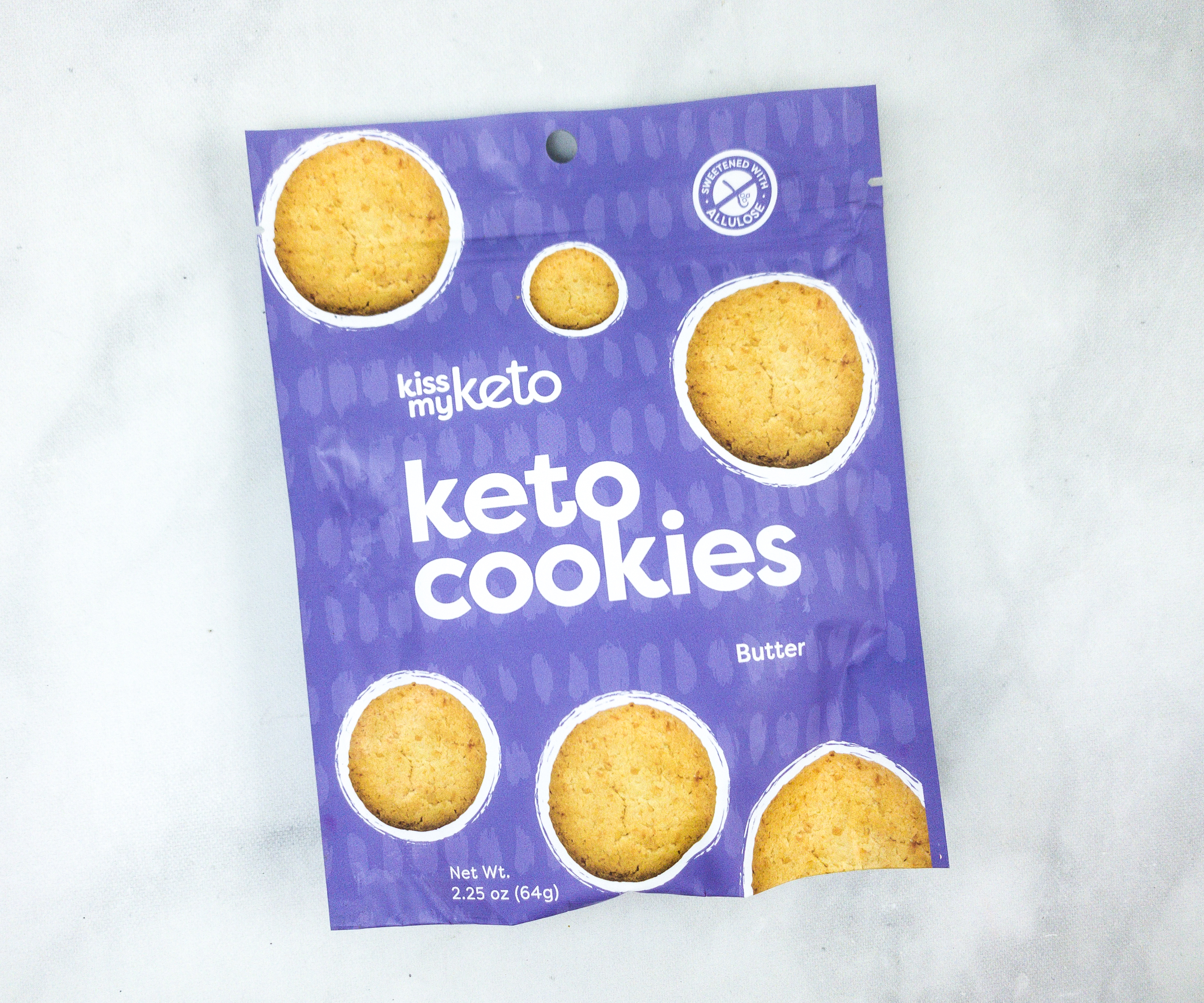 Kiss My Keto Keto Cookies ($4.99) Who can say no to vanilla butter cookies? Thankfully, there's a keto version and it's low in sugar and calories. Instead of sugar, they used allulose, a natural sweetener.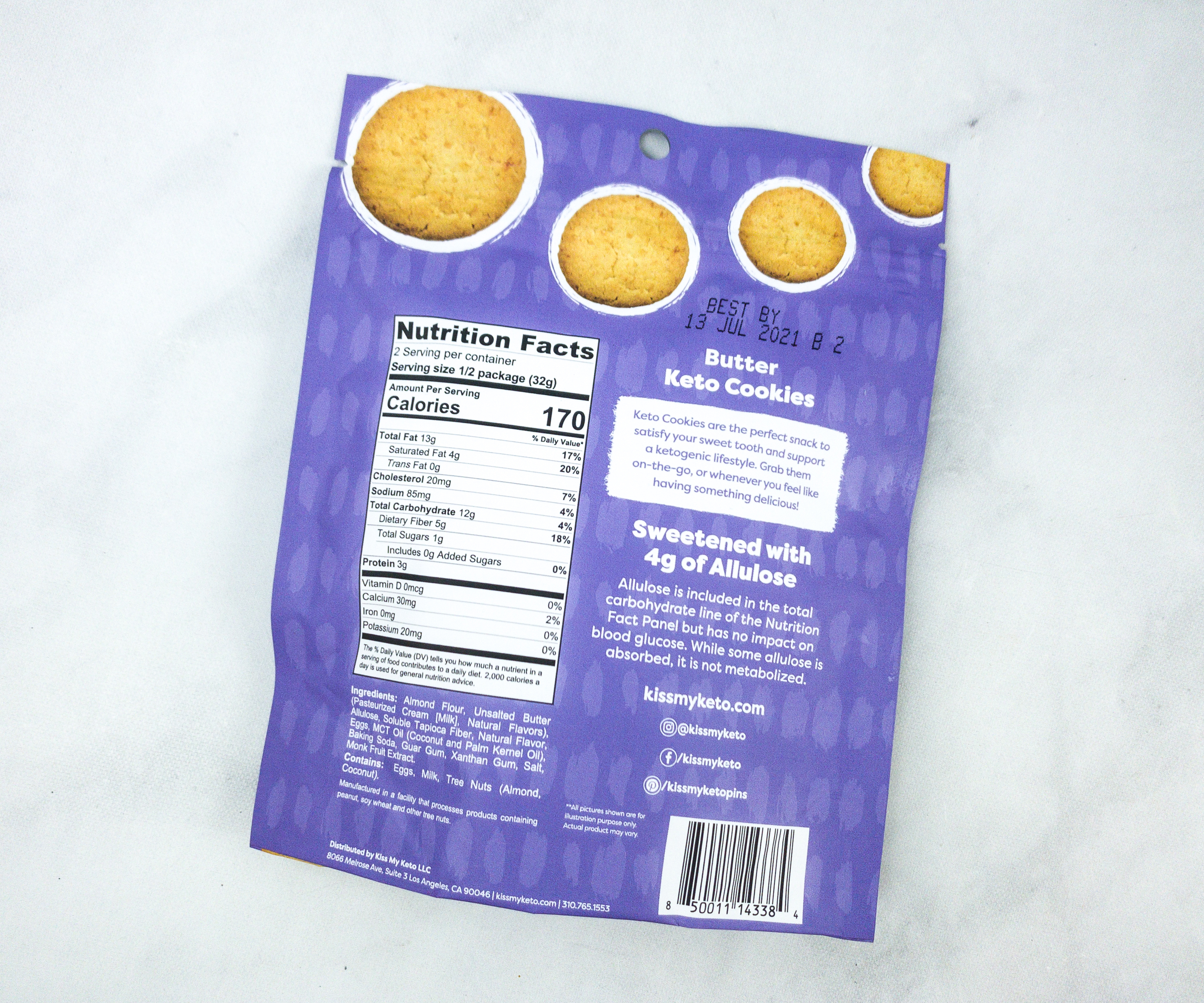 They were so buttery and I like the cookies' texture as well. They weren't crumbly. Since the cookies are packed in a convenient resealable pouch, you can save some for later without worrying about its quality!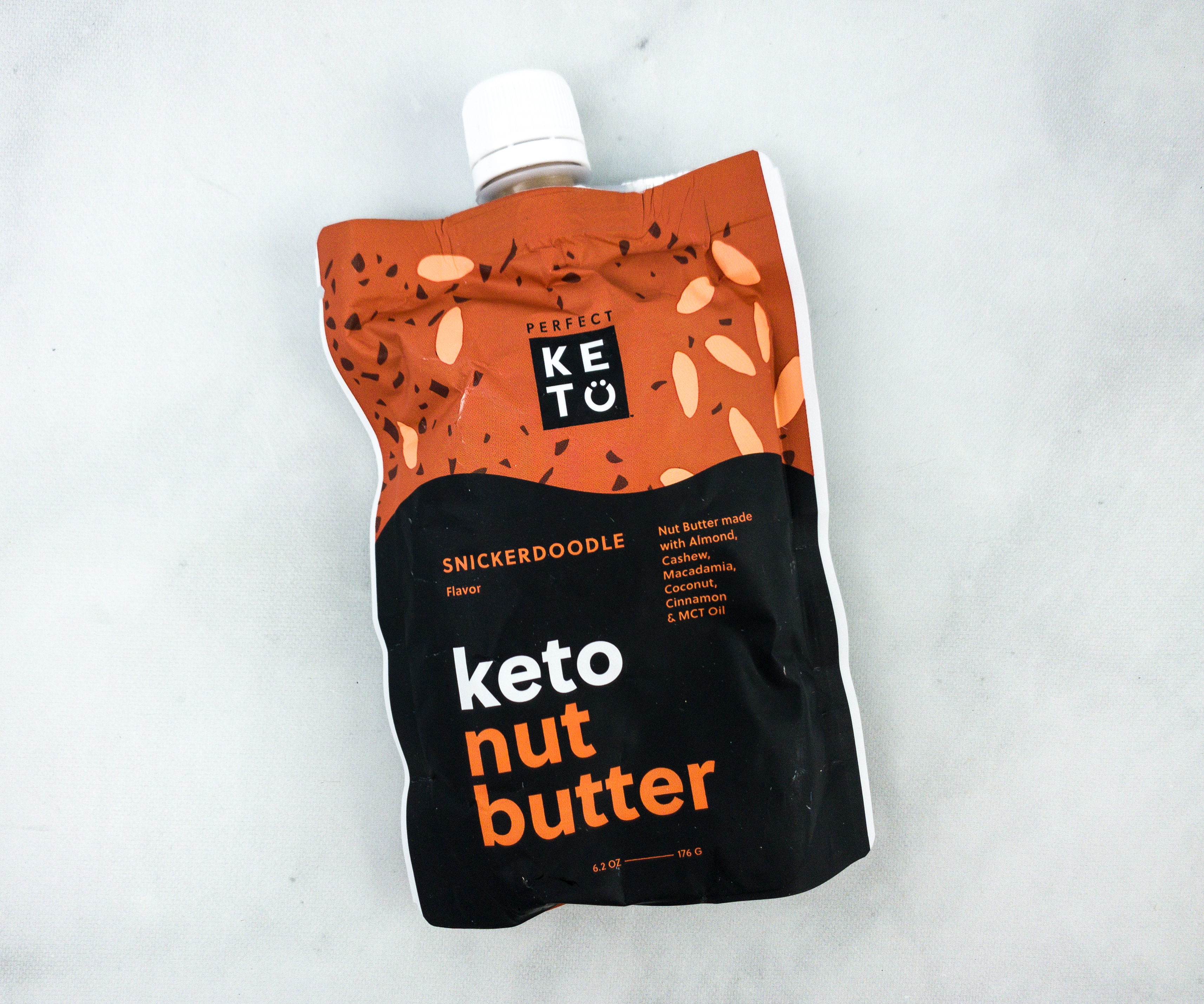 Perfect Keto Snickerdoodle Keto Nut Bar ($9.99) Nut butter is one of the most versatile keto-friendly ingredients. It can be added to smoothies, drizzled on top of a keto snack bar, or eaten straight from the pack! This one is really nutty as it contains nutrient-rich macadamias and cashews!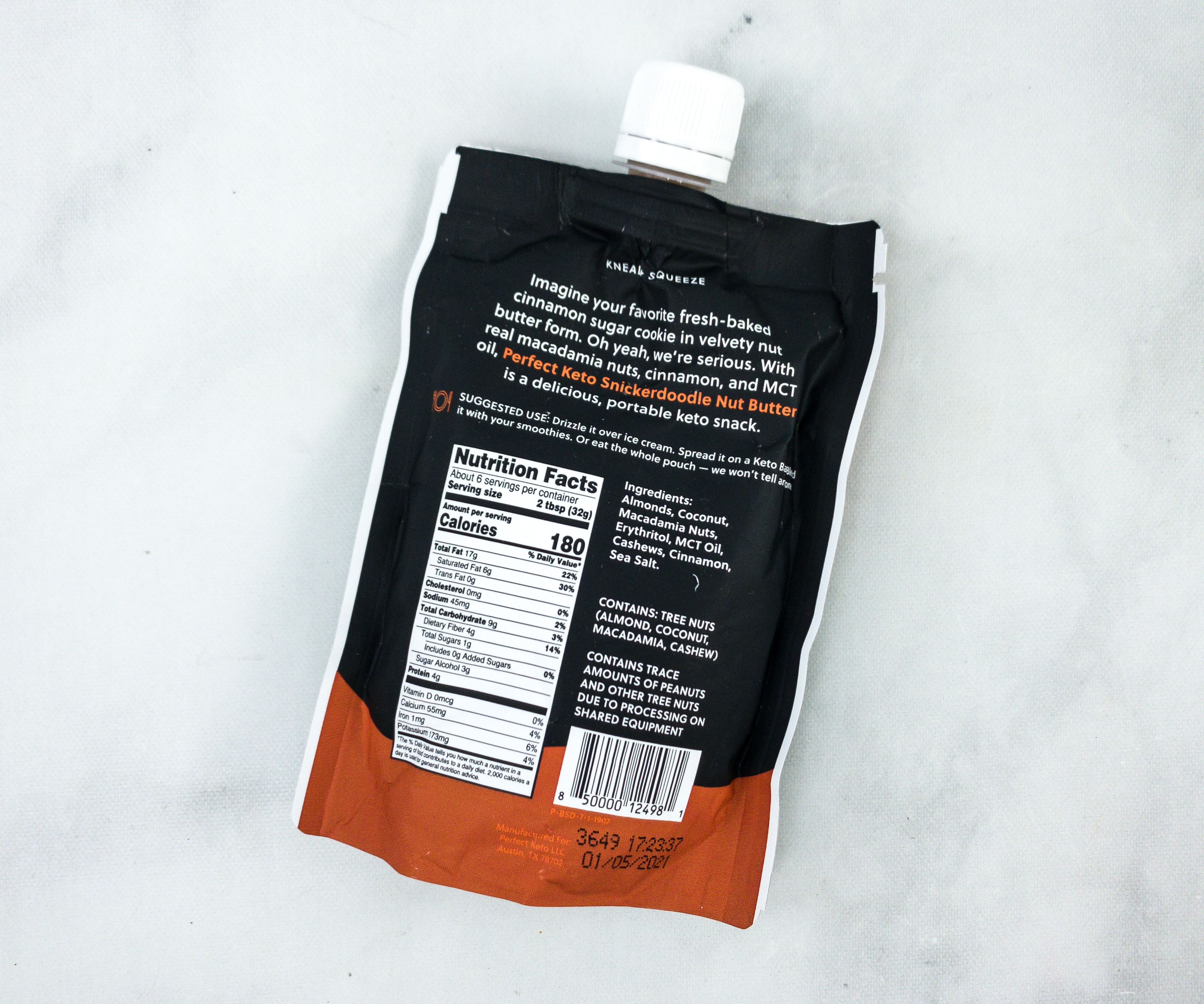 I love its thick and rich consistency! Since it contains MCT oil, it even helps with mental clarity and sharpness and supports digestion.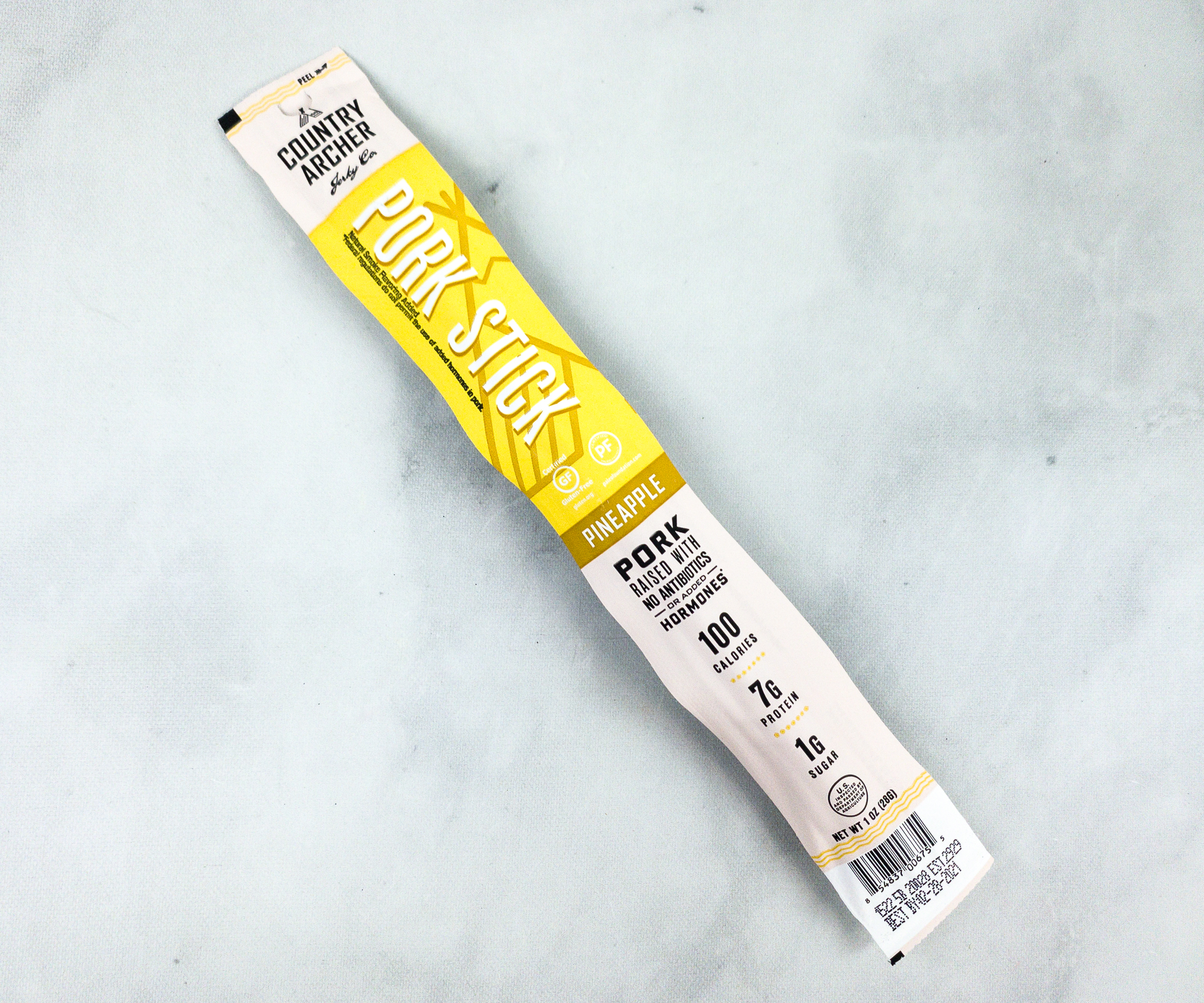 Country Archer Pineapple Pork Stick ($1.62) It's a long and chewy pork stick with no antibiotics or any added hormones. They put a tropical twist to this snack by adding pineapples!

This snack stick was flavorful from start to finish. It was also quite filling!
Hilo Life Super Cheesy Crispy Cheddar Cheese & Almonds Snack Mix ($2.49) They took snack mixes to a whole new level by combining crunchy almonds, crispy cheddar, and zesty cheese seasoning! This is the perfect keto snack for cheese lovers like me. The crunch is satisfying and the cheese flavor is unlike any other!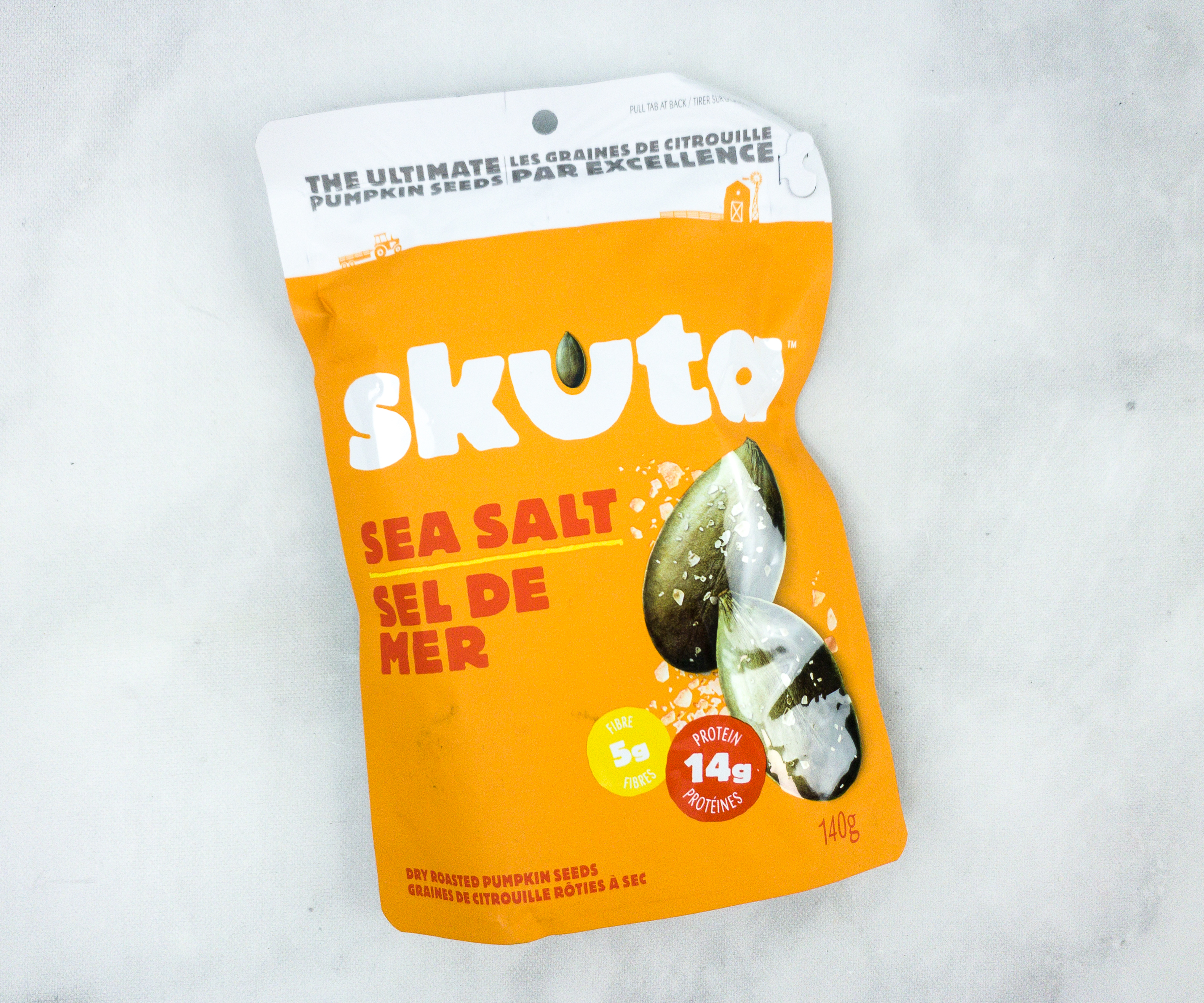 Skuta Sea Salt Dry Roasted Pumpkin Seeds ($4.16) Here's another keto-friendly alternative to your regular chips, a pack of pumpkin seeds! They have undergone a double-slow roasting process, no wonder they're exceptionally crunchy and nutty. I love how the sea salt complimented it the nuttiness of this snack! I can't get enough of it!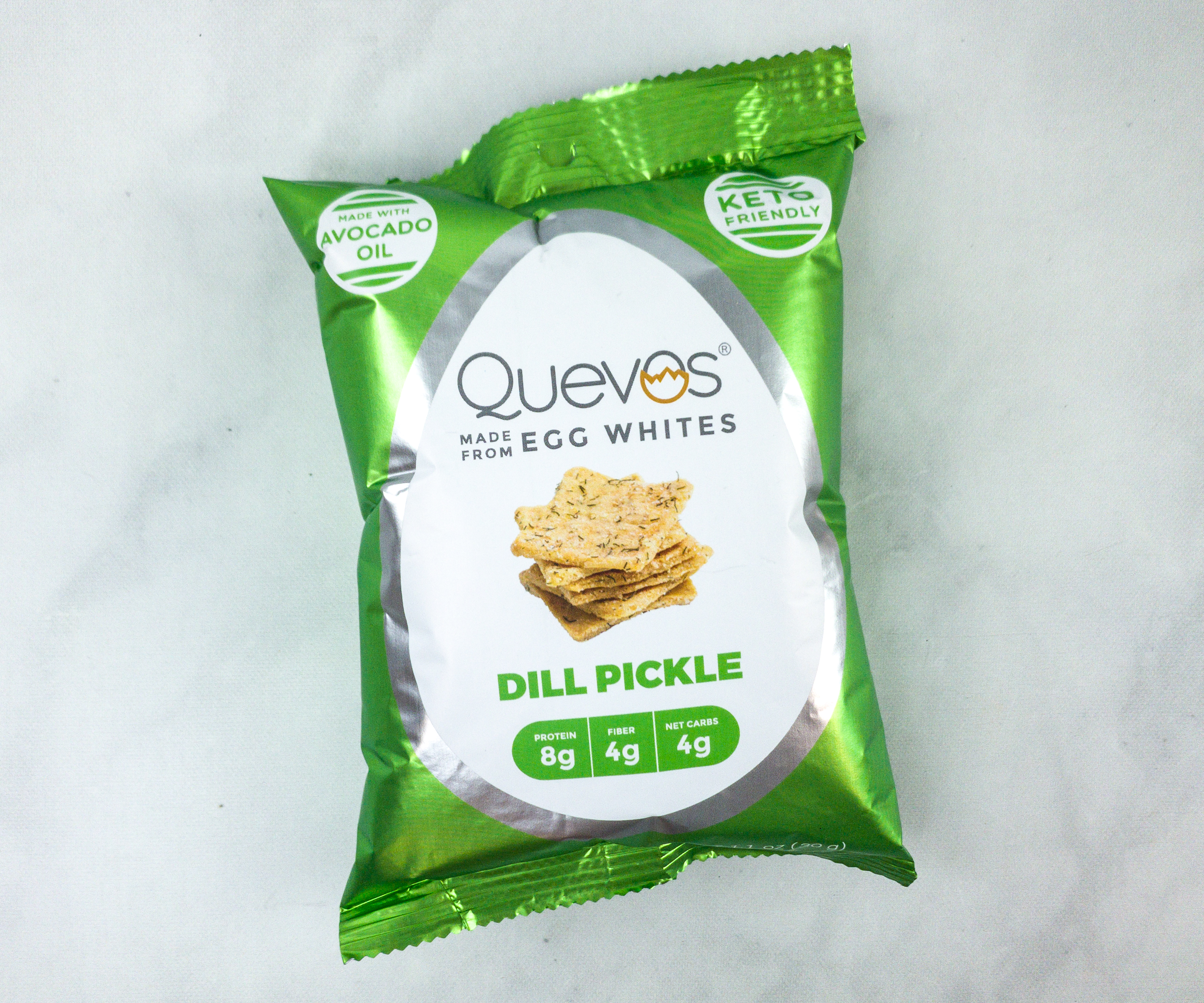 Quevos Dill Pickle ($2.99) These delicate crisps are made with egg whites, prebiotic fiber, and chia seeds. They are dill pickle-flavored, giving each bite a distinct salty-sour taste. I'm so glad they were not overwhelming on the palate. We snacked on these straight out of the bag and it's just perfect!
KetoKrate makes it easy for me to discover new low carb snacks! It's a perfect snack subscription for keto dieters or even just for anyone looking into switching to healthy snacks. As usual, the box includes a bunch of protein bars that are great as grab-on-go snacks. I also love that they send alternatives for chips that I can reach for whenever I'm craving something salty. Even the beef and pork snack sticks were quite tasty. I appreciate this subscription box, overall! They continue to prove that a keto diet can be fun and tasty as well!
What do you think of the KetoKrate box?