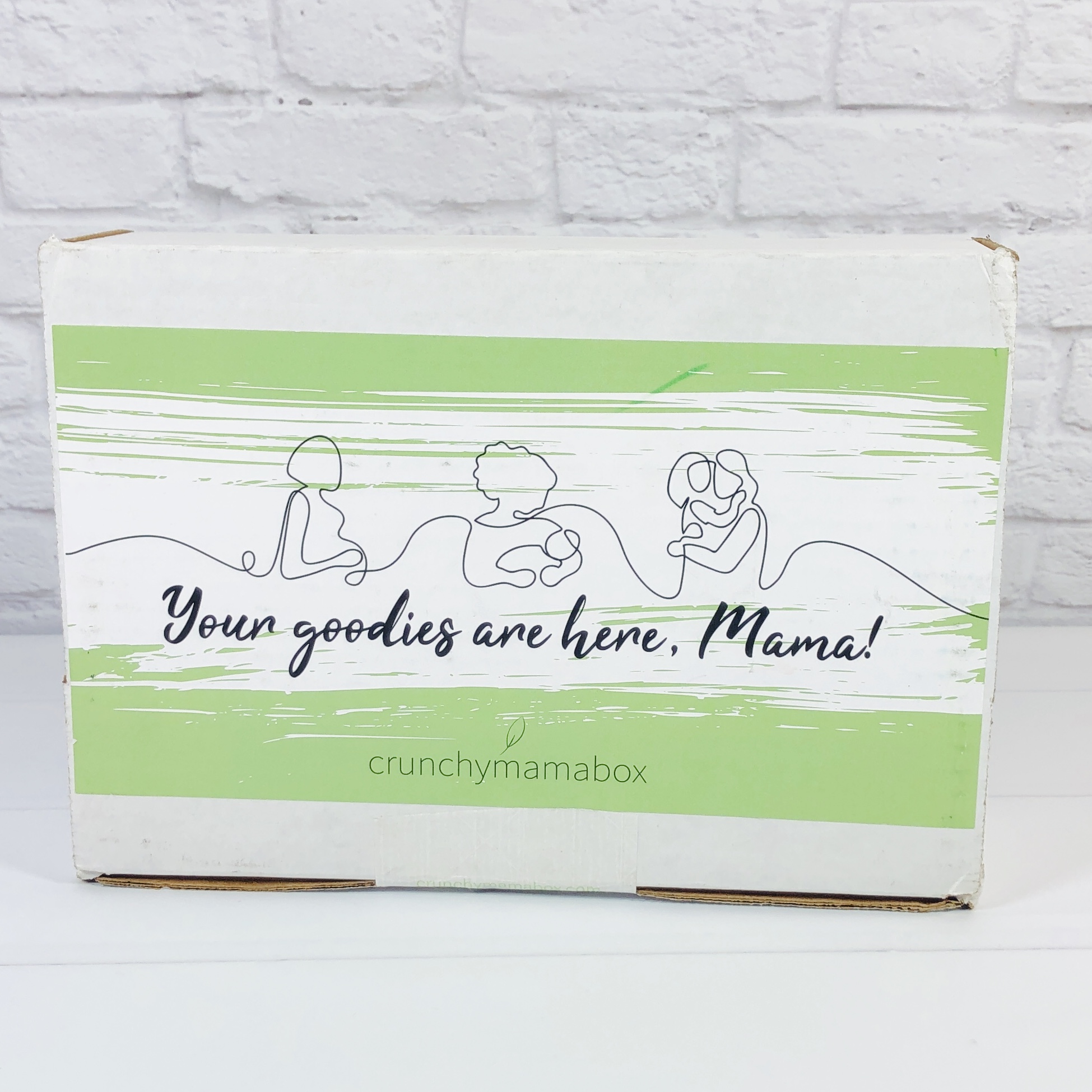 Crunchy Mama Box is a monthly subscription box for those who prefer natural and eco-friendly products that are for mind, body, and soul. Each month you will receive items that relate to beauty, self-care, support, sustainability, education, reusability, and wellness. Boxes will contain 5-8 full sized and high quality products curated by a certified holistic health and wellness coach. Crunchy Mama Box is $29.99 a month and shipping is free to the U.S.
Crunchy Mama Box is much more than a subscription box company; we are a community of Mamas that are on a mission to spread love, support, and encouragement. We support women-owned, small, and eco-friendly businesses that make clean, healthy products and that are motivated by a cause. We are also passionate about giving back, which is why we donate a portion of each box to a different Cause Partner each month.
My items were wrapped in tissue paper and sealed with a sticker.
I found a brochure in the box with info on the Cause Partner for July, which is The YWCA of Knoxville & the Tennessee Valley. Proceeds from the sale of this box will go to that charity. The theme for July was SOLSTICE. According to this brochure, you can now build your own Crunchy Mama box!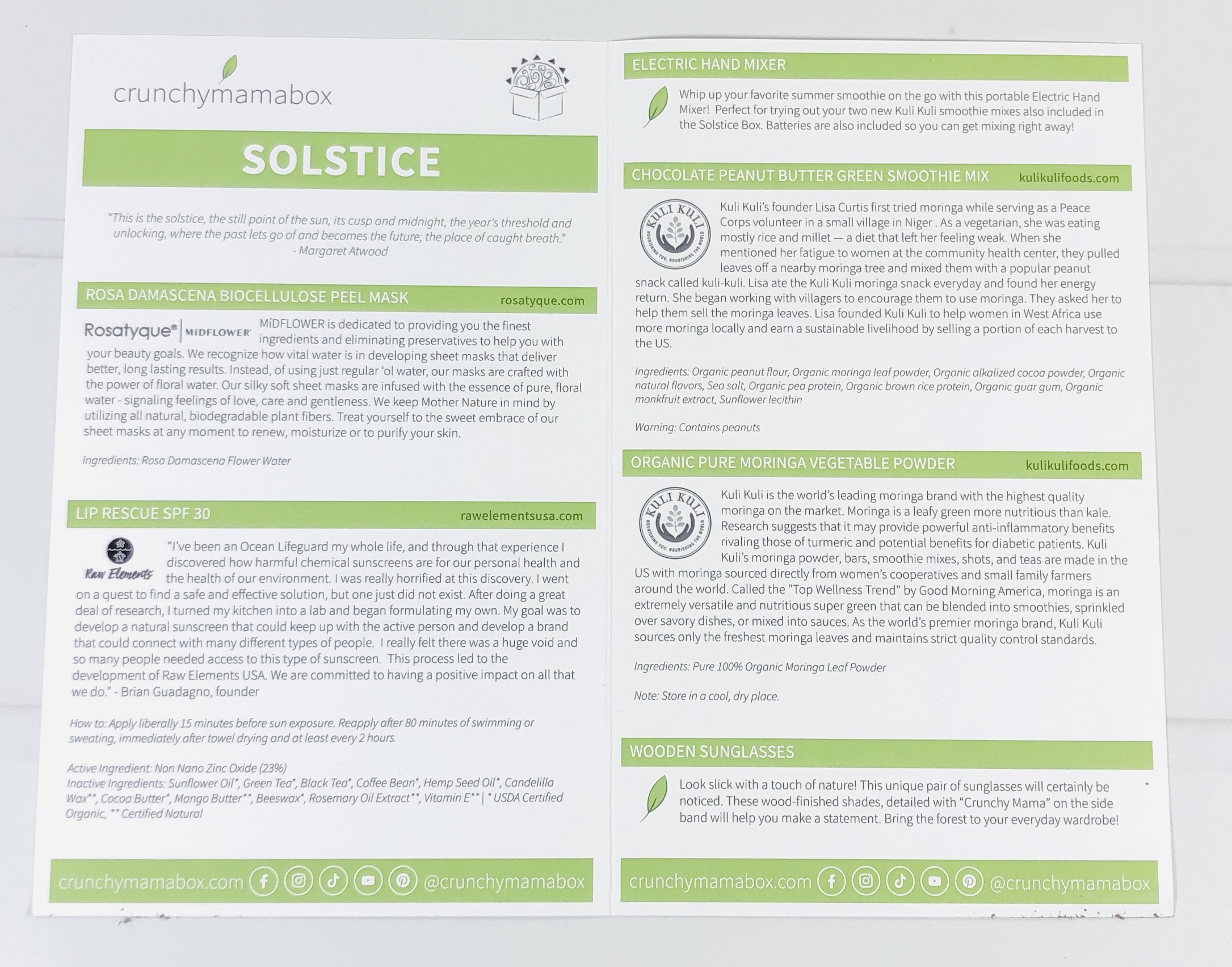 The inside of the brochure had info on each product and in some cases a website so you can grab more when you run out!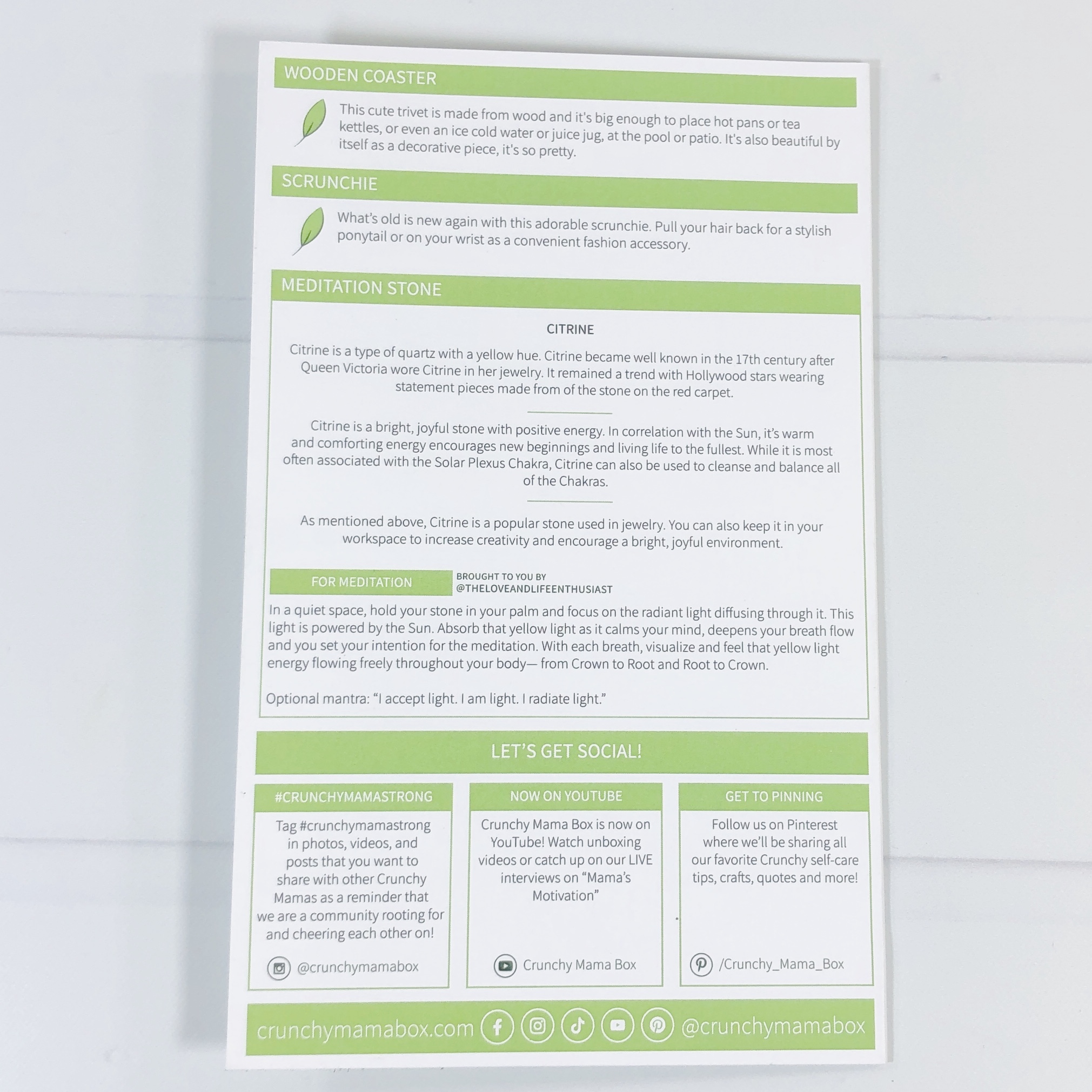 The back of the brochure listed the rest of the items and described the stone of the month. It also talked about how you can use the stone while meditating.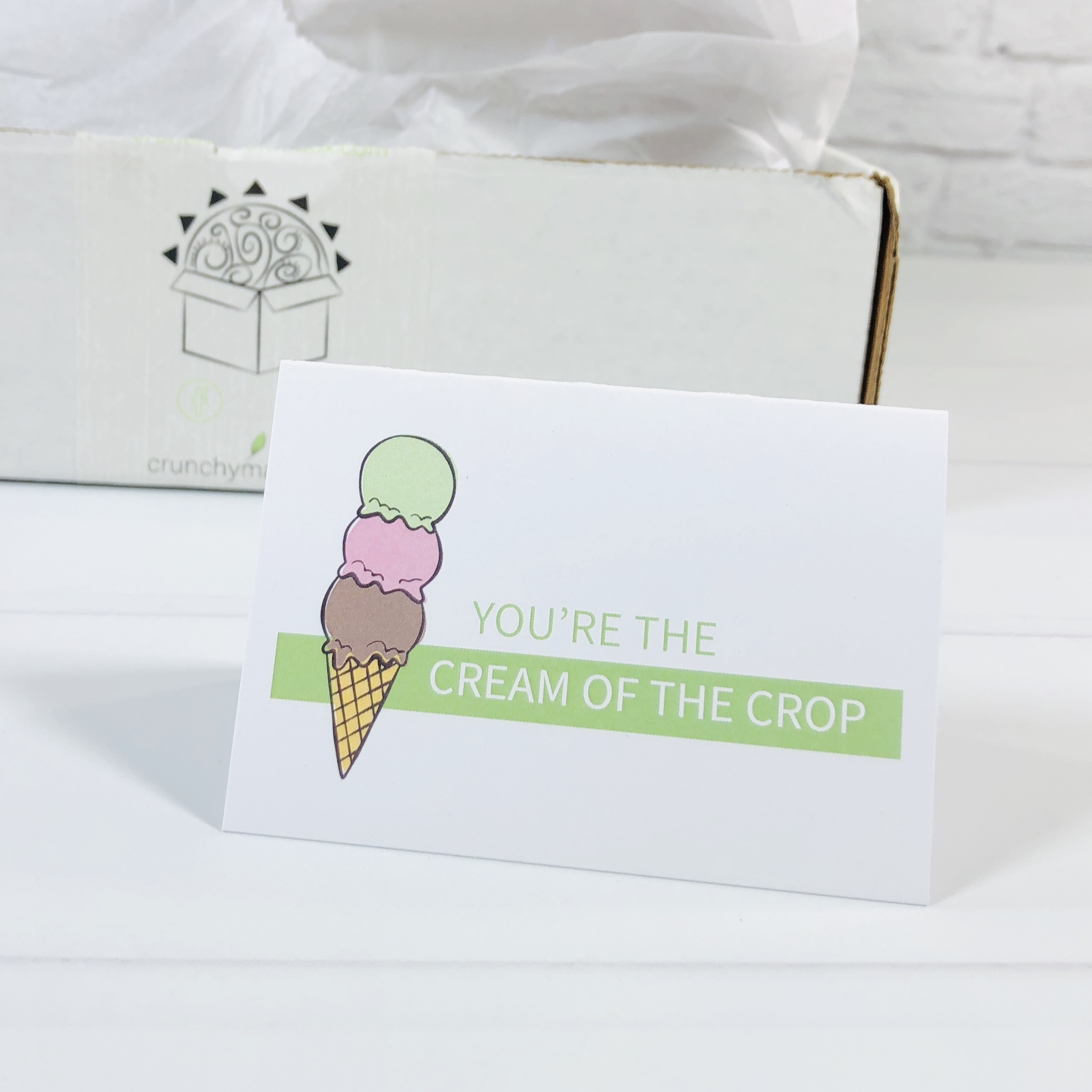 I found a cute little note card on top with a hand-written note on the inside. I love a personal touch, so sweet!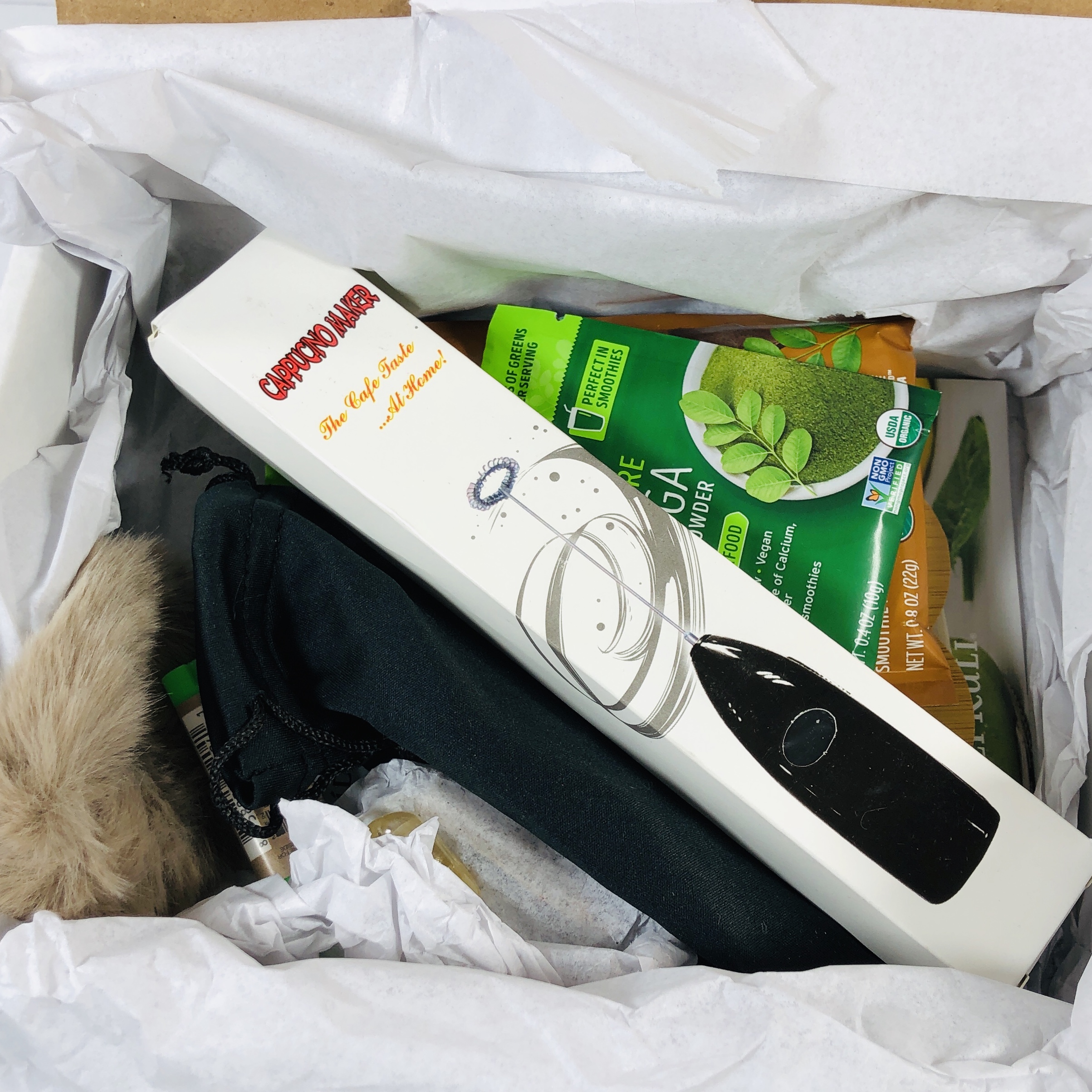 Some of the items were packed in boxes or little drawstring bags.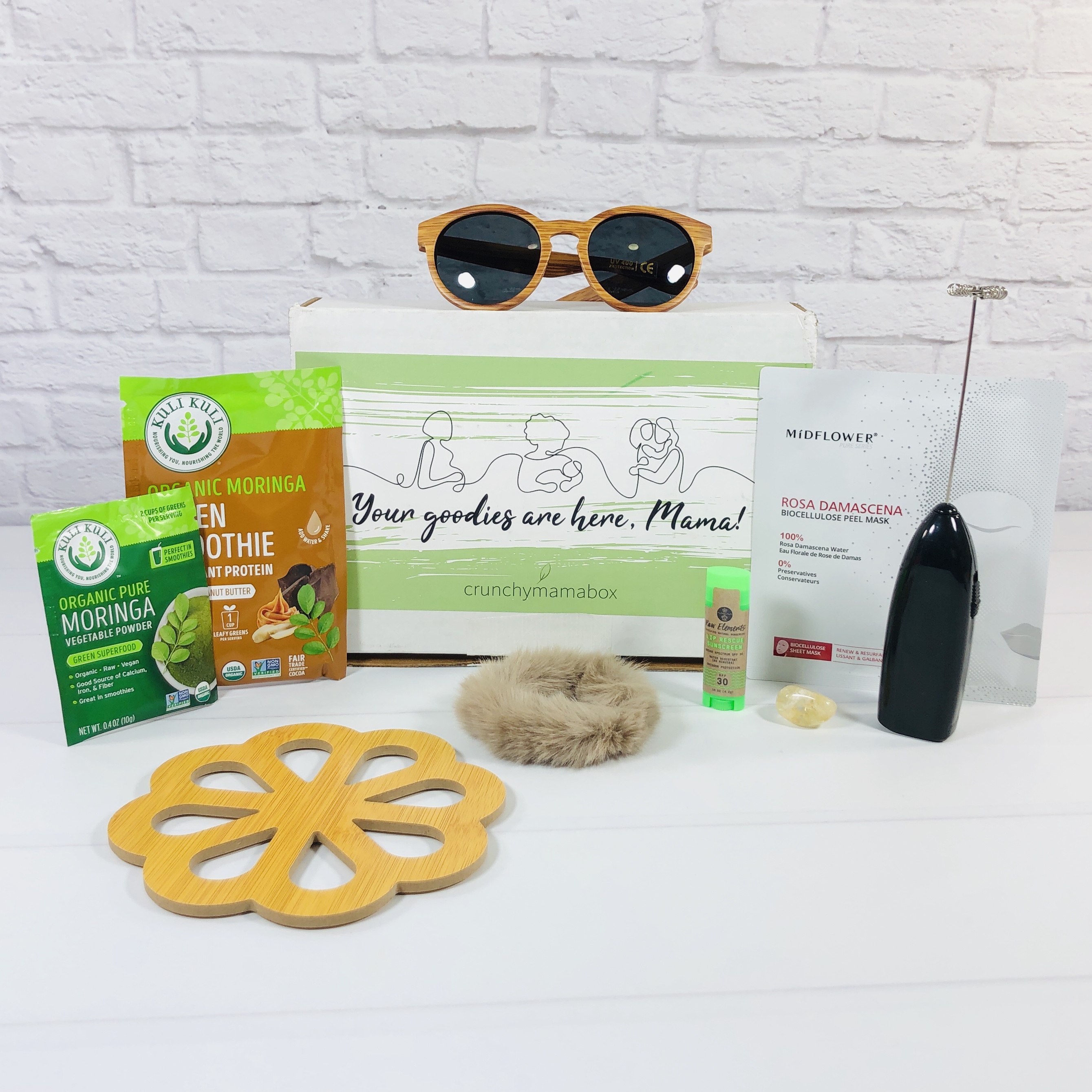 Everything in my box!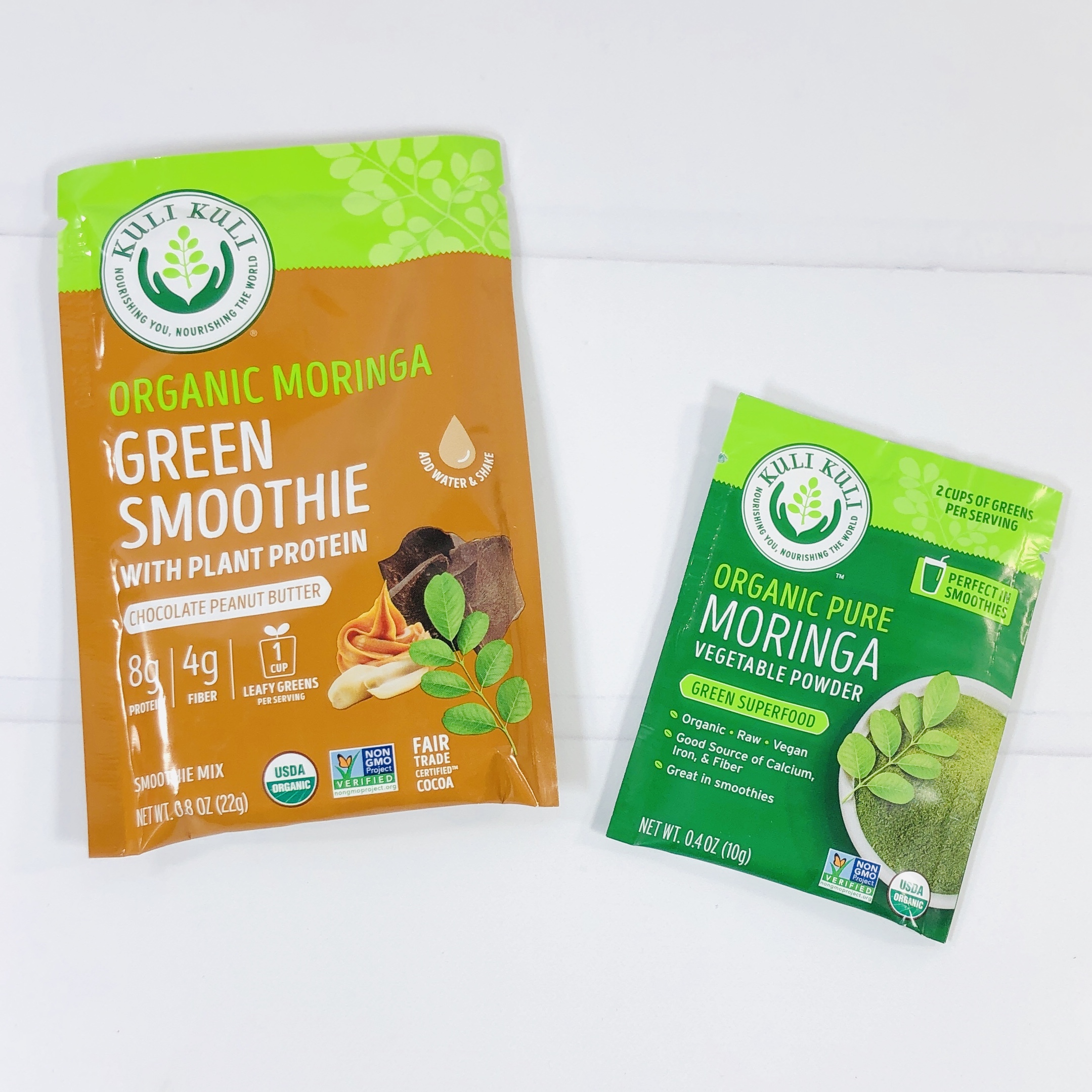 Kuli Kuli Foods Peanut Butter Green Smoothie Mix ($2.24)and Kuli Kuli Foods Organic Pure Moringa Vegetable Powder ($1.30) Moringa is having its moment as a superfood, reputed to have more nutrients than kale. Like soy, it is a complete protein with all 9 essential amino acids. We have two different ways to try it here.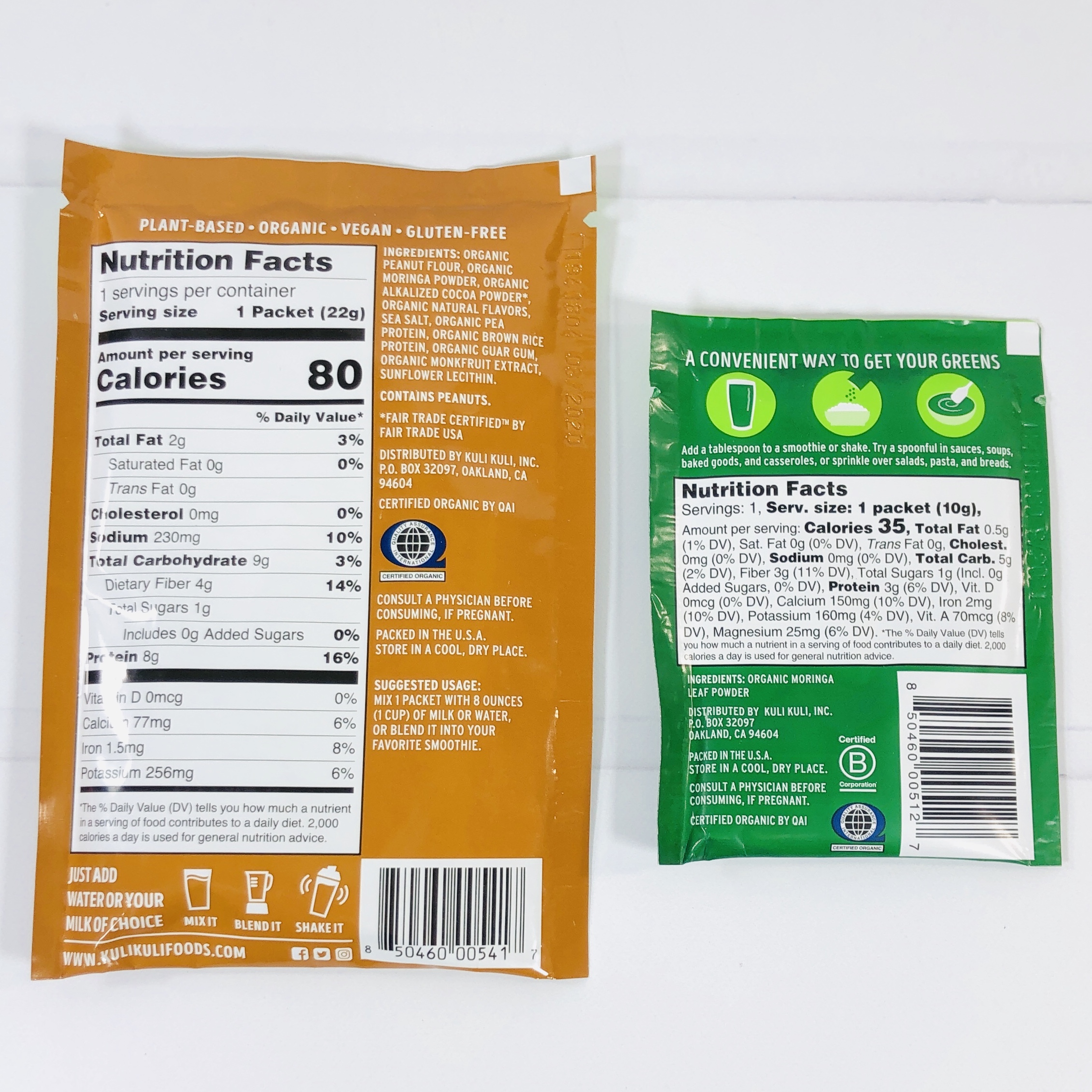 The brown pack is a smoothie mix and the green pack on the right is pure moringa powder, to be mixed into smoothies, soups, yogurt, etc. Please note that if you are pregnant, check with your doctor before using.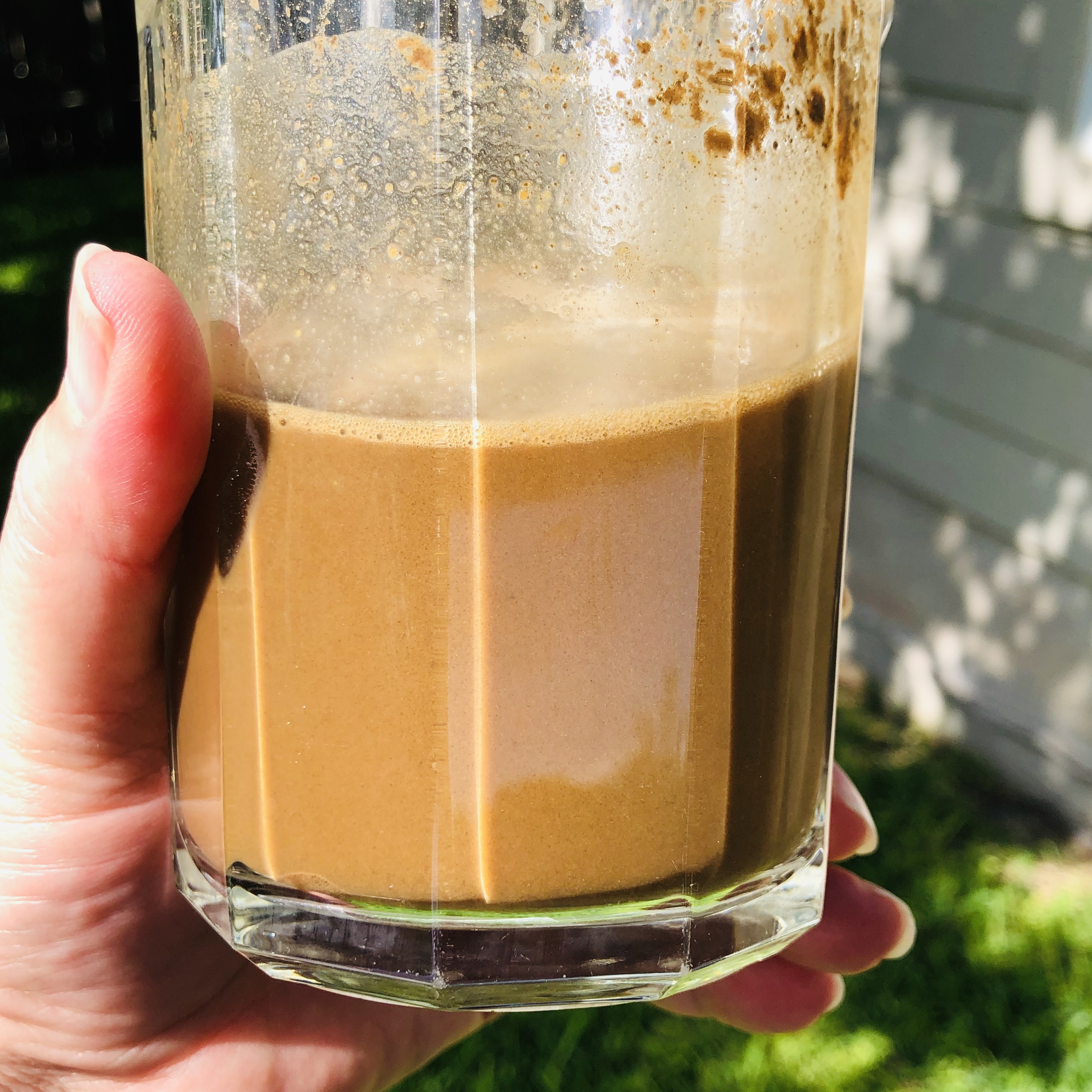 Here is the smoothie! I mixed it up (and used the whisk shown below!) using water. At first I thought it tasted like chocolate milk but with some earthiness, and then the saccharin sweetness of the monkfruit overtook everything else and I ended up dumping the drink. I have an aversion to monkfruit, stevia, and other sweeteners so this may be a personal dislike and others may think it's perfectly palatable.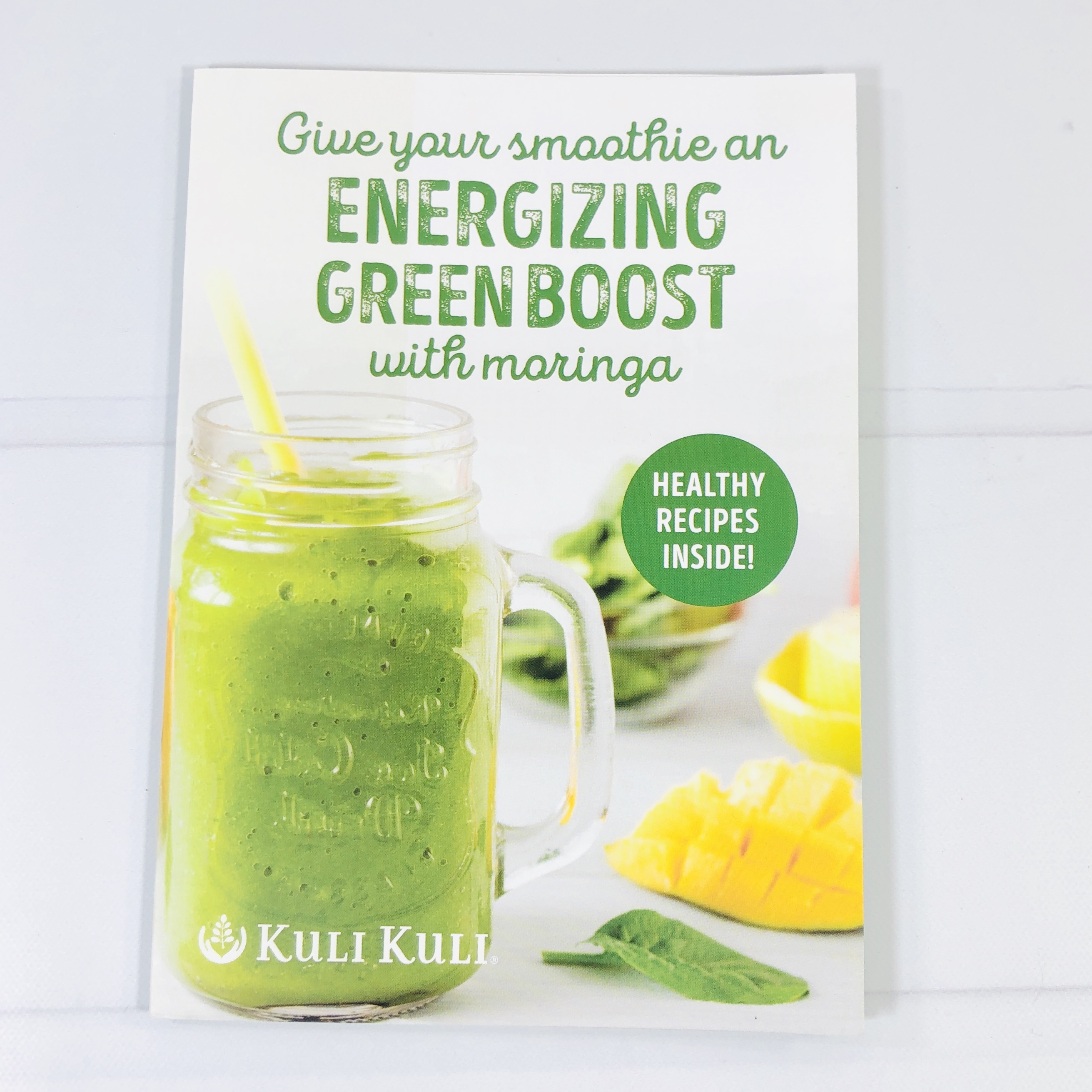 I received a recipe book.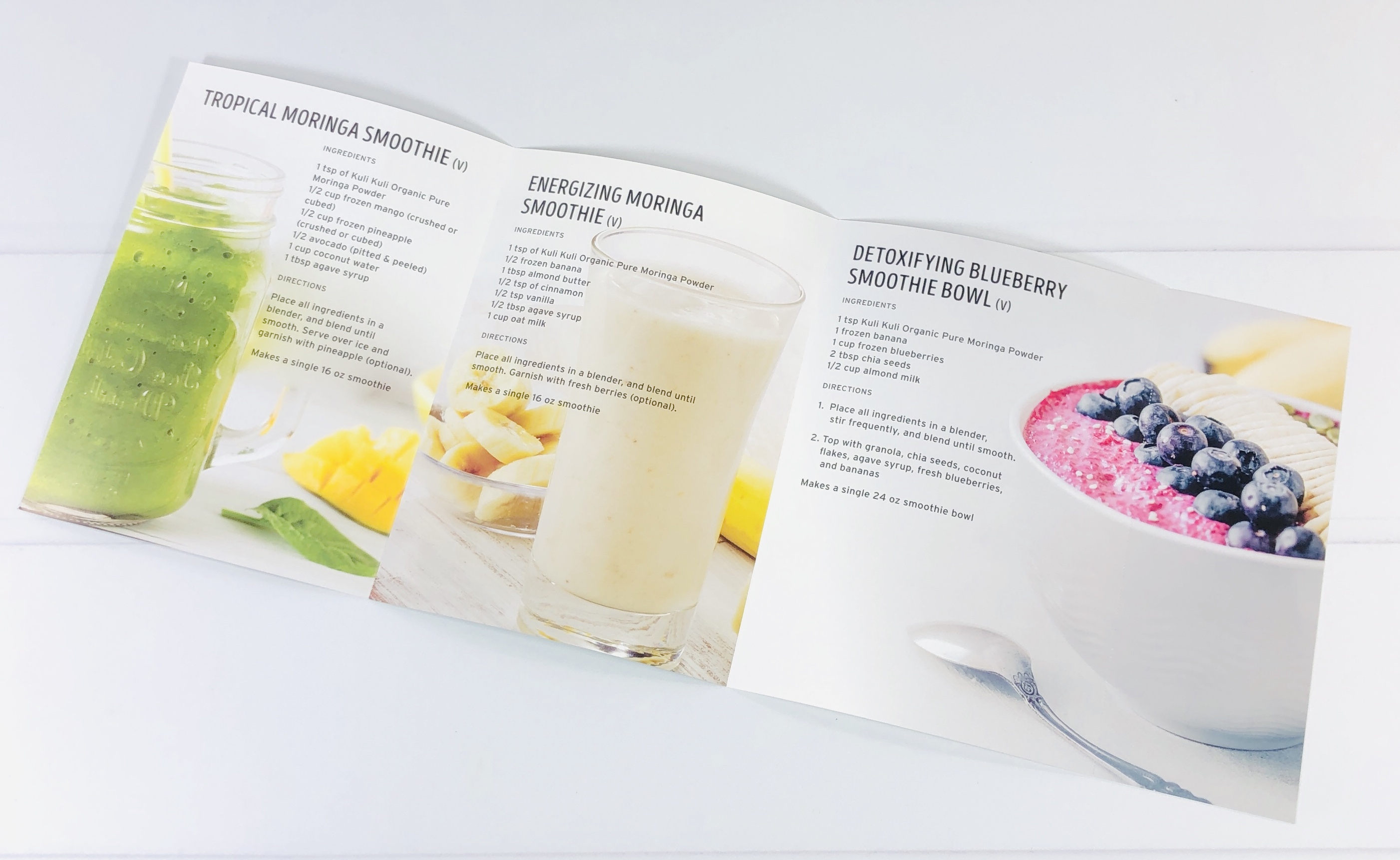 Looks tasty! It also listed some of the benefits of moringa and had a $2 coupon.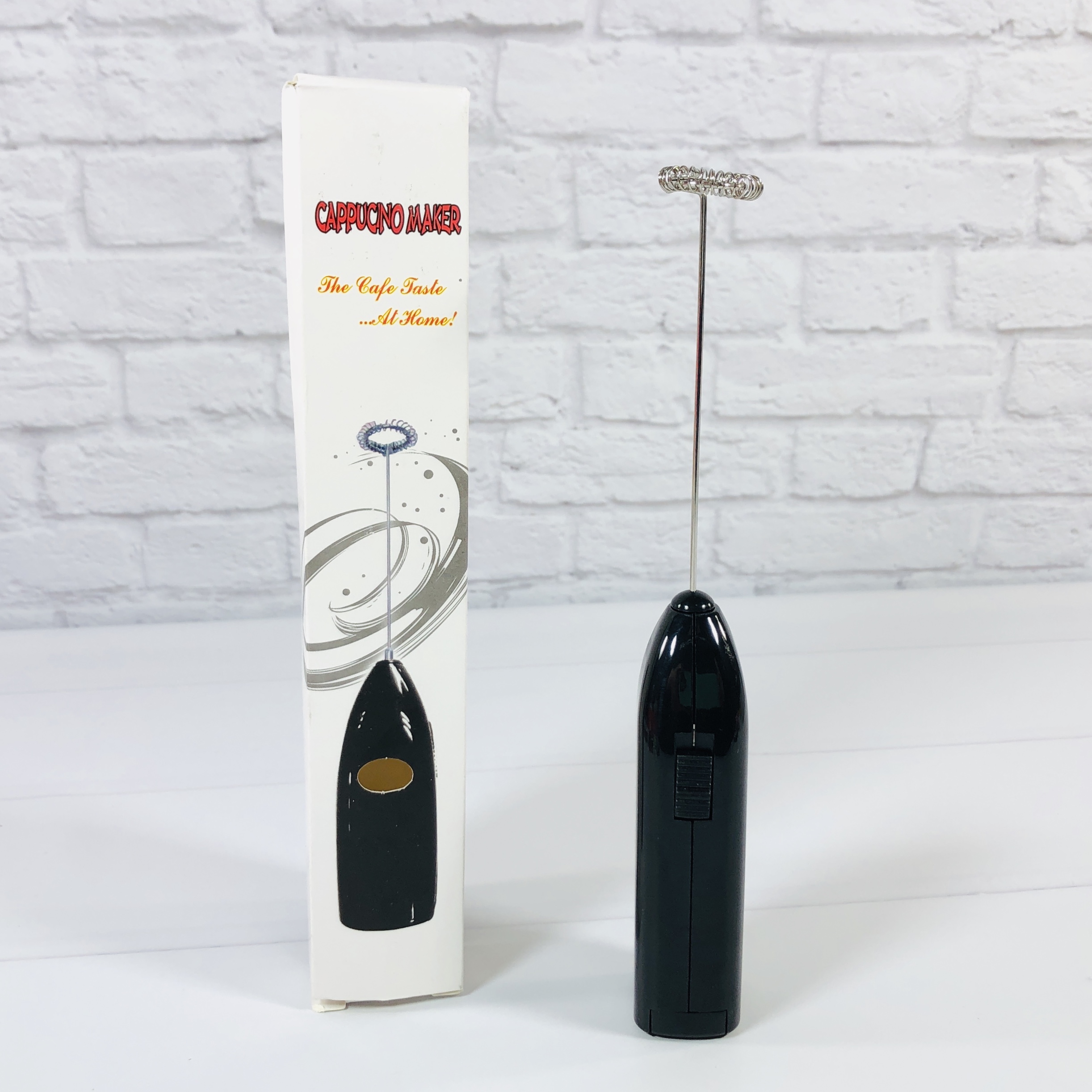 Shein Electric Hand Mixer ($2) The box says cappuccino maker but I found this on the Shein website as an egg beater.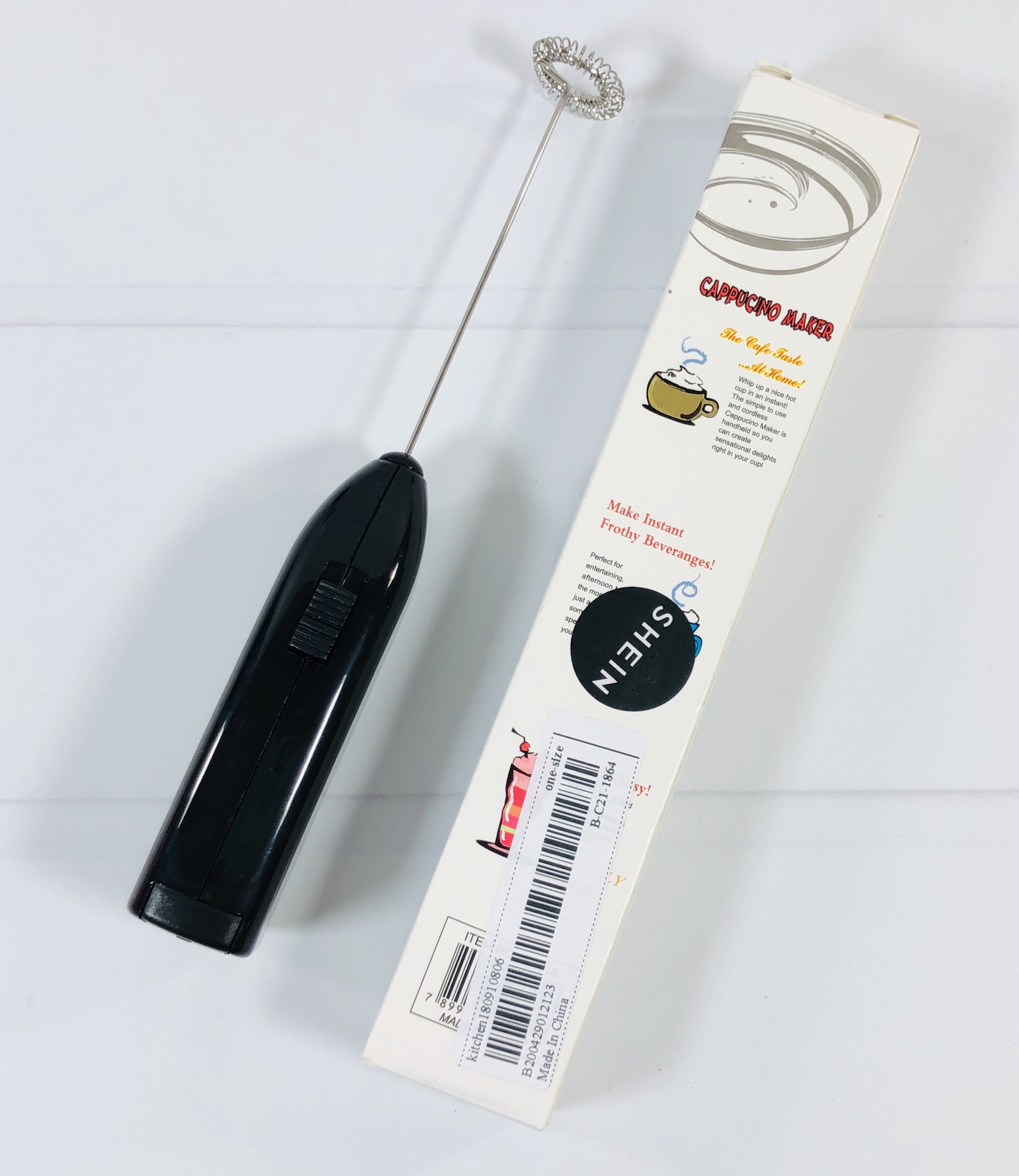 You can use it to mix up the smoothie shown above or to whisk other drinks or even eggs. It worked well enough but I wouldn't submerge it to wash, just try to wash the beater part.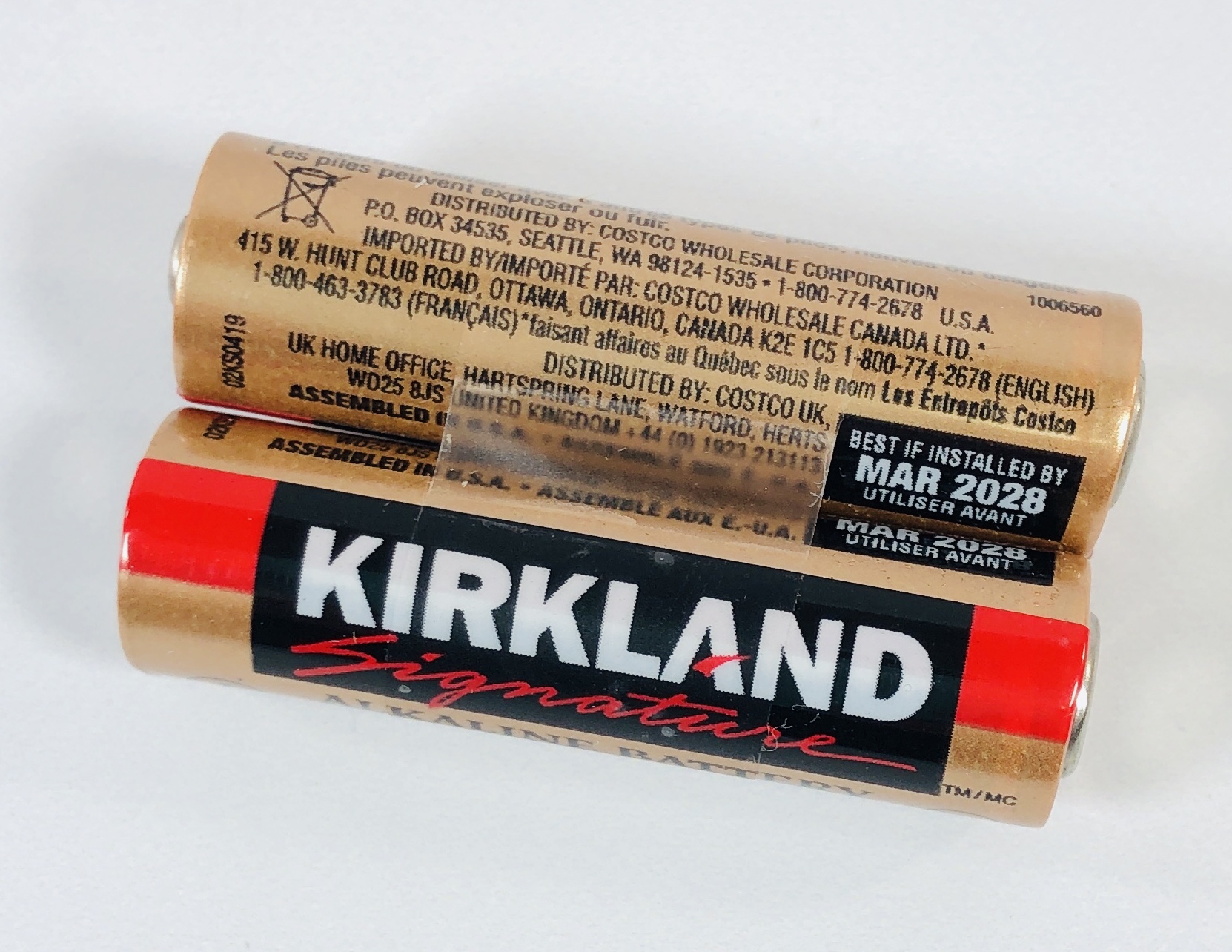 Kirkland Alkaline Batteries ($1.62) The beater needs 2 batteries to run so Crunchy Mama thoughtfully included them in the box.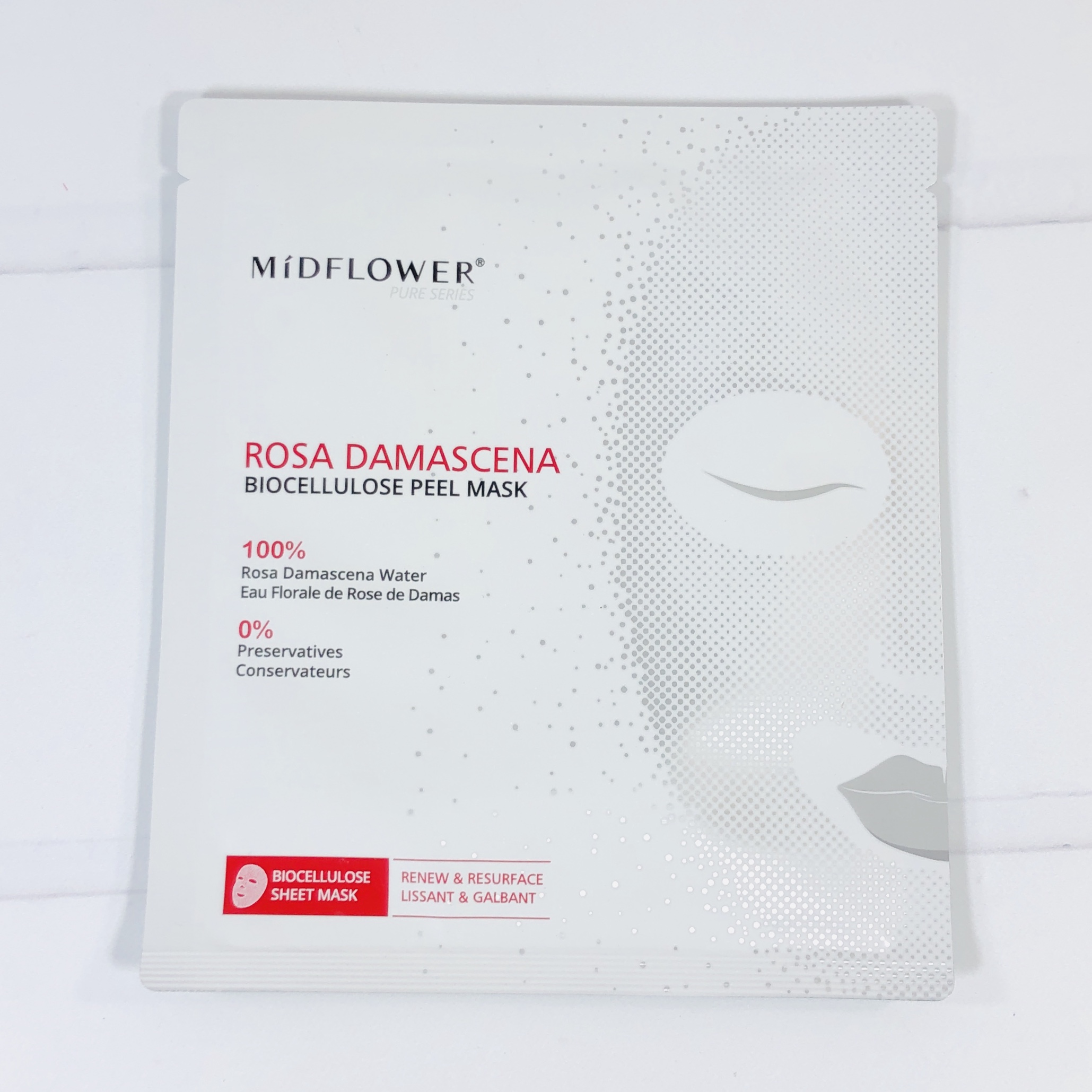 Midflower Rosa Damascena Biocellulose Peel Mask ($3.33) I usually shy away from face masks because I end up getting a reaction from the ingredients, but there is only 1 ingredient in this version!
Rosa damascena, or rose water, is all that this mask is infused with. I was shocked to see that suggested time for wearing is 1 hour, I think I can commit to 15 minutes tops. Make sure to pay attention to the directions: I wondered why it wouldn't stick to my face and then I saw that it had a protective mesh layer on each side and once I removed those then it stuck. It didn't smell very strongly at all and after 15 minutes I removed it and unlike other sheet masks, there wasn't any serum or anything to pat into the skin. My skin felt cool to the touch, which was a nice experience on a hot day.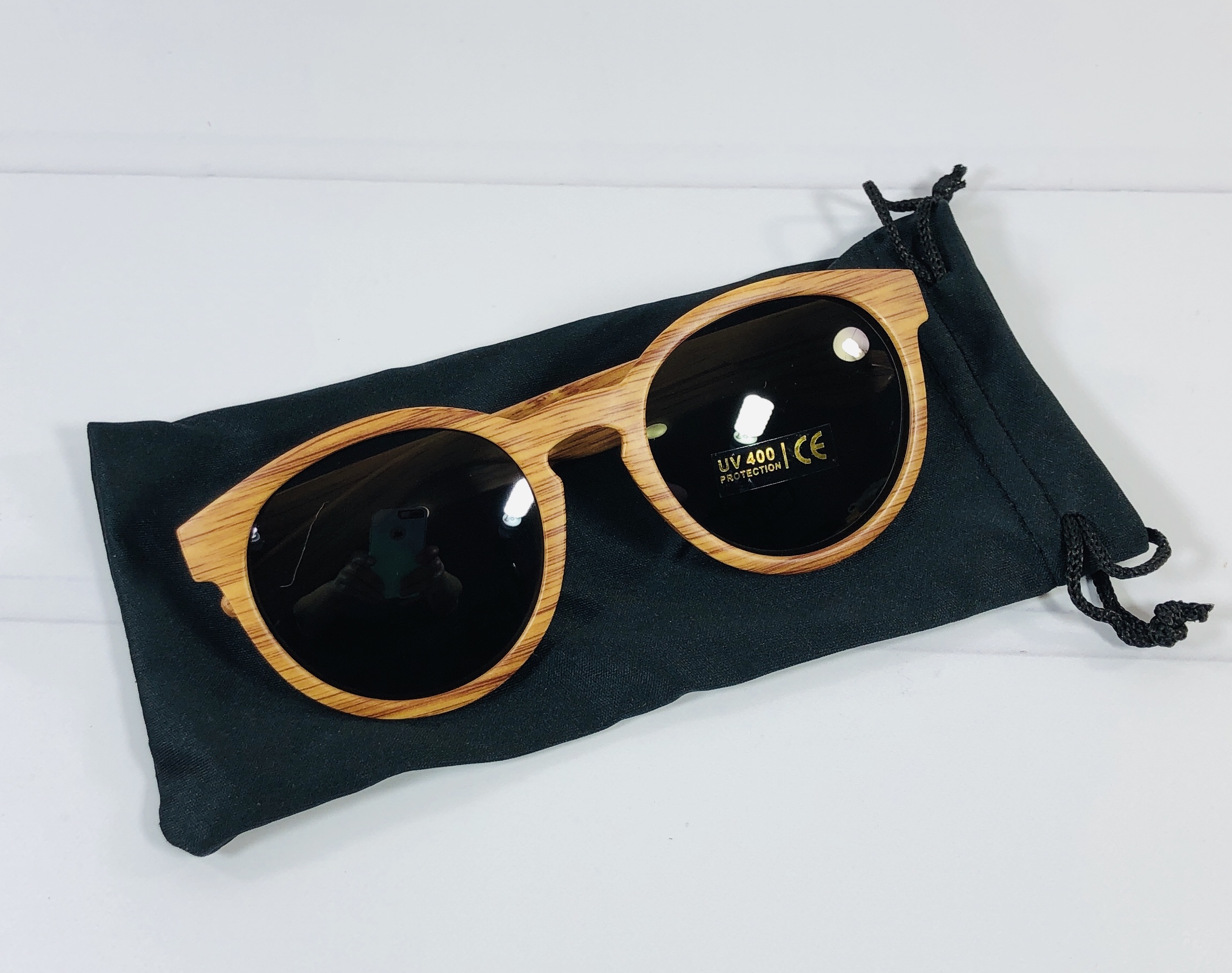 Wooden Sunglasses came in a microfiber pouch to keep them from getting scratched while in a purse or bag.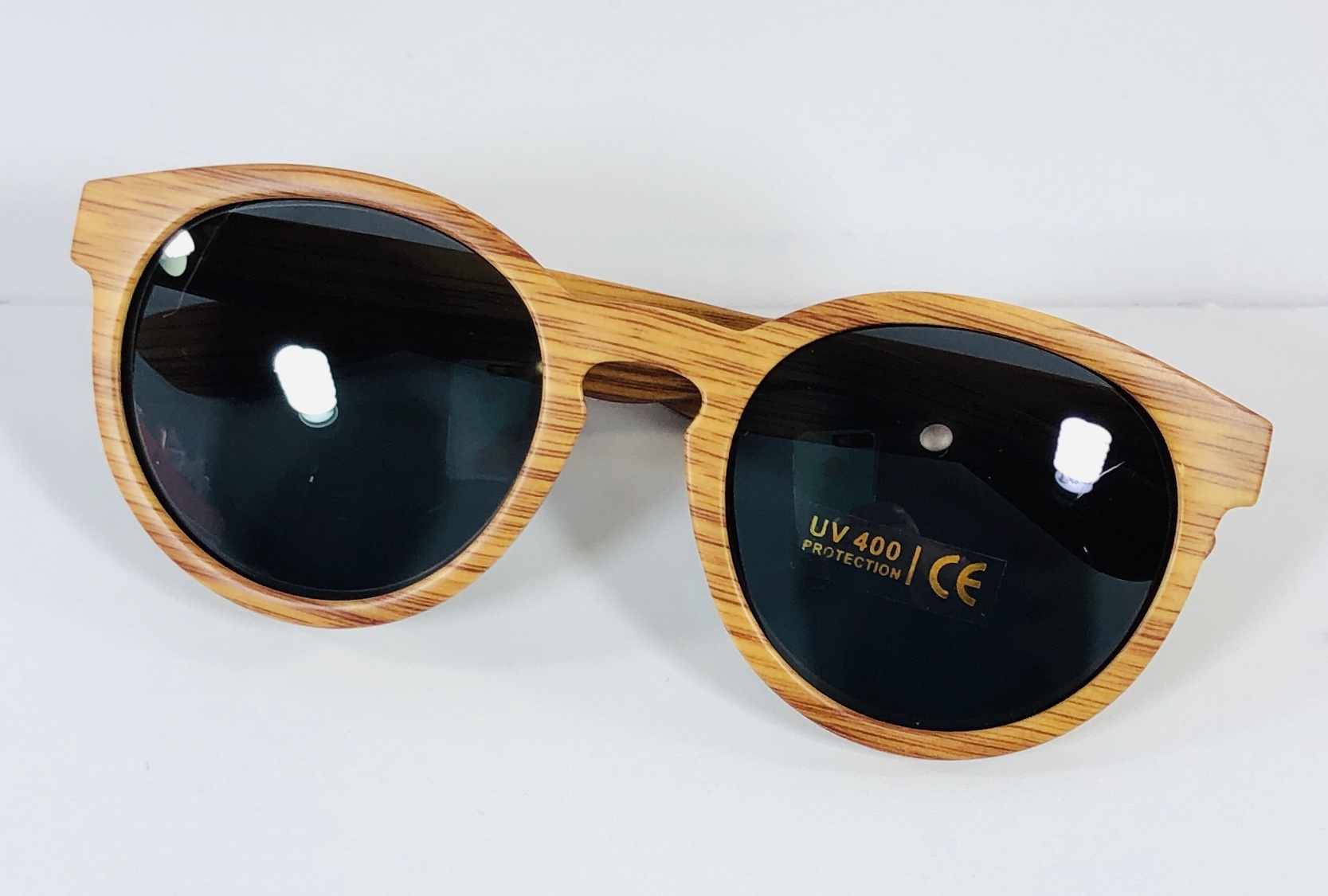 It says they have UV400 protection.
The frames are wood grained plastic, not actual wood.
The inside is missing classic sunglass info, like arm length etc. One of the sides has the Crunchy Mama logo. These are promotional sunglasses and can be bought in bulk here.
Wooden Coaster Here is another item made from "wood", but it's really particle board or MDF with vinyl or laminate finish. The bottom has 4 felt dots so it won't slide on a counter top. It's 6″ across so it is a trivet or pot holder rather than a drink rest.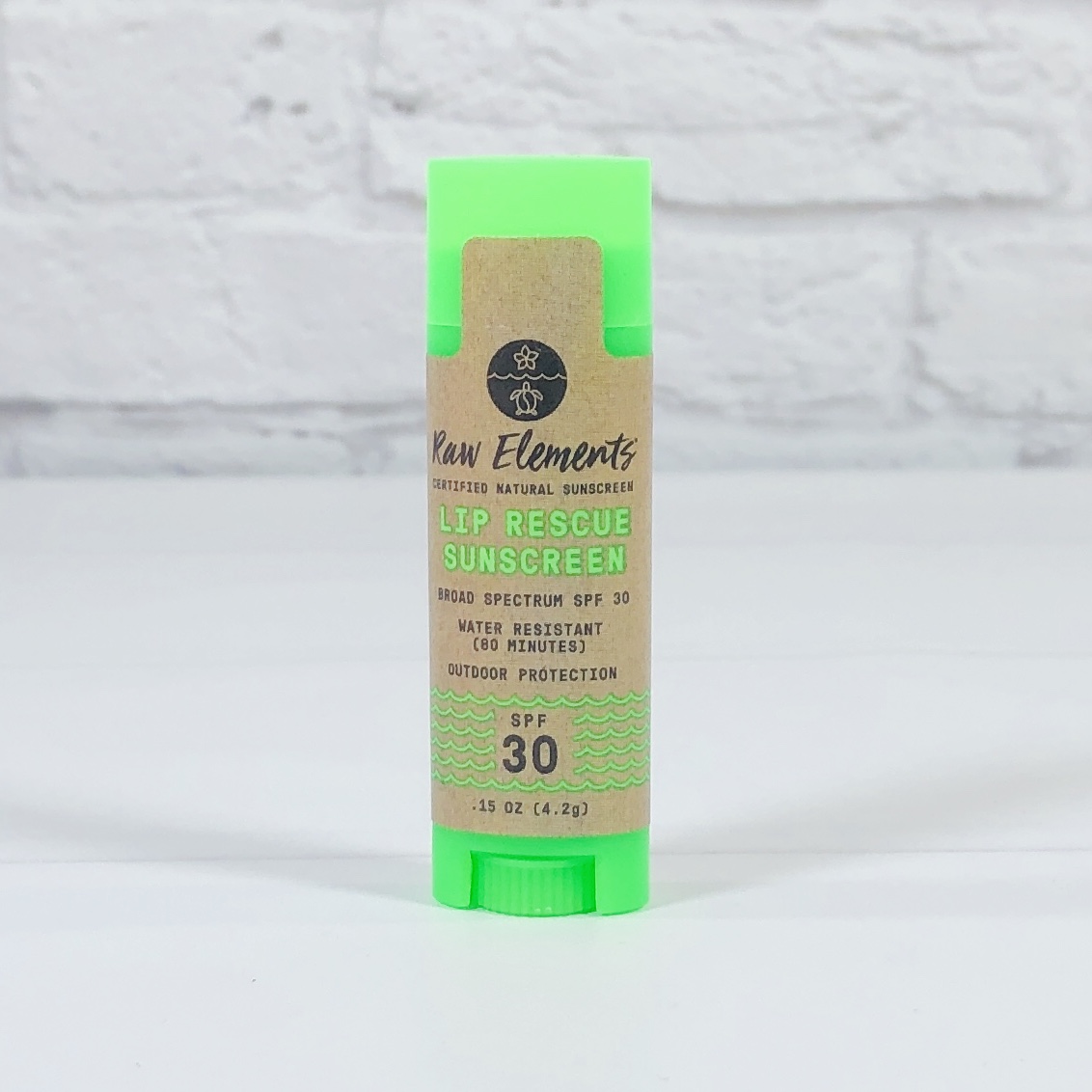 Raw Elements Lip Rescue SPF 30  ($6) is an all-natural sunscreen which protects lips with a physical sunblock in the form of non-nano zinc oxide.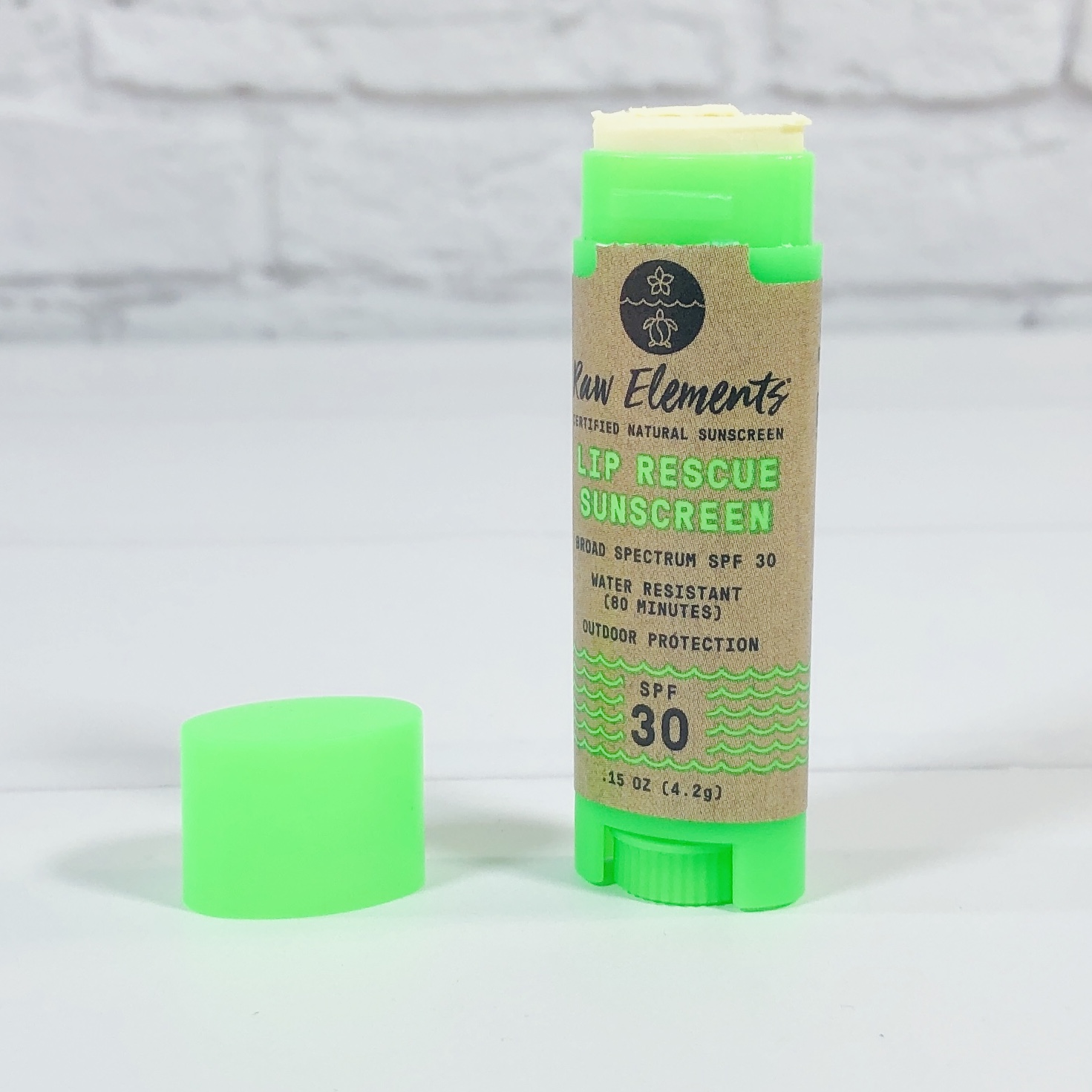 It's water resistant and reef safe. I know it says it's for every day use but it leaves a white cast and when combined with my lips it looks odd, kind of ghostly. I would save this one for the pool or outdoor activities.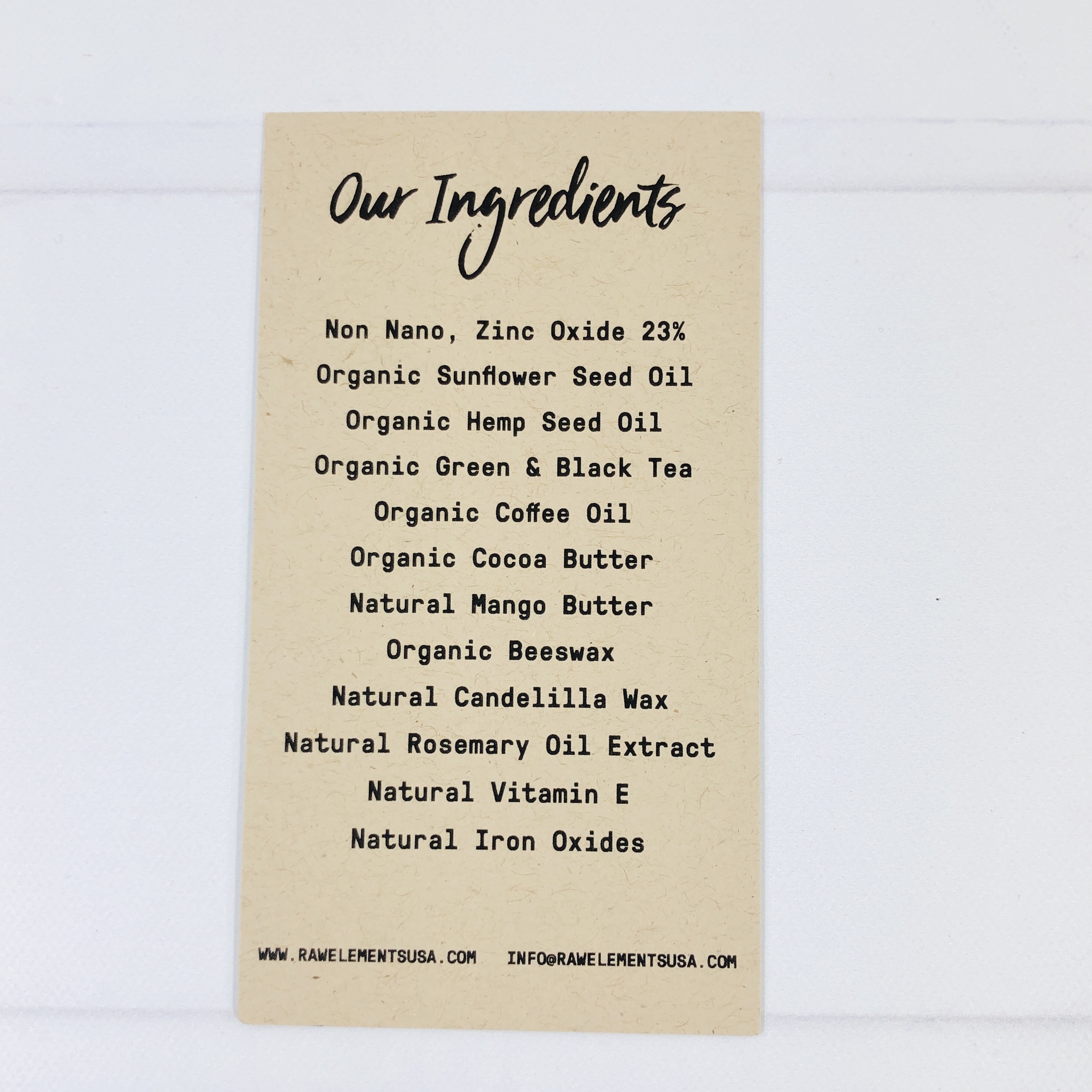 There was a card with the ingredients listed. The rosemary extract gives it flavor.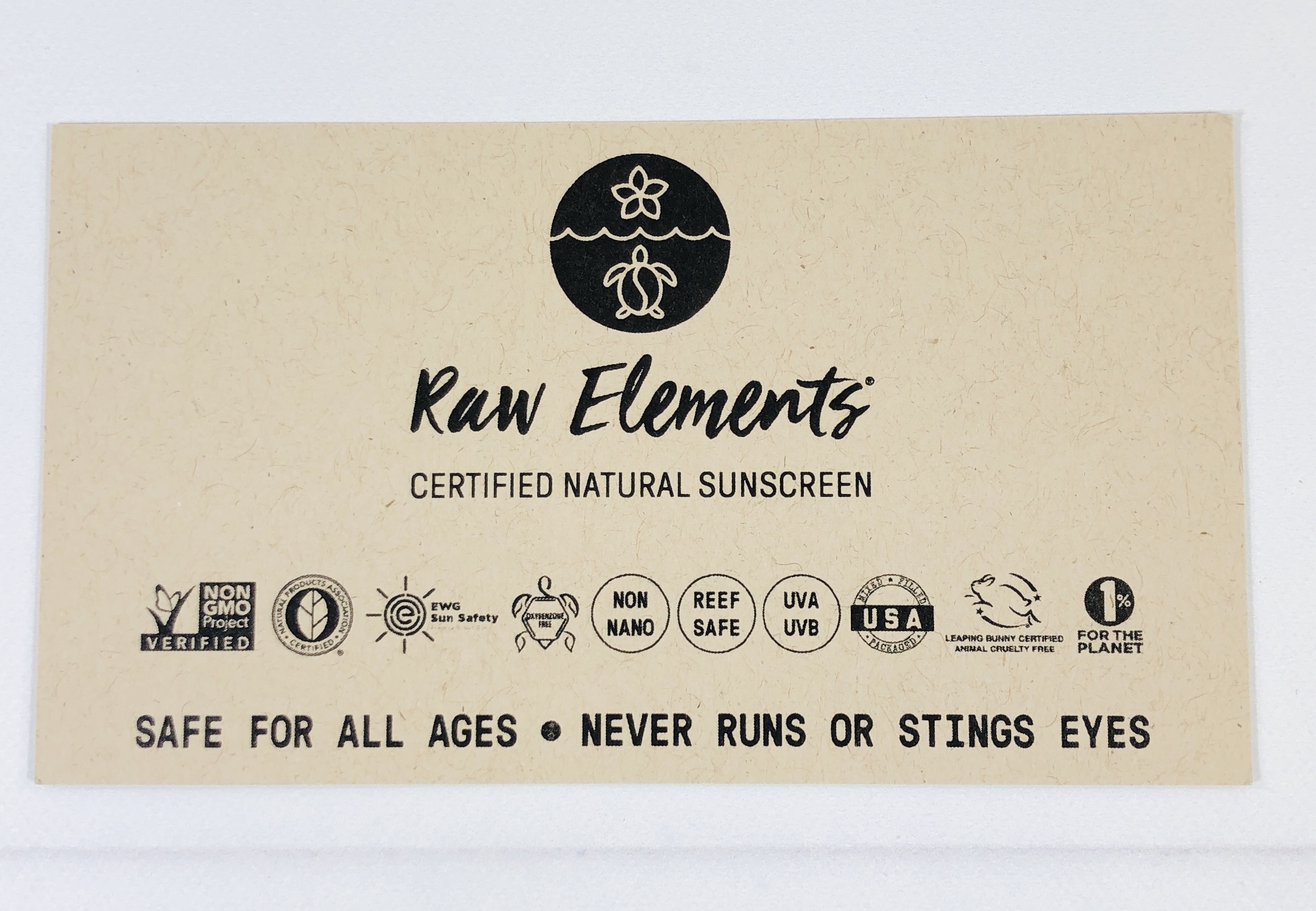 Here's some more cool facts about the brand!
The next two items came in a reusable pouch. The Momtra Card has a motivational saying on one side.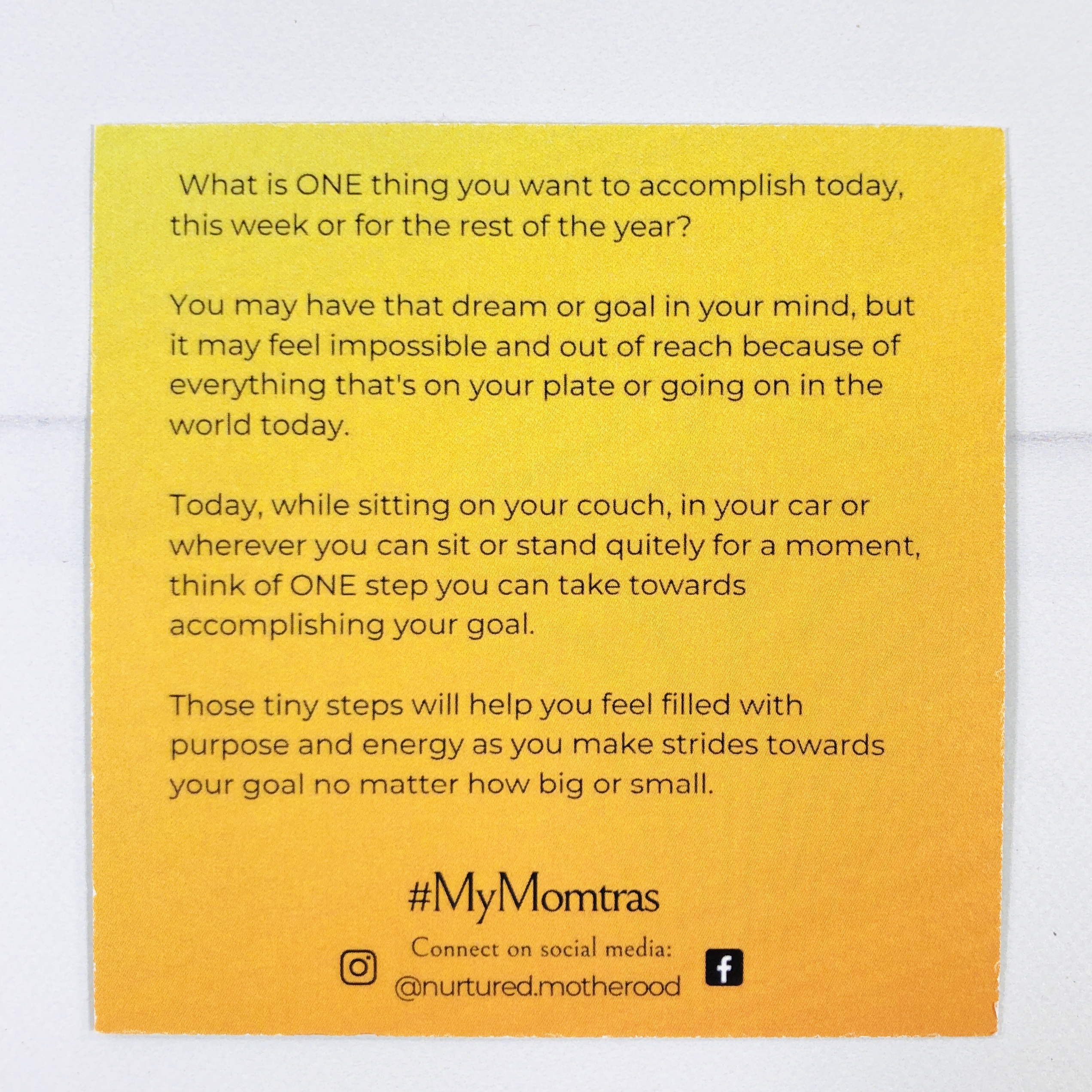 The back tells us how we can make strides towards our goal with baby steps.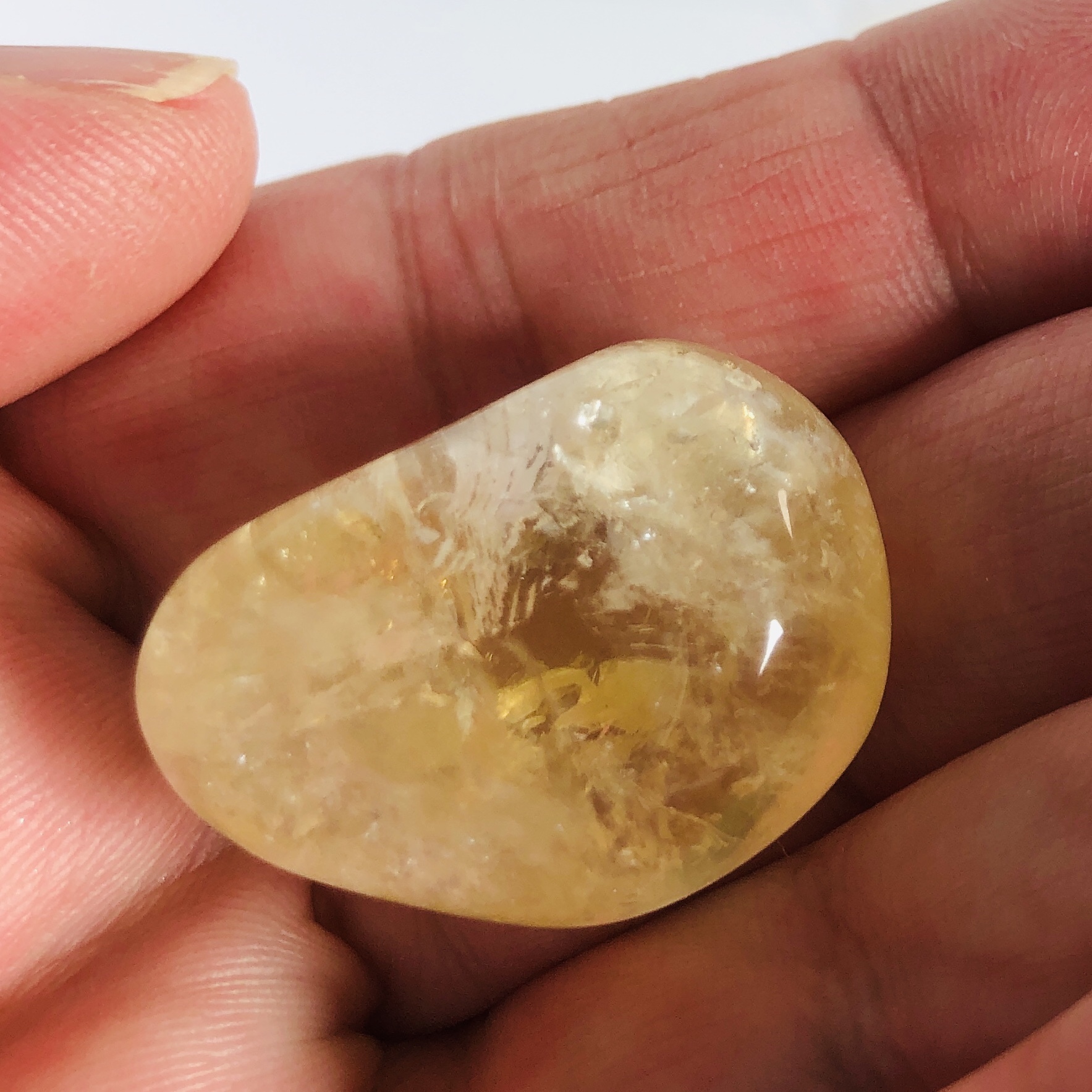 Citrine Meditation Stone (Find similar item here, about $1.83 value) The stone of the month is citrine, which is a type of quartz. It is supposed to help energize the holder and promote self-confidence.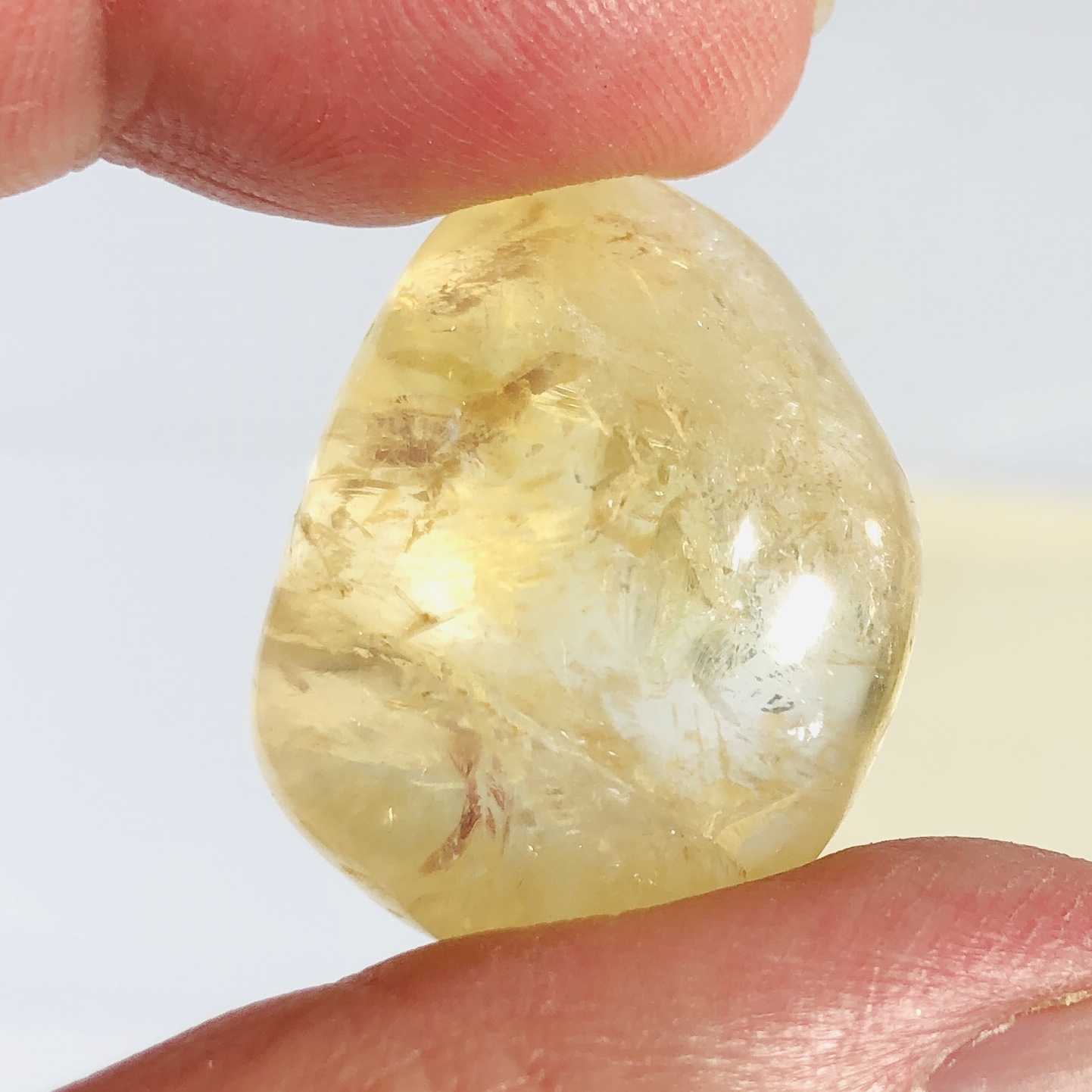 Its sunny color is supposed to be warm and comforting and protects from negative energies. It is also supposed to help bring the holder wealth!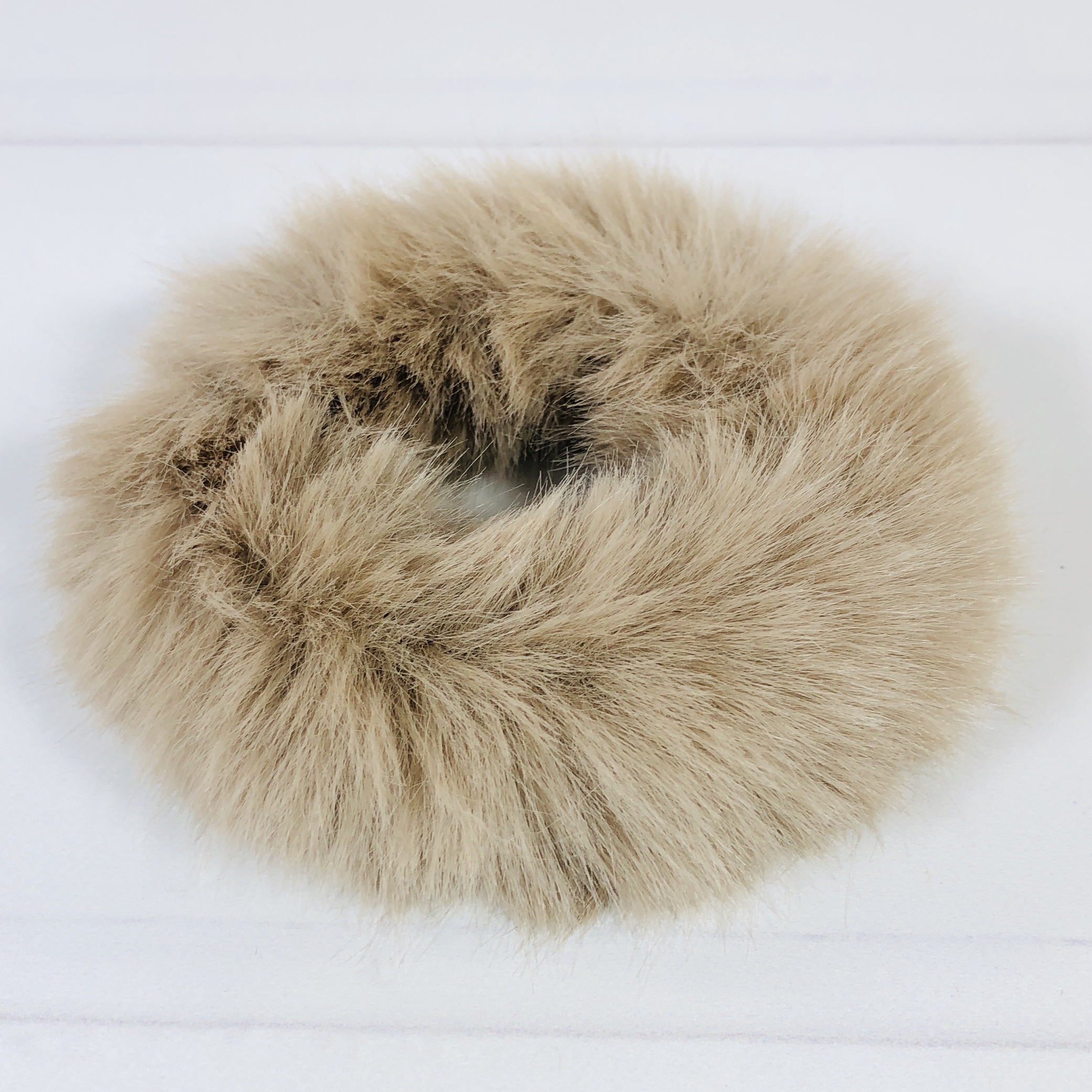 Scrunchie Our final item is a hair holder unlike any I've ever encountered. It is fur but I'm not sure if it's real or fake. It stretches but I'm not sure how sturdy it is, one mis-twist and it's a goner. It seems out of place in a summer box, this seems more suitable for winter.
The July Crunchy Mama had some useful items for this month. I really enjoyed using the mask, it was very refreshing. The lip balm is perfect for outdoor sports and I even liked using the moringa products, they were interesting! I am so happy to add the citrine to my crystal and stone collection, it is so pretty to look at. I feel like the quality of the remaining items could be improved, especially in a box that is supposed to promote smaller women-owned businesses and sustainable practices. When I think of "crunchy" I think of something that has less of an environmental impact on the ecosystem and a battery-operated hand mixer and plastic sunglasses are not what I would consider in that category. I hope that Crunchy Mama will consider that when curating future boxes and hoping that this curation was a COVID blip!
What do you think of this month's box?