Smalls is a customizable cat food subscription that you can configure to your cat's needs or preferences. You can choose from dry or wet food and plans start at as low as $1 per day. You can get a sample box first to see how your cat likes it, and Smalls offers a money-back guarantee.
Healthy, real food recipes carefully formulated for your cat. Convenient delivery made easy for you.
DEAL: Get 25% off your first order! No coupon needed, just use this link to subscribe!
Here's how it works:

Tell us about your cat: From size and build to health goals and habits, every cat has unique nutritional needs
Pick your recipes: Select your cat's preferred foods and flavors. If you're unsure, our expert cat nutritionists have made the process simple
Try first, commit later: Within a week, a sampler box is shipped straight to your door. Try everything at home and give your cat a say
Customize your Smalls: Once you know what your cat likes, you can make changes to your subscription with our on call Cat Concierge team. Skip deliveries or cancel anytime
And here's the benefits your cats will get:
Fresher breath and a less smelly litter box. When cats eat right, their poo is healthier! More of the nutrients are digestible and absorbed, so less junk comes out the other end. second month fresh breath benefit
Shiny coat, fewer hairballs. Your cat's coat will improve with a balanced diet leading less shedding and fewer hairballs. third month fresh breath benefit
More energy for fun and games. High protein and improved hydration promote strong bones and toned muscles, so cats can dash, leap and chase (or not).
Here is what was recommended for my 3-year old female cat, who is extra chunky and is spayed: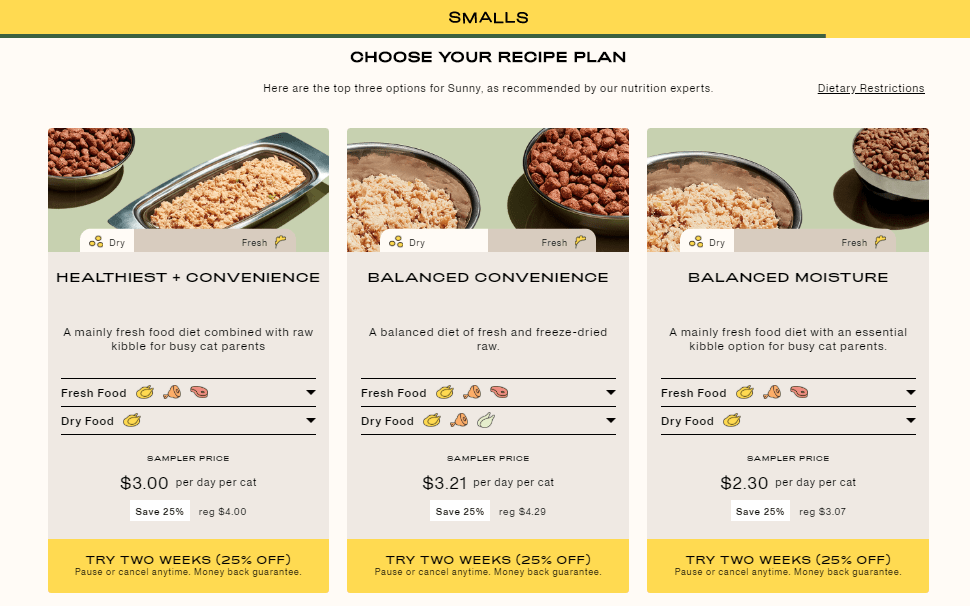 There are other plans available and you can choose the one that best fits your needs.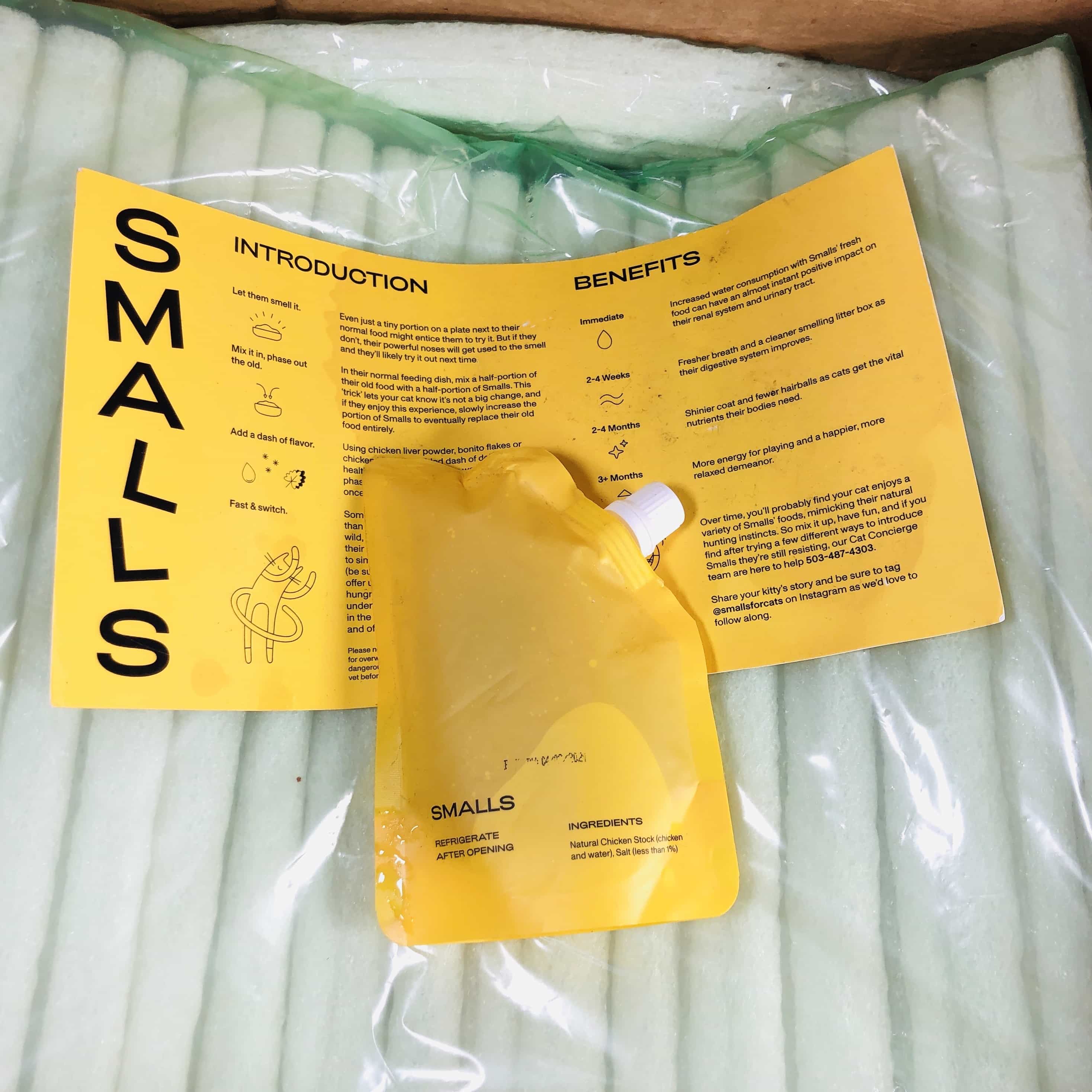 My box was sent directly to my door via FedEx. You can see here that something leaked and the paper on top was soaked.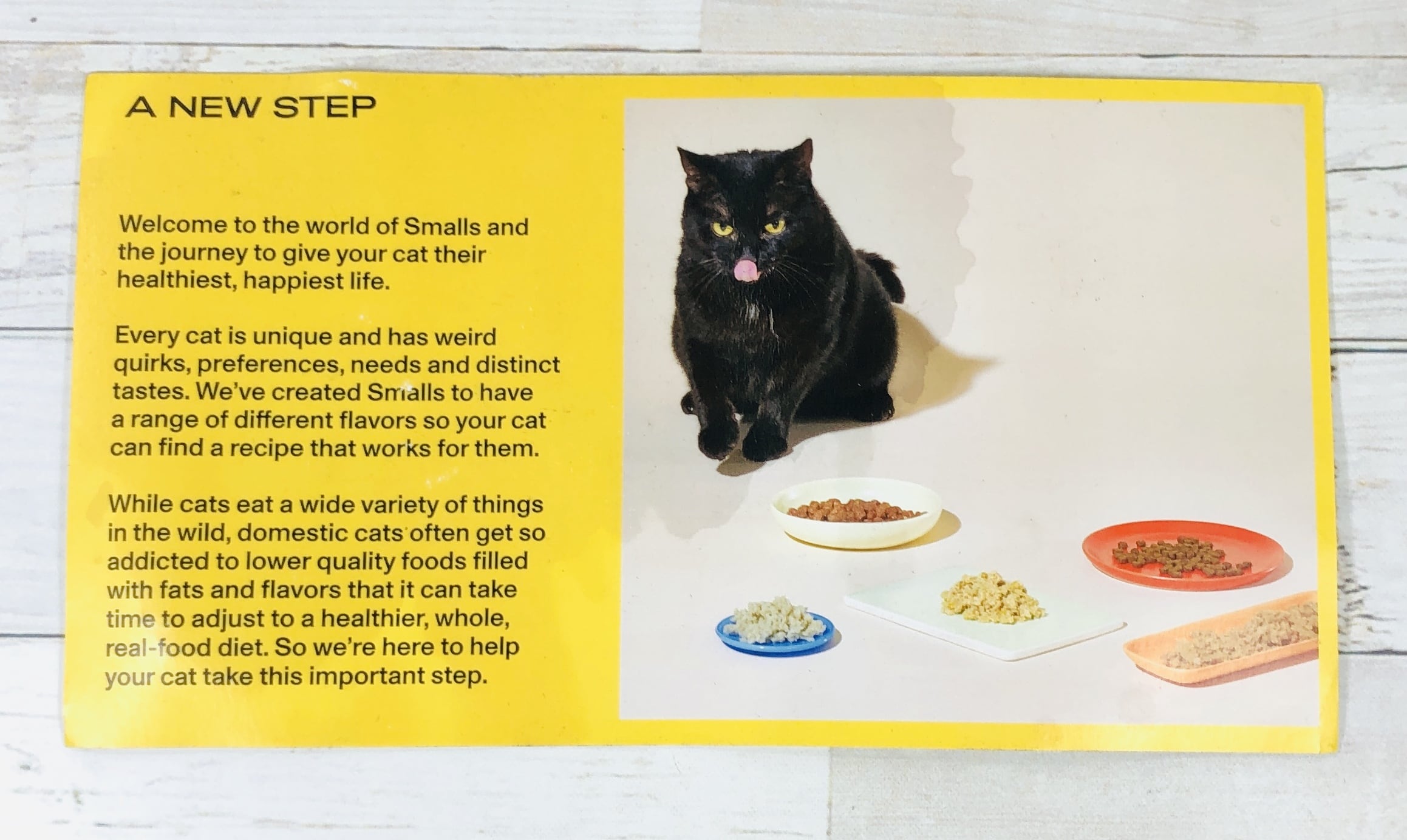 Here is the info card telling me my cat is about to take a new step in nutrition.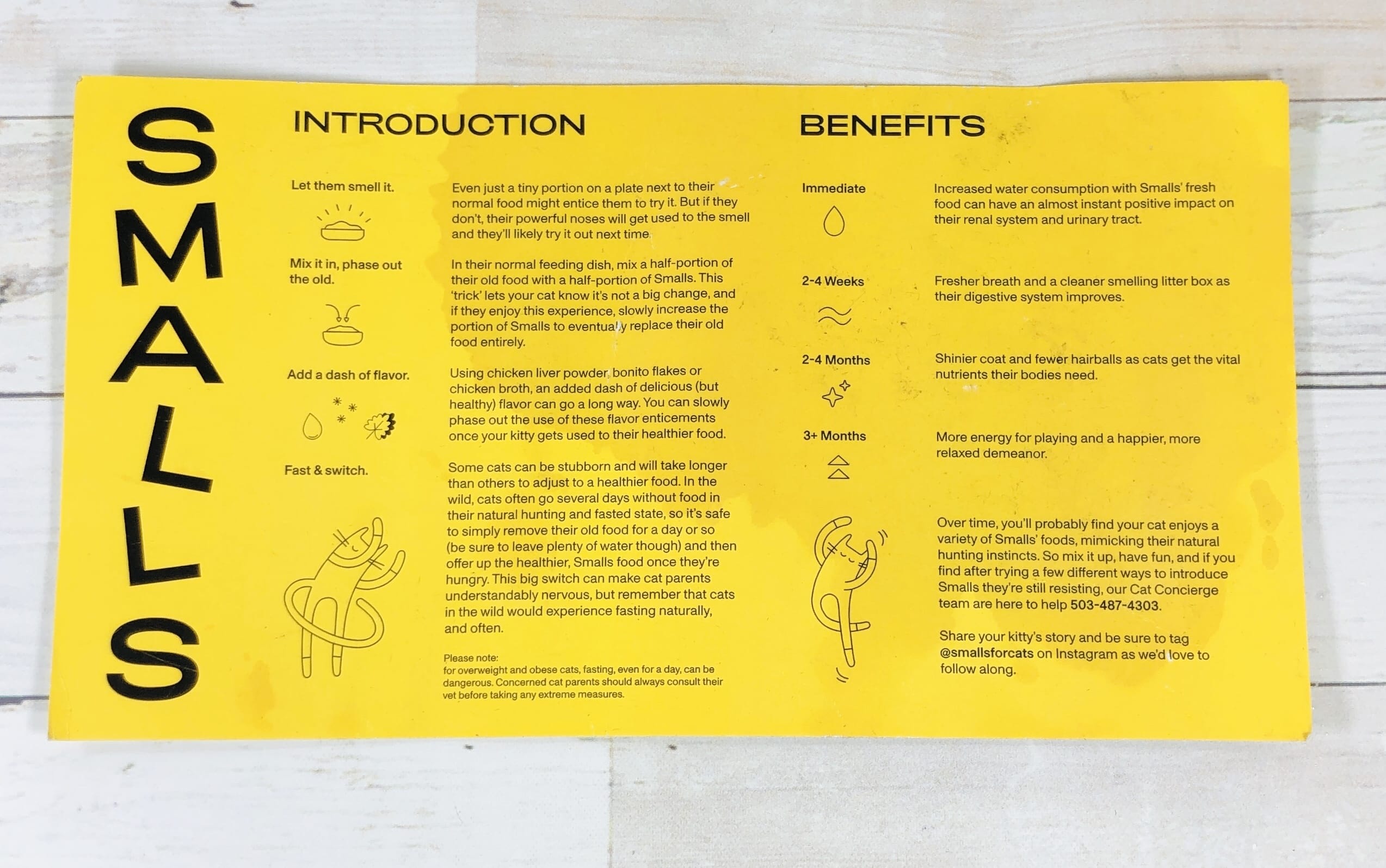 The back of the card gave tips for introducing the new food to your cat. Cats are not always open to change at first so it might take some time before they are completely switched.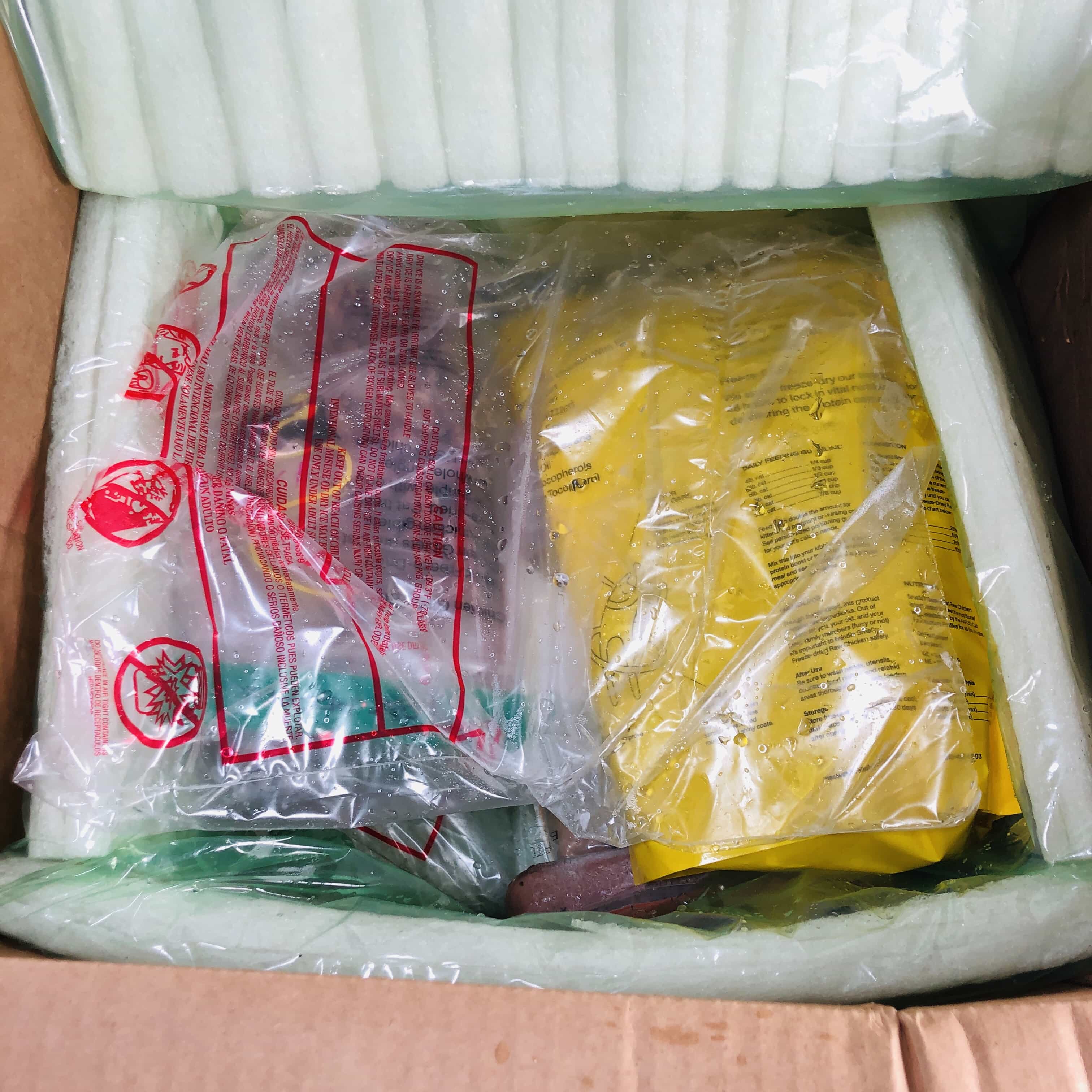 The dry ice was completely gone but my wet food items were still frozen solid.
I'm not sure that my particular items fit a specific plan, more like a variety of items to show some of the products Smalls offers.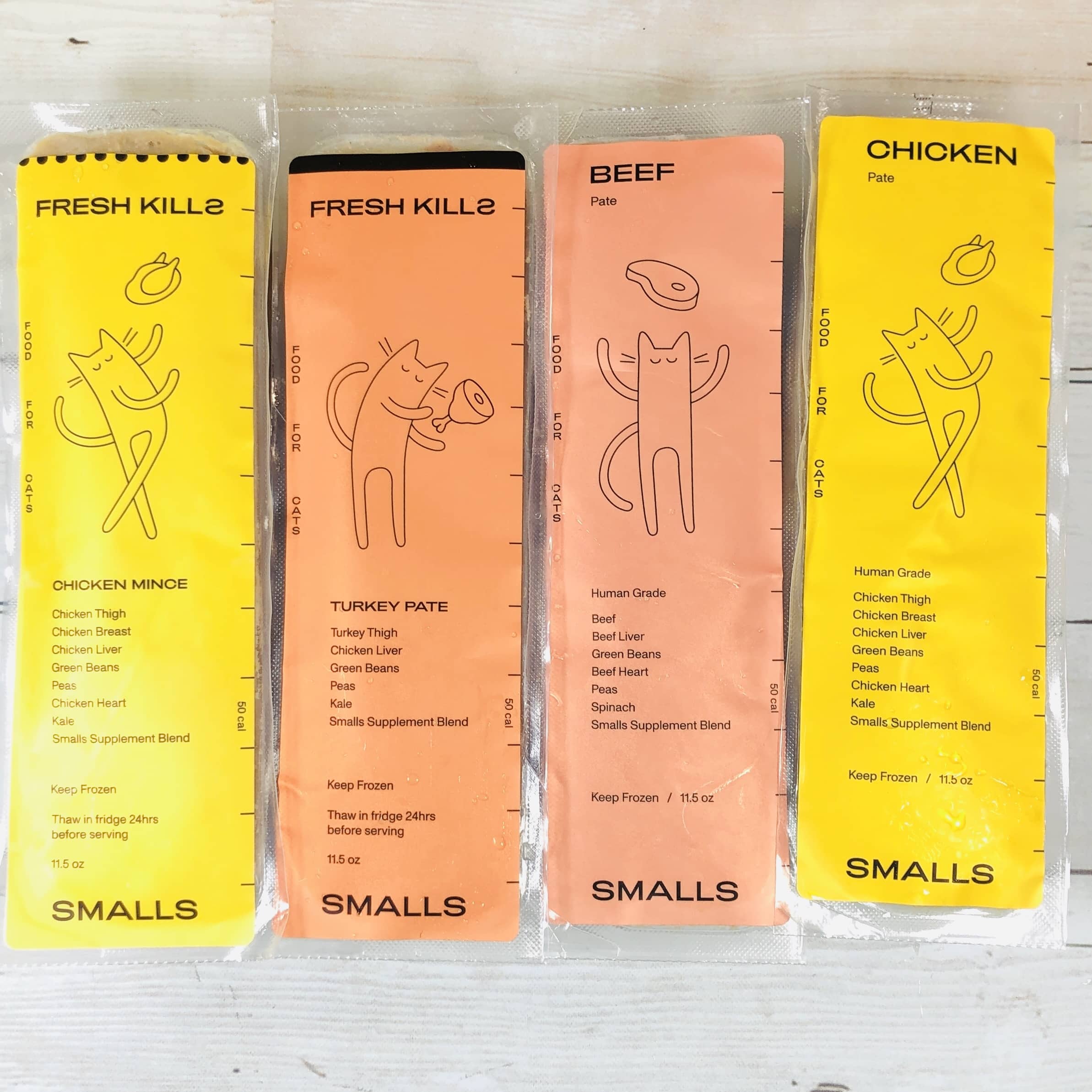 Smalls has 6 different "Fresh Killz" offerings that have high protein and high water content. It is supposed to mimic what a cat would eat in the wild. You can read all about it, and see the different flavors and ingredients, here.
Each of the bricks were frozen solid. Each brick has lines on the right side and each of those lines marks 50 calorie increments. A 10 pound adult cat needs about 200 – 250 calories a day. You could cut off 100 calories worth two times a day, or supplement with dry food. It looks like there are 11 lines, so if you feed 4 lines a day, each pack should last around 2.5 days, or longer if you supplement with wet food. The wet food can keep for 5 – 7 days in the fridge, or 6 months in the freezer. Smalls has a handy help center on their website that gives the measurements in cups and shows how much to feed based on your cat's weight.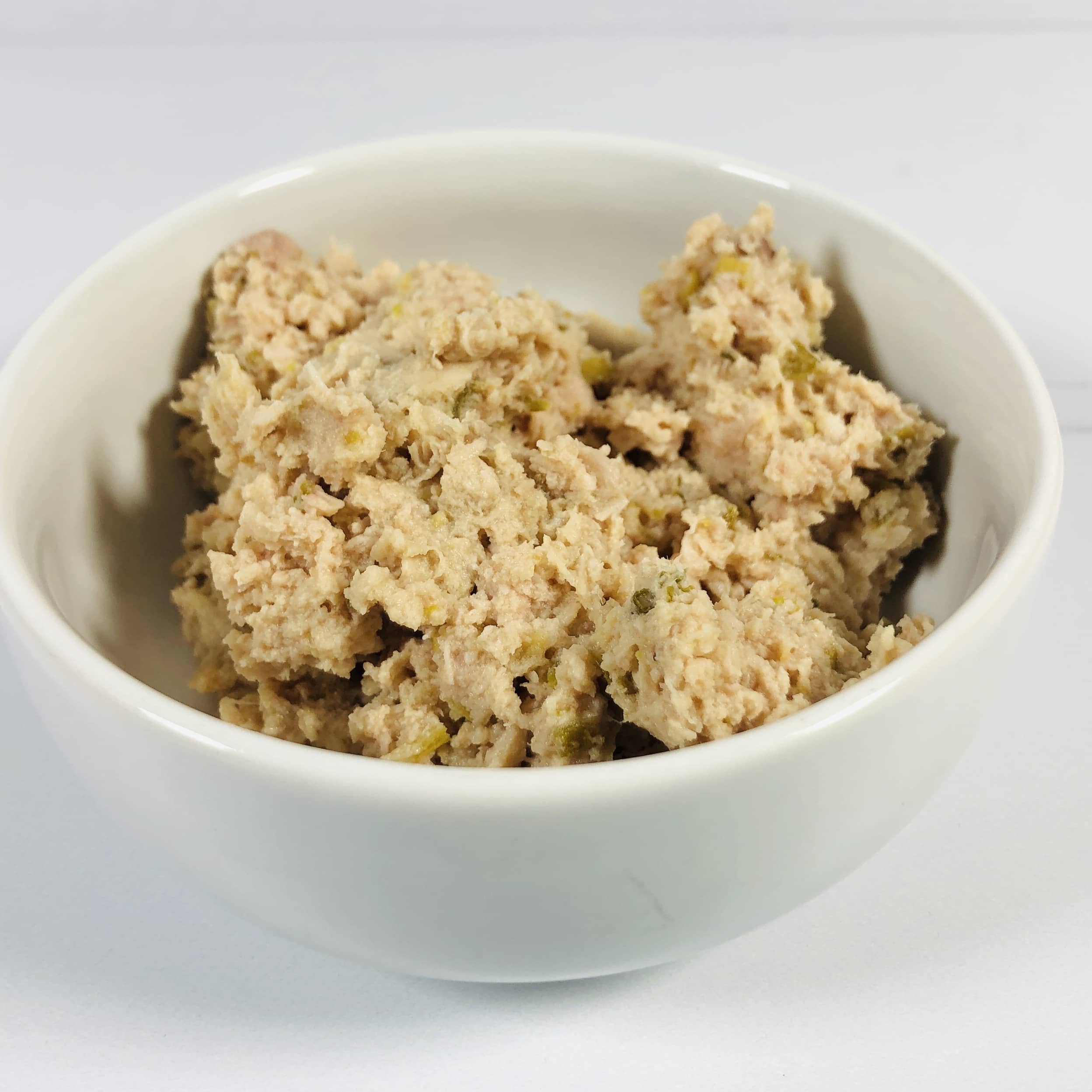 Chicken Mince Chicken thigh, breast, and liver along with green beans, peas, and kale are some of the ingredients in the Chicken Mince recipe. When I gently heated it, it became soupier.
Turkey Pate is made with turkey thigh, chicken liver, green beans, peas, and kale.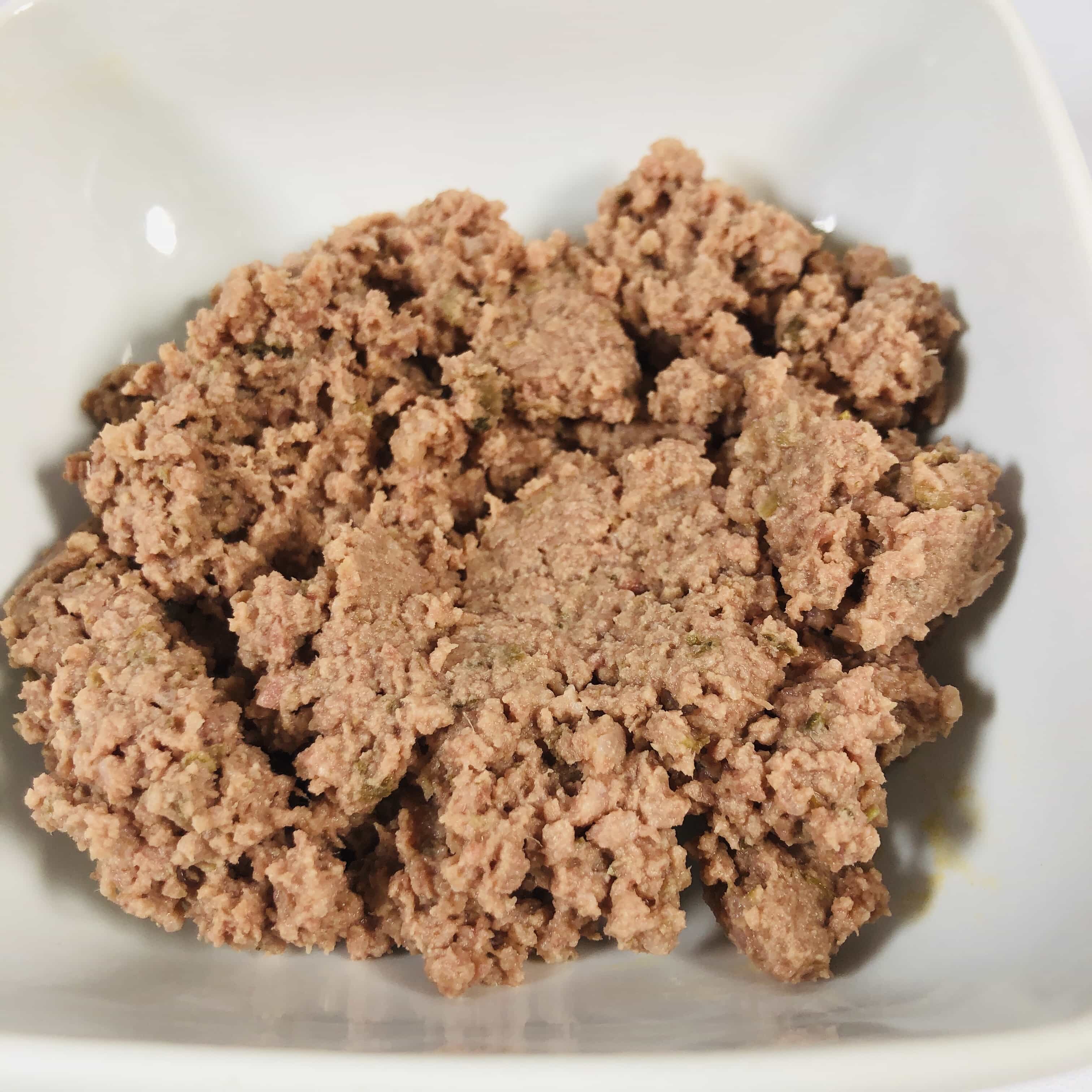 Beef Pate Ground beef, beef liver, beef heart, green peas, and green beans are some of the ingredients in this pate, which looks similar to canned cat food but smells better.
Sunny liked it!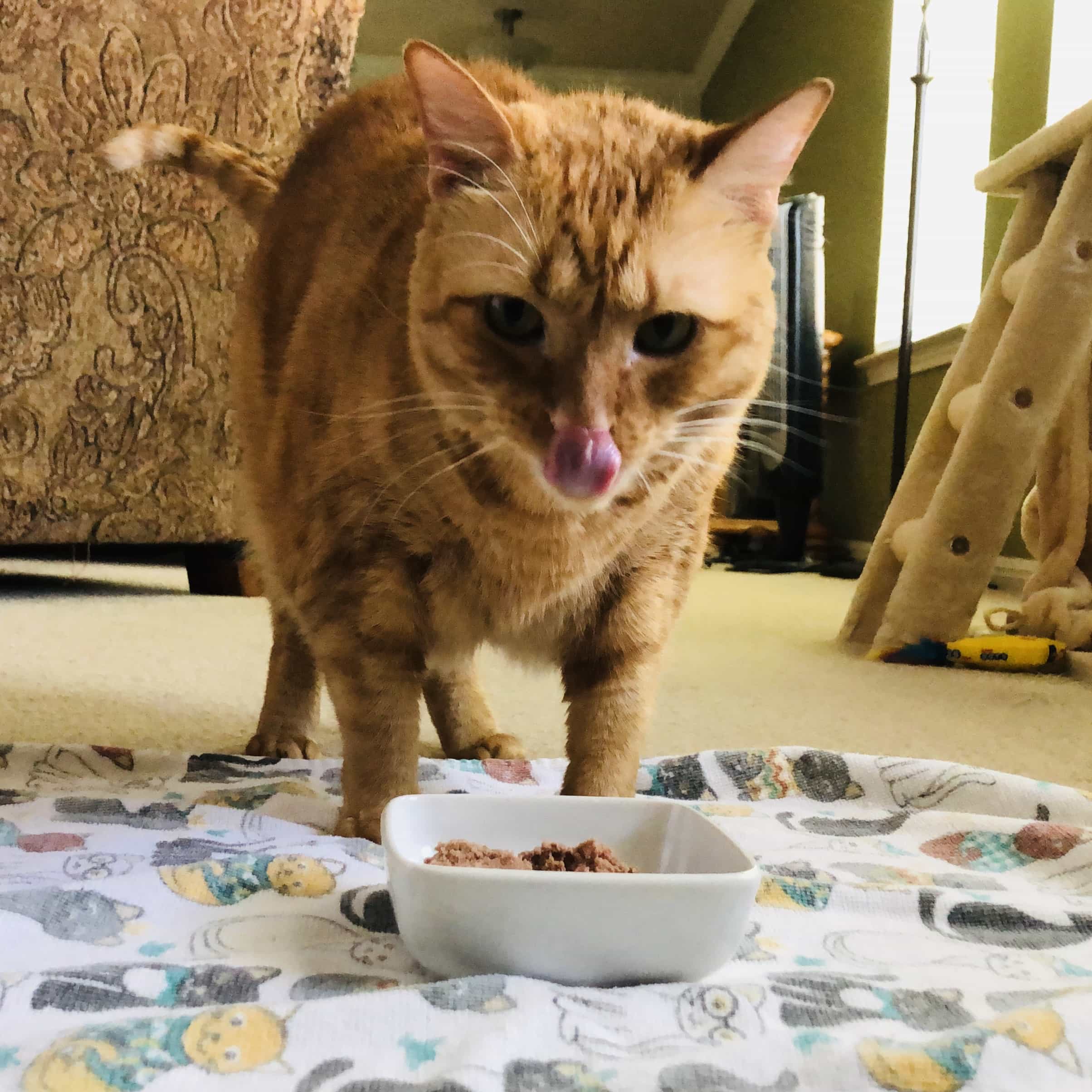 She's so silly!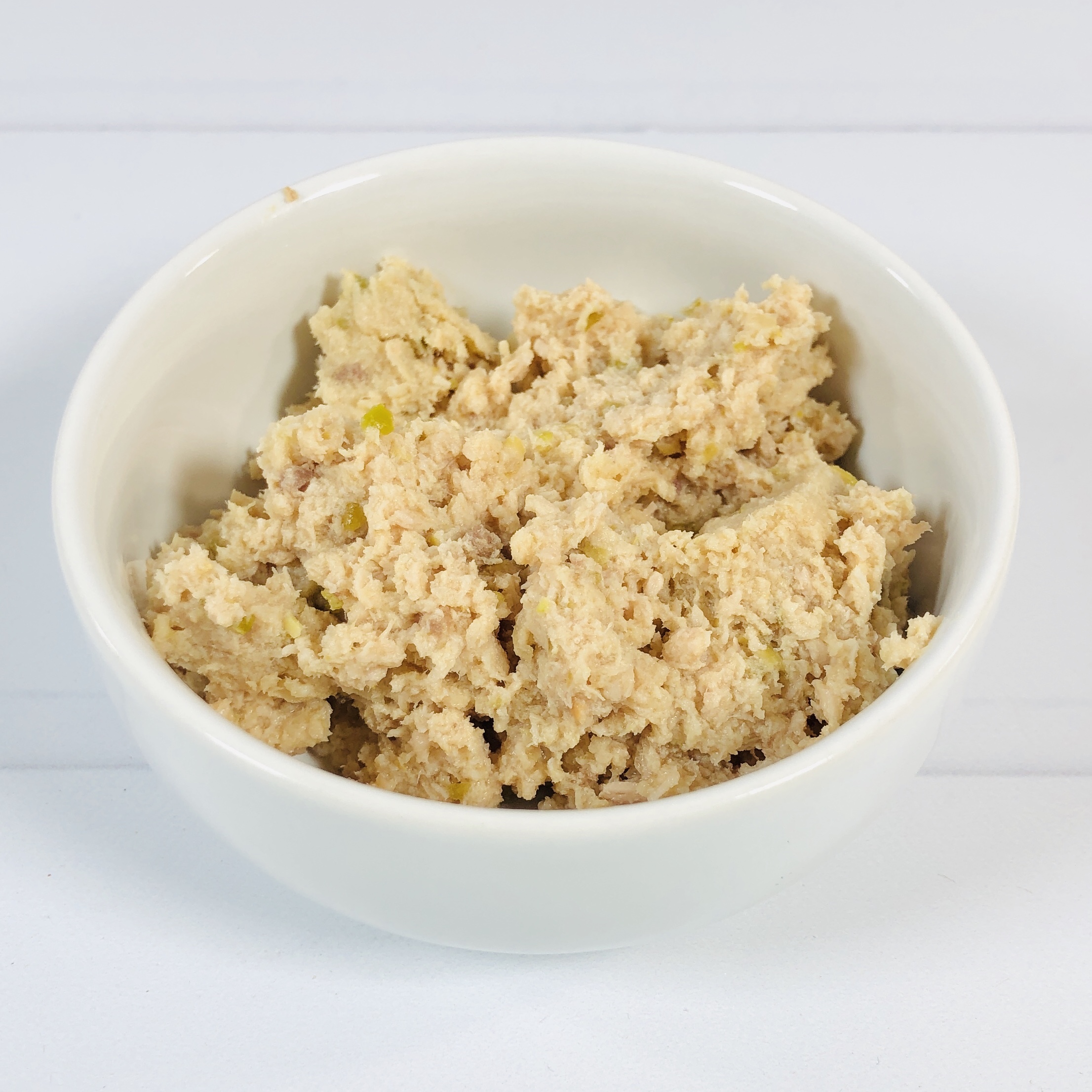 Chicken Pate is made with chicken thigh, liver, heart, and breast, plus green beans and peas.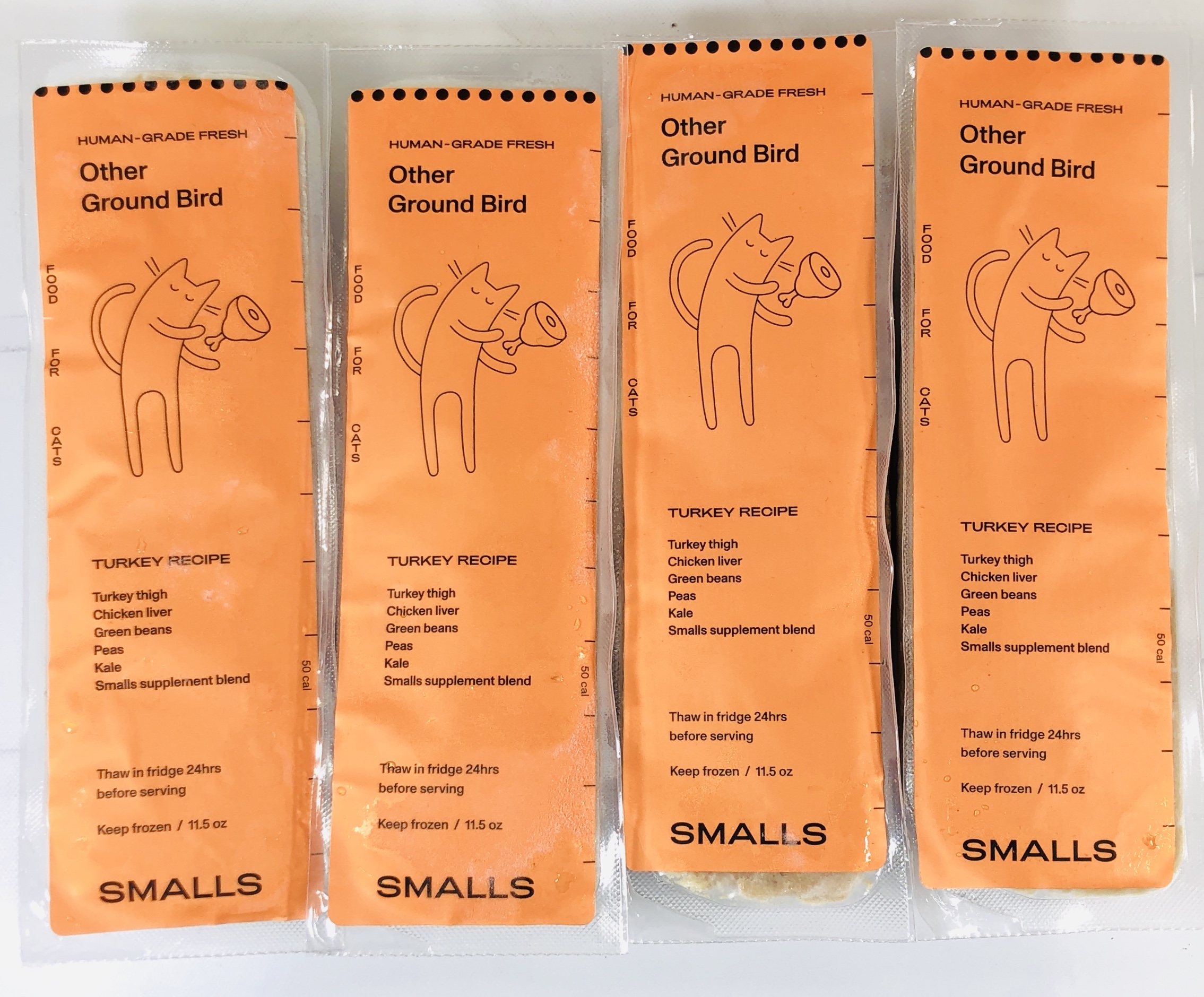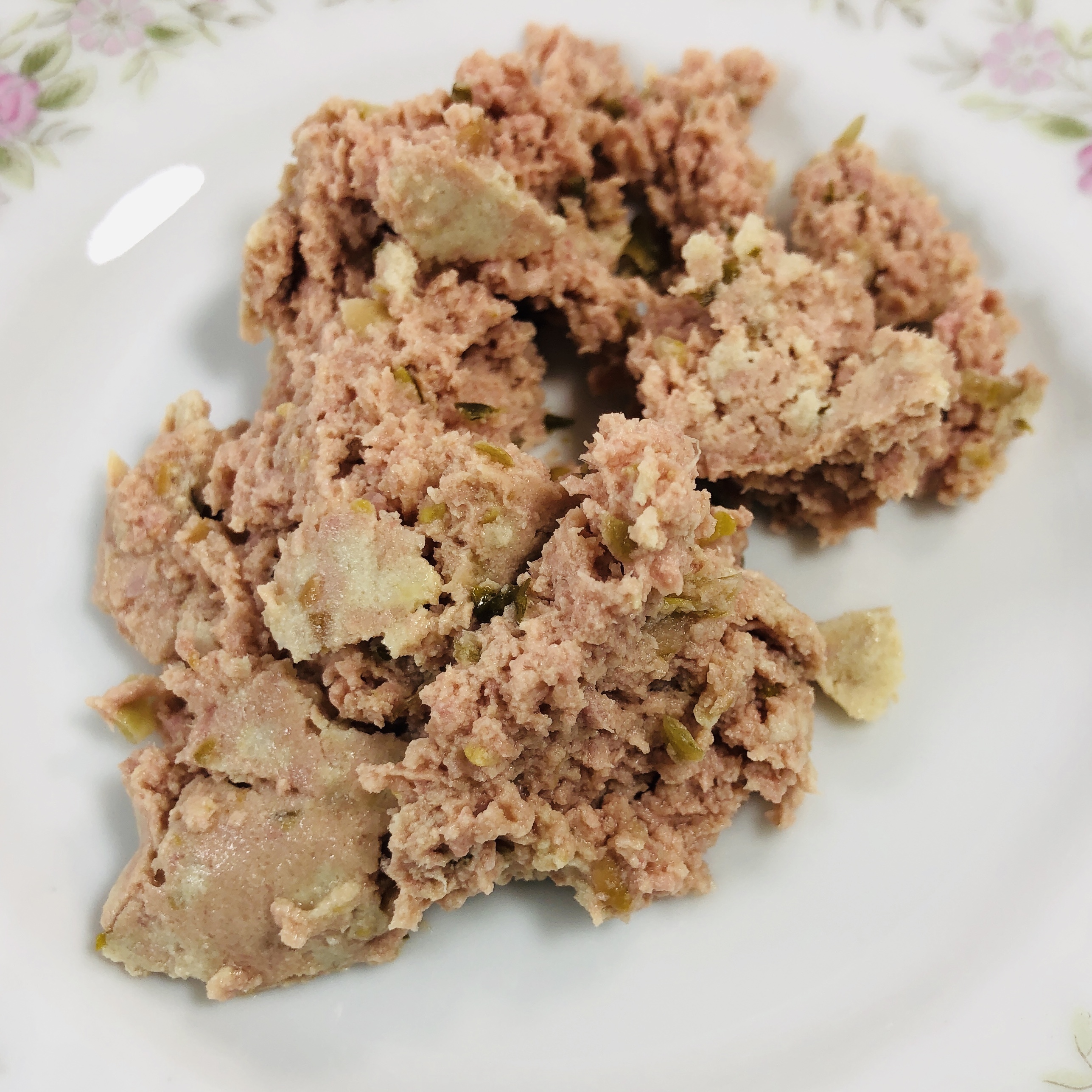 Turkey Mince is "our turkey recipe in a hearty mince with a wild, gamey flavor". Ingredients include turkey thigh, chicken liver, and green beans.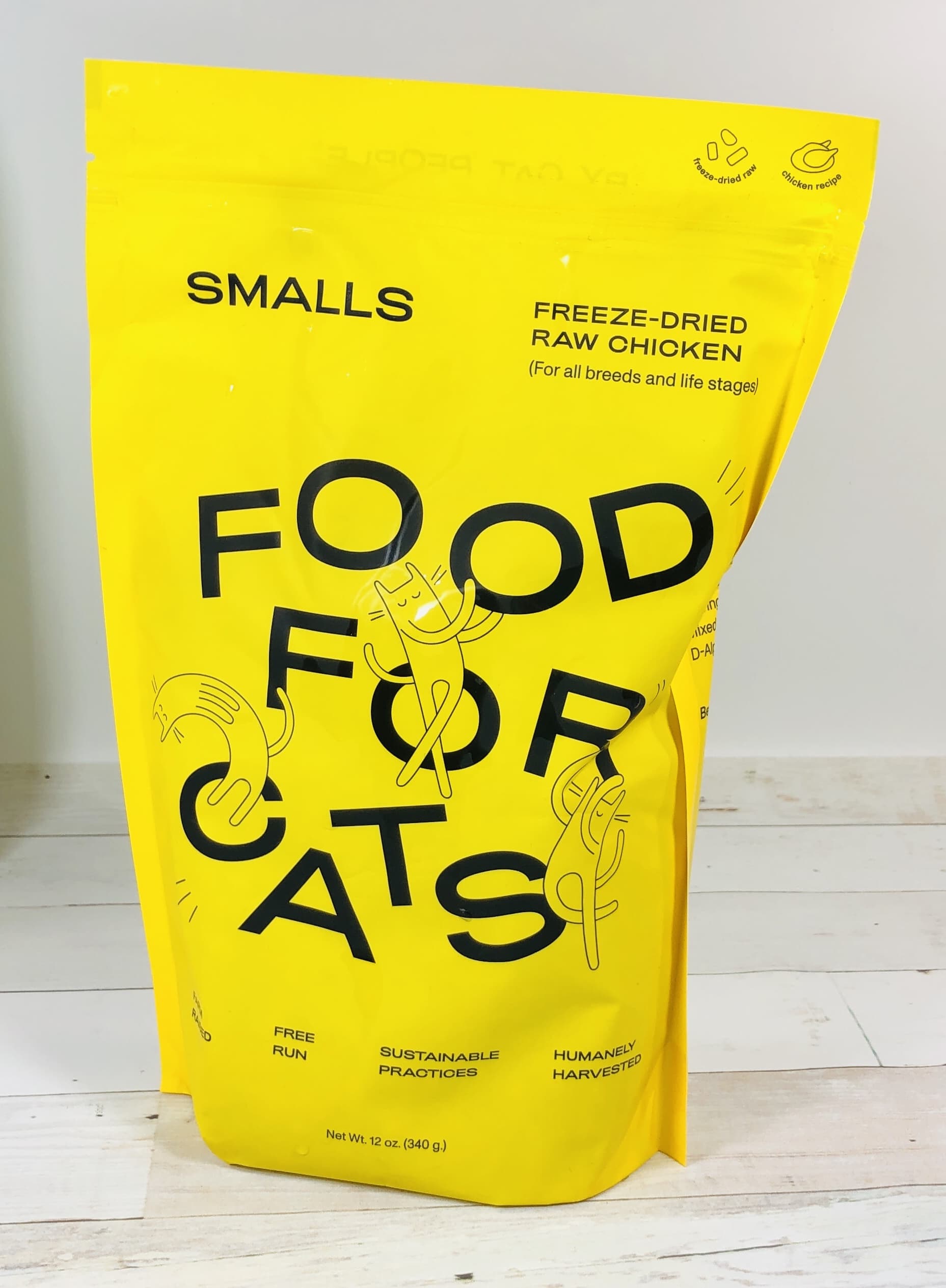 From the Dry Killz section comes Freeze-Dried Raw Chicken. There are 6 different Dry Killz kibble cat food.
Our Freeze-Dried Raw Chicken recipe retains the nutritional benefits of a raw, high-protein diet, but with the added crunch sometimes preferred by cats and the convenience needed by busy cat parents.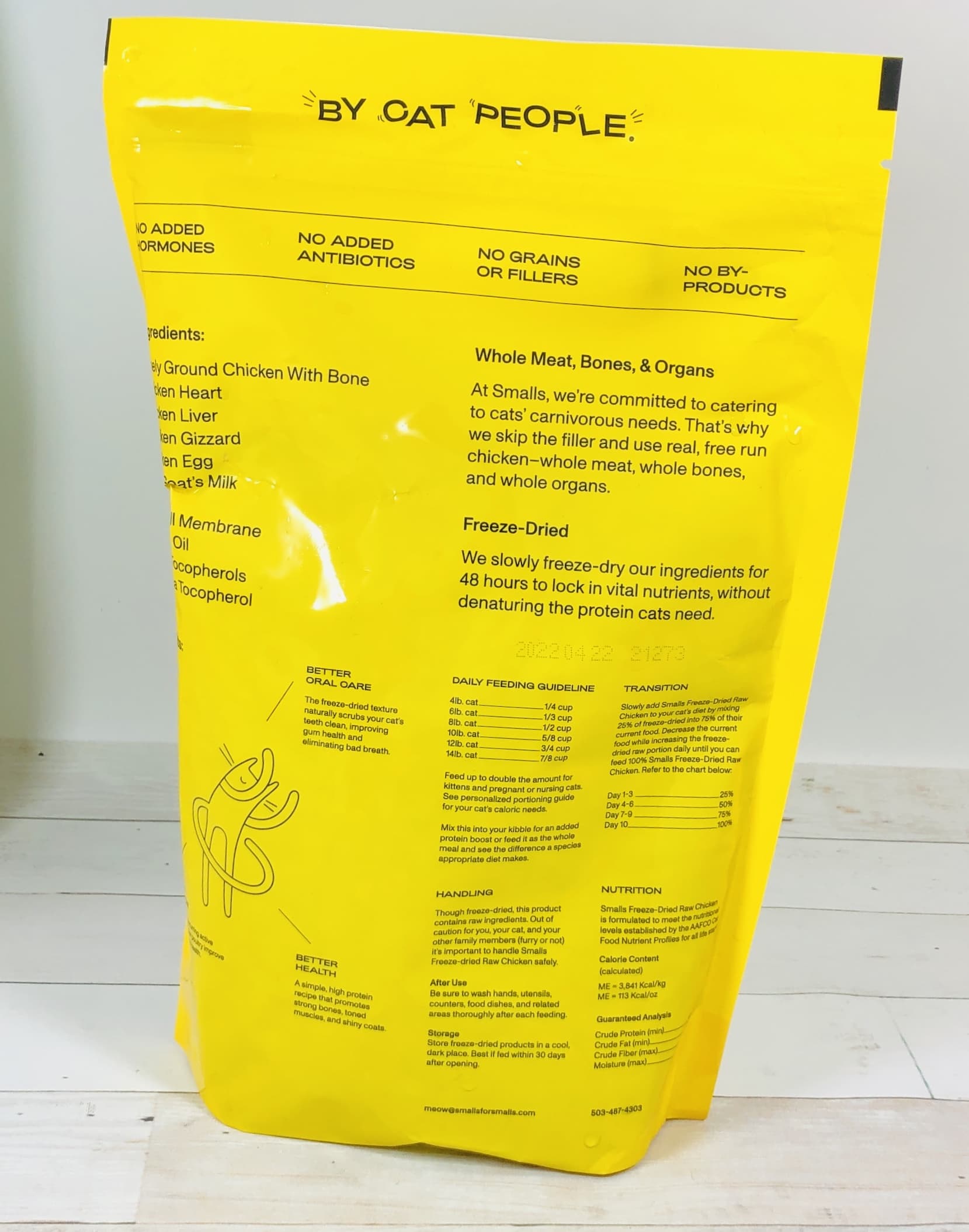 It is made with ground chicken (including bone), chicken organ meat, eggs, and goat's milk plus a few other items. There is a chart on the bag that tells how much to feed based on cat's weight. Make sure to clean your hands and everything that comes into contact with this product, since it is uncooked.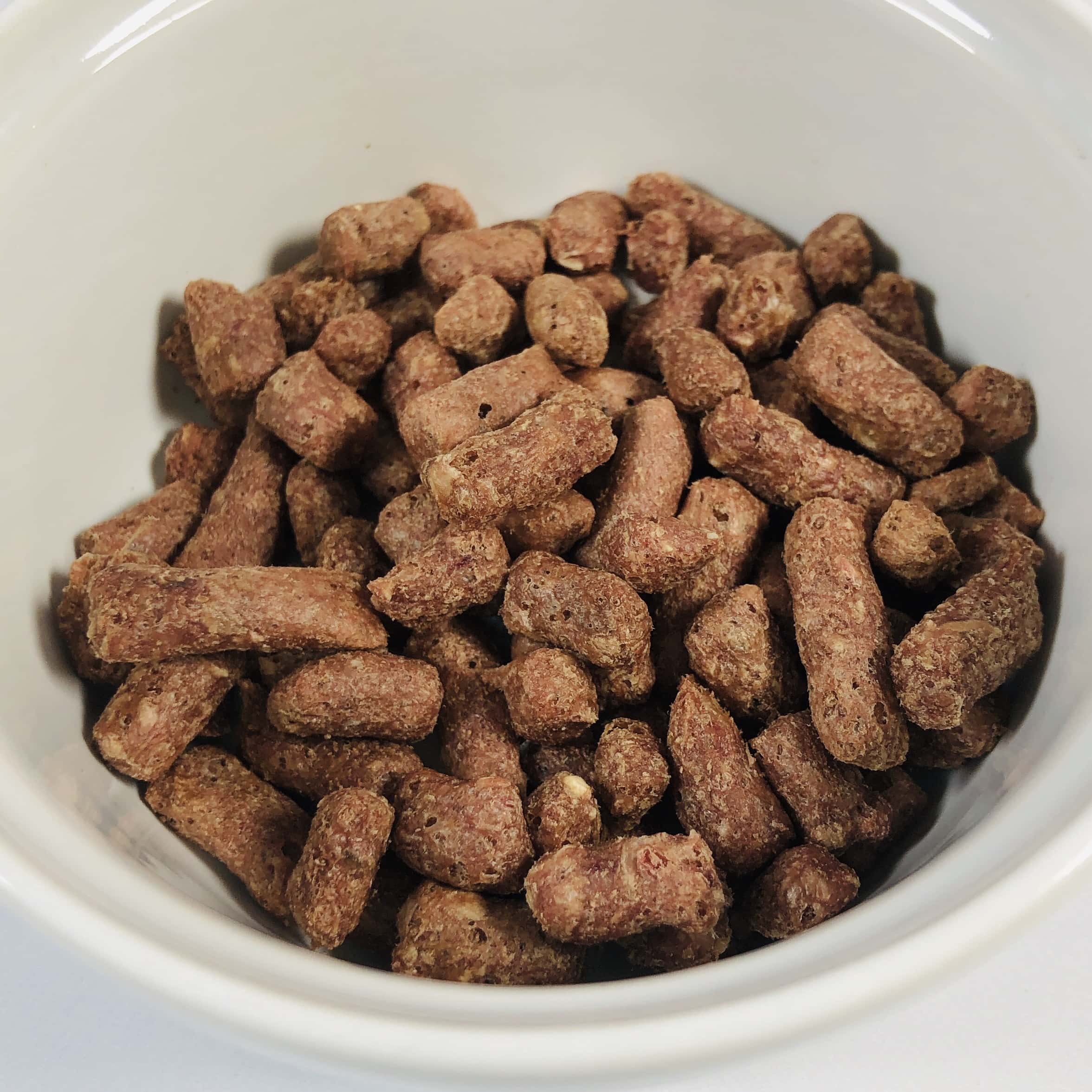 It looks very different from our usual store-bought kibble, thanks to the freeze-dried texture. It also smells pungent to my nose.
Sunny is trying it!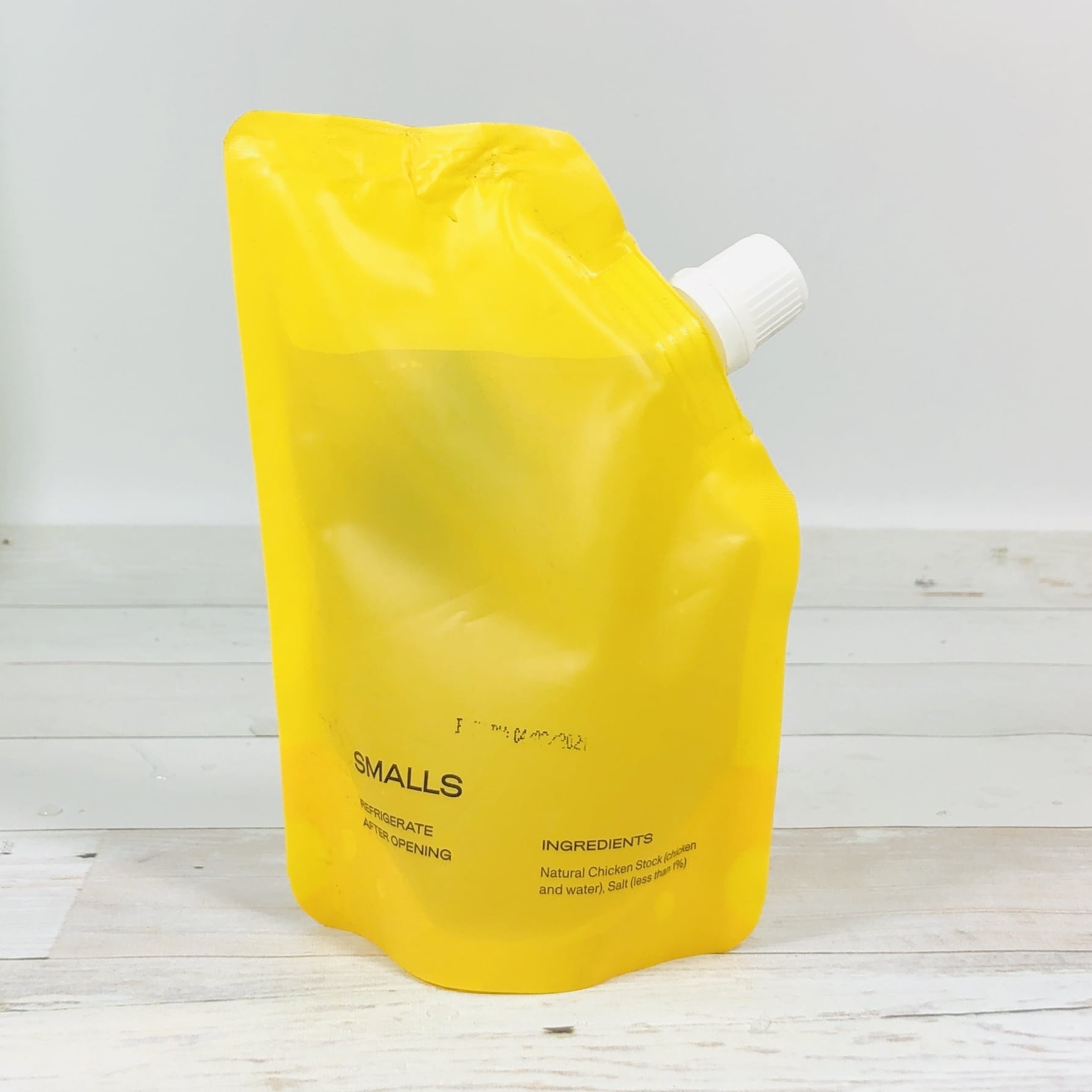 I received a packet of chicken broth, which can be mixed with food to help get your cat used to the taste.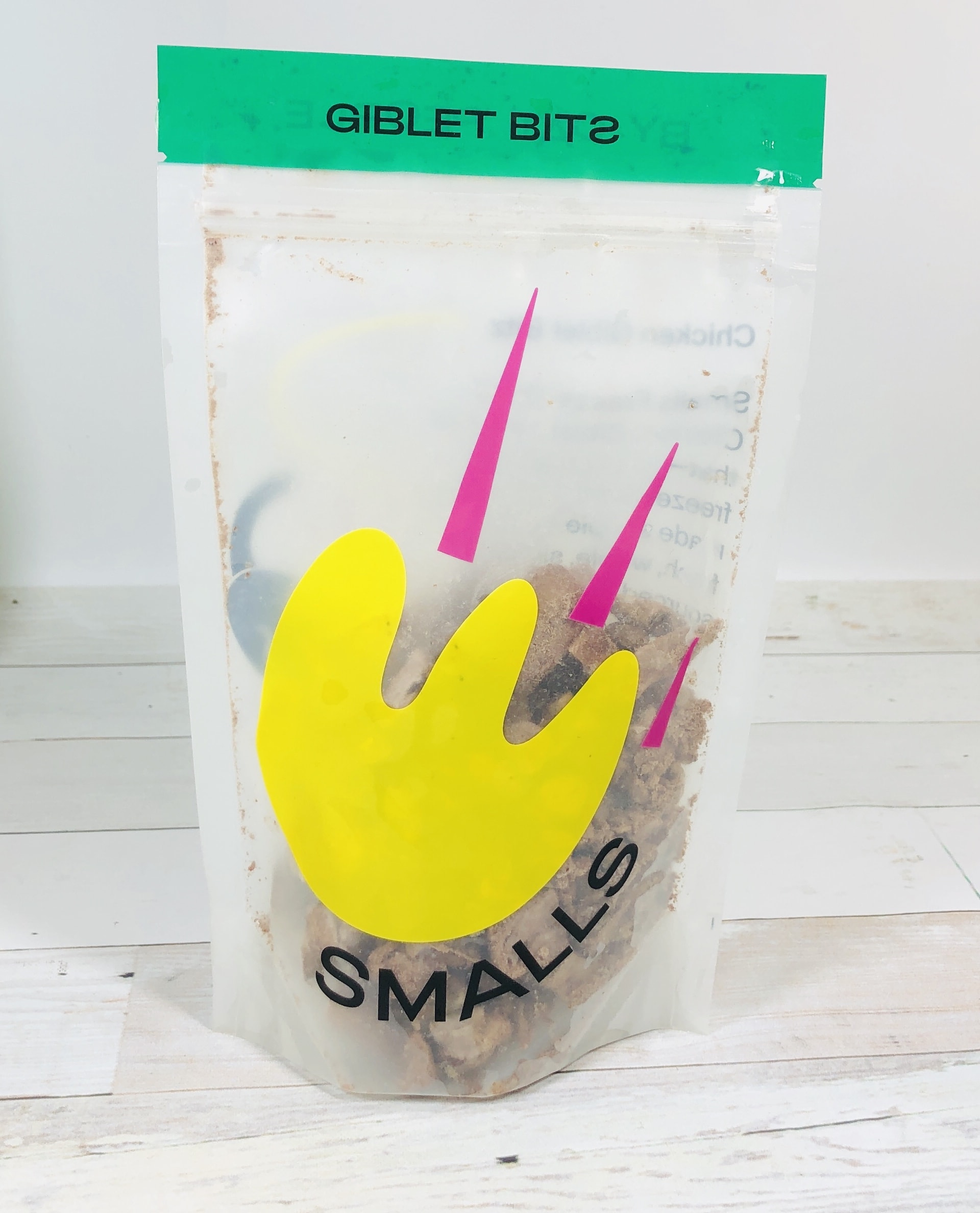 Smalls sent a couple of items from their "Thrillz" section.
Chicken Giblet Bitz are pieces of freeze-dried chicken liver and heart.
Whole, freeze-dried chunks of chicken heart and liver. Tasty morsels of single-source chicken heart and liver have been freeze-dried for a satisfying, moreish crunch. It's the ultimate little extra for kitties who prefer a high value treat. Try it out in training or as a special reward for playtime with a hunting toy.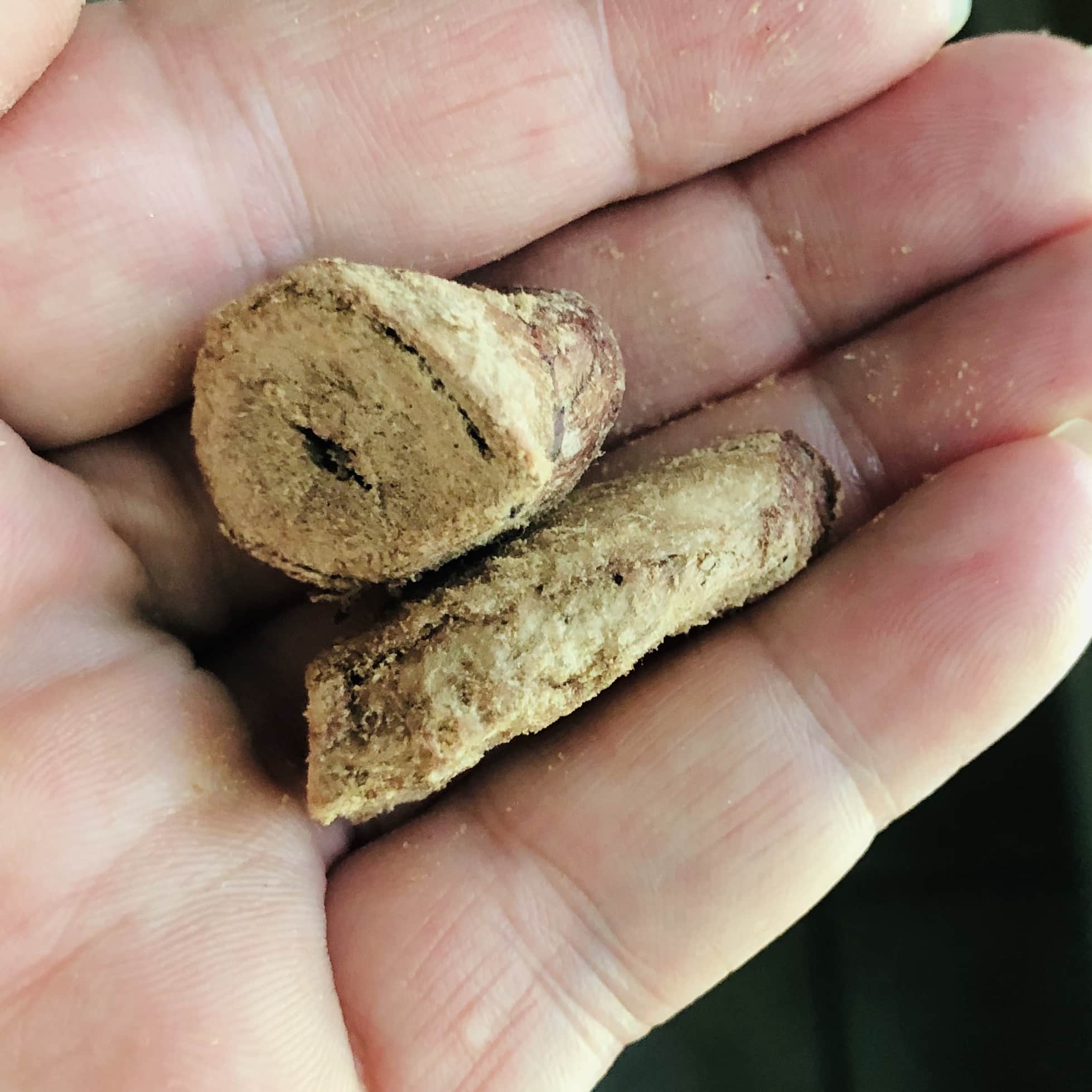 Yep, it's freeze-dried pieces of organ meat, and the smell is pretty sharp.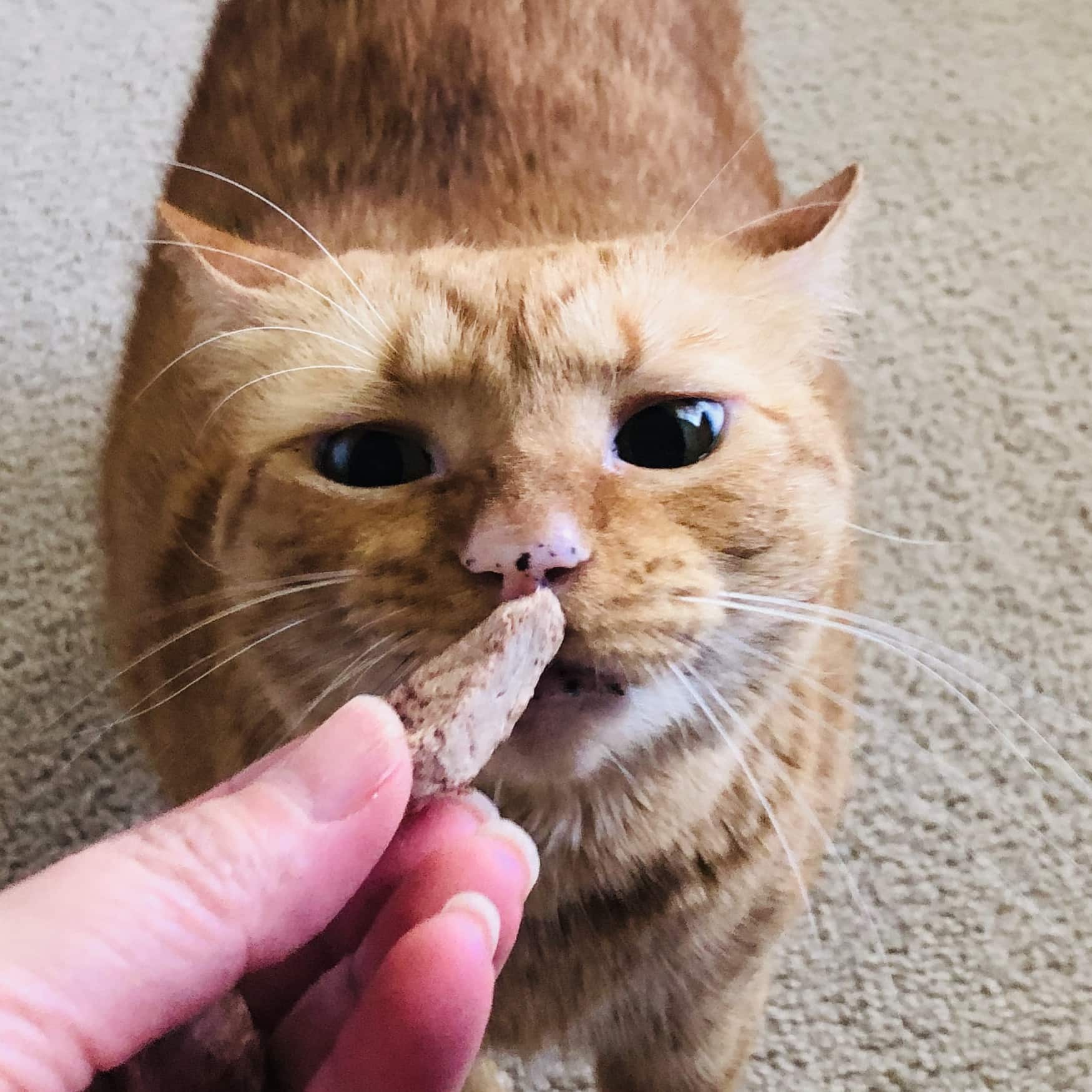 Sunny didn't mind the smell.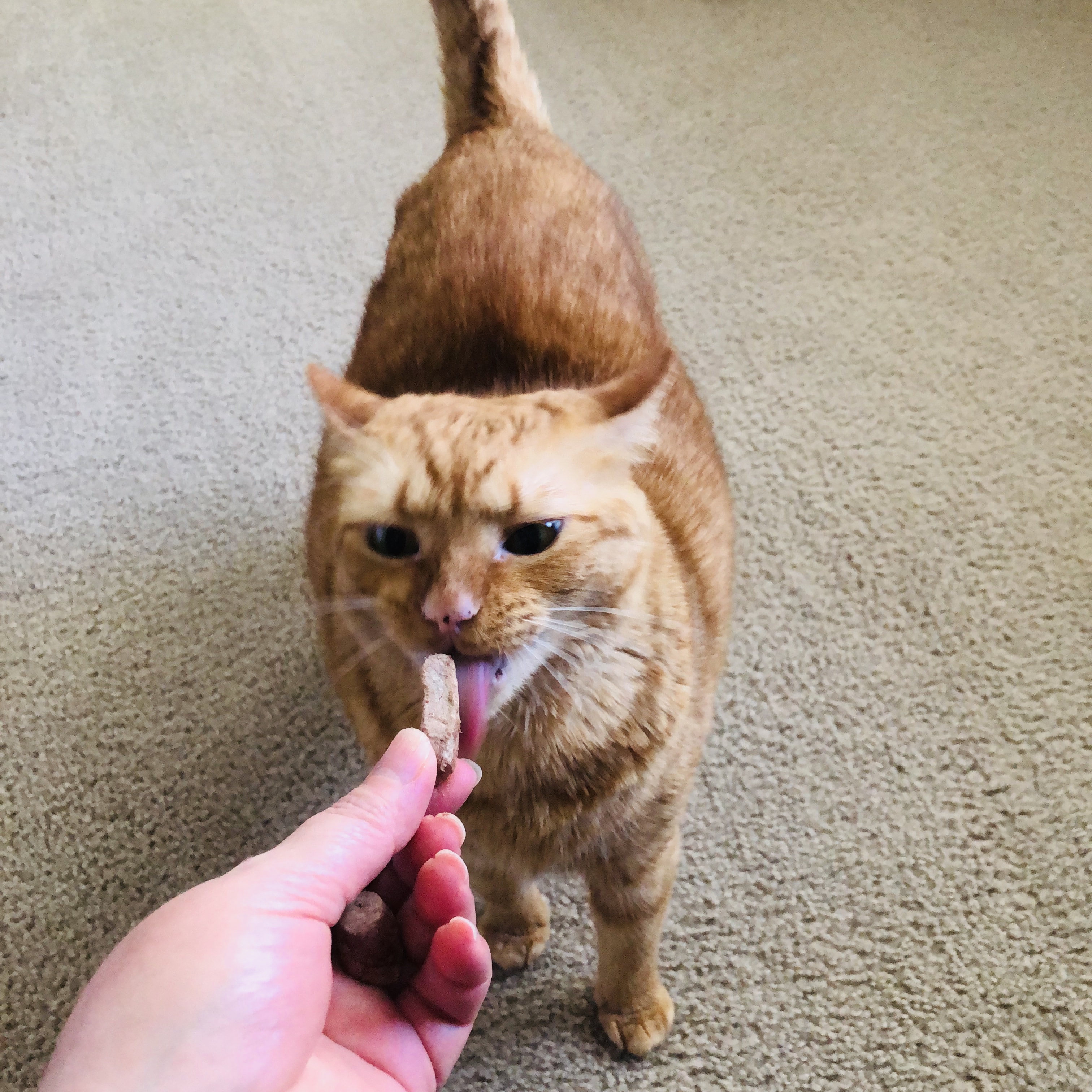 She licked it a couple of times.
She never did eat it. I tried tearing it to make it smaller but she just licked it and pushed it around on the floor. If your cat loves freeze-dried organ meats they would be crazy over this.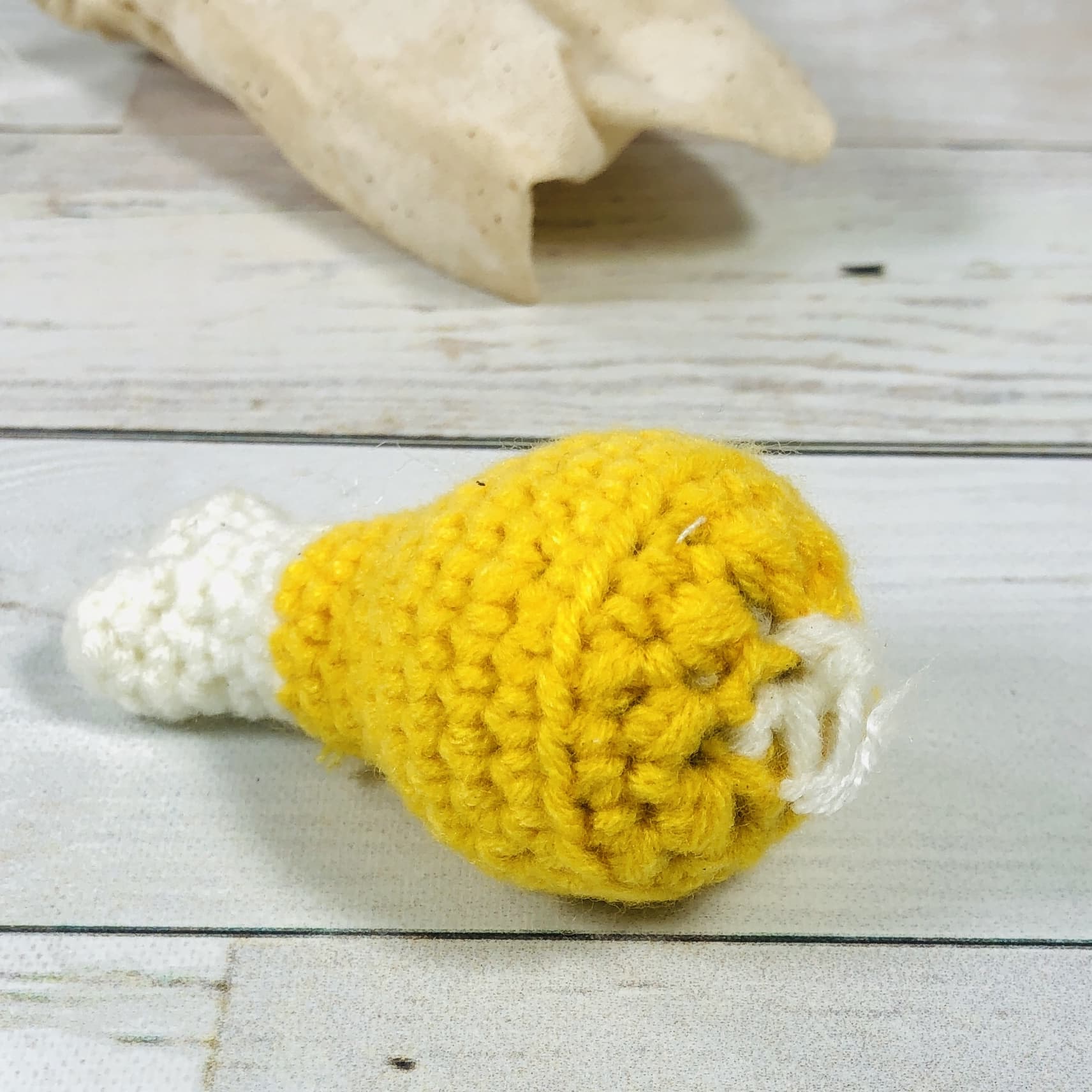 A second Thrillz item is this Catnip Mouser.
Capture the thrill of the hunt with a hand-crochet, catnip-filled mouser in the iconic Smalls' hambone shape. Just the right size and shape to entice your cat to bat and chase. Ideal for interactive fetch games and to keep your kitty playful and engaged indoors. Colors may vary.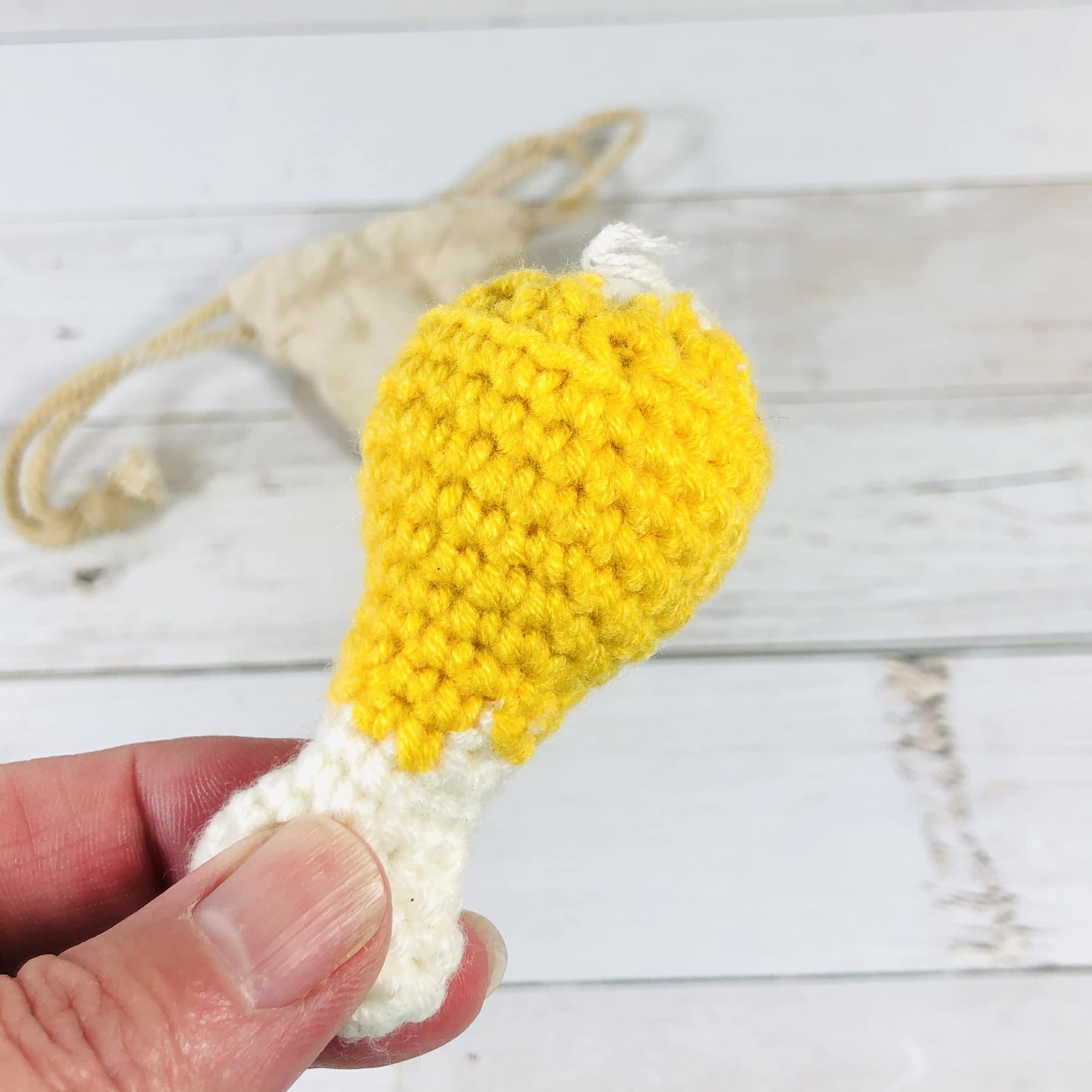 It's a hand-crocheted and is filled with catnip.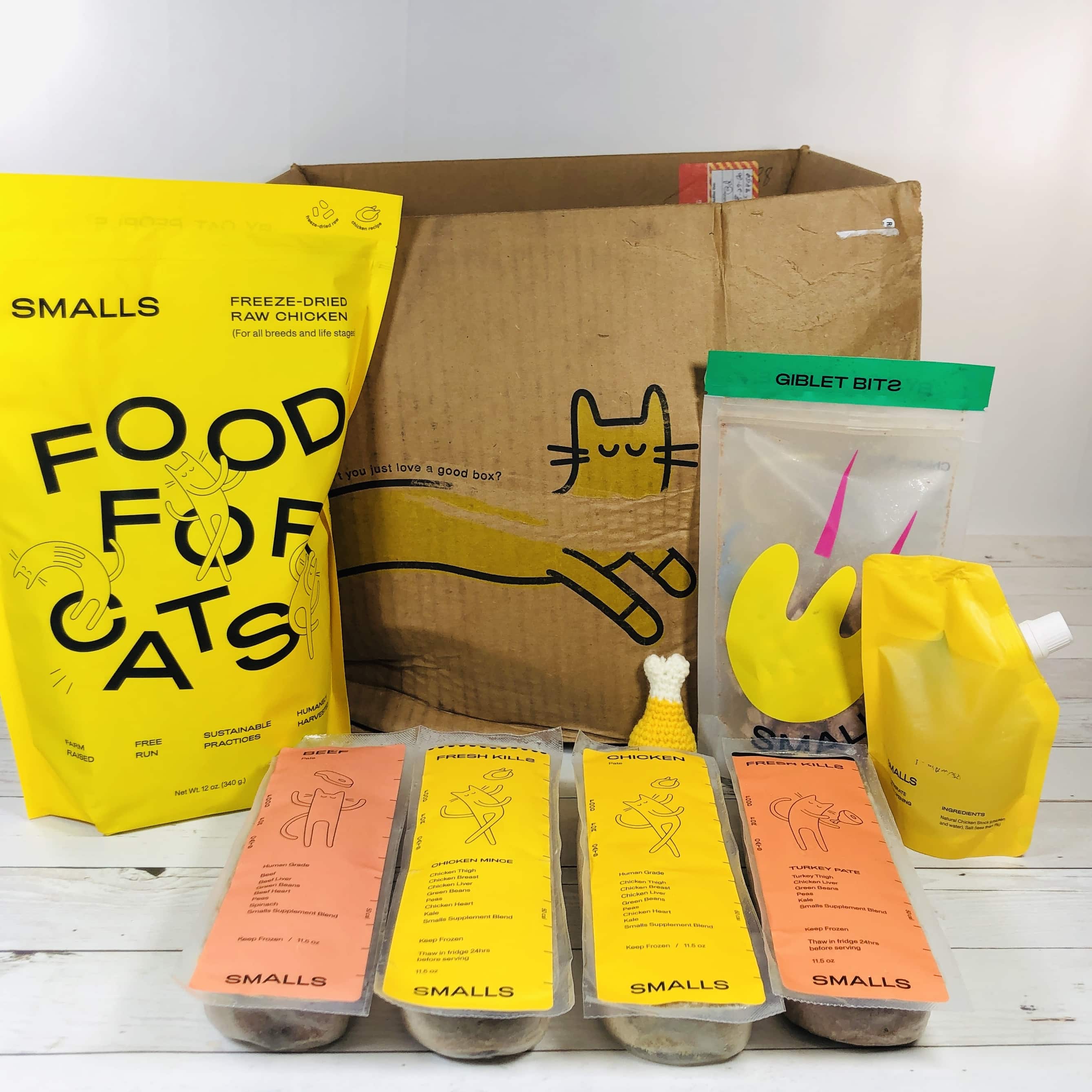 One other part that I didn't mention is that Smalls has a section on Digz, which is their cat litter section. They offer both a millet (grain) litter or crystal, and I will do a separate post on the millet. I would suggest trying the Smallz sample box first as cats can be very picky about what they eat. I like that the end result is a less smelly litter box and more moisture in my cat's body, especially in the summer heat. I like that there was a variety of flavors to choose from, and both wet and dry food.
What do you think of Smalls ?