My Hero Academia box is a quarterly subscription that delivers exclusive My Hero Academia merchandise. Each box costs $39.99, or $35.99 a quarter when an annual subscription is purchased in advance. The box contains 7 to 10 limited edition products such as apparel, accessories, collectibles, stationery, homeware, decors, and more! This box is produced by Culturefly and contains items licensed and produced exclusively for this box – you can check out all of Culturefly's other fandom boxes here!
The box is full to the brim, and I'm very excited to see all the contents!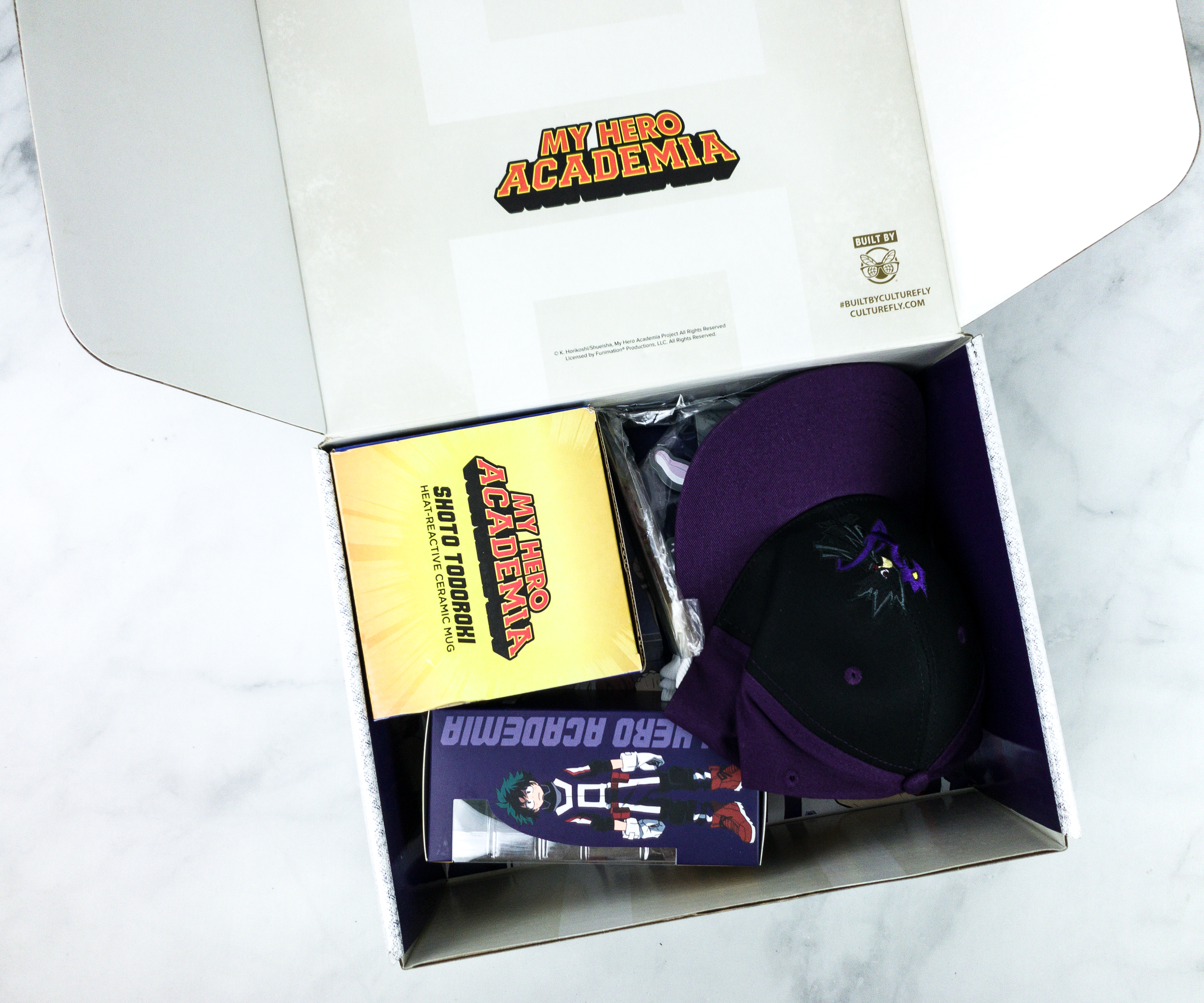 Some of the items come in their original packaging.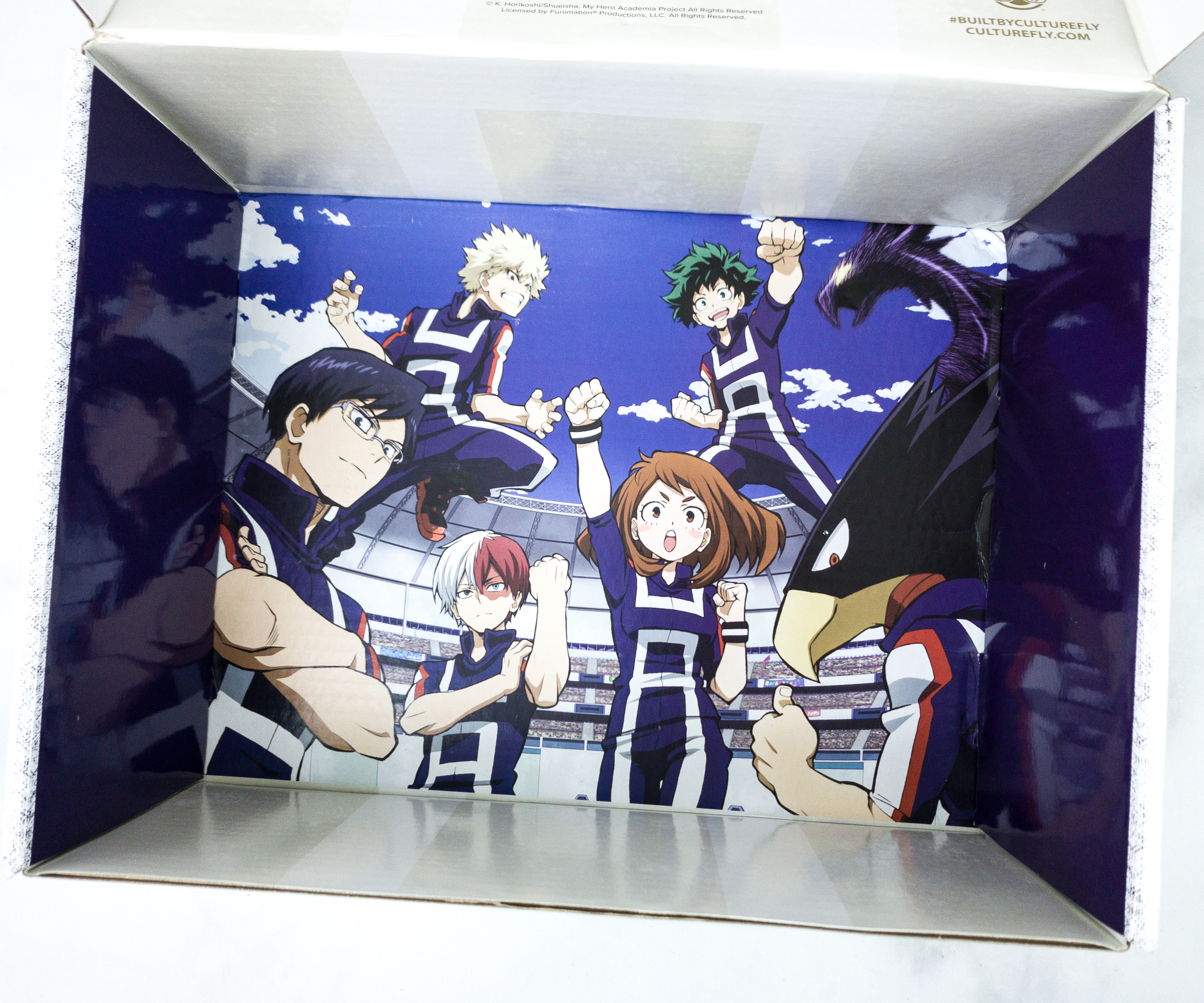 The bottom of the box even has the characters featured on it!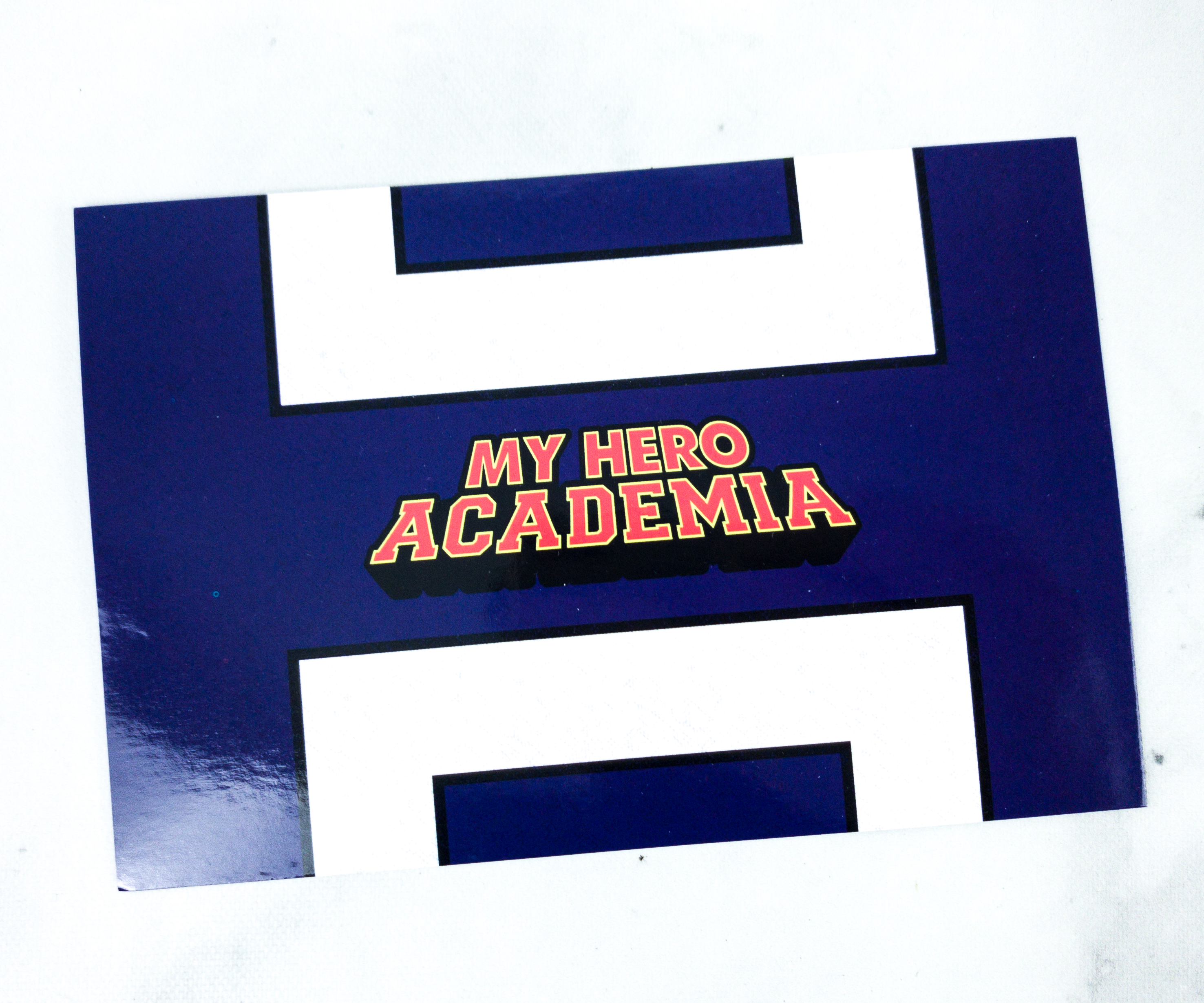 The box also includes an info card. This quarter's theme is Class 1-A!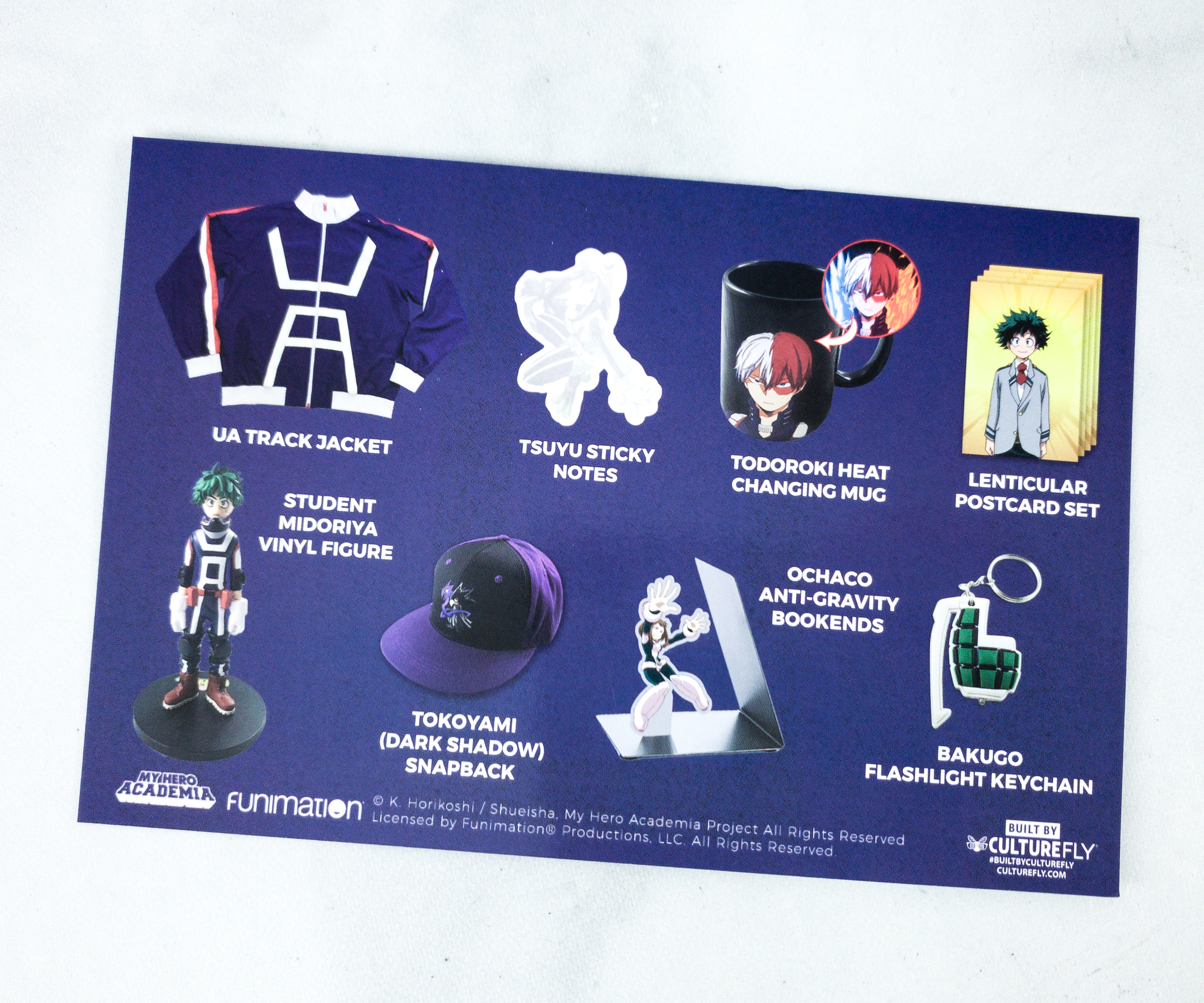 The flip side of the card lists all the items this quarter!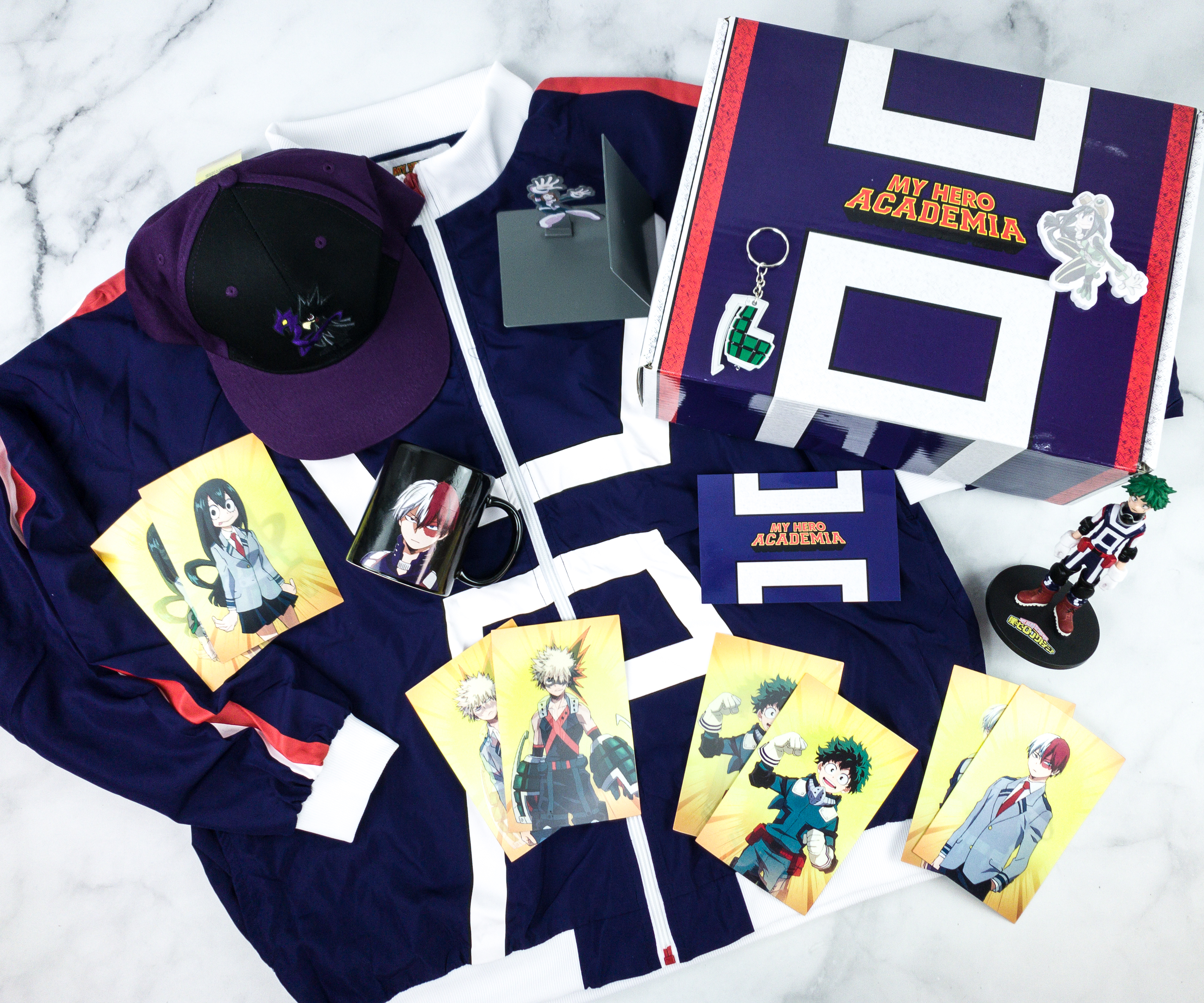 Everything in my box!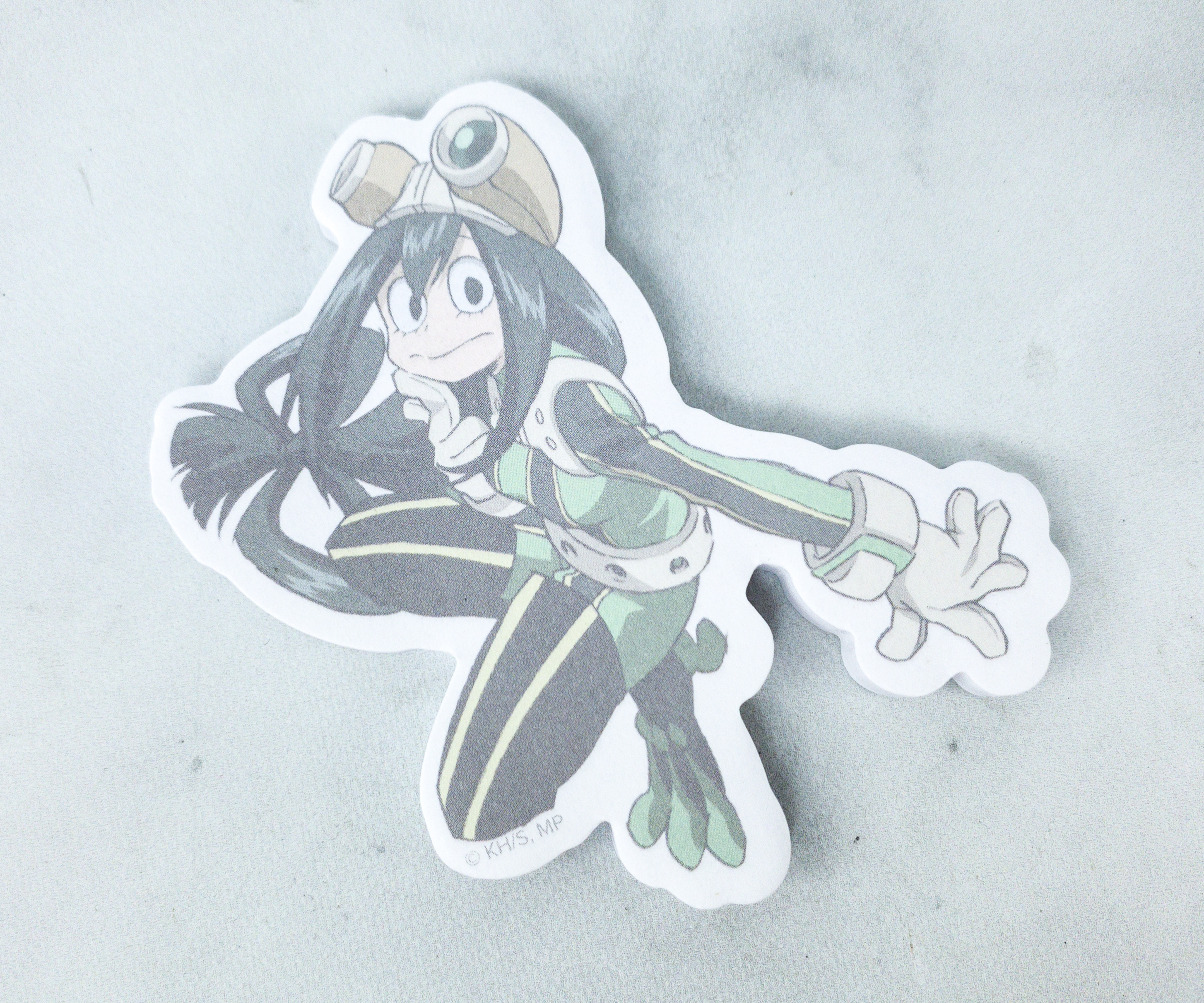 Tsuyu Sticky Notes. Tsuyu's large hands are noticeable in this pad of sticky notes!
Tsuyu is also wearing her green turtleneck bodysuit, and showcasing her Frog quirk through this pose! These sticky notes are perfect for jotting down important notes or reminders.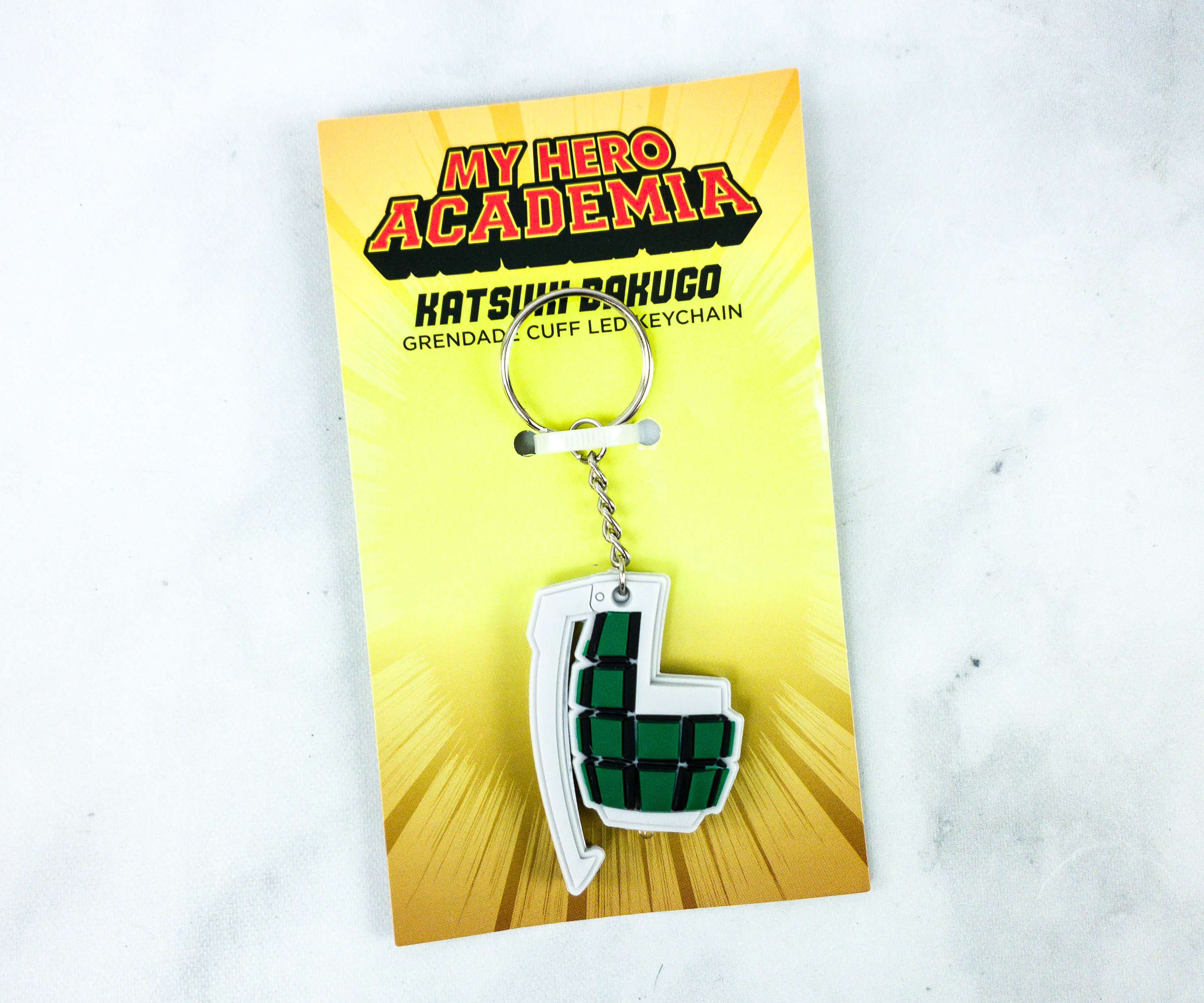 Bakugo Flashlight Keychain. Katsuki's quirk allows him to secrete nitroglycerin-like sweat from the palms of his hands and ignite it on command, allowing him to create strong explosions. He has to use his Grenadier Braciers to store his sweat, and this box included the equipment in a form of a flashlight keychain!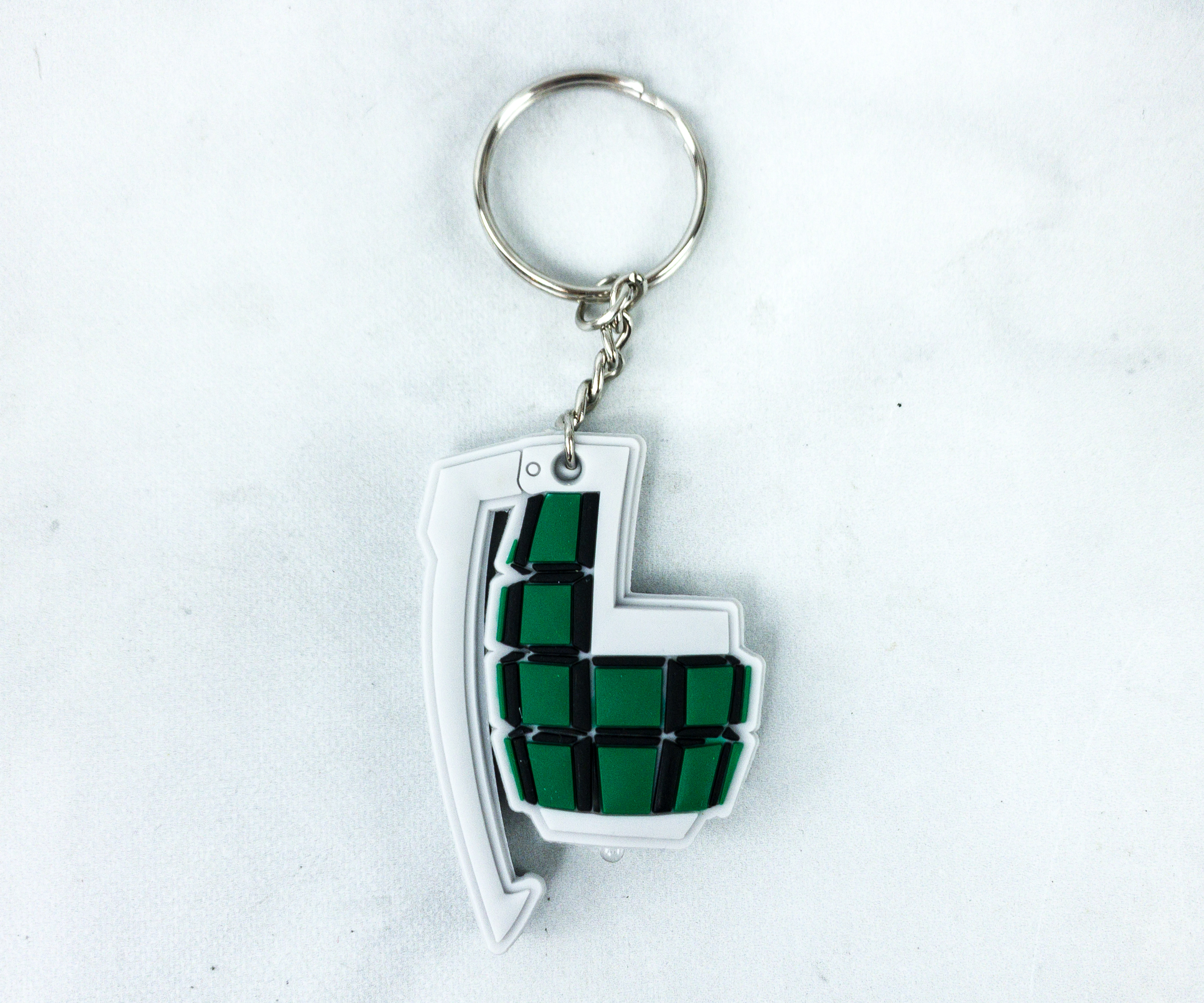 The keychain comes with a key ring that can be easily attached to your keys, a bag, a pouch, or anywhere else you want to.
Instead of creating an explosion, the keychain produces light when you press the middle-most square part on the grenade's body. The light source is at the bottom of the grenade which is bright enough, especially for emergency situations like a sudden power outage.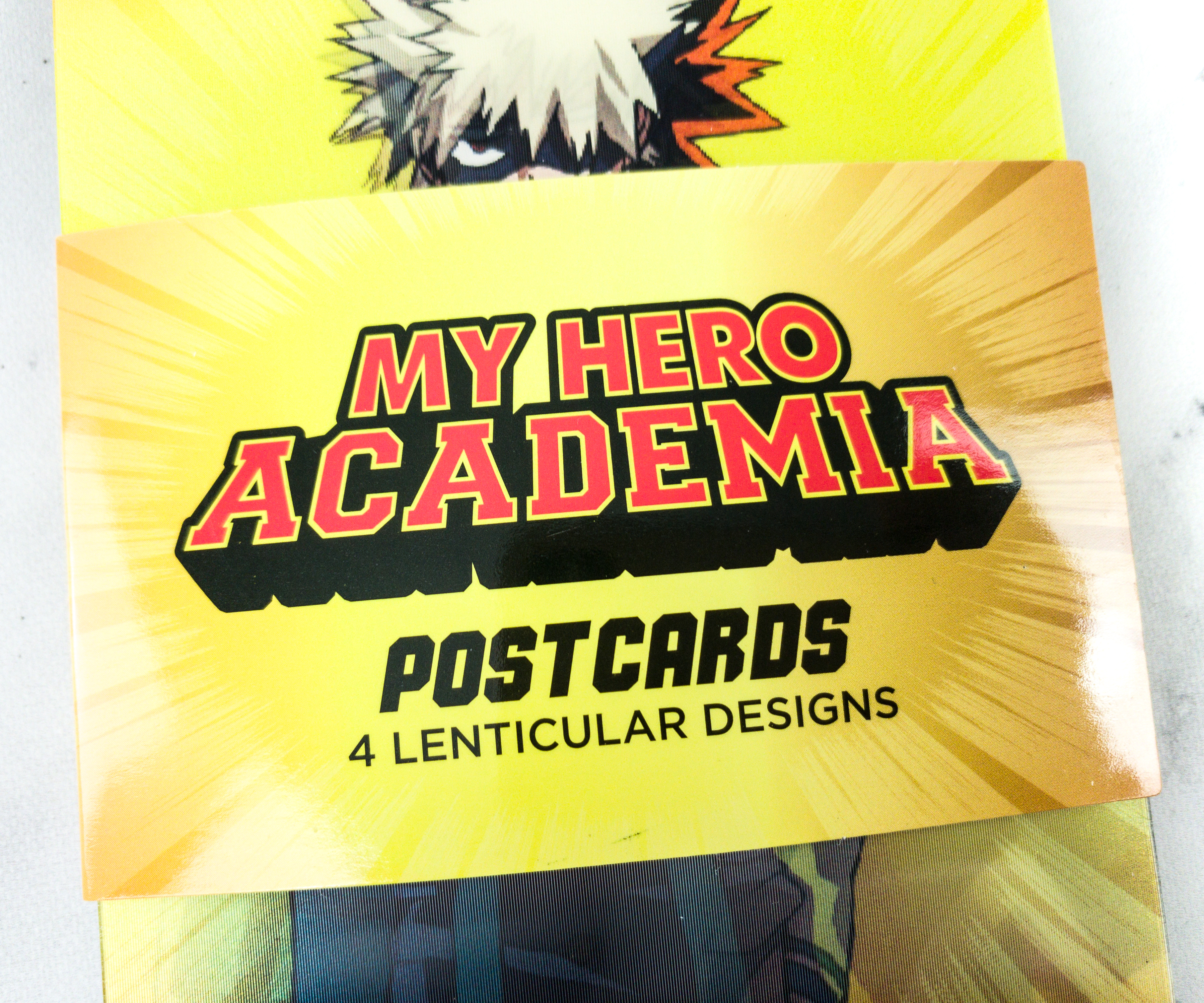 Lenticular Postcard Set. The box includes a set of postcards that comes with 4 lenticular designs, featuring students from Class 1-A!
The back of the postcards has ample space for notes and receiver information.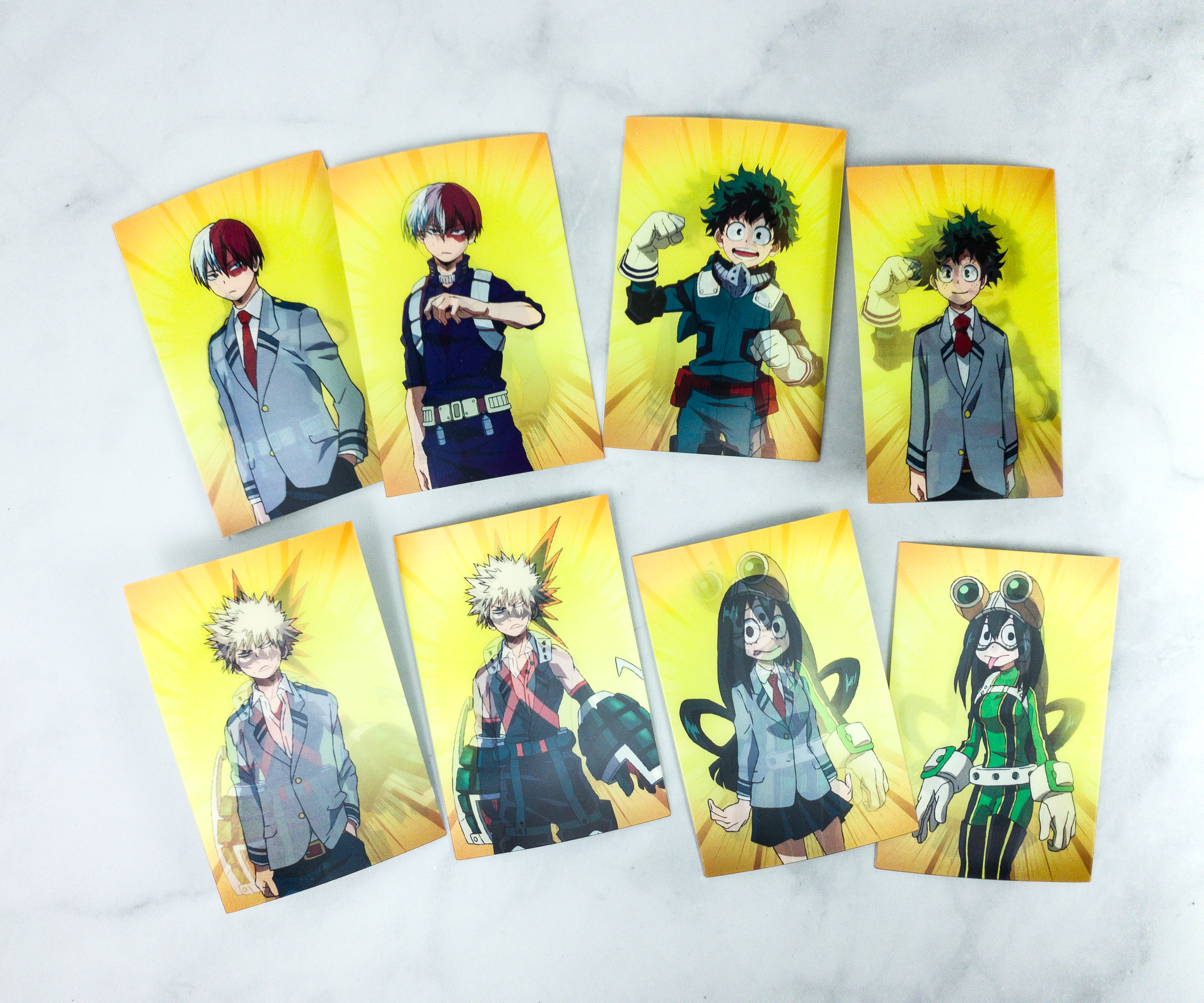 The postcards feature Midoriya, Tsuyu, Bakugo, and Todoroki. One image of each card shows the students in their UA Uniform, while the other image shows them wearing their hero costumes with their equipment.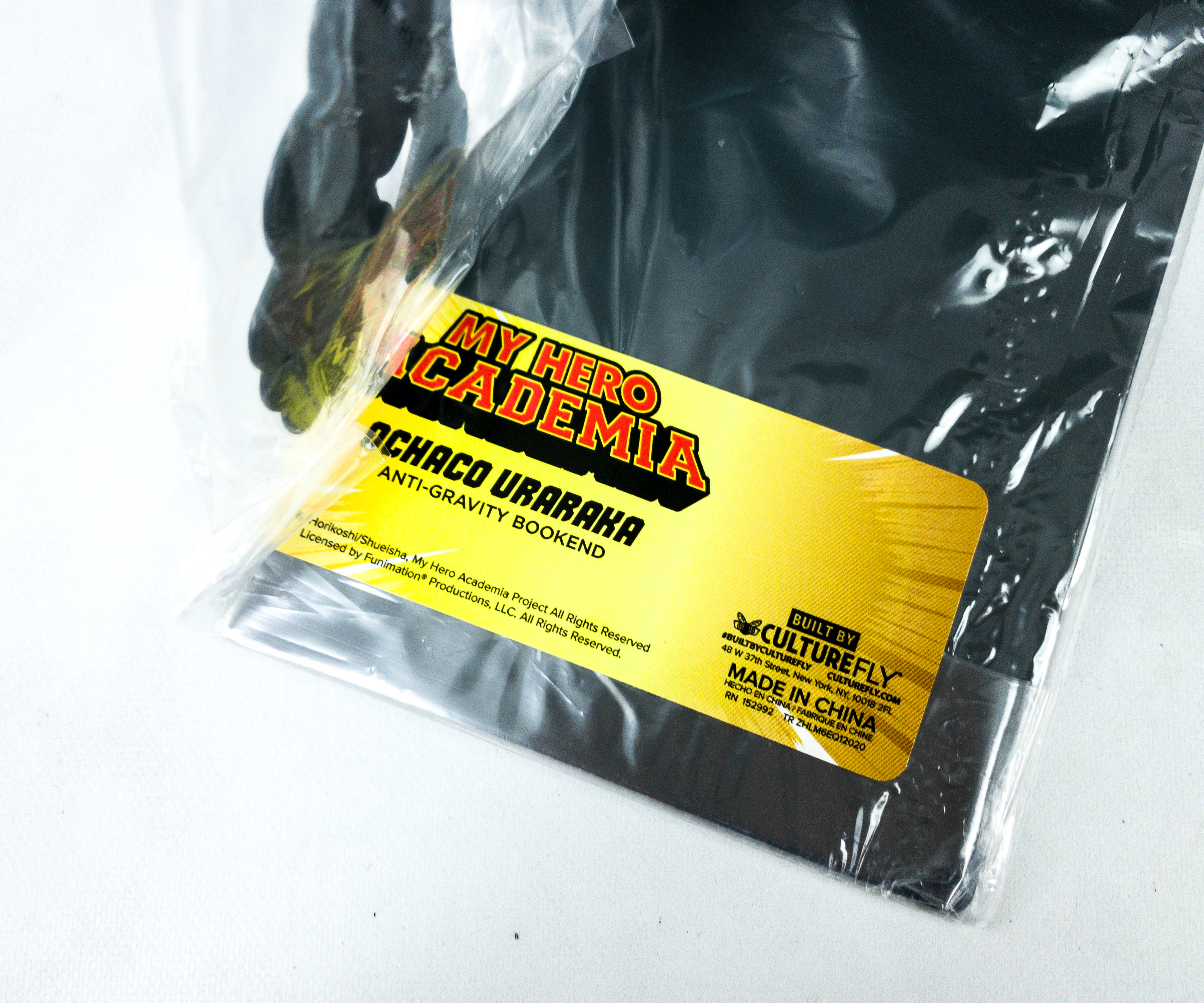 Ochaco Anti-Gravity Bookends. Ochaco Uraraka, also known as Uravity, is featured with an item that has something to do with gravity. As a nod to this character, I got an anti-gravity bookend!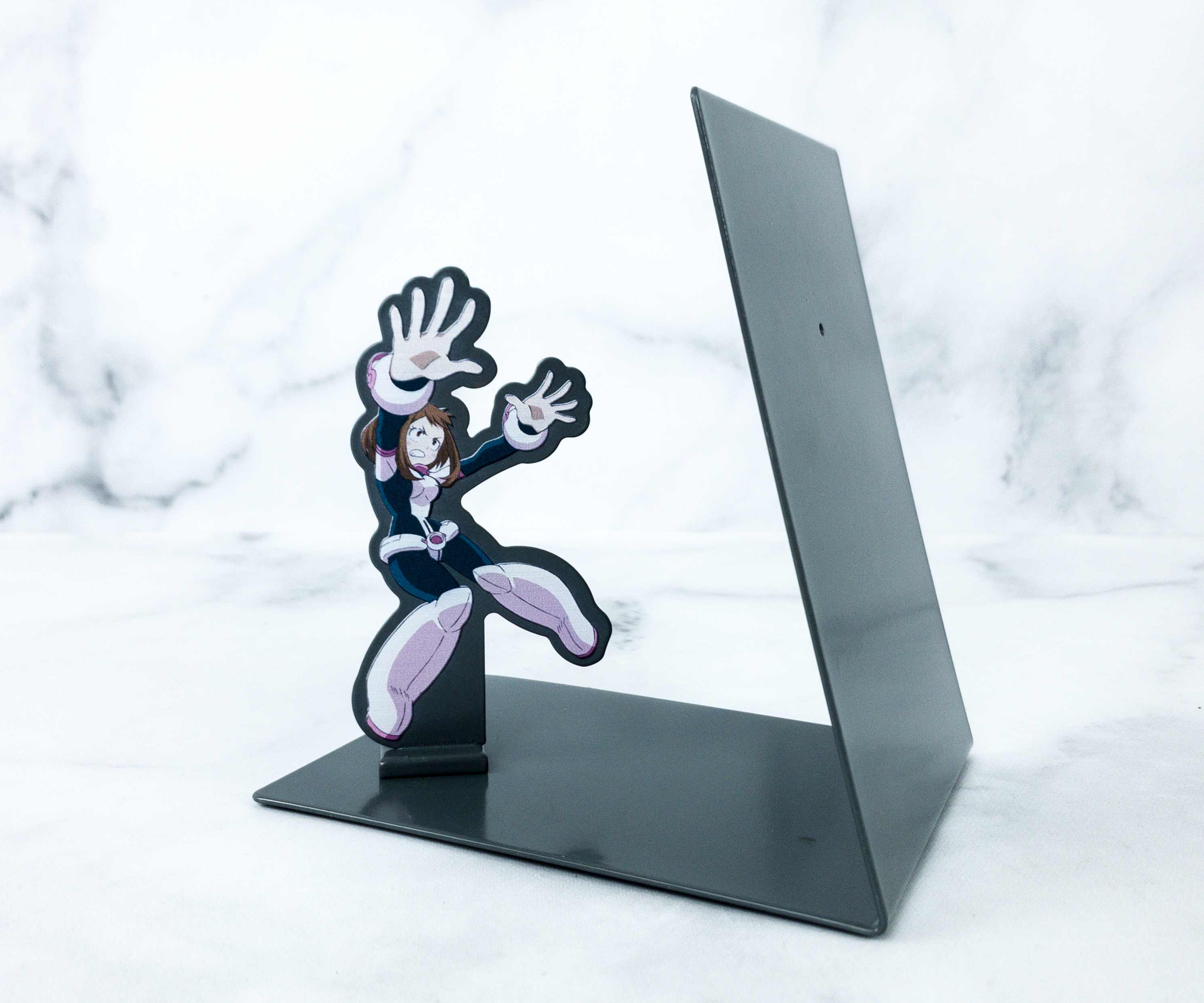 One end is reclining, while the other end has Uravity posed like she's pushing something. It looks amazing!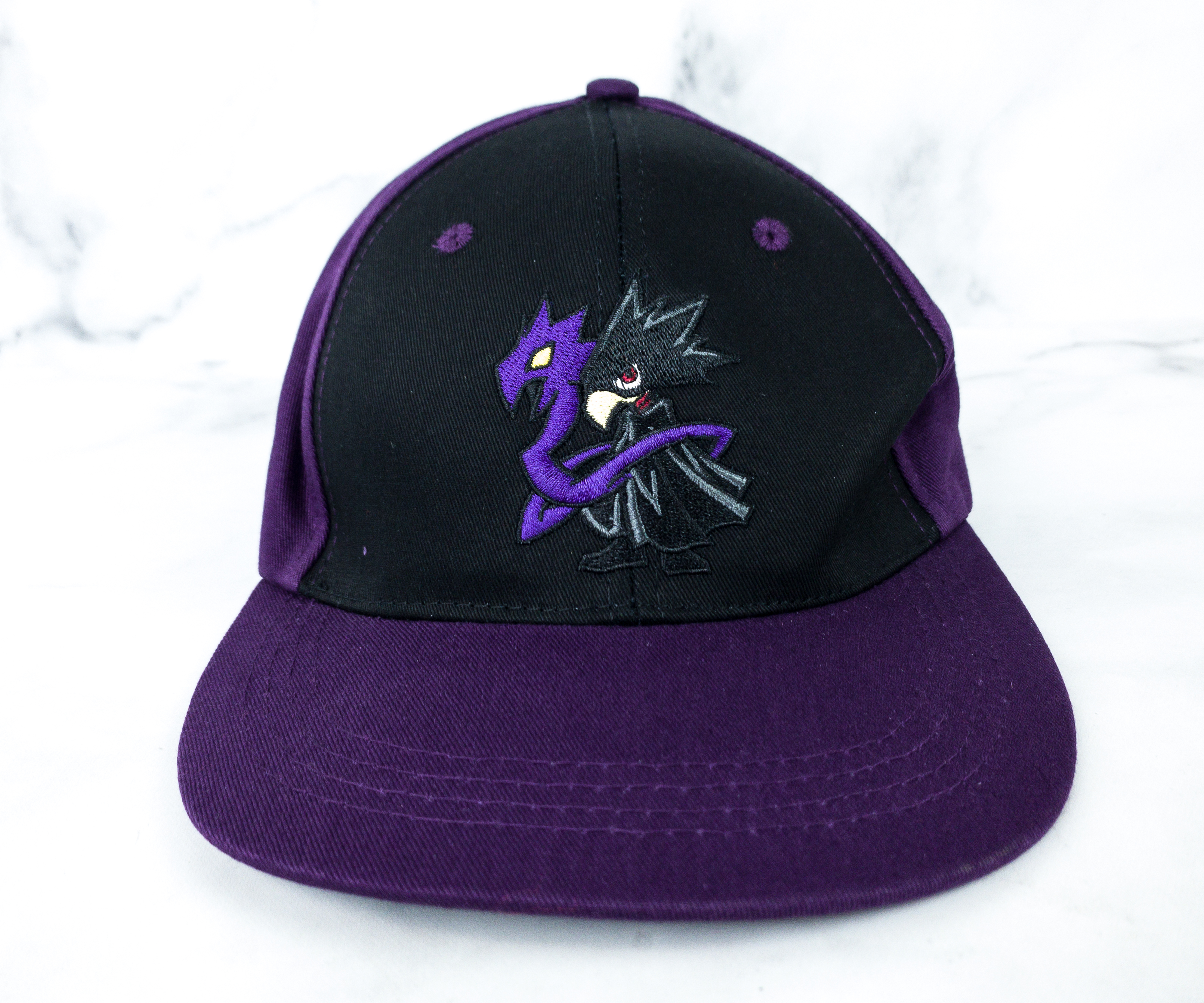 Tokoyami (Dark Shadow) Snapback. This snapback hat in black and purple represents the next featured Class 1-A student, Fumikage Tokoyami!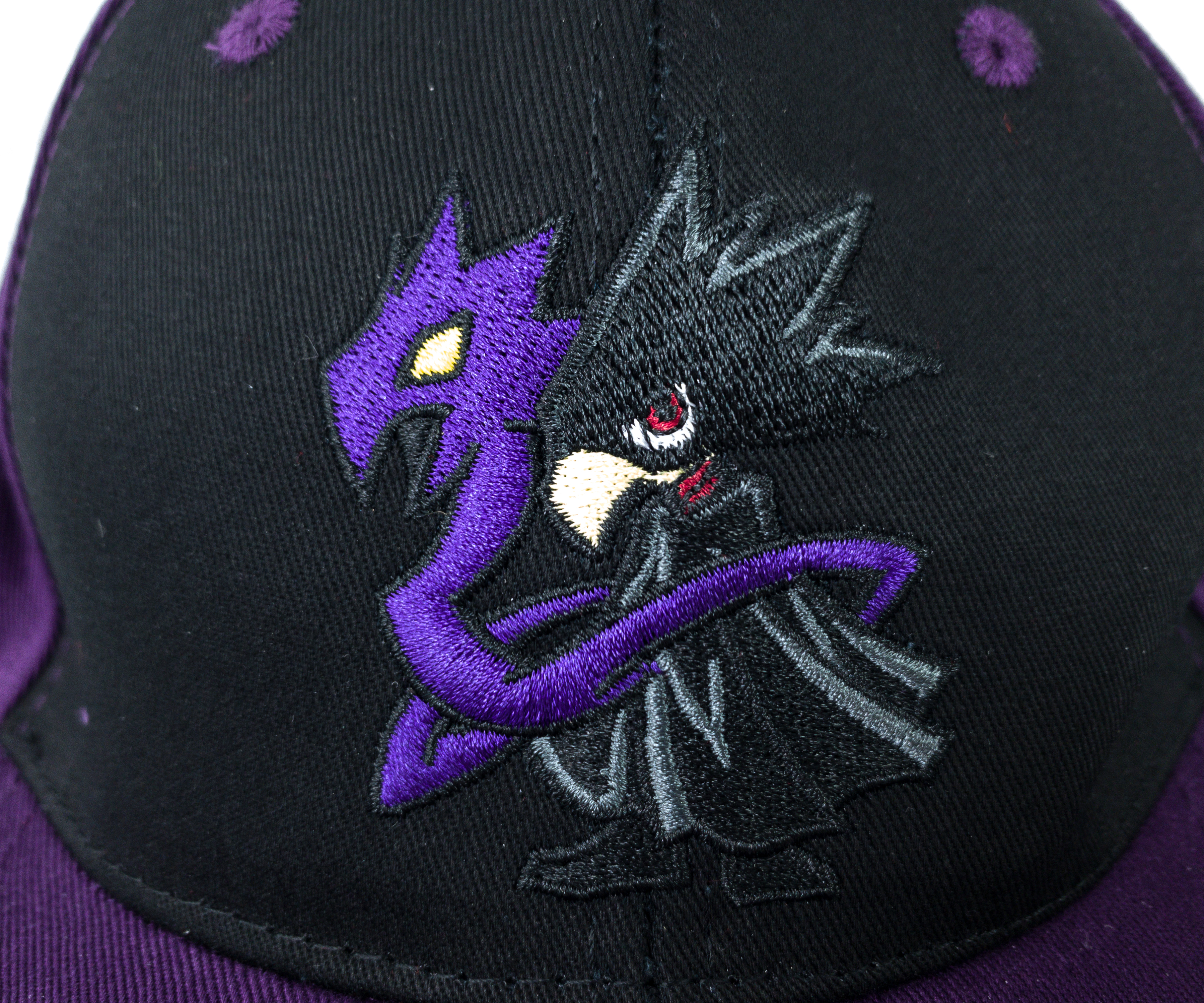 The embroidered design on the hat features the student with his well-recognized head of a black bird, and his dark shadow embracing him, but it's violet!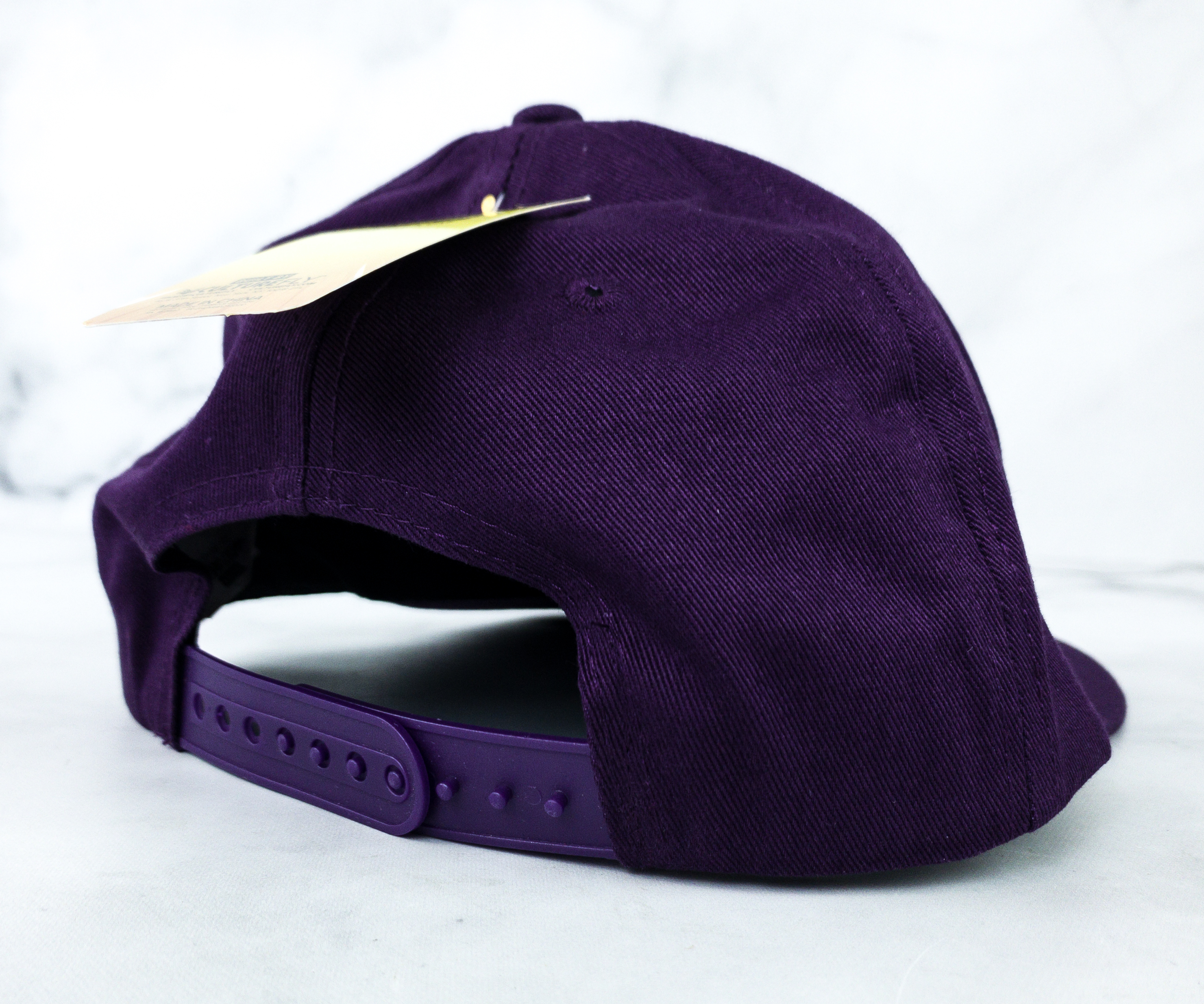 The cap is lightweight and easy to adjust!
Student Midoriya Vinyl Figure. Because of his innate heroism, Deku has caught the attention of All Might despite him being born without any quirk. I'm so happy to get a Deku figure in this box!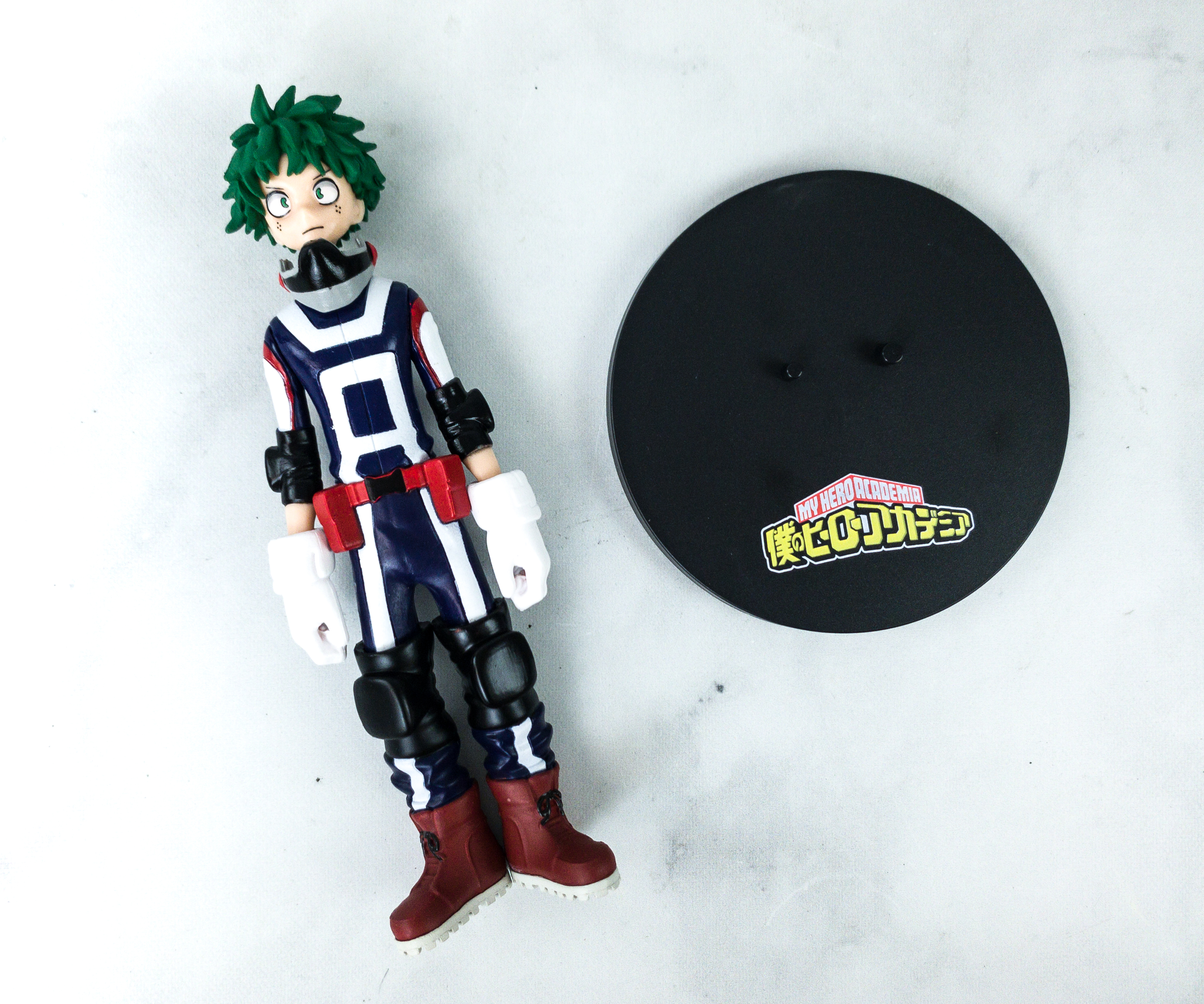 The figure comes with two easy-to-assemble parts, Deku himself and a round black base.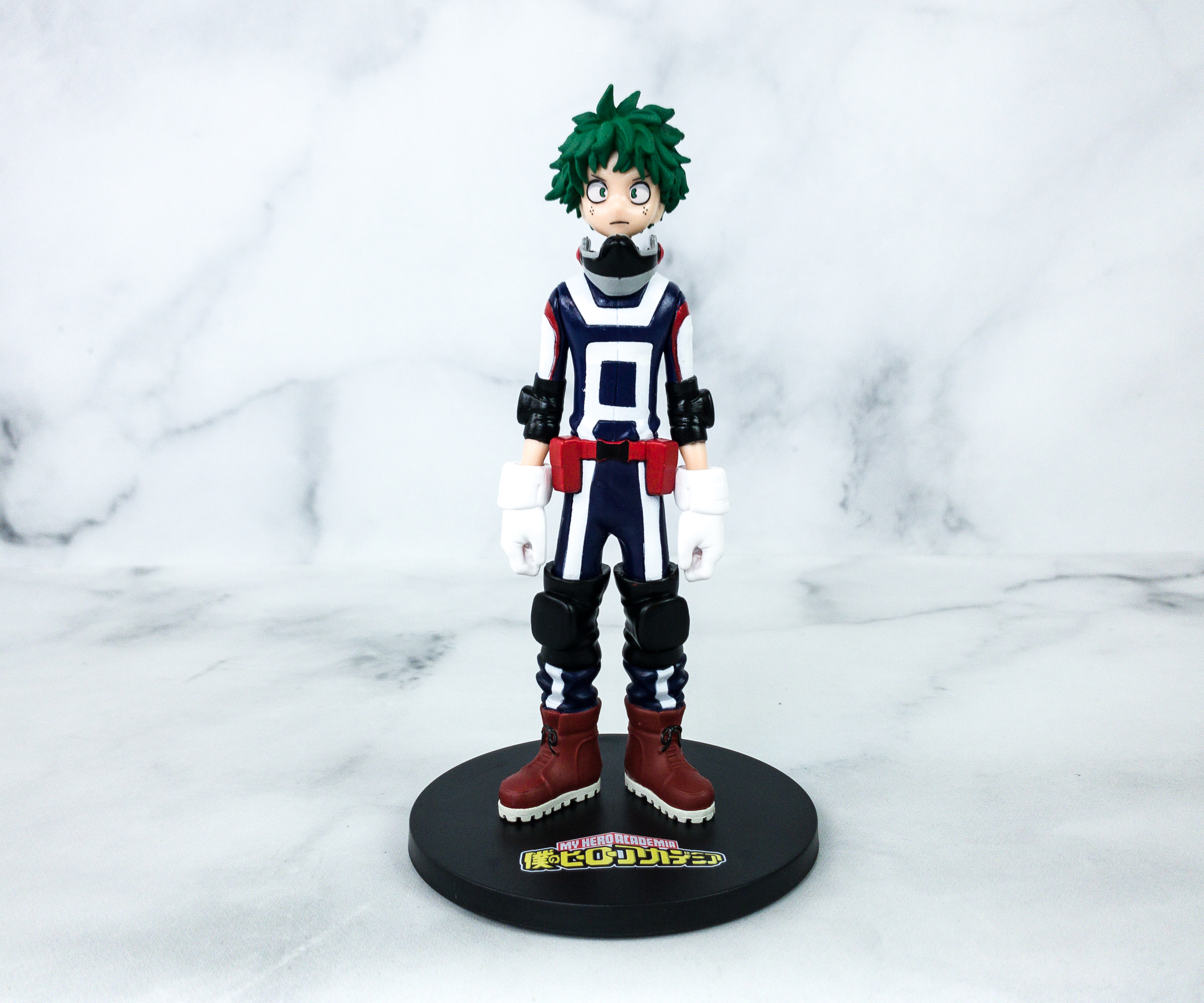 He's a really lucky student as All Might passed on his quirk to him, the One For All.
The series' title is printed on the base.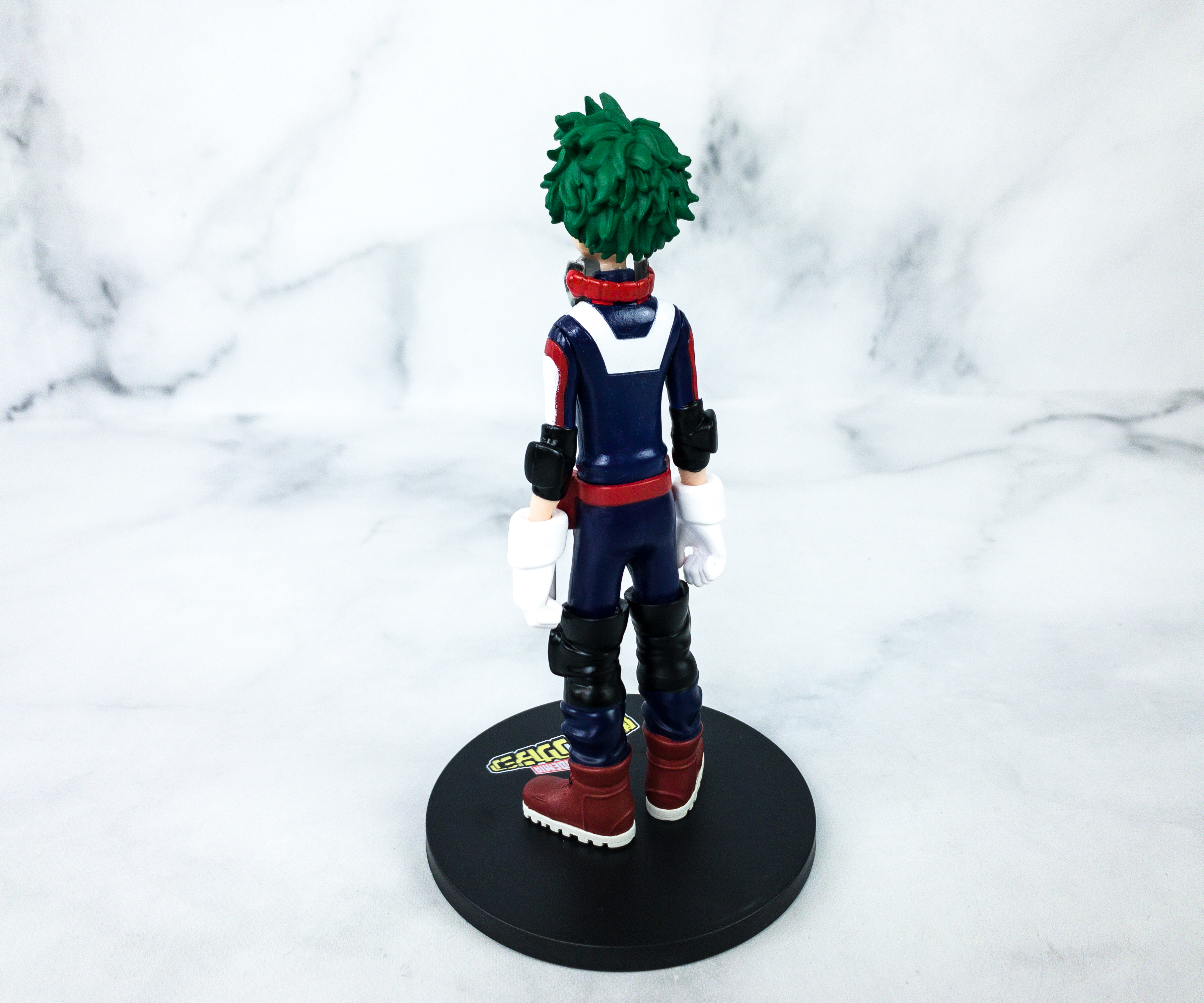 His original hero costume was a green full-body jumpsuit but due to the damages resulting from his first battle with Bakugo, he had to wear the U.A. gym uniform. This attire consists of a dark blue high-collared tracksuit with thick white lines over his torso and down his legs that forms the letters U and A.
Todoroki Heat Changing Mug. I usually get heat-changing mugs, but I think this one is from the MHA box is one of the best because it features the guy with a quirk that enables him dual capabilities, Shoto Todoroki!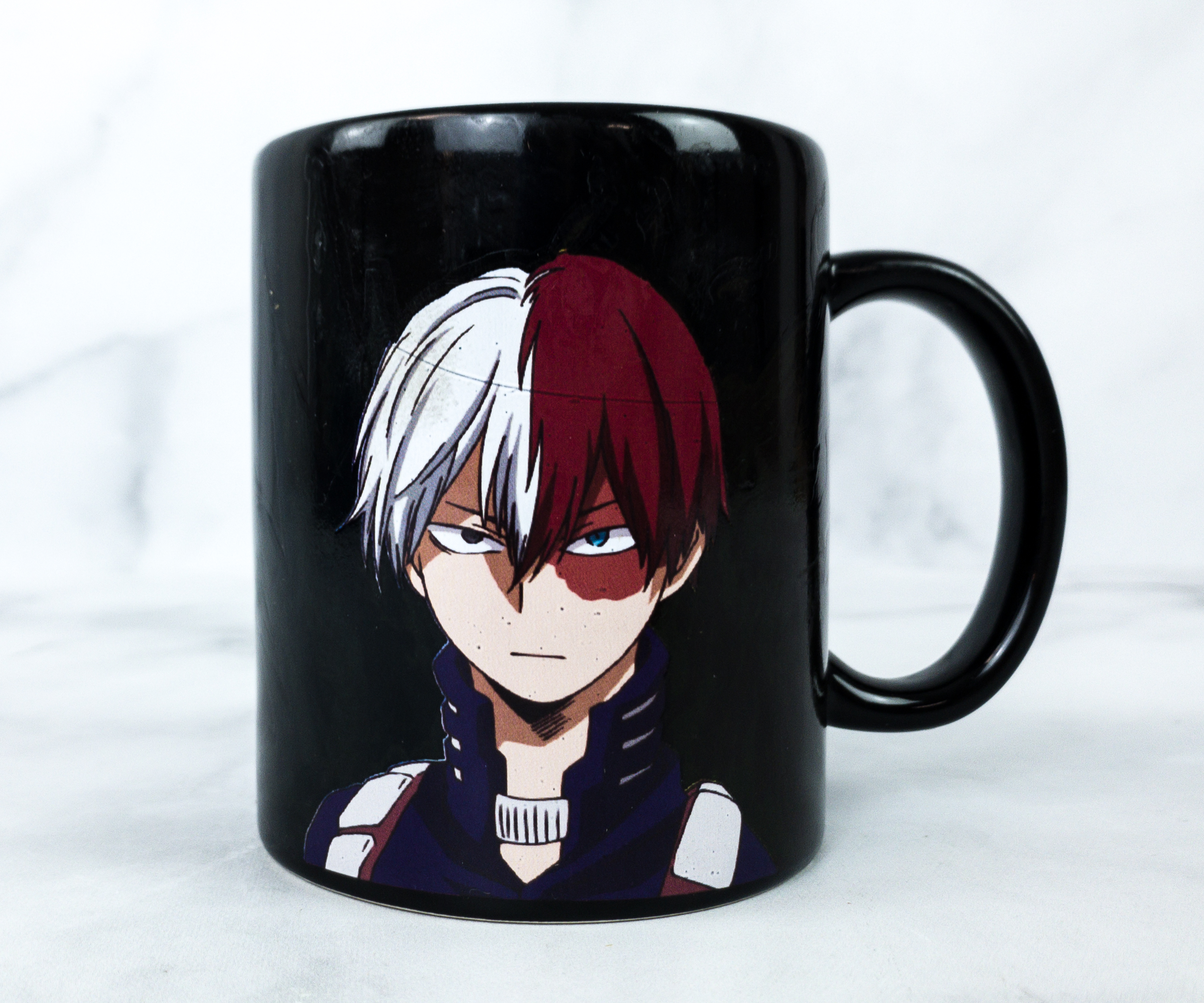 The black mug features Shoto looking serious.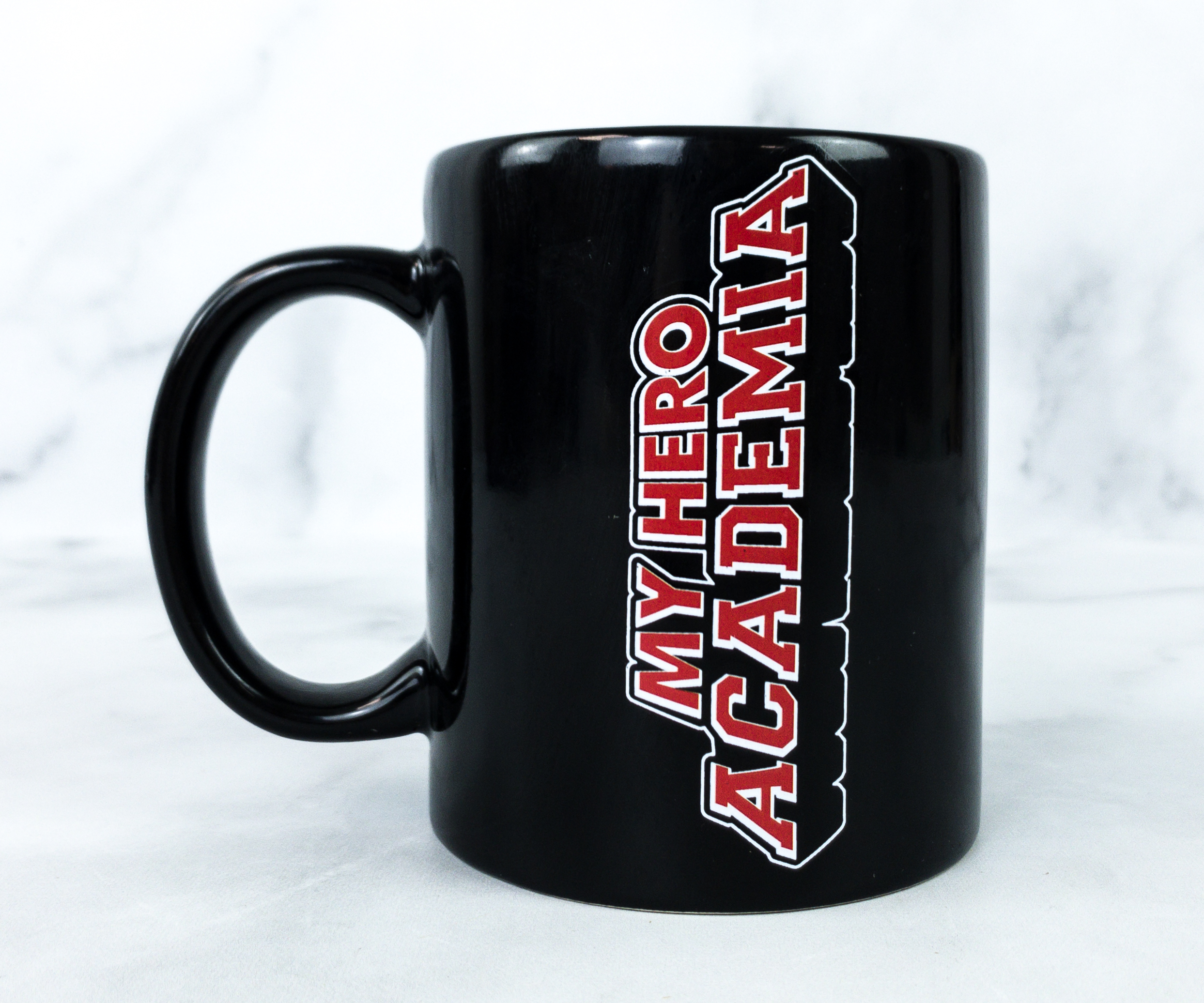 The other side has the series title decorated on it.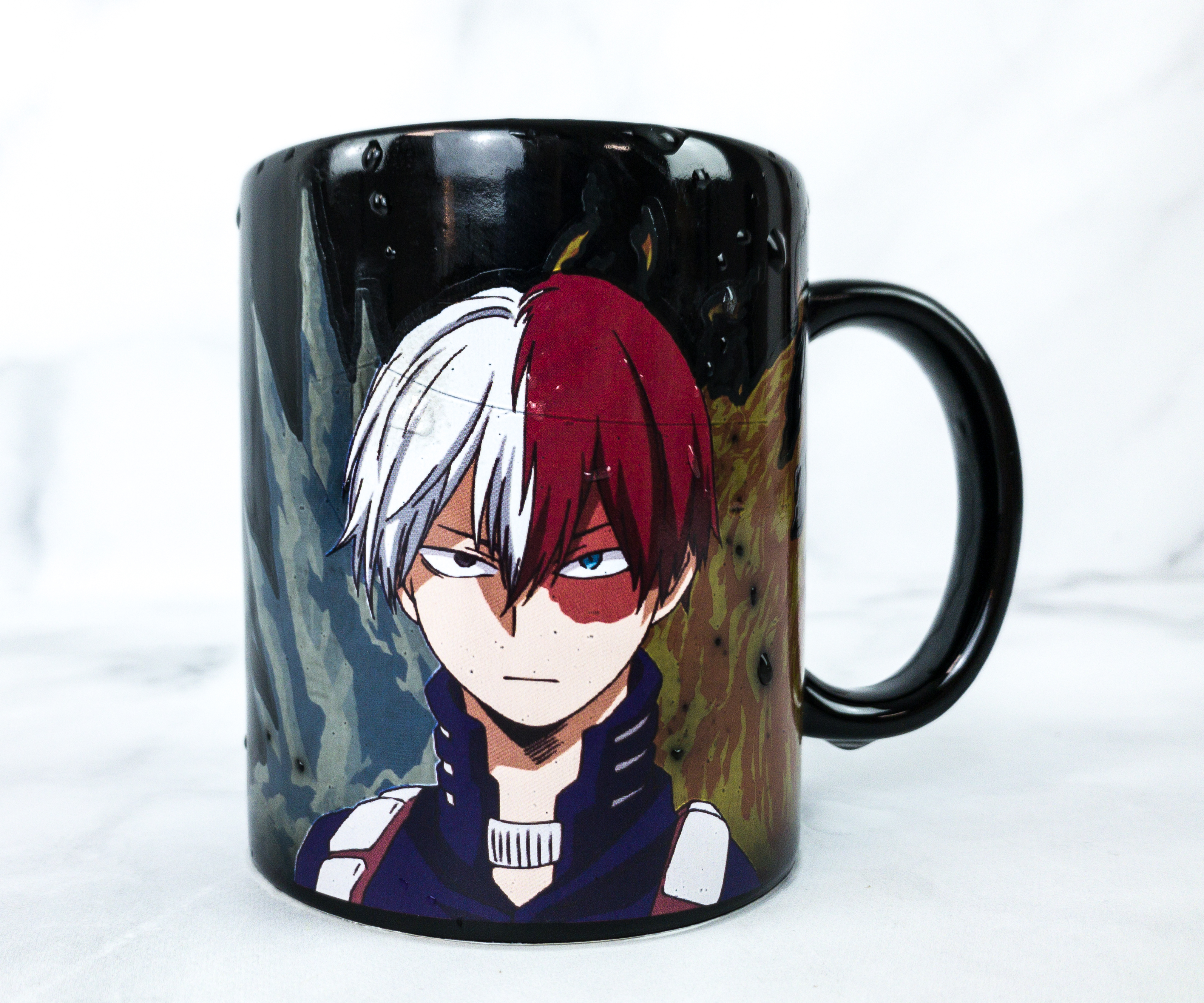 When you fill this mug with a hot drink, it shows the student's dual capability, which is Half-Cold and Half-Hot! The mug clearly shows the character's abilities and power, and I love it!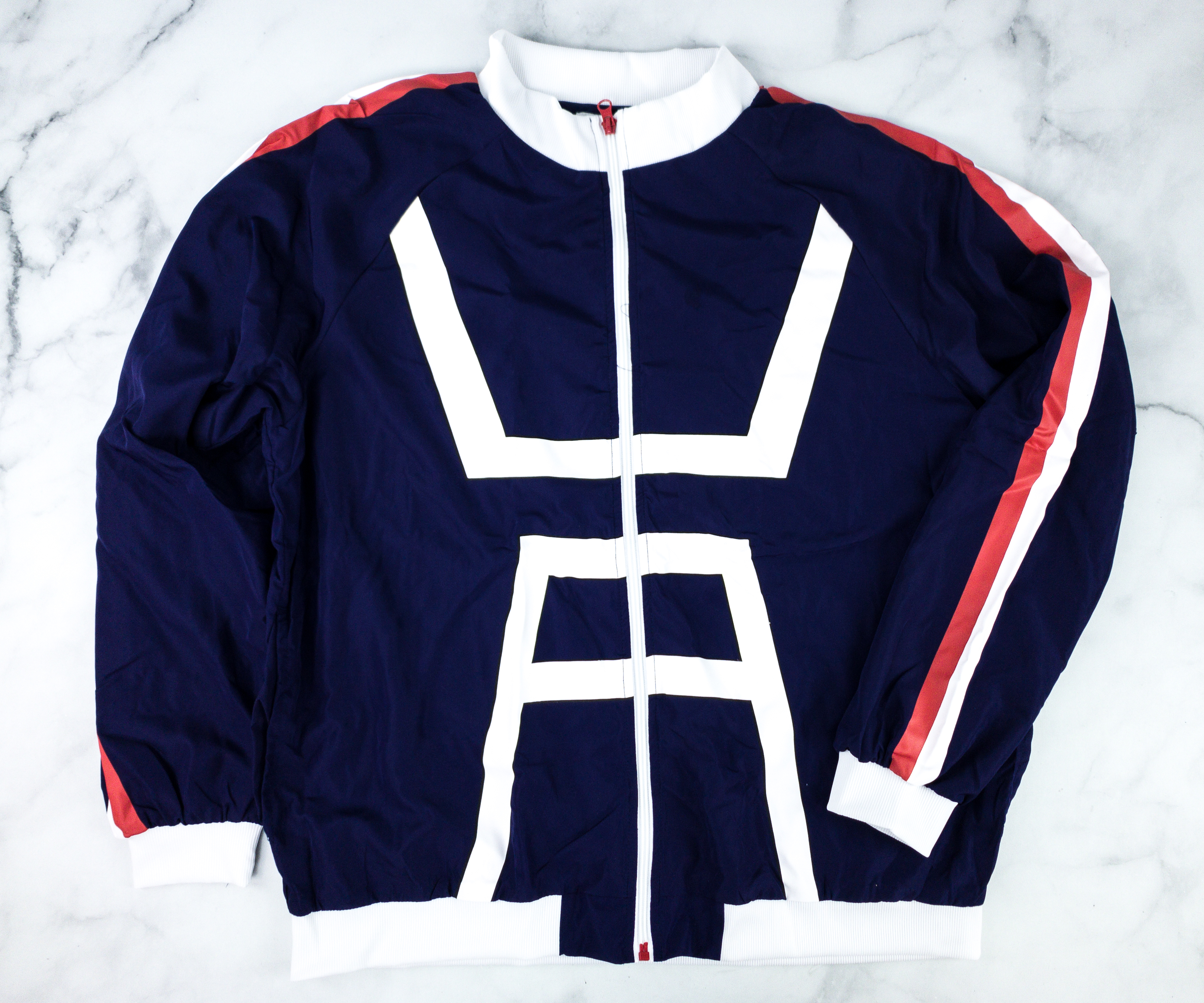 UA Track Jacket. I'm most excited about this last piece of exclusive merch from this box, and it's UA High Track Jacket!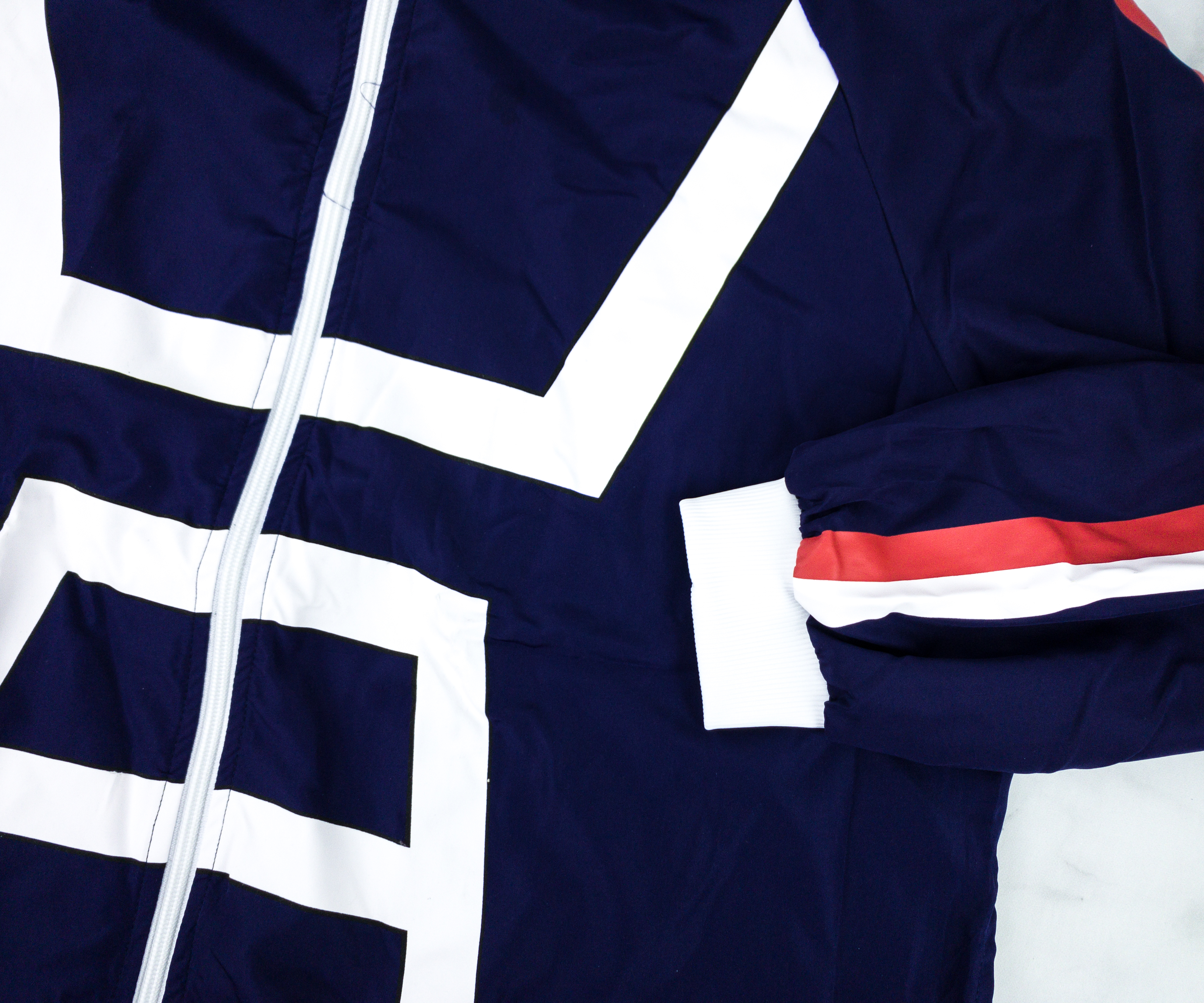 The dark blue jacket comes with red and white lines, and the white lines on the jacket's body form the letters U and A.
My first ever My Hero Academia box is totally impressive! They nailed the theme, with high-quality merchandise that represents the students of Class 1-A. I love the heat-changing mug that's fit for Todoroki's quirk, Tokoyami's cool snapback hat, Ochaco's anti-gravity bookend, and Bakugo's flashlight keychain! I also like the set of lenticular postcards, and I'm happy to get 2 for each design as I can keep 4 of them, and send the other 4 to friends! Of course, there's also the UA Track jacket, which made me feel like I also belong to this class of cool and amazing people! My very first box is definitely a hit which makes me more excited about the next one! MHA fans will certainly love this box where they can get exclusive and limited edition items and collectibles!
What do you think of this month's box?
Visit My Hero Academia Subscription Box to subscribe or find out more!