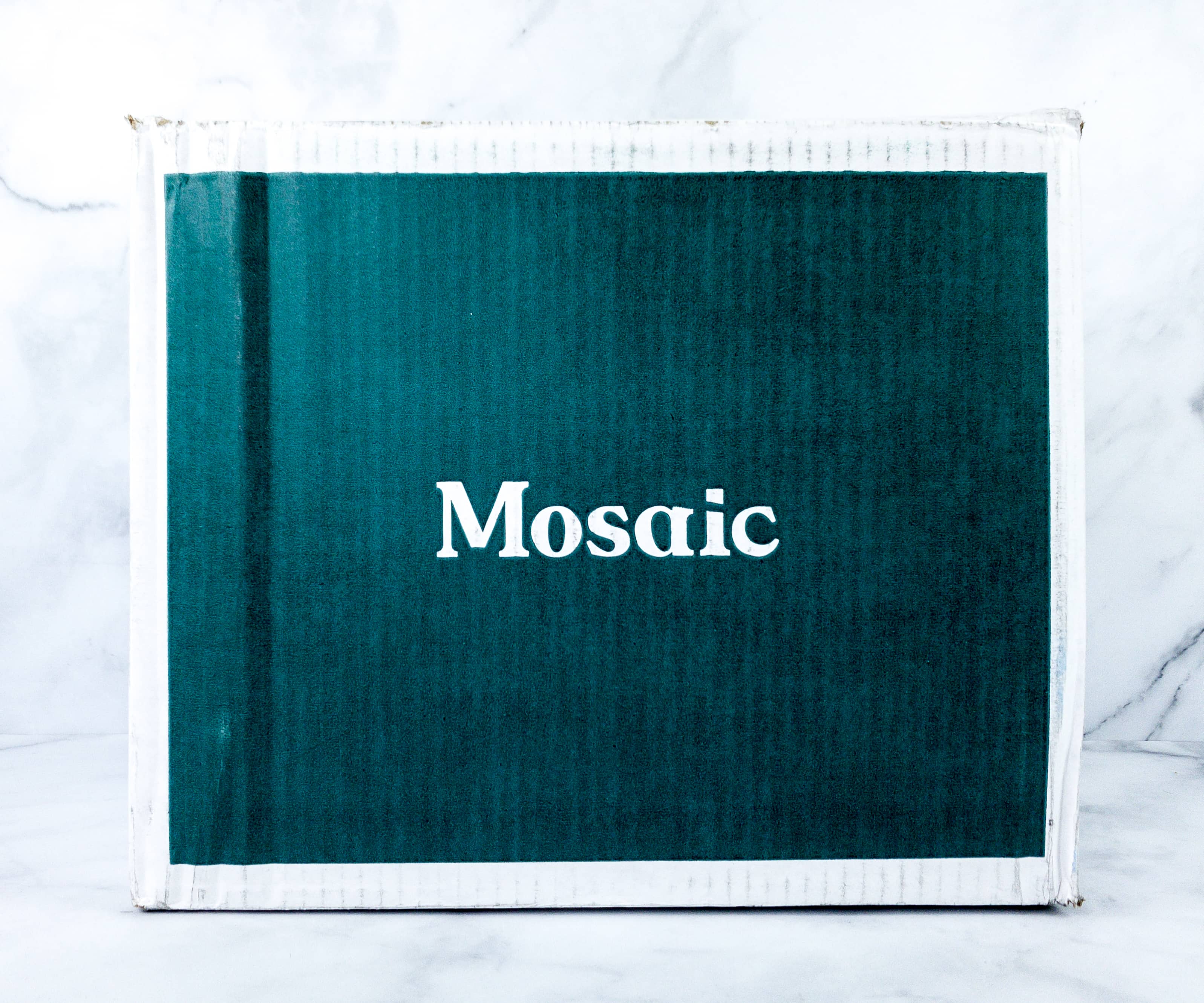 Mosaic Foods is a frozen meal subscription that offers healthy and delicious meals. The subscription starts at $79.92 and comes with free shipping for an 8-meal plan delivered weekly, biweekly, or monthly. Their meals are healthy, single-serving portions that feed an average adult for one meal (lunch or dinner). The meals are complete, balanced, healthy, and most of all, satisfying. They are packed with plant-powered protein and fiber, and provides the energy a person needs to go on with their day! You can choose and get noodles bowls, risottos, and veggie bowls from this subscription. Even better, all of Mosaic's packaging is recylable and sustainable – even the plastic film.
DEAL: Get $15 off on your first box– just use this link and coupon code FIRSTBOX15.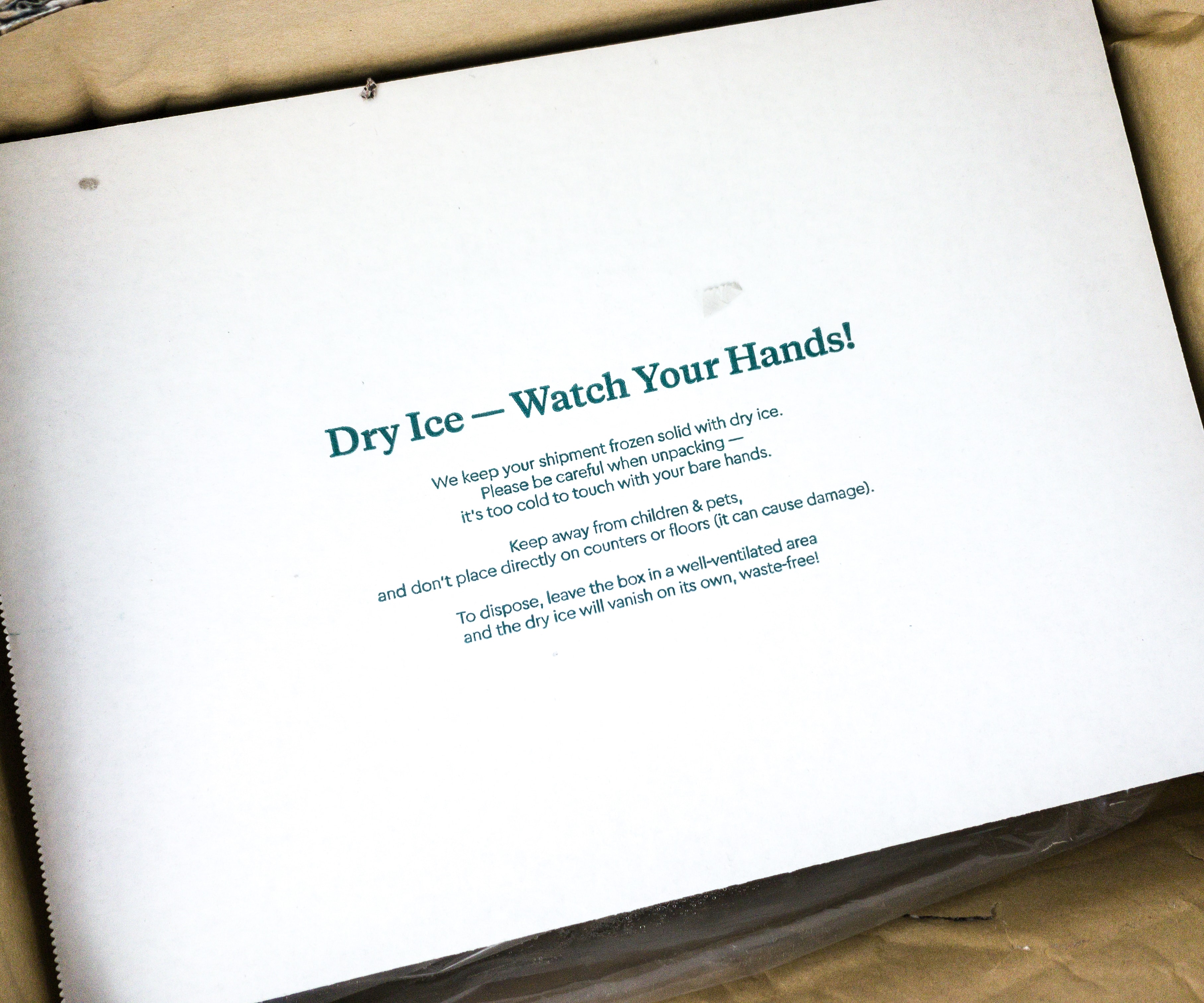 The package contains dry ice as they need to keep the shipment frozen solid.
An info card sits atop everything that's inside the box.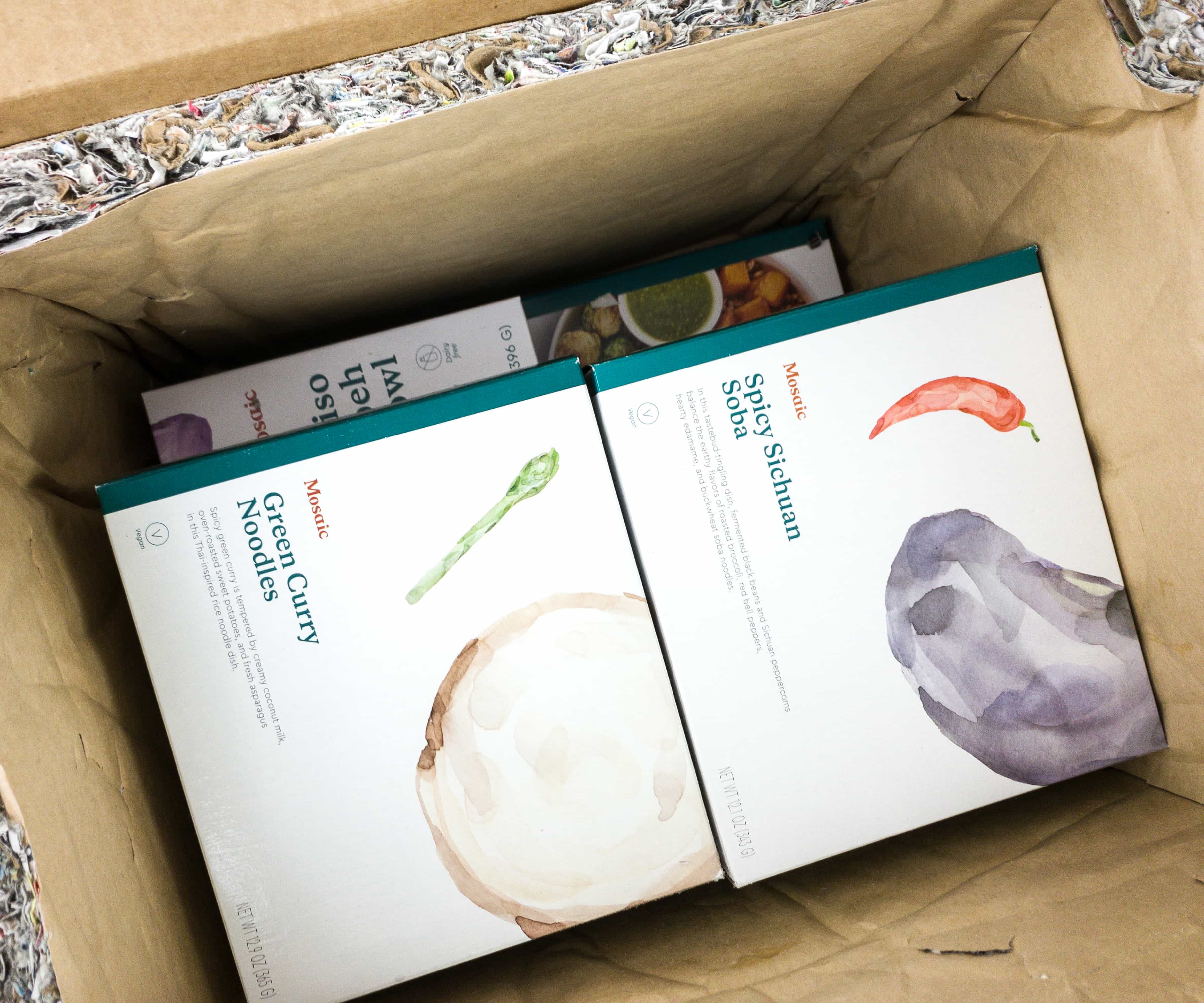 The boxes look great with that beautiful artwork!
Did you notice the recycled liner? All the packaging for Mosaic is recyclable and sustainable – even the plastic liner for the meal trays!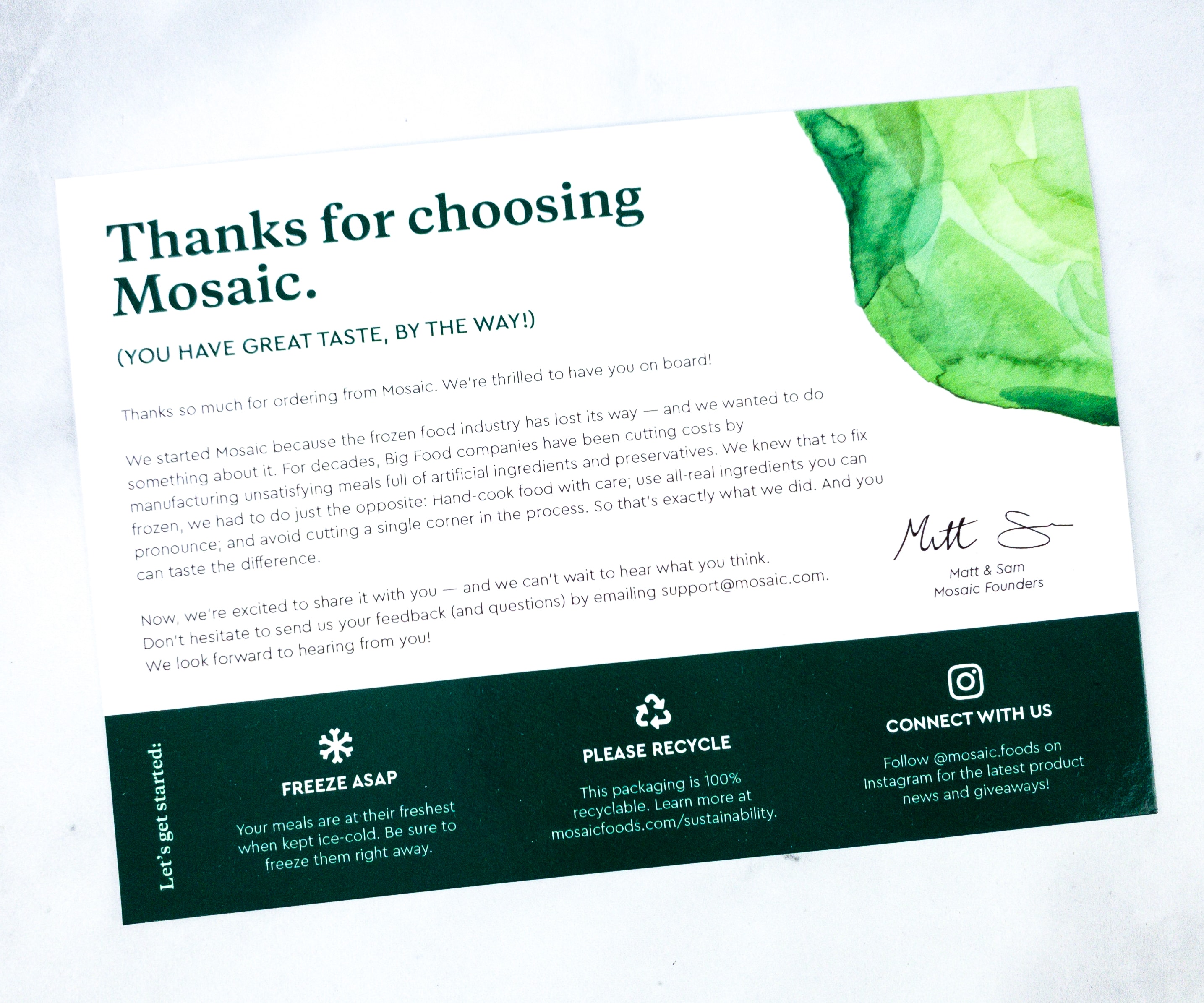 There's a note from the founders Matt and Sam. They also included instructions on what to do once you get the package, like freezing the contents ASAP as the meals are at their freshest when kept ice-cold. Also, the packaging is 100% recyclable.
When you order from Mosaic, you are not just getting convenient and healthy food, but you are also making an impact and a difference. With every box that is purchased from them, they work with a non-profit City Harvest to rescue two pounds of nutritious food and distribute it to New Yorkers in need.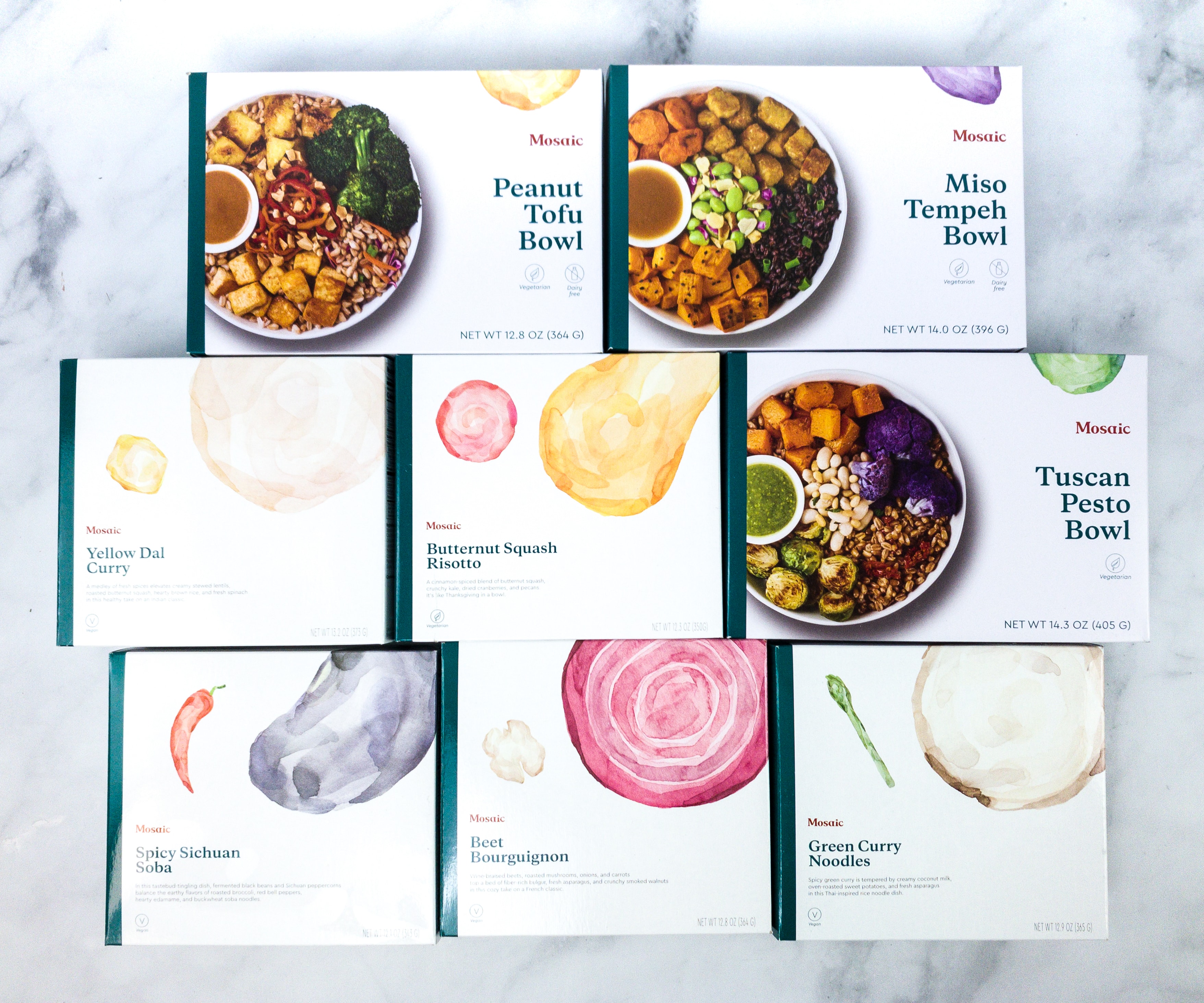 Everything in my box!
Here, we have Butternut Squash Risotto, Green Curry Noodles, Yellow Dal Curry, Beet Bourguignon, and Spicy Sichuan Soba.
There's also Tuscan Pesto Bowl, Miso Tempeh Bowl, and a Peanut Tofu Bowl.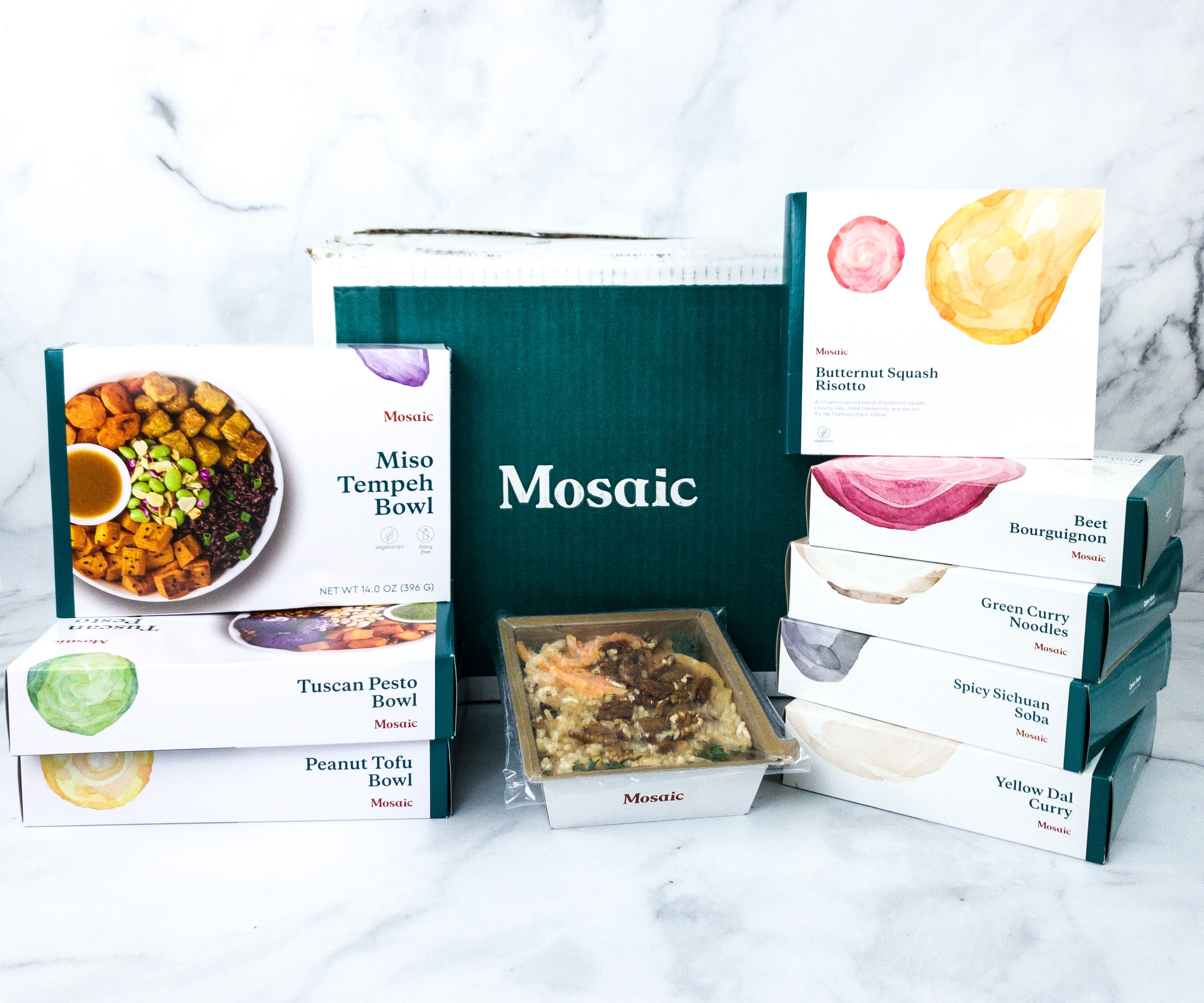 The meals are placed on film-covered trays.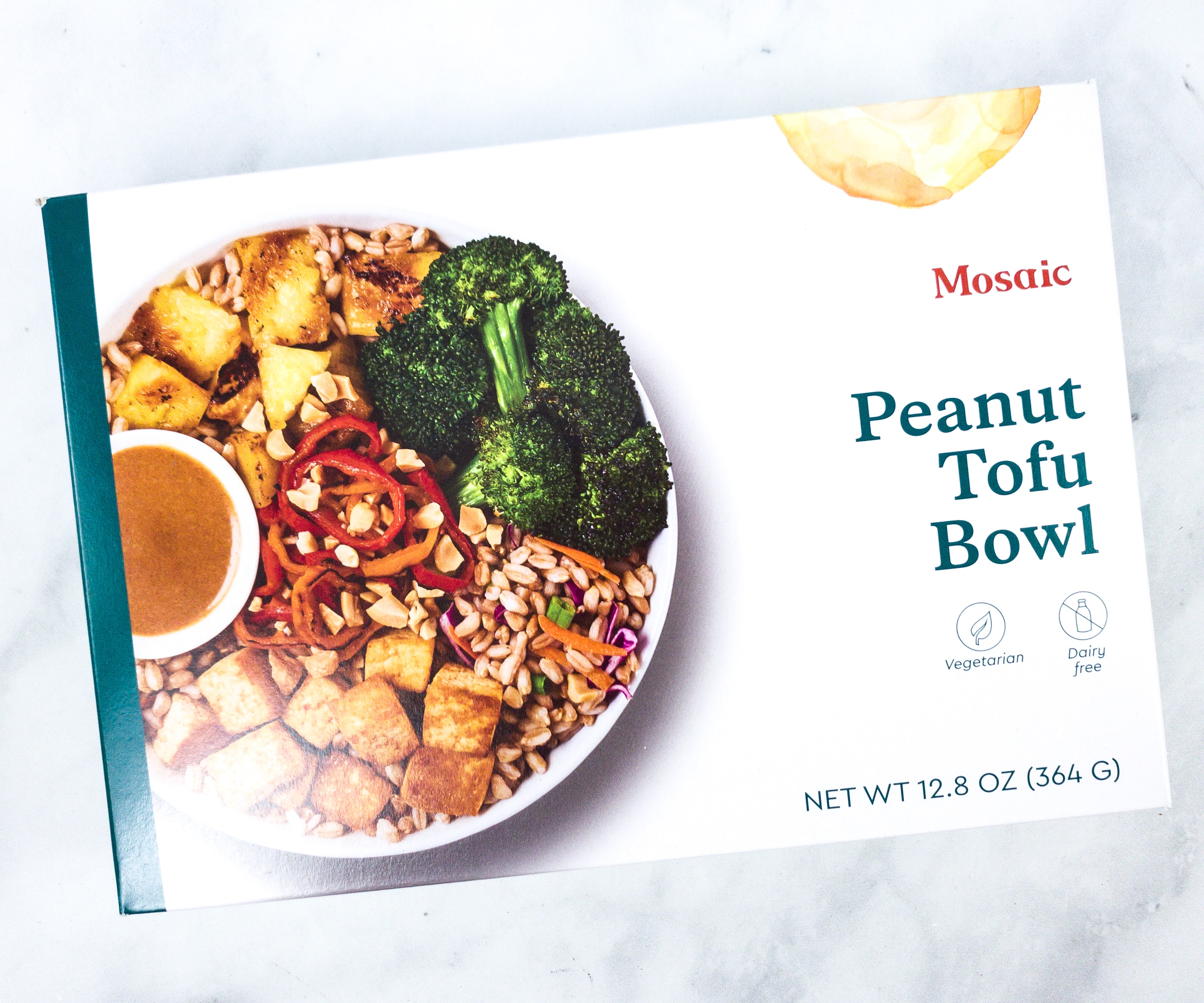 Peanut Tofu Bowl. If you love Thai food or food made with curry and other spices, this one is a must-try! This vegetarian meal has a balanced taste and a variety of texture with the added broccoli, sweet pepper rounds, roasted tofu, protein-rich farro, grilled pineapple, and crushed peanuts.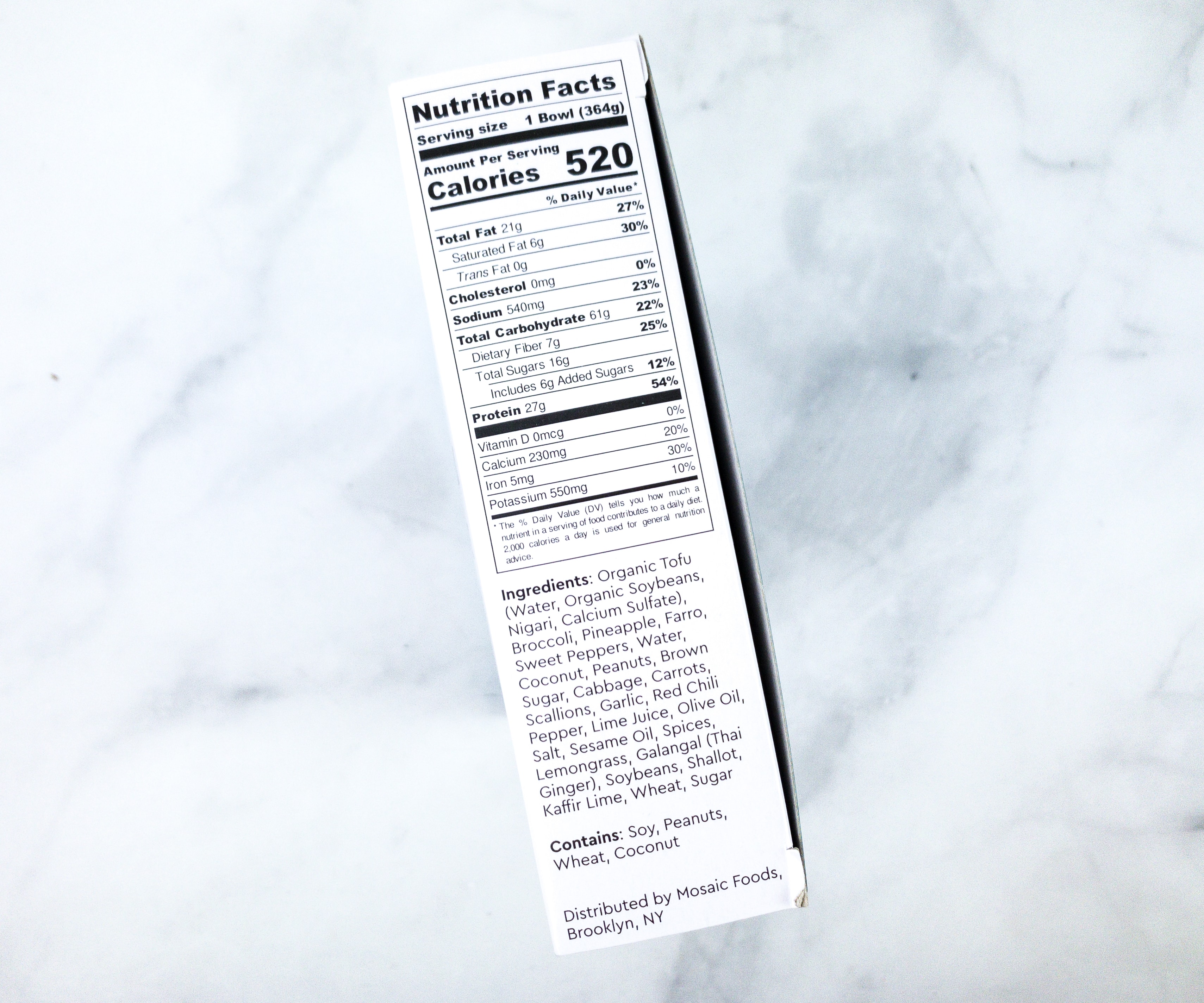 The side of the box also has the nutrition facts and ingredients list.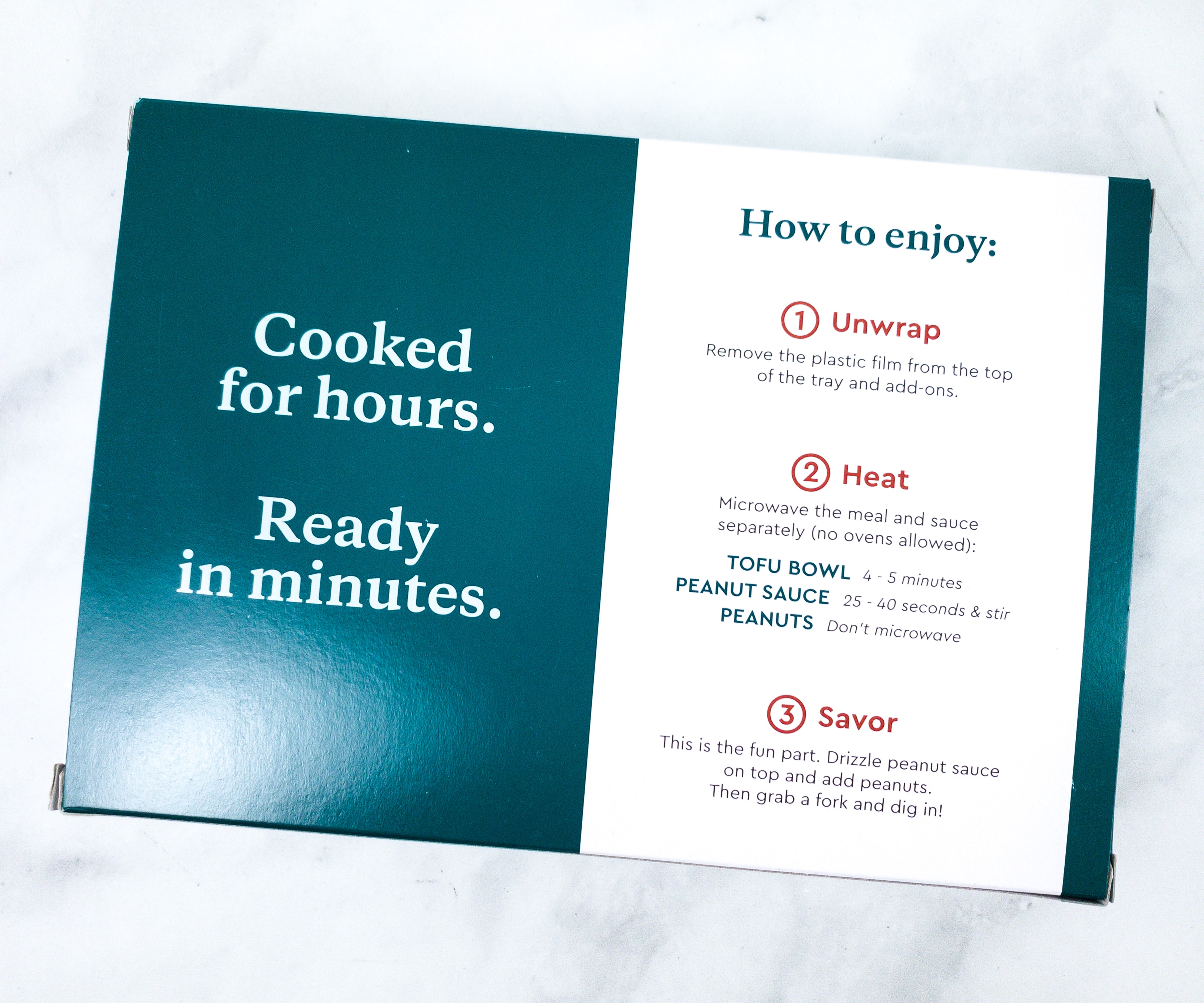 You can also find the instructions on how to prep the meals on the box. The meals are only microwavable, and you also need to heat the components separately, depending on the meal. For this meal, the tofu bowl needs to be heated separately from the peanut sauce, and there's no need to heat the peanuts.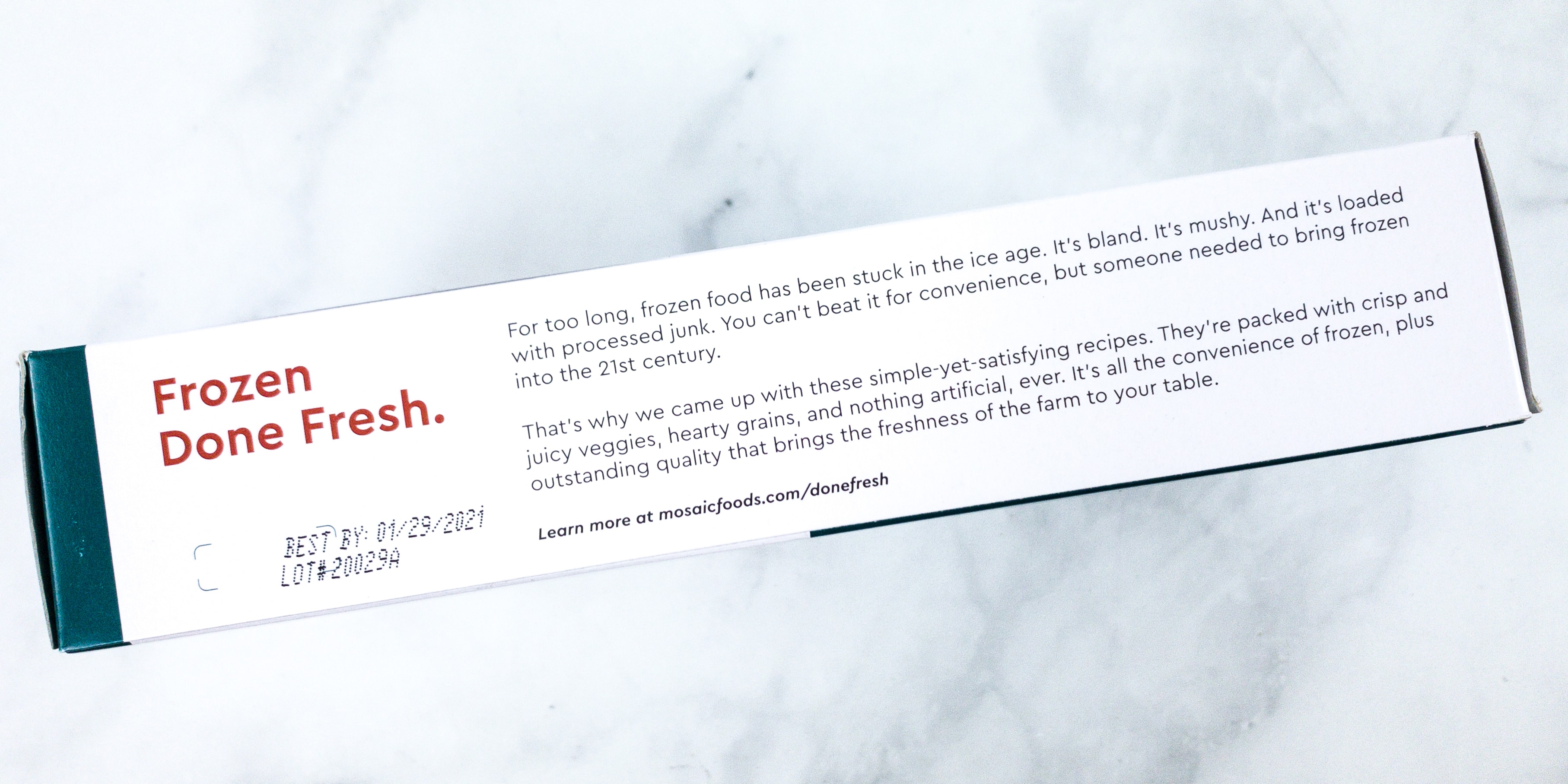 Another side of the box tells us more about how great frozen food is!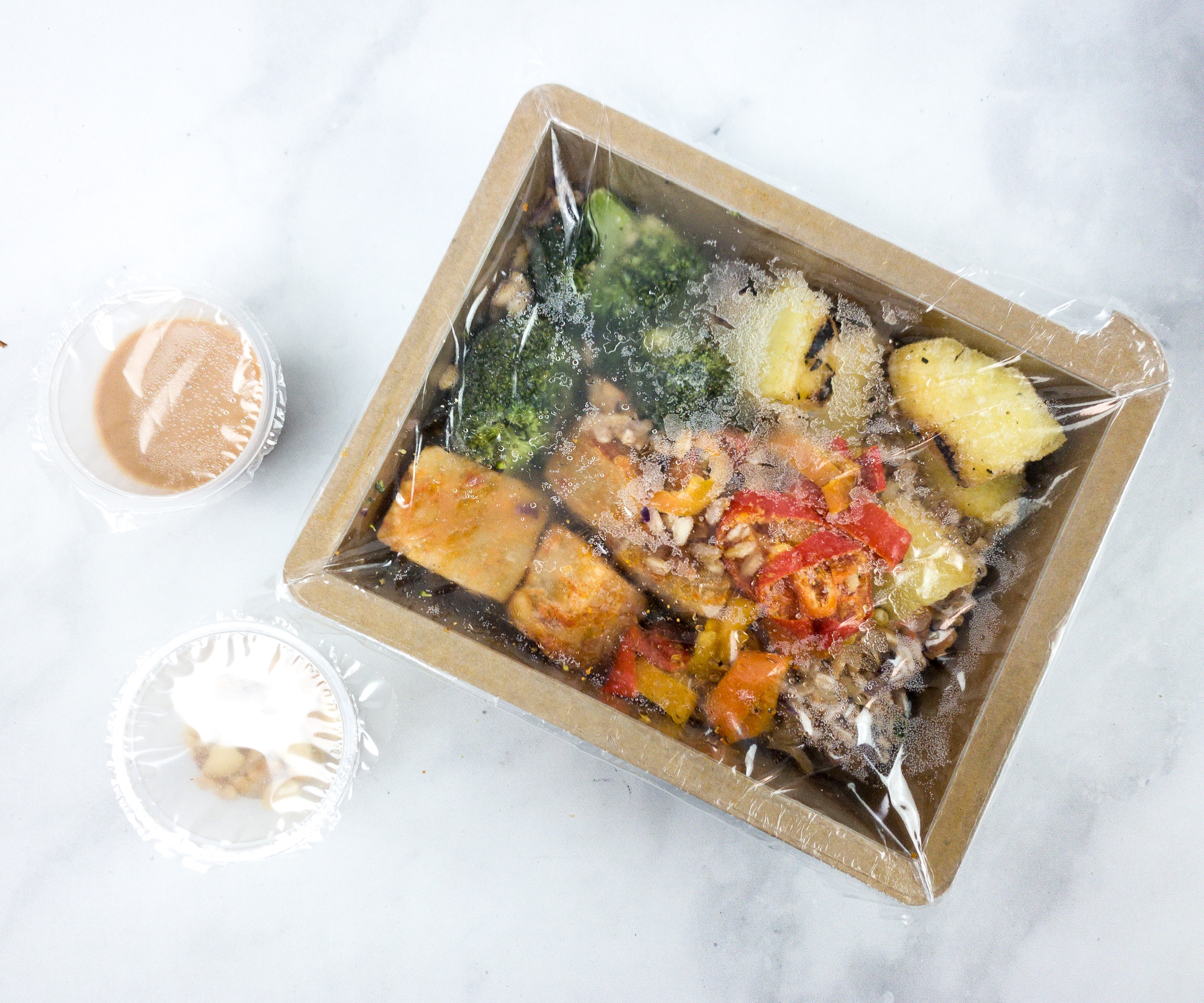 To prep the Peanut Tofu Bowl, heat the Tofu bowl for 4-5 minutes in the microwave, followed by the peanut sauce for 25-40 seconds. Drizzle the peanut sauce on top of the meal then add peanuts. You just need to get a fork then dig in and enjoy!
I love how they made healthier versions of favorite meals by adding more veggies without sacrificing the flavors.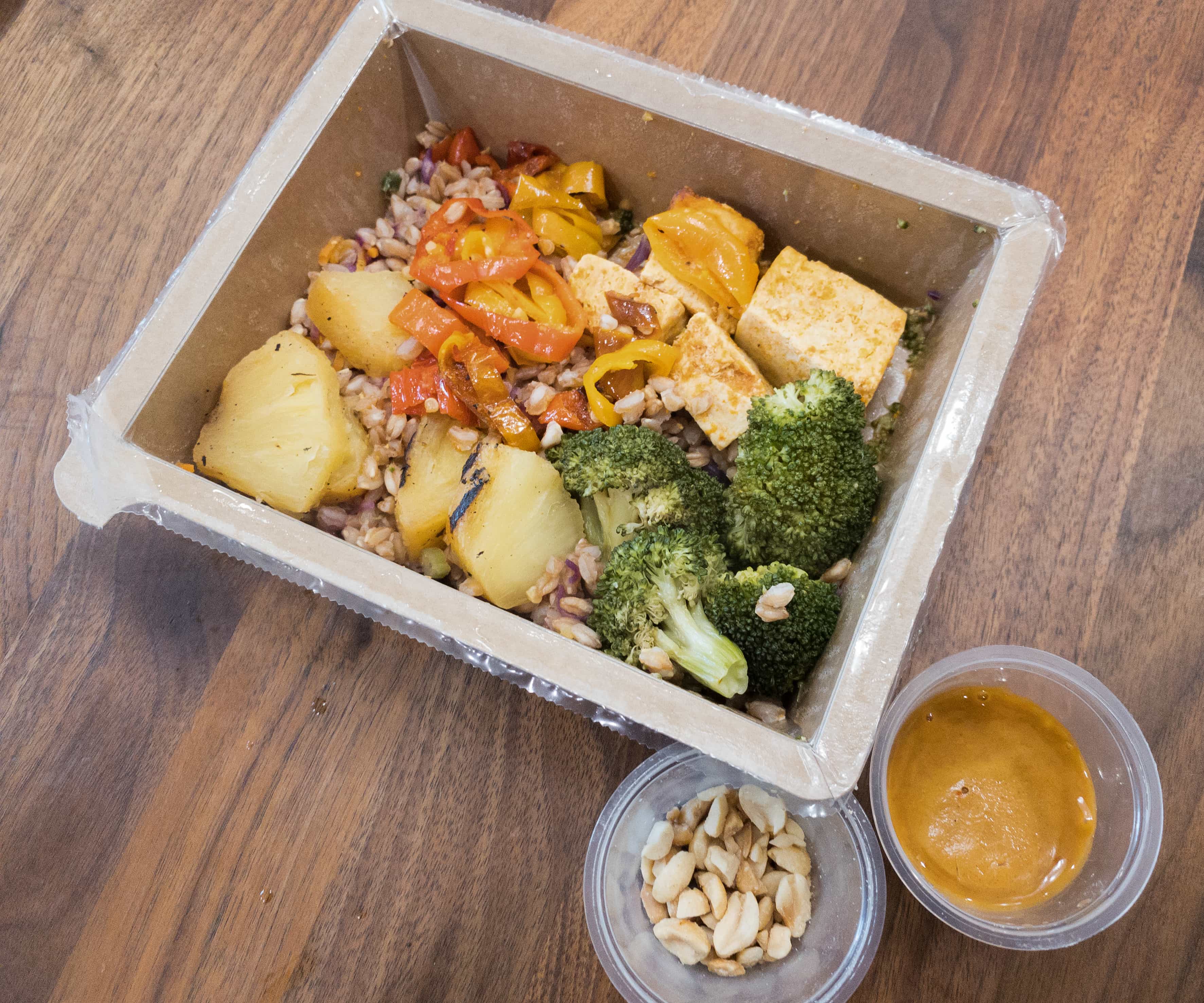 The peanut sauce was rich and creamy. Also, the veggies stayed fresh, and none of them turned soggy!
For a boost of flavor (and vitamin C!), there are pineapple chunks cooked on a grill, resulting in a caramelized flavor.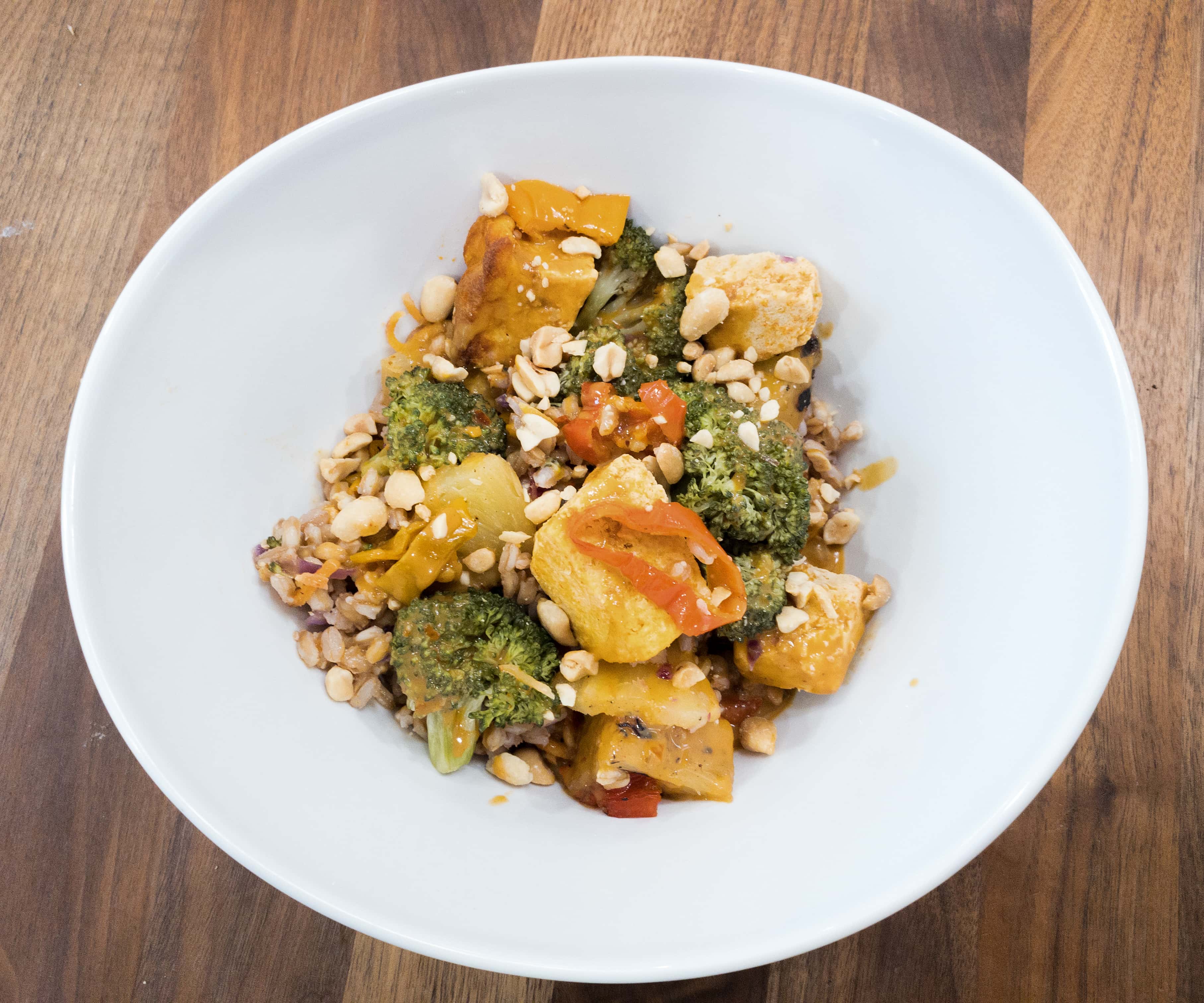 This bowl is full of vitamins and nutrients! Broccoli is rich in fiber and mega-antioxidants, while tofu contains essential amino acids along with iron and calcium.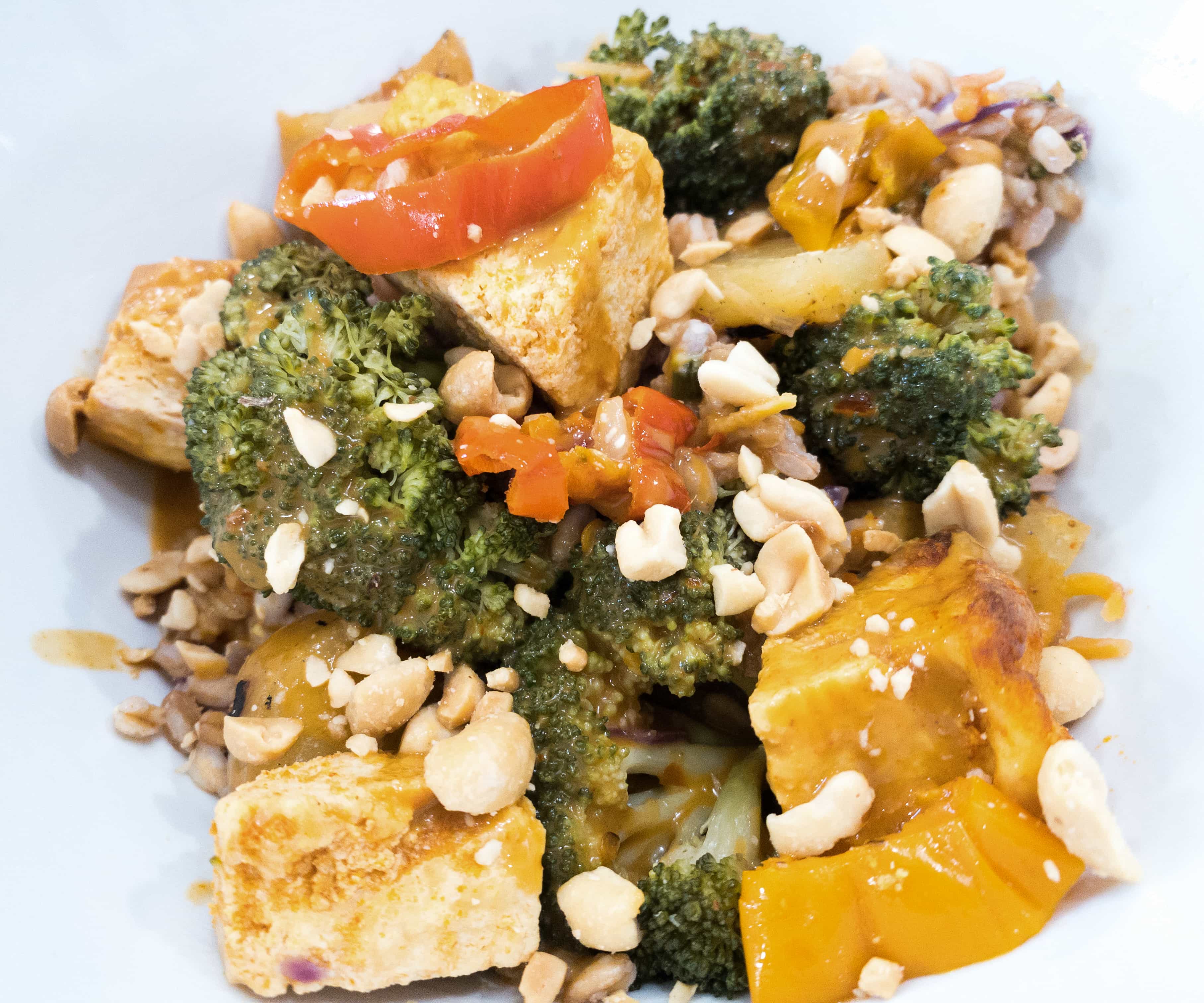 I love that there are added peanuts which gave the dish a satisfying crunch.
Miso Tempeh Bowl. This meal is Japanese-inspired and it will appeal to both vegetarians and meat-lovers alike. The bowl contains black rice, sweet potato, nutty tempeh, edamame, and carrots.
The miso sauce brings a rich touch of umami flavor. Aside from the nutritious veggies in this dish, you can also add crushed almonds to give it an extra crunch.
You can heat the Tempeh bowl for 4 1/2 to 5 1/2 minutes, and 10-15 seconds for the Miso sauce.
This meal is easy to prepare, you just have to heat the contents of the bowl and the sauce separately, then drizzle the sauce on top and add crunchy almonds!
This bowl uses black rice, also known as forbidden rice, which is rich in antioxidants and phytonutrients that act as a natural detoxifier.
With the ingredients separated on the tray, you can easily plate your meal and make it look home-made.
The black rice and sweet potato combo is just so good, and also makes you feel full easily. Another superfood in this bowl is edamame, which is a great source of protein, fiber, and antioxidants!
Tuscan Pesto Bowl. Next up is a Tuscan-inspired bowl that has veggies made delicious by a basil pesto sauce! There's purple cauliflower, Brussel sprouts, butternut squash, and beans.
The meal is made rich and creamy with avocado-based pesto, topped with pine nuts for added crunch.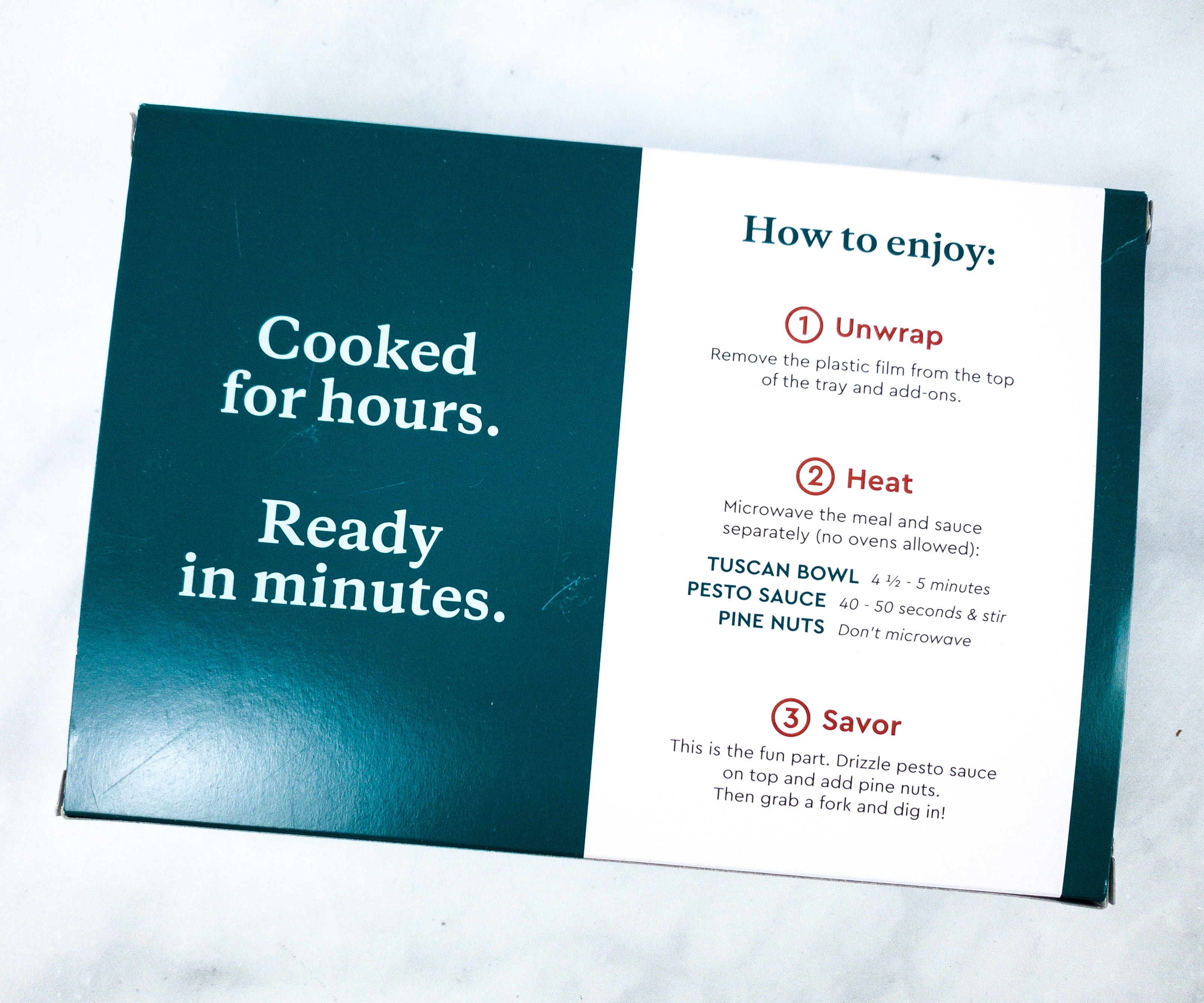 The Tuscan bowl can be heated for 4 1/2 to 5 minutes and the pesto sauce for 40-50 seconds.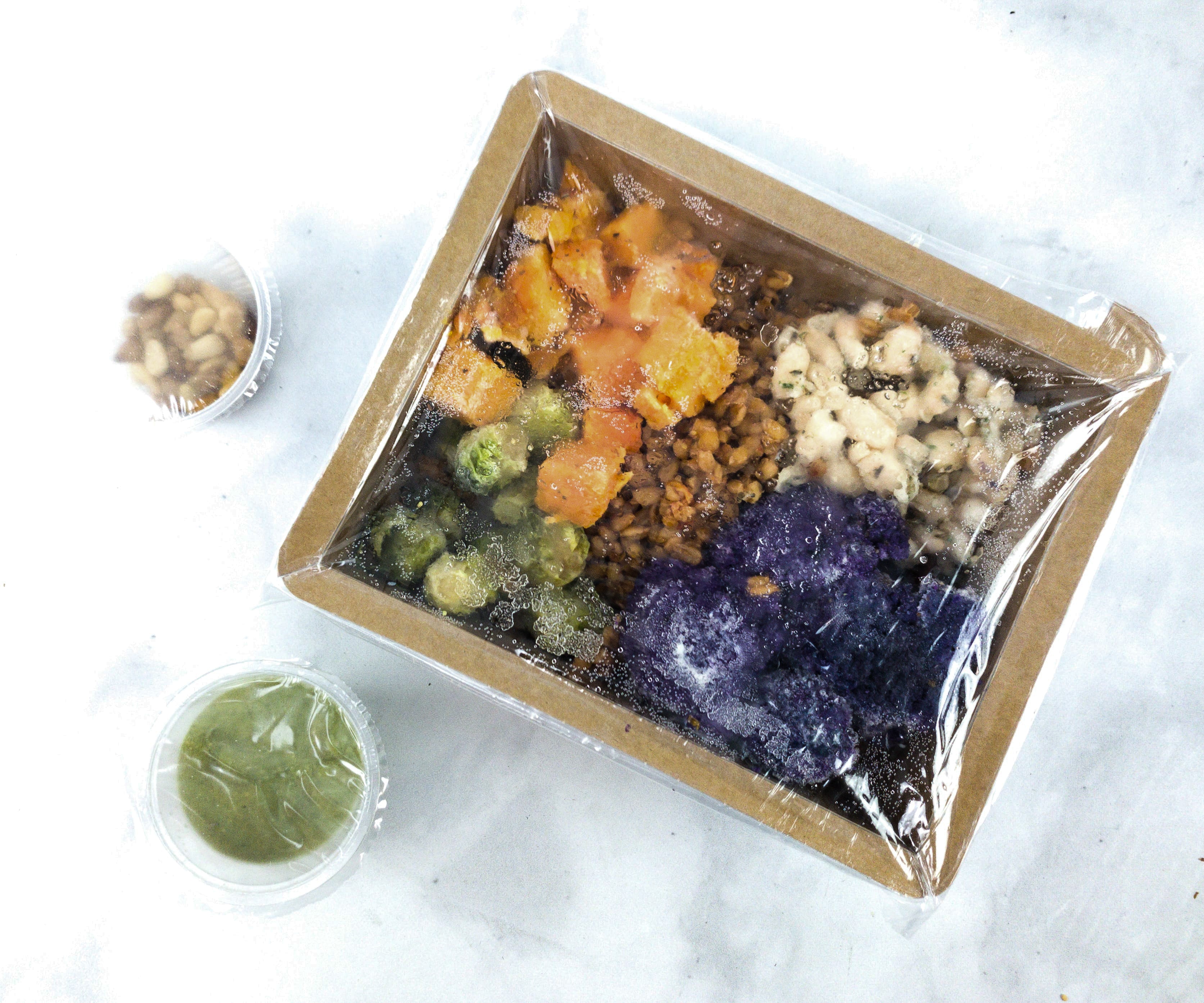 Wondering why the cauliflower is purple? It's because it contains a high concentration of anthocyanins, an antioxidant that's also present in blueberries and red wine. The taste is pretty much like a regular cauliflower.
The veggies are all colorful, it's like a feast! The vitamin A-rich butternut squash was roasted, which gives it a sweet flavor. I also liked the fiber-rich beans that came out so tender and mildly nutty.
The rich avocado pesto adds brightness to the dish. Another healthy ingredient is the brussels sprouts which are also rich in fiber.
What a wholesome meal we have right here! The sauce and the veggies complement each other really well!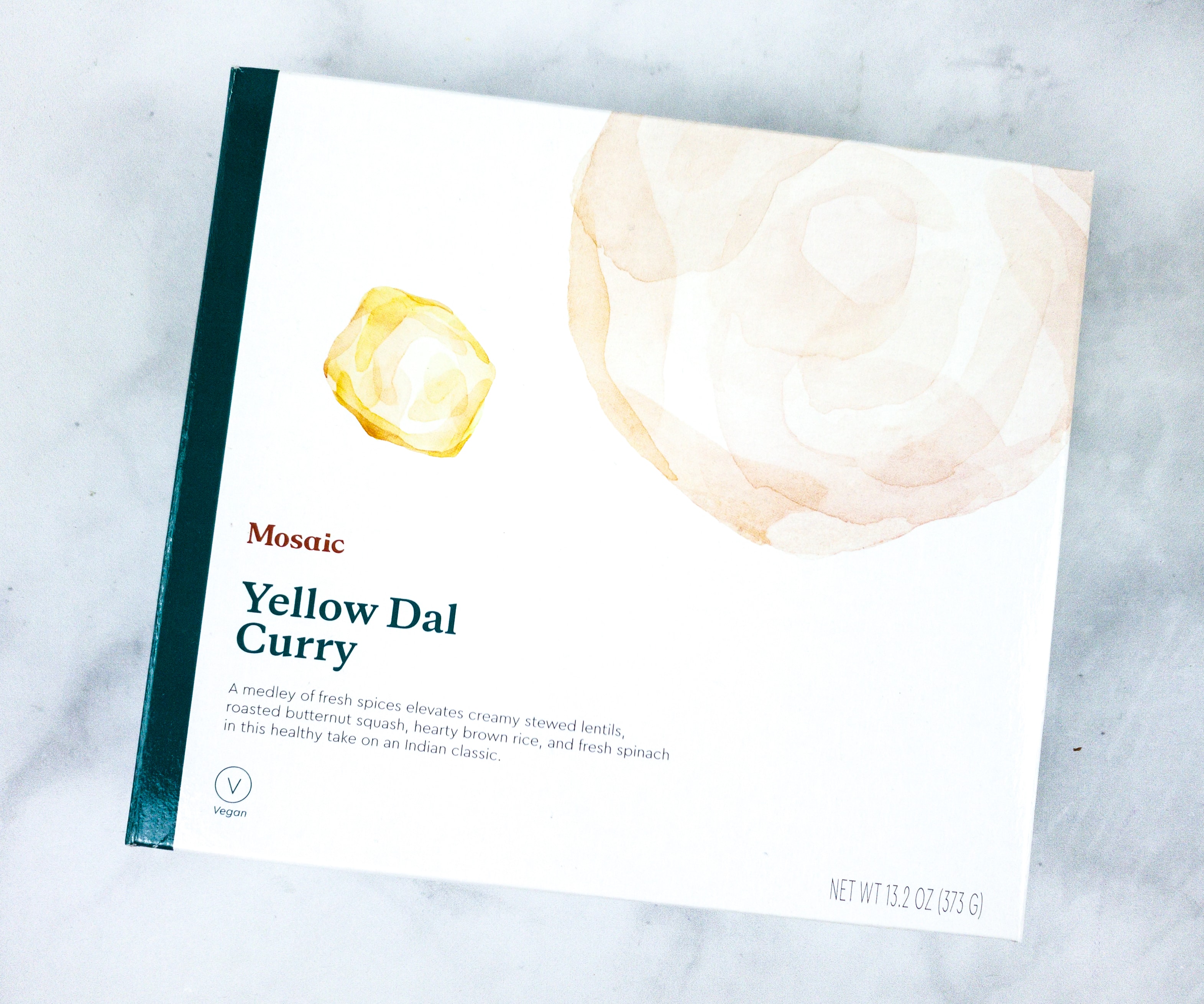 Yellow Dal Curry. To spice things up, we have this bold and protein-rich bowl inspired by popular Indian flavors! It contains red and green lentils, fresh spinach, roasted butternut squash, and cilantro brown rice.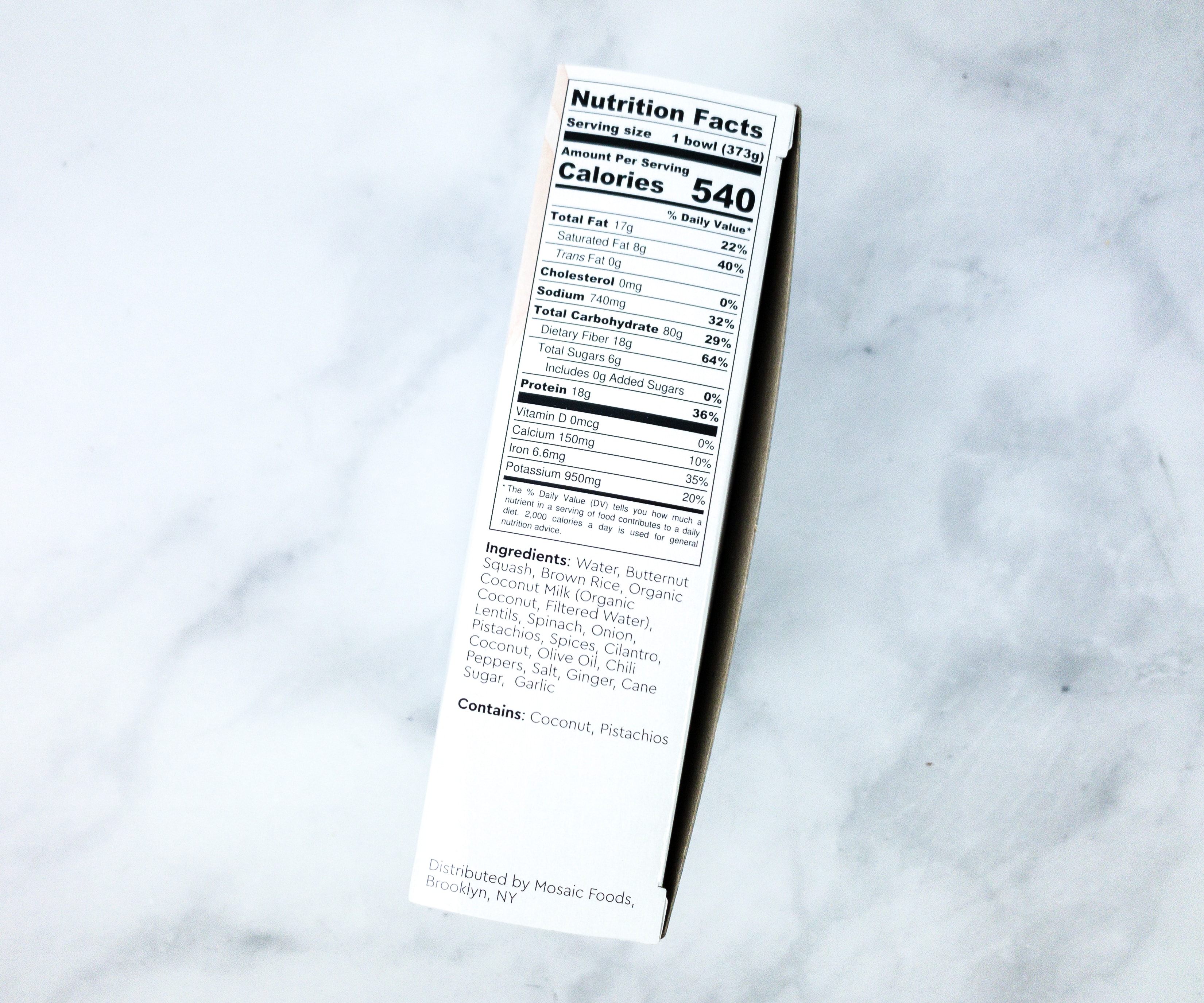 The veggie bowl is made creamy and delicious with creamy coconut milk, savory garam masala, and ginger, with velvety curry.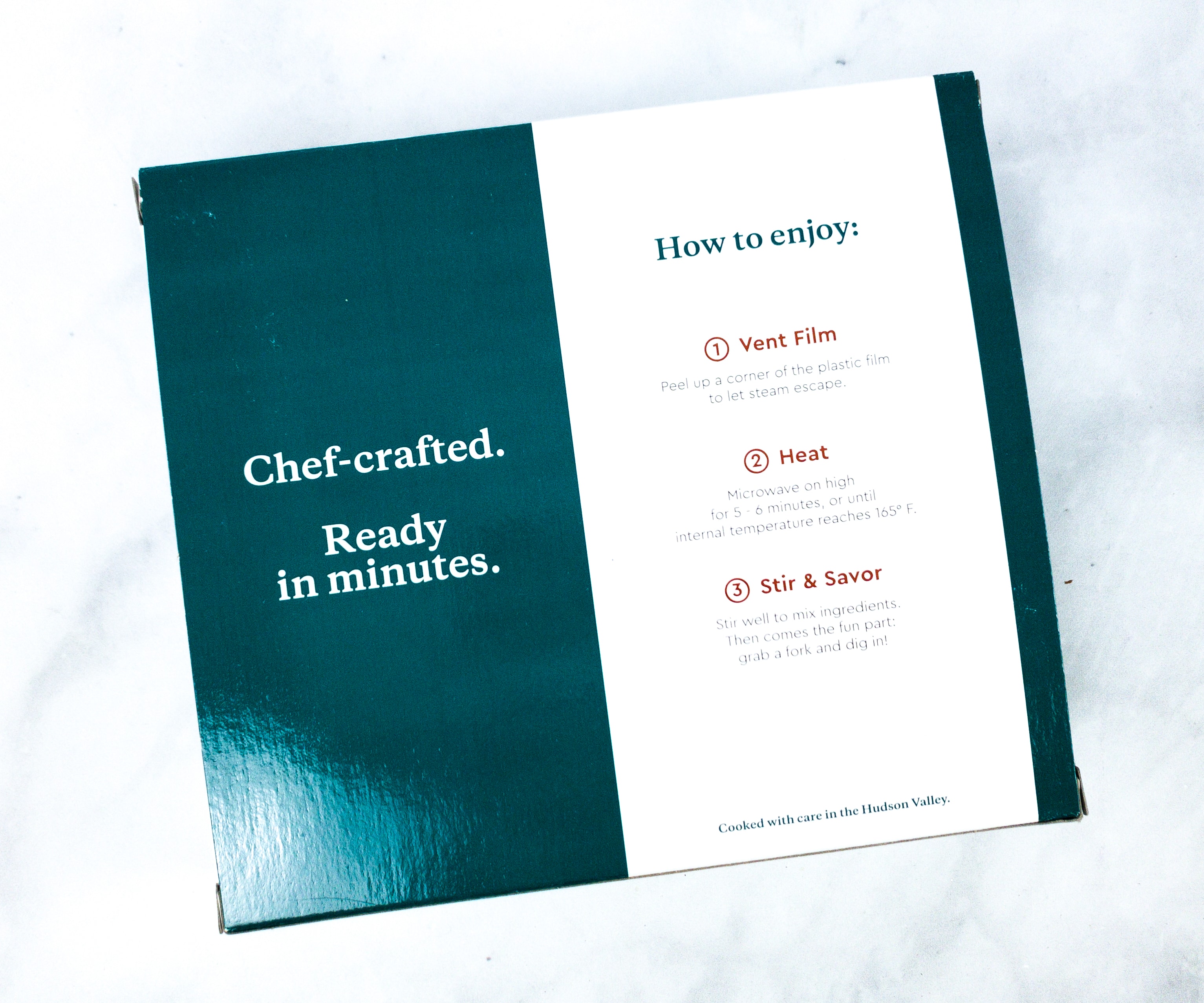 You can heat the whole veggie bowl on high for 5-6 minutes or until internal temperature reaches 165°F.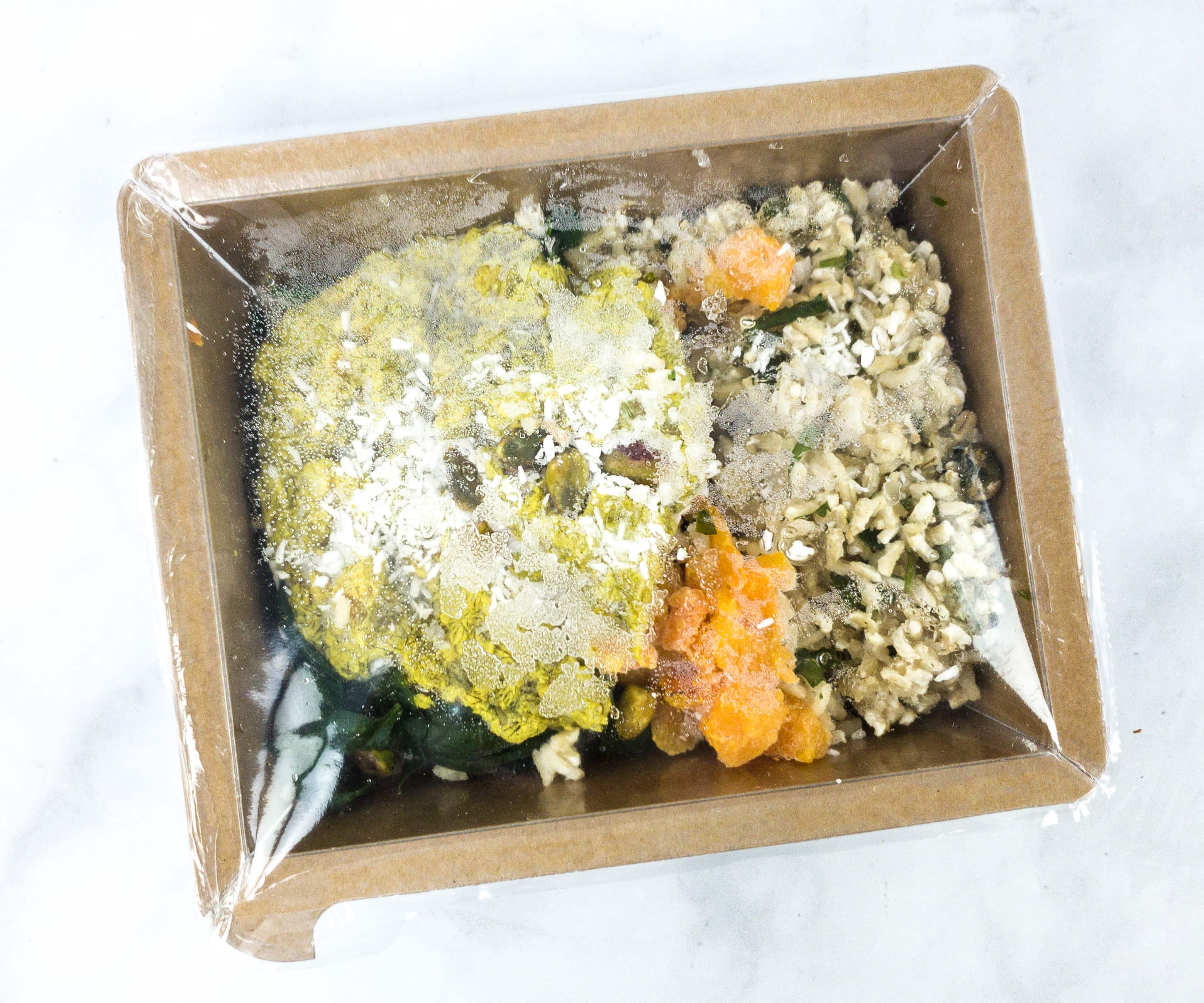 Unlike the other bowls, this one doesn't come with separate sauce and toppings.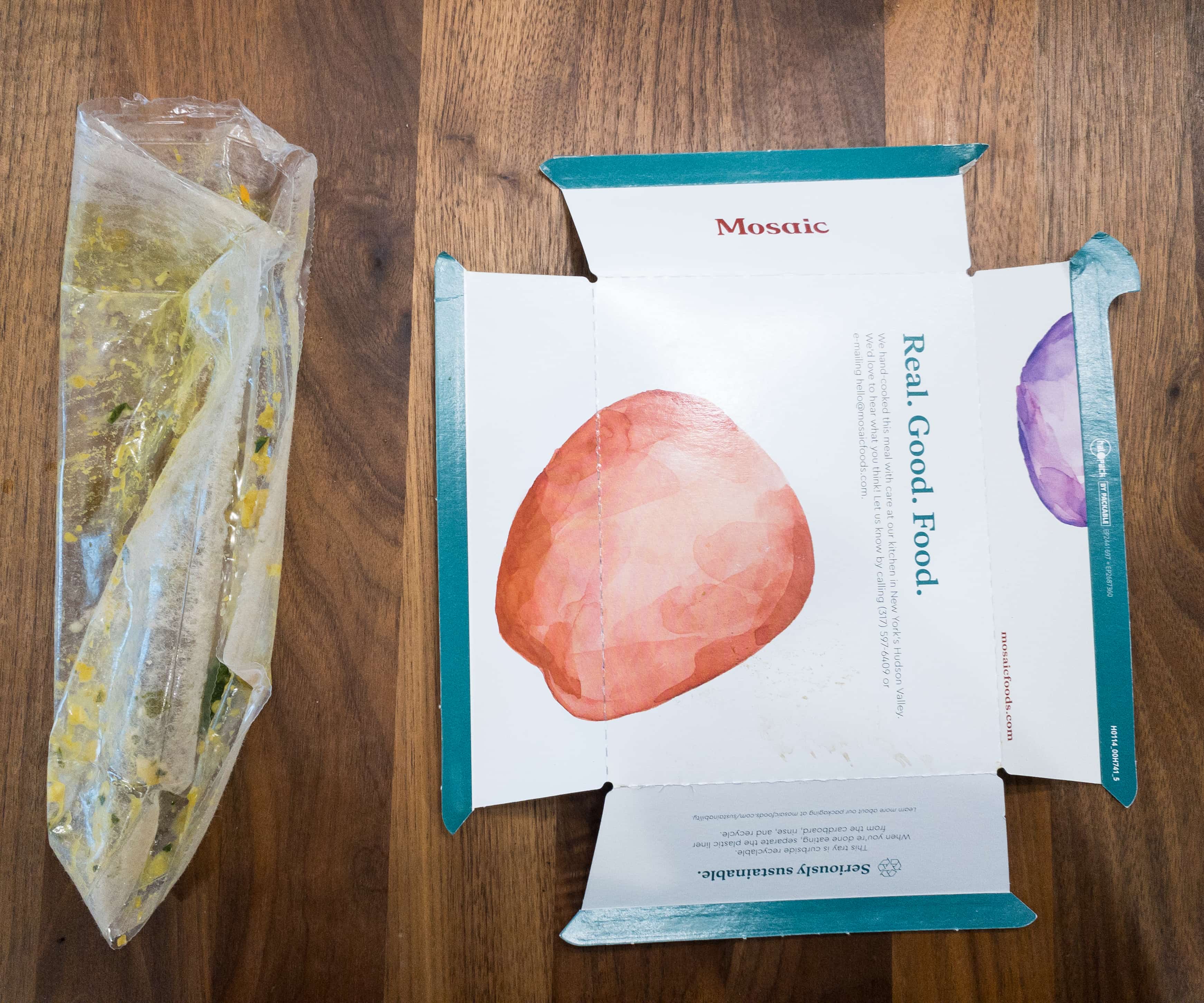 You can separate the plastic liner from the cardboard, then rinse and recycle. That really is seriously sustainable!
The meals look nice while they're still frozen, but they look best after heating!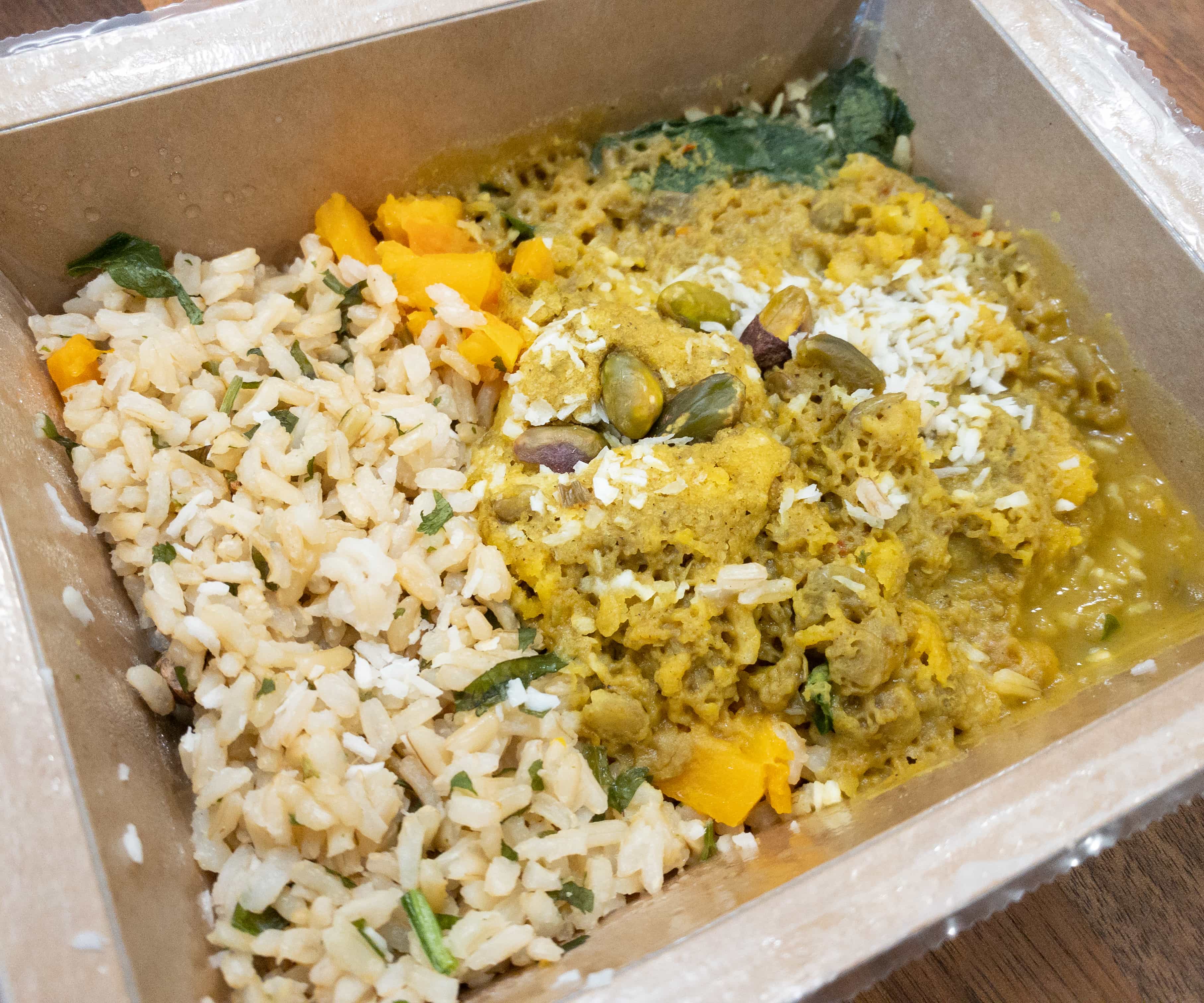 The meals won't leak, especially ones with sauces or broth, as they're packaged nicely.
This yellow dal curry looks amazing! It's a wheat-free and dairy-free meal, packed with lots of protein to keep you healthy.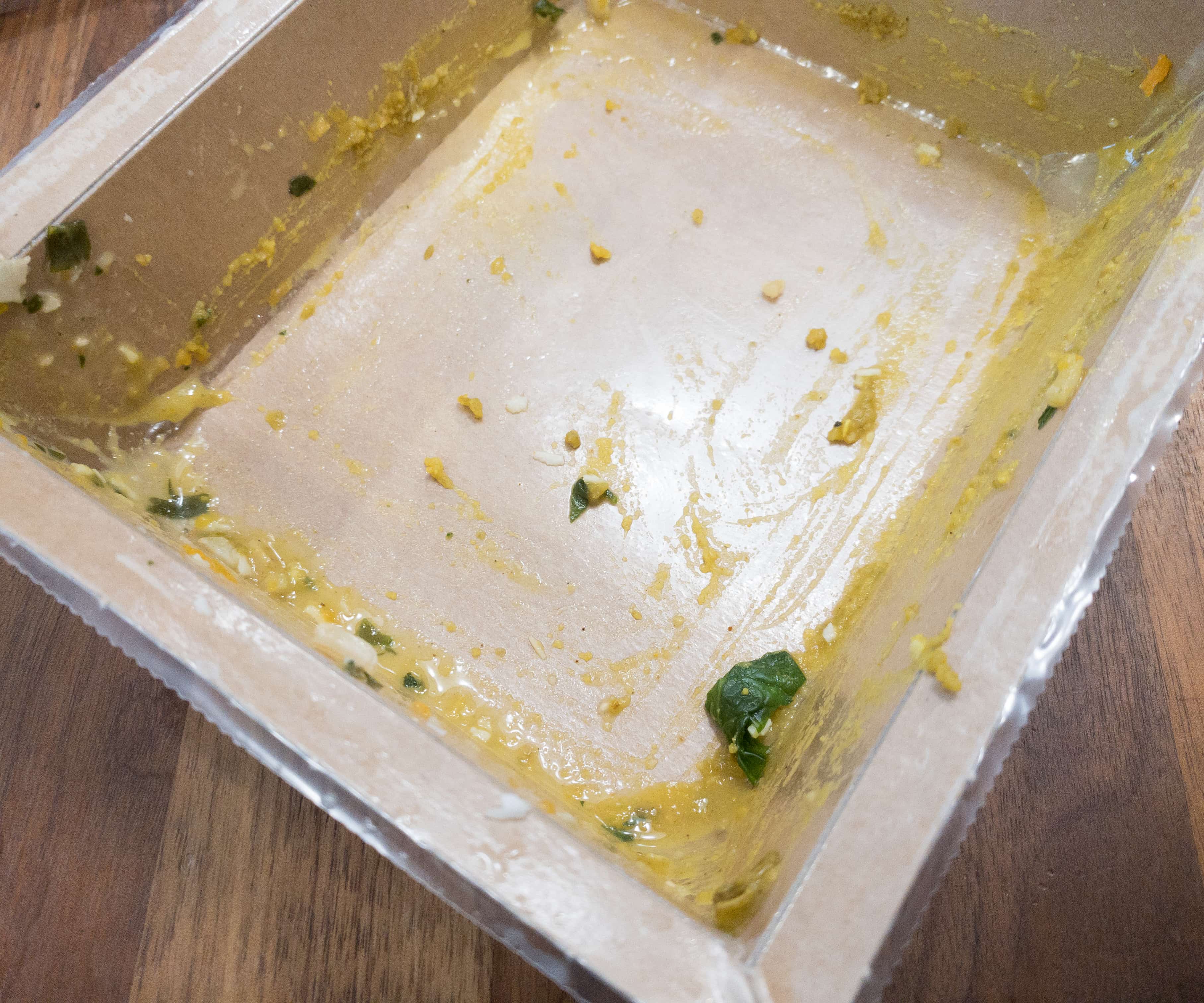 You can see the plastic film around the tray when you empty the container.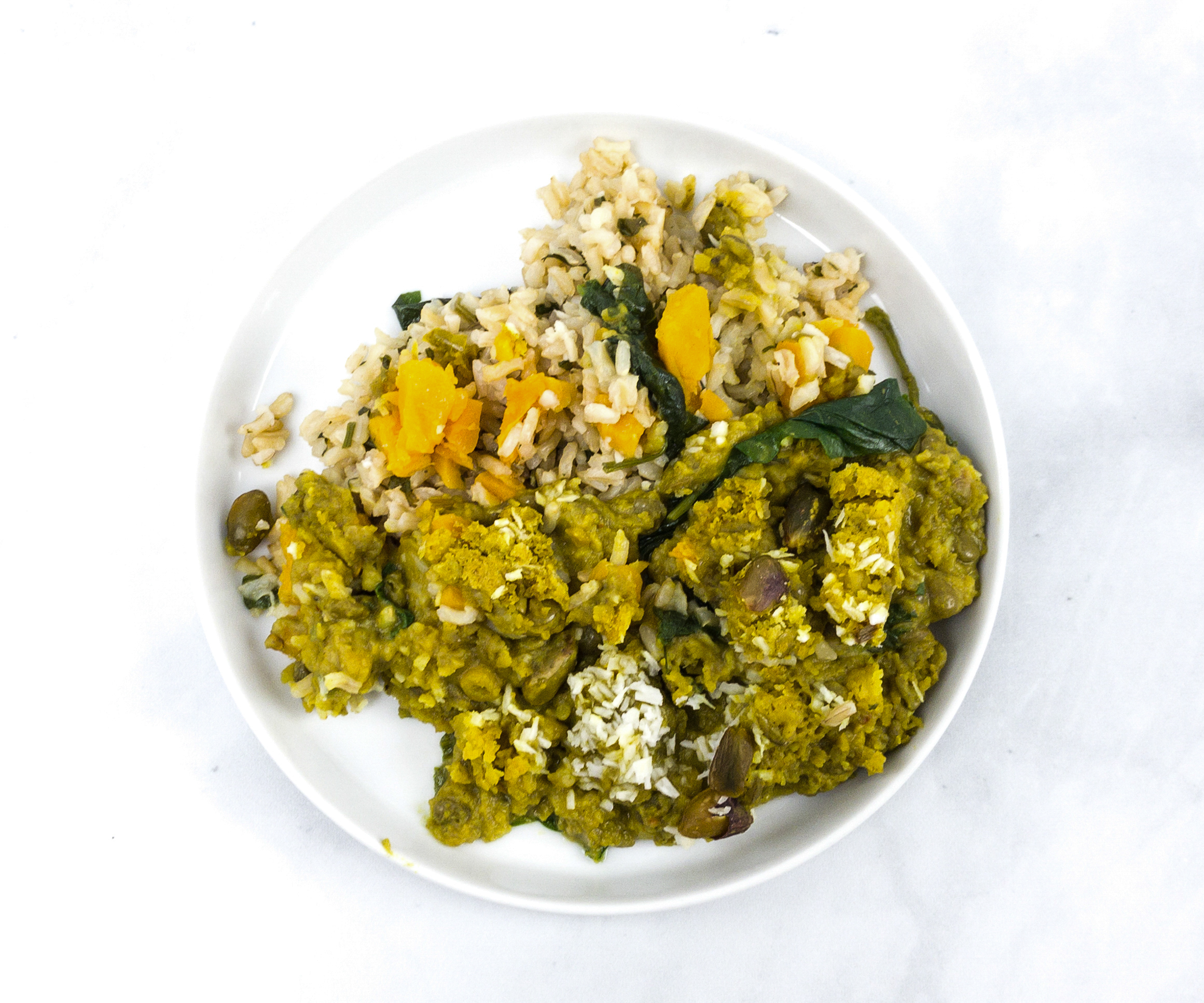 See those greens? They are spinach, packed with vitamins A and C, iron, folic acid, and calcium! There are also some butternut squash, adding a sweet and nutty flavor!
Spicy Sichuan Soba. Filled with Asian tastes and textures, this healthy meal is surely a great alternative to your usual Asian food takeout.
The meal contains Korean chili flakes, Sichuan peppercorns, edamame, and Japanese soba.
You can heat the bowl for 5-6 minutes on high, or until the internal temperature reaches 165°F.
The moment I read that this has Sichuan peppers, I knew it was going to be quite spicy and it didn't disappoint. If you love spicy food, specifically spicy Asian food, this one's for you!
The buckwheat soba noodles were perfectly done. They were al dente!
This serving filled up my stomach and satisfied my cravings! It's now on the list of my favorites!
The soba meal also contains black bean sauce and crunchy veggies like broccoli and red bell peppers.
Green Curry Noodles. Another noodle dish in this box is this Thai-inspired green curry dish. It contains sweet potato, roasted tofu, asparagus, and sesame seeds.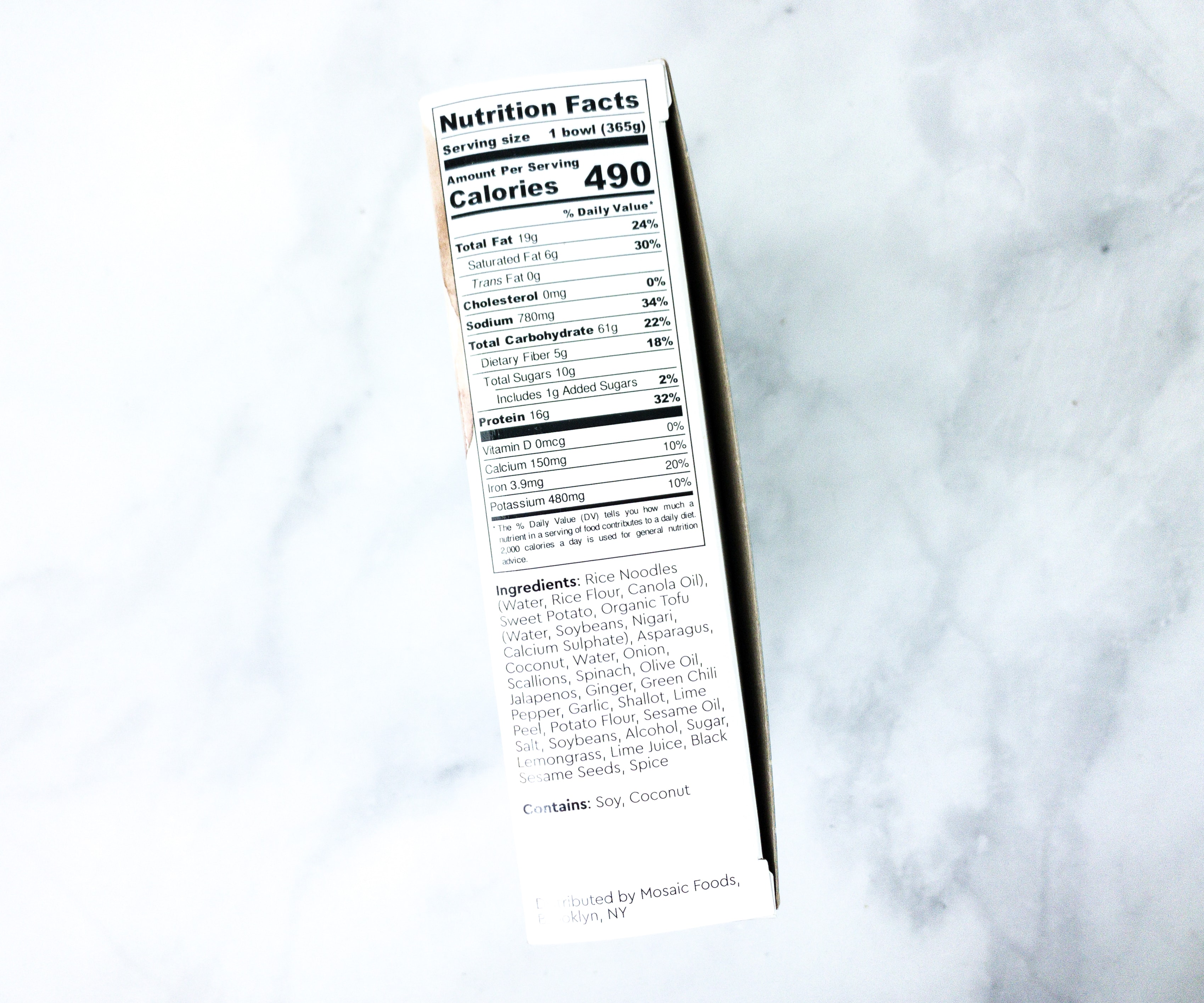 The creamy coconut milk is perfect with the spicy green chili, added with the citrusy tang of lemongrass and lime juice that balances the taste.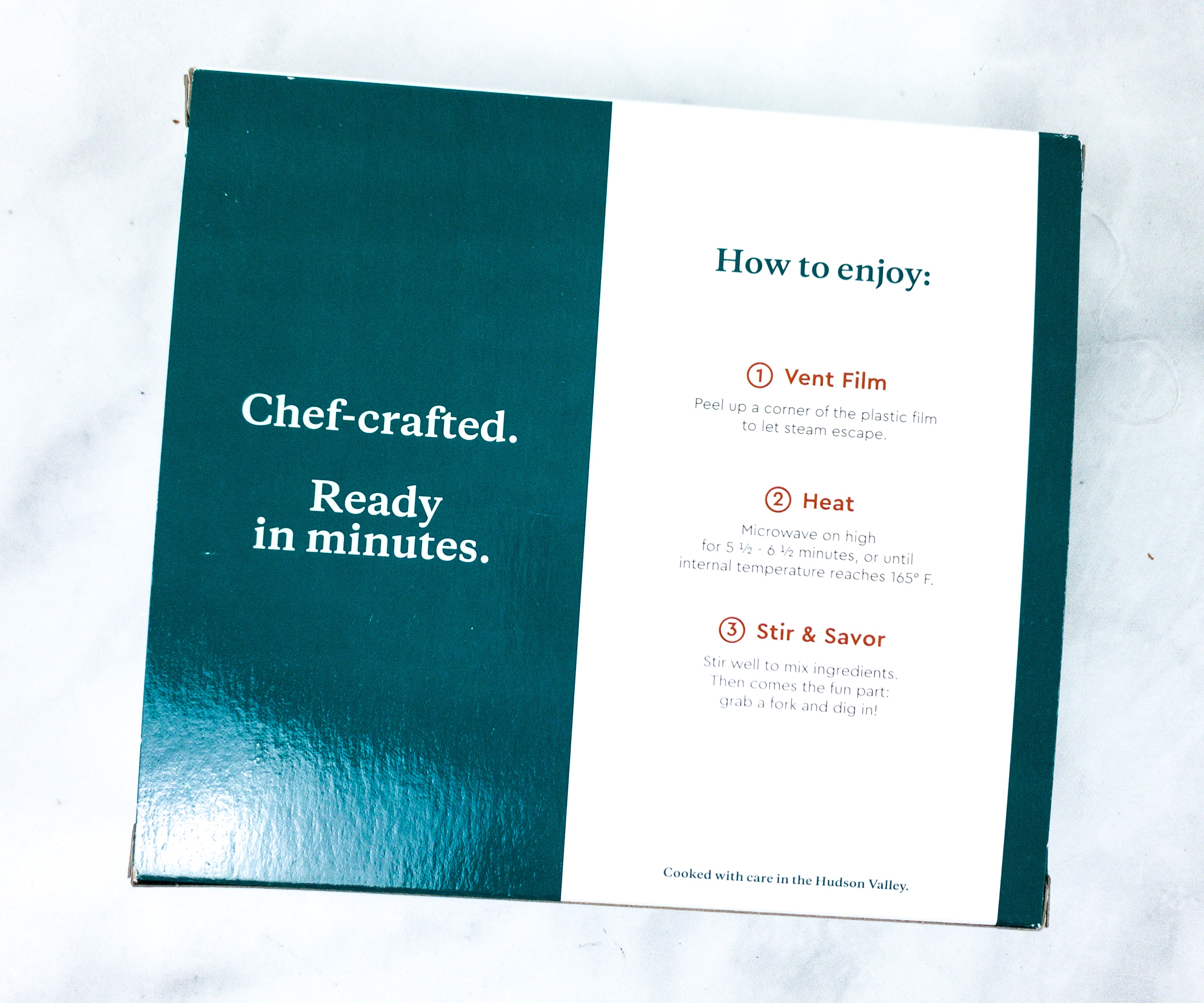 You can heat this up using the microwave on high for 5 1/2-6 1/2 minutes or until the internal temperature reaches 165°F.
It's definitely a balance of healthy and delicious. The spicy and creamy sauce also made it really special!
It's a dairy-free and wheat-free dish! The noodles used were made from water, rice flour, and canola oil.
This meal is also rich in good fat, thanks to the coconut milk. These good fats help suppress appetite and boost metabolism.
Butternut Squash Risotto. It's a veggie-packed risotto bowl bursting with autumn flavors. The meal contains homemade butternut squash risotto, fresh kale, cranberries, and nutty pecans.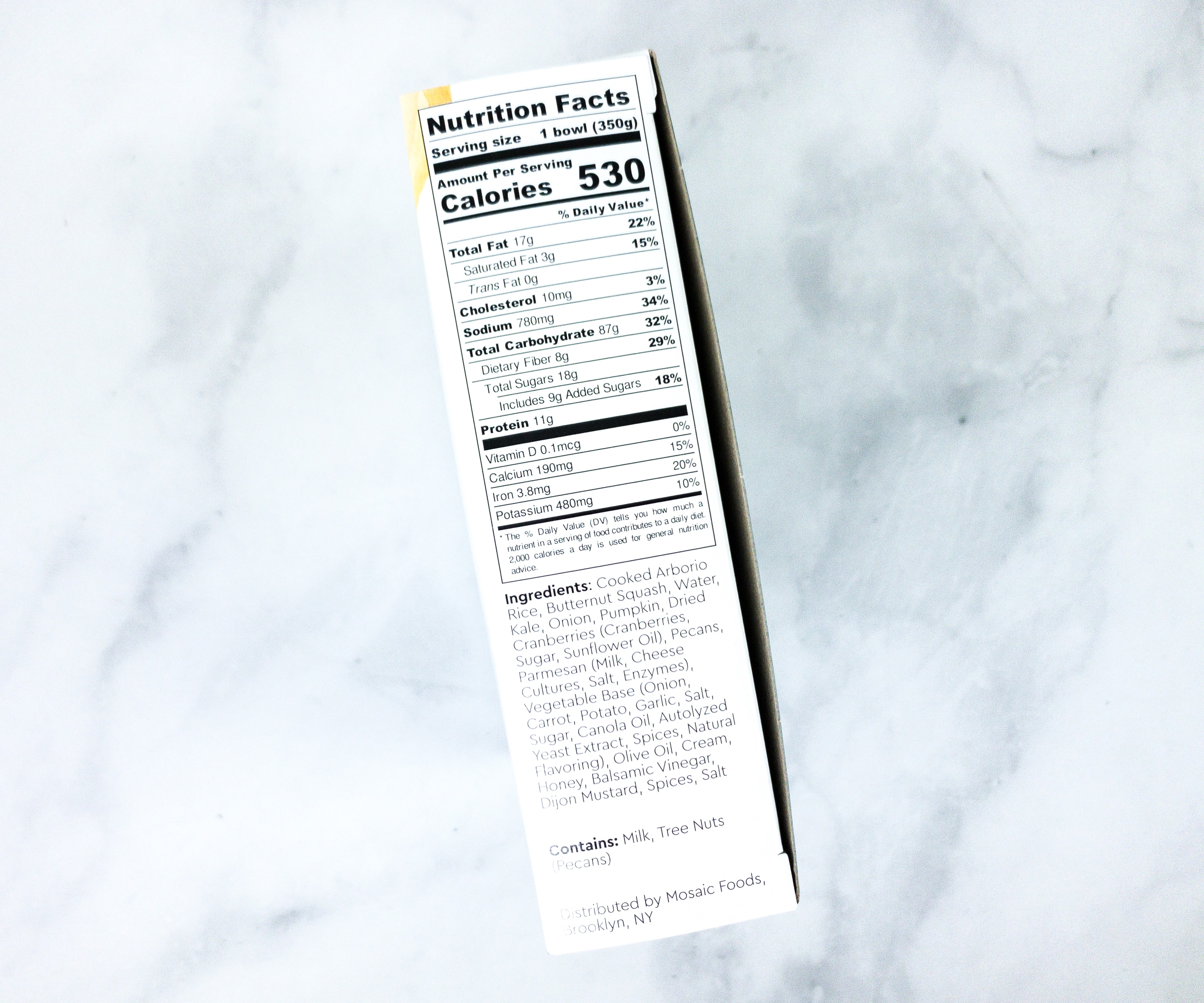 You can also taste some delicate notes of cinnamon and nutmeg, which makes the meal delightful.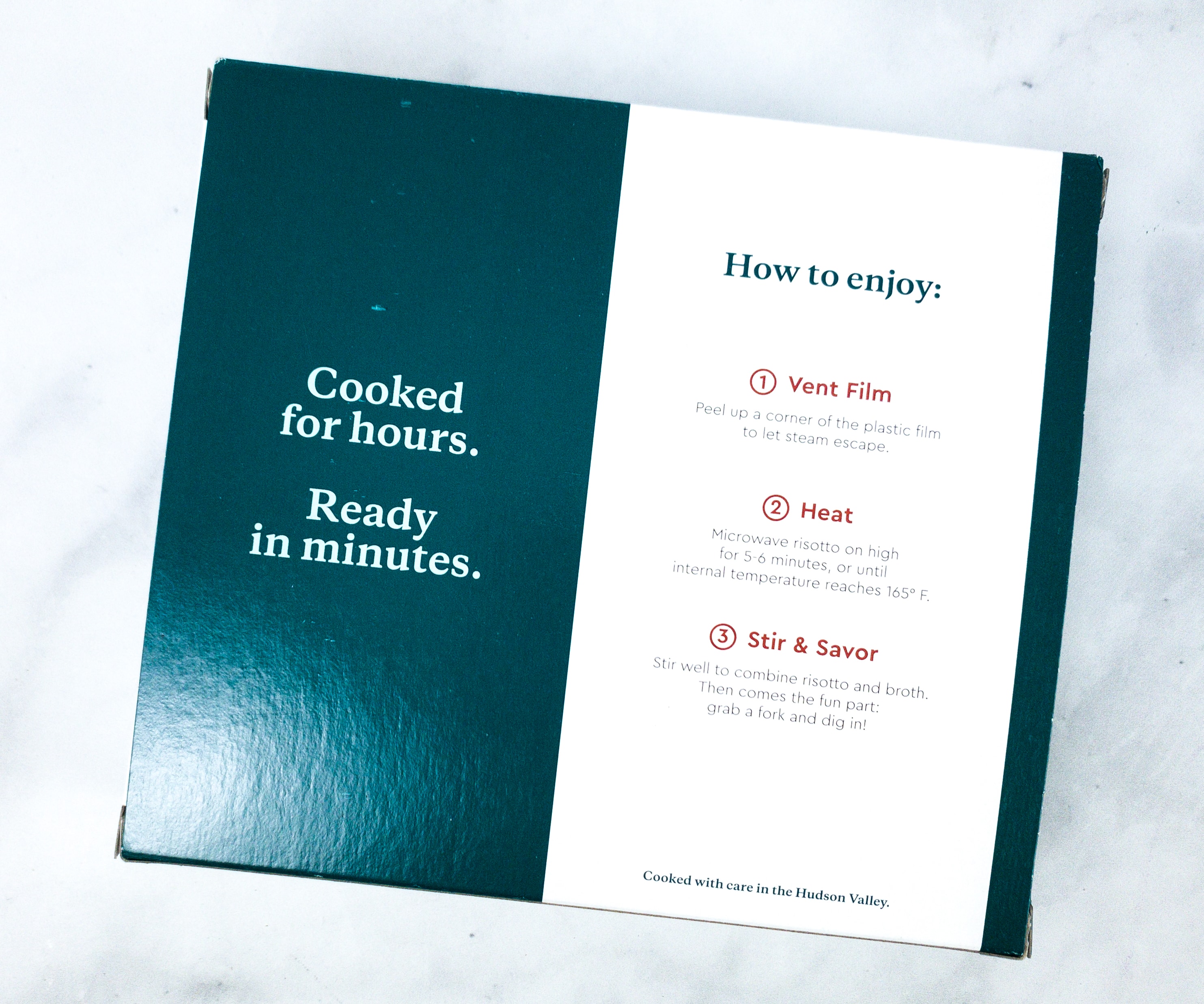 Some of the bowls have a vent film that needs to be peeled up to let steam escape. You can heat the risotto on high for 5 to 6 minutes or until temperature reaches 165°F.
You can easily see the pecans on top of the risotto bowl. After heating, just mix the ingredients with the broth and enjoy!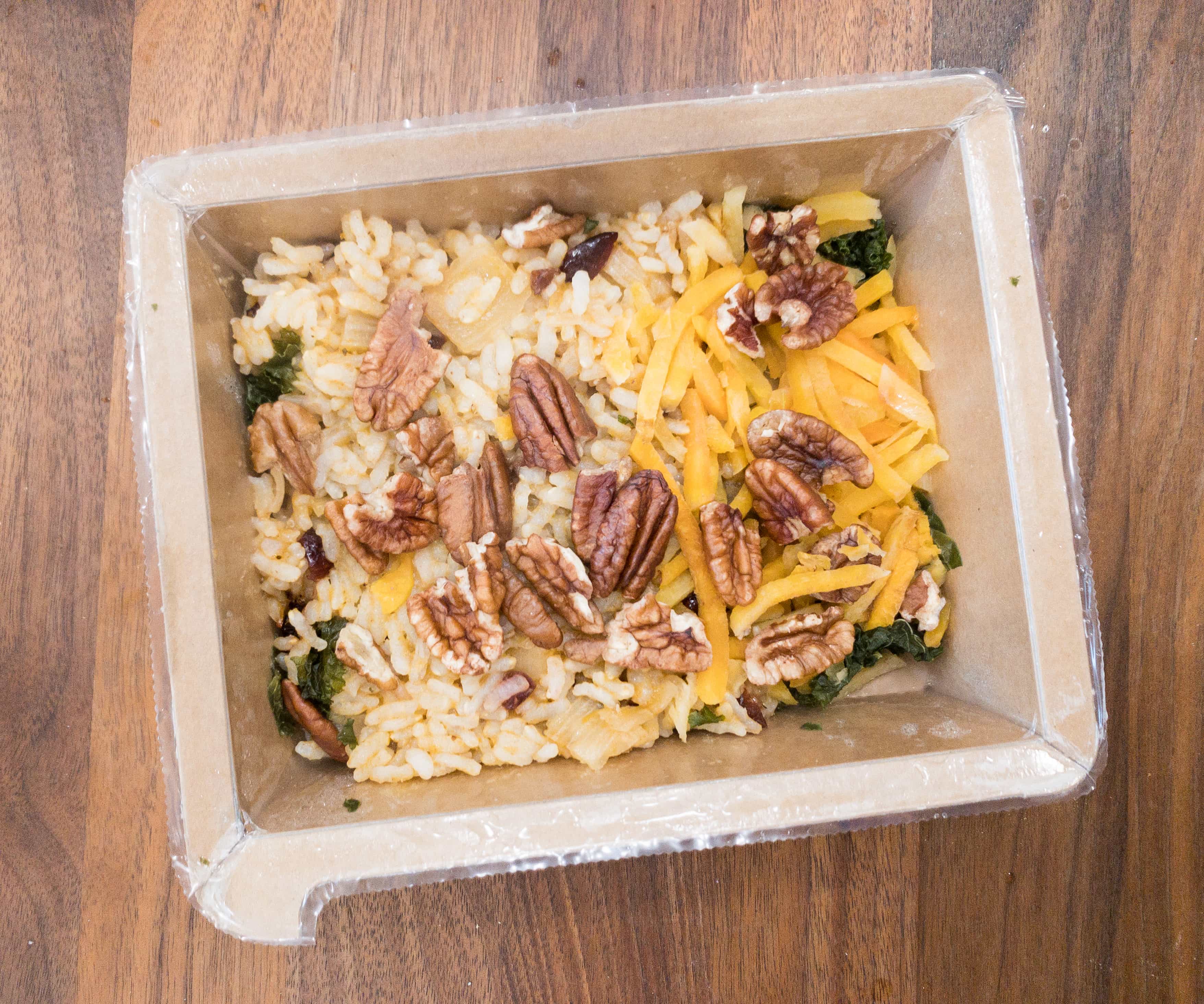 I love risotto and this one didn't disappoint. You could really taste the cinnamon and nutmeg flavors in every bite!
The addition of pecans is great, it gives the meal a richer taste and crunchy texture. It's also pretty healthy as it contains unsaturated fats.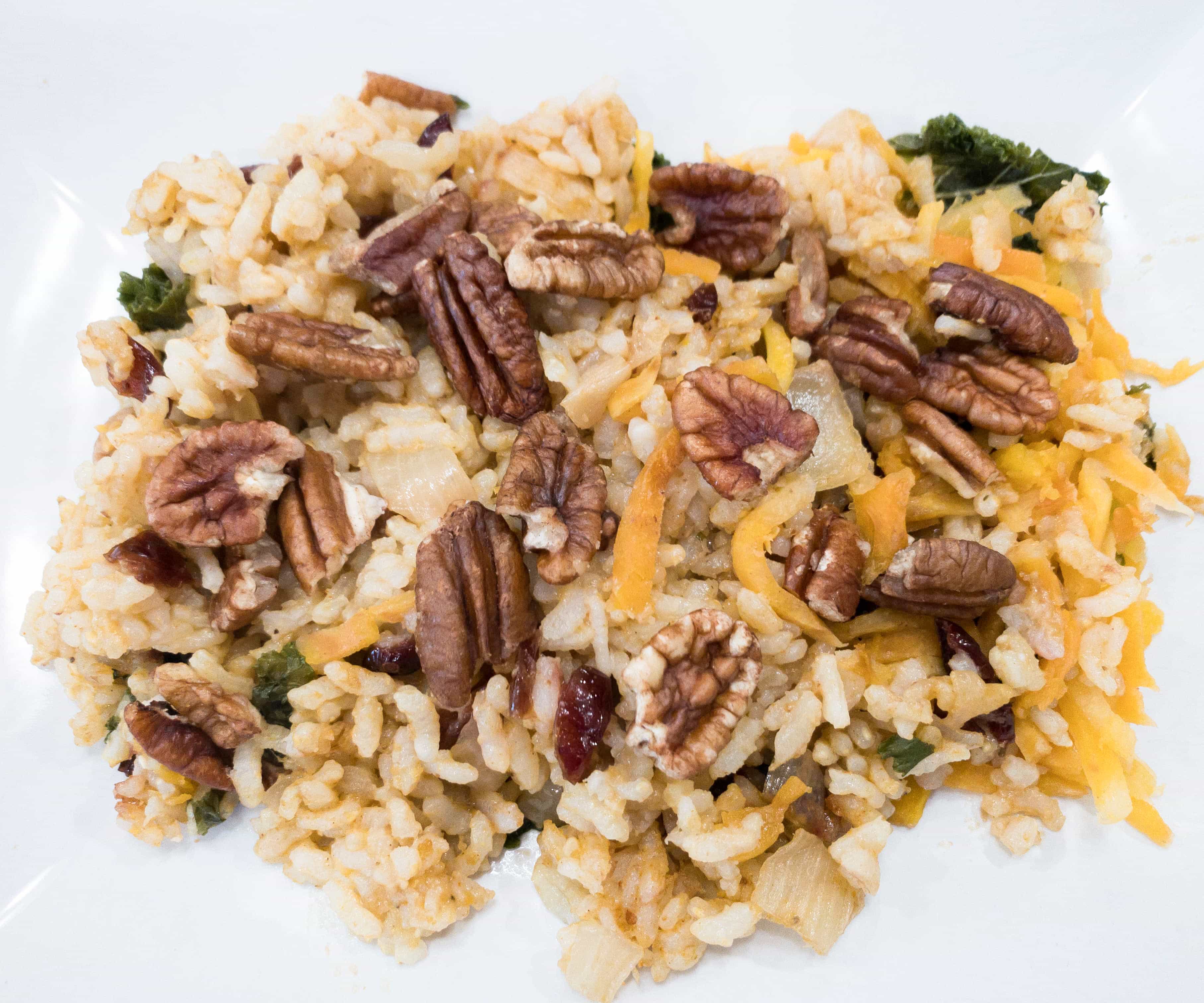 The cranberry bits are not noticeable in the photo, but they're actually present and they bring a touch of sweetness to the dish!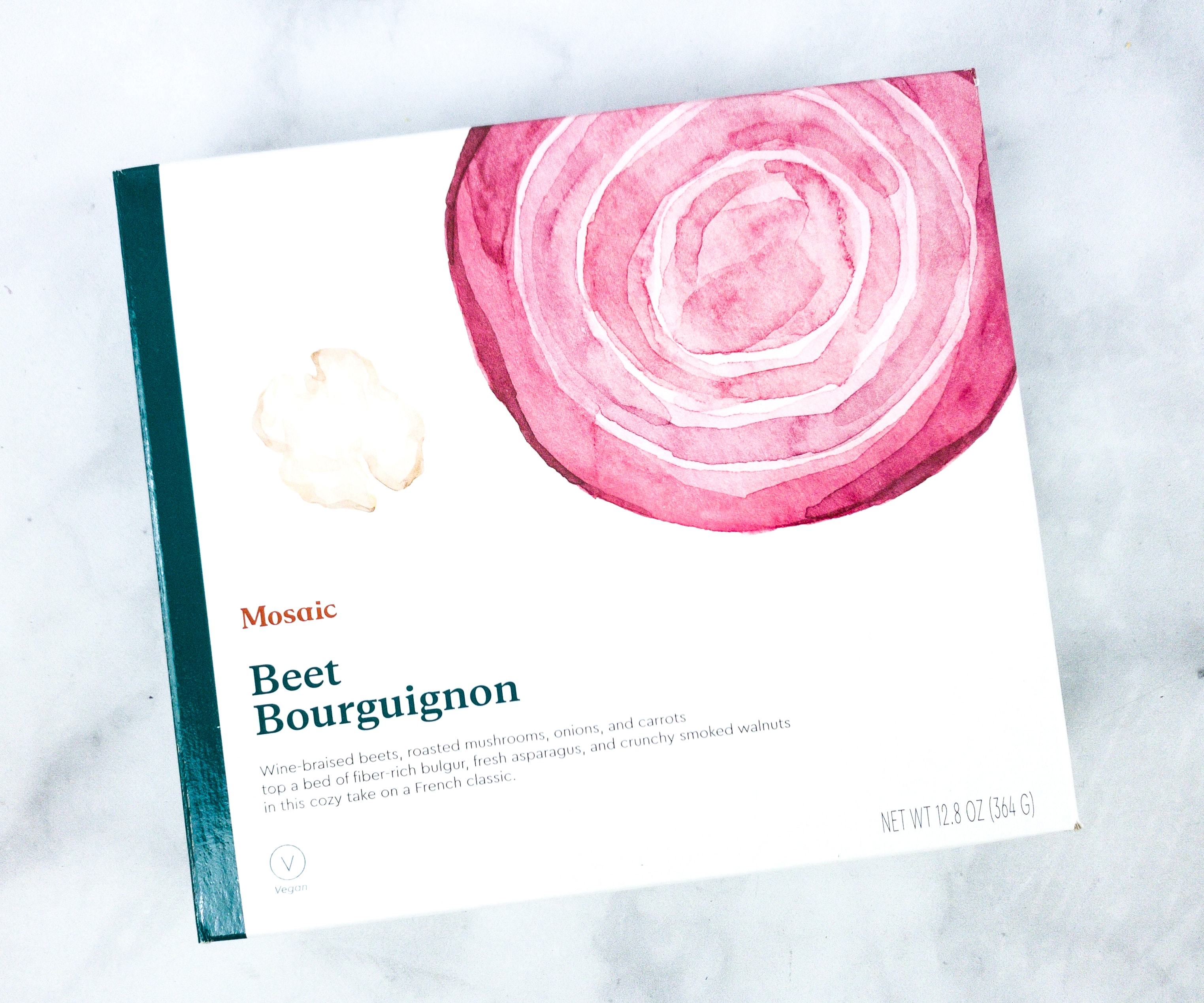 Beet Bourguignon. This vegan and hearty bourguignon is a stew of red beets, cremini mushrooms, carrots, lentils, pearl onions, fluffy bulgur, and asparagus.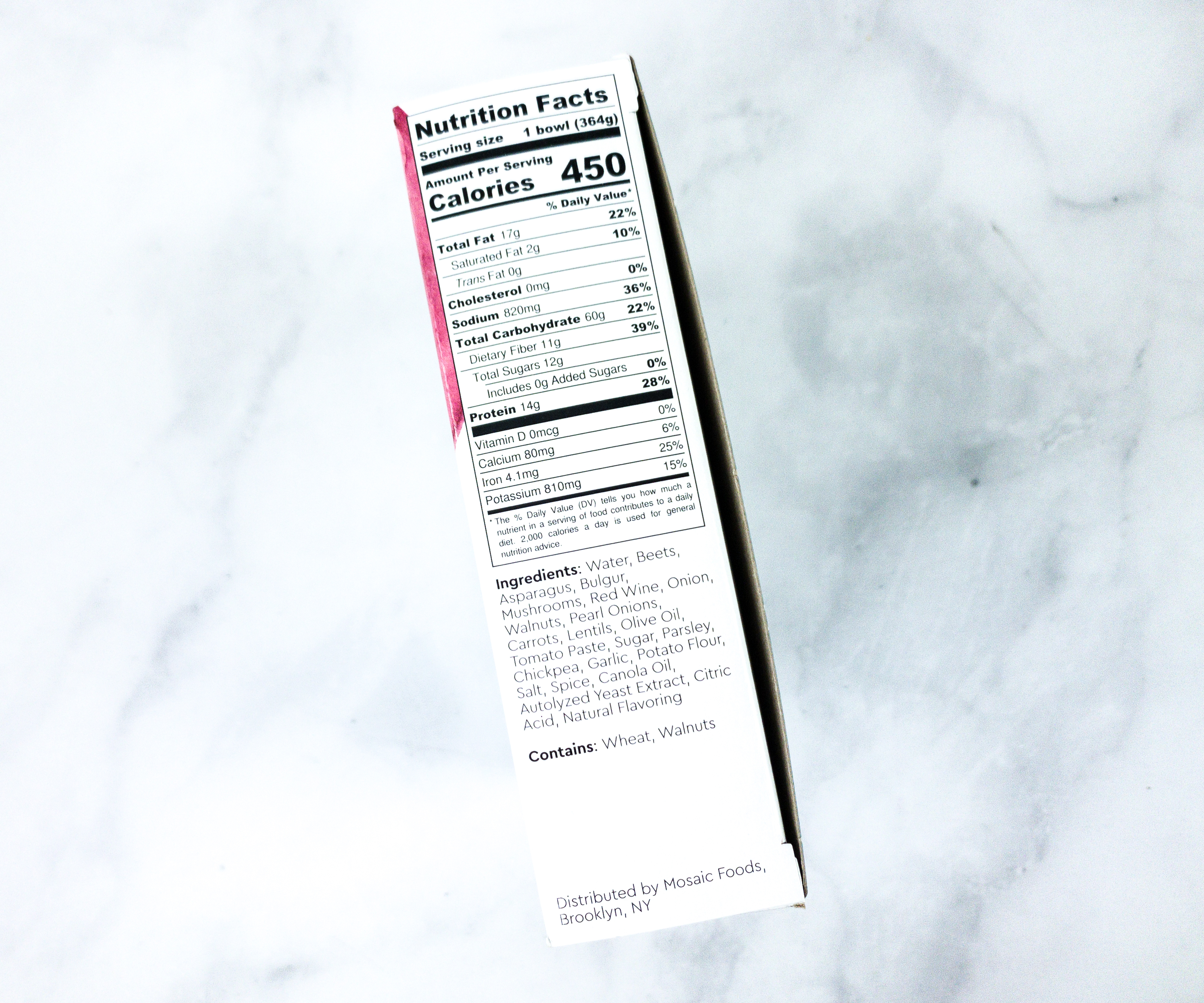 Flavor française is added by a little red wine, and it is also topped with crunchy walnuts.
You can microwave this veggie bowl on high for 5-6 minutes, or until internal temperature reaches 165°F.
The trays are curbside recyclable.
The components of the veggie bowl are separated and you can easily tell the ingredients apart. Just mix it well and enjoy the delicious meal!
Those are not beef, but beets!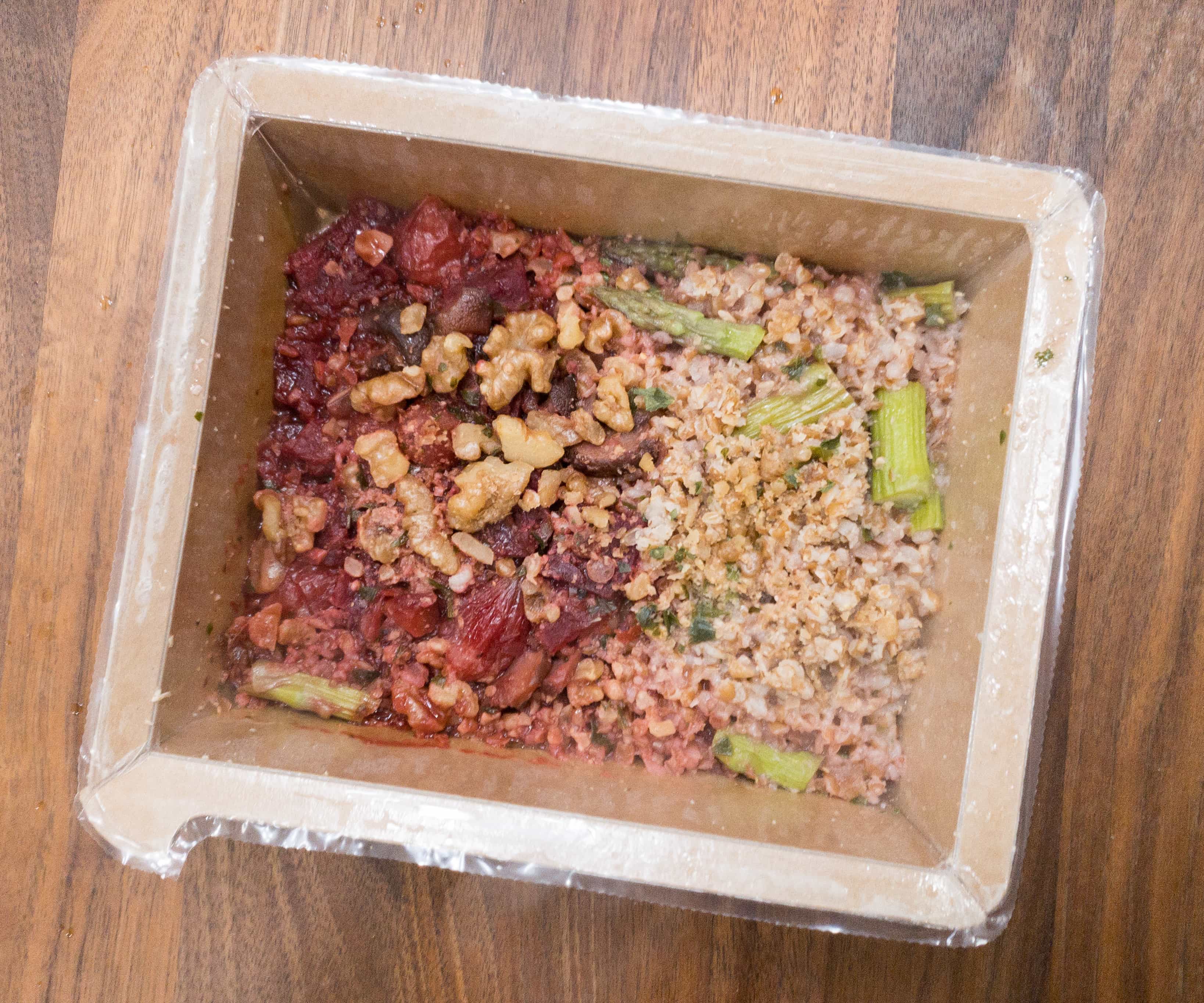 Beets definitely add meaty color to the dish, and also brings a bunch of vitamins and nutrients that our body needs, including fiber, folate, manganese, potassium, iron, and vitamin C.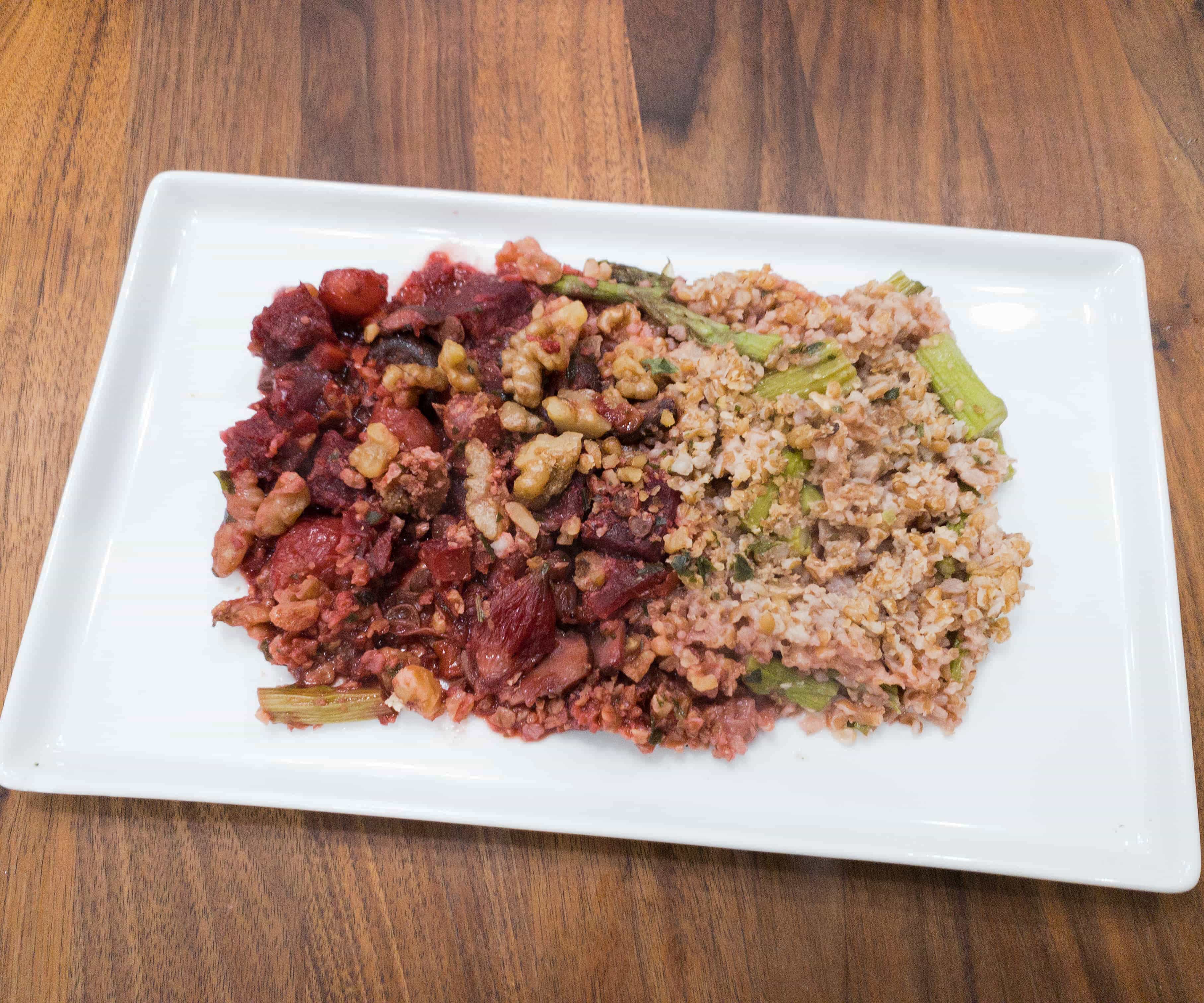 The beets were rich and tender! Pearl onions, which are a must in every French bourguignon, are also present in this meal.
Are you getting anything from Mosaic Foods?