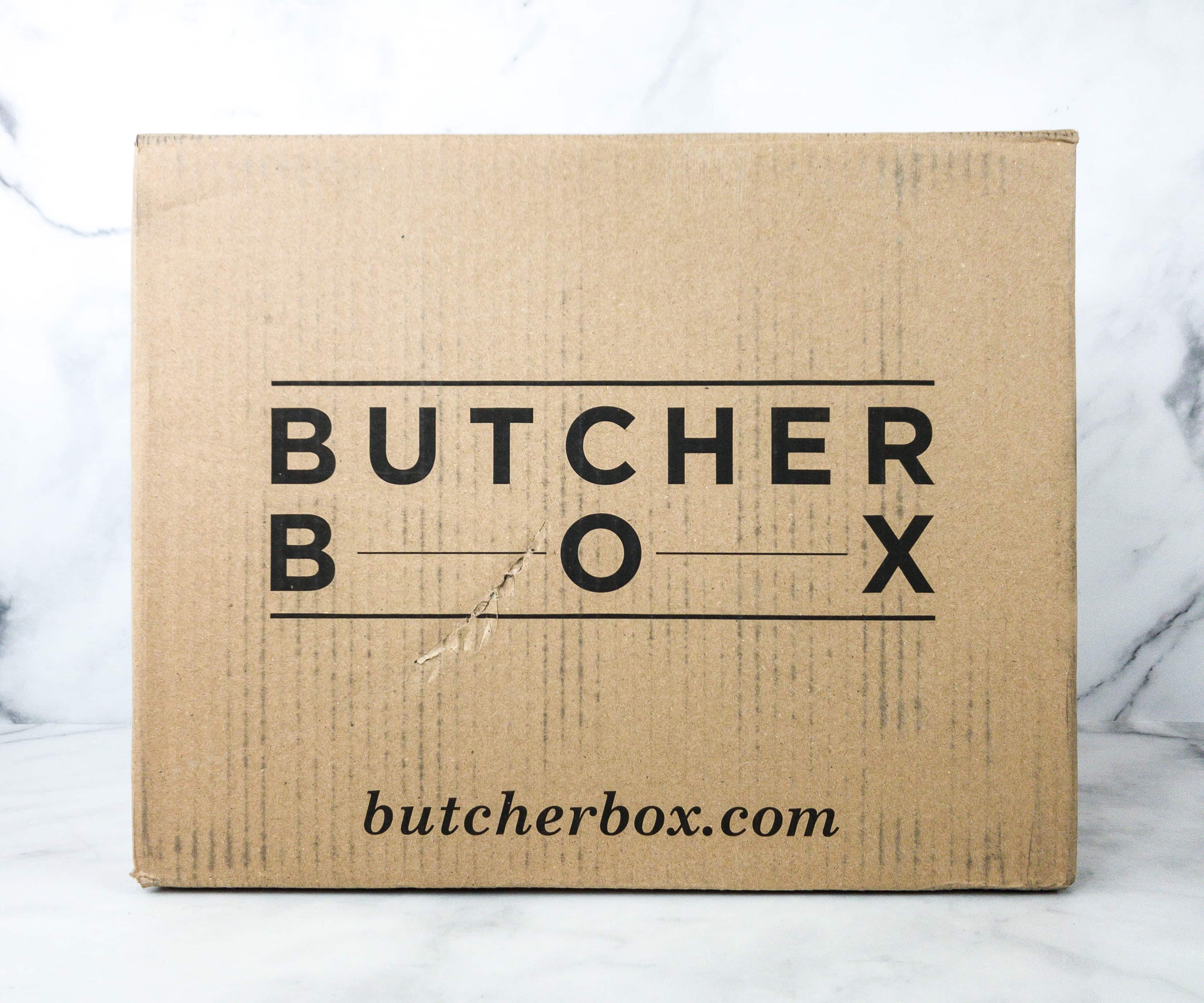 Butcher Box is a subscription box service that delivers premium quality meat starting at $129 per month. Each box comes with a selection of meat (about 15-20 meals worth) that has been carefully cut and prepared. The Butcher Box brings back that unique experience you get when you visit your local butcher shop. Their specialty is 100% grass-fed beef, but they also provided mixed subscription options. You can also have the box delivered every two or three months depending on your needs.
There are 5 box options:
Custom Box – 9 to 14 lbs – Select from up to 21 different cuts ($149 per month/$4.97 per meal)
The Mixed Box – 8.5 to 11 lbs – Curated assortment of beef, pork, and chicken ($129 per month/$5.38 per meal)
The Beef & Pork Box – 8.5 to 11 lbs – Curated assortment of beef and pork ($129 per month/$5.38 per meal)
The Beef & Chicken Box – 8.5 to 11 lbs – Curated assortment of beef and chicken ($129 per month/$5.38 per meal)
The All Beef Box – 8 to 10 lbs – Curated cuts of beef ($129 per month/$5.38 per meal)
This is a review of the Beef and Pork Box. Our box this month includes ground beef for life (2 pounds!), wings for life (2 pounds!), and chicken drumsticks for life (2 pounds!). We also have add-ons: breakfast sausage and bacon!
Because of COVID-19, there's a waitlist for ButcherBox, and no current coupons. They're focusing on existing subscription customers, so we encourage you to sign up for the waitlist if you're interested in this subscription.
Here's a list of what we got this month!
We've always had everything arrive rock-solid, so there have been no issues with temperature control during shipping. The meat arrives ready to throw in the freezer or thaw for use.
All the meats are vacuum-sealed in plastic, packed in an insulated bag, and then kept frozen within the outer soft-side cooler padding and box with a large dry ice pack.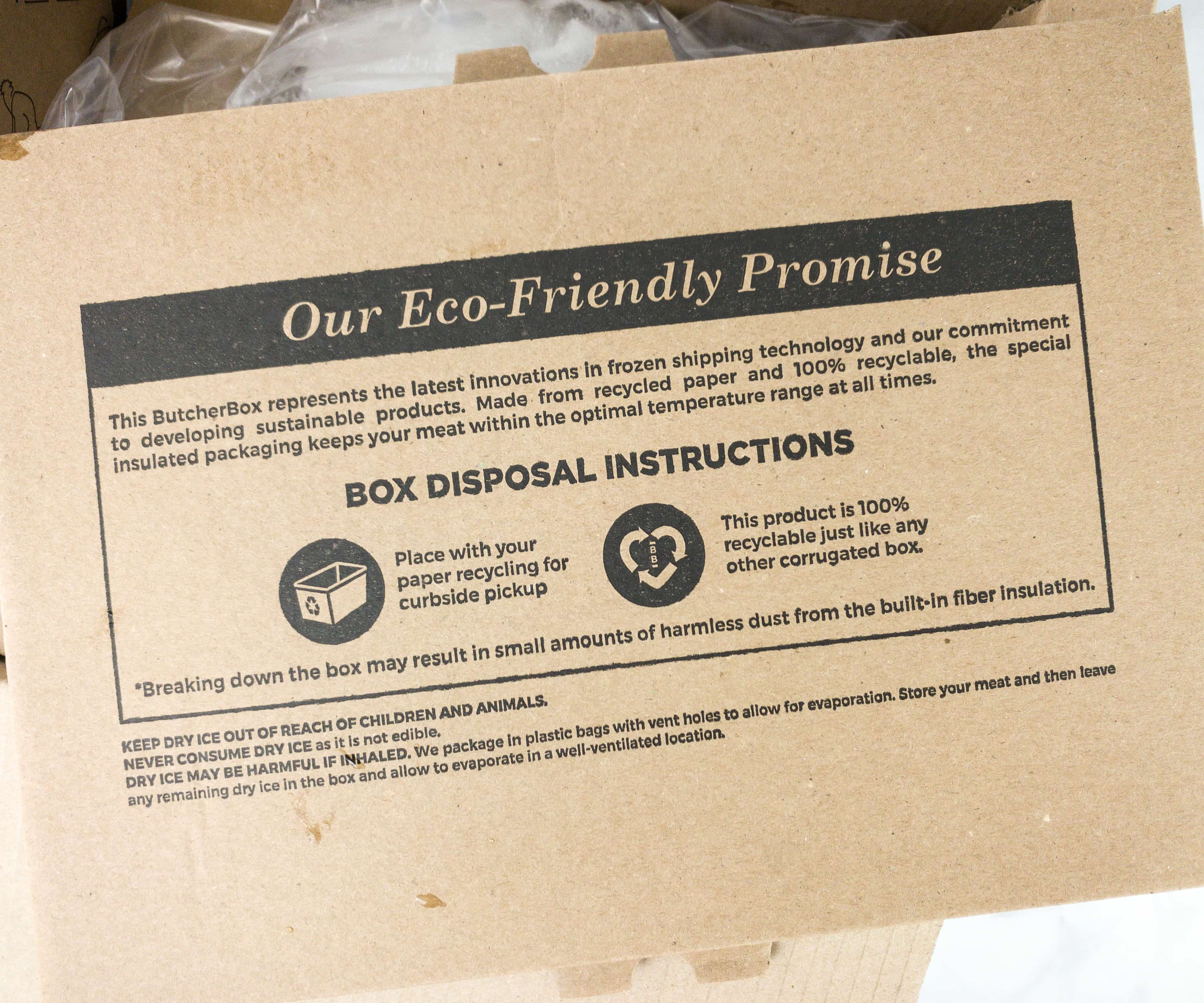 According to this part of the box, the packaging is made using eco-friendly and 100% recyclable materials.
Everything is portioned to a manageable size, so you can pull it from the freezer as needed without thawing more than you want.
There are a couple of big roasts, but everything else is portioned smaller.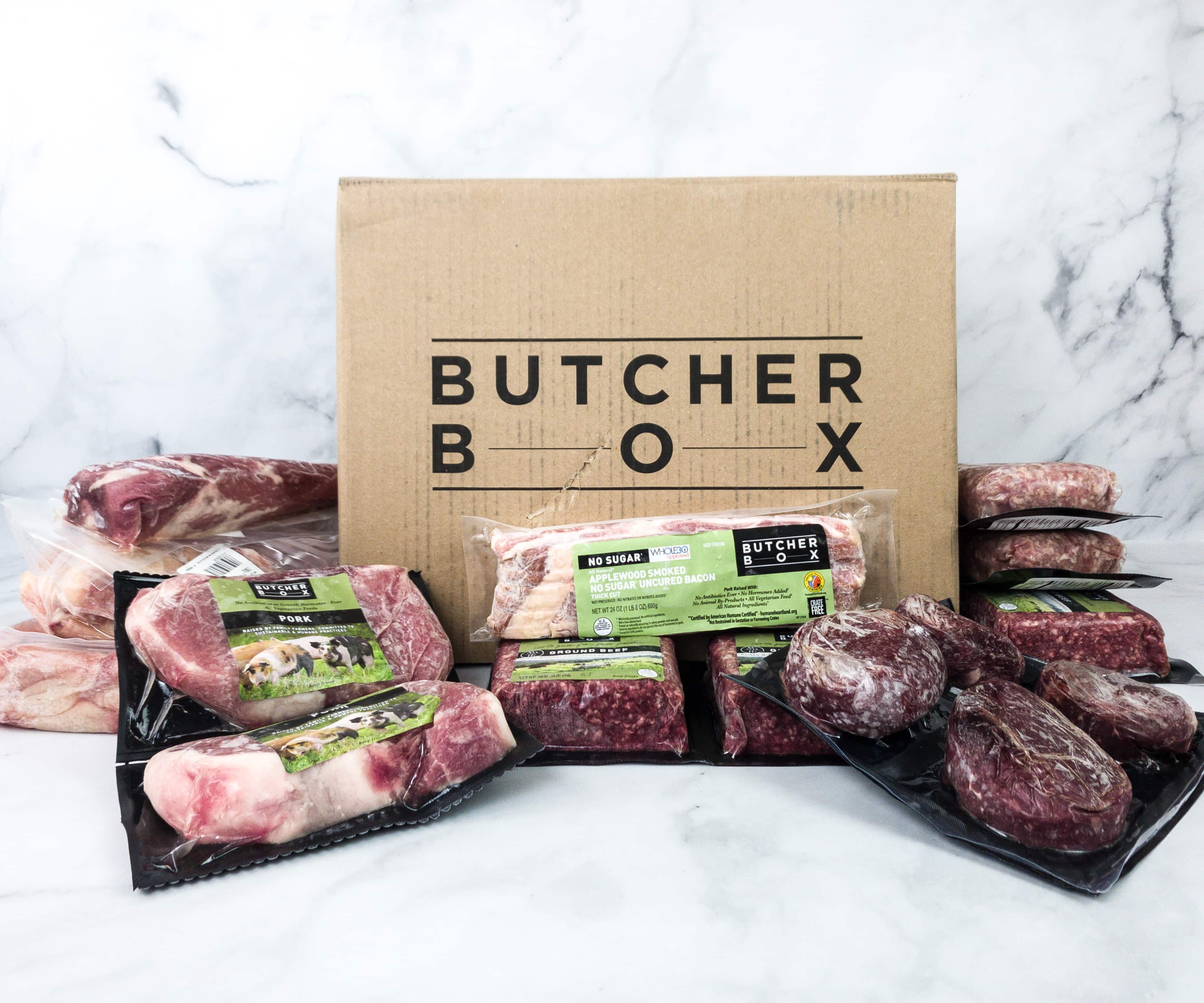 Everything in my April 2020 box!
First up is our add-ons: uncured bacon and pork breakfast sausage!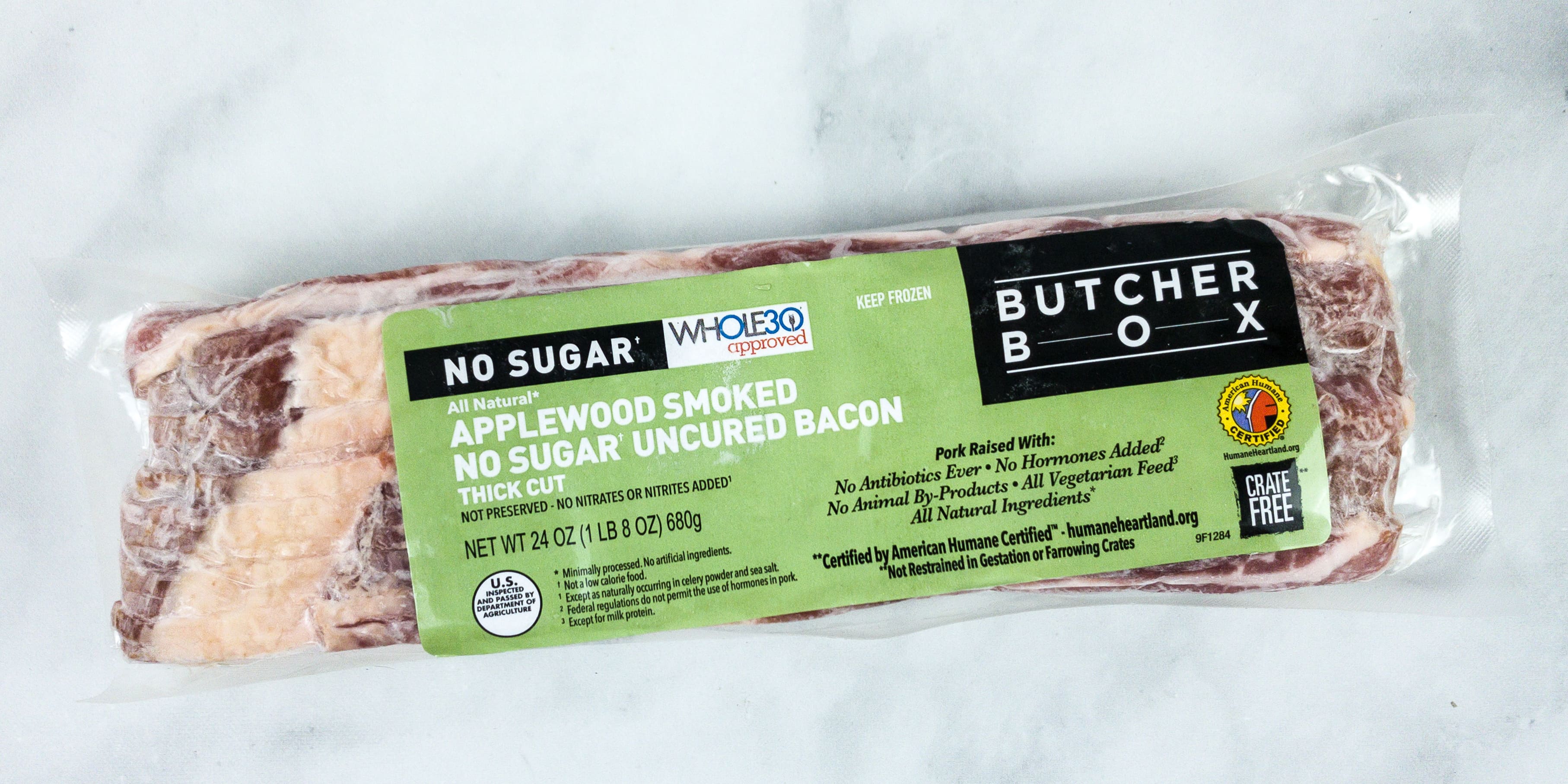 Applewood Smoked No Sugar Uncured Bacon. Our all-time favorite! This bacon was sourced from pork raised with no antibiotics or any hormones added. It's so irresistible with its sweet-smoky flavor. It's smoked over real hardwood, that's why it tastes really good!
Each pack contains thick slices of bacon!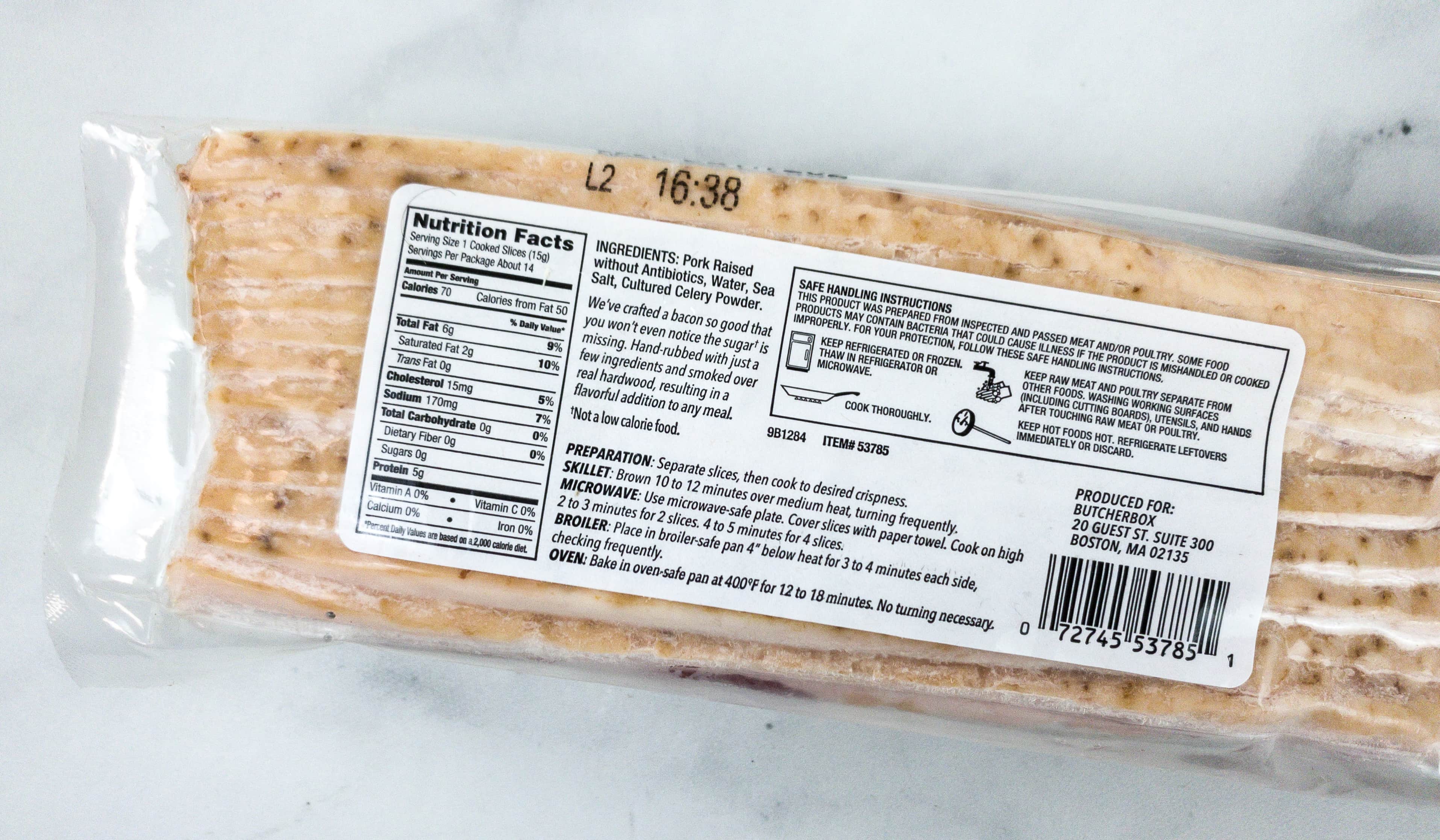 There are different techniques on how to cook this smoked bacon. They can either be microwaved, put in a broiler, or baked in an oven. It's also gluten-free, non-GMO, and paleo-friendly.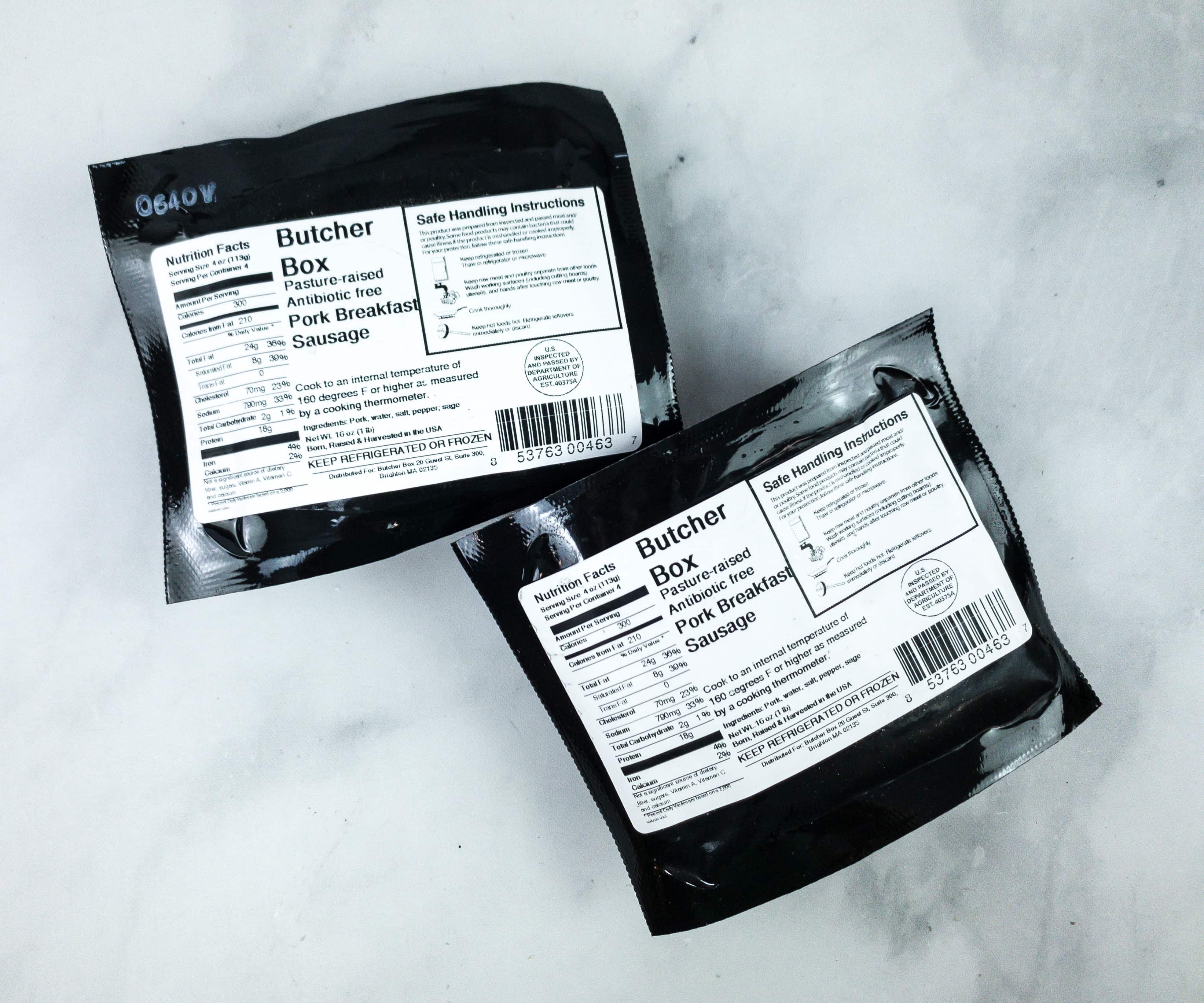 Pork Breakfast Sausage. These sausages are made from the pasture-raised, antibiotic-free ground pork meat seasoned with salt, pepper, and sage with no added sugar.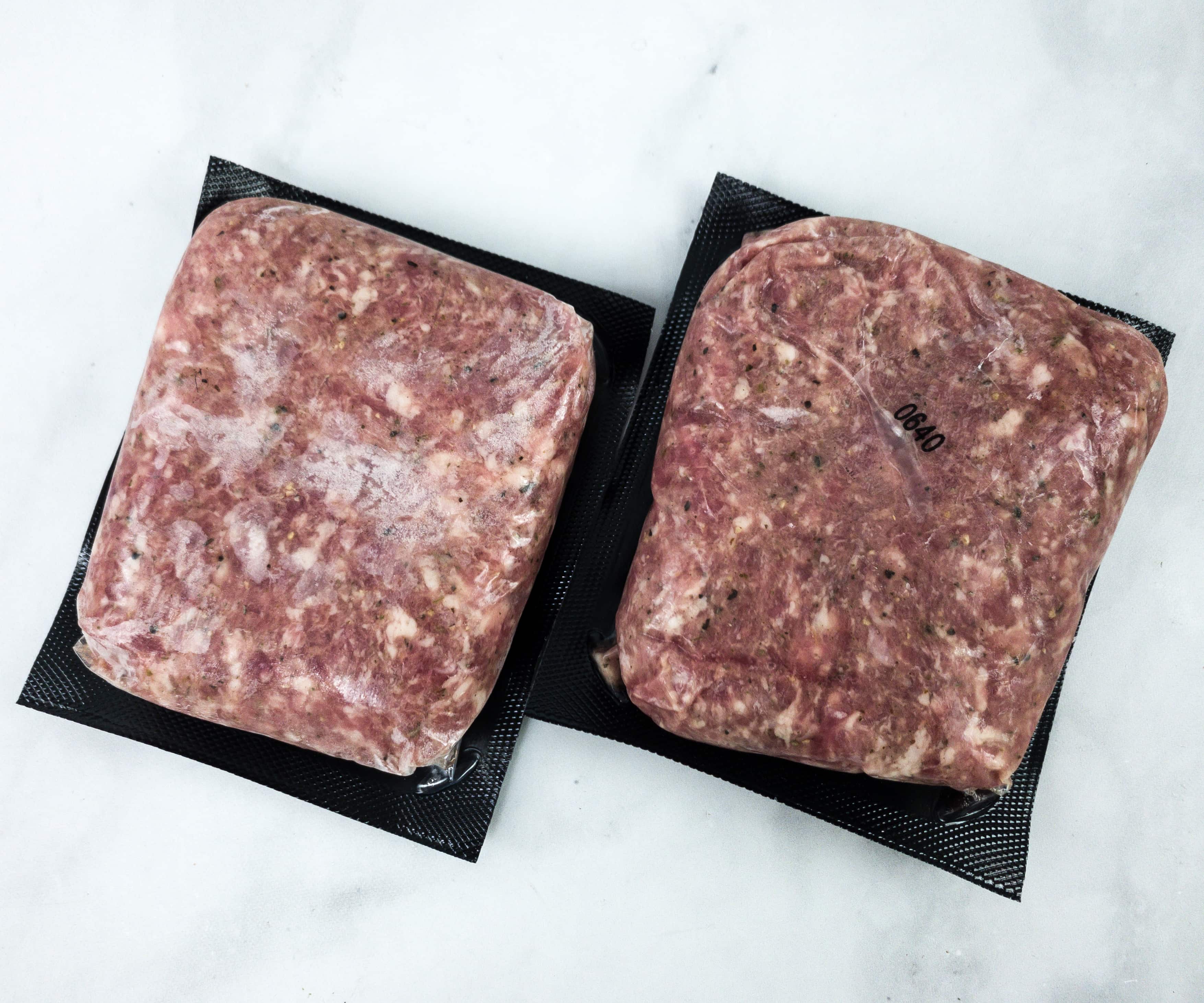 It's rich in protein, and it's very easy to cook as well. This meat is best seared or grilled, giving us a new breakfast favorite!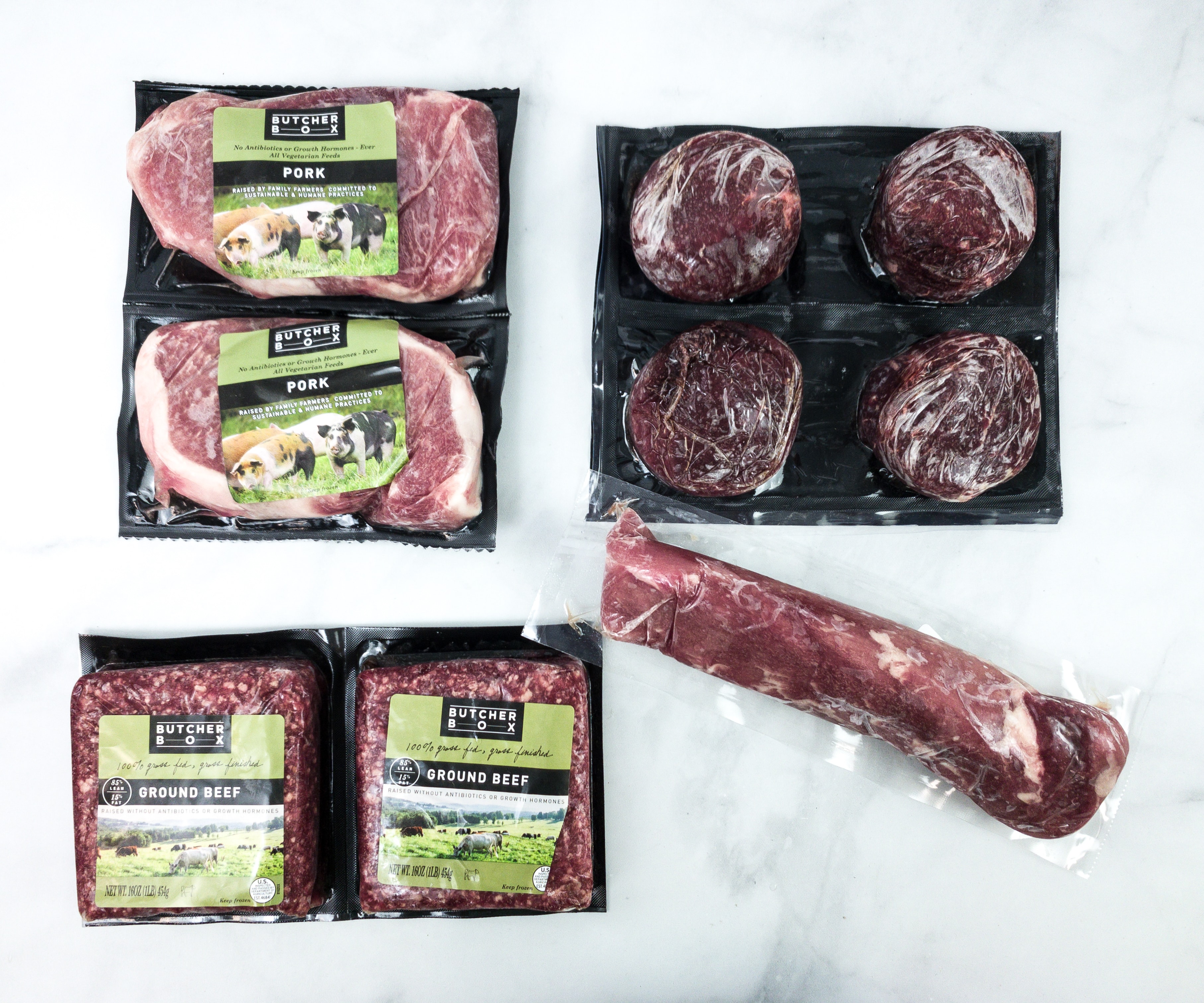 Here are more meat cuts!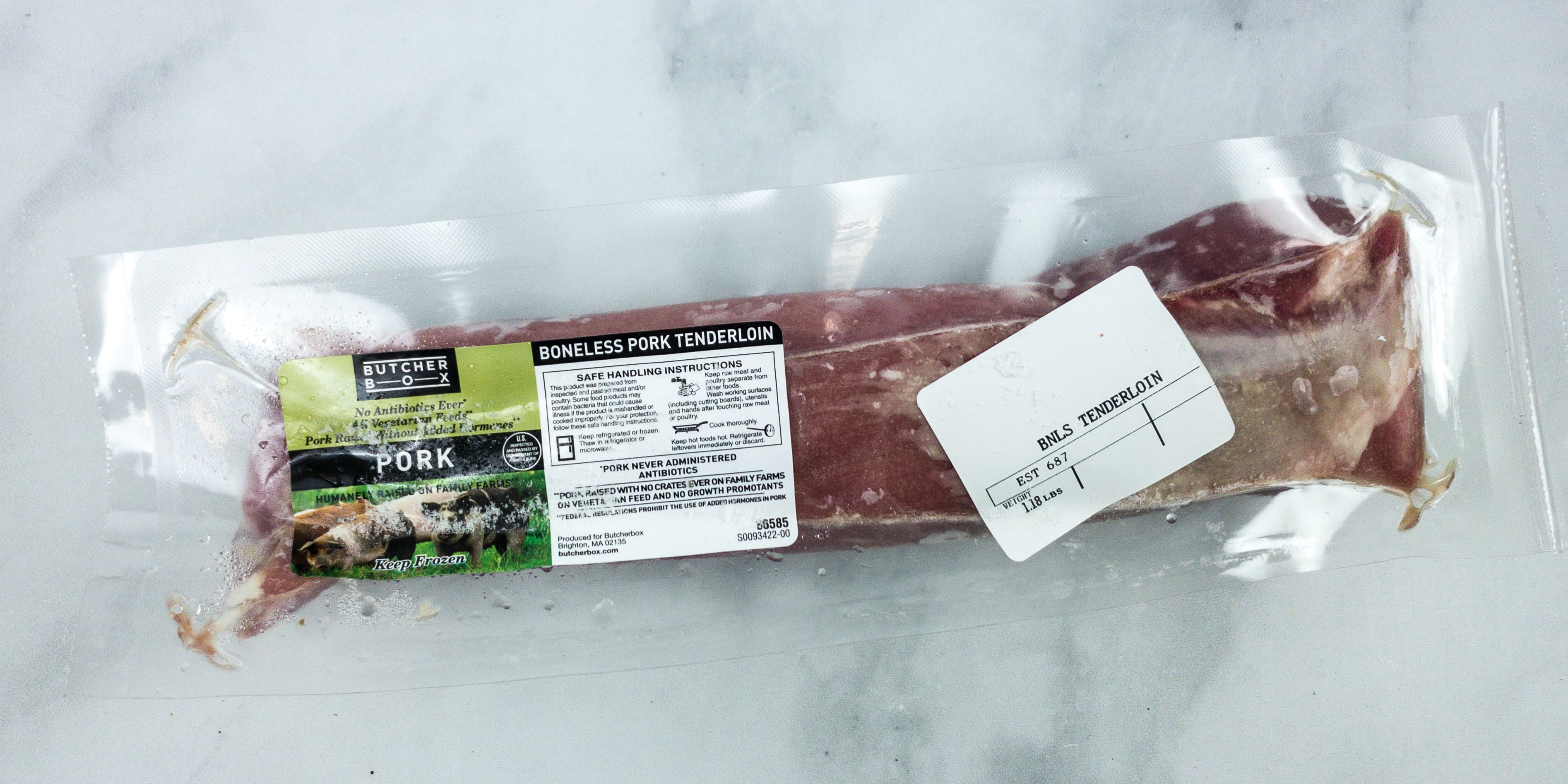 Boneless Pork Tenderloin. Pork tenderloin is a long, thin cut of pork on the major muscles along the dorsal side of the rib cage or on the central spine portion. This cut of meat is also known as the gentleman's cut or pork fillet.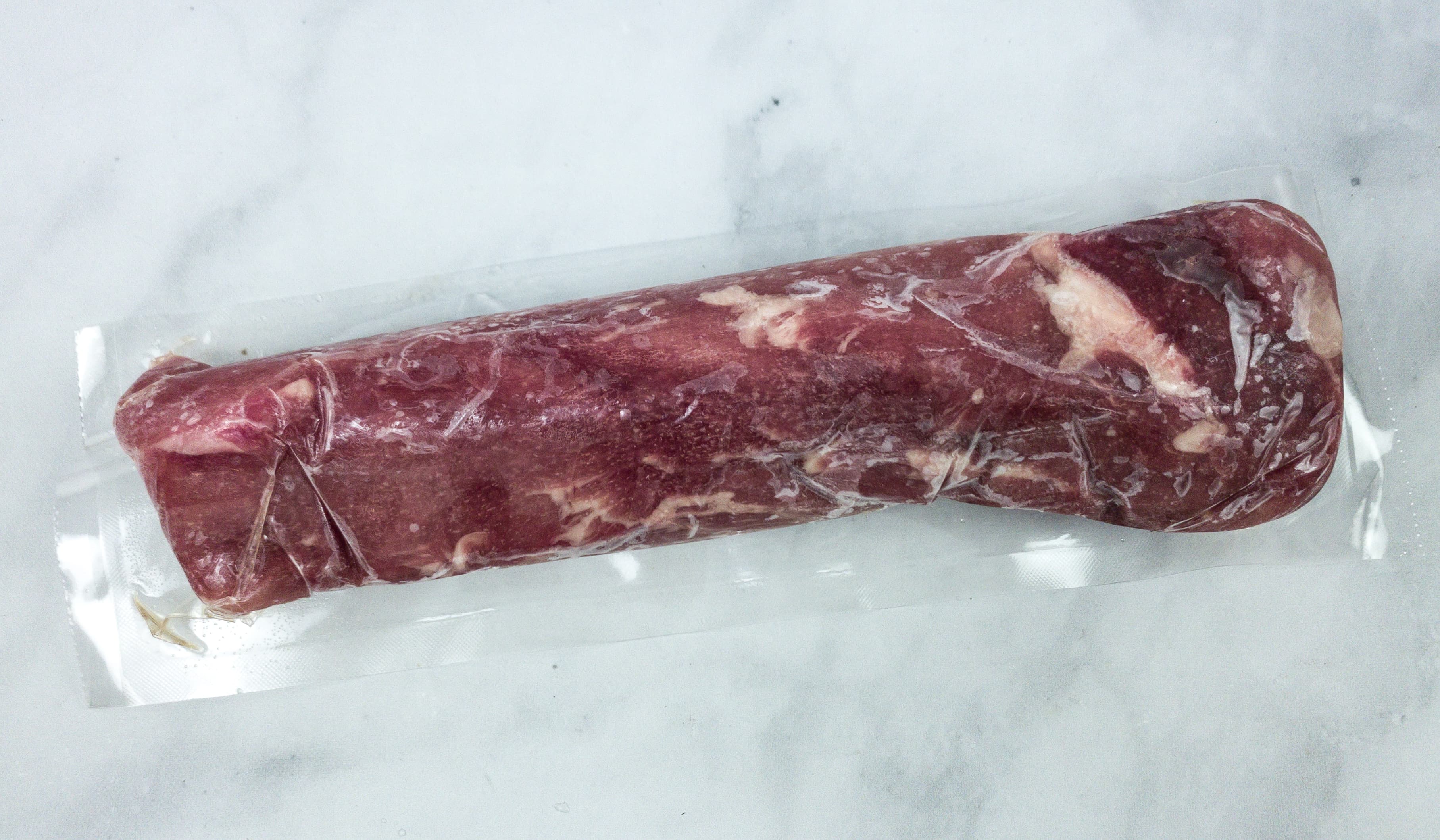 Since it's sourced from the major part of the tenderloin muscle, it produces the most tender meat of any cut!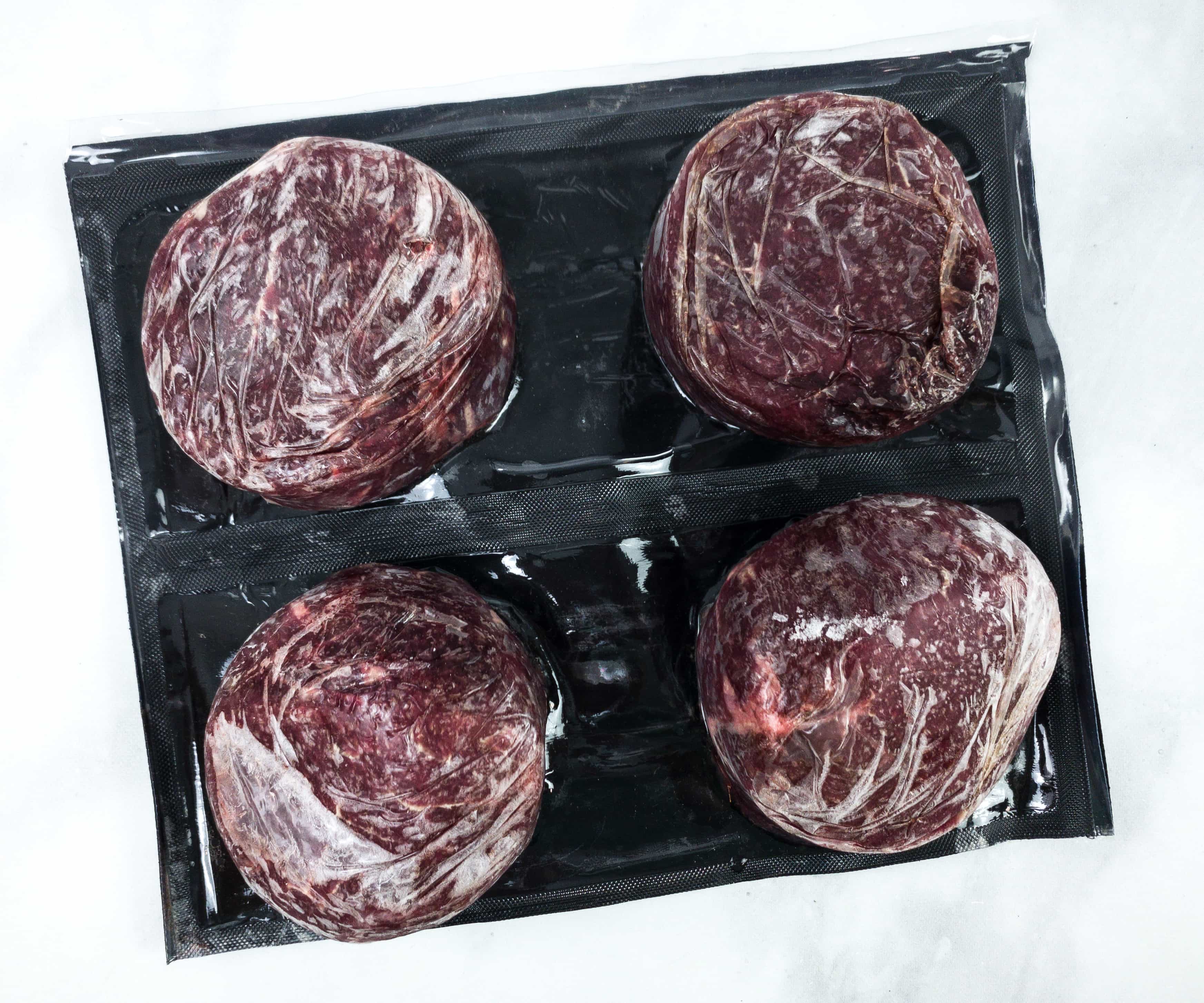 Top Sirloin Steak. Top sirloin steak is also known as picanha. It's taken from the top of the backside part of the cow.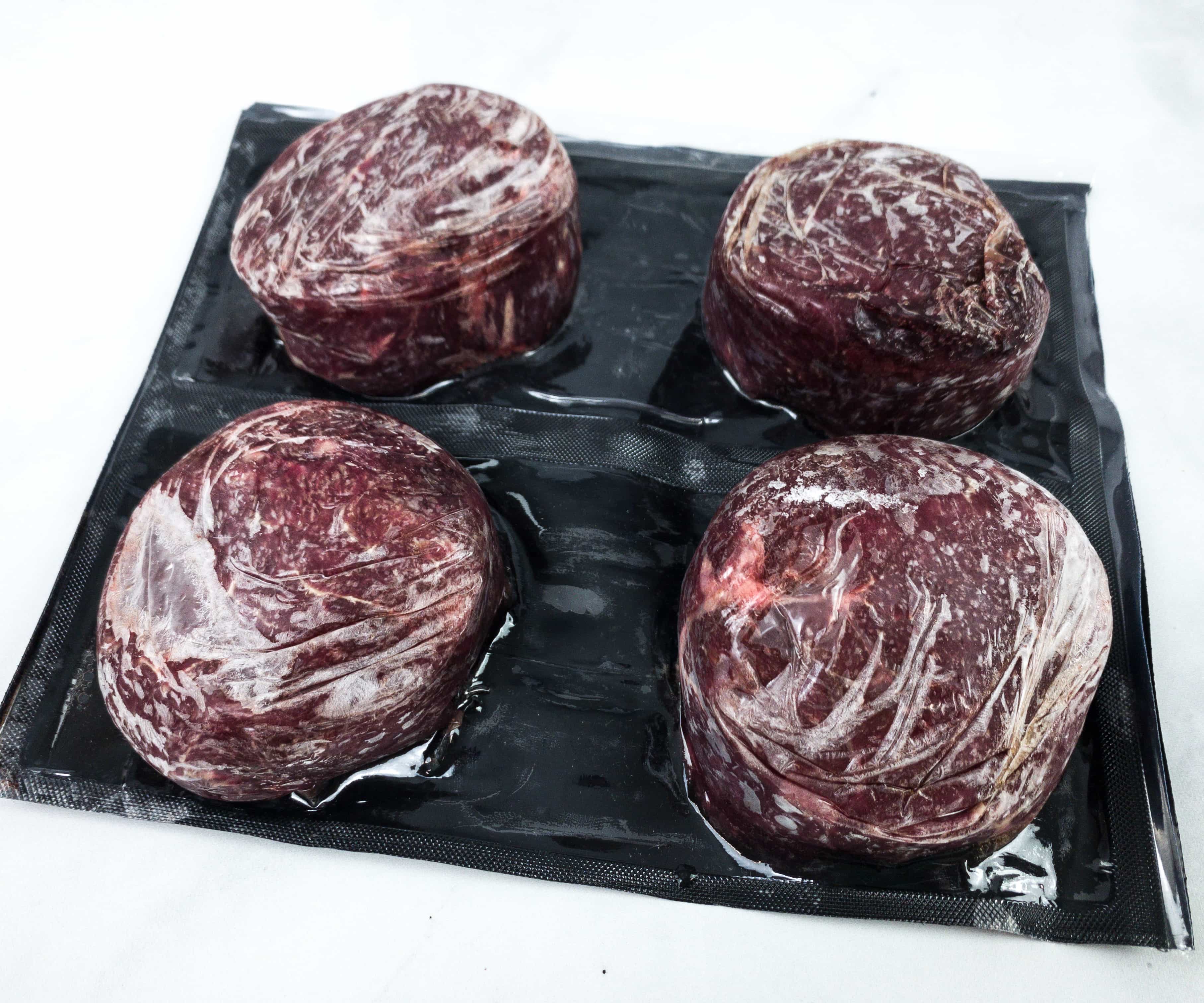 Sirloin cap is usually triangular in cut with a nice layer of fat, but the one we got this month is a little bit thick and round shaped.
These meats are so tender and they're great for grilling or roasting!
Ground Beef. Here's a staple in our box, grass-fed ground beef! This time, it came in 2 separate packs!
The ground beef from Butcher Box is simply the best! It's juicy and meaty, as it's made of 85% lean with only 15% of fat. It's the ideal meat for general use.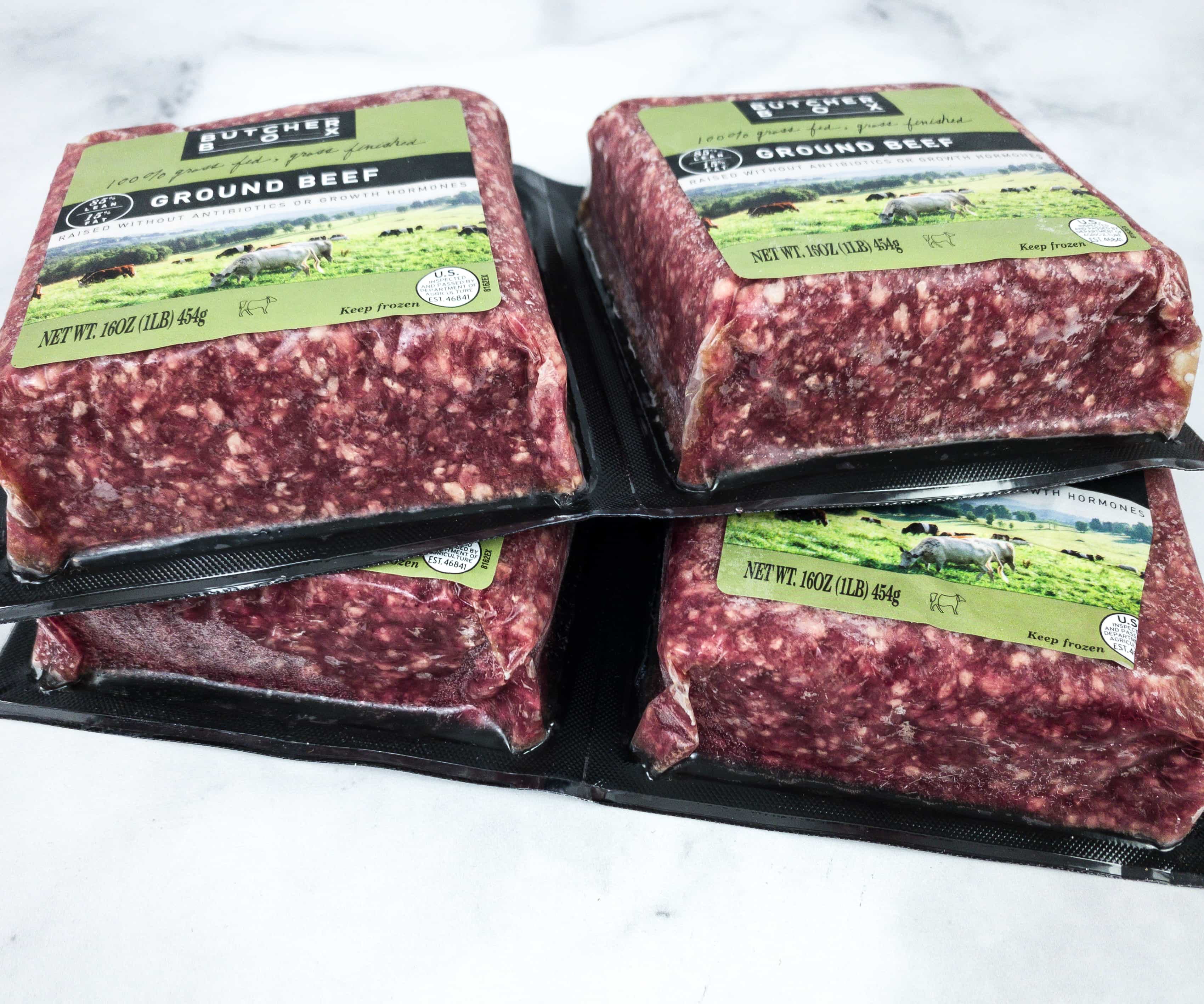 This meat produces little to no liquid leak when cooked, so it doesn't flare up easily when grilled. It makes a great option for making burger patties!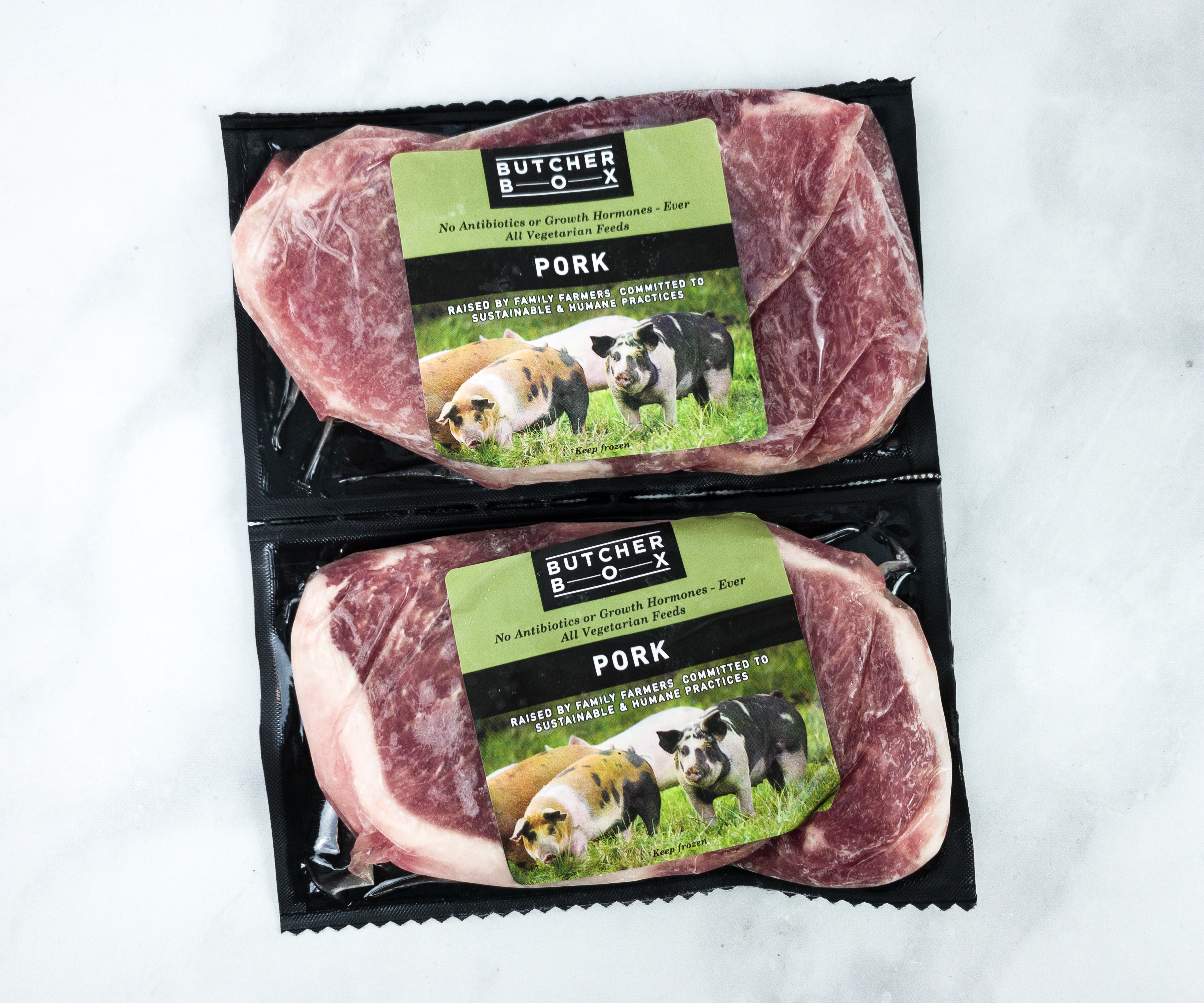 Boneless Pork Loin Chop. Pork loin chop is one of the juiciest parts of the pork. It's perfect for breaded, pan-fried, marinated, or even grilled dishes.
Pork loin is meaty and flavorful. It's so rich in protein, plus it's very easy to cook.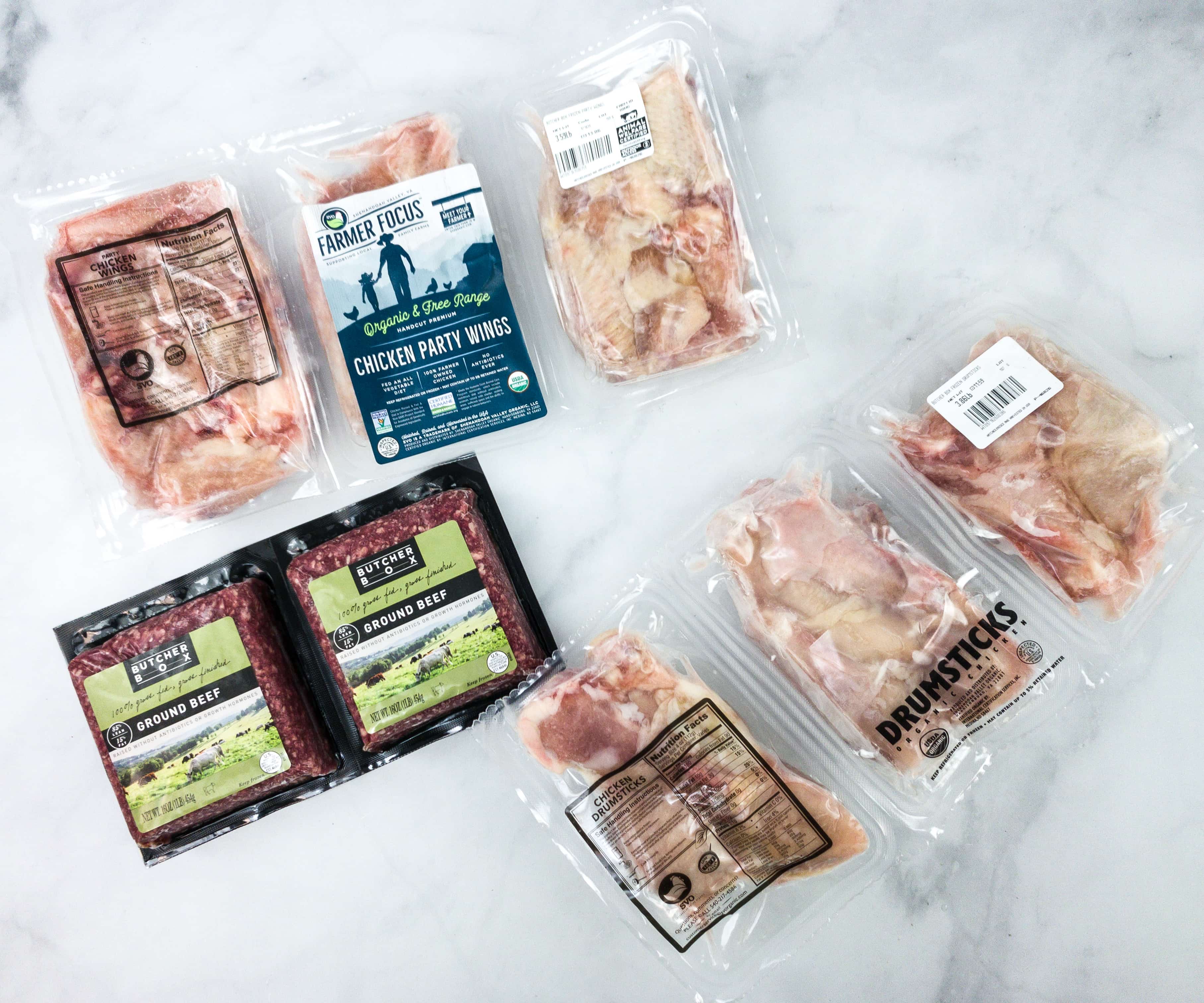 Aside from the ground beef, we also got here packs of chicken party wings and chicken drumsticks.
Drumsticks Organic Chicken. Another staple in our box! These chicken drumsticks are 100% organic, non-GMO, and antibiotic-free.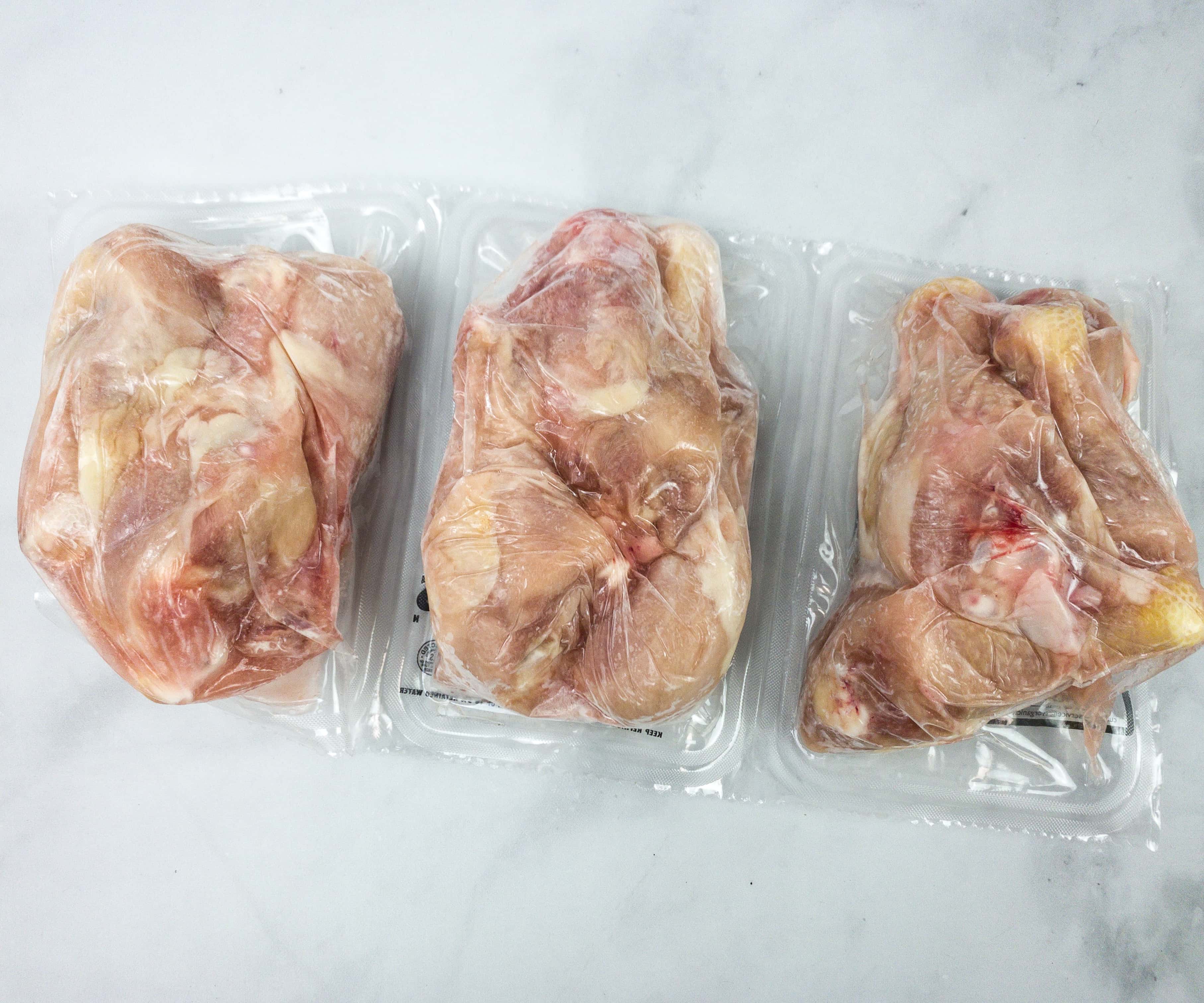 Each pack contains 4-6 pieces of large cut drumsticks. Since it's so meaty, it makes a perfect cut for frying and grilling.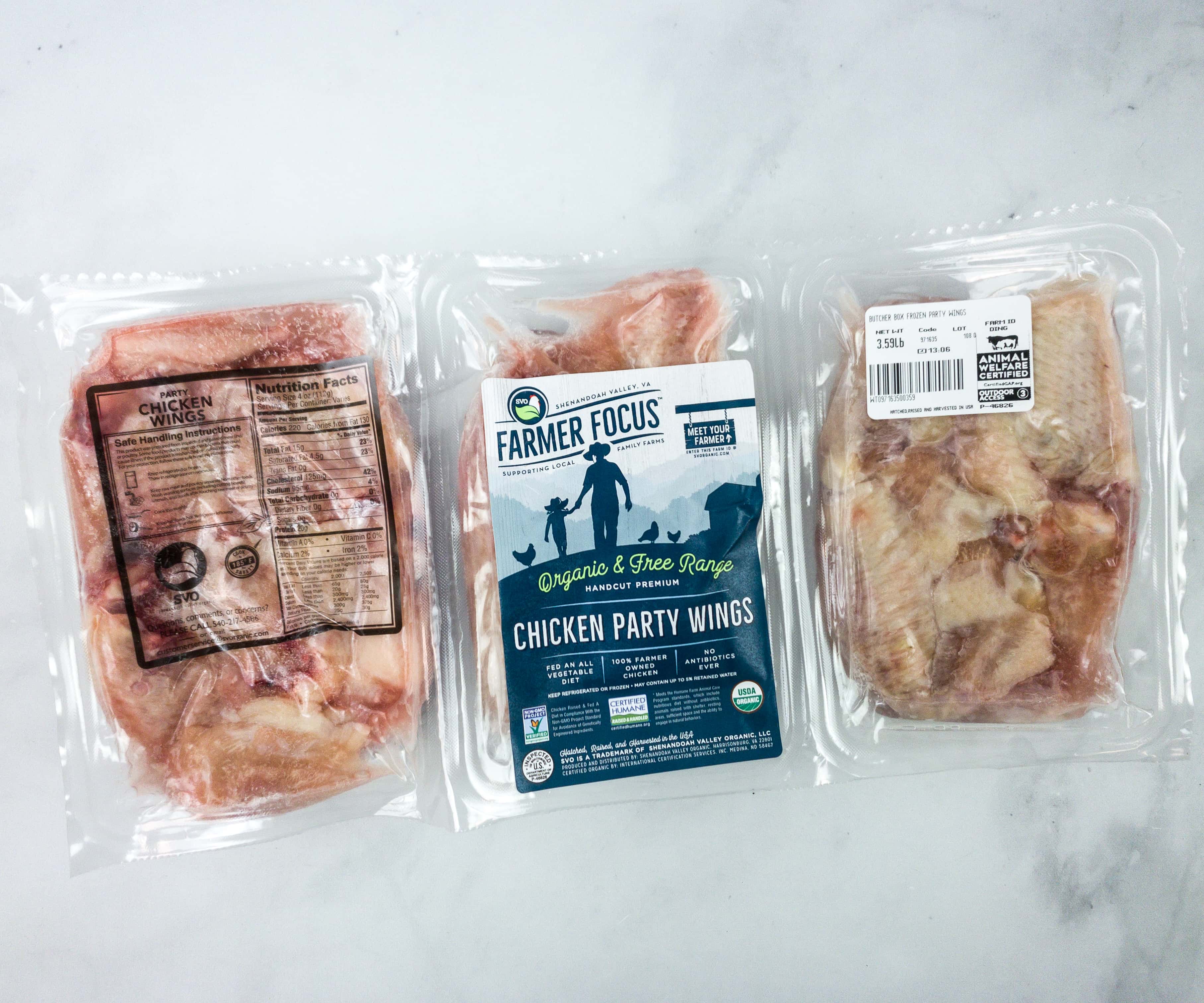 Chicken Party Wings. These packs of wings are sourced from non-GMO and USDA-certified organic chickens. They don't contain hormones and steroids either!
Each pack contains 7 to 10 pieces which are great for frying and barbecue, just coat it with a variety of sauces for extra taste!
Quality, convenience, and consistency are the things that makes Butcher Box a truly great subscription. Though its a little pricey, the quality of each meat they provide makes every dollar spent totally worth it. Every box comes with 7 – 10 lbs of well-portioned meat that is perfect for a small family like ours. It works out to be about $6.50 per portion for the meat – and there is definitely no difference in cost between getting all grass-fed beef or incorporating them with some organic chicken or pork. I really love how all the meat was packed, as all of them came in great condition. They all arrived in a deep freeze and was divided into manageable sized cuts, making meal planning so much easier. This box surely deserves a thumbs up!
Stay tuned for our "what we made this month" post to show you our goodies all cooked up!
What did you think of our haul from Butcher Box?