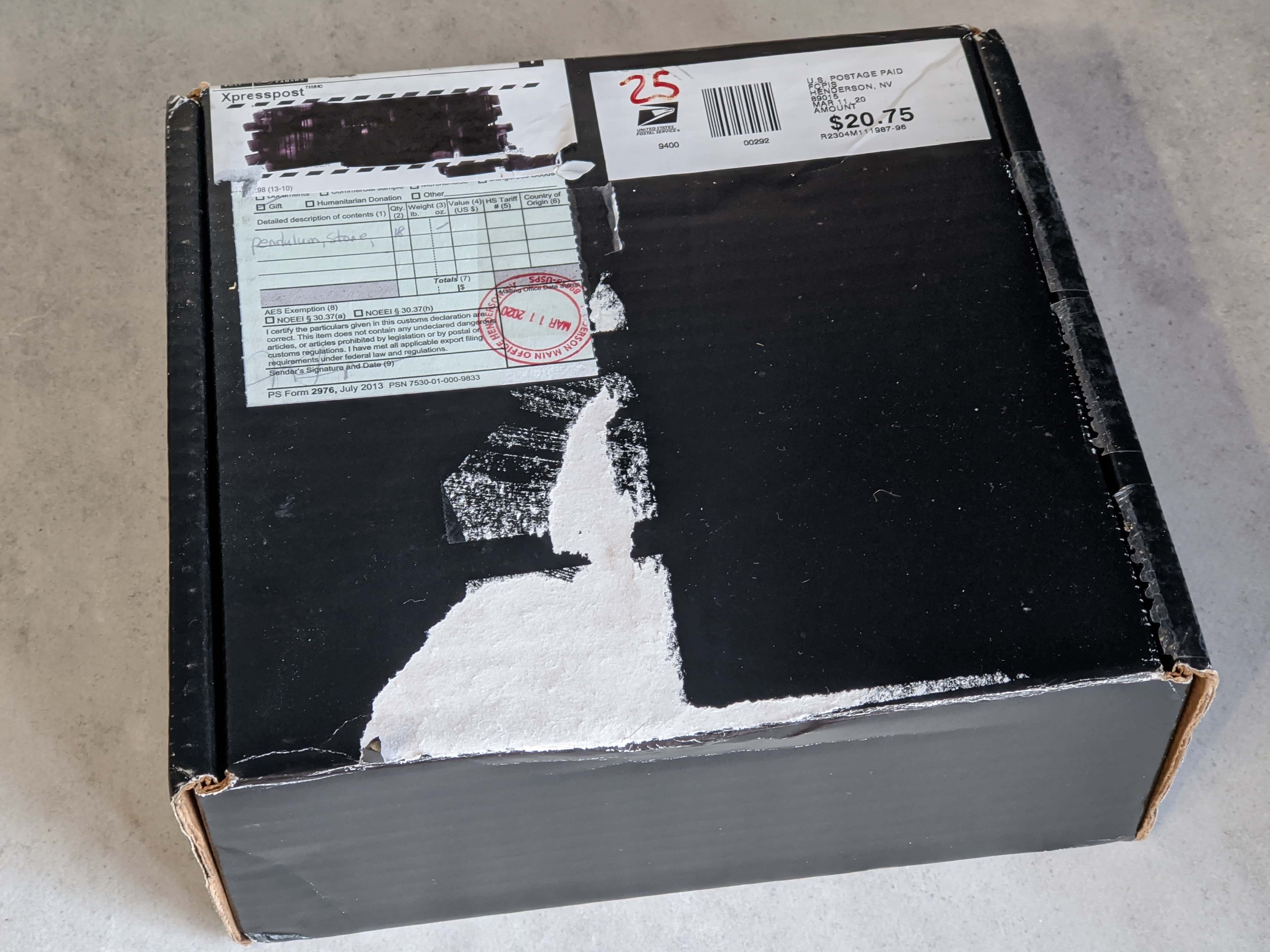 Psychic Envy is a monthly personal tarot reading subscription box. Each box includes a printed, personal tarot reading done by top psychics that answers your pressing questions about love, relationships, career & more. Your psychic then handpicks 1-2 items to inspire you + 1 gift (crystal, bracelet or necklace) to help you manifest your best life. The founder partnered with top psychics (paid $20/min by phone) to do the same readings by subscription box. This box is $24.99 + shipping per month.
NOTE: The box shipped from Nevada all the way to Canada, which explains why the box had damage when it arrived to my door. Still, everything inside remained in great condition and beautifully packaged.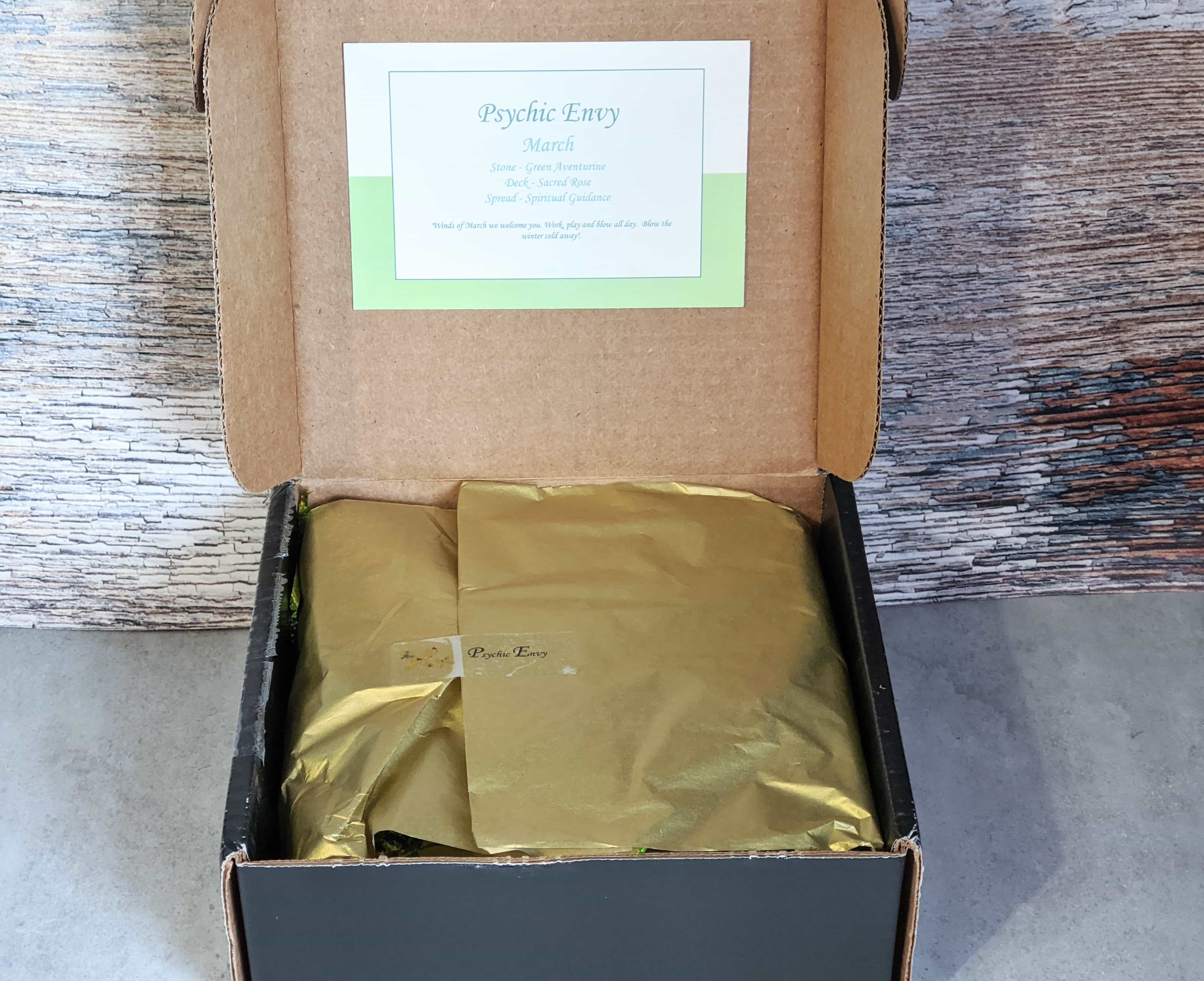 Everything comes in a simple black box with no logo.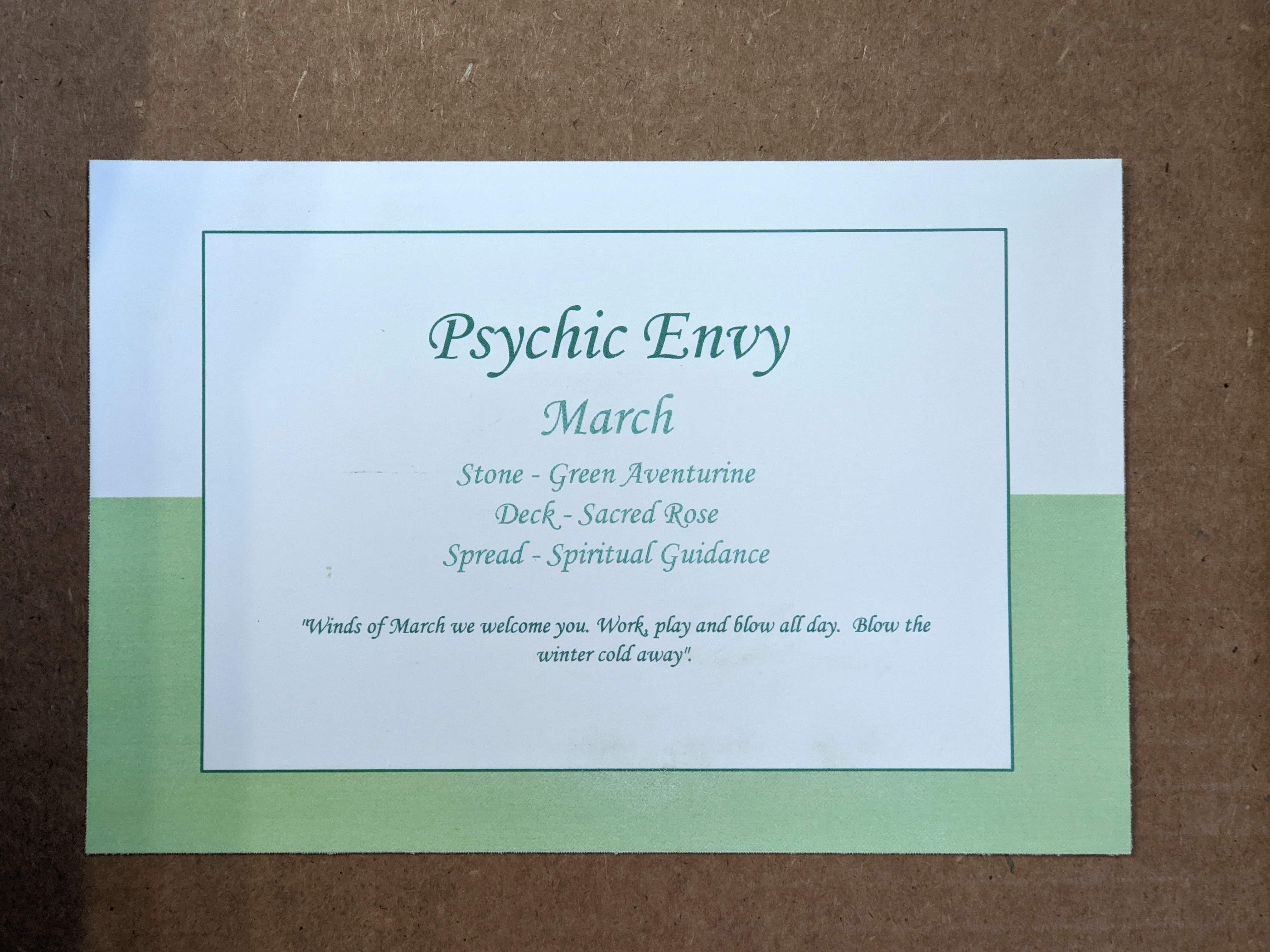 The content of the box is glued to the box and for March, the deck used for the personalized reading is the Sacred Rose Deck, the Spiritual Guidance Spread was used and the stone of the month is the Green Aventurine.
All the items are nicely packaged in lovely bags and under sparkly green paper.
The reading is printed, rolled and presented with a cute golden butterfly.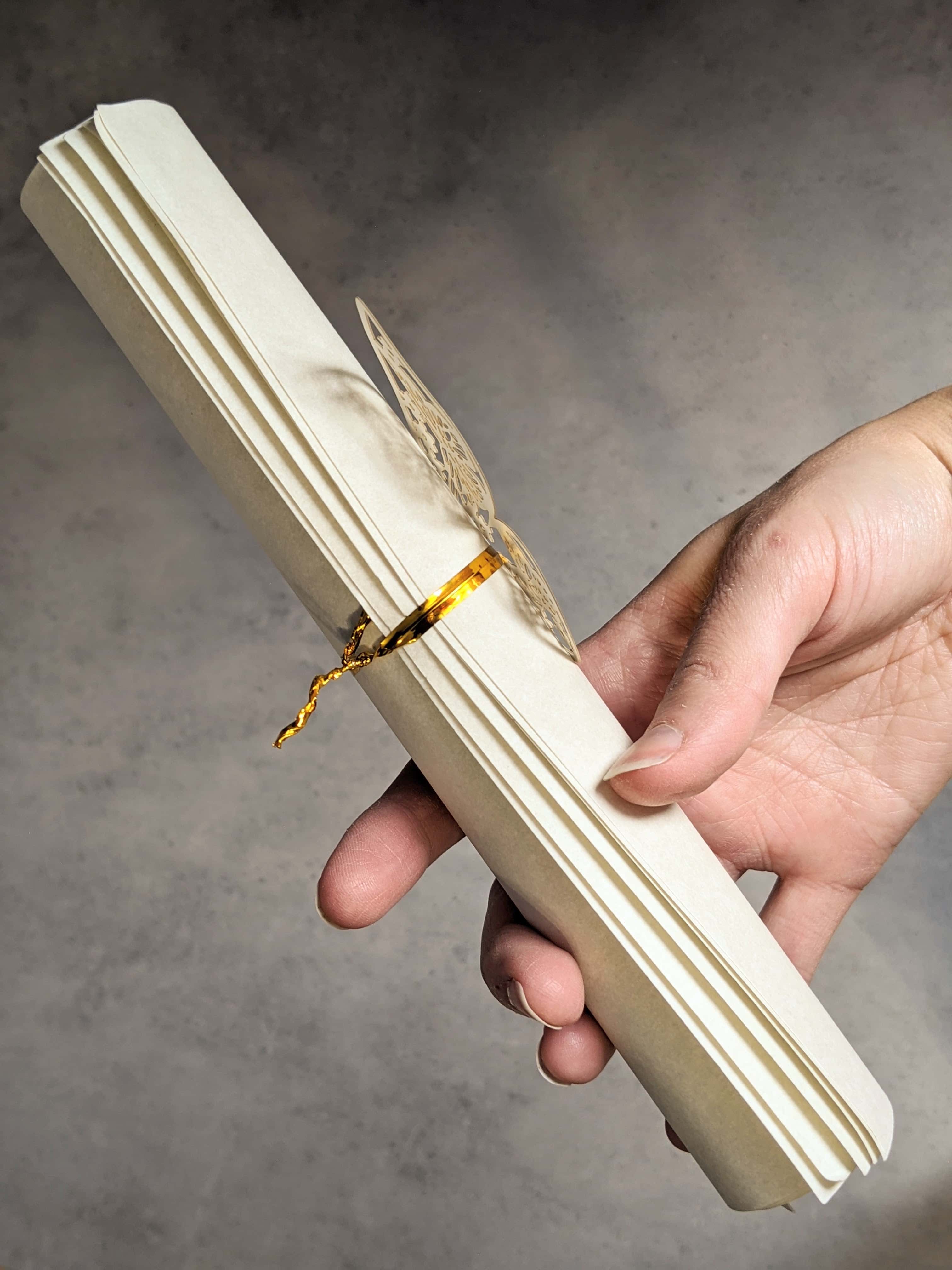 Prior to my reading, I had the opportunity to ask any questions or concerns where I would like to gain some insight, and also any particular areas of interest I had (i.e, relationship, career, finances.)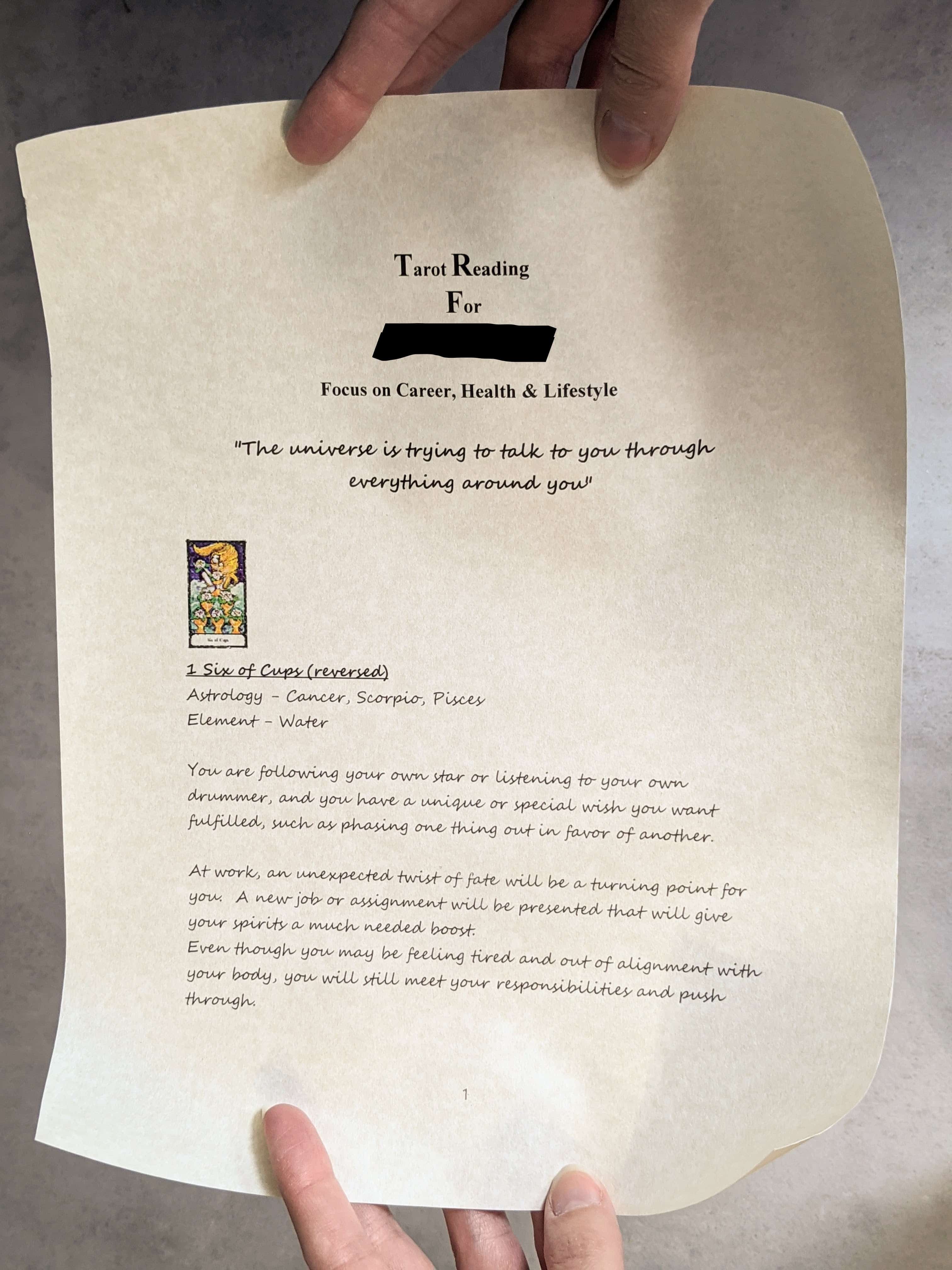 Each card drawn has an astrological sign and element assigned to them, and a general meaning to the card before digging into how it applies to me. This was sent to me right before we were told to stay home, and a different job opportunity came my way because of it, so that card was pretty much on point, even the "feeling tired" part!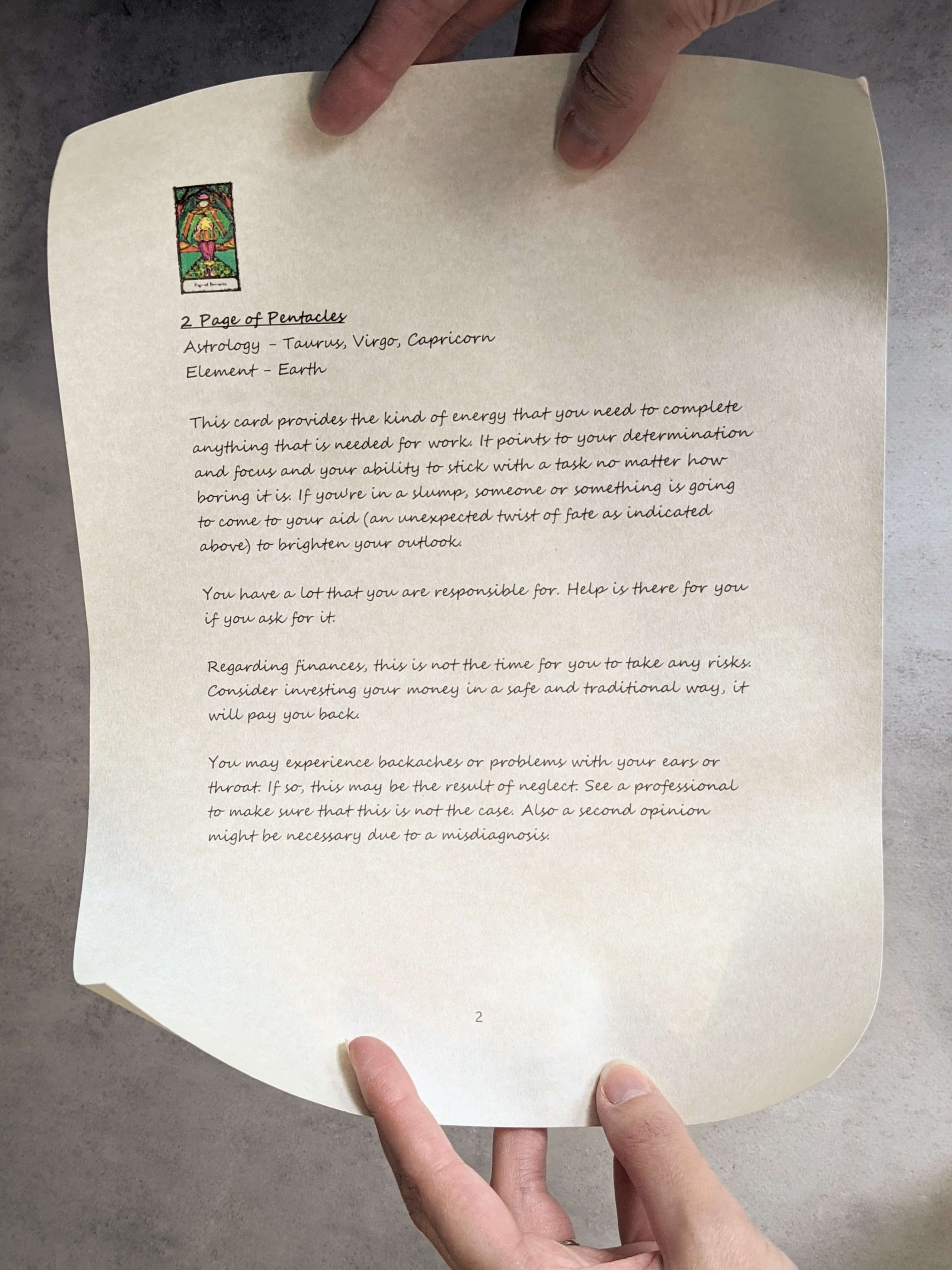 Once again, this card is on point, even the part with backaches, ears or throat problems. For the part about finances, I think this reading would have worked for a lot of people right now!
The last couple of cards are not as "important" as the first ones, as they are more of "tuning" cards. They add information to previous cards. For me, they are all about changes and starting a new venture.
The first item out of the box is this Green Aventurine, the monthly stone. This is a stone associated with the Heart Chakra. It is said to help with general well-being and emotional calm. It is said to also provide a shield to block entry from those who would "tap in" and use the energy of another. This is a needed stone in these odd times.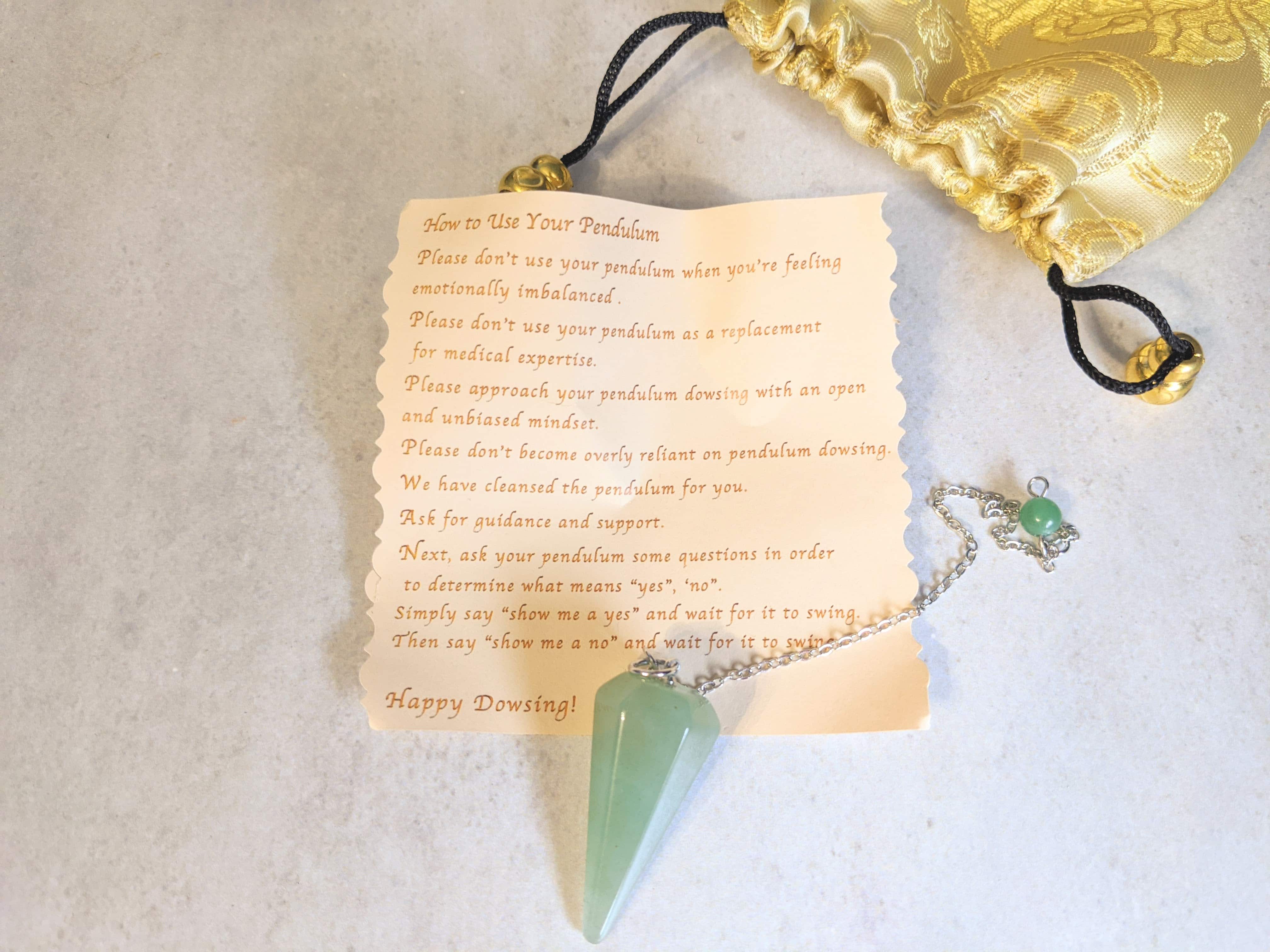 The second item is this lovely Green Aventurine Pendulum. It hangs from a silver-colored chain and has a small green aventurine bead at the top to hold it. It comes with an instruction card to make sure we know how to use it.
There were also two oracle cards in the box for further advice.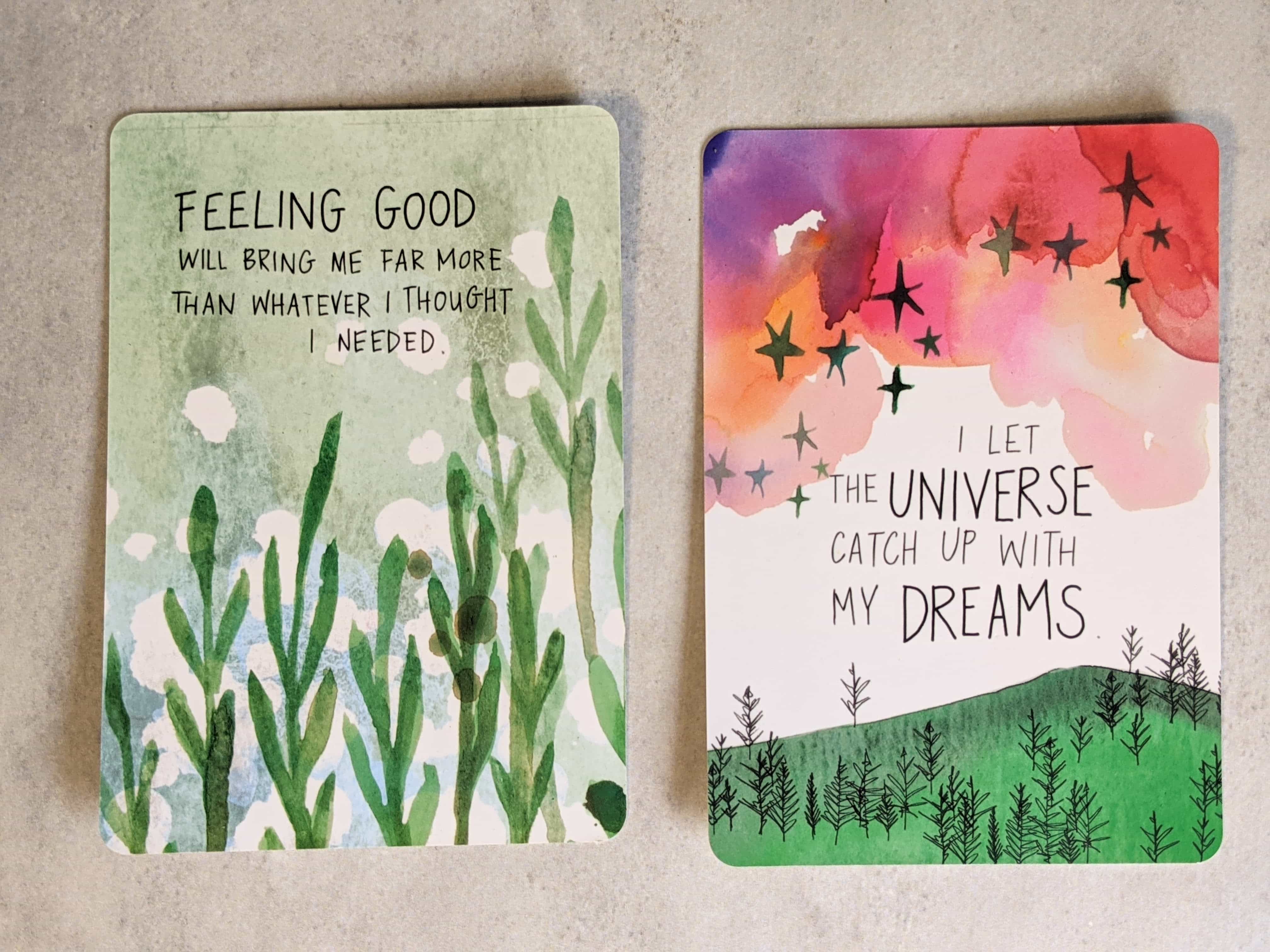 I really love the messages they are bringing to me.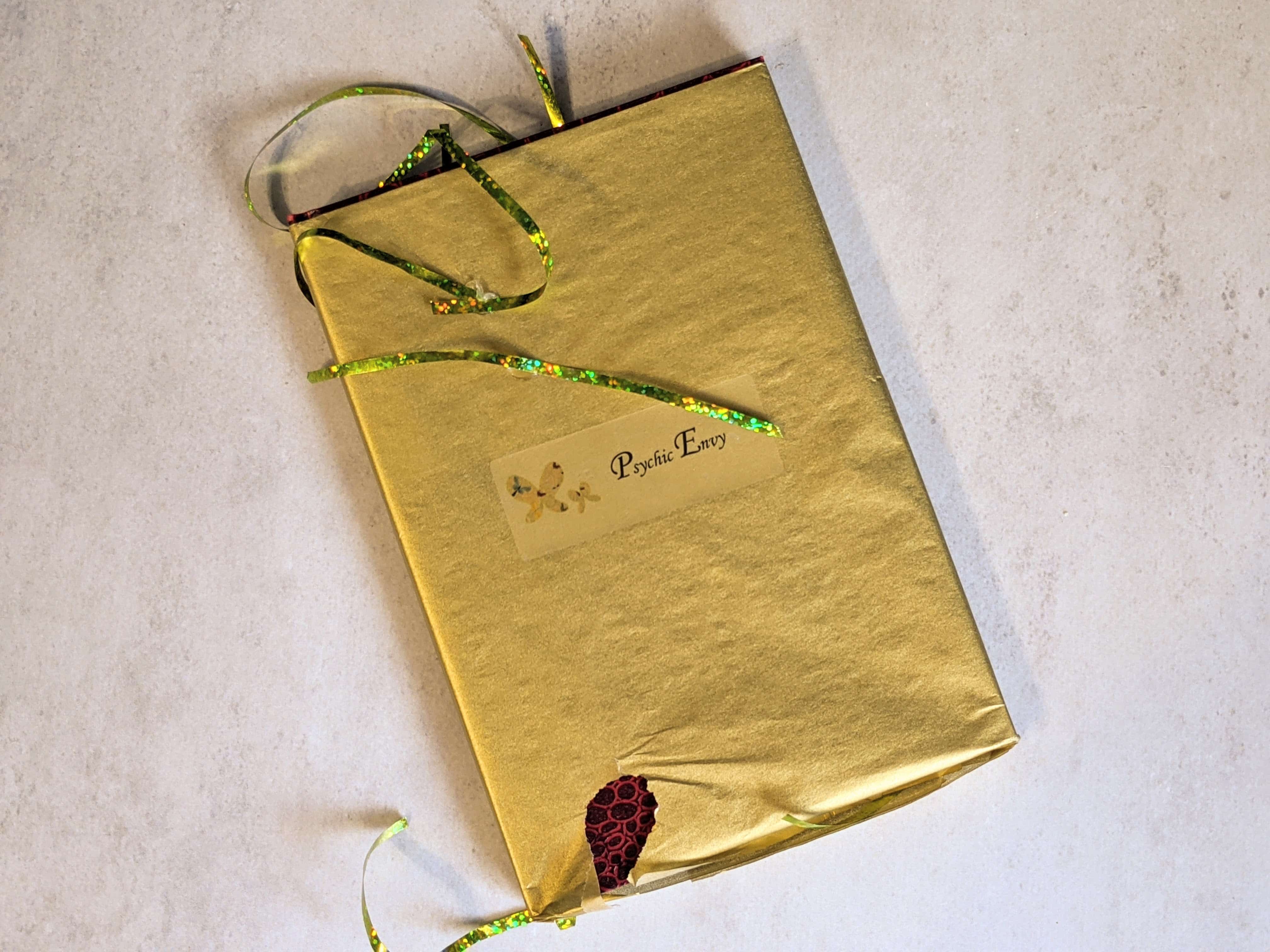 The last gift was wrapped in golden tissue.
And it's a cute little notebook!
Anyone who knows me knows that I will start a new notebook when I have a new project in mind, so this gift fits perfectly with the reading!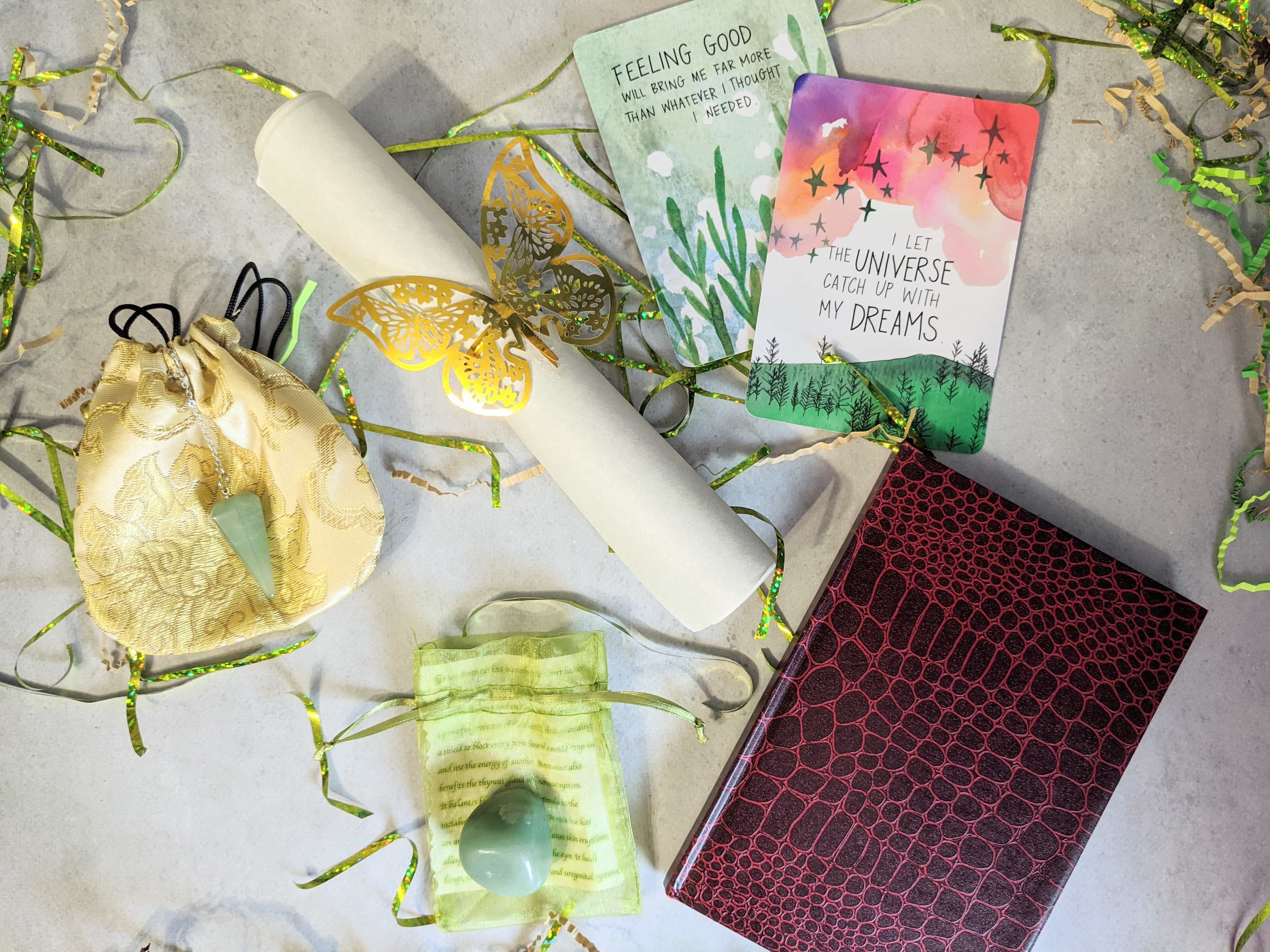 Psychic Envy is a lovely box for those interested in a personal tarot reading experience, without paying the full price. Everything was nicely presented, and it was fun to open the box and feel a connection with both the reading and the items.
What do you think of this subscription?