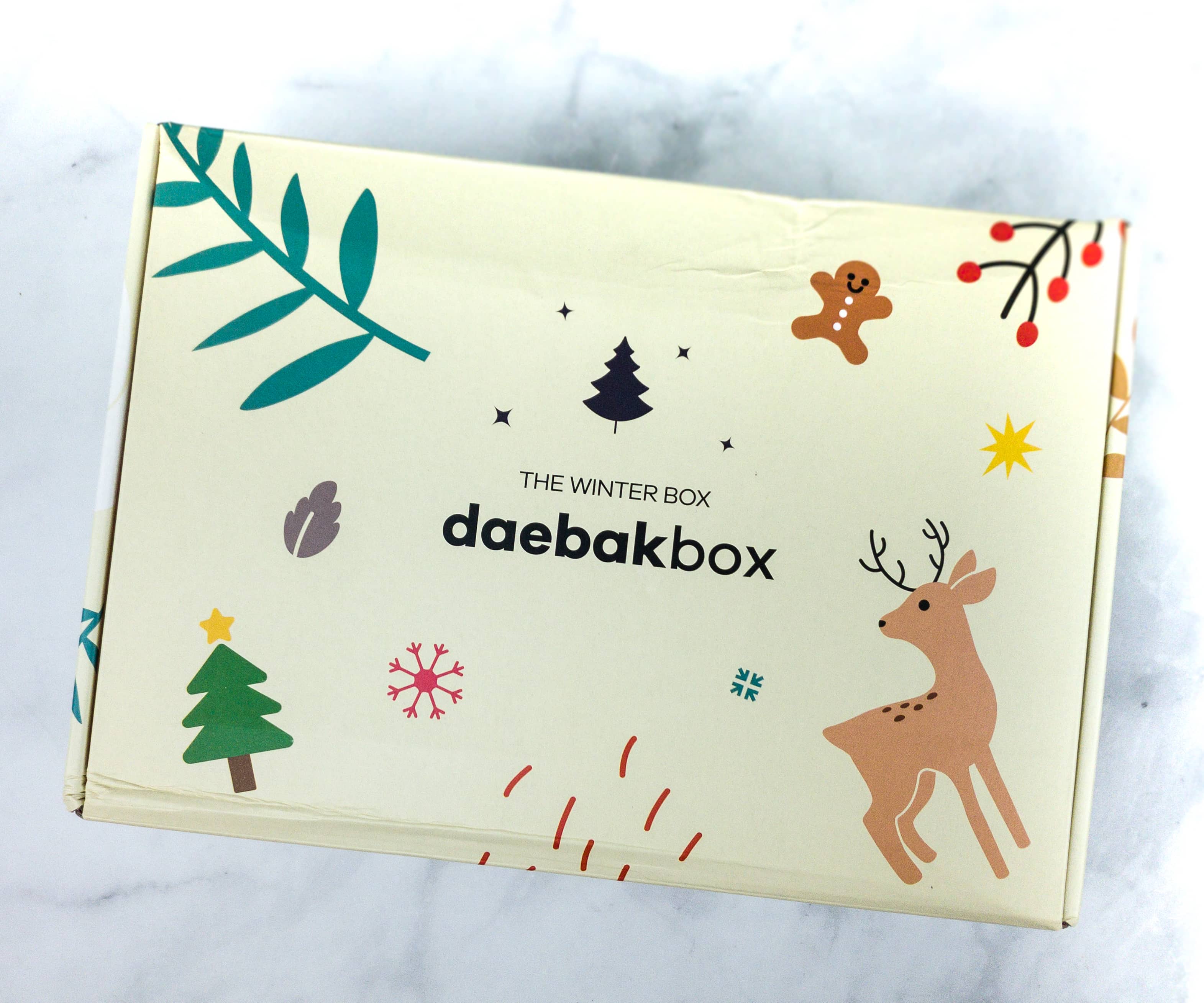 Daebak Box is a quarterly subscription for all things Korean. From K-beauty and K-pop to Korean fashion and accessories, and even Korean stationery and cute character goodies, they curate the best and trendiest products for each season. Each box will include 8 to 12 full-sized premium products. They offer a Seasonal Plan for $54.99 (renews every quarter) and an Annual Membership for $199.96 (prepay upfront). Annual member perks include early shipping and early access to and more savings on Add-ons and Drops.
DEAL: Get 10% off your first box! Use coupon code HELLOSUB.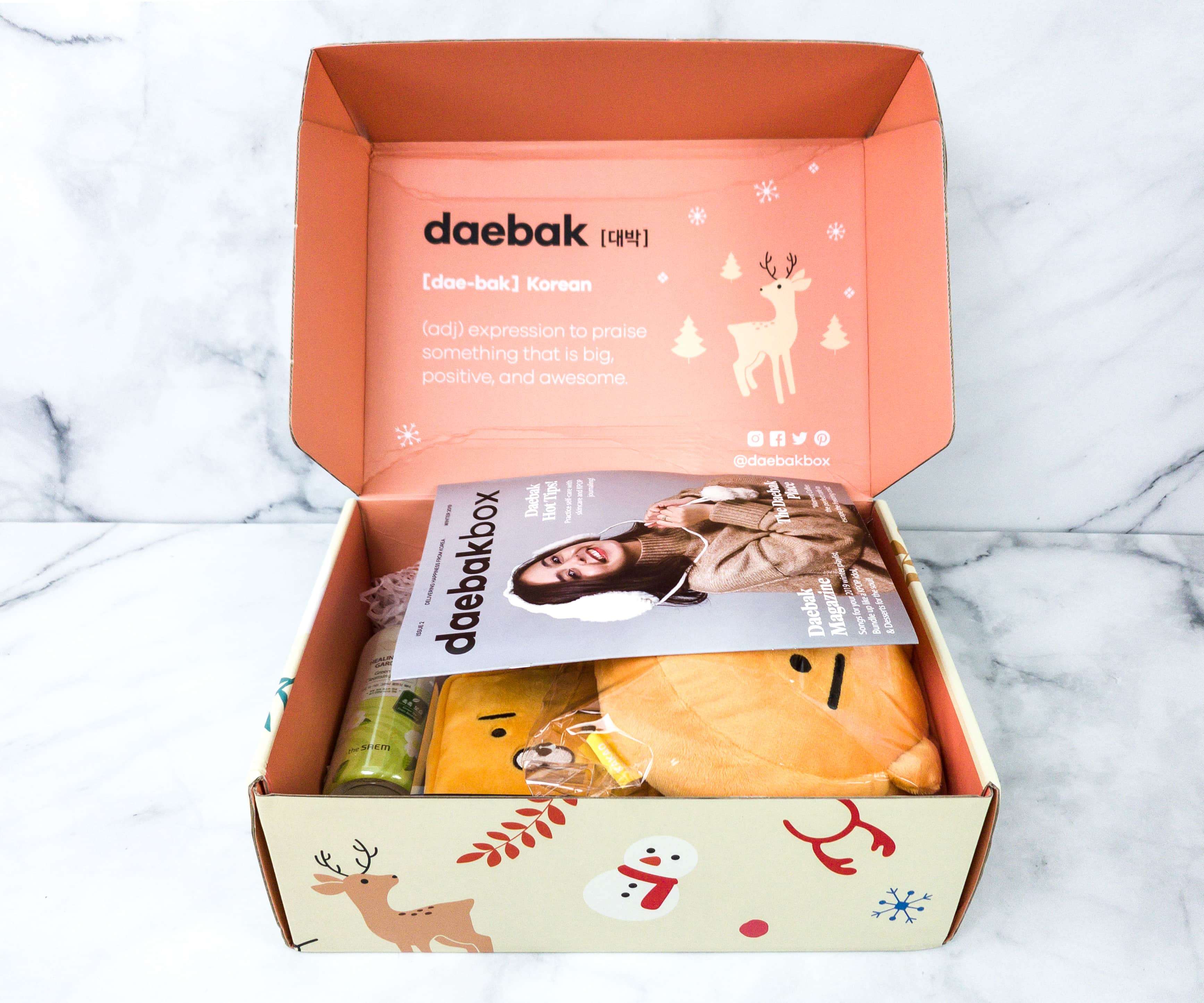 The print on the interior on the box what Daebak means! Apparently, it's an expression used to praise something that is big, positive, and awesome.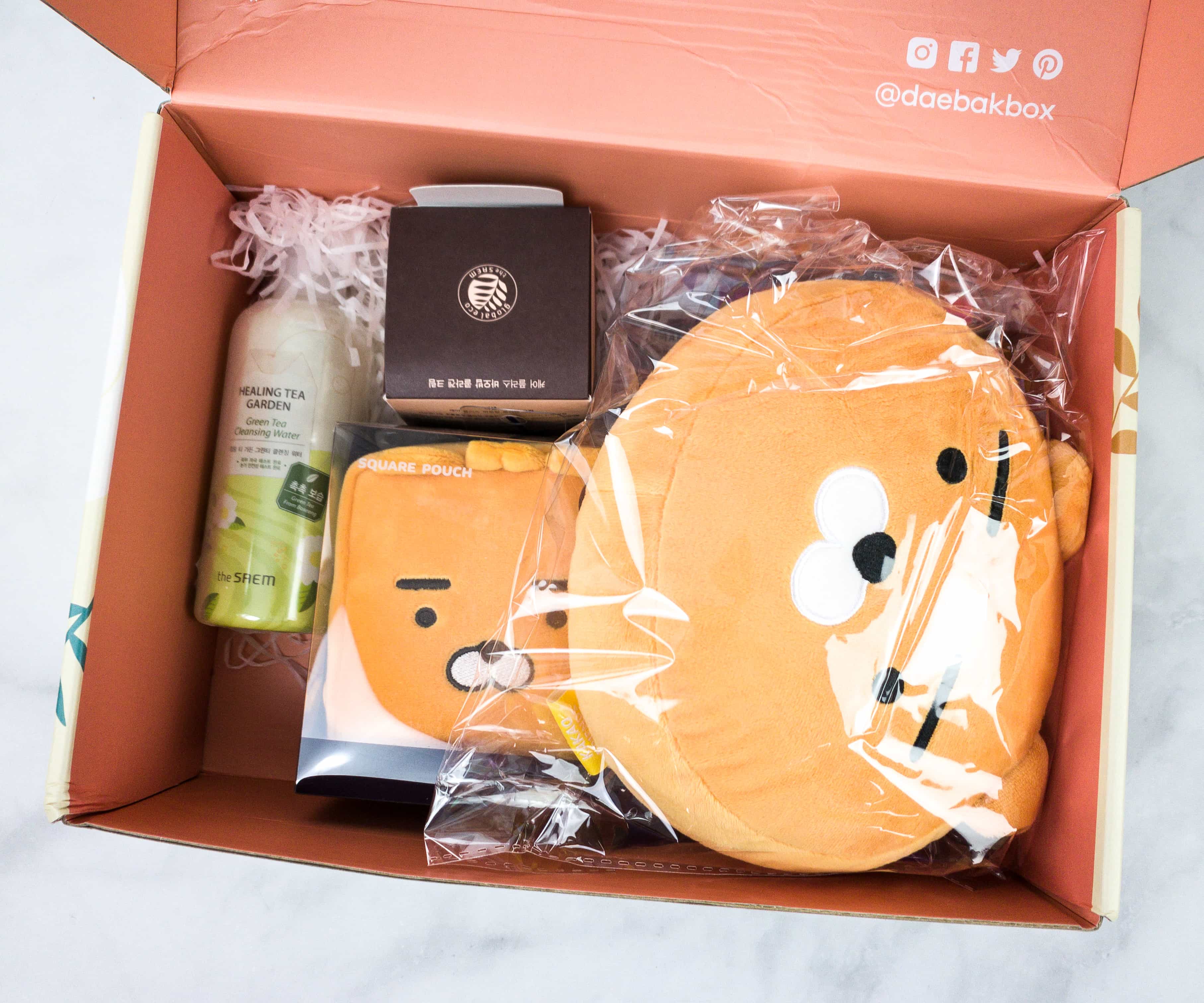 Some of the items arrived in their original packaging.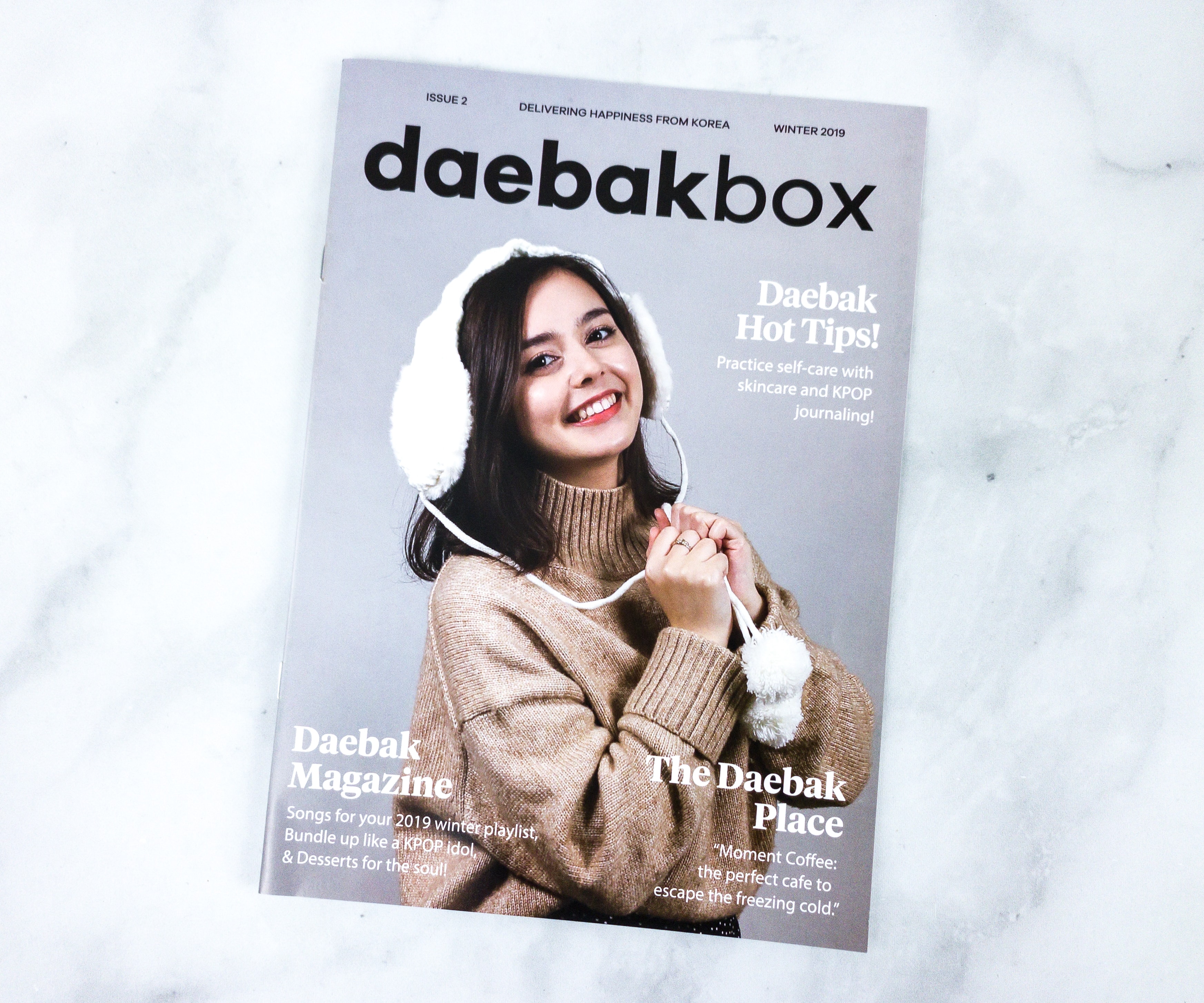 We also received a mini-magazine in the box. The back of the booklet lists member perks!
Access to exclusive giveaways, members only sales (Daebak Drop, Shop, and Add-ons Sale) and more!
Early shipping (about 2 weeks earlier than a Seasonal Membership)!
Early access to and more savings on Add-ons and Daebak Drop
More savings on the Shop and more!
Inside, there's a welcome note from the Daebak Box Team!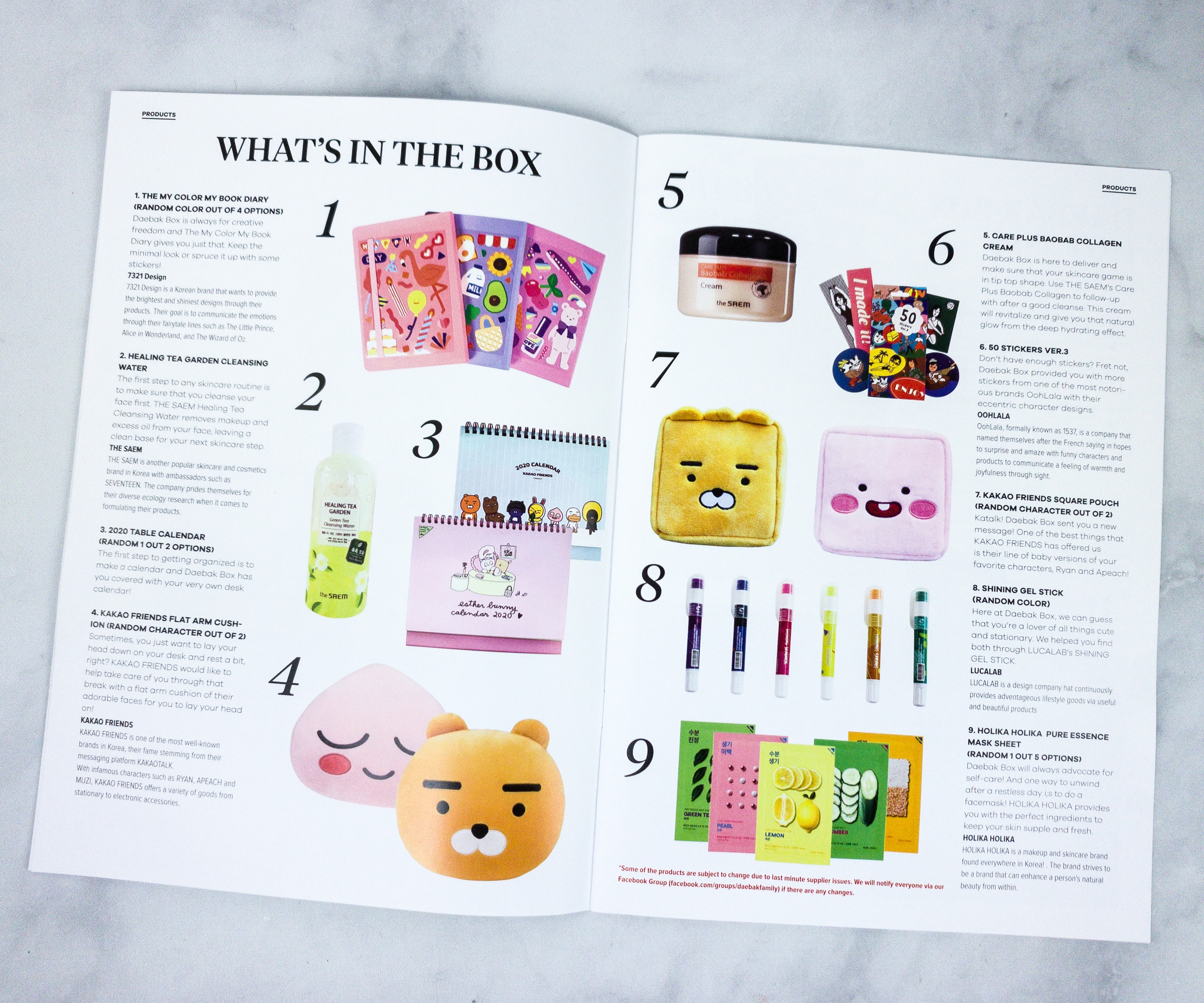 They also included a list of all the items in the box along with photos and descriptions. You will also see if there's a variation on the item here.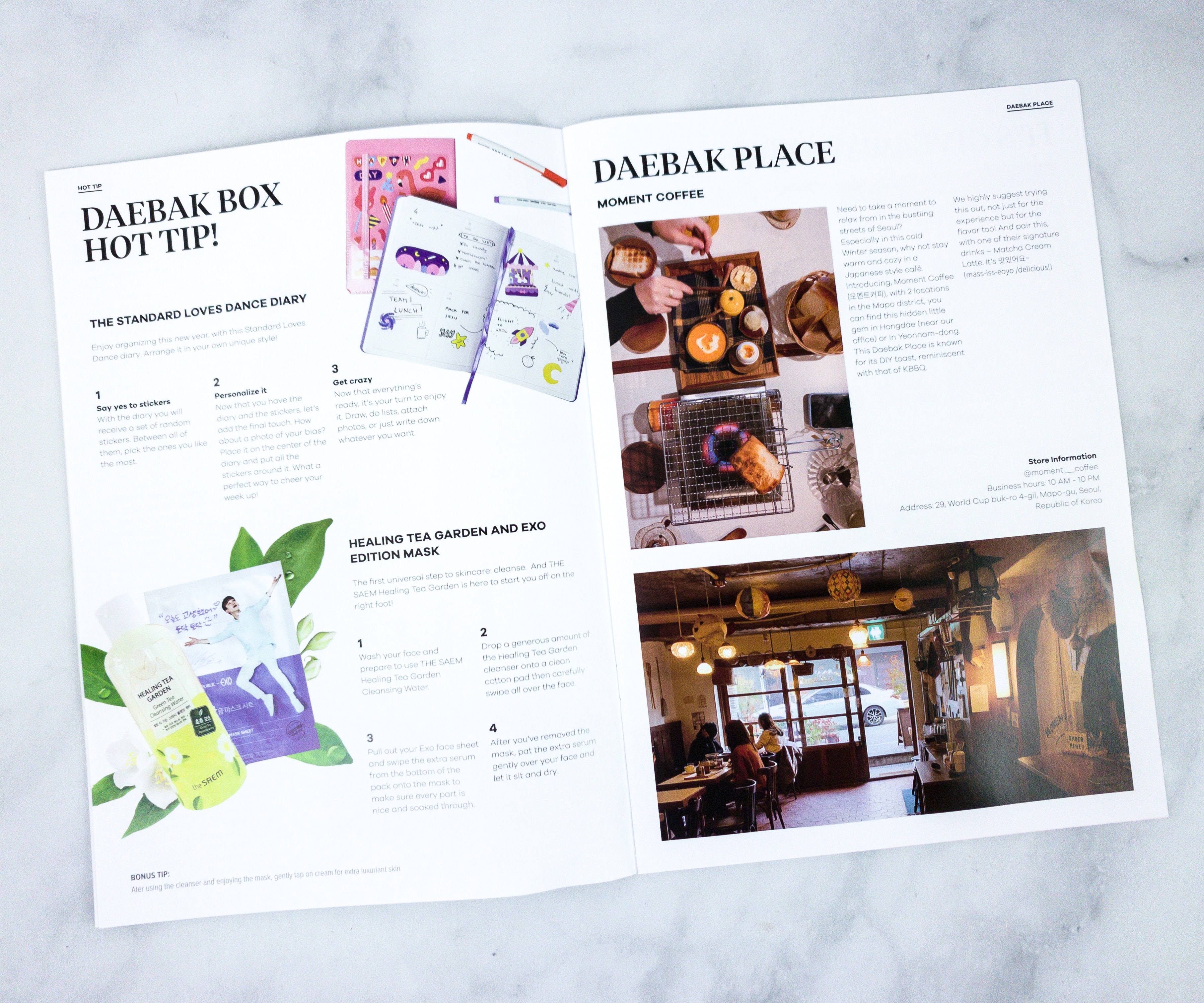 They even give tips and feature place recommendations in this booklet!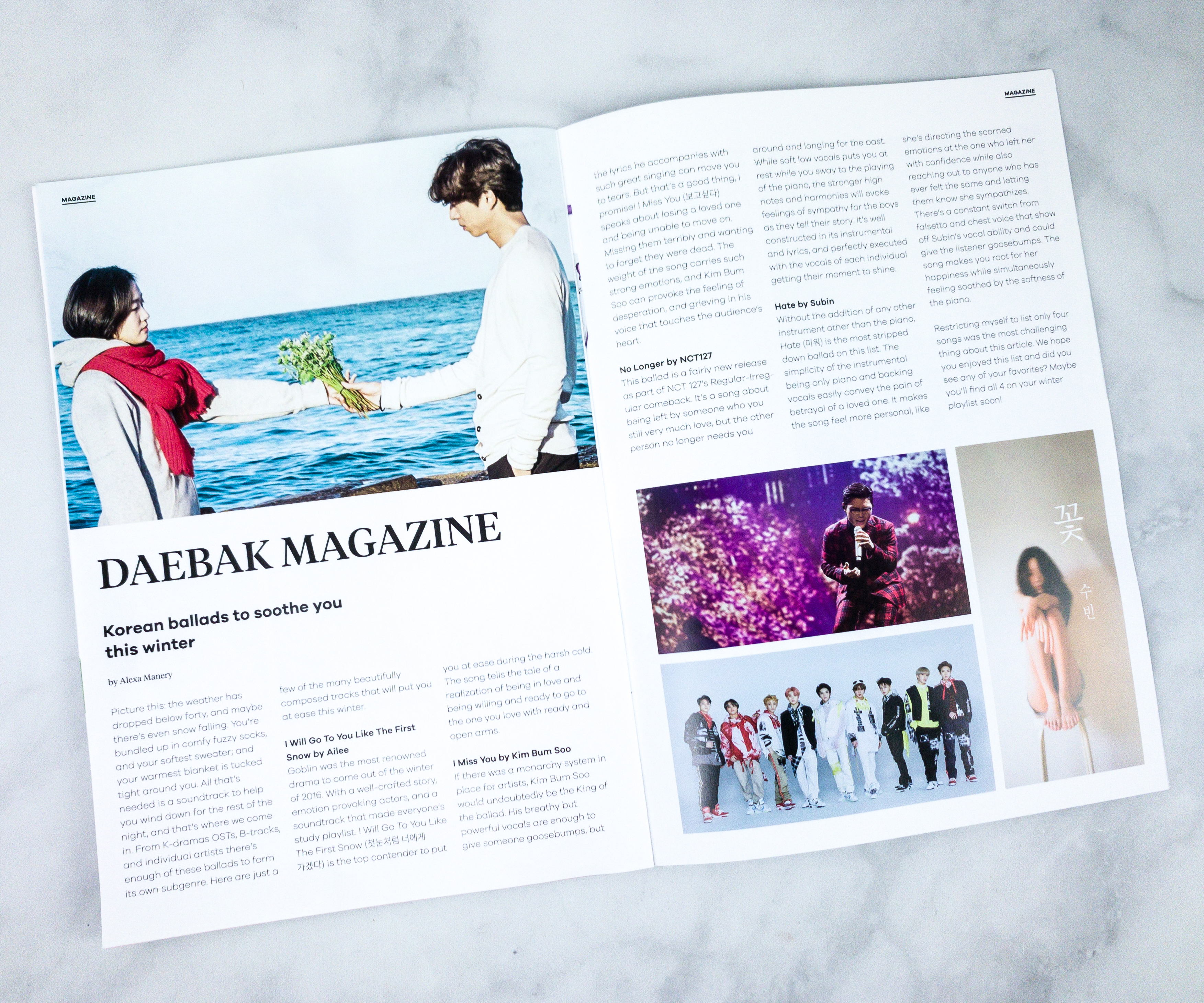 I loved reading through this magazine before jumping in on the box. There's so much to discover!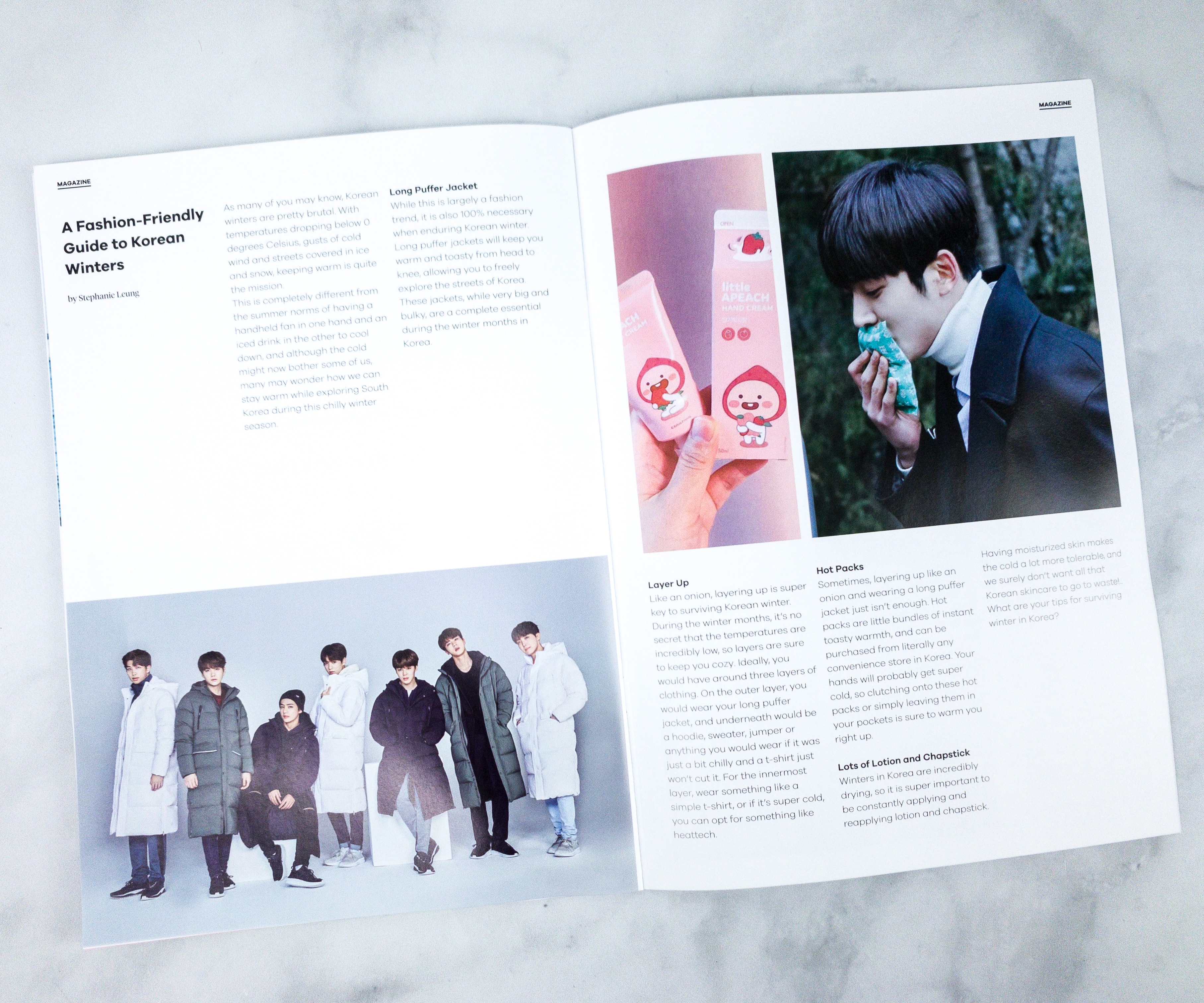 Another interesting feature is a fashion-friendly guide to Korean winters!
They even included a word search puzzle, with the words related to this box!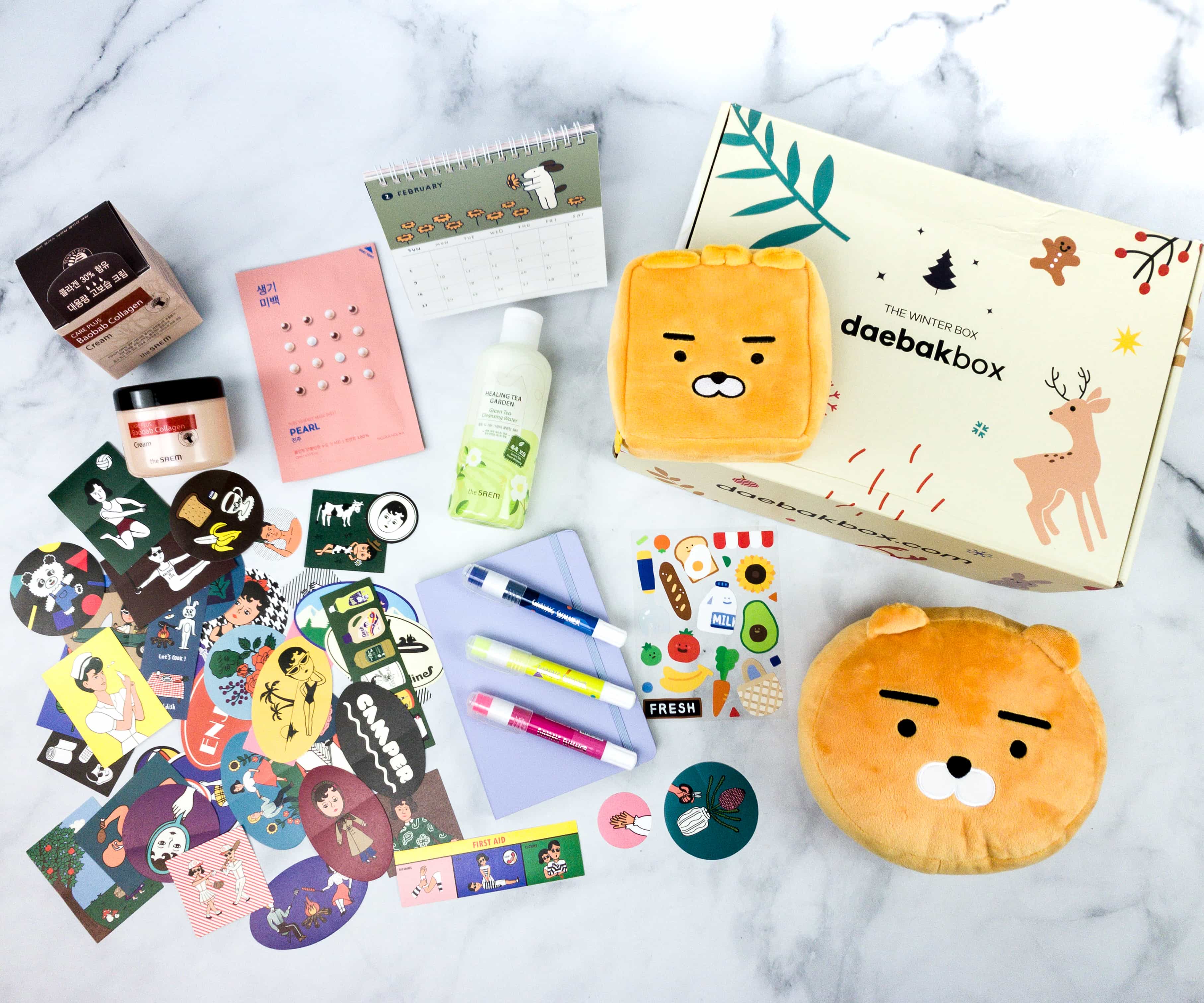 Everything in my box!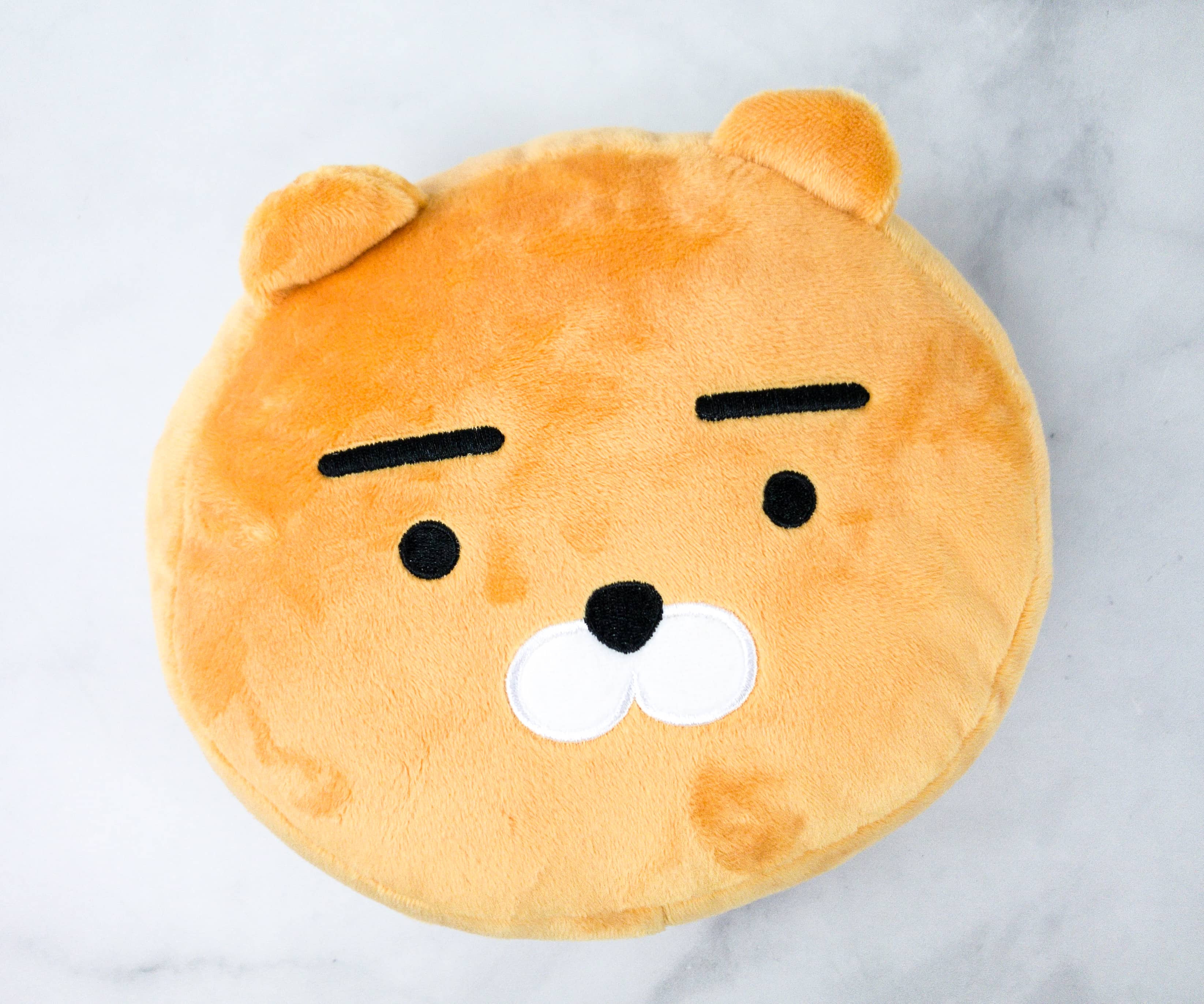 Kakao Friends Flat Arm Cushion. Subscribers will get 1 out of 2 Kakao Friends characters, either Ryan or Apeach. I got Ryan, who is a male lion!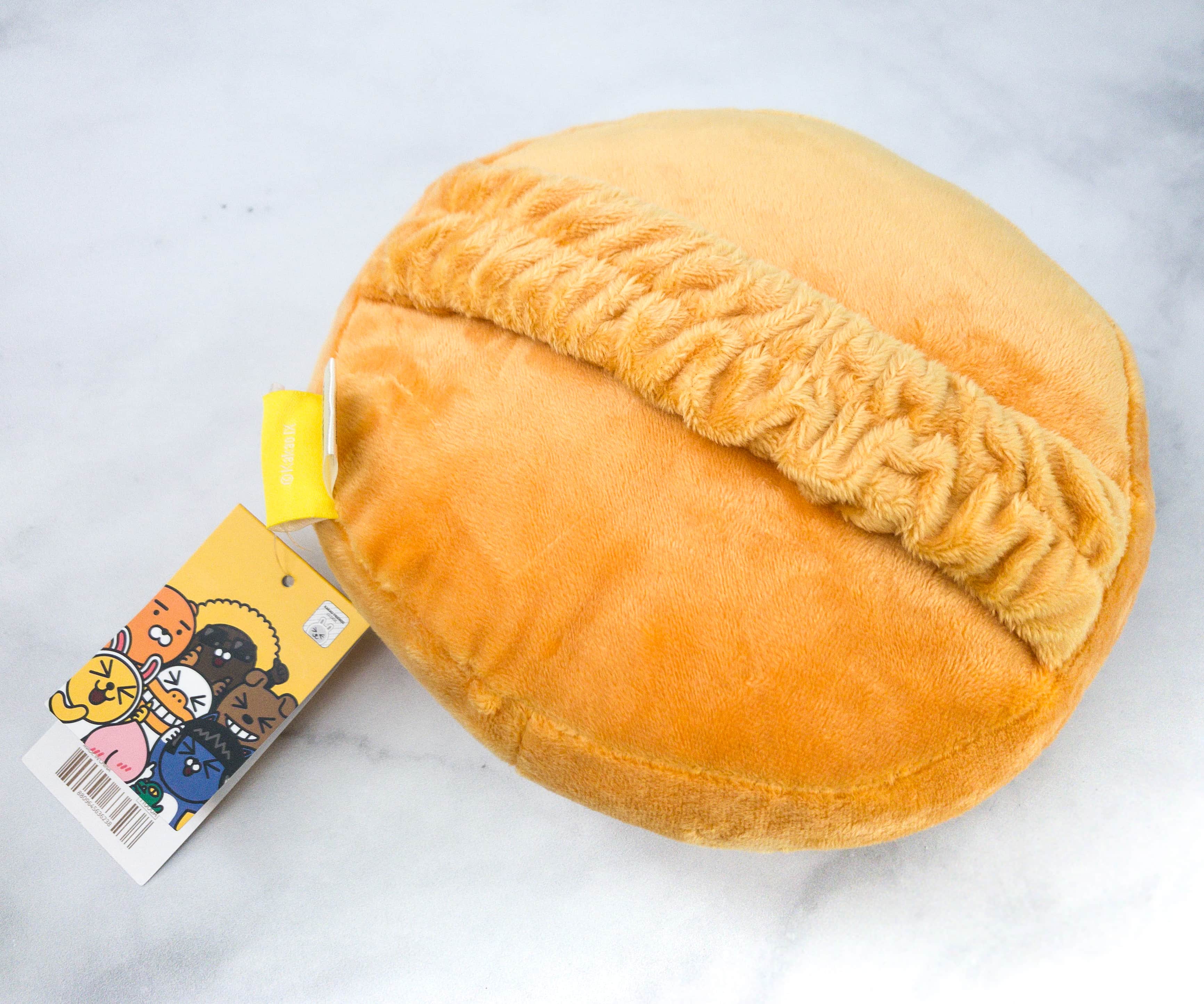 This cute and adorable pillow is a great buddy, especially when just lounging about in bed. The strap at the back makes it easier to put my arms in it so I can lay on my side and comfortably rest my head on this cushion!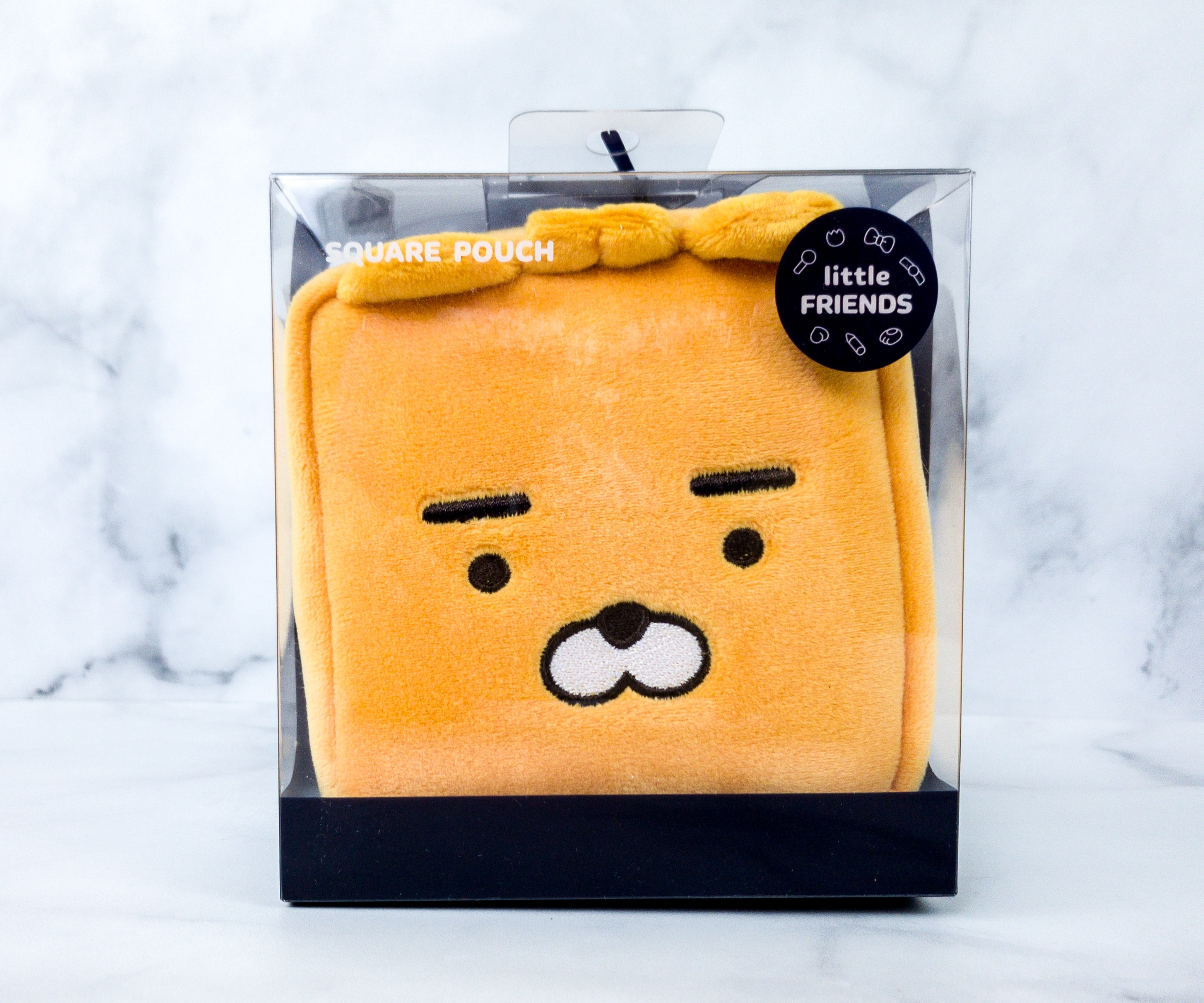 Kakao Friends Square Pouch. There's just too much cuteness in here! It's another Kakao Friends merchandise, and this time, it's a square pouch. Subscribers will get either Ryan and Apeach. We got Ryan again and we're not complaining!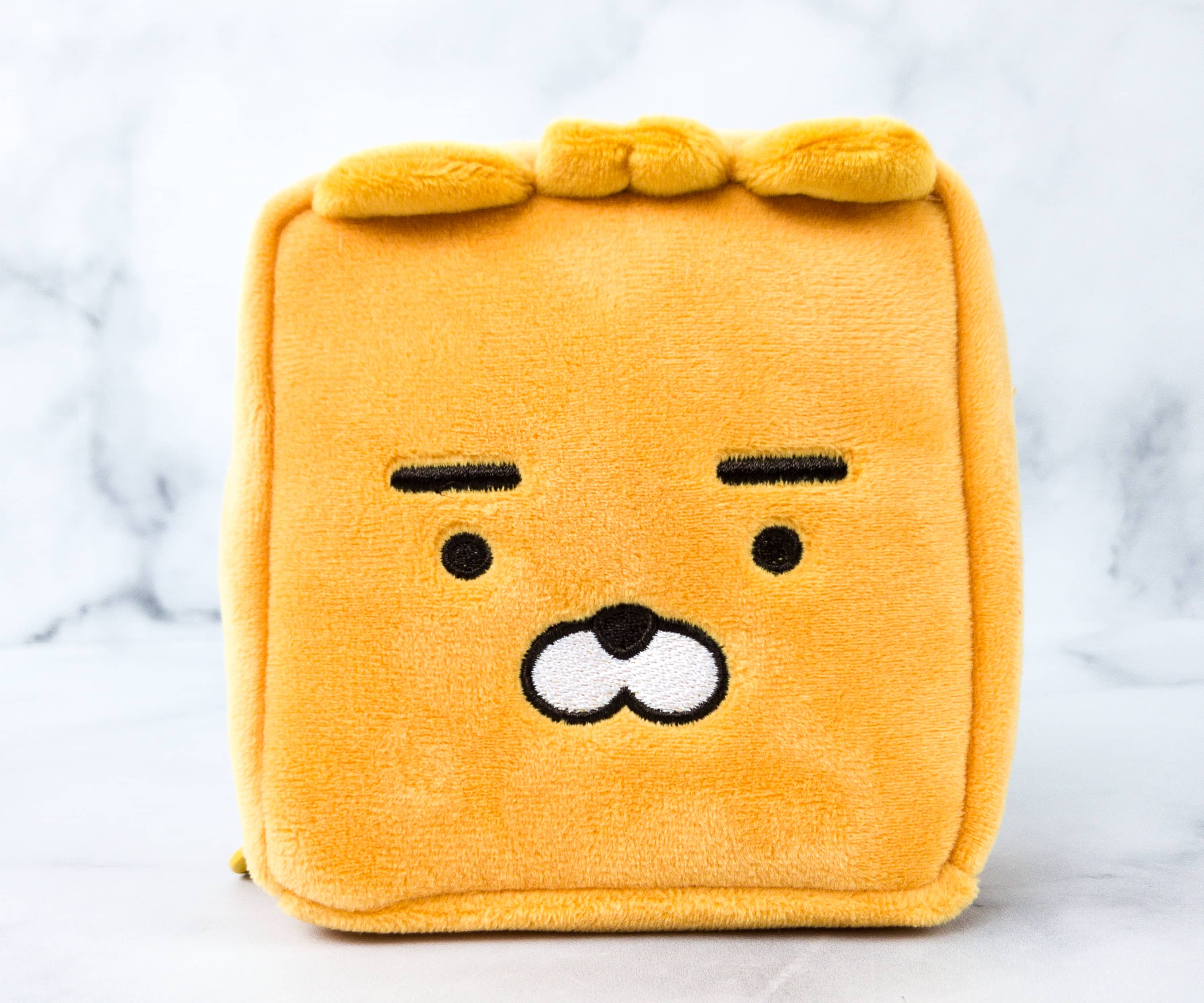 The square pouch is also soft!
The inside is quite spacious, with a pocket on each corner where you can insert cards, papers, or bills.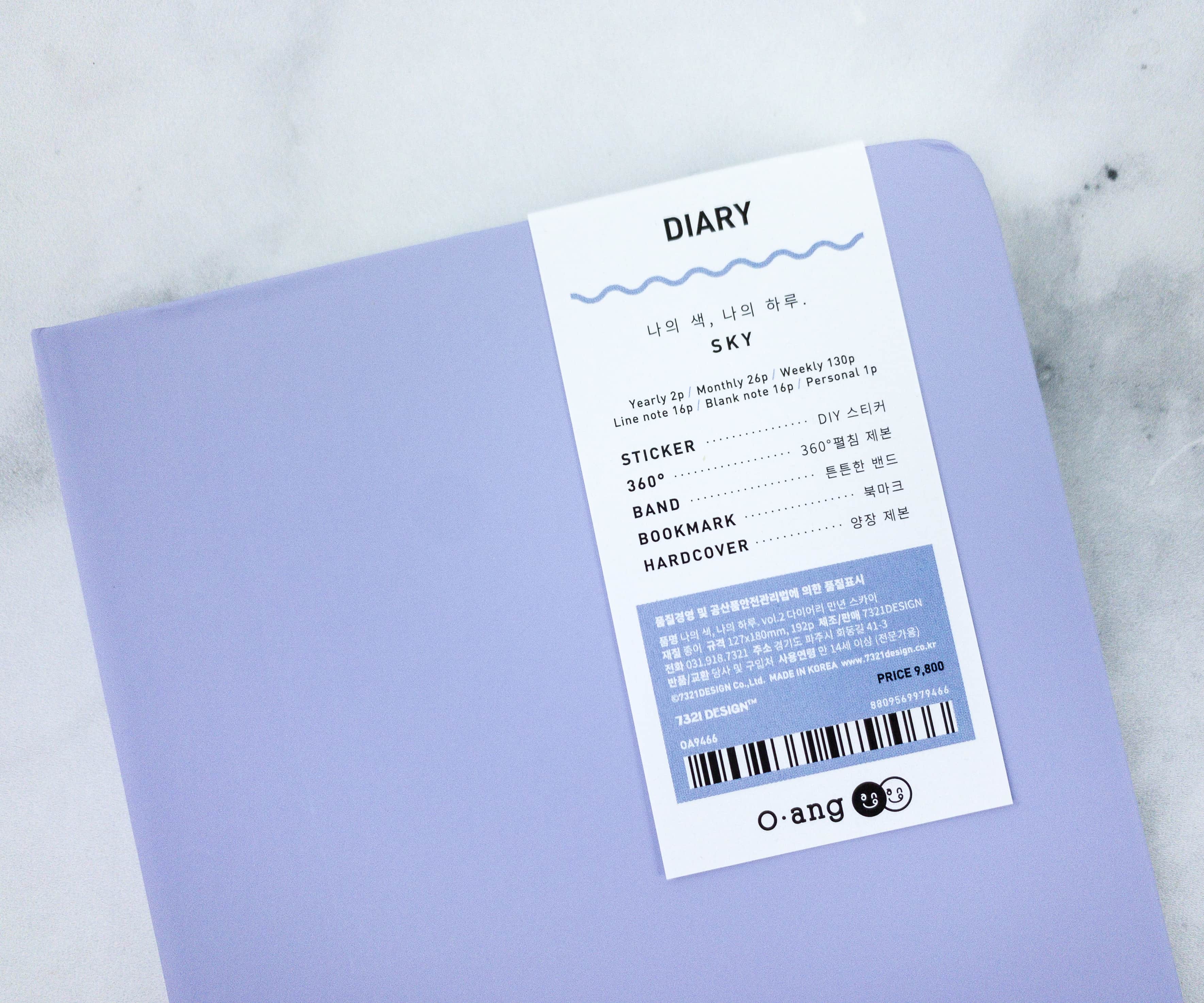 The My Color My Book Diary. Subscribers will get 1 out of 4 colors. Mine is lavender and love it, it's very pleasant on the eyes!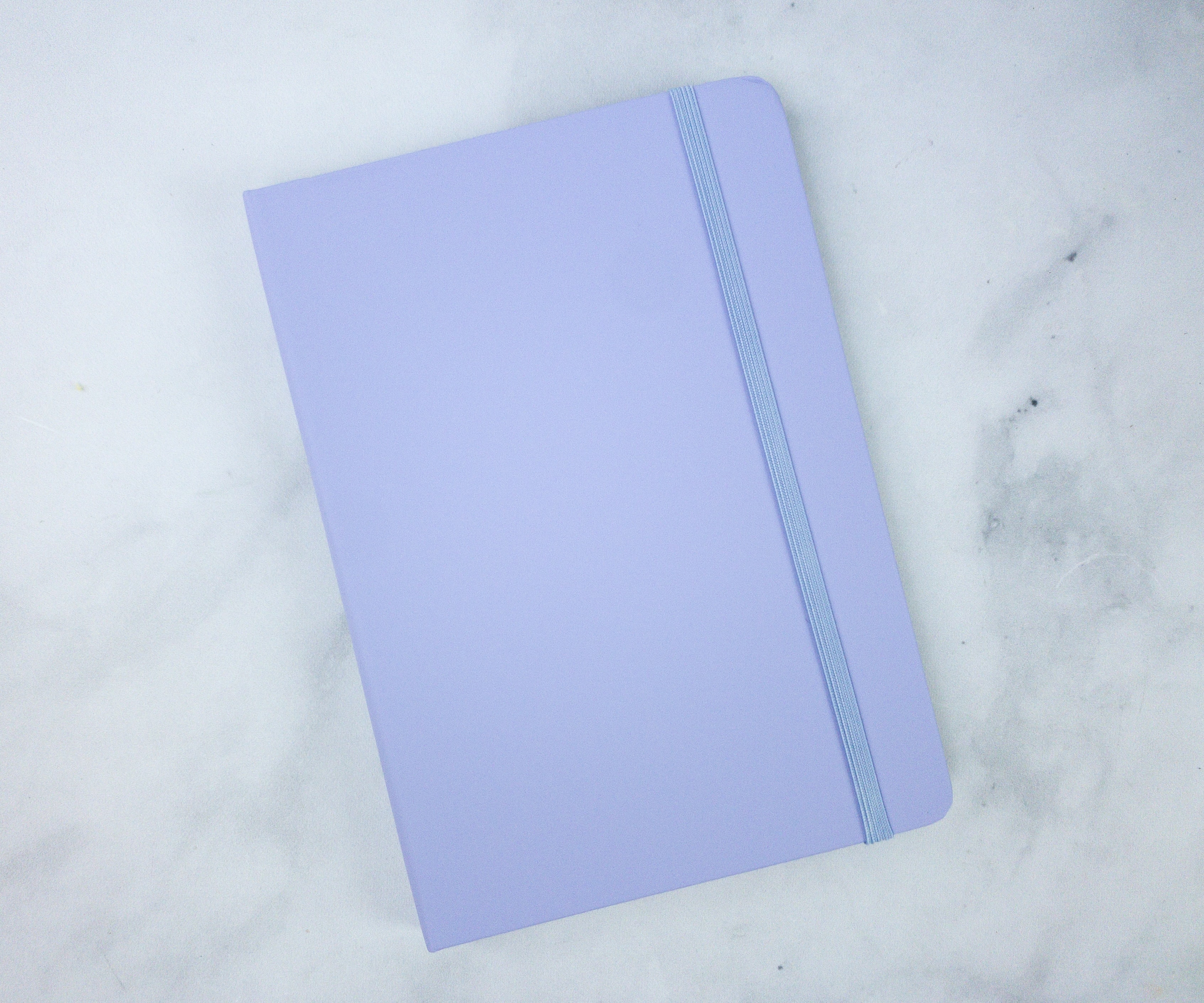 It comes with a band that keeps the notebook secured whenever it's not in use.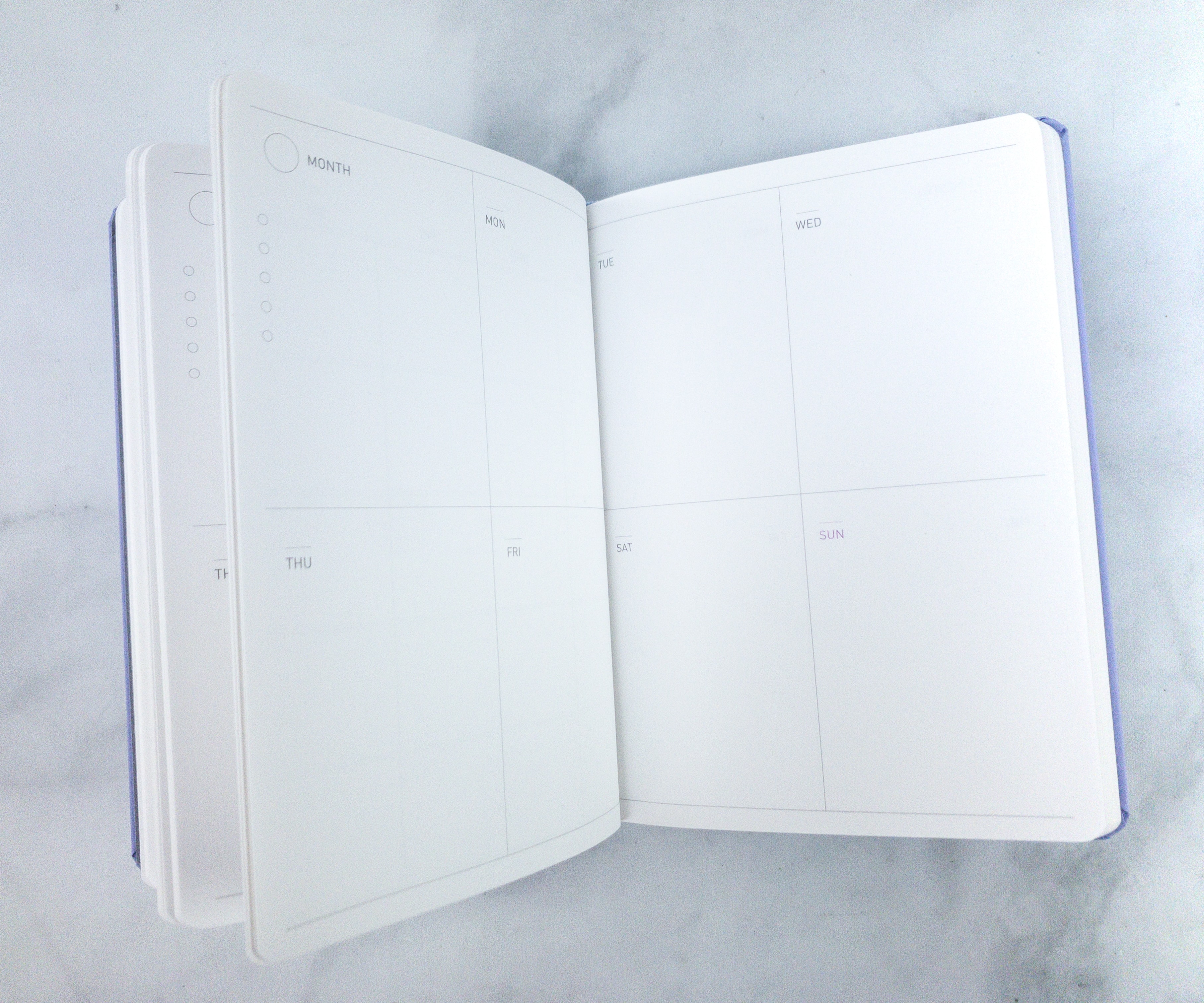 I like the minimalist design on the weekly spreads. It looks clean and there's enough space. It's such a great way to organize thoughts and plans, and keep them handy!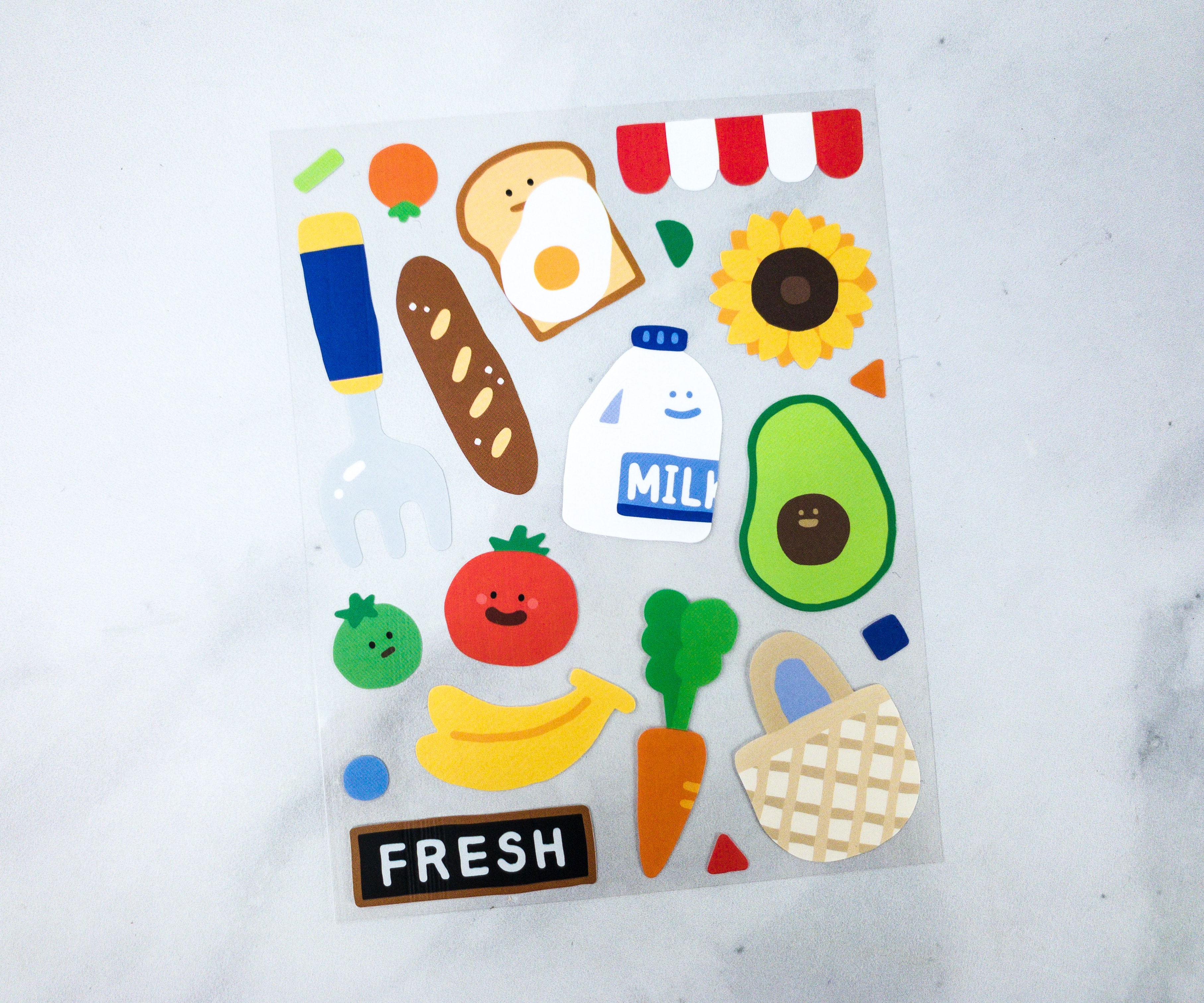 The journal also came with these grocery-themed stickers so you can brighten up the pages a bit!
2020 Table Calendar. To add cuteness to any study or work table, they sent us this table-top calendar! Subscribers will get 1 out of 2 designs. Mine features a polar bear!
It's made with high-quality paper and bound by a spring.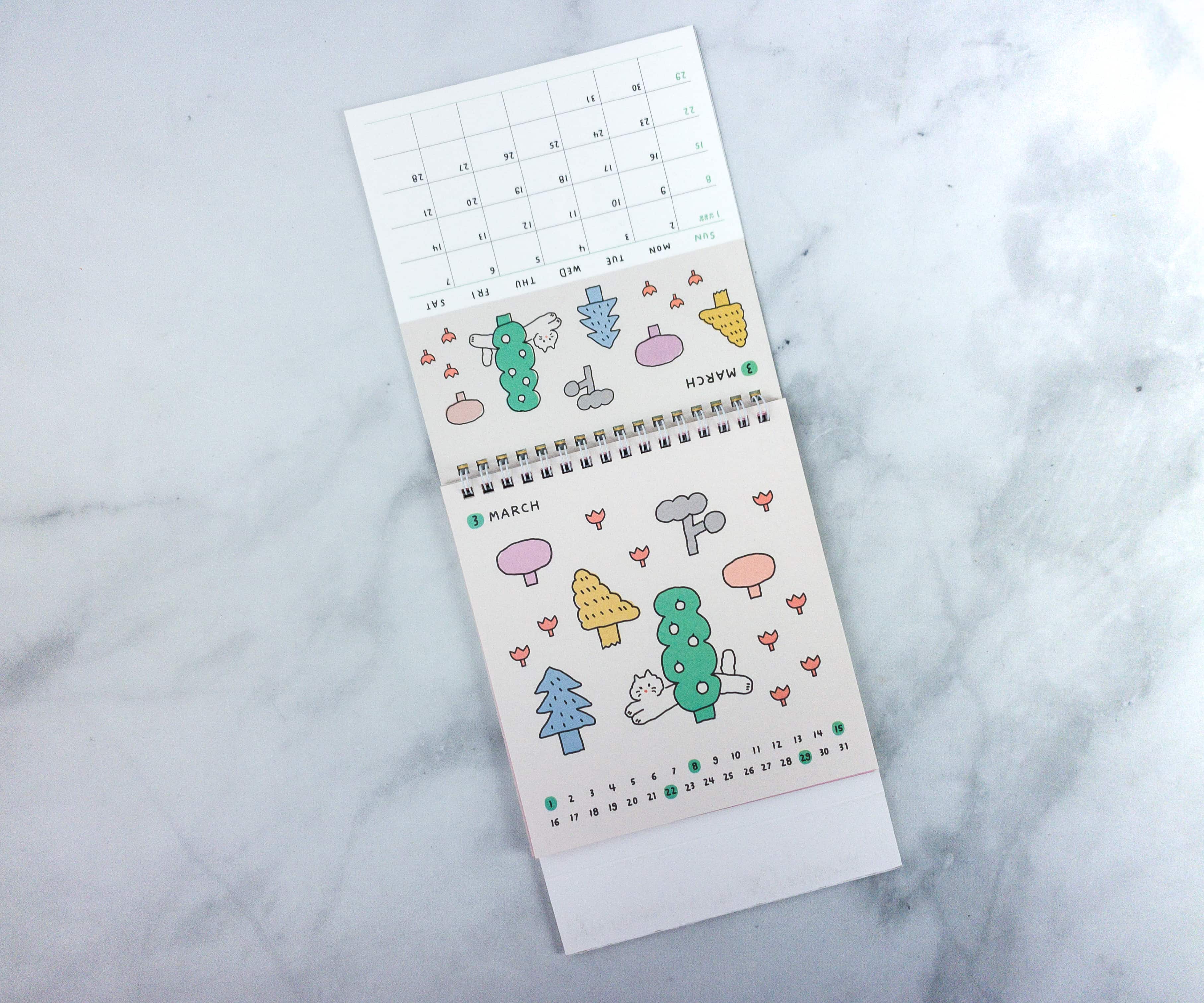 Each page features cute doodles!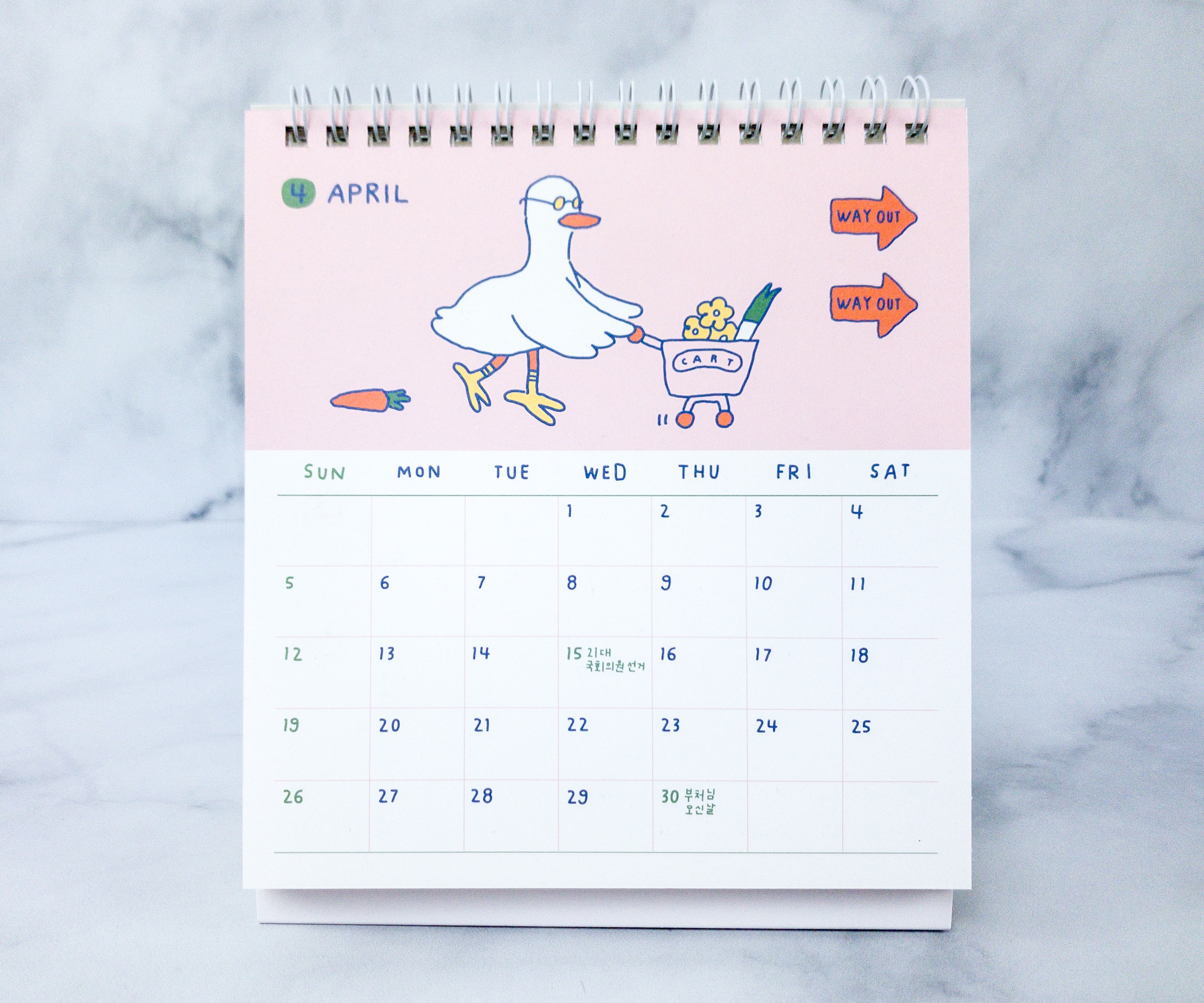 Supported by the cardboard base, the calendar can easily stand on any flat surface.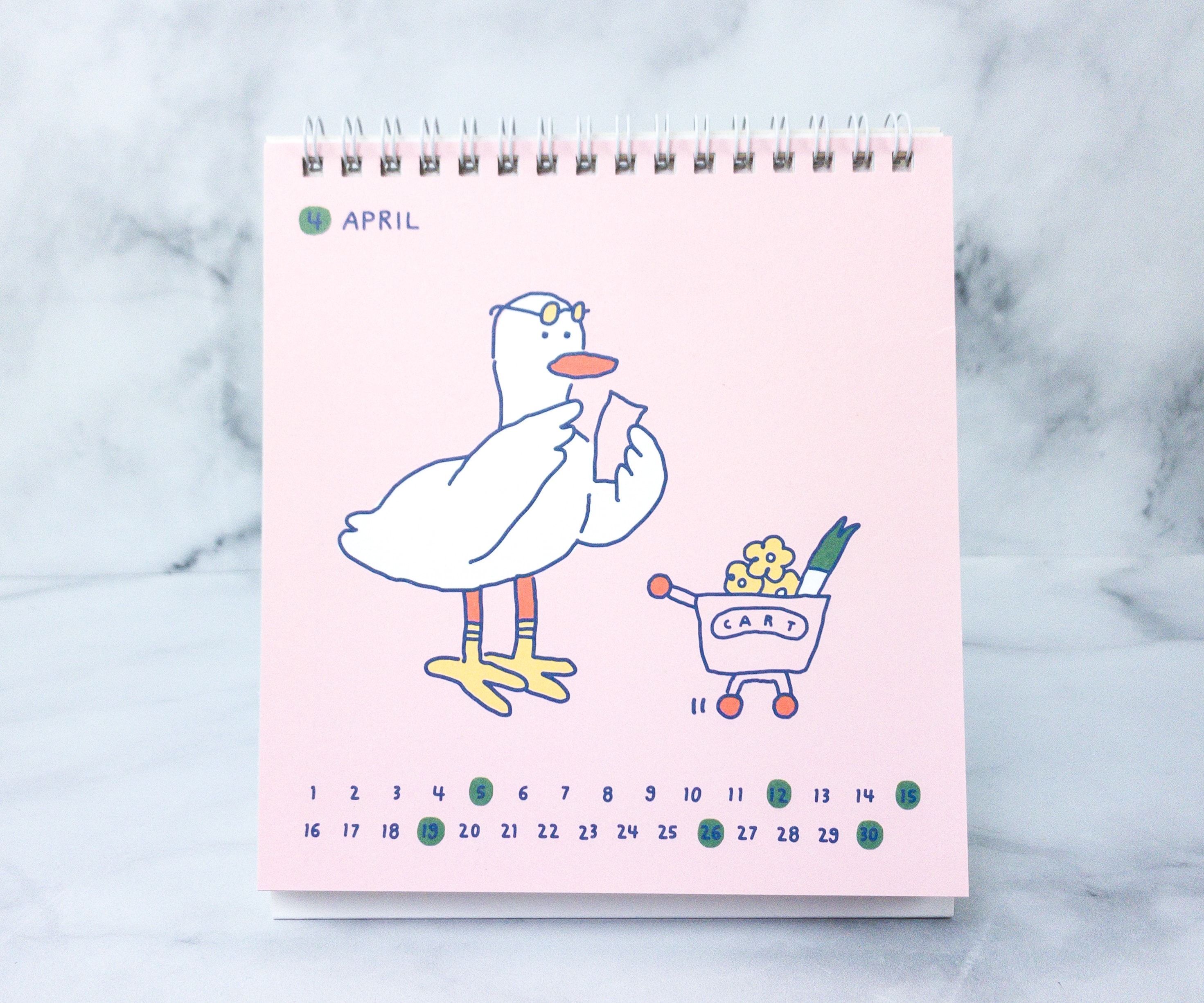 One side will contain the main calendar and the other side has a brief overview of the months.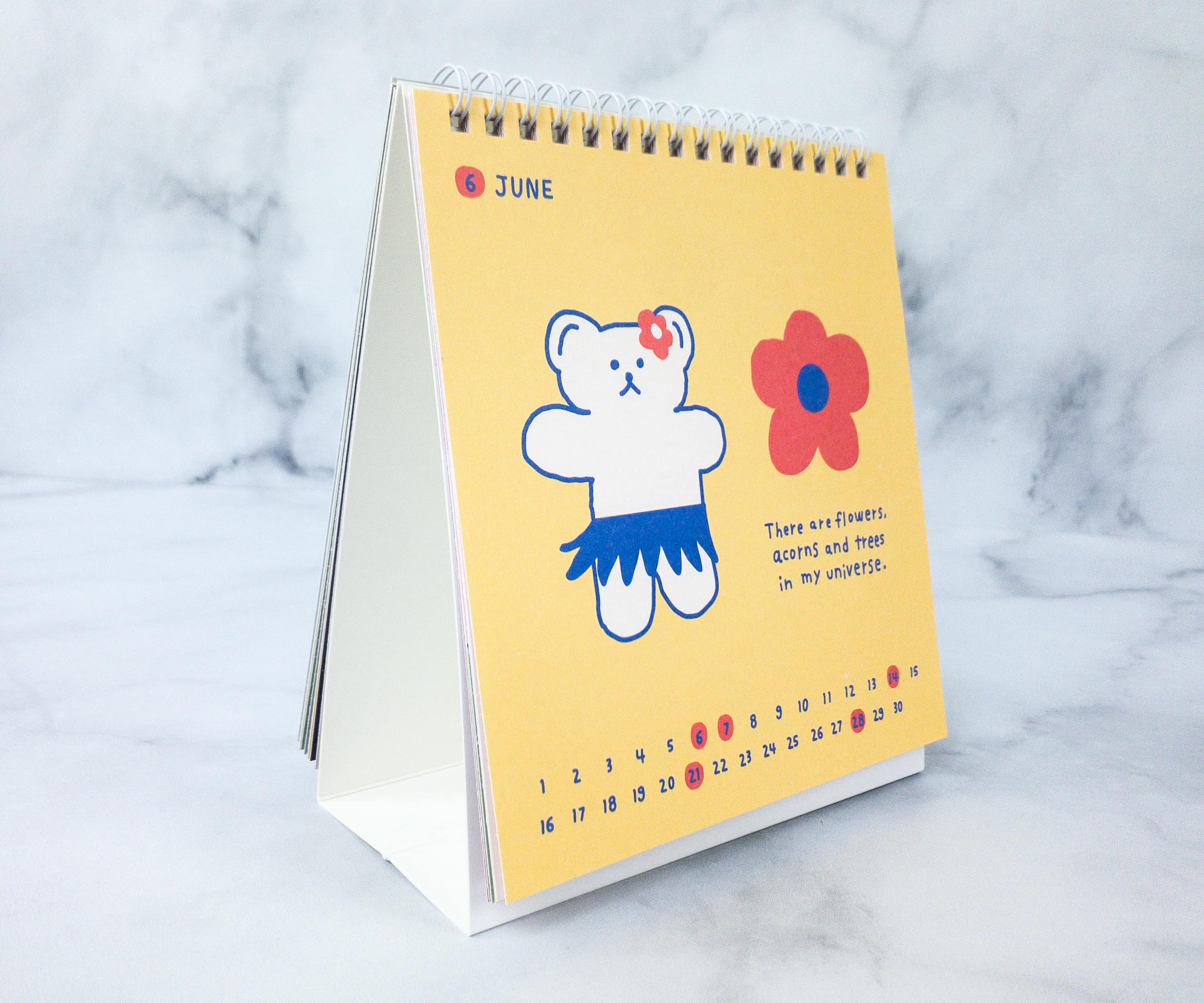 They have dates highlighted on each month, and these dates correspond to certain Korean holidays!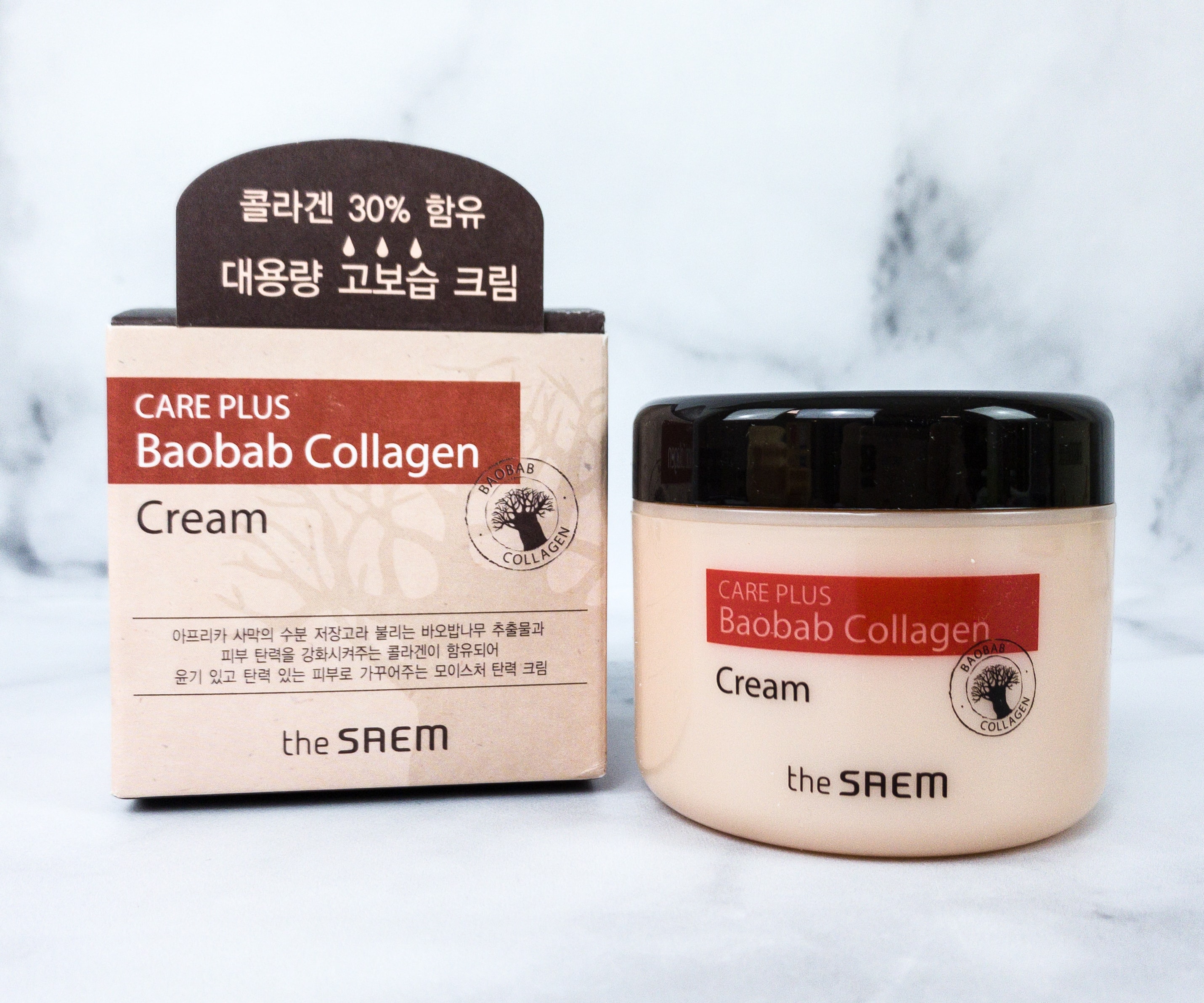 Care Plus Baobab Collagen Cream ($3.04) Here's an item for K-beauty fans, a cream formulated with collagen and baobab tree extracts!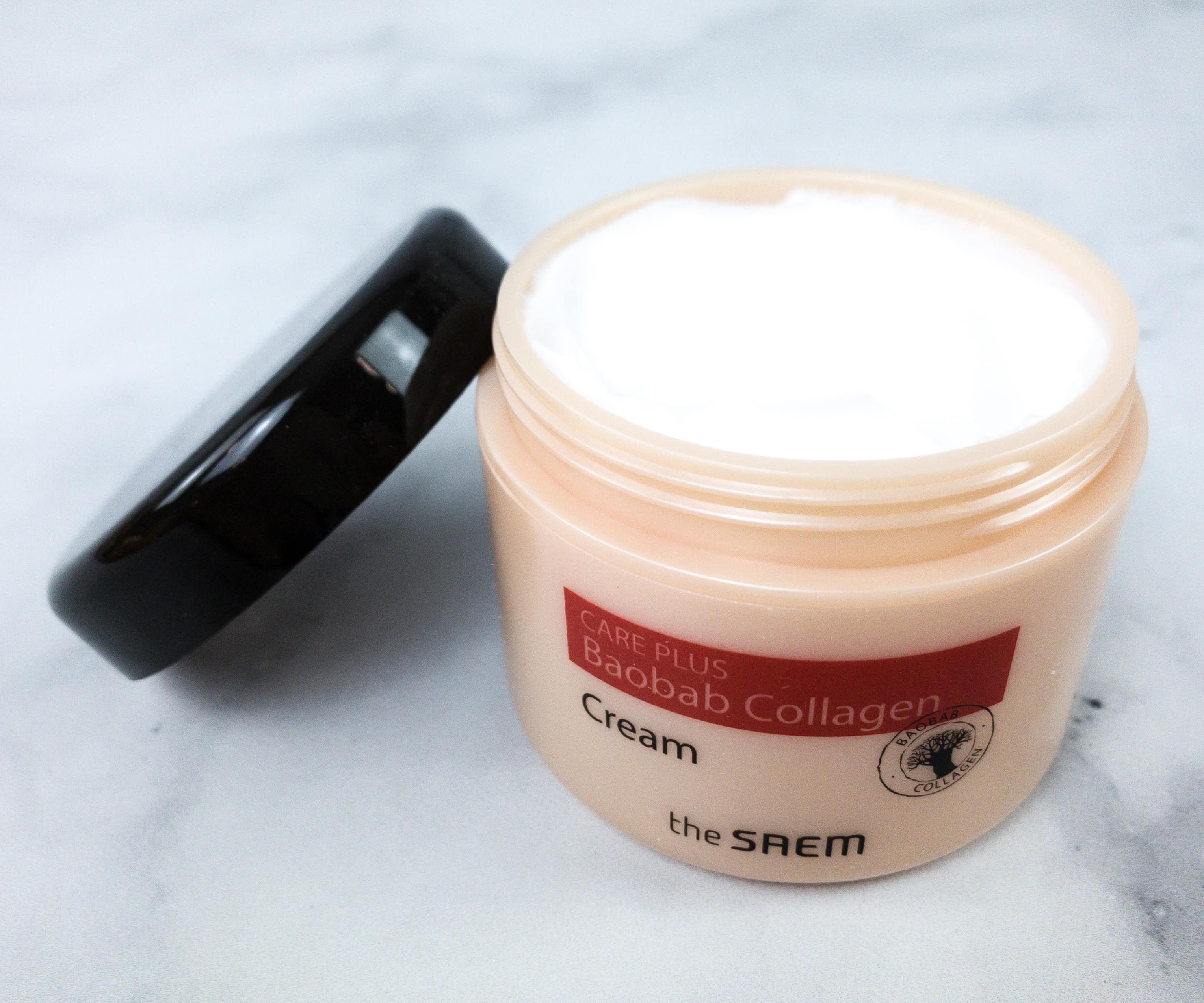 This is ideally used as the last step of your skincare routine to seal in moisture. The texture is similar to jelly but it sinks into the skin fast, revealing a healthy glow. It doesn't make the skin feel oily either!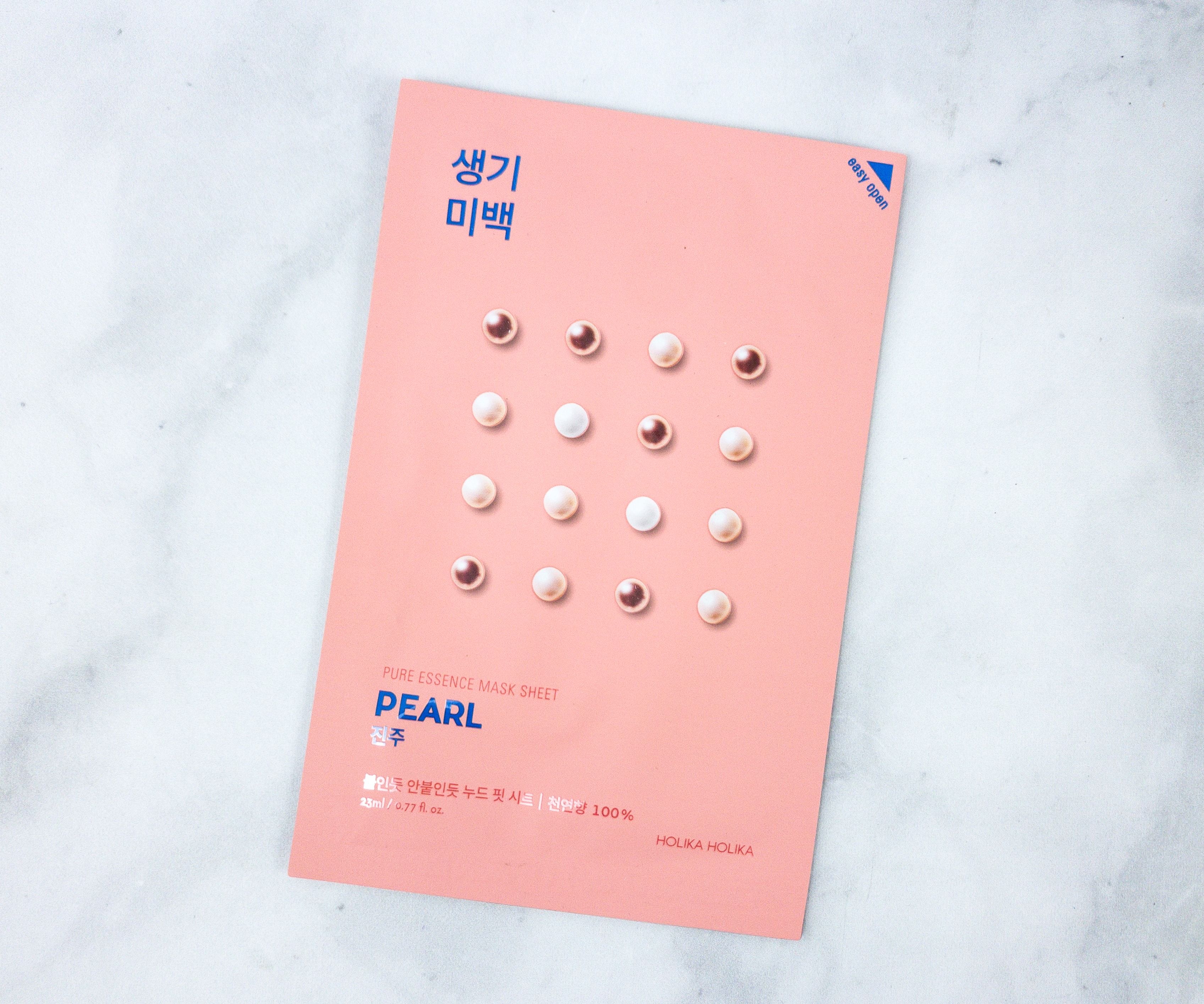 Holika Holika Pure Essence Mask Sheet. Subscribers will get 1 out of 5 sheet mask variants. I got Pearl! This is infused with pearl extracts, which are believed to brighten the skin and give it a natural radiant glow. It comes with just the right amount of essence, so the mask doesn't feel heavy or icky. Just leave it on for 10-20 minutes, pat excess serum, and then you're good to go.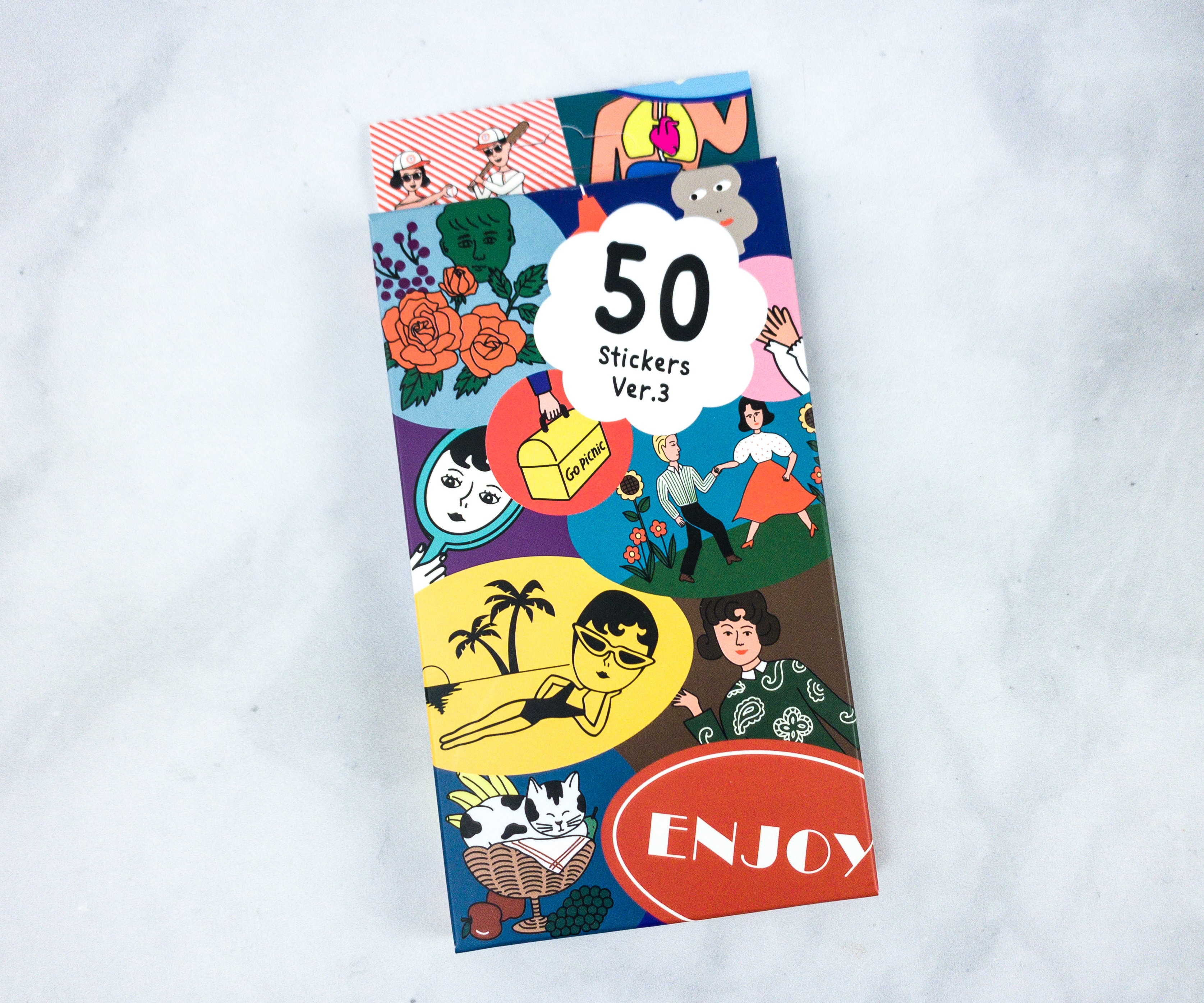 50 Stickers Version 3. The stickers were packed in a cute box, which already gave me an idea of this sticker collection's theme!
The stickers differ in sizes and shapes. There are rectangular stickers, round stickers, and even square stickers.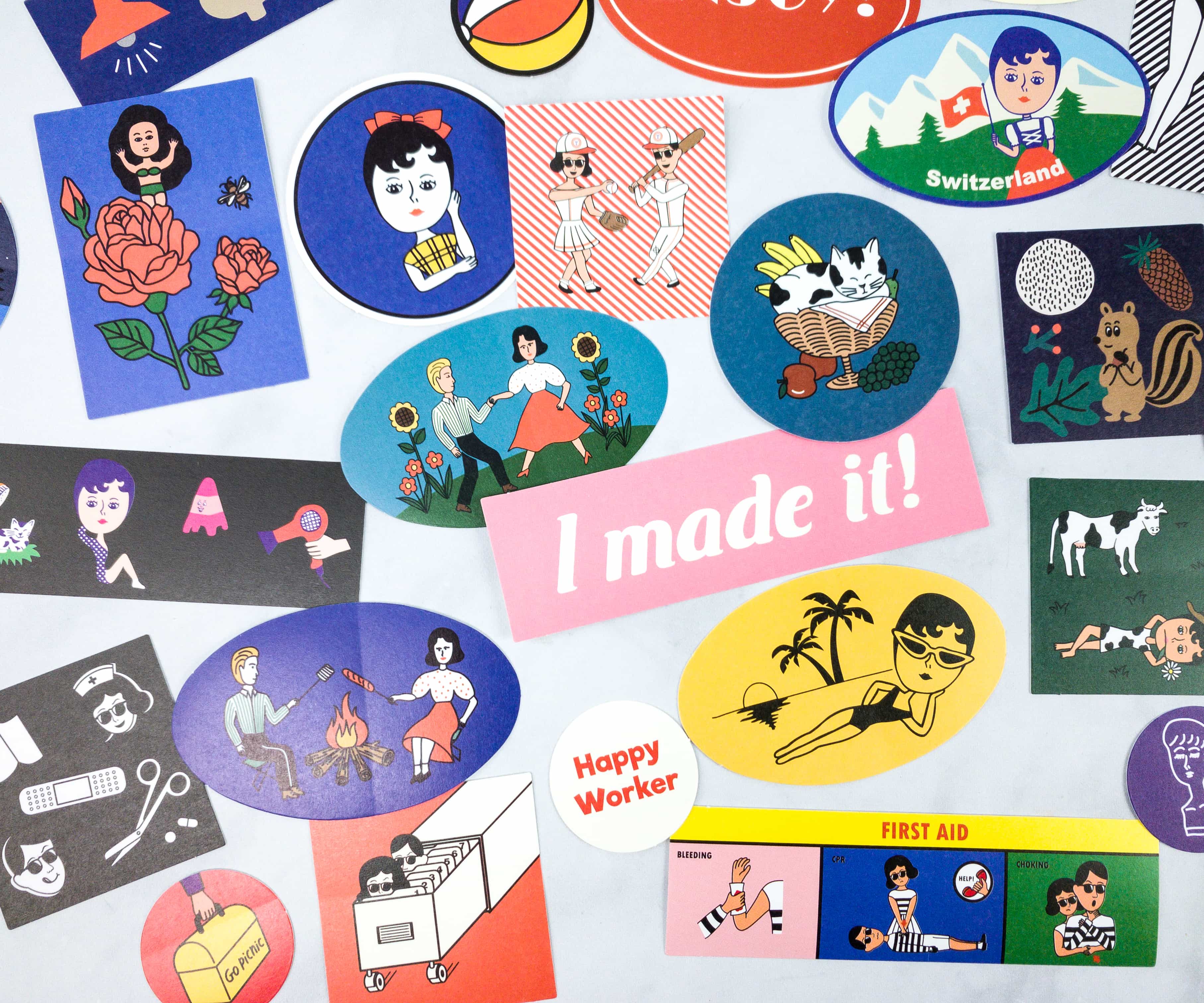 They're giving me some retro vibes because of the color choices and the art style!
These are perfect for decorating notebooks and journals, or even for your crafty projects.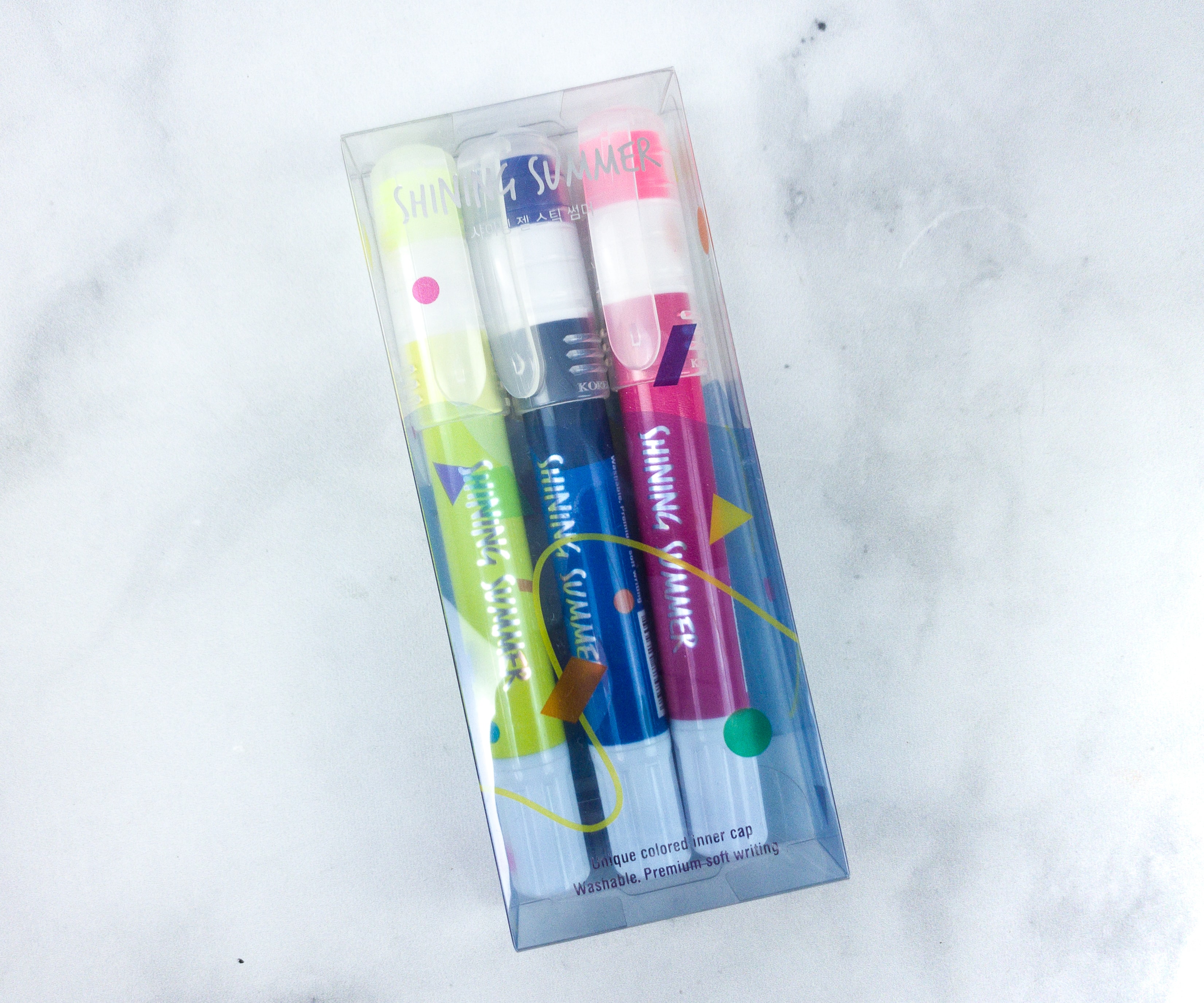 Shining Gel Stick. There are 3 gel sticks in the box, which are like big crayons. They're great for doodling and adding designs to my journal!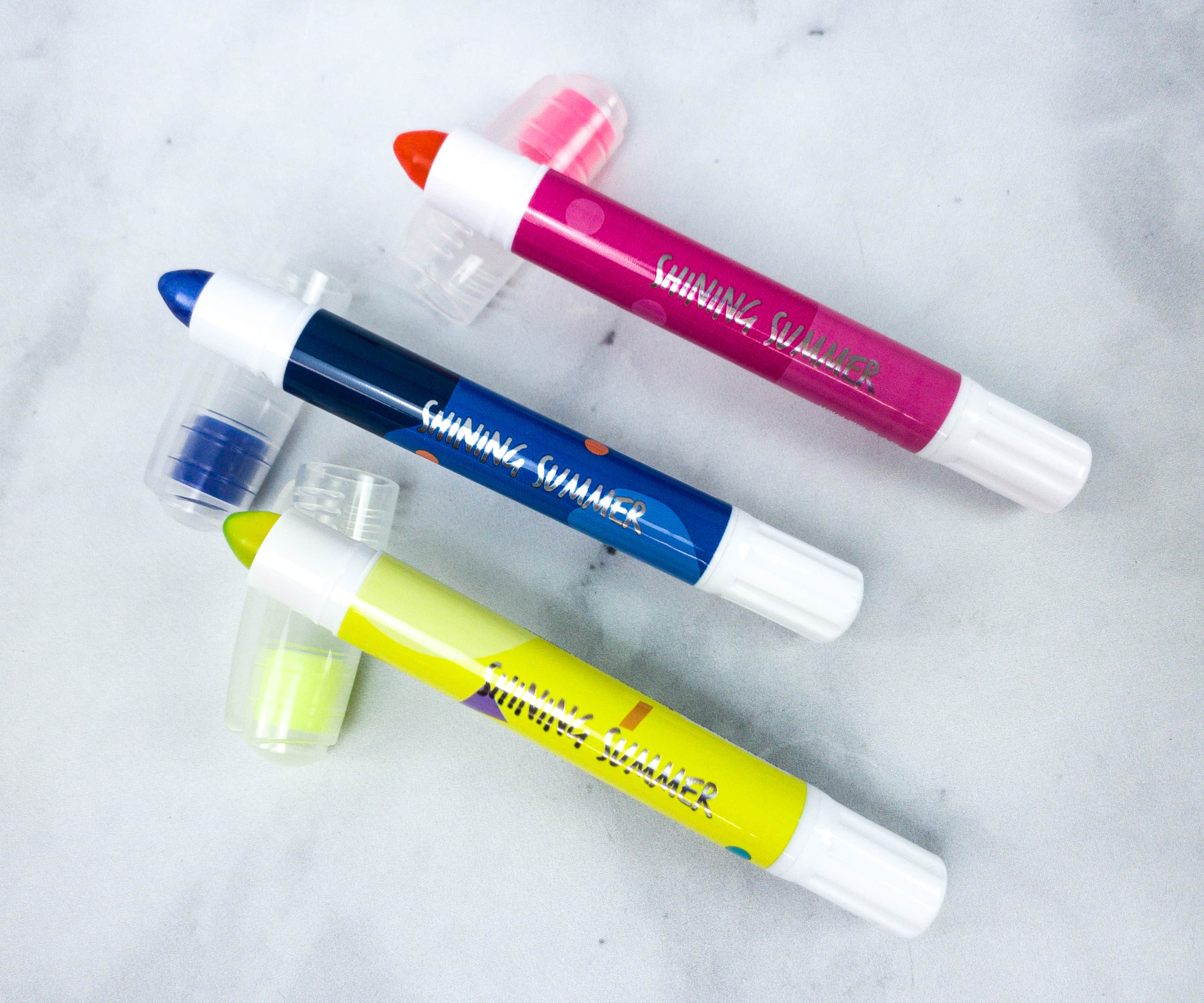 Subscribers will get them in random color. My gel sticks are yellow, blue, and pink. These colorful sticks are very easy to use. No need to sharpen, just a few turns on the side will push more of the product out. The colors are vibrant and they glide smoothly on paper!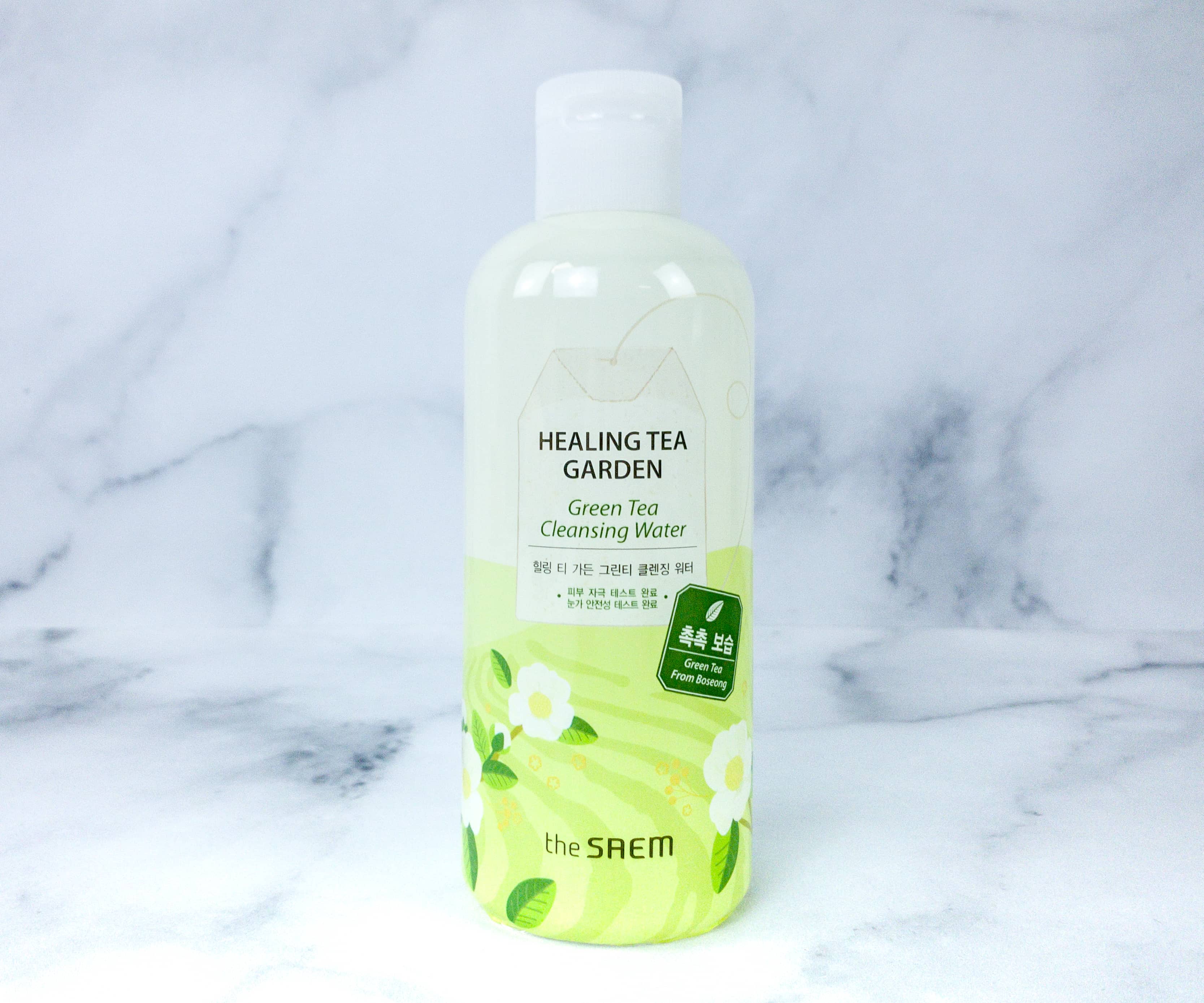 Healing Tea Garden Cleansing Water ($14.01) This cleansing water is great for removing makeup, without the need to rinse! It wipes away impurities, leaving your skin cleansed and refreshed. Plus, it contains green tea extract that helps clarify the skin's complexion.
Daebak definitely wowed us with this first box! They did a great job curating the Korean products! My favorite items would be all the artsy materials they included in this box, from the diary to the stickers and even the colorful gel sticks. They help me boost my creativity more and I really like that. The skincare items they included were promising as well! Of course, the cute plushies also made my day! They're just too adorable! I'm beyond happy with this quarter's box contents, and I'm excited to see how they will top this curation! If you are a fan of all things Korean or you know someone who is a fan, this box makes such a lovely gift!
What do you think of the Daebak Box?