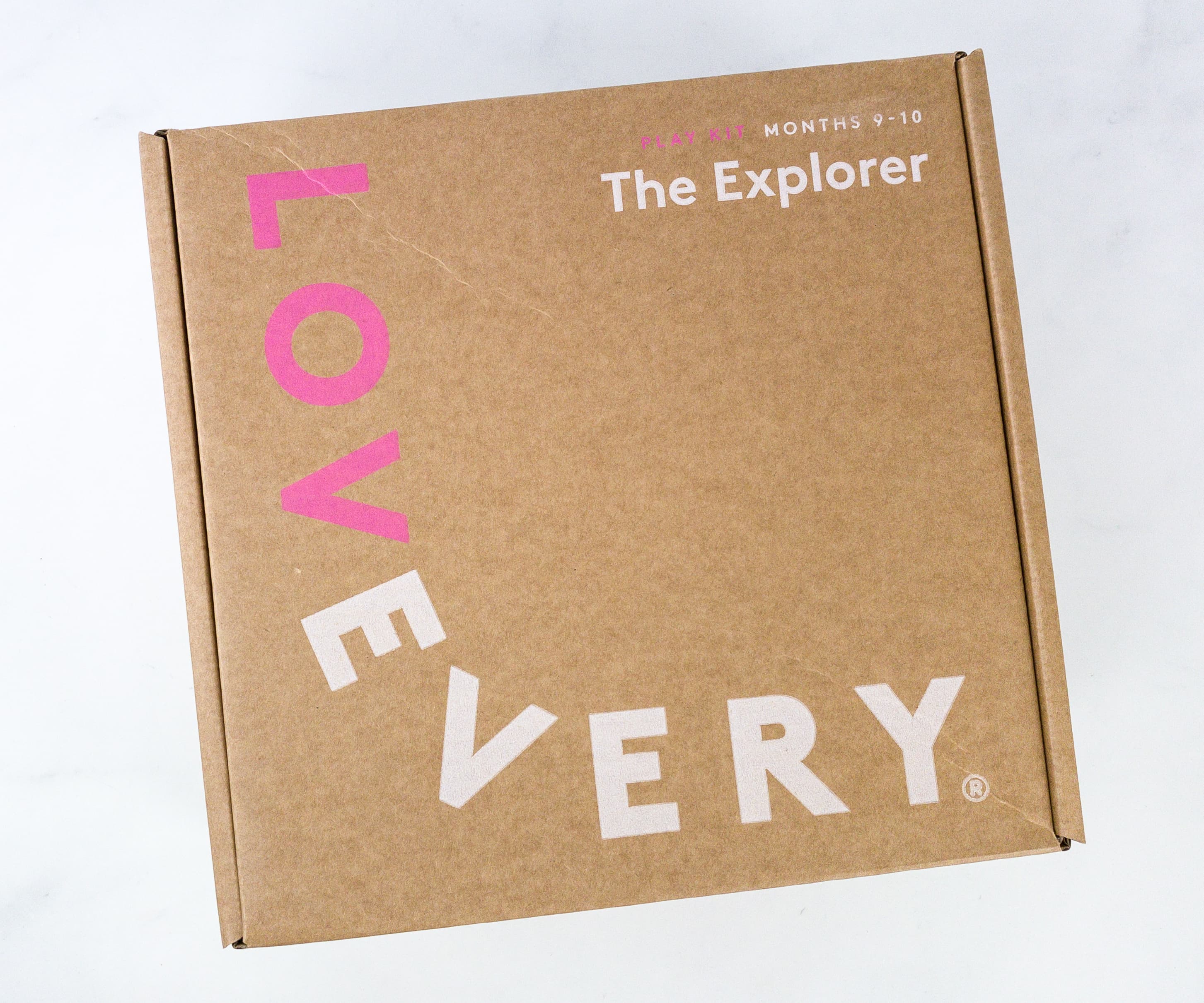 Baby Play Kits by Lovevery feature the best play products designed by child development experts. The toys are customized by stage and thoughtfully crafted using sustainably forested wood, organic cotton, and baby-safe plastics.
Head's up – this is a BIG box, with lots of photos! There is SO much in this box, along with guidance for parents, and just a ton of developmentally appropriate toys, that we couldn't really get rid of anything. We think this box is worth it, and this review will show you how the parent guide and all the items really work together. Every baby who has played with the toys in this box has found them absolutely fascinating, and we couldn't be happier with the Lovevery kits.
DEAL:  Get 10% off on 3+ months prepaid subscriptions. Deal applies automatically, just use this link to subscribe.
The box is quite full and heavy.
There's a card on top of everything.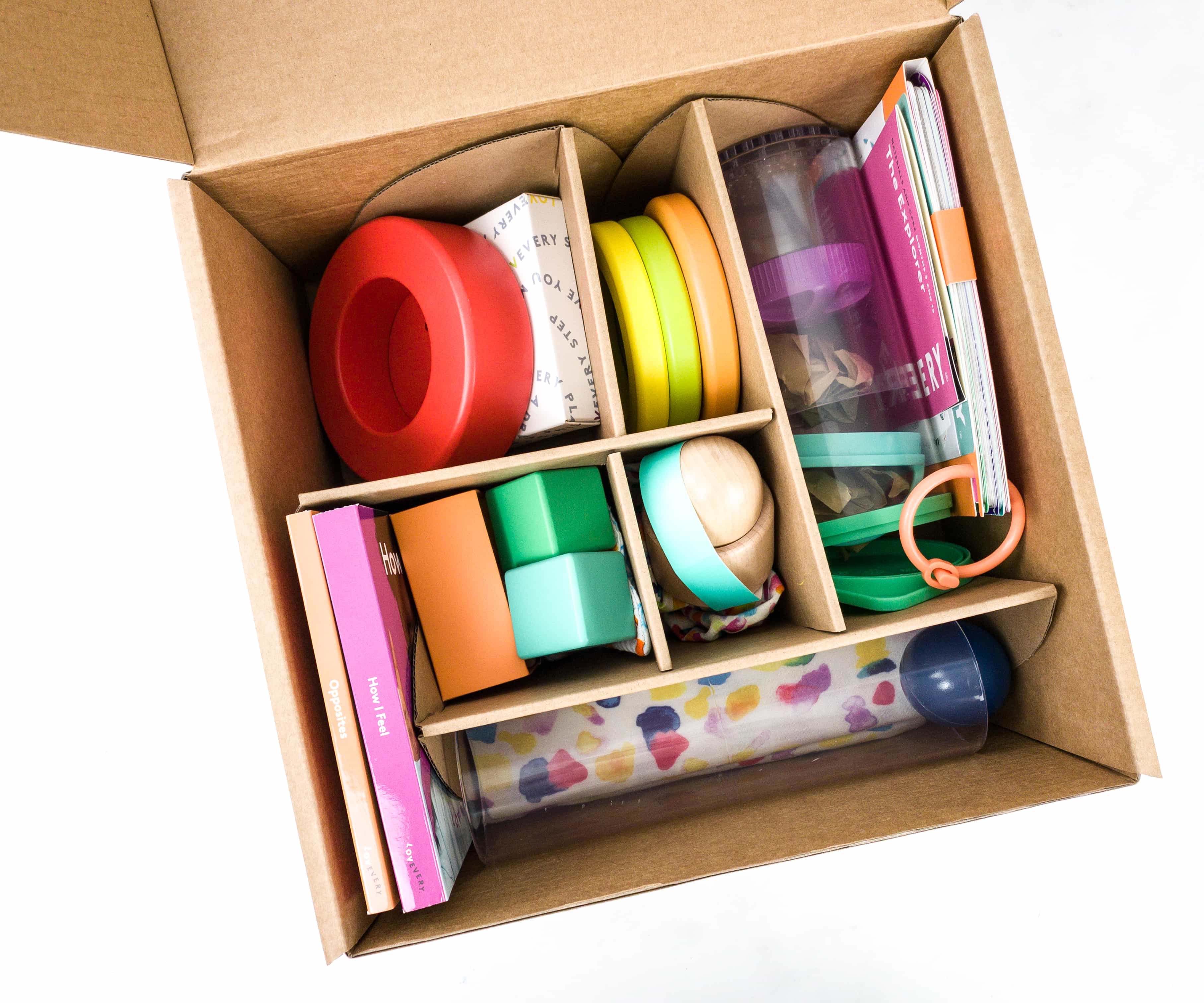 The toys came neatly packaged. There are also partitions made with cartons.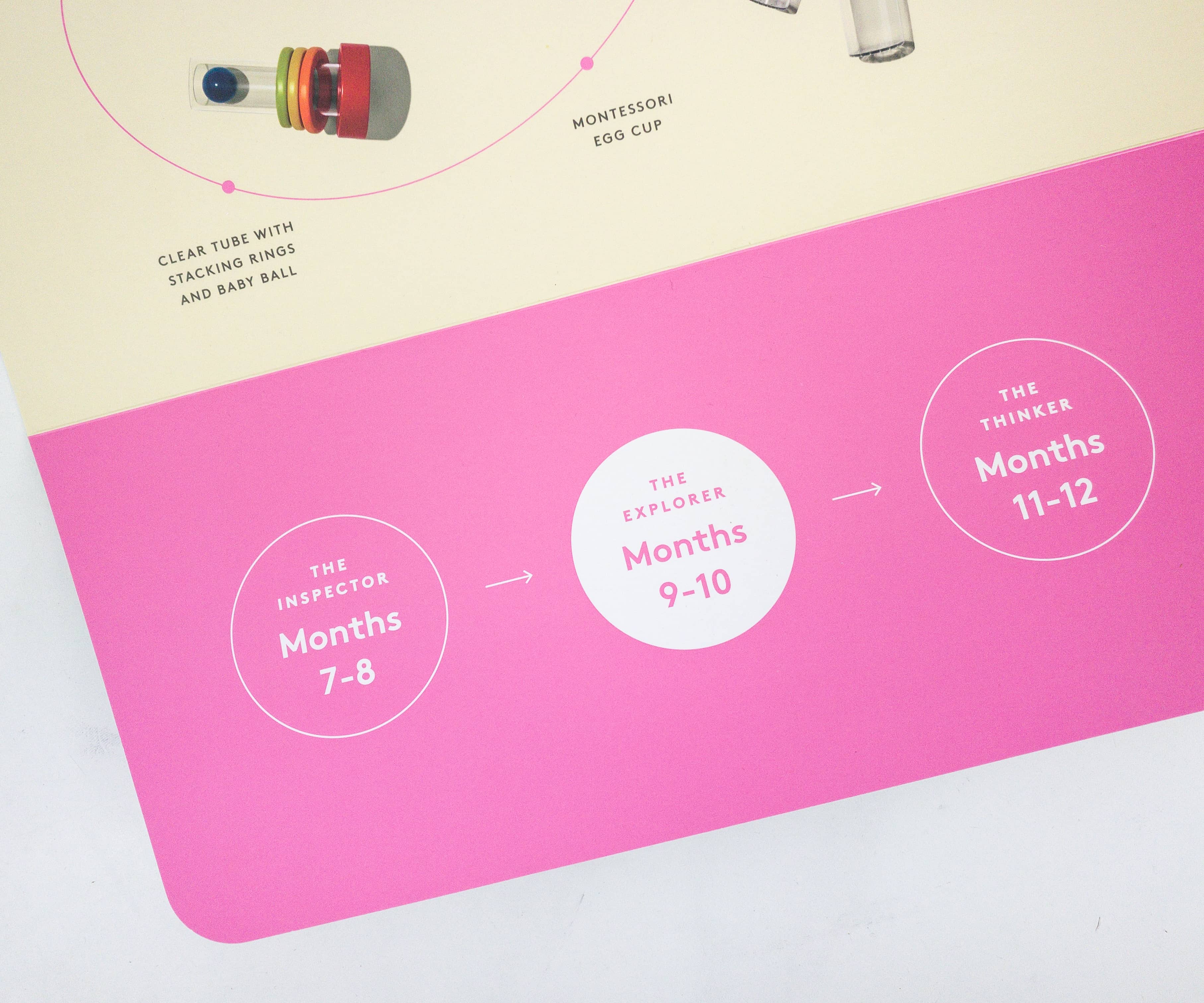 This play kit is specially designed for babies 9 to 10 months old. They're called "The Explorer!"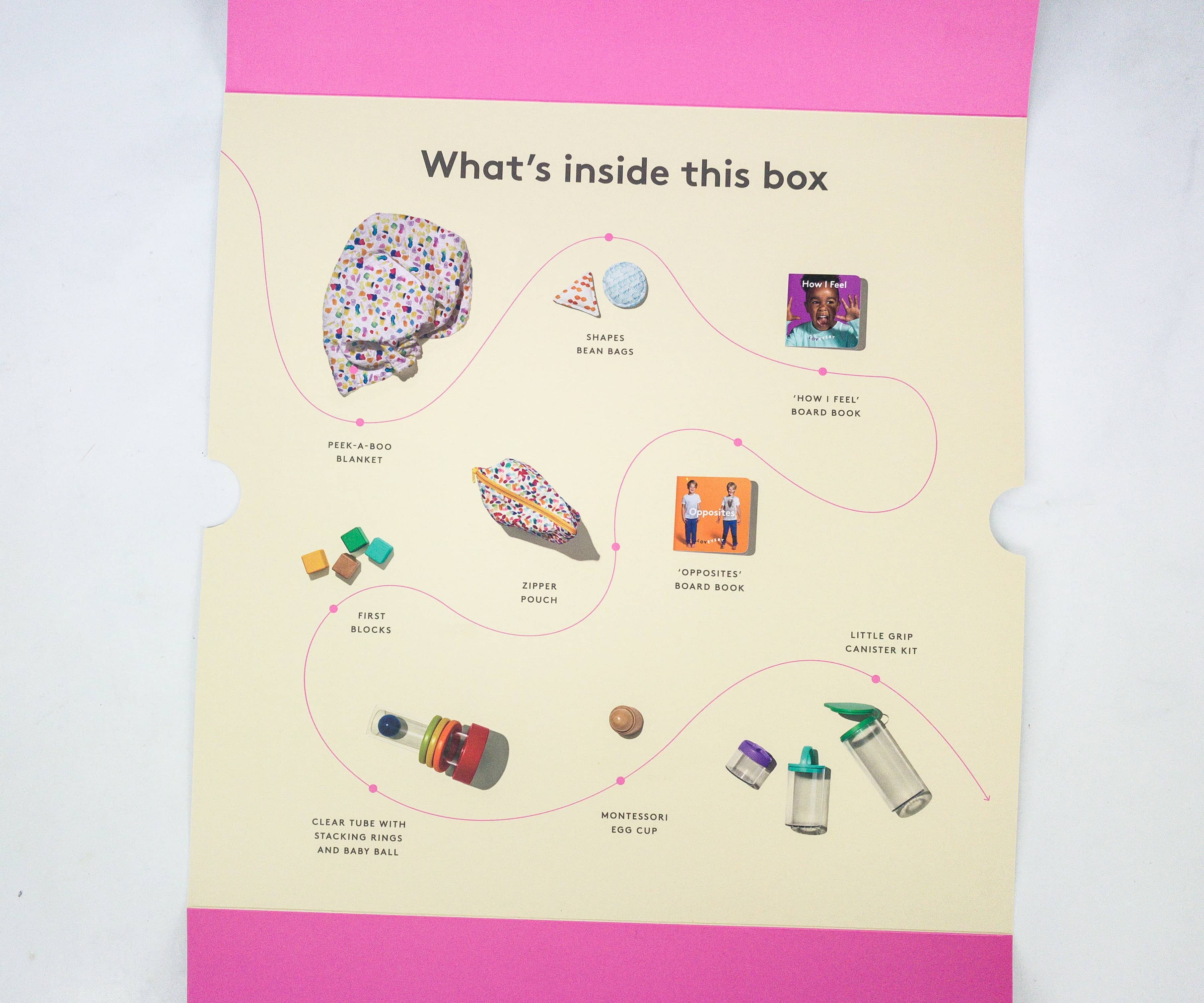 The information sheet gave us a rundown of all the items in the box!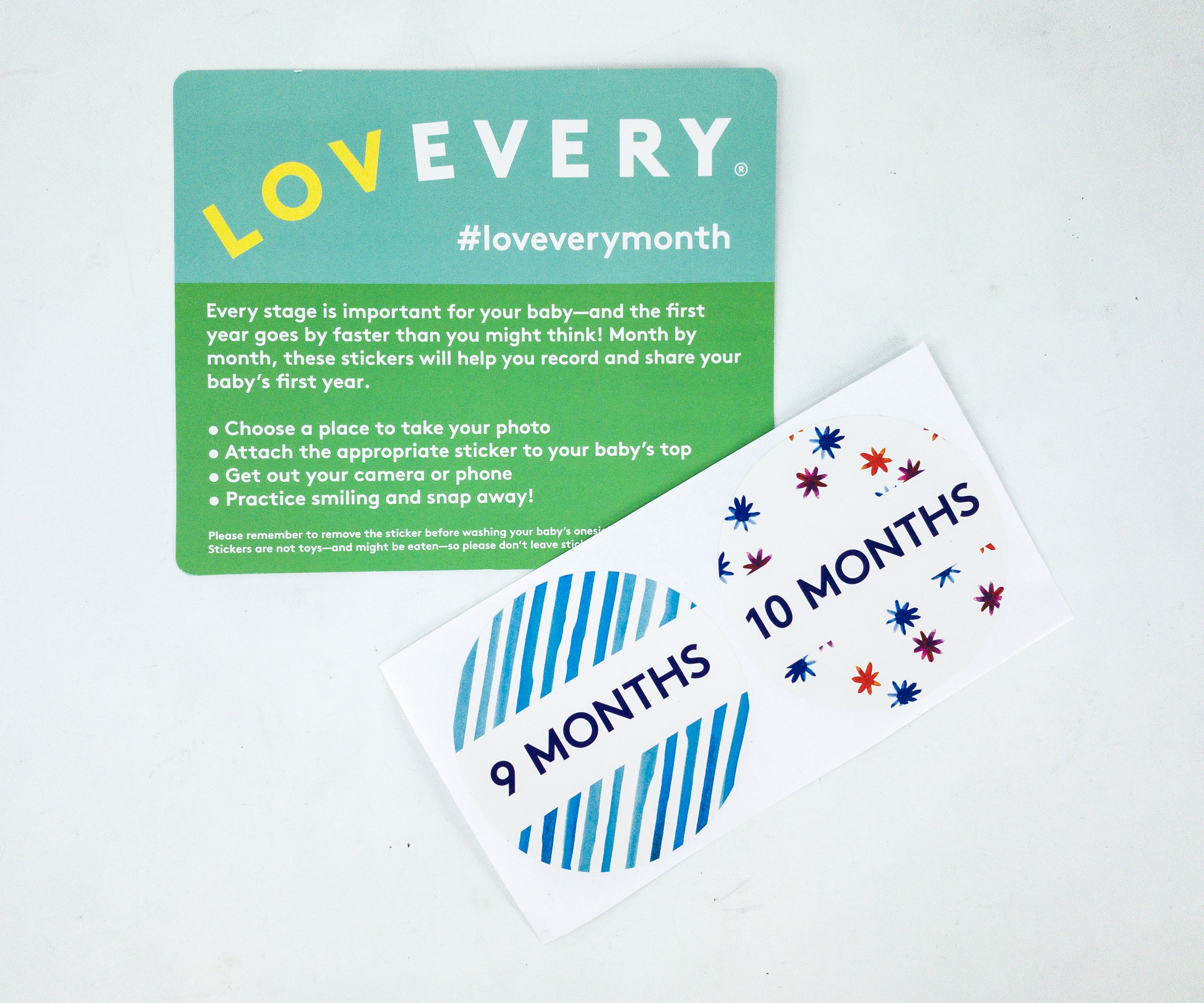 Baby Play Kits will include stickers to help you keep track of your baby's growth. Just attach the appropriate sticker to your baby's top and take their photo!
We also received a promotional card from Happy Baby!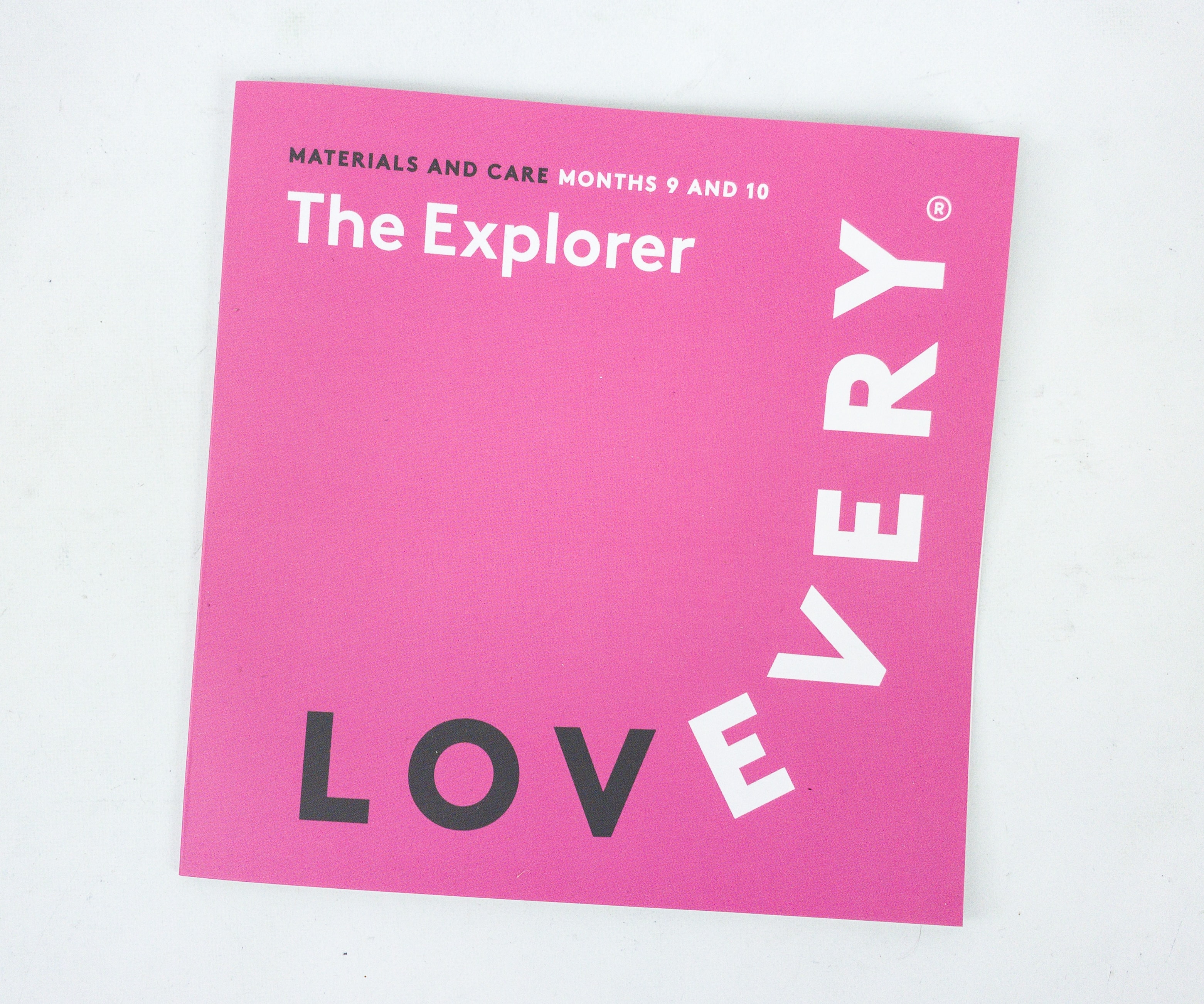 To make this a fun and safe experience for all, they included a material and care manual.
There's a list of safety tips and warnings!
They even listed how to care for each item.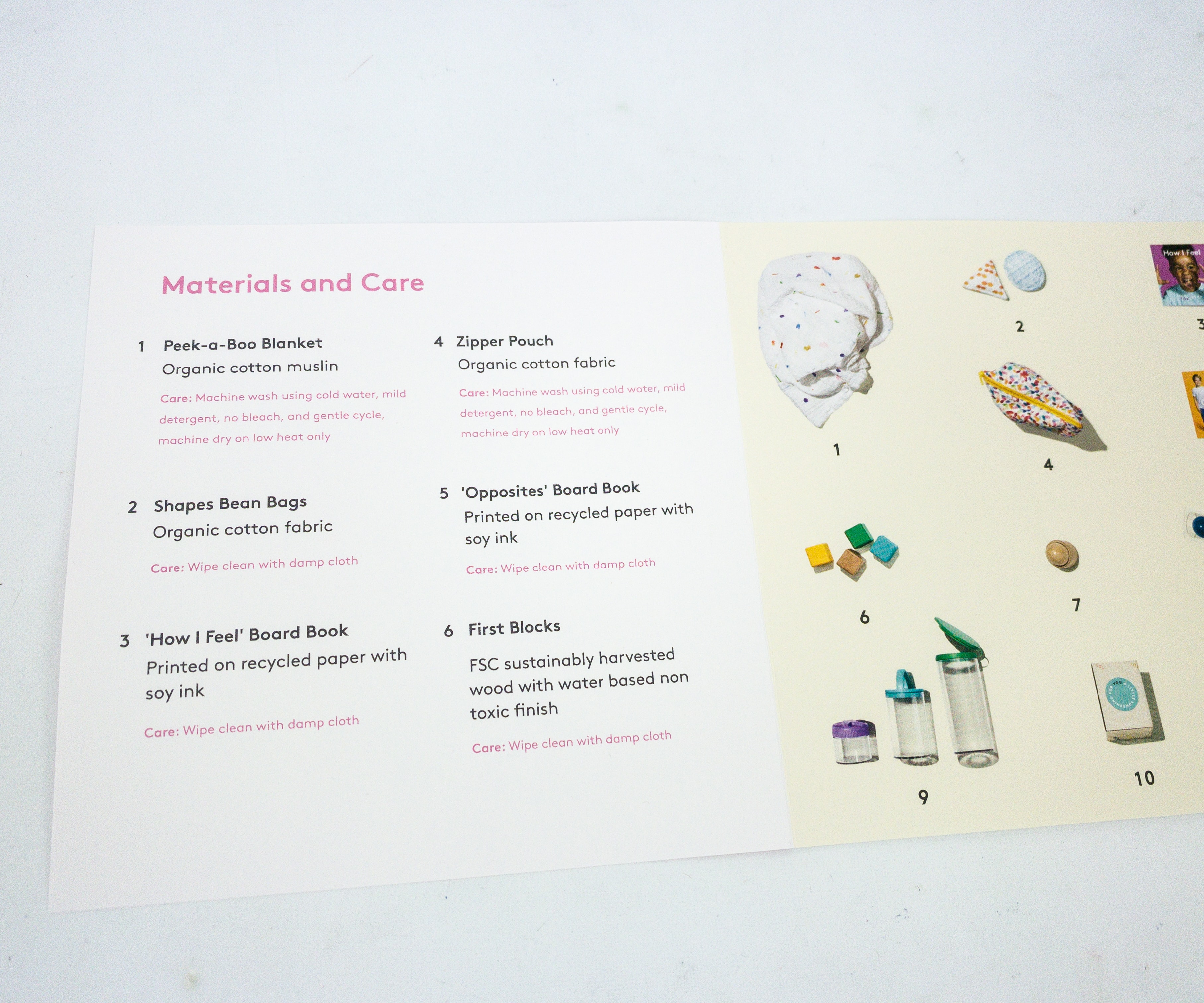 Some toys can be simply wiped clean using a cloth, while others are needed to be hand-washed. There are corresponding photos for each number, so it's easier for you to determine which is which.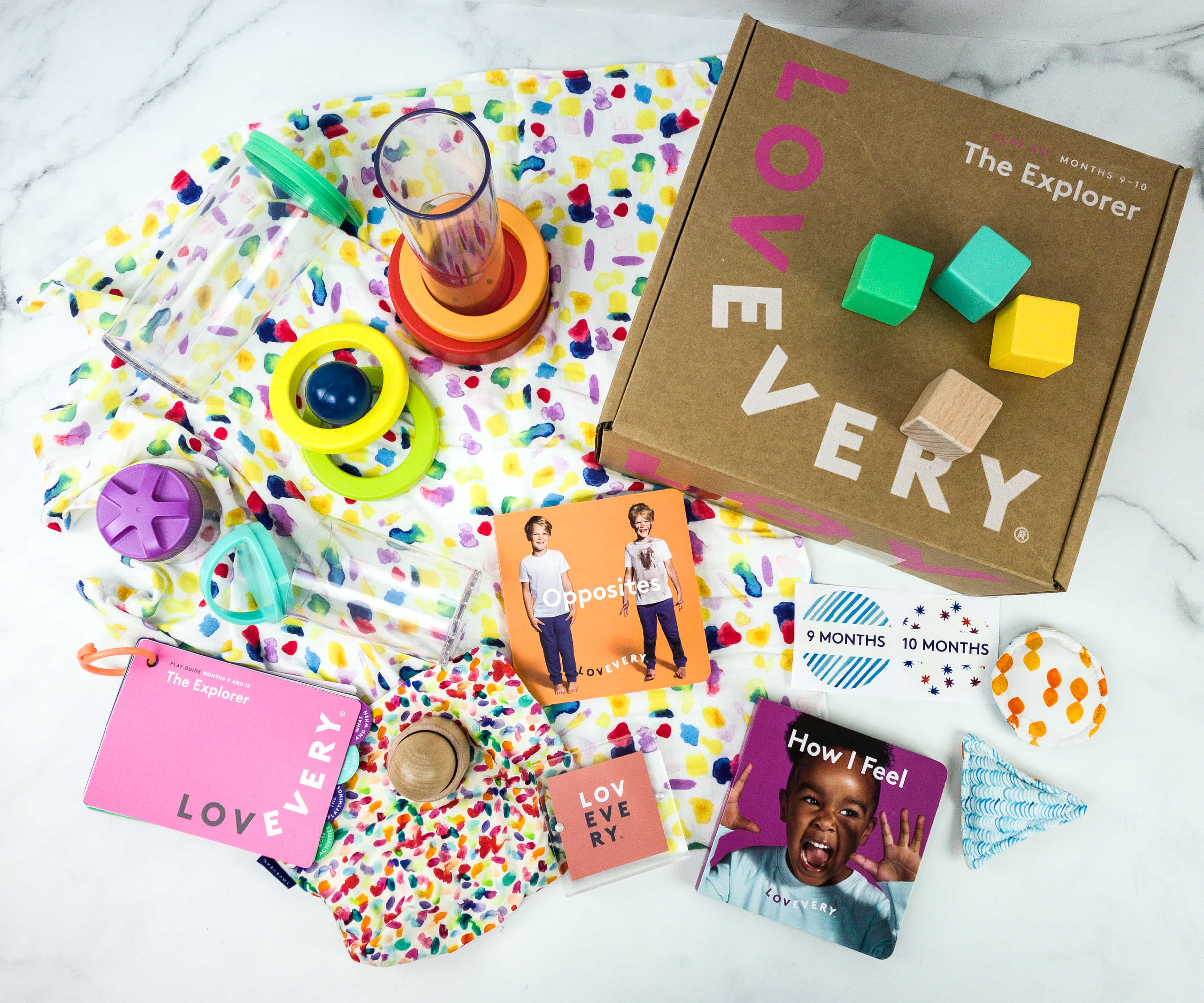 Everything in my box!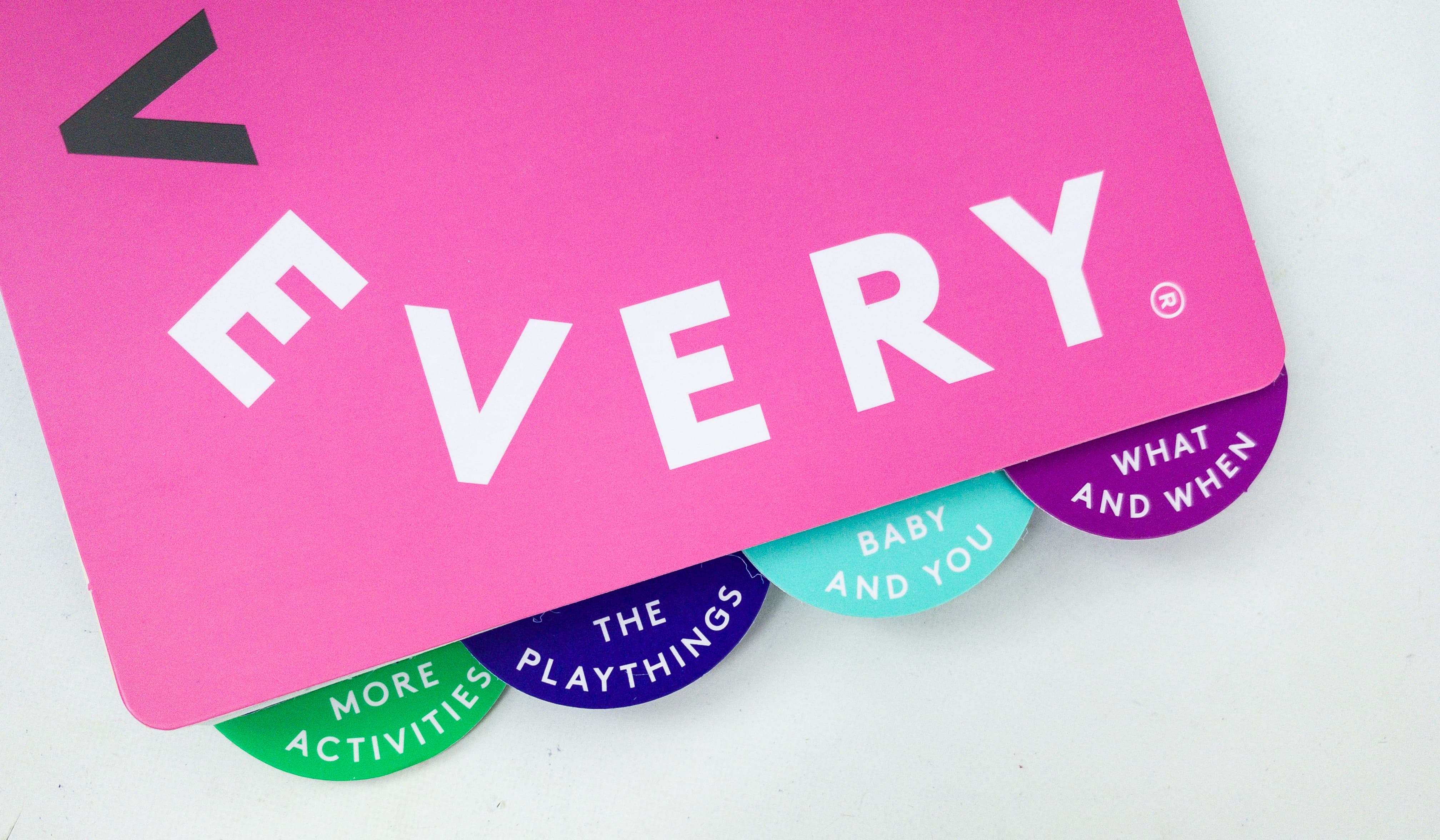 First up is the Play Guide!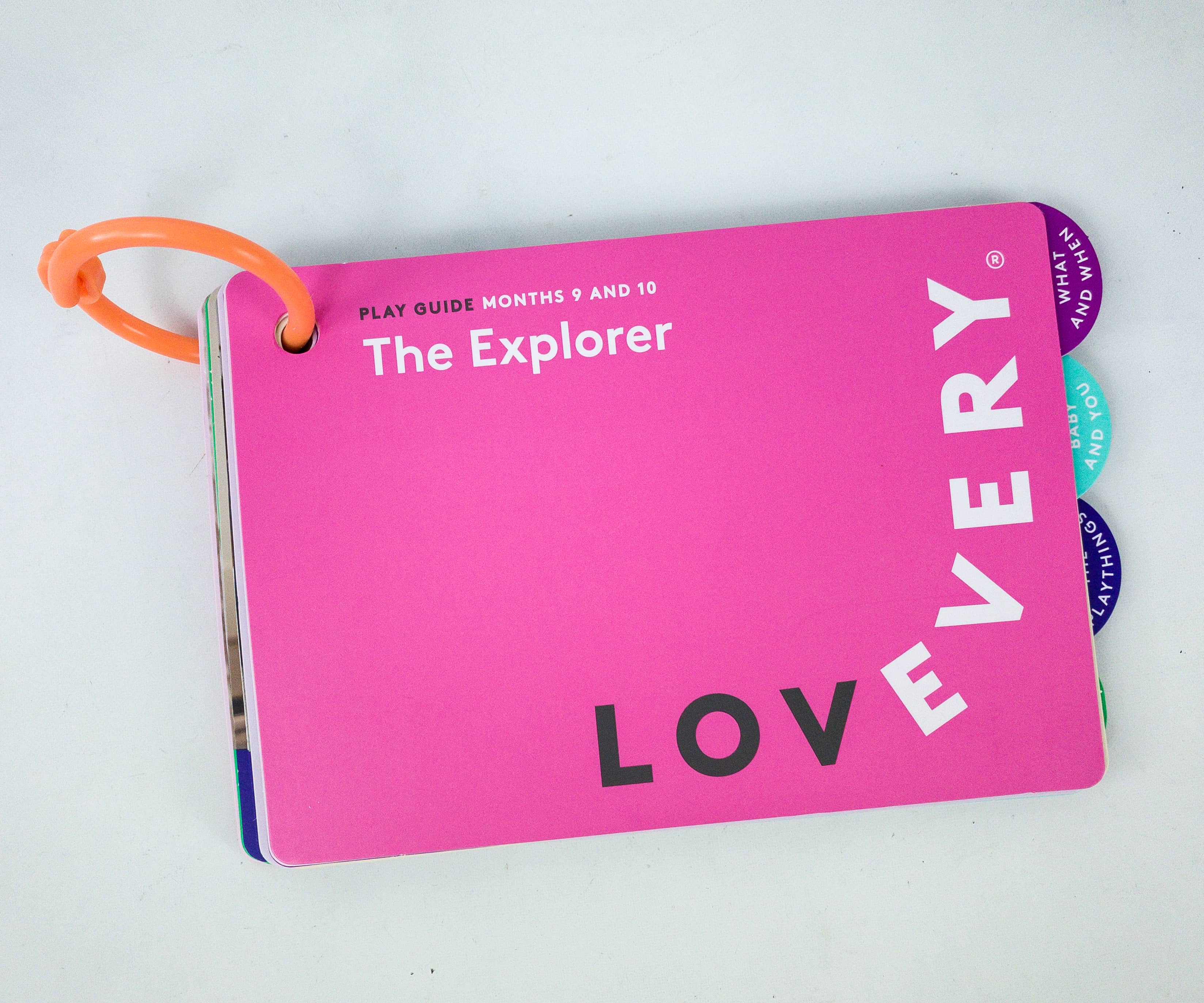 This guide is divided into different sections, so it's easier to flip through them and find what you're looking for.
There's a welcome note!
Like the information sheet, it gave us a rundown of all the toys in the box.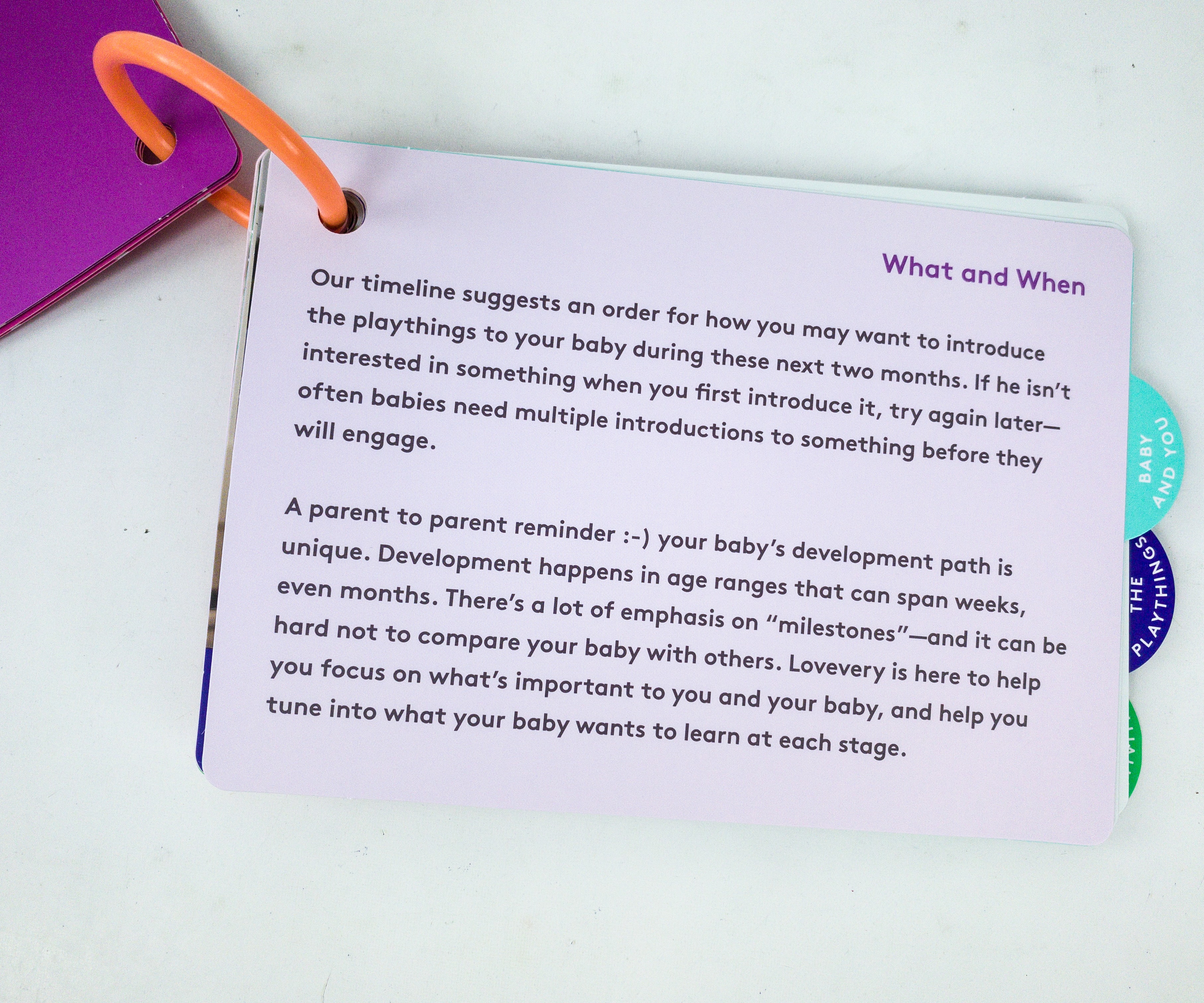 They also remind you that each baby's development path is unique and that it's okay if your baby isn't interested in playthings right away.

They listed what your baby is already capable of in their 9th month.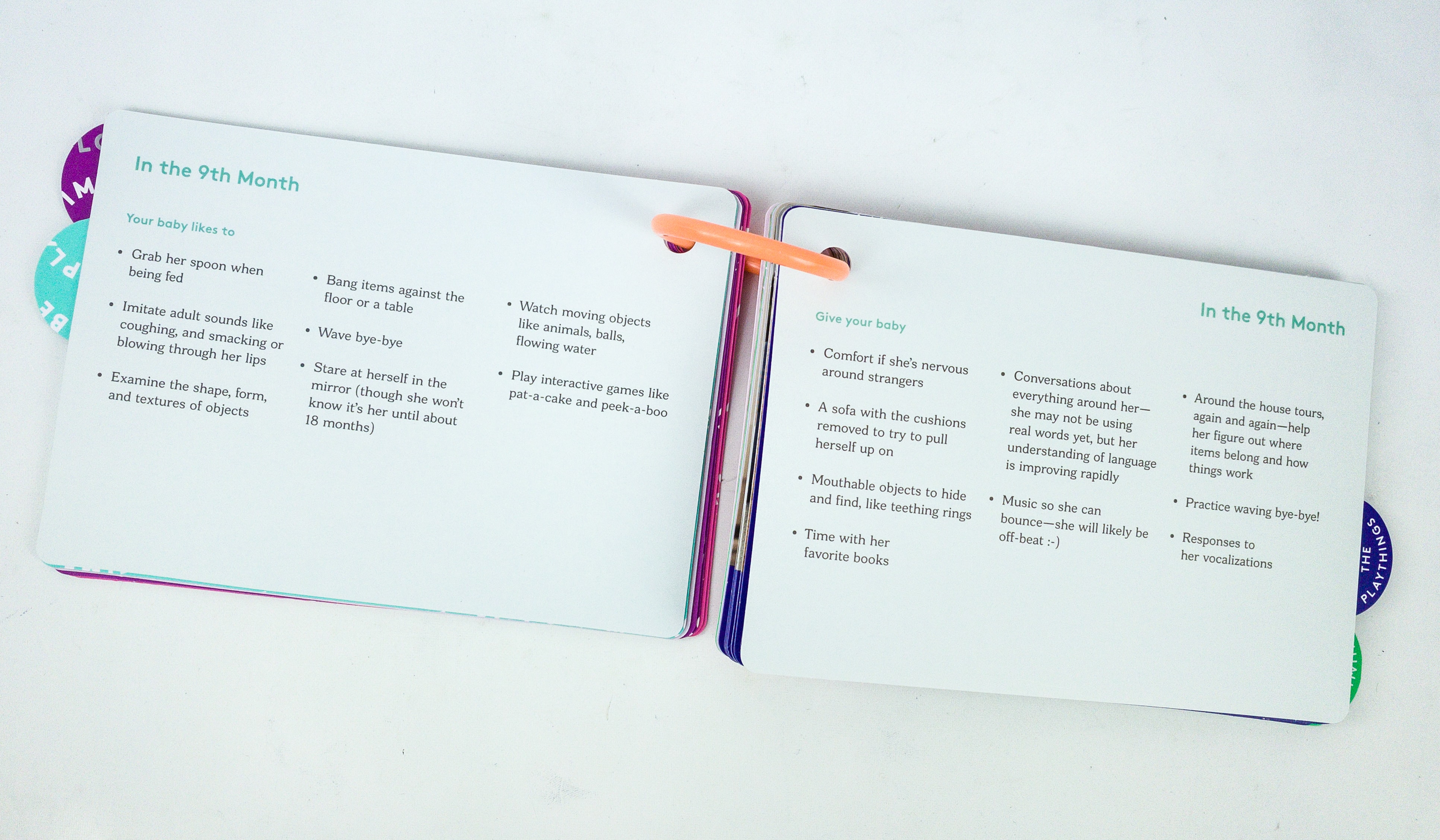 It's also really helpful that they listed down what babies of this age like to do!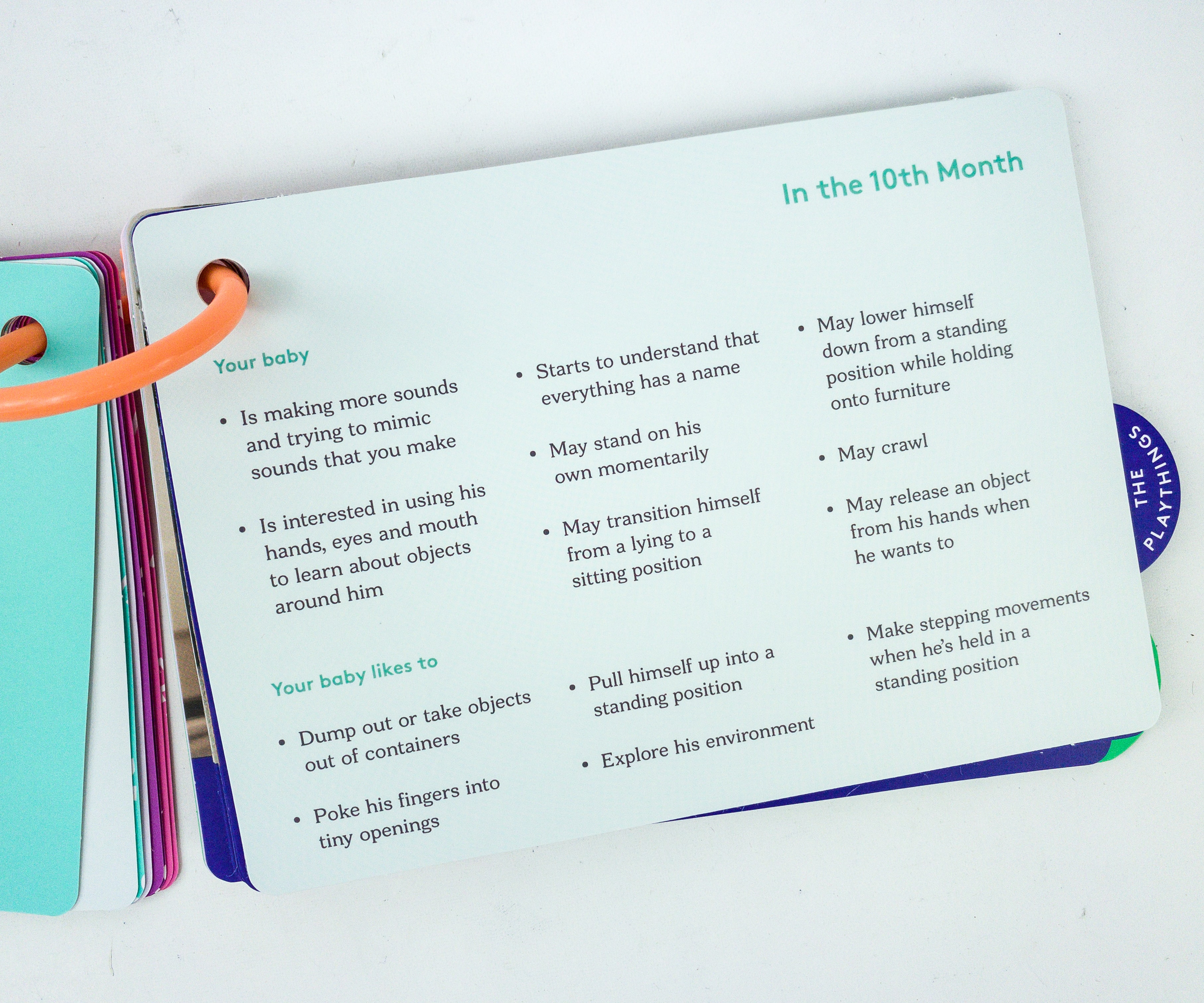 A separate page is dedicated to a list of things your baby can do and likes to do in their 10th month.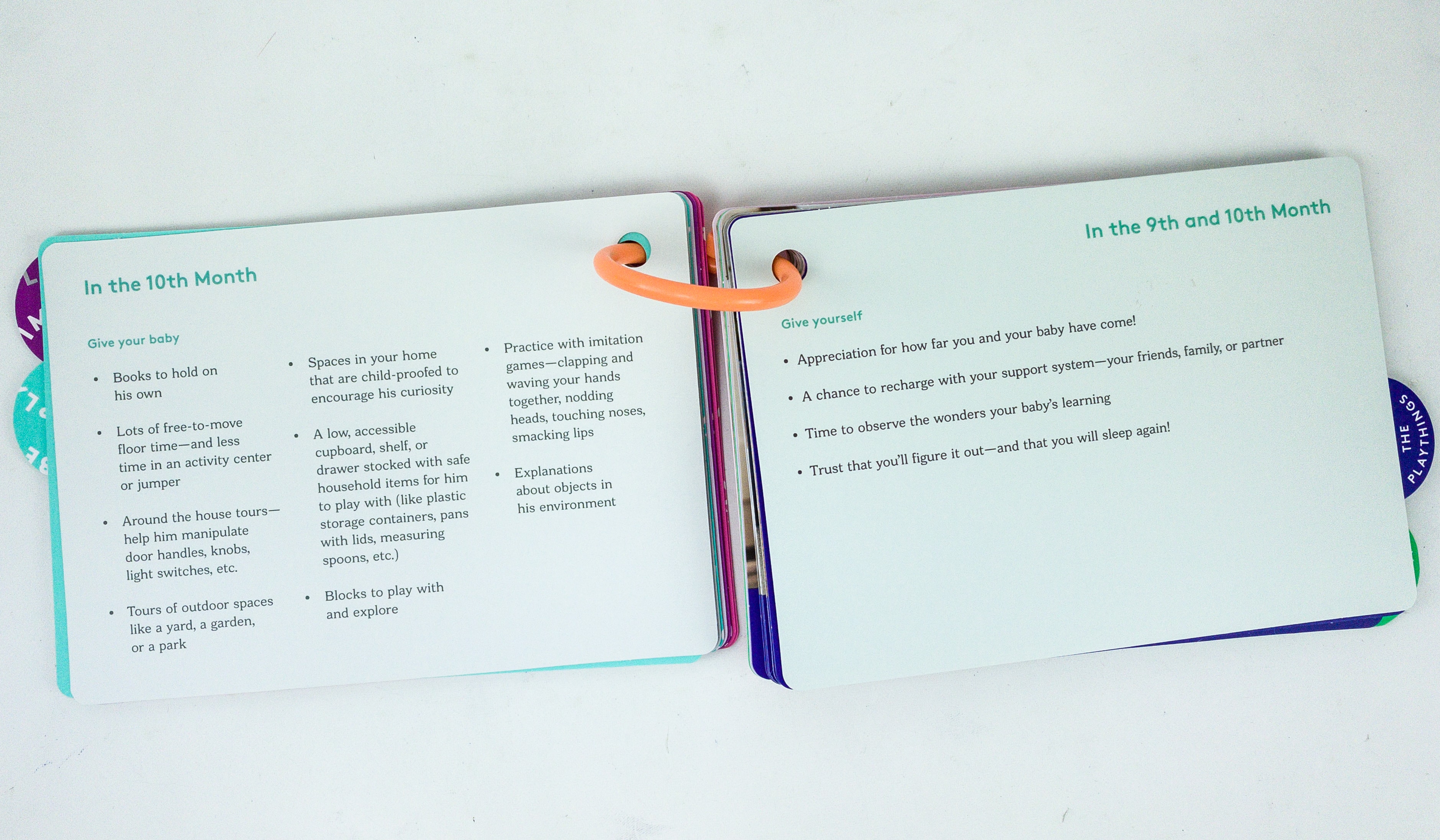 Not everything would apply to your baby, but at least you'd get a general idea. This is really helpful for parents!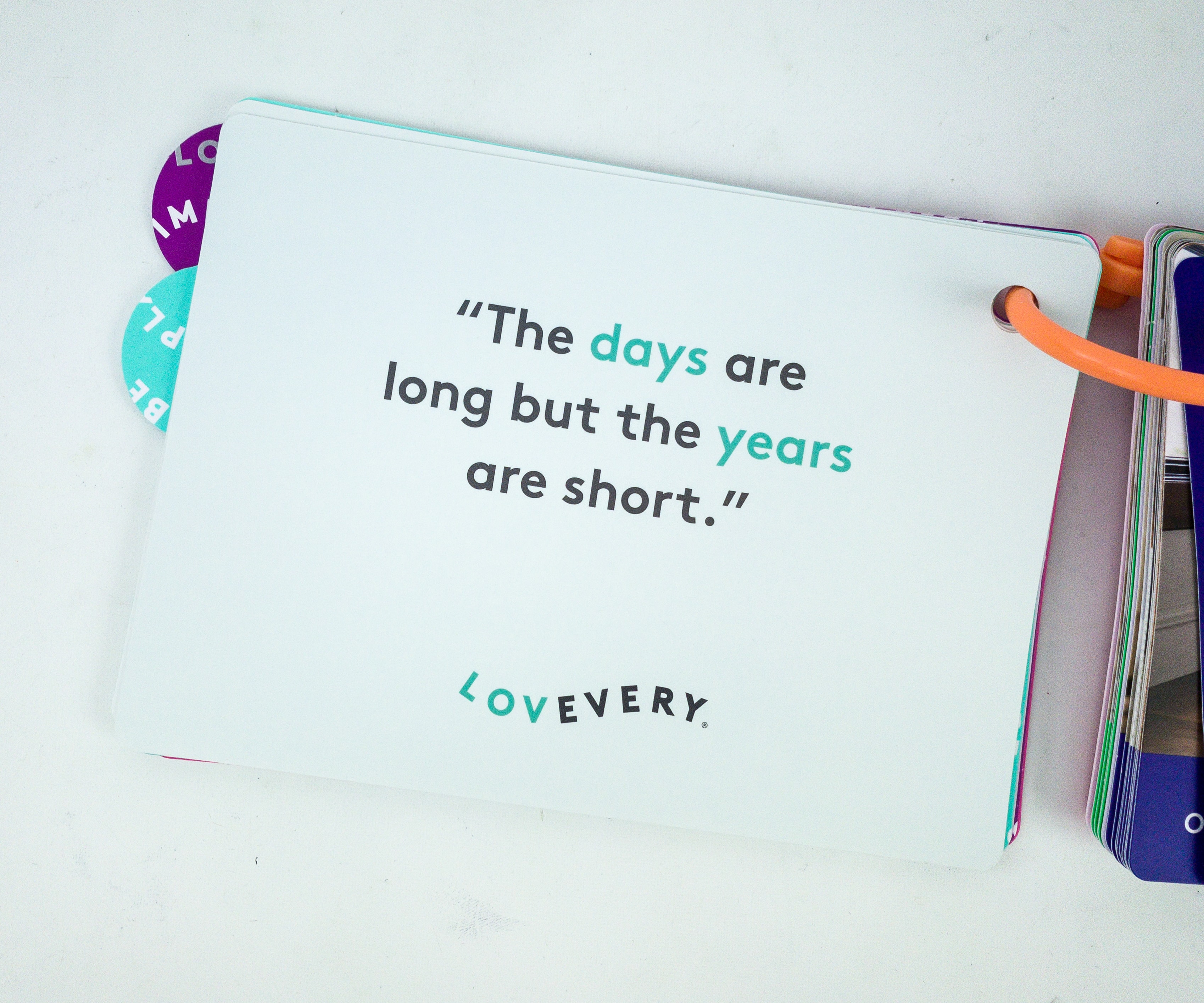 We couldn't help but agree with this quote!
The days are long but the years are short.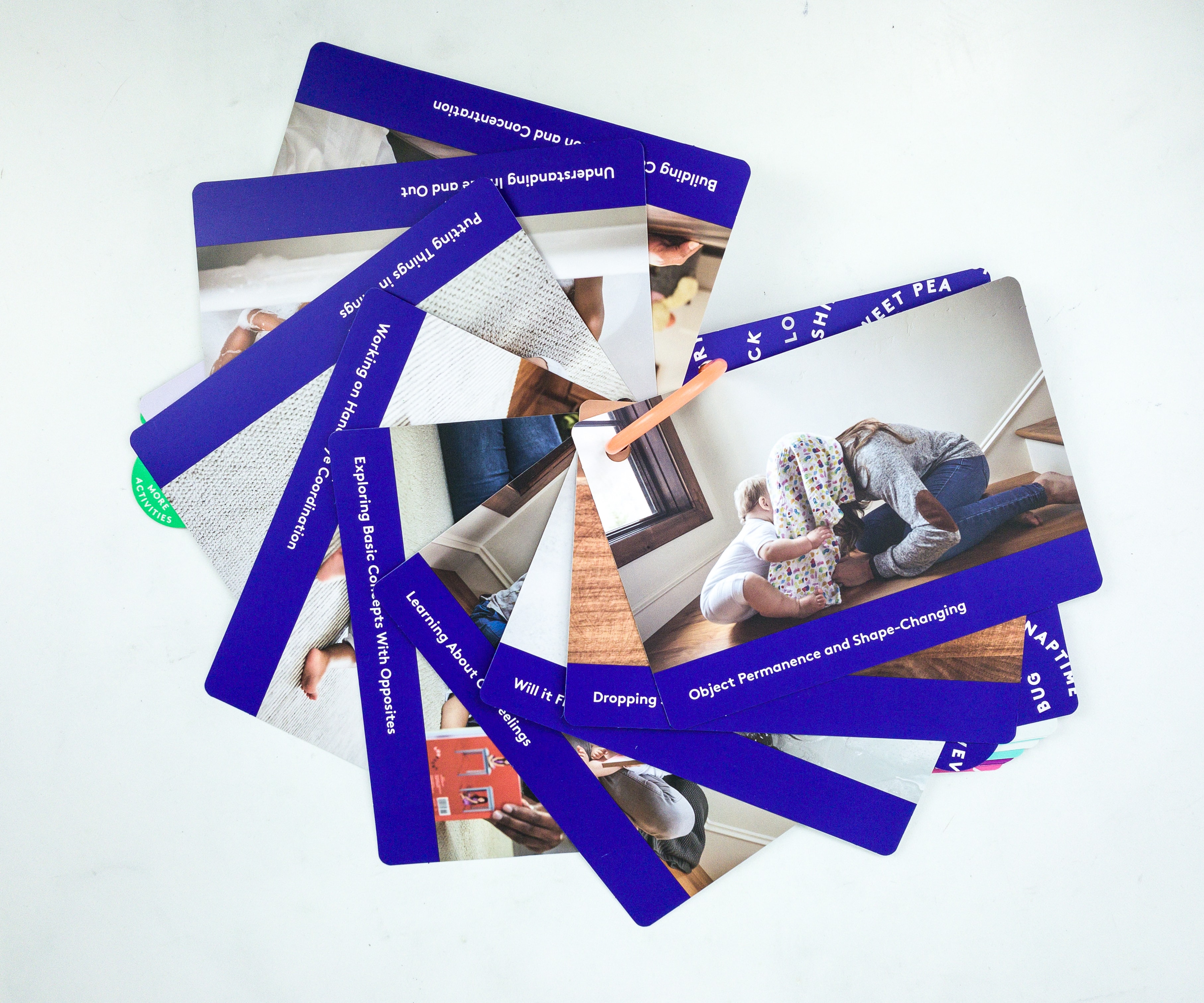 Next section is The Playthings! We're getting on to the toys and activities!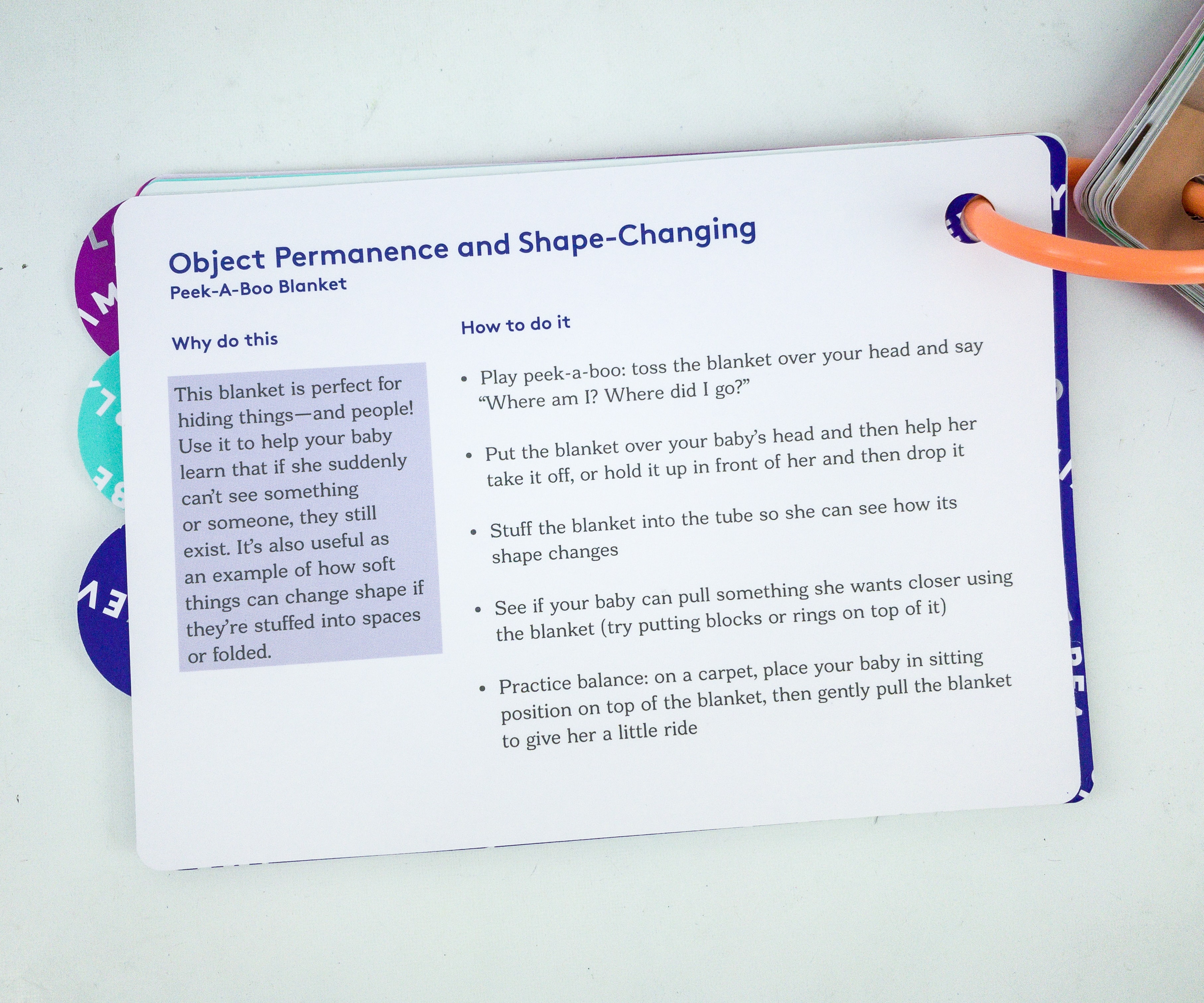 The first activity is Object Permanence and Shape-Changing!
The blanket is perfect for hiding things — and people! Use it to help your baby learn that if she suddenly can't see something or someone, they still exist. It's also useful as an example of how soft things can change shape if they're stuffed into spaces or folded.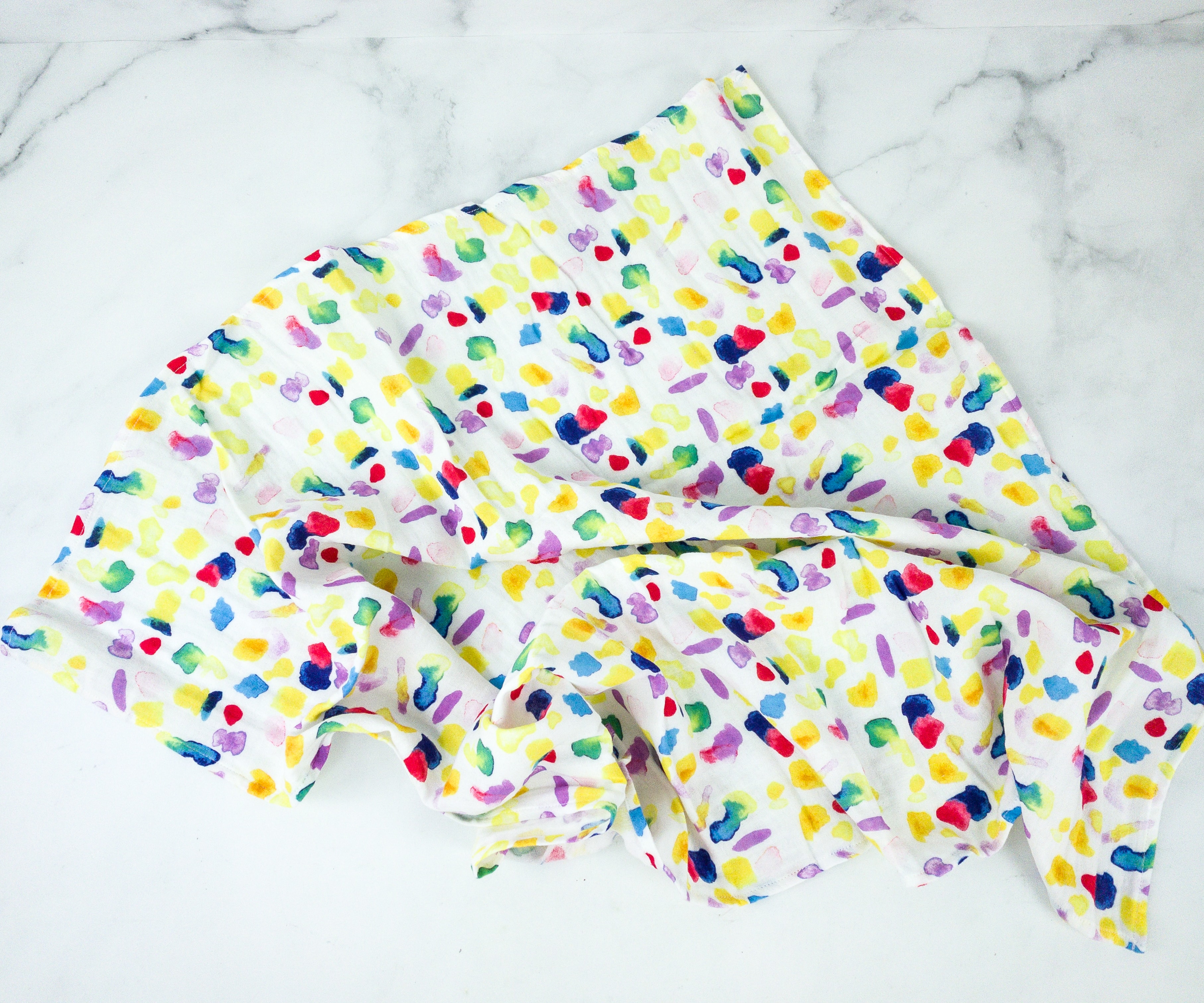 We got a Peek-A-Boo Blanket, and it has a lot of uses! Aside from playing peek-a-boo, you can also use it to practice balance and to show your baby how it can change shape by stuffing into a tube.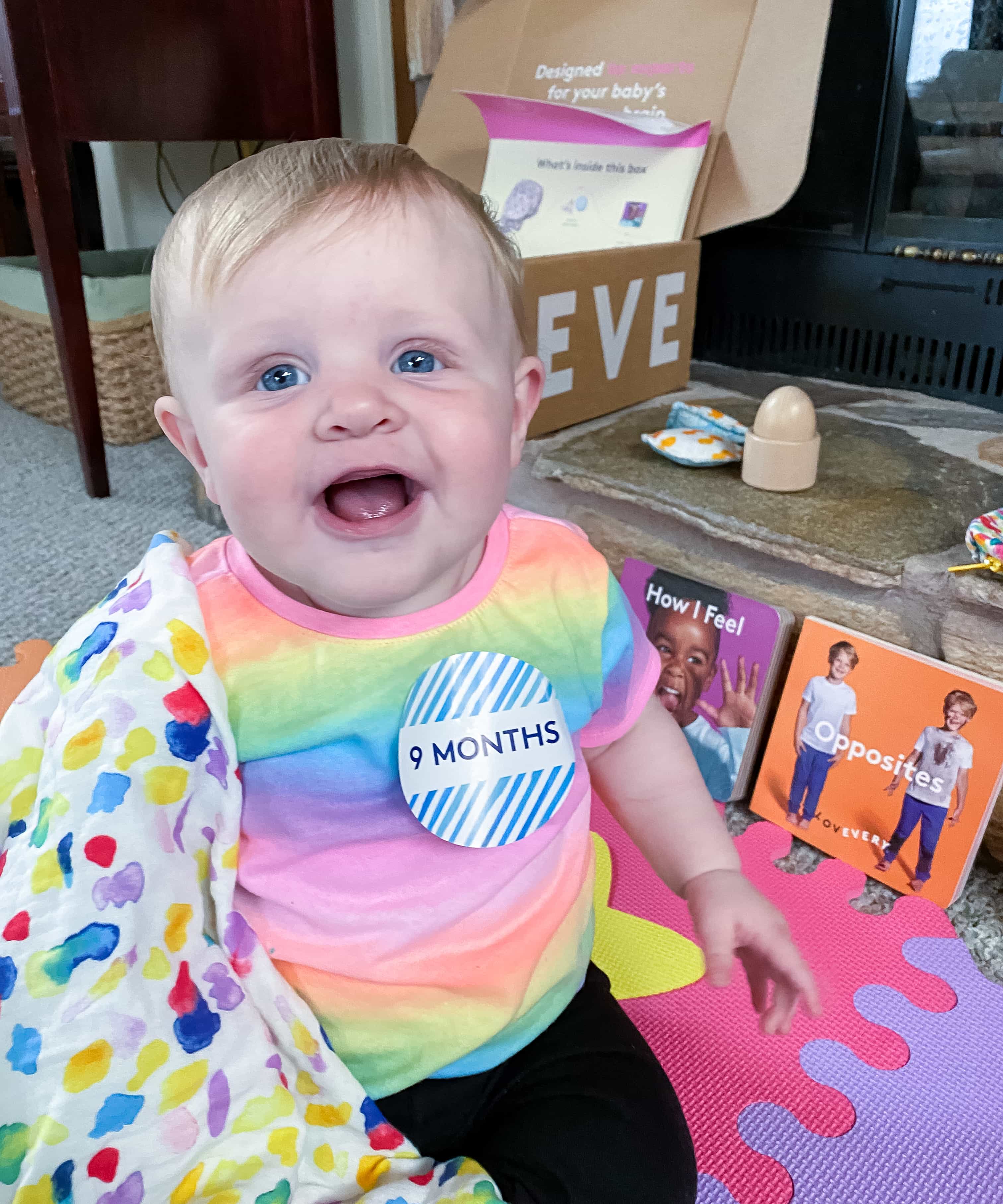 Here's my friend's baby and he loved the blanked so much! The blanket is pretty soft, lightweight, and colorful!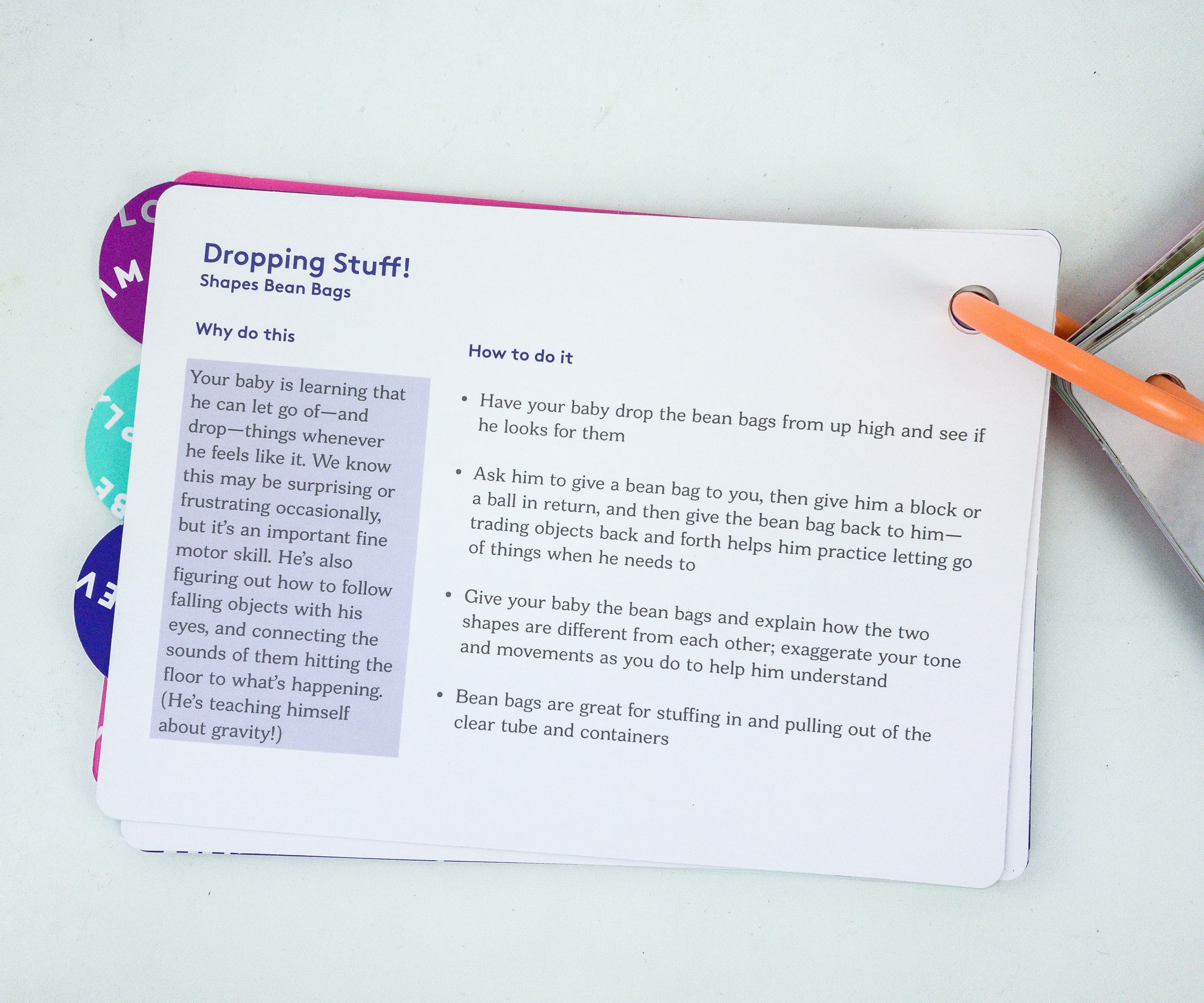 The next activity is called Dropping Stuff!
Your baby is learning that he can let go of — and drop — things whenever he feels like it. We know this may be surprising or frustrating occasionally, but it's an important fine motor skill. He's also figuring out how to follow falling objects with this eyes, and connecting the sounds of them hitting the floor to what's happening. (He's teaching himself about gravity!)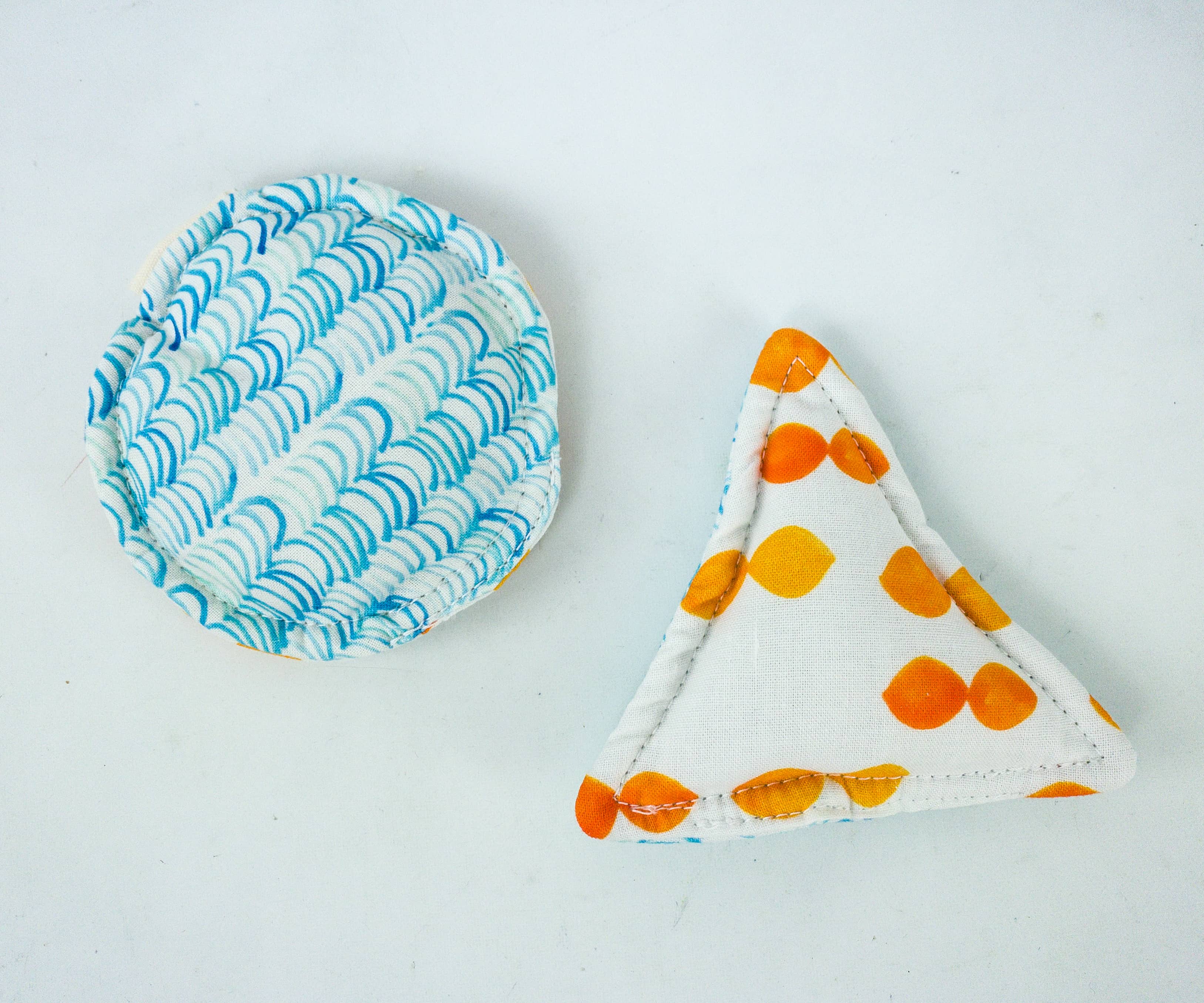 Here's a couple of Shapes Bean Bags which you can use to teach your baby how they can let go or drop things. The booklet suggests having your baby drop these from up high and see first if they will look for the bean bags. One bean bag is a triangle and the other is a circle, so you can also use these to introduce various shapes to your child.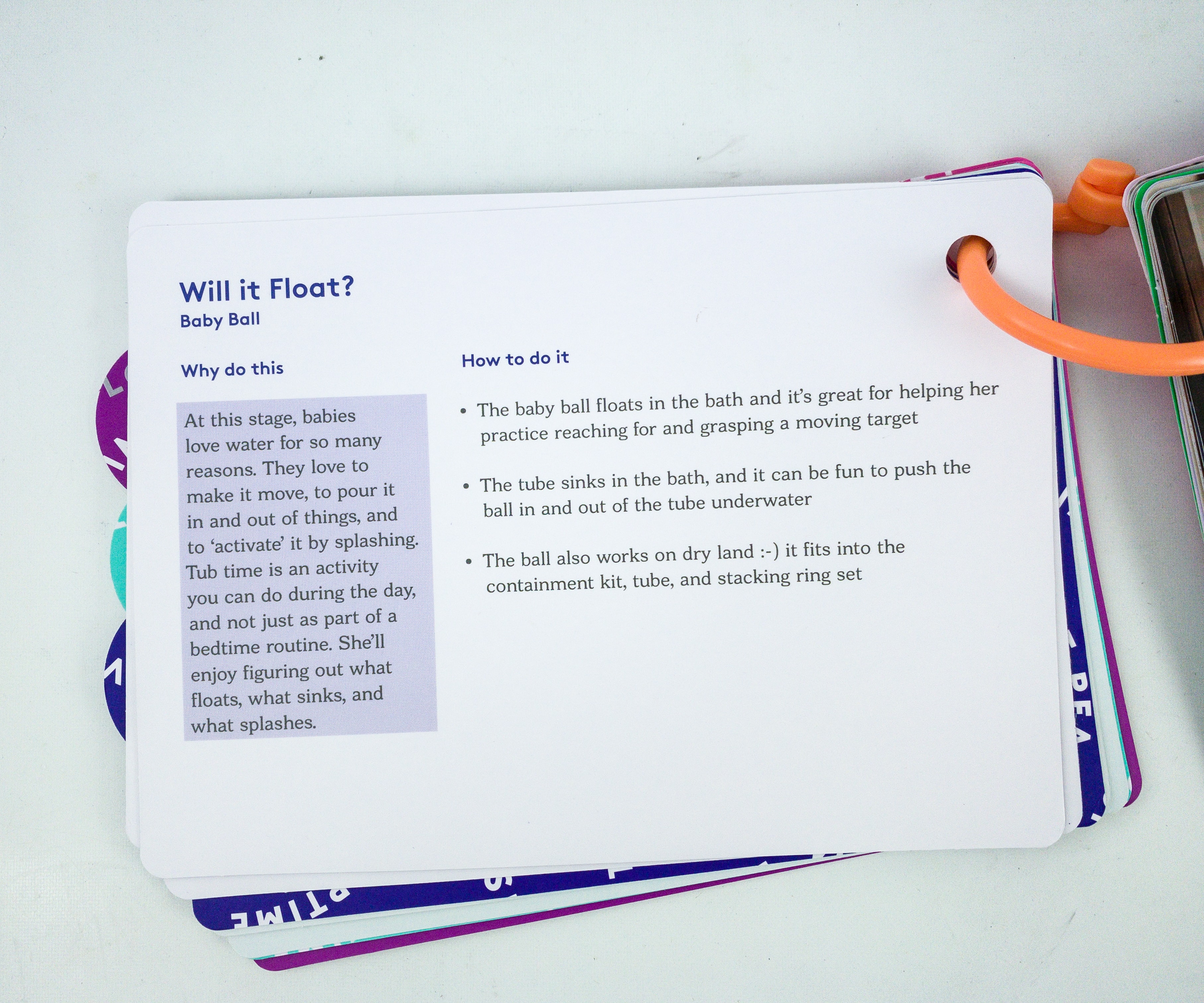 Here's another interesting activity, and it's called "Will it Float?".
At this stage, babies love water for so many reasons. They love to make it move, to pour it in and out of things, and to 'activate' it by splashing. Tub time is an activity you can do during the day, and not jusy as part of a bedtime routine. She'll enjoy figuring out what floats, what sinks, and what splashes.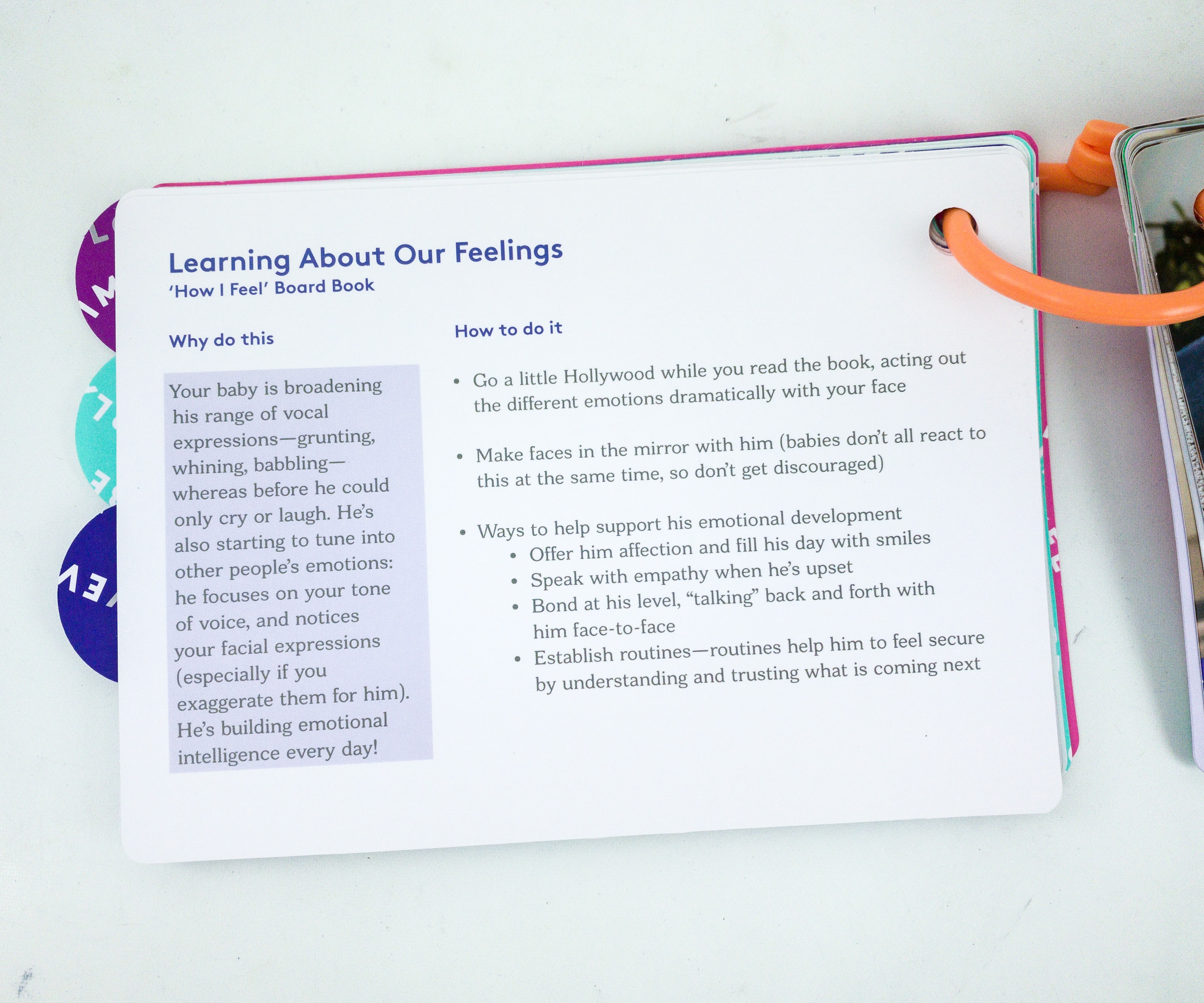 Next up is Learning About Our Feelings!
Your baby is broadening his range of vocal expressions — grunting, whining, babbling — whereas before he could only cry or laugh. He's also starting to tune into other people's emotions: he focuses on your tone of voice, and notices your facial expressions (especially if you exaggerate them for him). He's building emotional intelligence every day!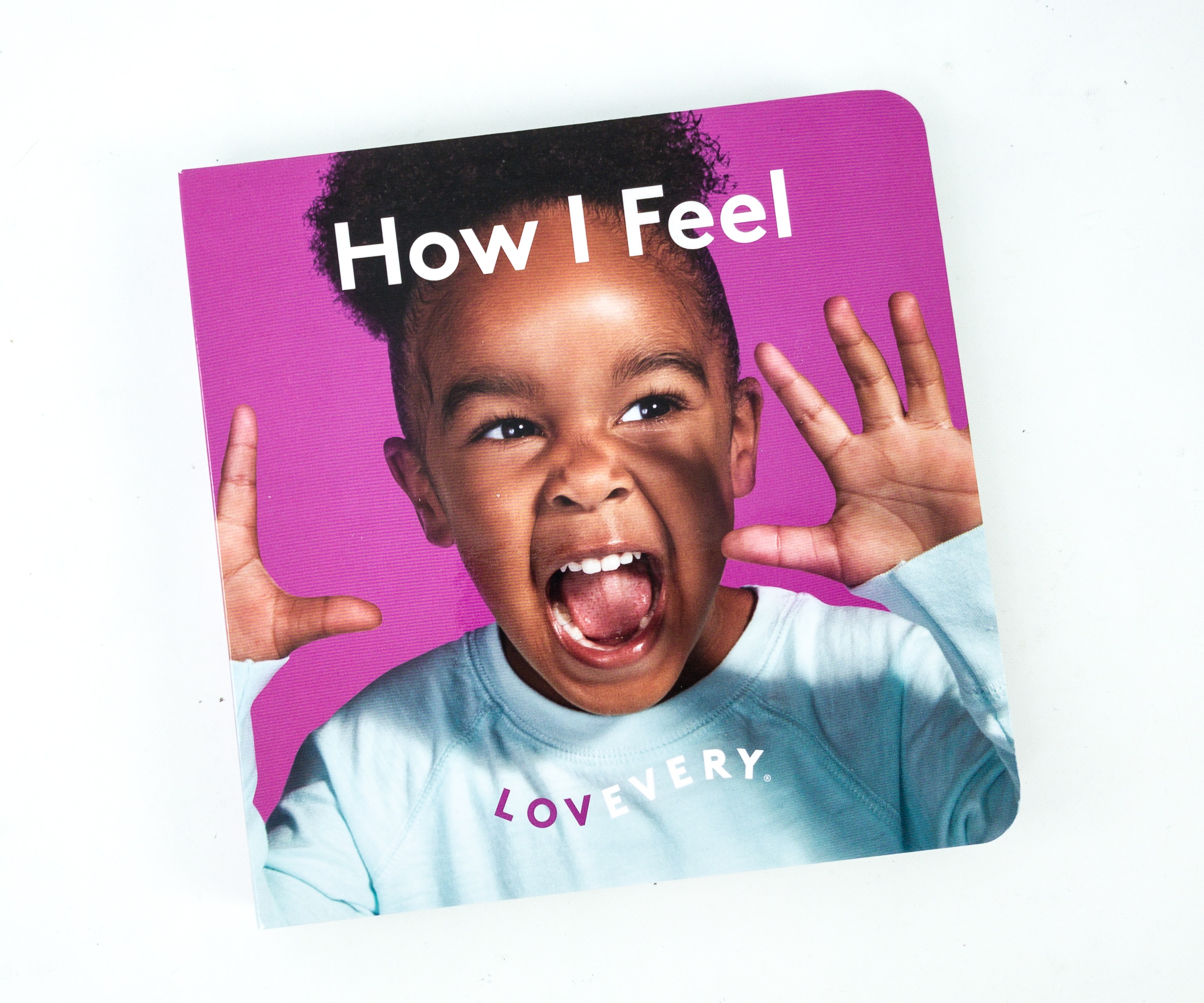 For this activity, we're using the How I Feel Board Book!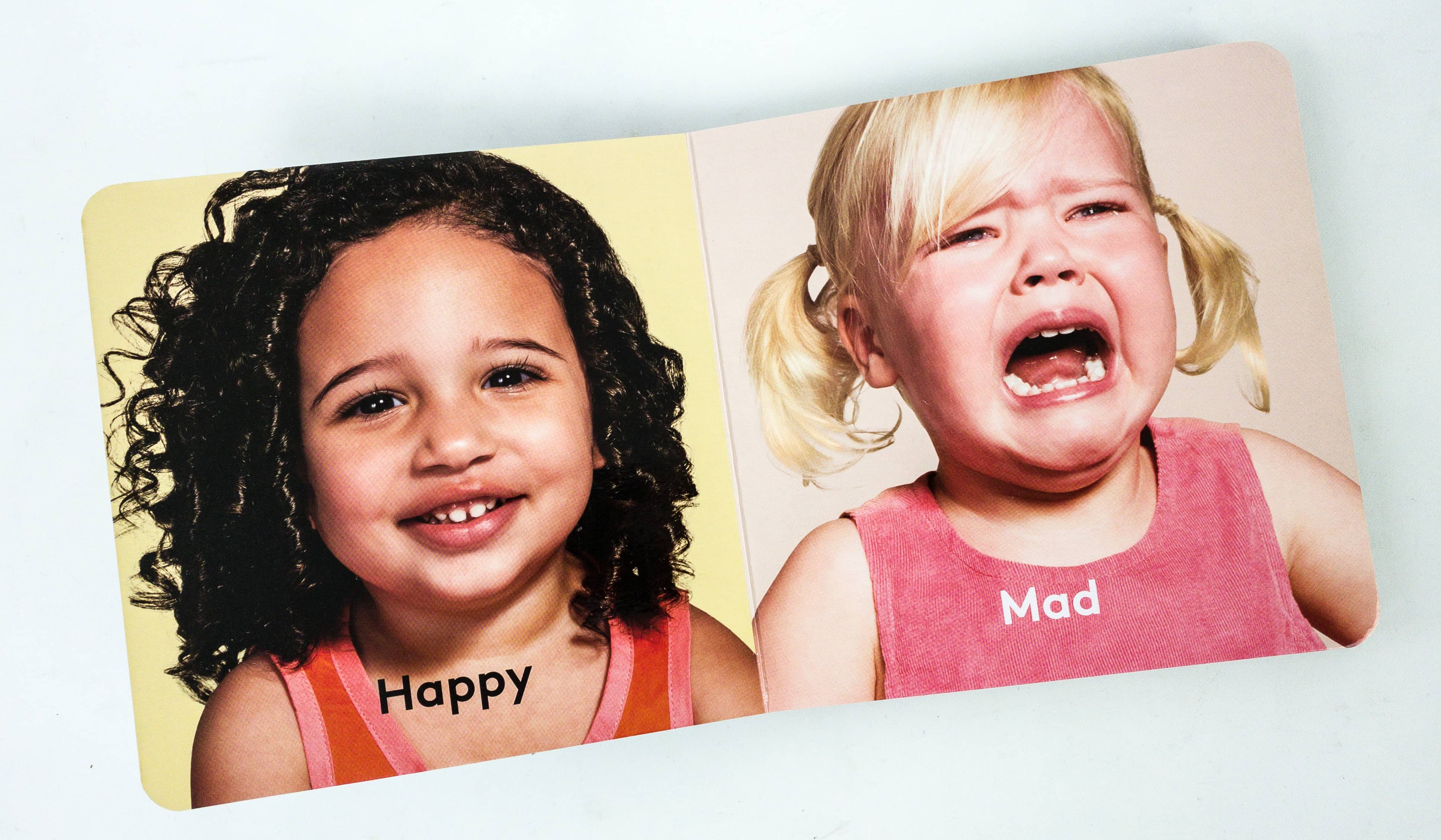 Each page has a photo featuring an emotion and its name below.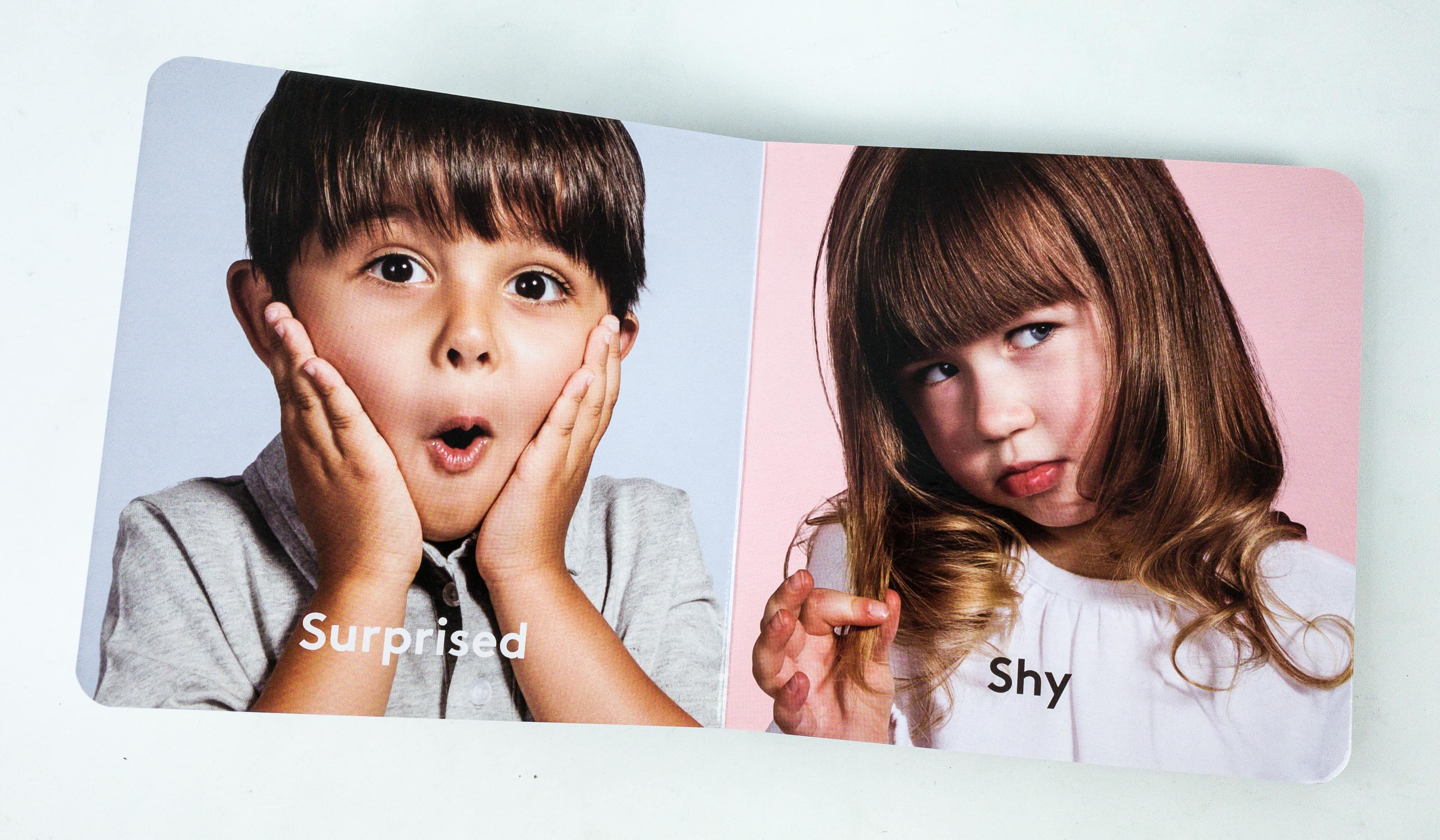 The photo choices are awesome. They clearly depict the corresponding emotion and babies find them easy to copy!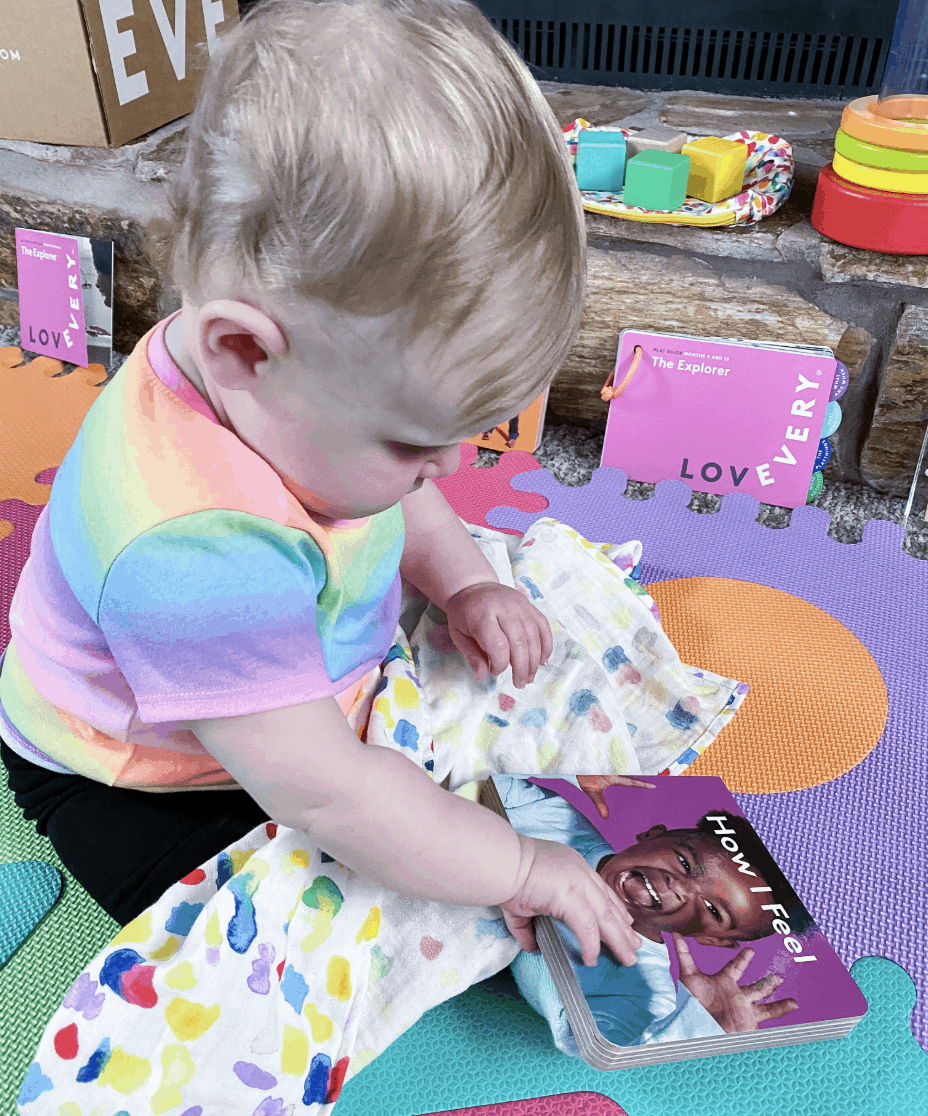 The board book is just the right size for babies 9-10 months old. It's easy to flip as well.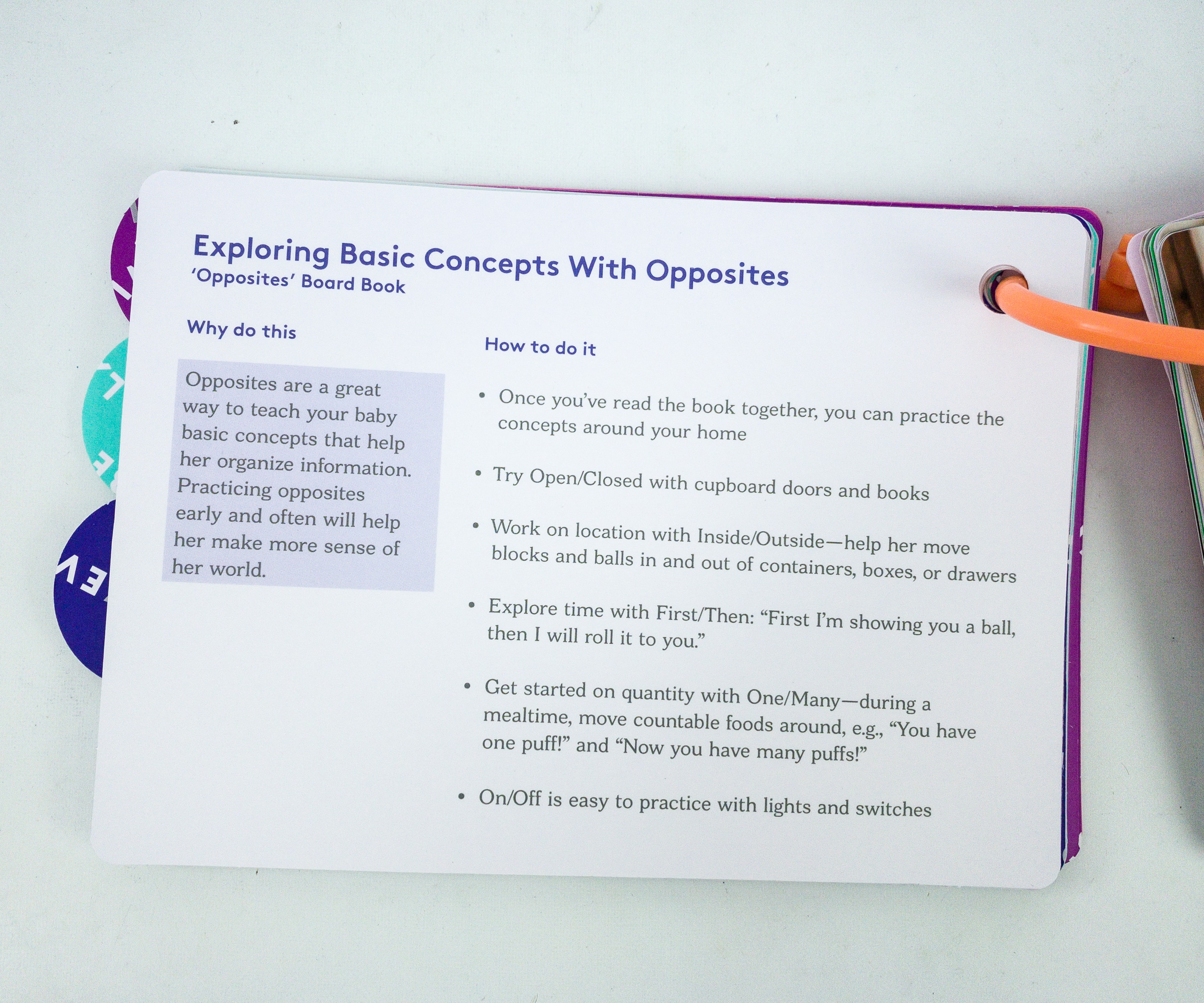 We're on to the next activity! It's entitled Exploring Basic Concepts With Opposites!
Opposites are a great way to teach your baby basic concepts that help her organize information. Practicing opposites early and often will help her make more sense of her world.
To help parents easily teach their babies about opposites, they included another board book!
The pictures depicting opposites are placed side by side so you can easily compare them!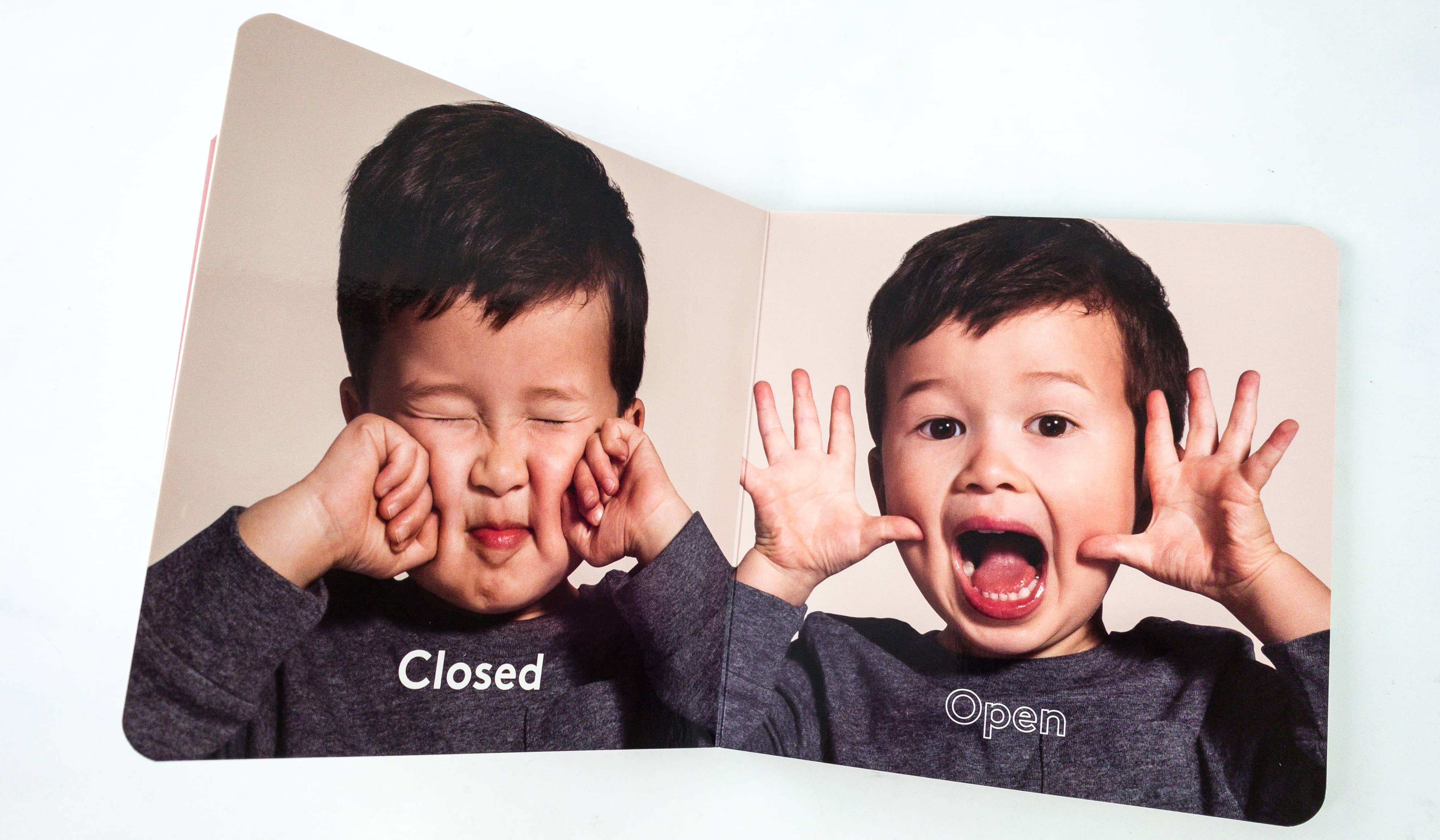 After showing the book and explaining to your baby, the booklet suggests practicing these concepts at home.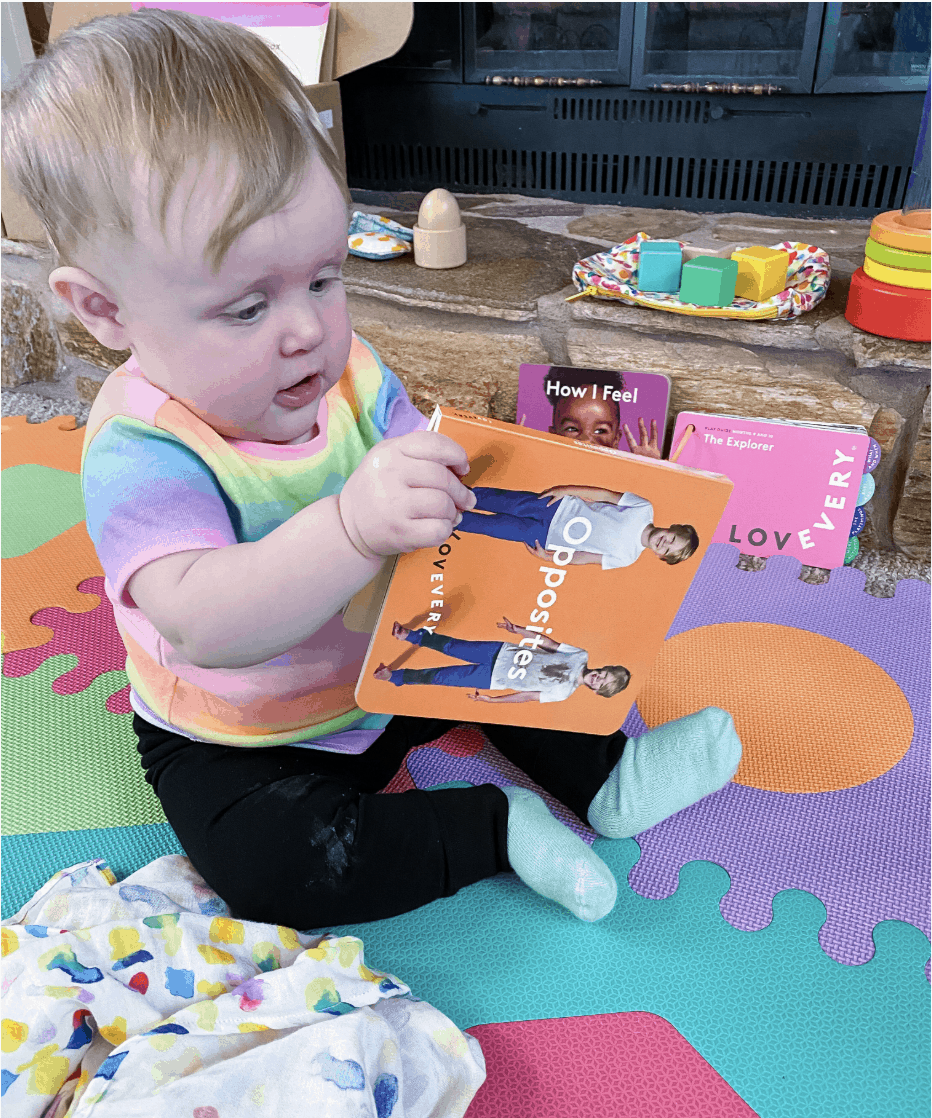 Just like the first board book, my baby's friend enjoyed this one a lot!
He turned the pages with ease and then observed the photos inside!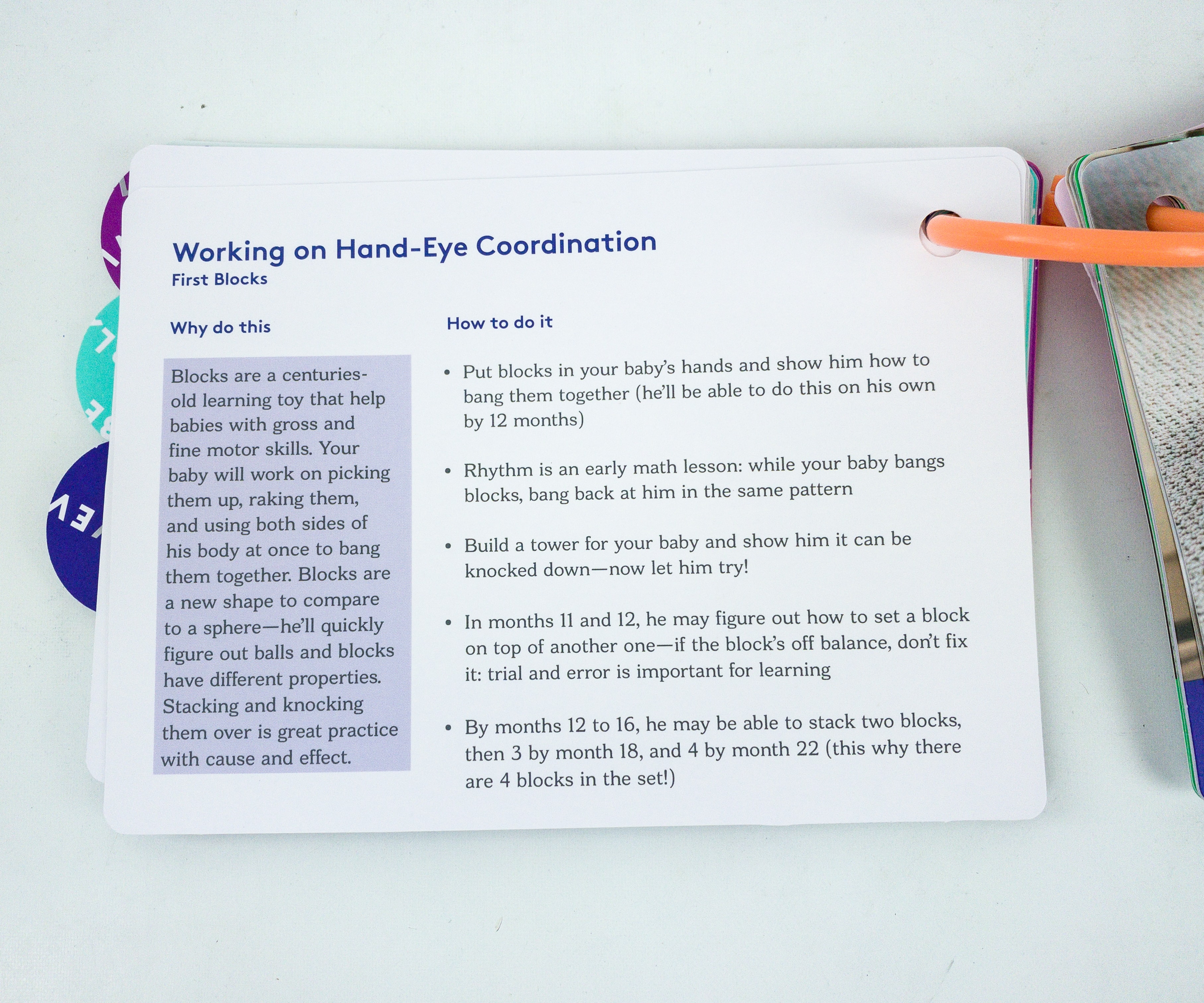 Another activity is Working on Hand-Eye Coordination!
Blocks are a centuries-old learning toy that help babies with gross motor and fine skills. Your baby will work on picking them up, raking them, and using both sides of his body at once to bang them together. Blocks are a new shape to compare to a sphere — he'll quickly figure out balls and blocks have different properties. Stacking and knocking them over is great practice with cause and effect.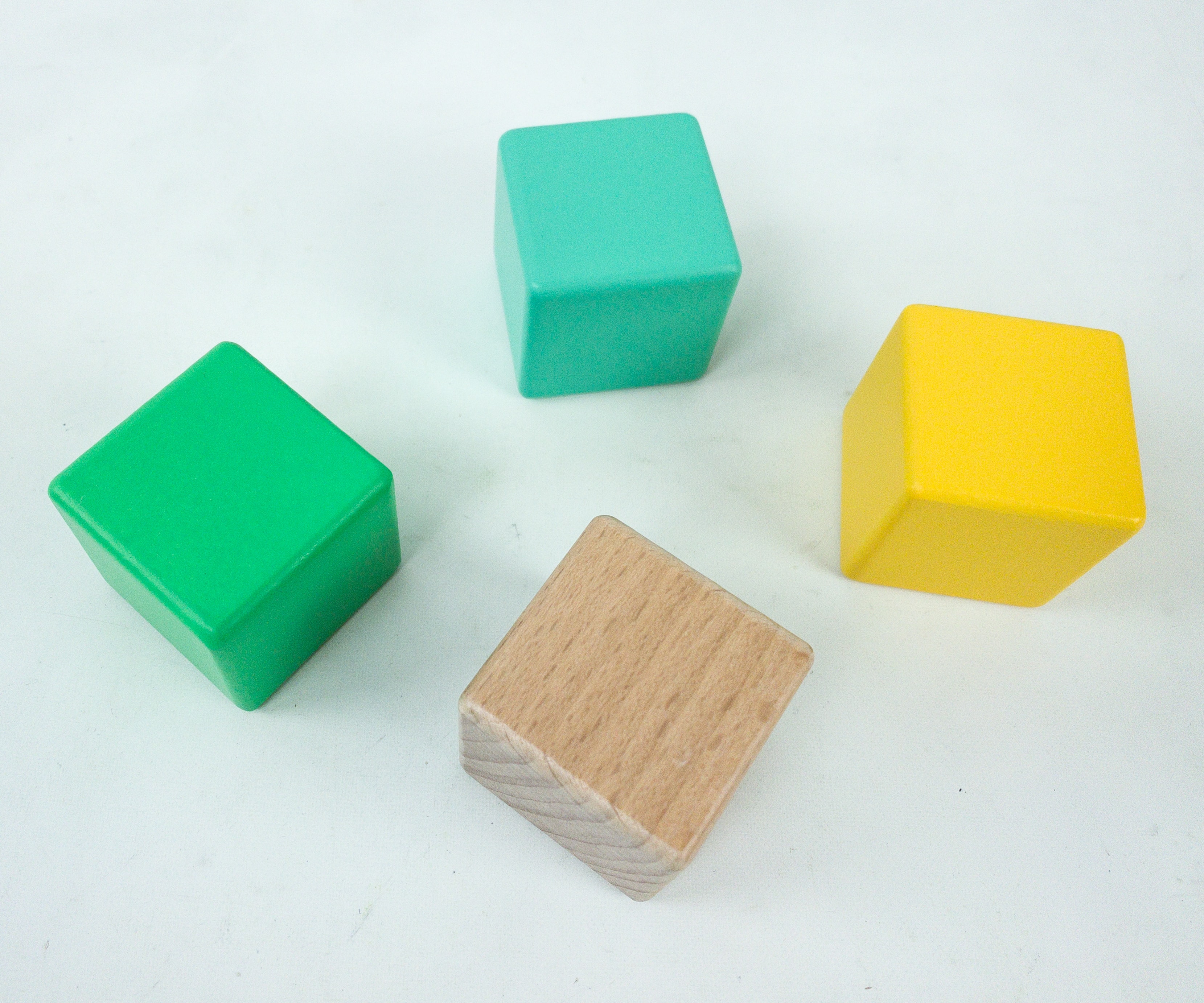 We got building blocks for this activity! There are four pieces of them in different colors. They're lightweight but pretty sturdy.
The booklet suggests to show your kid how to bang the blocks together, and also to build a tower using the blocks then have them knock it down.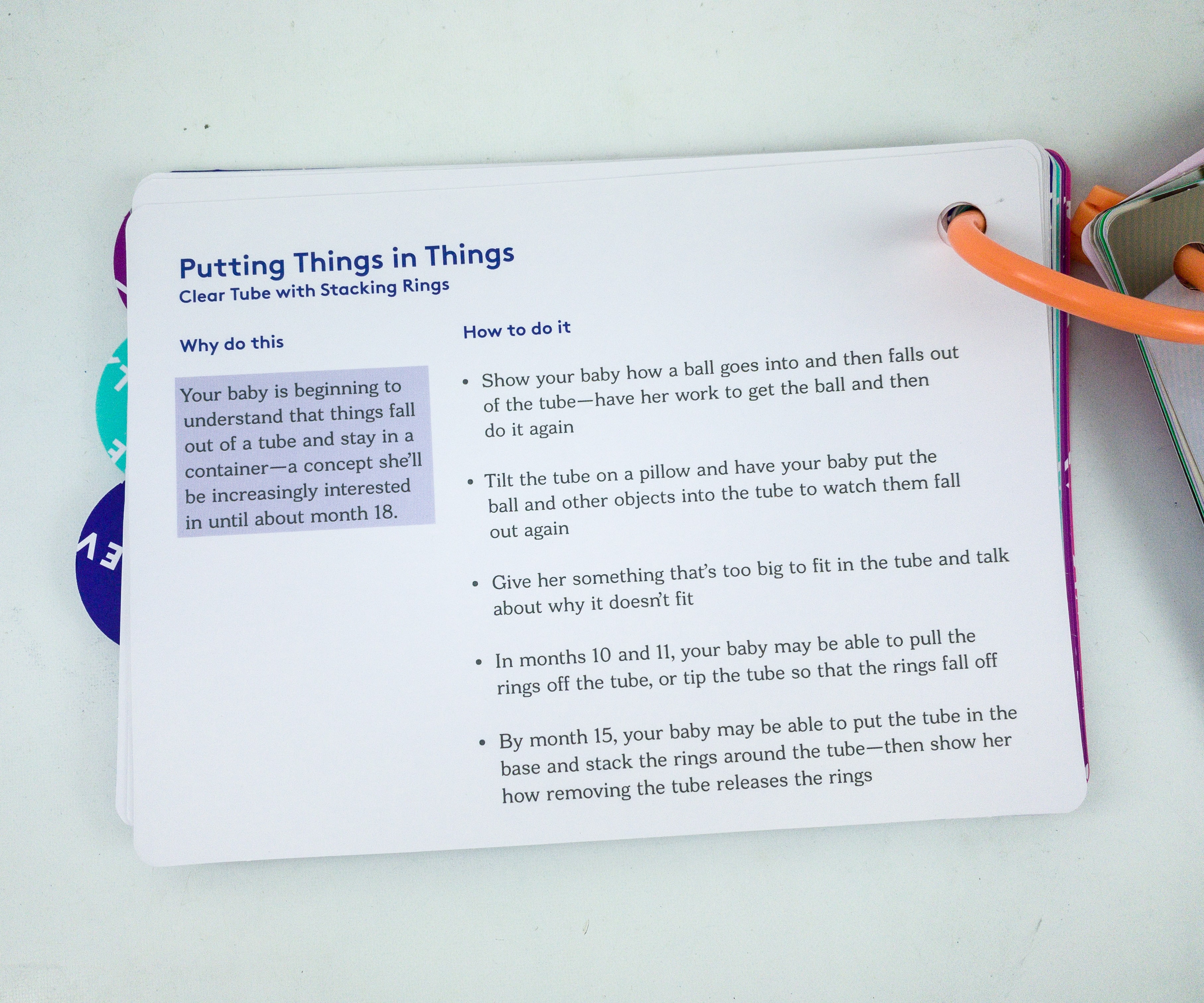 The next activity we're trying is Putting Things in Things!
Your baby is beginning to understand that things fall out of a tube and stay in a container — a concept she'll be increasingly interested in until about month 18.
A clear tube plus colorful stacking rings and a ball are included in the box. These toys will help you easily demonstrate how things go into and fall out of another thing.

You can start with the ball first because that's the easiest item to use. The rings can follow later when your baby can already pull the rings off the tube, which is around their 10th and 11th month.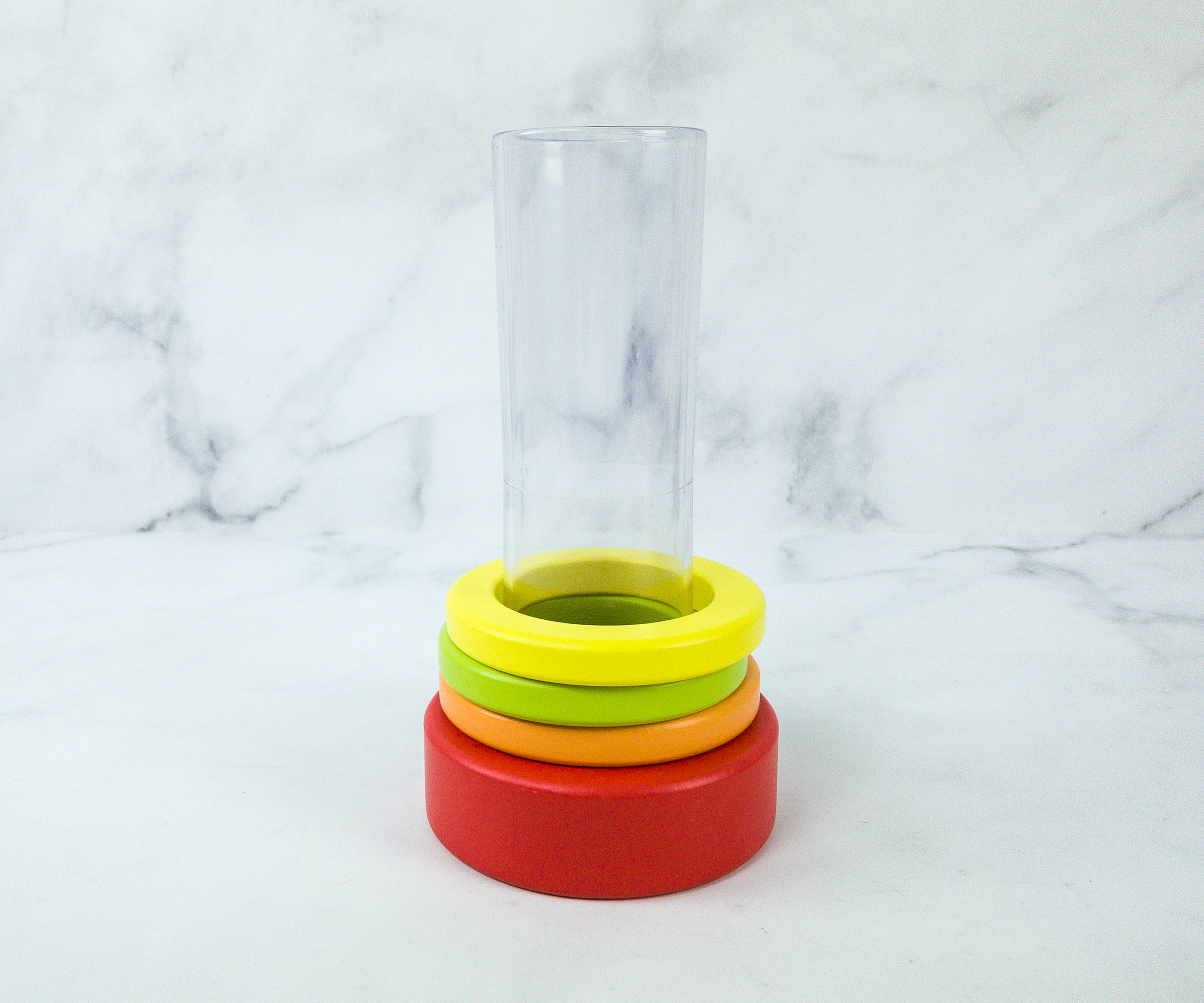 Stacking the rings around the tube is another fun activity. The booklet says that babies are more likely to be able to do this on their 15th month.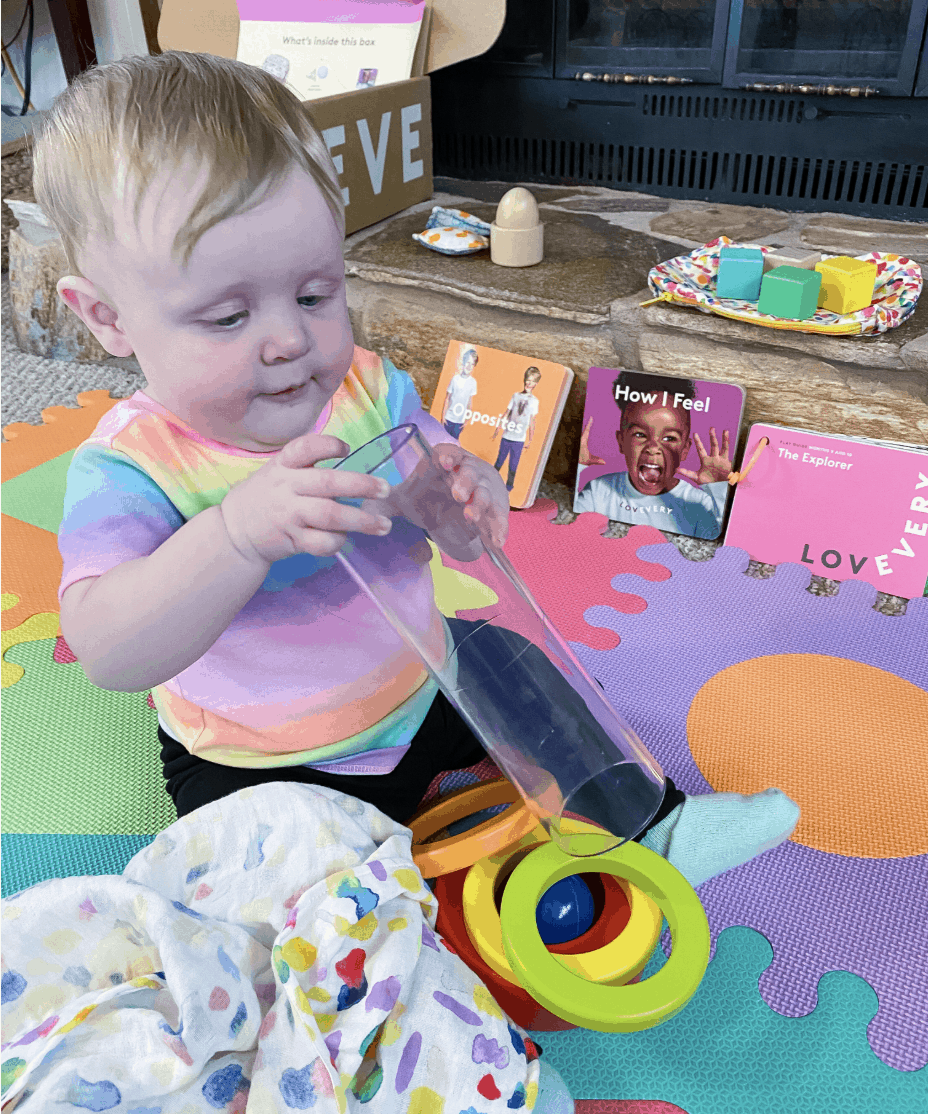 This little guy is surely enjoying exploring each item!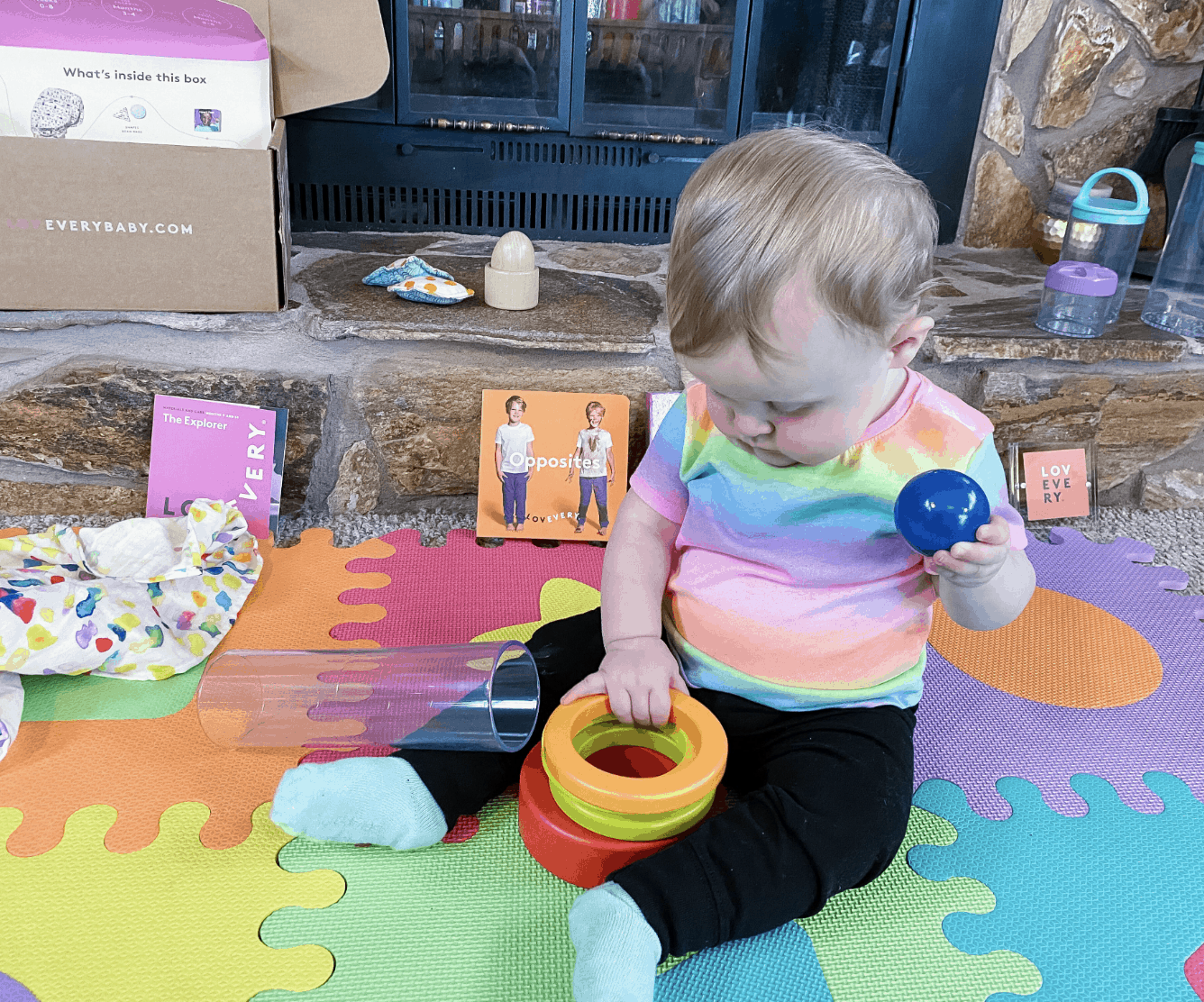 Now, he's even stacking the rings!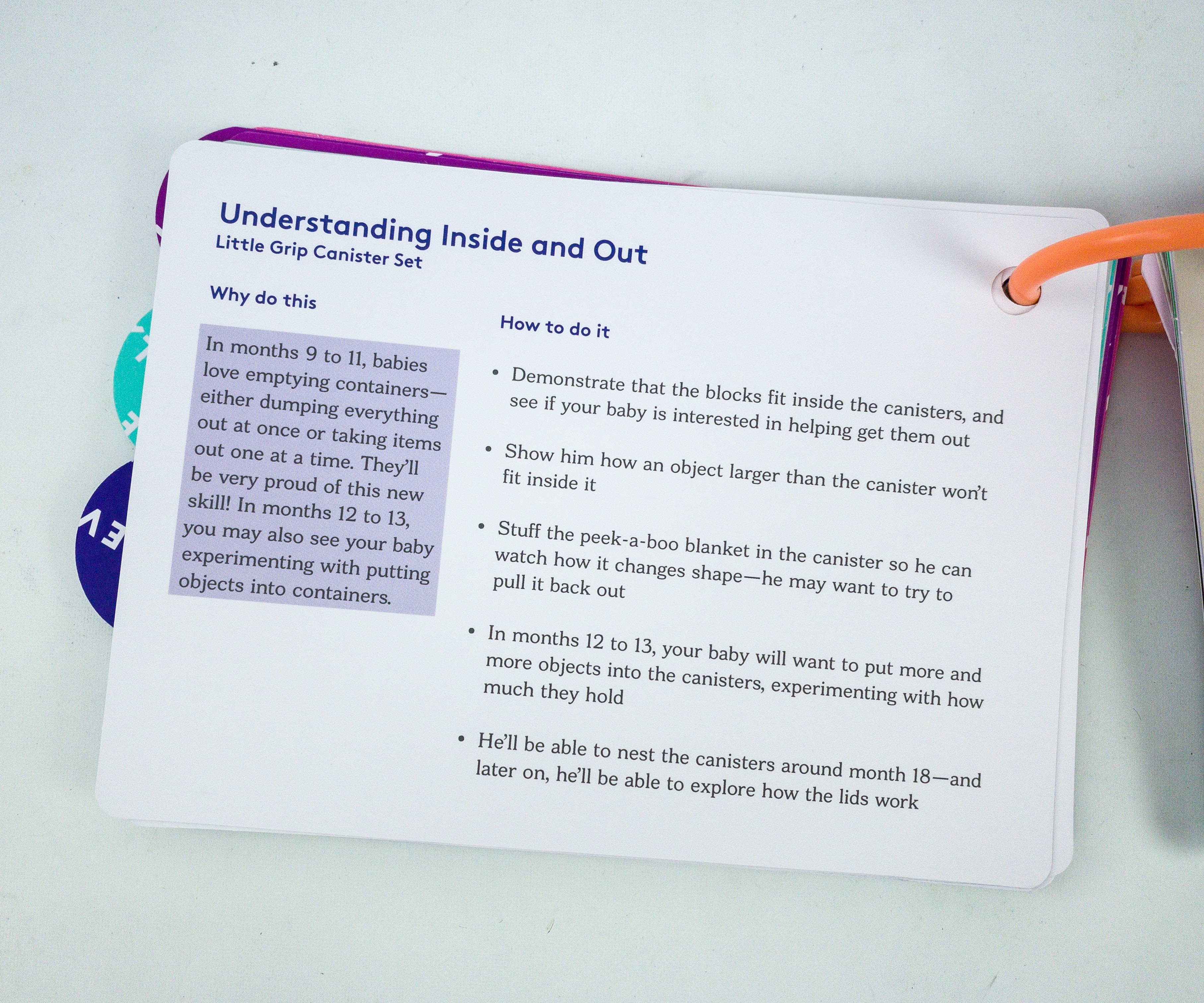 Next up is Understanding Inside Out!
In months 9 to 11, babies love emptying containers — either dumping everything out at once or taking items out one at a time. They'll be very proud of this new skill! In months 12 to 13, you may also see your baby experimenting with putting objects onto containers.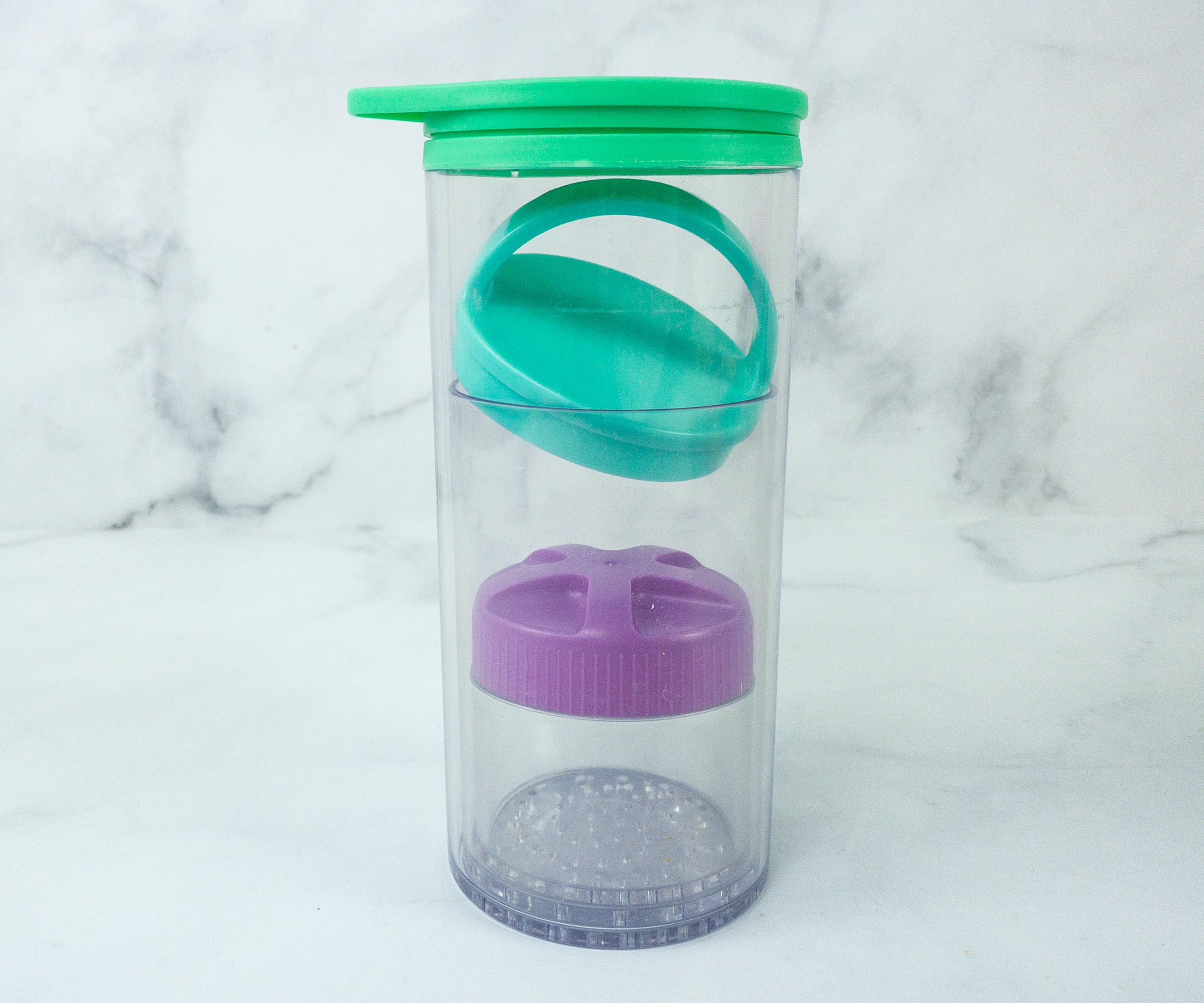 This canister set is a level up from the clear tube!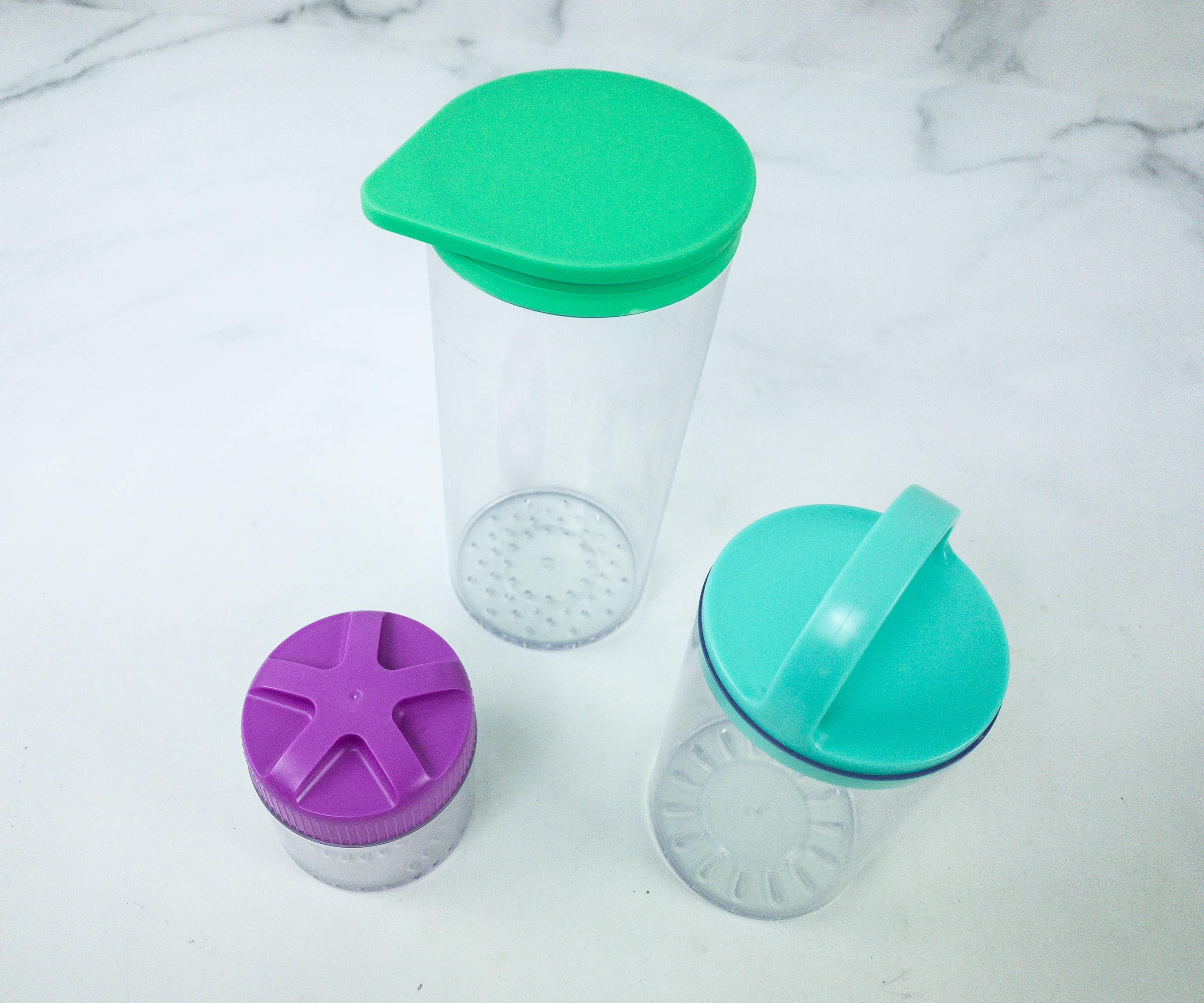 There are 2 smaller canisters that can fit inside the big canister. They have cute and easy-to-lift lids.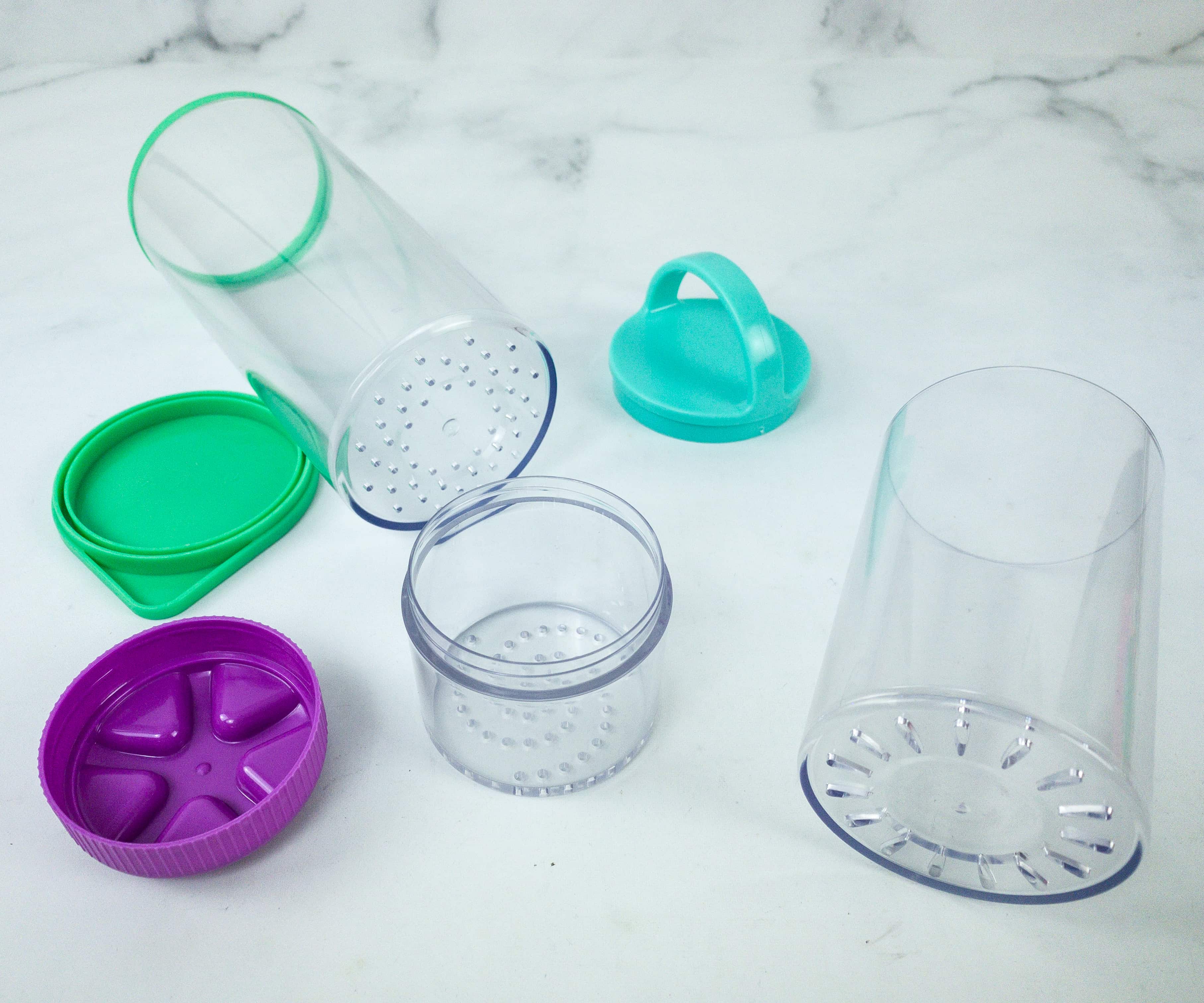 The key here is to let your baby explore and enjoy putting things inside these canisters!
He was so curious about the lids on the canisters!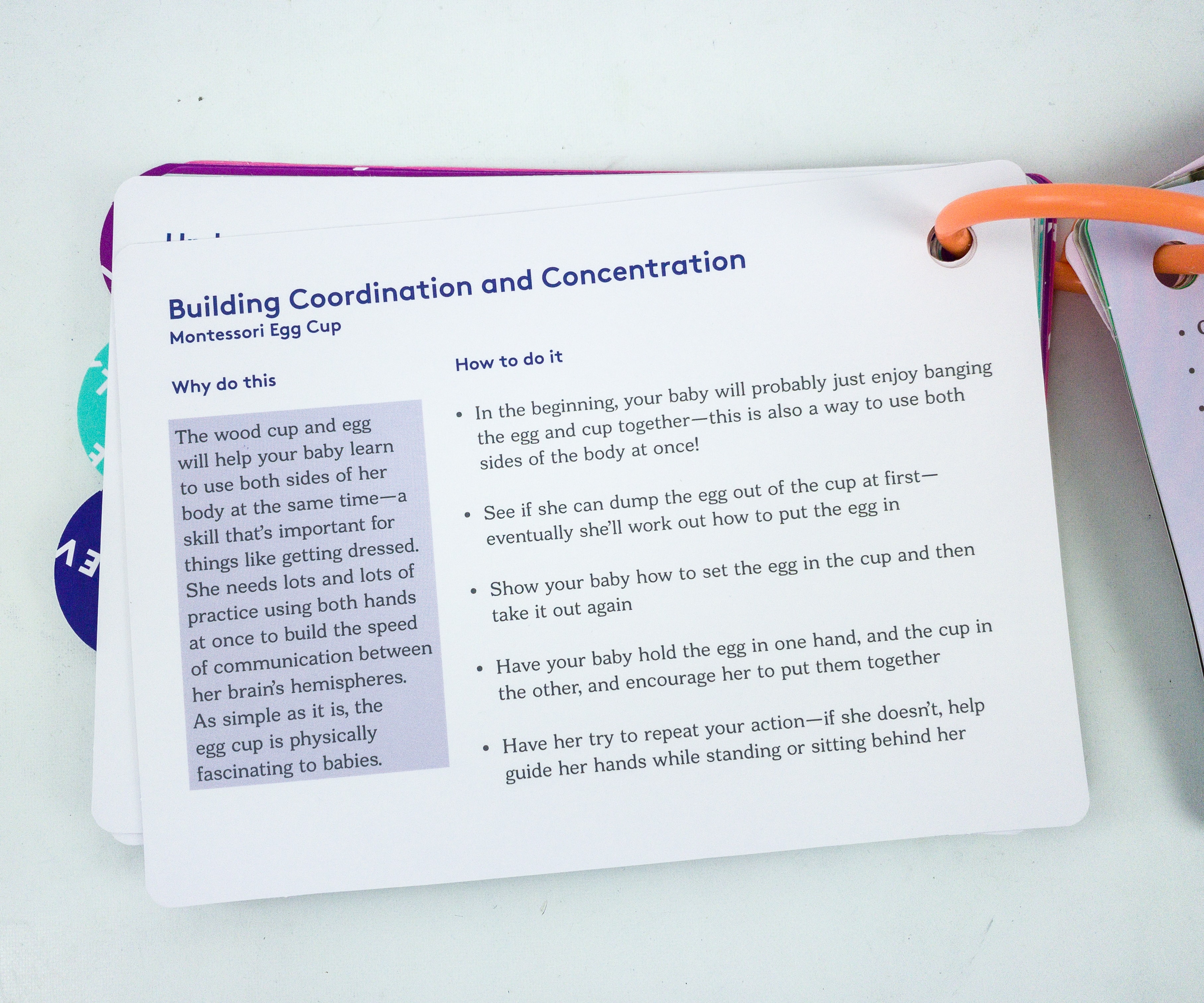 Another activity is Building Coordination and Concentration!
The wood cup and egg will help your baby learn to use both sides of her body at the same time — a skill that's important for things like getting dressed. She needs lots and lots of practice using both hands at once to build the speed of communucation between her brain's hemispheres. As simple as it is, the egg cup is physically fascinating to babies.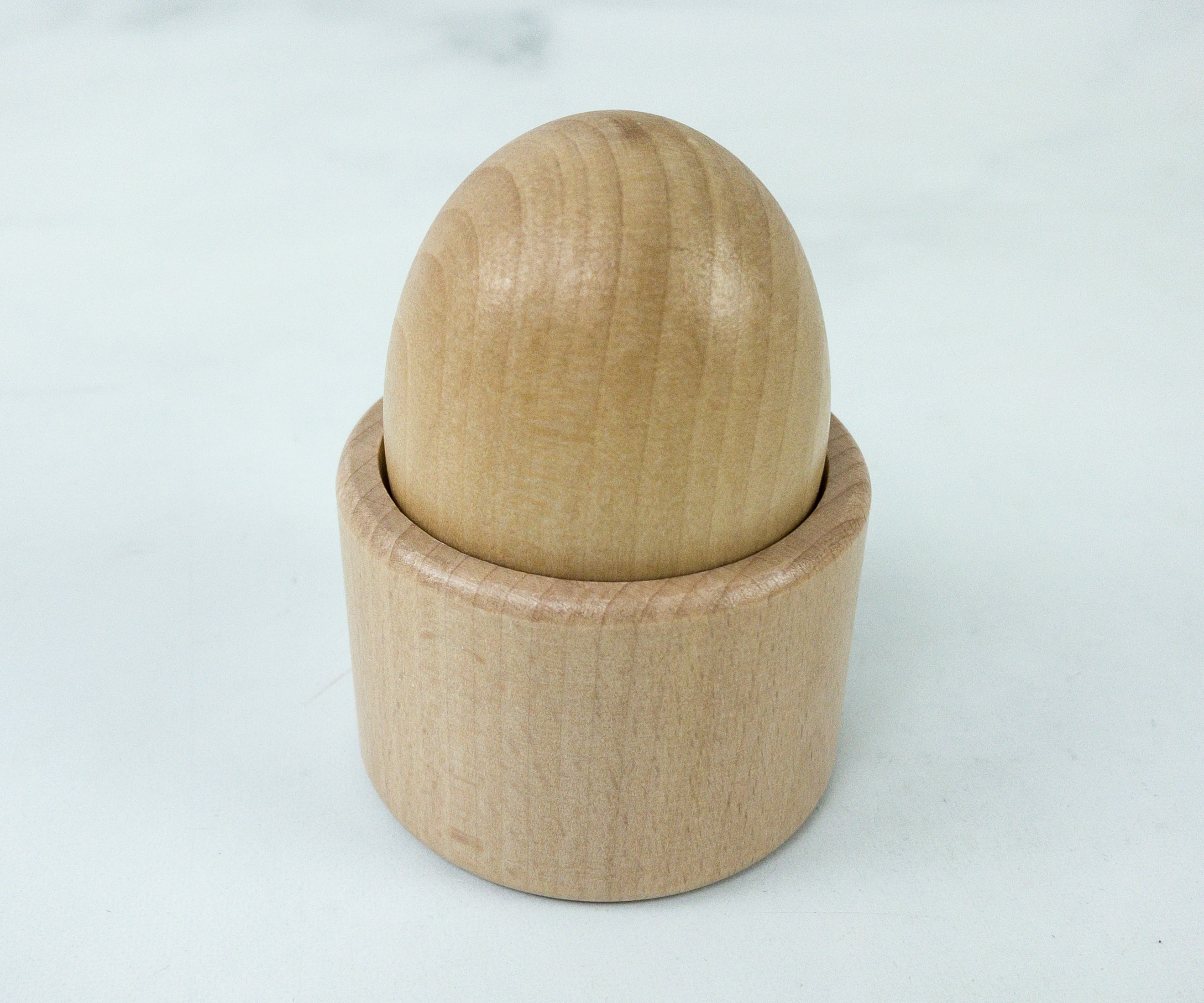 The Montessori Egg Cup takes the spotlight this time around! Both the cup and egg are made with lightweight wood.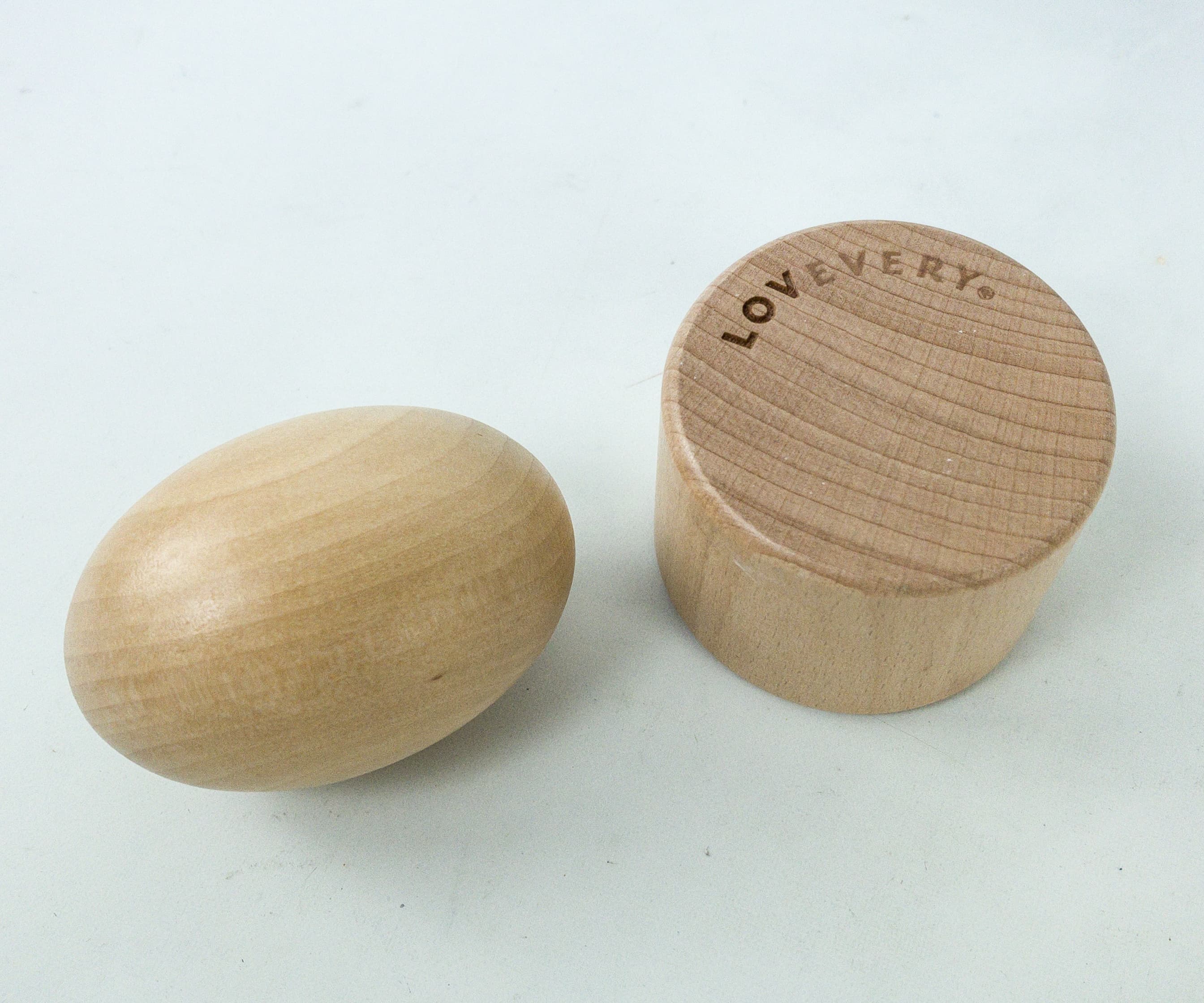 Babies may start by banging the egg and cup together, and as they grow older and with practice, they'll eventually learn to put the egg in the cup on their own.
It might look pretty simple for us adults, but these are specially designed to be appealing for babies.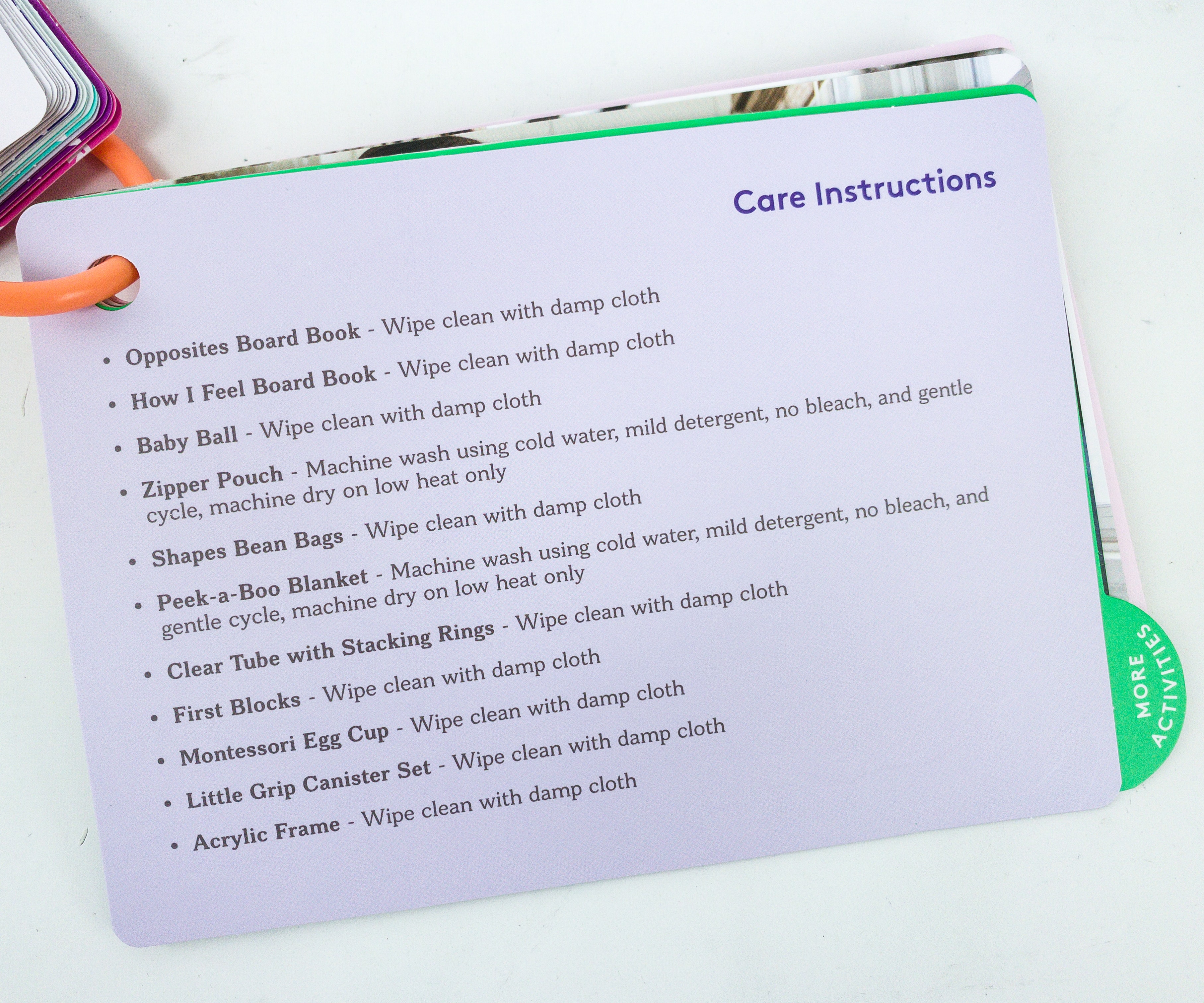 Additional care instructions are listed in the booklet.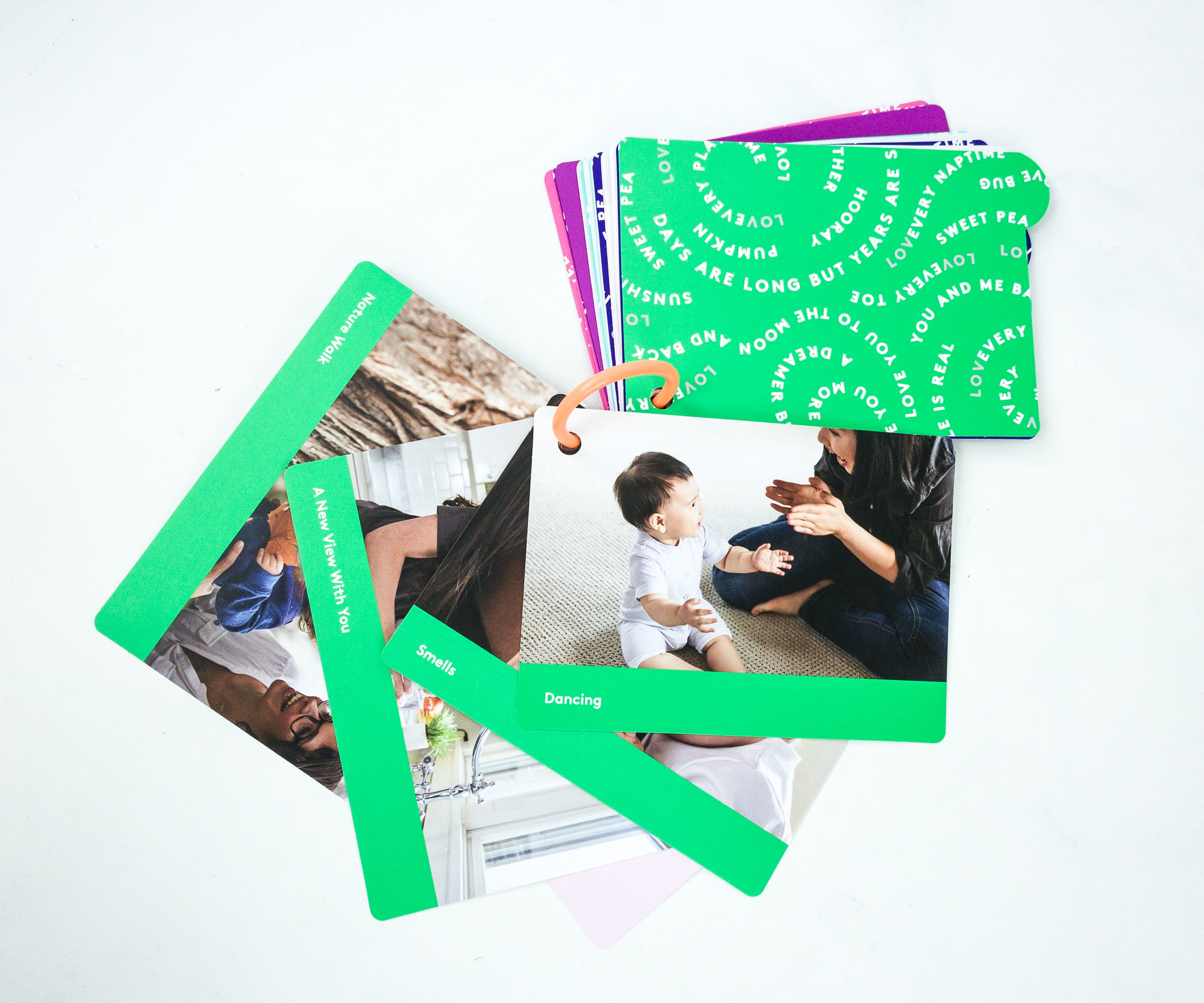 We're onto the last part of the booklet, which suggests more activities for parents and babies!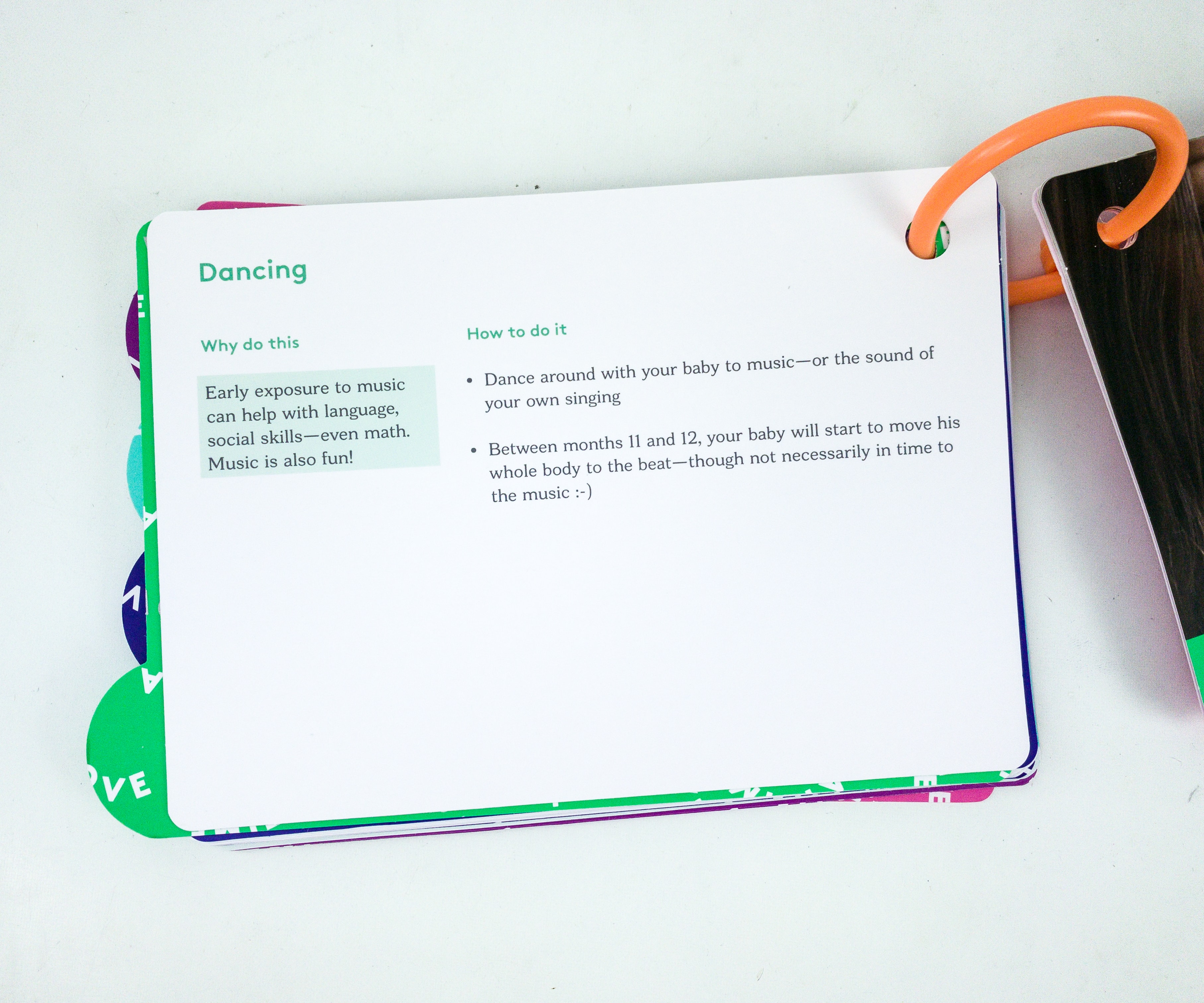 First up is Dancing! The booklet encourages parents to expose kids to music even at an early age because it has a lot of developmental benefits.
Early exposure to music can help with language, social skills — even math. Music is also fun!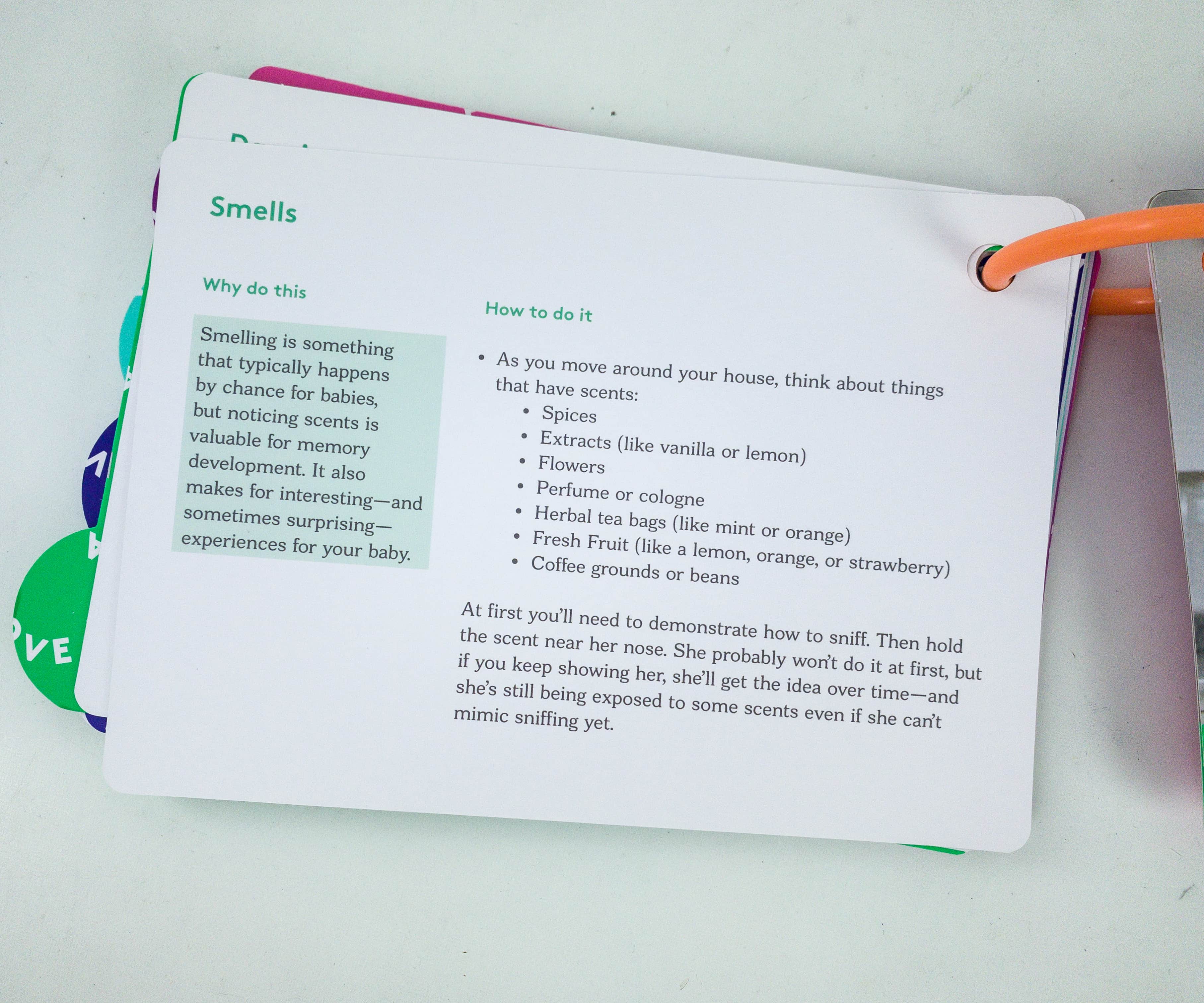 Next is Smells! For this suggested activity, you can use items that you can already find in your own home, like spices, extracts, flowers, perfume or cologne, herbal tea bags, fresh fruit, and coffee.
Smelling is something that typically happens by chance for babies, but noticing scents is valuable for memory development. It also makes for interesting — and sometimes surprising — experiences for your baby.
Here's another fun activity: A New View With You!
Your baby learns by simply being with you, at your level, while you walk around your house and do your thing. If you can wear your baby in a carrier, your hands will be free. Suddenly, new and thrilling things are within his reach of seeing and touching.
They also suggest an activity entitled Nature Walk!
The world right outside your front door is full of opportunities for your baby to learn. All throughout the year, nature offers new colors, textures, scents, and shapes for your baby to experience. Take a stroll around the neighborhood, park or nearby garden with your baby and be sure to stop and smell the roses!
They even included a colorful pouch in the box!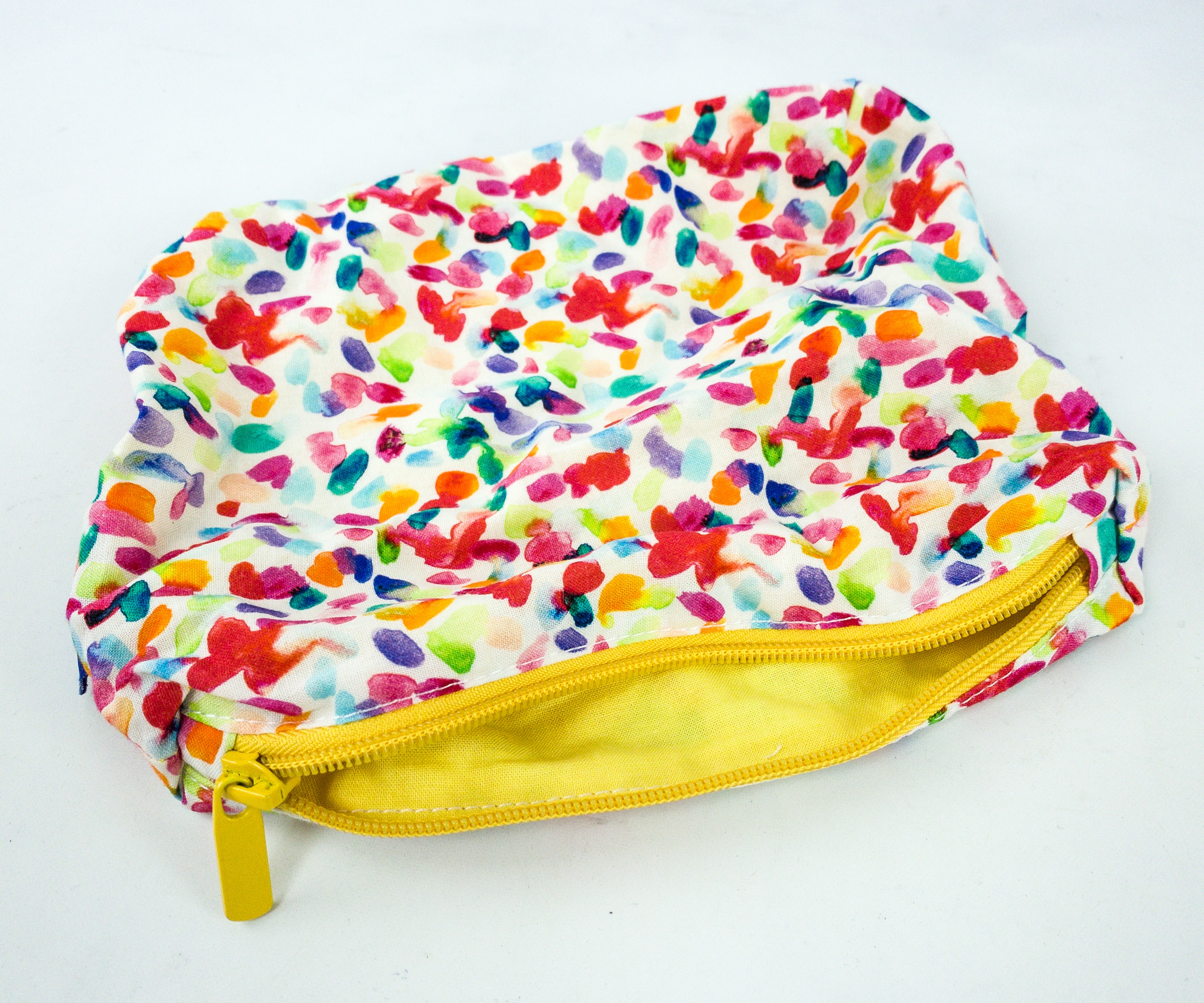 It comes with a yellow zipper and inner lining. The pouch can be used to keep some of the toys from this box, or even other baby essentials.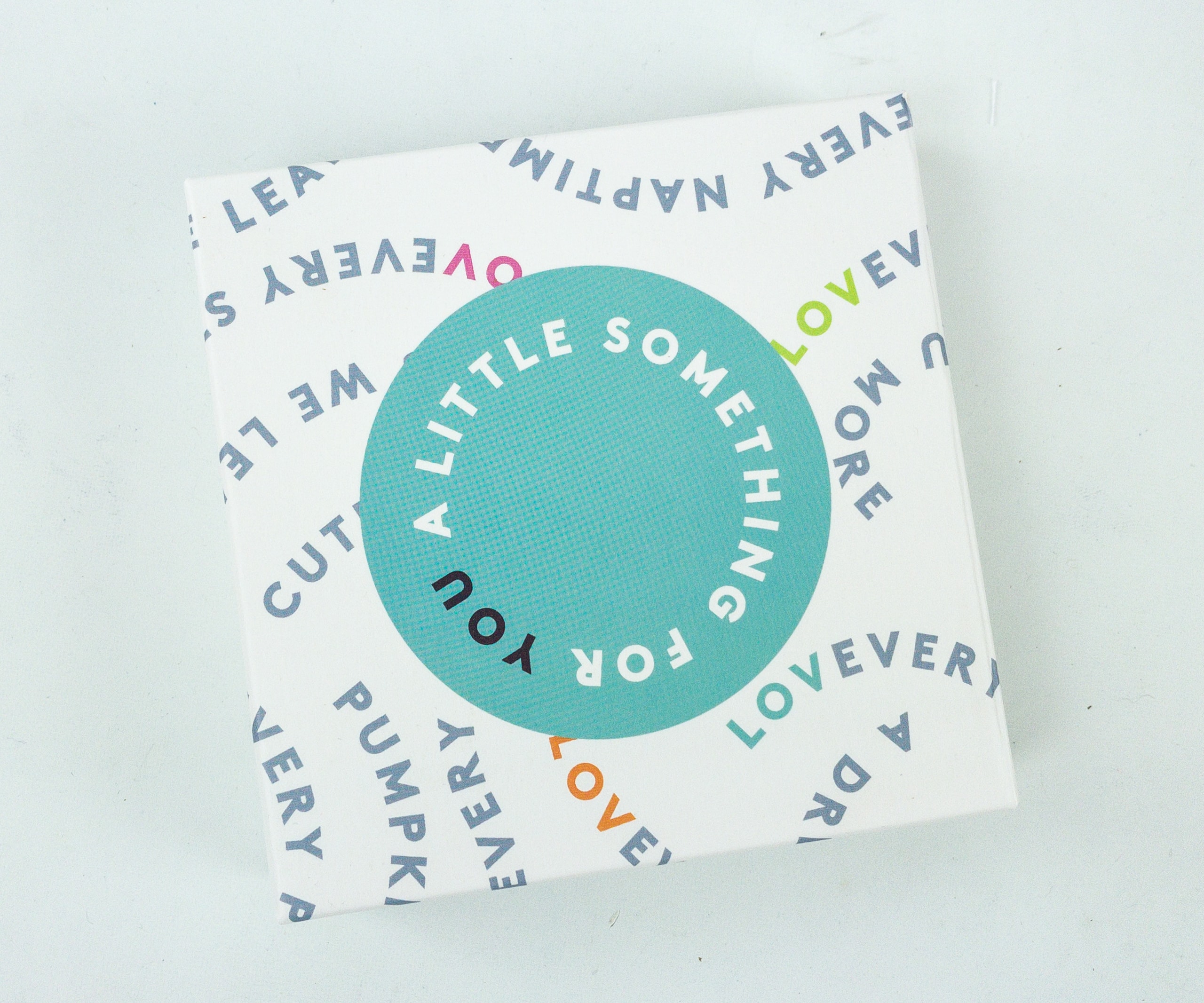 Of course, they didn't forget to include a gift for the parents!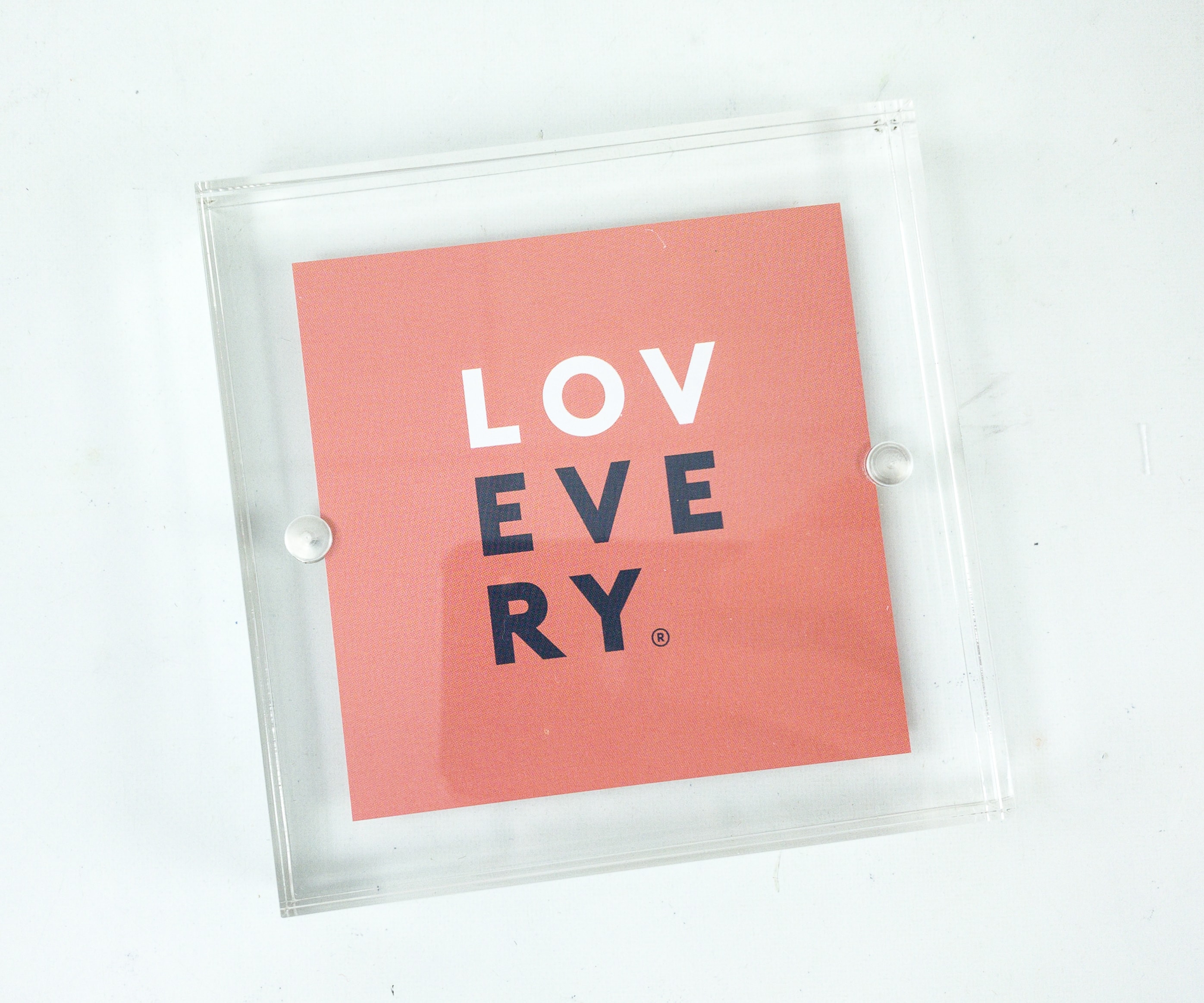 It's a clear photo frame with a contemporary feel!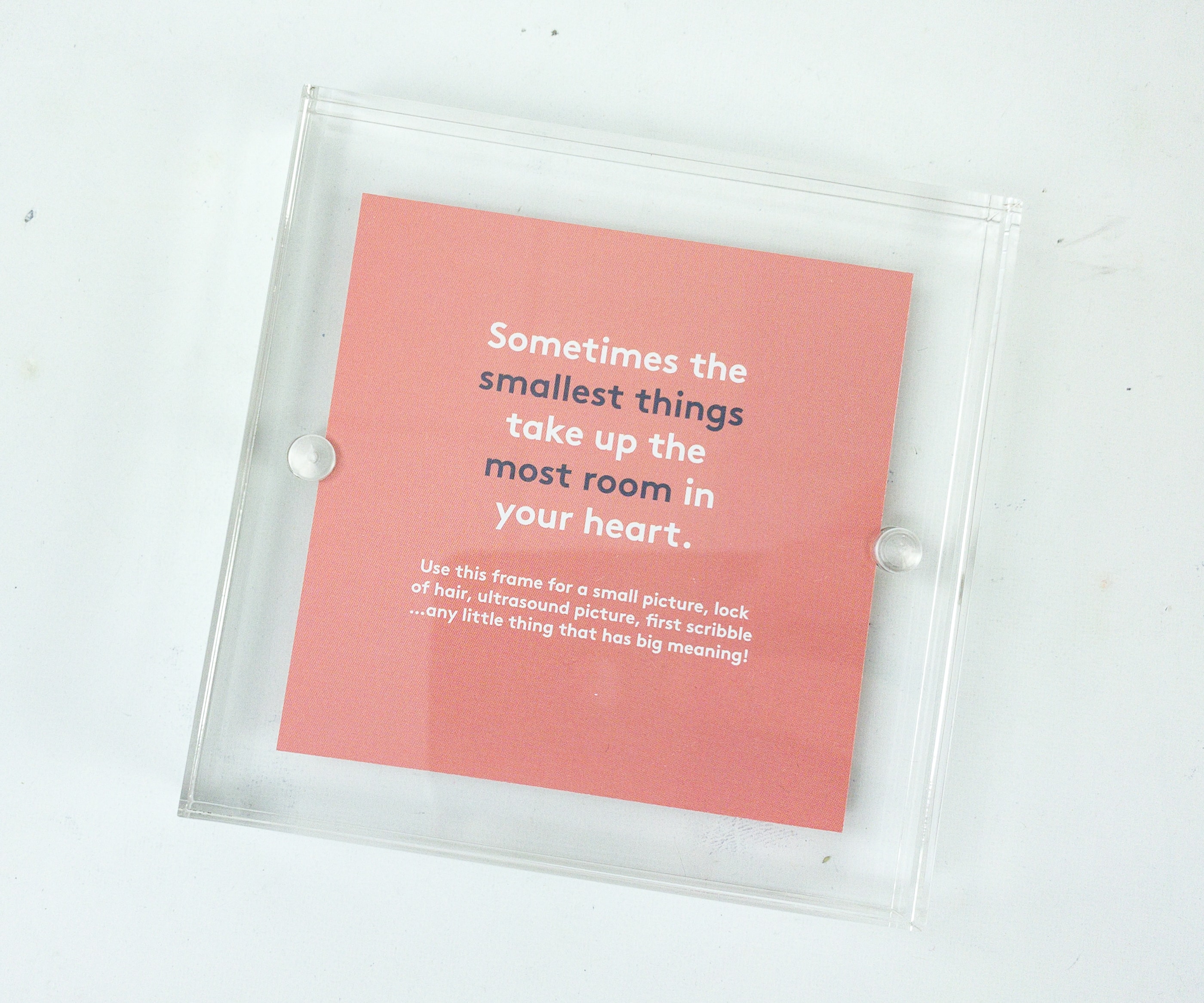 There's a card inserted in the frame, and you just have to remove it before putting your chosen photo.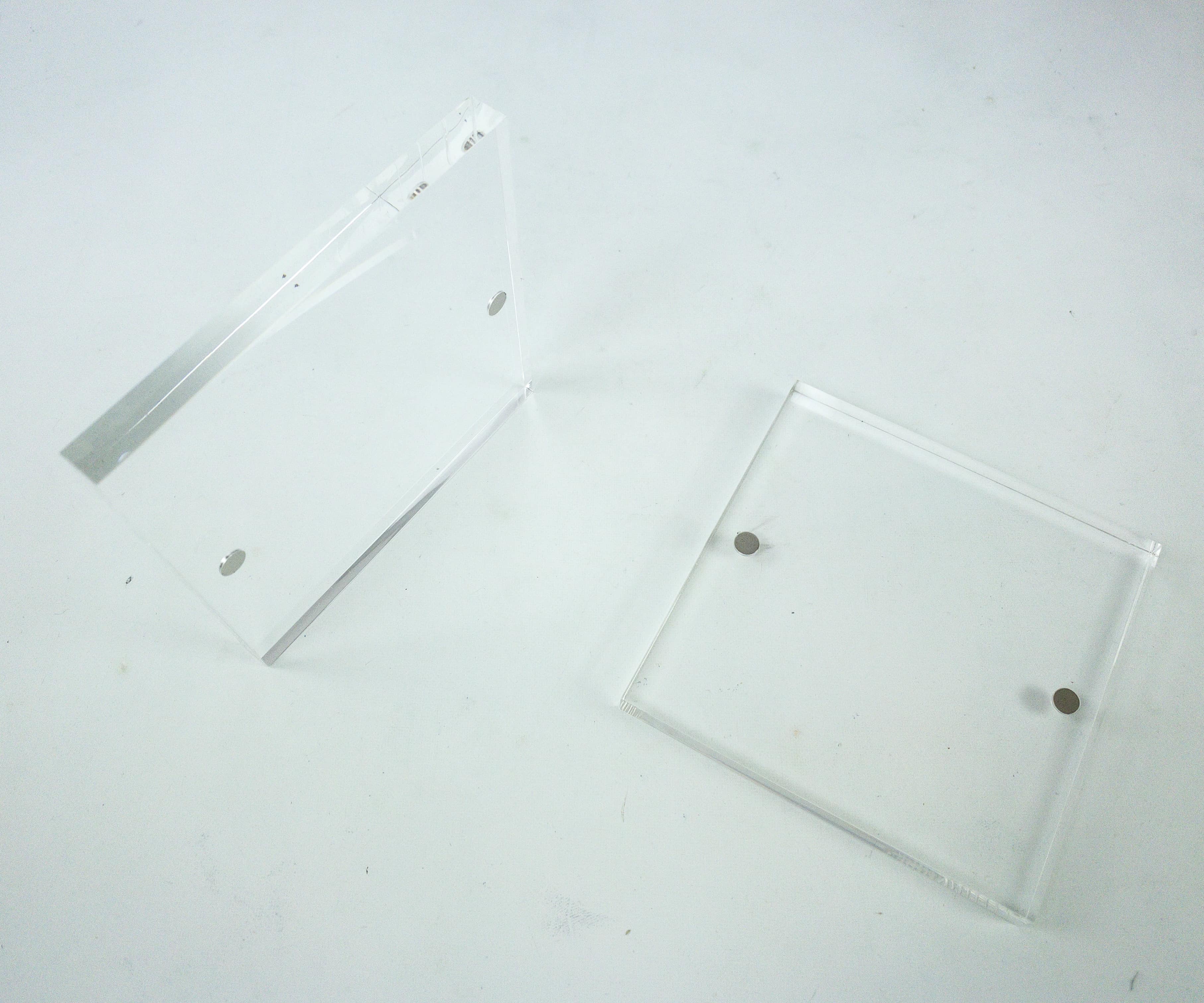 It's easy to take apart and put together. Such a thoughtful gift for parents!
Babies grow and develop fast, and Baby Play Kits by Lovevery was made to help parents understand their baby as they do so. As always, we're impressed with the booklet because it has well-detailed and well-researched information that parents can actually use. It also suggests lots of fun and educational activities, along with amazing developmental toys. This subscription encourages quality time for parents and their babies, and so far it has been really effective for us. There's really nothing here that would go to waste. We're excited about future boxes!
What do you think about the Baby Play Kits by Lovevery?
Visit Baby Play Kits by Lovevery to subscribe or find out more!