Squawk Box is a monthly birdie care package of 4-6 bird treats, toys, and more delivered straight to your door. Because parrots, big and small, need a great amount of stimulation to thrive, Squawk Box will deliver a new selection of toys every month. Every crate is carefully curated to keep our feather friends happy and healthy!
The box is available in four sizes: Little Birdie (great for Lovebirds, Parrotlets, Cockatiels, Parakeets, Green Cheek Conure sized), Middle Birdie (great for Quakers, Conures, Senegals, Pionus, Timneh Greys, Caiques, some Mini Macaws & some small cockatoos), Big Birdie (Amazons, Cockatoos, Eclectus, and Congo African Grey sizes), and Jumbo Birdie (large Amazons, Macaws, Moluccan Cockatoos). The monthly subscription starts at $24.95 for the Little Birdie to $44.95 for the Jumbo Birdie, with significant discounts for longer subscriptions. Knowing that parrots have a long life ahead of them, and that they will destroy everything around them (including couches, books, important papers, walls), the longer subscription is definitely a must! They now ship to Australia!
Also, for each Squawk Box ordered, a percentage goes to parrot rescues. Not only do you provide fun new treats to your own bird, but you help other parrots as well!
This review is for the Little Birdie. My assistant reviewer, Kiwi the Lovebird, is always happy to stick around to see what's new and fun in her box. Fun thing: non-bird pet can also enjoy these box, such as squirrels or hamsters! Of course, the bird is not included with the box, you have to provide your own diva!
Everything is packed with paper and both the box and packaging are bird safe. So bigger birdie will have a blast with the box!
There is no information on the content of the box, but you get a nice DIY Parrot Treat (Sweet Potato Birdie Bread), a Did You Know about parrots (the Kea, an awesomely smart alpine parrot from New-Zealand). Every month, Squawk Box donates part of their profits to a new bird charity. This month's donation is to the Parrot Hope Rescue in Mantua, OH!
Kiwi didn't waste any time picking up her favorite toy from this month's box! I'm sorry for all the blurry pictures, Kiwi was way into playing she had no time to pose for the camera!
Bonka Bird Toys Bell. Three colorful bells with three acrylic charms. It's shiny and it makes noises.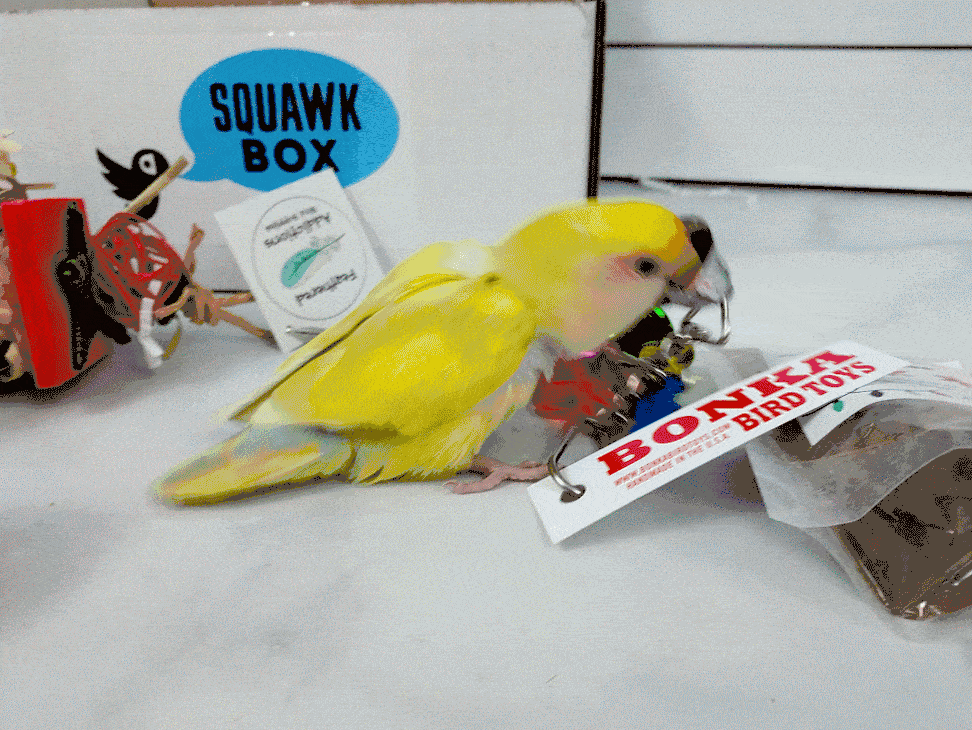 A favorite.
Happy Beaks Rattle Bird Ball foot toy. This toy is really a foot toy : Kiwi has a collection of balls and one of them always ends up under my feet when I work at my desk. She likes to push them around, play with them under the couch, and she sometimes play fetch with me (I'm the one doing the fetching.)
And they always end up in the weirdest place, but it keeps her busy and gets her to run across the floor.
Planet Pleasures Parrot Pinata Bird Tire. All Natural material, it's perfect for your hormonal little chewer. It's also not noisy, so perfect for the night cage.
It's easy to chew, but it won't fall apart right away.
Super Bird Creations – Star. Kiwi loves toys made with straws. She has a ton of fun chewing on them, and they are great for quieter times.
Feathered Addictions Pinata. We love Feathered Addictions toys as they always made out of natural materials such as bamboo, balsa, vine, palm and paper shreds.
Most of the time, there's a cute themed shape made out of pine, like this cute little christmas lightbulb. And your bird can never have too many bells…
Talon Treats Star anise. Star Anise smell so good and is quite healthy for your bird. And if your bird doesn't like it, you can use it to cook!
Kiwi hates all kind of treats, except millet. So I was surprised to see little feet getting closer to it.
And she went for it! To be fair, she likes to destroy natural pine cones, and the color and texture of star anise are not that far off. Still, she liked it! Success! (No fingers were injured in the process of testing this treat, which is quite surprising!)
This was an other great box. Kiwi's favorite were the bells and the foot toy, and I was happily surprised to see that not only was she curious about the Star Anise treat, but she actually played with it. I don't know if she will actually ate them, but it's a great chewing toy at least! We also love that some months have seasonal theme so you feel like you're including your birds in the festivities while providing them with fun.
Kiwi and I love Squawk Box as it is great to discover new toys, and maybe new favorites. We really enjoyed the variety of texture, colors, and types of toys that we receive in every box, there's always something she'll like! It's also a great way to get your bird less afraid of new things, and more curious about things around it.
I'm impressed by the variety of toys available out there as Kiwi has been subscribed to Squawk Box for a long time now and she received the same toy only a couple of times. And it's usually a toy she loves and has destroyed, so it's a win. It's fun to get a box of new toys and treats to discover, instead of spending countless hours at the pet store in front of a very limited selection to end up buying the same toy over and over again! And sometimes, your bird will surprise you by loving a toy or treat you were sure it would hate!
Chirp!
What do you think of this month's Squawk Box?