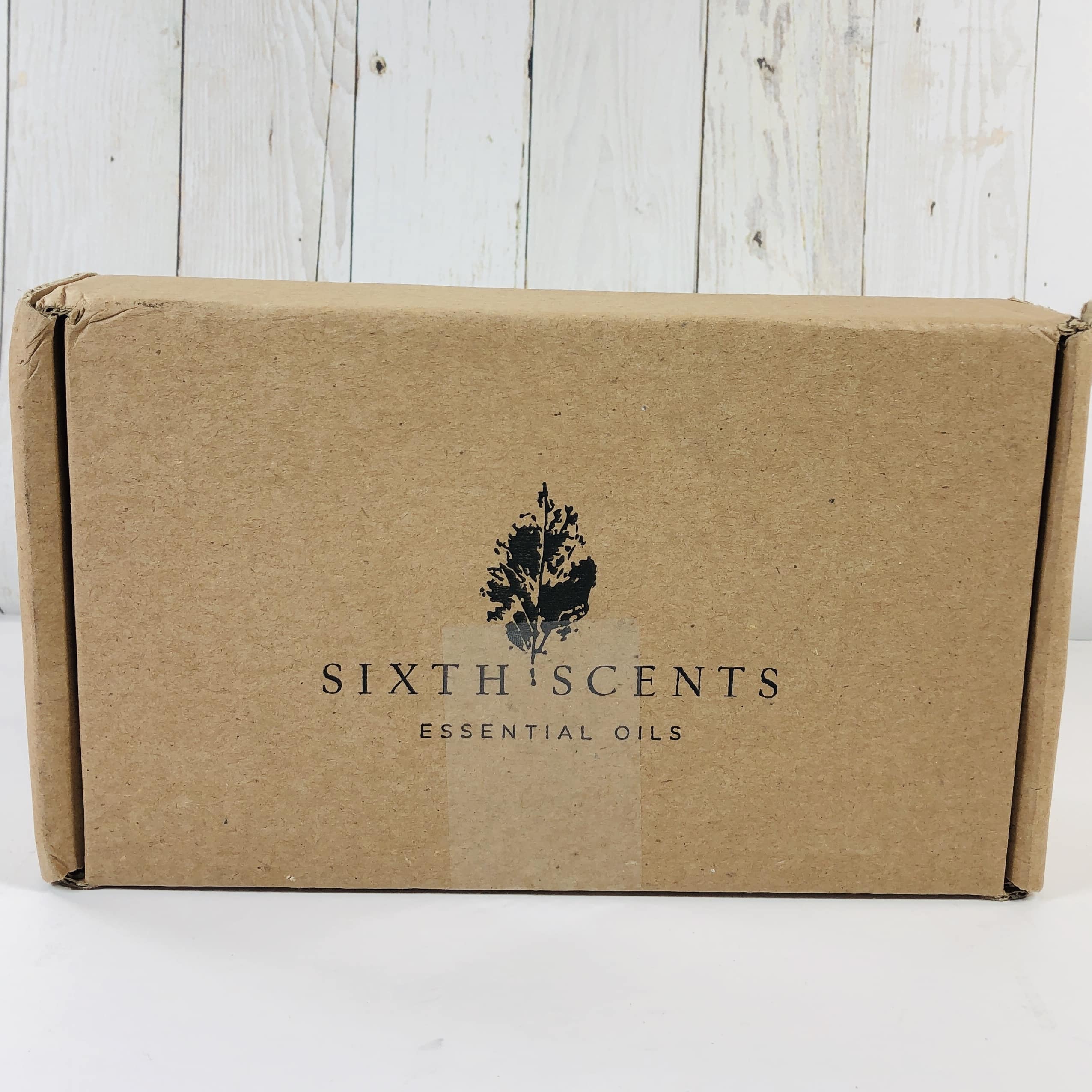 Sixth Scents is a monthly subscription box of essential oils. Every month will include 6 bottles of 100% pure oils for all kinds of aromatherapy uses. The oils are curated to the month and season and will have oils one might associate with a certain time of year. Boxes are $59 a month and shipping is free to the U.S., $15 to Canada.
Each month you will receive a curated set of six 100% pure essential oils  that have been specially selected to align with the moods of each particular month.
All boxes are filled with over $120 in value, compared to similar brands, of beautifully natural and carefully tested essential oils.
DEAL: Get $10 off your first box! Use coupon code HELLO10.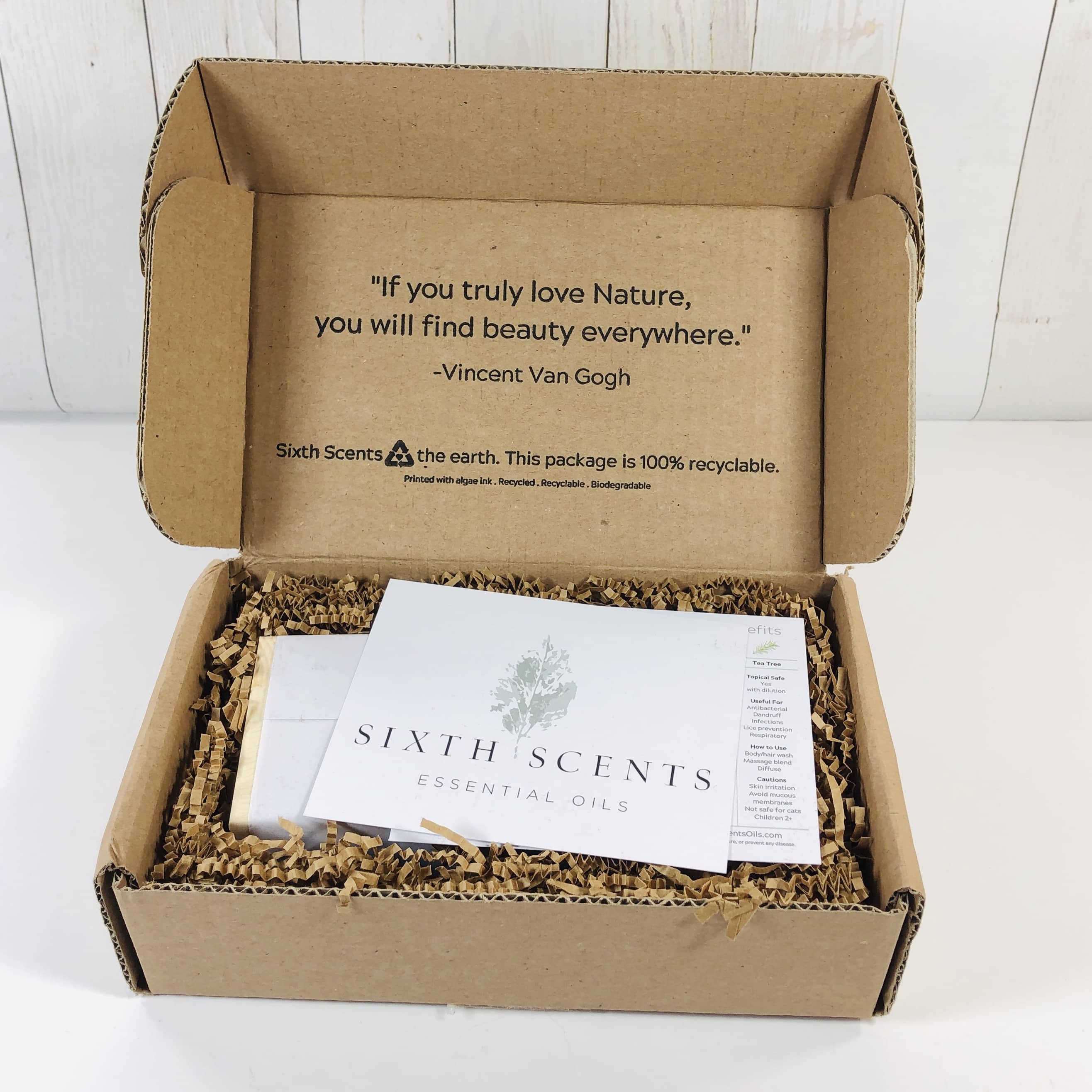 *100% Pure Oils- Non-toxic and free from synthetic fragrance, sulfates, parabens, formaldehydes, phthalates, and mineral oil.

*Made in the USA with globally and sustainably sourced essential oils.

*Vegan and Cruelty-Free

*Highly recyclable, earth-conscious packaging

*6% of profits donated to small global farmers through One Acre Fund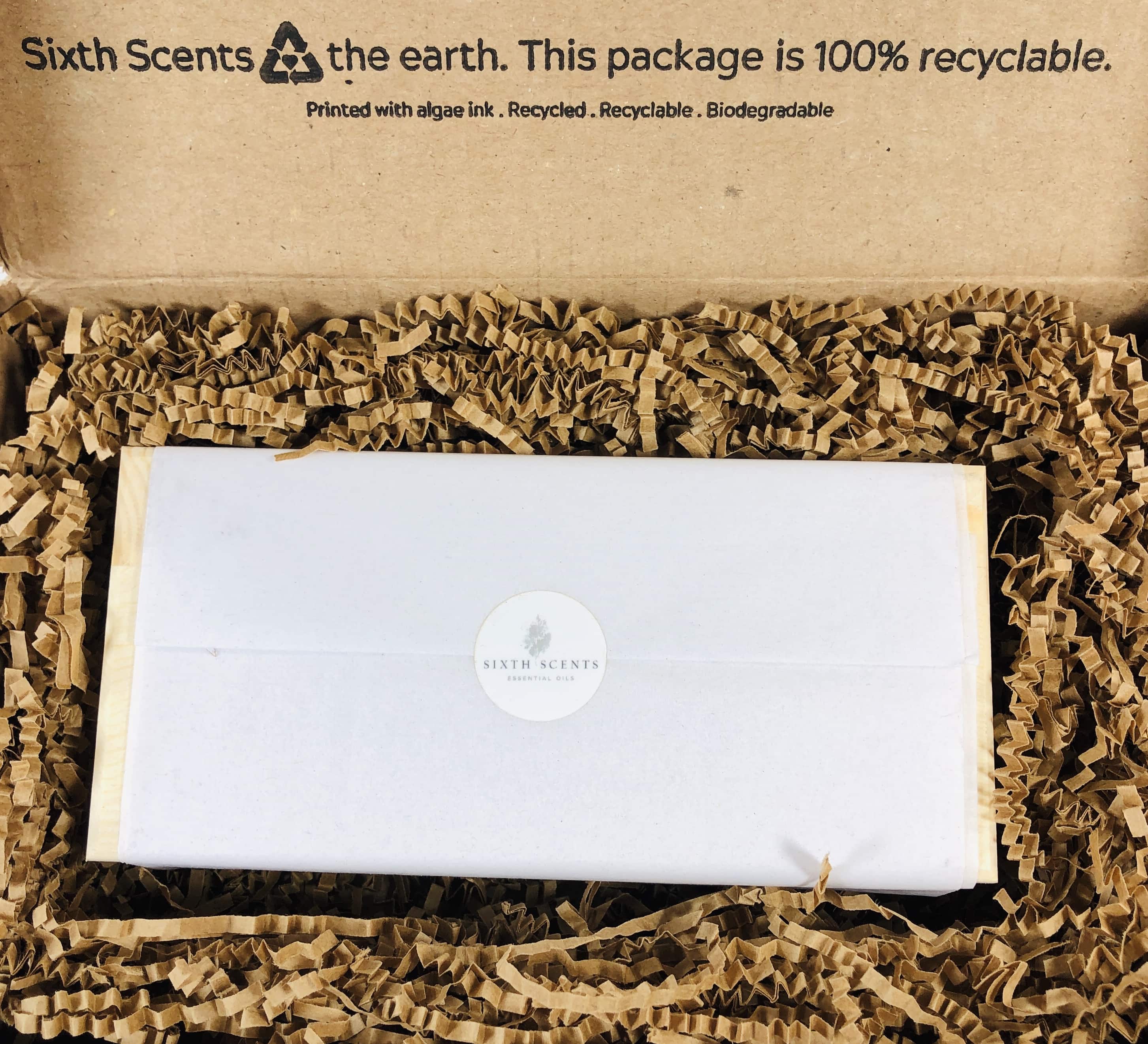 I found a wooden box nestled in a bed of shredded paper squiggles.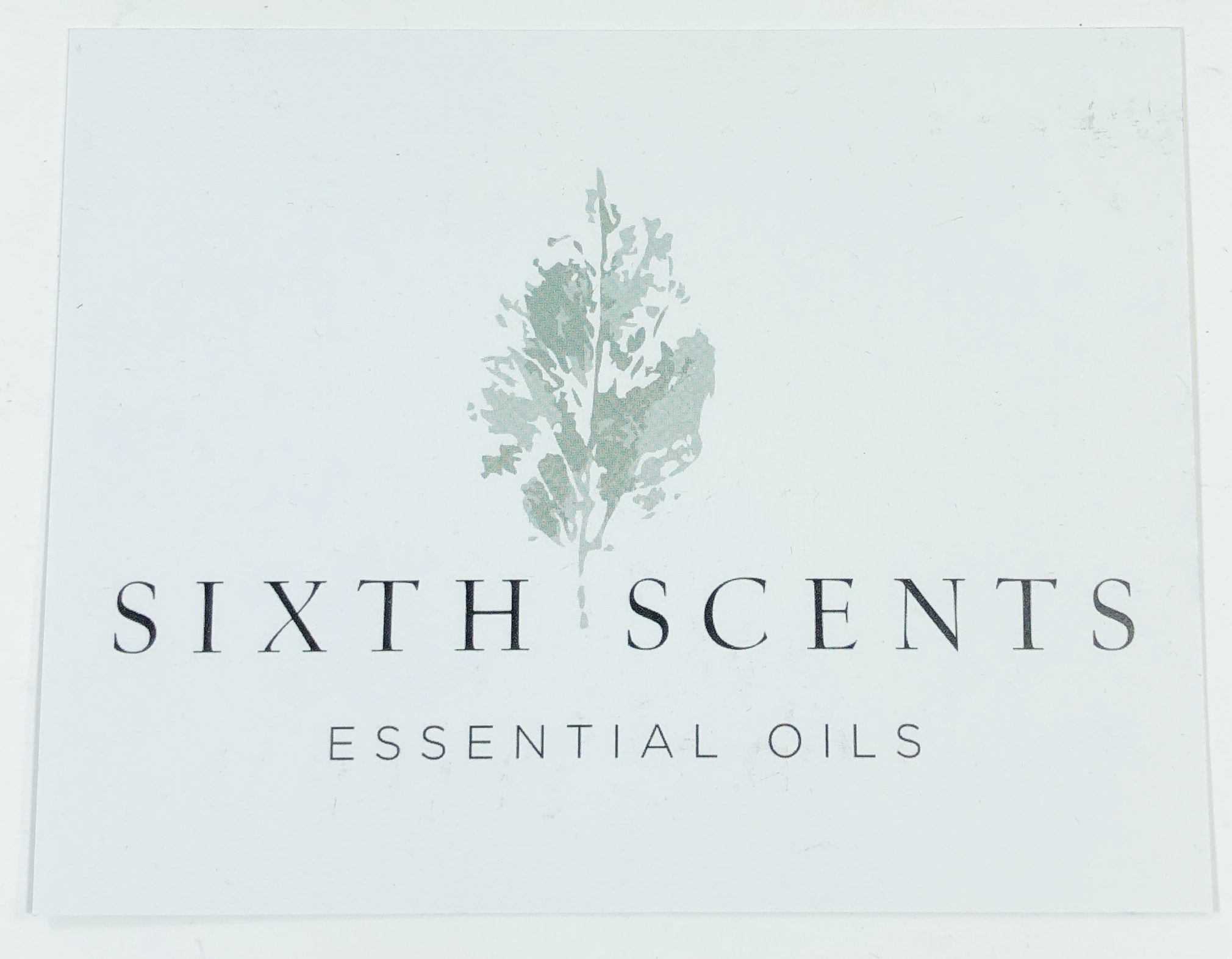 I found a card in the bigger box.
The back of the card described how you can enter to win a gift card for sharing pictures of the oils in use.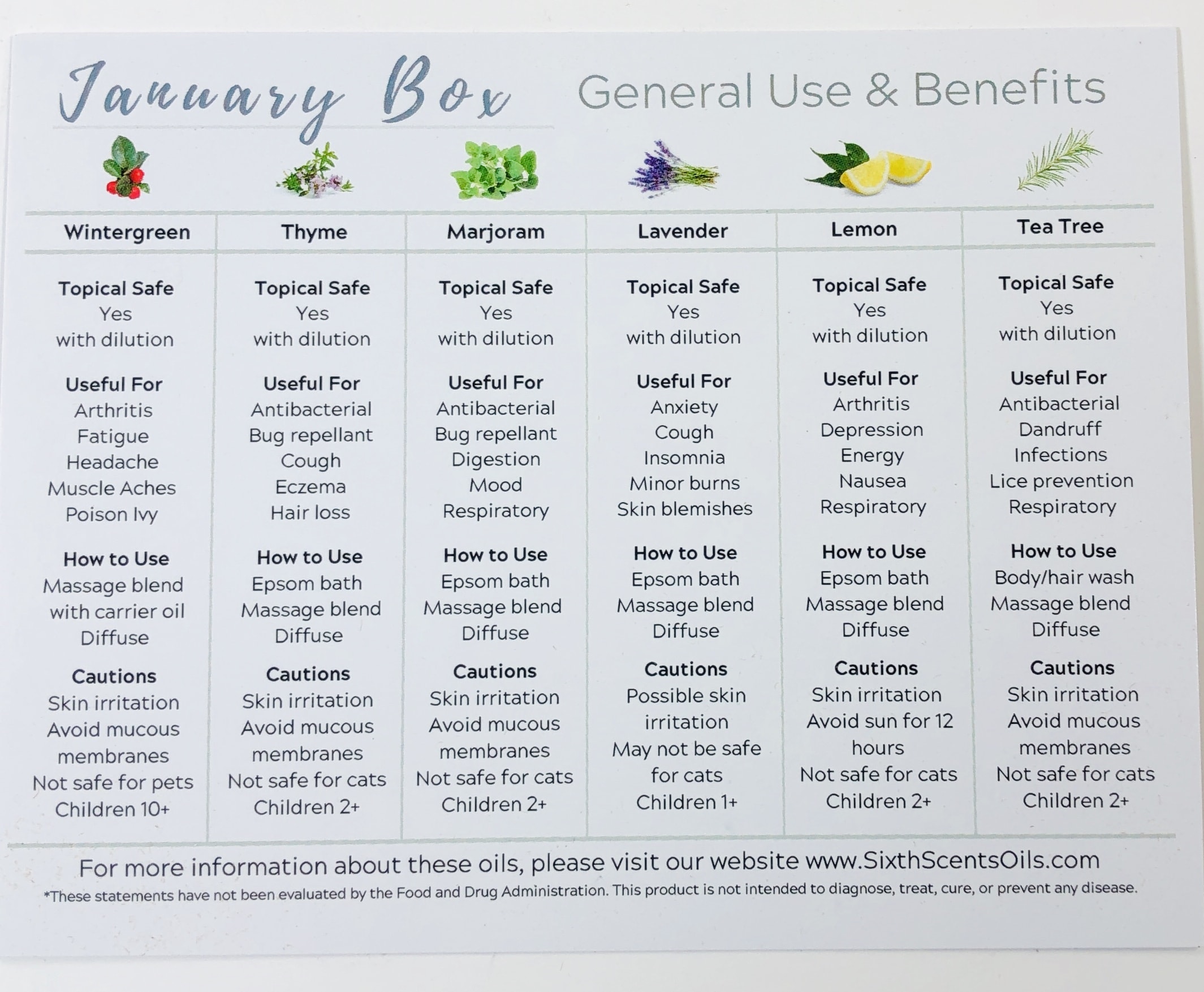 I found a second card with all of the oils I received listed plus some general ways to use them. I have an aromatherapy book that I can refer to but I have also found additional uses on Pinterest and you can even look for "recipes" on the Sixth Scents website!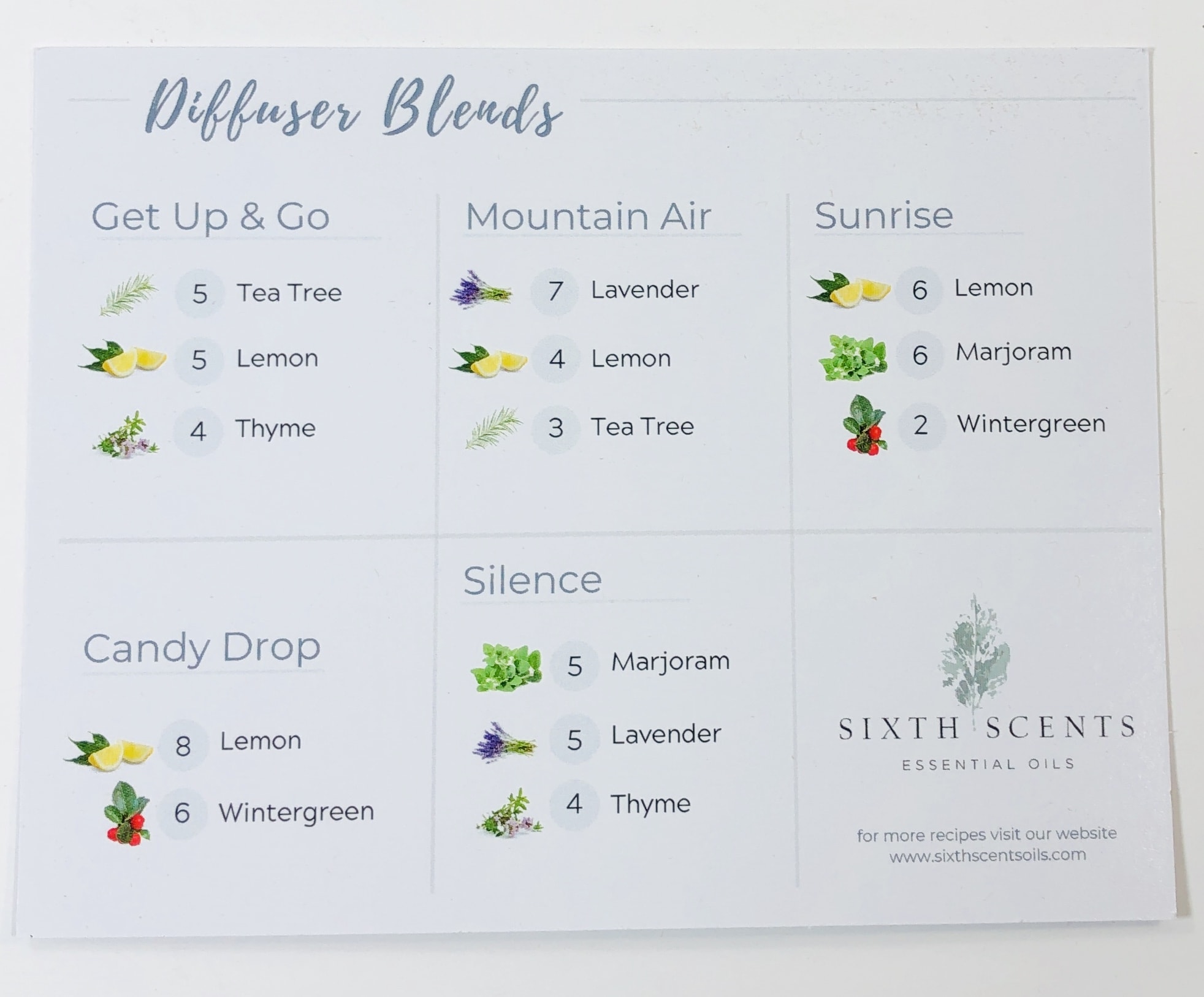 The back of the card listed a few diffuser blends to get me started.
NOTE: Although the oils are supposed to be non-toxic, please use caution when using oils. Do not use if pregnant or nursing, be careful around pets and children, and do not take internally. Check with your doctor if you have any existing health problems, and consult with a doctor if you have any questions. Also, some oils are very toxic when taken internally, and essential oils need to be diluted with a carrier oil before using on skin, and some can even burn your skin when exposed to sunlight. I love essential oils, but I also do my homework before using.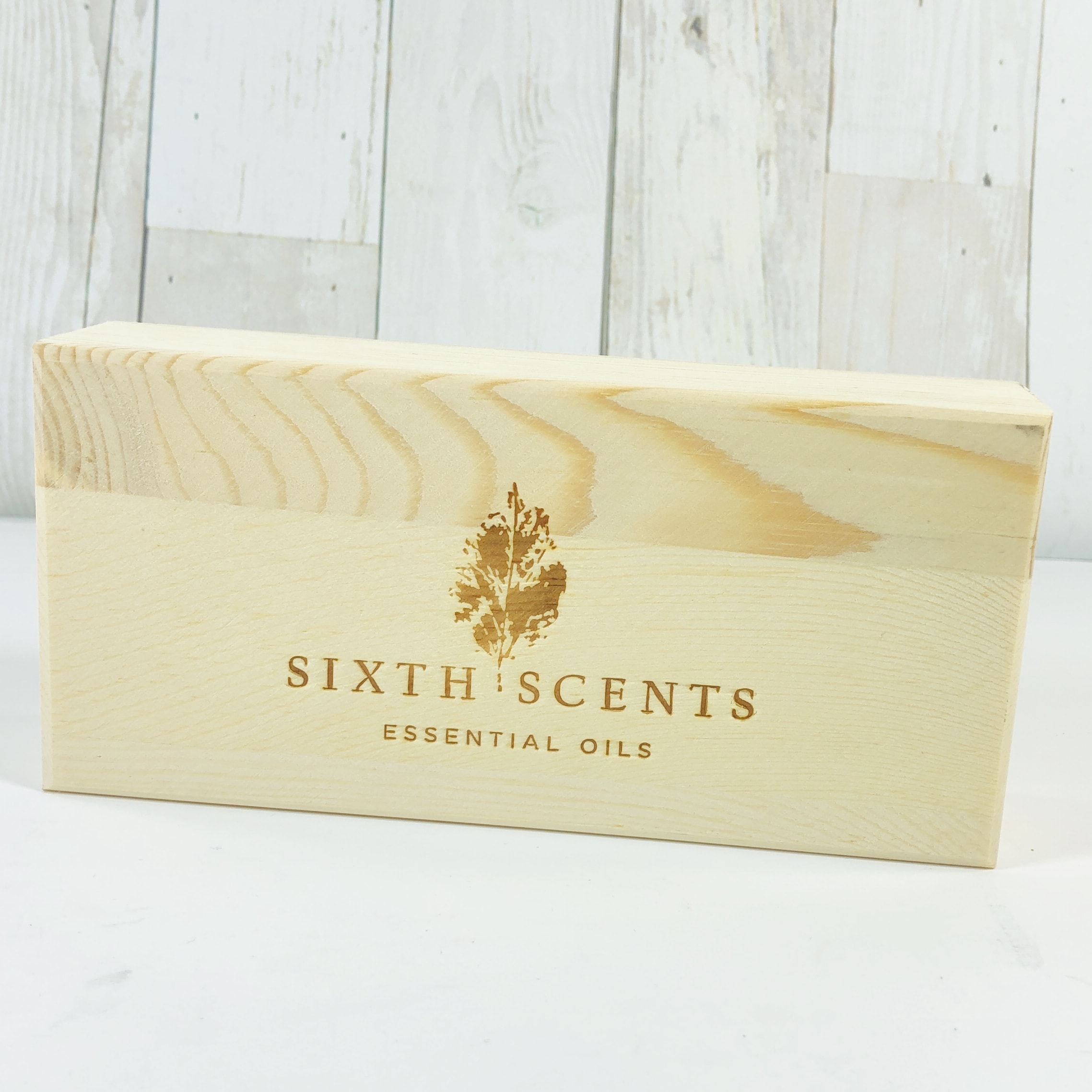 My oils were in a reusable wooden box. I can keep them in the box for storage and they will stack neatly on a bookcase. I also discovered that 10 oils will fit in the box if you want them standing up.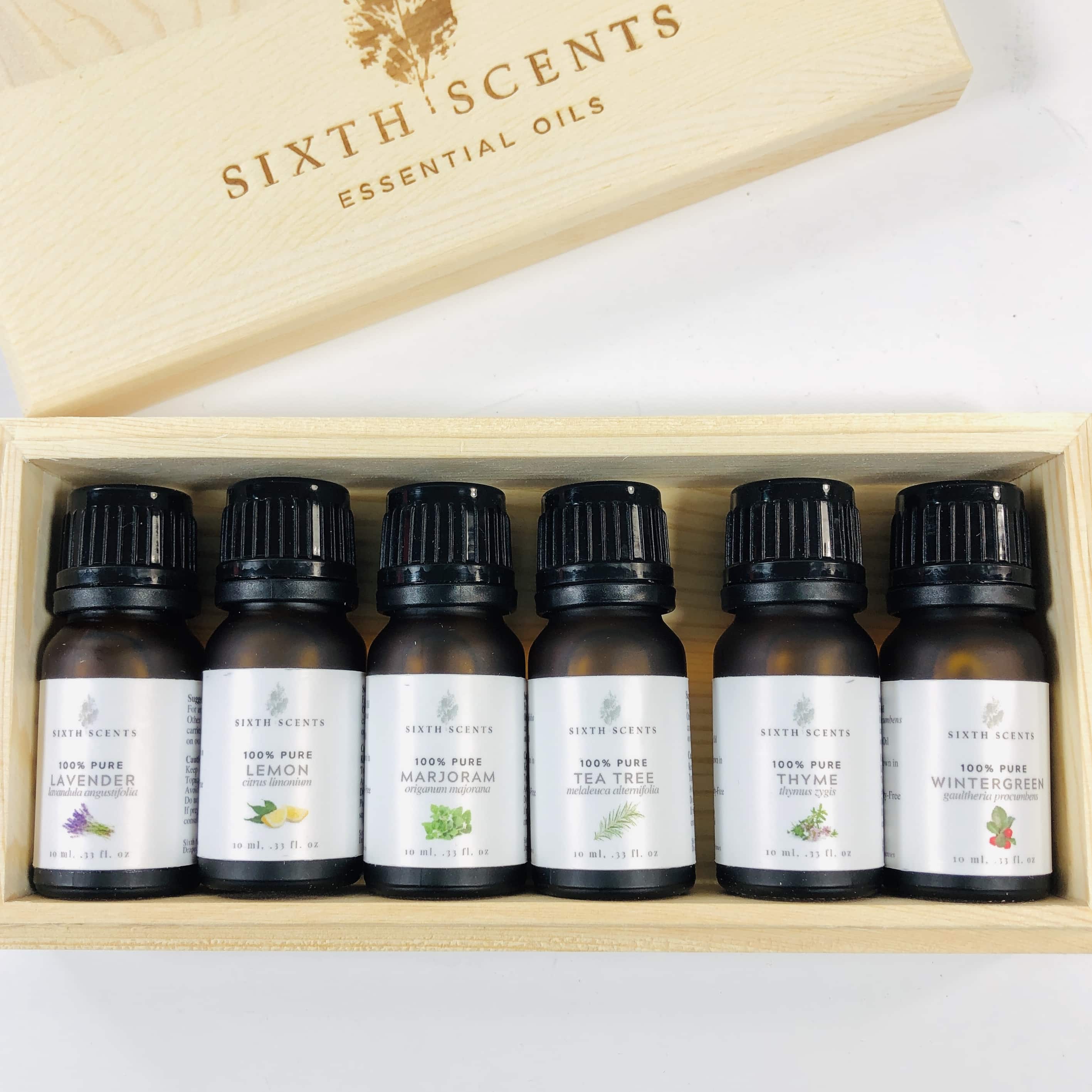 Look at all of those beautiful oils!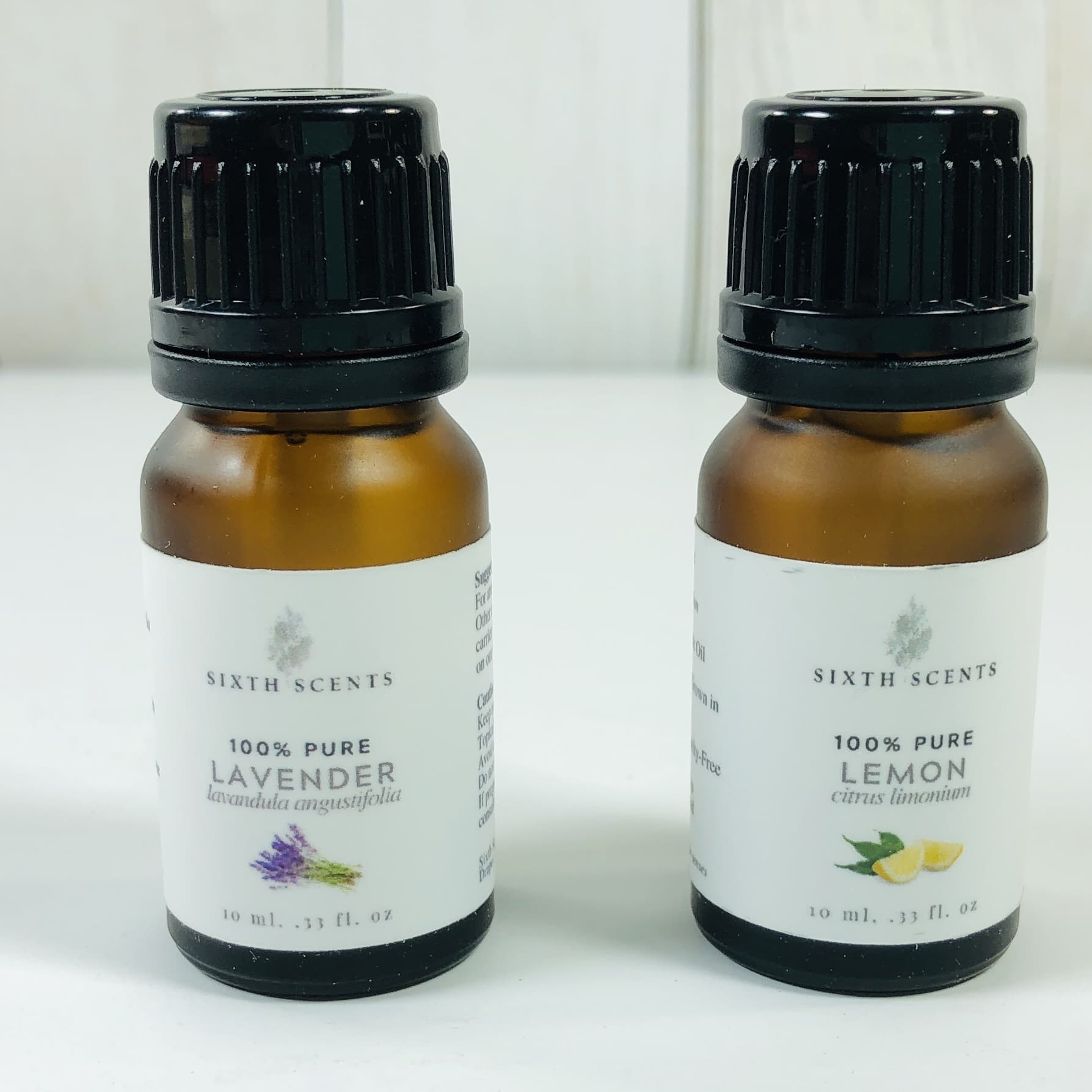 Lavender ($17) is a classic oil, great for relaxing purposes, whether that's in a rub, through diffusing, or in a sleep balm. Try placing a couple drops on a wool dryer ball for sweetly scented towels.
Lemon ($11) is perfect for making your own cleaning spray. Smells like sunshine in a bottle.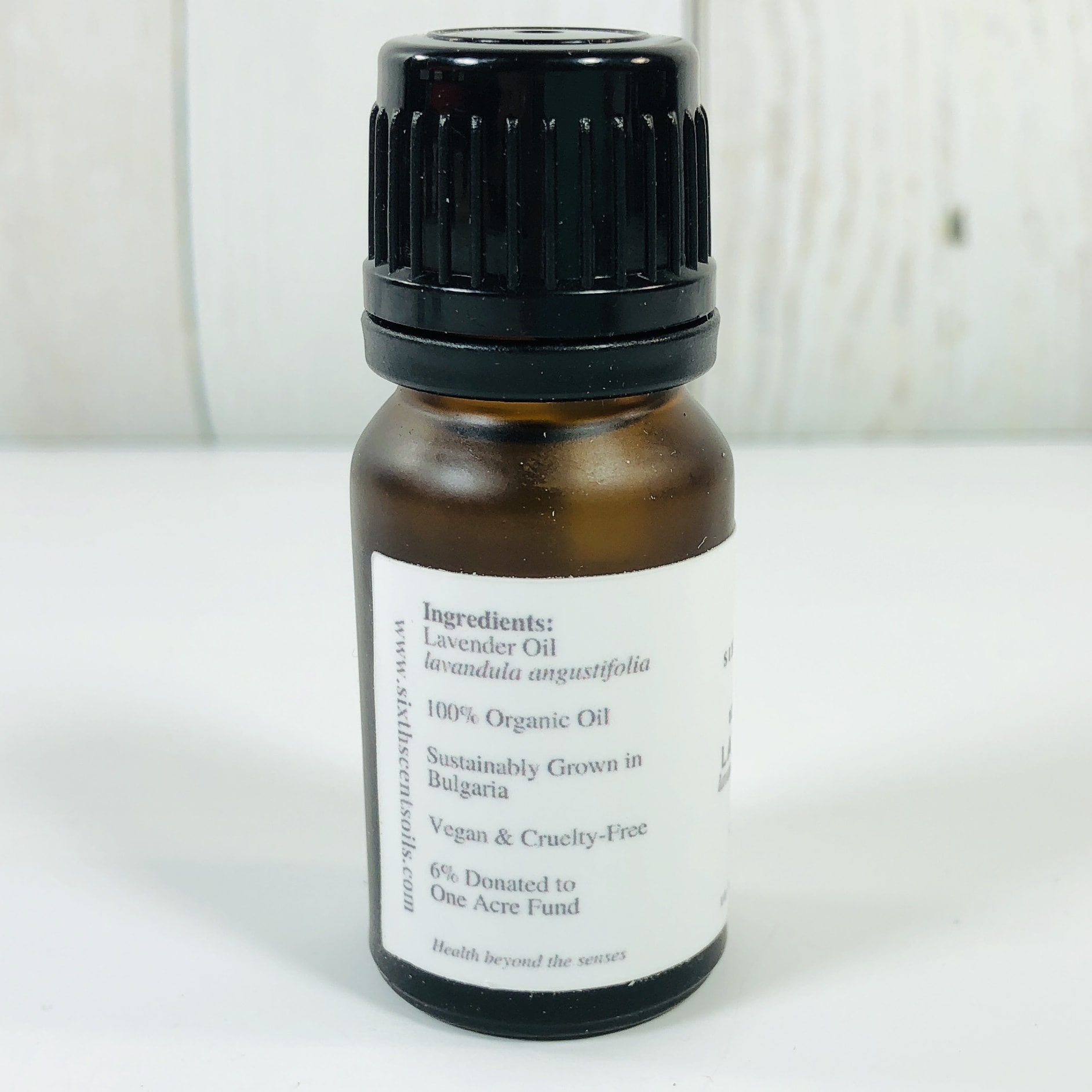 Speaking of bottles, I want to show you what the outside of the bottles look like. One side of the label shows which specific plant was used, country of origin, and had a few notices, like that the oil is organic.
The other side listed suggested uses, plus had general cautions.
Each bottle has a eurodropper so that you can get one drop out at a time and product won't be wasted.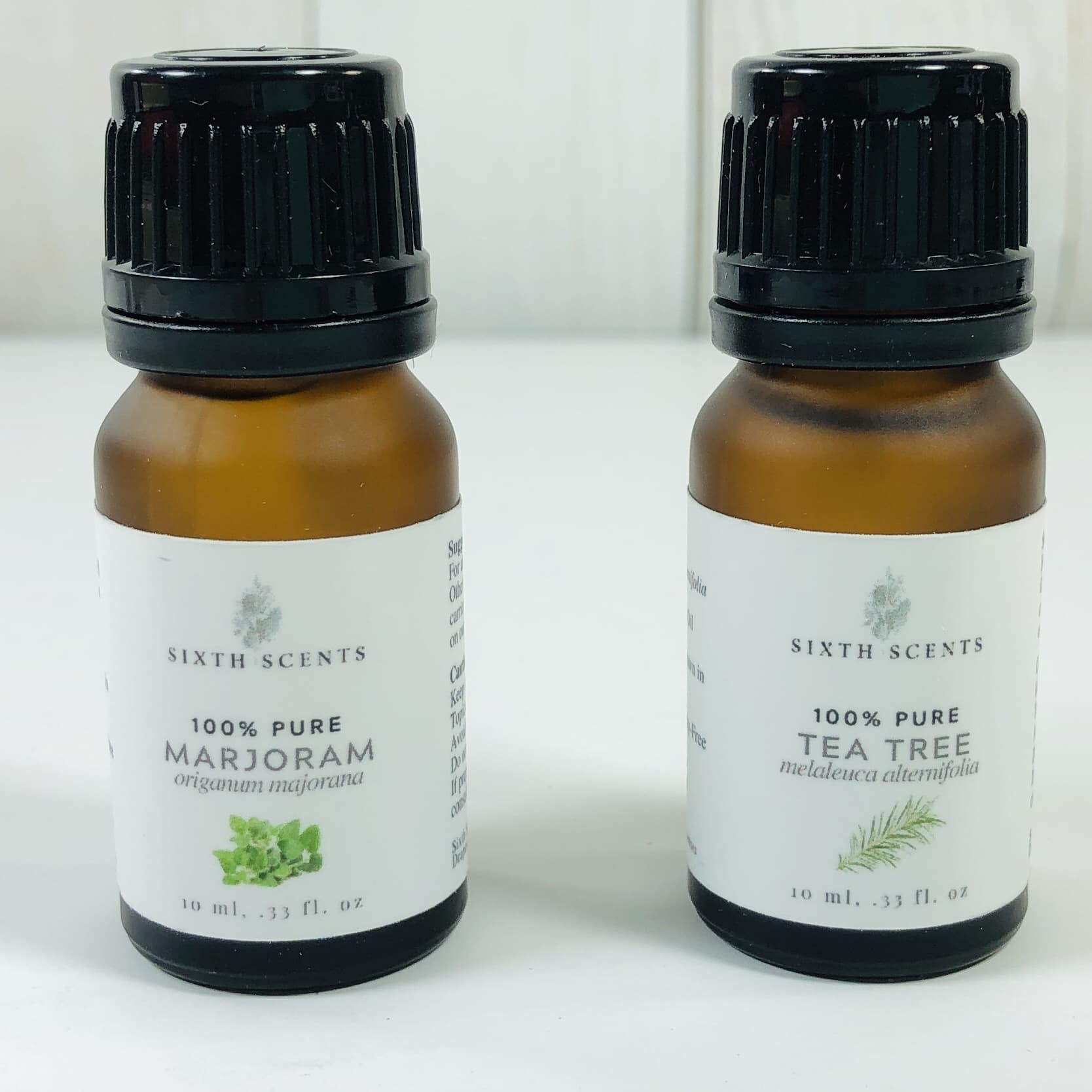 Marjoram ($15) has a unique scent that kind of reminds me of thyme or oregano, or even tea tree! Use it in a homemade bug spray.
Tea Tree ($17) I have wanted a bottle of tea tree for my home apothecary so I was really excited to see this! Tea Tree has so many uses, including as a dandruff fighter, just add some to your shampoo.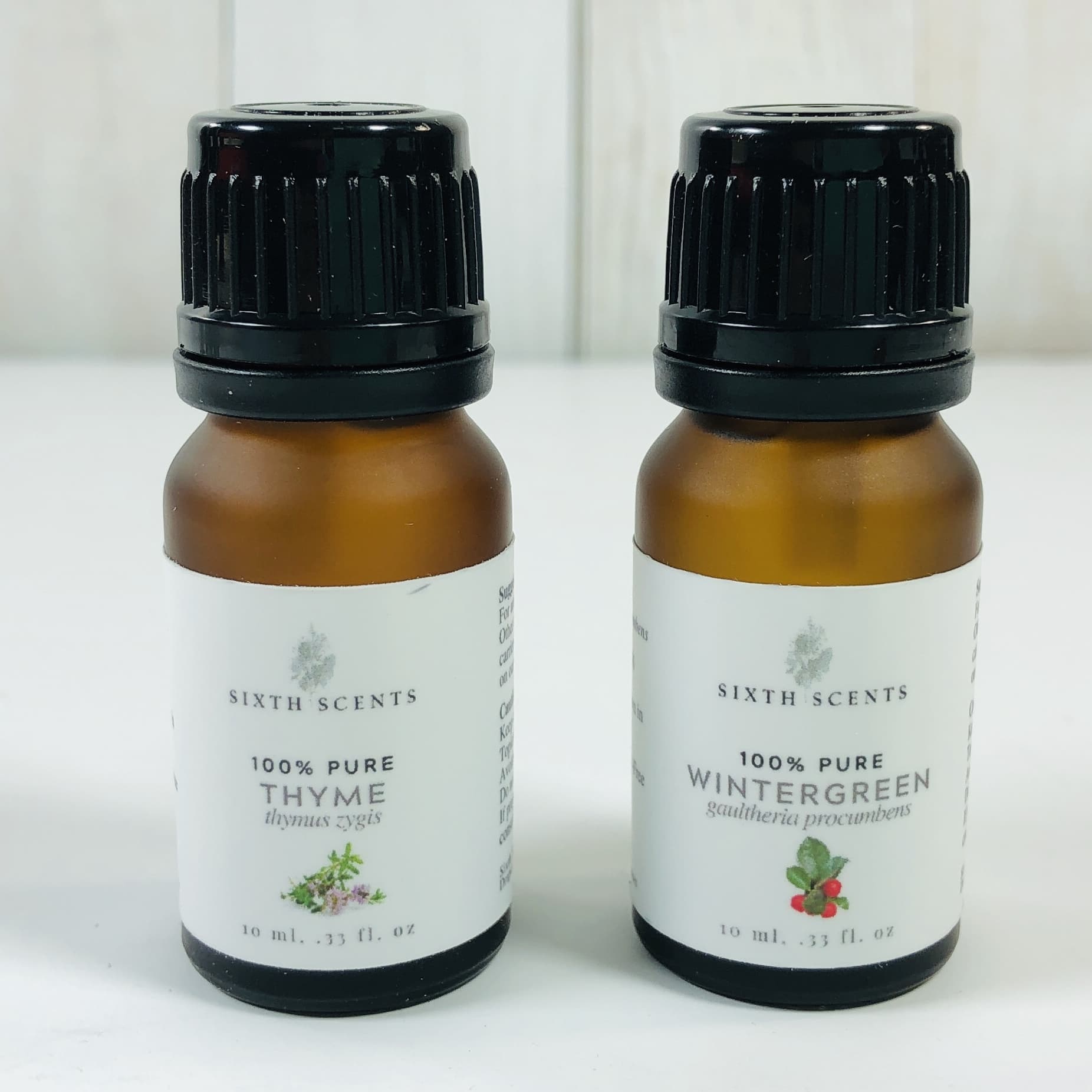 Thyme ($20) has a medicinal smell to it and was used by the ancient Egyptians for mummification!
Wintergreen ($14) smells like muscle rub and can be used in a similar way, but make sure to dilute it first and really pay attention to those safety warnings!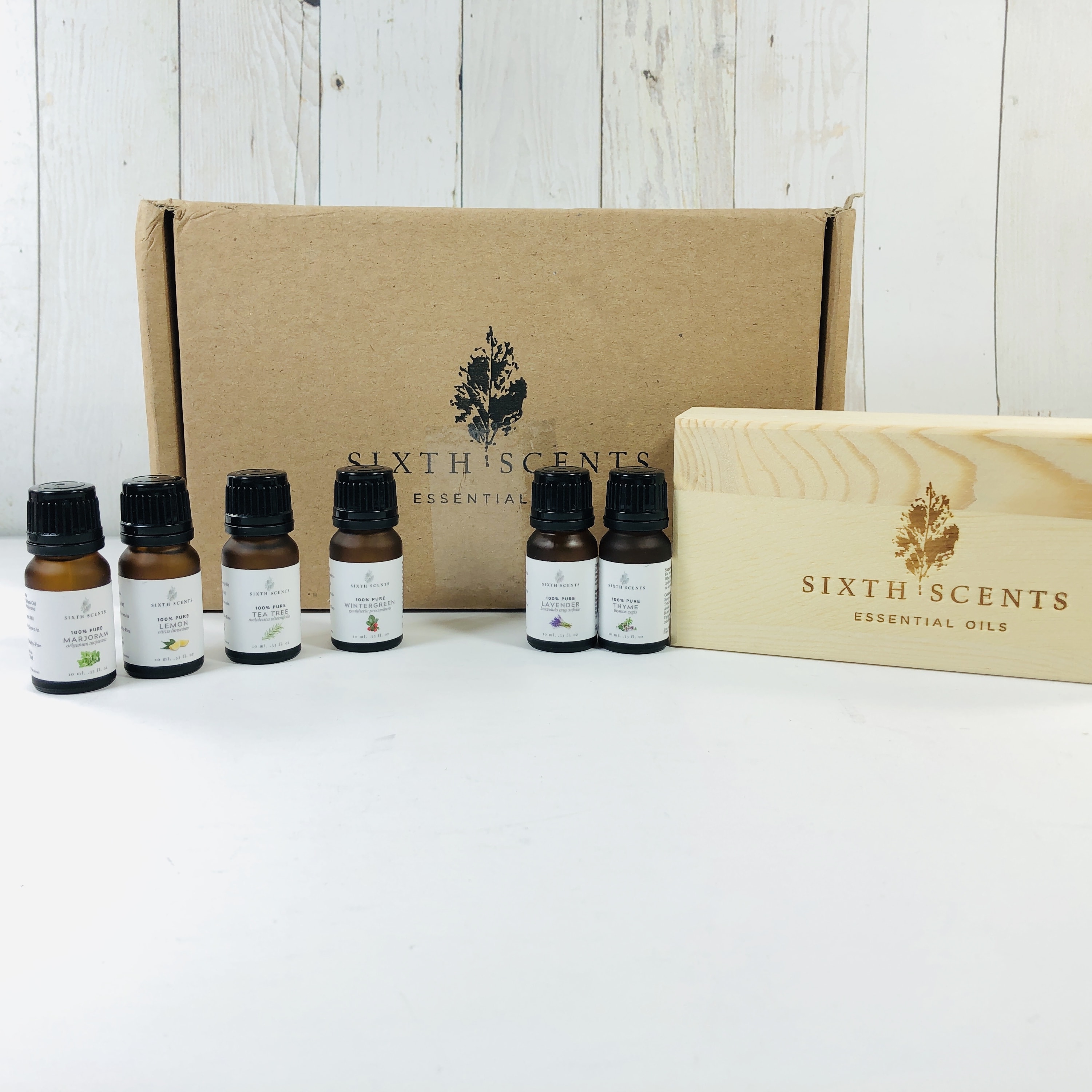 I really enjoyed my Sixth Scents box! I received some oils that were lacking in my collection and can't wait to put them to use. I have already diffused some and used scent combinations as suggested on the included card. I thought the Sixth Scents website was a great resource for learning about my oils and for ideas on how to use them. I would have paid $94 if I had bought the oils individually from Sixth Scents, so I felt like the price was worth it, and compared to some brands these were priced really well.
Do you like this month's box? Let me know what you think by leaving a comment!