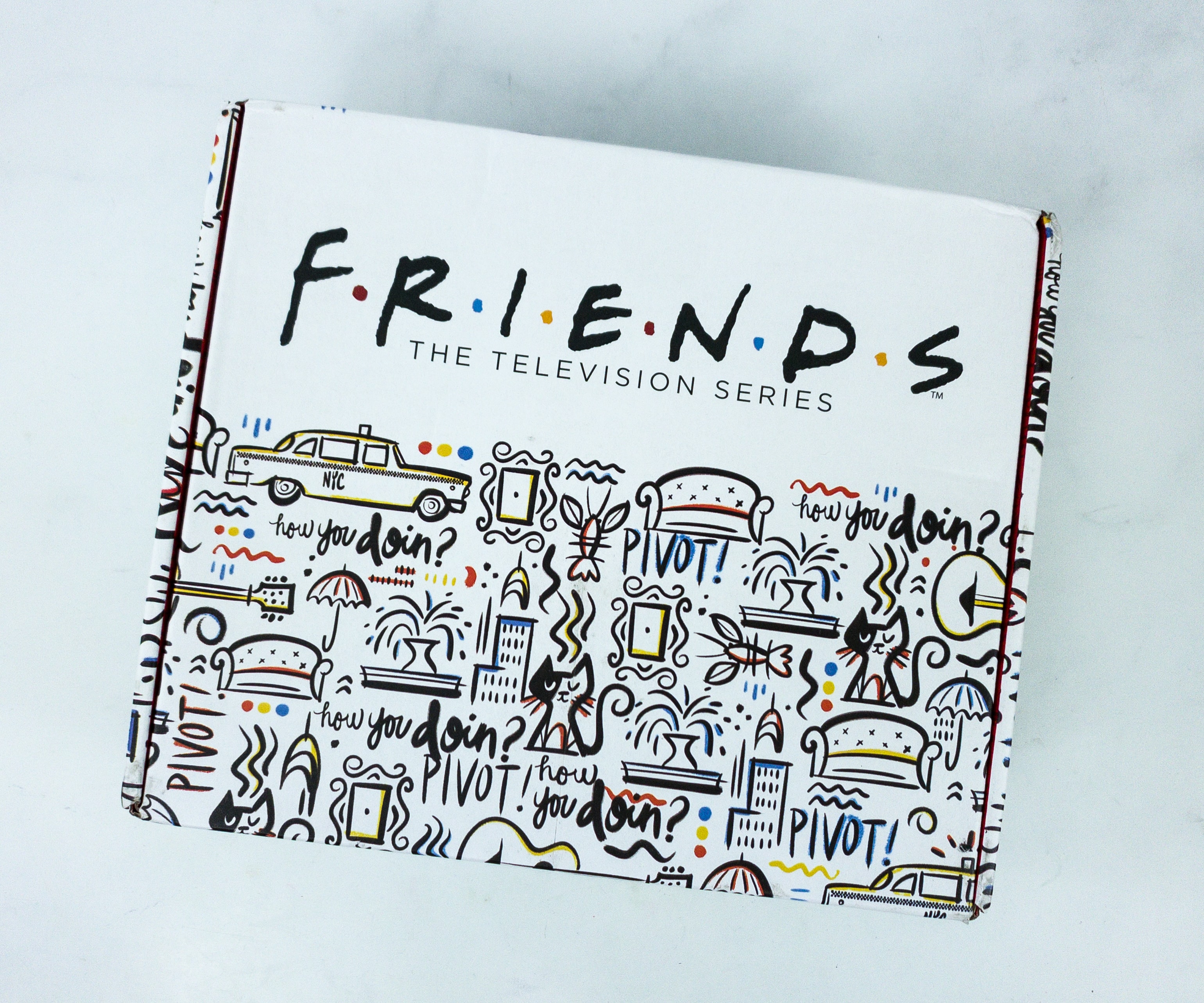 How you doin'? The F.R.I.E.N.D.S subscription box is an official subscription made especially for F.R.I.E.N.D.S fans. Each box contains 6-8 exclusive items, and may include officially licensed collectibles, apparel, and accessories based on your favorite F.R.I.E.N.D.S characters and episodes delivered straight to your door every quarter.
All the items are securely packed inside the box.
They've executed the F.R.I.E.N.D.S theme well, starting off with the cute design on the white box with all the iconic F.R.I.E.N.D.S TV series symbols from the NYC taxi to the fountain where the casts were dancing to the intro song "I'll be there for you", to the sofa at Central Perk, to the iconic yellow peephole picture frame from Monica's door, to Phoebe's guitar, to the apartment cat! Wow! Every F.R.I.E.N.D.S fan will surely get giddy at the first sight of the box!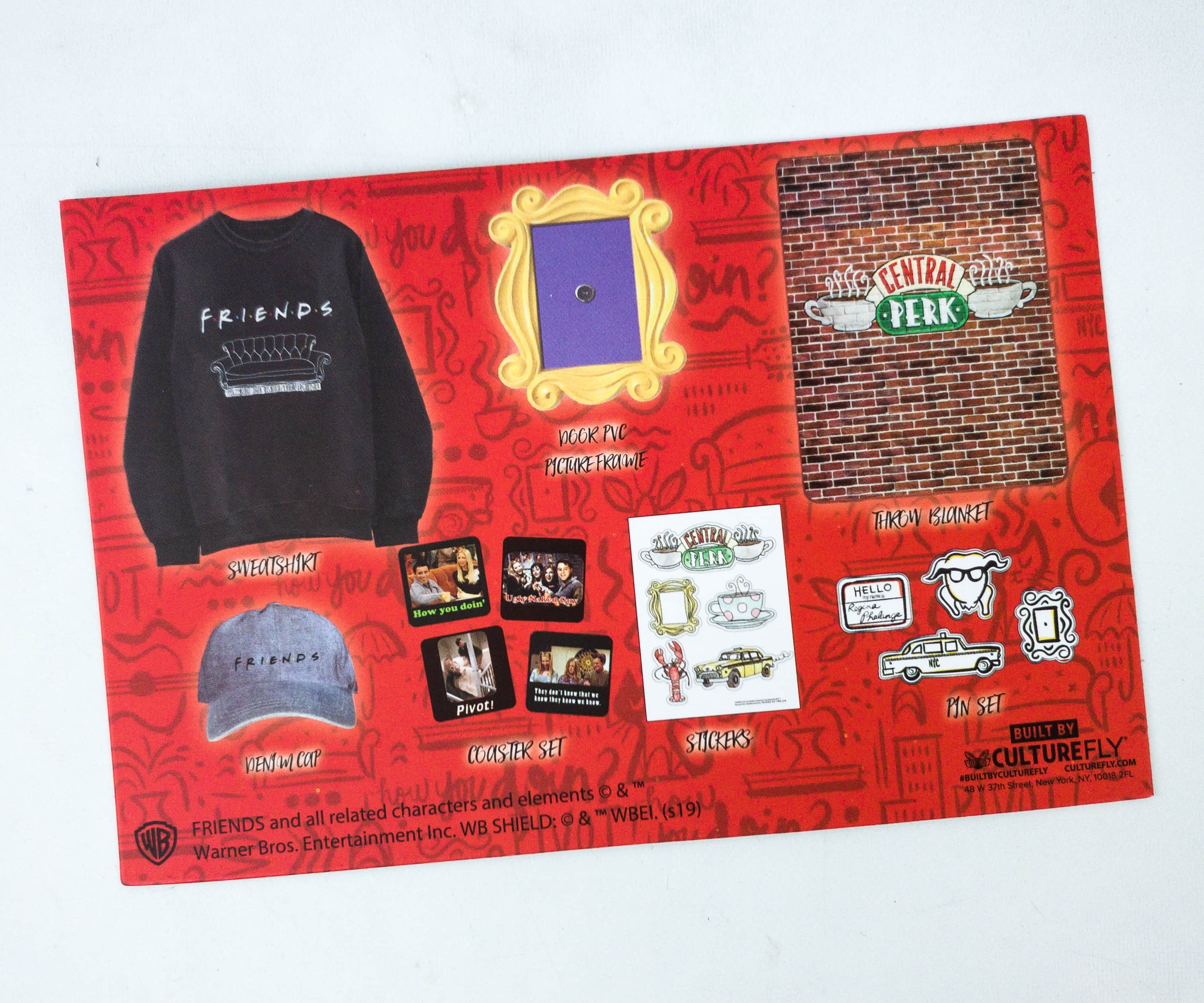 The box came with a card. It shows all the items included in the curation.
Everything in my Winter 2019 box!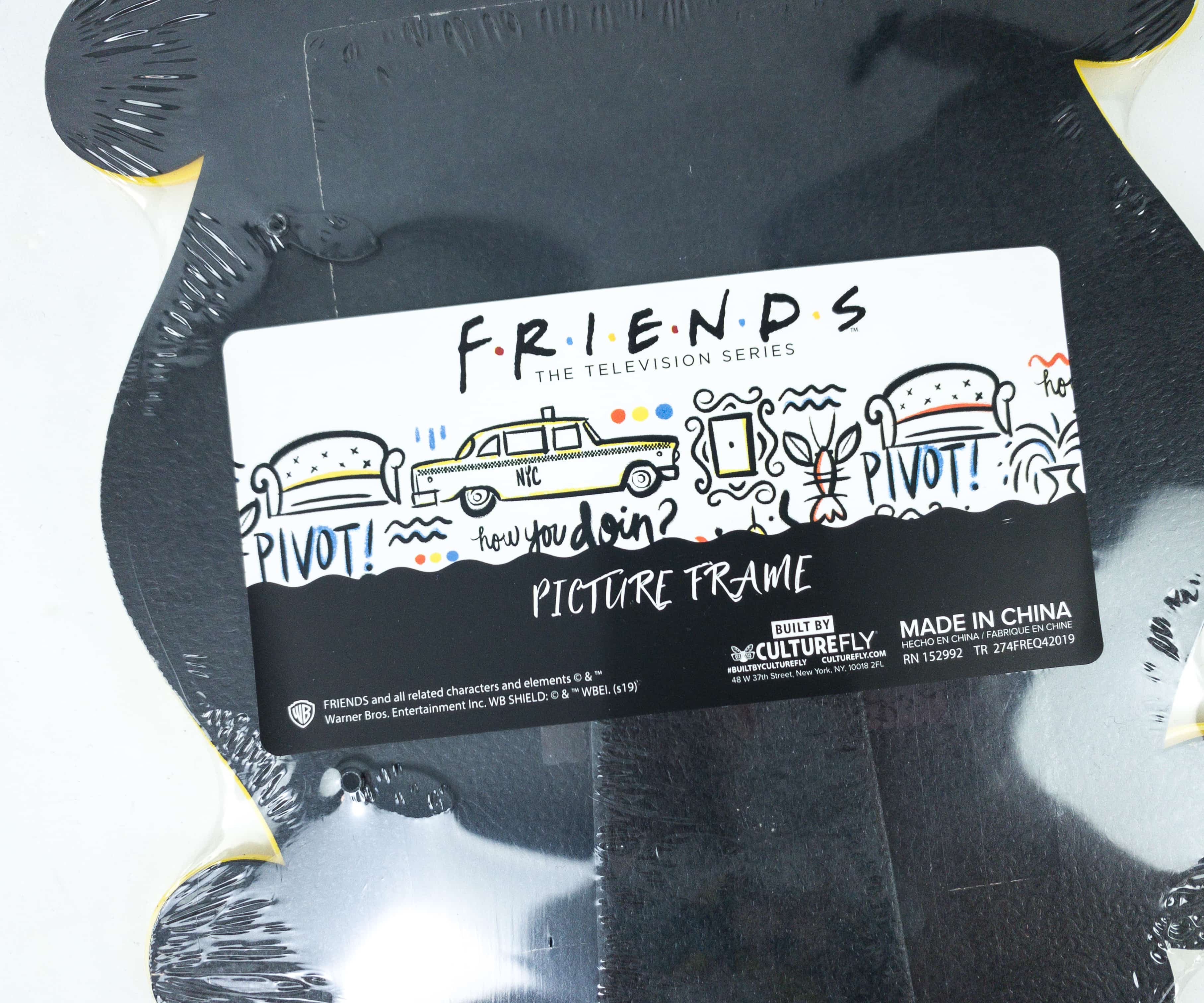 Iconic Peephole Picture Frame. This item is one of the best selling F.R.I.E.N.D.S memorabilia. It's a replica of the one that was on the door from Monica's apartment around the peephole.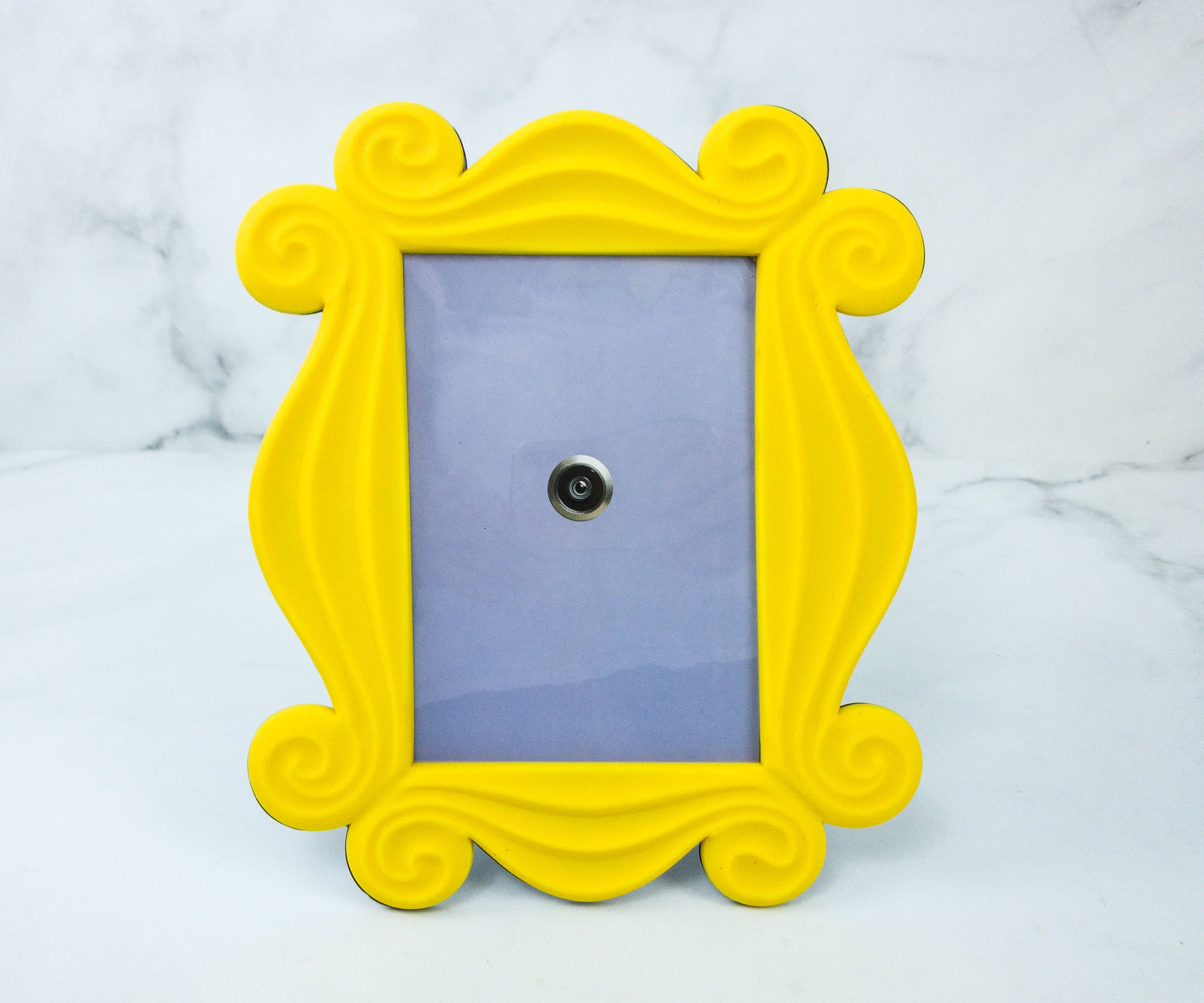 I think Monica's was gold-colored and this one is a bright yellow. Nonetheless, this frame is adorable. The frame has a polished glass front that gives a clear view of any picture and preserves the life of your photo, too. It is carefully packaged to ensure it arrives safely (no glass breakage)!
This picture frame will be the perfect accent to a bedside table or can turn an ordinary desk to an extraordinary vintage look. I love its sturdy design. It comes with an easy opening tab at the back for easy adding of a photo.
Stickers. These really cute stickers are some of the popular iconic trademark symbols for F.R.I.E.N.D.S including the NYC yellow cab, the "Lobster" courtesy of the witty Phoebe wherein Ross labeled Rachel as "his lobster" (love of his life), Monica's iconic yellow peephole photo frame form her apartment door, the big, polka dot coffee mug, and the symbolic Central Perk coffee shop logo. My two favorites are the peephole yellow frame and the lobster!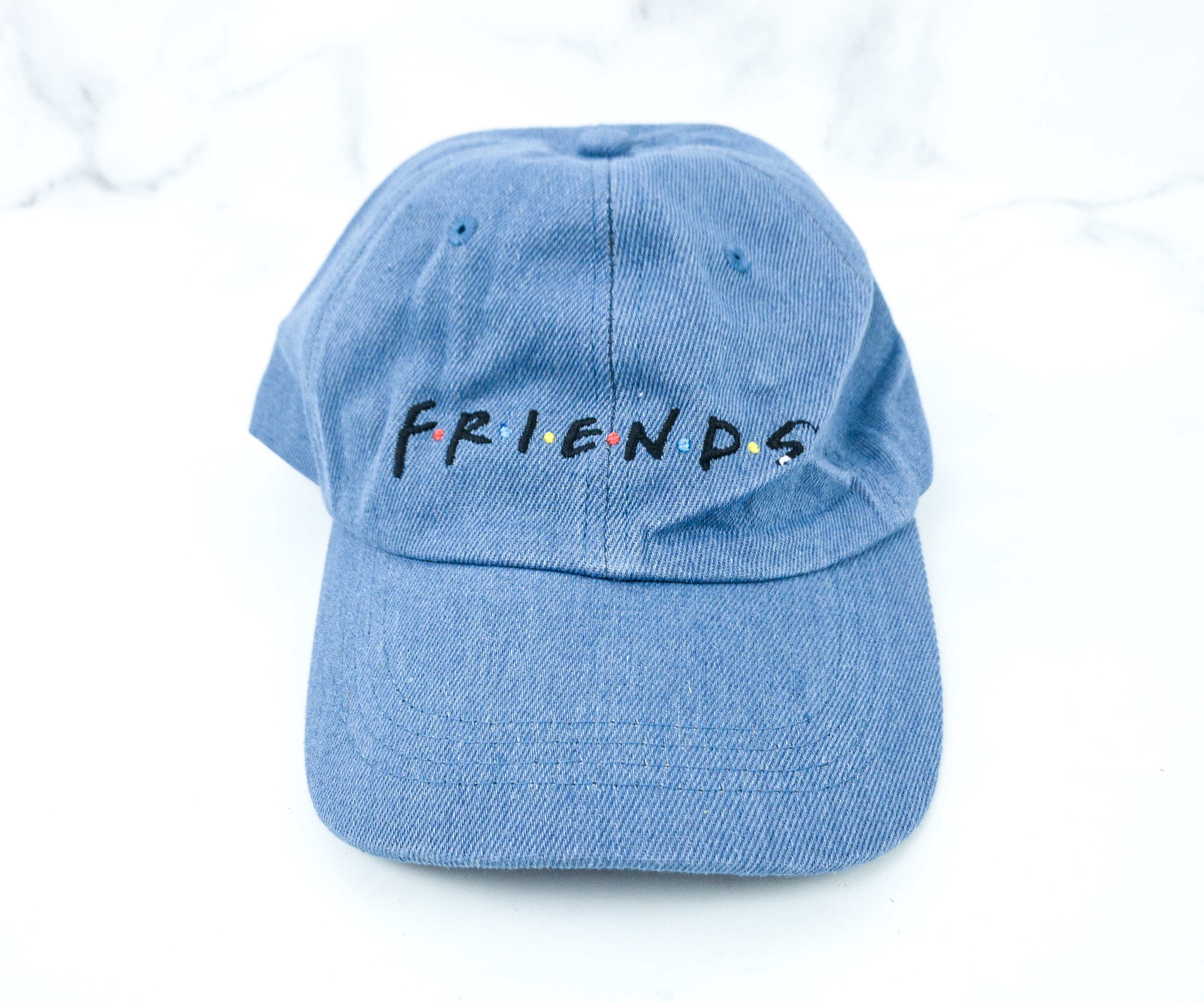 Friends Denim Cap. The chosen apparel for the Winter 2019 box includes this vintage distressed blue denim baseball cap. This cap has a pre-curved visor with a 6-panel structure along with 6 embroidered eyelets bringing a comfortable fit. It definitely had an elevated take on the classic baseball cap by choosing denim and adding the iconic F.R.I.E.N.D.S logo.
It has an adjustable velcro snap at the back but it is really a one-size-fits-all kind of cap.  The unisex design makes it perfect whether for men or women. The material used has a hint of stretch, and a soft feel bringing both luxury and comfort. I can imagine bringing this comfortable baseball cap during an outdoor activity to protect my skin from harmful UV rays and to keep my hair out of my face and eyes. For this winter season, it can definitely bring heat and warmth to the head as well!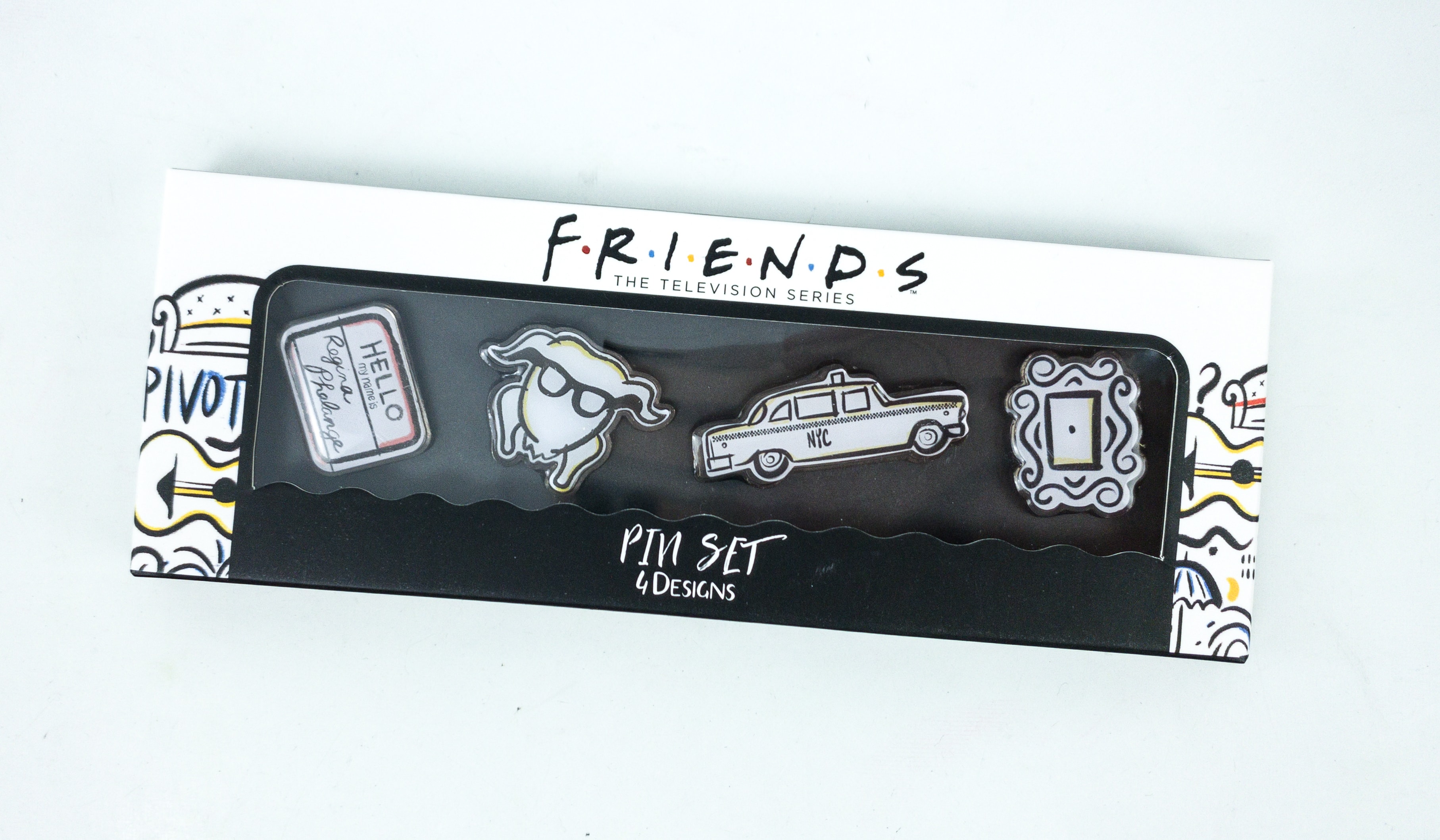 Pin Set. This 4-piece pin set is adorable! The set still has the iconic yellow cab and the yellow peephole frame (although it comes in color white). Adding to these all-time-favorite symbols are the Thanksgiving turkey with the glasses when Monica wore it to cheer Chandler up (and the first time he says I love you to her!) plus, the cute small nametag saying "Hello my name is Regina Phalange." Well, Regina Phalange, the greatest alter ego of all time courtesy of the funny and beautiful Phoebe, oh I love her!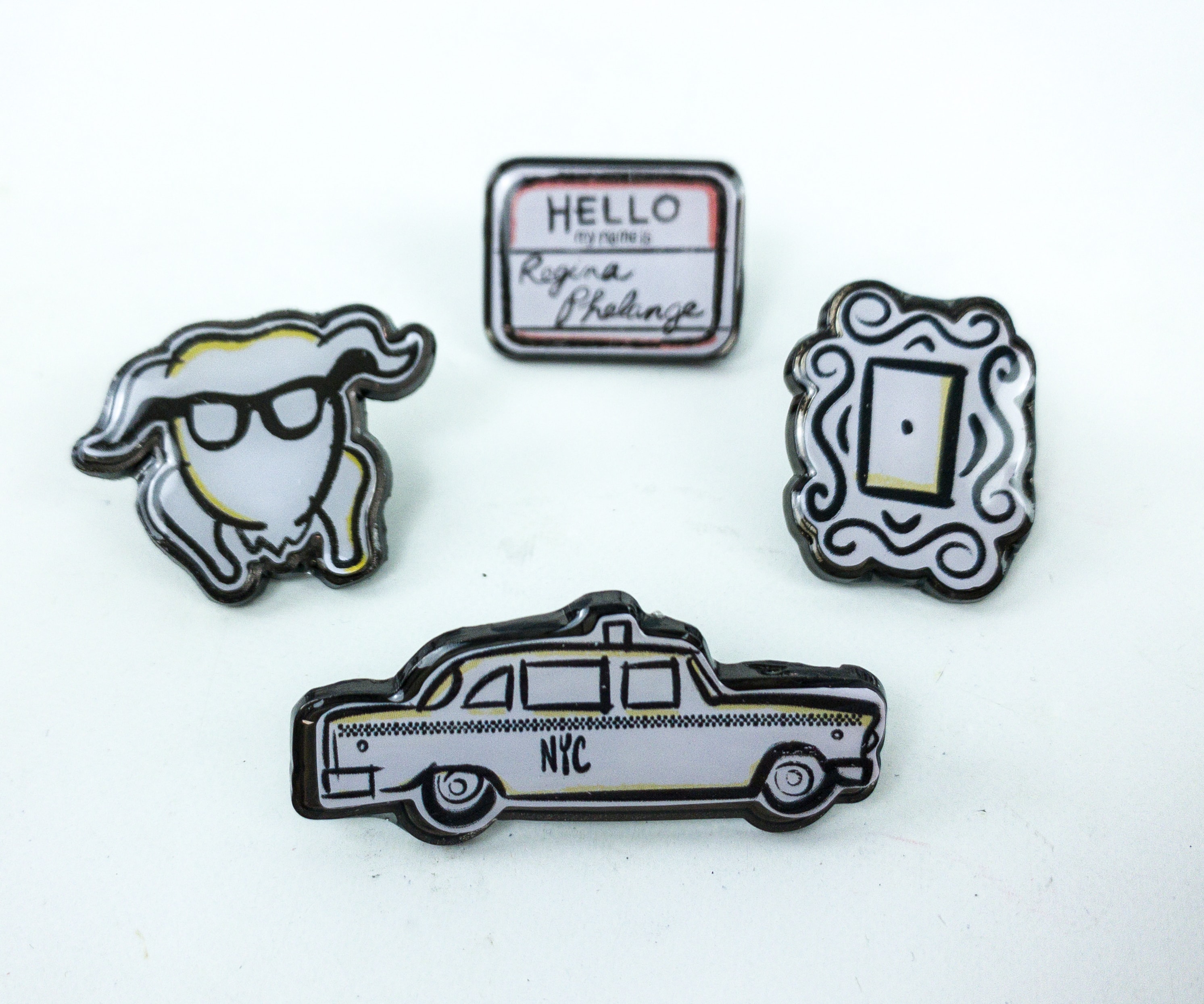 These pins are not colored, but they do look charming. In this set, my favorite is the name tag with Regina Phalange!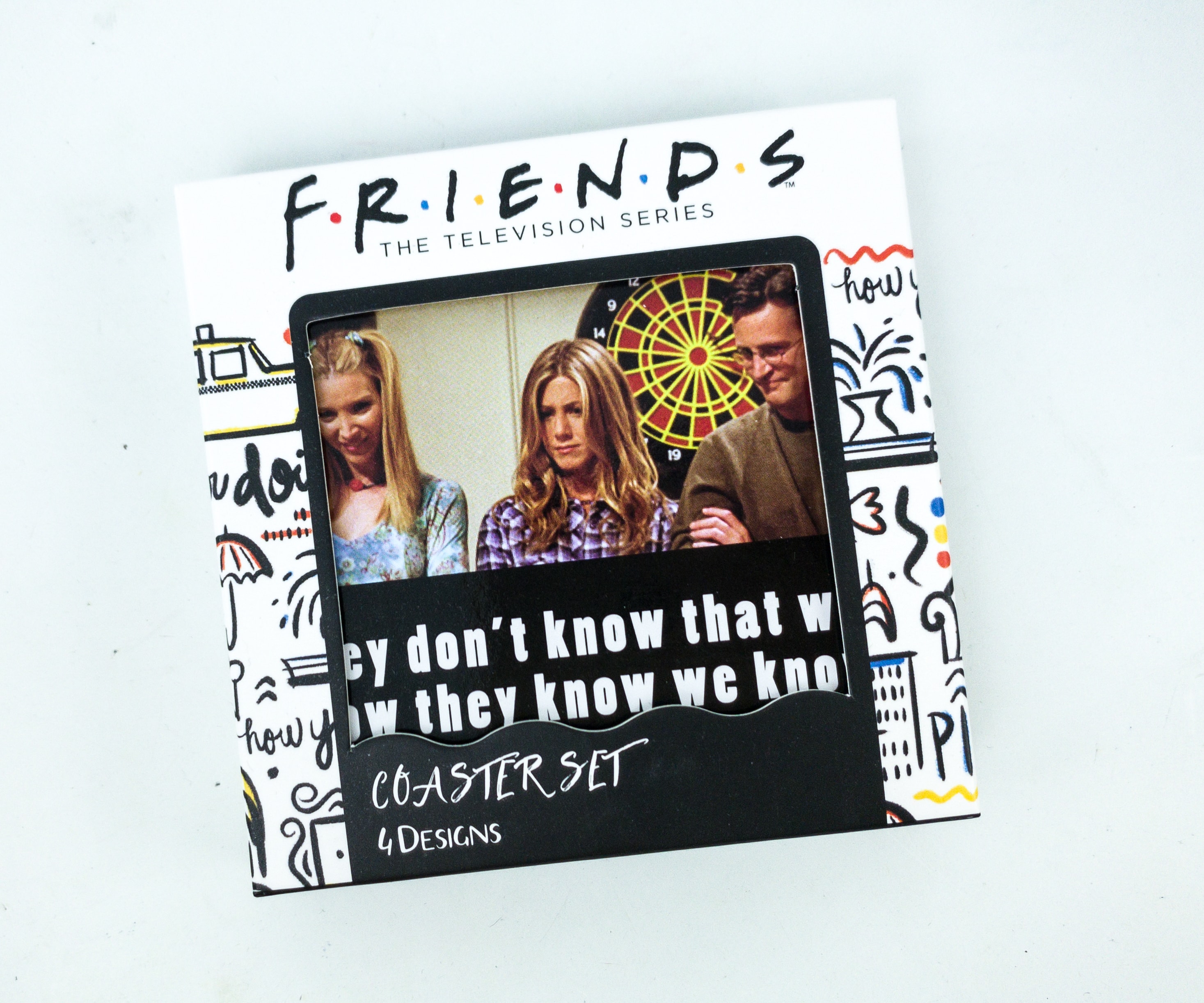 Coaster Set. This 4-piece coaster set is the perfect vintage memorabilia with its old-fashioned colors and some crowd-favorite scene screenshots. It comes in a box set of 4 highly-absorbent, matching coasters. I immediately noticed its color accuracy, durable imaging, and the highest print resolution, making these images really nostalgic.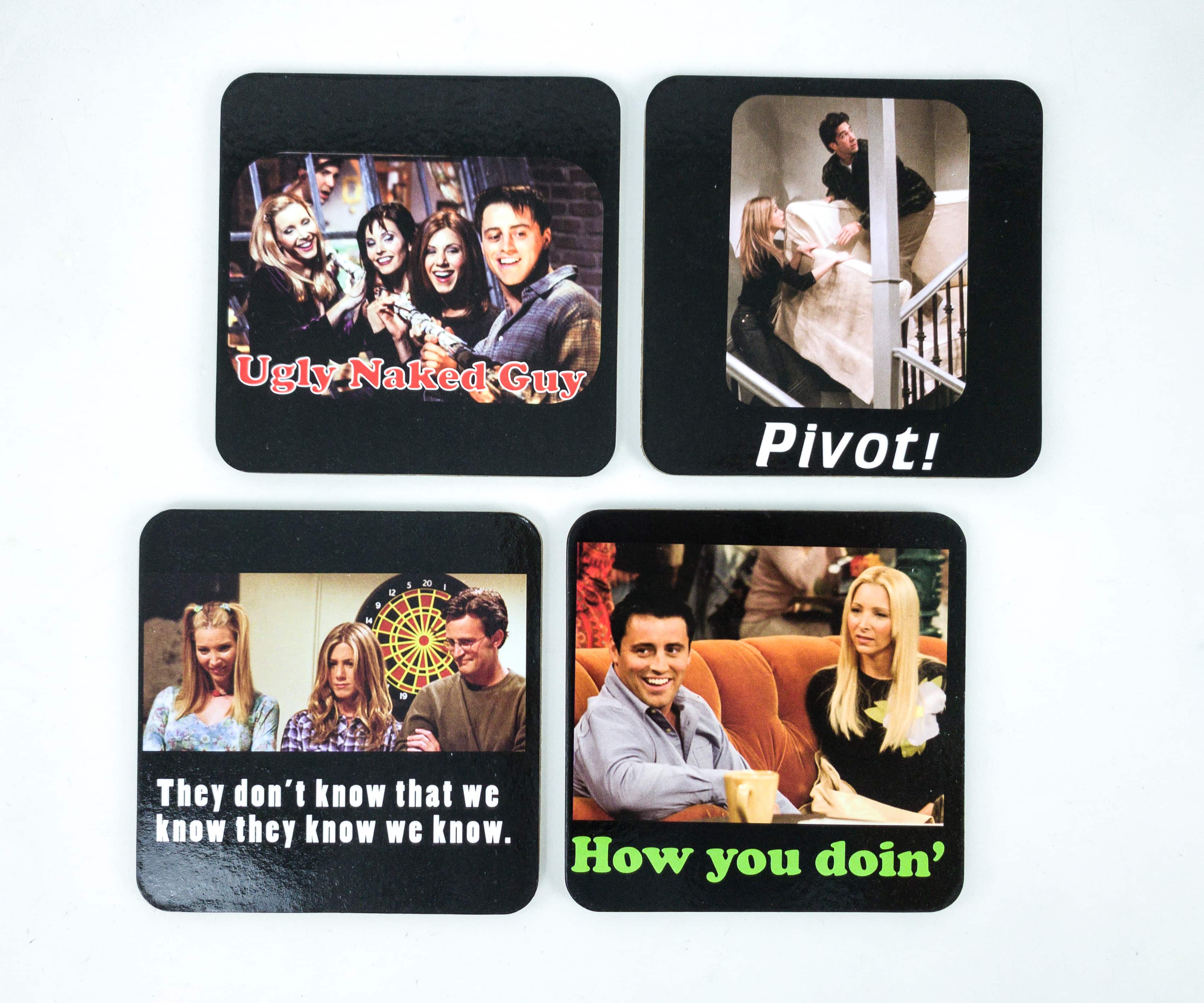 I can only agree that these four scenes are the most iconic ones from the series (even though the "don't know" picture doesn't match!). I can even hear Ross shouting "Pivot!, Pivot!, Pivot!" out loud on that staircase!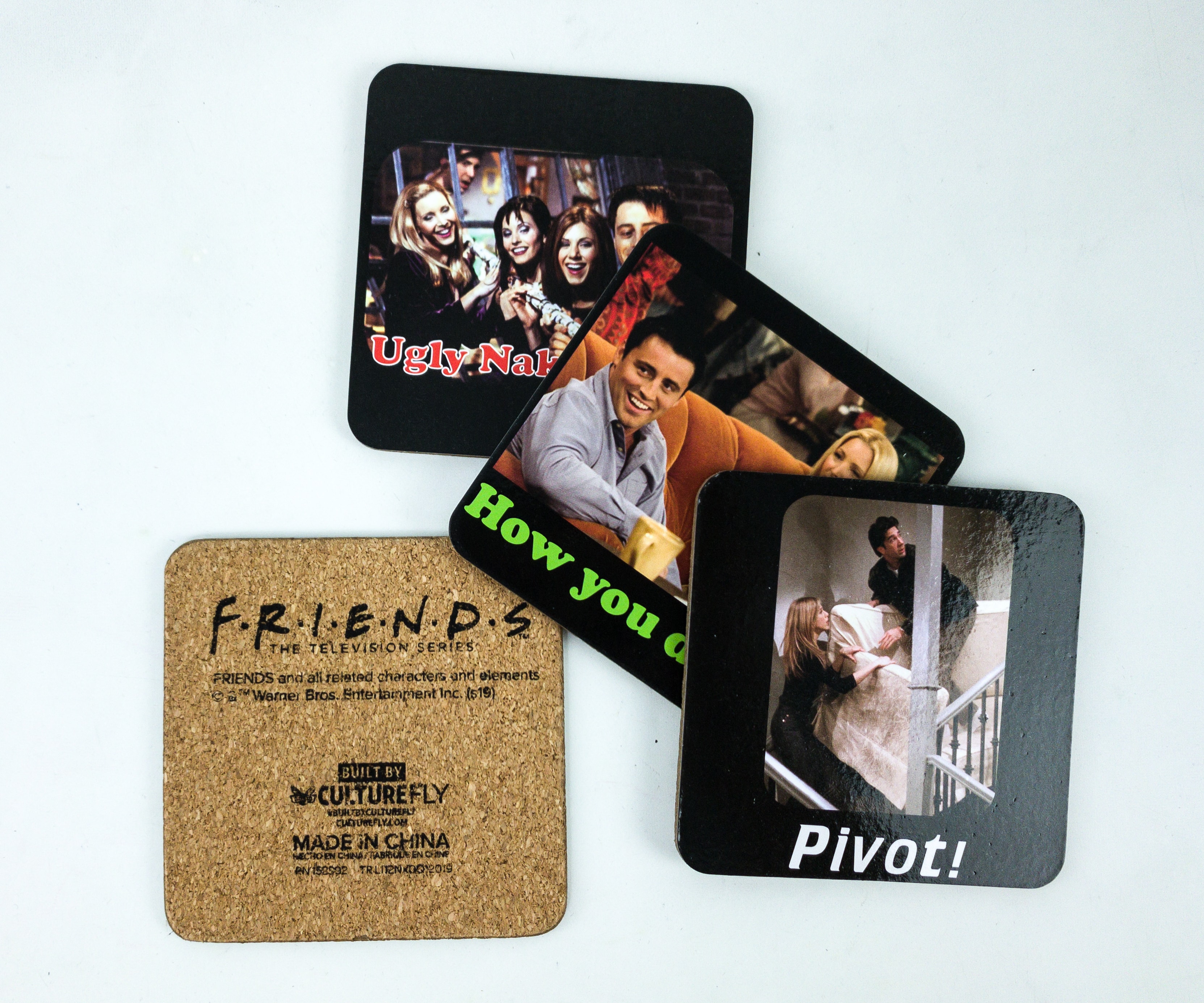 Each coaster measures 4×4 inches and is cork-backed to protect surfaces. It's said to be fade-resistant as well. I can imagine sipping a hot beverage from my Central Perk coffee mug and putting it on one of these classic coasters then it would take me down on memory lane and re-live the best moments from some of the best episodes.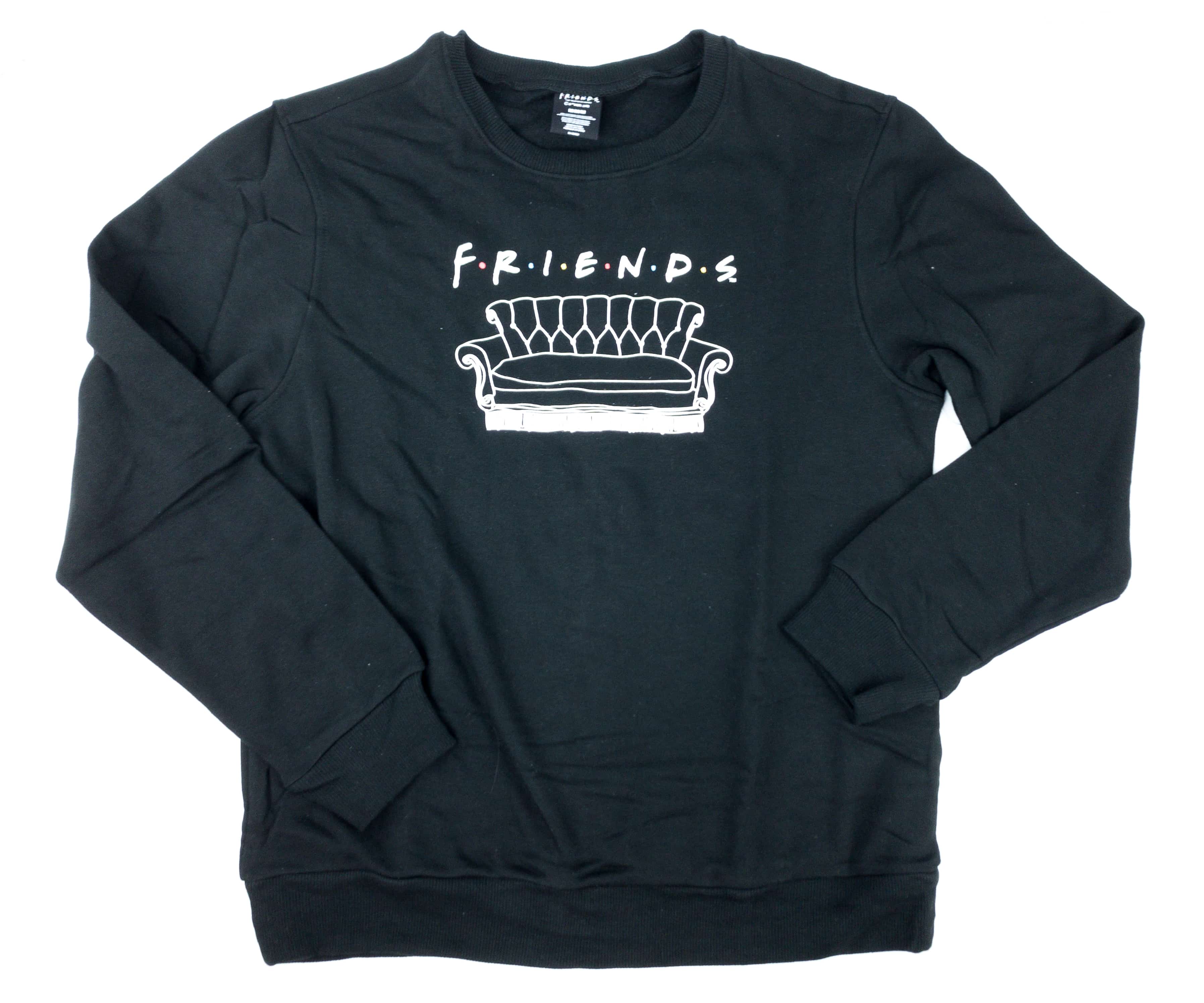 Friends Sweatshirt. This long-sleeved pullover sweatshirt has a round neck, a F.R.I.E.N.D.S letter print, and a ribbed waistband, collar, and cuffs. It comes in black color which seems very neutral. It's also made with a soft, comfortable, breathable fabric, good for everyday wear. It's very easy to pair with sneakers, jeans, leggings or boots for a trendy look in spring, autumn, and winter. It can practically be worn in any season!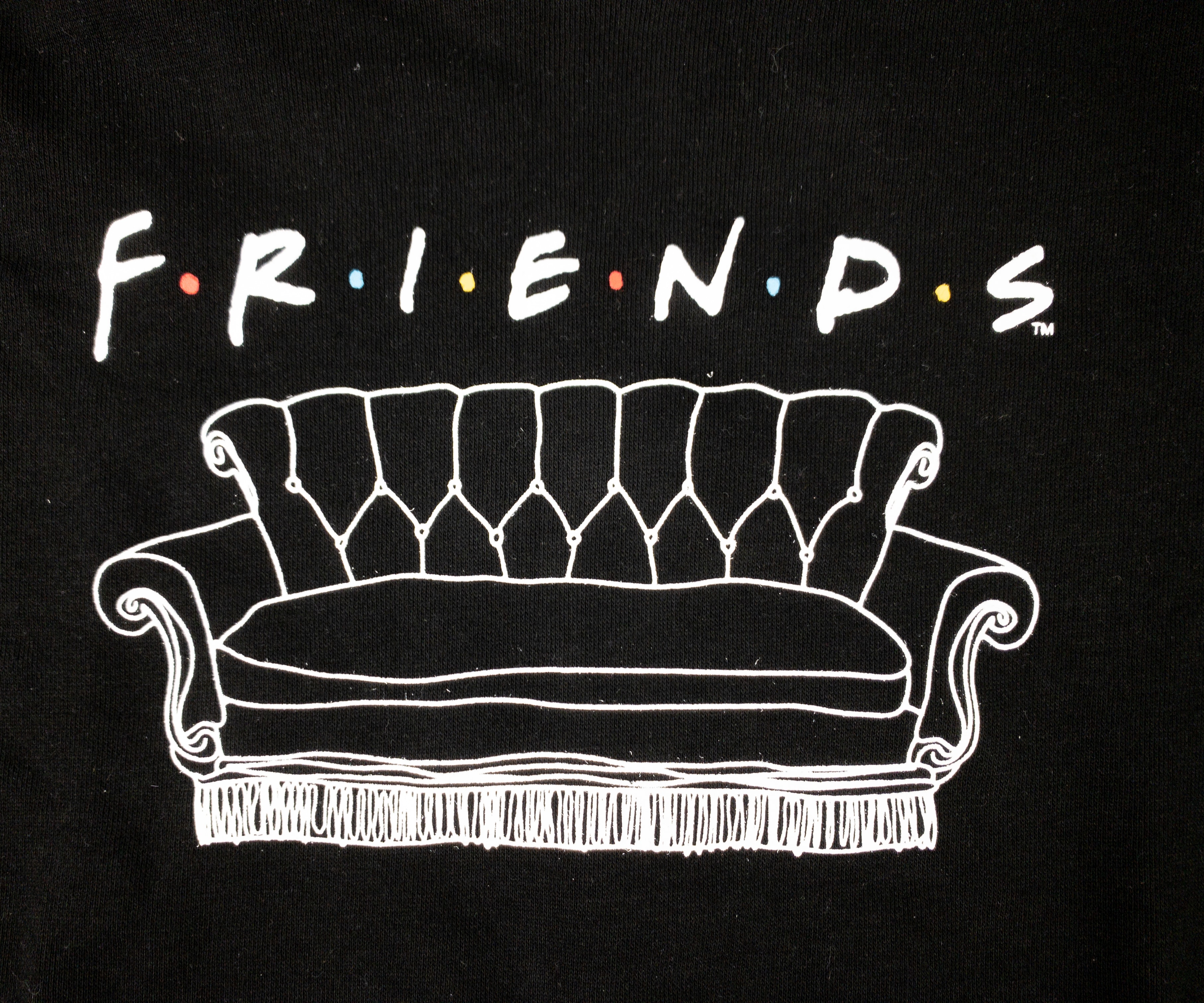 The first thing that comes in mind when F.R.I.E.N.D.S is being mentioned is that old-school sofa where the gang regularly hangs out altogether at the Central Perk coffee shop. This is the perfect print for this black comfy sweatshirt.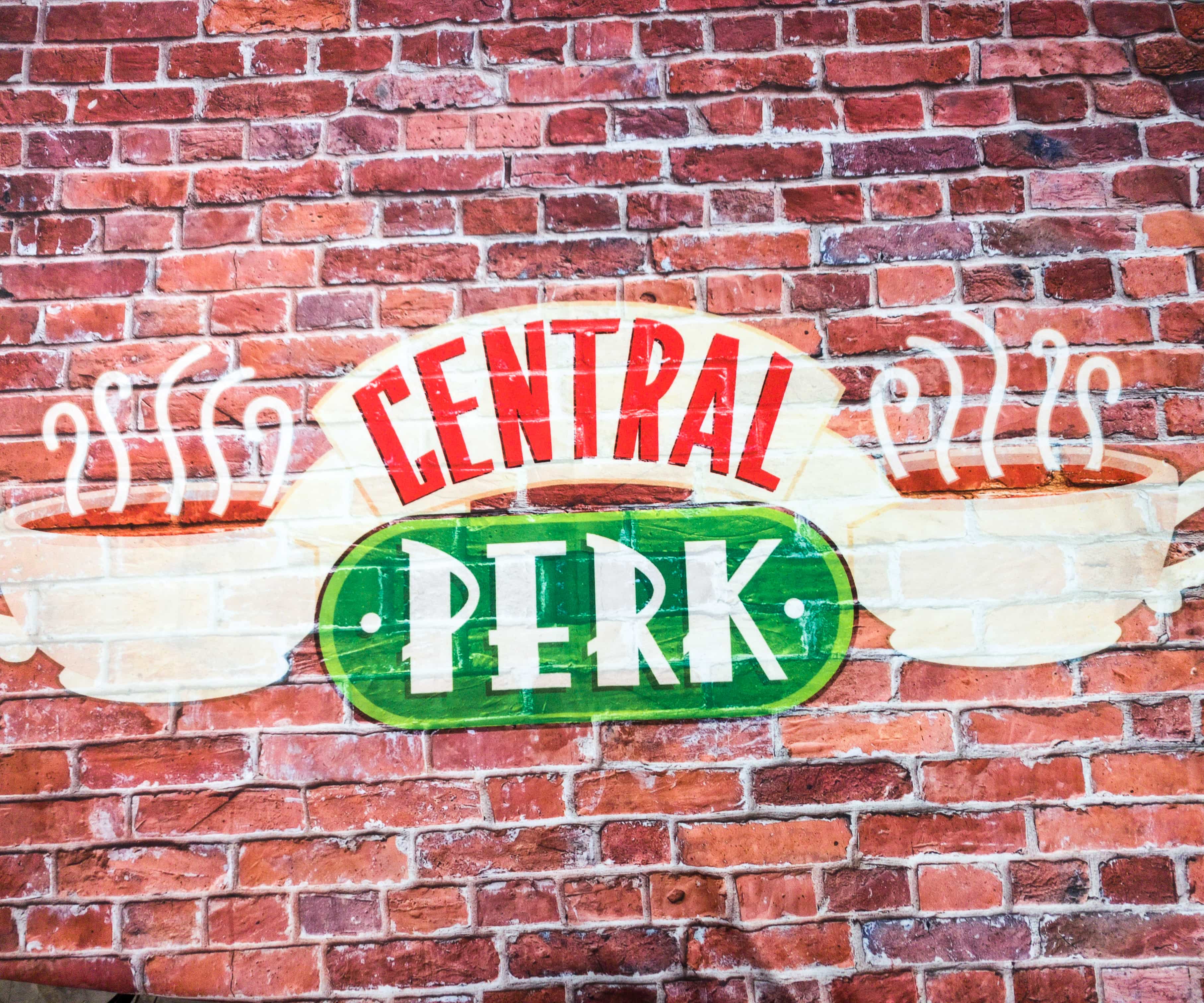 Central Perk Blanket. Who will ever forget that iconic Central Perk coffee shop where the gang practically "lives"? It's their favorite hangout place and it's where Rachel works as a waitress.
This throw blanket decor is my favorite item from this box. It's made with 100% polyester and also machine-washable. It isn't as soft as I was thinking but still feels warm and snug. It can work as a backdrop or an accent to your favorite sofa or chair or a blanket to keep you warm during this winter season. Its size is good for one when used as a blanket alone.
If you likeFriends, this is the perfect subscription box to take you to a trip down memory lane. All the exclusive, licensed, and high-quality items make the box worth more than its cost. The curation is also quite nostalgic, especially because the items featured some of the most iconic scenes and symbols from the series. As a fan, the whole box just makes me happy and giddy! I'm also quite excited to see more Friends inspired merchandise!
The box is currently sold out, but they are accepting waitlist at the moment, so hurry!
Are you getting the FRIENDS Subscription Box?