Looking for a subscription box deal for Cyber Monday for men? Here's your list!
---
The Bespoke Post Cyber Monday deal is here!
Today ONLY use coupon code CYBER2019 to save 40% off of the first box in a Bespoke Post subscription, or 20% off of any single box without starting a subscription!
See all our Bespoke Post reviews to find out more about this classy subscription box!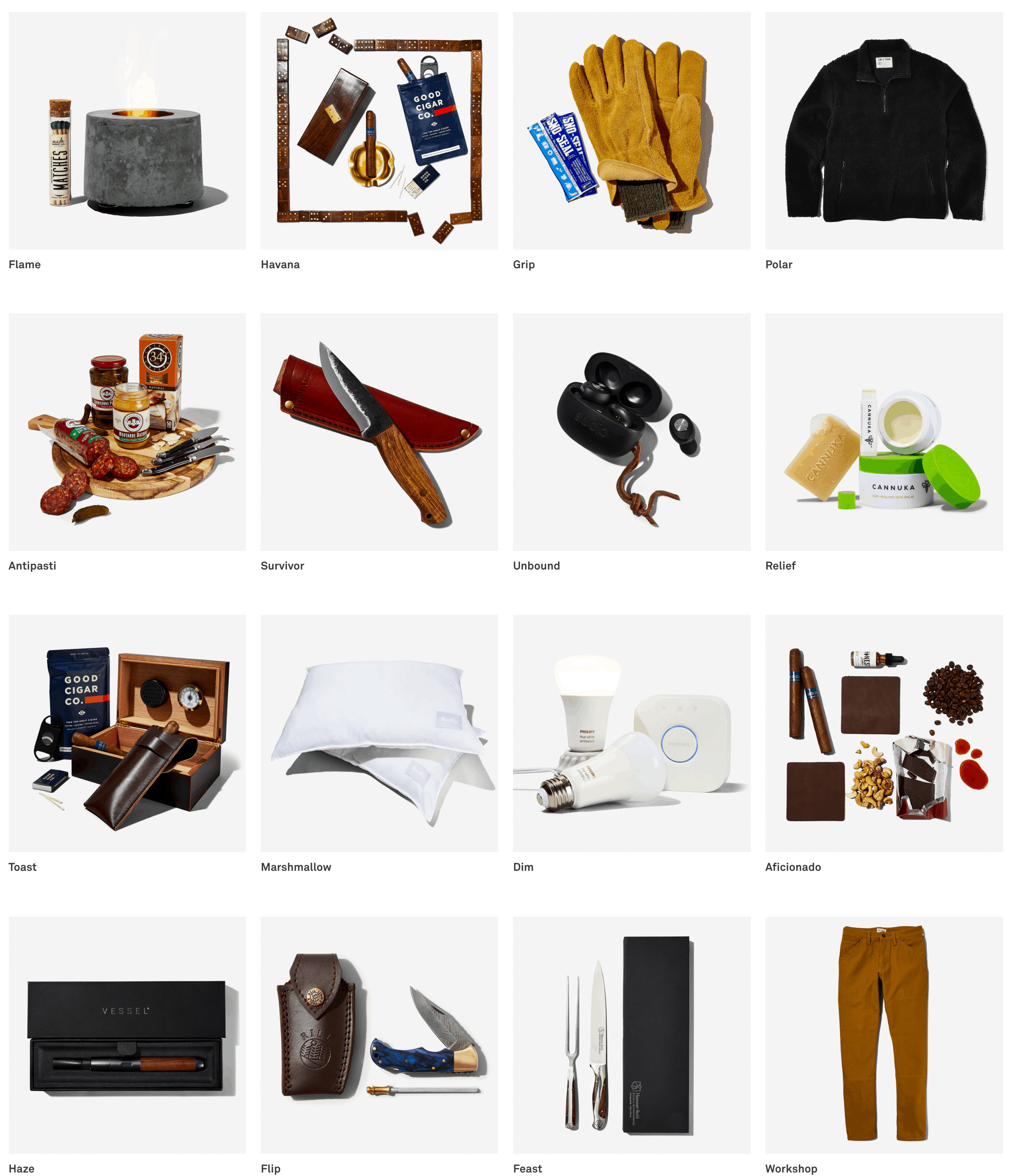 The December 2019 Bespoke Post sneak peek have been released! Members and new members may have different selections, be sure to check out what's available here.
---
Menlo Club has a Cyber Monday sale for 2019!
Get your first monthly box for just $20 OR get your first Seasonal Box for just $30!
Use the coupon code CyberMondayTB at checkout. Ends 12/2 midnight PST.
---
The Gentleman's Box Cyber Monday deals are here for 2019!
Take 25% off your first Classic Box! Use the coupon code HELLOGB25 at checkout.
Get 30% off your first Gentleman's Box Premium Box. Use the coupon code HELLO30.
PLUS, Save 25% off all Classic Box gifts with coupon code CLASSIC30!
You can grab these deals at The Gentleman's Box!
The Gentleman's Box offers a Premium quarterly subscription, which brings lifestyle and fashion goods centered around the season. Each box is inspired by luxury brands throughout the world and is curated by fashion experts.
See our Gentleman's Box Premium box reviews to find out more about the quarterly monthly men's subscription box.
They also have a monthly edition, which always features a tie, socks, and other accessories curated for men.
See our Gentleman's Box classic box reviews to find out more about the monthly men's accessories subscription box.
---

Culture Carton is the subscription box for men that embraces themes relating to self-improvement. Whether it be improving one's mind, health, style, or career, this box is for the man who wants to go above and beyond, not being content to be just ANY man. It is for him who wishes to strive toward a more cultured and sophisticated self. Among the items in the box is a book that a cultured man would want in his growing library, along with select accessories curated around a monthly theme related to improving some aspect of one's self.
There are 3 box options: Culture Carton Standard (men's lifestyle items + book, $45 per month), Culture Carton Essential (lifestyle items only, $35 per month), and Book Club (book only, $16 per month). This is the review of Culture Carton Standard.
DEAL: Get 10% off your first box. Use coupon code HELLOSUB.

They are all looking good and neat upon opening. Some of the items arrived in their original packaging.

November 2019 theme is O'Neill, in a reference to the author of this month's literary selection.

The back of the card features a beautiful scenery!
Everything in my November 2019 Culture Carton!
Gentleman Of The North Beanie - CURRENTLY SOLDOUT ($39.95; $30 on the card) It's easy to stay warm and stylish this winter season with this classic toque. It's grey, with a white patch and the branding in black. This toque is made of 30% wool and 70% acrylic. The sheep's wool is exactly what you need to keep your head nice and warm at all times, and its classic pattern will keep you trendy and never out of style.
Wolf Clothing Co. Socks ($14) This pair of socks feature ripple design flows with a series of small waves created in unison. It comes in a custom Wolf packaging, a white paper sleeve with the brand name on it. I love how simple and elegant it looks.

At the back of the paper sleeve is the company's motto: "Know what you do, know why you do it, and kill it." It also indicates that the socks are designed in Vancouver.

The pattern comes in different shades of blue with white, while the toes, heels, and cuffs are in navy blue. The details are quite intricate, making this pair stand out.
The trademark Wolf logo in fuchsia pink stands out on the soles of the socks. These socks are made from 80% combed cotton, 17% polyester, and 3% spandex, making them extremely soft and versatile. These socks are not too thick or too thin. Once worn, they don't just provide warmth but also maximum comfort possible.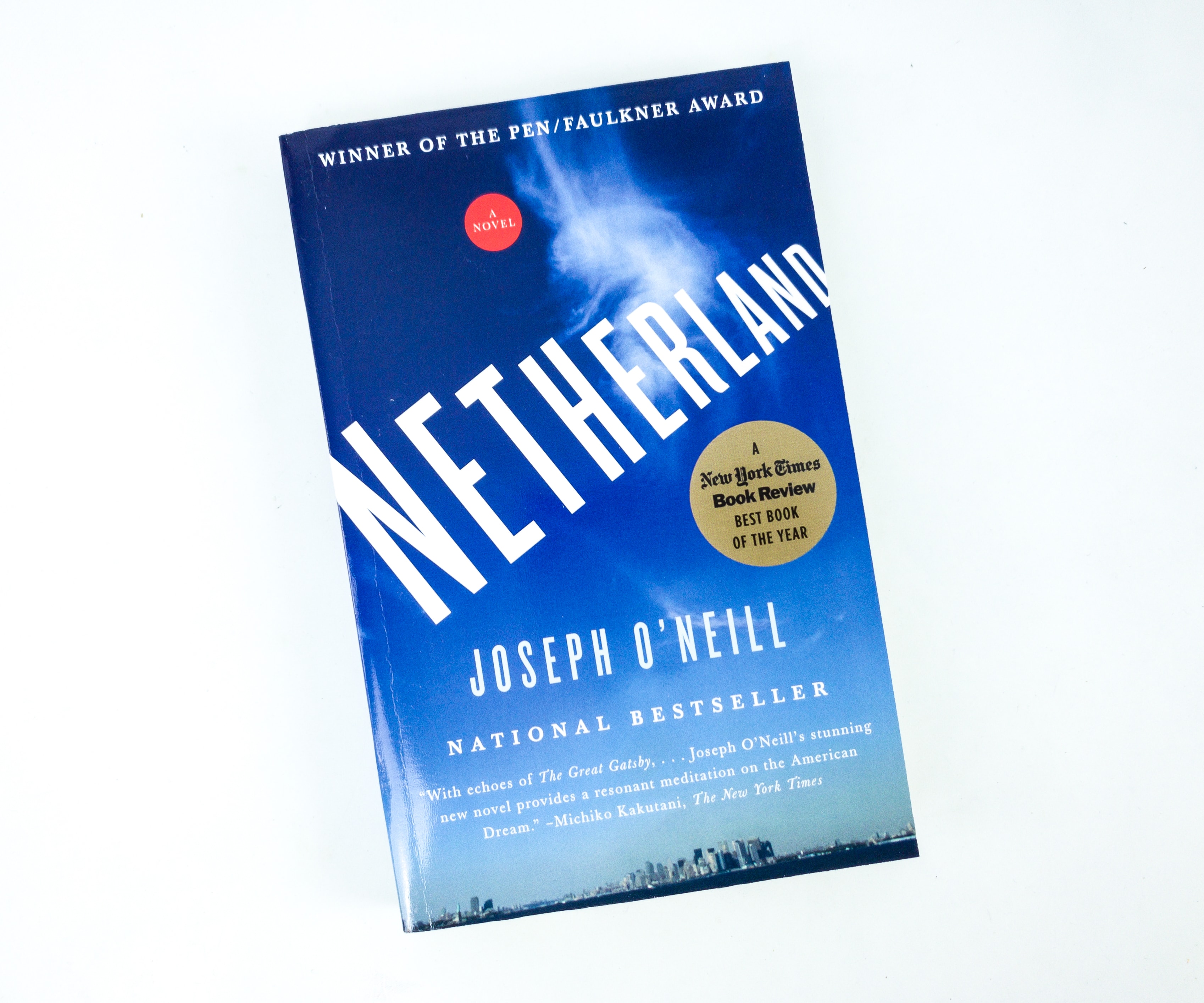 Netherland by Joseph O'Neill ($12.96)
In a New York City made phantasmagorical by the events of 9/11, and left alone after his English wife and son return to London, Hans van den Broek stumbles upon the vibrant New York subculture of cricket, where he revisits his lost childhood and, thanks to a friendship with a charismatic and charming Trinidadian named Chuck Ramkissoon, begins to reconnect with his life and his adopted country. As the two men share their vastly different experiences of contemporary immigrant life in America, an unforgettable portrait emerges of an "other" New York populated by immigrants and strivers of every race and nationality.

Netherland is a novel about substance and structure, foundations and constructions of memory, current events, and imagination.

O'Neill offers an outsider's view of New York bursting with wisdom, authenticity and a sobering jolt of realism.
This book lets you bob along with Hans as he tries to figure out what he feels and what he wants. In the end, it's not quite as satisfying as I'd have liked it to be, but I found the depiction of this particular New York compelling and Hans sympathetic.

Throughout the story, Joseph O'Neill switches back and forth between the past and the present in order to fully grasp Hans' character. New York becomes to feel more and more like home to Hans as the story unravels.
Ekho Headphones ($139) These over-ear headphones are so luxurious. You can use them in two ways, either wired or wireless! I don't mind using wired headphones indoors or just when using the computer, but it's also nice to have an option to detach them when I'm doing something active or I'm going outdoors. I'm happy to get such a versatile item!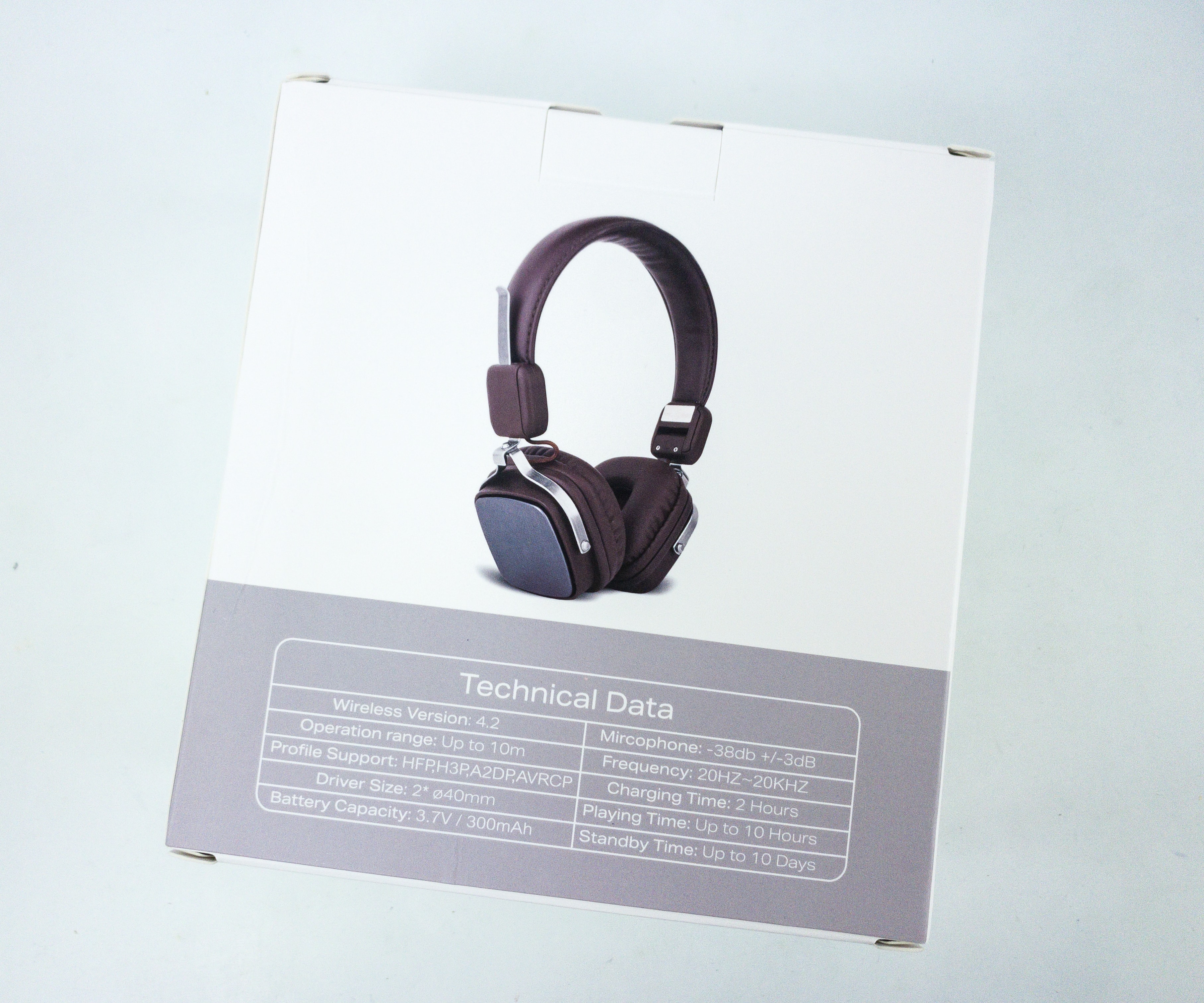 At the back of the box, you can find the technical specifications of these headphones. You just need 2 hours to charge them, and playing time can last up to 10 hours. Meanwhile, standby time is up to 10 days.
The earcups can be folded up to 180° to become smaller. I like that it occupies less space in storage and it's also easy to bring anywhere. It comes with the detachable cables: the charging cable and the removable wire should you wish to use it with the traditional cord.

At the back of the earcup comes the control buttons like the power, volume up and down, pause, play, next and even the call button.
The earcups and headband are completely padded for added comfort, especially for prolonged wearing. It comes in an elegant black color except for the teal color at the back of each earcup.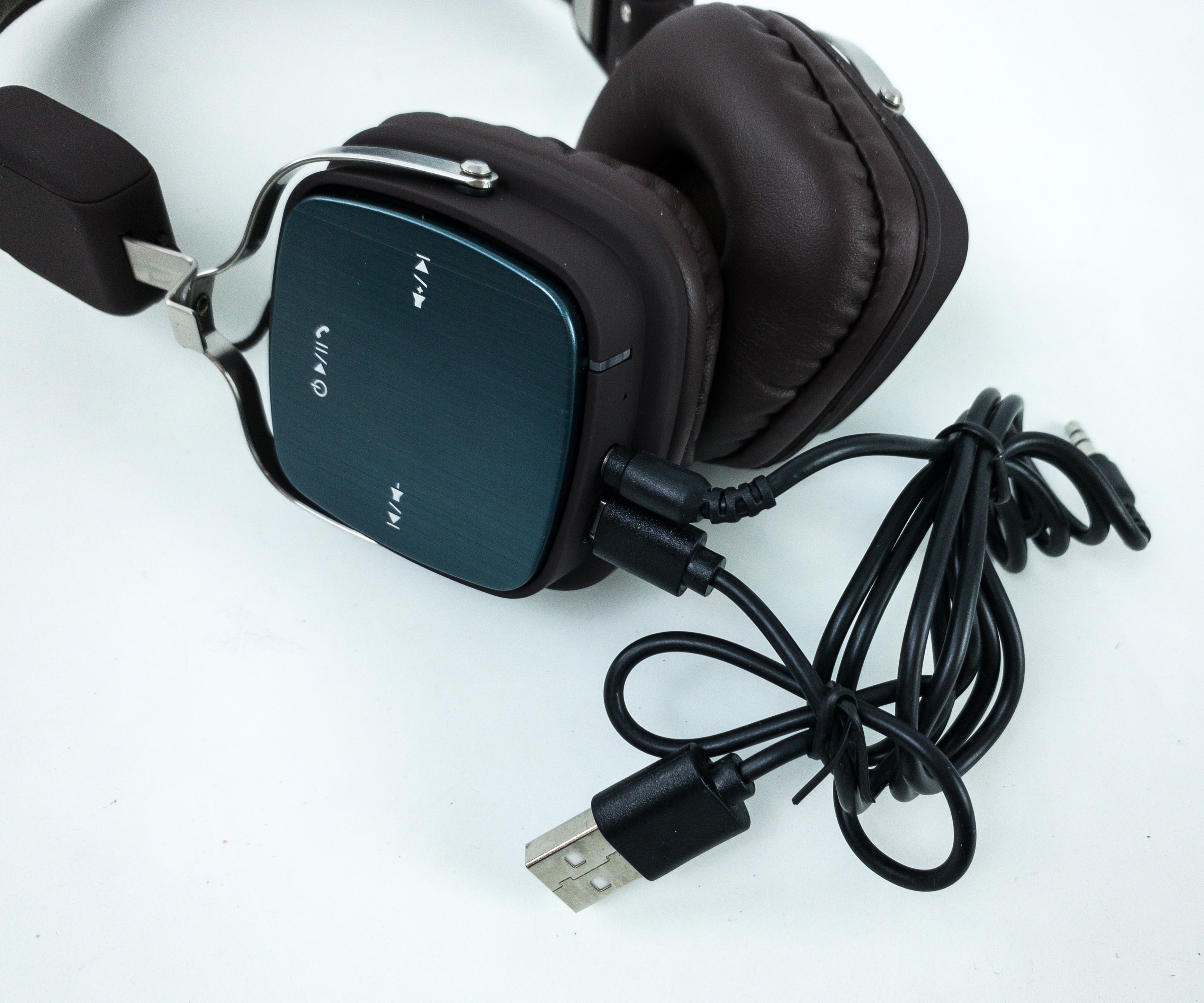 The cables connect to the right earcup via 2 ports.  I love how smooth and refined the sound is! Its metal and leather build is very appealing.
Culture Carton has been consistently impressive! Everything inside this box is an overall definition of being cozy. The socks and the toque go well together, but also look great separately.  They're both stylish and warm, providing comfort at home or outdoors. The featured book of the month will be a great addition to my bookshelf. I also love the wireless headphones. No more worrying about wires getting caught up in my hands, thanks to its detachable cables! These are awesome upgrades to my daily essentials. This subscription is like a part men's styling box and part book club, the latter being a wonderful and underappreciated aspect that alone makes the price of subscription totally worth it.
What's your favorite item this month?
Visit Culture Carton to subscribe or find out more!
---
The Cyber Monday Breo Box deal is here!
Save $40 on any subscription with coupon code BREOBF!
Visit Breo Box to get this Cyber Monday deal!
Breo Box is a lifestyle subscription that's a fun surprise of unique tech-savvy products every season of the year!
.Each box contains 6-high-quality products for men and women, revolving around categories such as health, fitness, and lifestyle essentials. Boxes are also curated around the season. The box costs $159 for the first quarter and less if you're getting consecutive boxes. Shipping is free in the US and $45 to Canada.
See all our Breo Box reviews to find out more about this lifestyle subscription box!
---
Charmin Forever Roll has a Cyber Monday deal on their starter kit package!
You will get THREE forever rolls and the stand for just $23.98! Plus you won't have to change out your TP for ages.
Save 20% on the Charmin site with coupon code CHARMINCM20.
This code works on the entire site, not just starter kits, but unless you've already picked one up, you'll need it to store this GIANT roll of toilet paper!
Are you going to grab a Charmin Forever roll for Cyber Monday?
See all of the Cyber Monday Subscription Box Deals!
---
Robb Vices has a Cyber Monday Sale!
Get a FREE Mystery Box worth $600+ with any subscription length when you use the coupon code BLACKFRIDAYBOX. Ends 12/2 midnight PST.
THE GOOD LIFE now comes in a box & ships directly to your door

storied treasures in the way of fine wines, foods, toys, tools, spirits, accessories and tech items delivered to your door along with a book published to tell their story.
Get FREE $600 Value Mystery Box at Robb Vices.
Check out our Robb Vices reviews to learn more about this luxury men's subscription box!
---
Culturefly is having a big sale on their subscription boxes this Cyber Monday!
Get a FREE Pusheen accessory bundle with your first Pusheen Box when you use this link and the coupon code BFCM19. ENDS TONIGHT!
---
Get 25% off on your first The Supernatural Box when you use this link and the coupon code BFCM19. ENDS TONIGHT!
---
Use the coupon code BFCM19 to get a FREE bonus box when you subscribe to any  Jojo Siwa Box plans! ENDS TONIGHT!
---
Get a FREE Bonus The Nick Box when you use this link and coupon code BFCM19. ENDS TONIGHT
---
Get 25% off on your first World's Finest: The Collection box when you use this link and the coupon code BFCM19. ENDS TONIGHT.
---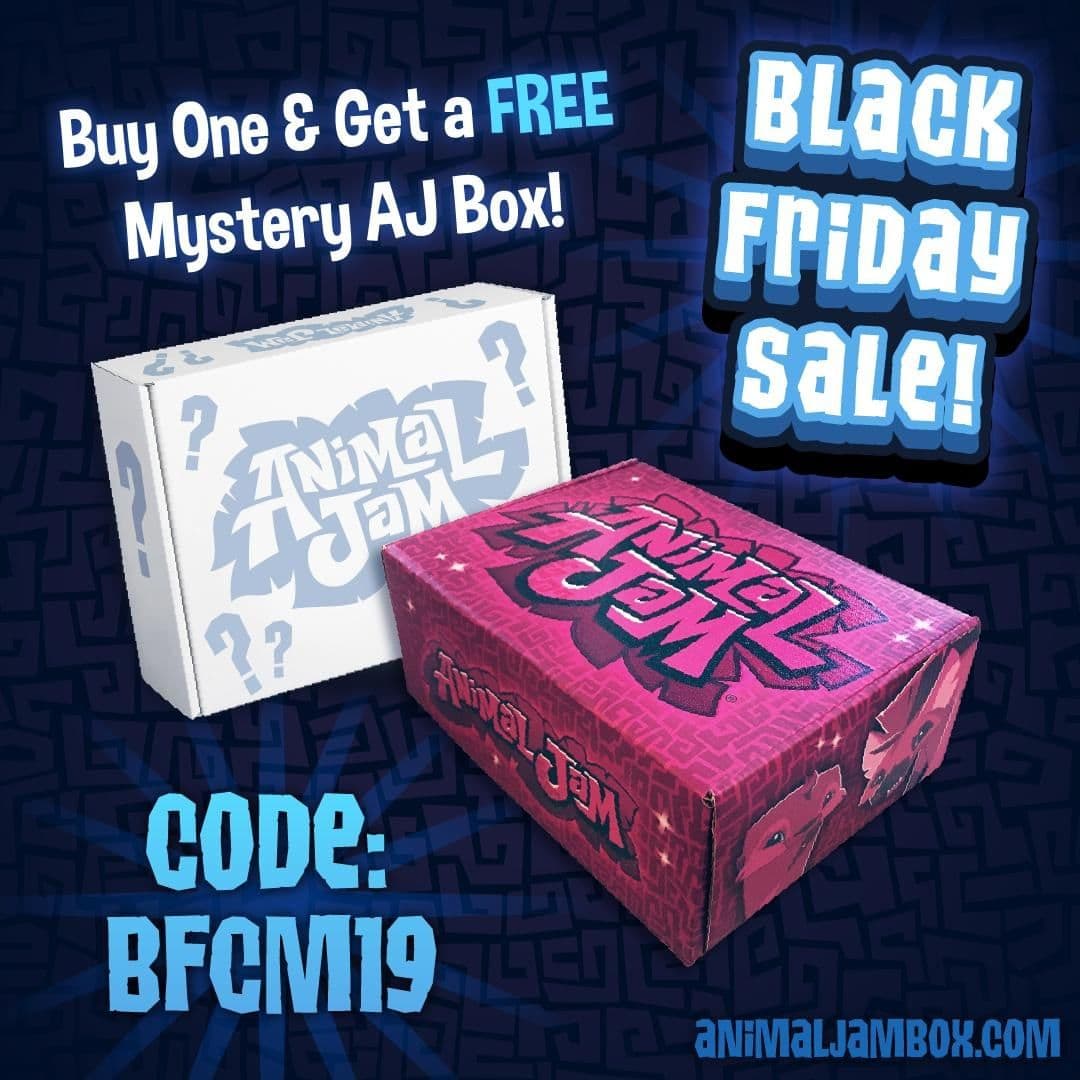 Buy One and get a FREE Mystery Animal Jam Box! Use coupon code BFCM19 at checkout. ENDS TONIGHT!
---
Save 25% on your first Cubscription Box by Build-A-Bear box! Use coupon code BFCM19 at checkout. ENDS TONIGHT!
What do you think of the Collectors Boxes from CultureFly?
Check out more Cyber Monday Subscription Box Deals!
---
Carnivore Club has a Cyber Monday deal!
Save 45% on your first box!  No coupon code is needed at checkout, just use this link to grab the sale!
Check out all our Carnivore Club reviews to find out more about this subscription box!
Carnivore Club is the world's first subscription service featuring premium cured meats delivered to your door. Every month we feature a new artisan. Each of them blending passion and craftsmanship to create some of the finest cured meats in the world. Every artisan is different. Every box is unique. Whether it's French Charcuterie, Italian Salumi, or Spanish Chorizo, the premium meats from Carnivore Club is a flavor experience your mouth won't soon forget.
---
Tomorrows Laundry has a Cyber Monday sale - and it works on their Essentials Club too!
Save 50% off site-wide, including 50% off your first subscription box - just $34 [a $120 value!]! Use coupon code MYGIFT at checkout Promotion ends December 2nd.
This subscription delivers easy-care wardrobe essentials (2 tees or 1 hoodie), for $65 per month!
Tomorrows Laundry is an online clothing subscription label that delivers a box of easy-care wardrobe essentials to men each month—at honest wholesale pricing. Better quality. Better prices. Better basics.

For just $65 a month, you'll enjoy our high-quality basics at half the price (2 tees or 1 hoodie per month). A value of $120 or more.

No malls. No lines. No endless searches. Tell us what you like and we'll deliver it to your door, shipping's on us.

Ditch your dry cleaner and enjoy the simplicity of our 100% preshrunk & machine washable collection.
---
Here's the SprezzaBox Cyber Monday Deal for 2019!
Pay only $14 for your first box and save 50% off entire store order with coupon code CYBER50!
Check out our SprezzaBox reviews to find out more about this snazzy monthly men's accessory subscription box!
SprezzaBox is a monthly men's accessories subscription box. Every month, you'll receive 5-6 high-quality accessories or grooming items, all for $28 per month.
---

Eureka Crate's 2019 Cyber Monday deal starts now!
Use this link to get your first Eureka Crate for 60% off!Your first box will be just $11.95 - regularly $29.95. No coupon code needed!
You can use this SAME deal to save 60% off your first month of any subscription in the KiwiCo Family - Kiwi Crate, Koala Crate, Doodle Crate, Tinker Crate, Panda Crate, Atlas Crate, Eureka Crate, or the BRAND NEW Maker Crate!! Get as many as you want!
OR, use this link to score free months with a longer-length subscription!
1 month FREE with a 3-month subscription for $59.95
2 months FREE with a 6-month subscription for $119.95
4 months FREE with a 12-month subscription for $239.95
Eureka Crate teaches kids (and kids at heart!) how to apply principles of science and math to make awesome things you will love to use everyday - from an articulated desk lamp to an electric pencil sharpener to a wooden ukulele.

These crates apply science and math principles to the design of everyday items. We provide a blueprint for creative solutions to real world problems and needs. Young engineers, armed with critical thinking and problem solving skills, gain an appreciation for the design process and take pride in making something with real utility.
Want to know more about which box is right for your child  (or kids at heart)? This page lays out all the details on every KiwiCo box!
---
Lucky Tackle Box has a Cyber Monday deal!
Get 50% off your first box with ANY subscription + FREE  two lure and attractant combo pack!
Use coupon code CMREG to get 50% off the CLASSIC box + FREE Combo Pack !
Use coupon code CMXL to get 50% off the XL Box + FREE Combo Pack !
Use coupon code CMTOURNEY at checkout to get 50% off the Tournament Box + FREE Combo Pack !
Get more than a box of lures this holiday season! Get the best fishing subscription box for the best price backed
with educational videos and content to show you how to maximize your luck on the water.
---
ButcherBox is having a huge sale this Cyber Monday!
ButcherBox is giving away FREE BACON FOR LIFE - their biggest promo ever!
No coupon needed - just use this link to activate the offer!
GET FREE BACON FOR LIFE WITH BUTCHERBOX!
ButcherBox bacon is uncured and free of added sugar and nitrates. It's legit the best bacon ever! We promise you'll love it – that's why we're giving you a lifetime supply. New members who sign up today will get a free package in every box for the entire life of their membership. Talk about bringing home the bacon!
Check out all our ButcherBox reviews to find out more about one of our favorite subscription boxes!
---
Quip Toothbrushes is having a Cyber Monday sale - don't miss the Cyber Monday savings (their only storewide sale of the year!)
Get 20% off on $145+ orders!
Get 15% off on $55+ orders!
Use the coupon code HOLIDAYSALE at checkout. Ends 12/2 midnight PST.
Quip is an electric toothbrush with subscription refills:
Fresh brush head refills delivered every 3 months before they become unhygienic and incapable of cleaning — for just $5 with free international shipping. You can get our anticavity mint toothpaste in your refills, too.

Get a Plastic  ($25+) or Metal  ($40+) sonic vibrating electric toothbrush with timer mode, a handy holder that stands, suctions to walls and travels hygienically, plus optional anticavity mint toothpaste.
Have you seen quip's new bundles?
---
Beachly (formerly Coastal Co.) has a Cyber Monday sale!
Save $30 on your first box! Visit Beachly here and use coupon code WINTER30!
This coupon is valid for the Beachly women's box and the Beachly men's box!
FYI, the women's box is more of a curated lifestyle subscription, and the men's box is more of an apparel subscription.
The Black Friday deal is still active too:
Get TWO boxes for the price of ONE! You'll get the brand new Winter Box plus a FREE bonus box ($180+ value). That's over $350 worth of beach-inspired apparel for just $99!
This deal works on both the men's and the women's boxes, so you can subscribe for her and get a bonus box for him, or subscribe for him and get a bonus box for her.
---
Basic MAN has a Cyber Monday deal!
Get 50% off your first month! Use coupon code CYBERMONDAY19 at checkout.
Check out all our Basic MAN reviews to find out more about this subscription box!
Basic MAN is a men's monthly subscription box that will send you three basics: socks, boxer-briefs, and a t-shirt. The box is $19.99 a month and shipping is free for US subscribers and they ship worldwide ($5 to Canada). All you have to do is to choose your size and you are set! Styles will vary from month to month, but nothing too crazy
---
The Fanchest Cyber Monday deal starts NOW!
Use coupon code BOX2019 to get 30% off on $30+ orders sitewide! Ends 12/2.
FANCHEST is the Ultimate Gift for Sports Fans. Period. Choose your favorite team (or theirs) and we'll deliver premium, curated products right to your doorstep. Our mission is pretty straightforward... to deliver the perfect gift for sports fans.

Each core, adult FANCHEST includes 4 products. Every product has a unique story as to why it was chosen for the chest.  We've meticulously curated and reviewed hundreds of products to select the perfect combination of staple items for the sports fan in your life.
---
The Barkbox SUPER CHEWER Cyber Monday deal is here - the $5 deal is back + you'll get a Santa Hat FREE! ??
Use this link to get your first month of BarkBox SUPER CHEWER for just $5 when you purchase a 6- or 12-month subscription and you'll get a FREE Santa Hat with your December Box!
First Month of Barkbox Super Chewer for $5!
See all our Barkbox Super Chewer Reviews to find out more about this great dog subscription box.
Super Chewer is a monthly subscription box for dogs "who demand a challenge." Each box has 4-6 dog products and is customized to the size of your pup, plus it has a cute theme. All-natural treats, tough toys, and challenging chews are included in the monthly box.
---

BattlBox has a Cyber Monday deal!
Get a FREE Tent with subscription! Use coupon code cybertent at checkout. Ends 12/02.
Plus, there's a shop sale!
Save 70% off all shop items with coupon code CM70 and 30% off past missions and gift boxes with coupon code CM30!
Check out all our BattlBox reviews to find out more about this subscription box!
---
See all of the Cyber Monday Subscription Box Deals!
See more fabulous subscription box gift ideas in our Holiday Subscription Box Gift Guide!