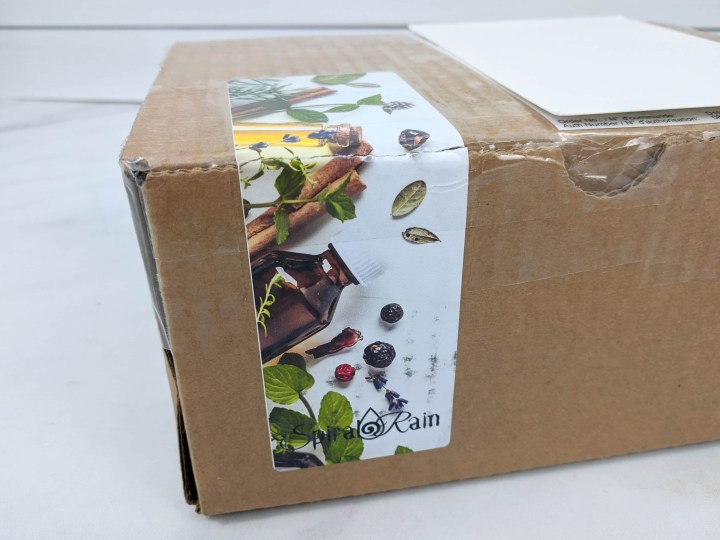 Spiral Rain is a Canadian Spiritual Subscription Box curated by a practicing witch and is designed to deliver a wide array of products to assist any spiritual practice. Subscribers can choose between the Relaxation and Well-Being box (4 to 5 full sized items) and the Witch box (2-3 rituals with altar tools and full size items). Items can be a mix of meditations, intention setting rituals, and products that promote relaxation and self discovery, like gems, altar tools, jewelry, perfumes, aromatherapy, candles and vegan bath and body products. This box is $59.99 a month and shipping varies. This review is for the Relaxation and Well-Being box.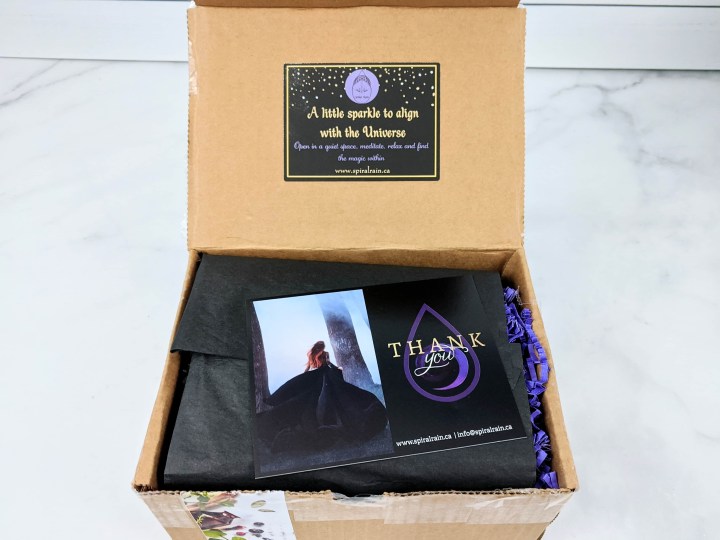 The box smells so good!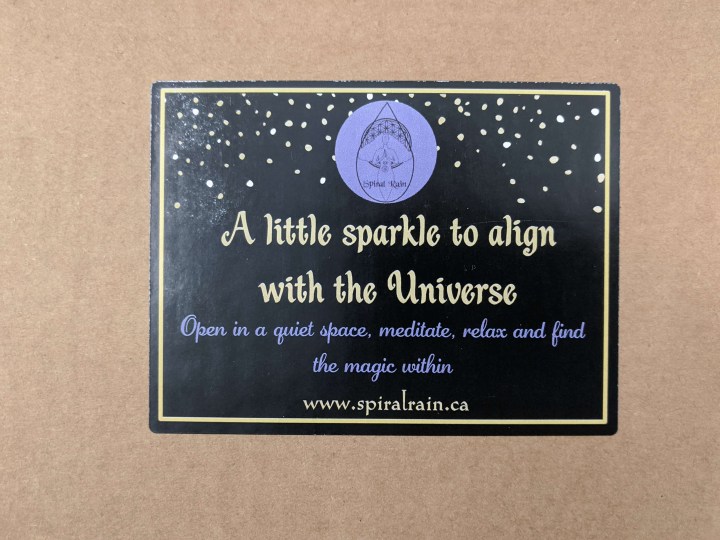 Inside the box, there's a reminder to take time to find the magic within.
The back of the Thank You card is in French. Spiral Rain is located in the Province of Quebec, so it's not surprising that a bit of French would find its way inside the box!
An envelope is waiting for us on top of the items.
Inside the envelop, we have an introduction to December's box with information about the Full and New Moon, the Month of December itself, the zodiac sign reigning over the month, and so much more. I love how much information was put into it.
We also have information on the Traditions and Symbols of Yule. The second paper has in-depth descriptions of the items in the box.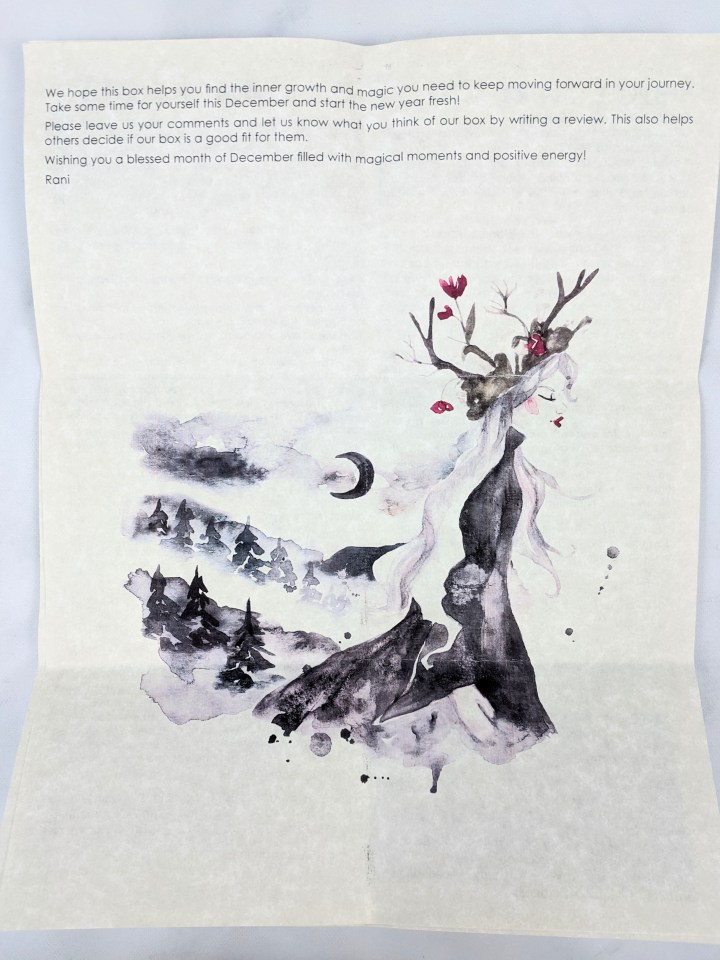 And there's a reminder to take time for ourselves in December to start the new year fresh! I love the art at the back.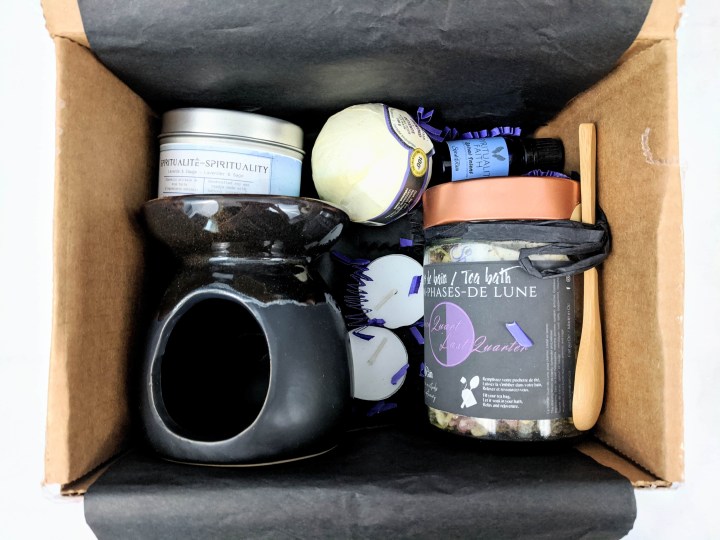 Everything was nicely packed under the black and purple paper.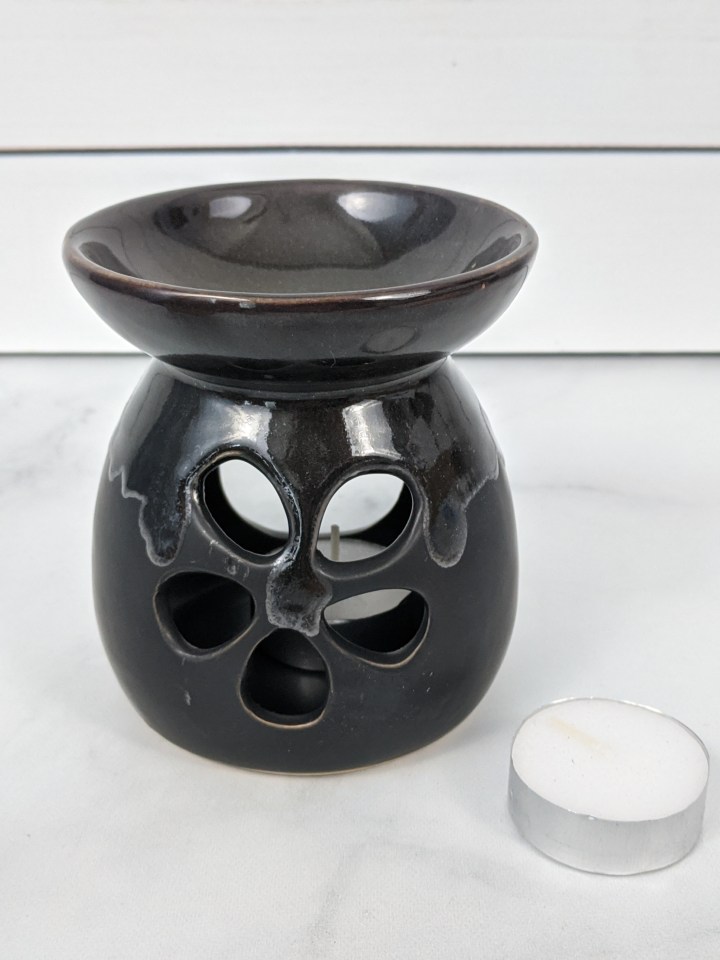 Black Shimmer Oil Diffuser. This ceramic diffuser has a dip dish where you can put water with a couple drops of essential oil. Two tealights were also included to make sure we could use it right away. I love the simple design and the color will make it a perfect addition to an altar and would look nice in a bathroom to use while enjoying a bath.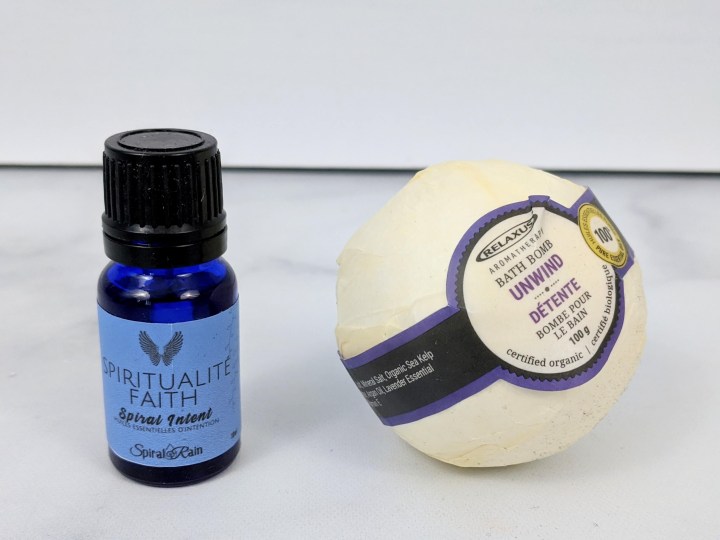 Spiral Intent Faith Diffuser Oil Blend. Perfect to use with the shiny new oil diffuser, this oil is a blend of jasmine, sage and frankincense essential oils with Lapis Lazuli stones. A couple of drops can be used in the bath or on a diffuser bracelet. The information card lists the properties of the jasmine, sage, frankincense and the lapis lazuli such as removing negative energy, inner wisdom, protection, and love.
Bath Bomb Unwind. This bath bomb has lavender essential oil as well as argan oil, organic shea butter, and organic sea kelp powder to help unwind. December is usually a crazy month, so this bath bomb is another nice reminder to take some time to relax.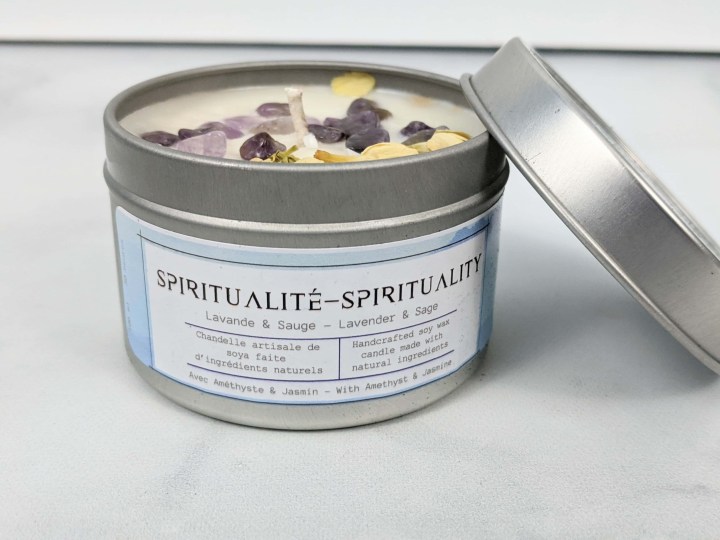 Spirituality Soy Wax Candle : Lavender & Sage. This lovely candle is topped with tumbled amethysts and jasmine flowers. It's quite strong on the lavender, but the sage shines through and the vanilla adds a nice touch. The information card gives a list of the properties of the amethysts, jasmine flowers, lavender, sage, and vanilla.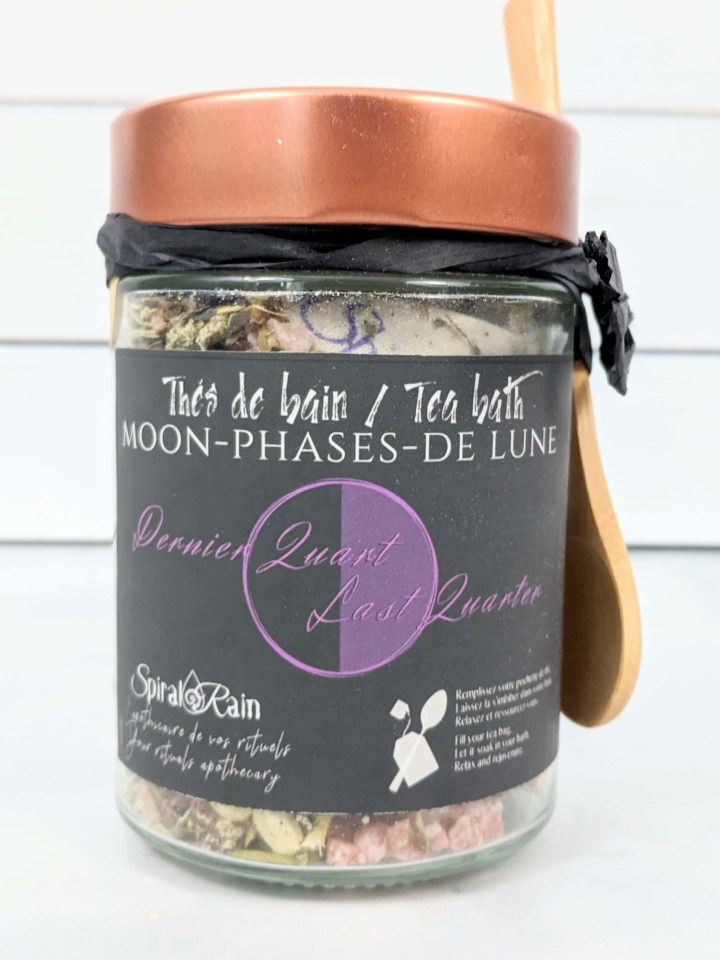 Last quarter Moon Tea bath. I couldn't find this exact bath tea on the Spiral Rain website, but I've linked to another Moon Tea bath.
This tea bath comes with a tea bag that you have to dig out of the tea. To use, you just have to fill the bag with the tea, let it soak in the bath. Once you are done, just empty, rinse it and let it dry for the next time.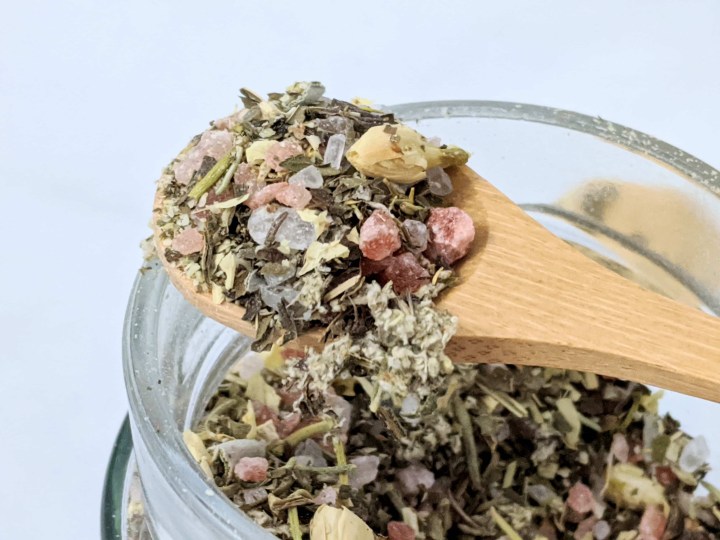 The tea bath is a mix of Himalayan Salt, Peppermint, Rosemary, Mugwort, Cacao butter, Jasmine and Sage. It smells a lot like Christmas! I love the peppermint scent, it'll be perfect to keep breathing throughout the winter!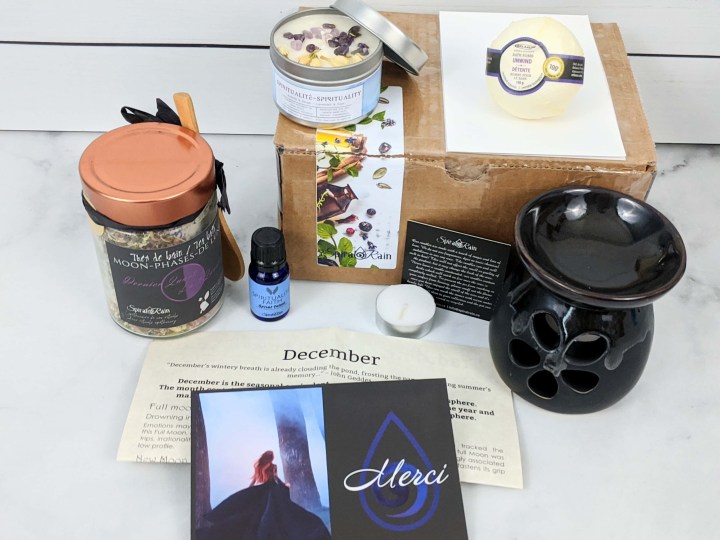 This was a lovely Self-Care box with a spiritual flair. I really appreciate that there were no beauty items, and that everything was about taking time to unwind and relax. I love the information that came with it, it gives us ideas on how to harness the month's energy through the moon cycle and traditions, and it shows the care put into the box. Every item worked well with all the others and I felt calm just by looking at everything.
What did you think about Spiral Rain? Are you also getting this subscription?