Owl Crate is a monthly subscription of books and bookish items. Each OwlCrate contains one new Young Adult novel, as well as 3-5 other bookish items all matched to the monthly theme. OwlCrate always sends the best items to go along with their theme with the hottest new books out there.
DEAL: Use coupon code HELLO15 to save 15% on your first subscription!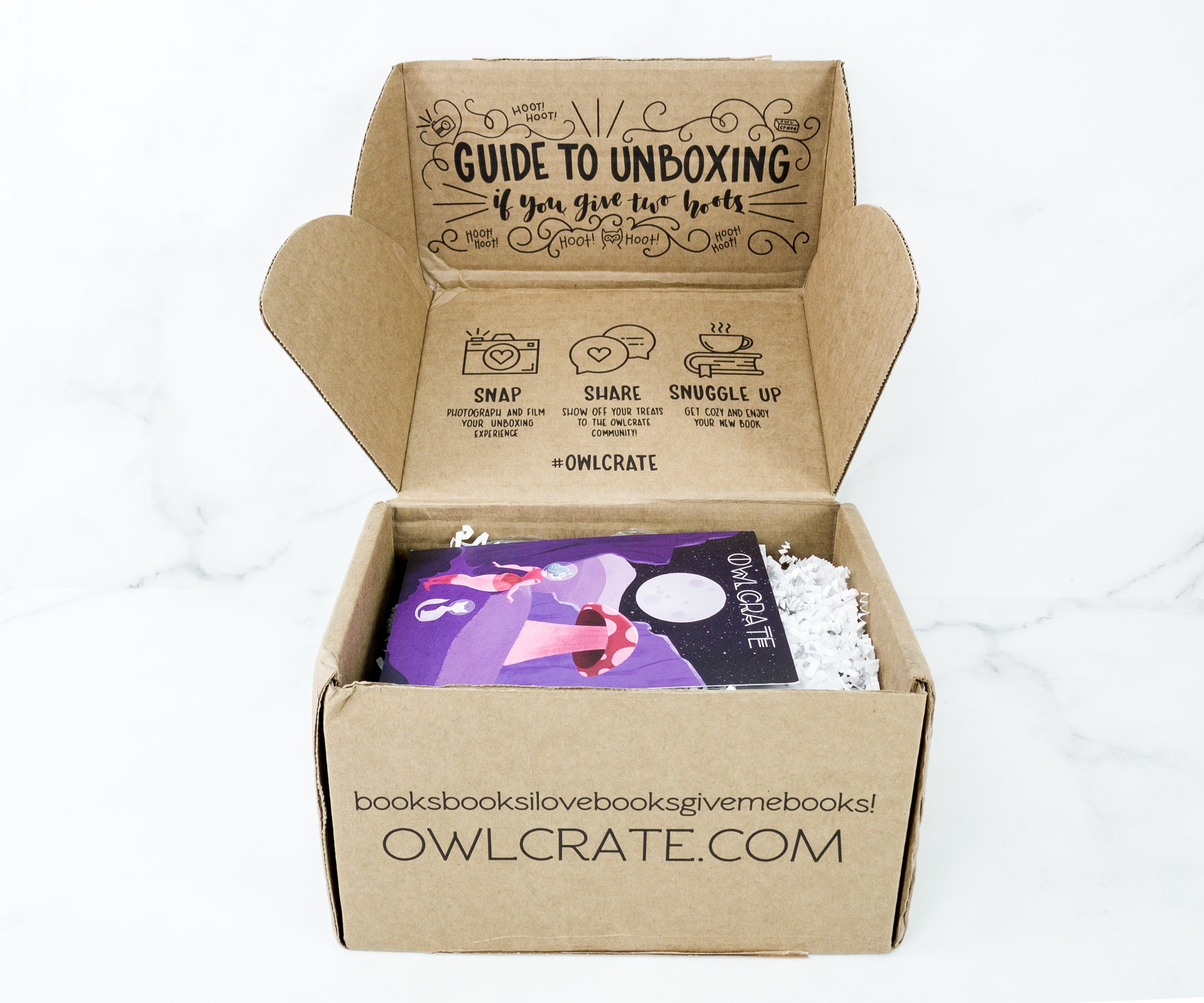 October's theme is DAWN OF A NEW WORLD. The boxes always come packed full with the info cards right on top so you get them as soon as you open the box.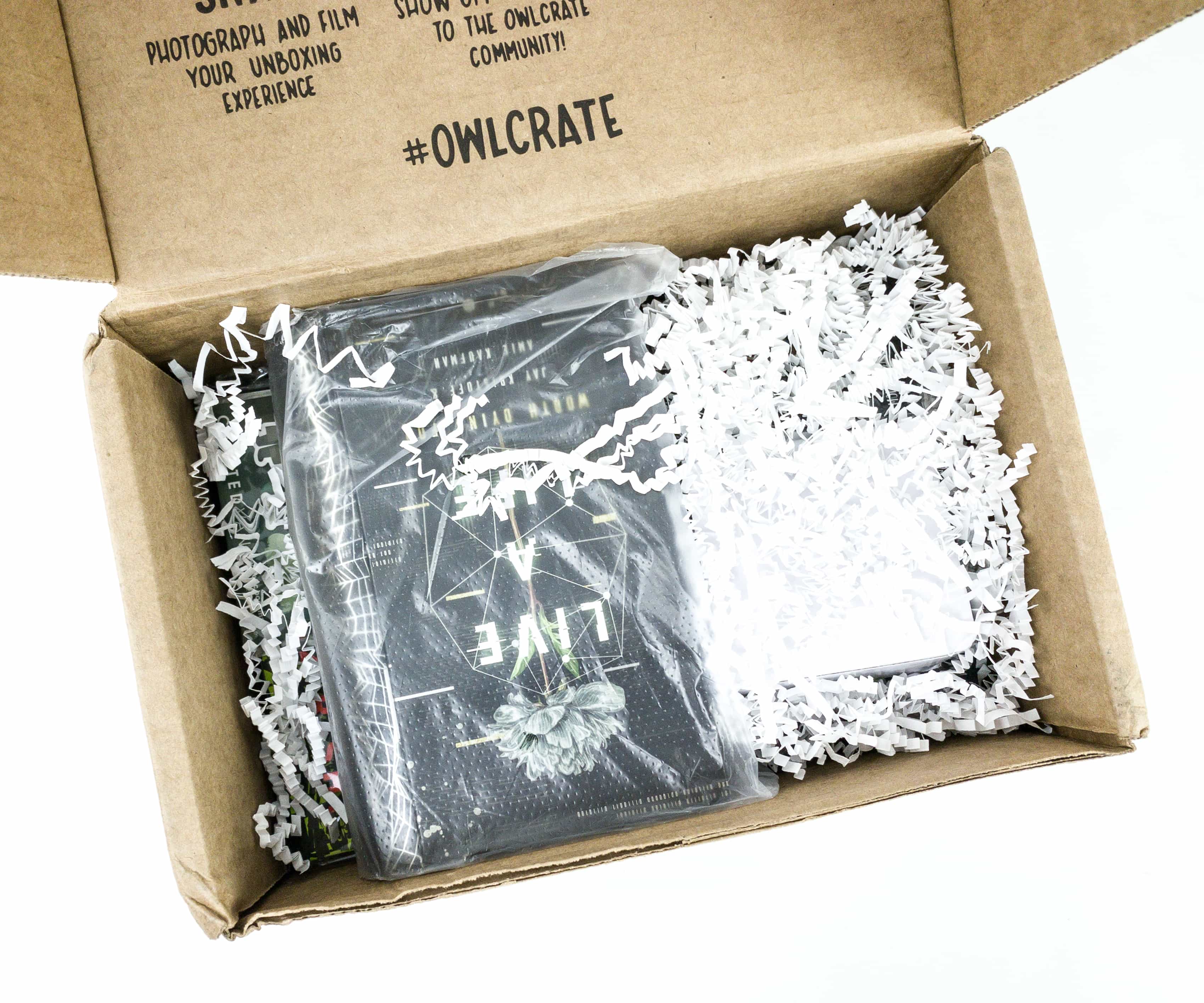 The contents of the box are protected by white squiggles.
OwlCrate always has the best info card prints!
The information card tells a little bit about all the items in this month's box along with little comments on why they were selected or other fun tidbits. The theme follows through even with the info. It is always decorated to go along with that month.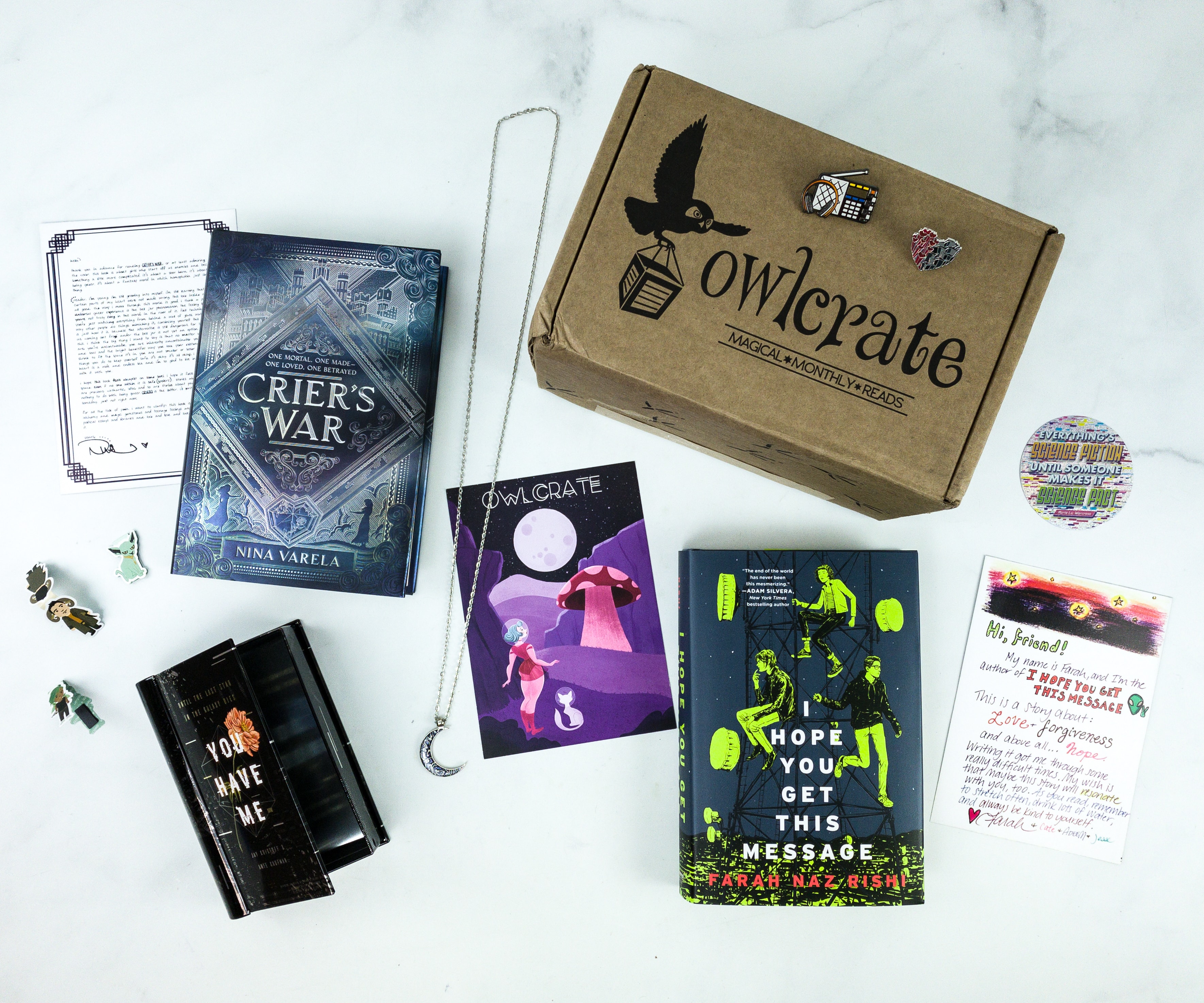 Everything in our October OwlCrate box.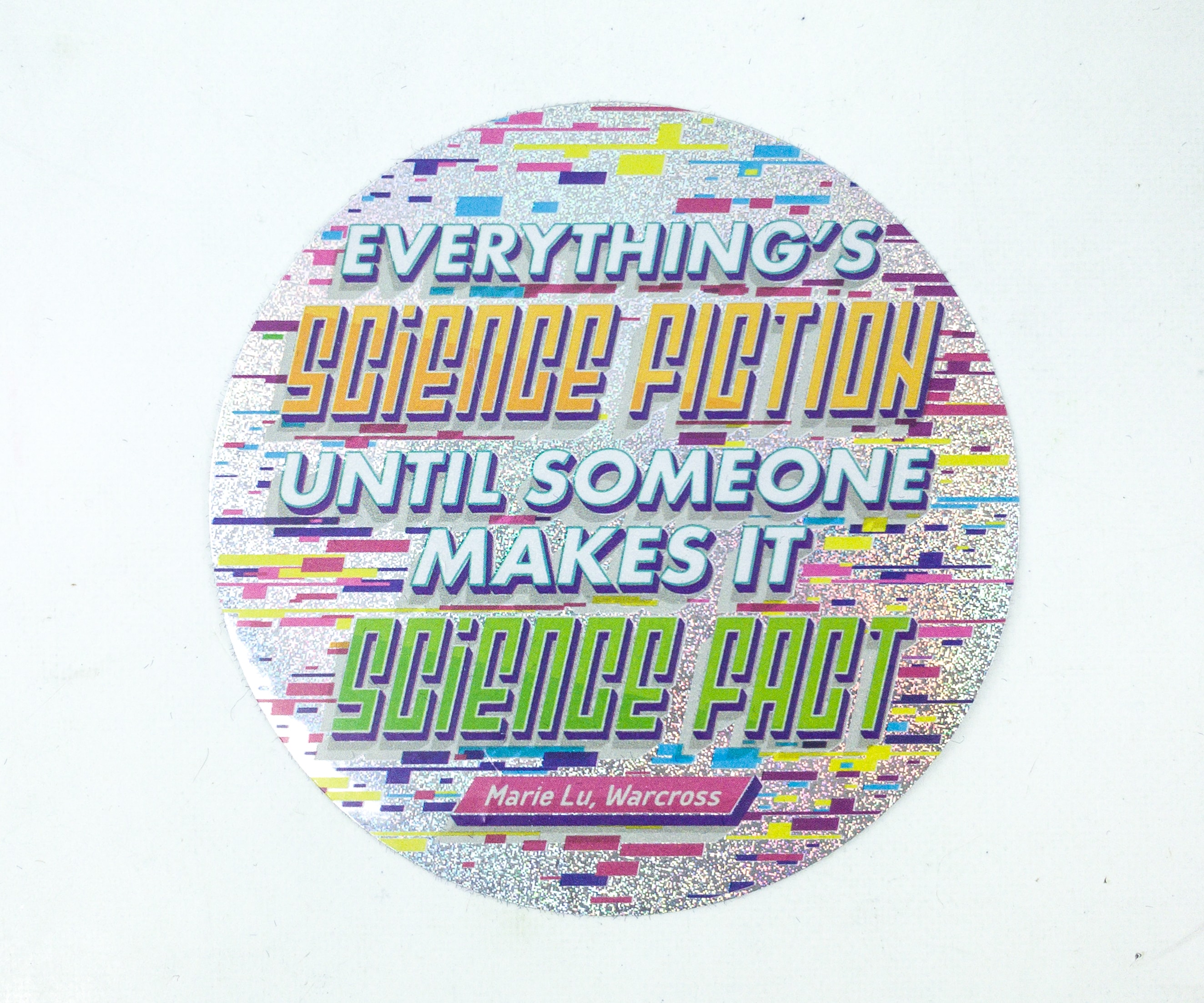 Sticker. Blanca Montiel designed this cool and colorful sticker based-off Warcross, and it features a quote:
Everything's Science Fiction until someone makes it Science Fact.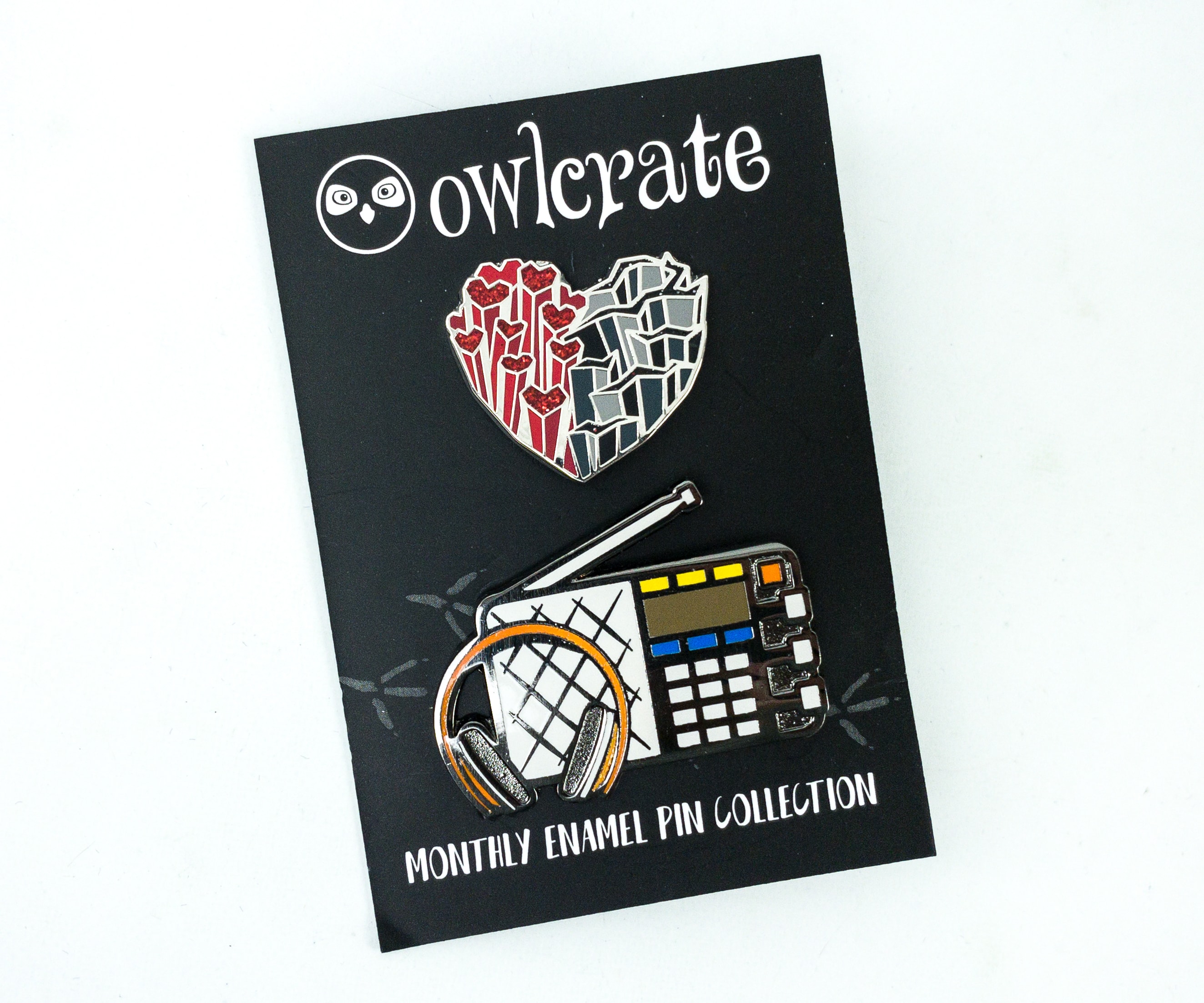 Enchanted Bookshop Enamel Pin. This month's enamel pins feature a heart and a radio!
Both pins came with butterfly clutches to keep them in place when used.
The heart pin was inspired by the book Crier's War by Nina Varela, and the radio was inspired by the story I Hope You Get This Message's Adeem and his love for radios!
Craftedvan Magnetic Bookmark. We also got a set of magnetic bookmark featuring the comic, Saga!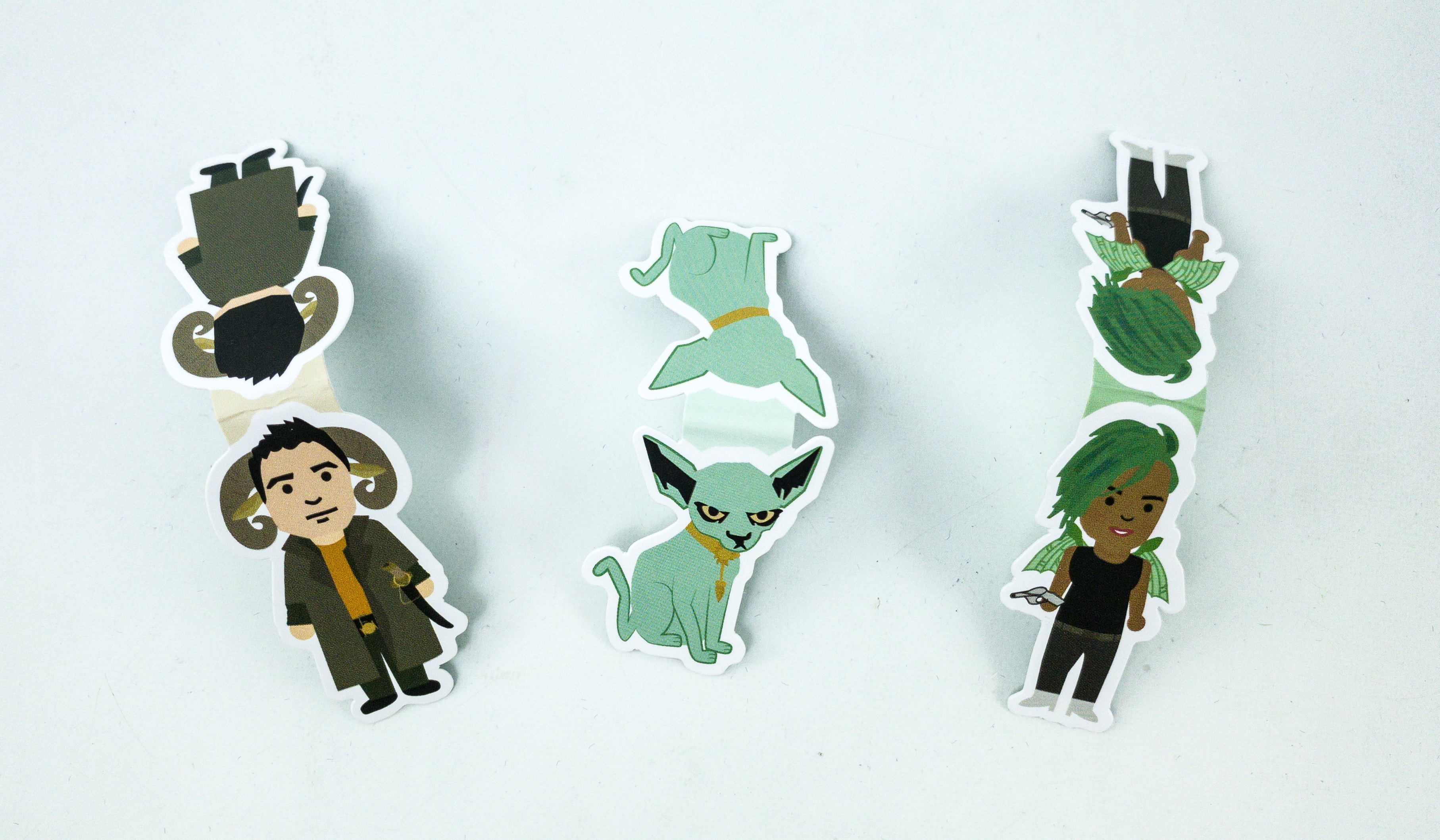 There are 3 bookmarks and they showcased the characters Marko, Alana, and the Lying Cat. They captured each character's details perfectly!
Stella Bookish Art Illuminae Files-Themed Tin Box. It looks like a book, but it's actually a tin container featuring an adult space novel on the cover!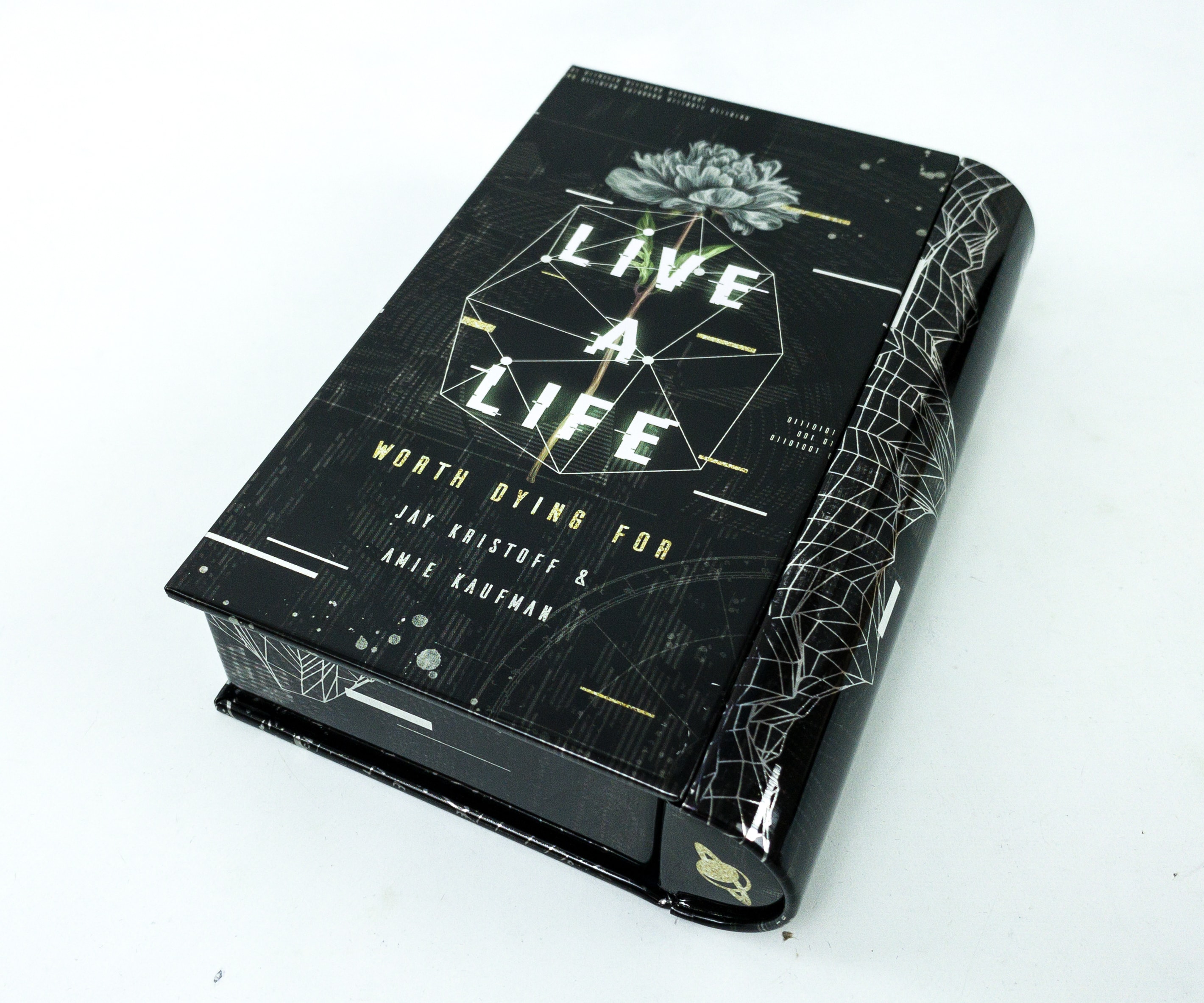 The sides actually feature different covers or quotes.
When you open the tin container, the inside of the top lid also has another book-cover like design and another quote. It's spacious enough for keeping personal items, or even for your art materials and such.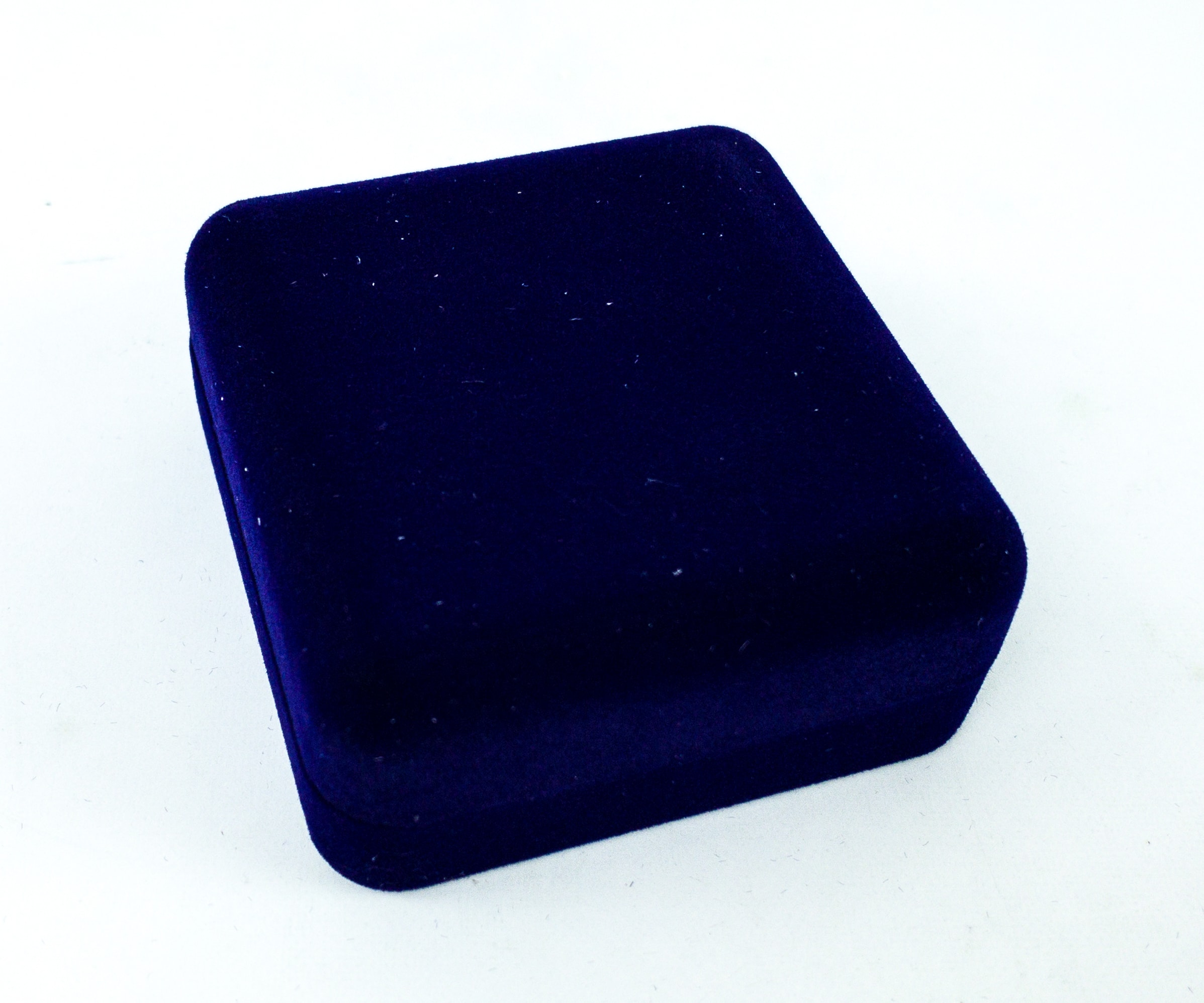 Moon Necklace. The necklace arrived in an elegant box. We're really anticipating this one and it didn't disappoint!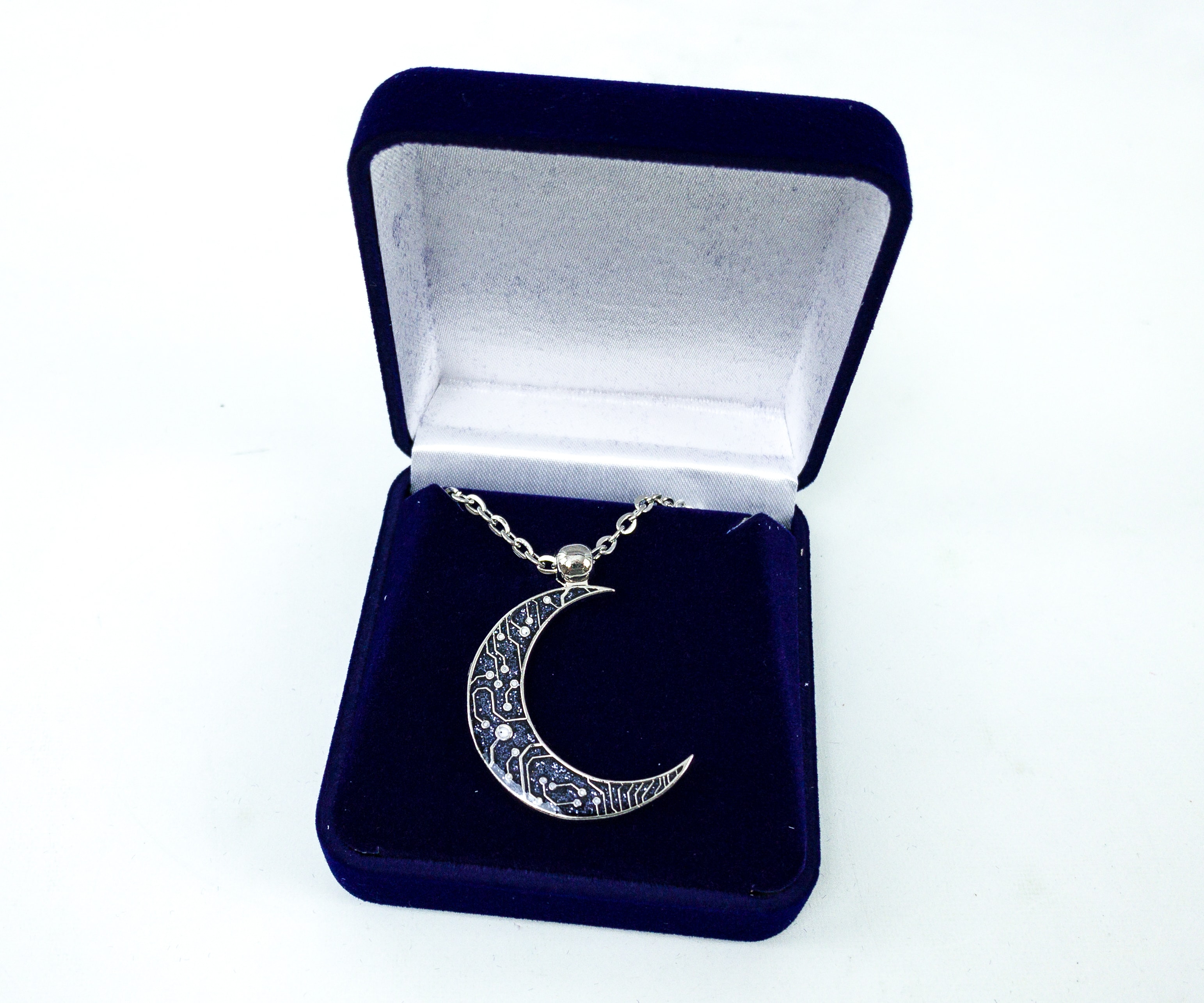 It's a beautiful crescent moon necklace!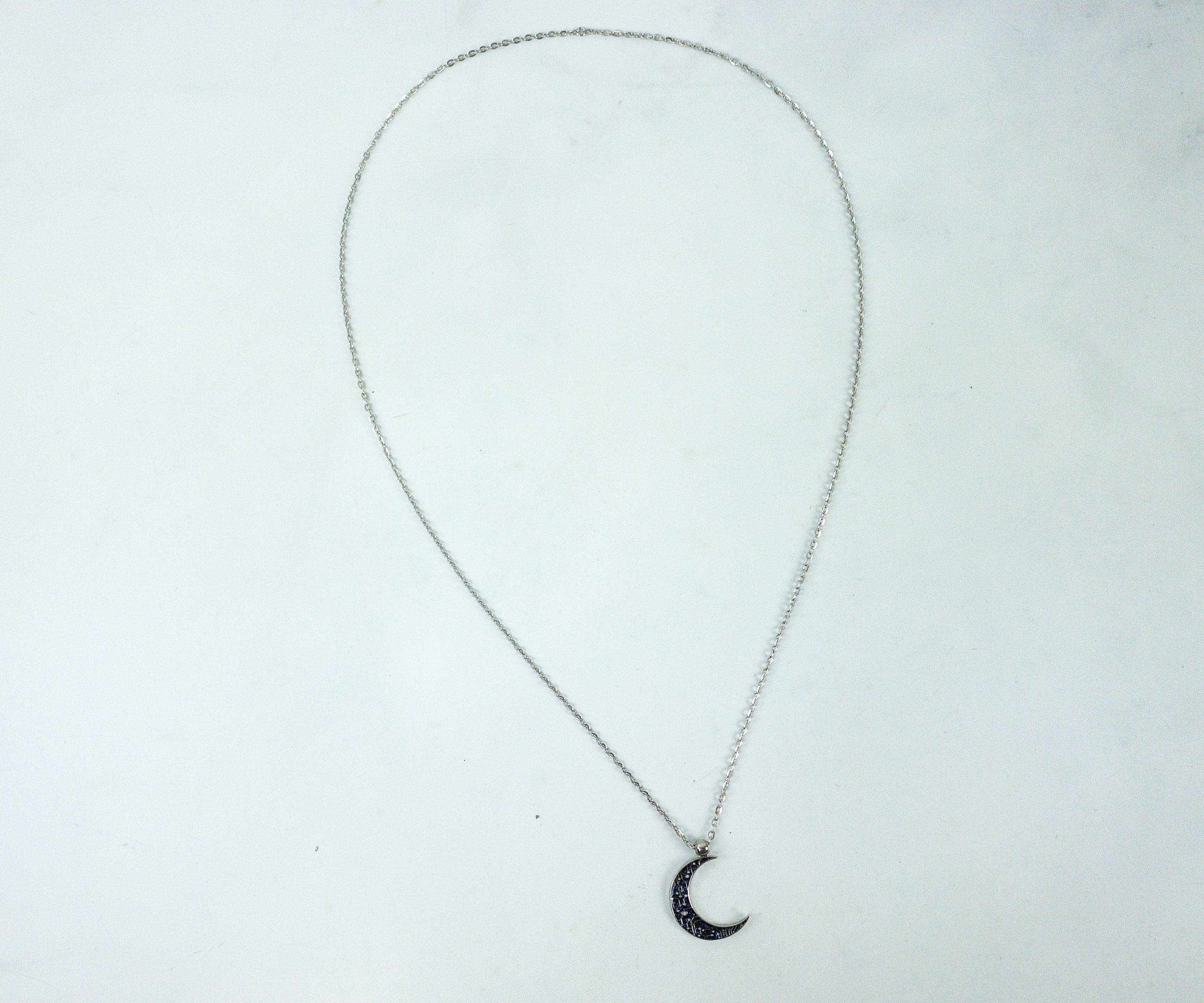 The silver necklace is inspired by the adult Sci-Fi novel, The Lunar Chronicles.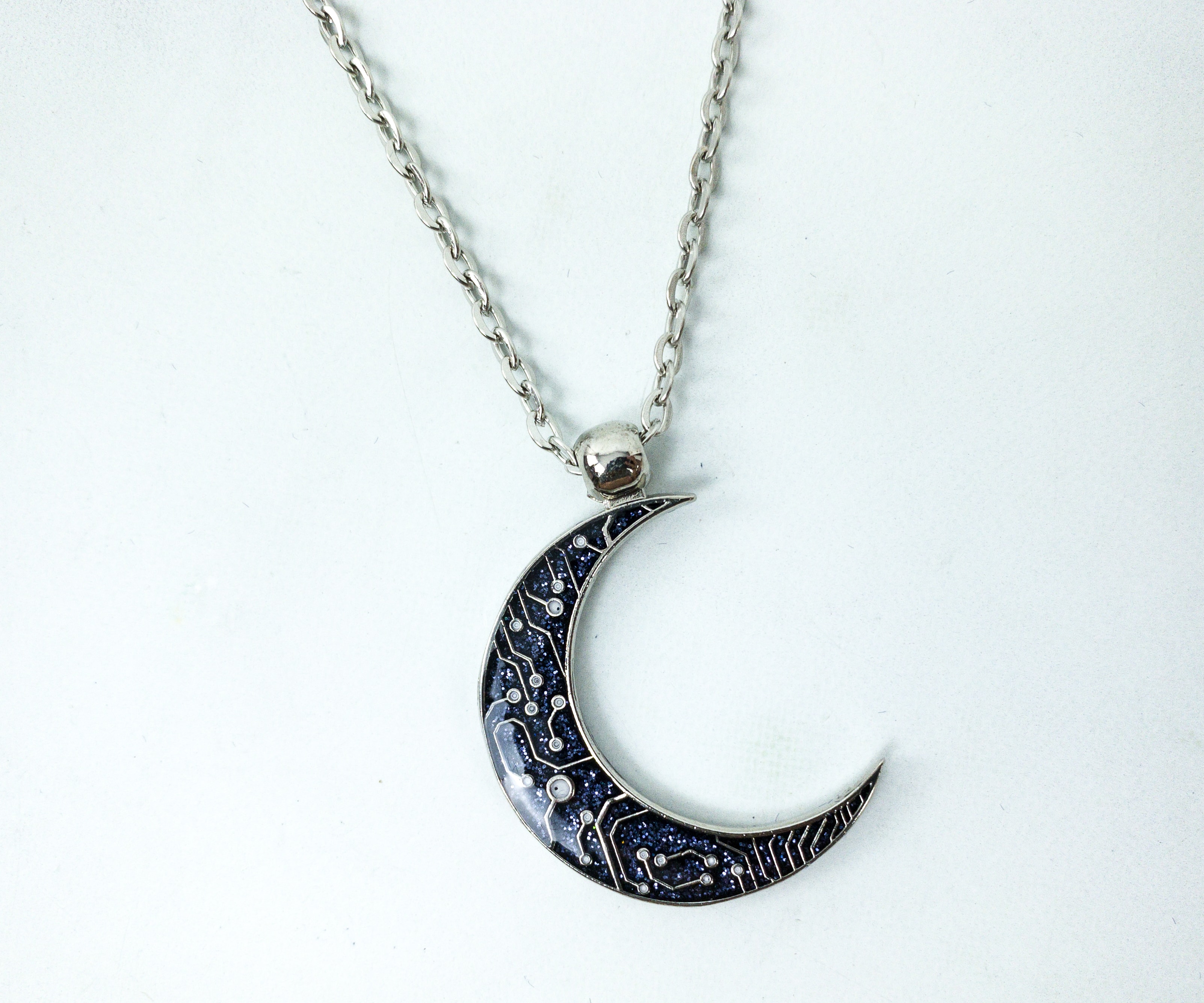 The crescent moon is not just a simple-looking pendant, as it's decorated and designed like a machine's interior or a circuit.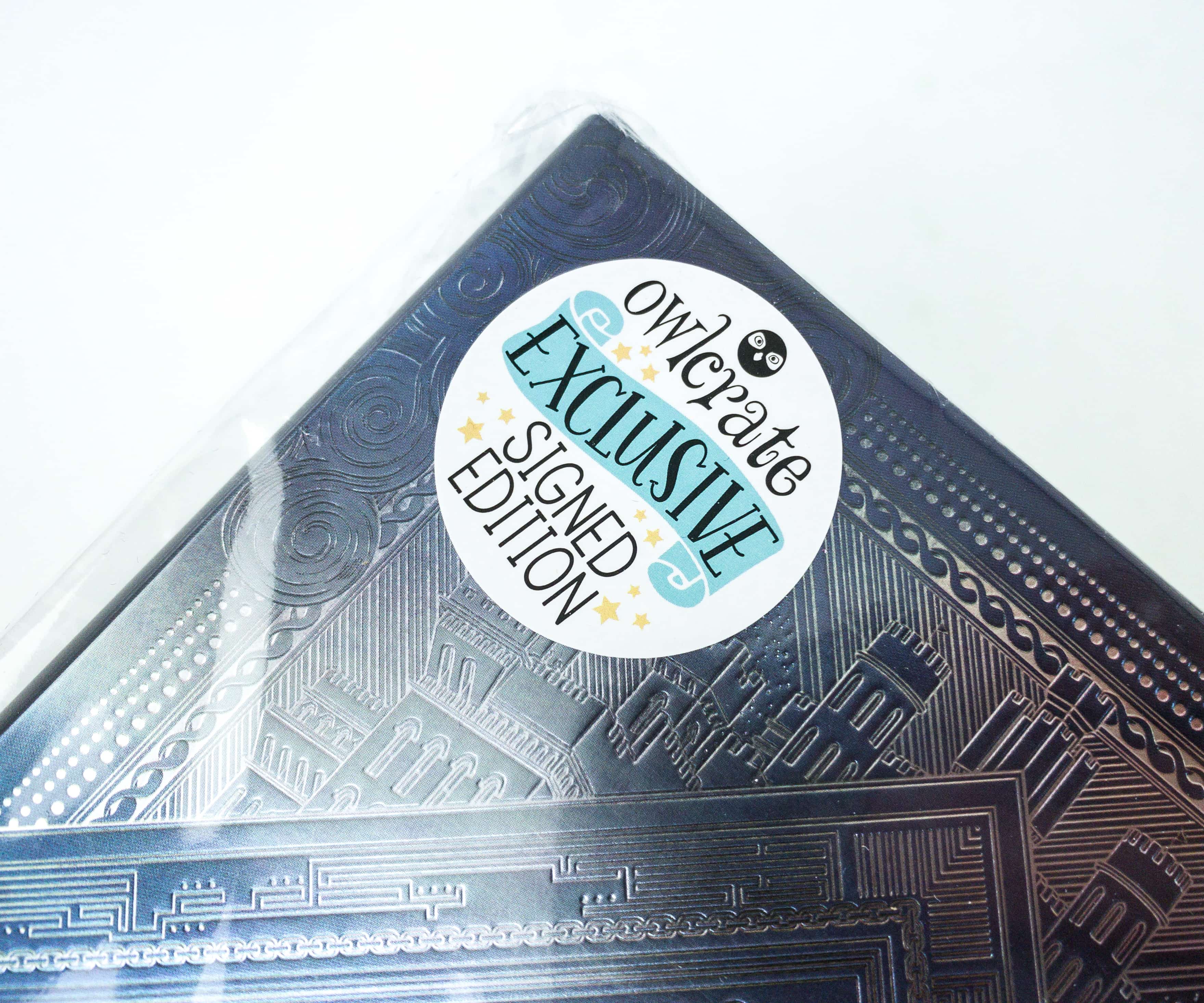 Crier's War by Nina Varela ($12.99)
From debut author Nina Varela comes the first book in an Own Voices, richly imagined epic fantasy duology about an impossible love between two girls—one human, one Made—whose romance could be the beginning of a revolution.

Perfect for fans of Marie Rutkoski's The Winner's Curse as well as Game of Thrones and Westworld.

After the War of Kinds ravaged the kingdom of Rabu, the Automae, designed to be the playthings of royals, usurped their owners' estates and bent the human race to their will.

Now Ayla, a human servant rising in the ranks at the House of the Sovereign, dreams of avenging her family's death…by killing the sovereign's daughter, Lady Crier.

Crier was Made to be beautiful, flawless, and to carry on her father's legacy. But that was before her betrothal to the enigmatic Scyre Kinok, before she discovered her father isn't the benevolent king she once admired, and most importantly, before she met Ayla.

Now, with growing human unrest across the land, pressures from a foreign queen, and an evil new leader on the rise, Crier and Ayla find there may be only one path to love: war.
The notecard from the author has the same design as the book cover!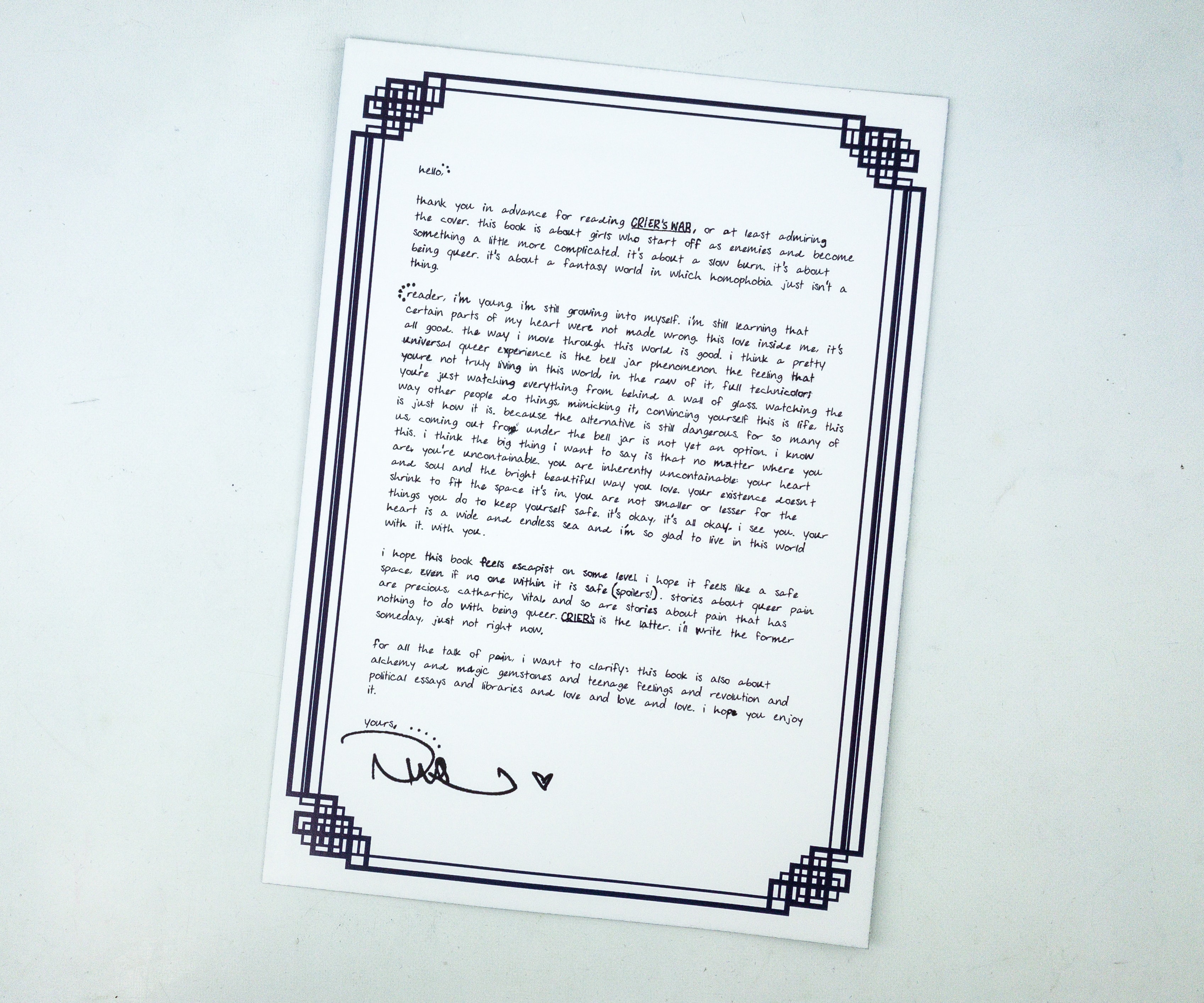 The flip side has a note and an autograph.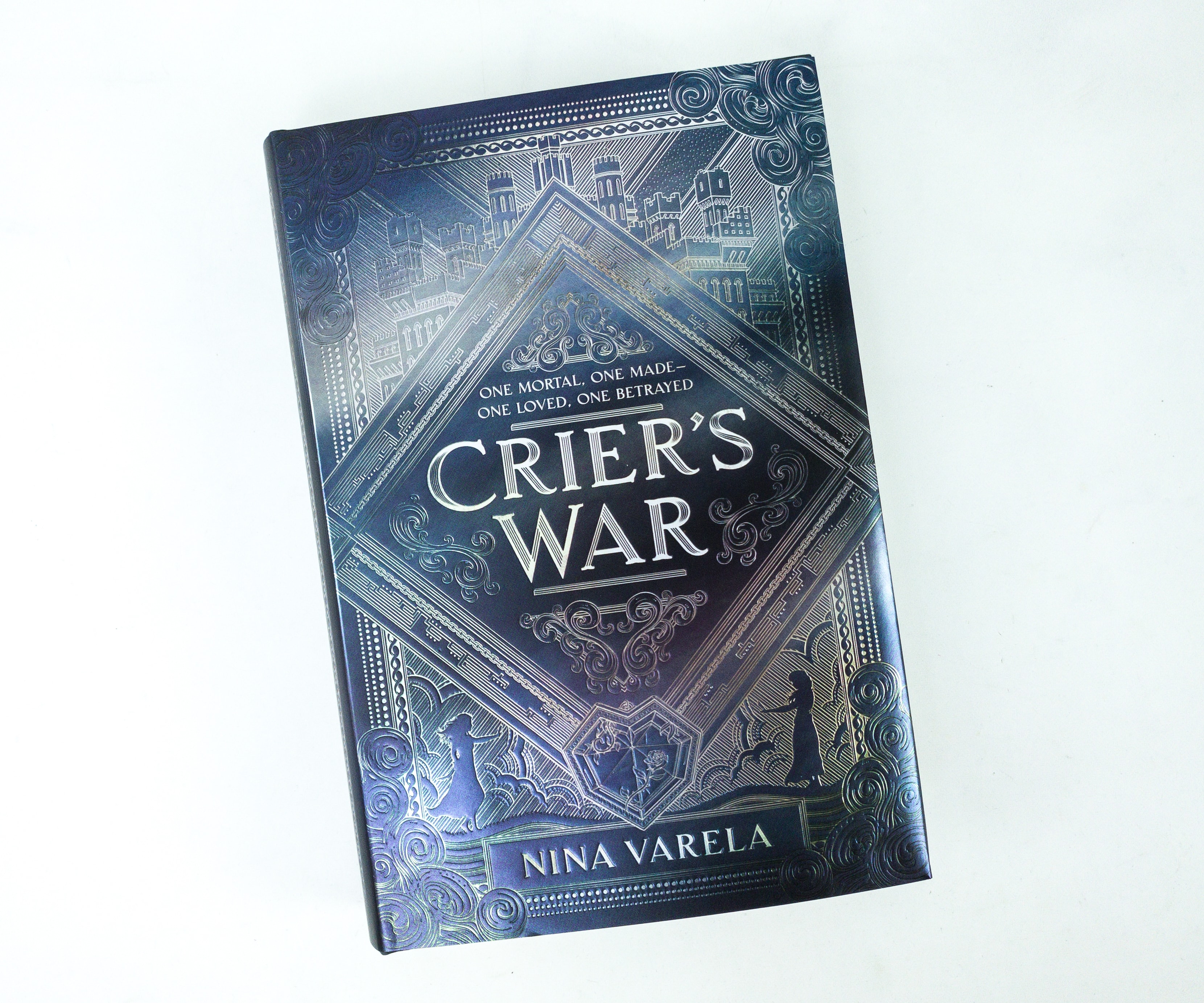 I really like the classic and elegant look of the cover. It looks like a designed silk dress with how they presented the book cover art!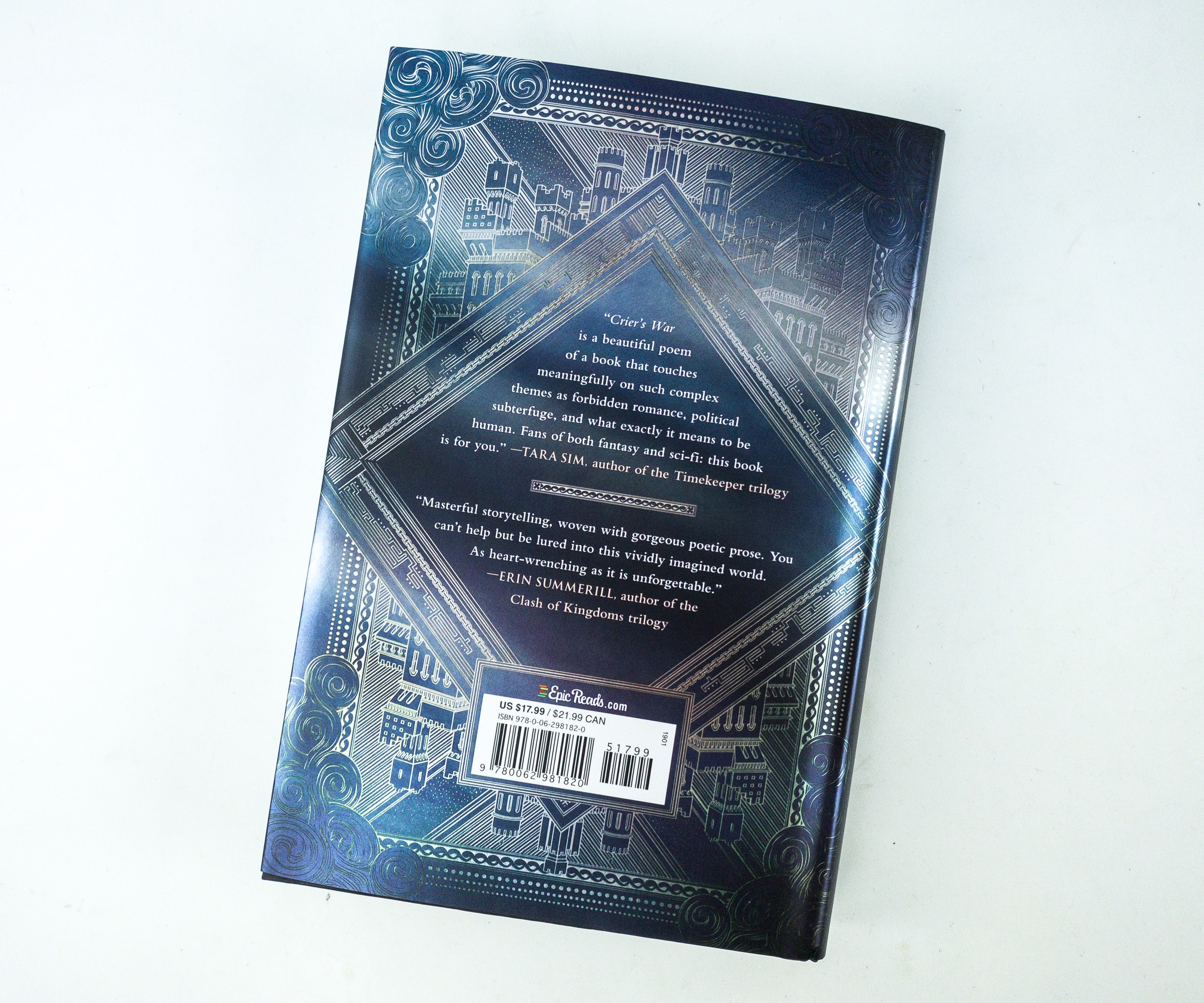 The back of the book featured some brief reviews from other book authors.
At first, I thought that it's the usual boy-girl enemies turned lovers story, but as I read the synopsis located at the dust cover's flap, I was really intrigued when I found out that the protagonists are both women!
Instead of a signed bookplate, the author's autograph can be found at a designated page inside the book.
The story is about Ayla, a human servant seeking revenge for her family by killing the sovereign's daughter, Lady Crier.
Crier was engaged to the enigmatic Scyre Kinok. Crier then found out that her father wasn't like what she believed and admired, and then she also met Ayla and fell in love. It also messed up with Ayla's plans, but both will find out that there's another and only way to love, which is war.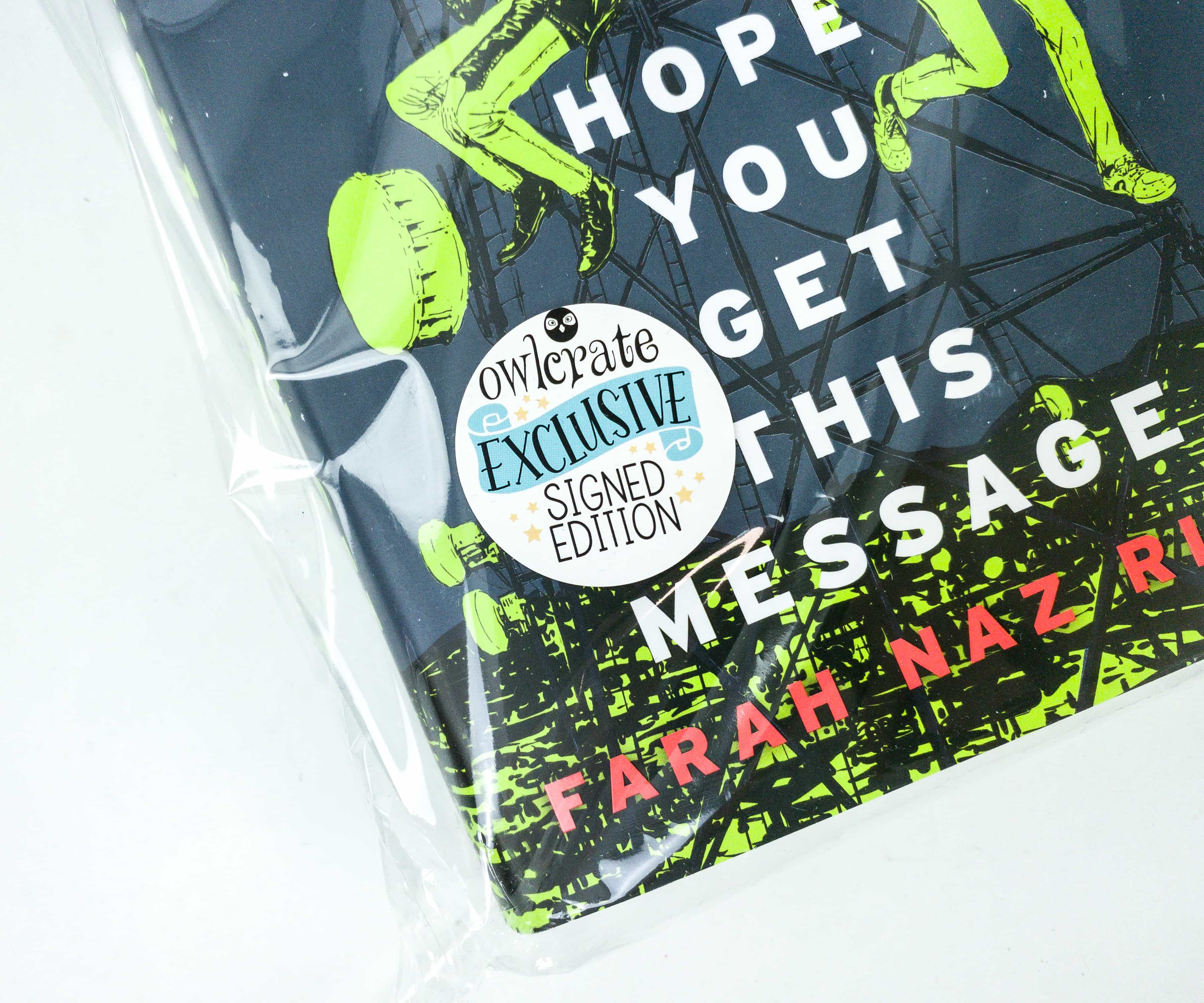 I Hope You Get This Message by Farah Naz Rishi ($14.39)
In this high concept YA novel debut that's We All Looked Up meets The Sun Is Also a Star, three teens must face down the mistakes of their past after they learn that life on Earth might end in less than a week.

News stations across the country are reporting mysterious messages that Earth has been receiving from a planet—Alma—claiming to be its creator. If they're being interpreted correctly, in seven days Alma will hit the kill switch on their "colony" Earth.

True or not, for teenagers Jesse Hewitt, Cate Collins, and Adeem Khan, the prospect of this ticking time bomb will change their lives forever.

Jesse, who has been dealt one bad blow after another, wonders if it even matters what happens to the world. Cate, on the other hand, is desperate to use this time to find the father she never met. And Adeem, who hasn't spoken to his estranged sister in years, must find out if he has it in him to forgive her for leaving.

With only a week to face their truths and right their wrongs, Jesse, Cate, and Adeem's paths collide as their worlds are pulled apart.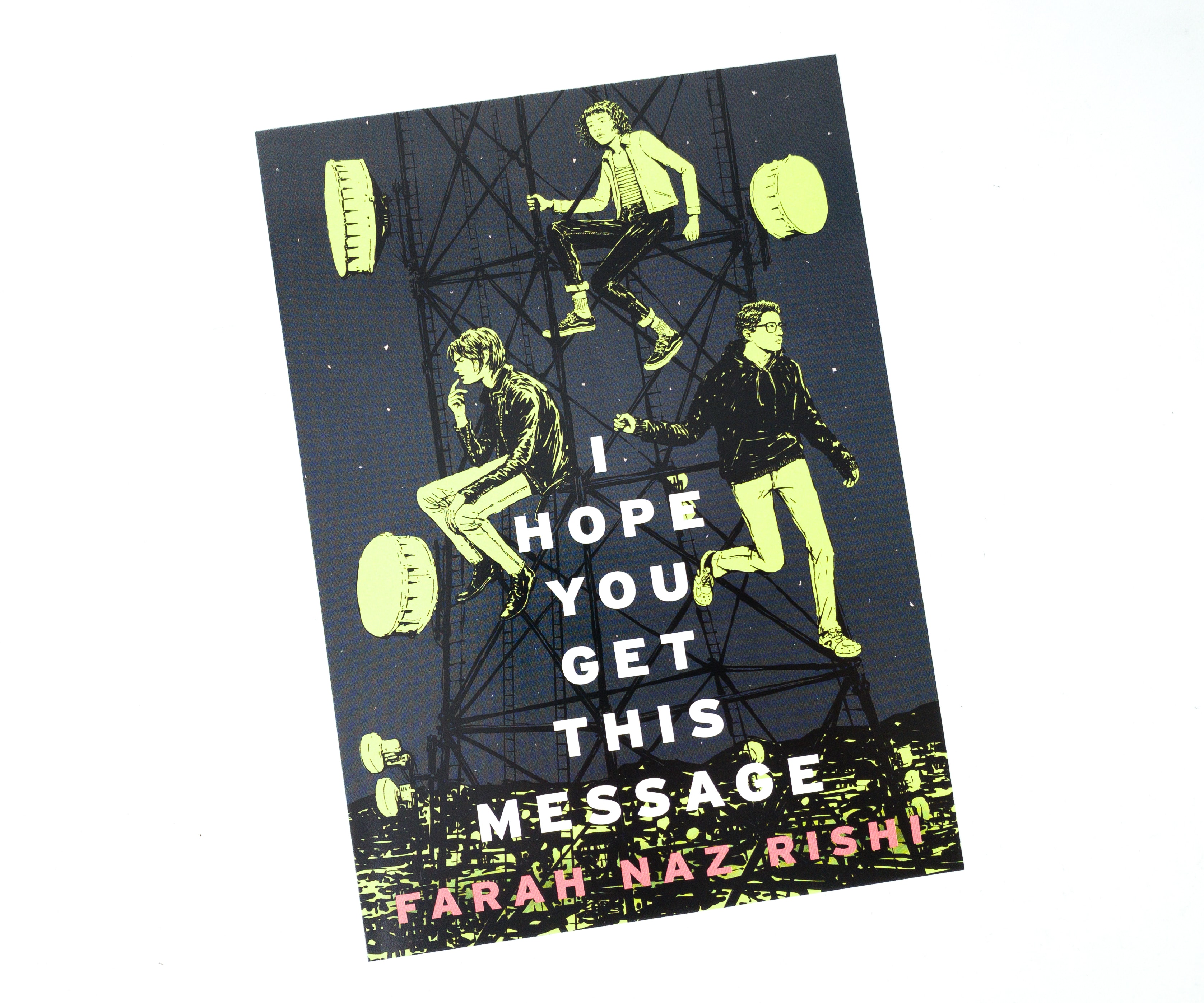 Here's another worthy addition to our home library, a copy of the YA Sci-Fi book by author Farah Naz Rishi.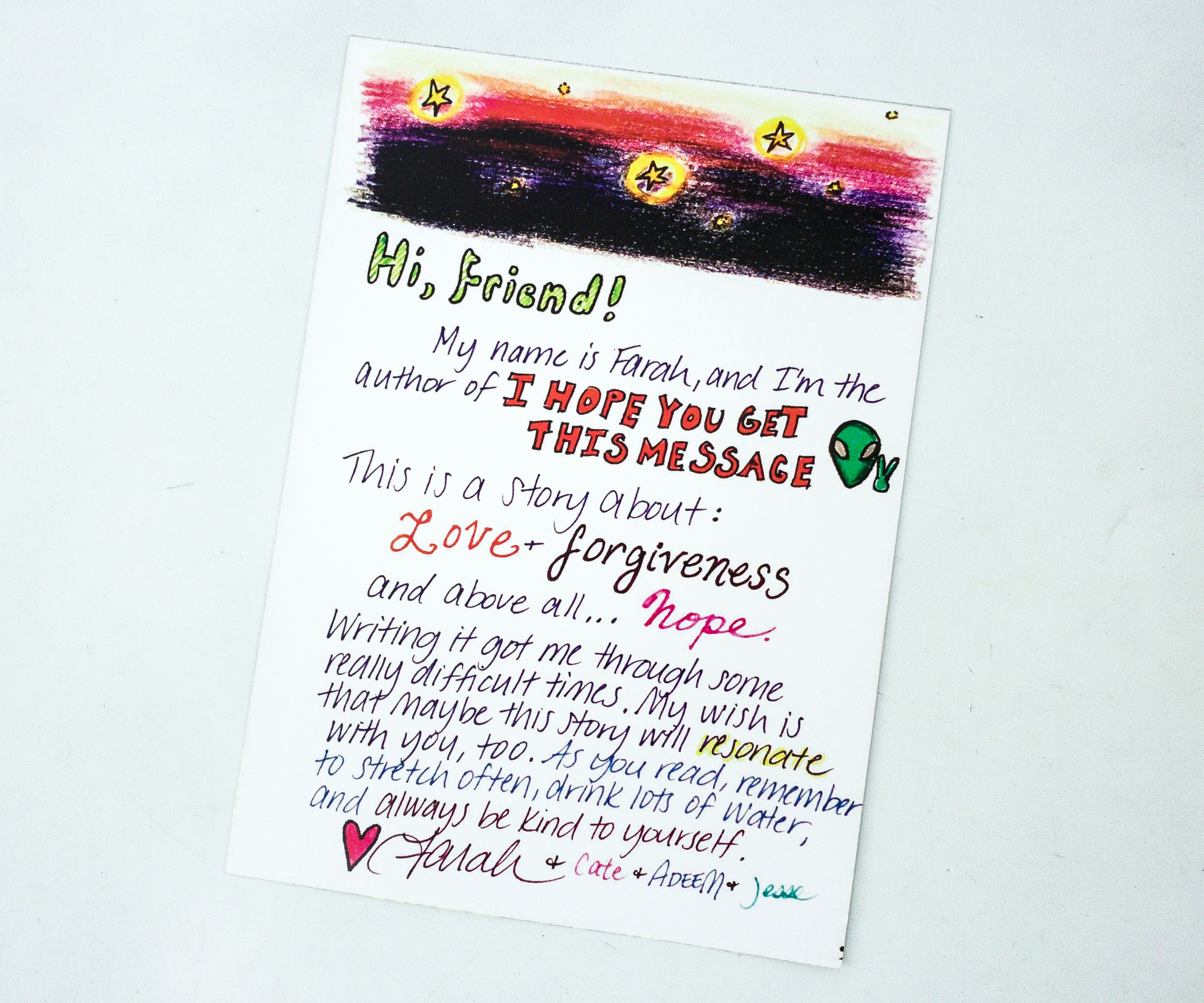 There's also a notecard from the author, and she tells us more about what the story is all about, which are love, forgiveness, and hope.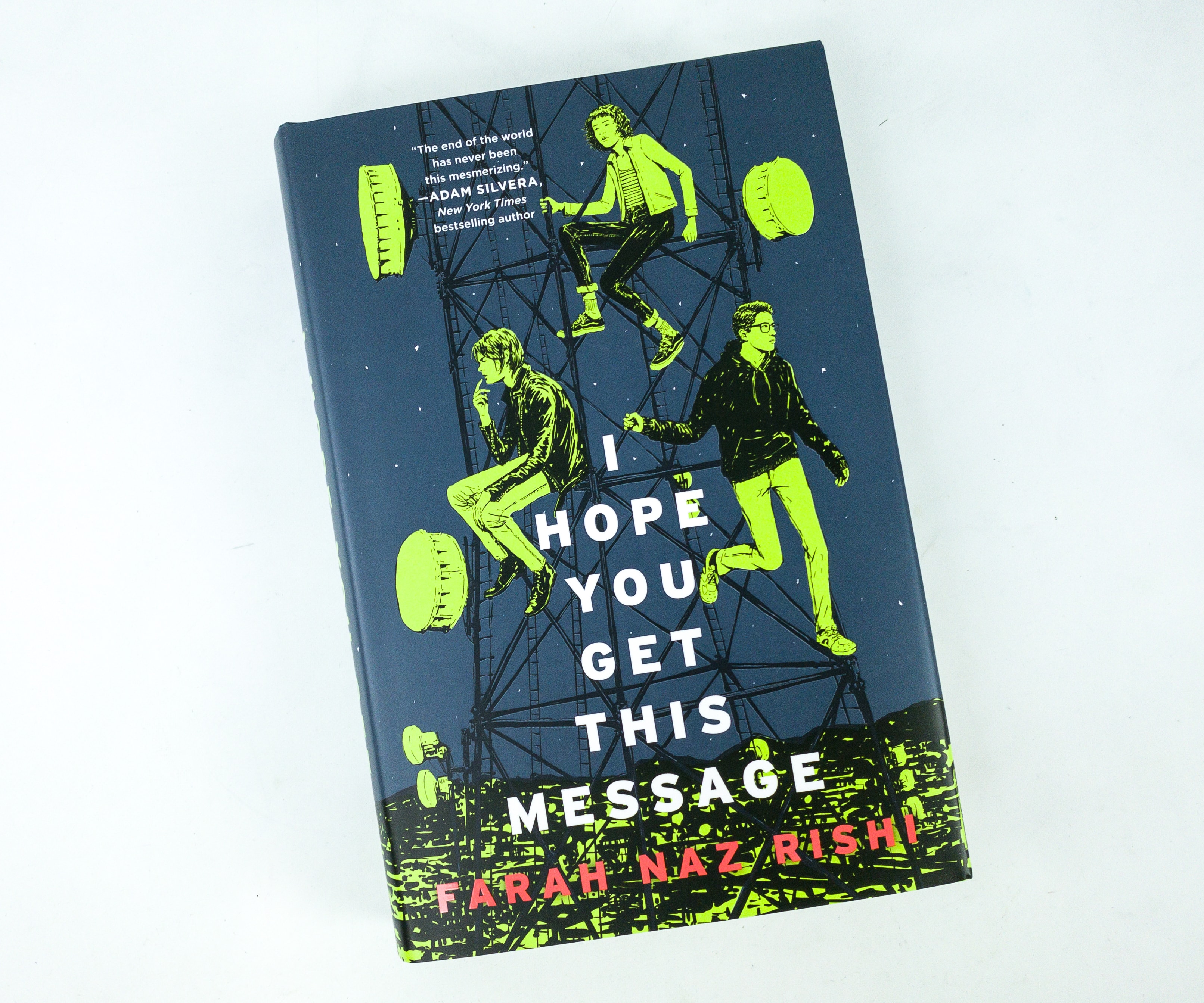 The cover shows us the main characters of the story, Jesse Hewitt, Cate Collins, and Adeem Khan.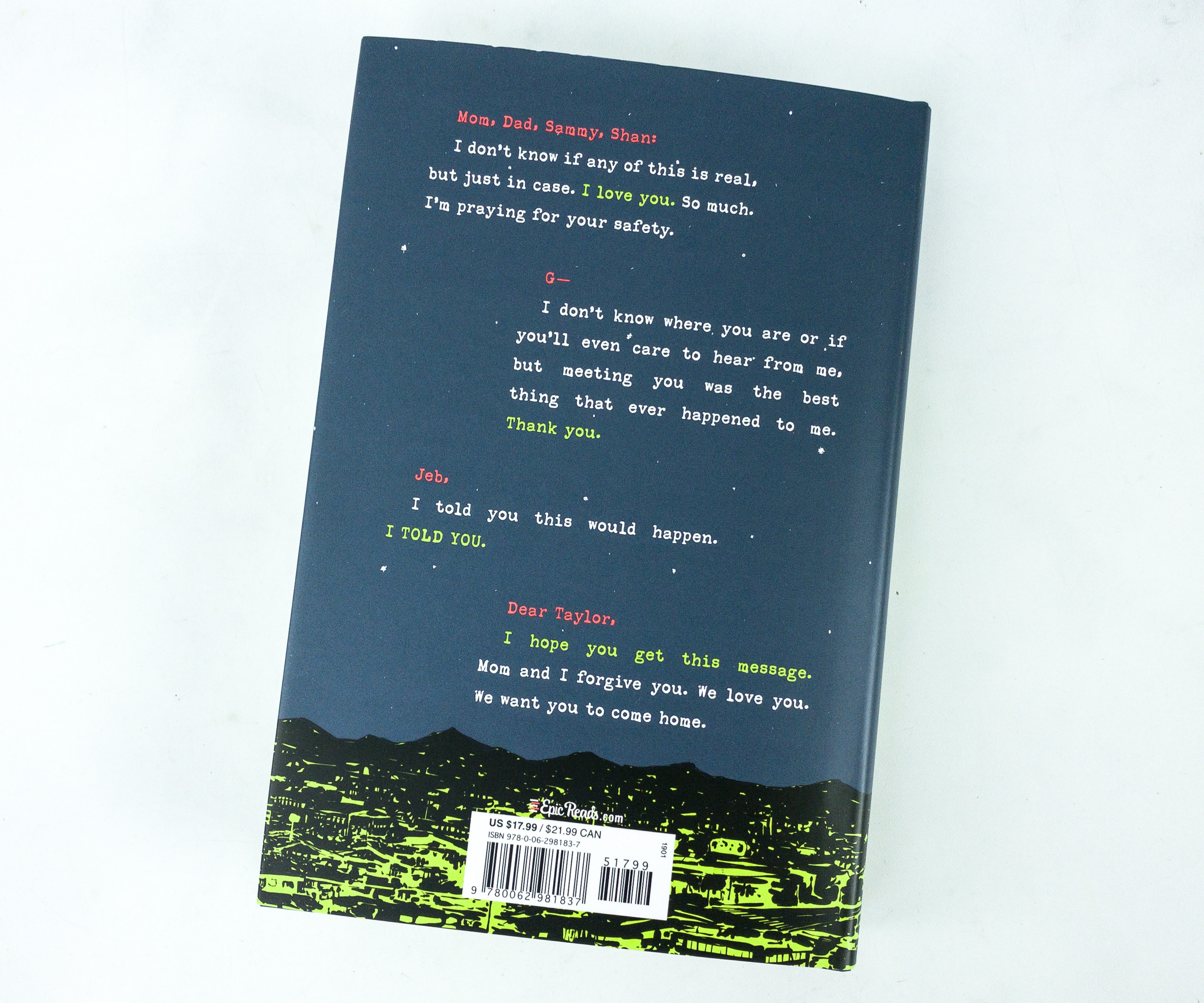 There are some short notes at the back of the book, which is related to the story. It's like their last messages to family, friends, and other important people on the lives of those who wrote them.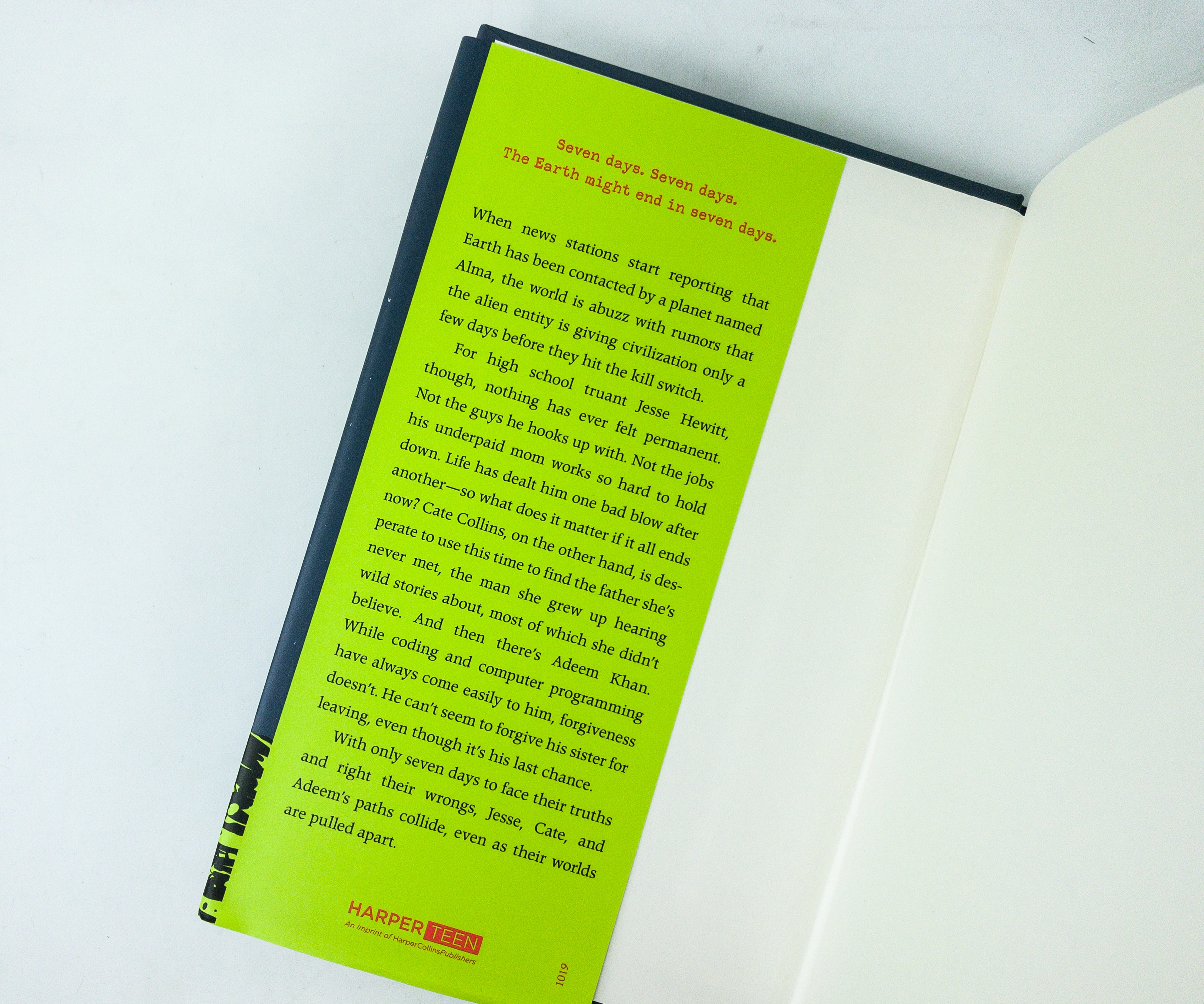 The story tells us about the struggle of the three main characters, on how they'll live the remaining 7 days of their lives before the inhabitants of planet Alma hit the kill switch that will end the Earth.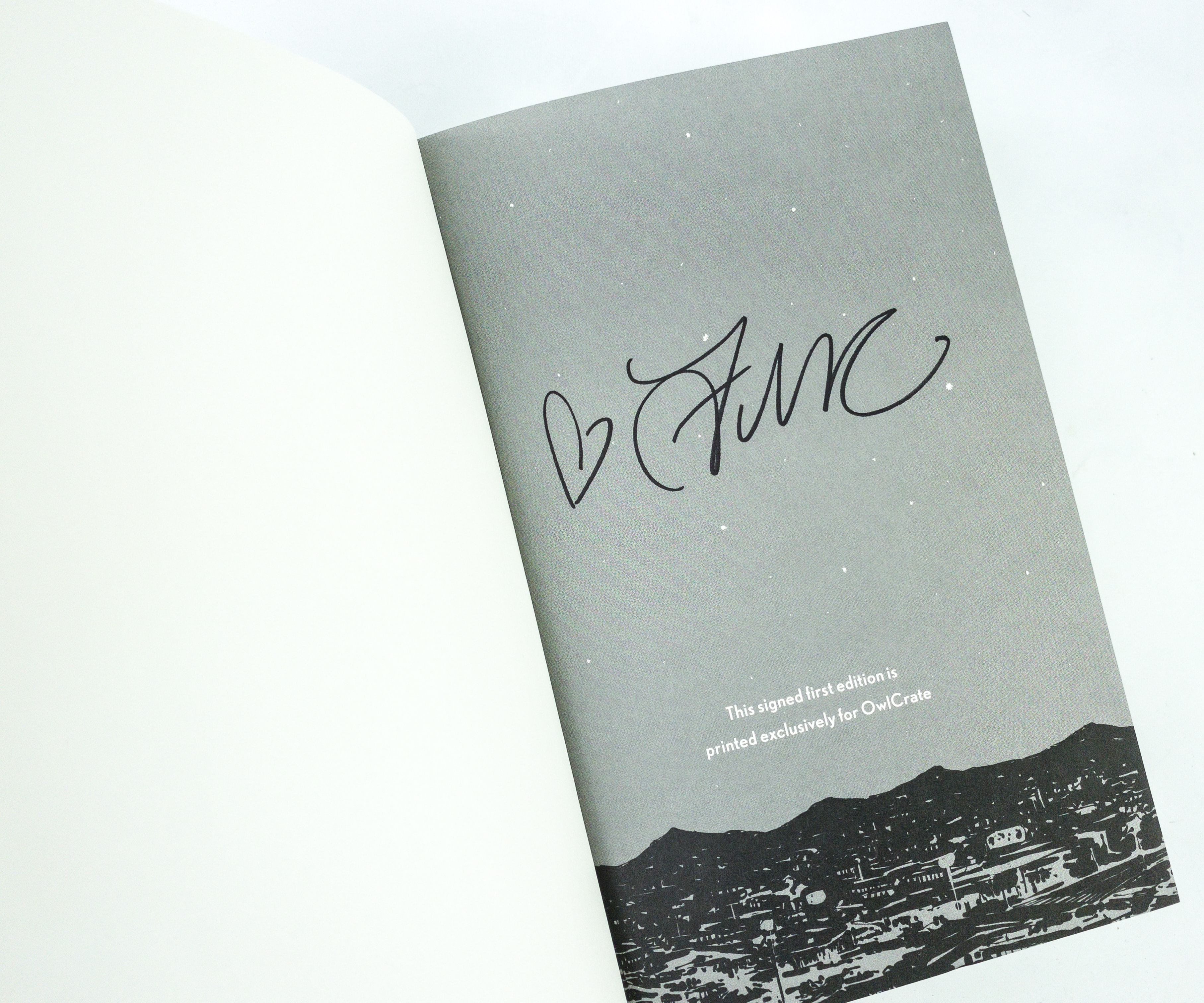 The book is the first edition, and the author's signature can be found on one of the pages inside.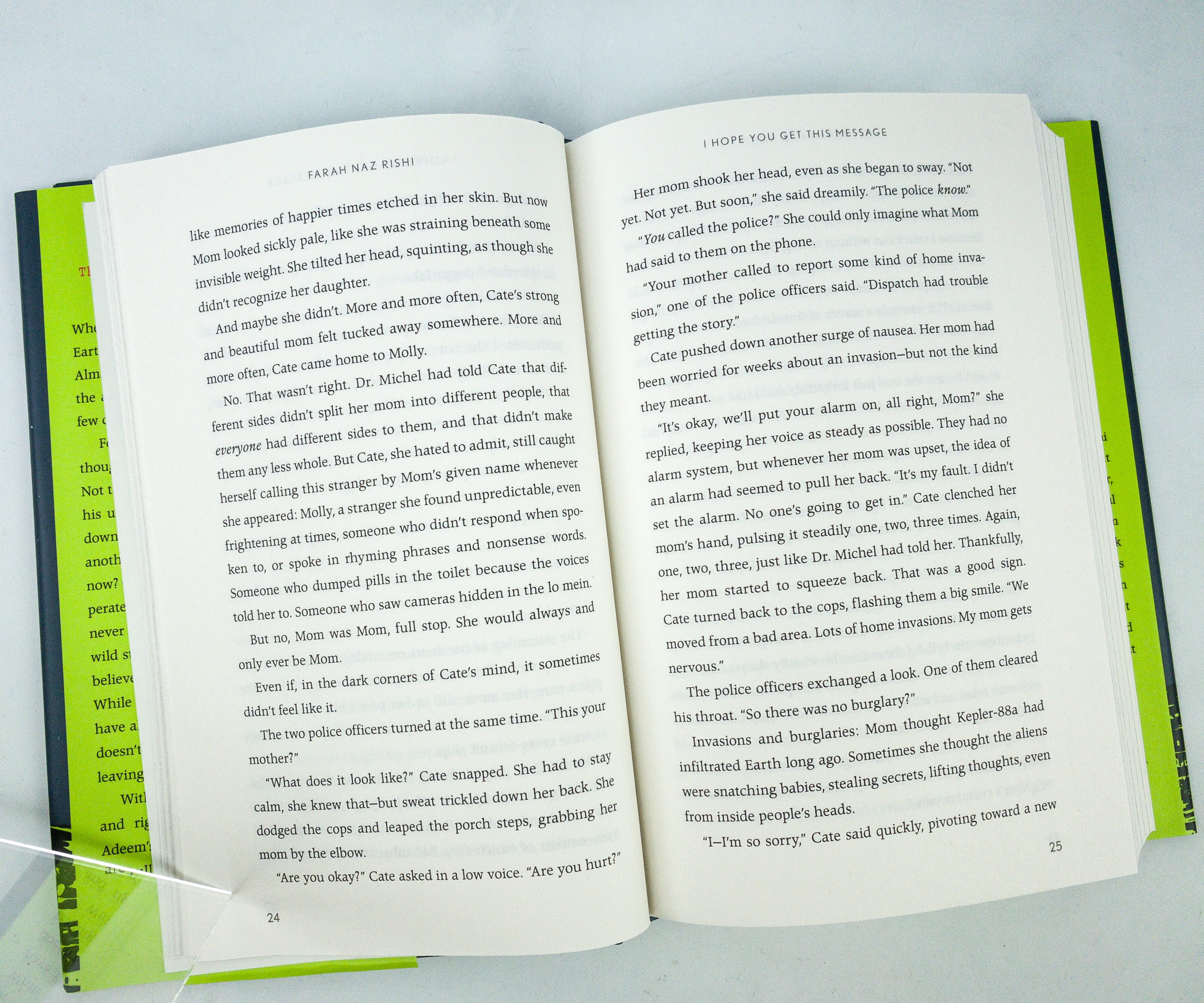 Jesse Hewitt has lost hope with all that's happening in his life so he doesn't really care if it ends, while Cate Collins is desperate to use the time left to find her father, and there's Adeem Khan, the guy who cannot forgive his sister for leaving him.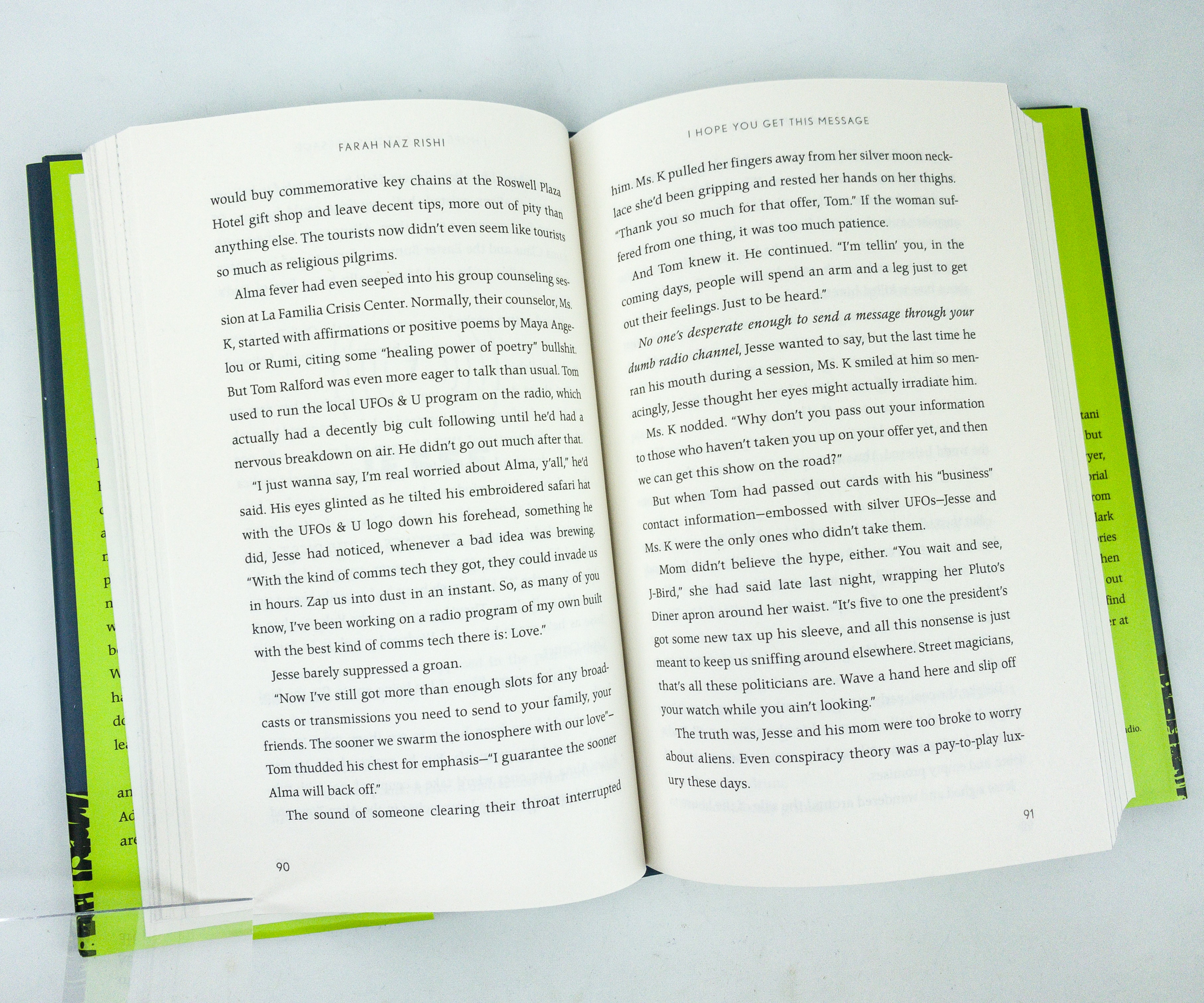 Each character had their own struggles, and the theme of the book is actually timely, as most of us are facing our own problems and demons. If we're given a short time to live, how would we spend it? The moral of the story is to use our time wisely and live our lives to the fullest so that we won't have regrets, and we'll leave this world contented and fulfilled.
There's an included card that gives us the theme for the November box, Through the Enchanted Forest!
At the back, it says that every November box will include an exclusive reading planner in collaboration with Blue Star Press!
The books this month are actually timely and relevant, and we like them both. They even featured a book that features the LGBTQIA+ community. It opens up to a new world where everyone is created equal, experiencing the same struggles and successes, no matter what age, gender, nationality, or orientation! We think that's one great lesson that this box presented to us this month. We also love the items that accompanied this month's stories, especially the beautiful crescent moon necklace! We're going to the Enchanted Forest next month, and we're quite thrilled about what we'll find there!
What did you think of this month's Owl Crate theme? Are you excited for next month's theme?