Fashion Angels is a monthly subscription box for tweens. Each box costs $30 month and contains 10-12 items with a retail value of over $70. It will include craft activities, bath and beauty products, and trendy fashion accessories for girls ages 6 to 12 years! It's the perfect gift for tweens who love fun, fashion, and crafting!
This box is still available to order through the last day of November!
DEAL: Get 10% off your first subscription with coupon code DEC10.
The box is well-sealed.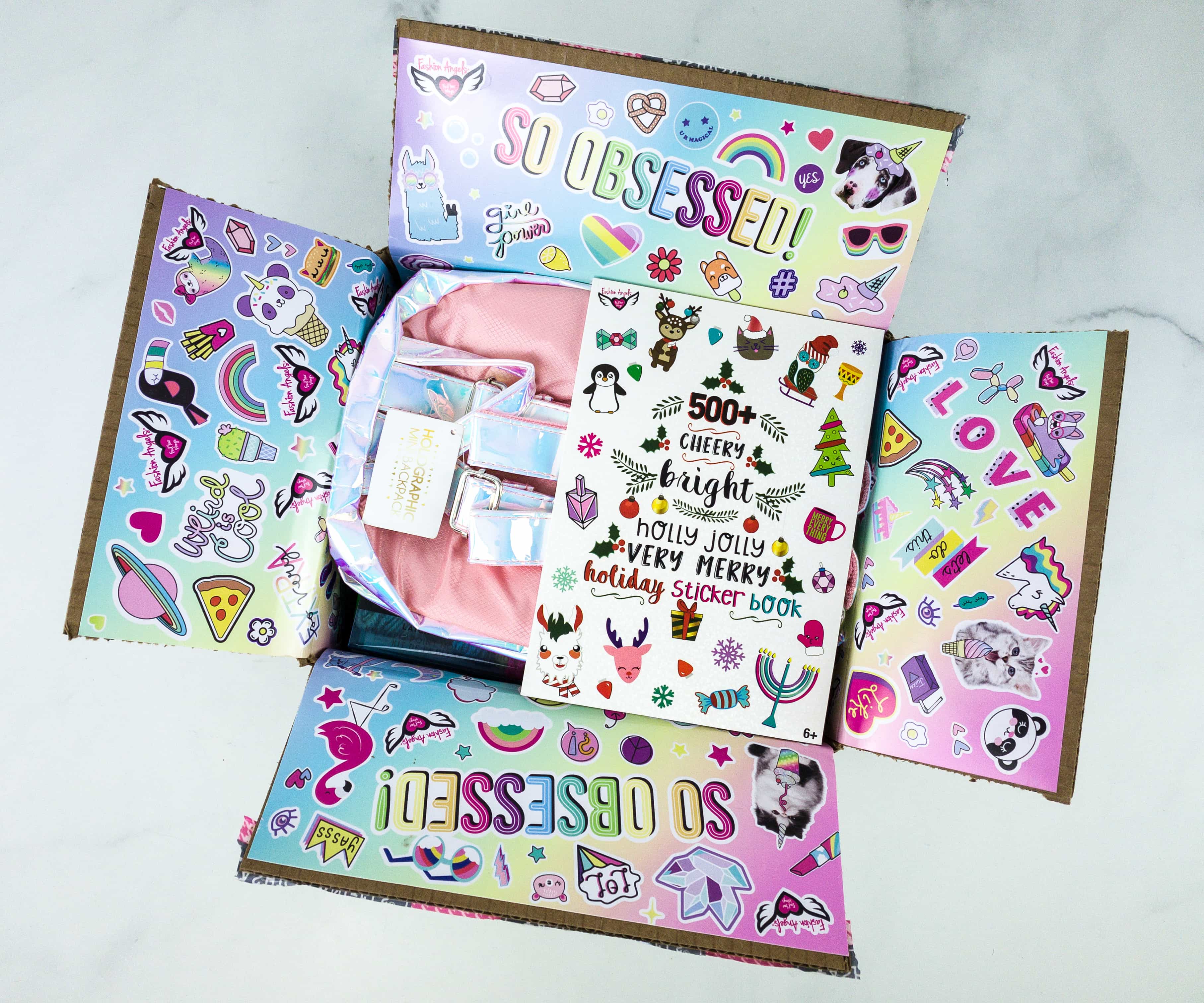 When you open the box, the fun starts! The flaps have some colorful images inside!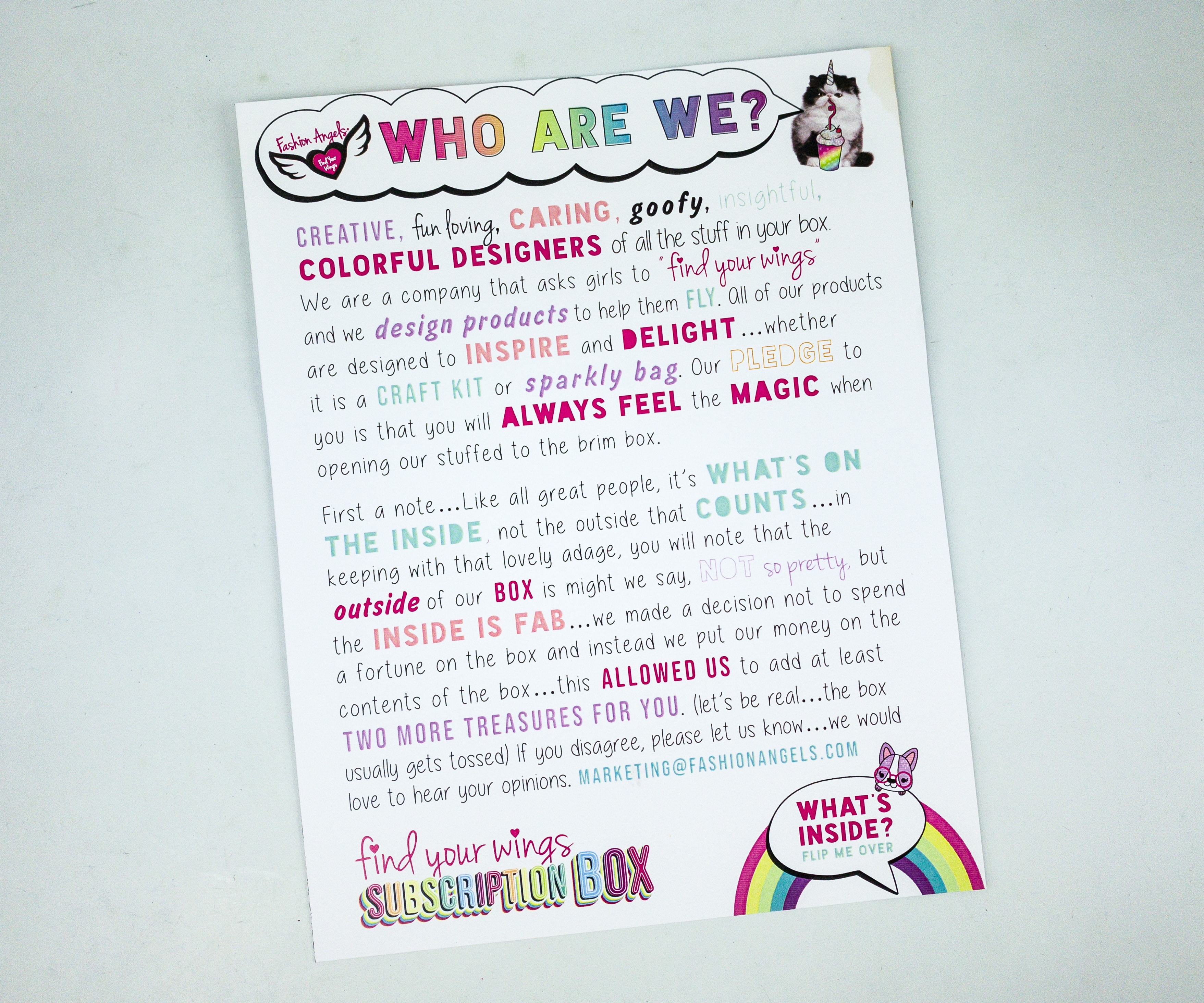 They also included an information card that tells us more about the box and the curators!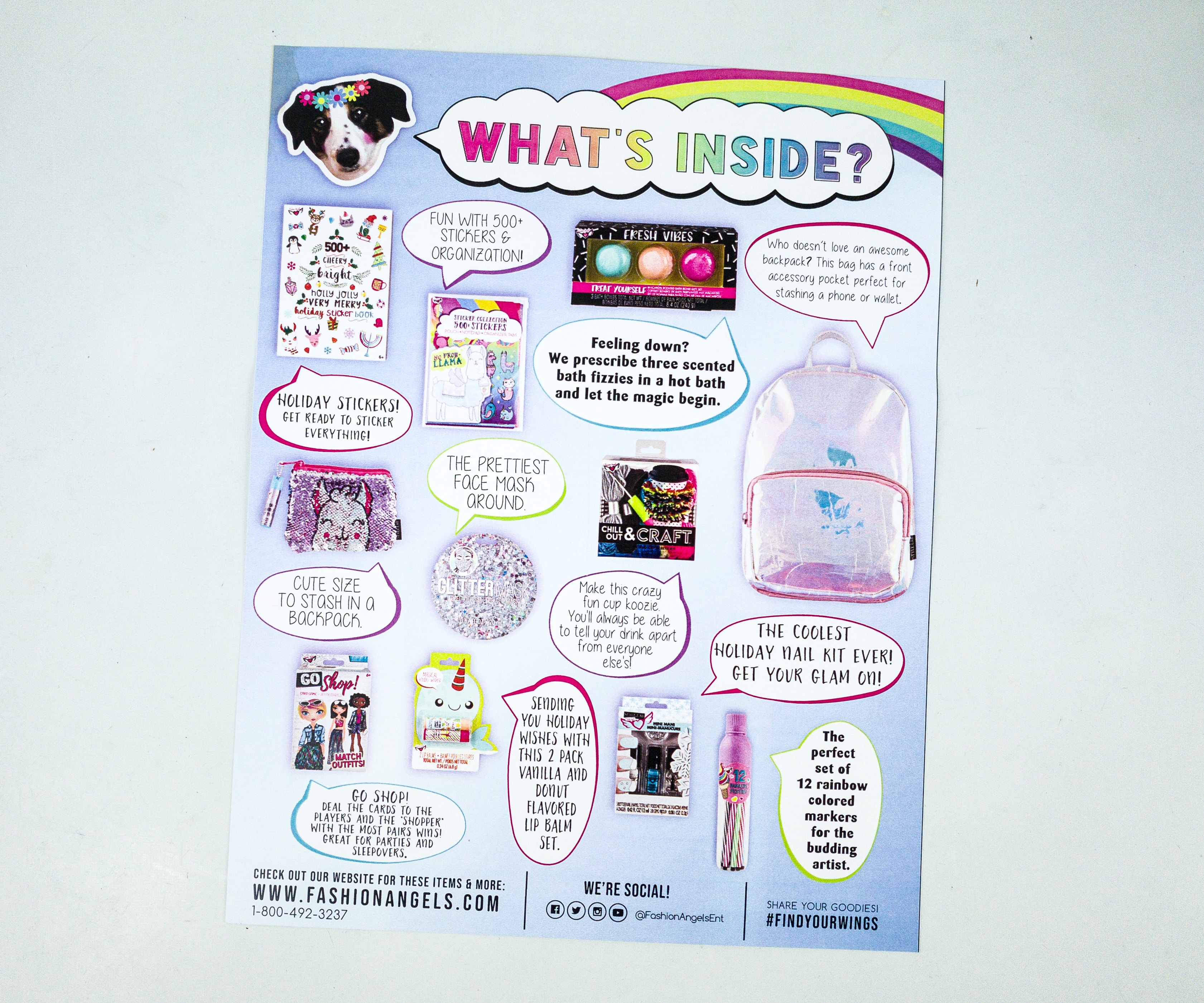 It also lists down all the items you can find in there!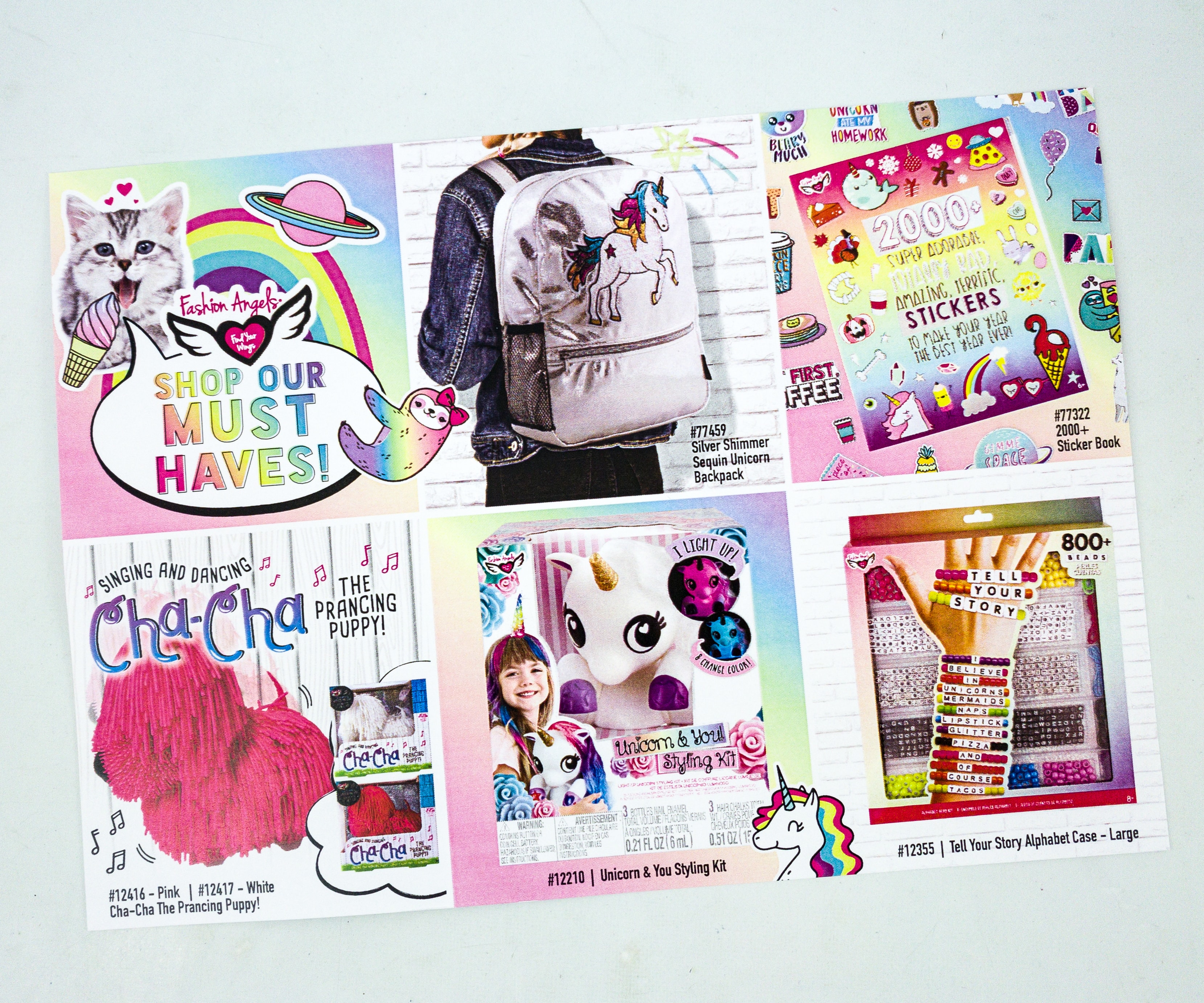 They even included a promotional card for their other merch!
They also encourage you to share your goodies on social media using #FINDYOURWINGS!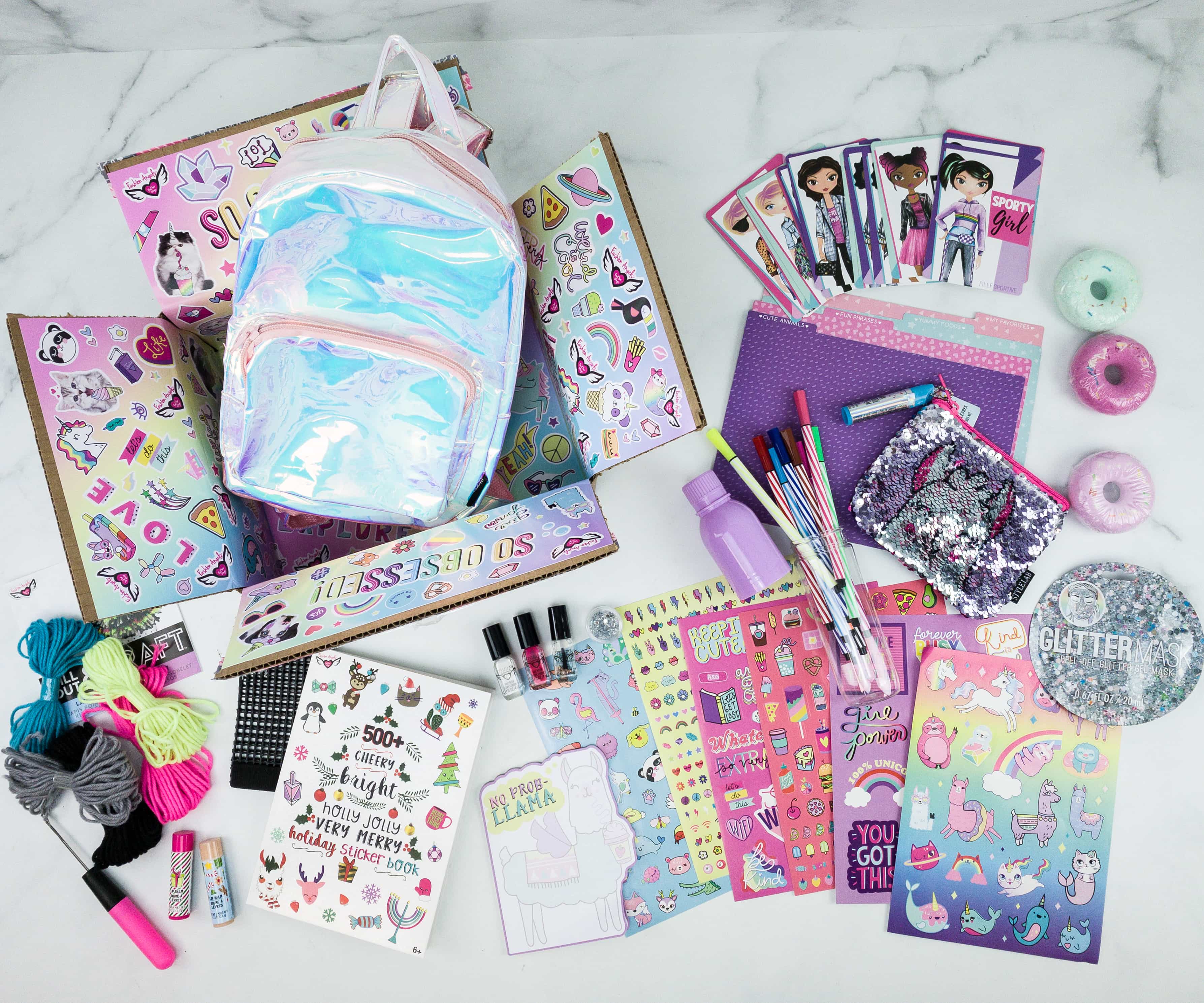 Everything in my box!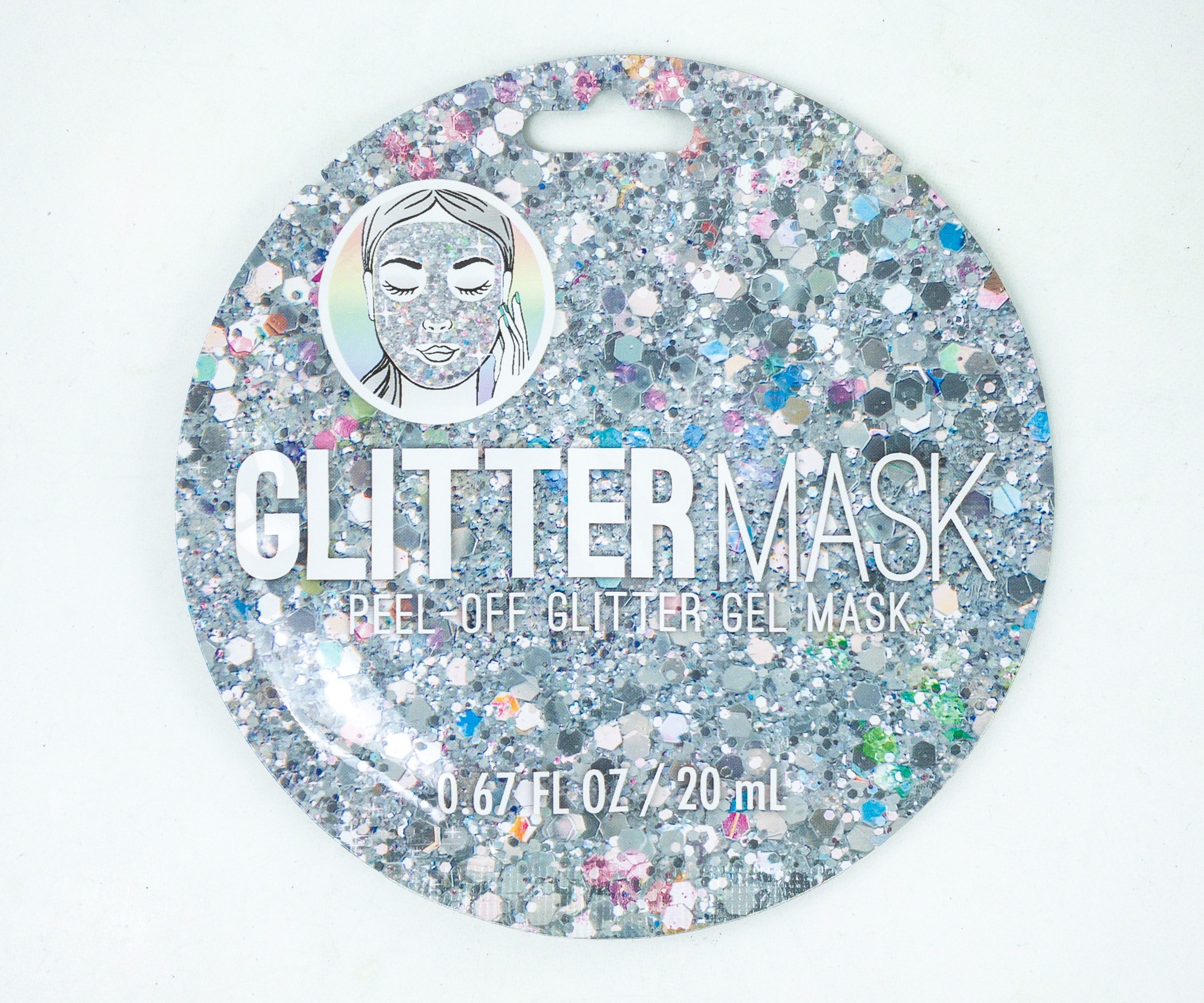 Glitter Mask. They made peel-off masks more fun by adding silver glitters. It's ideal for ages 8 and above, and it's gentle on the skin. It reveals a softer and smoother complexion after use.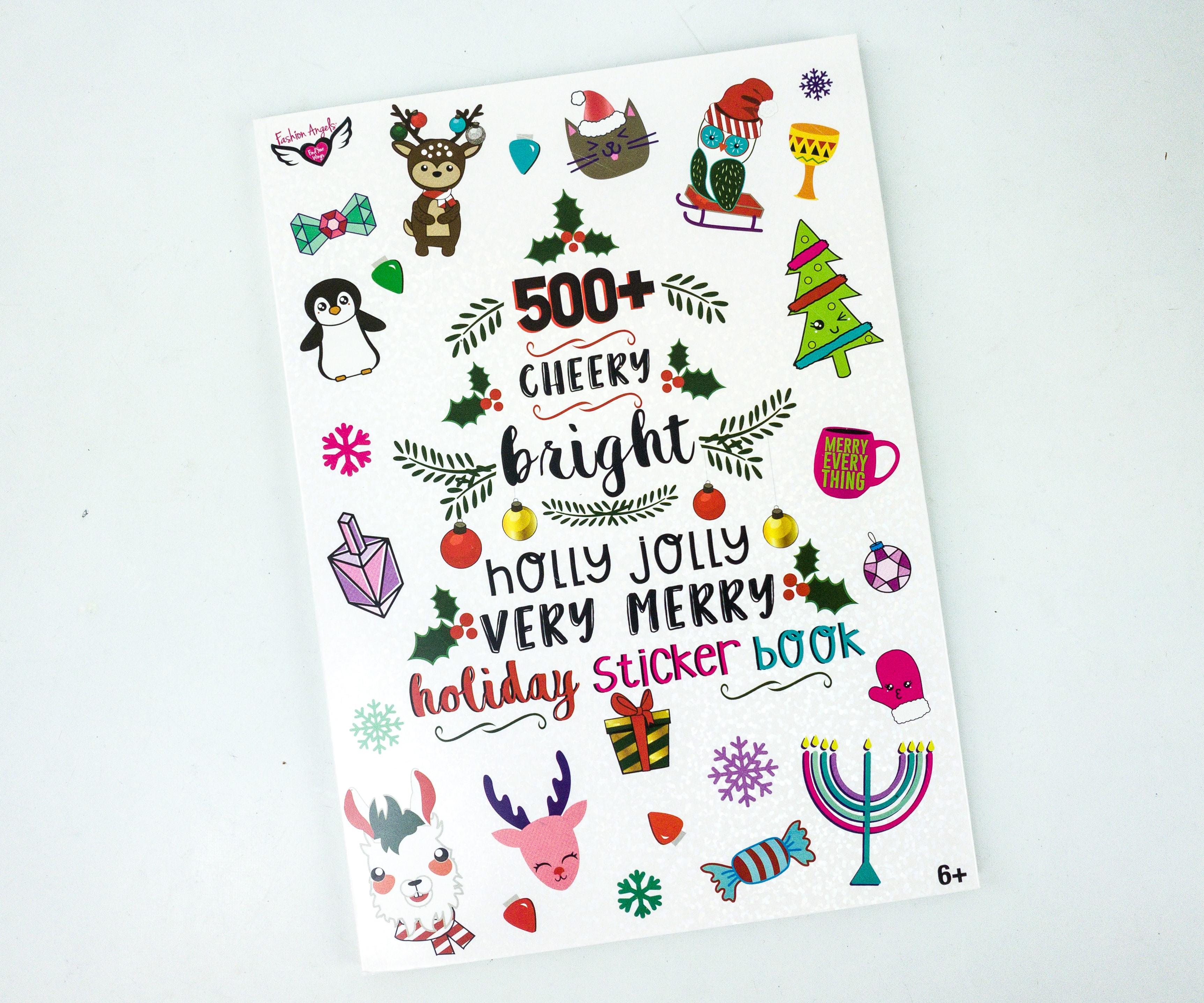 Sticker Book. This holiday-themed sticker book easily puts us in a festive mood!
The stickers come in different sizes! There are small stars and Christmas trees, as well as bigger animal characters!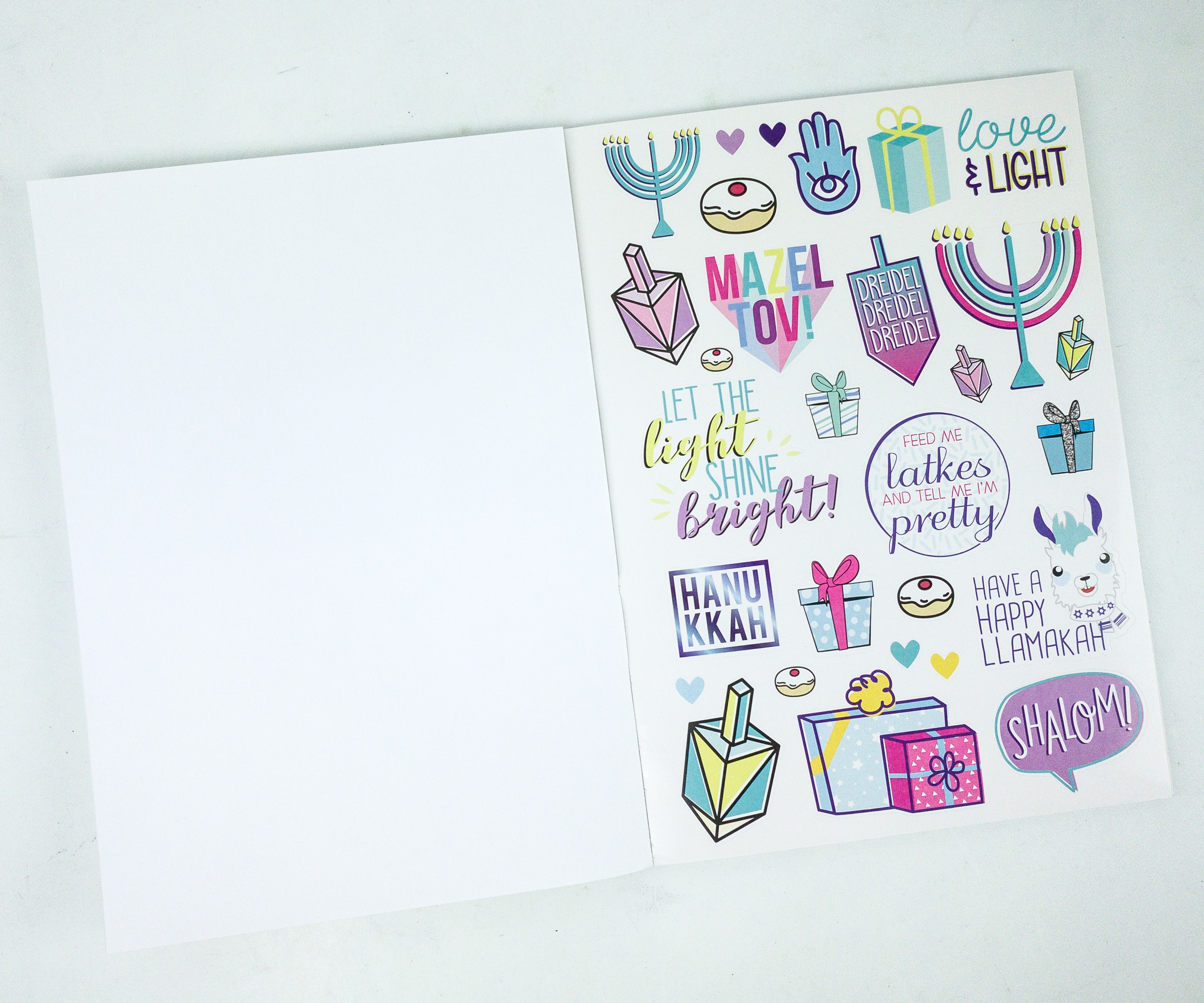 Each page has a different theme. For this one, it's Hanukkah! There's even a cute llama sticker that says "Have a happy llamakah!"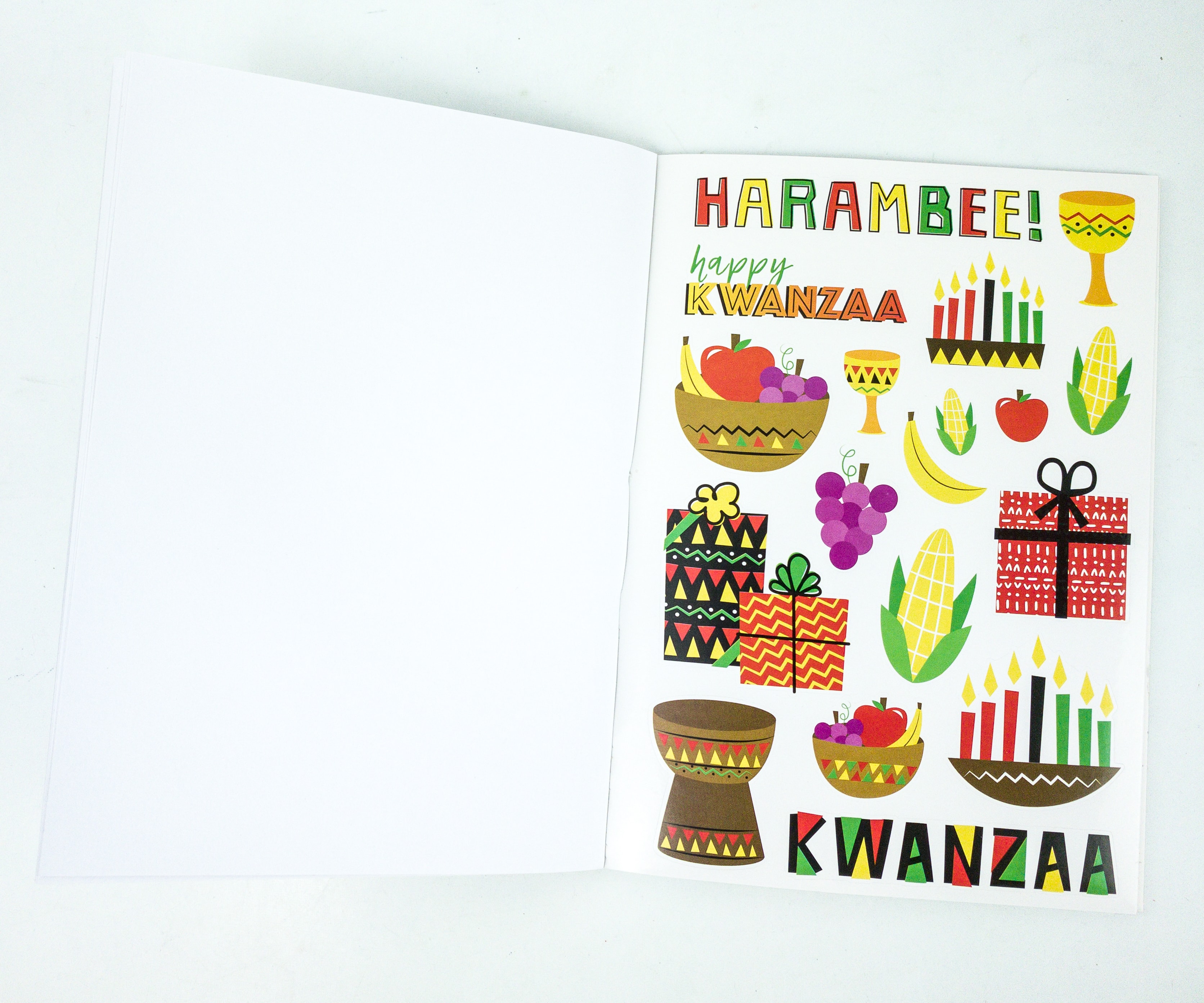 Another sticker page is all about Kwanzaa!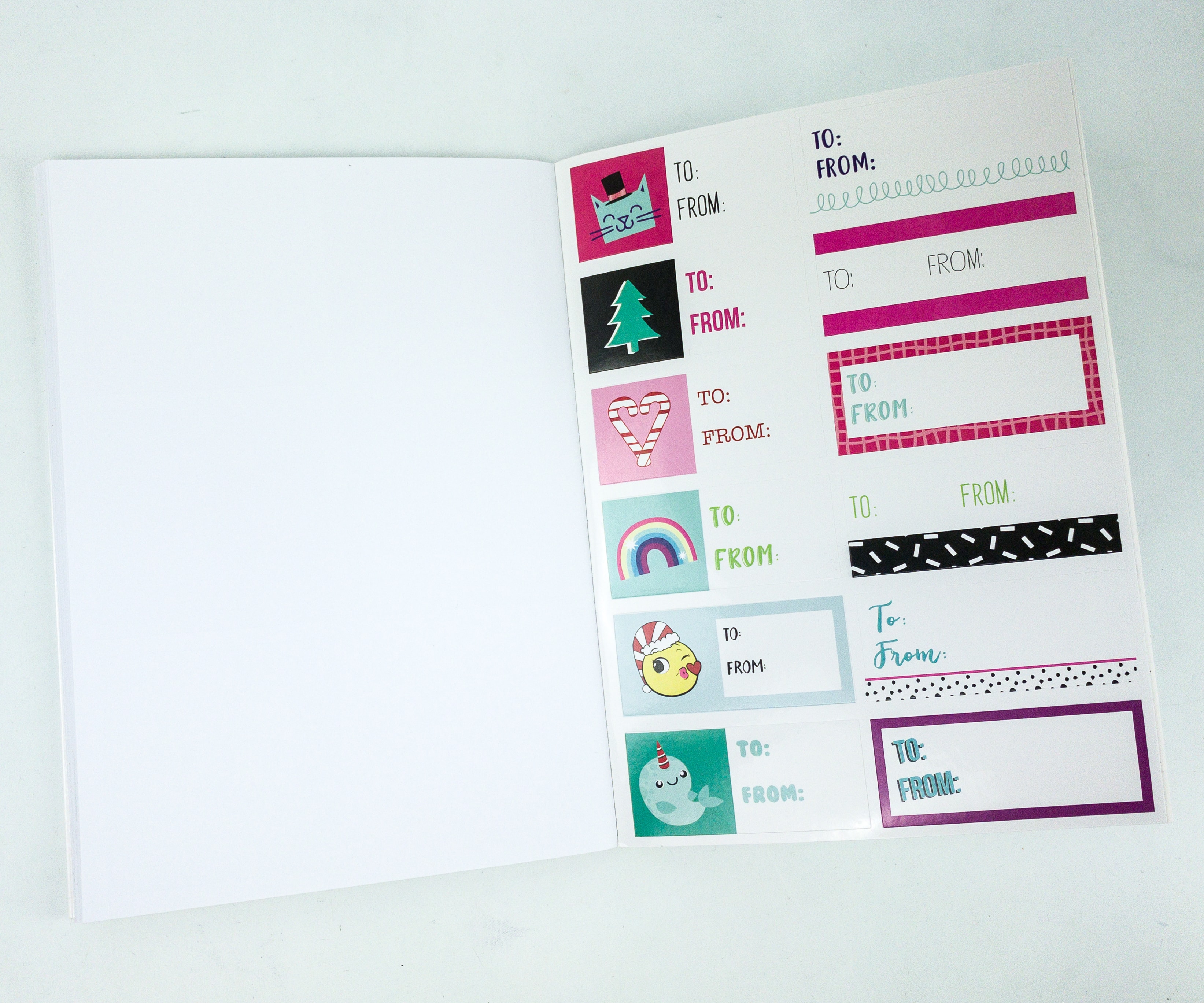 We love this page that includes punch-out gift tags! Labeling gifts for the holidays is much fun and easier because of it!
Latch Hook Rug Cup Sleeve Kit. We're making our own cup sleeve using this kit! It's a great craft idea for the holidays!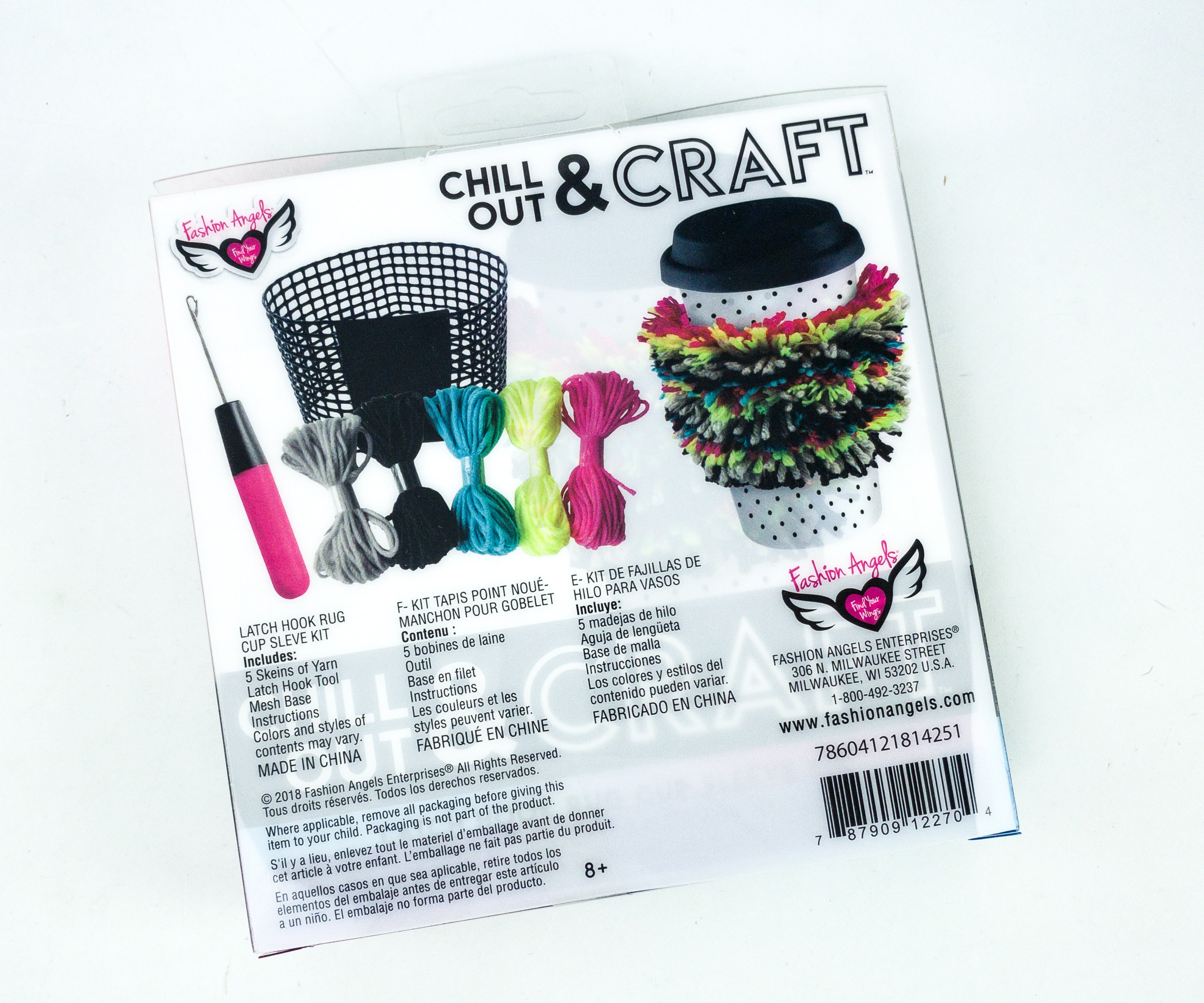 It's exclusively made by Fashion Angels.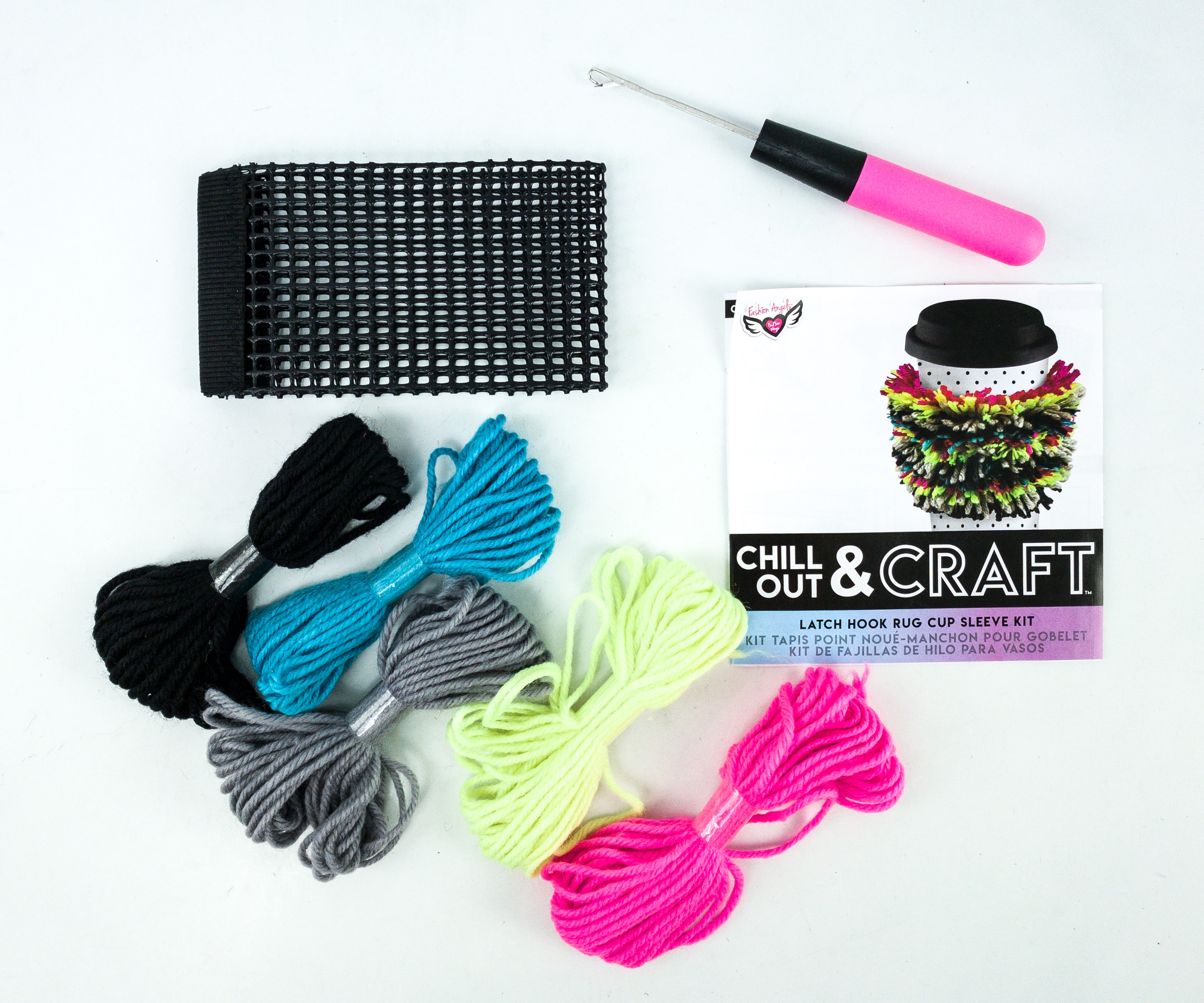 The kit includes 5 skeins of yarns, latch hook tool, mesh base, and instructions. Everything you need is here, and the instructions are also pretty easy to follow!
I showed my daughter how to easily cut up the yarn and she is OB-SESSED with this and has been happily crafting away! We're super excited for her to get to the final product!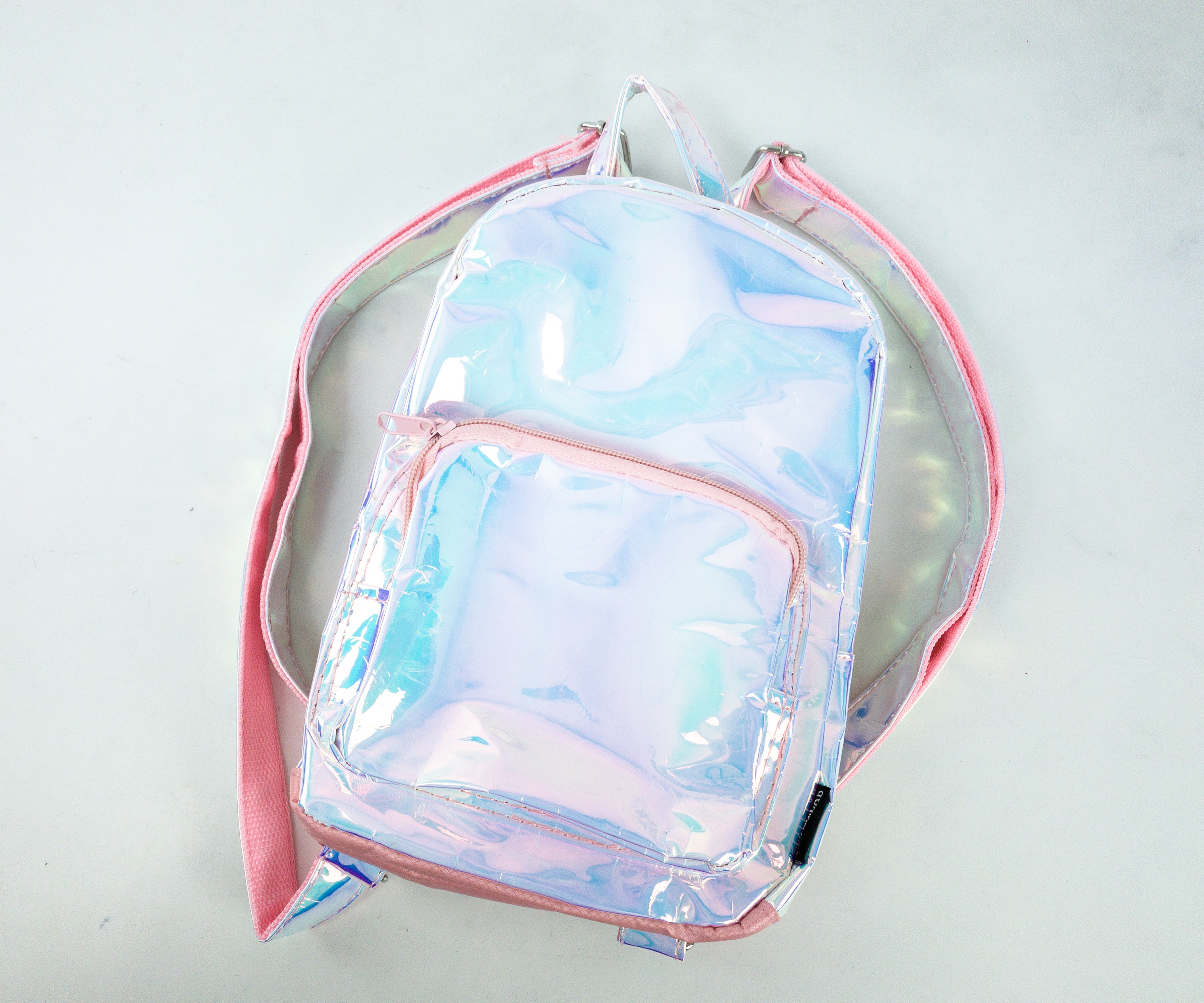 Hologram Backpack. Hologram bags are back in style! We got one in this box and it comes with adjustable straps for convenient wearing.
The back of the backpack is in salmon pink.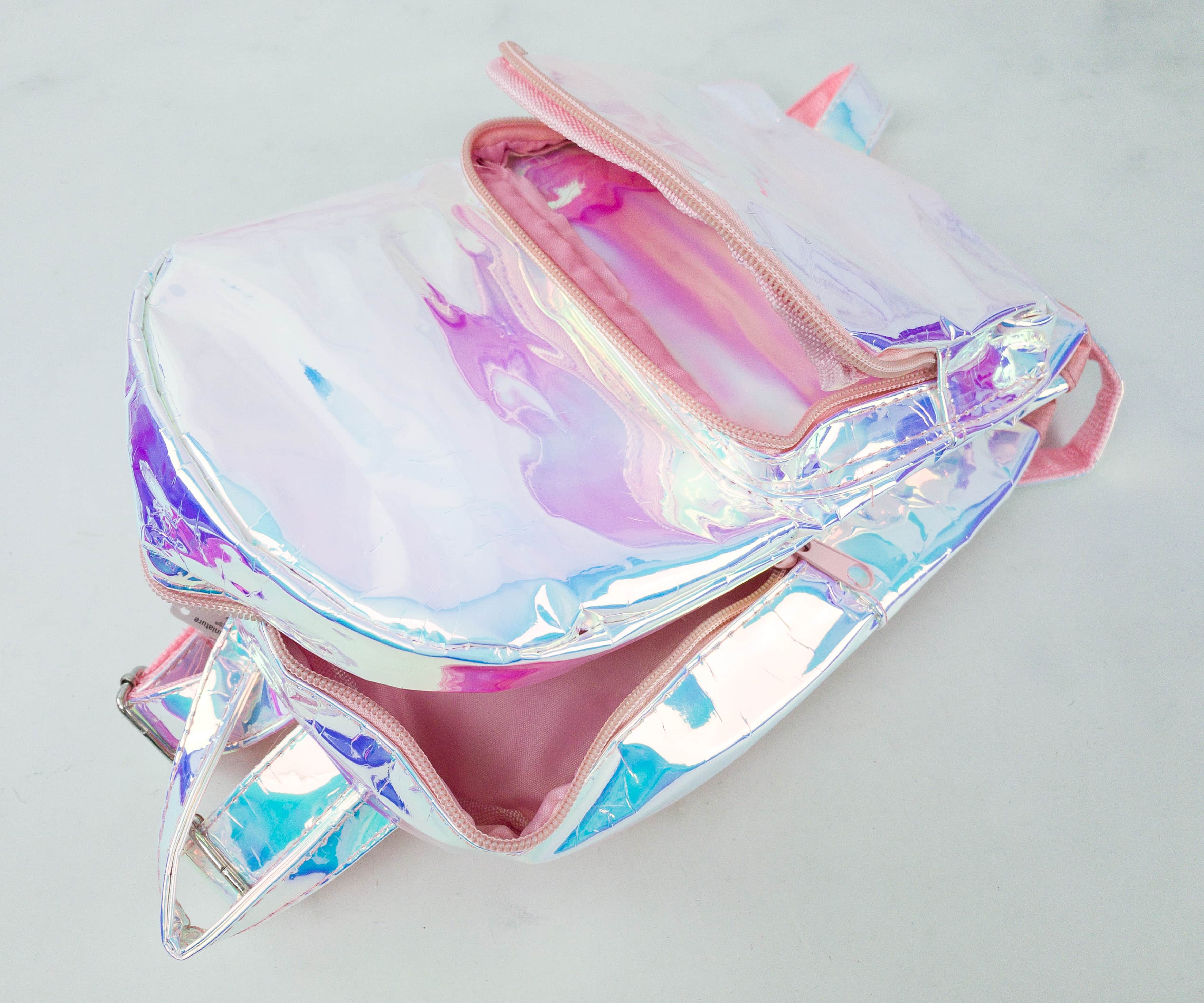 It's small but spacious enough for a few essentials like your phone and wallet or maybe your notebook and some writing materials.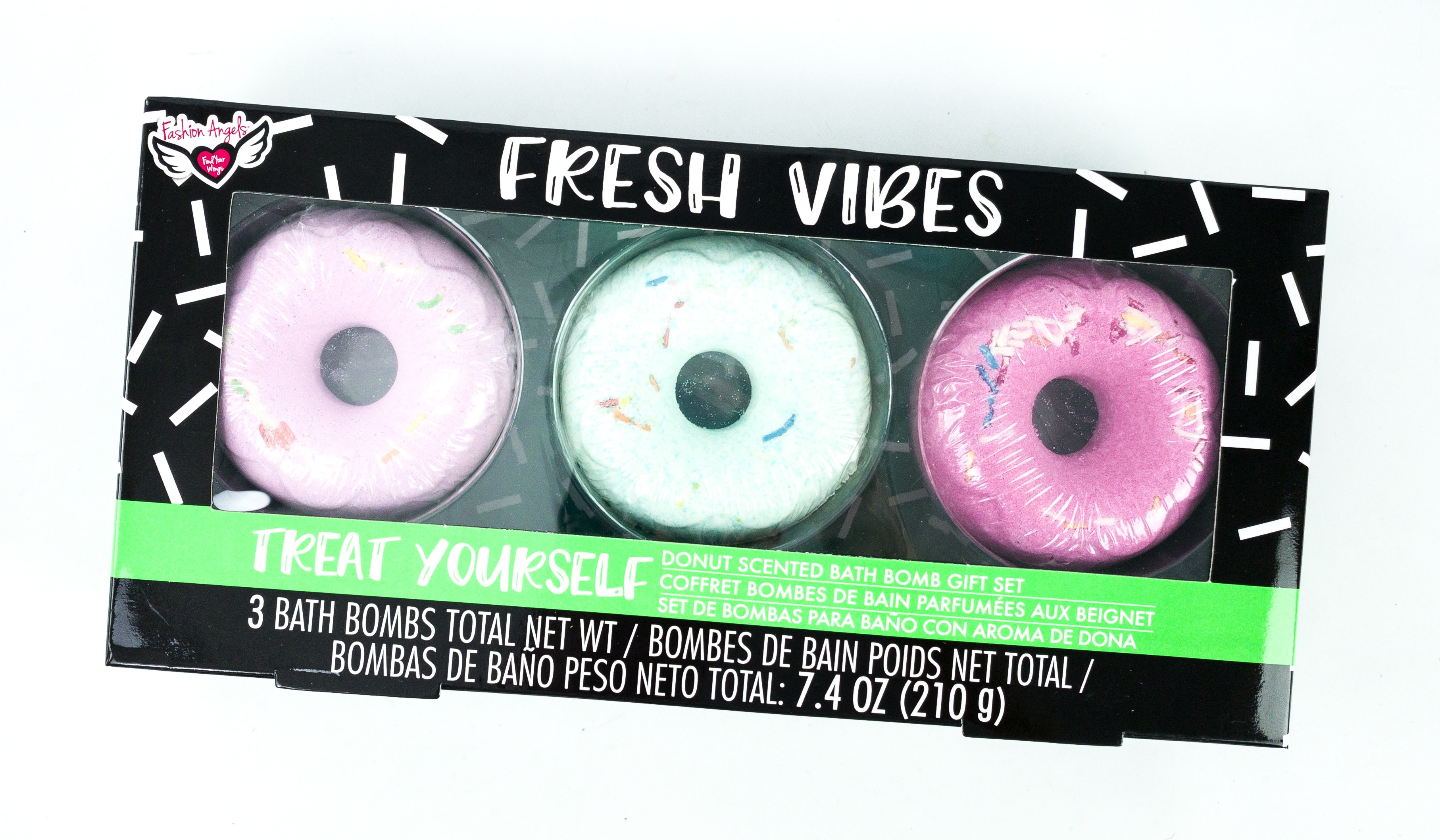 Bath Bomb Set. This set includes 3 bath bombs shaped like doughnuts. They're not just cute, they make your bath way more relaxing as well!
We love the colors: bright pink, lilac, and mint green. Each of them is wrapped in plastic to keep them secured.
Markers. The markers arrived in a cute bottle packaging, which can be reused!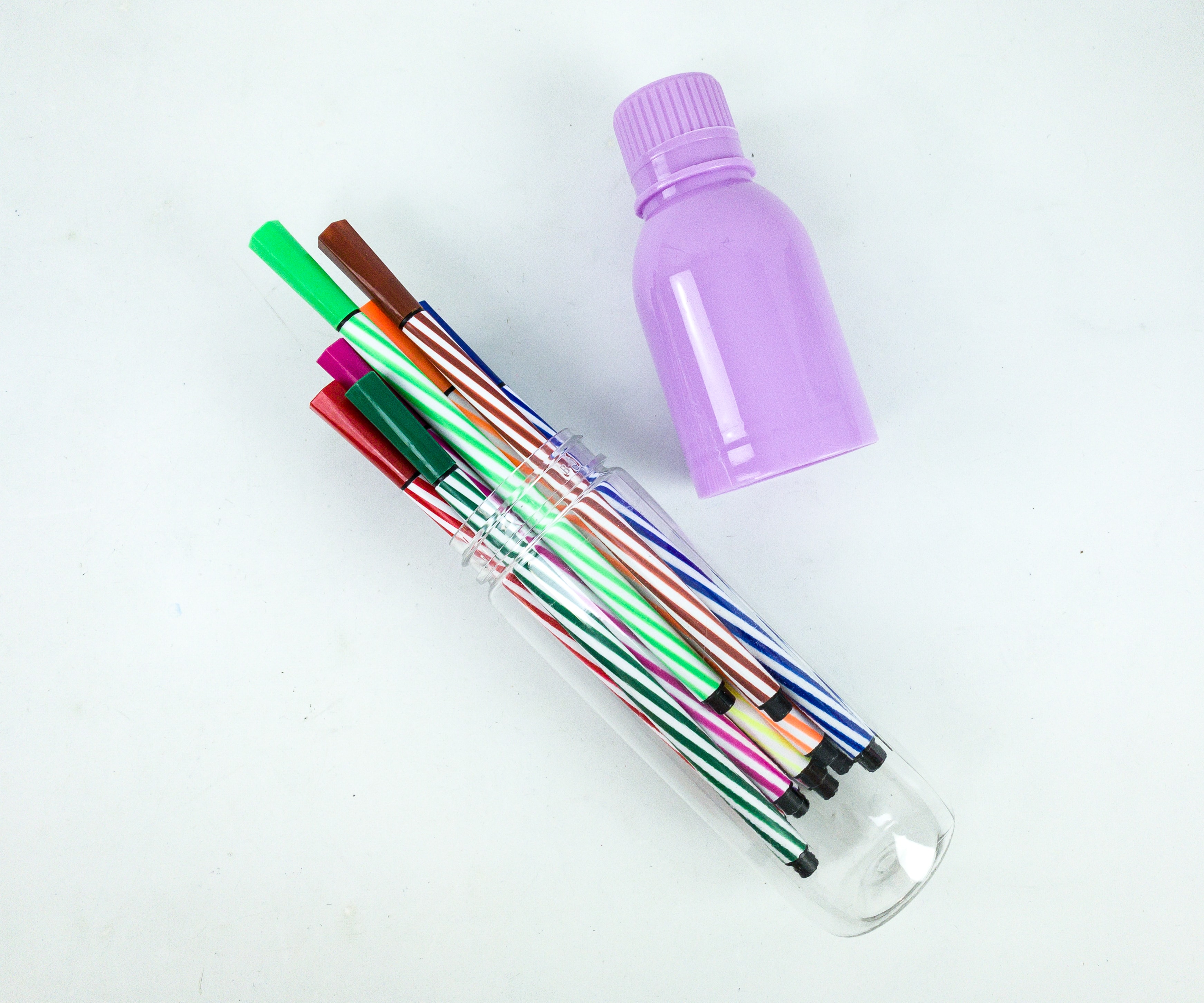 The bottle itself is clear, while the cap is in purple.
There are 12 pens in the set and they are all well-pigmented. They're great for journaling and drawing!
Sequin Pouch & Lip Balm. How cute is this llama-themed set! It comes with a pouch and a lip balm!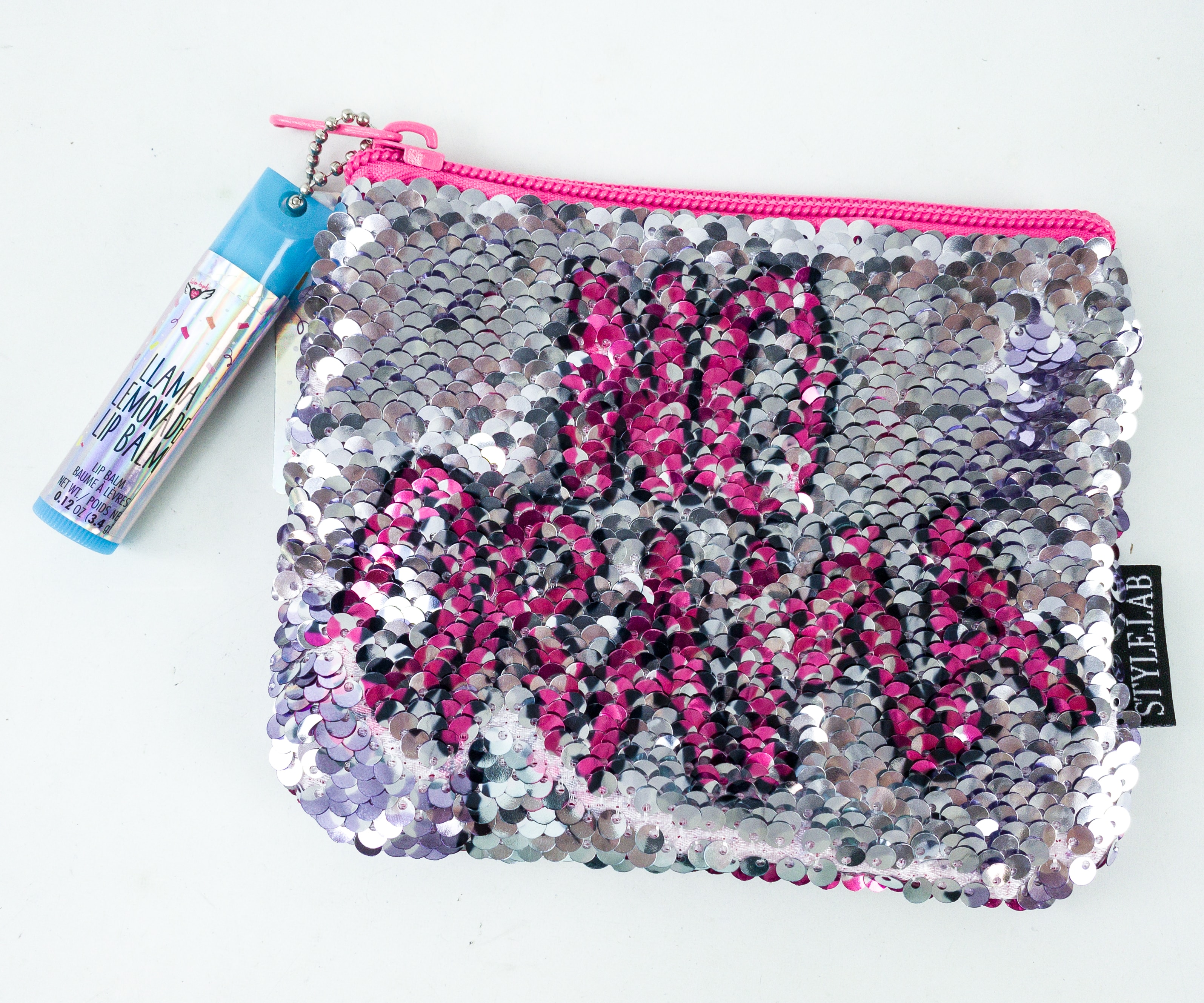 The image on the sequined pouch can be changed by swiping on it. From the llama, this changes to "no drama"!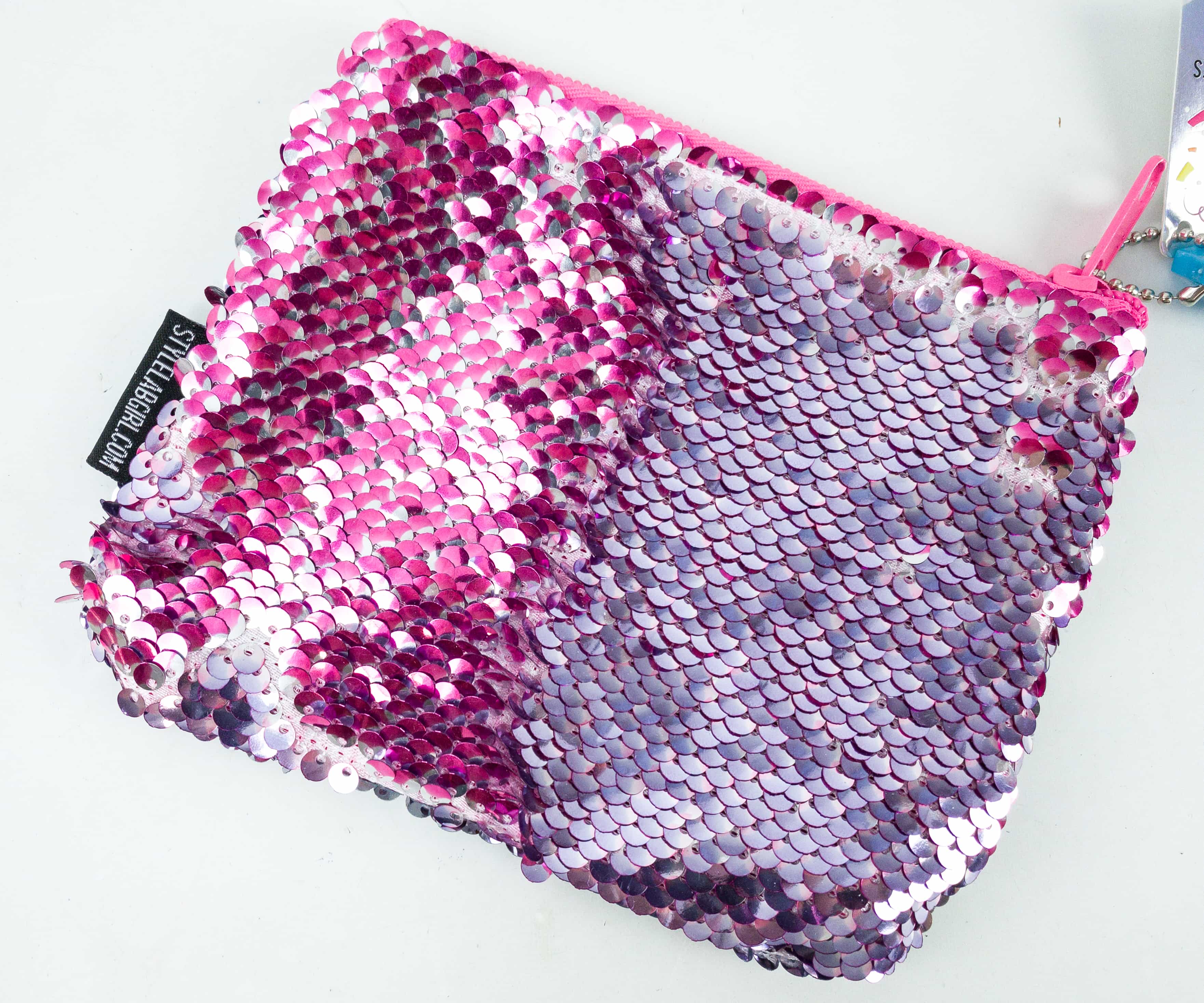 The back doesn't have images, only different colors. I love this pouch!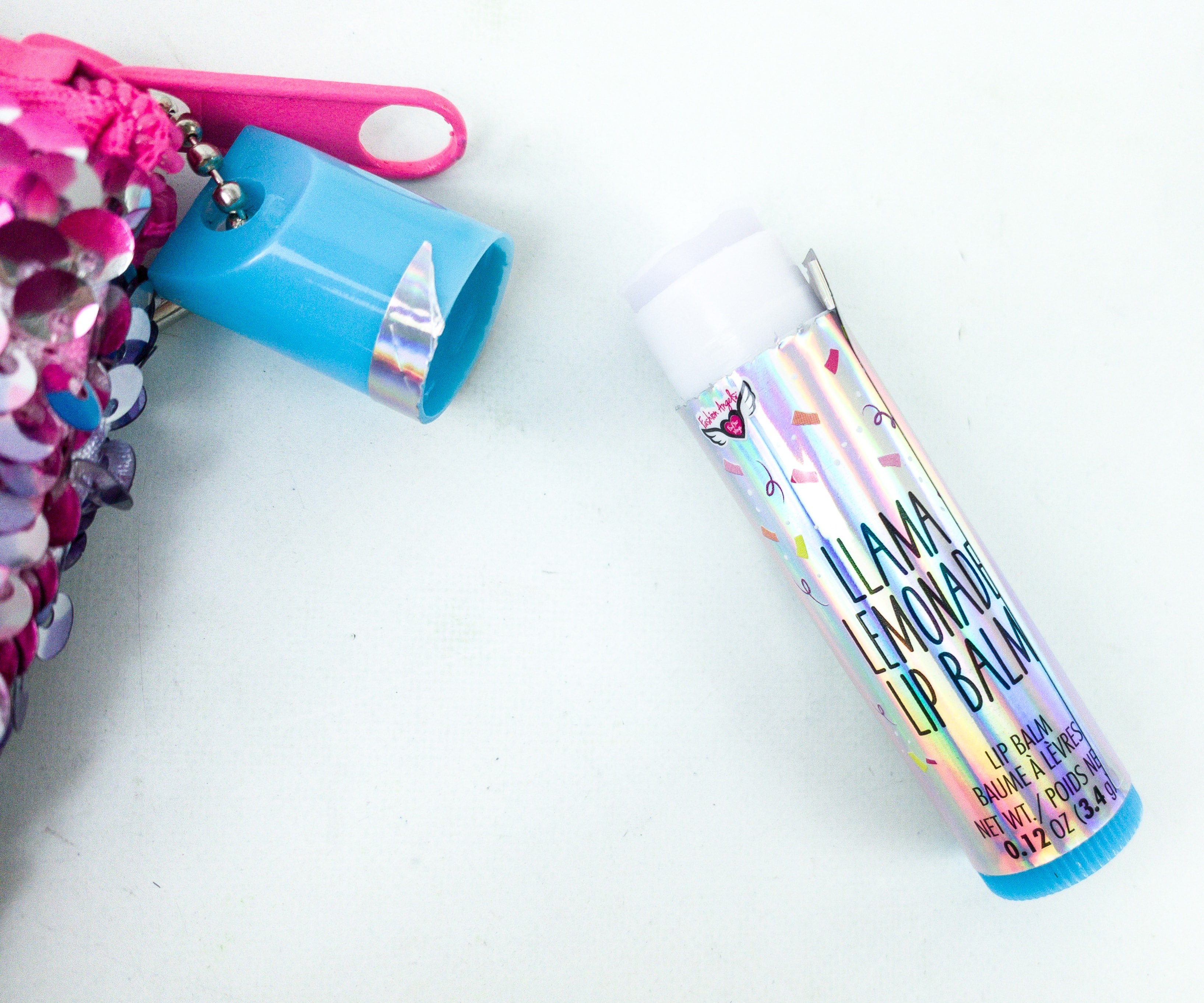 As for the lip balm, it's attached on the pouch and you just have to remove the cap when you need to use it. It's lemonade flavored!
Lip Balms. We got more lip balms! Temperatures are dropping, and it's important to always have a lip balm in handy to keep our lips from chapping!
There are 2 lip balms in the set and their packaging is holiday-themed. One is vanilla flavored and the other is donut flavored!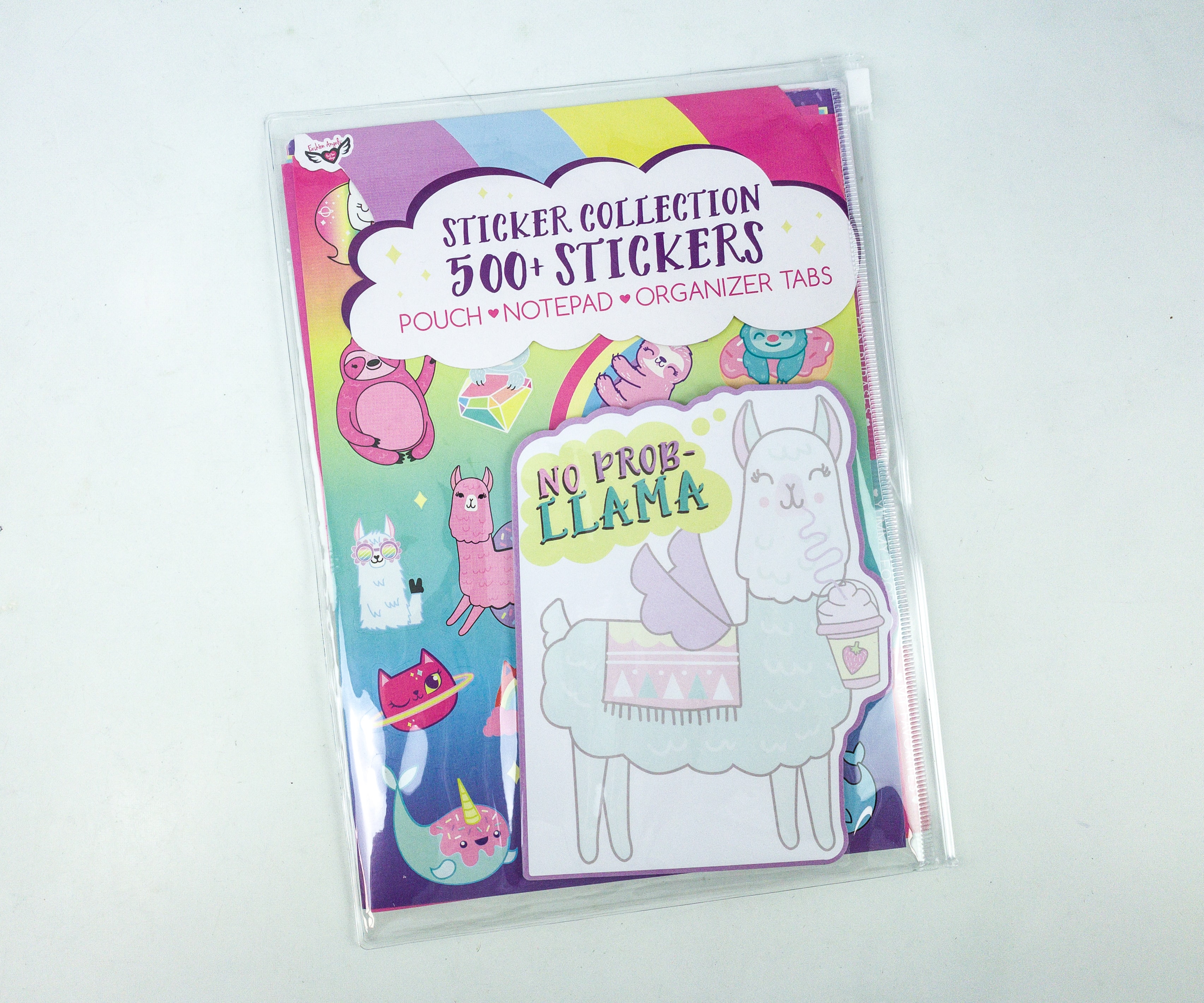 Stickers. We can't get enough of stickers! They sent us another sticker set, along with other stationery items, and it features more cute llamas!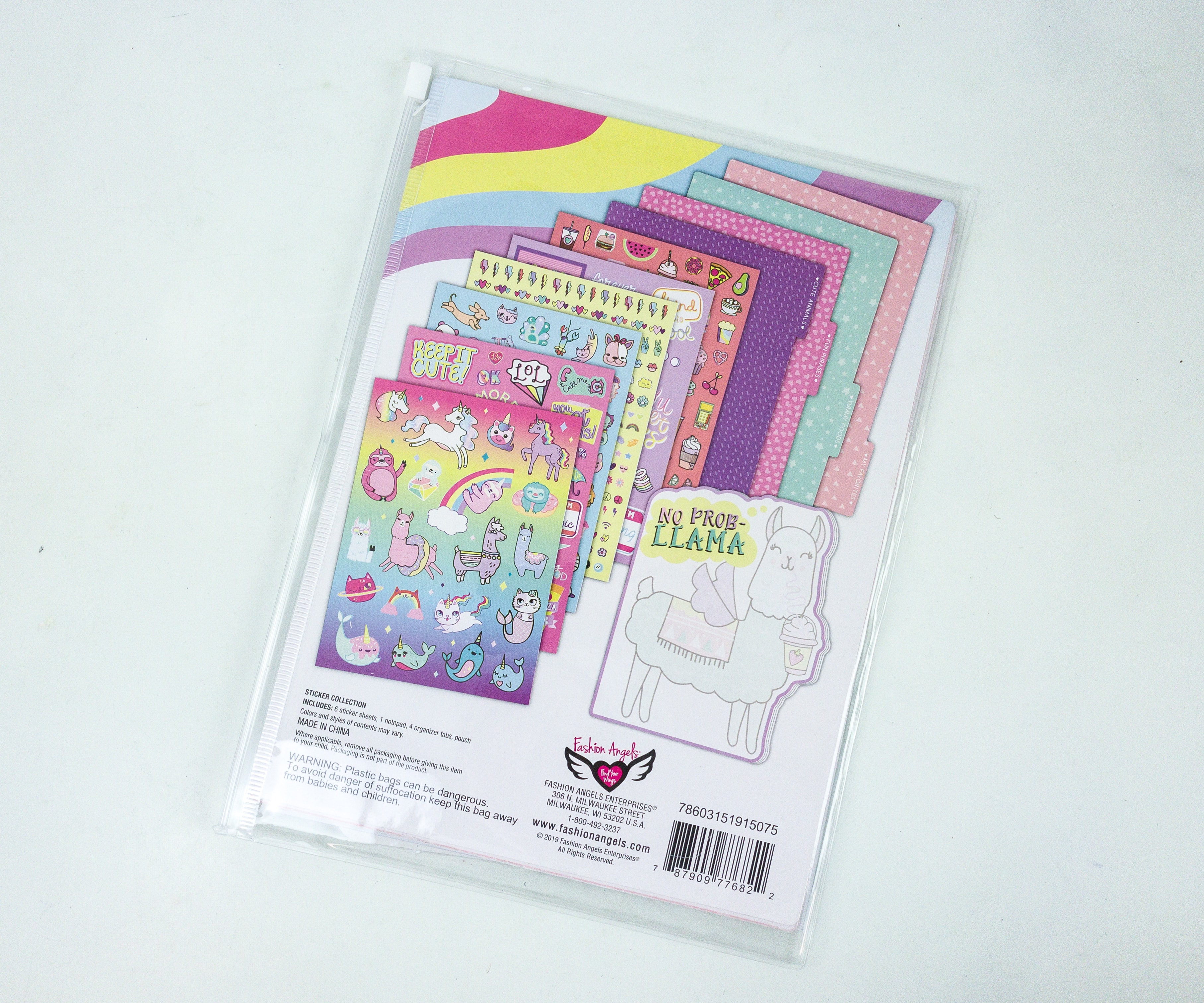 There are 500+ stickers inside! Also, the clear plastic pouch isn't just for packaging purposes, it's also reusable.
There are 4 organizer tabs in the pouch and a notepad that says "no prob-llama"!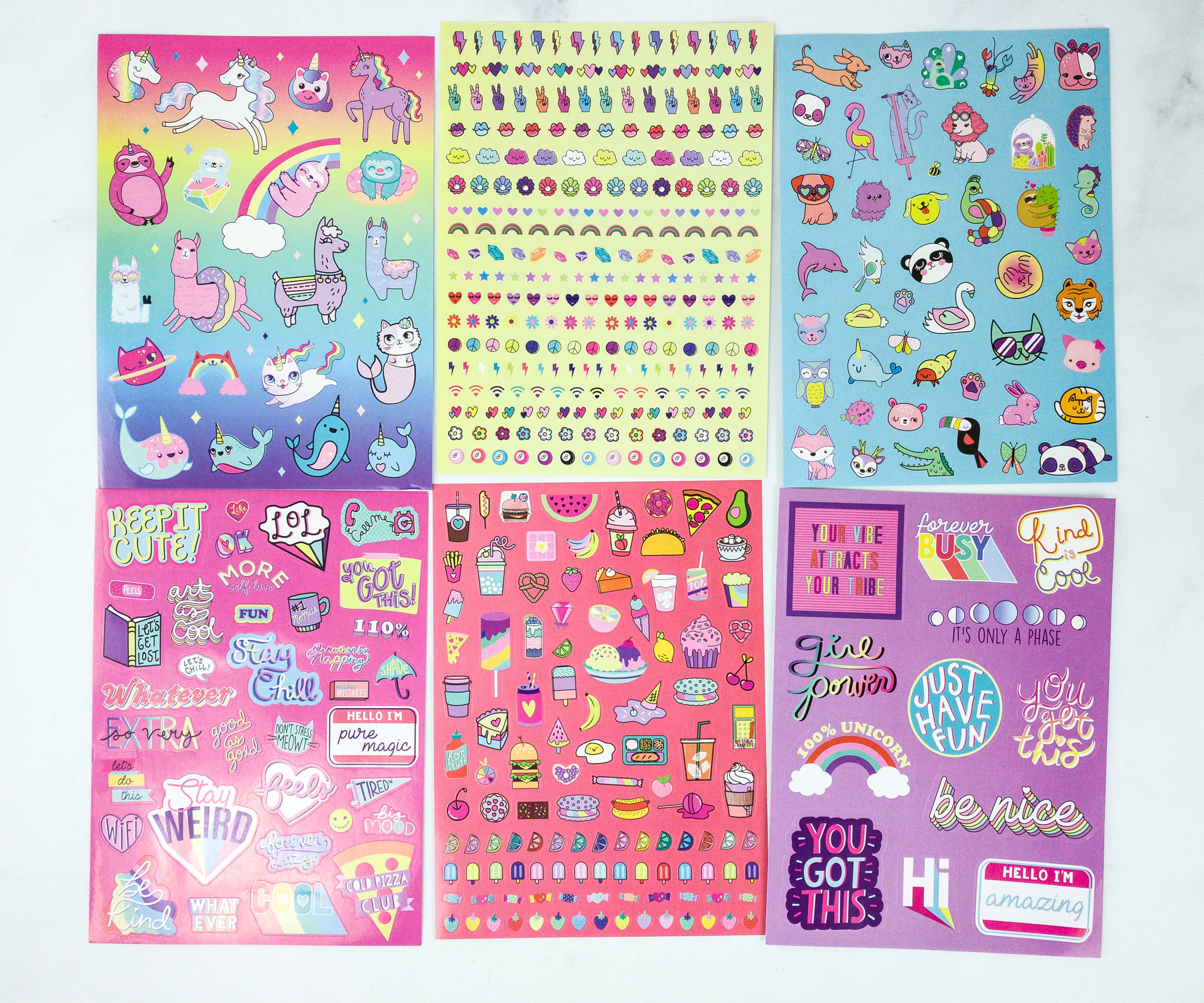 These stickers are great for decorating journals and notebooks, and even for gadgets.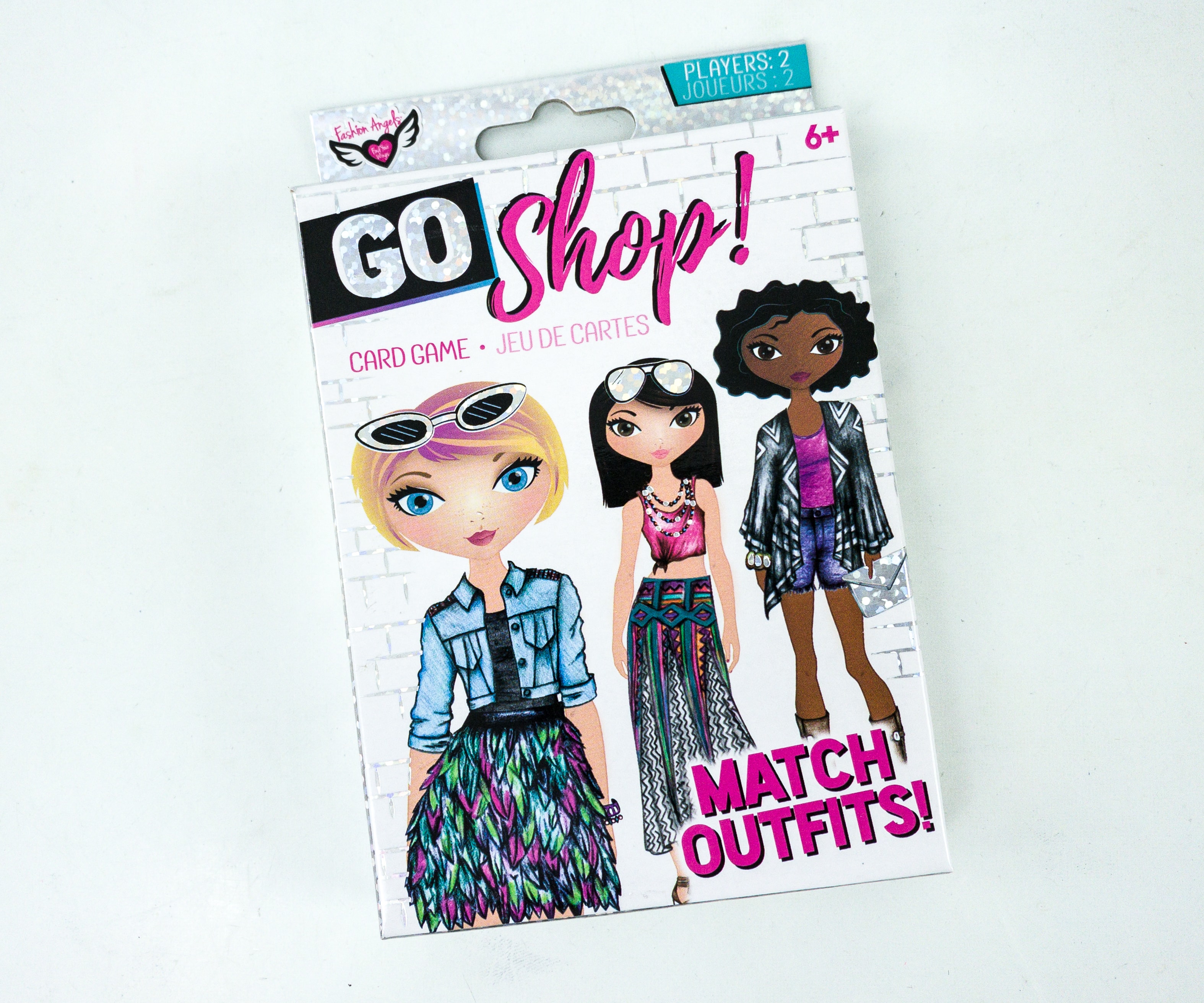 Go Shop! Card Game. We even received a fun card game, which is great for keeping kids entertained during sleepovers and long trips.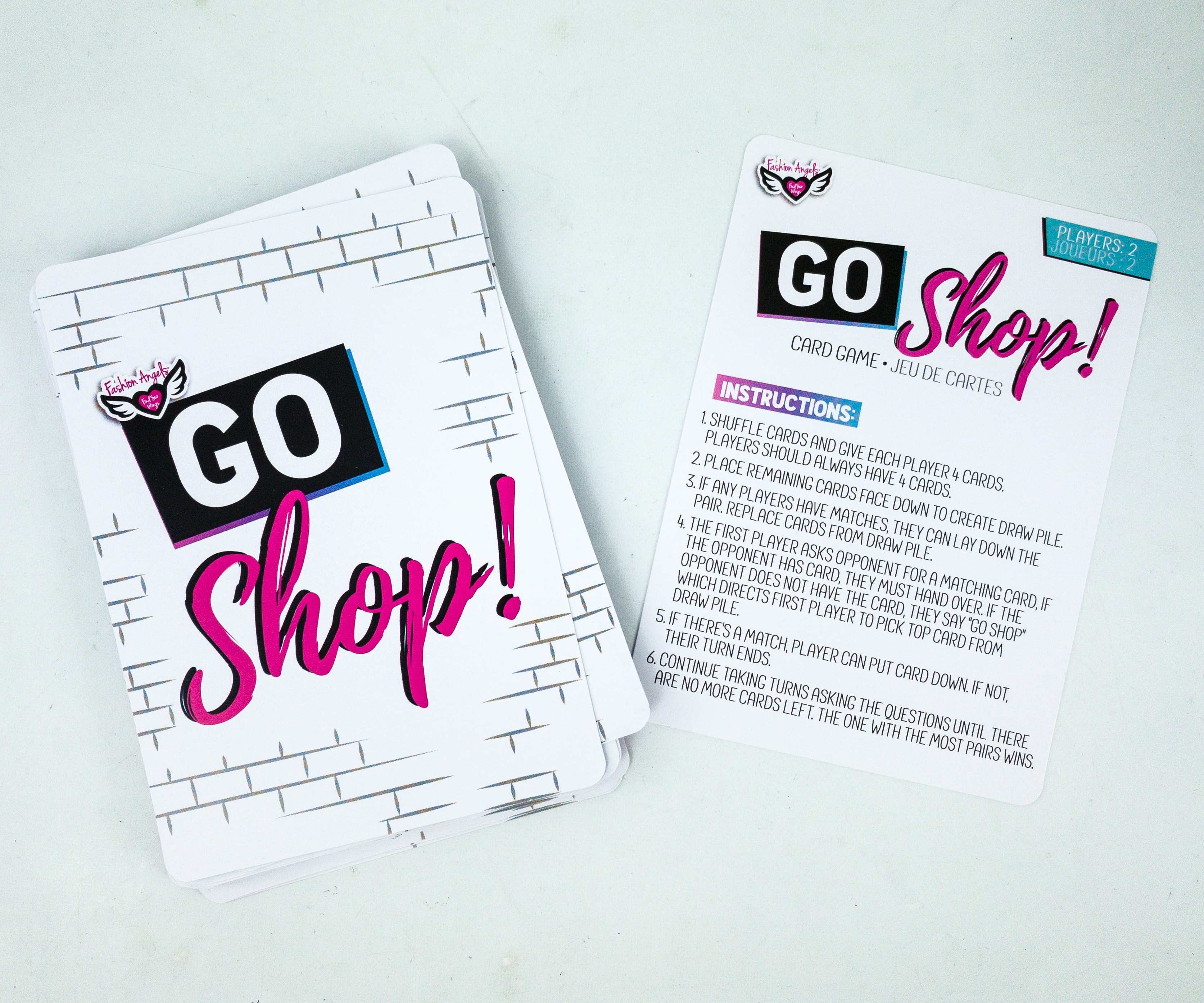 There's an instruction sheet along with the cards!
There are two of each design. The game starts by dealing 4 cards to each player. The one with the most pairs by the end of the game wins!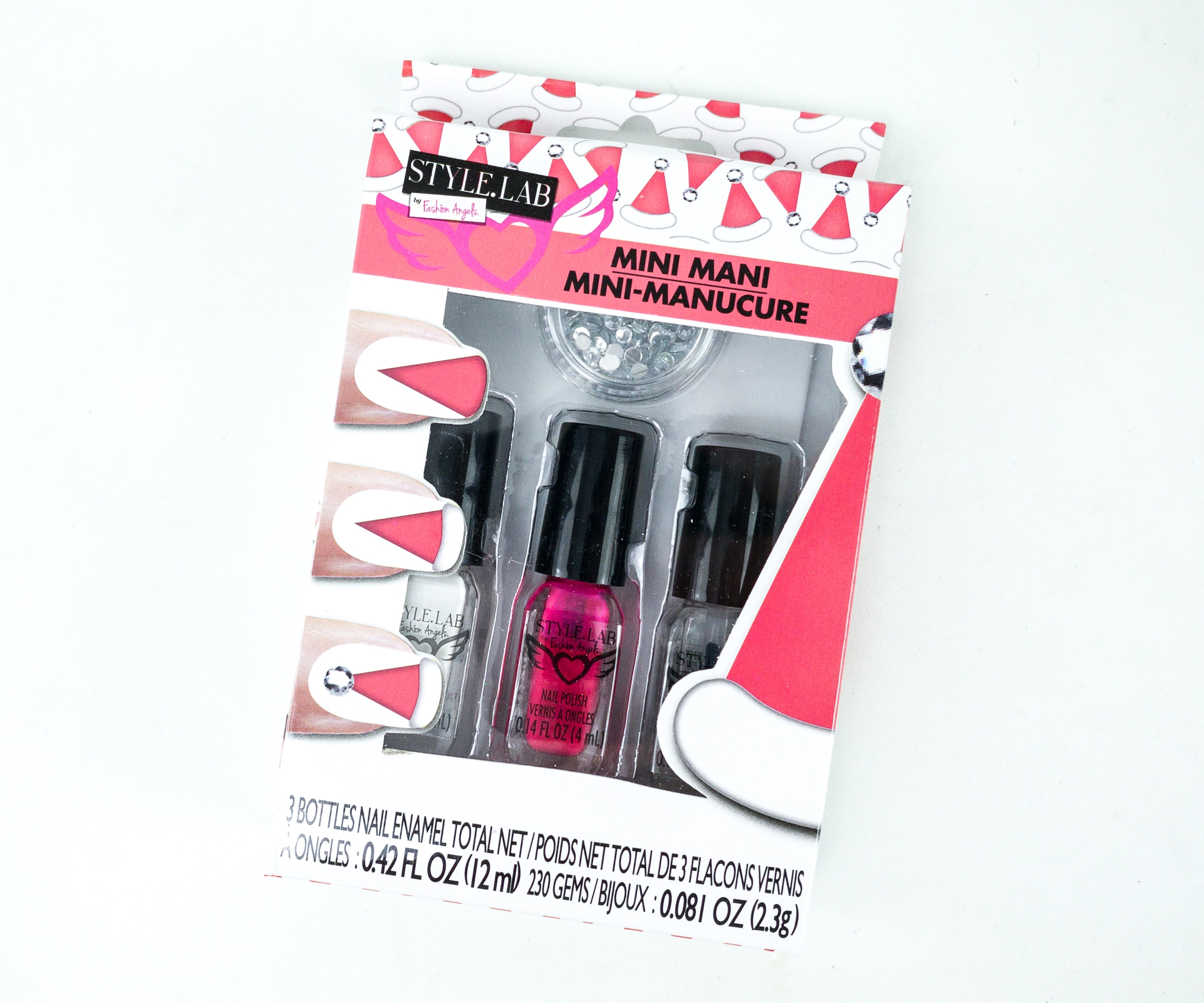 Mini Manicure Set. Of course, our nails need to be holiday-ready as well! They sent a mini manicure set for that purpose, which includes 3 small bottles of nail polish and nail gems.
There's white nail polish for the base color, red nail polish for the accent, and clear nail polish for the top coating. The gems were packed in a plastic container.
This is such a well-curated box for tweens! It's filled with cool fashion items, crafting materials, and a whole lot of fun! There are lots of items to keep them excited for the holidays, from the sticker sheet to the mini manicure set. My daughter also likes the cute bag where she can stash her essentials. This box is always jampacked, almost like it's a bi-monthly or quarterly box, but it actually ships monthly! We had fun with the box contents this month and we're already looking forward to the next – especially since my daughter has been harassing me nonstop to get this review posted so she can take her haul!
What do you think of this month's box?
Visit Fashion Angels Find Your Wings to subscribe or find out more!