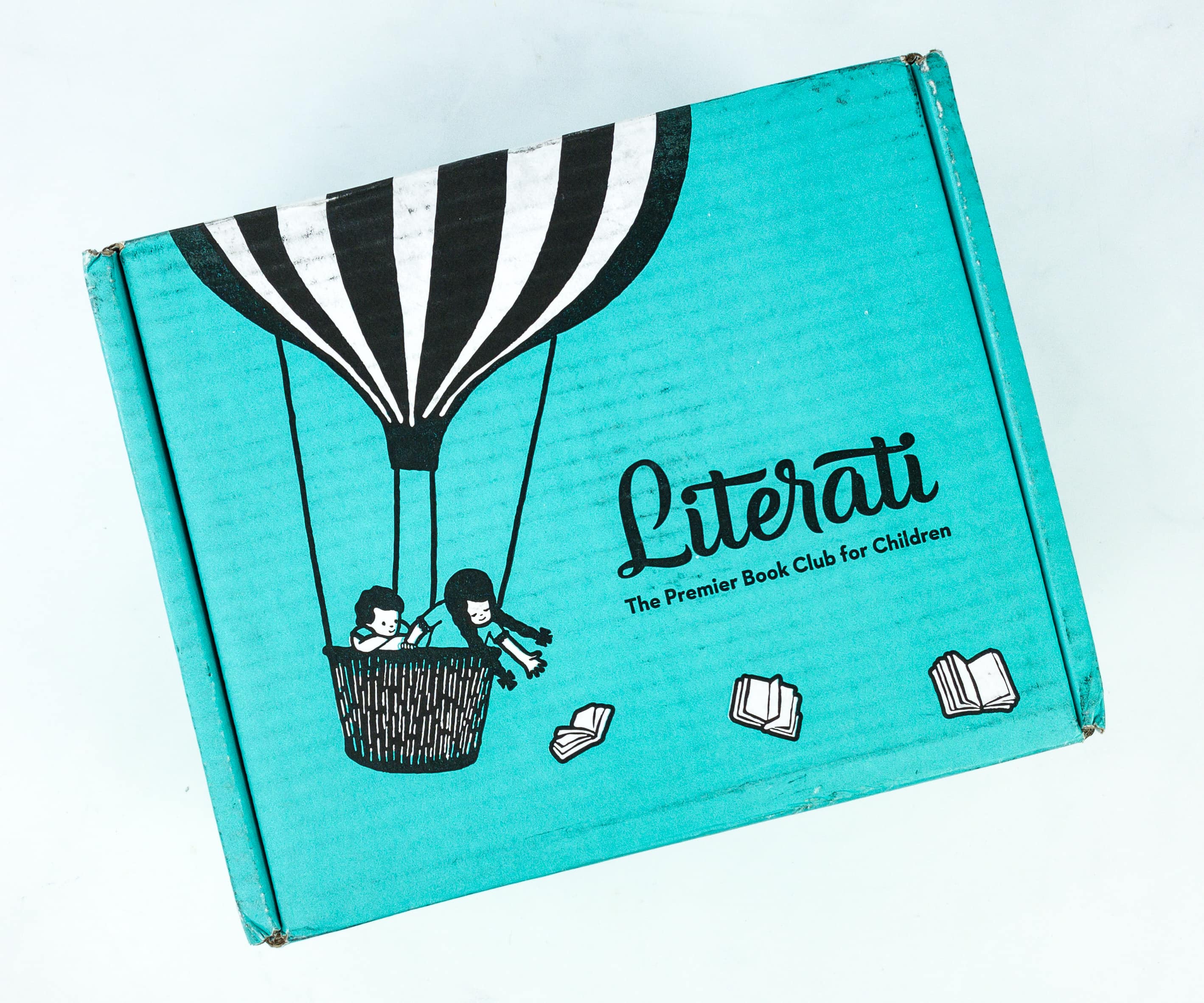 Literati is a monthly book subscription box for children that works similar to Stitch Fix. For a monthly fee of $9.95, you'll receive 5 books to try out for a week. You can purchase the ones you love and return the rest (in totally new condition) in the enclosed prepaid mailer (shipping is free in both directions).
You can get 5% off when you decide to keep all the books! There are also categories for each age bracket: Club Neo is for newborn to 1 year; Club Sprout is for children ages 2-3; Club Nova is for kids 4-6, and Club Sage is for those 7-8 years old.
This is a review of the Club Phoenix box for kids 9-12.
DEAL: Get $25 in account credit to put towards books when you sign up! USE THIS LINK to get the deal.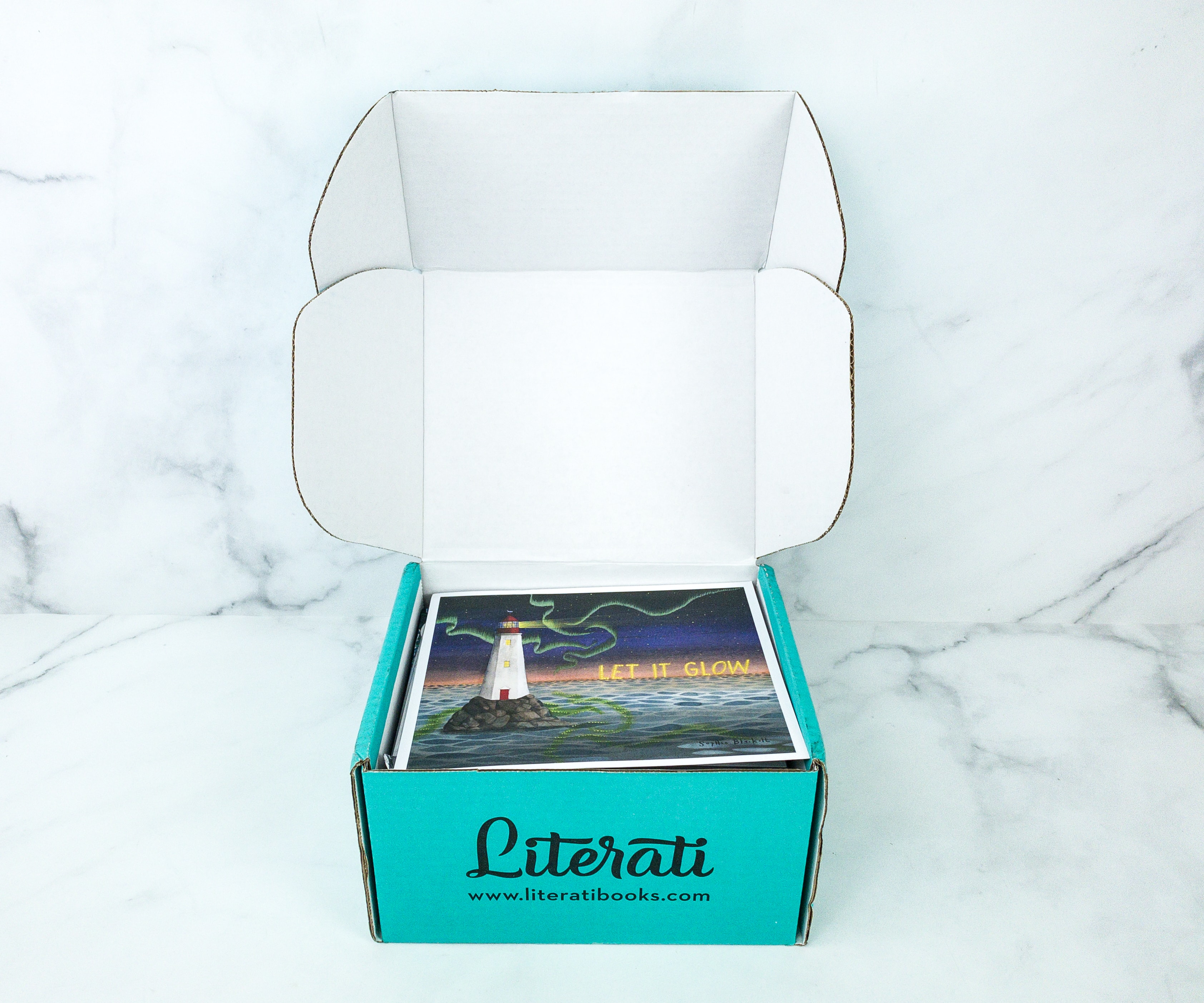 There are lots of books in store for us!
The contents are all neatly packaged.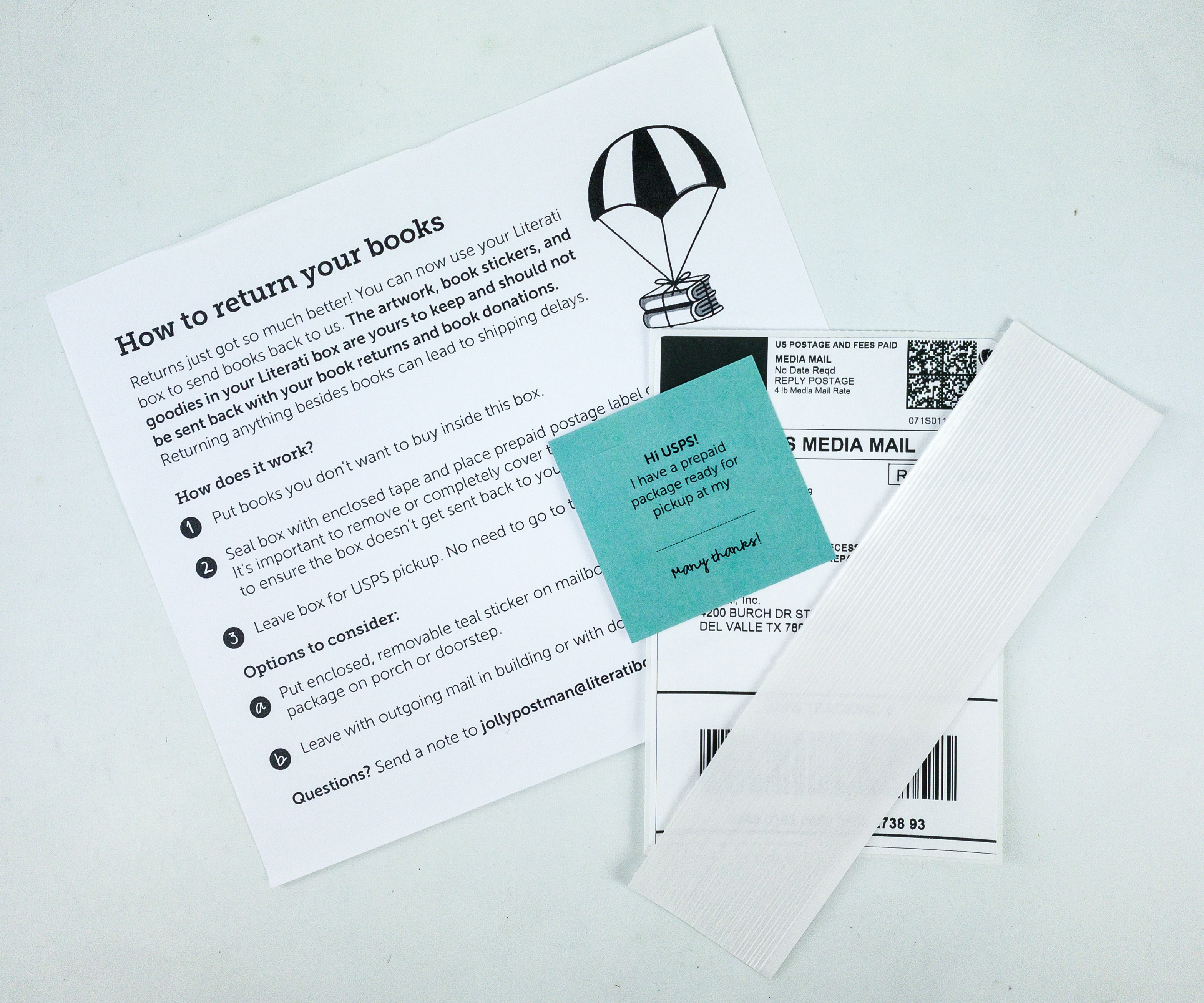 There's no longer a padded mailer. Instead, you can use the teal box itself if you want to return some of the books. You'll also receive a tape and a prepaid postage label for the box.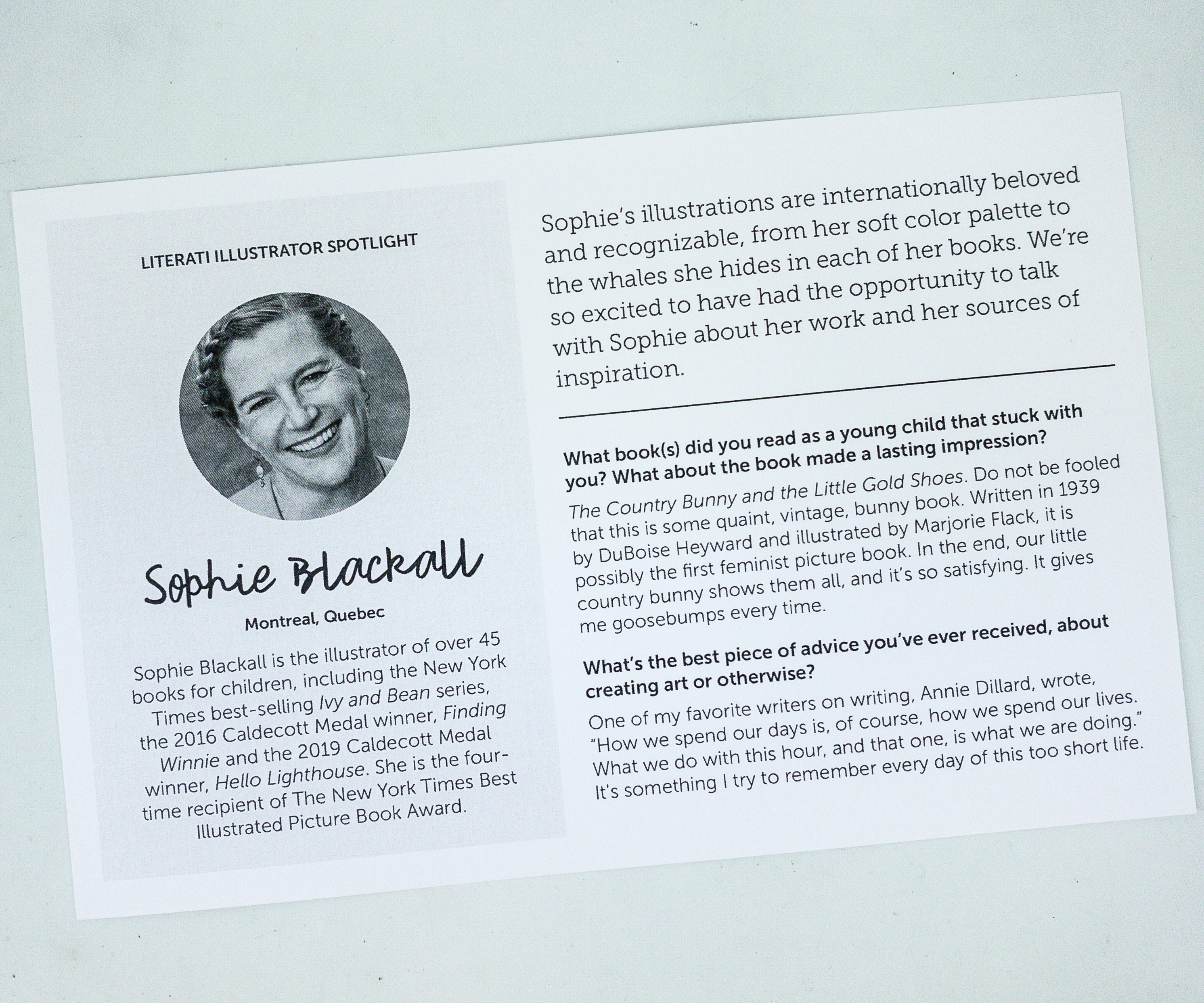 The featured illustrator creates new artwork for the monthly themes. This month's illustrator is Sophie Blackall.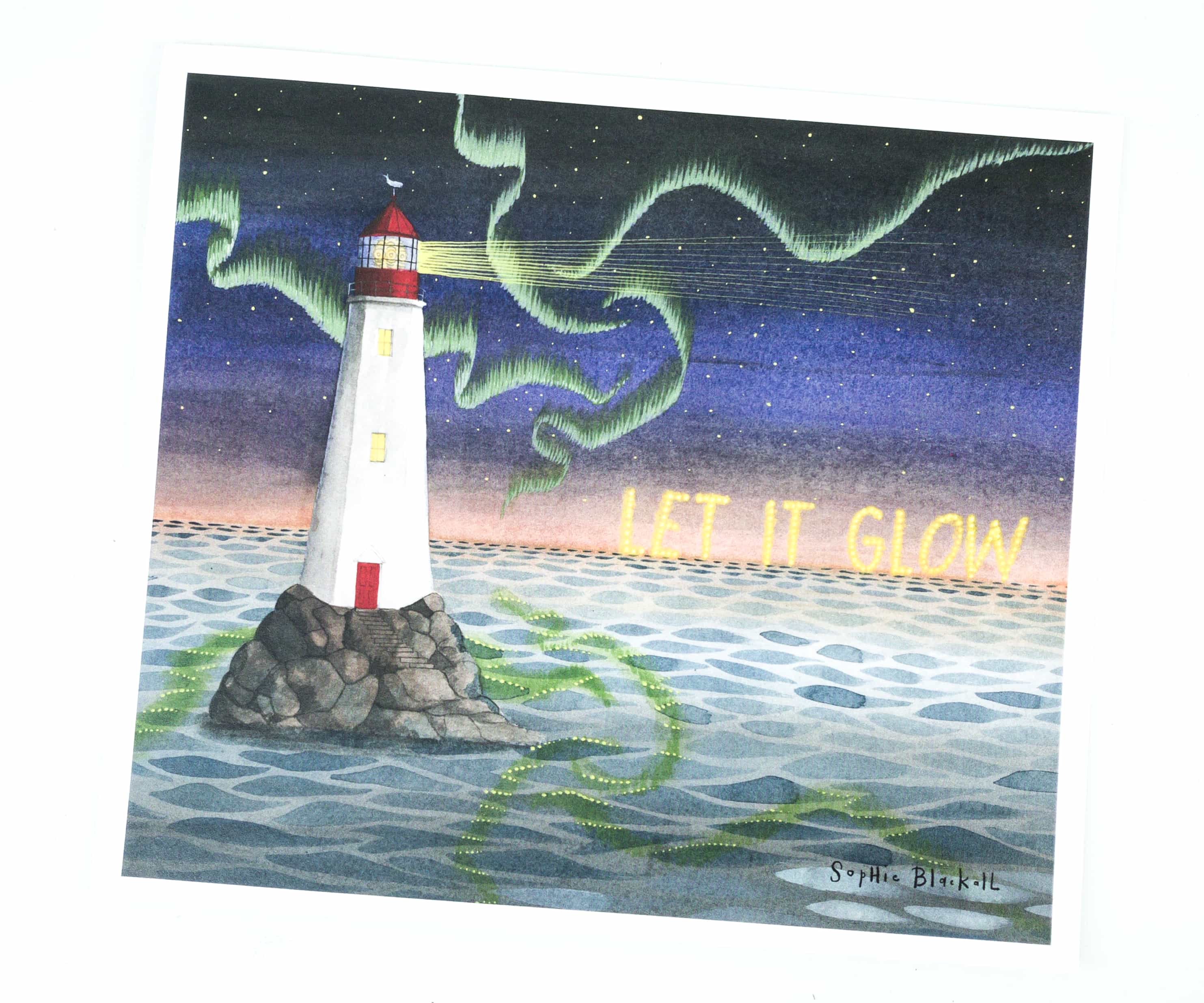 A full-size print comes with the box, along with free shipping. Although I don't love that the fee doesn't apply to a full box purchase, this high-quality print makes it more worth it. Also, the theme for this month is Let It Glow!
They included a sheet to help us label the books, and let others know that they're ours when we decide to keep them. They're really adorable!
There's also a listing of the book prices. If you decide to keep everything, you'll get 5% off. The subscription has a $9.95 non-refundable fee.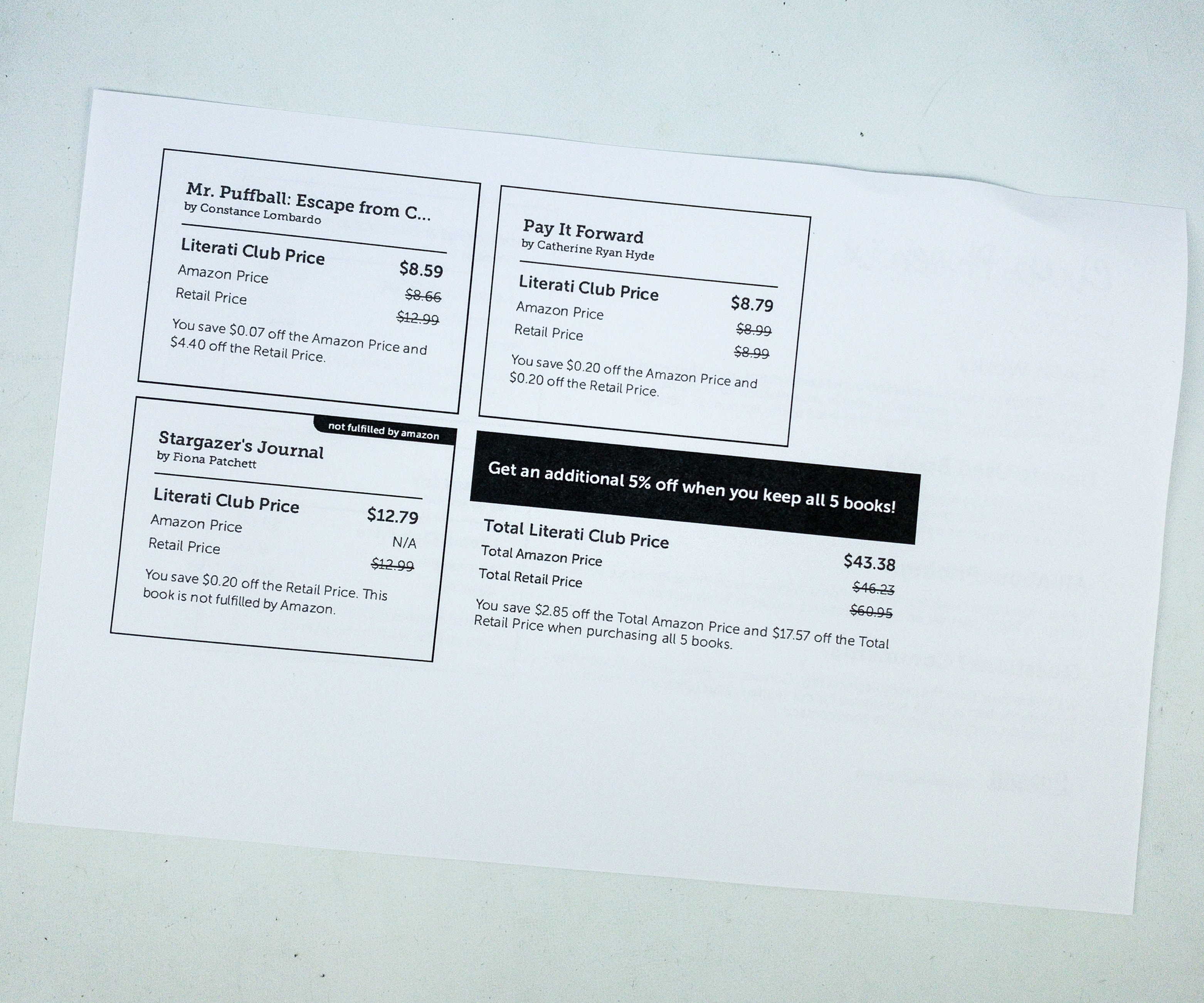 According to Literati "it covers shipping both ways, allows the curators to invite a new world-renowned illustrator each month to draw personalized bookplates and a unique print for members, and covers other themed surprises that are included in the box." Since the print is now full size and high quality, we are digging that change. It includes the shipping back and forth too.
There's a cute note from Team Literati.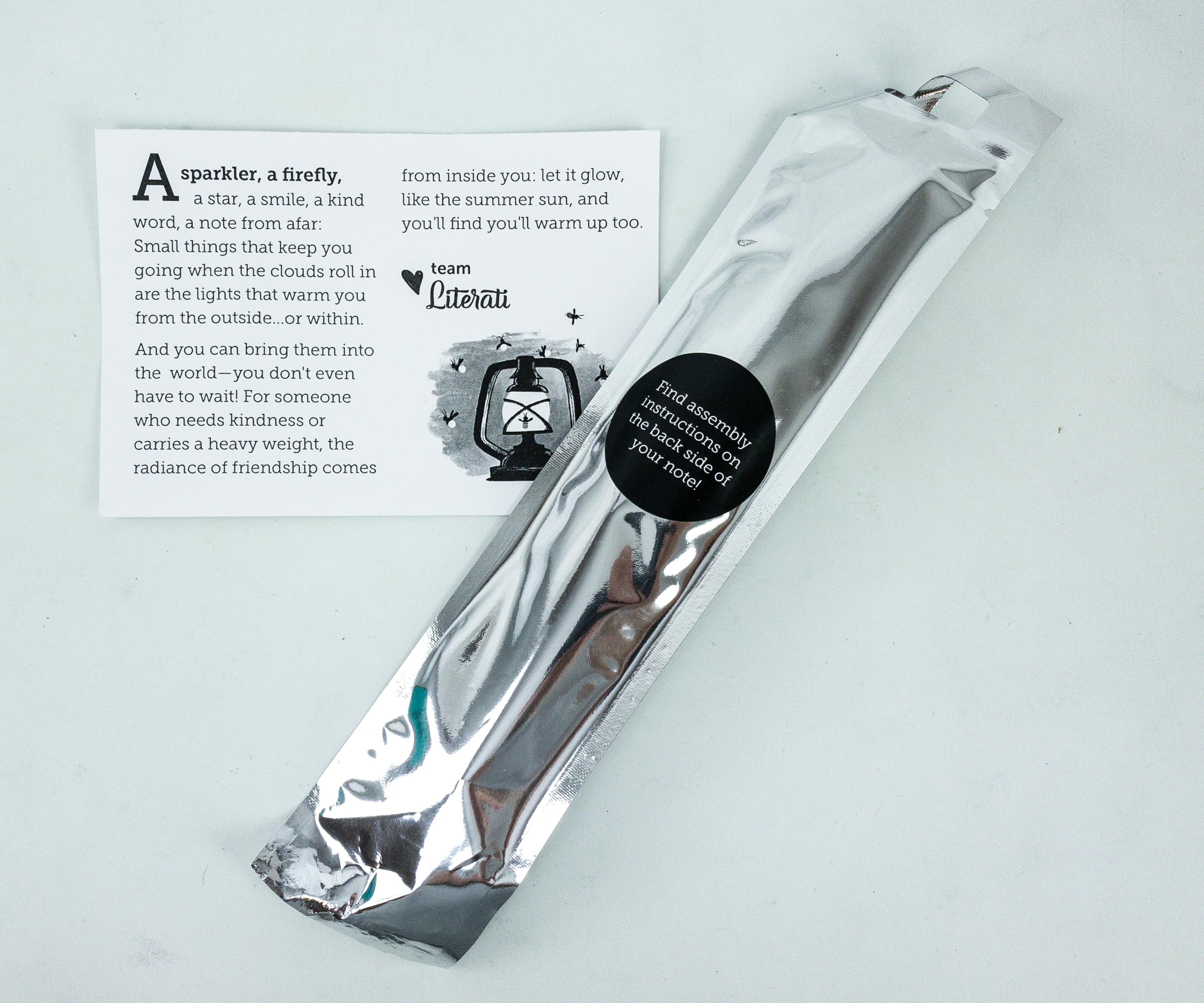 At the back is a message related to this month's theme.
Every month, Literati book boxes include toys or activities that the kids can enjoy doing, assembling, or building!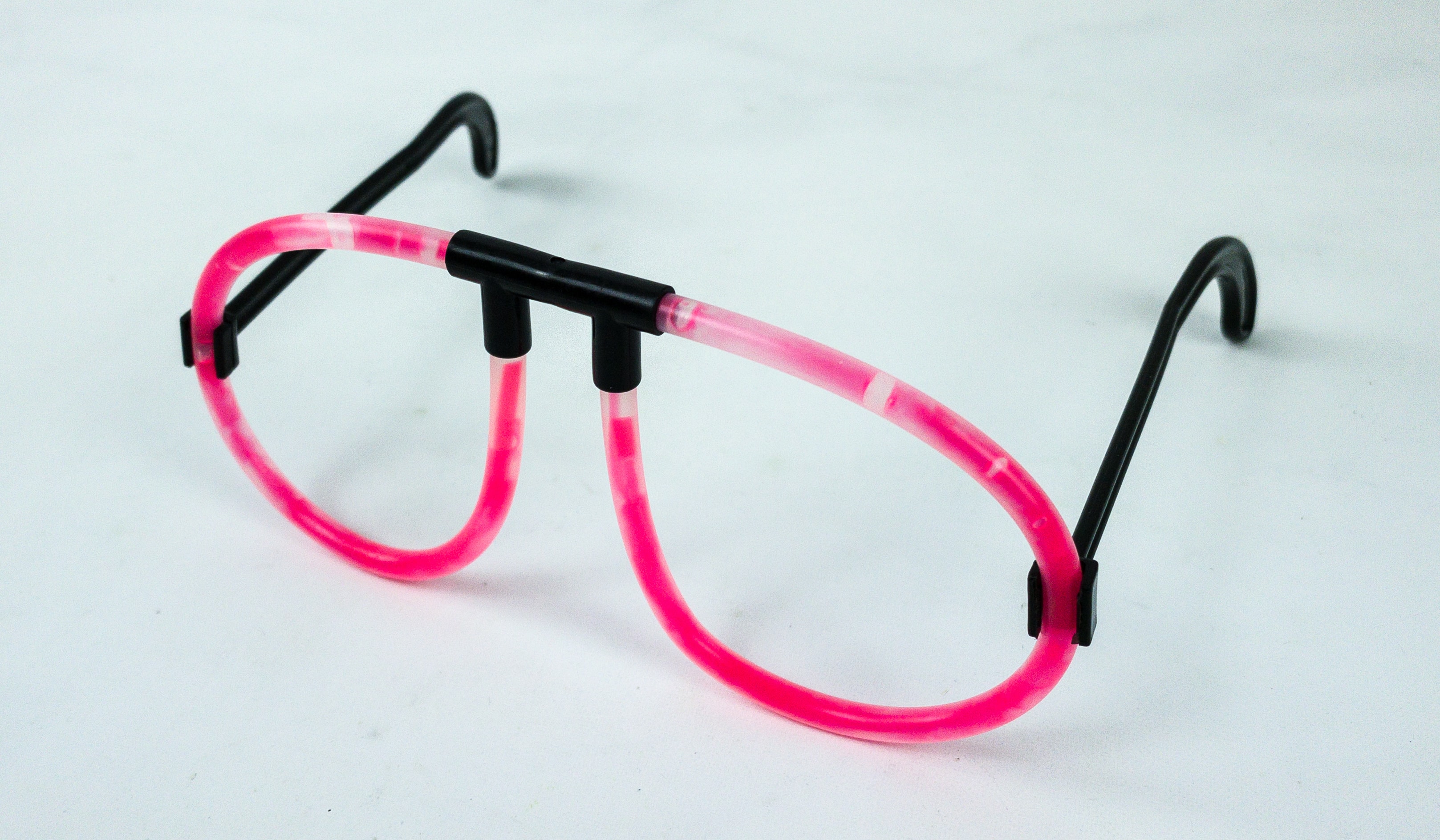 For this month, we got glowstick glasses! You can find the instructions on how to do this at the back of the notecard.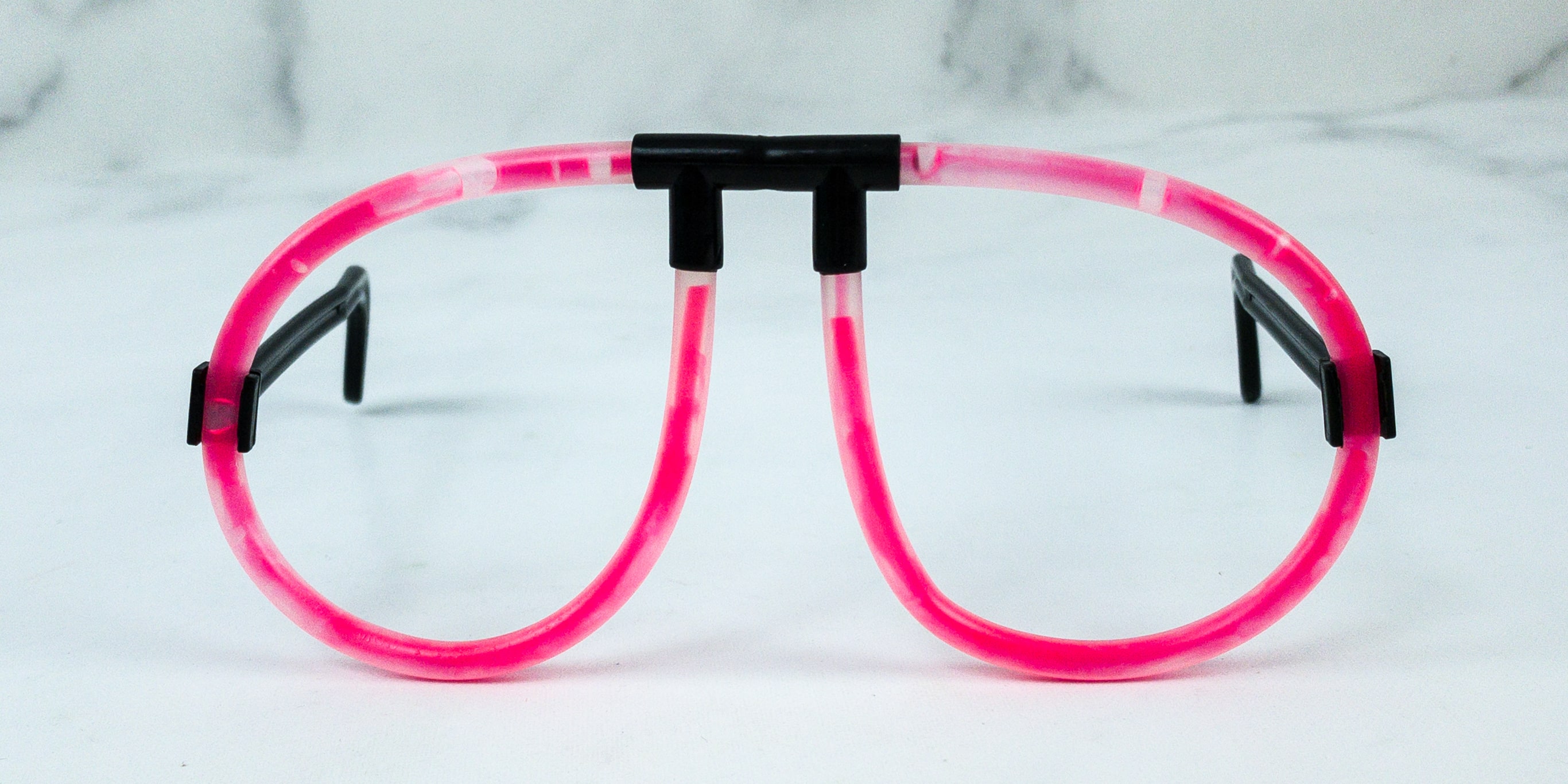 Wow, it looks hip!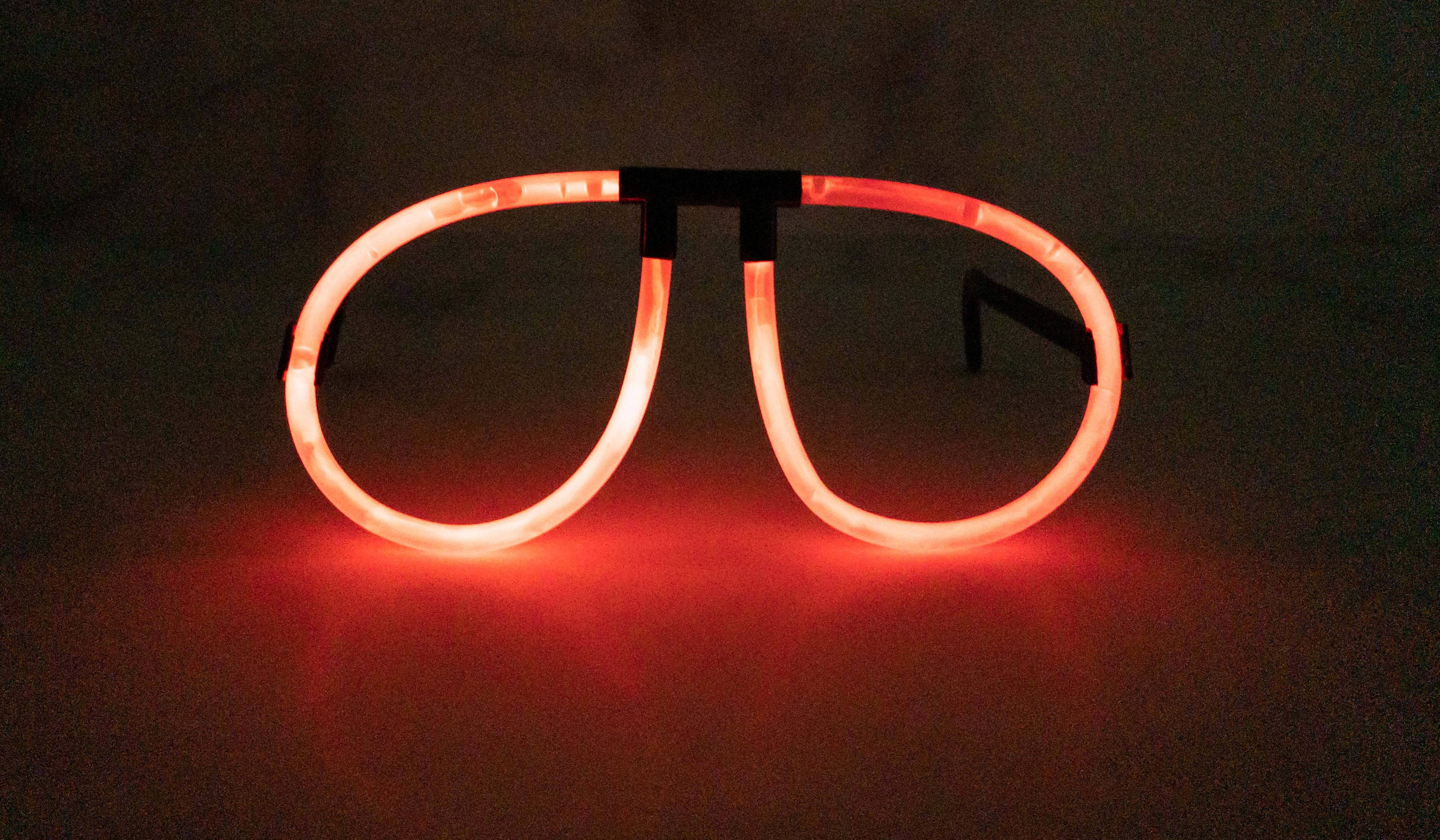 Like any glowstick, it glows brightly in the dark!
There's also an info card about the five books sent to us this month. The card lists the titles with a brief description for each.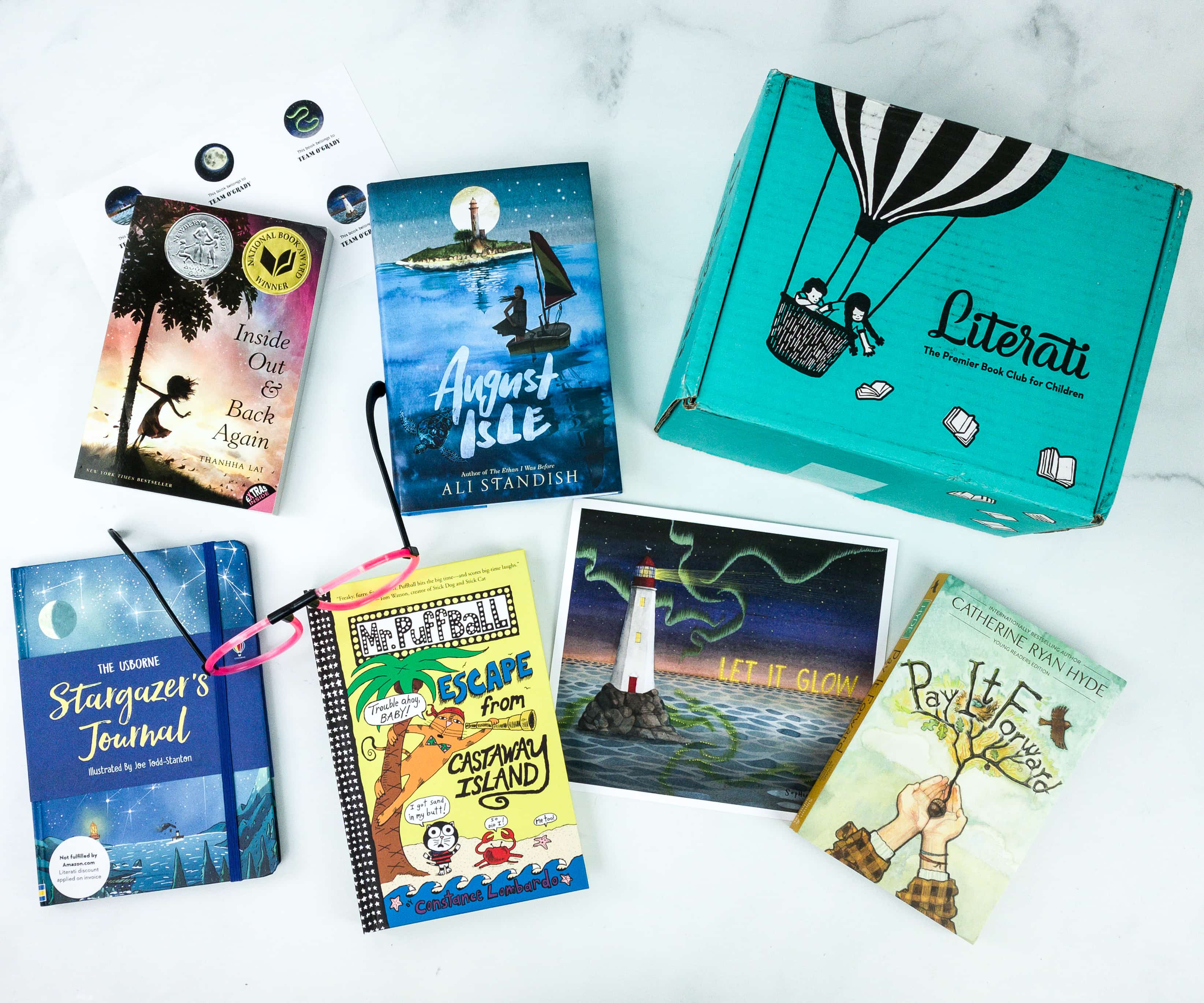 Everything in the box!
The Usborne Stargazer's Journal ($6.91)
This inspirational journal has beautifully designed pages to fill with your drawings, observations, poetry or anything else you like. There are facts, star charts and pictures of constellations to help you identify stars, and links to websites to find out more. With beautiful illustrations, this is a journal for stargazers of all ages to treasure.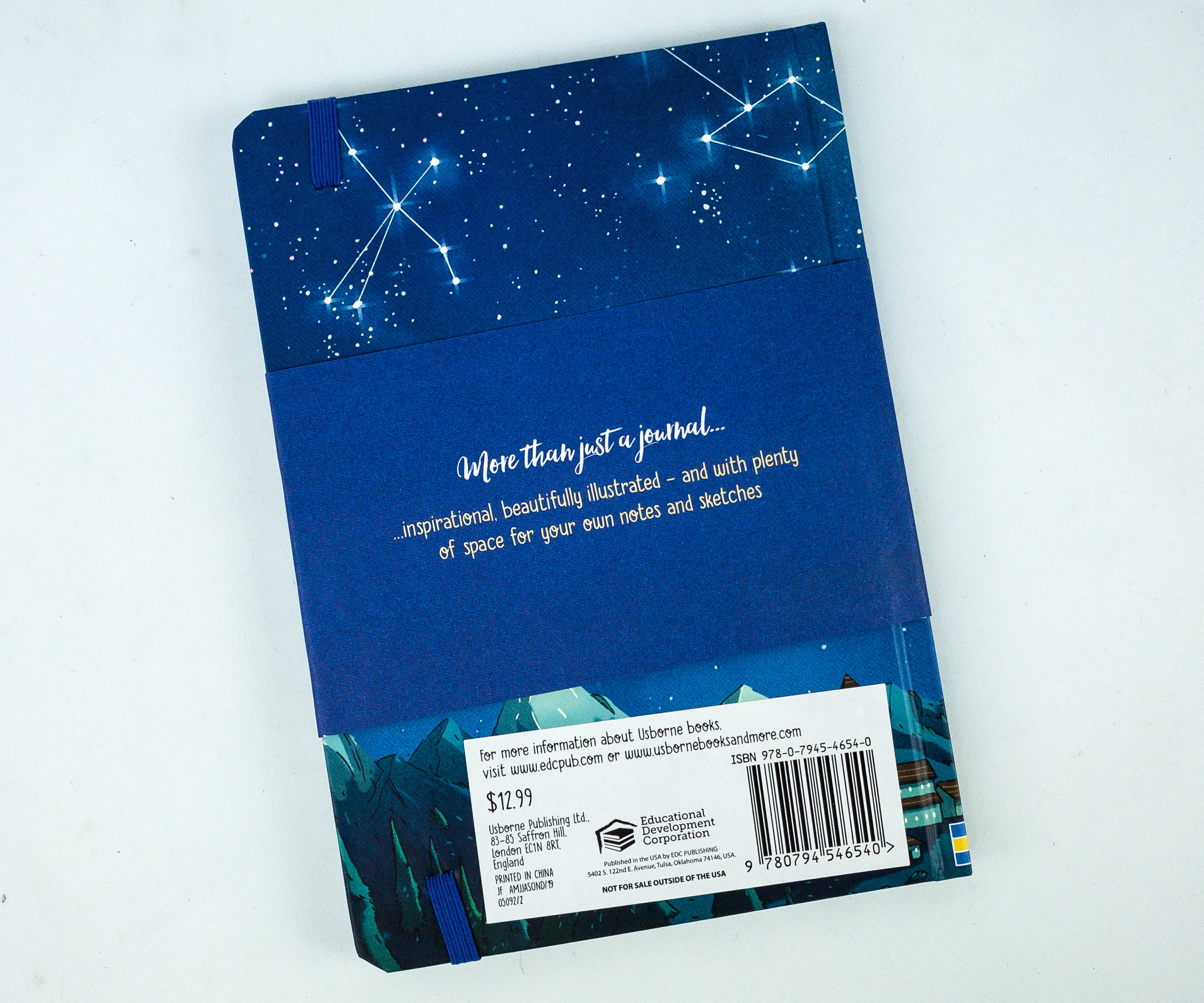 Aside from beautiful illustrations, you'll also get lots of space for your own notes and sketches in this journal!
The pages are all lined. Also, there are little images with sayings or quotes on the bottom of some pages, to keep you going and inspired!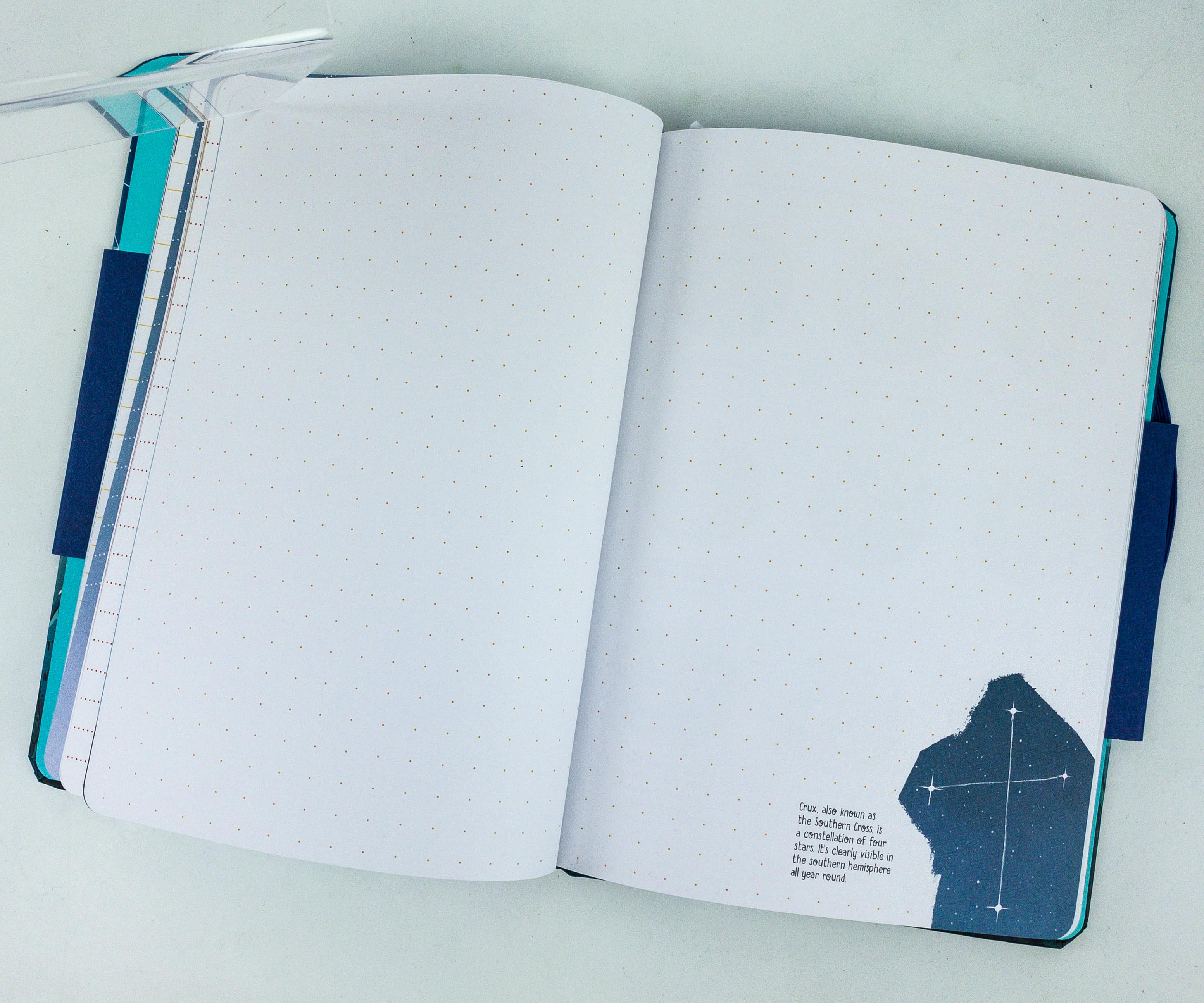 There are dotted pages as well. The dots serve as guides, whether you plan to draw or write some more.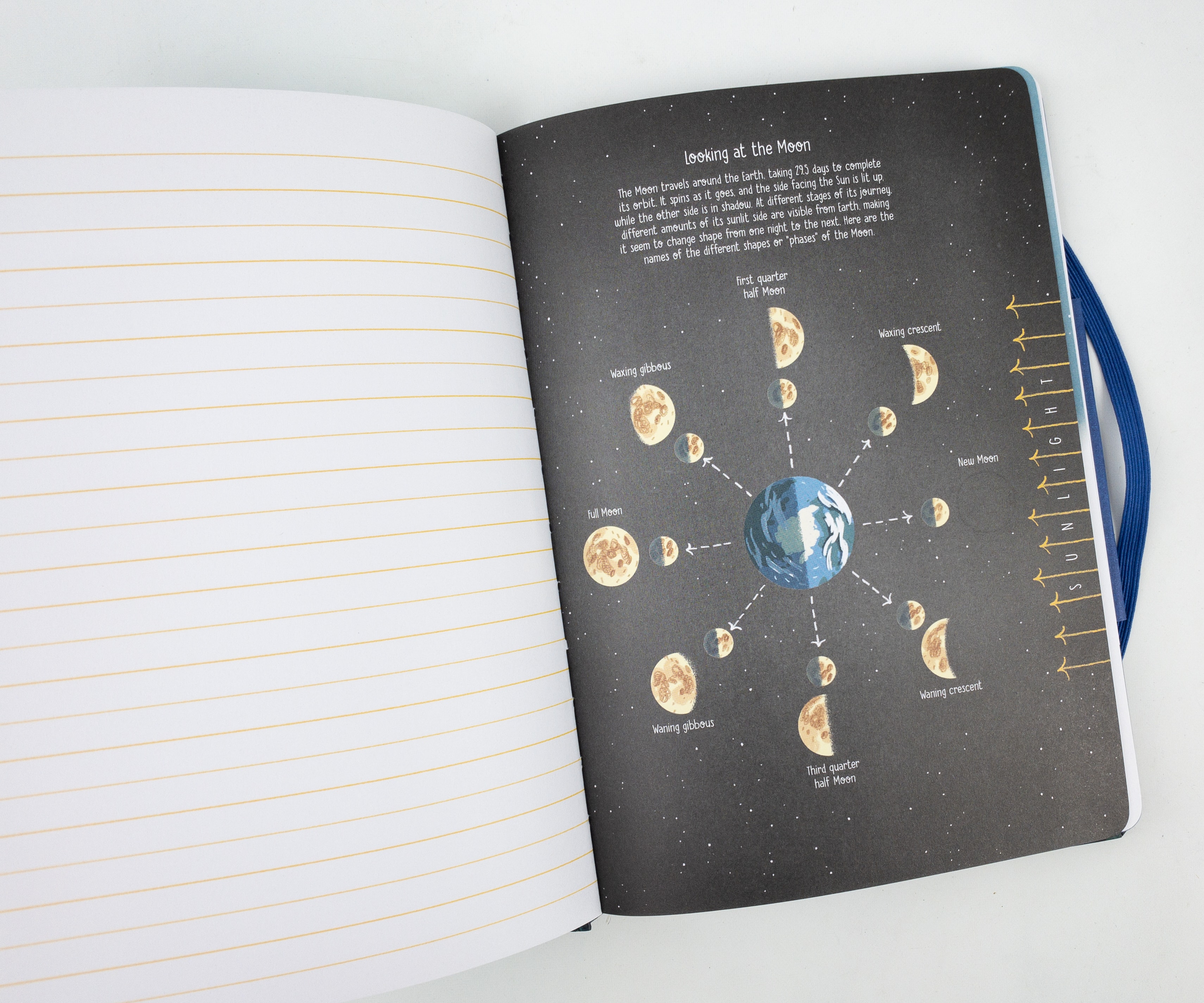 You can also learn more about celestial bodies through the journal. Here's a page that is dedicated to the moon! It's really a nice journal where you can keep an account of everyday happenings and important notes!
Pay It Forward by Catherine Ryan Hyde ($9.74)
An immediate bestseller when first published, Pay It Forward captured hearts all over the world, became a wildly popular film, and spawned a generation of increased altruism. This anniversary edition includes a new introduction by the author. It takes an inspiring and moving tale of a young boy who believed in the power of kindness and brings it to a new generation of readers.

Twelve-year-old Trevor McKinney accepts his social studies teacher's challenge: come up with a plan to change the world. His idea is simple: Do a good deed for three people and ask them to "pay it forward" to three others in need. He envisions a vast movement of kindness and goodwill spreading beyond his small California town and across the world. The project, however, appears to falter. Jerry, a bum who receives some allowance money from Trevor, returns to a life of dissolution. Trevor wants his pretty, hardworking mother—a woman who raised him lovingly despite struggles with alcoholism—to marry his teacher, Reuben St. Clair. Reuben is a scarred, bitter, untrusting man with a disfiguring injury from Vietnam. He seems to come alive only when in front of his class. For a time that matchmaking brings nothing but problems. Ultimately, though, unusual things start to happen. Crime rates dip across the nation, and nobody seems to know why. Then a journalist tracks down the source: an epidemic of random acts of kindness.

Anyone who has ever despaired of one person's ability to effect change will rejoice in Trevor's courage and determination to see the good in everyone.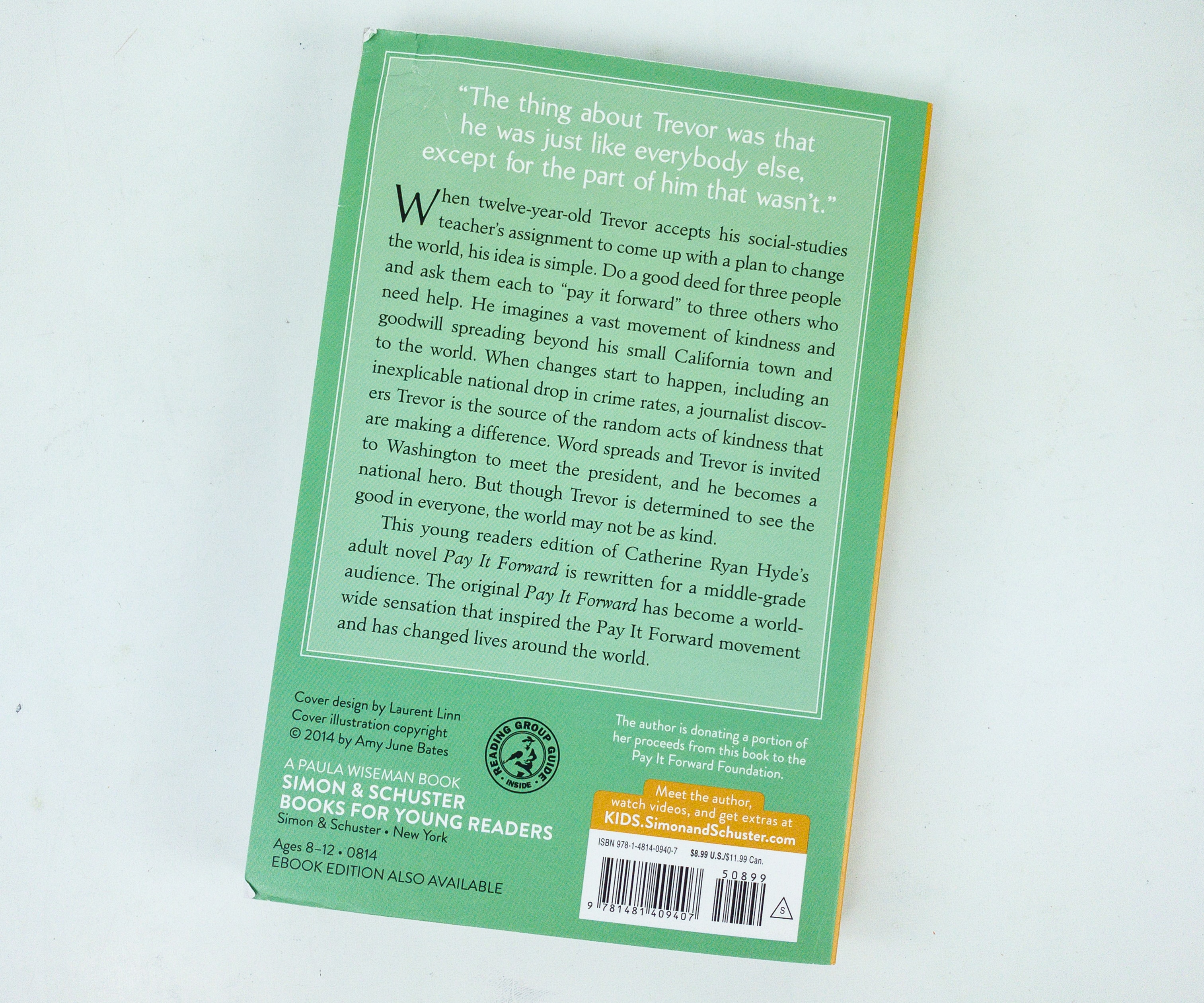 The back of the book introduces us to the main character Trevor McKinney, a child who accepts the challenge of his teacher to come up with a plan that could change the world.
Trevor made a "pay it forward" plan for his teacher's challenge, but it seems like his plan won't work!
Though with doubts, Trevor still continues with the plan, and we all learned that a simple act of kindness will lead to another. This story definitely shows us that there's hope not just for today, but for the future generations too. Just pay it forward and see how far it goes!
Inside Out & Back Again by Thanhha Lai ($11.19)
Inside Out and Back Again is a #1 New York Times bestseller, a Newbery Honor Book, and a winner of the National Book Award! Inspired by the author's childhood experience as a refugee—fleeing Vietnam after the Fall of Saigon and immigrating to Alabama—this coming-of-age debut novel told in verse has been celebrated for its touching child's-eye view of family and immigration. For all the ten years of her life, Hà has only known Saigon: the thrills of its markets, the joy of its traditions, and the warmth of her friends close by. But now the Vietnam War has reached her home. Hà and her family are forced to flee as Saigon falls, and they board a ship headed toward hope. In America, Hà discovers the foreign world of Alabama: the coldness of its strangers, the dullness of its food . . . and the strength of her very own family. This moving story of one girl's year of change, dreams, grief, and healing received four starred reviews, including one from Kirkus which proclaimed it "enlightening, poignant, and unexpectedly funny." An author's note explains how and why Thanhha Lai translated her personal experiences into Hà's story.
The back of the book introduces us to Kim Hà, a young girl who fled with her family from Vietnam to the US during wartime. Also on this part, the book presented us with some of the praises it received from other authors!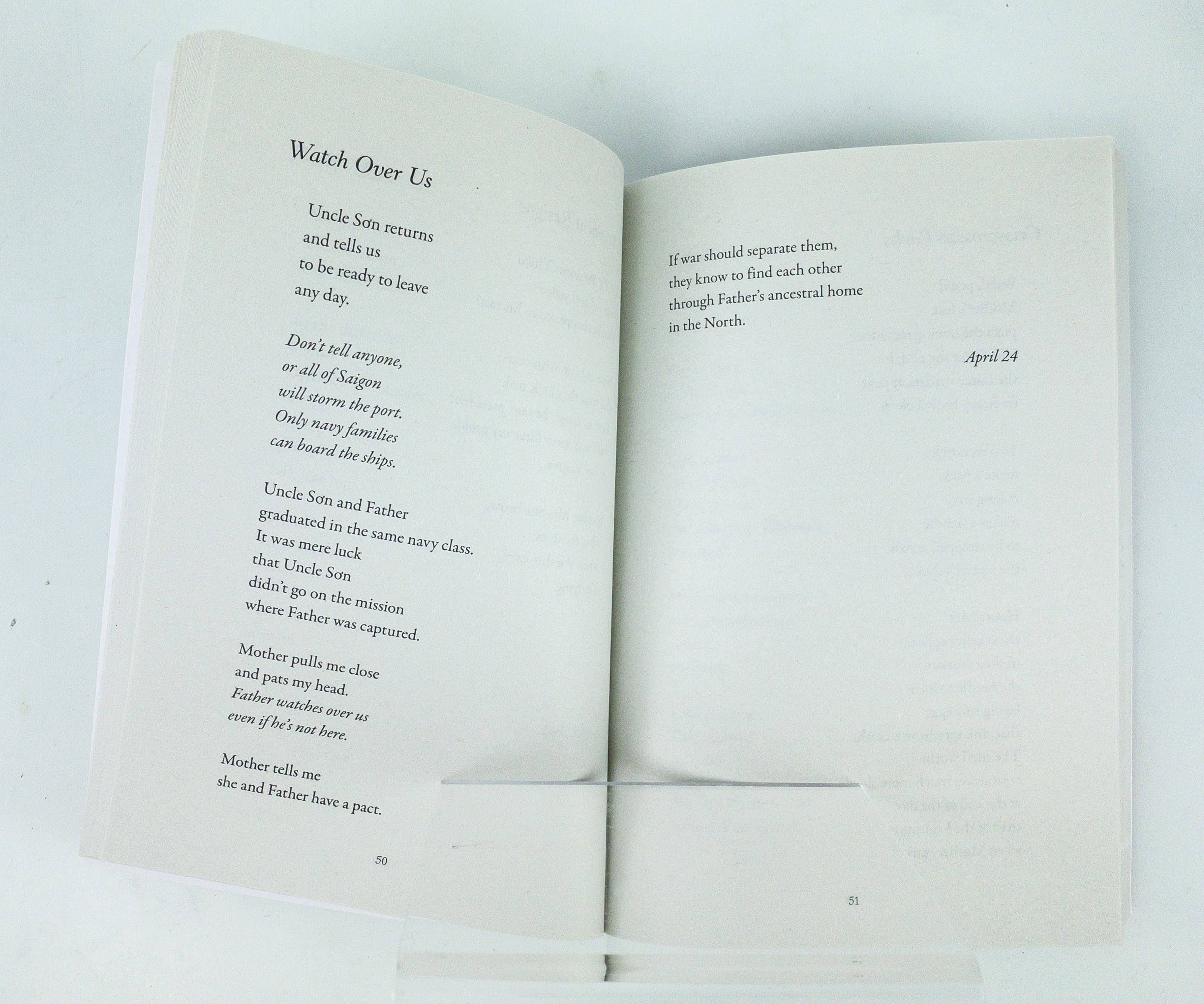 The book is for middle-age learners, and the story is written in verses.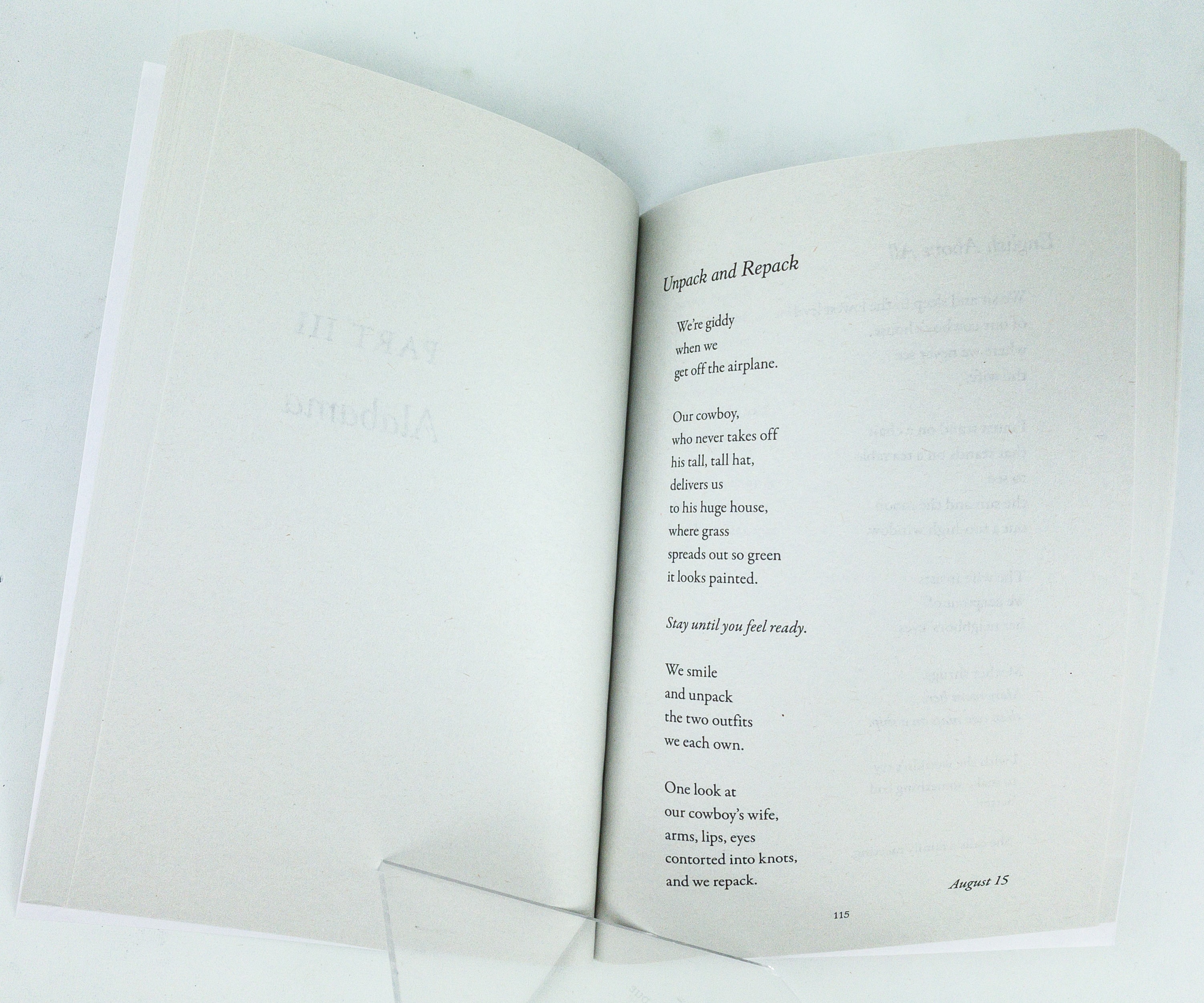 It presented us with the struggles of a girl who lived in a foreign land, without or just a little understanding of the people's ways and language. It teaches us that despite the hardships, Hà's family is strong to cope up with everything.
August Isle by Ali Standish ($7.60)
*A Junior Library Guild Selection*

From critically acclaimed author Ali Standish (The Ethan I Was Before), the story of one girl's journey to a magical seaside town, where she uncovers her family's long hidden secrets and ultimately finds truth and redemption.

Fans of Sharon Creech and Rebecca Stead will be captivated by this story filled with warm humor, mystery, whimsy, and characters you can't let go. A modern classic in the making!

For years, Miranda has stared at postcards of August Isle, Florida. The town where her mother spent her summers as a girl. The town that Miranda has always ached to visit. She just never wanted it to happen this way.

When she arrives on the Isle, alone and uncertain, to stay the summer with an old friend of her mother's, Miranda discovers a place even more perfect than she imagined. And she finds a new friend in Sammy, "Aunt" Clare's daughter.

But there is more to August Isle than its bright streets and sandy beaches, and soon Miranda is tangled in a web of mysteries. A haunted lighthouse. An old seafarer with something to hide. A name reaching out from her mother's shadowy past.

As she closes in on answers, Miranda must reckon with the biggest question of all: Is she brave enough to face the truth she might uncover?

"A beautifully written story. An emotional journey of family, friendship, loss, and healing." —Kirkus
There are some words from the main character, Miranda, printed at the back of the book.
Again, the dust jacket of the book talks about the secret, and also introduces us to Miranda, the heroine in the book.
August Isle is a place she's longing to visit, knowing that her mom spent her summer in this nice place. However, her mom stopped visiting the place, and now it's her turn to stay with her mom's friend, aunt Clare and her daughter Sammy.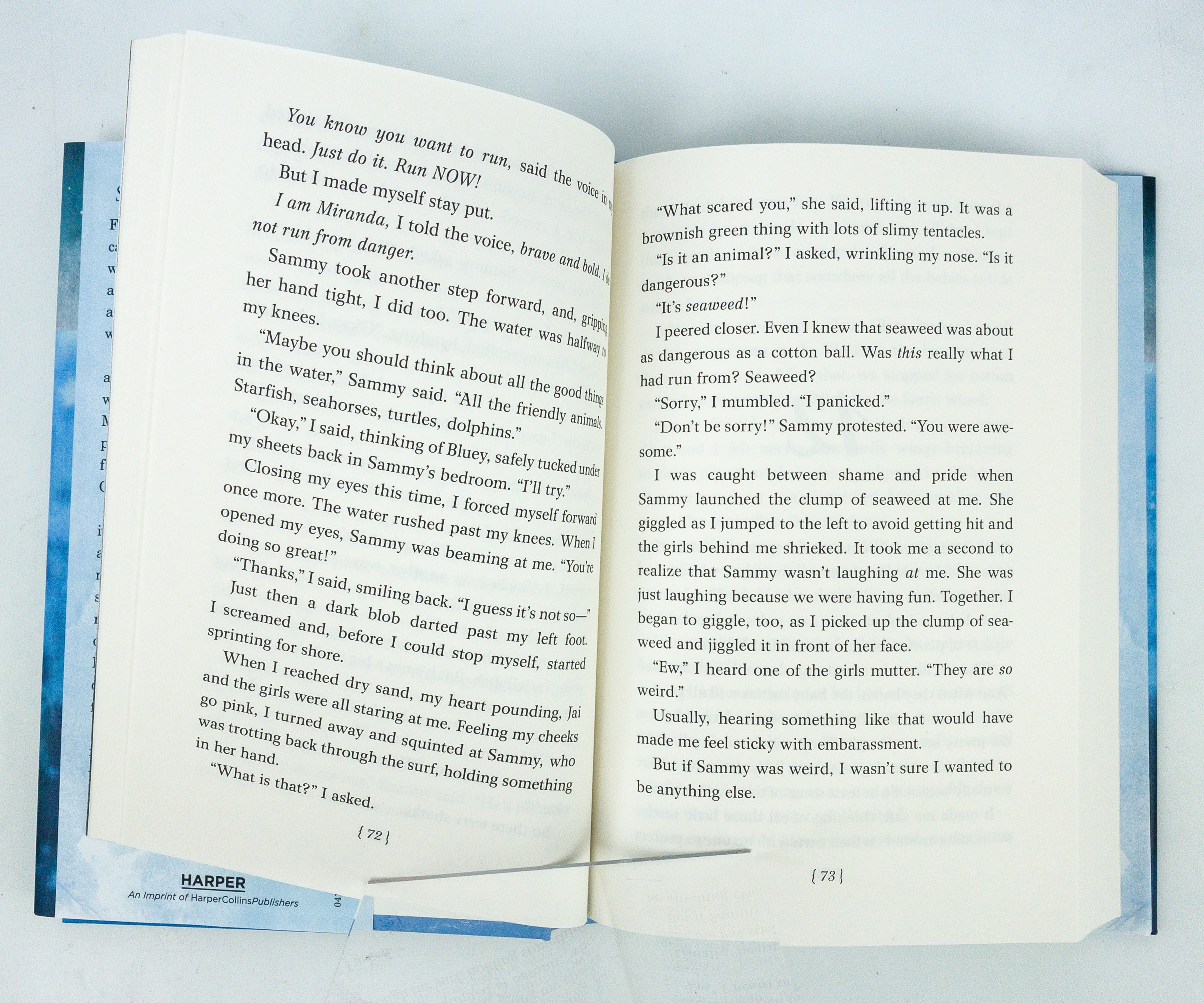 As she stayed longer, the fun summer she's expecting is becoming mysterious, and secrets are unfolding right before her. It's a beautiful story of friendship, family, and being true to oneself.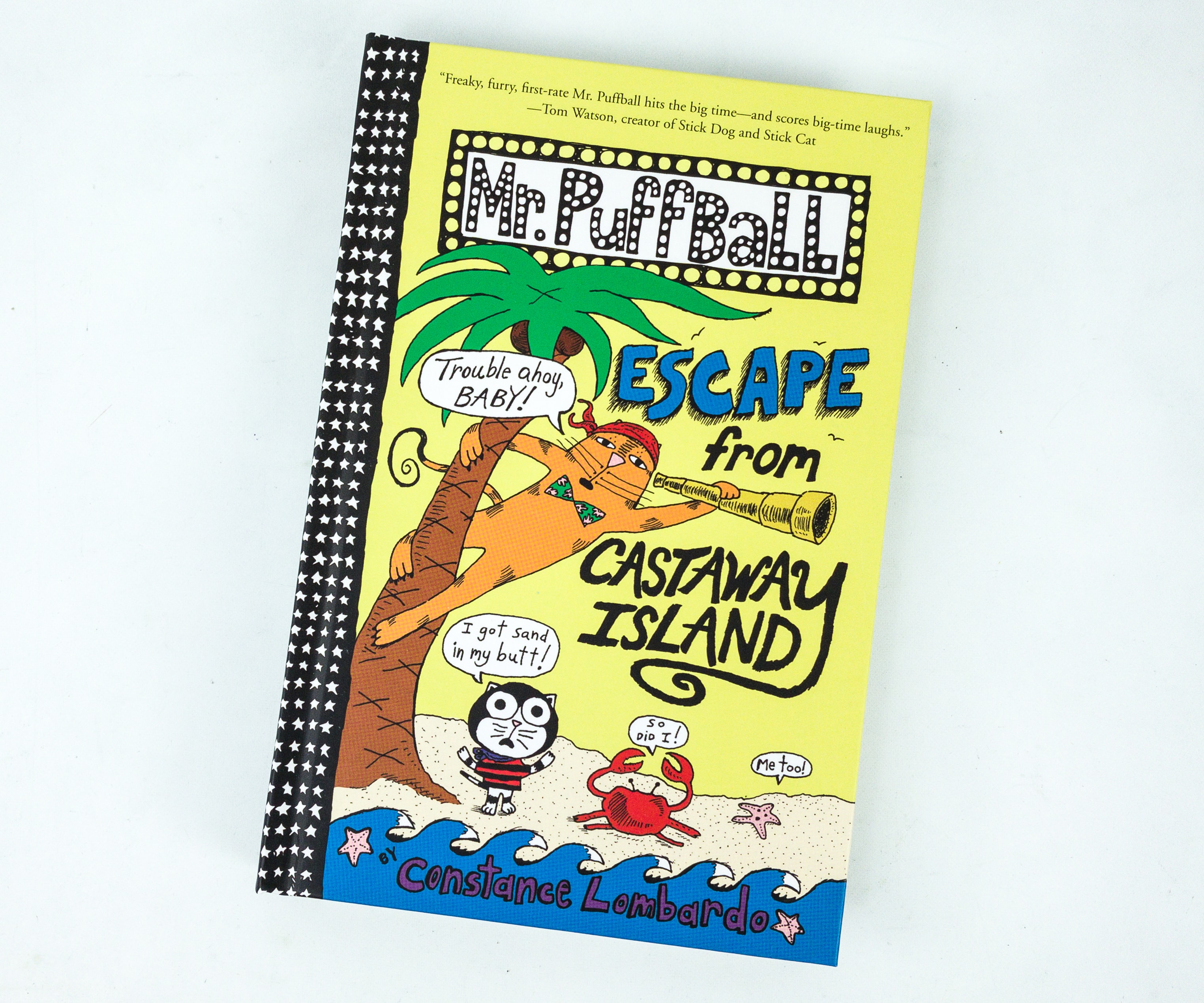 Mr. Puffball: Escape From Castaway Island by Constance Lombardo ($11.69)
All paws on deck! Everyone's favorite Hollywood cat is ready for his big break in the final book of the Mr. Puffball trilogy.

Purr-fect for middle grade fans of highly illustrated, funny series such as Diary of a Wimpy Kid, Origami Yoda, My Big Fat Zombie Goldfish, and The Popularity Papers.

After travelling the country as El Gato's stunt cat for way too long, Mr. Puffball is ready for his BIG break—and what's bigger than REALITY TV?

He'll kick butt on Feline Ninja Warrior and even bake his way to victory on Celebrity Birthday Cake Wars. But real opportunity knocks when Mr. Puffball lands a leading role on Castaway Island. Get ready for major island drama!

Mr. Puffball uses his wits, killer stunt moves, and even bigger heart to conquer the challenges of the wilderness, and yes—this just might be his ticket to the red carpet.

With hilarity, a cat-tastic cast, hysterical outtakes, and punchline puns, the Mr. Puffball books will knock your paws off!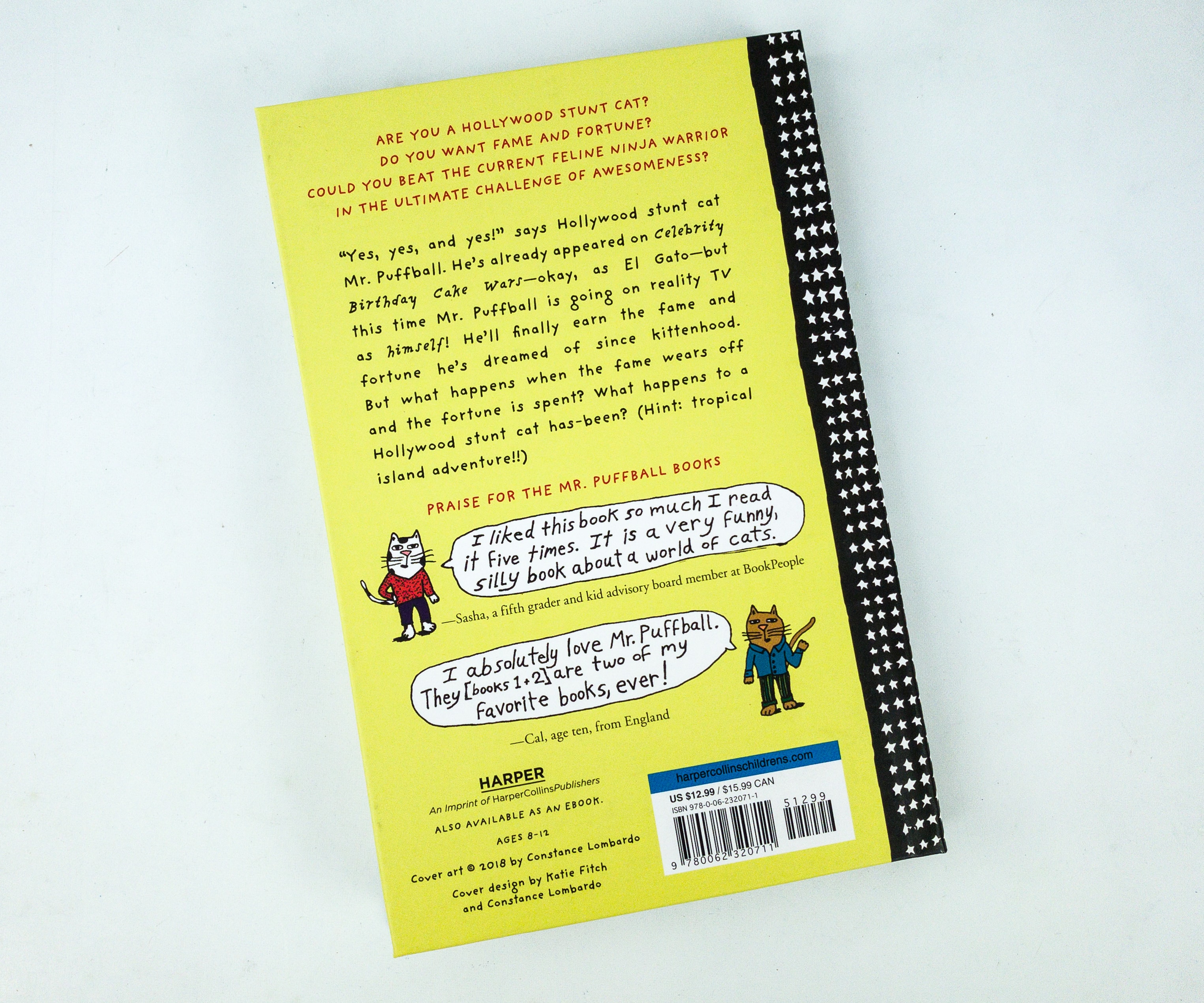 Mr. Puffball is really determined to make his Hollywood dream come true, so he's joining reality TV shows!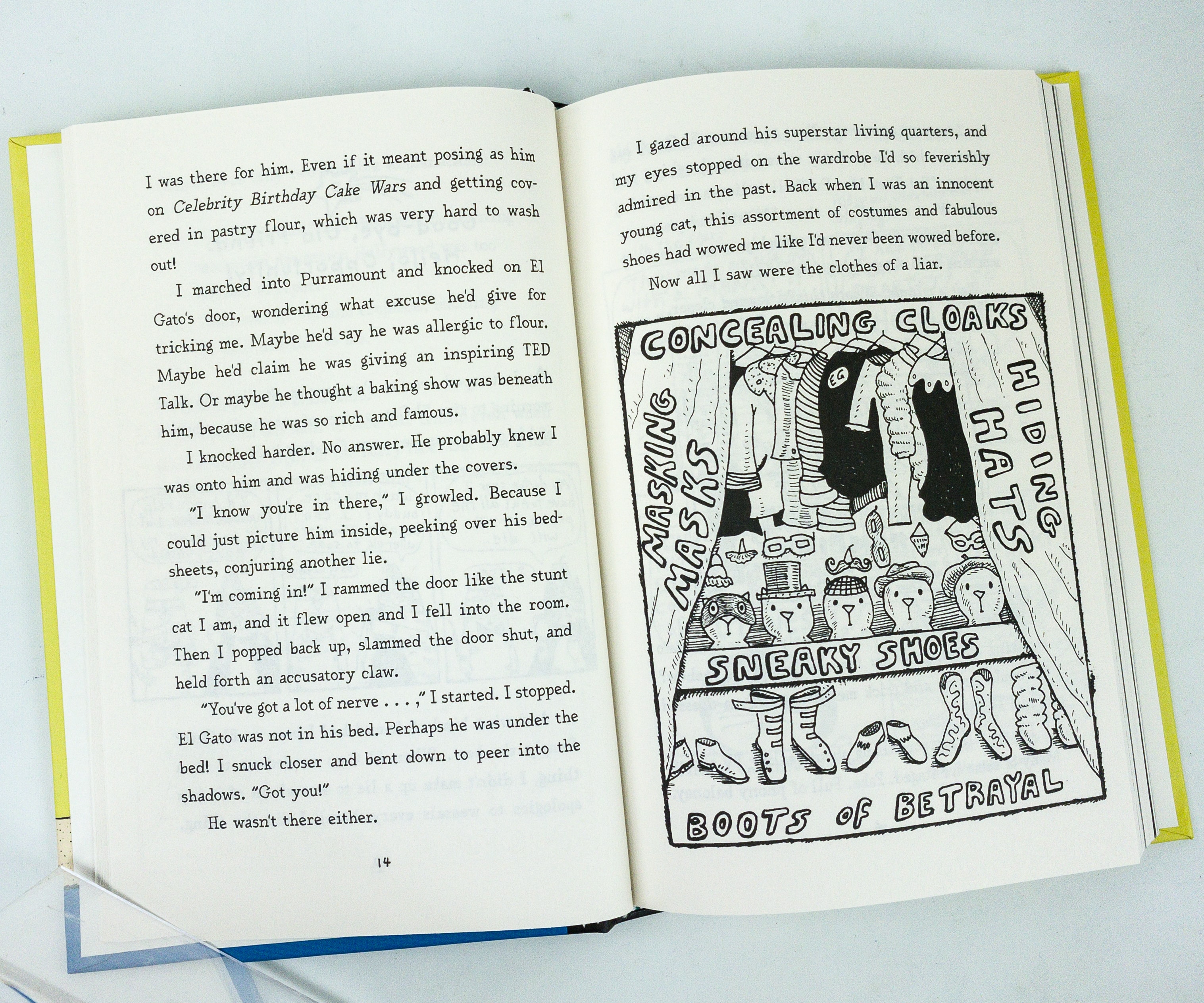 It's a new and fun adventure where Mr. Puffball joined Castaway Island, which is a reality TV show that has a format similar to Survivor. On the island, he's also joined by some of his friends (more like frenemies), and he must not be voted off!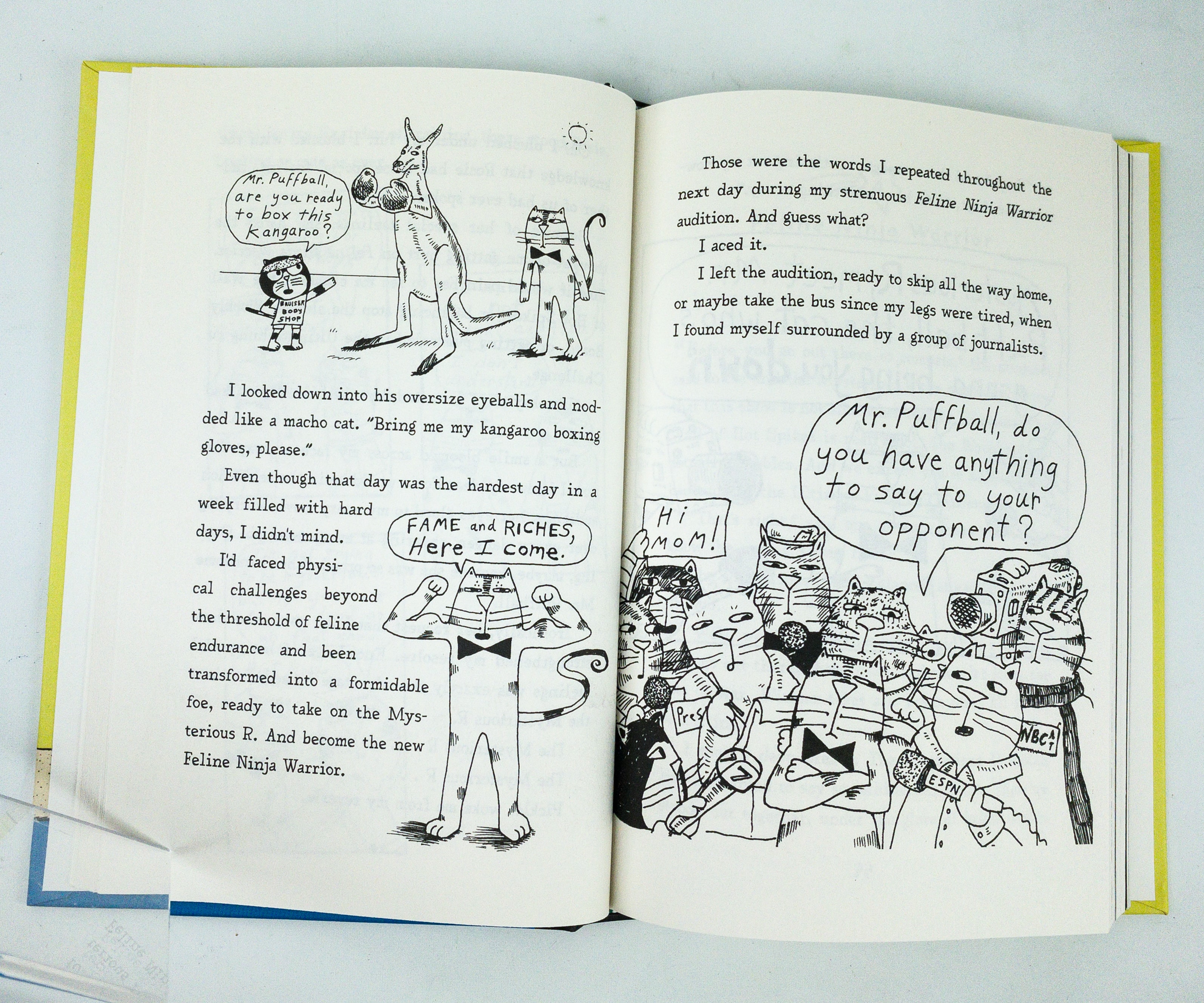 As he fulfills his dreams of becoming a Hollywood star, he is somehow taking some friendships for granted. On the desert island, we all hope that he realizes this and then give importance to his relationships and that friends are really important, they're more like family too!
Literati Club Phoenix is an amazing book subscription for middle-grade kids that sends great stories with great moral lessons and fantastic illustrations. We also got a nice journal that we can use to fill with our own adventures! The books are great and they focus on the importance of family, relationships, friends, and of course, believing in oneself. My kids love Mr. Puffball's fun adventures, and they really love the humor that's in this series. Everything in this box deserves to be re-read!
What do you think of this month's Literati Club Phoenix selections?