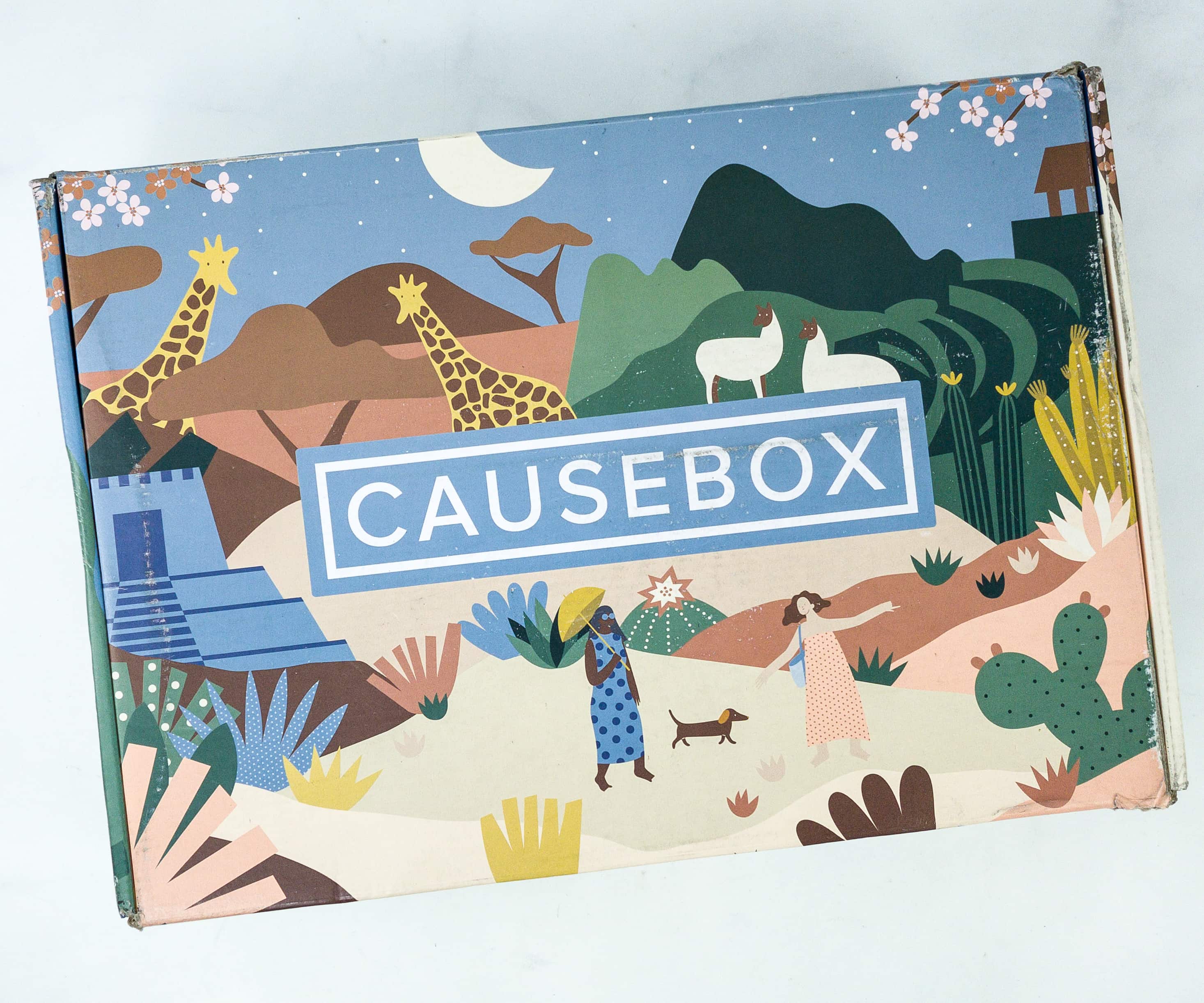 CAUSEBOX is a quarterly subscription box curated with socially conscious products for women. In each box, you'll receive 5-8 seasonal lifestyle products that are focused on ethical and sustainable production, donate a percentage of profits to charity, or aim to inspire and empower others.
DEAL: Save $10 on your first box with coupon code WELCOME10!
LIMITED TIME: Save 30% on your first box with coupon code HANNAH30! Ends 10/20.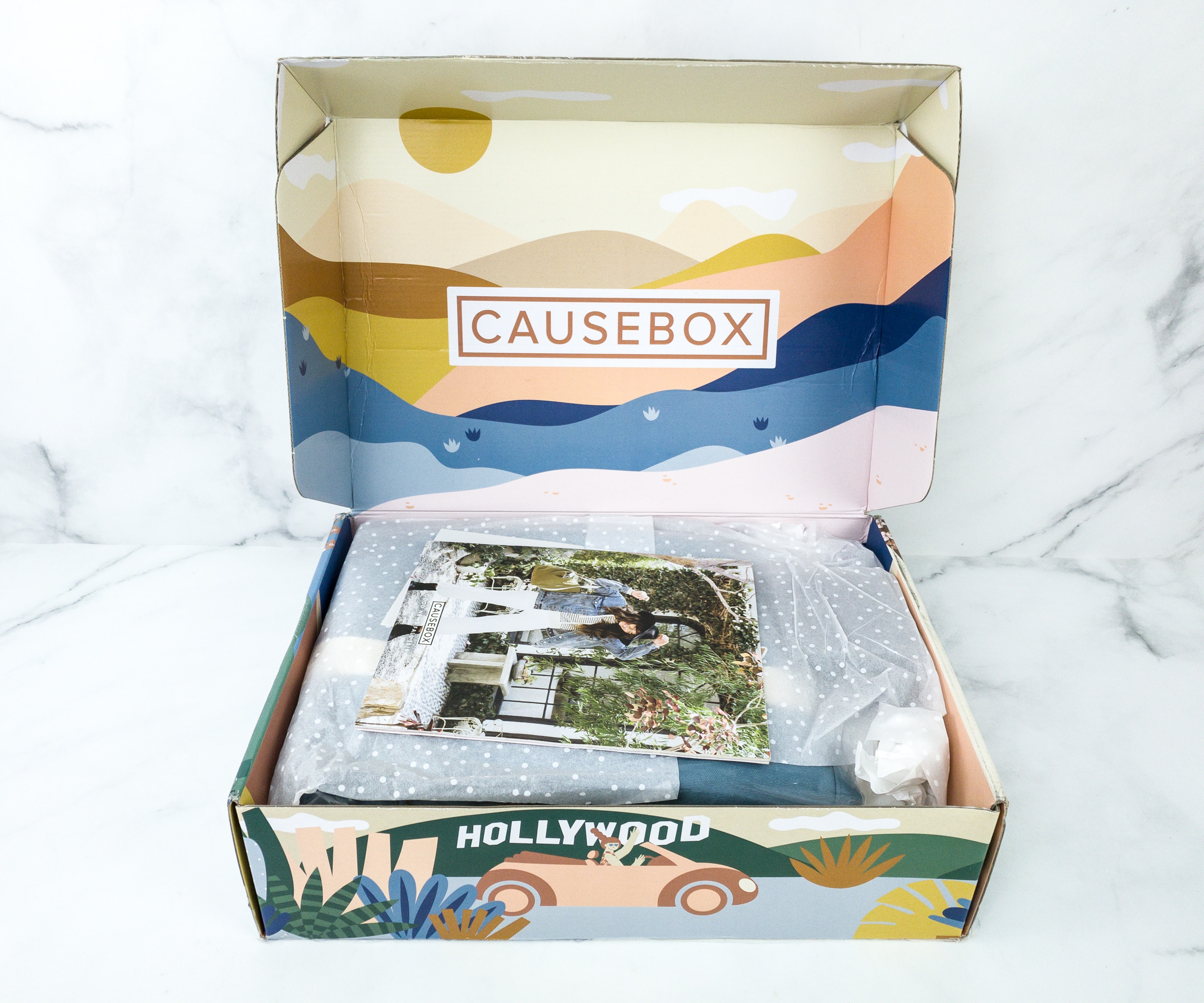 A mini-magazine welcomed us upon opening the box.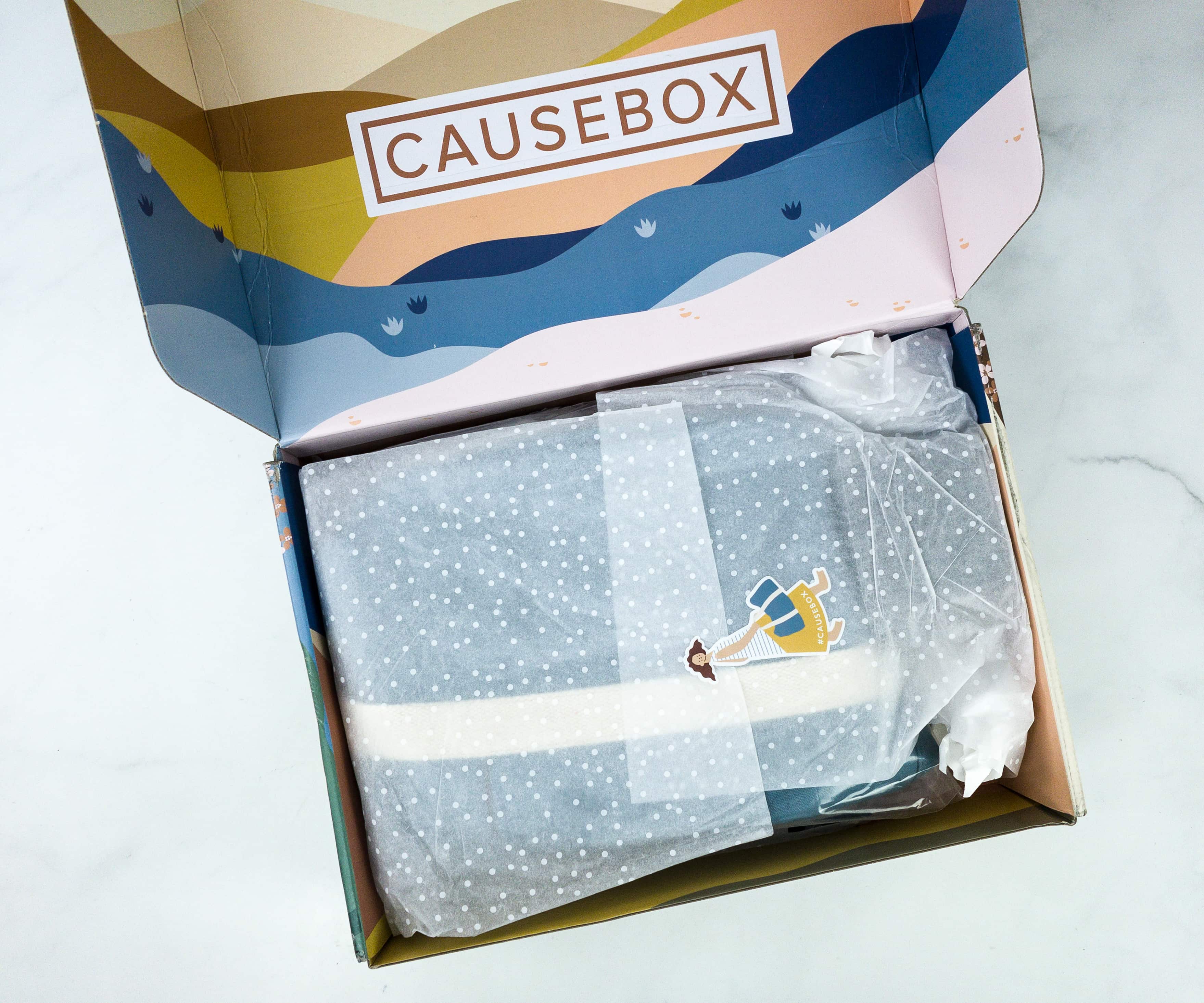 The items are wrapped in a thin tissue paper and sealed with a sticker.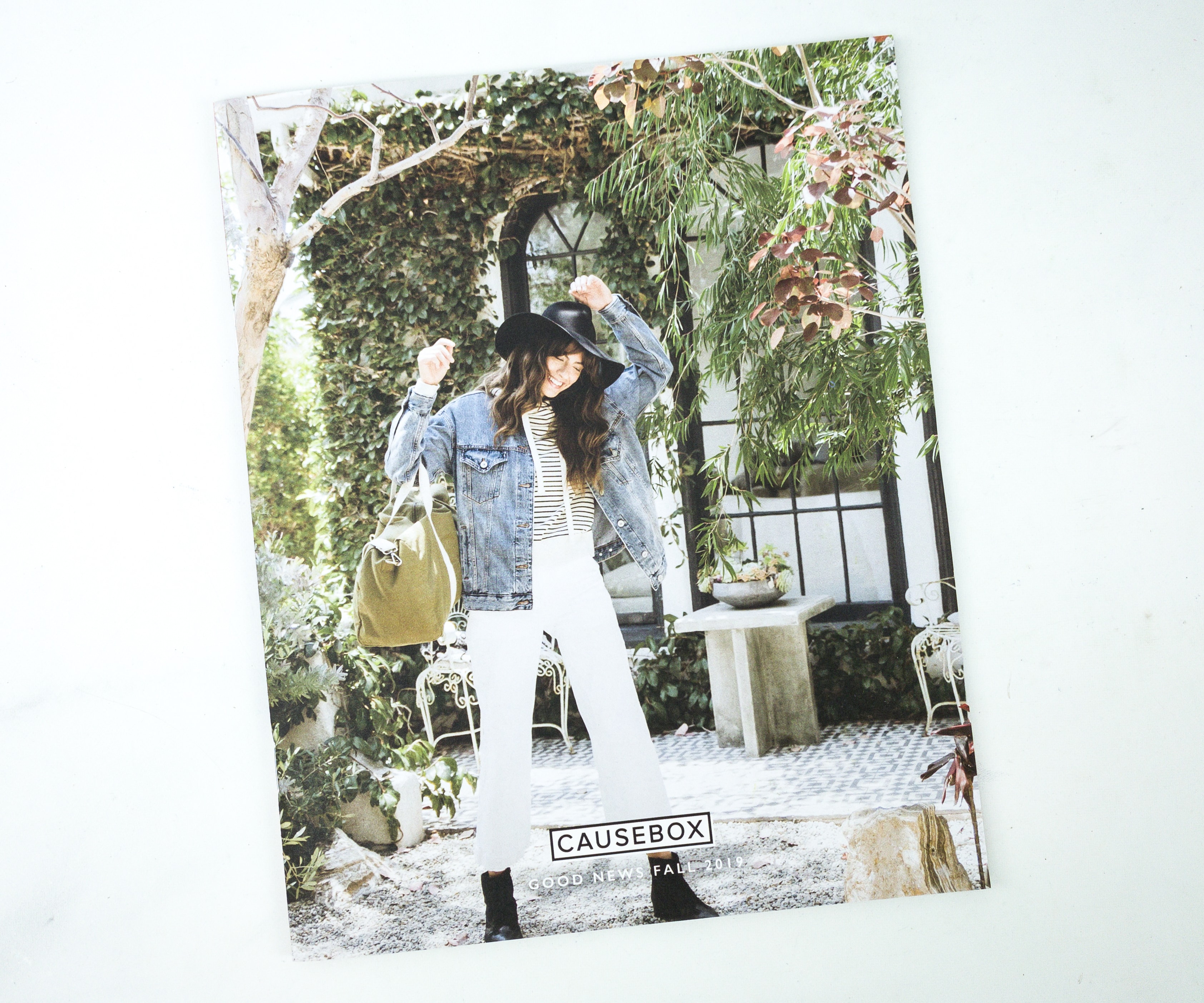 The mini magazine is packed with useful information.
It features lots of brands, just look at this page as it shows lots of brands and their corresponding feature page in the mini-magazine.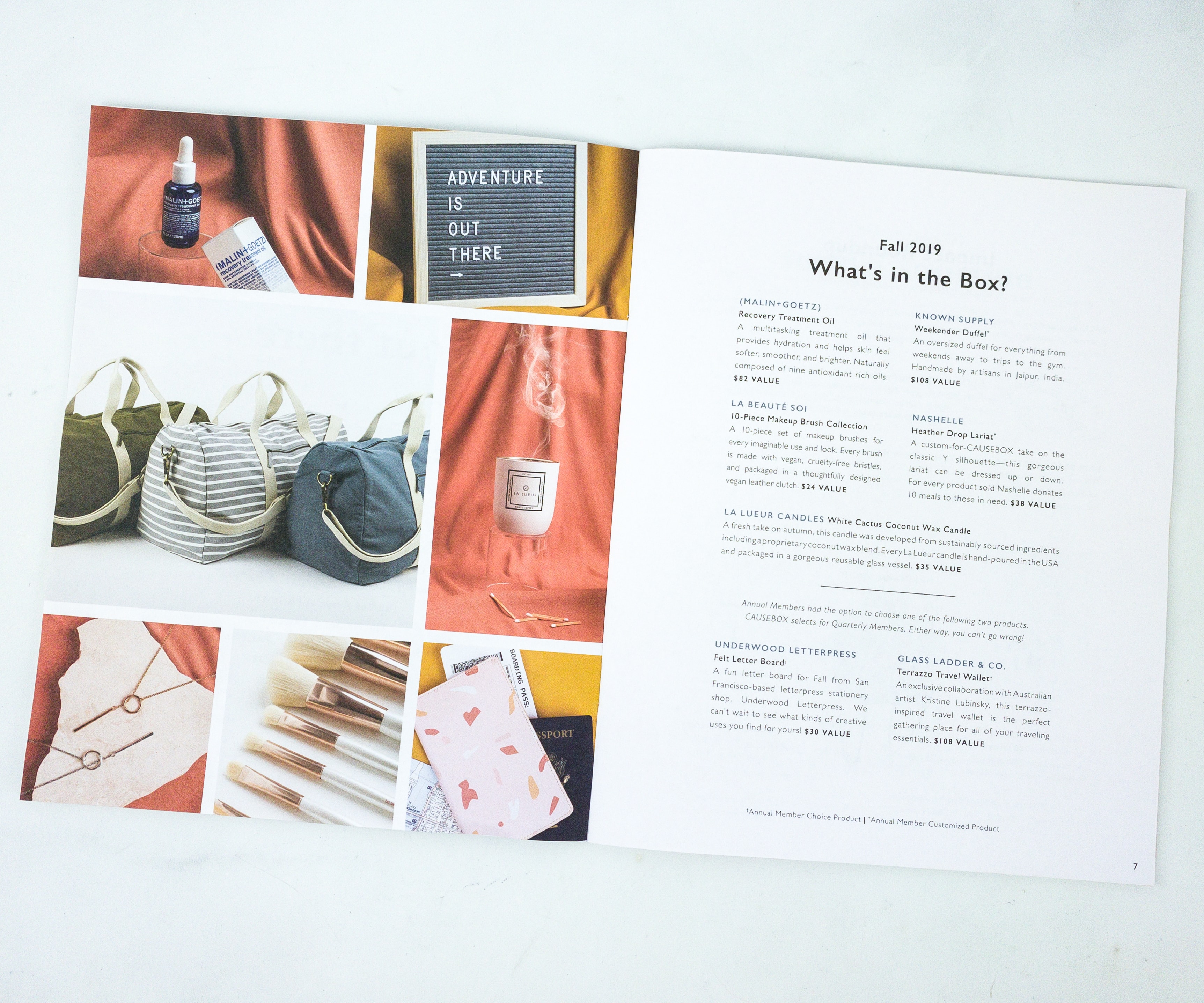 This page lists the contents of the box and some brief description about each of them.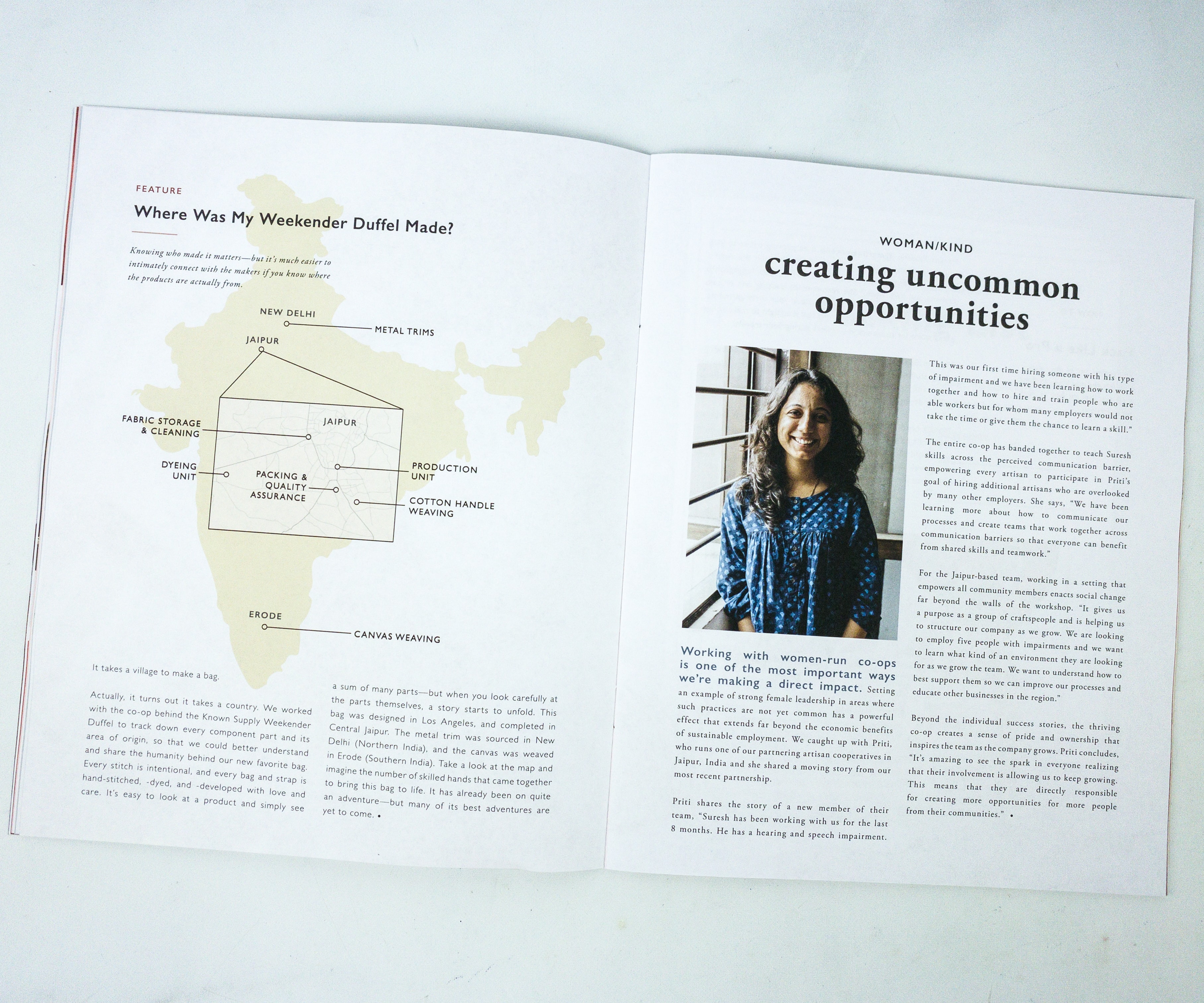 One of the feature articles in the mini-mag is about the included Weekender Duffel.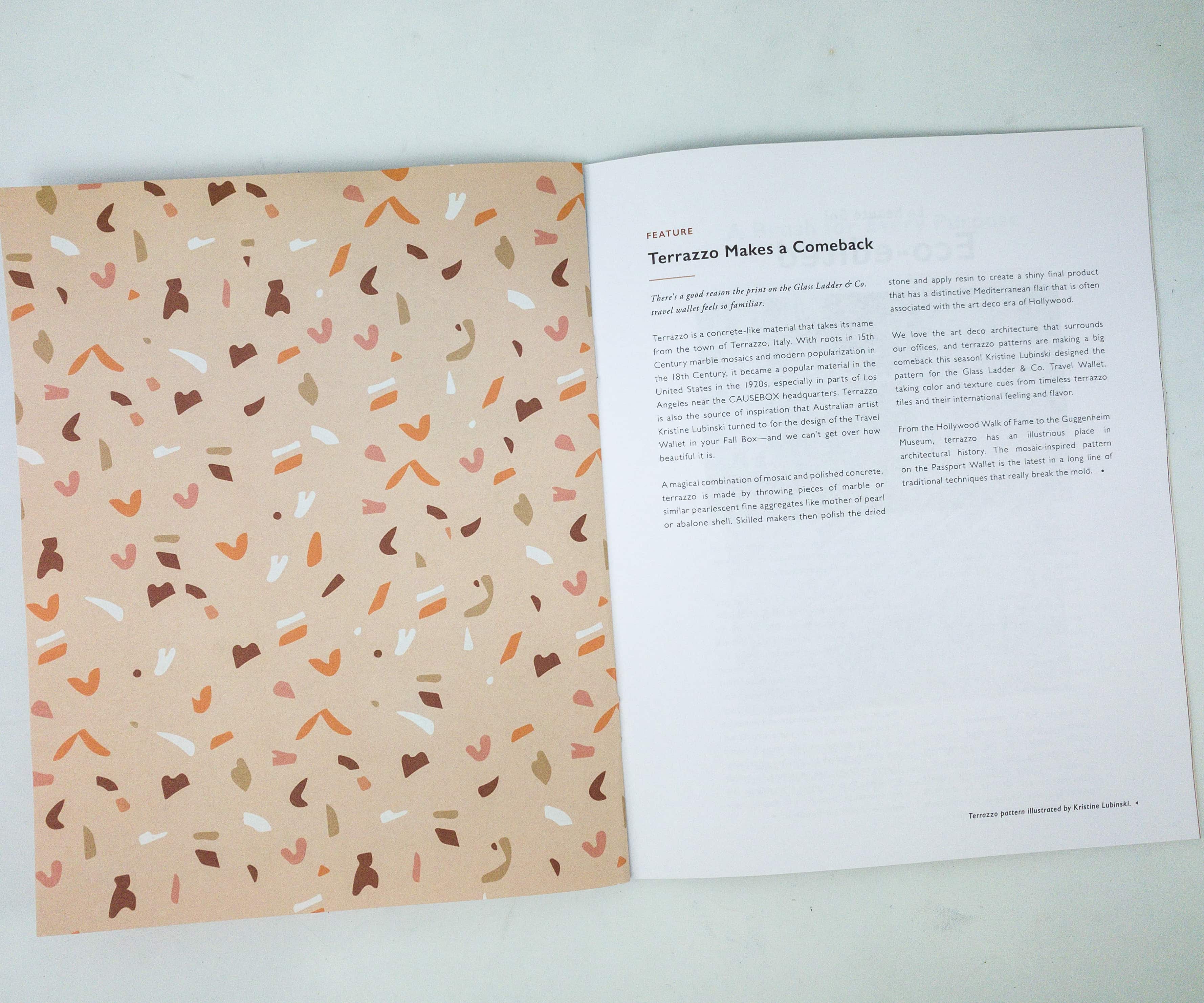 The features inside the mini-magazine are really interesting, and some are even informational or talks about certain items included in the box.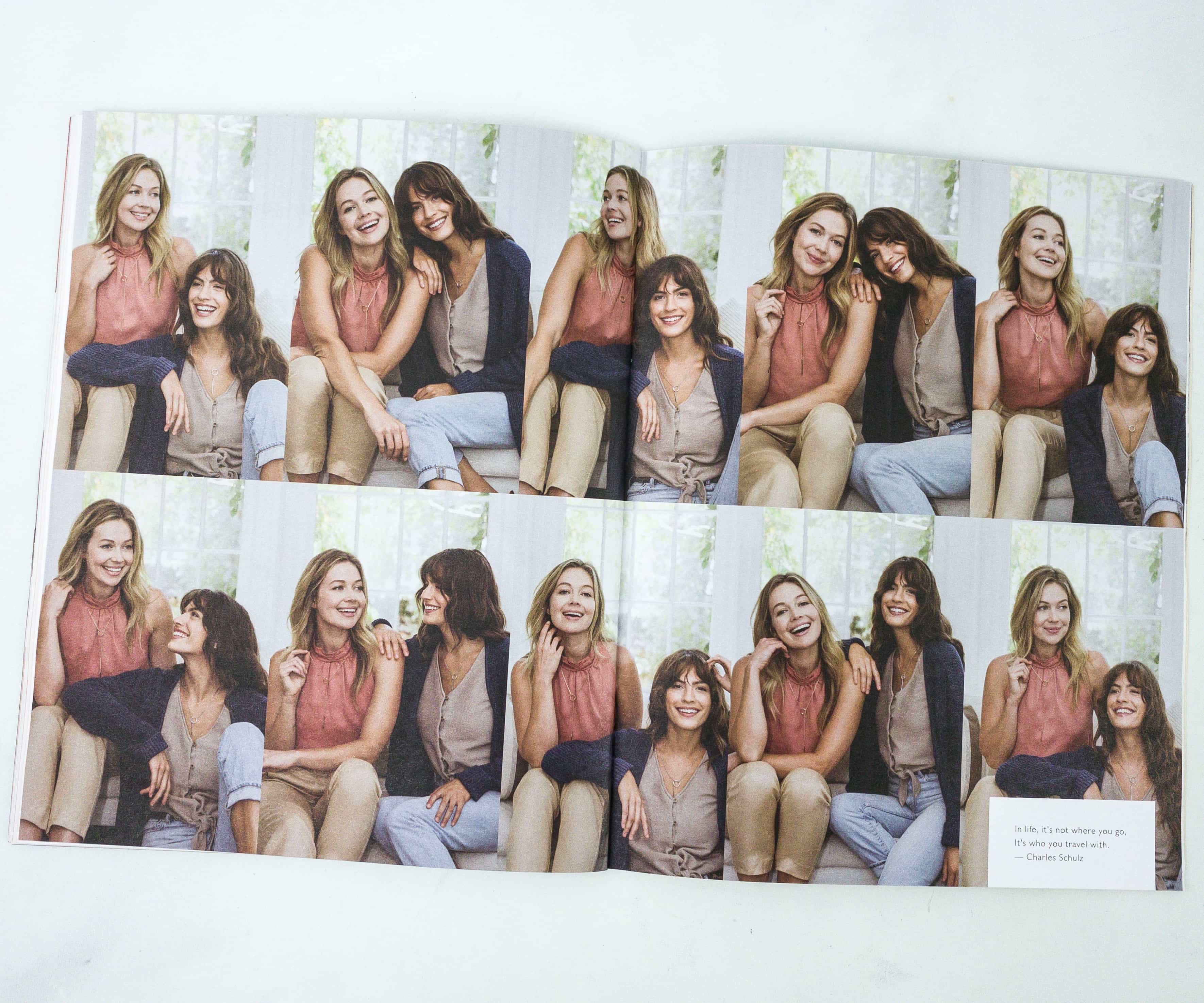 Here's a full spread that features a beautiful friendship!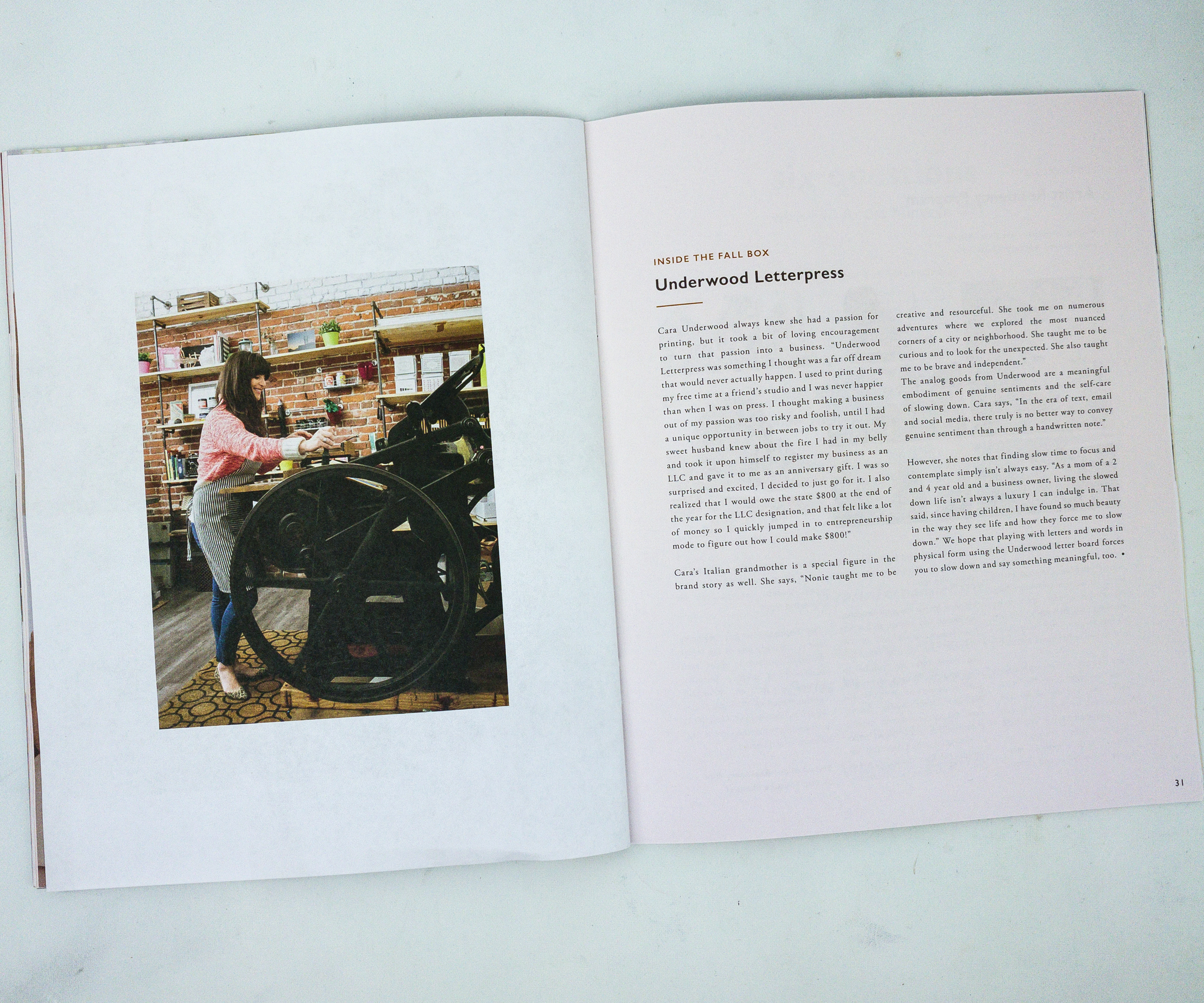 Another article is about Underwood Letterpress.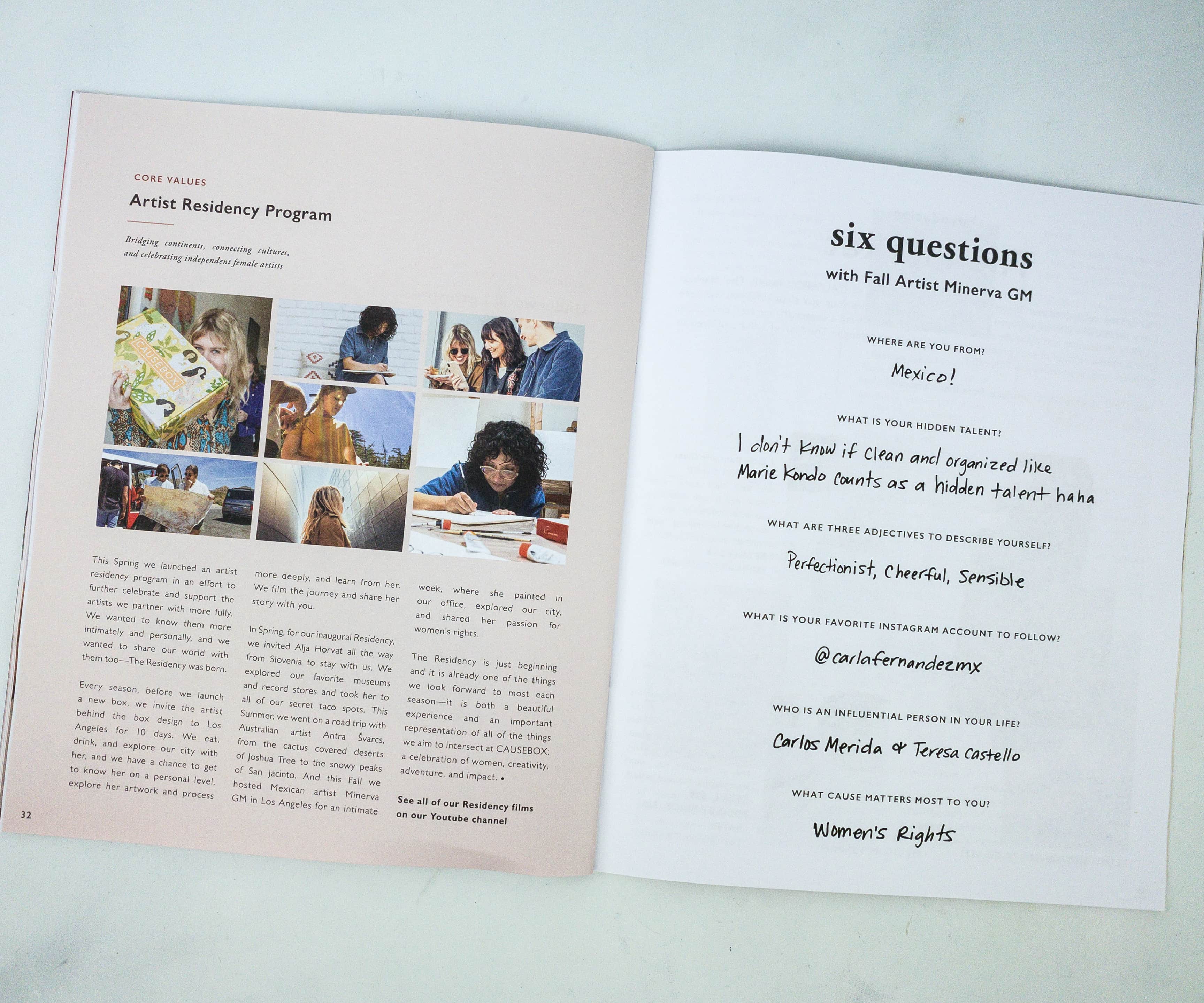 There is also a core value feature this season, and it's the Artist Residency Program. There's also a Q&A with the Fall artist, Minerva GM!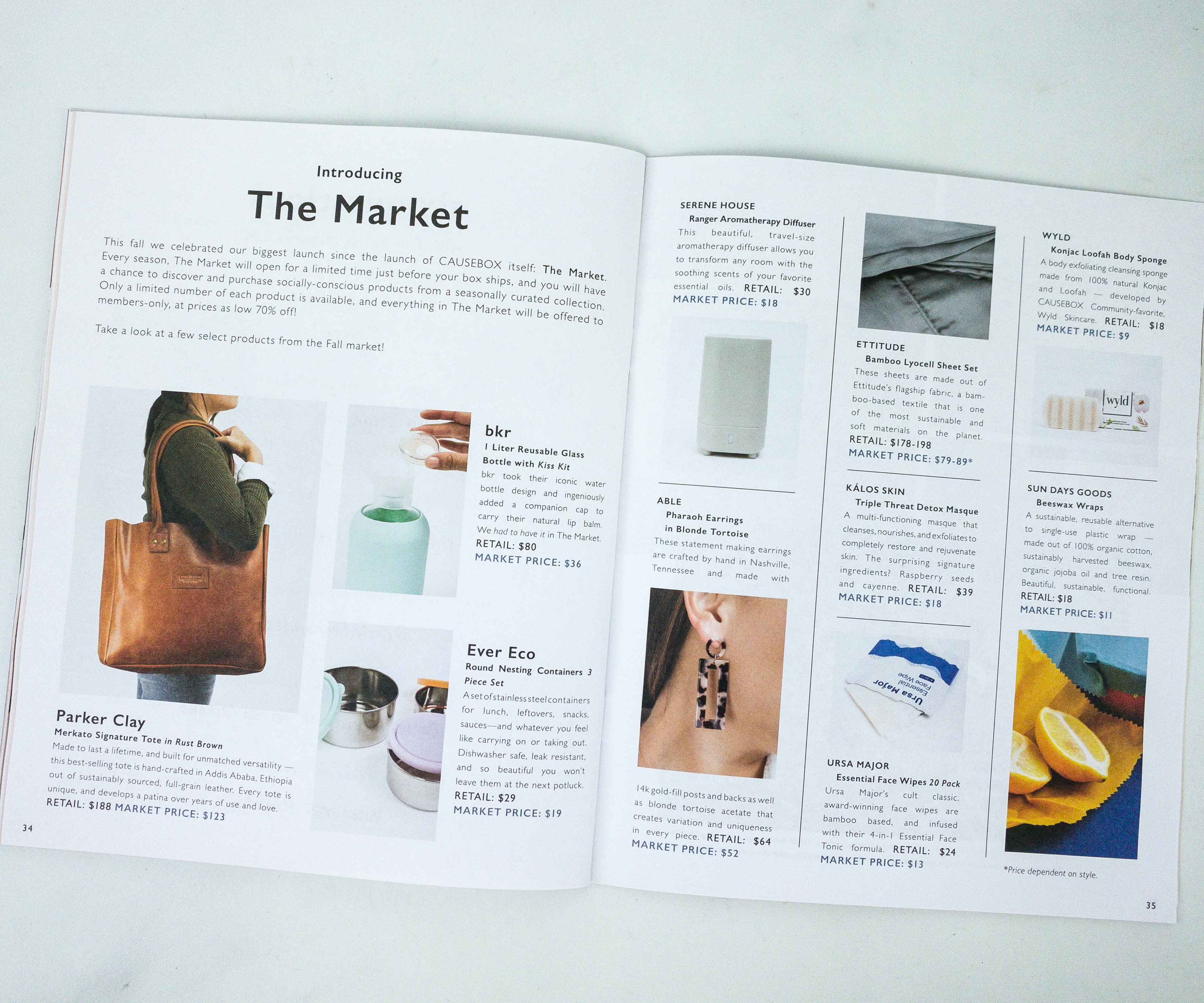 The Market will be open for a limited time before the box ships, and this will feature products that you can purchase. Each product is limited, and will only be offered to members only at prices as low as 70% off!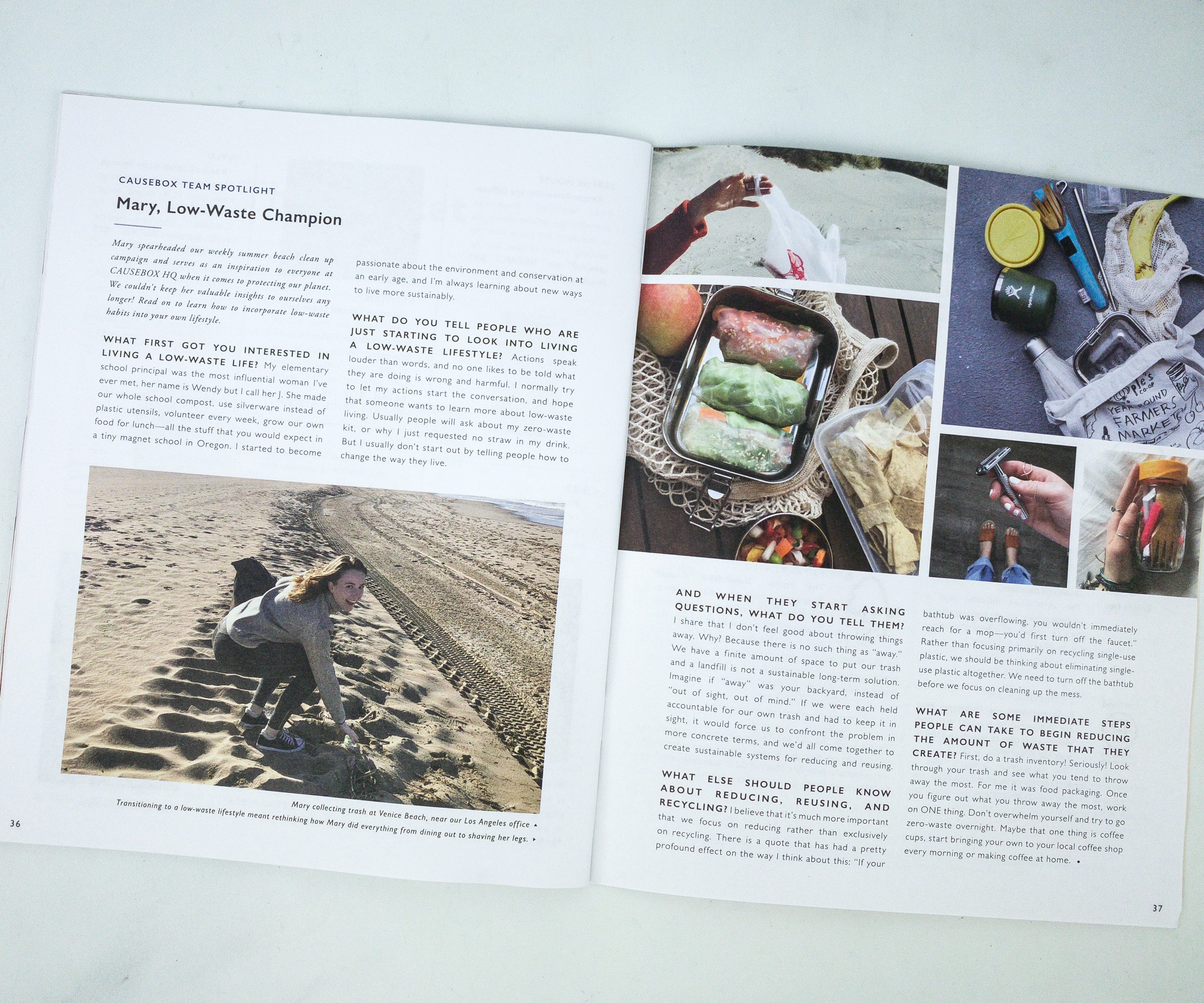 For this Season's team spotlight, they got Mary, a low-waste champion!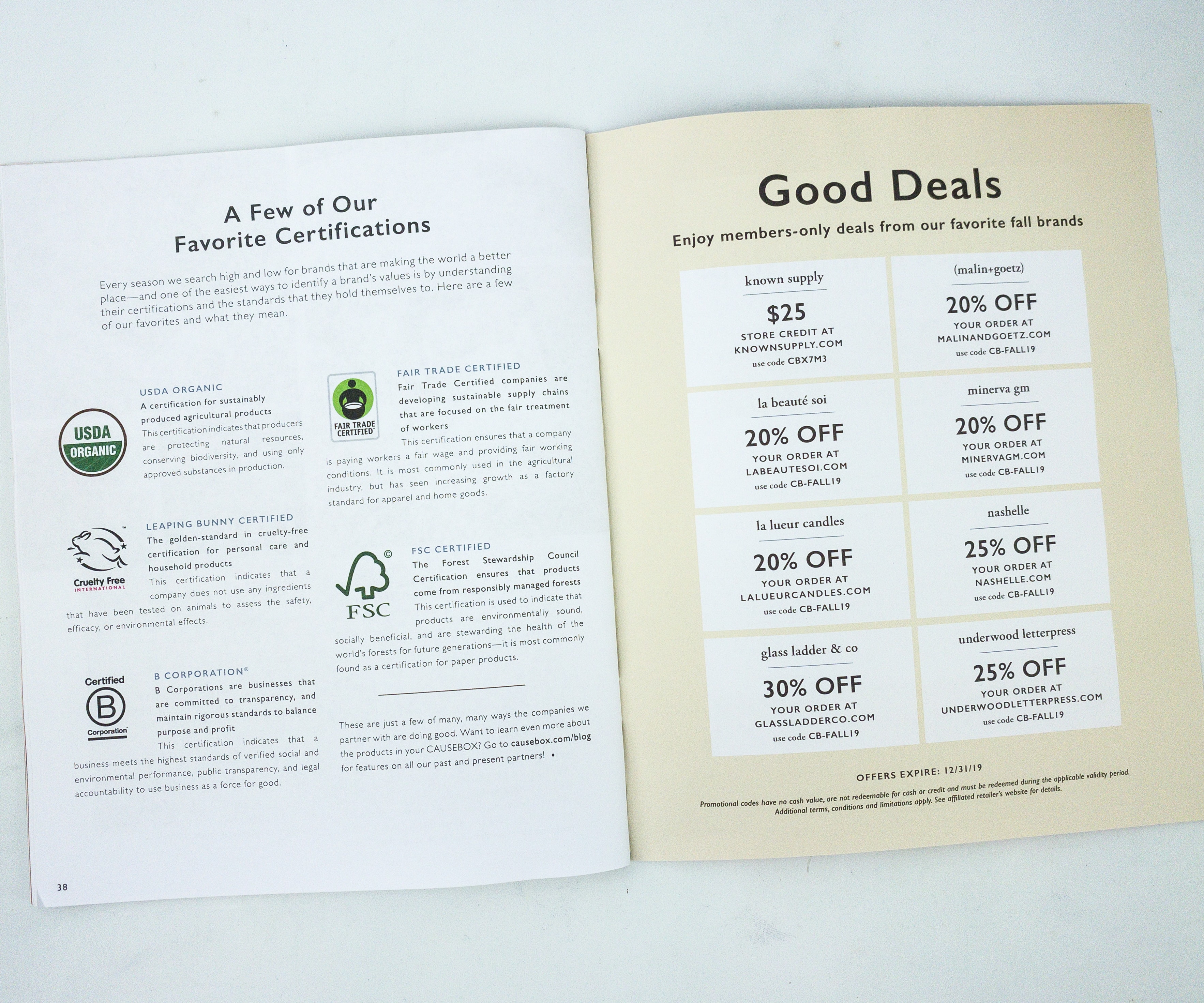 They even listed the product certifications for some of the featured brands. There are also good deals you can find on the other page!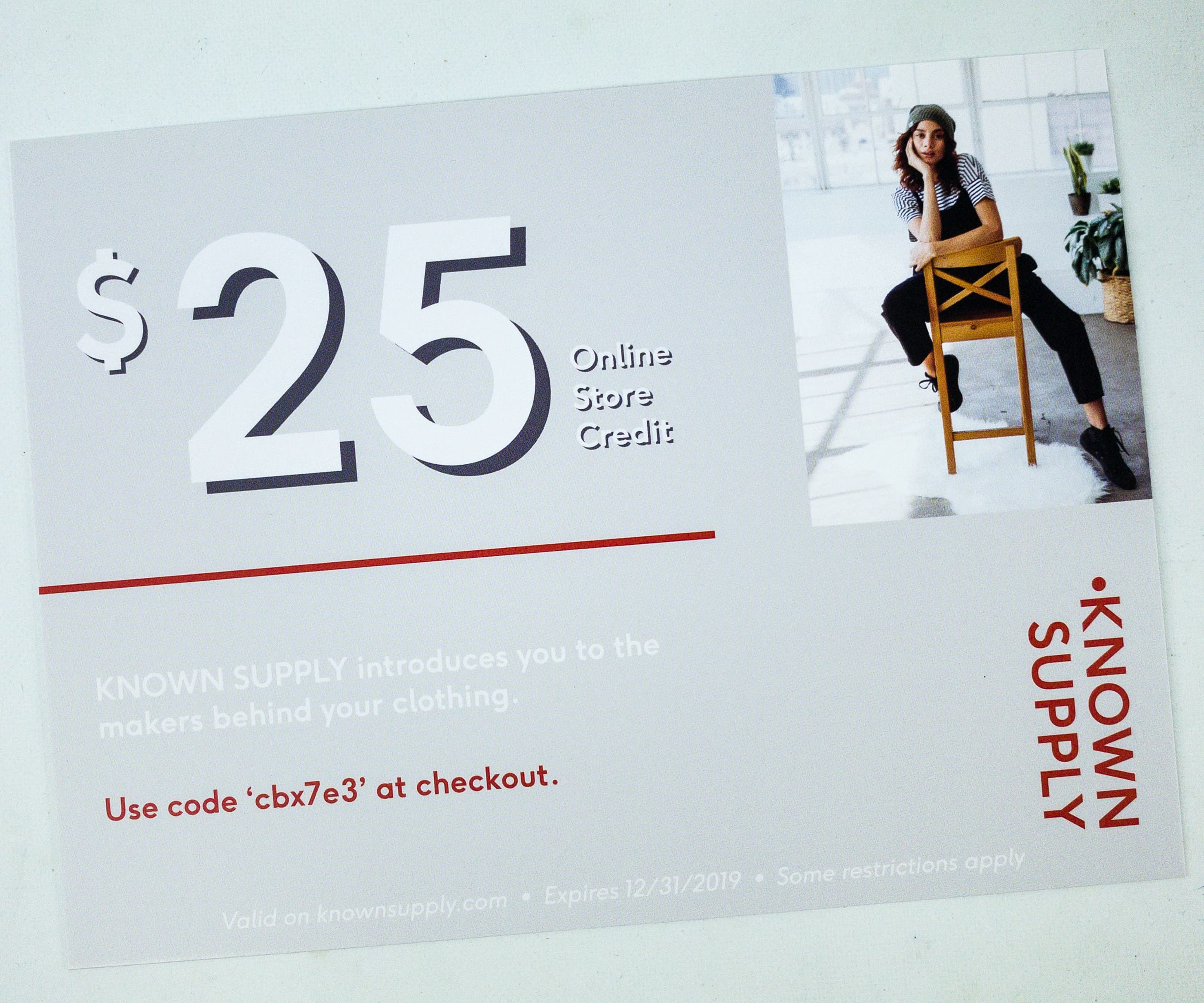 Here's a promotional ad for Known Supply, giving us a $25 online store credit.
The box is jampacked!
Everything in the Fall 2019 box!
Postcard. It's a woman-empowering design/art, as it features women from different walks of life. The back, of course, provided space for notes and the receiver's information.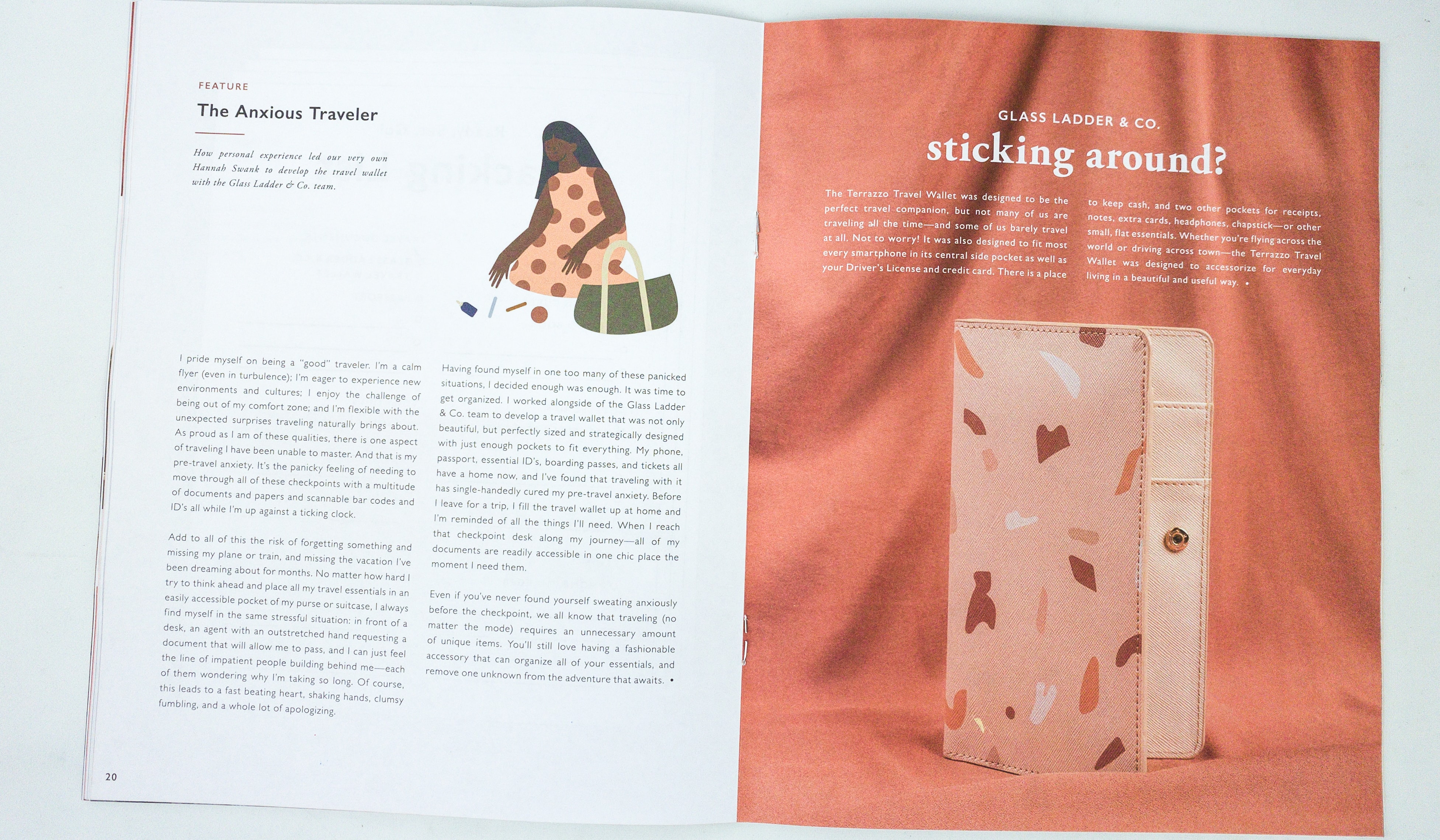 Glass Ladder & Co. Terrazzo Travel Wallet ($45) This beautiful wallet specifically made for travels is designed by Australian illustrator Kristin Lubinski.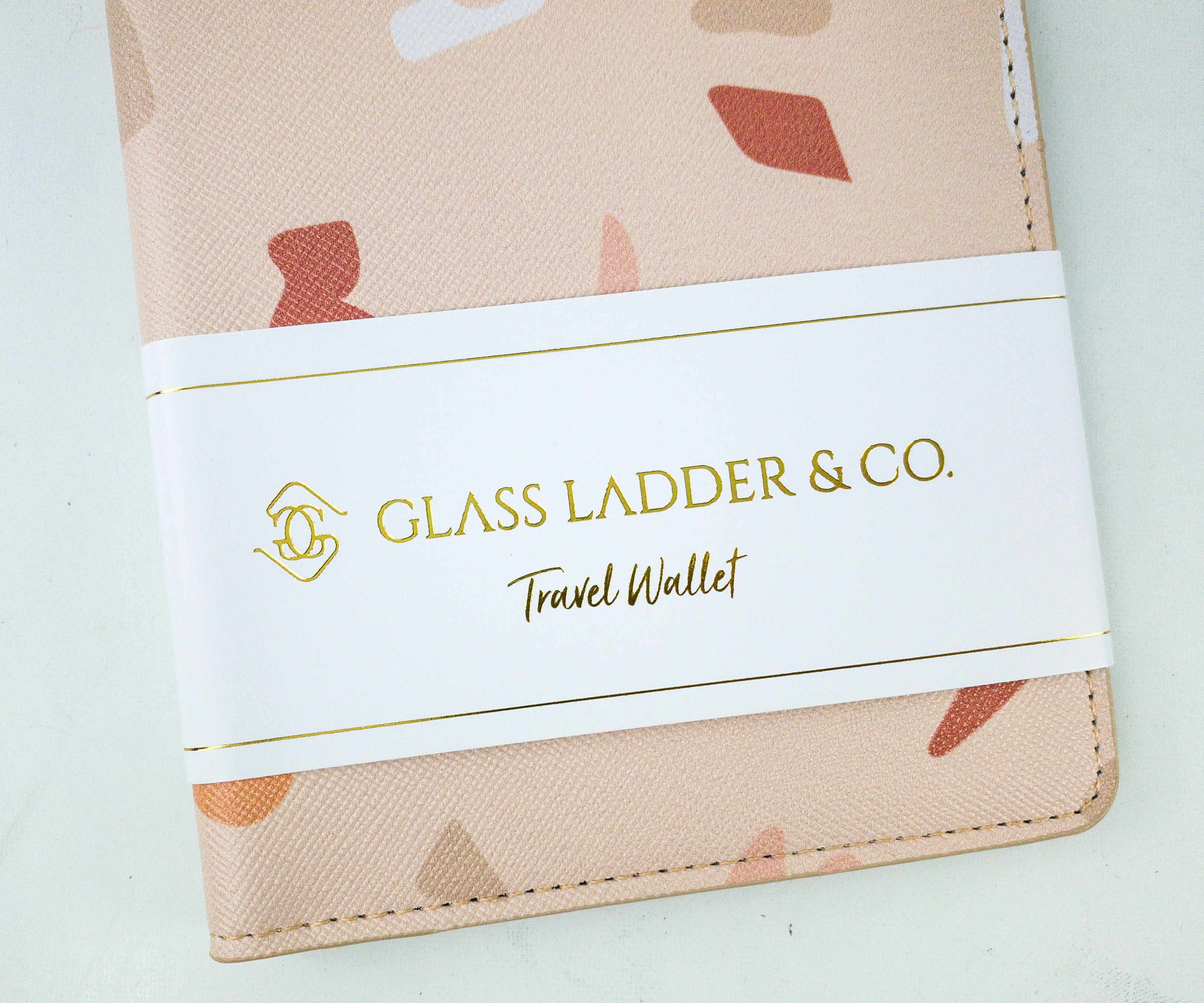 The brand supports persons with disabilities as well. This is a really nice cause as these people need the help most.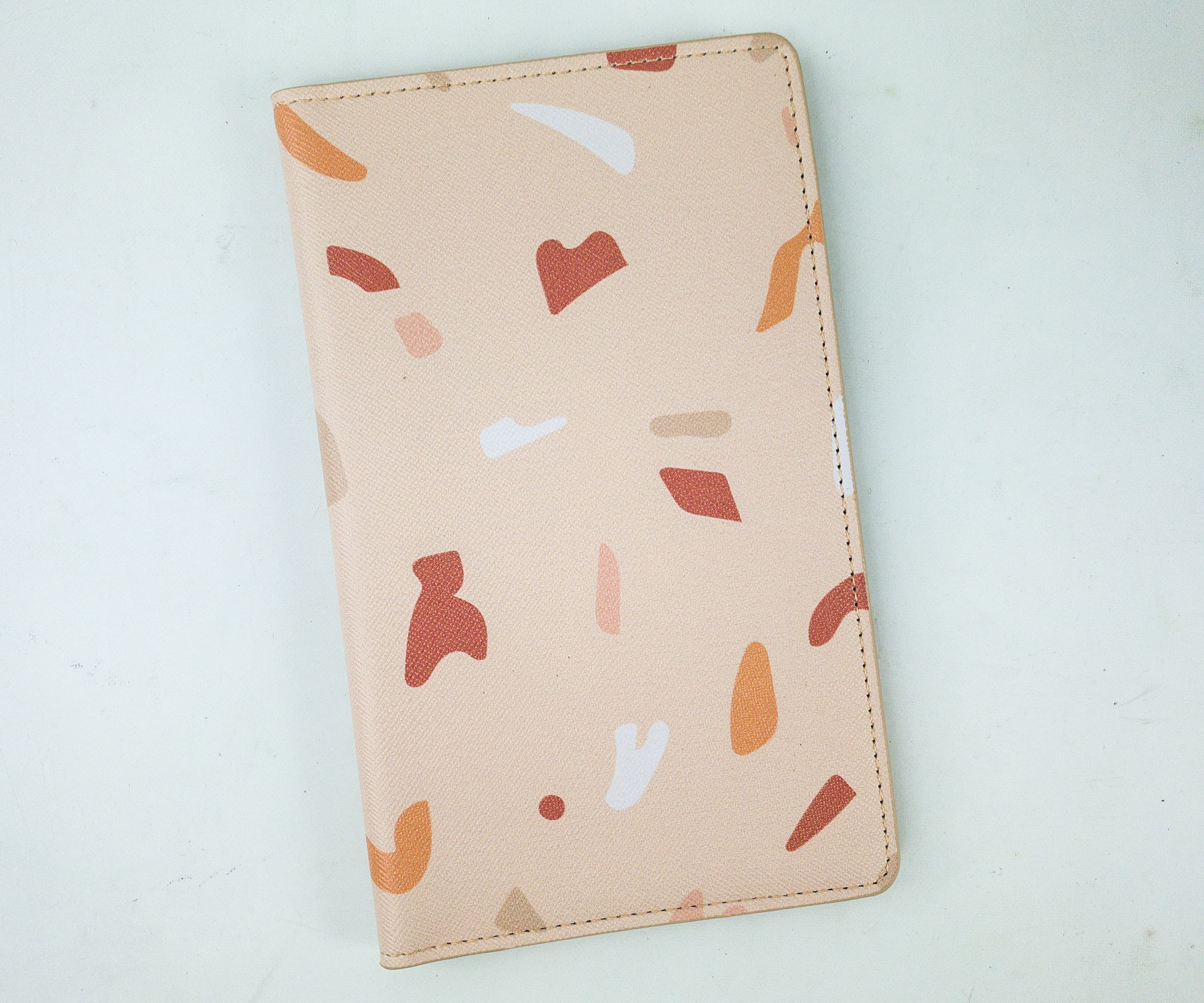 The wallet's pattern design is based on the beautiful terrazzo streets of Italy!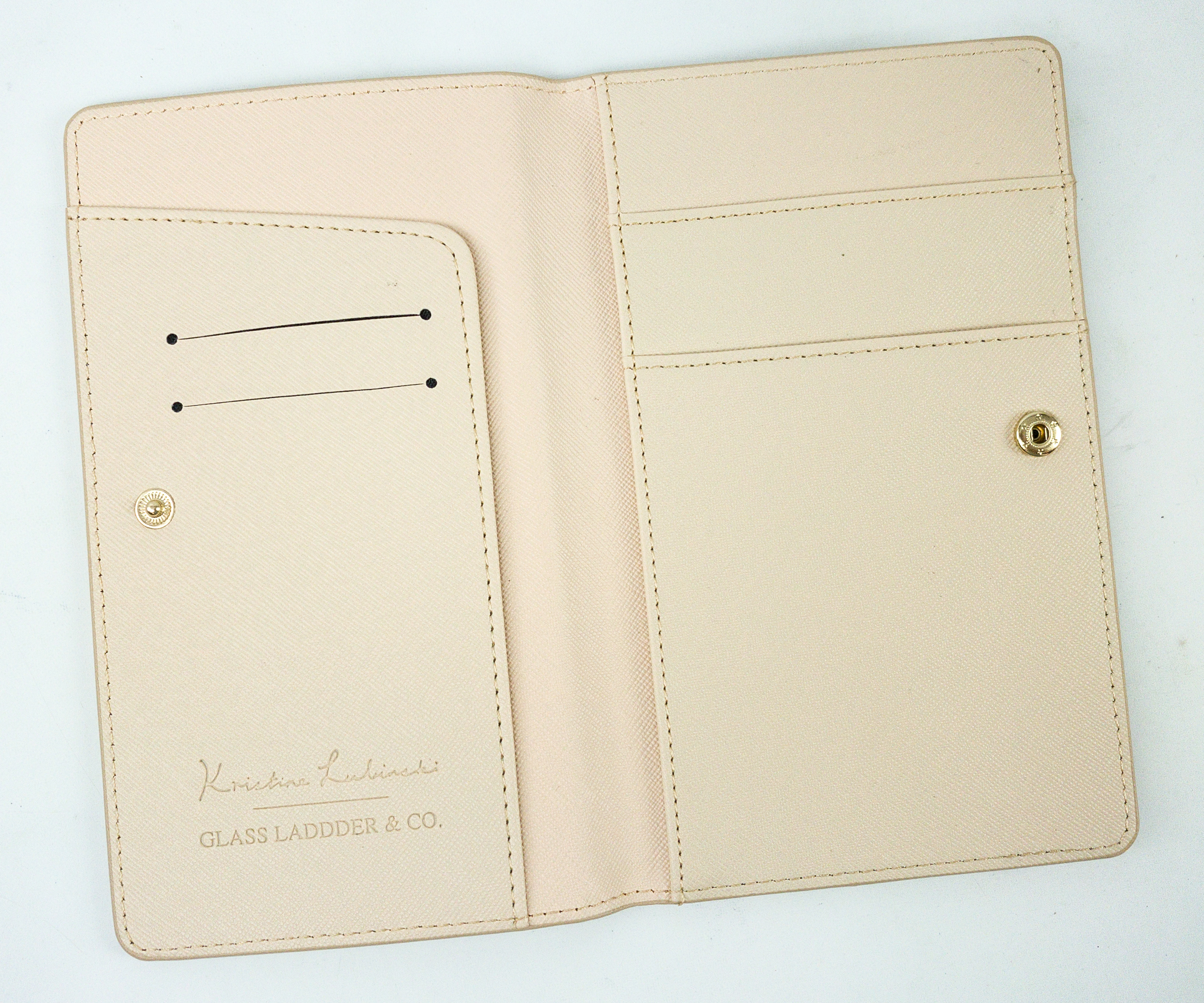 As you open the wallet, there are lots of slots and compartments inside for your bills, cards, and IDs. You will also notice that there are three D's in the word "Laddder", and here's what they have to say:
Everyone deals with challenges when chasing our dreams. But for a lot of people, challenges come and go. People are able to turn away from them, or work around them and know they're a thing of the past. For one in five individuals, that just isn't the case.

BECAUSE 1 IN 5 INDIVIDUALS IN THE UNITED STATES LIVE WITH A DISABILITY.
LA Beauteé Soi 10-Piece Makeup Brush Collection ($24) Ideal for makeup enthusiasts or anyone who does makeup on a regular basis, they included a set of 10 make-up brushes in the box!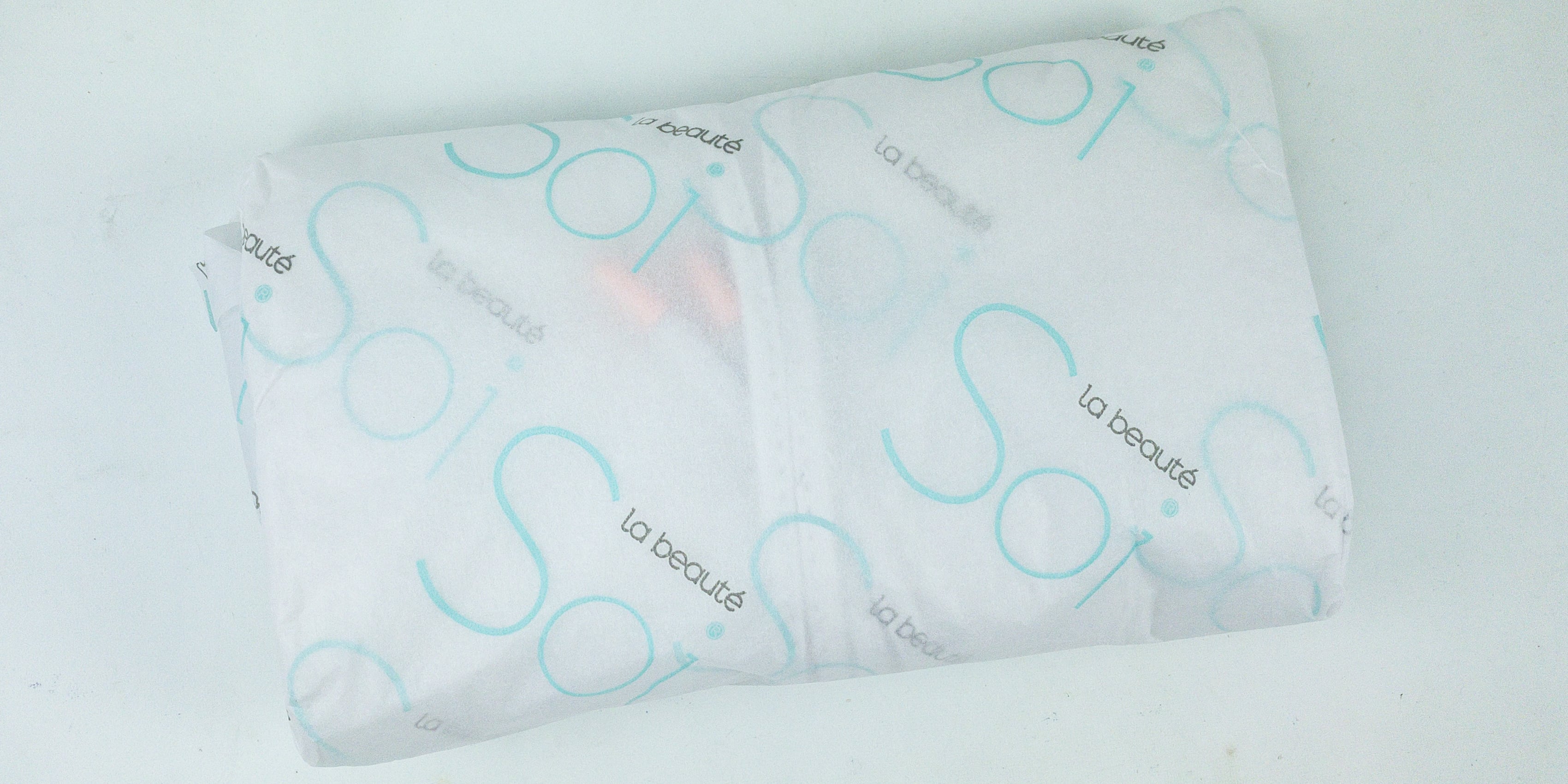 The item was wrapped protectively in a printed white tissue paper.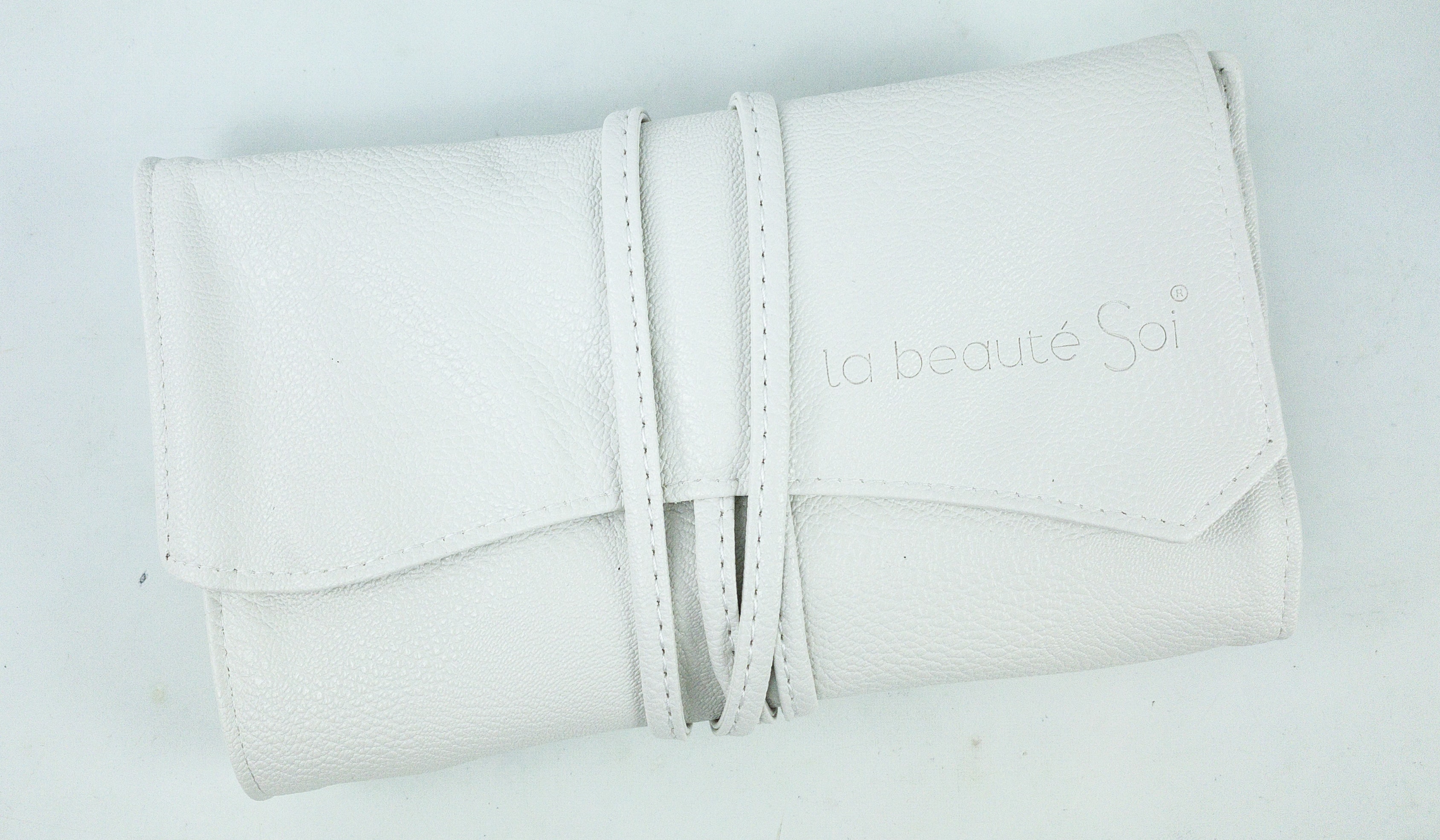 The brushes came in a beautiful white pouch. The brush set is known as the "Snow White Ensemble."
The white faux leather pouch has a soft pink stitching accent. It also comes with a buttoned protective flap to keep your brushes safe.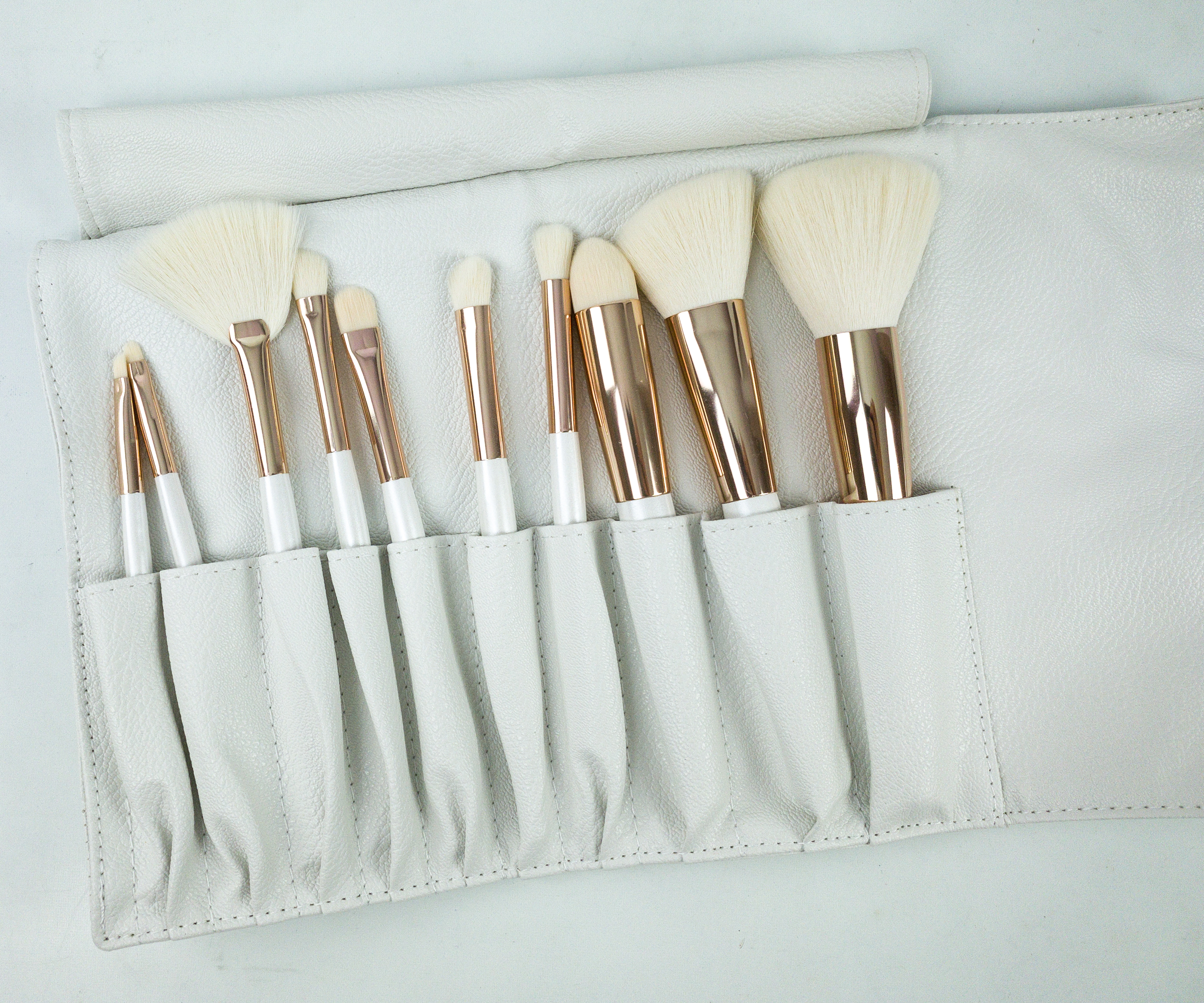 The pouch is foldable so it's really convenient to bring. Each brush has its own pocket as well.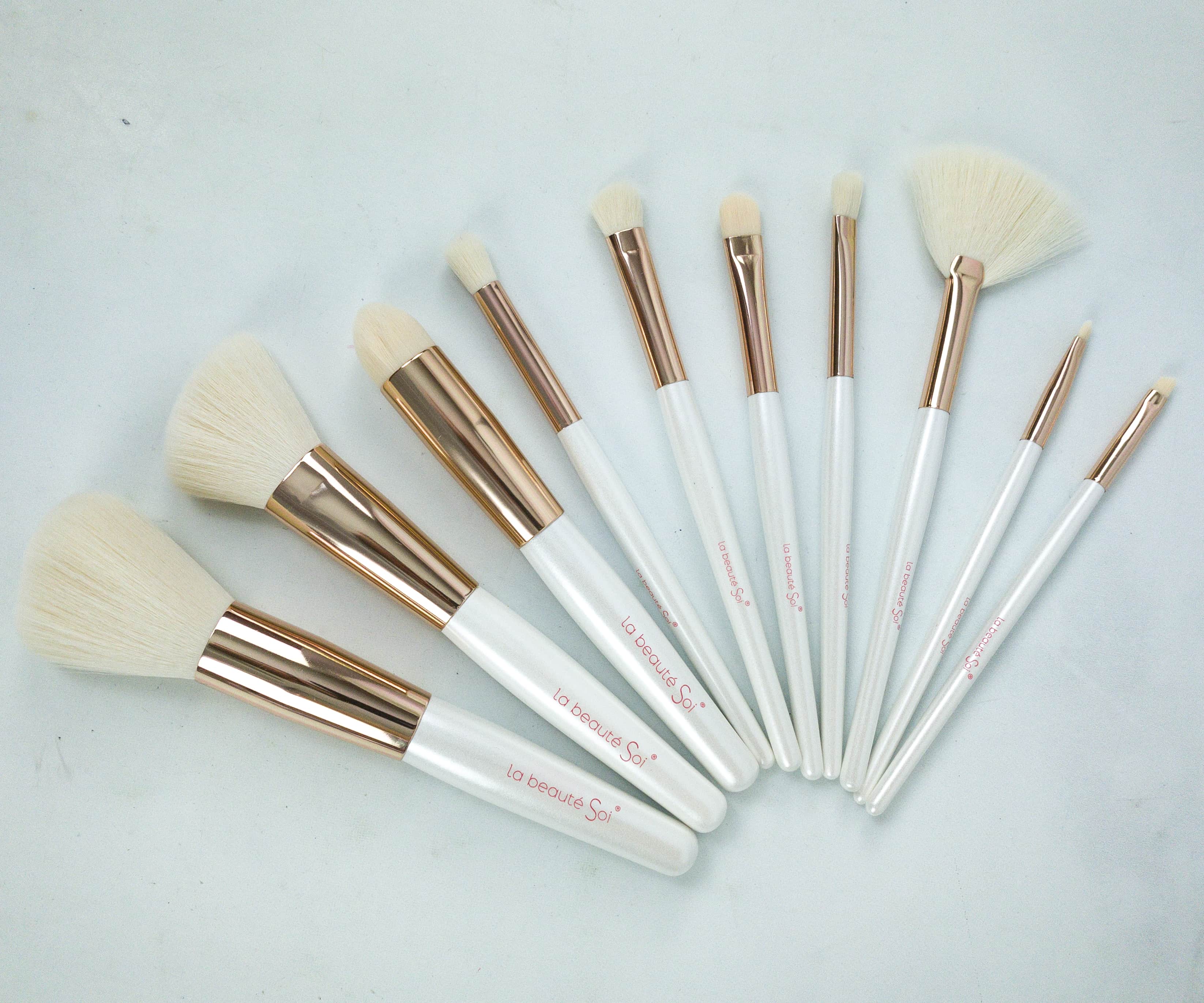 The set includes a powder brush, an angled blush brush, a pointed foundation brush, a blending brush, a flat shader, a concealer brush, an angled shadow brush, a fan brush, an angled liner brush, and a precision brush.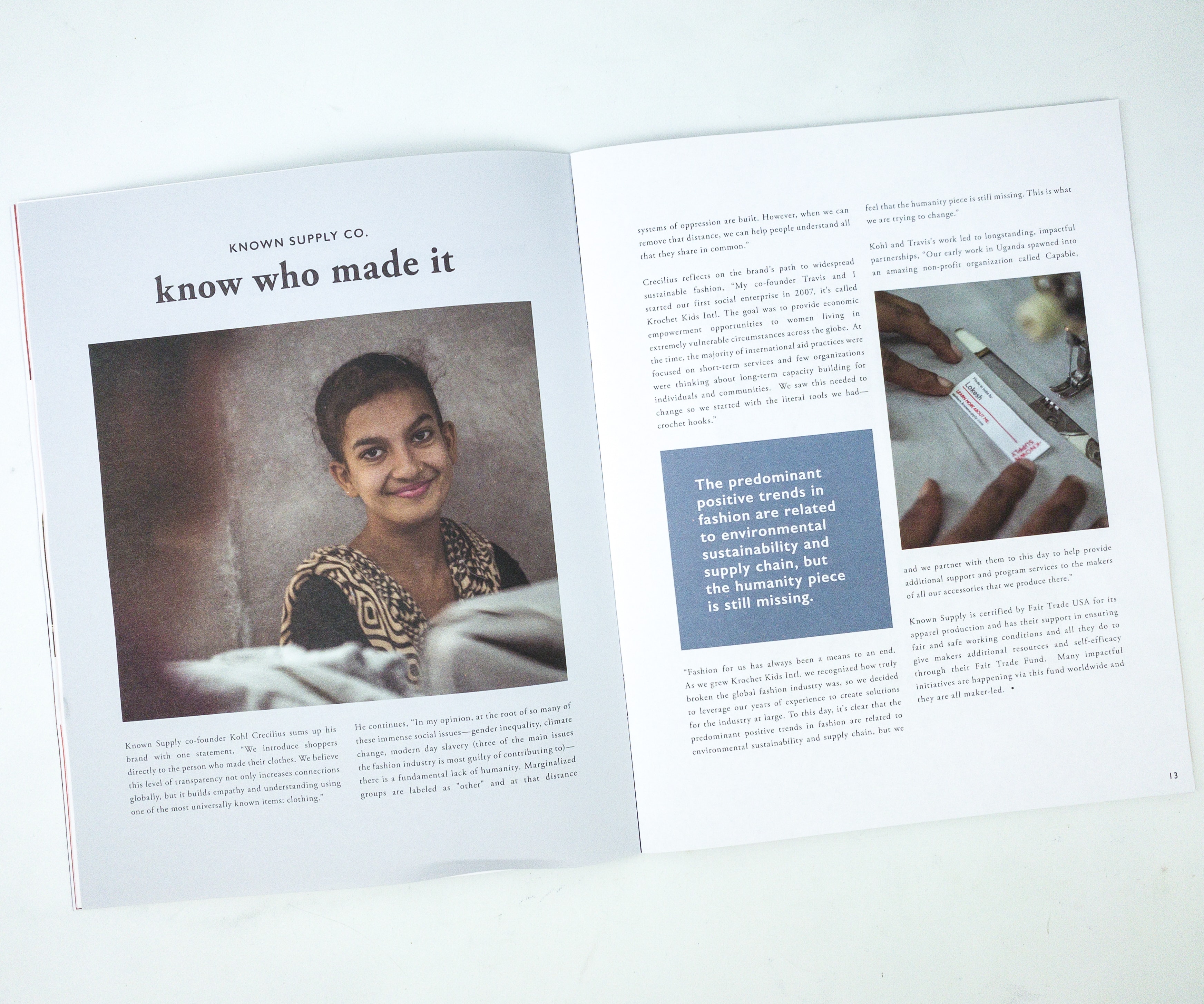 To fully introduce us to our next item, here's an article about people behind the Weekender Duffel, Known Supply Co.!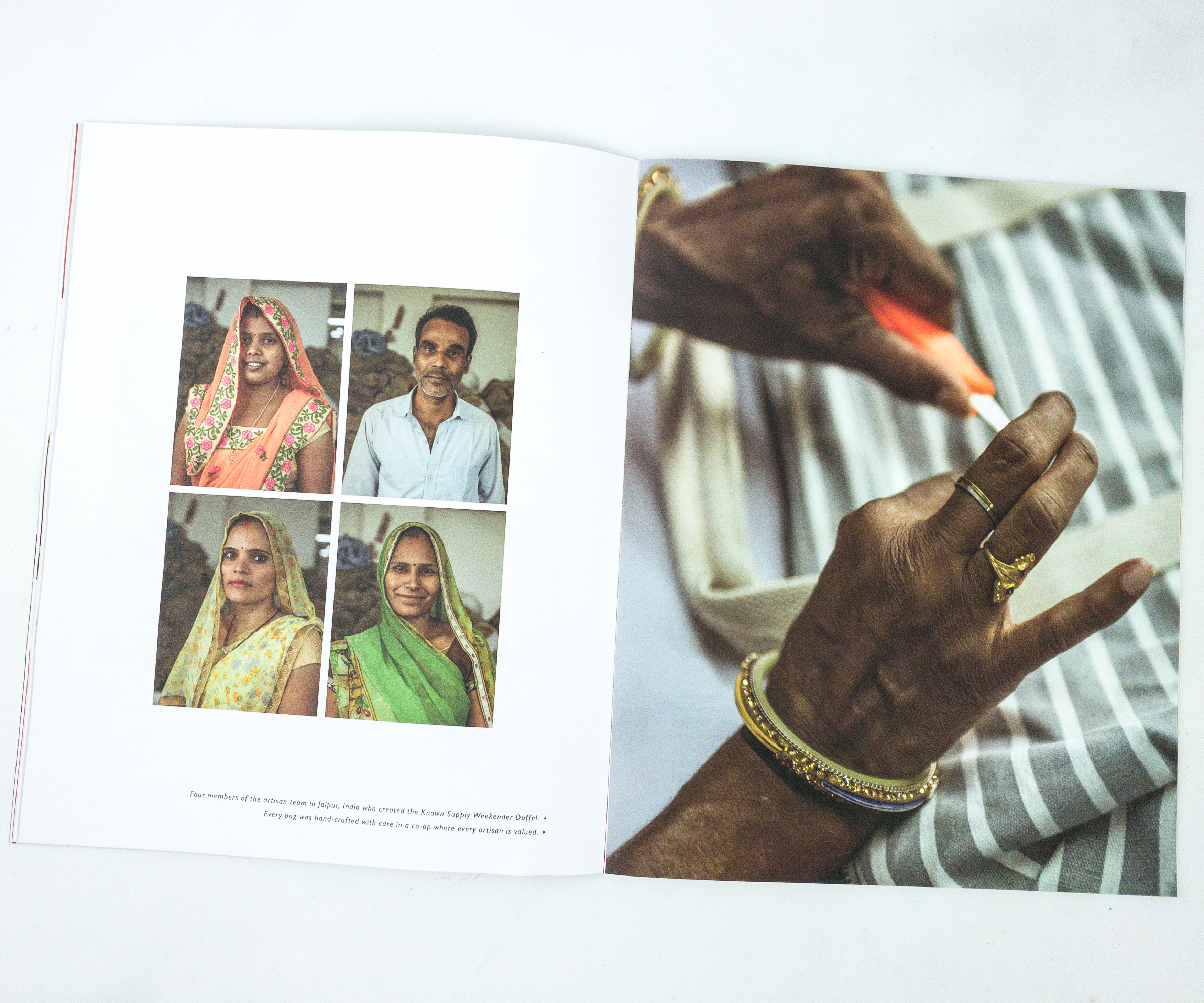 Known Supply Weekender Duffel ($108) Known Supply Co. is known for celebrating the people who made the products, instead of leaving them faceless and nameless. And from this great group of makers, I got a beautiful Weekender Duffel in Lake Blue!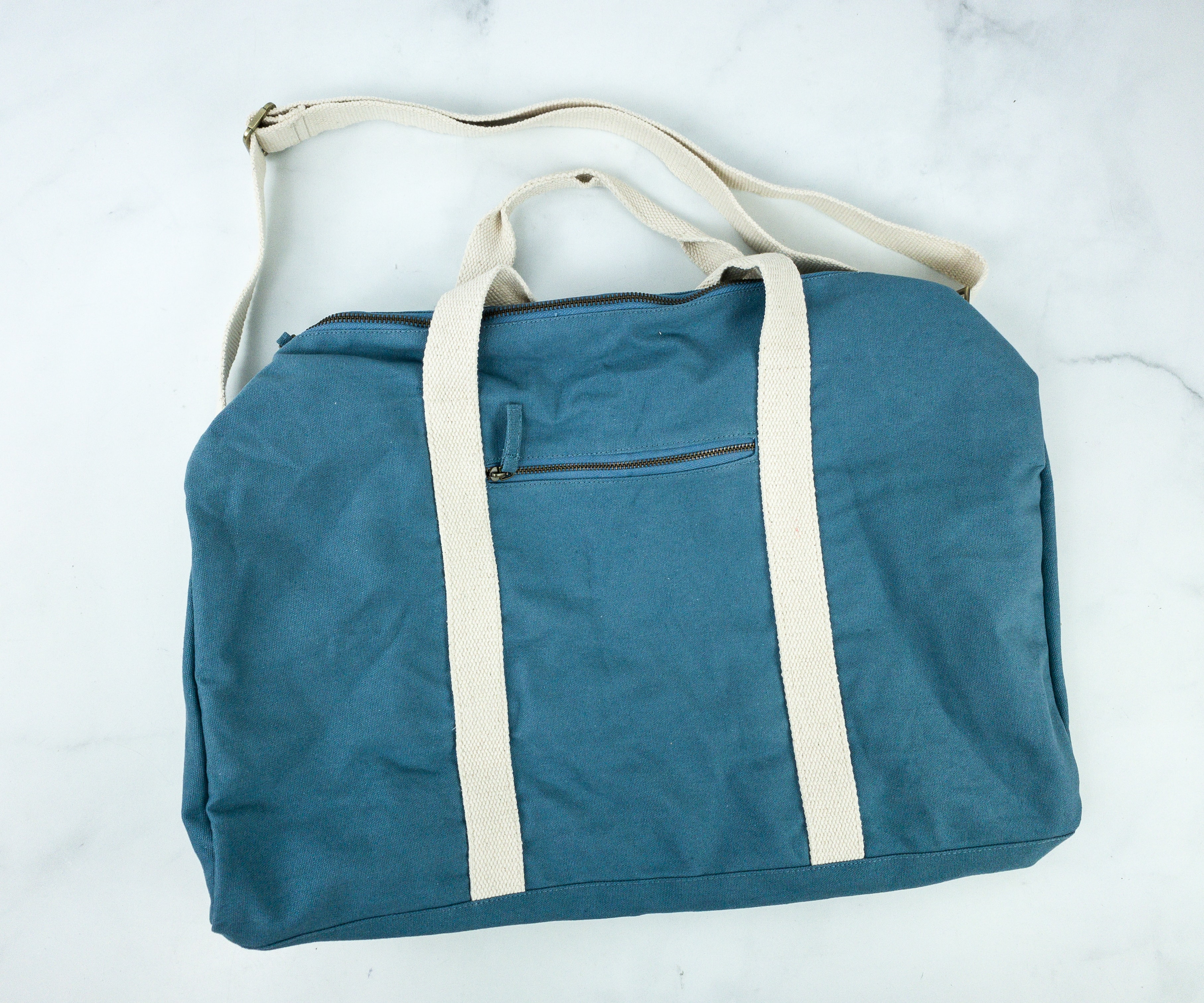 It's the perfect bag for an overnight trip or a weekend getaway! It can fit some pieces of clothing and essentials for your short trip. It has a zipped outside pocket where you can stash smaller items.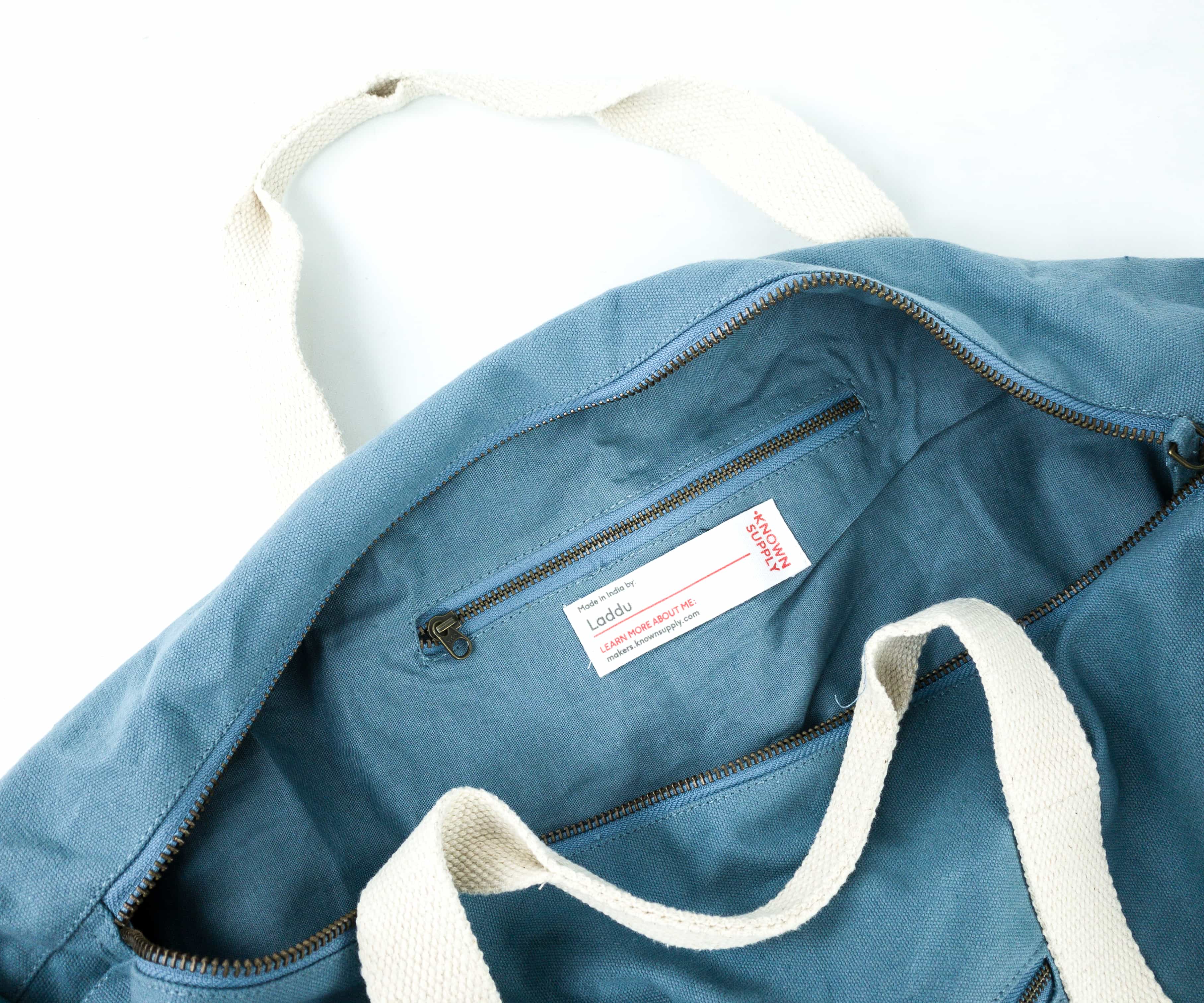 The bag has a zipped pocket inside the largest compartment. The tag inside the bag even named it's maker, Laddu from India! Nice job, Laddu!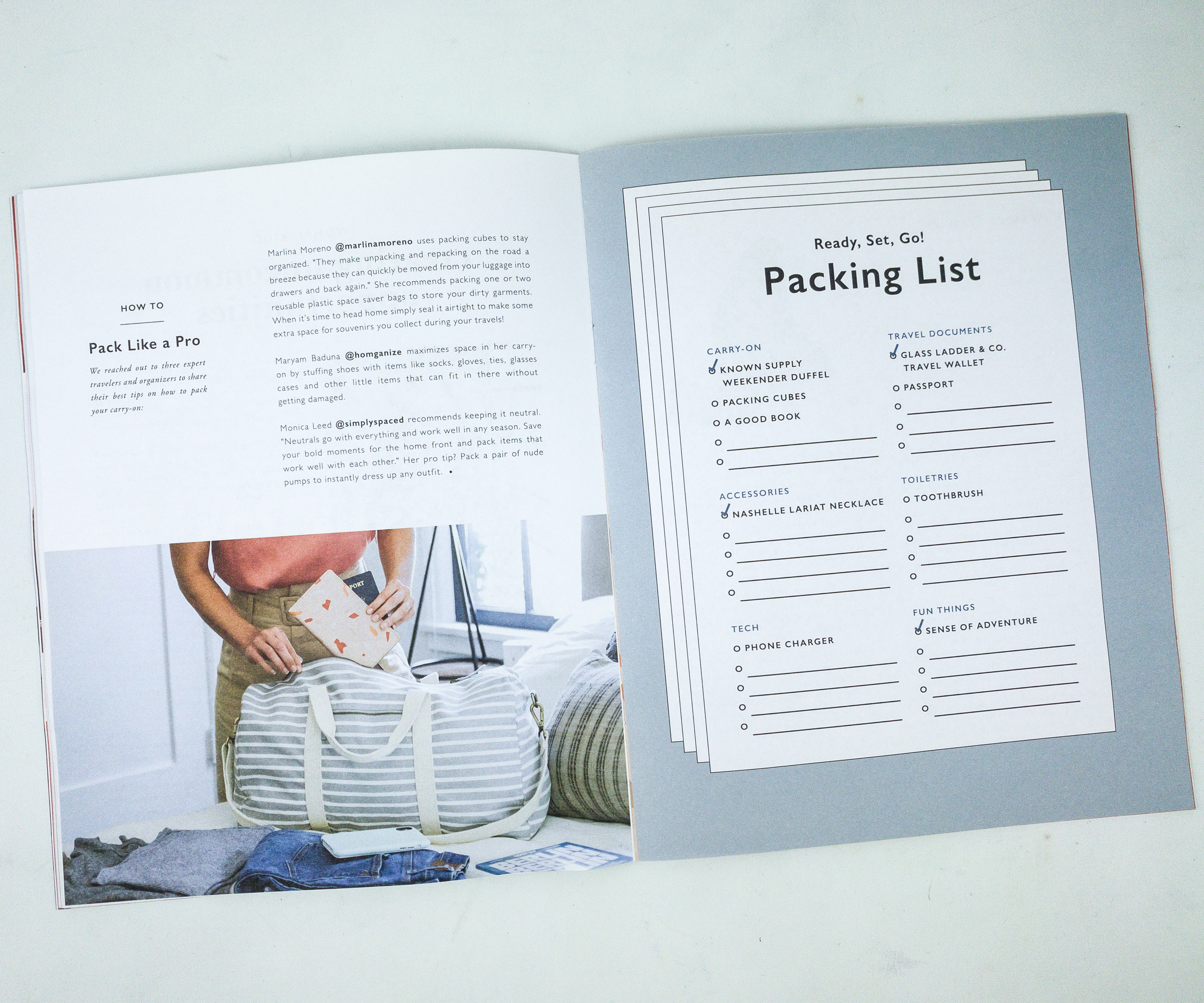 The magazine provided us with a packing list, and gave us some tips to pack like a pro!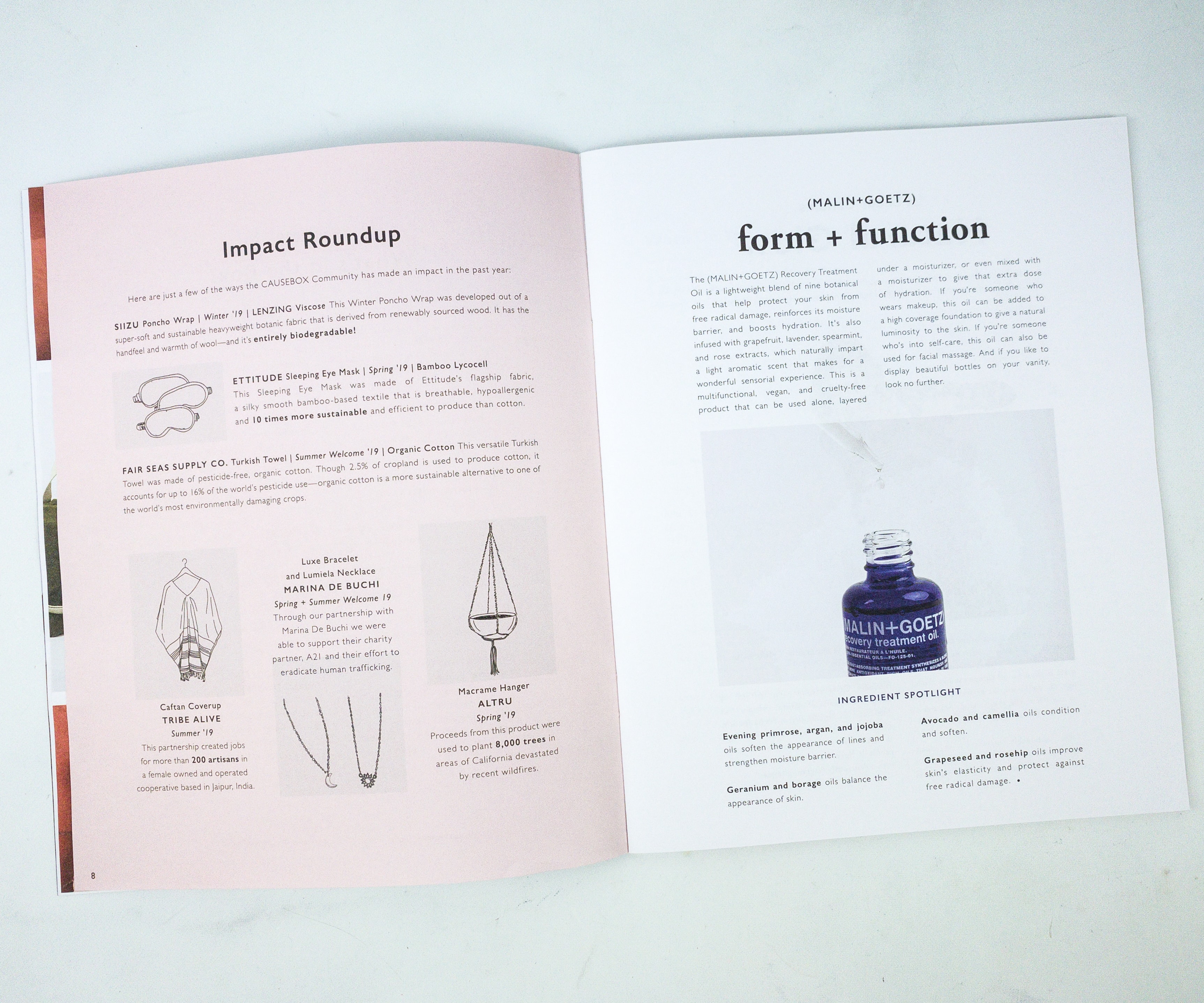 Malin + Goetz Recovery Treatment Oil ($82) The next thing I got is a bottle of recovery treatment oil from Malin + Goetz. It has nine natural oils that multitask to help protect me from free radical damage and give my skin a refreshed appearance: evening primrose, argan, jojoba, grapeseed, rosehip, geranium, borage, avocado, and camellia oils!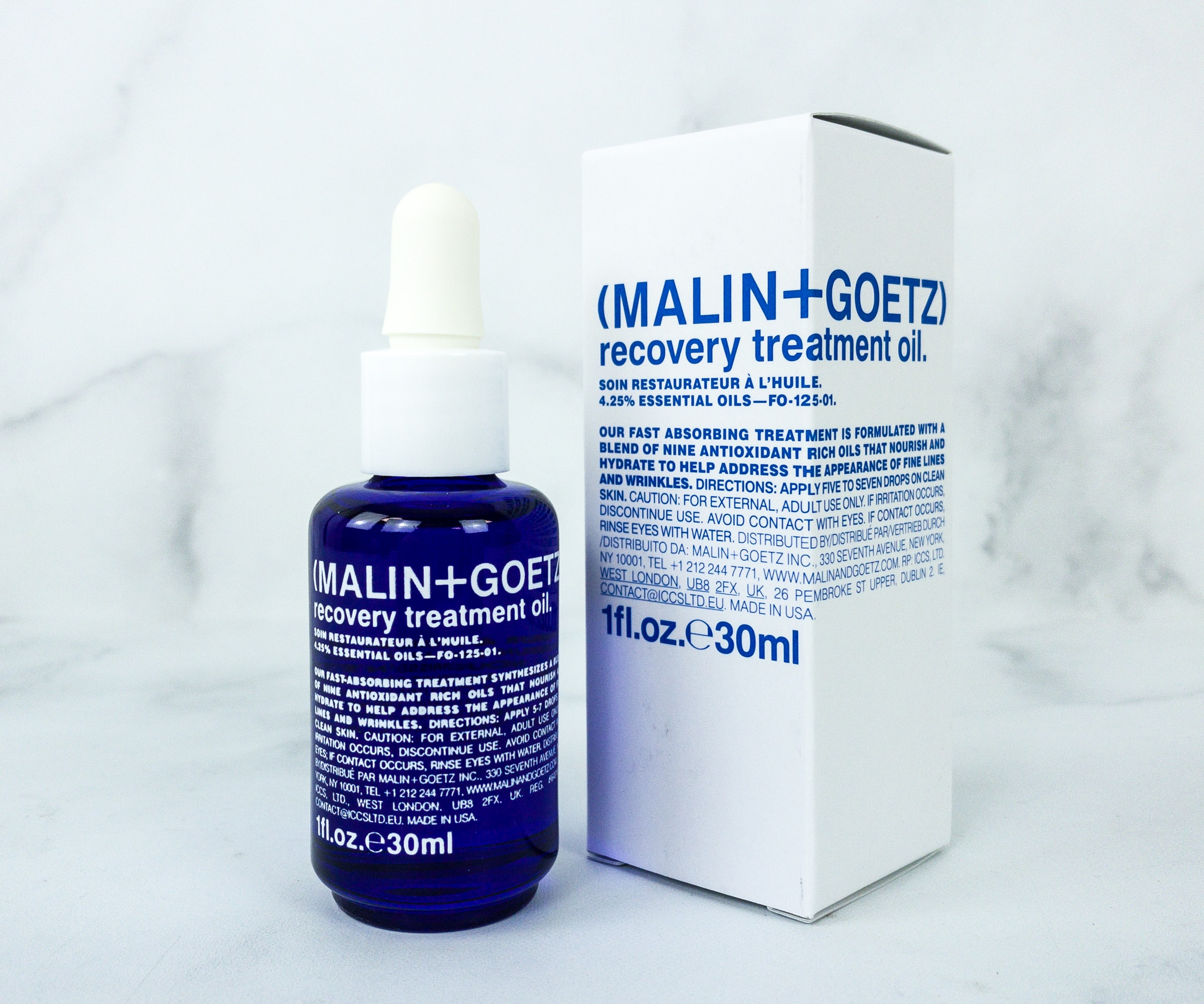 The oil works for all skin types. To use, just apply 5 to 7 drops on clean skin, morning and night, then follow it with a facial moisturizer if you like. It's also quick-absorbing that provides instant hydration to the skin, making it look and feel soft, smooth, and bright!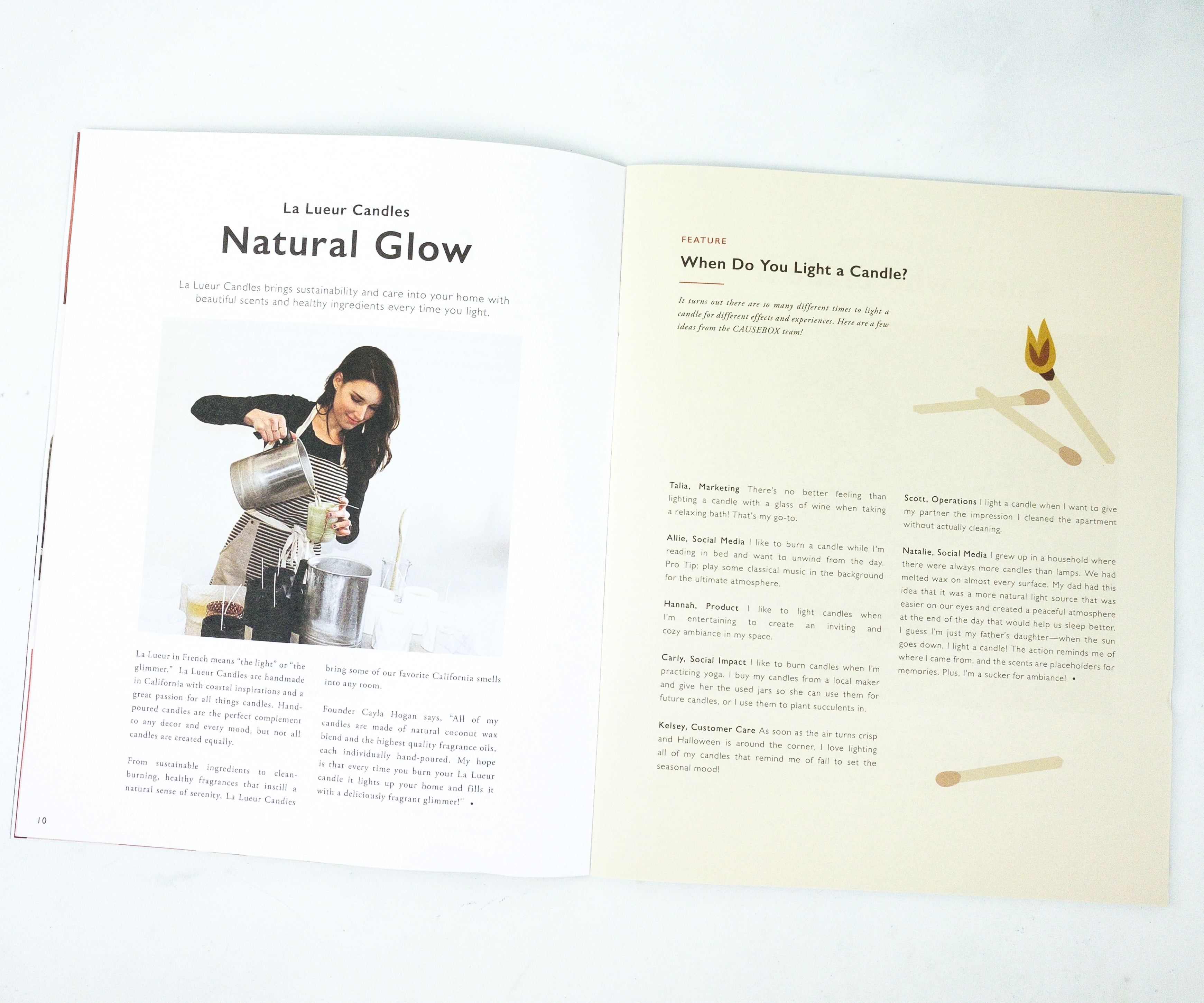 LA Lueur Candles White Cactus Coconut Candle ($35) La Lueur Candles are known for their coconut wax blend luxurious candles that are made in small batches.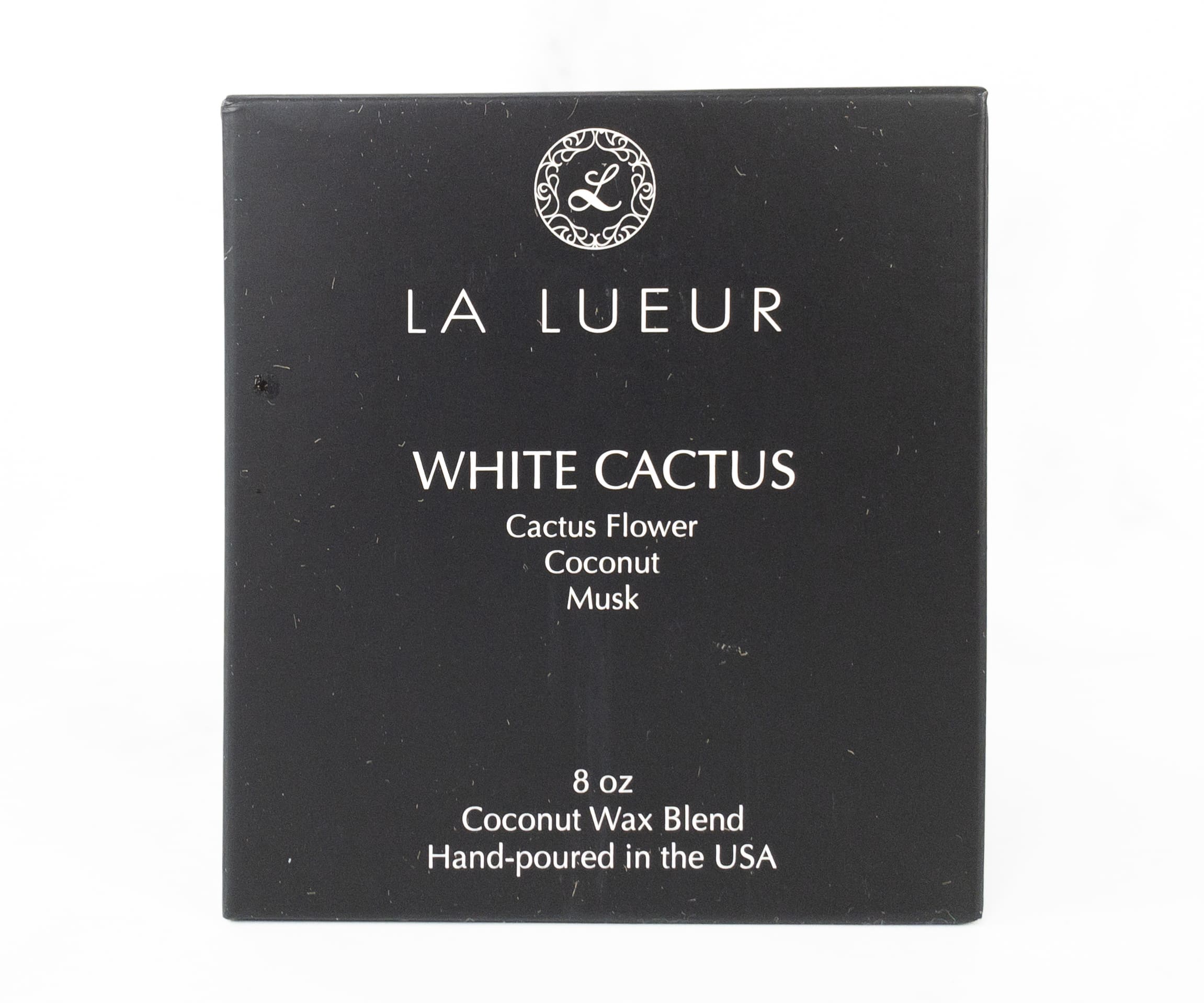 The candle I got is placed inside a black box, and the variant I got is the White Cactus.
The box lists down the candle's properties and even the other contents inside it, like the reusable glass vessel.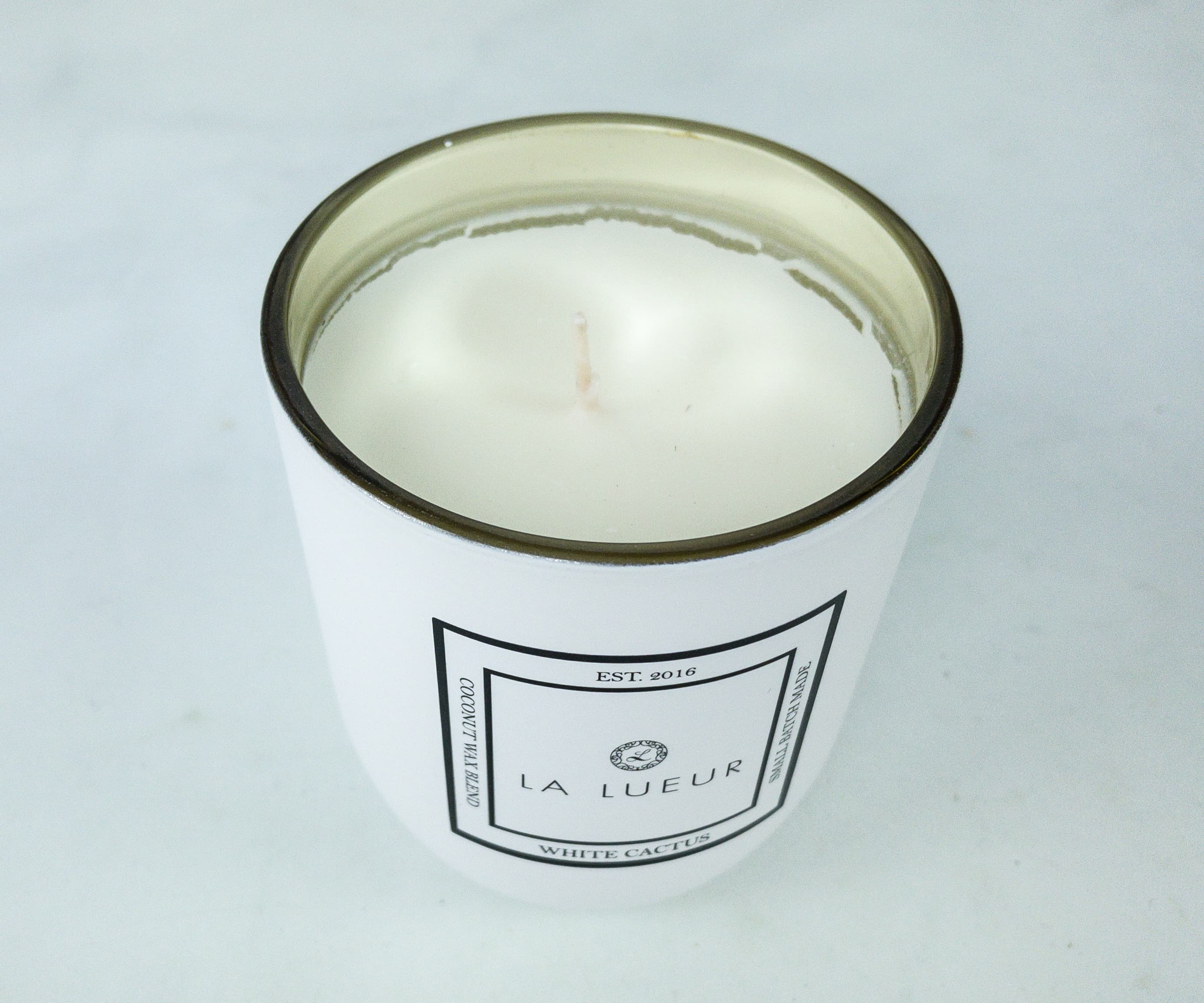 The beautiful candle is placed inside a reusable glass container.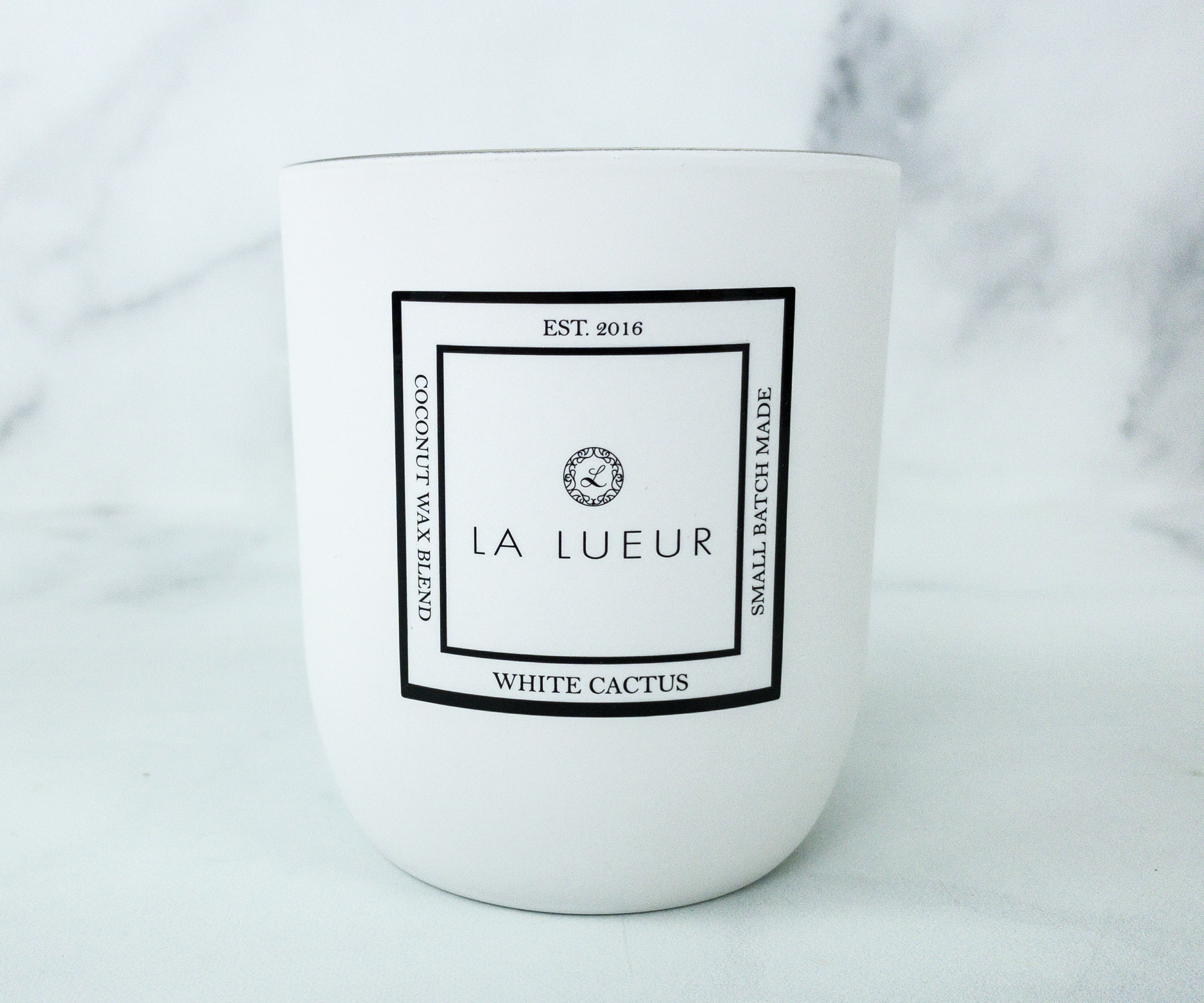 The candle has beautiful notes of white cactus, coconut, and musk. I love the smell when I tried lighting this one, it's quite soothing.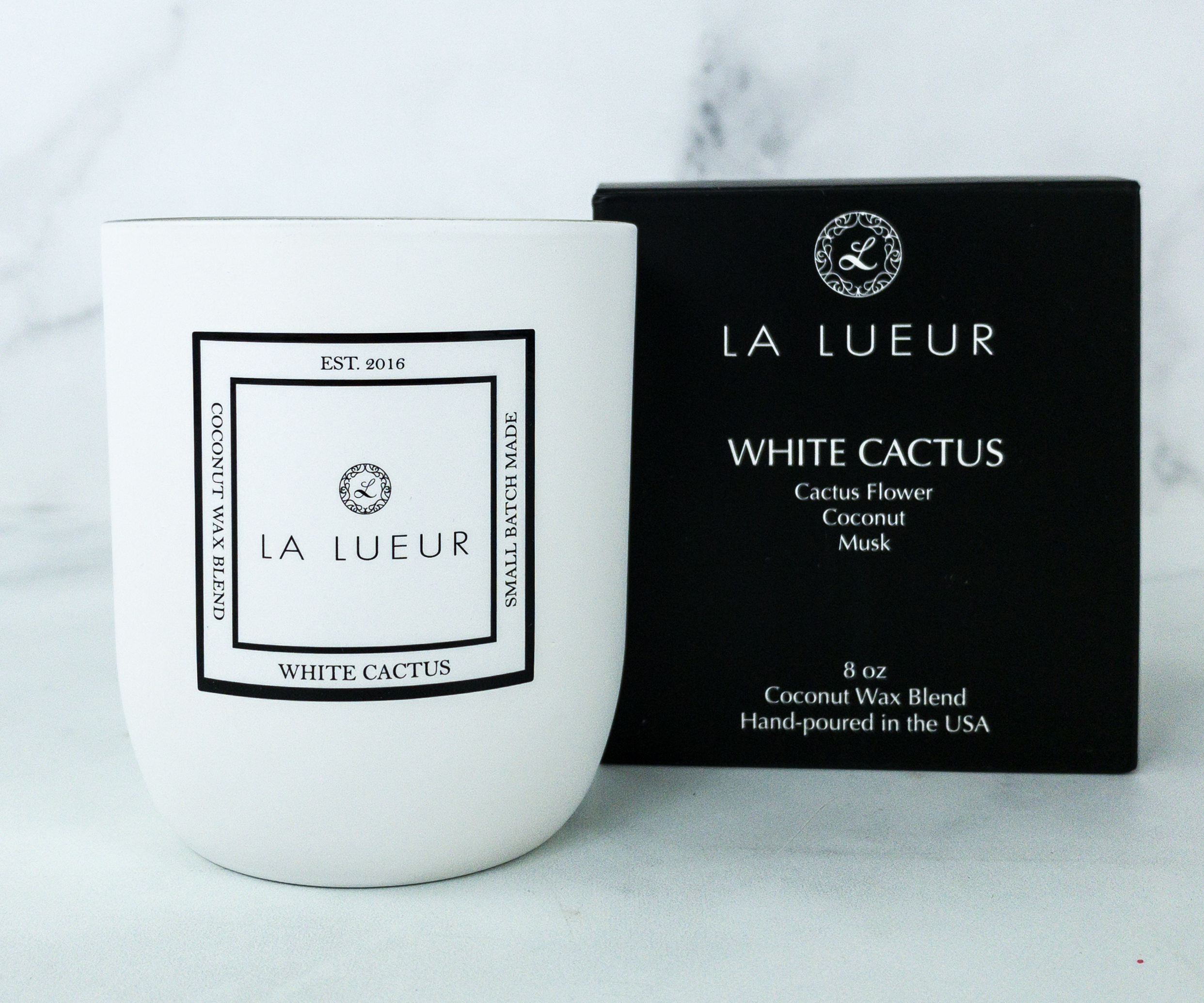 It's perfect to light inside the bedroom when you want to have a relaxing night!
It also features The Ripple Effect and some tips on how to take care of your jewelry!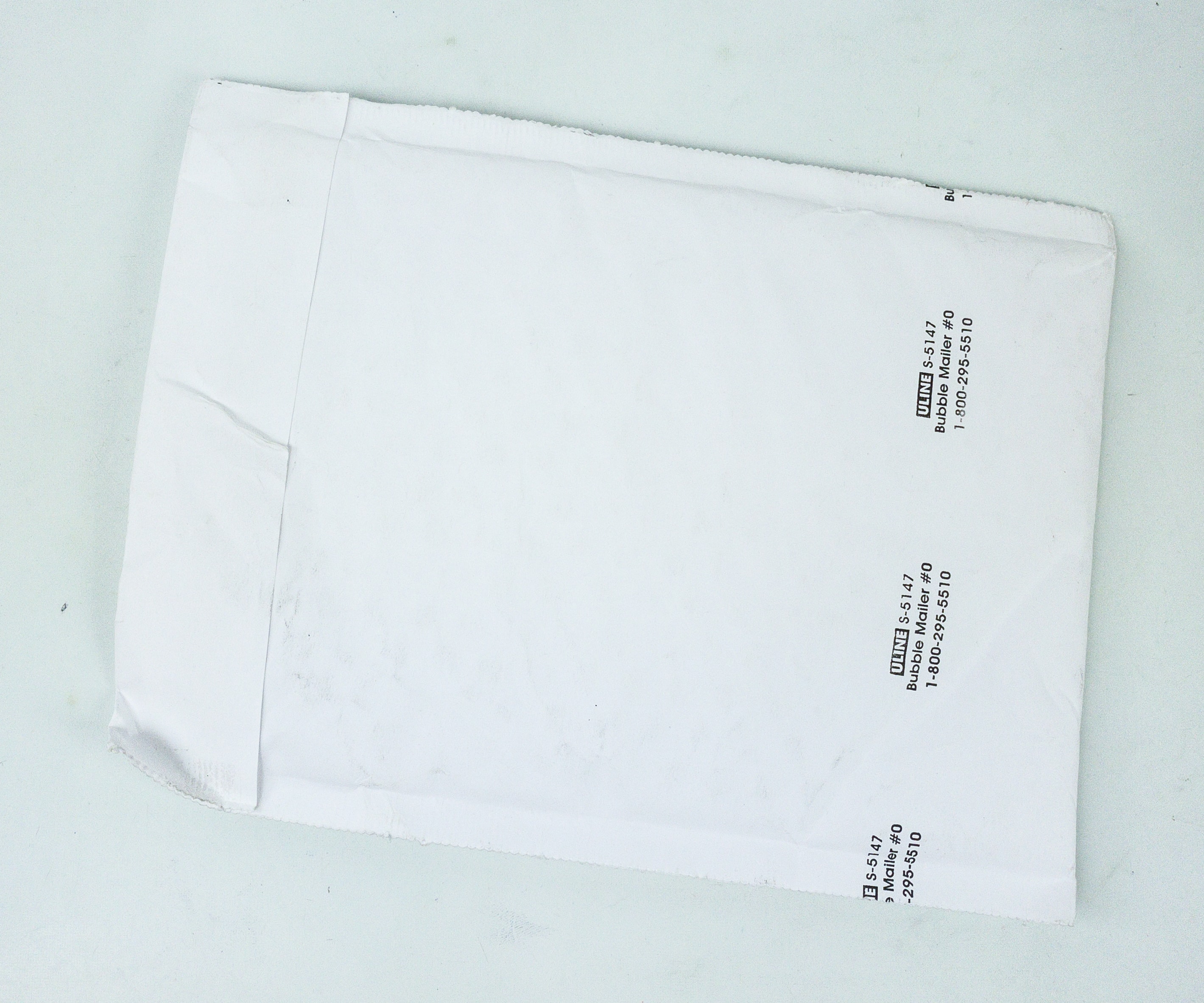 We received the necklace in a separate mailing from the box.
Nashelle Heather Drop Lariat Necklace in Gold ($38) This came late, but it's still a wonderful addition to this quarter's box. This lariat necklace is light and versatile, making it my new go-to piece for fall.
One end features a ring, while the other end features a bar. Unlike other necklaces, this one doesn't have a clasp.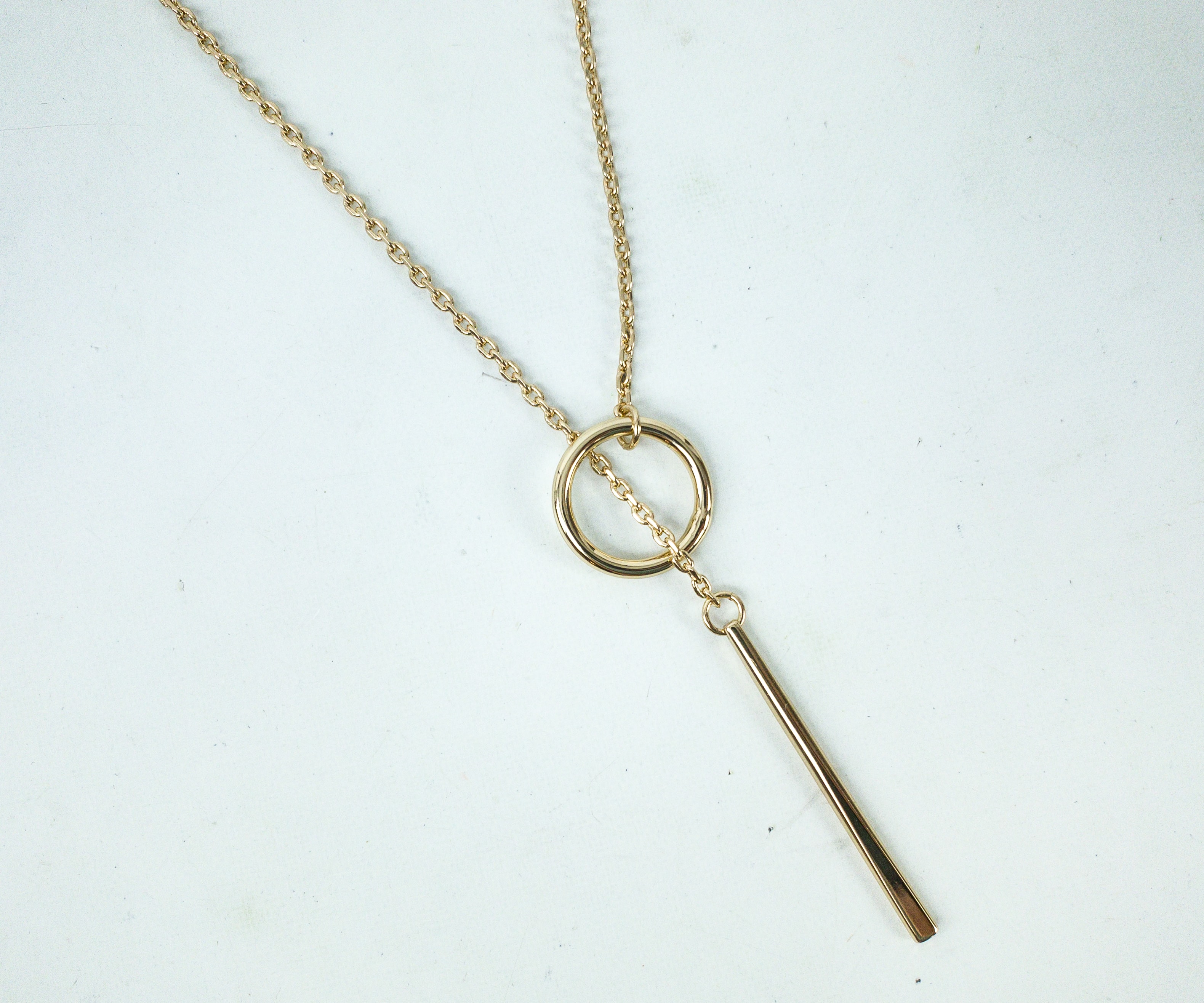 You just have to thread the bar through the ring to secure it!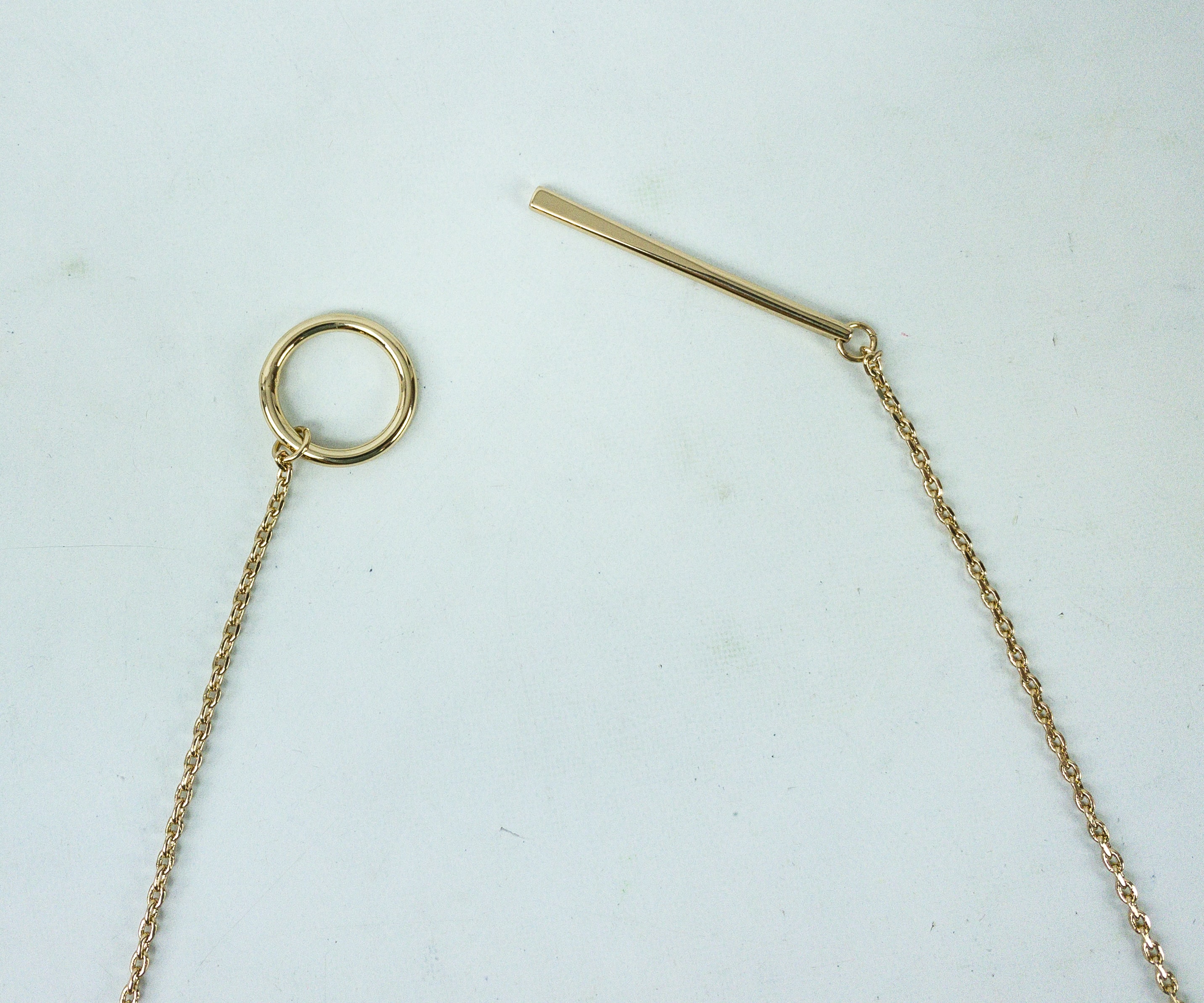 This dainty piece is perfect for any relaxed casual look. Whether paired with a plain top or a deep v-neck dress, this will make a gorgeous accessory!
This quarter's box contains items that are really made beautifully and can be used in our everyday lives! My favorite is the beautiful weekender duffel, it's not just a bag that can fit lots of items inside, but it also celebrates its maker. I also like the travel wallet where I can keep my cards and bills together easily. The rest of the items are fantastic. It's a bummer that the lariat necklace was missing in the box, but I'm glad that they sent it in a separate package. We're looking forward to the next box, plus the causes that we'll be able to help with!
What do you think of the Fall 2019 CAUSEBOX?