Baby Play Kits by Lovevery feature the best play products designed by child development experts. The toys are customized by stage and thoughtfully crafted using sustainably forested wood, organic cotton, and baby-safe plastics.
Head's up – this is a BIG box, with lots of photos! There is SO much in this box, along with guidance for parents, and just a ton of developmentally appropriate toys, that we couldn't really get rid of anything. We think this box is worth it, and this review will show you how the parent guide and all the items really work together. Every toddler (and preschooler, and big kid!) who has played with the toys in this box has found them absolutely fascinating, and we couldn't be happier with the Lovevery kits.
DEAL: Save up to $48 when you pay upfront for longer length plans! No coupon code is needed – the deal applies automatically, just use this link to join!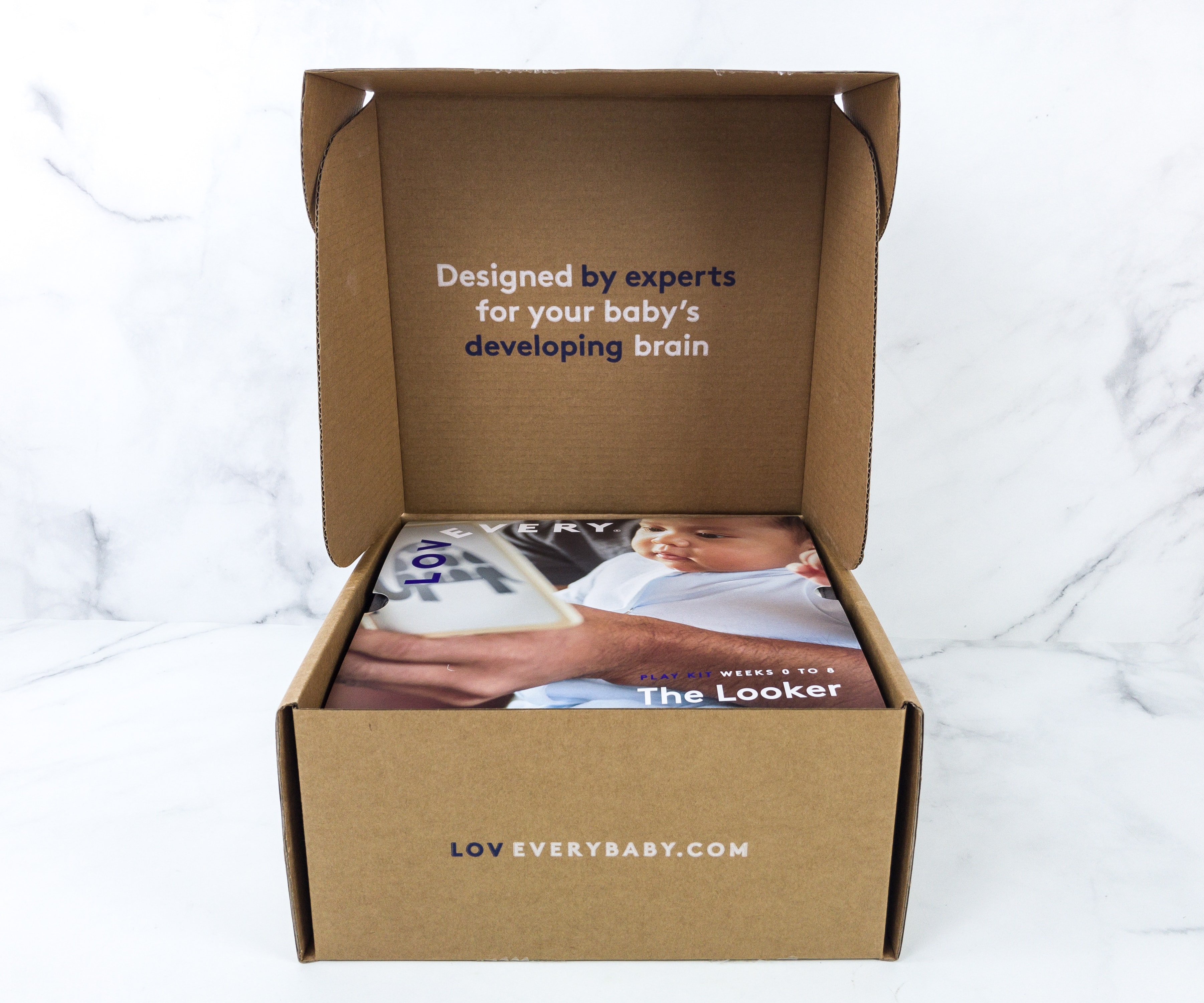 The box is quite full and heavy!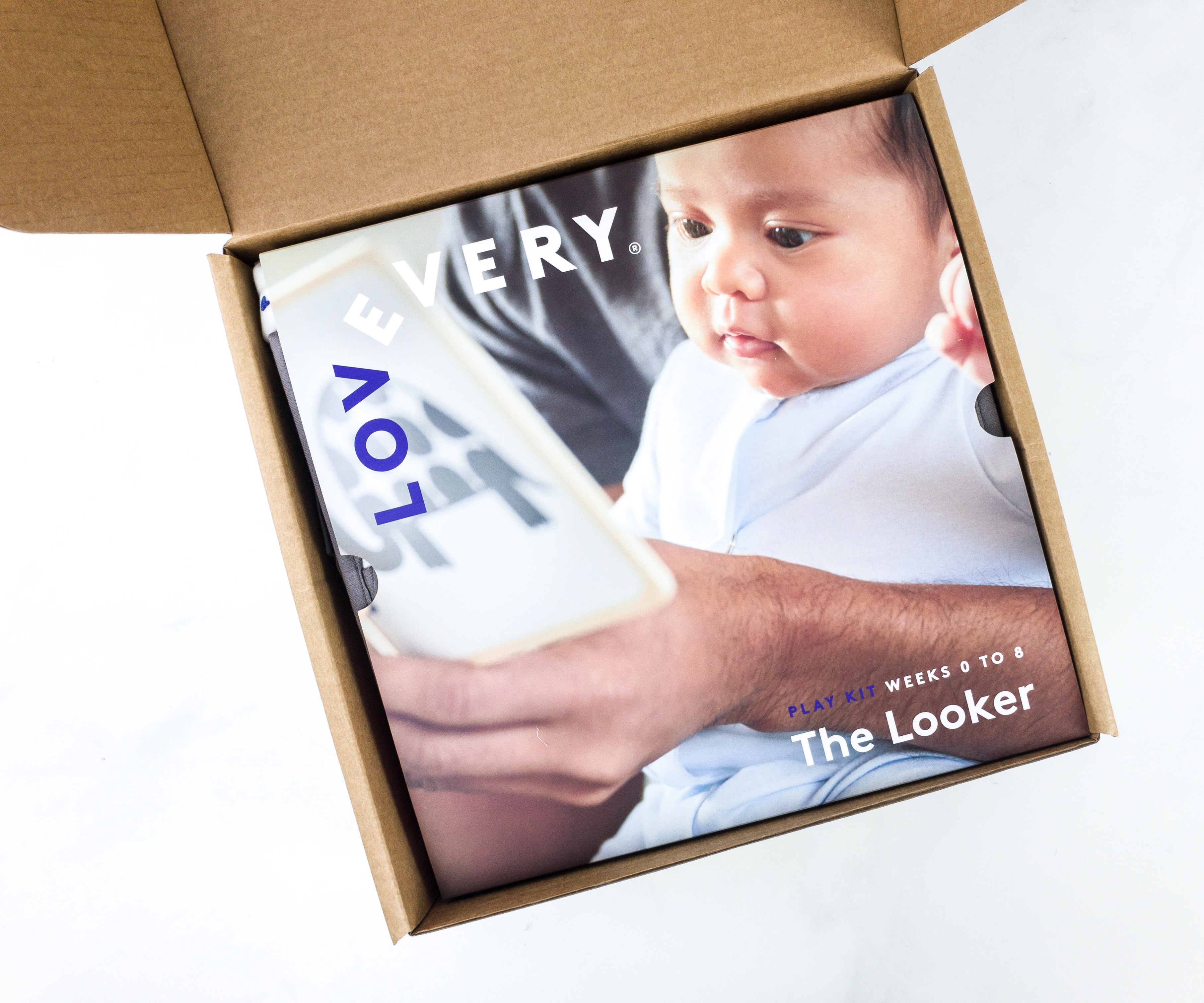 There is a card on top of all the items.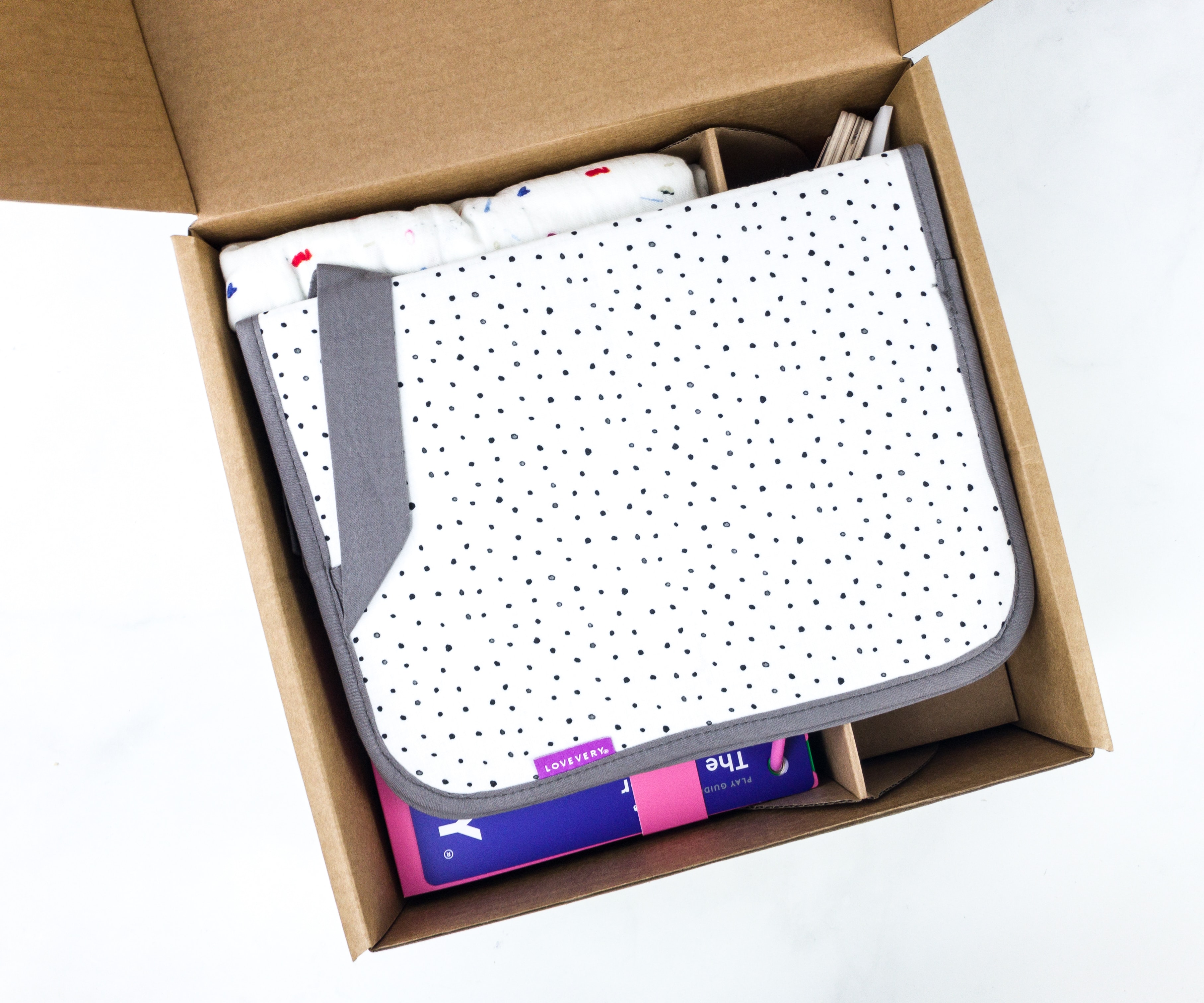 The toys came neatly packaged. There are lots of cute things inside! We're really excited!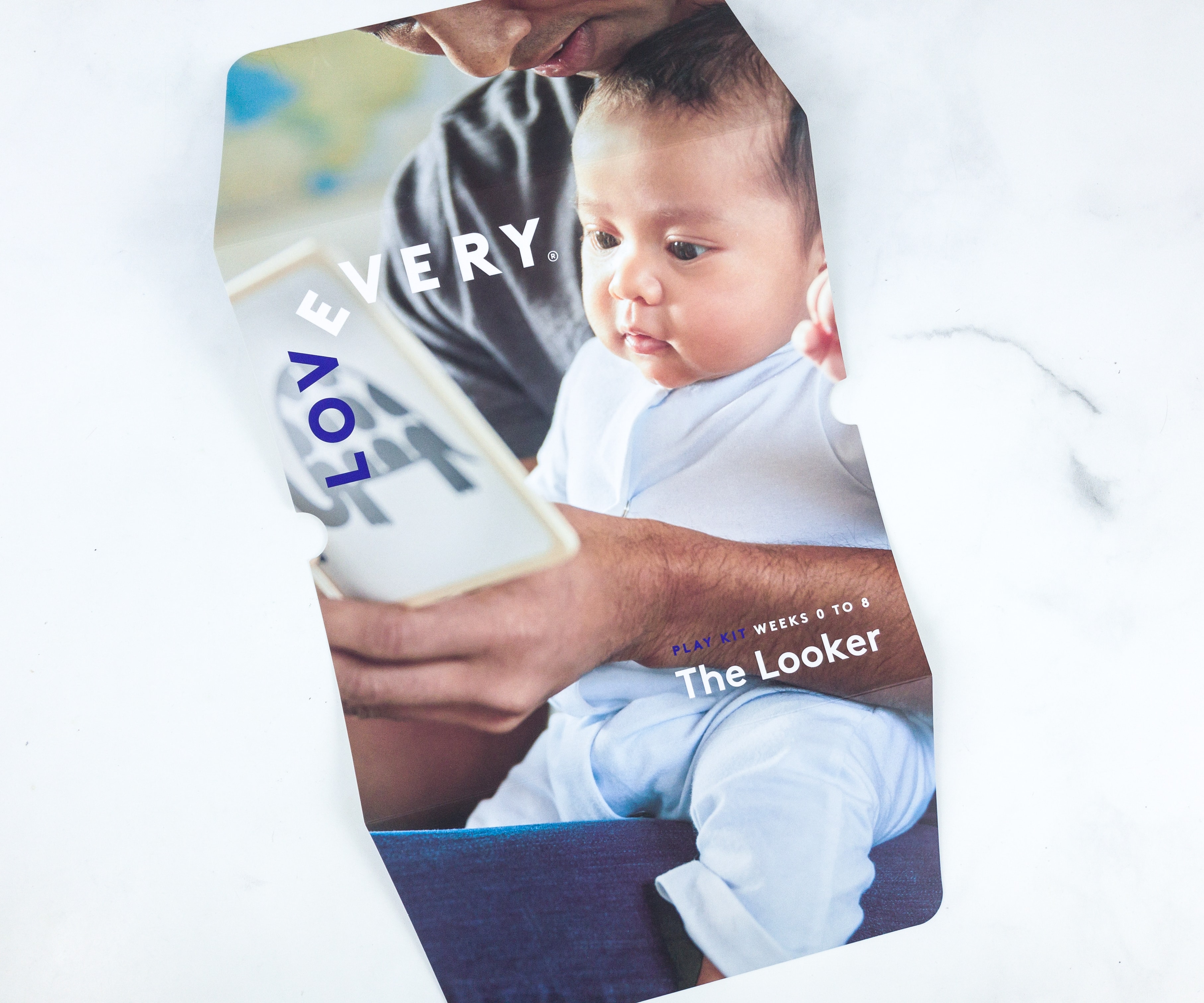 This play kit is specially designed for babies 0 to 8 weeks old. They're called "The Looker!"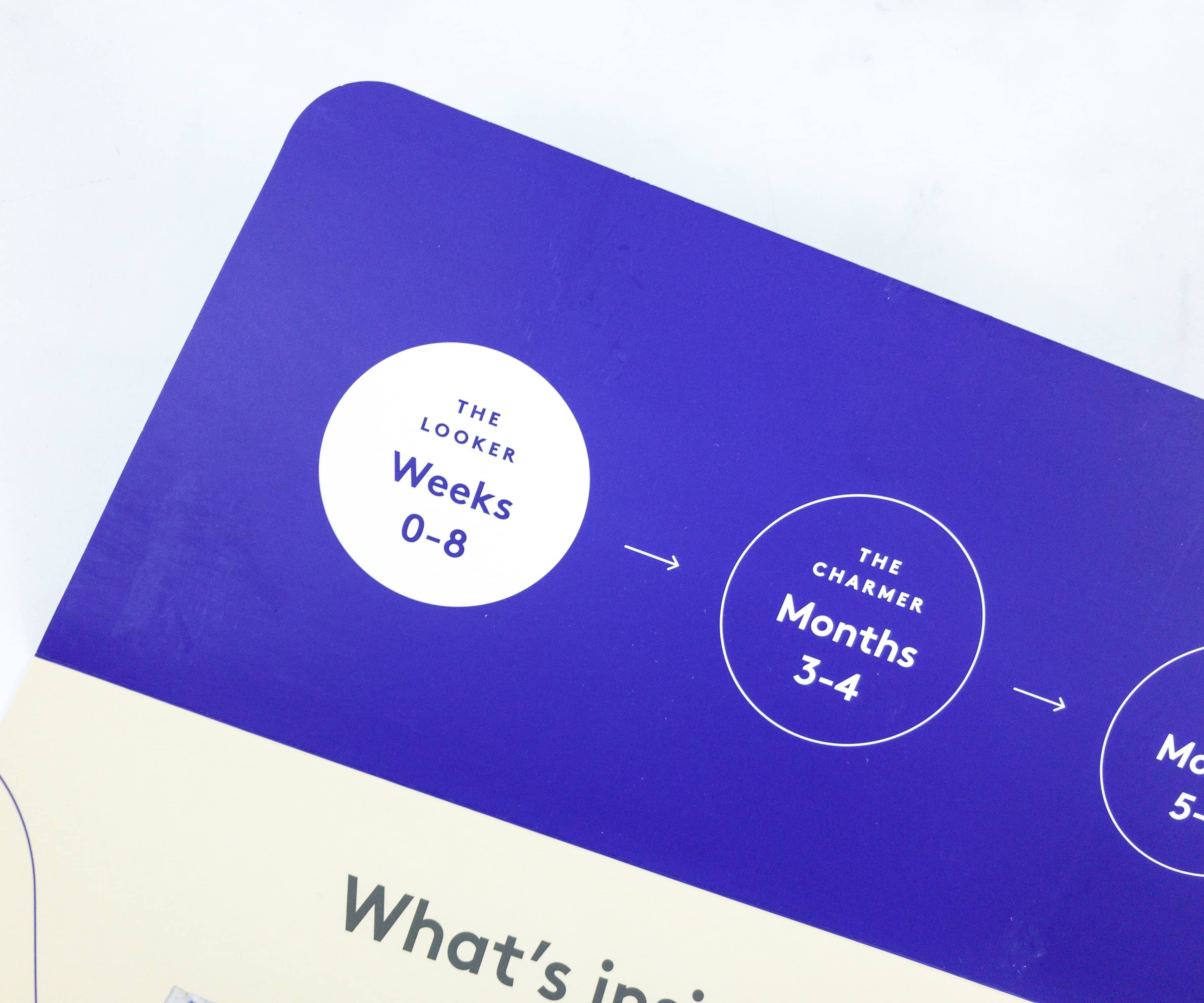 This is the baby's very first stage, so the toys are uncomplicated and there will be lots of helpful items for parents.
The information sheet gave us a rundown of all the items in the box!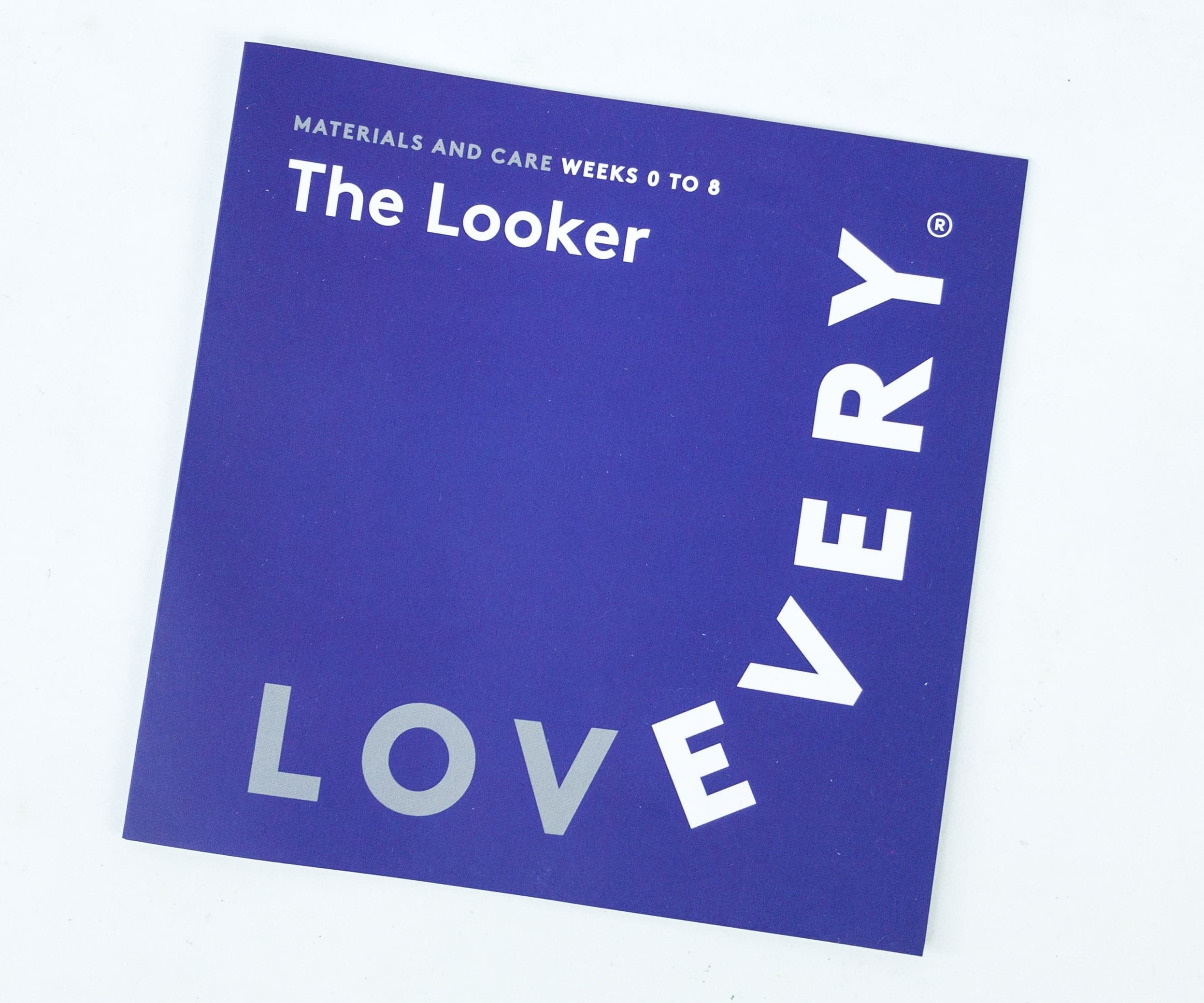 To make this a fun and safe experience for all, they included a material and care manual.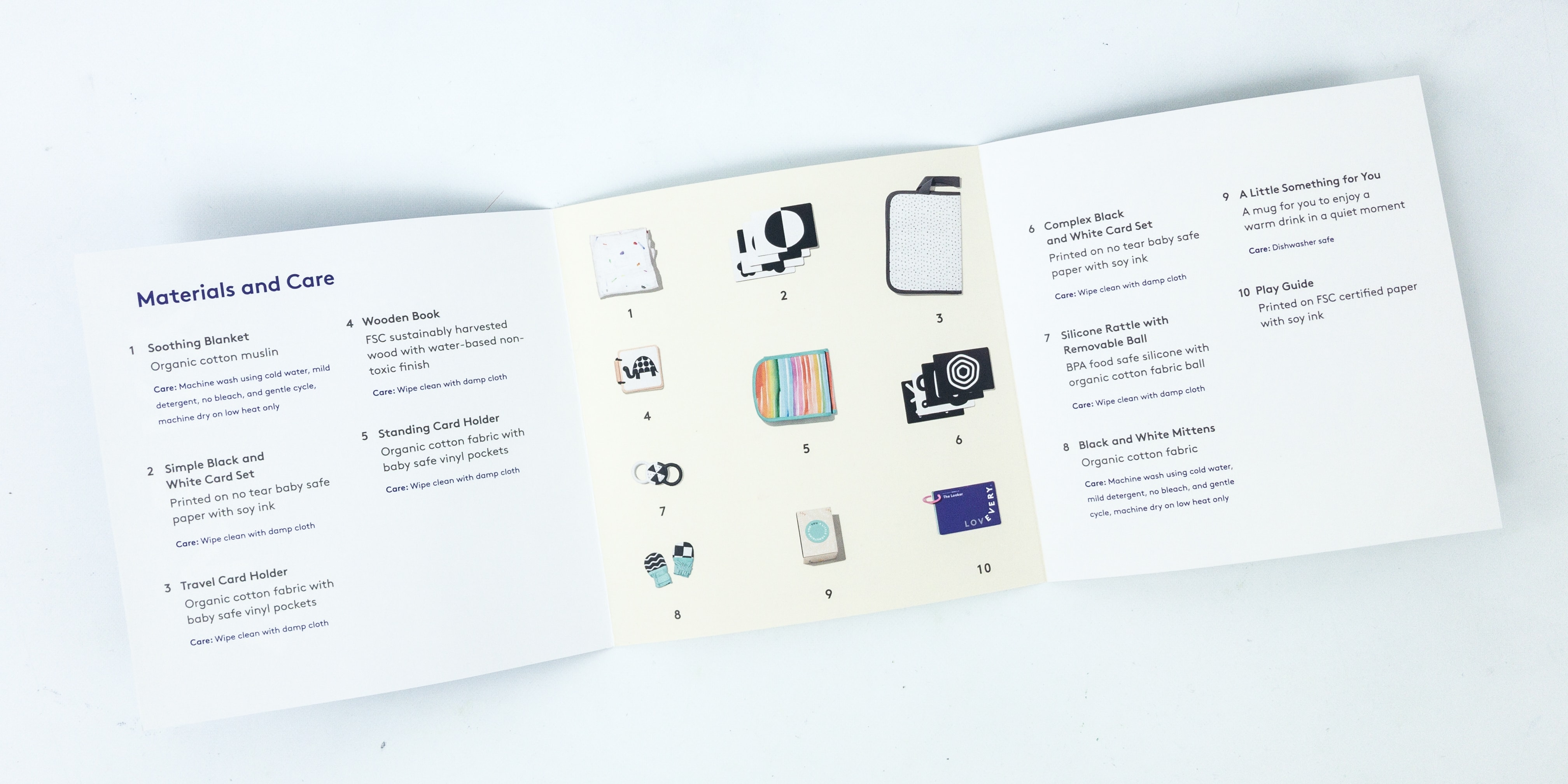 There's a list of safety tips and warnings!
They even listed how to care for each item.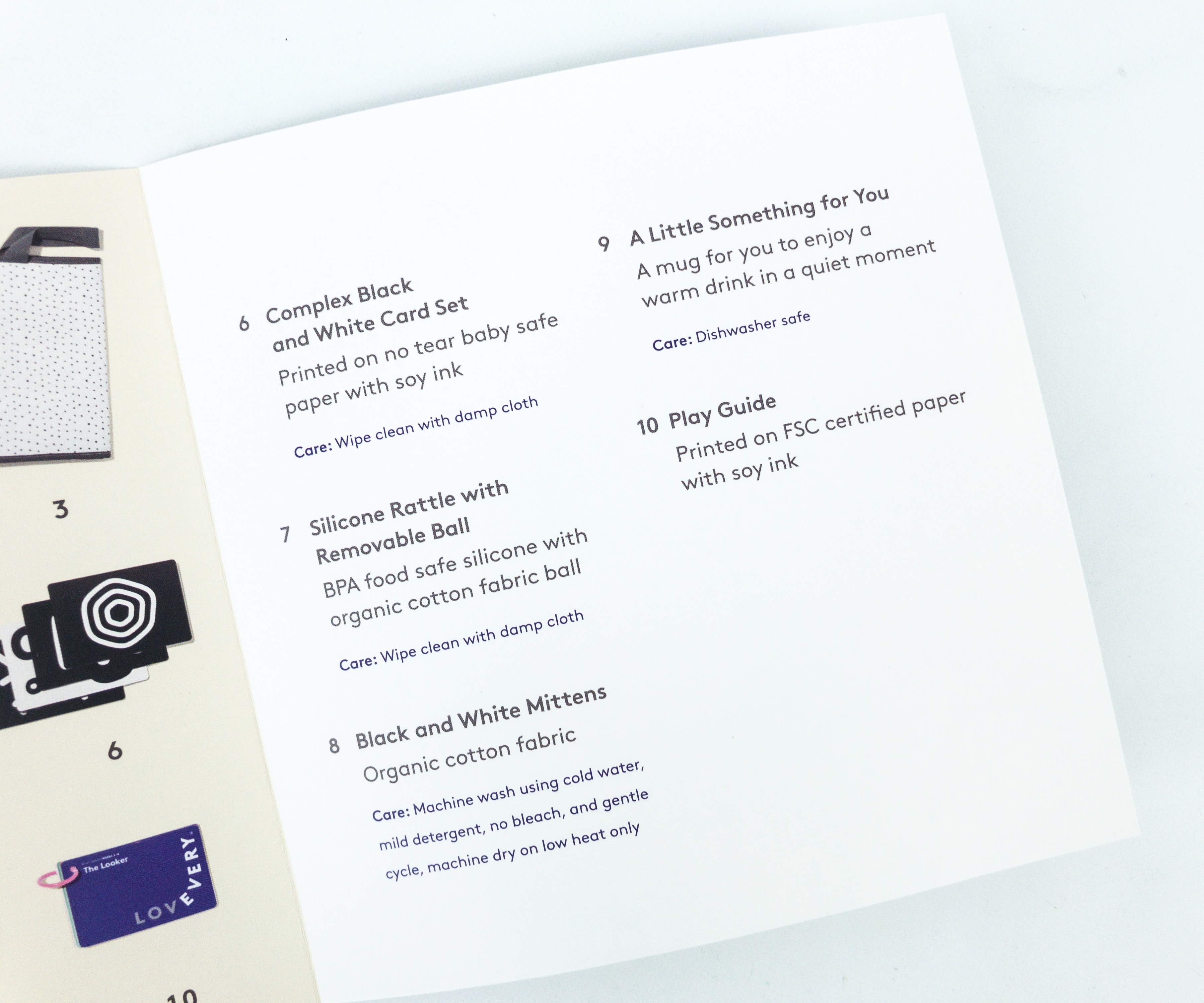 Some toys can be simply wiped clean using a cloth, while others are needed to be hand-washed.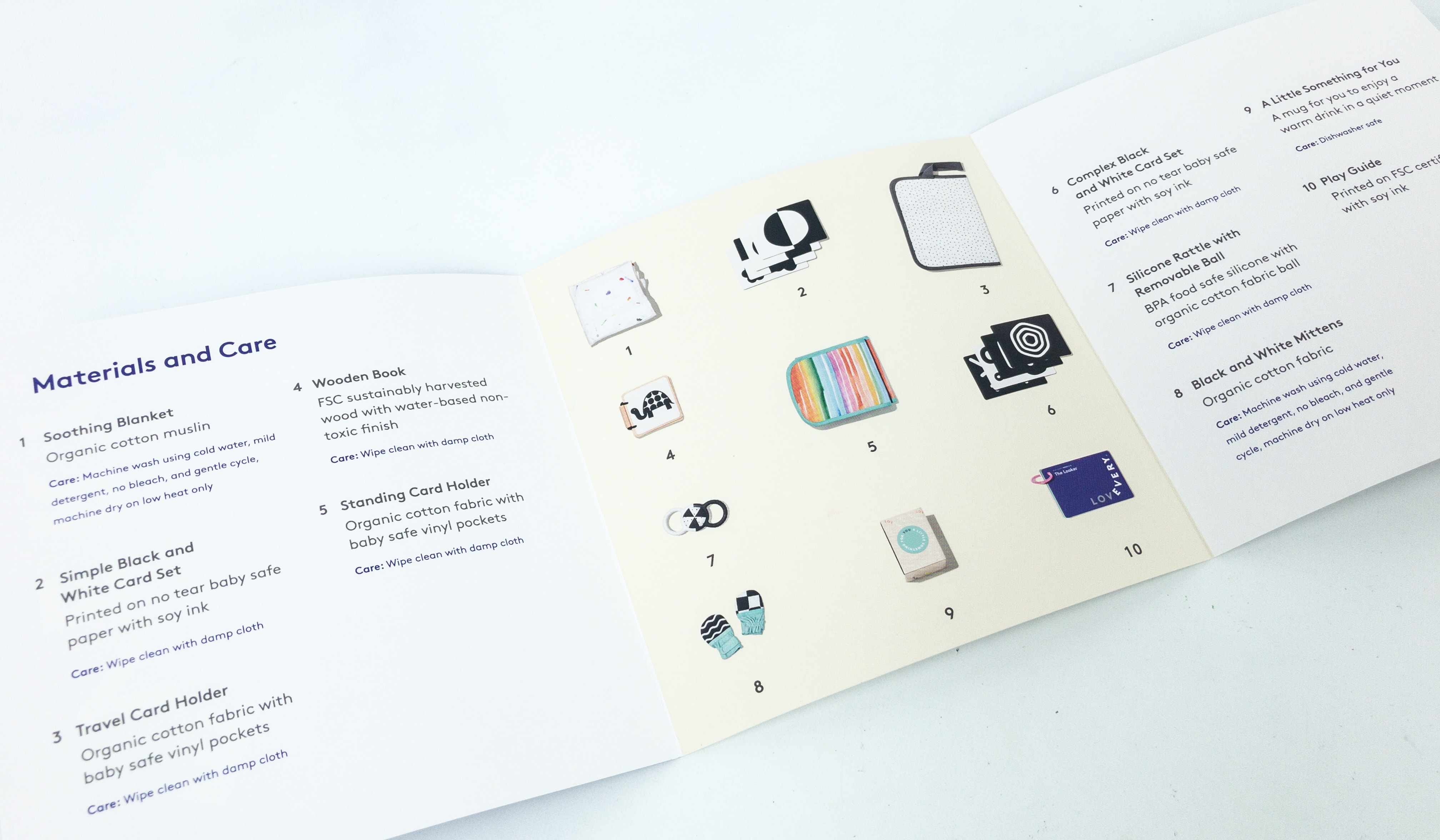 There are corresponding photos for each number, so it's easier for you to determine which is which.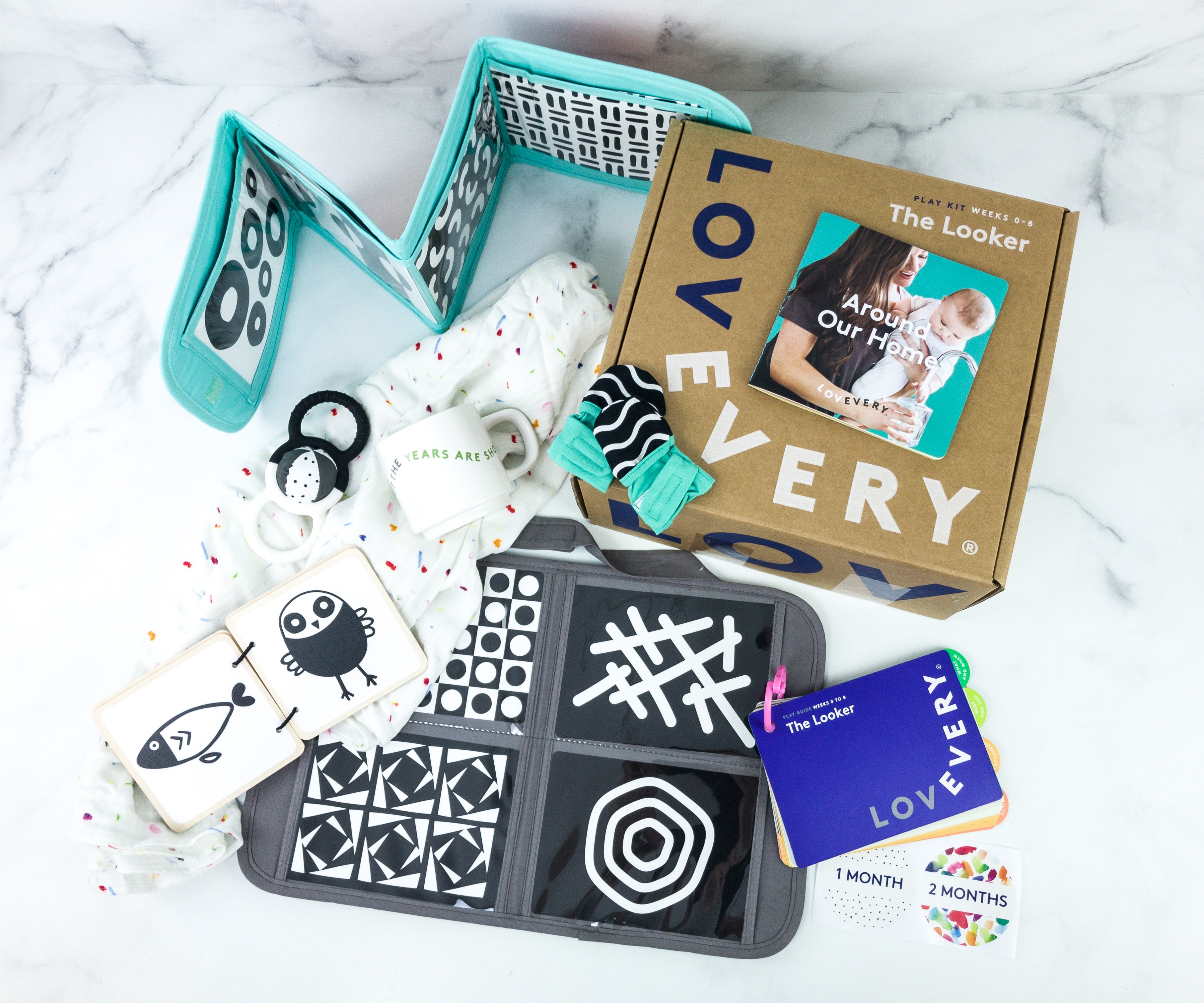 Everything in my box!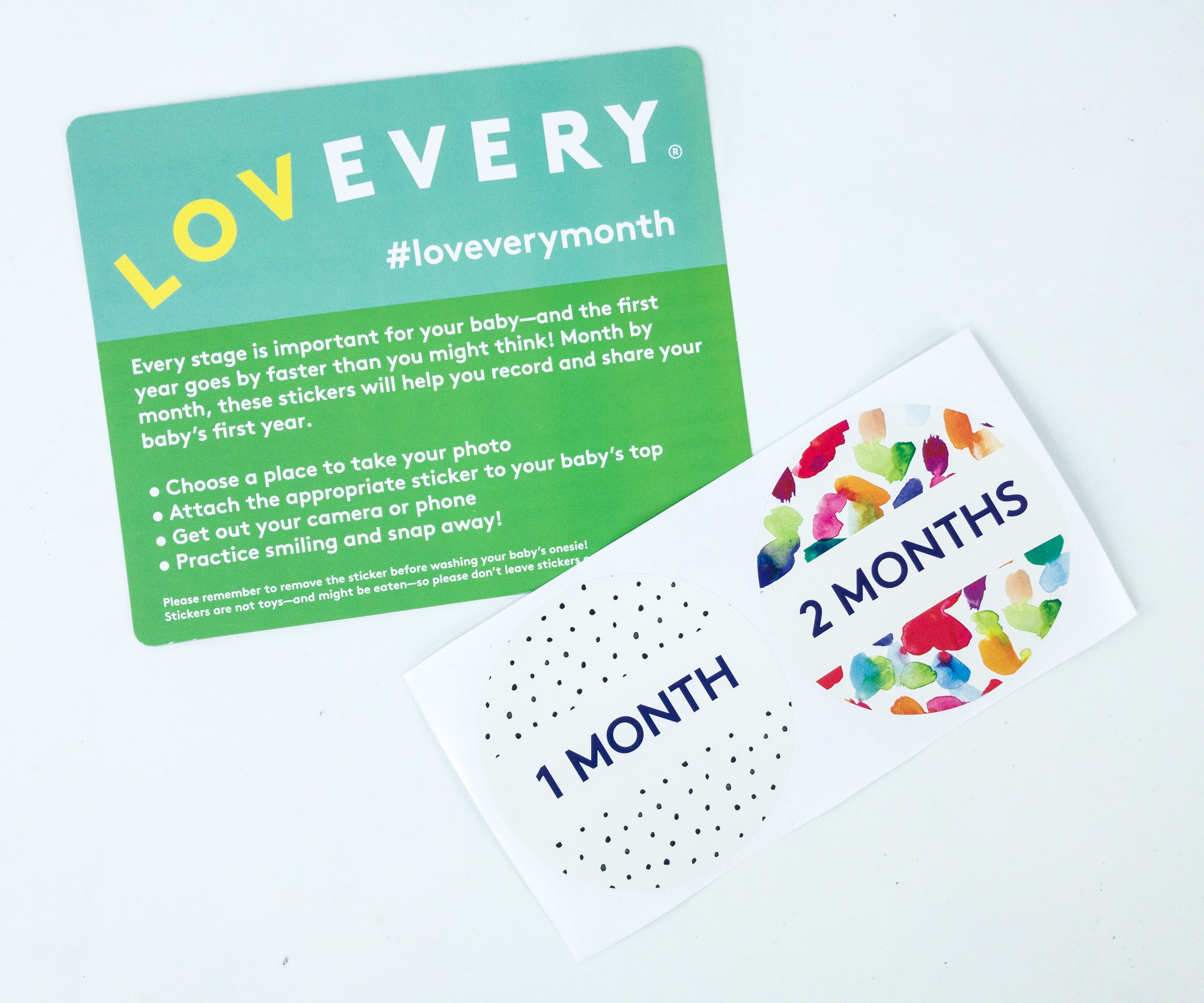 Baby Play Kits will include stickers to help you keep track of your baby's growth. Just attach the appropriate sticker to your baby's top and take their photo!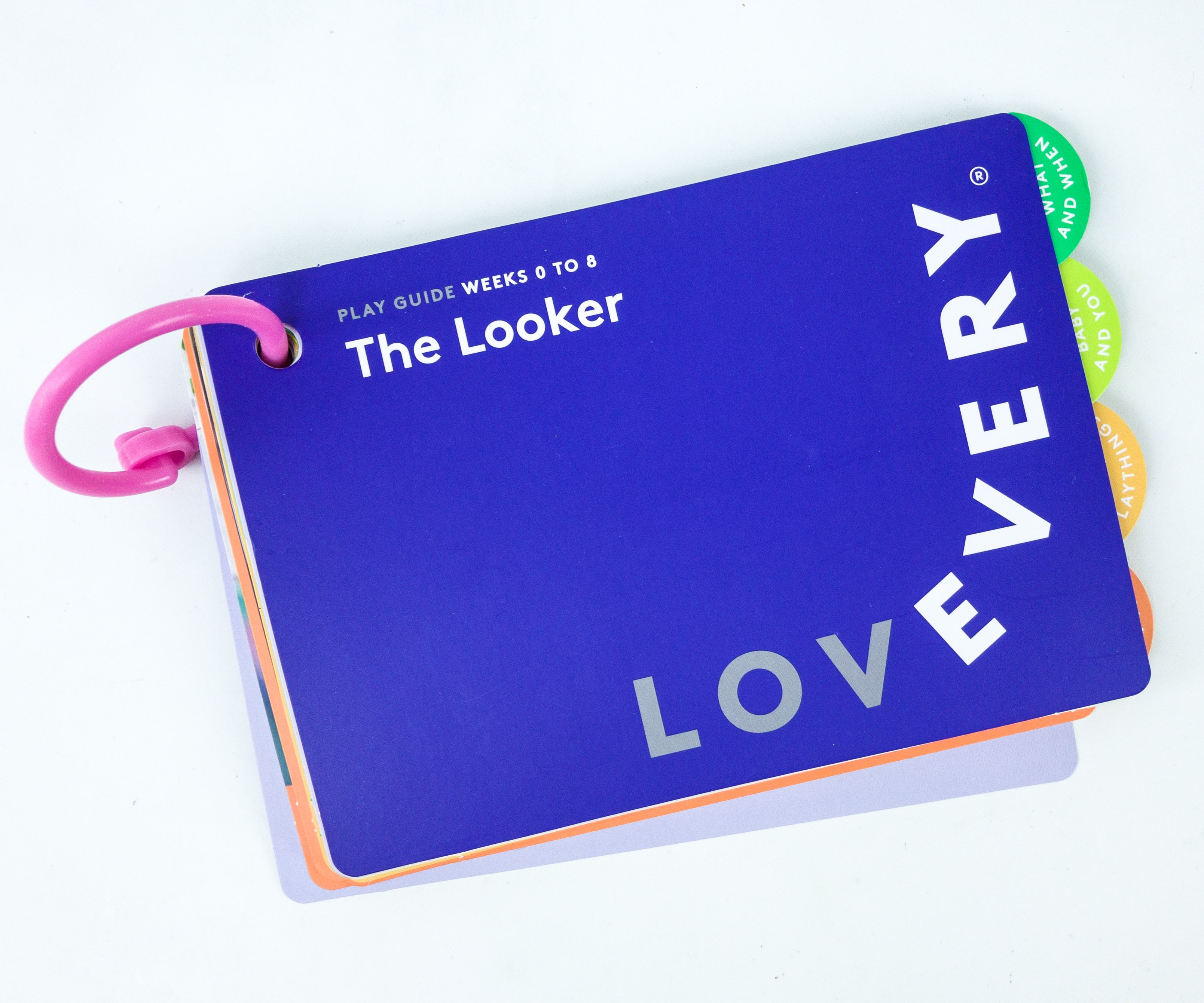 First up is the Play Guide!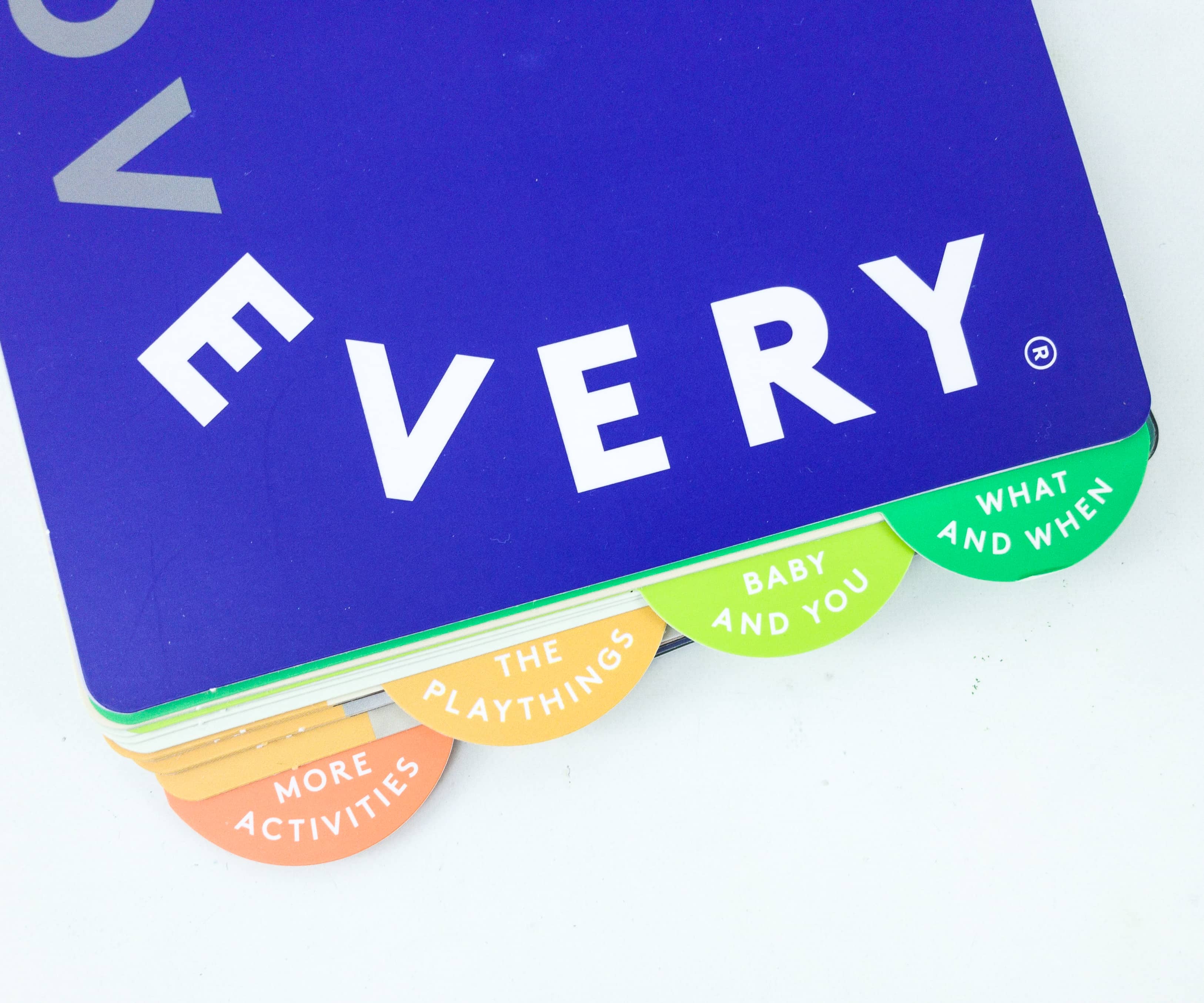 This guide is divided into different sections, so it's easier to flip through them and find what you're looking for.
There's a welcome note!
Like the information sheet, it gave us a rundown of all the toys in the box.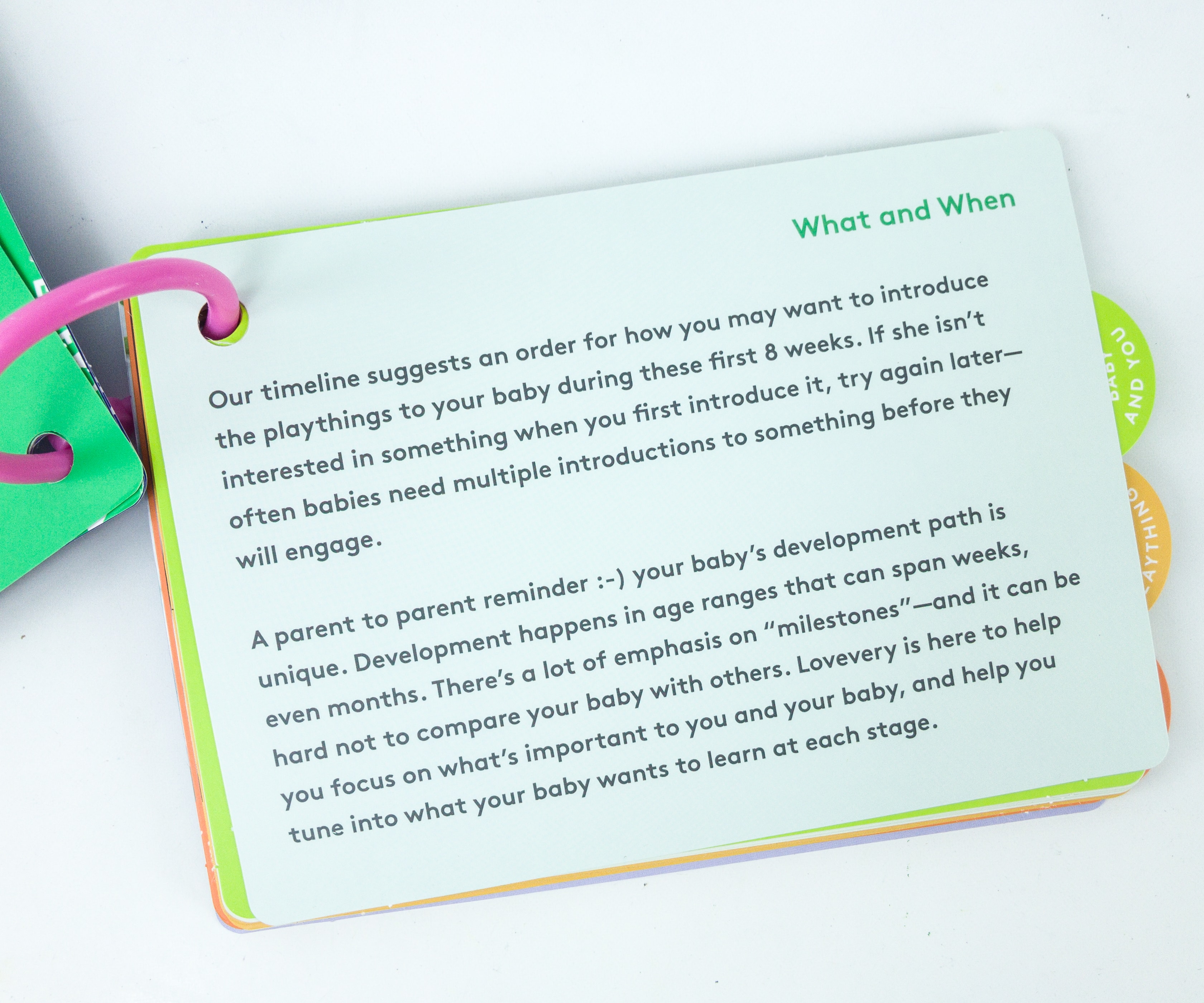 They also remind you that each baby's development path is unique and that it's okay if your baby isn't interested in playthings right away.
They listed what 4-week-old babies and 5 to 8-week-old babies are already capable of.
It's also really helpful that they listed down what babies of this age like to do! Not everything would apply to your baby, but at least you'd get a general idea.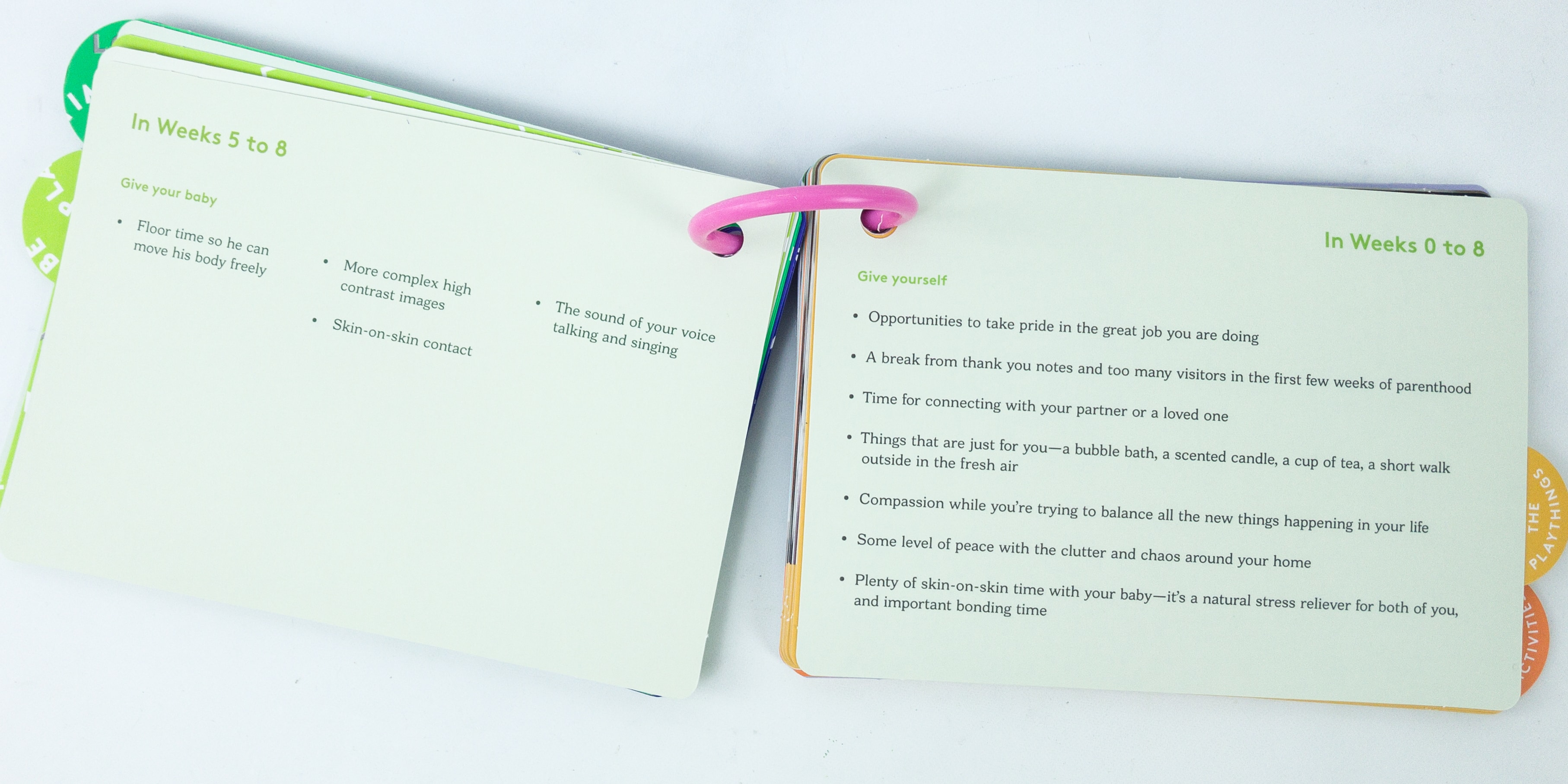 There's even a list of the appropriate things we should give our baby at this stage. Although quite long, it's a great read for parents. There are lots of insights already. For moms who just gave birth, there are tips, reminders, and encouragement especially for them as well.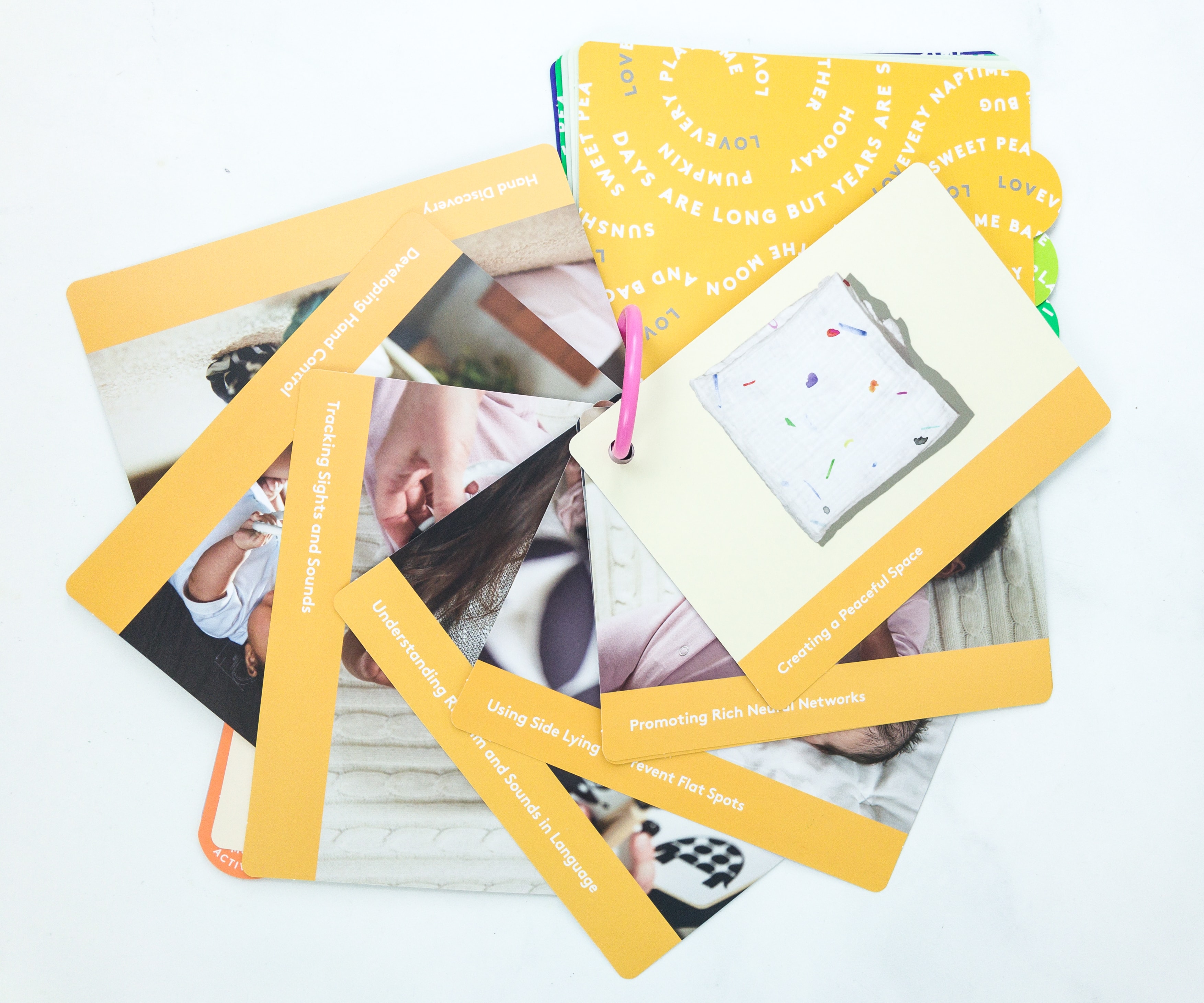 Next section is The Playthings! We're getting on to the toys and activities!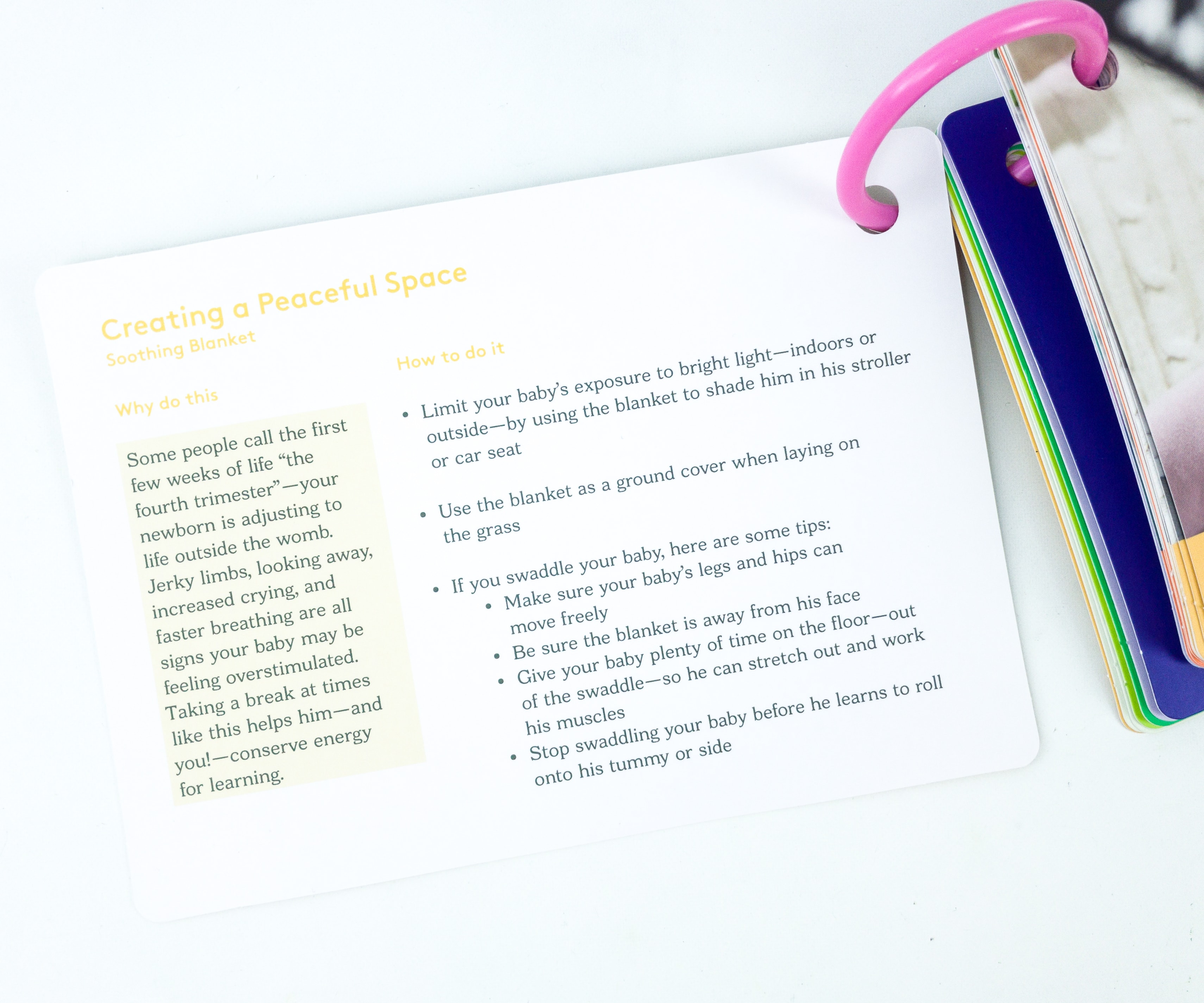 The first activity is entitled Creating a Peaceful Space.
Some people call the first few weeks of life "the fourth trimester"–your newborn is adjusting to life outside the womb. Jerky limbs, looking away, increased crying, and faster breathing are all signs your baby may be feeling overstimulated. Taking a break at times like this helps him–and you!–conserve energy for learning.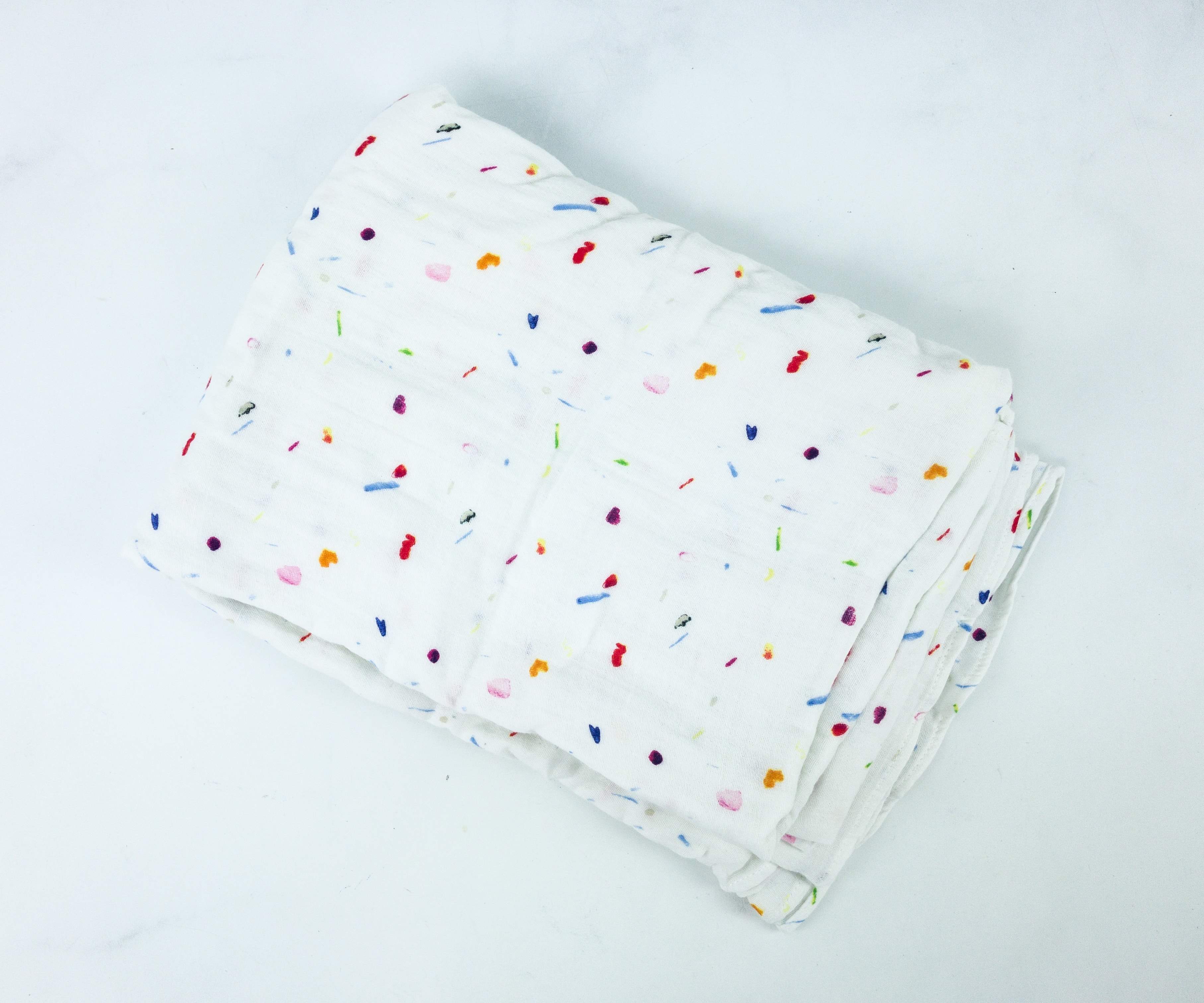 For this activity, we received the Soothing Blanket! It's in white, with different specks of color all over.
It's huge enough to cover your baby and limit their exposure to bright light. Whether in the car seat, in the stroller, or even just at home, this blanket is really useful.
The material used is soft and lightweight. You can even use this to swaddle your baby!
Next up is Promoting Rich Neural Networks.
Decades of research show time spent looking at high contrast images is important for a baby's cognitive development. Your baby's eyes are naturall drawn to things like dark hair against a light shirt, ceiling fans, windows and blinds, or frames on a white wall. When infants look at images that stimulate them visially, the connections between their eyes and brain strengthen.
The crate provided a Black and White Card Sets for this activity. The first set is composed of simple patterns. To use, just hold one card at least 12 inches away from your baby's face until they look away.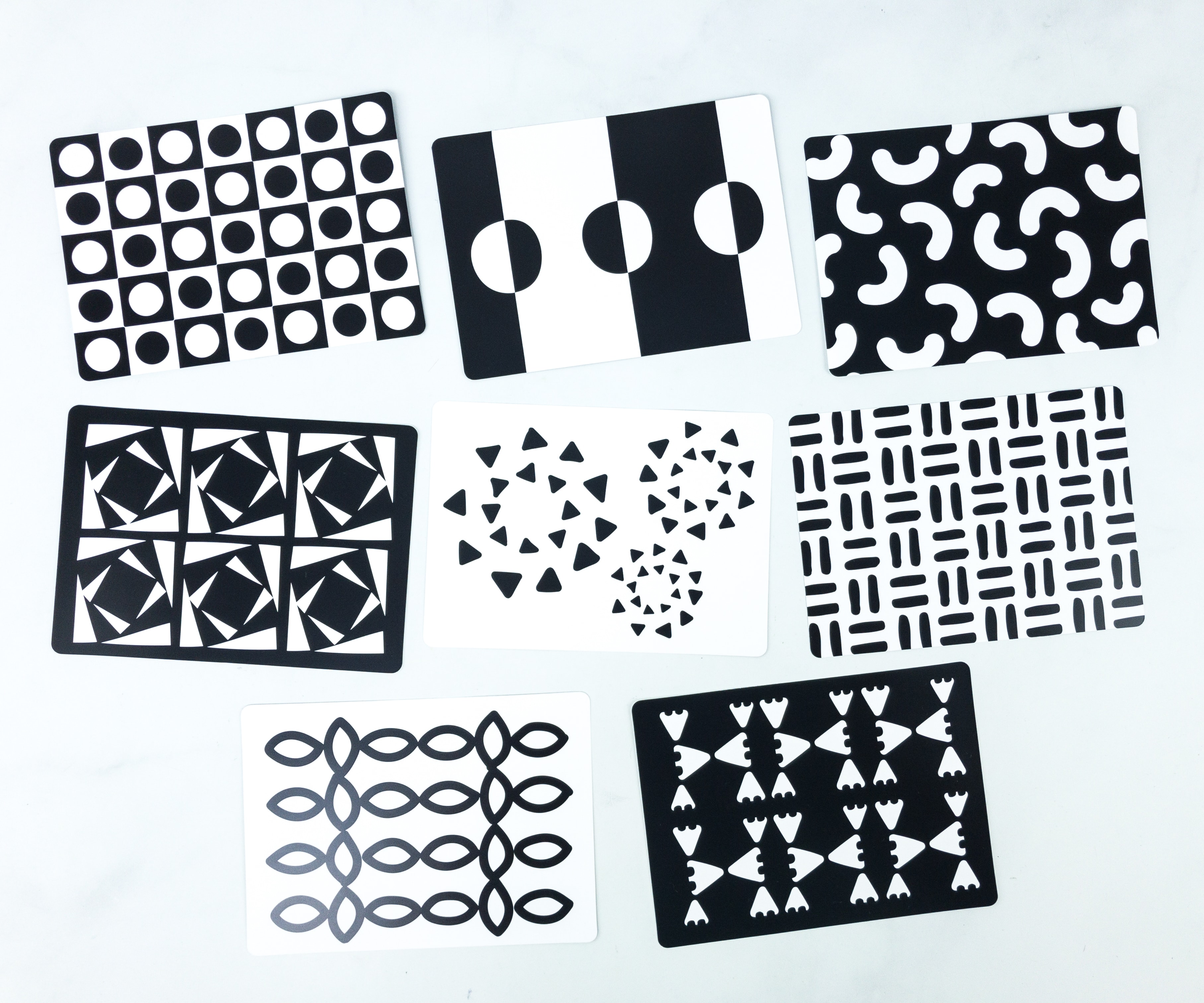 Start with the simple ones then switch to the second set of cards featuring more complicated designs when your baby's eyes are stronger. This activity aims to help your baby practice following a moving object using their eyes, which will be useful later on when they start to read and write. It's also a great start for hand-eye coordination.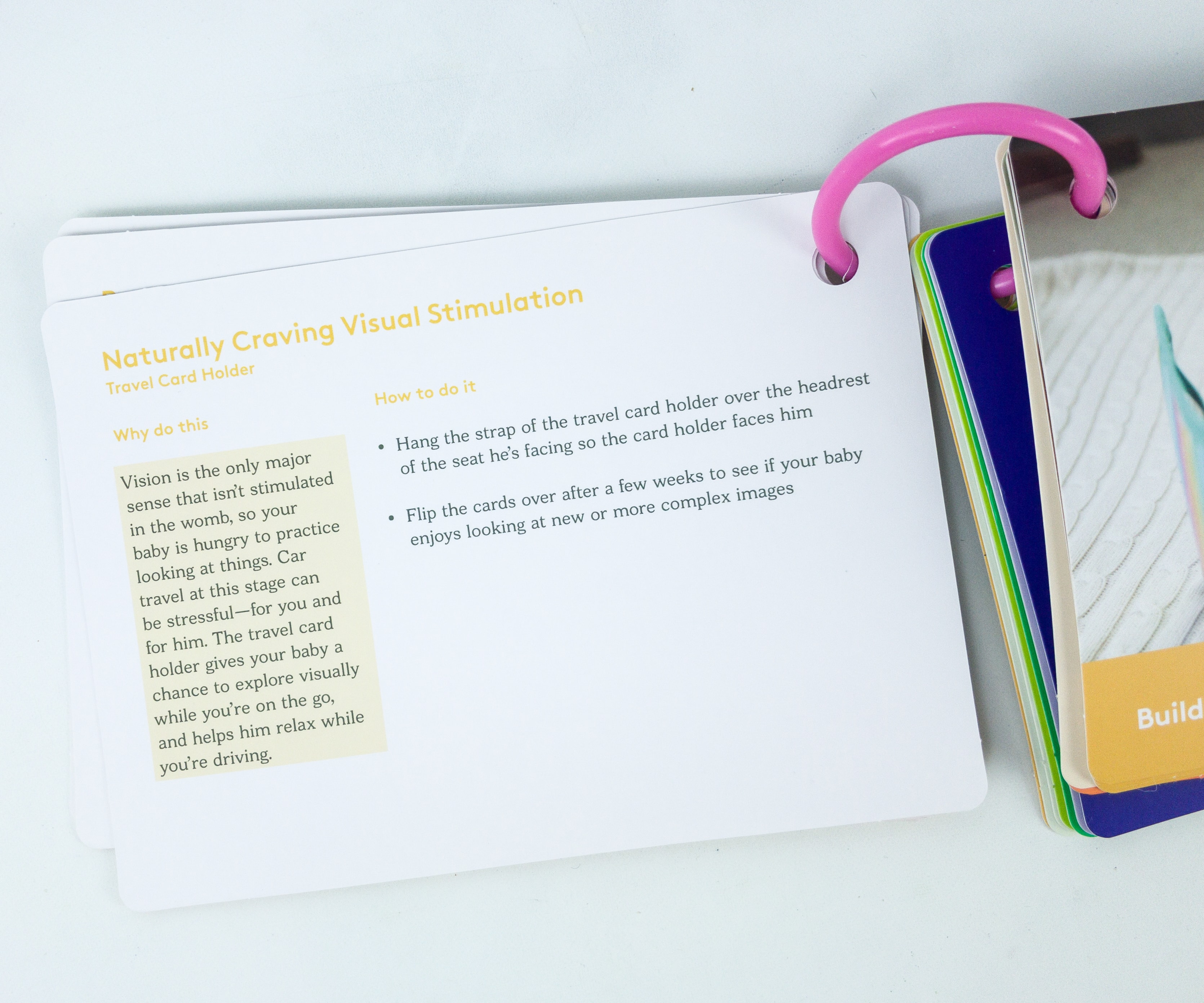 Now, it's time for Naturally Craving Visual Stimulation!
Vision is the only major sense that isn't stimulated in the womb, so your baby is hungry to practice looking at things. Car travel at this stage can be stressful–for you and for him. The travel card holder gives your baby a chance to explore visually while you're on the go, and helps him relax while you're driving.
In line with the concept, we got a colorful Travel Card Holder!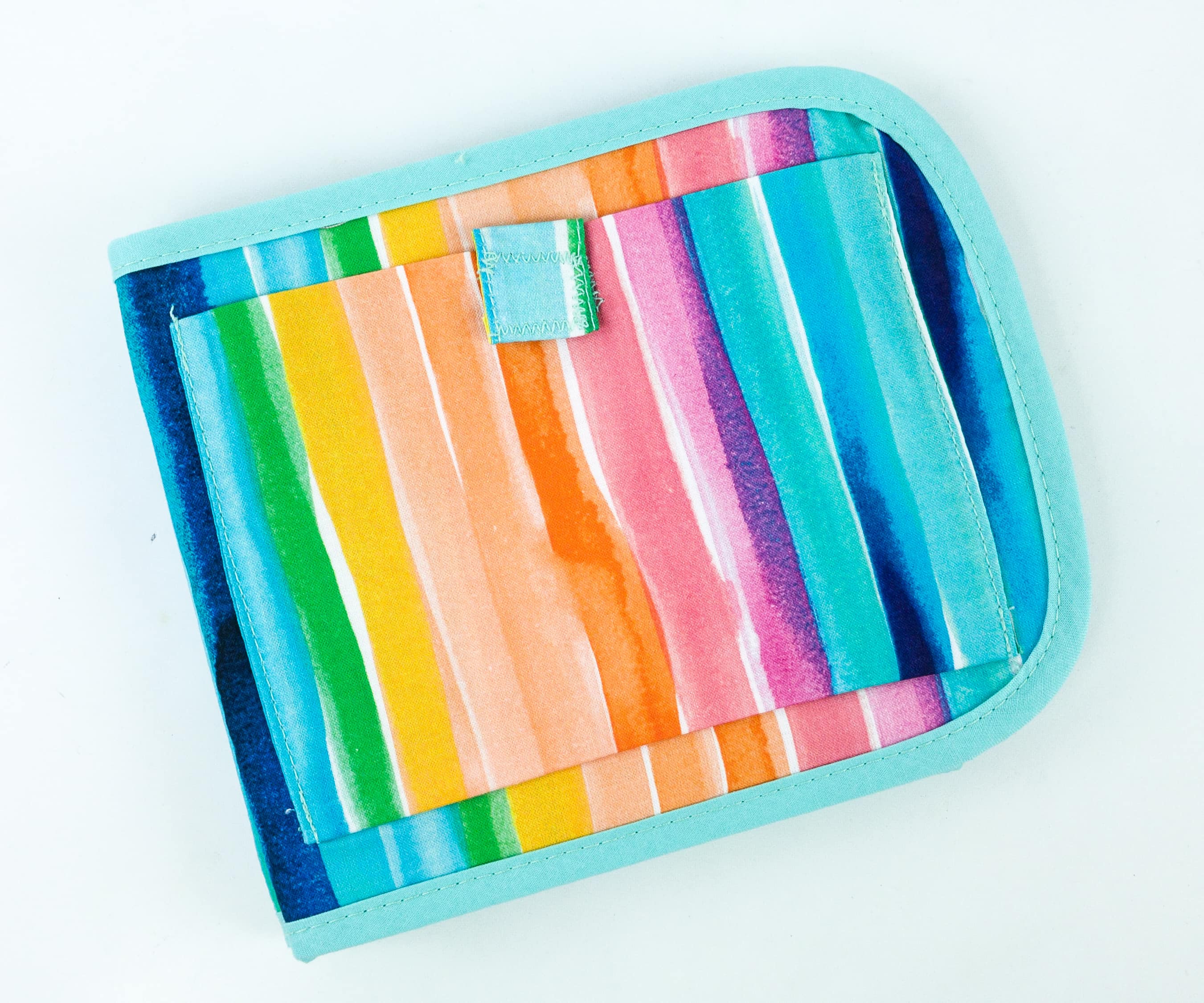 It's cute and handy! Moms or dads can easily stash it in their bag for emergencies, like when you're traveling and you need something to entertain your baby.
It can be folded up, so it's really travel-friendly. The holder is secured with velcro.
The card holder is long when spread out. It has four slots made using clear plastic, where you can insert black and white cards.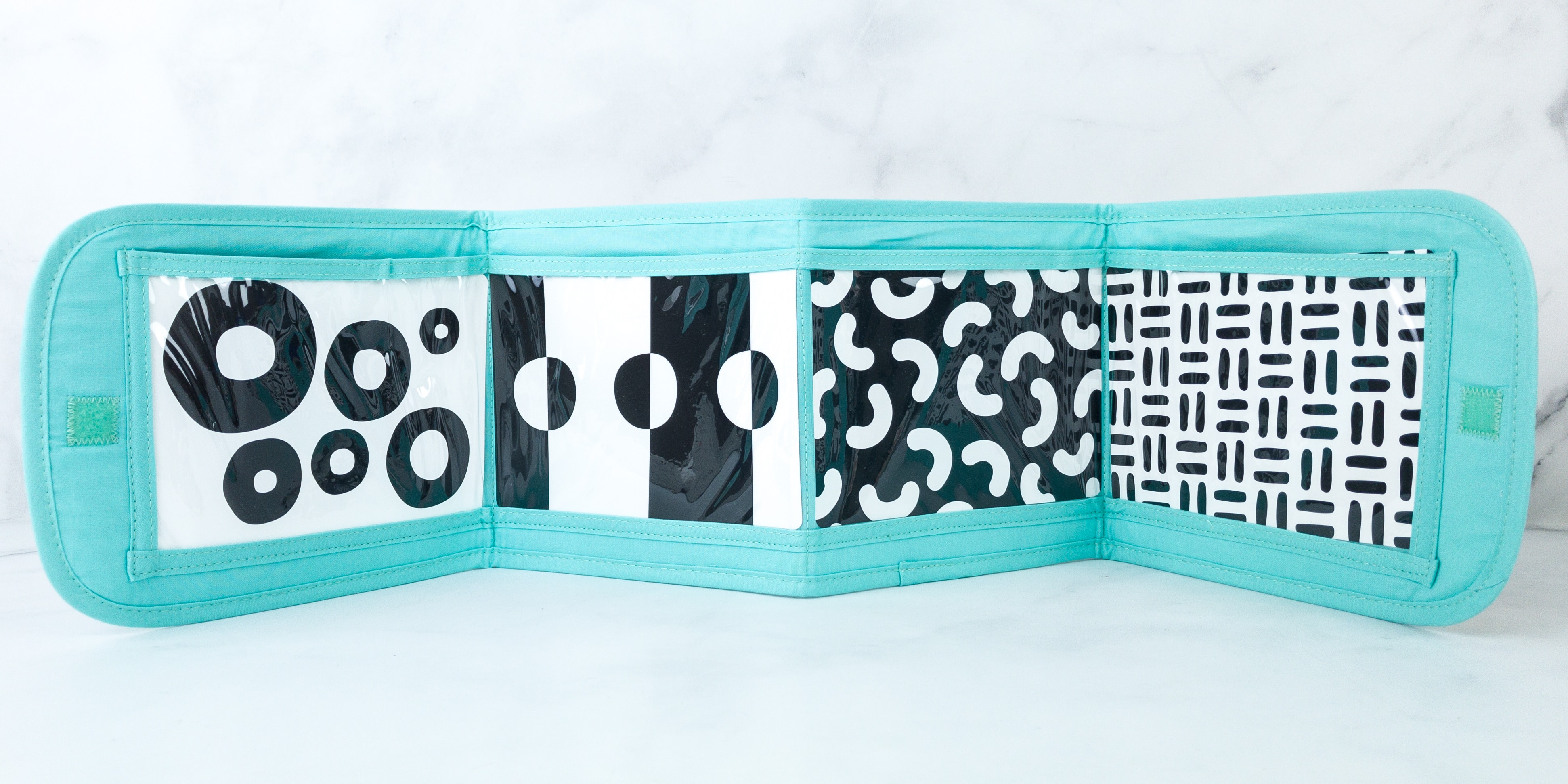 Here's how it looks like when the cards are inserted! It's great for visual stimulation, plus you can bring it anywhere!
Another activity is called Building Strength Through Tummy Time!
Tummy time builds muscles and coordination needed for rolling over, crawling, walking, reaching, and playing. The American Academy of Pediatrics recommends supervised tummy time starting in your baby's first week. Success is 3 to 5 minutes at a time, 2 to 3 sessions a day. If she seems to be getting tired or starts crying, it's time for a break.
Here's another card holder and this time it can stand!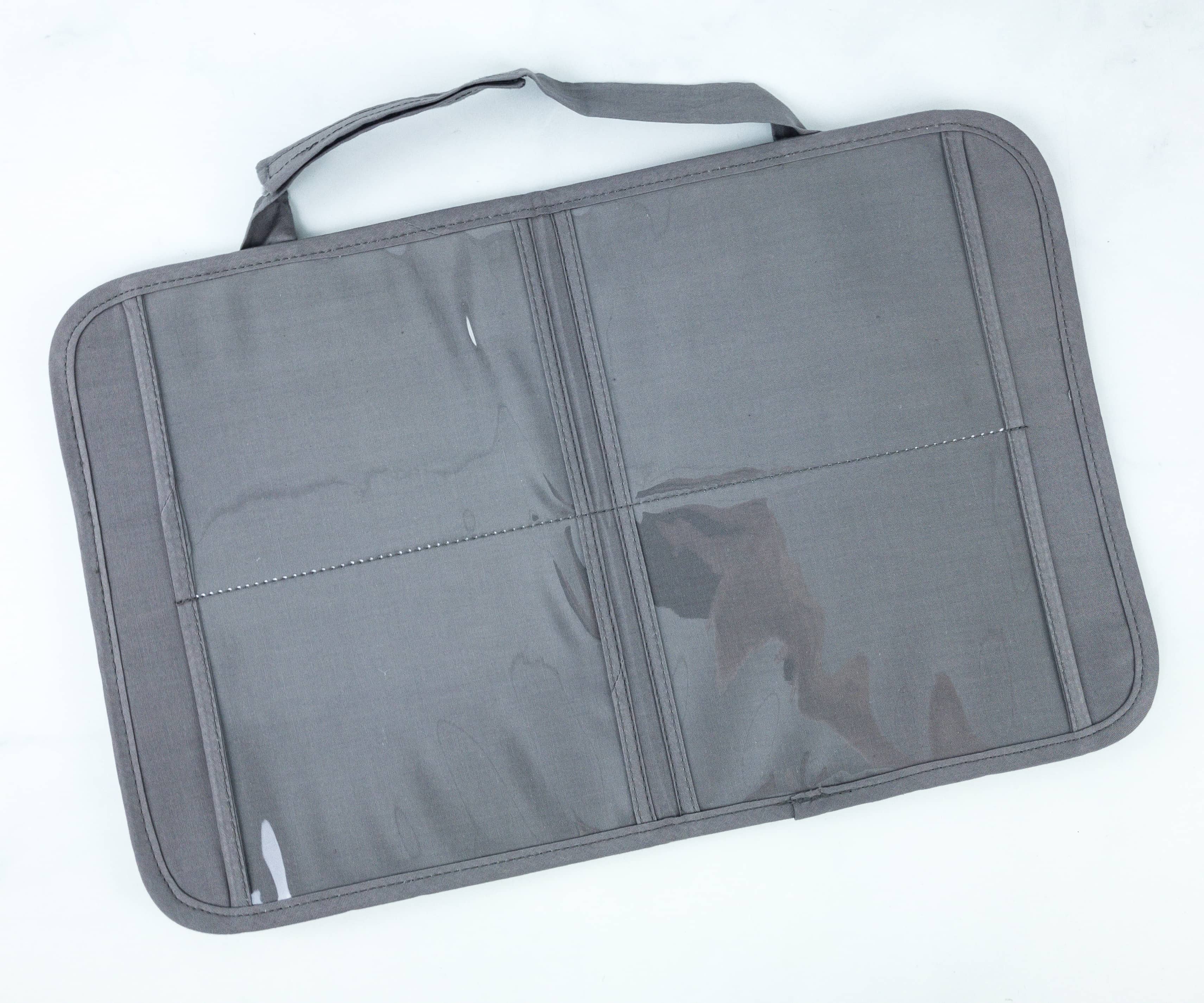 Just like the travel-friendly card holder, it has four slots where you can easily slip the black and white cards.
The booklet suggests to slowly roll your baby on their tummy and then put the standing card holder on their view. It's like hitting two birds with one stone because you're giving them tummy time while helping stimulate their vision!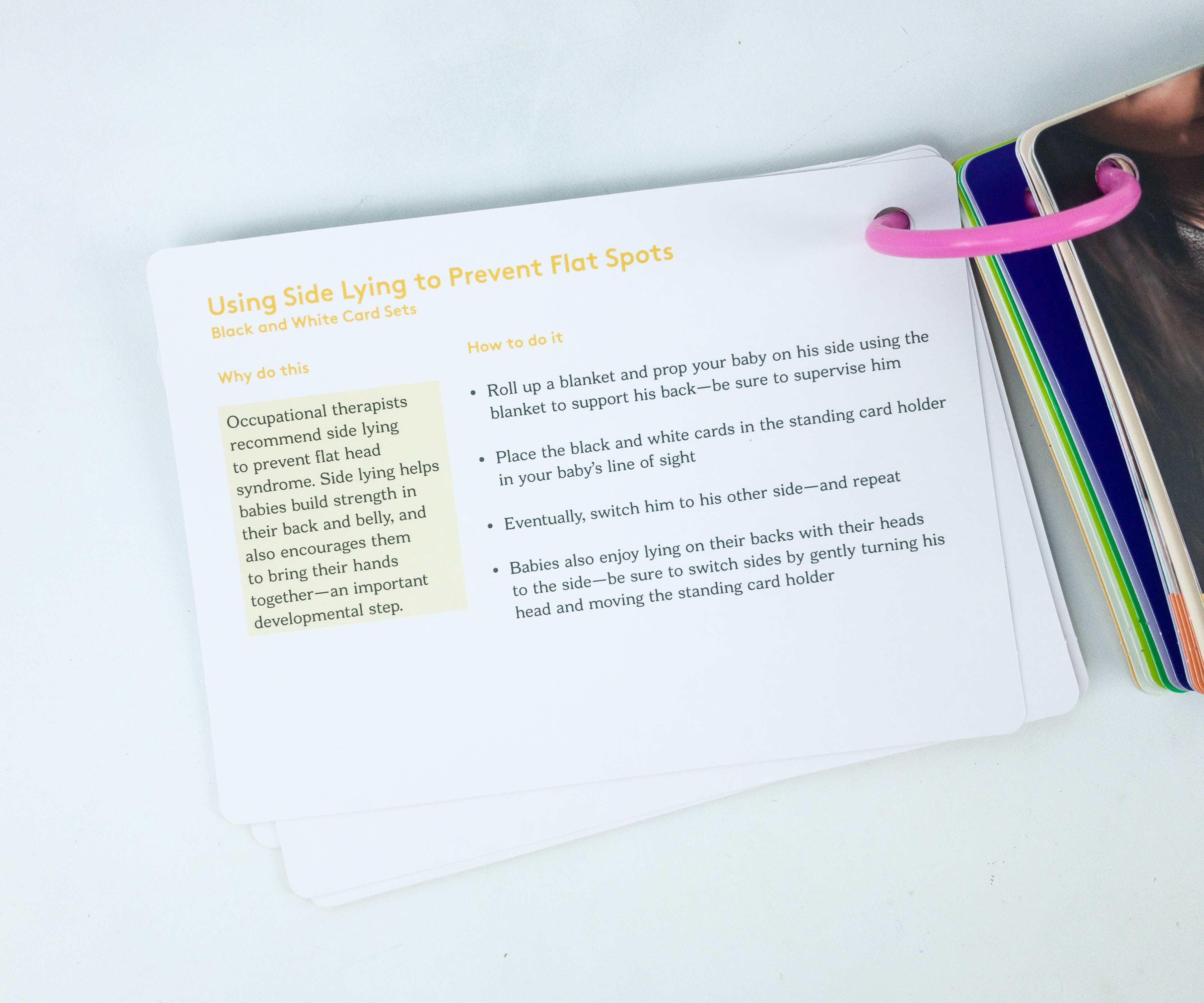 The next activity is called Using Side Lying to Prevent Flat Spots. Aside from tummy time, side lying is important for babies. For this, parents can utilize the black and white cards as well.
Occupational therapists recommend side lying to prevent flat head syndrome. Side lying helps babies build strength in their back and belly, and also encourages them to bring their hands together–an important developmental step.
Here's another activity, Understanding Rhythm and Sounds in Language!
The human voice is the most interesting sound to your baby. When you speak to your baby, you're helping her understand the sounds, rhythms, and patterns used in language. Reaading to your baby promotes 'shared focus'–joint experiences between you and your child that form the basis of strong relationships and learning.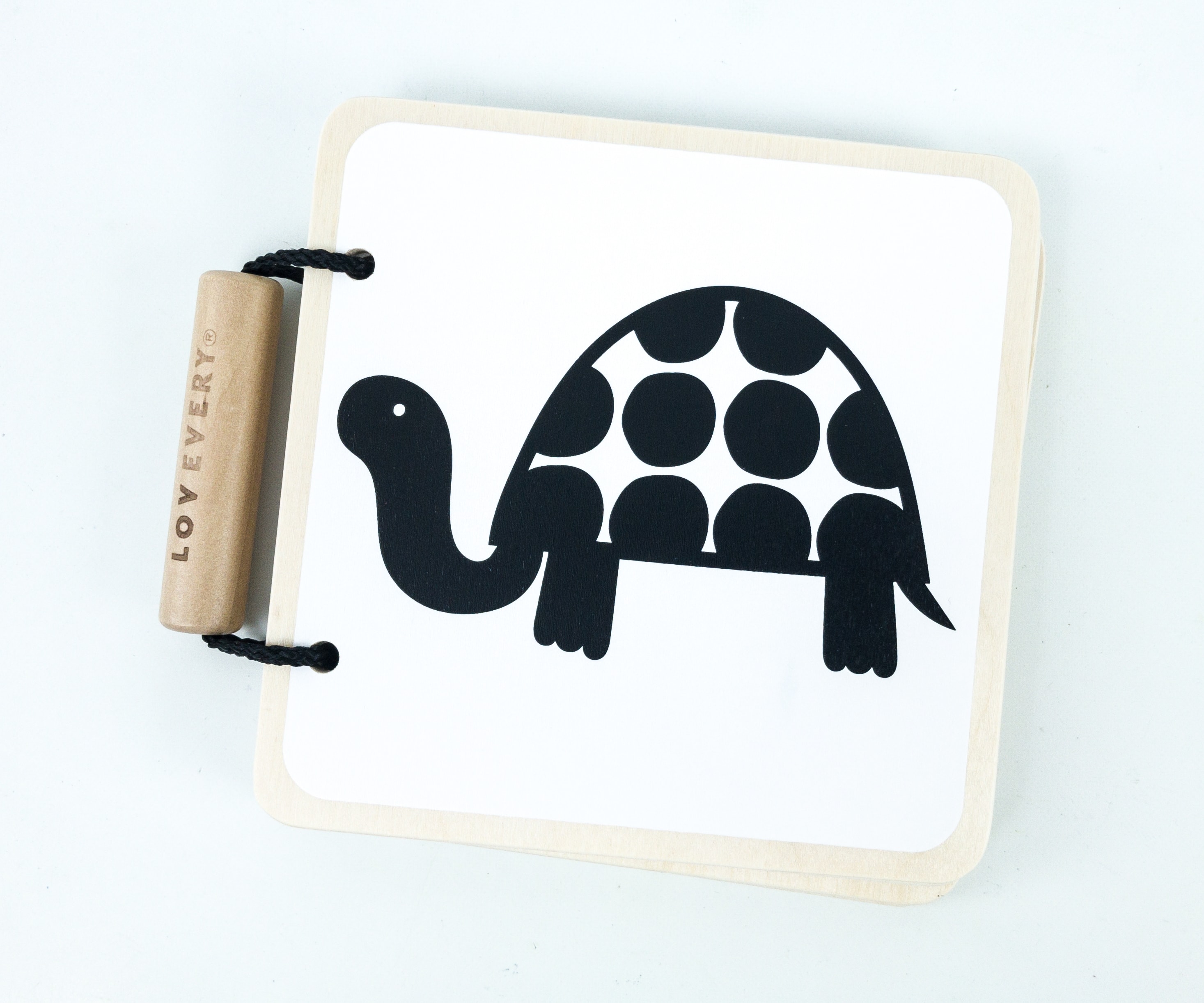 For this, we received a wooden book!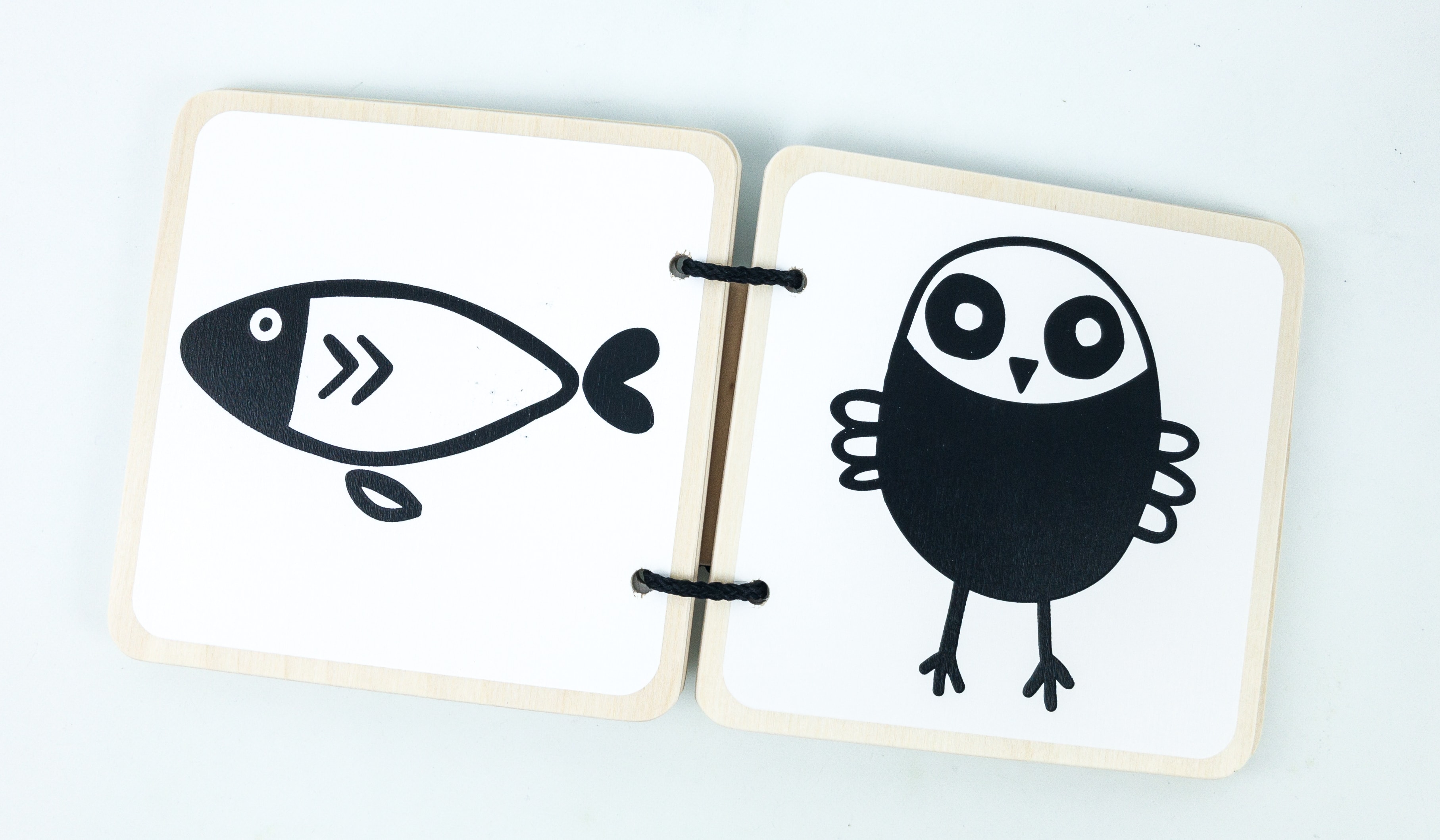 Just like the cards, the book features high-contrast images. This time, the images are not just patterns but animals!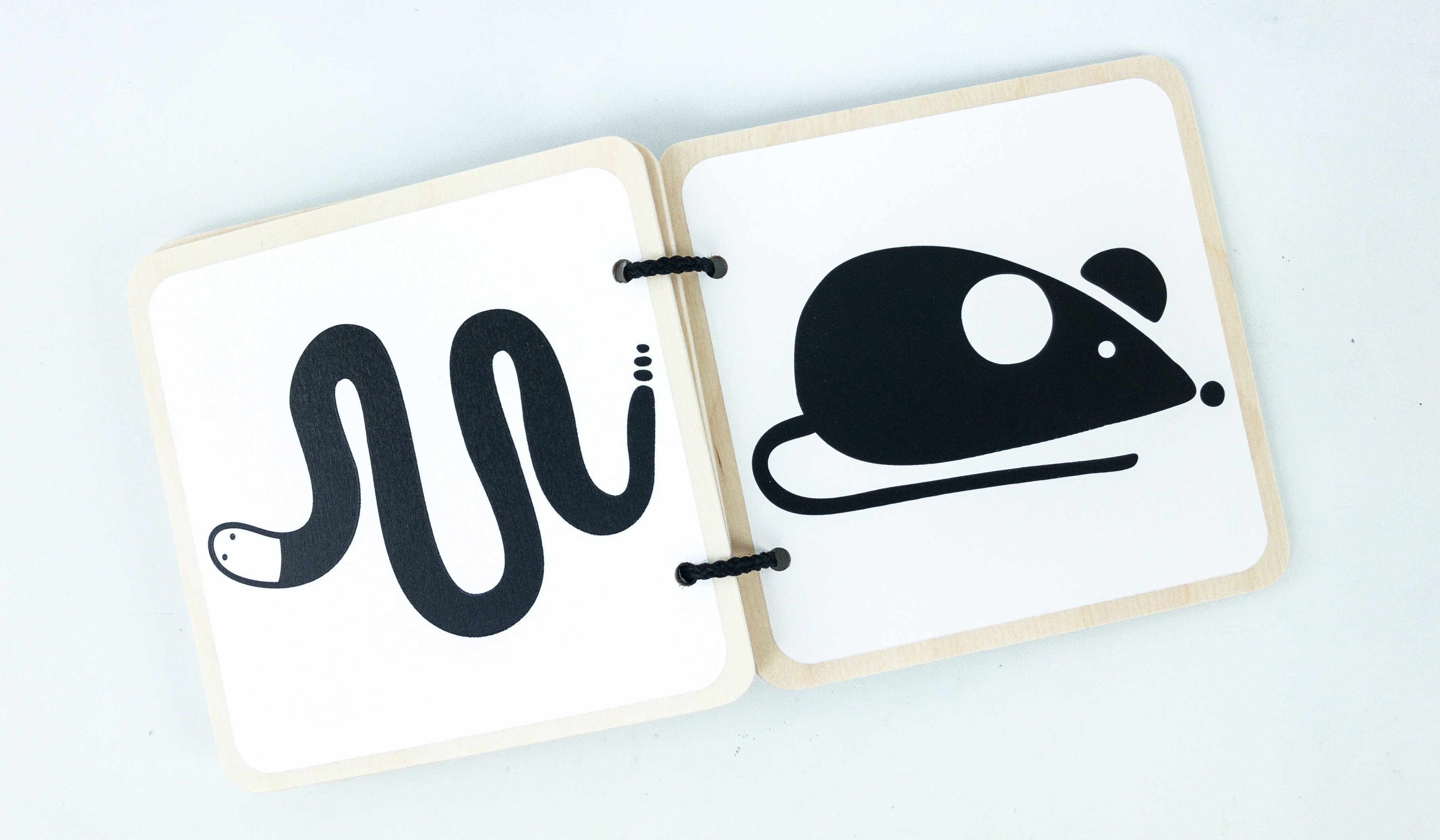 It's a fun book! There are no words on the book but you can make up a story for your baby while you're showing the image to them.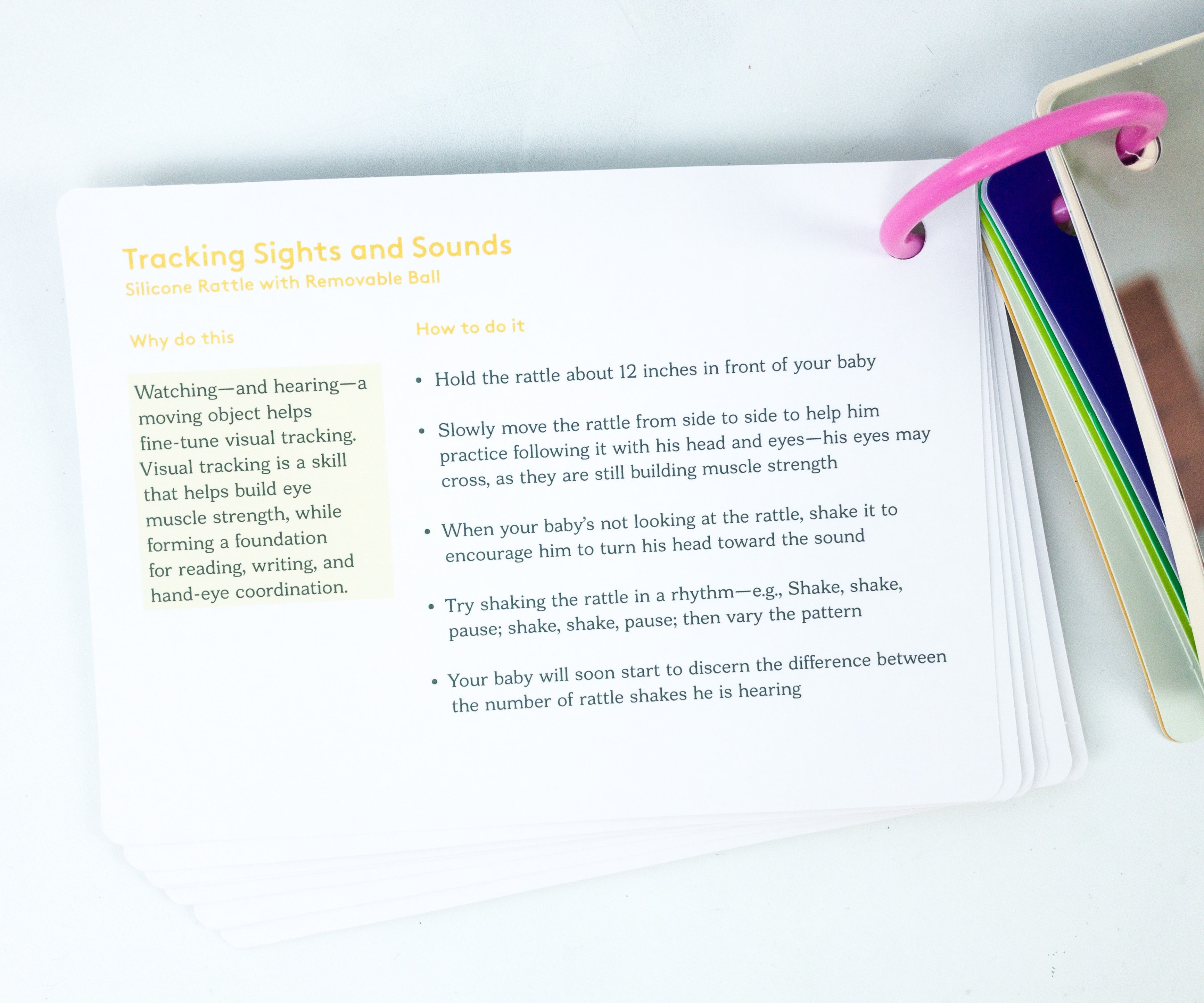 Next up is Tracking Sights and Sounds!
Watching–and hearing–a moving object helps fine-tune visual tracking. Visual tracking is a skill that helps build eye muscle strength, while forming a foundation for reading, writing, and hand-eye coordination.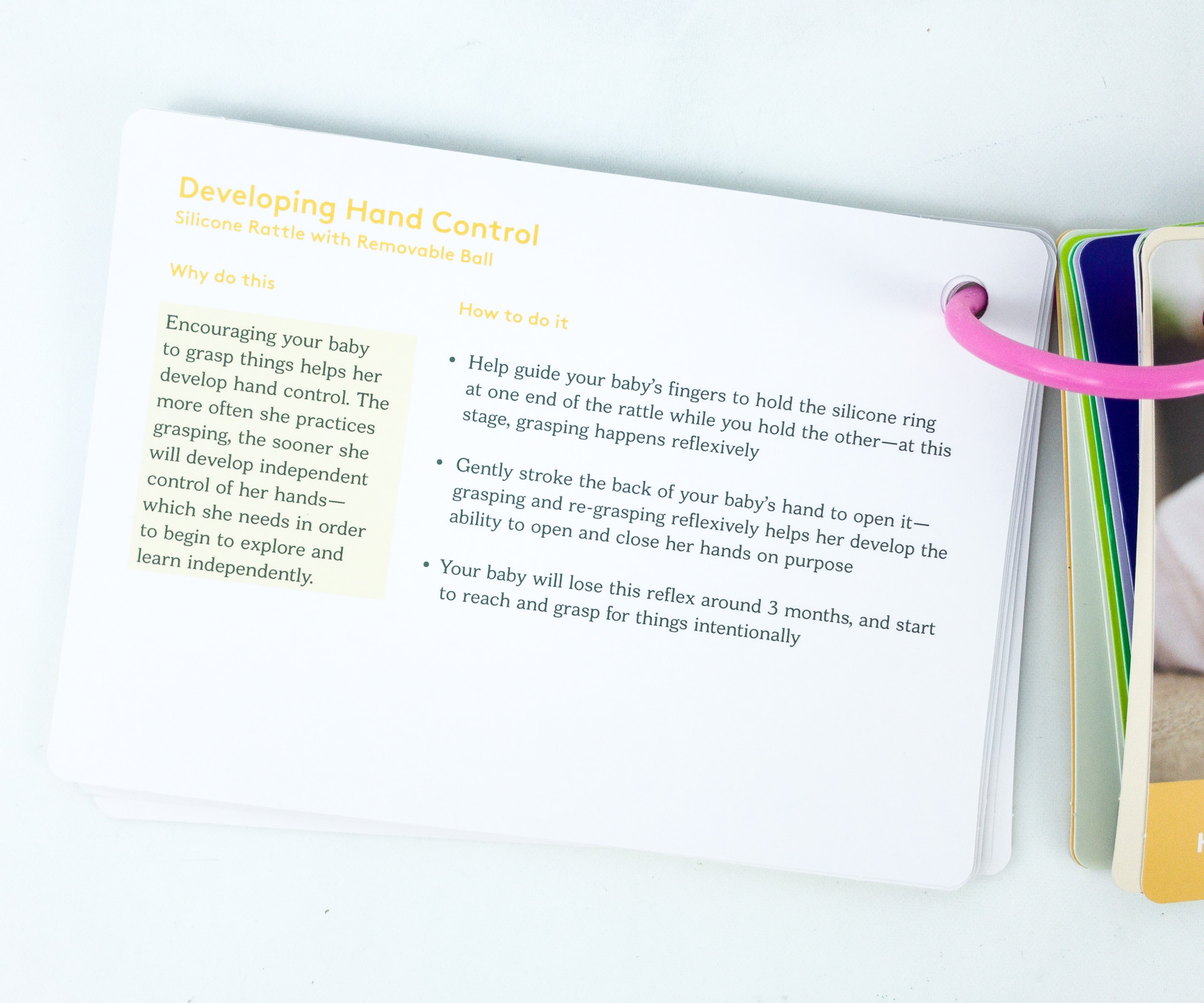 Here's another activity, which is called Developing Hand Control.
Encouraging your baby to grasp things helps her develop hand control. The more often she practices grasping, the sooner she will develop independent control of her hands–which she needs in order to begin to explore and learn independently.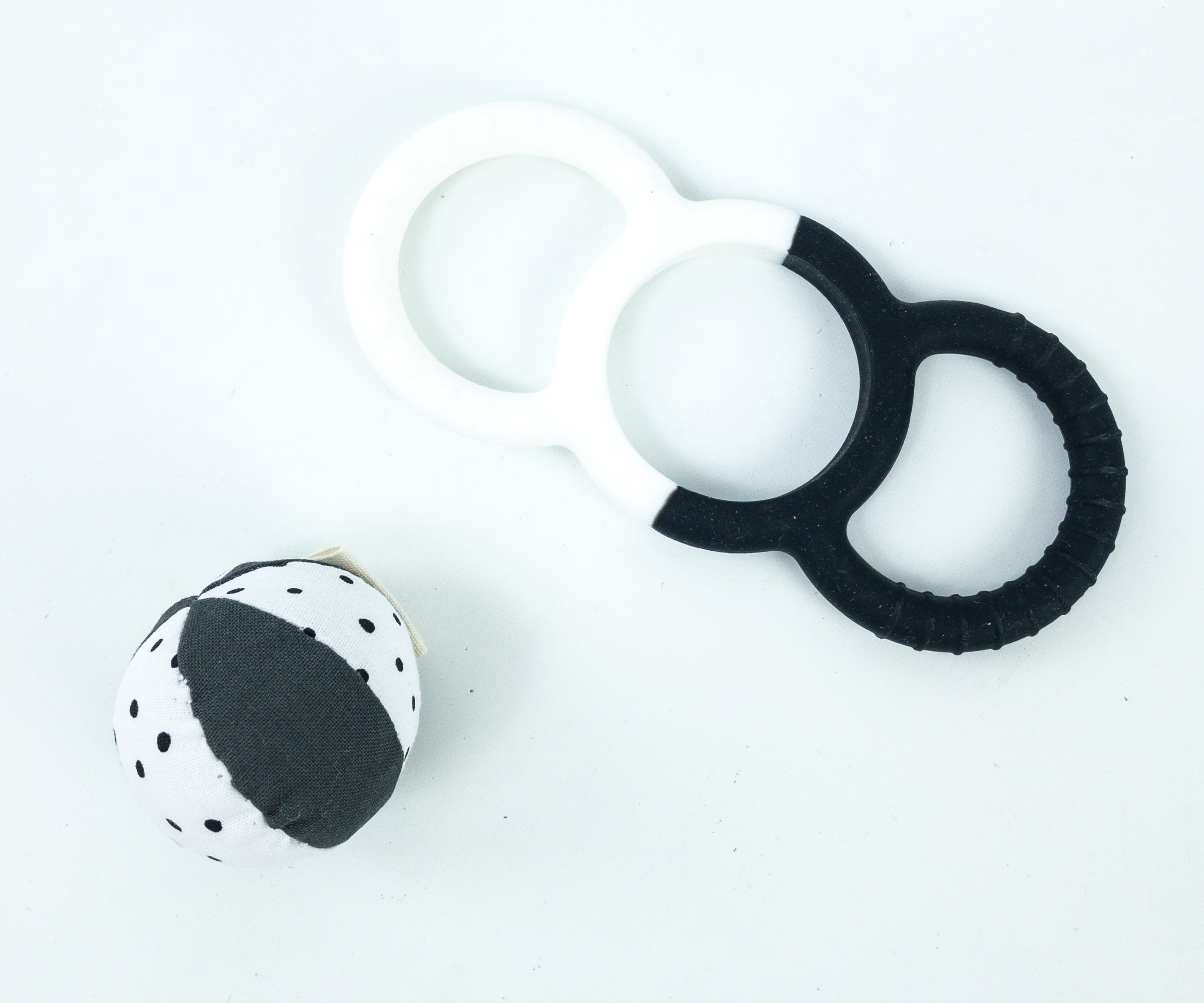 For both Tracking Sights and Sounds and Developing Hand Control, we received a silicone rattle with a removable ball.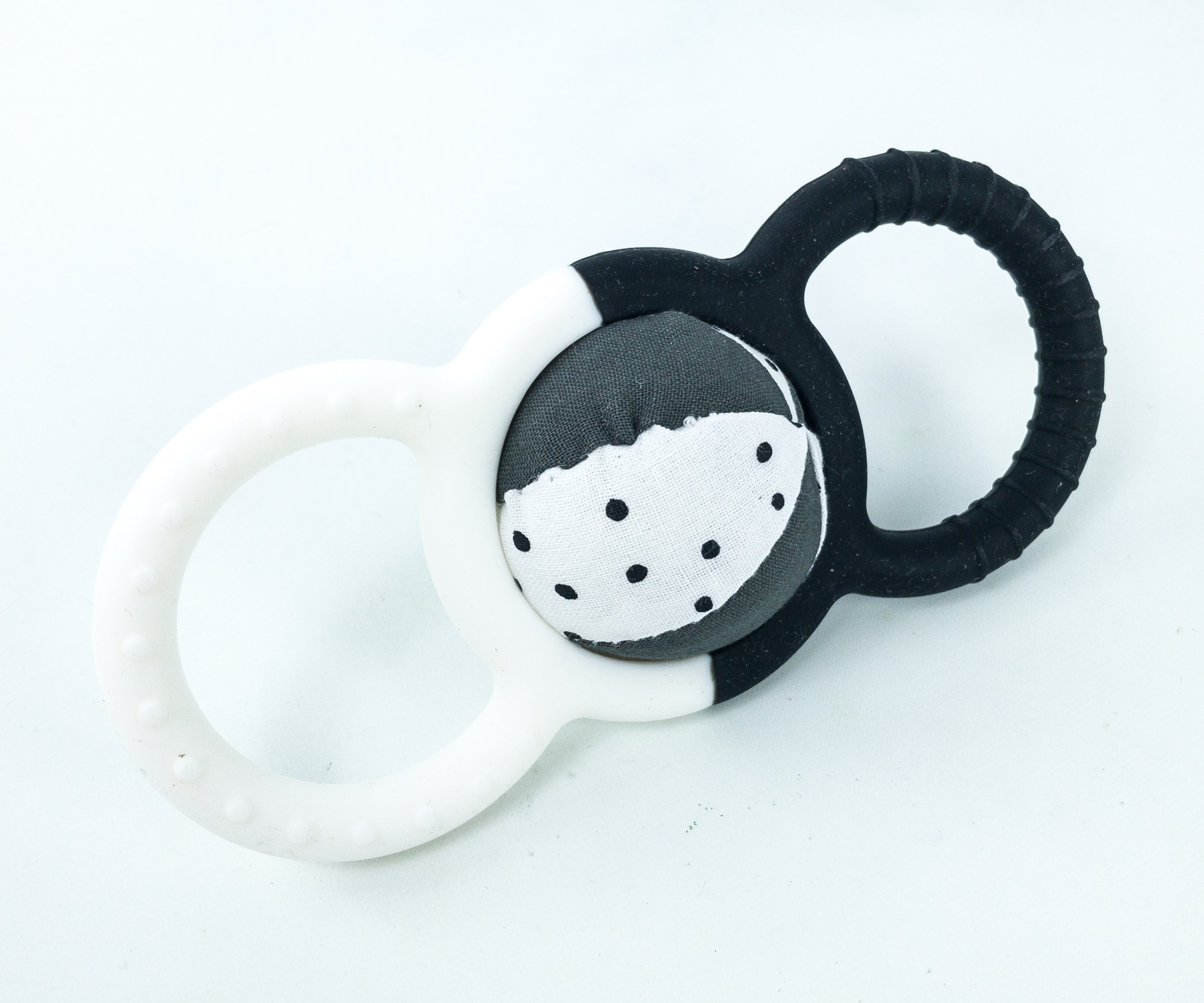 It's a basic toy with silicone handles that your baby can grasp. According to the booklet, at this stage, your baby's grasp is a reflex action. When they're around 3 months, that's when they start to grasp things intentionally. You can also use this toy to familiarize your baby with sounds. Just shake the rattle in a rhythm!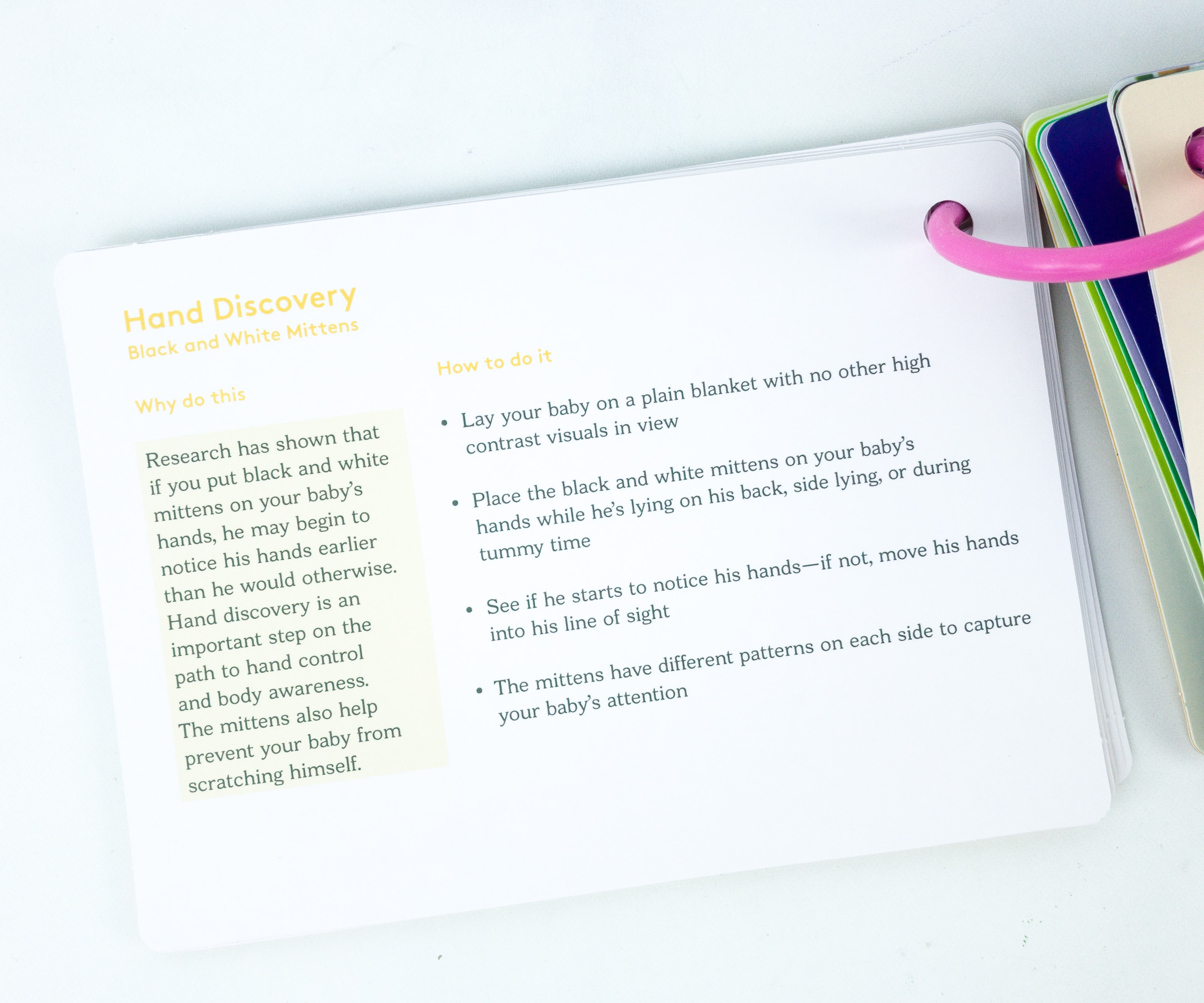 Up next is Hand Discovery!
Research has shown that if you put black and white mittens on your baby's hands, he may begin to notice his hands earlier than he would otherwise. Hand discoovery is an important step on the path to hand control and body awareness. The mittens also help prevent your baby from scratching himself.
We got a pair of black and white mittens for this activity. They are soft, light, and baby-safe.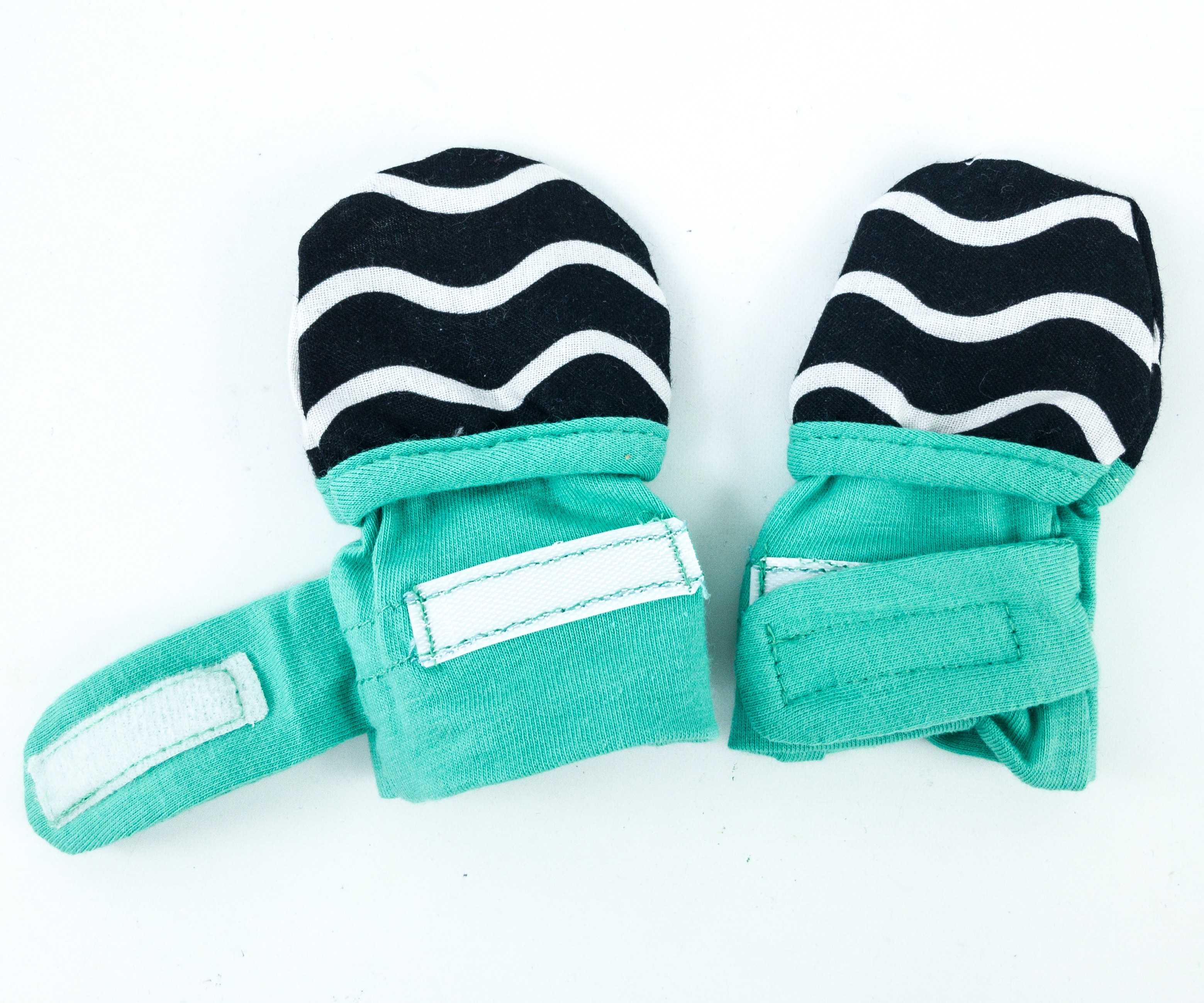 Just put the mittens on your baby's hands and you're all set. Aside from, preventing them from scratching, these mittens are designed with high contrast patterns so that they can recognize their hands!
Additional care instructions are listed in the booklet.
We're onto the last part of the booklet, which suggests more activities for parents and babies!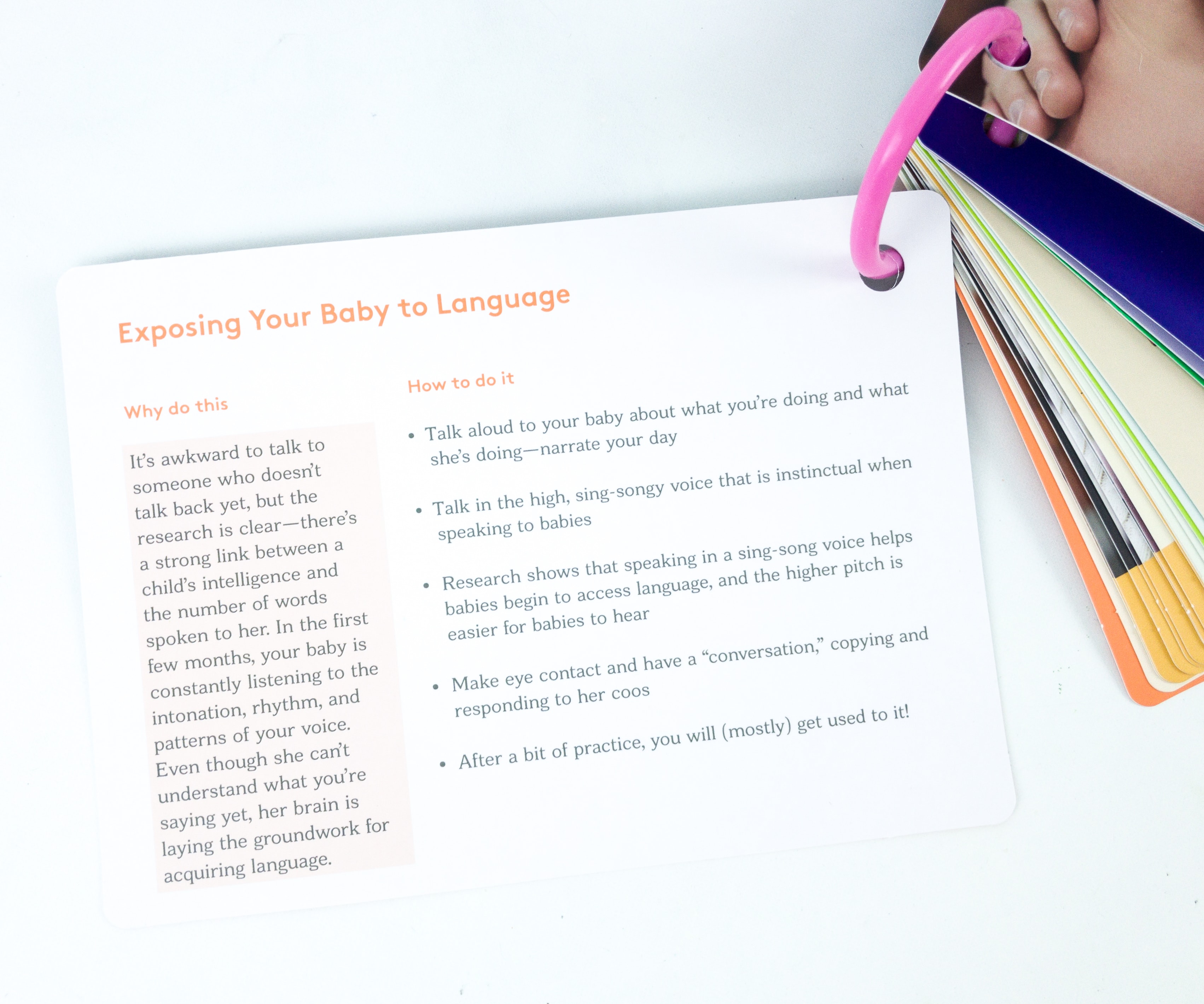 The first one is entitled Exposing Your Baby to Language! It's pretty easy to do, just talk to your baby about the things you're both doing. According to the booklet, it also helps when you use a high, sing-songy voice and when you make eye contact with them.
It's awkward to talk to someone who doesn't talk back yet, but the research is clear–there's a strong link between a child's intelligence and the number of words spoken to her. In the first few months, your baby is constantly listening to the intonation, rhythm, and patterns of your voice. Even though she can't understand what you're saying yet, her brain is laying the groundwork for acquiring language.
Next is Bonding and Feel-Good Hormones! The booklet explains how important it is to allot time for skin on skin contact with your baby.
Skin on skin time offers a huge array of benefits to your baby: better digestion, temperature regulation, weight gain, improved immunity, improved sleep, and even brain growth. There are benefits for parents as well: feel-good hormones are released when you and your baby have direct skin contact.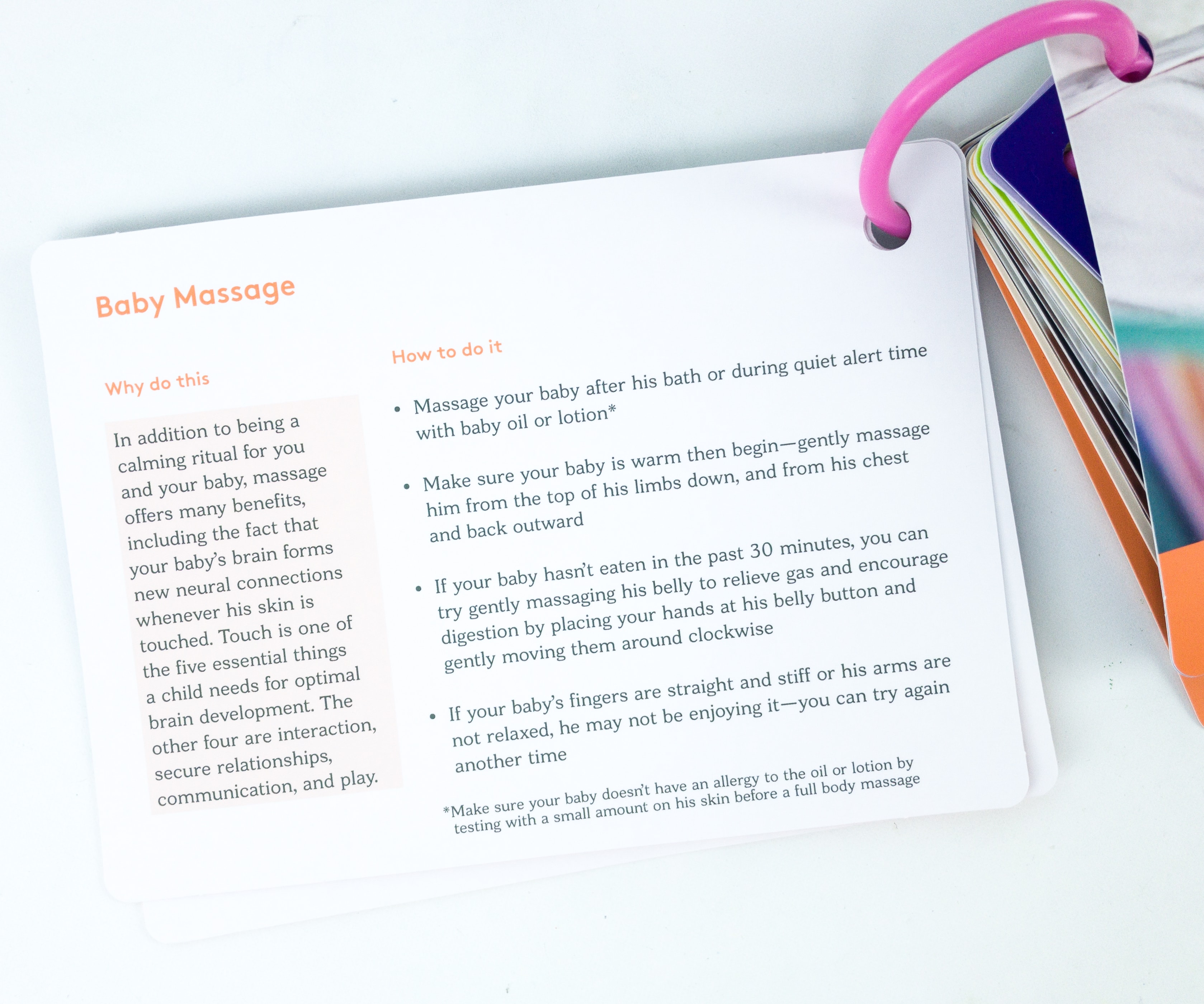 Another interesting activity you can do with your baby is Baby Massage! You may use oil or lotion for massaging and it's best done after bath time or during quiet time.
In addition to being a calming ritual for you and your baby, massage offers many benefits, including the fact that your baby's brain forms new neural connections whenever his skin is touched. Touch is one of the five essential things a child needs for optimanl brain development. The other four are interaction, secure relationships, communication, and play.
For the next activity, Avoiding Tight Neck and Flat Spots, they provided pointers on how to gently turn your baby's head.
Most babies can't hold their head pointed forward: it flops to one side or the other. Babies are generally born with a preference for turning their head to one side–inthe womb, their head was positioned on one side or the other. Occupational therapists recommend turning your baby's head from side to side to avoiding a flat spot forming and neck muscles from tightening.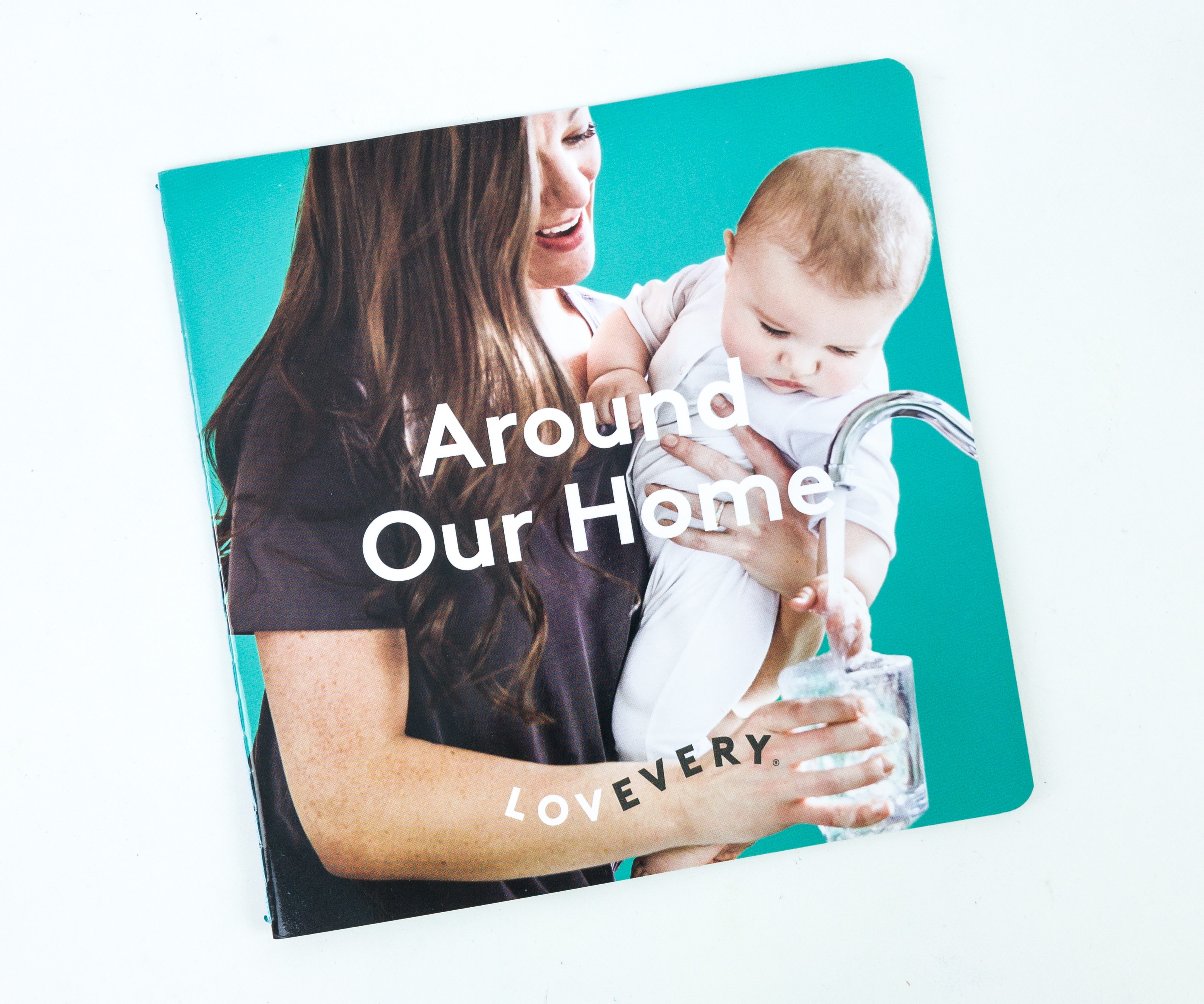 Another booklet is included in the box and it's called Around Our Home.
It's a guide for the parents, telling us how to talk to our babies because it's essential for their neural development.
They even listed some of the things you can talk about. The pages are so colorful as well.
It doesn't need to be about serious stuff, even the simplest things like where you keep your socks and shoes would be enough.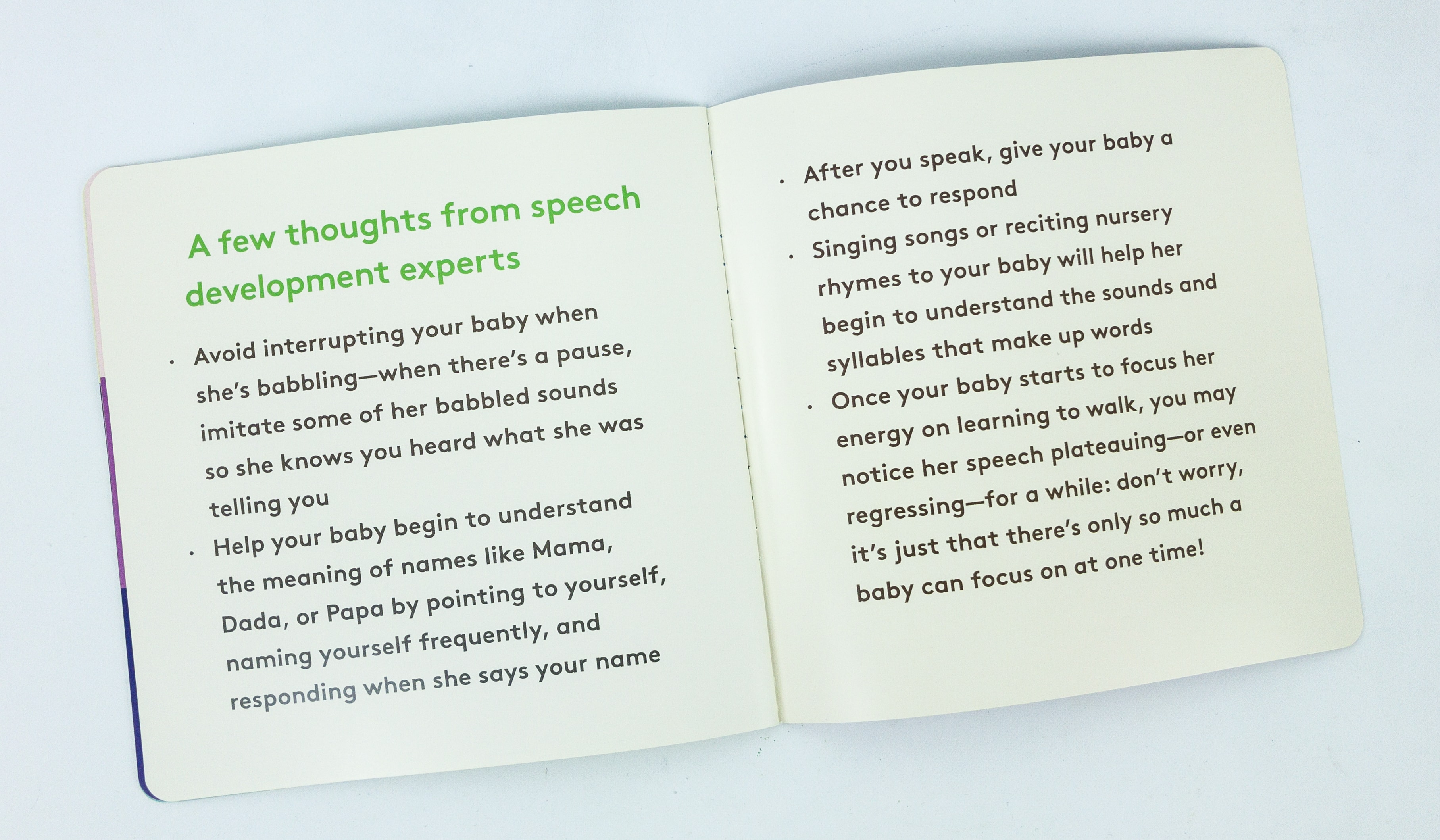 They also provided insights from speech development experts. This is really a nice read!
A little gift for parents!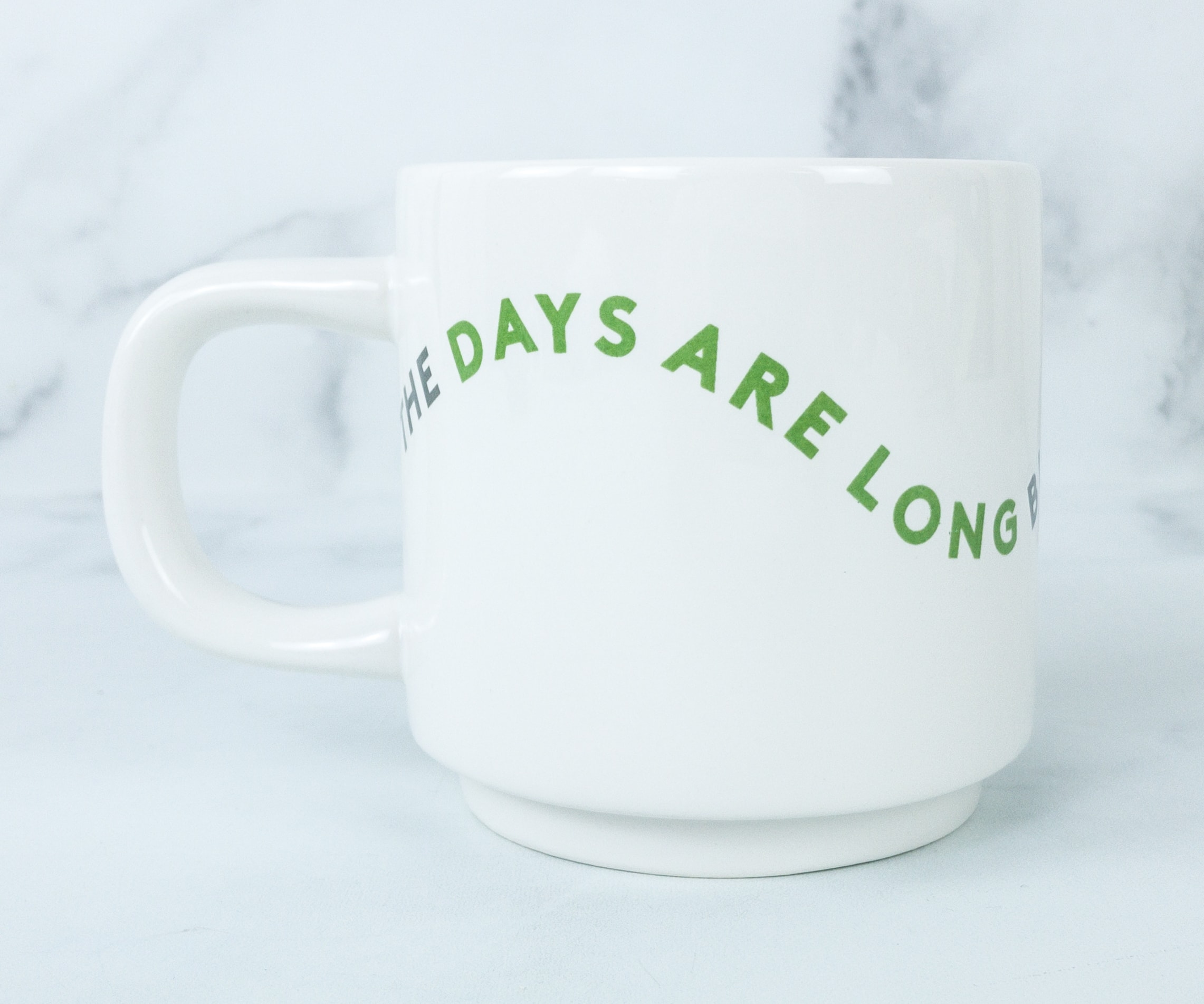 It's a white mug, where you can enjoy your coffee or tea. It's like a reminder to have a break because you deserve it as well.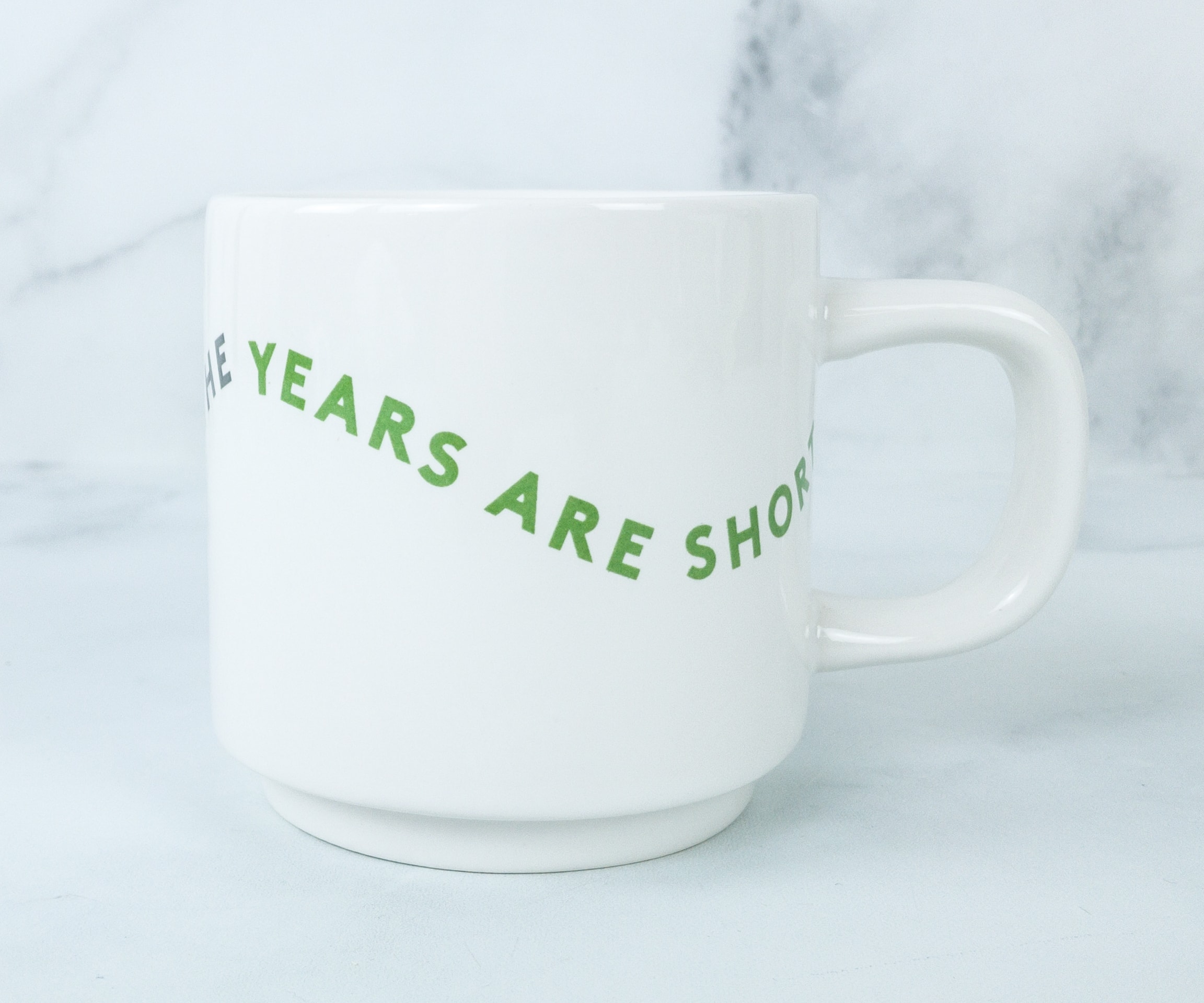 The print says "the days are long but the years are short." Absolutely true!
This is such an amazing box! Baby Play Kits by Lovevery is definitely one of the most detailed, most well-researched, and informative subscriptions made for parents and their newborn babies. The booklet is jam-packed with activity and bonding ideas that you can easily incorporate in your daily routine with your baby. They also explain thoroughly why each one is important, and even encourage you along the way. This is really helpful, especially for first-time parents! The toys they provide are also baby-safe and age-appropriate! If you're looking for a subscription to accompany you and your baby as they grow, this one is really worth every penny!
What do you think about the Baby Play Kits by Lovevery?
Visit Baby Play Kits by Lovevery to subscribe or find out more!