Skylar Scent Club sends an exclusive scent-of-the-month rollerball! They send only naturally scented perfumes that are paraben-free, hypoallergenic, and cruelty-free! This subscription is $20 per month ($29 value) and comes with free shipping to the US ($9.99 international) + member exclusive deals!
Going clean doesn't have to mean limiting your options. Get a new scent each month and mix up your scent style with members-only perfumes perfect for your vibe of the month.

At Skylar, we are focused on your Body Beauty™. In our 6-Free Scents™, we use real flowers, fruits, and botanicals so they smell smooth, natural, and refined. Even better, they don't contain harmful chemicals so you can use them with 100% peace of mind.
DEAL: Get 50% off your first box with coupon code MY50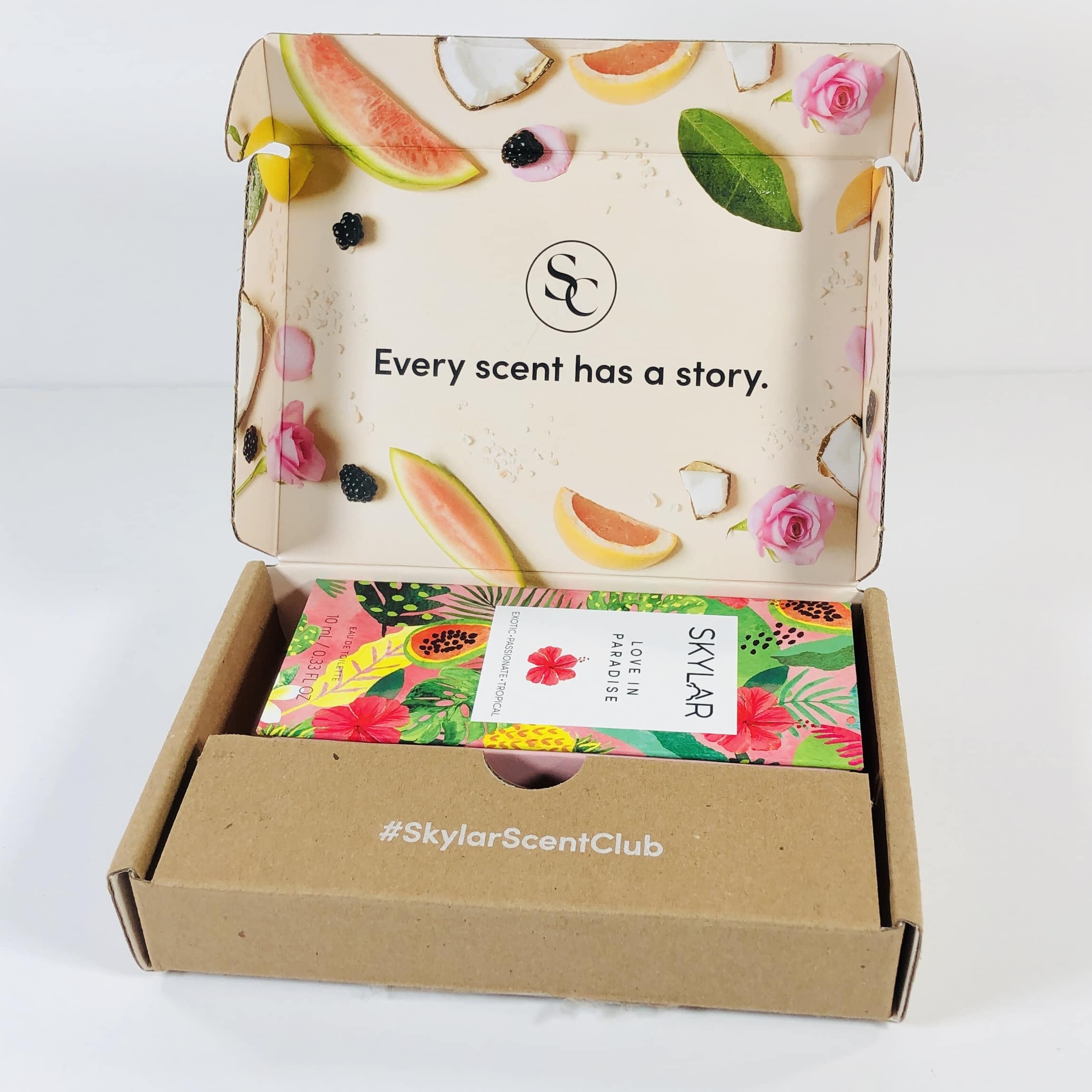 Look at how cute the shipping box is on the inside!
My fragrance arrived safe and sound.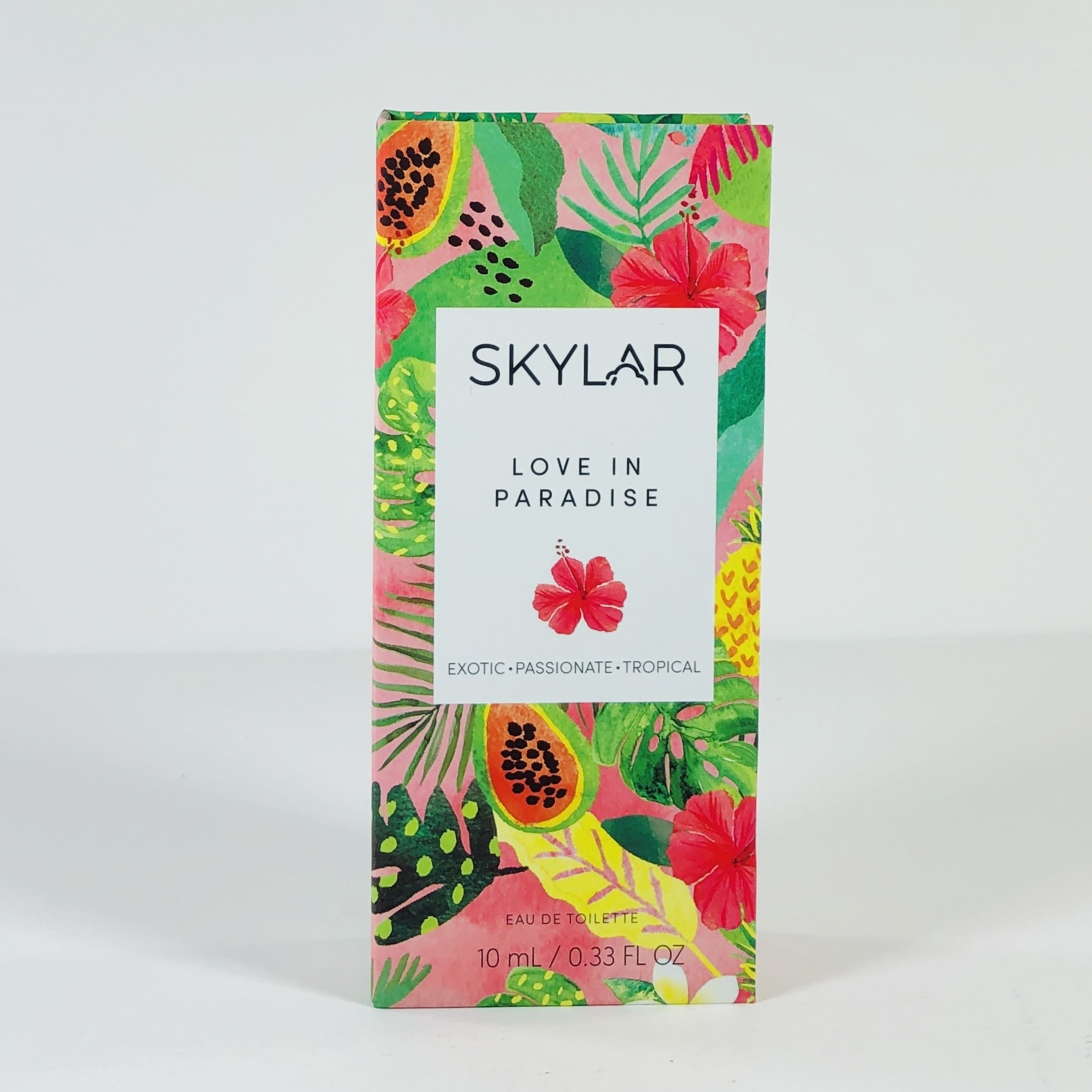 Skylar Love In Paradise ($29 value) My fragrance came in an adorable "book" box and the decoration is just so pretty! The only way to get a hold of this fragrance is by joining the club – members receive an exclusive scent every month, although they offer other scents on their website too.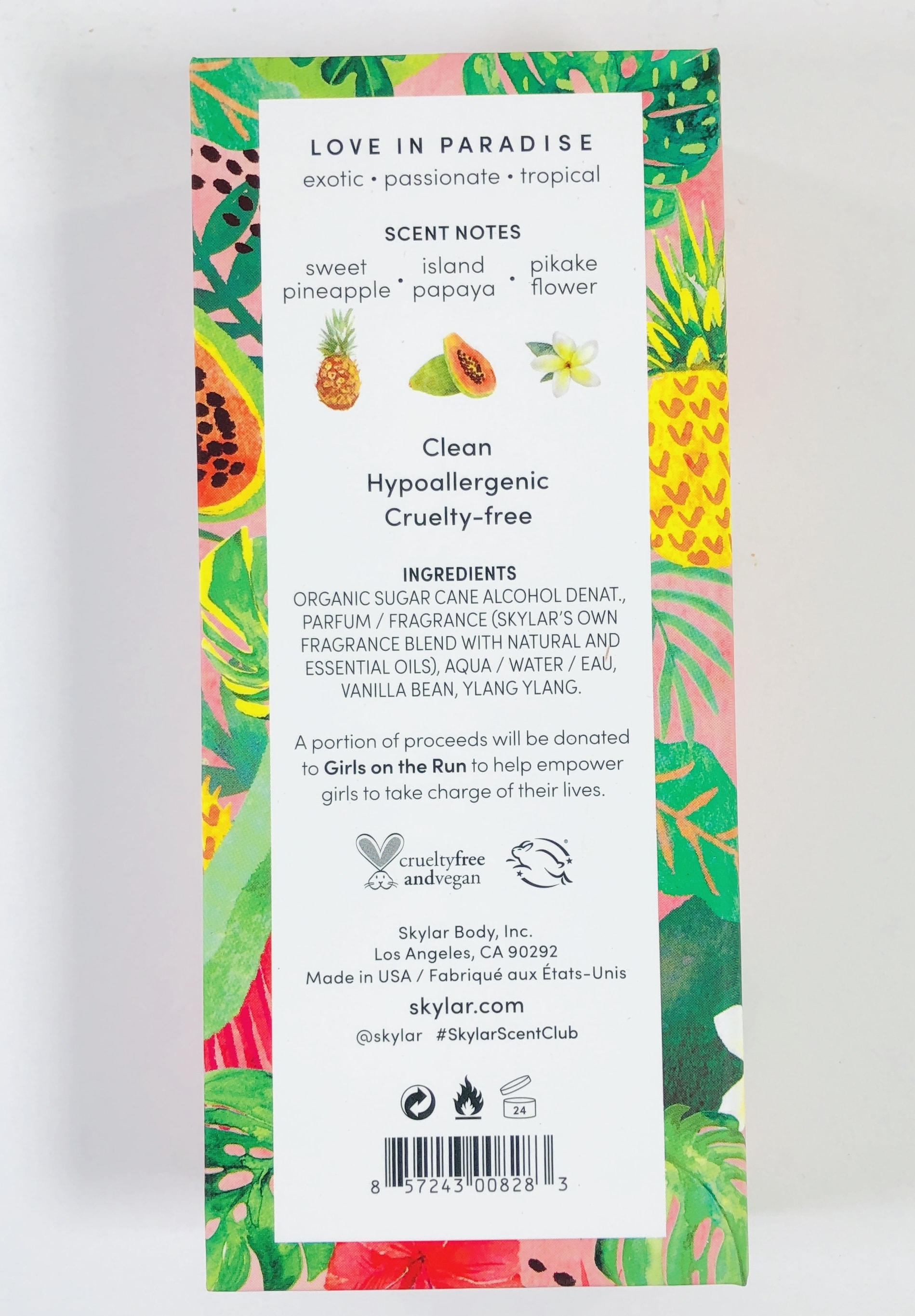 The back of the box lists the scent notes and ingredients and reminds me that this product is cruelty-free and vegan and I verified that is is Leaping Bunny approved!
The scent bottle was nestled inside the box and some pairing suggestions were listed on one part of the box. You can layer this fragrance with other Skylar perfumes to come up with your own unique scent combo.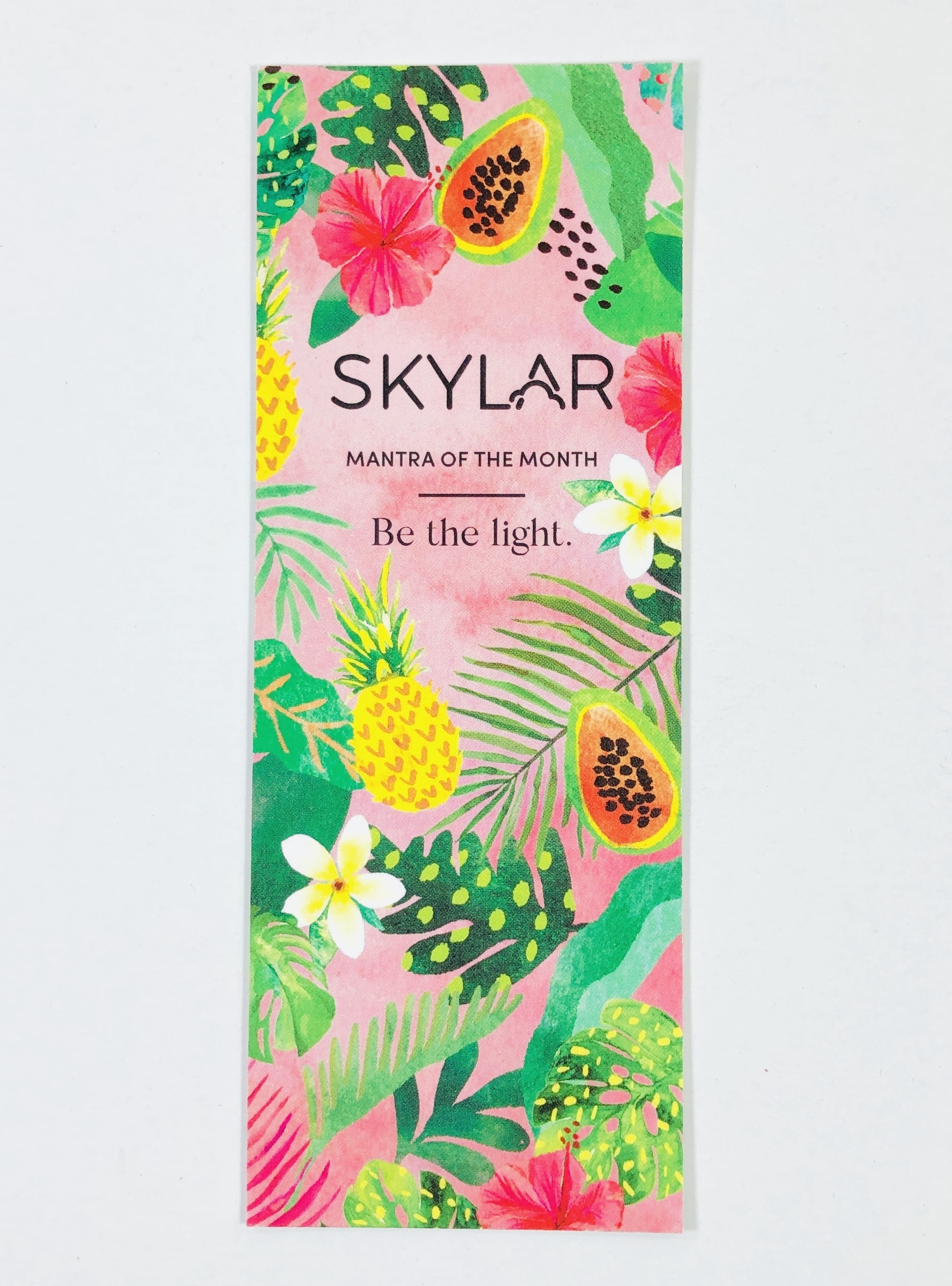 I also found a tropical bookmark.
The back has a place for you to jot down "How I will be the light this month…" and a portion of proceeds will be donated to Girls on the Run, a non-profit that pairs girls with running and helps them become stronger, both in body and mind.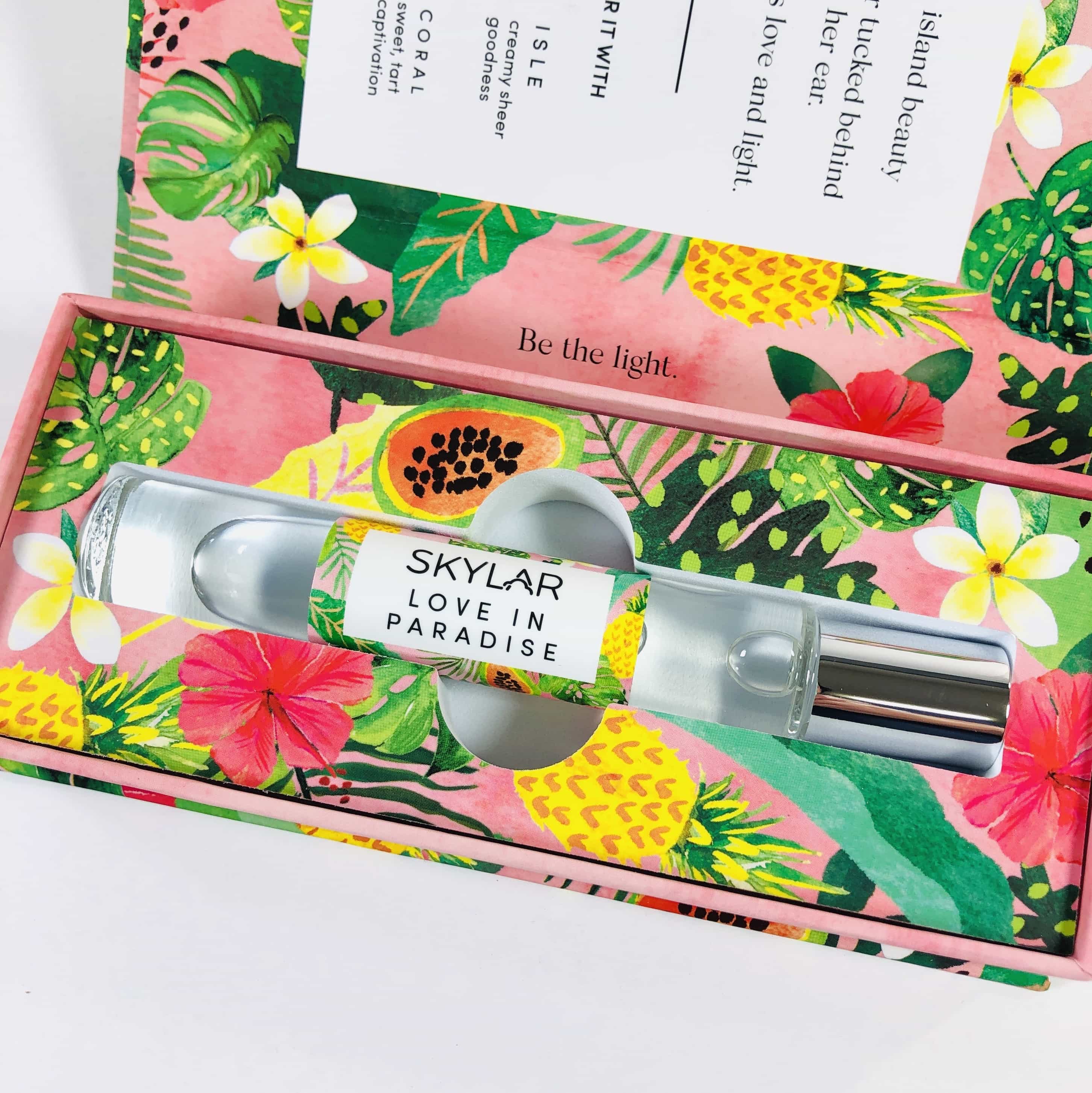 Last month I made my first trip to Hawaii and I was longing for a sweet, tropical scent and so I was very excited to receive this fruity fragrance! Here is a little more info from the Skylar website:
Our love for summer is shining bright with this passionate and tropical scent. Inspired by the warm, radiant light in each of us, you'll feel the love in paradise, with fruity notes of sweet pineapple, island papaya, and pikake flower. Though the season (and our tan lines) are fading, enjoy an exotic vacation-in-a-bottle all year round!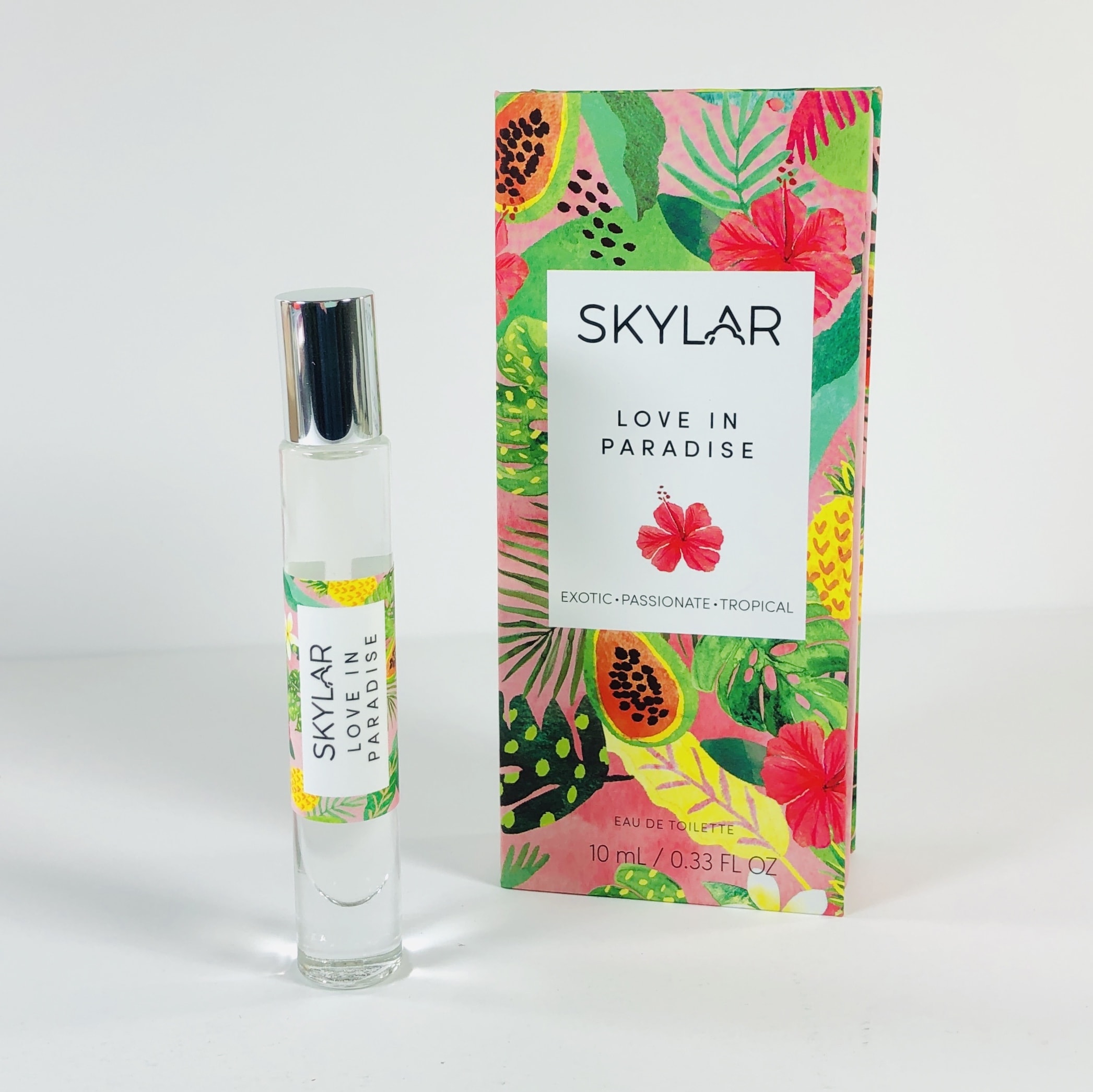 The fragrance has a rollerball applicator and I don't think you can apply too much – the scents start off strong but quickly fade to a hint of scent before disappearing after an hour or so. There is enough product to last through several applications each day and should last at least a month, even if you use it several times a day, every day.
I agree that the scent is "exotic – passionate- tropical" and I love the fruity sweetness of this scent! My August Skylar scent smells like fruity, very ripe pineapple with a hint of pikake flower. I am loving it, it is just what I wanted after my tropical getaway! Another benefit of belonging the the Skylar Scent Club is that you can receive discounts on their other items, which for now include fragrances and candles. You can also find some of those fragrances at certain Sephora stores.
Any thoughts about this month's Skylar Scent Club box?