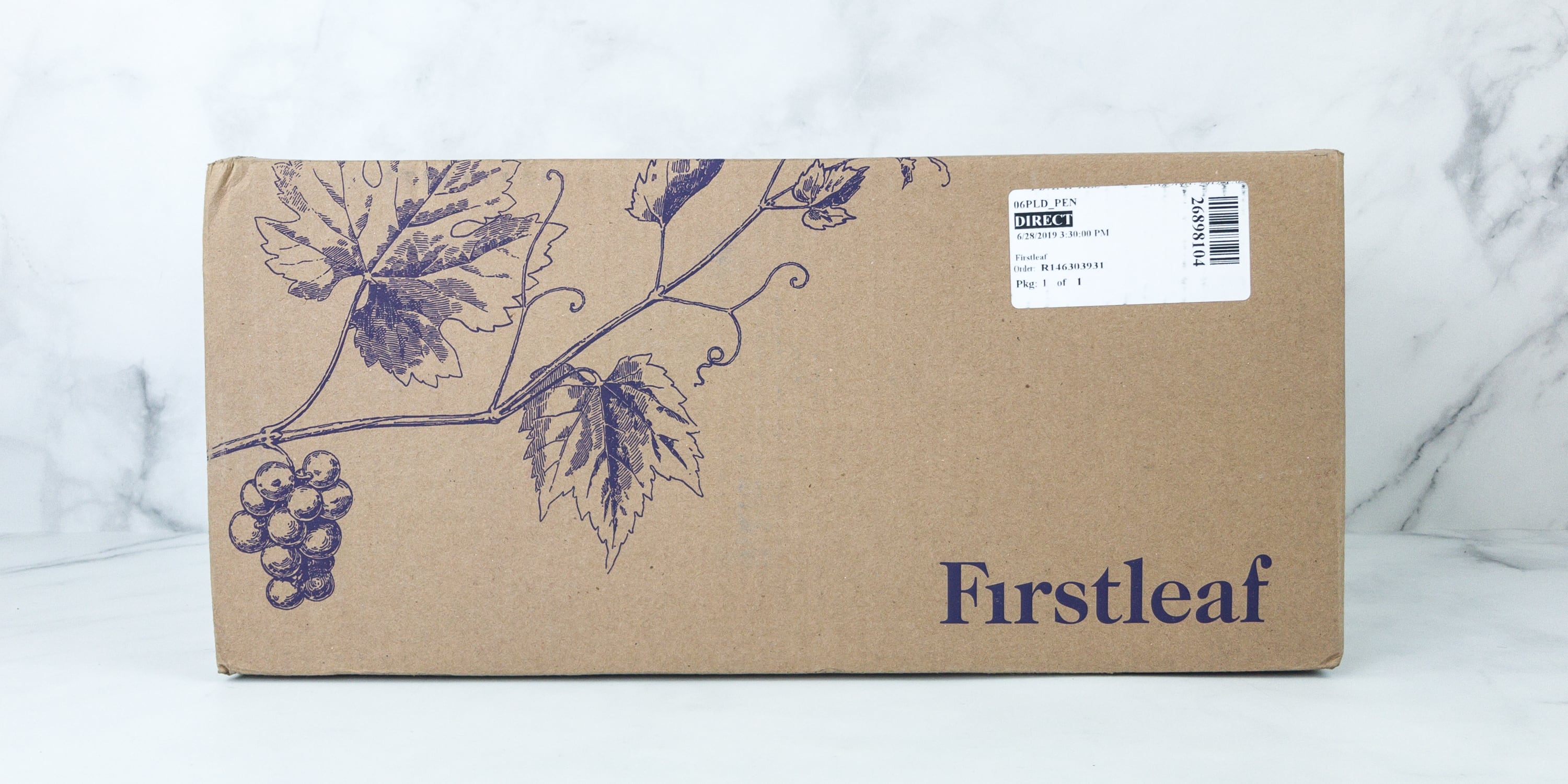 Firstleaf is a wine club subscription that aims to discover your exact wine preferences and ship you that wine. A member's first shipment will be an introductory pack containing 6 bottles of wine. It will be curated based on a few simple questions that you will answer upon sign up. If you rate wines after you receive your box, they'll use their proprietary algorithm to target your exact preferences, getting better and better with every box.
DEAL: The introductory order with 6 bottles of wine is priced at $39.95 + tax and has free shipping, while future boxes will contain 6 bottles for $79.98 + $9.95 shipping and tax. No coupon needed, just use this link to subscribe.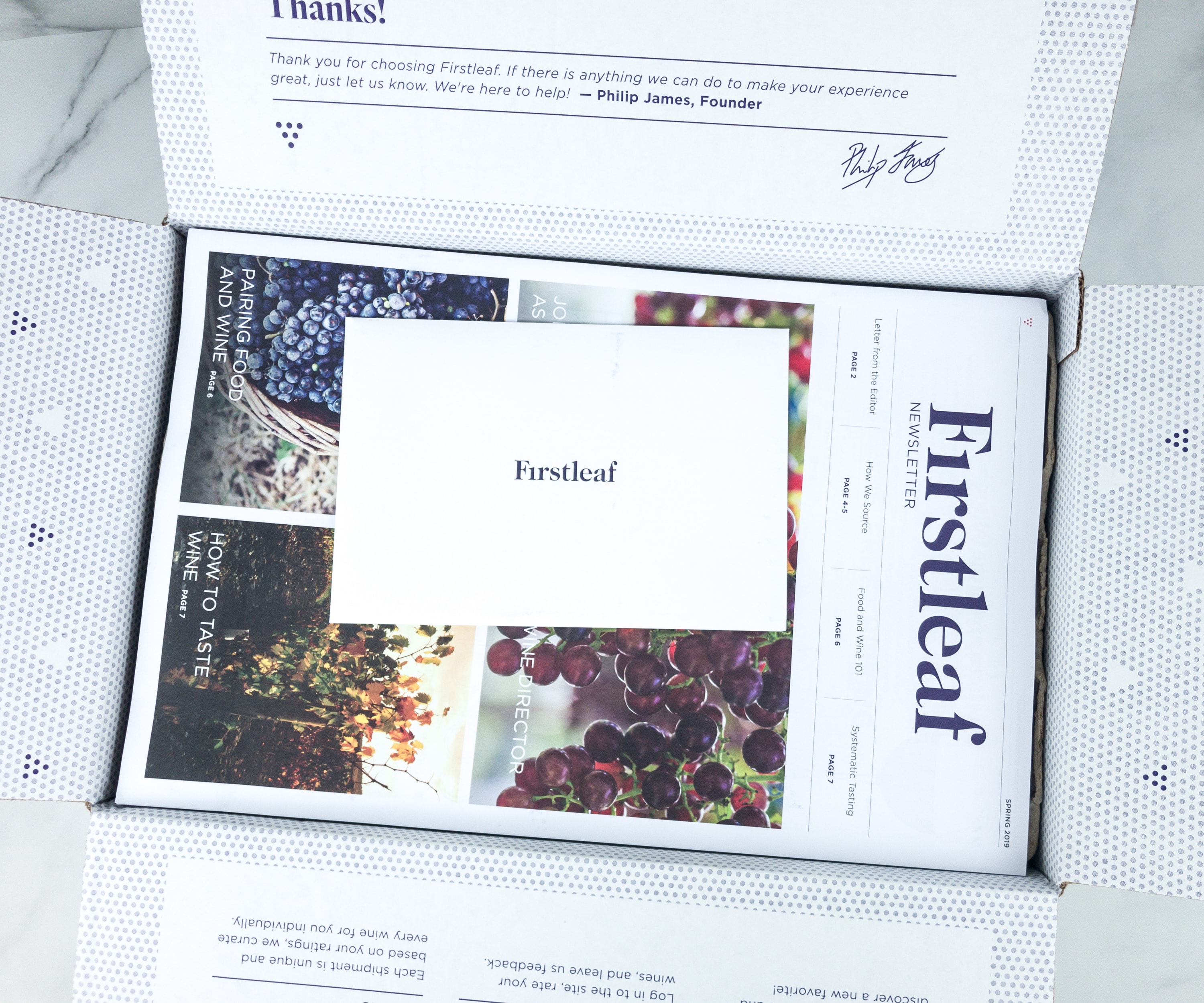 Once you receive your first shipment, you can log into your account and rate the wines in the Previous Boxes section. The more wines you rate, the more closely they can match future shipments to your tastes. Instead of sorting you into broad categories, Firstleaf performs a chemical analysis of all their wines, and uses your ratings to narrow down your predicted reactions to each flavor component.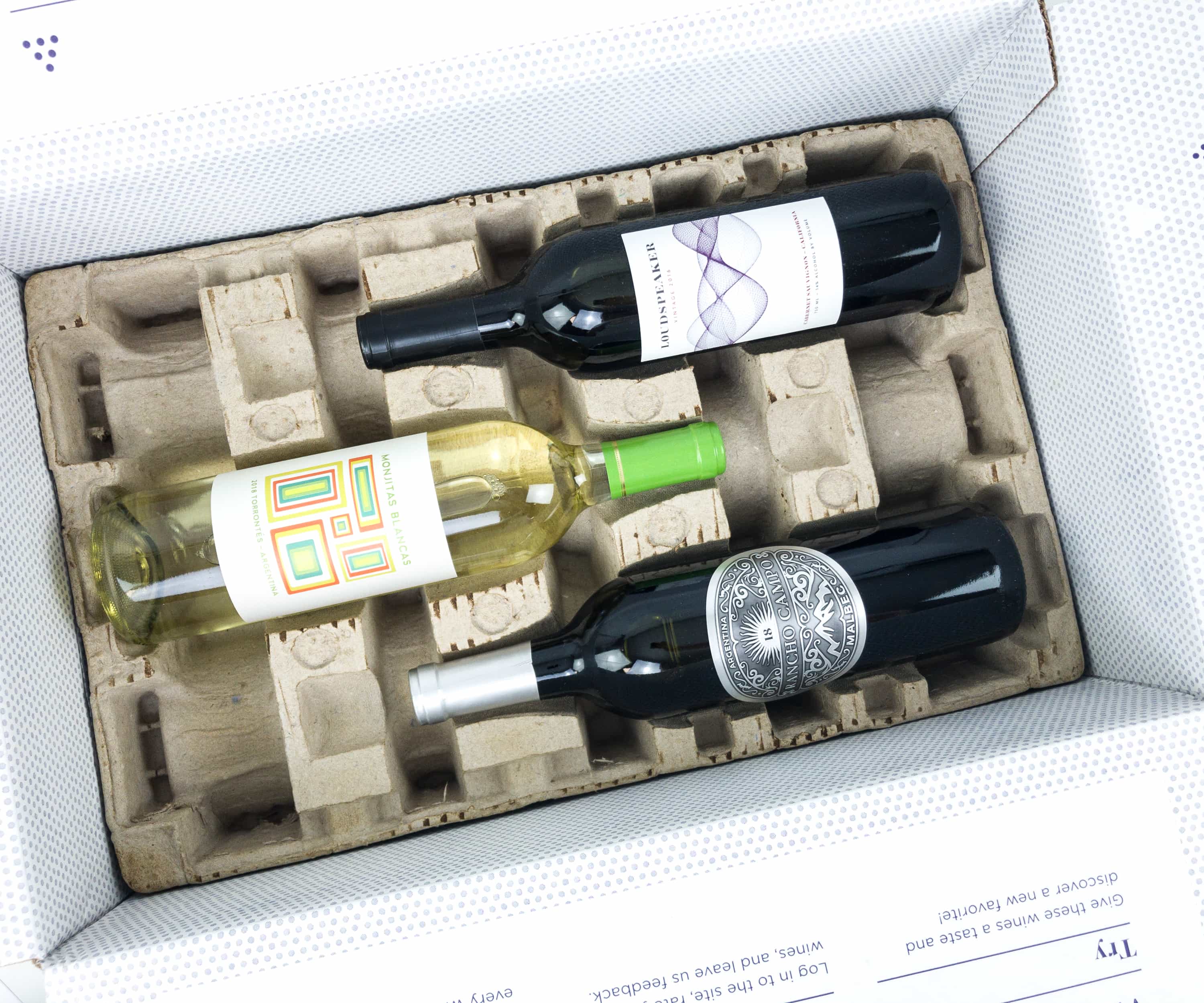 All the wine bottles arrived in perfect condition.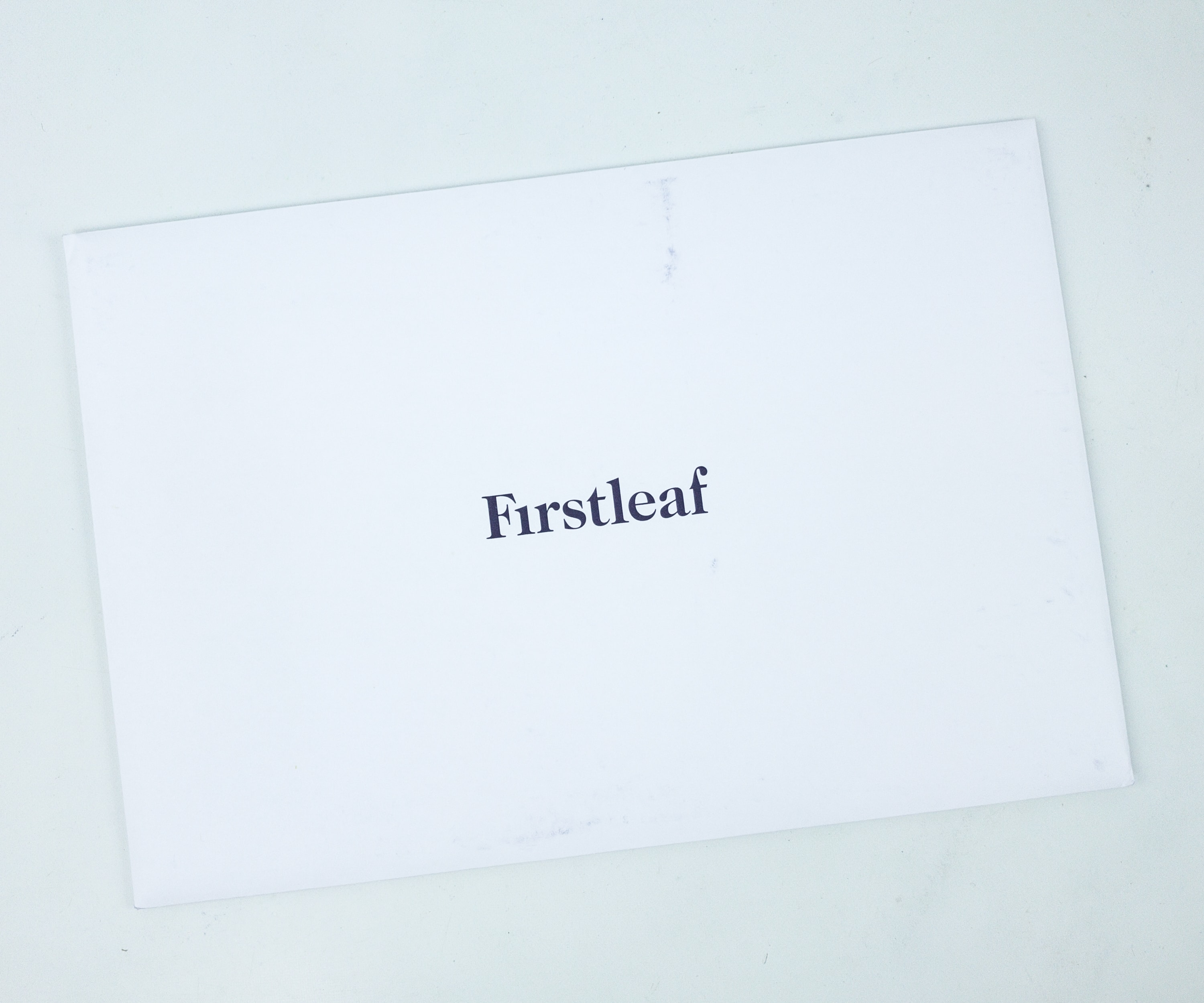 This white envelope contains info cards about this month's featured wines.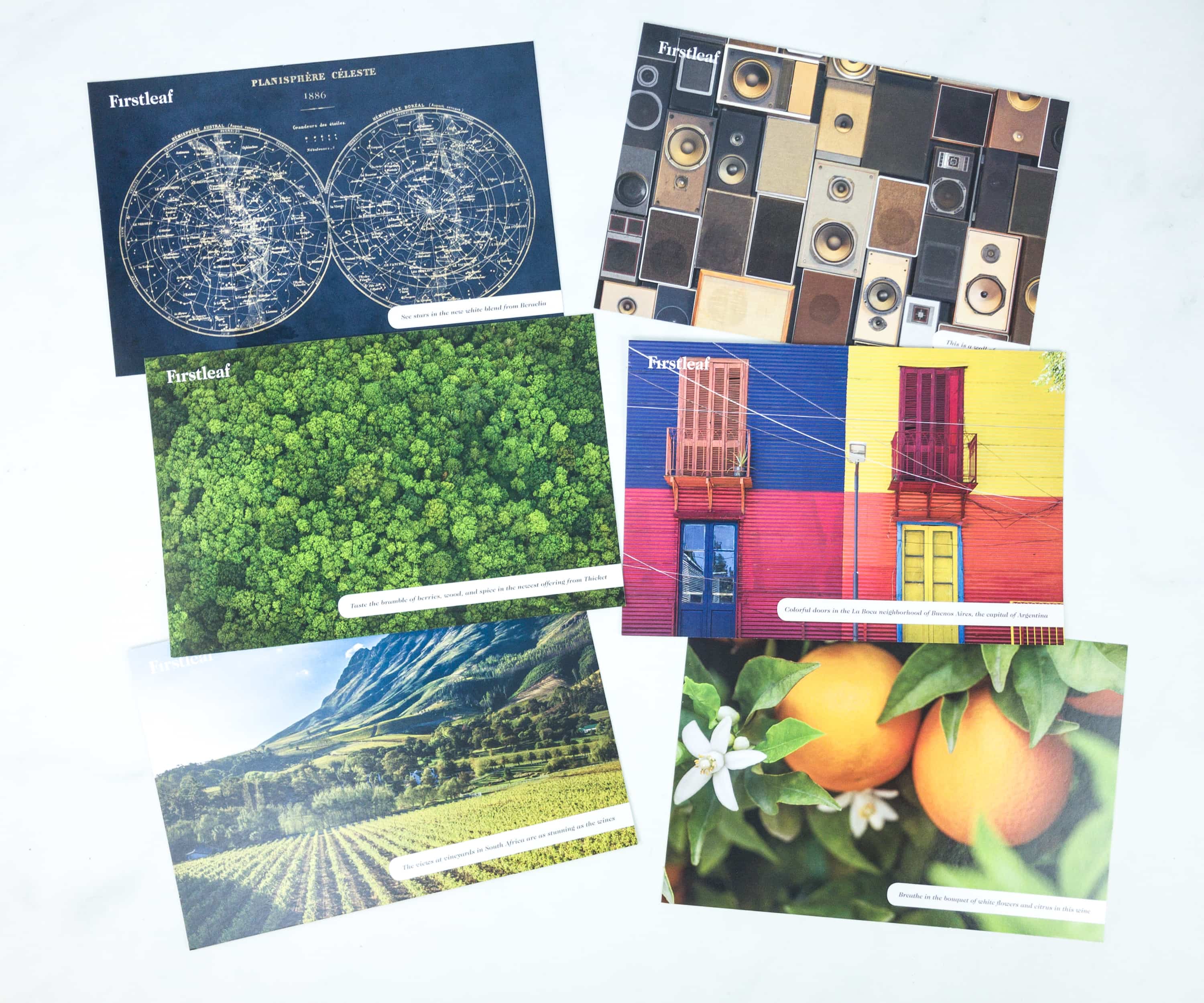 Each card has a picture of great scenery related to the wine or the place where it came from.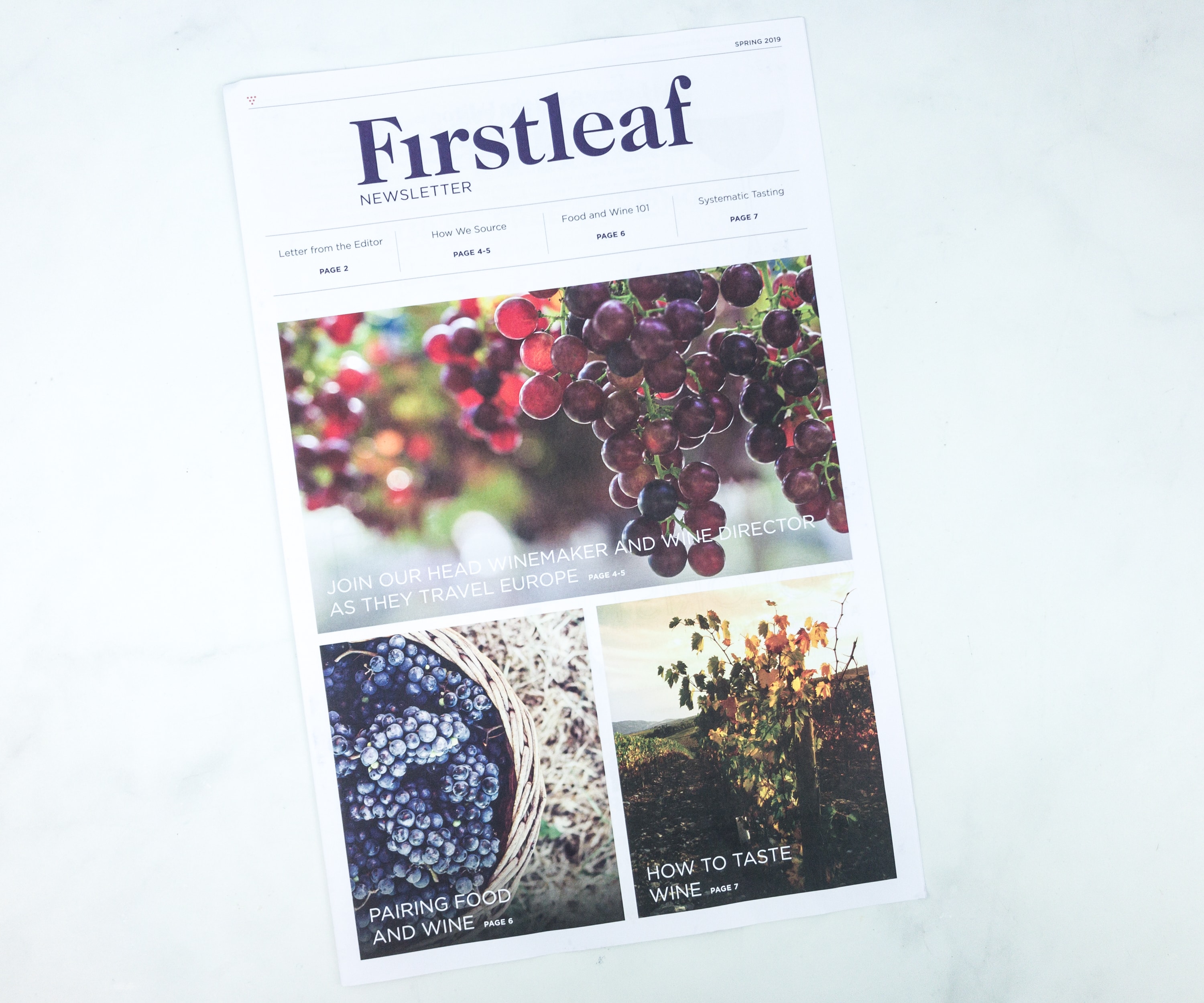 This month's box also includes an informative booklet.
The first part of the booklet features a Letter from the Editor, some Firstleaf highlights, and the 12 award-winning wines that include a double gold, best of class, and 90+ points ratings!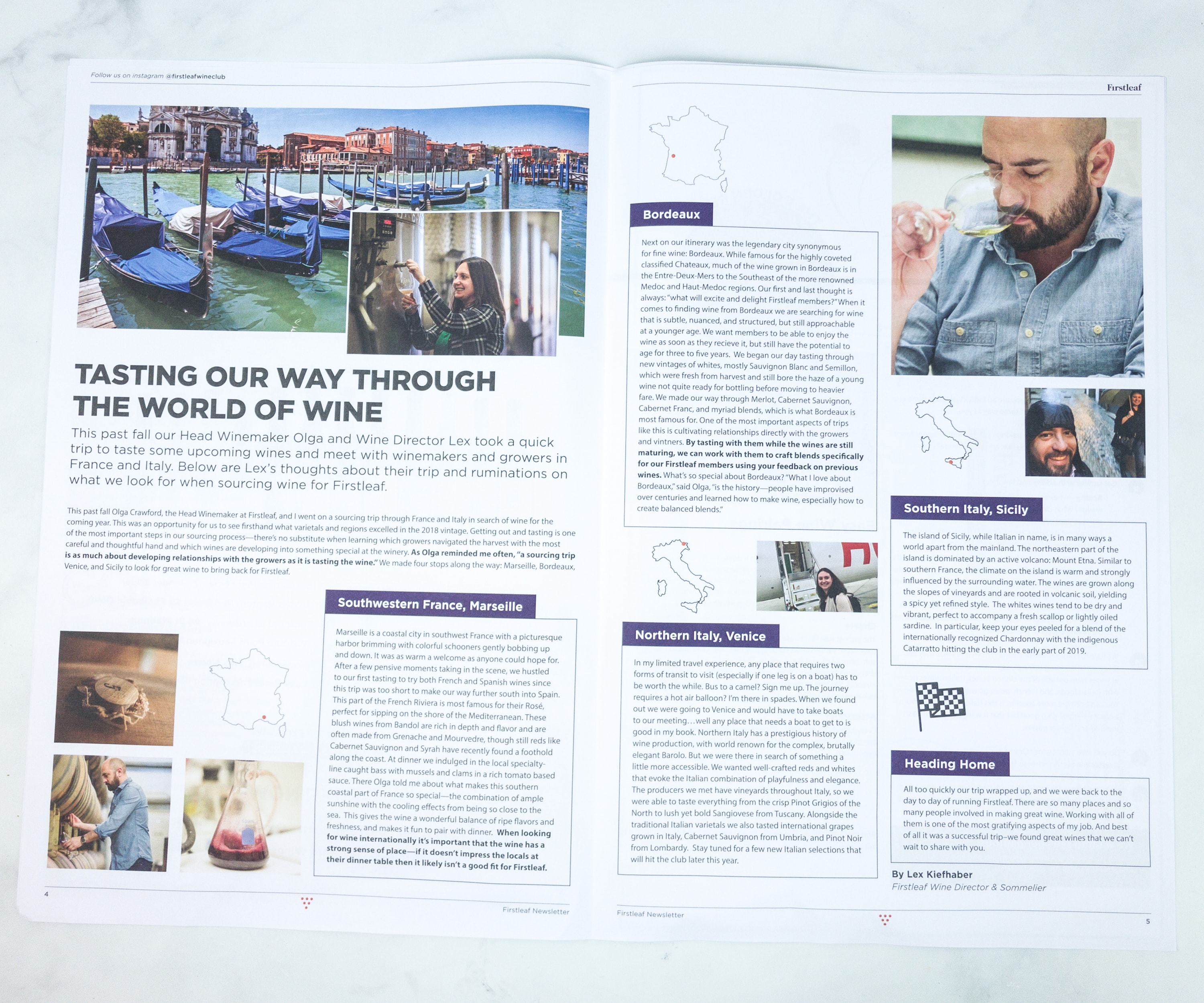 There's also an interesting article about wines from France and Italy!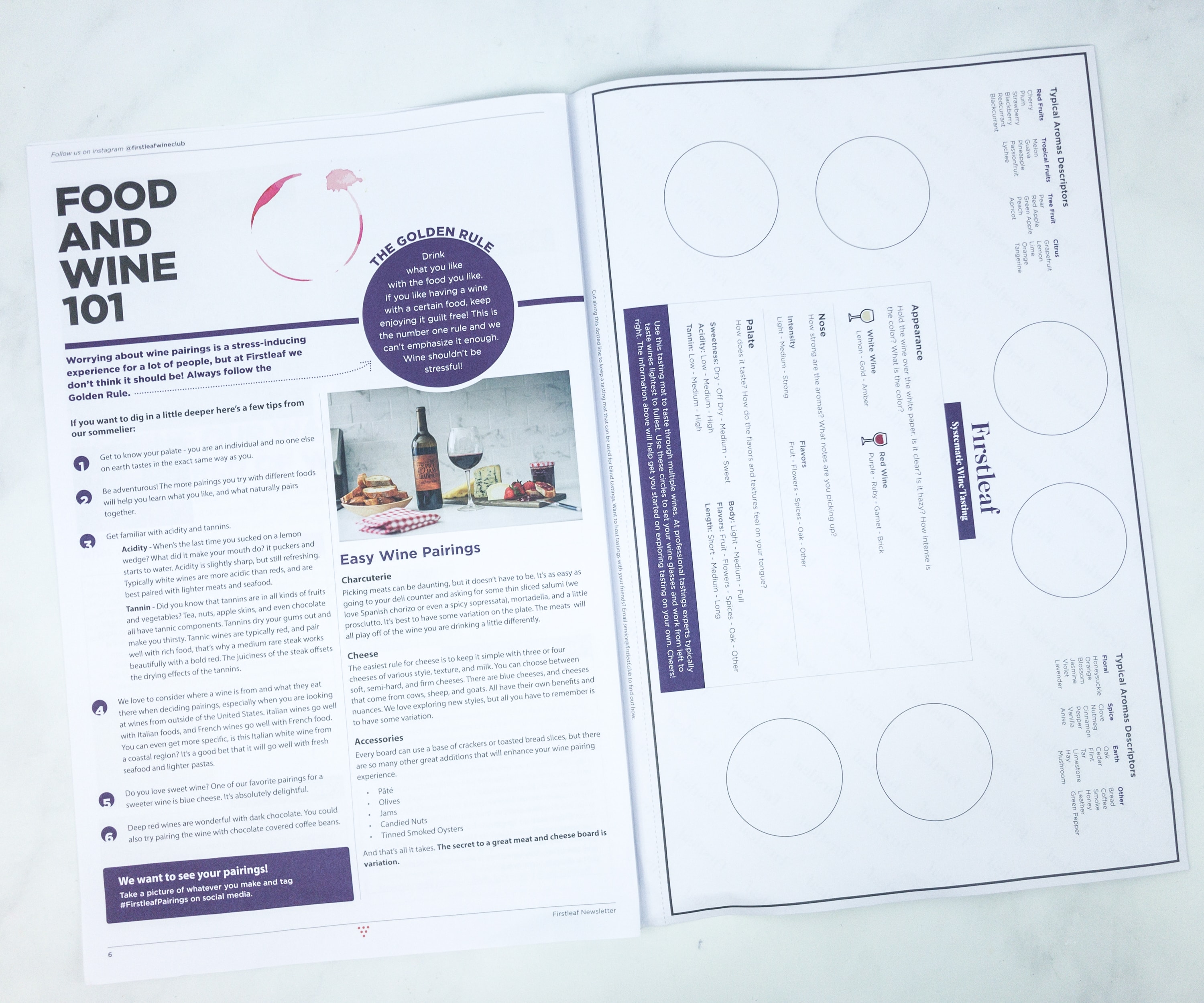 Another feature is about food and wine pairings.
The Golden Rule: Drink what you like with the food you like. If you like having a wine with a certain food, keep enjoying it guilt-free!
Everything in my box!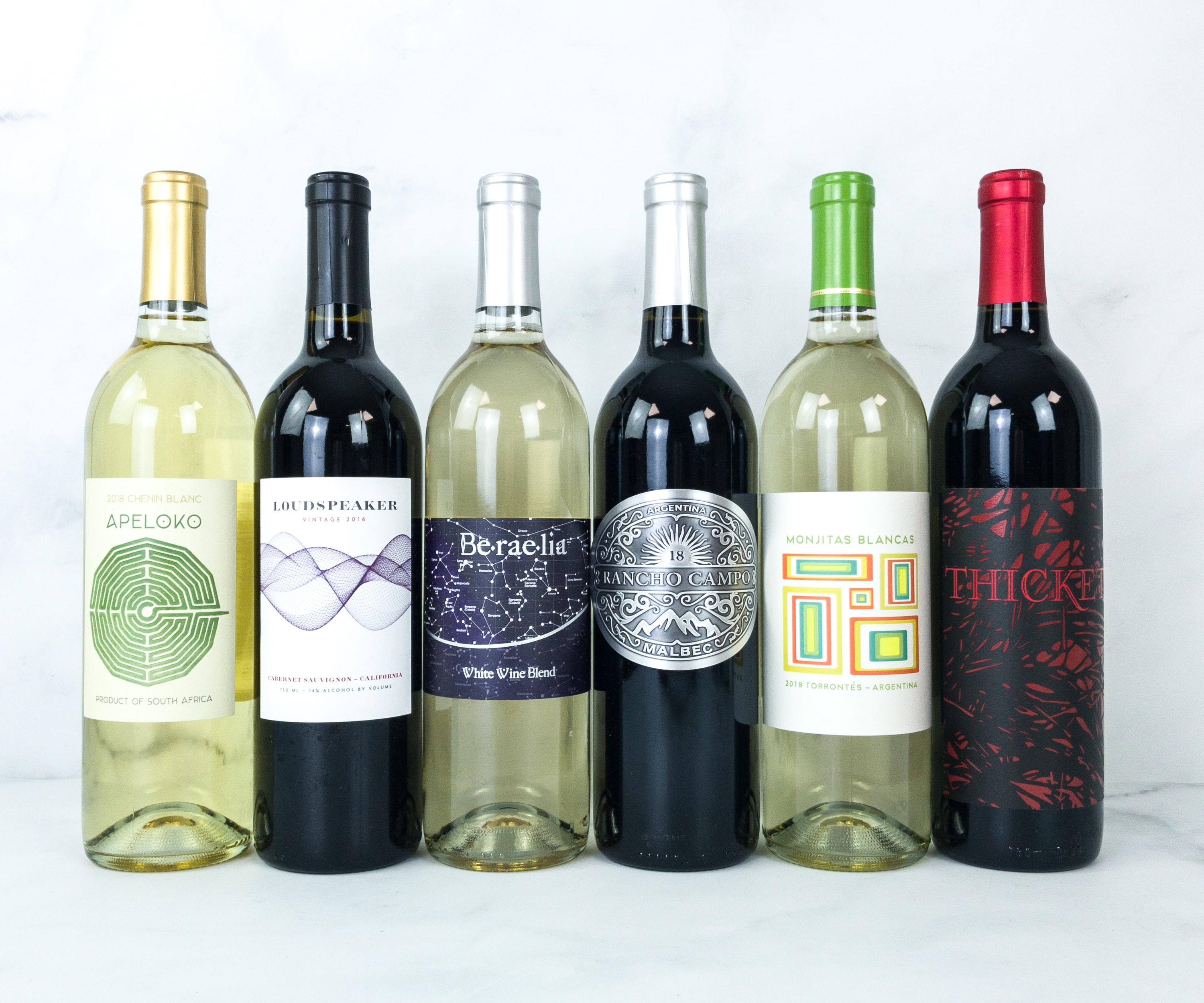 This month's box includes 6 bottles of wine!
The first three bottles are red wines from Argentina, Sonoma County, and California!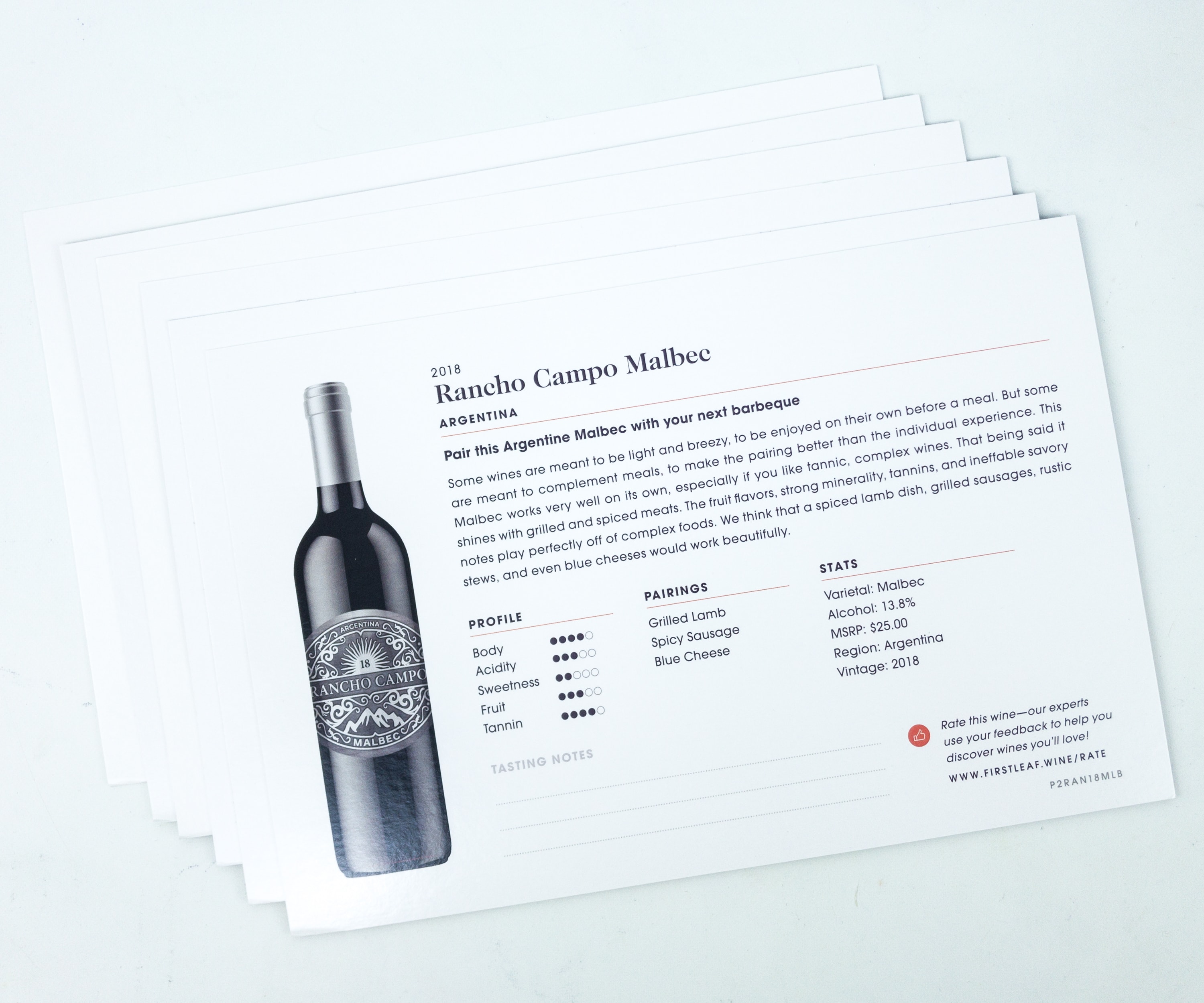 2018 Rancho Campo Malbec ($22)
Pair this Argentine Malbec with your next barbeque. Some wines are meant to be light and breezy, to be enjoyed on their own before a meal. But some are meant to complement meals, to make the pairing better than the individual experience. This Malbec works very well on its own, especially if you like tannic, complex wines. That being said it shines with grilled and spiced meats. The fruit flavors, strong minerality, tannins, and ineffable savory notes play perfectly off of complex foods. We think that a spiced lamb dish, grilled sausages, rustic stews, and even blue cheeses would work beautifully. Judges like it too! It took home a Silver medal at the 2019 Winemaker Challenge, the 2019 San Diego International Wine & Spirits Challenge, and at the 2019 Hilton Head Island Wine and Food International Wine Competition.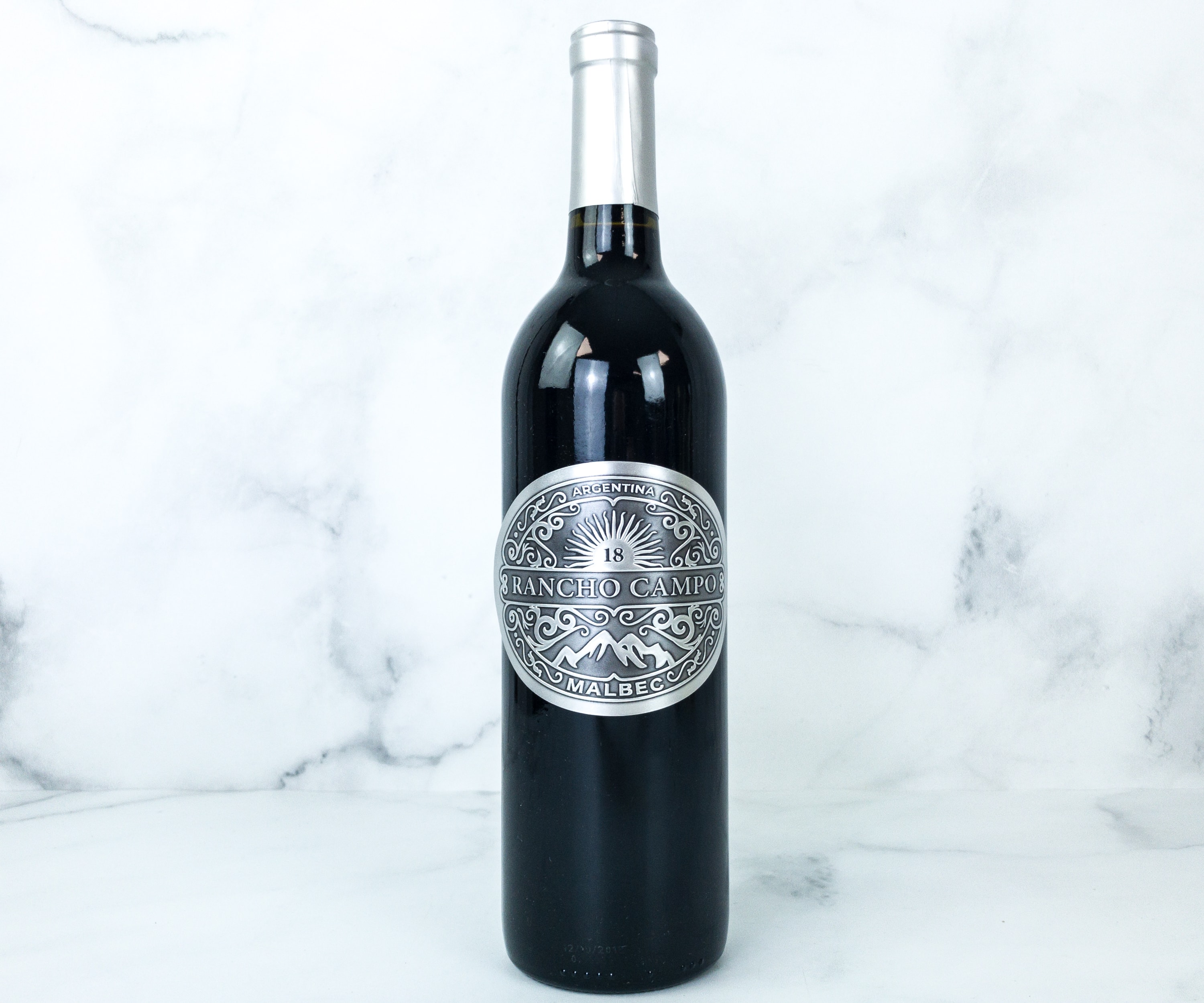 This multi-awarded wine from Rancho Campo features a well-balanced taste of tannins, minerality, and fruity flavor. It also comes with appetizing notes of pepper and blackberry.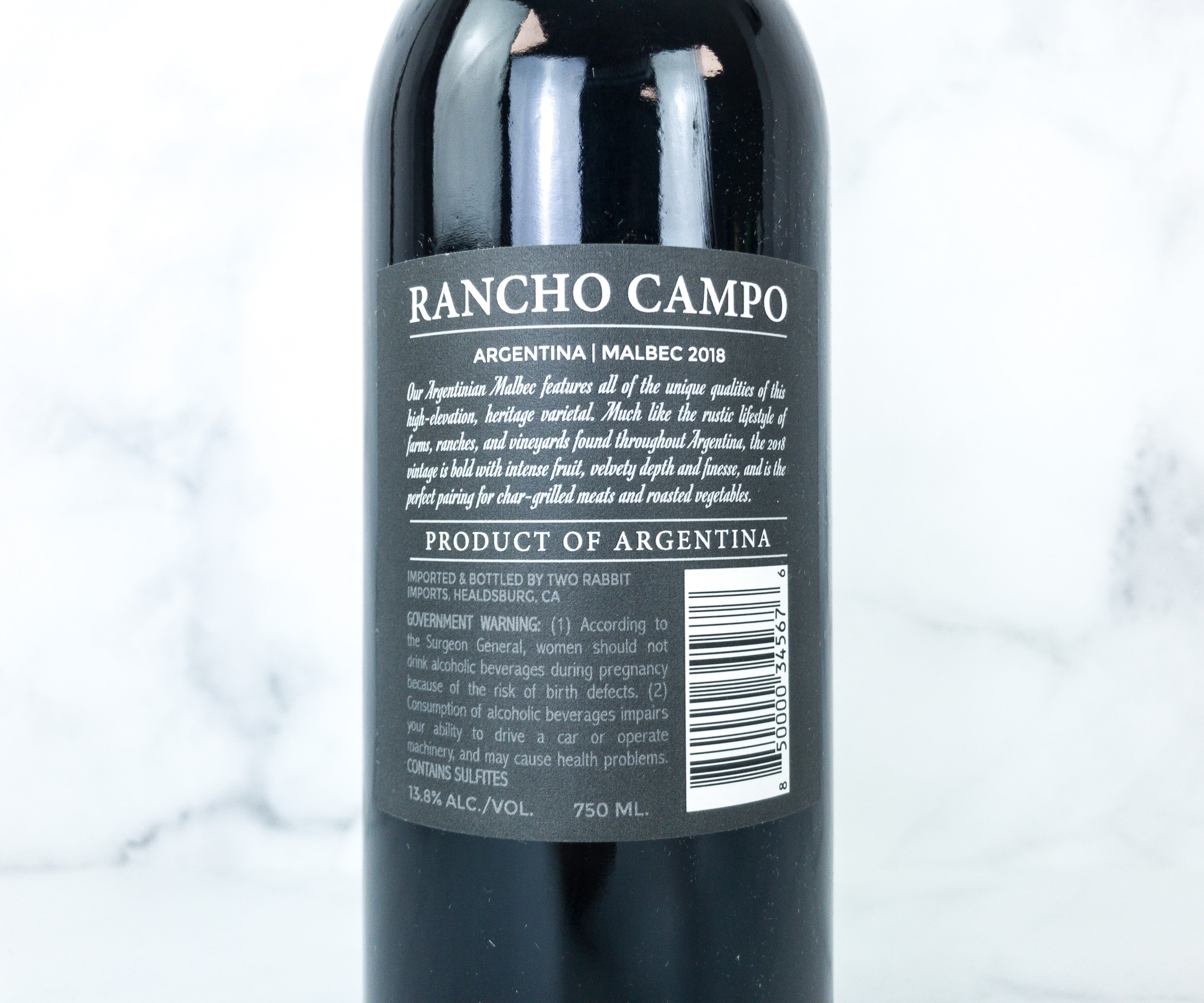 This wine pairs well with complex foods such as spiced lamb, grilled sausage, and rustic stews.
2014 Thicket Zinfandel ($21)
Drink in the bold Zinfandel flavors on display in this complex wine. Full of berry, woods, and earth notes while still retaining a smooth mouthfeel and opulent finish, the Thicket Zinfandel from Sonoma County is a great wine. With grapes that come from Sonoma County (one of our favorite regions, and an area that is geographically complex), the Thicket Zinfandel brings bold fruit supported by spice. The blueberry, cassis, and black cherry flavors play off of the baking spice and leave you wanting sip after sip. Perfect for pairing, we've loved this with roast lamb, Bolognese sauce, and stuffed mushrooms. Judges think this is worth praise as well and sent it home from the 2019 International Women's Wine Competition with a Silver!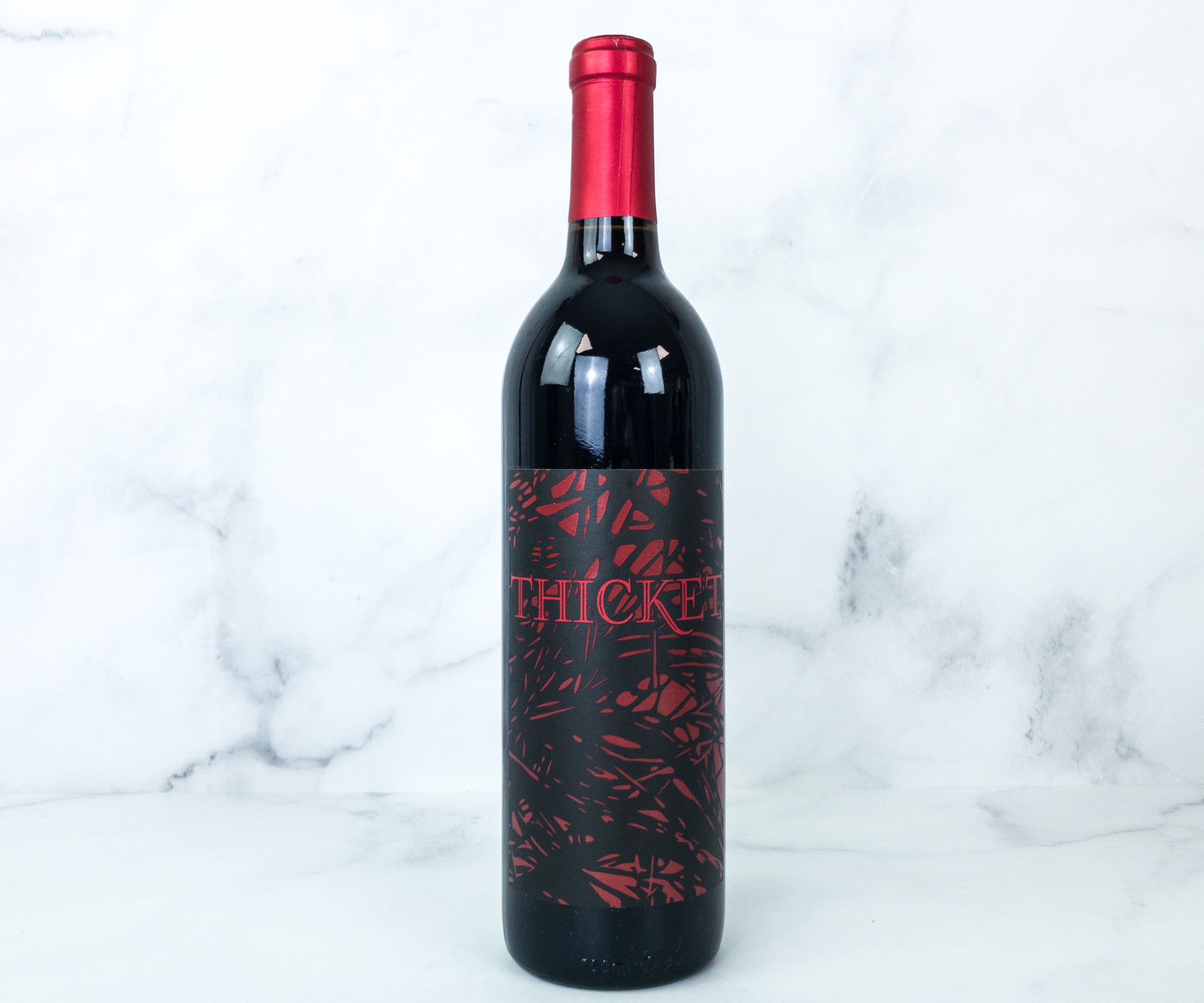 It's another multi-awarded wine that features a thick, bold, and fruity flavor. It has notes of blueberry, cassis, and black cherry with a little kick of baking spices like vanilla, cinnamon, and pepper.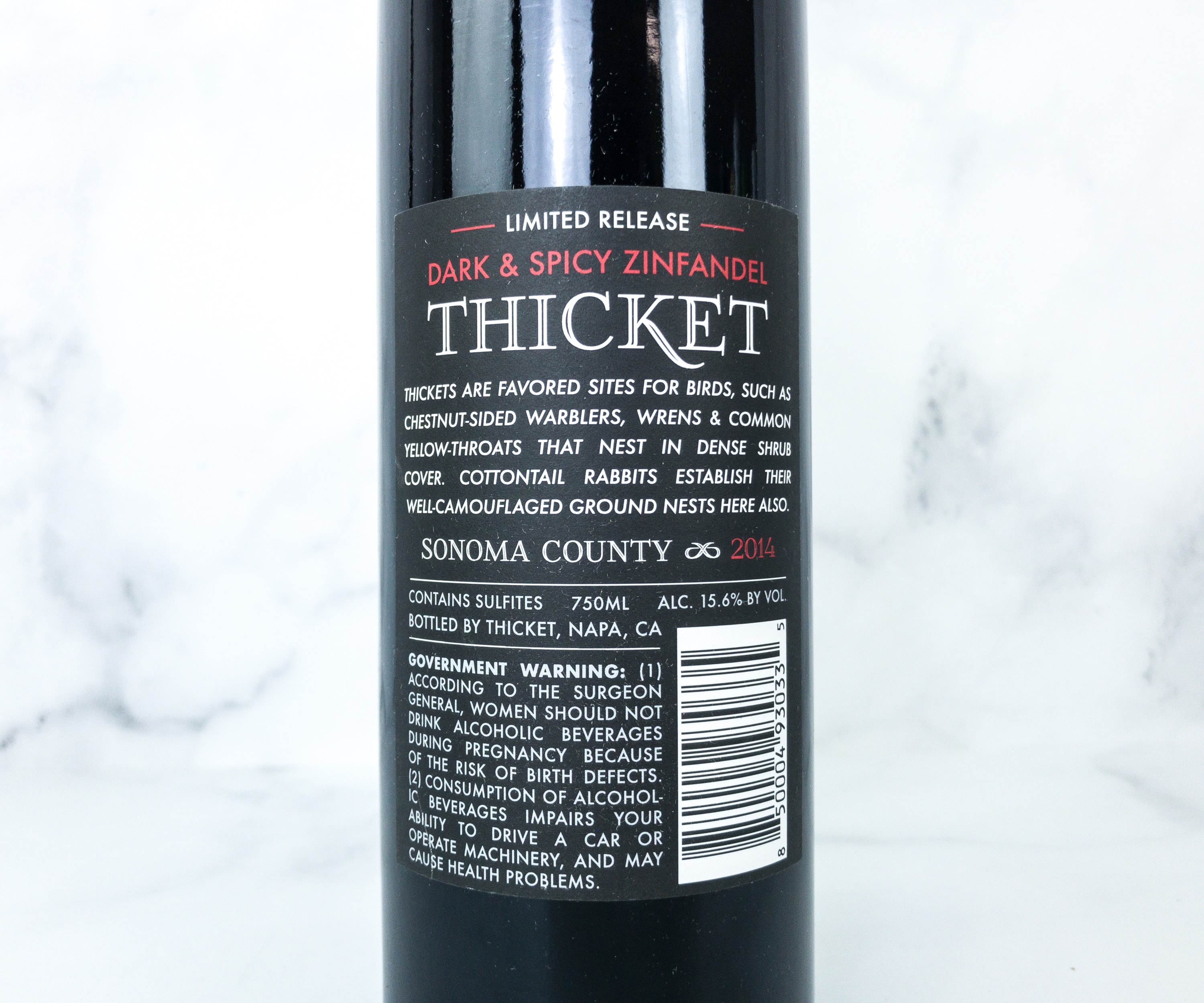 According to the card, this wine is best served together with roast lamb leg, beef bolognese, and roasted mushroom dishes.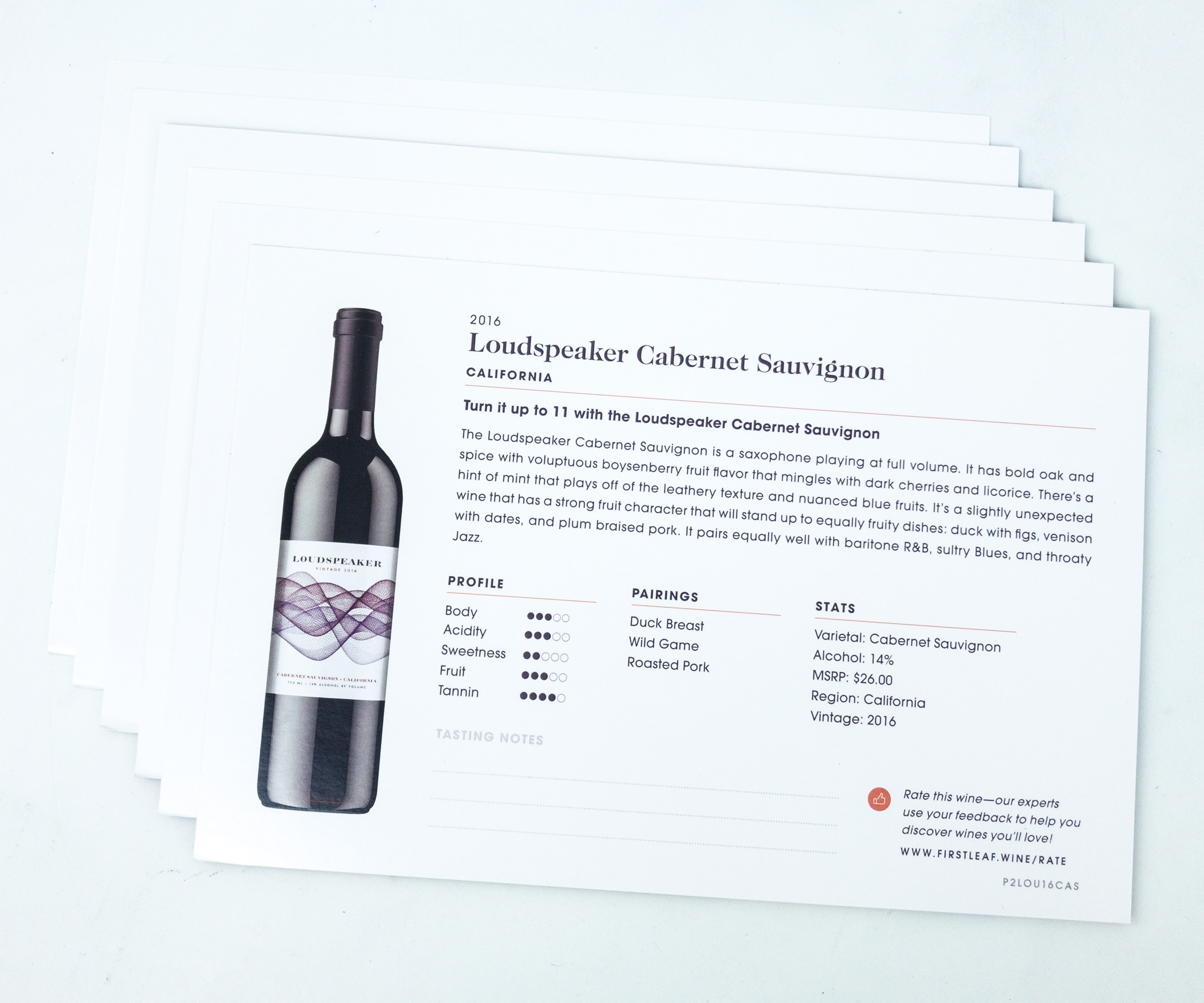 2016 Loudspeaker Cabernet Sauvignon ($21)
Turn it up to 11 with the Loudspeaker Cabernet Sauvignon. The Loudspeaker Cabernet Sauvignon is a saxophone playing at full volume. It has bold oak and spice with voluptuous boysenberry fruit flavor that mingles with dark cherries and licorice. There's a hint of mint that plays off of the leathery texture and nuanced blue fruits. It's a slightly unexpected wine that has a strong fruit character that will stand up to equally fruity dishes: duck with figs, venison with dates, and plum braised pork. It pairs equally well with baritone R&B, sultry Blues, and throaty Jazz. Judges love this wine too. It took home a Gold medal at the 2019 Texas International Wine Competition.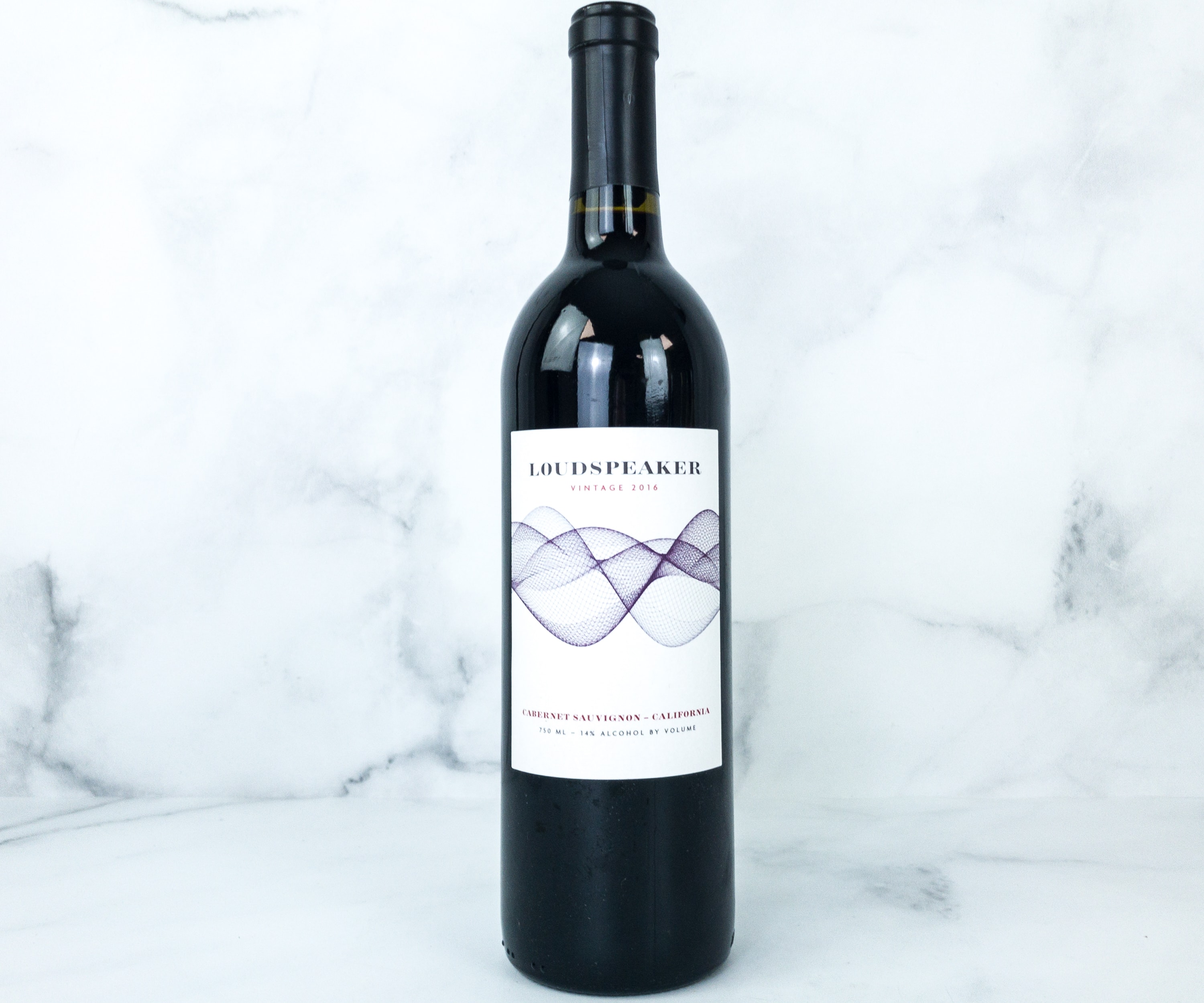 It's a Cabernet Sauvignon featuring a deep ruby color and concentrated notes of blueberry, blackcurrant, and coffee, providing you ripe tannins and a textured and rich mouthfeel.
This type of wine can work perfectly with rich meat dishes like duck breast with fig sauce, venison with dates, or even a plum braised pork.
The last 3 bottles are white wines from South Africa, Argentina, and California, respectively!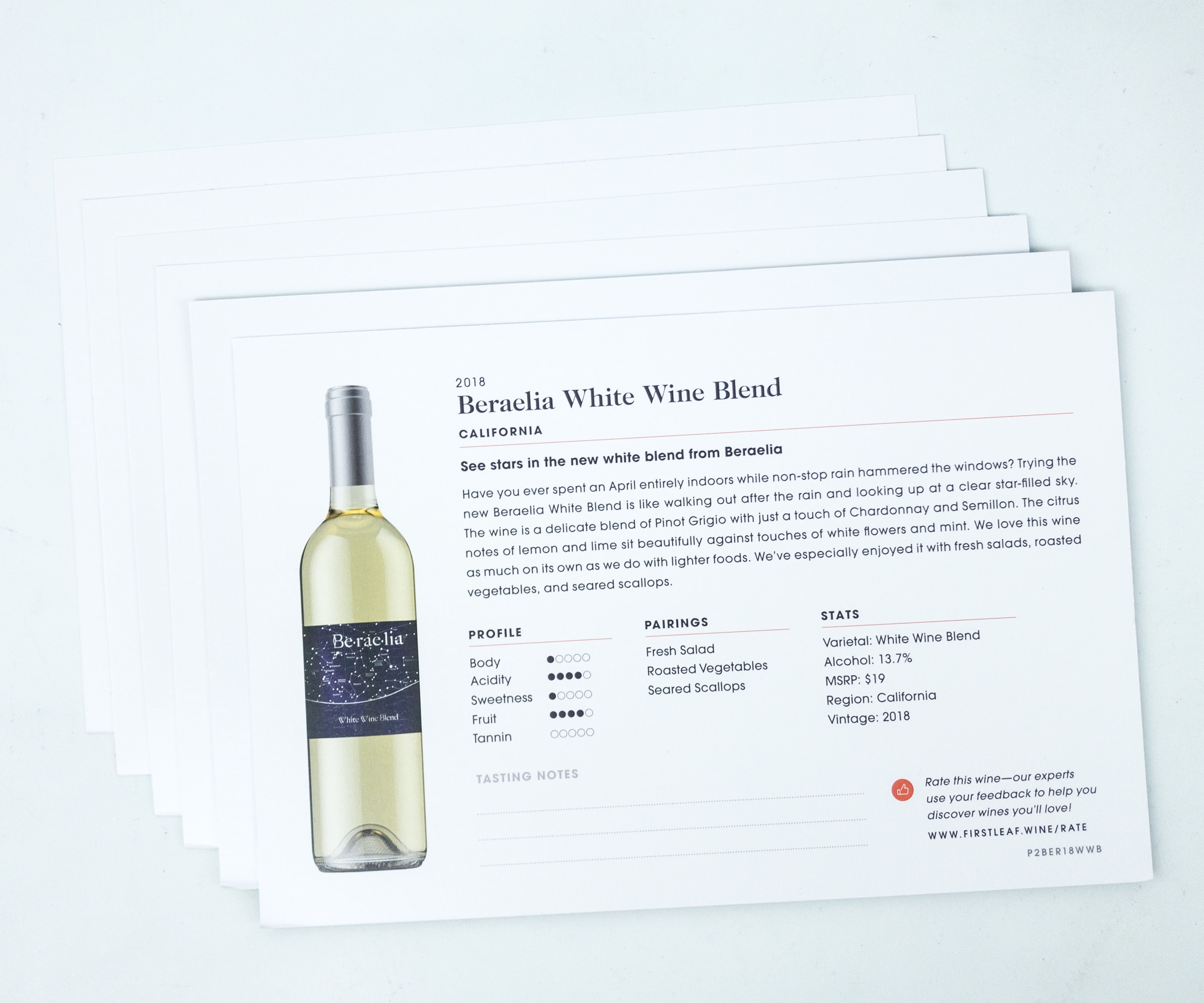 2018 Beraelia White Wine Blend  ($17.99)
See stars in the new white blend from Beraelia. Have you ever spent an April entirely indoors while non-stop rain hammered the windows? Trying the new Beraelia White Blend is like walking out after the rain and looking up at a clear star-filled sky. The wine is a delicate blend of Pinot Grigio with just a touch of Chardonnay and Semillon. With grapes that come almost exclusively from Lodi, this is a wine that showcases the beauty of California sunshine on a grapevine. The citrus notes of lemon and lime sit beautifully against touches of white flowers and mint. We love this wine as much on its own as we do with lighter foods. We've especially enjoyed it with fresh salads, roasted vegetables, and seared scallops.
Beraelia is a delightful white wine that was fermented using a unique yeast strain that keeps the character of the Pinot Grigio grape. It boasts of a citrusy and minty taste, with a hint of white flower scent.
This wine is best paired with lighter dishes such as salad, roasted veggies, and seared scallops.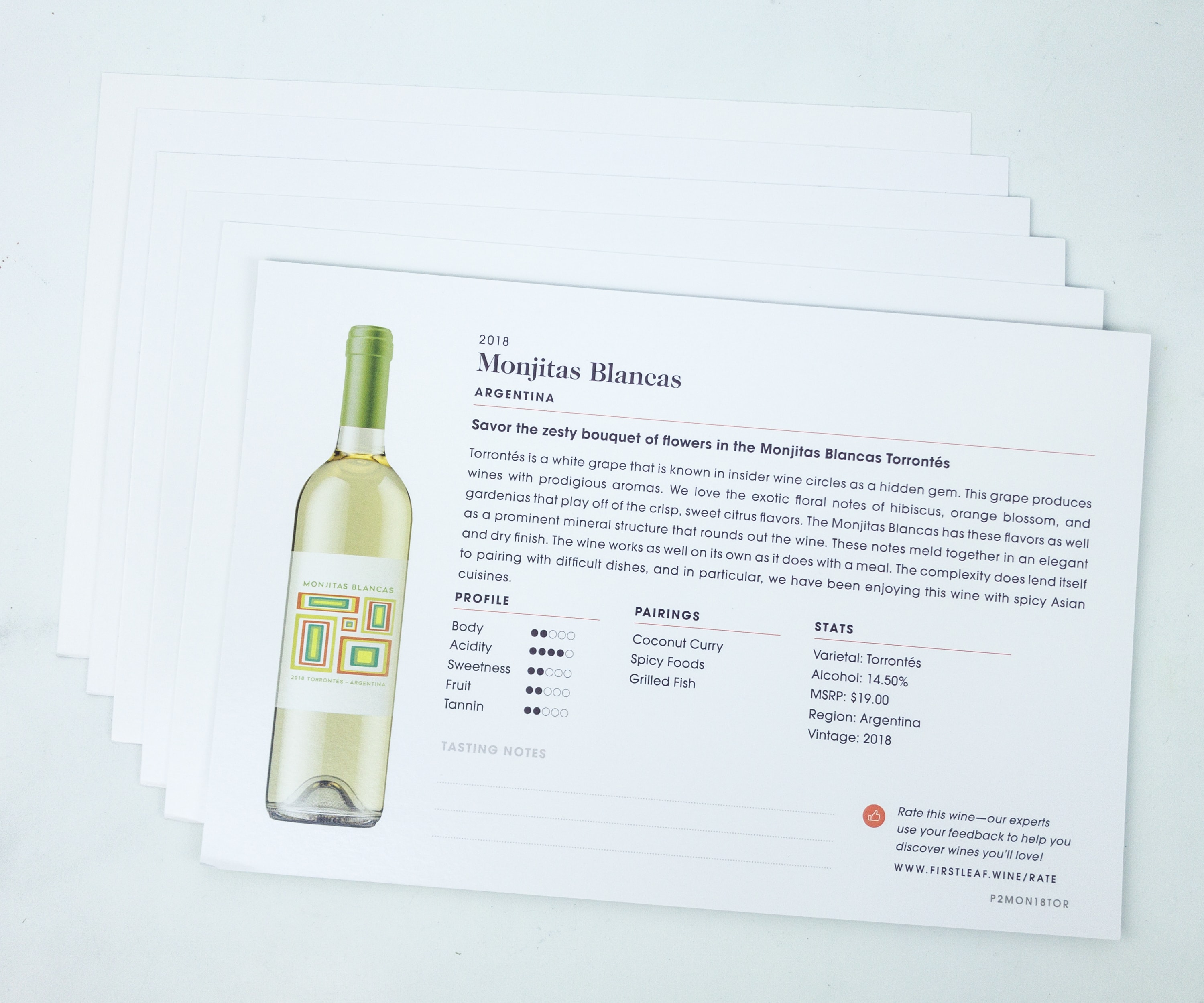 2018 Monjitas Blancas ($17.99)
Savor the zesty bouquet of flowers in the Monjitas Blancas Torrontés. Torrontés is a white grape that is known in insider wine circles as a hidden gem. This grape produces wines with prodigious aromas. We love the exotic floral notes of hibiscus, orange blossom, and gardenias that play off of the crisp, sweet citrus flavors. The Monjitas Blancas has these flavors as well as a prominent mineral structure that rounds out the wine. These notes meld together in an elegant and dry finish. The wine works as well on its own as it does with a meal. The complexity does lend itself to pairing with difficult dishes, and in particular, we have been enjoying this wine with spicy Asian cuisines. Judges love it too. It took home 93 Points and a Double-Gold Medal at the 2019 International Eastern Wine Competition.
This luscious white wine from Argentina features a floral bouquet with subtle fruity notes of kiwi, lime, and green papaya that ends with a dry finish.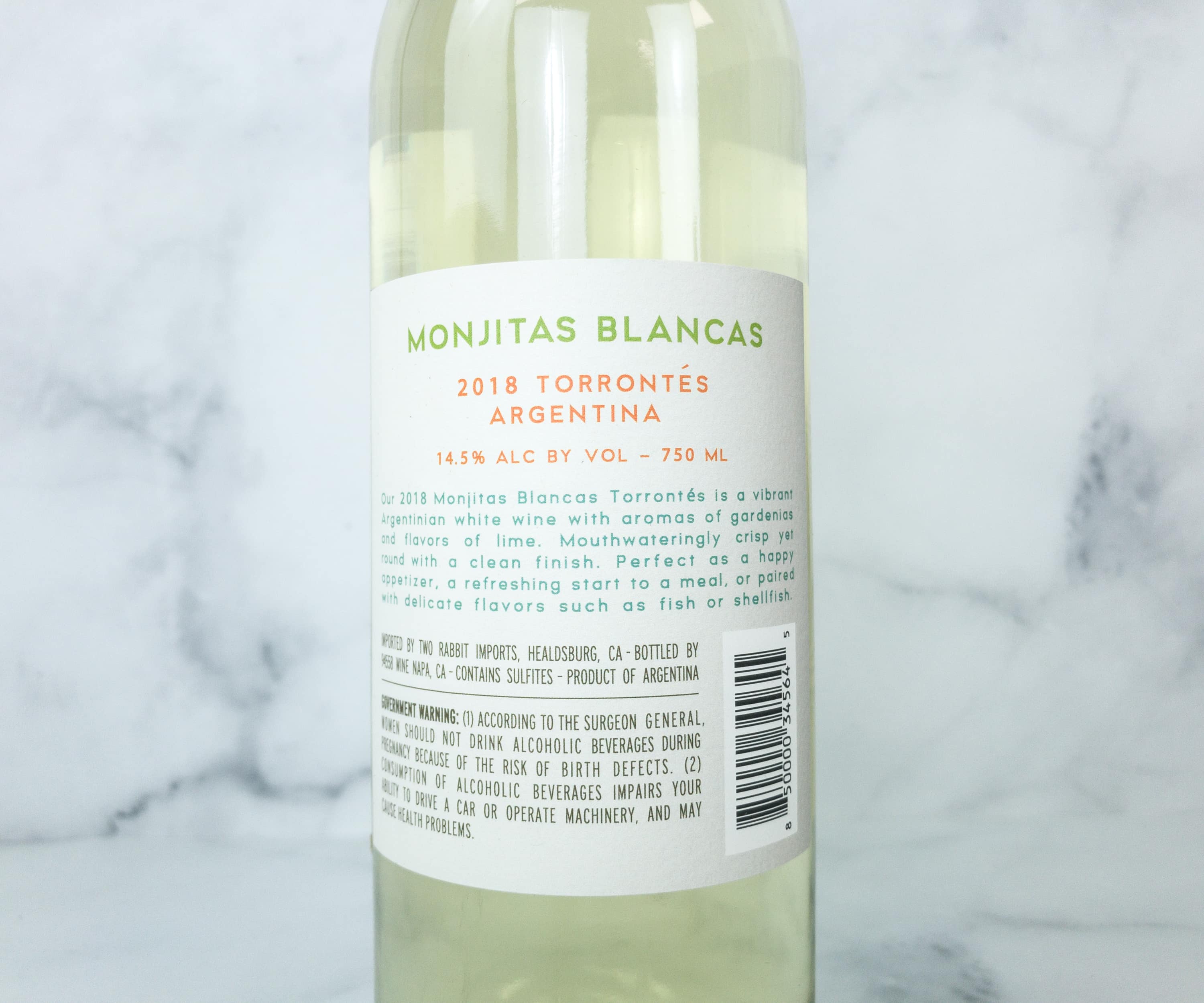 It's a delectable light-bodied wine that pairs well with coconut curry, spicy food, and grilled fish.
2018 Apeloko Chenin Blanc ($18)
Taste the fruit of the Apeloko farmers in this South African Chenin Blanc. Apeloko directly translates to "the man who stays late at the farm," and sometimes that's what it takes to make a truly amazing wine. This South African Chenin Blanc comes from decades-old vines that produced hearty grapes for a wine with beautiful notes of Fuji apple, candied lemon, and a vibrant acidity. It's a concentrated Chenin Blanc that is still easy to enjoy. The flavors and acidity can stand up to some very rich foods. We want to try this with pâté, fresh tuna, and roasted chicken at the end of a long day's work. The winery responsible for making this wine is Babylon's Peak, which is nestled on the slopes of the Paardeberg Mountains. It's a family-run cellar currently in its fourth generation. Winemaker Stephen Basson uses his upbringing at the vineyard to drive his winemaking process and focuses on making wines that truly represent the terroir of South African soils. Judges love it too! It took home 91 Points and a Gold medal from the 2019 Critics Challenge International Wine Competition and a Silver from the 2019 Monterey International Wine Competition.
Apeloko white wine is primarily made from concentrated grapes that feature a ripe flavor of green apple and lemon. It also comes with well-balanced acidity and intense, crisp mouthfeel.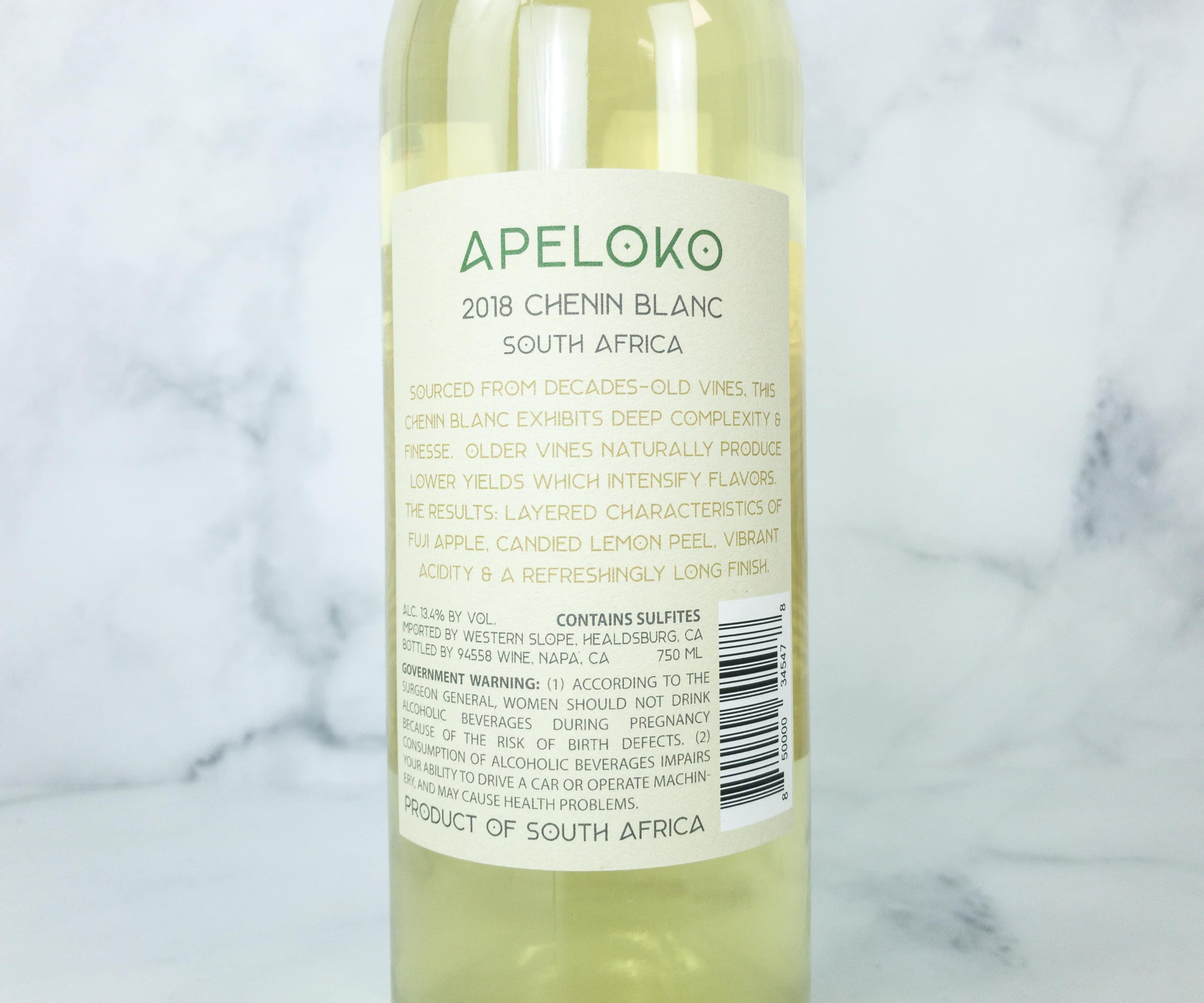 According to the card, this white wine tastes great with pâté, fresh fish, and roasted chicken.
If you are a wine enthusiast always looking for a high-grade wine to pair with your meal, Firstleaf Wine Club is a great subscription to try. They offer a wide variety of red and white wines, and most of them are either famous or multi-awarded wines. I also love how well the bottles are packed. They really make sure that all the wines arrive in great condition. But even better, I love their system that helps identify my personal flavor profile and finds new wines that match! I'm certainly looking forward to discovering more exciting and mouthwatering wines on my next month's box!
What do you think of Firstleaf Wine Club subscription?