Olfactif is a monthly fragrance sampler subscription box that sends hard-to-find niche perfumes. Every month you'll receive 3 samples, each of which contains 2.5ml and gives around 40 applications of an independently designed perfume. Olfactif is $20 a month, or sign up for a longer subscription for a discount – prepay for a year and the price drops to $15 a box!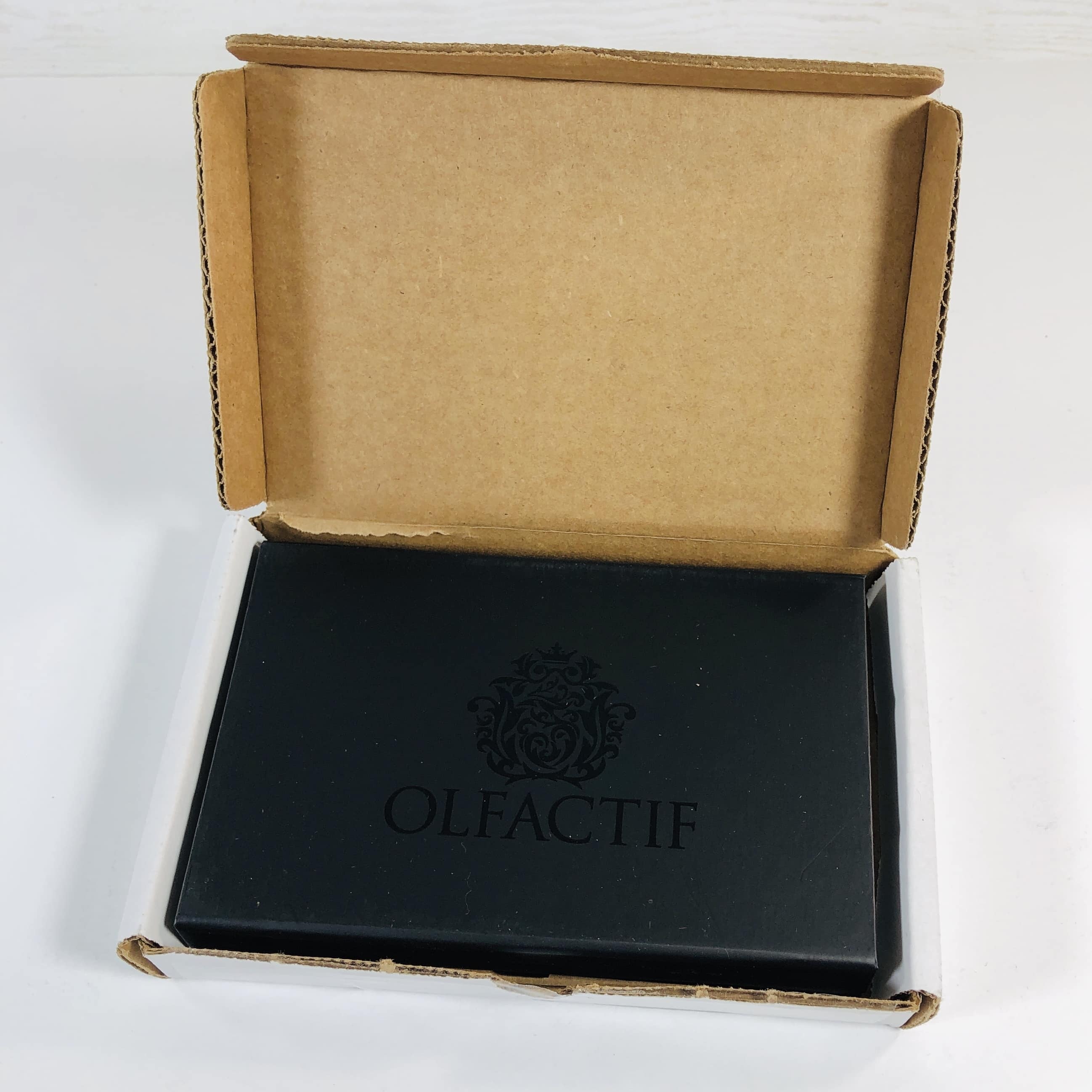 In addition to receiving a curated collection of 3 premium fragrances from around the world, members also receive: 20% off full bottles of every featured scent, 10% off all other full bottles, 10% off all à la carte samples, and earn free stuff with rewards points.
There was a card with a little info on the subscription. Olfactif now offers atomizers with samples, similar to other to-go fragrance subscriptions out there, but with a limited selection of niche fragrances, most of which are not available in other subscriptions. Prices vary depending on the scent chosen and you can choose from two colors of case – either Rosé or Stone. Each of those samples are 5ml.
The back told how you could win some free fragrance.
On top I found a black envelope with the Olfactif logo. Olfactif focuses on niche fragrances – unique scents produced with higher quality and harder-to-find ingredients than you would encounter in a department store. When you subscribe you can choose from the Women's or Men's box. You can check out our reviews of Olfactif Men here.
Inside I found four cards. You test your scents directly on the back of each scent's card. There's even space to write notes on what you thought of the fragrance.The first thing I do when I receive this box is spray each card with its scent, then decide which one to try on my body first!
The theme for June's box is Endless Summer. A note about my testing procedure: I always try each fragrance at least twice and on non-consecutive days. Sometimes what we eat may affect a scent and I want to make sure that last night's spaghetti dinner doesn't taint a scent.
This month Olfactif scent three scents that take us from sunrise to sunset and should be perfect for summer.
Note Fragrances Citron Pomelo Eau De Parfum ($42 for 30ml spray) I love citrus fragrances and grapefruit (or in this case pomelo, a relative) is under represented in my opinion. Scent notes include orange, lychee, and black amber. I sprayed some on and it had that bitter tang that grapefruit is known for, but of course was also bracing and sharp, not as sweet as other citrus scents. After a while it mellowed but it also had other notes that came out. It ended up reminding me of the accompaniments to a bowl of pho at a Vietnamese restaurant, with an almost anise-like scent mixed with lime.
Juliette Has A Gun Vanilla Vibes Eau De Parfum ($100 for 50ml) If you are looking for a beachy scent then look no further! Scent notes include sea salt, vanilla, and musk. Coconut isn't one of the notes but I still smell it all the same. I think this is for a laid back day where you want to imagine yourself far away with a drink in hand and feet in the sand.
Aroma M Geisha Botan Eau De Parfum ($110 for 2 ounces) I sprayed a bit of this on in the morning and at dinner it was still going strong! Scent notes for this floral woody musk include peony, rose, sandalwood, and musk. It smells like a deep floral, hints of red rose presents itself often, and musk is correct. I didn't detect any woodsiness. I'm going to tuck this away until the weather cools off since it was a little intense for our 100+ degree day. I would suggest using it on a cooler evening but here in Central Texas it just stays hot and humid until, say, October.
As always I enjoyed trying the unique scents that Olfactif sent in their box! The fragrances are always unusual and are not normally brands that one can find at Sephora or a department store. The cost of the box means I can try them for a steal and without having to pay full-price for something I may not like. Of course, if I fall in love with a scent then I can use the member discount to get more!
Have you tried Olfactif? Let me know what you think of this subscription in the comments!