Mine Chest has announced a major subscription update – they're now called Minecraft T-Shirt Club! Plus, prices are dropping and add-on option is now available!
Here's the full announcement + FAQ:
What's happening to Mine Chest?

Our Mine Chest subscription service has been through a lot of changes over the years and many of you have been with us from the very beginning when we shipped our first box back in 2016. It's been an incredible journey and we've learned so much. We want you to know that we love each and every one of you and have been carefully listening to your feedback and are excited to announce the following updates:

Mine Chest is now Minecraft T-Shirt Club

We are sunsetting the name Mine Chest and subscriptions are now called Minecraft T-Shirt Club. Subscriptions will still include officially licensed Minecraft merchandise made by Adventure Chest.

Now just $14.99/mo + shipping!

In the spirit of being as inclusive as possible, we've decided to lower our price, making our service accessible to more Minecraft players and families than ever before. We were also able to reduce our shipping costs for domestic (USA)  and international subscribers!

T-shirts and bonus items like pins, or patches or plushies every month!

We were able to lower the price by updating our service to include two items delivered in a shipping envelope:

■ EXCLUSIVE monthly T-shirt to wear at school, work, the park, or even while you journey to the Nether with your friends and family!

■ BONUS mystery item! Expect a pin, or a patch, or a plush, or even another thingamajig!

How much is shipping and handling?

Domestic (U.S.A.) —- $4.99

International —- $6.99

​Will I still receive the chest?

The chest will not be included at this lower price, however we are considering offering it soon as an optional add-on because we know how important it was to some of you.Unfortunately the costs associated with the box were getting too high for us to sustain it. Rising import duties, taxes, and fees along with rising material costs pushed us to have to decide to either raise the price of Mine Chest or make enough changes to it to lower the price. We decided to lower the price because that was also the biggest request we have received from our customers. In doing so we are keeping the highest rated items in Minecraft T-Shirt Club and are now offering a subscription that is much more affordable and available to more Minecraft players around the world than every before.

Extra duplicate t-shirts and bonus items for your friends and family members at a discount

Now it's more affordable than ever for families to order something for everyone in the family without having to pay for multiple full-price subscriptions. Now extra duplicate t-shirts can be purchased for only $8 each and extra duplicate bonus items can be purchased for only $5 each. Bonus items change month to month, so for example if the bonus item that month is a pin, then if you order an add-on bonus item you'll receive another identical pin.This works perfect for families that have more than one Minecraft player and  for Minecraft players that want to order extras at a discount to giveaway to their friends. 

I'm already subscribed. Do I need to do anything to stay subscribed? 

You're still subscribed and you don't need to sign up all over again. You should be receiving an email from us soon with your login details. We recommend that you log in and verify your shipping address and shirt size before your next scheduled shipment shown in your account.
Plus, we have the first spoiler for the next Mine Chest box!
Each box includes: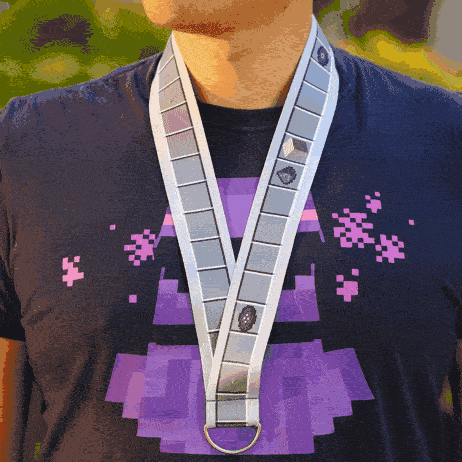 Free Limited Edition "Pinventory" Lanyard 
We want to sincerely thank you for staying with us through this transition. In light of this, we're going to throw in a free "Pinventory" lanyard designed to hold your growing Minecraft pin collection. This free gift will be added to your regular shipment which will include an exclusive Minecraft t-shirt that you can't get anywhere else, as well as a bonus mystery pin, plush or patch.
What do you think of these new changes on Mine Chest?