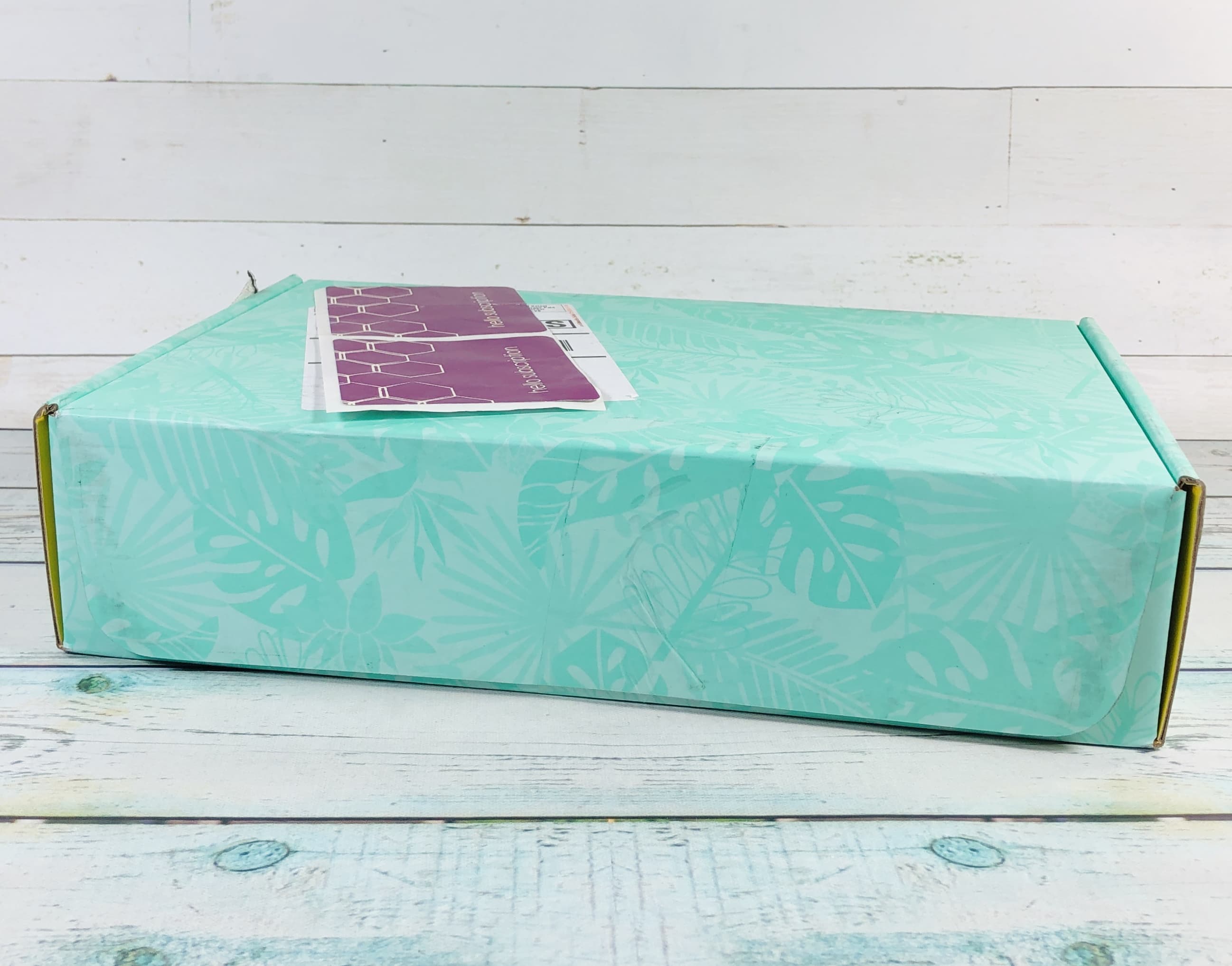 Erin Condren's Seasonal Surprise Box is a quarterly planner accessories and stationery box featuring early access items, popular accessories, and exclusive surprises from Erin Condren. This box isn't available by subscription; you must purchase each box individually. This box is currently sold out but click here and tap that blue bell to get notified when the next box becomes available! The box is $35 and includes free shipping.
Get ready to usher in a SUMMER full of surprises! From just-for-you exclusives to sure-to-be bestsellers, you won't want to miss this festive, seasonal surprise!
DEAL: FYI – if you use this referral link to register for the site, you'll get a $10 coupon code emailed to you. It may not work on the box purchase. You can use it on pretty much anything on the site.
The box had a bright, lively sun on the inside cover. You can take the box apart and reassemble it with the outside facing in. I have done this to several boxes, which are now used to hold stationery and the like.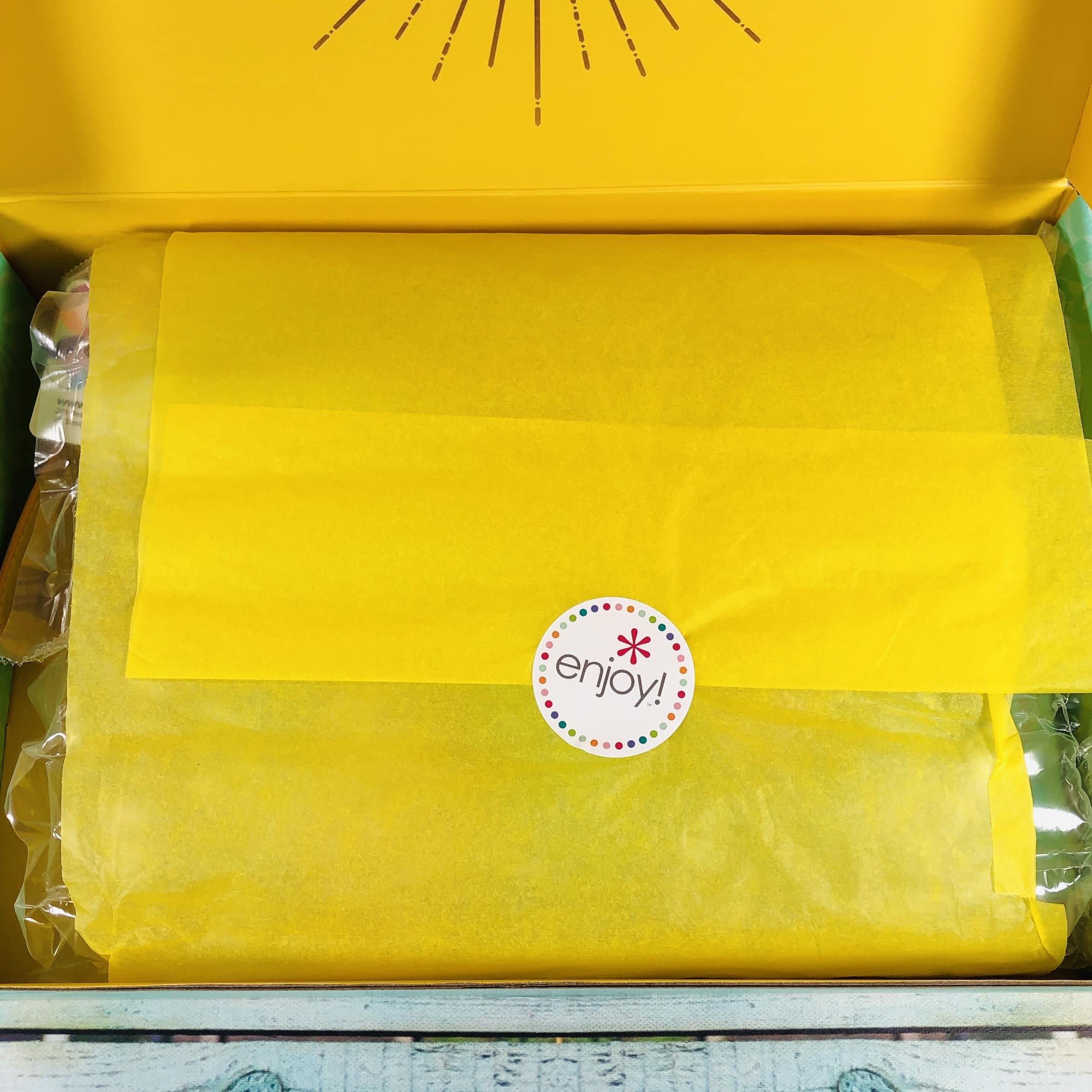 My items were wrapped in yellow tissue paper that was sealed with a sticker.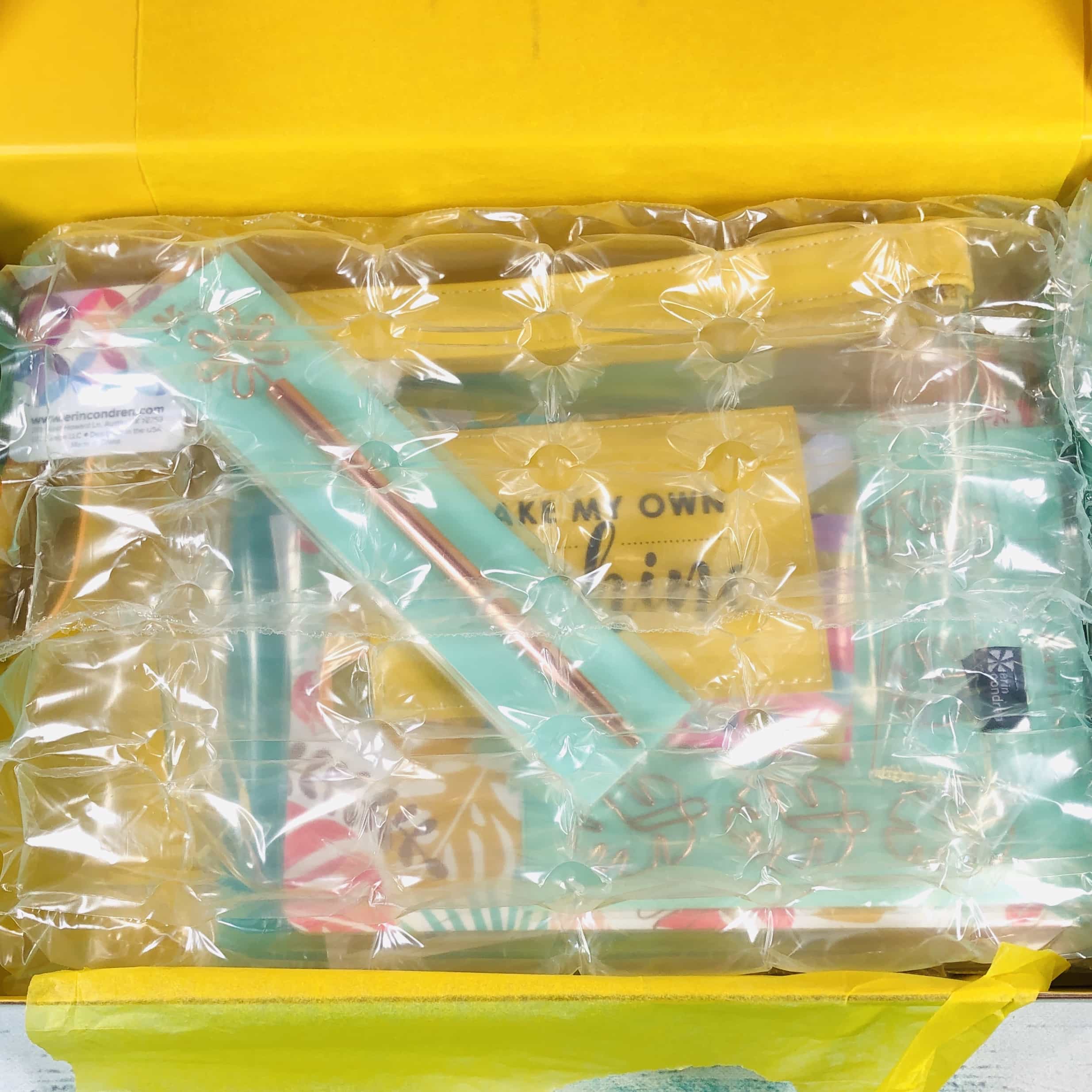 Bubble wrap kept everything in place.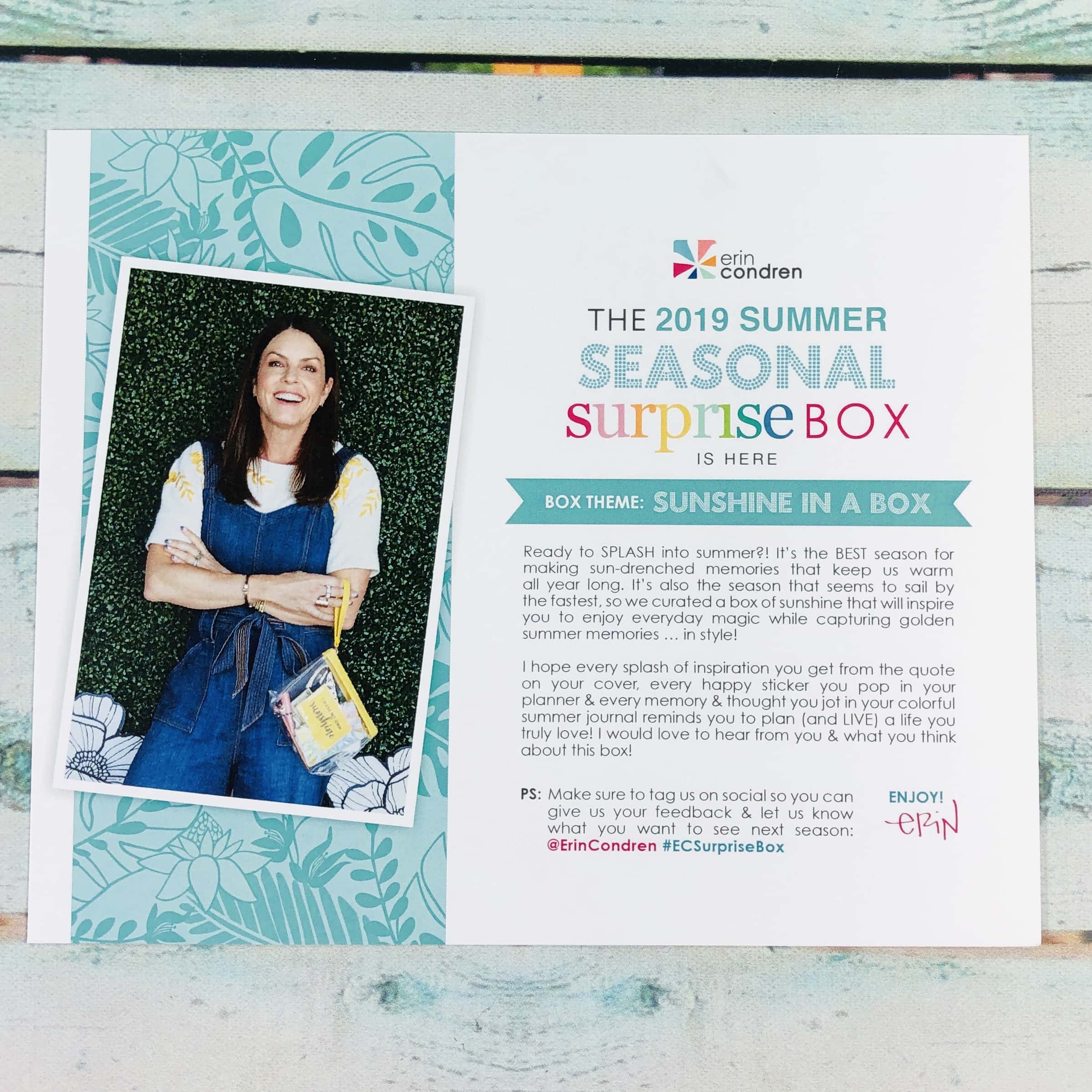 The theme for the Summer Box is Sunshine in a Box!
The information card gives you a picture list of all the items included and value. Some of the items may be available at Erin Condren retail locations, some may be coming soon, and others are exclusive to the box.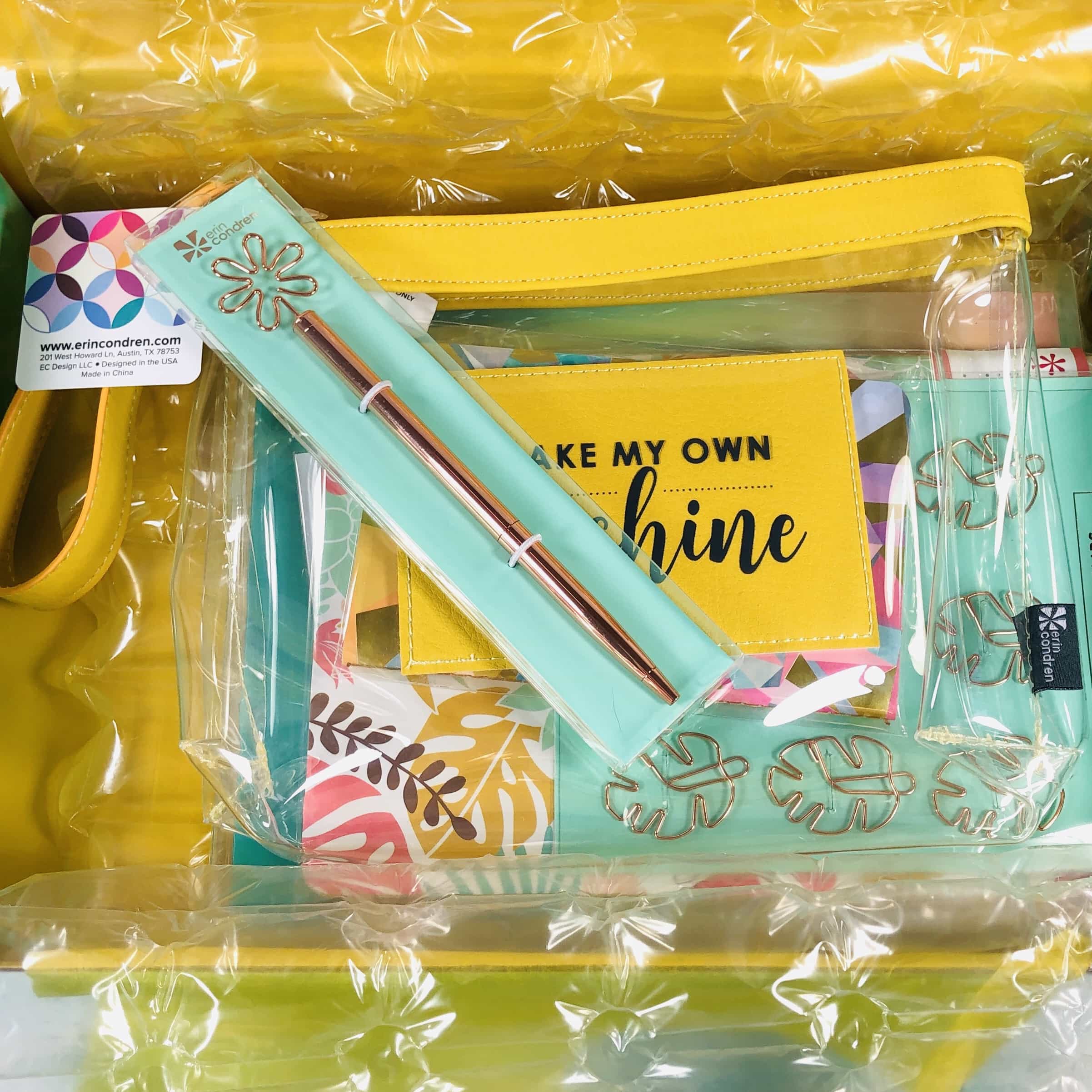 In addition to the main EC site, you can now shop a selection of non-personalized Erin Condren items on Amazon! Many, if not most, are discounted, and they all have free Prime shipping!
Everything in my box!
Interchangeable Metallic Quote Cover – Exclusive ($8) You can order interchangeable covers, although this one is an exclusive.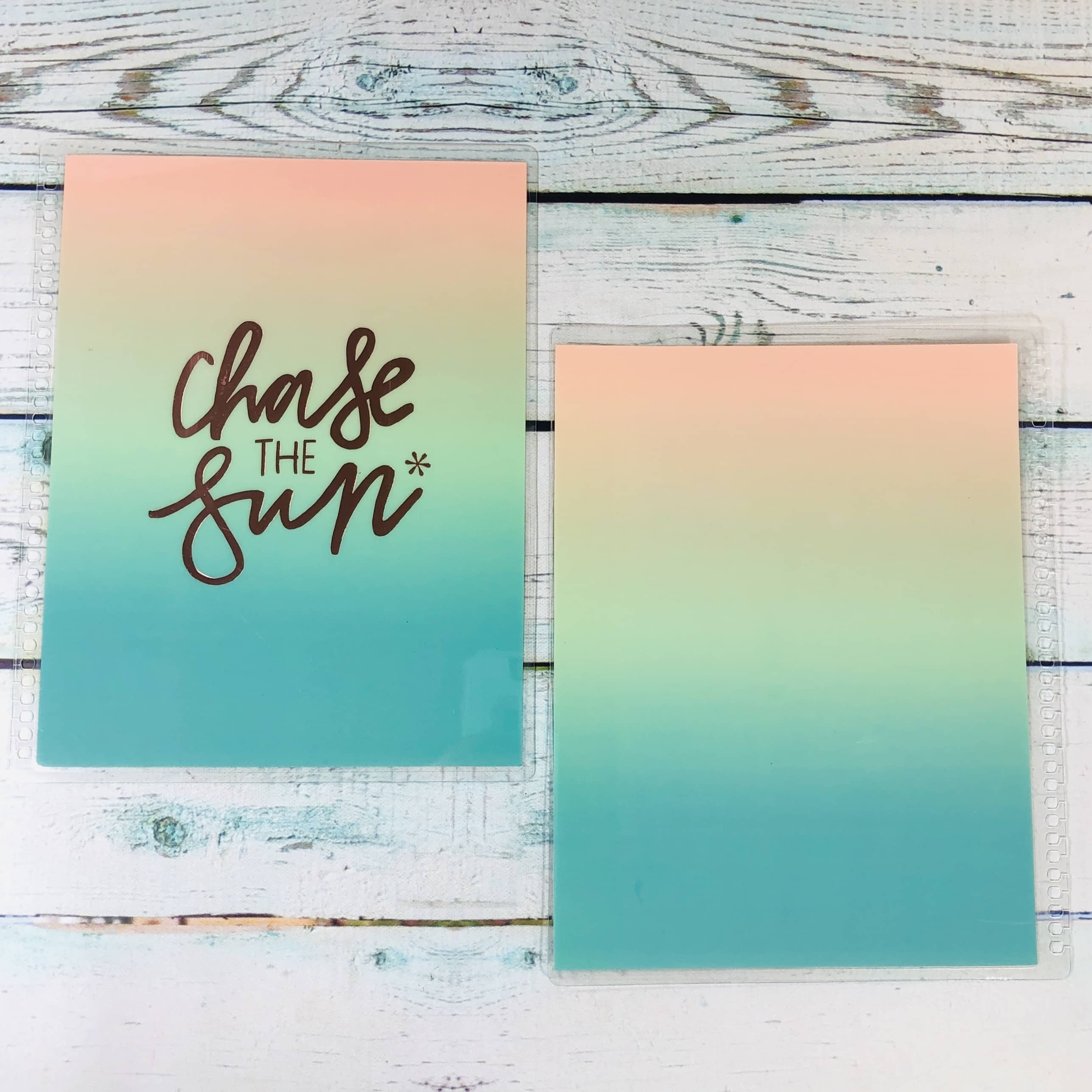 Here are the front and back covers. The wording and signature asterisk are in metallic rose gold.
Here are the insides of the front and back covers. You can write on them with wet erase markers and then start all over again when needed.
Asterisk Ballpoint Pen – Sneak Peek ($10.50) Rose gold is one of my favorite finishes so this pen is perfect for me!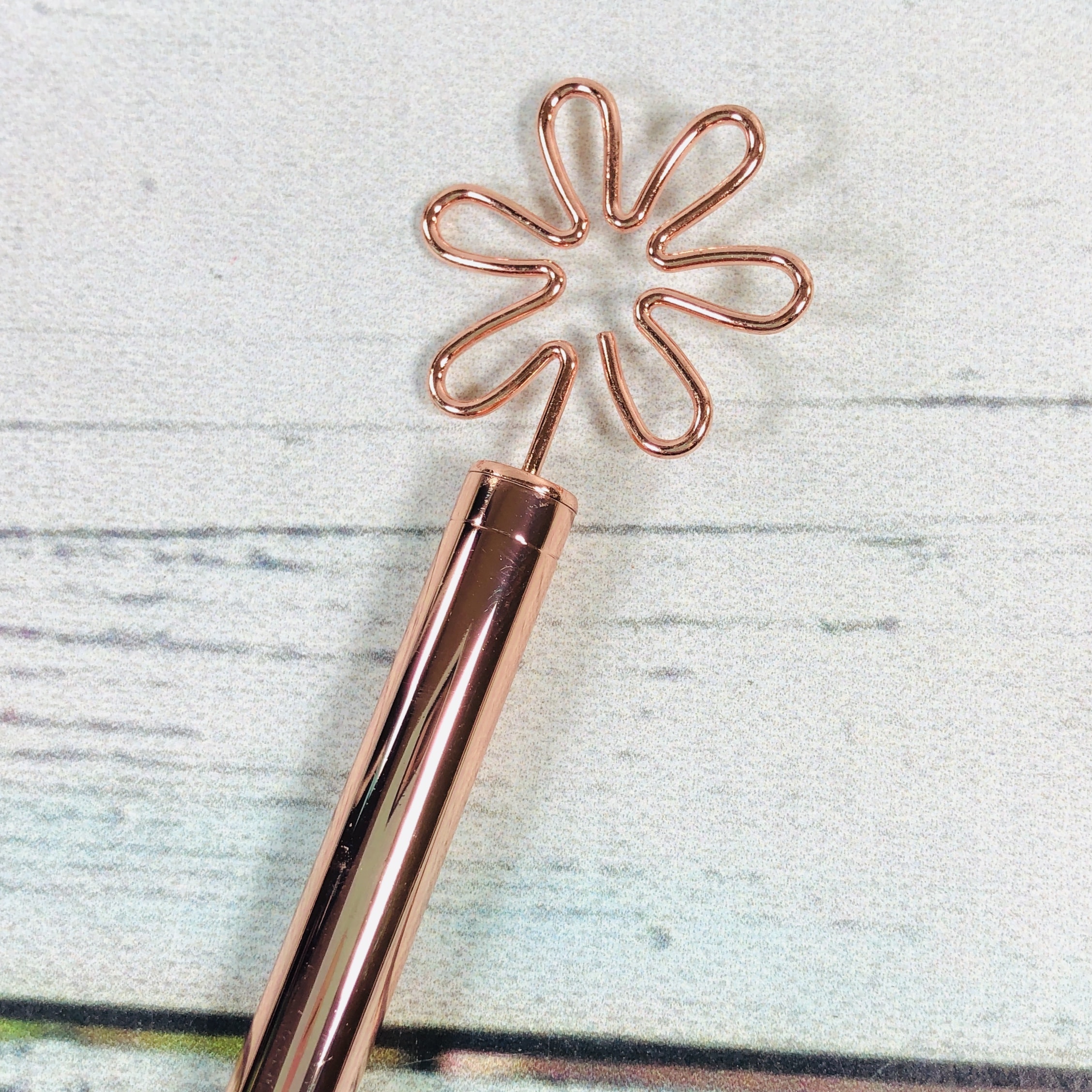 It has that signature asterisk up top and will make me smile when writing.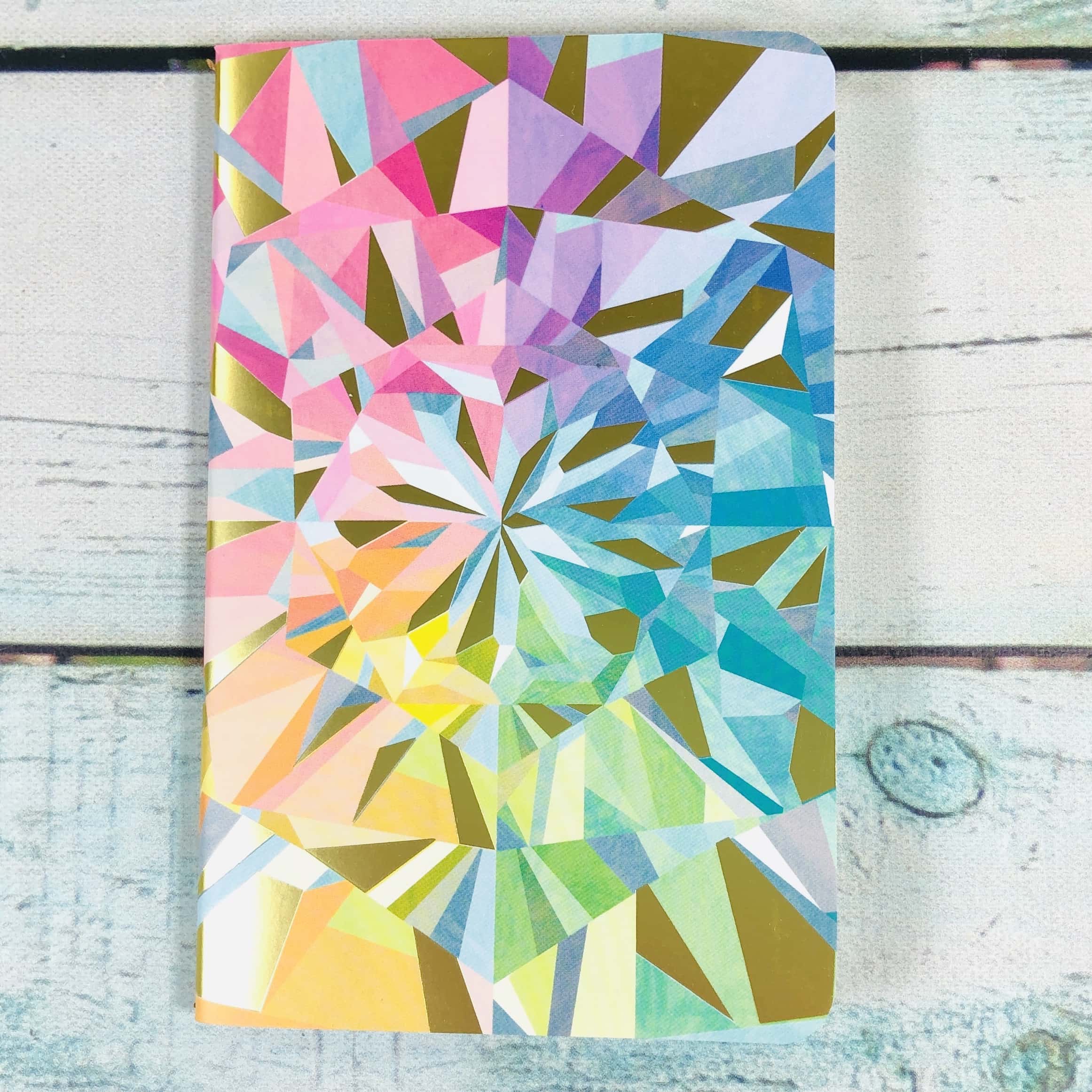 Mini Kaleidoscope Colorful Petite Journal – Exclusive ($6) I recently ordered the new Kaleidoscope pattern for my 2020 planner so to have accessories that coordinate is just a bonus! This mini planner is even smaller than the Petite Journal available on the Erin Condren site. The gold accents are metallic.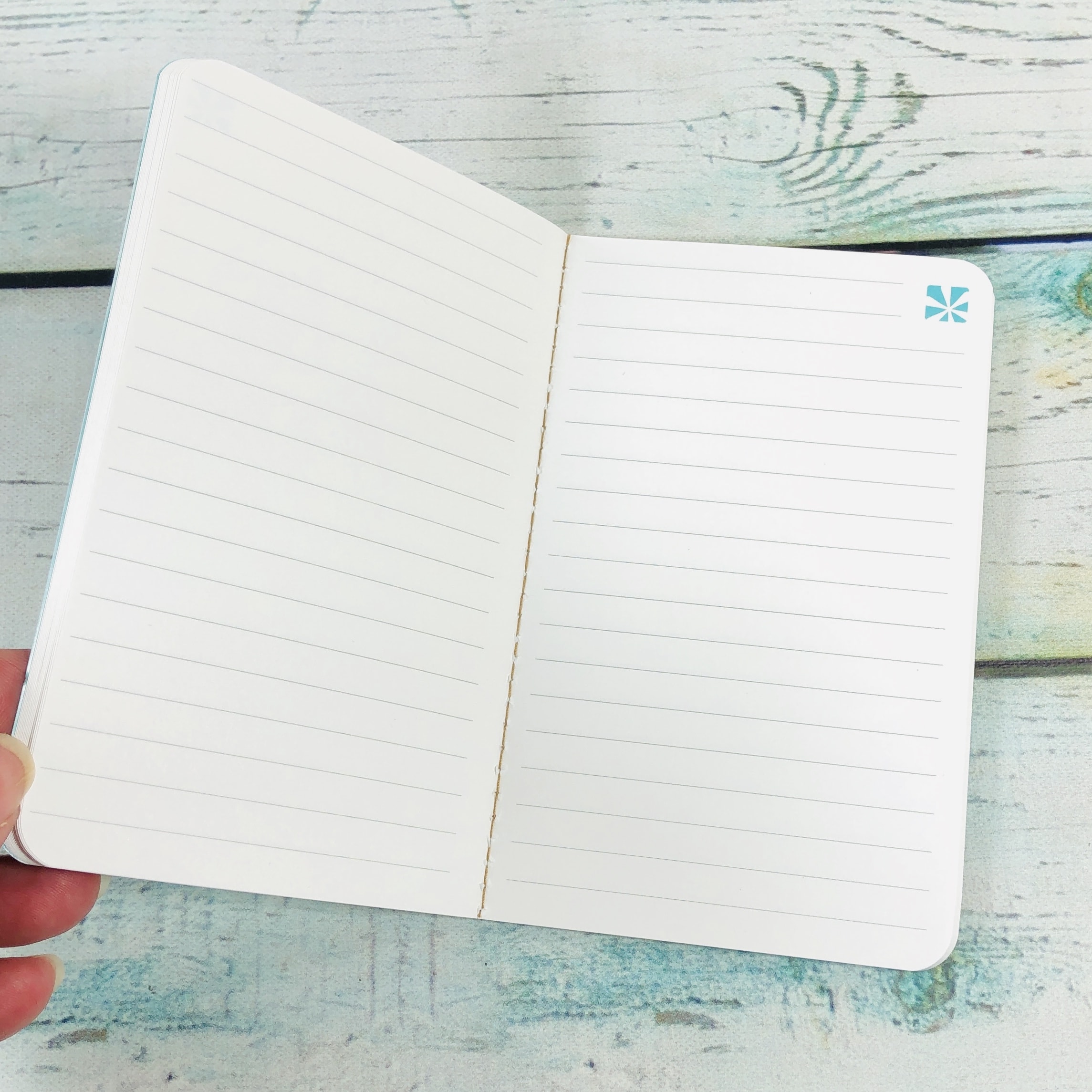 The notebook measures 3.5 x 5.5 and is filled with lined pages on the inside. I recently found myself needing a little notebook to carry in my purse with my summer wants (shopping lists etc.) and this is perfect for my needs!
Shaped Palm Paper Clips – Sneak Peek ($8.50) Paper clips in unusual shapes are all the rage right now and these add a tropical vibe to the everyday.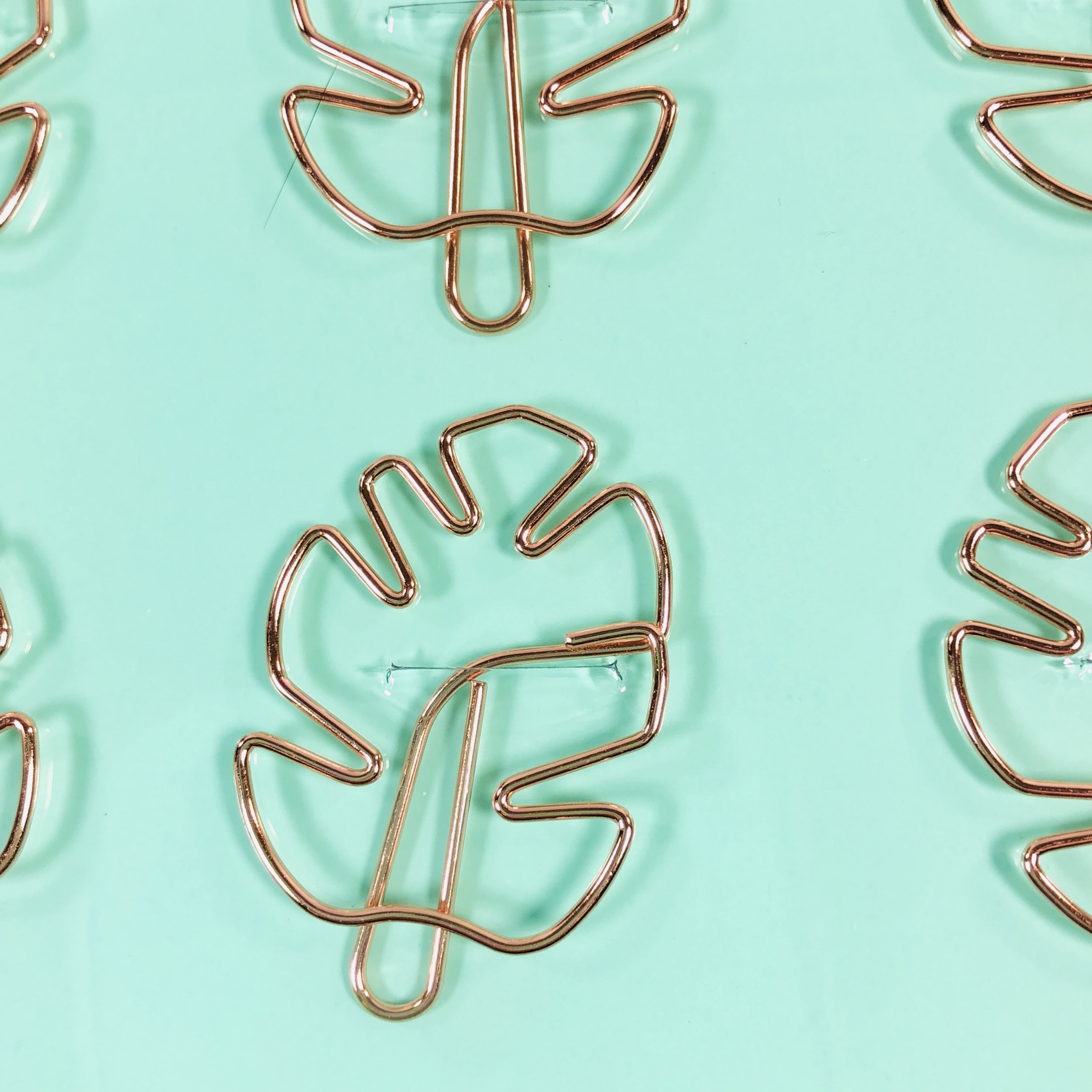 Each clip is about 1.5 inches tall and of course, they are that lovely rose gold tone.
Summer Sticker Sheets – Exclusive ($7.50) We received three sticker sheets all together – two shown here, plus one shown with the travel journal below.
Some had tropical fruits, birds, leaves, etc.
More tropical leaves and colors.
Erin Condren Summer Journal Petite Planner – Sneak Peek ($14) I found a similar journal on the Erin Condren website but I think this is a new look for this season. The rose gold accents are shimmery metallic. I was extremely impressed with this journal!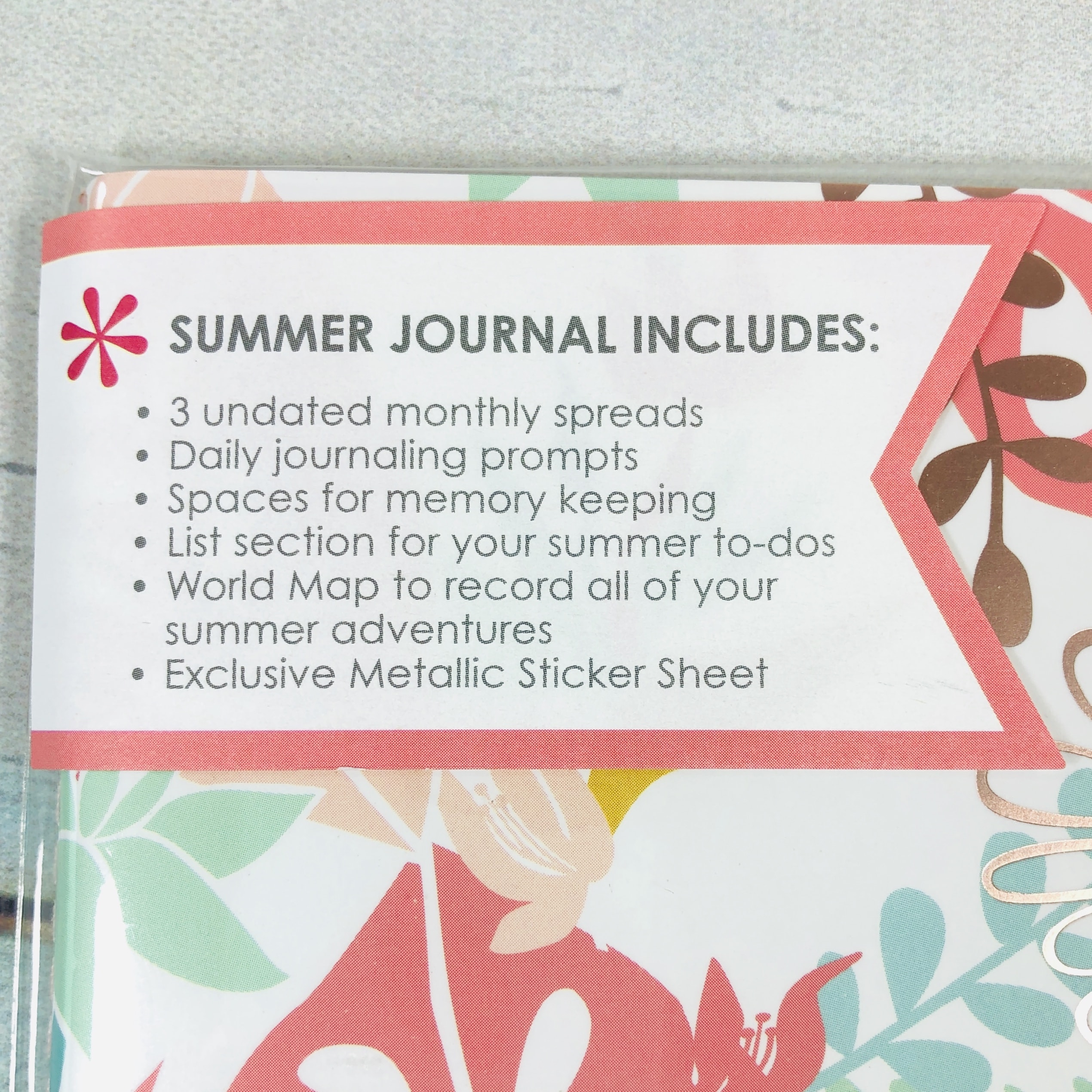 Specifics were listed in the corner.
Like the other EC products, even something that's usually as mundane as the inside of a book is special because of the graphics.
So pretty!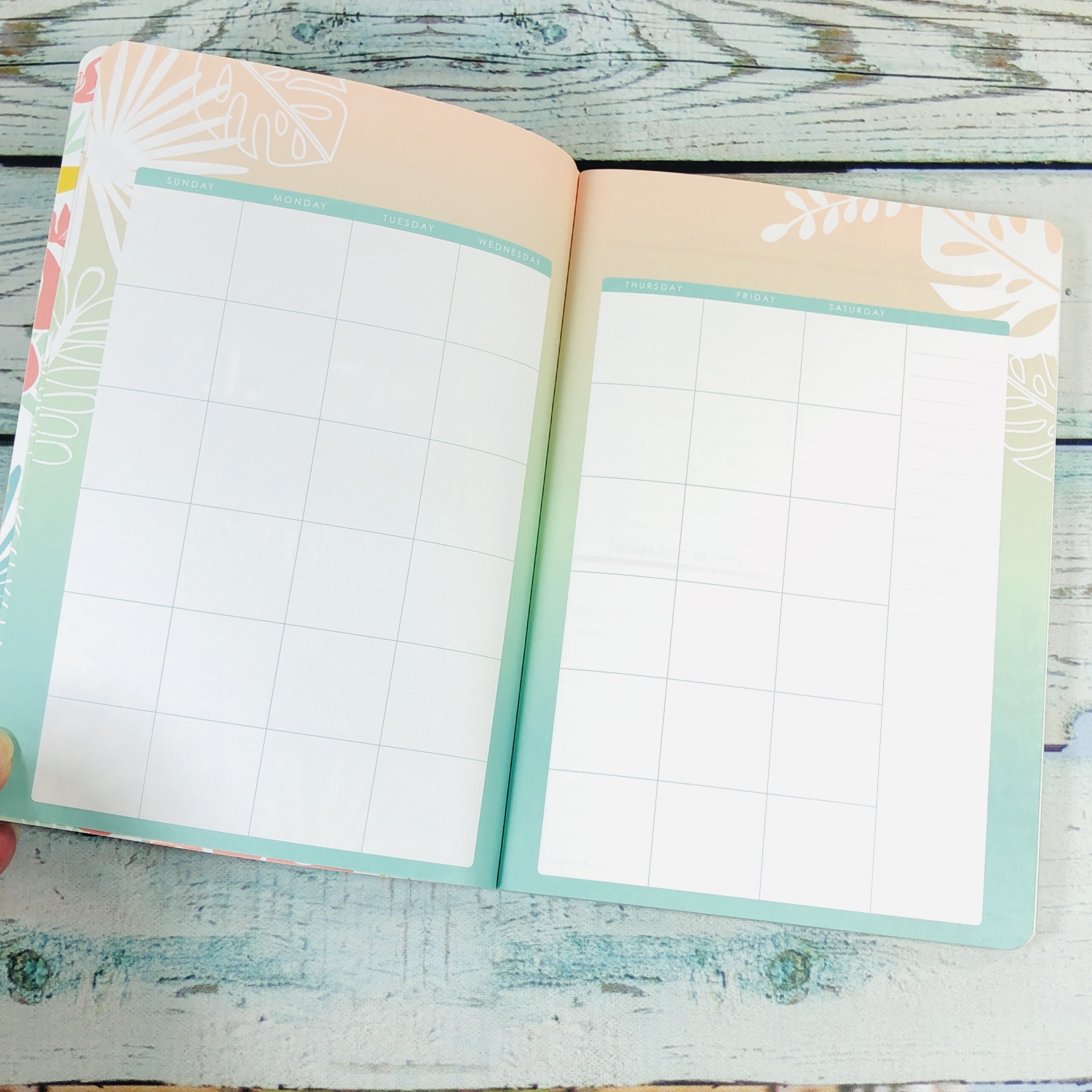 Each section (there are 3) starts with a blank calendar that you can fill in with dates.
To-do's, birthdays, and special occasions are on one side, a dot-grid page is on the other.
There are several pages with journal prompts (28 different prompts in the first section alone!) and places to write memories. Some of the prompts repeat in the other two sections, and some of the prompts are different.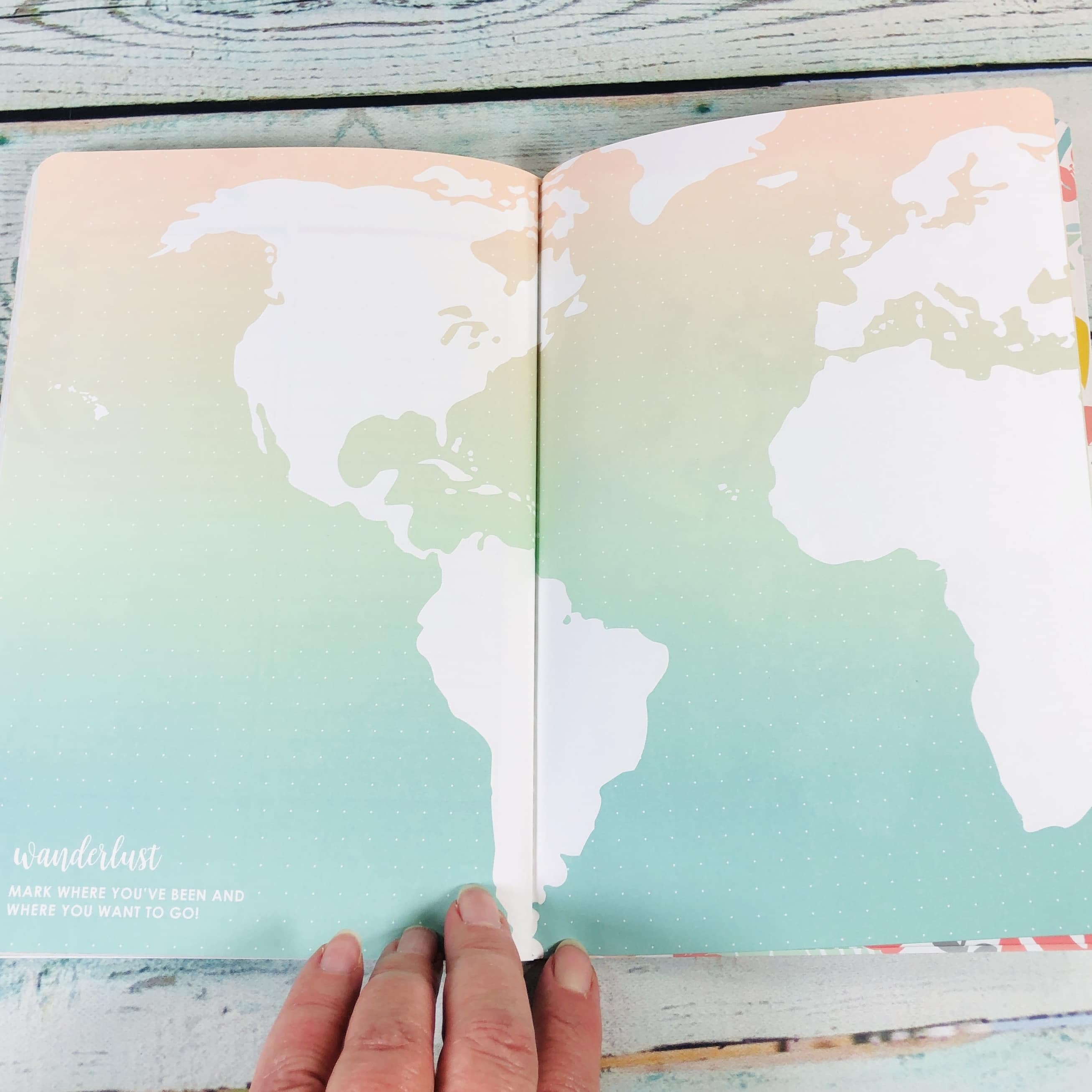 Two different maps are in the back so you can mark where you've been or maybe where you want to go.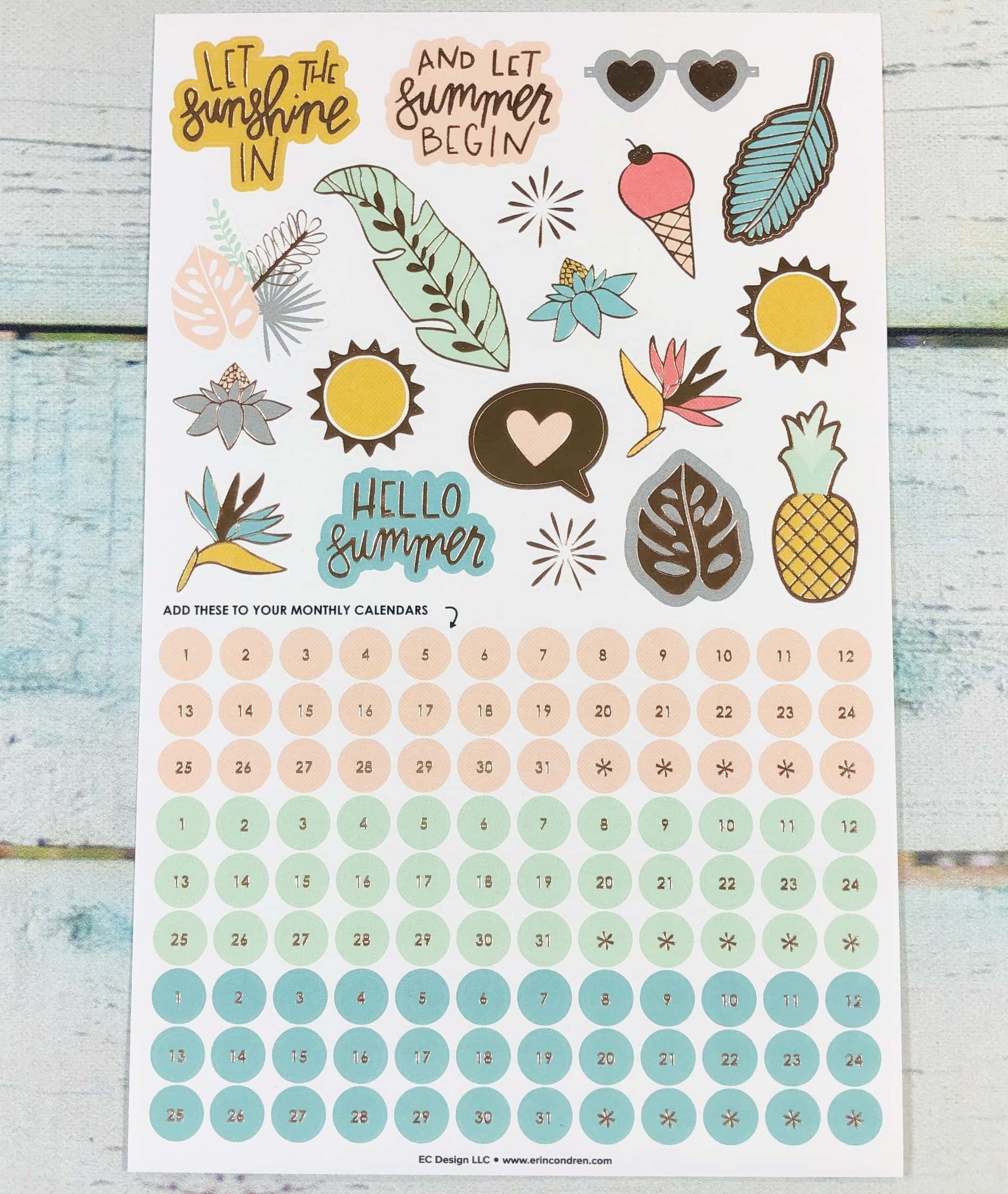 A page of stickers was included and had 3 months worth of numbers for the calendar. I think this journal is perfect for anyone but especially for a person like me who doesn't know where to start or who doesn't have time to set up a bullet journal. Everything was thought out ahead of time for me so all I have to do is start writing!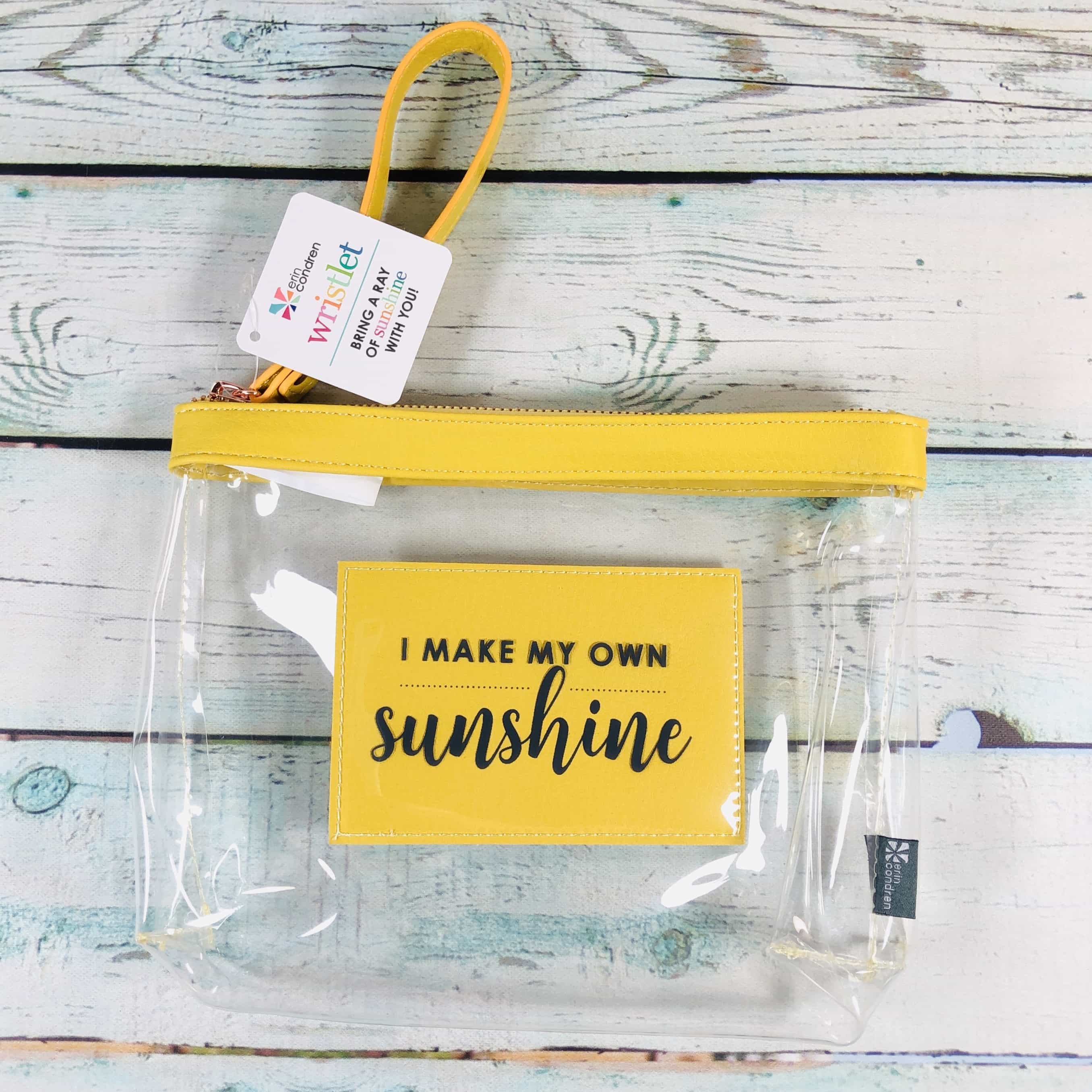 Clear Quote Wristlet – Exclusive ($15) One final sunny touch is this adorable wristlet with a powerful statement.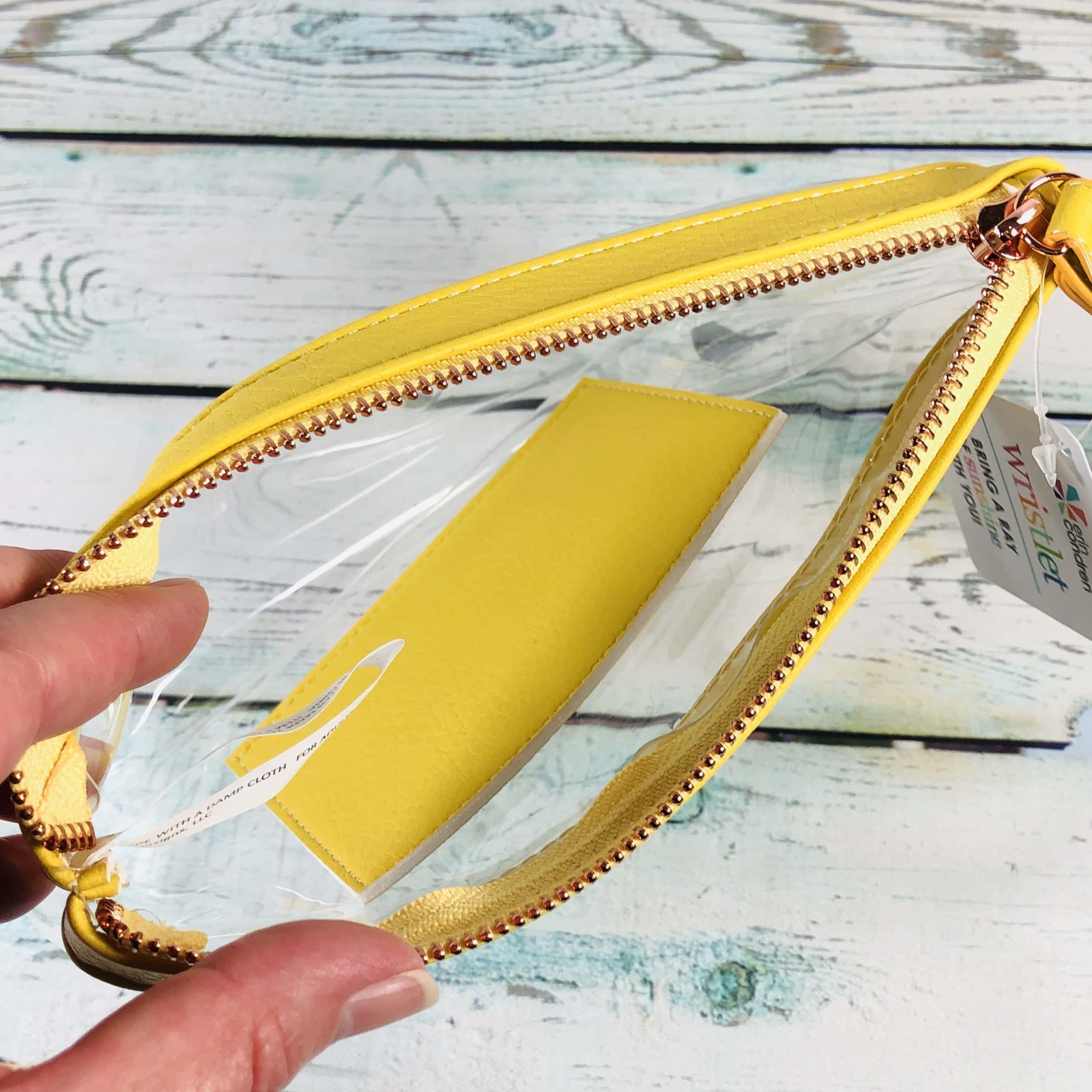 The quote is on the inside of the bag but you can read it from the outside and when you place items in the bag you will still see the words.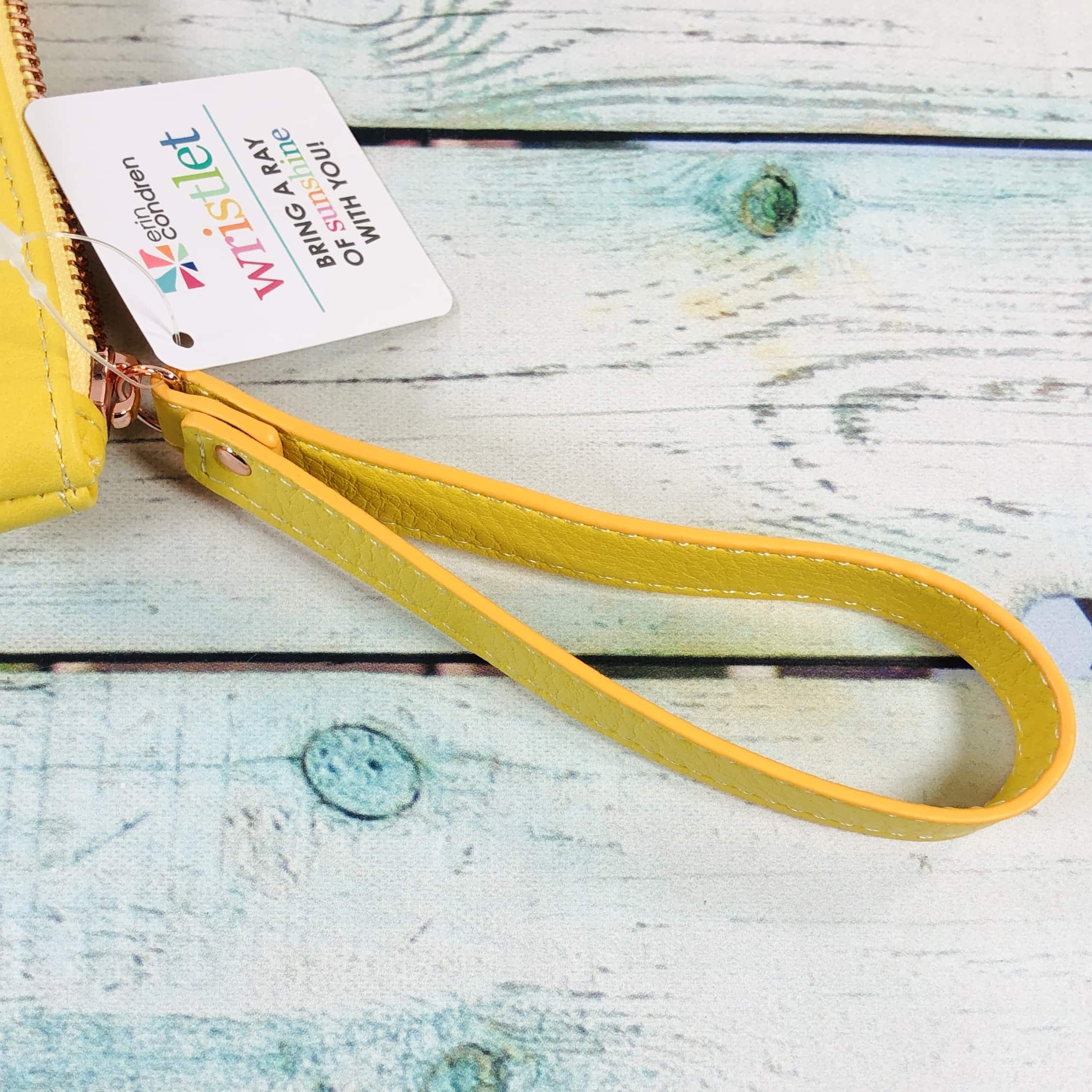 I think the bag is top quality and doesn't have that cheap plastic smell or worse, the smell of mothballs, which I sometimes encounter in other subscription boxes. Fill it with a few neccessities, grab it by the handle, and go! It is approximately 8.5″ x 7″ and is bigger than a makeup bag.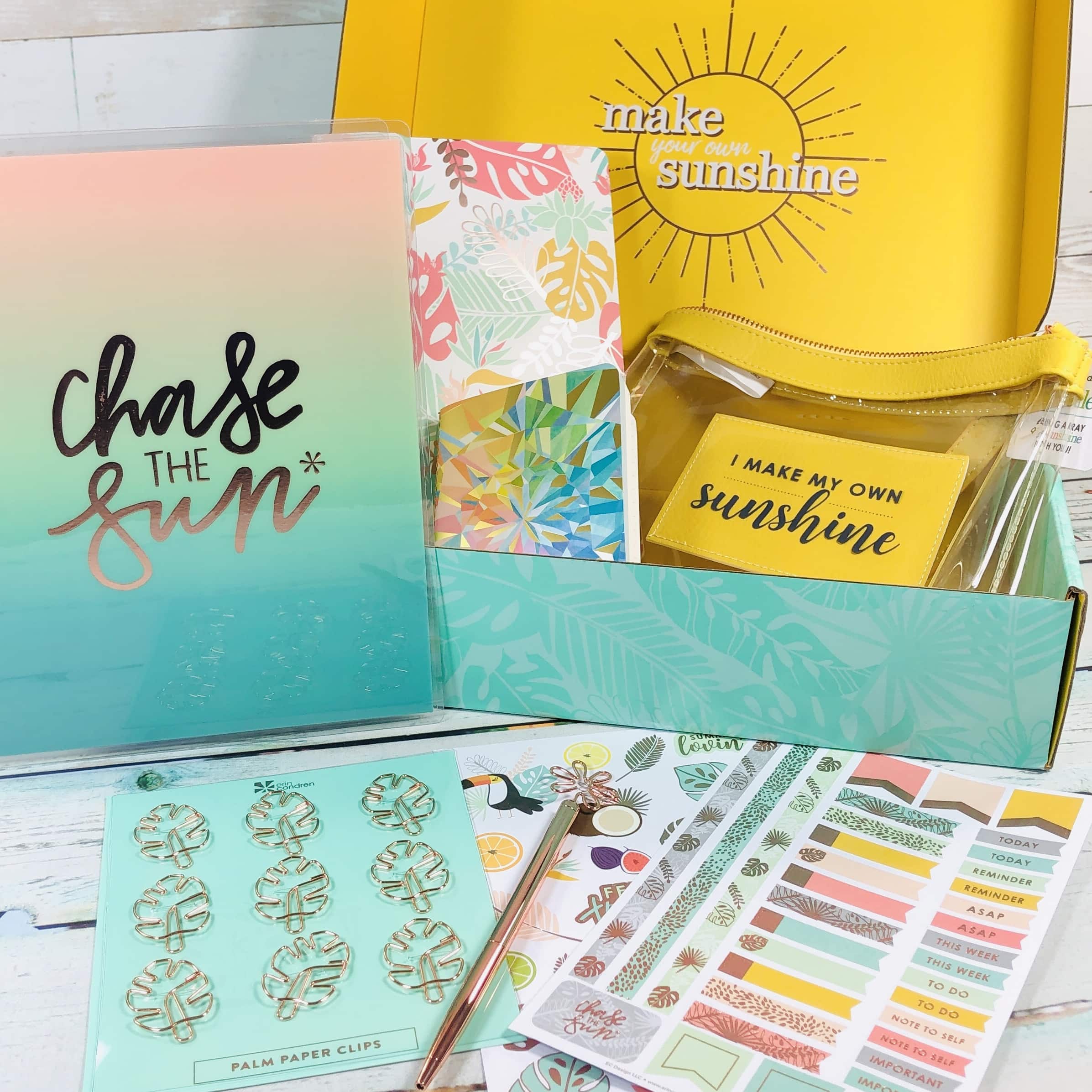 I believe the Summer 2019 Erin Condren Seasonal Surprise Box is the best one yet! I love items with a beachy vibe, which this box has for me. The Kaleidoscope mini journal matches my EC planner and was something I needed, the summer journal was well thought out and I can't wait to use it, and the wristlet is just too cute. Plus, stickers are always welcome and the rest of the items keep that summer feeling going strong. The value for this box was around $69.50. I like that it has exclusive items and items I can look forward to ordering when I need to restock!
What did you think of the box?
Visit Erin Condren Seasonal Surprise Box to subscribe or find out more!