Bokksu is a premium snack box that features authentic Japanese snacks, as well as a tea pairing to go with it. There are two levels to choose from: Classic Bokksu ($39.99 USD) includes an assortment of 20-25 premium Japanese snacks and a tea pairing; Tasting Bokksu ($25 USD) includes 10-14 premium Japanese snacks and a tea pairing. The snacks sent are not easily found outside of Japan and this subscription ships internationally from Japan. Shipping is already included in the price. I am reviewing the Classic Bokksu.
Other Japanese snack subscription services use mass-produced mainstream snacks that can be readily found in most Asian markets outside of Japan. Bokksu directly sources its artisanal snacks from local snack makers in Japan (some of whom have been around for over 200 years!). We only curate high quality and gourmet snacks, never filler items. We are also the ONLY service that handselects a tea pairing for each box to complement that month's flavors.
DEAL: Save $5 on your first box with coupon code HELLO.
My box was shipped in a slightly bigger box this month to keep everything safe. The box was packed to the top and there was a postcard included.
The back of the postcard says that those who subscribe to the Classic Bokksu received an extra snack!
June's theme is TRADITIONAL FLAVORS OF JAPAN. I am always impressed with the booklet that is included in the box, and now it's new and improved!
I am always happy to learn new things and so the expanded booklet is welcome.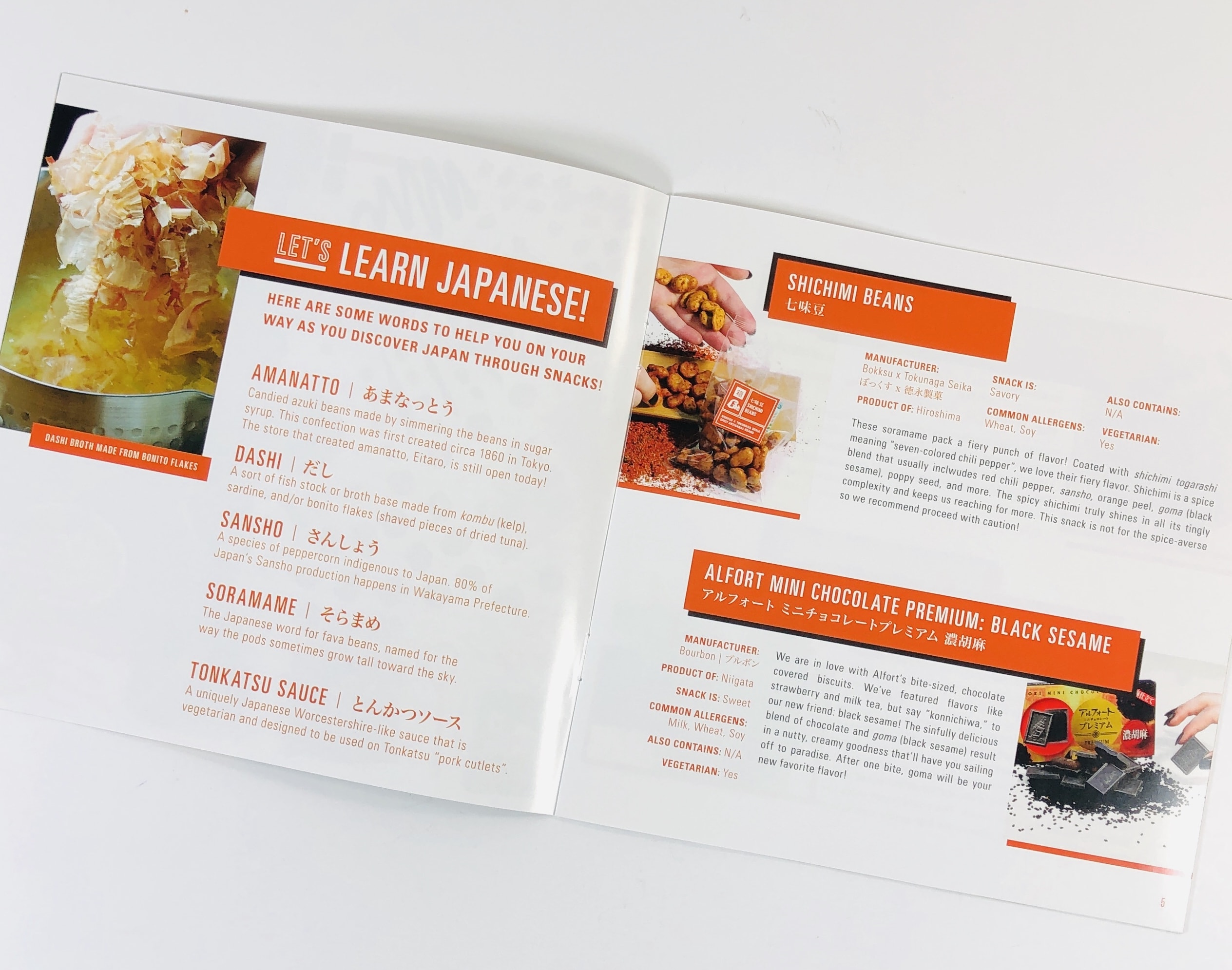 Each product was shown and even listed which part of Japan it originated from, brand name, common allergens, and a description.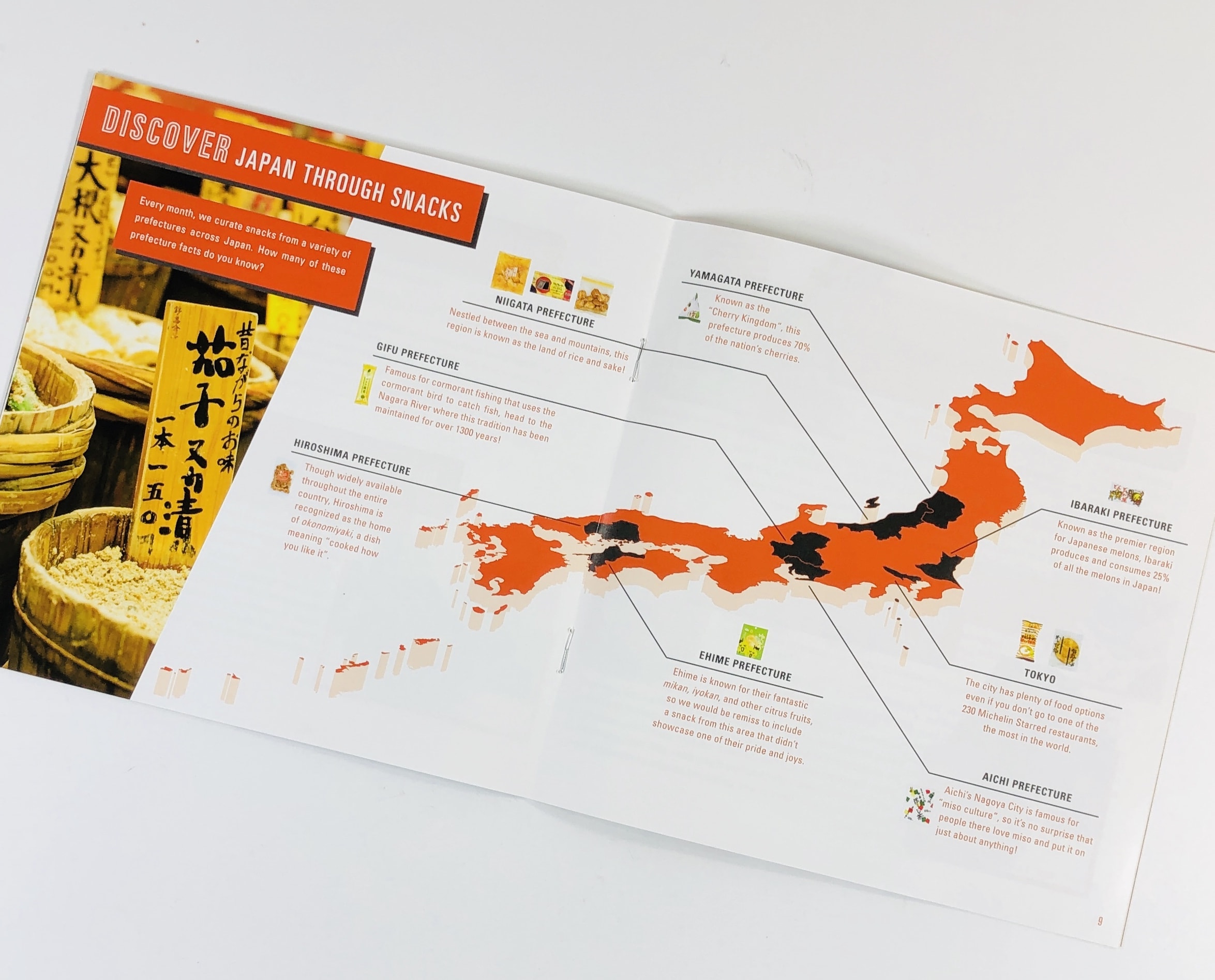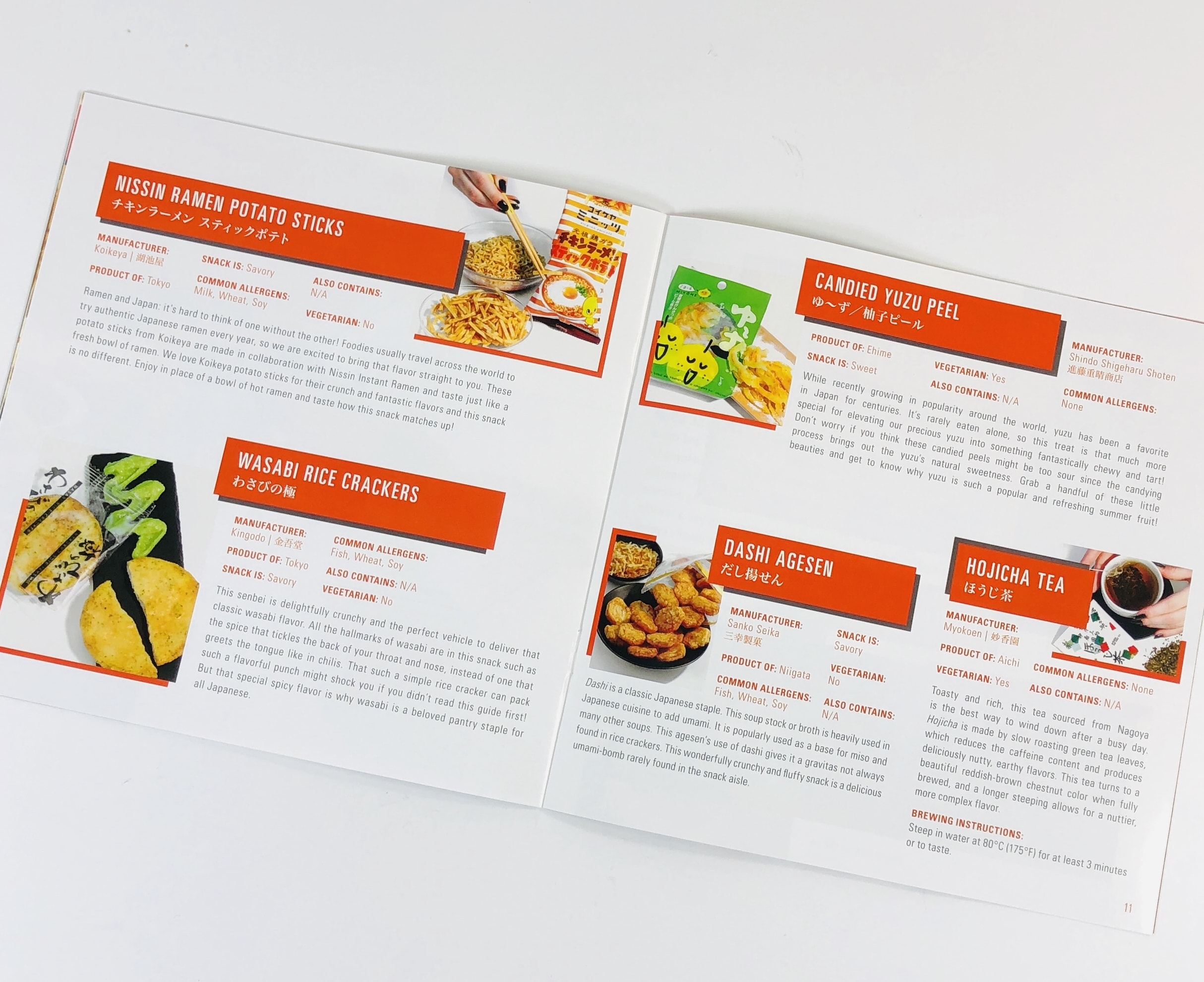 It now lists the manufacturer and notes whether or not the product is vegetarian.
There was even a recipe this month!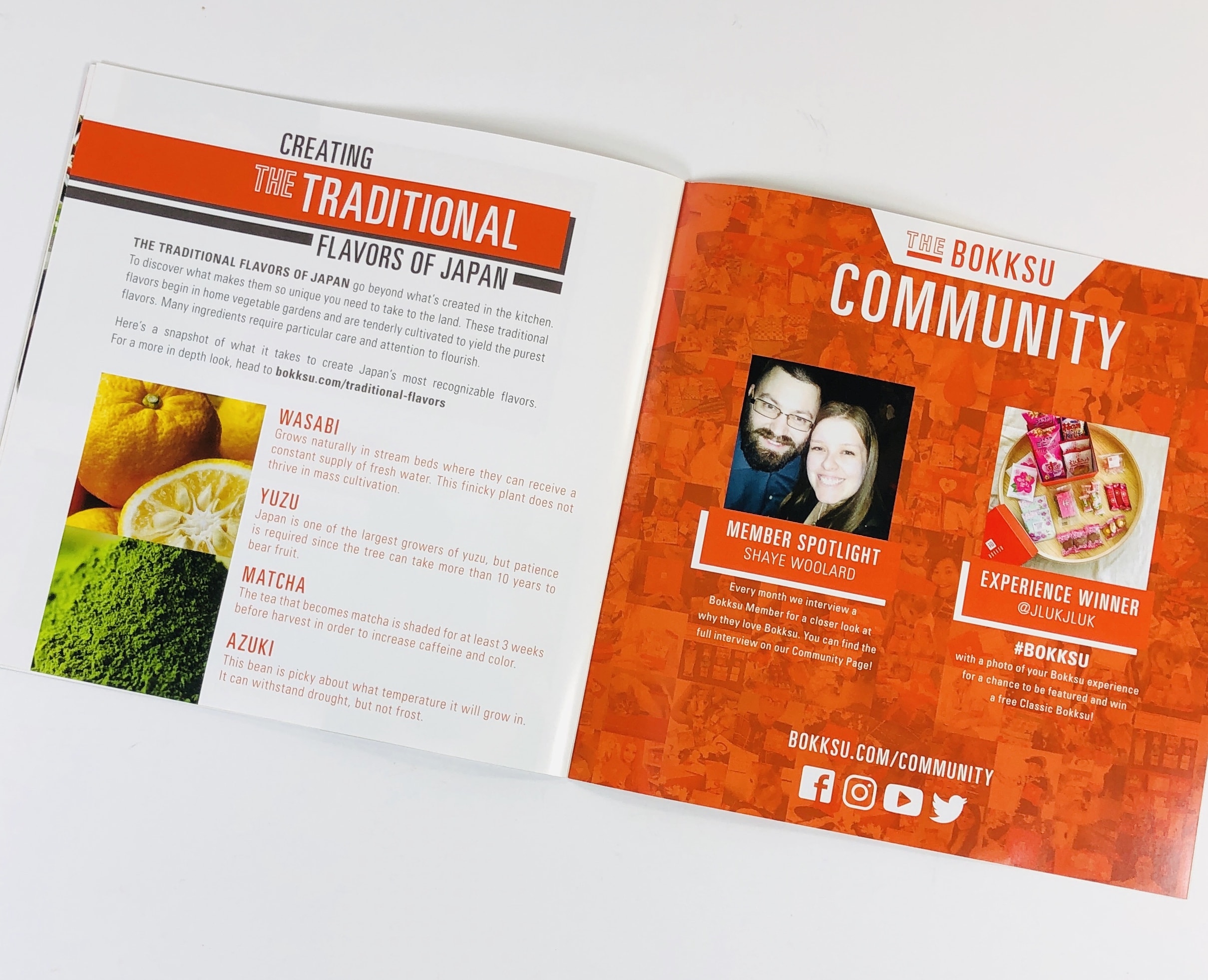 Some members were in the spotlight.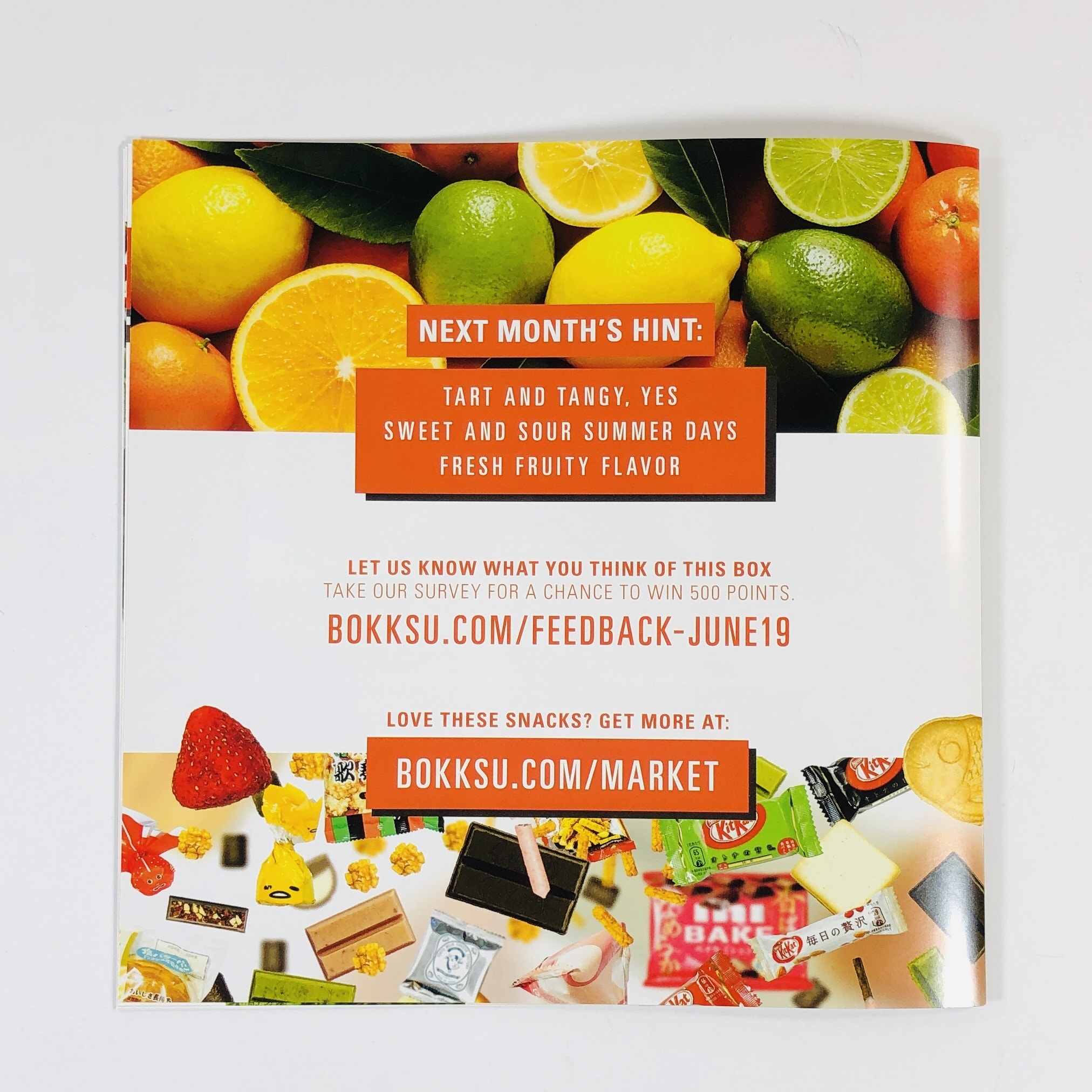 The back of the mini mag had info on how you can earn points plus a glimpse at the next box theme!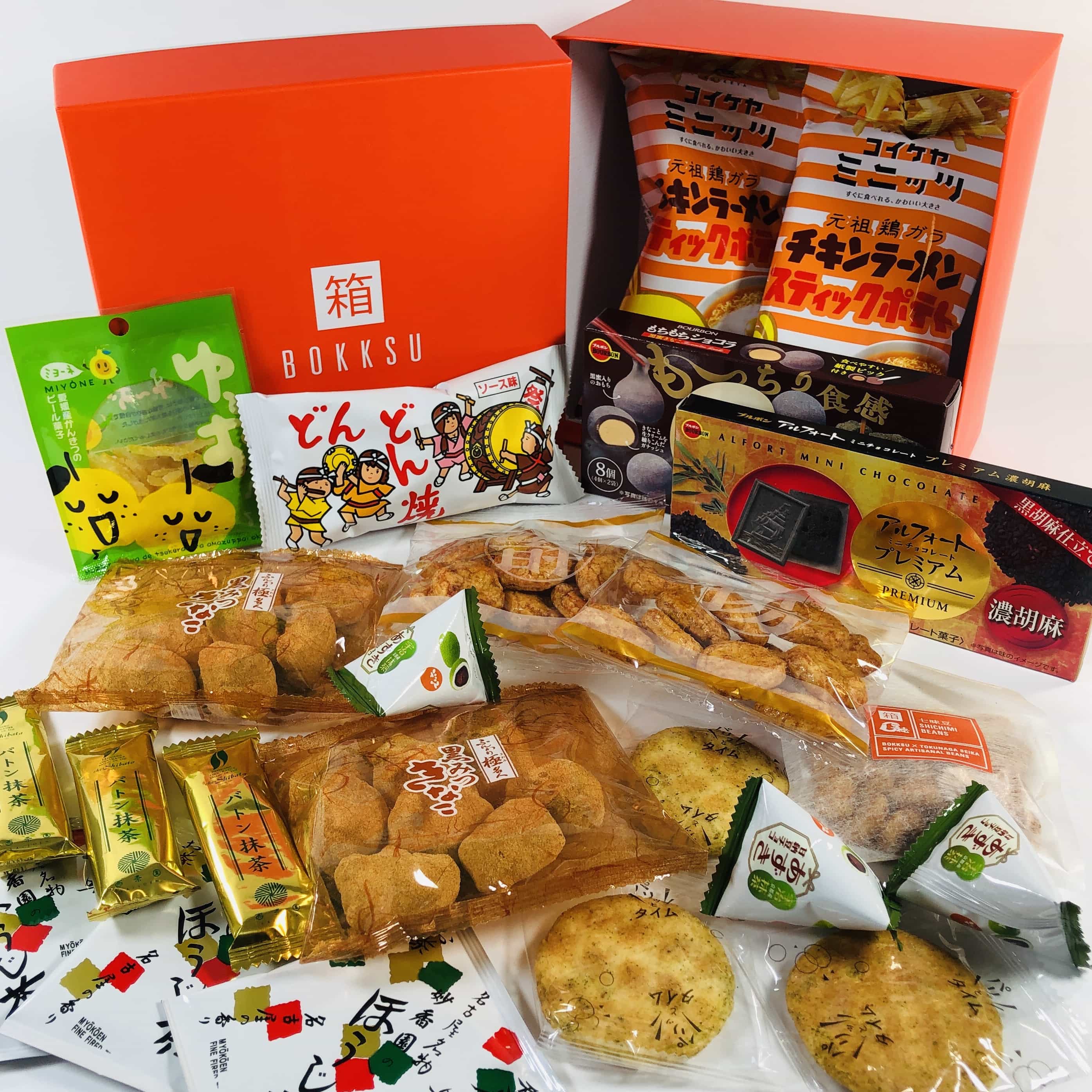 Everything in the June 2019 Classic Bokksu!
Nissin Ramen Potato Sticks ($6) Stick potatoes show up pretty regularly in this sub and they are always tasty.
We have a similar snack here in the state, but this version is supposed to taste like ramen. I thought they tasted like tasty potato chips. I don't think they tasted like ramen seasoning as I know it.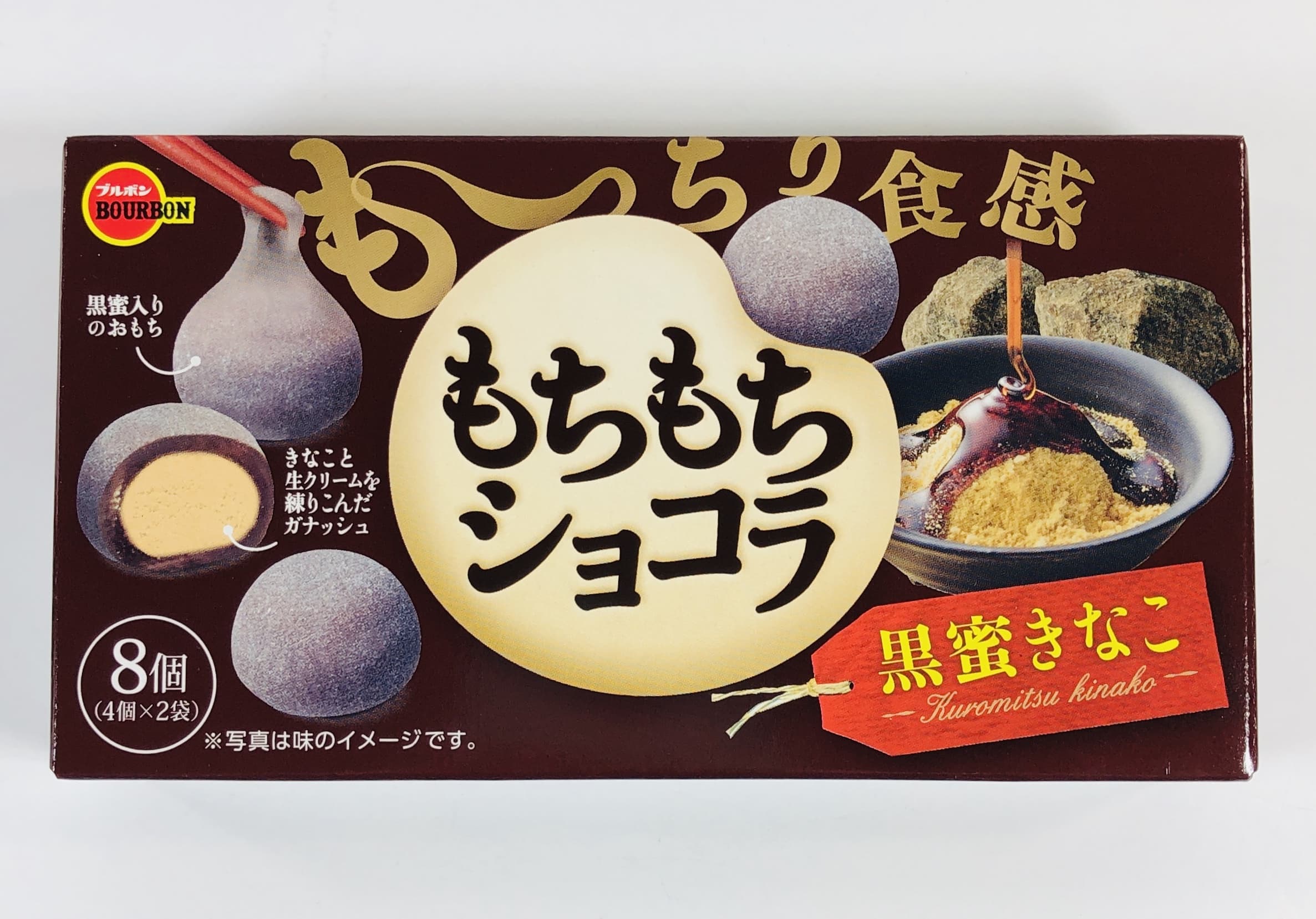 Mochi mochi Chocolate: Black Syrup Kinako are soft gelatinous balls and this flavor features black syrup on the outside and chocolate ganache on the inside.
There were two separate packages like this in the box.
I don't think anyone in my household is a fan, they are kind of blobby but have an interesting texture and flavor.
Black Syrup Kinako Mochi Puffs ($4) We have received mochi puffs in the past but I think these are my favorite so far.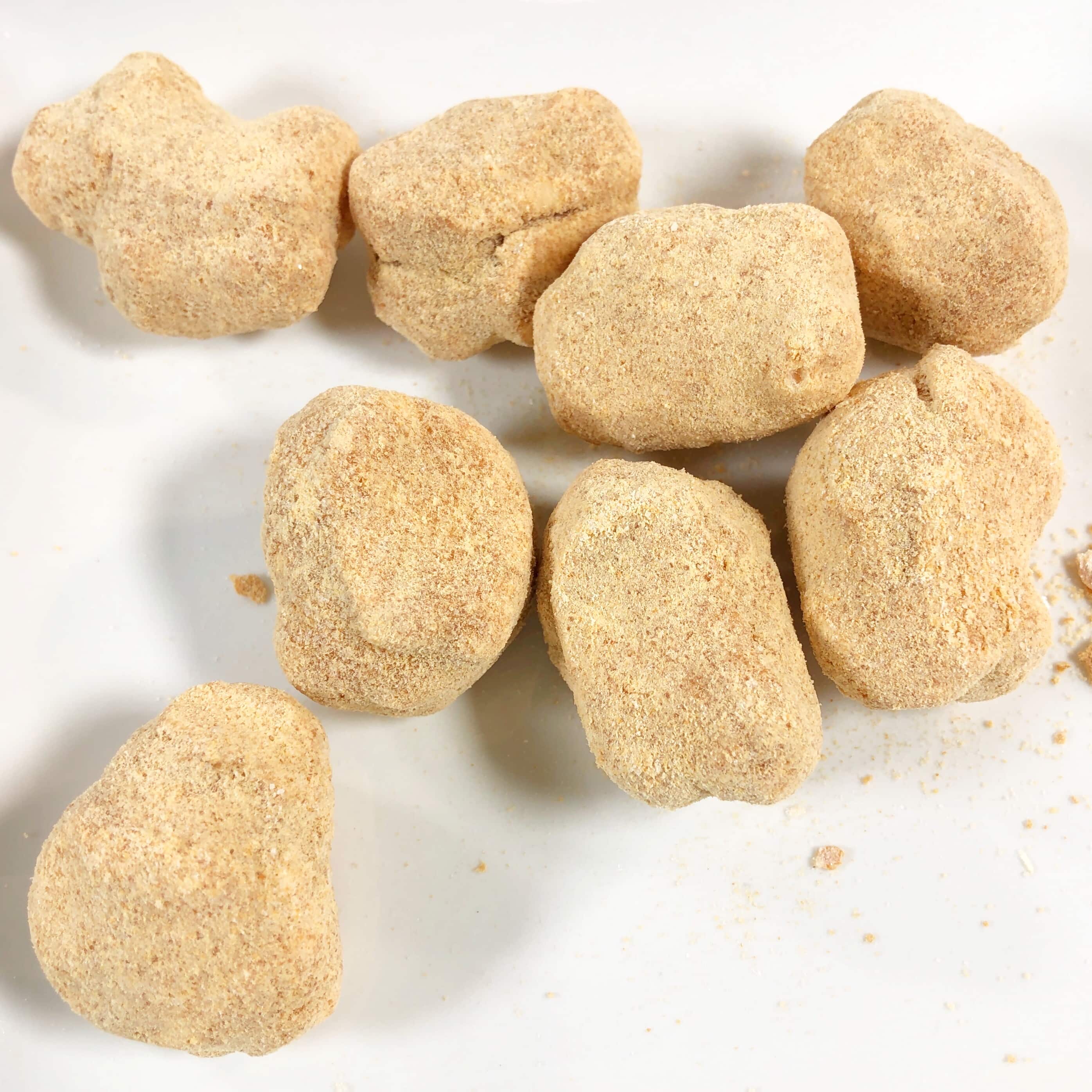 Pop one in your mouth and it will instantly dissolve. The flavor is sweet with a hint of spice and nuts, but is mostly just sweet.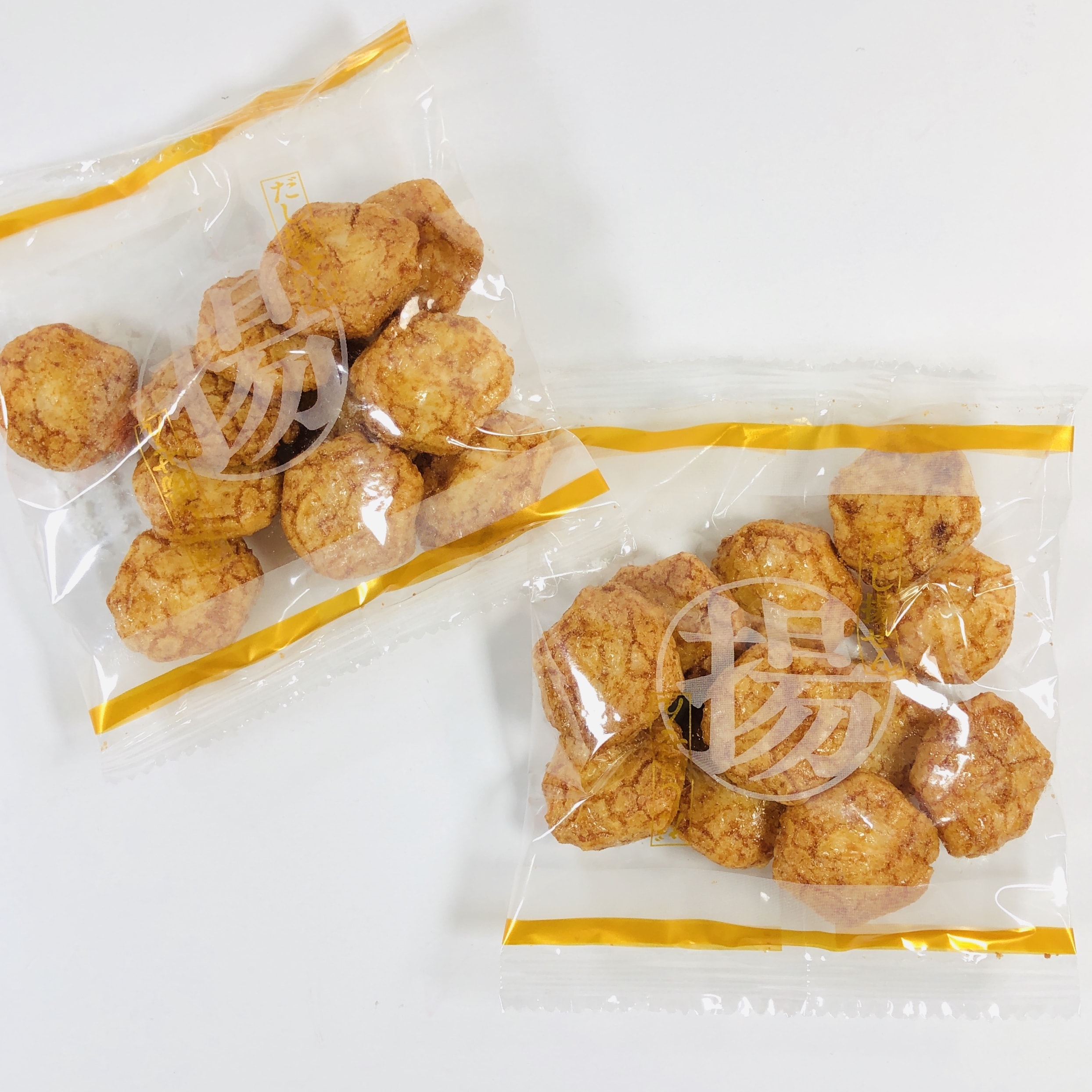 Dashi Agesen Dashi is a soup stock made with fish flakes and dried kelp. It adds umami flavor to whatever it touches.
I thought they were sweet and salty, but not really fishy, which is a good thing.
Shichimi Seven-Flavor Beans has a coating of seven spices including chili pepper, black pepper, and orange peel.
They remind me of roasted broad beans and are really very spicy, they were packing some heat. They also had a hint of citrus and the beans were a tad sweet.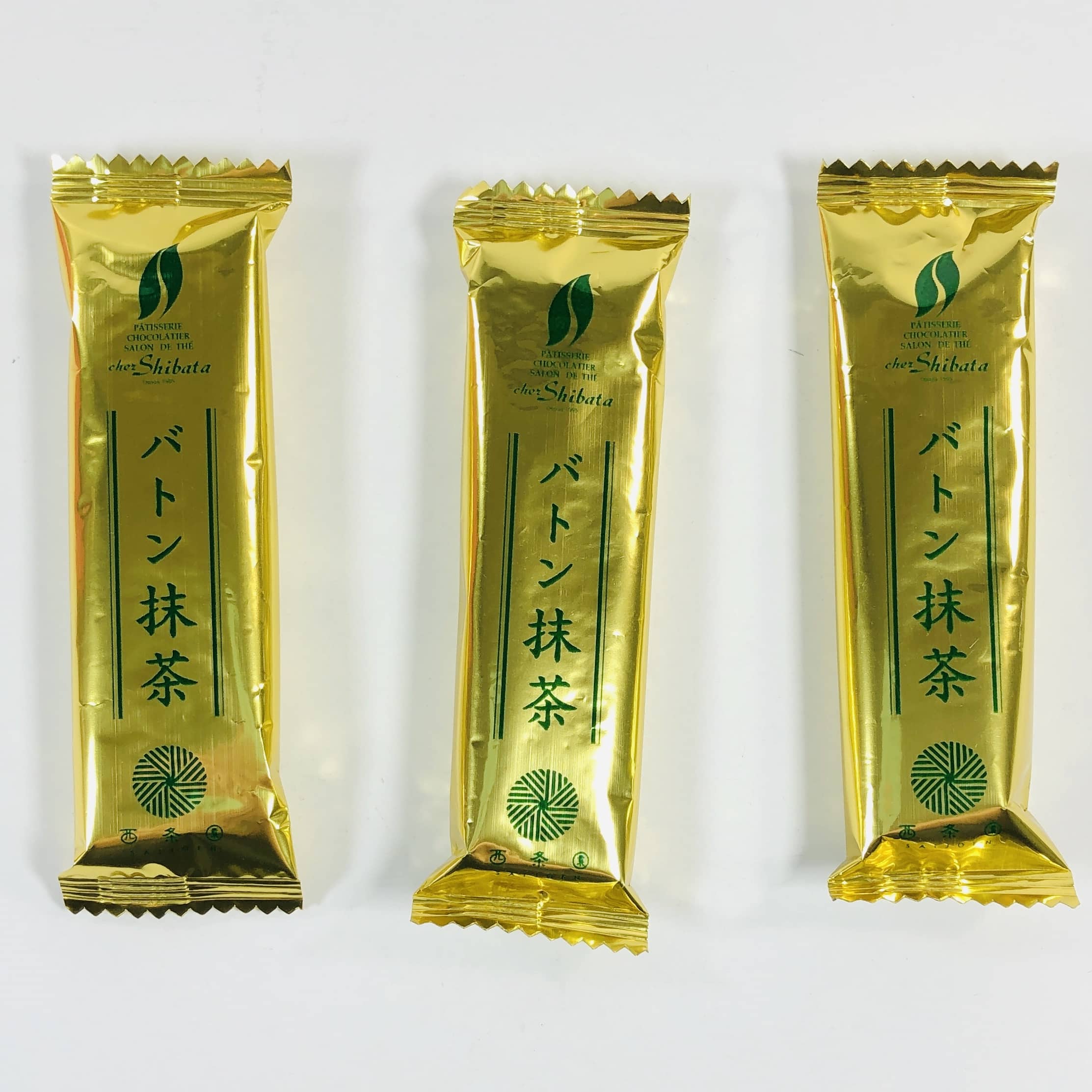 Matcha Baton Crunch is green tea flavored white chocolate covering wafer cookies. Sound familiar?
That's right, they are similar to matcha Kit Kats, but with a stronger green tea flavor and a bit of bitter bite.
Alfort Mini Chocolate Premium: Black Sesame Everyone in my family picked this cookie as their favorite treat from this box, and it is one of the best things I've tried from any subscription!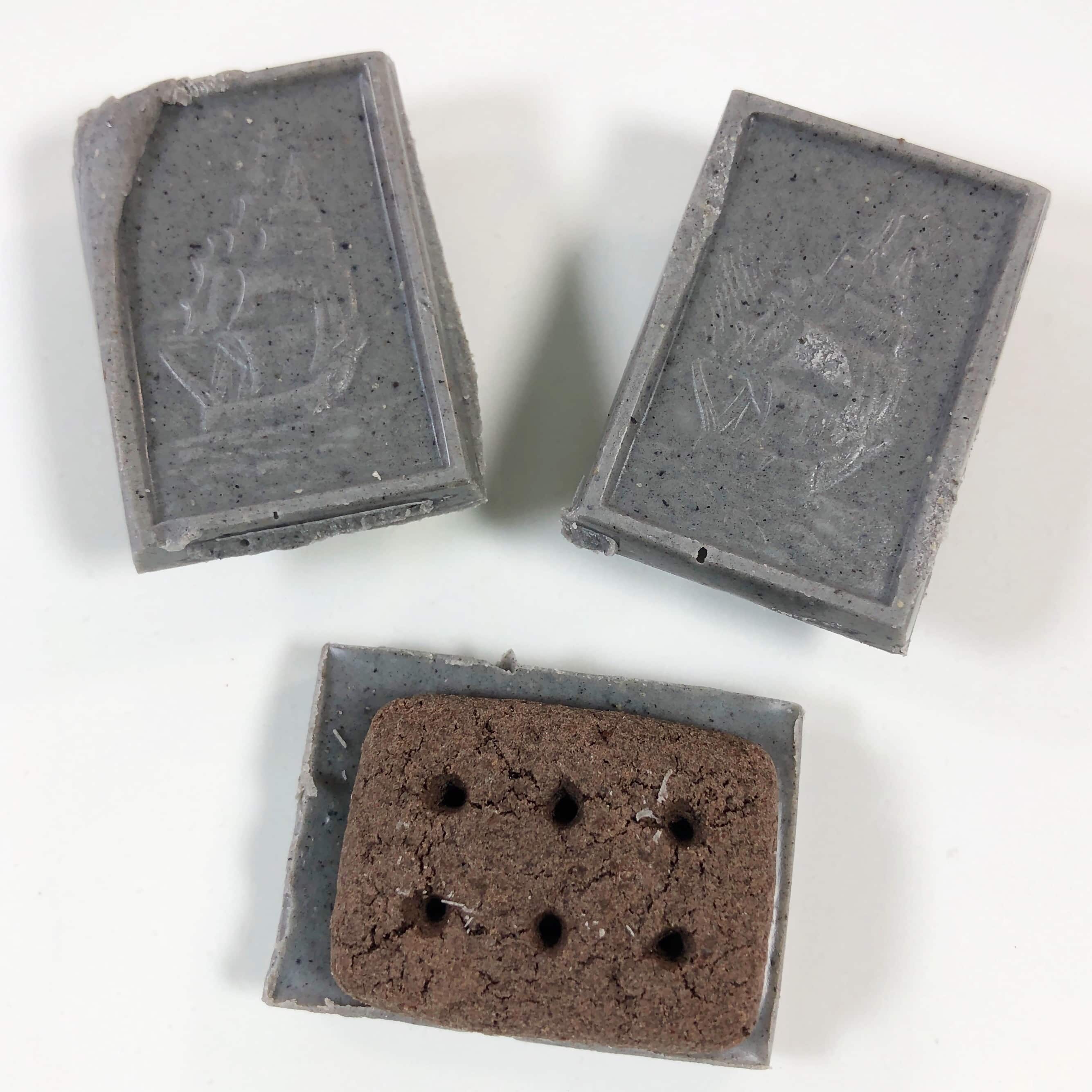 The bottom is similar to an Oreo without cream, while the white chocolate on top is flavored with sesame seed, which gives it a unique flavor. So good!
Dondon Yaki are mini senbei with peanuts and are very tasty.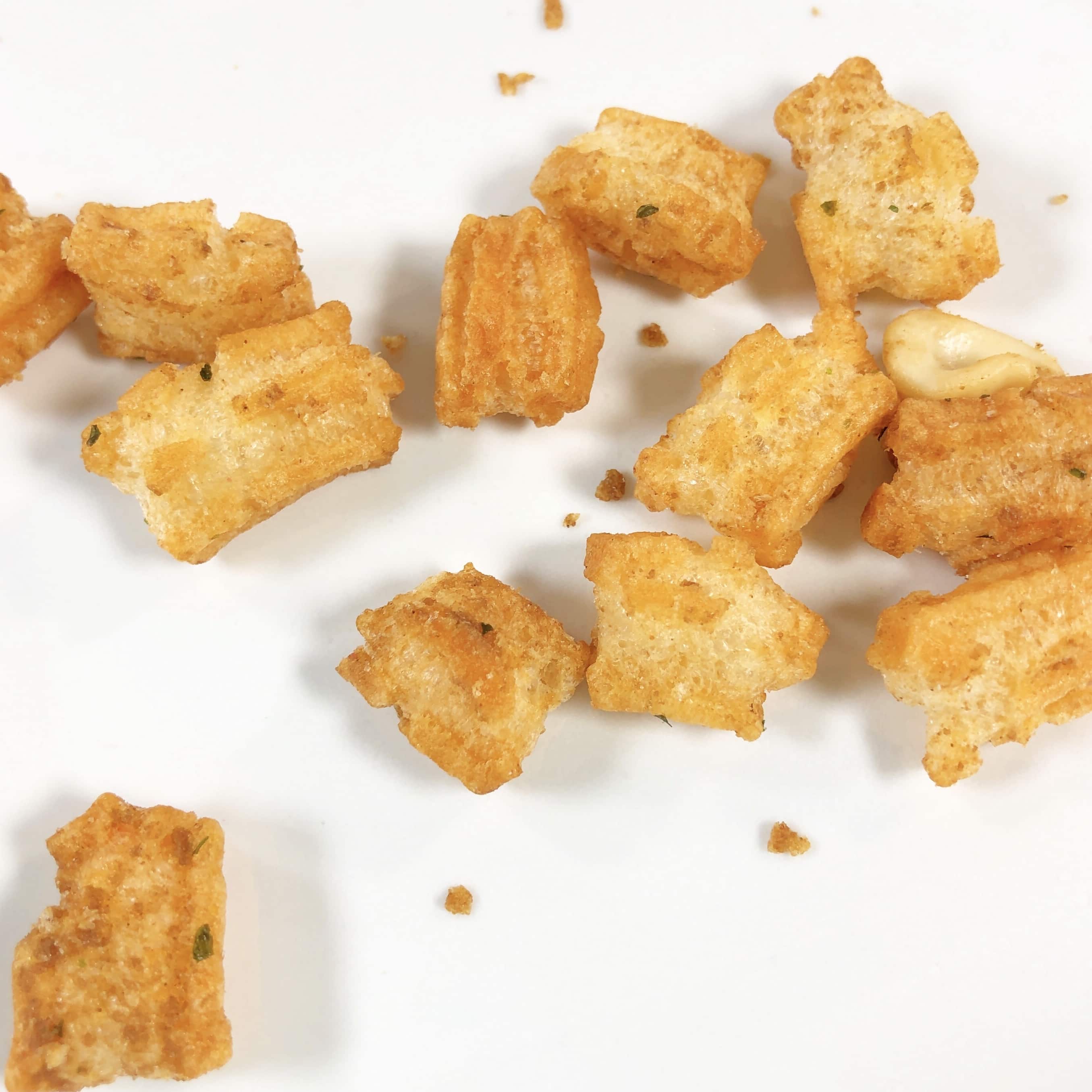 These crispy puffs are fried and then covered with an umami packed sauce. There were maybe 3 peanuts in the whole pack!
Candied Yuzu Peel ($3) I love candied citrus so this was a big hit with me!
From what I can tell it is just citrus peel that has been candied in sugar syrup. The citrus peel gave it some sour to balance the sweetness of the sugar. I would say this fruit peel reminded me of tangerine.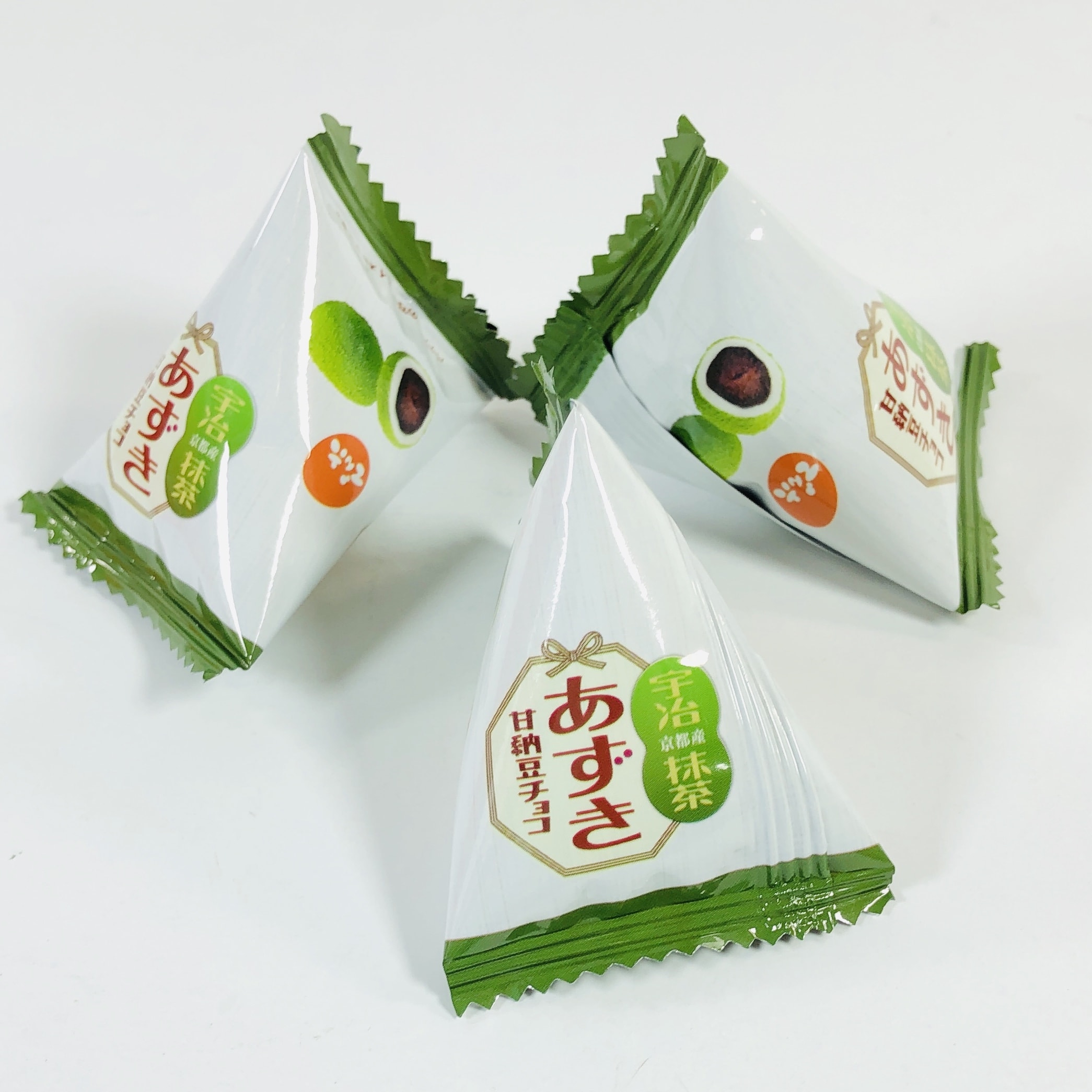 Chocolate Azuki Beans: Uji Matcha Matcha isn't really a popular flavor around my house, although it went over fine in this treat.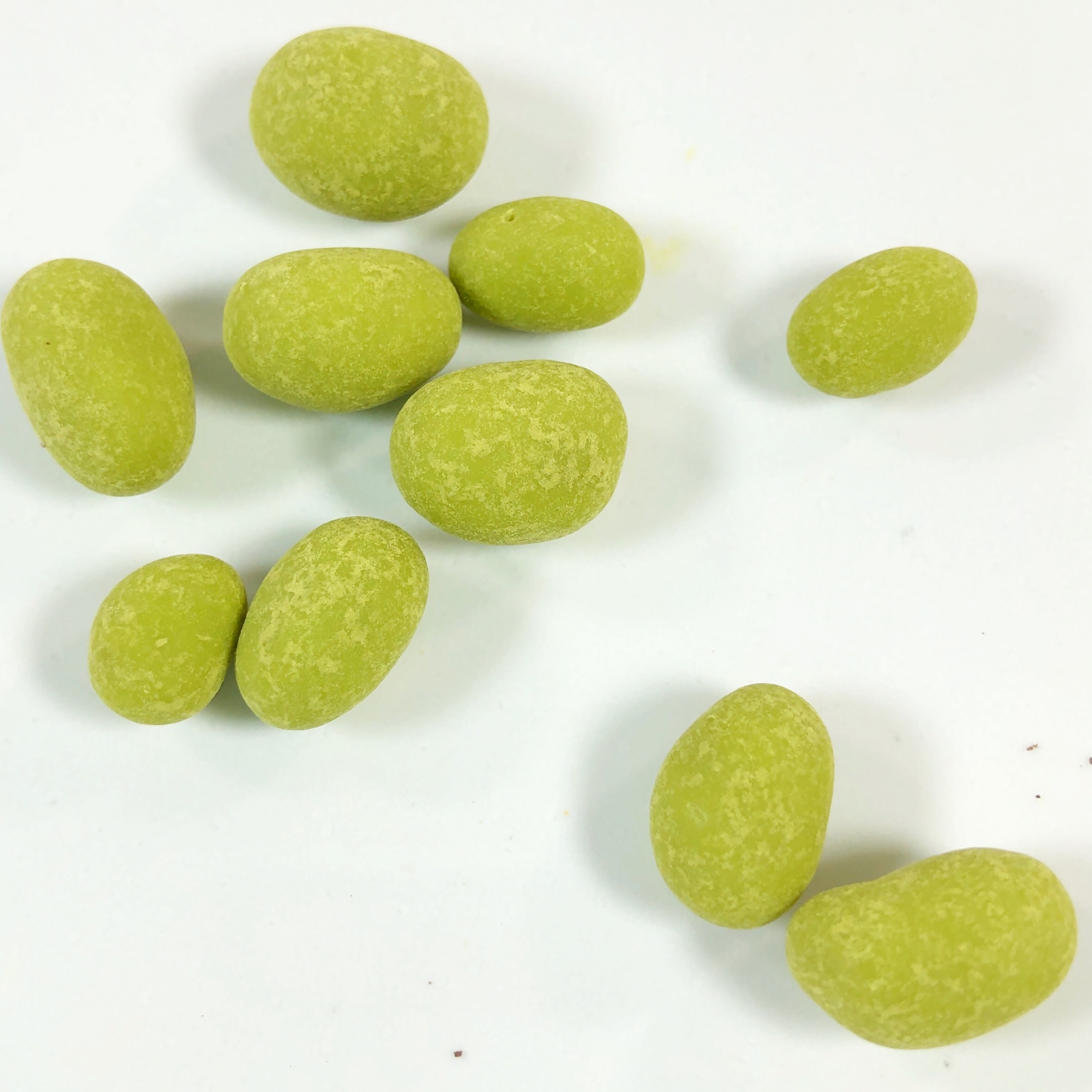 Azuki beans are simmered in a sugar syrup and then covered with matcha-flavored white chocolate. The bean is of course candied so it doesn't really taste like a bean at all!
Wasabi no Kiwami Rice Crackers Senbei rice crackers are one of my favorite treats and I like wasabi with my California rolls so I was eager to give these a try.
The classic senbei was crunchy and although I could tell there was wasabi, it never hit my nose like it does when I dip my sushi.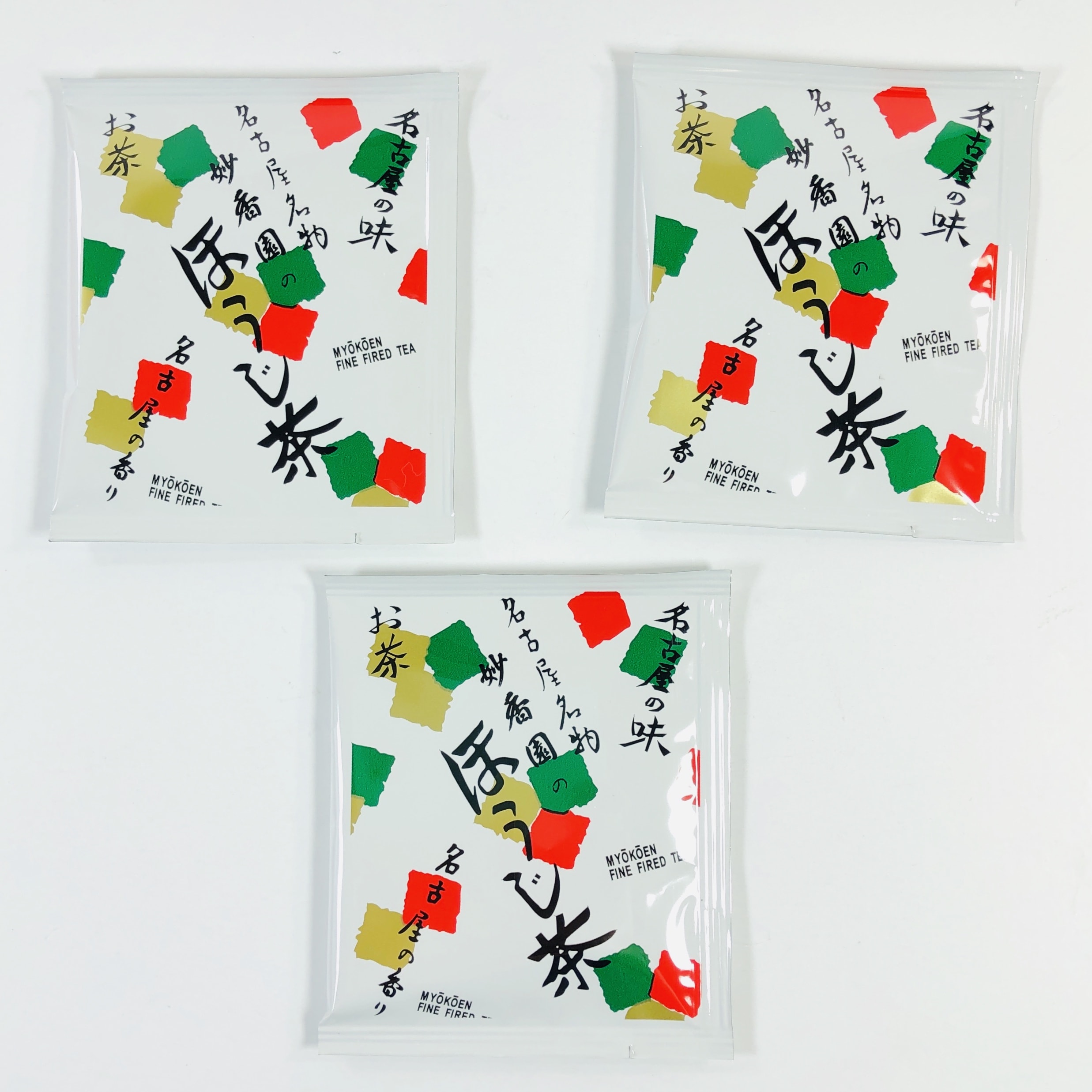 Hojicha Tea Tea is my jam and this one is different from my usual choice but tasty nonetheless. It didn't say how much water to use so I used 8 ounces just under the boil to one tea bag. I added a bit of sugar but this was a toasty tea, so much flavor! It reminded me of one of my favorites, genmaicha, but this is made only with slow-roasted green tea leaves, no toasted rice.
Bokksu is such a fun box to explore with my family! We all have a blast tasting the different treats, some of which are more popular than others. Of course, you never know if you are going to like something until you try it, so that is part of the fun. The mini chocolate sesame cookies are one of the best treats I've ever tried, and candied citrus is a classic. I am always happy to try the tea that's included and this subscription has broadened my tastes!
What's your favorite snack from this month's box?