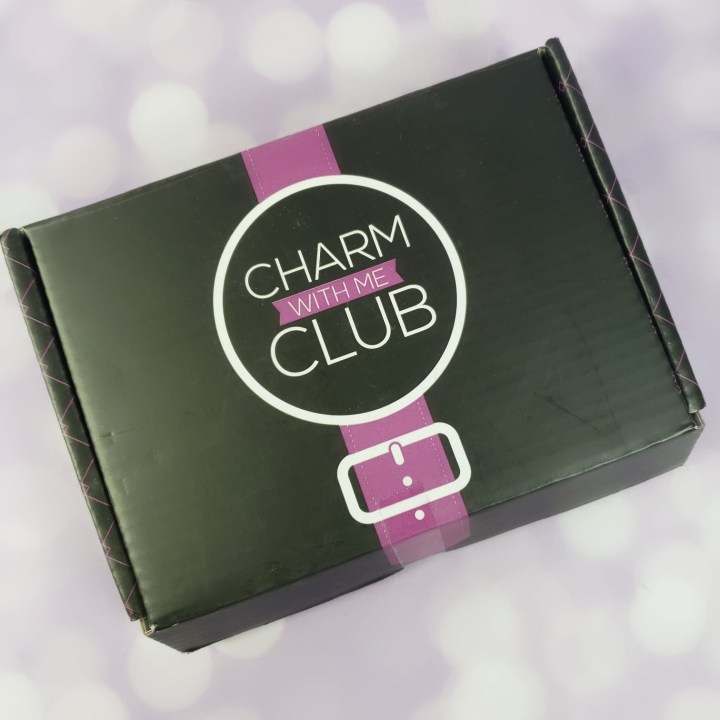 Charm With Me Club is a monthly subscription box that brings the most amazing fandom charms! With your first month, you'll be sent a starter bracelet, and then you can build your own bracelet with themed fandom charms that fit on Pandora bracelets each month. The subscription costs $19.99 per month and ships in a cute little mailer box.
Note: once you're a member you'll need to watch for the theme announcements. If you don't like the theme you can switch your subscription to "surprise me!" Also note – this subscription sells out!
DEAL: Save 10% on your subscription! Use coupon code HELLO10.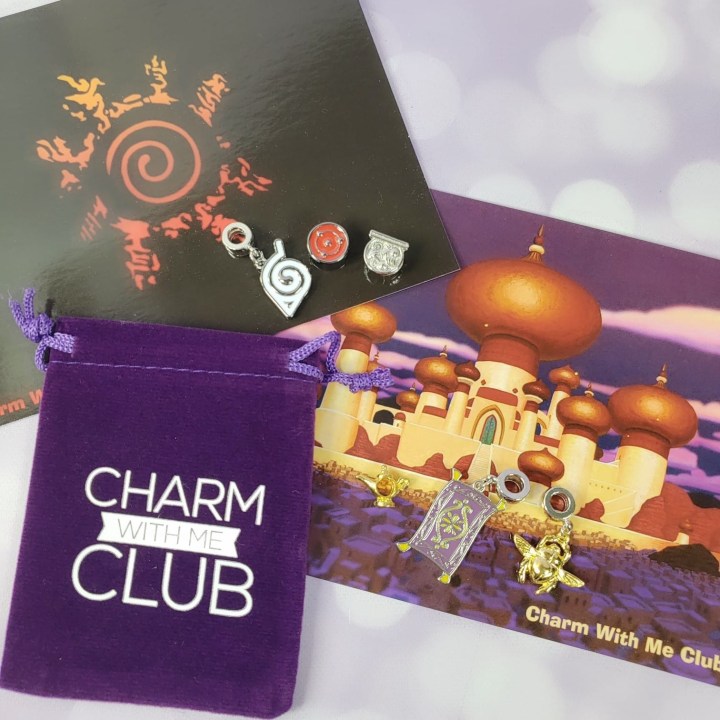 This month we could choose between Naruto and Aladdin! They sent an email for us to select which one we wanted however if someone signed up with your link you and your friend were both sent both collections!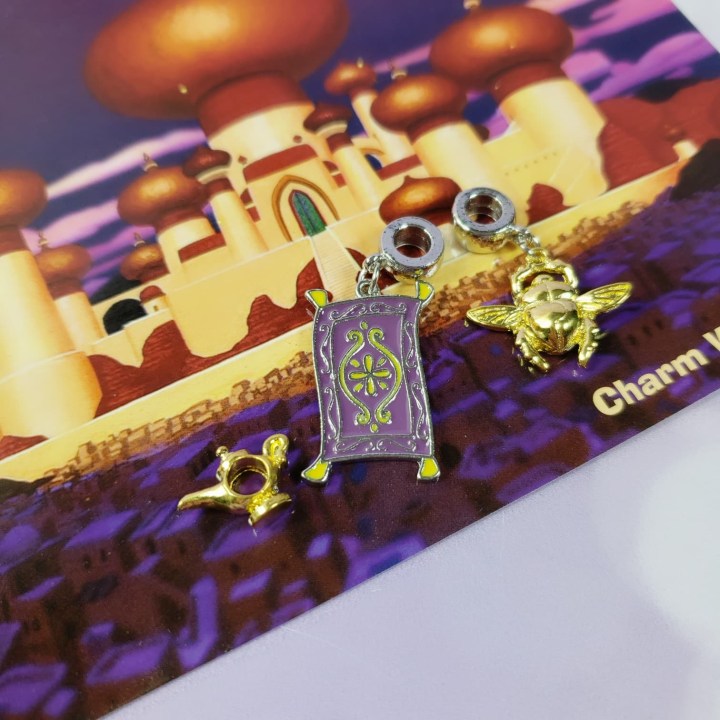 First up this month is Aladdin! I can not wait to see the new movie.  The animated version is my favorite Disney  movie.  It was the last one I saw with my high school friends and the first I saw with my college friends. The whole time and songs and movie just make me so happy.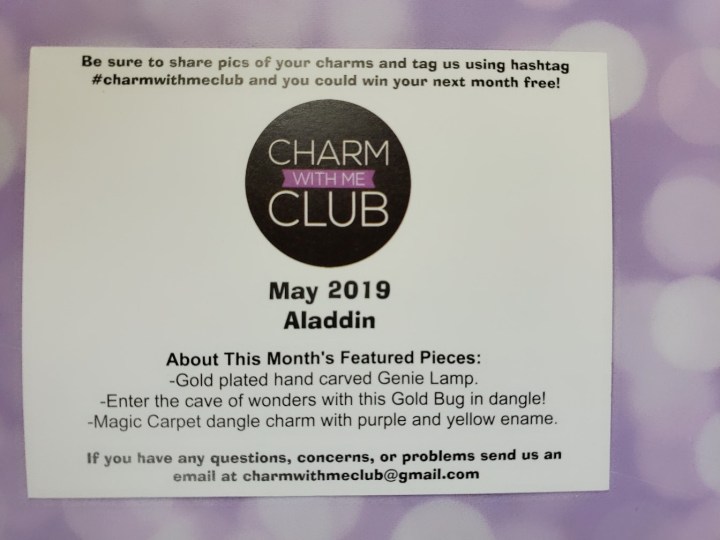 The back of the theme card has a list of the charms included for the theme. With the Aladdin theme we got three inspired charms.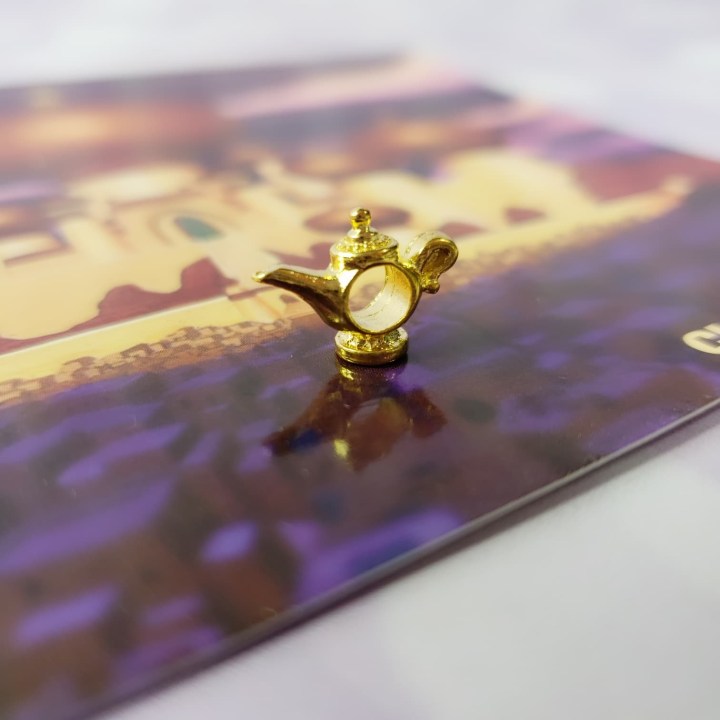 The first charm is a gold plated hand carved Genie Lamp. This charm is stunning and so iconic for the movie. I mean what genie movie would be complete without a genie lamp? They are classic and one we all love.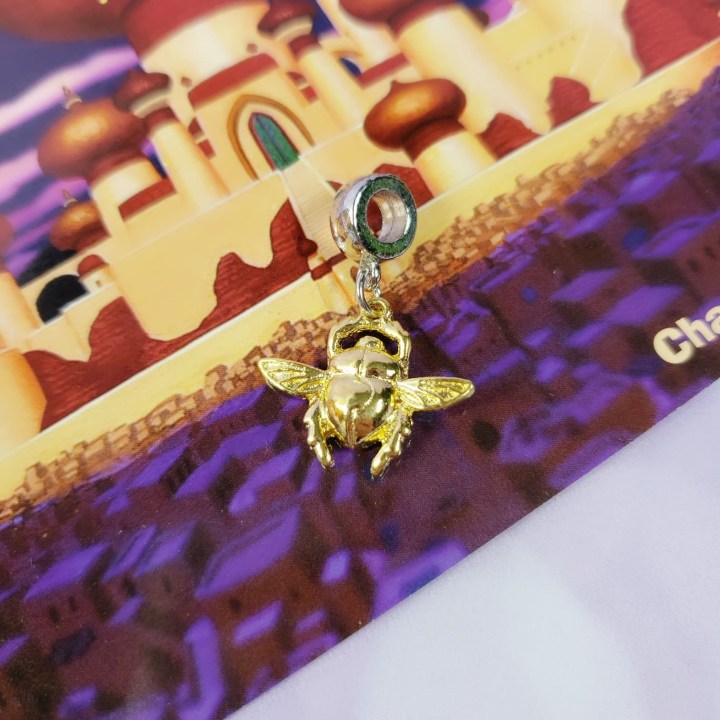 Next up is dangling Gold Bug that is needed for entering the cave of wonders.  While I see this one as being Aladdin inspired I keep thinking of the Mummy when I see it.  The scarabs that climb under everyone's skin and basically eat you from the inside out. Gross I know but the charm is so pretty.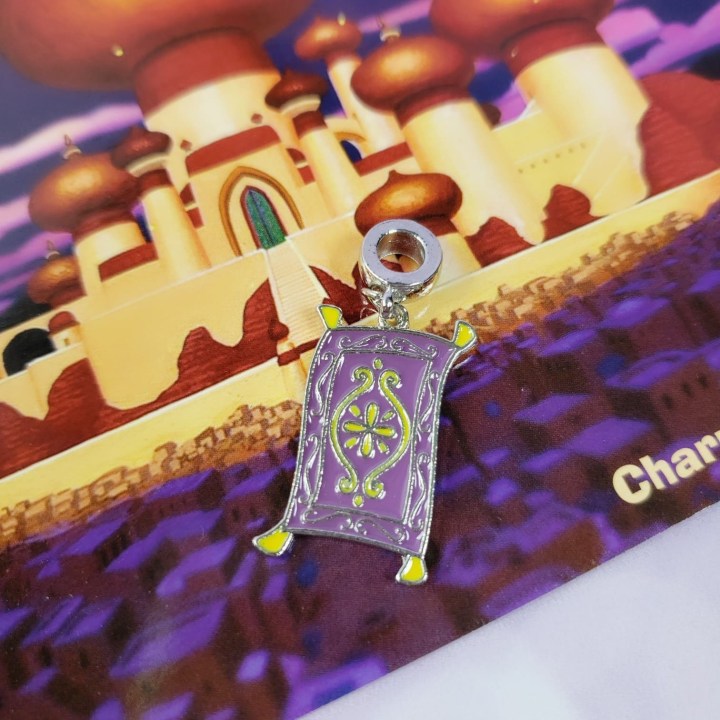 And the final Aladdin inspired charm is the Magic Carpet dangle charm with purple and yellow enamel. I'm a sucker for a dangling charm and the Magic Carpet is a fun character in the movies. I can't wait to see how they incorporate in the new version.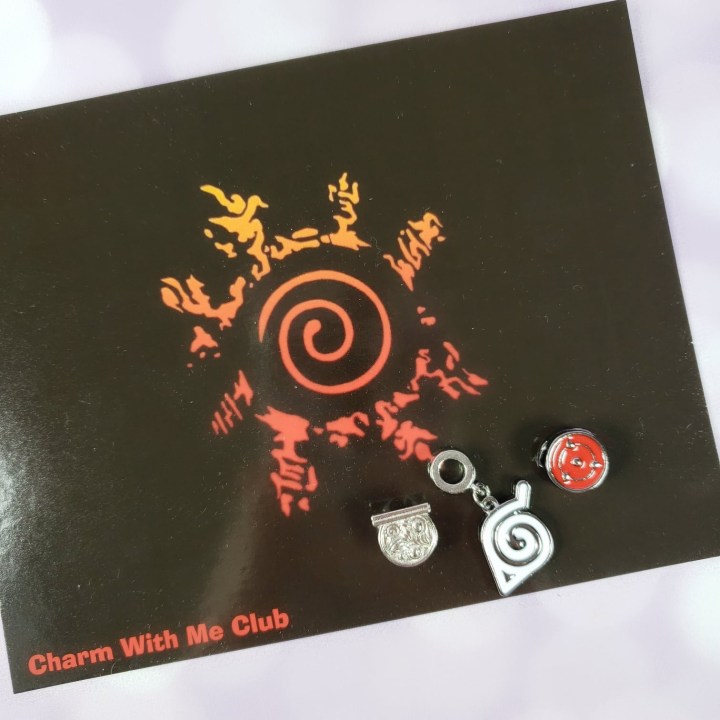 The other theme this month is Naruto. I don't know much about anime but my son is telling me these are awesome.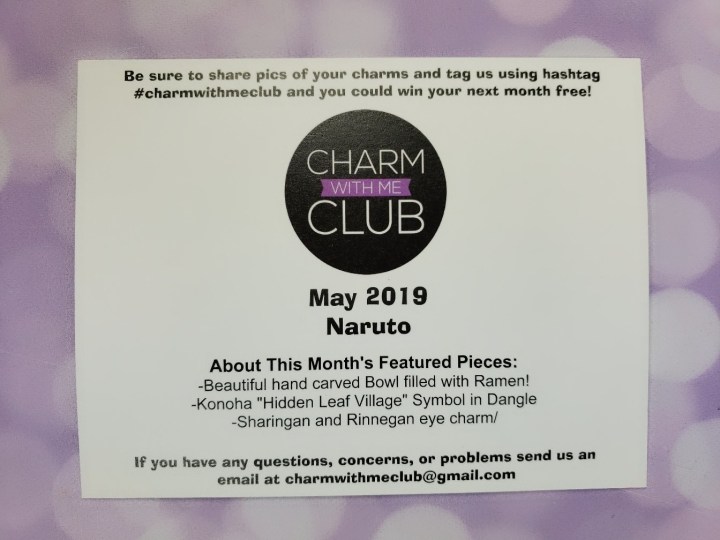 With the Naruto theme we also got three inspired charms.
With the Naruto theme we got:
A beautiful had carved bowl filled with Ramen! I keep laughing at this one. I can't wait to wear and share my ramen charm.
Konoha "Hidden Leaf Village" Symbol in Dangle. Yay! for another dangle charm this month. They are really speaking m style.
Sharingan and Rinnegan eye charm. This is a nice classic round charm that will go with so many different bracelet collections.
Another magical Charm With Me Club box this month. I can not wait for the Aladdin movie to come out and this is just fueling my fire to go and see it opening weekend.  Great now I'm singing the songs in my head as I'm finishing this review up.  All of the charms are so well made and hang beautifully on my bracelets. I love mixing and matching my fandoms for eclectic and full bracelets.
After the subscription has shipped, you can go on their site and normally order the beads themselves. However, the monthly sets go for about $29.99, so getting the subscription is the better deal. You can always go and check out the past months and see if there are any that you missed and want to add to your collection.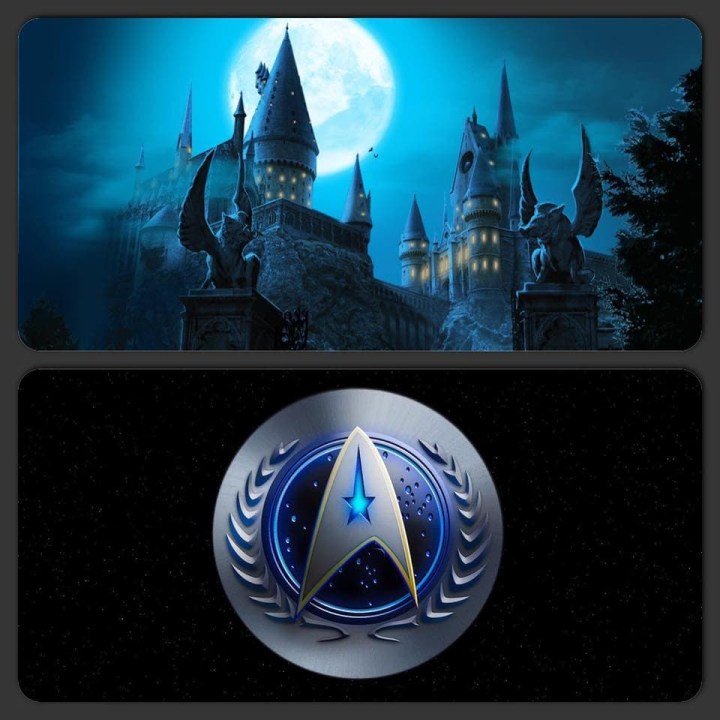 In June we get to choose between the Harry Potter and Star Trek and again if you refer someone new to the subscription both of you gets both themes.
What did you think of the Charm With Me Club charms this month? Are you a fan? What fandoms would you like them to feature?