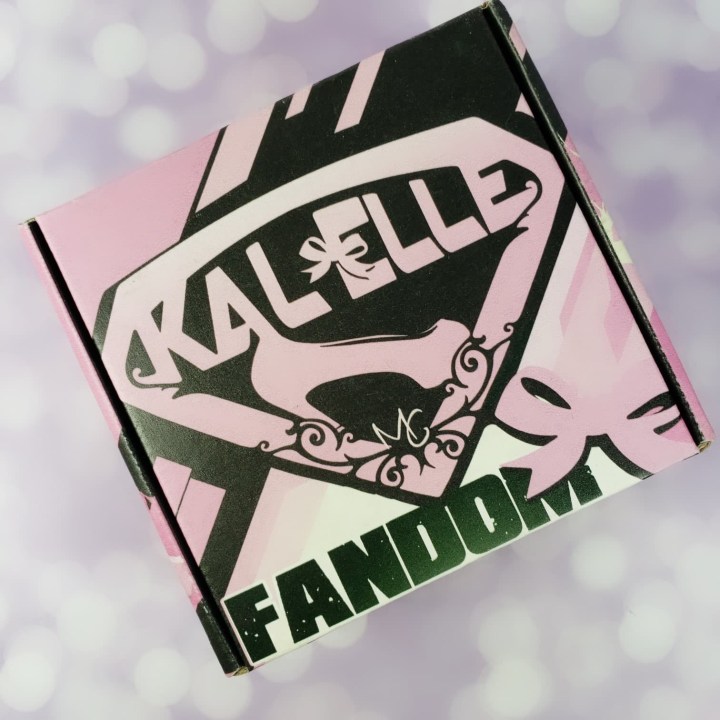 Kal-Elle Fandom Monthly is a fandom inspired box that sends 4-7 pieces of hand-selected jewelry and collectibles each month. Kal-Elle announces the theme each month ahead of time so you can go in and skip if it is a fandom you just aren't into.
The theme for March is The Goonies!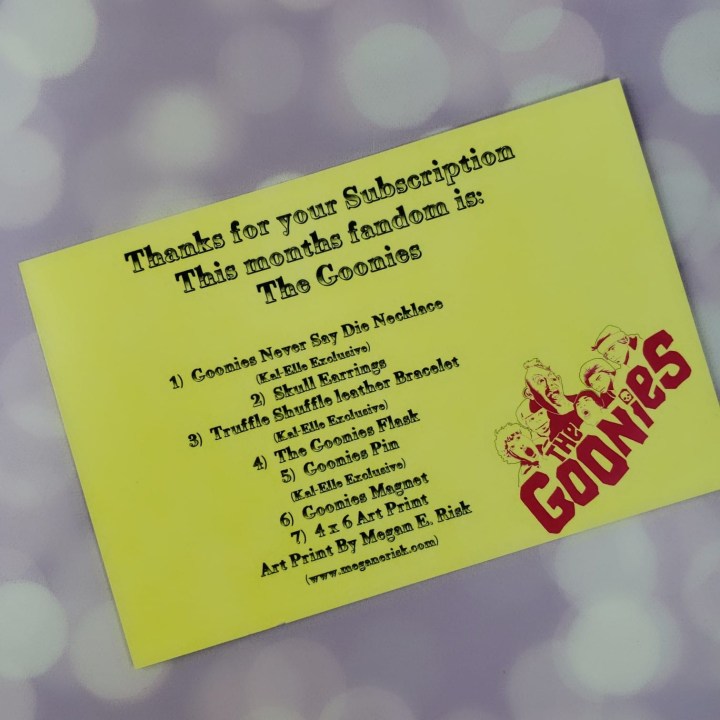 The boxes include a postcard with the information listed on one side.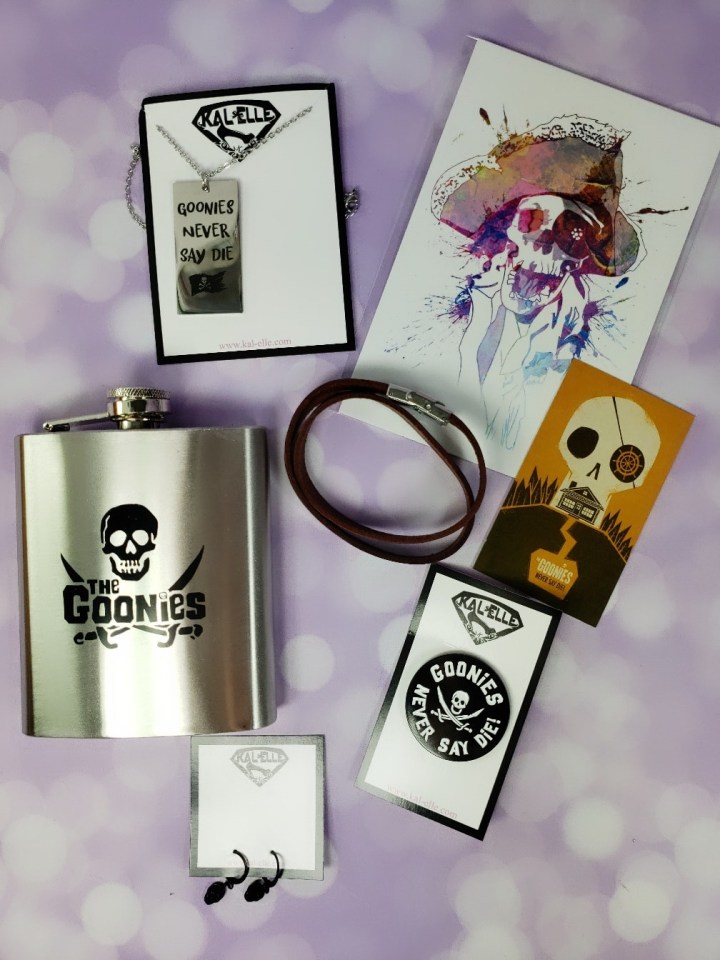 All of the items in my March Kal-Elle box! Kal- Elle is getting back on track with shipping and the packages are getting closer to the release date.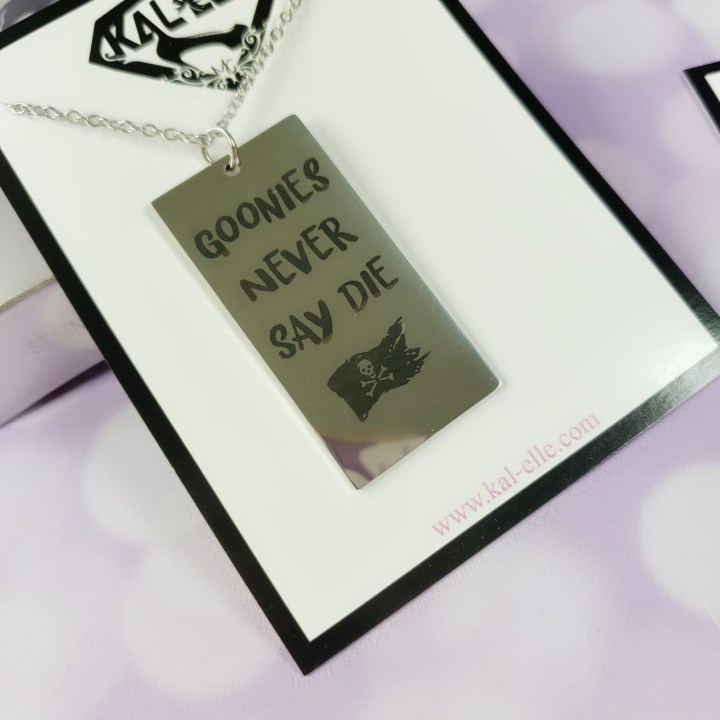 Goonies Never Say Die Necklace – When I think of the Goonies I always think of this saying. It is their mantra and the thread that runs through the movie. This charm is so shiny it was a bit hard to get a picture of but it looks great when on and the saying works in so many situations.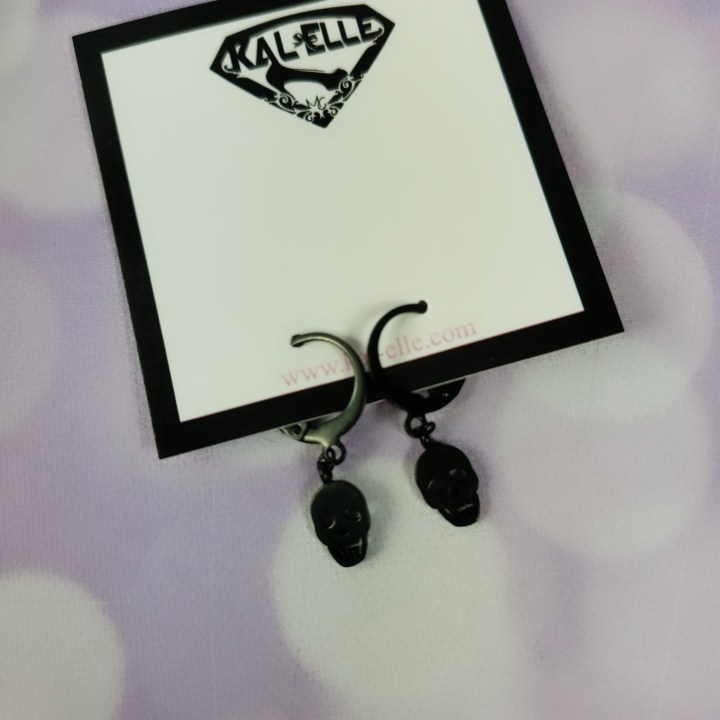 Skull Earrings – While I love these for a goonies theme they are also perfect for most of my fandoms. Is there really ever a time you can't wear skull earrings? These are understated and simple and perfect for almost every day.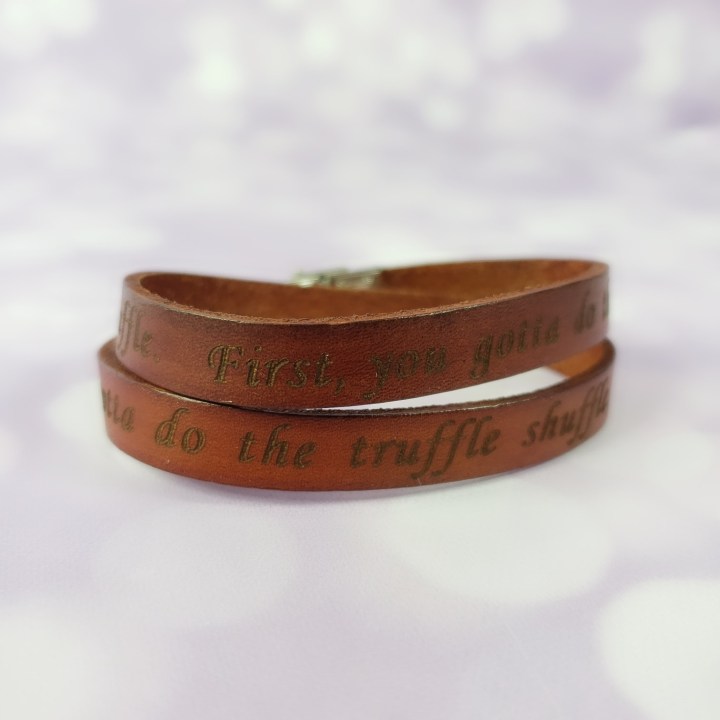 Truffle Shuffle Leather Bracelet – A true comic relief for the movie the truffle shuffle is so funny. Now as an adult I realize how mean it was but I still chuckle every time.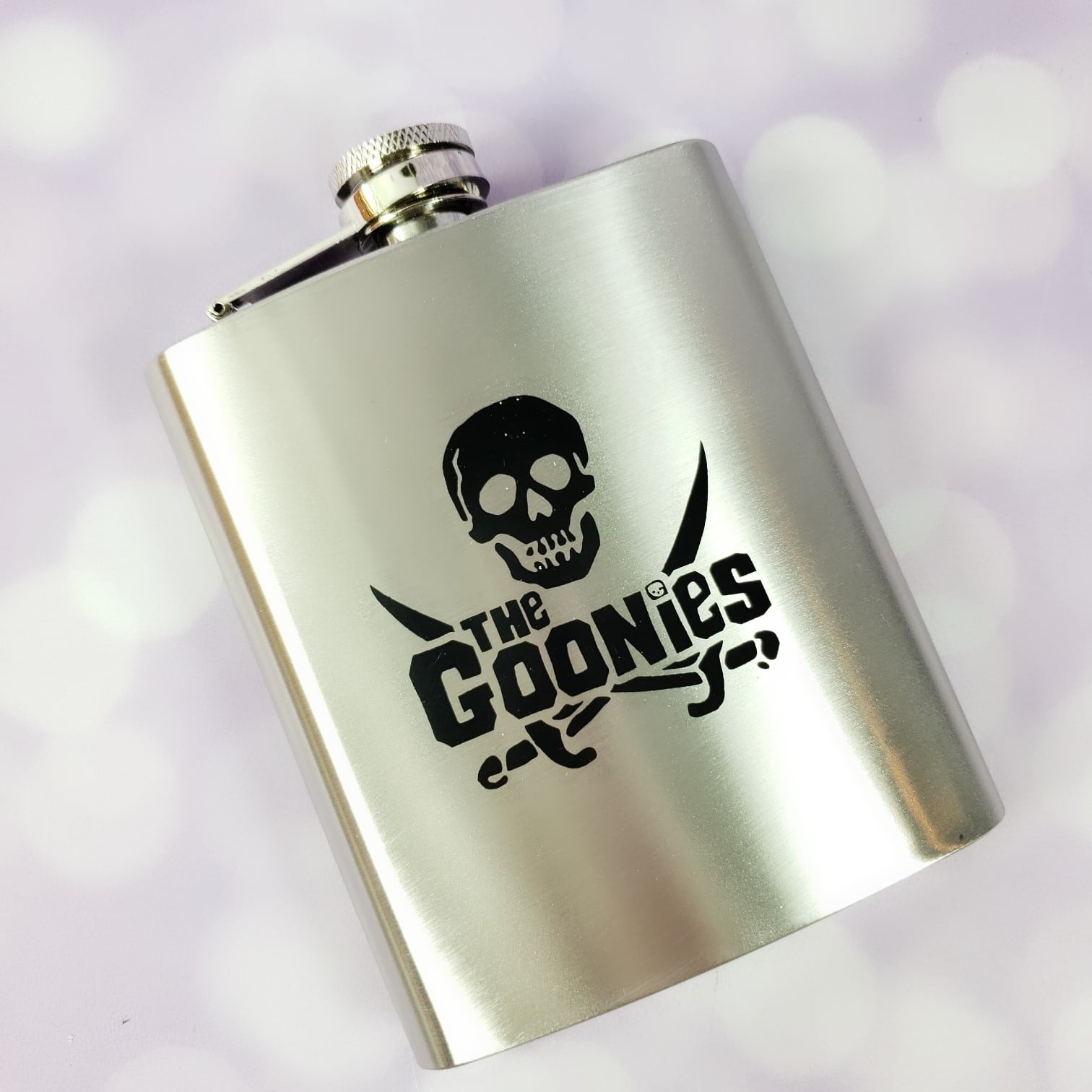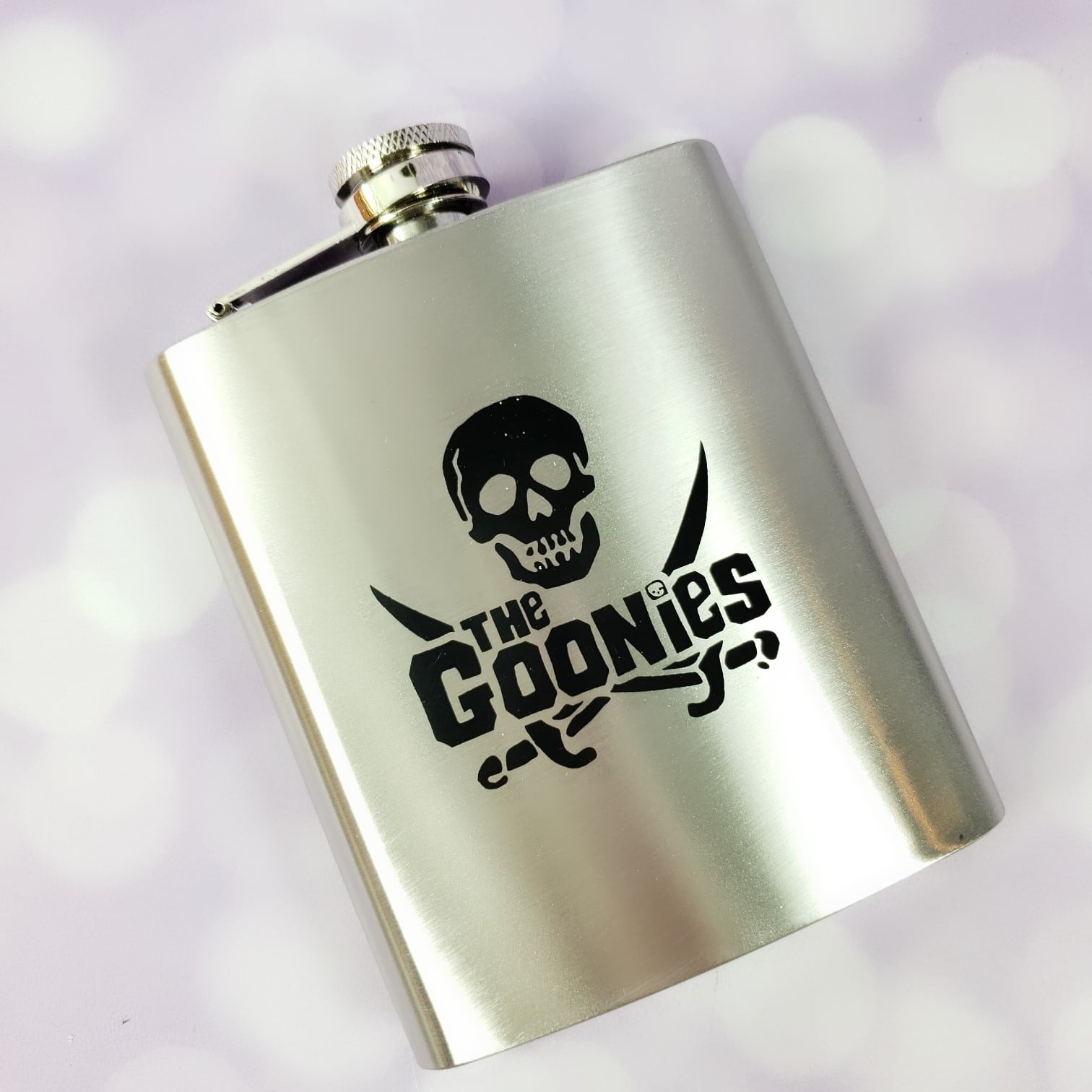 Goonies Flask – Just in time for summer! Pretty sure we will be using this for some adult extras while we are out and about at events.
Goonies Pin – Our Kal-Elle exclusive pin this month has that iconic saying right across it.
Goonies Magnet – I get excited with the Kal-Elle magnets each month. They are so fun and represent the theme perfectly. We keep them all on the fridge and so many of my friends look and them and comment about how cool they are.
4×6 Art Print – Kal-Elle has my style down to a 'T' with her art prints. I love the splatter pattern and the images she selects are so perfect for each theme. This one is perfect for Goonies but could also be great for a Pirates of the Caribbean which is another movie that I'm obsessed with.
Kal-Elle Fandom Monthly  sent a fun box this month. The Goonies is such a classic movie and one that I love. I need to let my boys in on the awesomeness of it. I'm adding it to our summer movie watching list. I'll admit while I love the jewelry this month I'm really excited for the flask. Maybe it's the world telling me that I need a drink. May is always a crazy month and this one is no exception.  Let's all raise our flask and Never Say Die!
Kal- Elle has announced more themes:
April – Friends
May – Aladdin
June – Lion King
If you've been waiting to start these boxes just look at the upcoming themes! I don't know which one I'm most excited for. The are all some of my favorite movies and shows of all time. I can't wait to see Kal-Elle's take on them all.
What's your favorite item this month? Which upcoming theme are you most excited for?

Visit Kal-Elle Fandom Monthly to subscribe or find out more!