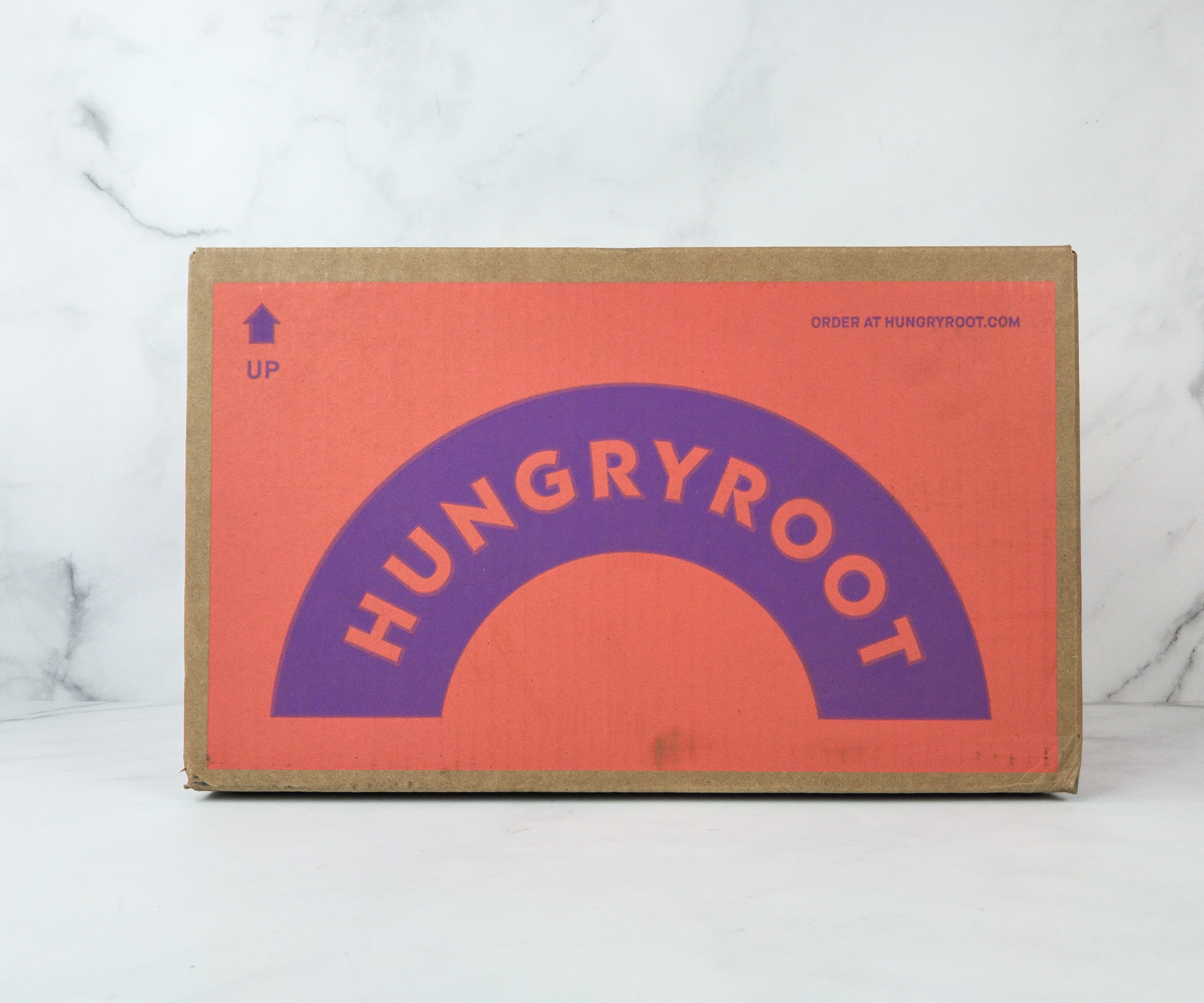 Hungryroot is an online service that delivers quick-and-easy healthy meals that can be made in less than 10 minutes. All the food is plant-based, nutrient-dense, and made from real ingredients.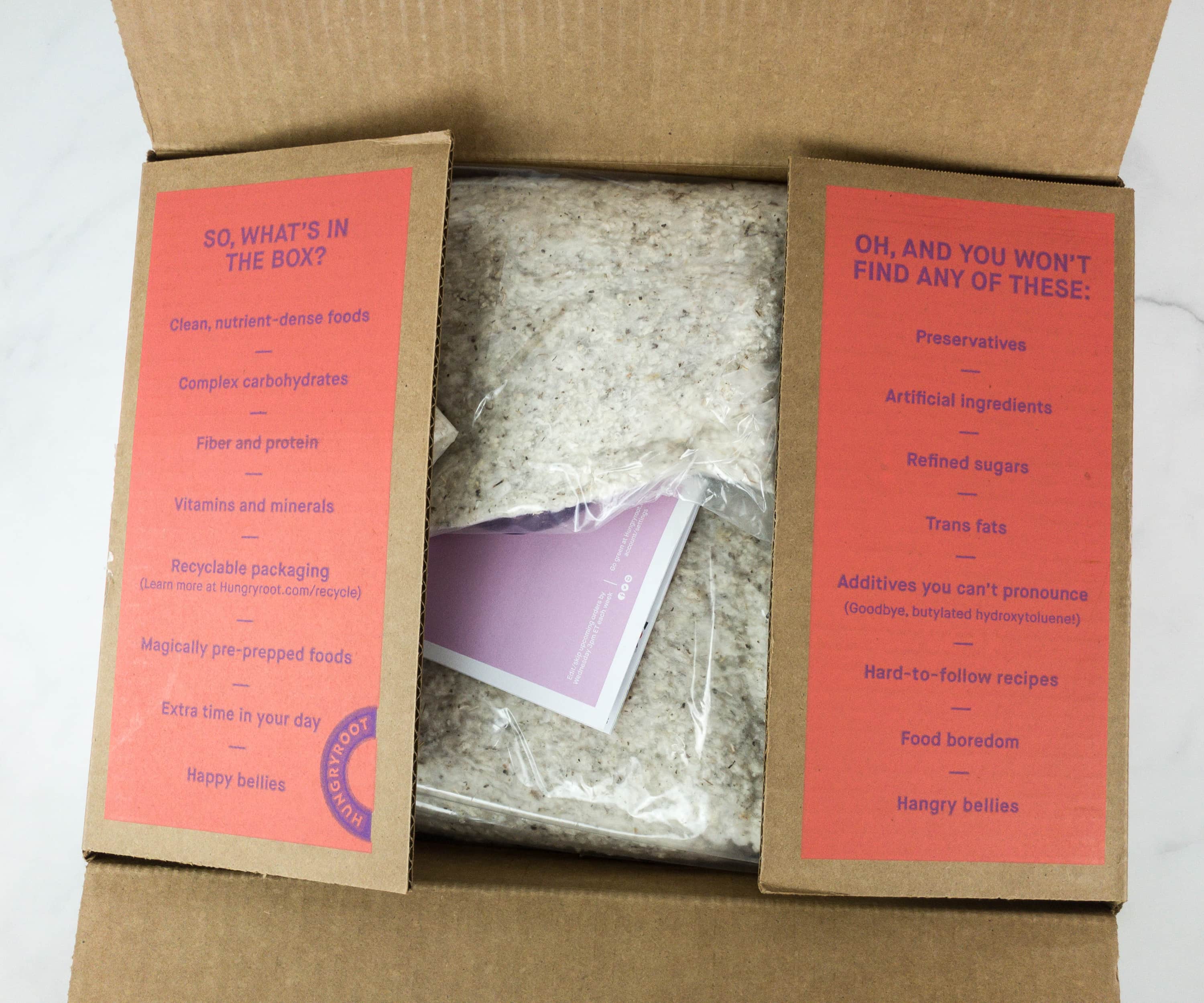 Printed on the box flaps are Hungry Root's mission and their commitment to using eco-friendly materials for the packaging.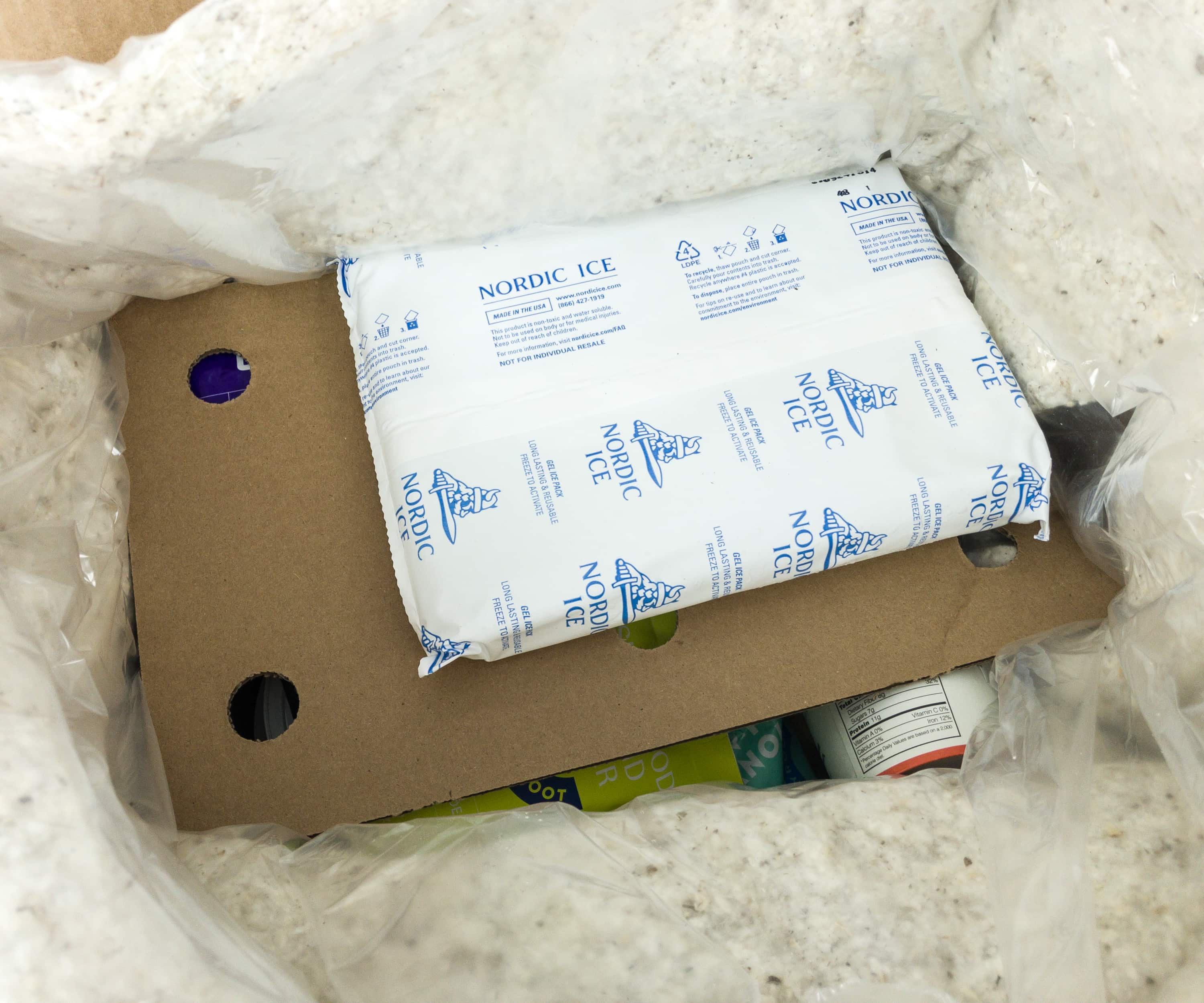 All the ingredients arrived nestled within a recycled plant fiber insulated bag with ice packs on top.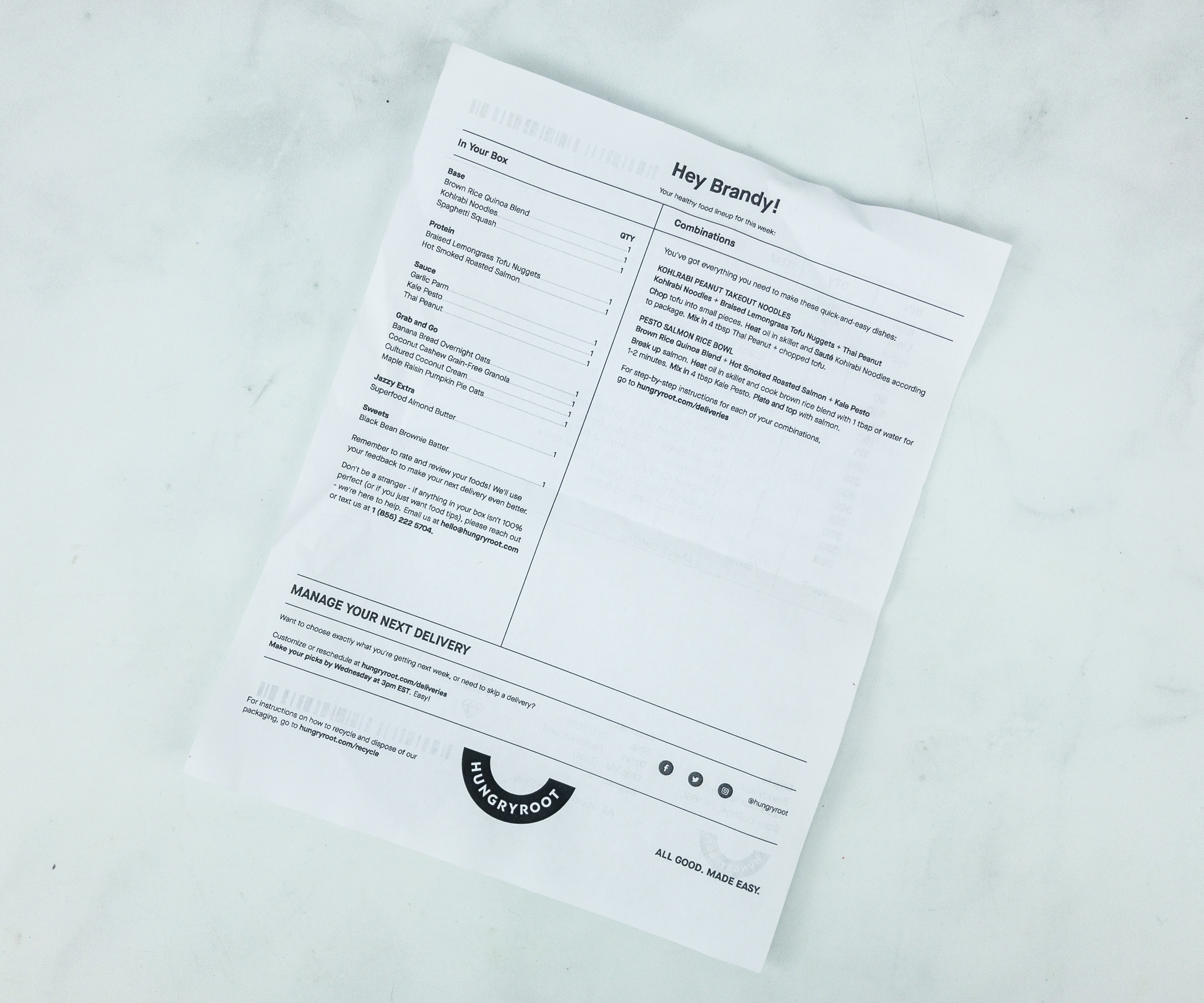 Apart from the oats, the ingredients are to be combined into 2-3 component dishes. The info sheet gives a quick page reference showing where each dish is located in the recipe booklet.
The back of the info sheet also features a detailed inventory of all the items inside.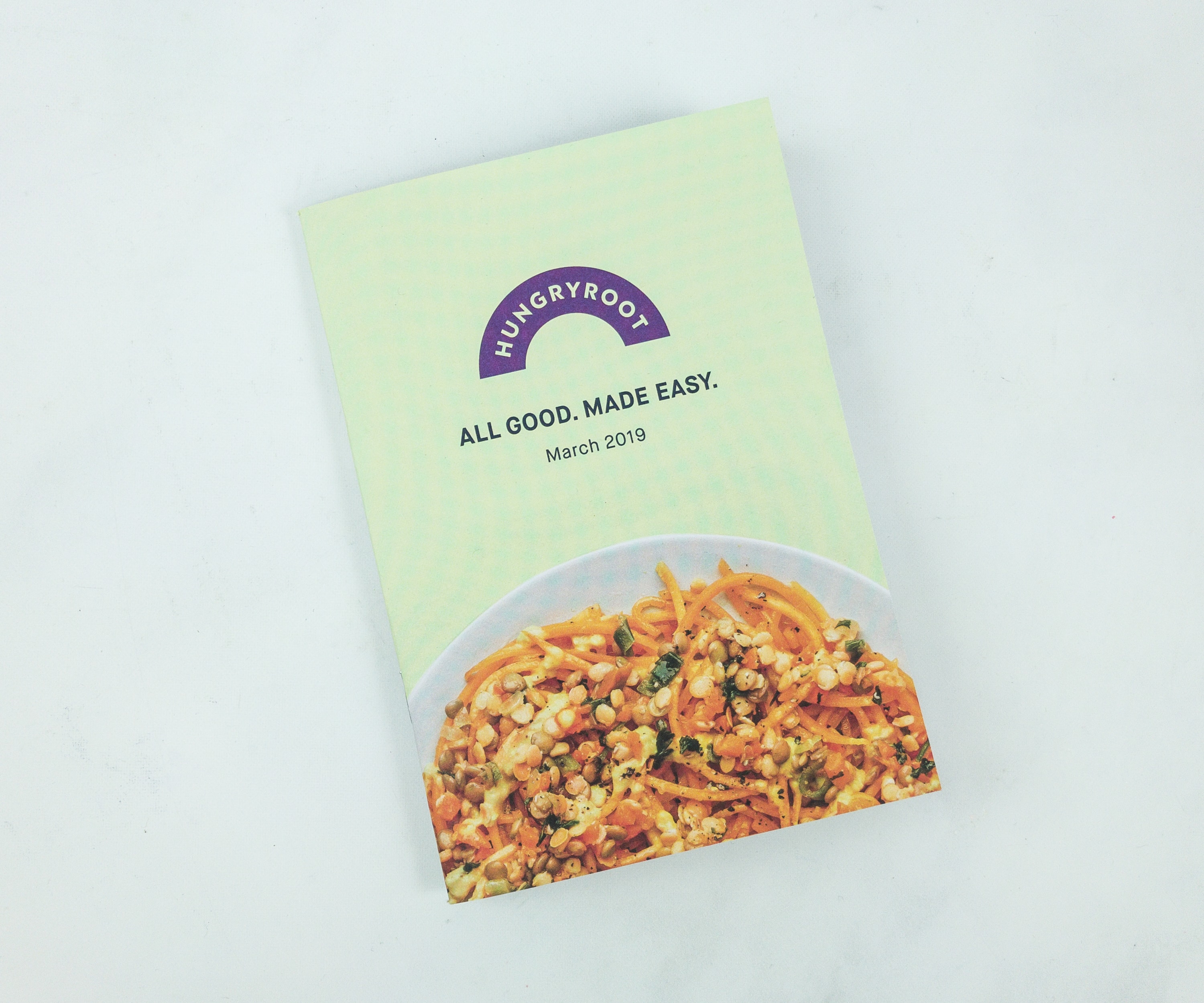 This subscription includes a booklet containing quick and easy steps for every dish featured for this month.
Here's a message from Team Hungryroot where they introduce mini recipes!
We built Hungryroot to be your trusted food brand, and the easiest, most delicious way to eat healthy. This month, we're excited to share a few updates that should streamline things even more.

Introducing: mini recipes! We know it's easiest when you have instructions at your fingertips, so we're bringing you short-and-sweet recipes that will appear in every delivery on the order slip in your box.

The reason for this switch? We've added so many new foods and combinations that we can no longer fit them all in one book! If you ever want full instructions with extra detail, cooking tips, and more, just head to hungryroot.com/deliveries and click on any of your combinations.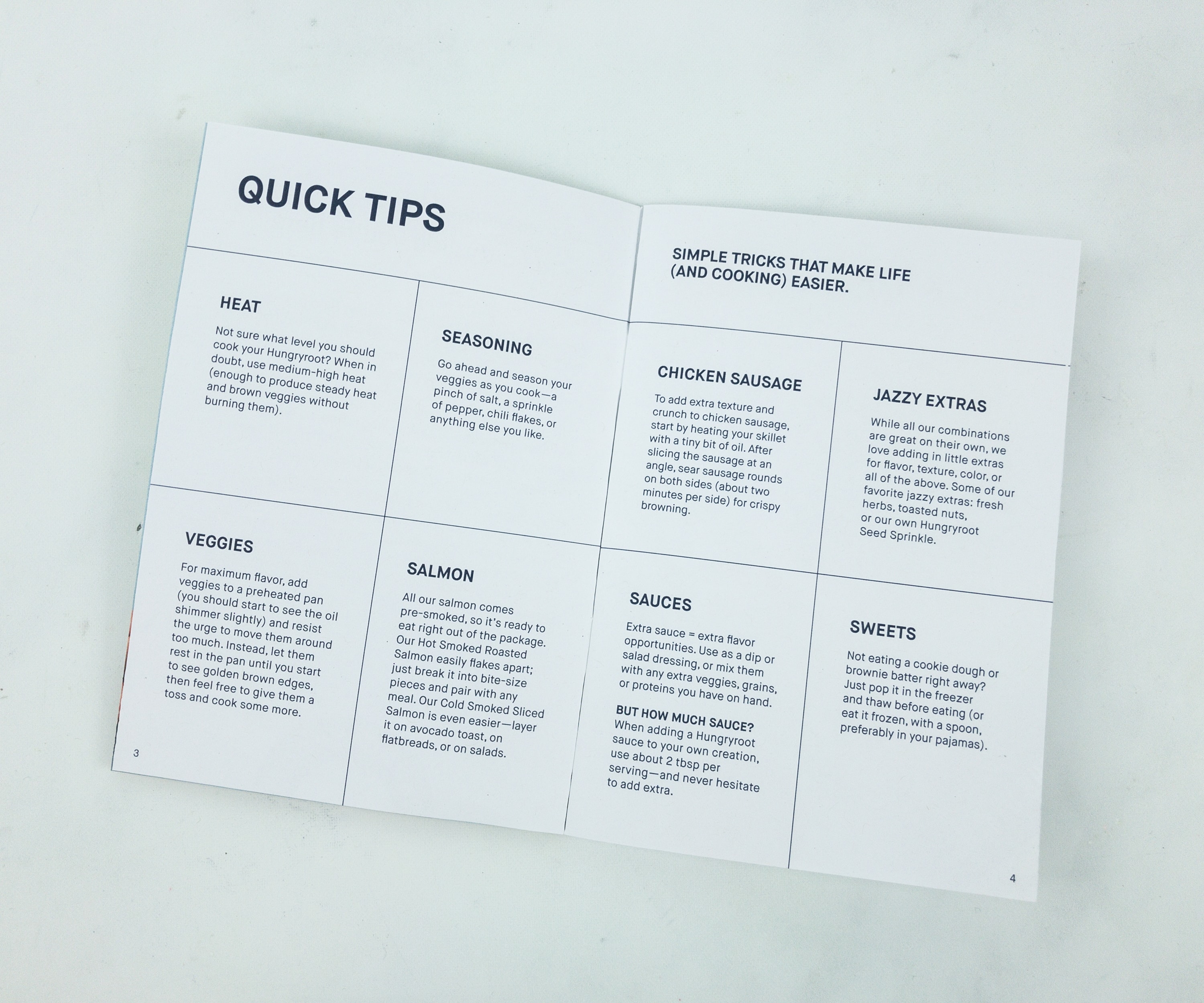 They even featured quick and simple tricks that would definitely make your cooking way much easier.
Another page is dedicated to Hungryroot and the kind of food they send to your door!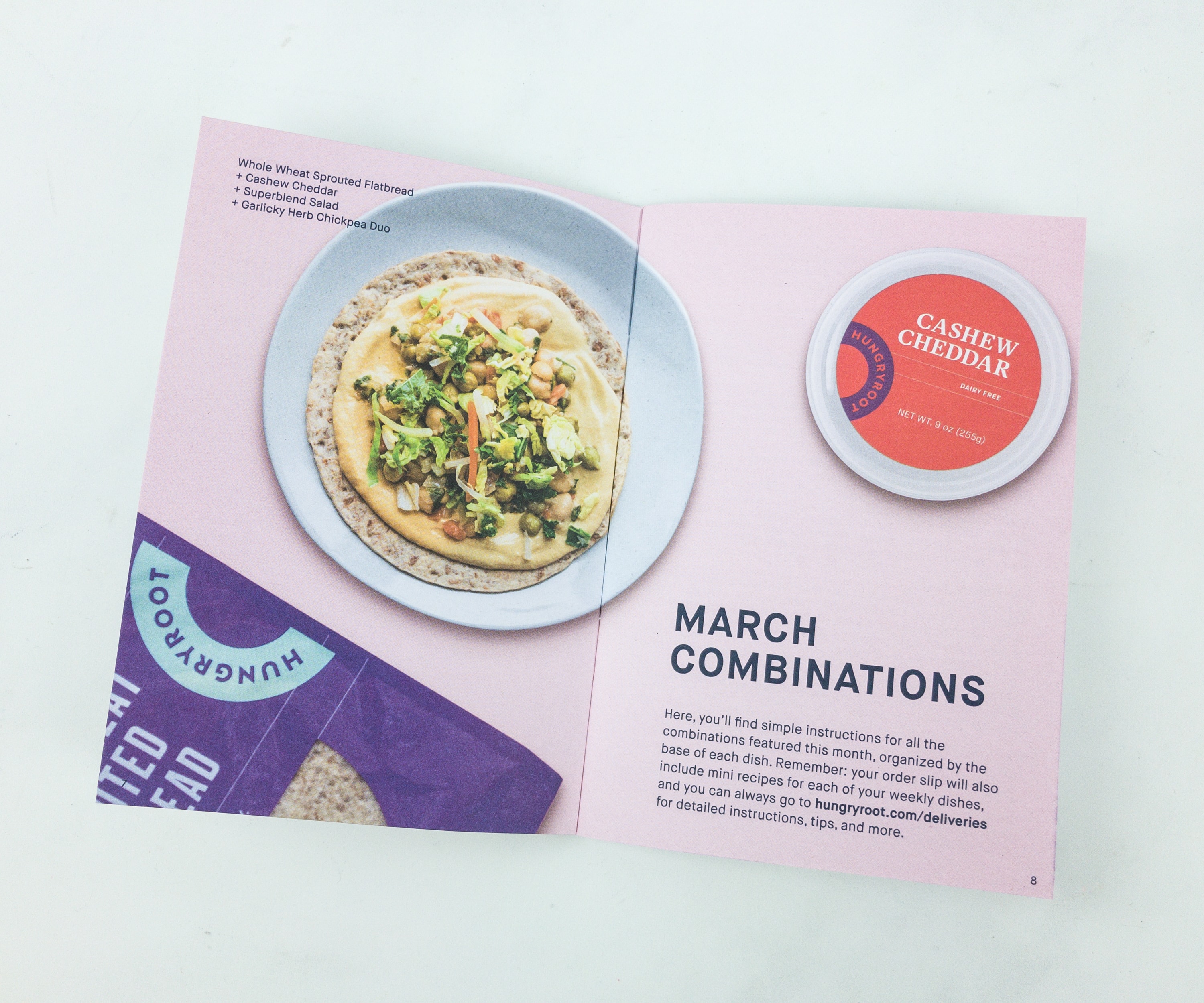 The March combinations are truly fantastic! It includes a whole wheat sprouted flatbread, cashew cheddar, superblend salad, and garlicky herb chickpea duo.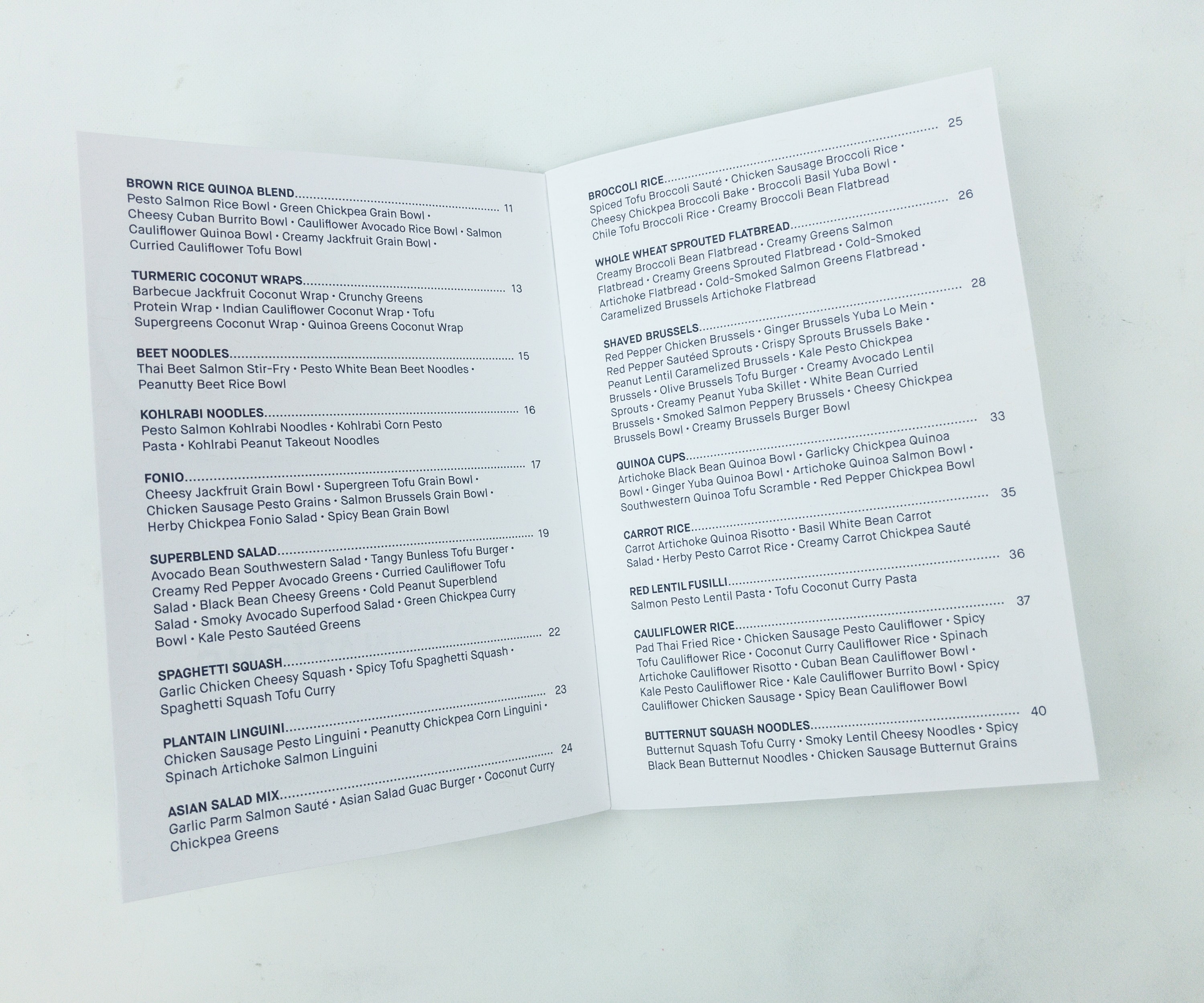 The booklet's table of contents is so detailed. Under the dish name, there's a rundown of the ingredients. It's different from the last time we've received a Hungryroot box, as the dishes are no longer categorized into breakfast, lunch, sides, dinner, and sweets. But that is okay because, seriously, it doesn't matter what time of the day you prepare and enjoy these dishes.
Every page contains 6 different kinds of recipes. It indicates the name, its ingredients, and the prep time. SO EASY!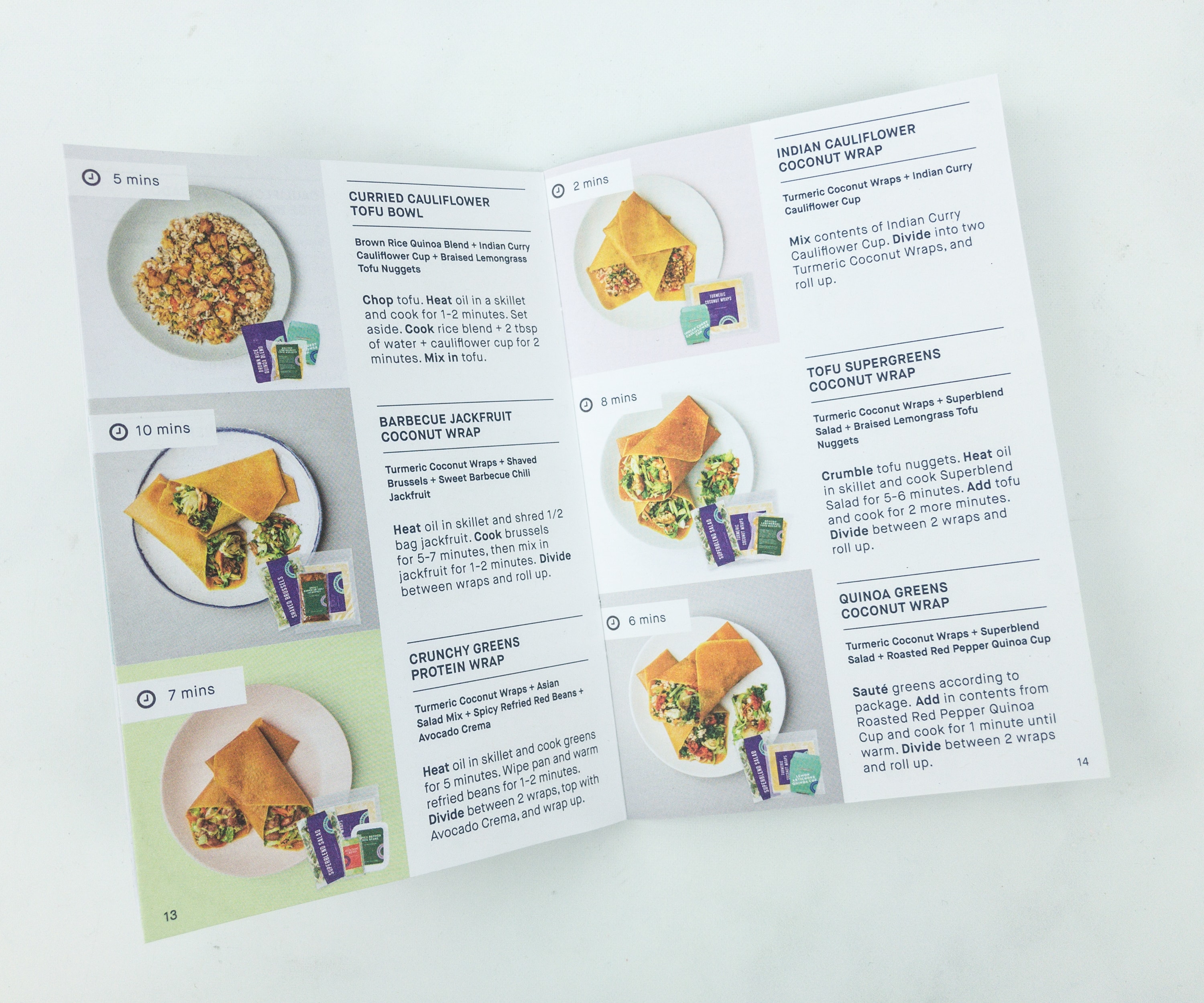 Each recipe also comes with a very mouthwatering picture.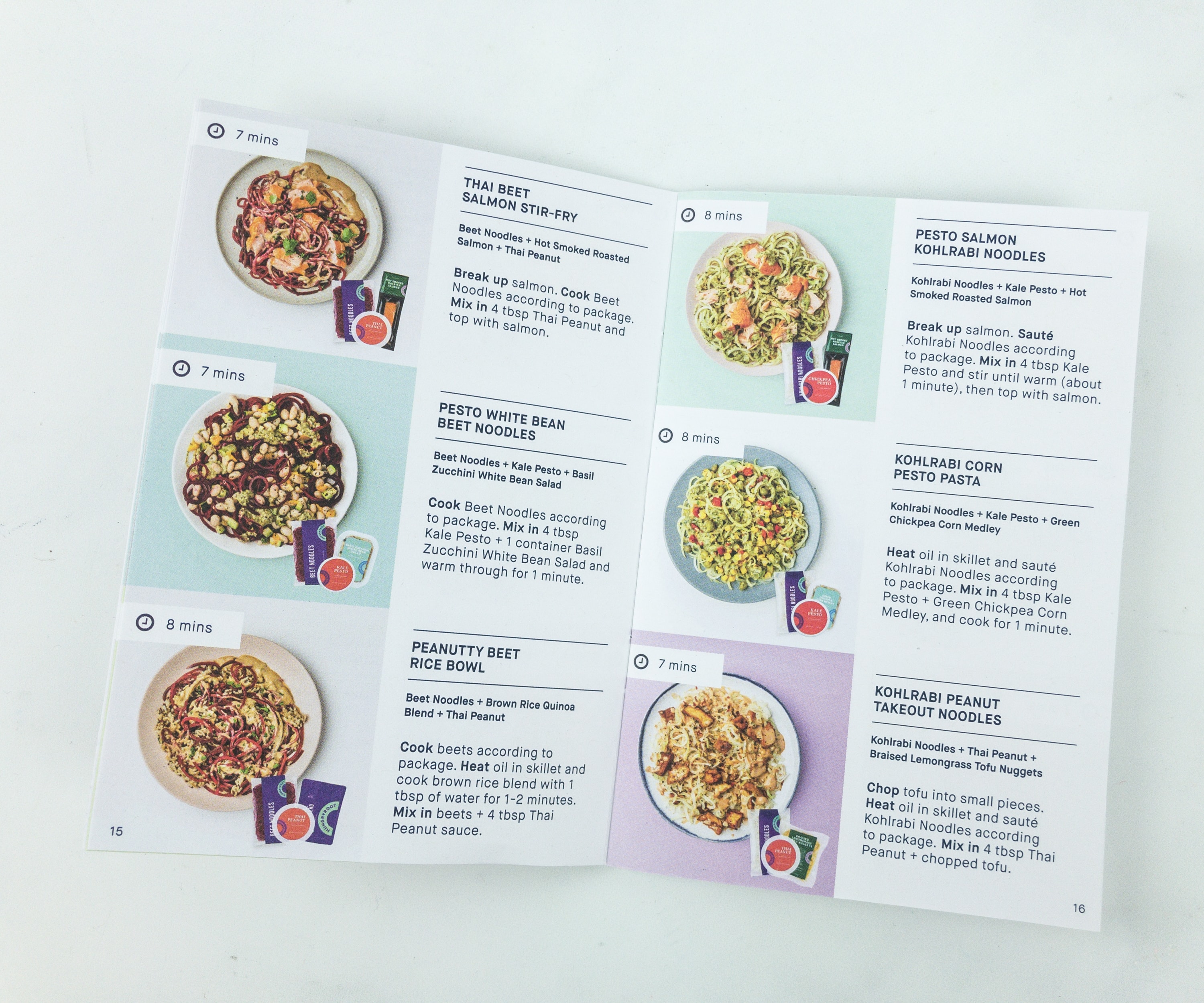 This part of the booklet features different kinds of delicious pasta bowls.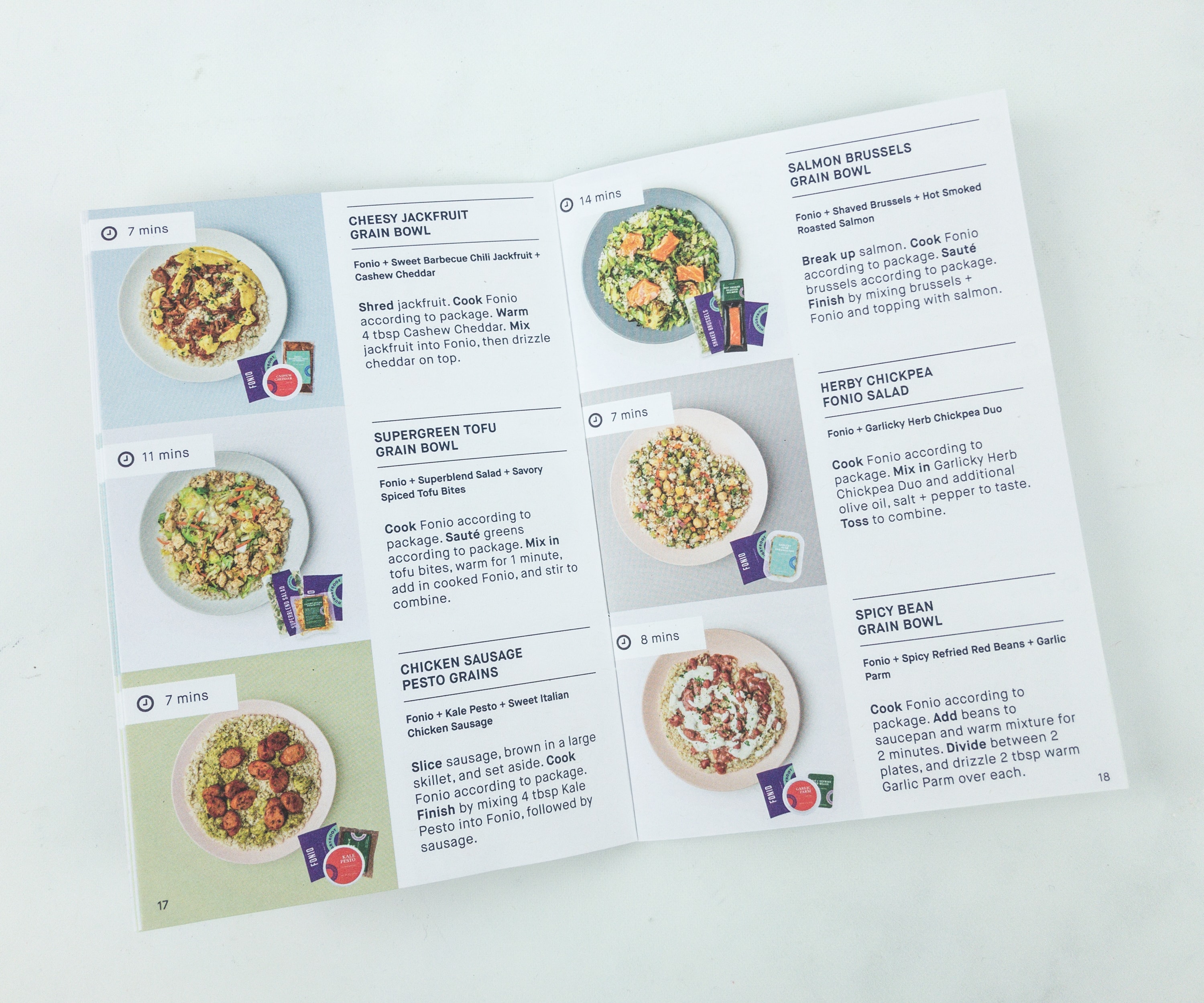 Meanwhile, in this part of the booklet is a group of grain bowl dishes.
Hungryroot also encourages subscribers to write them your feedback and comments and highlights their brand new foods – and there are a bunch! Since the last time we reviewed them they have dramatically expanded their menu and updated their packaging!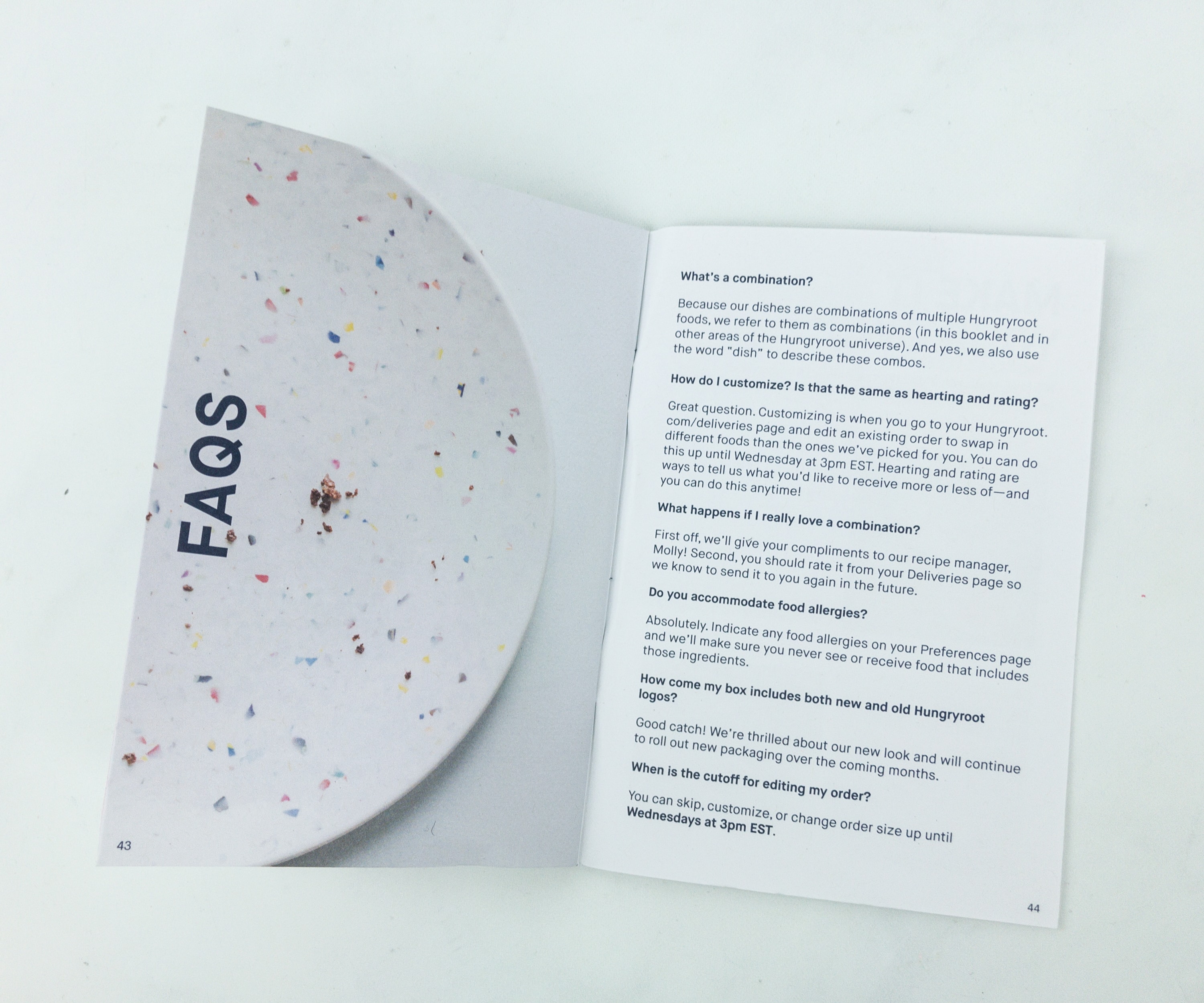 They also answered some frequently asked questions about the subscription.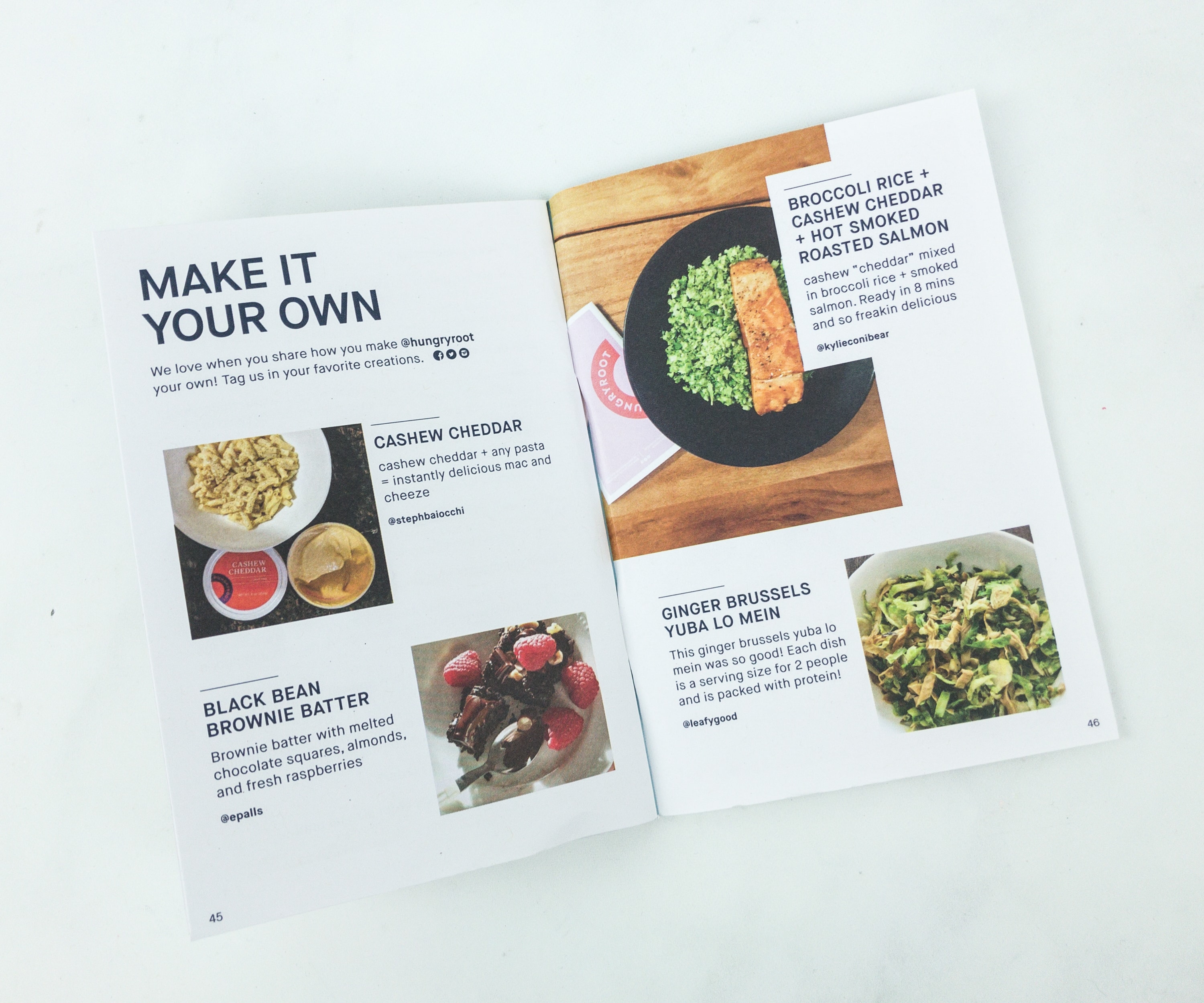 Aside from giving suggestions and feedback, they also encourage their subscribers to tag Hungryroot on social media when uploading photos of your creations.
Everything in my box! It looks AMAZING!
What I love about this box is that all the items are packed properly and separately.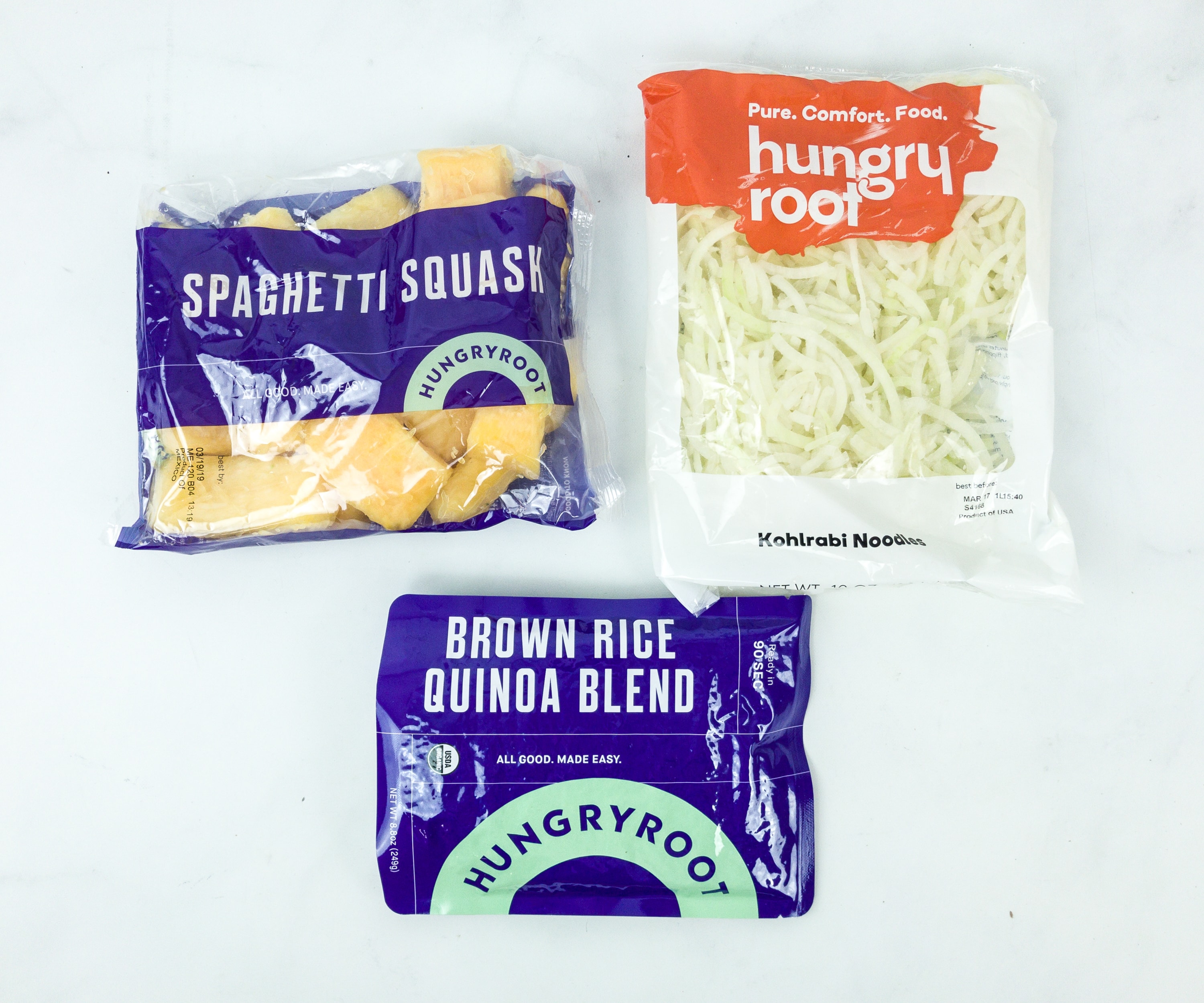 Hungry Root Spaghetti Squash. Called "the veggie noodle," spaghetti squash breaks easily when cooked. It's rich in fiber and 16 other essential nutrients.
Ingredients: Fresh-cut Spaghetti Squash
Hungry Root Brown Rice Quinoa Blend. This gluten-free and vegan rice is rich in fiber, protein, nutrients, and heart-healthy fats. It can be added on salads or grain bowls as well.
Ingredients: Water, Organic Long Grain Parboiled Brown Rice, Organic Black Quinoa, Organic Red Quinoa, Organic High Oleic Sunflower Oil, Organic Garlic Powder, Sea Salt, Xanthan Gum, Organic Onion Powder, Organic Celery Powder
Hungry Root Kohlrabi Noodles. Kohlrabi is actually turnip-like cabbage used mostly in Thai dishes. It's crisp and crunchy, definitely a perfect alternative to your usual dough noodles.
Ingredients for Kohlrabi Noodles: Fresh-cut Kohlrabi
Hungry Root Braised Lemongrass Tofu Nuggets. This tofu is marinated with some unique blend of spices and seasonings, making it the ultimate side dish. It's also packed with protein and essential nutrients.
Ingredients: Organic Tofu (Water, Organic Soybeans, Calcium Sulfate), Organic Soybean Oil, Water, Organic Evaporated Cane Juice, Sea Salt, Organic Curry Powder (Organic Coriander, Organic Cumin, Organic Turmeric, Organic Mustard, Organic Black Pepper, Organic Fenugreek, Organic Cayenne), Organic Garlic Powder, Organic Sesame Oil, Organic Chilies, Organic Cayenne, Organic Lemongrass
Hungry Root Hot Smoked Roasted Salmon. This ready-to-eat salmon is filled with protein and omega-3 fatty acids that is definitely good for the heart.
Ingredients: Salmon, Salt, Natural Hardwood Smoke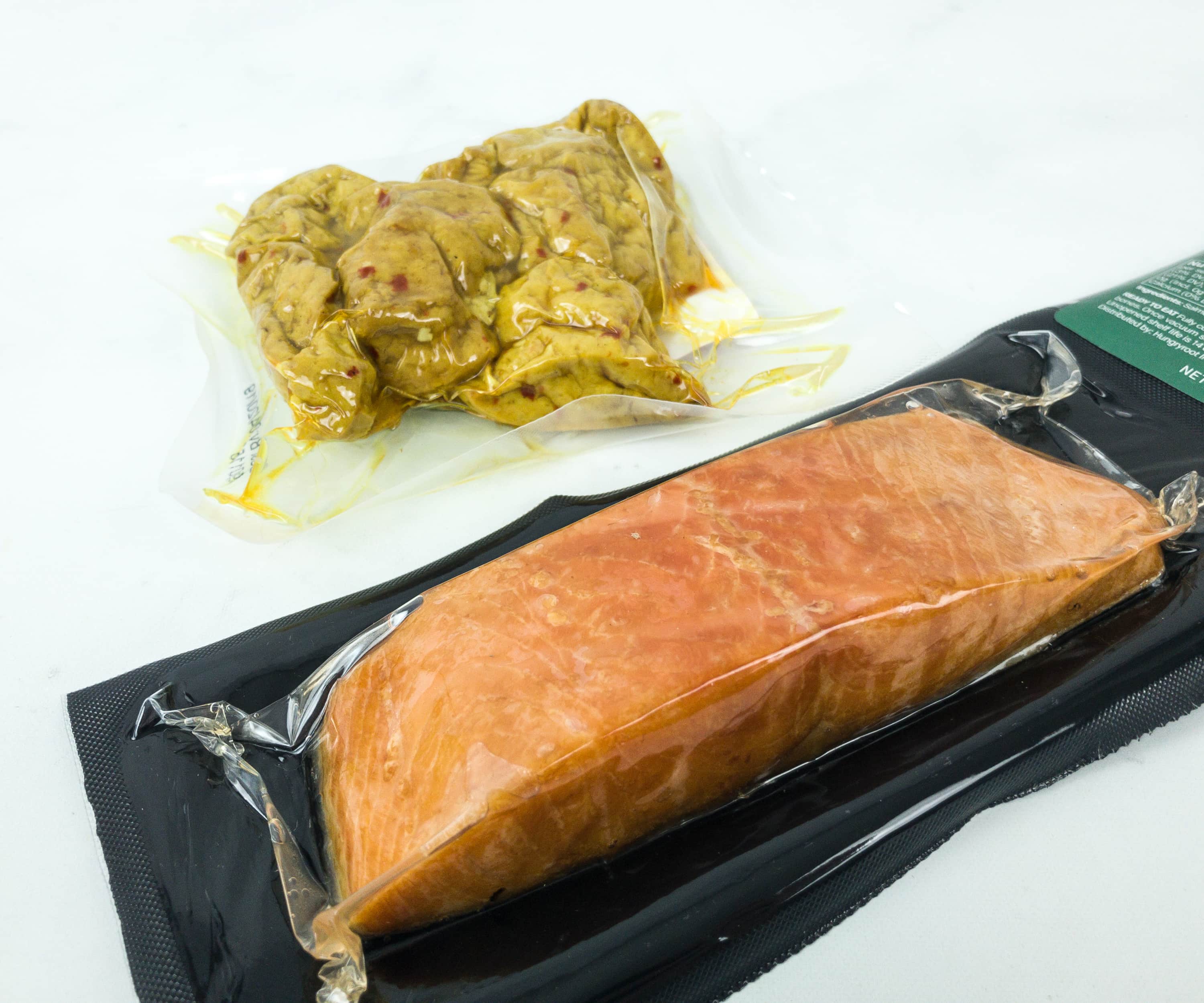 Both of them arrived in well-sealed containers to make sure that they arrive in their best condition.
Hungry Root Garlic Parm. It's a rich and creamy white sauce, 100% dairy-free! It can be used as a white sauce for pizza and even for baked potato.
Ingredients: Organic Almond Butter, Organic Onions, Organic Tapioca Starch, Organic Vinegar, Sea Salt, Organic Garlic Powder, Organic Sunflower Lecithin, Organic Natural Flavor
Hungry Root Thai Peanut. This sauce is oozing with delicious flavors. It's perfect with some crunchy summer rolls or collard green wraps.
Ingredients Peanut Butter (Ground Roasted Peanuts), Water, Extra Virgin Olive Oil, Rice Vinegar, Lime Juice (Water, Lime Juice Concentrate, Lime Oil), Green Onion, Soy Sauce (Water, Soybeans, Salt, Alcohol), Hot Chili Sauce (Chili Peppers, Sugar, Vinegar, Salt, Garlic, Xanthan Gum, Beet Powder, Natural Flavor), Agave Syrup, Cilantro, Garlic, Sea Salt, Ginger, Xanthan Gum
Hungry Root Kale Pesto. A traditional pesto with a modern twist! This tasty sauce is absolutely free from nuts and dairy but is packed with greens, herbs, and seeds. It goes well with toasted bread.
Ingredients: Organic Kale, Organic Pepitas Seeds, Organic Sunflower Seeds, Organic Roasted Garlic, Organic Extra Virgin Olive Oil, Organic Lemon Juice, Sea Salt, Organic Black Pepper, Organic Fresh Basil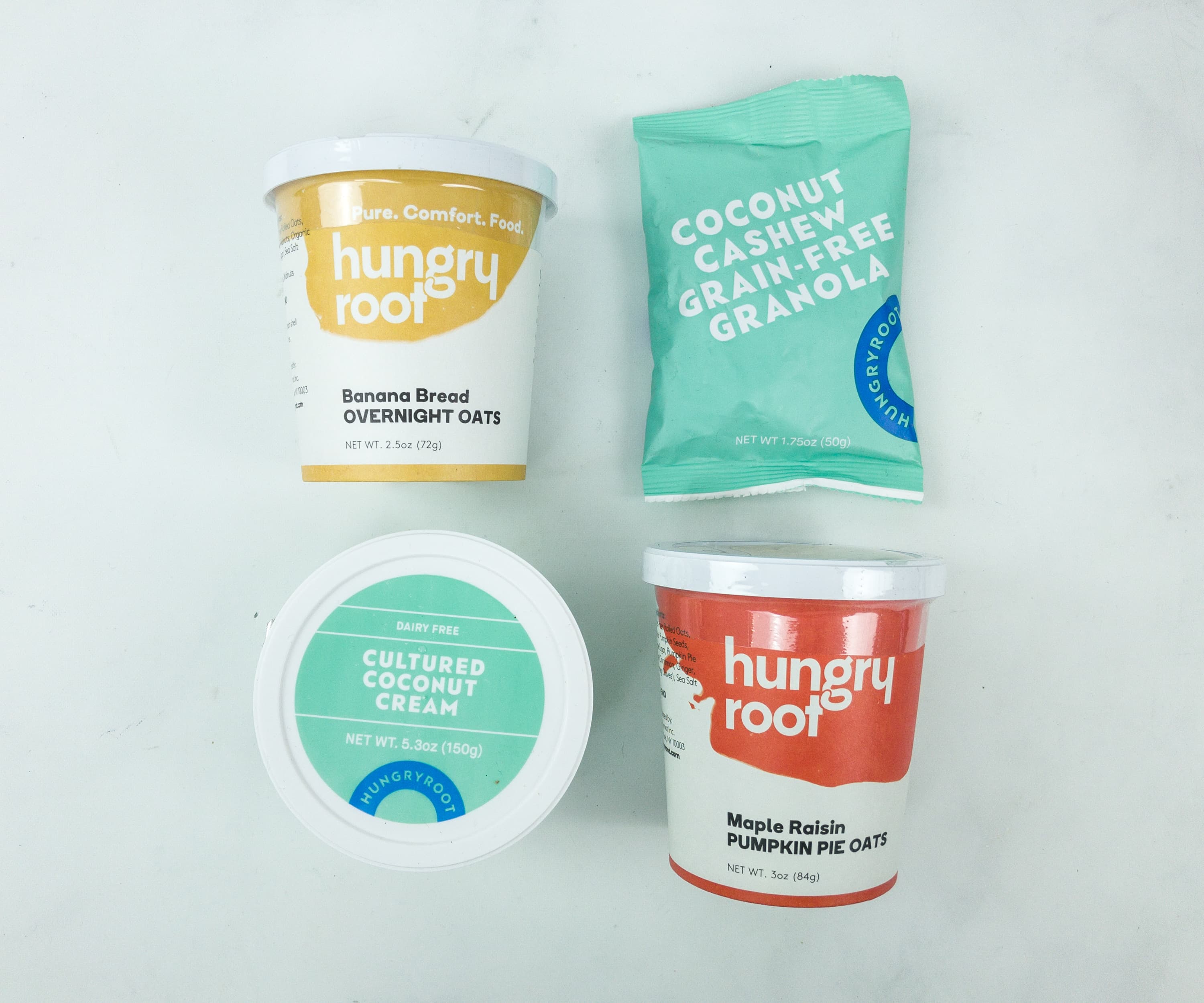 Hungry Root Banana Bread Overnight Oats. These rolled oats are rich in protein and fiber. We love its touch of sweetness and that it supports the digestive system and heart health. Definitely a great snack to start your day!
Ingredients: Gluten-Free Rolled Oats, Banana, Walnuts, Maple Sugar, Sea Salt
Hungry Root Cultured Coconut Cream. It's an unsweetened cream which can be mixed with granola, cereal, berries, oats or muesli. This cream is also vegan, gluten-free, rich in protein but low in sodium.
Ingredients: Coconut Cream (Coconut Extract, Water), Tapioca, Pectin and Probiotic Cultures: B. bifidum, B. lactis, B. acidophilus, L. casei, L. delbruecklii subsp. bulgaricus, L. rhamnosus,  S. thermophilus
Hungry Root Maple Raisin Pumpkin Pie Oats. Pumpkin pie is comfort food, really. This one is just like having pumpkin pie but healthier and easier to prepare.
Ingredients: Gluten-Free Rolled Oats, Raisins, Pumpkin Seeds, Maple Sugar, Pumpkin Pie Spice (Cinnamon, Ginger, Nutmeg, Cloves), Sea Salt
Hungry Root Coconut Cashew Grain-Free Granola. This energy boosting treat is satisfyingly rich and power packed!
Ingredients: Dates, Walnuts, Organic Unsweetened Coconut, Sunflower Seeds, Pumpkin Seeds, Cashews, Pecans, Vanilla Bean, Sea Salt
Hungry Root Superfood Almond Butter. Almond butter tastes like heaven. This one's even better because it is packed with ingredients that provide extra fiber, omega 3, and antioxidants.
Ingredients: Almonds, Organic Palm Oil, Organic Chia, Organic Hemp Seeds, Organic Coconut Sugar, Organic Goji Berry Powder, Organic Lucuma Powder, Pink Himalayan Salt
Hungry Root Black Bean Brownie Batter. When baked, it turns into fluffy and moist brownies that are hard to resist. TBH we ate it straight out of the tub!
Ingredients: Black Beans, Coconut Sugar, Unsweetened Almond Butter, Vegan Chocolate Chips (Evaporated Cane Juice, Natural Chocolate Liquor (Non-Alcoholic), Non-Dairy Cocoa Butter), Sesame Tahini, Maple Syrup, Cocoa Powder, Vanilla Extract, Sea Salt, Baking Soda, Baking Powder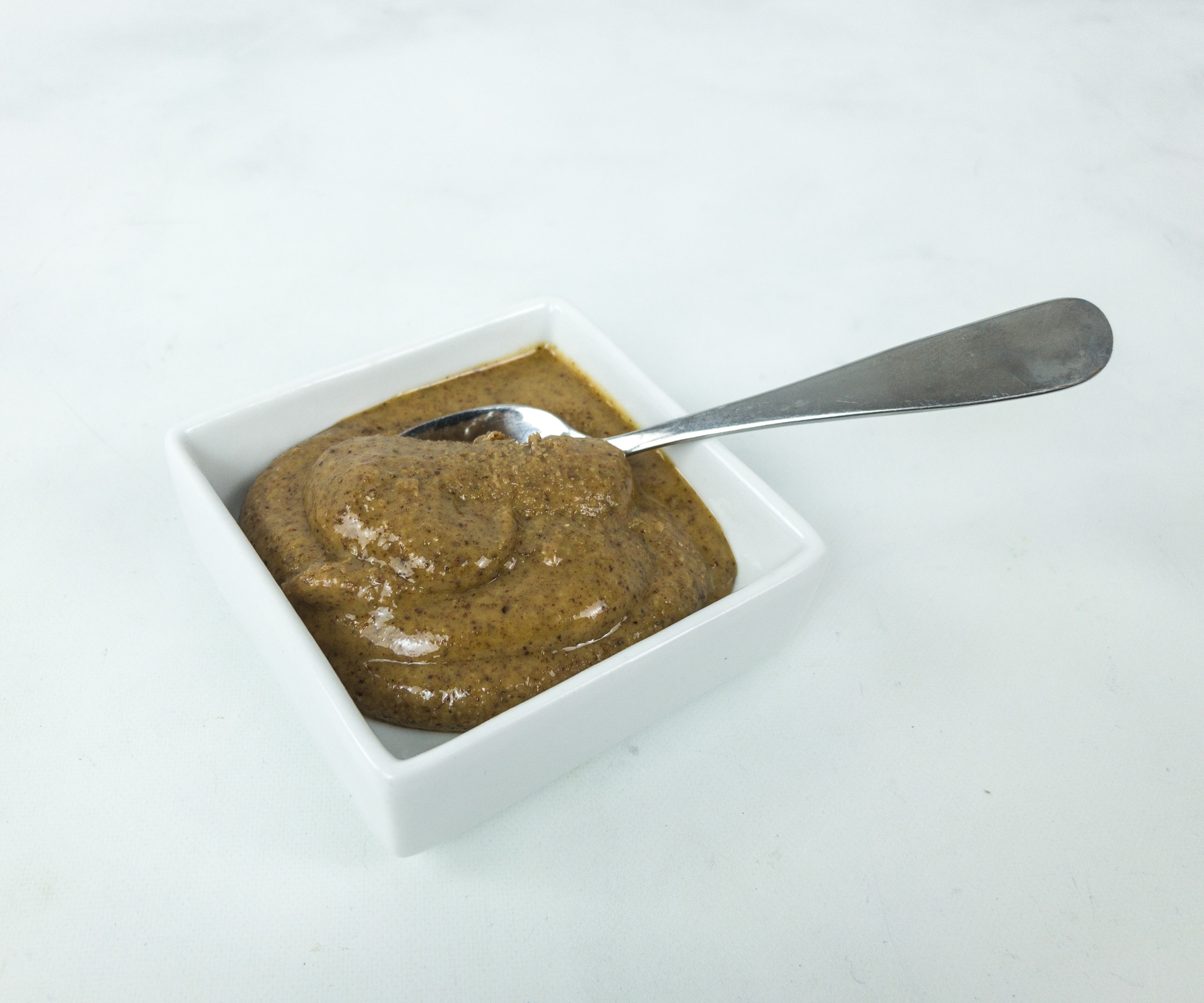 The almond butter is so dense, thick, and very creamy. It's perfect with apples and carrots for a filling afternoon snack.
This brownie can be eaten straight out of the cup or can also pre-heated into the oven for quite some time.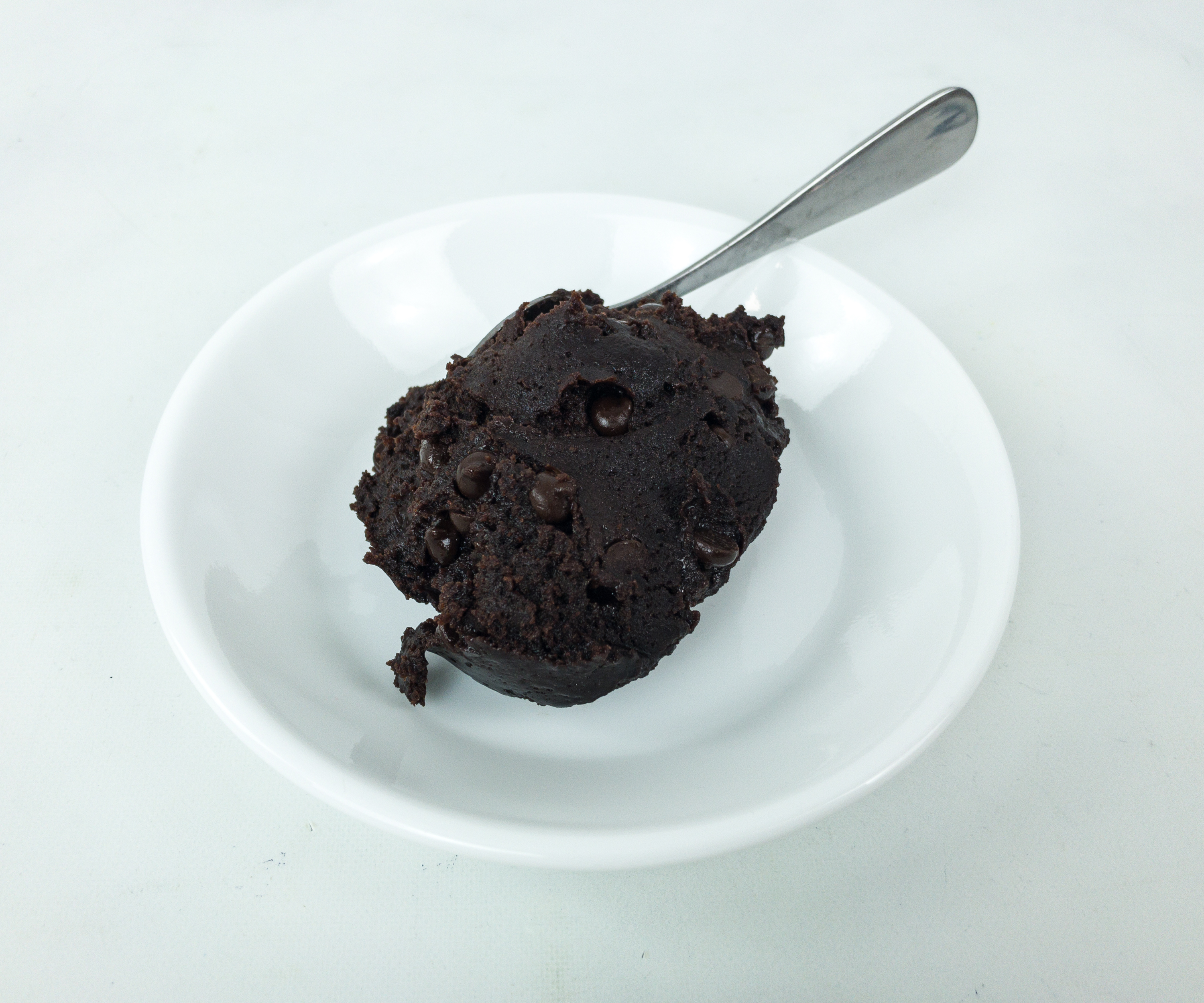 The chocolate chips were clearly visible on almost every part of the brownies.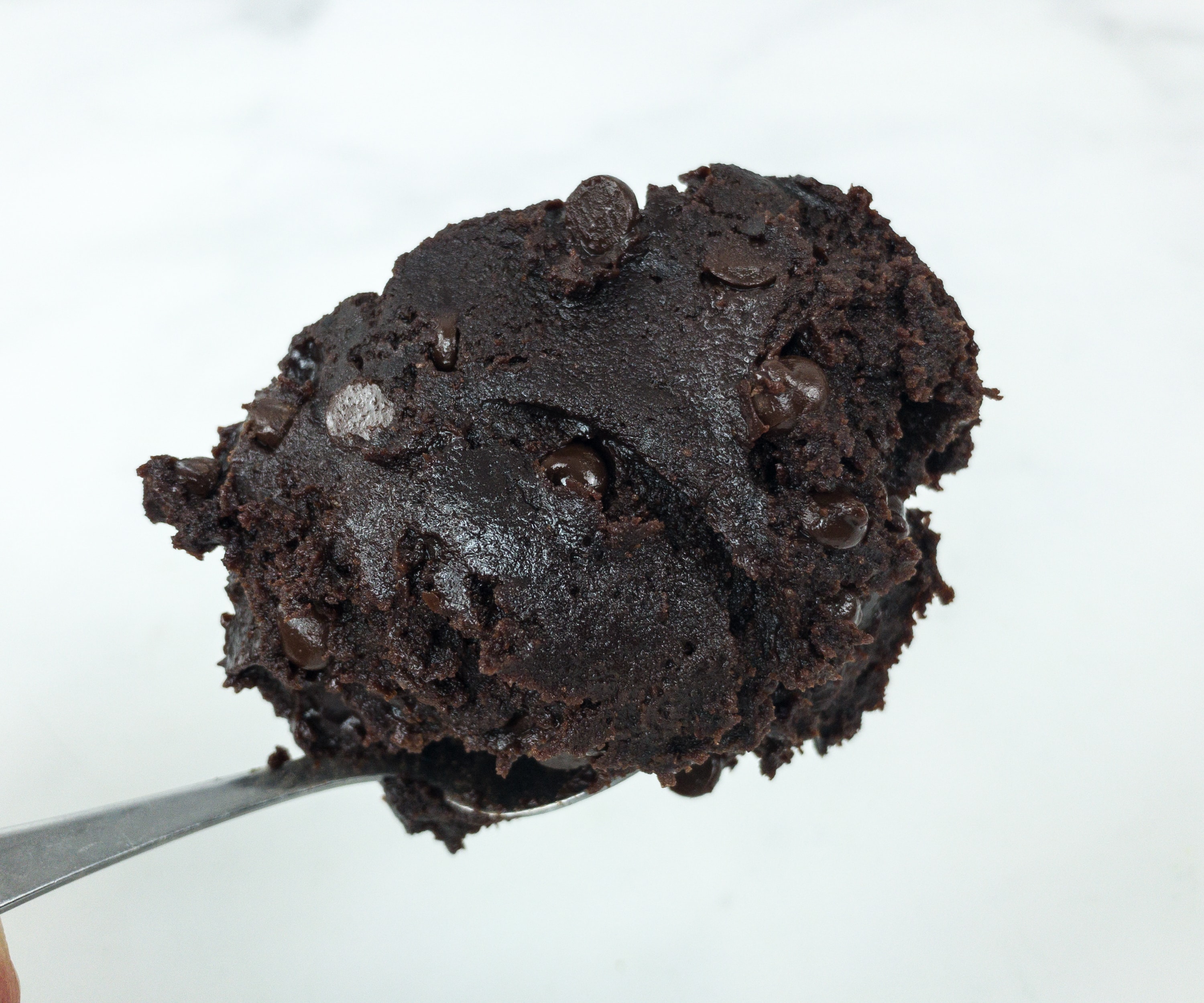 Like any other brownie, this one features a sticky and thick texture with a delicious not-too-sweet taste!
On to the cooking part! For the Pesto Salmon Rice Bowl, we used the brown rice quinoa blend, hot smoked roasted salmon, and kale pesto.
Make sure to read the back of each packaging, as it contains some quick tips that would be very helpful for your cooking.
To make this dish, just heat the oil in a skillet and cook the brown rice for about 2 minutes then mix 4 tablespoons of kale pesto, then finish it with the whole salmon toppings. All that in just 4 minutes! It's tasty and filling, and of course packed with protein, fiber, vitamin A, and vitamin C. Quinoa and brown rice is surprisingly delicious, while the fresh pesto and flaky salmon easily made it a gourmet-like dish.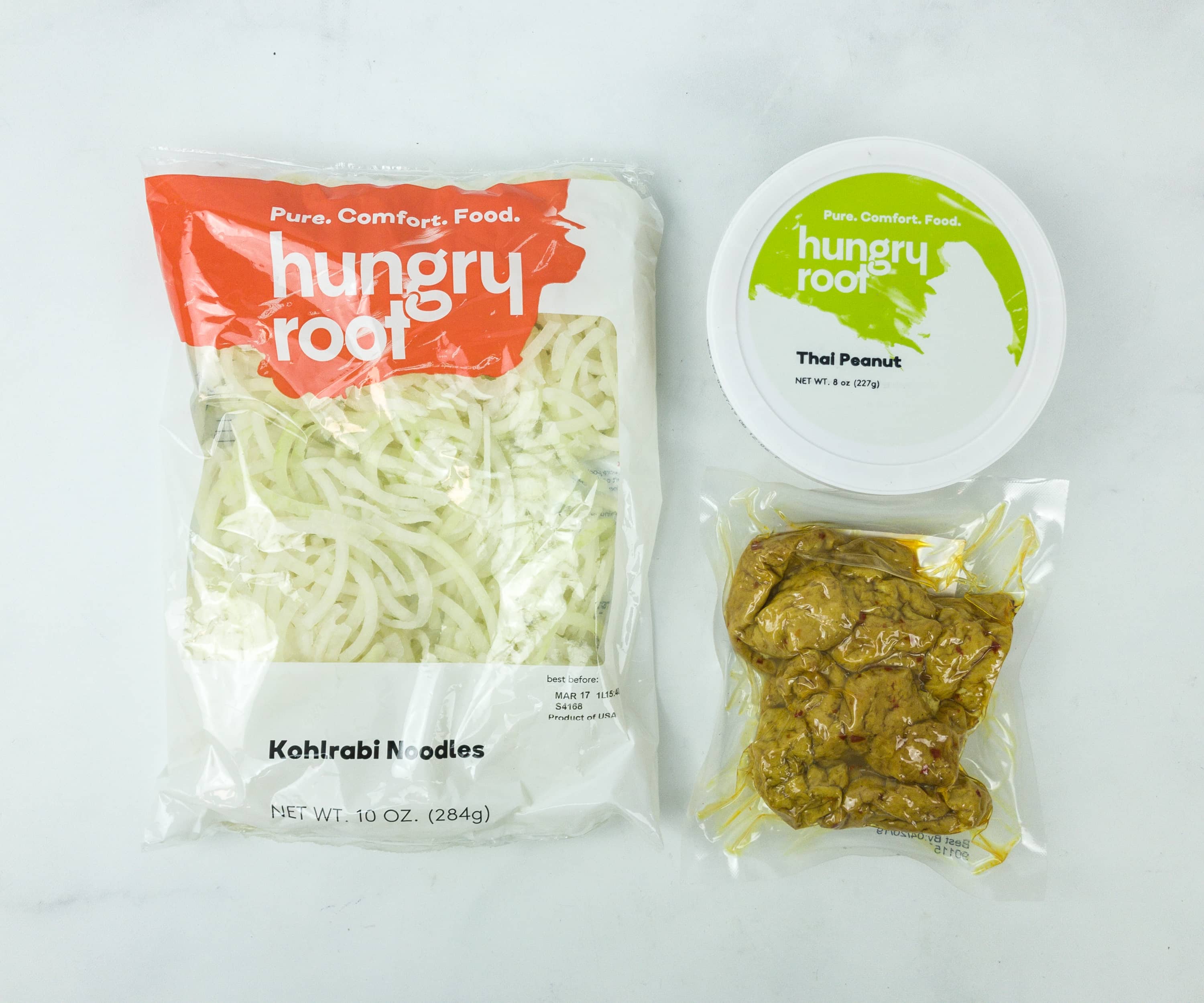 The next recipe is Kohlrabi Peanut Takeout Noodles. For this, we need the Kohlrabi noodles, braised lemongrass tofu nuggets, and Thai peanut. We've actually tried this before and we loved it so we're making it again!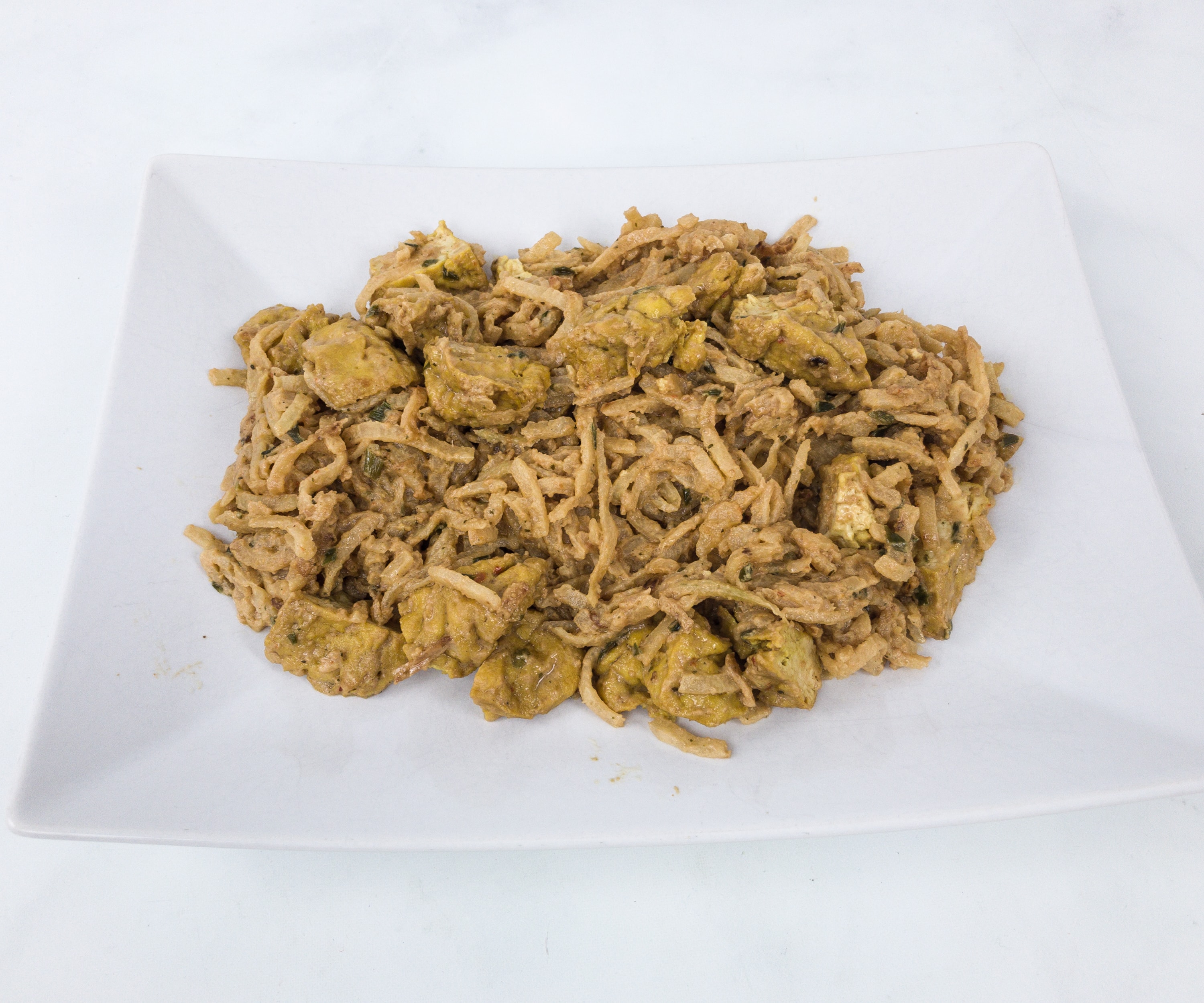 In this simple Thai-inspired dish, we combined the noodles with the creamy peanut butter sauce and mixed it together with the lightly fried tofu. This dish is vegan and gluten-free, and definitely a great source of fiber and protein. It's a quick and excellent choice for dinner, even faster than ordering a takeout. The tofu was pre-seasoned with lemongrass and it was such a standout. Meanwhile, the tangy sauce easily complemented the crispness and bitter notes in the veggie noodles.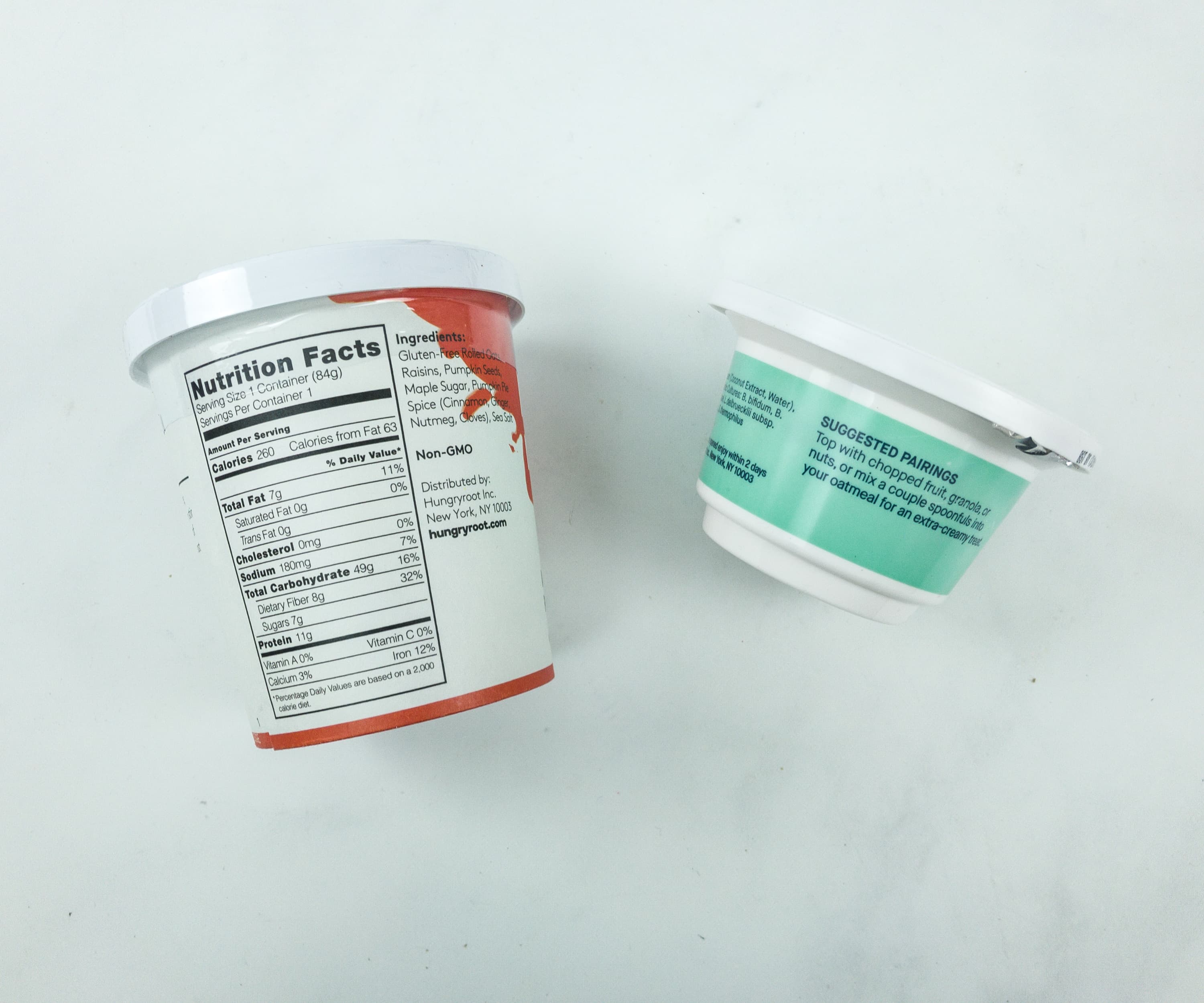 Lastly, we tried the maple raisin pumpkin pie oats and cultured coconut cream!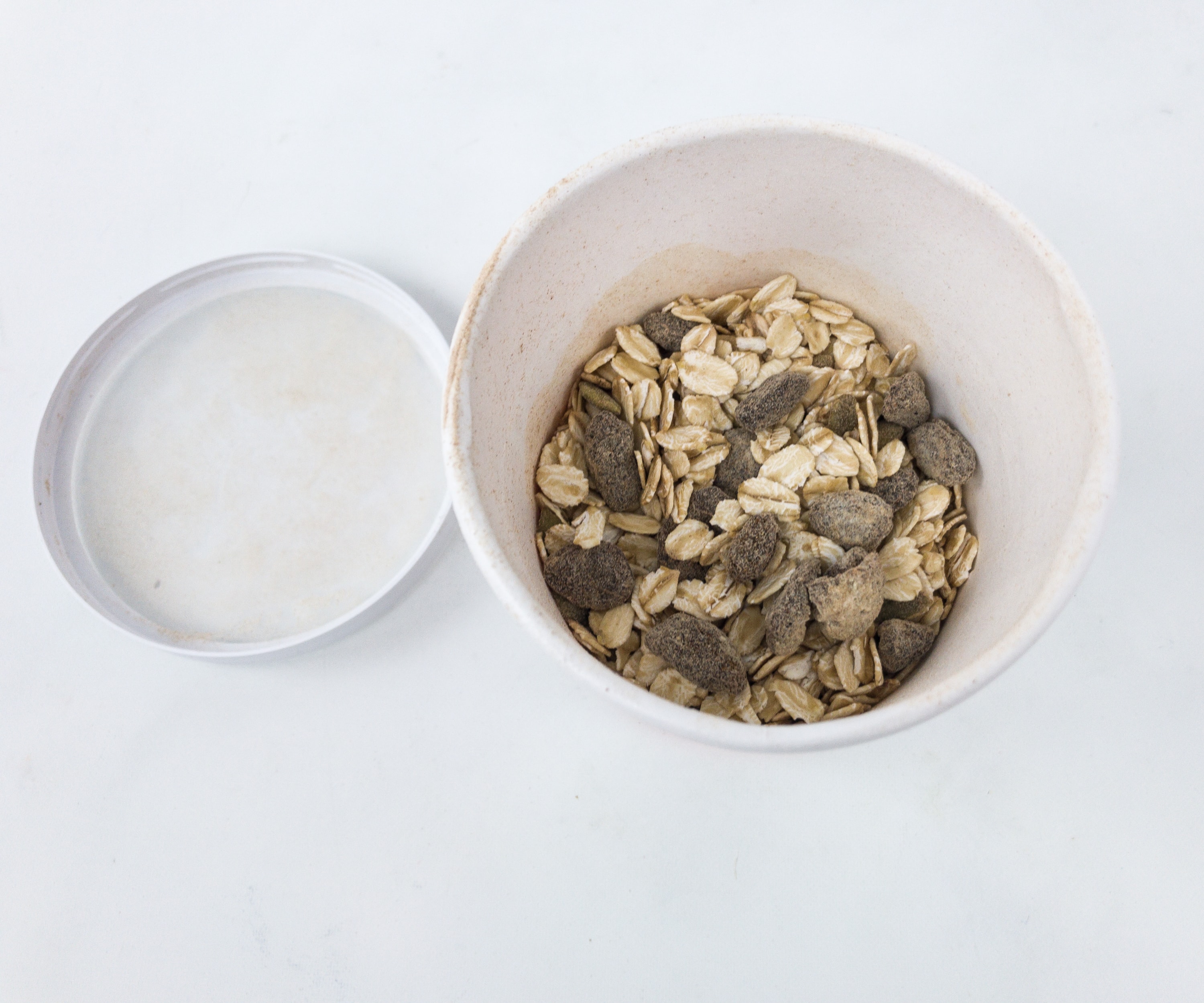 The oats and raisins were so delectable!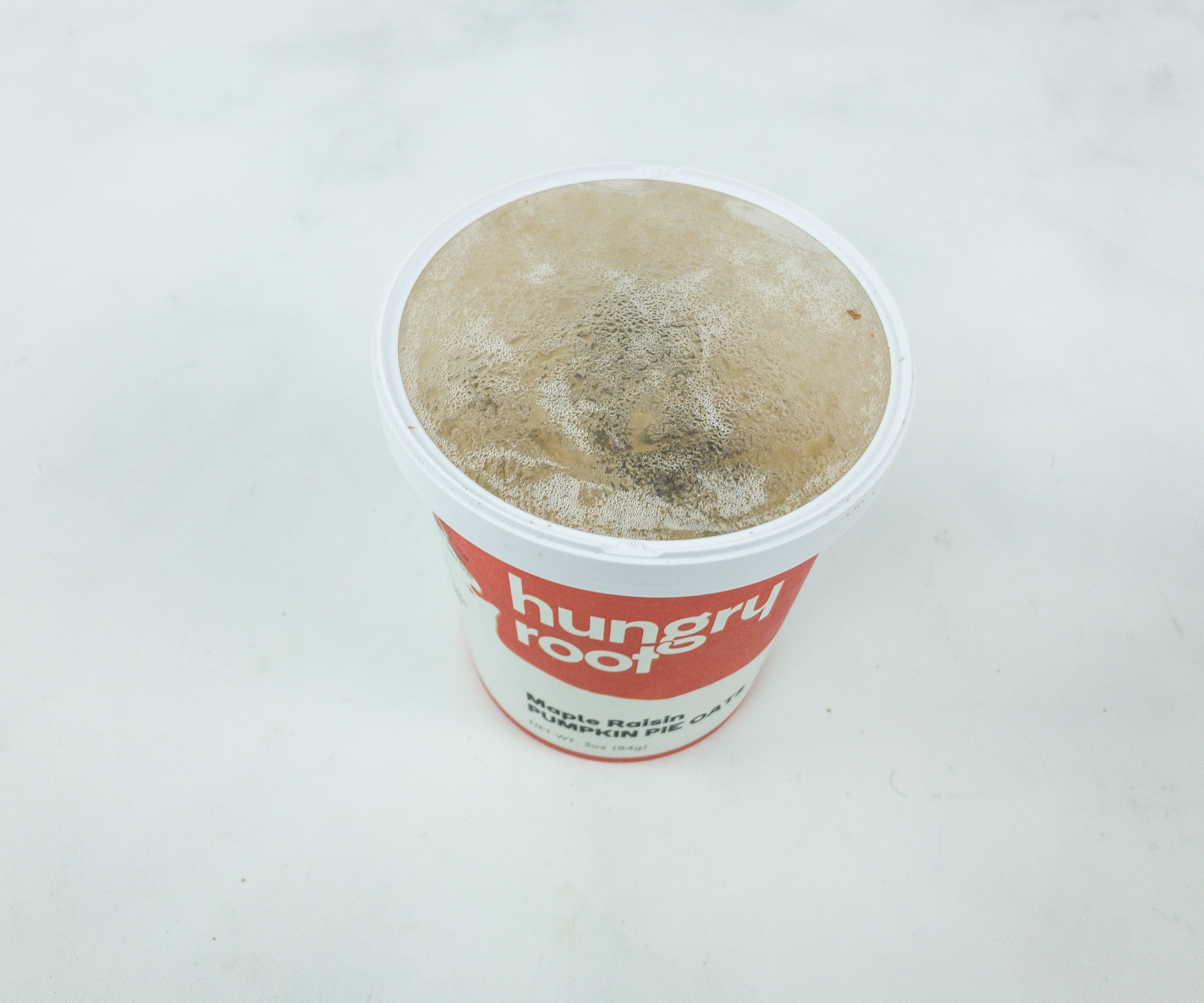 To prepare, just pour at least 1/2 cup of water or milk of your choice and cover the lid for 2 minutes, then stir and enjoy!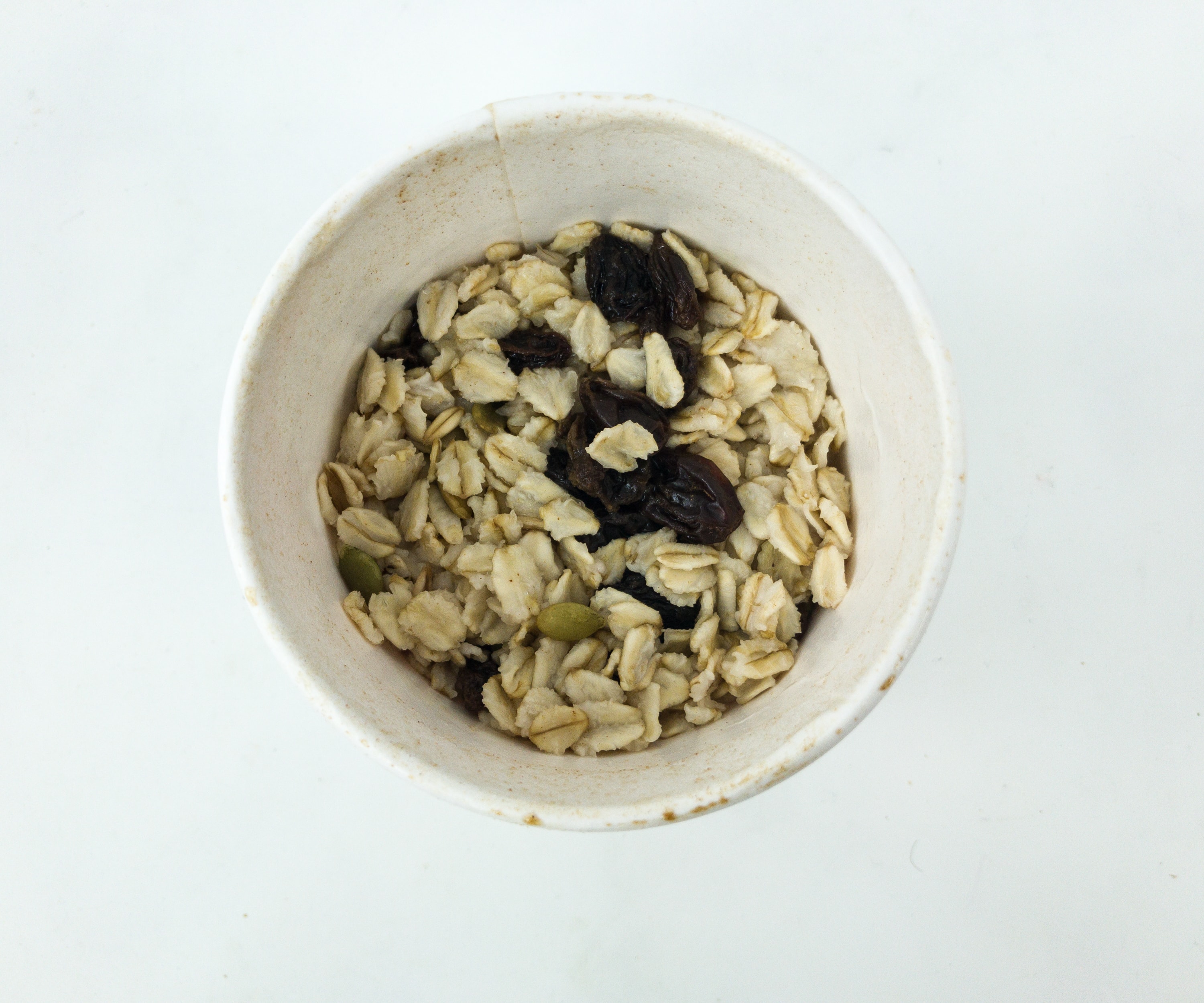 Mix the ingredients carefully to make sure that everything inside is properly cooked.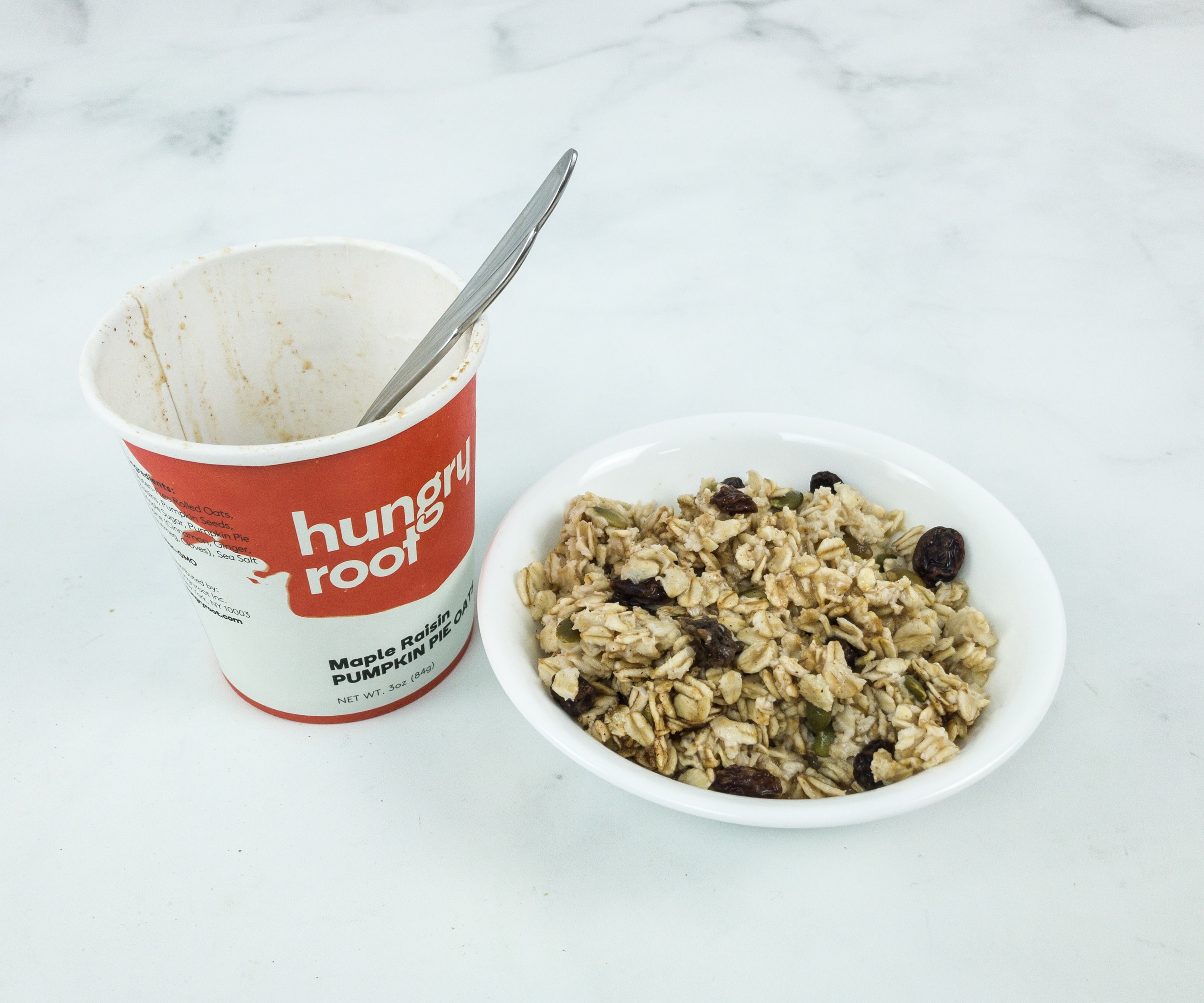 Once done, you can transfer it to a bowl.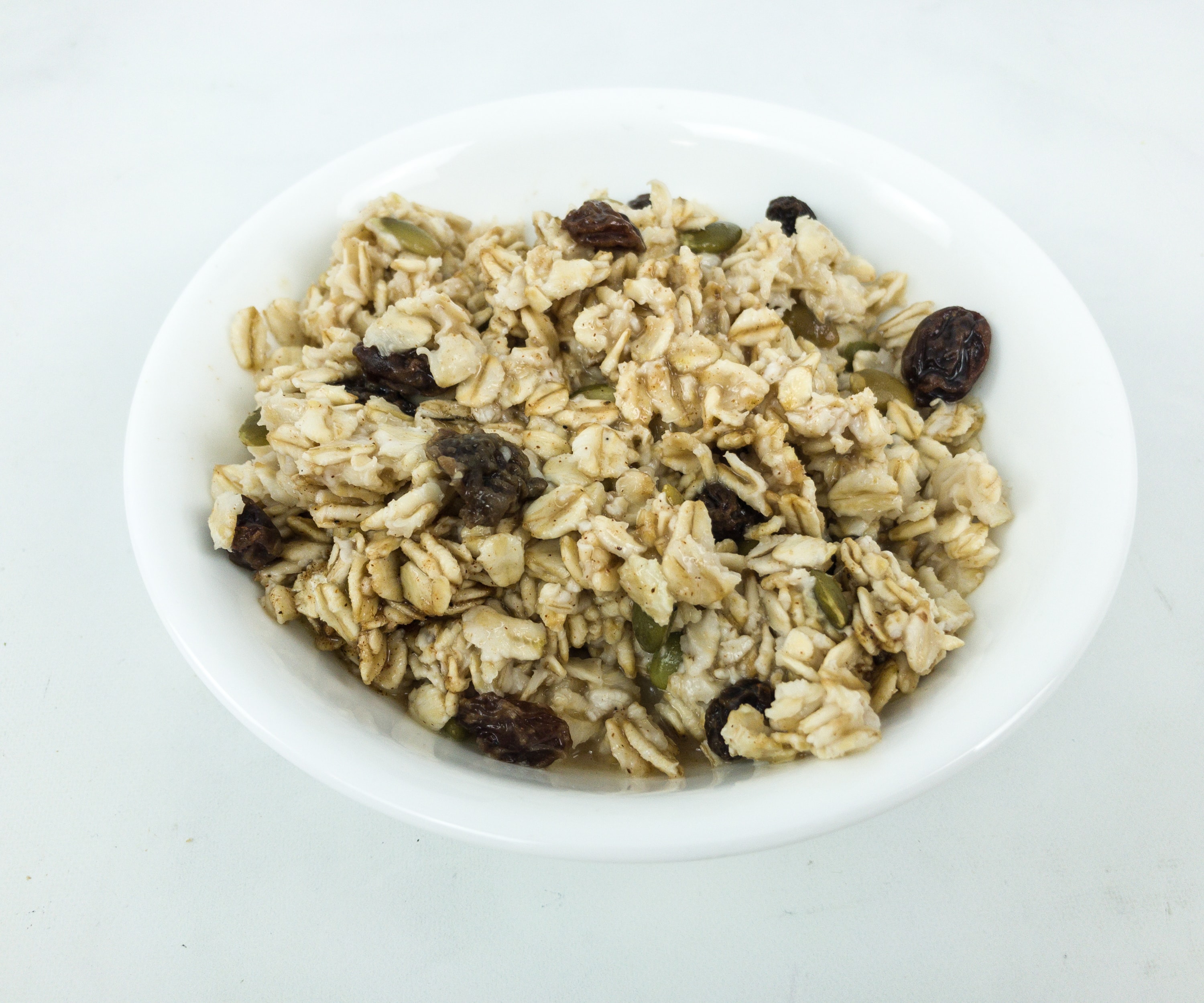 It's tasty and filling, definitely a great breakfast choice!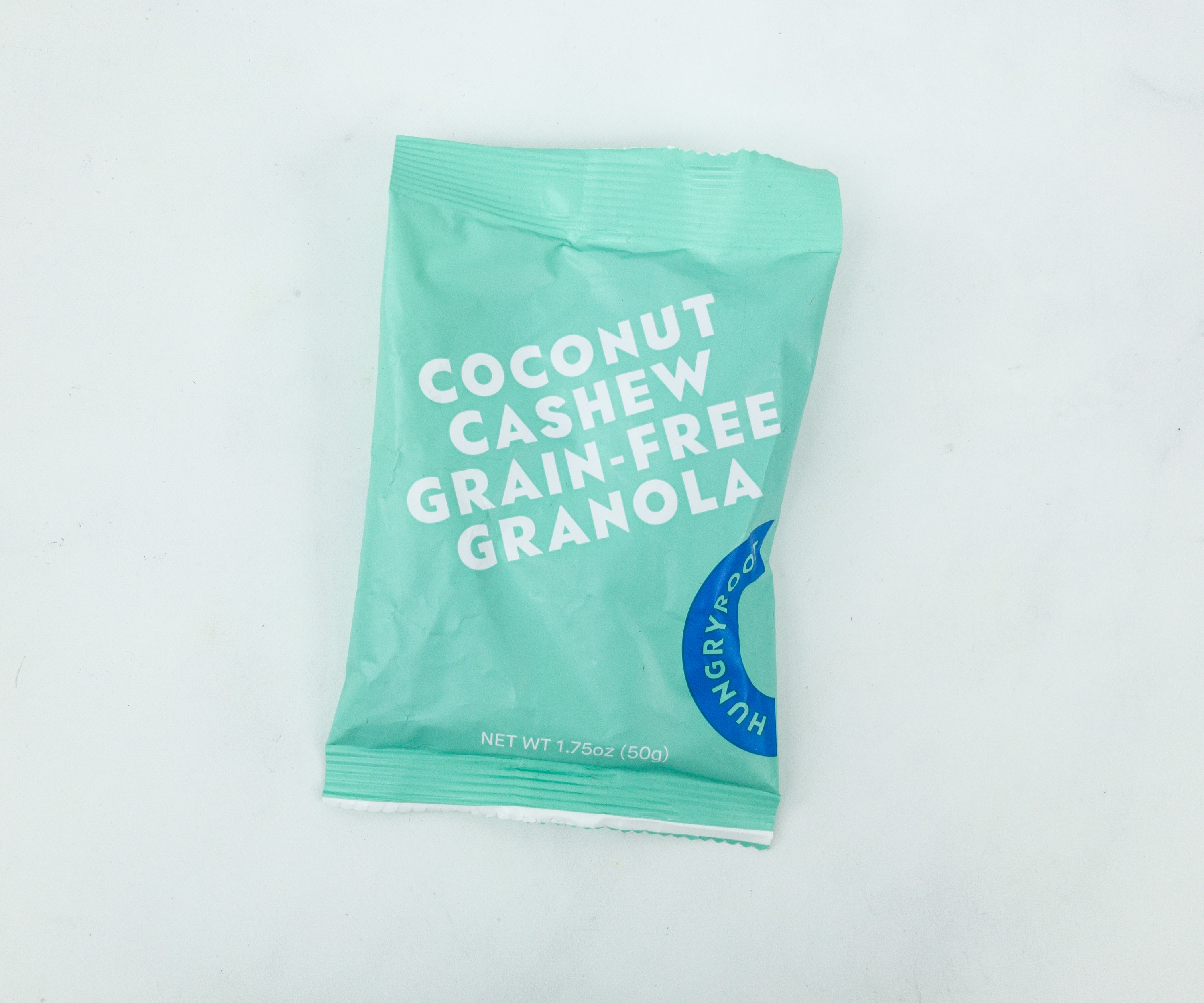 This coconut cashew granola snack comes in a very handy packaging. It's an ideal snack to bring anytime and anywhere.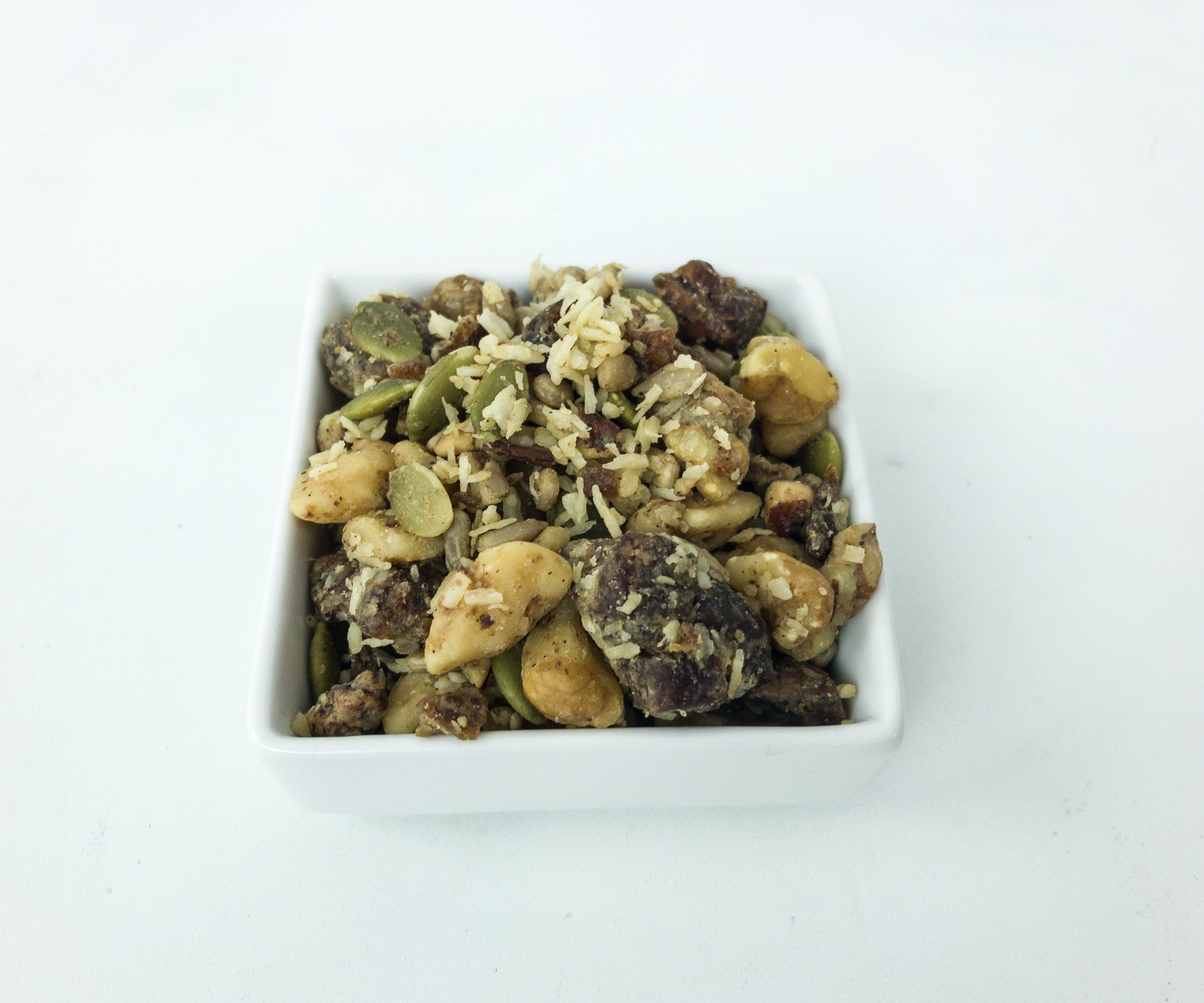 Like the booklet said, most of the snacks we received from this box are ready to eat. You can just simply transfer them on a bowl and eat.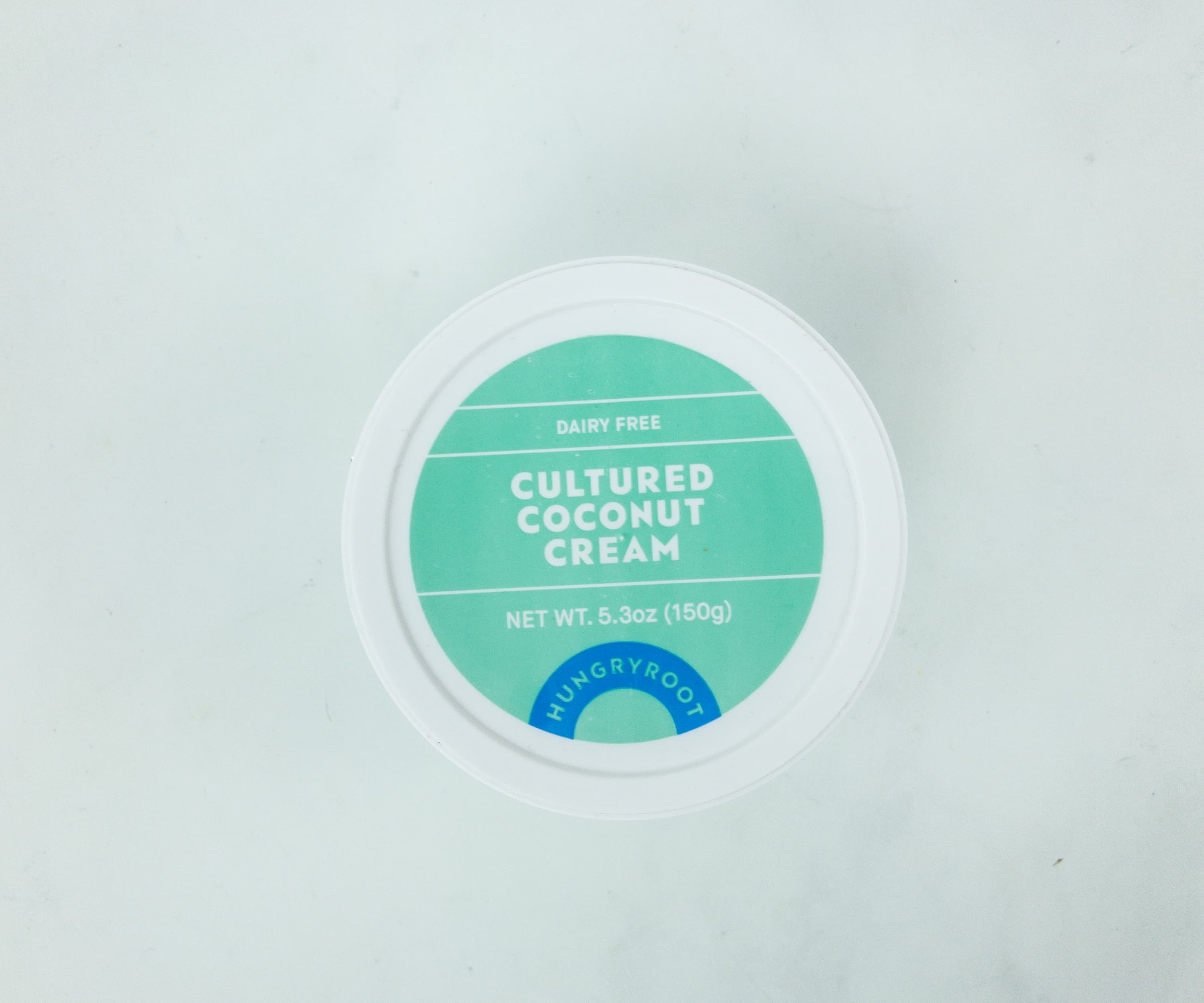 What's ideal partner for the coconut cashew grain-free granola? It's the cultured coconut cream!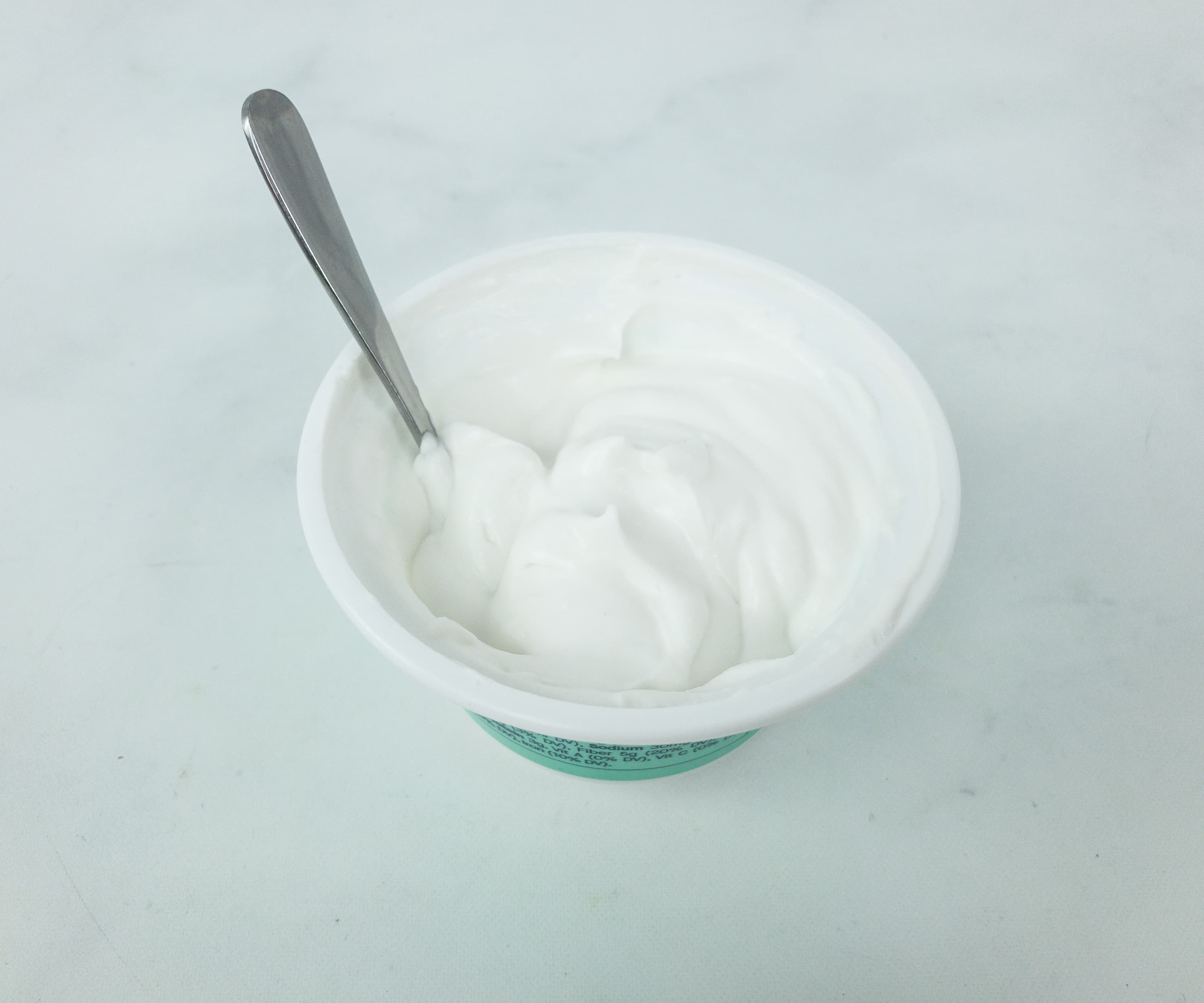 It's tasty but not overwhelmingly sweet, plus it's so creamy too!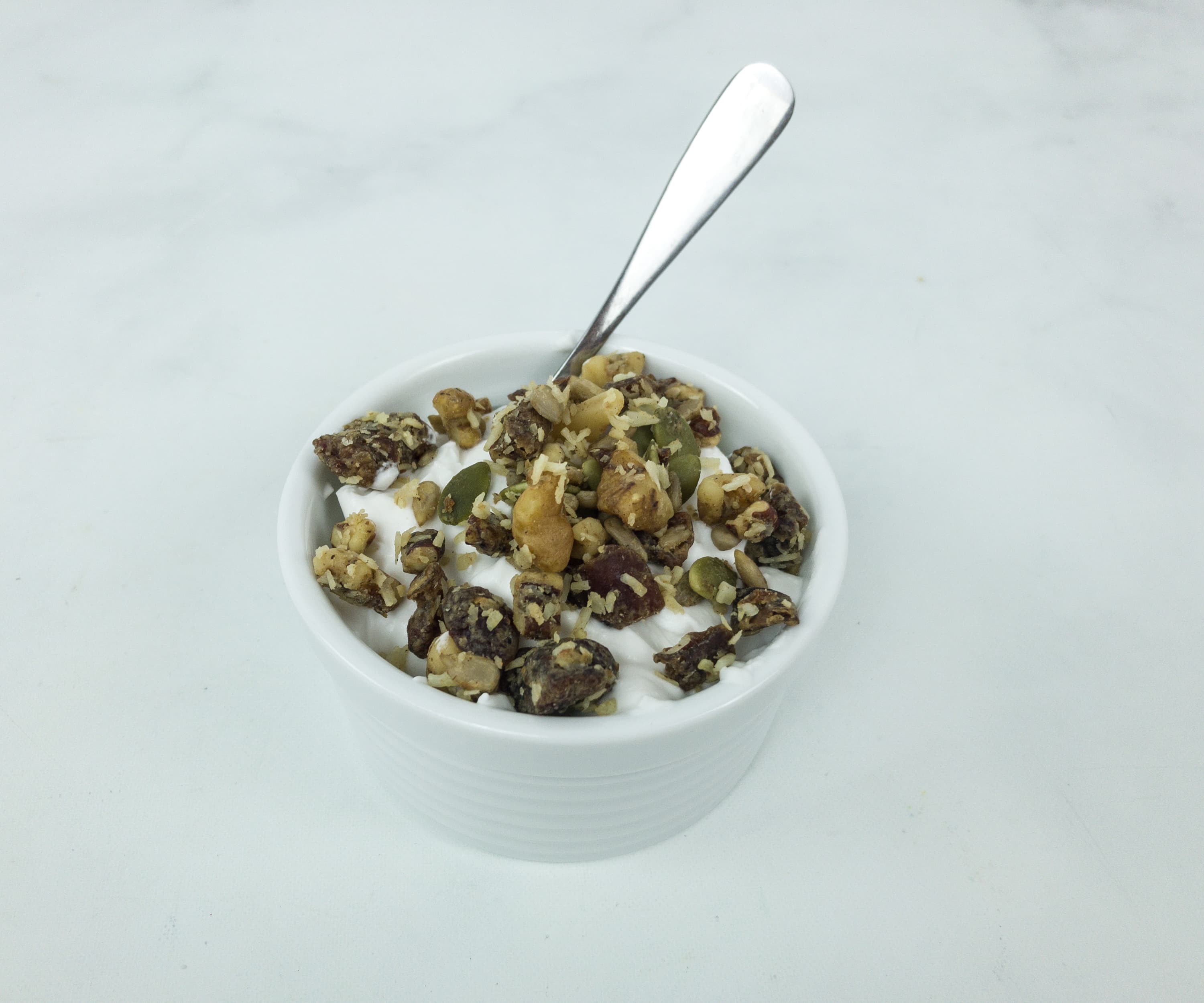 This time, we combined the cultured coconut cream with the cashew granola bar and the result is so amazing! My kids love to eat them as well!
If you are looking for healthy and quick meals to fill-in your hungry stomach, Hungryroot is an ideal box to try. This subscription contains a variety of protein-rich, high-fiber, and heavily nutritious goodies to keep you and your family healthy and satisfied. This month's curation didn't disappoint. They're all very quick and easy to prepare plus it doesn't require any cutting and there's no additional mess. This is the kind of box worth waiting for! I'm looking forward to more tasty and flavorful treats to come – so super easy to eat SO healthy, and everything is delicious. Plus, we love the fresh new look and easy packaging!
What do you think of Hungryroot?