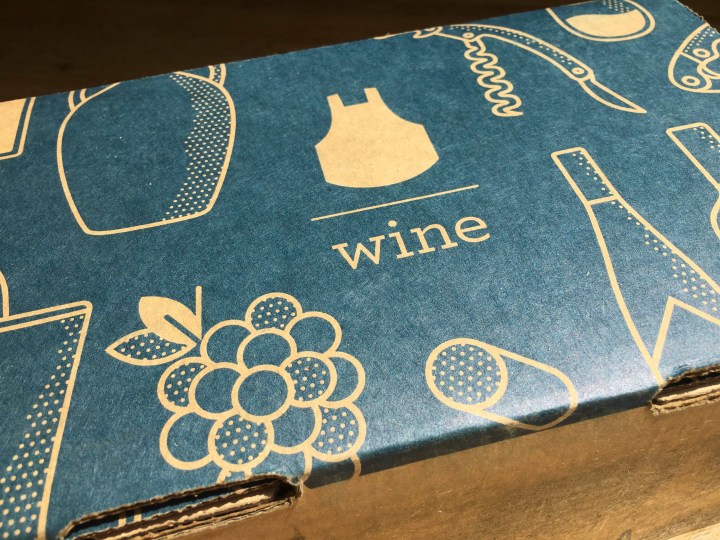 Blue Apron Wine is a subscription for people who love trying new wines as much as they love great food. You may be familiar with the Blue Apron Meal Delivery Kit subscription, which sends boxes of fresh ingredients to make exciting meals at home. The wine subscription is separate from the meal subscription, but it's designed to complement it.
Here's how it works: every month, for about $11 per bottle ($65.99/month, including shipping and tax), Blue Apron sends you 6 bottles of wine, plus tasting notes and pairing recommendations. The wines are selected to pair perfectly with the meals in the Blue Apron kits. The bottles are 500 ml, or 2/3 the size of a standard bottle, which, in addition to being adorable, means that you and your dining partner can enjoy your entire bottle with your meal without regretting that additional glass needed to finish a standard-sized bottle.
Blue Apron pairs with wineries around the world to bring a wide range of new and interesting wines to you each month. I love wine, and I love food, and I love everything about the idea of this subscription.
DEAL: You can try out Blue Apron dinners for $50 off your first two boxes with this link.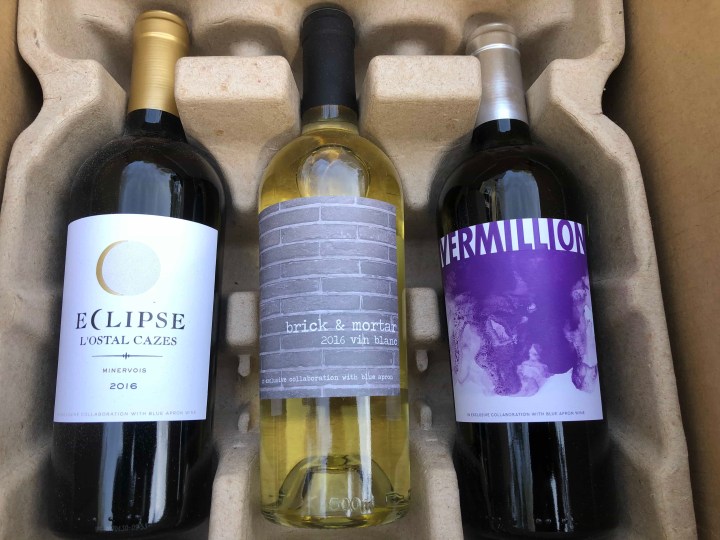 The packaging is great and keeps everything snug and secure. Keep in mind that someone 21+ will need to sign for it. Everything is in great shape when it arrives, and the packaging is, happily, recyclable cardboard.
Blue Apron Wine allows you to select your wines–you can go all white, red, or mix it up. There are lots of choices, and it's easy to change it to suit your mood or meals of the month.
If you're wondering what a 2/3-sized bottle looks like, here is one of the bottles with a standard-sized bottle next to it. You'll get about 3 1/2 standard glasses in a bottle, or a generous pour plus a top-off each if you're with a partner.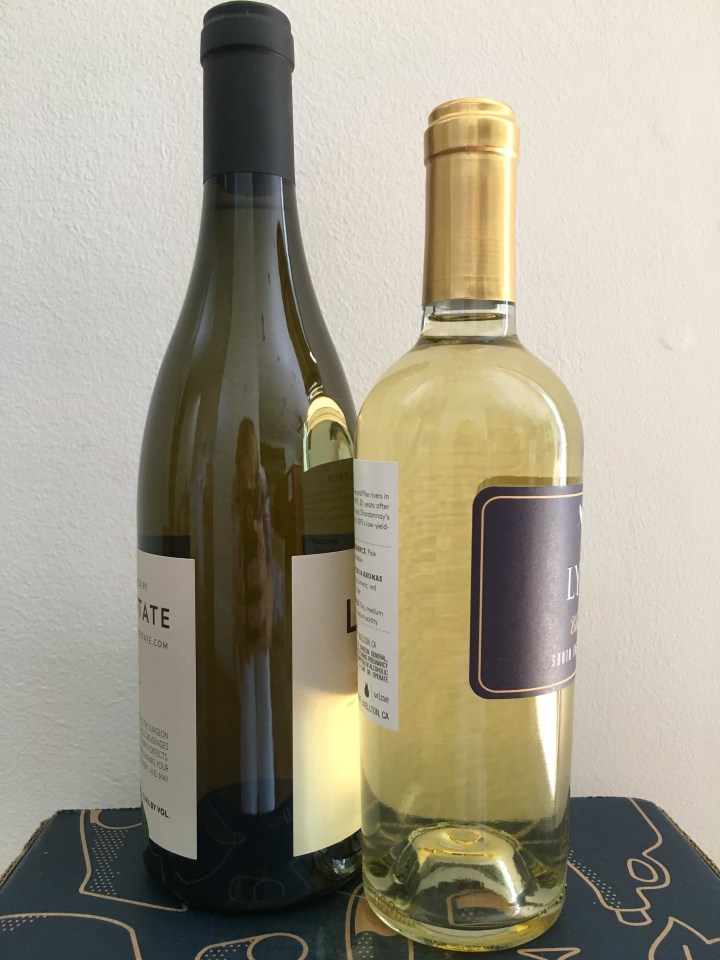 Each box comes with a great collection of tasting notes. Blue Apron tells you a little bit about the winery and how the bottle was made, plus the region at large. Because come on, you didn't REALLY know where the Central Coast was, did you? The info details the color, body, and structure of the wine, and also gives some thoughtful food pairings for each bottle. The info is terrific – wine is not scary, and tasting it should be fun and informative. Data is your friend.
It's April! It must be spring because I took pictures of wine in the grass.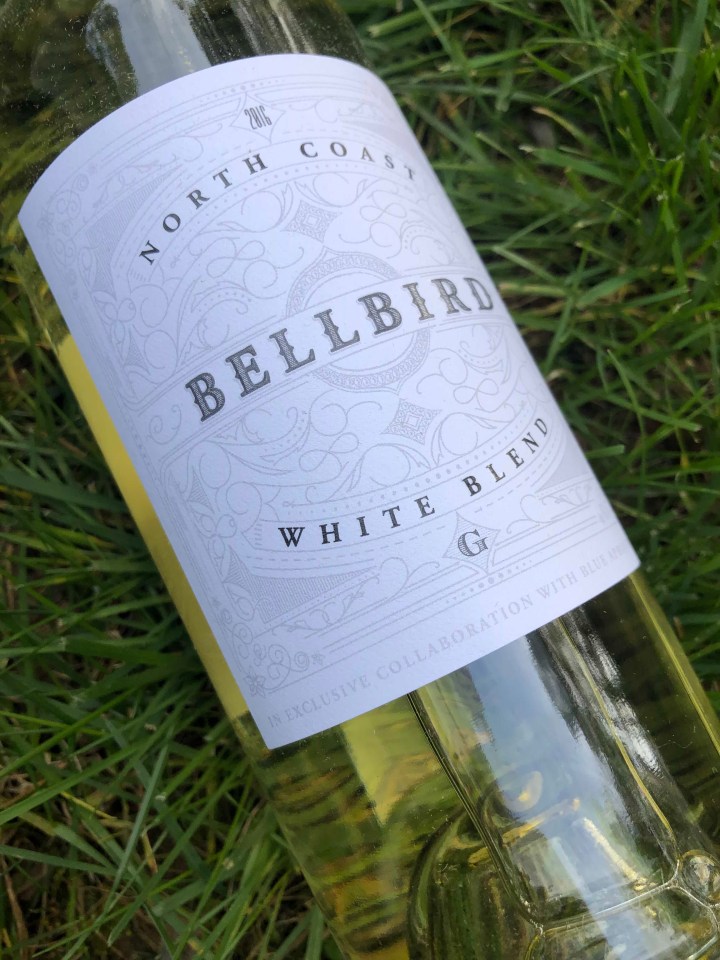 In our collection of blends this month, we start with the 2016 Bellbird White Blend.  It's an intriguing mix of mostly Chardonnay, with a bit of Gewertztraminer and Colombard in there for spriteliness.  It's a very light yellow in the glass, but a bit heavier in mouthfeel because of those blend additions.  Blends are so interesting that way!  Nice sweet fruit to start, but a clean finish with plentyof acid to balance everything out.  We had this cold on the porch with grilled chicken, and you should, too, but it would also be great with a white bean chili or even apps.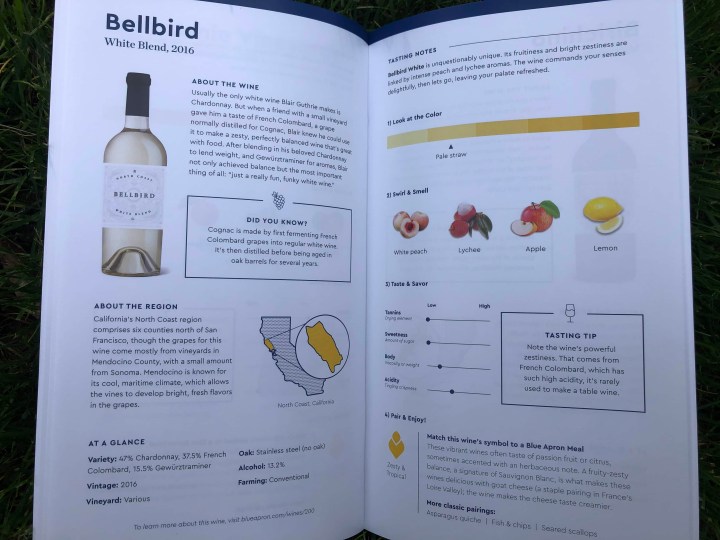 Next up is another white blend, the 2016 Brick and Mortar Vin Blanc.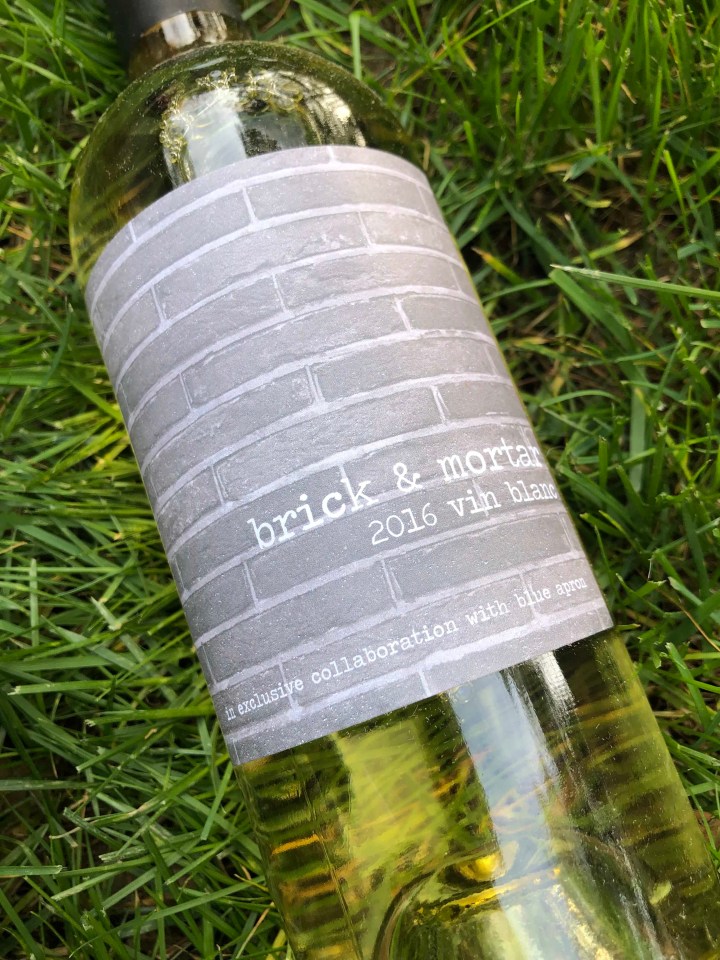 This blend is very different from the Bellbird, all flint and floral acidity, with just the barest hint of fruit. This is more of a French style of Chardonnay (or South African, according to the tasting notes).  This would go wonderfully with any seafood, but especially scallops or salmon–the acidity cuts right through any fat in the fish.  Drink this one cold but not freezing.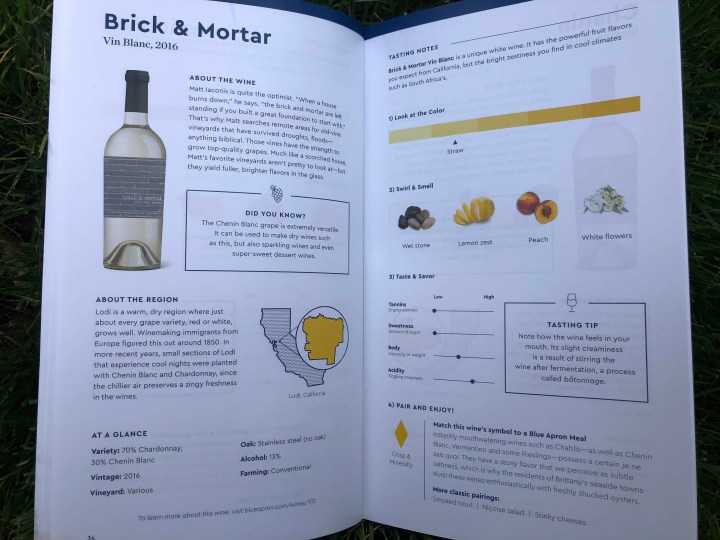 Our last white blend is a Blue Apron label, the Le P'Tit Paysan.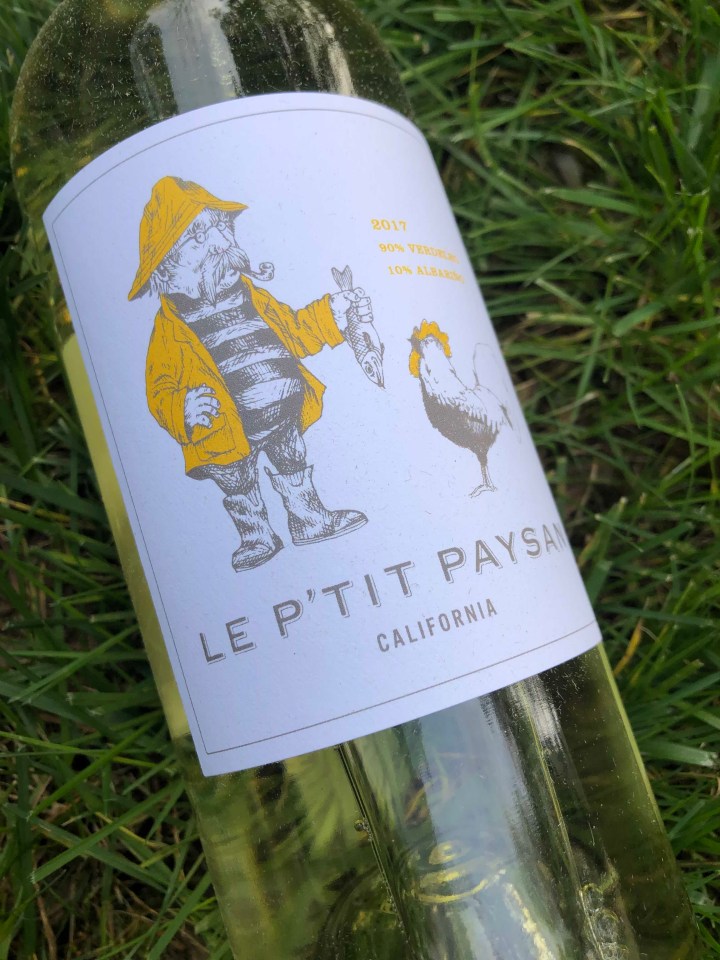 This one is mostly Verdelho, a Portuguese varietal.  If you like Vinho Verde, this is of a similar style–light, refreshing, and not too complicated.  I often find the P'Tit Paysan wines a little heavy-handed, but this one is a nice example of the style.  It's the perfect pool wine–which might be a little ambitious for April, but look for it again in the summer.  In the meantime, I suppose there's horse racing?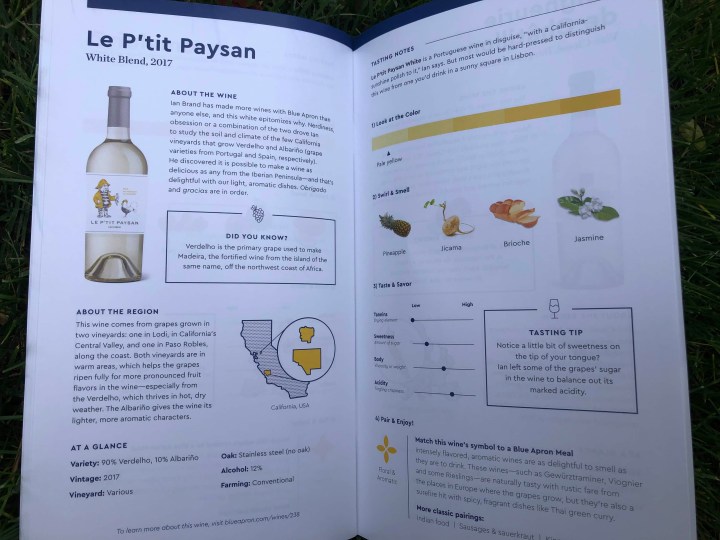 On to France for our first red, the 2016 Eclipse L'Ostal Cazes Minervois.

Like Cotes du Rhones, Minervois wines refer to a place, not a varietal.  Minervois is a part of France that makes bold, tannic wines.  This one is right up there, mostly Syrah with some Grenache in to fill it out.  It is very dark and heavy in the glass, but with a nice, lightly floral nose.  It leads with dark fruit but finishes spicy from the Syrah.  This would be great with a cassoulet or other meat-heavy stew, but you might try it with a burger or a sweet potato and black bean chili.  Drink at cool room temperature.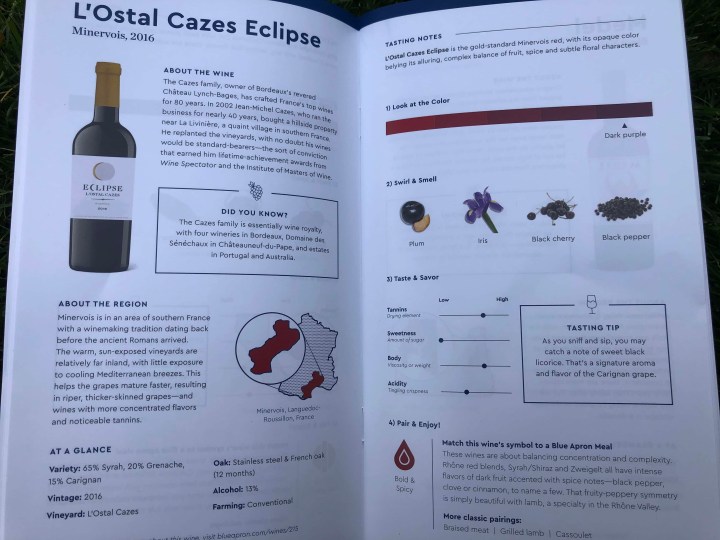 Back to California for our next red blend, the 2015 Uvaggio Montagna Nera.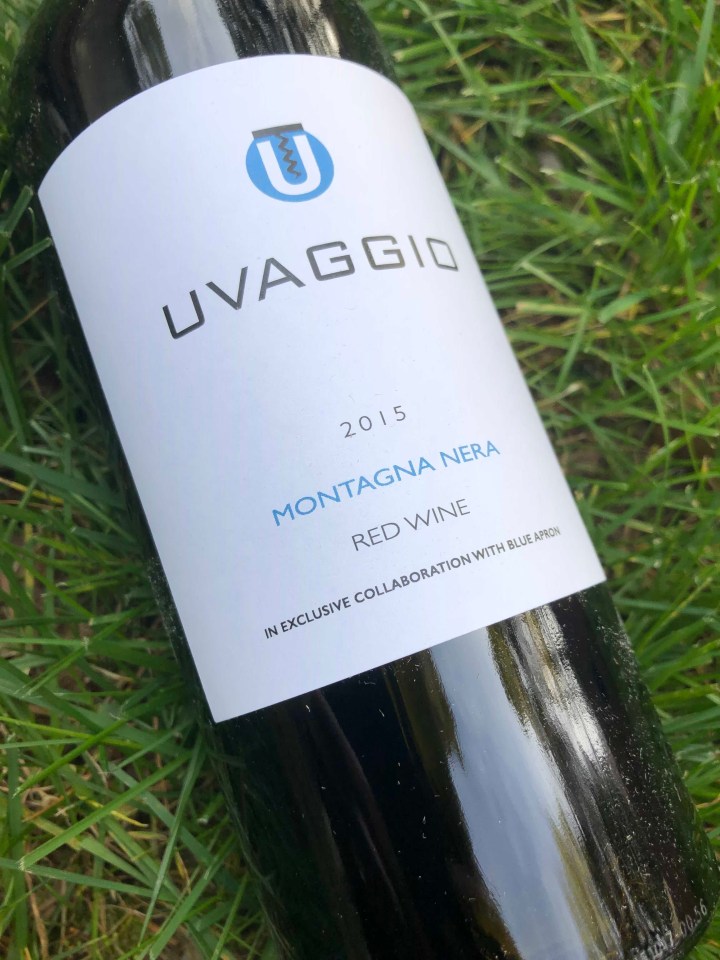 This is an interesting blend, Barbera and Zinfandel.  It's a big, bold wine, but it has a strong zip of acidity in the back to cut the heaviness.  There's a lot of fruit in this mix, so your Pino Noir-loving friends would probably like it.  We had it with pork mole tacos, and that was pretty good.  I thought it was a bit unbalanced–I'd like more tannin to balance the fruit–but it goes down easily and blends (get it?) nicely with food.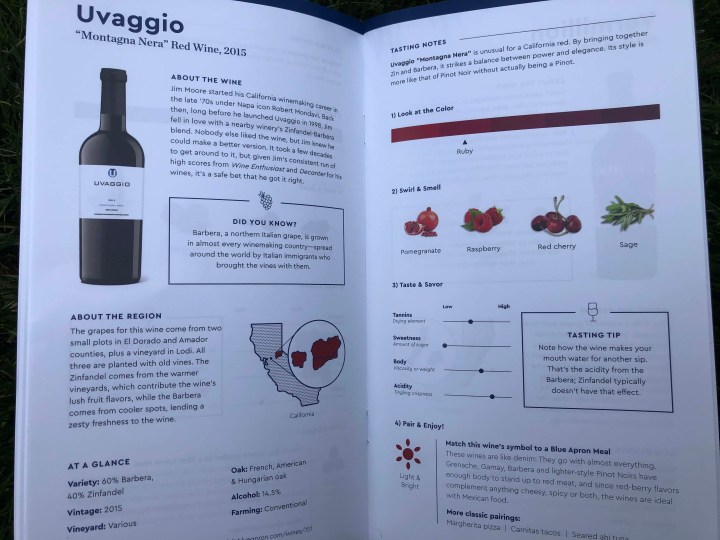 Last up, is the 2016 Vermillion Red Blend.

Our last blend is like a superblend, mostly Grenache and Mourvedre with a whole lot of other stuff thrown in.  The nose is all over the place, with fruit and herb and flora notes.  The flavor holds closer to the herbs, with a floral finish and a dollop of tannins at the back.  I thought this one was going to be a mess, but it all went together pretty well.  We had this on a Sunday with roast chicken, and that was nice, but it would also be great with brisket or dark beans.  Cool room temperature here.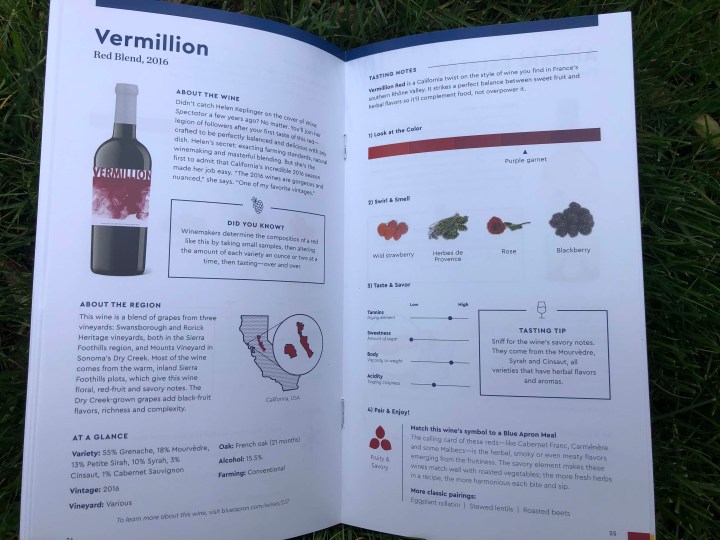 And that is April!  Blue Apron is apparently still cutting editorial costs, as there was no fun copy or recipes in the tasting notes again.  Maybe they'll hire a summer intern to do some fun features next month.  Because you know what's happening next month??  The ROSE IS BACK.  Get your back porch ready, people.
By the way, Blue Apron has an easy system for pairing its wines and its food subscriptions, somewhat like you might have seen in nicer grocery stores — the wines are categorized by type (crisp & minerally, plush & fruity, etc.) and then that symbol shows up on the food recipes. Pair any wine of the recommended type to the food, and voila — you have a great meal!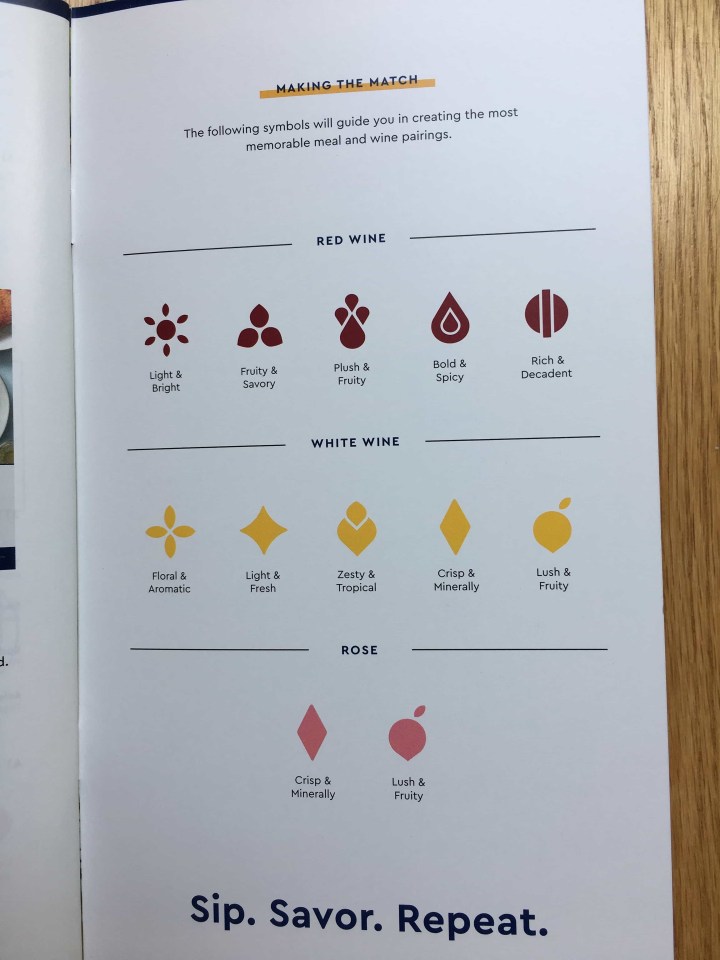 May Rose?  Too early?  Tell us in the comments below!