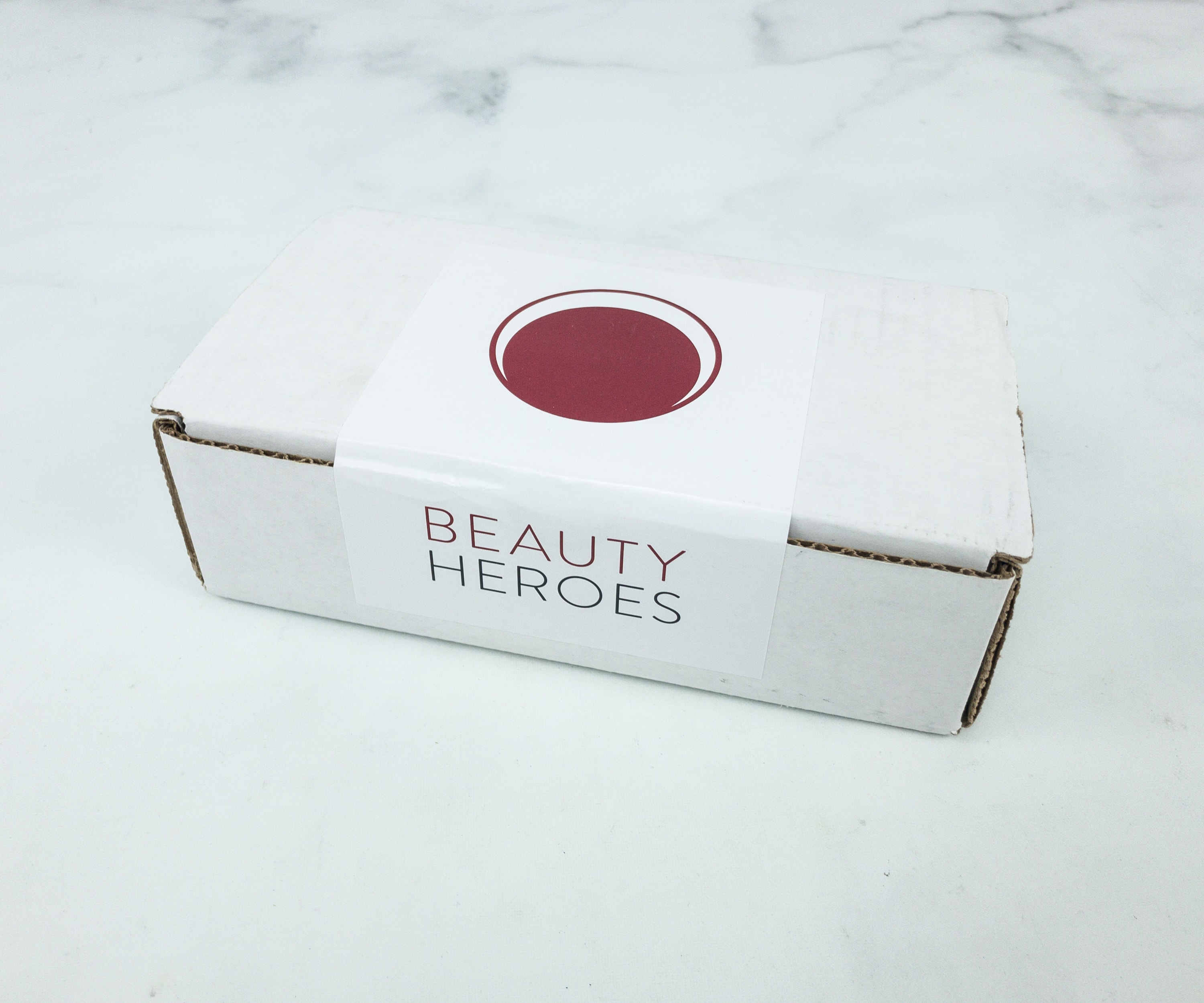 Beauty Heroes is a monthly healthy beauty discovery subscription. Each box features one full-size product + sample items. The subscription costs $115 per quarter, and ships monthly. Beauty Heroes members with an active subscription receive an exclusive 15% discount on all the products in the Beauty Store.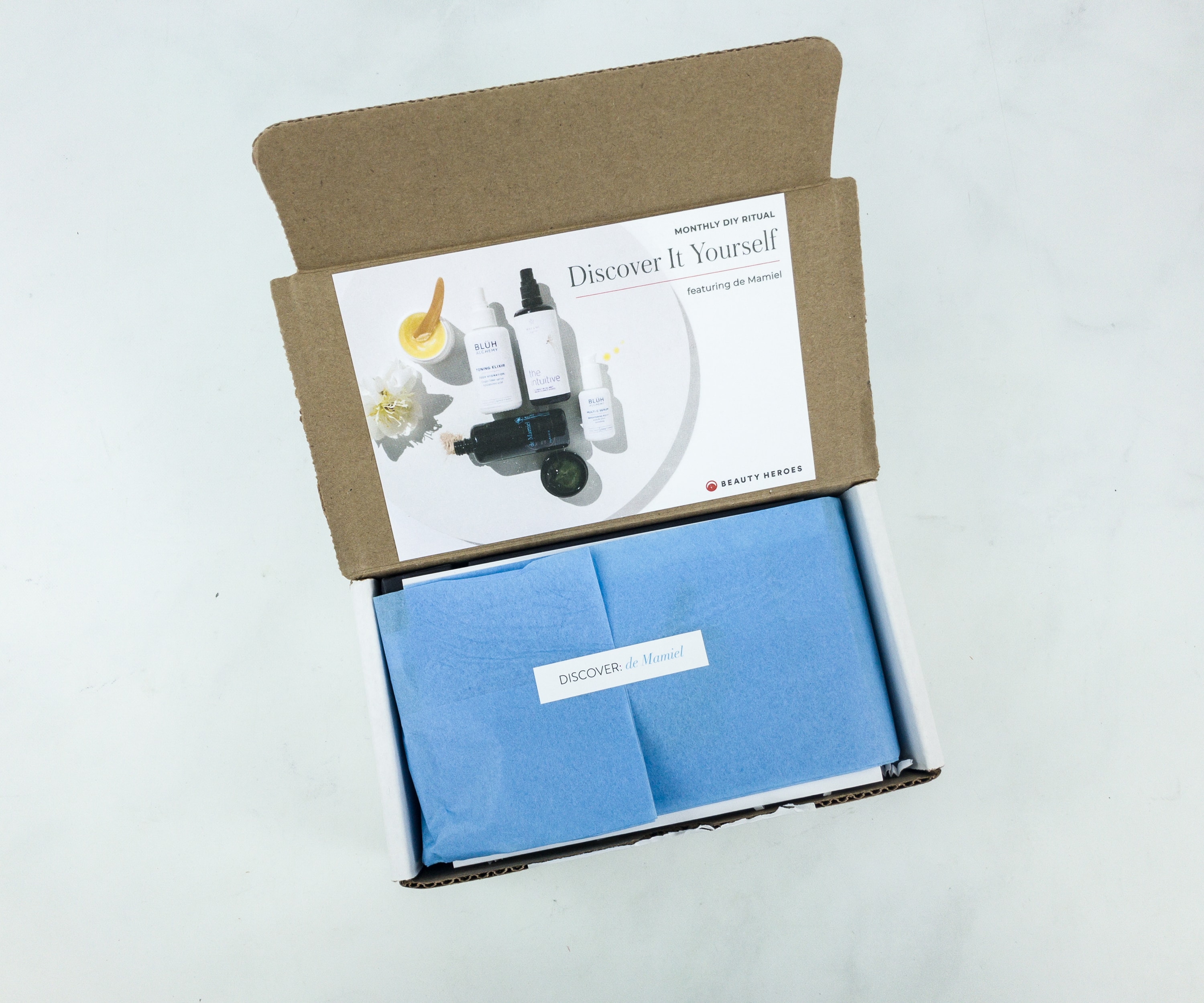 The items were wrapped in light blue tissue paper, sealed with the brand sticker logo.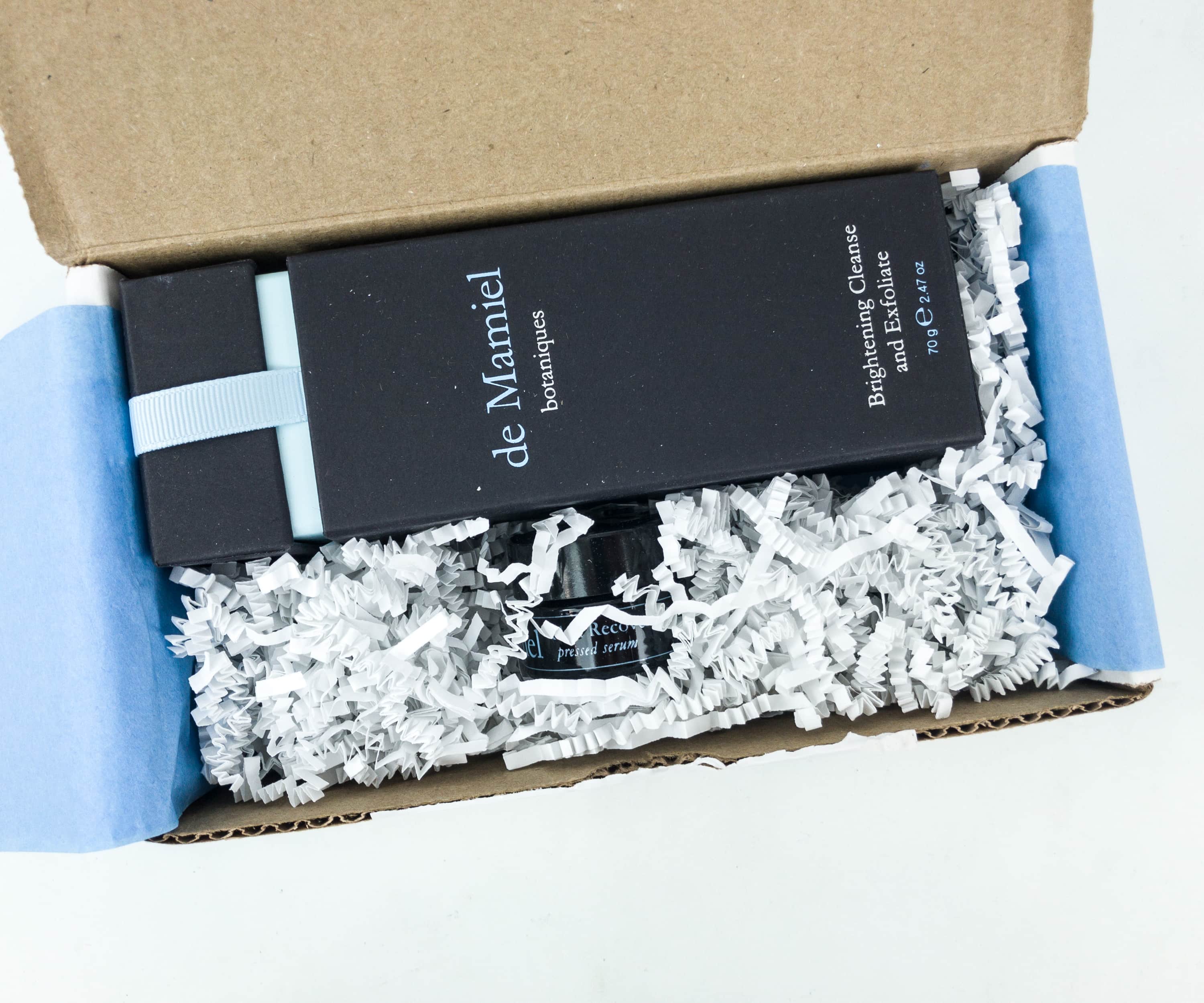 The box is also filled with white squiggles.
For this month, the featured brand is de Mamiel. We discovered this brand last April, and I'm glad to see it back again.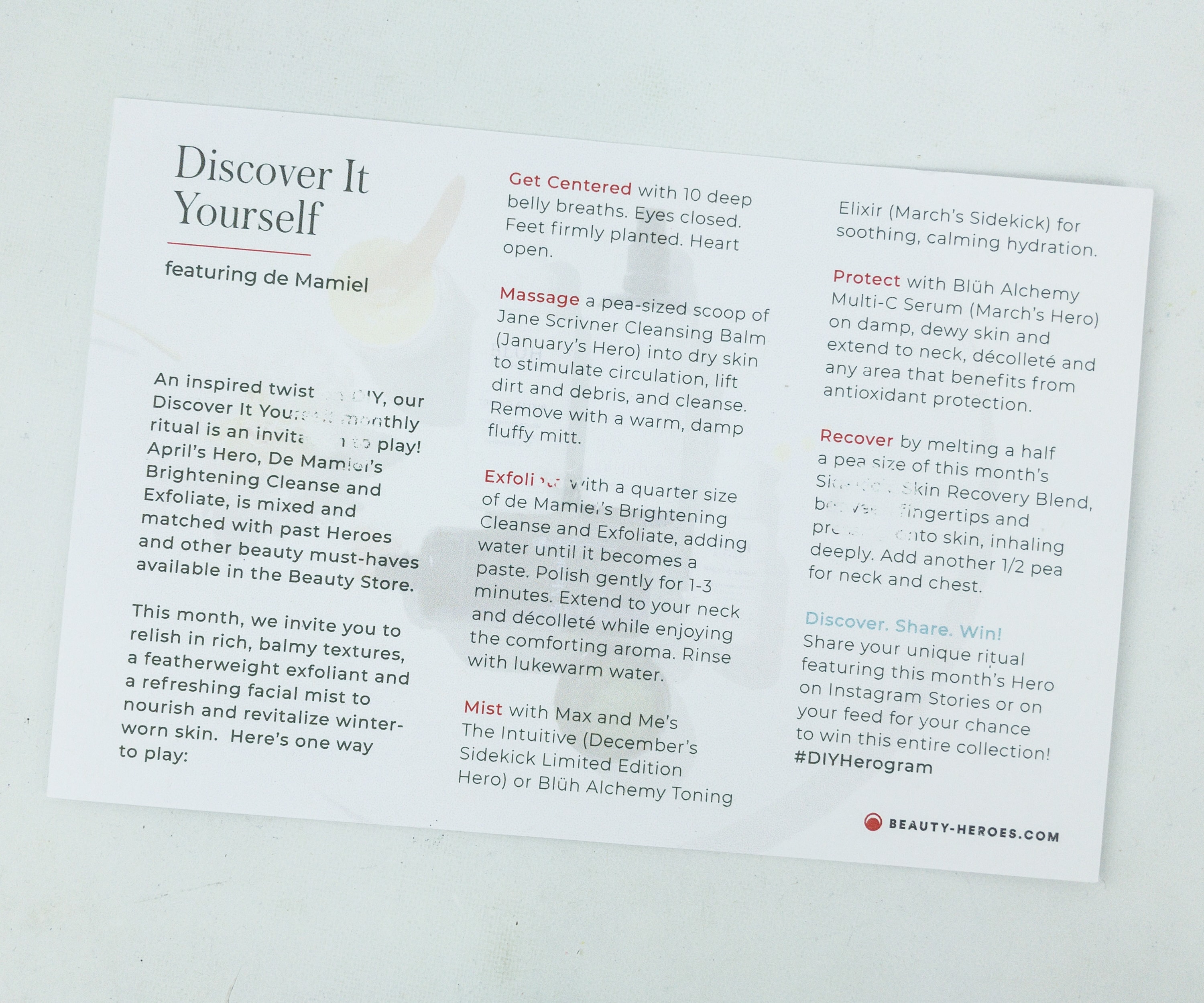 There's a lot to discover about this brand and they are all indicated at the back of the card! PLUS, check it out – Beauty Heroes is incorporating products from previous months to provide updated rituals. I LOVE IT!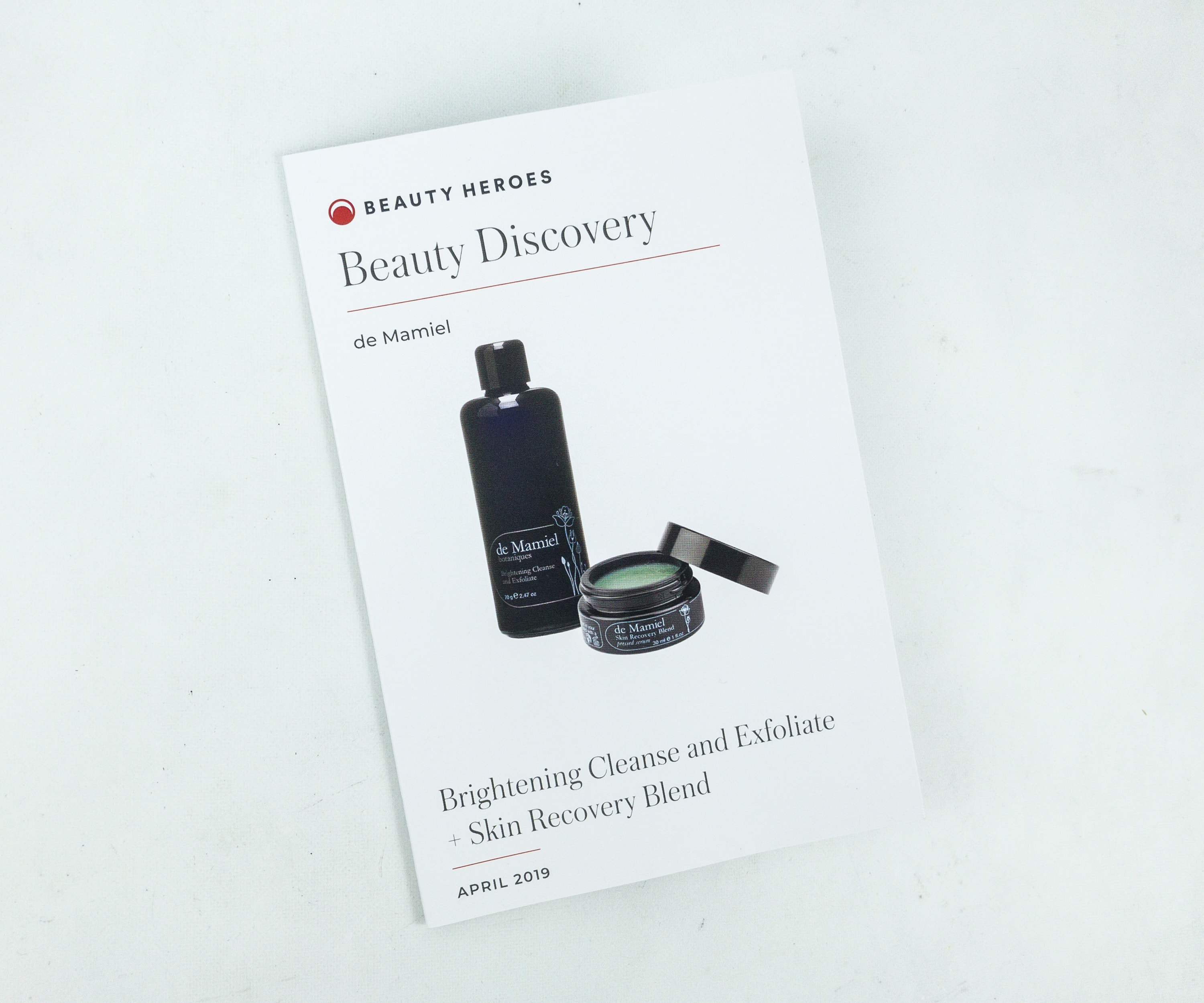 This month's Hero item is De Mamiel Brightening Cleanse and Exfoliate. The Sidekick item is De Mamiel Skin Recovery Blend.
They are committed to supporting the farmers that produce and harvest the plants used in creating their formula.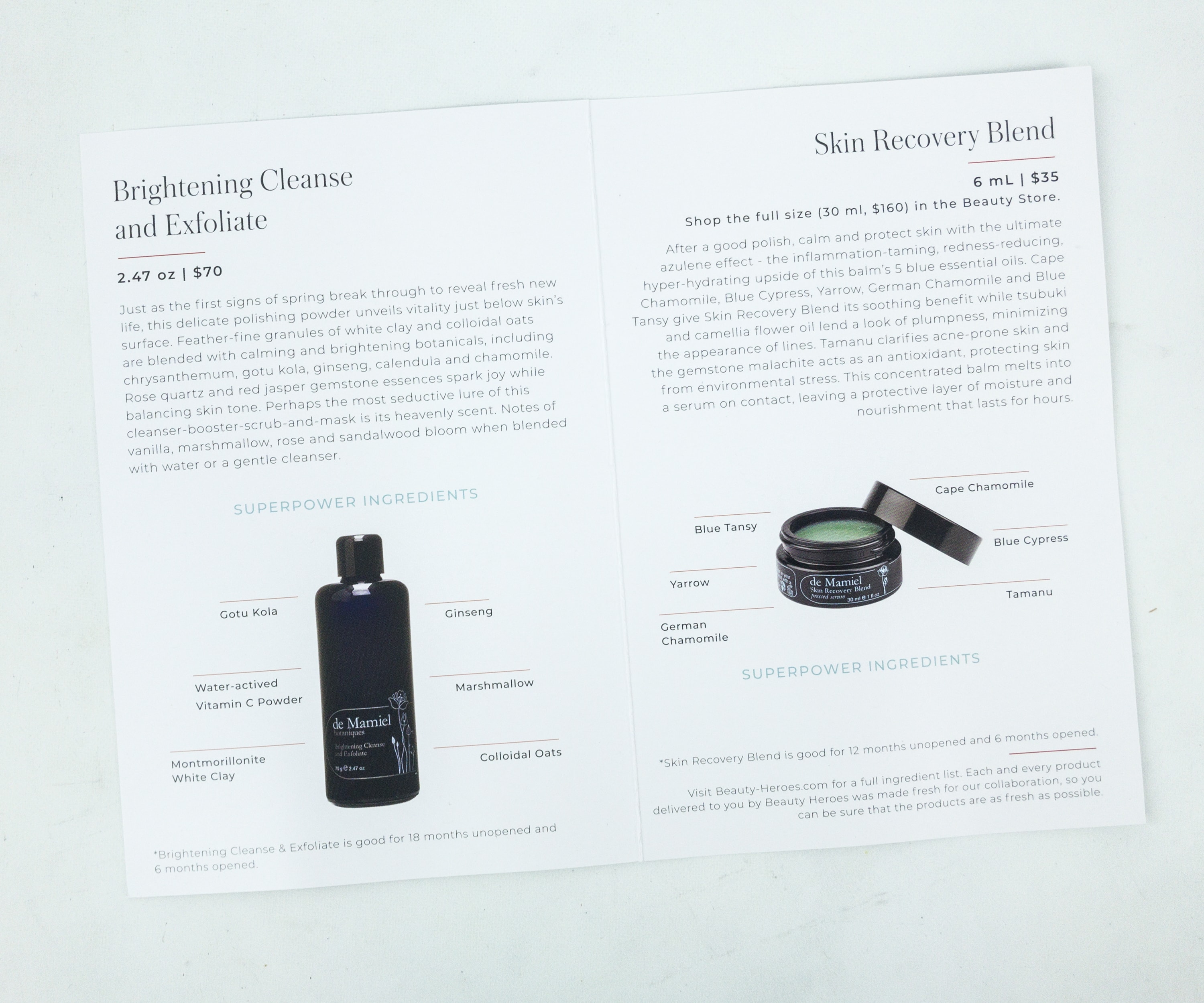 Inside the pamphlet is an introduction of this month's Hero items, more compact and easier to read.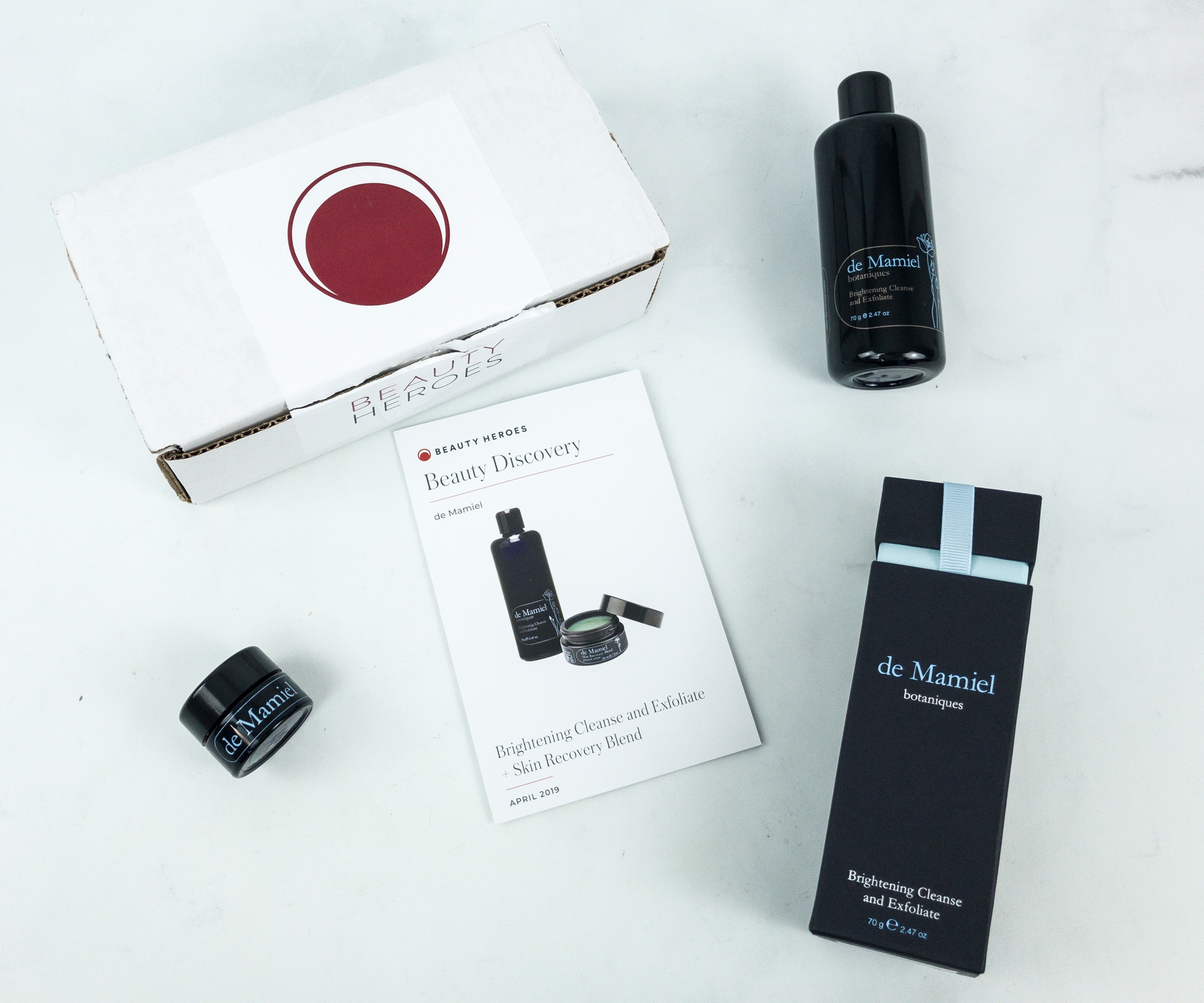 Everything in the April 2019 Beauty Heroes box!
There's also the de Mamiel booklet loaded with vital information.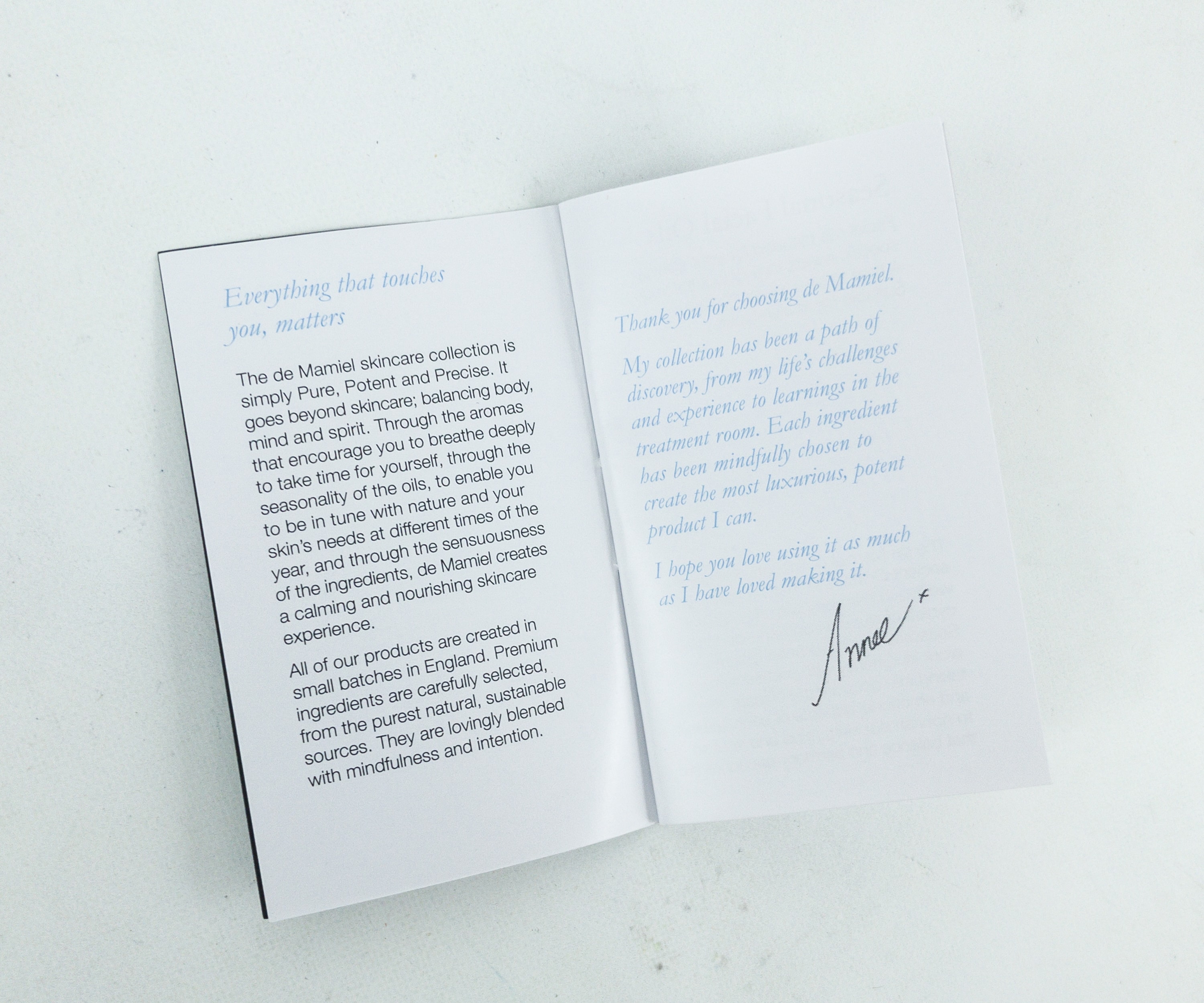 Everything you need to know about the brand and the products, as well as their ingredients are detailed in the tiny booklet.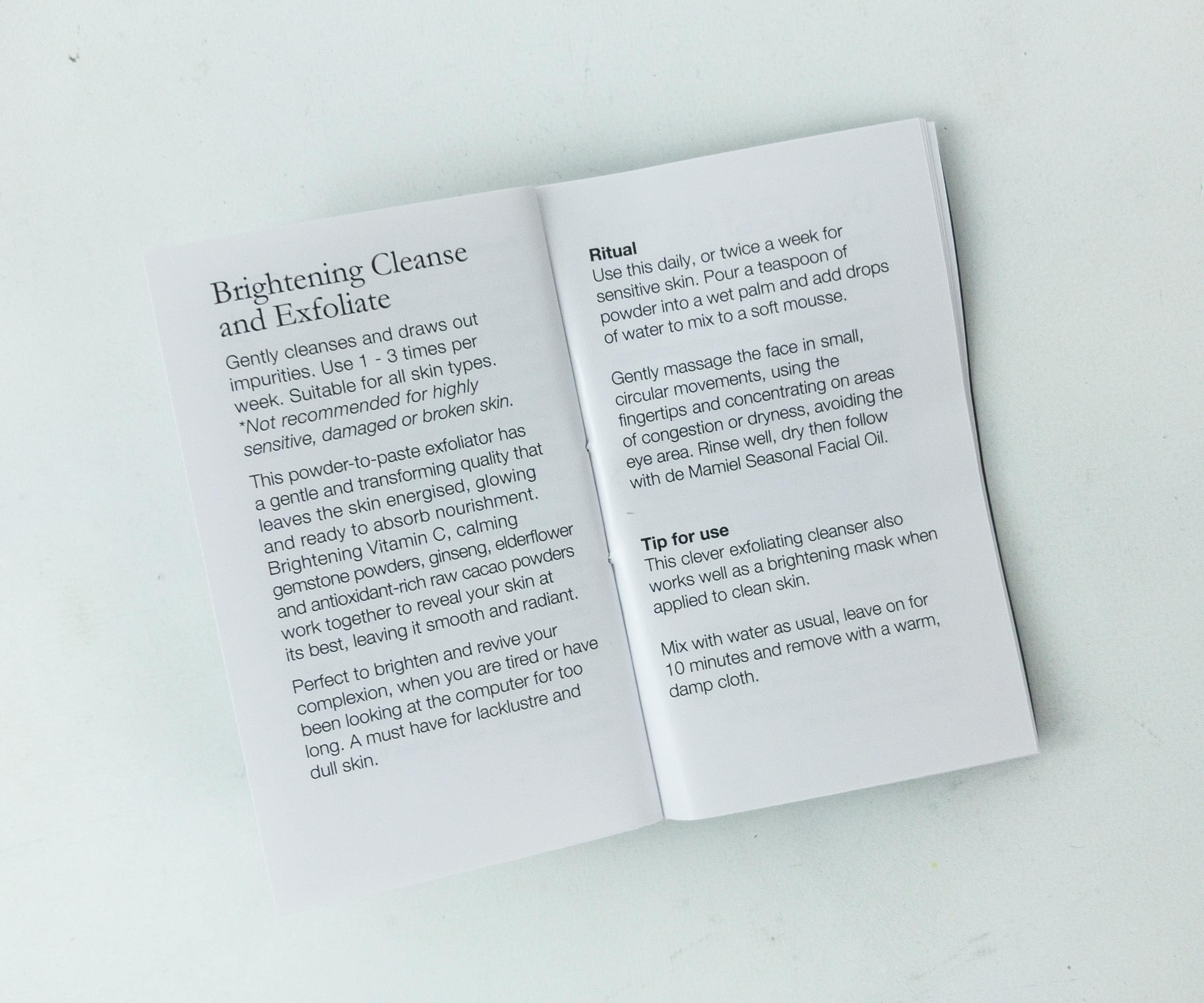 There's also a new beauty ritual you can follow using the items in the box!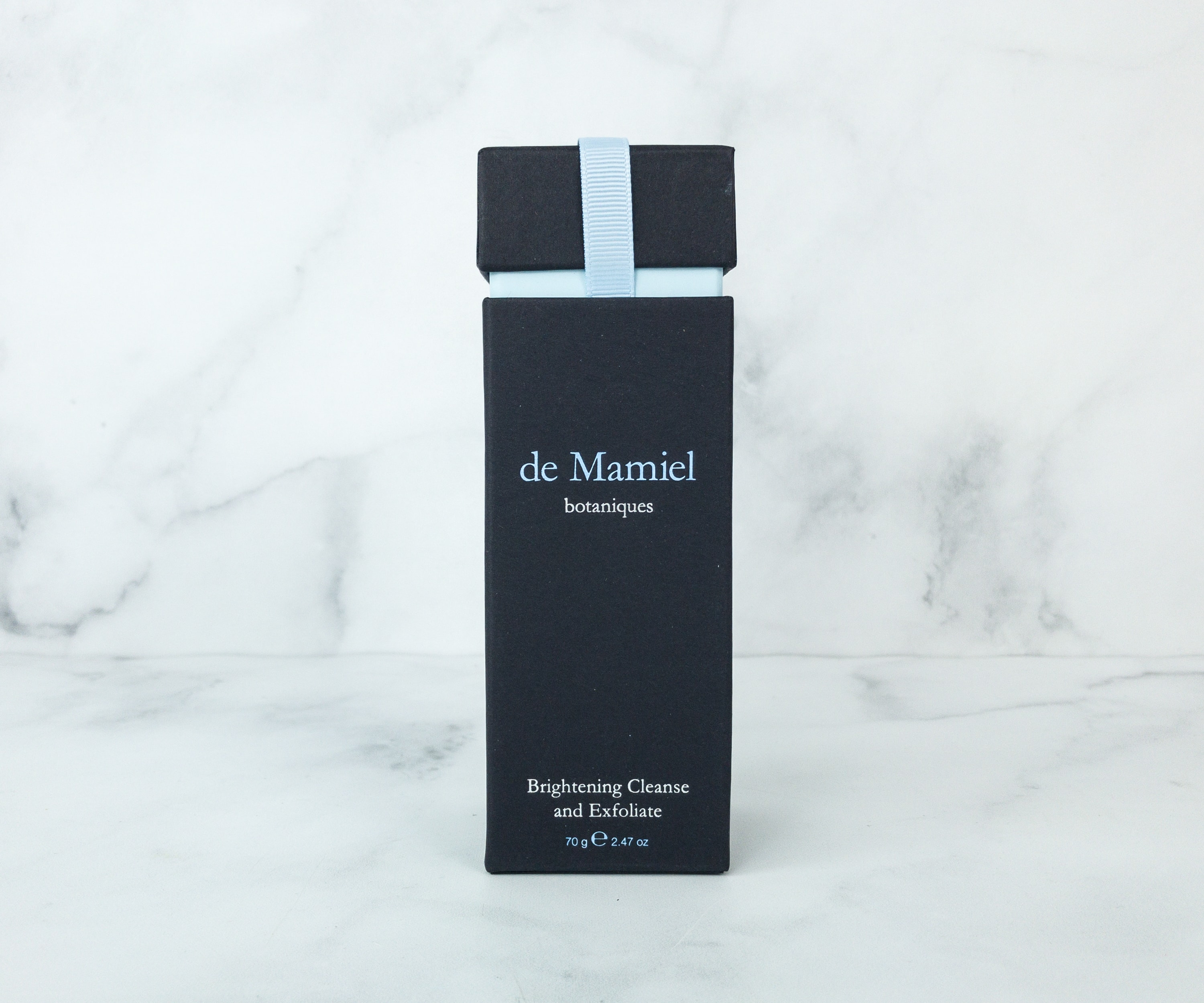 De Mamiel Brightening Cleanse and Exfoliate ($58.67) This gentle water-activated exfoliating cleanser focuses on polishing and refining dull complexions. It also eliminates dead skin cells with the use of its finely ground pearl and gemstone powders.
It has a light, floral scent. The formula is tough in cleansing and exfoliating, but without aggravating or exacerbating sensitivity.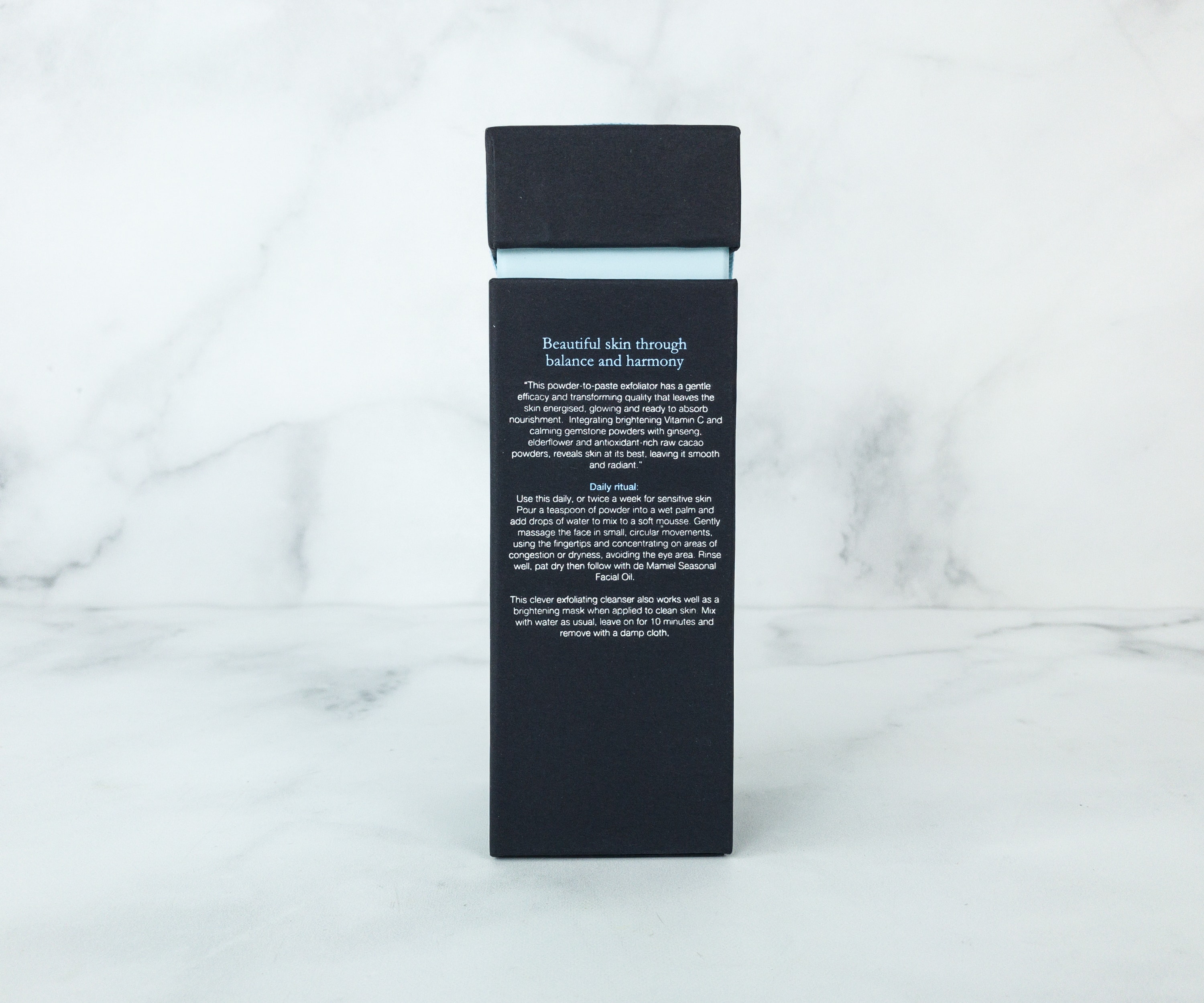 Although it can get a bit messy, this powder is easy to apply. I just work half a teaspoon mixed with a few drops of water onto my face, leave it on for about 20 minutes, rinse and then pat dry. In an instant, my skin looked cleaner, brighter and the pores are more refined!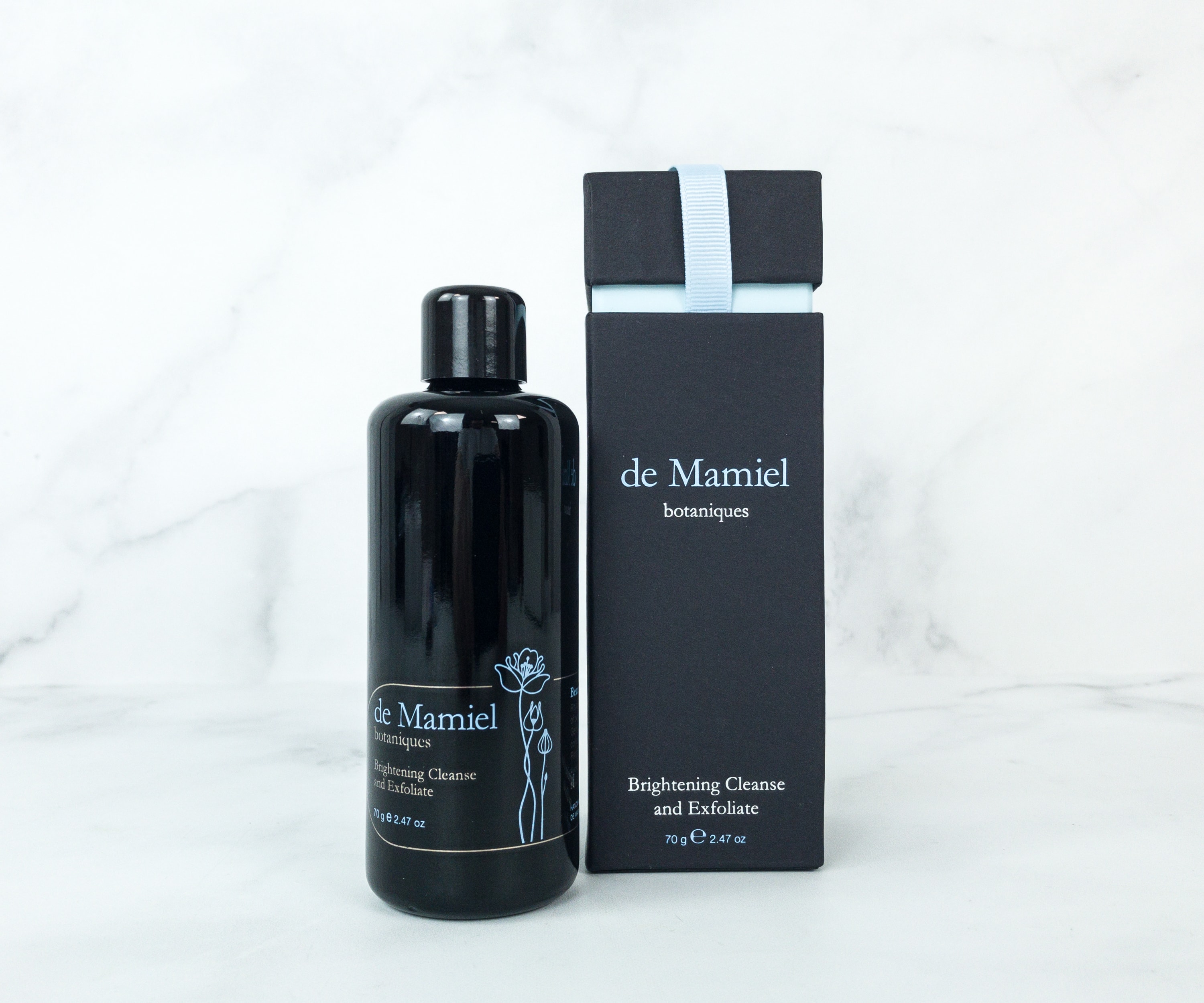 I love how it's housed in a chic bottle and encased in a box with a ribbon lift-to-open lid.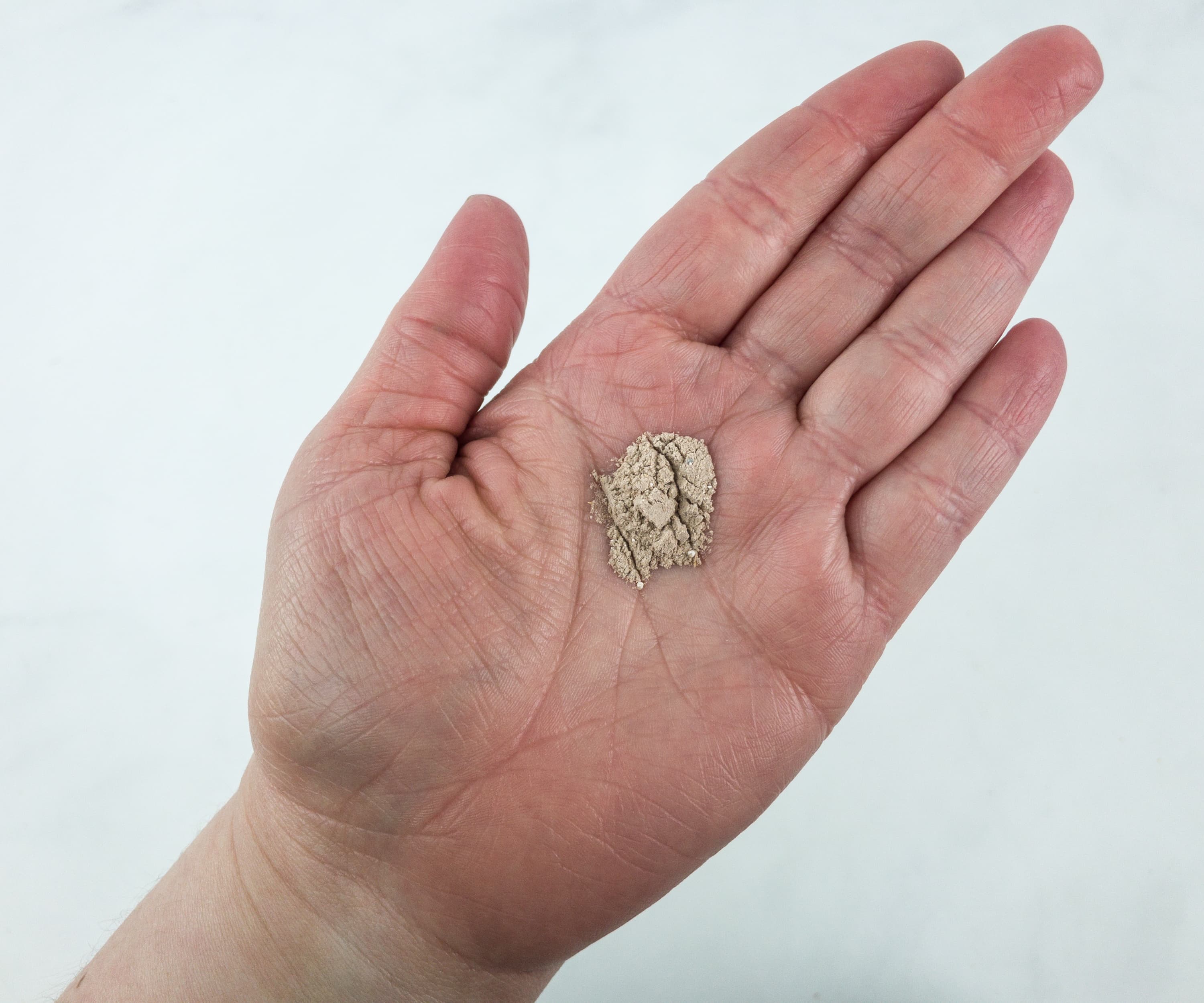 This light powder is made with Alea Hawaiian Sea Salt, Red Jasper and Rose Quartz gem powder. They help remove dead skin cells and revive your skin.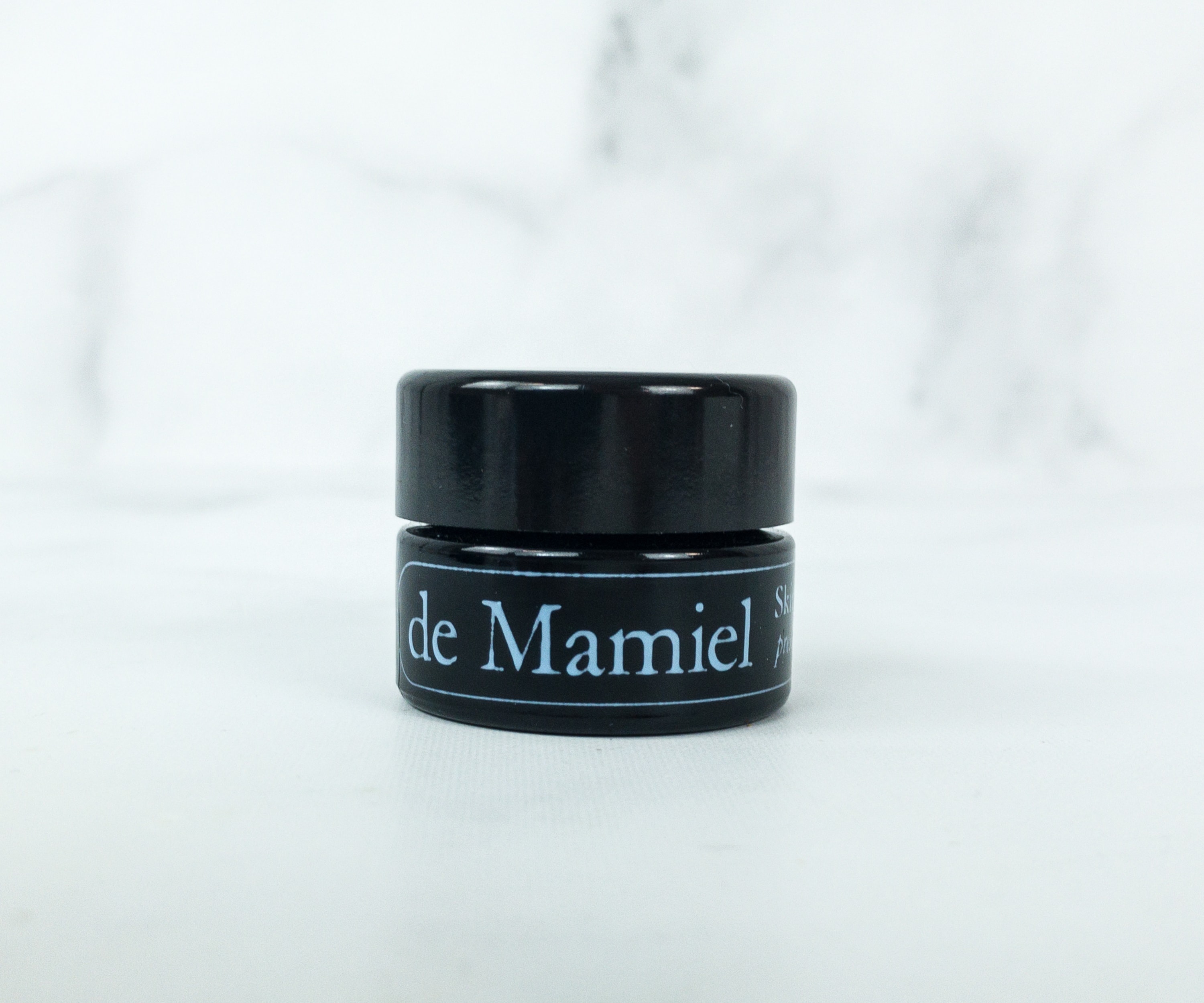 De Mamiel Skin Recovery Blend ($35) A perfect accompaniment for the cleanser, this serum is a soothing and calming remedy for a dry, inflamed and irritated skin. It's also recommended for those who are prone to eczema and dermatitis.
Behind its restorative powers are the 5 blue essential oils and deeply soothing botanicals. They work together as an all-enveloping balm that cools, softens, and rejuvenates dry skin. It makes my skin has never been more hydrated and healthy-looking so I couldn't be happier. It also has a charming smell.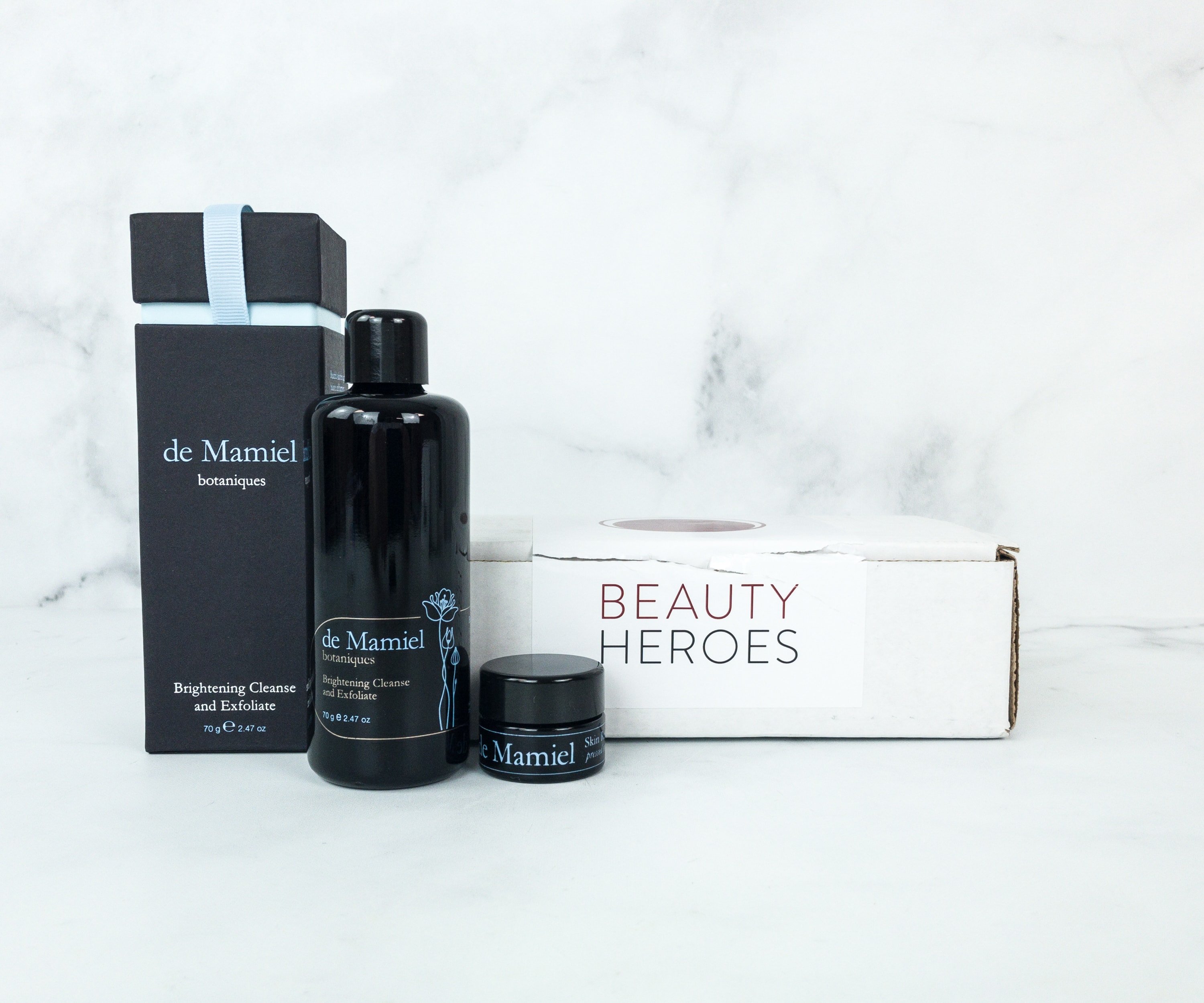 I cannot recommend these products enough. They both give immediate and long-lasting results, potently clean and effectively replenish my skin, leaving no impurities behind. Just a small amount of these are enough for every application so I'd be able to stretch out their use for a very long time. They also both smell divine! Ultimately, they have now become one of my bathroom staples. I'm totally loving the very slight refresh to this box, especially the new and improved routine!
What do you think of this month's Beauty Heroes box?